Thinking of visiting Europe for spring break, but are not sure what to expect and where to go? In this article, we cover some of the best places to visit in Europe in spring and tips for your visit.
March and April are good months to visit many places in Europe, but it's not perfect everywhere. Europe is big and spring weather is very different in the Nordics than it is in the Mediterranean. So depending on what kind of spring break you are looking for – vacation in the snow, spring blossoms, city trips, or beaches – you have a choice of very different European destinations.
We live in Belgium and because our kids go to school, we have a two-week break every spring. We usually spend it traveling around Europe. So we have visited many destinations in Europe in March and in April and can give you first-hand tips based on our personal experience. In addition, we also feature favorite European spring break destinations of several other traveling families.
In this article, you can find a very comprehensive list of some of the very best places to visit in Europe in the spring. It should give you plenty of ideas of where to go. We also include some practical tips to help you start planning your trip. Scroll down to read more!
Good to know: Because European school holidays in most countries fall around Easter, it's usually a few weeks later than in the U.S. This makes spring break a good time to visit Europe for those looking for fewer crowds and cheaper prices as well.
READ ALSO: Best Time to Visit Europe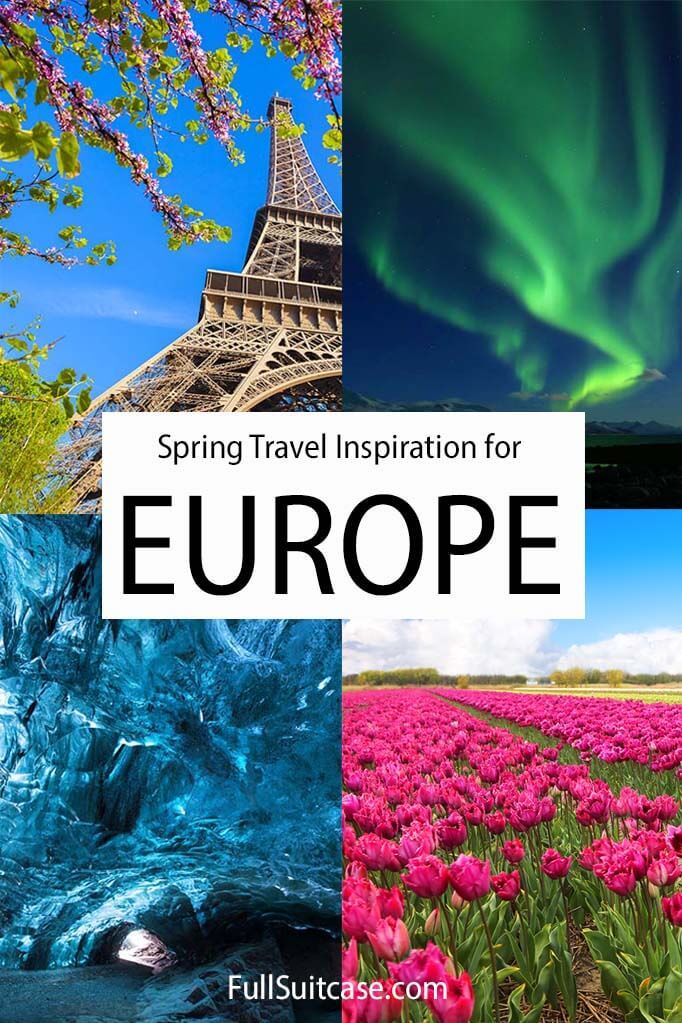 These are some of the best spring break destinations in Europe:
1. Benelux
If you are looking for a spring destination in Europe that has a wonderful mix of world-class cities, charming towns, beautiful countryside, and colorful spring flowers, then you cannot go wrong with visiting Benelux in spring! We might be a bit biased since we live here, but spring is magical in this part of Europe!
Benelux is the collective name of three Western European countries: Belgium, Netherlands, and Luxembourg. Because the region is quite small and everything is located close to each other, you can easily visit some of Europe's most awe-inspiring destinations in a short time.
In the Netherlands, don't miss Amsterdam and the Lisse tulip fields! Also take at least a few day trips in the Netherlands and explore some smaller towns and Dutch countryside with its charming windmills.
In Belgium, visit Brussels, Antwerp, Ghent, and Bruges. Also the WWI sites near Ypres are very interesting to see. If visiting mid-April, you may also be lucky to see the bluebells of Hallerbos, near Brussels.
In Luxembourg, visit the capital city. It's rather compact and you can see everything in just a day. In addition, there are also many nice day trips from Luxembourg. So if you plan well, you can see some nice places in Germany and France during the same trip as well.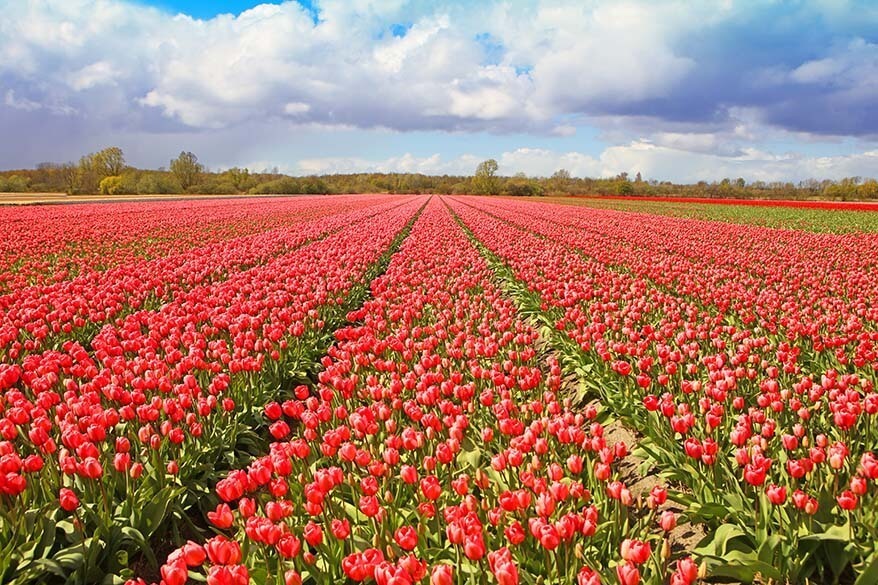 Spring weather: The weather in the Benelux in spring is very unpredictable. Average temperatures in March – April are 10-15°C (50-60°F) and it can rain on some days. But you can also have warm sunny days of 20°C (68°F) and more. Wear layers and always pack a rain jacket when visiting Western Europe in spring.
What makes it great for spring break: Visiting Benelux in spring allows you to see the very best that this region has to offer. Flowers are, of course, the main reason to come in spring (Dutch tulip fields deserve a place on any bucket list!). But also the beautiful cities are not too crowded at this time of the year. Plus, the weather is perfect for sightseeing.
How to plan your trip: If you can, spend 10-14 days in the region. As a minimum, we recommend 7-10 days for Benelux in spring: 3-4 days in the Netherlands, 3-4 in Belgium, and 1 in Luxembourg.
Here's how your trip could look like: 1 day in Amsterdam (or – better – 2 days in Amsterdam), 1 day in the Keukenhof Gardens and the tulip fields, and at least one extra day to see the Dutch countryside (check out Zaanse Schans or Giethoorn). You can stay in Amsterdam and take day trips. Then take a train to Antwerp or Brussels and spend 3-4 days in Belgium. From Brussels, you can easily take a train or a day tour to Luxembourg.
TIP: If you are only visiting cities, it's best to travel by train and not rent a car. Traffic is very busy and parking is very expensive.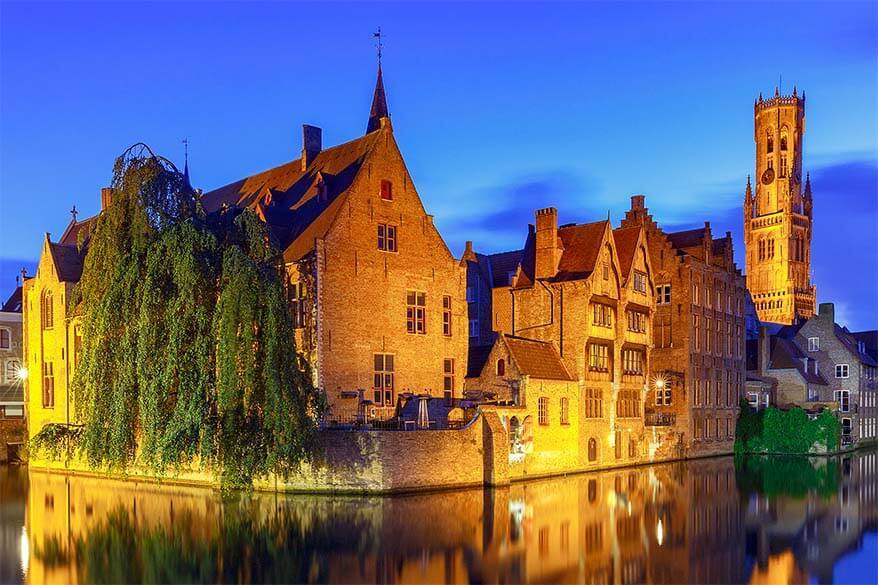 2. Portugal
Portugal is a wonderful destination at any time of the year. But if you are looking for a warm-weather spring break in Europe, it's really as good as it gets. From charming cities to fairytale castles, and from stunning landscapes to some of the most beautiful beaches in the world, Portugal has something for everyone! It's also a very family-friendly destination with lots of great things to do in Portugal with kids.
There are so many ways to plan a trip and so many beautiful places to see in Portugal. As a minimum, don't miss the capital city Lisbon and the nearby Sintra with its magnificent castles and gardens! Also the famous monasteries Alcobaca and Batalha are absolutely worth a visit.
With more time, you can choose to explore more of the beautiful cities and towns in Portugal or check out some beautiful nature destinations of Central and Northern Portugal. For stunning coastal landscapes, head south to the beaches of Algarve and Alentejo Coast. If you love outdoor destinations, check out Madeira or Sao Miguel Island in the Azores.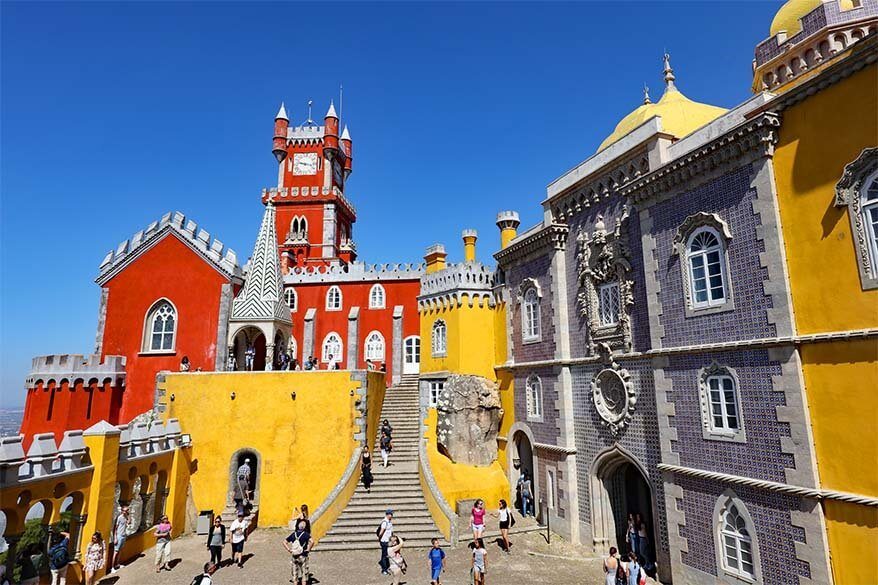 Spring weather: The weather is mild in Portugal in spring. You can expect lots of sunshine and temperatures of 18-20°C (65-68°F). Some rain is possible, but it can also get much warmer than that. Beautiful summer-like weather is quite common in the spring. Read also: Portugal in April.
What makes it great for spring break: Nice weather and a big variety of places to visit and things to do for all interests make Portugal an excellent choice for your European spring holidays. In addition, it's a very budget-friendly place where you can enjoy good food and wine without having to worry about your wallet. Furthermore, Portugal is not a huge country and you can see a lot in one trip.
How to plan your trip: You can visit the main cities such as Lisbon and Porto by train. There are also lots of tours available from these cities. If you want to visit smaller places and get a bit off the beaten path, it's best to rent a car and make a road trip. See our Portugal itinerary for suggestions.
READ ALSO: Portugal Travel Guide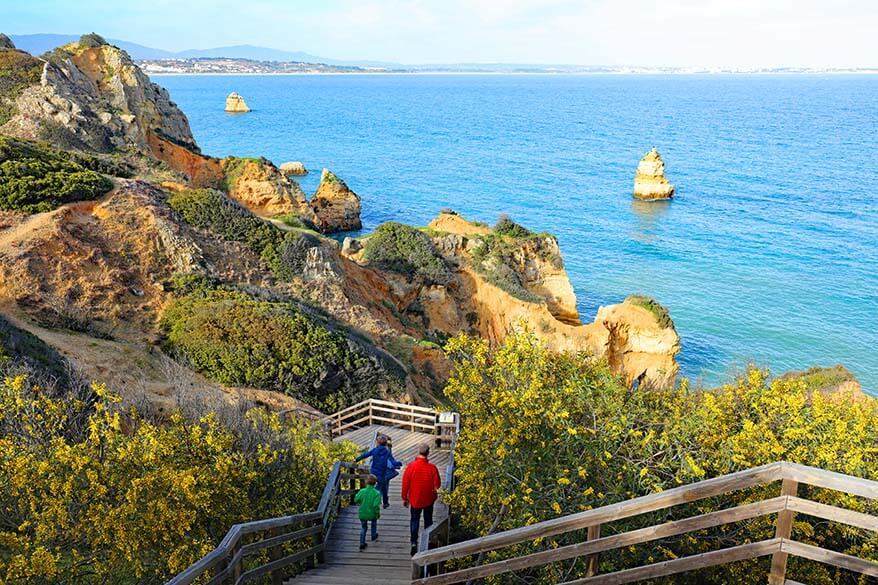 3. Paris, France
Recommended by Jacquie from Flashpacking Family
Paris is one of the most beautiful cities in the world and is the perfect destination for a European city break in the spring! There is so much to see and do in the city and the spring weather is great for sightseeing. Furthermore, spring flowers and blossoms make this one of the most beautiful times to visit Paris!
No trip to Paris would be complete without visiting the Eiffel Tower, so start your trip there. If you want to go to the top of the tower for the most incredible views of Paris, make sure to book tickets in advance.
From the Eiffel Tower, you can stroll to the Arc de Triomphe and down the famous avenue Champs Elysée (stop in at Ladurée if you want to try the best macarons in the world) to the Place de la Concorde and the Louvre. The museum itself requires at least a couple of hours and it's probably better to visit on another day. Also here, book your tickets/ tour in advance.
If you have time, take a little detour through the 9th district where you will find one of the most famous (and beautiful) shops in the world, Galleries Lafayette. And of course, don't miss the Notre Dame Cathedral that's now undergoing restoration after the 2019 fire. Even if just to catch a glimpse of its impressive exterior, it's a must in Paris.
If you want to take in more views of the city, head to Montmartre. This charming part of the city is home to the Sacre Coeur Basilica and the famous Parisian street artists.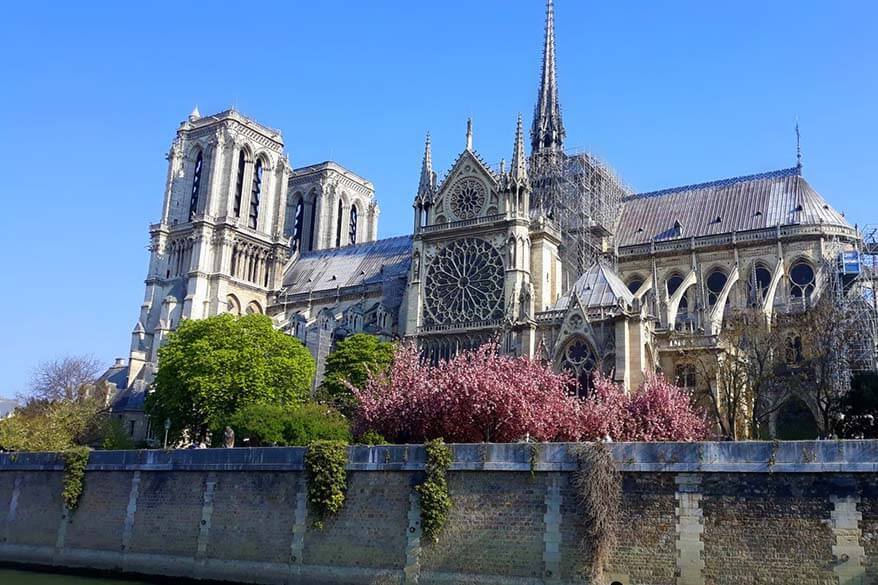 Spring weather: Being a northern European city, the weather in Paris in the spring is very unpredictable. Average daytime temperatures in March or April are around 13-18°C (55-63°F), but it can also get much colder or much warmer. So check the weather forecast a few days before you leave and pack for all weather.
What makes it great for spring break: Paris is absolutely gorgeous in the spring when it explodes with blossoms. The best part about visiting Paris in the spring, however, is that there are far fewer tourists at this time of year.
How to plan your trip: Plan at least 2-3 days in the city itself, plus a day trip or two (Versailles Palace is a must!). Paris is a big city, but depending on the amount of time you have, it is best explored on foot. Choose the sight that you want to see and explore the area surrounding it. If you are not in a rush, stop off at a traditional Parisian café and just people-watch for a while.
If you are limited in time, there are lots of different transport options available. For the attractions in the city center, we recommend taking a hop-on/hop-off boat (Batobus). It stops at the main sights along the Seine. A river cruise is also a great way to see a lot in a very short time.
For places that are further away (like Montmartre), take the metro. If you are only going to take one Parisian Métro ride, make sure it is line 6. From there you will see an unforgettable view of the Eiffel Tower as the line emerges above ground and crosses the Seine between Passy and Bir-Hakeim. Or you can simply walk over this bridge and take your time to enjoy the views.
READ ALSO: Paris 4 Days Itinerary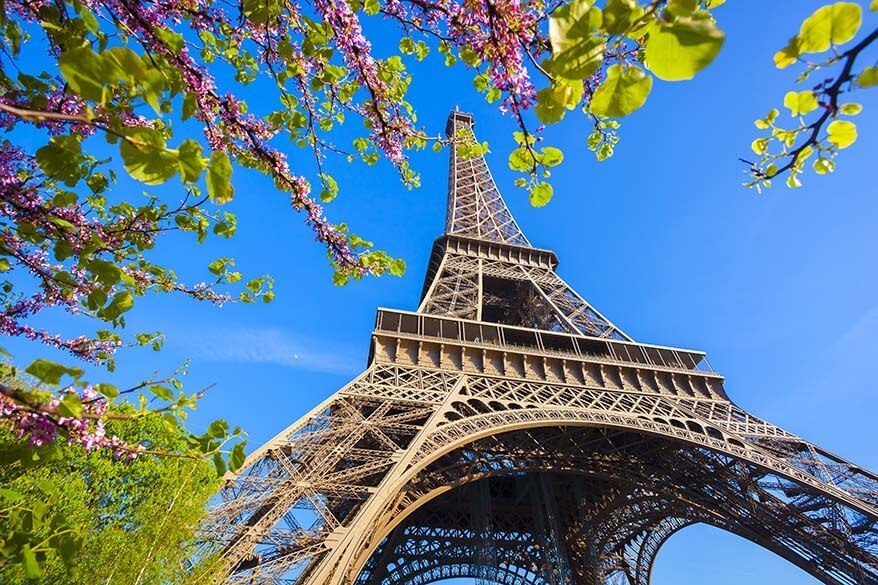 4. Cornwall, UK
Recommended by: Helen Fletcher, Holidays from Hels
Cornwall, located in the southwestern corner of England, UK, is home to world-class beaches, crumbling castles, white-washed fishing villages, and King Arthur himself. With stunning coastal sceneries and so much to see and do, it's is the perfect spring break destination in Europe!
From tiny smugglers' coves to vast stretches of open sand, Cornish beaches are spectacular and a treat for the eye! Furthermore, they are also linked by jaw-dropping coastal paths – perfect for long walks in the pleasant spring weather. You may even meet the odd seal. With golden sand, turquoise waters, and crashing waves, the beaches are also the ideal location for a spot of bodyboarding. However, spring is a bit too early for regular beach activities.
Explore the chocolate box villages of St Ives and Mousehole, which cling to scenic harbor fronts. Make sure to try fish & chips or a Cornish pasty on the beach! Those seeking adventure can take a speed boat trip to Seal Island. For a bit of culture with a dramatic backdrop, book a show at the clifftop Minack Theatre, built in the style of a Roman Amphitheatre. The views are sensational!
History buffs will love exploring the ruins of Tintagel Castle, home of King Arthur, perched on impossibly craggy cliffs. And dodge the incoming tide on the causeway to the island castle, St Michael's Mount.
For something a little different, try walking an alpaca over the Cornish Hills or visiting the botanical gardens in a biosphere at the world-famous Eden Project.
READ ALSO: Best Places to See & Things to Do in Cornwall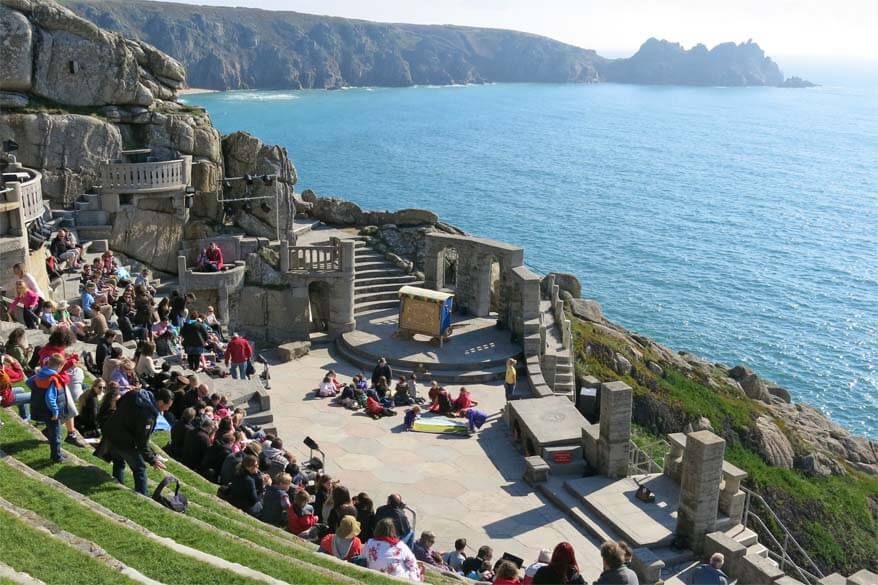 Spring weather: This is England, so anything can happen weatherwise. Over spring break you will probably experience rain and shine. Although the average high is 12°C (50-55F), it can reach 20°C (68°F), and the skies are always blue in our photographs.
What makes it great for spring break: March and April are absolutely the best months to visit Cornwall as you will have some of the most magnificent beaches in the world all to yourself! Cornwall's beauty is no secret, and in summer, you can face gridlock here. But in spring, the picture-perfect St Ives will not yet have filled up with summer crowds. We visit every Easter and it may just be our favorite place in the world!
How to plan your trip: Drive/ rent a car for visiting the area and stay in St Ives. The town has lots of accommodation options and is one of the best places to stay for exploring the region.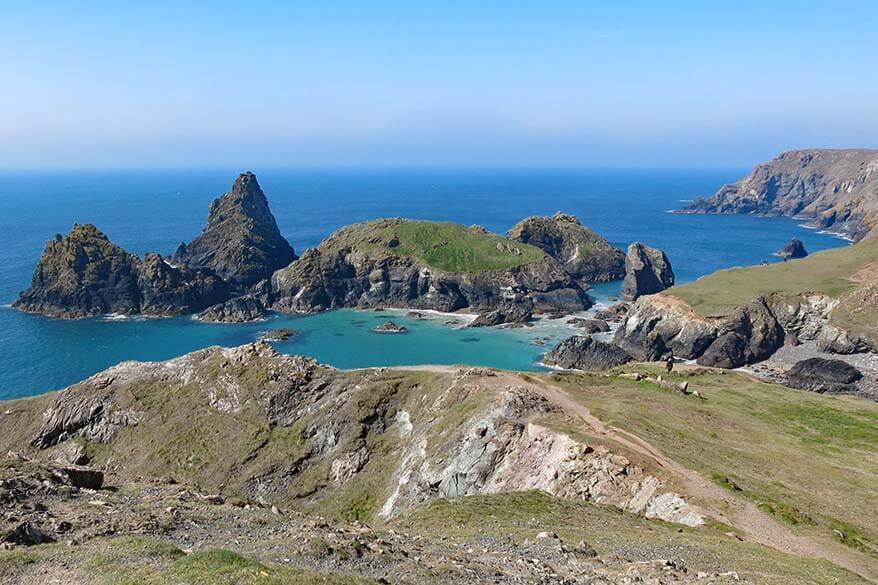 5. Italy
One of our absolute favorite countries, Italy is another wonderful destination to consider for your spring break in Europe! While it's still too cold for the beaches and the mountains (unless you're going skiing), spring weather is perfect for exploring the Italian cities! Also Italian lakes and the rolling hills of Tuscany can be beautiful (later) in this season.
Whether you choose cities like Rome, Venice, Milan, smaller towns like Bellagio, or charming villages of Lake Como, the Amalfi Coast, Cinque Terre or Tuscany, or pretty much any other of the many beautiful places to visit in Italy, you really cannot go wrong. Italy is amazing!
There is so much to see and do everywhere, the landscapes are stunning, and Italian food, wine, and gelatos will make any vacation even more pleasant. Your family will fall in love with Italy and you'll be planning your next trip before you even leave!
READ ALSO: Most Beautiful Places to Visit in Italy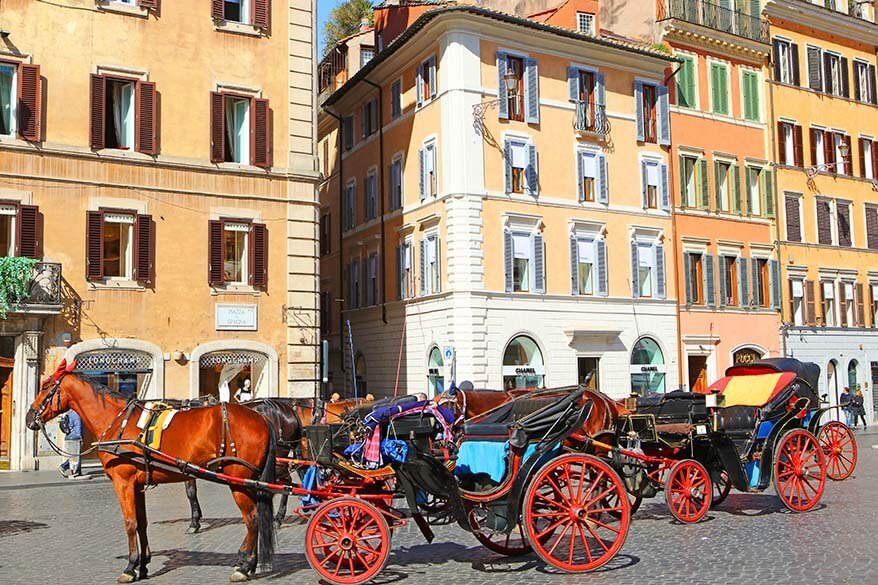 Spring weather: Italy is a big country so the weather will depend a lot on where exactly you go. In Rome, average temperatures in March and April are 17-19°C (62-67°F). But if the sun is shining, it can feel a bit like summer already. Just as anywhere else in Europe in spring, you should always pack layers!
What makes it great for spring break: Italy is one of the best family travel destinations in the world! But while summer heat makes it really hard to appreciate everything that Italy has to offer, mild spring temperatures make it possible to explore this beautiful country to the fullest. Furthermore, the crowds are smaller in spring than in the summer.
TIP: If you can, try to avoid visiting Italy around Easter as that's when most European countries have their spring holidays. If you come a bit before or after that, it will be much less busy.
How to plan your trip: Italian cities can be explored by train. There are good connections between all the main towns. For other popular places, you can also take tours. If you want to see a lot of Italy in a short time, renting a car might be a good option. But in that case, I'd concentrate on smaller towns with just an occasional day trip to a bigger city. Driving into Venice is one thing, but driving (and parking) in Rome is not for the faint-hearted.
Here are some itineraries that you could use for some popular places in Italy: 1 day in Rome, 1 day in Venice, 1 day in Milan, 1 day in Cinque Terre, 2 days in Rome, 4 days in Rome. And here's our recommended 2-week Italy itinerary for your first trip.
For more destinations, please check our Italy travel blog via the link below.
READ ALSO: Italy Travel Guide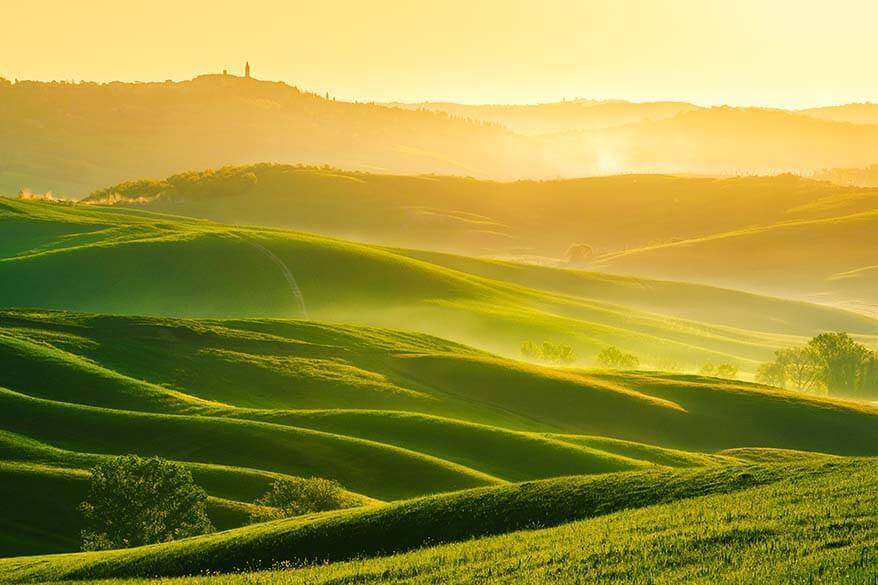 6. Vienna & Budapest
Recommended by: Brittany Stretchbery, Family on Standby
Vienna and Budapest are two European cities that are often visited together in one trip. Vienna is the capital city of Austria and Budapest is the capital of Hungary. They are less than 3 hours by train from each other. So if you want to plan a European spring break visiting some of the most beautiful cities in Central Europe, you can't go wrong with this combo!
Furthermore, Budapest is one of the most affordable cities to visit in Europe, allowing you to cover a lot of ground if you're on a budget. An average dinner can cost less than $20 USD or €16. And a pint of beer or coffee will only set you back $1.
Both cities are quite walkable, so you can walk around and explore some of the gorgeous scenery. In Budapest, visiting a spa is a must! Budapest is known as the City of Spas due to the sheer number of them. Szechenyi Baths is one of the most famous and hosts regular nighttime spa parties. Another option for a night out in Budapest is visiting the traditional ruin pubs. They are built into abandoned buildings and one of the most unique things to do in the city!
In Vienna, stroll around Schönbrunn Palace and Gardens during the day or attend a concert in the evening. There are so many landmarks and beautiful palaces to visit in the city! Don't miss The Hofburg, Belvedere Palace and its gardens, and of course the famous Vienna State Opera. Then head to Café Central and order the famous Sachertorte (the café culture is huge in Vienna). And for dinner don't forget to grab a Wiener Schnitzel. They are absolutely worth the hype!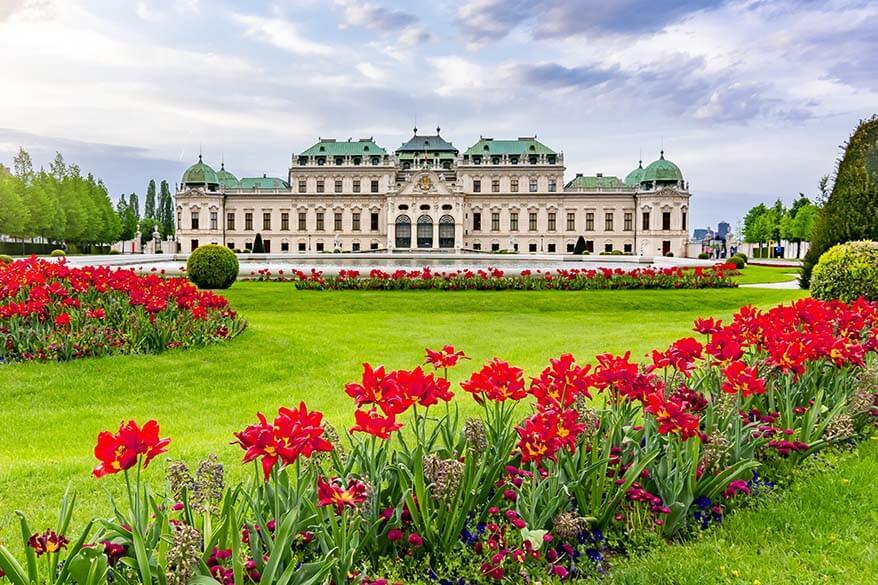 Spring weather: Spring is a great time to visit Budapest and Vienna due to the mild temperatures. Average highs are around 16°C (61°F). And you'll also find most days to be sunny with little rain.
What makes it great for spring break: A spring break in Vienna and Budapest offers you a great mix of relaxation, art, city life, and history. And your money will go a long way. Plus who can resist spas and palace visits?
How to plan your trip: You can fly to either Vienna or Budapest and take a train between the two cities. Stay at least 2-3 days in each place. If your vacation is longer, you'll find plenty of other great places to visit nearby. A good additional place to visit would be Bratislava in Slovakia, or Prague in the Czech Republic.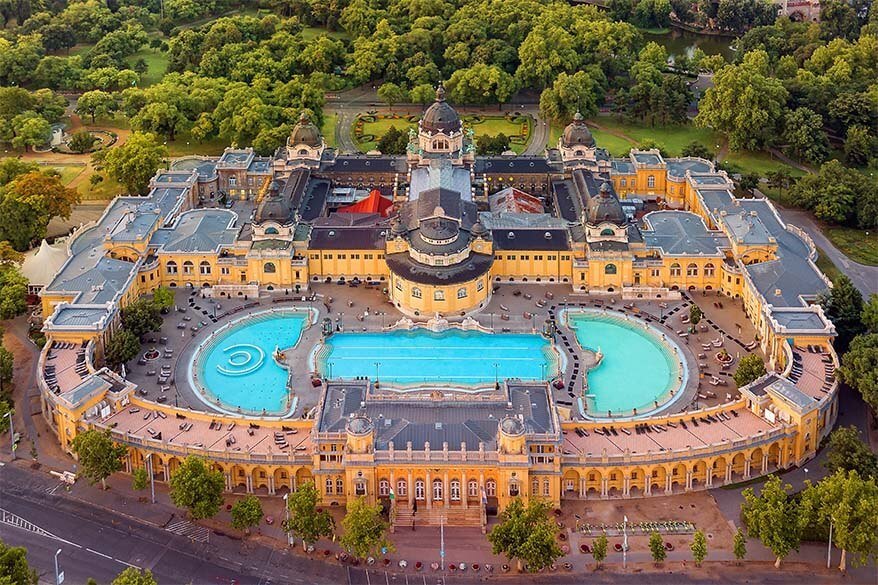 7. Iceland
If you are looking for a truly unique spring break destination in Europe, then definitely consider Iceland. This country is like no other place on Earth! There are so many incredible places to see in Iceland, and it's magical at any time of the year. If you come in early spring, you might also catch a glimpse of the Northern Lights! Just to be clear, March and April are winter months in Iceland, so this would be a cold spring break.
Where to travel and what to do in Iceland will highly depend on the exact time when you visit. In March and April, it can still be quite wintery. So we recommend concentrating on the South Coast of Iceland where you can see Reykjavik, visit the famous Blue Lagoon, the Golden Circle, the waterfalls of the South Coast, and Jokulsarlon Glacier Lagoon.
See our Iceland travel guide for more information on all these places. If you have at least 10-12 days, you could also attempt driving the entire Ring Road of Iceland, but I wouldn't do it in a week or less, and definitely not in spring.
What we love about Iceland the most is that there are hot baths and geothermal pools everywhere you go. So make sure to look for local pools or book accommodation with a hot tub. That way you can enjoy a relaxing soak every evening. This is always the best part of any Iceland trip for the kids!
TIP: With older kids, definitely consider a glacier hike or an ice cave visit (most of them allow kids from 8 years and older). While most ice caves are only accessible in winter and throughout March, there's one natural ice cave that you can visit at any time of the year and this tour allows kids from 6 years and older. Also glacier hiking is available the whole year.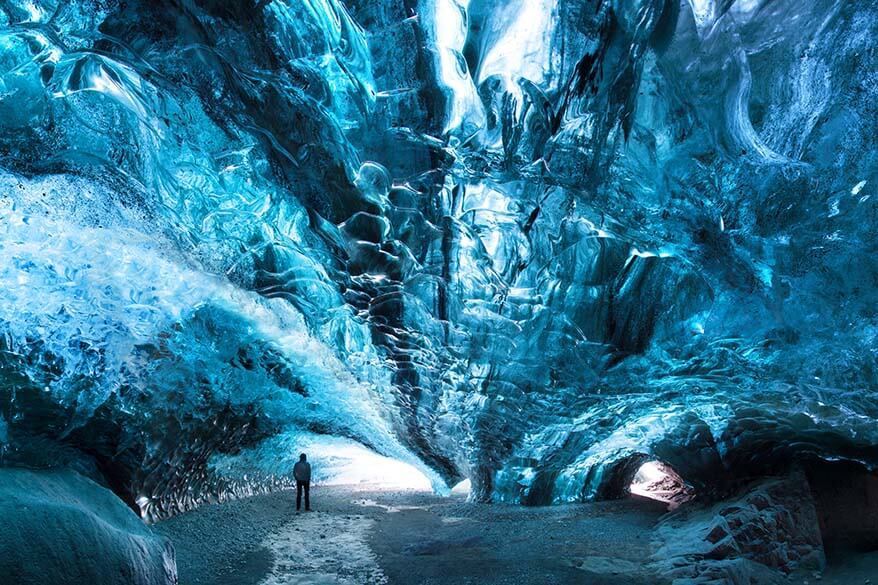 Spring weather: The weather in Iceland is always changeable, and spring is no exception. And while average daytime temperatures in Reykjavik in March and April are around 4-6°C (39-43°F), prepare for the winter weather with lots of wind and rain. Due to the wind, it's always much colder in Iceland than the weather forecast might make you think. Here you can find our guide for what to wear in Iceland in winter.
What makes it great for spring break: Iceland is one of the most special places to visit and no two trips here will ever be the same. Visiting in spring, you can do all the winter activities, but with the huge advantage of having longer daytime hours for sightseeing than in the dark winter months. March and even the beginning of April are also good times to see auroras in Iceland.
How to plan your trip: The best way to visit Iceland is by making a road trip. Driving in Iceland in winter is an experience in itself and not for the faint-hearted. But by March – April, the weather and the roads are generally already much better. Still, you never know what you get. So if you don't feel comfortable driving, you can stay in Reykjavik and take day trips. If you are prepared to drive, please see our Iceland winter itinerary for suggestions on how to best plan your trip in early spring.
READ ALSO: Iceland Itinerary for One Week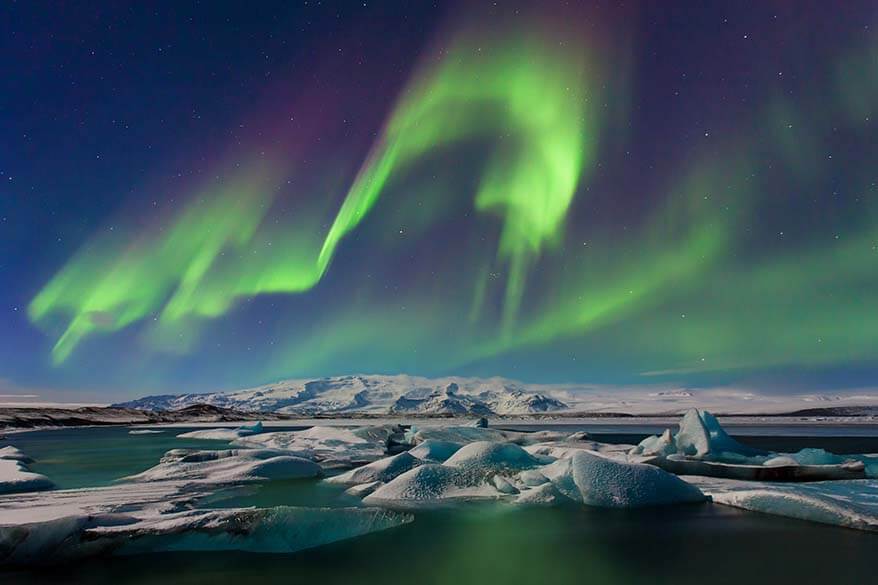 8. Poland
Recommended by: Maggie Alexander, Milana's Travels
If you're looking for an amazing family-friendly country to visit in Europe, then Poland is a great destination for spring break! We recommend visiting Gdansk and Krakow. Both are kid-friendly cities offering lots of activities and sights to traveling families. If you have more time, Warsaw and/or Wroclaw are very nice too.
Poland is one of the cheapest countries in Europe, giving you a bang for your buck. It's also one of the best budget destinations for spring break in Europe! You can easily feed a family of 4 for less than $30 a day! Furthermore, Polish food is some of the best in the world, so be sure to check out some local restaurants on your visit!
All these cities have great playgrounds, museums, and tours of the city. If you're in Gdańsk, wander around the Old Town, filled with amazing architecture and lots of restaurants and shops. Visit Centrum Hewelianum, an interactive science center set in a 19th-century fort.
In Kraków, the famous Old Town is not to be missed! It's often rated as one of the best in Europe. Kraków also has a rich WW2 history. So be sure to check out city tours that will take you to the Jewish Quarter and Schindler's Factory. For something unique, visit Wieliczka Salt Mine, just outside the city. With older kids, a day trip to Auschwitz is a must too (it's not recommended for kids under 14). Read also what to see and do in Krakow in 2 – 3 days.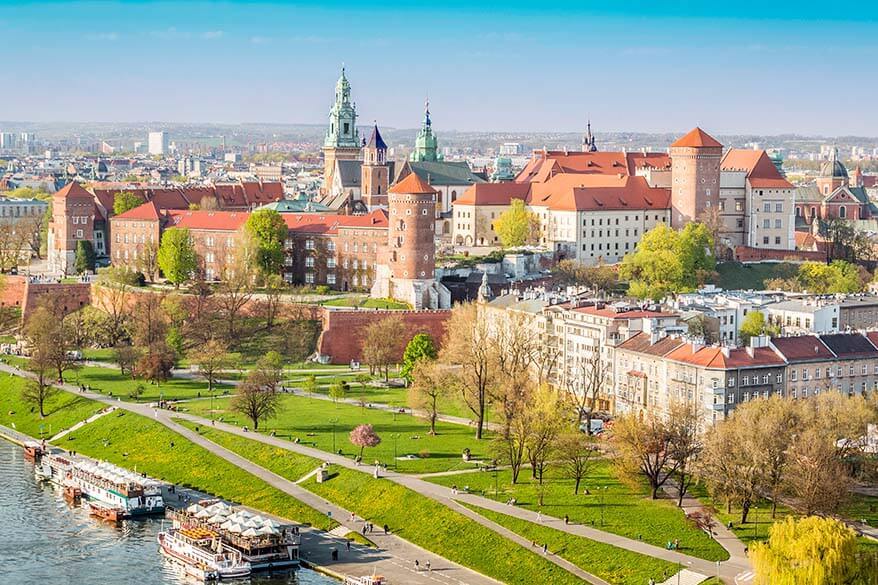 Spring weather: The weather in March – April in Poland is generally in between 10-20°C (50-70°F), depending on which month and where you visit. March is significantly colder than April or May. But cooler spring weather is generally great for exploring the cities!
What makes it great for spring break: Poland is often overlooked by families who are planning a trip to Europe, but it should definitely be on your list! With nice weather, great food, beautiful towns, and tons of family-friendly attractions, Poland is one of the best (and affordable!) countries in Europe for spring break!
How to plan your trip: Train connections between major cities in Poland are great and you can explore a lot without even having to rent a car. Whether in Gdansk, Krakow, Warsaw, or Wroclaw, we recommend staying in the city center. See also Krakow travel tips for more info.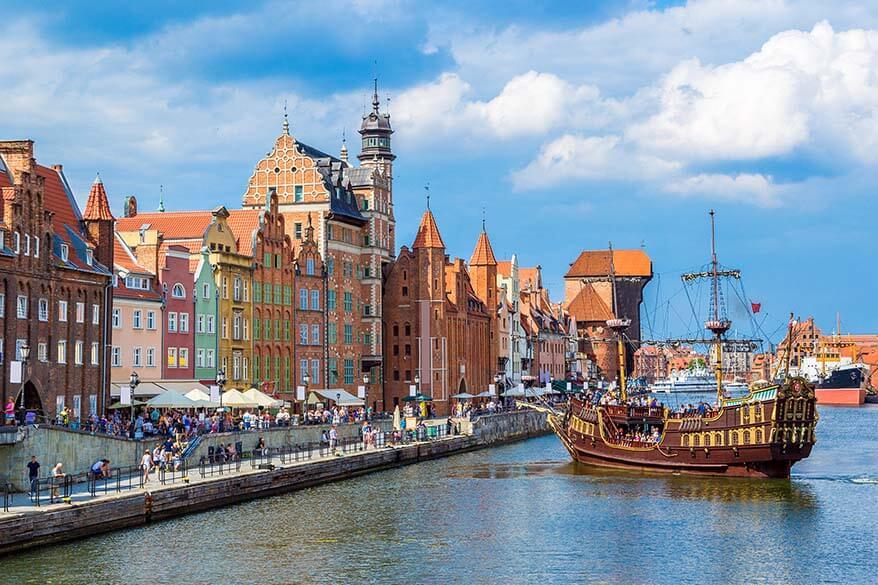 9. London, UK
London is without any doubt one of the best cities to visit in the UK. And just as in most major cities in Western Europe, spring is a great time to be here. There's so much to see and do and there are also many family-friendly sights and activities in London.
If this is your first time in London, don't miss all the musts such as Big Ben, Westminster Abbey, Tower of London, London Eye, Tower Bridge, Buckingham Palace, and – time permitting – many others. Also, take a boat to Greenwich where you can see the famous Greenwich Meridian. In Greenwich, make sure to also check out the Painted Hall and the Queen's House.
In addition to the most popular sights and attractions in London, get off the beaten path and discover the hidden gems of London, visit some local neighborhoods and markets (e.g. Camden Town & Camden Market). Also, make sure to check out some of the best views in London!
Even if you just visit a few lesser-known, local places, you'll get to know a completely different city. It will make your trip so much more special and make you realize how truly unique London is.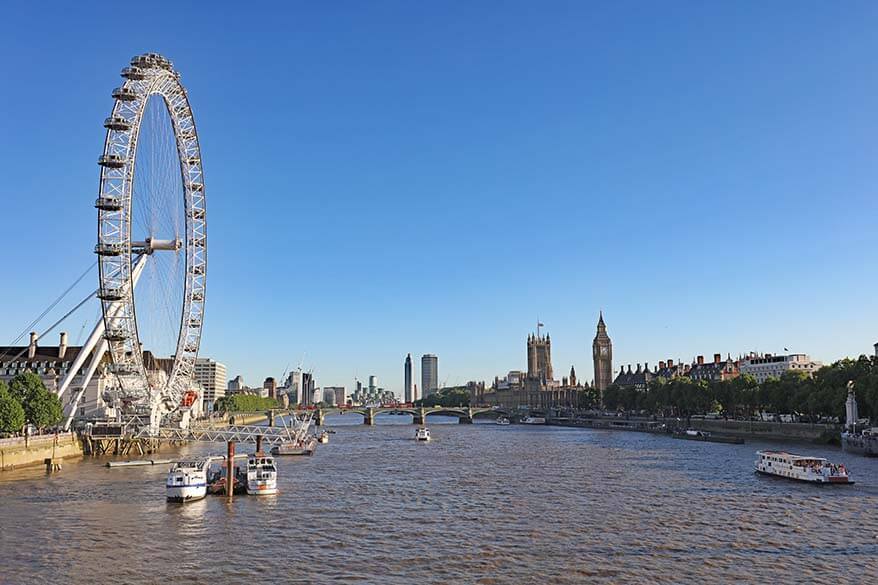 Spring weather: The weather in London in spring is hard to predict. Average daytime temperatures in March-April are 12-15°C (53-60°F), but you never know what you get. It can be rainy and cold or you can have the most beautiful sunny weather with temperatures of 18-20°C (65-69°F). So check the weather forecast before your trip and always pack a sweater and a rain jacket. The good thing is that there are plenty of things to do in London in any weather.
What makes it great for spring break: London is a wonderful destination at any time of the year, but visiting in spring means that there will be fewer people at the main attractions. Also, London has many parks where you can enjoy beautiful flowers and spring blossoms. If you avoid the busiest time around Easter and UK school holidays, you should also be able to find good deals for flights and accommodations.
How to plan your trip: First, decide how much time you want to spend in London and what you want to see. It's a big city and in 2 days you can see some of the main landmarks of London. 3-4 days are just enough to cover some of the most important sights and actually visit some of them. If you also want to take a few day trips near London, you can easily spend 7-10 days here and never get bored.
The best way to get around London is by metro, walking, hop-on-hop-off buses, and also by boat. For day trips outside the city (and depending on your destination), you can either take a train or join tours.
READ ALSO: London travel tips & Where to Stay in London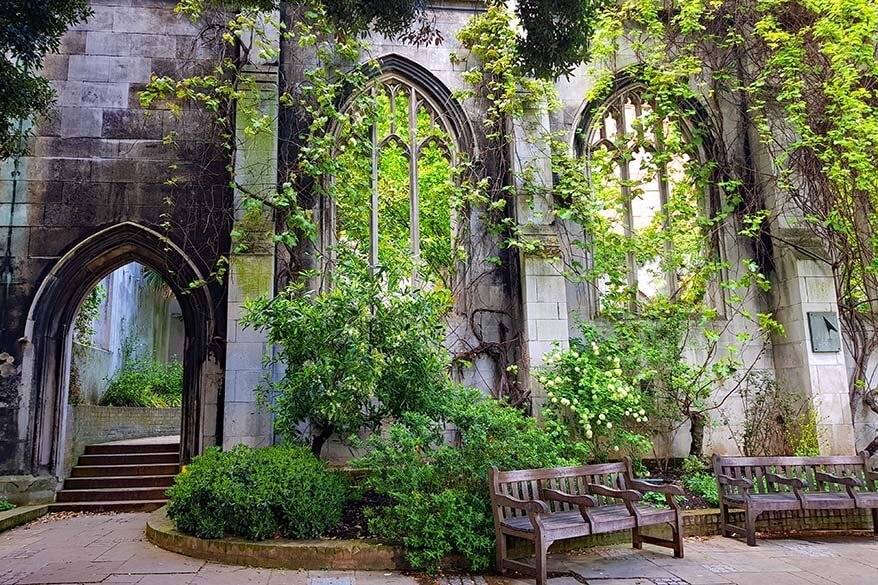 10. Valais Region in Switzerland
Recommended by Corina, Packed Again – Family Travel & Adventure Blog – Switzerland and beyond
If you like active holidays, then the Valais region in Switzerland is the perfect spring break destination in Europe! We specifically recommend the 4 Vallées Ski Domain. It's best known for the world-famous Verbier ski resort where you can go skiing among the rich and the famous. But this area offers plenty of other great things to do for everyone!
You can head up into the mountains, click on your skis, and enjoy the picturesque views whilst gliding over the spring snow. March – the beginning of April usually offers good snow conditions and beautiful sunny weather (Valais is the sunniest canton in Switzerland!).
But while there is still plenty of snow in the mountains, spring has already arrived in the valleys. So you can also go biking along the Rhone-River on the Valley floor. There are plenty of areas to access the bike path along the Rhone River that goes all the way to Geneva. One of the easiest places is "Le Domaine des Iles" in Sion. You can ride as far as you want and turn back, or you can hop on the train back to Sion.
In the Nendaz area, you can take the family on a spring hike amongst the apricot blossom. The snowcapped mountains and the spring flowers make it picture perfect!
Valais region is also well known for its thermal baths. Some of them have amazing adventure slides for the older kids and great paddling areas for the youngest members of the family. You can find the whole selection here.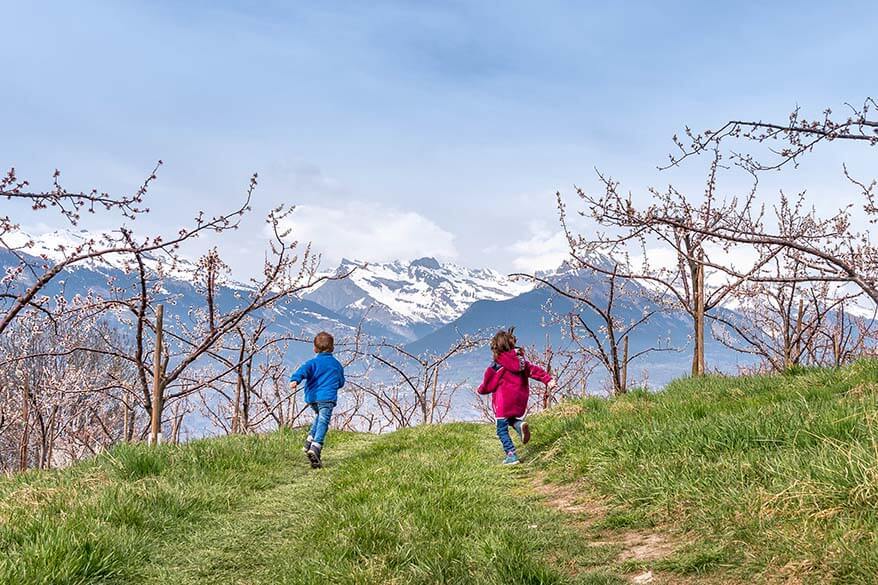 Spring weather: Central Valais has a rather tropical climate. So despite having snow during the winter, the weather is normally mild and gorgeous during spring break. Perfect for all kinds of outdoor activities!
What makes it great for spring break: With so many different family-friendly activities on offer, the Canton Valais in Switzerland is an amazing spring break destination! You can easily combine winter sports, spring activities, and relaxing time. Furthermore, if you feel like sightseeing, there are lots of charming villages and small towns in the area. The world-famous mountain resort Zermatt is also in this region, so don't miss it! Bigger cities like Lausanne, Bern, or Geneva are within easy reach as well.
How to plan your trip: If you are interested in more activities than just skiing, we recommend staying in the valley close to the canton's capital city Sion. Whereas if you want to easily access all ski areas, then Nendaz, in the heart of the 4 Vallées Ski Domain, is a perfect base for your holidays.
For Zermatt, it's best to stay there for at least 2-3 nights, since it's a car-free village and there's plenty to see and do in Zermatt without having to take a car. It's also great for skiing!
TIP: If you are planning to visit Switzerland, make sure to also check out the beautiful Jungfrau Region, home to Jungfraujoch, Top of Europe. There is still plenty of snow in the Swiss Alps in March – beginning of April and so it's a perfect destination if you are looking for winter activities in Europe in spring!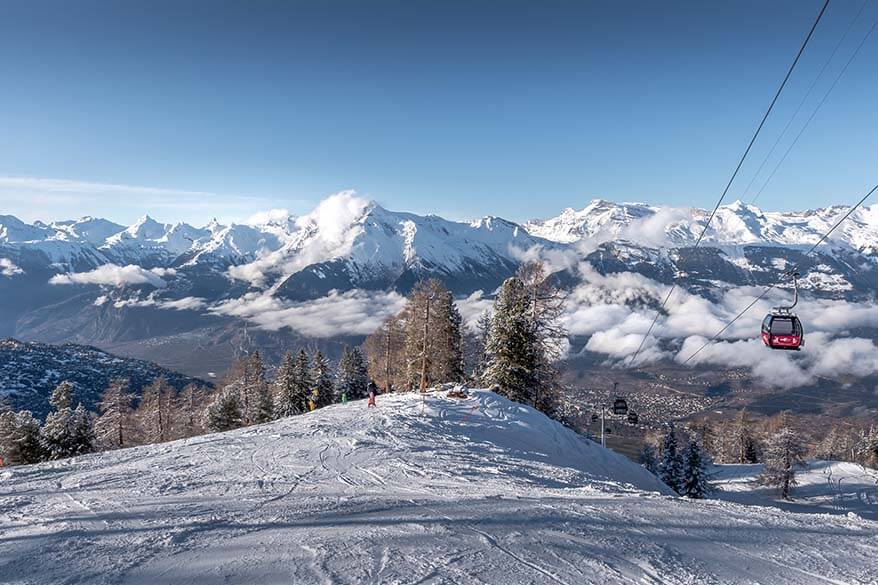 11. Andalusia, Spain
Recommended by Priya Vin, Outside Suburbia
Southern Spain, and the Andalusia region, in particular, is a great spring break destination in Europe! The temperatures are mild compared to the hot summer months and if you time your trip right, you can even catch some famous Semana Santa festivities.
Seville is a must in Andalusia, but make sure to explore the nearby cities of Cordoba and Granada as well. Also, drive to a few of the famous white-washed hilltop villages, aka the White Towns of Andalusia. Also Ronda town is well worth a visit.
Seville is relatively compact and can be easily seen in 2 to 3 days. Visit Seville's Cathedral, where the great navigator Columbus's tomb is located. Make sure to climb the Giralda or bell tower. The view of the city from the top is not to be missed!
Visit the Real Alcazar de Seville, the Mudejar palace was built by Pedro I on the site of Seville's former Moorish Alcazar, and the architecture and the gardens are grand. Take a tram or a horse-drawn carriage over to Plaza España around the golden hour for some photos. Make sure to try a few plates of tapas, enjoy some paella, and drink some local sherry.
During Feria de Abril, which is held two weeks after Easter, people dressed in colorful traditional outfits go on horses on a midday procession called the 'Paseo de Caballos' to the bullring. You can experience the lively atmosphere of many fiestas, see Flamenco dances, and partake in local festivities.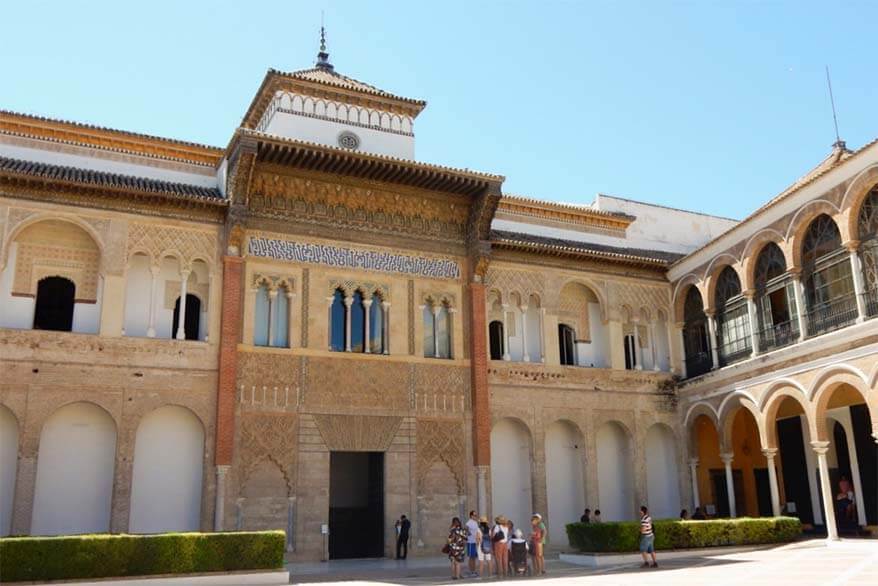 Spring weather: Spring weather is really pleasant in southern Spain. You can expect average daytime temperatures of 20-22°C (low 70s F) and just a small chance of rain.
What makes it great for spring break: Spring is a great time to visit southern Spain. The weather is great for sightseeing and there are lots of festivals in March and April. Just prepare for the crowds, especially if traveling a few weeks before Easter, as this is the busiest time in the region.
How to plan your trip: There are many ways to plan your Southern Spain itinerary. You can make a road trip, base yourself in Sevilla and take day trips, or a combination of the two. Count at least a week in Andalusia and make sure to book everything in advance! Spring is extremely popular and hotels and entrance tickets to the most popular attractions sell out fast.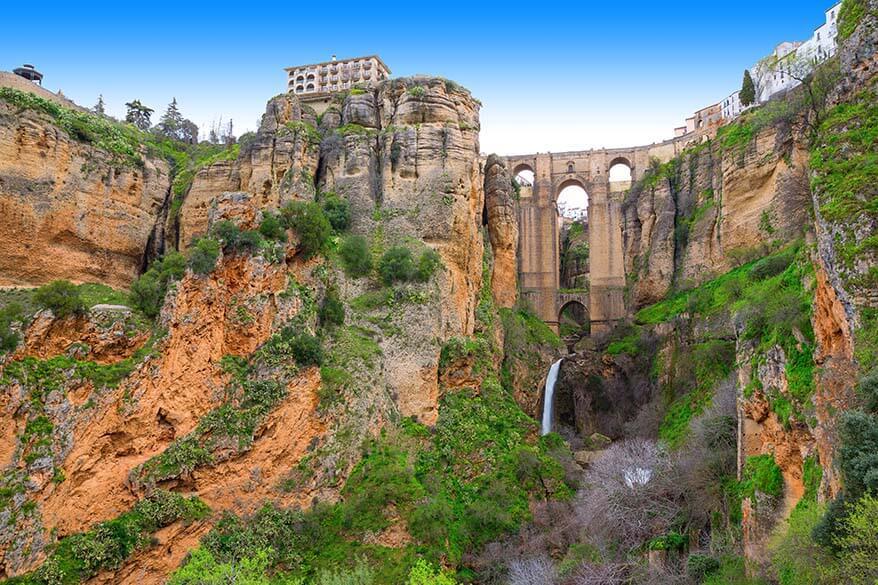 12. Crete Island, Greece
Recommended by Nichola West, Family Hotel Expert
Crete Island in Greece is a fantastic destination for a spring break in southern Europe! It's full of things to see and do, and there's plenty of choice for every weather. With so many fantastic historical sites dotted through the island, spring is the ideal time to be able to enjoy them without the tourists the summer months attract.
While on most Greek Islands some of the more tourist-oriented activities close up with the fading of the summer sun in October and don't reopen until May, in Crete, there are many places that remain open year-round. Also, a number of the best resorts in Crete for families are open this time of the year.
Historical sites like Knossos, a Bronze Age archaeological site and one of the oldest cities in Europe, are perfect to visit in spring. You can wander through former Minoan Palaces which will feel even more atmospheric with the lack of crowds from the summer months.
Take a tour or hire a fishing boat from Elounda to take you over to Spinalonga, Greece's former leper colony, which is a perfect place to wander around for an hour or two. Here, you can visit former houses and abandoned hospitals – interesting for young and old.
Crete also has many nice beaches, charming towns, and lots of outdoor activities on offer, such as mountain biking or hiking. Don't miss a trek inside Samaria Gorge, one of Europe's longest gorges, that leads you to a thousand-year-old forest.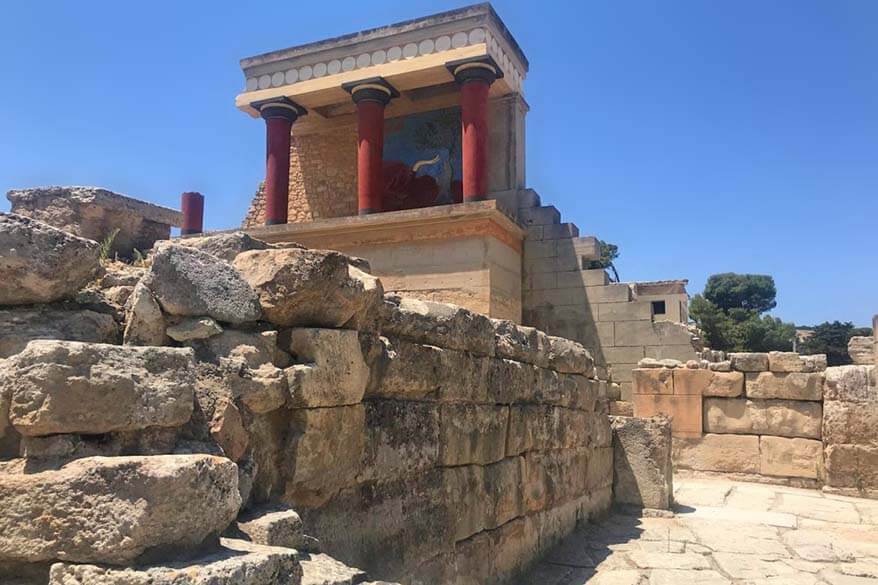 Spring weather: The weather is usually warm and sunny in Crete in March and April. Daytime temperatures are 18-20°C (65-70°F), but the evenings can be chillier. Rain is unusual but it's good to plan for all weather as it can be changeable, especially if you are visiting in March.
What makes it great for spring break: Spring is the perfect time to be in Crete because the crowds are low and the temperatures are perfect for sightseeing and outdoor activities.
How to plan your trip: I recommend staying at least a week in Crete, any less and you will barely scratch the surface. It's almost impossible to get around and properly explore the island without a car so I would suggest hiring one, even if just for a few days. That way you can also get up to areas like the Lasithi Plateau which would otherwise be very hard to reach. Alternatively, tours to some of the main sites are possible, but you'll miss the little gems it's possible to stop off at (impromptu visits to olive mills or villages that are dedicated to craft making) along the way.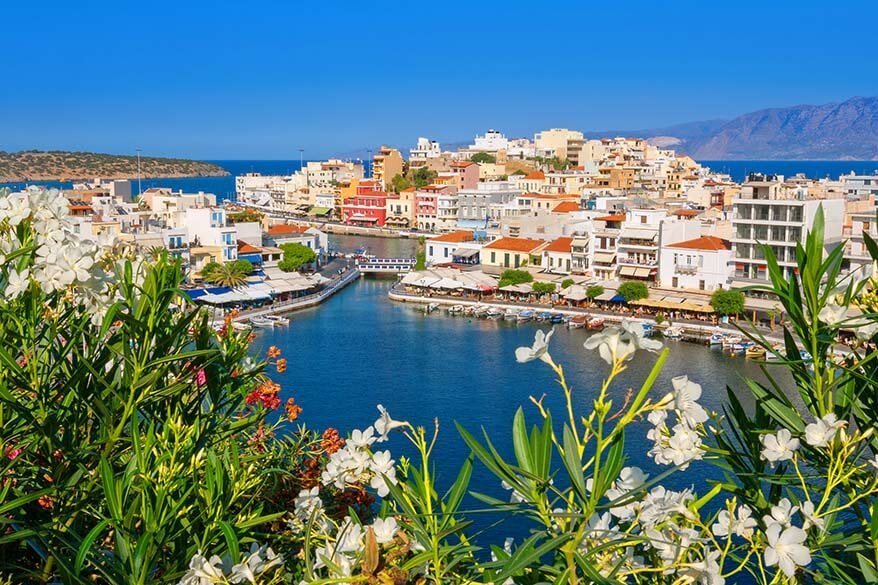 13. Northern Norway
While not an obvious choice and a destination that most travelers don't even consider for spring break, Northern Norway is one of the most magical places to visit in early spring! Just as in Iceland, it's still very cold here, so you can enjoy the most wonderful winter activities that deserve a place on any bucket list. The difference is that here you don't have to drive far, which is perfect for families looking to stay in one place for a few days.
The two best places that I recommend visiting are Tromsø city in Northern Norway and/or Svalbard island archipelago high above the Arctic Circle. If you come in March, you'll find beautiful winter landscapes and activities like dog sledding, snowmobiling, Northern Lights, and many more. The beginning of April is already more of a gamble, both for the snow certainty in Tromso and for the Northern Lights in both destinations. So if you decide to visit, better do it in March.
Tromso is probably a better choice if you are with a family as it's not as cold, more affordable, and easier to get to. Furthermore, Tromso is one of the best places to see auroras in the world! Whereas Svalbard is more unique and is perfect for those looking to do something truly extraordinary (see our Svalbard travel guide to get a better idea of what to expect).
There's more to see and do in both destinations than I could ever mention here. So please take a look at our detailed guides for more inspiration: Tromso in winter and Svalbard in winter.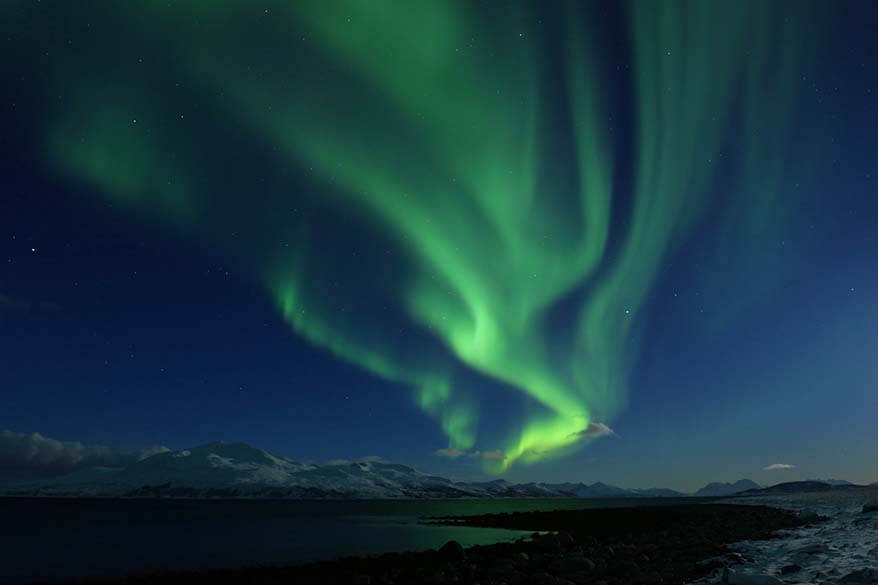 Spring weather: The weather in Tromso in March is cold, with average daytime temperatures just above the freezing point. But you should expect truly wintery weather with snow and freezing temperatures. For more info, see our guide on what to pack for Norway in winter. It's much colder in Svalbard, where you can expect 'high' temperatures to be around -8°C (17°F), but it can get much colder as well. It's close to the North Pole, so keep this in mind (read also what to wear in Svalbard in winter).
What makes it great for spring break: If you ever dreamt of visiting a real winter wonderland, Northern Norway in late February – March is as good as it gets! The sceneries are incredible and you can tick off so many bucket-list activities here: Northern Lights, husky sledding, ice caves, ice hotels, polar cruises, reindeer, snowmobile excursions, etc. etc. It's a magical place at the most magical time!
How to plan your trip: You can easily fly to Tromso or to Longyearbyen in Svalbard from Oslo. There are also direct connections between the two places, so it's even possible to combine two in one trip.
For Tromso, count at least 3 -4 days. Stay in Tromso hotels and take tours to explore everything that the area has to offer. You could also rent a car, but it's not really necessary and most activities will require a tour anyway. See our Tromso winter itinerary for more info.
For Svalbard, count at least 3 full days as well. It's a far and expensive trip, so if you can, stay longer and experience everything you can. Stay in Longyearbyen hotels and take tours from there. In Svalbard, you HAVE to take a tour with a local guide for everything you do because of the polar bears.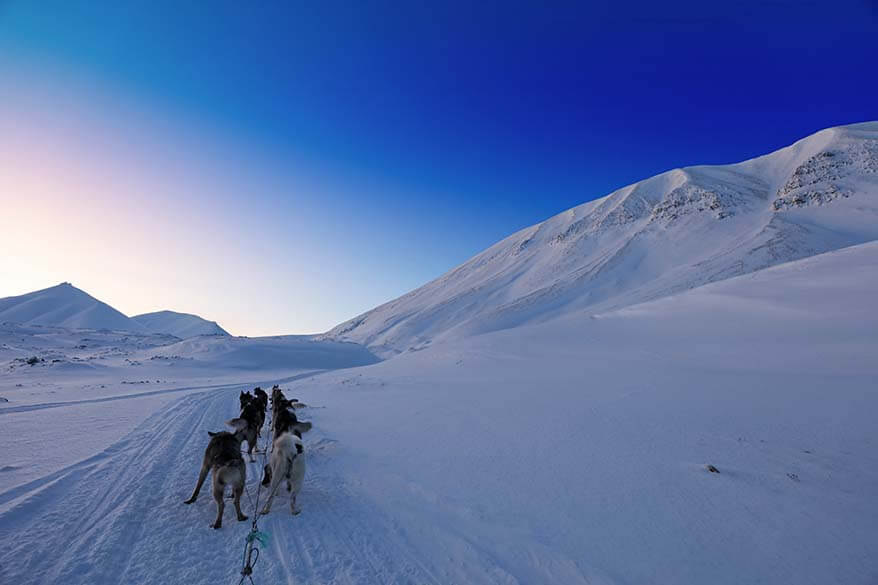 14. Gran Canaria Island, Spain
Recommended by: Anuradha, Country Hopping Couple
Gran Canaria is a pocket-sized island located on the Atlantic Ocean, close to Africa. It belongs to Spain and is one of the most popular winter sun destinations in Europe. Due to its geographic advantage, the island receives 320 days of sunshine making it a great choice any time of the year.
Must-visit attractions include Maspalomas sand dunes, a 1000-acre protected nature reserve. The sand dunes here give you a feel of being in a desert! Maspalomas is one of the popular parts of Gran Canaria and it's dotted with many resorts. Maspalomas beach and the iconic lighthouse are not to be missed as well.
When it comes to outdoor activities and hiking, Gran Canaria is a treasure trove, and spring is one of the best times to do hiking. The most popular hike is to Roque Nublo, which is an iconic landscape of Gran Canaria.
Explore the seaside town of Puerto de Mogan, known for whitewashed narrow streets adorning bougainvillea and a stunning beach. Alternatively, visit the mountain village of Fataga that is surrounded by stunning ravines.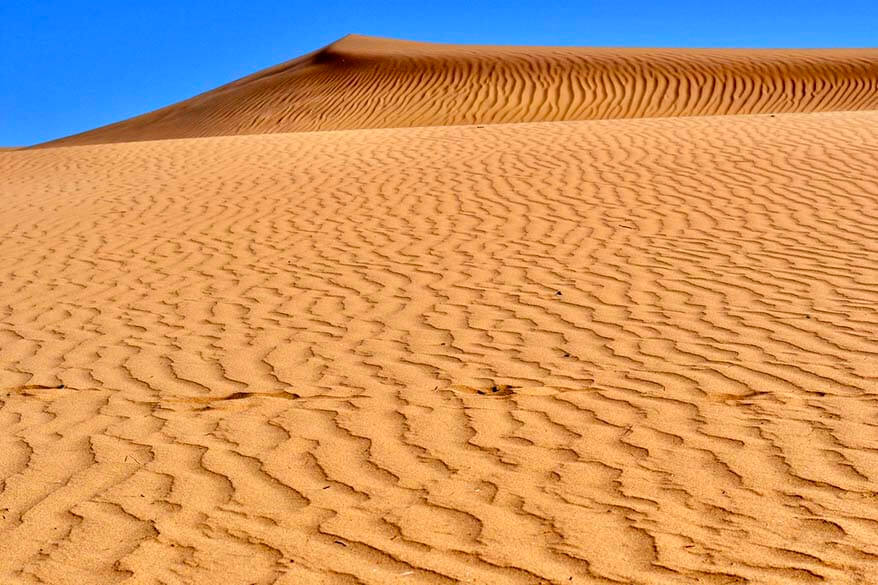 Spring weather: Weather is one of the prime reasons to visit Gran Canaria in spring! It's warm and not too hot, with temperatures varying between 18 – 22°C (65-72°F). But it can get as warm as 25°C (77°F).
What makes it great for spring break: Mild spring temperatures make this a perfect time of the year to explore an island like Gran Canaria. Although it is not perfect for swimming (since the water temperature will be cold after the winter), you can certainly enjoy walks, hikes, and other outdoor pursuits while getting the much-needed sun.
How to plan your trip: While you easily spend 2 weeks here and still have plenty of things to do, we recommend a minimum of 6 days in Gran Canaria. This will allow you to see some of the top places, indulge in outdoor activities, and some beach time. Personally, we recommend hiring a car, since road tripping in Gran Canaria in itself is very adventurous. The random sights of cave houses, mountain villages, and twisty roads make the trip more memorable. Recommended stay – Hotel Cordial Mogan Playa in Puerto de Mogan.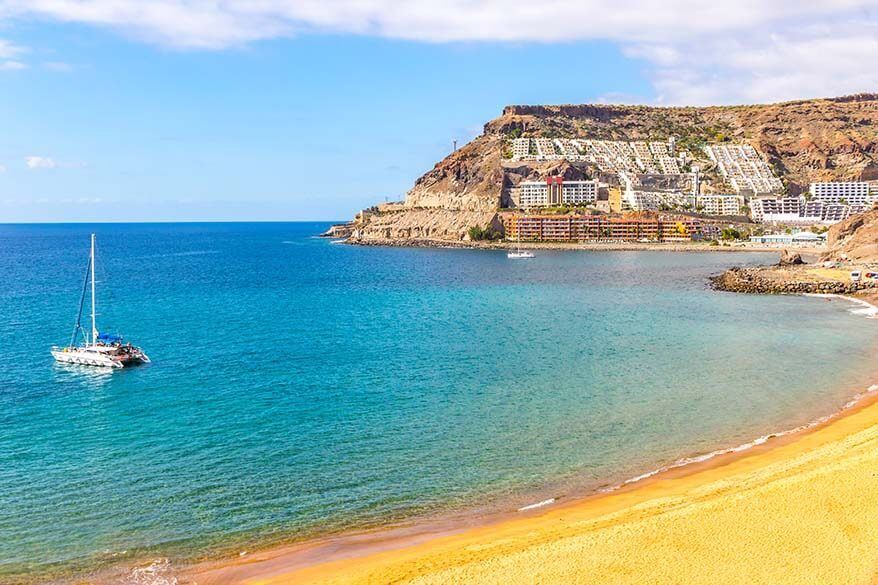 15. Croatia & the Balkan Cities
Croatia is another beautiful country to visit on a spring break in Europe. However, depending on when exactly you travel in spring, it might still be too early for most nature destinations. It's definitely too early for the beach in March or in April. That being said, spring is a wonderful time to visit the most popular cities in Croatia and the neighboring countries.
If you have ever dreamt of exploring Dubrovnik or Split without the crowds, then visiting in early spring will give you this unique opportunity. Also Kotor (just over the border in Montenegro) and Mostar (in Bosnia and Herzegovina) that are overrun by tourists between May and October, are just pleasantly lively in the early spring.
In addition to the cities, you can also visit some Croatian islands and nature destinations that are located at lower elevations and where spring arrives first. For example, Krka National Park is beautiful and green in April, whereas Plitvice Lakes National Park is still just waking up after the winter.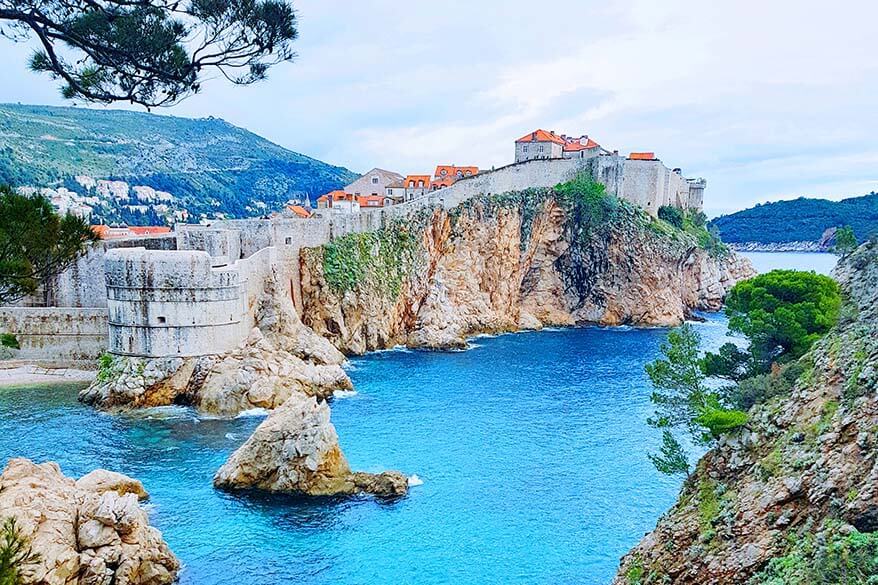 Spring weather: The weather depends highly on when and where exactly you go. Just as pretty much everywhere in Europe in the spring, it is also quite hard to predict. In general, in southern Croatia, you can expect temperatures of 14-18°C (58-64°F) and some days of rain. If you are lucky, you can get nice sunny weather and higher temperatures, definitely if you are visiting in the second half of April. May is already the start of the high season, with warmer temperatures and more sunshine, but also more crowds. Read also: Croatia in April.
What makes it great for spring break: The cities like Dubrovnik, Split, Mostar, and Kotor have become extremely popular in recent years. In high season, when there are more cruise ships in the region, they get overrun by day tourists to such an extent that you are literally brushing elbows with strangers the whole day. Visiting in early spring is the best time to enjoy these places without too many tourists.
How to plan your trip: There are many ways to plan your trip to the region. You can base yourself in Dubrovnik and make day trips to all the other cities mentioned above. Alternatively, you can stay in Dubrovnik for 3-4 days and in Split for 3-4 days and take day tours from there. Or you can also rent a car and make a road trip as we did. For more information, please check our Croatia itinerary.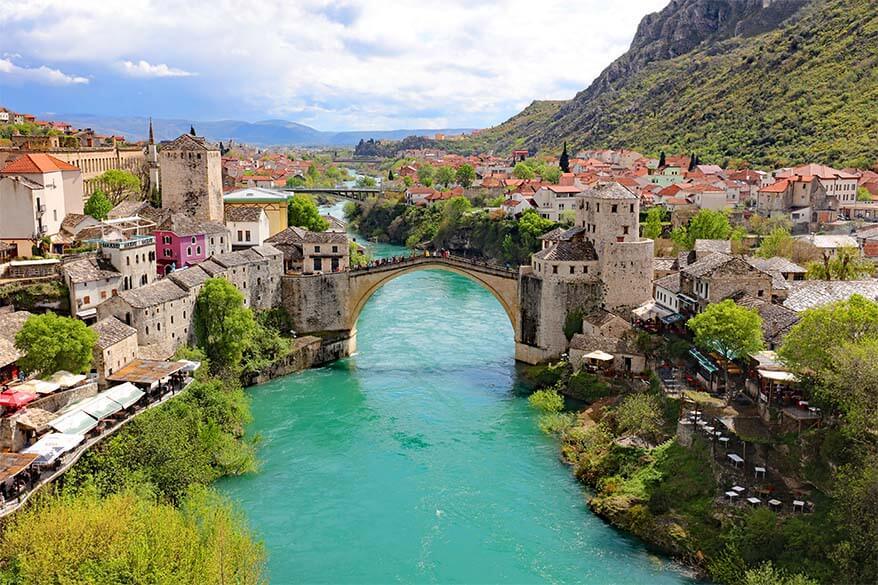 16. Barcelona, Spain
Barcelona in northern Spain probably needs no introduction. One of the most-visited cities in Europe, Barcelona best known for its famous Gaudi buildings. Don't miss La Sagrada Familia, Casa Batlló, Casa Milà, and Park Güell.
In addition, don't miss the Old Town of Barcelona and the Gothic Quarter. It's a wonderful place to just wander around and get lost in the maze of narrow streets with hidden gems around every corner. Barcelona is also famous for its stunning architecture, a big variety of museums, many indoor markets, but also great beaches.
In addition to the landmarks in the city, there are also some really nice day trips in the area. The most popular is a visit to Montserrat Monastery, but also the city of Girona, and many coastal towns nearby are great choices.
TIP: If you are visiting Barcelona with kids, you may want to check out PortAventura World and the nearby Ferrari Land. These two theme parks are located near Salou, about 1,5 hrs drive from Barcelona. PortAventura is so big that you could easily spend a couple of days here alone, but there are also day tours from the city. Just keep an eye on the opening dates as the parks are closed for the winter and only start to reopen around Easter.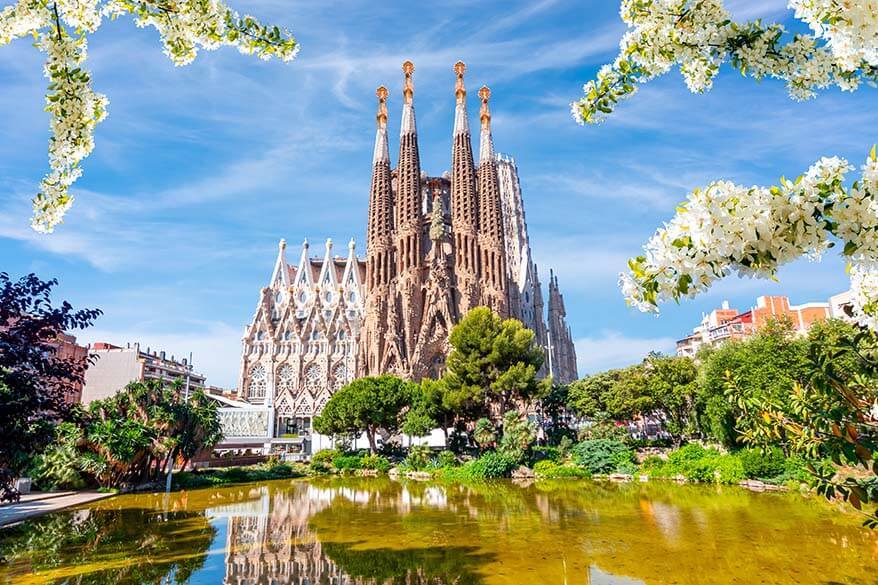 Spring weather: Average daytime temperatures in Barcelona in March – April are 17-20°C (63-68°F), and you can expect quite some sunshine. In general, spring is a wonderful time to visit anywhere in Spain and Barcelona is no exception. Madrid is another great choice for a spring trip in Europe!
What makes it great for spring break: Shoulder season (March-April and late October – the beginning of November) is one of the best times to visit Barcelona. The weather is generally pleasant and you can explore the city without the crowds. The earlier in the spring you come, the less crowded it will be. The moment cruise ships start to tour the region, Barcelona gets crowded. But if you are visiting in the lower season, you'll find a very pleasant city.
How to plan your trip: Barcelona is quite a walkable city, plus you can cover the bigger distances by metro. For day trips outside the city, there are good train connections and also lots of organized tours available. We suggest 3-4 days for the city itself, plus a few days to explore the region. As an absolute minimum, plan 2 days in Barcelona, plus a day for a tour to Montserrat. Here you can find more practical tips for visiting Barcelona.
READ ALSO: Best Things to Do in Barcelona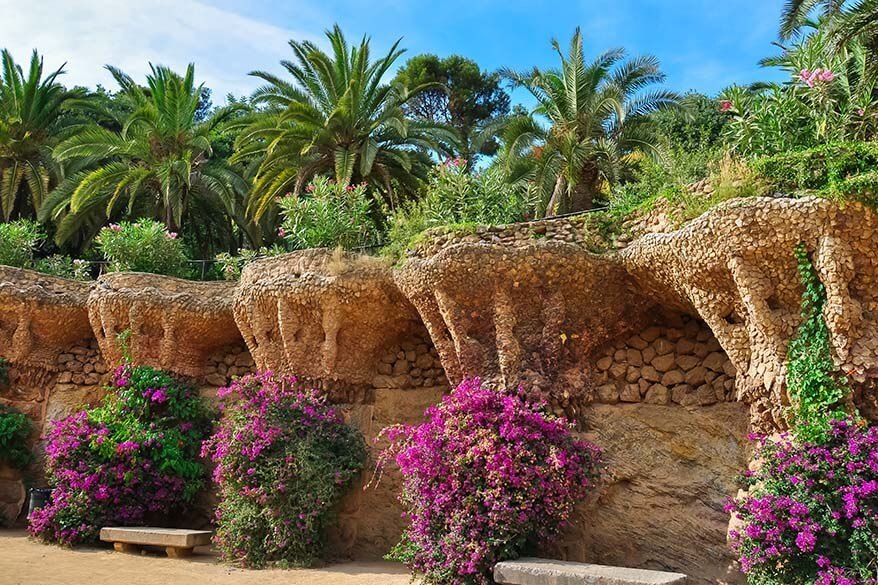 17. Madeira Island, Portugal
In addition to mainland Portugal mentioned above, the Portuguese island of Madeira is a wonderful spring destination in itself. The island is small enough so that you can see everything from one central location. At the same time, it's also varied enough to give you plenty to do for a week or even two.
Also known as Flower Island, Madeira is volcanic in origin. There are just a few pebble beaches around the island, with one or two tiny sand beaches. So if you are looking for a tropical island paradise, it's not for you. However, if you love jaw-dropping mountain sceneries, rugged coastlines, and unexplored hidden gems, then you will absolutely love Madeira.
Some of the best places to see in Madeira are the capital city Funchal, with its stunning botanical gardens. Also Cabo Girao sea cliff, Porto Moniz natural lava pools, and the triangular-shaped houses of Santana are not to be missed. But the real beauty of Madeira lies in its mountains and coastlines and is best explored on foot. Here you can find more information on the best hikes of Madeira.
TIP: Madeira is also a wonderful place to see whales and dolphins. Here you can find more information about dolphin and whale watching in Madeira.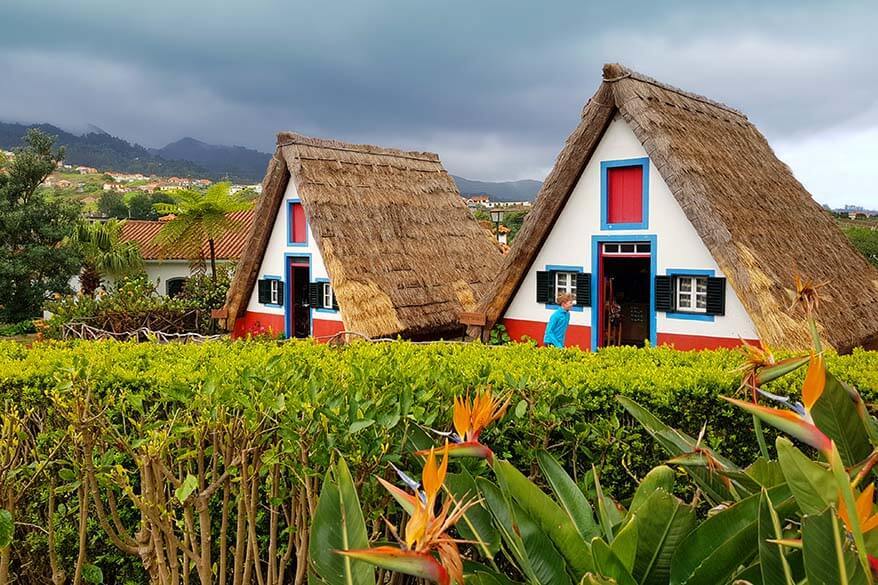 Spring weather: Madeira is a year-round destination with mild weather. That being said, it's still an island and so you never really know what you get, especially in the shoulder season like spring. In general, you can expect temperatures of 18-20°C (65-68°F) in spring, lots of sunshine, and some rain. The good thing is that the weather can be very different on different parts of the island and so it's usually not a problem to find sunshine every day.
What makes it great for spring break: While most European nature destinations are best visited in the summer months, Madeira is a perfect spring getaway for those who like mountains and hiking. Spring is also a great time to see many flowers that Madeira is famous for. Also the famous Madeira Flower Festival takes place at the end of April – beginning of May.
How to plan your trip: As already mentioned, Madeira can be explored from one central location. So you can just book a well-located hotel (Funchal area or anywhere in the central-southern part of the island is best), rent a car, and make day trips to different parts of the island every day. Alternatively, if you don't want to drive the narrow mountain roads yourself, you can also opt to stay in Funchal. From there, you can take day tours to all the popular places. We recommend at least a week for Madeira.
READ ALSO: Best Things to Do in Madeira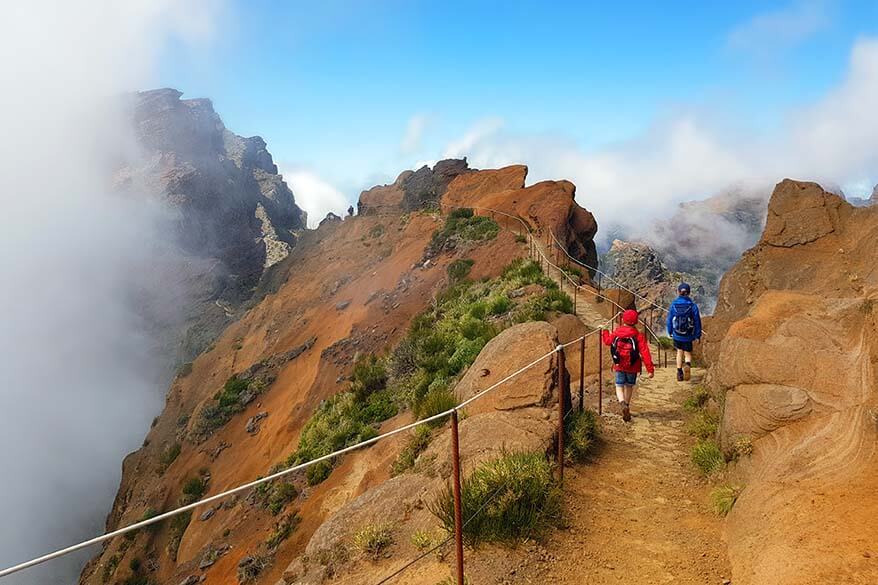 So, this is our guide to some of the best places to visit for a spring break in Europe. It turned out quite a bit longer than expected and I could have added so many other places that are great in spring…
But I hope that this list will not only inspire you to visit some of these beautiful destinations, but will also be a good starting point to help you plan your trip.
If you have any questions about visiting any of these destinations, don't hesitate to leave a reply and we'll try to help.
READ ALSO: Best Spring Break Destinations in the USA & Best Family Travel Destinations
More tips for family travel:
If you found this post useful, don't forget to bookmark it and share it with your friends. Are you on Pinterest? Pin these images!