Thinking of visiting Tavira in Portugal and wondering what to expect? In this guide, we share some of the very best places to see and things to do in Tavira on your first visit. We also include a few of the nicest places to visit near Tavira that are really worth your time as well. So be sure to read all the way to the end for some of the top sights nearby!
Tavira is a charming town located in the eastern part of the Algarve region, close to the Spanish border. It has a charming authentic atmosphere and is not really comparable to the busy seaside resorts of the western Algarve such as Lagos or Albufeira. A visit to Tavira gives you a glimpse into a more traditional Portuguese lifestyle.
Despite its rather small size, Tavira has a lot to offer, with historic landmarks, several interesting attractions, and a charming old town. Plus, it's located just near the Ria Formosa Nature Reserve, with easy access to some of the most beautiful beaches in the area.
Don't expect huge impressive sites or world-class museums though. Tavira's attractions are rather low-key.
In addition, your experience in the city will also be totally different in the summer vs. if you come here in the low season. But if you are looking to explore a more authentic side of Portugal, you'll definitely enjoy a visit to Tavira, no matter the season.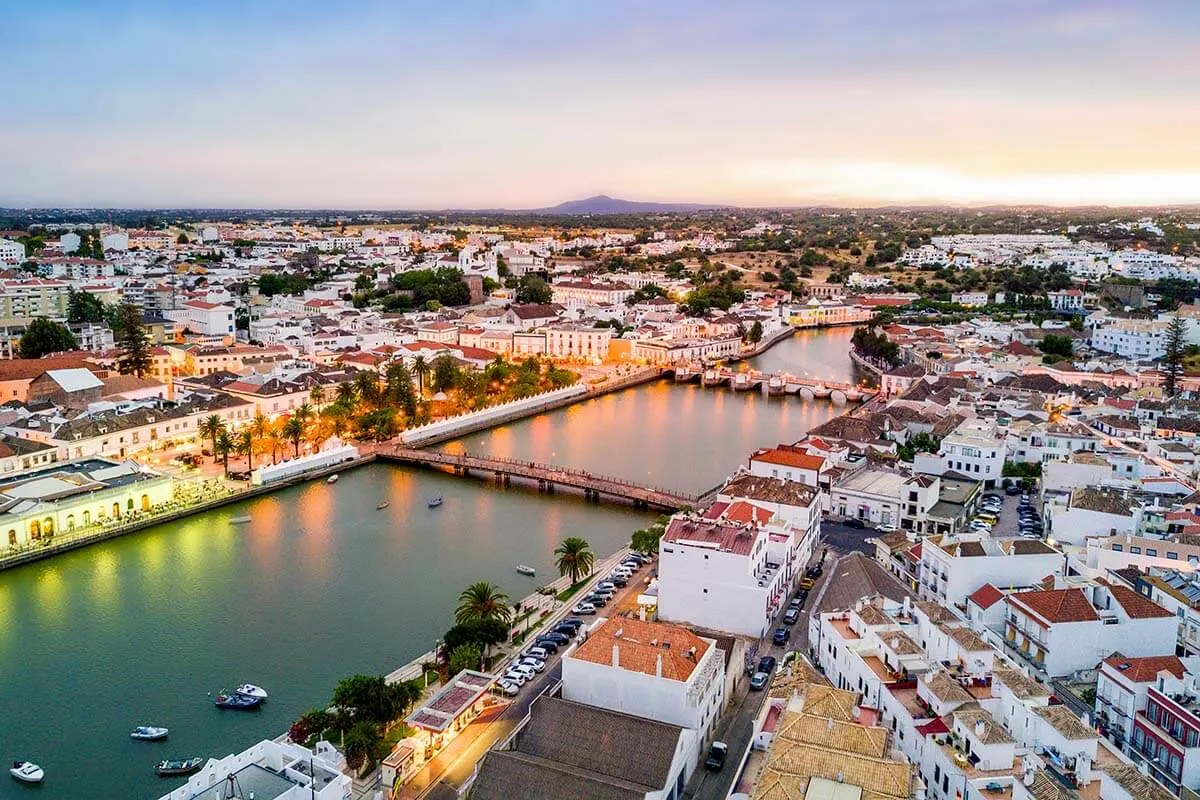 In this article, you can find an overview of the main landmarks and best places to visit in and near Tavira. For each place, we also include some useful information and our experience-based tips.
We also created a map indicating all the top sights in Tavira – you can find it at the bottom of this post. To help you plan your visit to Tavira, we also include some practical tips such as how to get there, how to plan your time, or where to stay. Take a look!
TIP: A popular thing to do in Tavira is to take a tuk-tuk tour of the main highlights. There are several different options, this is the most popular and best-rated sightseeing tour.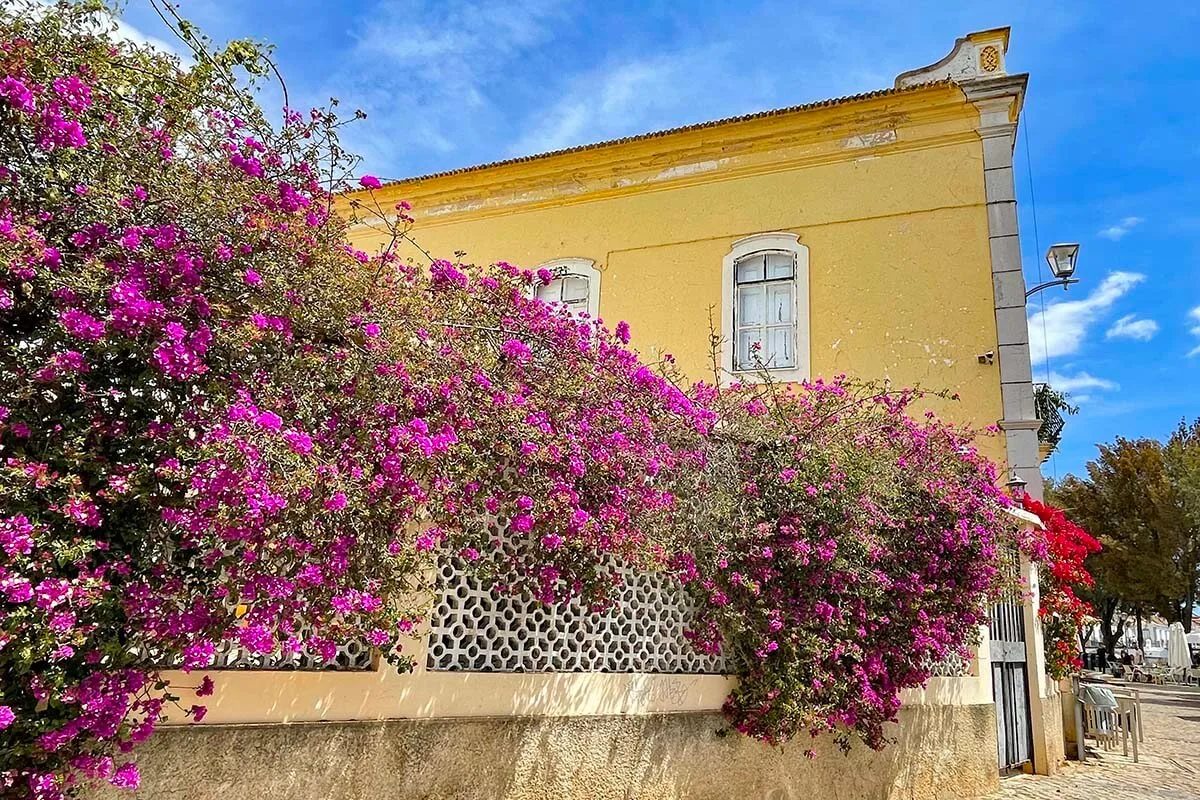 Here are the best places to see and things to do in Tavira:
1. Roman Bridge
Old Bridge over the River Gilao (Ponte Antiga Dobre o Rio Gilão) is a picturesque white bridge that spans the Gilão River and offers a beautiful view of the town. Often referred to as Ponte Romana or the Roman Bridge, this is probably one of the most recognizable landmarks of Tavira, featured in many pictures and travel guides to the city.
The bridge was built around the 13th century and rebuilt 400 years later. So – despite its commonly used name – it's not really something that stands here since Roman times, but rather from the medieval period.
During the Moorish reign, the bridge was part of Tavira's defensive system. It also had two towers to guard the passage of the river. The original bridge collapsed in 1655 and was rebuilt using a new design.
This bridge is pedestrianized which is really nice since you can walk around without having to worry about traffic. There are often street musicians playing music here too.
In addition, be sure to check out the waterfront area on both sides of the bridge – see below.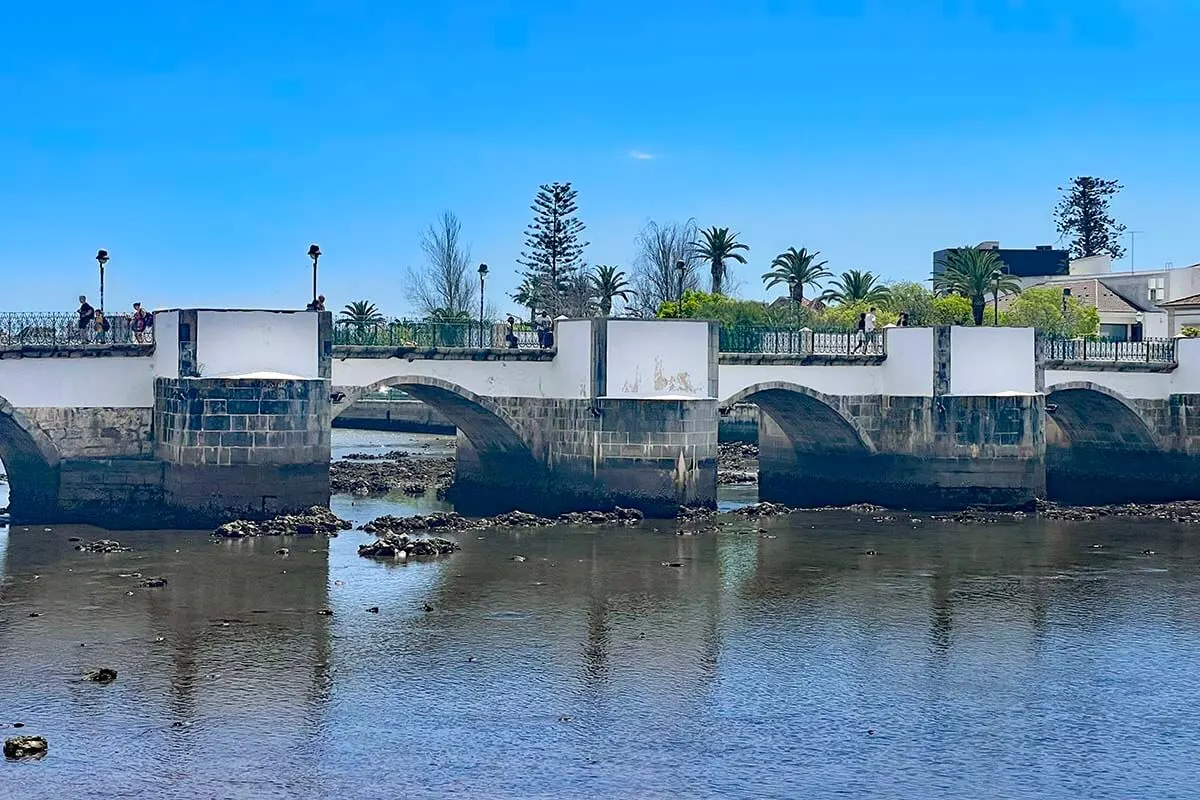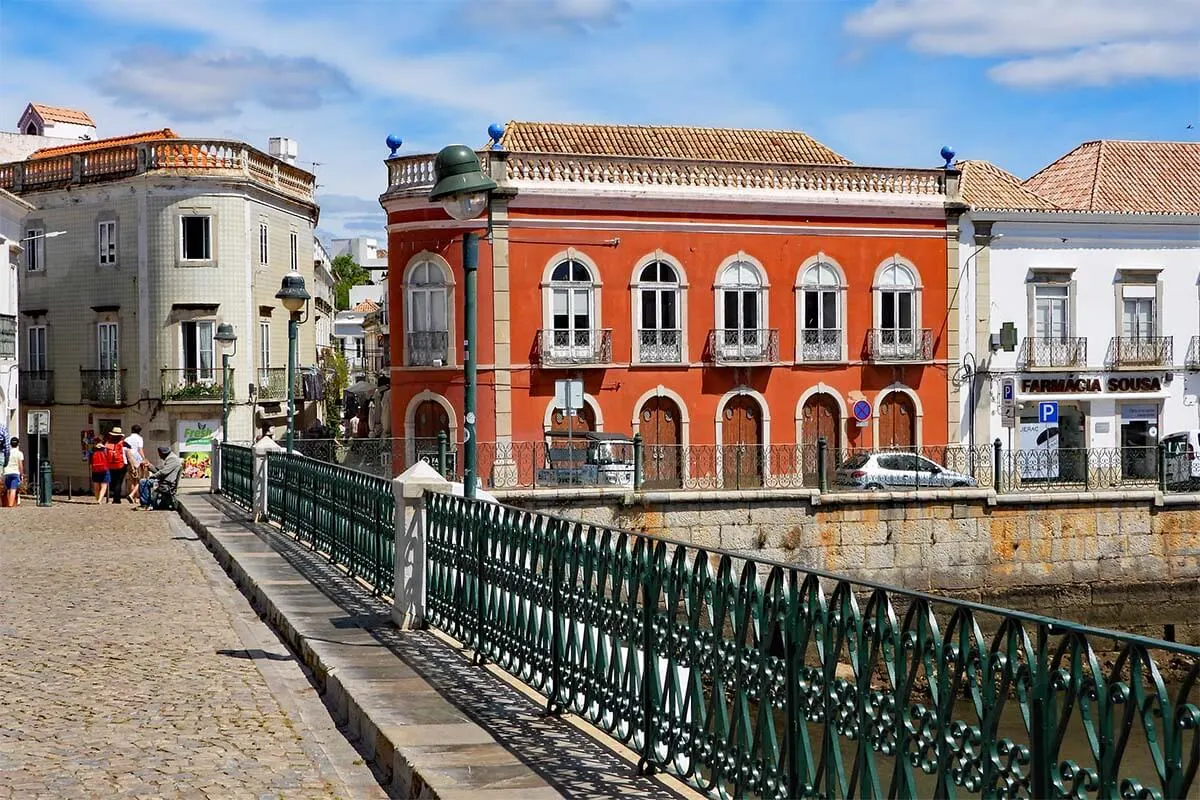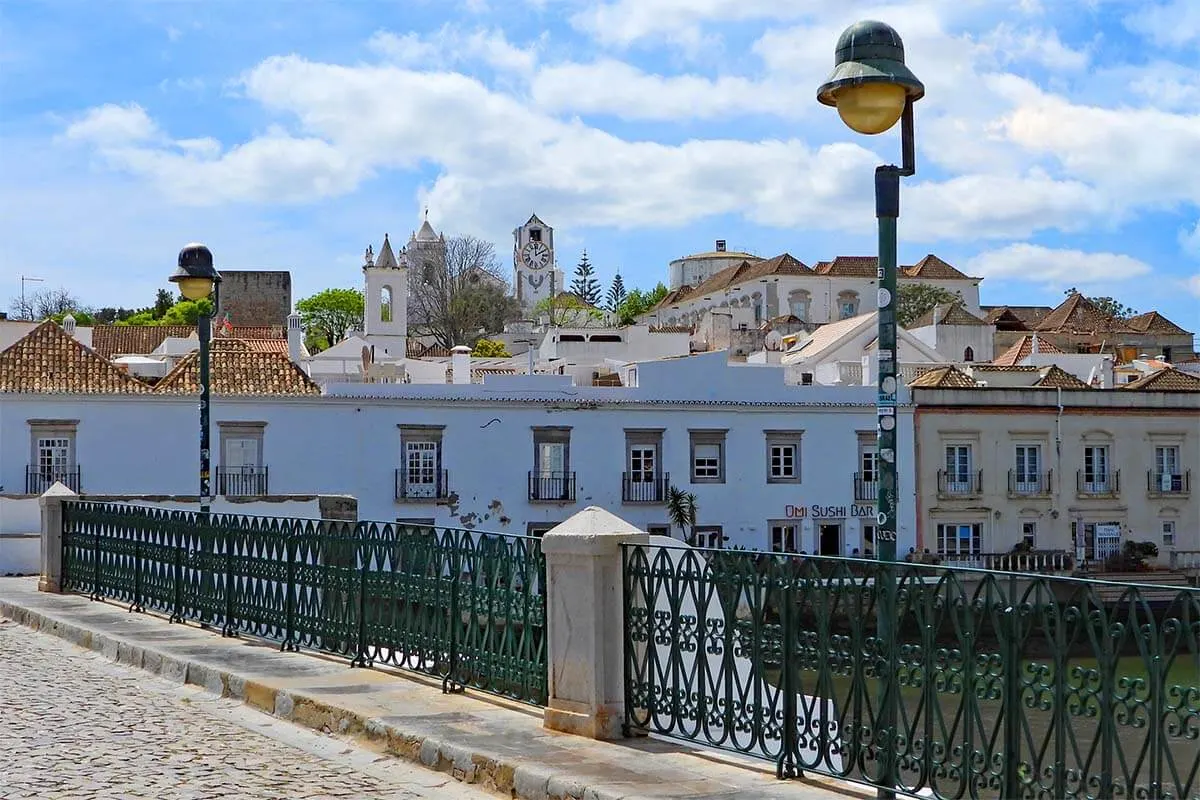 2. Praça da Republica
Praça da Republica, the Republic Square, is the main town square of Tavira, located right next to the Roman Bridge.
It's a nice cozy pedestrianized square with a small fountain and the Monument to the soldiers of the Great War. You will also find a couple of cafes here and more restaurants in the vicinity.
Part of the square is made up of stone benches in a shape of an amphitheater and it's a popular place for locals and tourists alike.
The City Hall of Tavira is located here (be sure to check out its covered arcade), the Tourist Information Center, and also the Islamic Museum.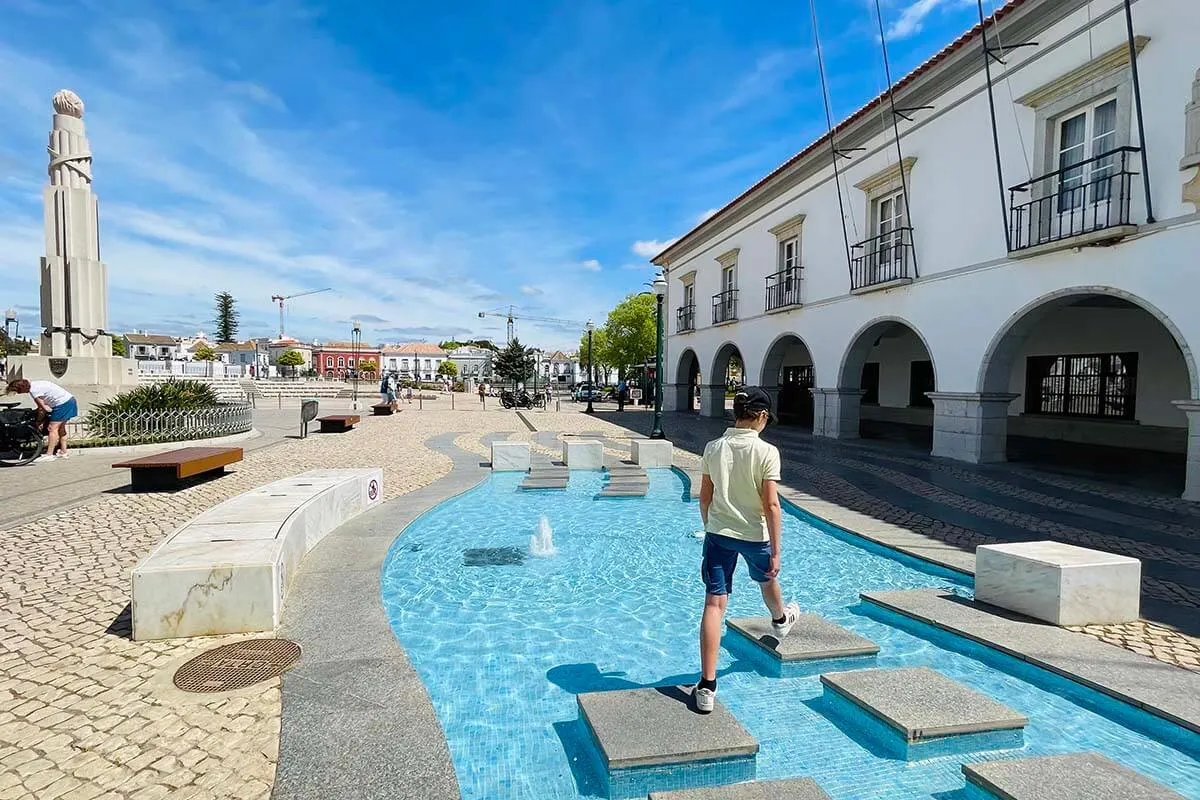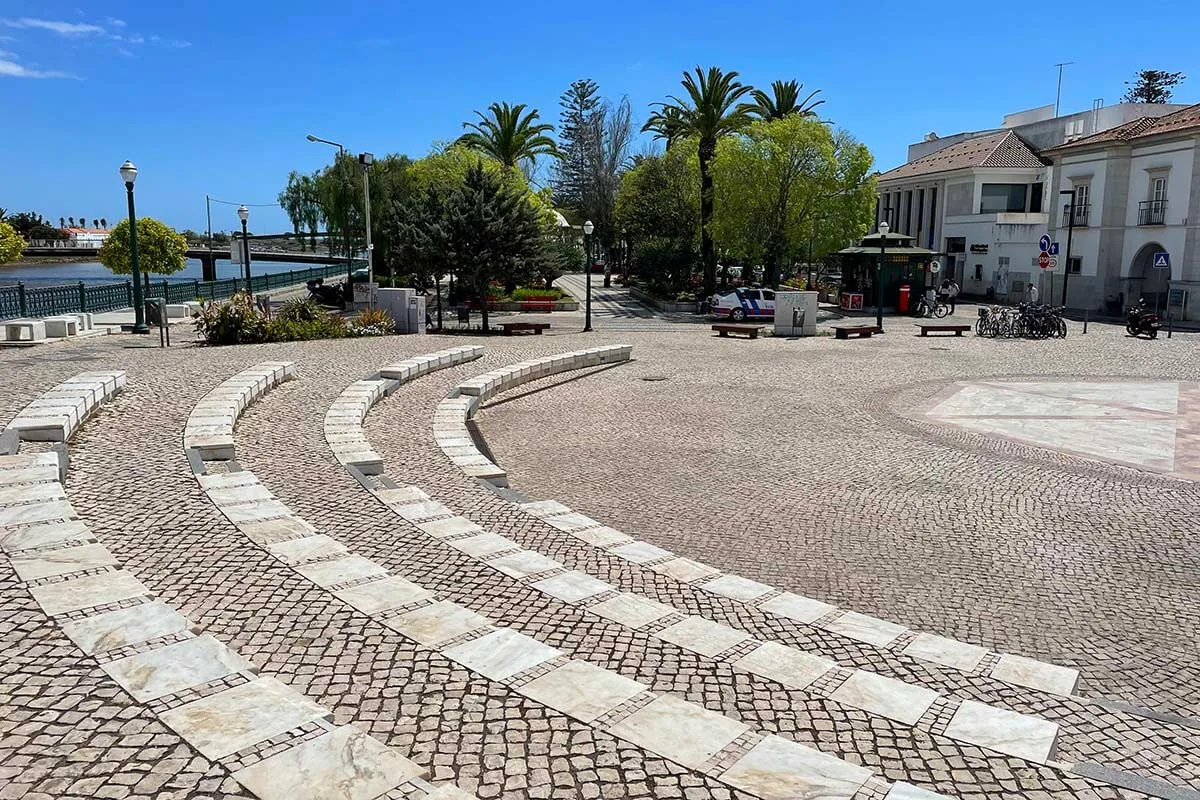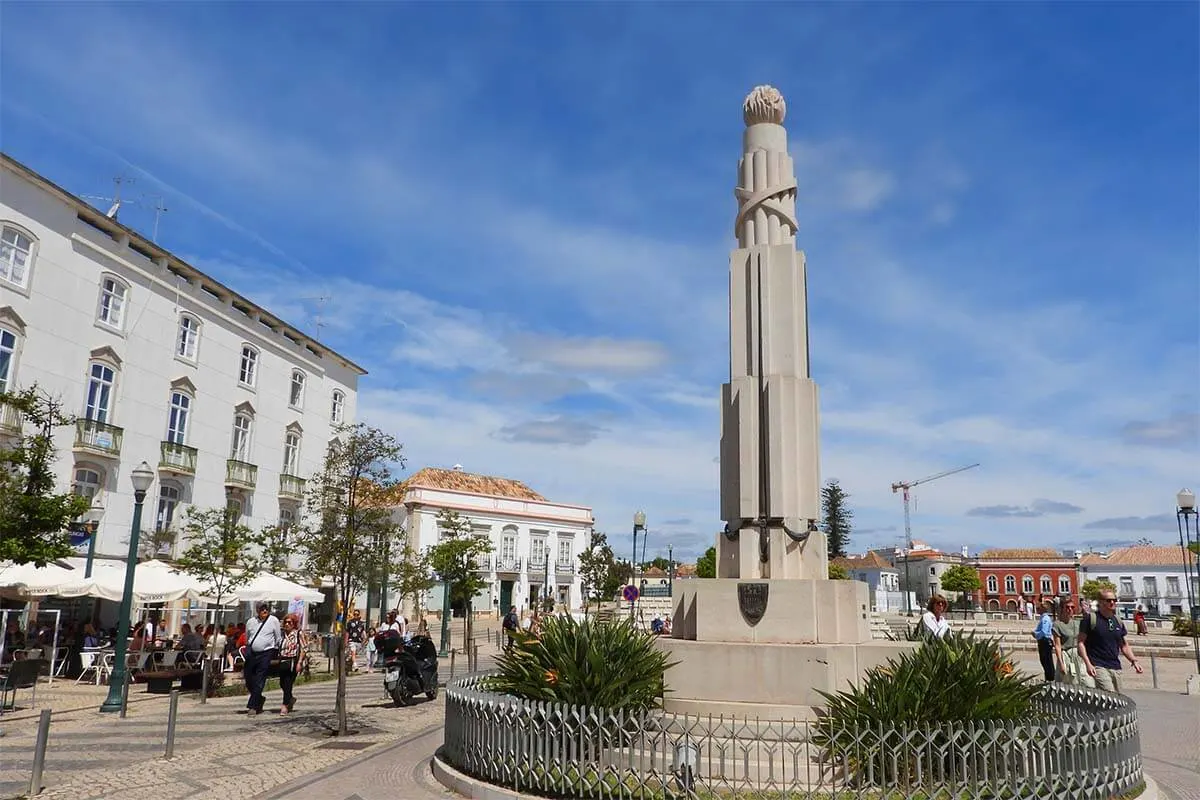 3. Tavira Waterfront
The Gilão River splits the town center of Tavira in two. The main attractions are located on the right bank, south side of the Old Bridge. This is where you'll find the Praça da Republica and pretty much all the main landmarks of Tavira mentioned in this article.
In addition, there is a small public garden, Jardim Público de Tavira. You will find some benches here and a music gazebo, Templete de música. It's a nice place to rest in the shade and enjoy some greenery and flowers that the rest of the city lacks.
If you walk further down past the garden, you'll pass a nice covered market, Mercado da Ribeira. This is the old site of the town market which now moved to a new bigger location (more about it further below).
The space of the old market isn't fully used yet, but let's hope that more businesses will open here because it's really nice and the location is great. At the moment, there are a couple of gift shops here.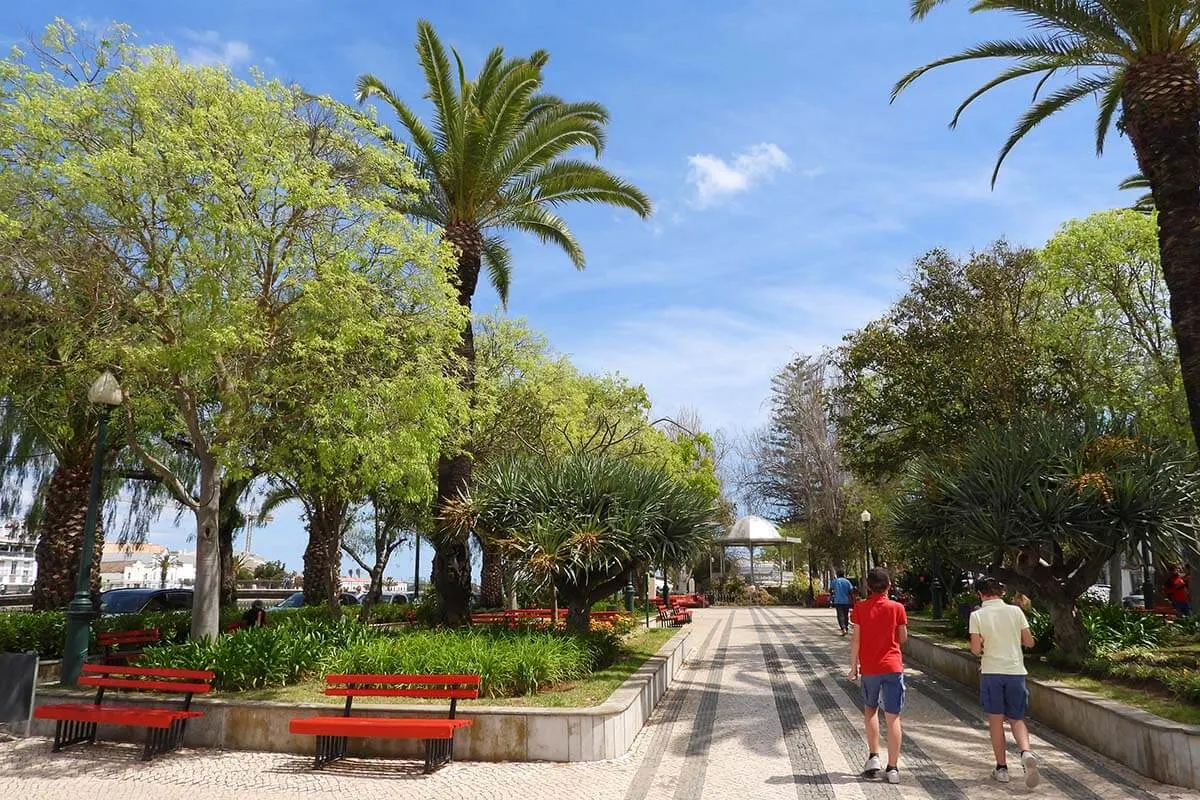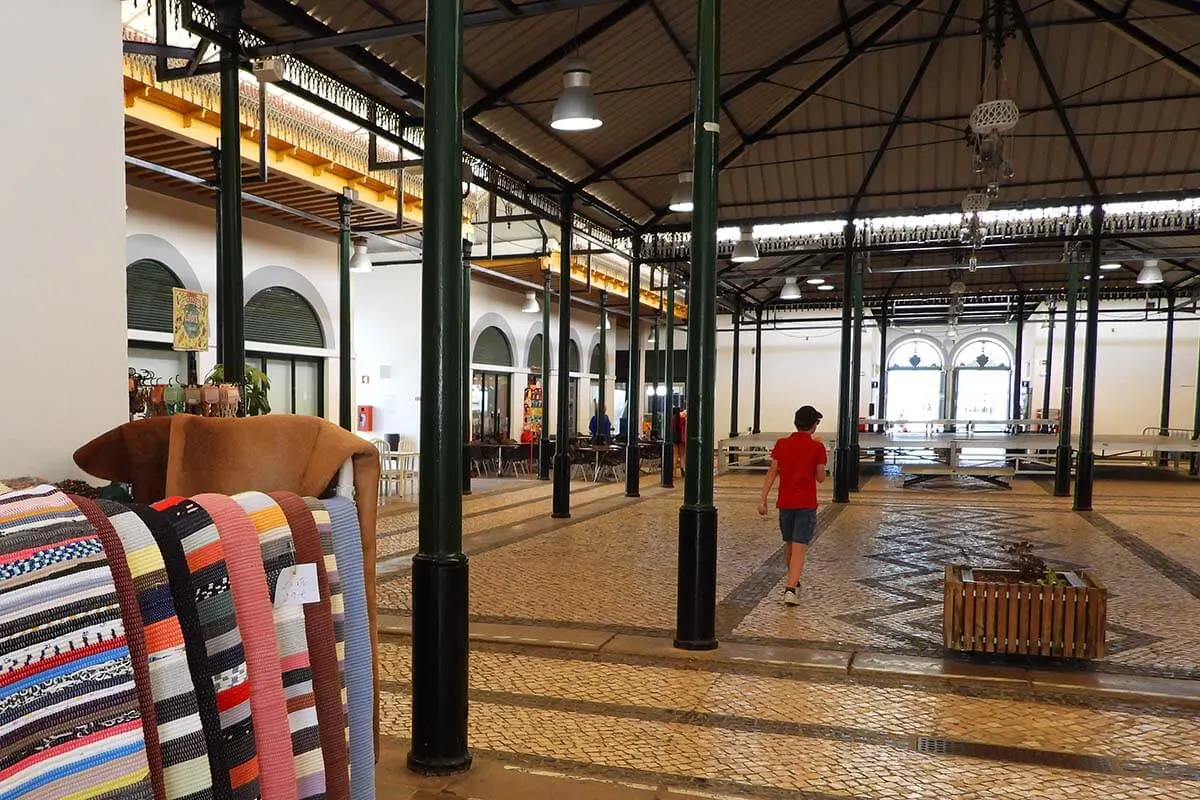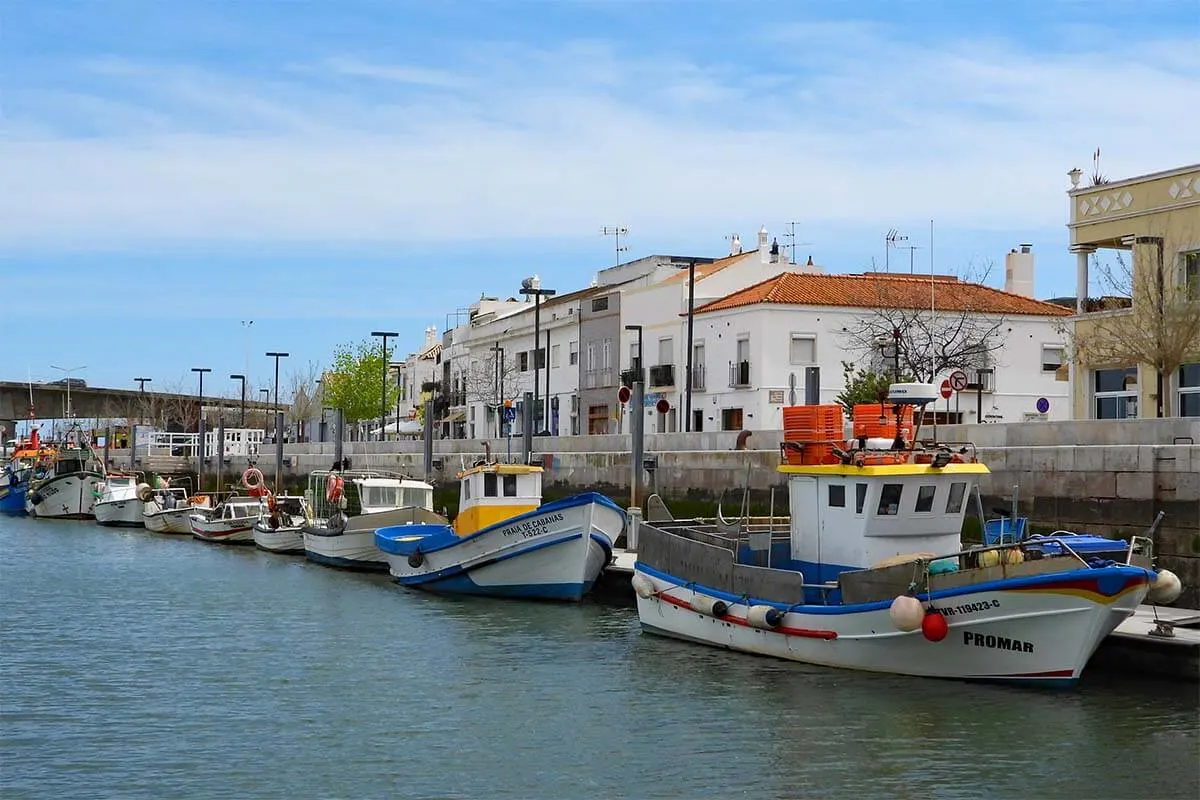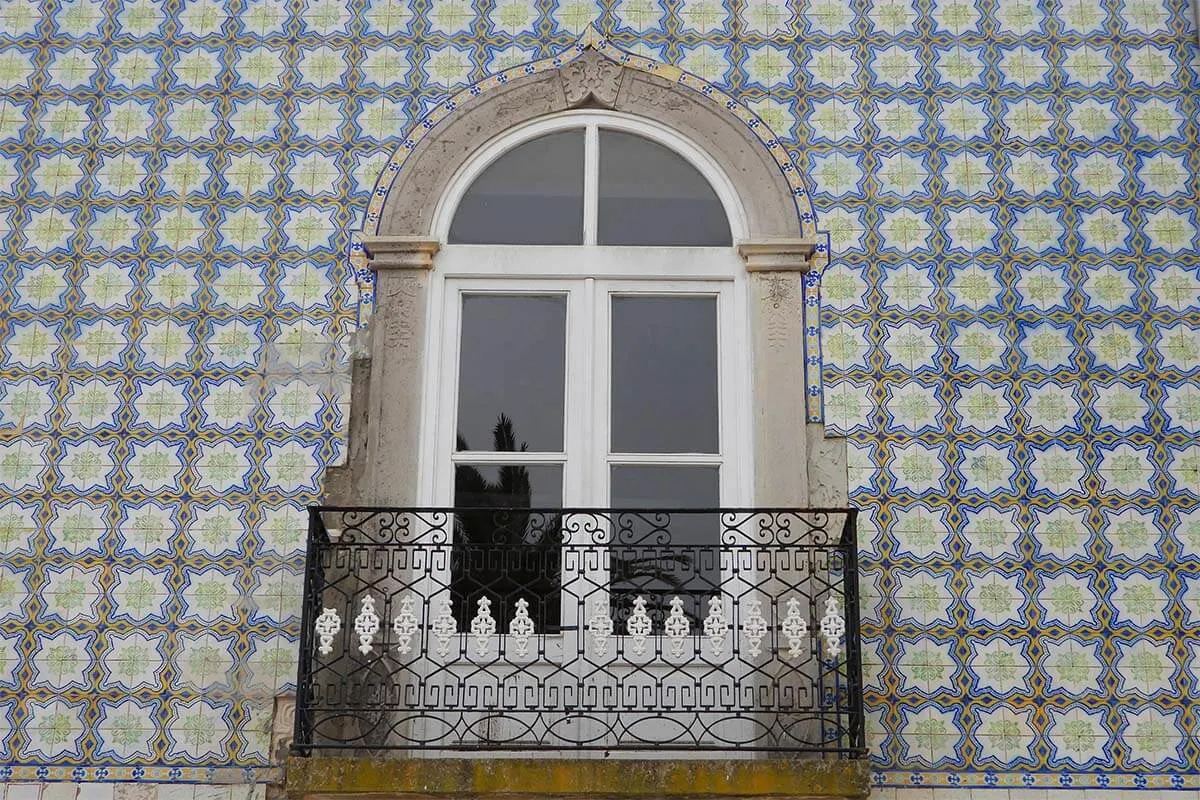 Past the old market, there is a nice waterfront promenade where you will also find the ferry to Tavira Beach (more info about it further below as well).
Back at Republic Square, if you cross the bridge to the other side, on the left bank, you will find several restaurants with terraces overlooking the river. This is also where most of Tavira's iconic tuk-tuk tours start. These tours are a very popular way to discover the city on a first visit.
TIP: In addition to the waterfront, make sure to explore the northern part of the old town a bit more. There are several cozy streets here with lots of nice local cafes, bars, and restaurants. It's also less touristy than the main area of the city center.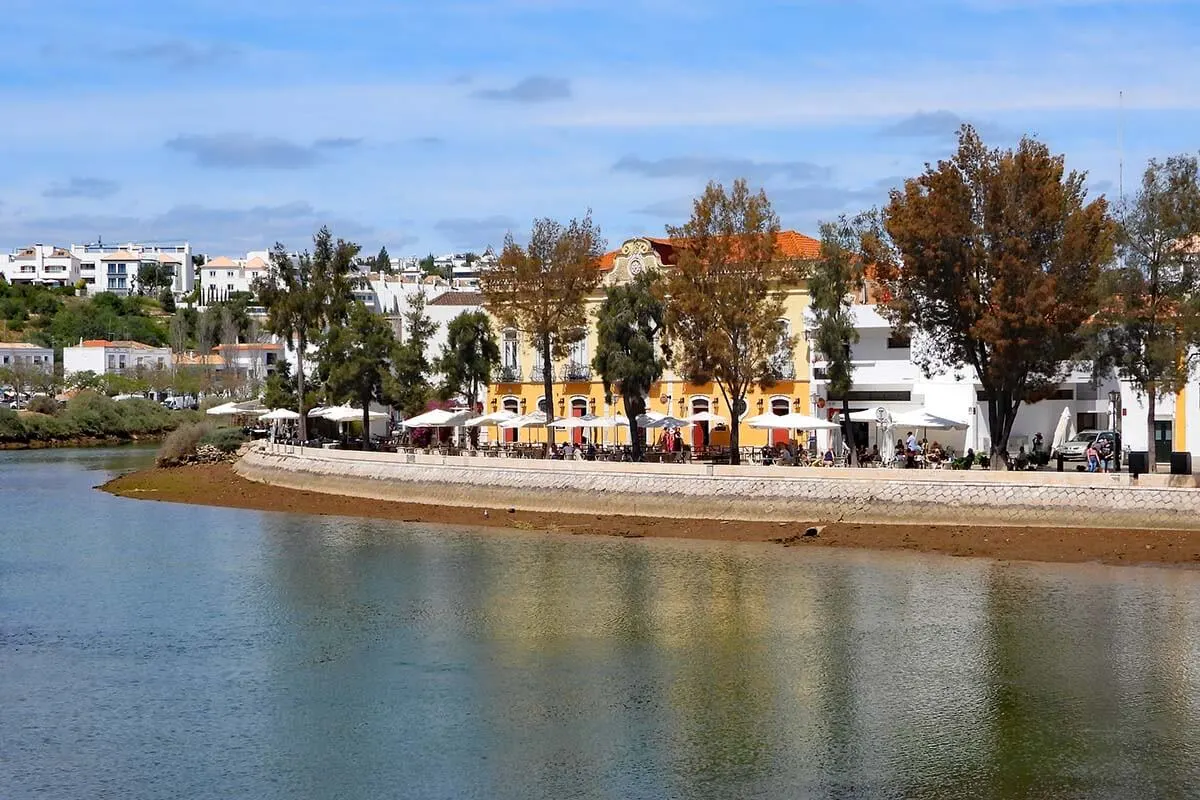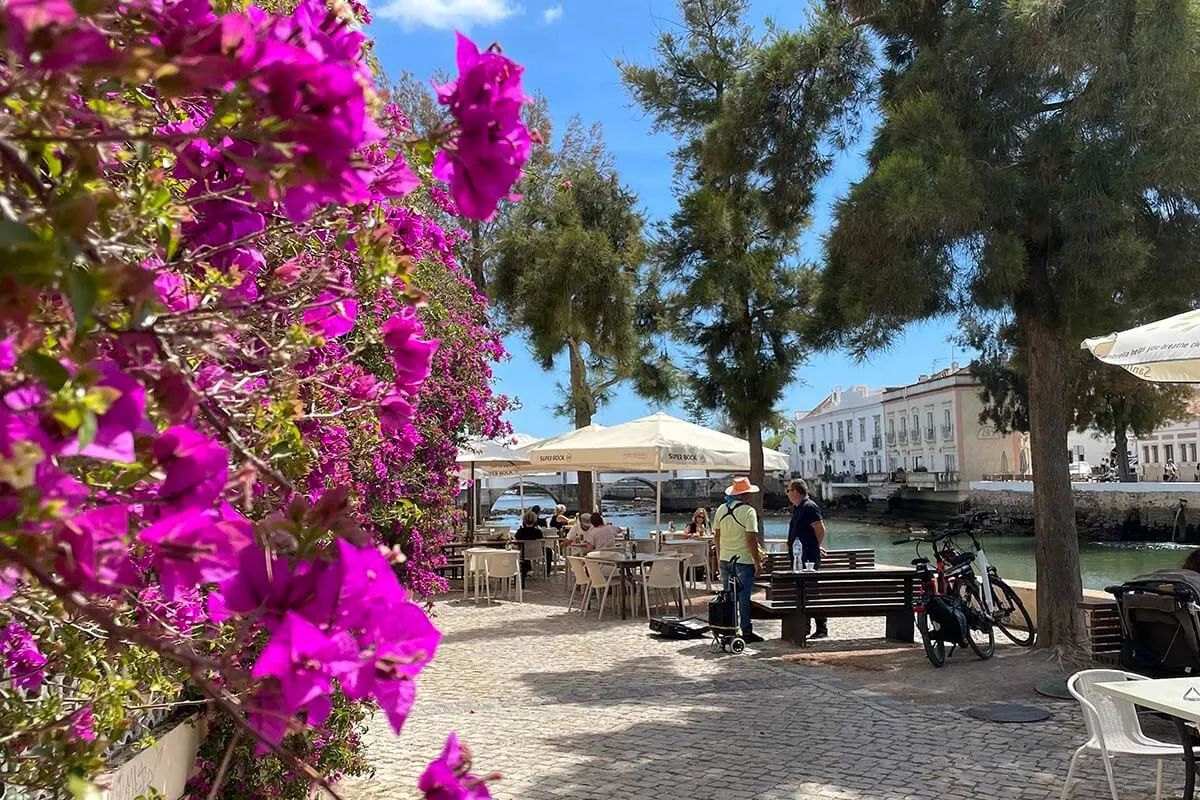 4. Tavira Castle & City Walls
Tavira Castle and City Walls (Castelo & Muralhas de Tavira) – is one of the oldest landmarks of Tavira.
The Moors started building a castle here in the 10-11th centuries. The Castelo more or less as you see it today dates from around the 13th century. By the 16th century, the walls enclosed a big part of the city. Later, however, as the defensive walls lost their purpose, the Castelo fell into ruin.
Nowadays, only a few walls remain of an old Moorish military fortification. In 1938, the city council bought the remaining fortress and restored it.
You can simply walk around the courtyard which has a beautiful little garden, and you can also climb the walls of the Castelo via the steep stairs if you like. The views from the top are nice, so if you are feeling energetic, check it out.
Good to know: Castelo is open daily and there is no entrance fee here. You only need 10-15 minutes for a visit. You'll also find public bathrooms here.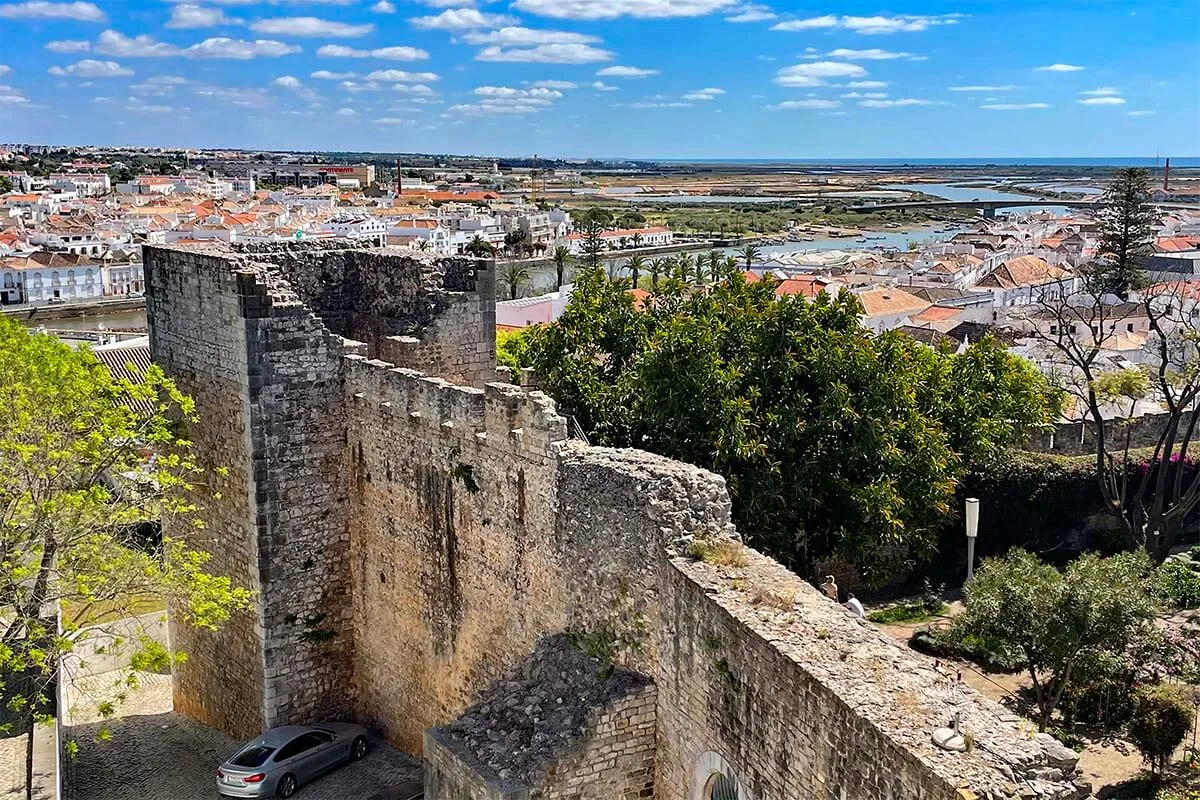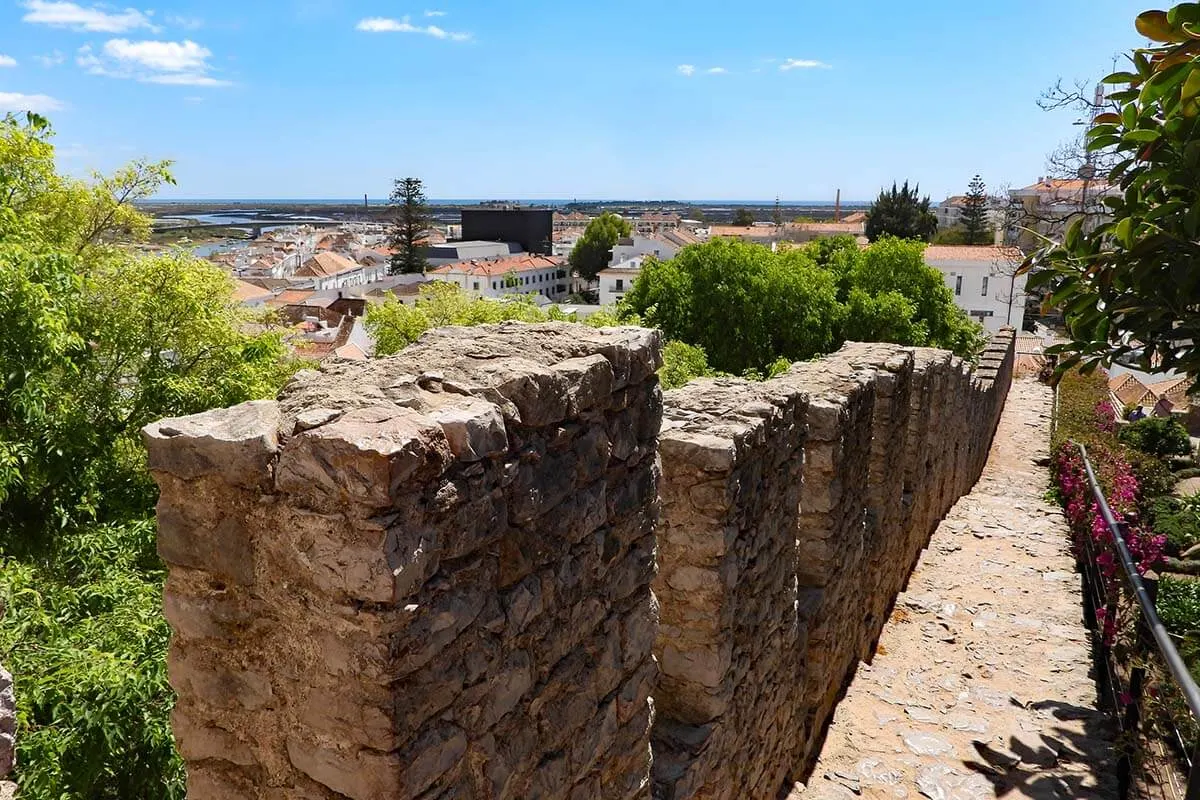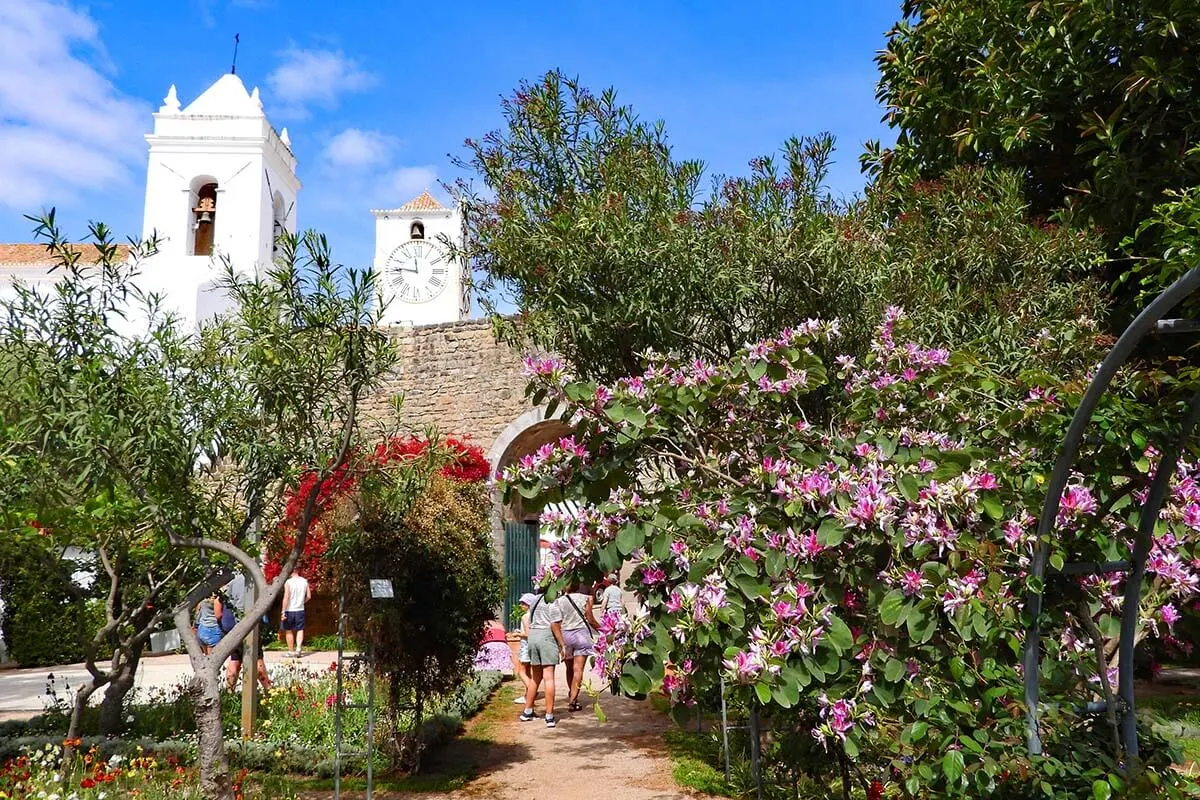 5. Church of Misericórdia
Igreja de Misericórdia is one of the most beautiful churches in the Algarve and a must-see in Tavira. The church is located inside the 16th-century House of Mercy (Casa de Misericordia) and has a richly decorated interior.
Built between 1541 and 1551, it's the work of André Pilarte, a local Tavira architect and master stonemason who also worked on the world-famous Jeronimos Monastery in Lisbon.
Misericórdia Church is best known for three impressive 18th-century retables as well as blue-and-white azulejo tiles depicting the Works of Mercy and the Life of Christ.
In addition to visiting the church, you can also see a small museum with temporary exhibitions. When we visited, they had some works of a local photographer – really nice. Be sure to also climb the bell tower for nice panoramic views of the old town. The tower isn't very high, so it should be doable for all ages.
Good to know: You'll need a ticket to enter the church and climb the tower. Tickets are sold at the entrance and you can simply choose between a single-entry ticket to just this church or opt for a ticket that includes the three main churches of Tavira. It's slightly cheaper to get the all-in ticket rather than pay for each church separately.
Practical info: Misericórdia Church of Tavira is open daily except Sundays. It usually closes for lunch, so plan a visit here in the morning or later in the afternoon.
TIP: In addition to visiting the church, you can also attend a Fado concert here. More info about it further below.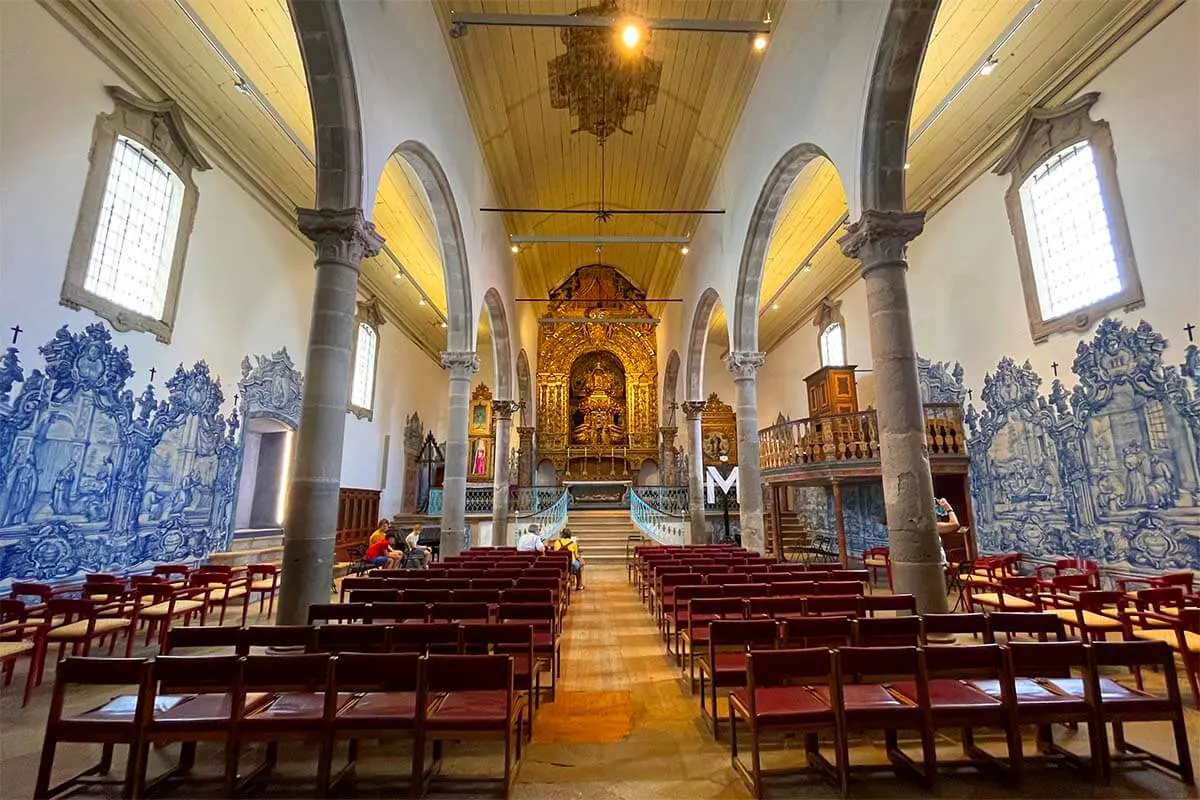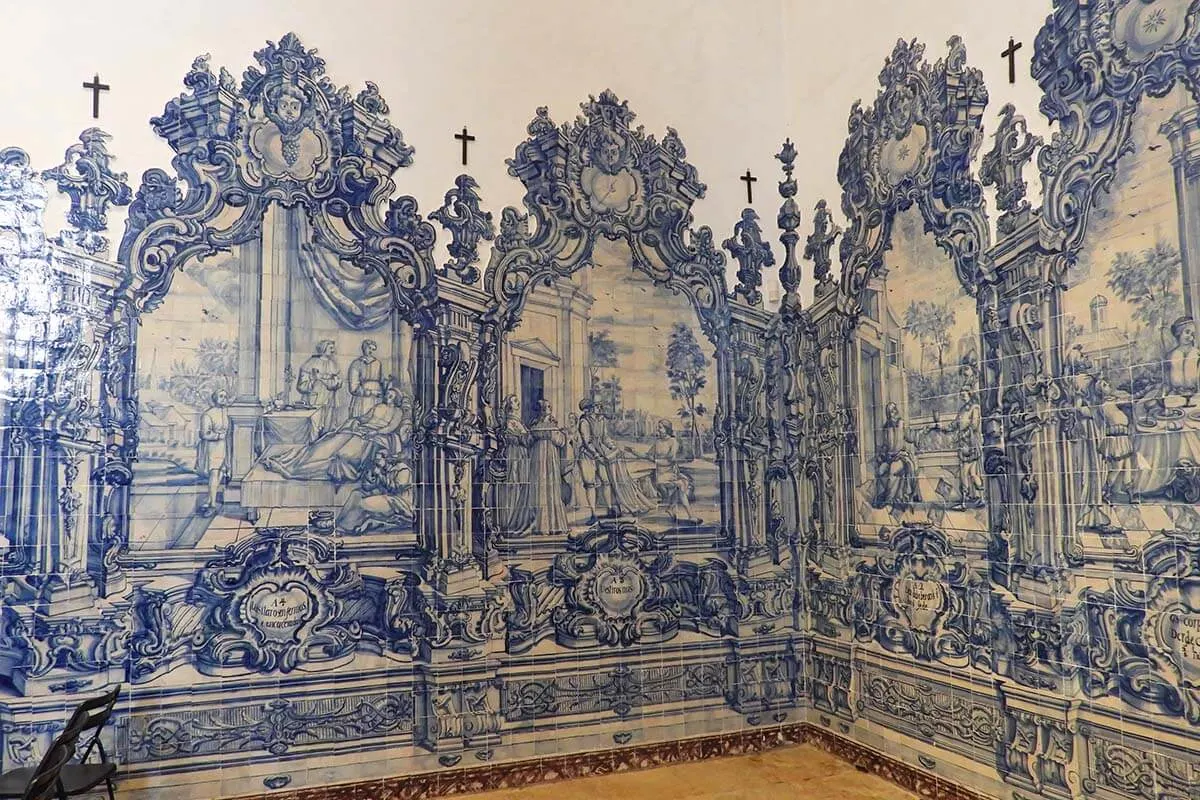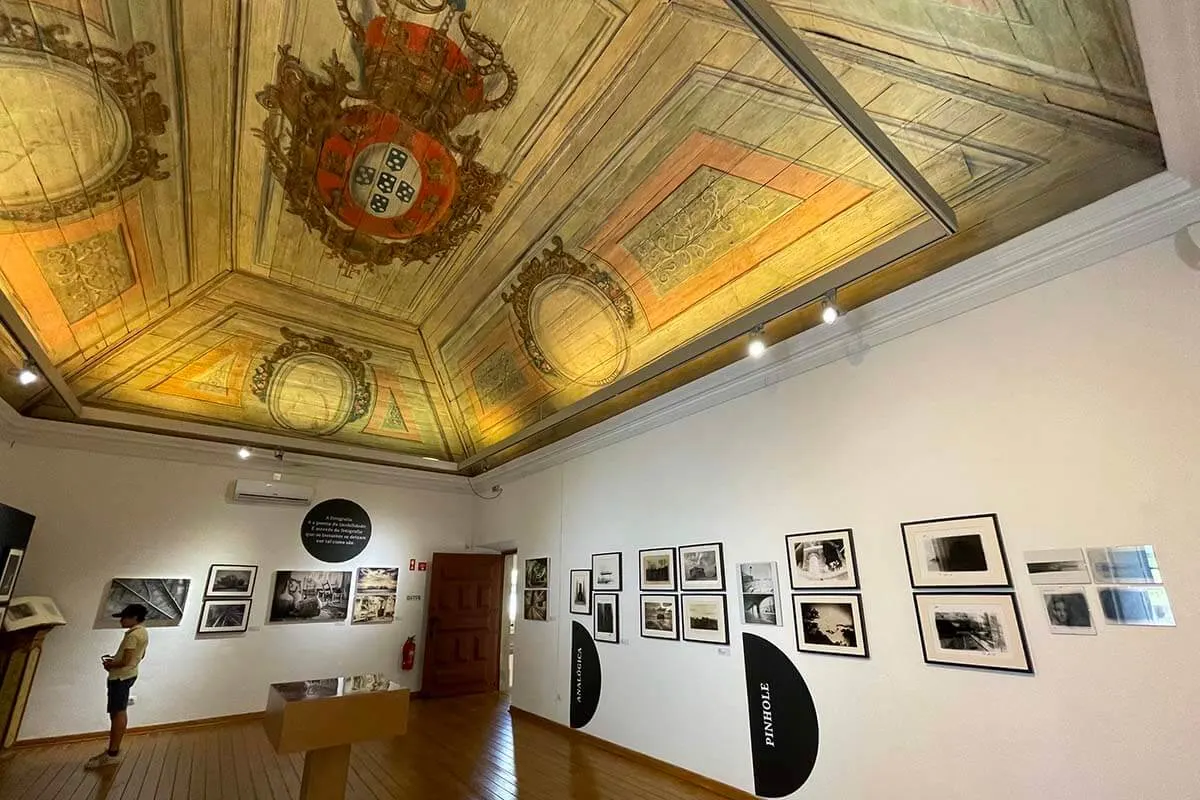 6. Camera Obscura
Camera Obscura, aka Tavira Eye or Tower of Tavira, is a fun place to visit in Tavira for the whole family. Located in an old water tower in the historic city center, it's a unique attraction where you can see a live 360° view of the town's streets and rooftops projected into a big round screen inside the water tower.
The water tower is almost 100 years old and was initially used to supply water to the city. It was later empty for a while and the city even held a referendum in order to decide if the tower should be demolished. The people voted for its preservation. After restoration in 2004, it was converted into a new tourist attraction featuring the first Camera Obscura in the Algarve region.
What makes it really fun is their guide who makes the city come to life with his engaging commentary. I forgot his name, but he really does an excellent job making it fun and entertaining for the whole family. Plus, he speaks several languages and easily captivates the audience of all ages.
A visit here offers a different perspective on Tavira and is a great way to learn about its layout, a bit of history, and some fun facts. Recommended!
Good to know: Tours run frequently and take about 25-30 minutes. Only a limited number of people can visit Camera Obscura at the same time, so you may have to wait a while for the next available tour. We recommend booking your ticket online or stopping by here as soon as you are in the area. You can get the tickets for the next available tour, and if the wait is too long explore the other landmarks nearby and come back later.
Practical information: Camera Obscura is open on weekdays (more info on their website). You can also book tickets online in advance. If you want to be sure to visit at a specific time or if you are visiting in the high season, it's best to book in advance. Normal access is via the stairs, but they also have an elevator for those who cannot do stairs.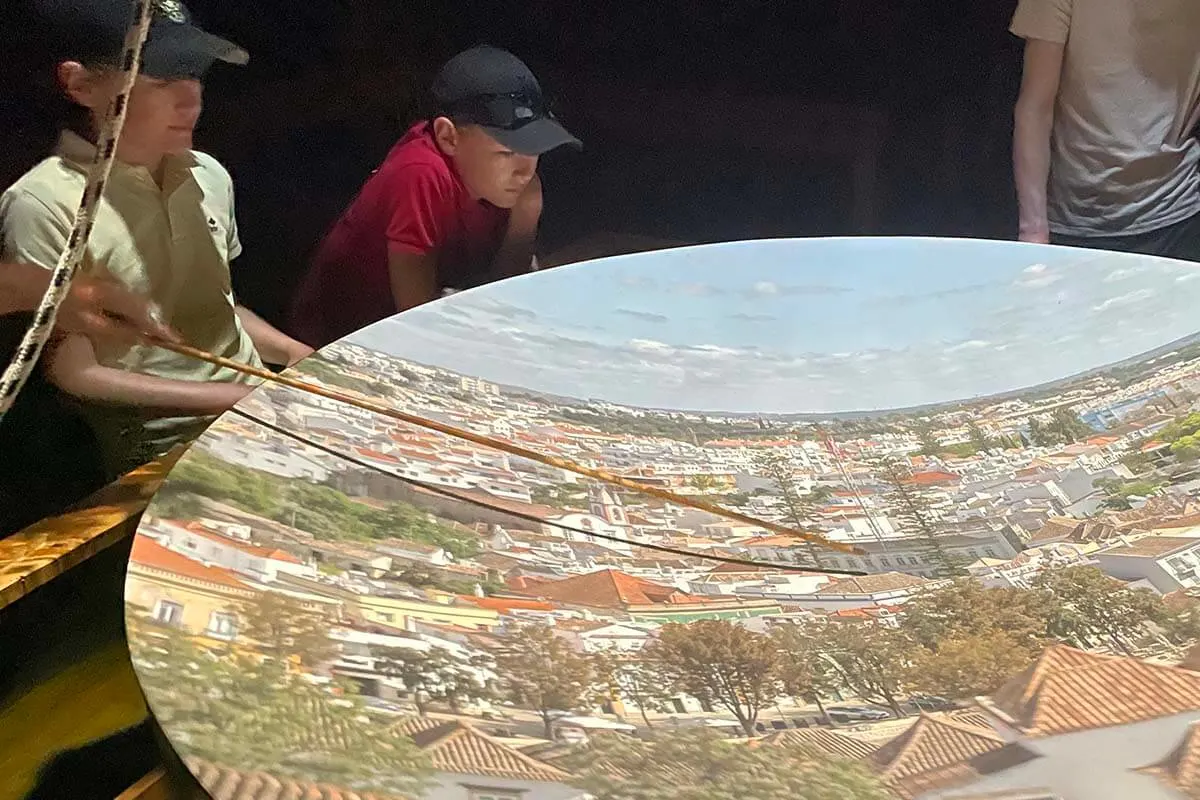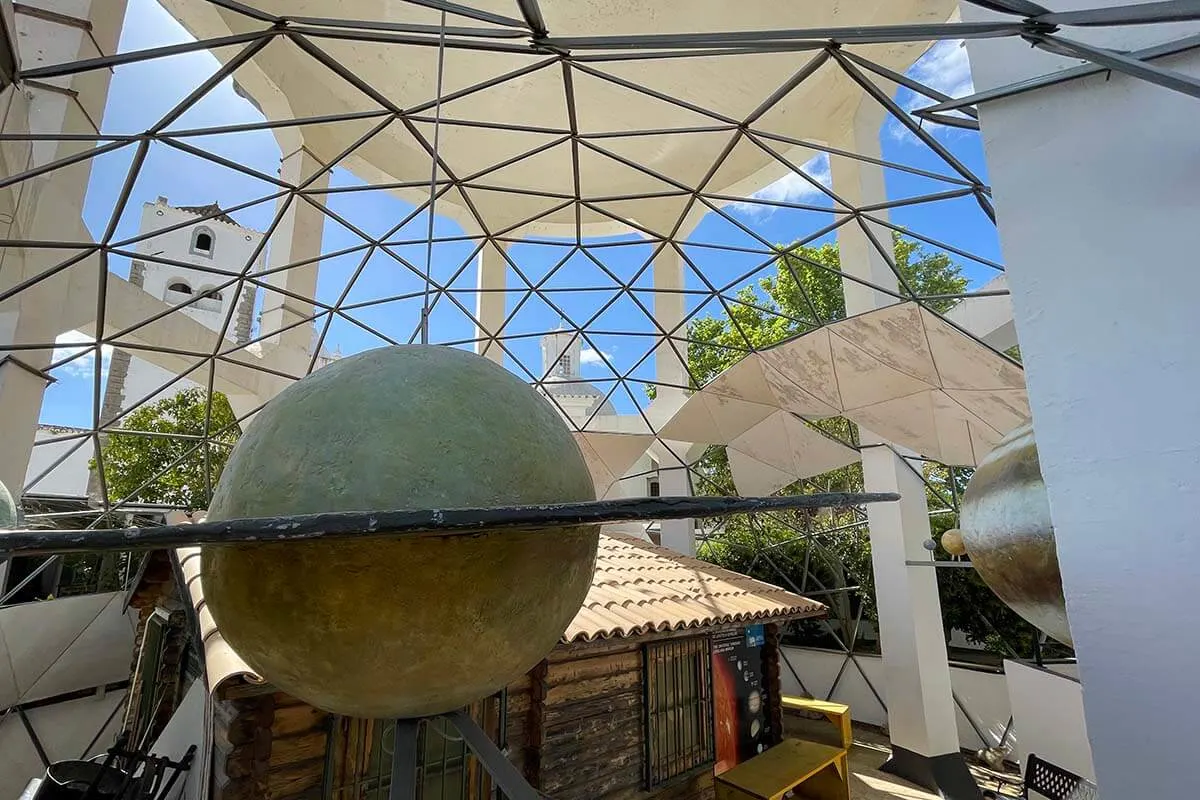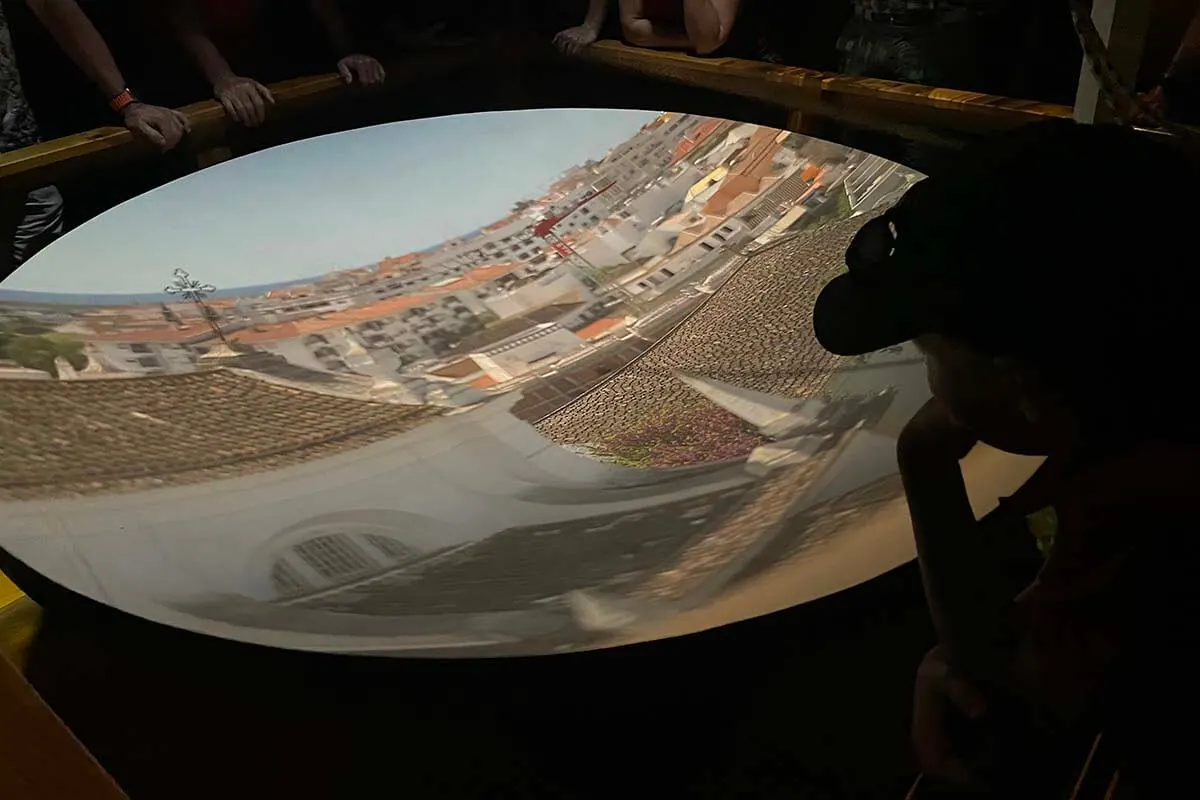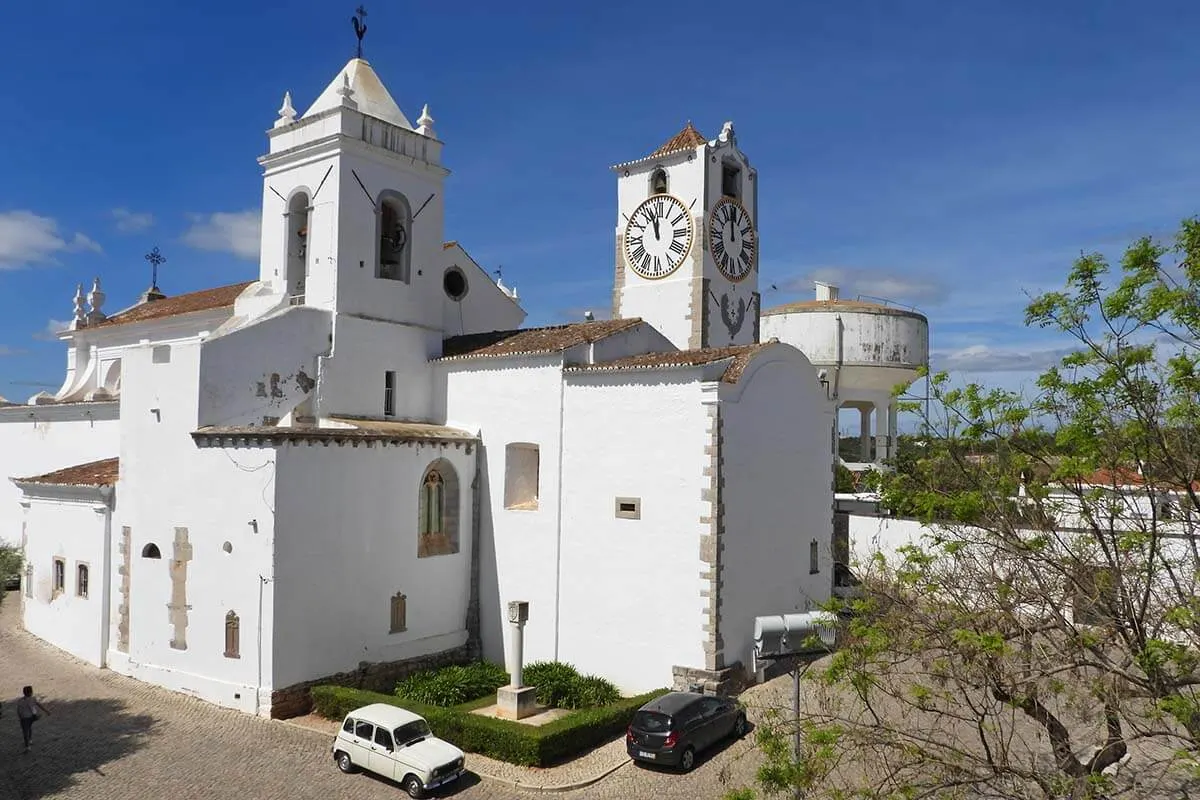 7. Church of Santa Maria do Castelo
Igreja de Santa Maria do Castelo church is located right next to Tavira Castle and a few steps from the water tower with Camera Obscura. It's one of the three main churches to see in Tavira.
It was originally built in the 13th century on a site of an old Moorish mosque. The church as you can see it today was completely rebuilt after the earthquake in the 18th century, but they did their best to preserve some of the remaining elements. The result is a somewhat eclectic mix of architectural styles spanning from different periods, including Gothic, Neoclassical, and Baroque elements.
Currently, however, the church is undergoing renovations, so it's not easy to see everything. Still, it's worth coming here, even if just for its Clock Tower (Torre do rélogio). From the top, you have nice views of the town and the surrounding area.
Good to know: The church is open daily except on weekends. You'll need a ticket in order to visit, or you can get the earlier-mentioned 3-in-1 ticket that includes the main churches in Tavira.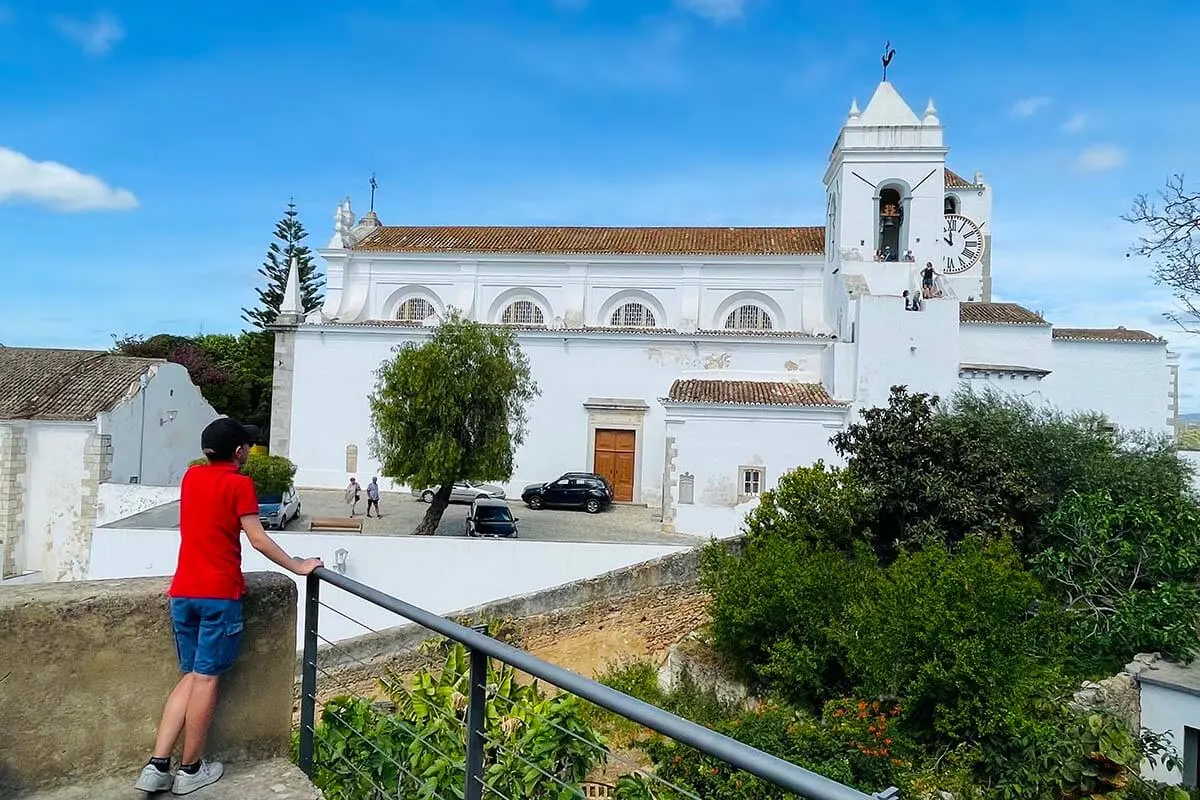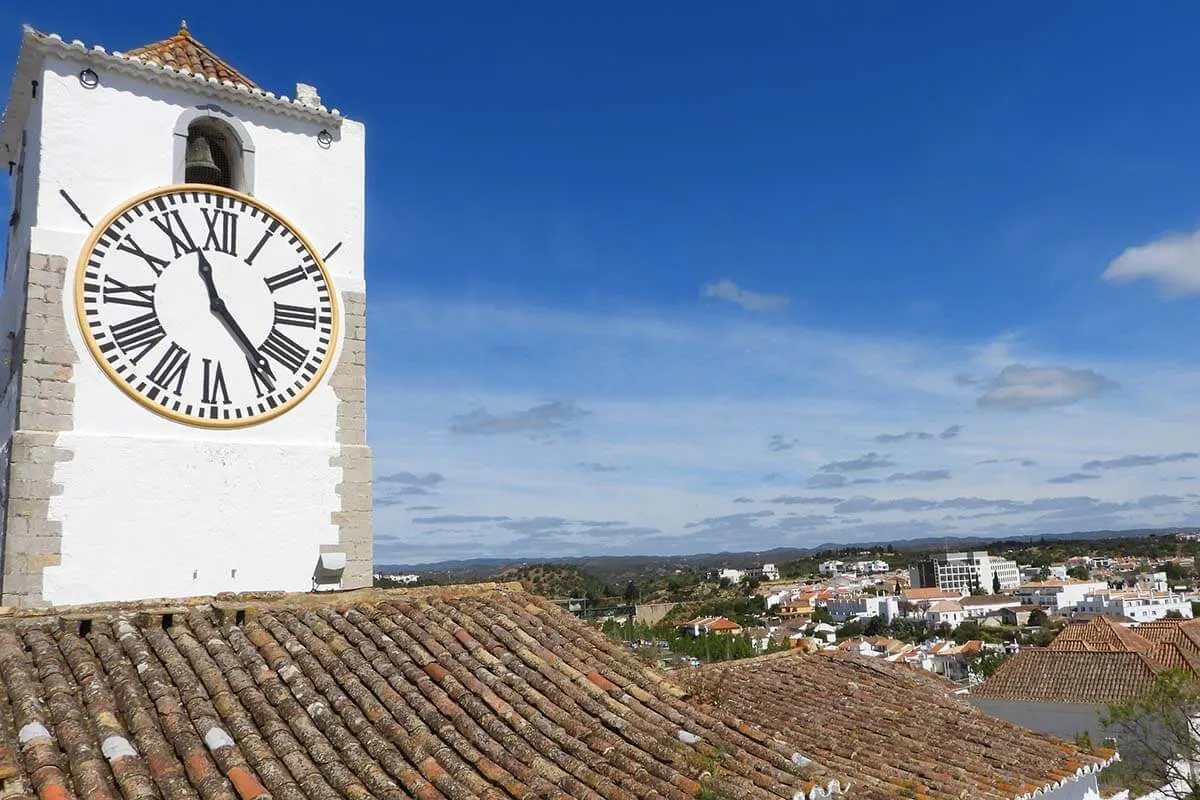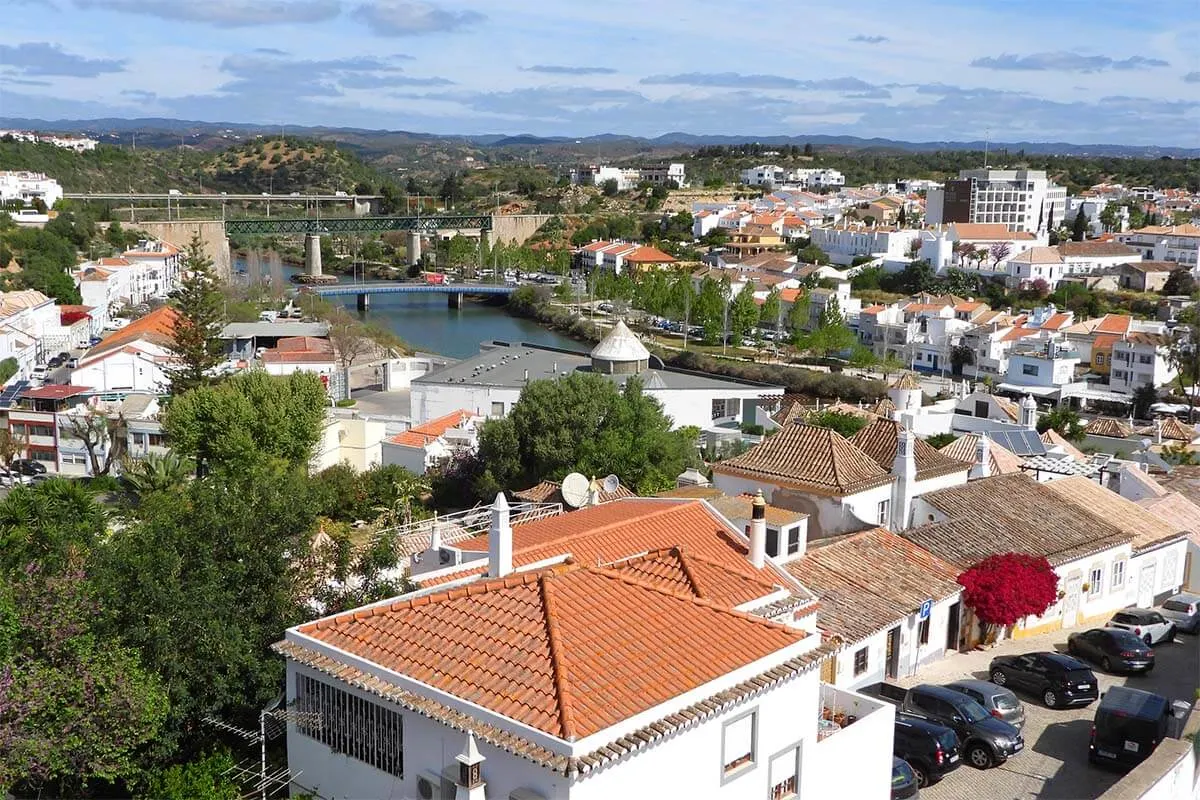 8. Islamic Museum
The Islamic Center of Tavira Museum (Nucleo Islamico) is a small museum built around the remains of an old Moorish castle. You can still see an original wall of the castle incorporated inside the building.
The museum showcases Tavira's unique Islamic heritage and features a collection of artifacts from Islamic culture. It's set over several floors, each offering something different, from old archeological finds discovered in Tavira to more contemporary Moroccan carpets…
You can also watch a short film on what Tavira was like in the past. The film has English subtitles, but the rest of the exhibits are in Portuguese. But you can pick up an English guidebook at the ticket desk as well.
Quite frankly, the collection is very small and unless you are very interested in the topic, you'll probably be in and out in 15-20 minutes…The tickets are very cheap, so it's still worth seeing if you have some time to spare.
Good to know: The museum is open daily except on Sundays and Mondays. It also offers a combination ticket with Tavira Municipal Museum (see below).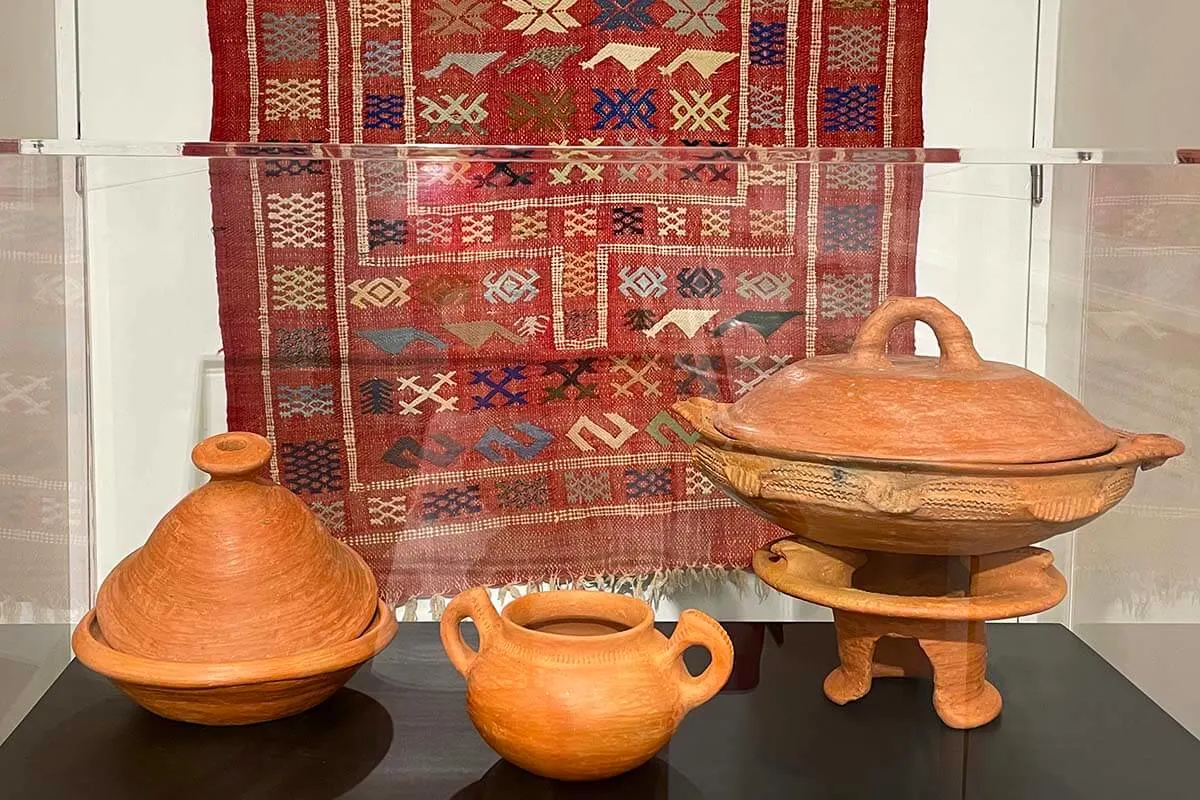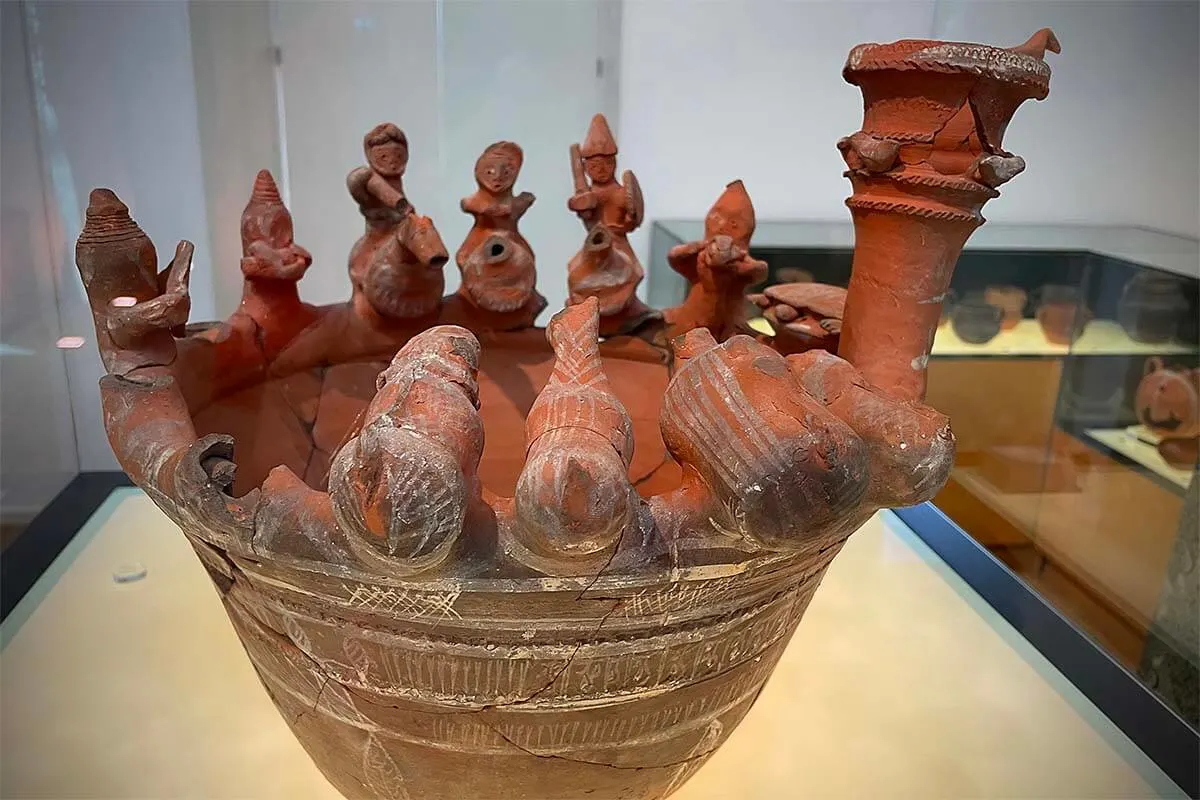 9. Municipal Museum of Tavira
Tavira Museum (Museu Municipal da Tavira) is a small museum dedicated to the local history of the town of Tavira. It's located inside Palácio da Galeria, a restored 16th-century building with Gothic, Renaissance, and Baroque elements.
The collection features some interesting artifacts from Tavira's past, as well as photographs, stories, and exhibits on local culture. It's a good place to learn more about the area. From the upper floors, you can also enjoy some nice views of the city.
Just like most other attractions in Tavira, the museum is rather small and you don't need much time to visit. But it's been recently renovated and is quite nice to see, plus, they host some temporary exhibitions as well. So if you have some time to spare, check it out.
Practical information: The museum is open daily except Sundays and Mondays. Just like the nearby churches, it also closes for an hour at lunchtime. They have AC inside, so it's a good place to visit during the warmest hours in the summer.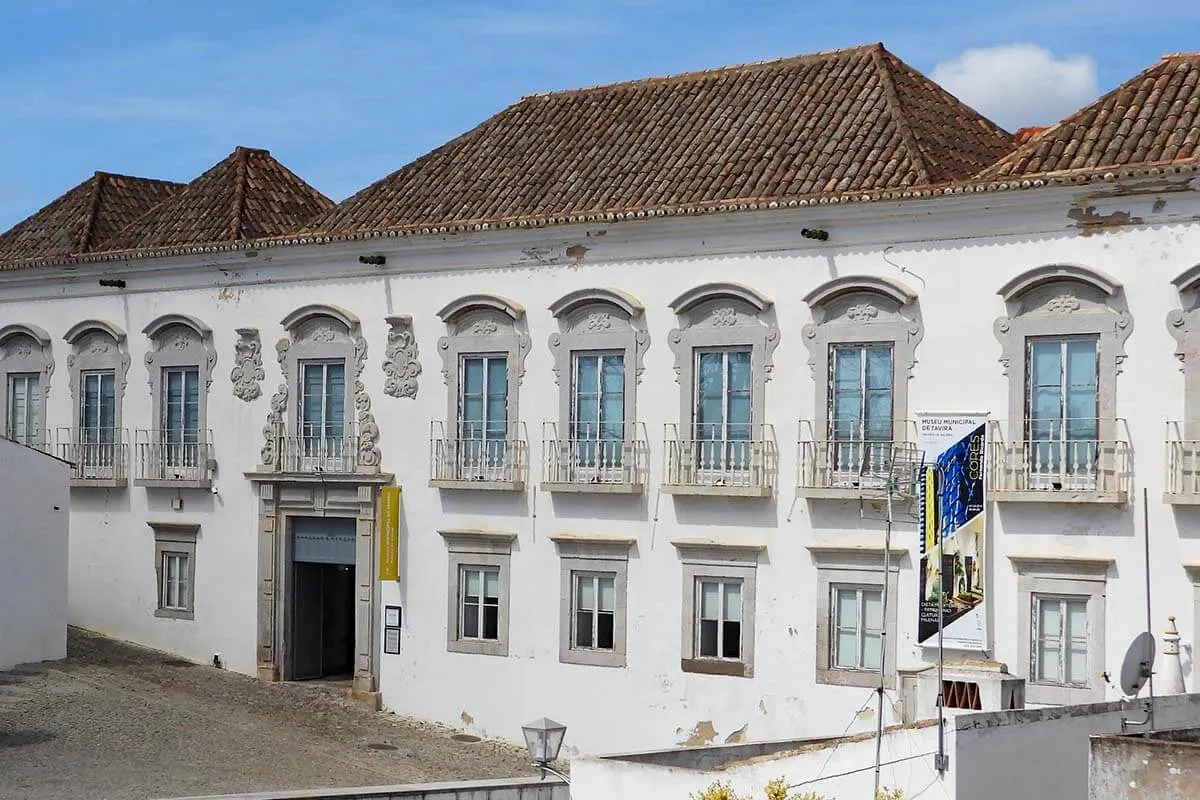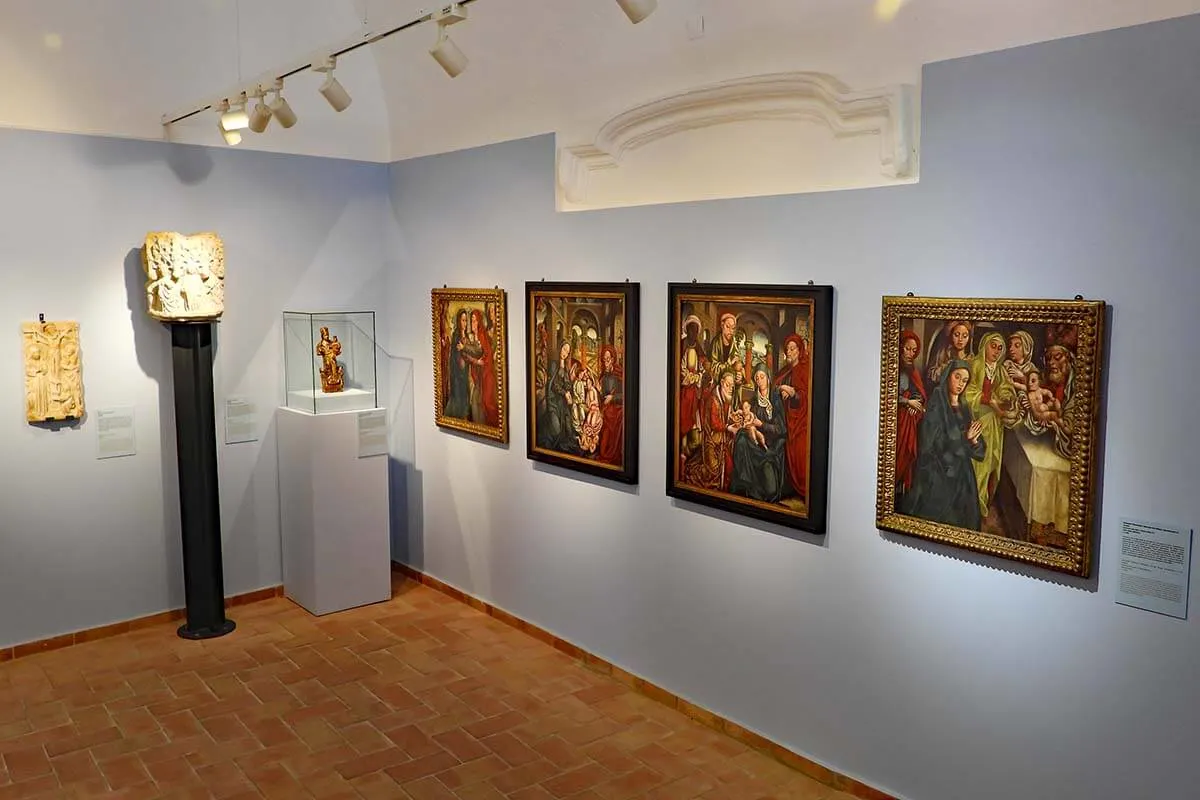 10. Former Convent of Nossa Senhora da Graça
Located in the heart of the historic old town, Convento de Nossa Senhora da Graça is a former convent, now a hotel. Founded by the Order of Saint Augustine, it originally dates to the 16th century. The site was later expanded and the buildings were renovated in the Baroque style.
After the religious orders were exhausted (around the mid-19th century), the site was used for military barracks. It has been beautifully restored in 2006. Nowadays, it's a boutique 4* hotel Pousada Convento da Tavira
If you are looking for a nice place to stay in Tavira, definitely check it out! But even if you are not staying here, it's worth seeing for its architecture and bright yellow exterior.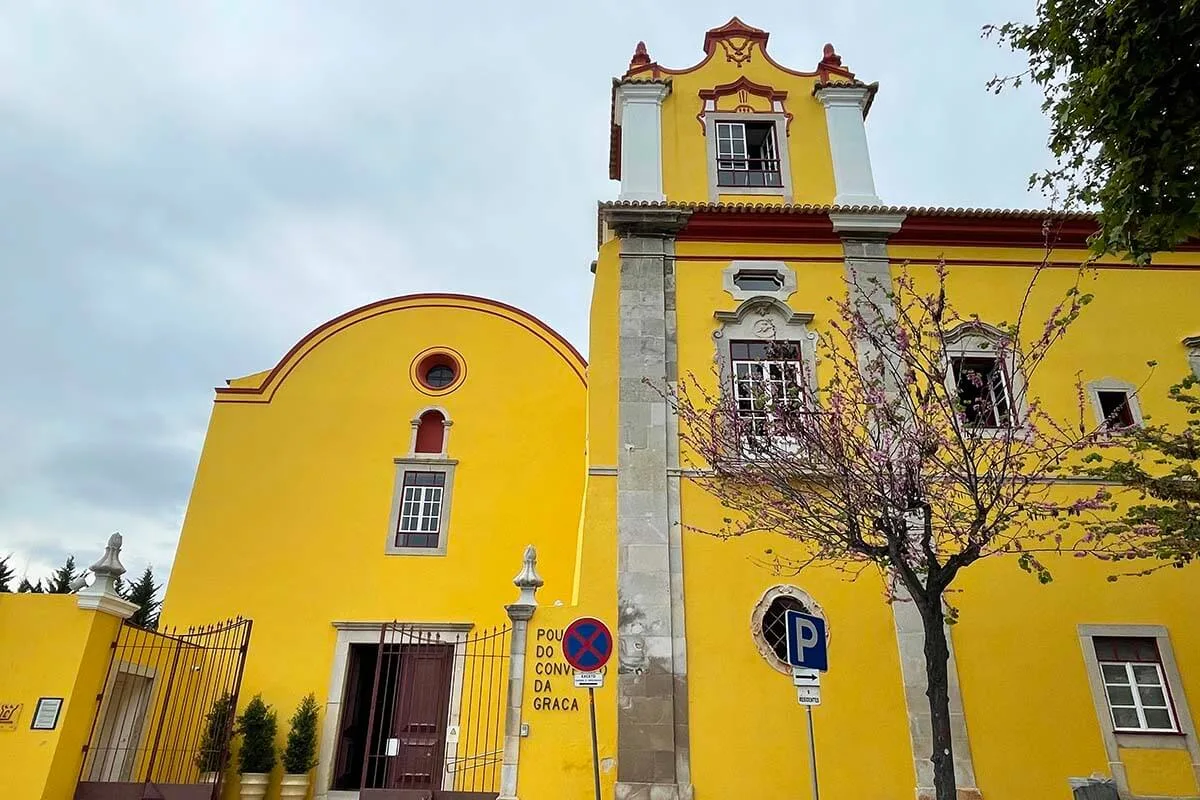 11. Main Church of Santiago
Igreja de Santiago is another historic church that is included in the 3-in-1 ticket of Tavira's main churches. Its exterior is best appreciated from a distance since it stands on a narrow street.
The Santiago Church of Tavira originally dates from the 13th century and was built on an older Moorish structure. This church was also destroyed by the 1755 earthquake and was completely rebuilt.
Because of the limited funds available for its restoration, the interior of this church is rather simple. It has some pieces of art that were brought here from other decommissioned churches and convents, and the side altars are interesting to see.
Since the Church of Santiago is located just a few steps from Tavira's Castle and the Church of Santa Maria of Castelo, it's not a big detour to come here. So if you want to visit all the main sights in Tavira, check it out.
Practical information: The Church is open for visits daily except on Saturday and Sunday. If I am not mistaken, it's open during masses on the weekends as well.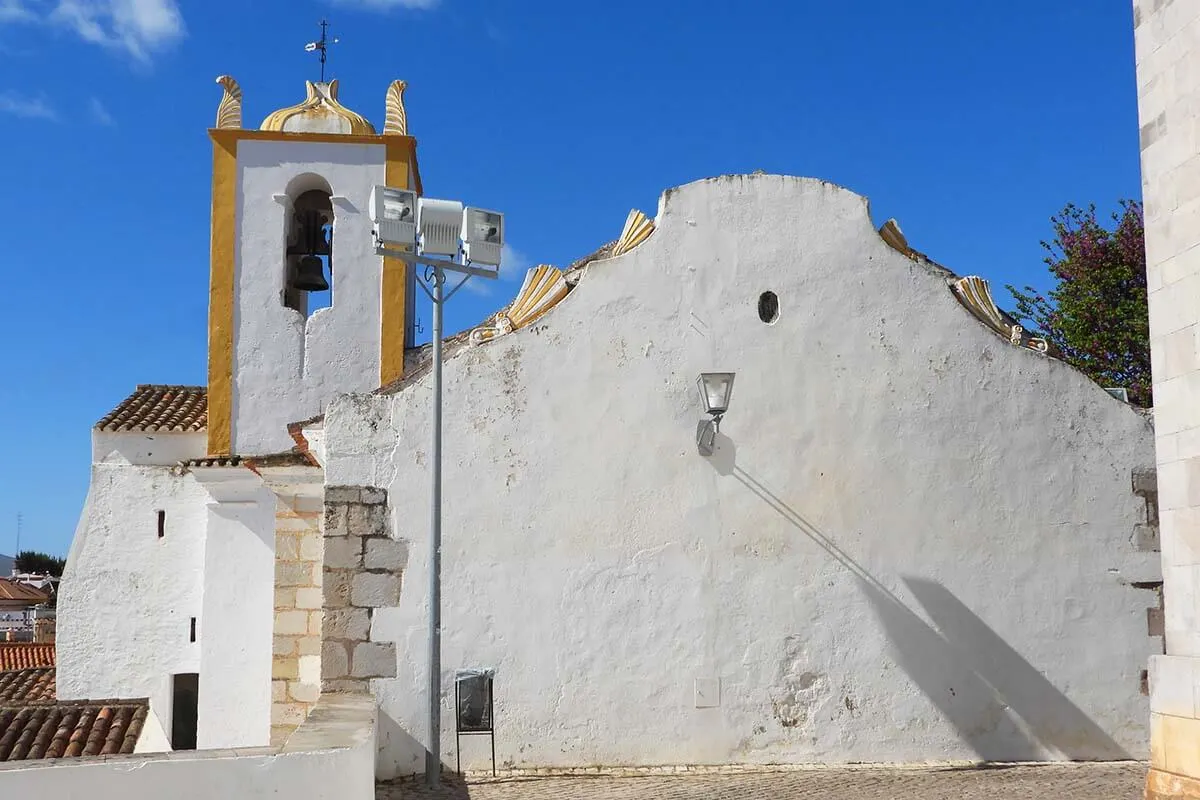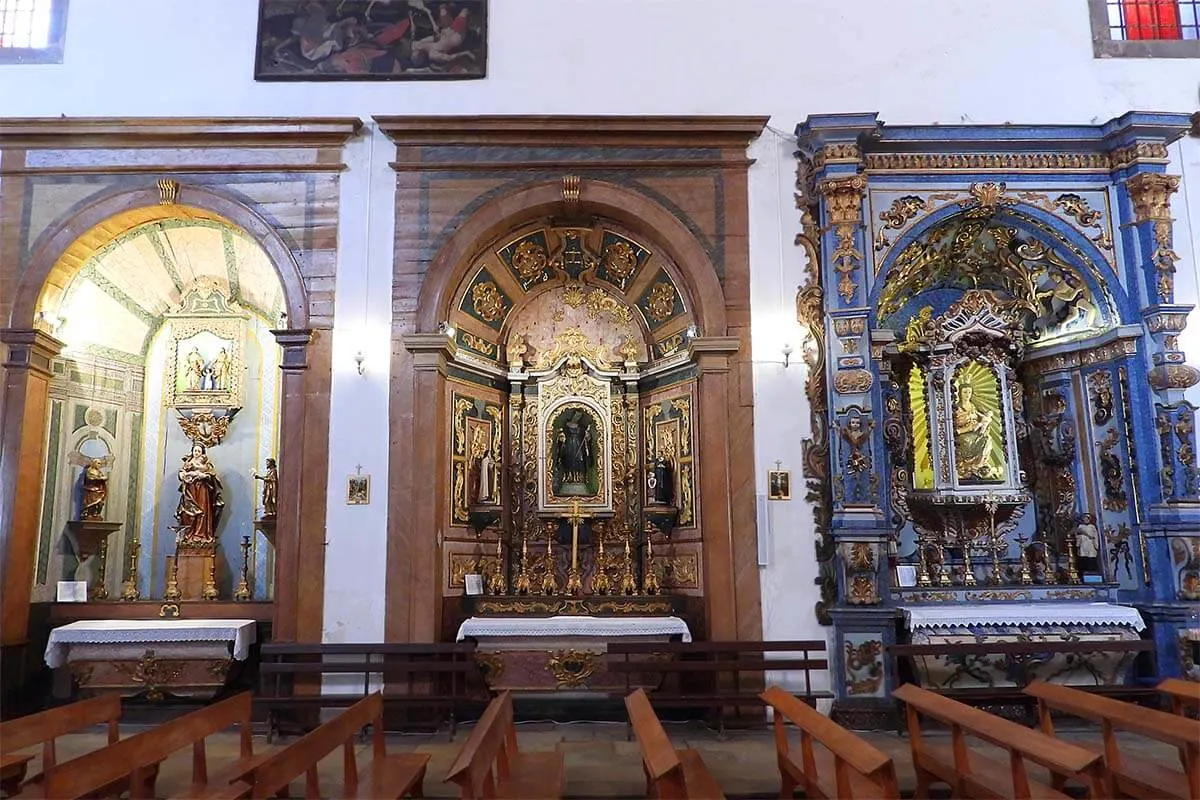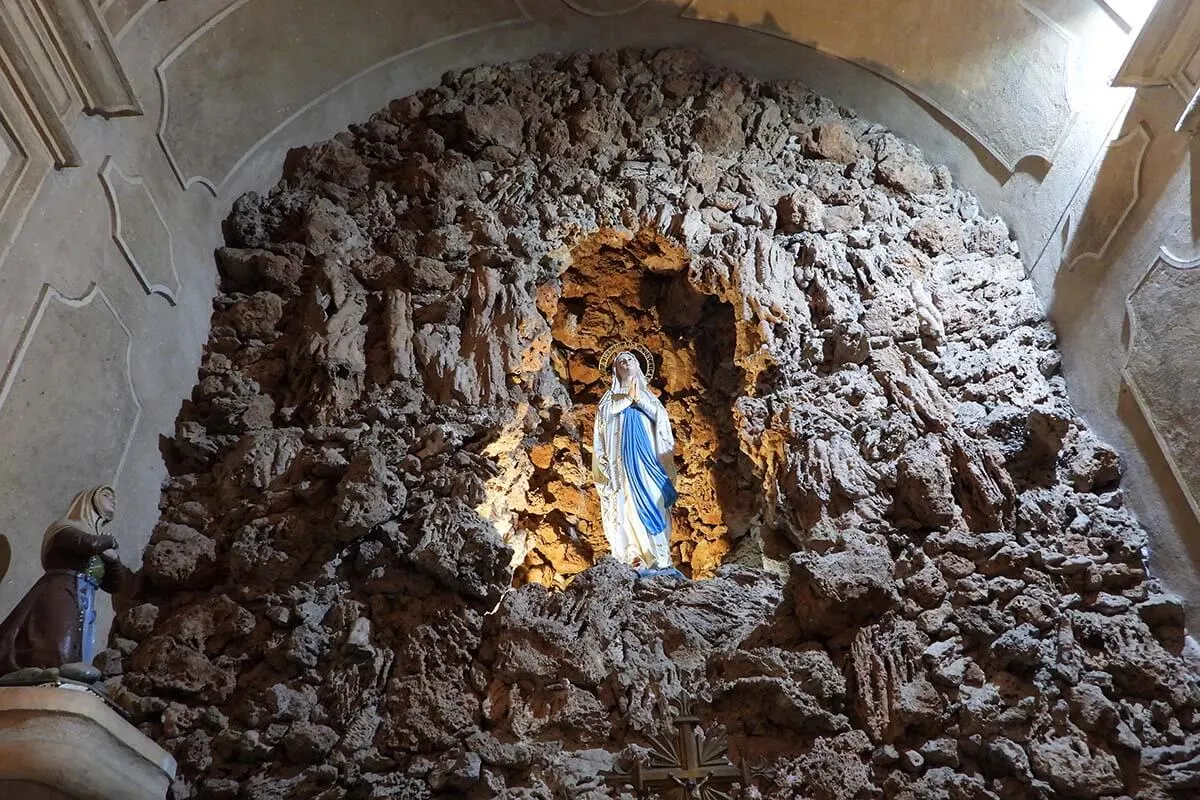 12. Fado Concerts
No visit to Portugal would be complete without attending at least one Fado concert. While it's an experience that you will mostly find in the main Portuguese cities like Lisbon and Porto, there are really nice Fado concerts in Tavira as well.
And yes, you will find Fado concerts all over the place, but most of the time, they are held at local restaurants, after dinner. While it's always nice, it's very difficult to truly appreciate the music and the beautiful singing in a restaurant environment and all the noises that come with it.
So if you would like to listen to Fado music in Tavira, you will be glad to know that there are regular concerts inside the beautiful Church of Misericórdia. They are called Fado com Historia, and indeed, combine this beautiful traditional music with history inside one of the most beautiful churches of the Algarve.
Practical Information: When we visited, they had two concerts per day, every day except on Sundays, at 3.15 pm and also at 5 pm. You can find more info and reserve tickets on their website. If it's not too busy, you can simply inquire at the ticket desk when you visit the church. But if you are visiting in the high season and want to be sure to be able to do this, it's best to book in advance.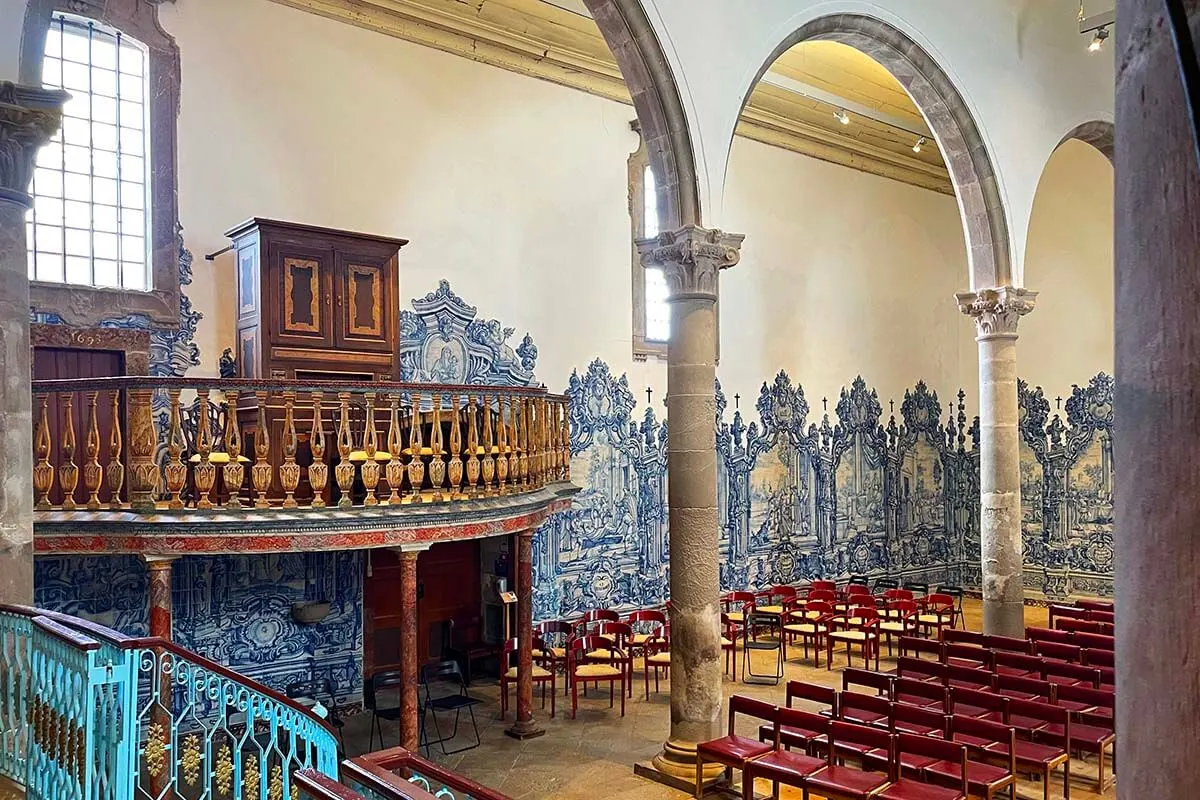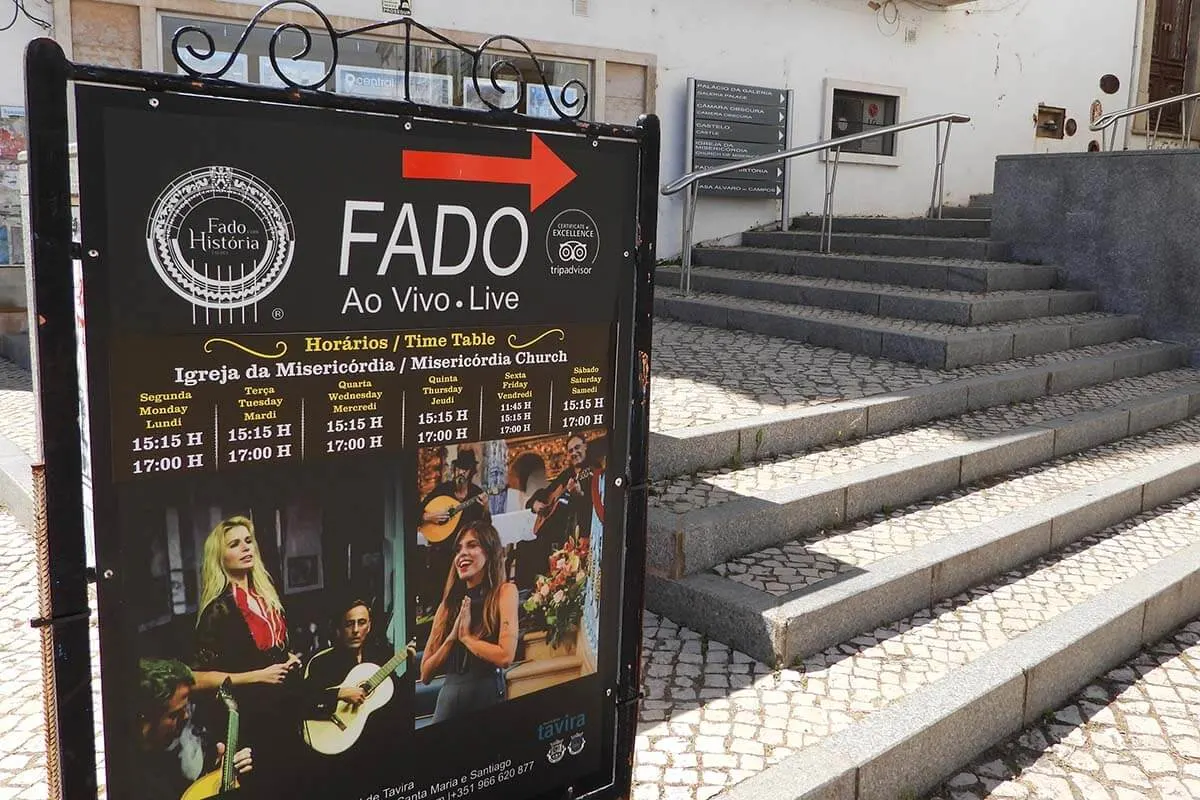 13. Tavira Market, Shopping & Dining
If you like local markets and are visiting Tavira in the morning, you may like to check out Tavira Market (Mercado Municipal). The indoor market is a lively and colorful spot where you can buy fresh fish, fruit, vegetables, or some local produce.
It's a nice place to visit in Tavira where you can mingle with locals and buy some regional specialties.
Good to know: The Market is located about 10 minutes walk from the main Tavira attractions in the old town. It's open daily except on Sundays, from 7 am to 1 pm.
In addition, you will find lots of gift shops and restaurants in Tavira. So be sure to allocate some time to simply walk around, check out local souvenirs, and taste some delicious seafood dishes and other traditional cuisine.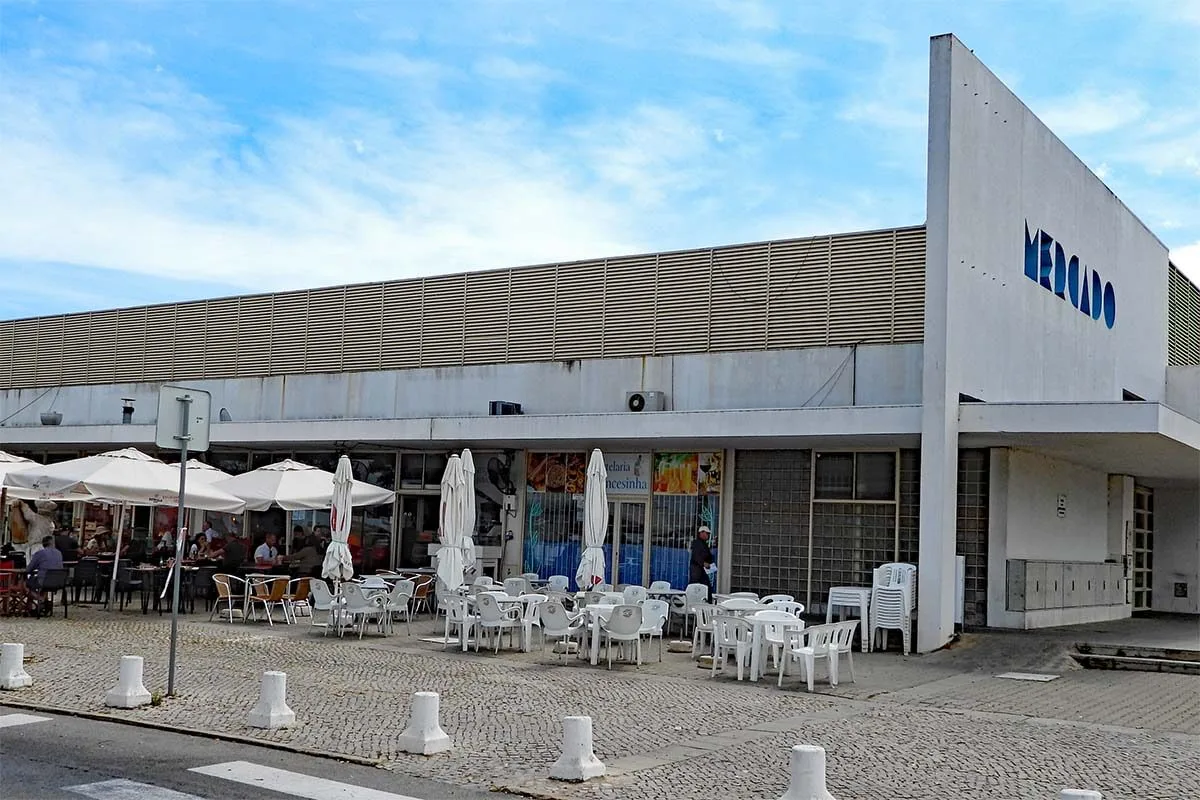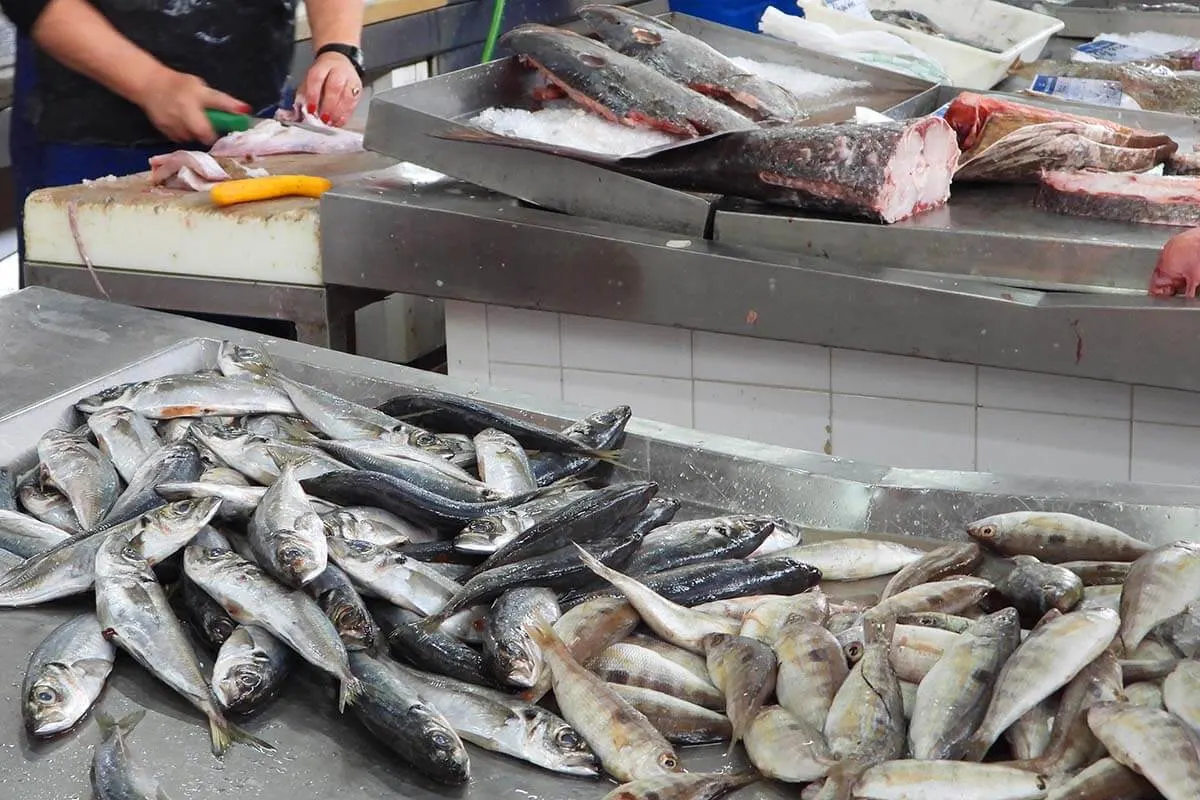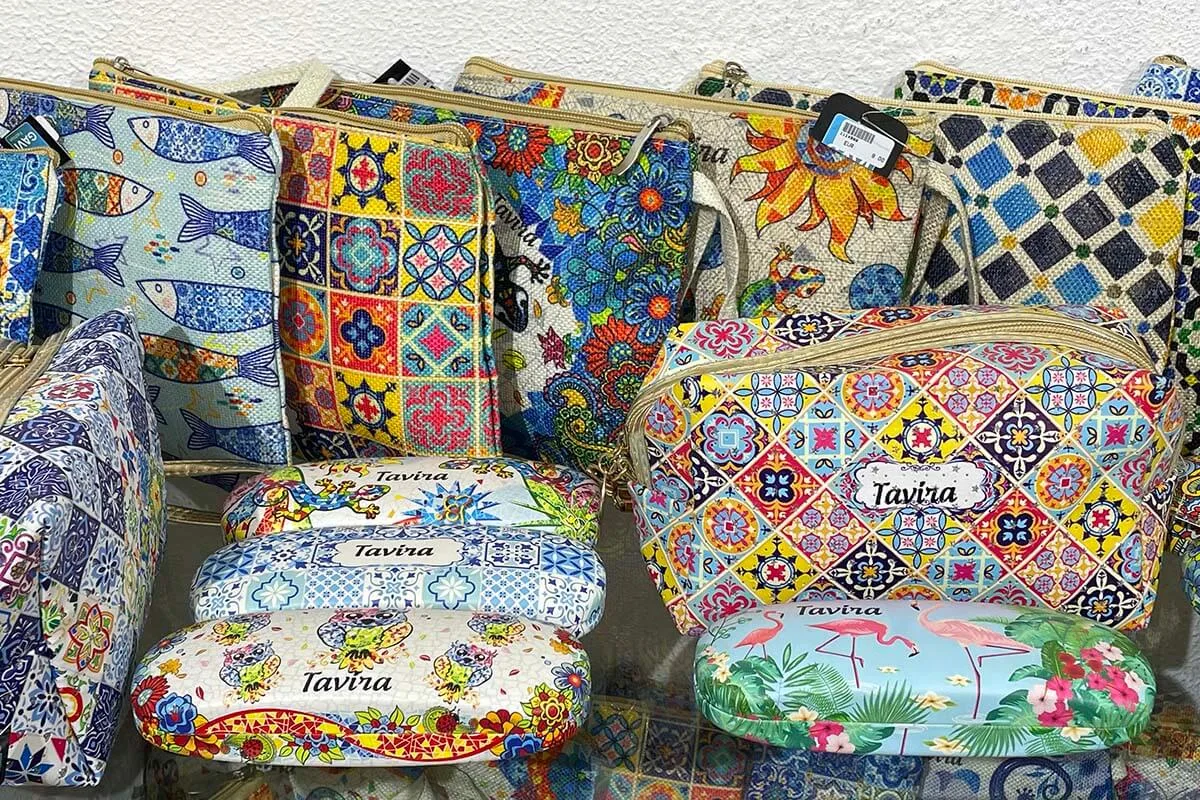 14. Ilha de Tavira Beach
Ilha de Tavira is a beautiful island that is home to the main beach of the city, Praia da Ilha de Tavira.
Part of Ria Formosa Natural Reserve, the island has some pristine beaches and long stretches of white sand dunes. But the main area – at Praia da Ilha da Tavira – is also extremely touristy with dozens of cafes and restaurants catering to day visitors.
Tavira Beach can only be reached by boat. There is a big passenger ferry running straight from the city center and a smaller one that runs from Cais das Quatro Águas, a bit outside of the center (we indicated both locations on our map further below). There are also taxi boats if you rather not wait for a ferry and don't mind paying a bit more.
The journey from the city center to Tavira Island takes about 20 minutes. There are regular ferries, usually one per hour from +-9.30 am to 6-7 pm. They also have a website if you want to check the boat schedule upfront. However, you can only get tickets at the ticket desk on-site.
Good to know: When the weather is nice, many locals go to Tavira Island for (half) a day, have lunch there, and then come back to town. So the ferry can get extremely busy in the direction of the beach in the morning and crowded to come back toward the city early in the afternoon.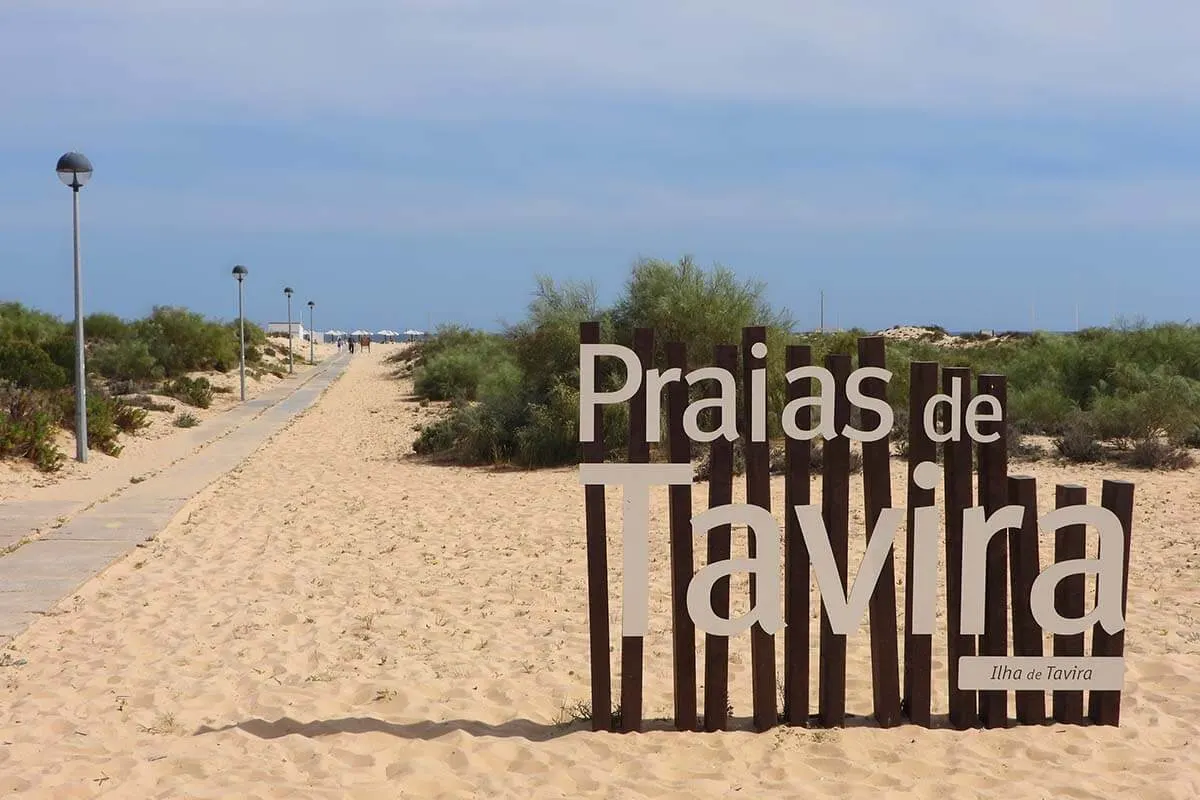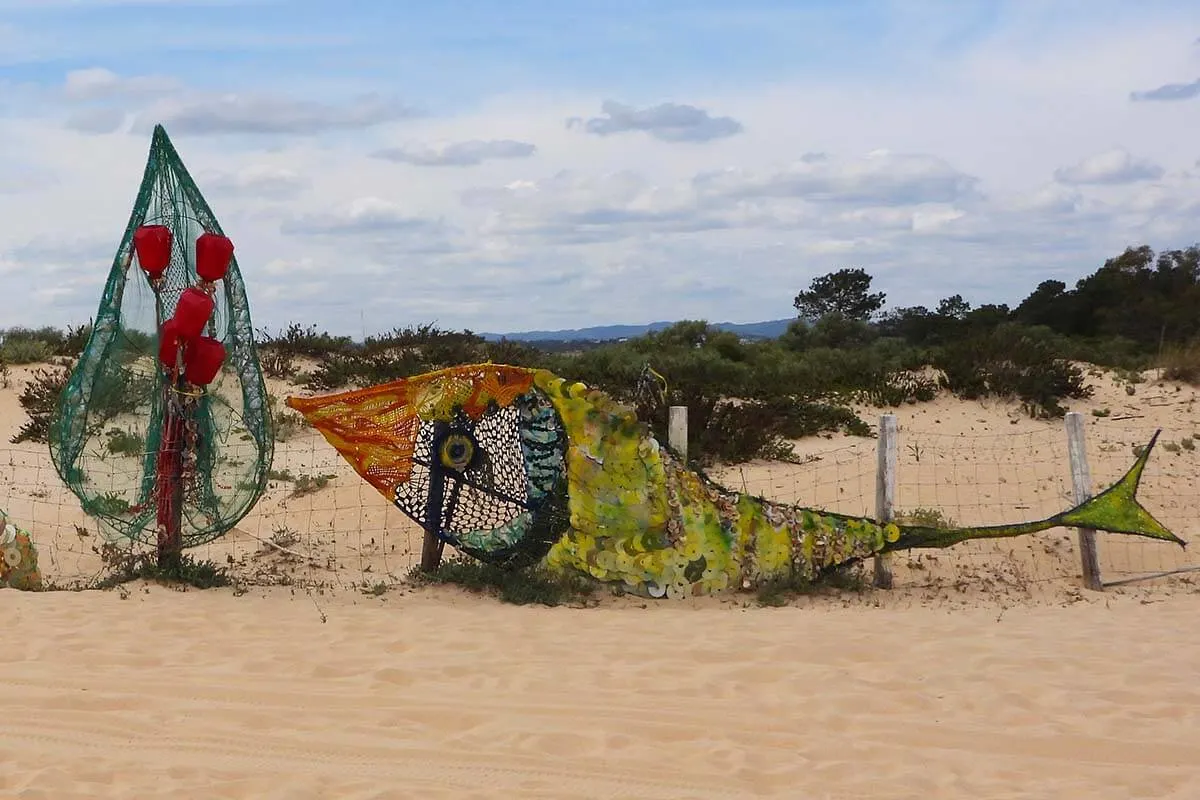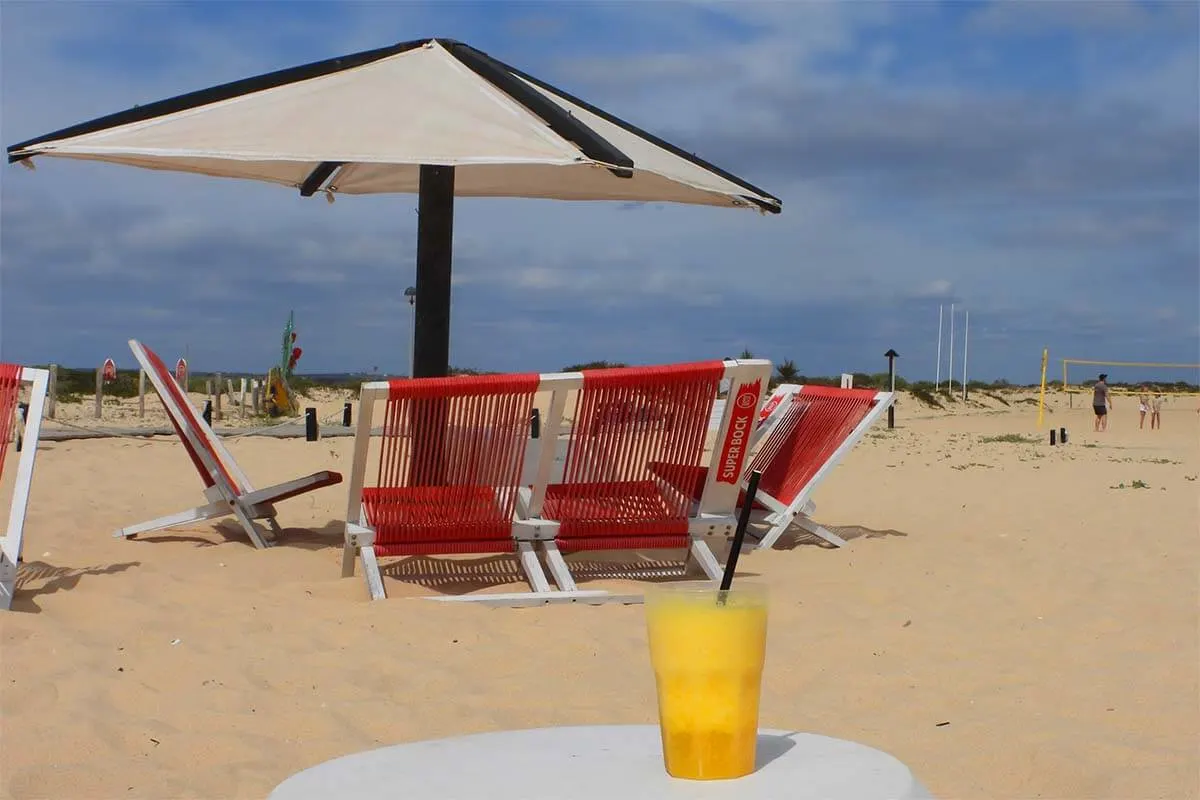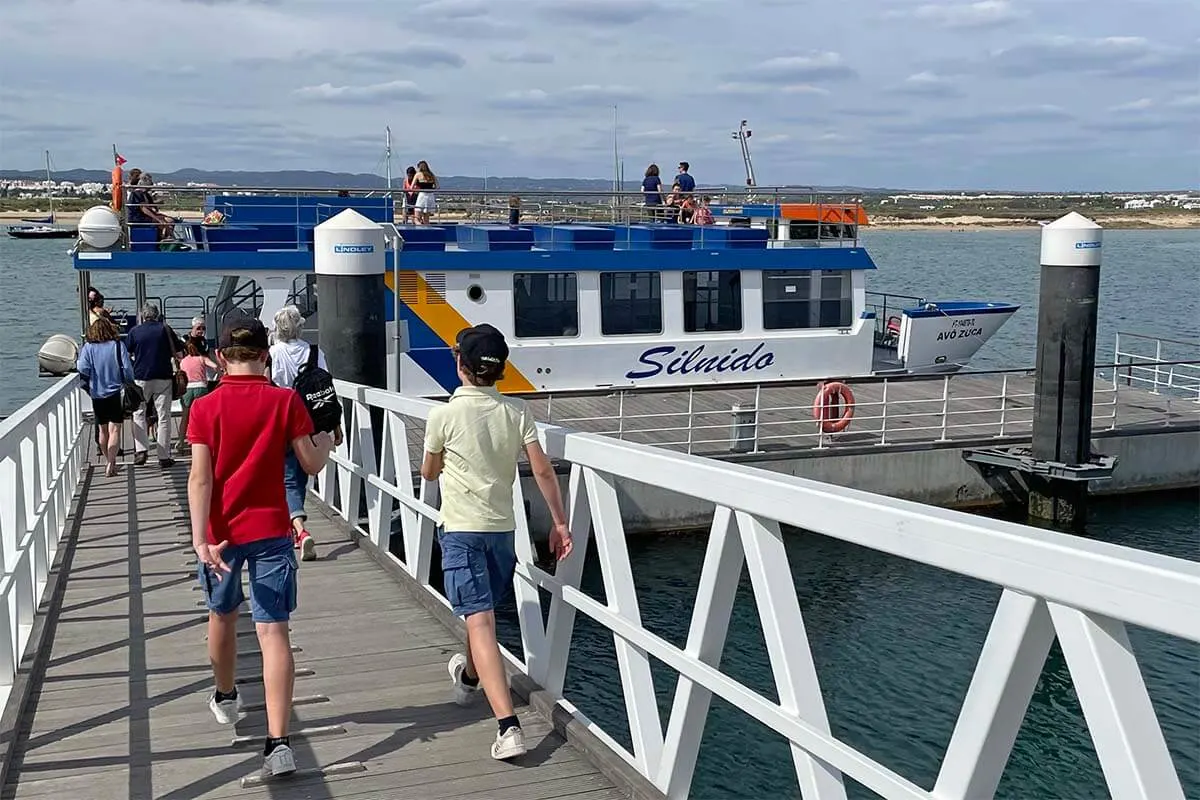 15. Ria Formosa Natural Park
Stretching for over 60 kilometers, Ria Formosa Natural Reserve is huge and there is more to see than just Tavira Island. So if you are looking for something nice to do in Tavira, you may want to consider a boat tour to explore more of the area.
A boat trip is a nice relaxing experience and it gives you a chance to see the unique ecosystem of Ria Formosa and spot various bird species. On the way, you will also see some salt pans. Depending on the season, you may be lucky to spot some flamingos in this area as well.
TIP: Unless you are visiting on a hot day in the summer, be sure to pack a sweater or even a jacket as it can get chilly on the boat.
Good to know: We saw some boat tours that start in the city center, but I'm not sure if you can book any of them online. When it comes to visiting the islands of Ria Formosa, you will find the best boat tours departing from Faro or Olhao, more towards the middle of the nature reserve.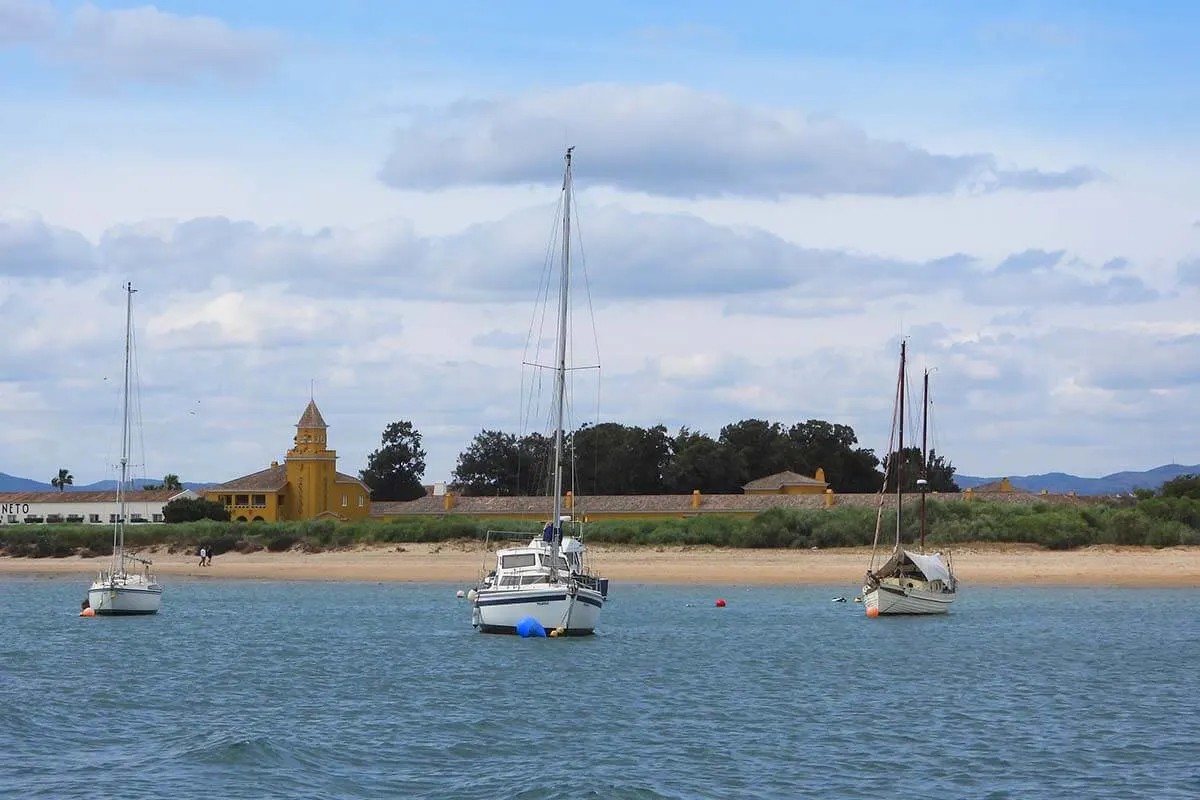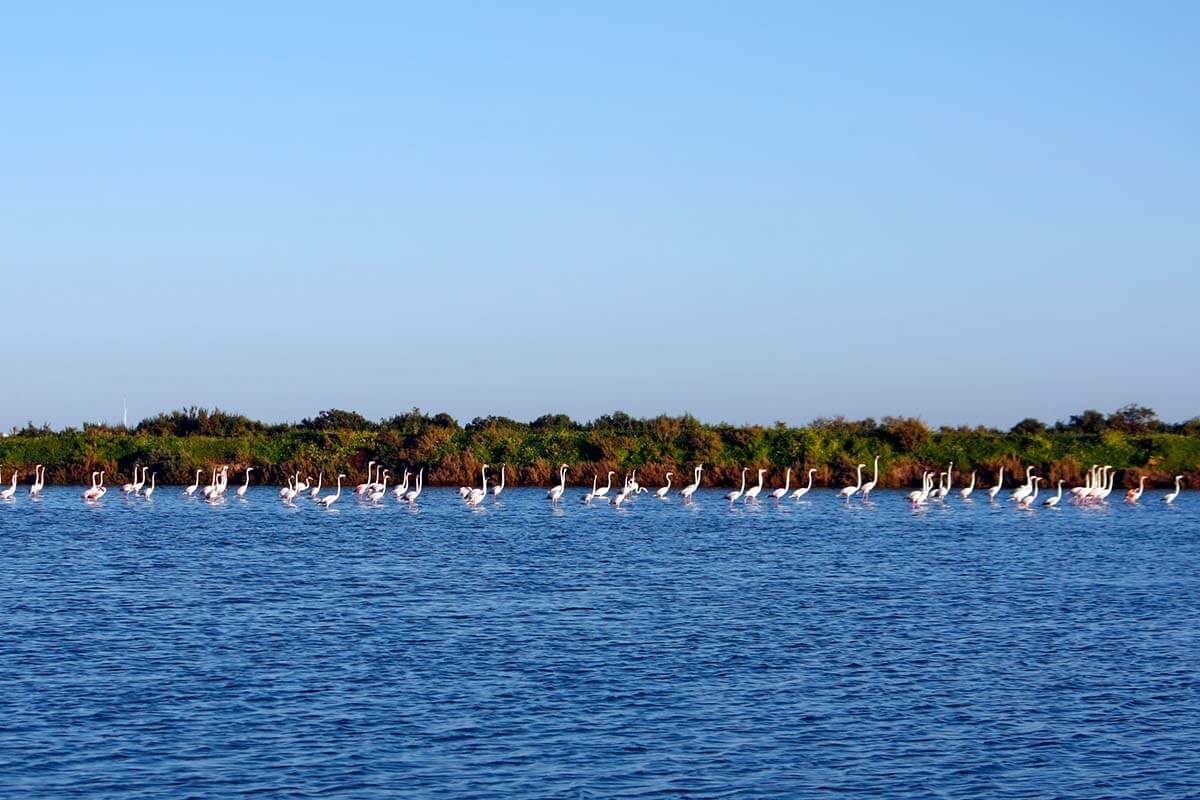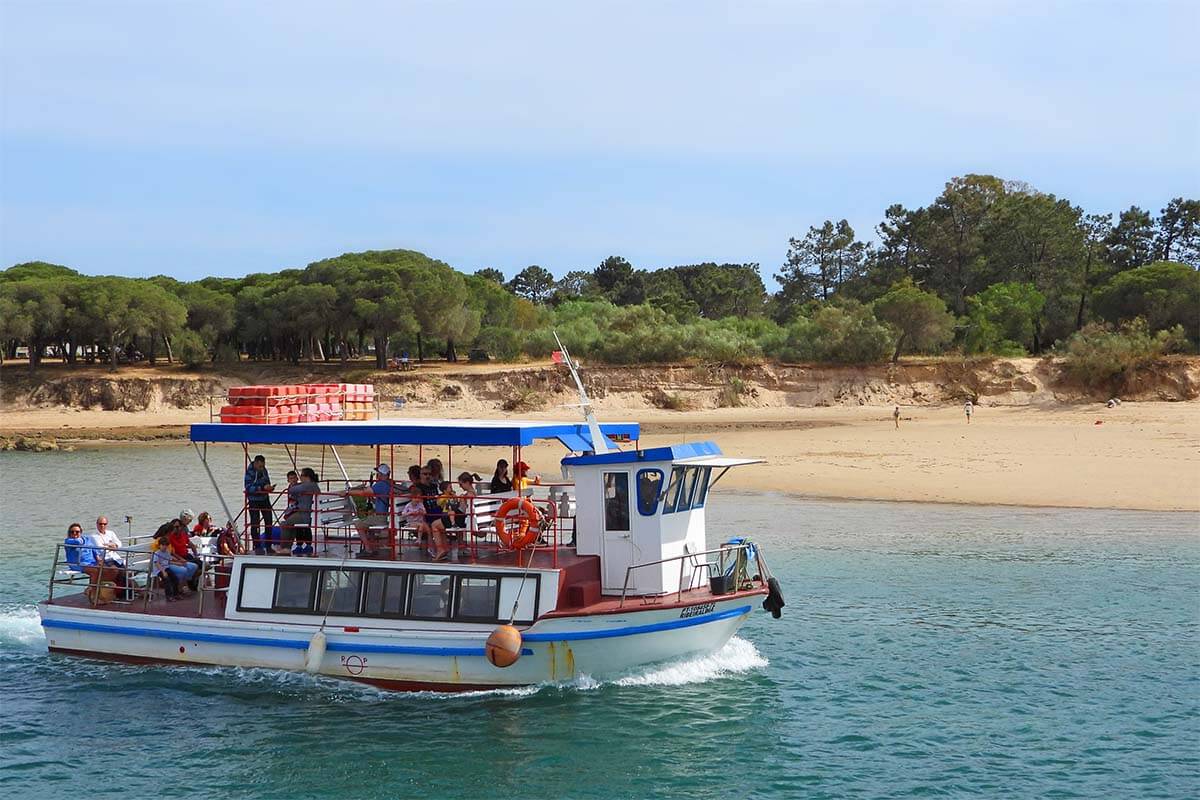 16. Praia do Barril
Praia do Barril is another beautiful beach that we highly recommend visiting in Tavira.
It's best known for Cemitério das âncoras, the anchor graveyard where you can see lots of old anchors nicely set in the dunes. Most anchors here date from the 19th century and you will find some informational panels giving some background info about the fishing industry in the region.
But most people simply come here for the beach. There are also a couple of restaurants and other facilities, so you could easily spend a couple of hours here. Or simply come to see the anchors, have a drink, and it's well worth it too.
Good to know: Barril Beach is also located on the Ilha de Tavira, but quite a lot further west than the main Tavira Beach mentioned earlier. The best way to get there is via the village of Santa Luzia, which is about 7 km/10 minutes drive from the town center.
From Santa Luzia, you can either walk to Barril Beach or take a scenic train ride. This is a little train with a couple of open-air carriages that drives really slow giving you plenty of opportunities to enjoy the scenery of the Ria Formosa nature reserve around you. It's nice to do if you are visiting with kids, but otherwise, you can just as well walk and save a few euros.
The walk from the car parking to the beach takes about 15 minutes and the train just 5 minutes. But if you have to wait for the next train, you will be faster simply walking there.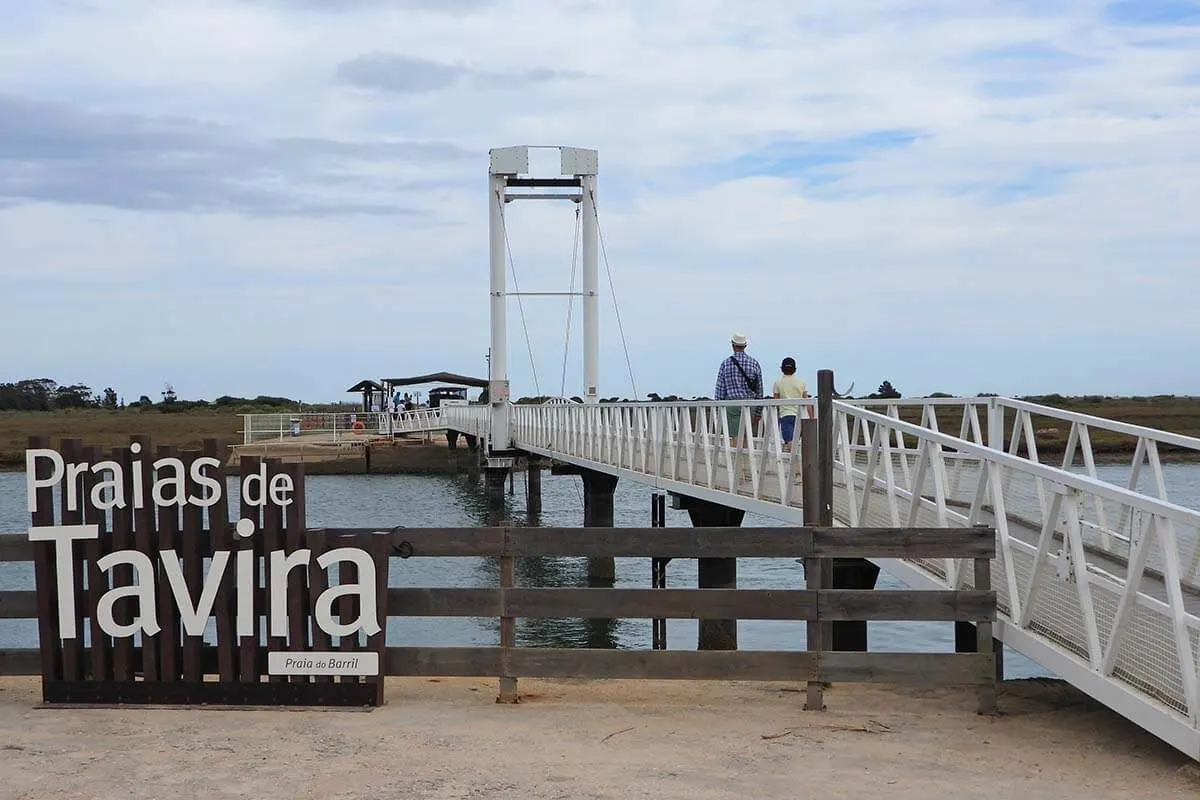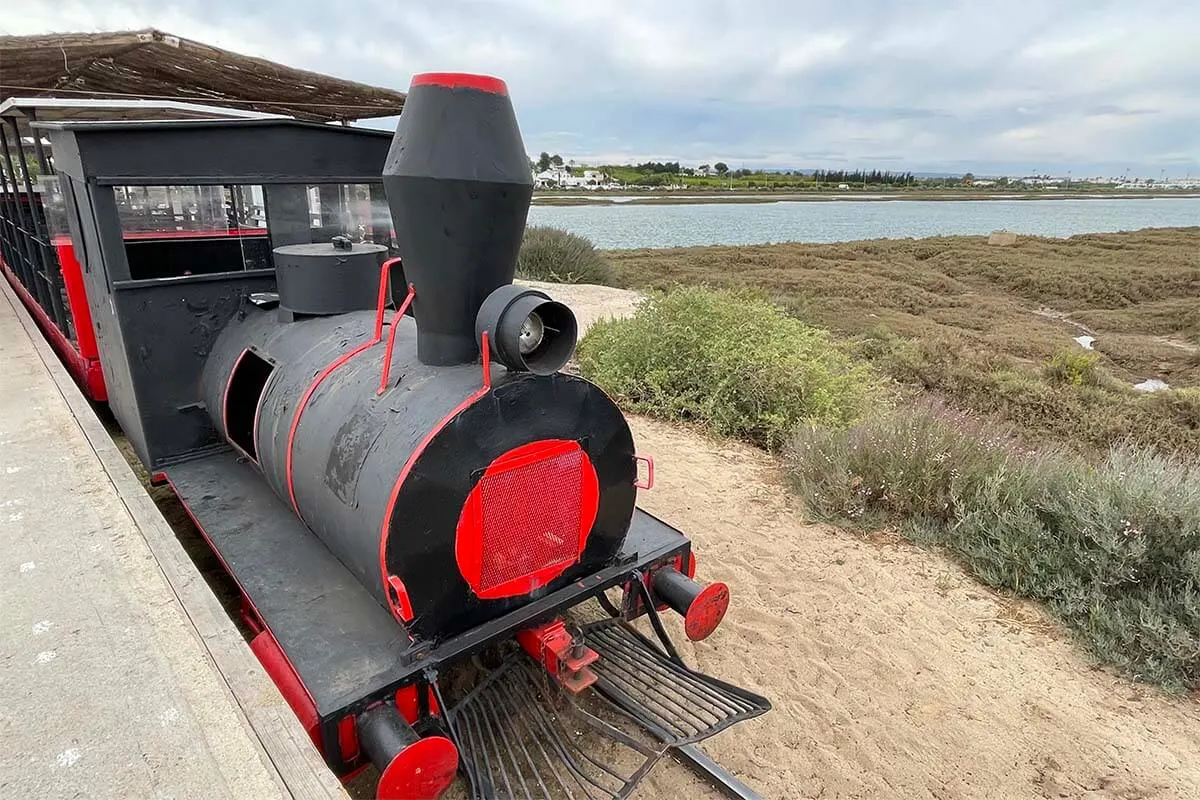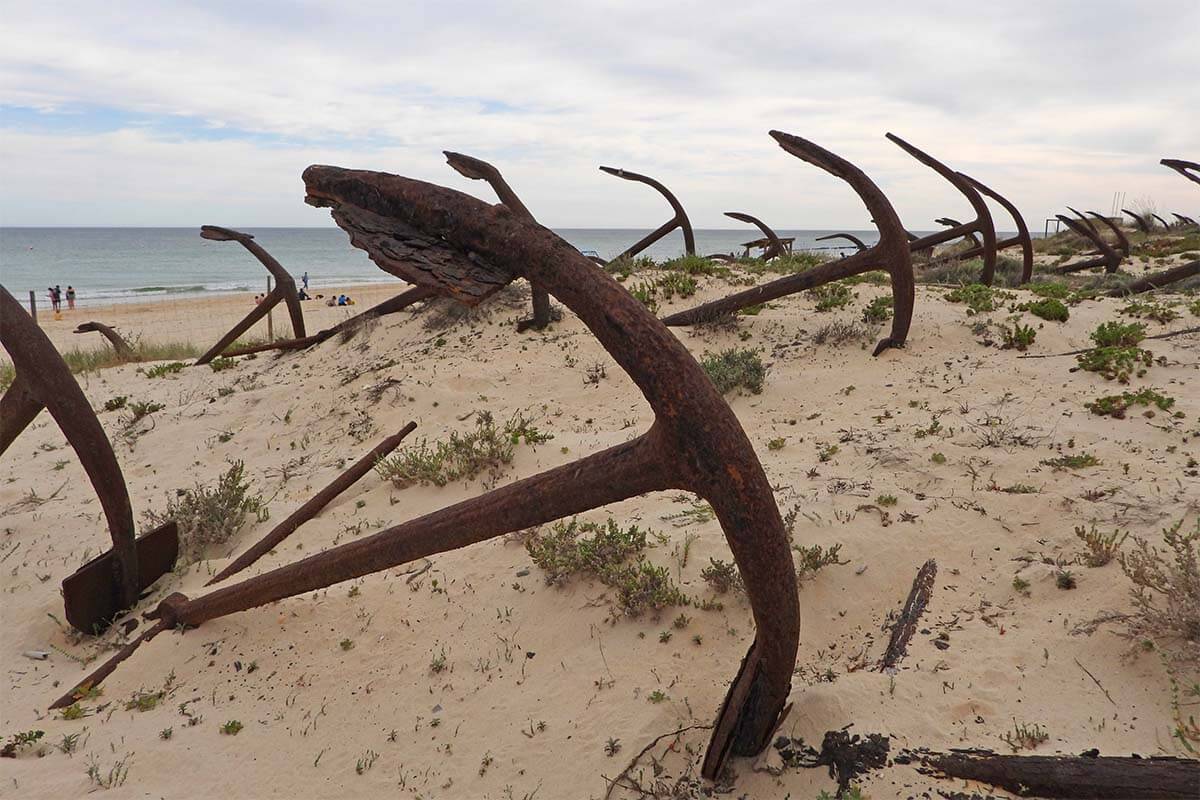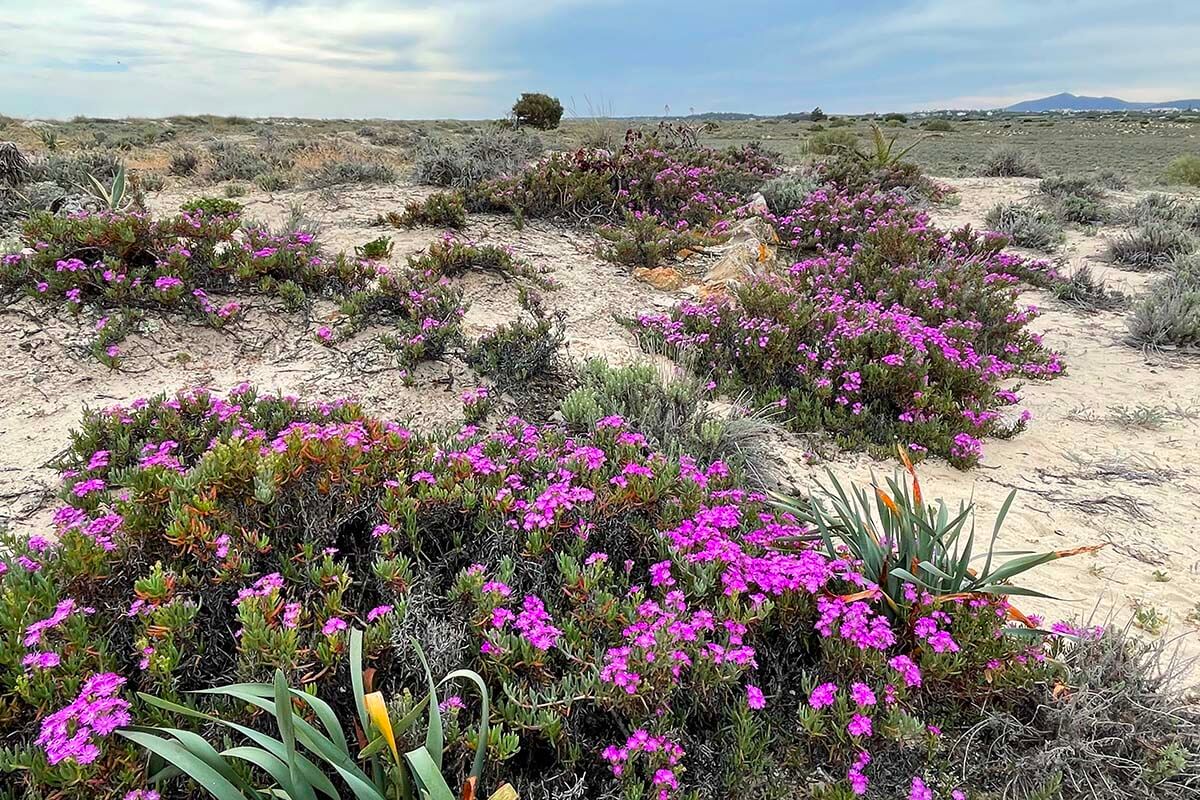 17. Oliveira Real
In Santa Luzia, before you reach the parking for the beach, you can stop for a photo at Oliveira Real. This olive tree is said to be over 2,000 years old!
However, it's literally standing in between private houses. Plus, you are not allowed to drive on this street.
So if you want to see this impressive ancient tree, leave your car at the main parking and walk here. It's a small village – everything is close by.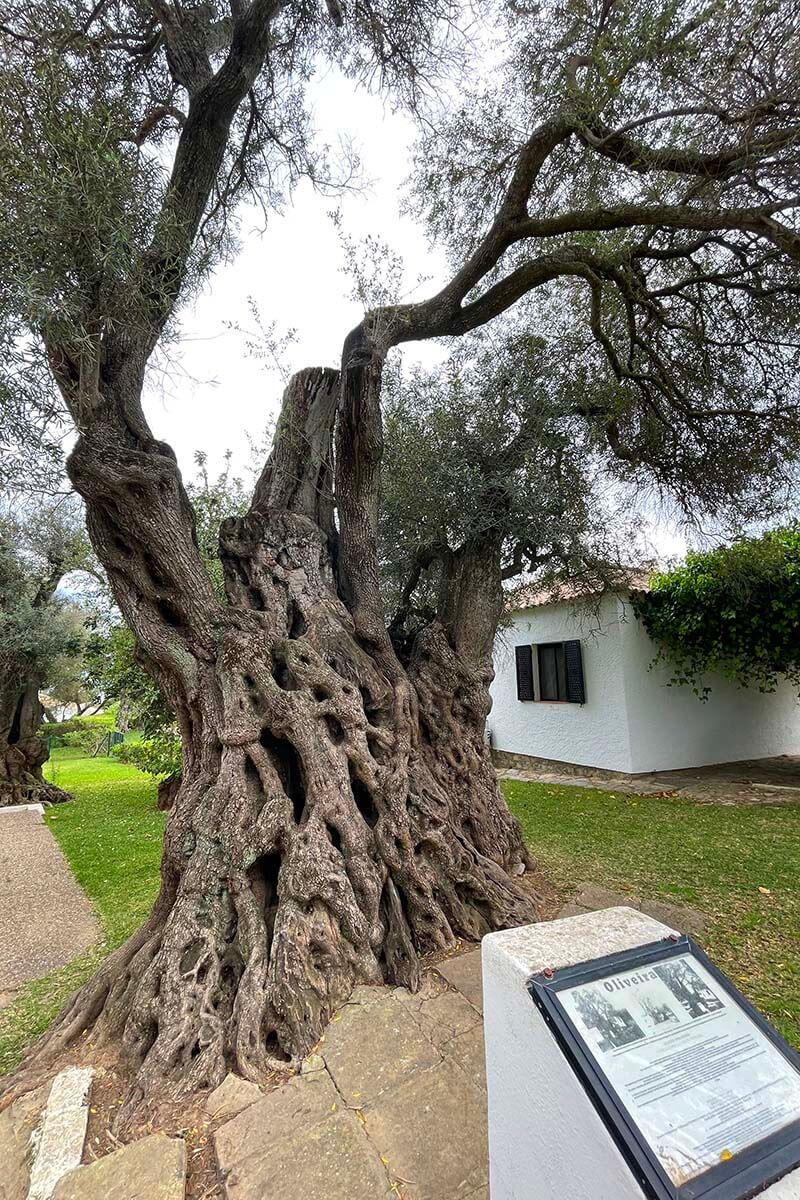 18. Cabanas de Tavira
Cabanas (aka Cabanas de Tavira) is a popular seaside resort located about 10 minutes drive east of Tavira town center. In the past, it was a sleepy fishermen's village.
Nowadays, you will find lots of restaurants here, and it's a really nice place to visit, especially during the summer season.
Cabanas de Tavira has a nice waterfront with a wooden pedestrian walkway. It lies on a lagoon, at the eastern side of the Ria Formosa Natural Reserve.
TIP: There are some boat tours here that can bring you to Ria Formosa Reserve. Depending on the season, you can spot flamingos and/or dolphins on these tours as well.
If you have even more time in Eastern Algarve, you could also visit the beach here, Praia de Cabana.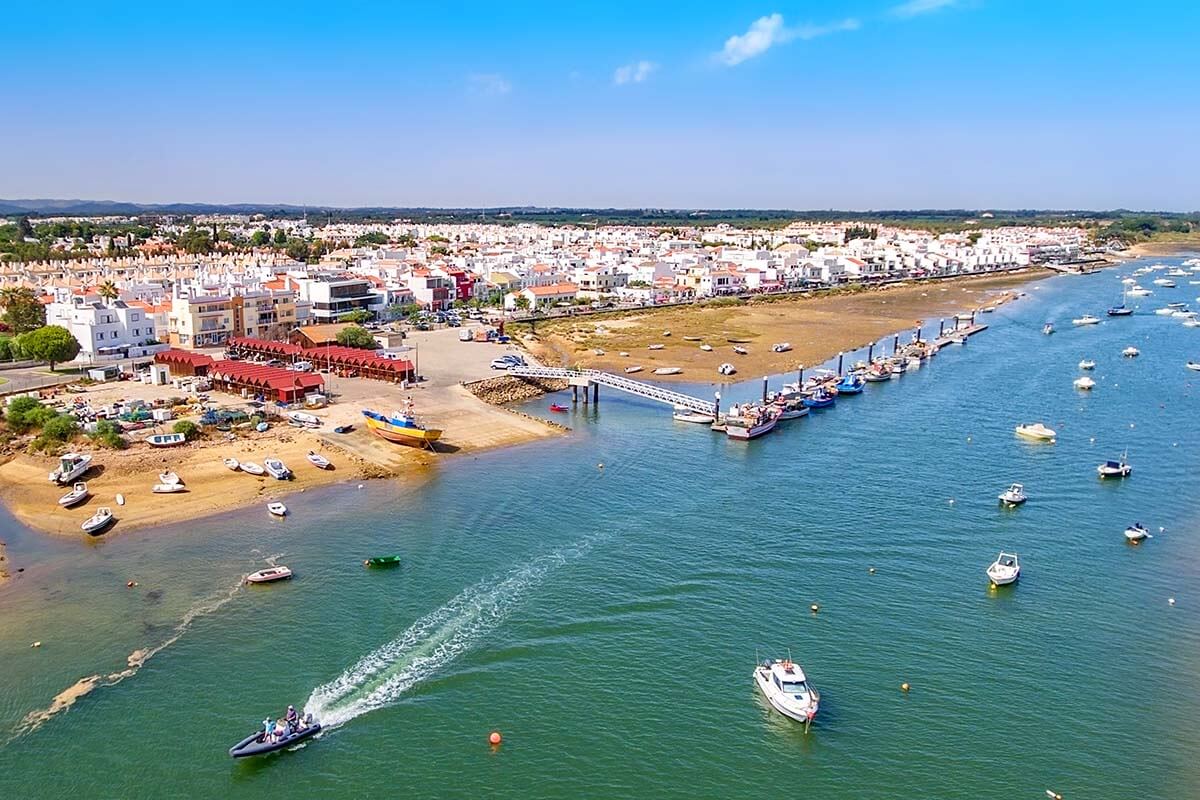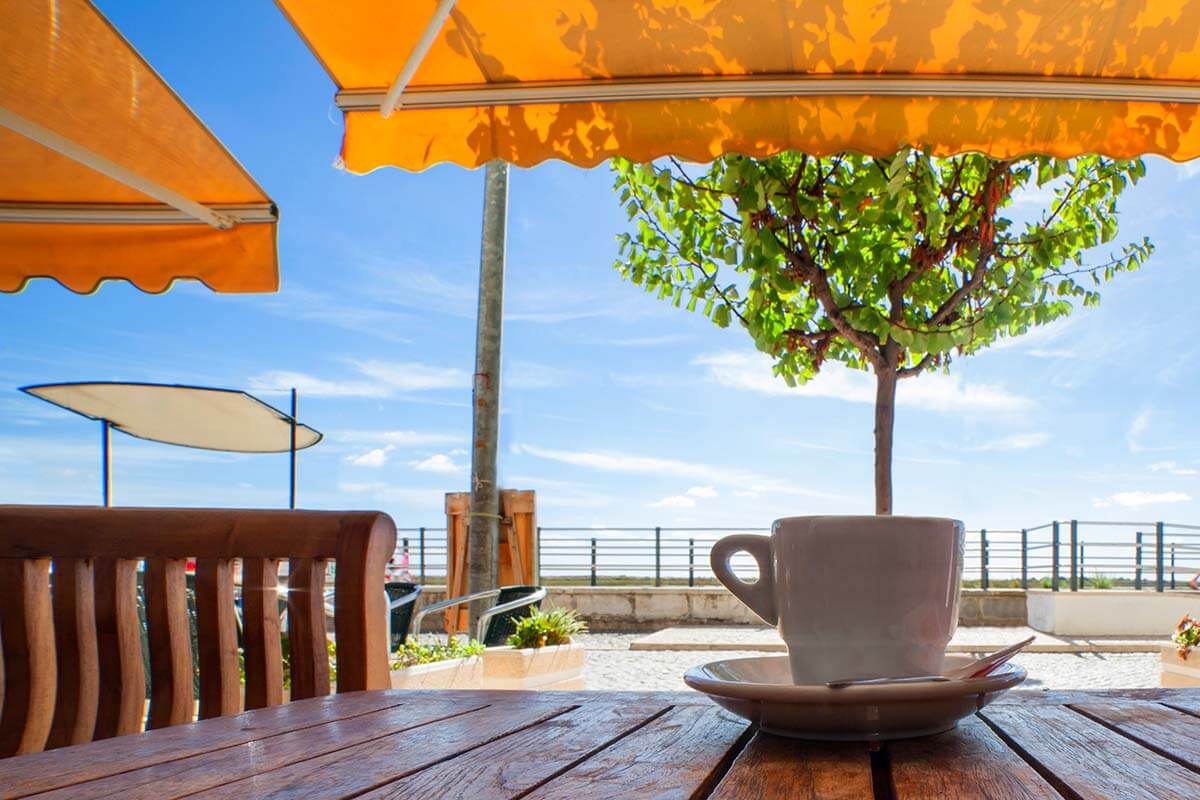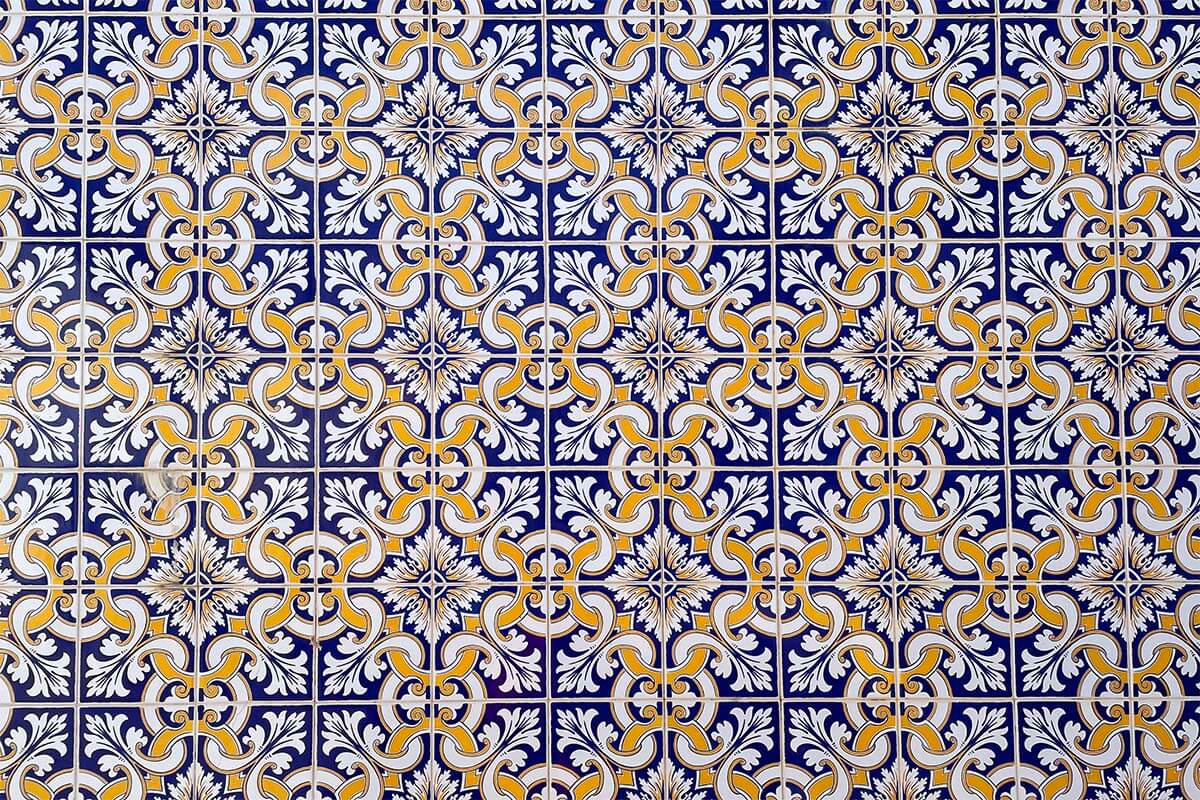 Map
To give you a better idea of where everything is located, we created a map of the main sights and places to visit in Tavira mentioned in this article.
Further below, you can also find some practical tips and useful information for your visit.
How to use this map: Use your computer mouse (or fingers) to zoom in or out. Click on the icons to get more information about each place. Click the arrow on the top left corner for the index. Click the star next to the map's title to add it to your Google Maps account. To view the saved map on your smartphone or PC, open Google Maps, click the menu and go to 'Your Places'/'Maps'. If you want to print the map or see it in a bigger window, click on 'View larger map' in the top right corner.
Info & Tips for Visiting Tavira
When to visit: While it is much livelier in the summer season, Tavira is a year-round destination, so you can visit at any time. In summer, take more time to enjoy the beaches, and during the colder months, you have more bird-watching opportunities. If you want to visit museums and churches, note that many places are closed on Sundays and some also on Saturdays or on Mondays.
Getting there: Tavira is located about 30 km east of Faro. You can get here by train from Faro and it takes less than an hour. Of course, you can also drive, and there are also private transfers that can bring you here from the airport or other towns in the region. In addition, there are also various guided tours that include Tavira in their Eastern Algarve sightseeing tour itineraries.
Getting around: The old town of Tavira is rather compact and can be explored on foot. You can also opt for a tourist train or a tuk-tuk tour. The latter offers a much better experience and is the best option if you want to see more without having to walk a lot. You'll need to take a ferry/water taxi to get to the main beach on Ilha de Tavira.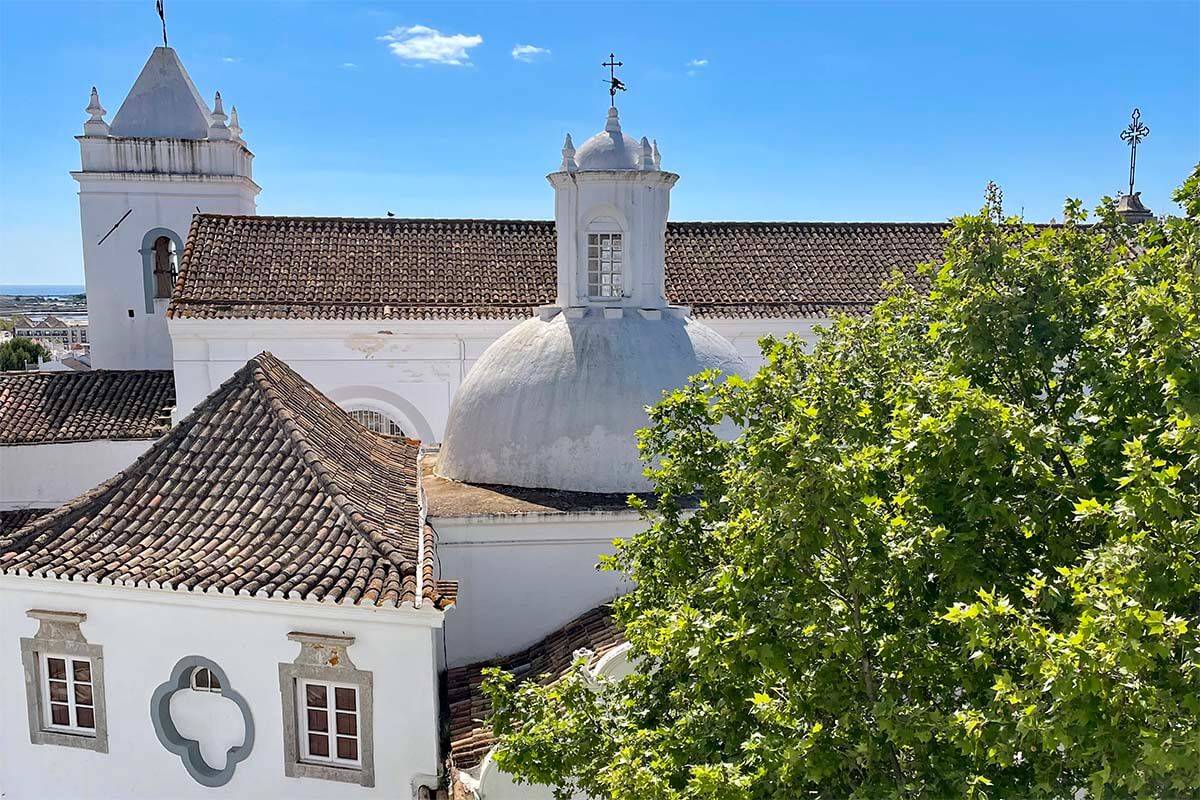 What to wear: We highly recommend wearing comfortable shoes for sightseeing in Tavira, especially if you are planning to climb church towers or visit the islands nearby. In the summer, sun protection is a must, and in the colder months, be sure to bring a sweater and a windbreaker. It's always a good idea to take a bottle of drinking water as well.
How much time do you need: Depending on your interests, you can spend just 2-3 hours in Tavira or a couple of days. We recommend at least 3-4 hours for the main attractions in Tavira. In addition, plan half a day for a visit to the main beaches. If you plan well, it's possible to quickly see Tavira, Tavira Beach, Barril Beach, and Cabanas in one day (but it will be rushed).
Where to stay: While you can easily see Tavira and its surroundings in a day, it's also a nice place for a longer stay in Eastern Algarve. Tavira is also a good base for sightseeing or summer vacation in Eastern Algarve. Here are some of the best-rated hotels in Tavira: Formosa Guest House (the most popular hotel in the center) and Pousada Convento da Tavira located in a beautifully-restored old convent in the heart of the old town.
TIP: If you are looking for a nice vacation resort for a longer stay in the area, check out Hotel Vila Galé Albacora. It's beautifully located outside of town and surrounded by the waters of Ria Formosa Natural Park. The buildings were part of an old tuna fishing camp and have been beautifully restored. It's a really unique place to stay near Tavira.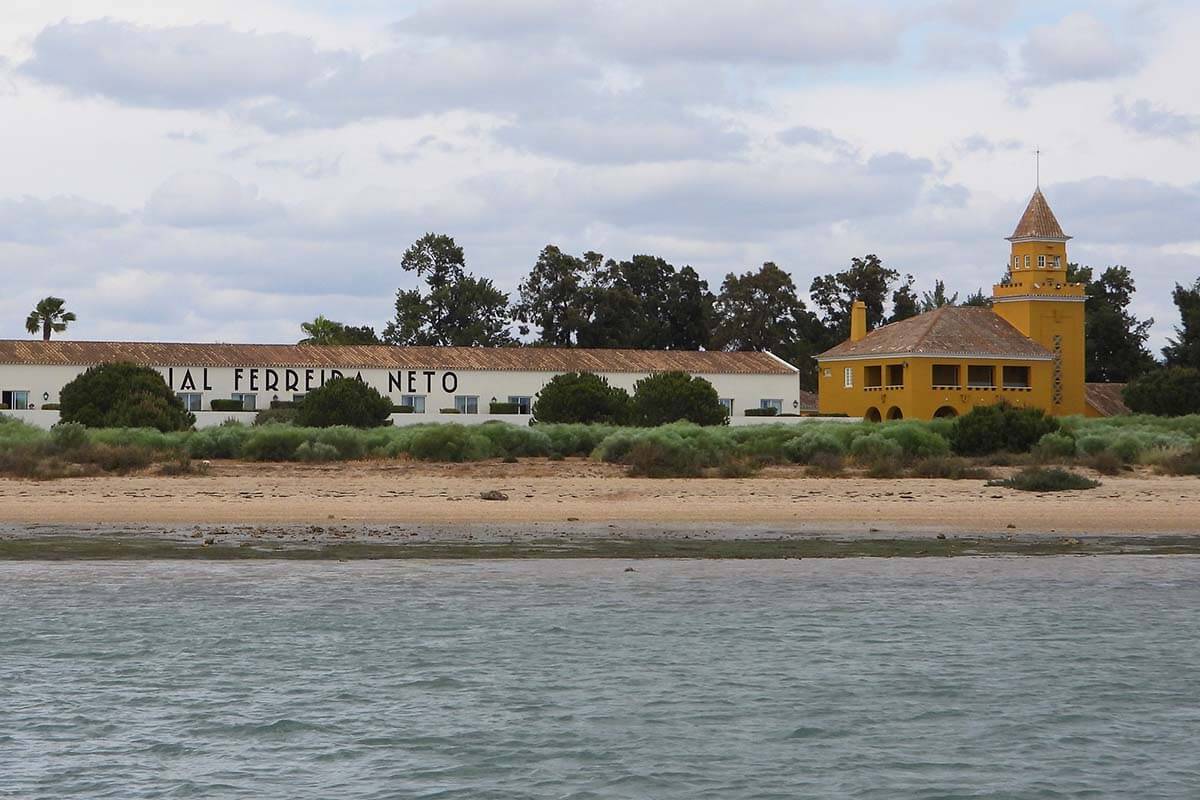 So, this is our guide to Tavira in Portugal. I hope that it gives you a better idea of what there is to see and do in Tavira. Whether you are interested in history, nature, traditional culture, or a relaxing beach vacation, Tavira is a nice destination that is well worth a visit.
Have a great trip!
TIP: On our blog, you can find many more guides to the Algarve region, as well as the rest of Portugal. Check it out via the links below!
More travel inspiration for the Algarve region:
If you found this post useful, don't forget to bookmark it and share it with your friends. Are you on Pinterest? Pin these images!