Visiting Montepulciano town in Italy and wondering what to expect, what there is to see and do in Montepulciano, or how to plan your time? In this guide, we share all the must-sees and useful tips for your first visit to this charming town in the heart of Tuscany. Find out!
The delightful hilltop town of Montepulciano is quintessentially Tuscan, its medieval architecture little changed since the 1500s.
The chief attraction here is the region's fabulous wine – Nobile di Montepulciano – made from the Sangiovese grapes that grow in the surrounding hills. And there are many places to enjoy this classic red, whether on a vineyard tour, a wine cellar, or a world-class wine bar.
But there are many more reasons to visit Montepulciano and this charming Renaissance town has a lot more to offer than it looks at first sight. Visitors are also drawn by the picture-perfect views of the lush Tuscan landscape, the fantastic food, and the relaxed atmosphere that makes this lovely little town really special.
You won't find lots of activities or museums in Montepulciano, but there are several historic landmarks that are well worth seeing. In addition, you will experience an authentic taste of Tuscan life and take home memories of some of the most beautiful scenery in the world.
In fact, after having visited many places all over the region, we think that Montepulciano is one of the nicest towns to see in Tuscany. Of course, you can't compare it to visiting cities like Florence or Siena; it's a totally different experience. But as far as smaller towns go, Montepulciano is truly one of the most charming, quintessential Tuscan towns. It's absolutely not to be missed!
Below, you can read about the VERY BEST things to do in Montepulciano. Further down, you can also find a map indicating all these places.
We also included a section with practical information for your visit, such as how to get to Montepulciano, where to park, where to eat, or where to stay. You can also find some info on what it's like to visit Montepulciano with kids. And if you are traveling without a car, check out our hand-picked selection of some of the best tours that visit Montepulciano.
Take a look!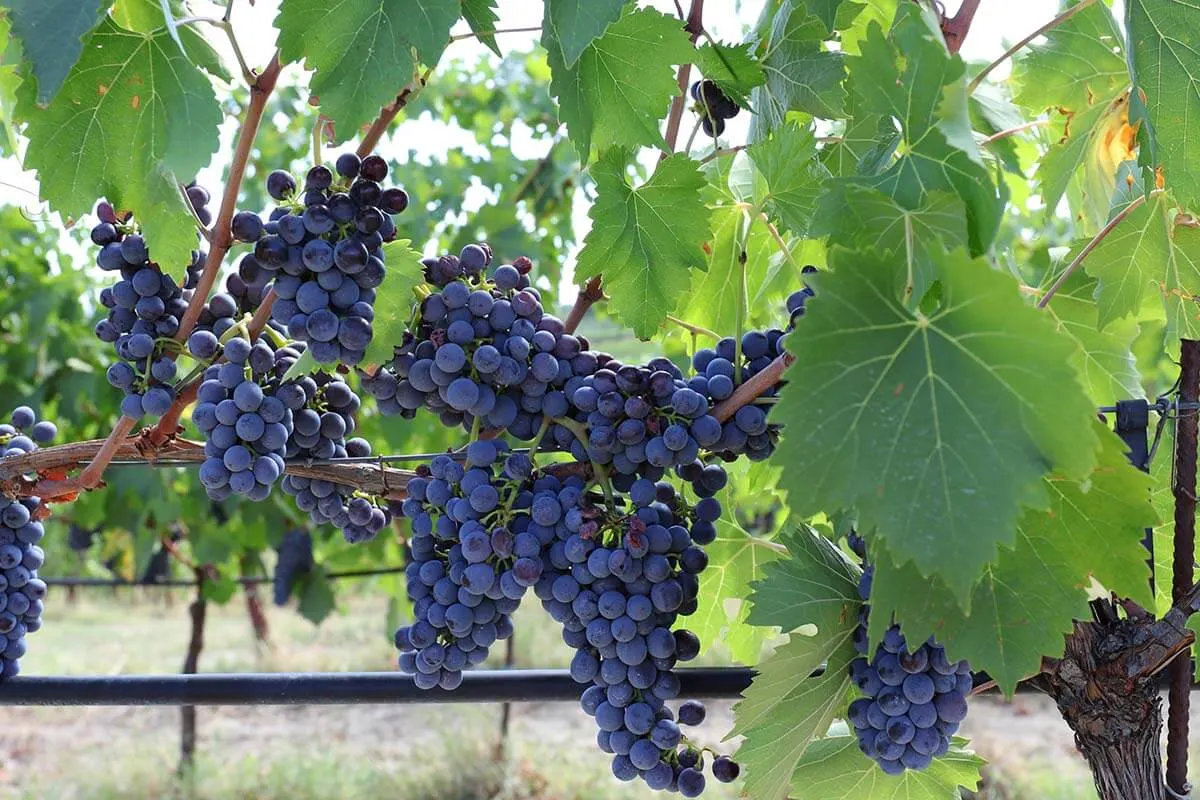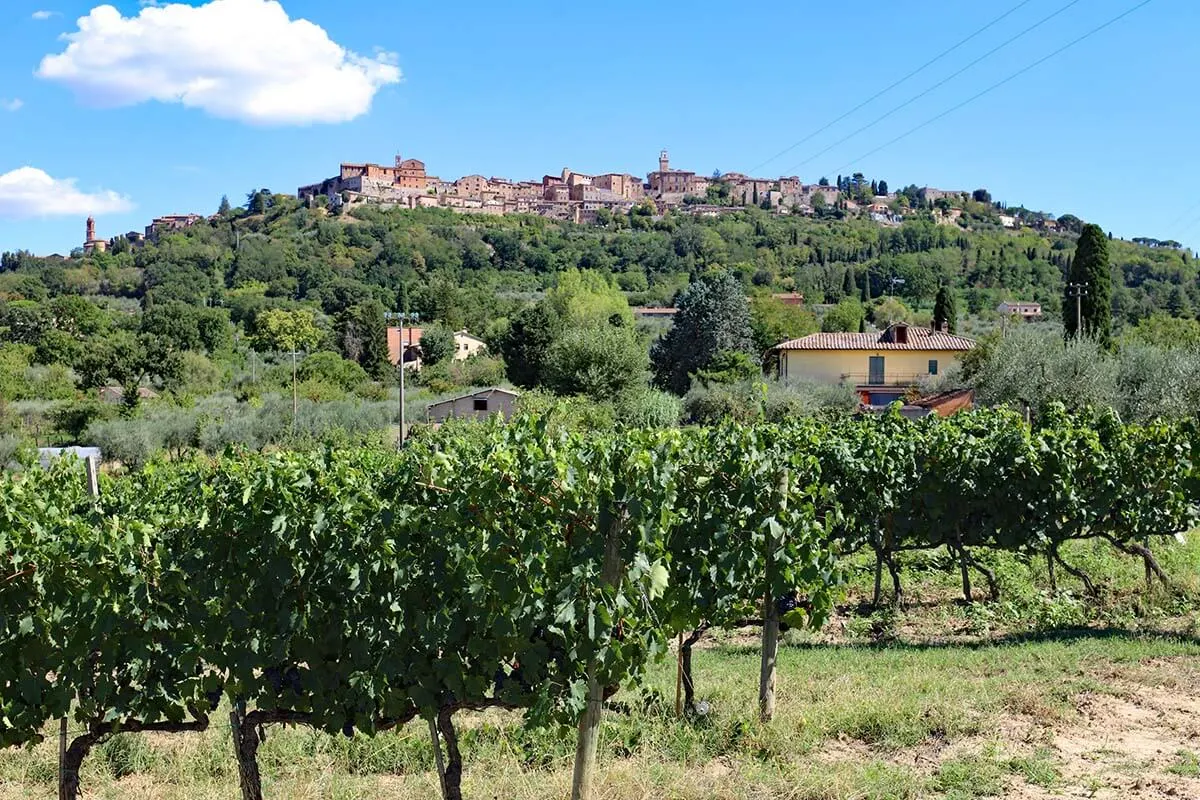 Here are the best places to see and things to do in Montepulciano:
1. Piazza Grande
Piazza Grande is a large square in the heart of the old town of Montepulciano. Sitting at the top of the hill, it is the only flat area in a town where all the streets are sloping. Its official name is Piazza Vittorio Emanuele, but everyone refers to it as Piazza Grande (Big Square).
It contains several impressive buildings, including the cathedral, the town hall, and the 16th-century Palazzo Contucci. This Renaissance building was home to the Contucci family and rises over their vast cellars. Still in business today, the Contucci family was largely responsible for making Vino Nobile di Montepulciano famous throughout the world.
The square is also home to Il Pozzo dei Grifi e dei Leoni (the Well of the Griffins and Lions), which is often mistakenly referred to as a fountain. On its top sit two lions (to represent Florence) supporting the Medici crest. On either side of the lions sits a griffin to represent Montepulciano.
There are plenty of attractive little cafes here, too, and there is no better place in the town to sit, have a drink, and watch the locals go about their lives. In the summer, there are frequent open-air concerts to enjoy, sometimes held under the stars. In fact, the square looks especially beautiful at night, as all the ancient buildings are illuminated.
Good to know: If the whole area seems familiar, that may be because it was used to film scenes in the film The Twilight Saga: New Moon.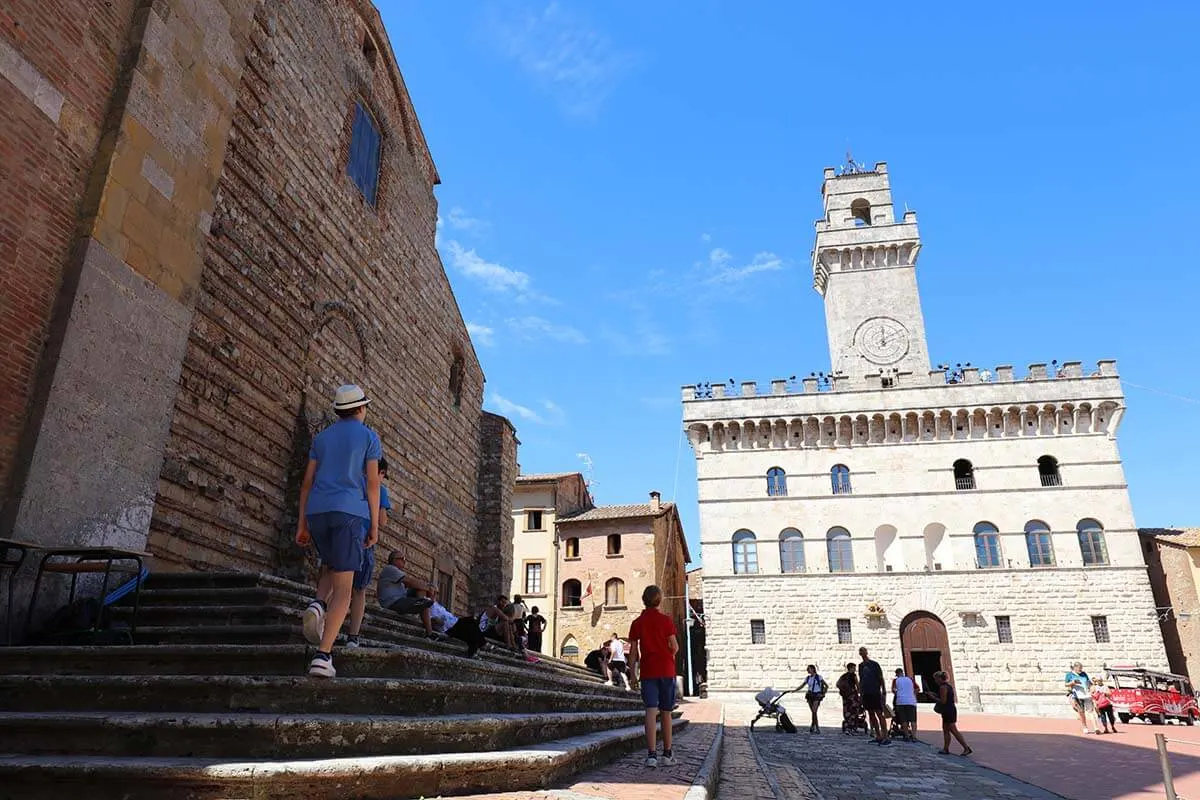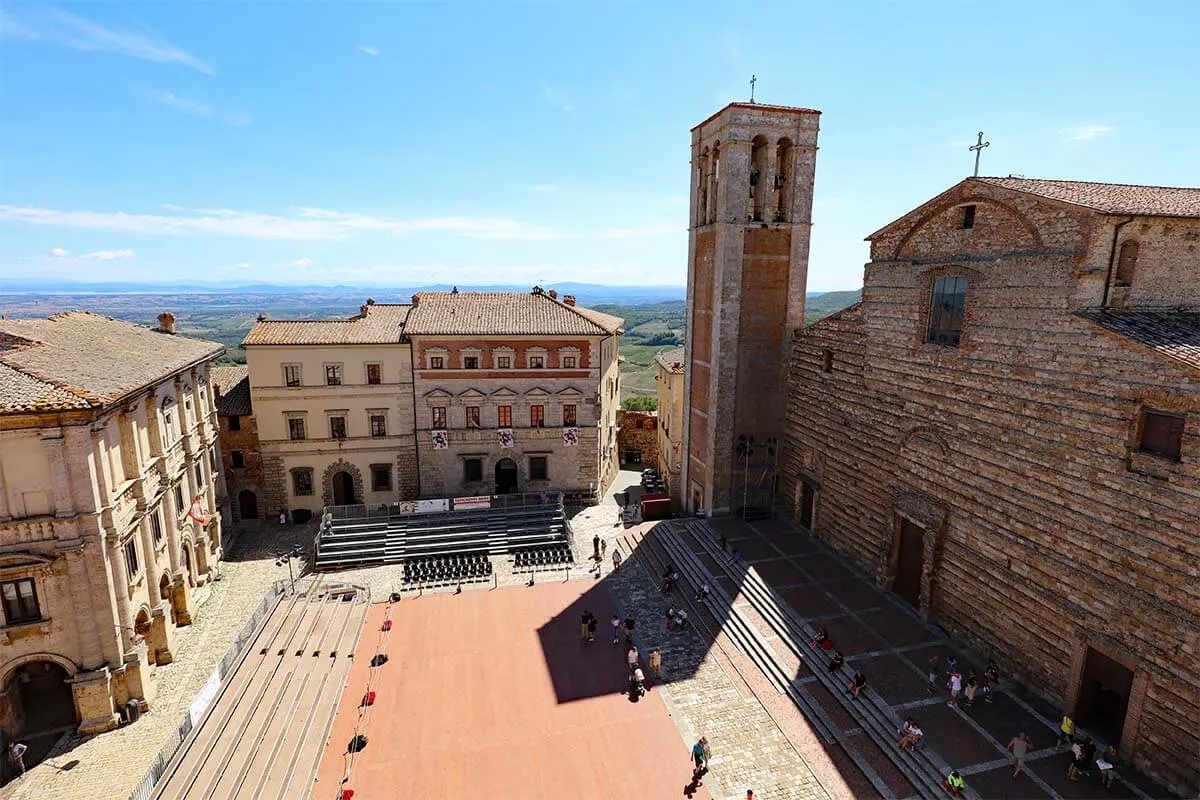 2. Views from the Town Hall
Montepulciano's Town Hall sits on the western side of the Piazza Grande, the town's main square. Known locally as the Palazzo Comunale, the building dates from the late 14th and early 15th centuries. Its architecture was modeled on that of the famous Palazzo Vecchio in Florence.
It has an imposing travertine facade topped with traditional Guelph battlements. Behind these is a terrace that can be visited for a small fee. It's accessible by elevator. But if you are fit enough, it's worth paying a bit more to also climb to the very top of the bell tower. This is the highest point in Montepulciano.
As you might expect, the 360-degree views from the tower are superb, taking in the incredible scenery of Val d'Orcia. You can also look across to Lake Trasimeno and its islands, along with the lakes of Montepulciano and Chiusi.
Good to know: The steps at the top of the tower are extremely steep and narrow. Anyone with a fear of tight spaces would be better visiting the terrace instead. Either way, photos of the views from City Hall are something you really must take home with you from your trip!
Practical info: The Palazzo Comunale is open to visitors daily between 10 am and 6 pm from April to November and also during the Christmas period. There's a small fee to visit the terrace or the tower.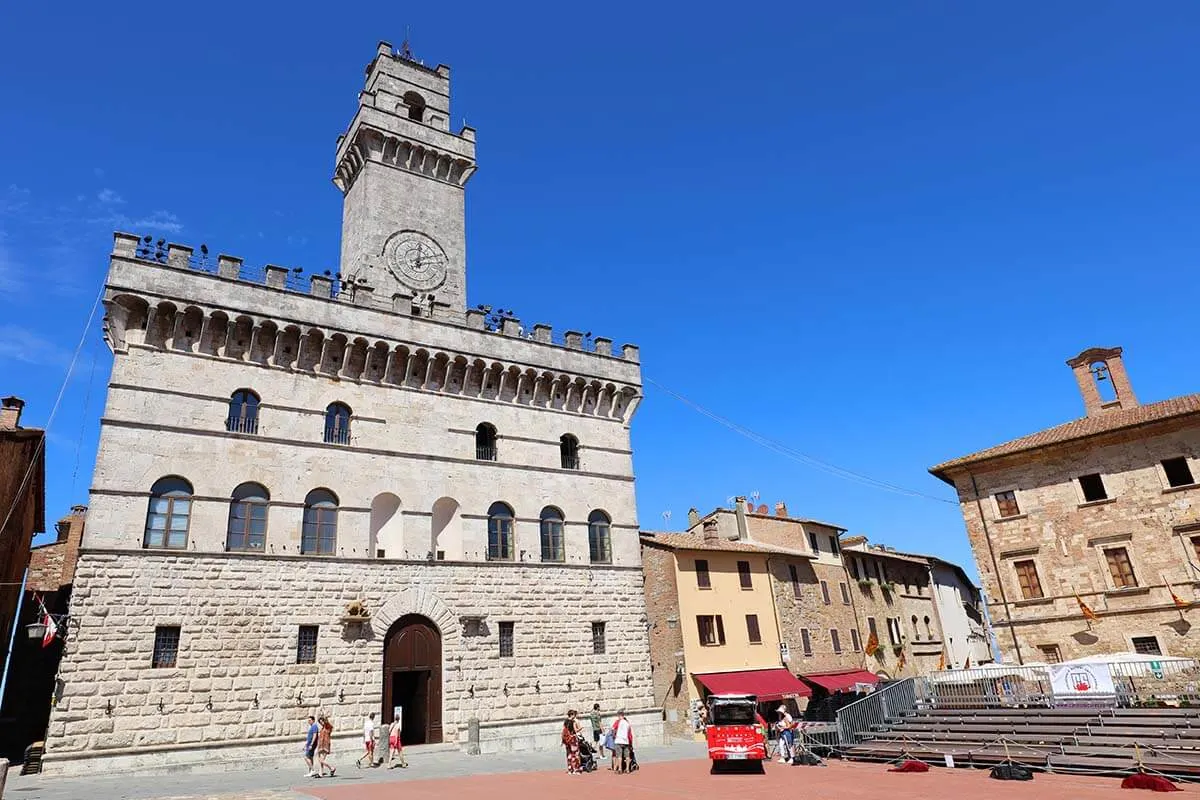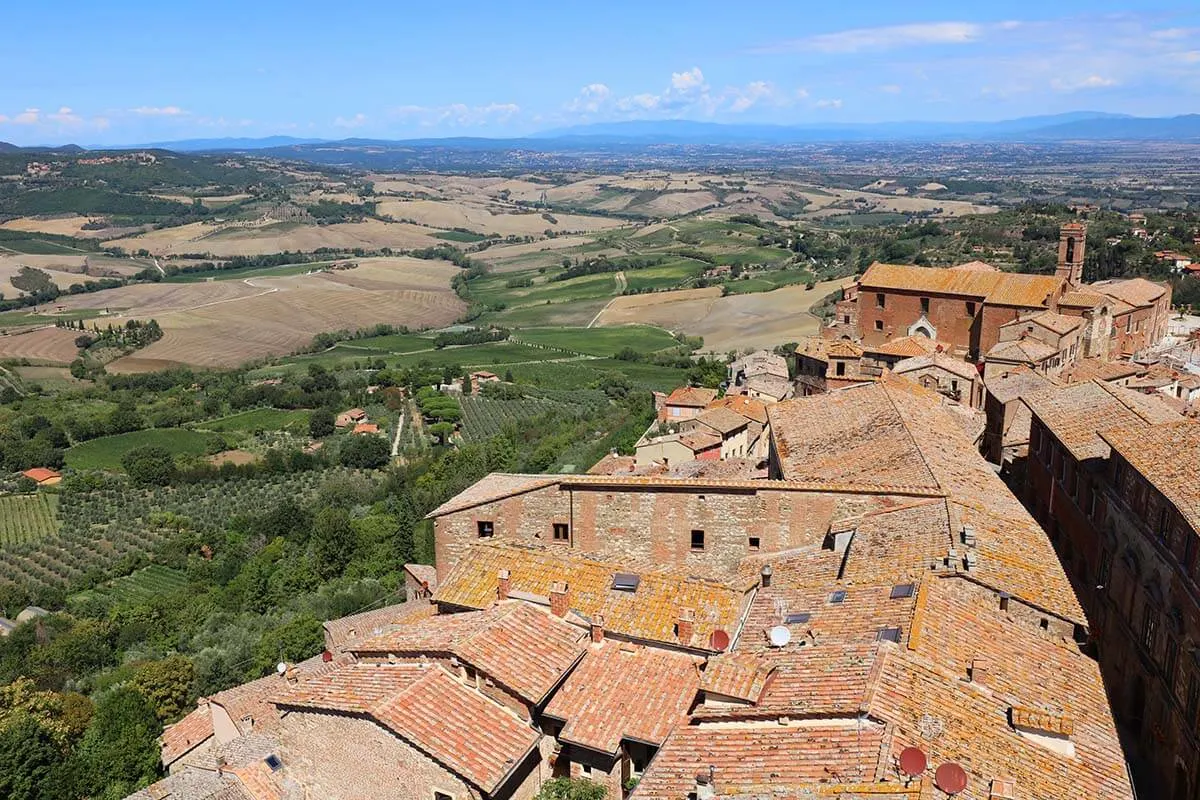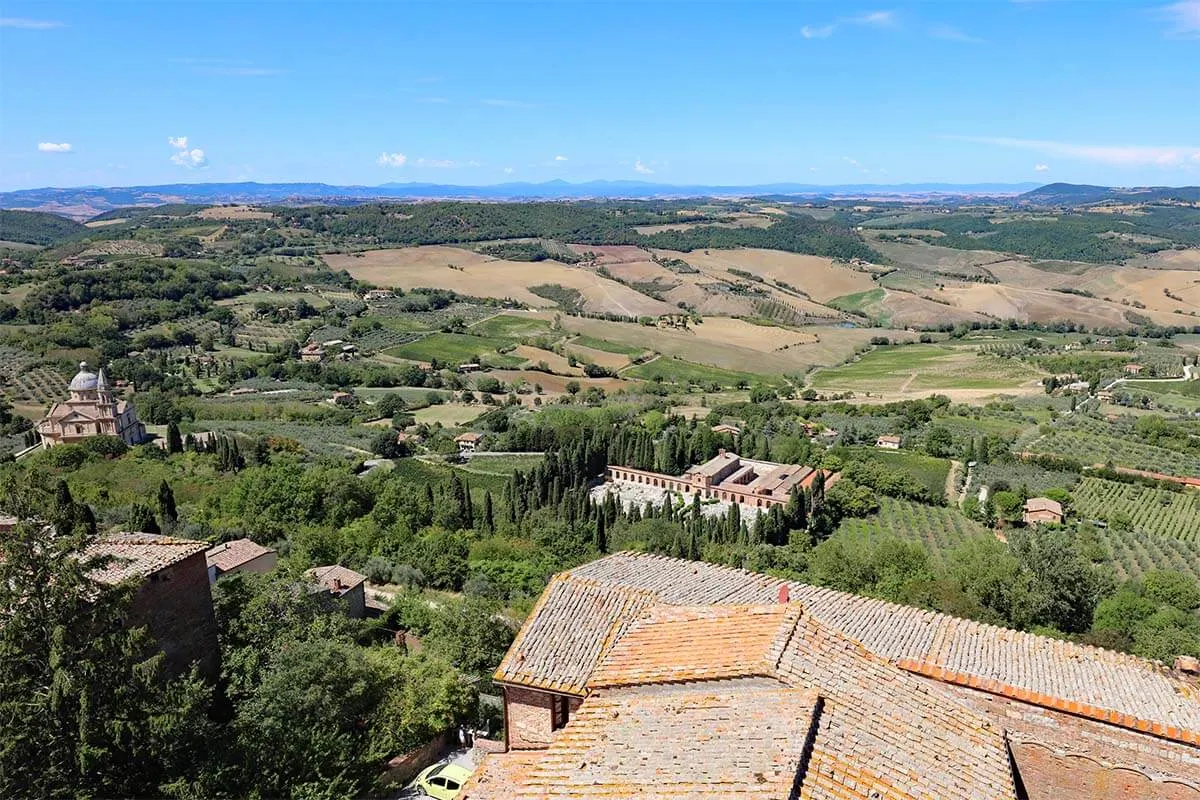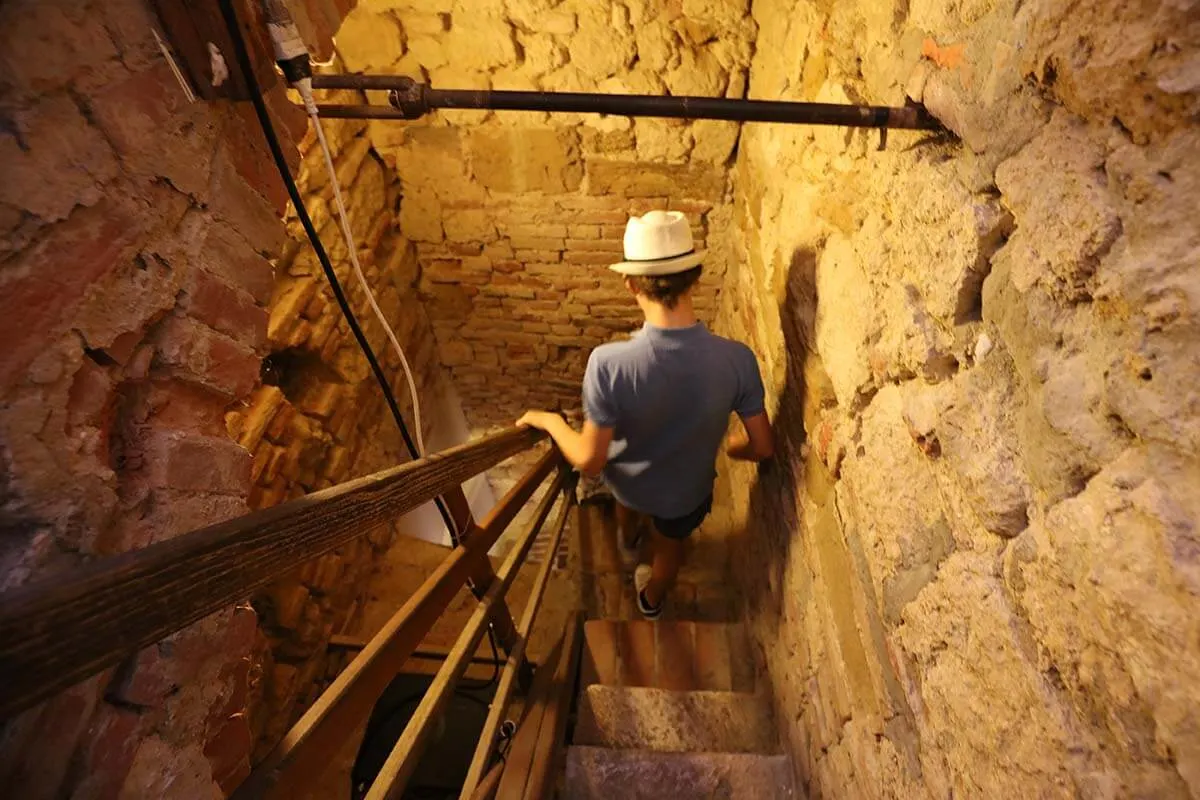 3. Il Corso & Historic Old Town
Via di Gracciano nel Corso is just the first part of the wonderful 'il Corso', the main street of Montepulciano. This is the kilometer-long, winding street that runs through the historic old town, starting at the Porta al Prato city gate and gently ascending to the Piazza Grande.
You'll notice that the name of this street seems to change constantly as you walk along, which can make it difficult to follow on a map. After Via di Gracciano, you'll come to Via di Voltaia, Via dell'Opio, and Via del Poliziano. But it's really simple and straightforward in reality – all you have to do is follow the string of other tourists…
Il Corso is dotted with landmarks like the Torre di Pulcinella and the Palazzo Bucelli with its elaborately carved brickwork and Etruscan pots and urns. You can also see the tall shuttered mansions that were once home to some of the town's wealthiest families.
Although the route takes you steadily uphill, there are lots of lovely eateries, wine bars, and artisan shops to stop off at along the way. This is the place to buy souvenirs of your stay, with some excellent ceramics, copper work, and handmade leather goods on offer. But you may want to wait with this until after you have visited all the other landmarks in Montepulciano.
Be sure to check out the side streets of the old town too. They are packed with hidden gems and excellent viewpoints!
TIP: If a long uphill walk sounds daunting (it's really not as bad though), you can opt for the hop-on hop-off city tour to the top of il Corso and walk all the way back down it instead.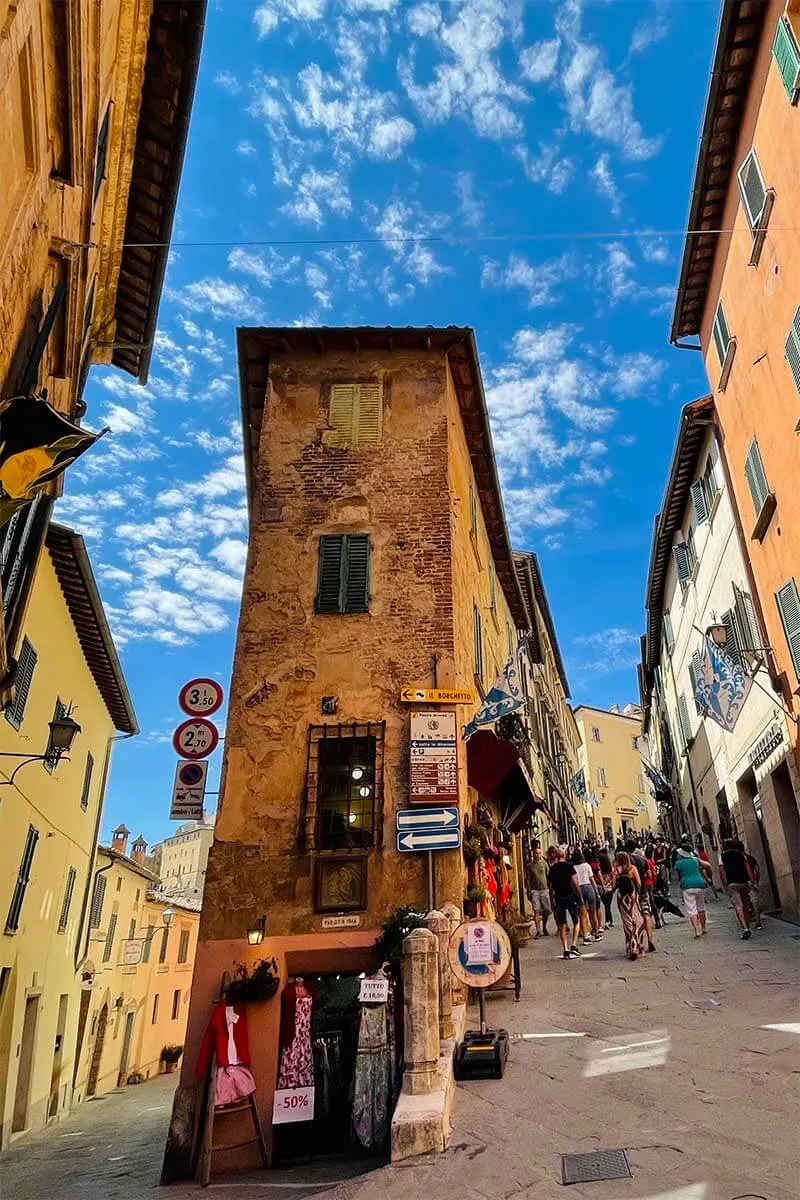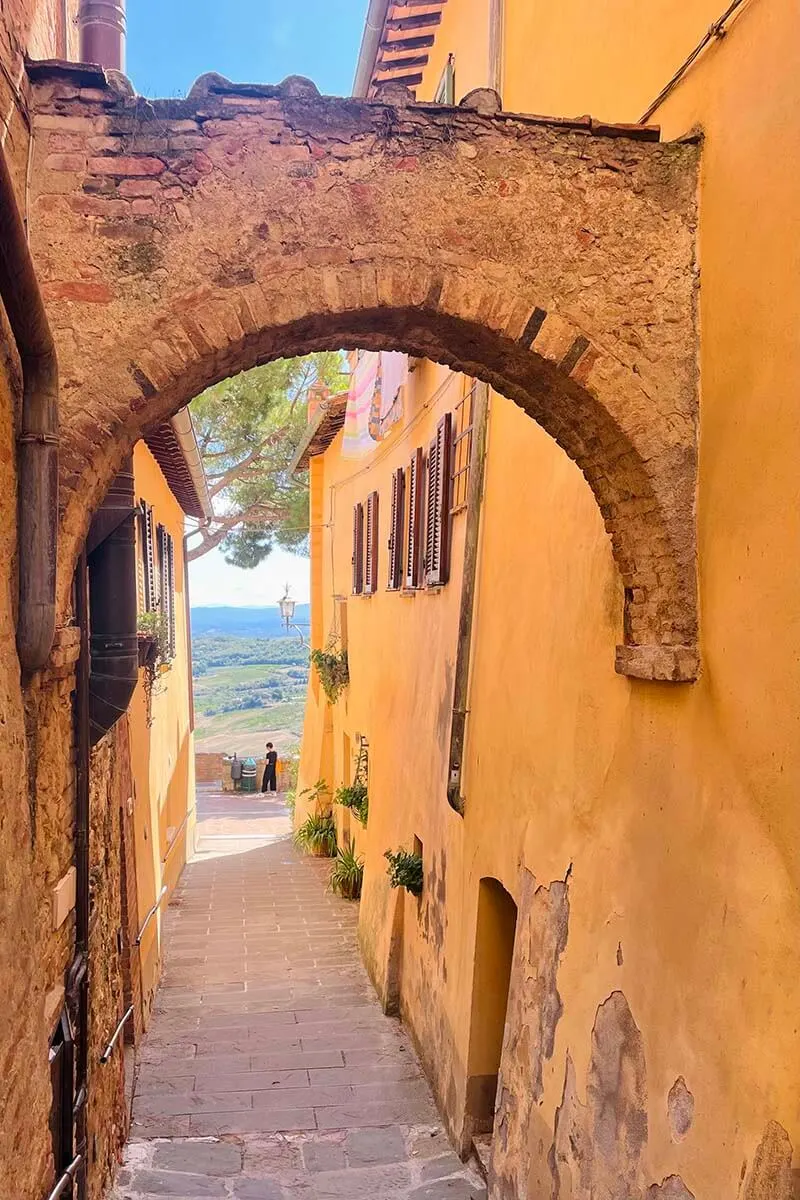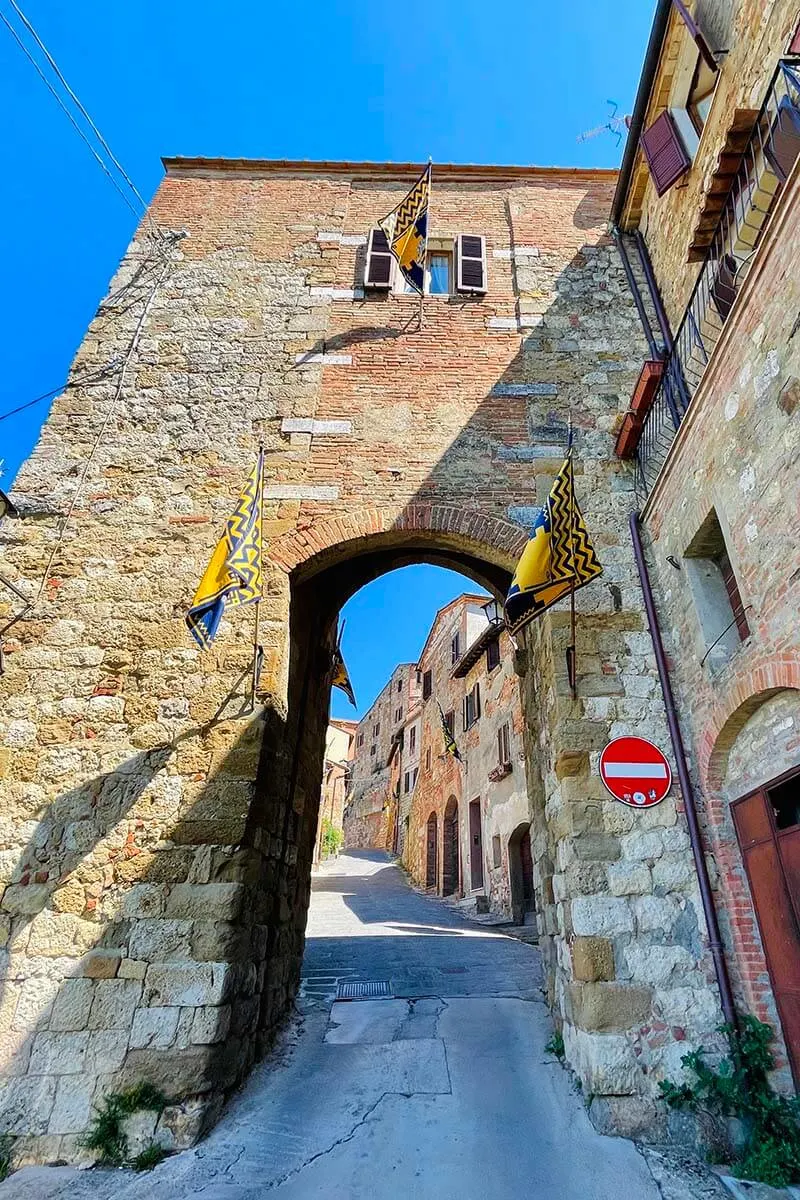 4. Pulcinella Tower
Head to the church of St. Agostino in the heart of Montepulciano, look up at the bell tower, Torre di Pulcinella, and you'll see something unexpected! This is where the town's statue of Pulcinella strikes a bell on the hour, every hour.
The character of Pulcinella (later made famous by Punch and Judy shows) originated in 17th-century comedy theater in Italy and was a very popular figure in Neapolitan puppetry. In fact, if you ever visit Naples in southern Italy, you'll come across Pulcinella all over the place.
But quite why a statue of him stands atop a bell tower in Montepulciano is a bit of a mystery! Some people think it may have been commissioned in the 17th century by a priest with Neapolitan origins.
Wearing a tall hat and dressed in a white skirt, the mechanical wooden Pulcinella statue uses his stick to strike the bell, much to the amusement of the many tourists and locals who come to watch him!
TIP: For the best photo of Pulcinella, walk past the tower and continue up the hill, then look back and take it from there.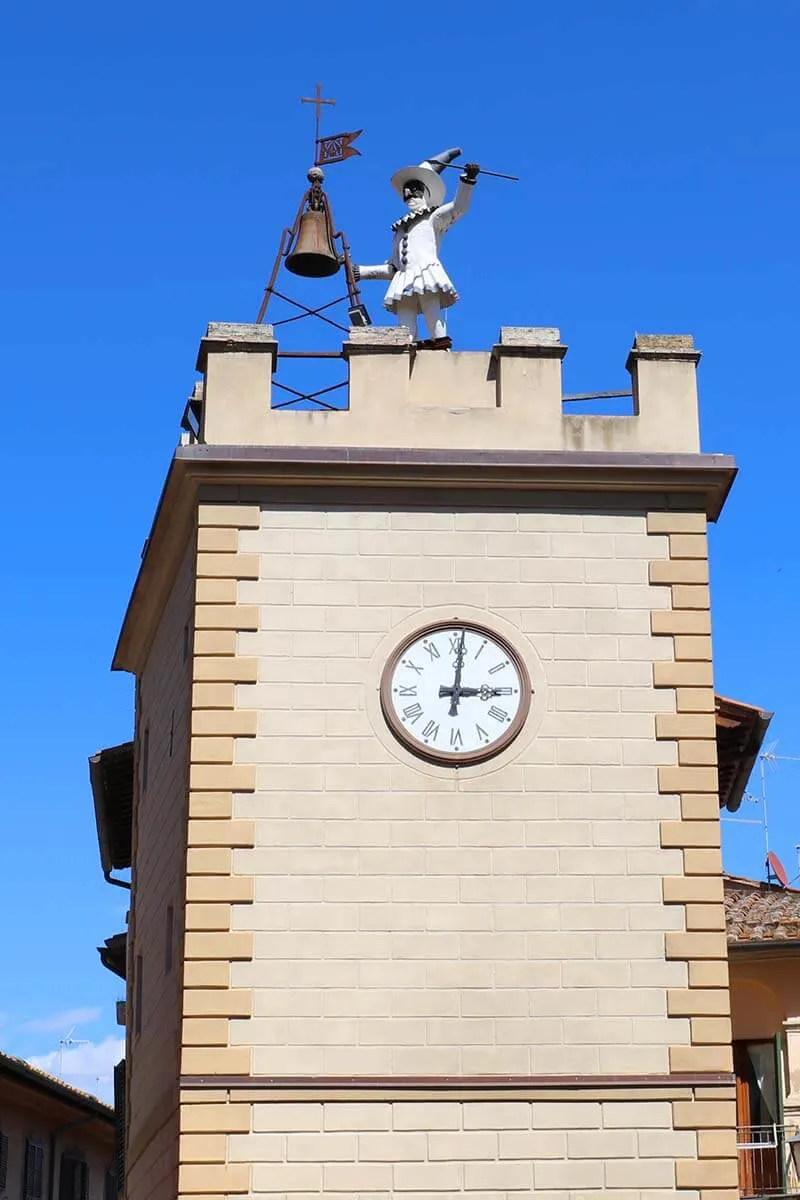 5. De'Ricci Wine Cellar
If you are visiting an area known for its fine wine, you should definitely take time to tour the local cellars and experience it for yourself! So one of the very best things to do in Montepulciano is to visit a wine cellar!
There are a few wine cellars in Montepulciano (some trying to persuade tourists to come in right as you enter the town). But when it comes to the experience, we highly recommend that you visit De'Ricci Winery, aka Cantina de Ricci, which is located just off the Piazza Grande.
We visited this wine cellar and it became our absolute favorite experience from everything we did and saw in Montepulciano. Stronger – it was one of the best things we did in Tuscany. So I highly recommend it – even if you don't drink wine!
Dubbed 'the most beautiful cellar in the world', a visit here gives you the chance to learn more about the wine that made Montepulciano famous. But what makes it so special is that you can explore the cavernous tunnels and chambers of this underground system. As you descend the stairs deep into the mountain (and come out at the exit a few streets down below), you can't help but be amazed at how special this place is!
Part of it features long aisles with huge pillars and arches, making it feel just like a cathedral. You can see row upon row of enormous Slavonian oak barrels used to age the wine and even visit the ancient areas where fossils have been found.
You will also explore The Fontecornino Cellar, a new addition to the winery that seeks to combine technology with tradition in wine production. It has a large terrace and exhibition hall that makes the processes easy to understand.
Your visit culminates with time in the tasting room, and the opportunity to buy some wine to take home with you.
Practical info: The De' Ricci Winery is open daily. Tours and tastings are by reservation only, which can be booked online. We highly recommend this guided tour of the cellar. It includes wine tasting and a selection of some local cheeses and snacks. It's the best hour you'll spend in Montepulciano!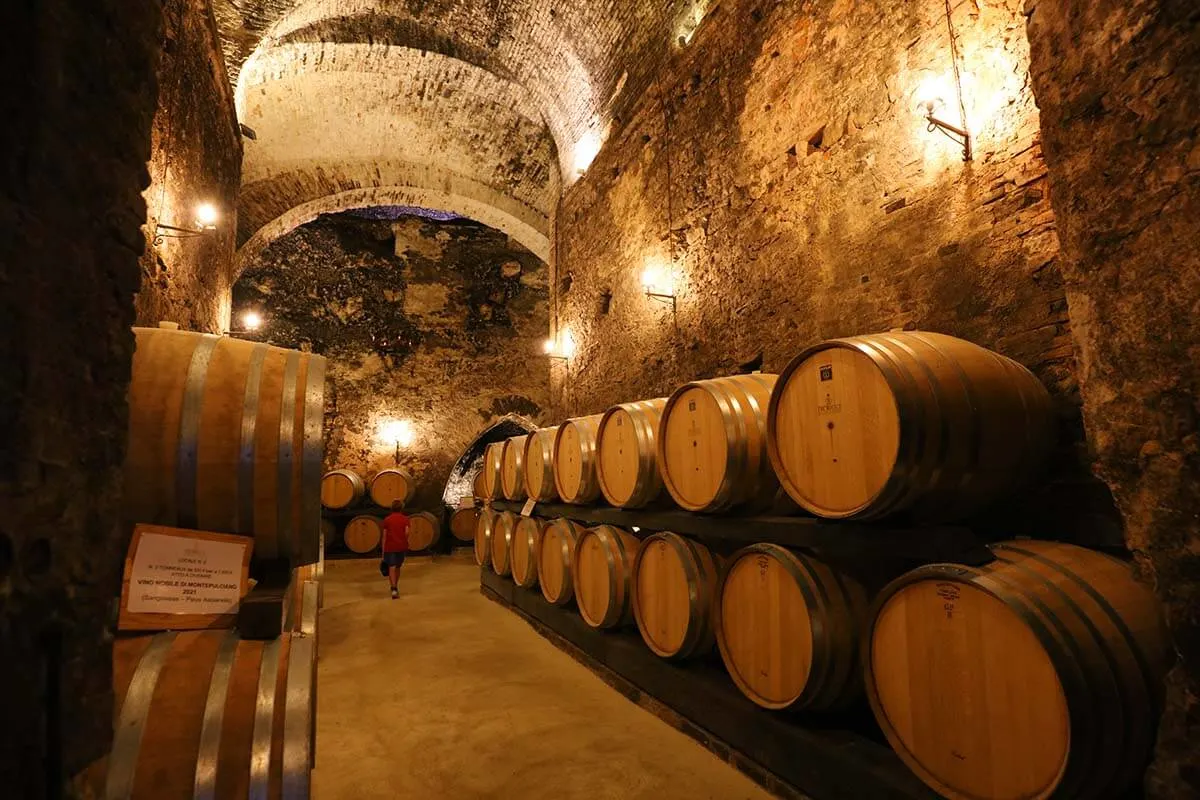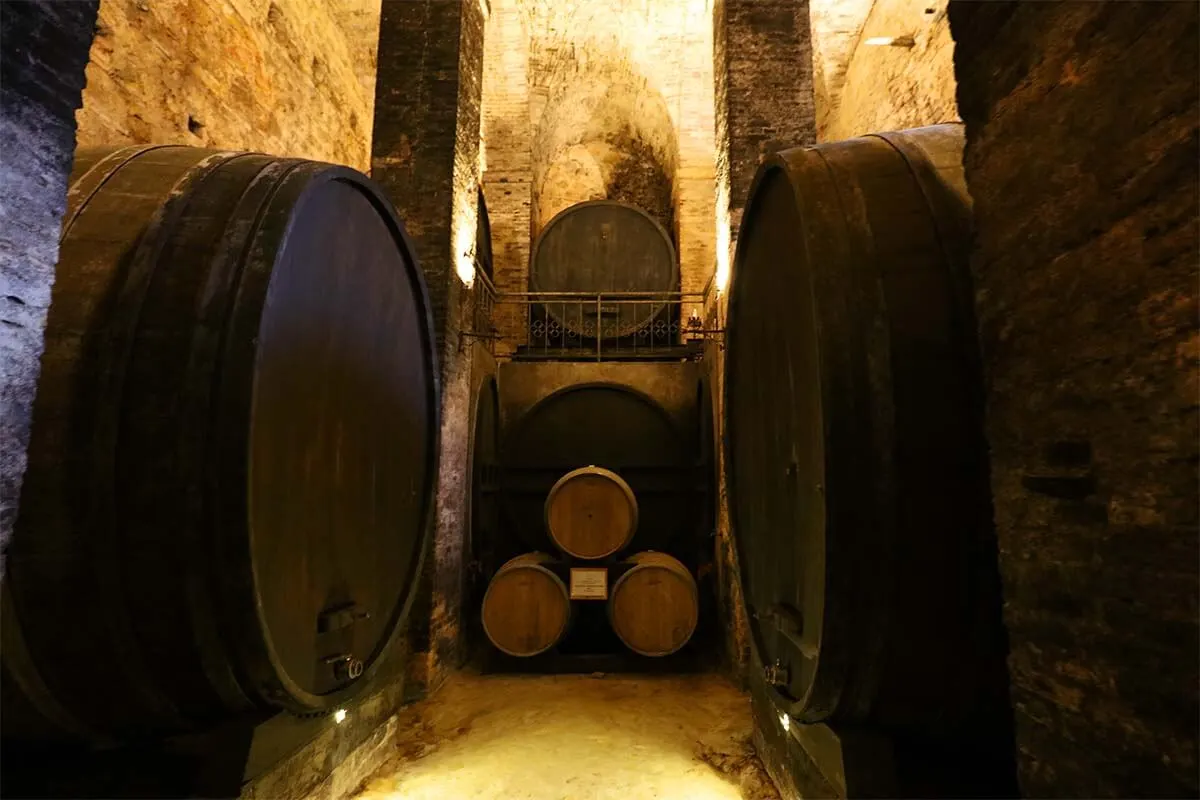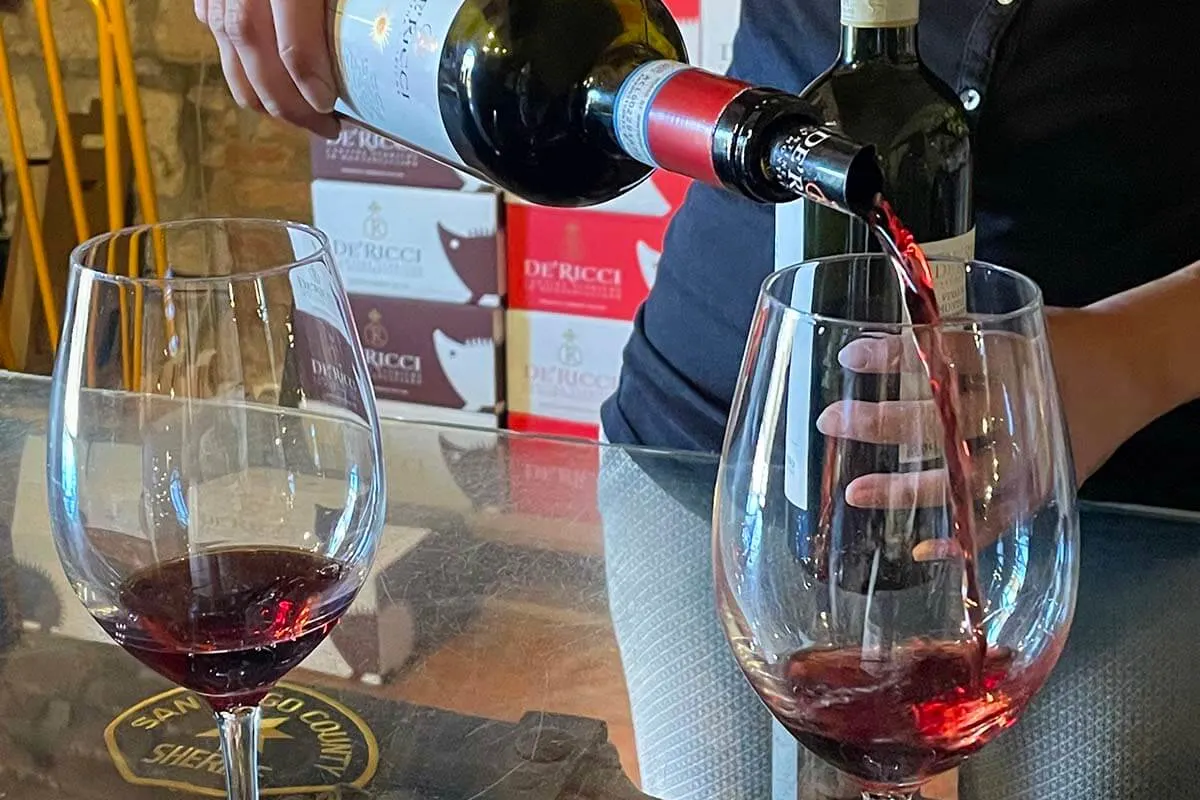 6. Cathedral of Saint Mary of The Assumption
The Cattedrale di Santa Maria Assunta on Piazza Grande looks rather unique from the outside, with its bare bricks and lack of ornamentation. Consecrated in 1712, the cathedral sits on the site of a previous parish church. Its exterior was originally intended for further embellishment, but this was never finished – hence the rather plain building you see today!
Montepulciano Cathedral is home to the masterpiece 'The Assumption of the Virgin', a gold-hued triptych painted in 1401 by Taddeo di Bartolo. You can see this small but beautiful piece behind the high altar. However, sadly you can't get too close.
The building also contains the remnants of a group of sculptures crafted for the tomb of Bartolomeo Aragazzi, Secretary to Pope Martin V. The tomb was disassembled in the 17th century. Whilst some of it ended up scattered around the cathedral, other pieces were stolen and are now on display in the Victoria and Albert Museum in London.
Good to know: Take a close look at di Bartolo's triptych – one of the apostles is actually a self-portrait of the artist as St Thaddeus.
Practical info: The cathedral is open daily from 9 am to 12.30 pm and 3.15 to 7 pm. Admission is free.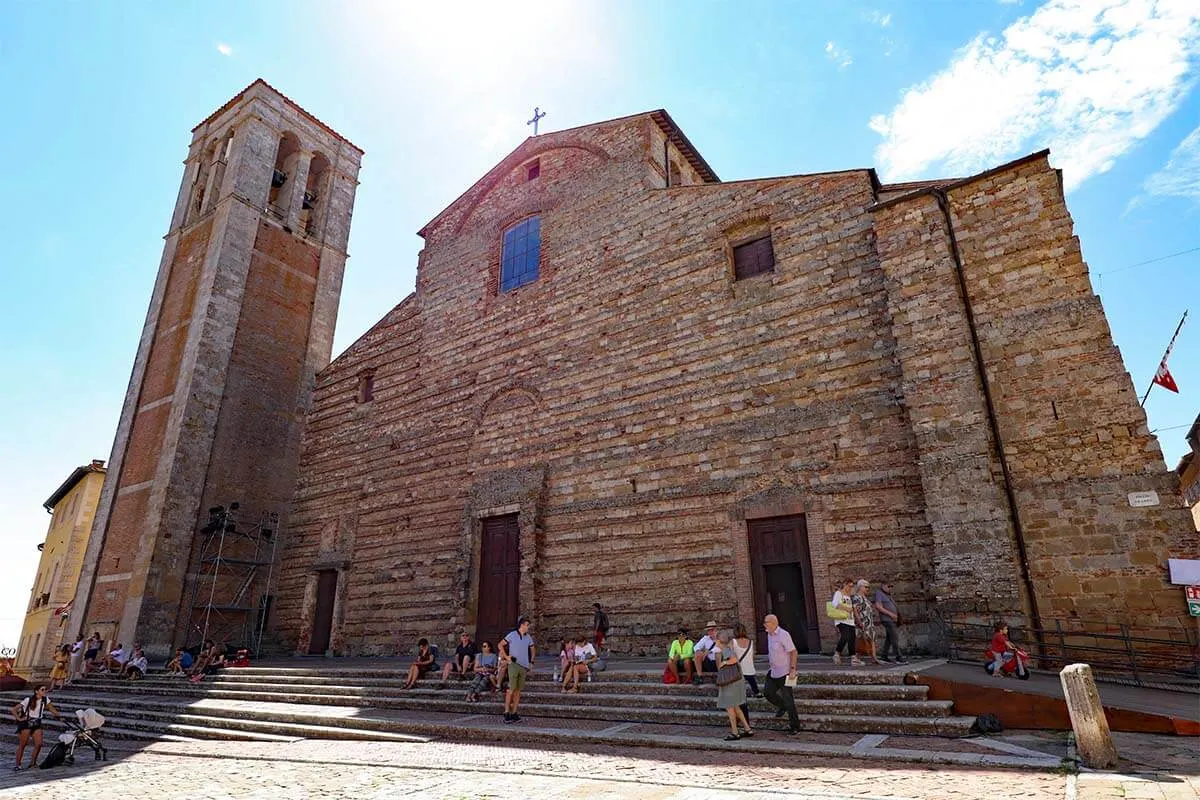 7. Sanctuary of the Madonna di San Biagio
At the foot of the hill of Montepulciano, surrounded by cypress trees, sits the Renaissance church of San Biagio, aka Sanctuary of the Madonna di San Biagio.
It is simply gorgeous – especially when viewed at a distance – with its perfect dome and spire rising majestically over the treetops. If you come here in the afternoon, the sun gives it an eye-catching golden glow.
Made from gold-colored travertine, the church was designed by Antonio Sangallo and built from 1518 to 1545. Sangallo's work was known to be influenced by St. Peter's Basilica at the Vatican, which was likely the inspiration for the stunning domed roof.
The interior is based on a Greek cross plan, with four arms equal in length, the central dome, and a semicircular apse. You can see 16th-century frescoes in the presbytery depicting the Death, Assumption, and Coronation of the Virgin, and four figures of saints on the marble reredos of the high altar.
There is also a fresco of the Madonna Enthroned with Child (the Madonna of San Biagio) on one wall. This was once believed to have mysterious powers, as local people in the 16th century claimed to have seen the Virgin's eyes move.
TIP: A fun thing to do here is to test the acoustics of the building. Simply stand in the center and clap your hands. You will hear many repeated echoes – but no one else will!
Close to the church, you can also see the lovely Canonica (priest's house) and its well. These were also designed by Sangalla but not built until after his death.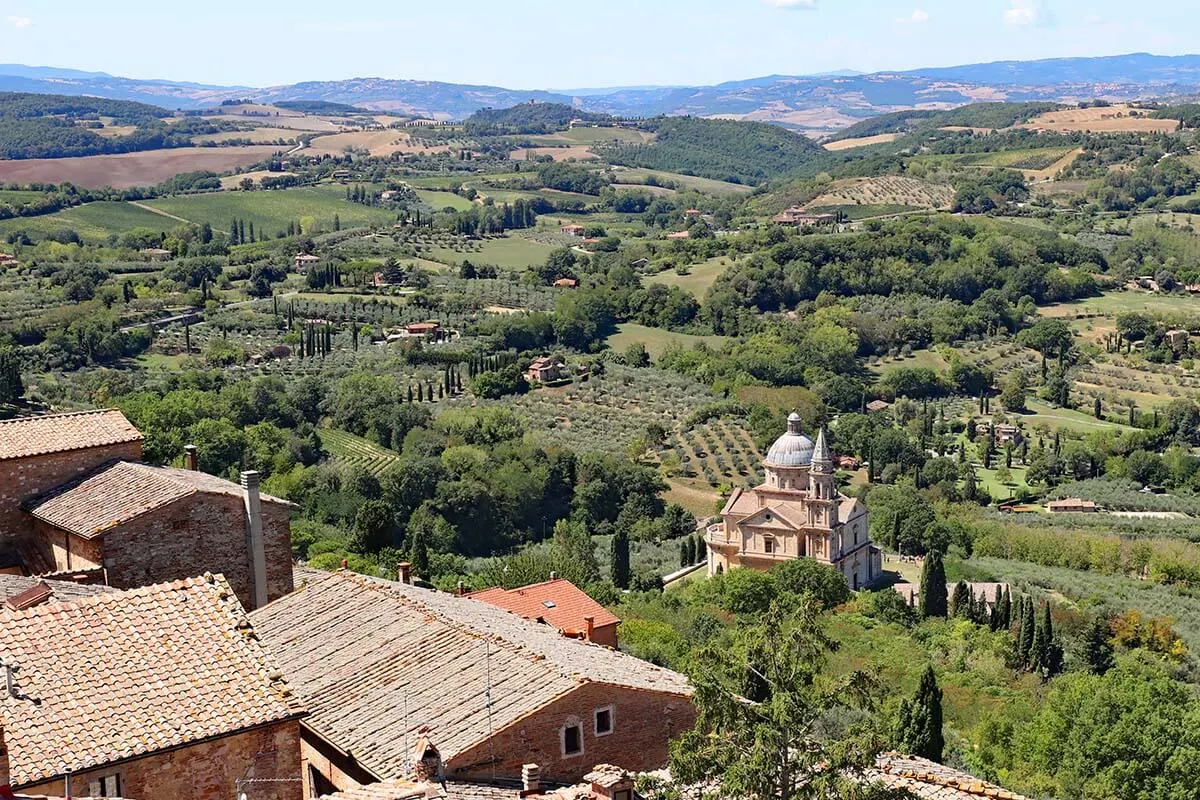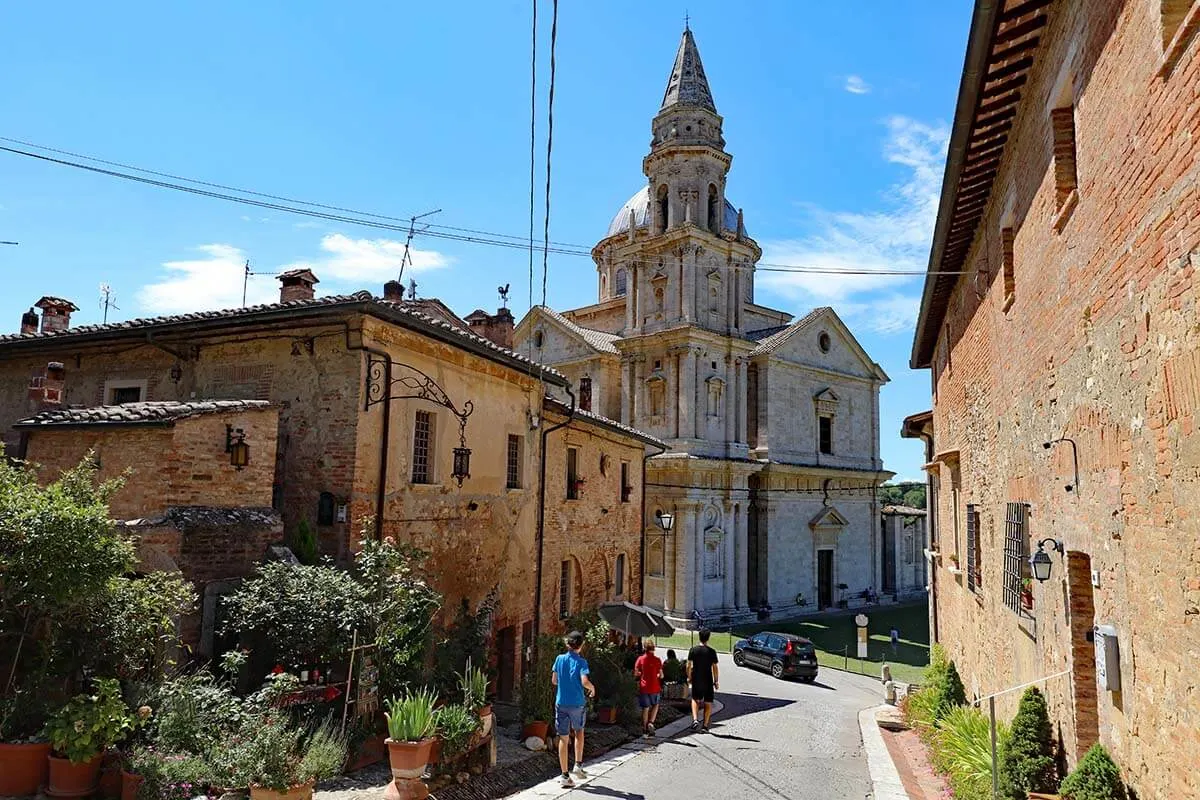 Good to know: The church sits outside the city walls, about 15 minutes walk from the main town square. You can walk to the church from the town center, take a hop-on-hop-off tourist train, or drive there by car.
If you walk, keep in mind that the uphill walk back to town can be really tiring, especially in the summer.
Practical info: The opening times of the church vary according to the season and can be found on their website (in Italian). In the summer, the church is open daily from 10 am to 1.30 pm and from 2 to 6.30 pm. On Sundays, it is open to the public from 11.30 am. The price of admission includes a free audio guide to help you make the most of your visit.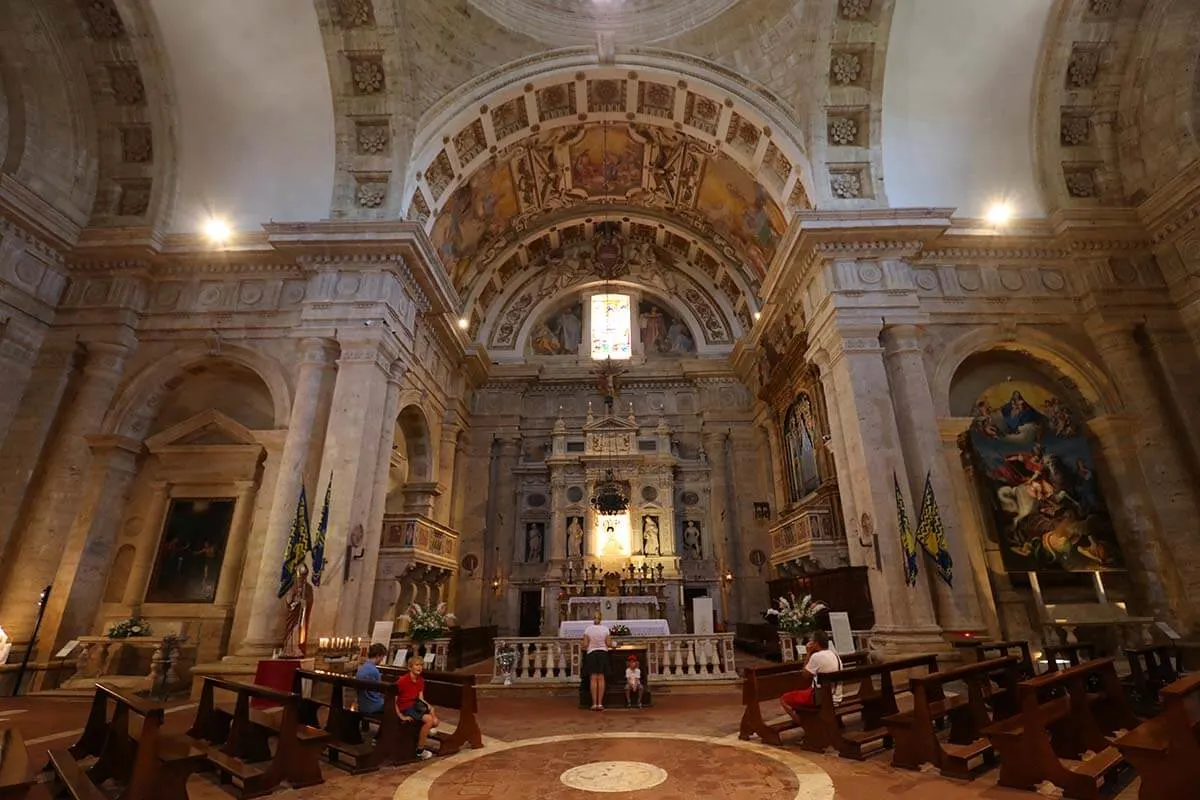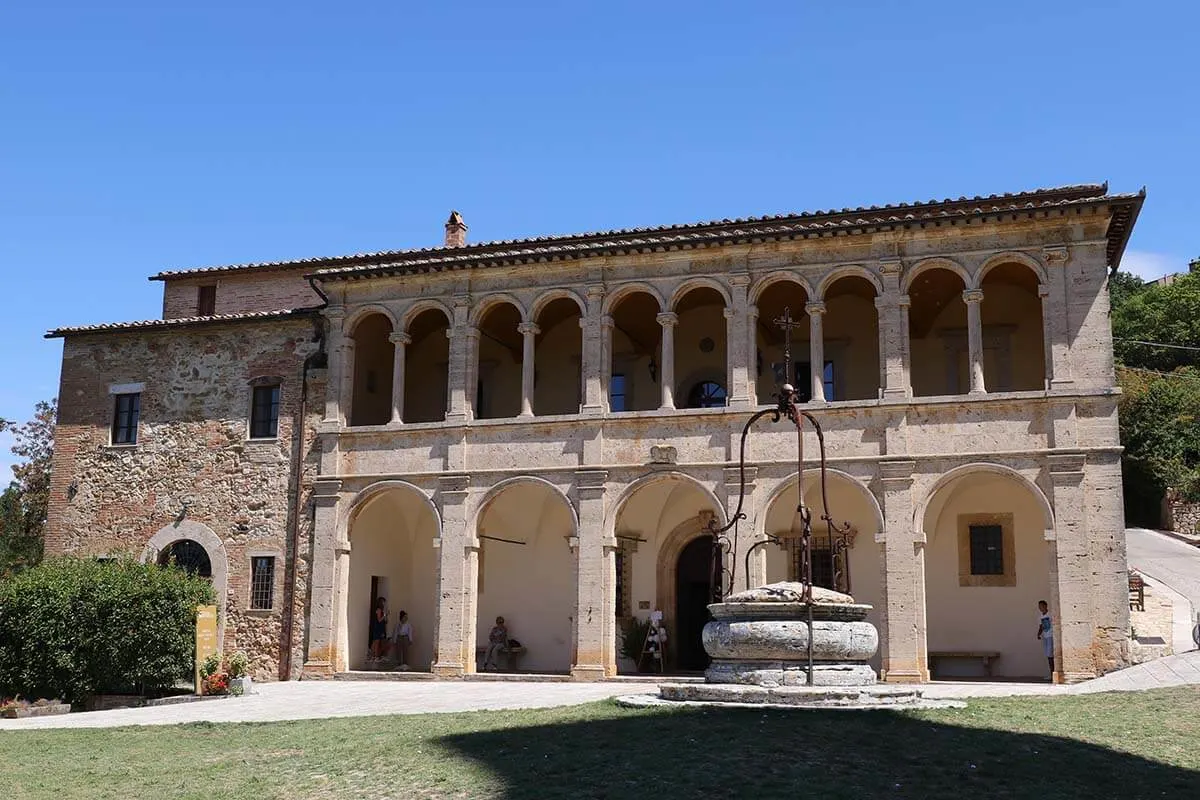 8. Medici Fortress
Montepulciano's fortress is located at one of the highest points in the city. It was built in the 13th century when the area was controlled by the medieval city of Siena. Over the years, there were many battles for the control of Montepulciano between Siena and Florence. This caused the fortress to be destroyed and then rebuilt several times.
One of the most recent reconstructions was attributed to the Medici architect Antonio da Sangallo the Elder, hence the name 'Fortezza Medicea'.
More recent renovations have been for cultural purposes and the fortress is now used for events, exhibitions, and US universities' 'study-abroad' programs.
The fortress also houses the Consorzio Del Vino Nobile di Montepulciano and its Enoliteca (wine bar). However, we found that prices for wine tasting here are really high. You can take a wine cellar tour with more wine and snacks included for a price of one or two tastings here.
Still, it's interesting to see this place, even if you aren't interested in wine tasting. Through the glass floor of the bar, you can see important archaeological finds that were discovered and then restored during renovations at the fort. In addition, you can also enjoy spectacular views across Val d'Orcia and the Valdichiana from the terrace.
Practical info: The Enoliteca Vino Nobile Montepulciano is open daily, from 10-11 am to 7 -8 pm depending on the day.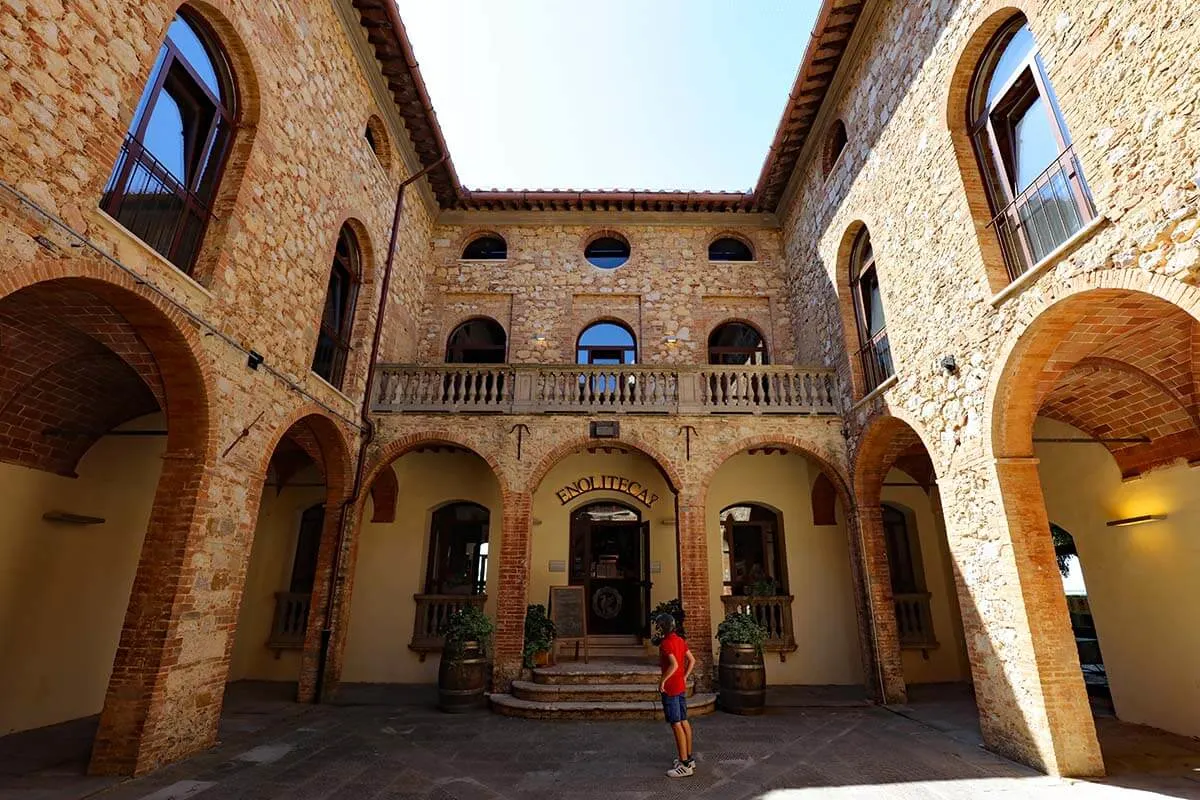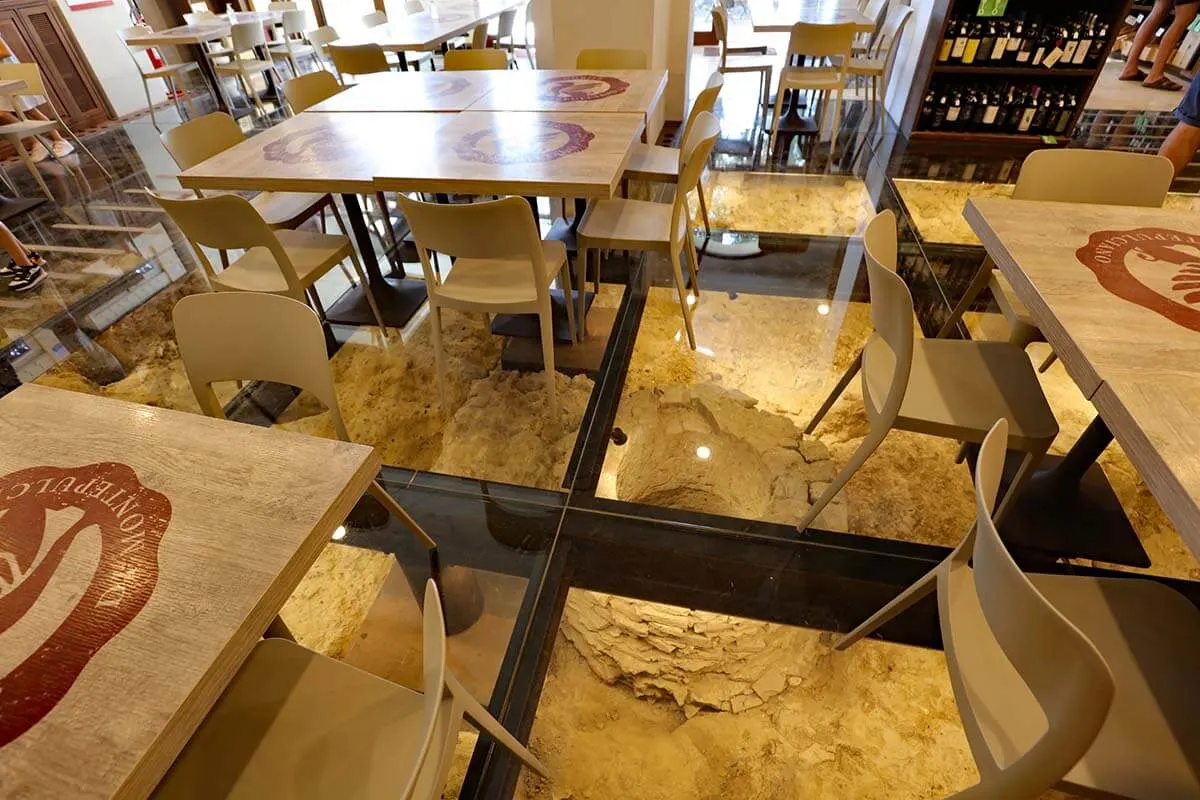 9. Montepulciano Churches
In addition to the Cathedral, there are quite a few other churches in Montepulciano. It's Italy after all… 😉
When sightseeing in Montepulciano, you'll likely pass the following churches: Chiesa St. Agostino, Chiesa del Gesu, Chiesa di Santa Maria dei Servi, and Chiesa Sant'Agnese. If they are open and you are here anyway, why not check them out. Some of them are actually more impressive inside than the main cathedral.
But in all honesty, if you have seen some of the nicest churches in Italy, the churches in Montepulciano are really not that special. So if you are short on time, concentrate on the other sites which we mentioned above.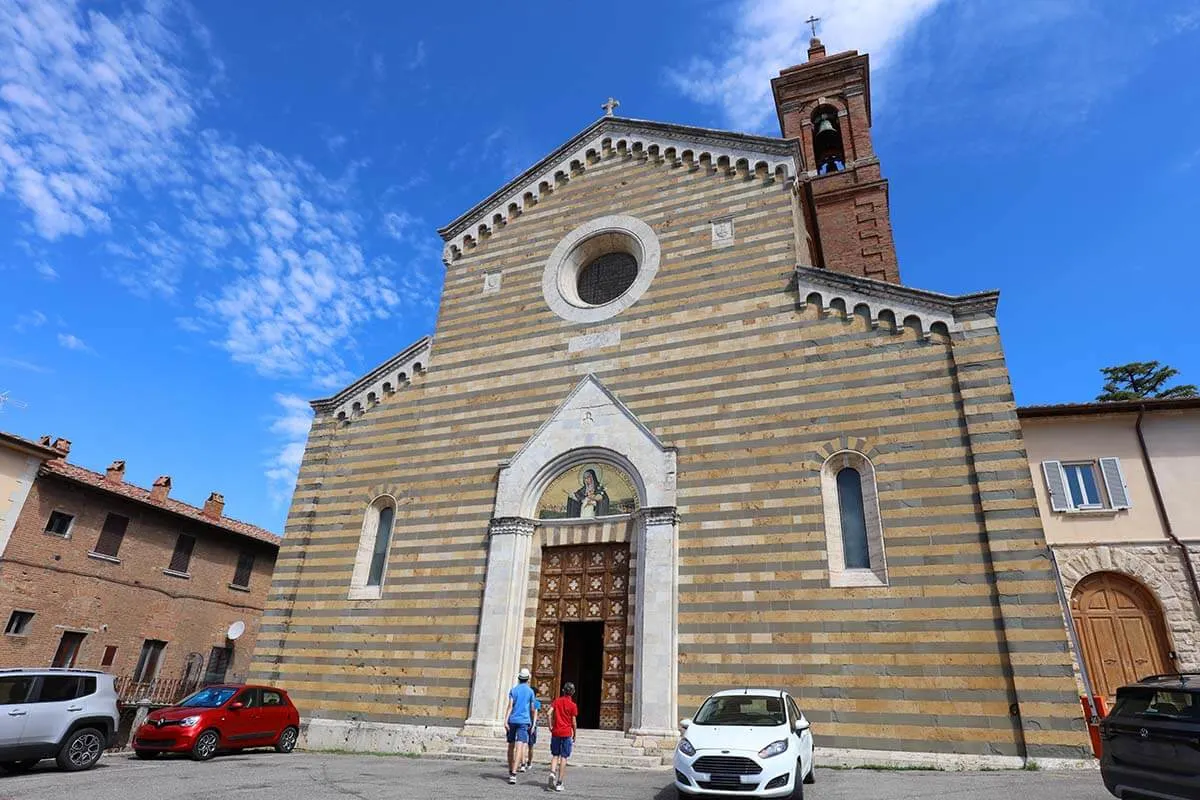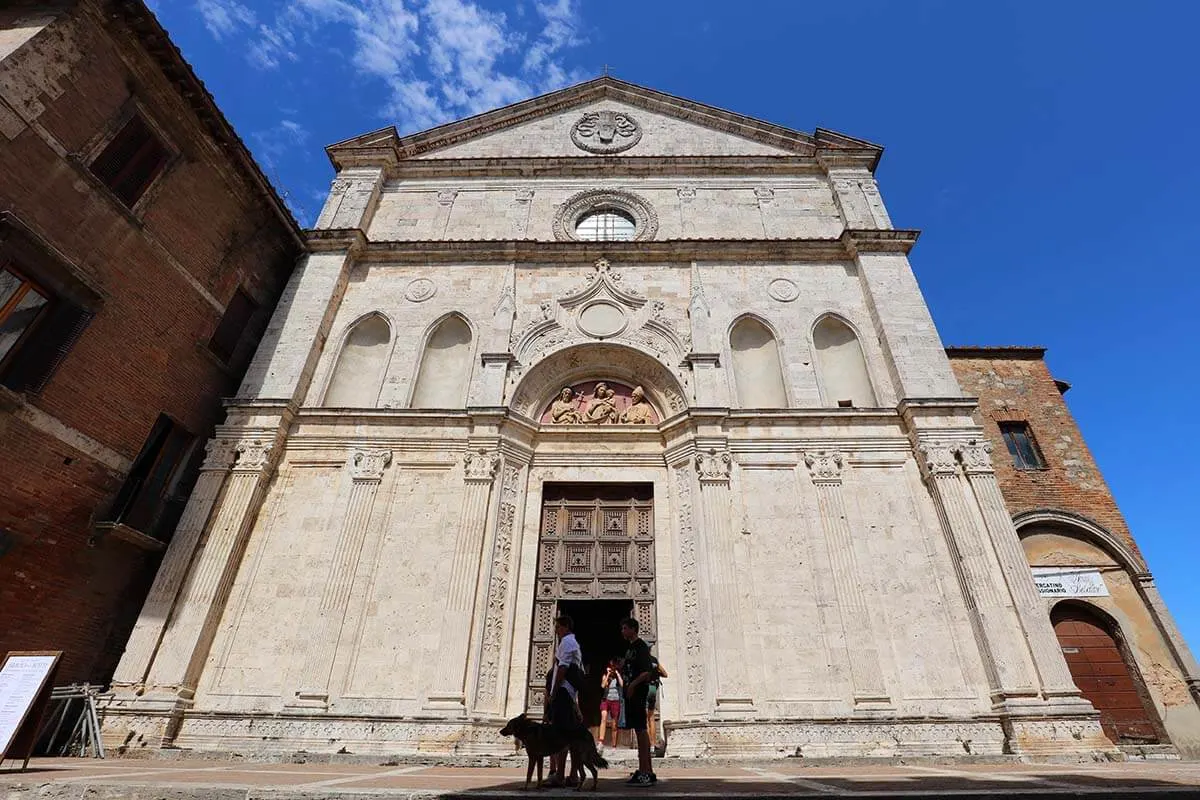 Info & Tips for Visiting Montepulciano
Here are some things you may want to know when visiting Montepulciano:
Getting There
Montepulciano is located in the province of Siena in southern Tuscany, about 1 hour drive from Siena or 1.5 hours from Florence. Rome is about 2.5 hours drive away.
The easiest way to visit Montepulciano – and explore more of the area – is by car. Alternatively, there are some really good organized tours – see below.
Tours
If you rather not rent a car, the best way to visit Montepulciano and the stunning Tuscan countryside around it is by joining an organized tour. There are some really good tours from Siena and from Florence, and also a few from Rome.
Here are some of the best options:
From Florence. This tour visits Montepulciano and Pienza and includes some wine tasting.
From Rome. This excellent tour visits Montepulciano, Pienza, and the Abbey of Sant'Antimo, plus it includes lunch in a vineyard.
From Siena. This small-group tour visits Montepulciano and Pienza, and includes lunch at a local cheese farm. Plus, it visits a wine cellar in Montepulciano.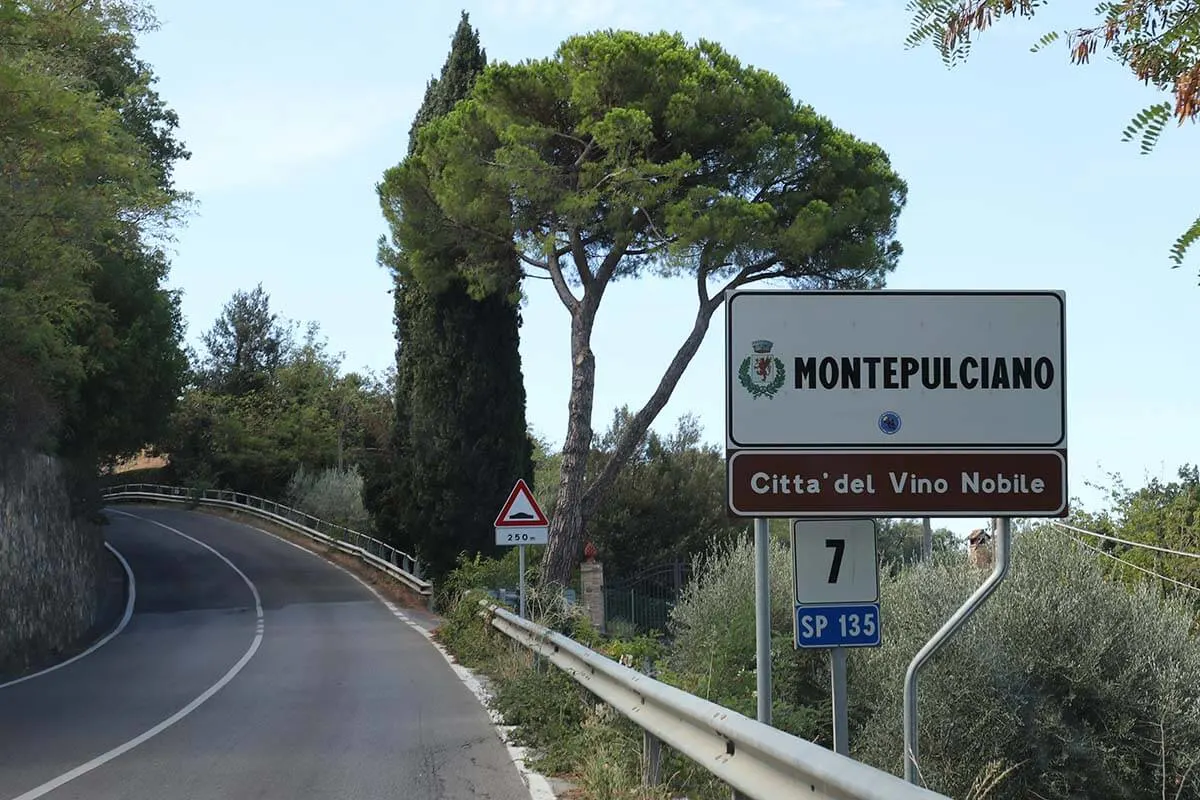 Parking in Montepulciano
If you are driving to Montepulciano by car, be prepared for some winding roads and limited parking. If you come on a weekday in the low season, it shouldn't be a problem. But if you are visiting in the summer, try to get here early in the morning (or wait and come in the late afternoon). If you arrive between 10 am and 2 pm, finding parking close to the town center can be really difficult.
There is a big car parking (P1) close to the main town gate which is really the best place to start your sightseeing. However, when we visited, it was packed early in the morning already. We parked at the nearby supermarket. Alternatively, there are many other parkings a bit further away. P6 is probably one of the best alternatives, not far from the historic old town. I indicated these parkings on our map.
If you don't mind an uphill climb, you could also try to park at the Sanctuary of the Madonna di San Biagio and walk to the town center from there.
Good to know: Montepulciano historic center is a Limited Traffic Zone (ZTL). This means that traffic here is not allowed apart from some exceptions. Do not attempt to drive past the signs or you'll get fined (even if you just drive past the camera and turn around).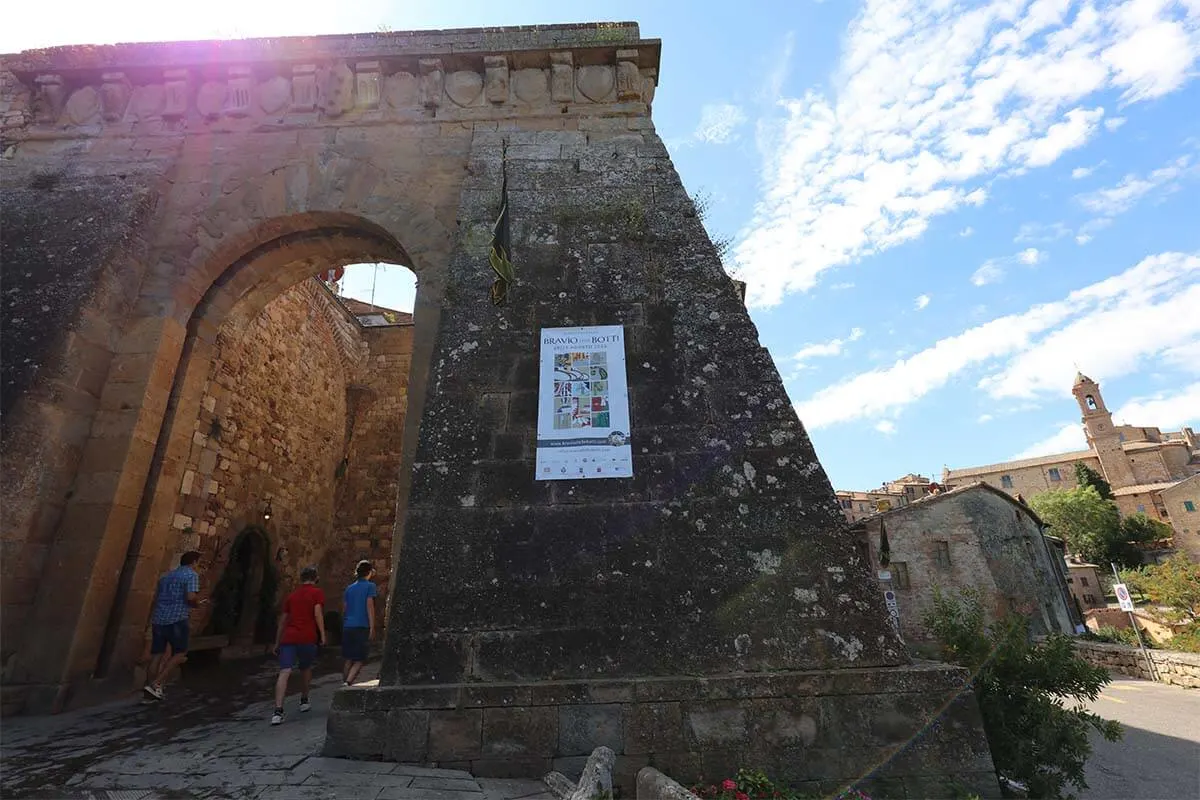 Getting Around
Montepulciano is a small town and by far the best way to visit everything is on foot. Just keep in mind that you'll have to do some uphill walking on cobbled streets. Wear comfortable shoes or walking sandals. I wouldn't advise wearing flip-flops or slip-in sandals.
If you rather not walk too much, you can also take a hop-on-hop-off tourist bus. See below for more info.
Hop-on-hop-off Tourist Bus/Train
Montepulciano has several hop-on hop-off tours. Some of them visit the nearby towns and countryside and run only on certain dates. But the main city tour that brings you to all the main landmarks and attractions in Montepulciano runs daily in the high season. I'm not sure about the low season though.
You can just get the ticket from the driver.
Officially, the hop-on hop-off tour starts at Pulcinella Tower. But for people with reduced mobility, it's also possible to get on at the Sant'Agnese stop, just next to parking P1. You can also hop on further in town and also at Piazza Grande, but by then, you will have walked most of the distance anyway.
This little tourist bus/train would make the most sense if you want to visit the Sanctuary of the Madonna di San Biagio (as mentioned before, you could also drive there).
But in general, if you want to see the best of Montepulciano, it's really advisable to walk the entire length of the town center, at least in one direction.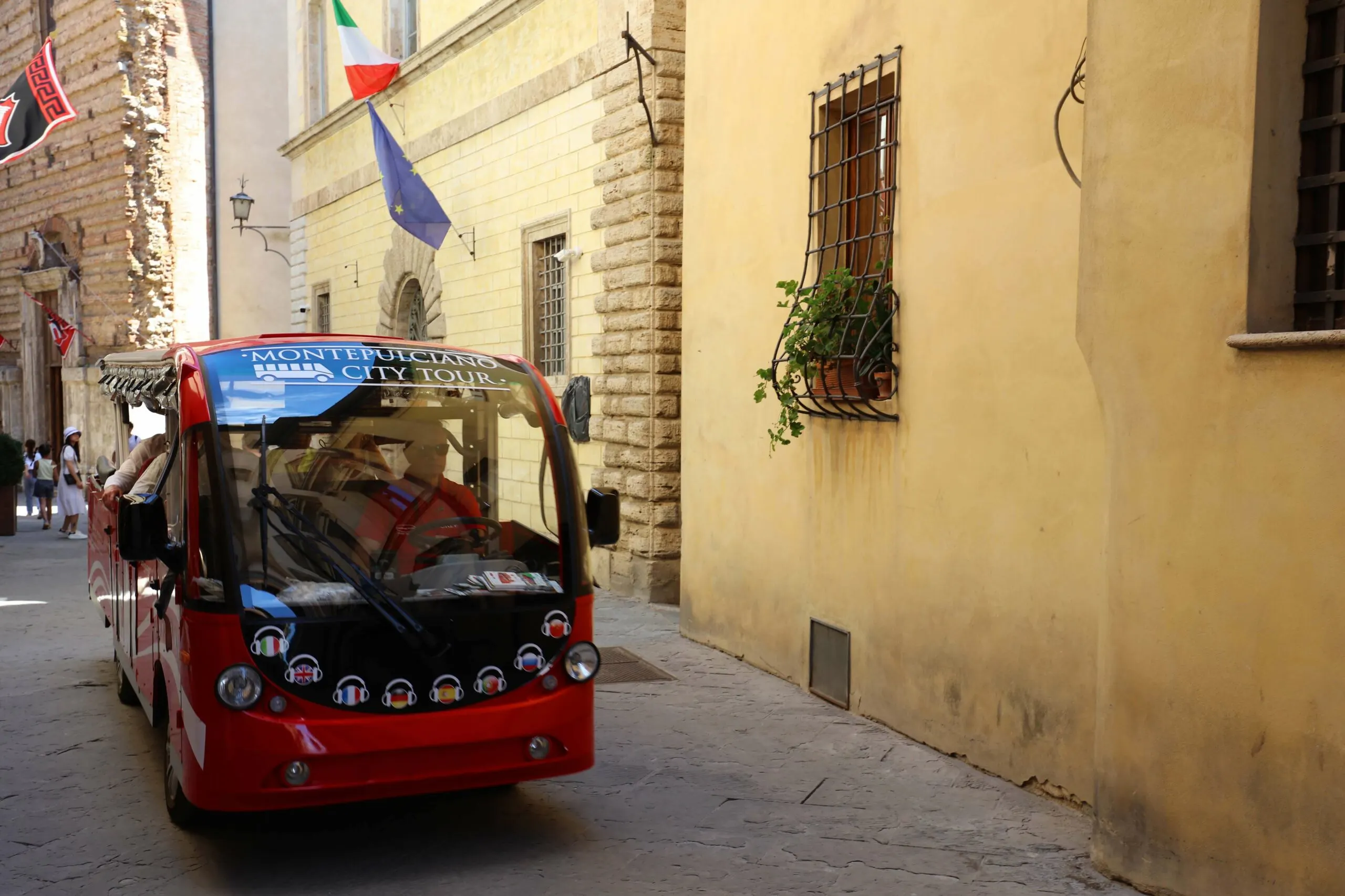 Opening Times
Keep in mind that religious places close for a lunch break in the early afternoon. We already indicated this information above. So if you want to visit the cathedral or the church of San Biagio, try to do that first thing in the morning or later in the afternoon.
Also, the hop-on hop-off train takes a long break at lunch. So be sure you check this! You don't want to get stranded at the sanctuary and still have to walk back to town, despite having paid for the ticket.
Where to Eat
There are lots of really nice restaurants in Montepulciano where you can try regional Tuscan specialties and local wine.
One of the things to try when visiting this part of Tuscany is local pecorino cheese. If you like meat, steak Fiorentina is also a must in Tuscany. And of course, no visit to Montepulciano would be complete without tasting its famous wine.
You may want to do some research for some of the best restaurants and reserve a table upfront, especially if you are in a hurry. Otherwise, just walk around and see what catches your eye. We indicated a few highly-rated restaurants on our map.
For nice views, hot chocolate, and sweets, check out the historic Caffè Poliziano (established in 1868). For traditional Tuscan dishes and great views, we recommend Osteria del Borgo. Also, La Pentolaccia and L'Altro Cantuccio Ristorante are very good places to try some local dishes.
READ ALSO: Italian Food: Traditional Dishes in Every Region in Italy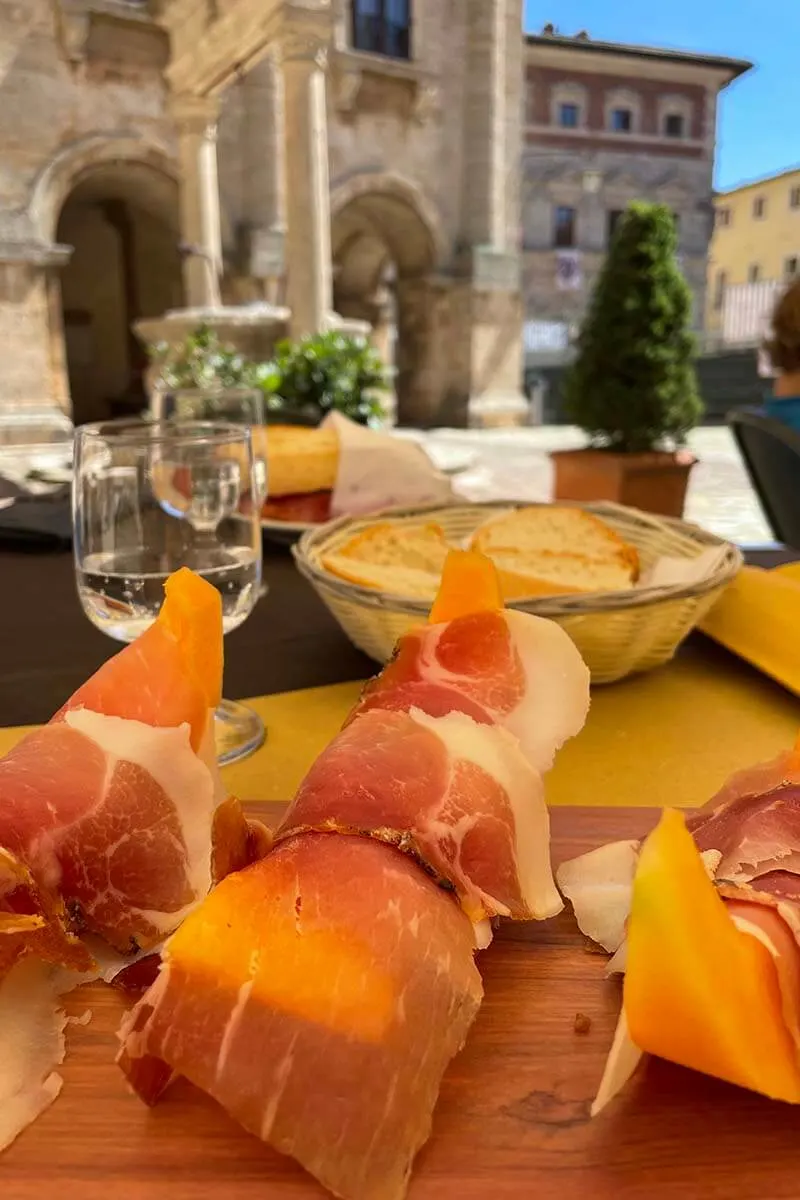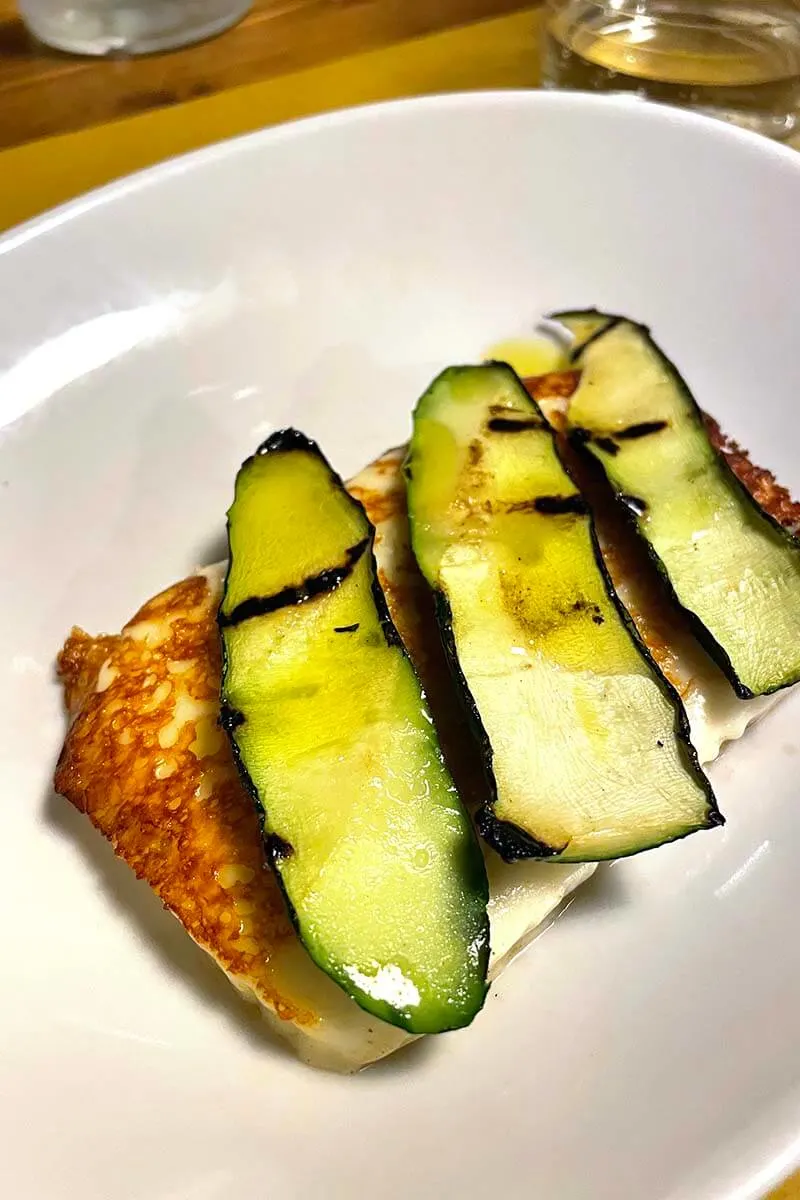 Where to Stay
The majority of tourists visit Montepulciano for just a few hours or half a day. But it's exactly this that makes the town even more charming in the evening when all the day-trippers leave.
So if you are traveling around Tuscany and are looking for a nice place to stay for a few days, Montepulciano could be a good base for this area (Pienza, Val d'Orcia countryside, etc).
But even if you just spend one night here, you can explore the charming old town without the crowds, have a relaxing meal, and enjoy some local wine knowing that you won't have to drive.
There are many hotels and accommodations in and near Montepulciano. Here are a few of the best hotels that have parking and are located within short walking distance to the center: Il Rondò Boutique Hotel or Albergo Ristorante San Biagio.
If you want to stay right in the historic old town, check out Palazzo Carletti or La Terrazza Di Montepulciano. There are many more choices – usually small, charming hotels and B&Bs inside historic buildings.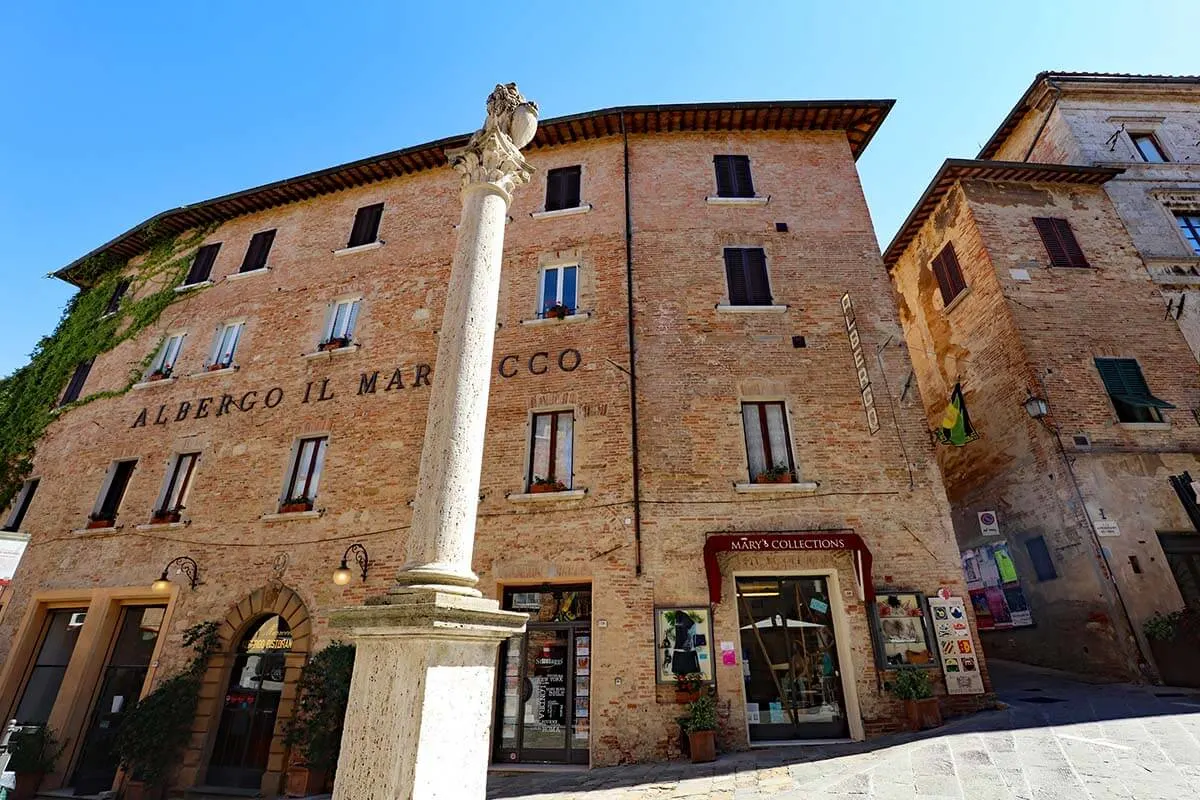 Map of Best Places to Visit in Montepulciano
As promised, here's a map indicating all the best places to see in Montepulciano.
We also indicated a few parkings as well as several good restaurants in Montepulciano.
How to use this map: Use your computer mouse (or fingers) to zoom in or out. Click on the icons to get more information about each place. Click the arrow on the top left corner for the index. Click the star next to the map's title to add it to your Google Maps account. To view the saved map on your smartphone or PC, open Google Maps, click the menu and go to 'Your Places'/'Maps'. If you want to print the map or see it in a bigger window, click on 'View larger map' in the top right corner.
Montepulciano with Kids
If you are wondering what it's like to visit Montepulciano with kids, you may want to know that the town is quite hilly. Most streets are sloping and there are cobblestones everywhere.
So if you are visiting with babies or toddlers, we recommend all-terrain strollers vs. travel strollers with small wheels. Actually, this advice counts for most places in Italy.
To save you some uphill walking, you could take a hop-on hop-off tourist train too.
Apart from that, Montepulciano is a good place to visit with children and teens. Our boys loved climbing the tower of the Town Hall and exploring the wine cellars. Those gigantic barrels and underground caves will impress any kid! There are also lots of nice souvenir shops that no child will be able to resist. And, of course, you'll find plenty of places with delicious pasta, pizza, and gelatos.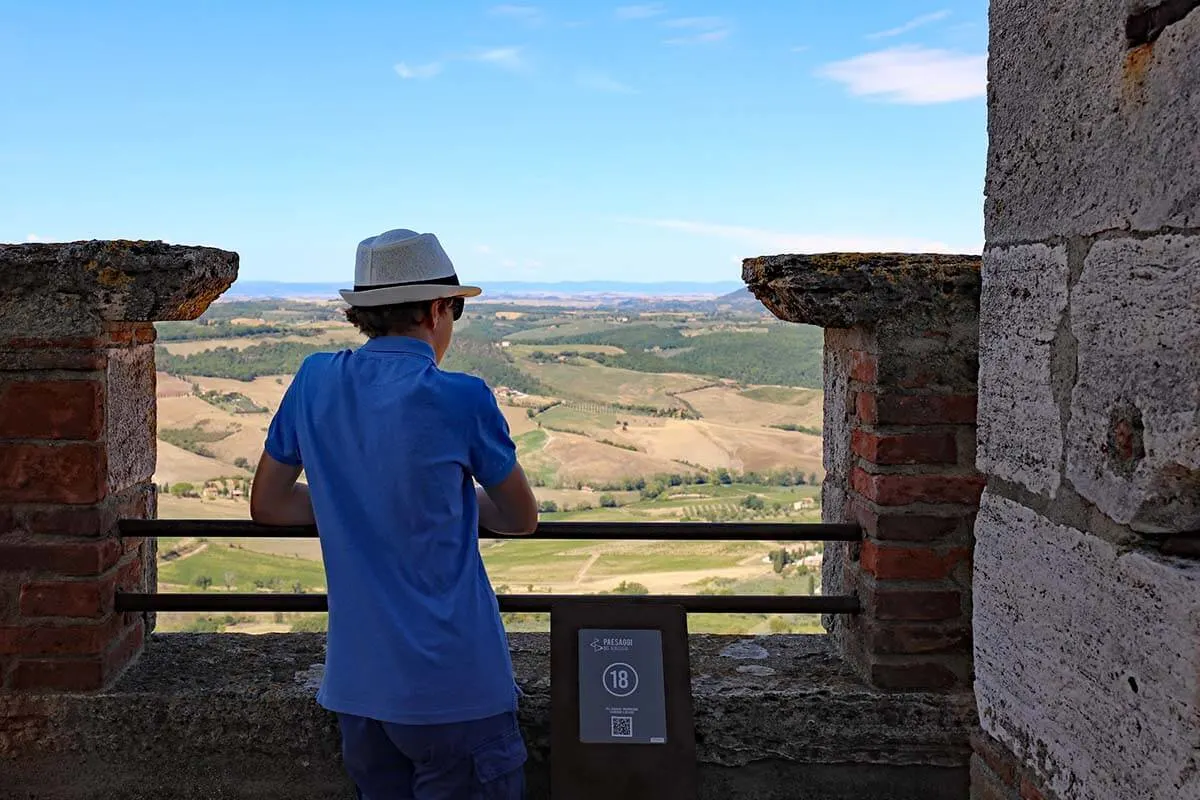 FAQ
How much time do you need in Montepulciano?
Montepulciano is a small town and you can quickly see everything in about 1-2 hours. However, we recommend planning at least 3-4 hours for Montepulciano. This will allow you to visit all the sights, take a wine cellar tour, and have a nice lunch or dinner at a local restaurant.
What is Montepulciano famous for?
Montepulciano is world-famous for its red wine, Vino Nobile di Montepulciano. In addition, this medieval and renaissance hilltop town is known for its historic old town and breathtaking views of the Tuscan countryside. Montepulciano is a great destination for a day trip and can also be a good base for exploring southeastern Tuscany.
Is Montepulciano worth it?
Montepulciano is one of the most beautiful towns in Tuscany. With its hilltop location, stunning views, and charming old town with local shops and traditional restaurants, Montepulciano is absolutely worth it. Plus, you can visit some of the most interesting wine cellars and try the world-famous red wine Vino Nobile di Montepulciano.
What are the must-do's in Montepulciano?
Not to be missed in Montepulciano is the main town square Piazza Grande, the Cathedral, the views from the Town Hall, and il Corso, the main streets of the old town. We also highly recommend a visit to De'Ricci Wine Cellar. If you have more time, be sure to visit the Sanctuary of Madonna di San Biagio as well.
So, this is our guide to Montepulciano in Tuscany, Italy. I hope that it gives you a better idea of what to expect and inspires you to visit.
Montepulciano provides everything you could want from a Tuscan vacation. Uniquely beautiful and relatively uncrowded, it is an enchanting town with a laid-back ambiance you'll find hard to leave behind.
TIP: If you are looking for more inspiration and information for your trip to Tuscany, check out the following guides as well:
Have a great trip!
If you found this post helpful, don't forget to bookmark it and share it with your friends. Are you on Pinterest? Pin this image!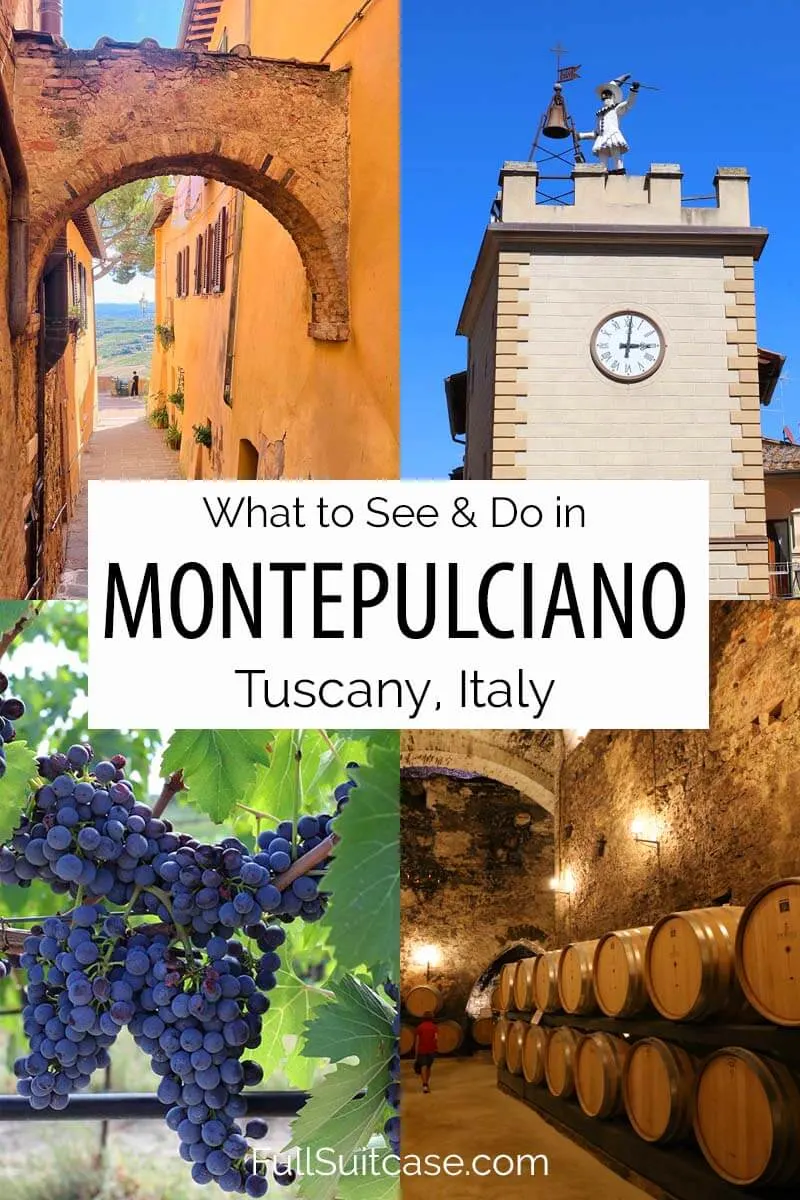 More inspiration and tips for your trip to Italy: