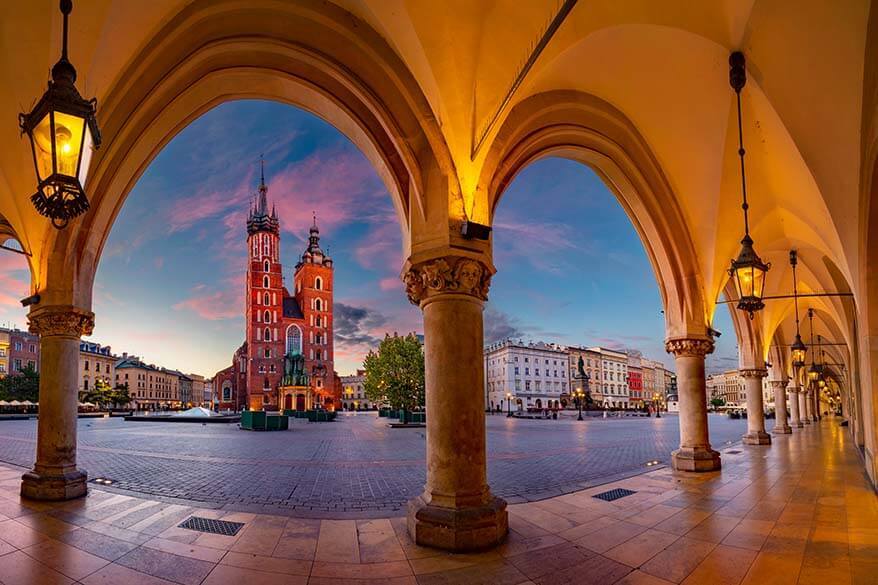 If you are planning a weekend in Krakow, Poland, and wondering how to make the most of every minute of this city break, then this is the article for you!
Our writer Christine recently visited Krakow and agreed to share her best tips with our readers. Whether you are planning a Krakow weekend break or are simply looking for tips on how to see the best of Krakow in 2 to 3 days, this guide should answer all your questions. Take a look!
Structured as 3 days in Krakow itinerary, this article covers all the best things to see and do in Krakow and lists all the main attractions that make the Krakow weekend break so special. We also include additional suggestions for a few other places that are well worth visiting if you have more time. And, of course, this Krakow weekend guide includes a visit to the Auschwitz concentration camp.
Furthermore, this guide features a couple of my favorite local restaurants in Krakow that offer exceptional quality. At the bottom of the article, you can also find practical tips for visiting Krakow, airport transfer info, and the best places to stay in the city.
In other words, this guide is your one-stop resource for planning your own perfect Krakow city trip. Find out!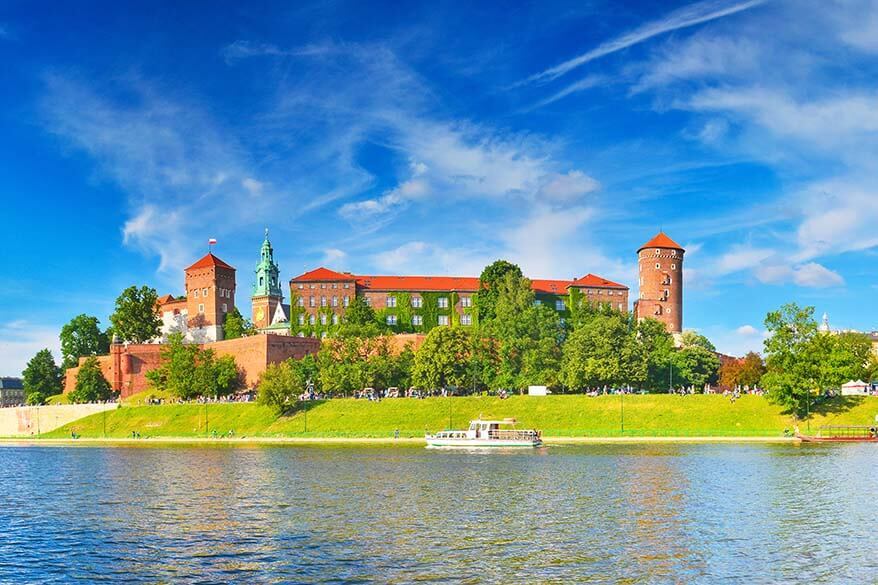 Krakow City Break – OVERVIEW
Is Krakow a Good City Break?
With so many amazing cities to visit in Europe, you might be wondering whether Krakow is worth visiting and whether it's a good destination for a weekend of 2-3 days. It certainly is and for lots of different reasons!
Easily accessible by air from all over Europe, Krakow is a city of contrasts. Wide spaces of greenery vie for your attention against the beautiful, traditional architecture of the Old Town.
The Vistula River runs through the city's center, its banks playing host to lively bars, charming cafes, and markets in summer. Historical attractions abound, yet the city offers a vibrant, modern nightlife and you'll find traditional venues situated side by side with contemporary bars and clubs.
Krakow is a wonderful city to visit in summer when its greenery bursts into life and you can enjoy picnics and barbecues alongside the river. But it feels perhaps even more special in winter when the historic city resembles a scene from a Christmas card.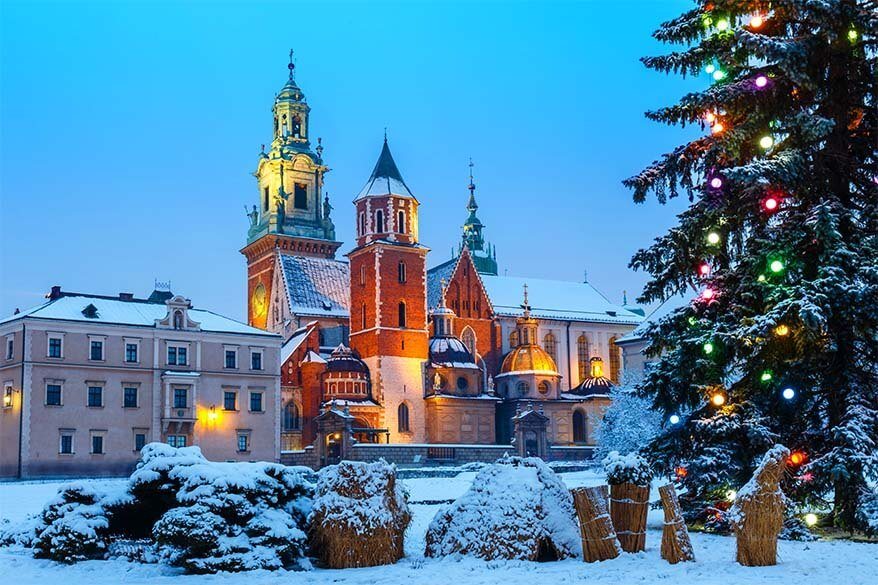 Couples, in particular, will love the romantic ambiance of the Old Town, with its cozy cafes and restaurants offering warm sanctuaries from which to enjoy the beautifully lit Market Square.
The people of Krakow are friendly and welcoming and the city's atmosphere is upbeat and fun. Despite the fact that the streets are busy – especially at night when the city really comes to life, Krakow is incredibly clean and feels very safe.
Best of all is the incredible value for money that Krakow offers its visitors. From the exceptionally spacious accommodation to the excellent cuisine, a weekend break in Krakow provides a high-quality experience at a bargain price.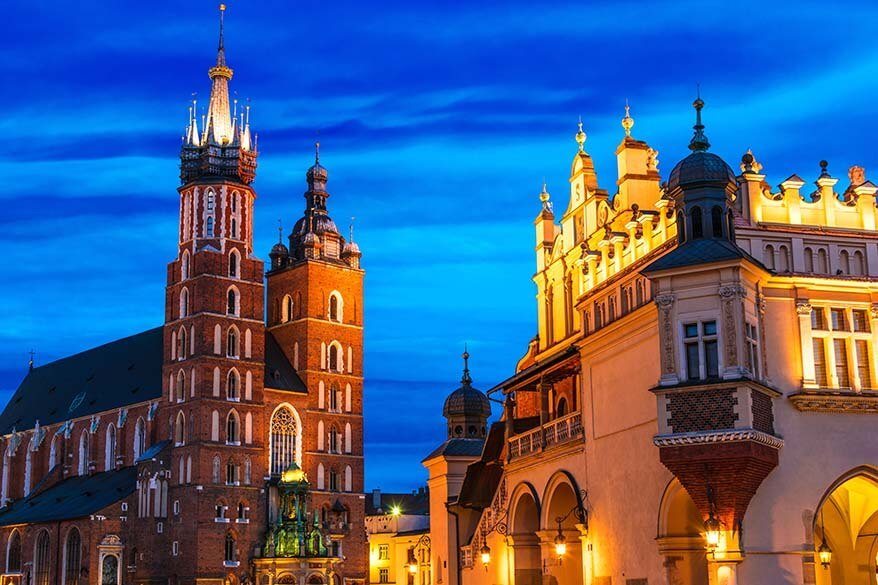 How Much Time Do You Need in Krakow
If you are visiting Krakow for the first time, I would recommend a minimum of 2 days. This will allow you to see the main highlights of the city and visit Auschwitz-Birkenau.
If you have 3 days in Krakow, you'll be able to explore the town at a somewhat slower pace, maybe take a local food tour, and visit some places outside of town, such as Wieliczka Salt Mine.
So, if you can, I suggest that you plan a long weekend in Krakow for at least two full days, ideally three.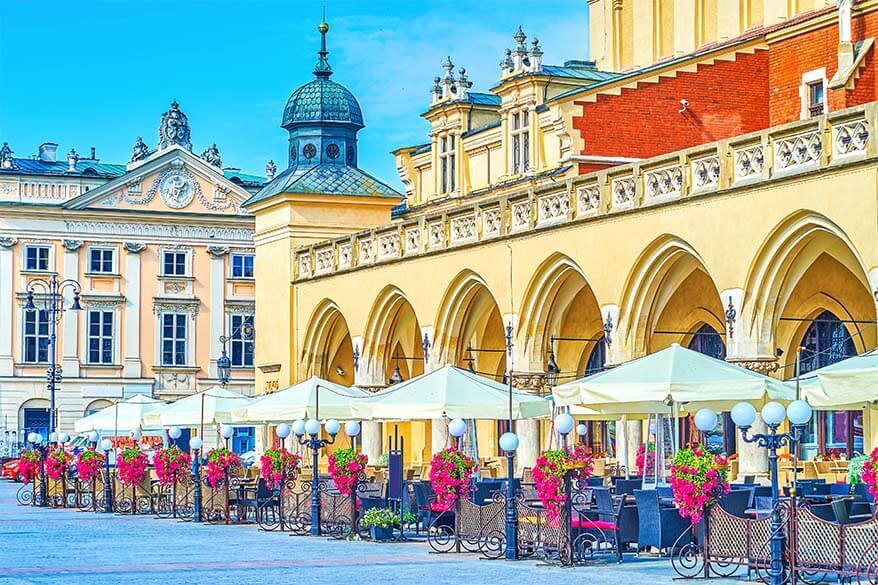 3 Days in Krakow – Suggested Itinerary
Before we go into more detail about all the best places to see on your Krakow weekend trip, here's a short overview of a suggested Krakow itinerary for 3 days. It covers all the major sights of Krakow, a day trip to Auschwitz, and lets you experience some of the local culture. Further below, you can find in-depth information for each place.
This itinerary is just a suggestion on how to spend a long weekend in Krakow. Of course, you can move things around or visit places on different days. A lot will depend on what time you arrive, whether you actually have three full days in Krakow or maybe a bit less. If you are planning to take any tours, you'll have to take their starting times into consideration as well…
So use this for inspiration to plan your own perfect weekend in Krakow.
Day 1
Wawel Royal Castle site
Lunch at a local restaurant
Historic Old Town: Kanonicza, Grodzka, Church of SS Peter & Paul, St. Andrew's Church
Market Square, including the Cloth Hall, St Mary's Basilica, Rynek Underground Museum, and Town Hall Tower
The Little Square
The Barbican, St Florian's Gate and Florianska Street
Food tour
Day 2
Auschwitz-Birkenau
Wieliczka Salt Mine
Dinner at a local restaurant
Day 3
Oskar Schindler's Factory
Jewish Quarter (Kazimierz)
Lunch at a local restaurant
Wieliczka Salt Mine (if not done yet)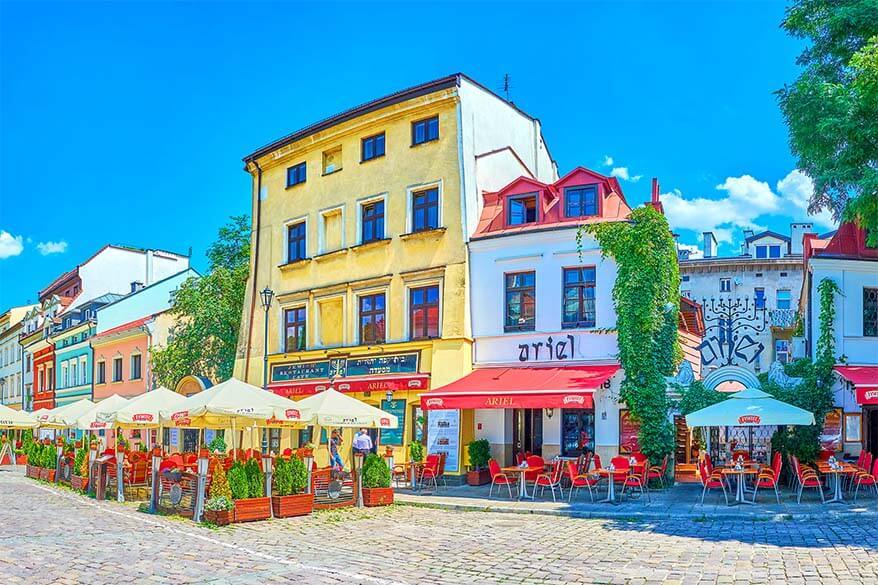 Map
In order to help you get a better idea of where all these places are located and how to plan your time in Krakow, we created this map indicating the best things to do in Krakow and places to visit nearby.
How to Use This Map: Use your computer mouse (or fingers) to zoom in or out. Click on the icons to get more information about each place. Click the arrow on the left top corner for the index. Click the star next to the title of the map to add this map to your Google Maps account. To view the saved map on your smartphone or PC, open Google Maps, click the menu button, and go to 'Your Places'/'Maps'.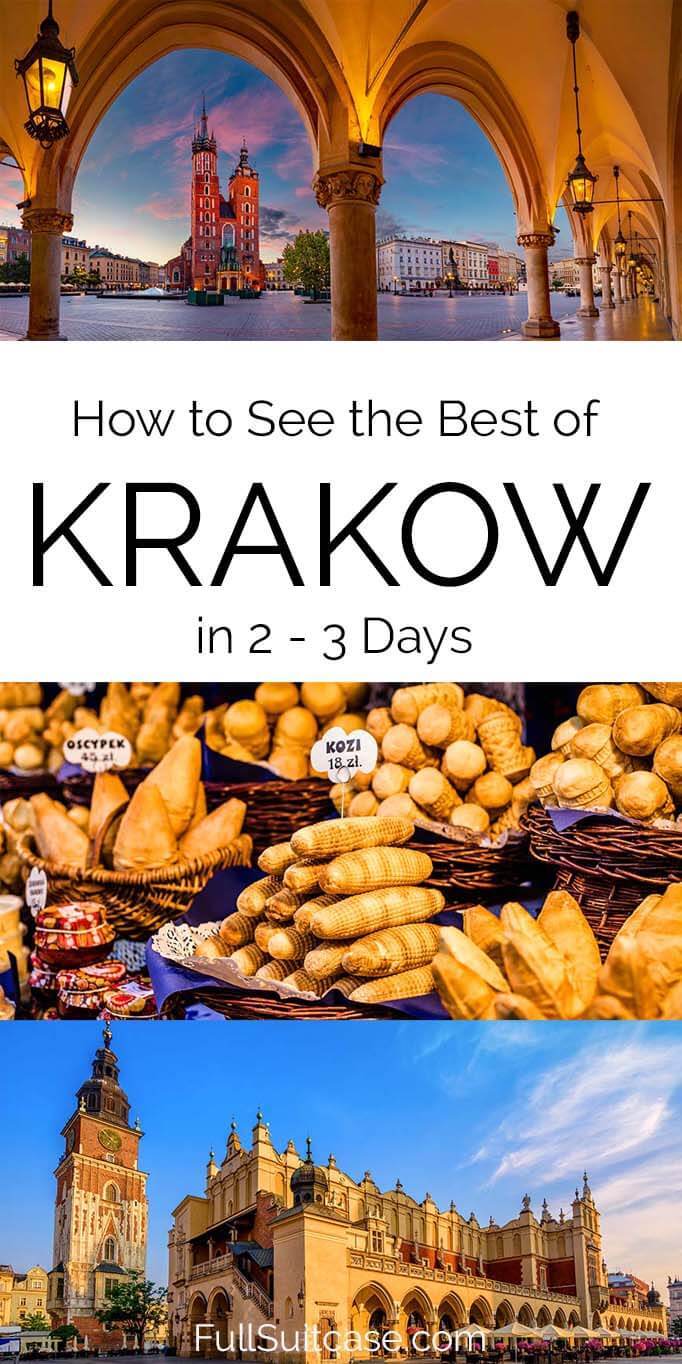 Here's how your Krakow itinerary for 3 days could look like:
Day 1
On the first day in Krakow, visit some of its most famous landmarks in the city center. We suggest starting your day with a morning visit to Wavel Royal Castle and the many sights of Wavel Hill and coming back to the Old Town and the Market Square later during the day. We also recommend doing a local food tour on day 1.
Wawel Hill
Just a 10-minute walk from the Market Square of Krakow, you'll find the Wavel Hill with the impressive Wawel Royal Castle, Wavel Cathedral, and many other sights.
The Wawel Royal Castle is a former home to Polish Kings and Queens. It's considered the most important collection of buildings in Poland. Its architecture a fascinating mix of Renaissance, Rococo, Gothic and Romanesque. The castle sits at the top of Wawel Hill and gives you amazing views across the city from its bulwarks.
Wavel Hill Site is composed of numerous attractions and there is a lot to see and do here. If you were on a longer visit to Krakow, then I would recommend setting aside an entire day. In that case, get tickets to see everything, including the State Rooms, Royal Private Apartments, Crown Treasury & Armoury, Dragon's Den, and the extensive art exhibitions.
However, for a weekend visit when your time is limited, you will probably not want to spend more than half a day here. As a minimum, walk through the grounds of the Castle, visit the gardens, and make sure to visit the stunning Wavel Cathedral. In the Cathedral, you can climb the Sigismund Bell Tower for nice views over Krakow. You can find more information about pricing and opening hours on the official website of the Cathedral.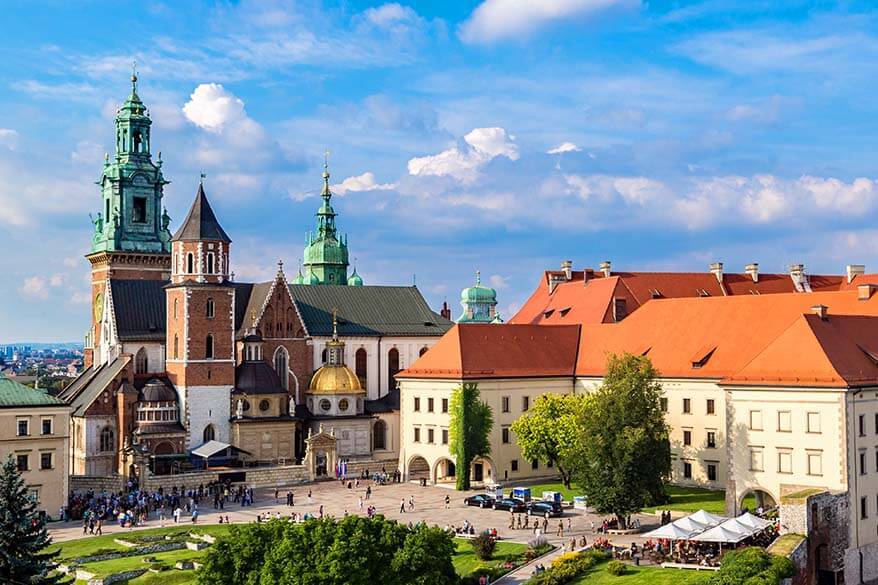 TIP: If you are visiting Krakow with children, don't miss the Wawel Dragon Statue. It stands on Wawel Hill, next to the Vistula River and breathes 'real' fire (thanks to a supply of natural gas).
Good to know: Admission to Wawel Hill and to the Arcaded Courtyard is free. Wavel Royal Castle tickets cannot be purchased online. Because there is a limited number of tickets available per day, they often sell out early. This is especially the case during the high season.
You can find more information about pricing and opening times on the official website. It seems to be possible to reserve your tickets in advance by sending a request per email – more info here.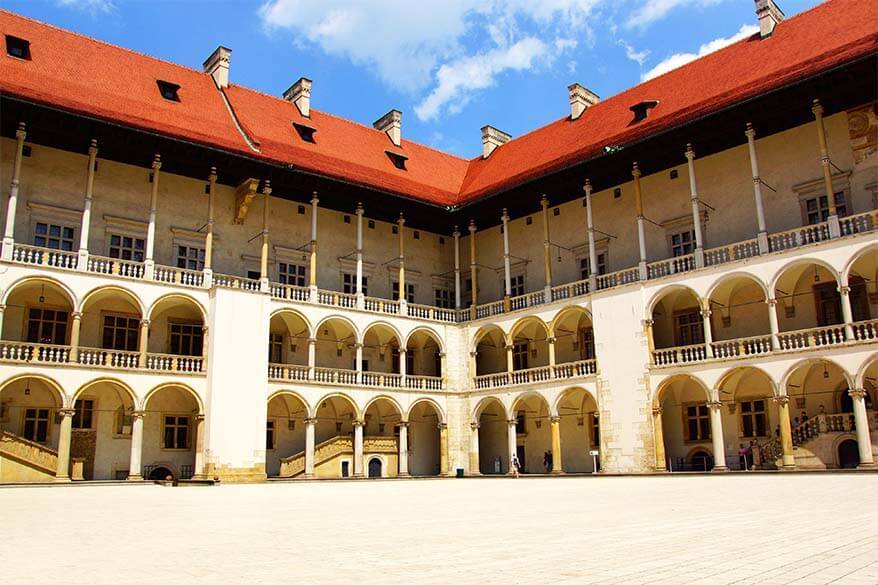 Lunch
I recommend ending your visit to Wavel Hill with lunch at Pod Wawelem. Located just nearby, this is an authentic Polish restaurant that sits at the foot of the Hill. Staff are dressed in traditional clothing and the food and atmosphere are exceptional.
We visited on a Sunday lunchtime and were glad we arrived early. Within an hour, the restaurant was completely full of Polish families (a testament to the high quality of the food).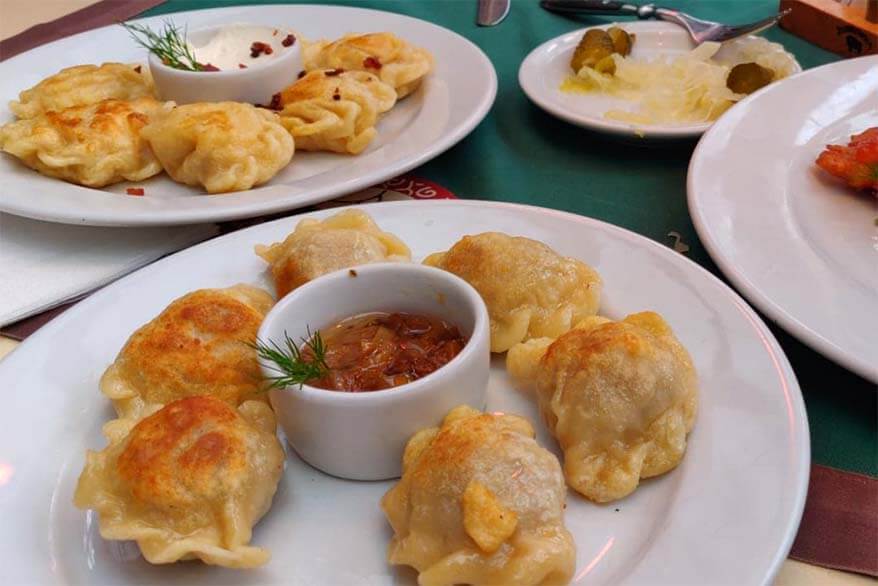 Old Town
As you walk from the Wavel Hill towards the Market Square, you'll pass the historic Old Town of Krakow. Make sure to check out Kanonicza Street, the oldest street in Krakow. Then turn right through a passage and on to Grodzka Street where you'll find two historic churches – the Church of SS Peter & Paul and St. Andrew's Church.
St. Andrew's Church
St. Andrew's Church is a Romanesque church built between 1079 and 1098 (!) and is one of the rare examples of a fortress church that was used for defensive purposes.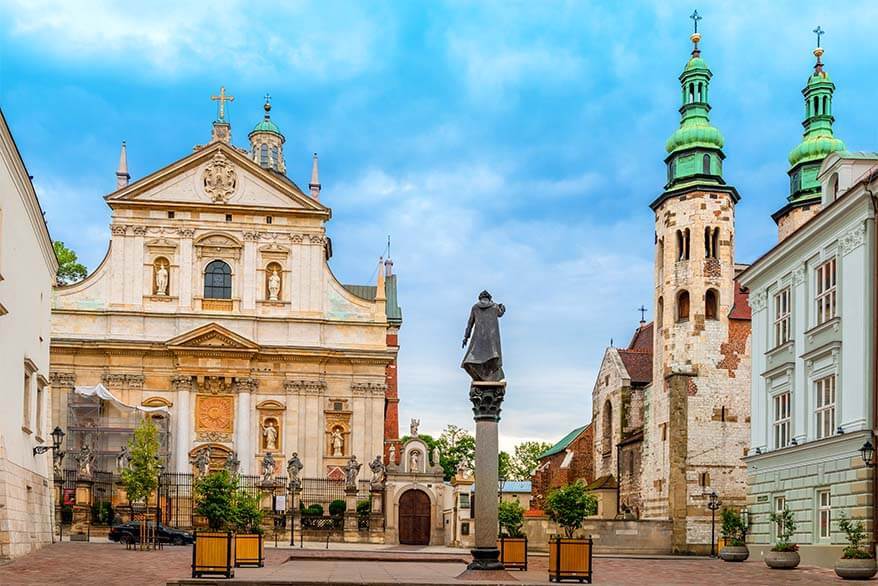 Church of SS Peter & Paul
Church of SS Peter & Paul is an oasis of calm in the bustle of the city. This beautiful Jesuit church was built in the early 1600s and was the first baroque building in Krakow.
The figures of the apostles stand on the gates outside and if you look closely, you'll see that there are only 11 of them (Judas is missing). The interior of the church has been refurbished and is now used for classical concerts.
The church is home to the 46.5m Foucault Pendulum, a device invented in 1851 to prove the earth's rotation. You may need to return to Krakow to see a demonstration, though, as these are only given on Thursday mornings!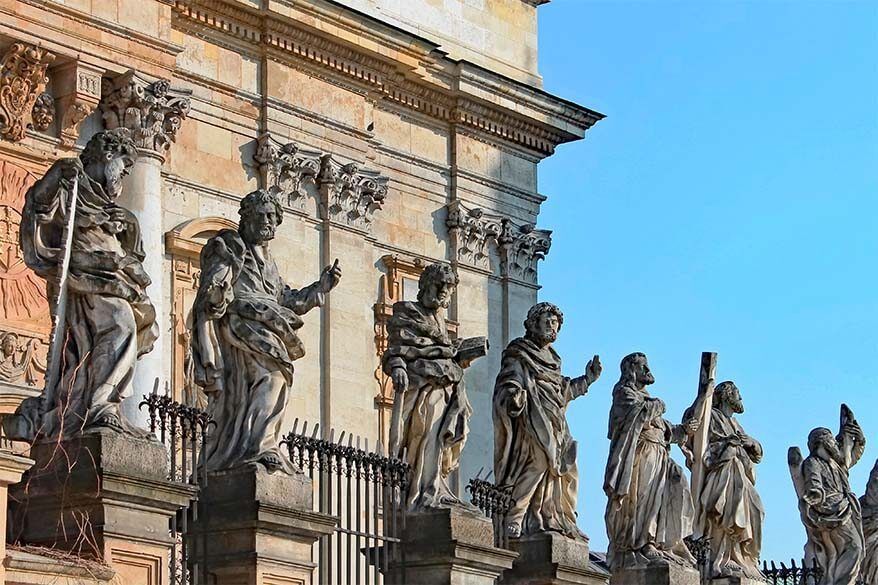 Krakow in 15 Minutes
After visiting the two churches, get back to Kanonicza Street, where you can visit Krakow in 15 Minutes. It's a multimedia presentation of the city's history in a nutshell. Available in seven languages, this is something that doesn't require much time and will give you a great introduction to Krakow.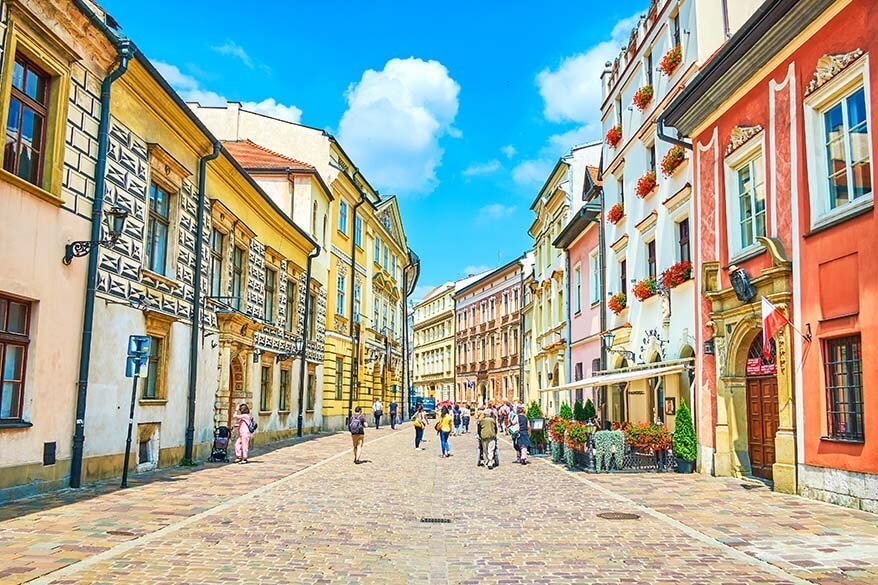 Market Square
After lunch, it's time to head to the Market Square (Rynek Główny), one of the largest medieval squares in Europe.
It truly feels as if you have stepped back in time as you watch the beautiful white horses clip-clop across the cobbles, leading immaculate white carriages. The carriages are available for hire, making a wonderfully romantic experience for couples or a fun treat for children.
The square is surrounded by restaurants, many of which provide outside seating areas. These are protected by glass enclosures and thoroughly warmed with patio heaters in the winter months. At night – illuminated by the candles on the tables – they make a stunning sight!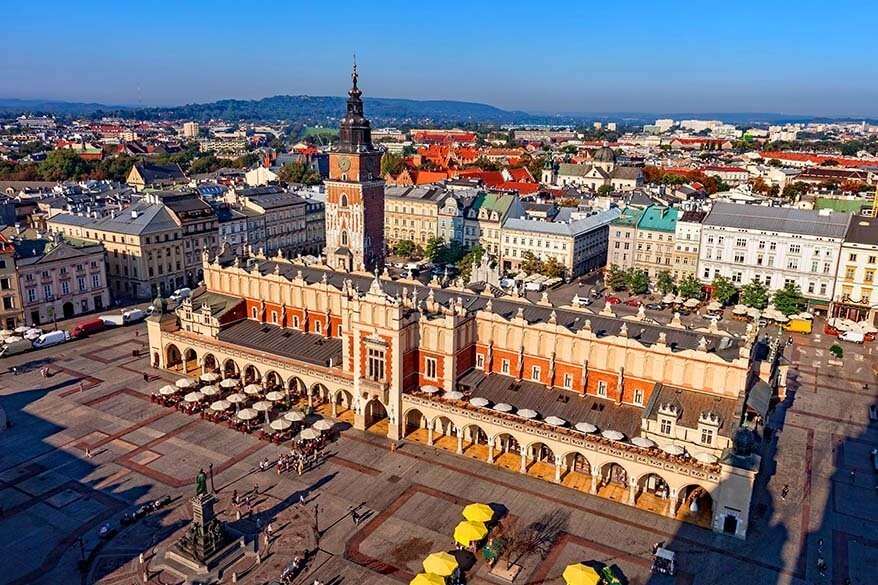 The Cloth Hall
The most important building in the square is the Cloth Hall (Sukiennice). Built in the 14th century, it's considered to be the first shopping mall in the world.
The huge hall is now home to a variety of merchants selling everything from tourist memorabilia to amber and woodwork. This is a great place to pick up some souvenirs, although they tend to be somewhat more expensive here.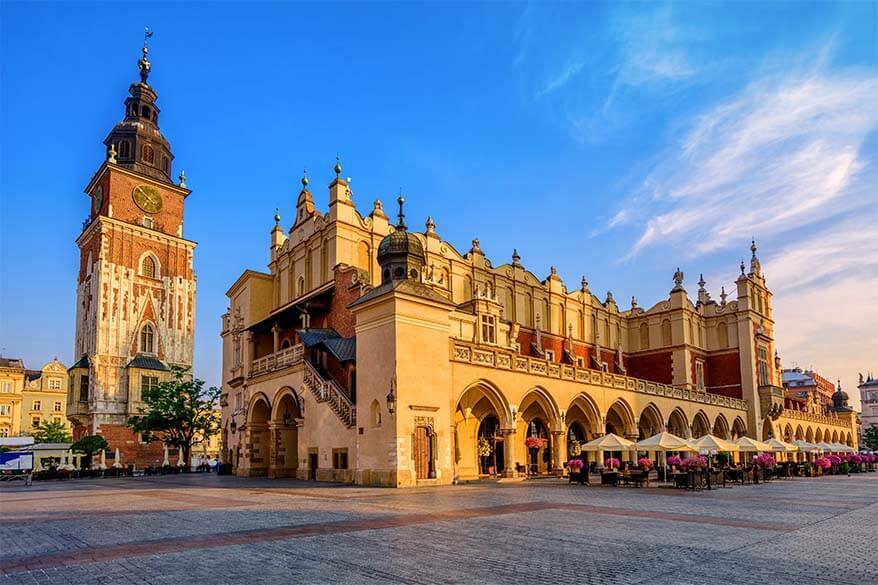 St Mary's Basilica
Opposite the Hall is the Gothic St Mary's Basilica (Kosciol Mariacki), with its raised northern tower. It was a watchtower for Krakow in the 15th century. You can climb the 239 steps to the top of the tower. The views are the best in Krakow! So if you climb just one tower in the city, make it this one.
The church – with its stunning altarpiece, stained glass nave windows, and blue, starred ceiling – is still an active place of worship. You can't visit during services but tickets to visit at specific times are available in the building opposite the tourist entrance.
Make sure to stand outside on the hour and look to the top of the northern tower, where you will see (and hear) the bugler perform the hourly hejnał mariacki (bugle call). You will notice that it cuts off abruptly, which represents the moment when the original bugler was shot in the neck whilst informing the city of a Mongol invasion.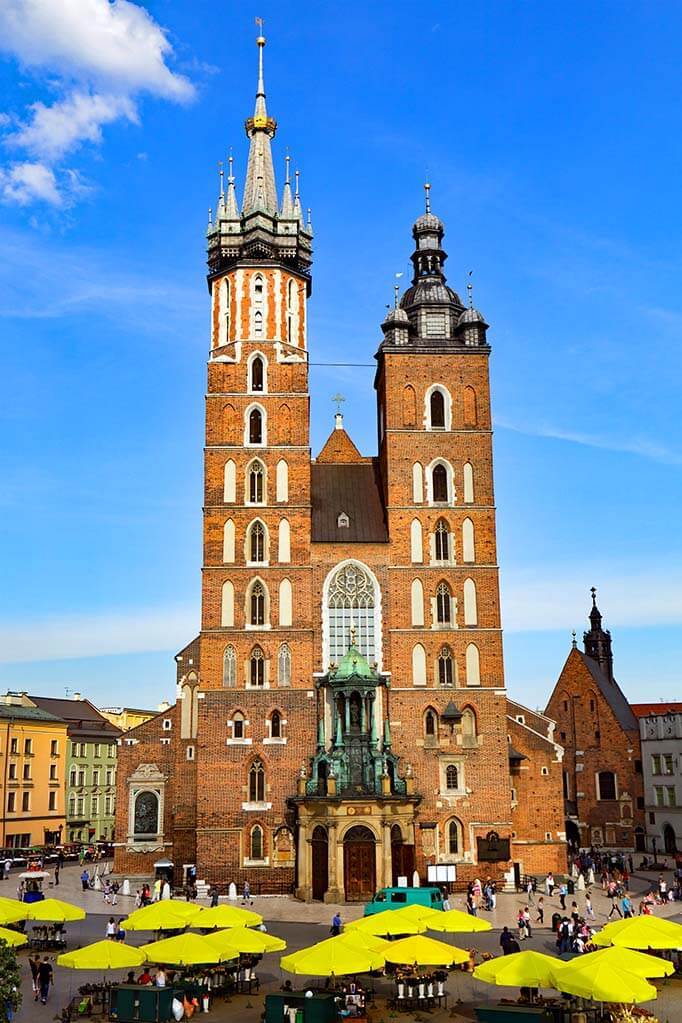 Town Hall Tower
Town Hall Tower (Wieża Ratuszowa) is a restored version of the 14th-century tower that was built as part of the city hall. If you're still feeling fit, you can climb the tower for even more nice views of Krakow.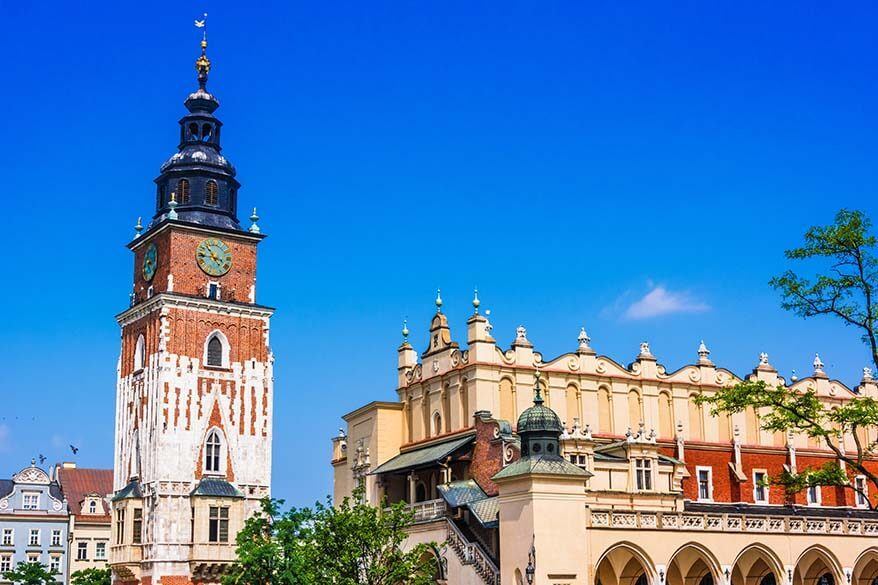 Rynek Underground Museum
Located on the right-hand side of the Cloth Hall is the Main Market Square Underground Museum (Podziemia Rynku). It gives you a fascinating insight into the history of the city. Established after the archaeological excavations under the main square, the museum features the ruins of the original market and discovered artifacts. The information boards are in English and there are interactive video displays.
Good to know: You can buy timed tickets online, or from the Visitors' Centre in the Cloth Hall – on the opposite side to the museum's entrance. Alternatively, you can book a guided tour. The museum only allows 300 people at a time, so buying your ticket ahead of time is essential! Count 1-1,5 hrs for your visit.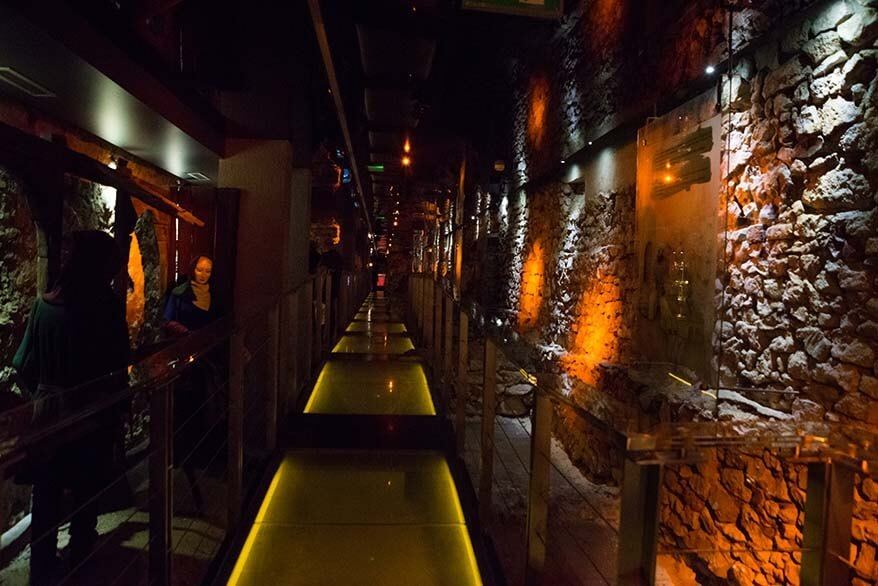 Little Market Square
The Little Market Square, also known as the Small Square (Mały Rynek) is another Krakow town square dating from the same period as the Market Square (Rynek Główny). It's located just behind the St. Mary's Basilica.
While nowhere as impressive as its big counterpart, this picturesque town square is well worth a quick visit. It's also a great place to escape the hustle and the bustle of the main square.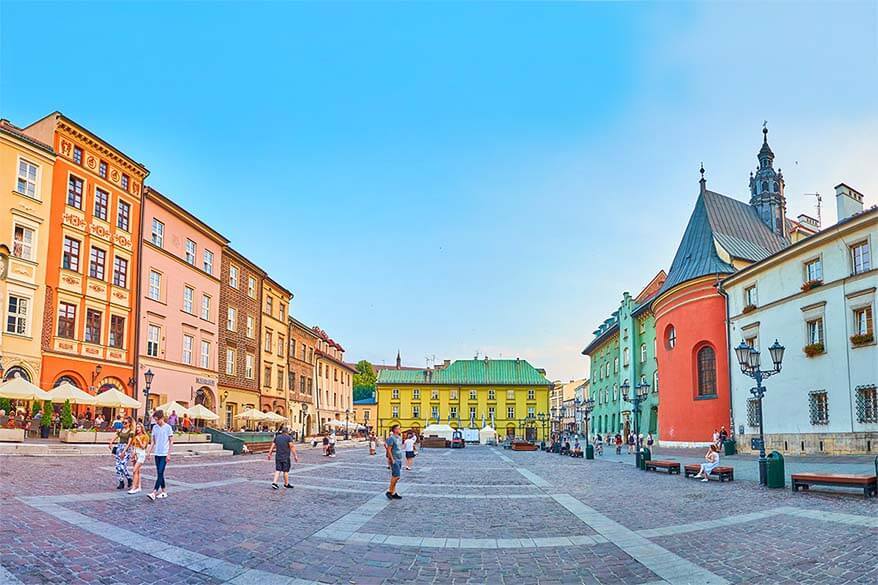 Florianska – St. Florian's Gate – Barbican – Defensive Walls
Finally, take a walk along the bustling Florianska Street, which runs through the northern half of the Old Town. It offers visitors everything from vodka tasting joints to souvenir shops.
The street leads to St. Florian's Gate (Brama Floriańska), one of Poland's most famous Gothic Towers. It forms part of the fortifications built in the 14th century to defend against the Turkish attacks.
Nearby is the Krakow Barbican (Barbakan Krakowski). Together with St. Florian's Gate, it makes up a small exhibition called The City Defence Walls, which you can access for a small fee. The ticket covers both the Barbican and the Gate, and allows you to walk the ramparts, Defensive Walls (Mury Obronne), giving you an elevated view of the Old Town.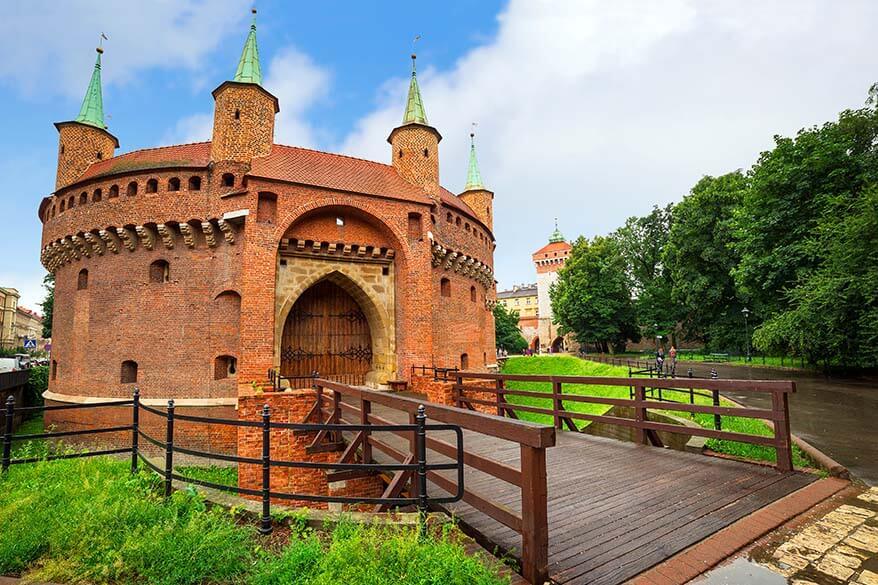 Dinner – Food Tour
A local food tour is one of the best things I did in Krakow and I really recommend you take one as well. It gives you a good overview of Polish cuisine and makes it easier to choose places to eat throughout your stay. Furthermore, a tour like this not only allows you to try traditional Polish dishes but also to understand their importance to the local people.
There are several different walking food tours in Krakow. Most tours take 2-3 hours, some run in the early afternoon, the others – in the evening.
Rather than visit the restaurants typically aimed at tourists, the guides will take you to places you might not otherwise visit, including rustic, country-style restaurants. Here you can sample Barszcz Czerwony (Beetroot Soup), Żurek (Sour Rye Soup) and, of course, Poland's most popular national dish – Pierogi (filled dumplings).
We took this daytime tour and we visited a local market where we got to sample some local mountain cheese and traditional Kielbasa. Our tour ended with a warming vodka shot at Bania Luka, a friendly bar with sites at several locations in the city.
TIP: For this itinerary, I recommend joining this evening food tour (we indicated its starting location on the map). It will allow you to make the best use of daytime hours for sightseeing. Also, this is one of a few tours that run daily throughout the entire year. Just make sure to book online in advance, especially at the busier times of the year.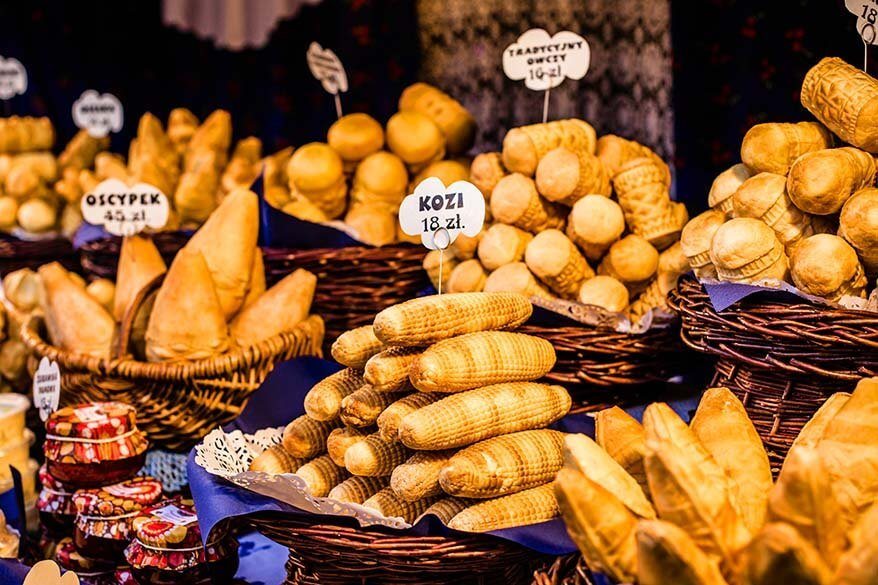 Day 2
After a full day of sightseeing in the city, we recommend that you dedicate your second to visiting Auschwitz. To many people, this is the main reason to visit Krakow in the first place.
Auschwitz – Birkenau
You really need to set aside an entire day for a visit to the Auschwitz Concentration Camp Memorial. This is one of the largest of the Nazi concentration and death camps and is divided into two parts – Auschwitz I and Auschwitz II-Birkenau.
Located in Auschwitz (Oświęcim), about 70 km to the west of Krakow, just traveling to and back from the Auschwitz – Birkenau site will take a couple of hours.
You can either book an organized tour to Auschwitz from Krakow or you can make your own way to the camps. Booking a tour is by far the easiest and most convenient way to visit Auschwitz if you don't have a car.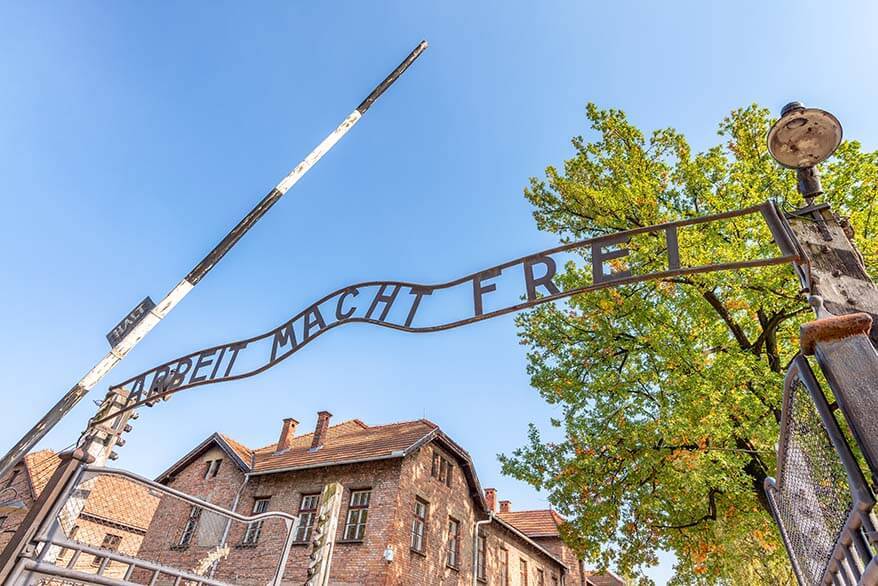 TIP: Most Auschwitz tours take 7-8 hours. If you want to get the absolute most of your day, book an Auschwitz tour that also includes a visit to Wieliczka Salt Mine. This highly-rated tour takes 11 hours and includes a visit to both places as well as lunch. Alternatively, you can visit the Salt Mine on day 3 of this itinerary.
If you choose to visit Auschwitz on your own, make sure to book your tickets to the camp in advance. If you wait until your arrival, you may waste several hours just waiting for tickets, or be unable to access the museum at all. The number of visitors is regulated and tickets have timed slots. You can't enter the camp before your allocated time.
Good to know: Be prepared to pass through a security point on your arrival at Auschwitz. Don't bring along any bags larger than 30 x 20 x 10 cm. You may also be asked to show your ID. I recommend wearing durable, comfortable shoes – there is a lot of walking and it was very muddy when we visited. It is not recommended to take children under the age of 14 on a visit to Auschwitz.
Editor's note: I visited Auschwitz with my parents as a teenager and it left such a strong impression that even now almost 30 years later, I still see it all in front of me as if it were yesterday… It's one of the toughest, but also extremely important experiences ever.
LEARN MORE: Auschwitz Tour: Complete Guide to Visiting Auschwitz Concentration Camp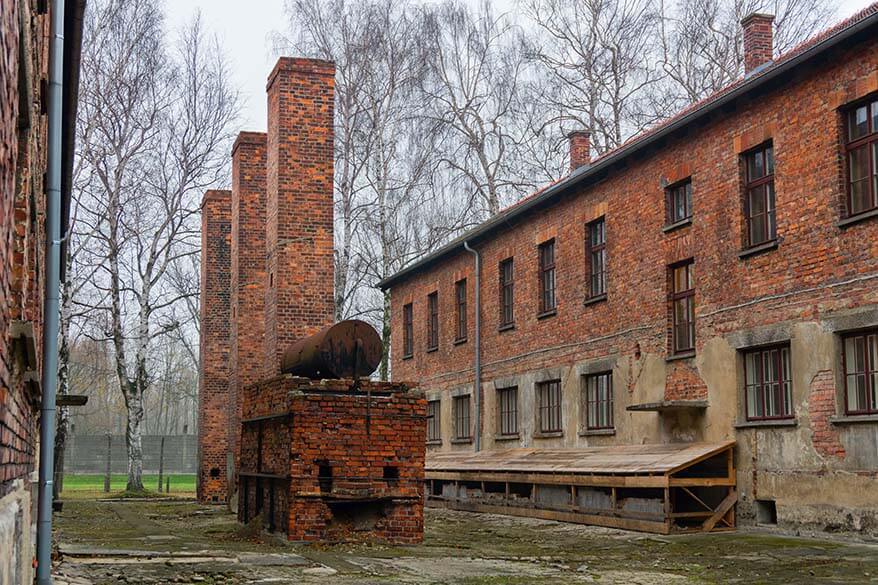 Dinner
We highly recommend booking a table for dinner at Leonardo's Restaurant in Krakow city center. The food is incredible and the service impeccable. In fact, those among us who chose to skip a certain course were given a complimentary taster of that course, so that no diner in our group would be left eating alone!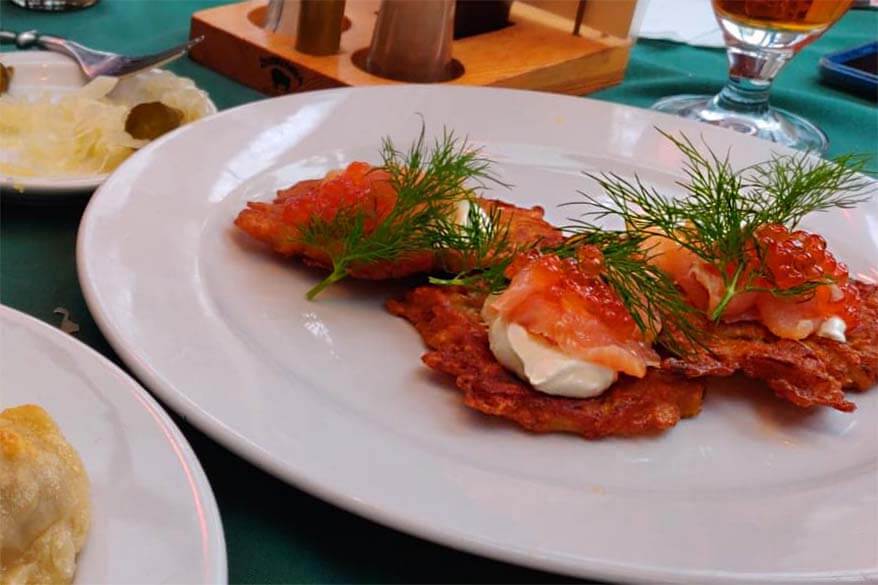 Day 3
For the last day of your weekend in Krakow, we recommend visiting some of the Jewish sights in the city. If haven't done yet, you can also take a half-day tour to Wieliczka Salt Mine.
Oskar Schindler's Enamel Factory
A 30-minute walk from the Old Town (or take a taxi/ Uber), you'll find the Oskar Schindler's Enamel Factory (Fabryka 'Emalia' Oskara Schindlera). We recommend you start your day here and then slowly walk back to the town center.
Originally owned by Oskar Schindler – credited with saving the lives of 1,200 Jews during the Holocaust – it is now home to two museums, the MOCAK and the Schindler's Factory Museum.
If you are not familiar with Oskar Schindler's story, I highly recommend you watch the movie Schindler's List before visiting Krakow.
TIP: If you are traveling in high season, make sure to book the tickets in advance on the website of the museum. Alternatively, join a guided tour. This is one of the best-rated guided tours of the Schindler's Factory that includes skip-the-line tickets. The museum entrance is free on Mondays, but it's even busier than otherwise.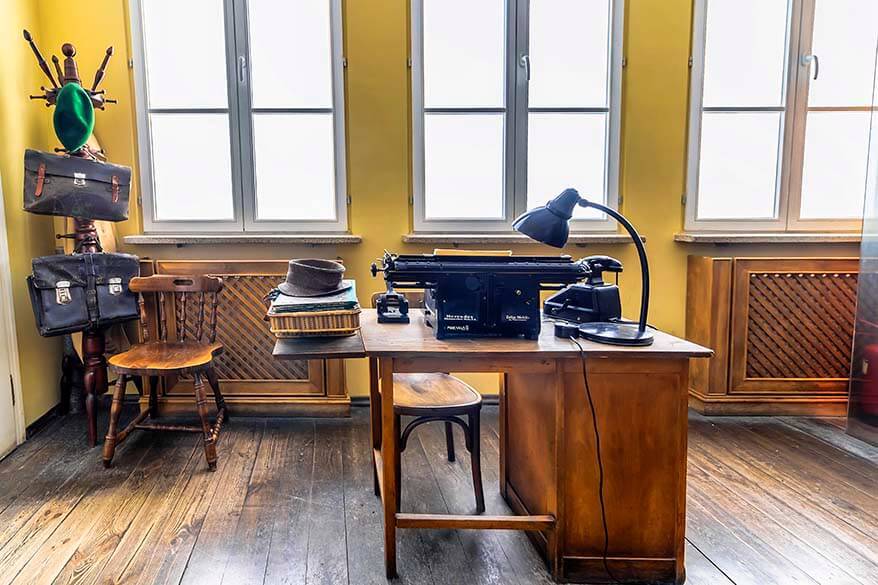 Jewish Quarter
After visiting the Schindler's Factory, visit the nearby Ghetto Heroes Square (Plac Bohaterów Getta). It's a moving sight! In the past, this was the largest open space inside the ghetto. The square has been recently renovated and now contains large bronze and iron chairs. They symbolize the many deaths in the Krakow Ghetto during World War II and the empty seats left behind.
Afterwards, cross the Vistula River and explore the Jewish Quarter of Krakow (Kazimierz). Originally the center of Jewish life in Krakow, much of Kazimierz was virtually destroyed during World War II and the area fell into disrepair. In later years, however, it was used as the location for the film Schindler's List and the area was then restored to its present glory.
Its cobbled streets are filled with art galleries, atmospheric cafes and quaint, unique buildings that look exactly as they would have done decades ago.
The area is also home to The Old Synagogue (Stara Synagoga) – the oldest synagogue in Krakow. There is a fee if you want to look inside and visitors must be modestly dressed. Remuh Jewish Cemetery and Schindler's List Passage are also worth a quick stop.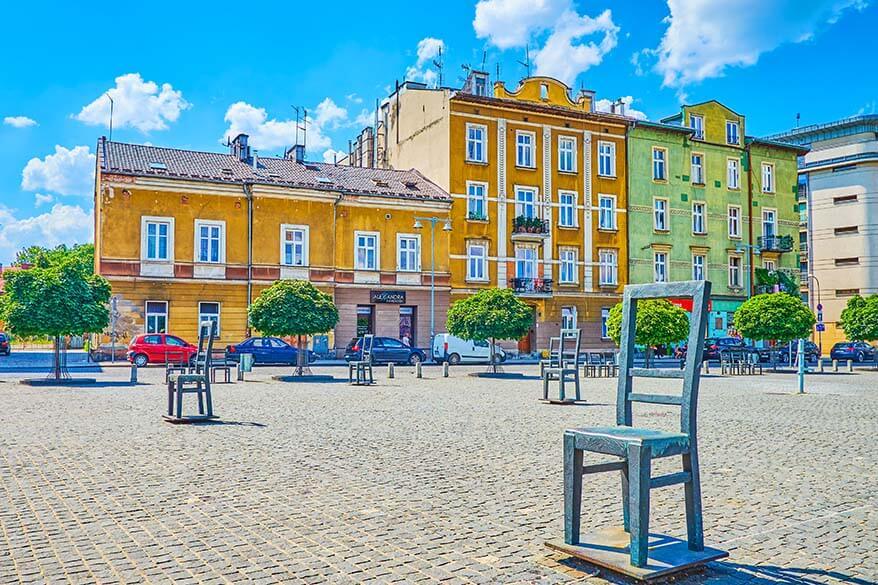 Lunch
For lunch, we recommend a traditional restaurant Kuchnia u Doroty. With thousands of great reviews on Google, Trip Advisor, and multiple other sites, this is one of the best choices in this part of Krakow!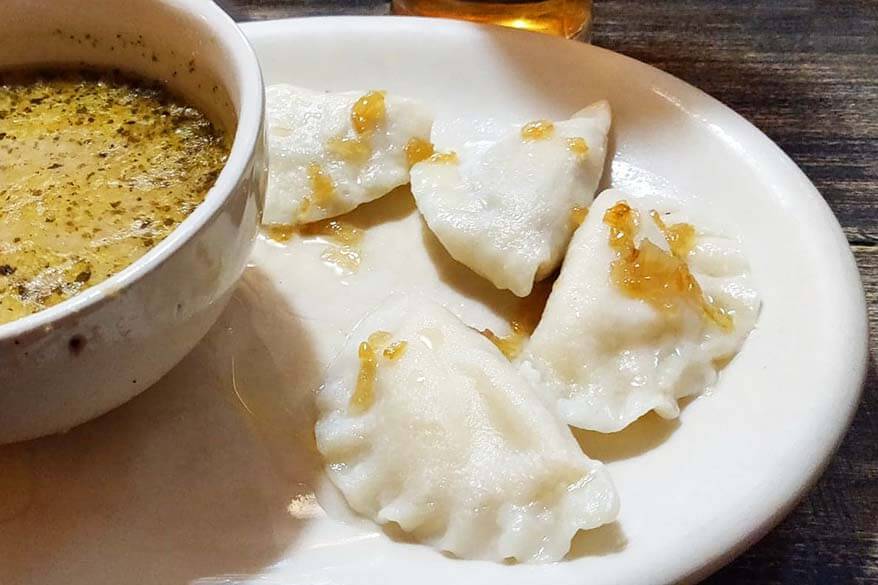 Wieliczka Salt Mine
After lunch, I recommend spending the second half of the day at the Wieliczka Salt Mine. As already mentioned, you could also visit it on day 2 of this itinerary by booking a tour that includes Auschwitz as well as Wieliczka. However, if you have the time, I recommend that you visit these places separately.
One of Poland's most popular attractions, the Wieliczka Salt Mine is fascinating for children and adults alike. It features statues and chapels carved out of the rock salt. Many of these have been carved by the original miners at the end of their shifts. New carvings have been added by artists in recent years.
The scale of this mine is vast and a guided tour is recommended to see the best of the sights. Queues for tickets can be long, so if you don't book a tour, make sure to book your tickets online in advance.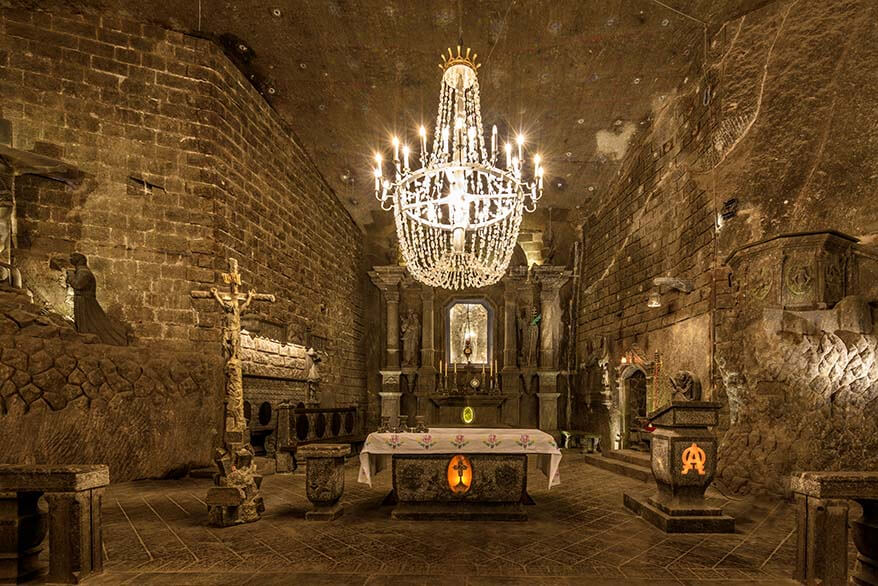 Good to know: The mine is approximately a 30-minute drive from the center of Krakow, so you will need to arrange transportation to visit. You can book a taxi or go by train, but the easiest way to visit is by booking a guided tour that includes transport from Krakow.
TIP: This is the best-rated guided Wieliczka Salt Mine tour from Krakow. It runs daily with several departures a day and takes about 4-5 hours.
LEARN MORE: Complete Guide to Visiting Wieliczka Salt Mine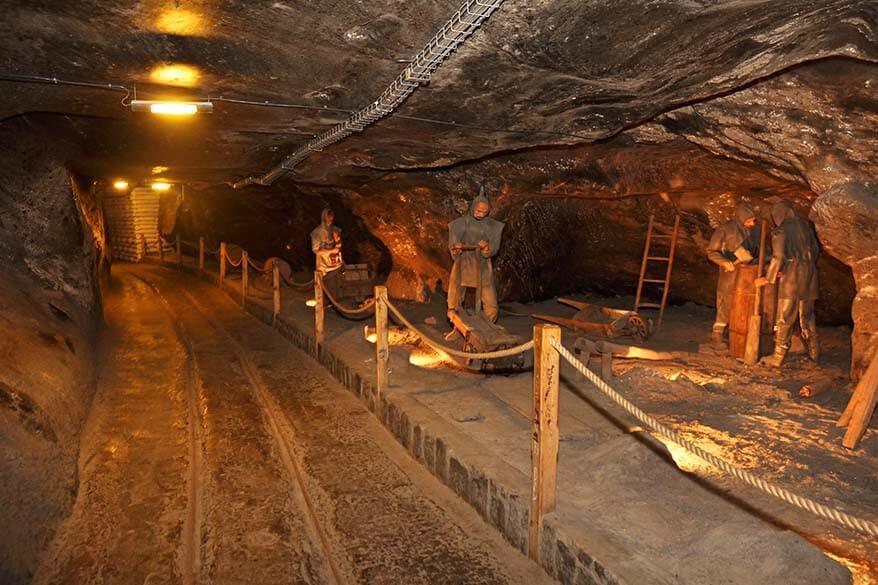 More Things to See and Do in Krakow
The above itinerary covers the best of Krakow in 2,5-3 days. Should you find yourself with a little extra time in Krakow – or if you plan a return visit to this fascinating city – there are many more attractions that may interest you. Here are some other nice things to do in and near Krakow:
Lost Souls Alley
This is an interactive – and disturbingly realistic – 'haunted' house, suitable for those aged 14+. It's located just off the market square. Just like most other places mentioned above, this is a very popular attraction, so I recommend that you book your tickets online. A visit takes around 35 minutes – if you dare!
Botanic Garden of the Jagiellonian University
If you are visiting from mid-April until mid-October, this is a lovely spot in which to enjoy a romantic stroll in Krakow. The Jagiellonian University buildings are also interesting to see.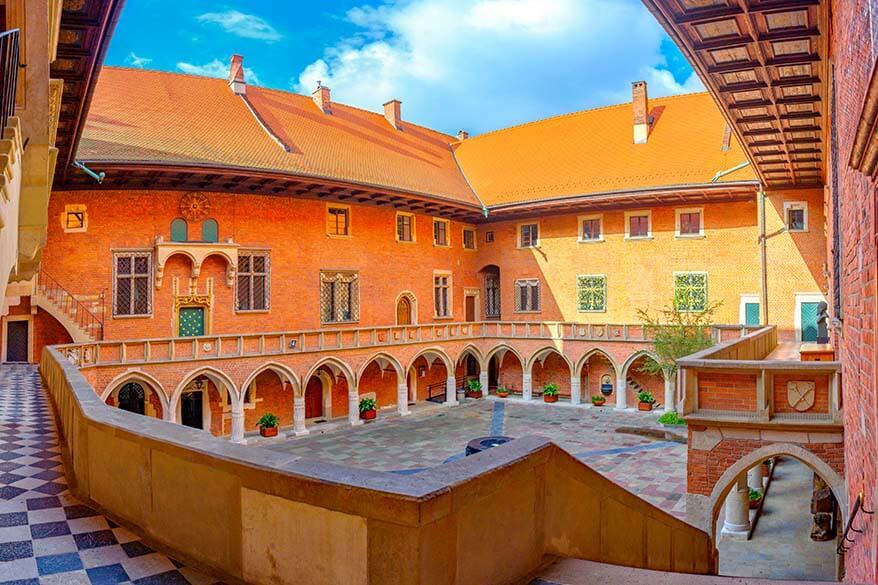 Krakow Vistula River Cruise
This is a popular short boat trip on the Vistula River in Krakow. Starting at the bottom of Wawel Hill, it gives you a different viewpoint on Krakow.
It's not a must, but if you have an hour to spare or want to rest your legs a bit, you may want to give it a go. Boat tours run from April through October and can be booked here.
Day Trip to Zakopane & Tatra Mountains
One of the nicest day trips from Krakow is a visit to Zakopane, a popular mountain resort. The Tatra Mountains offer some of Poland's most captivating landscapes. Some tours like this one also include a visit to the Thermal Baths.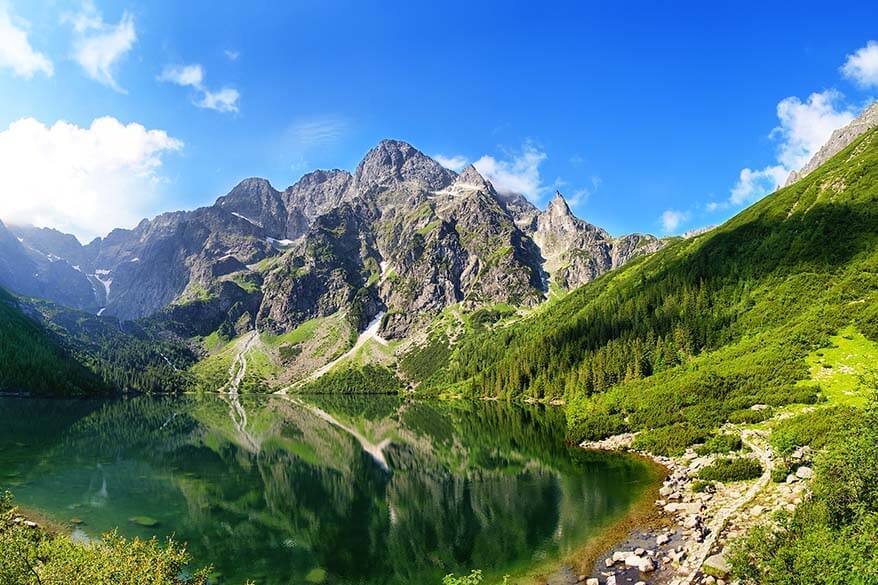 How to Get to Krakow from the Airport
John Paul II International Airport is only 15 km from Krakow, with strong transport links to the city center. Here are some of your options:
Airport Taxi: The taxi rank is immediately outside the airport. You can book in advance, but it's not really necessary as there are many cars lined up waiting for passengers. There is a flat fee of 89 PLN (+- 22 EUR) and the journey takes around 25 minutes.
Private airport transfer: Often cheaper than a taxi, private airport transfers are the most convenient way to get into the city. This private transfer is particularly well-rated. You can also reserve an electric car transfer at a similar rate.
Airport Train: Far cheaper than a taxi or private transfer is the train, which also takes around 25 minutes to get you into the center of Krakow. You can buy tickets in the Arrivals Hall or on the station platform. They are also available from the guard on the train. A single ticket costs around 9 PLN (just over 2 EUR) and you can pay using cash or card.
Airport Bus: This is definitely the cheapest option but adds around 20 minutes on to your journey time, so I don't really recommend it, particularly if you are only staying for a weekend. You can get tickets – which cost around 4 PLN – at the bus stop or from a machine in the Arrivals Hall.
Rental Car: You don't really need a car, as everything in Krakow is easy to get to on foot. If you plan on visiting many attractions outside the city, however, then you may want to rent a car (in that case, make sure to book a hotel that also has parking). You can find the best deals for car rental here.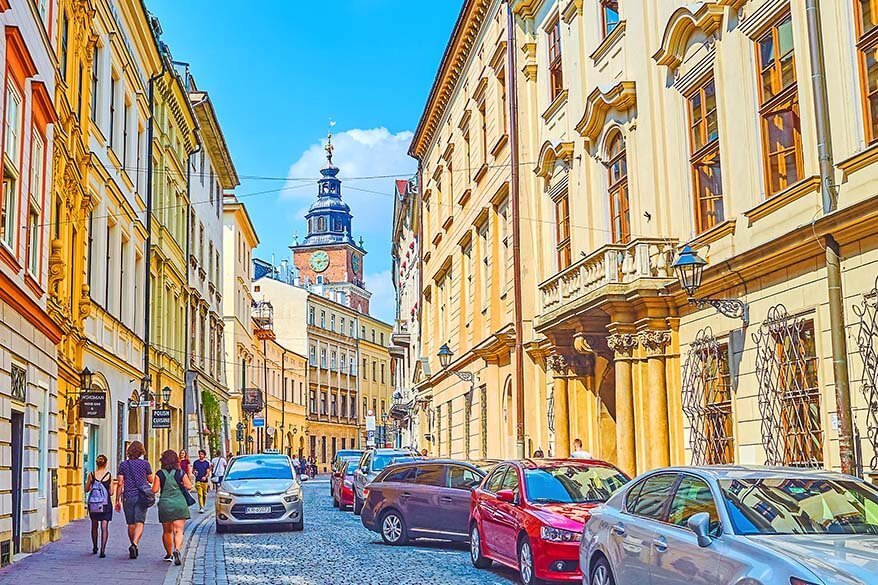 How to Get Around Krakow
One of the best things about Krakow as a weekend destination is that so many of its attractions are close together, making it easy to travel on foot! You can visit pretty much all the Krakow attractions mentioned in this article just by walking. There are a few other options though:
Guided tour by e-car. There are lots of companies offering sightseeing tours in electric cars (which some visitors describe as long golf carts!). Open at the sides and narrow enough to negotiate the winding streets, they are a fun way to explore Krakow. In colder months the cars are often heated and blankets are supplied to keep you cozy. Here you can find a well-rated company offering guided e-car tours.
Segways and scooters. You will see segways and scooters EVERYWHERE in Krakow. They are another fun, eco-friendly way to get around. Some companies offer specific tours to certain attractions or you can simply hire a segway/scooter and do your own thing! You can check what's available here.
Horse and carriage. While this will not get you from point A to point B, it's a nice romantic way to explore Krakow's downtown. You can find plenty of carriages on the Market Square.
Bike tours. There are several bike tours in Krakow or you can hire a bike and explore Krakow by yourself. However, bike paths are limited and the many cobbled areas do not make for a comfortable riding experience!
Public transport. Krakow doesn't have a subway system but there are plenty of buses and trams, plus some privately-owned fleets of mini-buses. A single ride costs around 4.6 PLN (roughly 1 EUR). You can either buy the tickets on the bus or tram, or from newsstands or ticket machines at downtown stops.
Taxi/ Uber. Taxis are cheap in Poland, and Uber is even cheaper. This is the best option if you need to cover bigger distances.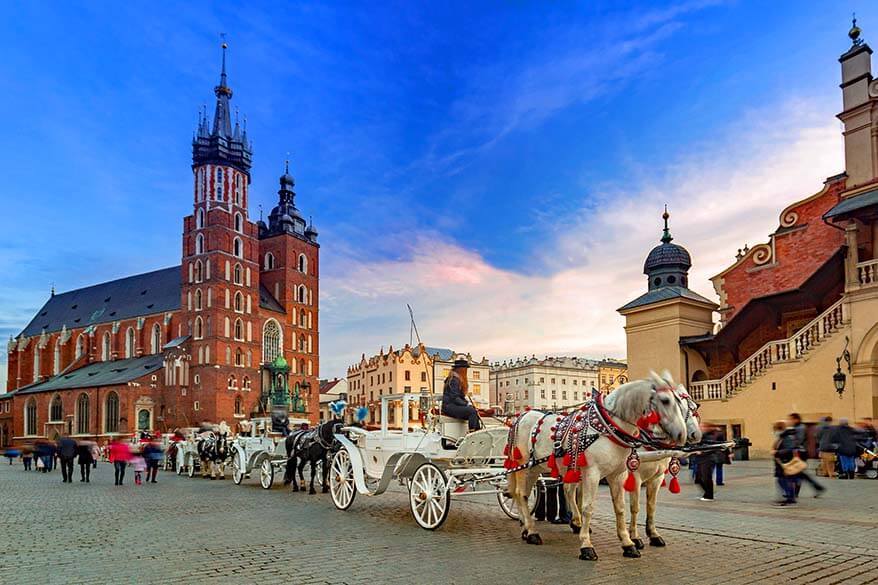 Where to Stay for a Weekend in Krakow
There is a wide choice of hotels and apartments in Krakow. Due to booming tourism, the number of units for rent in the city has risen from 1500 to 5000 just in the last few years.
Accommodation in Krakow is cheap, particularly considering that some of the apartments and hotels are in the very heart of the city – an advantage for which you would certainly pay a premium elsewhere in the world!
Below are some of the best hotels in Krakow that have great locations and suit a range of budgets:
Hotel Unicus Palace. Just 350 yards from St. Mary's Basilica, this 5-star hotel may have one of the best locations in Krakow and is rated 'superb' by visitors. It has a fitness center, an indoor pool, and its own restaurant. And because hotel prices are quite affordable in Krakow, this hotel is also one of the top picks in the city!
Hotel Polski Pod Białym Orłem. This beautiful 4-star hotel is just opposite the St. Florian's Gate and its restaurant offers 17 Polish dishes. One of the top picks in central Krakow!
Hotel Wit Stwosz. In an excellent location, but at a reasonable price – this 3-star hotel is just a 2-minute walk from Market Square. With its striking 14th-century interiors combined with all the modern comforts, it offers excellent value for money. Be quick, because this hotel is very popular.
Aparthotel Stare Miasto is a lower-budget hotel that offers excellent quality and location. Located in a historic building and beautifully restored, no wonder that it's one of the most popular picks in Krakow.
Hotel Pugetow. Also offering excellent value for money is the Hotel Pugetow, a quaint and charming 2-star hotel located between the Old Town and the Jewish District. Each room is uniquely decorated to reflect a different historical era and the grand 19th Century Pugetow Palace is immediately beside the hotel.
TIP! Using the map below, you can compare hotels and short-term rental accommodations in Krakow. Simply insert your travel dates and group size, and you'll see the best deals for your stay. Check it out!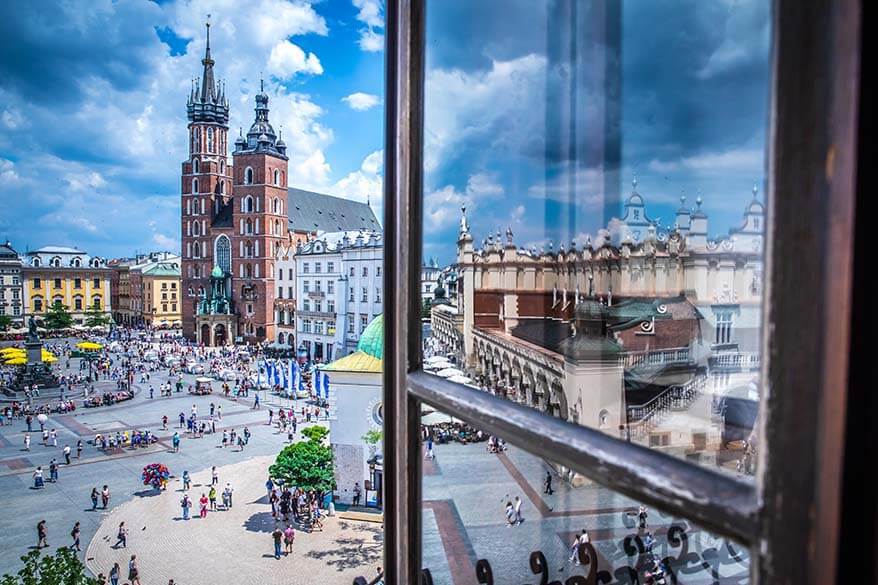 Some Practical Tips
Currency. Despite being in the EU, Poland uses Polish złoty (PLN) and not Euro. At the moment, 1 PLN is approx. 0,25 EUR. Credit cards are widely accepted, but you'll need some cash too.
Tipping. It is customary to tip at the rate of 10-15 % for good service in restaurants and cafes.
Supermarkets. There are many supermarkets all over the city that are open 24/7. It's really useful if you are in self-catering accommodation and want to have a late-night snack!
Souvenirs. The cost of souvenirs sold at the Market Square tends to be higher than in the shops in the surrounding streets. Although I recommend a visit to the Sukiennice, I also suggest you do most of your souvenir shopping elsewhere.
LEARN MORE: Krakow Travel Tips
More tips for your trip to Europe:
Credit cards: In Europe, we use credit cards with a pin. If you live in the U.S., we recommend getting one of these great travel credit cards for your trip to Europe.
If you found this post useful, don't forget to bookmark it and share it with your friends. Are you on Pinterest? Pin these images!