No stay in Krakow would be complete without a visit to the impressive Wieliczka Salt Mine. With over 1.5 million visitors per year, the Krakow salt mines is one of Poland's most popular attractions. It's definitely one of the top places to see when visiting Krakow!
In this article, you can read all about visiting Wieliczka Salt Mines – why, where, and how. Find out!
Before we talk about the practical aspects of visiting Wieliczka Salt Mine from Krakow, let's take a look at what makes it so special and whether it's even worth visiting…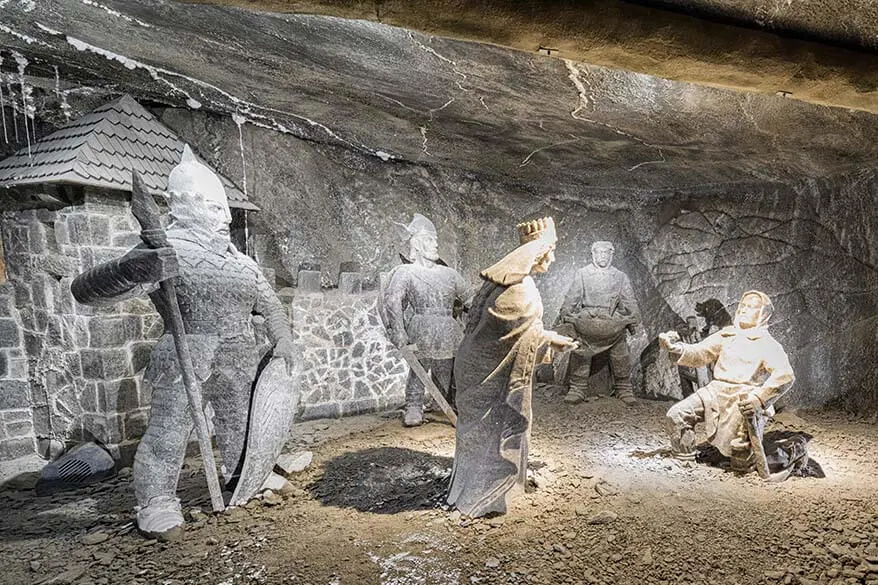 Why Visit?
One of Poland's oldest historical monuments, this salt mine near Krakow has been consistently operating since the 13th century. Filled with statues, chapels, and altars intricately carved out of the salt by miners after their shifts, it is an awe-inspiring monument to man's creativity!
Registered on the UNESCO World Cultural and National Heritage list, the mine is not only valued for its artistic and historical value but is also popular among pilgrims.
The salt mine is vast in scale! It reaches 327 m below ground and features over 245 km (152 miles) of passages and chambers. Can you even imagine that?!
Some people visit the salt mine in order to see the stunning carvings and underground lakes, as well as learn more about the history of this unique and surreal environment. Others are more interested in what daily life was like for the mineworkers or want to learn more about its geological features…
The Wieliczka Salt Mine offers some very different experiences to its visitors. So, no matter what your interests are, you'll definitely find a specially designed 'route' to suit you! Furthermore, you also have the option to do several of these experiences on one ticket – see below for more information.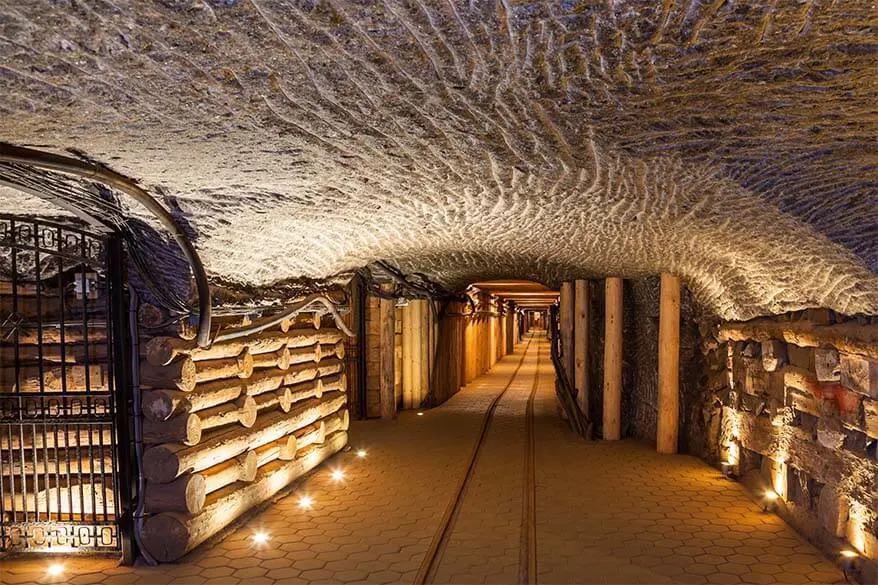 What to Do at Wieliczka Salt Mine
As mentioned, there are several different routes that you can choose from. Take a look!
The Tourist Route
This route is the most popular way to visit the Wieliczka Salt Mine. It allows you to experience the surreal beauty of the mine. You'll see magnificent sculptures, chandeliers, murals, and 20 chambers… all carved out of salt.
If you choose this tour, you start at the Danilowicz shaft, where you descend 350 steps to 135 m depth under the ground. Working your way through 3 km (1,9 miles) of winding corridors, you will be confronted by one beautiful sight after another and learn more from your guide about the various legends associated with the mine.
The acoustics in some of the chambers are magnificent. This route, therefore, includes a light display over the tranquil waters of one of the underground lakes while listening to the music of Chopin.
The highlight of the tour is undoubtedly the visit to the Chapel of St. Kinga – the only underground church in Europe. It is decorated with breathtaking works of art carved from salt.
The route ends with an hour at the Krakow Saltworks Museum (admission included in your ticket). You are then brought back to ground level in an elevator (so no need to walk back up those 350 steps).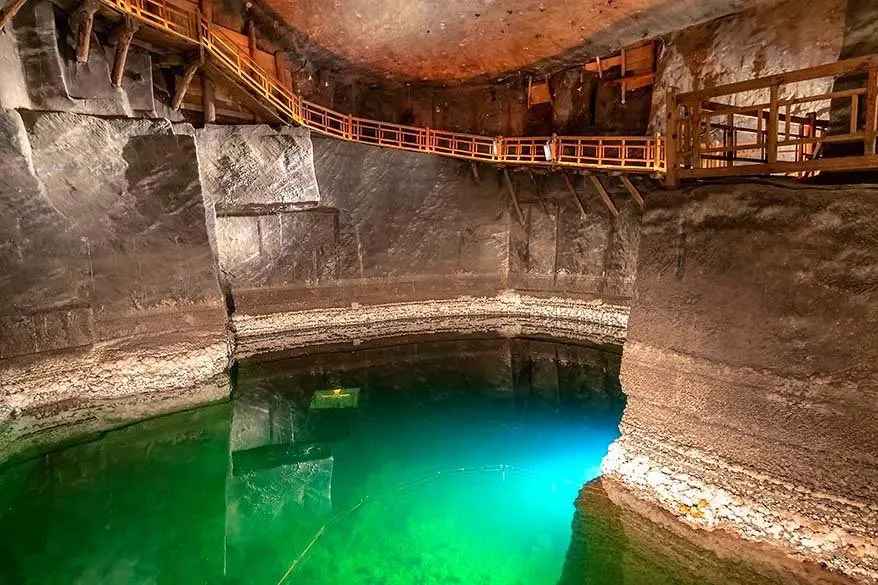 Practical information for the Tourist Route:
Children of any age are allowed on the route, although it's important to note that there is a lot of walking involved. The fact that there are no interactive exhibits – coupled with the length of the tour – may mean that this route is not the best for younger children.
Comfortable shoes are essential as you will be on your feet for virtually the entire time, and you should dress warmly.
Although the ground is relatively flat in the mine corridors, the descent into the mine can be quite challenging for some people, particularly those with knee problems. If you are registered disabled, then there is a shorter – 90 minutes – route available that uses elevators instead of the staircase. You would need to contact the mine and reserve a spot in a disabled group to take advantage of this route.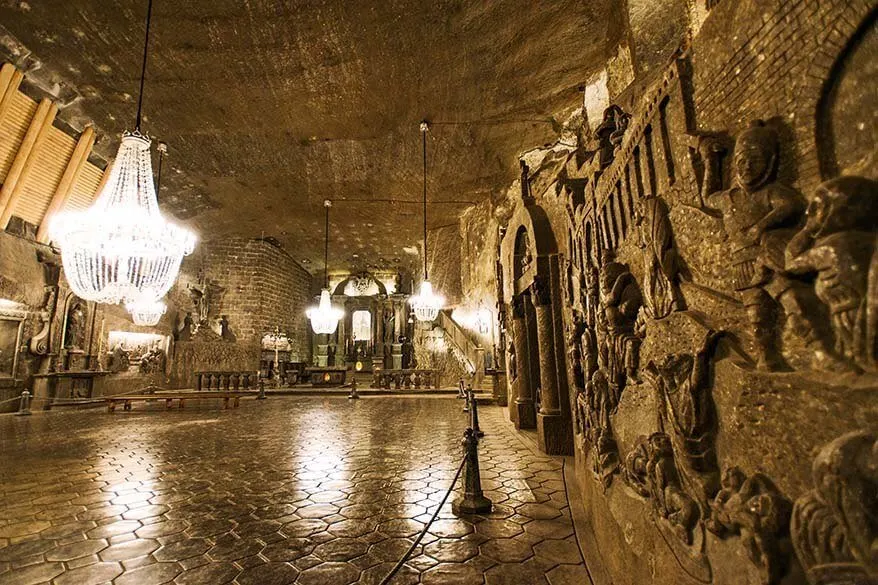 The Miners' Route
This route is designed for those who want to experience what life was like for Wieliczka's miners. So put on the working clothes and become 'Slepry' (novice miners) for a couple of hours.
Should you choose this option, you'll enter the mine via the Regis shaft in the center of Wieliczka town. It is located separately from the tourist route and doesn't connect with it at all.
You'll be provided with a coverall, mining equipment, a safety lamp, a POG absorber (respiratory device) and a miner's helmet. You'll also be given mining tasks by your guide – also known as the 'foreman'. These tasks – which include testing for methane and digging salt – give you an authentic feel of what life for the miners may have been like, and a greater understanding of the mine's history and geology.
Practical information for the Miners' Route:
The route takes 3 hours and can be booked here. Make sure to be at the mine 15 minutes before your scheduled time.
Comfortable shoes are a must, as you'll be doing a lot of walking! Dress in layers because it might get warmer than expected when you're moving a lot.
Because this is quite an authentic experience, it does require some physical effort. You will need to be reasonably fit to enjoy it.
Children under 10 years of age are not allowed on this tour. Kids between the ages of 10 and 18 must be accompanied by an adult.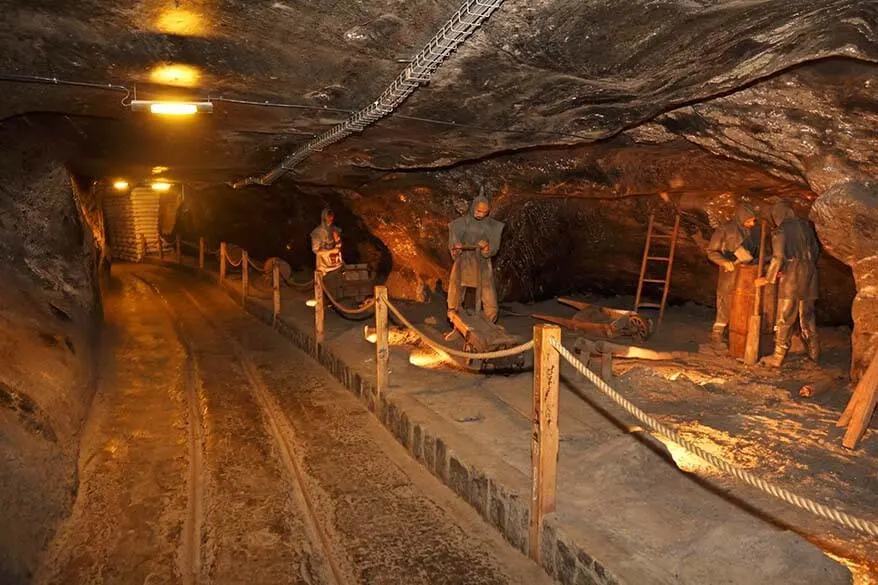 The Pilgrims' Route
A special route is offered for the faithful, accompanied by a priest and demonstrating the piousness of those who worked in the mine. This route includes prayer stops, specially prepared food, and a Mass at the end. It takes about 2,5 hours. For more information about this tour, please check the official website.
Graduation Tower
If you (or a member of your family/group) are not comfortable with the idea of going underground, then another option would be to visit the Graduation Tower.
This 22 m high observation tower is the perfect spot from which to admire the mine shafts and St. Kinga Park from above. The natural brine mist carried by air is said to be therapeutic for those with respiratory problems.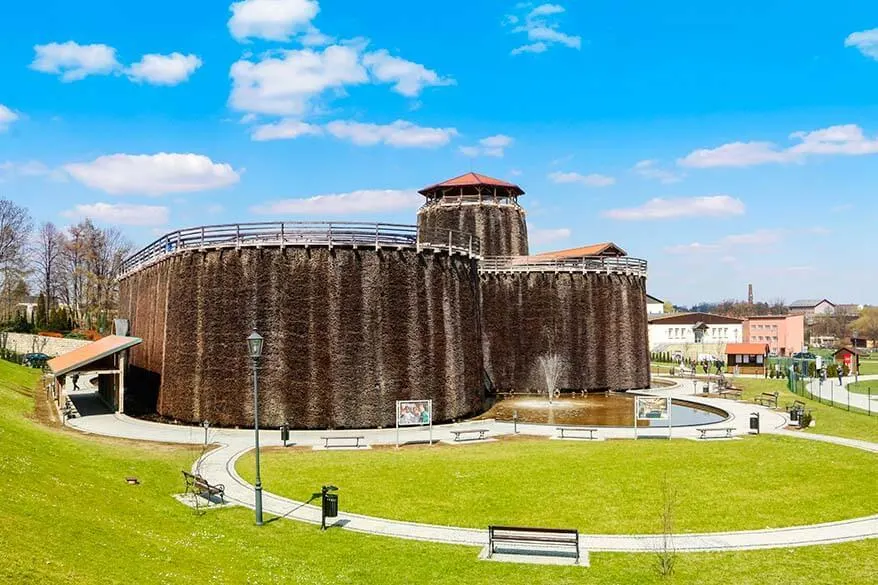 Wieliczka Salt Mine Tour
The most popular way to visit Wieliczka is by joining an organized tour from Krakow. There are many tour options – from small group tours to private tours, and also tours that combine a visit to Wieliczka with other places like Auschwitz or Schindler's Factory…
Taking a guided tour is the best way to visit salt mines from Krakow because your local guide will take care of all the details upon your arrival at the mine. This can be very helpful as the upper area can be very chaotic at times, with lots of people and long queues.
Good to know: Guided Wieliczka tours from Krakow usually take 4-5 hours, including transfers. Organized tours do the 'Tourist Route'.
In order to help you choose the best suitable Wieliczka tour from Krakow, here are some of the best options that we found:
Good to know: Most tours include transportation to the mine as well as the entrance ticket, but please check the description carefully, because some only include one but not the other. The tours I listed above, normally include both.
Please note that none of the tours or tickets include a photography permit. If you want to be able to take pictures inside the mine, you'll have to get an additional permit upon arrival. It's not expensive, just an extra formality.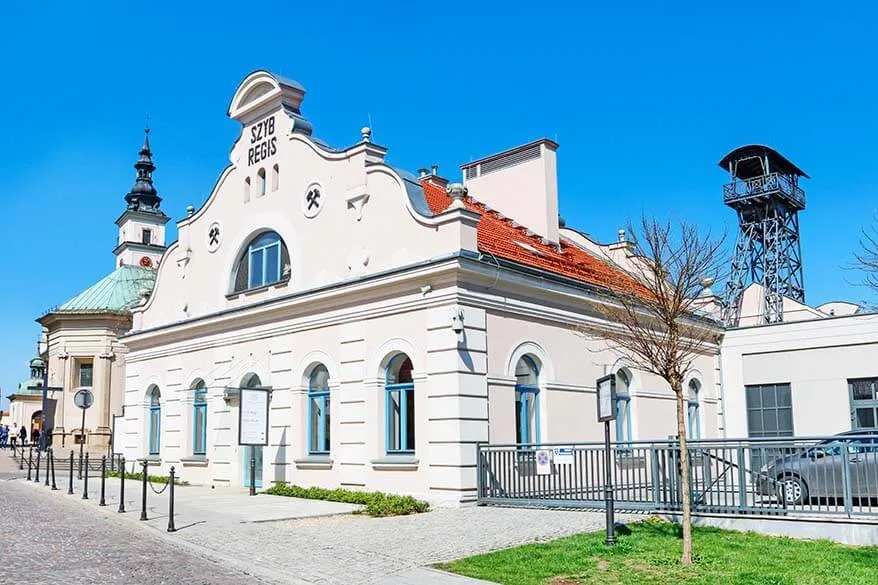 Practical Information for Visiting the Salt Mine
If you are visiting Wieliczka with a tour from Krakow, you don't really need to worry about any practical aspects because the tour guides will take care of it all. Should you choose to visit individually, here are some things you may want to know.
Opening times
The mine is open year-round except for some religious holidays. Opening times also vary per season and per route chosen. The most popular – Tourist Route – is open (almost) daily from 7.30 AM to 7.30 PM in high season and from 8 AM to 5 PM in the low season. For more information, see here.
Tickets
Entrance ticket for the Tourist Route foreigners costs about 100 PLN (+-26 EUR). You can pay in cash or by credit card. However, it's best to buy it in advance. Otherwise, you risk having to wait in line for several hours. Children under the age of 4 can enter the mines for free, and there are discounts available for older kids, students, families, disabled visitors, and senior citizens. More info and ticket options and prices here.
Guided tour only!
You can only visit the mine as part of a tour group, led by a local guide. It's not allowed to walk around the mine without a guide. Tours are available in many different languages and you will need to buy a ticket for a tour at a specific time. For a guided tour, you can also buy skip-the-line tickets here.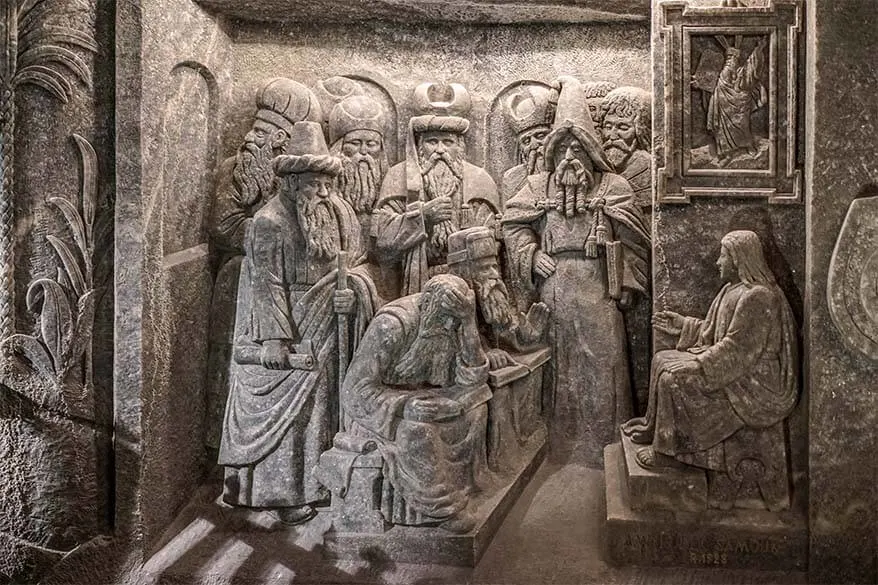 Multiple Routes
Another option is to buy a 'Package' ticket, which includes entry to both the Tourist and Miner's Routes. Please keep in mind that this will be quite a lengthy experience and will take a good part of the day. To learn more about the Package Offer, please check the official website.
Clothing & Bags
The temperature inside the mine is around 17°C (62 F), so you'll want to dress warmer. If visiting in summer, make sure to bring a warm sweater or a jacket with you.
Do not take any large bags with you. If you do, you can leave them at the luggage office located close to the tourist information center.
Food & Drink
There is a bar and restaurant located in the Drozdowicz Chamber of the mine, which gives you the unique experience of dining 125m underground. The cuisine is mainly traditional Polish food, seasoned to perfection with Wieliczka salt!
Other dining options include the child-friendly Grand Sal Restaurant, just around the corner from the Danilowicz shaft. This is a great choice in the summer when you can sit on the terrace and enjoy the beautiful views of St. Kinga Park. Alternatively, try the traditional Karczma Halit, located just across the street from the mine.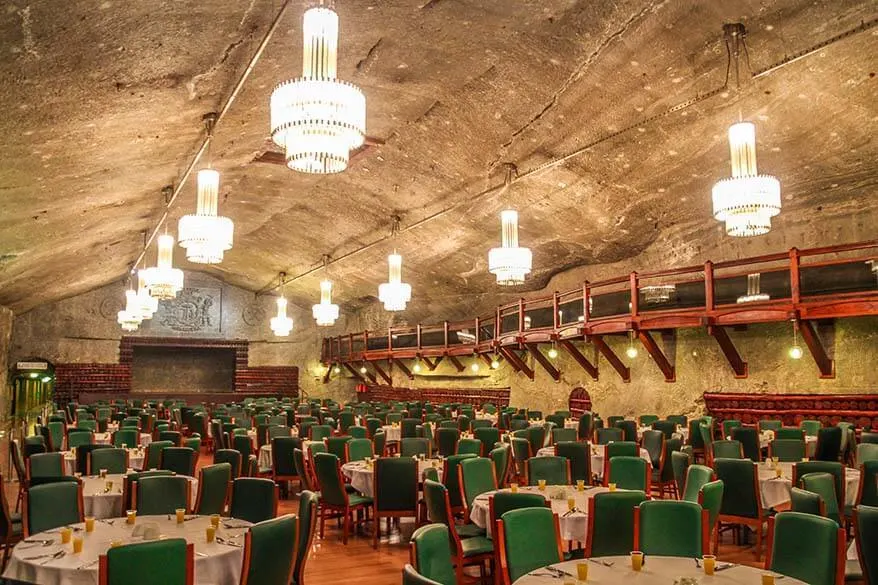 When to Visit
Wieliczka Salt Mine is an underground attraction and can be visited at any time of the year and in any weather.
It's also a hugely popular half-day trip from Krakow and subsequently very busy! Although visitors are admitted in groups that set off several minutes apart, they have a habit of catching up with each other. This means that some of the sights in the mine can be very crowded and it can be hard to take photographs and to hear your guide.
There can also be significant queues for the elevator that brings you back to the surface, which only holds 8 to 9 people at a time. The elevator is open-sided and is usually filled to capacity. Although the journey back to the top only takes around 1 minute, visitors with claustrophobia find using the elevator very uncomfortable, so this is something to bear in mind before your visit.
Needless to say that it's best to visit the mine during the off-season (November to March). The same counts for Krakow and Auschwitz – both extremely popular destinations that can get crowded in the warmer months.
TIP: If you are traveling in the high season, try to plan your visit to the mines early or late in the day, when there are not as many visitors.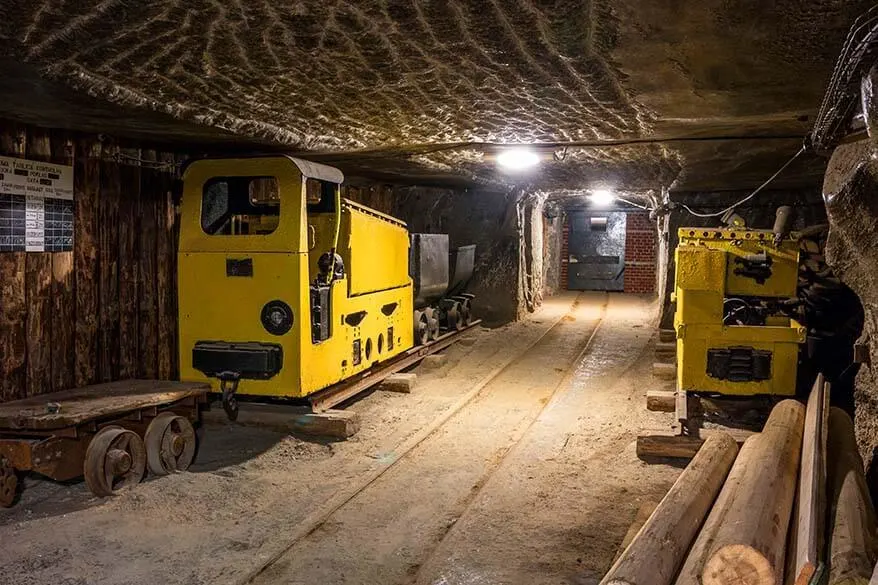 How to Get to the Wieliczka from Krakow
The mine is located just 15 kilometers southeast of Krakow, so it's fairly quick and inexpensive to visit and you have several options for doing so. Take a look!
Good to know: If you are using the Tourist Route, then you need to head for the Danilowicz Shaft which is located at the mine itself. If you are joining the Miners' Route, then you need to head for the Regis Shaft, which is located in the center of town (a 5- to 6-minute walk from the mine).
By Tour
As already mentioned, taking an organized tour is the easiest way to visit Wieliczka from Krakow. See the 'Wieliczka Salt Mine Tour' section above for suggestions.
By Bus
Take bus number 304, which leaves from the area of the shopping mall Galeria Krakowska. You need to get off the bus at the Wieliczka Kopalnia Soli stop, which is just a 5-minute walk from the mine. The bus leaves every 20 minutes and the journey takes about half an hour. Wieliczka is in Zone II of the city's urban transportation, so you need to buy a ticket that covers zones I and II.
By Train
Take a train to Wieliczka Rynek from the main Krakow Railway Station. Get off at Wieliczka Kopalnia Soli (if you are going on the Tourist Route), or the next stop (if you are going to the Regis Shaft). The train leaves once every 30 minutes and takes 20 minutes. The mine is just a 10-minute walk from the station.
By Minivan
Minibusses are a popular means of transportation in Poland. You can get a minibus in the direction of Wieliczka Rynek from the Main Railway Station in Krakow. Get off at the Wieliczka Kopalnia Soli stop, which is located at the crossroads of Dembowskiego and Daniłowicza streets. If you are visiting the Regis Shaft, get off at Wieliczka Rynek, which is one stop later.
By Car
If you choose to drive, you will need to budget for parking. Try to use the car park on the hill near the mine entrance. You will pass other car parks before you get to this one (and will often be encouraged by staff to park in them), but you may then be in for a long walk to the mine!
By Uber
Uber is not permitted to operate within the Old Town of Krakow, but if you use the Uber app, you can easily locate the nearest point at which you can be collected and taken to Wieliczka mine.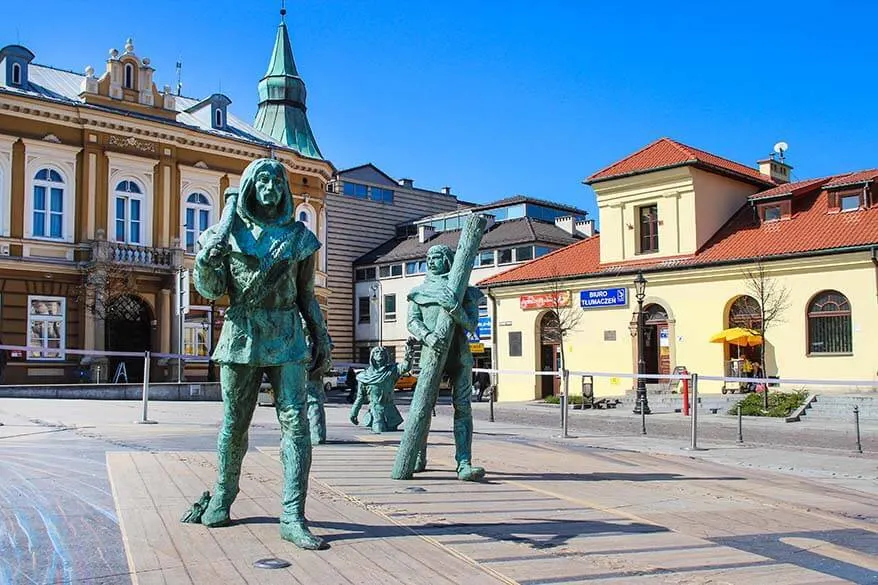 Where to Stay
Most people visit salt mines as a day trip from Krakow, so there is no need to look for a hotel in Wieliczka. However, it's also a popular destination in itself. While there is no accommodation available inside the mine, there are quite a few nice hotels nearby.
One of the most peculiar options is the nearby underground health resort 'Kopalnia Soli' (Health Resort Wieliczka Salt Mine). It offers treatments to help with respiratory disorders, but also physiotherapy, massage, and kinesiotherapy… Please see their website for more information.
Turówka Hotel & Spa looks like a much nicer alternative to me. With a beautiful spa and wellness zone as well as a swimming pool, this hotel is a great place to be if you are looking for a relaxing stay near Krakow. It's perfect for those who don't like the hustle and the bustle of the city but want to be close to all the main attractions in and near Krakow.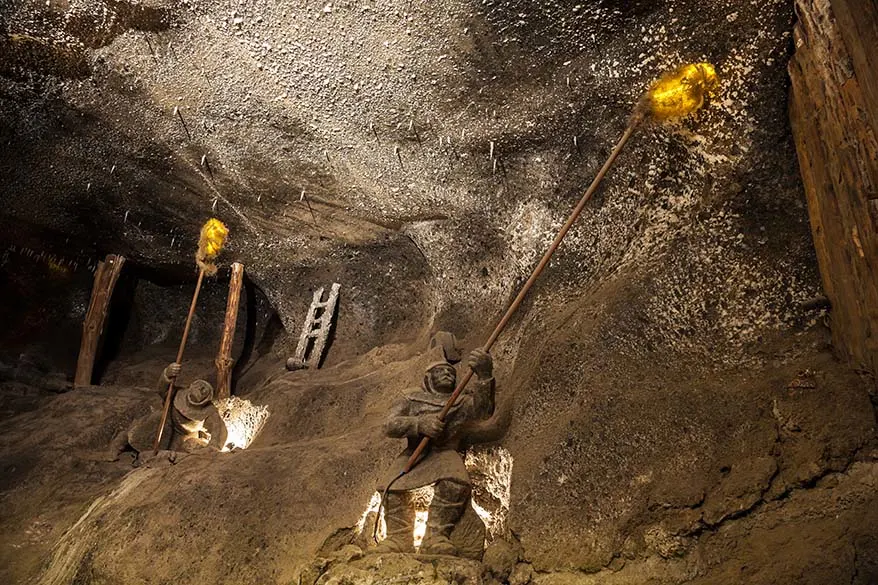 So, this is our guide to visiting Wieliczka Salt Mines. Hope that it helps you plan an unforgettable visit.
Have a great time!
More tips for your trip to Poland:
If you found this post helpful, don't forget to bookmark it and share it with your friends. Are you on Pinterest? Pin this image!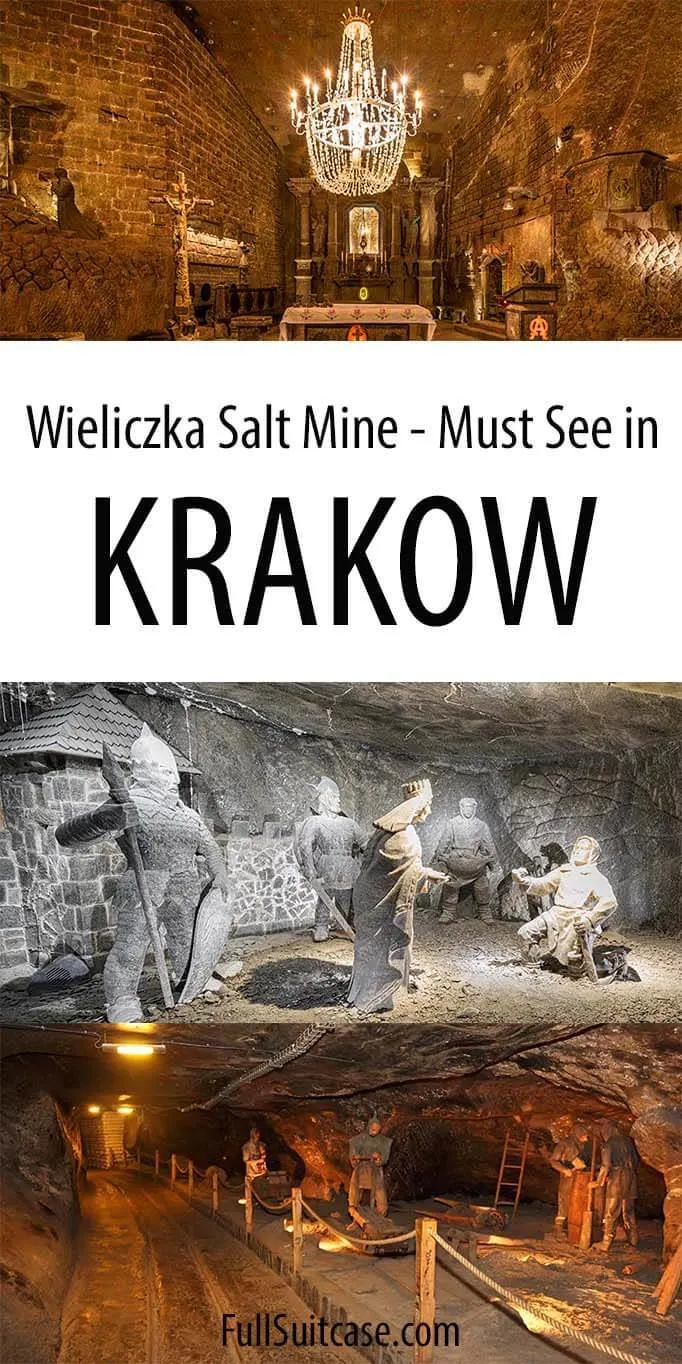 Image credits: Jaromatik/Depositphotos.com// rorem/Depositphotos.com// alfredosaz.gmail.com/Depositphotos.com// olgagorovenko/Depositphotos.com// jarino/Depositphotos.com// agneskantaruk/Depositphotos.com// Sopotniccy/Depositphotos.com// amlebedev/Depositphotos.com// phil_bird/Depositphotos.com// Nightman1965/Depositphotos.com