The area around Moab, Utah is one of the best outdoor destinations in the United States. The scenery is amazing, there is so much to see and do, and it's also a place that you can visit in any season.
Arches National Park is located just near Moab and is the main draw to the area. But also the less popular (but just as amazing) Canyonlands National Park is well worth a visit. And don't forget the Dead Horse Point State Park with its incredible sunsets…
Planning your visit to Moab might look overwhelming at first, mainly because there is so much to see and do. But because you can stay in one place and make day trips to all the best sights and attractions of the area, it's actually quite easy to make the most of your trip, no matter how much time you have.
That being said, it sure helps to know what to expect and how to plan your time, especially if you only have several days and want to make the most of your time in Moab.
In this guide, you can find some practical tips and information for planning your trip to Moab, Arches National Park, and Canyonlands. You'll also find links to more detailed guides to different places, hikes, and activities in the Moab area. Find out!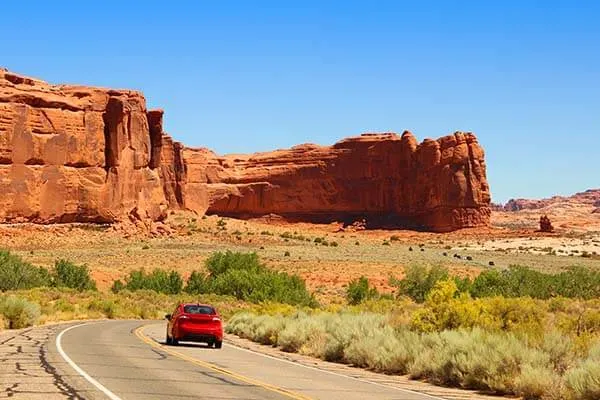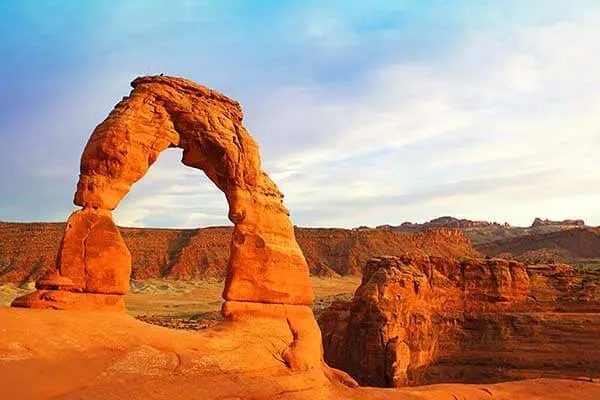 This page contains affiliate links, which means that we may receive a small commission, at no cost to you, if you make a purchase through a link. More info: Disclosure.
Why Visit Moab & What to See
Moab area is home to some phenomenal desert landscapes and stunning scenery carved by the Colorado River. Come here for Arches and Canyonland National Parks, the unique scenery of the area, and fun outdoor activities for the whole family.
Here you can find an overview of the best places to see and best things to do in and near Moab, Utah:
Here you can find more detailed guides for some of the best places and activities:
How to Plan a Trip
There are several important things to consider when planning your Moab Arches trip: when to go, for how long, how to get there and how to get around, where to stay, and what you want to see and do.
Further below, you can find more details about each of these points. But first, some suggested itineraries for visiting the area:
You can also simply stay in Moab and explore the area by taking some amazing day tours – more about it below.
Timed Entrance in Arches National Park
Arches National Park is using a timed entry reservation system in the high season, so be sure to check if reservations are required for your travel dates in order to avoid disappointment. In any case, it's always a good idea to check the official NPS website for up-to-date information when planning your visit.
Arches & Canyonlands Entrance Fee
You'll need a pass in order to enter national parks. Arches and Canyonlands entrance passes cost 30 USD per private vehicle, and each park requires its own pass. These passes are valid for 7 consecutive days. You can enter and leave the park as many times as you want during that time.
Alternatively, you can also get a Southeast Utah Parks Pass. It covers both – Arches and Canyonlands (in addition to other places nearby), and costs 55 USD for a year.
TIP: If you are visiting several USA National Parks over the course of one year, it's better to get an annual National Parks Pass. It's called America the Beautiful Pass and costs just 80 USD for the whole family traveling in the same vehicle. It is valid in all National Parks and 2,000 federal recreation sites across the United States for 12 months from the month of purchase.
When to Visit
Moab is a year-round destination, but it gets extremely hot in summer. In winter, you can also experience snow in the area.
The best time to visit Moab, Arches, and Canyonlands is in spring and in the fall. March-May and October-November are the absolute best months for the Moab Area. That's when the weather is pleasant for outdoor activities, but it's not as hot and not as busy as in the summer.
Moab is also a great destination to visit for spring break in the US, but prepare for the crowds at the most popular landmarks and hiking trails.
Where to Stay
Moab town is the best place to stay for exploring the area. Arches National Park is located just a few minutes outside of town and the Island in the Sky district of Canyonlands National Park is just about 45 minutes drive from here. Also the Needles district of Canyonlands is just about 1-hour drive from the city.
There are lots of facilities and good accommodations for all budgets in Moab. You can find all the details in our complete guide below:
If you are planning to explore Canyonlands deeper, you may want to stay at some other places for the more remote parts of the park. In that case, please check our guide below:
TIP: If visiting the area between April and October, make sure to book a hotel with a pool. In summer, it's an absolute must!
Using the map below, you can compare hotels and short-term rental accommodations in Moab. Simply insert your travel dates and group size and you'll see the best deals for your stay. Check it out!
Where to Eat
There are plenty of restaurants in Moab town. But once you leave for a day, you won't come across many places where you can eat.
It's important to know that there are no restaurants or cafes inside the national parks in the Moab area. So if you are visiting Arches or Canyonlands, make sure to always pack a picnic lunch and plenty of drinking water.
There are several places where you can refill your water bottles in the parks, but you should always take more water with you than you think you'll need. It's very hot in the desert and it's important to stay well-hydrated.
TIP: If you are planning any hikes in the warmer months, we recommend packing at least two reusable water bottles per person. Also take some bottled water that you can keep in the trunk of your car. That way, you can always refill your bottles without having to count on park facilities.
Connectivity
Cell service is very limited to nonexistent in the more remote places around Moab. So make sure to download/ print any information that you may need during your trip for offline use.
We also recommend getting a good road map/s of the area. If you are going to the more remote parts of Canyonlands, a road map is a must!
On Amazon, you can find a good map of Canyonlands and also a good map of Arches.
Getting There & Getting Around
The best way to get to Moab and to explore the main places nearby is by car. You can check this website for the best car rental deals. Once in Moab, you can also take organized tours. These are especially great for the more remote areas that require a 4×4 vehicle. More information about tours below.
The closest local airport near Moab is Canyonlands Field Airport. But it's very local indeed. If I'm not mistaken, you can only fly there from Salt Lake City.
Grand Junction Regional Airport in Colorado is the closest bigger airport near Moab. It's 115 miles, about 1h45 drive.
The closest major airport is in Salt Lake City, UT. It's 230 miles, about 4 hours drive from Moab.
Good to know: There are not many facilities or petrol stations outside of Moab. So make sure to fill up your car before setting off to explore the national parks.
Best Tours
As already mentioned, there are many amazing tours in the Moab area. And you should definitely consider doing at least a few of them!
For example, rafting is an absolute must in the summer! But there are many other activities and also lots of popular 4WD tours that take you off the beaten path and allow you to see areas that you wouldn't be able to get to otherwise.
Good to know: You can see the main landmarks of Arches National Park and Island in the Sky in Canyonlands on your own in a regular car, but you'll need tours for visiting the more remote places if you don't have a good 4×4.
Here are some of the most popular tours in the Moab area:
Here you can find a complete overview and details for all the best tours in Moab.
FAQ
How far is Arches National Park from Moab?
The entrance road to Arches National Park is located just 5 miles from Moab town. From Moab, take US Hwy 191 north and after 5 miles, turn right on Arches Entrance Rd. It's is well indicated. After a bit less than 1 mile on this road, and you'll see Arches National Park Visitor Center on your right hand side.
How far in Canyonlands National Park from Moab?
Canyonlands National Park has four different areas. The most popular areas to visit in Canyonlands are Island in the Sky and the Needles. Island in the Sky district is the easiest to visit and it's just 32 miles/ 35-40 minutes drive from Moab. The Needles district of Canyonlands is located about 50 miles south of Moab and it takes about 1 hour to get there.
Can you visit Arches and Canyonlands in one day?
If you plan well, it is possible to visit both – Arches and Canyonlands National Parks in one day. Stay in Moab, start your day early, and pack a picnic lunch. We recommend starting with Arches and driving to Canyonlands Island in the Sky in the afternoon. See our detailed guide to Arches and Canyonlands for a detailed 1-day itinerary.
How much time do you need in Moab?
While you can see the main highlights of Arches and Canyonlands in one day, we recommend at least 2 full days in Moab. This will allow you to explore Arches National Park on one day and spend another day at the Island in the Sky part of Canyonlands National Park. You can also visit the nearby Dead Horse Point State Park for sunset. If you have more time in Moab, you'll be able to explore the parks and the area deeper, do some hiking, and also join a few fun tours.
What is the best time of year to go to Moab?
Spring and fall are the best seasons to visit Moab. The months from March to May and mid-September to November not only have the best weather for sightseeing, but it's also less busy than in summer. Mild temperatures of the shoulder season are also perfect for hiking and other outdoor activities.
If you found this Moab, Arches, and Canyonlands guide useful, don't forget to bookmark it and share it with your friends. Are you on Pinterest? Pin these images!