Are you planning a trip to Utah and wondering what are the best things to do in Moab? Or maybe you are looking for suggestions for Moab itinerary? This article is for you!
With a huge variety of things to do in Moab, no wonder that it's such a popular vacation destination in Utah in the United States. If you have lots of time in Moab, you can go horse riding, mountain biking, rock climbing, walk dinosaur trails, and even visit a winery…
However, if your visit is rather short, you probably just want to see the very best Moab attractions and places near Moab that are worth your time the most.
So if you are wondering what are the must-see places and must-do things in Moab if you are visiting for the first time and only have limited time, this article should point you in the right direction.
This is in no way a complete list of things to do in Moab, but if you tick each of the items from the list, then you know you've seen the very best that Moab area has to offer. Find out!
TIP: You will need at least 2 full days to see all of these places. At the bottom of this post, I also included our suggested Moab itinerary for 2 to 3 days. It covers all the best things to do in Moab area. Read on!
READ ALSO: Best Tours in Moab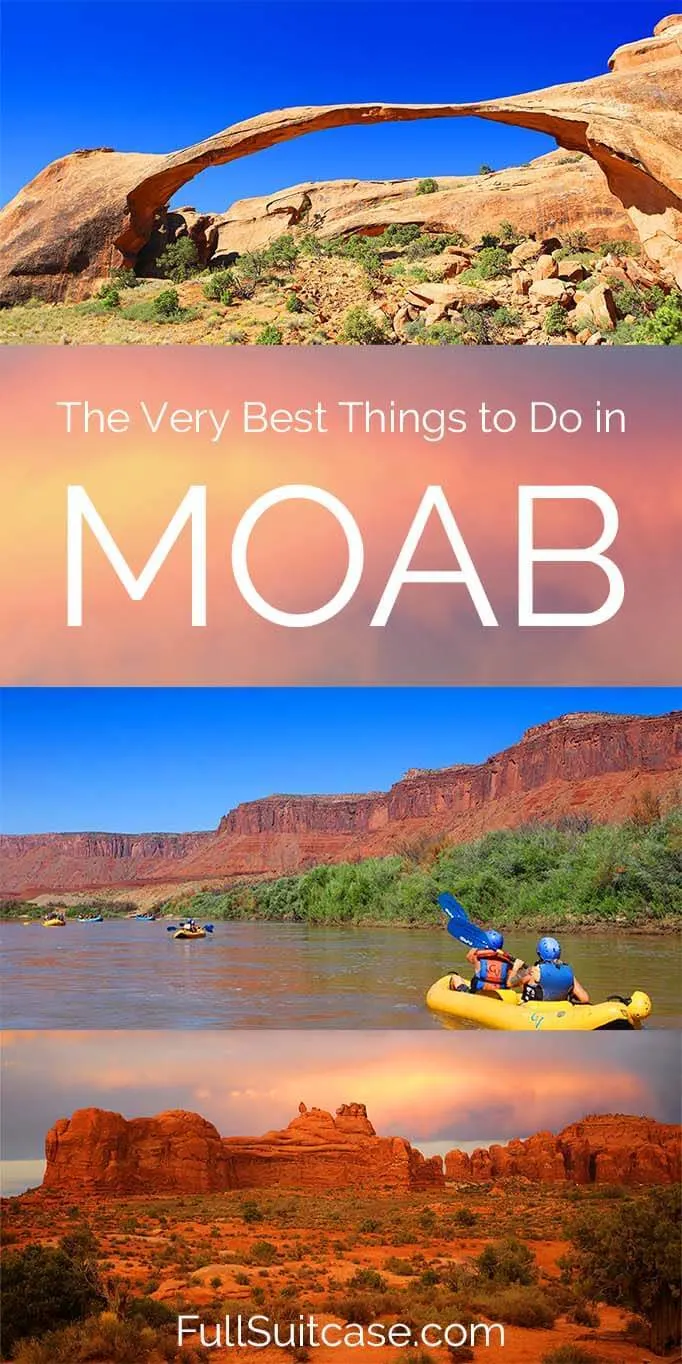 1. Explore Arches National Park
One of the main reasons people come to Moab is to visit one of the most beautiful National Parks of the United States – Arches NP. So if you only have one day in Moab, the best thing to do is to explore Arches National Park.
Note that one day is a bit short for the park. So if you want to do some hiking and explore more, consider spending more time.
However, if you are short on time and want to see the best that Arches National Park has to offer, here are the main highlights: the scenic road in Arches with short stops at the Balanced Rock, Double Arch, The Windows, and Park Avenue viewpoint. The best hike in the park is the Delicate Arch trail where you can also find some rock art.
TIP: If you want to get a bit off the beaten path in Arches NP without having to walk, take a look at this highly-rated 4×4 Arches NP driving tour. A helicopter flight over the backcountry of Arches National Park is now available as well!
LEARN MORE: Best Things to Do in Arches NP
IMPORTANT! In the high season (April-October), timed entry reservations are required for visiting Arches National Park. Reservations usually open 3 months in advance. So be sure to check the official website and reserve your entry!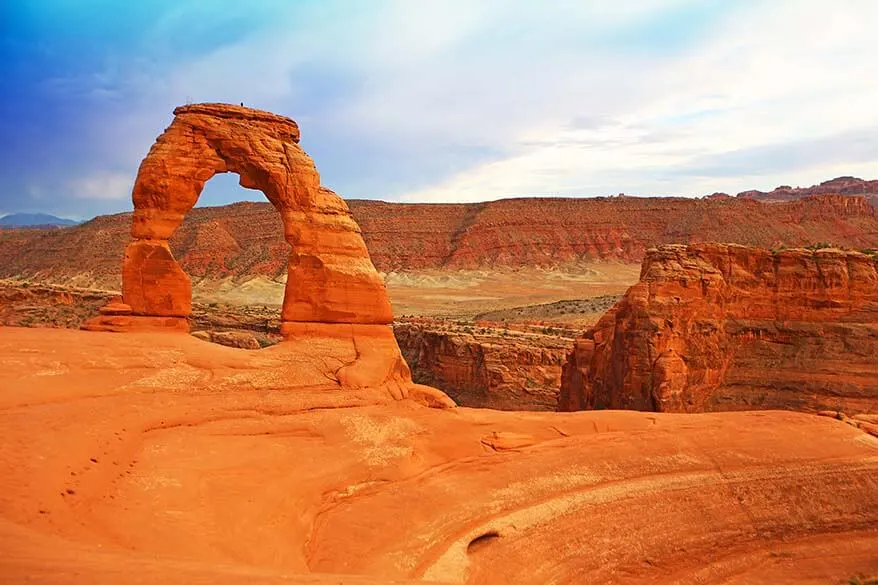 2. Visit Canyonlands National Park
The nearby Canyonlands National Park is one of the lesser-known national parks, but it's well worth a short trip from Moab. Canyonlands is without a doubt, one of the best places to see near Moab.
Please note that Canyonlands NP is huge and is divided into several different areas.
Island in the Sky area is the closest and easiest to visit from Moab (30 miles, 40 minutes drive). If you have half a day in Canyonlands NP, you can drive the scenic loop and stop at various viewpoints. The landscape here is truly stunning and looks a lot like the Grand Canyon but without too many people. Don't miss a short hike to Mesa Arch. Phenomenal scenery!
READ ALSO: Canyonlands and Arches in One Day
If you have more time, you can easily spend the whole day in this section of Canyonlands National Park as well. There are so many stunning viewpoints and lots of short easy hikes. At the Island in the Sky Visitor Centre, you can find all the information about the best hikes to do in this area.
LEARN MORE: Best Things to Do in Canyonlands National Park
TIP: If you don't feel like driving and want to experience the best of Island in the Sky area (most popular part of the Canyonlands NP), I recommend this half-day 4×4 tour of the Canyonlands from Moab. There is now also a new experience available – a helicopter flight at the edge of Canyonlands. Check it out if looking for something truly unique to do in Moab!
Good to know: The Needle District of Canyonlands is a bit further away and is more difficult to visit on your own. If you want to see that part of Canyonlands National Park as a day trip from Moab, it's best to go there with a guided 4×4 tour. If you are planning to explore on your own, check out our guide to the best places to stay near Canyonlands National Park.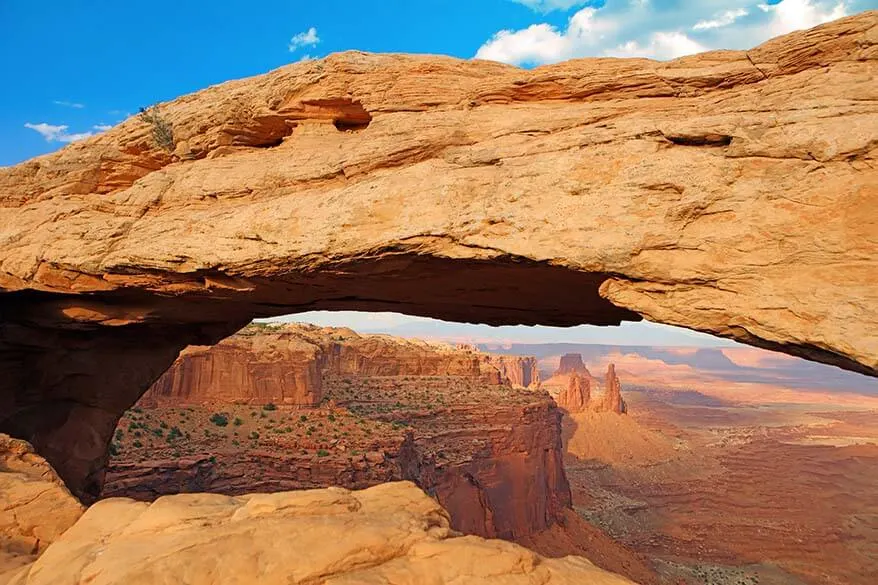 3. See the Sunset at Dead Horse Point State Park
There are few places as beautiful at sunset as the Dead Horse Point State Park. It's just a short drive from Moab on the way to Canyonlands National Park and seeing the sunset at Dead Horse Point State Park is definitely one of the best things you can do near Moab.
There are several viewpoints here and since it's not really possible to be at several places at the same time, you'll have to choose. The most known sunset view is probably at the Dead Horse Point itself, but we found that the view at the very end of the road was even more impressive.
No matter which one you choose, this is such a beautiful place to end your day in Moab area. Don't miss it!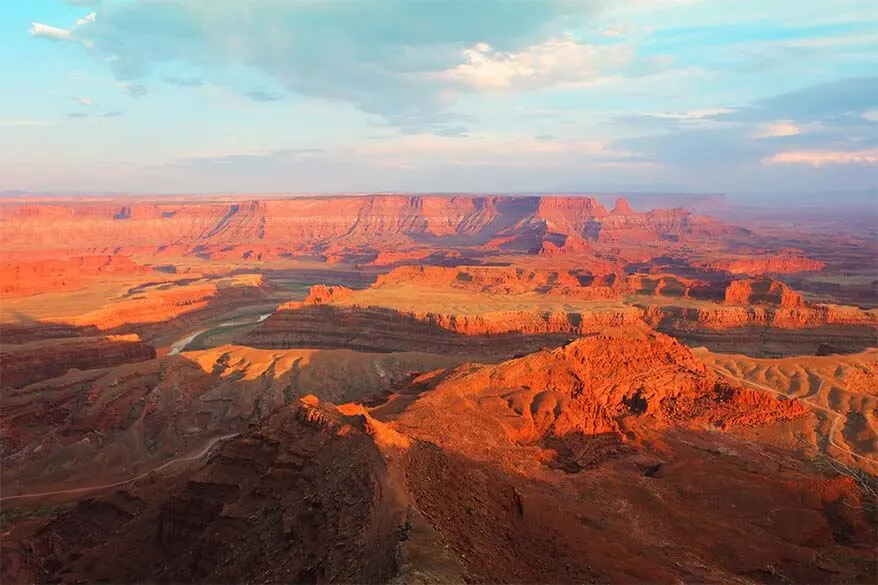 4. Go Rafting on the Colorado River
Rafting on the Colorado River is a must-do activity if you visit Moab in summer. With a variety of choices, there is always a perfect rafting trip for everyone.
We opted for this family-friendly half-day rafting tour and had the best time! With temperatures way over 100°F in July, being on the water was a welcome relief from exploring the national parks on foot. You can even jump in the river for a short swim.
If you rather go for a bit more action, then take a look at this highly-rated rafting tour that does wilder parts of the river.
The scenery along the Colorado River near Moab is astonishing and a rafting trip is a great way to experience it. This is another experience you absolutely must do in Moab!
READ MORE: Rafting in Moab
TIP: If you are looking for something special to do in Moab, check out the Sound and Light Show with Dinner. It's a slow-moving evening boat ride on a calm part of the Colorado River near Moab that runs the whole summer and through October.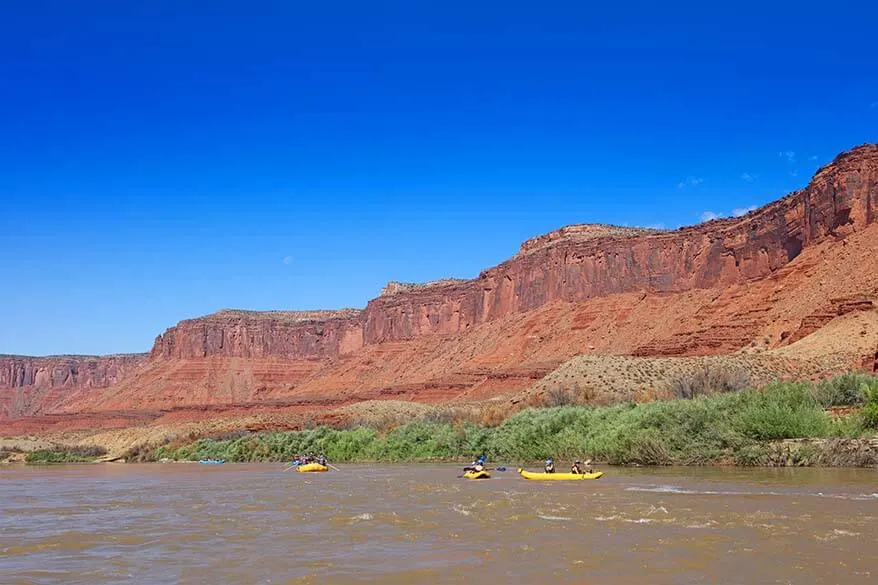 5. Drive the Scenic Utah Byway State Route 128
Utah State Road 128 must be the best-kept secret of the Moab area. It's an incredibly scenic road with unbelievable desert scenery. We found it just as impressive as the famous Hwy163 through Monument Valley (but probably not as impressive as the Monument Valley Scenic Drive, which offers a totally different experience).
Anyway, several sections of this road along the Colorado River and along the canyon are really beautiful too. Don't miss this scenic drive if visiting Moab and Arches National Park.
We arrived from Colorado and left Interstate 70 at Cisco. At first, it's just a regular road with not much to see. But it gets better and better as you drive further in the direction of Moab, and by the time you're halfway, you find yourself stopping for way too many pictures at every curve.
Despite it being so beautiful and its proximity to Moab, you'll hardly see any cars and even fewer tourists on this scenic Utah byway 128. The whole length of the road from Cisco to Moab is approximately 46 miles and takes about 1 hour.
We found that this was one of the most scenic roads from all our trips all over the world, so we highly recommend it to everyone as one of the absolute best things to do in Moab.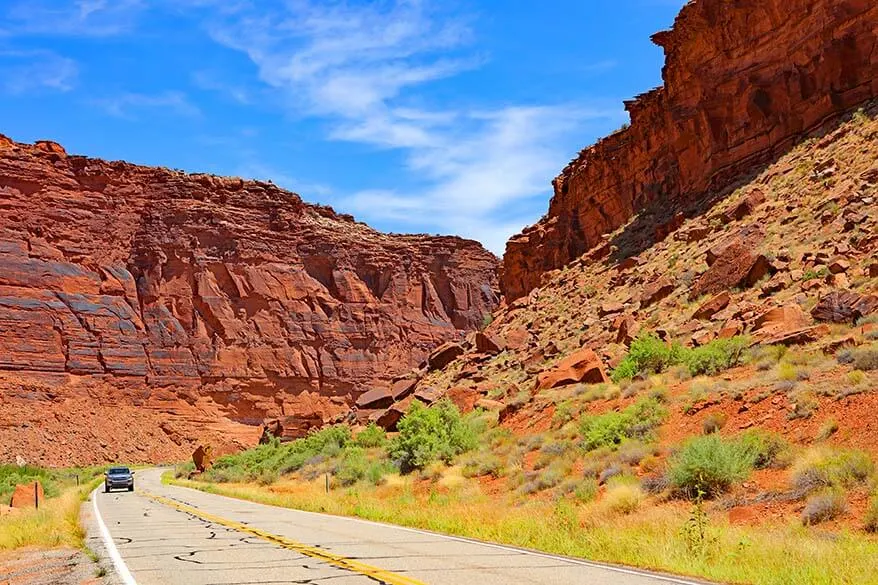 Suggested Itinerary for the Best of Moab in 2 – 3 Days
Now that you know what to do in Moab, you might be wondering how to best plan your time in the area. If you want to see all the best places in and near Moab in just two or three days, take a look at our suggested self-drive itinerary further below!
Here's a simple Moab itinerary for 3 days that covers all the best things to do in Moab mentioned above. Further below, we have a couple of additional suggestions for what to do in Moab if you have more time. Take a look!
Day 1 (half day/arrival): Drive the scenic road 128 and do a sunset hike in Arches National Park. We recommend hiking to the Delicate Arch.
Day 2: Explore Arches National Park to the fullest. Drive the scenic loop and do at least one longer hike. We recommend the Landscape Arch Trail and if you are fit enough, hike further to the Double O Arch. If it's too hot for sightseeing, spend the warmest hours of the day in the swimming pool.
Day 3: Go rafting in Moab or choose one of the many outdoor activities available in Moab – see below. In the afternoon visit the Island in the Sky section of Canyonlands National Park. End the day watching the sunset at Dead Horse Point State Park.
TIP: If you are planning to visit several National Parks, get an annual America the Beautiful Pass. It is valid in all U.S. National Parks and federal recreation sites for one year from the month of purchase. If you visit more than two National Parks within the 12-month period, it's cheaper than getting passes for each park individually.
Update: Because of all the questions we received, we have recently also published a more detailed article with sample itineraries for any trip for up to five days. Take a look below!
LEARN MORE: Moab Itinerary Suggestions for 1, 2, 3, 4, or 5 Days
TIP: Moab is known for its many outdoor adventures and there is a big selection of fun activities in the Moab area to choose from.
If you have more time in the Moab area, in addition to hiking and exploring the National Parks, I really recommend that you do something a bit more adventurous. You can go rafting on the Colorado River, go mountain biking, join an off-road UTV tour (these are very popular!), go canyoneering, or take a helicopter tour and see this incredible area from a unique angle.
For families, I also recommend checking out Moab Giants Dinosaur Park. It's fun for all ages!
No matter which one you choose, these fun activities will make your trip to Moab even more memorable!
Moab FAQs
Here are some popular questions that our readers ask:
Is Moab worth visiting?
Yes, Moab is absolutely worth a trip. While the town itself is just a place to base yourself, the Moab area is simply stunning and has a lot to offer. Seeing Arches and Canyonlands National Parks is the main reason to visit Moab, but there are also many other stunning places nearby and a big variety of activities that you can do in the area.
How many days to spend in Moab?
We recommend at least 2 full days/ 3 nights for the Moab area. One day for Arches National Park and half a day to a day for Canyonlands National Park, plus the Dead Horse Point State Park. In addition, you can also take a short rafting tour, as we did. 3 days/4 nights would make your visit more relaxing. But you can easily spend a week in Moab and you won't get bored!
What is the best time to visit Moab?
Moab is a year-round destination, but spring and fall are the best times to visit Moab. March-May and October-November are the best months when the weather is pleasant for outdoor activities, but it's not as busy as in the summer. Moab is one of the best American destinations for spring break!
Where to stay in Moab?
Moab has a big variety of accommodations for all budgets. Most hotels are located along the main street in Moab downtown, but there are also some very nice accommodations outside of town. Here you can find our hand-picked selection of the best Moab hotels and accommodations for any budget. Check it out!
TIP: Using the map below, you can also compare hotels and private accommodations in Moab. Simply insert your travel dates and group size, and you'll see the best deals for your stay. This map pulls the best deals from all the biggest providers on the internet, saving you time and money. Check it out!
READ ALSO: Moab, Arches, Canyonlands – travel guide
More travel inspiration for the Moab area:
Some other places that people often visit in combination with Moab:
If you found this post helpful, don't forget to bookmark it and share it with your friends. Are you on Pinterest? Pin this image!