Best known as the Grand Canyon State, Arizona is home to some of the most spectacular landscapes in the USA. But there is so much more to see and do in Arizona beyond its world-famous landmark!
If you are planning a trip and want to visit the best places in Arizona, but also explore a bit deeper, this article is for you! In this guide, we share all the must-see landmarks and sights of Arizona, but also some other cool places that will make your trip so much more special.
In addition to our own tips and recommendations, we also asked our fellow travel writers for suggestions, their personal favorite places in Arizona that they recommend the most. This guide includes a good mix of the most beautiful nature destinations and stunning sceneries, historic landmarks, best cities and towns, Route 66 attractions, quirky places where you can still find the 'Old West' feel, and so much more.
And while this is in no way a complete guide to all the best places to visit in Arizona (you'd need a few long trips for that!), it covers all the musts and places that are worth visiting the most. In addition, we also include some lesser-known places for those who are looking to escape the crowds, explore deeper, or get just a bit off the beaten path. Find out!
TIP: To give you a better idea of where all these landmarks and attractions are located and to help you plan your trip, we created a MAP indicating all the best places in Arizona mentioned in this guide. You can find it at the end of this article.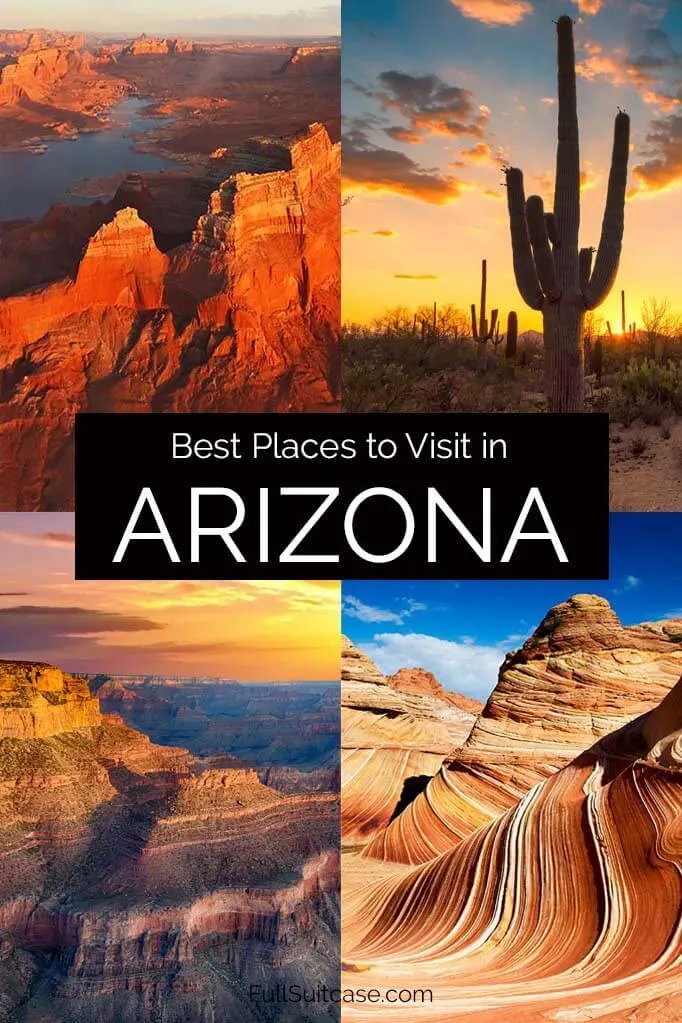 Good to know: We tried to sort this list from the most popular, nicest places in Arizona to the somewhat lesser-known ones further below. But the reality is that there are just too many amazing destinations and points of interest to be able to differentiate (and everyone has different interests and expectations anyway).
So while we start with the 'musts', I highly recommend that you scroll down through the entire list before you decide where to go in Arizona and what interests you the most.
Keep in mind that some of these places require more time while others can easily be seen as a short stop when passing by. So by reading beyond the main Arizona attractions, you might find some amazing gems that will make your trip so much more special.
And our map at the end of this article will also help you 'group' the places together so that you can make the most of your time. Take a look!
Without further ado, here are some of the very best places to visit in Arizona:
1. Grand Canyon National Park
Arizona's most famous landmark, Grand Canyon needs no introduction. This impressive natural wonder is not just #1 among the must-see places in Arizona, but also one of the most popular national parks in the United States attracting millions of visitors every year. I really couldn't start this list with any other place…
Grand Canyon National Park is huge and you can spend several days and even weeks exploring everything it has to offer. But you can see some of the magnificent scenery even if you only have a couple of hours, which explains Grand Canyon's popularity as one of the top day trips from Las Vegas.
Depending on your travel itinerary, the season when you visit, and how much time you have, there are three main areas you can visit at the Grand Canyon – South Rim, North Rim, or Grand Canyon West.
South Rim is the best-known and the most popular place attracting the biggest majority of Grand Canyon visitors. Here, you'll find some of the most impressive viewpoints, stunning hikes, and also great facilities including the best Grand Canyon hotels, restaurants, various visitor centers, popular attractions like the Grand Canyon IMAX movie experience, and bucket-list activities such as helicopter flights over the Grand Canyon.
If there's one area you visit at the Grand Canyon, South Rim is the place to be! This is also the best place to visit if you are planning a winter trip to Grand Canyon.
LEARN MORE: How to see the best of the Grand Canyon in one day & How to avoid long queues at Grand Canyon south entrance
Grand Canyon West is best known for the glass-bottomed Skywalk touring high above the canyon. The panoramic views are amazing and it's a very special experience to be able to walk above the canyon. This part of the Grand Canyon is also home to the Hualapai Indian tribe, so you can also learn more about their culture or pick up some Native American souvenirs.
Grand Canyon North Rim also offers great views and is well worth a visit, but the road to get there is usually only open from around mid-May to October-early November. If you are visiting Arizona during the summer season and have some time to explore the Grand Canyon deeper, you may want to include this side of the canyon in your itinerary as well. In that case, don't miss the Kaibab National Forest as well.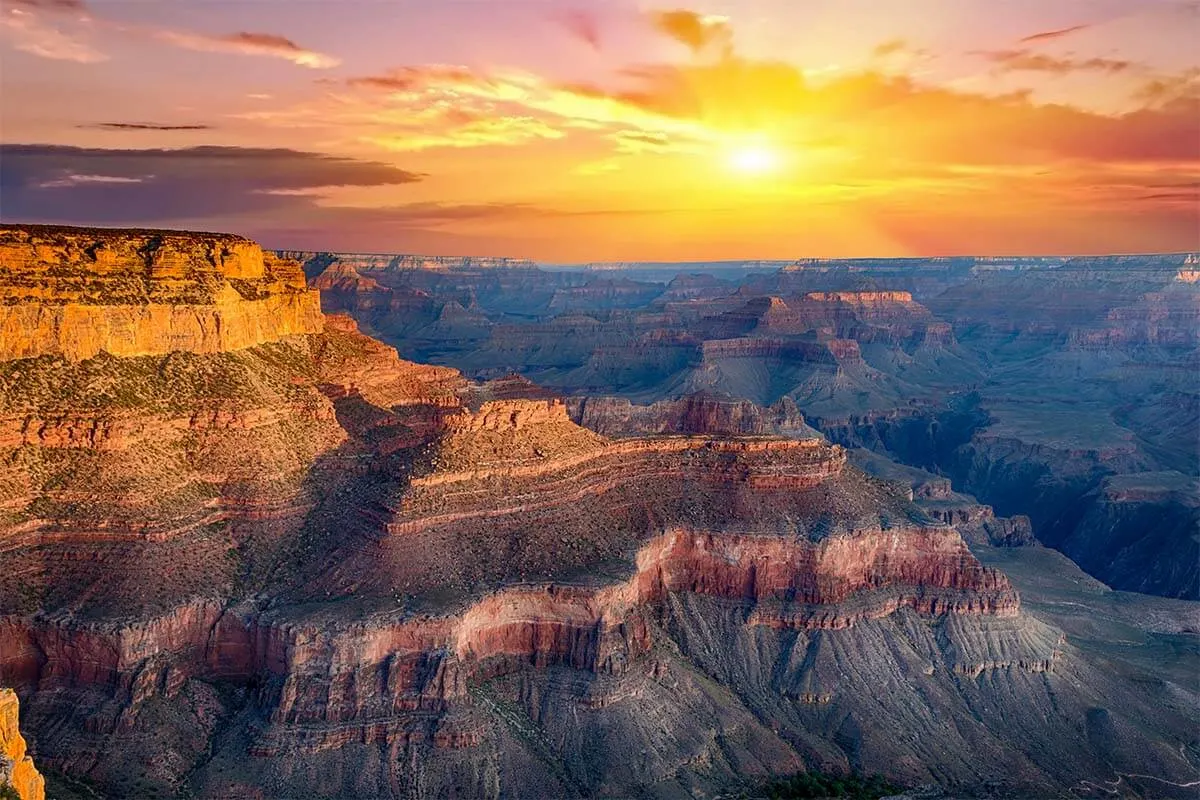 2. Sedona
Sedona also deserves a top spot on this list of the very best places to see in Arizona! This area is best known for its stunning scenery and impressive red rocks that will take your breath away. The landscapes here are phenomenal! The area around Sedona is also famous for its energy vortex sites.
Some of the must-see places in Sedona include Bell Rock and Cathedral Rock. Also, Boynton Canyon and Airport Mesa are not to be missed. If you hike, don't miss the popular Devil's Bridge Trail, and if you're visiting with kids in the warm season, be sure to go for a swim at the natural pools of the nearby Slide Rock State Park.
In the town itself, don't miss the Chapel of the Holy Cross, with its modernistic architecture and even more unique location perched between the red rocks overlooking the area. Tlaquepaque Arts & Shopping Village is a nice place for local art, shops, and restaurants.
TIP: One of the most popular ways to explore the scenery around Sedona is by joining jeep tours. These 4×4 tours bring you to some amazing locations that you'd never be able to see otherwise.
How much time to spend. It's possible to see the most popular sights of Sedona in just one day. Therefore, many first-time visitors simply visit Sedona as a day trip from Phoenix, Grand Canyon, or from Flagstaff. However, there's plenty to see and do, so you can easily fill 3-5 days here as well. Here you can find a suggested 1-day itinerary for Sedona.
LEARN MORE: Best things to do in Sedona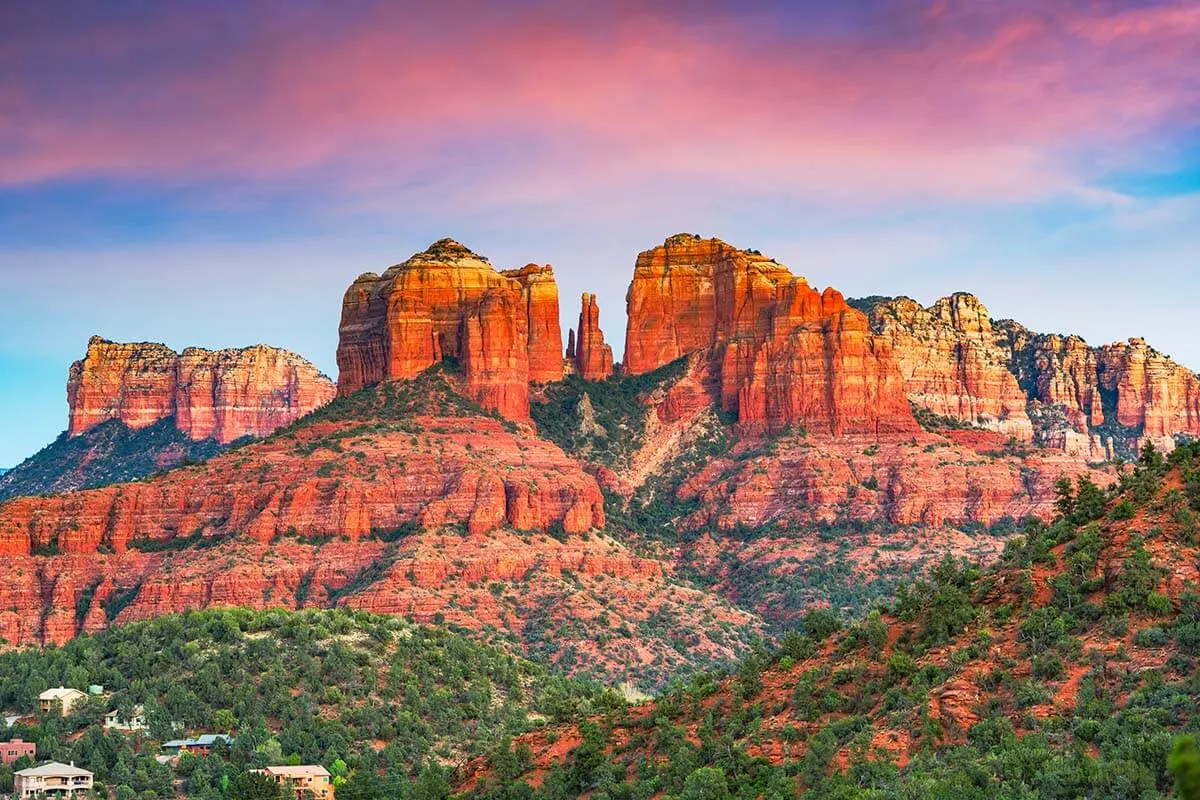 3. Antelope Canyon
Antelope Canyon with its 'flowing' colorful sandstone walls is an impressive natural wonder and one of the most picturesque places in Arizona! There is not one, but several slot canyons here that all have been carved by fast-flowing flash flood waters and sandstone erosion. At the moment, you can easily visit three of them: Upper Antelope Canyon, Lower Antelope Canyon, and Canyon X.
The most famous slot canyons are the Upper Antelope Canyon and the Lower Antelope Canyon. Both parts of the canyon are equally beautiful, but the Upper Antelope canyon is more popular because it's easy to visit for everyone, whereas the Lower Antelope canyon involves some stairs and ladders (but is also quieter and it's much cheaper too).
Located on the Navajo ground, a visit to any of the slot canyons is only possible with a local tour guide. If you want to be sure that you can go inside, you really should reserve a tour in advance. In high season, it's a must and tours sell out long upfront, but also in the lower season, you never know if there will be any walk-in spots left when you arrive. Here you can reserve Lower Antelope Canyon tickets and here – tickets for the Upper Antelope Canyon.
Good to know: Antelope Canyon photography tours have been suspended a few years ago. You can still bring your camera or a smartphone, but tripods aren't allowed anymore. Also, selfie sticks or bags (of any size) are not allowed inside the canyon.
Because the Antelope canyons are so well-known and have become so popular, some people now opt to visit private and secluded Antelope Canyon X instead (also here, you have to reserve in advance!).
Alternatively, check out the beautiful Buckskin Gulch, the longest slot canyon in the world. This canyon is located in Utah, just at the border of Arizona, and requires quite a strenuous hike. Here, you can find more info and a tour that visits Buckskin Gulch, and here is a popular private tour that can bring you to this beautiful place as well.
TIP: If you drive all the way to Page, AZ, in order to visit these slot canyons, be sure not to miss the famous Horseshoe Bend as well. More info below. You can also find more details in our suggested 2-day itinerary for Grand Canyon, Antelope Canyon, and Horseshoe Bend.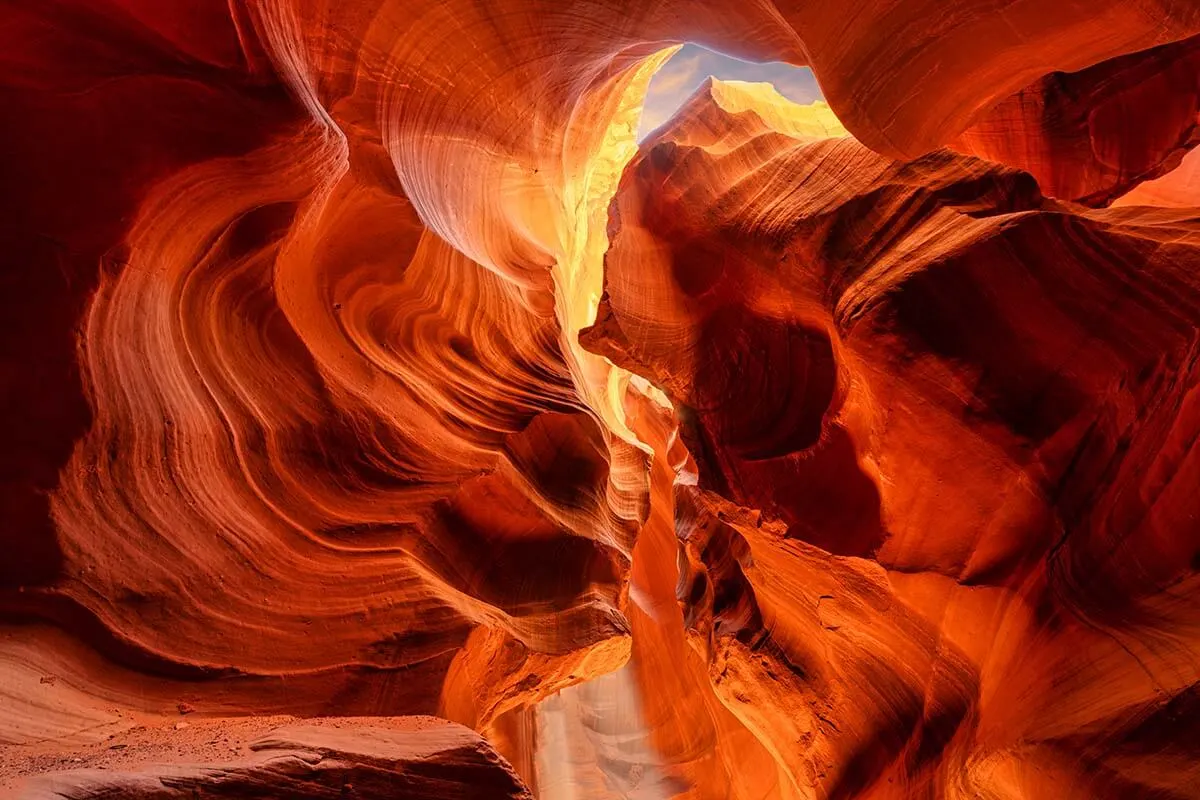 4. Horseshoe Bend
Horseshoe Bend is another extremely popular place to visit in Arizona. This U-shaped turn in the Colorado River with 1,000-foot sheer rock drops has become extremely popular in the last decade, mostly due to the jaw-dropping images that probably everyone has seen on social media at one time or another.
A visit to Horseshoe Bend is easy and doesn't require much preparation and that's also one of the reasons for its popularity. The hike from the car parking to the viewing area is just 0.6 miles (less than 1 km) and takes about 15 minutes one way. In addition, you can walk a bit further to the right along the rim – the views are nice and it tends to be quieter than at the main viewpoint.
Good to know: There's a small entrance fee – at the moment of writing, $10 per car, and your National Park Pass isn't valid here. Also, bring water, wear comfy shoes, and be careful around the edge!
You can visit Horseshoe Bend in about one hour, but to really get the most out of your visit, plan on spending two hours. The earlier mentioned Antelope Canyon is also just nearby, so most people visit these two places together.
TIP: For a different perspective, you can also opt for a helicopter tour over the Horseshoe Bend and the surrounding area. In addition, you also fly over Lake Powell and Glen Canyon Dam – the views are amazing! If you are looking for an even more special experience and a longer flight, take a look at this helicopter tour that also includes a landing on Tower Butte.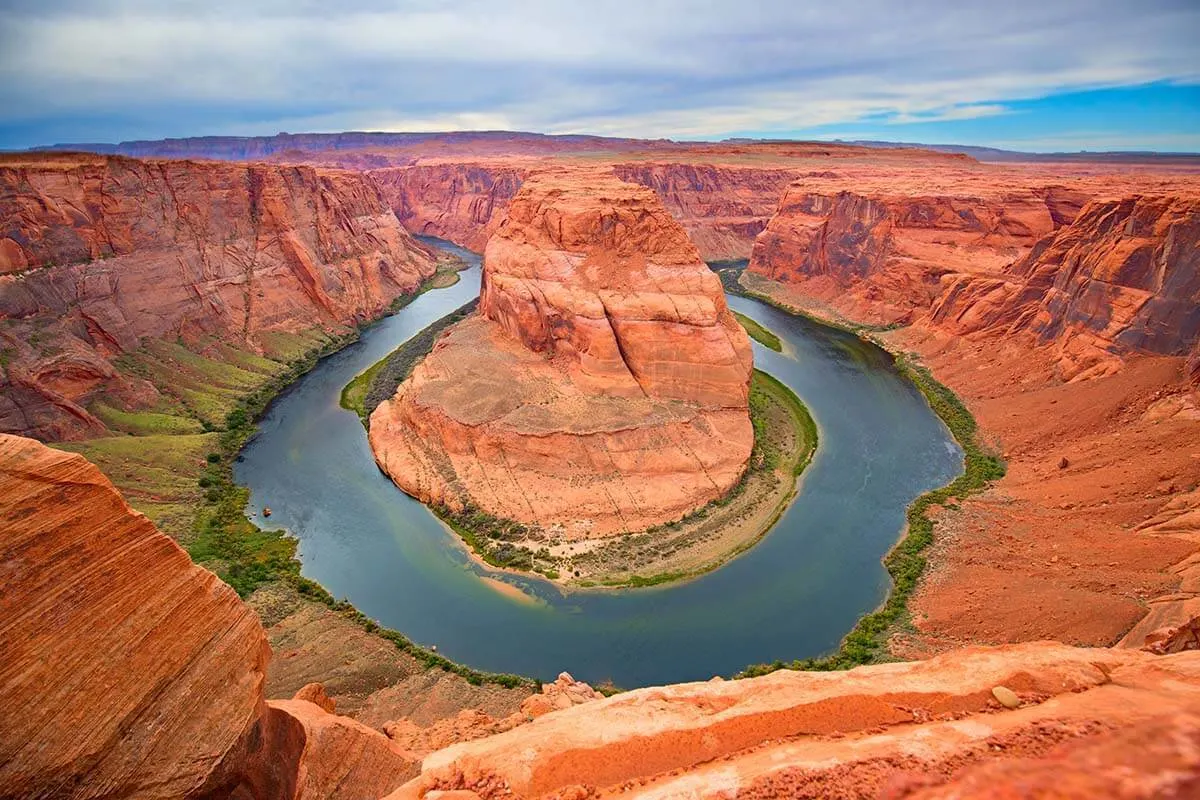 5. Phoenix
No list of the best things to do in Arizona would be complete without mentioning its capital city, Phoenix. The "Valley of the Sun," as Phoenix is affectionately known, gets over 300 days of sun a year. It's rare to see a cloudy or rainy day outside of the summer monsoons. During that time, temperatures can hit 110°F (43°C) and above, so you'll want to enjoy your fun indoors.
For the rest of the year, Phoenix is known for its gorgeous weather and outdoor activities. Hike the many trails in and around the city. Camelback Mountain, Piestewa Peak Park, and South Mountain are favorites.
Learn how beautiful the desert can be at the Desert Botanical Garden. The colors may be muted, but you'll find a beautiful tapestry in the desert that's different from most of the country. If you need a break from the desert, check out the Japanese Friendship Garden or the Farm at South Mountain.
Phoenix is a foodie's paradise and there are lots of restaurants offering all kinds of food. Many have outdoor seating or large patio windows that open wide so you can enjoy the gorgeous weather for much of the year.
If you visit during the hottest summer months, there are plenty of fun indoor activities that you can enjoy in Phoenix. Check out the city's world-class museums such as the exceptional Musical Instrument Museum and the Heard Museum, which showcases southeastern Native American art.
Good to know: Phoenix is a resort town and hosts thousands of conferences annually. So if you visit in the summer, you can get some amazing hotel and spa deals. The locals love it for staycations and tourists can enjoy the best of Phoenix spa life at a markedly reduced cost.
There's a lot to do in Phoenix no matter what time of year you visit. Plan to spend a few days so that you can see all of the top sights in and around the city.
TIP: If you are looking for something special to do in Arizona, check out hot-air balloon tours. It's one of the most unique experiences in Phoenix and an amazing way to see some of the stunning scenery.
Recommended by a Phoenix local, Sam from My Flying Leap.
LEARN MORE: Phoenix itinerary recommendations for any trip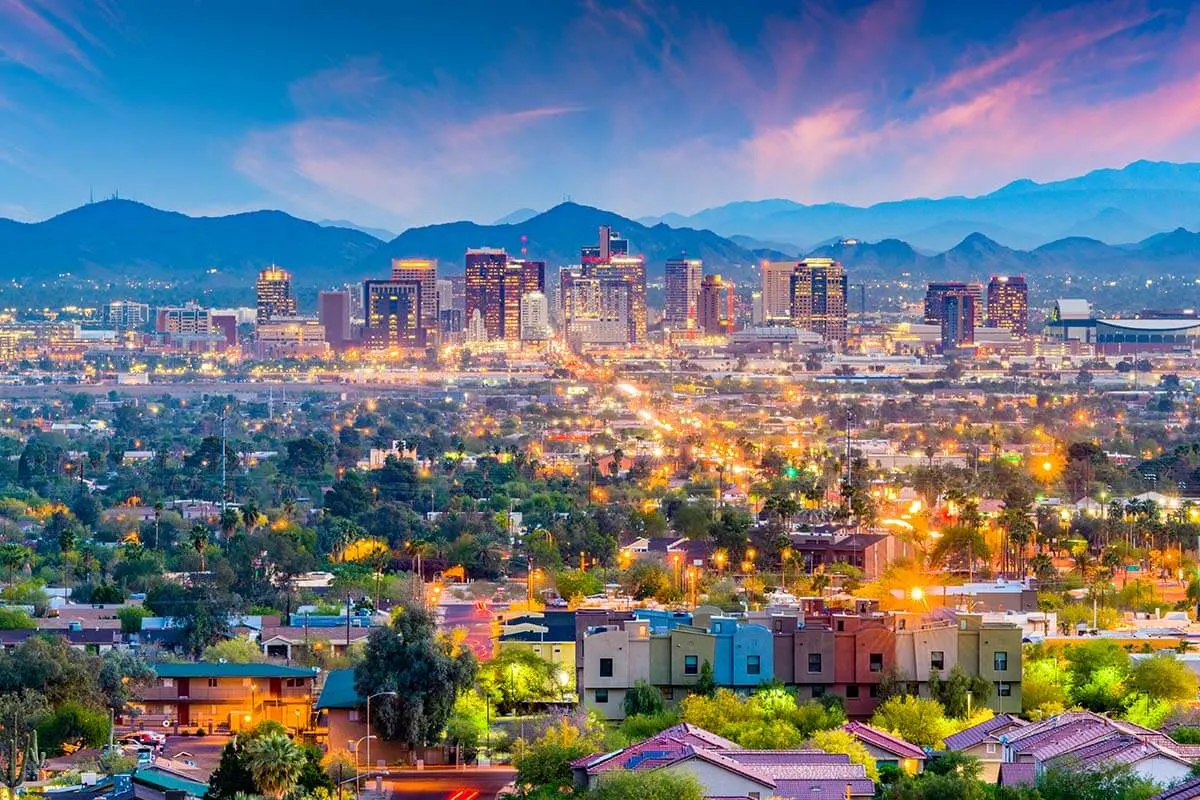 6. Havasu Falls
Located in a remote desert canyon in Northern Arizona, Havasu Falls cascades 80-feet over a red sandstone cliff into a beautiful turquoise blue swimming hole. It's a truly magical oasis in the middle of the desert. And when you see pictures of this stunning waterfall, you'll understand why it's one of the most popular places to visit in Arizona.
But to reach this paradise requires preparation and fitness. Havasu Falls is located on the Havasupai Indian Reservation and it's a 10-mile trek from the nearest road. You'll need to hike through a dusty canyon in the hot Arizona sun carrying all of your food and camping supplies. You'll also need to plan well in advance. Only a limited number of camping permits (or lodge stays) are available for each day and most are purchased the moment they become available on February 1st of each year.
The Havasu Falls trailhead is located 67.5 miles Northeast of Peach Springs, AZ. From the parking lot, it's a 1.5-mile descent to the bottom of the canyon via several switchbacks. Continuing on, the trail is mostly flat with a gradual descent, but you'll need to watch out for loose rocks and gravel. It's best to start your hike in the early morning to avoid walking in the heat of the day. It's a total of 10 miles each way to reach Havasu Falls: 8 miles to the Havasupai Village and an additional 2 miles to the base of the falls. Here you can find more practical information for visiting Havasu Falls.
It's quite a challenging hike, but once you reach Havasu Falls, you'll know that the reward was worth the effort. The waterfall and canyon are both absolutely breathtaking. Plus Havasu Falls is not the only beautiful waterfall in the canyon. If you continue your trek downstream, you'll find Mooney Falls and Beaver Falls. And if you're up for an even longer hike you can follow Havasu Canyon all the way down to the confluence with the Colorado River at the edge of the Grand Canyon.
Good to know: You need at least two days to visit Havasu Falls and all visits require a reservation. If you stay at the lodge, you can reserve for one night/ two days, whereas if you camp, you can only book three nights/ four days.
Recommended by Nick from Wandering Wheatleys.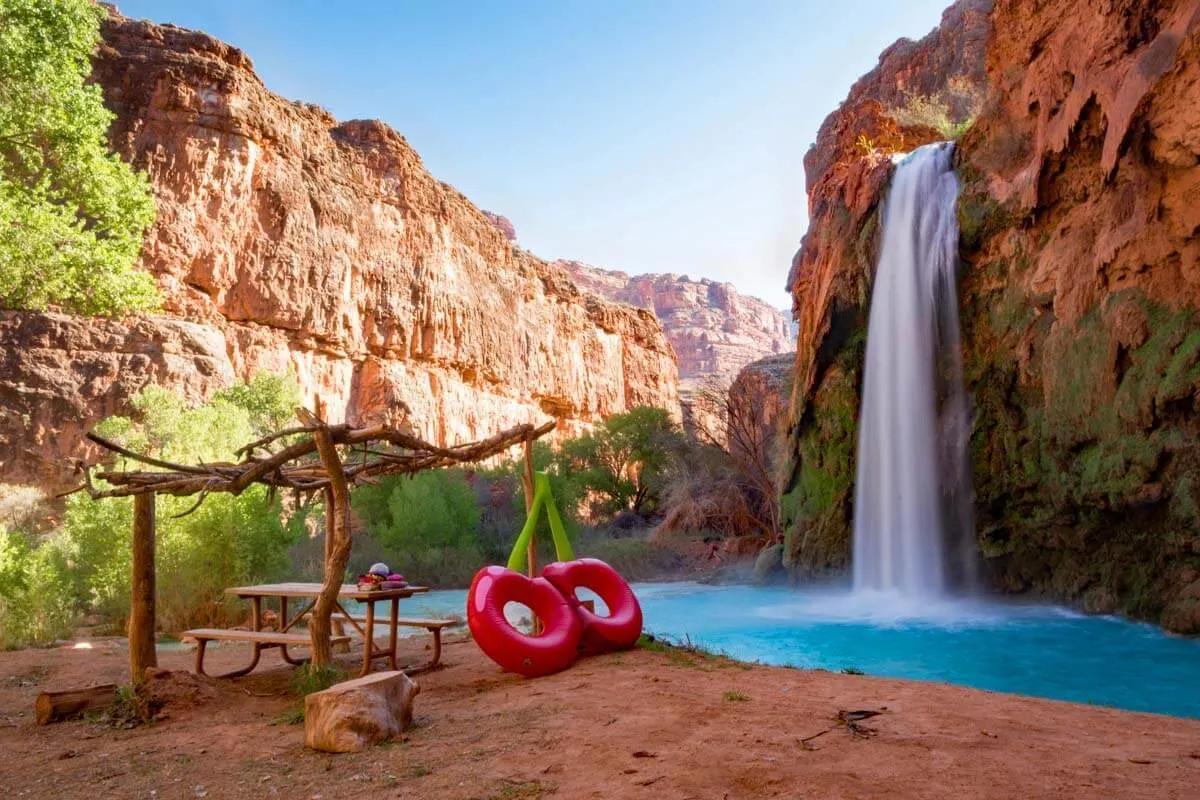 7. Monument Valley
The iconic Monument Valley is another must-see in Arizona! You probably have seen images of this red-sand desert with towering sandstone buttes in various movies and commercials, but it's even more impressive in reality!
Located in the northeastern corner of Arizona, along the Utah border, Monument Valley is quite far from most other landmarks in Arizona, but it's definitely worth a trip in its own right. It's also about halfway between the Grand Canyon and Moab area in Utah where you'll find the famous Arches National Park and also Canyonlands National Park. So whether you are only visiting the best places in Arizona, or are making a bigger trip in the Southwest, it's well worth coming here.
You can see some great views of Monument Valley while simply driving on Interstate 163. However, if you want to explore deeper and get closer to the rock formations, you should visit the Monument Valley Tribal Park. An entrance here requires a permit and you can only visit during daytime hours (and need to pay for a pass).
The main activity here is driving the 15-mile Scenic Drive that takes you through the area and close to the majestic buttes. Some of them are as high as 1,000 ft above the ground – a very impressive sight and plenty of great photo opportunities.
However, the roads here are in a really bad state and many people opt for one of the many 4×4 tours or horseback riding tours instead. Not only do you learn quite a bit about the area by going with a local guide, but many of these tours also bring you to some nice places beyond the scenic loop which you wouldn't get to see on your own.
TIP: This tour is one of the best price-quality Monument Valley tours that include backcountry access. It also visits a local Navajo Hogan where you can watch a Navajo Rug Weaving demonstration and traditional musical performance by your local guide. You can also find this same tour on Viator, but it's usually a bit more expensive. You can also opt for a very similar tour in the evening and enjoy the amazing colors of Monument Valley at sunset.
Good to know: Most of the tours do not include an entrance fee to the Monument Valley Tribal Park, so you need to pay for that separately.
How much time to spend. If you are simply passing by on the highway, Monument Valley can be just a quick photo stop. If you opt to visit the Monument Valley Tribal Park and drive the scenic loop, count at least 1.5-2 hours. If you go on a tour, most of them take about 2-4 hours. For a truly unique visit, you can opt for this 2-day overnight tour. It's an amazing experience, as long as you know what to expect.
Where to stay. Most people visit Monument Valley for a day from Flagstaff, Page, or other bigger towns in Arizona or en route to/from Utah or Colorado. There's a hotel at the visitor center itself. Nearby, you can also find Goulding's Lodge, which also has a pool. Alternatively, there are several hotels in Kayenta, about 25 miles/ 30 minutes southwest of Monument Valley.
TIP: The beautiful Church Rock Valley (featured photo at the top of this article) can be found along Hwy 160, 10 min drive east of Kayenta.
LEARN MORE: Monument Valley Scenic Drive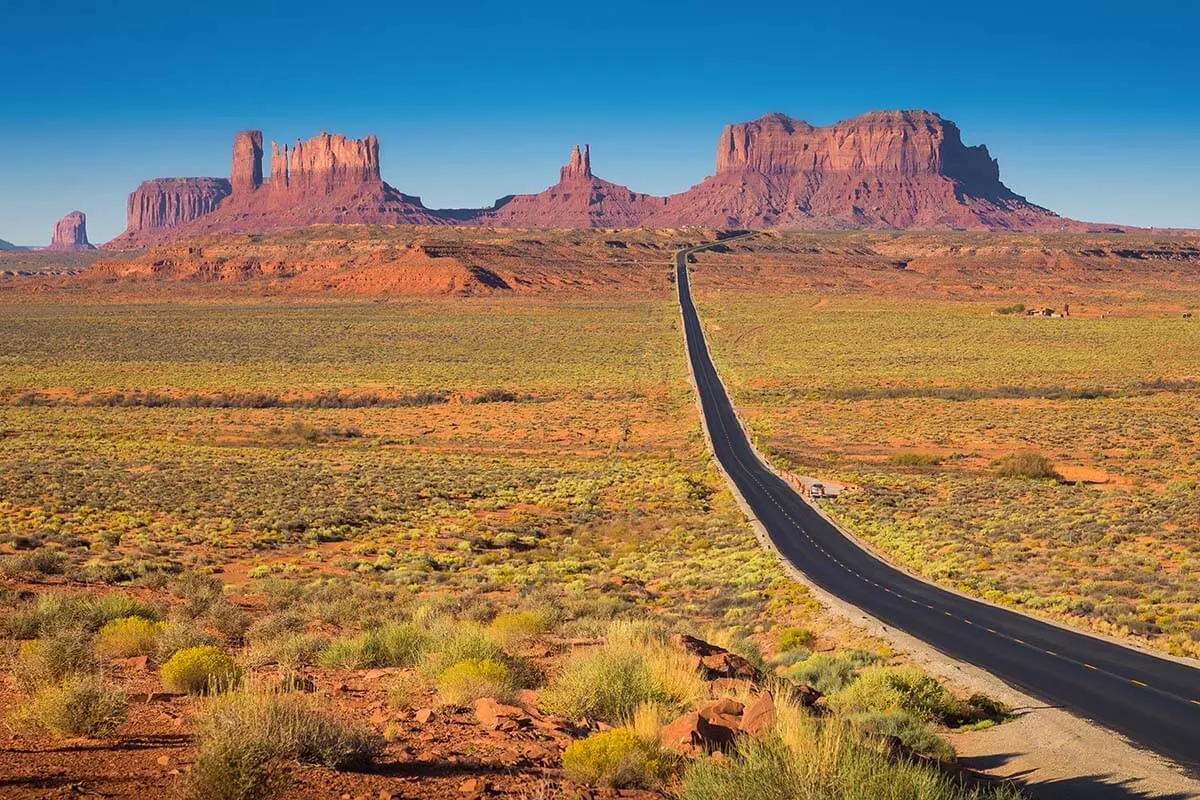 8. Scottsdale
If you look at Arizona on a map, you might wonder why Scottsdale is getting called out on its own in this list. Isn't it just a suburb of Phoenix, you ask? Well no, Scottsdale is actually a separate city of over 250,000 people that is distinctly unique in the state.
Scottsdale has long been a desert getaway for the rich and famous. Today, it offers a delightful mix of art galleries, great restaurants, historic mid-century hotels, dreamy spas, and all the desert landscapes you expect to find in Arizona.
On your first trip to Scottsdale, the must-dos include exploring the shops, galleries, and public art in Old Town Scottsdale, drinking wine along the city's Urban Wine Trail, visiting a museum like the Scottsdale Museum of Contemporary Art (SmoCA) or Wonderspaces, and touring Frank Lloyd Wright's winter home of Taliesin West. Also Scottsdale's classy spas and golf courses are not to be missed.
If you love the outdoors, you'll also want to be sure to visit the McDowell Sonoran Preserve, a 30,500-acre nature preserve where you can see impressive saguaro cacti up close.
How much time to spend. You can see all the highlights in Scottsdale in about three days (here's an itinerary for 3 days in Scottsdale), though a longer trip would be even better if you want to spend extra time relaxing poolside or at the spa.
Since Scottsdale is just next to Phoenix, Tempe, and many other nice places mentioned in this article, we recommend that you take a look at this Phoenix – Scottsdale travel guide and itinerary for more information on how to plan your trip.
Good to know: Scottsdale Old Town is easy to get around on foot, but rideshares are plentiful and affordable, too. Furthermore, parking is free almost everywhere.
Recommended by Amanda of A Dangerous Business Travel Blog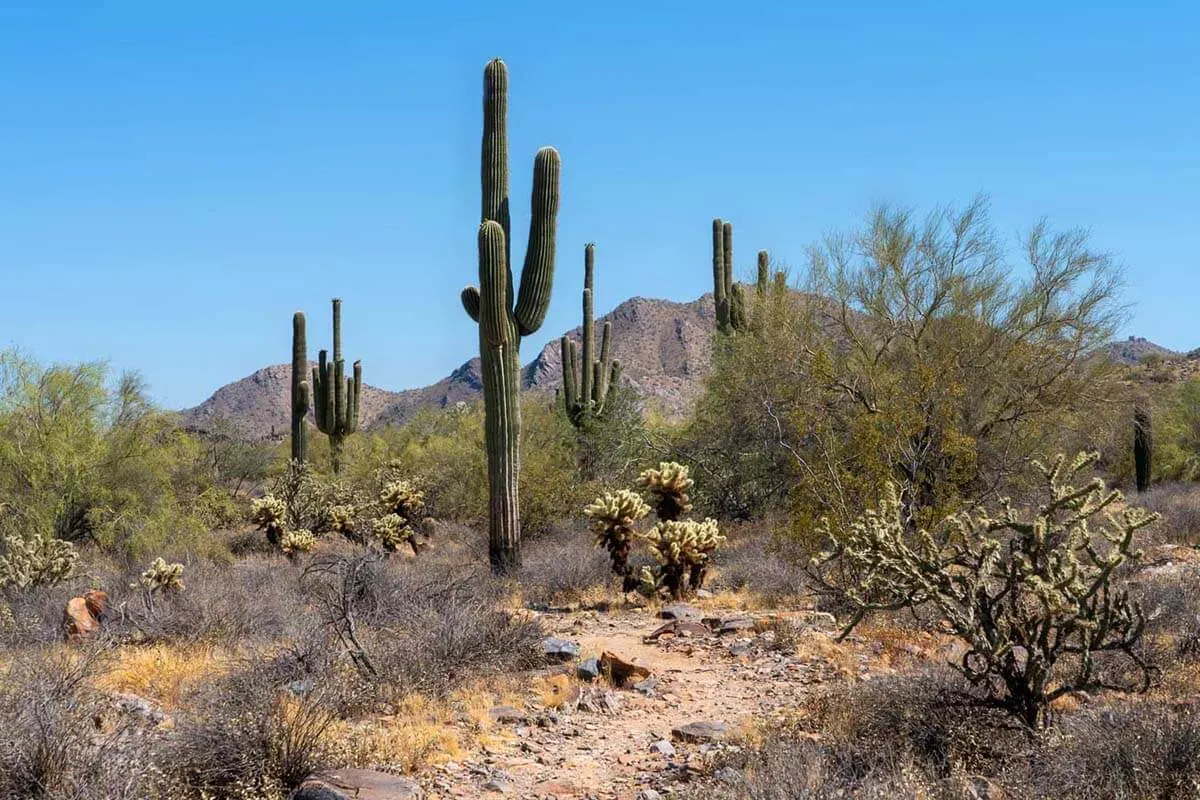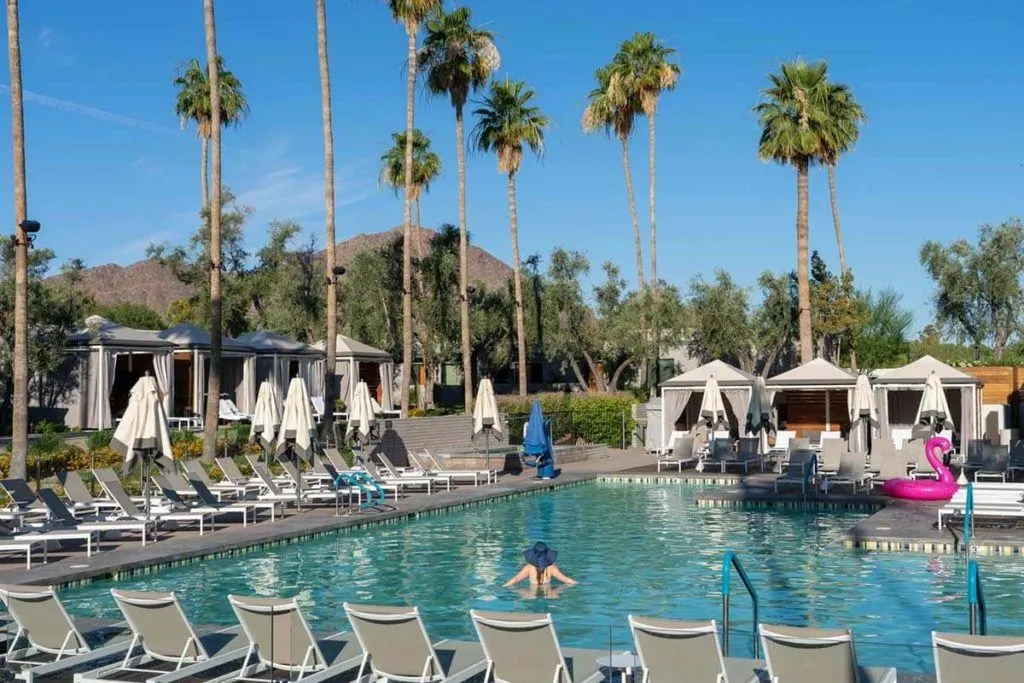 9. Tucson
Tucson should be at the top of any list of places to visit in Arizona! The city is one of the most culturally rich in the state, the food is great, and there are lots of fun things to do in town and nearby. What you have the opportunity to visit nowadays, has been molded by native groups, Spanish missionaries, Mexican ranchers, California gold rushers, and many others.
Start your visit downtown and walk through the historic and modern areas of Tucson, or join this popular historic bike tour. Check out the Historic Pima County Courthouse, Presidio San Agustin del Tucson, Museum of Art, and Arizona Historical Society. Congress Street and 4th Avenue are booming with restaurants, breweries, murals, public works of art, and artisan studios. Tucson's cuisine shines like a bright beacon.
In 2017, the city was declared a "City of Gastronomy" by UNESCO. You can spend days eating Sonoran hot dogs, chimichangas, tamales, and steak fingers.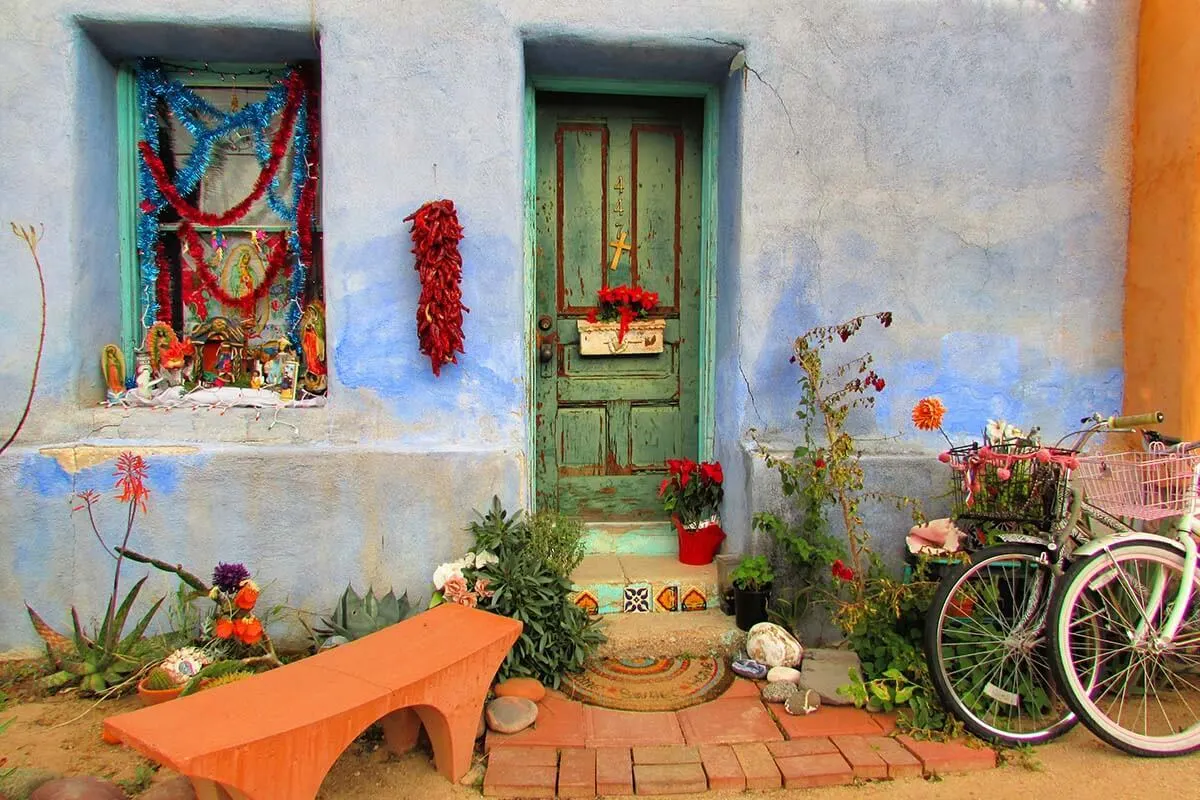 A visit to the San Xavier del Bac Mission (located about 10 miles from downtown) is also a must! Besides, the city is surrounded by national parks, mountain parks, natural areas, and other spaces ideal for outdoor activities.
If you are an outdoor enthusiast, you will be spoiled with choice. A list of places to check out includes the Tucscon Botanical Gardens, the Arizona-Sonora Desert Museum, Saguaro National Park (see further below), Tucson Mountain Park, Sabino Canyon, and Santa Catalina Natural Area.
In addition to the city itself, there are several interesting day trip options from the city. These include Tubac, Tumacacori, Sonoita, Kartchner Caverns, Sonora Desert, Bisbee, and Tombstone.
How much time to spend. It is recommended to spend at least 3 full days in Tucson: one day dedicated to the city, one day to take advantage of the outdoor opportunities, and another day for a day trip to places like Tombstone (see further below). If you do not want to rush through the attractions, you can easily allocate 5 to 7 days to the area. Depending on your travel style, you can either stay in Tucson and make it your base for the area or you can just stop here for a day or two as part of a road trip visiting some of the best places in Arizona.
Good to know: Remember Tucson has dry desert weather and the best time to visit is from October to May. Also, keep in mind temperatures in the area can vary greatly, so wear layers.
Recommended by Ruth from Tanama Tales.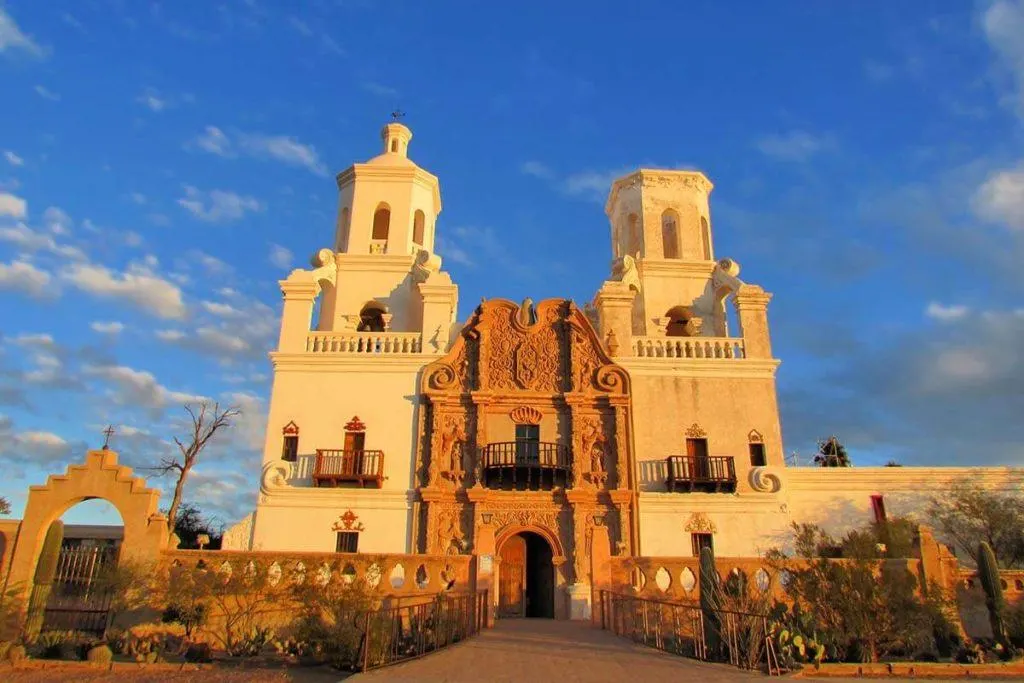 10. Vermilion Cliffs National Monument: The Wave, White Pocket & More
If you just can't get enough of the unique landscapes of Arizona, consider visiting Vermillion Cliffs National Monument as well! This is a huge nature reserve in Northern Arizona, at the border with Utah, and it's jam-packed with many incredible natural features.
You can see some of the area by driving Highway 89A. However, the majority of the most beautiful scenery requires a high clearance 4×4 vehicle, is not simple to reach or find, and is not something most travelers will easily be able to visit. This is one of those remote places where you won't find any tourism infrastructure, only unspoiled wilderness with the most amazing landscapes of slot canyons, mesas, and buttes…
The most famous natural landmark of Vermillion Cliffs National Monument is The Wave, located in Coyote Buttes. This is one of the places that you can only visit if you get extremely lucky with their lottery-based permit system. Only 12 groups (max. 48 people) are allowed to visit here per day, so you can imagine that the chances are very slim (and you have to try 4 months in advance).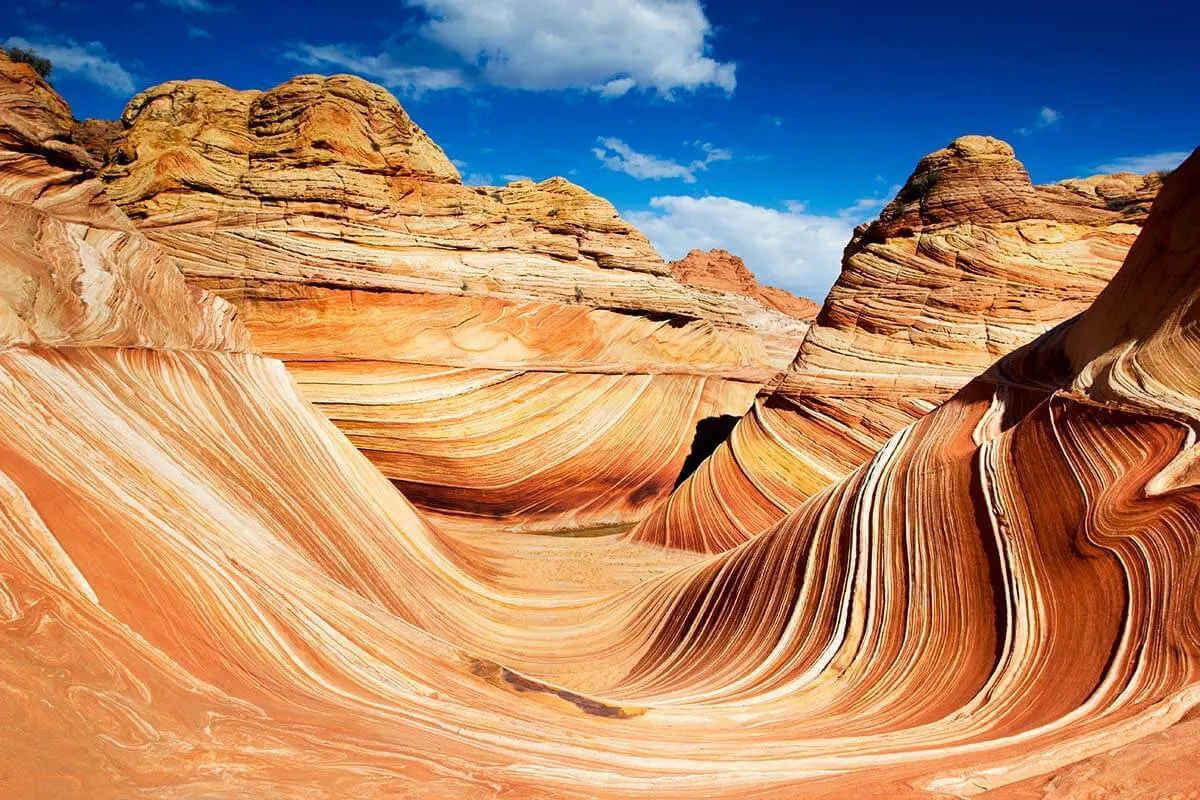 However, don't despair if you don't have a 4×4 or can't get to see The Wave. There are several other amazing places at Vermilion Cliffs National Monument that you can easily visit with organized tours.
One such place is White Pocket – a unique rock formation in a stunning, remote area. You can visit here with this highly-rated private day tour.
Another area that can be visited with a tour is Buckskin Gulch (already mentioned as an alternative to Antelope Canyon higher above). There are several tours that visit this slot canyon.
If you have a very good 4×4, you might be able to get to the White Pocket, Buckskin Gulch, and other places in Vermillion Cliffs National Monument on your own. But you really have to travel well prepared! Also, this is probably not the best place to explore on your own in summer because it gets terribly hot. No matter how you visit – on your own or with a guide – be sure to carry plenty of drinking water with you!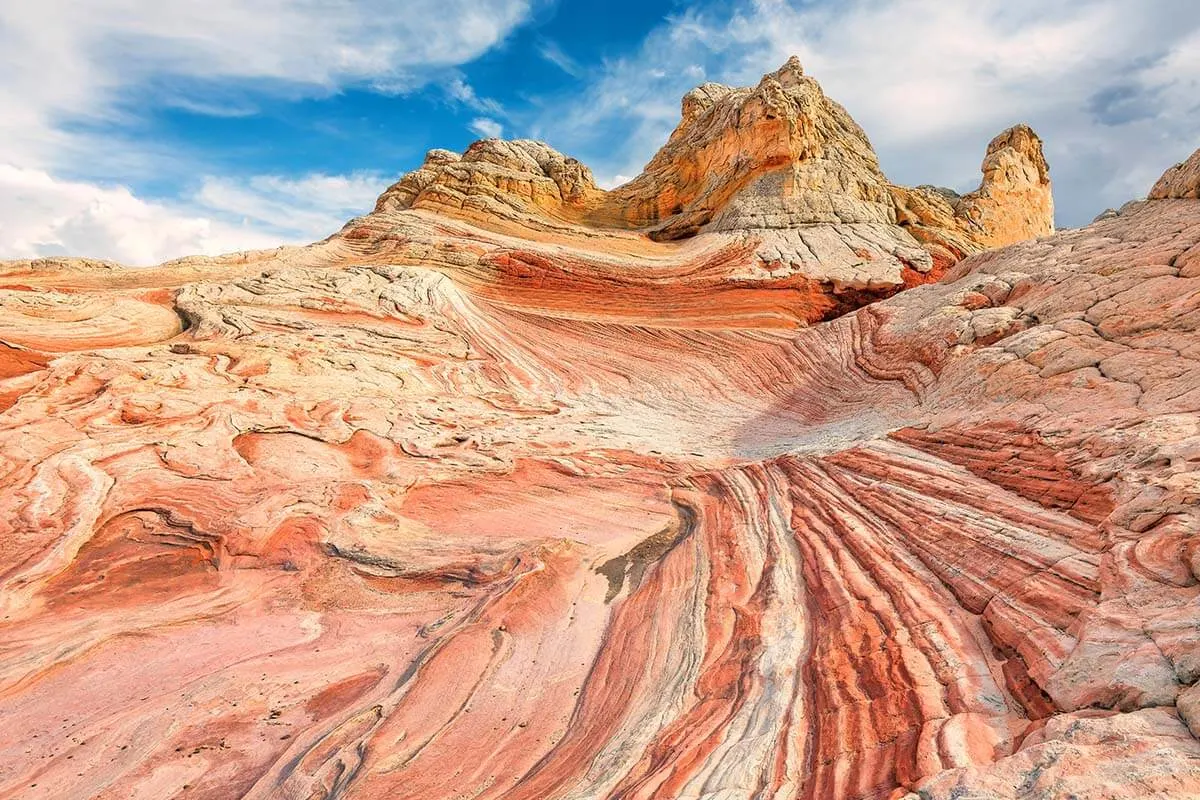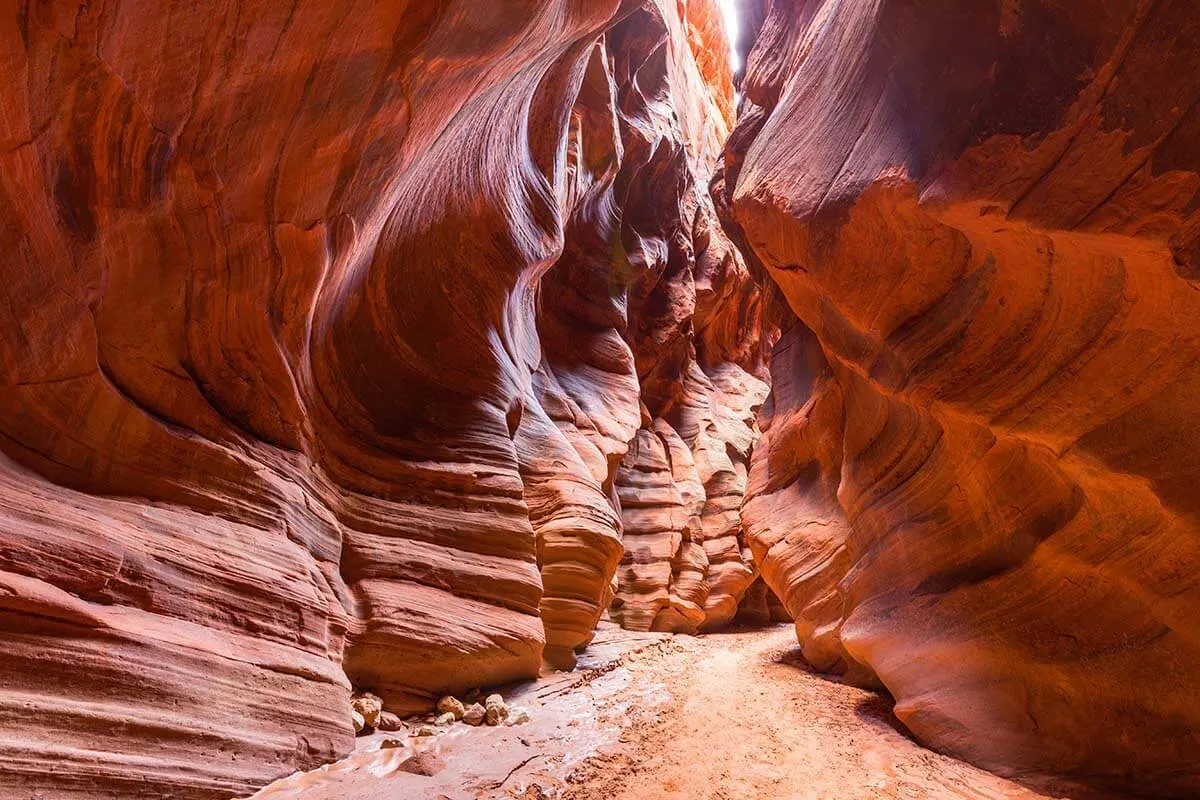 11. Lake Powell & Page
Lake Powell is a huge man-made reservoir on the Colorado River in Northern Arizona and southern Utah. Located just near Page, AZ (where you can also visit previously mentioned landmarks like Antelope Canyon and Horseshoe Bend), the lake is also a major vacation spot in the area, attracting a couple of million tourists a year.
There is a lot to see and do in Page and around Lake Powell. If you are here on vacation, you can rent boats, go jet-skiing, try flyboarding, or join various tours on the lake. If you are mostly interested in sightseeing, in addition to Antelope Canyon and Horseshoe Bend, you can easily see Glen Canyon Dam and Wahweap Overlook. There are also some nice scenic trails in this area – check out the Hanging Gardens, a 1-mile hike north of Page.
As already mentioned in the Horseshoe Bend section above, there are also amazing air tours in this area. One of the best price-quality options is this highly-rated tour by a small airplane. You can enjoy spectacular aerial views of Horseshoe Bend, Lake Powell, and Glen Canyon.
How much time to spend. This highly depends on what you are planning to see and do in this area. You can see all the 'musts' in just half a day to a day, but you can also spend a week here and never get bored.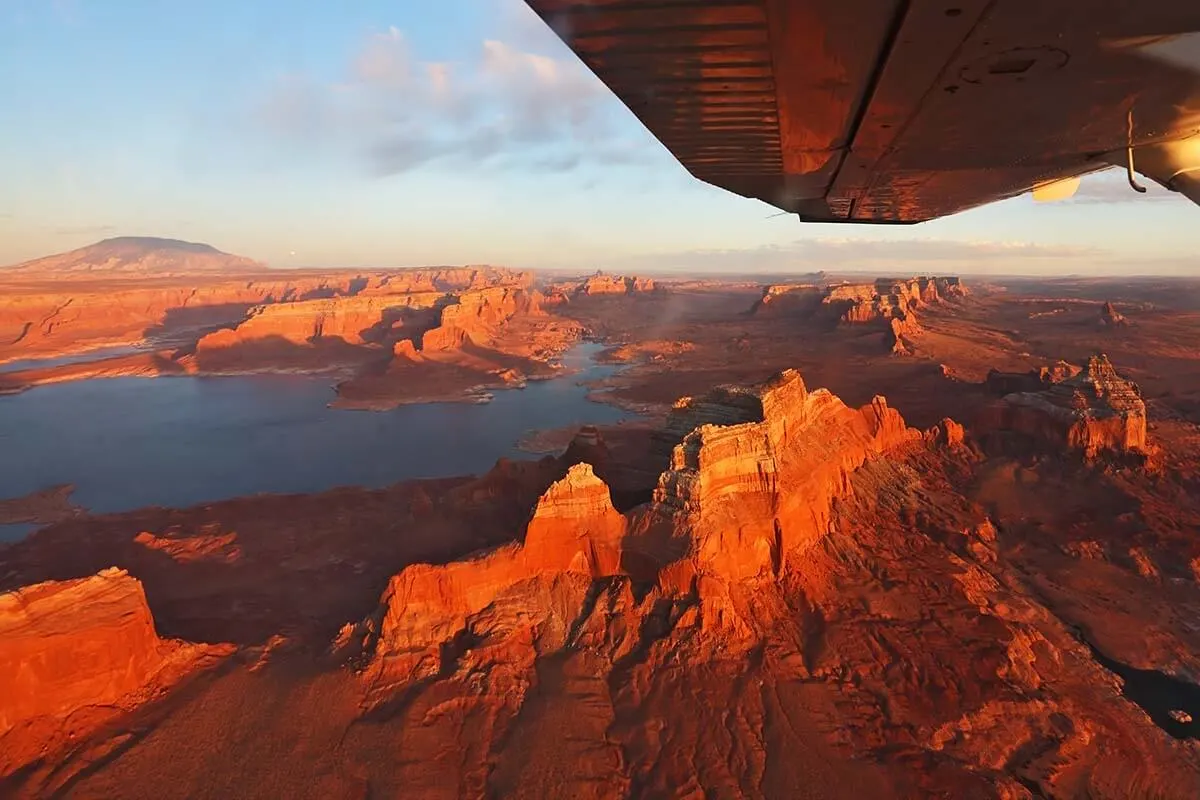 12. Hoover Dam
Located at the Arizona – Nevada state border, Hoover Dam is one of the top landmarks of Arizona (and yes, that of Nevada too)! There's even a sign at the dam showing where the two states split. It's a unique chance to stand in Nevada and Arizona at the same time and also a great photo opportunity. So this list (and your trip to the area) wouldn't be complete without mentioning Hoover Dam as one of the best places to see in Arizona.
Hoover Dam is a man-made wonder and once you see how huge it is, it will take your breath away. Built almost a hundred years ago, in the 1930s, it was the tallest dam in the world at that time. At the Visitor Center, you can learn more about its history, see models and exhibits, and you can also take a tour inside.
However, most people don't visit inside and simply enjoy the views of the dam and the surroundings from various viewpoints. It all really depends on how much time you have and what other places you are planning to see nearby.
TIP: On a short visit, don't miss a view from the Mike O'Callaghan Memorial Bridge. This is the best place to take in the immense size of the dam. Also check out the views from the Hoover Dam itself (there's a pedestrian footpath next to the road)!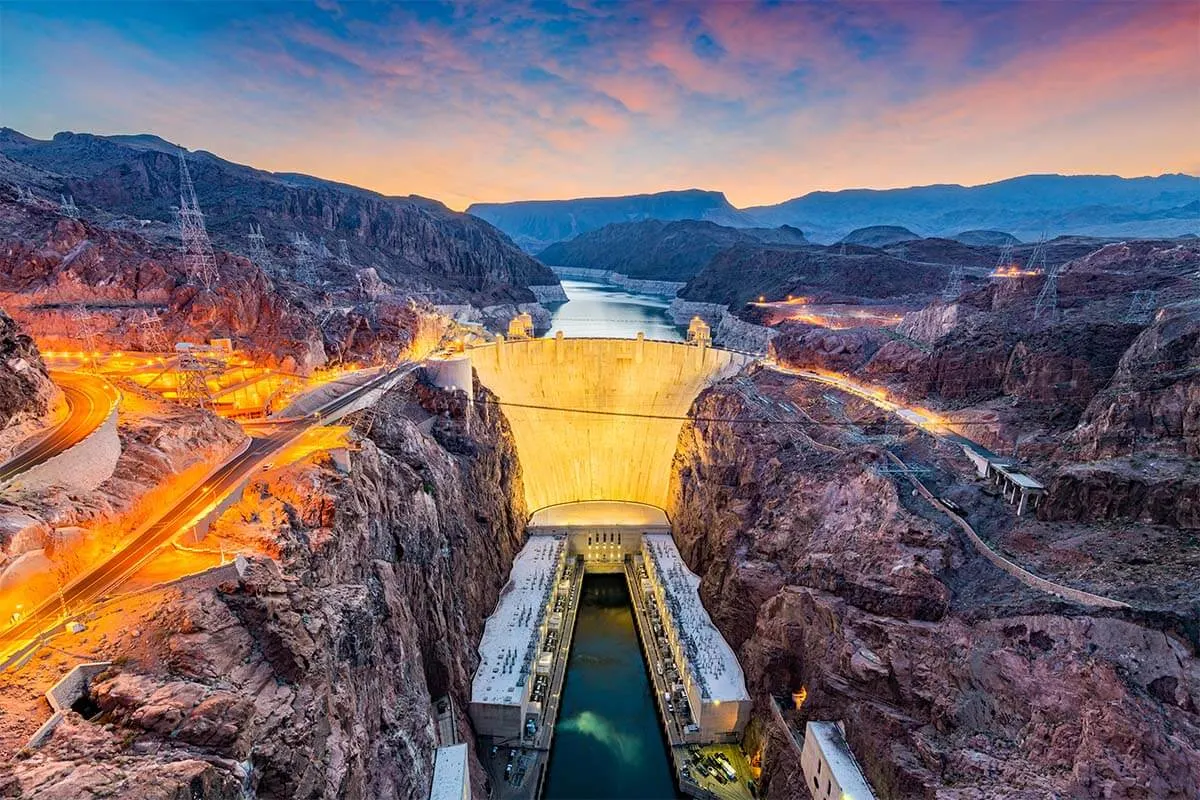 13. Saguaro National Park
There's no more iconic symbol of the state of Arizona than the towering Saguaro cactus, and there's no better place to see them than in Saguaro National Park near Tucson. There are nearly two million Saguaro cacti in the park!
Saguaro National Park is spread across two divisions, one to the east of downtown Tucson and the other to the west. You can spend anywhere between a half-day and two full days exploring Saguaro NP.
For those who are truly in a rush through their trip to Arizona, it's possible to explore the west side of Saguaro National Park (formally known as the Tucson Mountain Division) on a day trip from Phoenix, as the drive is just over 90 minutes. But if you want to explore both sides of the park to the fullest, it's best to stay in Tucson and combine a visit here with several other best places and landmarks in Arizona mentioned in this guide.
Both sides of Saguaro National Park are excellent for families visiting with young children or visitors with limited mobility. There are loop drives through some of the Park's most scenic areas. The Valley View Overlook trail (west) and Cactus Forest Trail (east) offer short, relatively flat walks that put visitors up close with many different species and shapes of cacti and also offer great wildlife viewing opportunities. Here you can find more info for visiting Saguaro National Park.
TIP: For a stunning desert sunset, visit the west side late in the day – the return half of the loop drive faces west as the sun sets through the dense cactus groves. The park has no formal closing time so there's no need to rush (though the entire mountain range is extremely dark).
Recommended by Melissa from The Family Voyage.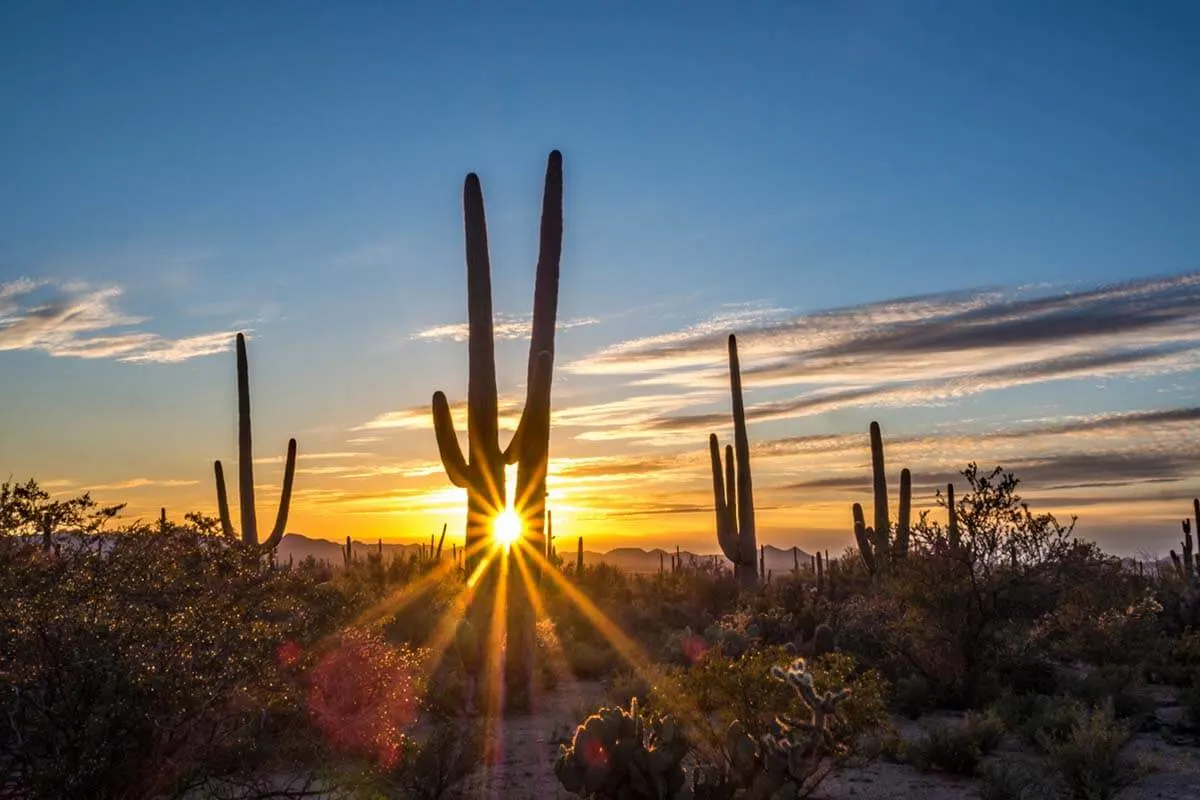 14. Montezuma Castle National Monument
Located next to the main road between Phoenix and Flagstaff, just south of Sedona, Montezuma Castle National Monument is one of the easy-to-visit places in Arizona. If you find yourself in this area, don't just pass by!
Montezuma Castle is a large 12th-century cliff dwelling that was built and used by the Sinagua people. The main structure of the cliff dwelling is a 5-story building that has twenty rooms. In all honesty, it looks more like a huge apartment building rather than a castle. Nevertheless, it's very impressive and well worth a visit.
Access inside isn't allowed, but you can easily admire this unique structure by walking the short paved trail around it. This is a very enjoyable attraction for the whole family and it only takes 15-30 minutes to visit. So Montezuma Castle National Monument isn't really a destination in itself, but a very nice stop if you are passing by.
If you have more time, you can also visit Montezuma Well. This is an archeological site about 10 miles from Montezuma Castle, a 20-minute drive a bit off the main road. But since you can reconnect to the main highway from there, it's actually not such a big detour.
Good to know: The Visitor Center is open daily from 8 AM to 5 PM, except for Christmas and New Year's Day. The entrance fee is somewhat steep at 10 USD per adult, but kids 15 and under are free, and the pass includes both places. If you have the annual National Parks pass (America the Beautiful Pass), it's also valid here.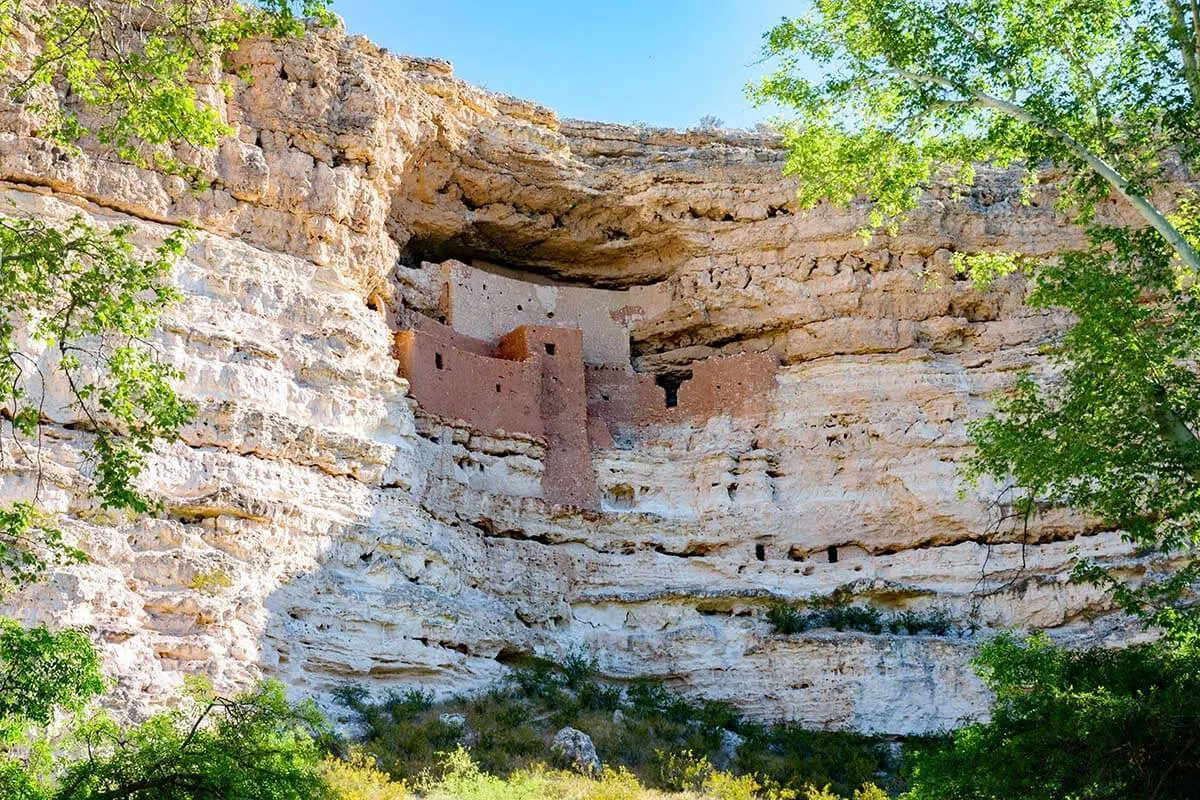 15. Tombstone
When you visit the "Old West", you have so many historical sites, ghost towns, and other attractions to choose from that it can be hard to know which ones are truly worth the time and money. A visit to Tombstone in southern Arizona, however, is sure to be a universal favorite. If you are looking for a fun and exciting taste of the Wild West, you'll definitely find it in Tombstone, AZ. For us, this is one of the must-see places in Arizona!
The whole town has committed to recreating the history and feel of the gunfight at the O.K. Corral and the nostalgia of the American Old West.
Walking down E. Allen Street, a dusty dirt road in the town center, is quite an experience in and of itself. Gunslingers tip their hats as they walk quietly by in the glaring sun while the horsedrawn coach rattles off from the old Wells Fargo Stagecoach depot. Suddenly, the locals are scrambling to hide behind barrels and peeking over saloon doors. A gunfighter is making his way down the middle of the road, guns in hand, looking for a fight… Everyone knows what comes next. It's cheesy, yes, but it's great fun and perfectly recreated.
Of course, there's more to see and do in Tombstone! Once the sheriff has taken down the outlaw, it's time to go underground at the silver mine or discover the real story at the infamous shootout at the O.K. Corral. You can also learn more about the history of the area at the Tombstone Courthouse History Museum. And be sure to take a Tombstone Historical Trolley Tour – it's a great way to get the current scoop on life in town. Another must-see is the gunfight show at the Old Tombstone Western Theme Park.
How much time to spend. Most people will spend 4-5 hours in Tombstone, more than enough to make it a solid day trip from the nearby Tucson or even from Phoenix. However, if you decide to stay here for a night, you can opt for even more fun activities in the evening. For instance, you can join a spooky ghost and murders tour through town or the family-friendly dead men's tales ghost tour. There are several nice hotels in Tombstone, and staying here will surely add to the ultimate Old West experience.
Recommended by Jim Vail at Roving Vails.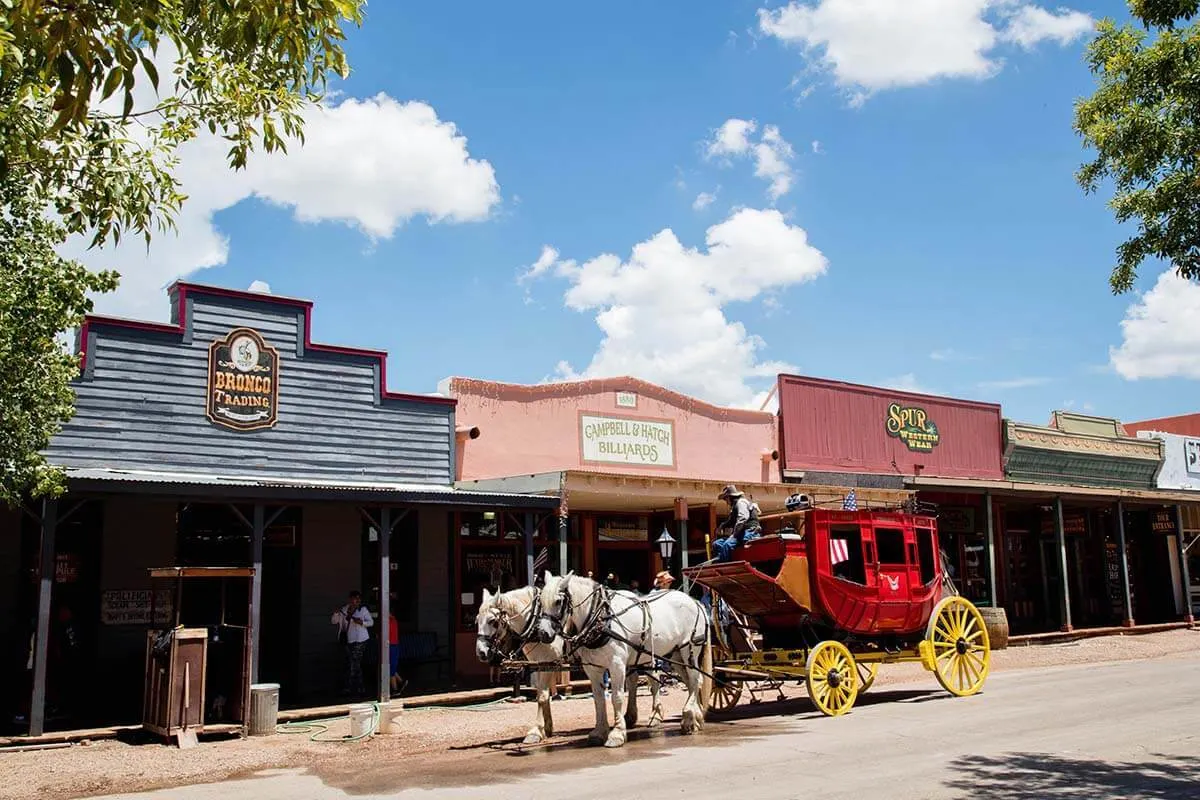 16. Canyon de Chelly National Monument
The Grand Canyon may be the most popular canyon in the state of Arizona, and there's definitely a good reason for that. But if you want to get off the tourist path in Arizona, Canyon de Chelly is incredibly stunning and equally worth seeing. If you are looking to experience the best of Arizona, don't miss this lesser-known gem!
Canyon de Chelly National Monument is located in a remote area of northeastern Arizona on Native American lands. You can drive around the rim for easy access to the stunning views inside the canyon. Take advantage of the many pullouts and take your time to enjoy the scenery. Canyon de Chelly is painted in an exquisite palate of reds, golds, and browns but with a lush green canyon floor.
Good to know: While you can visit some places on your own, you are required to hire a local guide to enter most of the canyon. But it's worth doing to get to learn about life in the area and in the tribe. Your guide will take you for a drive into the canyon and you can hike the many trails. Stop at the visitor center for a list of guides and recommendations for your visit or check out the official website for more information.
There are also a couple of trails you can hike on your own. One leads you to the White House ruin, which is incredible to see. Or, you can hike the Sliding House Overlook trail to see a cliff dwelling high up on the canyon wall. It's so interesting to see these different types of dwellings.
One of the most spectacular views in Canyon de Chelly is looking out on the Spider Rock spire. Its brilliant red is striking against the green patchwork of color and will remain etched in your mind long after your visit.
TIP: While you can enjoy some of the best that Canyon de Chelly has to offer in just a day, plan for at least a couple of days in this peaceful area. It's a real gem – you won't be disappointed! There are a couple of hotels in Chinle, just at the entrance of the park.
Recommended by Arizona local Sam from My Flying Leap.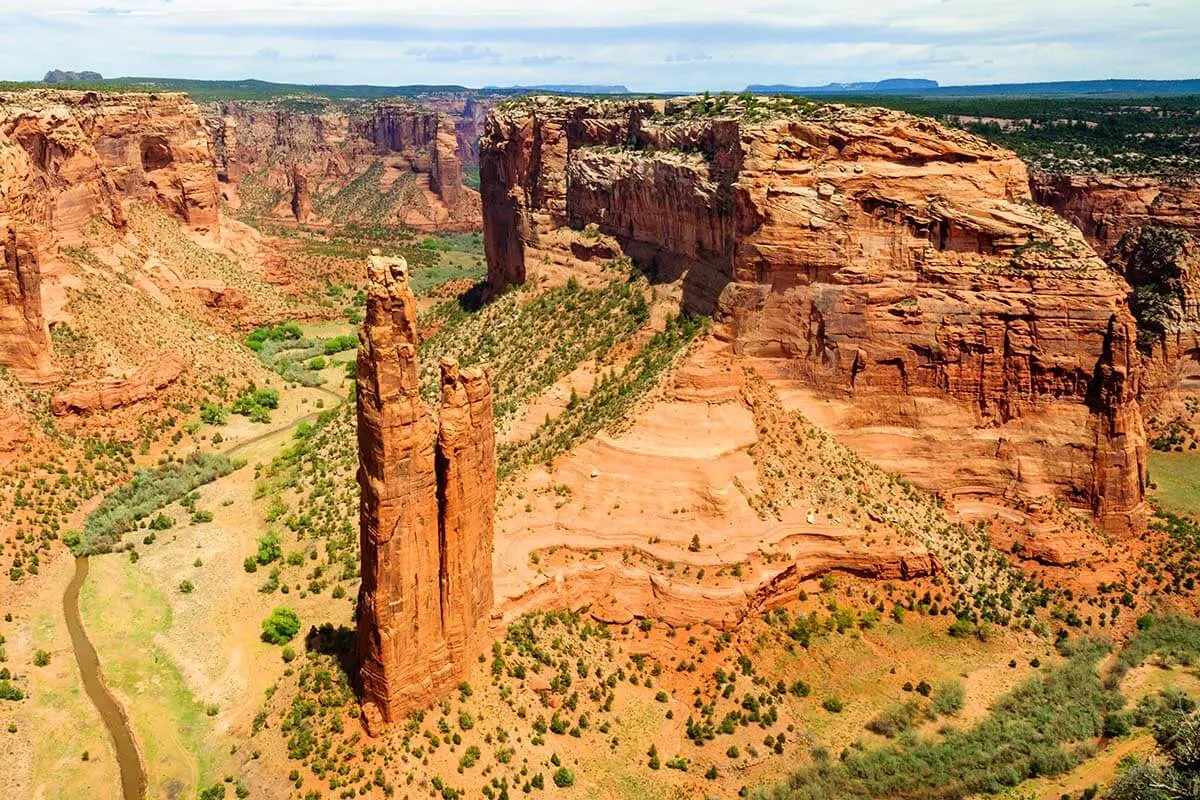 17. Flagstaff
If you're looking for the best places to visit in Arizona, Flagstaff should be high on your list! Often overlooked for nearby Sedona and the Grand Canyon, there are actually many great things to do in Flagstaff that make it worthy of a stop on your Arizona trip.
Flagstaff is best known for being along Arizona's stretch of Route 66. The famous "Mother Road" goes right through the heart of downtown! If you've never been on Route 66 before, you'll enjoy the chance to see the famous sign and snap a photo with this iconic piece of Americana.
Flagstaff has a very different landscape than a lot of Arizona because it's at a high altitude. The town sits at an elevation of nearly 7,000 feet, and you can even go skiing in the winter just outside of town! No matter when you visit, be sure to take the Snowbowl Scenic Chairlift up to the Arizona Snowbowl atop Agassiz Peak, the second-highest mountain in Arizona at 12,356 feet. Another unique landscape spot is nearby Sunset Crater Volcanic National Monument, with its lava tubes and volcanic landscape.
Flagstaff also holds the distinction of being the world's first "International Dark Sky City" – an honor normally only bestowed on smaller towns and national parks. It has its own observatory, the Lowell Observatory, which is where Pluto was discovered! It is a National Historic Landmark and you can take tours of the observatory if you book in advance.
Another fun thing to do in Flagstaff is checking out the thriving brewery culture. There are a number of great breweries which are brewing up creative new craft beer and serving them up with some delicious pub food! Mother Road Brewing Company (named for Route 66) is one of the best of the bunch. They specialize in ales (IPAs, double IPAs, tripels, brown ales, pale ales, etc.) and everything is fantastic.
Recommended by Allison from Eternal Arrival.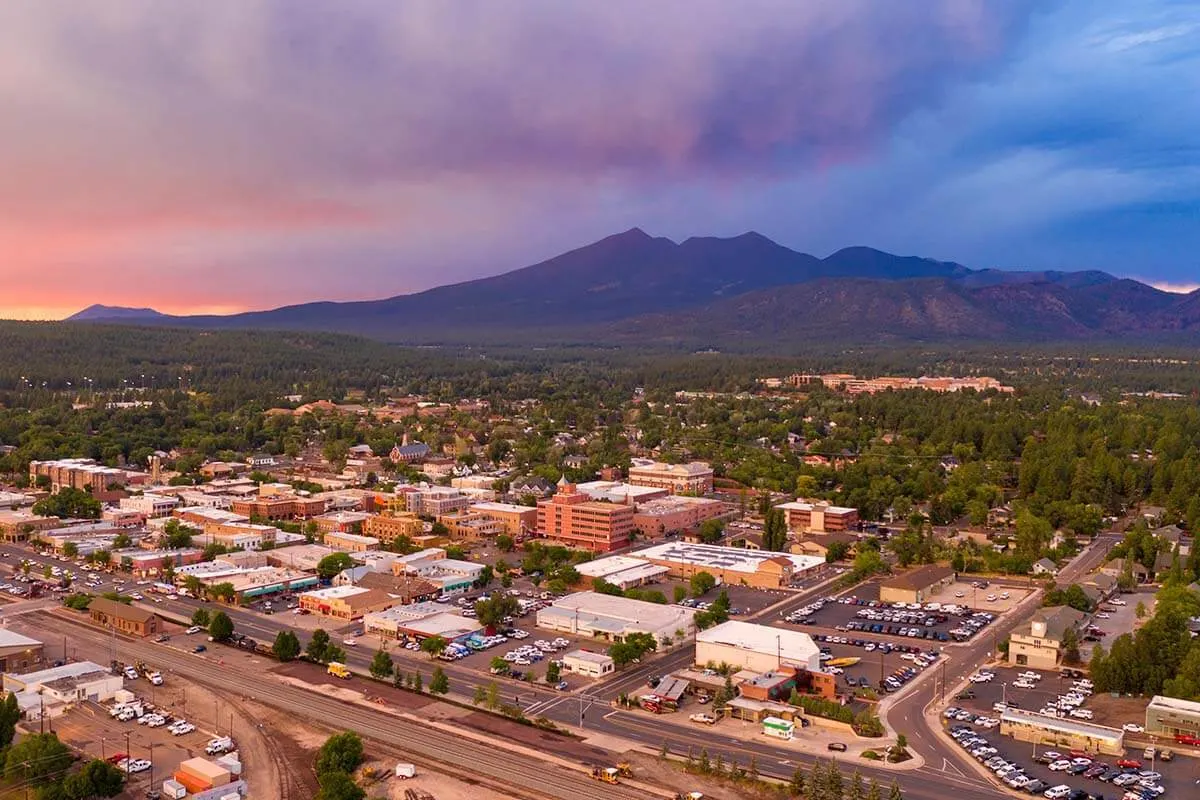 18. Williams & Bearizona Wildlife Park
Williams, Arizona may not be on your radar as a great travel destination in Arizona because it is foreshadowed by bigger cities and so many amazing National and State Parks in the state. But you will be wrong to dismiss it from your travel plans because it has many interesting attractions!
Just as many towns in this area, Williams is located right on the famous Route 66. So also here, you can visit various Route 66 attractions: old buildings, gift shops, and Route 66 Gas Station Museum.
One of the main attractions not to miss in Williams is a scenic train ride to Grand Canyon on the Grand Canyon Railway. You board the train in town in the morning and travel about 2 hours to the South Rim at the Grand Canyon National Park.
You can ride in glass dome cars and enjoy the amazing scenery, and you have a few hours of free time to explore the South Rim. It's possible to stay in the park longer, but most people just do this as a day trip and return back to Williams by train in the afternoon.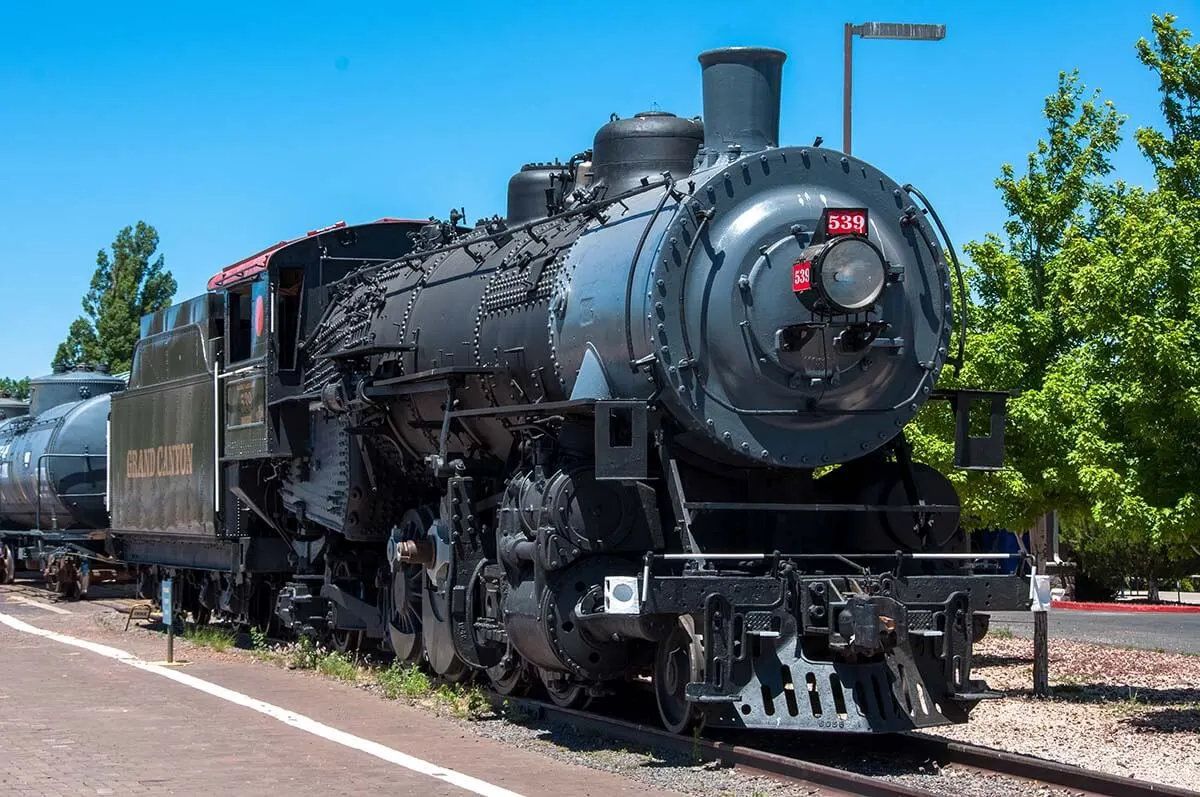 One of the absolute must-sees in Williams is Bearizona Wildlife Park, a drive-thru wildlife and safari park dedicated to the wildlife of Arizona. The uniqueness of Bearizona is in its layout: animals are not kept in small enclosures but allowed to roam free and tourists can drive around their habitats in their vehicles.
This gives you an opportunity for close encounters with such magnificent animals as bison, bear, and wolf. It is an amazing experience when a wolf just walks by your car or two bears fight an arm's length from you, with only a car window in between!
There are also 'walk-through' exhibits where you can observe smaller animals such a beaver, porcupine, red fox, and many others. In addition to its exhibits, Bearizona also organizes live animal presentations, the most popular of which is the birds of prey show. This is such a great place to visit in Arizona for everyone, and an absolute must for families!
Good to know: Bearizona is open daily, all year round. It's cheaper to visit on weekdays than on the weekends. For more info, please see their website.
Recommended by Tatiana from Family Road Trip Guru.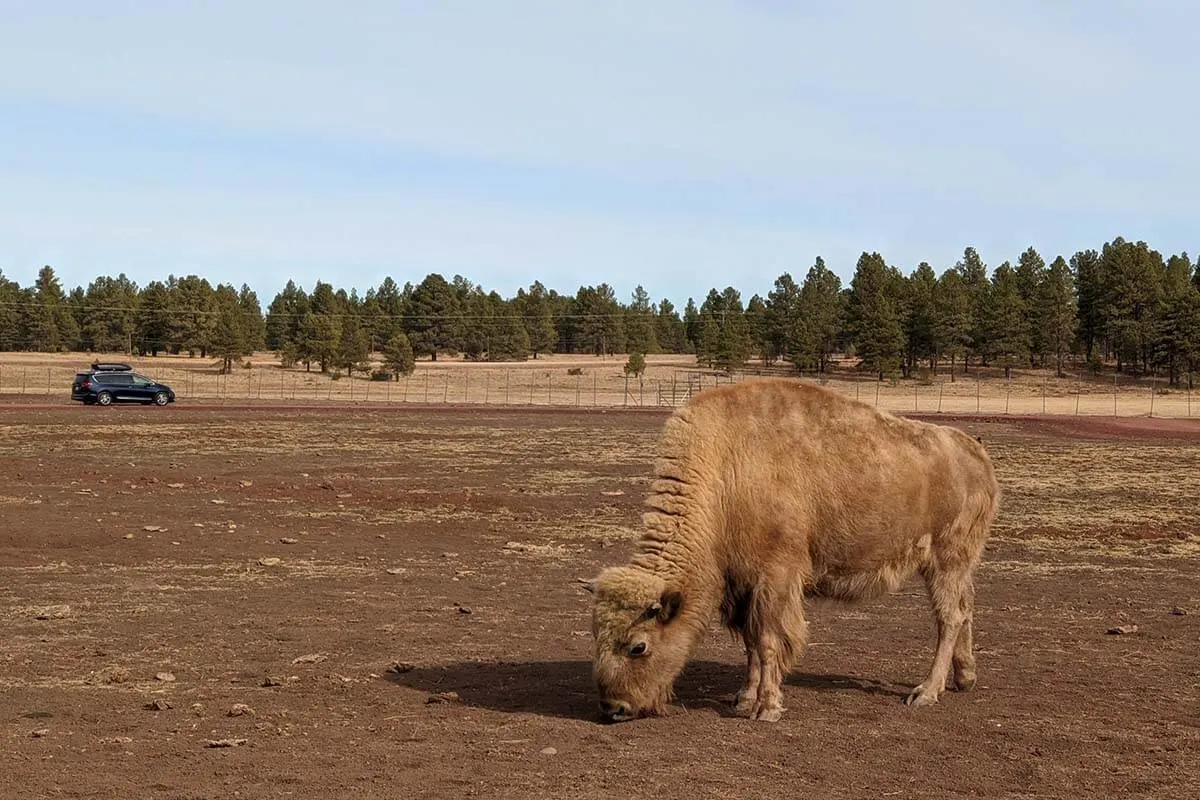 19. Sunset Crater Volcano & Wupatki National Monuments
There are two more interesting places to check out in Arizona – Sunset Crater Volcano National Monument and Wupatki National Monument. They are both located just near Flagstaff and don't require much time, so you can easily add them to your Arizona road trip itinerary if you have a couple of hours to spare in this area.
Sunset Crater Volcano National Monument is centered around a cinder cone dormant volcano that has erupted about 1,000 years ago (1025 AD). Needless to say, a volcano is a surprising sight to see in Arizona!
The Lava Flow Trail is one of the best trails to hike as it takes you through the Bonito Lava Flow and numerous volcanic features while walking at the base of Sunset Crater Volcano. The trail is an easy 1 mi (1.6 km) round-trip hike. Hikers can view a lava tube and other lava features. A stop at the Visitor Center provides additional information as well as the Junior Rangers program.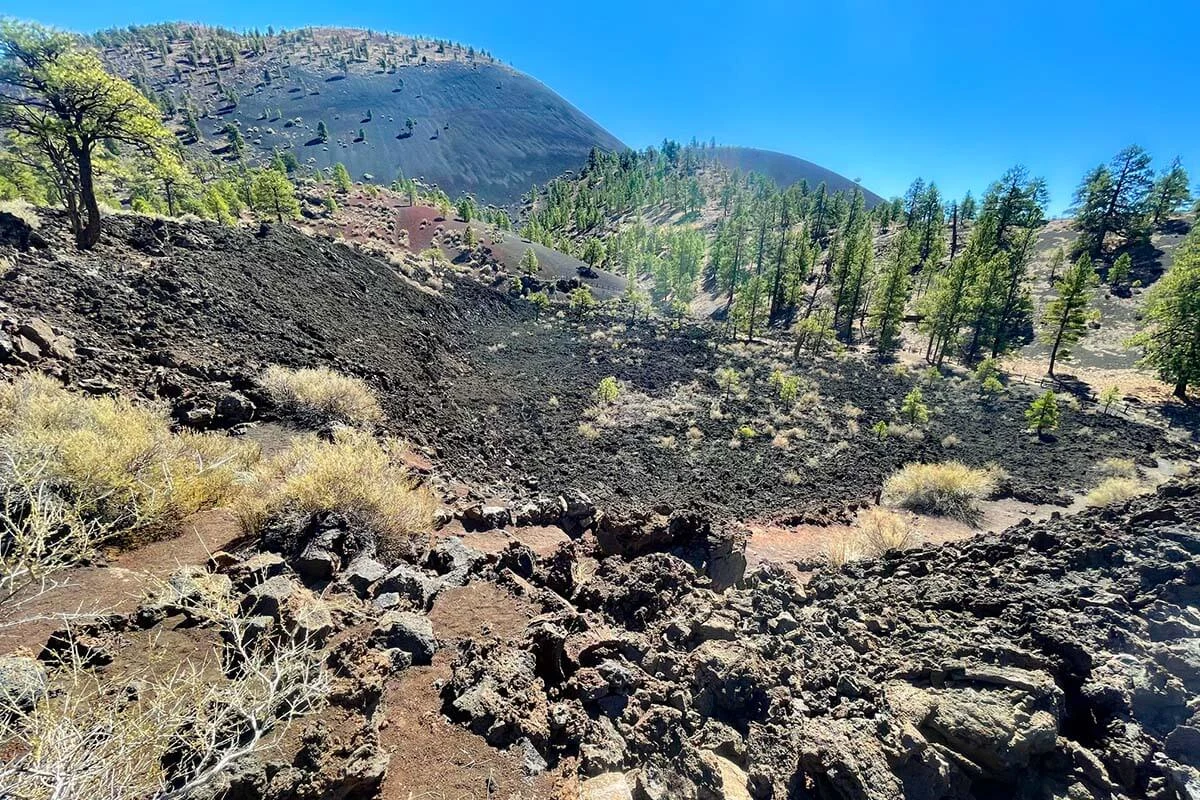 Sunset Crater Volcano National Monument connects to Wupatki National Monument by loop road about 10 miles away.
Less than 800 years ago, Wupatiki was the tallest, largest, and most influential pueblo around. Between 85-100 people lived here, and several thousand more lived within a day's walk.
There are several short hikes around the pueblo sites. There is also a Visitor Center offering a Junior Rangers program and other information about the site and its history.
TIP: Visit these parks early or late afternoon as there is no shade. If you arrive early enough, you may spot pronghorns in the fields near the Wupatki National Monument entrance.
Recommended by Nicole from AffordableFamilyTravel.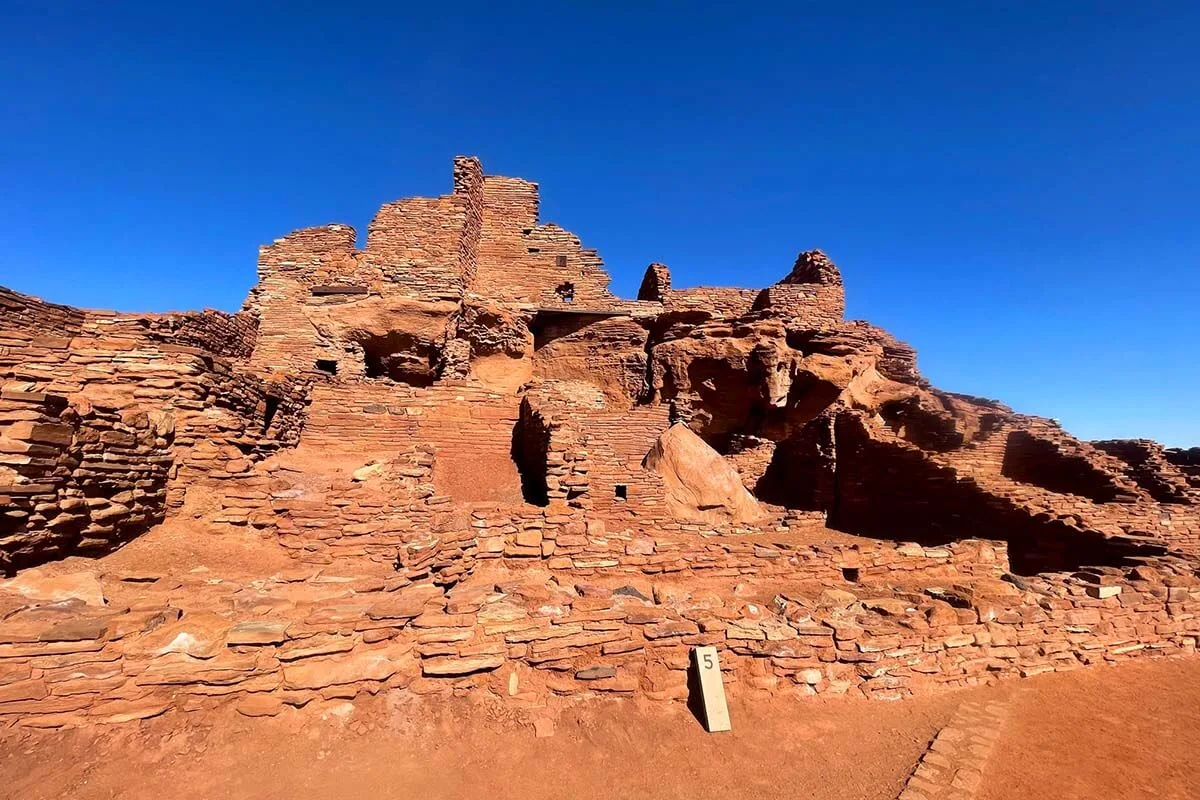 20. Petrified Forest National Park
The Petrified Forest National Park located between two major roads – Hwy 40 and Hwy 180 – in eastern Arizona is an incredible place to visit if you enjoy the great outdoors and some adventure. This park is unlike any other place in Arizona, with unique colorful landscapes, 200 million-year-old petrified tree trunks, fossils, and also petroglyphs.
Be sure to visit the Rainbow Forest Museum which is easily accessible via Highway 180. The museum is small but very informative and will tell you all you need to know about the natural history of the area. The petrified forest national park is also a fantastic place to go hiking and exploring. The Blue Mesa Trail is highly recommended as it's one of the most scenic trails in the park and the loop is only 1 mile (1.6 km). Painted Desert Rim Trail is another really nice and short hike of similar length.
It's definitely possible to see the park in one day and you can drive to many places of interest or enjoy one or two short hikes. Since accommodation nearby is limited, most tourists only visit here for a couple of hours or a day. However, if you want to truly enjoy the beauty of this park, you can also stay here for two or three nights and you'll find plenty to see and do.
Good to know: Campsites are only accessible on foot and there is no RV camping permitted. To camp, you need to obtain a free permit from the Rainbow Forest Museum. This is definitely an adventure and only suitable for experienced campers and hikers. Alternatively, the best town to stay nearby is Holbrook, AZ, where you'll find several hotels, shops, and restaurants. It's about 20 miles/25 minutes drive from either entrance to the park. The entrance fee is 25$ per vehicle, or you can also use your annual national parks pass.
Recommended by Victoria from Guide Your Travel.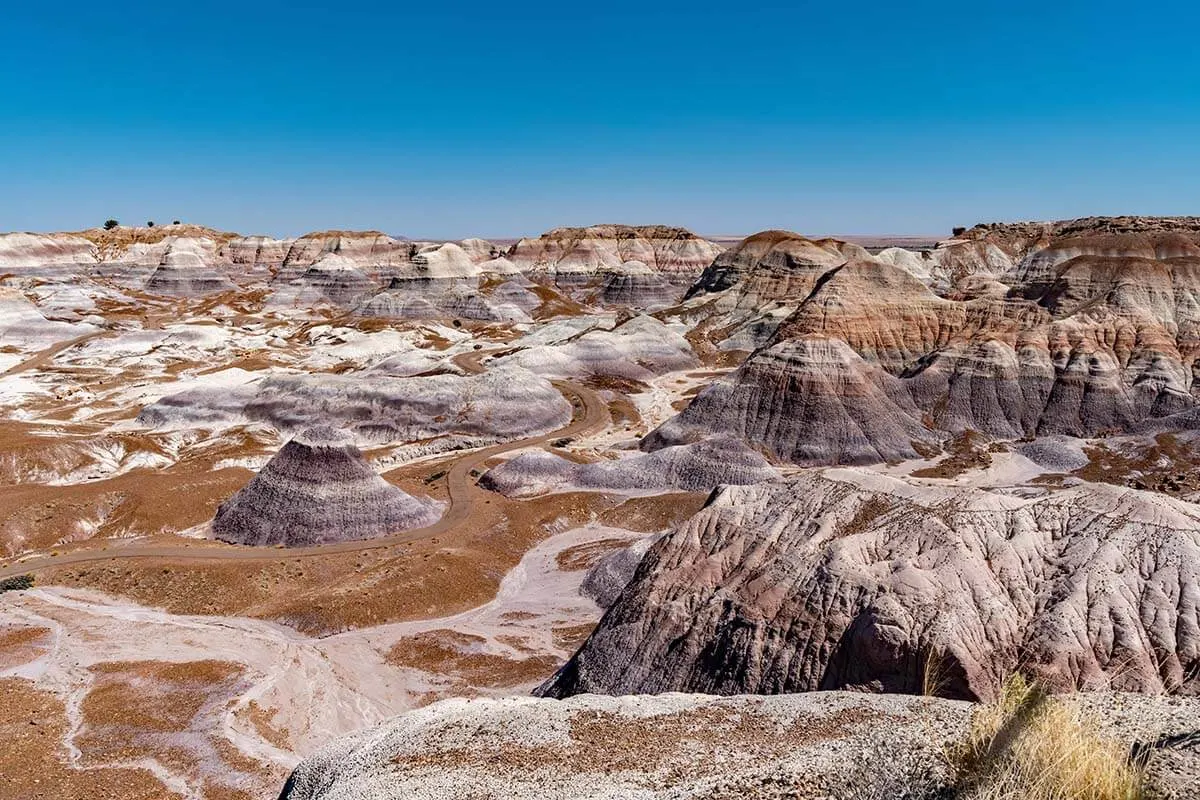 21. Navajo National Monument
Navajo National Monument has three of the best-preserved cliff dwellings in Arizona. You can spend an hour, a morning, or even two or three days here depending on what you want to see. But no matter how much time you have, it's well worth a visit!
The most popular (and easiest) way to experience the monument is to hike the self-guided Sandal Trail. The 1.3-mile out-and-back paved trail passes through areas of pine and junipers to an overlook where there is a great view of the Betatakin cliff dwelling 0.25 miles away across the canyon. To do this hike, you will need about an hour or two, including the time to enjoy seeing the dwelling.
If you have more time, it's also possible to take a backcountry hike to see the dwellings up close. Guided hikes/ tours to see Betatakin typically take 3-5 hours. They include either a 3-mile or 5-mile steep, strenuous hike, plus time at the dwelling. They are normally offered twice a day mid-May to mid-September. You can sign up for these at the Visitor Center on the same day. For more information, see the official site of the National Park Service.
For the more adventurous (and fitter), there is also a very strenuous 17-mile roundtrip backcountry self-guided hike to the Keet Siel dwelling. This can be done in one day or with an overnight camping stop. If you plan to hike Keet Siel, you need to make a reservation and then attend a mandatory orientation in the afternoon on the day before your hike.
TIP: You can do the Betatakin hike in the morning, then attend the Keet Siel orientation when you return and then hike to Keet Siel the next day. That way, you get to see both cliff dwellings in two days (or three if you opt for overnight camping). There is also a campground near the Visitor Center and a few hotels in Kayenta, about 30 minutes drive.
Recommended by James Ian from Parks Collecting.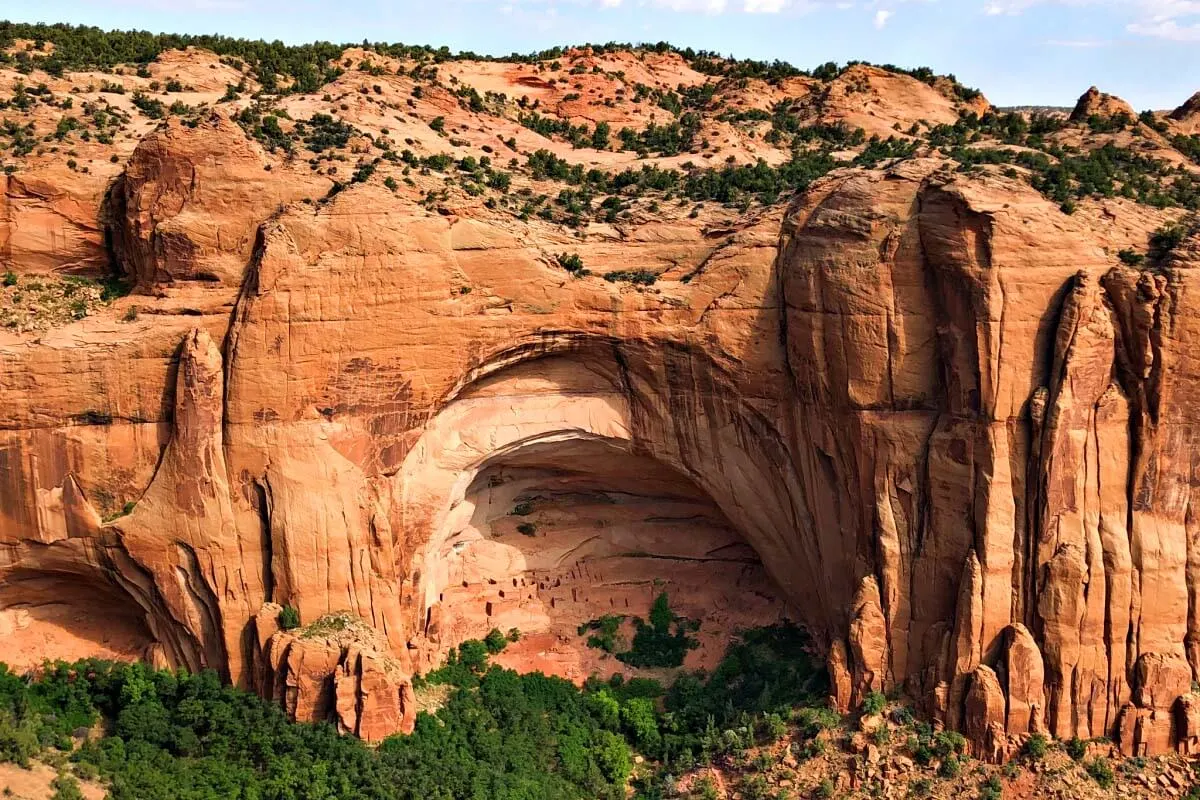 22. Lower Salt River & Wild Horses
Winding through the arid Tonto National Forest, the Lower Salt River is an outdoor enthusiast's dream. The best way to explore this scenic Sonoran Desert oasis is by boat. You paddle between jagged, red cliffs, and also have great scenic views of the landscapes dotted by cacti.
You don't have to be an experienced kayaker or paddler to enjoy this calm river, either. But if you know how to steer your watercraft, you'll be able to get yourself a better view of the big draw in the area – the wild mustangs. Small herds of wild horses can be spotted as they come to the water for a drink. If you're lucky, you may spy a line of horses crossing the river.
The entire Salt River is 200 miles long, but the most popular section for kayaking or beginner-friendly floating trips is the Lower Salt River. Due to its proximity to Phoenix, it's an easy day trip for visitors to the metro area, and most of these tours start in Mesa, AZ.
It's best to go on a guided tour. Local outfitters provide the equipment (including a wet bag to keep your belongings dry), instructions, and knowledgeable guides will add to the experience, pointing out native wildlife and sharing entertaining stories. You can rent equipment and paddle unguided, too, but you'll need to arrange transportation and you also need a Tonto National Forest Recreational Pass. If you book a tour, they normally take care of all of this.
Good to know: Dress in layers since it's cooler in the morning and heats up quickly. And plan on getting wet. It's common to take breaks in shallow areas of the river to cool in the water.
TIP: If you are looking for more action and adventure, there are also rafting trips on the other part of the Salt River. Most of them start in Whiteriver, AZ. Here you can book a 3-hr rafting tour on Salt River and here's a longer 6-hr rafting tour. Most of these tours are still very beginner-friendly, and even kids (usually age 8+) can partake.
Recommended by Kim from Oh My! Omaha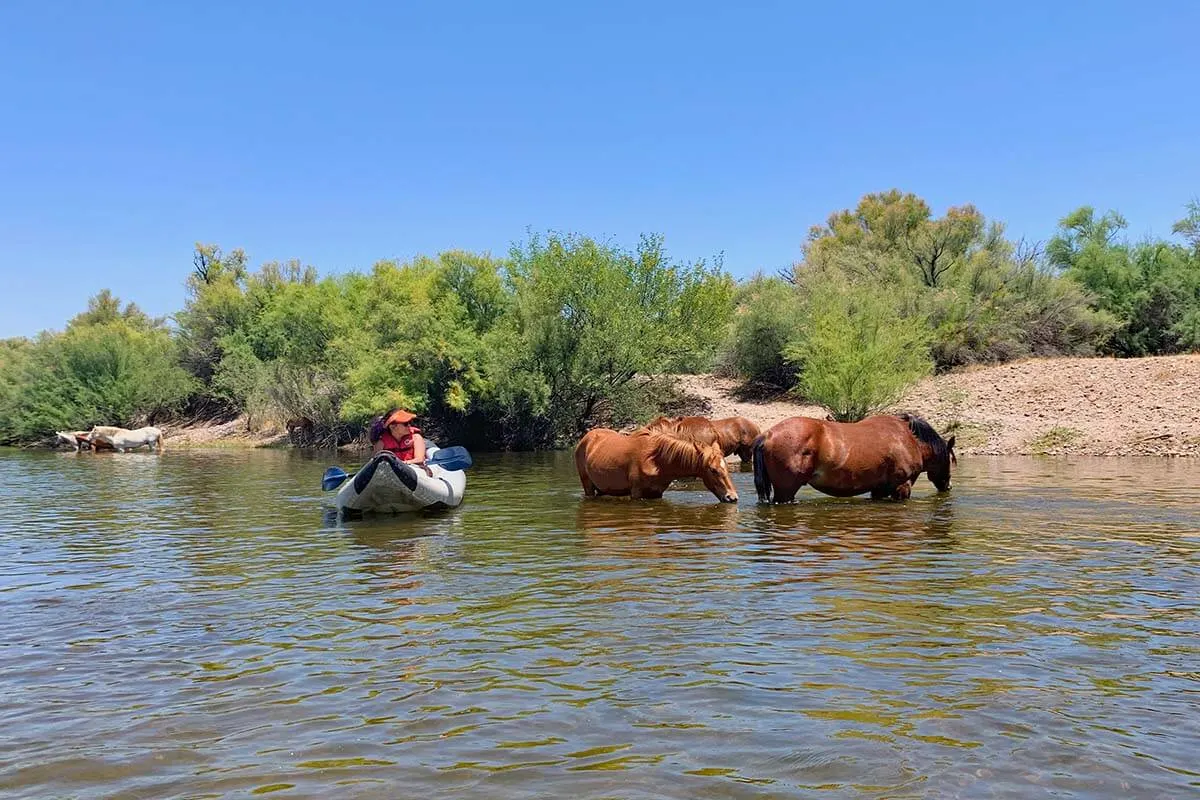 23. Apache Trail
If you are visiting the Phoenix area, one of the cool places that really gives you a sense of Arizona and the wild, wild, west is the Apache Trail located just about 20 miles outside of the city.
A real taste of old Phoenix and the western days, the Apache Trail holds most of the water reservoirs that feed a large part of the population. But it's also interspersed with arid desert filled with local cactus and flora, ghost towns, and little spit communities with cool dive bars and memorabilia stuck to the walls and ceilings. It really is a special area to visit in Arizona that remains unchanged and so Old Western in appeal.
The Apache Trail is about 40 miles, with lots of scenic lookouts and great photo opportunities. It's totally unique and fun to explore. Most of the trail drive is on dirt and gravel roads, winding trails that curve the water edges, and into hilly areas with stunning scenic views of this magnificent countryside.
A popular place to visit along the route through the Apache Trail is Goldfield ghost town, an old miner town that is more tourist-focused but not so tacky and still authentic. Superstition Mountain and the Lost Dutchman State Park are beautiful mountain and outcrop formations with fantastic hikes to enjoy.
Canyon Lake is also a nice stop. It has nice facilities to enjoy a picnic, water fun, and even some water sports. Tortilla Flat is another must-see en route. It's an old western settlement with a funky old general store, a bar, and some interesting outbuildings to explore. It is fun and what you would typically expect from an outpost in this area.
The forty miles of varied terrain on the Apache Trail is not a fast journey. Count at least 3-4 hours, but you can easily fill an entire day for this route. If you are in Phoenix, make sure to take some time to visit the Apache Trail for a taste of the Wild West of Arizona.
Recommended by Noel Morata from Travel Photo Discovery.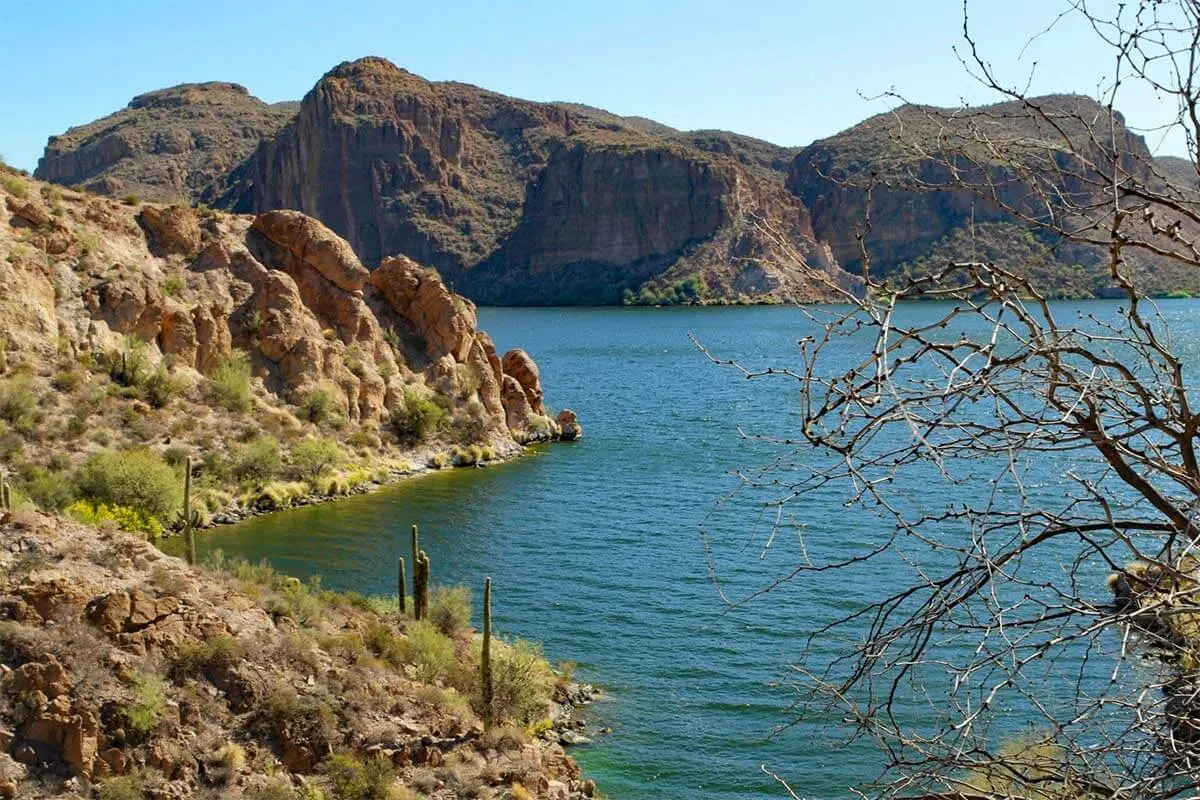 24. Lake Havasu
Although you may never have heard of Lake Havasu before, it is actually home to the second most visited attraction in Arizona, the world-famous London Bridge! Yes, the London Bridge from England, UK, featured in the popular nursery rhyme "London Bridge is Falling Down." After being purchased from England in 1968, the bridge was meticulously relocated brick by brick from its former home on the river Themes to Lake Havasu, linking the city with an island in the Colorado River.
Rumor has it that the founder of Lake Havasu City actually thought he was purchasing the much more decedent Tower Bridge rather than the plain brick London Bridge they received.
Other than spotting a somewhat out-of-place historic monument, there are plenty more reasons why you should visit Lake Havasu. From hiking and mountain biking through SARA Park to fishing, boating, and paddleboarding on the lake itself or simply relaxing on its sandy beaches, this lakeside city in the Sonoran Desert indeed does have something to satisfy everyone's preferred vacation.
An amazing event to see is the Lake Havasu Hot Air balloon festival, which sees more than 80 hot air balloons take the sky in an incredibly picturesque setting over the lake for a weekend in mid-January. Take your family to enjoy the music, food, entertainment, and carnival rides that truly make this the most magical time to visit Lake Havasu.
TIP: While you can visit Lake Havasu for a day, it's a real vacation destination that is best enjoyed on a longer visit! Allow at least three days to relax and see the sites of Lake Havasu. The best way to embrace the summer vacation spirit here is to rent a lakefront Airbnb with your family or friends for a group getaway.
Recommended by Kate from Miss Tourist.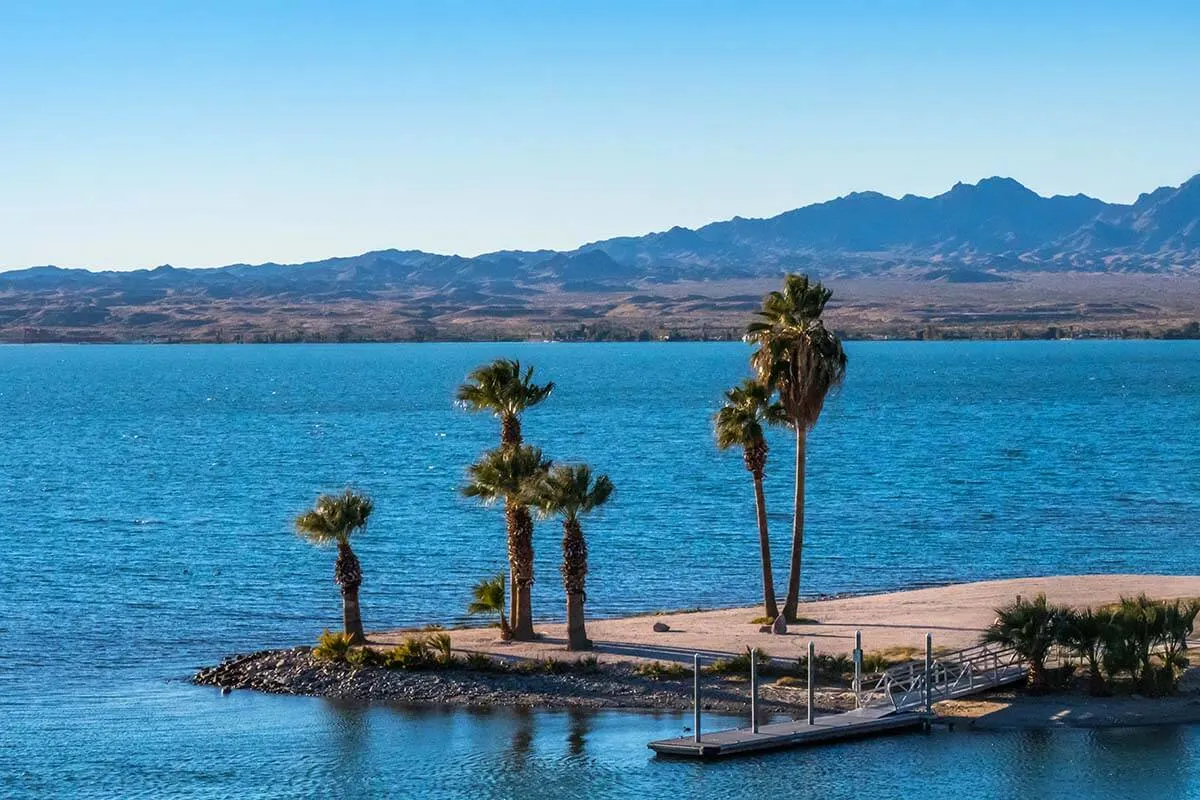 25. Oatman
If you are looking for nice places to visit along the iconic Route 66 in Arizona, check out the tiny village of Oatman, between Needles and Kingman. Oatman was founded in 1915 when two people found gold in this area that was worth over 10 million dollars. Within a year, the town's population grew to 3,500 inhabitants. However, after the mines closed and Interstate 40 was built, Oatman turned into a ghost town.
Nowadays, the town is a popular stop for people road-tripping through the Southwest USA and Oatman has about 40-50 inhabitants. Besides historic Route 66 (the section between Oatman and Kingman is breathtakingly beautiful), there are many other interesting things to see in Oatman.
The first thing you'll notice when you arrive is the large number of wild burros that wander through town. They are descendants of the pack mules that were used by the prospectors back in the day. The burros are protected by the government and roam around freely. In the shops, you can buy food to feed them.
Also the Oatman Hotel is worth checking out. Clark Gable and Carole Lombard (the famous couple from Gone with the Wind) stayed here during their honeymoon in 1939. Besides that, the hotel is known to be haunted. But don't worry, "Oatie the Ghost" seems to be a friendly ghost.
If you are passing nearby, be sure to take a detour off the main highway, drive part of the original Route 66, and visit Oatman. It's just a short stop that doesn't require more than an hour or two, but it will definitely make your Arizona road trip more special.
Recommended by Jacoba from Op Reis Met Co.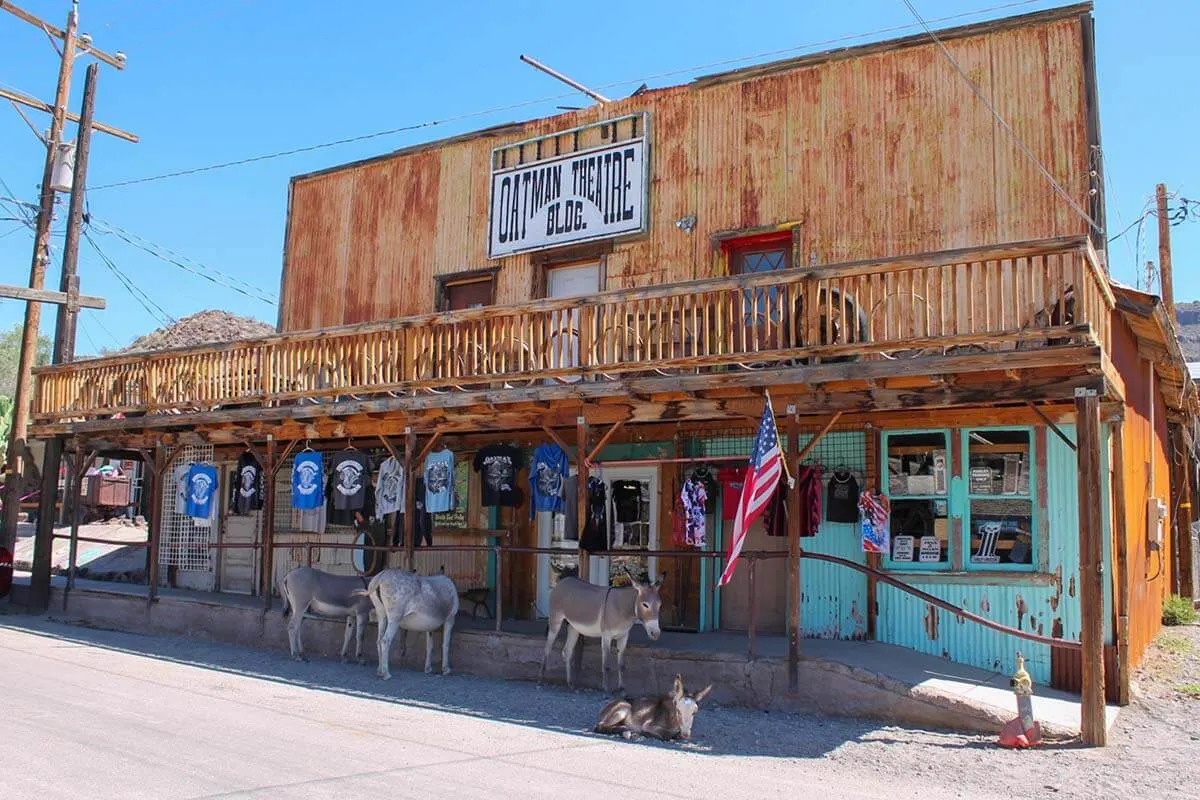 26. Seligman, Route 66
Seligman is one more place that we feel deserves a separate mention on this list of the best places to visit in Arizona. Considered the "Birthplace of Historic Route 66", Seligman is a small town along the original line of this historic route and a great place to get a taste of what Route 66 used to be like.
Seligman is a colorful town that has preserved a lot of its buildings and culture, and it's full of fun photo opportunities.
One of the best places to start is the Copper Cart, an old gas station that now functions as a gift shop. Often, a real-life cowboy fully equipped with a couple of horses, cowboy hats, and 1870s Winchester rifles hangs out here and you can take some great pictures with all the 'props'. Don't forget to tip as the proceeds go toward hay for the horses. Historic Seligman Sundries is another nice place for souvenirs and photos.
There are dozens of great photo opportunities in Seligman (don't miss the colorful Seligman sign too), so you can spend an hour or two wandering around and taking pictures. There are also a couple of nice old-school places for lunch or a snack (check out Delgadillo's Snow Cap or Westside Lilo's Cafe).
Just as most Route 66 attractions, Seligman isn't really a destination in itself, but a great photo/lunch stop when passing by. If you find yourself near Williams, AZ, or if you are driving between Las Vegas and Grand Canyon, be sure to check it out! If you have more time, you can also drive a section of the historic Route 66 here.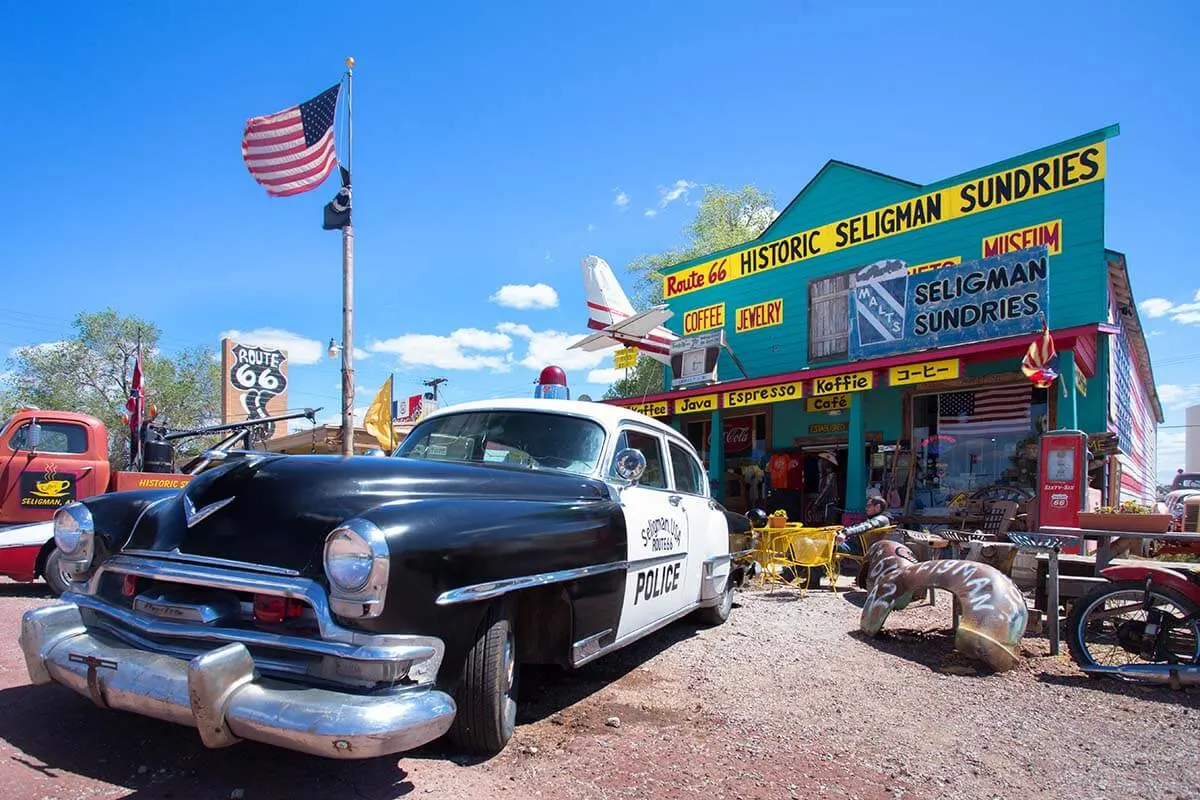 Map of the Best Places in Arizona
To give you a better idea of where all these places are located, we created a map indicating all the main landmarks and attractions mentioned in this article (see below). This will help you decide which places can be visited together so that you can plan a perfect Arizona itinerary covering all the sights that interest you the most.
How to use this map: Use your computer mouse (or fingers) to zoom in or out. Click on the icons to get more information about each place. Click the arrow on the top left corner for the index. Click the star next to the map's title to add it to your Google Maps account. To view the saved map on your smartphone or PC, open Google Maps, click the menu and go to 'Your Places'/'Maps'. If you want to print the map or see it in a bigger window, click on 'View larger map' in the top right corner.
So, this is our guide to some of the best places in the Grand Canyon state. I hope that it gave you plenty of ideas of where to go and what to see in Arizona!
For more travel inspiration for this area, please see our featured articles below. Check it out!
Visiting Arizona? Check out these guides as well:
More travel tips for Arizona & Utah:
Travel tips for Las Vegas:
Southern California:
If you found this post useful, don't forget to bookmark it and share it with your friends. Are you on Pinterest? Pin these images!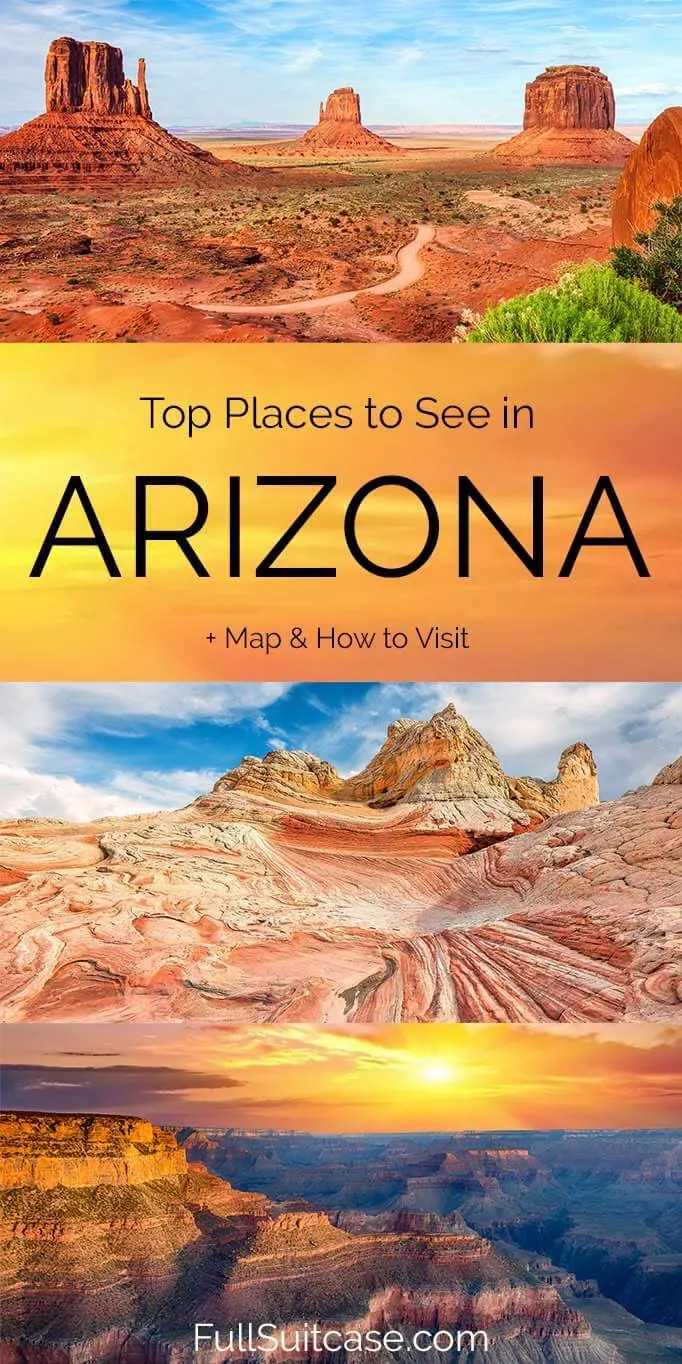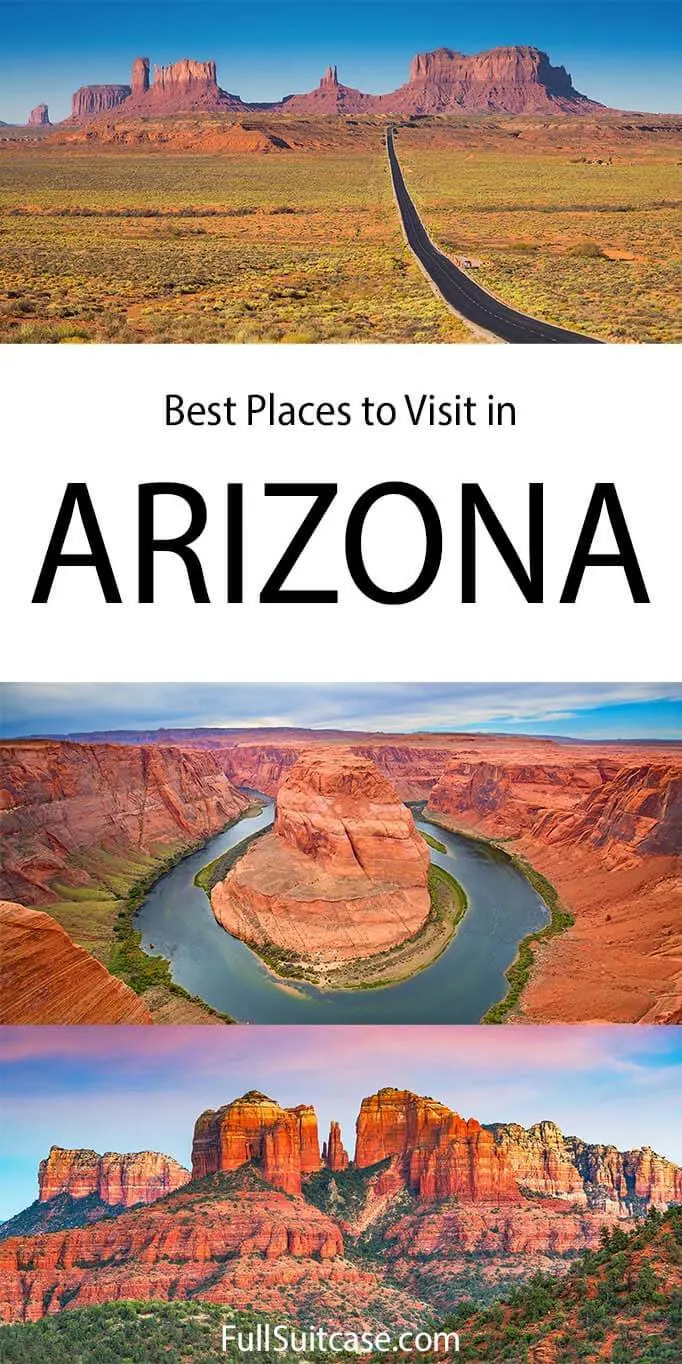 Additional image credits: Depositphotos.com