Are you thinking of traveling to Phoenix – Scottsdale area in Arizona, and wondering what to see and do there, how much time you need, and how to plan your trip? In this article, we share top tips and recommendations for visiting Phoenix Metropolitan Area and its surroundings. This guide contains a suggested Phoenix – Scottsdale itinerary for 1 to 5 days and practical information for your trip. Take a look!
The Phoenix Metropolitan Area, aka the "Valley of the Sun", is a top destination in the American Southwest and one of the must-see places in Arizona. It's known for its vast desert landscape, mountains in and around the city, luxurious resorts, and a strong Mexican and Native American influence. Phoenix enjoys over 300 days of sun with comfortable winters, making it a top tourist destination, particularly in the winter months.
It's easy to fall in love with the desert and the rich heritage in Phoenix. It's the fifth-largest city in the U.S. and a massive sprawling oasis. There are so many different things to do in and near the city which will appeal to many varying interests: from history and cultural attractions, amazing places to eat with every kind of cruising imaginable, to hiking and fun outdoor activities – Phoenix Metro truly has it all!
Good to know: This Phoenix – Scottsdale travel guide is written with the help of a Phoenix-local, Sam of My Flying Leap travel blog. In addition to all the practical tips and info, she also shares Phoenix itinerary suggestions that let you discover the very best of the city and its surroundings depending on how much time you have. She also recommends that you plan a longer visit than just a day or two. Scroll down to read all her recommendations for visiting Phoenix Metropolitan Area!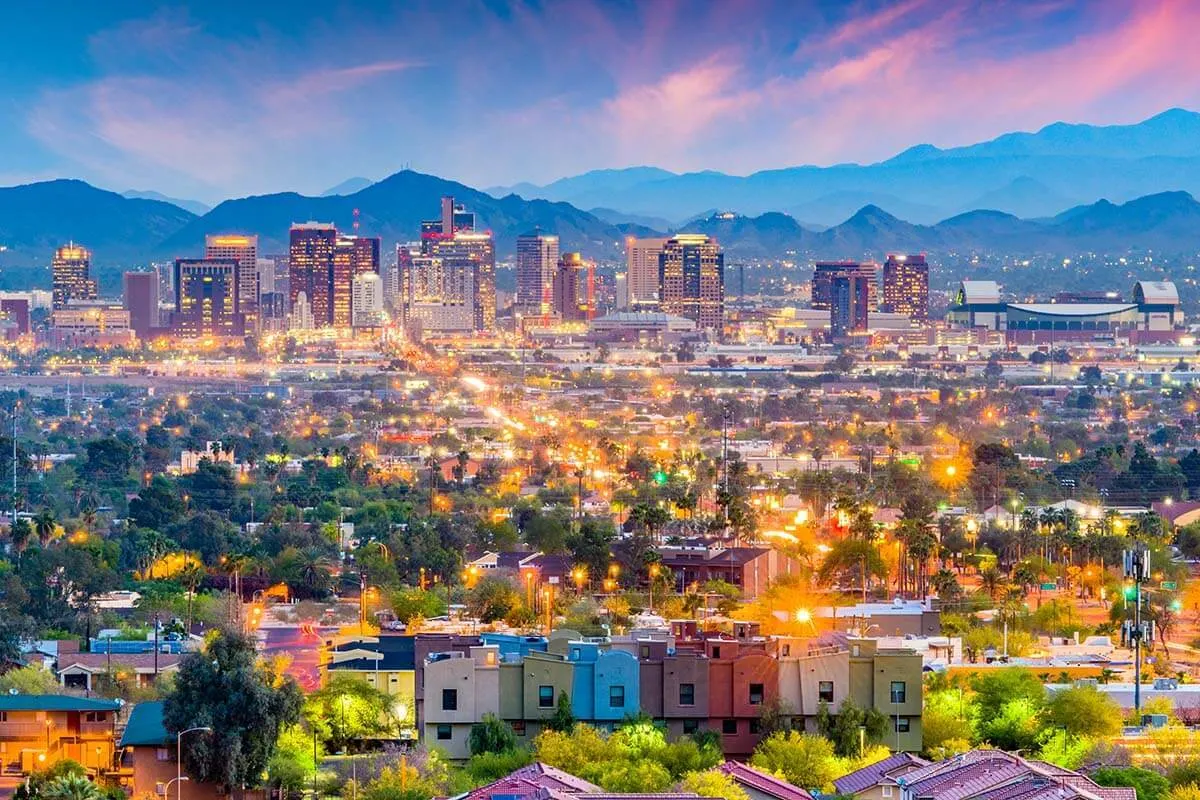 Good to know: Phoenix Metro includes a number of different cities, so when we talk about visiting Phoenix, we also talk about places like Scottsdale, Tempe, and some areas a little further on the outer edge of the metro area as well.
Below are some suggestions for what to do between one and five days in Phoenix and nearby. Whether you are looking for ideas for a Phoenix city trip, a weekend in Scottsdale, or a longer vacation in the area, you'll find it all in this guide.
Use this as a guideline of what you can do in the Phoenix area depending on how much time you have. Of course, you can mix things up based on your personal interests, and you can also switch the days of the longer itineraries as it works better for you. At the bottom of this article, you can find practical info and useful tips for your Phoenix vacation. So, in addition to the itinerary, be sure to check that as well!
Here are itinerary suggestions for the Phoenix Metropolitan Area:
How to use this guide: In order not to repeat the same information again and again, the longer itineraries below refer to the shorter ones for more details. So if you are planning a longer trip to Phoenix, it's probably better to start with the 1-day itinerary anyway. Scroll down and see our top suggestions on how to plan your trip!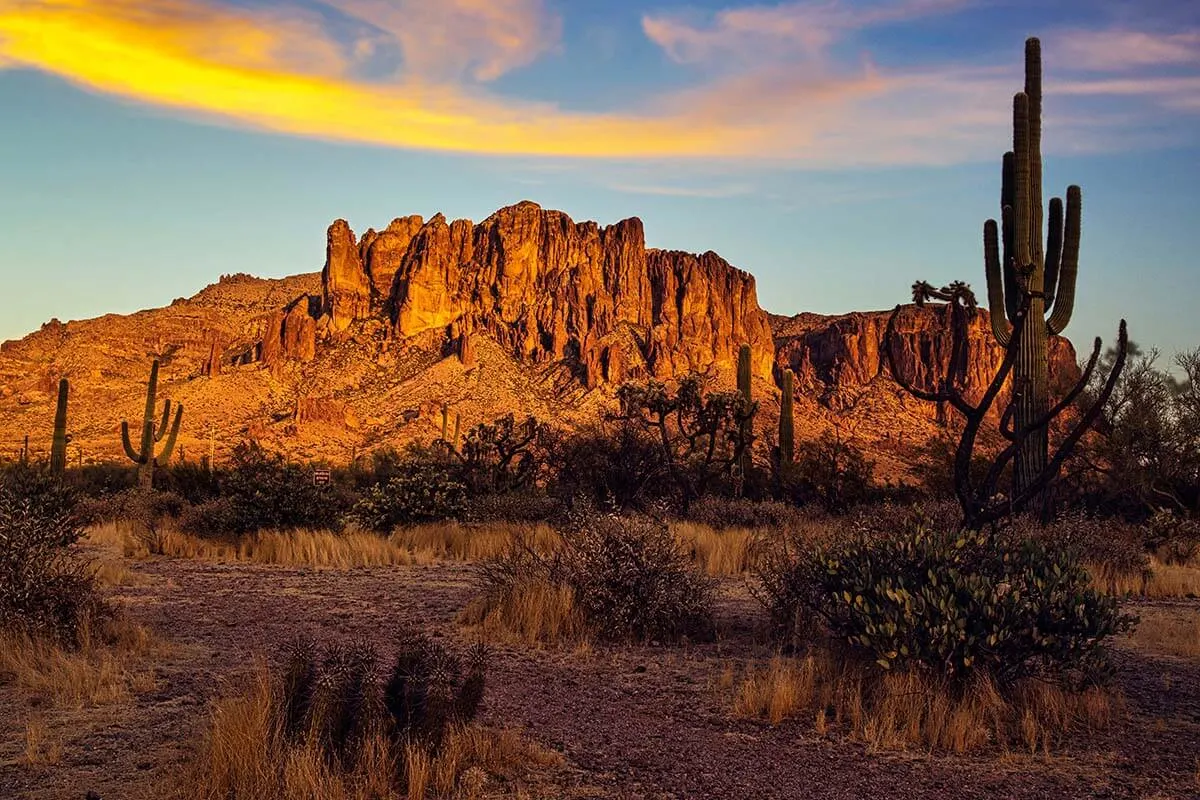 One Day in Phoenix
1-day Phoenix itinerary: Sunrise hot air balloon ride OR a morning hike – Desert Botanical Garden – MIM – Old Town Scottsdale.
Hot air balloon ride or a morning hike
If you only have one day in Phoenix, you'll need to make it count! If you want to make the absolute most of your day and explore the surroundings around Phoenix in a unique way, opt for a hot air balloon ride at sunrise. It starts very early and only takes a few hours, so you'll still have plenty of time left to explore some of the main highlights in Phoenix. However, it doesn't run in every season, so be sure to check availability for your travel dates.
If you are visiting in the cooler season, you could go hiking first thing in the morning. Phoenix is located in a valley surrounded by mountains. And, there are also mountains throughout the city as well. If you like to hike, you have a lot to choose from, ranging from fairly level walks through the desert, like on Trail 100, to easy hikes like the ones in Papago Park.
Other popular places include South Mountain Park which has the most trails in the area ranging from easy to difficult, Piestewa Peak (mostly moderate to difficult hikes), and Camelback Mountain is moderate on one side and difficult with some rock climbing on the other.
Our top picks for the best hikes in the area:
Easy – Hole in the Rock in Papago Park.
Medium – Ranger trail in South Mountain.
Hard – Camelback Echo Canyon Trail (the rocky side).
If you rather take it easy and not start your day too early, skip this part and spend more time exploring the best places that are unique to Phoenix – see below.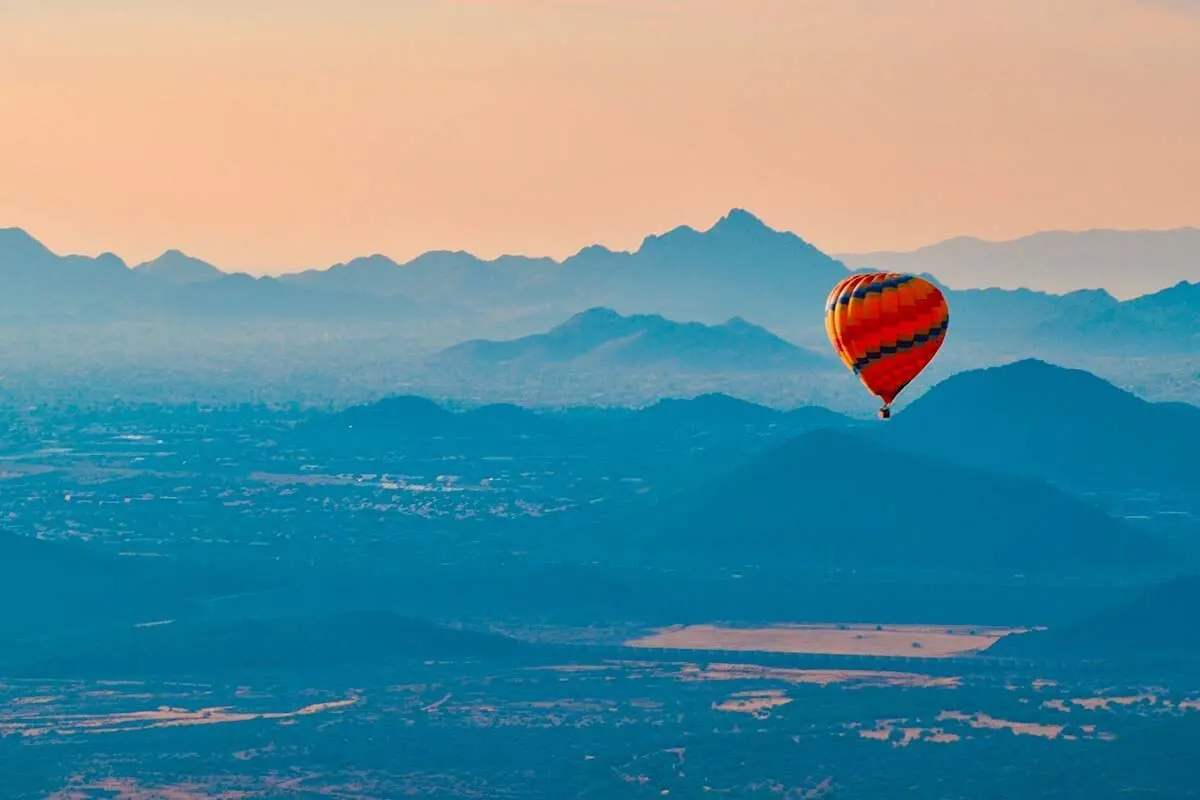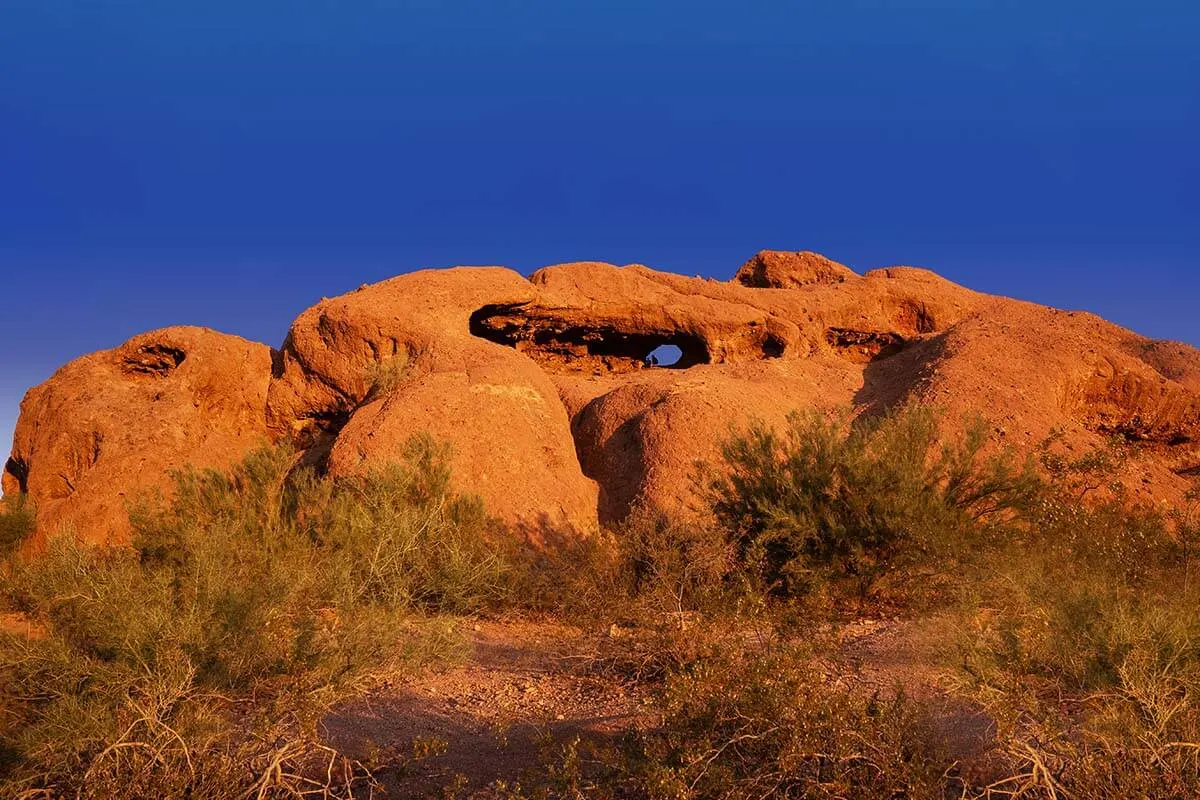 With a day in the city, we recommend that you check out the following of the most popular Phoenix attractions:
Desert Botanical Garden
Start your day at the Desert Botanical Garden, and if it's in the warmer months, you'll want to go early. There's no better place to fall in love with the Arizona desert than in this beautiful and peaceful garden. You'll be surprised how many different types of plants there are local to the area.
You'll find an herb garden, lovely nature trails, exhibits, a gallery, and they often have really interesting demos. You can learn about conservation efforts in the desert as well. In the spring, they have a huge butterfly pavilion with hundreds of gorgeous butterflies. If you visit during the holidays, check out the festive Las Noches de las Luminarias, a Mexican holiday tradition. Or, enjoy their Music in the Garden nights. Check out their events page for any seasonal activities!
Walk around the garden on well-laid-out paths and just take it all in. Depending on the time of year, you may get a great view of the wonderful colors of the desert. In the background, you'll see the striking red rock of Papago Peak. Plan to spend a few hours and walk the miles of trails through the different areas of this garden and if you're hungry, Gertrude's Restaurant here is amazing.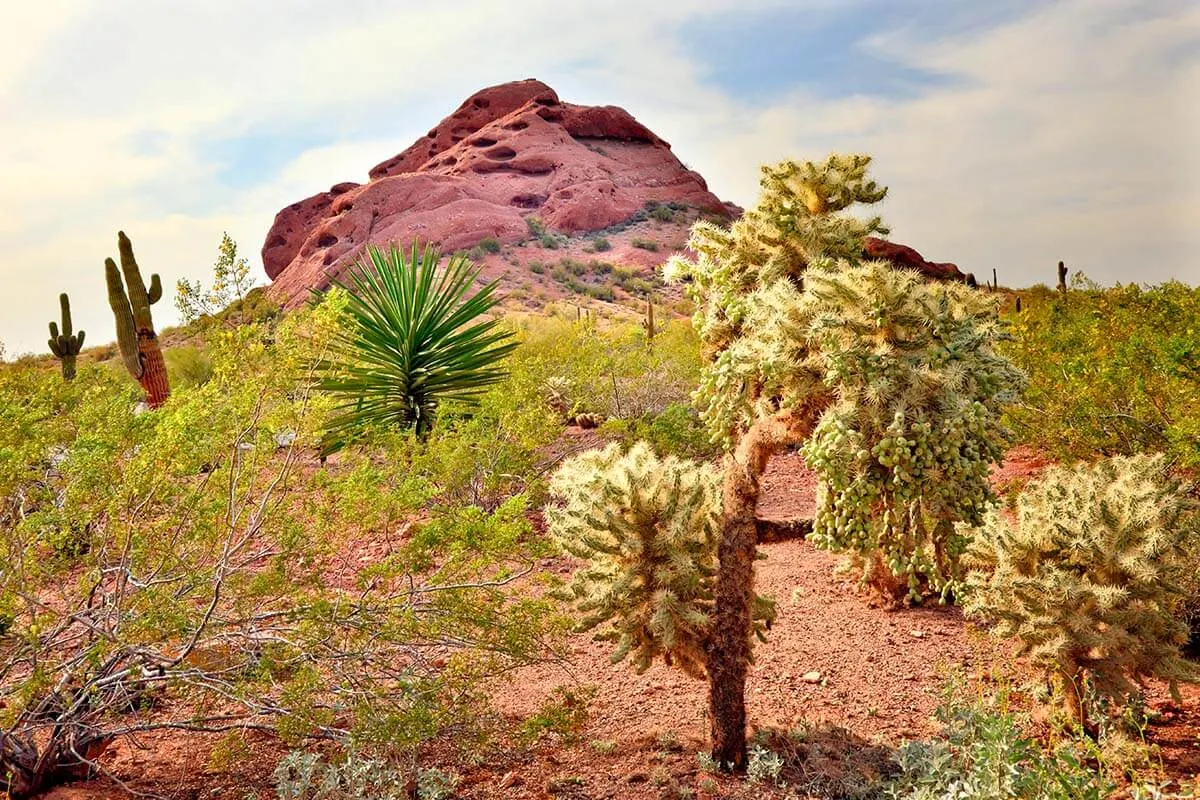 Musical Instrument Museum
Next, head to the Phoenix Musical Instrument Museum (MIM). It's a unique and impeccably curated museum that celebrates all things music with a global perspective. You'll see musical instruments from almost 200 countries from all over the world, including some very old instruments that are thousands of years old. A visit here is an interesting and brilliant way to recognize our connections with people from across the globe by a shared love of music.
Wear their headphones so you can not only see the instruments but you can also listen to the music as you watch videos of various instruments being played. You'll be transported around the globe through a shared love of music! And there are also some instruments that you can try as well. There's really no museum as MIM – a must-see!
Plan to spend at least 2-3 hours here wandering the rooms representing each continent. You'll see each country represented and it's interesting to see how some instruments differ in various countries.
This museum is open daily and is a great place to visit in Phoenix the whole year, but especially during the warmer months when it's hot outside. On their website, you can find more practical information for your visit.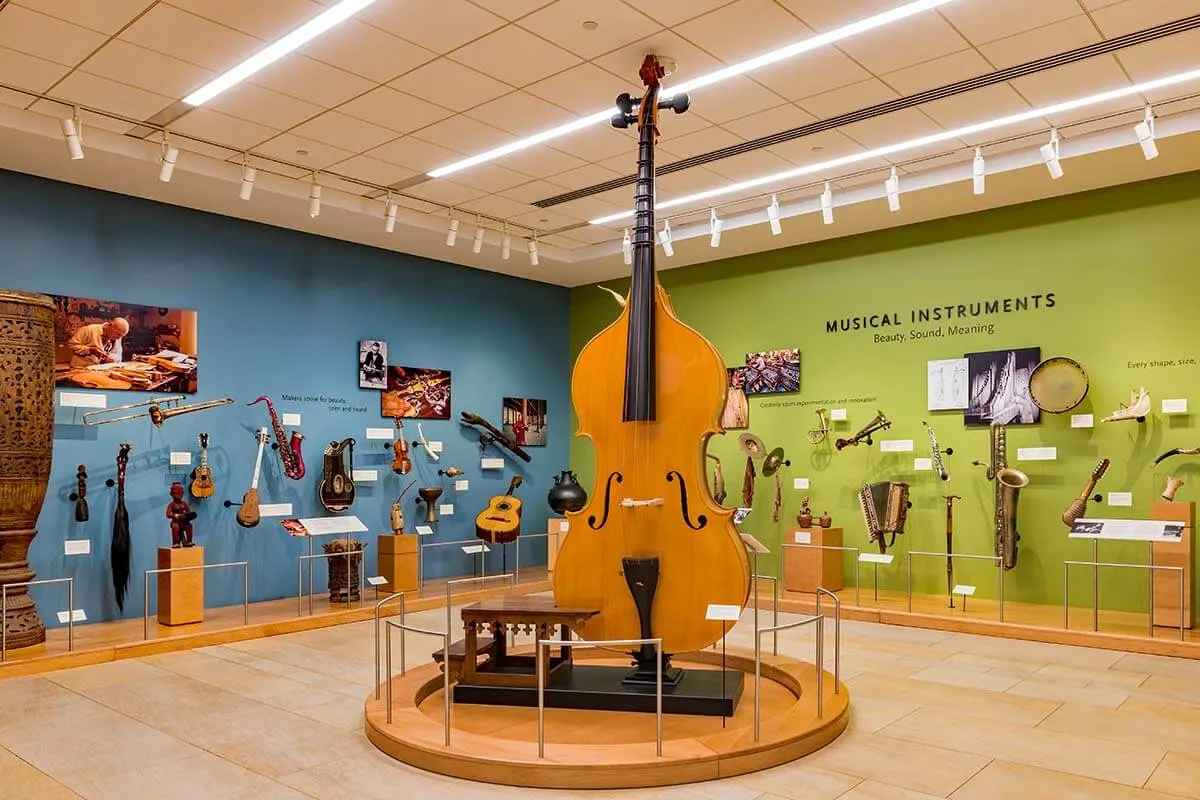 Old Town Scottsdale
The perfect way to end your day in Phoenix is by wandering around Old Town Scottsdale. It's a very walkable area with a nice neighborhood feel and there are dozens of amazing restaurants in this area, many great bars, shops, galleries, and wineries. You could easily spend a few hours wandering around.
Some of the best restaurants in town are located here including The Mission, FnB, and Citizen Public House to name a few. So if you are looking for a nice place for dinner, this is the place to be.
Did you know Arizona is a big wine region? It may be small relative to nearby California, but it's still quite impressive. There are a number of wineries in Old Town, including Merkin Vineyards and Caduceus Cellars, LDV Winery, and Salvatore Vineyards.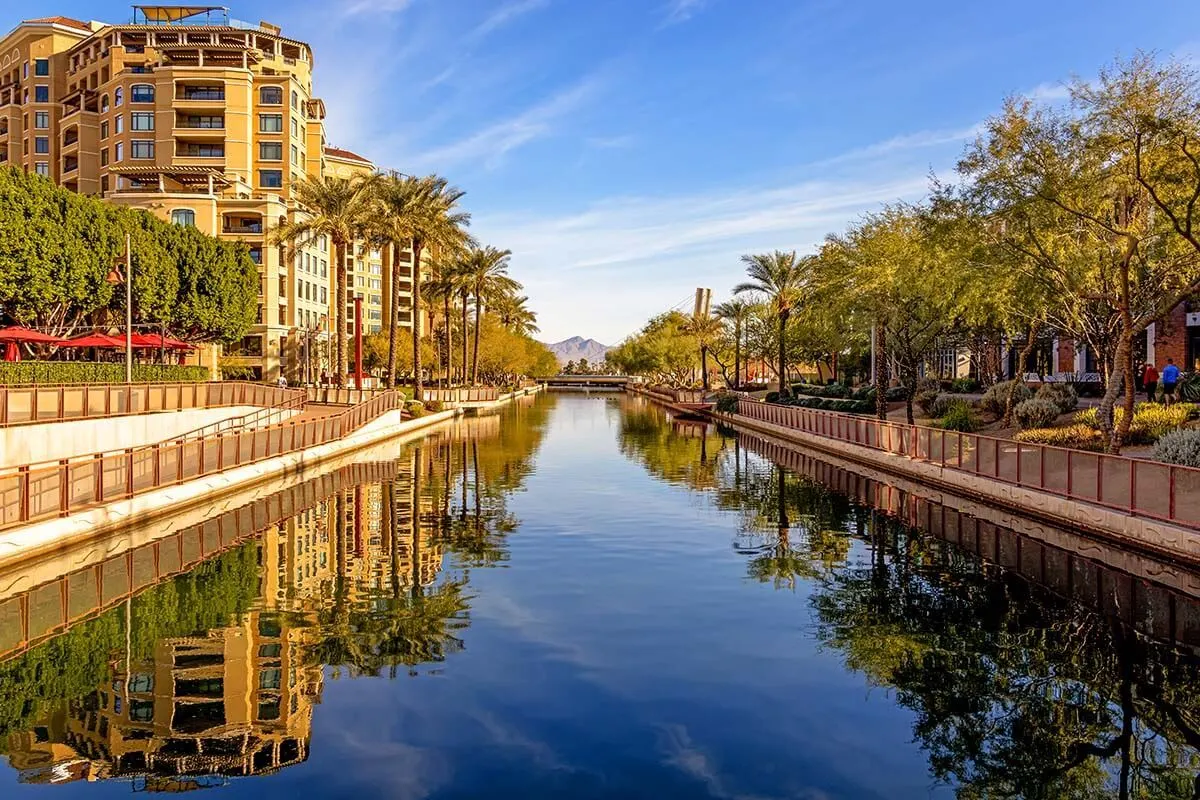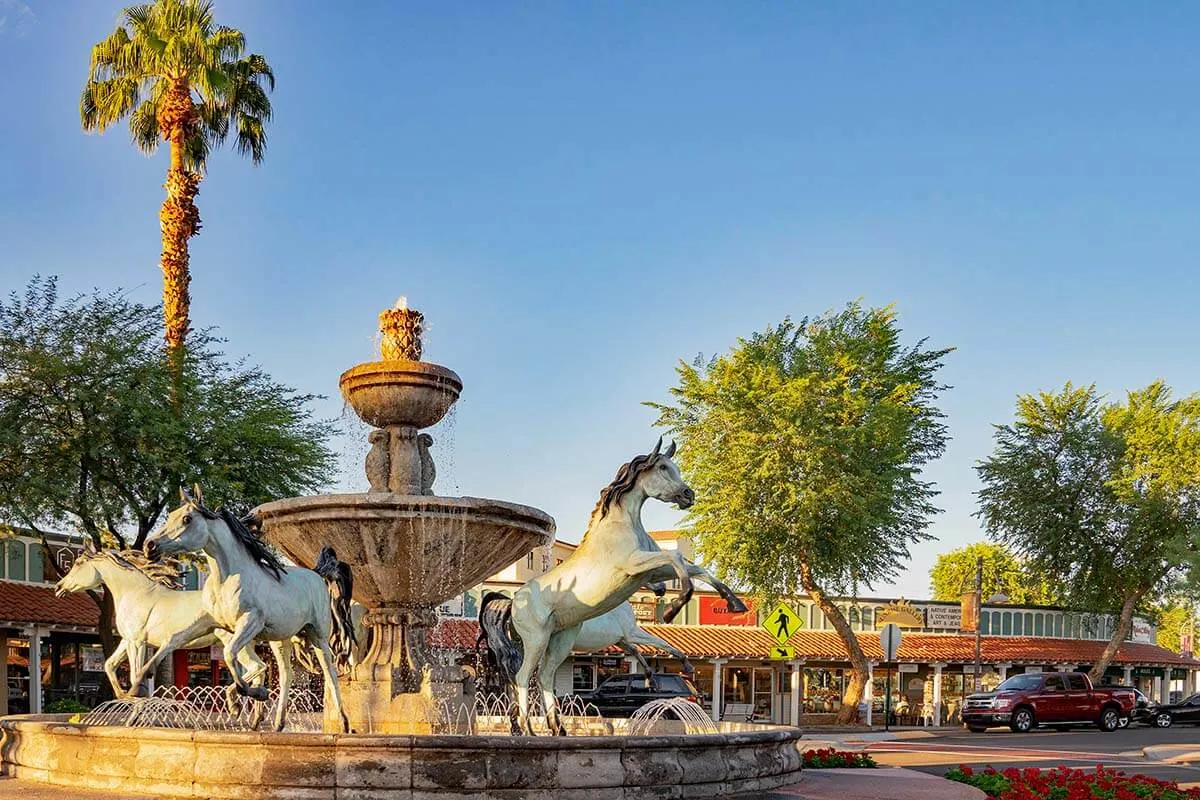 Two Days in Phoenix
Here's what your 2-day Phoenix trip itinerary could look like:
Day 1: Desert Botanical Garden – Tempe Town Lake – (Tovrea Castle) – Papago Park – Tempe Downtown.
Day 2: Hot air balloon ride OR hiking – Taliesin West – MIM – Scottsdale Old Town.
Day 1
If you have two days in Phoenix, start your first day at the earlier-mentioned Desert Botanical Garden. Then head to Tempe Town Lake, where you can go kayaking or simply walk around the lake.
If you plan in advance, you could also visit Tovrea Castle, which looks like a tiered wedding cake. It's an interesting and unique place in Tempe, but you do need to book your tickets well in advance and they even have a lottery ticket system.
Otherwise, go for a short hike in Papago Park. It's a beautiful area to walk around with some gorgeous red rock peaks. Check out the Hole in the Rock, a great photo opp.
TIP: If visiting with kids, check out SEA LIFE Arizona or LEGOLAND Discovery Center. Both are located just next to each other in Tempe.
End your day in downtown Tempe on Mill Ave. It's where the college kids hang and there are some really great restaurants here, fun boutique shops, and a great vibe. Check out Rula Bula, Cafe Boa, House of Tricks, or Pedal House Brewery.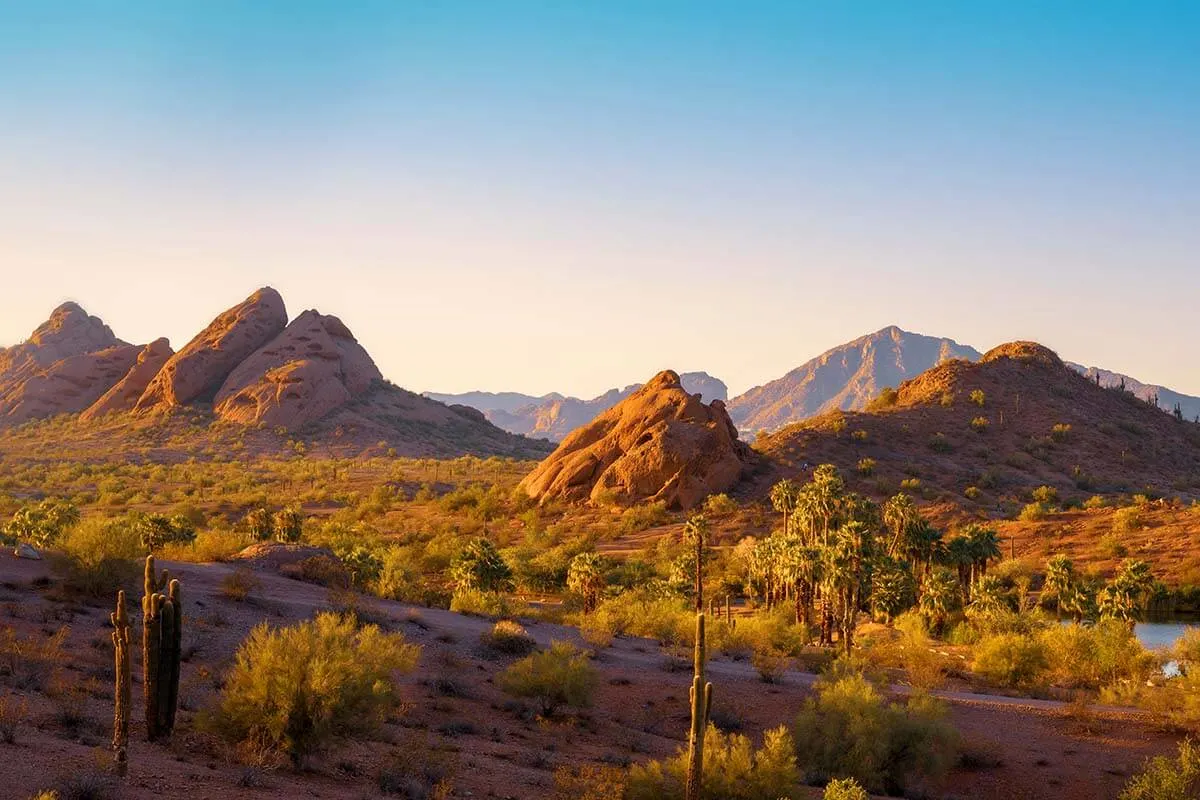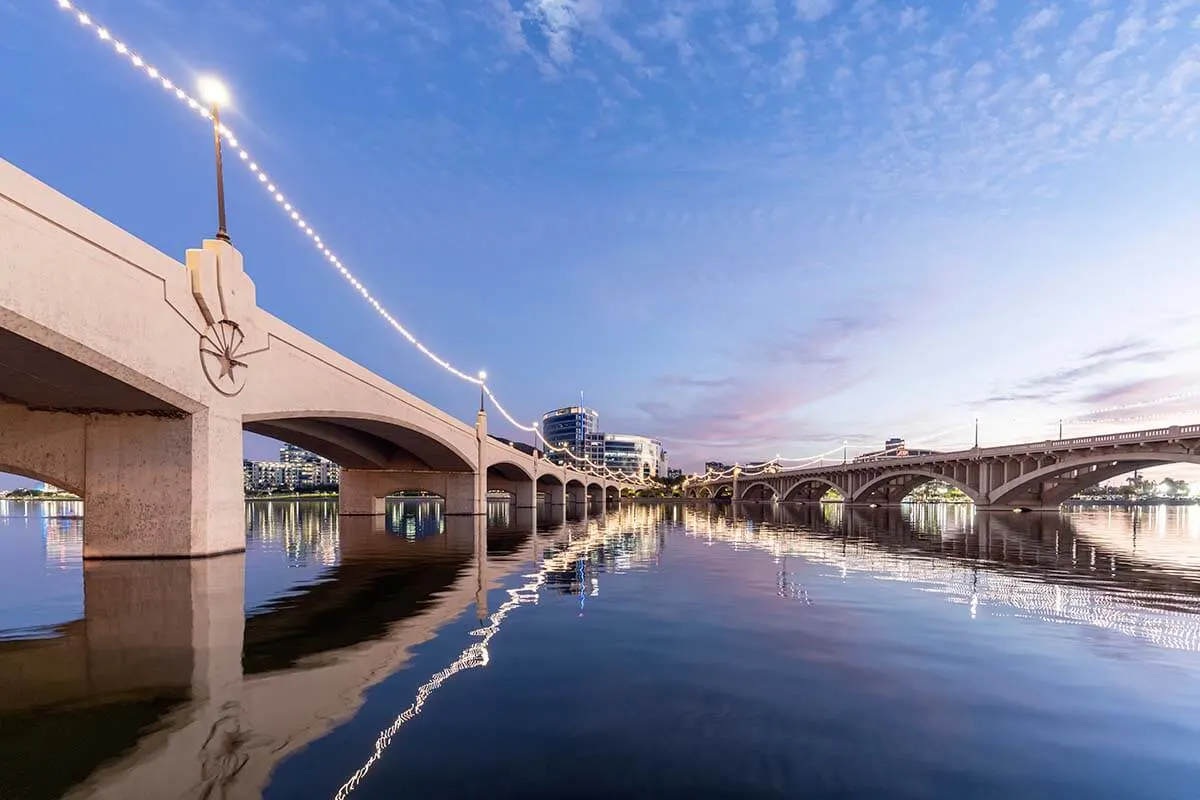 Day 2
On day two, you could opt for one of the outdoor activities in Phoenix. If you are looking to do some serious hiking, head to the earlier-mentioned Camelback Mountain hiking area, one of the most popular options just a short ride from Phoenix downtown. The views are spectacular, especially at sunrise or at sunset. For easier hikes – go to Papago Park or South Mountain Park.
Alternatively, you can opt for a sunrise hot air balloon flight and see some incredible desert scenery from above – an unforgettable experience!
Afterwards, check out Taliesin West, famed architect Frank Lloyd Wright's unique home built with natural items found in the area. It's an interesting and unique place and there are a number of tours you can go on. For more information, see their website.
Then, head to the Musical Instrument Museum, and end your day in Old Town Scottsdale. For more details about these places see the one day in Phoenix itinerary above.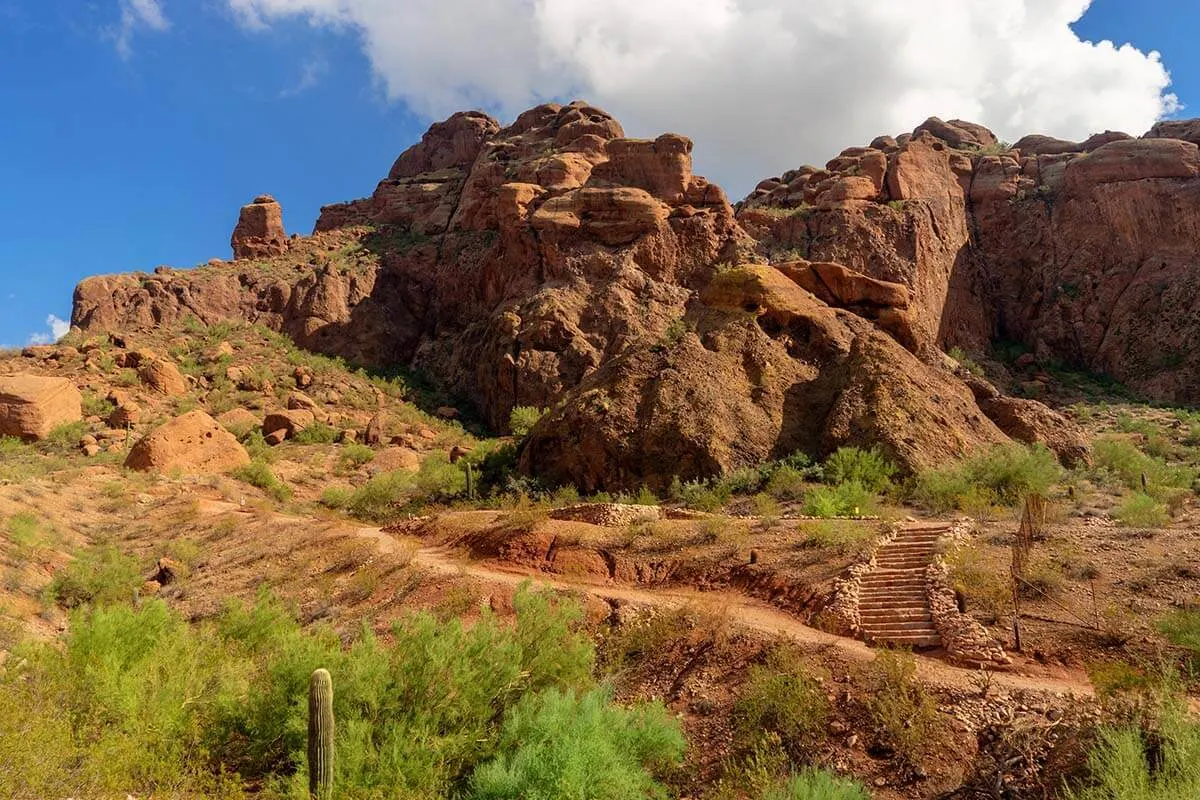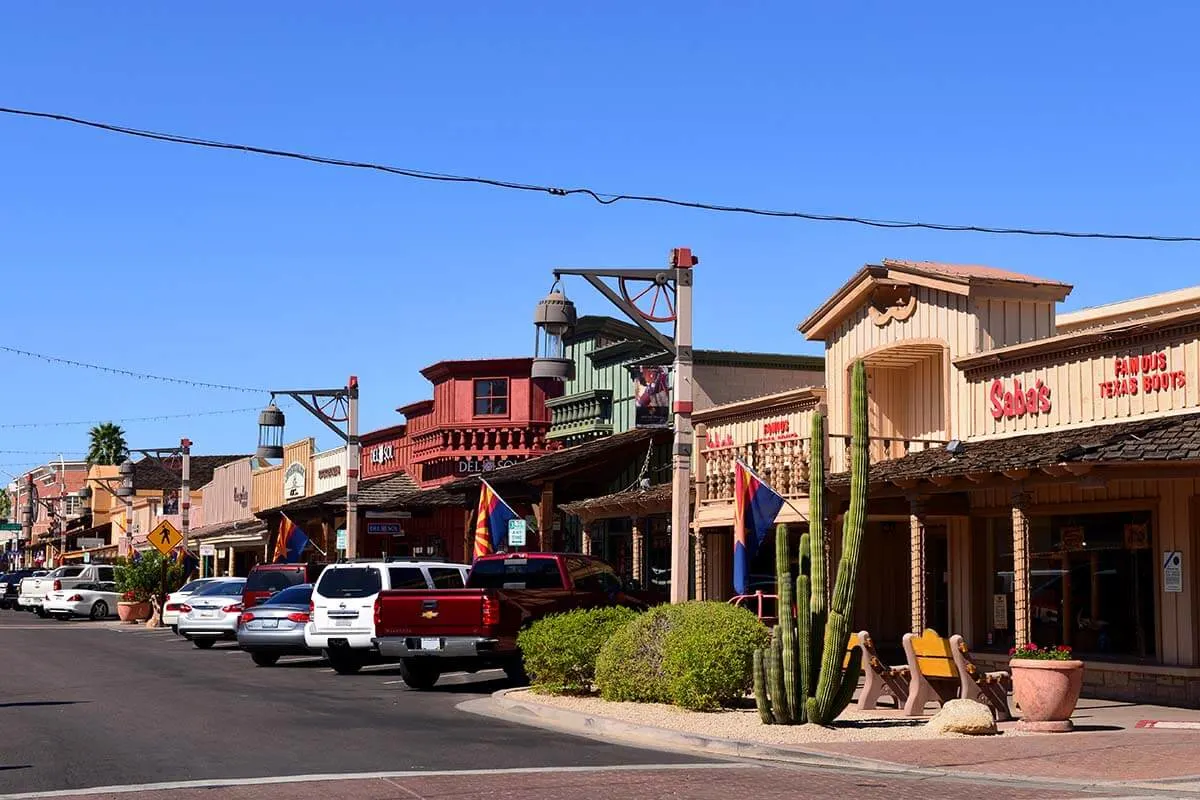 Three Days Phoenix – Scottsdale Itinerary
Here's a suggested itinerary for 3 days in Phoenix:
Day 1: Desert Botanical Garden – Tempe Town Lake – (Tovrea Castle) – Papago Park – Tempe Downtown.
Day 2: Hot air balloon ride – Taliesin West – MIM – Scottsdale Old Town.
Day 3: Morning hike OR resort spa – Heard Museum – Japanese Friendship Garden – Farm at South Mountain- Dinner in Phoenix downtown.
With three days in Phoenix, Arizona, you could follow pretty much the same plan as in the 2-day itinerary and add a day in the downtown Phoenix area. Below is just a summary of the first two days – you can find more details above.
The Scottsdale, Tempe, and Phoenix downtown areas are very different, and each is worth visiting. Where Scottsdale has a quaintness and Tempe has a young and hip crowd, Phoenix is a bit more edgy and interesting.
Day 1-2 as above
Day 3
If you are looking for some time outdoors, start your day with a morning hike. Choose one of the hikes in the following areas: South Mountain Park, Piestewa Peak, or Camelback Mountain. We recommend the latter, but be sure that you start early and only do this hike if you're up for it. Both trails at Camelback Mountain are quite difficult. Alternatively, here you can find an overview of all hiking trails in the Phoenix area, for all levels.
Alternatively, if you need some pampering, go to one of the many resort spas. The Boulders, the Biltmore, and the Phoenician are all incredible places for a massage or facial. Of course, you can stay at one of these resorts and enjoy the amazing facilities, but many of the resorts offer day passes to enjoy the pool and grounds as well. You can sometimes find great Groupon deals as well, especially in the summer.
Next, head to the Heard Museum. It's an incredible place that showcases southwestern Native American Art. You'll see everything from woven baskets to paintings to katchinas and more.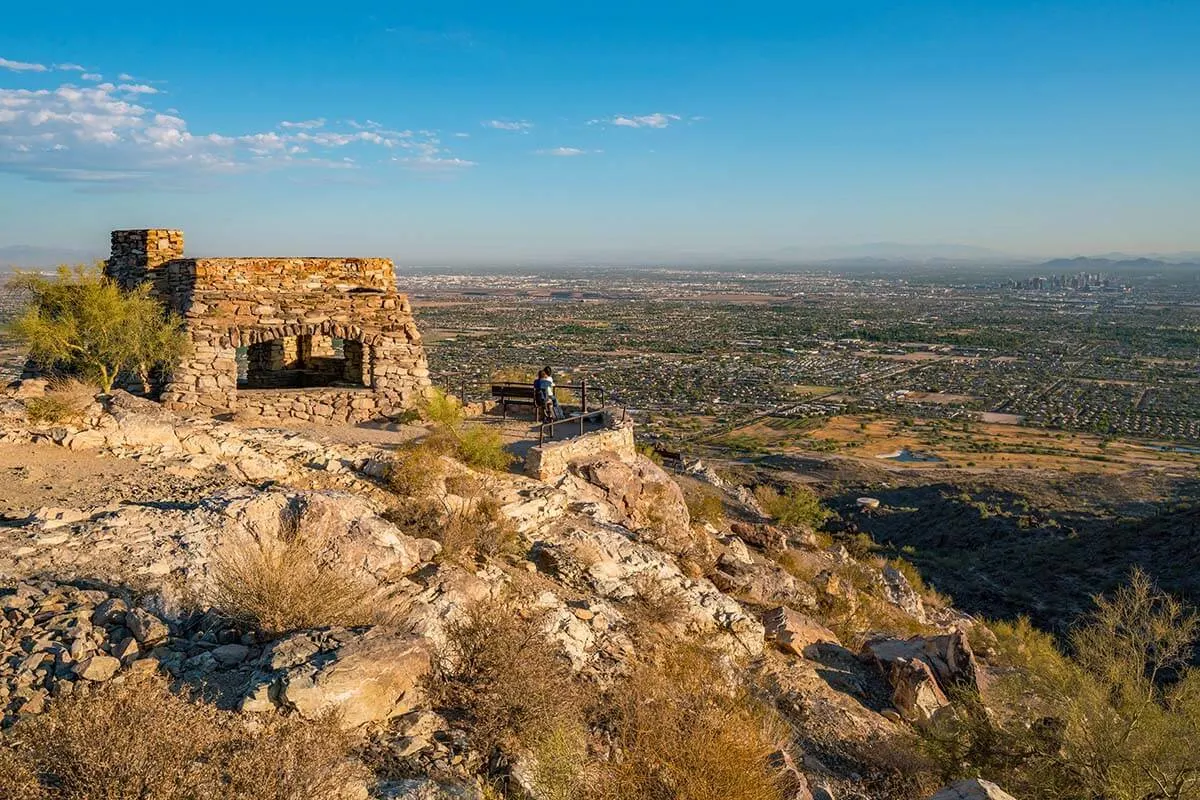 Need a break from the city? Head to the Japanese Friendship Garden, a gorgeous oasis from the desert. You'd never know it was in the middle of such a large city when you wander around the path checking out the sculptures, Koi pond, waterfall, and beautiful garden.
Another great place to get away from the hustle and the bustle of the city for a bit is the Farm at South Mountain. You'll wander a grassy field with a pecan tree grove and an organic farm. They have three restaurants for breakfast, lunch, and dinner and each is incredible. If you go hiking at South Mountain, definitely check it out!
At night, you'll have a lot of incredible restaurants to choose from in Phoenix. Some favorites are CIBO, Blue Hound Kitchen & Cocktails, and Rice Paper. For amazing cocktails in a fun 1920's feel cocktail bar, check out Bitter & Twisted Cocktail Lounge.
Phoenix is known for live music venues and if you have some energy left, you may want to check them out. The Van Buren and nearby Crescent Ballroom are fun places with some great popular bands. The Rhythm Room and Chars has the Blues are great for the blues and the Nash is a great jazz club.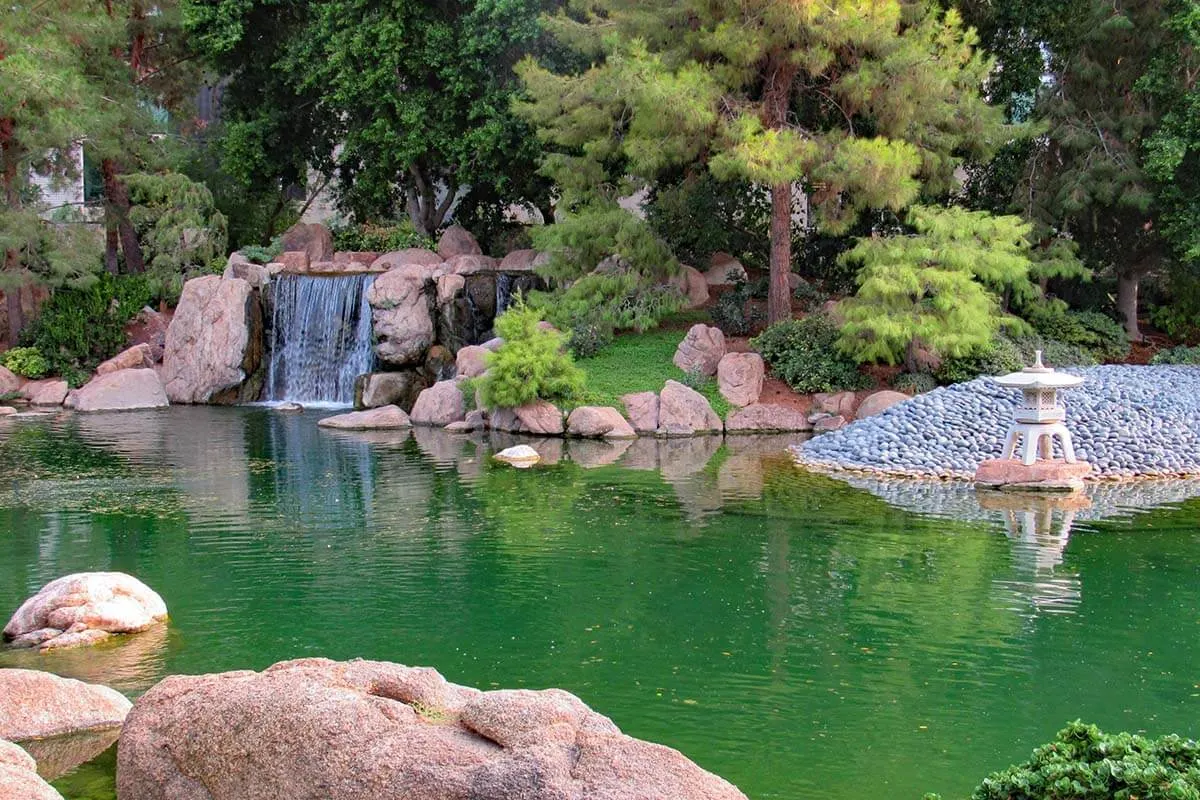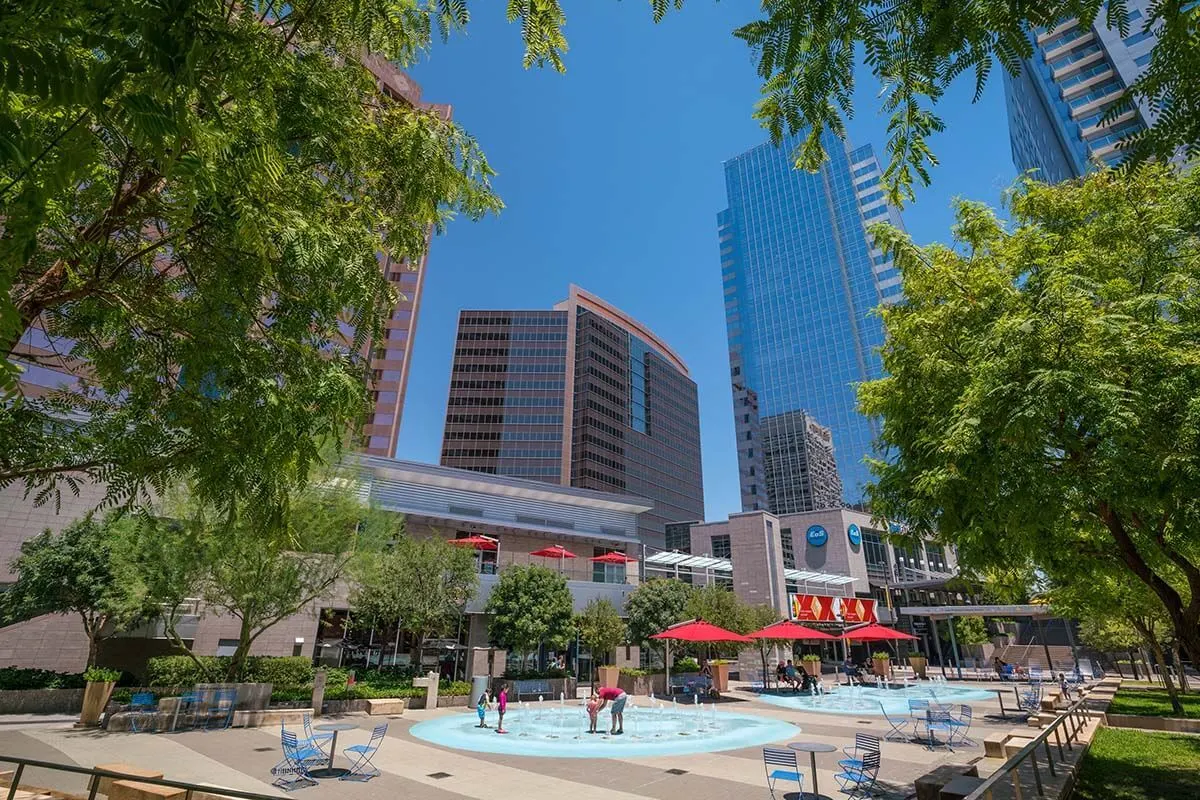 Four Days Phoenix Itinerary
With four days in Phoenix, follow the same three days as in the 3-day itinerary above, and for the fourth day, head east to the Superstition Mountains.
Here's what your 4-day Phoenix itinerary could look like:
Day 1: Desert Botanical Garden – Tempe Town Lake – (Tovrea Castle) – Papago Park – Tempe Downtown.
Day 2: Hot air balloon ride – Taliesin West – MIM – Scottsdale Old Town.
Day 3: Morning hike OR resort spa – Heard Museum – Japanese Friendship Garden – Farm at South Mountain- Dinner in Phoenix downtown.
Day 4: Superstition Mountains (Apache Trail)
Days 1-3 as above
Day 4
The Superstition Mountains is a gorgeous mountain range around an hour's drive from downtown Phoenix. It's an incredibly picturesque area with lots of gorgeous trails to hike, along with one of the most challenging hikes in the area, Flat Iron. If you are not planning to go hiking, the easiest way to explore this area is by driving the Apache Trail.
The Apache Trail is about 40 miles, with lots of scenic lookouts. Most of the drive is on dirt and gravel roads, winding trails, and fantastic scenery!
If you are driving, visit Goldfield Ghost Town, population zero. This former mining town shuttered when the mine closed. It's fun to tour to see what the area once was like during the Old West. Then check out Lost Dutchman State Park, where you can hike a short 'Treasure Loop' trail. Then grab lunch at the Tortilla Flat Saloon (aka Superstition Saloon), and end it on a sweet note with a prickly pear ice cream at the General Store next door.
Last, visit the gorgeous Canyon Lake and go on the Dolly Steamboat for a sunset paddleboat cruise. It's a beautiful way to end your day in the east valley.
TIP: There are also some really nice day tours that bring you to all the best places along the Apache Trail, and most of them also include a boat ride aboard Dolly Steamboat.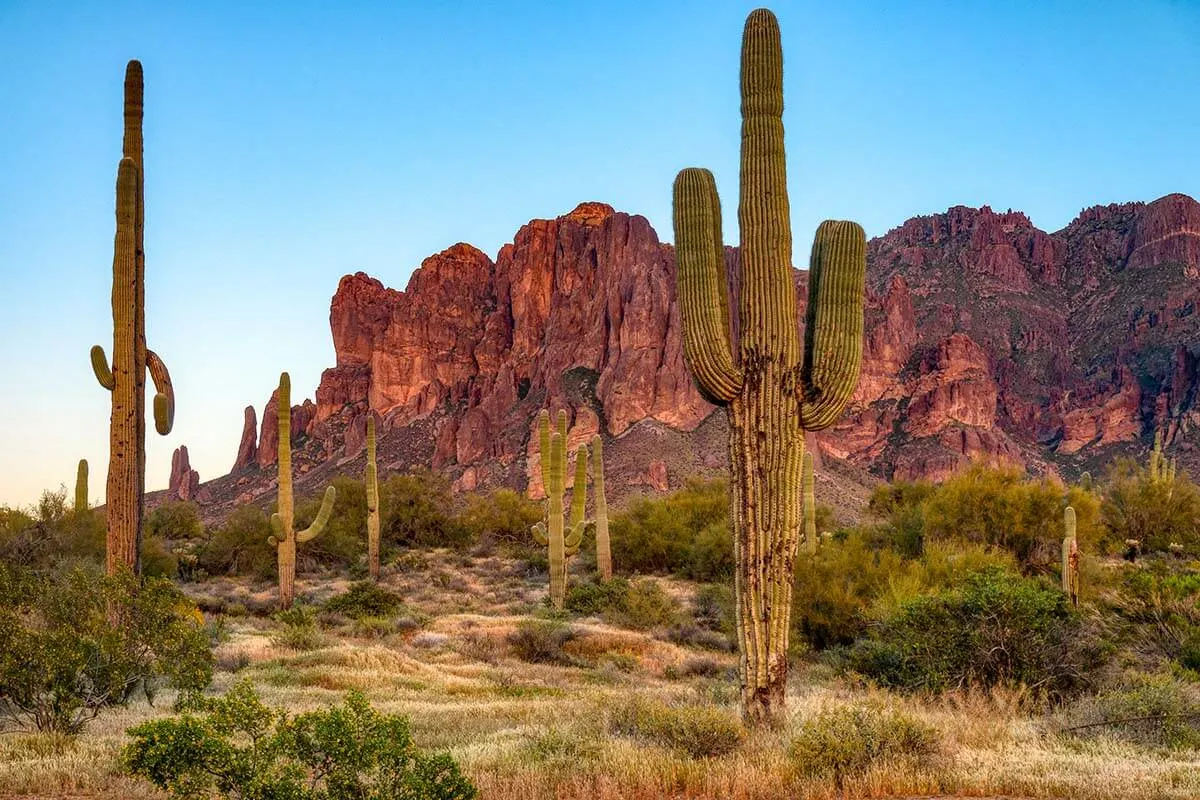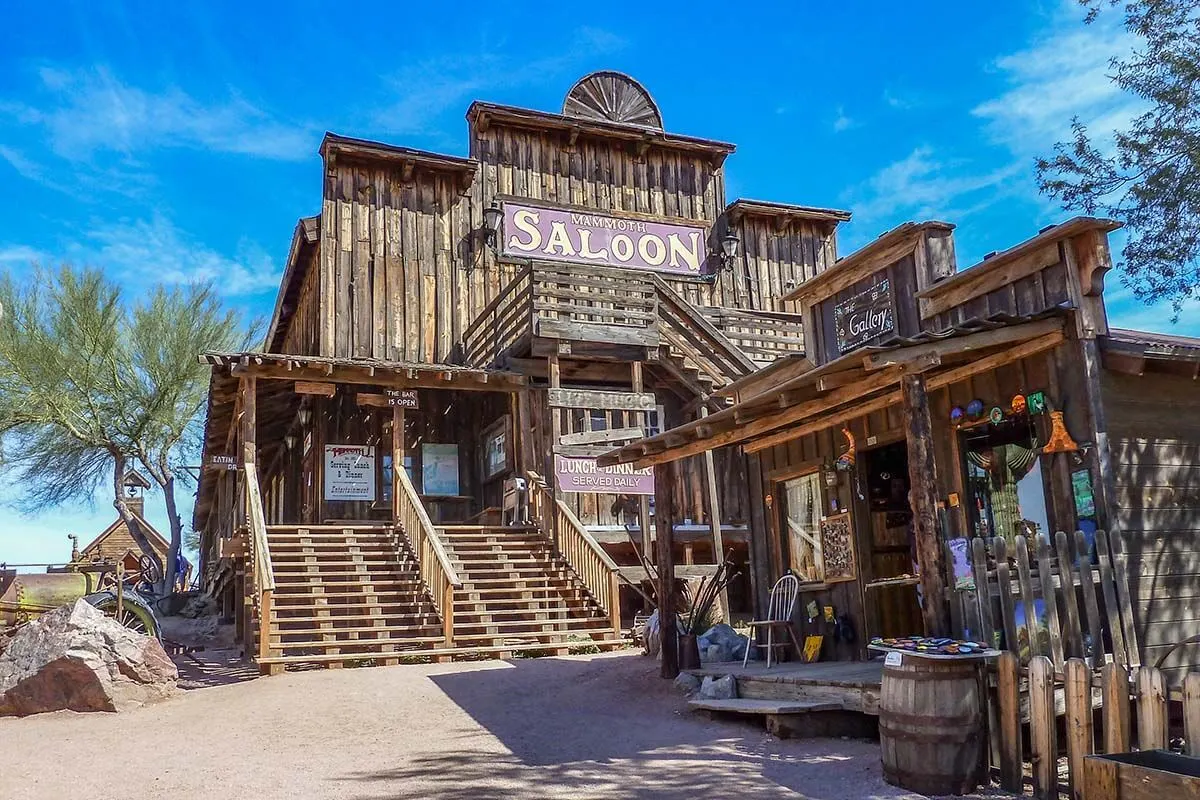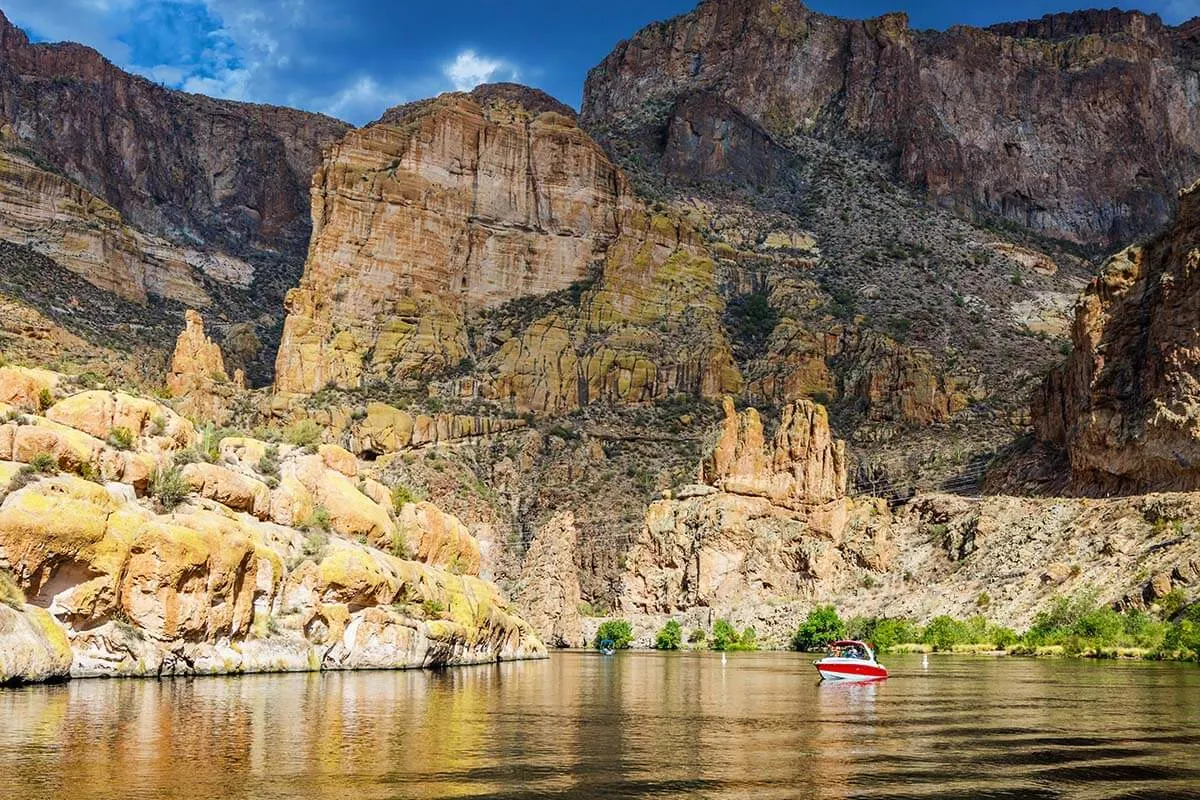 Phoenix Itinerary for 5 Days
Here's how to spend 5 days in Phoenix – Scottsdale:
Day 1: Desert Botanical Garden – Tempe Town Lake – (Tovrea Castle) – Papago Park – Tempe Downtown.
Day 2: Hot air balloon ride or a short hike – Taliesin West – MIM – Scottsdale Old Town.
Day 3: Morning hike OR resort spa – Heard Museum – Japanese Friendship Garden – Farm at South Mountain- Dinner in Phoenix downtown.
Day 4: Superstition Mountains (Apache Trail)
Day 5: Sedona day trip
With 5 days in Phoenix, we recommend that you follow our 4-day itinerary above and take a day trip and explore more of the area. There are many great options, but if you have to pick just one, we recommend that you visit Sedona. The area is gorgeous and is filled with beautiful red rock buttes that you have to see to believe.
Days 1-4 as above
Day 5
Start your day early and drive to Sedona. It's about 2-hours drive from Phoenix. You can easily drive to Sedona on your own or you can take an organized tour from Phoenix. There is also a very nice Sedona day tour that includes wine tasting in one of the finest vineyards of the Verde Valley – see here.
There are lots of great things to do in Sedona. Hiking is very popular, and there are many trails to choose from with varying difficulties. Bell Rock, Boynton Canyon, and Devil's Bridge are all good options. Explore the spiritual side of Sedona and see if you can feel the energy in the many vortex areas, and check out the crystal shops for a touch of woo. There are some great little shops and galleries too.
TIP: One of the most popular tours in Sedona are the Pink Jeep Tours that bring you to some amazing places that you wouldn't easily get to see otherwise. Most tours only take about 2 hours and there are usuaully many departures scheduled during the day, so you can easily do it even if you are just visiting Sedona for a day.
If you are interested in wine, you may want to check out one of the top wine-growing regions in Arizona. It is located north of Phoenix in and around the Cottonwood area near Sedona. Some popular places include Arizona Stronghold, Page Springs Cellars, and Oak Creek Vineyards.
If you have the time and interest on the way there or back, there are a few great things to see. If you're interested in Native American history, Montezuma's Castle is a cliff dwelling right off the highway. If you have some extra time for a detour, check out the Tuzigoot National Monument to see a very different type of structure, also close to the highway.
Or, check out Jerome, which almost became a ghost town but is now populated by some of the artists who left Sedona when it became more touristed. It's a small town built on a steep switchback on the side of a mountain.
LEARN MORE: Phoenix to Sedona: Day Trip Itinerary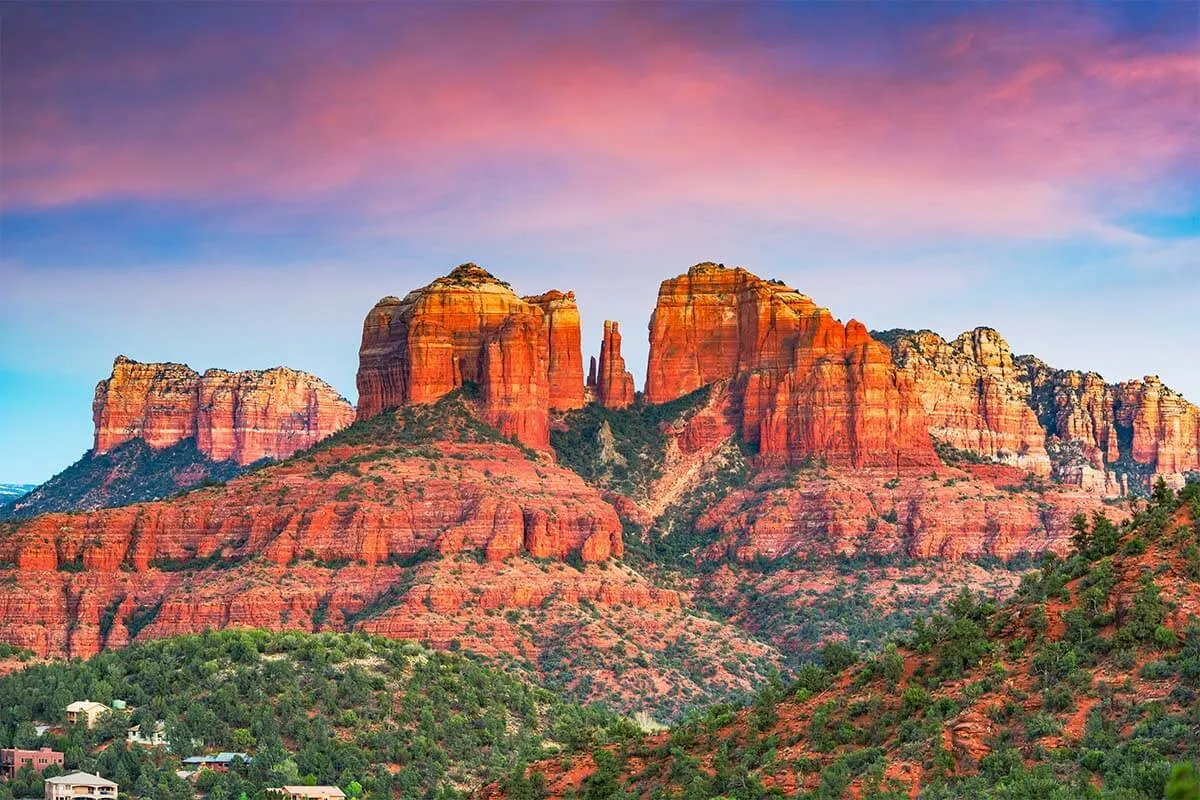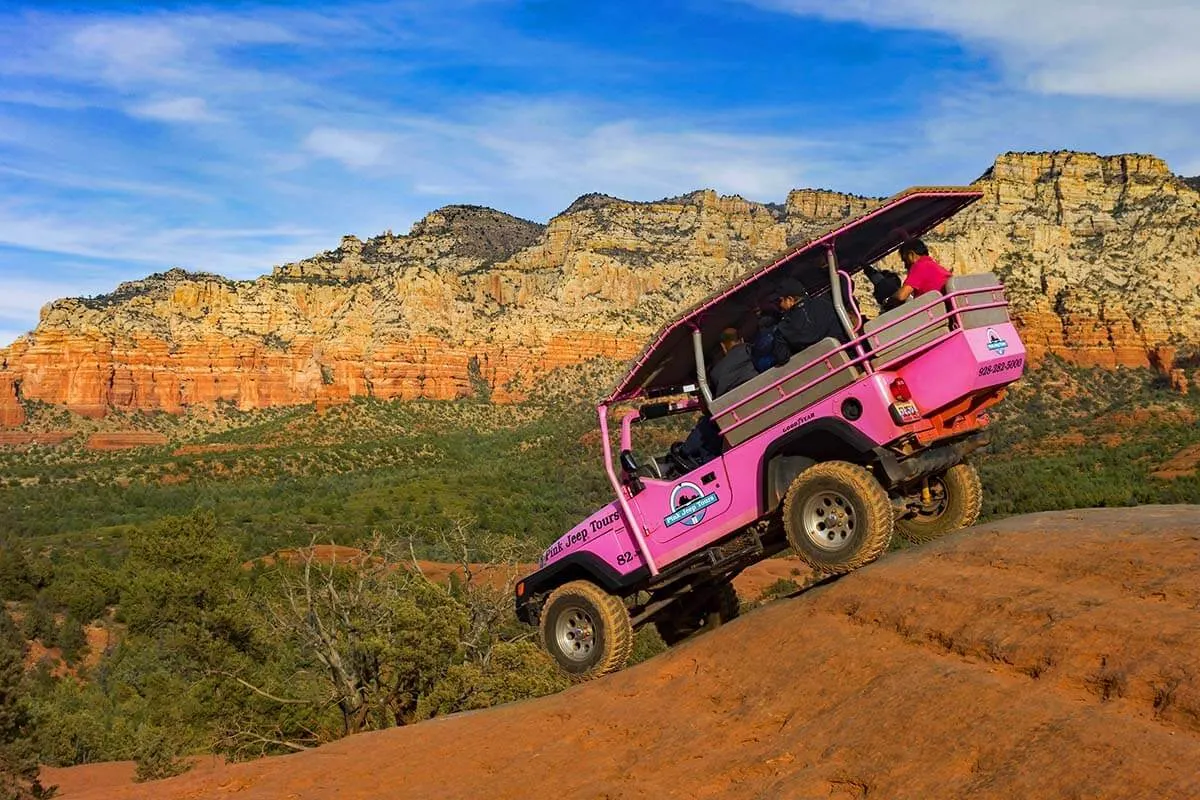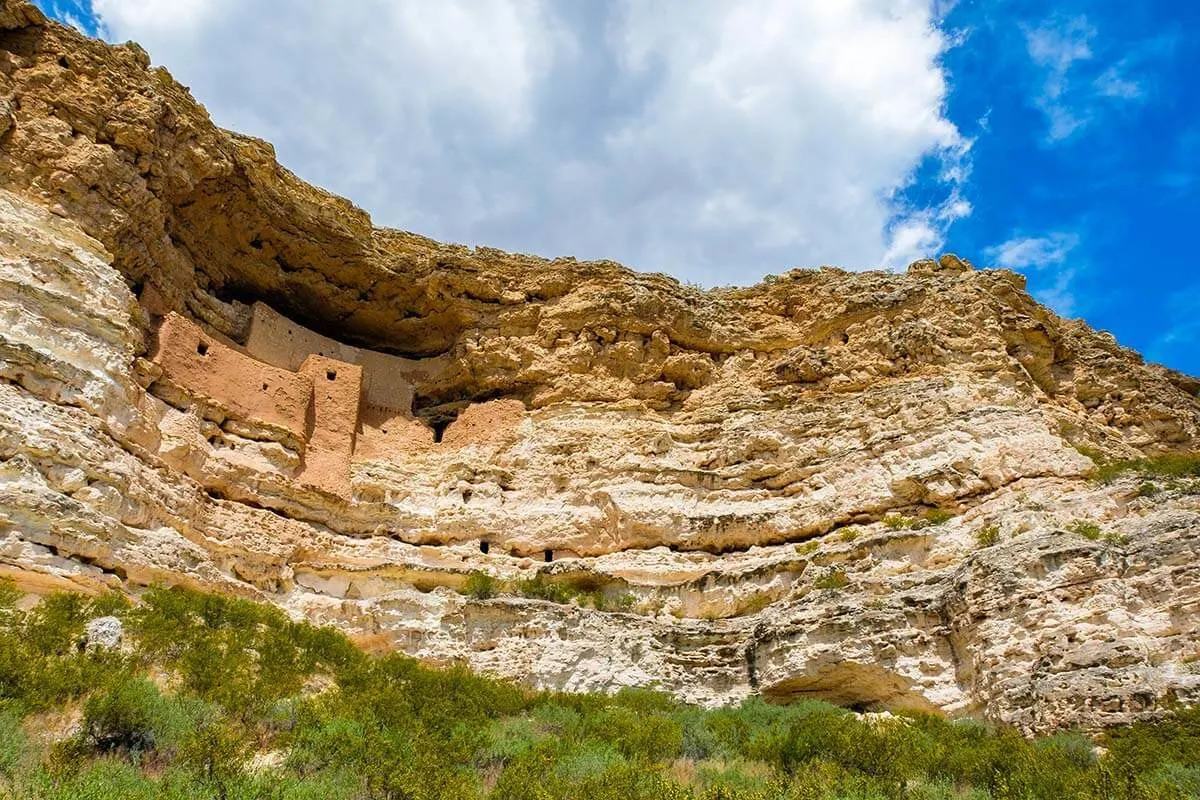 If you have more time in Phoenix…
If you are planning a longer vacation in Phoenix, here are some more ideas for things to do in the area.
If you are looking for a more active vacation, you can opt for one of the fun and adventurous tours in the area. Here are some of the best options:
You can also visit many amazing places nearby as a day trip from Phoenix or Scottsdale. A popular option – although not exactly next door – is a day trip to the Grand Canyon (start very early!) or even to the Antelope Canyon & Horseshoe Bend. There are also organized tours that can bring you to these places from the Phoenix area: see here for the Grand Canyon and here for the Antelope Canyon and Horseshoe Bend.
Another nice day trip – Wild West theme – is to visit Tombstone and surroundings.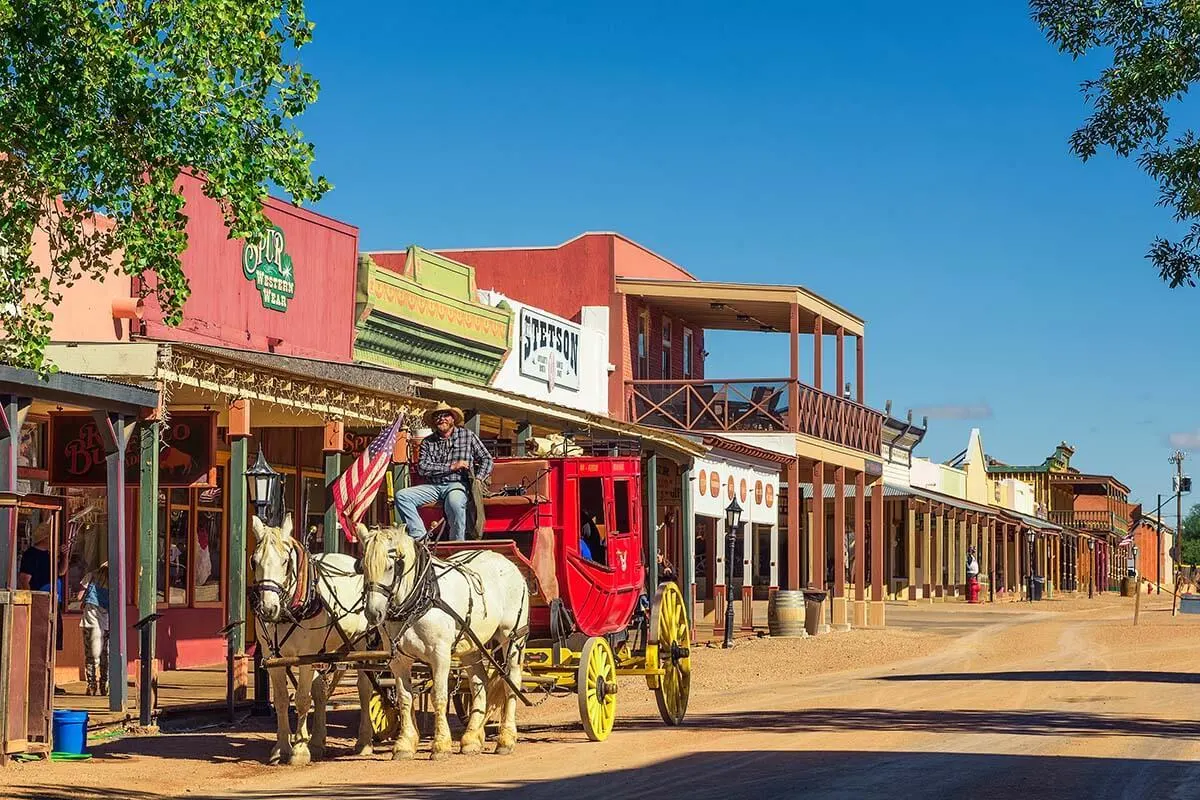 As already said, there are lots of hiking possibilities that you can find near Phoenix:
If you're interested in hiking through a desert garden, check out the Boyce Thompson Arboretum. It's a bit further out from the city center and much less manicured than the Desert Botanical Garden, but there are great hiking trails to enjoy.
South Mountain Park has a lot of different hikes ranging in difficulty, Piestewa Peak Park has moderate-to-difficult hikes, and Camelback Mountain is great for some moderate rock climbing and hiking. Best of all, you get amazing city views in any of these areas.
For a gorgeous area with moderate to very difficult hikes, check out the Superstition Mountains mentioned in the 4-day itinerary above. The Superstitions are around an hour east of the city center and a beautiful mountain range. The Flat Iron hike is one of the most challenging in the city but there are a number of great moderate-to-difficult hikes as well.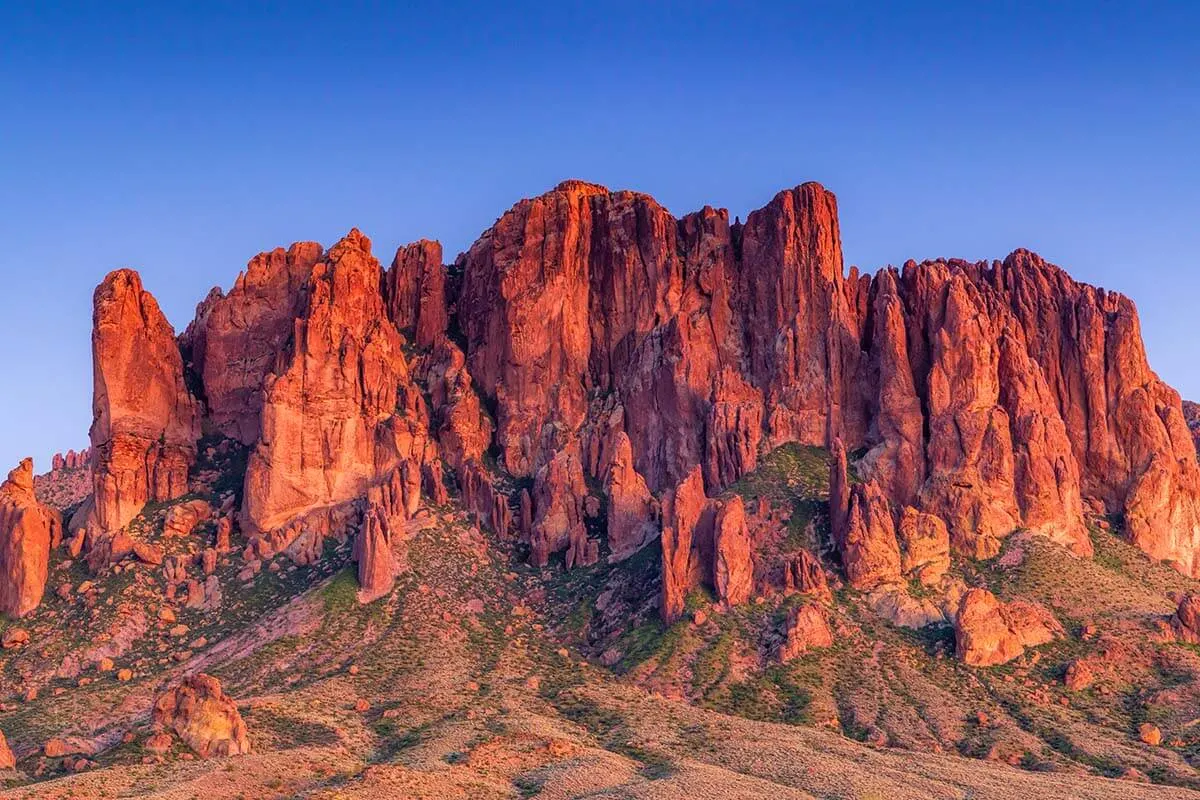 Info & Tips for Visiting Phoenix – Scottsdale Area
Is Phoenix worth a trip?
You might be asking yourself why you'd want to visit Phoenix, AZ. After all, it's located in a low desert area, and isn't the desert just sand, rock, and well, brown, brown, and more brown? It's true that the colors in the desert tend to be a bit more muted than in other parts of the country. You won't find a lot of lush bright green foliage, though you will find some lovely green lawns and amazing desert landscapes.
The warm temperatures and almost constant sun can't be beaten. When much of the rest of the country is blanketed by snow in the late fall, winter, and early spring, temperatures in Phoenix are at their best. Yes, you can even wear shorts in the winter here!
The springtime and early summer bring beautiful wildflowers that carpet the mountains in Phoenix. You'll see gorgeous pops of bright colors from the native desert plans from the striking orange of the ocotillo to the beautiful pinks, yellows, and purples on the cacti.
The state of Arizona may have been late to the game—it was the 48th state admitted to the union in 1912, but the history here began well before that time. You get a flavor of various periods and cultures including the Old West, several Native American tribes, and the large Mexican population. This cultural blending makes Phoenix an interesting place to visit that is unlike much of the country.
So yes, Phoenix metro is absolutely worth a trip. It's a great place with stunning desert landscapes, mountain scenery, and a big array of outdoor activities. In addition, Phoenix, Scottsdale, and Tempe are all bustling towns with a nice atmosphere and great restaurants. And last but not least, you are almost guaranteed to find beautiful sunshine and wonderful resorts for an unforgettable vacation that truly has it all!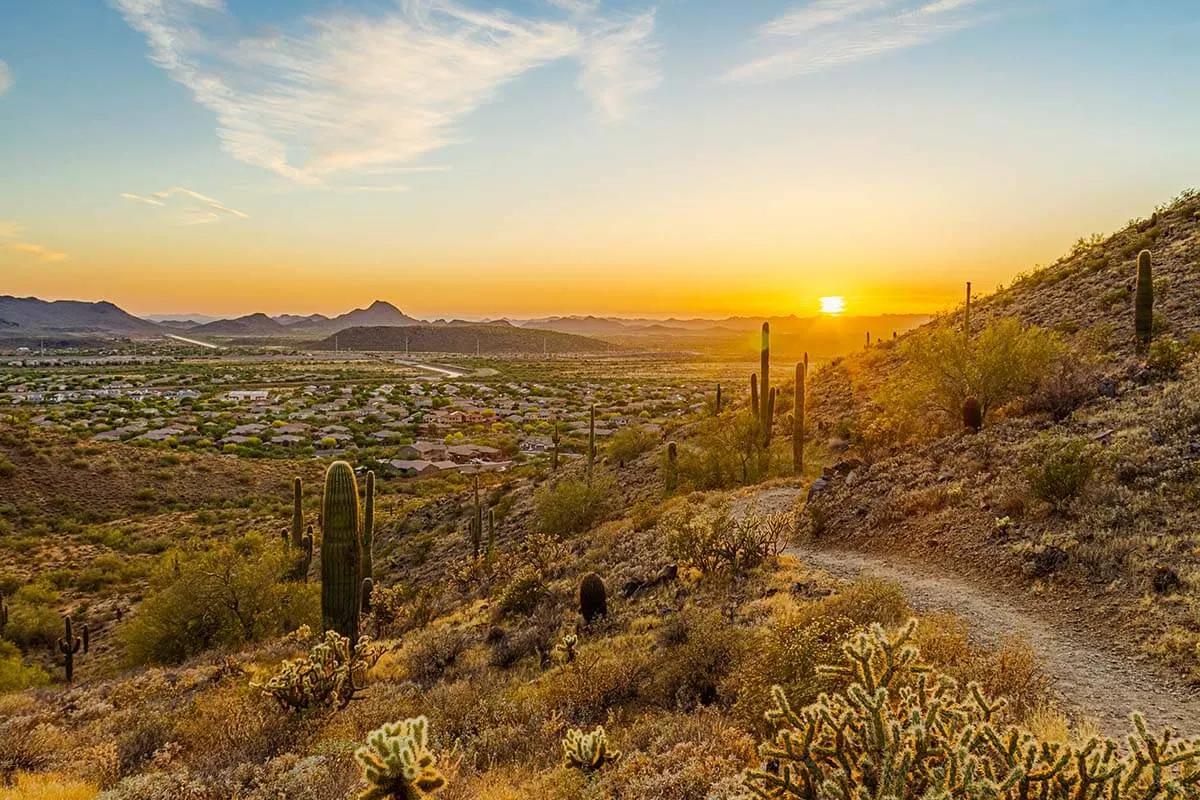 How much time should you spend in Phoenix?
We recommend spending 3 to 5 days in Phoenix to really get a flavor for this area. With one or two days, you'll have to choose which highlights to visit, whereas 3 days will allow you to cover most of the musts. With 4-5 days in Phoenix, you can also make one or two day trips and discover some other amazing places nearby.
If you have time, Phoenix is in a great location for day trips and there are a lot of great places within an hour or two drive. So you could easily spend a week or two in this area and never get bored.
Getting around
For a city as large as Phoenix, public transportation is sadly lacking. There is a light rail that goes to certain areas, but it's very limited in its coverage. It's best to rent a car when you visit Phoenix Metropolitan Area so you can go where you want to.
On the positive side, driving in Phoenix is easy. Much of the city is grid-lined so it's really easy to get around. Central Street in Phoenix runs north and south, with the avenues to the west and the streets to the east. This helps for orientation and while not all cities use street numbers, the numbering of the homes and buildings is consistent.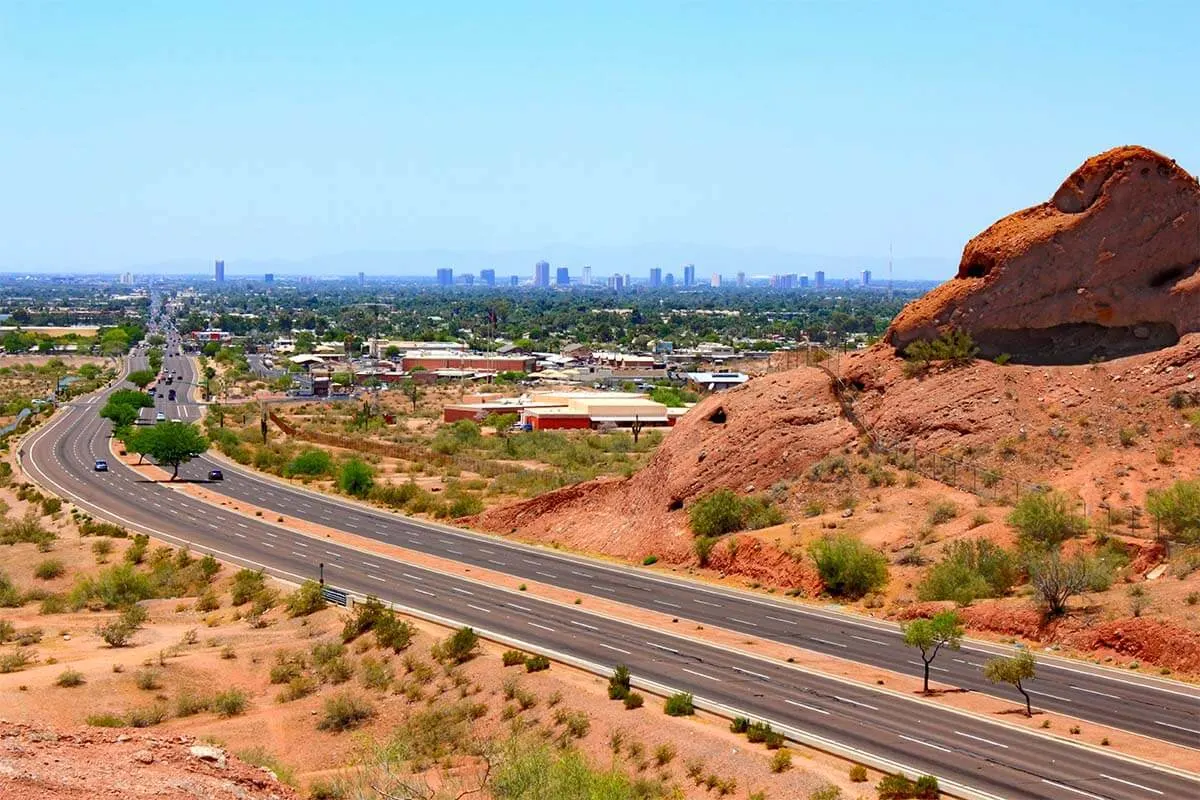 Best time to visit
The best time to visit Phoenix is from mid-October to mid-April. The weather is great and temperatures are fantastic for anything you want to do outside. Phoenix really opens up then and many of the restaurants open their floor-to-ceiling windows to enjoy the cool temperatures.
Also shoulder months are great in Phoenix, AZ. The days in the shoulder season from mid-April through May and September through mid-October have cool mornings and evenings and warm-to-hot days, so plan accordingly.
As amazing as the weather is during much of the year, Phoenix really heats up in the summer. From late May through mid-September, temperatures are generally over 100°F (38°C) and can go as high as 120°F (49°C). Monsoon season in June through August may cool things off slightly, but it does drive up the humidity. During the rest of the summer, it may be dry heat, but hot is still hot!
Having said that, summertime is a great time to visit for hotel deals. Phoenix is a resort town and there are a lot of spectacular places with incredible spas, restaurants, and grounds. Locals take "staycations" for a splurge, and tourists can benefit from that as well. If you visit in the summer, you'll want to modify your itinerary to stay indoors a bit more and venture out more in the morning and at night.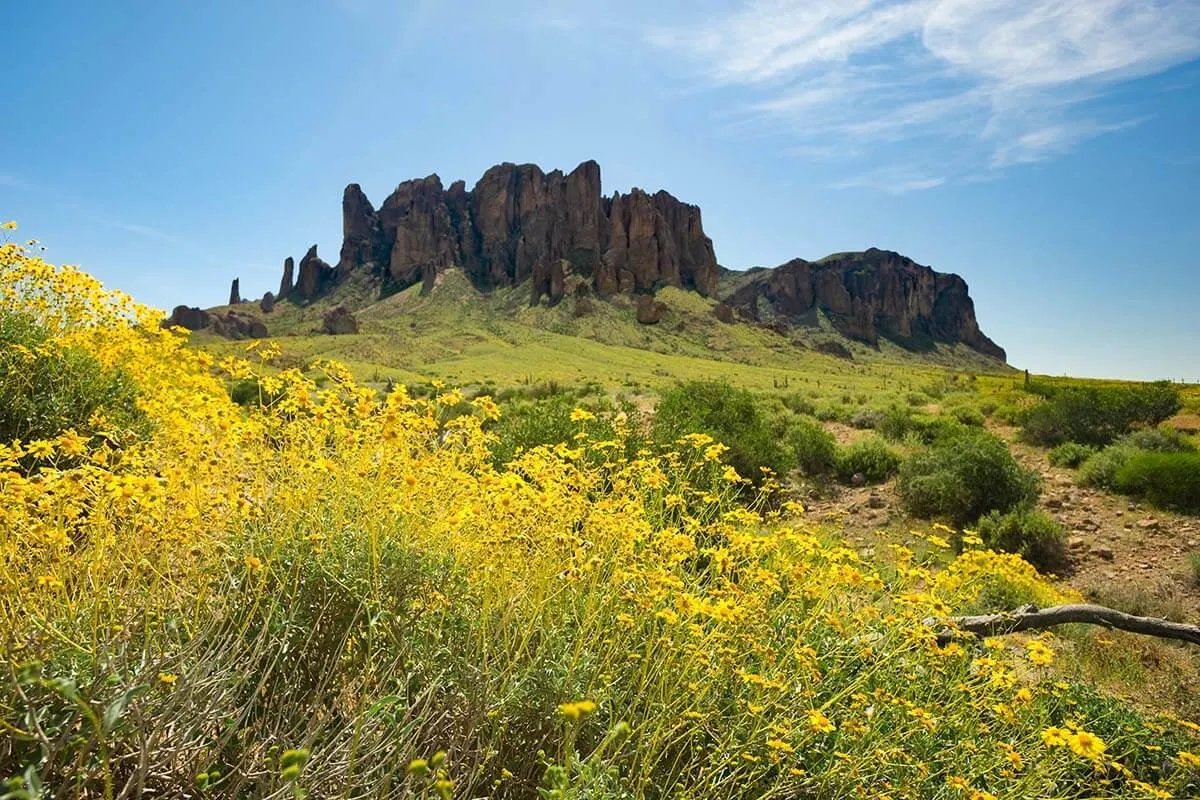 Where to stay
The metro Phoenix is large, so you'll likely want to stay in a centrally-located area if you're staying for more than a couple of days. As with any large city, there are a lot of hotels to choose from. Hotels do tend to be a bit on the pricy side here, though. If you're ok with staying at one of the chain hotels, you'll see a wider range in price. You can find some budget options near the airport or in the North Phoenix area.
One of the nicest places to stay for visiting Phoenix is Scottsdale and this is where most vacationers like to stay. For a luxury stay, check out the Phoenician or Scottsdale Princess; both these hotels are great and very popular. Hotel Valley Ho is a fun and trendy 4* hotel near Old Town. Sonesta Suites Gainey Ranch or Talking Stick are good mid-range places. Talking Stick is also a casino if that's something you enjoy.
If you want to stay in the heart of Phoenix, the Arizona Biltmore and the Royal Palms (more affordable luxury) are both great luxury hotels not far from the downtown area. The Camby and RISE Uptown are great mid-range options, and the Hampton Inn Downtown is a great option on the lower-mid-range budget.
On a lower budget, you'll likely find better value in Tempe. Marriott at the Buttes is a great mid-range place with beautiful grounds and gorgeous views. Graduate Tempe is a good mid-to-budget hotel, and Comfort Inn is a very good, budget place. There are a lot of chain hotels not far from the airport with a host of budget options in the Tempe/Phoenix area.
Local's recommendation: For a short first stay, we recommend staying in Phoenix. There's a greater diversity and more range of places to go/eat/stay that will appeal to any person. It's edgy and artistic and feels more approachable. For a longer stay or a more relaxed vacation, Scottsdale is the most popular choice in the area. This is also where you'll find the most luxurious resorts.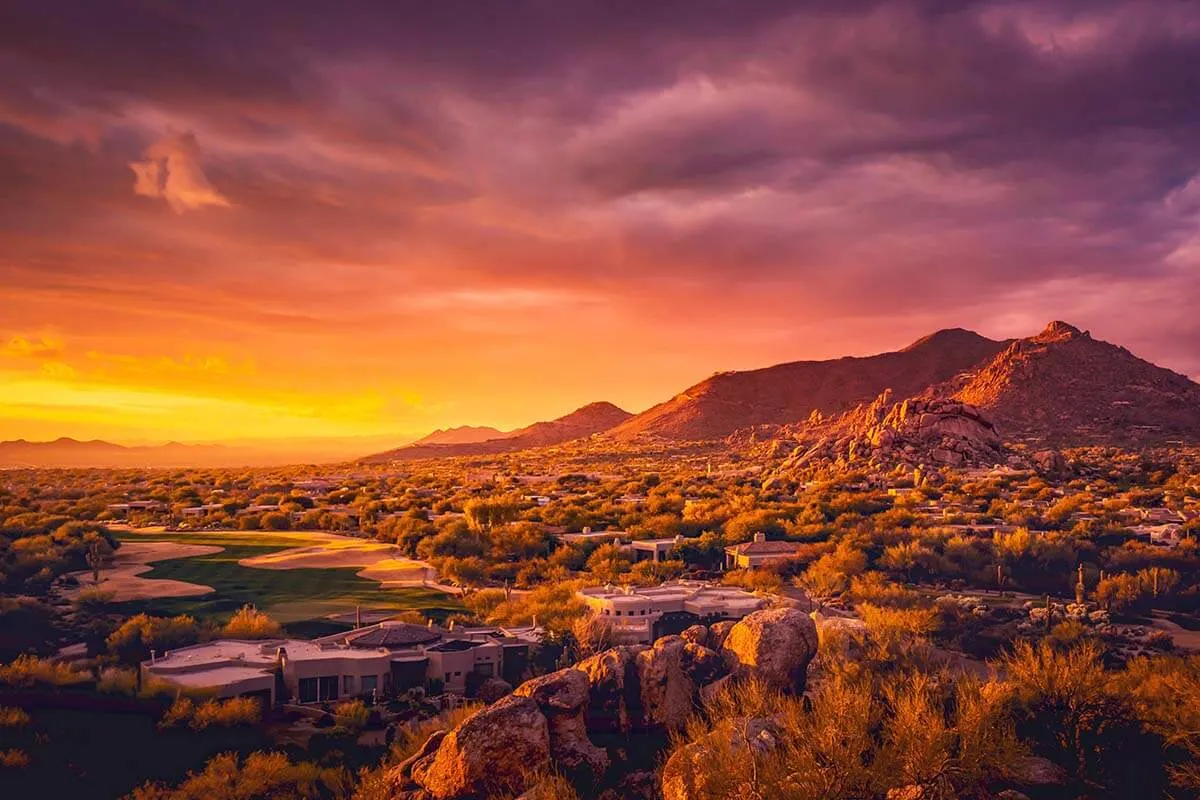 Phoenix is waiting for you!
The Phoenix area is such an incredible place to visit. There are a lot of things to do and, as you can see, you could easily spend a week in the area or even more. The Valley of the Sun is rich with cultural heritage, history, and beautiful natural landscape that will have you wanting to book a return trip before you even leave…
Have a great trip!
READ ALSO: Best Places to See in Arizona
More travel inspiration for the Southwestern USA:
If you found this post useful, don't forget to bookmark it and share it with your friends. Are you on Pinterest? Pin these images!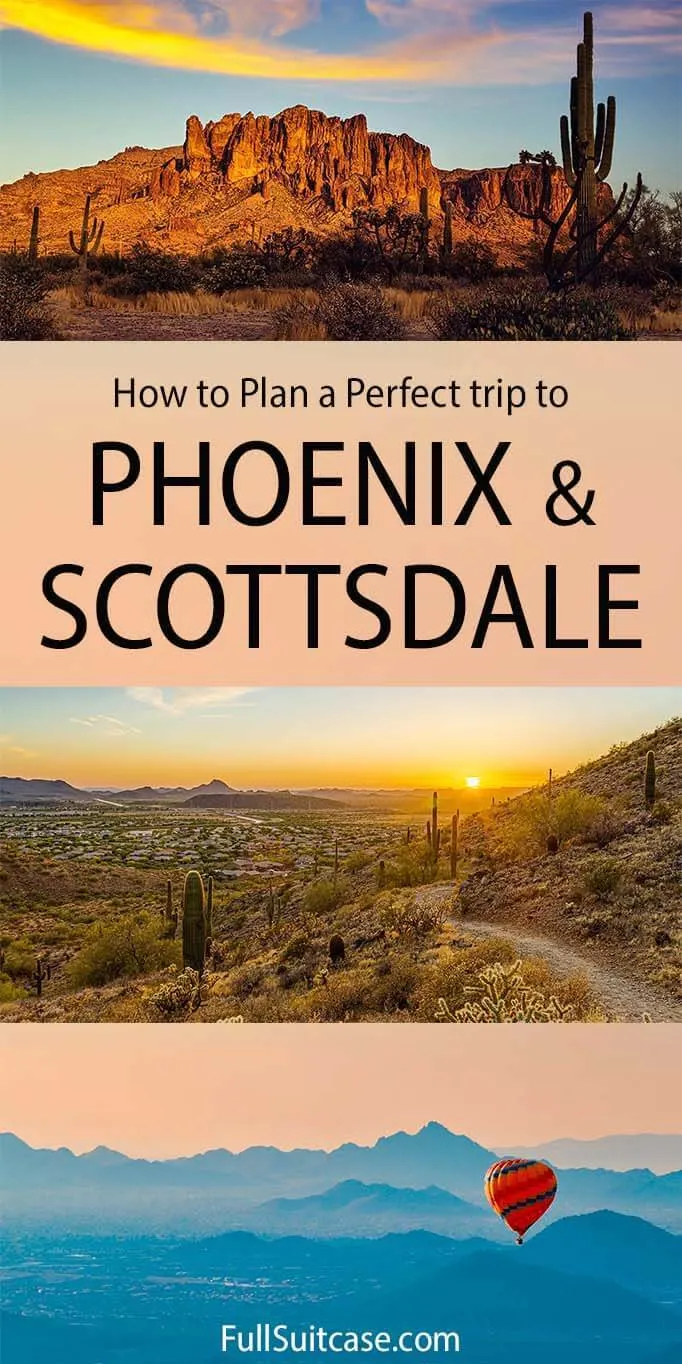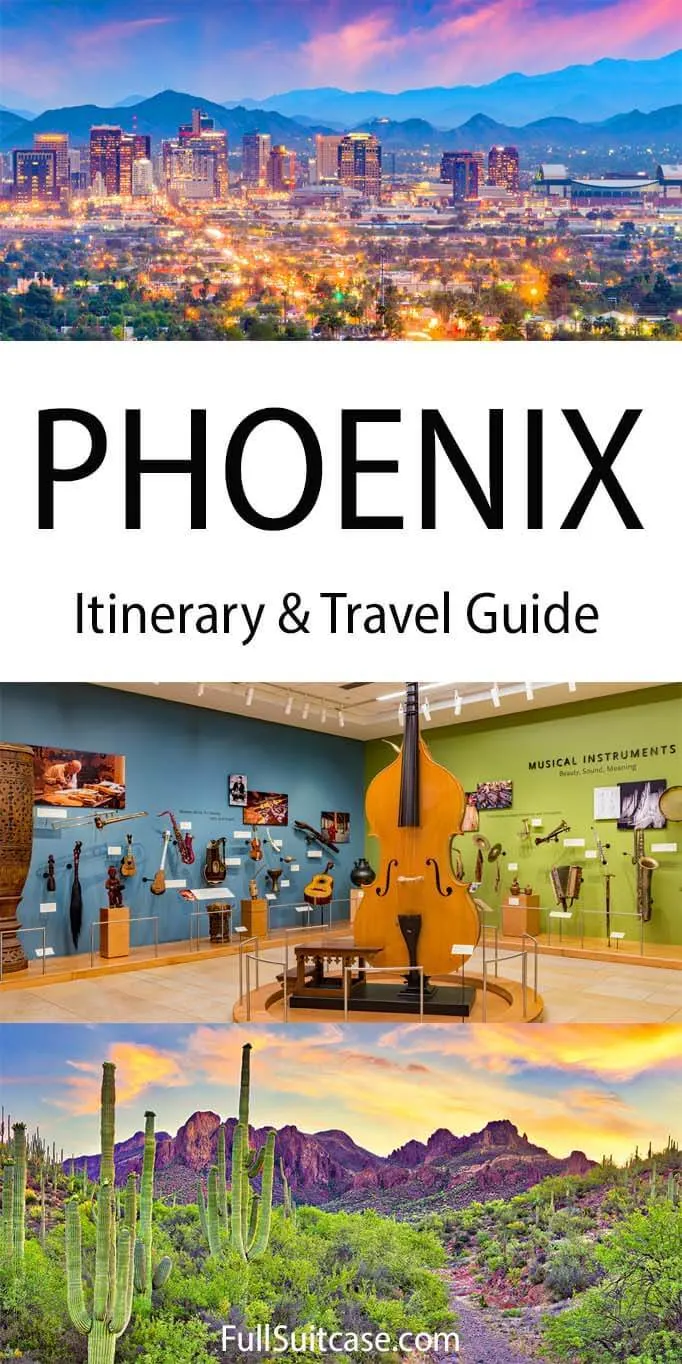 Image credits: Depositphotos.com; Anton Foltin/Shutterstock.com; Mary Baratto/iStockphoto.com; AVFC/Depositphotos.com; paulmckinnon/Depositphotos.com; Hackman/Depositphotos.com; f11photo/Depositphotos.com; miroslav1/Depositphotos.co; AutumnSkyPhotography/Shutterstock.com; BCFC/Shutterstock.com;