Are you planning a day trip to the Grand Canyon National Park and wondering how to best plan your time and how to see the best of Grand Canyon in one day? This post should answer all your questions.
In this article, we share practical tips and all the information that you need to know when visiting the Grand Canyon for a day. Further below, you can find our suggestions for the best things to do at the Grand Canyon in one day and a map indicating all the main points of interest.
We listed the best things to do for your Grand Canyon day trip in such a way that it allows you to make your own perfect 1-day Grand Canyon itinerary. You'll find suggestions for some of the best viewpoints, short hikes, and some of the most popular Grand Canyon activities.
In order to help you decide how to best plan your time, we also included an example of a suggested Grand Canyon one day itinerary.
Ultimately, it's your own choice how you decide to spend your day at the Grand Canyon, but this guide should help you decide what's worth your time the most and how to best plan your Grand Canyon day trip. Find out!
READ ALSO: Where to Stay in Grand Canyon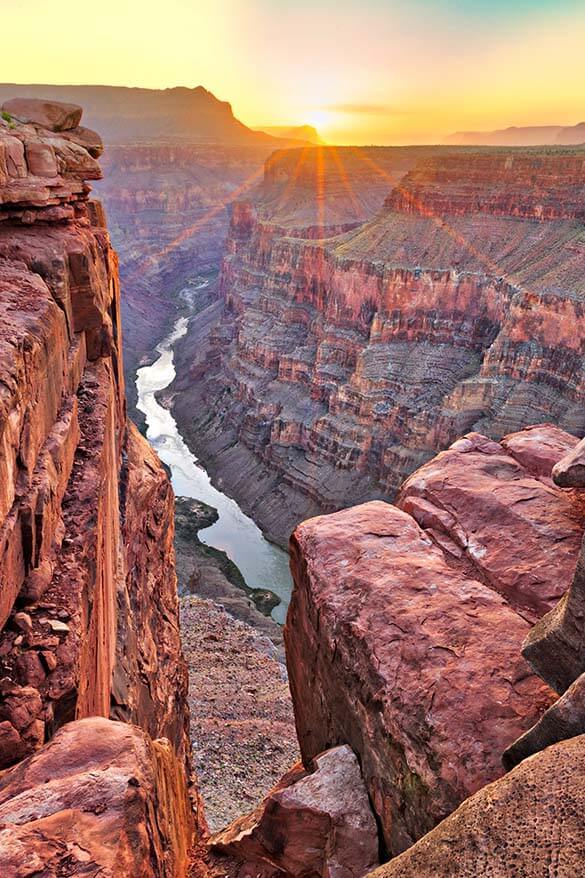 TIP: If you only have one day in Grand Canyon and don't feel like planning your own itinerary or worrying about the practical details, you can also visit the Grand Canyon with an organized day tour. I made a selection of some of the best-rated Grand Canyon day tours. Take a look!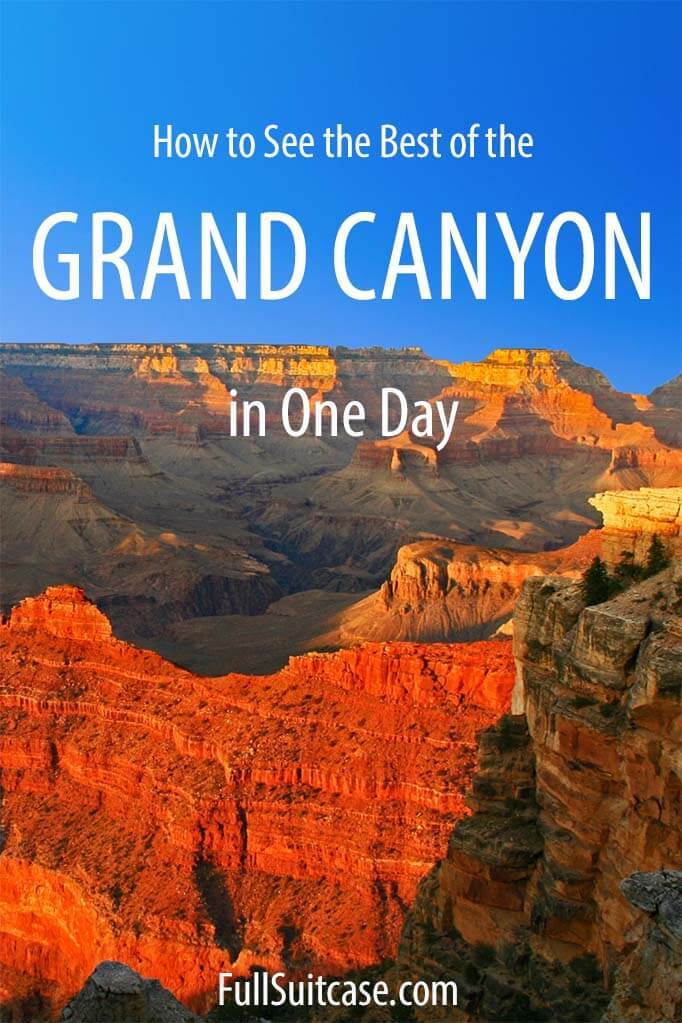 You've waited a lifetime to see it with your own eyes, and finally, you find yourself planning a trip to the magnificent Grand Canyon. From sunrise to sunset, and every precious minute in between, find out where to go, what to see, and things to do as you experience the beauty and splendor of this natural masterpiece.
Grand Canyon – introduction
Grand Canyon is one of the most visited National Parks in the USA. If you're fortunate enough to find yourself among the other 6 million annual visitors to Grand Canyon National Park, there are several things that you should know ahead of time.
Located in the U.S. State of Arizona, the Grand Canyon is a geological masterpiece formed 5-6 million years ago as the Colorado River eroded a 1-mile deep channel through hundreds of layers of banded red rock.
Along with its awe-inspiring views, Grand Canyon National Park provides abundant opportunities to experience history and wildlife. Several museums and historical sites, as well as hundreds of species of wild animals and beautiful flora, adorn the Grand Canyon National Park.
As one of the 7 Natural Wonders of the World, the Grand Canyon is one of the most famous, and most-visited attractions on Earth. Tourists from around the world travel here to take in the breathtaking views of this steep-sided canyon and to experience this natural phenomenon first hand.
Most visitors come here in summer, so if you are visiting in high season, expect big crowds. And the heat. If you can visit in the shoulder season, you'll find the canyon more enjoyable. It's also a great destination for spring break!
TIP: Even if you visit Grand Canyon for one day, you should also consider taking at least one of the shorter hikes or joining one of the activities, like horse riding or a helicopter flight. This will make your visit to the Grand Canyon even more memorable!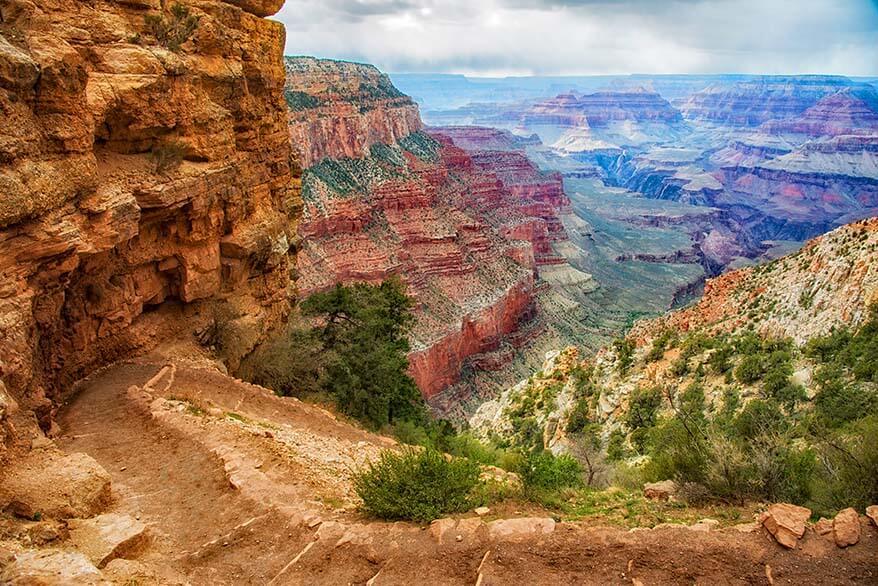 Grand Canyon day trip – which Rim to visit
You probably already know that the Grand Canyon is huge. It's about 277 miles (446 km) long and up to 18 miles (29 km) wide. Needless to say, you won't be able to experience all of it in a day, not even in a week or two… But you can certainly see some amazing places, even if you just have a day…
Grand Canyon National Park can be experienced at four general destinations: the North Rim, the South Rim, Grand Canyon West, and Grand Canyon East.
If you only have one day in Grand Canyon, you will most definitely want to spend your time at the South Rim. Considered by many to be the 'true Grand Canyon', the widely panoramic views from the South Rim represent the classic image of the Grand Canyon that tourists are most familiar with.
As the least remote of the four general visitor areas, the South Rim has the most lodging options, amenities, look-out points, and historic sites. Unlike its seasonal counterparts, the South Rim is open 365 days of the year (including holidays) and is the most convenient and family-friendly location in the park.
On the South Rim, you'll find that the majority of attractions are accessible by everyone. Its smooth, paved Rim Trail and wheelchair-accessible walkways, shuttle buses, bathrooms, and overlooks, are tailored for people with disabilities and those with strollers. Accessibility guides can be found online or at the various entrances to the park.
What about Grand Canyon Skywalk, you may wonder. Yes, it's absolutely worth a visit if you find yourself in the western part of the Grand Canyon. In fact, it's a great day trip to Grand Canyon from Las Vegas. However, if you can make it to the South Rim, I recommend you do that. And yes, there is also a guided day tour to the South Rim of Grand Canyon from Las Vegas.
But of course, you can just visit the Grand Canyon on your own. Here's how…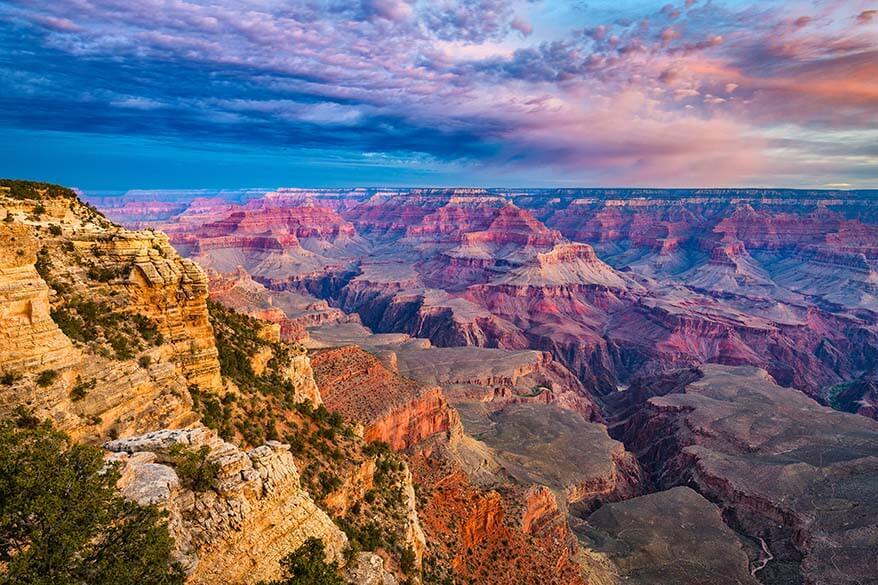 How to get to the South Rim
Approximately 5 hours from either Phoenix or Las Vegas and 1.5 hours from Flagstaff, the South Rim is easily accessible from these three major cities with big airports.
However, if your time at Grand Canyon National Park is limited to one day, I highly recommend that you stay as close to the park as possible. Ideally, you should stay near the Grand Canyon for 2 nights. That way you can minimize the time spent getting to the canyon and have more time to explore this beautiful area. You can find some accommodation suggestions further below.
Popular driving routes originate from Flagstaff (via US Highway 180) and Williams, Arizona (via State Route 64). Likewise, public bus transportation and Amtrak service is available from Flagstaff, while vintage train service is available from Williams.
Admission to Grand Canyon National Park is charged per vehicle (not per person), and includes entrance into both the North and South Rim. Valid for 7 days, a Grand Canyon National Park Vehicle Permit costs $35.
TIP: If you are visiting several National Parks over a period of 12 months, you can get America The Beautiful yearly pass for just $80. (Prices valid at the time of writing.)
You can purchase your Grand Canyon entrance pass online, or upon arrival at the park.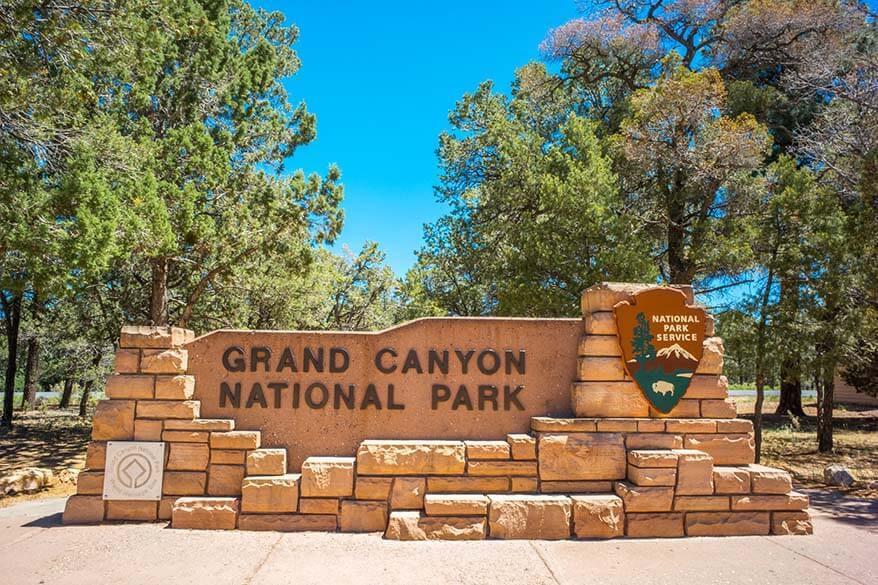 Where to park at the South Rim
When visiting the Grand Canyon for one day, I recommend that you enter the park via the South Entrance Station or from Desert View Drive (Hwy 64). From there, follow signs to the Visitor Center Parking Complex.
Parking at the Visitor Center Parking Complex in lots 1, 2, 3, or 4 will give you easy access to immediate views of the Canyon. These parking areas are in close proximity to the main Visitor Center, several Grand Canyon shuttle stops, and Bright Angel Bicycle Rentals and Cafe.
You should know that Visitor Center Parking Lot 1 has pull-through spaces for RVs and vehicles with trailers, while lots 2, 3, and 4 do not.
TIP: If you are visiting the Grand Canyon during the busy periods of spring break, summer, or fall, long lines form at the South Entrance Station and parking often becomes limited. To avoid congestion and make the most of your one-day at the Grand Canyon, arrive at the park no later than 9 AM (ideally earlier).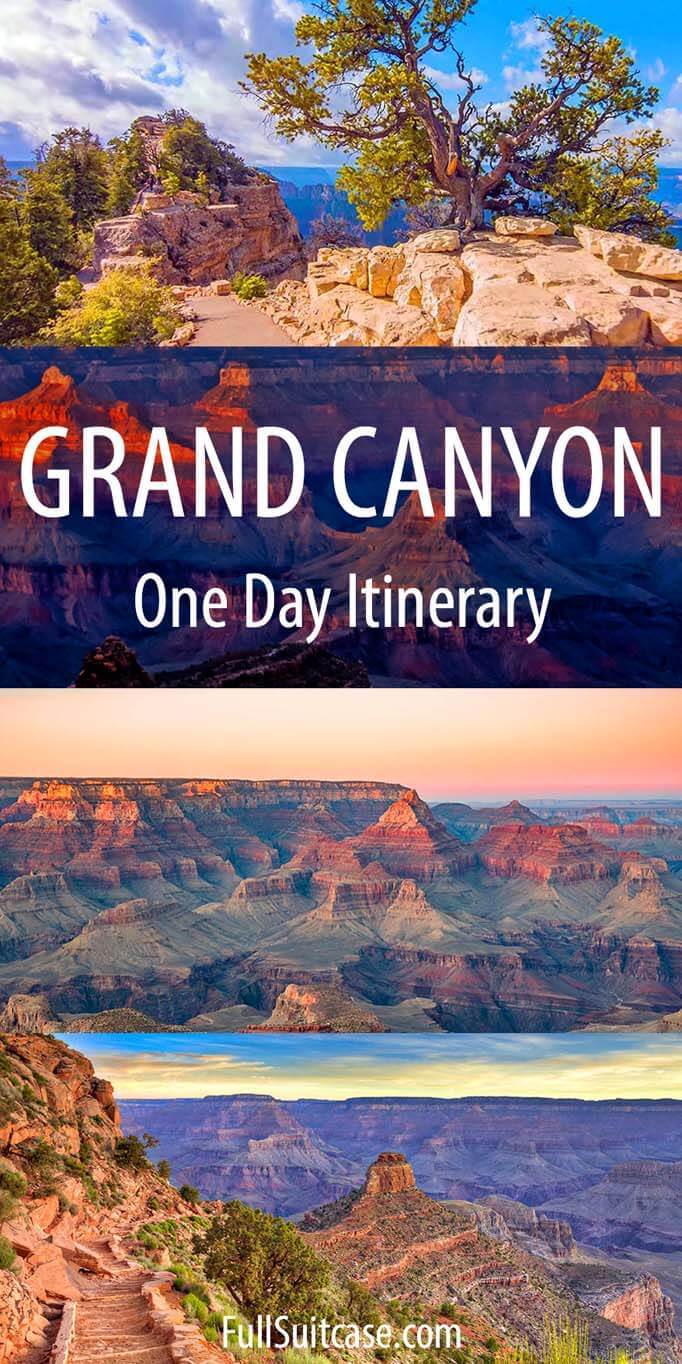 One Day in Grand Canyon – things to do & map
Due to the enormous size of this National Park and the multiple array of things to do, it is extremely important to have a well-thought-out day plan. In order to help you plan your day at the Grand Canyon, I created a map, indicating all the points of interest mentioned in this article. That way you get a better idea where everything is located.
Alternatively, if you prefer to use the official Grand Canyon tourist map, you can find it here. Print it out and indicate the places that you are planning to visit.
Further below, after we cover all the things that you can see in Grand Canyon in one day, we also have a short overview of the suggested one day Grand Canyon itinerary. Read on!
How to Use This Map: Use your computer mouse (or fingers) to zoom in or out. Click on the icons to get more information about each place. Click the arrow on the left top corner for the index. Click the star next to the title of the map to add this map to your Google Maps account. To view the saved map on your smartphone or PC, open Google Maps, click the menu button, and go to 'Your Places'/'Maps'.
1. See the sunrise at Mather Point
To beat the bulk of the crowds and get a jump-start on your day, plan to arrive early enough to watch the first rays of sunlight spill from behind the canyon walls. If you want to see a sunrise at the Grand Canyon, it's best to arrive at least 30 minutes in advance (check sunrise times here). Plan to stay for an hour or longer to take in this memorable event. The rest of the day will be busy enough!
Mather Point is by far the most popular sunrise spot at the Grand Canyon. The extensive viewing area at Mather Point is formed from an enormous point projecting out from the rim of the Canyon. It has two further projecting (railed) overlooks that provide epic panoramic views and unbeatable photo opportunities.
Mather Point is very conveniently located only a 2-minute walk from the main Visitor Center. Alternatively, the park's free shuttle buses start running at 4 AM (in summer) to accommodate visitors looking to catch an iconic sunrise from this vantage point.
TIP: If catching a 5 AM sunrise isn't your thing, I still recommend to choose Mather Point as your first viewing area at the Grand Canyon. Once again, aim to arrive at the park before 9 AM to beat the crowds at this popular viewpoint.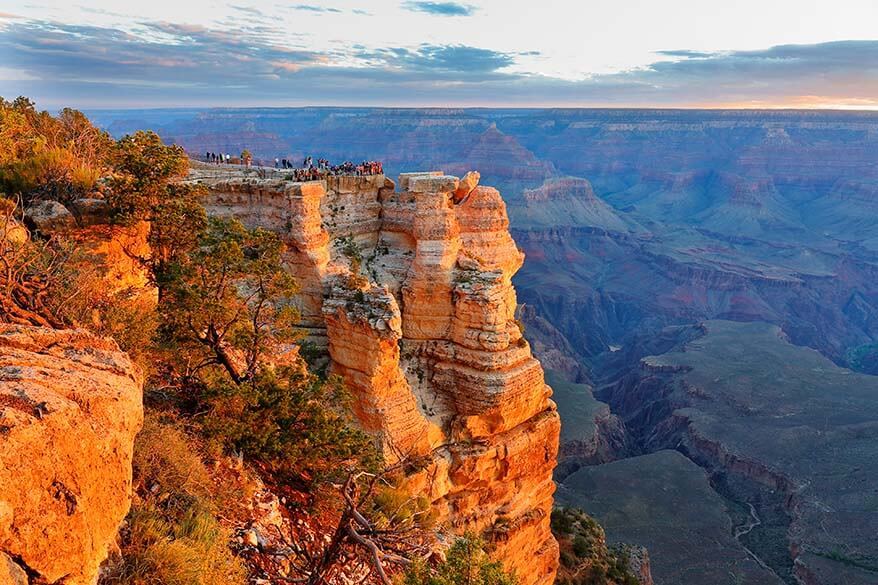 2. Explore the main Visitor Center
Before you set to explore the Grand Canyon, put the finishing touches on your one-day itinerary by starting your day off at the Grand Canyon Visitor Center.
Located central to the four parking lots discussed above, the Grand Canyon Visitor Center is the hub for finding out information regarding park activities, attractions, ranger programs, and the free shuttle bus system.
Here you can also purchase Grand Canyon souvenirs from the Park Store, stop at the coffee bar and "grab and go" food counter, or rent a bicycle.
Good to know. The Grand Canyon Visitor Center is open daily from 8 AM – 6 PM. So if you start your day at sunrise, it's probably not worth waiting for it to open. But if you are here after 8 AM, you may want to take a quick look inside.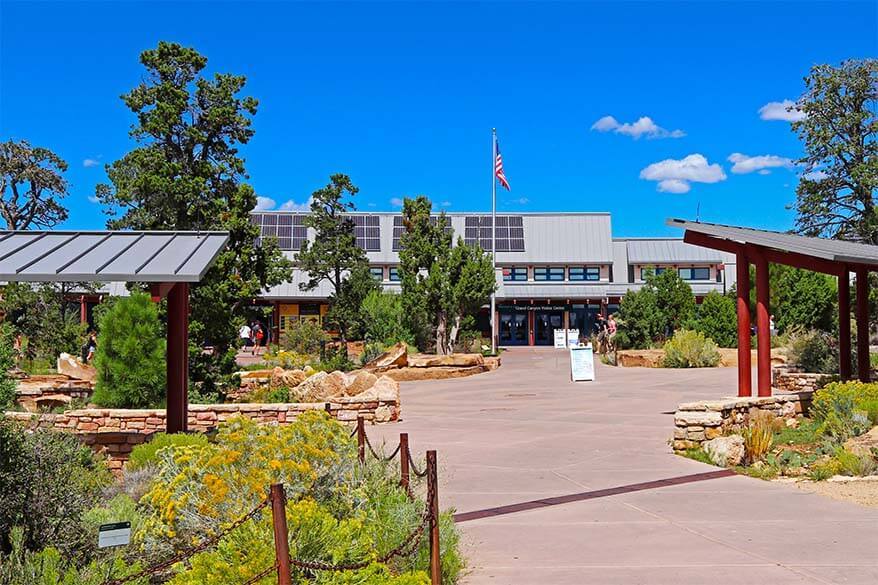 3. Ride the shuttle along the rim – Hermit Road
One of the best ways to get the most out of your day in Grand Canyon is to combine walking with a shuttle bus. The extensive Grand Canyon shuttle service is free of charge and operates on four organized routes.
When visiting the Grand Canyon for just a day, I recommend boarding the Hermit Road shuttle bus (Red Route). This road is closed to private vehicles from March 1st through November 30th and is really too long to walk in the summer heat. So taking the shuttle is the best way to see the highlights along this 7-mile (11 km) stretch between the Village Route station and Hermits Rest. It stops at nine canyon overlooks along the way.
With some of the best Grand Canyon views that you can see anywhere, the Hermit Road Red Route gives you the chance to experience breathtaking scenery while someone else does the driving.
TIP: Hermit Road should be a part of any Grand Canyon itinerary, but if you are visiting for just a day, only walk small parts of it. Or, even better, just visit the nicest viewpoints and take the shuttle bus in between. Here are some of the best viewpoints:
From Trail View Point you can often see mules and hikers below.
Some of the most scenic viewpoints are Hopi Point and Powell Point, which are located right next to each other. The sweeping views are very similar, but because it is less famous than Hopi Point, Powell Point has fewer crowds.
Mohave Point is also a great one that offers slightly different views and various photo spots. It looks as if it's floating over the canyon.
Practical information: Outbound shuttles depart Grand Canyon Village every 15-30 minutes (depending on the season) and travel in a loop format between the nine various points of interest which include Pima, Mohave, Hopi, and Powell Point. More info on the shuttle here. Make note that the last return trip buses depart Hermits Rest 1 hour after sunset.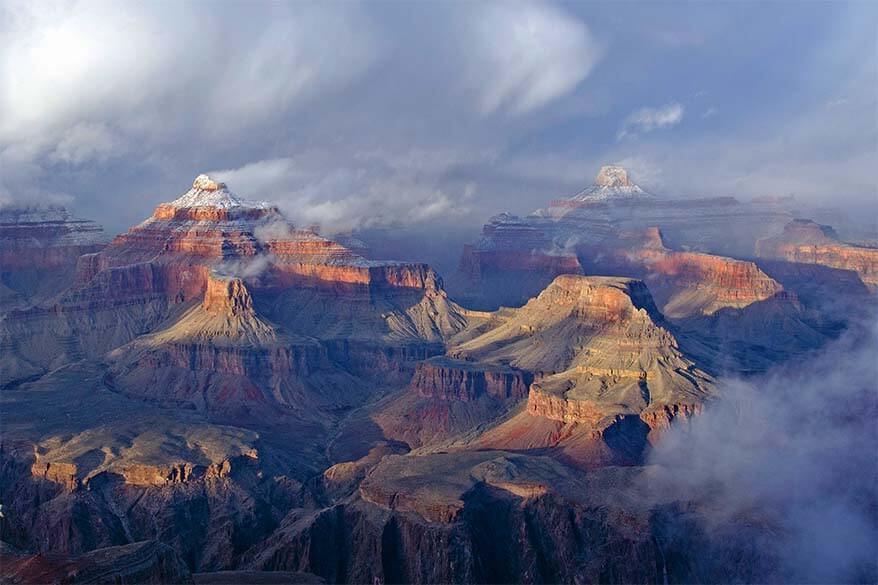 4. Take a short hike: part of Rim Trail, Bright Angel Trail, or South Kaibab Trail
Without a doubt, one of the best ways to explore the Grand Canyon is hiking. There are quite some really nice day hikes at the South Rim, but if you have just one day at the Grand Canyon, you probably won't want to spend it all hiking…
The good news is that you can do some shorter sections of some spectacular hikes and still get to enjoy the magnificent scenery, even if you just have a couple of hours.
Many options are available if you are looking to add an official 'hike' to your Grand Canyon National Park day trip. The following 3 trails are suitable for a partial day hike for any difficulty level. They can easily be tailored to meet your time constraints or physical ability, so for example, you can opt for a 2-hour hike versus a 4-hour hike. Take a look!
TIP: Any Grand Canyon hike requires careful planning and general knowledge about the route. Read the park's Hike Smart tips here and, most importantly, don't forget sun protection, snacks, and LOTS and LOTS of water! See also our practical tips further below.
South Rim Trail
The South Rim Trail is an easy hike with minimal elevation change. Though the total length of the Rim Trail is 13 miles (this includes the earlier mentioned Hermit Road), you do not have to hike the whole distance to experience grand views. You can easily turn around or hop on a shuttle (which stops every 0.5-1 mile) if the walking becomes too tiring.
In fact, it's best to only do sections of this walk, as it will leave you exhausted. We made a mistake of walking the entire Hermit Road when we visited the Grand Canyon. It was unbearably hot (we were there in July), kids drank all the water just as we were at the furthest point from the nearest drinking water spot, and we definitely regretted not taking the shuttle earlier.
The Rim trail starts at the South Kaibab Trailhead and follows directly along the South Rim all the way to Hermit's Rest. With the majority of this trail being paved and some of it being shaded, the Rim Trail is easily accessible and accommodating for all ages and abilities.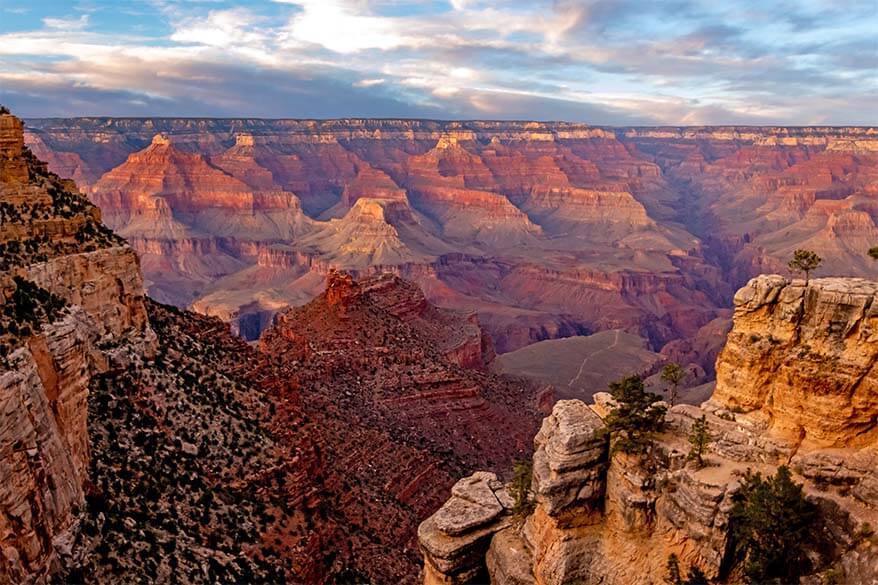 Bright Angel Trail
The Bright Angel Trail is the most popular hiking trail from the South Rim. It gives visitors a chance to experience going below the rim and "into the canyon". 12 miles long in its entirety, there are multiple rest houses and switchbacks every 1.5 miles that provide opportunities to turn around when opting for a shorter hike.
Bright Angel Trail starts just west of Bright Angel Lodge and ends at Plateau Point. This is a well-maintained dirt trail with some shade. Due to its mainly unforeseen elevation changes, the danger in hiking this trail lies in underestimating the steepness of the trail and the energy and exertion needed to get back up, especially in warmer Grand Canyon temperatures.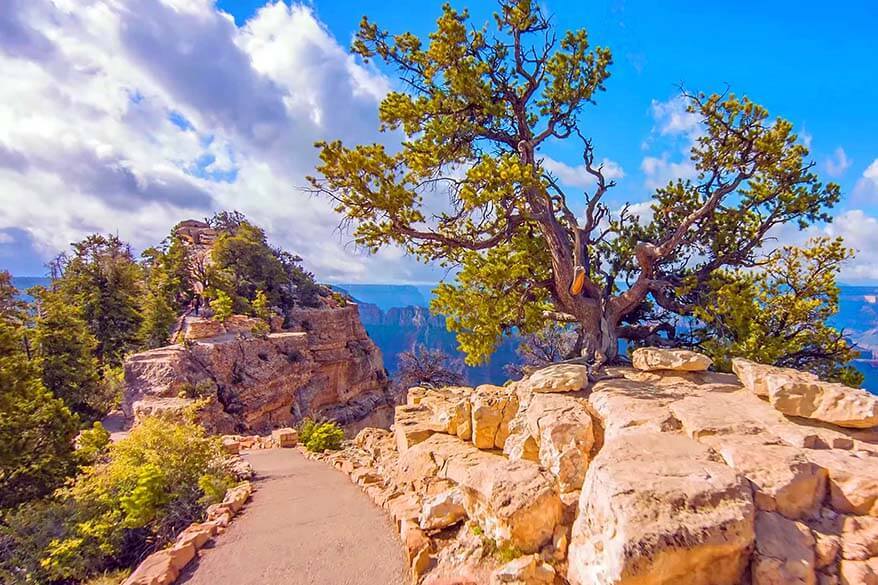 South Kaibab Trail
Another well maintained dirt trail that takes you below the rim is the South Kaibab Trail. South Kaibab Trail is steeper than Bright Angel Trail. It's also a bit further away and is only accessible by a free Grand Canyon Shuttle Bus that departs from Mather Point.
Popular options on this 6.5-mile trail include hiking a short distance to Ooh Aah Point and then turning around. The Ooh Aah Point is about 0.8 miles one way and you should count about 2hrs for this hike: 30 minutes down, 20-30 minutes for photos and rest and about 1 hour to get back.
If looking to combine a picnic and bathroom break with your hike, go a bit further to Cedar Ridge. Cedar Ridge is 1.5 miles from the trailhead and is a great place for a snack break or lunch before hiking back up. Count at least 2.5 hours roundtrip.
Important to know: The general rule of thumb for both Bright Angel and South Kaibab is to plan on it taking twice as long to hike up as it took to hike down.
TIP: If you have just 1 day in Grand Canyon and choose to do a small part of the Bright Angel Trail or South Kaibab Trail, I recommend hiking just 30-60 minutes down into the canyon. It allows you to see some spectacular scenery, while still keeping enough time for other activities.
5. Walk the Trail of Time
In order to better understand the history, geological significance, and overwhelming age of the Grand Canyon, make sure to walk the interpretive timeline, Trail of Time.
Exhibitions along The Trail of Time display historical information and include actual rock samples that have been collected from all 70-plus geologic layers of the Grand Canyon.
Embedded into the walking path is a representative timeline marked by brass markers placed every 1 meter underfoot. Each marker represents 1 million years of geological time and depicts the depth of the canyon and the rock formed during that time period.
Practical information: The Trail of Time is incorporated into the easily accessible (South) Rim Trail and extends from the Yavapai Geology Museum (30min walk from Mather Point) to Verkamps Visitor Center. It's 1.7 miles (2.9 km) in length, is completely flat, and takes about 1 hour. More info here.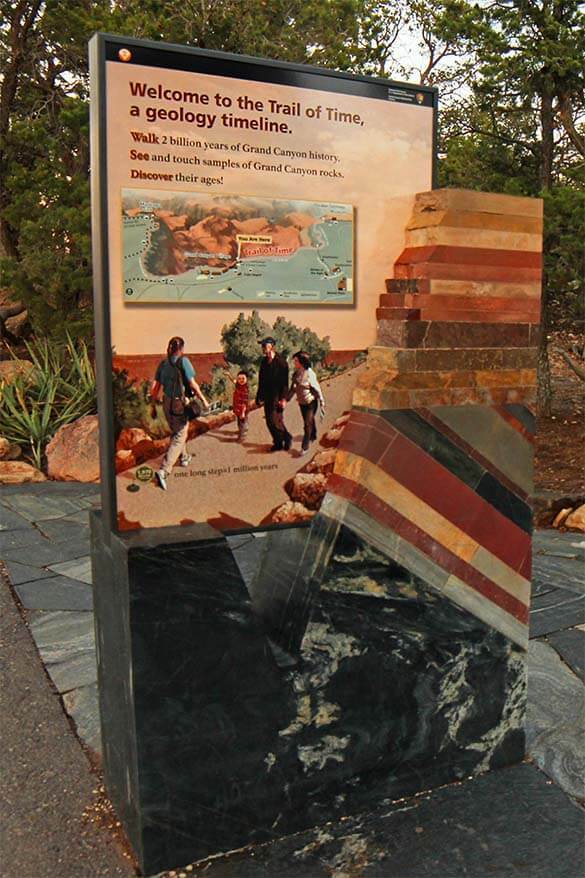 6. Visit the Hopi House
Hopi House is another landmark located on the South Rim that you probably should include in your one-day Grand Canyon itinerary. It's located just near the Verkamps Visitor Center, and so it doesn't take much effort to get there.
Constructed in 1904, the Hopi House was built to serve as a market for Native American crafts made by on-site artisans. The Hopi tribe, as the original inhabitants of this area, were chosen as the featured artisans. Hopi House was crafted out of adobe bricks to closely resemble a traditional Hopi pueblo.
A National Historic Landmark, Hopi House combines retail shopping with museum quality artifact viewing. Here you will find a wide range of native arts and crafts available for purchase, such as hand-crafted kachina dolls, Native American jewelry and pottery, and hand-woven Navajo rugs.
Practical information: Run by the Hopi people to this day, Hopi House is open from 9 AM-5 PM all year round. Count 15-30 minutes for a visit.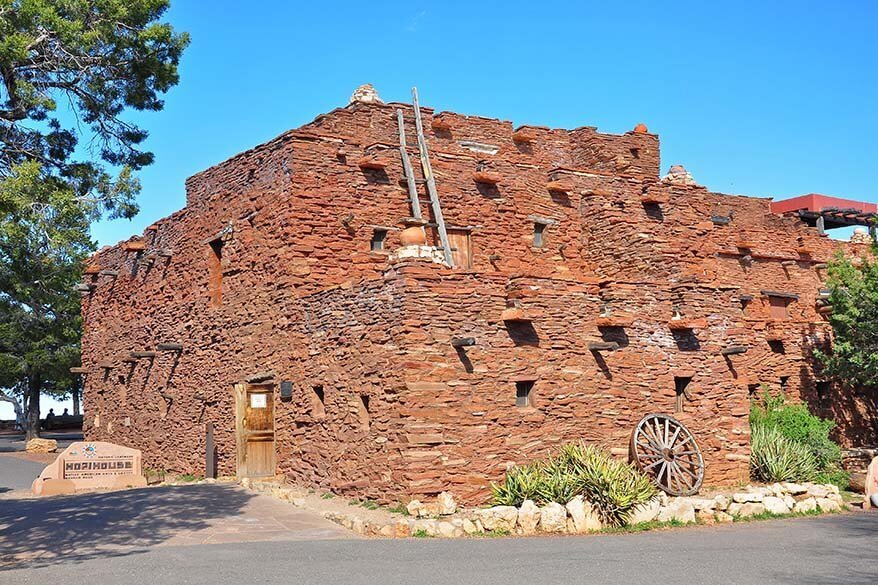 7. Attend a ranger-led program
In addition to the Grand Canyon's historical sites, there are also guided hikes and tours given by park rangers. They might be an excellent addition to your one-day Grand Canyon itinerary, especially if you are not planning to do much hiking.
With titles such as "Guided Rim Walk", "Canyon Tales", "Fossil Discovery" and "Geology Glimpse", Grand Canyon National Park ranger programs are both educational and fun.
Practical information: For a complete list of ranger programs, times, and locations, visit the National Park Service website. Note that all ranger programs are free of charge and that children must be accompanied by an adult. Outdoor ranger programs are subject to cancellation based on weather or when lightning danger is present.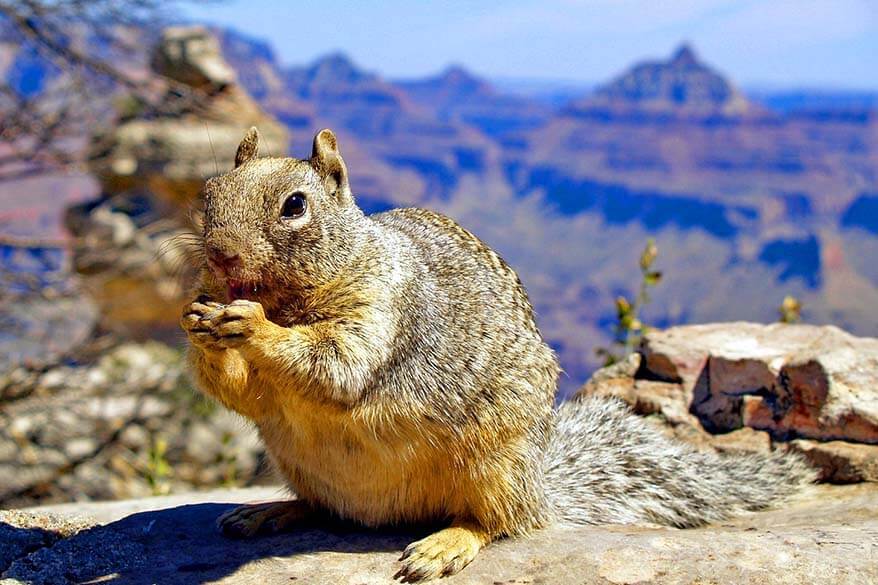 8. Join one of the Grand Canyon tours – helicopter flight, mule ride, and more
There are endless possibilities and ways to experience the Grand Canyon. Your choice will, of course, depend on your personal preference, time constraints, cost, and/or availability.
The athletic and adventurous can choose from guided hiking or biking tours, mule tours, jeep tours, river float tours, or white-water rafting tours. Other fantastic and more distinctive options include sightseeing on a Grand Canyon helicopter tour or a scenic plane ride.
There are even Grand Canyon zipline and skydiving options for those looking to add some adrenaline to their adventure.
Regardless of which tour you choose, each one of these exciting opportunities provides astonishing viewpoints and memories to last a lifetime.
TIP: Make a helicopter flight over the Grand Canyon. It takes just a little time and is therefore a perfect choice if you are short on time and have just one day in Grand Canyon. We took this helicopter flight starting at the South Rim when we visited the Grand Canyon and it was an incredible experience, something I'll never forget. Check it out!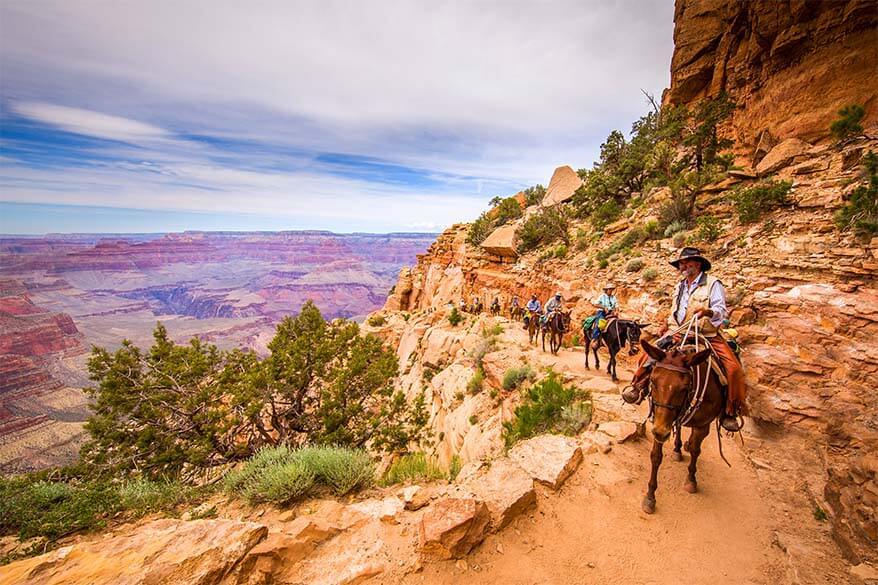 9. Visit the National Geographic Visitor Center
Either before or after your tour of Grand Canyon National Park, make sure to visit The Grand Canyon National Geographic Visitor Center which is located 1 mile outside of the South Rim park entrance in the town of Tusayan.
The National Geographic Visitor Center is home to the world-famous Grand Canyon IMAX movie, "Over the Rim and Beyond, Grand Canyon: The Hidden Secrets". The 34-minute IMAX Grand Canyon film transports viewers through time as it depicts the lives of the first inhabitants of the Grand Canyon to the present-day Natural Wonder that the canyon is today.
Taking in the movie from the comfortable and air-conditioned IMAX theater is definitely one of the best things to do after a long day of hiking and outdoor heat, or for those people who are less mobile.
This highly recommended visitor center provides travelers with more in-depth information about the Grand Canyon and includes an expansive souvenir shop and dining area.
Practical information: The Center is open daily from 8 AM till 10 PM from March till the end of October and from 9 AM to 8 PM in winter. Here you can book the IMAX movie tickets in advance.
10. Go dark sky stargazing
If you haven't had enough and want to get an absolute maximum of your day at the Grand Canyon, consider ending your day with an epic stargazing experience.
As an honored International Dark Sky Park, Grand Canyon National Park is one of the best places in the world for seeing stars. The canyon's remote location away from major cities and air pollution make for exceptionally dark skies and crisp night time views.
If you're not too tired come nightfall, head to any of the viewpoints along the South Rim to see the canyon by starlight and find unobstructed views of the nighttime sky. There's a beautiful silence and stillness that will engulf you making this an unforgettable experience.
TIP: Be prepared to drive your own car and do the walking, as park shuttles only run until 1 hour after sunset. Also, make sure to bring along a flashlight or a headlight to help you walk to and from your stargazing location.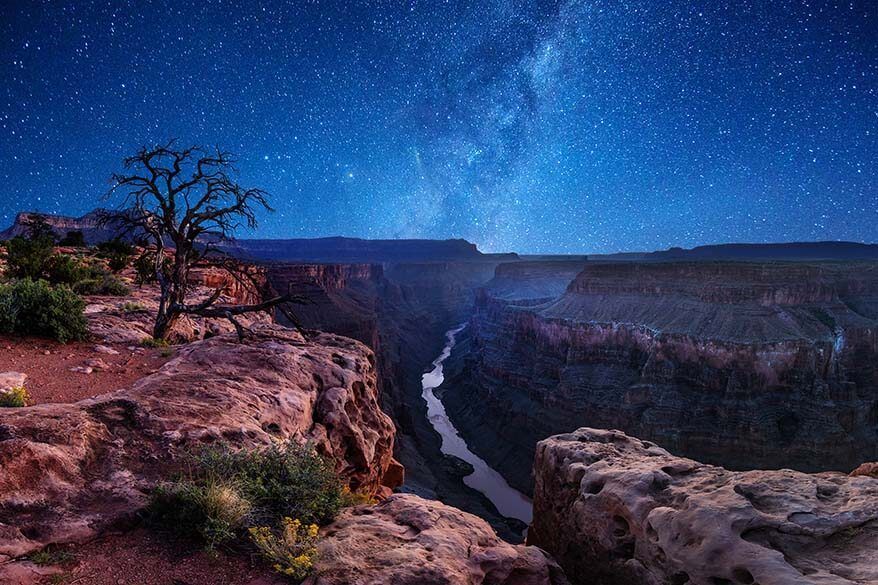 How to see the best of Grand Canyon in one day – suggested itinerary
Following the recommendations above, I created a sample Grand Canyon 1 day itinerary. I assume that you are staying very close to the South Rim and can indeed spend an entire day exploring Grand Canyon.
Start your day at sunrise at Mather Point OR with an early morning (+-8AM) helicopter ride (you can check availability and book it here – make sure to book it in advance!)
Get a glimpse of the Grand Canyon at Mather Point, if not done yet.
OPTIONAL: Take the shuttle to South Kaibab Trailhead and hike to Ooh Aah Point and Cedar Ridge. It's best to do any hiking as early in the morning as possible before it gets too hot. Count +- 3hrs for this. There is a picnic area and bathroom facilities at Cedar Ridge. You can have lunch here or at the Visitor Center (see below).
OPTIONAL: If you didn't hike to Ooh Aah Point and have more time, consider joining a Ranger-led tour. Alternatively, do a small part of the Bright Angel Trail.
Explore the main Visitor Center and have lunch.
Walk the Trail of Time and visit Hopi House. Count +-2 hrs.
Take the shuttle along Hermit Road and visit some of the best viewpoints.
Visit the National Geographic Visitor Center, watch the IMAX movie, and have dinner.
If you still have some energy, come back to the park for some stargazing.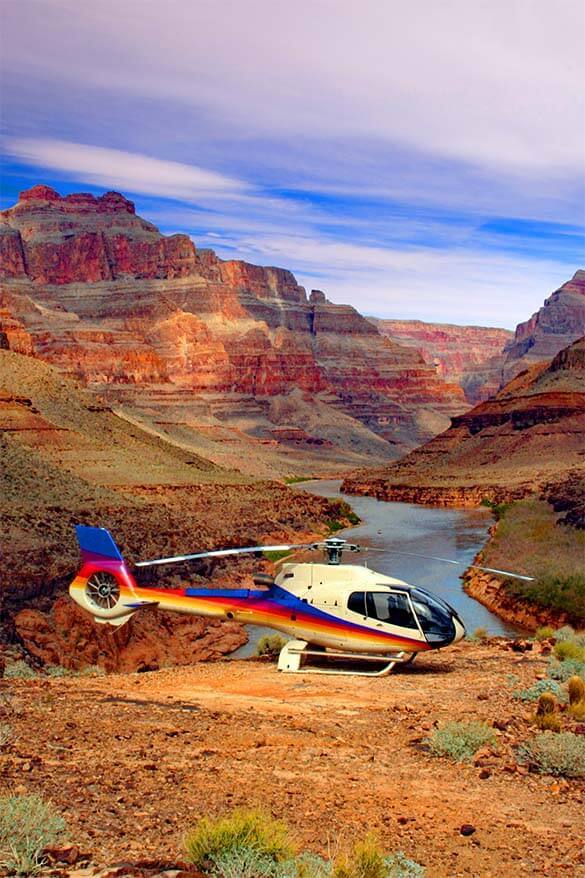 Practical tips for visiting the Grand Canyon
Wear comfortable walking shoes as you will do a lot of walking.
Dress in layers. Sun protection is a must in summer!
Bring a refillable water bottle (in summer, I would take two bottles per person, especially if you are planning to do any hiking), picnic lunch, and snacks. There are several water bottle filling stations located throughout the park.
Great picnic spots include Hermit's Rest (shaded tables and bathrooms), Yaki Point, or Cedar Ridge (on the South Kaibab Trail).
Be prepared for the weather as it will influence your visit.
For safety tips, check the Grand Canyon National Park's safety guidelines.
Be patient with other tourists and have fun!
PRO TIP: If you are planning to visit several American National Parks, get an annual pass! It's called America the Beautiful Pass and costs just 80 USD for the whole family traveling in the same vehicle. It is valid in all National Parks and 2,000 federal recreation sites across the United States for one year from the month of purchase.
Where to stay near the Grand Canyon
As I already mentioned, one of the best ways to get the most out of your day at the Grand Canyon is to stay as close to the South Rim as possible.
There are several hotels at the Grand Canyon Village itself. Check out the Bright Angel Lodge, El Tovar Hotel, Maswik Lodge, or Yavapai Lodge! These accommodations are, of course, more expensive (and usually fully booked) than the hotels outside the National Park. But you pay for the location and often it's worth it, especially for a short trip where you want to make the most of your experience in a little time.
For more affordable options nearby, check hotels in Tusayan (this is where the helicopter tours start, some 6 miles from the South Rim). For example, The Grand Hotel at the Grand Canyon is an excellent choice. The Red Feather Lodge is a good budget option.
On the map below, you can easily find the best deals for Tusayan hotels and Airbnbs. Just make sure to choose your travel dates and group size for the correct prices!
Other popular places to stay near the Grand Canyon are the two bigger towns Williams and Flagstaff, within 1-1,5hrs driving distance from the Grand Canyon South Rim. Both these towns offer a big variety of accommodations at more affordable prices and are easily accessible from the main highways in the area.
LEARN MORE: Grand Canyon Hotels & Lodging Guide
So, these are our suggestions for the best way to spend one day at the Grand Canyon National Park. I hope that this guide will help you make the best of your short time at this beautiful natural landmark.
Below, you can find some questions that our readers asked and our answers to them.
FAQ
What is the most beautiful part of the Grand Canyon?
Grand Canyon South Rim is the best place to visit at the Grand Canyon. The area is open year-round, it offers easy access to the most beautiful viewpoints, and there are also great facilities and visitor services including a shuttle bus that brings you to the best places along Hermit Road.
Is one day enough for Grand Canyon?
Grand Canyon National Park is huge and it would take days to explore all four rims and do some hiking inside the canyon. That being said, one day is enough for the main highlights of the Grand Canyon. With just 1 day in Grand Canyon, we recommend visiting the South Rim.
How much time do you need at the Grand Canyon?
As already mentioned, you can see the main highlights of Grand Canyon's South Rim in just one day, but you can also spend a week at the Grand Canyon and still not see everything. So how much time you need will depend on what you absolutely want to see and whether you are planning to do any hiking.
What is the best month to visit Grand Canyon?
Grand Canyon's South Rim can be visited year-round. However, the best time to visit the Grand Canyon is spring and fall (March-May and September – November). The weather is pleasant for sightseeing and it's not as busy as in the summer months. If you plan on visiting in the summer, make sure to book your accommodations well in advance.
What time of day is best to visit the Grand Canyon?
We recommend arriving as early in the morning as possible and staying late. Sunrises and sunsets are magical at the Grand Canyon! If you come early in the morning (ideally before 8-8.30 AM), it will also be easier to find a parking spot at the South Rim.
Can you visit Grand Canyon as a day trip from Las Vegas?
Yes, it is possible to visit the Grand Canyon as a day trip from Las Vegas. The closest place to go to is the Grand Canyon Skywalk on the West Rim, but you can also visit South Rim from Vegas. There are also organized tours available from Vegas, including Grand Canyon West & Skywalk, the highlights of South Rim, or helicopter tours that land inside the canyon.
Which is better North Rim or South Rim?
South Rim is open year-round and has better facilities and nicer overlooks. North Rim of the Grand Canyon can only be visited in summer; the road is usually open from around mid-May to mid-October.
If you are touring in the Western United States, you may also like these travel guides on our blog. Check it out!
If you found this post useful, don't forget to bookmark it and share it with your friends. Are you on Pinterest? Pin this image!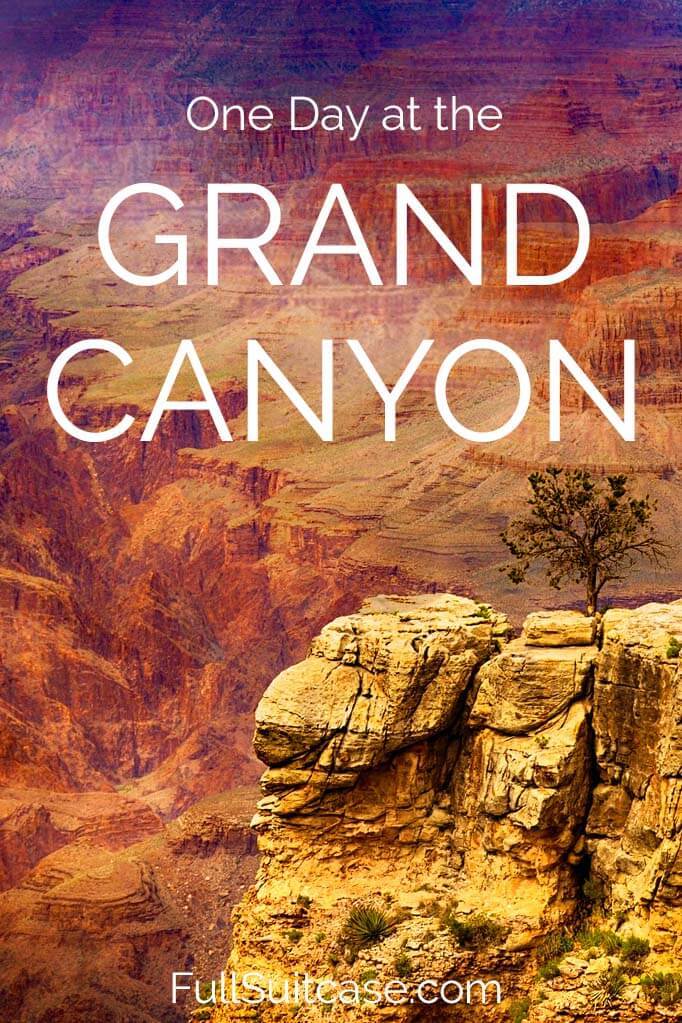 Image credits: GrandCanyon – Anton Foltin/Shutterstock.com// Views from South Kaibab Trail – RonGreer/Shutterstock.com// South Rim – Sean Pavone/Shutterstock.com// Grand Canyon sign- Lynn Yeh/Shutterstock.com// Mather Point – Jay Yuan/Shutterstock.com// Bright Angel Trail – CreativeEdge7/Shutterstock.com// South Kaibab Trail – Anton Foltin/Shutterstock.com// Trail of Time – Daniel Dror/Shutterstock.com// Hopi House – OLOS/Shutterstock.com// Mule ride – Roman Khomlyak/Shutterstock.com// Stargazing – Alexey Suloev/Shutterstock.com// Helicopter – Kevin Norris/Shutterstock.com