Traveling to Las Vegas for the first time and not sure where to start or what to know before your first visit? Planning a trip to Vegas might be overwhelming, especially so if this is your first time in the city and you want to experience the best of it.
One of the best parts about visiting Las Vegas is that it has something for everyone and for every budget! You can be a millionaire or an aspiring one and still manage to have a fantastic time living big in this fascinating city that never sleeps. However, there are some things that you really should know before you go.
To help you plan your first trip to Vegas, we selected some of the best tips for visiting Las Vegas. This no-nonsense practical guide will not only help you plan your trip, but will also show you how to make the best of your visit, time, and budget.
Good to know: This guide is now updated after our recent trip. We hope that our first-hand experience and top tips for first-time travelers to Las Vegas will help you make the most of your trip. Find out!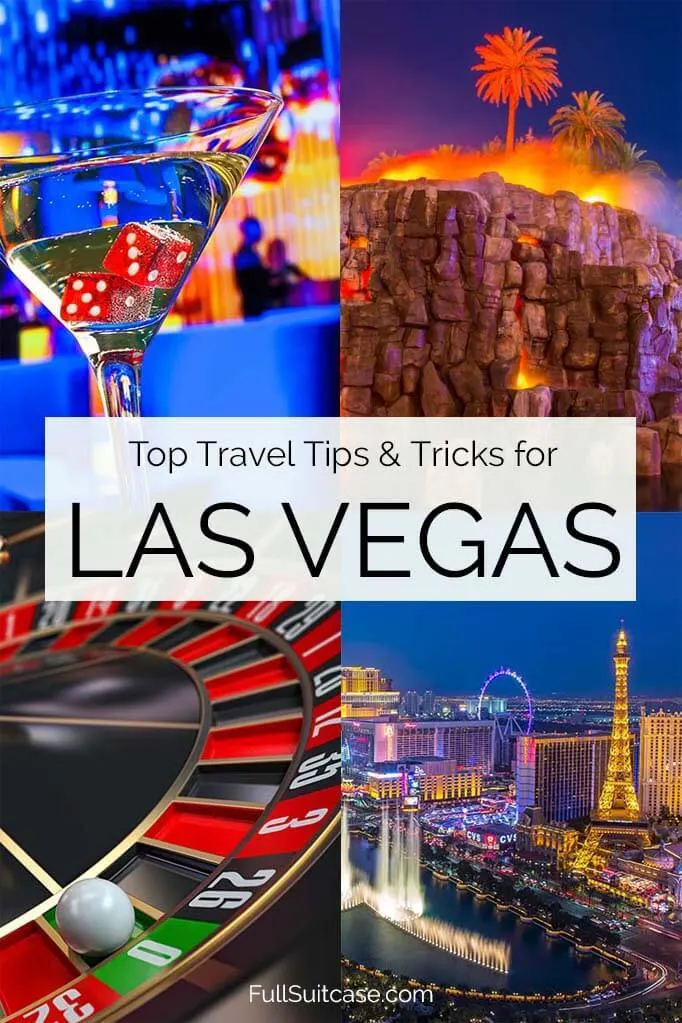 If you are traveling to Las Vegas for the first time, there is a lot for you to know to make the most of your adventure. Here are some of our top travel tips for Vegas:
1. Get your bearings
There are two main areas of Las Vegas that you will hear people talk about and that you should definitely see: Downtown/ Old Vegas and the Strip.
Downtown or Old Vegas refers to the area that was the original gambling district. It's located just north of the strip and centered around Fremont Street.
Las Vegas Strip (aka "The Strip") is the main tourist zone of Vegas where most iconic hotels and casinos are located. The strip of Las Vegas Boulevard stretches for 4.2 miles from the SRAT Tower on the north side to the "Welcome to Las Vegas" sign and the Mandalay Bay on the south side. The south side is right near the airport.
If you are flying into McCarran airport you will fly right over the strip, you can't miss it! Lots of lights and big fun await you.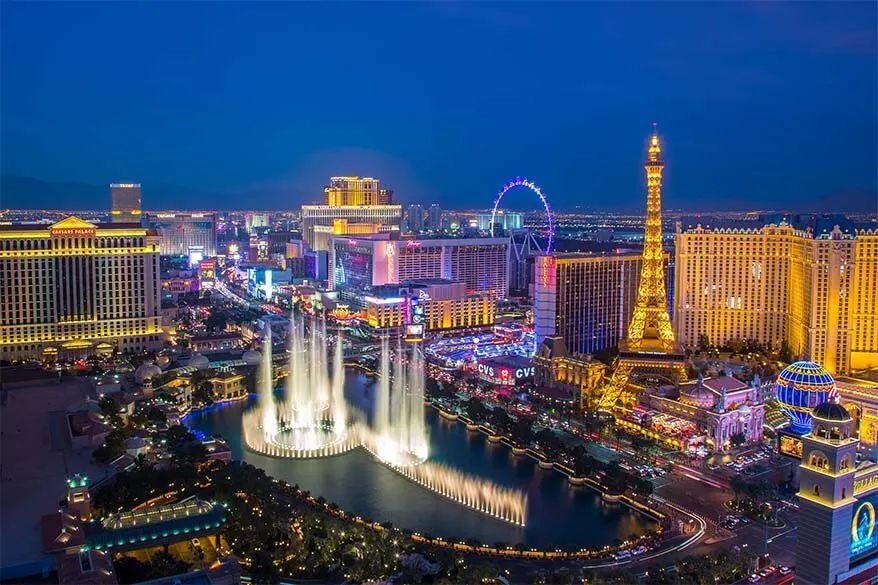 2. Remember that distances are bigger than they look at first sight
Las Vegas Strip is about 4.2 miles long. It would likely take you several hours to walk the entire distance between Stratosphere and Mandalay Bay.
If you look at it on a map, it looks like an easy walk. However, it's busy and there is so much to see and do, that you really can't just expect to 'see it all' in a few hours. In addition, it takes forever to cross the side streets (and there are many of them!).
Good to know: The estimated time it takes to walk to places is a very important component when making your plans for your stay in Vegas. In general, be sure to allow more time than you think you'll need to travel from place to place! Further below, you will find our top tips for getting around Las Vegas.
TIP: Lost on the Strip? Look up for the super tall Stratosphere tower which is on the north end to get your bearings. Also the Eiffel Tower at the 'center' of the Strip is visible from far.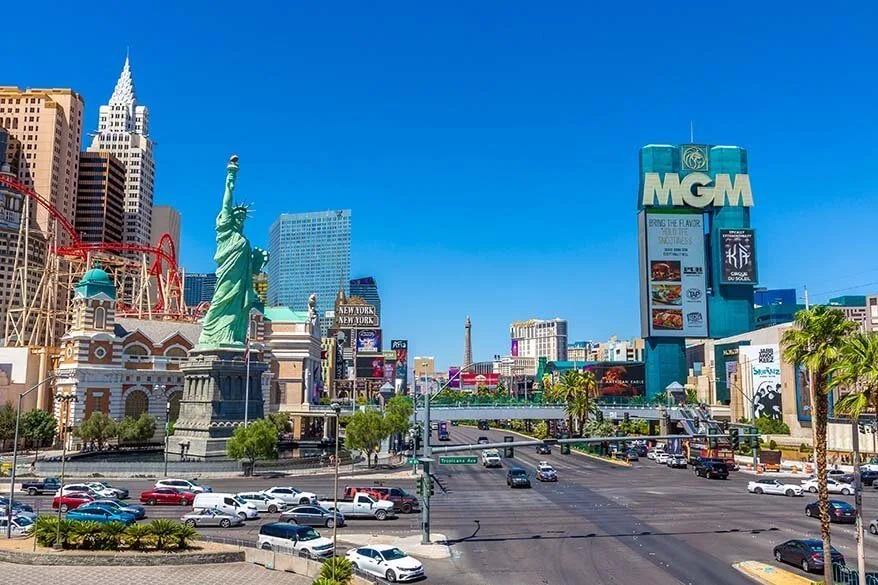 3. Stay on The Strip (or just nearby)
If you want to be in the heart of it all, the center of the Las Vegas Strip will give you the best location. Staying here will save you time and effort as most of the main Las Vegas sights and attractions will be just nearby. Furthermore, staying at one of the iconic casino-hotels on the strip is the ultimate Vegas experience!
The LINQ, The Flamingo, or Paris Las Vegas Hotel are all hotels that are VERY centrally located and affordable. Caesars Palace is a bit more expensive, but also offers great value for the location.
If you are looking for a higher-end casino/hotel, take a look at the famous Bellagio, The Venetian, or The Palazzo at The Venetian.
Good to know: The casino hotels will only allow guests under 21 with a parent or a guardian.
Before booking a hotel, see our next tip for some important information!
TIP: If you want to stay close to everything but prefer a bit quieter setting (and lower prices), look for hotels that are just off the strip. That way, you are still close to all the action, but it's cheaper and not as busy.
For example, The Signature at MGM is just nearby and many rooms have great views of the Strip. Horseshoe Las Vegas (former Bally's) offers very good value for the location. Holiday Inn Club Vacations at Desert Club Resort is not too far from the strip and close to LINQ Promenade – also great value and a very popular choice in Vegas…
Our mid-budget recommendation: The Westin Las Vegas has an amazing location just off the strip, but within two minutes walk to the best part of it.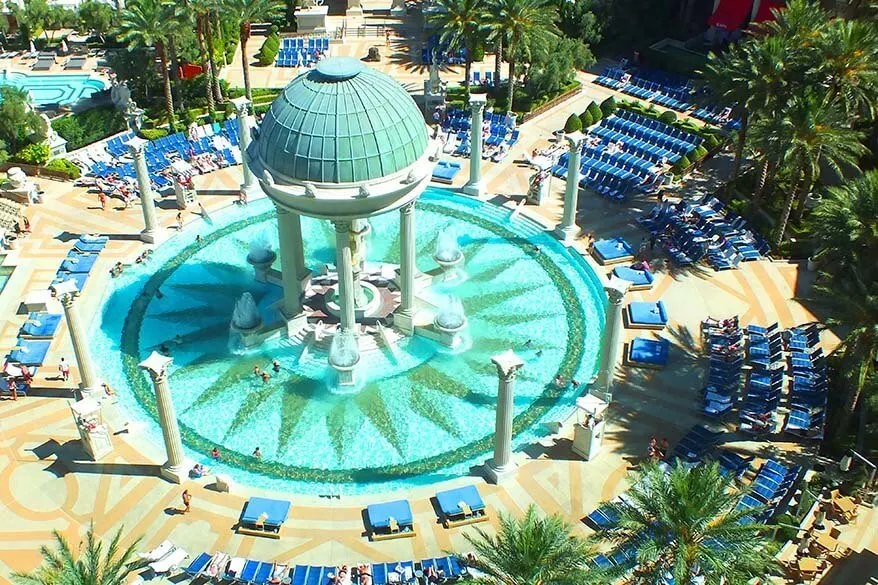 4. Beware of resort fees
Be sure to check the resort fees of any hotel you book in Vegas. The daily fee will be added to your total and can quickly add up. Some resort fees can add a big amount to your hotel bill each day, so be sure to always read the fine print.
In general, the more expensive the hotel, the higher the resort fee. It can be as low as a few dollars or as high as $50 or even more for high-end hotels. This is per night, so yes, it can add up.
TIP: We recommend booking your Vegas hotel via Booking.com. In most cases, the prices you see already include all taxes and resort fees. You can see the breakdown of the price if you click on a little 'i' icon next to the amount shown. That way, you can avoid unpleasant surprises at the end of your stay.
But in any case, always read the fine print as well! Often, resort fees (that you pay anyway) include all kinds of perks that you wouldn't even think of taking advantage of.
If you want a quieter vibe or are visiting Vegas on a budget, there are plenty of smaller and cheaper hotels located a bit further off the strip. Some of them have quite a central location that will be ok for sightseeing as well. For a stay on a lower budget, take a look at Ellis Island Hotel Casino & Brewery or Tuscany Suites & Casino. Both of these hotels have a good location and excellent price/ quality ratio.
TIP: Using the map below, you can compare hotels, apartments, and short-term rental accommodations in Las Vegas. Simply insert your travel dates and group size, and you'll see the best deals for your stay. Check it out!
5. Avoid weekends and public holidays
Las Vegas is a very popular weekend getaway and it's often crowded on Friday and Saturday nights. It's also very busy during public holidays.
The 4th of July, Labor Day, Memorial Day Weekend, and New Year are the absolute peak times in Vegas! If you come during a busy time, you'll have to queue everywhere, some activities might sell out, and accommodations will be really expensive.
So avoid traveling on weekends and during the most popular holidays.
TIP: If you want to avoid the crowds and save money, it's best to plan a visit to Vegas between Monday and Thursday. It's not only quieter and more enjoyable, but most hotels also have better rates and midweek deals. Also some attractions are cheaper on weekdays (e.g. Meow Wolf's Omega Mart to mention just one).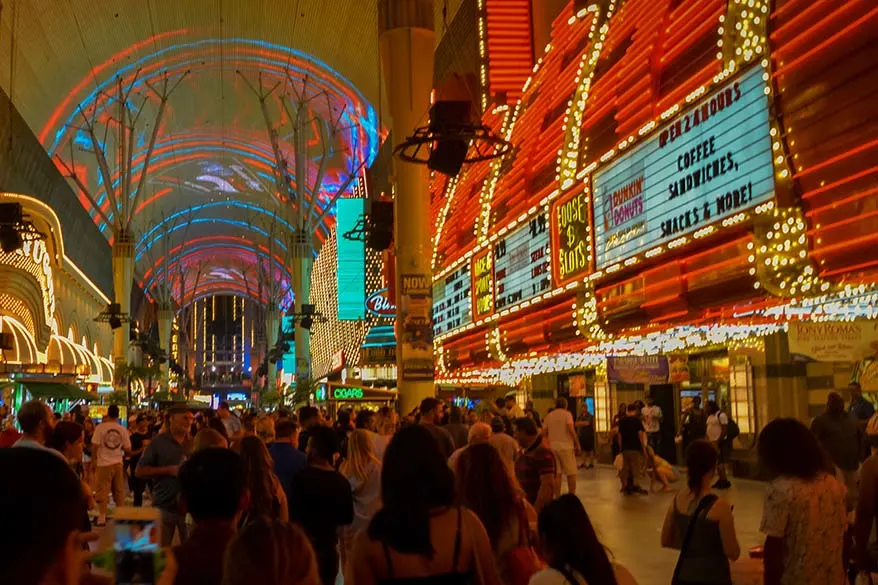 6. Walk The Strip & enjoy FREE Vegas attractions
Even if you plan on using trams, Ubers, and buses in Vegas (more about it below), there is no question that you will still spend a ton of time walking. The best way to explore Las Vegas is simply walking The Strip.
So get out there and explore! Walk through the casinos, stop for a drink or a snack along the way, and enjoy the typical Vegas atmosphere that you won't find anywhere else.
It's also here that you'll be able to enjoy some of the best FREE attractions in Las Vegas such as Bellagio Fountains, The Volcano, Bellagio Conservatory & Botanical Gardens, Flamingo Wildlife Habitat, and others.
Vegas is also one of the most fun places to people-watch. You will see a whole cast of characters from all over the world living their best life and letting loose.
TIP: One of the best places to "people watch" is the outdoor space at Flamingo's Margaritaville Bar. They have tables that hang out over the top of the strip. So grab a seat, get a tasty margarita, and enjoy the views and the atmosphere!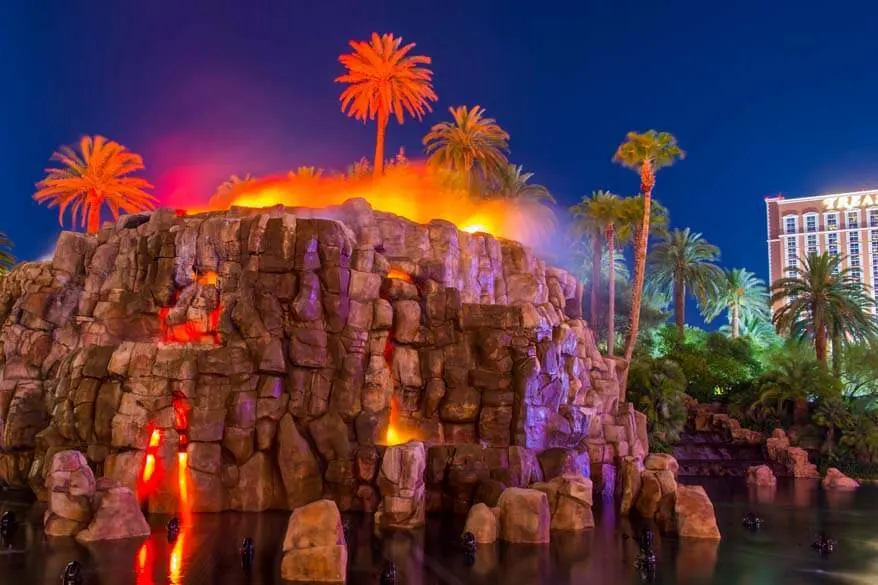 7. Wear comfortable shoes
The most important thing to pack for exploring Vegas is comfortable shoes! Do not be fooled and think you need to look glamorous by wearing high heels. Trust me, your entire stay in Vegas can be ruined by the wrong footwear.
You can always tell who is a Vegas rookie by watching people at the end of the night. Some women even walk barefoot carrying their high-heeled shoes in their hands… There's even a business in Vegas that has vending machines that dispense flat roll-up shoes to help people like that!
So use your common sense, pack comfortable shoes that are suitable for the season when you are visiting, and don't let sore feet ruin your vacation!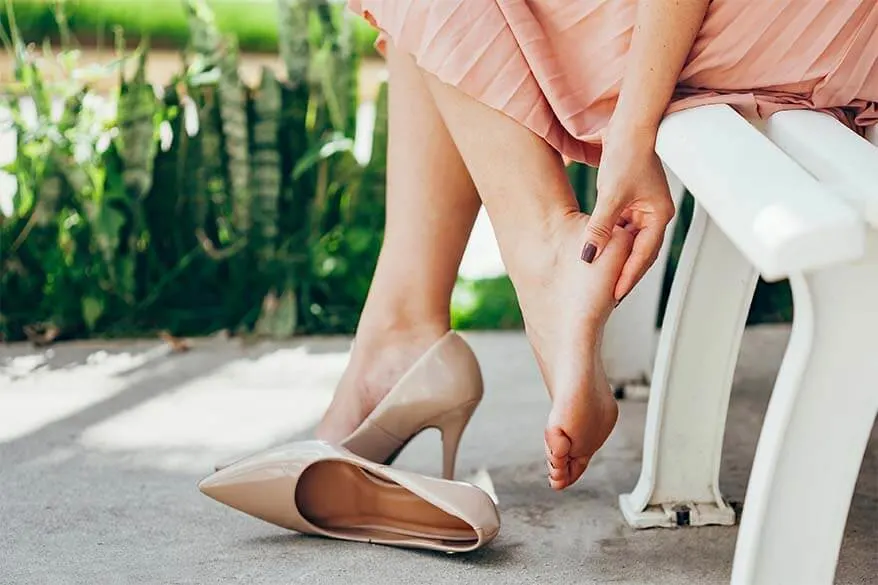 8. Carry some water, sun protection, and a sweater
Las Vegas is in a desert and the sun can be really harsh here. So no matter when you visit, be sure to take sunscreen, sunglasses, and a sun hat with you. It's also a good idea to pack a reusable water bottle when exploring the city!
At the same time, you should also be prepared for the cold AC indoors. Every time you get inside a casino, a shop, or a restaurant, you'll experience a huge difference in temperature. It's nice to have a light sweater (or a shawl, light jacket) to cover up indoors.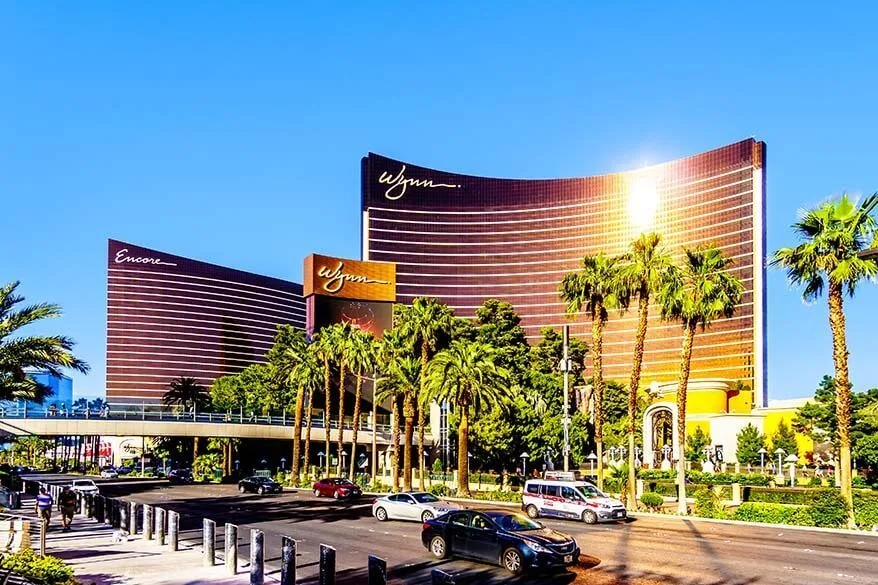 9. Adjust your biological clock
Las Vegas is 24/7! There is always so much to see and do in the city and many places remain open into the early hours. The casinos do not have windows or clocks hanging on walls, so it is very easy to lose track of time. They want you to get lost in their space, and this can be both a good and a bad thing.
The whole city comes to life at night, so if you want to experience the best of Vegas, you may want to adjust your regular schedule a bit. Sleep longer in the morning so that you can stay up later in the evening.
Just don't lose track of time, try to keep some kind of a schedule, and beware of the decisions you make, especially if you're tired and money is involved.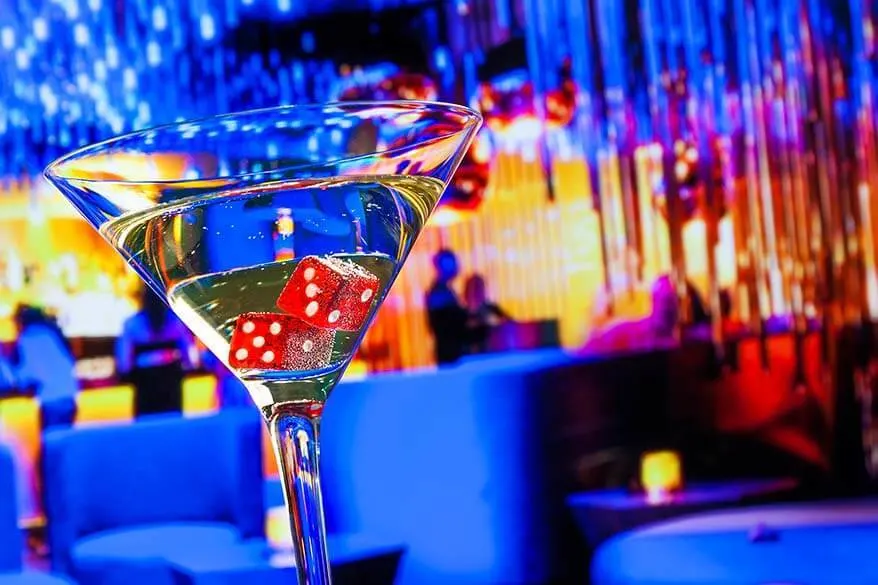 10. Do some research & prepare an itinerary
Las Vegas has so much to offer that it can get overwhelming. So if you want to make the most out of your time and money, it really pays to do some research upfront.
For example, many places in the city don't open before noon or even later. So it really helps to check this before you arrive someplace and find a closed door.
Some attractions in Las Vegas require advance bookings and in general, in most places, you'll be able to skip the lines with online reservations. This can save you a lot of time – if you do your research!
TIP: Depending on how much time you have in Las Vegas, you could visit some nature destinations outside of the city in the mornings and leave the casinos and fun attractions for late afternoon/evening. You will also find some attractions that are open in the morning, and there are also nice tours that you can do at the quieter times of the day (e.g. this highly-rated Las Vegas Downtown walking tour takes place in the morning).
If you are short on time, preparing a good itinerary is also the only way to make sure that you can visit all the places that you want to in the most relaxing way. If you are planning on doing some day trips (by car or with a tour), it's also wise to book ahead. That way, you can find the best options that suit your interests and timing and enjoy the very best that the city and its surroundings have to offer.
Via the link below, you can see an example of one such itinerary. It gives you an idea of how you could plan your first visit to Las Vegas.
Further below, you can find more information about some of the most popular attractions in Las Vegas where it makes sense to book ahead.
LEARN MORE: Las Vegas 1 Day Itinerary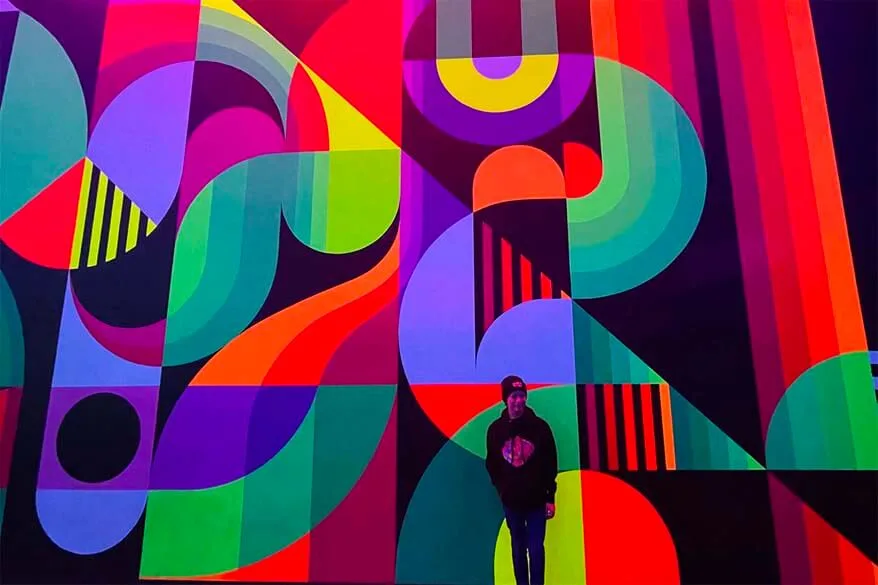 11. Save time & disappointment by booking in advance
Las Vegas is a city that is pretty much always busy, no matter the season. So if you absolutely want to visit a certain attraction, eat at a specific restaurant, or see a certain show, you should book in advance! That way, you can be sure that you can experience everything you really want to.
Often, booking online in advance is also cheaper. Furthermore, it also saves you time because you can just skip the ticket office and head straight to the attraction.
Here are some popular attraction tickets and tours that you can reserve before your trip (some of them are open tickets, so you have flexibility as to when exactly you go):
Here, you can also see a good overview of shows in Vegas.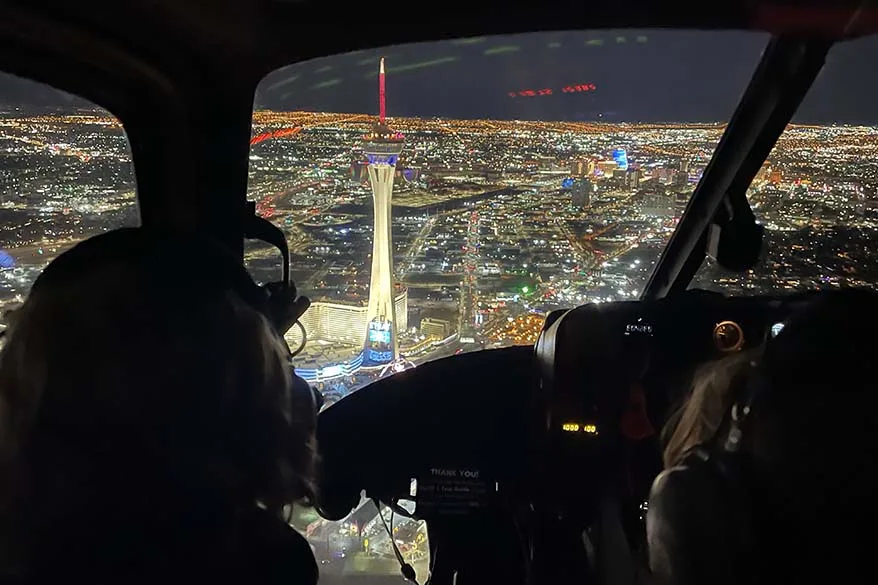 12. Save money by booking last minute
If you want to see a show in Vegas, but don't really care which one, when, or where you sit, then you can also just wait until you get there and try to get last-minute tickets.
Sometimes, you can get big discounts this way. However, the most popular shows will usually be sold out.
TIP: When looking for show tickets, be sure to stop by one of the Tix4Vegas or Tickets On Demand booths. They are scattered over several different locations on Las Vegas Strip and are bright red – you can't miss them. They often have last-minute tickets for various shows and some attractions in town.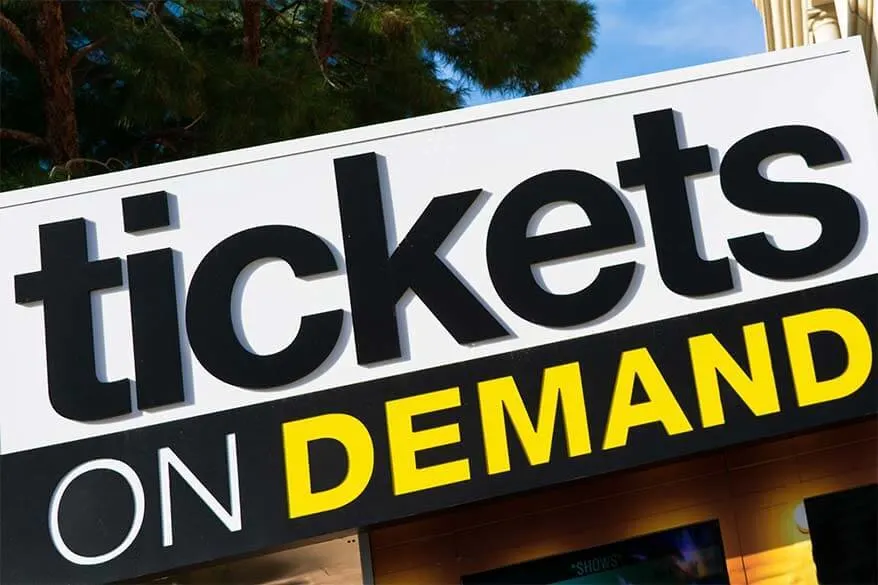 13. Enjoy all the food, but avoid peak dinner times
Deciding on where to eat in Las Vegas can be challenging because there are so many incredibly delicious choices. The great news is, there is something for every budget and every taste bud to enjoy.
Just remember that Vegas restaurants are extremely busy at peak dining times. So try to avoid going to a restaurant at the same time everyone else does. You'll waste a lot of time queuing. The worst time to go for dinner is between 6 and 8 PM, and for lunch – at noon.
Be sure to hit some of these restaurants in Vegas:
Las Vegas Buffets:
Celebrity Chefs:
Giada De Laurentiis – Giada at The Cromwell.
Guy Fieri's Vegas Kitchen.
Bazaar Meat by José Andrés.
Guy Savoy fine French dining at Caesars Palace.
Craft Steak – Tom Colicchio at MGM.
Gordon Ramsay – Hell's Kitchen at Caesars Palace, but also Gordon Ramsay Fish& Chips on LINQ Promenade.
TIP: If you want to have a good meal, avoid long queues, and save money, simply get some pizza. We had the best pizza in the US at Metro Pizza inside Ellis Island Hotel Casino. It's just 10-15 minutes walk from the strip area around the Caesars Palace.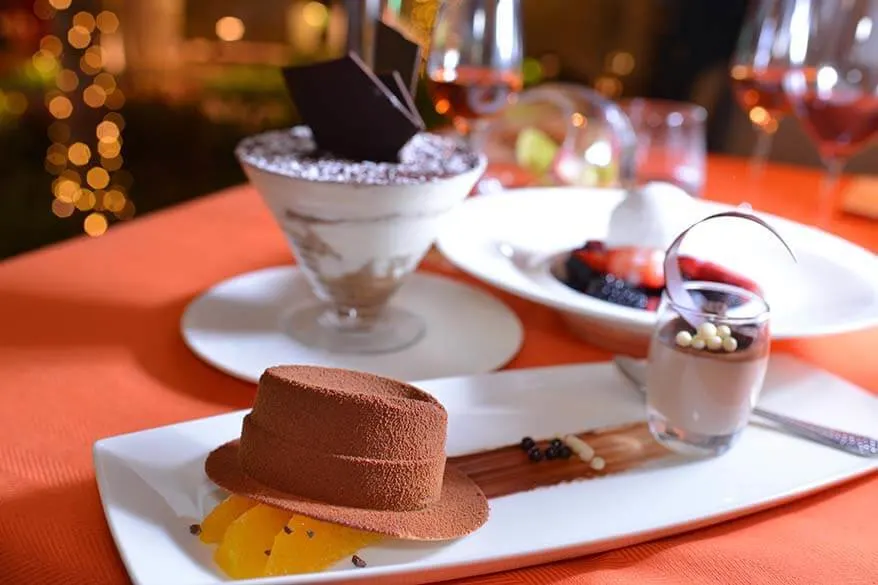 14. Don't rent a car unless you absolutely need it
When planning your first trip to Las Vegas, you might wonder if you should rent a car. Before you decide, think ahead about what your plans will be during your trip… Will you travel away from the strip area? Do you plan to visit places nearby like Hoover Dam or Red Rock Canyon? And if so, will you rather go on your own or on an organized tour?
There are plenty of transportation options to get around Las Vegas (more info further below). So unless you are planning on taking a road trip away from The Strip or Downtown Vegas, you really do not need a rental car in Vegas city itself. Most casinos charge huge parking fees and traffic is usually pretty tight, so it can often be more of a pain than a perk.
If you are planning to visit any of the best places near Las Vegas, you can also just book a tour. Whether it's a short excursion to Hoover Dam, Lake Mead, or a longer day trip to Grand Canyon, you can find plenty of tours on GetYourGuide (our favorite site for all tour and ticket bookings) or on Viator. Using these sites, you can easily see all the best options, compare prices, and benefit from the most flexible cancelation policies on the market.
If you decide to rent a car, we recommend only booking it for those days when you really need it (so not necessarily for your stay in Vegas itself). For the best prices, check the RentalCars website. They compare the best deals from different car hire companies, offer much cheaper insurance than at the counter, and have excellent customer service. We always use this website for all our rental cars when traveling and our recent experience in Vegas was excellent.
Good to know: For greater distances in town, you can opt for taxis and Uber/Lyft rides. Taxis are definitely more expensive, but Uber/Lyft can have weird pick-up locations at hotels. Be sure to ask the concierge at each place you are getting a pick-up where the Uber/Lyft pick-up area is. You might have to do some hunting to locate them. Often, you have to foresee a lot of extra time for waiting and logistics when taking a taxi or an Uber/Lyft.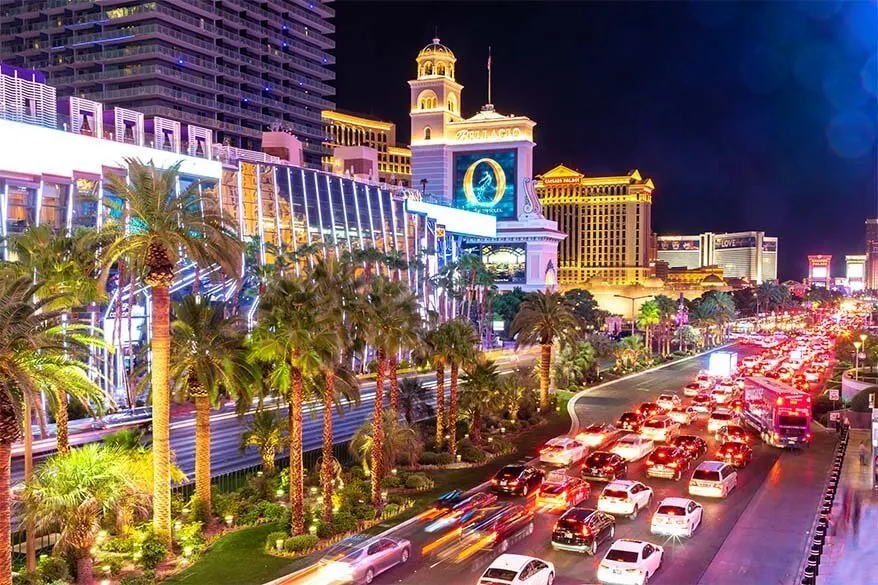 15. Research airport transfers in advance
If you are flying to Las Vegas, you might wonder what is the best way to get to your hotel from the airport. It's a good idea to know in advance what your options are. See below for more info.
There are several ways to get from McCarren International Airport to Las Vegas hotels:
The cheapest way is with a shared airport transfer. You can best book it in advance, where you also can read the instructions on where to go. It's very straightforward and easy.
Uber/Lyft. If you plan on taking an Uber/Lyft from the airport to the strip, be sure to read the signs in order to locate the Uber/Lyft pick-up area. It's up an elevator and across a walkway in a different building than baggage claim. There are clearly marked signs.
Taxi will likely be more expensive than the other options, especially if your hotel is on the northern side of the city. But grabbing a taxi is easy and the line usually starts right outside the baggage claim area. There is often a VERY long line with a winding queue. Don't be dismayed by the length of the line, it usually moves very quickly.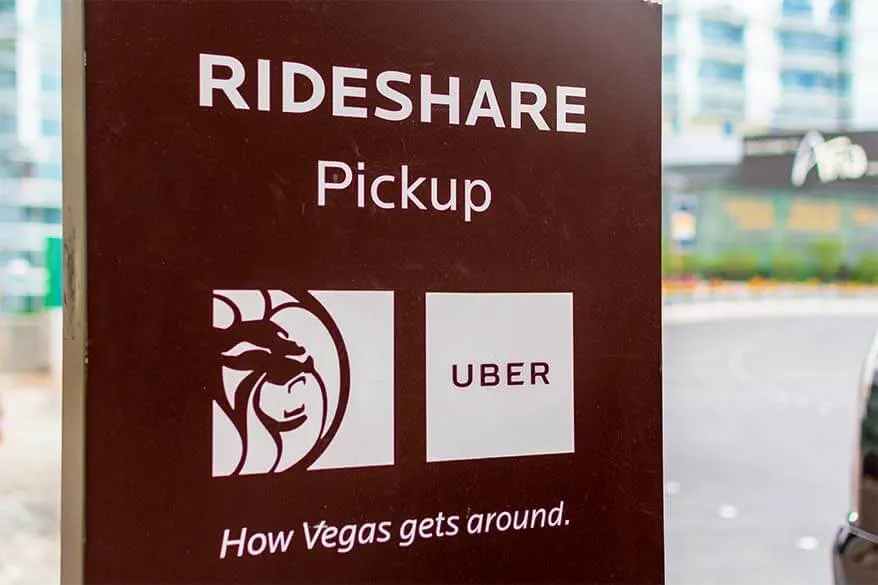 16. Use Las Vegas Monorail
One of the best ways to get around the Strip is the Las Vegas Monorail! This super cool monorail avoids Vegas traffic completely, keeps you in the air conditioning, and runs on the back east side of the line of resorts. It's also much cheaper than the HoHo buses.
Las Vegas Monorail stretches from the MGM Grand down through the Las Vegas Convention Center to the SAHARA which is across the street from the Stratosphere Tower. There are 7 stops in total which will get you near most areas you want to see on the strip.
Trains typically arrive every 5-6 minutes at each stop. You can just pay for one ride, but (multi-) day passes are available too. Children aged 5 and under ride for free. You can get tickets online or at each station in the Ticket Vending Machines (TVMs) which are located at each Monorail station entrance.
Good to know: The typical hours of Las Vegas monorail are from 7 AM to 2 AM. On weekends, it runs until 3 AM. On Mondays – until midnight.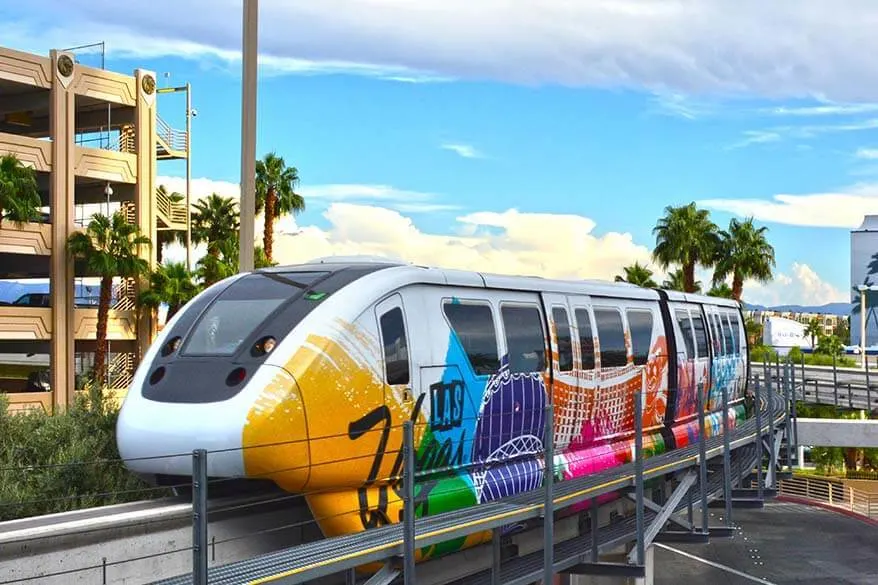 17. Take a hop-on hop-off bus to get to know the city
If you've never been to Vegas before, the Big Bus Las Vegas is a great way to see everything in a short time, and without making your feet sore. They have 'classic' tickets for one or two days, or you can also opt for a night tour.
Normally, the double-decker bus tours the entire strip (the Strip Loop) and Old Vegas (Downtown Loop). Get on and off as many times as you want to see the main sights and attractions in Las Vegas. The first bus takes off at 10 AM and the last one at 5 PM.
TIP: The night tour takes about 3 hours and has a live guide. It's, however, quite expensive if booked separately. But you can get a much better deal if you buy it in combination with a 1-day tour. So you get more value for your money if you get both tickets at once.
Good to know: If you didn't get your tickets in advance, you can check ticket booths on the strip for any last-minute discounted deals. However, they are only valid for that calendar day, so if you want to make the most of it, it's best to just book online and start your hop-on hop-off tour as soon as the buses start running in the morning.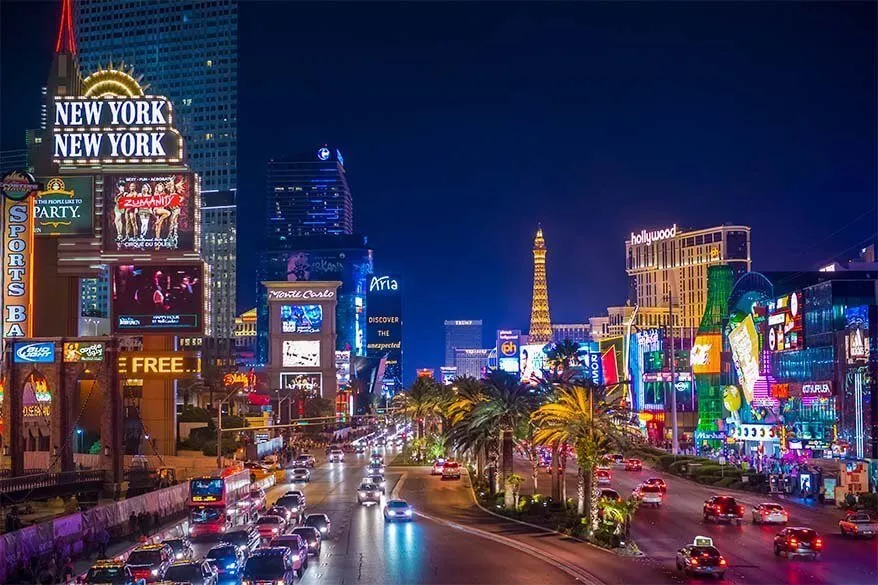 18. Take advantage of FREE Monorail Trams
There are several free trams in Vegas that are not a part of the Las Vegas Monorail system. They can be a real lifesaver when your feet are tired, when it's very hot, or when you just need to get to your next destination faster.
Las Vegas can get extremely hot, which can make walking a bit uncomfortable. Knowing where these free trams are will save you a lot of time & effort when you are exploring the city. Here are the three options:
Aria Express Tram
This free tram runs from the Bellagio through the City Center/Crystal Shopping Mall stop to the Park MGM stop. This tram runs every 7 minutes from 8 AM to 4 AM.
To access the tram in the Bellagio, go to the hallway in the Bellagio Spa Tower near the walkway to Vdara. You will see signs and stairs and an elevator that goes up to the station.
Mandalay Bay – Excalibur Tram
This is a short express tram ride that begins at Mandalay Bay, makes a stop at the Luxor, and ends at Excalibur. This tram runs from 11 AM to 10.30 PM.
The entire ride is just a 7-minute trip, but it will help you travel through these three hotels much more quickly. What looks like a short walk, could take up to 45 minutes on foot.
Good to know: There is also an Express Tram that runs directly between the Excalibur and Mandalay Bay, skipping the Luxor altogether. It takes just 3 minutes.
TIP: Be on the lookout! The Main Station on this trip has a free slot pull machine with a $5,000 payoff. So be sure to stop there for a free pull and try your luck! You may end up winning a free show ticket instead, but free is free!
Mirage – Treasure Island Tram
This tram runs between The Mirage and Treasure Island. The ride takes less than five minutes, on foot this could take 20-30 minutes. It runs every 15 minutes, between 7 AM and 2 AM.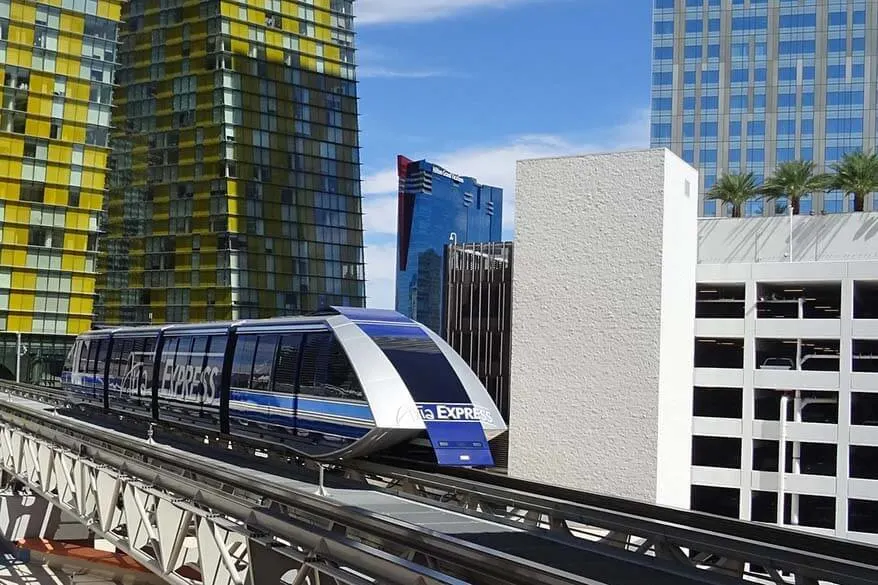 19. Budget your spending ahead of time
If you plan on gambling in Las Vegas, the first thing you should do is set a gambling budget for yourself. How much will you spend per day throughout the trip?
It is very easy to blow through your hard-earned money like it is Monopoly money. So be careful!
Be smart and make sure you fill some of your time with free Vegas attractions such as Bellagio Fountains, The Volcano, Flamingo Wildlife Habitat, and many others. Your savings account will thank you!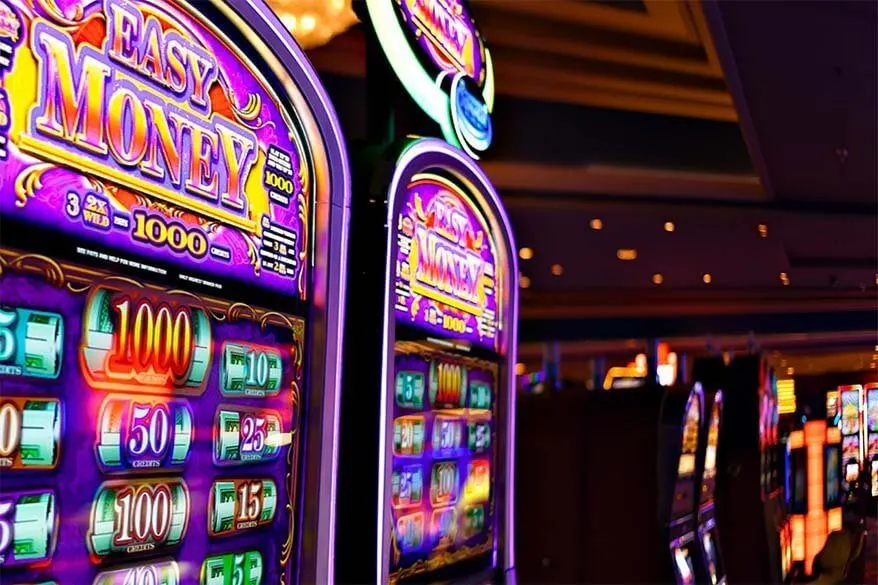 20. Rember that the house always wins
Many people visiting Vegas are planning to try their luck at one of the casinos. It's an experience in itself, but remember that the HOUSE ALWAYS WINS. So only gamble what you can afford to lose!
If you have never gambled before and want to give it a try, be sure to familiarize yourself with the rules of the games you are planning to play. Ideally, you do this before you come to Vegas, as many experienced gamblers will not be thrilled to have a newbie at the table.
Alternatively, head to the casinos in the morning or during the day. Those are the slow times when dealers will have more time and might even offer to teach you the game. In that case, be sure to tip them for the time and effort. Also, check with the casino you are staying at and see if they have any gaming lessons during the day.
Slot machines are stress-free and can be super fun to take at your own pace. So if you are new to Vegas, it's probably better to start with them rather than the table games. Just be sure to plug in your member's loyalty card in the slot to reap as many benefits as you can from the money you will likely lose. See below for more information.
TIP: If you are planning on gambling, you may want to wait before you order your drinks. Many casinos in Vegas offer free drinks to the people who gamble. So often, a waiter will come up to you and will offer some drinks on a house, but only if you are actually playing. So 'free' is never really free… Also, don't forget to tip the waiter!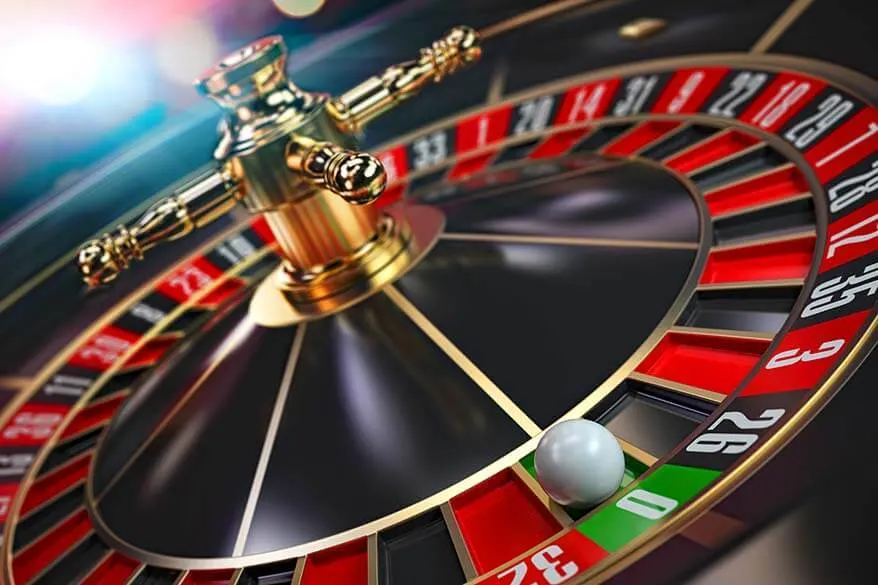 21. Reap the rewards of your loyalty
It doesn't matter if you plan on gambling $20 or $2,000, the first thing you must do when gambling in Las Vegas is to sign up for the member loyalty card of the casino you are gambling in. If you are planning to spend the money anyway, you can as well try to get something back…
Just remember that there ain't no such thing as a free lunch!
By signing up for these member reward cards, you will be rewarded for your loyalty. So be sure to show this card in every store, restaurant, card table and slide it into every slot machine that you play. They will track your spending and give you rewards based on that. If you want to rake up the points, stick to one casino group to make sure your spending adds up faster.
They will then send future bargains and deals for your next trip to Vegas. If you are really lucky and spend enough money in their casino, they will also give you 'comps' which are "complimentary" items like free dinners, discounted or free hotel rooms, show ticket discounts, etc…
There are two main reward cards for most of the casinos on the Las Vegas strip – one from MGM Resorts and one from Caesars – more info below. There are also a few other smaller programs too.
M life Rewards Loyalty Program for MGM Resorts. These casinos/resorts include MGM Grand, Bellagio, The Mirage, Mandalay Bay, ARIA, New York New York, Delano, Luxor, Vdara, and Excalibur.
Caesars Rewards from Caesars Entertainment. These casinos/resorts include Caesars Palace, Flamingo, Horseshoe, Harrah's, The Cromwell, The LINQ, Paris Las Vegas, Planet Hollywood, Circus Circus, Tropicana, and Rio.
These groups are all competing for your business, so be smart about your spending and reap as many rewards as you can, because – remember – the house always wins!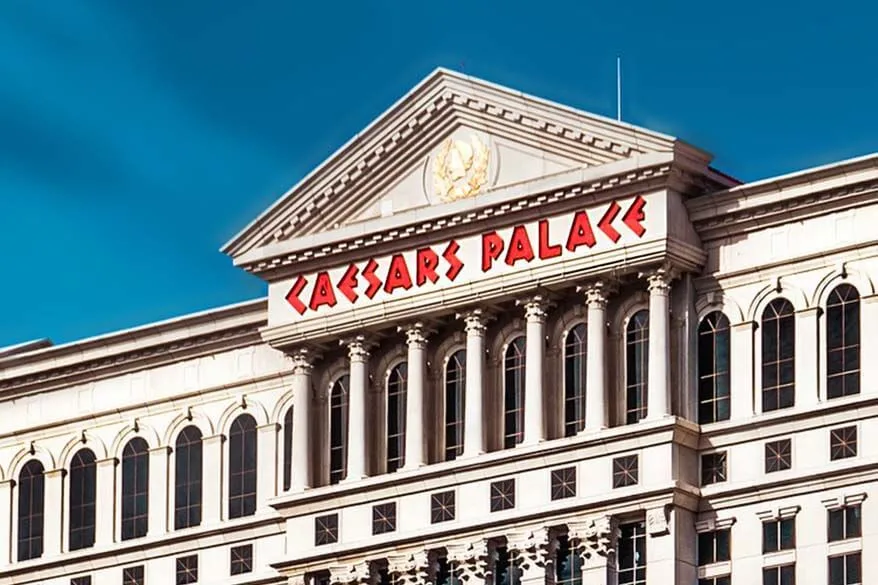 22. Explore off the strip & get outside the city
Do yourself a favor and dedicate some time to exploring the Las Vegas area away from the Strip. Las Vegas has so much to offer that goes beyond the most famous casinos!
Be sure to visit some of these places:
Many of these places that can be visited with a tour, can actually be combined in just one trip. So you can make the most of your time. Check out all the options via the links above.
You can read more about the best places and experiences in and near Vegas via the link below. Check it out!
LEARN MORE:
Best Things to Do in Las Vegas
Best Day Trips & Tours from Las Vegas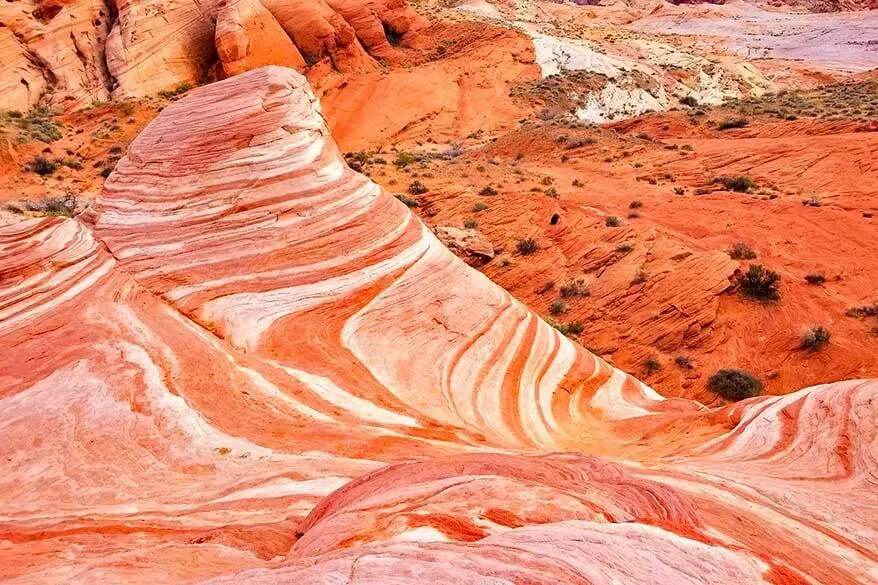 Las Vegas Travel FAQ
How many days do you need in Vegas?
You could see the best of Las Vegas in 24 hours, but you could also find plenty to do each day if you spent a week here. In general, 3 – 4 days or a long weekend is a good amount of time for your first trip to Vegas. This will allow you to see all the highlights and maybe even take an excursion or two outside the city.
What is the best time to visit Las Vegas?
The best time to visit Las Vegas weather-wise is in early spring or later in the fall (March-April or October-November). Vegas is in the desert, so the summer months can easily see highs in the 100° range. In winter, the temperatures are mild and you can even get an occasional snow shower. If you want to avoid the crowds, don't come to Vegas on the 4th of July, New Year's Eve, Labor Day & Memorial Day Weekends.
What is the cheapest month to travel to Las Vegas?
The cheapest time to visit Las Vegas is the first half of December and January. Just before and right after the New Year's celebrations, the city tends to be much quieter than at any other time and you can find good deals for flights and accommodations. Also in summer, when it's too hot for many people, you might be able to find cheap hotel rates, especially in August.
I'm not rich, is Vegas worth visiting?
Absolutely, Las Vegas is really a city for everyone! One of the best things about Las Vegas is that whether you are a high roller or not, you will be able to find ways to have fun on every budget.
What are my chances of winning big $$?
Repeat after me… THE HOUSE ALWAYS WINS! That needs to be your mantra while you are there. Unfortunately, the chances of you hitting a big jackpot are very slim. So make sure you keep your gambling budget strict and only gamble with what you can afford to lose.
So, these are some of our top tips and things you should know when visiting Las Vegas. Remember that you can't see it all in just a few days, so make a plan, but also allow some time to discover some hidden gems and simply enjoy the moment.
One more thing – try to be open-minded and sometimes just go with the flow. Otherwise, it's easy to get stressed out by the crowds and all the craziness around you. Remember that Vegas is all about having fun, so enjoy your time in Sin City!
READ ALSO: How to See the Best of Grand Canyon in 1 Day
More travel inspiration for Southwestern USA:
If you found this post useful, don't forget to bookmark it and share it with your friends. Are you on Pinterest? Pin these images!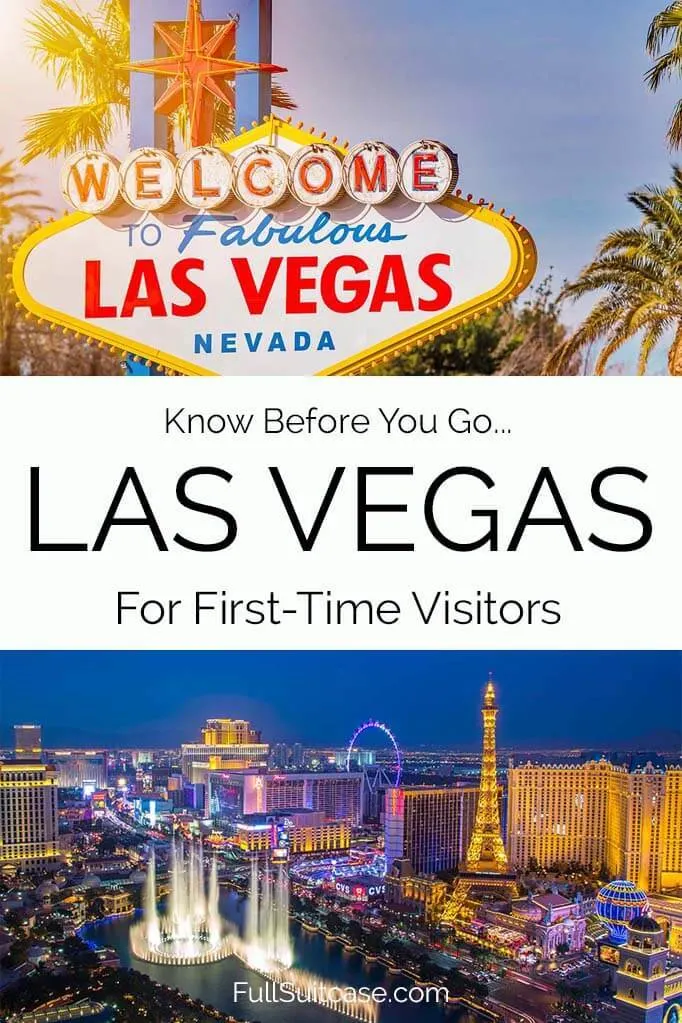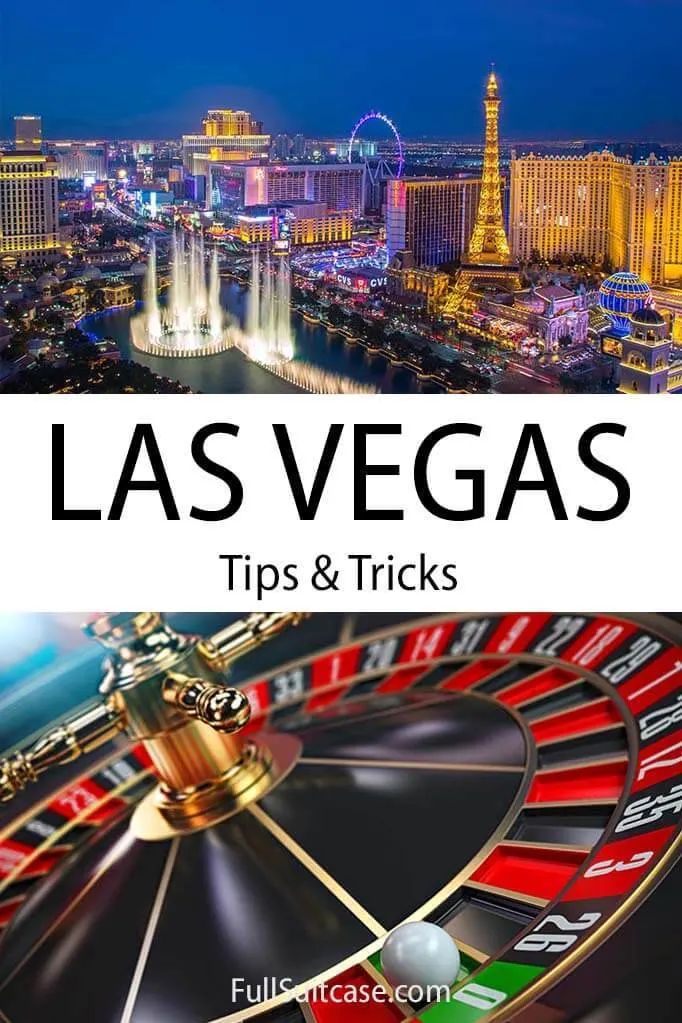 Image credits: Las Vegas Strip at night – aiisha/Depositphotos.com// Caesars swimming pool – BobHilscher/Depositphotos.com// Monorail – Roig61/Depositphotos.com// Vegas traffic & New York hotel – bloodua/Depositphotos.com// Tickets on demand & Rideshare stand- MichaelVi/Depositphotos.com// Las Vegas Boulevard in the dark & The Volcano – kobbydagan/Depositphotos.com// Wynn Resort – harrybeugelink/Depositphotos.com// Fremont Street crowds – Arena73/Depositphotos.com//