Moab in Utah is an amazing destination for outdoor and adventure lovers. There is so much to see and do in the area! Hiking, rafting, mountain biking, canyoneering… These are just a few of the big variety of Moab tours.
Furthermore, Moab is also a gateway to Arches National Park. It's also just a short drive away from Canyonlands National Park. Both parks offer countless possibilities for things to experience.
But with such a big variety of things to do and tours in Moab, how do you choose the ones that are right for you? Those activities that will make your trip to this beautiful destination even more special…
In our previous articles, we shared some of the very best things to do in Moab and suggested Moab itineraries for any trip duration. In this blog post, you can find an overview of the best excursions and organized tours in Moab.
Take a look – there is something in here for everyone!
How to use this guide: You can click on the tour that interests you and jump straight to the explanation or scroll down and see the entire selection before deciding which tour is right for you.
For every activity, we first give you a short description of what to expect, followed by a selection of suggested tours. The tours we feature in this guide have been selected by us based on the itinerary, price/ quality, and customer reviews. Check it out!
Best tours in Moab – OVERVIEW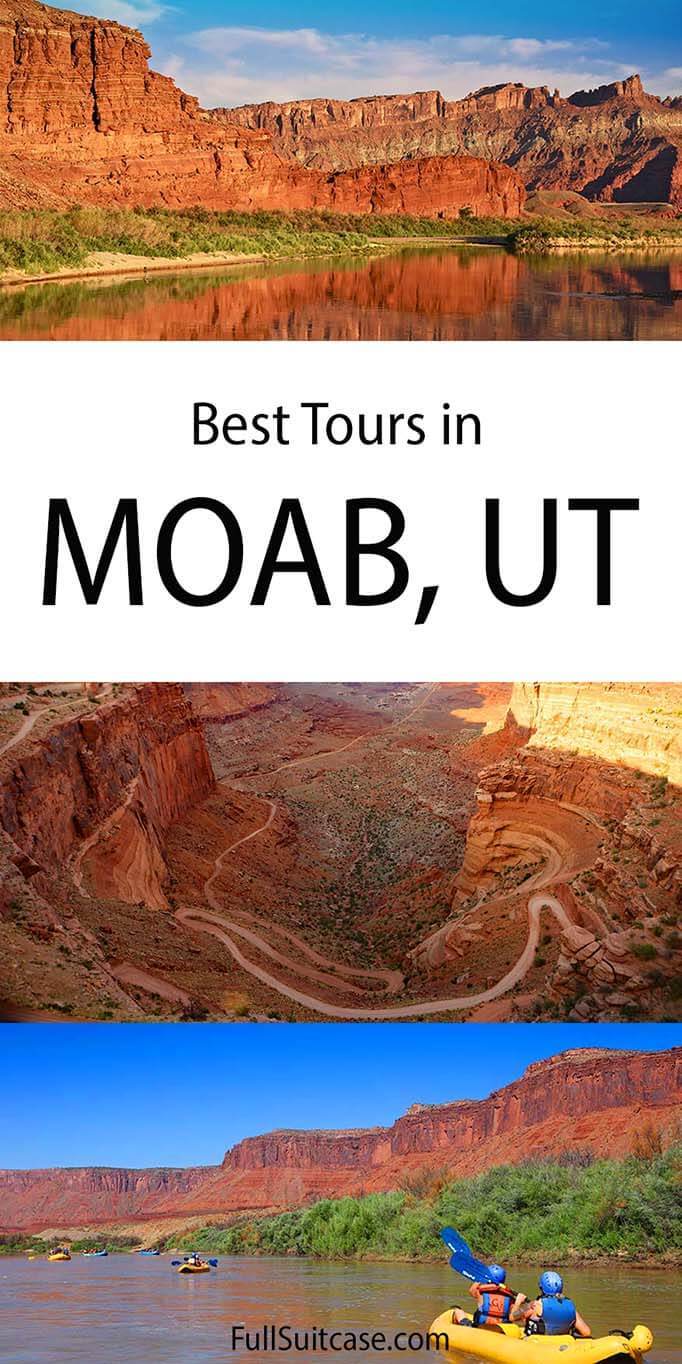 1. 4WD Off-road Tours
An off-road tour in the Moab region is an experience you won't quickly forget! Not only is it a great opportunity to get away from the crowds, but it's also a thrilling way to escape into the wilderness and appreciate the stark beauty of Hell's Revenge up close and personal!
If you're feeling brave, you can take the wheel of your off-road vehicle yourself and follow your experienced guide. Safety is the number one priority on these tours and you will be fully briefed before getting behind the wheel. Still, driving these awesome but steep trails is not for the faint of heart!
Alternatively, you can share the driving with another member of your party. Or you can also ride as a passenger with your guide.
But the off-road tours in Moab are not just an adrenaline-rushing activity; it's informative too. Local guides give you lots of information about the region that you just won't come across elsewhere! You'll even learn about dinosaurs that used to roam the area and get to see some of their fossilized trails!
Up to 4 passengers are allowed per vehicle and some tours allow children too. Just remember to arrive early so that child seats can be fitted.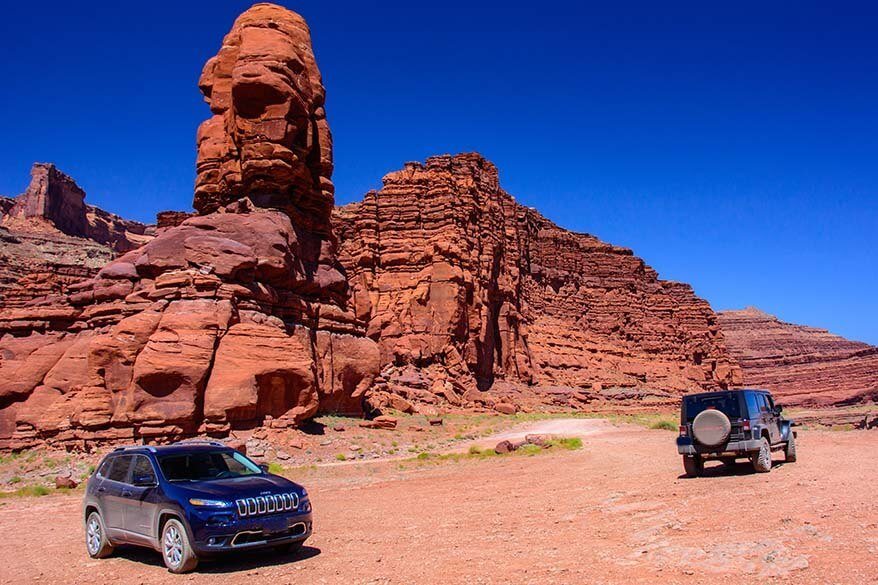 Suggested off-road 4WD tours in Moab
Hell's Revenge 4WD off-road tour. This tour is the perfect opportunity to test your mettle and is one of the most popular tours in Moab! It allows you to enjoy exceptional views of the Colorado River, La Sal Mountains, and Negro Bill Canyon as you negotiate steep climbs and descents over difficult terrain.
You also stop near Lion's Back to see the fossilized dinosaur tracks. This is a small group of up to 4 vehicles and takes just 2.5 hours. It runs several times a day.
Backcountry Jeep Adventure. This is a good option for those who want the freedom to explore the beauty of Southeastern Utah at their own pace and to stop anywhere they want to. You rent a jeep for a day and set on a do-it-yourself off-road adventure.
Jeep rental includes maps and a trail guide that brings you to some of the most scenic areas near Moab that you wouldn't easily reach with a regular car. Every Jeep also includes a cooler stocked with ice and water. Hotel pickup and drop-off is included.
2. Rafting
Rafting on the Colorado River is one of the most popular things to do in Moab in summer. It's a great way to see some of the most amazing scenery that isn't easily accessible otherwise. Furthermore, it's also a perfect activity for hot summer days when temperatures sore over 100°F and more.
When it's too hot to go hiking or do any other outdoor activities, rafting is a great alternative. It's a great choice for anyone looking for a fun way to experience the beautiful area around Moab.
There are rafting tours available for everyone – from easy rafting/floating trips with class 1 or 2 rapids to more adventurous trips with some serious whitewater rafting.
So no matter if you are looking for a family-friendly tour in Moab or an adrenaline-rushing adventure, this is one activity that you really shouldn't miss.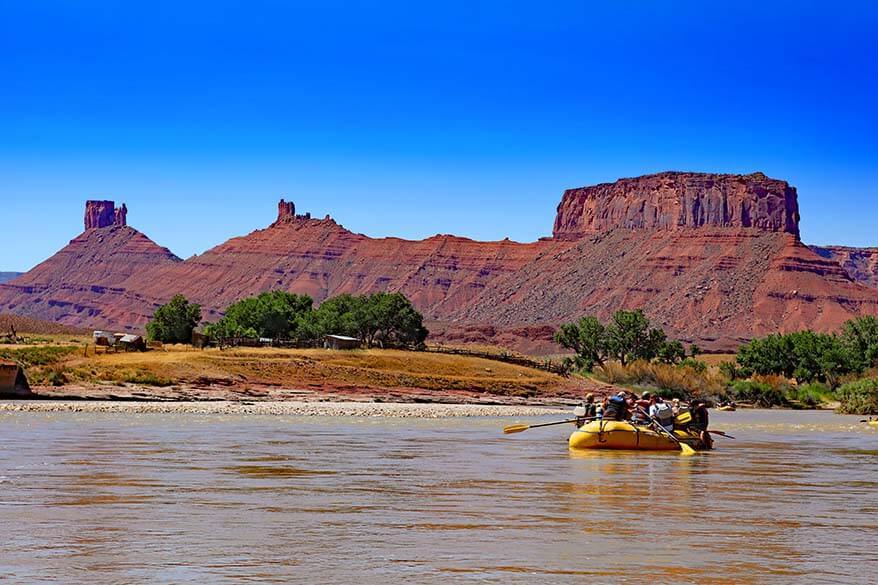 Suggested Moab rafting tours
Easy half-day rafting tour. This tour is perfect for families and everyone who is looking for a soft adventure rafting experience. You get to see some beautiful scenery and can jump for a swim in the cool waters of the Colorado River. No experience is required and you don't even have to peddle.
Full-day tour with class 2&3 rapids. This is an excellent rafting tour for those who want just a little bit more adventure. This trip is longer so you get to see more of the surroundings (including Fisher Towers area) and there is just enough action to make it more exciting.
Full-day rafting tour with class 3 & 4 rapids. This is a longer and more adventurous rafting tour that covers a different part of the Colorado River, the Westwater Canyon. If you are looking for a real whitewater rafting experience in Moab, this is it!
READ ALSO: Rafting in Moab
3. Arches National Park
Named after its 2000+ natural sandstone arches – the largest collection to be found anywhere in the world – Arches National Park is filled with wondrous geological formations, including stunning pinnacles and fins.
The distinctive Arches landscape has formed the backdrop for parts of many major Hollywood movies, including classics such as Thelma and Louise, Indiana Jones, and the Last Crusade.
The best way to explore Arches is by going hiking or off-road driving. And there is also a scenic drive with many nice stops that you can easily do in your own car.
Please also check our Arches National Park guide for suggestions for the very best things to do in Arches. However, if it's too hot for hiking or if you want to visit some amazing places that are not easily accessible otherwise, then consider a 4×4 tour from Moab to Arches.
A jeep tour is the best way to see unexplored corners of the park. Having an experienced driver/guide is a real bonus. With a local guide, you'll be sure to see all the important sights and learn more about the area's history.
Although it's awesome to visit the park at any time of day, a sunset tour – when the setting sun lights up the red rocks – is truly special!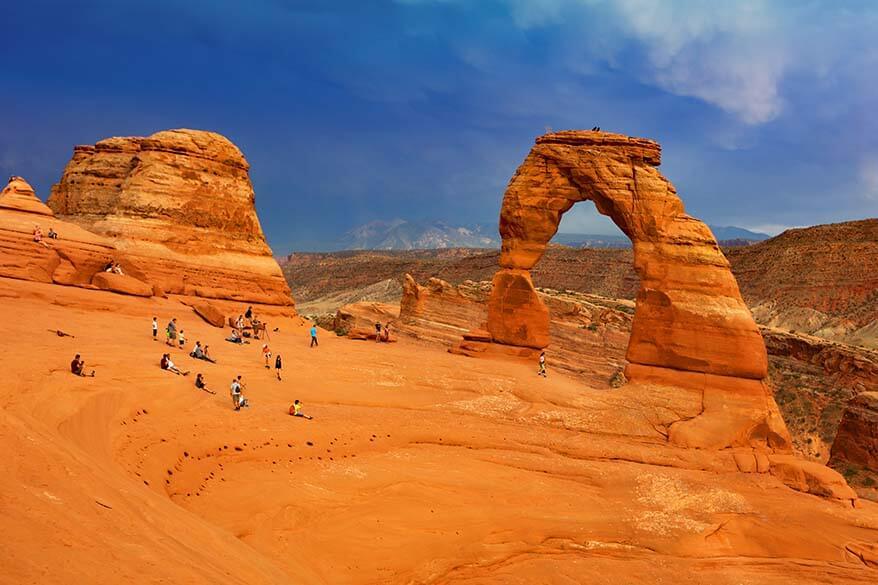 Suggested Arches tours from Moab
Arches National Park 4×4 Adventure from Moab. This half-day tour takes you away from the hustle and bustle of everyday life and into the backcountry. You'll see Arches' highlights, including the Tower Arch, the red rocks at Marching Men, and Eye of the Whale. You can also hike the short but steep route to Tower Arch for a better look. But you can see it just as well from the trailhead if you prefer. The tour includes hotel pickup and drop-off. Iced drinks are provided.
Arches National Park 4×4 Drive and Hiking Tour. If you want to get off the beaten path in Arches and explore the very best of the park in a day, then this full-day tour is a great option! A combination of hiking and 4×4 off-road driving, this tour brings you to places that only very few people get to see.
Arches National Park Backcountry 4-hour Tour. This is one of the shorter 4WD tours to Arches NP and is ideal if you have less time available. You can explore the park's best trails and most scenic areas, but also more remote places. This is a small-group tour that takes just 12 people. Each Jeep has 4 passenger seats and your driver/guide will ask you to occasionally change positions so that no one has the same seat throughout the tour. Iced water and snacks are provided and there is parking available at the Moab office where you meet for departure.
Helicopter Tour over Arches. This is a unique way to see the backcountry of Arches National Park. On this private tour, you'll be able to see places that you wouldn't be able to visit otherwise and get a narration from your pilot/guide. Incredible views and a truly unforgettable experience!
4. Canyonlands NP – Island in the Sky
Canyonlands National Park in Utah is another must-see place when visiting Moab. The park is very big and just small parts of it are easily accessible. The Island in the Sky section of Canyonlands NP is just 40 minutes drive from Moab. It is, therefore, a very popular day-trip destination.
If you have a car, you can easily visit the main highlights of the Island in the Sky district, such as Mesa Arch, and many nice viewpoints on your own. However, if you want to get off-road and visit the lesser-known places too, then it's best to join a 4×4 tour from Moab.
Island in the Sky sits on sheer sandstone cliffs, over 1000 ft above the surrounding landscape. A jeep tour of the mesa top – looped around and under by the challenging 100 mile White Rim Road – gives you a very unique perspective of this spectacular terrain.
Experienced local drivers take you to the very best spots, navigating to the very top of mountains and to cliff edges for sweeping views down into the valleys. The benefits of a guided tour are that you get to see the most popular sights, but also the lesser-known and harder-to-reach ones too!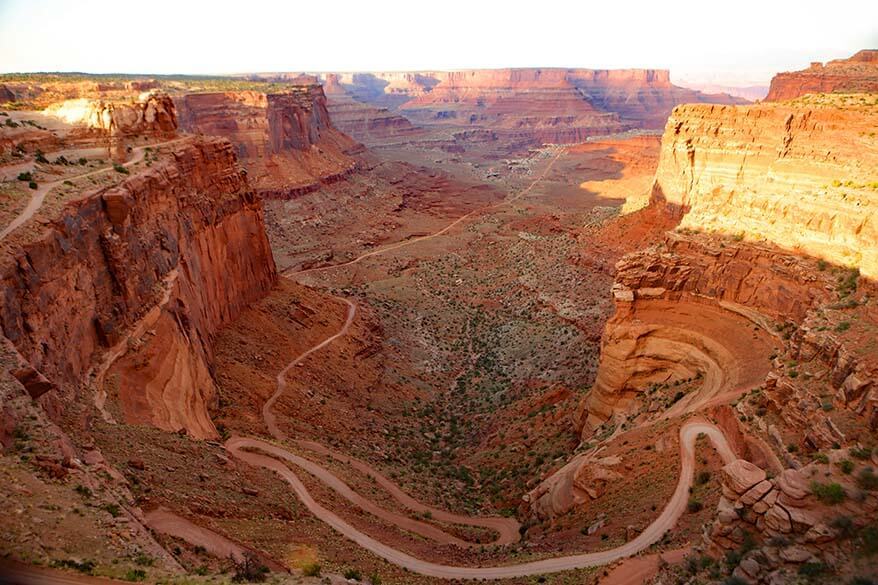 Canyonlands Island in the Sky tours from Moab
Canyonlands National Park Half-Day Tour from Moab. This 4-hour tour is the most popular option for those looking for a 4WD Canyonlands tour from Moab. It visits some amazing places that you wouldn't be able to see if you go in your own car. The tour starts on the banks of the Colorado River and includes a visit to Thelma and Louise Point, the Shafer Trail, and the Musselman Arch.
After a stop at Gooseneck Overlook and via the switchbacks of White Rim Road, your driver will take you to see the remains and petroglyph rock art of ancient Pueblo civilizations and explain their history. The tour runs several times a day and includes cold drinks as well as hotel pickup and drop-off.
Canyonlands Backcountry 4×4 Half-Day Tour. This 4-hour tour is similar to the one mentioned above but is slightly cheaper. It also visits all the main sights – including Gooseneck Overlook, the Shafer Trail, and offers multiple opportunities for jaw-dropping photography on the White Rim Road Loop. You also learn about the Pueblo people and the geology of the area.
Canyonlands National Park White Rim Trail by 4WD (also available on Viator). This is a full-day off-road tour deep into the Canyonlands. The White Rim Road tour visits the Island in the Sky section, Gooseneck Overlook, Musselman Arch, Lathrop Canyon, and the Shafer Trail.
To make the most of your day, you can also choose to take the short, guided hikes via secret passages into the area's isolated canyons and caves. Be sure to look out for the bighorn sheep as you pass the rocky ledges! A buffet-style picnic lunch and cold drinks are included, along with transportation to and from Moab. If you have a day to spare and don't mind some bumpy roads, this is a great opportunity to get off the beaten path in Canyonlands!
Canyonlands Helicopter Tour. This is one of the most unique ways to see the vast wilderness of Canyonlands. The majority of the park isn't easily accessible otherwise, but flying over it, you get to see some of the most incredible landscapes. Majestic canyons, red rocks and arches, and so much more – this tour is a bucket list experience in Moab!
Moab Combo: Colorado River Rafting and Canyonlands 4X4 Tour. This is one of the best Moab tours for those who want to see Canyonlands but also do rafting in one day. This full-day tour combines the thrill of off-roading with rafting. Your day begins with a 4 x 4 trip along parts of the Shafer Trail and White Rim Road, with panoramic views of Fossil Point. You then stop for a buffet lunch on the banks of the Colorado River, followed by a 4-hour rafting experience.
Please note that rafting here is easy and includes class 1 & 2 rapids only. If you want a more exhilarating rafting experience, you may want to check one of the more adventurous trips (see the rafting tours section above or see our tip below). This is a great family-friendly option with plenty of opportunities to relax, enjoy the wildlife and rock spires around the river, or go for a swim. The tour includes all the rafting equipment you'll need, along with life jackets, a river bag, and a camera box.
TIP: For those looking for a more exhilarating experience, there is also a similar Canyonlands combo tour that includes a RIB cruise on Colorado River instead of rafting.
5. Canyonlands NP – The Needles District
The Needles District is located in the southeast corner of Canyonlands. It is named after the Cedar Mesa Sandstone spires that are almost everywhere you look!
Off-roading here – on some of the most challenging tracks in southeastern Utah – is no mean feat. But with an expert driver and guide, you can sit back and enjoy the scenery without having to worry about the 'roads'.
Needles District is a full 2-hour drive from Moab, but it's worth going the extra distance to be able to see the majestic desert landscape of the area. This is not a place that you would easily visit on your own. So a tour is one of the absolute best ways to explore this part of the Canyonlands.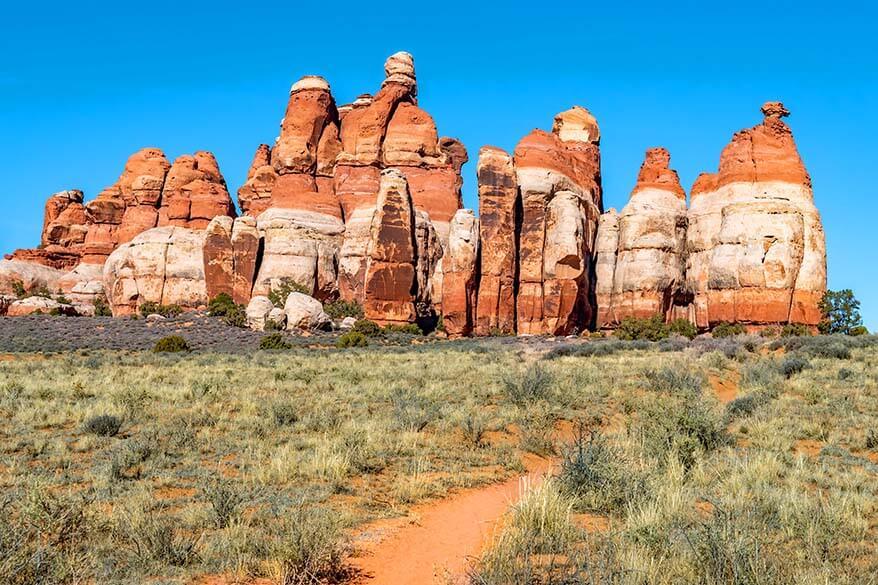 Suggested tour
Canyonlands National Park Needles District by 4×4. This is a full-day tour (10 hrs) during which you'll see the highlights of Chesler Park and leave the crowds behind. It includes visits to Elephant Hill, Devil's Lane, and Devil's Kitchen.
You also have an option to hike 3 miles along the Joint Trail. The hike might be a bit challenging, but you get to see Chesler Park Meadows, one of the most scenic spots in Canyonlands!
Furthermore, you'll learn lots about the area's geology, history, and wildlife throughout the day. You may be lucky to spot bighorn sheep, lizards, and mule deer between the cactus. A buffet-style lunch is provided, along with iced water and lemonade.
6. Canyonlands & Arches Day Tour
Being able to see 2 premier parks in one day is a great option if you have a limited amount of time in Moab but don't want to miss a thing! In that case, taking a tour is probably the best way to see the highlights of both parks.
Below, you can find our selection of the best tours that combine the best of the two parks.
And if you have a car and rather explore on your own, you can find a detailed itinerary that covers the musts of both – Arches and Canyonlans National Parks – in one day. Check it out!
READ ALSO: How to See the Best of Arches and Canyonlands in One Day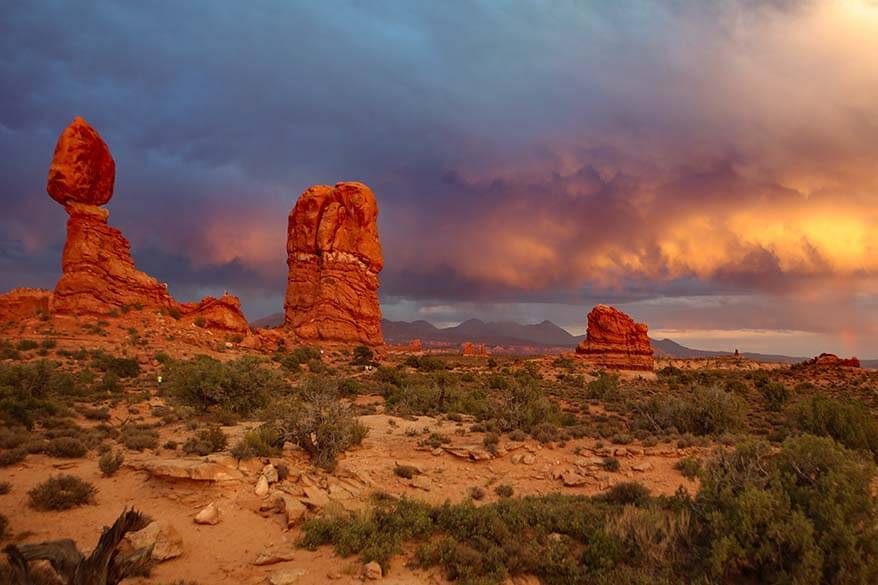 Suggested Arches & Canyonlands combo-tours
Full-Day Canyonlands and Arches 4×4 Driving Tour. This is one of the best value tours that cover both parks in one day. You get to see all the main highlights of the Island in the Sky part of Canyonlands as well as some amazing off-road locations in Arches National Park. Please note that this is a more off-the-beaten-path tour that visits locations you wouldn't easily see yourself.
Arches, Canyonlands, Dead Horse Point. This 8-hour tour starts in Arches NP and includes all the famous sights (many of these places you could also visit by car on your own). From there, they drive on to Canyonlands, where you have two options. One is to stop at all the canyon overlooks, with easy walks.
Alternatively, you can choose to take the 0.6-mile hike to Mesa Arch, which includes a visit to 2 further overlooks. This tour is suitable for all ages and includes lots of opportunities for taking photos, plus several short walks. If you want to see the best, most popular places in both parks in 1 day and with a tour, this is the best option for you.
Day of Photography in Moab, Arches & Canyonlands. Canyonlands and Arches are among the most photogenic National Parks in the world! This 9 to 11-hour tour is your chance to capture the most amazing photos you've ever taken! You'll visit several locations with world-class views at sunrise in Canyonlands. In addition, you also visit several similarly inspiring spots in Arches at sunset.
Your experienced guides will suggest the best photography locations. They will also help you with everything from achieving the perfect composition to the basics of photography (if needed). There is a break for lunch, but you will need to bring your own food. Water and small snacks are provided. This tour involves some short hikes of less than a mile, so you need to be moderately fit.
7. Air Tours in Moab
Given the vast landscapes of Canyonlands and Arches National Parks, it is almost impossible to see everything you want to in a limited amount of time. What's more, some of the best sights are not accessible by road and can't be reached on foot. An air tour is a perfect way to take in all the magnificent scenery in its entirety.
Air tours are great for travelers who have never visited the area before or for those who might find it physically difficult to hike the terrain or sit in a 4WD vehicle for hours.
Nothing can compare with soaring over sweeping canyons, enjoying breathtaking birds-eye views that can only be fully appreciated from above!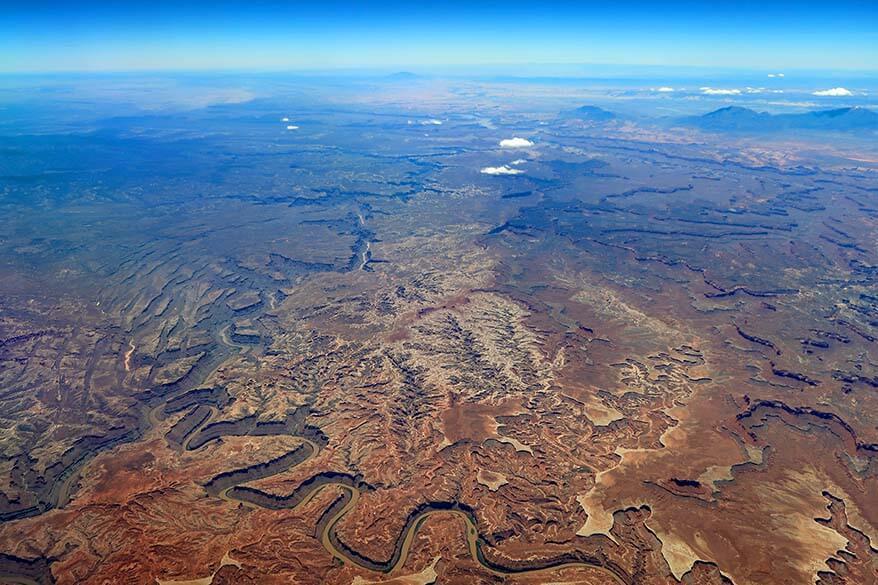 Suggested air tours
Arches National Park Helicopter Tour. This is a short tour that brings you to some remote parts of Arches National Park that most visitors never see. You'll see majestic red rocks and stunning natural arches. Because the flight is quite short (20-30 min), it's also one of the most affordable air tours in Moab.
Canyonlands National Park Helicopter Tour. This is one of the best air tours in Moab! You get to see some of the best scenery around Moab, fly over the vast canyons of Canyonlands, and see some places that are virtually inaccessible otherwise.
Canyonlands National Park Air Tour. After a short briefing, you will board a small, high wing plane, which is the perfect way to view the vast landscape of the Canyonlands NP from above. All seats are window seats, so you have uninterrupted views! Your skilled pilot will share both the history and geology of the area with you via a comfortable headset. At the end of this unforgettable experience, you'll have the opportunity to pose with the plane for some photos to treasure!
Canyonlands & Arches National Park Air Tour. This is a longer tour than the one above (1h20 vs 50 minutes). It takes you over both National Parks. Live commentary via a headset is included as you pass over attractions such as Upheaval Dome, Green River, Island in the Sky, White Rim, and many more.
8. Boat Tours
Moab boat tours are the perfect way to escape the crowds and see the canyons from an entirely different perspective. In addition to the rafting tours mentioned above, there are several other great options in Moab.
As the red rock canyon walls tower above you, you can experience the sound of the rushing Colorado River and enjoy the scenery and vegetation along its banks. If you are lucky, you may also get up close to the local wildlife in its native habitat.
A boat tour also provides some cool relief on a hot day, whether it's from a welcome spray of water as the boat turns, or from the cooler morning and evening temperatures on the river. Nighttime tours open up yet another realm of sightseeing opportunities, from colorful sunsets to sparkling stars in the inky skies.
Good to know: All of these tours are suitable for the entire family, although children need to be at least 4 years of age.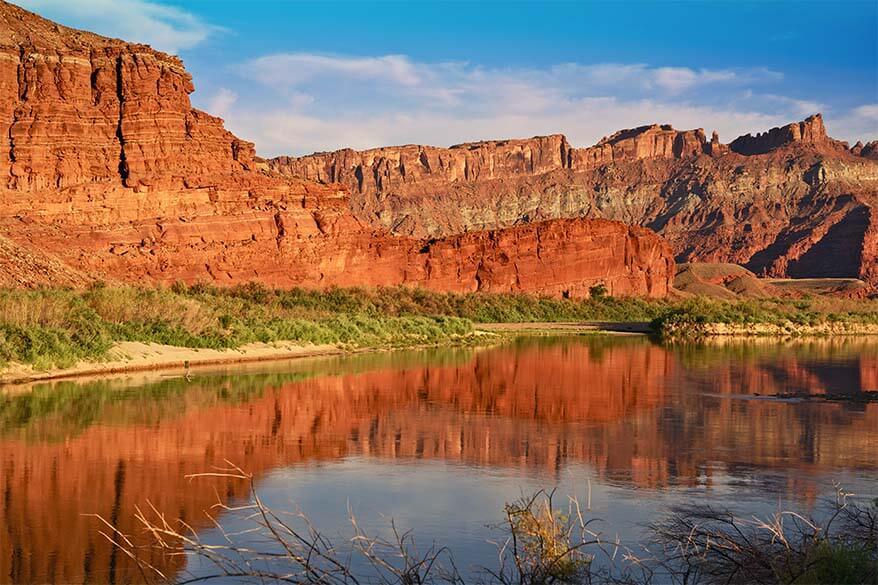 Suggested boat tours in Moab
Moab Dinner Cruise with Sound and Light Show. This is the most popular boat tour in Moab! The evening tour is great for those who want to relax after a busy day of sightseeing. You start this 3-hour experience in a dining room overlooking the Colorado River, where you'll enjoy a cowboy-style Dutch oven dinner (soft drinks included). From there you'll join other guests on a large, slow-moving evening boat tour.
As you travel, live commentary is provided by your guide. An accompanying vehicle shines a powerful spotlight on the canyon walls, creating a unique show of light and shadows that finishes with music. Ideal for the whole family, this is an especially good tour for couples looking for a romantic evening in Moab.
Moab Jet Boat Tour to Dead Horse Point State Park. This boat tour takes around 3 hours and includes water and snacks. Choose one of the shaded seats on this covered boat and then enjoy the incredible sights, including a fossilized sea bed, Thelma and Louise Point, and Indian petroglyphs. It's amazing to see the 2,200 feet of canyon walls from the water!
Sunset Jetboat Ride with Dinner on the Colorado River from Moab. This is a bit of a combination tour of the two tours mentioned above. It includes a cowboy-style Dutch oven dinner but uses a jet boat for the Colorado River experience while it's still light. This gives you a unique opportunity to enjoy the most beautiful colors of the surrounding scenery at sunset. You also explore the river's arches, red rock cliffs, and petroglyphs. This family-friendly tour includes live commentary throughout.
Colorado River Speedboat Tour. This 1-hr tour is great for those who want to experience the beautiful scenery of the Colorado River in a short time. The speedboat in itself is also a really fun experience.
9. Canyoneering
There are lots of great ways to explore Moab's canyons, but one of the most exciting is canyoneering! Getting away from the crowds in a small – or private – group and rappeling down the canyon walls is an unforgettable experience.
Joining a canyoneering tour means that everyone is able to take part – experienced or otherwise. All the equipment is also provided. Strict attention to safety will calm the nerves of even the most anxious member of your group, while the personal input from your guide will ensure that you feel comfortable throughout the experience.
This is a fun activity where you can learn new skills and see parts of the canyon that you can't get to any other way!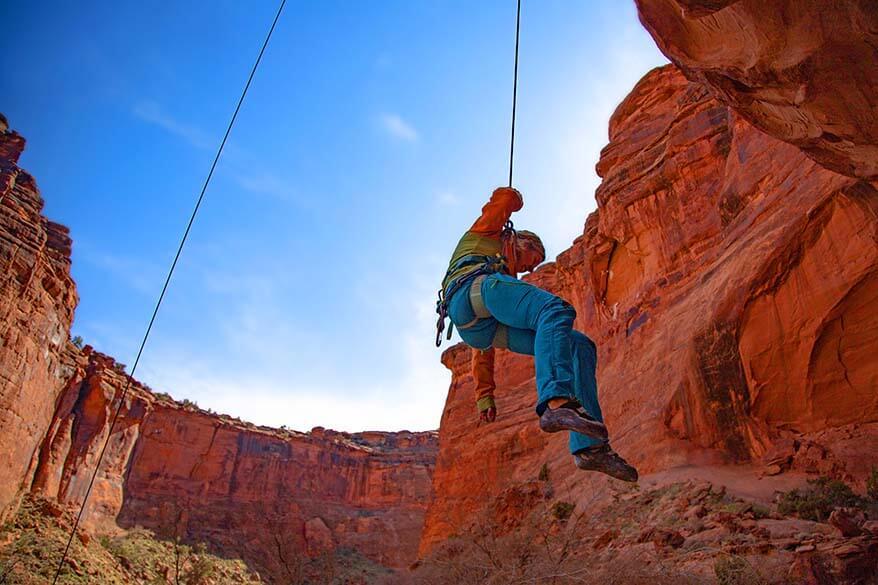 Best canyoneering tours in Moab
Half-Day Day Canyoneering. This 4-hour, exclusively private canyoneering tour doesn't require any previous experience. It is tailored to your skills by the knowledgeable guide, who is familiar with all the routes and can pick the right ones based on your skill level. Your equipment is provided and all you need to bring is your enthusiasm! If you always wanted to try canyoneering, this is a great opportunity!
Morning Glory Arch: Half-Day Canyoneering Adventure in Moab. This 4-hour tour is suitable for most ages and skill levels. You follow your guide along a slot canyon's 3-mile route in a small group of up to 12 people. Rappel 90 feet into a sandstone chamber then take a short walk to a second 120-foot free-hanging rappel, from where you can see the Morning Glory Arch. This is a great Moab tour for families with kids!
TIP: If you are looking for a somewhat more adventurous and exhilarating experience, you may want to check out this half-day rappelling tour.
Goblin Valley State Park Canyoneering Adventure (can also be booked on GetYourGuide). This is a fun, 4-hour adventure for adults or families with teens (age 10+). After a training session, you rappel down a narrow fissure into the massive Chamber of the Basilisk, which is often compared to a Gothic church. You then have some time to wander around and climb within the canyon, enjoying lots of views from different perspectives. Your group will have a maximum of 10 people and all equipment and snacks are provided.
Moab Canyoneering and Packrafting Combo. This is a great Moab tour for those looking for an adventure-packed day. Your 7-hour private experience begins with 2 rappels and a hike, during which you will find out lots about the area's flora and fauna. From there it's a short drive to the packrafts, unique one-person, inflatable boats. You have a choice between a serene float or a more challenging route through the rapids. So it doesn't matter if you're a beginner or have a little more experience – this tour offers something for everyone.
10. Mountain Biking
Moab is one of Utah's most popular biking destinations. So why not combine sightseeing with your love of biking and get away from it all with a unique mountain bike tour? This is a good activity for the whole family – depending on skill level – and a great way to keep fit as you take in your surroundings.
Your bike and helmet will be provided on these tours. But it's a good idea to take along a pair of riding gloves too, to avoid blisters!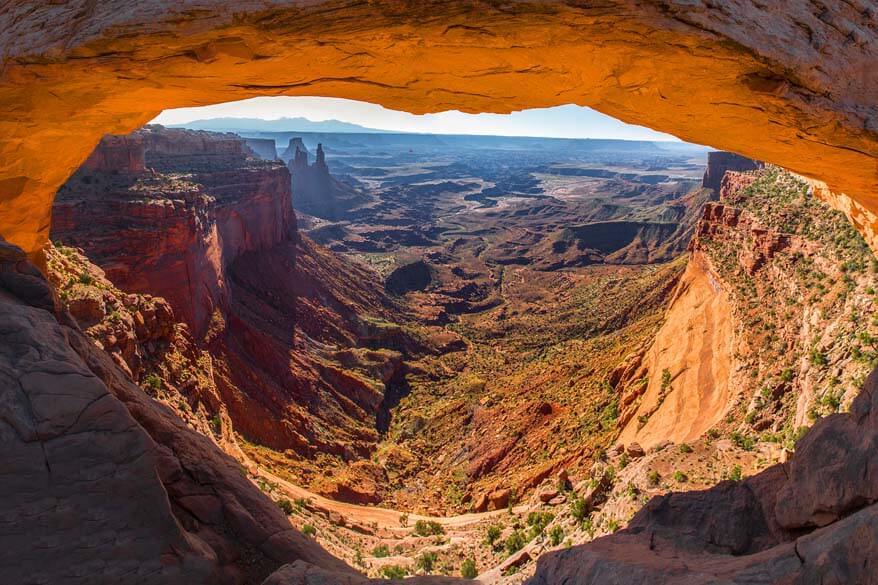 Best biking tours in Moab
Introductory Mountain Biking Adventure in Moab Courthouse. This biking tour is designed for those with little to no experience, but you do need a moderate fitness level in order to enjoy it. It explores the Moab Courthouse Loop and makes a good introduction to the riding techniques needed for off-road terrain. Light refreshments and snacks are included and you'll be riding with a small group of up to 13 travelers.
Half-Day Guided Mountain Biking Tour in Moab on Dead Horse. This is a great biking tour for those looking for a bit more challenging ride in the most beautiful scenery. While previous mountain biking experience is not essential, you will probably enjoy it more if your skills are intermediate.
The 10-mile single-track route – exploring Dead Horse State Park and overlooking the Colorado River and Canyonlands – can be quite challenging and strong physical fitness is required. Light refreshments and snacks are included and you will be traveling in a group of up to 13 riders.
Pedal, Paddle, Pedal – Mountain Biking & Packrafting Combo. This fun, full-day adventure starts as you descend by mountain bike over 1000 ft down an old mining road, to the banks of the Green River. There, you inflate your packraft (a floating device for one), strap on your bike, and enjoy a well-earned rest as you float down a beautiful section of the Labyrinth Canyon.
Then it's back on your bike for another 3 miles ride through beautiful scenery. Pick up and drop off at your hotel is included, lunch is provided and you are guaranteed lots of personal attention from your guide as this is a private tour, for your group only.
11. Petroglyph Tours
Moab's petroglyphs – an early communication method of carved panels used by Native Americans – give a wonderful insight into the past.
You'll learn a wealth of information about the area's history and archaeology during these tours, and also get to see some beautiful scenery. You'll probably also get to see the Moki Ball, which is an ancient type of marble. It will appeal to young and old alike.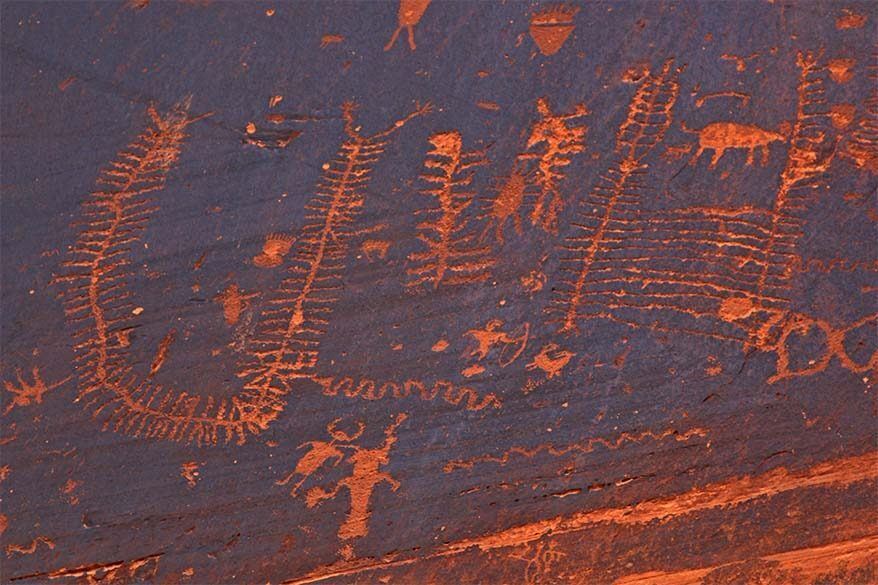 Suggested petroglyph tours near Moab
Private Scenic Petroglyph Tours In Moab, Utah. Set your own pace during this private 2-hour tour, which your flexible guide will tailor to suit the needs of your group. Taking an off-road route to view the petroglyphs, you can either ride with your guide or drive the vehicle yourself.
This makes the tour suitable for everyone from families with young children to those who love the thrill of an off-road adventure! Water is provided and the tour is available in the morning or evening.
Moab Scenic Off-Road Petroglyph Adventure. Although the route follows a fun dirt trail, the focus of this tour is on the area's natural beauty rather than the off-road experience. You will stop often for fantastic photo opportunities, including views of the canyon walls, red rock spires, arches, and petroglyphs.
Suitable for all ages, this 3-hour experience includes bottled water and snacks and you will be traveling in a small group of up to 13 passengers. Smaller groups of 1-3 passengers use a smaller, private, open-air vehicle.
READ ALSO: Where to Stay in Moab
More travel inspiration for Moab, Utah & Arizona:
If you found this post useful, don't forget to bookmark it and share it with your friends. Are you on Pinterest? Pin these images!