If you are visiting Moab, UT, during the warm season, there is one activity that you really have to do, and that is rafting in Moab! But what to expect and which rafting tour is right for you?
In this article, we share our experience with a half-day family-friendly Moab rafting tour. It was one of the highlights of our trip to the Moab area and a soft-adventure experience I can highly recommend to everyone.
In addition, we included some suggestions for longer and/or more adventurous rafting tours in Moab. There truly is a suitable and enjoyable Moab rafting experience for everyone.
At the end of the article, you can also find some practical tips for what to wear when going rafting in Moab. Read on!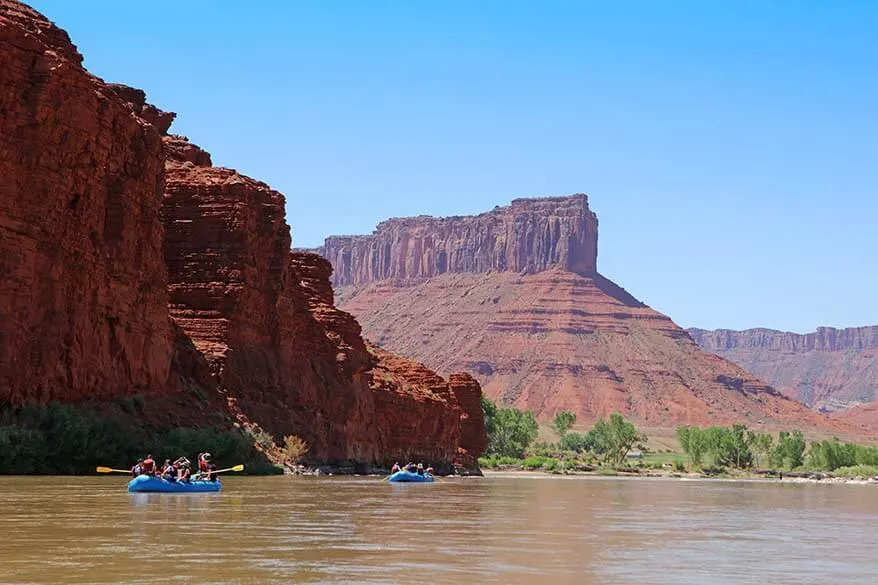 Why Go Rafting in Moab
With so many amazing things to do in Moab, Arches, and Canyonlands National Parks, it might be tough to narrow down your options. However, if you are visiting Moab in the summer months, there really is no better way to experience this beautiful area than going on a rafting trip on the Colorado River!
There are several reasons to go rafting in Moab. First, you get to see the most incredible scenery that isn't easily accessible otherwise. Furthermore, rafting is the best activity that can truly be enjoyed in the scorching heat of the Utah desert in summer.
And finally, it's a fun activity that can be done with the whole family, and is a great way to bond and spend quality time together. A couple of hours of just being there and living in a moment. Give it a try and you'll love it!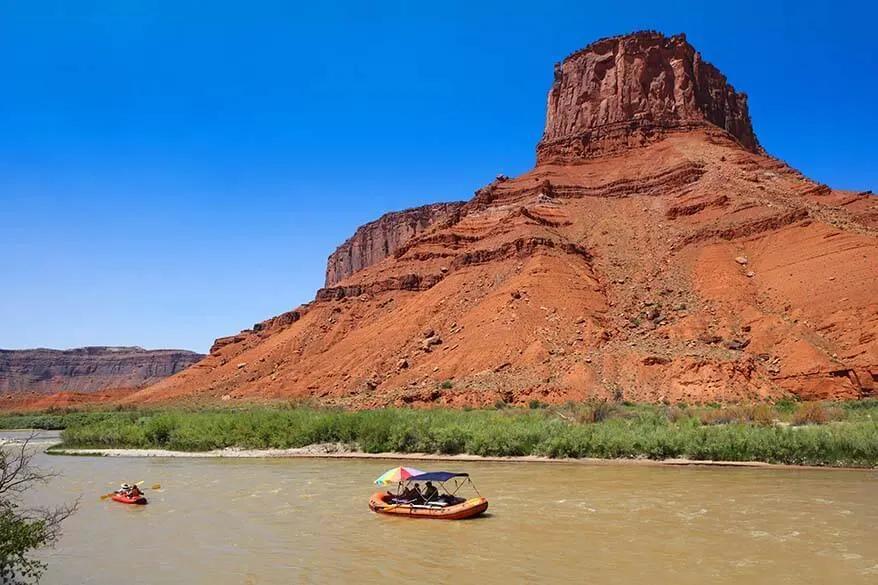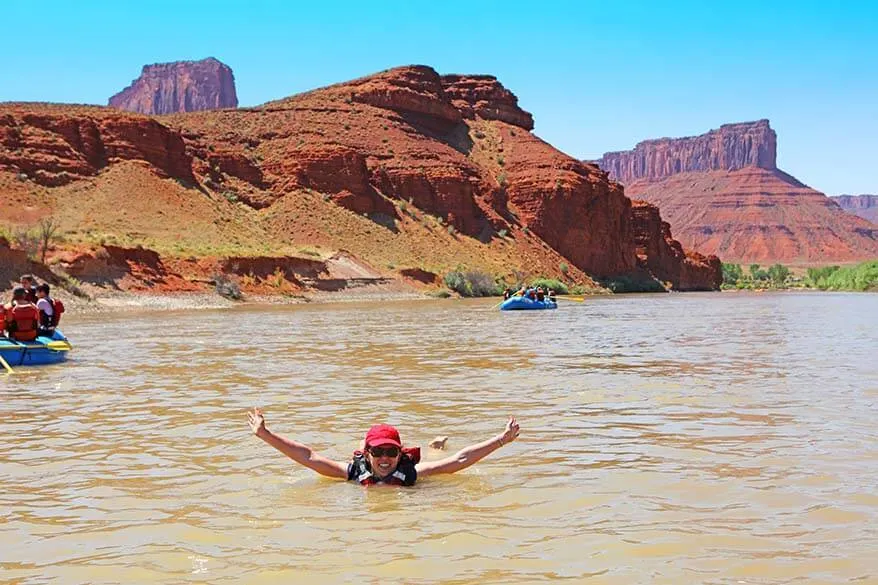 Best Rafting Tours in Moab
There are several companies organizing rafting trips in Moab and they are all quite similar in terms of itinerary and pricing.
Below are some of the most popular options for rafting tours in Moab. If you rather do more research yourself, here you can find a big selection of rafting tours on Viator and on Get Your Guide, our favorite tour booking platform. When we can, we book tours via GetYourGuide, because they usually offer the most flexible cancelation options.
Half-Day Moab Rafting Tour
Half-day EASY trip. This is one of the most popular rafting experiences in Moab and the that we did. It covers 7 miles on a very quiet part of the Colorado River with class 1 & 2 rapids. It's a really relaxing trip and your guide does all the peddling. This rafting tour is perfect for those who want a relaxing, family-friendly rafting experience, but it's definitely not exciting enough for those who want more adventure. For that, see the full-day tour below.
We were in Moab with three young kids and this was the best rafting tour for families that we found. The trip is suitable for everyone and it doesn't require any experience. Furthermore, the scenery is stunning, and you can go swimming in the river if you want to. And don't worry much about swimming because it's really easy. Your guide chooses a safe part of the river for swimming and since you're wearing life vests, you're basically just floating with no effort whatsoever. It's so much fun.
Keep in mind, that for this tour, children have to weigh 50 lbs (23 kg) in order to fit into the lifejackets. You may have to contact them if you have younger kids. Alternatively, if traveling with very young kids, try this highly-rated tour instead. It's pretty much the same and has no age/weight restrictions.
Good to know: Moab rafting tours include transfers from town to the launching location and back to town. Our tour offered a free hotel pick-up and drop-off. Depending on the starting time, some rafting tours also include lunch.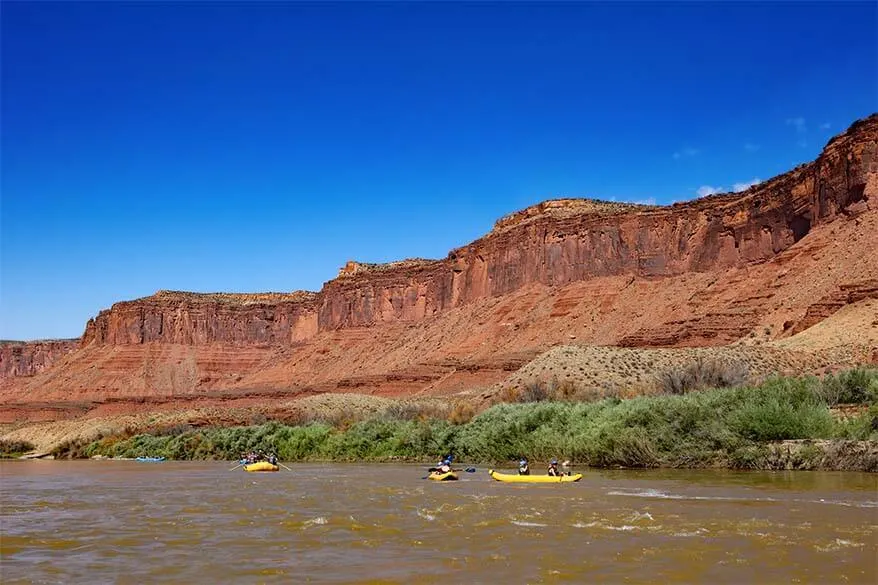 Full-day Whitewater Rafting Tour
If you are looking for a more adventurous rafting experience near Moab, consider this full-day tour. It covers the most beautiful part of the Colorado River above Moab and includes Class 2 & 3 rapids. Furthermore, they offer a choice of small paddle rafts or kayaks, so you can make it even more exhilarating if you want to.
This is a full-day tour that takes about 7 hours, with transfers and lunch included. Just as with the easier, half-day tours, you can also go swimming in the quieter parts of the river.
Good to know: This tour is also suitable for children, but it's probably not the best idea to do it with very young kids. If, however, you are looking for a fun activity in Moan with teens, they'll love this!
Another good option for those looking for even more action and adventure is this full-day rafting tour that includes Class 3 & 4 rapids. This tour is also suitable for adventurous families with teens.
If you are looking for an even more extreme rafting experience in Moab, then check out this highly-rated tour. It takes you rafting to Cataract Canyon in Canyonlands National Park. On this tour, you can encounter rapids of up to Class 5!
Overnight Rafting Tours
There are also longer, overnight rafting tours from Moab. Those trips are usually private, just for your family or group, and can be a wonderful adventure. You'd have to reach out to some local tour operators and see if they can arrange a trip like that for you.
READ ALSO: Best Tours in Moab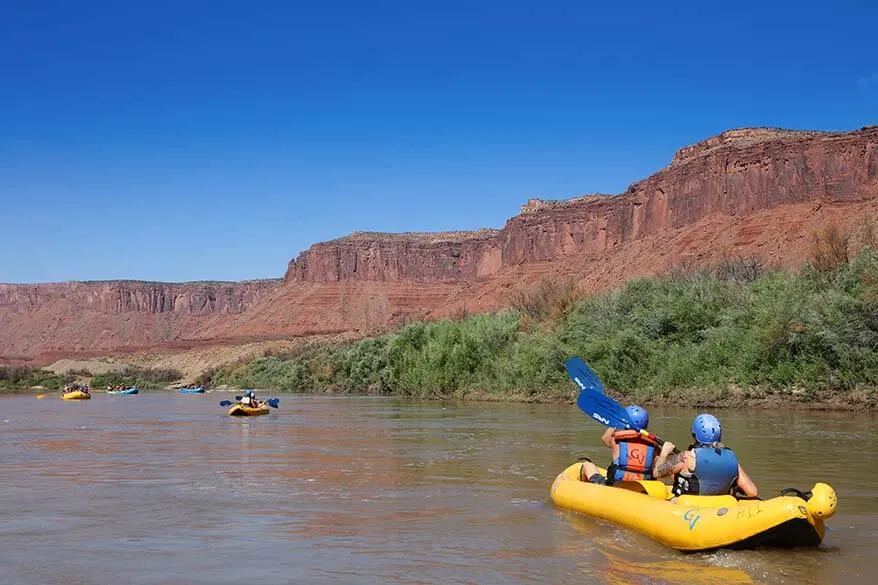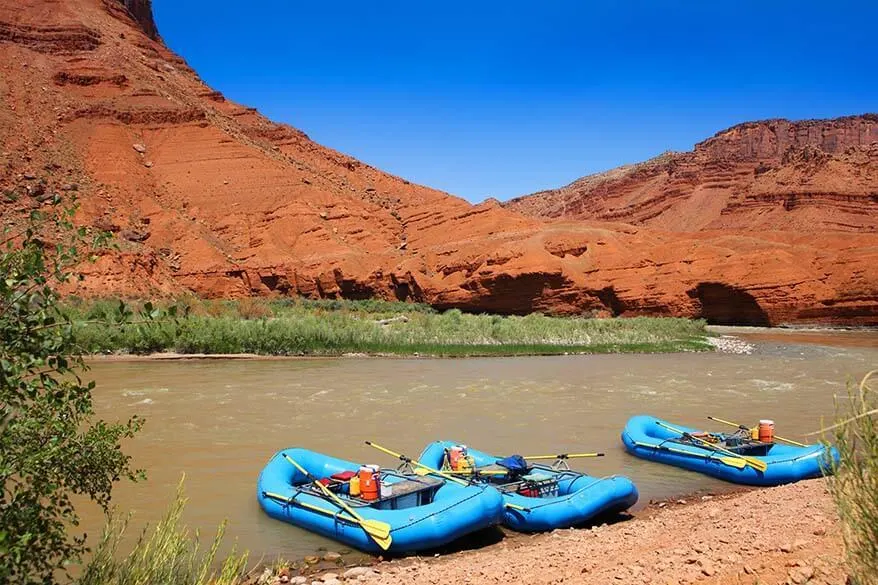 Best Time to Go
The best season for rafting in Moab is in summer, from May to September. Most companies run rafting tours in Moab between mid-April or May until October.
Our rafting guide told us that he preferred the early morning rafting trips, especially on very hot days. Mid-day sun is really hot, even on the water.
Rafting in Moab with Kids – Our Experience
Our kids were 5, 5, and 7 when we took the above-mentioned family-friendly rafting tour in Moab. It was July, with temperatures of over 110°F, and it was impossible to do any sightseeing in Arches National Park or Canyonlands in the heat of the day. So we were looking for something fun to do that would be truly enjoyable for everyone. That's when we stumbled upon rafting tours.
At first, we weren't sure if these tours were suitable for young children, but we were told that it's truly an experience for the whole family. So we decided to give it a try. And so glad we did. Our kids absolutely loved it!
The boys 'helped' the guide with peddling and we also went swimming in the river, jumping off the raft and floating close to it for a while. It turned out to be the highlight of our Moab vacation for all three kids! Also my husband who was quite skeptical about doing this with the kids was positively surprised.
It wasn't an adrenaline-rushing rafting adventure. Just a really nice trip for the whole family. Stunning scenery, fun for the kids, swimming in the cool water of the Colorado River – this was incomparably better than attempting any sightseeing in the heat or spending even more hours at the pool of our hotel.
If you are interested to give this a try, you can find more details and book this half-day tour here.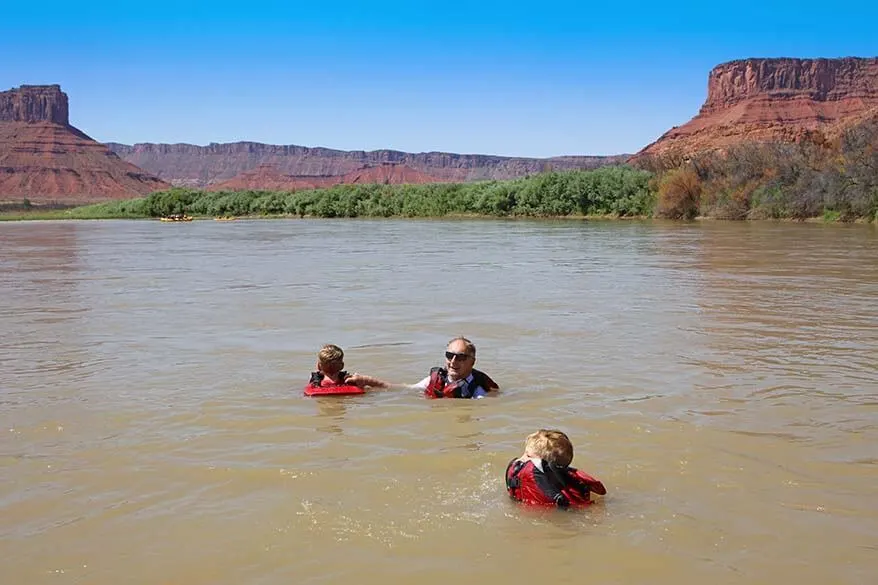 What to Wear for Rafting
Rafting companies foresee all the necessary equipment, including life jackets and helmets (for adventurous rafting trips).
It's best to wear swimwear for rafting and water shoes are advisable. Flip-flops are usually not allowed.
I also highly recommend a UV t-shirt. It's so hot in Moab in summer that your skin can burn in a matter of minutes. Sunscreen is a must as well!
You should also wear a sun hat for the rafting trips where no helmet is provided (easy rafting trips don't require a helmet). There is always some wind and chances are big that your sun hat will blow away and into the river. So it's best to pack a sun hat with strings if you have one, especially for children.
You may also want to pack a towel because you will get wet. We use quick-drying microfiber towels because they're light to pack and dry quickly – ideal for travel.
Most rafting tours have a dry bag or a special box where you can store your belongings, such as a camera or a smartphone. However, they always say that taking any such items is at your own risk. So only pack what you really need and leave all the important documents and valuables in your hotel. If you want to, you can probably also pack a waterproof dry bag or a waterproof case for your smartphone.
You should also pack a good reusable water bottle for your trip!
Here's an overview of what to wear/pack for rafting in Moab:
Water shoes
Swimwear
UV T-shirt
Sun hat
Sunscreen lotion
Quick-drying towel
Waterproof dry bag for your belongings or a waterproof phone case
Reusable water bottle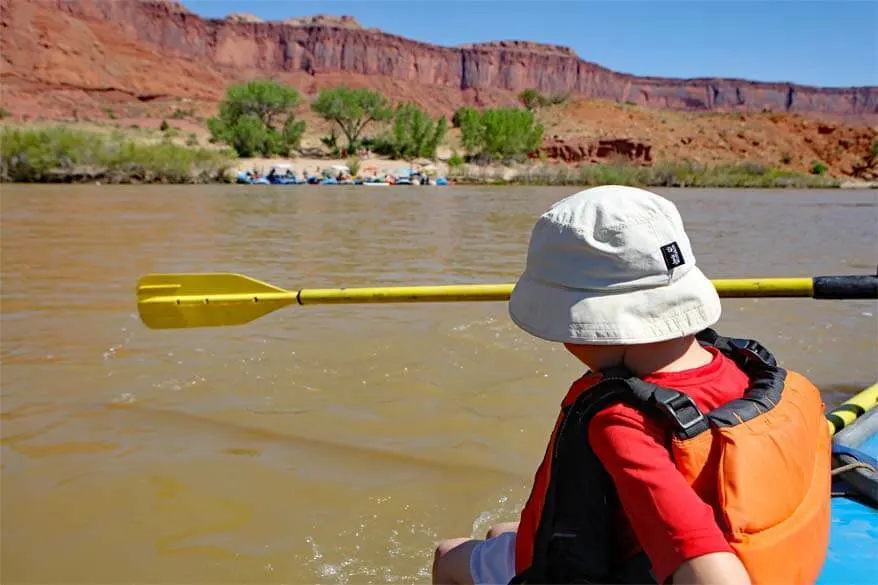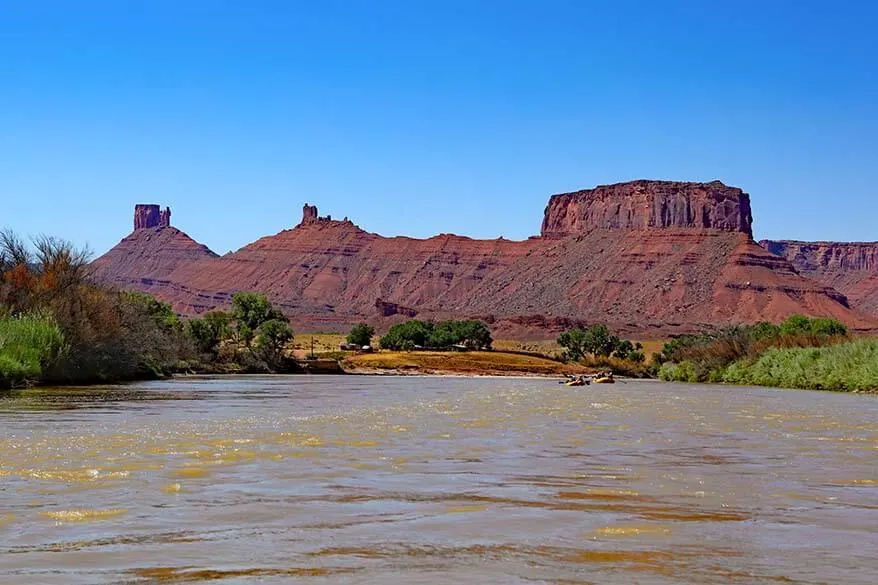 So, here's our short guide to rafting in Moab. If you're visiting this area and looking for more tips for what to see and do, please also check our other guides below.
READ MORE: Best Things to Do in Moab
More information for visiting the Moab area:
If you found this post helpful, don't forget to bookmark it and share it with your friends. Are you on Pinterest? Pin this image!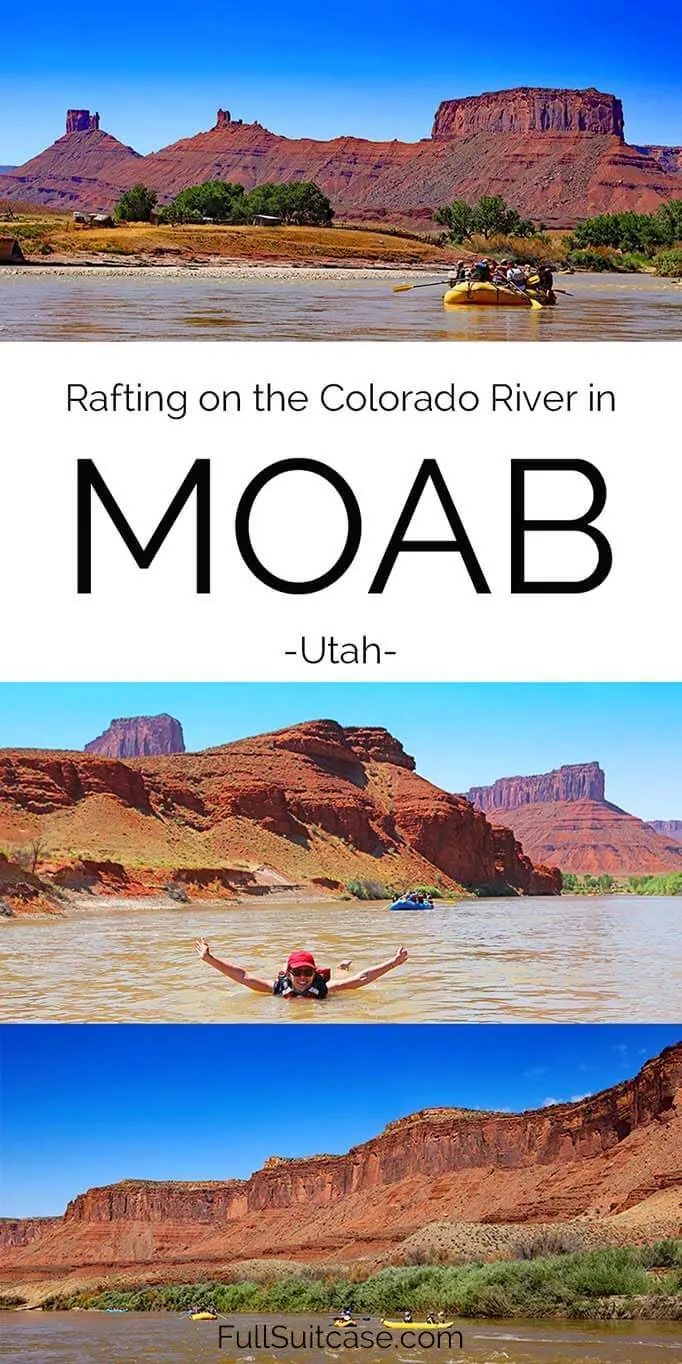 More travel guides for the southwestern USA:
Grand Canyon:
More of Arizona:
National Parks:
Las Vegas: