Dynjandi, sometimes also called Fjallfoss or Dynjandifoss, is often considered to be the most beautiful waterfall in Iceland. If you know that Iceland has thousands of waterfalls, each more beautiful than the other, then this really says it all.
In this article, you can find all the practical information about visiting Dynjandi Waterfall in Iceland's Westfjords. Why visit, when to go, how to get there, what kind of a car you need, and what to expect at the Dynjandi site itself.
At the bottom of this post, we included some tips for your visit and a short video. It shows what it's like to drive to Dynjandi Falls and to visit the surroundings at the waterfall itself.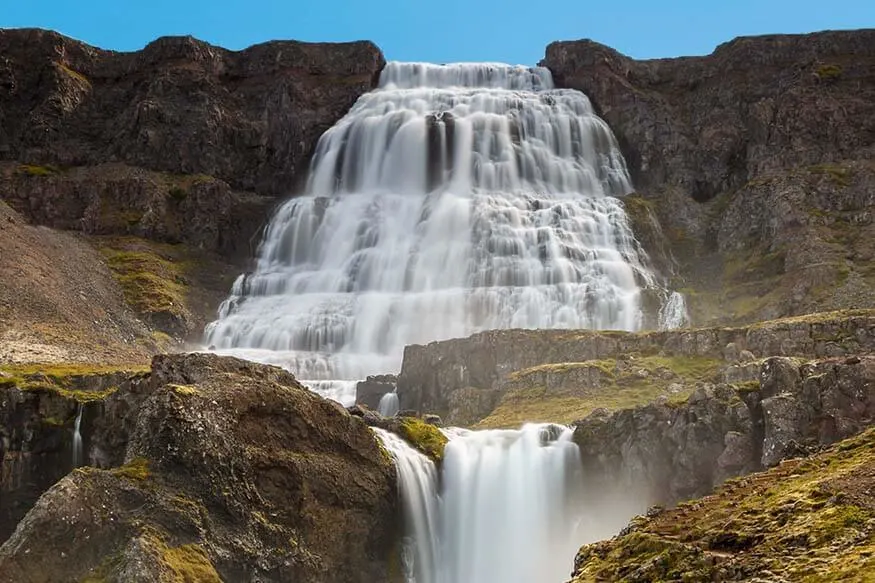 Why Visit Dynjandifoss
As already mentioned, many people say that Dynjandi is the most beautiful waterfall in Iceland. And even though things like that are subjective, that in itself is a great reason to make a trip to the Westfjords and see this unique waterfall!
Sometimes referred to as 'The Jewel of the Westfjords' or 'Mountain Falls', Dynjandi is actually the collective name for a series of 7 falls. The total elevation of all these falls is around 200m.
The largest and most impressive fall (known singularly as Dynjandi) is at the top and is often compared to a bridal veil because of its shape. Dynjandi waterfall is 30m wide at the top and extends to a width of 60m at the bottom. It's truly unique and no pictures or videos can do it justice. Just WOW!
To give you an idea of how special Dynjandi is… We visited Dynjandi with our kids, who told me long before our trip that they had seen enough waterfalls and had absolutely no interest to see more… To give them credit, we have indeed visited many waterfalls during our travels and after a while, they all start to look the same…
However, Dynjandi was different. The moment we arrived, the kids were fascinated by it. They all said that this is the most beautiful waterfall in the world. And when you stand there, it truly feels that way.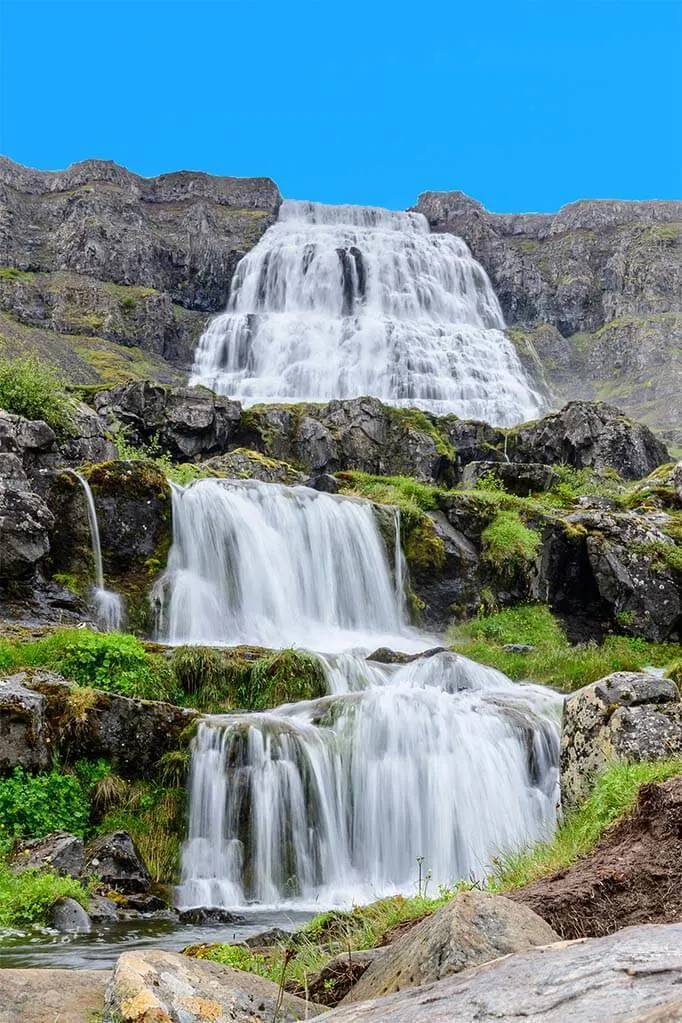 What to See
Dynjandi carries water down from the Dynjandisa River into the fjord below. The river itself runs from a lake. Because Dynjandisa is a runoff river, it is subject to seasonal floods. When this happens, the river can increase in size to ten times its volume. This, of course, makes the waterfalls even more spectacular!
But even if you visit during an exceptionally dry summer, as we did, Dynjandi is still incredibly beautiful. I can just try to imagine how it looks at the beginning of the season when the snow is melting in the mountains.
Hiking to Dynjandi
As you arrive at Dynjandi waterfall, you'll see the series of waterfalls right in front of the car parking area. You can see all the waterfalls right from your car. However, you should really take an effort and walk past all the waterfalls and all the way to the top for the most impressive falls of them all – Dynjandi.
Not only does this give you the best view of the falls, but the panoramic view of the surrounding fjords is simply breathtaking.
Dynjandi can be reached via a short steep hike on a rocky path consisting of a series of steps and slopes. This path was made in 1996 by local volunteers and makes a visit here very simple. It takes just about 10-15 minutes to walk to Dynjandi. It's something everybody in a reasonable physical condition should be able to do.
If you have weak knees, you may want to take hiking poles for your way back down. You can also just opt to explore the smaller waterfalls below, but if you can, I really recommend hiking all the way to the top. For those with more severe mobility issues, all 7 waterfalls can be clearly viewed from the parking.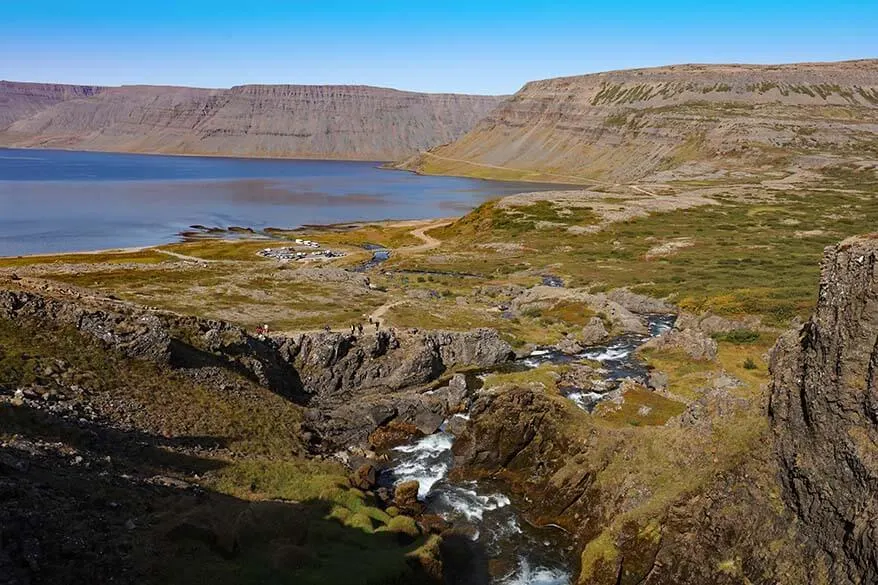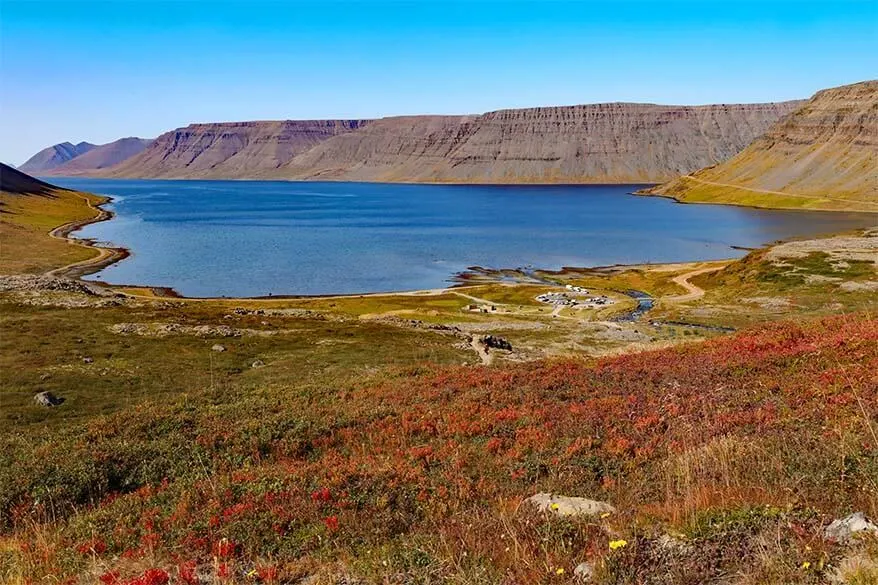 Smaller Waterfalls at Dynjandi
On your way to the top, you will pass 6 other waterfalls, which are all just between 2 to 6 m high (for comparison, Dynjandi itself cascades an impressive 100m).
The names of the smaller falls are Hæstahjallafoss, Strompgljúfrafoss, Göngumannafoss, Hrísvaðsfoss-Kvíslarfoss (opposite each other), Hundafoss, and Bæjarfoss. Each of these falls is marked and many have their own viewing platforms. It's also possible to walk behind Göngumannafoss.
Interesting to know: You may have noted that each name ends with 'foss'. 'Foss' is Icelandic for 'waterfall'. Also, Dynjandi is often called Dynjandifoss. The name 'Dynjandi' means 'resounding' or 'thunderous'. This is a perfect description of this awe-inspiring feature.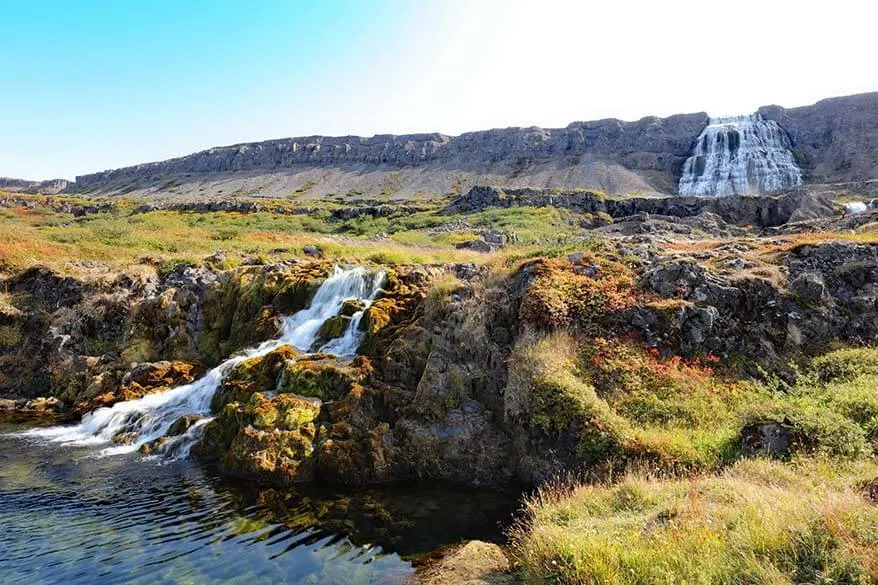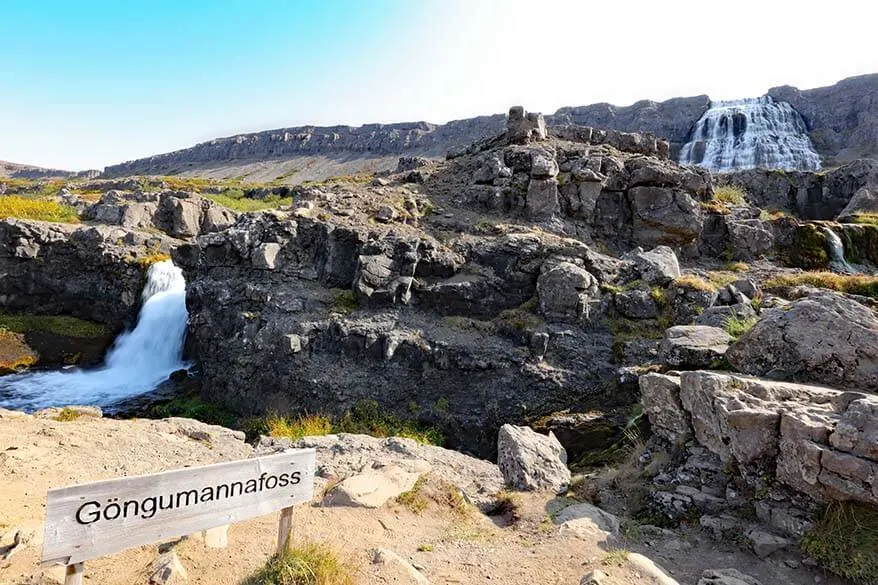 Other Sights of Interest Nearby
Through the crashing waters of Dynjandifoss at the top, you may be lucky to get a glimpse of the amazingly vivid red rock. It was formed over the years by layers of iron-rich soil becoming trapped by lava beds.
Before leaving the area, be sure to look around the base of the hill as well. Here you'll find the remains of an old turf house known as the 'Farm Mound', and the ruins of a couple of outbuildings. The farm was inhabited until 1951 when – reportedly – the farmer's wife decided she could no longer live with Dynjandi's incessant roar.
If you have more time, you may want to explore the area a bit more. However, the very best views are at the waterfall itself. So if you do the short hike to Dynjandi, you'll have seen the very best that this area has to offer.
TIP: Along the road from Ísafjörður, about 20 km before you reach Dynjandi, you'll pass Hrafnseyri. It's a tiny village with a nice little church and a museum located inside traditional turf houses. There is also a cafe. So if you have some time to spare, you may want to stop here as well.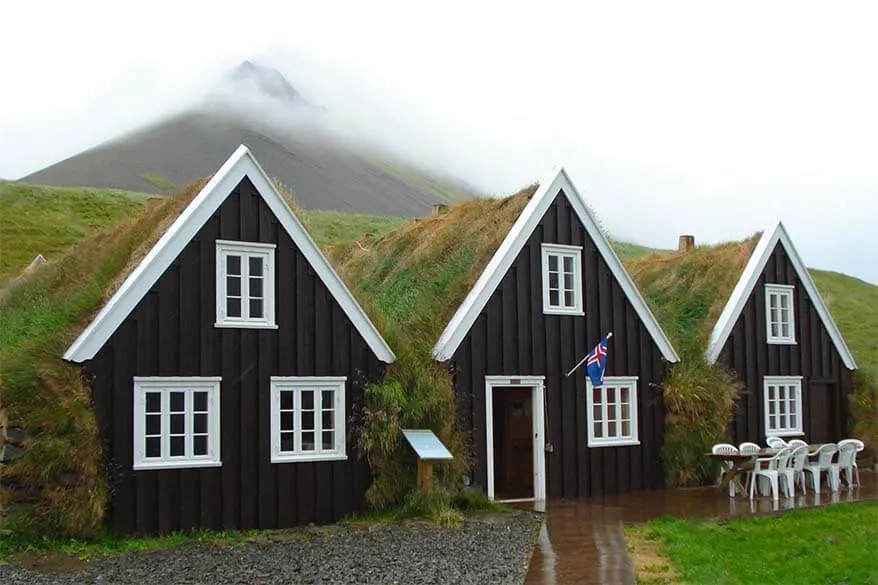 How Much Time Do You Need
The minimum time you need to visit Dynjandi is about half an hour. That's if you hike all the way to the base of the main waterfall, without too many stops along the way.
Allowing yourself time to stop, admire, and take photographs at each smaller waterfall, plus admire the scenery, I suggest that you plan about 1 to 1.5 hours for a visit to Dynjandi. After all, it's a long way to get here. It would be a pity to just tick the box, take a 'been there, done that' picture, and leave.
Where is Dynjandi – Location & Map
Dynjandi waterfall is located in the remote Westfjords region in Iceland, about 5 hours drive from Reykjavik and about 6 hours from Akureyri (see map). This impressive waterfall can be found at the end of a beautiful fjord called Arnarfjörður, in Dynjandisvogur bay.
The waterfall is situated around 80 km south of Ísafjörður, the main town of the Westfjords, and 40 km north of Brjánslækur ferry. You will discover Dynjandi in an isolated location accessible only via the Vestfjarðavegur (road #60) that connects the south and the north parts at the western side of the Westfjords.
Whether you come from Isafjordur or from the south, there are some stunning views along the road. If arriving from the north, Dynjandi is visible long before you reach it. If you come from the south, it emerges behind the corner, right before the turn-off to the waterfall itself.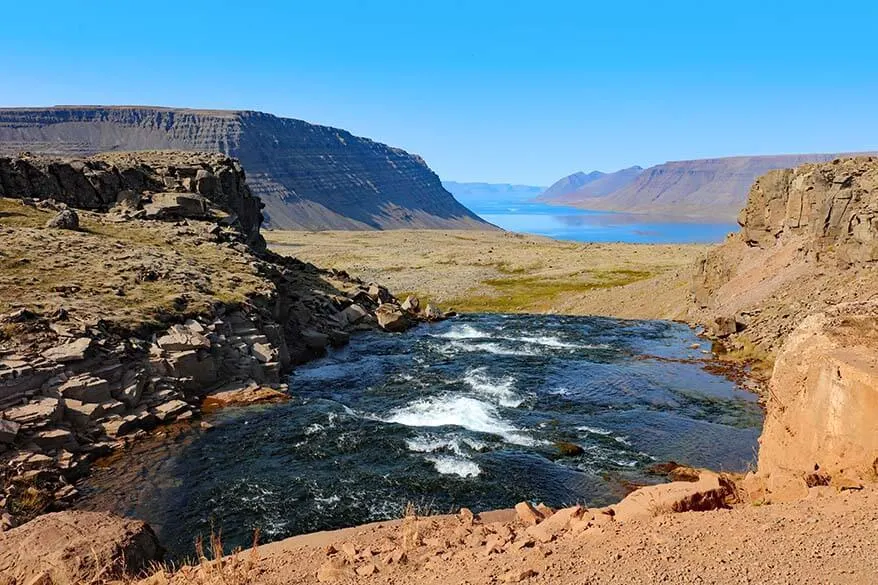 How to Get to Dynjandi
The part of road #60 that you have to take to Dynjandi is a gravel road. The road is in a rather good condition and we found it quite easy to drive. However, we visited Dynjandi in August, when it was very dry, and we drove to Dynjandi from the south and not via the longer route from Isafjordur.
Keep in mind that driving conditions here can change quickly, especially in the shoulder season when you can expect some snow. Also in summer when we visited, we saw a 4WD car with a wheel that was broken off. I can't even imagine how you have to drive to have that happen, but the car was clearly not able to move at all anymore. It was left in the middle of the road and it looked like it had been standing there for a while…
So drive slowly, be careful, and take your time to enjoy the scenery around you.
Good to know: The road to Dynjandi is closed in winter. It usually closes around late October and reopens around late April. The exact dates depend on the snowfall and vary every year.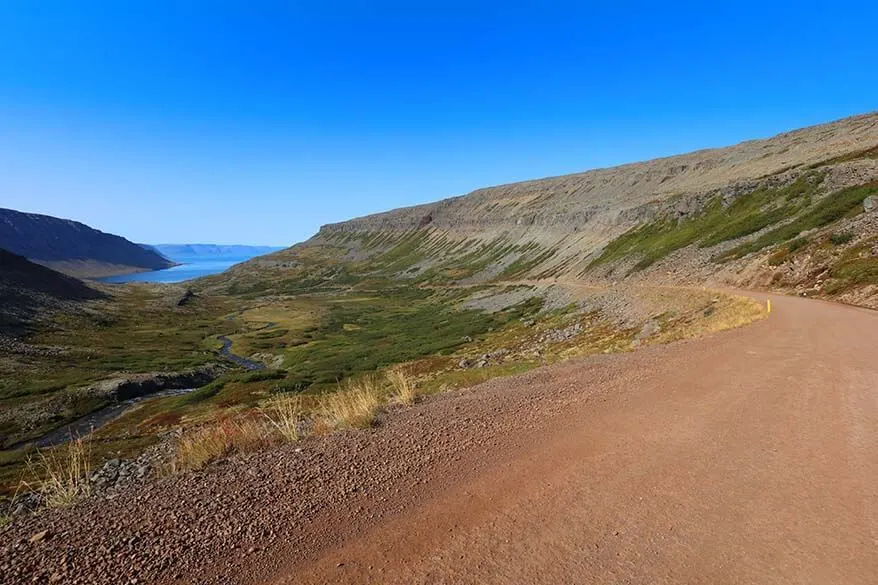 By Car
The easiest way to visit Dynjandi is by car. In summer, you can drive to Dynjandi in any car, but it's not a good idea to attempt that in spring or autumn. This road is not an F-road, but I'd still recommend that you hire a 4WD or 4×4 for any trip to the Westfjords. You'll need it not only for Dynjandi but for many other natural attractions in this region.
Our experience: We saw quite a few regular cars driving on the road to Dynjandi. So it's definitely possible (in summer). However, it's up to you whether you want to take the risk and be sure to get full insurance for your rental car in Iceland. The morning after visiting Dynjandi, we noticed that our car had a flat tire. It was beyond repair. We have no idea where it happened, but there are just two possibilities – the road to Dynjandi or the road to Raudasandur. Luckily, we had full insurance, so everything was covered.
Our recommendation: We highly recommend renting a 4WD or a 4X4 when traveling in the Westfjords. We toured the Westfjords and some parts of the Icelandic Highlands in a Kia Sorrento 4WD and it was suitable for all the roads.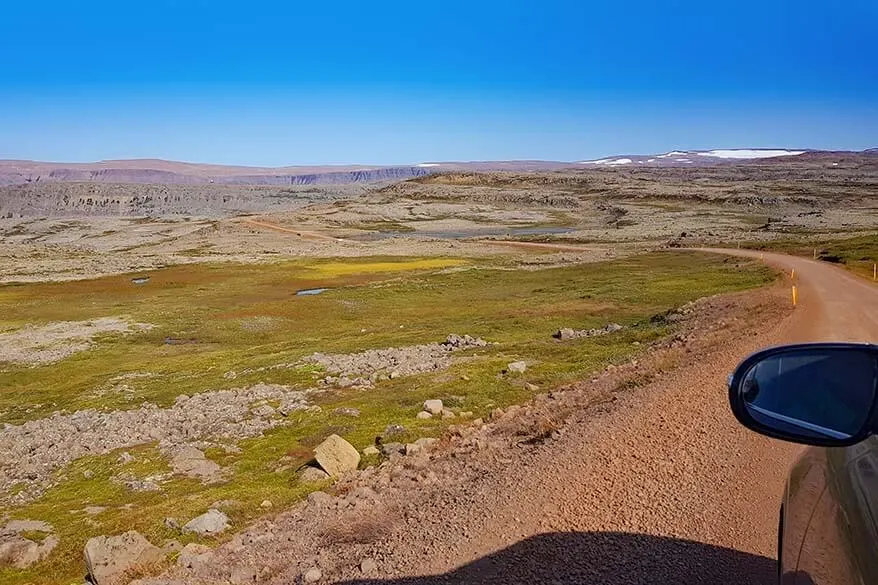 By Bus
In the high season, from mid-May to the end of August, it's possible to visit Dynjandi by bus. The Westfjords Adventure bus runs between Patreksfjörður and Ísafjörður several times a week and stops at Dynjandi.
The bus passes Dynjandi twice on the same day and it stops here for 30 minutes. That gives you just enough time to quickly hike to the falls and back. If you want to stay longer, you'll have to wait for the next bus.
For more information, schedule, and prices, please check the Westfjords Adventure website.
Dynjandi Tours
It's also possible to visit Dynjandi on an organized tour. On Viator, you can also find a selection of guided tours that include a visit to Dynjandi in their itineraries.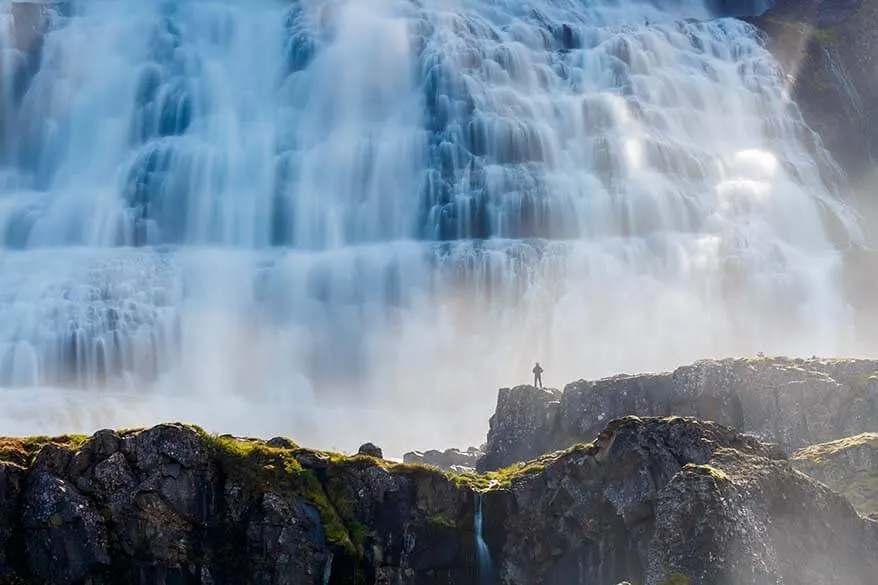 Best Time to Visit Dynjandi
The best time to visit Dynjandi is between June and September. That's when the road is reliably open and the weather is warmer and better suitable for traveling in the Westfjords.
May and October can also be good months to visit, but it's a shoulder season with even more unpredictable weather. So make sure that you check the weather forecast and road conditions before you go.
Dynjandi is probably the busiest natural landmark in the Westfjords, but I wouldn't worry about 'the crowds' at Dynjandi. Very likely you'll meet less than 50 people here at the busiest times in the summer. Furthermore, people spread out all over the area and it really doesn't feel busy. If you come here in late September or October, you'll likely be completely alone.
TIP: If you want to have the falls all to yourself in summer, come here in the morning or late in the afternoon.
Our experience: We visited Dynjandi in August and went there right after arriving in the Westfjords on a ferry, so it was probably as busy as it gets. The road to get to Dynjandi was very quiet. We hardly met a handful of other cars while driving. Once we got to the falls, we passed 3 cars – it felt like a traffic jam. 🙂 There were quite a few cars at the parking and quite some people at the waterfall itself, but it wasn't anywhere as busy as in other parts of Iceland.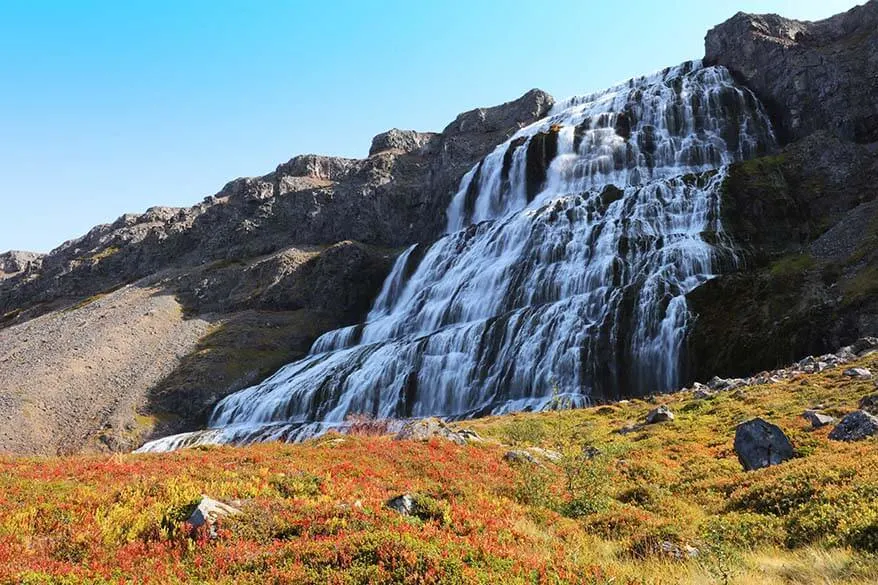 Dynjandi with Kids
You can easily visit Dynjandi with children. However, your experience will depend on your kids' age and willingness to hike uphill to the waterfall itself. Young children might need some help negotiating the steep path; kids from about 4-5 years of age should be able to walk all the way up to Dynjandi by themselves.
Just keep in mind that there are no railings and so ideally you hold your kids' hands or at least have them close to you at all times.
Our kids loved it in the Westfjords and Dynjandi was definitely one of the highlights. Despite their lack of enthusiasm to visit yet another waterfall, the kids were really impressed with it. Upon arrival, we first had a picnic at the foot of the falls and after that we hiked to Dynjandi, stopping at all the other waterfalls along the way.
The kids had plenty of opportunities to play and run around. The only problem we had was trying to keep our boys close to us. They hike much faster than we do (and I can't just blame it on the photo stops) and it's a constant struggle to try to slow them down a bit.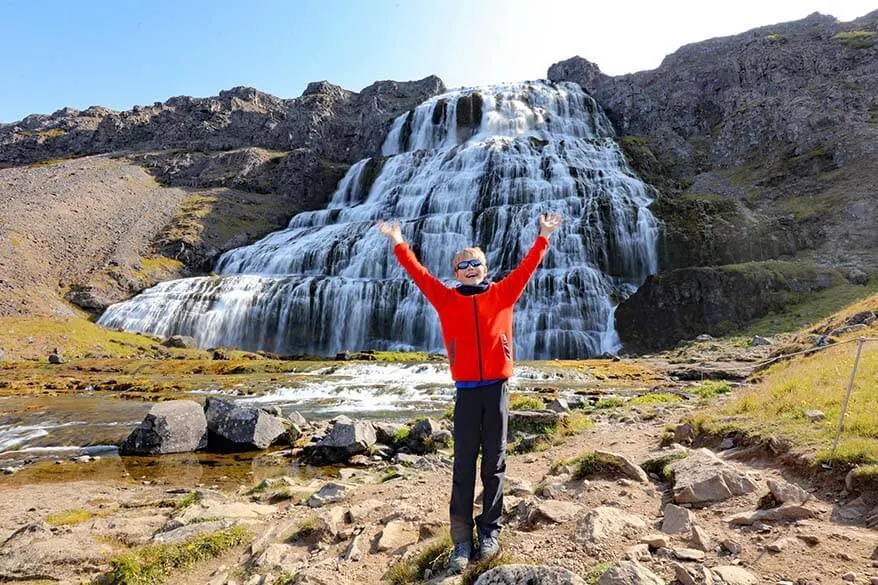 Is Dynjandi Worth It?
Despite its remote location (or maybe just because of it), Dynjandi is well worth an effort to visit. Not only is the waterfall breathtaking, but the whole area is incredibly scenic as well. The Westfjords is one of the most beautiful parts of Iceland and Dynjandi is the best place to visit in this region.
Furthermore, you don't drive all the way to the Westfjords just to see Dynjandi. There is so much more to see here and this area is well worth a trip.
The Westfjords are stunning! It's a very unique part of Iceland that is worth including in your itinerary if you are visiting Iceland during the warmer months of the year.
LEARN MORE: Westfjords: Why Visit & 1 Day Itinerary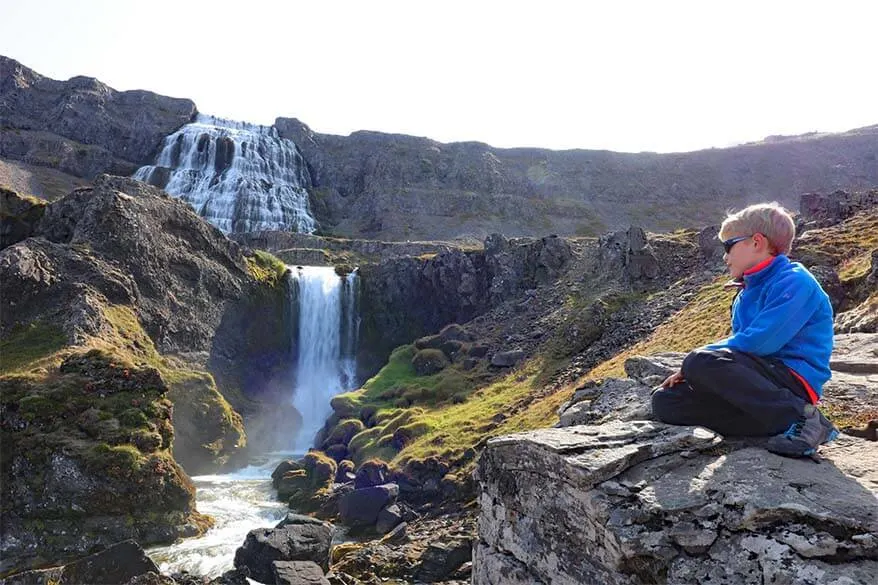 Facilities & Practical Tips
Facilities. There is a large paved parking area at the bottom of the falls. There are also several picnic tables and toilet facilities.
Camping. You should know that camping at Dynjandi is not allowed anymore. There seems to be an exception for people traveling by bike or on foot, but if you have a car or a camper van, you'll have to drive to one of the other campsites in the Westfjords. Just search for 'Dynjandi camping' in Google Maps and you'll see several options.
READ MORE: Camping in Iceland
Safety. Dynjandi is a protected natural monument, so it's important to respect the environment and stay on the paths to preserve the local flora. Furthermore, there are no guard rails, so staying within the designated areas is a must!
Photography. Photographs don't do the falls justice and this is often because it's hard to capture their scale! For that reason, try to include people in your photos to give some perspective (see also our travel photography tips). Of course, a video is a great option too. If you have a tripod, you should definitely take it all the way up to the top.
Clothing and footwear. We had exceptionally warm and dry weather in the Westfjords. But it can be very cold in the area, particularly when it's windy and the spray from the falls makes you wet. So be sure to wrap up adequately and wear a waterproof top layer. Sturdy footwear is essential, as rocky paths can sometimes be slippery.
READ MORE: What to Wear in Iceland in Summer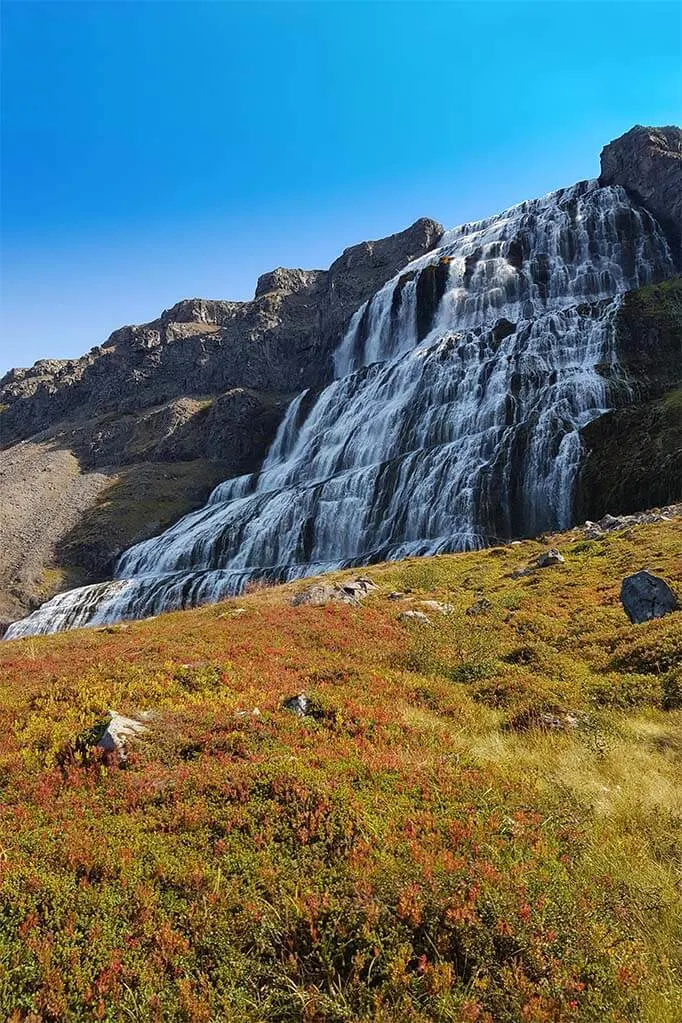 Where to Stay
Dynjandi is in the middle of nowhere, so unless you are camping, you'll have to stay at one of the bigger towns in the Westfjords. There are also some privately-owned accommodations in the coastal areas.
We stayed at Móra Guesthouse in Birkimelur, along the south coast of the Westfjords. Its location was perfect for our short stay in the Westfjords – close to the ferry and within a short driving distance to most of the landmarks in that part of the Westfjords (Dynjandi, Raudasandur, and Látrabjarg bird cliffs). Furthermore, it's located right across the road from a hot pool – perfect for an evening swim after a long day of sightseeing.
Keep in mind that there are hardly any shops or restaurants in the remote parts of the Westfjords. So, depending on where you're staying, you may have to bring some food with you. For example, the closest café to our accommodation was located at Flókalundur petrol station, about 20 km drive. I'm not even sure what its opening hours were…
If you rather stay in a town with some facilities, the best options are Patreksfjörður in the south or Ísafjörður in the north.
READ MORE: Where to Stay in Iceland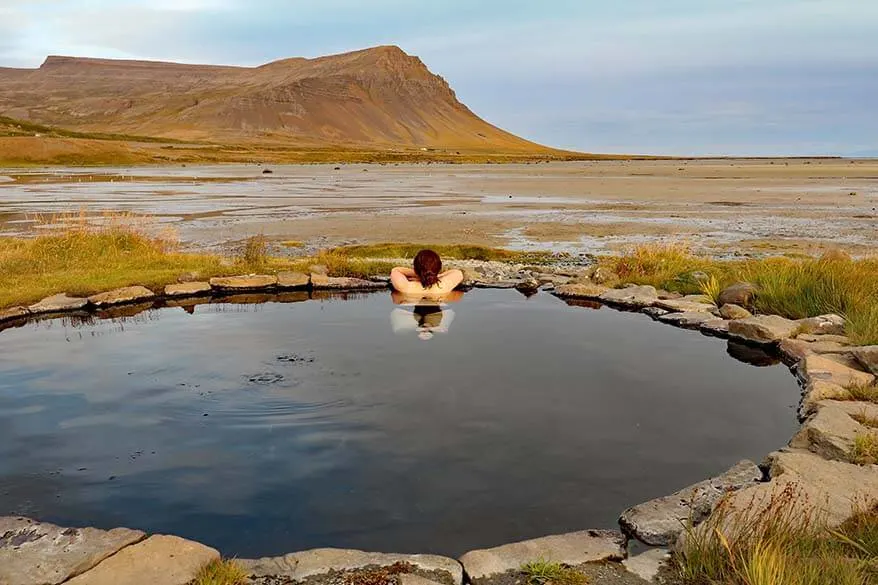 So, this is our guide to visiting the Dynjandi waterfall in Iceland. Planning a trip and have a question? Leave a reply below!
Here's also a short video that will give you a better idea of what it's like to visit Dynjandi, how the roads are, and what the surroundings look like. Take a look!
READ ALSO: Raudasandur Beach – a hidden gem of the Westfjords, can easily be visited in combination with the Dynjandi waterfall!
More tips for your trip to Iceland:
If you found this post useful, don't forget to bookmark it and share it with your friends. Are you on Pinterest? Pin these images!