Lofoten Islands in Northern Norway are so scenic that many people get inspired to visit just by seeing some pictures of the jaw-dropping landscapes…
But what exactly is there to do in Lofoten Islands? Where to find all those postcard views that inspired your dream to travel here? And can you actually see those amazing sceneries without having to hike for hours, hang off the cliff, or use a drone?
In this guide, we share an overview of the very best places to see and things to do in Lofoten. You'll learn where to find the most famous viewpoints, best hikes, as well as the nicest towns and villages in Lofoten. We also include several of the best places in Lofoten that can only be reached by boat (plus the info on the best excursions that can bring you there).
Good to know: In this guide, we mostly focus on the must-sees of the Lofoten Islands, with a few additional recommendations which made our own trip more memorable. Of course, there is much more to see and do in Lofoten than what we cover in this article. But if this is your first time in the area and you only have a few days, this list will show you all the top spots in Lofoten that are worth your time the most.
In addition, for each place, we include practical information so that you know what to expect and how to visit. To help you plan your trip, we also include a map indicating all the top sights and attractions of Lofoten Islands mentioned in this article. Take a look!
YOU MAY ALSO LIKE TO READ: Lofoten Travel Tips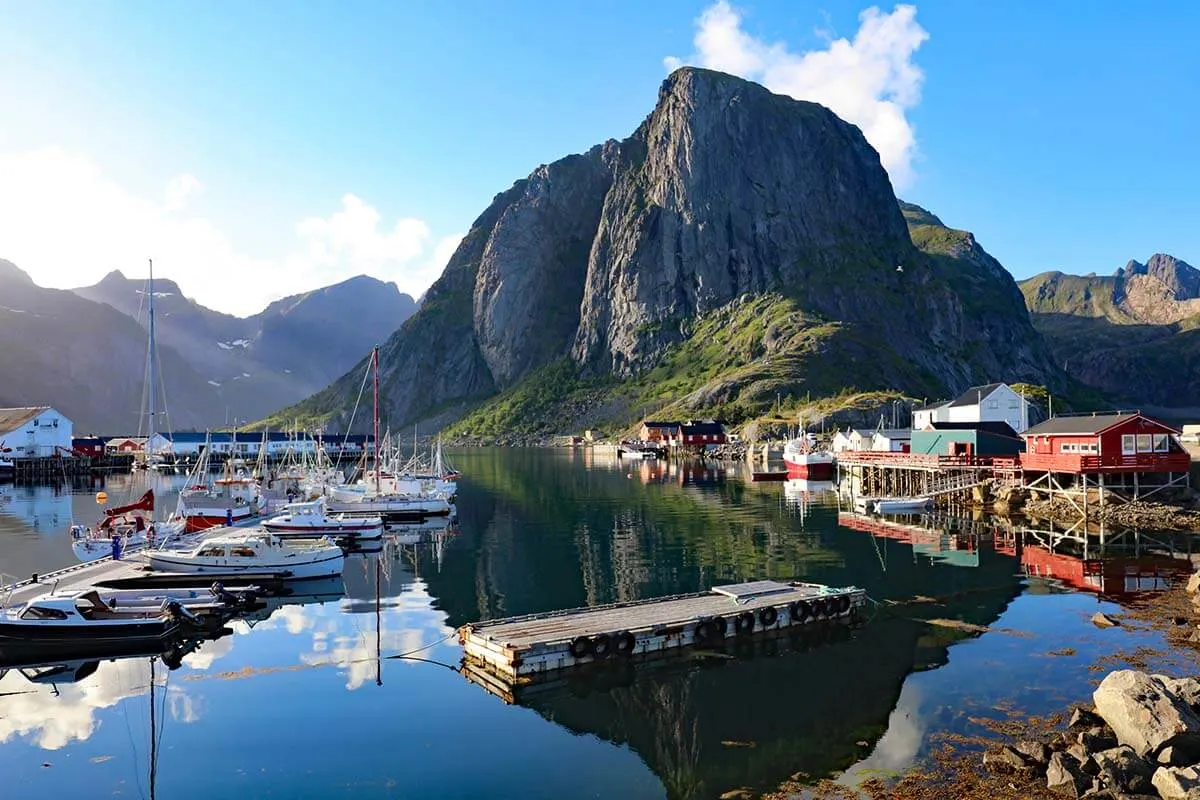 How to use this guide: Our list of the best things to do in Lofoten starts with the most famous, must-see places in Lofoten first. So if you are short on time, focus on the top 10-15 spots on this list.
However, we highly encourage you to check the rest of the list as well because many of the suggestions can be easily combined with the top sights. Furthermore, often, it's those lesser-visited gems and fun experiences that make your trip more memorable, and not just the most famous locations that everyone goes to.
You will see that for each place, hike, and activity, we also include the approximate time that you will need. And finally, at the bottom of this article, you can find a map of all the best places to see in Lofoten that are mentioned in our guide. All this should give you a better idea of what to expect and how to plan your time.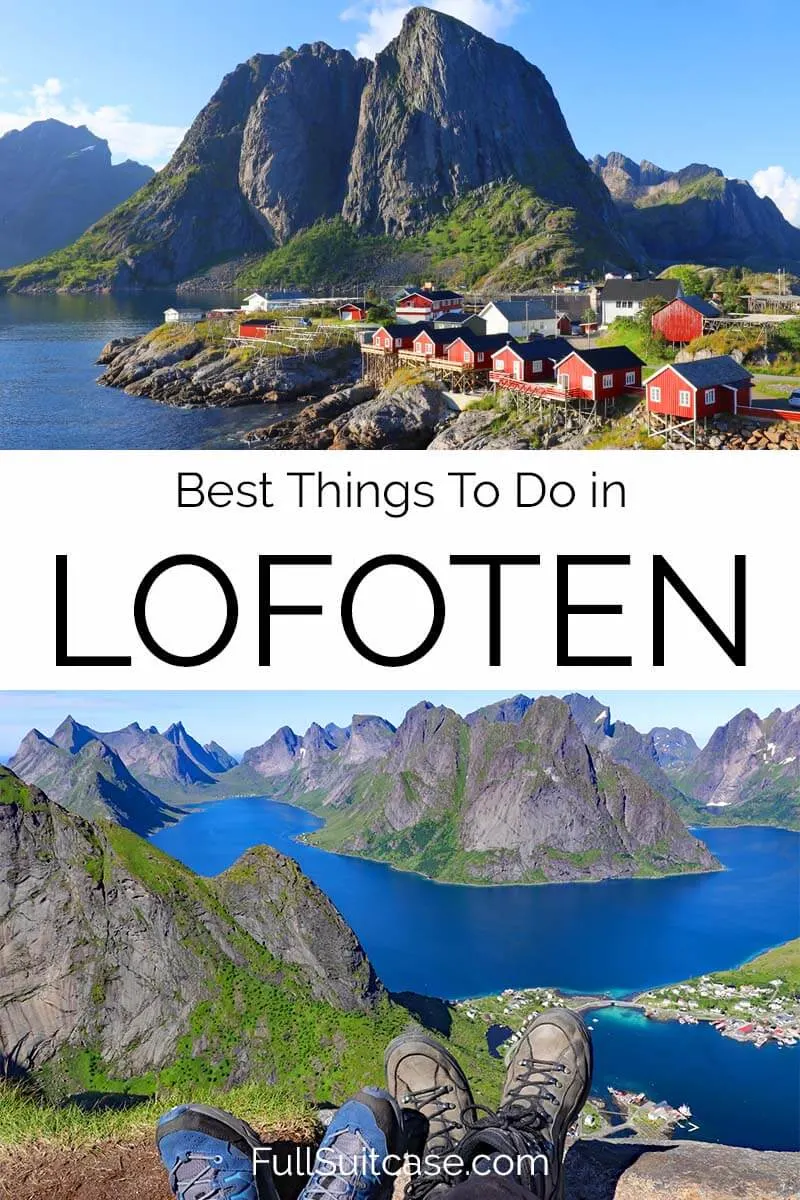 These are the best places to visit and things to do in Lofoten Islands:
1. Reine
Time needed: 15 minutes if you just stop at the viewpoint. 1-2 hours if you also have lunch in town.
Let's start with one of the most picturesque towns in Lofoten – Reine.
You will see this village mentioned as one of the must-sees in Lofoten Islands in pretty much every travel guide. However, there is not that much to see in the town itself and it's really more about its location and the surroundings.
Good to know: The must-see place here is Reine View. This is a very scenic lookout point which is located by the main road, just before you enter the village.
If you have some time to spare, you can also visit the tiny village center of Reine. Here, you will find a small supermarket, a few restaurants, and some traditional rorbuer cabins which mostly serve as vacation accommodations. It's a nice place to stop for a drink or some lunch.
In addition to the town itself, several of the nicest places in Lofoten are located in the Reine area. You'll find more information about the must-sees further below.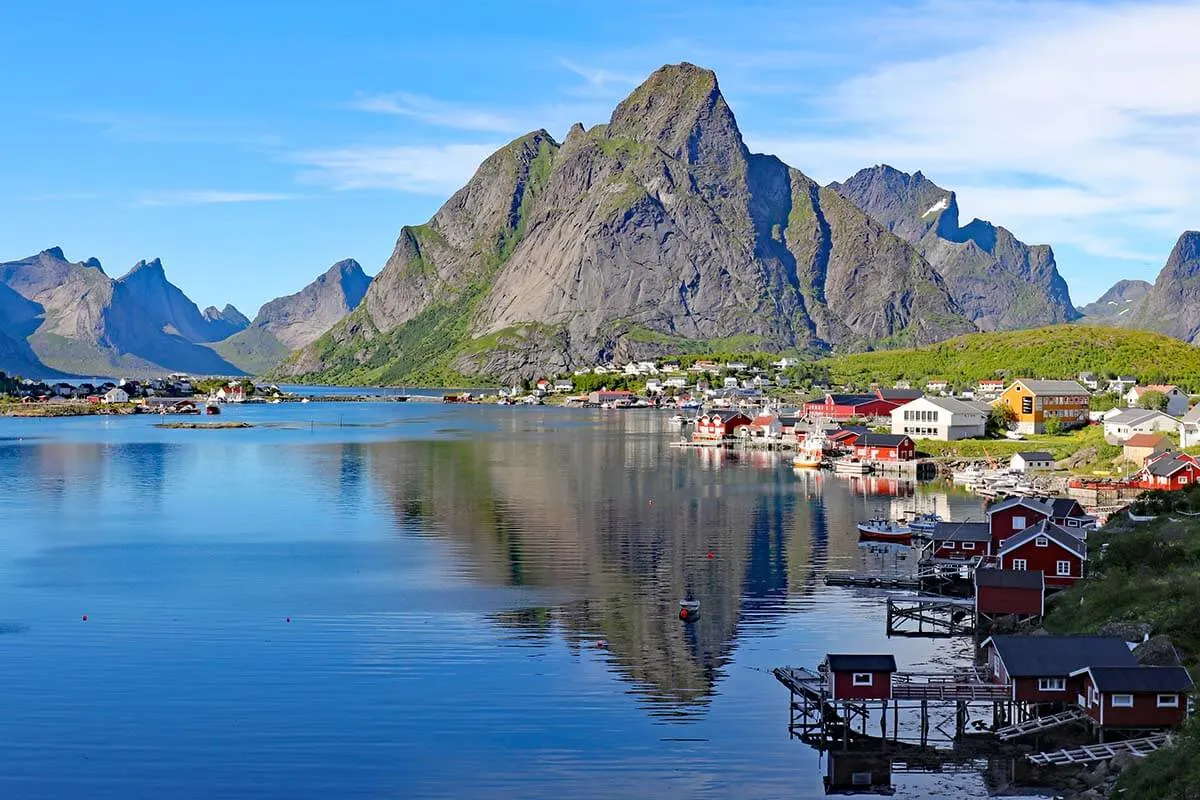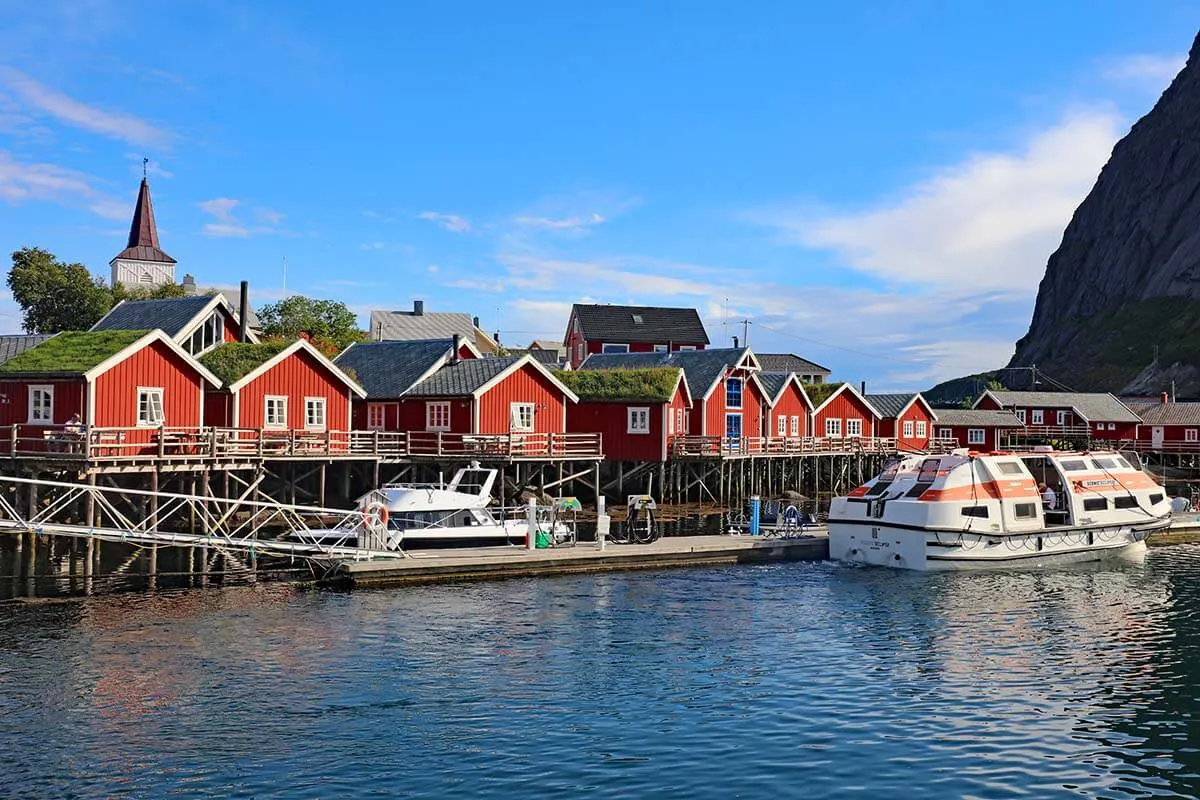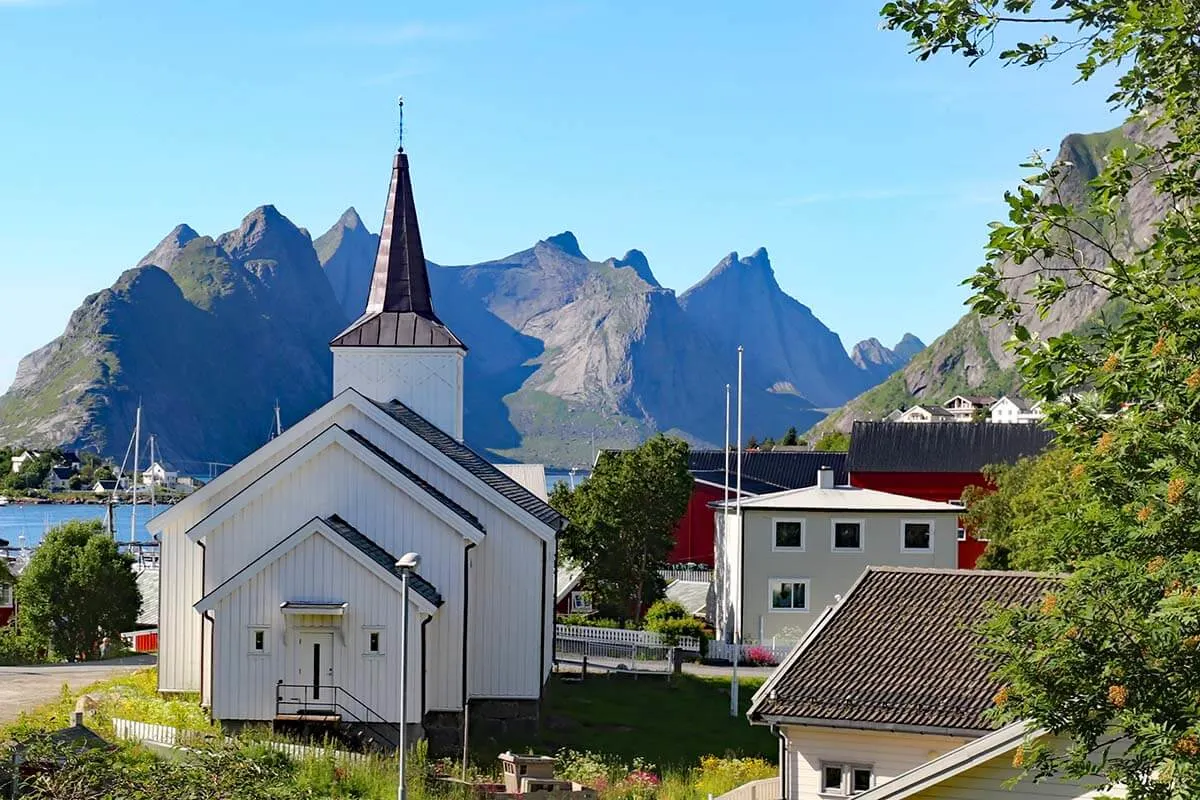 2. Reinebringen
Time needed: 2-3 hours.
Reinebringen is one of the most scenic viewpoints in Lofoten. This is one of those places where a single picture is enough to inspire you to travel here from the other side of the world… Talking about pictures, the featured image at the top of this article is from here.
However, you should know that Reinebringen is actually a mountain, and getting to the viewpoint involves a very steep and demanding climb.
The good news is that Reinebringen Hike starts just near Reine, so it's easy to reach (you'll find the exact location of the trailhead on our map at the bottom of this article). Plus, the hike is rather short and most people reach the viewpoint in about 1 hour.
The not-so-good news is that you will have to climb around 1600 Sherpa stairs in order to reach the top. Once you get to the trailhead, the 'hike' itself is an endless staircase all the way to the viewpoint at the top of Reinebringen.
And what a view it is!!! It is exactly as it is in the pictures and if you are lucky to be here on a sunny day, the views are breathtaking. It's absolutely worth the effort and if you climb just one mountain in Lofoten, then make it this one!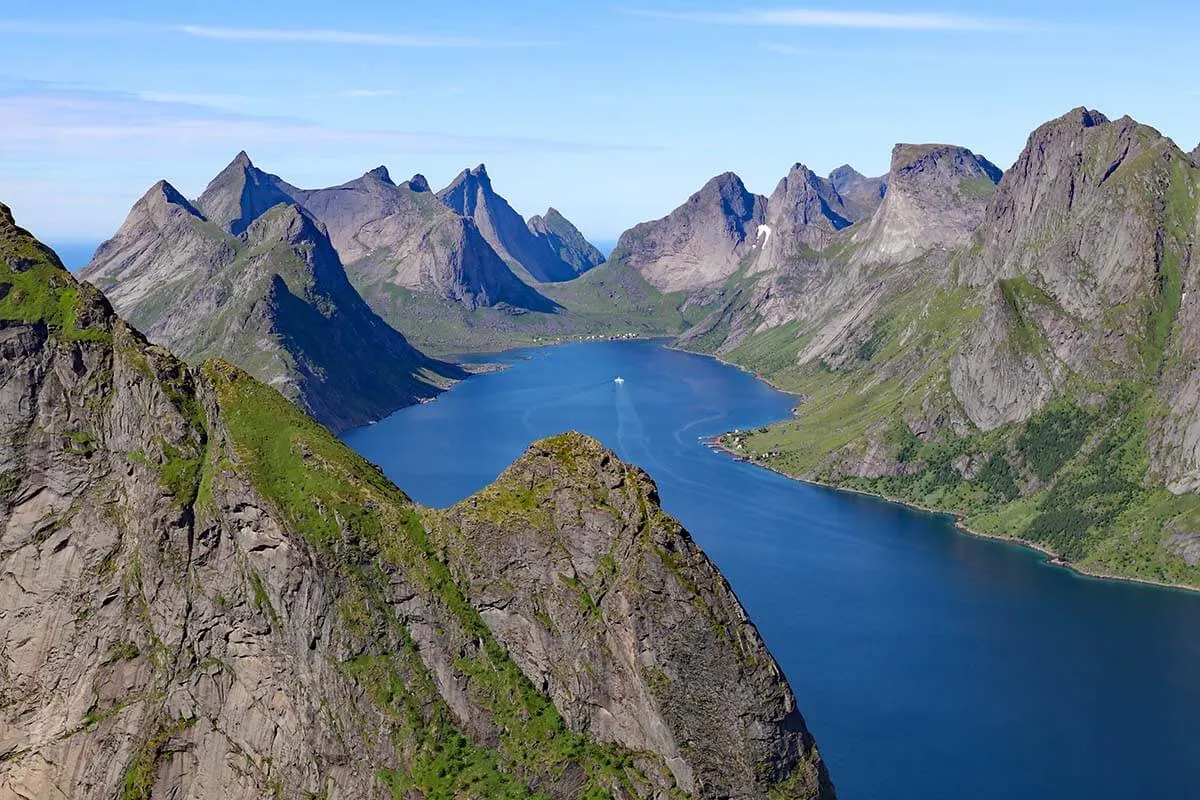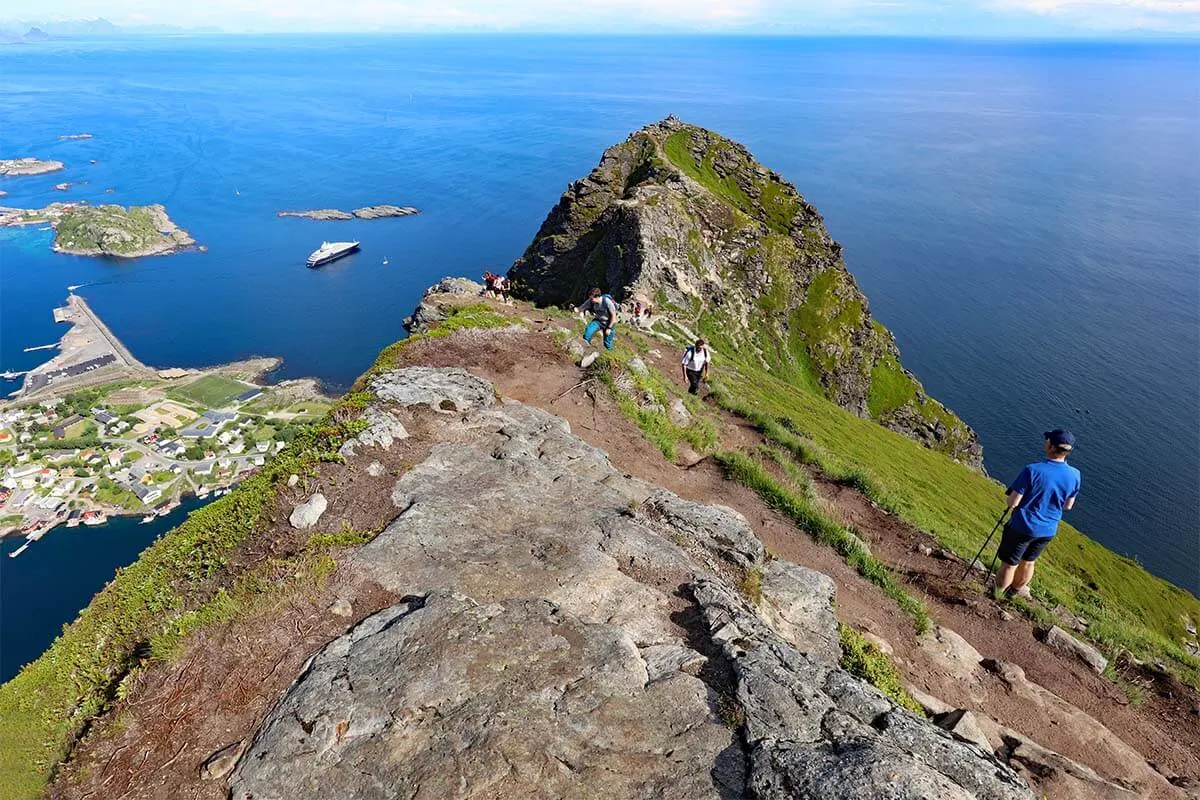 Good to know: Reinebringen is the most popular hike in Lofoten and thousands of people do it every year without any issues. However, no matter how you look at it, it's not an easy hike and it's definitely not for everybody.
So make sure that you have the right expectations (not just about your physical condition but also the season when you travel and the weather). This hike is not recommended in the winter if the stairs are icy or covered with snow. It's also not really worth it if it's raining and/or if everything is covered with clouds. You will do a few thousand stairs to then stand in the mist and not see anything.
Also, don't underestimate the hike back down. It's much easier on your heart, but you will quickly feel your knees. Take plenty of breaks as you go down; and if you have hiking poles, use them!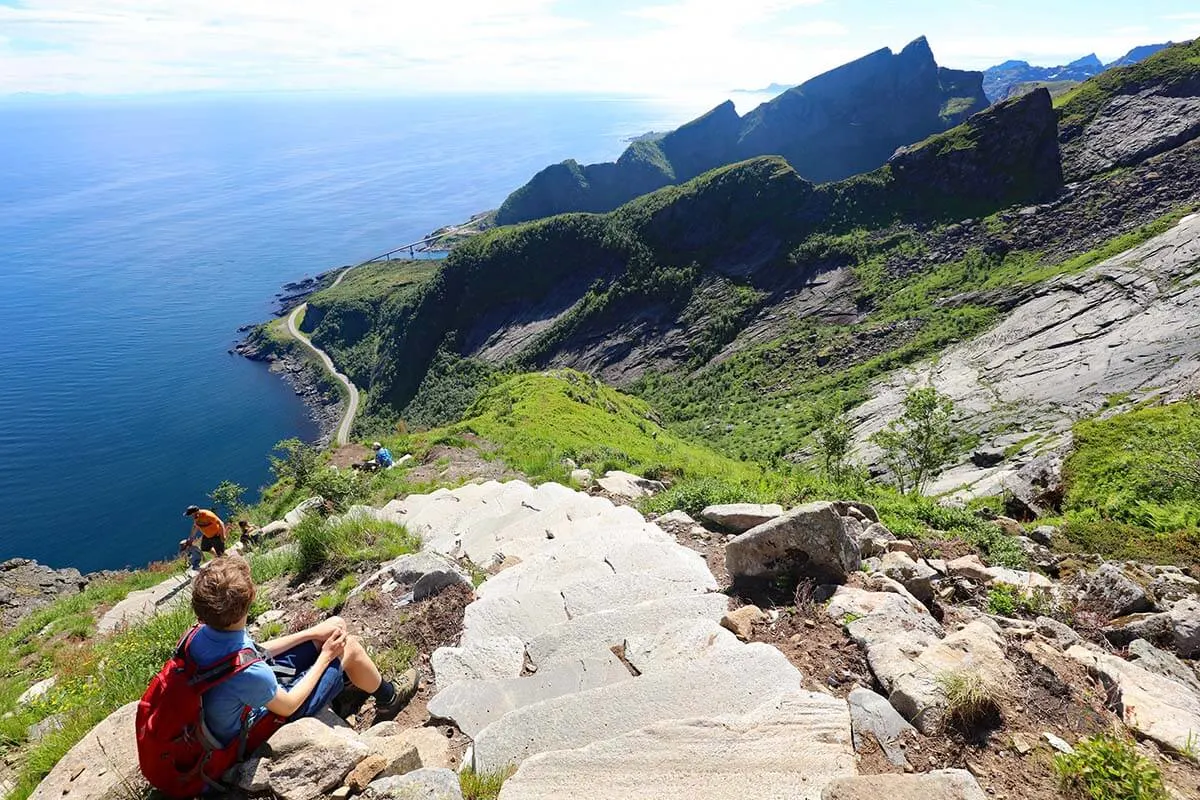 3. Hamnøy
Time needed: 15-45 minutes.
Hamnøy is a small inlet south of Reine, at the entrance of Reine fjord. This is where you will find the most photographed viewpoint in Lofoten – the traditional red cabins of the Eliassen Rorbuer with the mountain peaks of Reinefjorden in the background.
This view is one of the must-see places in Lofoten! And the good news is that it's easy to reach at any time of the day and in any season.
Good to know: The nicest views can be seen from the bridge on the main road. It's a busy road, but there is a pedestrian sidewalk. The best views are on the Hamnoy side facing northwards.
There is no designated parking here. It's best to park your car at the eastern end of the bridge. In addition to taking in the views from the bridge, if you have some extra time, you can also walk around Hamnoy a bit longer. The surroundings here are incredibly scenic.
TIP: Hamnoy is one of the nicest places to stay in southern Lofoten. In addition to the traditional Eliassen Rorbuer cabins, you'll also find more modern Reinefjorden Sjøhus cabins and apartments here. We stayed at the latter and it was our favorite accommodation in Lofoten. The views are stunning and the location is very central for many activities and famous sights in Lofoten.
READ ALSO: Where to Stay in Lofoten (Best Towns & Accommodations)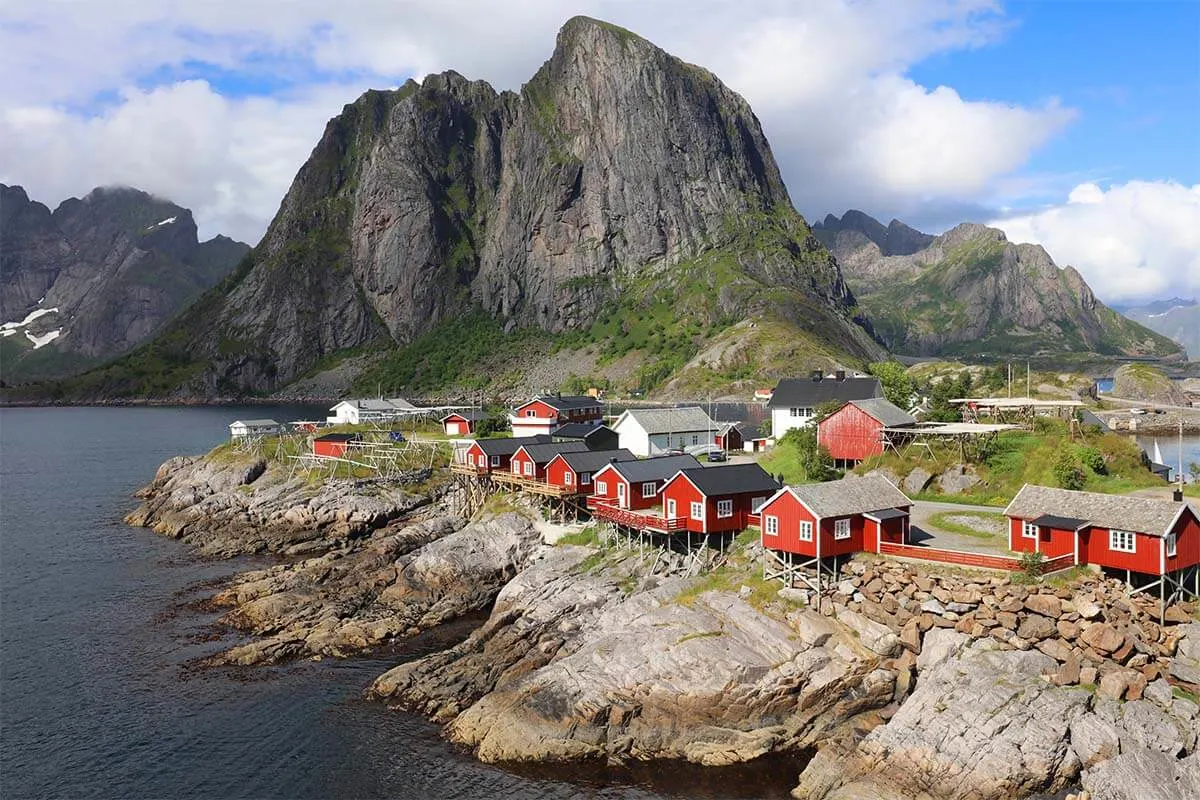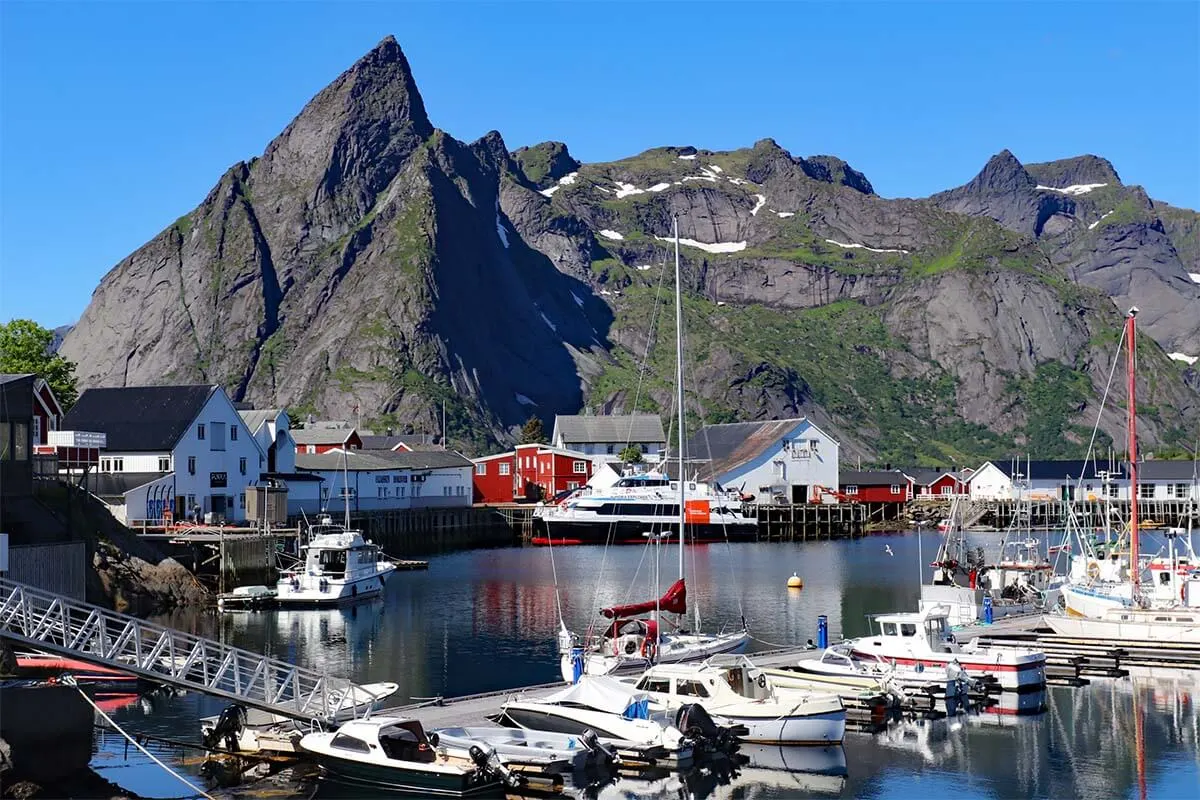 4. Nusfjord
Time needed: 1-2 hours.
The most charming town in the area – Nusfjord – is another must-see in Lofoten. This is a traditional fishermen's village that also functions as an open-air museum. You even have to pay a small entrance fee in order to visit here.
Many buildings in Nusfjord date to the end of the 19th century, and it looks like time stood still here. During the day, when the museum is open, you can visit several of the best-preserved rorbuer cabins where you'll find exhibitions about the local fishing industry. It's a great place to get to know a bit more about what life was like for the local fishermen in the area in the past.
In addition to the museum, some traditional cabins in Nusfjord also serve as hotels. In fact, there are some really nice accommodations in Nusfjord. In the village, you will also find a traditional bakery as well as a café and a restaurant. There are also kayak tours and boat trips available.
Depending on when you visit, Nusfjord might look totally deserted or quite touristy. When it's not too busy, you can really appreciate the authentic charm of this picturesque little village.
I know several people who stayed here during their trip to Lofoten and they said they absolutely loved being able to experience the place in the evening without the day tourists. We visited during the day in the peak season, and while we weren't alone, it was just busy enough to be enjoyable.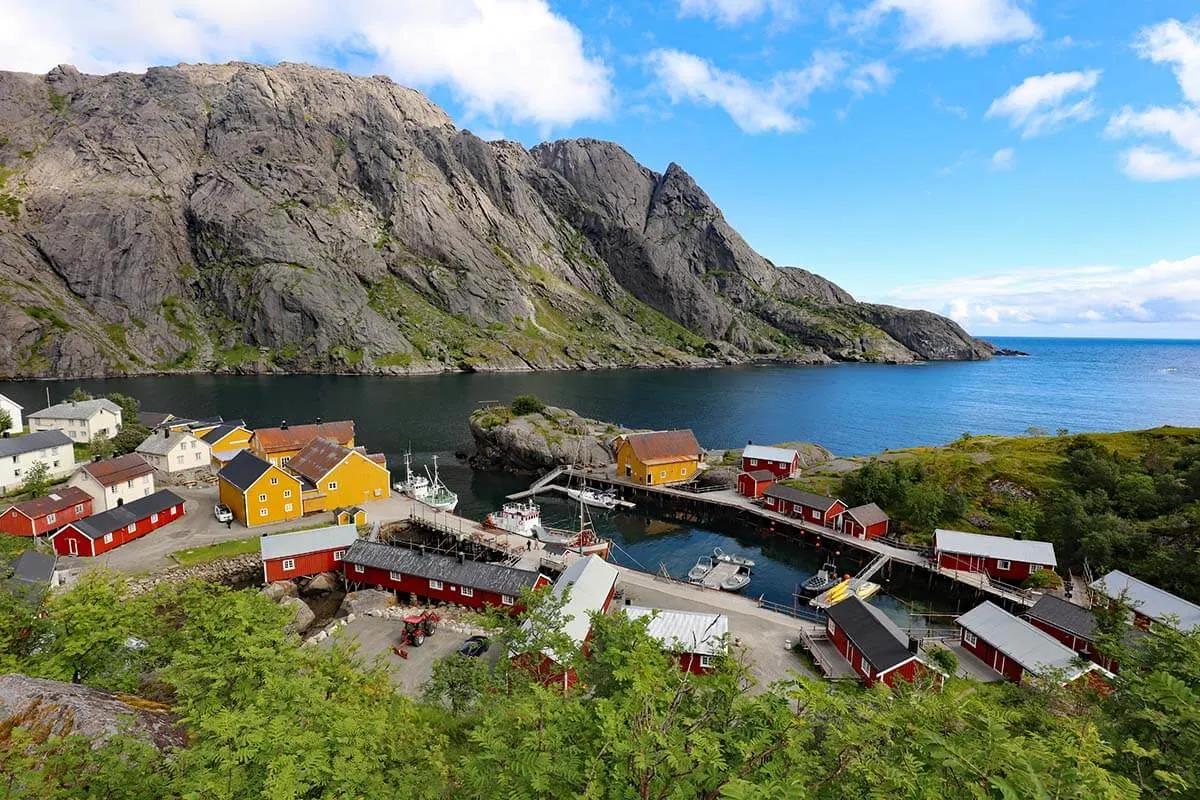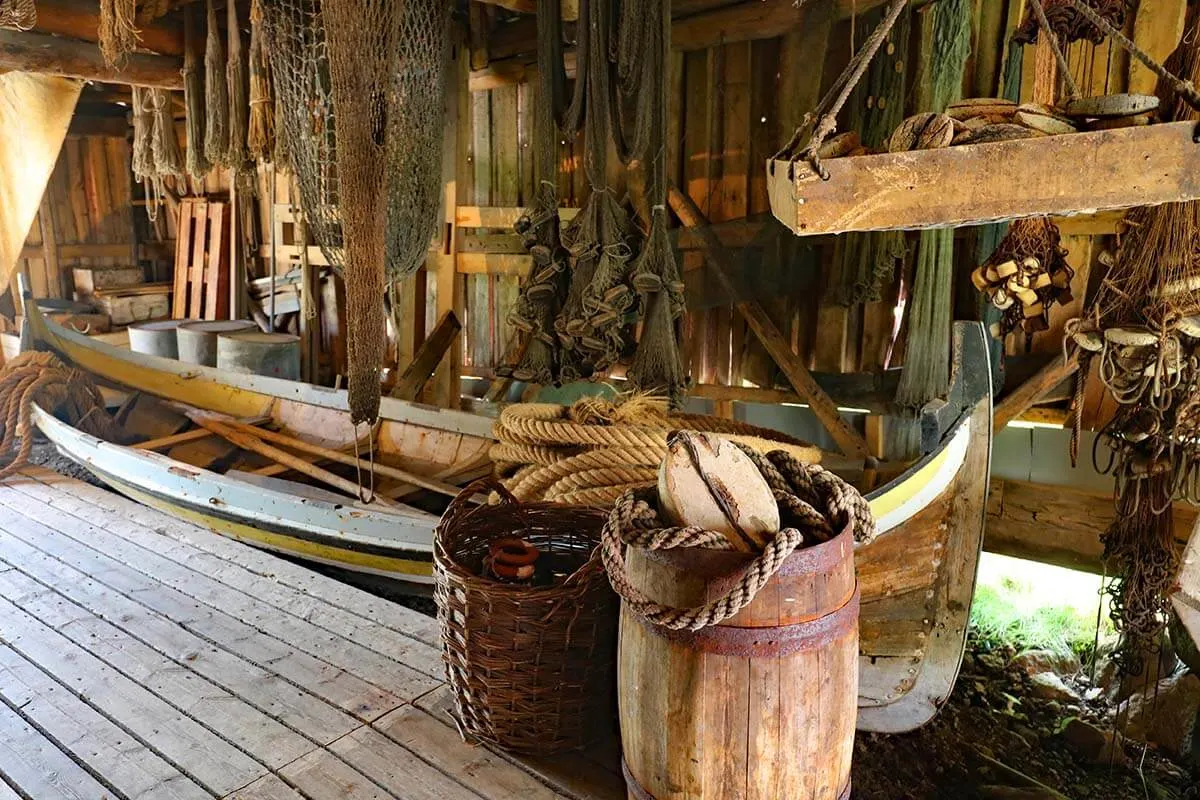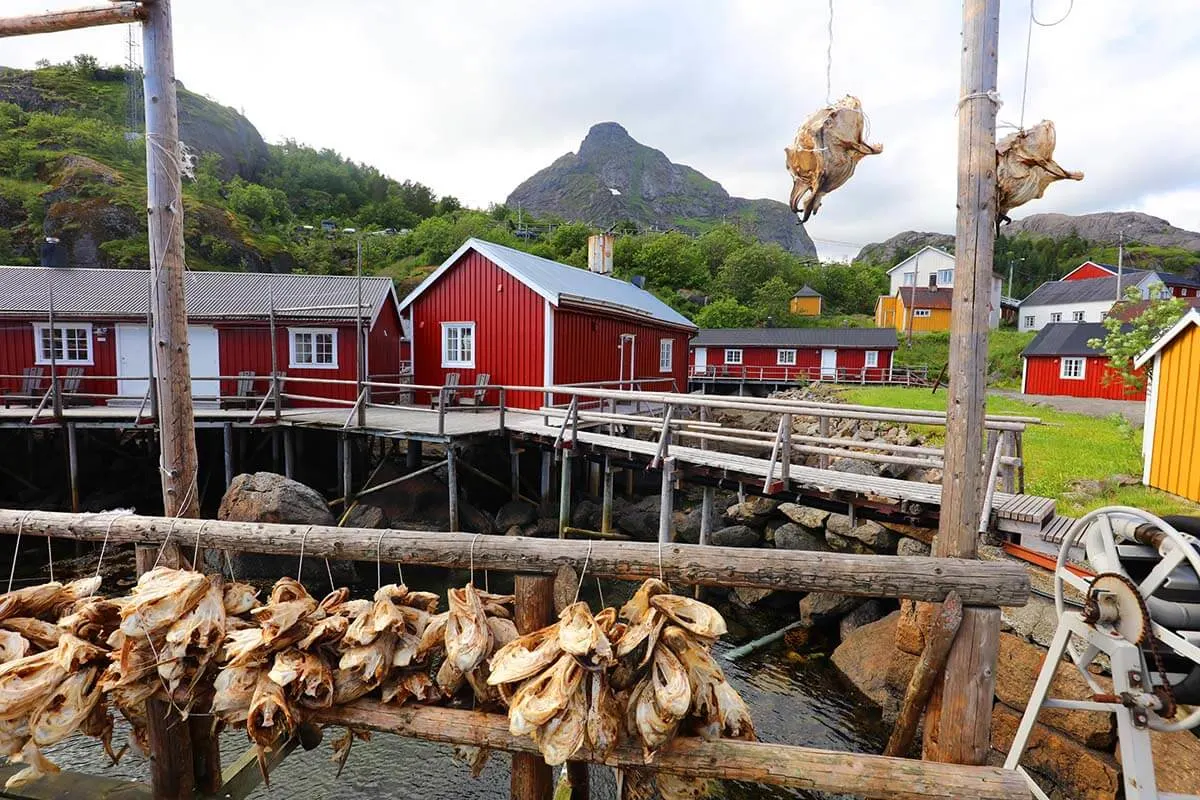 Good to know: Parking is somewhat limited in Nusfjord, so if you are traveling in the summer, try to come here early in the morning or later in the afternoon.
TIP: For the best high-angle view of the entire village, head to the car parking area at the top of the hill at the very end of the road.
The road leading toward Nusfjord is really scenic as well. You'll probably want to stop for pictures, but be careful when parking/walking on the road.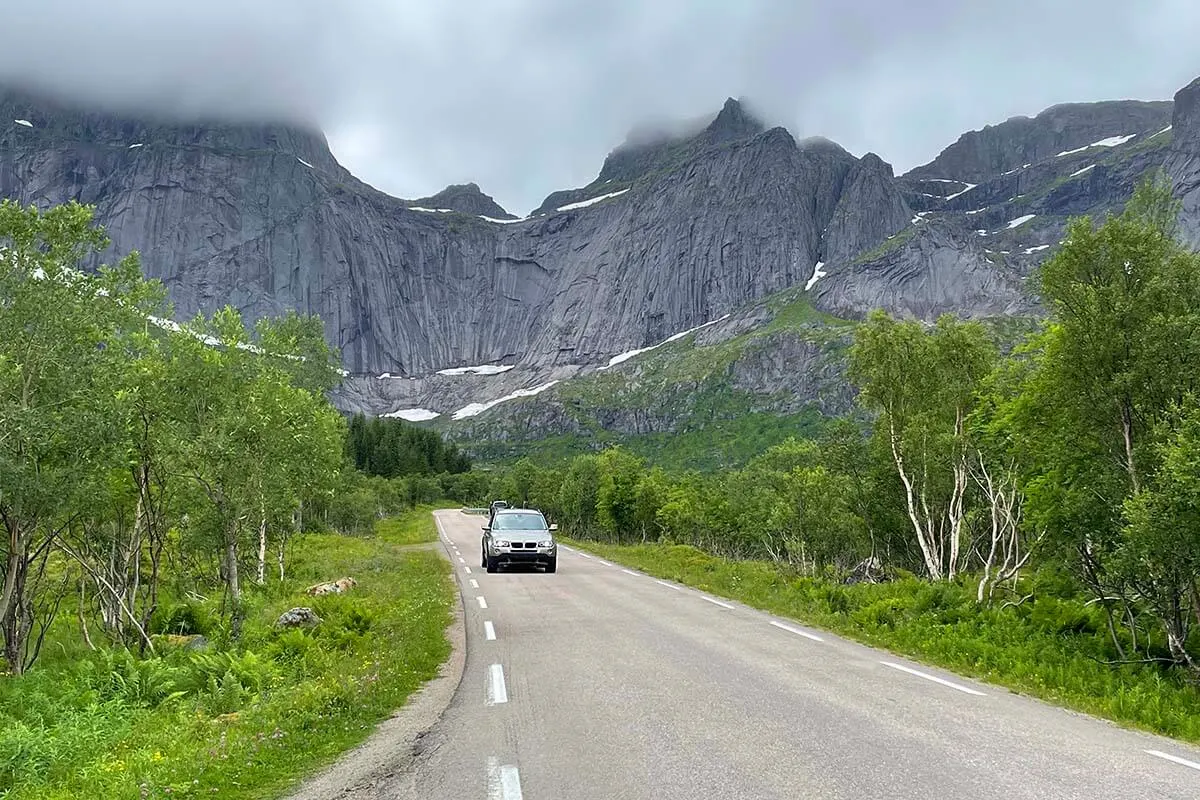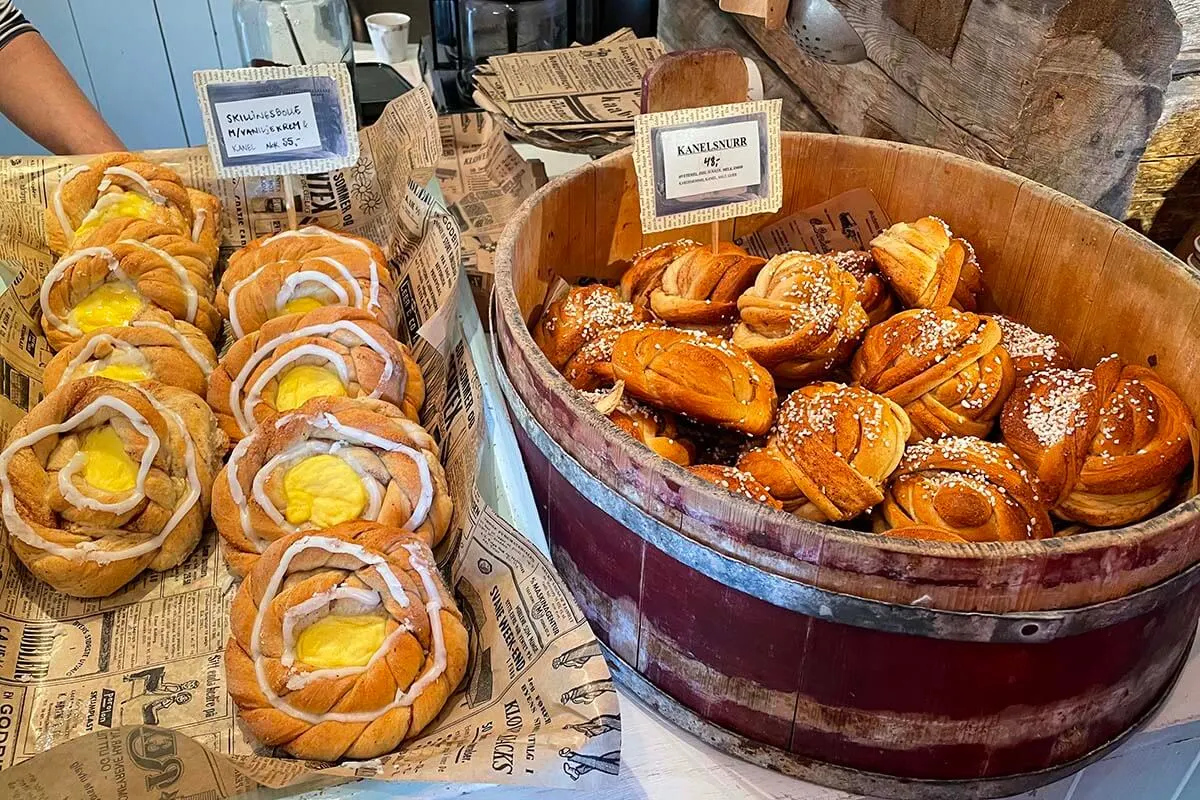 5. Uttakleiv Beach
Time needed: 0.5-2 hours.
Lofoten Islands have countless little beaches. But if you have the time to visit just one of them, make it Uttakleiv Beach. The scenery here is stunning, with a long flat sandy beach surrounded by mountain peaks.
The landscape is really quite unique, with white sand and giant boulders, but also long stretches of green grass and sheep grazing in the summer. It's difficult to believe that you can find such white sand in the cold Arctic climate – it looks just like the beaches of the Caribbean (minus the palm trees and the weather ;)).
There is just something so special about Uttakleiv that you really have to experience it. No descriptions or pictures do it justice. It's truly one of the most spectacular places to visit in Lofoten.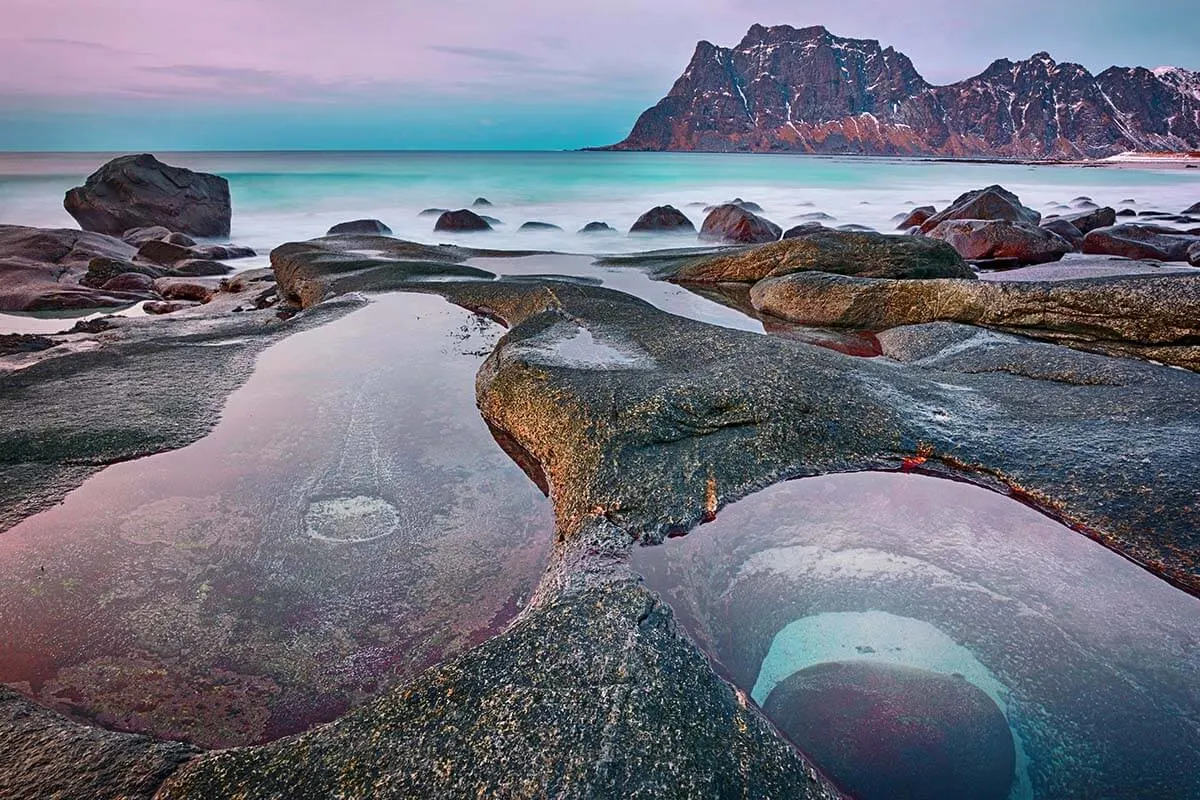 Good to know: Uttakleiv Beach is relatively easy to reach. If it's not too busy, you can drive all the way to the main parking area by car. There are also public buses that come here. There is a small fee for parking, and – as pretty much everywhere else in Lofoten – you can pay by credit card.
You have to drive through a tunnel in order to reach the beach. On warm and sunny summer days it sometimes happens that the narrow road gets completely blocked by cars. In that case, you could leave your car at Haukland Beach before the tunnel and take a scenic coastal walk to get to Uttakleiv Beach.
This scenic walk is flat and takes just about 1 hour (one-way). It's something nice to do if you have some time to spare. If you have a designated driver in your family/group, they could drop you off at one beach, drive to the other one, and then meet you along the trail. This would save you a walk back.
In addition – if you have at least 2 more hours to spare and the weather is nice – you could climb to the top of Mannen 400. This mountain sits between Haukland and Uttakleiv offering amazing views of the beaches and the stunning bays below.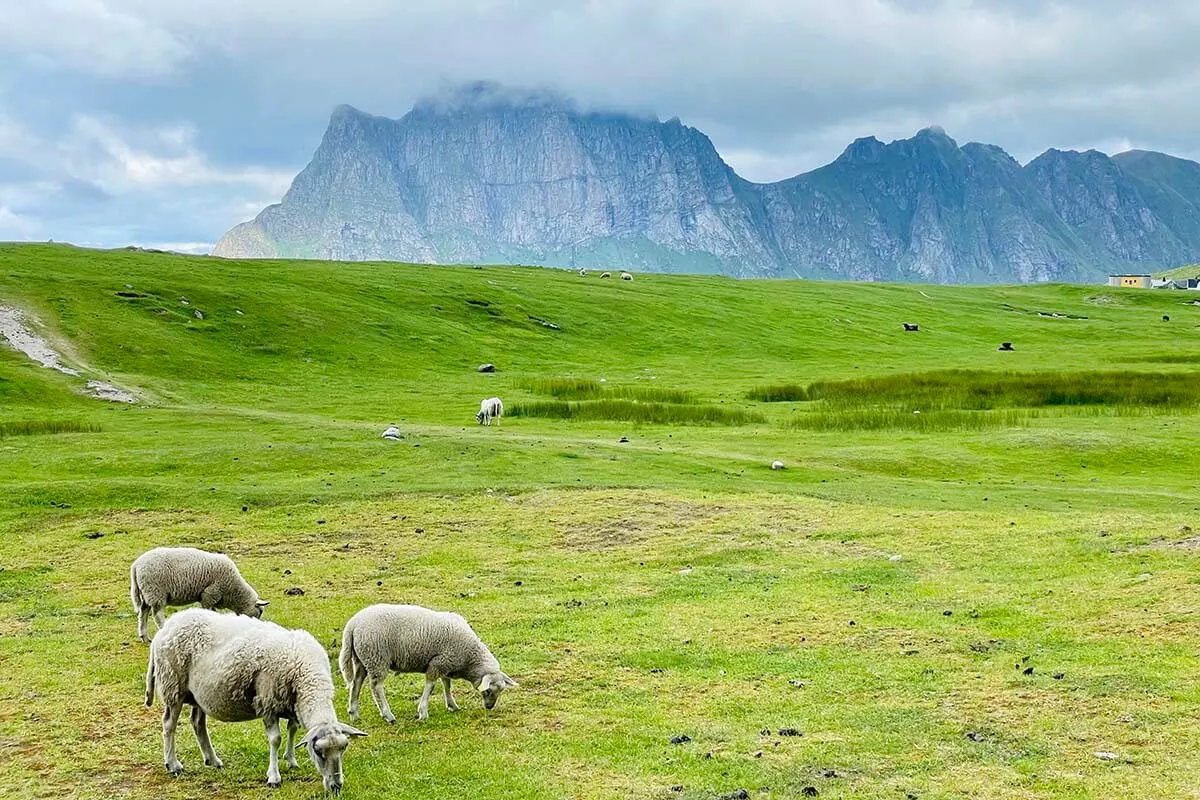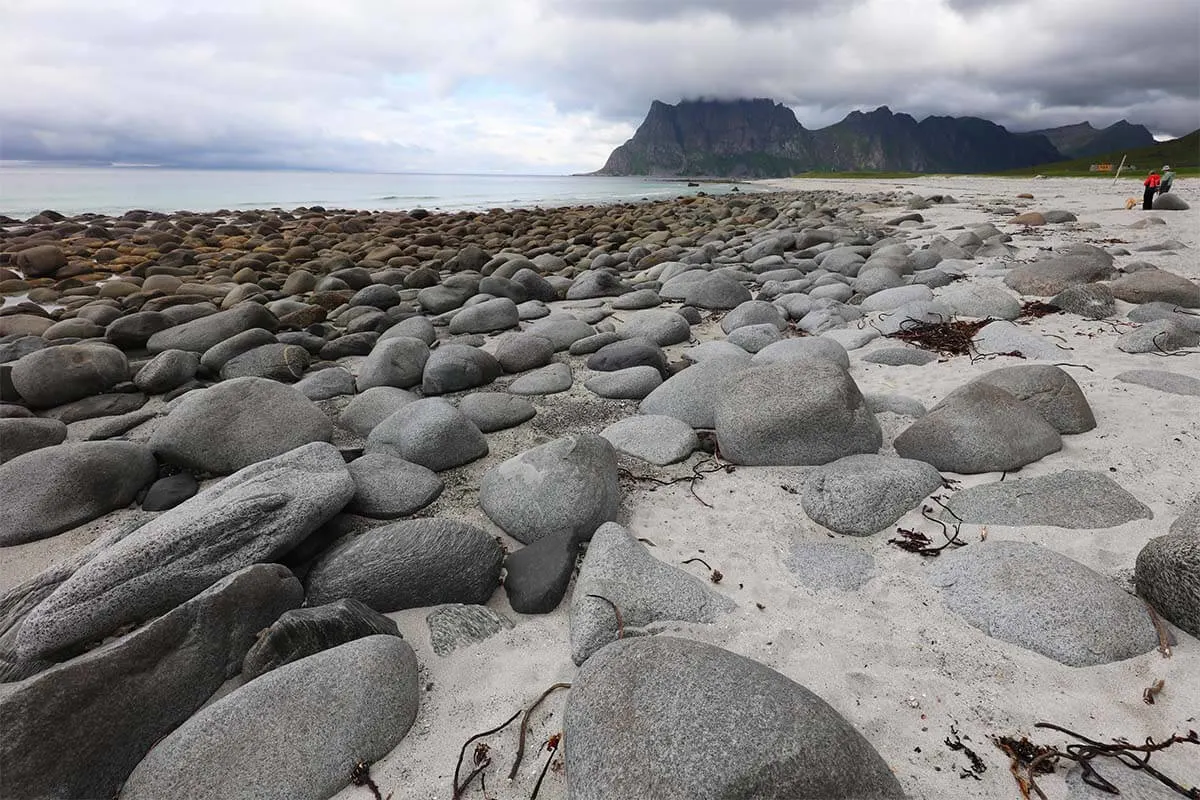 6. Å i Lofoten
Time needed: 1.5-2 hours.
Å (pronounced as 'awe') is a picturesque little town at the southernmost end of the main road in Lofoten.
Maybe because of its location 'at the end of the world', its traditional red cabins, or the fact that there are still quite some locals living here, it feels more authentic than any other of the most-visited villages in Lofoten.
There are two museums in Å: Lofoten Torrfiskmuseum, dedicated to stockfish and the fishing industry, and the Norwegian Fishing Village Museum Å focused on some historic buildings in town. If you want to visit these buildings inside, you'll need to get a ticket, but – unlike in Nusfjord – there is no fee if you just walk around the town.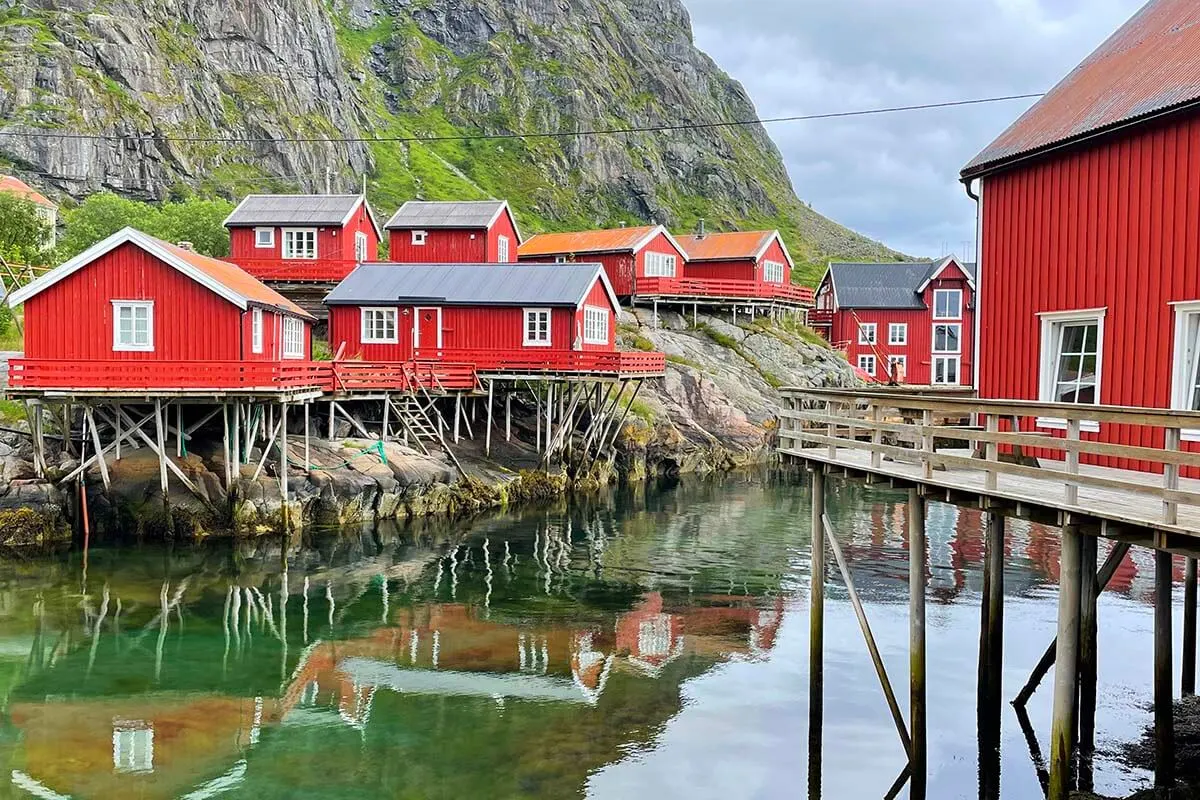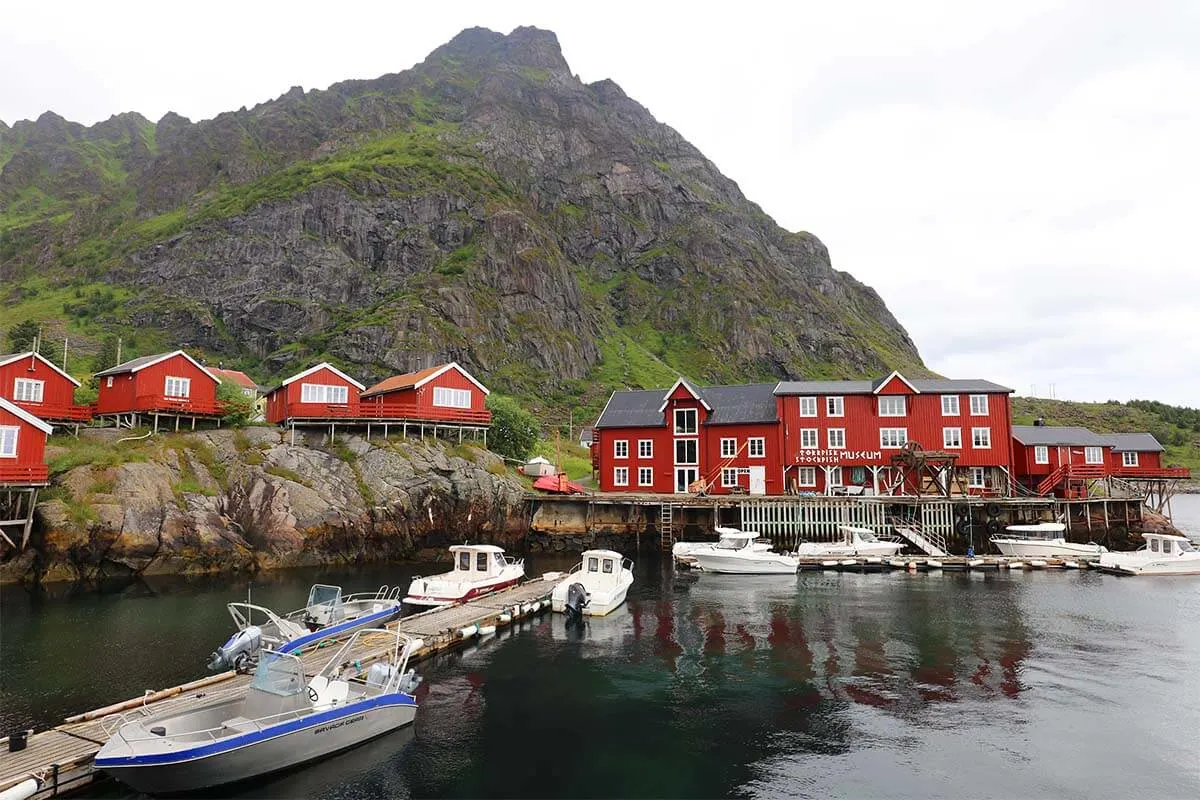 TIP: One of our favorite places in Lofoten is the beautiful coastal area at the far end of Å village. From the car parking with the town behind you, follow the paved pathway southward. After just a few minutes of walking, the coastal scenery gets better and better. You could spend a good half an hour wandering around here.
There are also some long hikes that start in the area around A, but – just like the majority of the most impressive hikes in Lofoten – they are very steep and strenuous.
We had a few hike ideas in this area in our itinerary, but since the weather was dreadful, we never got to them. Luckily, you can enjoy the village and the coastal scenery around it in pretty much any weather. So Å is a good place to visit if you are looking for things to do in Lofoten when it rains.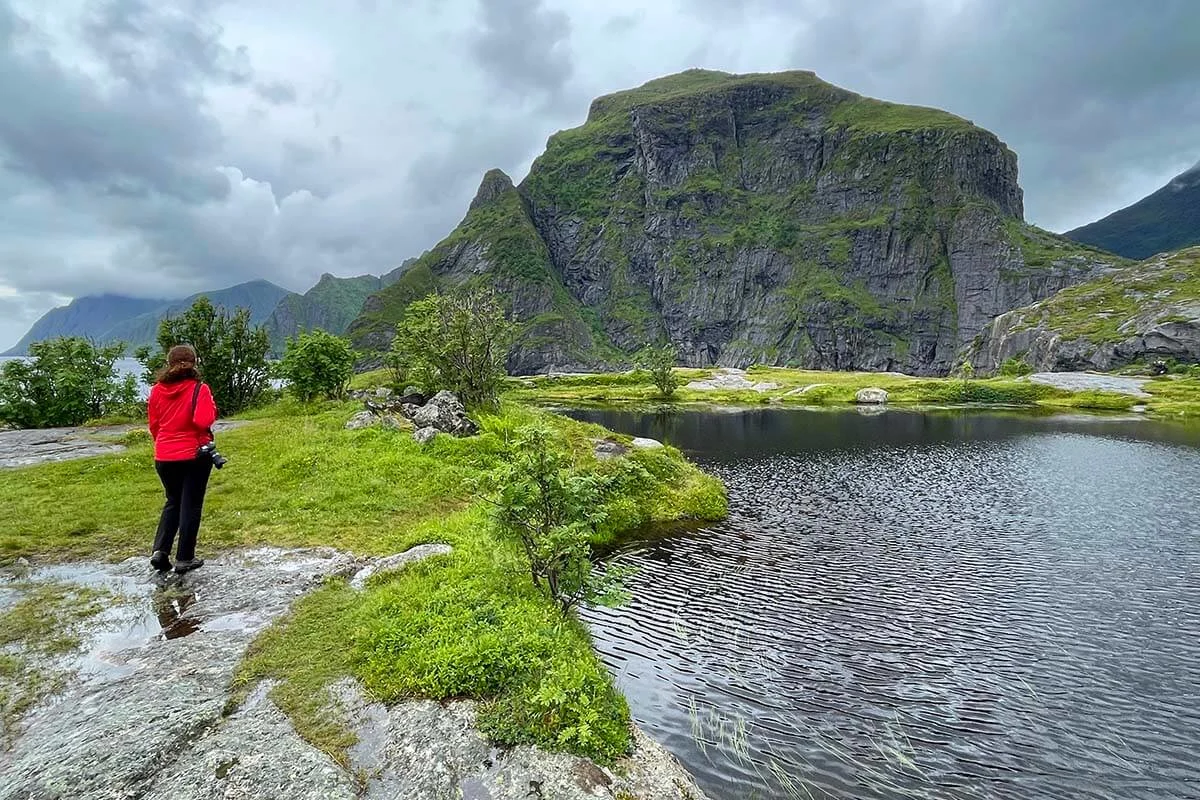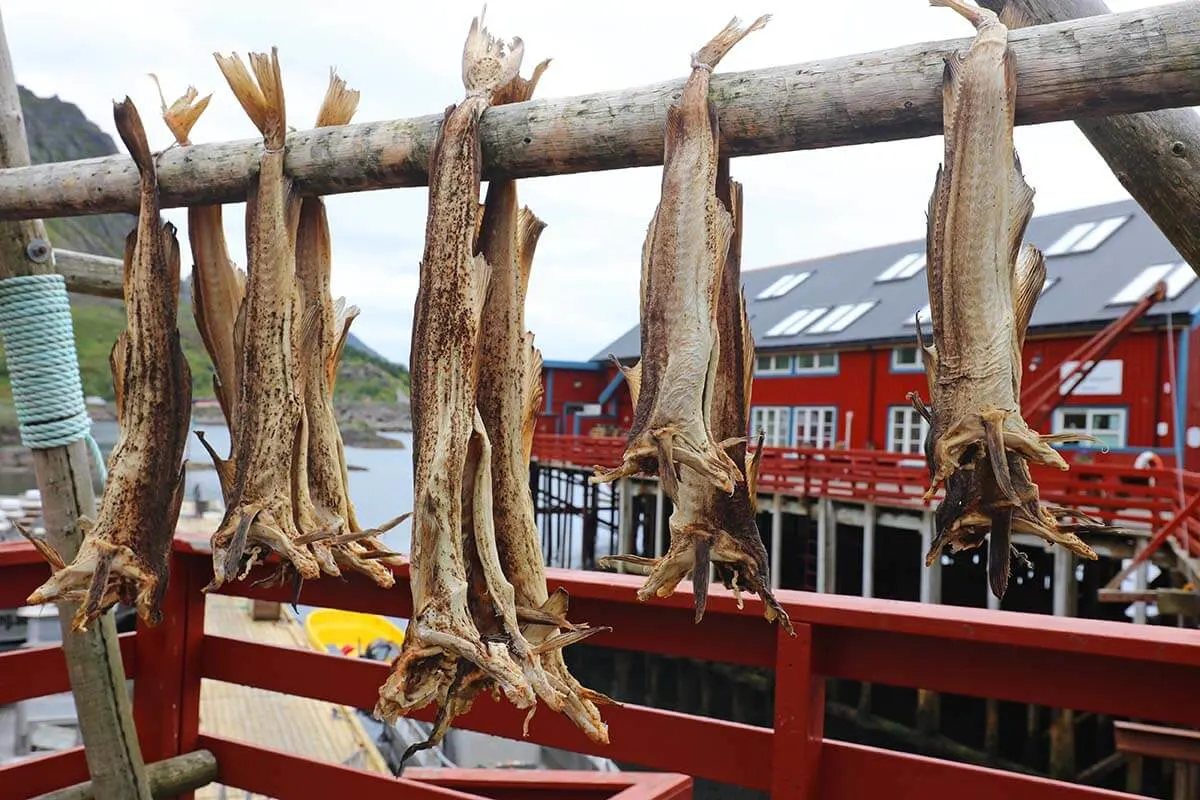 7. Ryten Hike & Kvalvika Beach
Time needed: 4 hours for Ryten hike. Add 2 more hours if you do both – Ryten and Kvalvika.
No list of the best places to see in Lofoten would be complete without mentioning the Ryten hike. It's the most popular hike in Lofoten after Reinebringen. It takes you to the top of Ryten mountain from where you have a stunning view of Kvalvika Beach and the coastline below.
You'll recognize this view from the Instagram-famous pictures with people sitting or 'hanging' on the 'tong' with a beach visible under their feet.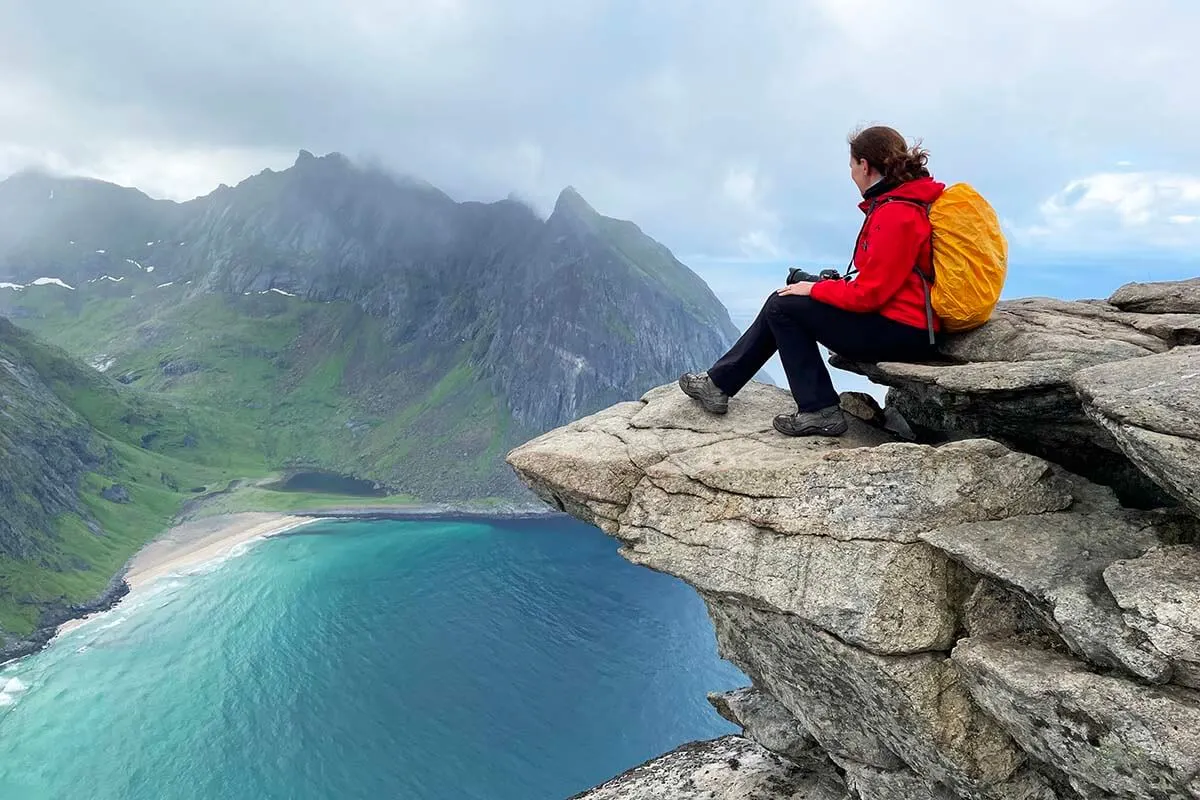 The Ryten hike is moderate to strenuous and you are climbing uphill almost all the time. There are just a few flat sections at the beginning and just before the last ascent.
At least for now, it's an actual hike, so you won't have to do thousands of Sherpa stairs like at most other popular hikes. However, it has its own challenges with lots of muddy and slippery sections.
Plus, it's an extremely popular hike. To give you an idea, we were here on a rainy and very cold day at the beginning of July, and there were hundreds of people doing the hike. Going up early in the morning was still ok, but going down was even more difficult because we had to share the narrow path with so many people doing the hike in both directions.
All that being said, there is a good reason why this hike is popular. The views are absolutely gorgeous! If you are lucky to visit when the weather is nice and could time your hike in order to avoid the biggest crowds, it would be even more enjoyable.
Good to know: Most people start this hike at one of the parkings next to Fv806 and hike to Ryten. In addition, it's also possible to hike down to Kvalvika beach itself, but that would add at least 2 hours to your total hiking time. Or you can just go to the beach and skip the mountain peak, but you would miss the most amazing views.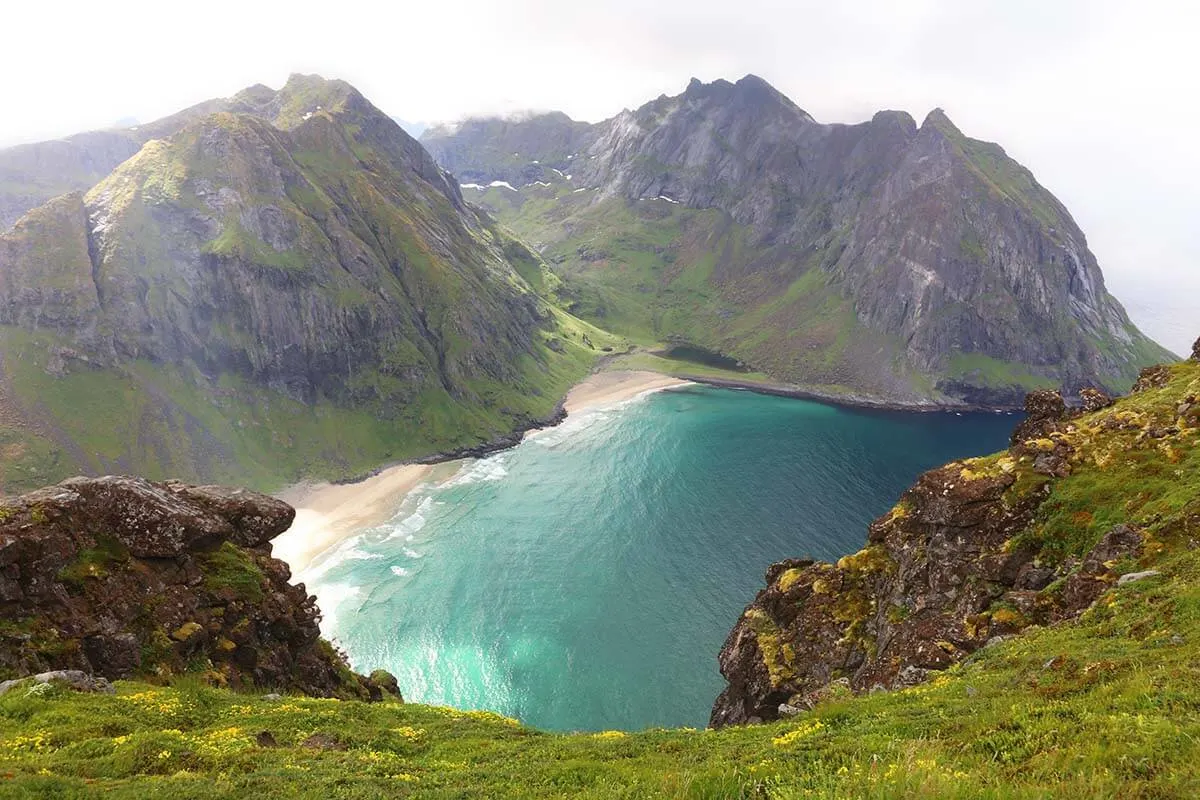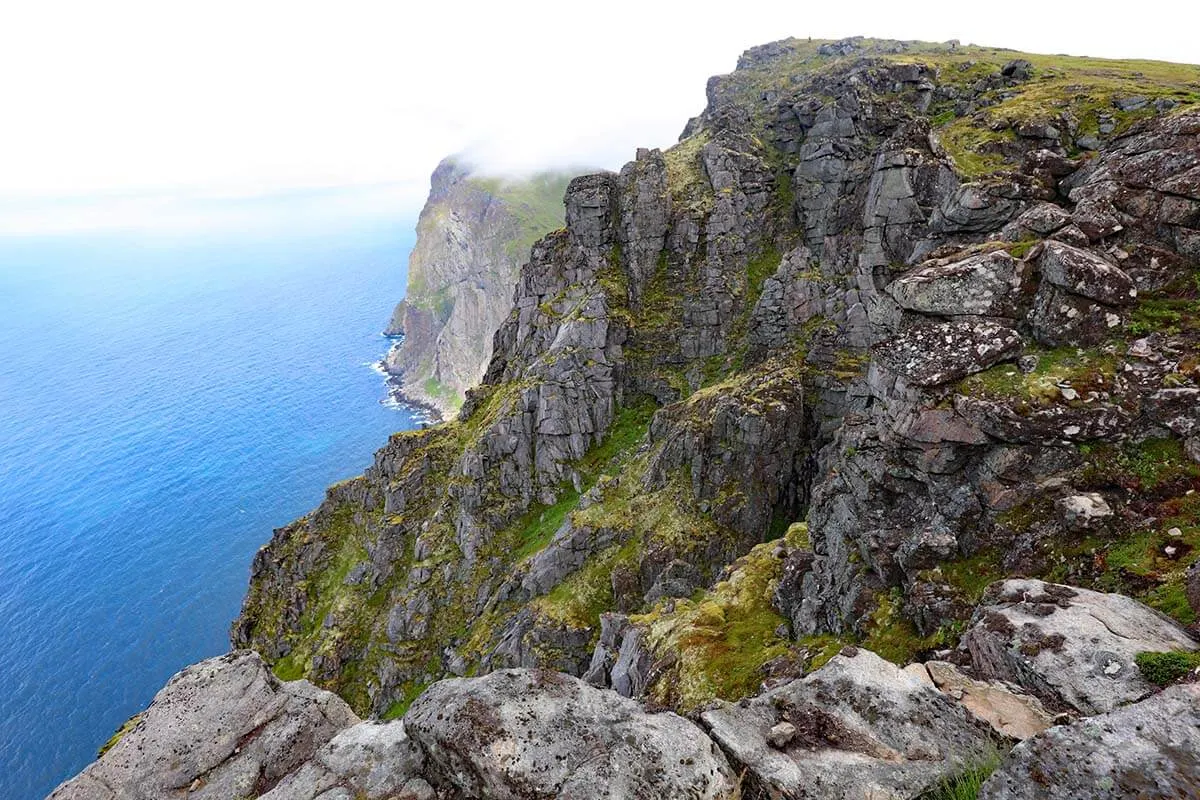 8. Lofotr Viking Museum
Time needed: 2-3 hours.
When looking for things to do in Lofoten, you will stumble upon quite a few museums. Most of them are dedicated to the region's history or fishing industry and are really similar in terms of what you learn and what you see.
But there is one museum in Lofoten that stands out above all the rest and that's Lofotr Viking Museum. So if you only have time to visit one museum in Lofoten, make it this one.
Built like a Viking village, Lofotr Viking Museum is a great place to learn more about Vikings and how they used to live. You can visit a Viking longhouse, interact with actors in Viking-era costumes, try some Viking food, and learn all kinds of traditional crafts. If you feel like it, you can also try Viking costumes and take some fun pictures to remember the experience.
The museum is spread out over a big area with many activities taking place outside. You can try axe throwing, archery, ride a pony, or take a ride on a traditional Viking boat.
Good to know: In the summer season, Lofotr Viking Museum is open daily and all the activities are included in the entrance ticket. For more information, see their website. Please note that this is an open-air museum and since the grounds are really big, you will have to do quite some walking if you want to see everything.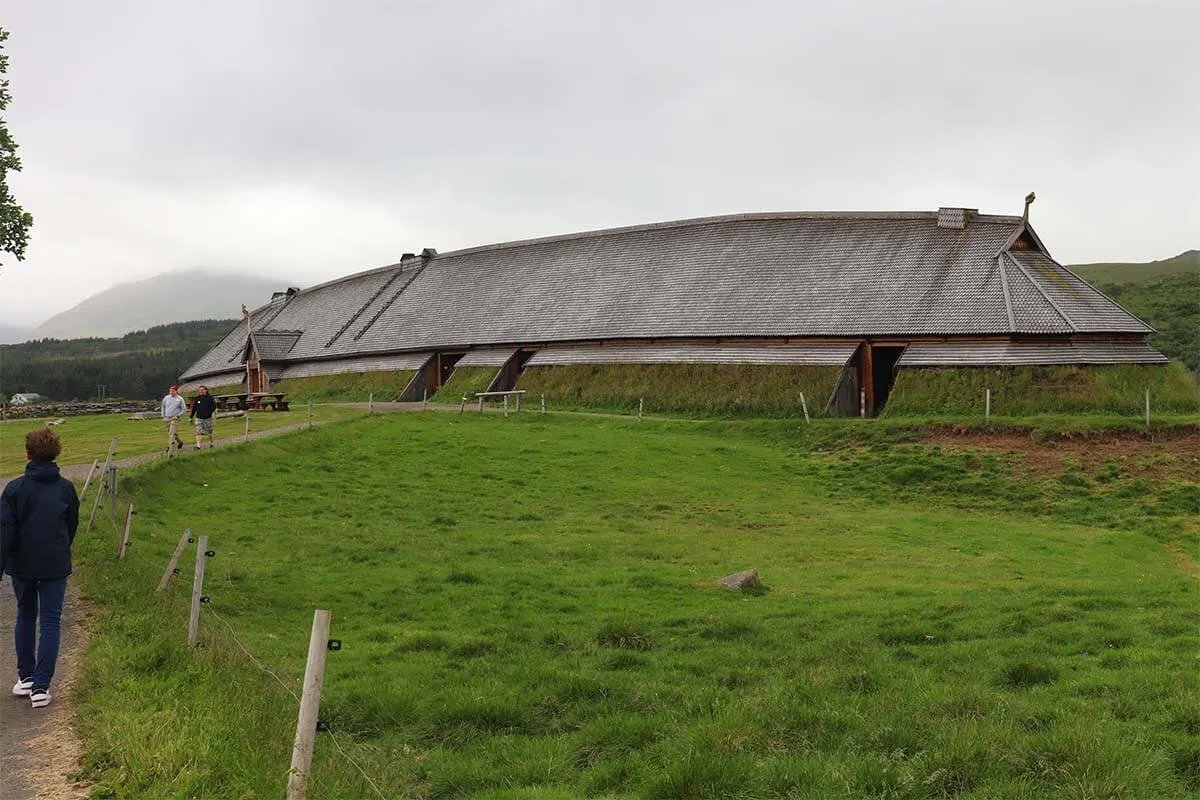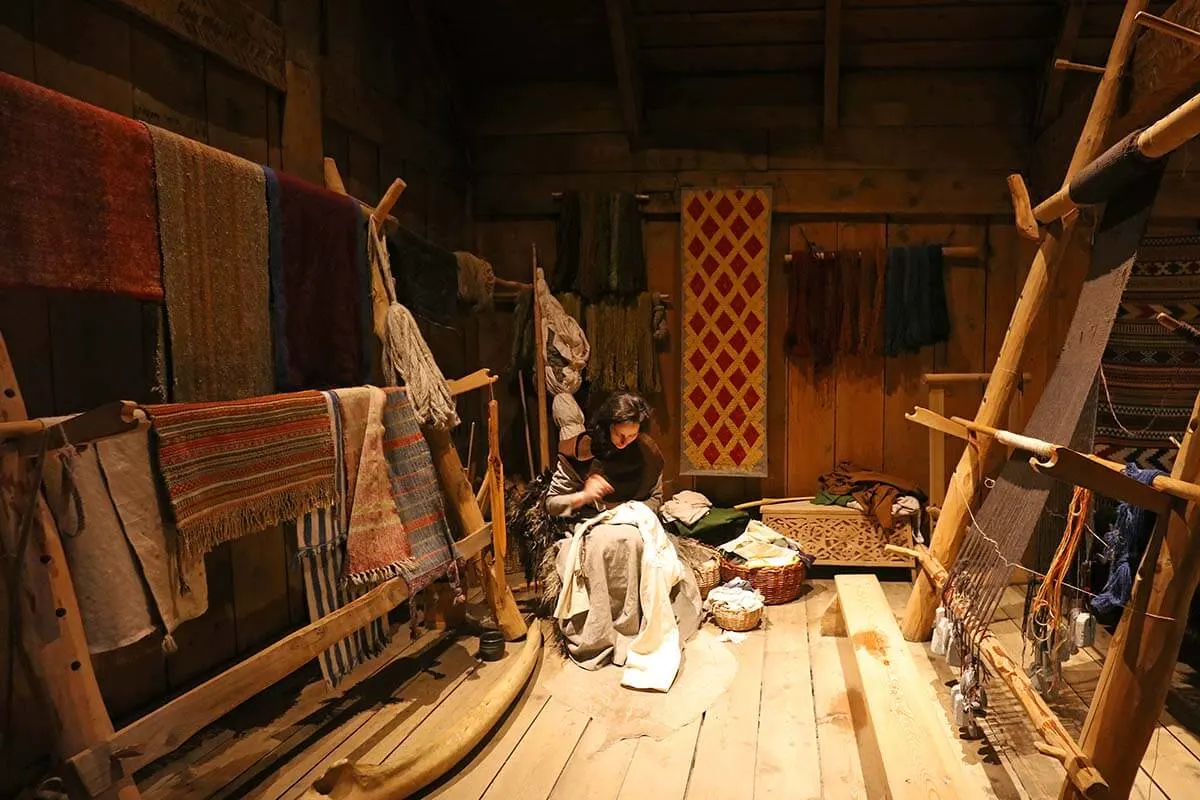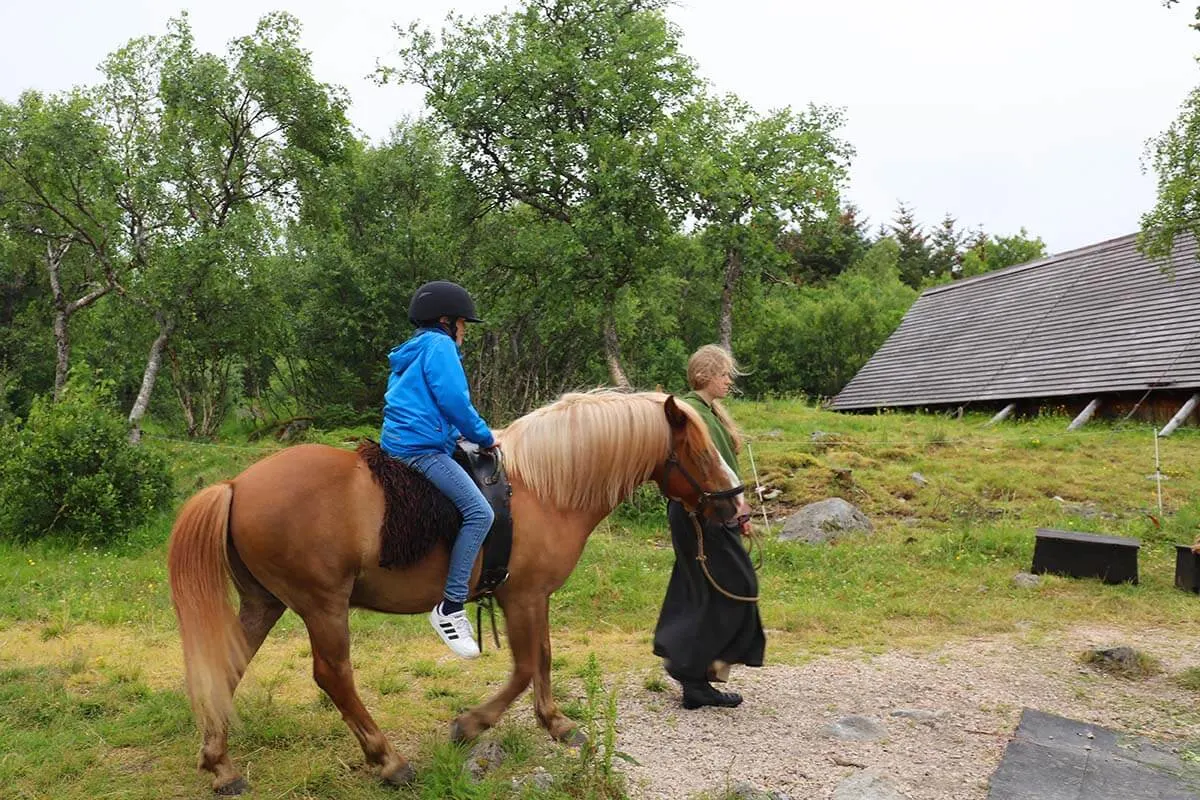 9. Trollfjord Cruise
Time needed: 2.5-4 hours.
Located close to Svolvaer, Trollfjord is considered one of the most beautiful fjords in the Lofoten archipelago. With steep cliffs rising high above the narrow fjord, it looks really picturesque. The waters here are crystal-clear and the reflections can be stunning.
There are no roads here, so the best way to experience Trollfjord is by taking a boat tour from Svolvaer. The tours offer spectacular views of the surrounding mountains and cliffs, as well as opportunities to spot wildlife and learn about the history and legends of the fjord.
Indeed, Trollfjord is steeped in Norwegian folklore, with many legends and stories associated with its name. However, pretty much every guidebook we read and every local guide had a different troll story to tell, so I'm still not sure what's the 'real' story…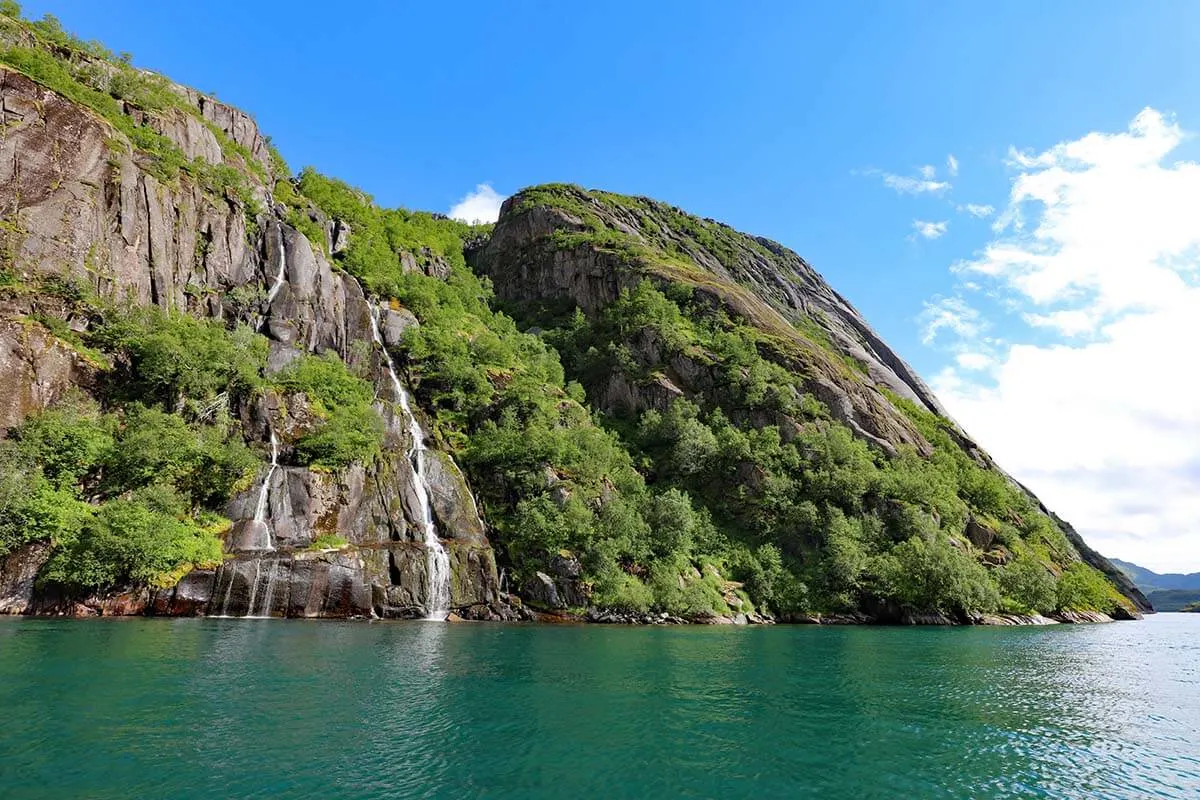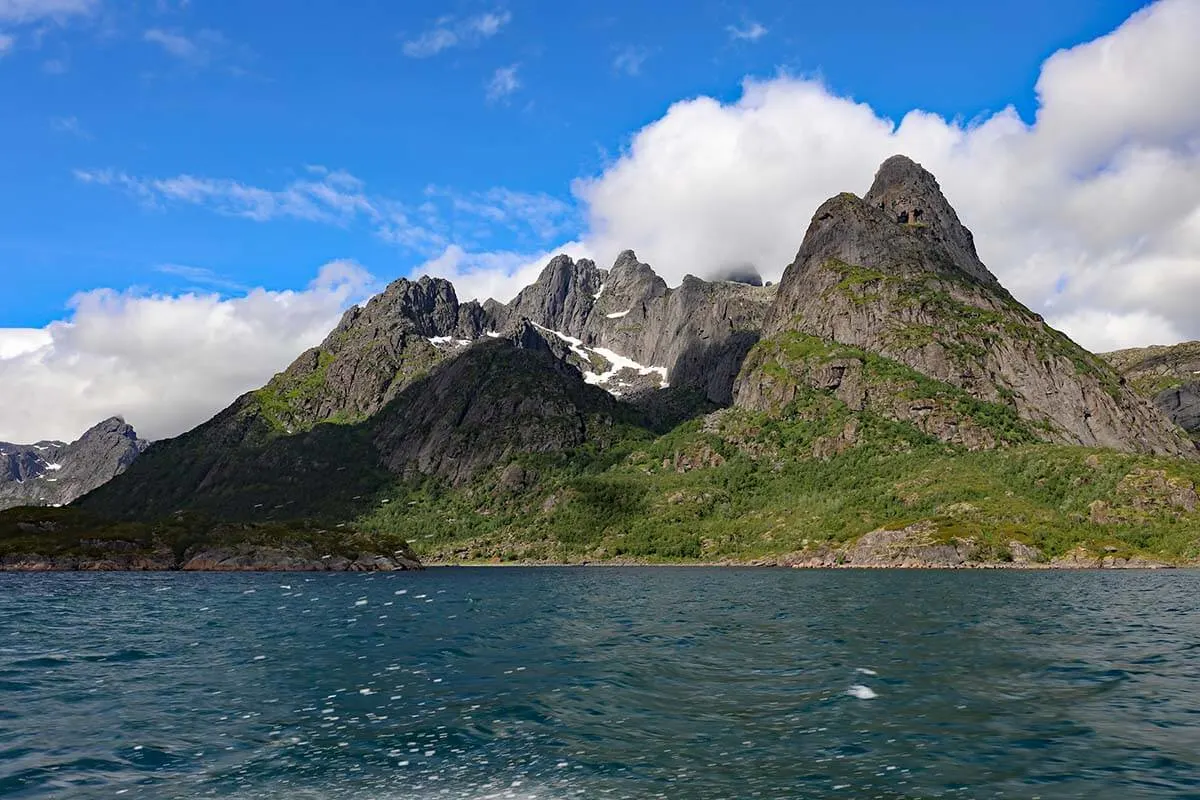 Good to know: There are sightseeing tours to Trollfjord by regular boats, but also speedboat trips that are more focused on wildlife. Weather permitting, boat tours are available in all seasons, so also in winter.
We did this sea eagle safari to Trollfjord by speed boat and our kids all agreed that this was by far the best thing you could do in Lofoten. In addition to enjoying the stunning coastal scenery and visiting Trollfjord, we also saw many sea eagles. Since the guides bring fish to feed the birds, they come really close to the boat – much closer than we expected. It's an unforgettable experience.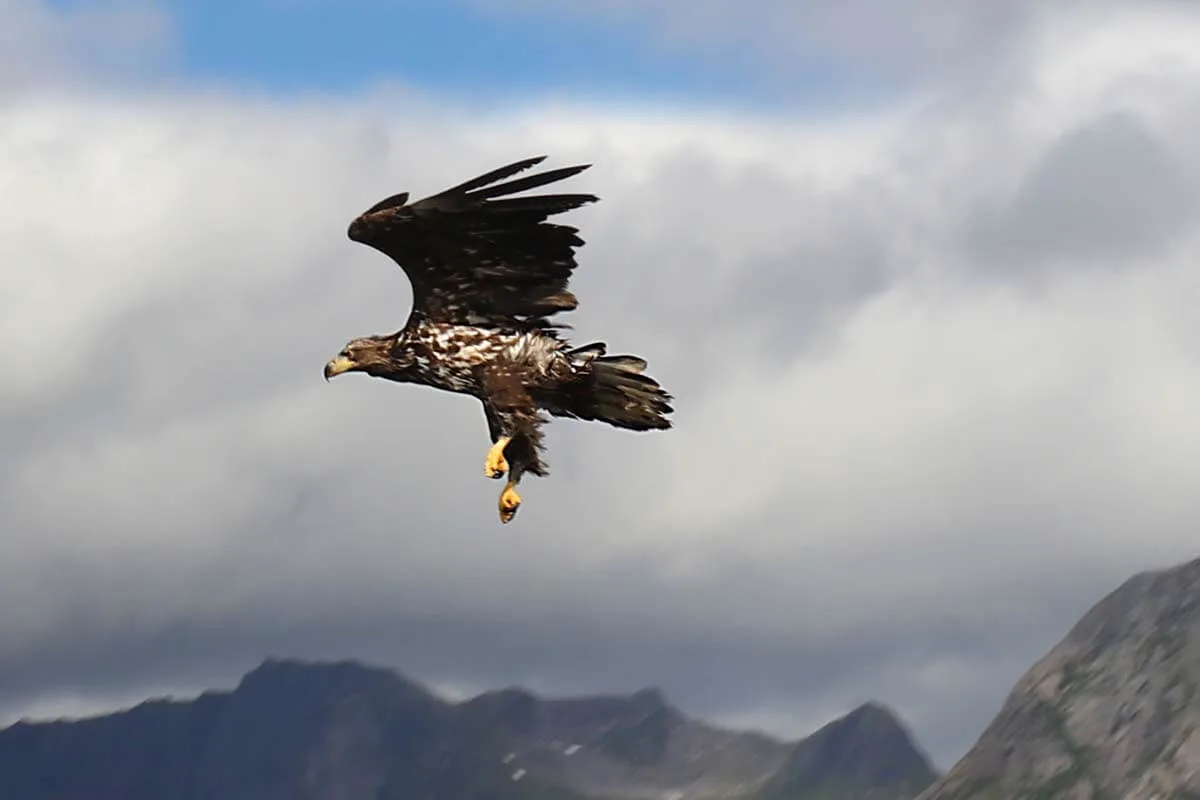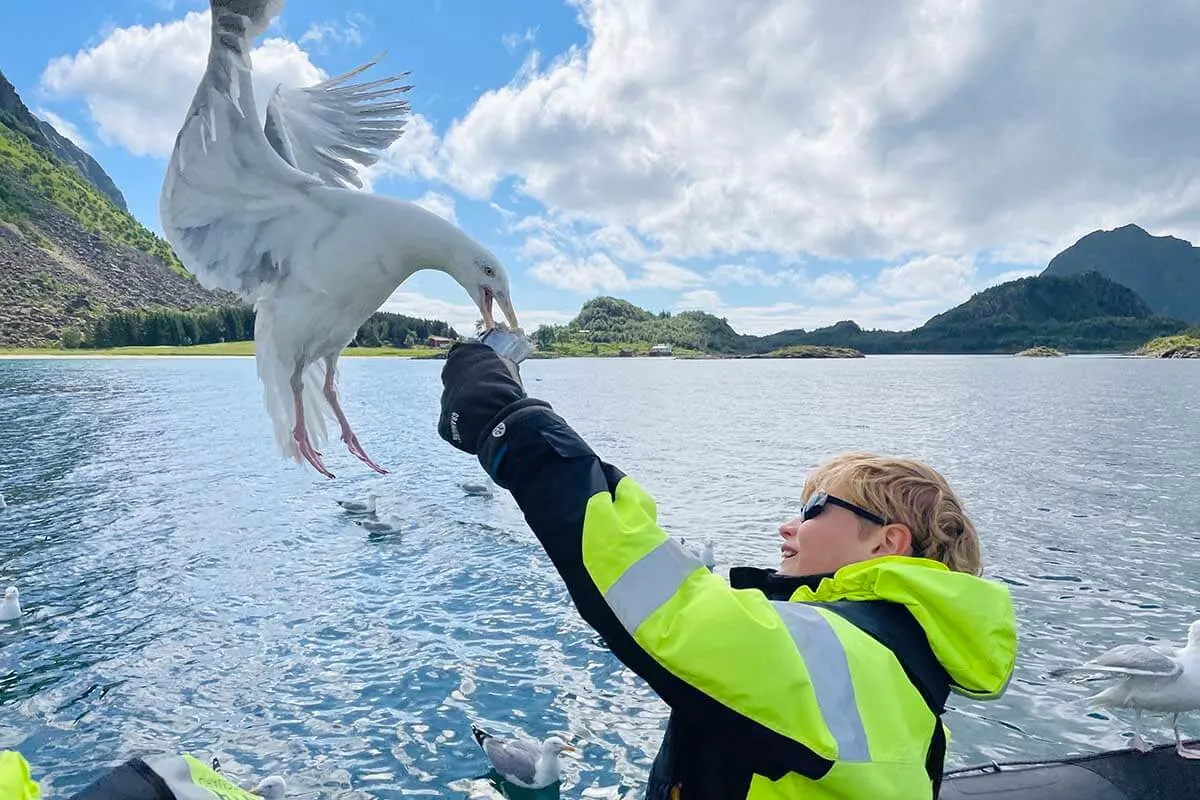 10. Djevelporten – Fløya Hike
Time needed: 2-3 hours.
Djevelporten – Fløya hike is another worthy mention as one of the most popular things to do in Lofoten.
Fløya is a mountain peak close to Svolvaer. Just before you reach the top, you can see Djevelporten (Devil's Gate), which is a picturesque rock perched in between two mountains. Some people climb on it for pictures, but it looked way too dangerous when we visited. So be careful – no picture is worth such a risk!
This is another extremely popular hike that many people underestimate. Also here, you'll have to negotiate endless Sherpa stairs, plus long stretches of steep, muddy, and slippery sections where you'll need to use your hands to scramble over the rocks.
You can visit both places together or you can just hike to one of them. Most people only hike to Djevelporten because the last ascent to the top of Floya is quite strenuous and the path isn't in the best condition. It's also not very well indicated.
The good thing about this hike is that the scenery is amazing and you can enjoy spectacular views along the way, without necessarily going all the way to the top. But yes, it is well worth going (almost) all the way to Floya because the views from the top are even more spectacular. I say 'almost' because the very last vertical ascent to the top of the peak is not necessary – you have the most amazing views right under it.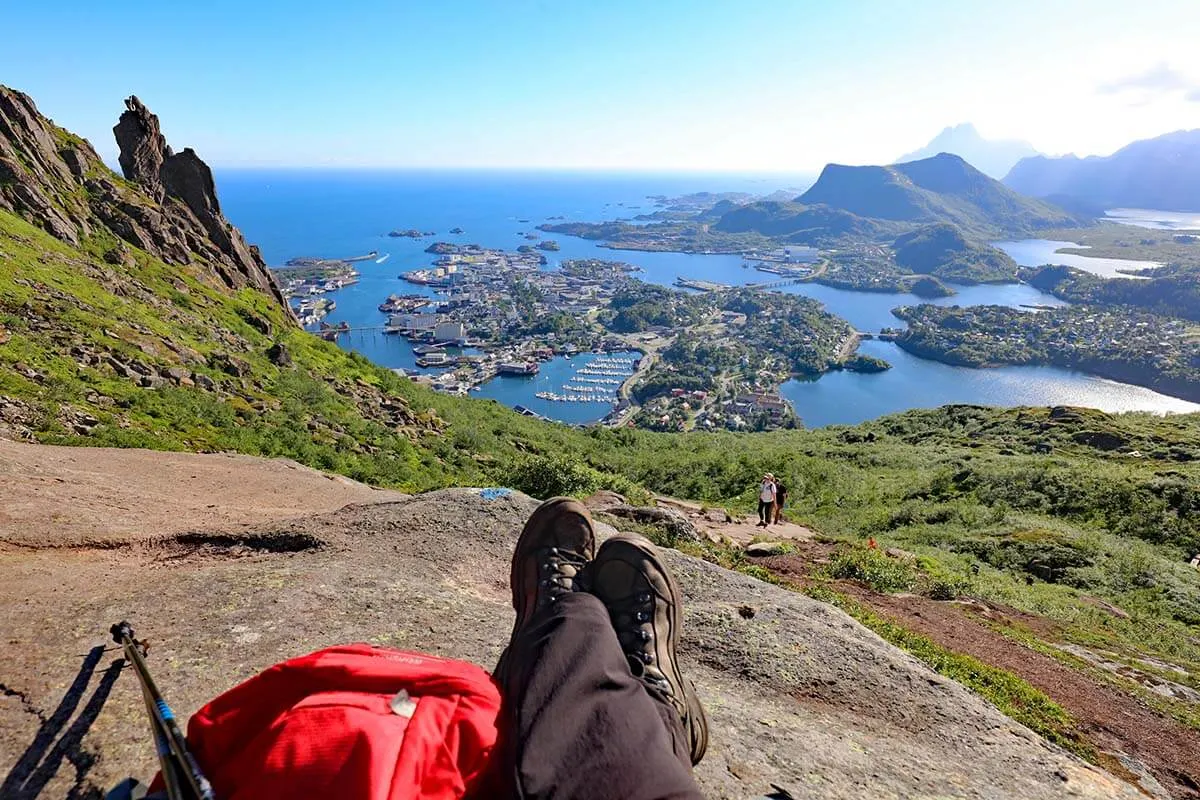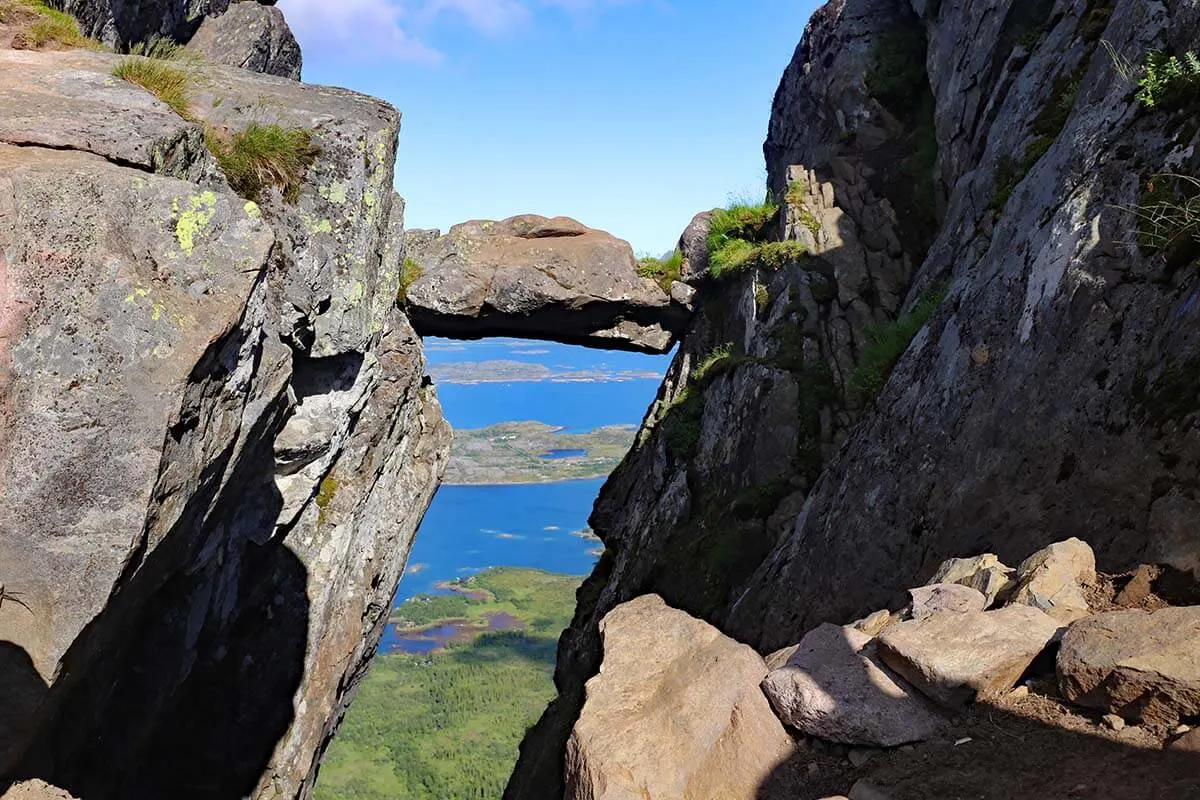 Good to know: The hike to Djevelporten is steep and you will need to use your hands here and there, but most people manage it ok. However, it's not an ideal hike if it's wet and you also have to be prepared to do lots of stairs at the beginning and for the last ascent.
The last 0.3 km climb from Djevelporten to Floya is much more challenging with narrow paths and steep drops on both sides. So this is really not a hike that I would easily recommend to everyone, even if the weather is great. You have to know your limits and you should also take into account the weather and the trail conditions on the day of your visit.
You'll need about 2-2.5 hours for the Djevelporten hike (1-1.5 hours to get there and a bit less than 1 hour to get back). You should count at least 45 minutes of additional hiking time if you also hike to Floya.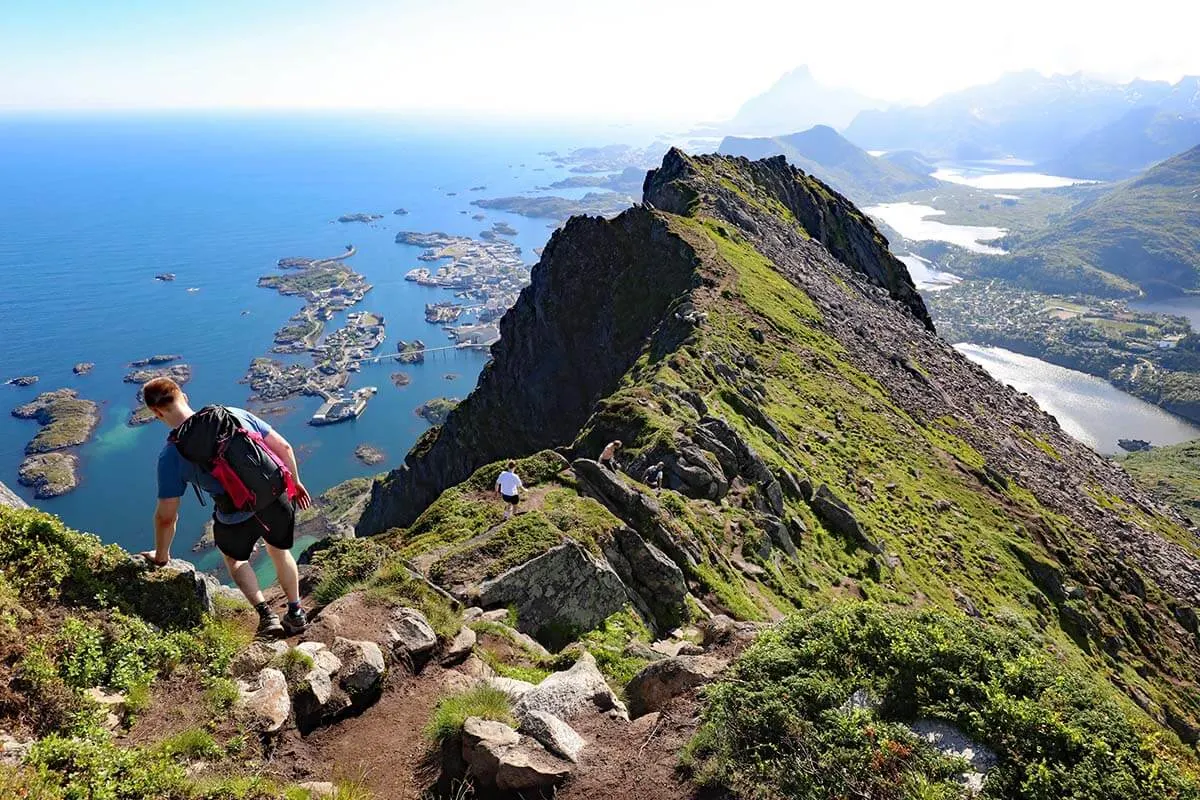 11. Svolvær
Time needed: 1-2 hours. The rest really depends on the activities you choose.
Svolvær is the biggest town on Lofoten Islands and it's worth a quick stop if you are passing by.
The town itself is more modern than the others, so purely from a sightseeing point of view, it's not as interesting. On the other hand, it's worth a visit for the beautiful surroundings and all kinds of tours that you can do from Svolvaer.
You can visit Lofoten War Memorial Museum, go kayaking, take a scenic cruise, or take a boat trip to the famous Troll Fjord (see higher above). There are also quite some hiking possibilities. The above-mentioned Djevelporten – Fløya hike starts just outside of Svolvaer town center and is one of the most beautiful trails in Lofoten.
In Svolvaer town, don't miss the central waterfront area where all the boat tours depart. Here you will find hotels, restaurants, cafes, and also the Magic Ice Bar.
With even more time in the Svolvaer area, you could take a ferry to nearby Skrova island or visit Kabelvåg town nearby. It's home to the Lofoten Cathedral (Vågan Church), the Lofoten Museum, and the Lofoten Aquarium. All these places are nice to see in Lofoten, but not a must if you are short on time.
Good to know: Because of all the facilities, good public transport connections, and a big array of sightseeing tours, Svolvaer is one of the best places to stay for exploring the northern part of Lofoten.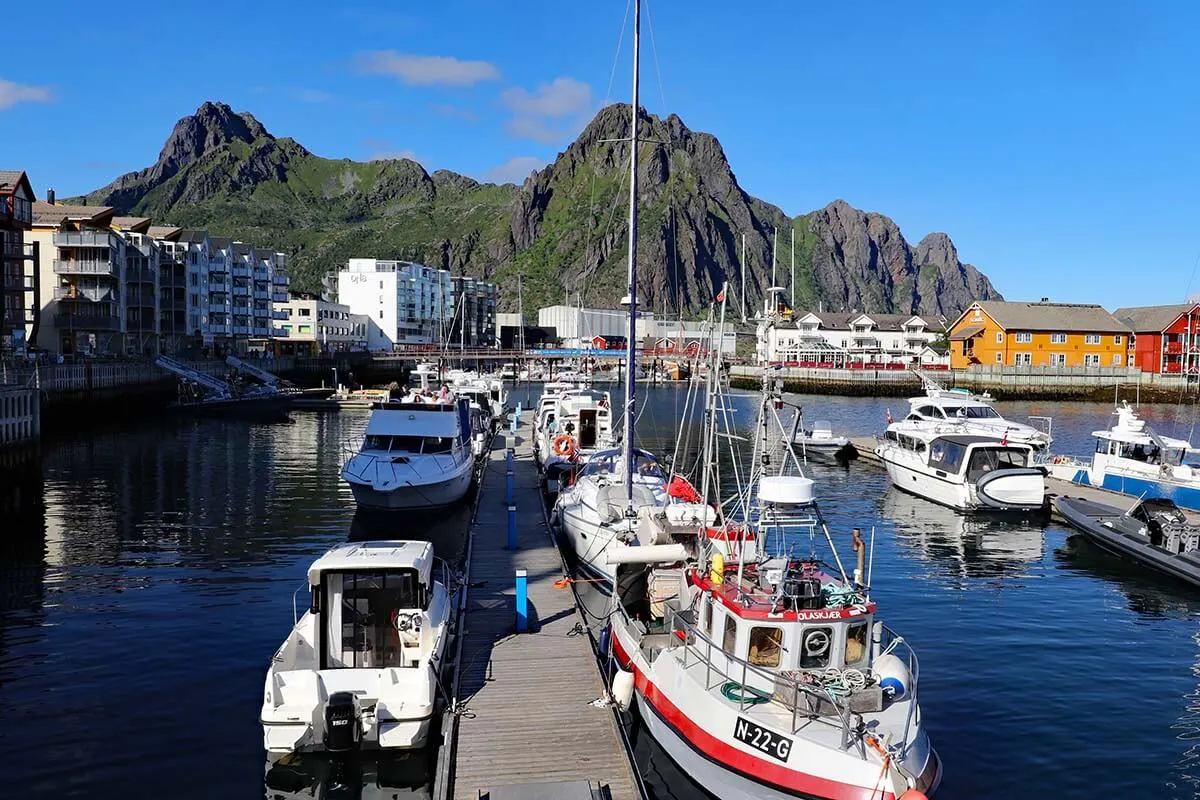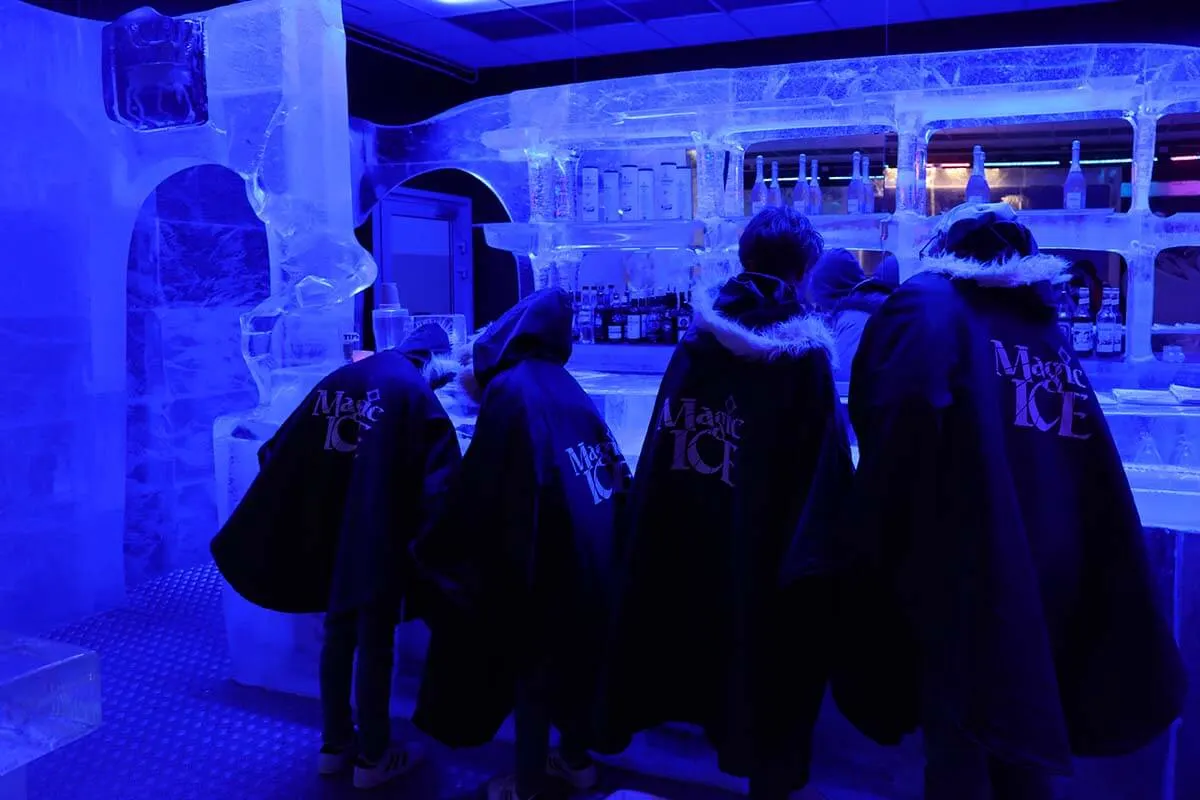 12. Reinefjorden Scenic Cruise
Time needed: 1.5 hours for just the boat trip. Count 4-5 hours if you also visit Bunes Beach.
We already mentioned the Reinefjorden, one of the most beautiful fjords in Lofoten. While most people just visit Reine, Hamnoy, and potentially do the Reinebringen hike in this part of Lofoten, it's well worth taking the time to see the fjord from the water as well.
Reinefjorden scenic cruise brings you inside the most impressive fjords in Lofoten. The scenery is gorgeous and totally different than any other fjord in the area.
The cruise starts in Reine and stops in Hamnoy, so you can embark at any of these harbors. The boat then heads into the Reinefjord. It takes you all the way to Kirkefjord (without any stops), turns around, and then stops in Vindstad where you can leave the boat and hike to Bunes Beach (more info below). Upon request, they also make a detour to Forsfjorden, but only if there are people who need to get on or off the boat there. It then comes back to Reine via Hamnoy.
The loop journey takes about 1-1.5 hours depending on where you start/end.
Also, you don't have to decide in advance whether you'll want to hop off in Vindstad or simply stay on the boat. When you book the ticket, only the original departure time is important.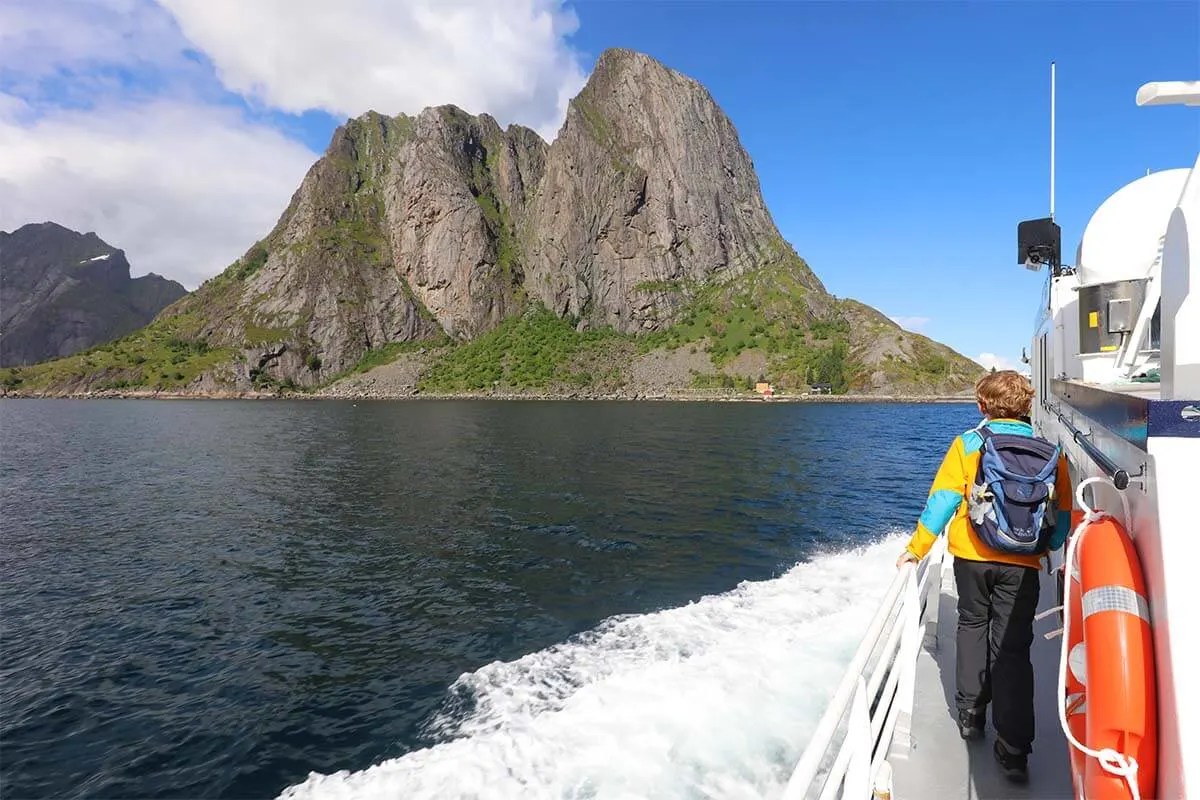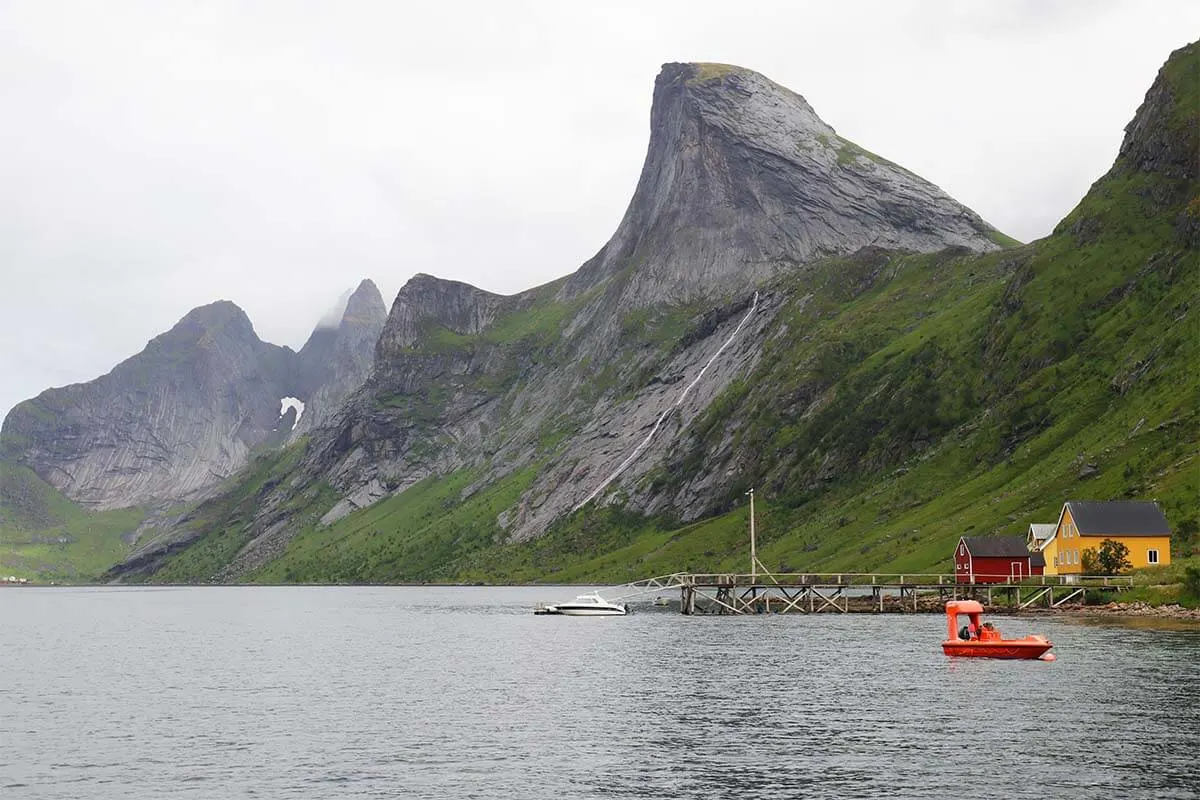 Good to know: Together with the earlier-mentioned Trollfjord, Reinefjord is one of the few fjords in Lofoten where there are boat trips available. However, for Trollfjord, there is a big variety of tours, so it's really simple to plan a visit (even in winter). Whereas Reinefjord is somewhat more tricky. There are fewer boats, they only seem to operate in the high season, and they don't always take bookings (long) in advance.
We booked our tickets for this cruise here. But if you look for these tours in the low season, they don't even show up as an option. I'm not sure if/when they will be available in the high season, or if you can even find another website where you can reserve these tickets (they don't seem to have a website themselves). Ideally, you check this a month or a few weeks before your trip and see if bookings are open again.
Alternatively, head to the Reine harbor early in the morning and see if there are still departures available. But in the high season, I highly recommend trying to book in advance since the boats are small and tickets usually sell out long in advance.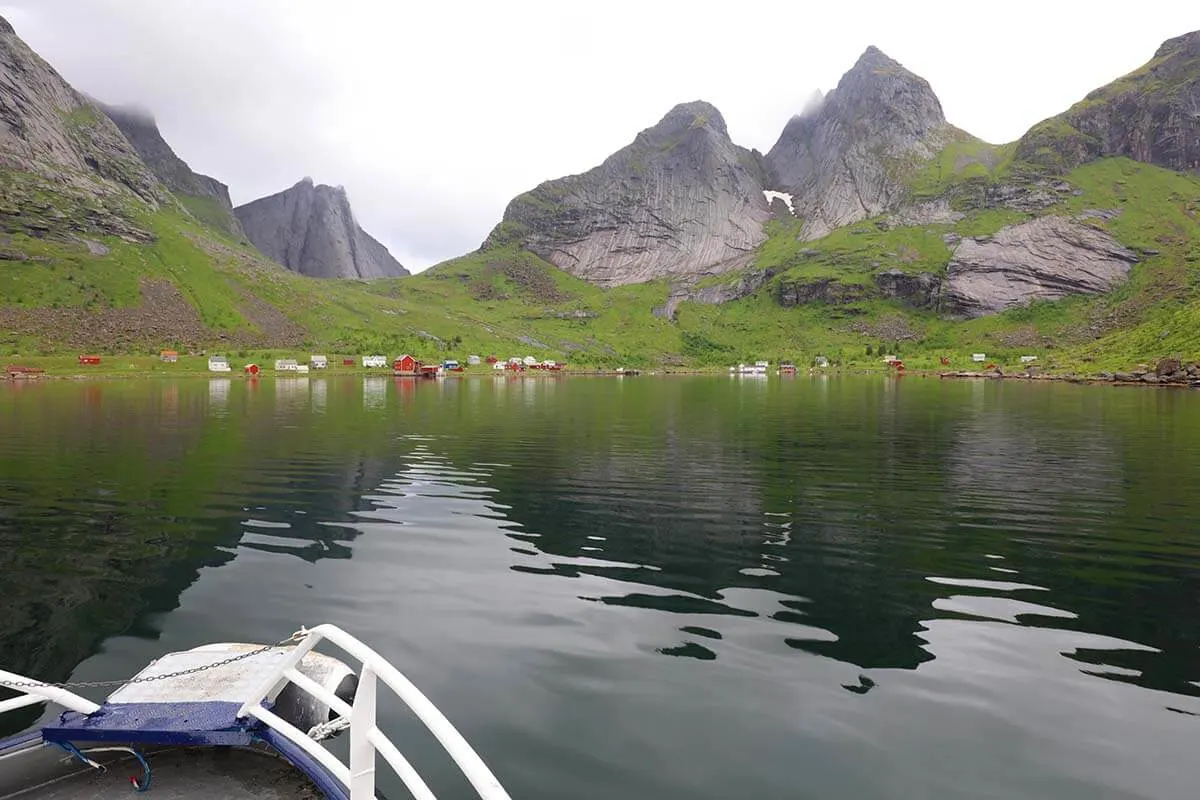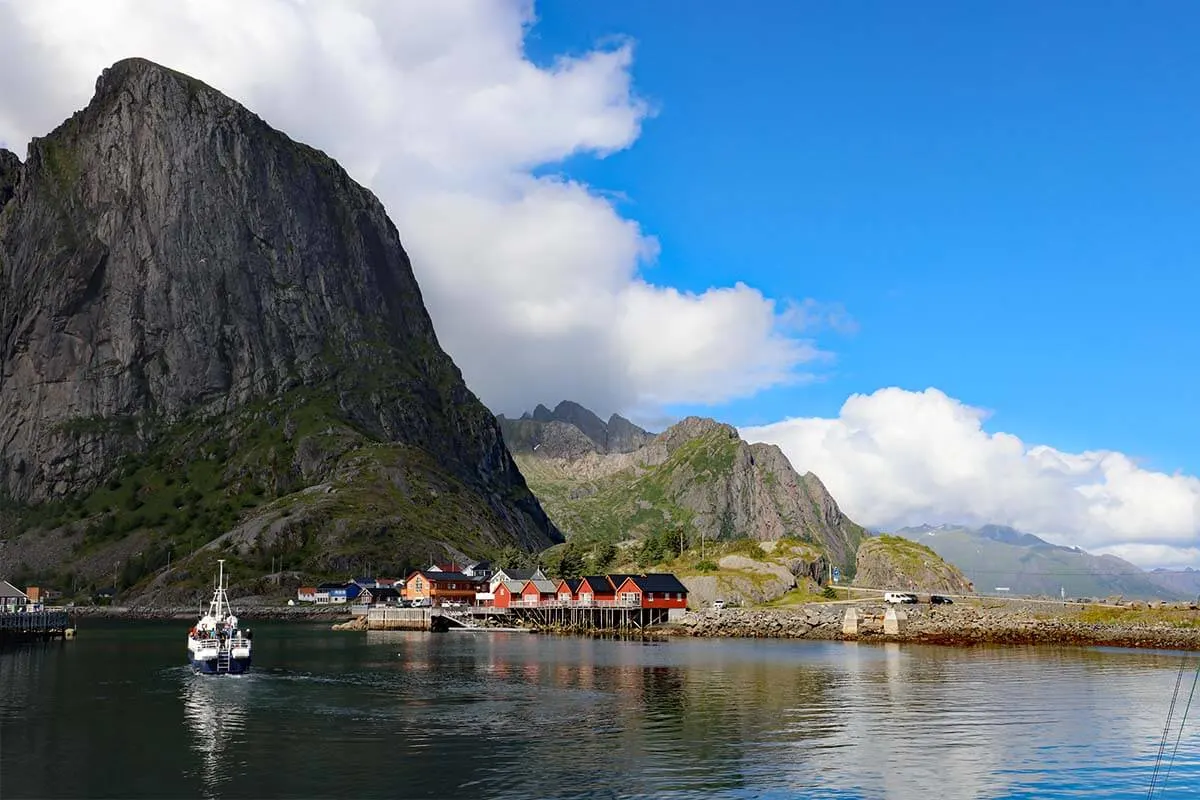 13. Vindstad & Bunes Beach
Time needed: 3.5-6 hours, depending on the boat schedule.
Vindstad is a tiny village on Moskenesøya island in southern Lofoten. You can only reach it by boat with the above-mentioned Reinefjorden scenic cruise. The main reason to visit here is for the secluded Bunes Beach (Bunesstranden) nearby.
Bunes Beach can be reached on foot on a relatively easy 40-minute walk. It's a huge white-sand beach where you can easily spend an hour or two. There is also a mountain that you can climb for some great views of the area.
It's such a beautiful remote beach that even in the summer, you'll likely meet just a few people here. Furthermore, everyone spreads out over a vast area, and so you really have the feeling of being far from the 'living world'.
Most people just come here for a day, but many also bring their camping gear and spend a night on the beach. Since you can camp freely pretty much anywhere in Norway, it can be a wonderful experience if the weather is nice.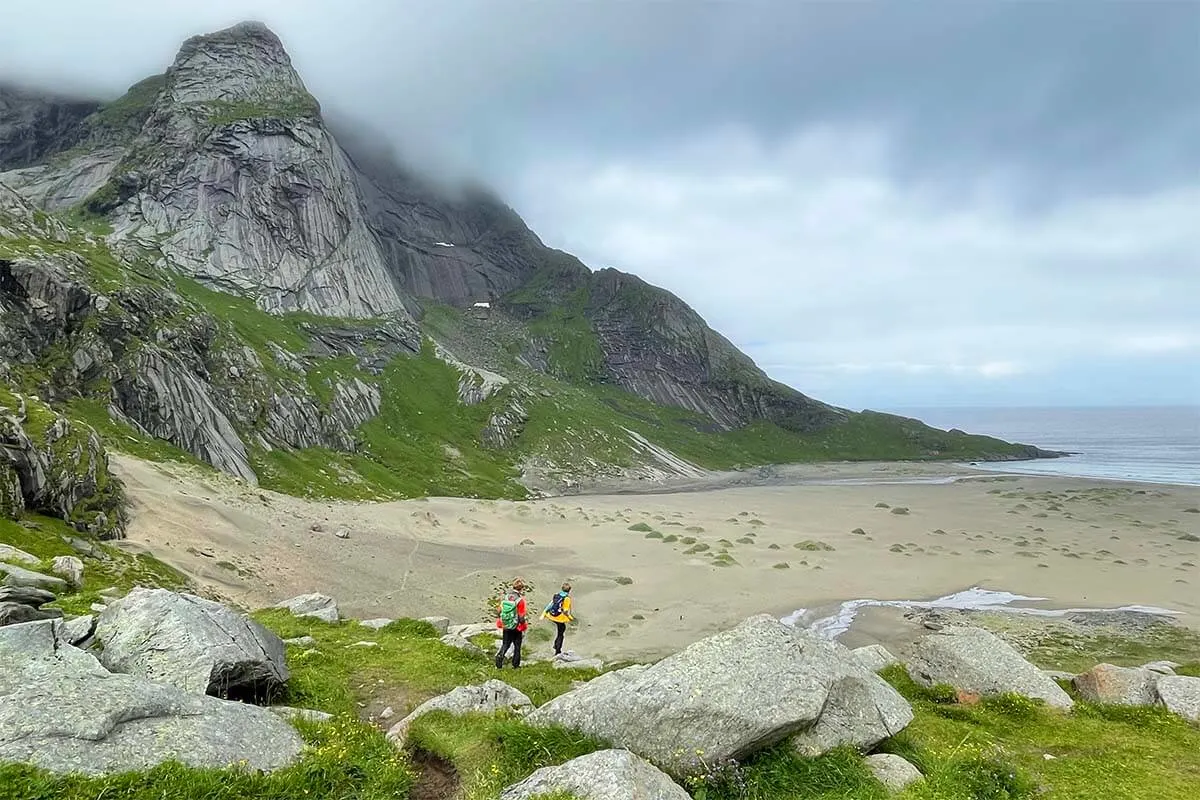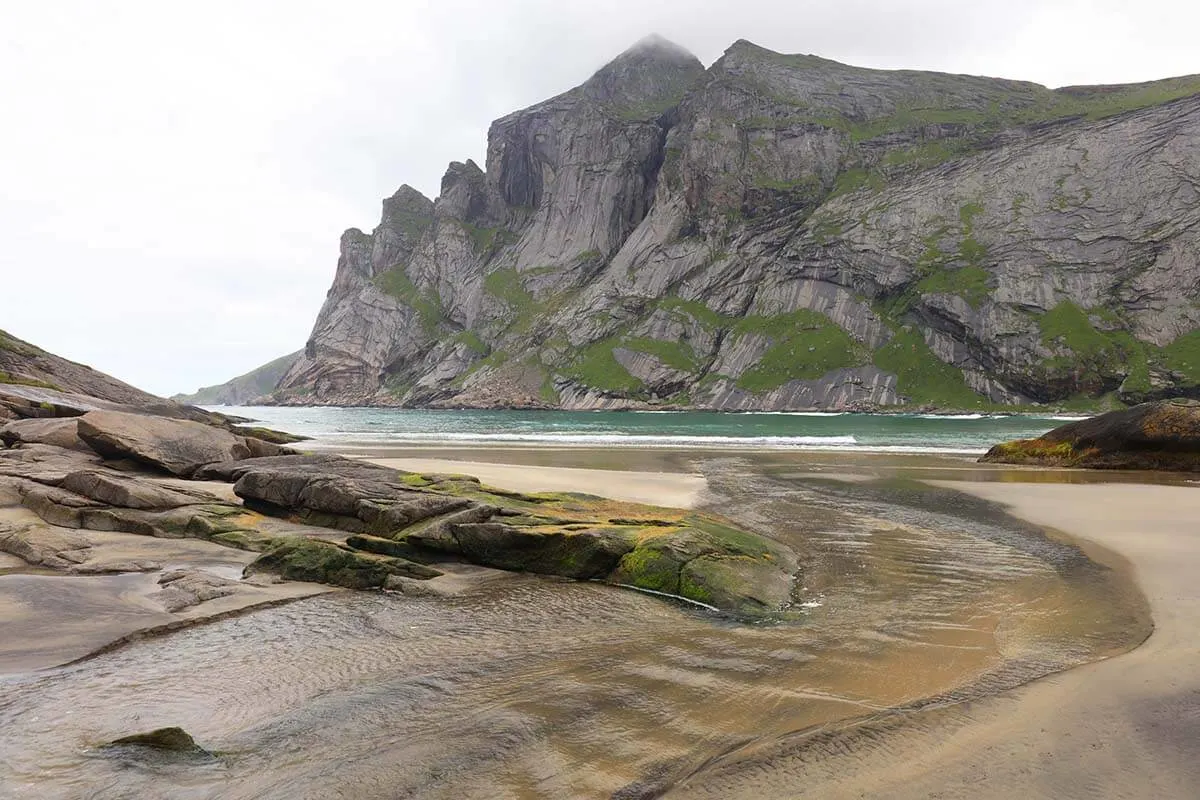 While interesting to see, Vindstad village itself isn't that special. Just a few houses that are mostly used in the summer.
We were told by locals that only one person lives here the whole year round, and a few others come over to stay in the summer. When they have enough volunteers and feel like it, locals run a small seasonal café where you can get a cup of coffee or try some homemade waffles or cakes. There is also a bathroom here.
Good to know: Since you cannot count on the facilities in Vindstad, be sure to bring your own food and drinks.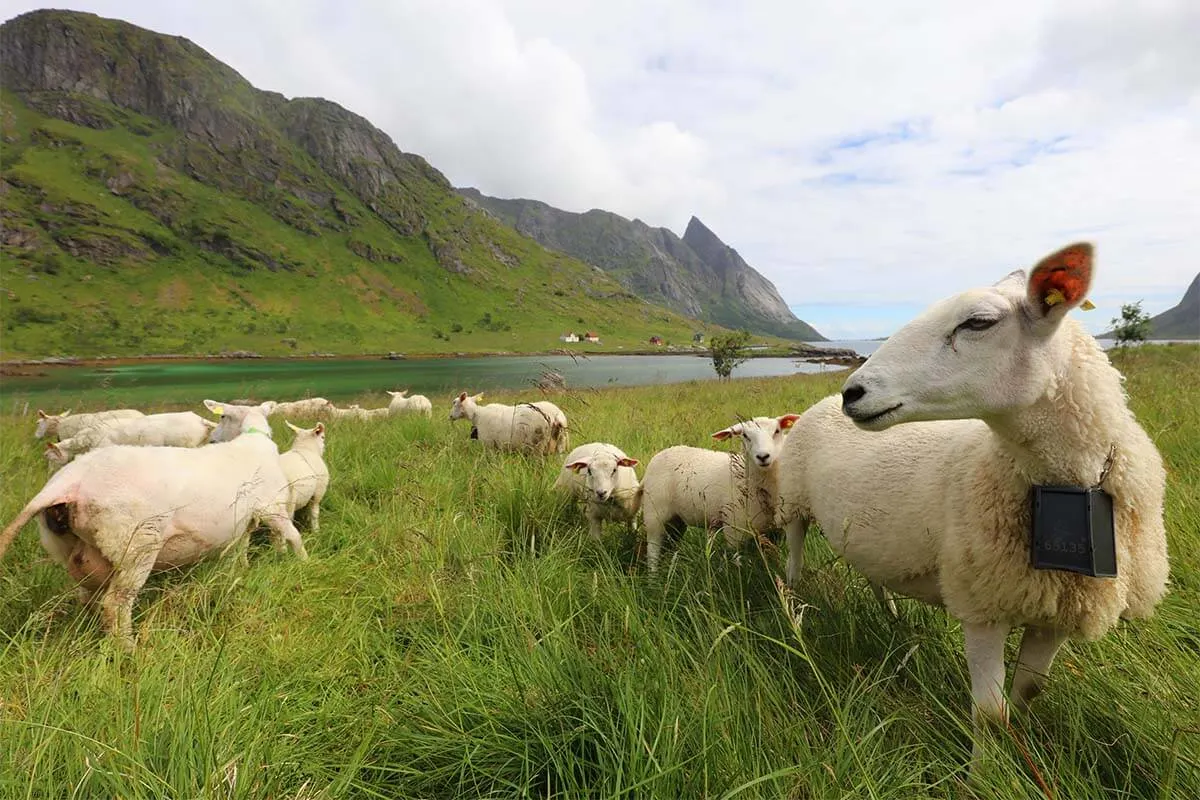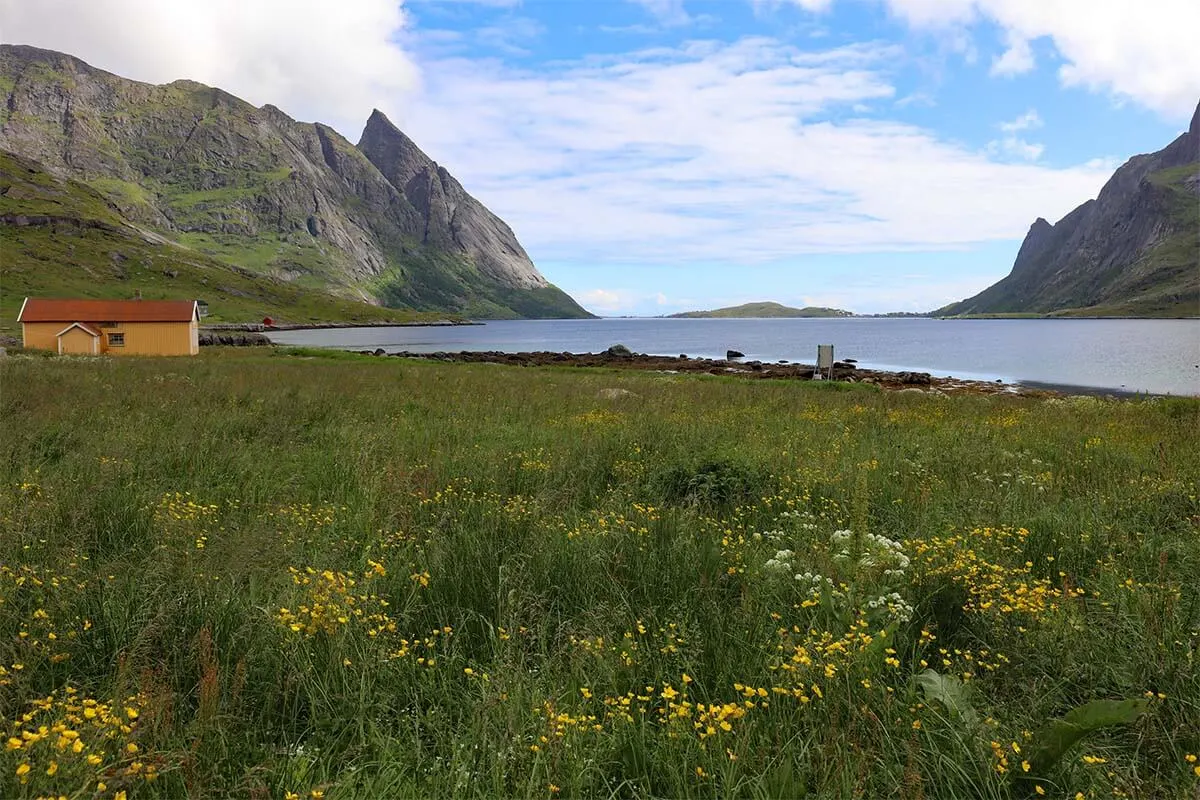 14. Henningsvær
Time needed: 1-2 hours.
Henningsvær is one of the trendiest places in Lofoten. It's a small cozy town with several shops, art galleries, restaurants, and cafes. Just as in Svolvaer, you'll find some boat tours here – mostly kayaking.
Just like everywhere in the region, the architecture here is also traditional Norwegian style, but quite different from the other places in Lofoten. While the buildings in Reine are predominantly red and in Nusfjord – yellow, Henningsvaer is a white town.
While not as big as Svolvaer, Henningsvær is much bigger than most other towns in Lofoten. It's a nice place to visit if you want to discover the more contemporary side of Lofoten. The vibe in Henningsvær could probably be compared to Tromso, but on a much smaller scale.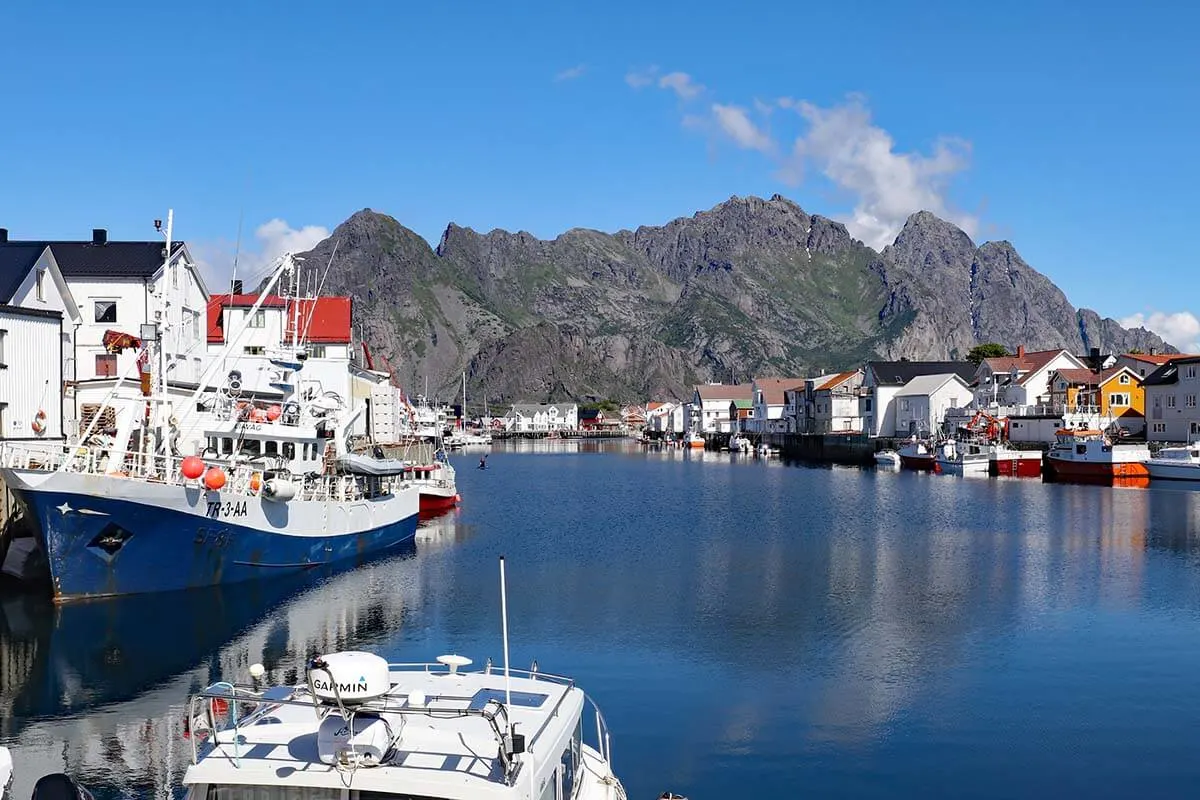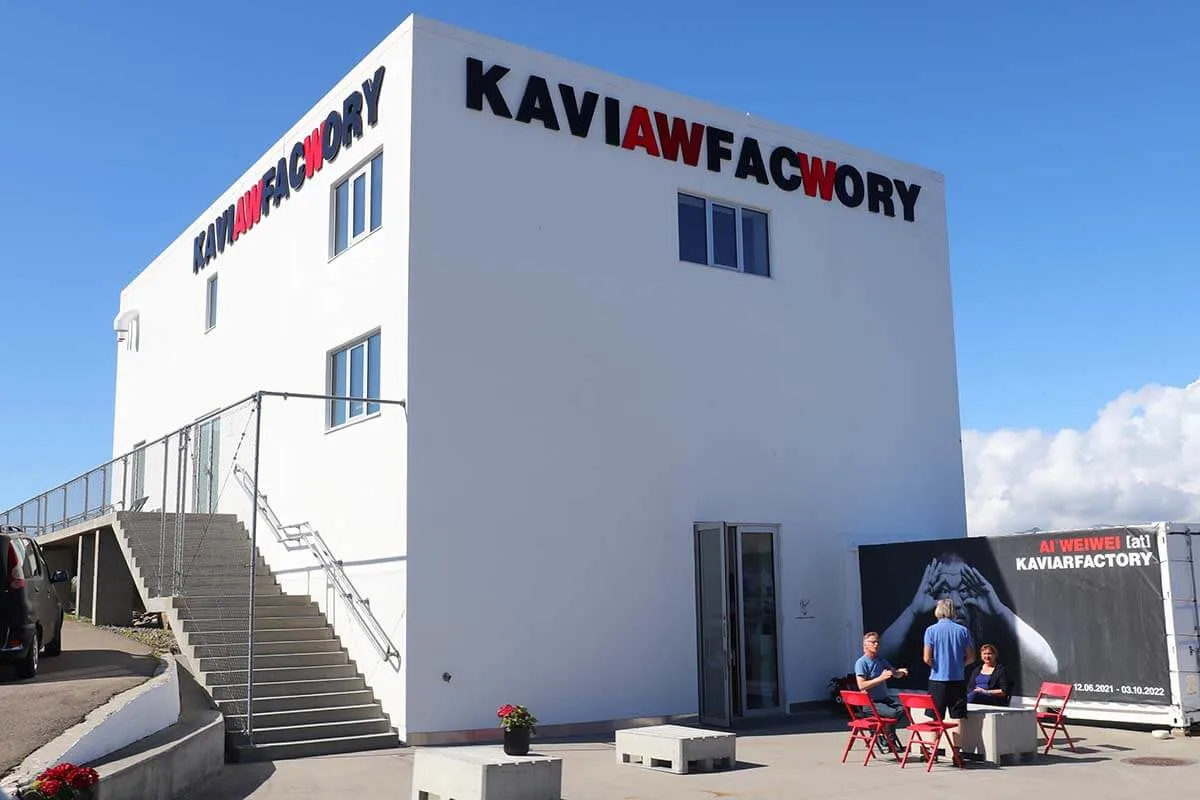 Good to know: Henningsvær became world famous for the stunning pictures of its photogenic football field on a tiny island surrounded by rocks and water. However, the only way to see the same view is with a drone. Otherwise, it's just a football field like any other.
So if you are wondering whether Henningsvær is worth a visit, it is. It's truly one of the nicest towns you can visit in Lofoten. Just don't come here solely for the football field or you will be disappointed.
TIP: Just outside the town, you'll find the very popular Festvagtind hike. From the top of the mountain, you have a nice view of the town and the islands around it. This hike is not a 'must', but if you have a few more hours to spare in this part of Lofoten and don't mind climbing yet another steep muddy path, the views are worth it.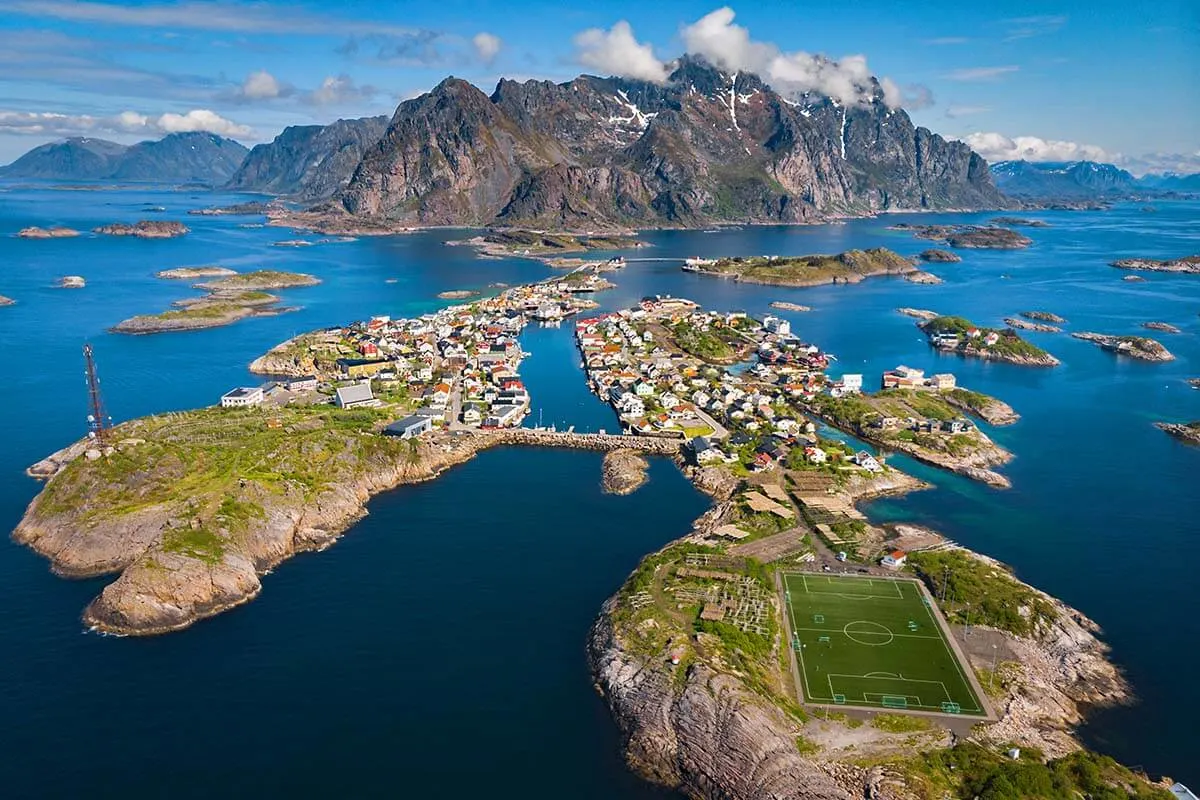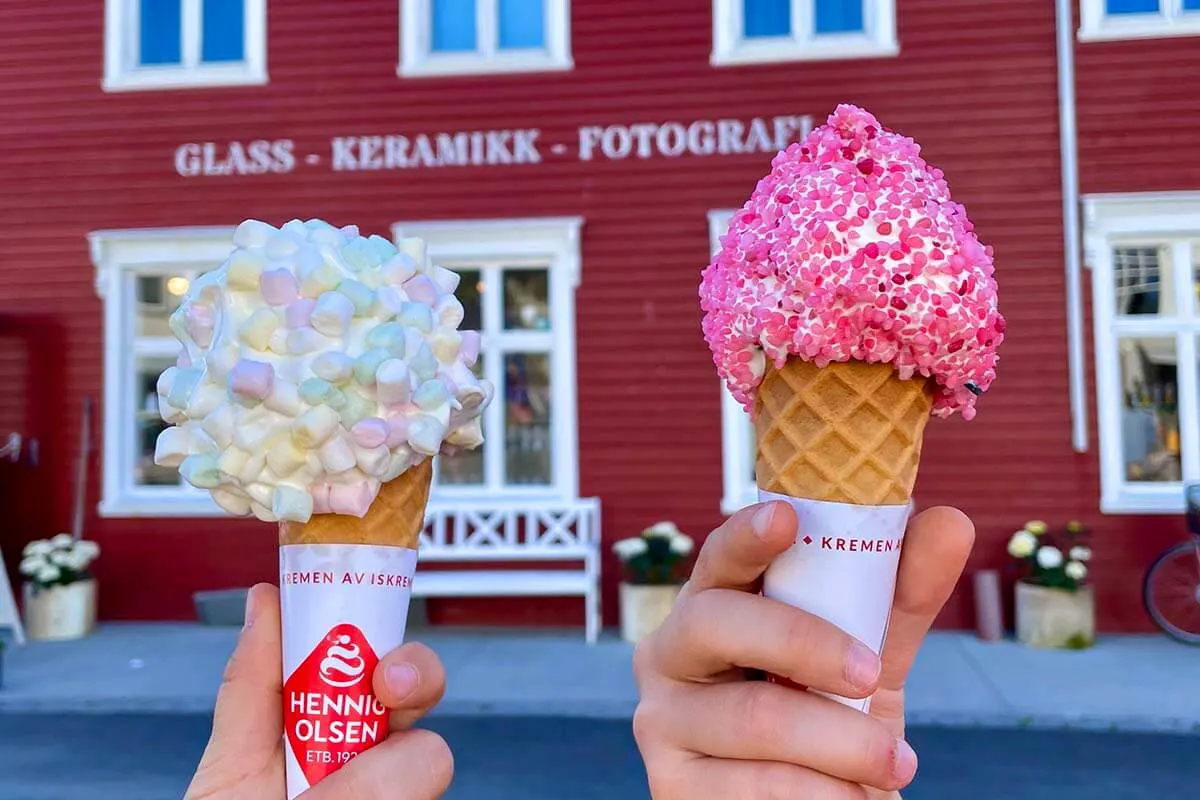 15. Værøy Island
Time needed: one full day.
Værøy Island is located south of the main islands of the Lofoten archipelago. While the other places in Lofoten described above are all connected by roads, bridges, and tunnels, the only way to get to Vaeroy Island is by ferry.
The main town on the island is Sørland and you can also visit the new and the old churches of Vaeroy. But the main reason to come here is the stunning natural scenery with rugged landscapes, dramatic cliffs, and stunning coastlines.
Most people visit Vaeroy in order to hike to the highest peak on the island, Håen. The hike to the top takes about 1 hour and isn't too strenuous. The views on a clear day are incredible!
A visit to the island gives you a glimpse of the raw, wild beauty of northern Norway. If you are lucky to see it on a sunny day, Værøy is one of the most beautiful destinations in Lofoten. However, it can also be foggy and cloudy, and in that case, it may not be worth coming here… So it really depends on when you travel, how much time you have in Lofoten, and how flexible you are.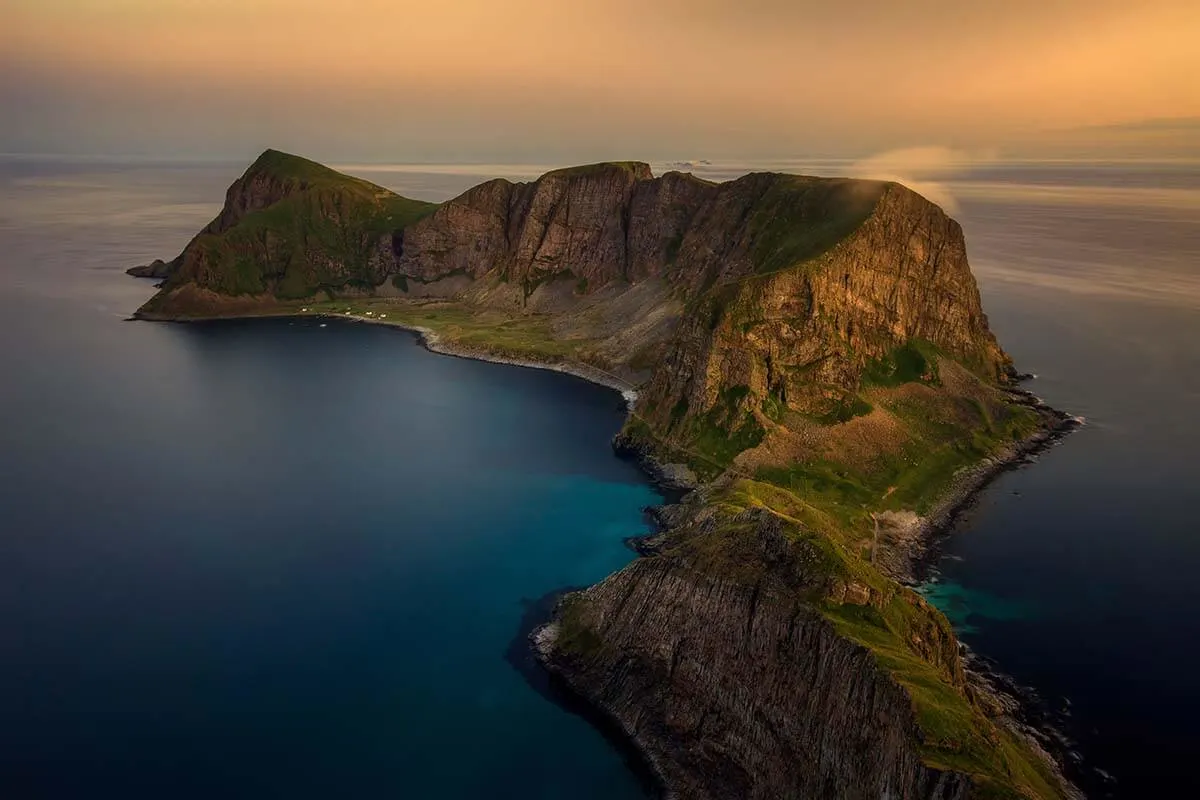 Getting there: You can reach Vaeroy by ferry from Moskenes or from Bodø. So it could be a nice additional stop if you are road-tripping in the area and have to take a ferry between Bodø and Moskenes in Lofoten anyway. Alternatively, in the high season, there is normally a boat excursion available that brings you to Vaeroy Island for a day starting from Hamnoy, Reine, or Å harbors.
Good to know: If available, you have to prebook this day trip at least several weeks in advance (it usually sells out). However, in order to reach Værøy, you have to cross the world's strongest maelstrom, Moskenesstraumen. This means that the sea can be quite rough here, and so boat trips can get canceled due to unfavorable weather conditions.
Regular car ferries are more reliable, so if you want to be sure to visit the island, you should take a look at the ferry schedules, and arrange your own trip. You will probably have to spend a night on the island, but that might be an advantage (more time means more chance for better weather so that you can hopefully do the hike). In any case, you really have to book the boat trip or the ferry and – if staying overnight – the only accommodation on Vaeroy well in advance.
And yes, I'm aware that the links to the boat trip do not always link to the right tour. This happens when the trip is not available for booking (usually outside of the current summer season). We keep the links for when they (hopefully) become active again. It's just the way things work with some seasonal tours in Lofoten…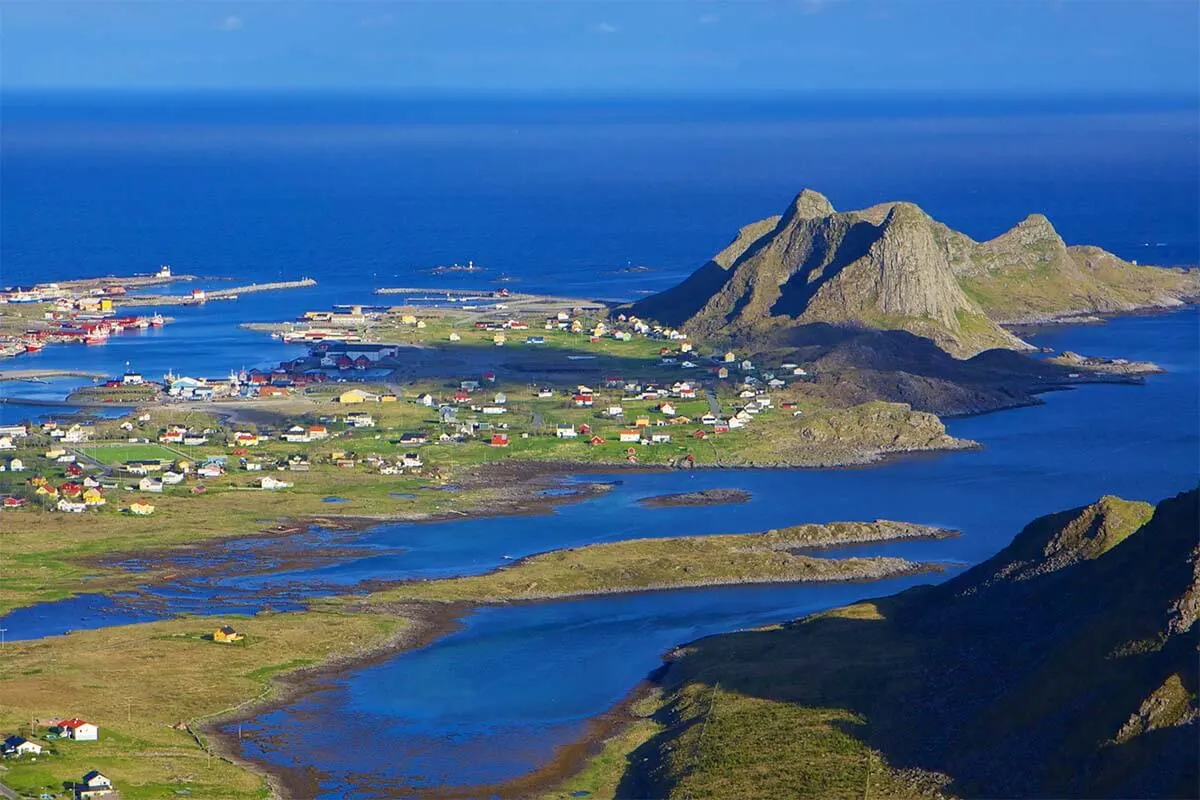 Now that we covered the top sights in Lofoten, here are some additional recommendations for things to see and do on Lofoten Islands that will make your trip even more special.
16. Northern Lights
No guide to Lofoten would be complete without mentioning one of the most spectacular natural phenomena that Arctic regions are known for – the Northern Lights. What you will be able to experience, will depend on the season when you travel, but also on the weather, etc.
The Northern Lights season in Lofoten typically lasts from September to March. If you are really lucky, you may be able to catch auroras at the end of August and in the first half of April as well. Basically, you need darkness, high aurora activity, and not too many clouds.
Seeing the Northern Lights always remains a special experience. But do not get focused on it because it's really not something you can count on. That being said, traveling in the right season, staying in the area for at least a few days, and actively looking for the best places with darkness and no clouds will definitely increase your chances.
There are also some Northern Lights tours, mostly from Svolvaer or Leknes. Going with a tour has a few advantages – you don't have to worry about driving on potentially icy roads (in winter), and you can be sure that the guides will look for the spots with the most optimal conditions to catch auroras on that specific night.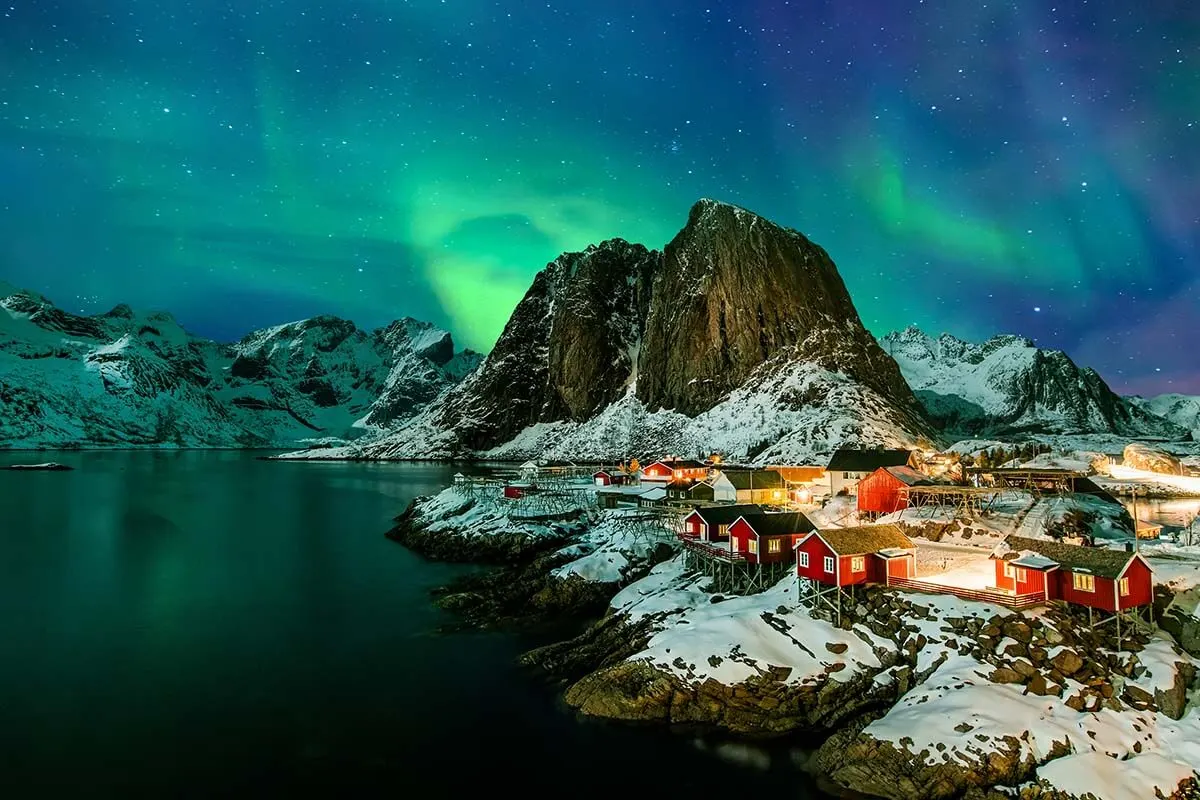 17. Midnight Sun
If you are visiting Northern Norway in summer, you might be able to see the Midnight Sun.
The Midnight Sun season in Lofoten is between the end of May and mid-July. This is the period when the sun never sets behind the horizon and on sunny days, you can see the sun 24/7. However, the sun isn't as high at night as it is during the day, and at its lowest point, it creates the most spectacular orange light that could be comparable to a really nice sunset.
However, you'll also need some luck to see the midnight sun. First, well, it has to be sunny at the time when the sun is at its lowest point (which – in Lofoten – is around 1 am and not at midnight).
And second, you'll have to find a north-facing area with an open view, and there aren't that many of those places (easily accessible) in Lofoten. All the main towns and places to stay are located on the eastern side of the islands. So if you want to see the Midnight Sun, you'll have to drive to one of the beaches with open north-facing views or climb a mountain peak.
Good to know: Some of the best spots to see the midnight sun in Lofoten can be found on Vestvågøya Island which has some north-facing beaches around Eggum or Gimsoy. Vik Beach (just near the famous Uttakleiv and Haukland beaches) could also be a good place to see the midnight sun. Alternatively, climb a mountain peak where you get a good view of the ocean (e.g. Offersoykammen hike – see below).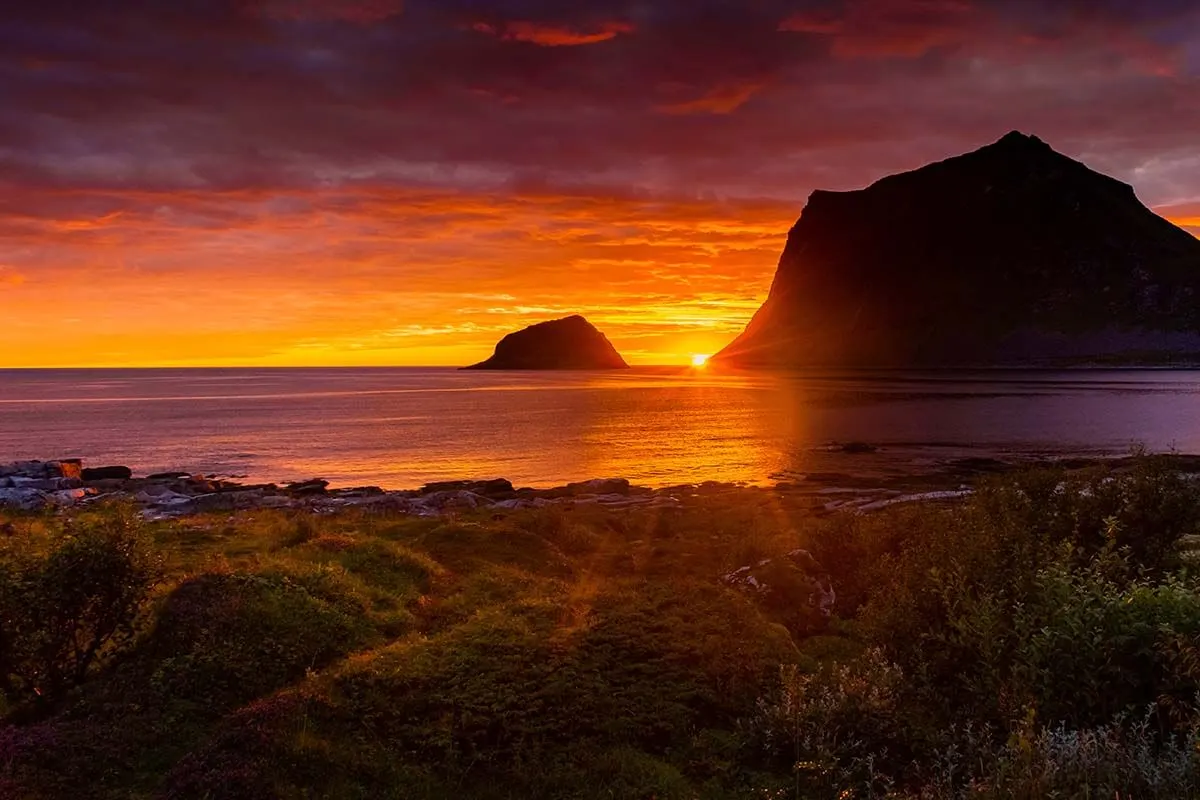 18. Offersøykammen Hike
Time needed: 2 hours.
Offersøykammen is a lesser-known hike in Lofoten offering the most spectacular vistas. As already mentioned above, this is also a great spot to watch the Midnight Sun in the early summer.
Just like pretty much any hike in the area, it's a steep climb that will make you question why in the world you ever started it. But it's not a very long hike (60-75 minutes to the top), and the views from the top more than make up for the effort.
Even on a cloudy grey day, we found the view absolutely worth the climb. If you come here when it's sunny, you'll be amazed at the incredible colors of the water below.
If you are looking for something really nice to do in Lofoten without the crowds (and don't mind yet another steep 1-hour climb), Offersøykammen will not disappoint!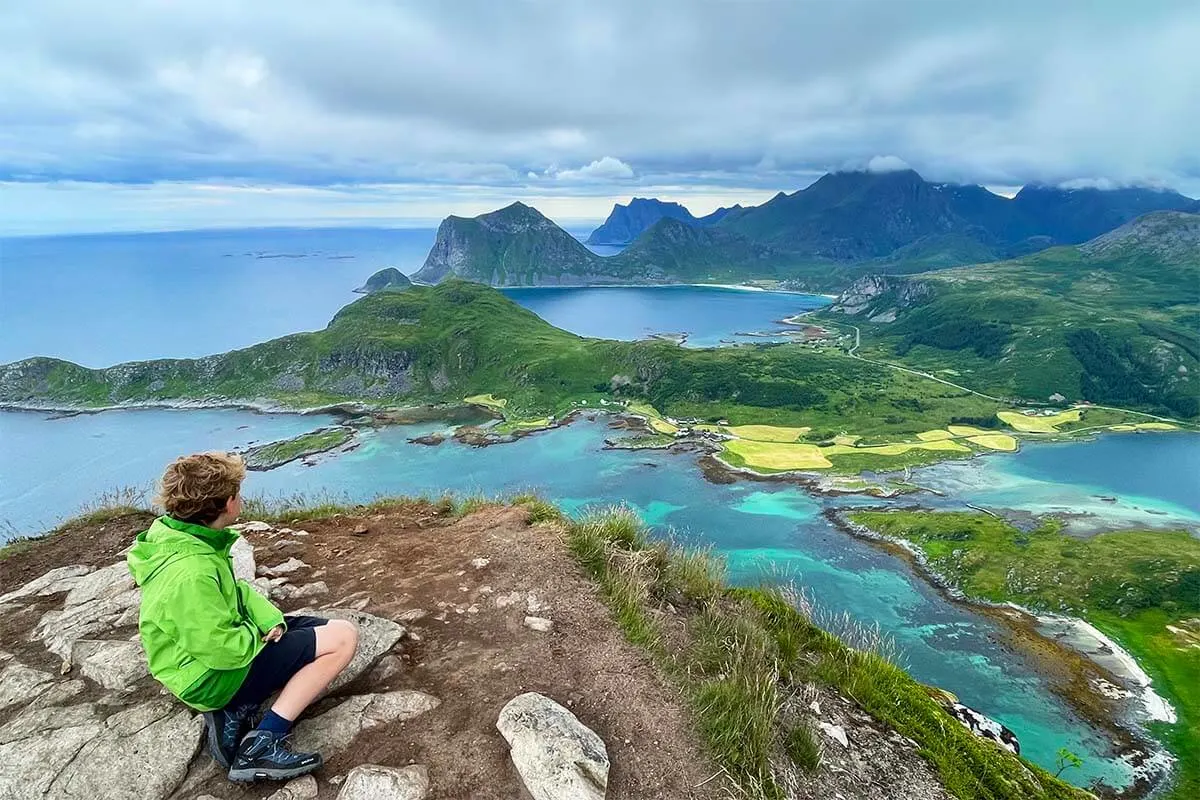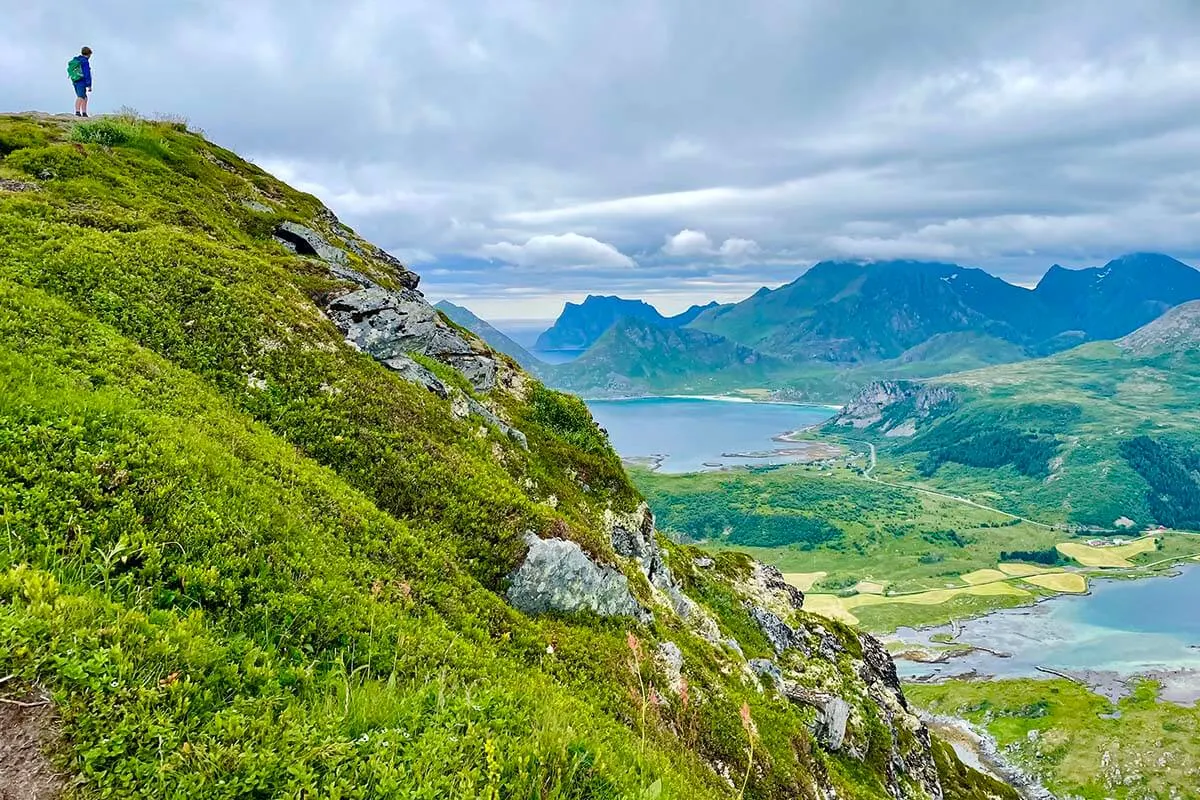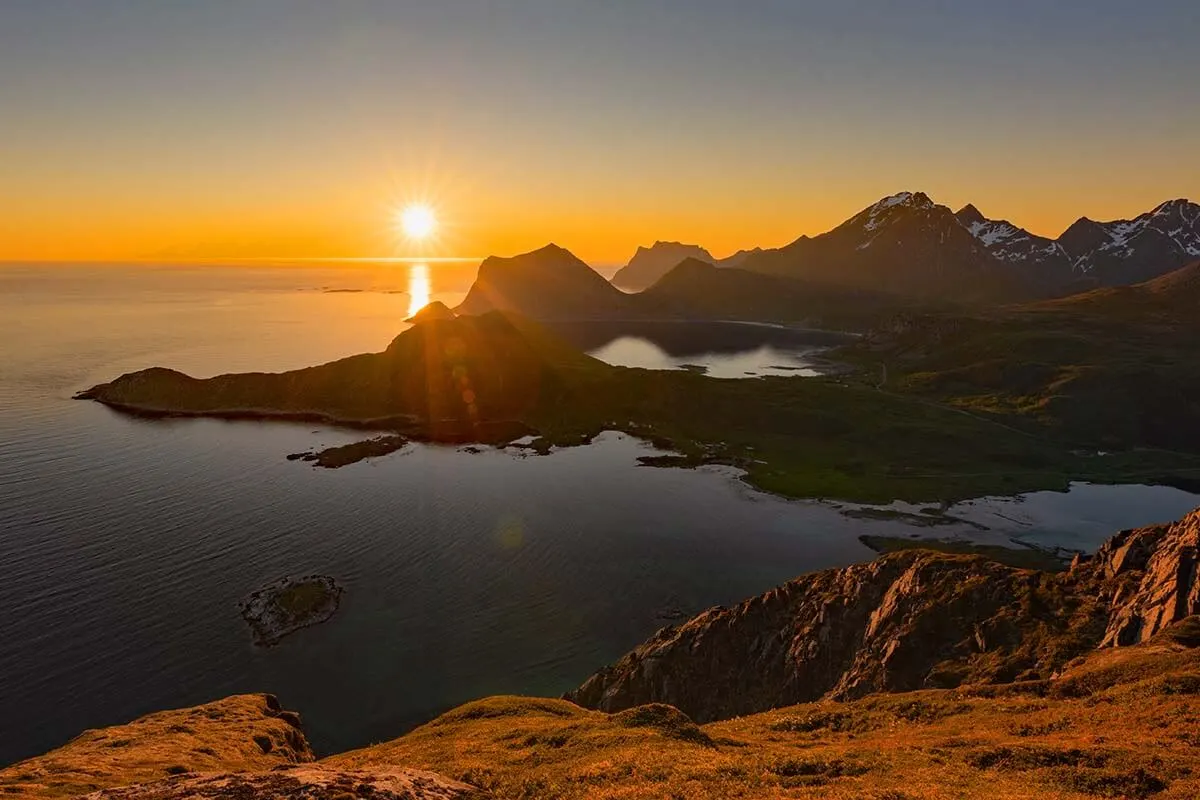 19. Kayaking in Lofoten
One of the best things to do in Lofoten islands is to explore the beautiful coastal scenery from the water. In addition to the earlier-mentioned scenic boat cruises on Reinefjorden and Trollfjord, one of the best ways to do this is by going kayaking.
The good news is that kayaking in Lofoten is available in all seasons. So it's not just a summer activity. And don't worry – you will get warm thermal suits if you are kayaking in the winter.
There are quite a few places on the Lofoten archipelago that organize kayaking tours or rent kayaks. Please note that they will not rent kayaks to you unless you have certain certificates proving that you can survive a fall in the ice-cold Arctic waters. So the best option is to go on a guided tour.
Good to know: If you absolutely want to do this, be sure to research the possibilities and book in advance. We thought we could just rent a kayak or join a tour on the spot, but everything was fully booked when we inquired about kayaking at Reinefjorden.
Some hotels organize kayak tours for their guests (usually at really high prices), but you can also find several companies that specialize in kayak tours only.
TIP: One of the most scenic places to go kayaking is the Reine area; you can book a kayak tour here. There is a nice kayak tour in the Svolvaer area as well. Here you can find a bigger selection of kayaking tours in Lofoten.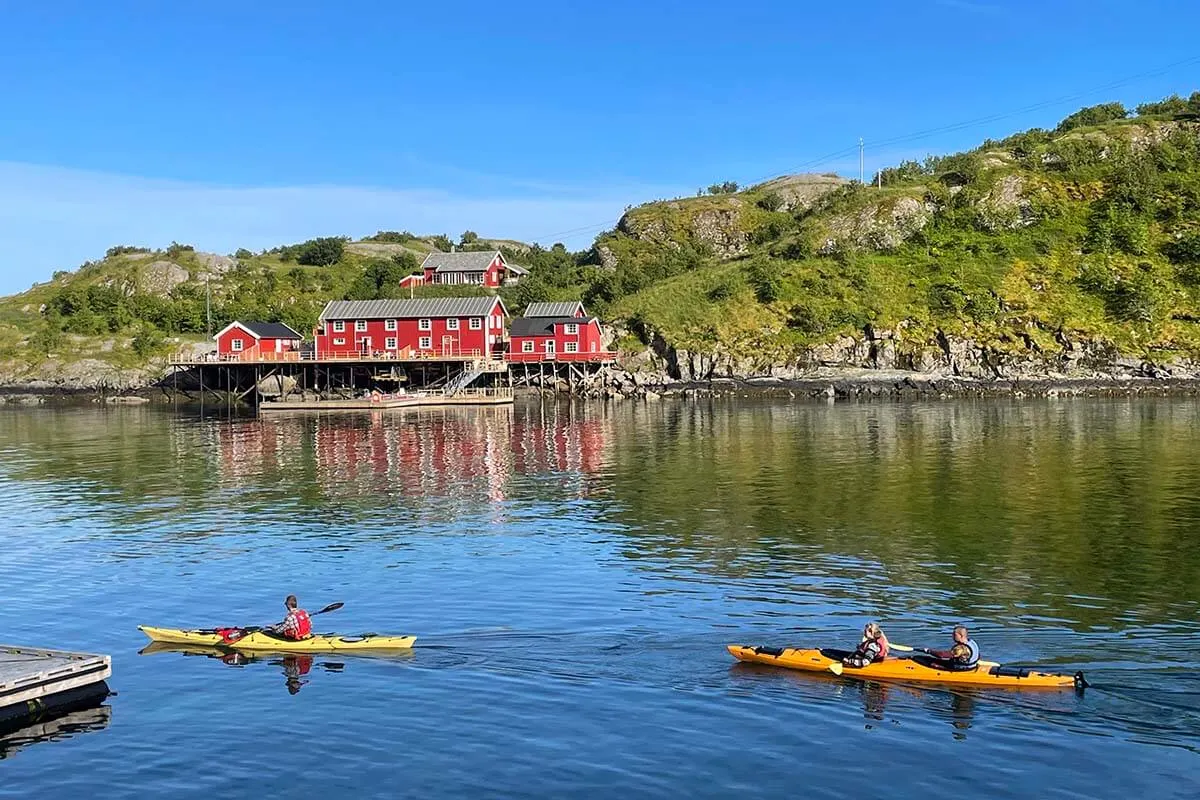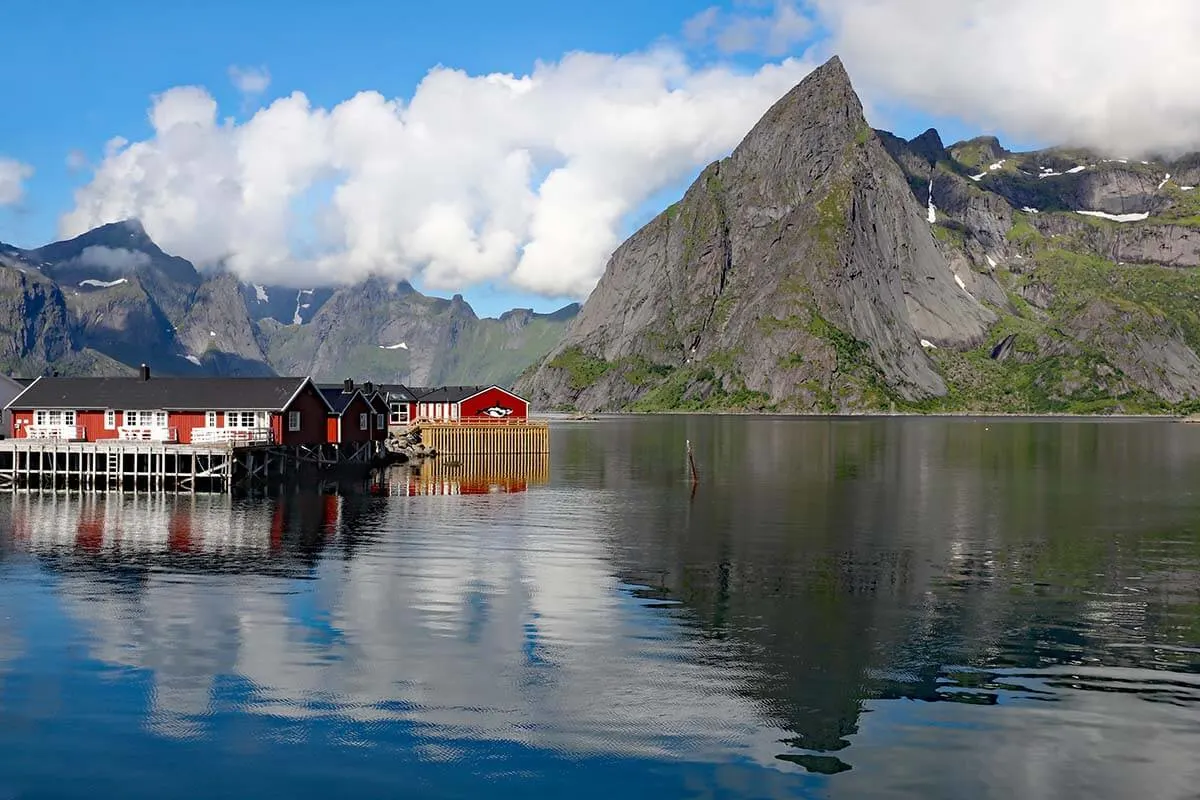 20. Steineveien Scenic Road at Stamsund
Steineveien Scenic Road near Stamsund is one of the nicest roads we drove in Lofoten.
You will not find it mentioned in many travel guides, so it's very quiet and very 'local'. But the scenery is amazing and if you have some time for a small detour when road-tripping in Lofoten, it's well worth checking out, especially if the weather is good. I indicated this road in our map further below.
If you are lucky to drive here on a sunny day, the colors of the water and the reflections are amazing. It's one of those rare places in Lofoten where you have the feeling that the scenery is truly authentic and the area is not geared toward tourists in any way.
That being said, there are a few hotels in Stamsund, and next to the main road just outside of town, you will find a small parking/camping area with a wooden Tourist (Turisten) sculpture. Maybe they put it there in order to attract more tourists; who knows… But when we visited on a sunny summer's day during the peak tourism season, we were the only tourists there.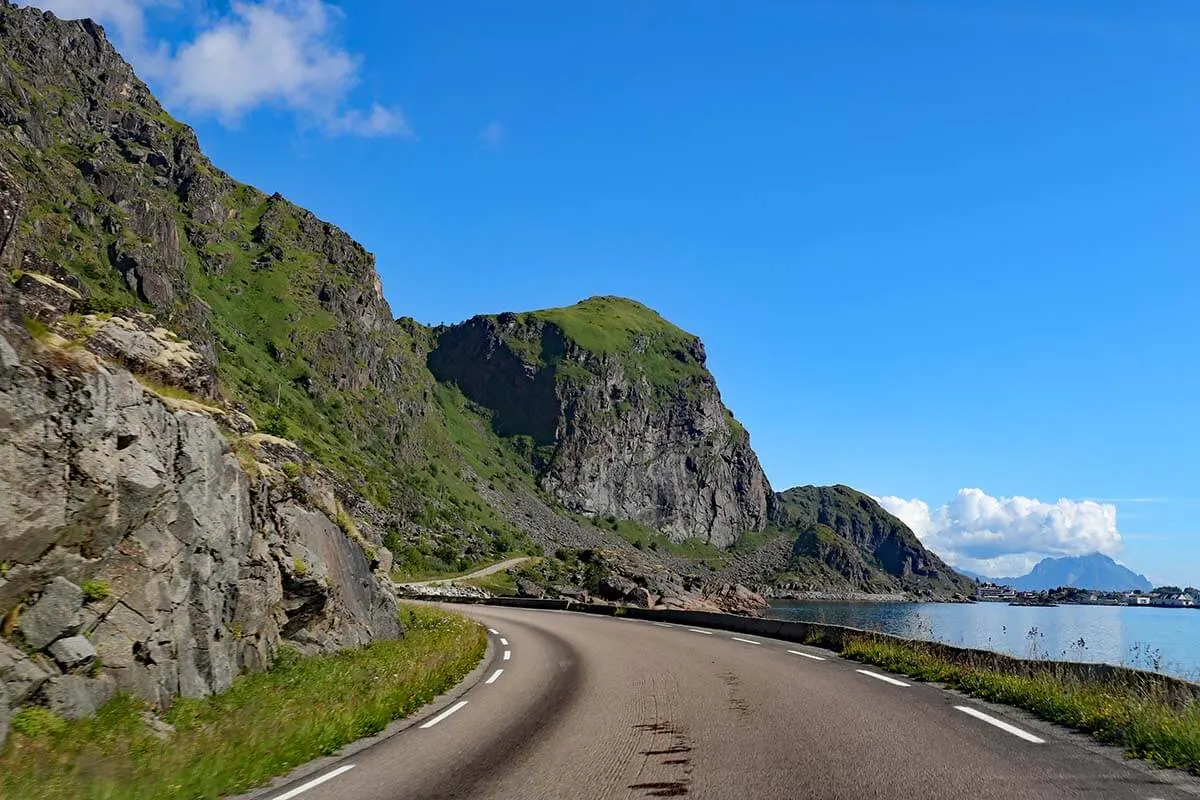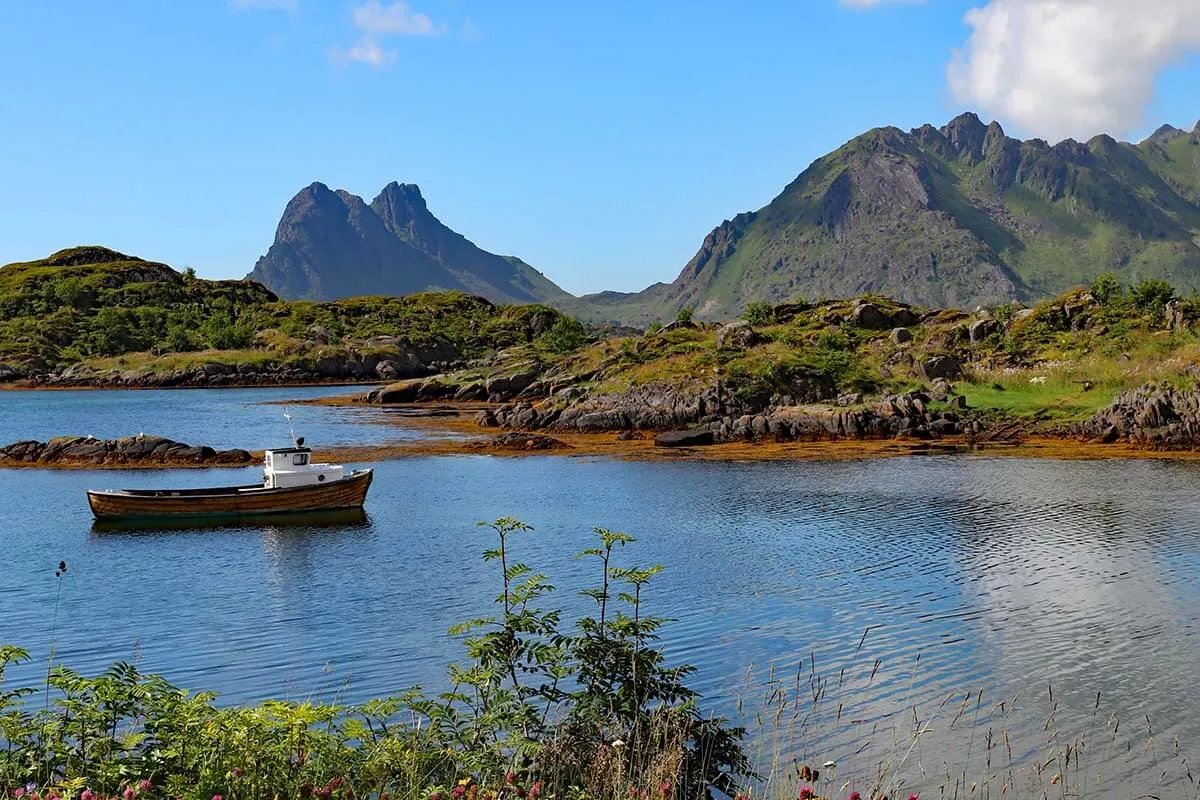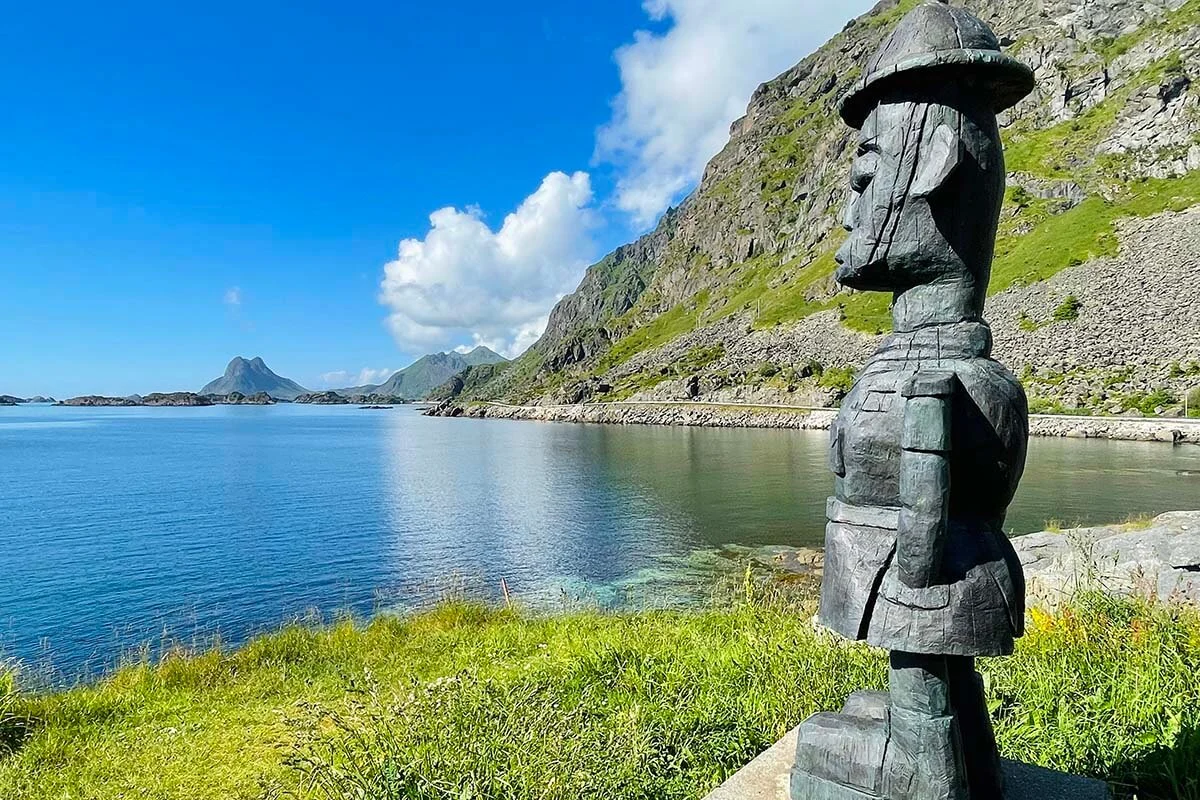 21. Traditional Fish Drying Racks
When researching places to see in Lofoten, you'll often come across photographs of traditional stockfish drying racks (hjell in Norwegian). Indeed, you can see them all over the region. So I find it worth mentioning as one of the things you should try to see during your visit.
These huge wooden racks are used to dry stockfish, mostly cod. This is an old Norwegian tradition that is still practiced today.
We were told by the locals that cod is usually dried in the winter and early spring. It's a big export business with the majority of dried cod being sold to Italy. Whereas fish heads are dried later in the season and are mostly exported to Nigeria.
If you would like to try some dried cod, you can find it in shops all over Lofoten.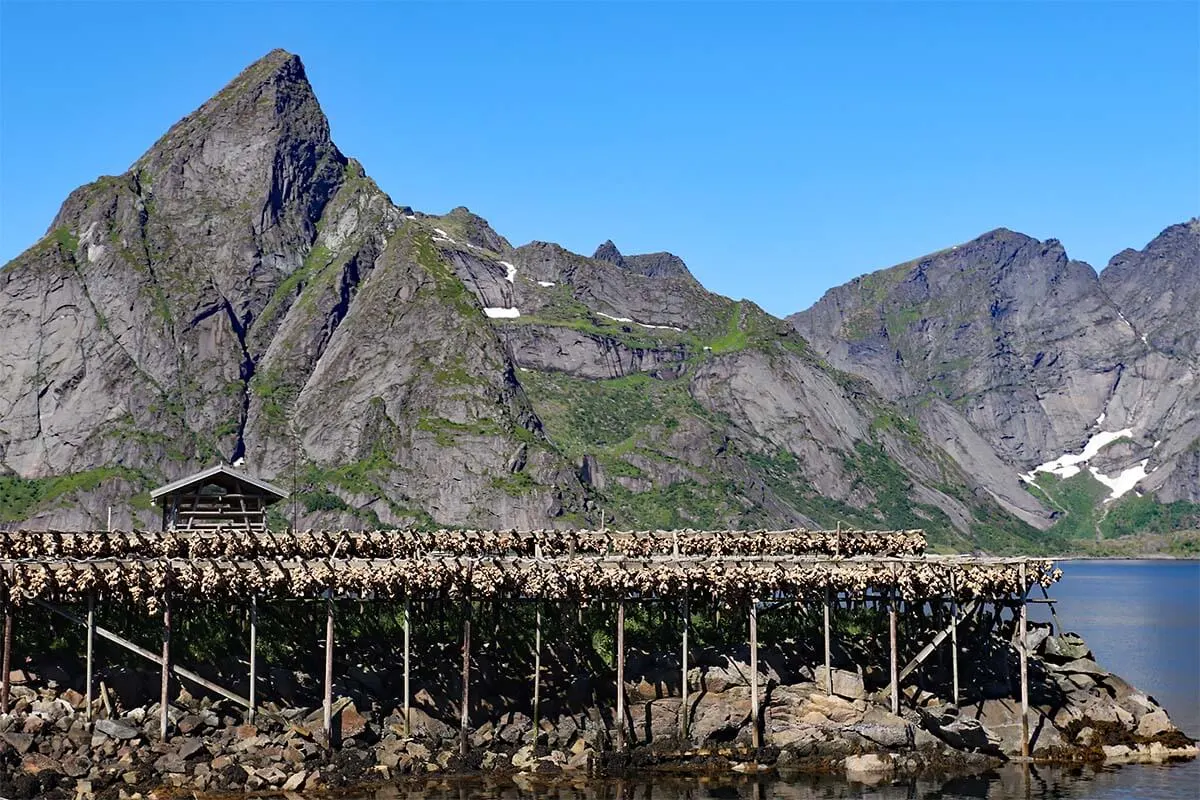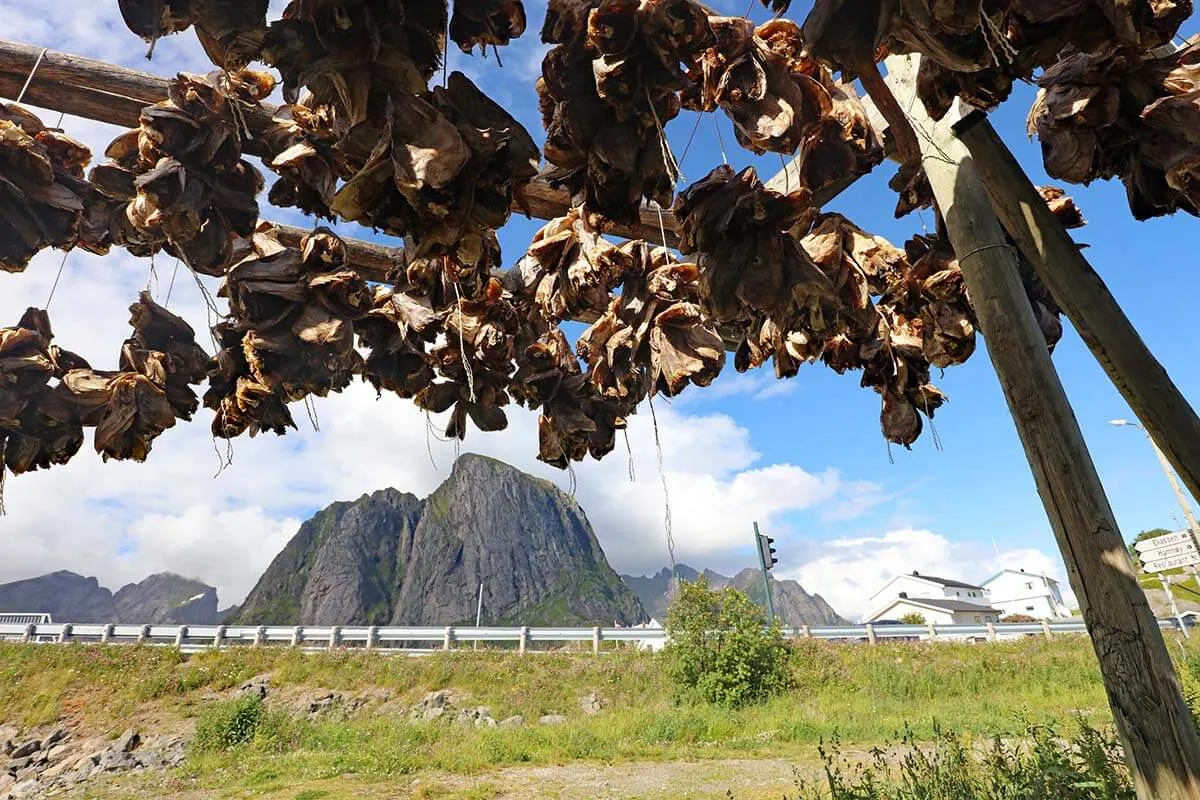 Good to know: The best season for fishing cod in Lofoten is in the winter, approximately from January to April (the exact times differ every year, depending on the temperatures that winter). In any case, the end of the winter to spring is the prime time to see traditional stockfish drying racks in Lofoten.
That being said, we visited Lofoten in July and could still see quite some fish drying on these racks. However, in most cases, it wasn't stockfish anymore, but only the heads of the fish… Still, it's very impressive. But you need a strong stomach if you get really close because it's not such a pretty sight, not even to mention the smell…
Good to know: Don't worry about researching specific locations for the cod drying racks – you will see these all over Lofoten, also in many traditional villages. Just be considerate of private property and don't get too close without asking for permission. Also, try not to touch anything; basically, take only pictures and leave no trace.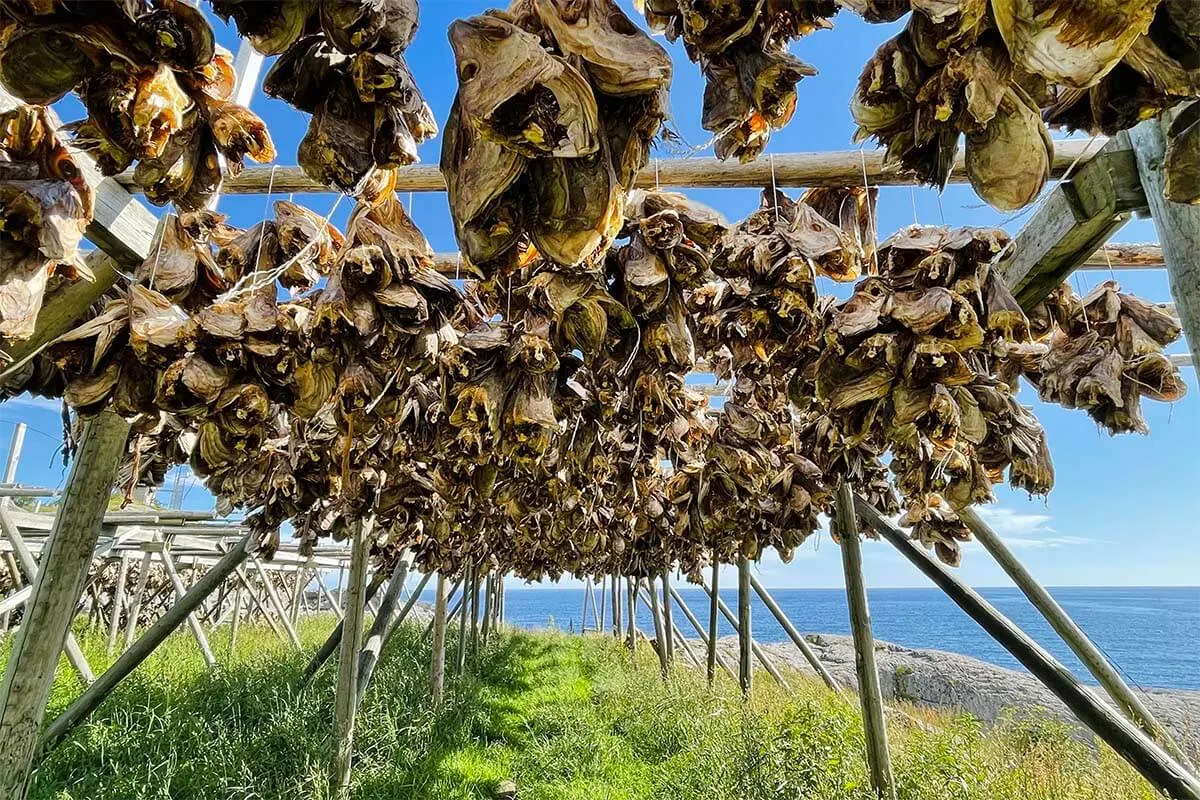 More places to see & things to do in Lofoten Islands
Lofoten Islands have a lot more to offer than the main places and attractions covered on our list above. However, you will need a lot of time even to just see the top sights in Lofoten mentioned above.
However, if you do have a bit more time and are looking for more ideas about what to see and do in Lofoten, here are a few additional recommendations:
Flakstad Church is one of the most picturesque churches in Lofoten. Dating from 1780, it has been restored in 1938. The wooden interior is interesting to see, and it's a good place to spend a couple of minutes when passing by or if you are looking for rainy weather activities in Lofoten.
Blacksmith at Sund is an ironwork atelier located in the traditional fishermen's village of Sund. Here you can see a local blacksmith at work giving presentations of his craftsmanship and also visit a small museum.
Munkebu Hut hike. This is one of the most beautiful longer day hikes in Lofoten. You will need a whole day and exceptionally good weather if you want to do it.
Lofoten Waterfall. Located just a few minutes from the car parking at Munkebu Hut trailhead, this is a nice waterfall to see in the area close to Å i Lofoten. The scenery here is really worth a few minutes of your time even if you are not into hiking.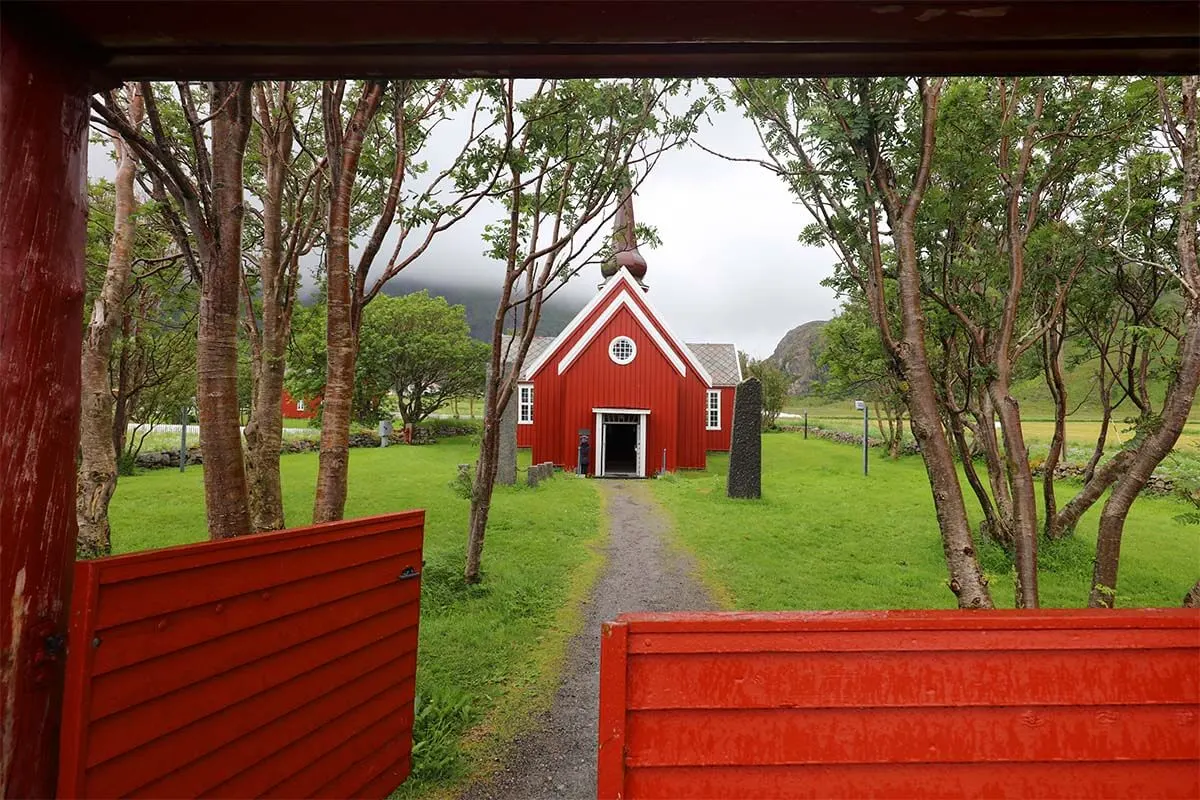 Ramberg area has a couple of really nice white-sand beaches. Whether you are just looking for a nice place to take some photos, want to stretch your legs from a long drive, or want to take a long walk on a nice beach, both – Skagasanden or Rambergstranda beaches – are worth checking out.
Ballstad. This is another nice little town to see in Lofoten. However, it doesn't really have a clear 'center' area, so it's not easy to know where exactly to go. But it's a really nice place to stay in central Lofoten or you can also simply visit one of the hotel restaurants for lunch or dinner. Check out hotels/restaurants such as Solsiden Brygge Rorbu Hotel or Hattvika Lodge.
Anita's Seafood Restaurant (Anita's Sjømat). This restaurant is worth mentioning not just for its amazing fish burgers, but also for its very scenic location. It is located right next to the main road in the Reine area, so you will pass here anyway when sightseeing in Lofoten. Be sure to stop, even if just for the views (although we do recommend having lunch here too!). Be sure to try their classic fish burger – yummy!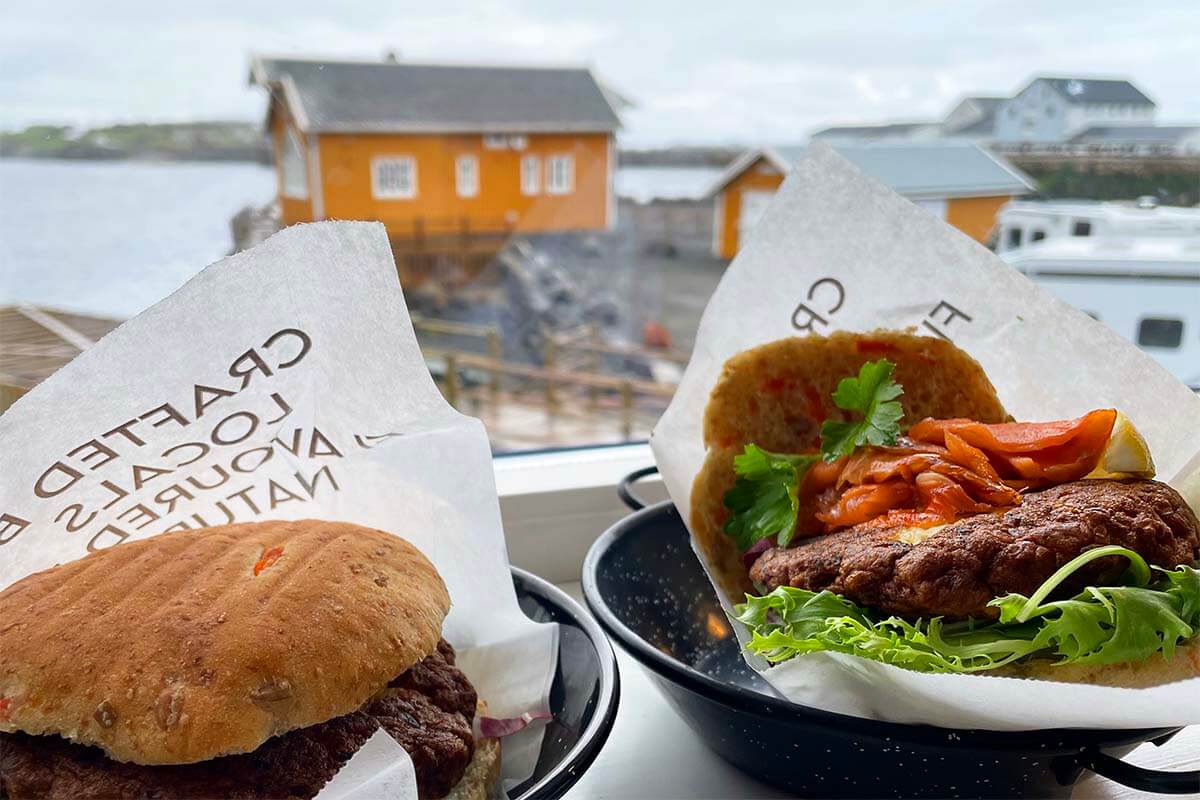 MAP of the best places in Lofoten
To give you a better idea of where everything is located and to help you plan your time, we created a map of the main sights and attractions in Lofoten – see below.
It shows all the best places to visit in Lofoten mentioned in this guide. For each hike, we also indicate the location where it starts.
So, this is our guide to the very best places and experiences on the Lofoten Islands.
If you are wondering how to plan a trip to Lofoten, there are countless ways, really. Also, so much depends on the weather! So my best tip is to stay in the area longer and be flexible. When the weather is nice, head to the mountains and do the best hikes. And if you get some rain and clouds, explore the towns, churches, and museums, or find a nice restaurant for a long relaxing meal…
You can find this and many more tips with additional information in our practical guide to visiting Lofoten Islands. It contains lots of useful info and tips to help you make the most out of your trip. Check it out!
If you are looking for itinerary ideas, take a look at our Northern Norway itinerary. It includes Lofoten, but also Vesteralen, Senja, and Tromso.
More tips & inspiration for visiting Northern Norway:
Lofoten Islands:
Tromso:
Practical info:
For many more destinations all over the country, please check our Norway travel guide.
If you found this post helpful, don't forget to bookmark it and share it with your friends. Are you on Pinterest? Pin this image!