Thinking of visiting Northern Norway on a self-drive road trip and wondering what to see and do and how to plan your time? In all honesty, there are countless ways to plan a trip to the North of Norway, and there is really not one 'best' way to do it. In this guide, we share our 14-day Northern Norway itinerary that includes Lofoten Islands, Vesteralen, Senja, and Tromso.
This guide is based on our 2-week self-drive road trip in Northern Norway in summer. It's a loop itinerary that starts and ends in Harstad/Narvik Evenes airport (EVE), but it can easily be adjusted to start and/or end in Tromso, Bodo, depending on which airport works best for you.
TIP: Before you start working on the Northern Norway travel itinerary, check available flights and car rental prices for the following airports: Tromsø (TOS), Bodø (BOO), and Harstad/Narvik (EVE). Sometimes, the price difference can be quite significant, so if your travel plans aren't fixed yet, it's worth considering different options.
Also, if you opt for a one-way car rental, keep in mind that most companies charge a rather big one-way fee. On the other hand, if this saves you a day of driving and one or two hotel nights, it might be worth it. So see what works best for you and adjust your planning accordingly.
Good to know: This is a rather easy-going itinerary that gives you plenty of time to explore Lofoten and do some hiking. It also includes the main highlights of Senja, Tromso, and Vesteralen. We also opted for several different accommodations in Lofoten – not only to avoid lots of driving up and down but also to be able to explore different areas of Lofoten a bit deeper.
So – depending on your preferences – you can shorten this itinerary, stay in just one centrally-located accommodation on Lofoten, and/or add a night in Vesteralen, Senja, and Tromso. As I said, the possibilities are endless; this is just one of them.
READ ALSO: Travel Tips for Visiting Lofoten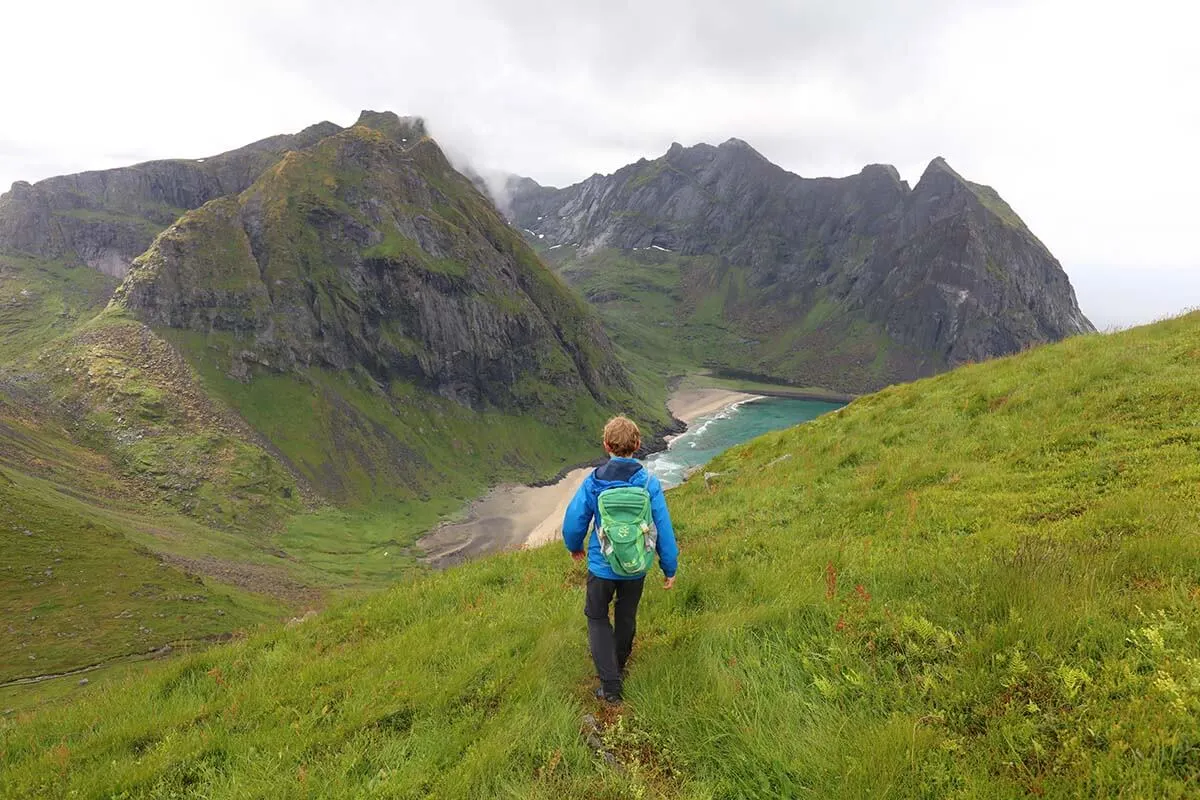 Map
To help you plan your own trip to North Norway and know exactly where everything mentioned in this article is located, we created a map of this road trip – see below.
It indicates all the places we mention in our guide: towns, villages, hike trailheads, best viewpoints, restaurants, accommodations, etc.
How to use this map: Use your computer mouse (or fingers) to zoom in or out. Click on the icons to get more information about each place. Click the arrow on the top left corner for the index. Click the star next to the map's title to add it to your Google Maps account. To view the saved map on your smartphone or PC, open Google Maps, click the menu and go to 'Your Places'/'Maps'. If you want to print the map or see it in a bigger window, click on 'View larger map' in the top right corner.
Since our readers often ask this question, I feel that I have to mention that all the places, accommodations, restaurants, activities, etc. mentioned in our guides are NOT sponsored unless specifically mentioned and disclosed.
We plan our trips ourselves and choose where to stay and what to do based on our personal interests. Usually, this means that we are indeed quite excited about the places we write about – after all, we did extensive research before booking them. And if we didn't like something for one reason or the other, we'll definitely mention it as well.
Here's our 2-week Northern Norway itinerary:
Day 1: Arrival
We flew to Harstad/Narvik (EVE) airport and spent the first night at a hotel nearby. Depending on your flight times, you could easily drive directly to Lofoten on the first day already. Our flight arrived in the evening, so we opted for a relaxing start and booked a hotel just next to the airport.
The hotel is just 15 minutes walk from the airport, but it's not the walk you want to do with luggage, so we rented the car directly from the moment we arrived. As always, we booked our car via RentalCars. This time, the best available deal was from Sixt. Their office is located right at the luggage belt, so we could get all the paperwork done while waiting for our bags. We were out of the airport in less than half an hour.
There's not that much to see or do in the area around Evenes airport, and the nearest towns Narvik or Harstad are each about 40-60 minutes drive. So if you arrive here in the morning or early afternoon, head straight to Lofoten.
And if you have to stay here as we did, you'll be glad to know that the hotel offers dinner and there's also a good grill/pizza place just a minute's walk away.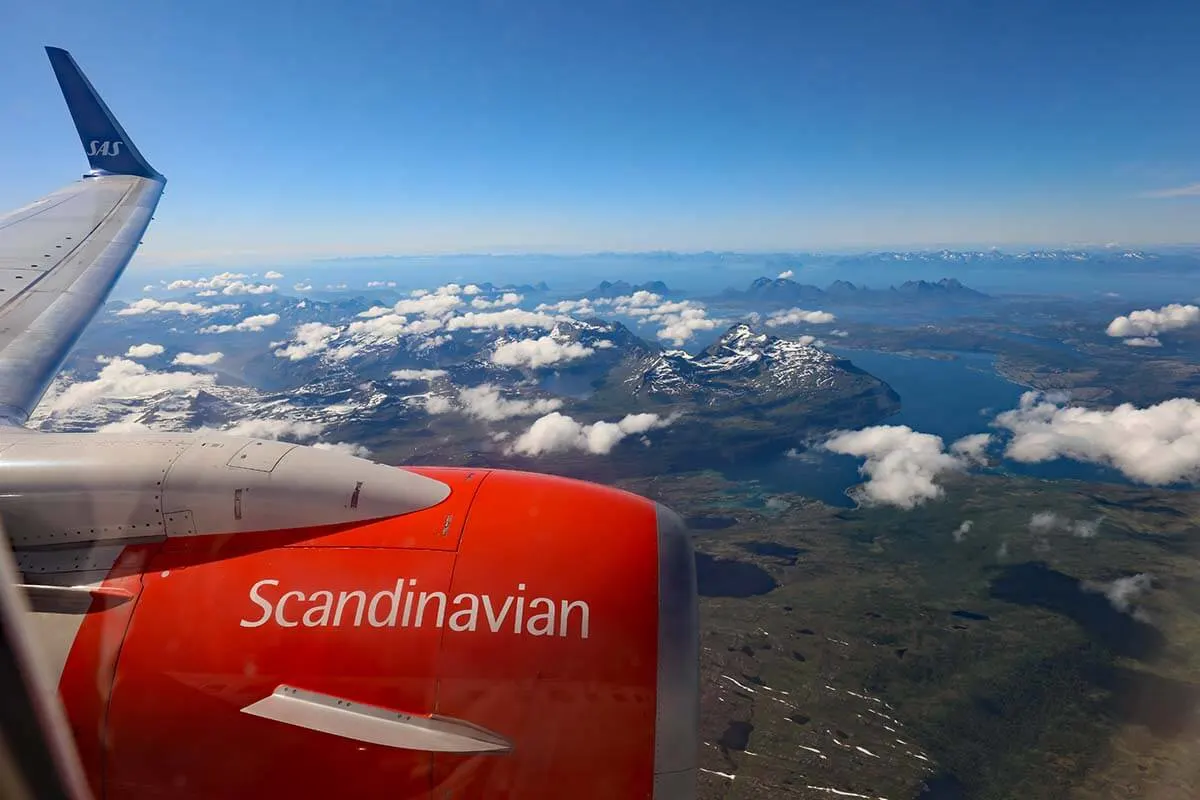 Day 2: Drive to Lofoten – Reinebringen Hike – Reine
We had various options planned for our first day in Lofoten. It's a long drive from Harstad/Narvik airport to Leknes (almost 4 hours), so we stopped at a beautiful viewpoint at Austnesfjorden right before Svolvaer to stretch our legs a bit.
We were also thinking of doing a nice hike right next to our hotel today. However, the weather in Lofoten changes all the time and we were driving in the rain for the biggest part of the day.
But we saw that sun was on the forecast in the Reine area in the afternoon. So we dropped off all the luggage at our accommodation in Leknes and drove an extra hour all the way to Reine. Here, we did the most beautiful and most popular hike in the Lofoten – Reinebringen hike.
Reinebringen Hike
If there's one hike that everyone tries to do in Lofoten it's Reinebringen. It brings you to the most beautiful lookout at the top, but beware that this is a steep and demanding climb. It has been made more accessible with the installation of Sherpa stairs, but the stairs don't make it any easier.
We started our hike around 2 pm and after 1 hour of non-stop climbing on almost 2000 Sherpa stairs, we reached the most beautiful viewpoint in Lofoten. WOW! It's a challenging climb to the top, but if you are fit and can make it, it's totally worth it.
The walk back down is somewhat easier (but challenging for the knees), and it took us about 40 minutes.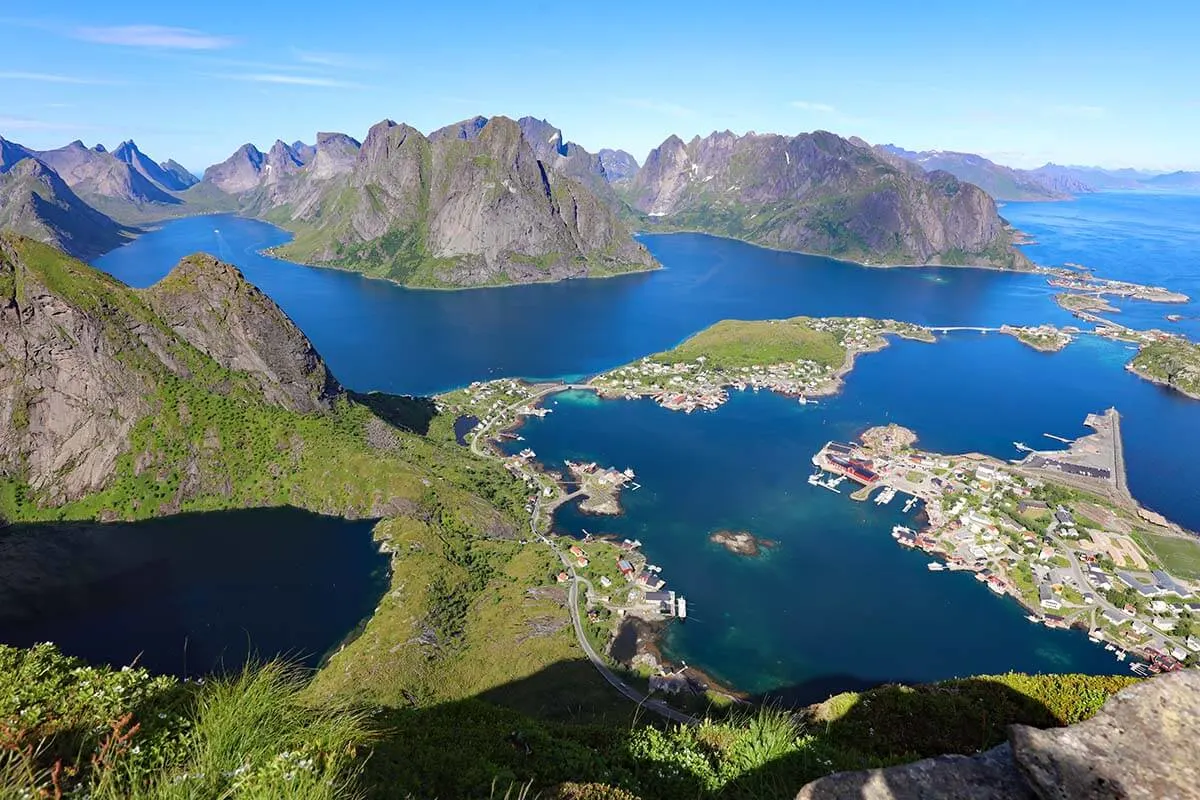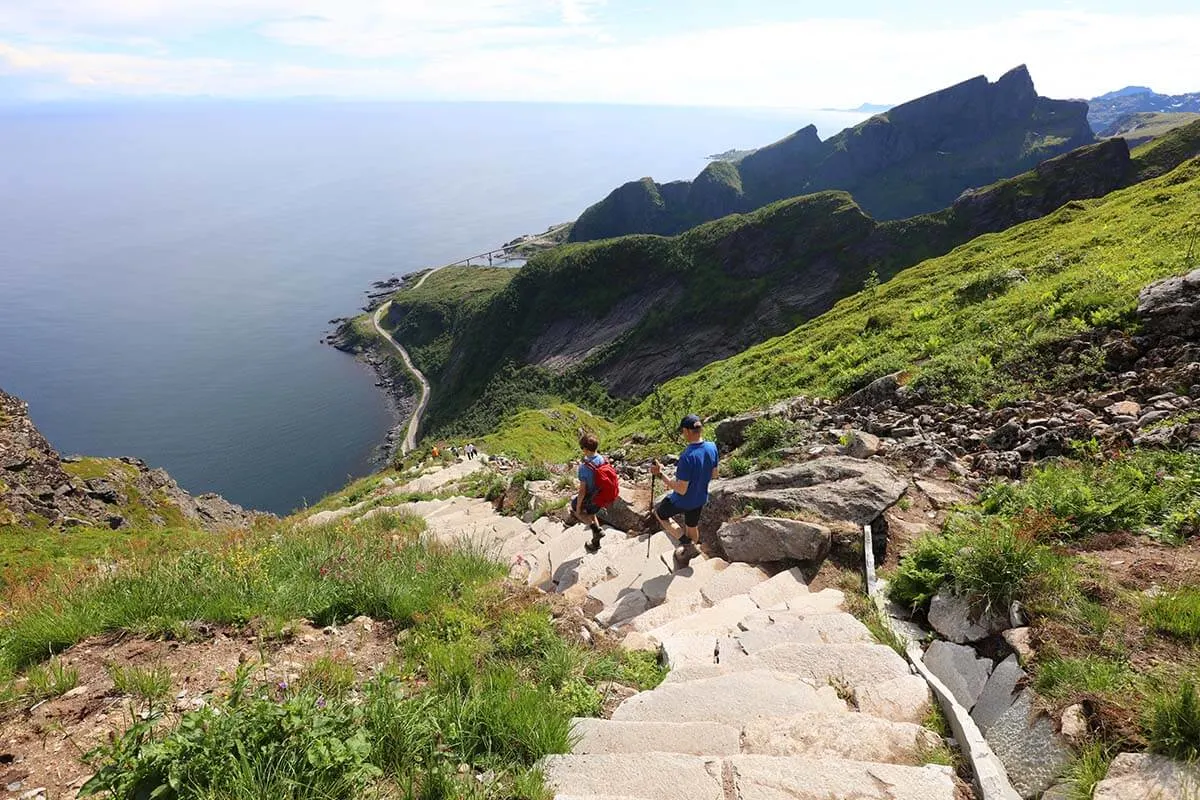 Reine
Afterward, we visited Reine, one of the most picturesque villages in Lofoten. In all honestly, the Reine View viewpoint is more picturesque than the village itself, but if you have some time to spare, it's worth checking it out.
We decided to have an early dinner in Reine and opted for Tapperiet Bistro with a beautiful outdoor seating area. The weather was stunning and it was good to enjoy some quiet time after all the driving and the hiking.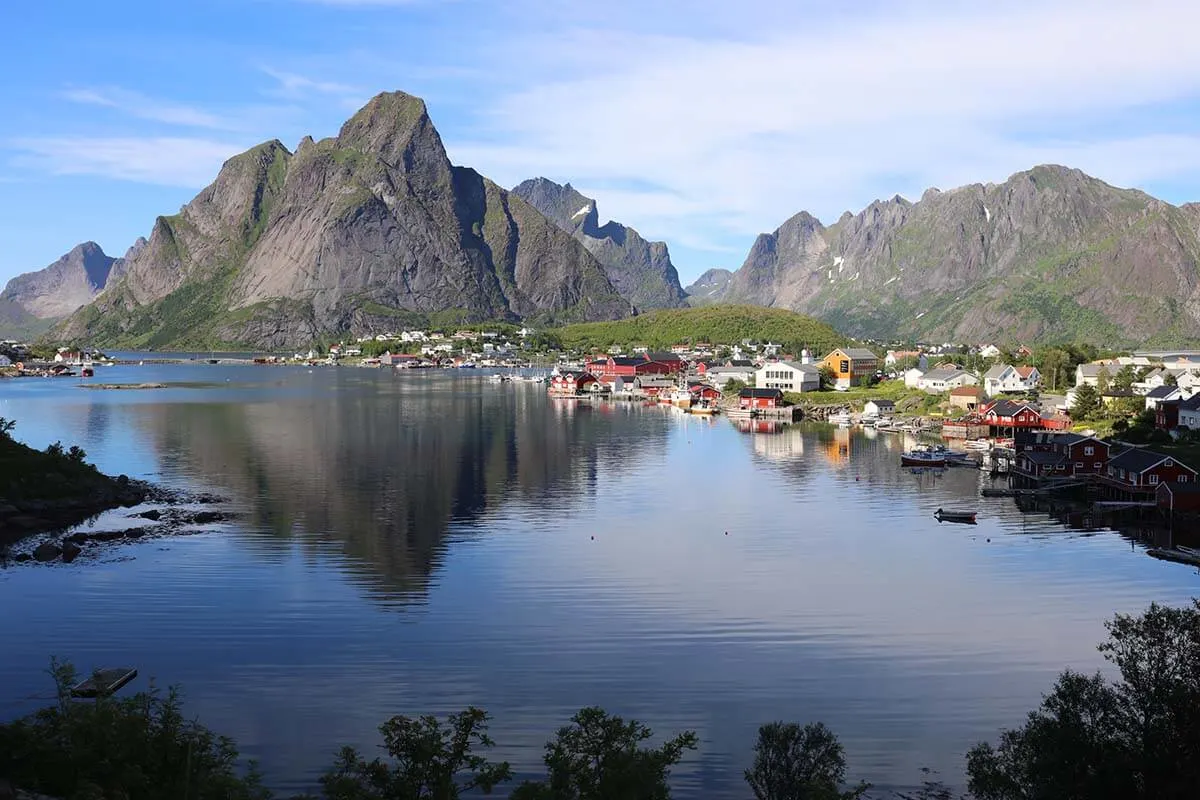 On the way to our hotel in Leknes, we stopped at a supermarket for some food for breakfast. We also couldn't resist a couple of photo stops at some beautiful places along the way. The scenery here is stunning and when the sun is shining and the skies are blue, it's even more spectacular.
The weather forecast for the next days looked less promising, so we'd be adjusting our plans for the next days based on that. The advantage of staying in Leknes is its rather central location, less than an hour drive to pretty much any place of interest in Lofoten.
Accommodation: We stayed at Lofoten Basecamp near Leknes for 3 nights. We absolutely loved this accommodation – a charming Rorbuer-style cabin on stilts (but modern, spacious, and with all comforts), the terrace, the views, the sauna… Also the central location is really good for exploring Lofoten. The only disadvantage was that they didn't have a restaurant (yet), but if you don't feel like cooking, you can drive to Leknes or Ballstad in 10-15 minutes.
READ ALSO: Best Places to Stay in Lofoten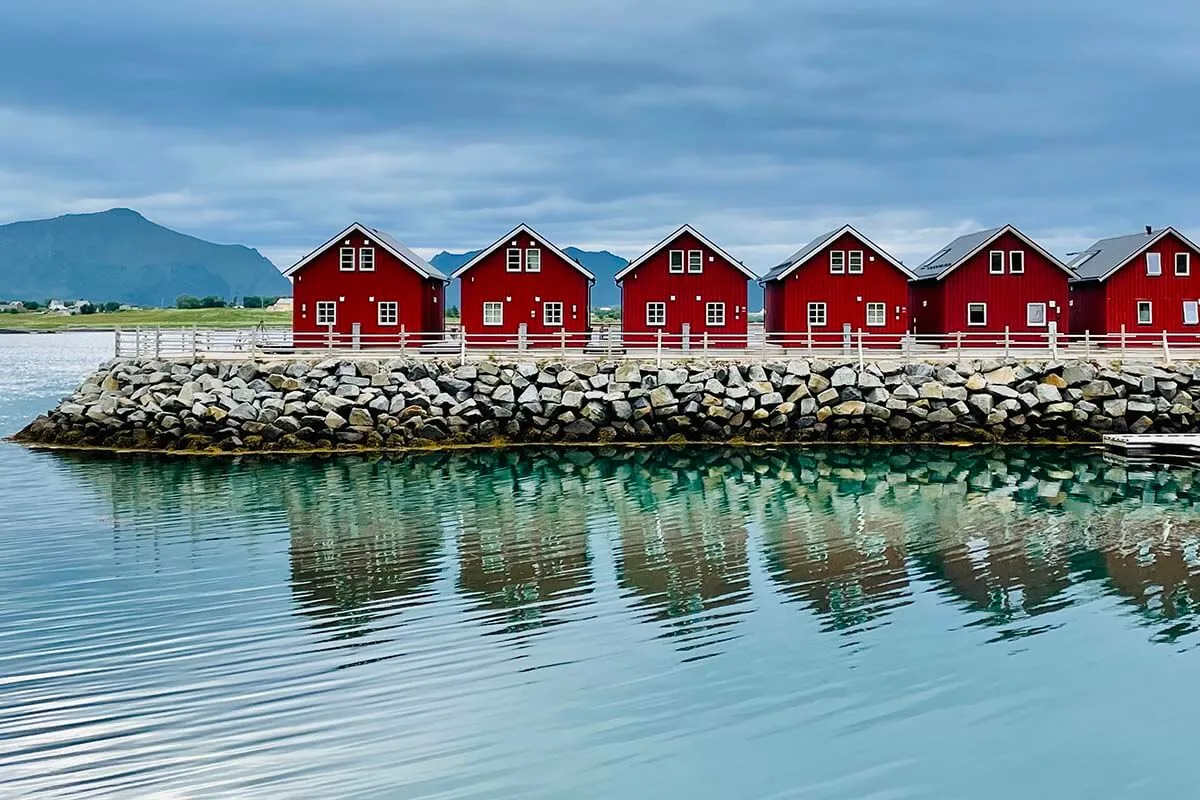 Day 3: Offersøykammen hike – Uttakleiv & Haukland Beaches – Lofotr Viking Museum
It was a grey cloudy day today without any sun on the forecast, so we decided to do a 'shorter' hike in the morning and visit some beaches, viewpoints, and a museum in the afternoon.
This was a great choice indeed – the views were still open in the morning, whereas in the afternoon, it got even cloudier and all the mountain peaks and the views were covered.
Offersøykammen Hike
One of the most beautiful views in Lofoten – from Offersøykammen viewpoint – can be found a short hike from the hotel we stayed at. The pictures in our room looked absolutely amazing and the hosts assured us that it's a simple hike of just 1 hour or less…
Well, that's not exactly how we would describe this hike. It's a very steep hike with a constant climb to 436m. It took us a bit more than an hour to the top, and some 40 minutes back down, but don't get fooled by these numbers. Offersøykammen is a really strenuous hike that's tough on your heart and your knees.
That being said, the view is indeed breathtaking! Even on a cloudy day, it was worth climbing to the top. If you come here when it's sunny, the colors will pop even more making it even more spectacular.
I would even dare say that Offersøykammen offers some of the best views we saw in Lofoten. At the same time, it's a bit of a hidden gem that's not yet discovered by Instagrammers… We were all alone while hiking to the top and that in itself was special. We met some people on our way back down, but you can't even compare this with the crowds at the most popular hikes in Lofoten.
Offersøykammen is definitely not a hike for everyone (but I could say this about most hikes in Lofoten). If you don't mind a steep 1-hour climb on very uneven terrain and want to enjoy some of the most beautiful views in Lofoten Islands without the crowds, this is a wonderful hike to consider.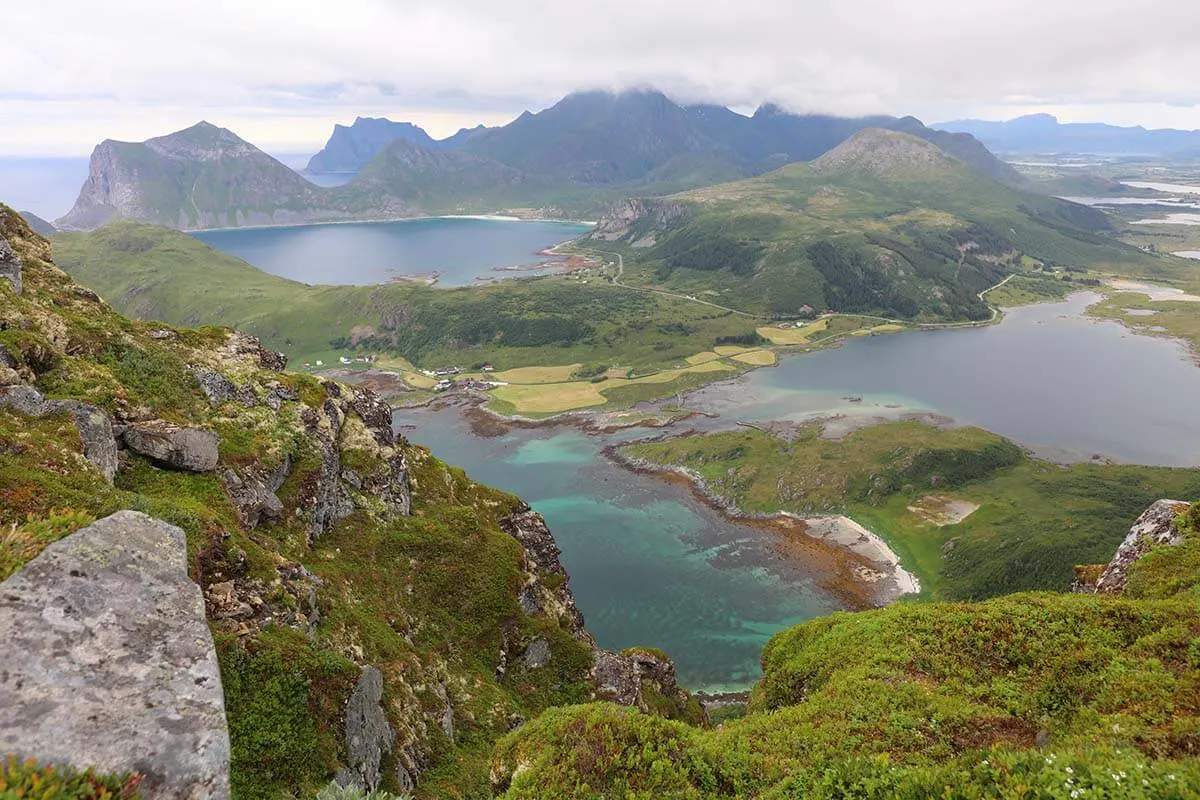 Uttakleiv, Haukland & Vik Beaches
In the afternoon, we drove to some nice beaches nearby. While Lofoten Islands have many beaches, if you visit just a few of them, head straight to Haukland – Uttakleiv area.
Uttakleiv beach stole my heart – it's so beautiful here! Green grass with sheep grazing around, giant boulders on white sand, and mountains all around… Even on a cloudy day, it's so picturesque and the atmosphere here is so special that you really have to go and see it for yourselves! No pictures do this place justice.
Good to know: This beach can only be accessed via a narrow one-lane tunnel, or by an easy 1-hour coastal walk from Haukland Beach to Uttakleiv.
We did this hike in the other direction – from Uttakleiv to Haukland Beach, and it's really worth it if you have the time. It's a really easy walk on a wide gravel path, so it's suitable for everyone. We met a few people on bikes here as well.
The only issue is that you either have to walk back to the same point you started, ask someone to drive you back to your car through the tunnel, or have a dedicated driver pick you up on the other side. I made the walk with the kids and my husband picked us up in Haukland.
Hauklandstranda is a really pretty white-sand beach as well, just as the adjacent Vik beach. You could make long walks and spend an entire day in this area if you have the time. It's also a very popular place to camp – we saw lots of tents and campervans at all these beaches.
TIP: If you have a few hours to spare here, you could also do the Mannen hike (Mannen 400) and see these beautiful beaches from the top. Since the peak was in the clouds when we visited, we didn't do this hike, but people say it's really nice and the pictures look beautiful. Just keep in mind that it's yet another steep climb to the top that takes at least 1 hour one way.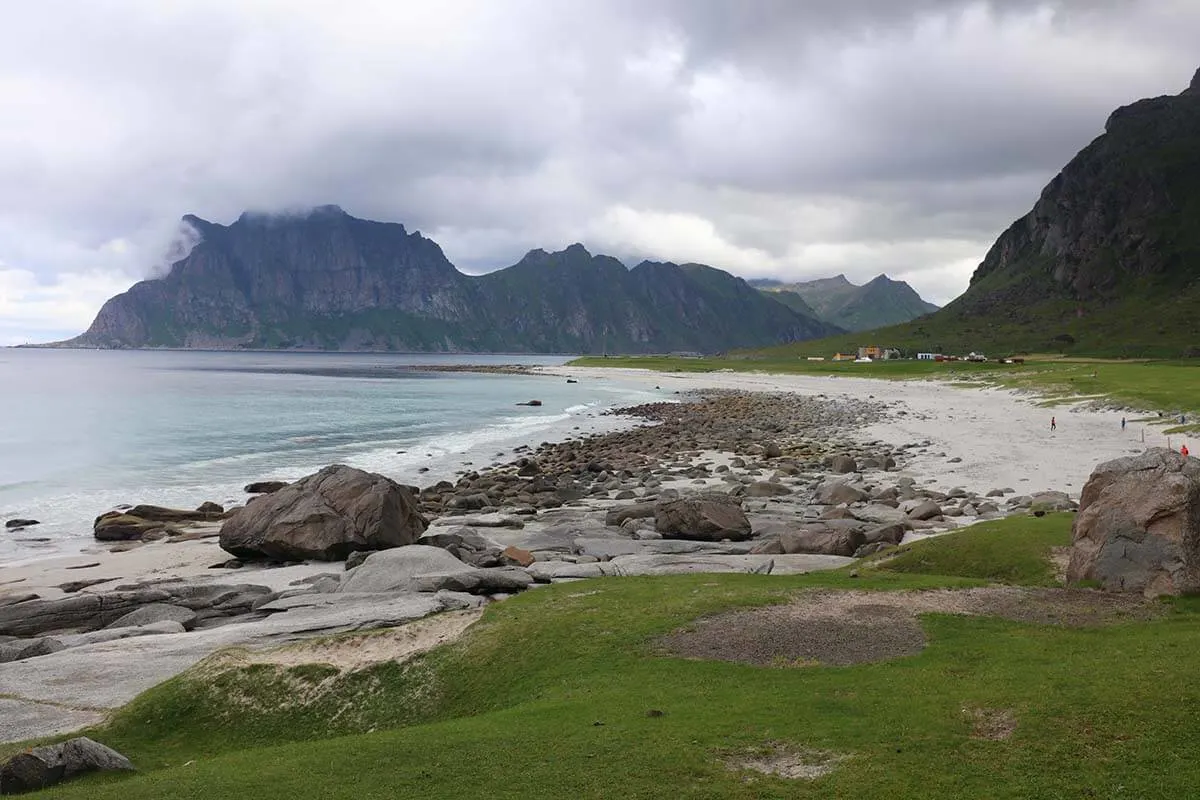 Lofotr Viking Museum
There's an unbelievable number of museums in Lofoten Islands. It seems that every village has at least one or two. But the majority of them are rather small, and quite frankly, once you've seen one museum dedicated to fishery, you've seen them all…
Lofotr Viking Museum is totally different than all the others in Lofoten and is one of the most popular museums to visit in the area. Just don't come here thinking it's a great rainy day activity because most experiences are actually outdoors and are located more than 1 km walking distance from the main building.
That aside, it's a really nice museum where you can learn about everyday Viking life, see all kinds of crafts and interact with the actors, try some Viking food, or dress up in Viking clothing and take some fun pictures. You can also try archery or axe throwing, ride a pony, or take a ride on a Viking boat.
This is a really great museum for the entire family and I wish we visited here on a warmer day. The wind was so cold when we were here that we didn't enjoy it nearly as much. We even decided to skip activities like the Viking boat ride. But the kids had a blast with archery and axe throwing.
Good to know: In the summer, this museum is open daily and all the activities are included in the entrance ticket. For more information, see their website.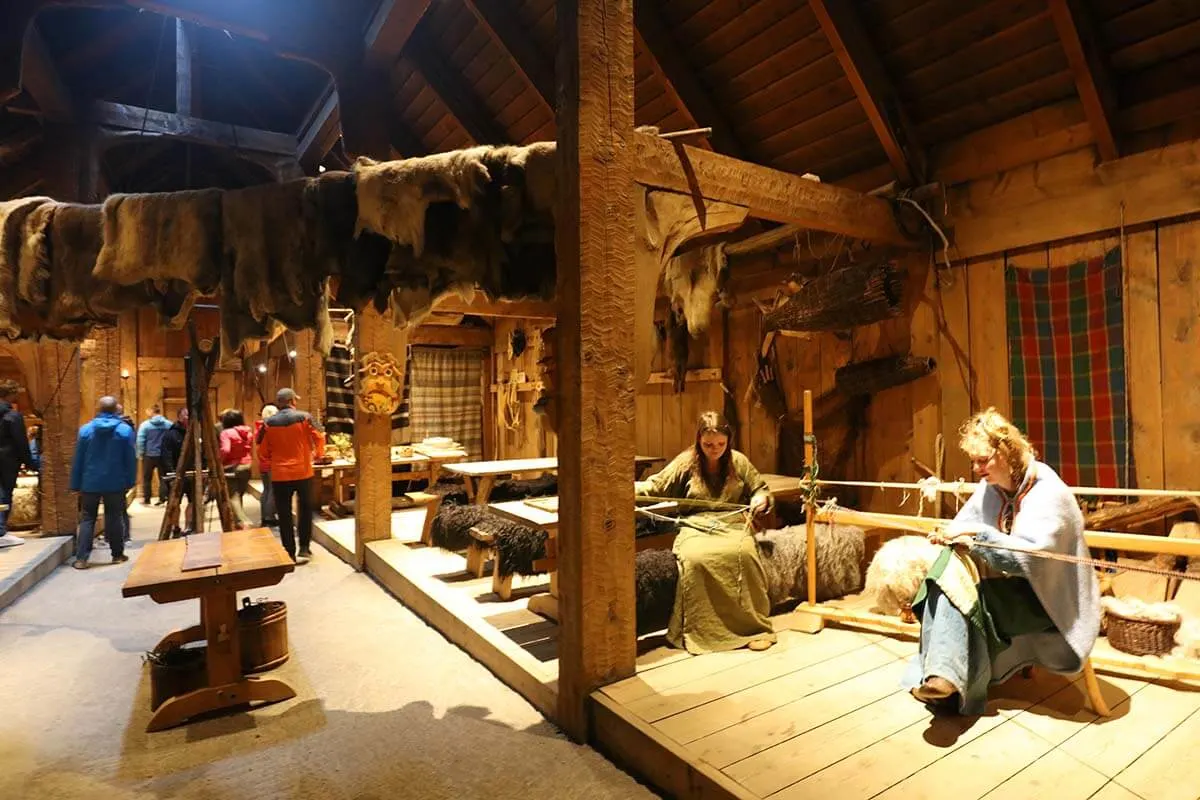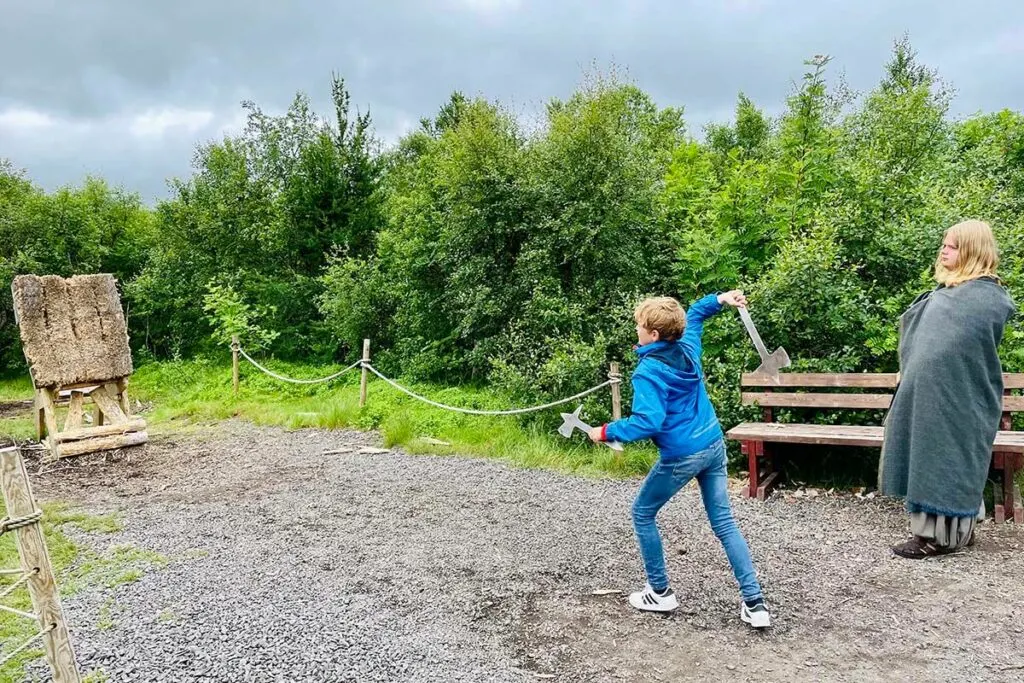 The wind and all the hiking left us quite a lot more tired than I had anticipated, so we decided to call it a day rather early and head back to our beautiful cabin. We stopped at a supermarket along the way, cooked our own dinner, and spent a quiet evening.
Our accommodation also offered a beautiful sauna that all guests could use for free (you just have to reserve a time slot). The view from the sauna is amazing, and you can also go for a swim in the sea via the adjacent stairs.
If this sounds like something you'd enjoy and you are still looking for a place to stay in Lofoten, check out Lofoten Basecamp! And ask them for a cabin close to the sauna.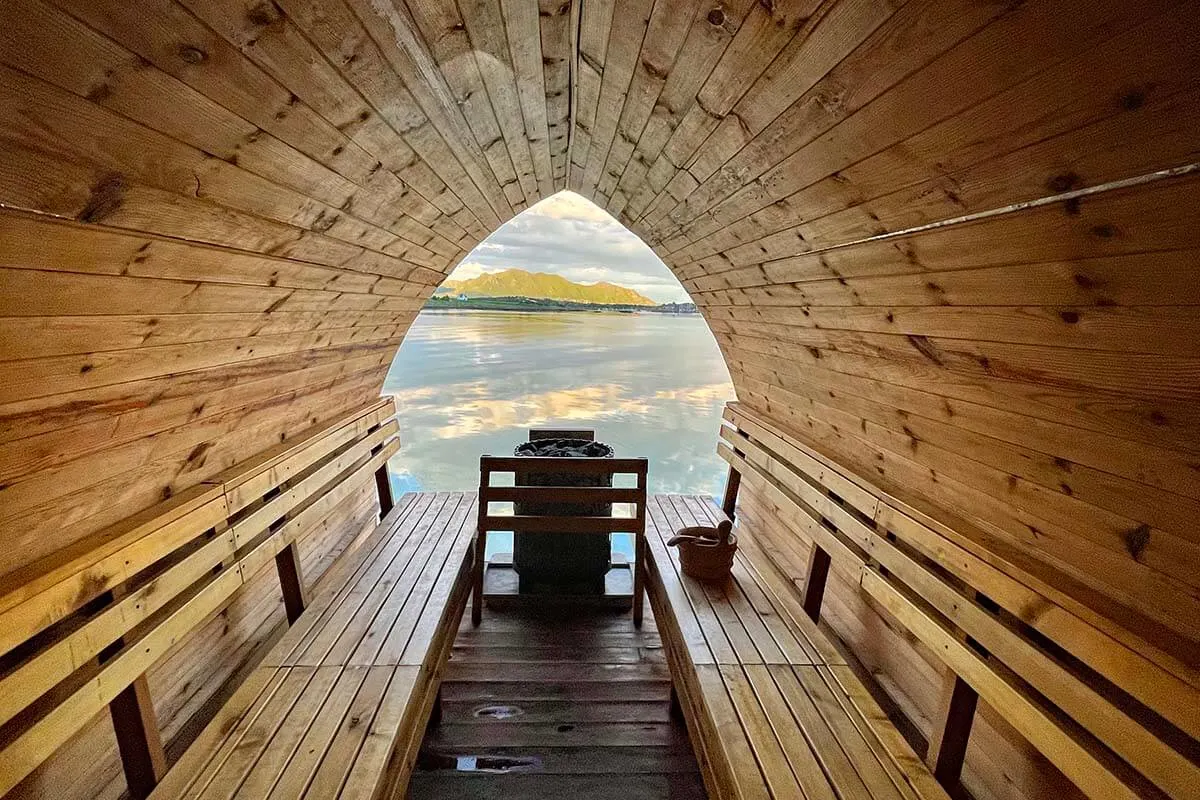 Day 4: Ryten Hike – Nusfjord – Myrland Beach – Ballstad
The weather forecast for today was really uncertain again. Some apps showed rain for the whole day, the others – sun and clouds. In the end, we got a bit of everything: rain, cold wind, clouds, but also sunshine. Unless the weather forecast looks really bad or really good, it's pretty much impossible to plan anything based on the forecast here…
So we just went ahead with the plans that we had. Which means that we got muddy and soaking wet, of course. It's a good thing our accommodation had a washing machine!
Here's what our day looked like:
Ryten Hike & Kvalvika Beach Views
Ryten hike is one of the most popular hikes in Lofoten that all hikers consider a must-do. It's a hike that takes you up the Ryten mountain overlooking a beautiful Kvalvika beach.
You can do also hike down to the beach, but most people just opt for the views from the top. We were thinking of doing both, but the weather was dreadful, so we also just hiked Ryten, took the obligatory pictures at 'the tongue', and were glad to make it back down without too many issues.
The trail here is extremely muddy and really challenging when it's wet. Furthermore, big parts of the ascent are quite steep and narrow – not ideal if you are sharing the same trail with hundreds of people walking in different directions. Yes, hundreds of people, even on a miserable rainy day. This hike is crazy busy – I don't think I have ever seen that many people on any other challenging trail before.
All the challenges aside, Ryten hike is really rewarding and the views are wonderful. Even with the clouds and the rain, we still enjoyed it (were really glad we packed our hiking poles for this one though). It's a definite recommendation if you can do it in nice weather.
TIP: Also nice to see in this area is the nearby Ytresand beach. From here you could also make a short (and easier) coastal hike to Mulstoa beach.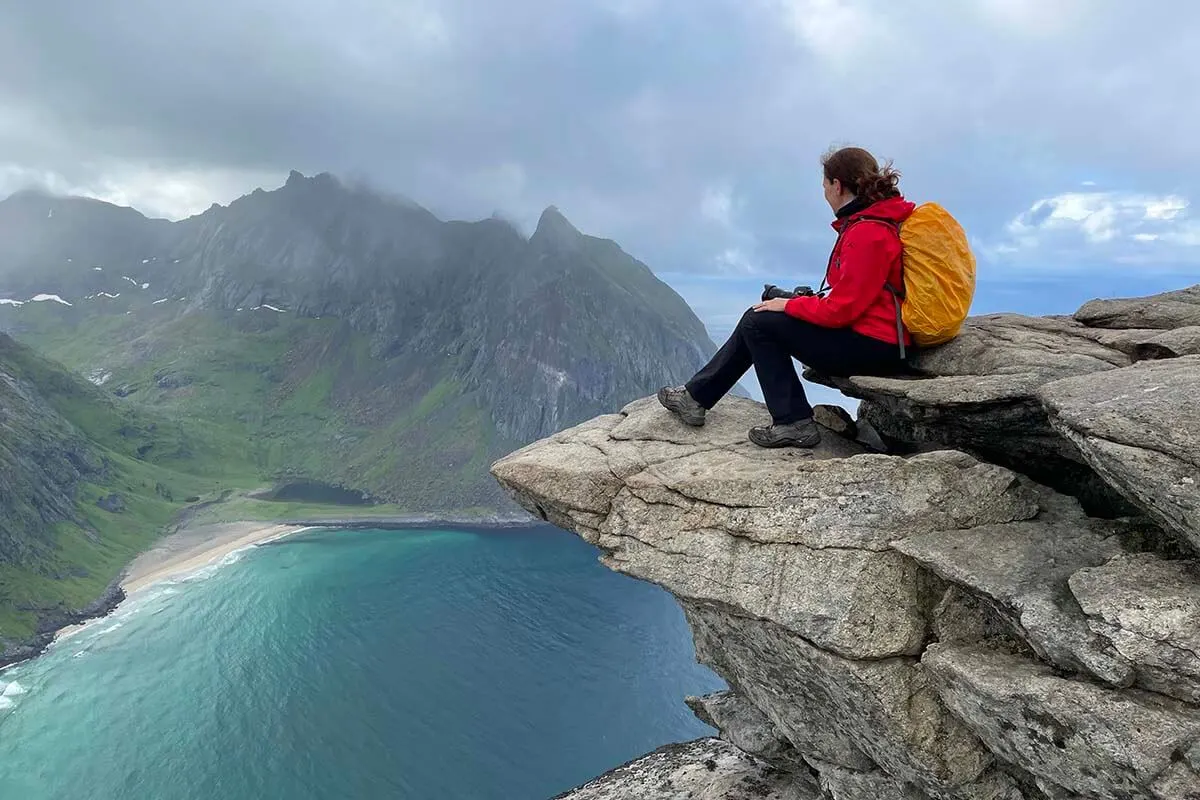 Skulpturlandskap
As you drive through Northern Norway, you'll sometimes see signs pointing to 'Skulpturlandskap'. This is some kind of a project featuring various outdoor sculptures next to the roads in Nordland province. We decided to check one of these out, just a tiny detour off the main road south of Ramberg, close to Flakstad.
Here we found a cylinder stone structure in the middle of a field. It's interesting to see if you want to stretch your legs for a minute, but you aren't missing much if you skip it. Later on this trip, we found a nicer part of this outdoor exhibition – see day 8 of this itinerary.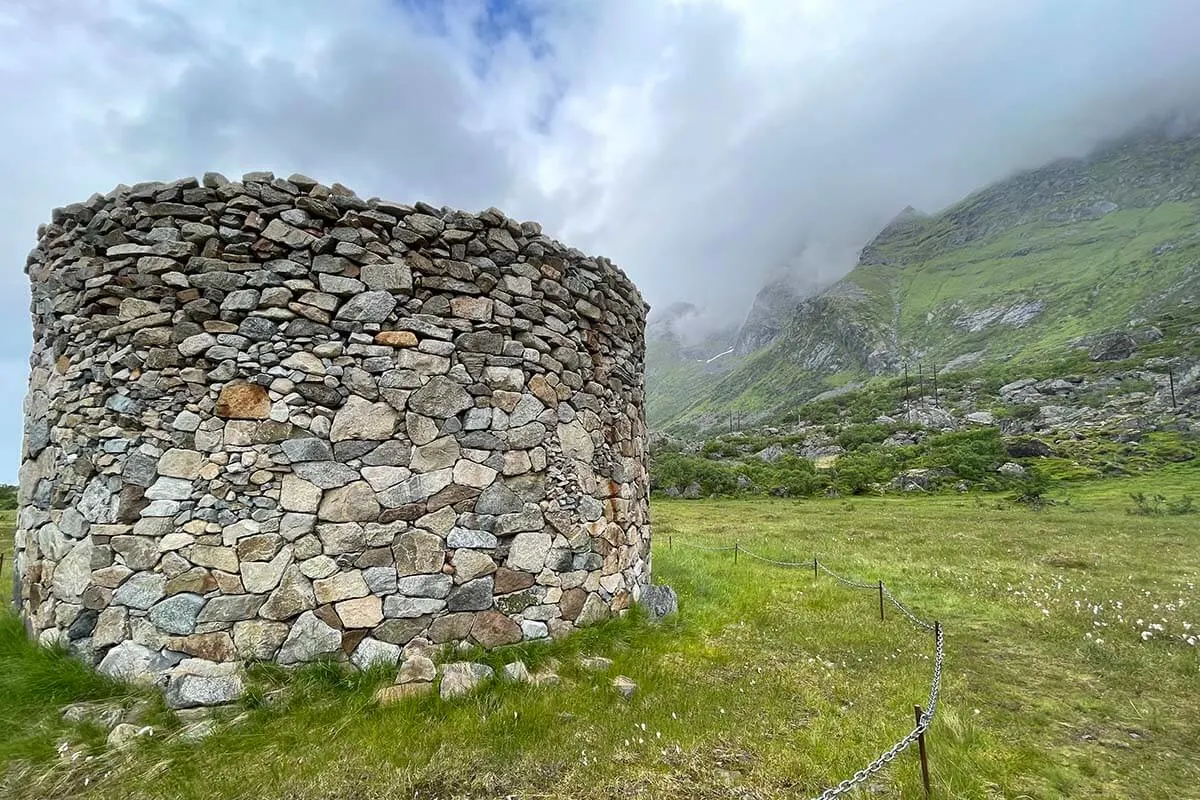 Nusfjord
Nusfjord is the most beautiful village in Lofoten and also the road to get to it is so scenic that you really shouldn't miss this place!
It's an old fishing village with colorful wooden rorbuer cabins typical to this region. Most buildings here date from the end of the 19th century, but have been beautifully restored and the village now functions a bit as an open-air museum.
This is also the only village in Lofoten where you have to pay an entrance fee. But once you are inside, you can wander around, visit all the museum buildings, learn all there's to know about the fishery in Lofoten, watch a film and see lots of old artifacts.
In Nusfjord, you'll also find a bakery with delicious traditional pastries. There is also a café and a restaurant here, and you can also rent a kayak or book a fishing tour. The village also has some really nice rental accommodations, so if you are looking for a very picturesque place to stay in Lofoten, this would be a great option. It's very busy here during the day, but nice and quiet in the evenings and in the morning before the day trippers arrive.
TIP: One of the nicest viewpoints overlooking Nusford can be found at the car parking area at the end of the road. You have a pretty good view from the parking itself, but some people also climbed the stones at the end of the parking for an even higher perspective. We were lucky that the weather cleared up completely and we could enjoy the stunning scenery here even more.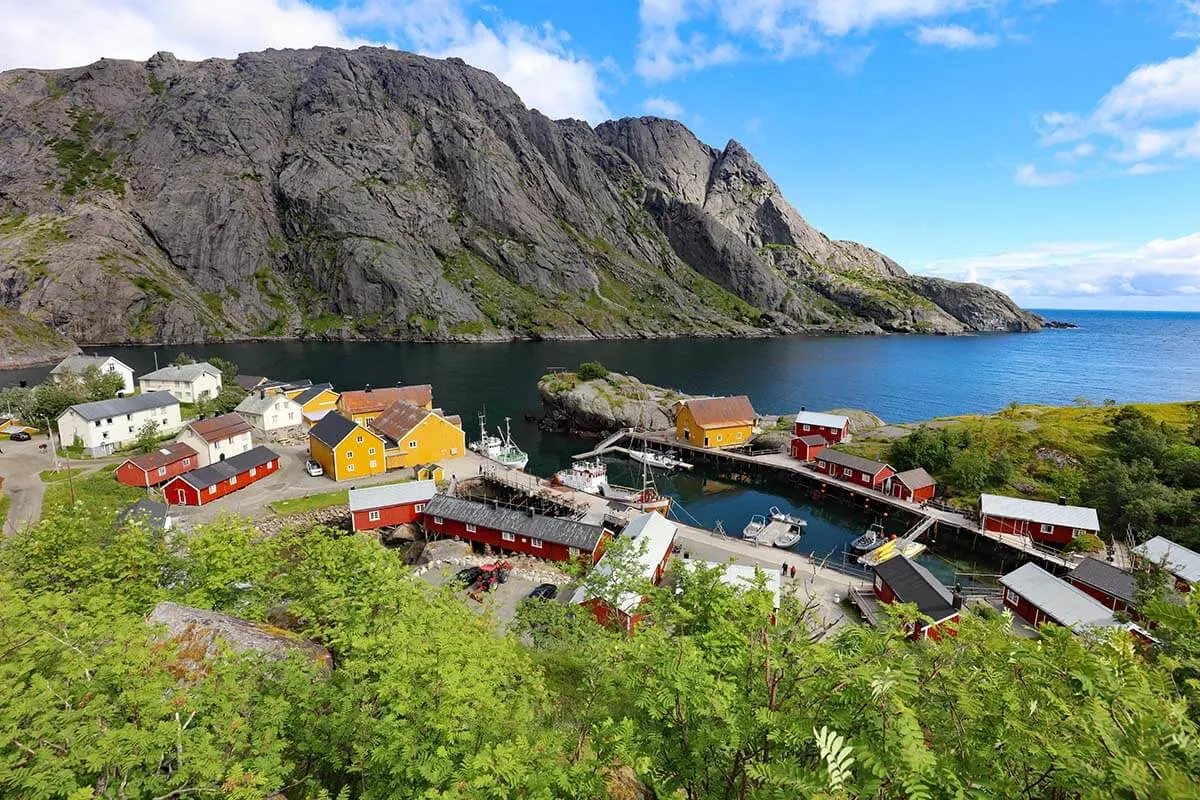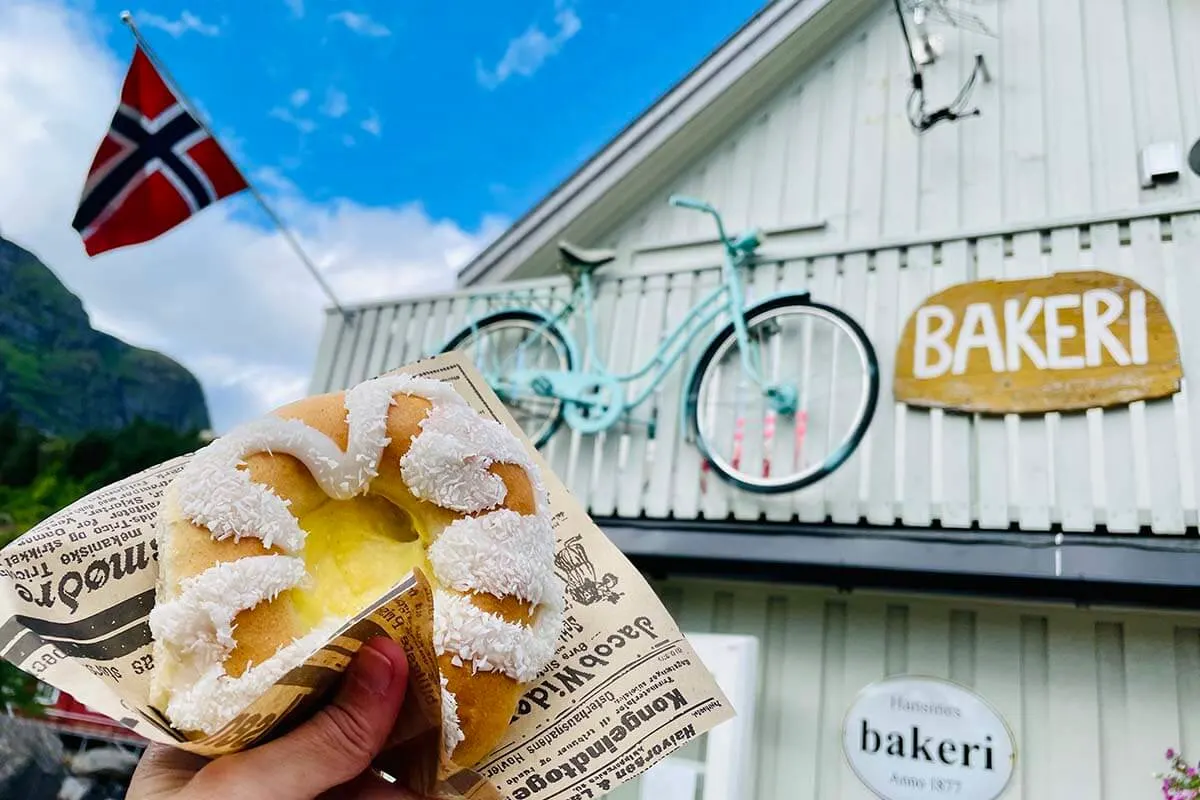 Myrland & Storsandnes Beaches
Since the weather was really nice, we decided to do a bit more sightseeing today. We headed to the beautiful Myrland & Storsandnes beaches nearby.
These beaches are located just a bit off the main road and are incomparably quieter than any of the other beaches we visited in Lofoten. In fact, there were hardly any people here at all. We spent some time just sitting here, watching the waves, and admiring a brave soul that went for a swim in these ice-cold waters.
Places like this will never make a list of must-sees in Lofoten, but we find that they sure add to the overall experience and make your trip so much more special and memorable. Lofoten islands are very popular and the majority of people all visit the same villages, head to the same beaches, and do the same hikes. But if you take the time to get a bit off the beaten path, you'll be able to appreciate this beautiful region even more!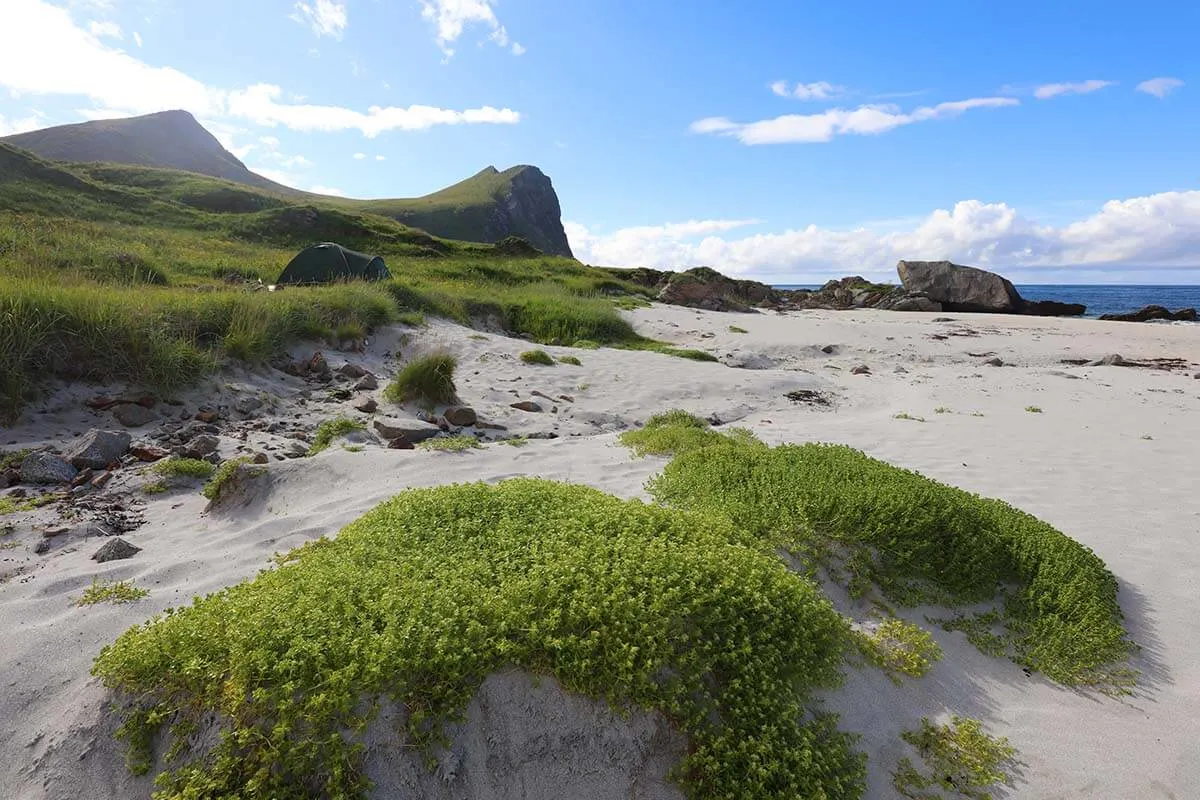 Dinner in Ballstad
Just a short ride from our accommodation is another picturesque village Ballstad. When we booked this Northern Norway trip first time (long story), we actually opted for a stay at the beautiful Hattvika Lodge here.
Since we were not staying here this time, we decided to just come and visit for dinner. There are several nice hotels/restaurants in Ballstad and it's just a 12-minute drive from the place we stayed at.
Tonight, we opted for dinner at the restaurant of Solsiden Brygge. The main reason we went here is that they had some kid-friendly options, but it appears that pizza and fish & chips are only available until 6 pm and some other popular dishes were sold out by dinner time…
Anyway, we all found something we liked and the food was ok, but also quite expensive for what it was. But we all know that Norway is expensive and Lofoten is right up there among the most expensive places in the country for travelers…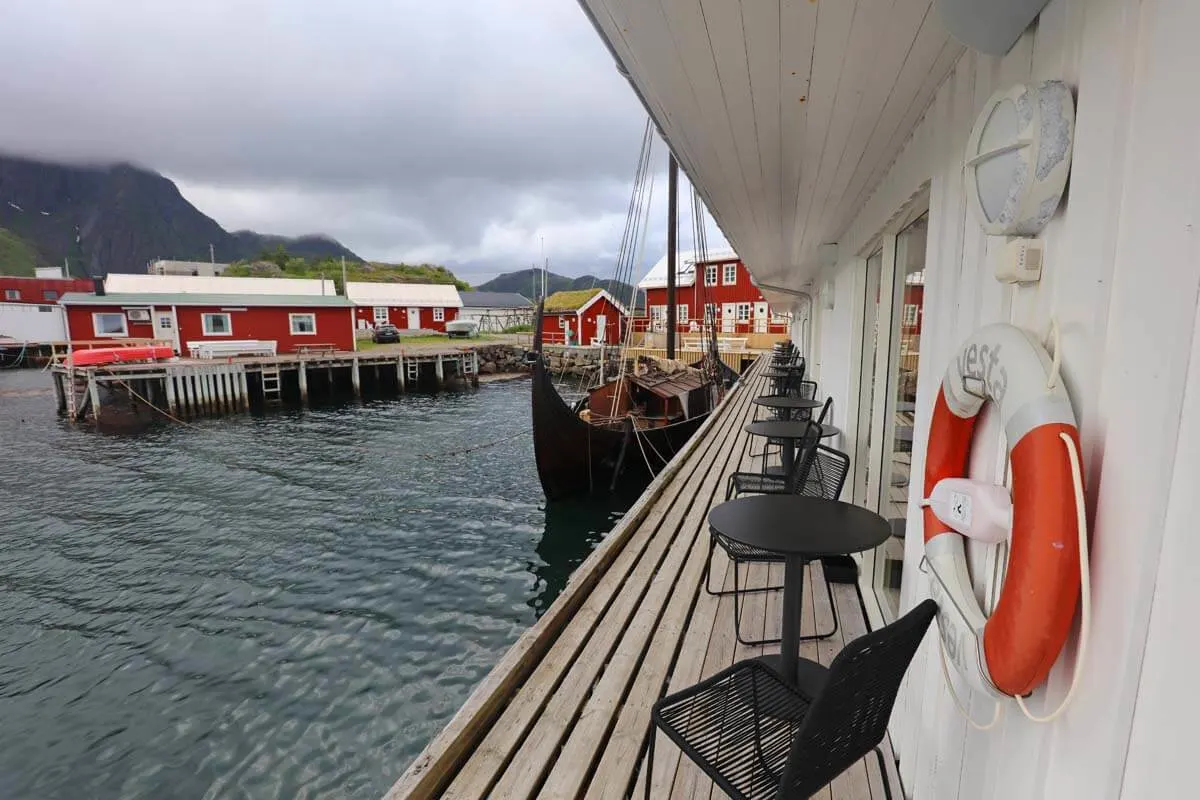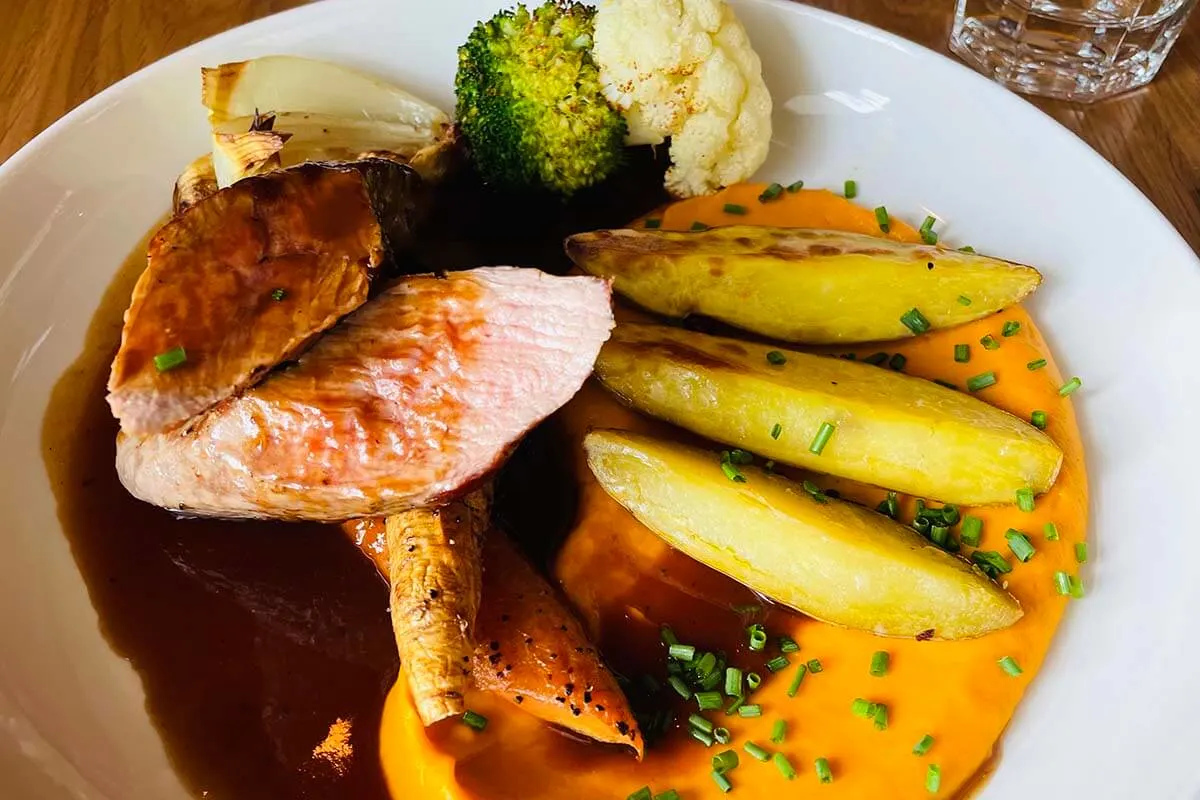 Day 5: Leknes to Reine
Today, we changed accommodations and moved over to the Reine area that – because of the weather – we already visited on day 2 of this itinerary. So it felt a bit familiar by now and since it's so picturesque here, we didn't mind backtracking at all.
Rain was on the forecast today so we decided to take it very easy this morning. It's just about 1 hour drive from Leknes to Reine where our next accommodation was located.
Our initial plan was to visit Å town and do one of the hikes in that area – either the long Munkebu Hut hike (5-6 hours), or a shorter and steeper Tindstinden hike (2-3 hours). But when you travel to nature destinations you just have to go with the flow and make the best of the weather you get.
So we decided to just drive and see if we can find any interesting (and not too wet) places to visit along the way.
Here are some of the places we visited on the way to Reine:
Flakstad Church
The red wooden Flakstad church can be seen right from the main road. We passed here a few times on the previous days and every time, there were at least a few tour buses here. Now, it was our turn to check it out and we were lucky to arrive just as a bus was leaving and before others arrived.
This picturesque church dates from 1780 and has been restored in 1938. The wooden interior is quite cozy and interesting to see.
And even if you don't go inside (there's a small entrance fee), it's still worth a small detour from the main road, especially if you have some time to spare on a rainy day in Lofoten.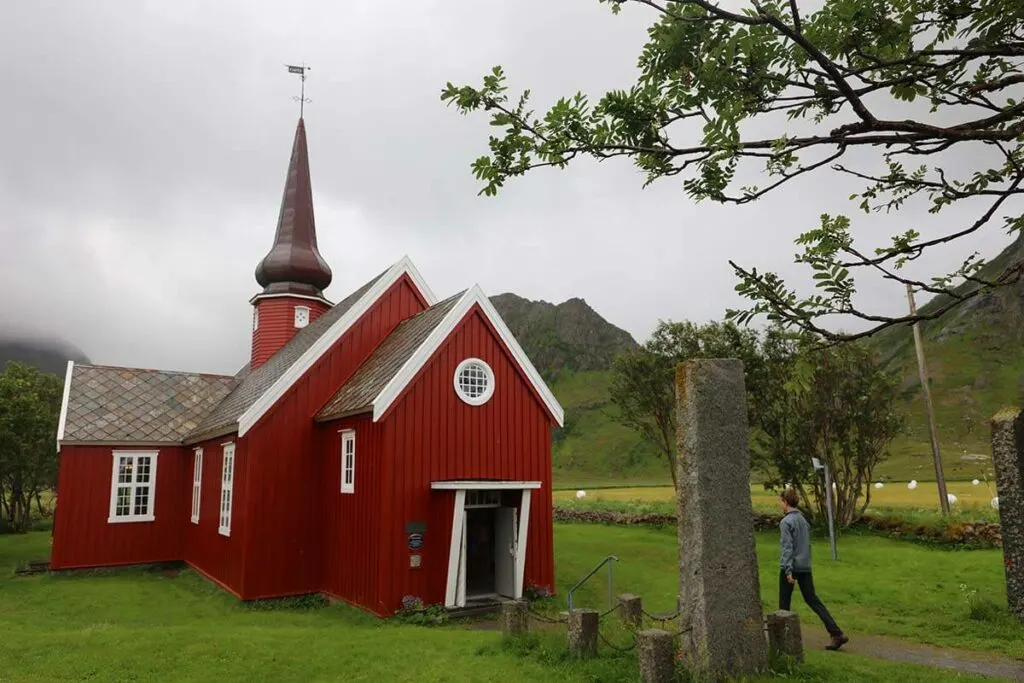 Ramberg
Just a bit further down the road, before you reach Ramberg, there are a few beautiful white-sand beaches that would have been worth a stop in dry weather, but not in the pouring rain today.
In this area, you could check out either Skagasanden or Rambergstranda beaches and maybe make a short walk at one of them.
Good to know: Ramberg has one of the best supermarkets along the main road in Lofoten. It doesn't look like much from the outside, but it's quite big inside. So if you need to stock up on food or drinks, this is one of the best places in this area.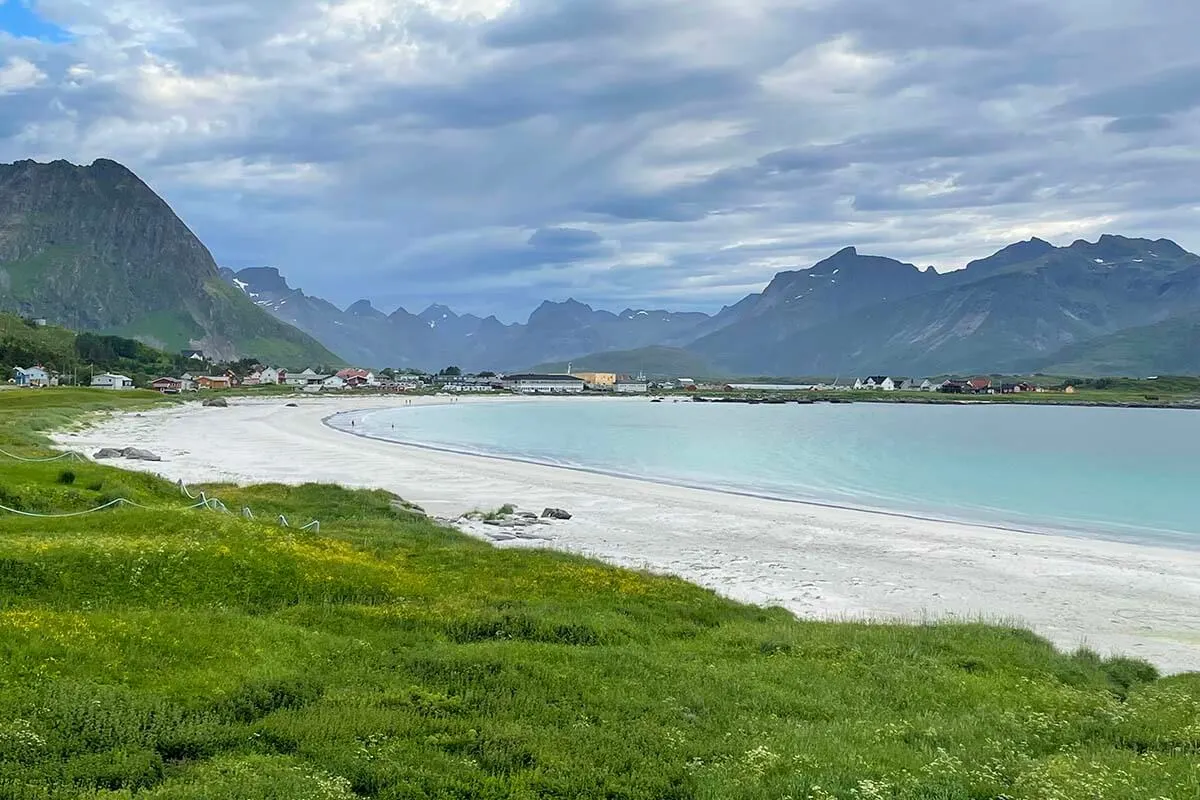 Blacksmith at Sund
Driving further down towards Reine, we saw a sign to Smeden I Sund/ Sund Fiskerimuseum and decided to check it out. It's always nice to take some side roads from the main road in Lofoten, and you can't go wrong with a small detour to a fishermen's village.
Sund village itself is quite tiny and the museum is rather simple as well. But we found it quite interesting – especially seeing the local blacksmith who was giving demonstrations of his craft. The blacksmith is clearly used to entertaining a bigger audience; he even gave us a concert on an old barrel organ while the iron was heating up.
The kids were also impressed by the various boat motors (many of them were actually working), and all kinds of old fishing equipment. All in all, this was a nice stop and a good place to fill some time on a rainy day in Lofoten. You only need about half an hour for a visit, so I think I'd make a stop here either way.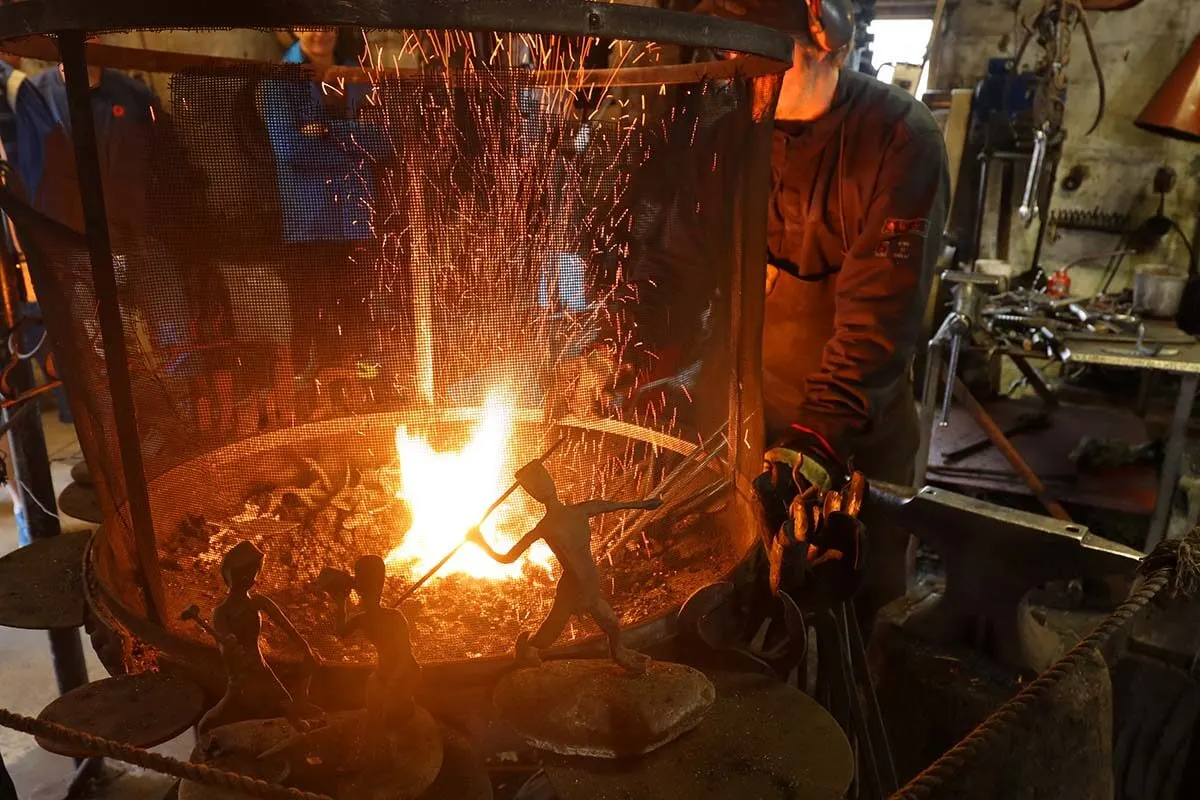 Anita's Seafood Restaurant
By the time we got to the Reine area, it was well past noon already. Time for lunch!
We heard that one of the best places for a quick and tasty meal in this part of Lofoten is Anita's Sjømat, located right next to the main road. Their menu is quite simple with just a few options, but everything we had was absolutely delicious. A must-try here is their classic fish burger – yummy!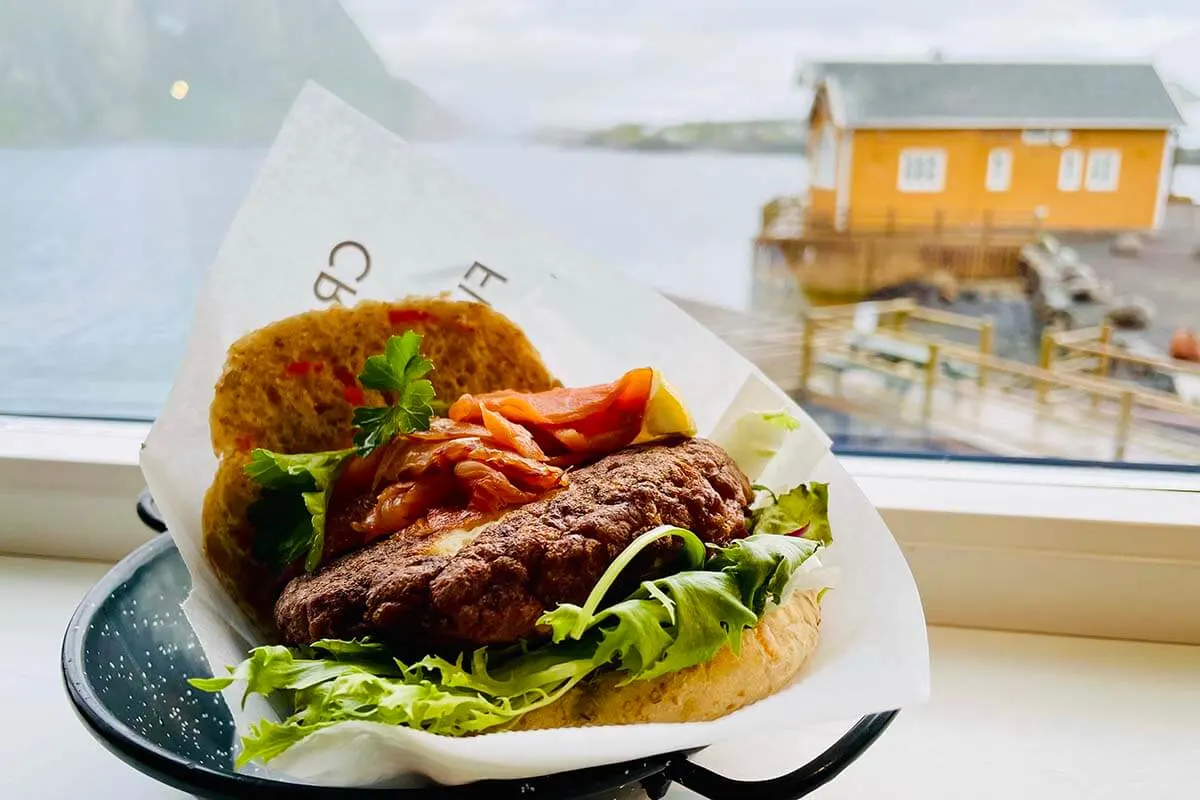 Fish Drying Racks
Also, just next to the restaurant, we could see a place where they dry fish. The fishing industry is still very important in Lofoten, and there are many places where you can see fish drying racks as you drive through Lofoten.
If you visit in winter or early spring, just after the cod rush, you'll see fish drying everywhere. In summer, most of the fish is long gone and has been replaced by drying fish heads.
We later learned that the dry fish itself is mostly exported to Italy, whereas dried fish heads go to Nigeria.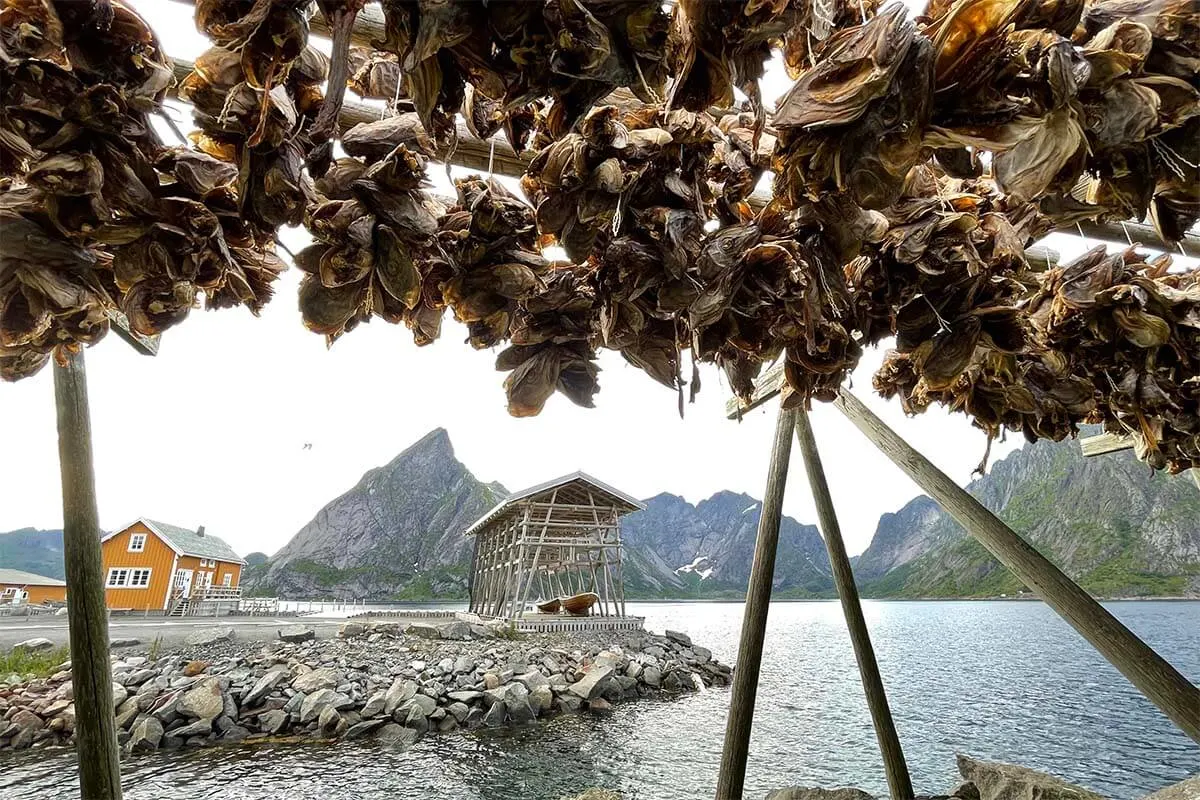 Hamnøy
After a quick stop at a nearby supermarket, we checked in at our accommodation for the next three nights – Reinefjorden Sjøhus. It's located in Hamnøy, a small island that belongs to Reine commune.
The most famous postcard-view of Lofoten can be found here. See the picture – taken on a sunny day – below and we also indicated the exact location of this viewpoint on our map.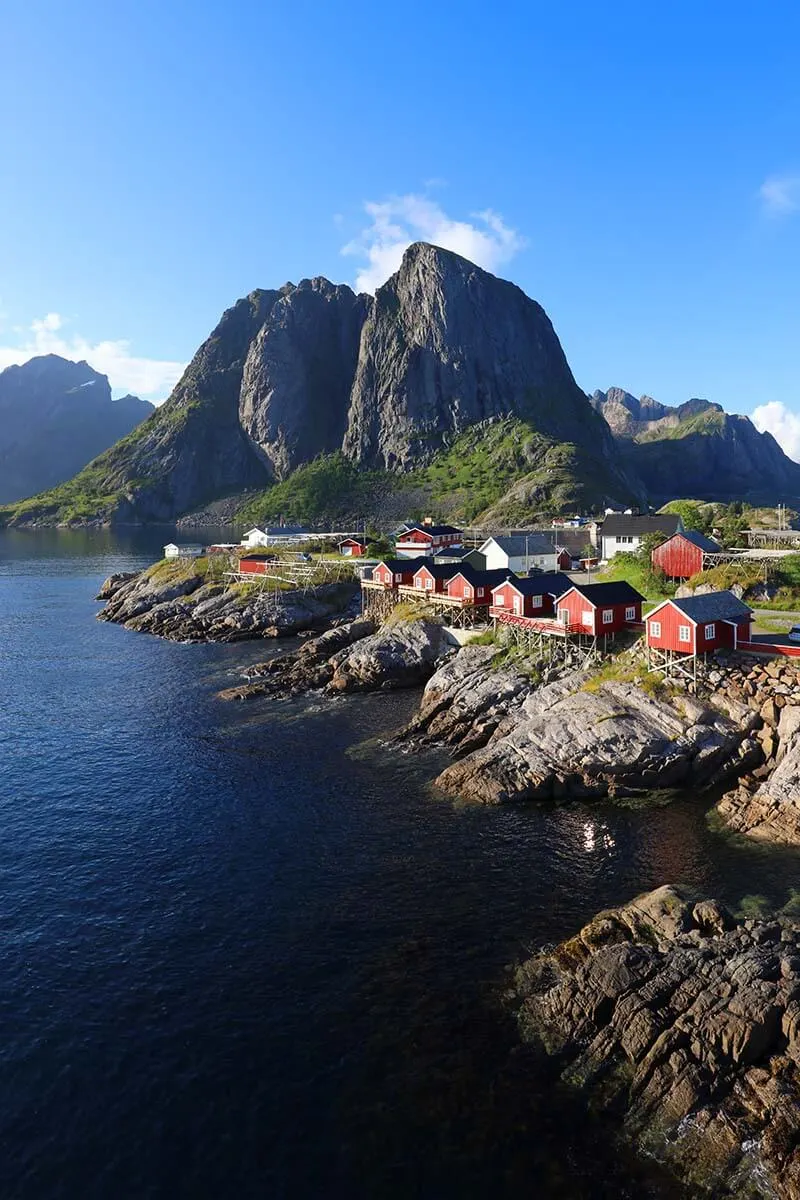 We didn't know it at that time, but Reinefjorden Sjøhus would become our absolute favorite accommodation of the entire north Norway road trip. It's a place where I can easily see myself spending a week. The location of this accommodation is perfect for exploring the Reine area, some of the best hikes in Lofoten, and several beautiful boat excursions that we highly recommend doing.
The view from our cabin was absolutely amazing too. When it didn't rain, we spent many happy hours sitting outside and enjoying the scenery with a cup of tea in hand… And in the rain, we could enjoy the views from the inside.
And talking about rain, it continued throughout the day and was also planned for the next day. So we knew now already that we wouldn't be able to do everything we had planned. Luckily, we drove to this area and did the Reinebringen hike when the sun was shining a few days ago. And we were hopeful the weather would change in a few days and we could do some of the planned excursions as well.
In the meantime, we decided to stay inside for the rest of the afternoon. Our beautiful cabin was nice and warm, and we could enjoy great views without having to walk in the rain. We also considered getting a fishing line for the kids to keep themselves busy in bad weather, but the nearest supermarket didn't have any fishing equipment… We saw lots of people fishing here and some guests who arrived by car from nearby countries even brought a whole set of fishing gear with them.
TIP: A somewhat cheaper place to stay in this area (and especially if you are with 2-4 people), are the Eliassen Rorbuer cabins located just nearby. These are actually the cabins you see in all those famous Lofoten pictures like the one above. This is a big place with lots of cottages and apartments of various sizes and comfort levels, and some of them have great views as well.
READ ALSO: Best Rorbuer Cabins in Lofoten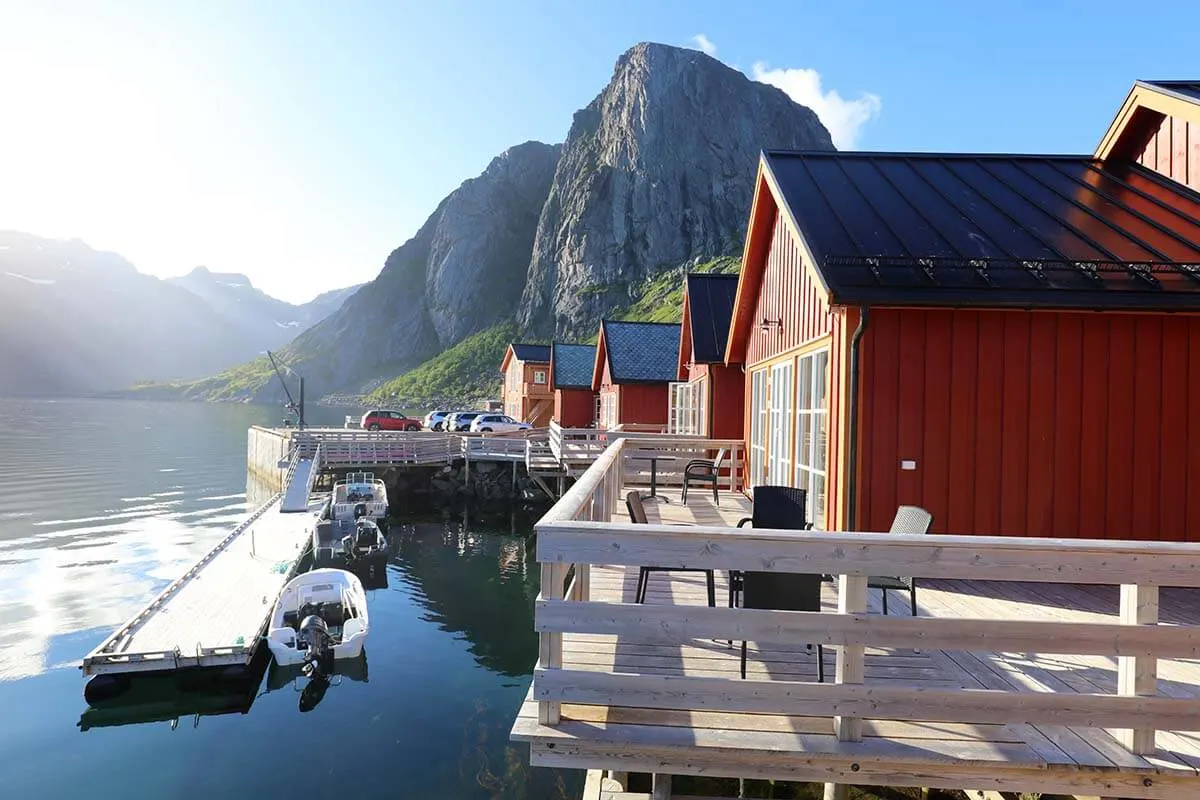 Day 6: Reine – Å (or Værøy Island)
We had planned a boat excursion to Værøy Island for this day, but the weather forecast looked so bad that we had to postpone it for a day. In the end, the weather got better indeed, but our tour got canceled because of engine problems with the boat.
For us, this meant that we had another free day with not much to do because of the heavy rain.
If you have a day to spare, I highly recommend booking this day trip when in the Reine area (you can cancel/change dates up to 24 hours before the trip, so you have nothing to lose). And hopefully, you have more luck than we did!
The boat leaves from the Hamnoy harbor, so you could easily walk there from your accommodation. If you stay in Reine or in Å, you could hop on the boat at one of those places too.
Å i Lofoten
Today, we visited the famous village with the shortest name you can think of – Å (pronounced as 'awe'). It's a really picturesque place and it also feels much more authentic than Nusfjord or Reine.
There are two museums that you can visit in Å: Lofoten Torrfiskmuseum and Norwegian Fishing Village Museum Å. The latter is a series of old buildings spread out through town. You can see them from the outside when you explore the village, but if you also want to visit inside, you have to get a ticket.
But what makes Å really special is that it is located at the very end of the main road in Lofoten. So it's really as far as you can get in Lofoten by car. It's not the end of the islands though – there are some mountains that stretch further into the ocean where the 'civilization' stops.
TIP: Be sure to walk to a beautiful coastal area that is easily accessible from the car parking at Å. Just follow the paved path at the far end of the car parking. After a few minutes walk, the path stops, but with good footwear, you can continue a bit further to explore the beautiful surroundings and enjoy the coastal landscapes. It's not exactly the end of the world, but the scenery here is really special and it feels a bit like it.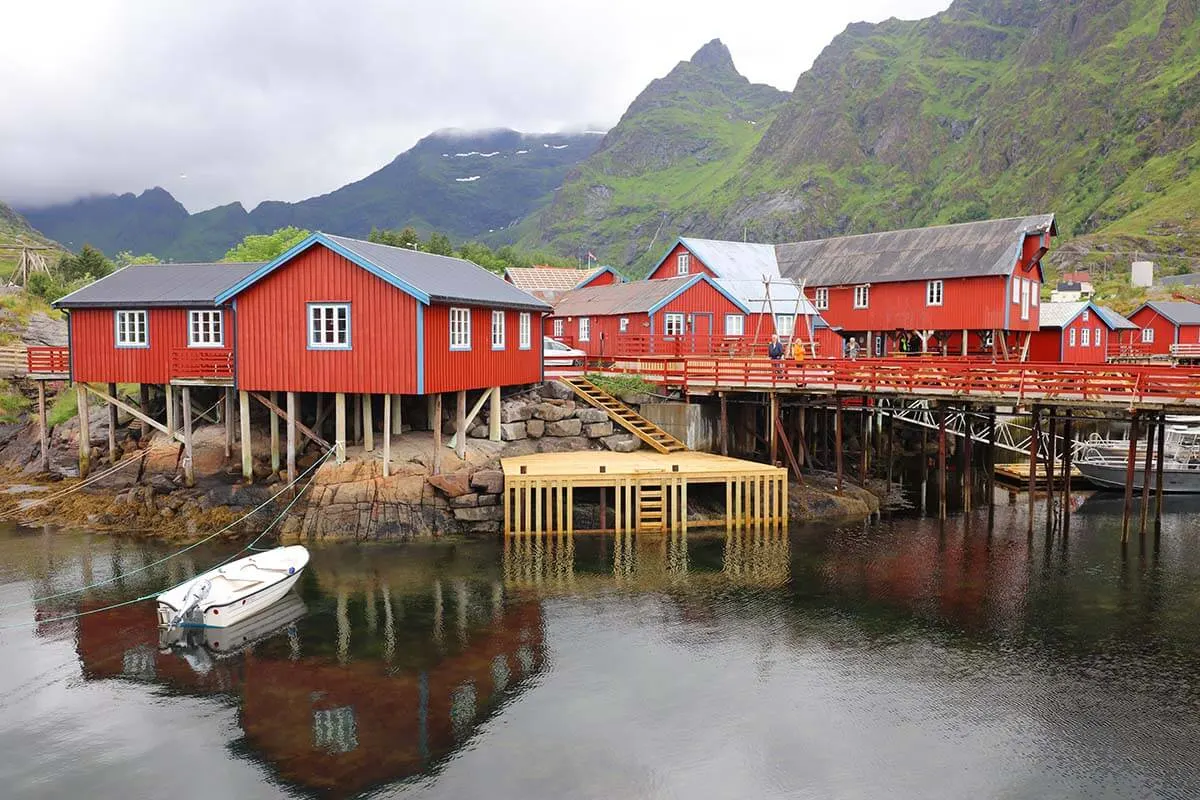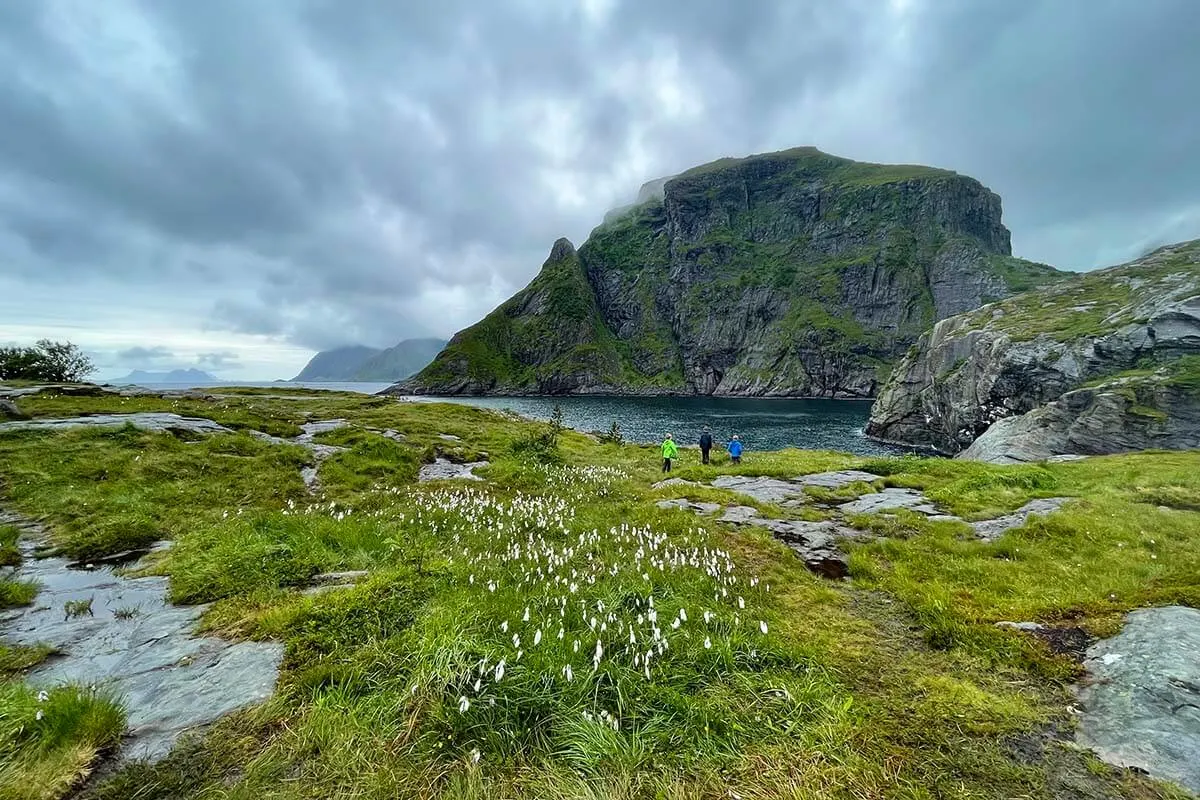 Lofoten Waterfall
There are also several really nice hikes that you can do in the area close to Å. The most famous is probably the Munkebu Hut hike, but also Tindstinden or Andstabben looked like great options. However, none of these hikes are suitable in the rain, so it wasn't meant to be for us.
Instead, we parked our car at the Munkebu Hut – Tindstinden trailhead and walked for about 5-10 minutes to Lofoten Waterfall. It's just a short walk and doable in any weather (although the path is really muddy here as well, so it's best to wear hiking shoes).
Even in the rain, the scenery here was nice and worth a quick stop. There are several places where you can get somewhat close to the waterfall. It's not really indicated, but you'll see the two sides of the falls as you walk and can decide at that time how far you want to go.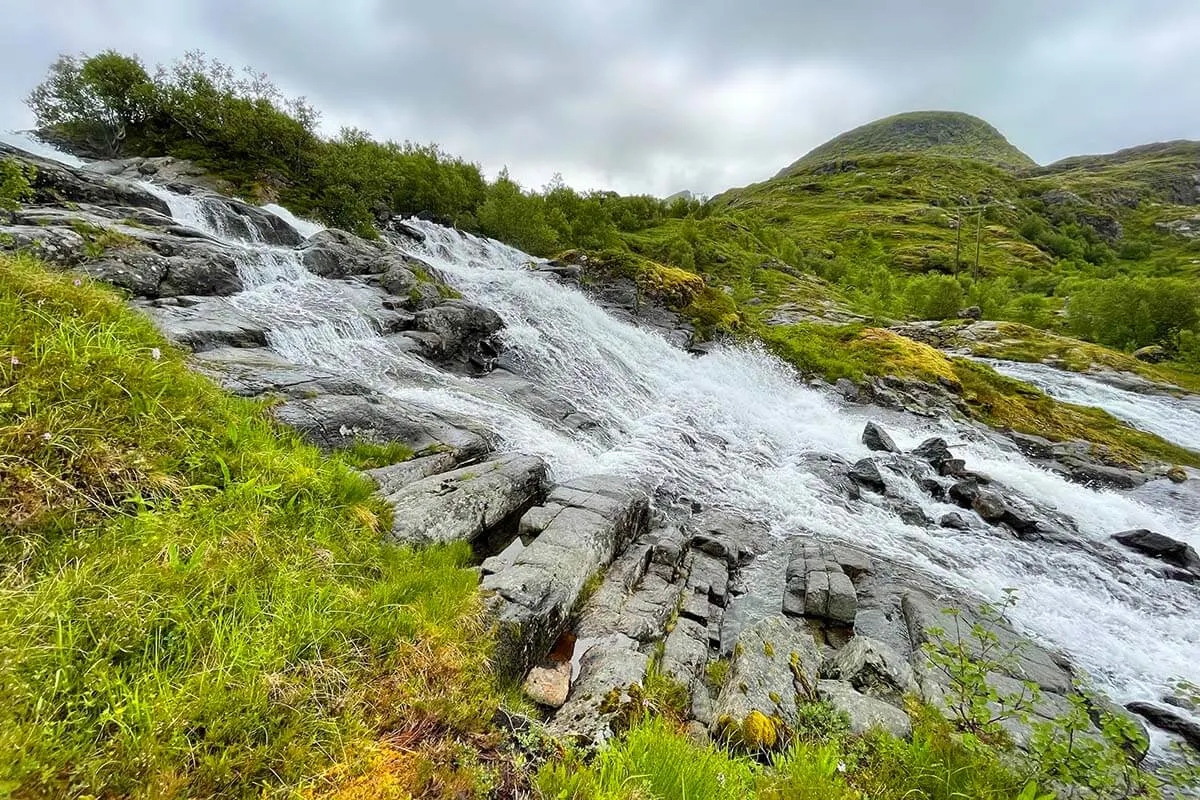 Dinner at Gadus in Hamnøy
In the evening, we booked a table at a nice Italian-style restaurant near our accommodation in Hamnøy – restaurant Gadus.
It's just a tiny restaurant, but it's the only place to eat located in this area. Right next to it, there are Eliassen Rorbuer cabins (lots of cabins and lots of guests), so the restaurant often gets completely booked up. So if you want to dine here, it's best to reserve a table at least a day in advance (you can do it through their website or simply give them a call).
We had their 4-course menu special and it was by far the best meal we had in Lofoten. We also heard nothing but praises and yummy sounds from the other customers. Highly recommended!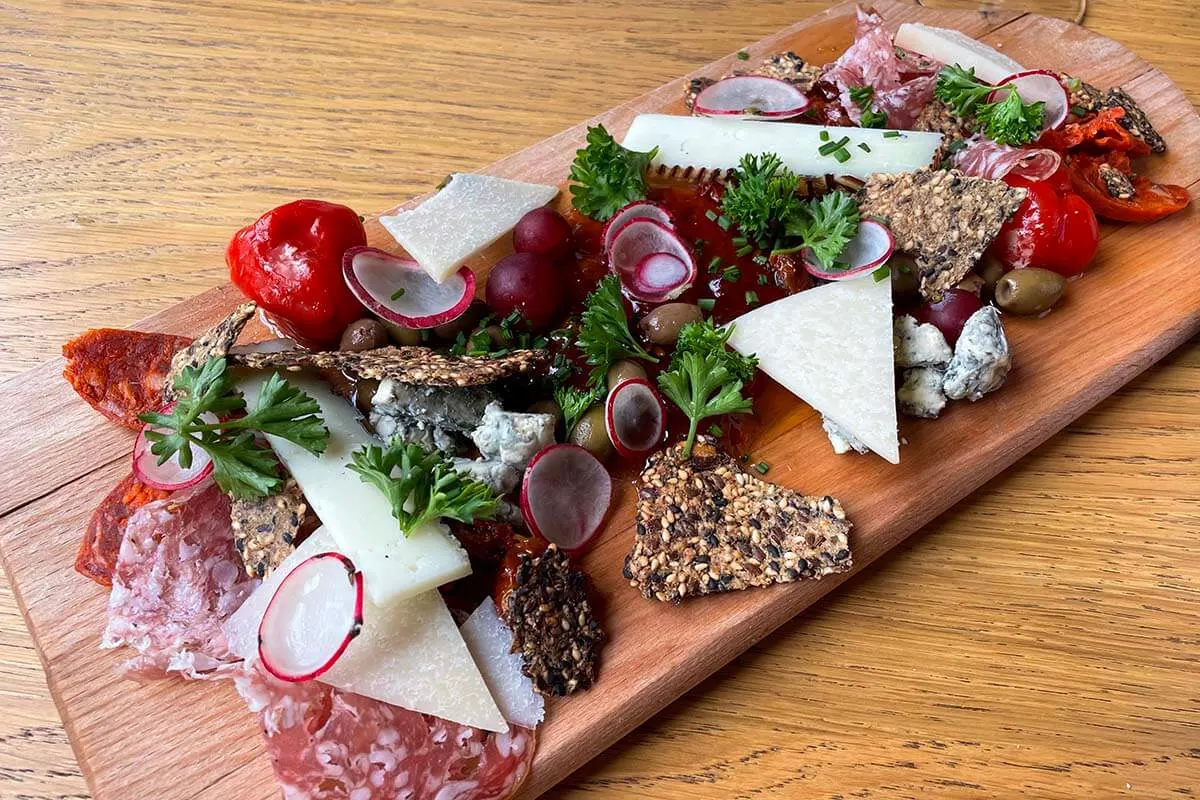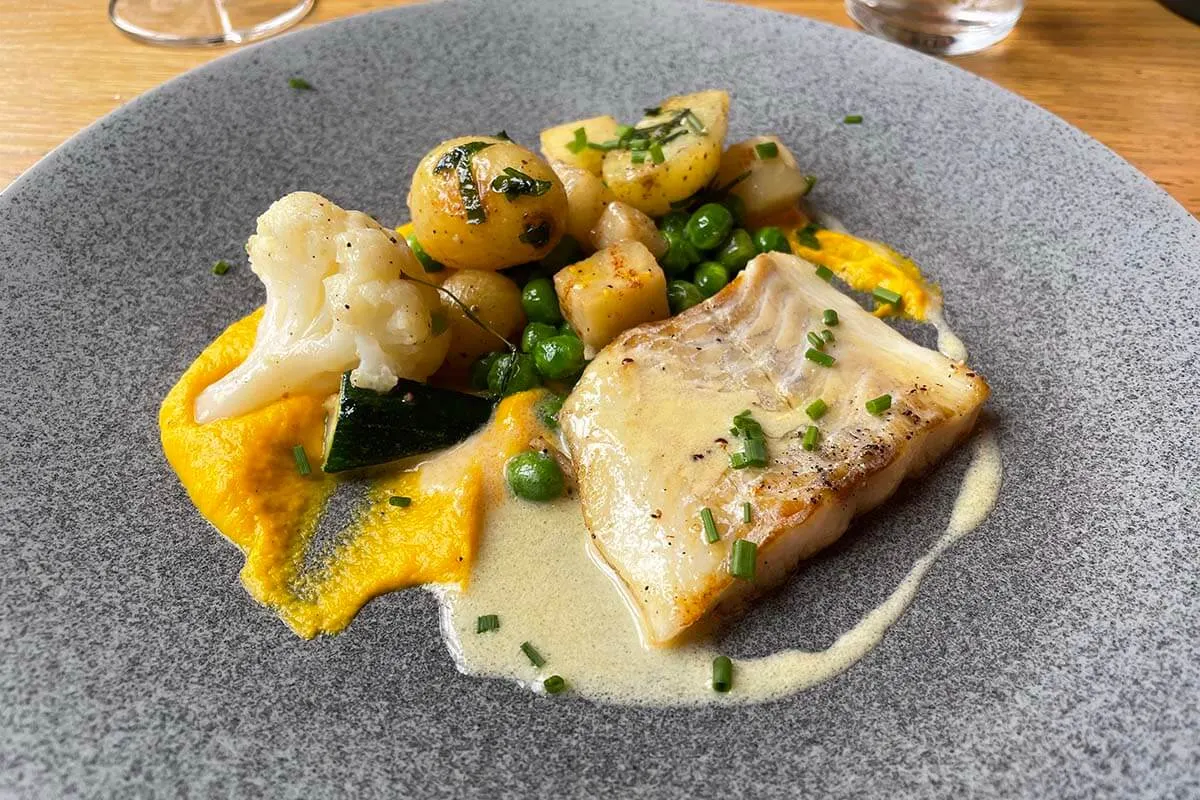 Day 7: Reinefjord Cruise & Bunes Beach
No trip to Lofoten Islands would be complete without seeing the islands from the water. There are several boat trips that you can do in the Reine area. One of the best options that can easily be included in any itinerary is this Reinefjorden Scenic Cruise.
Reinefjorden Scenic Cruise
This is one of the nicest boat trips you can easily do when traveling in Northern Norway. It takes you deep into the most impressive fjords in Lofoten. You see the most incredible scenery and several tiny villages – places you wouldn't be able to see without going on a boat.
You have several options here. (1) If you are short on time, you can just stay on the boat and do the loop cruise in about 1-1.5 hours depending on where you start. (2) If you have a few extra hours, you can hop-off in Vindstad and walk to a beautiful and remote Bunes Beach. For this, you'll need at least 4-5 hours in total, depending on the boat schedule.
You don't have to decide this in advance. The ticket price is the same and if you decide to hop off in Vindstad, you can take any of the later boats back. You only have to be sure that you take the boat at the time you booked it the first time – the rest is flexible. Just make sure to ask them for a schedule so that you know at what time to be back at the harbor.
Since our day trip to Vaeroy Island was canceled and we had plenty of time, we opted for the longer excursion. We booked the scenic cruise for 9.15 am from Hamnoy, which was right across the bay from our accommodation. The boat actually starts the loop in Reine and it's rather tiny, so we were hoping we'd have a spot when joining in Hamnoy. We shouldn't have worried – they had the list of everyone who had prebooked the trip and guaranteed priority boarding. Booking this cruise in advance is really the best way to be sure that you can actually do the trip you want at the time that best suits you.
As mentioned, the scenic cruise starts in Reine or Hamnoy, it then makes a photo tour to Kirkefjord, and then stops in Vindstad. Upon request, it also makes a detour to Forsfjorden. It then comes back to Hamnoy and Reine.
The weather was getting better, but it was still grey in the morning and there were lots of clouds. Despite that, the views from this cruise were amazing!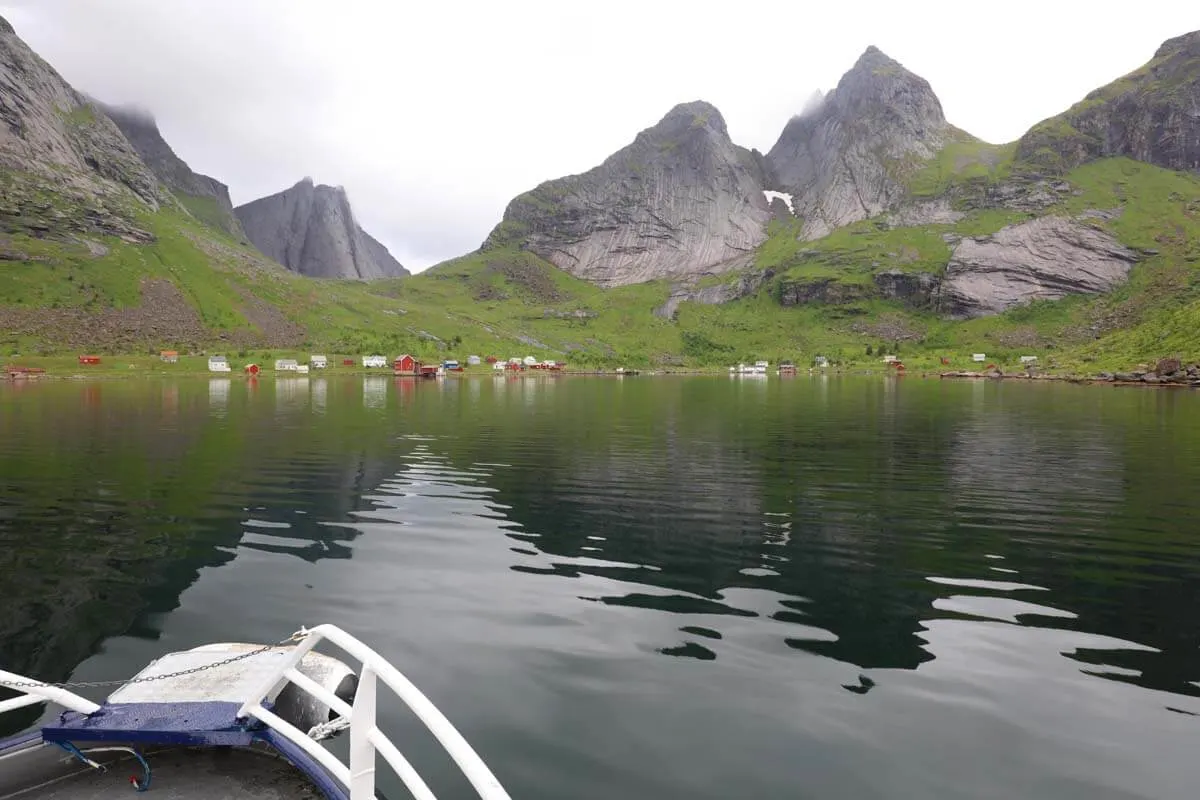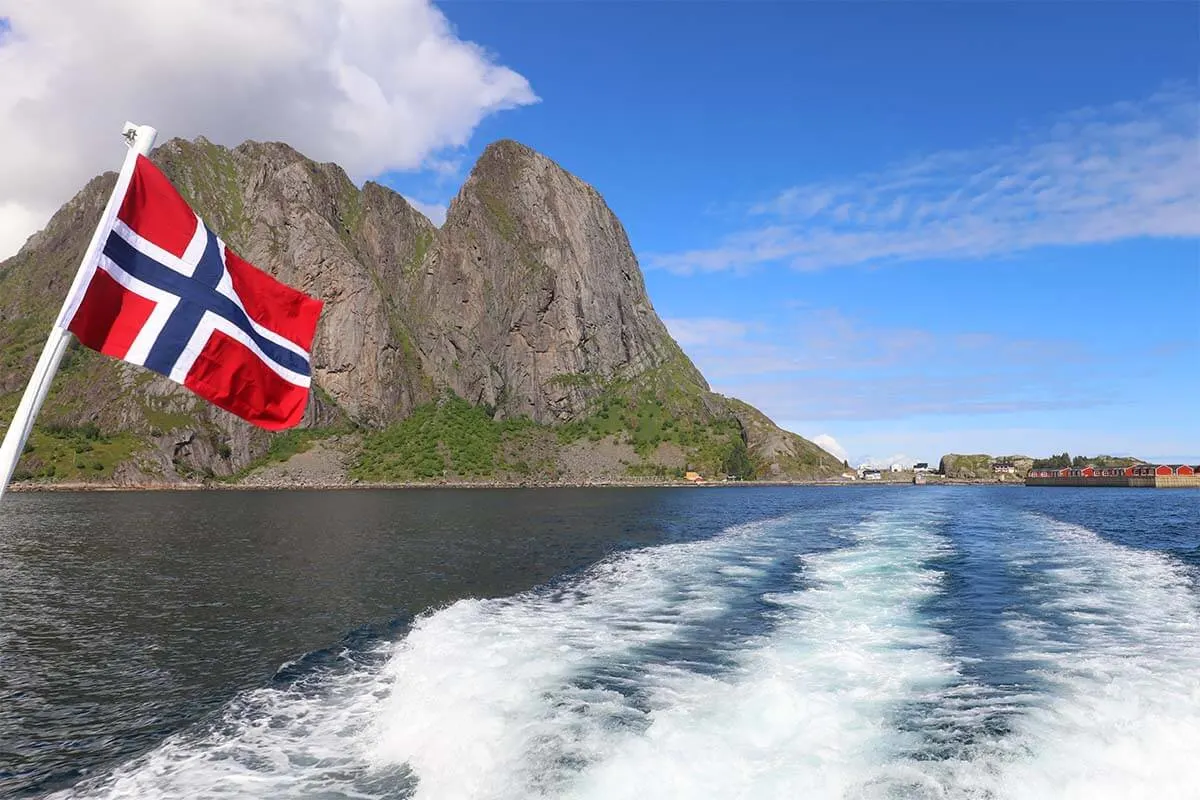 Vindstad & Bunes Beach
All the people who took the boat with us disembarked in Vindstad. This is a tiny village with just 1 person living here permanently, and several more in the summer.
When they feel like it, locals run a small 'café' here in summer. You can get a cup of coffee, tea, or lemonade, and also try some delicious waffles or homemade cakes. There's also a bathroom with a small fee and an honesty box for the payment (this is also the only place where we actually had to use cash during this entire trip).
When we arrived in Vindstad, the café was closed, but the bathrooms were open. So you can't count on it being open and should pack a picnic lunch with you!
We then walked to Bunes Beach – a relatively easy walk of about 40 minutes to the point where you see the beach, and another 15-20 minutes walk to the water depending on the tide (it's a really large beach). We spent several hours walking around here, exploring, having a picnic, etc.
It's such a beautiful remote beach, and even on a relatively sunny day in July, there were just a couple of dozen people spread out over a vast area. Some people come to camp here, most others just visit for a day, as we did.
Upon our return to Vindstad, we met a herd of very friendly sheep. Also the 'café' was open now. Since we had half an hour before the boat, we stopped for some coffee and Norwegian waffles.
We then took the 2.30 pm boat back to civilization (it was nicely on time – to the minute!). The weather had gotten even better by now and most clouds have parted making the journey even more scenic than this morning.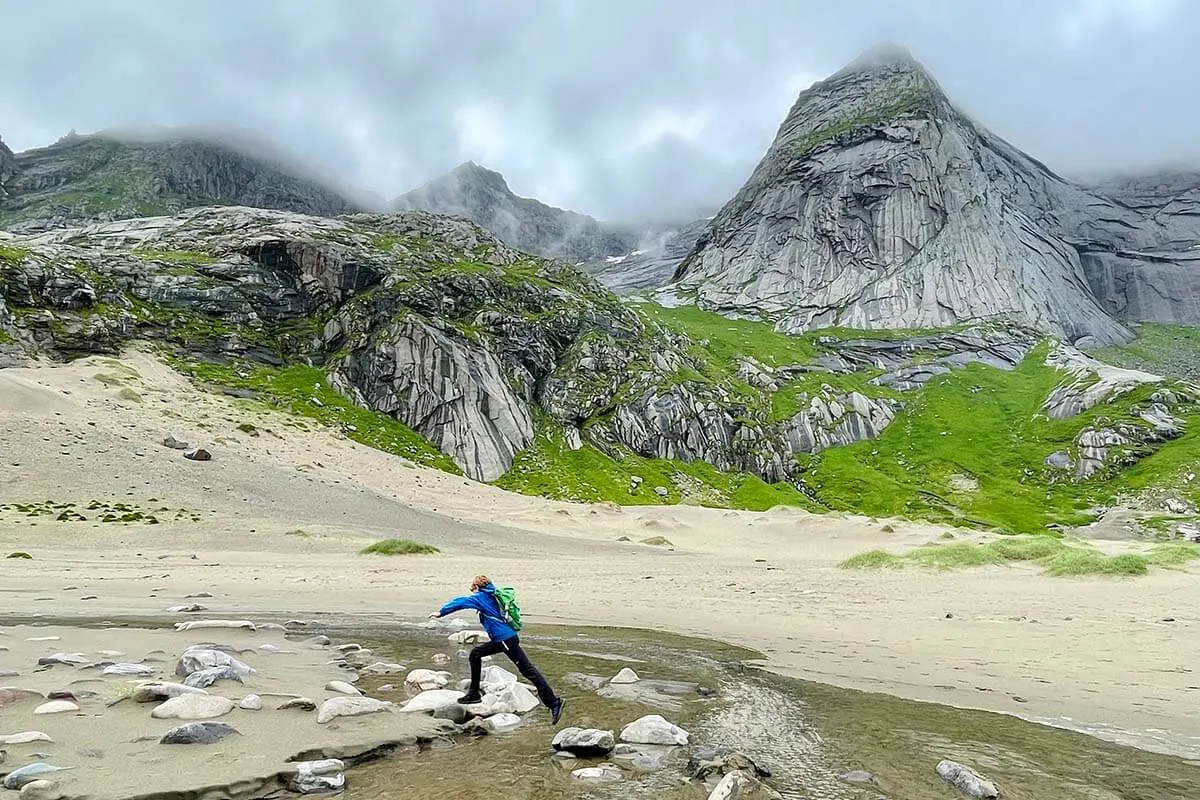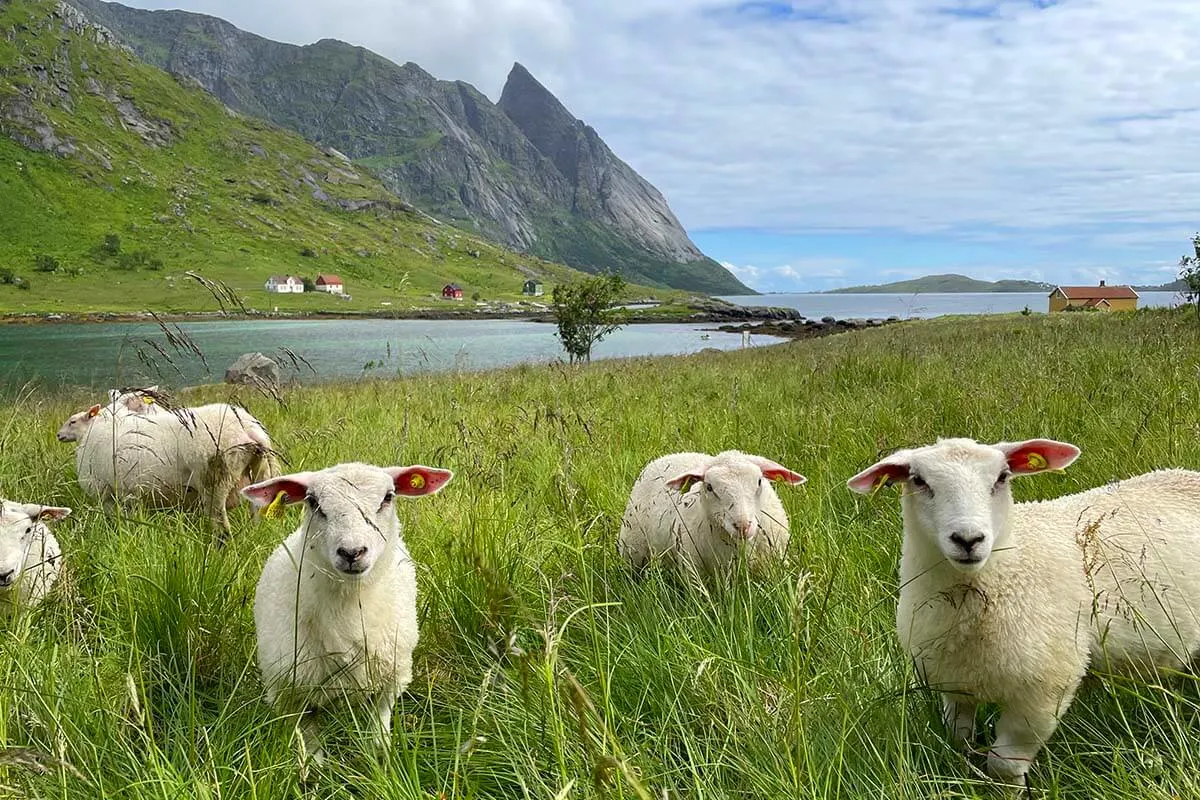 Kayaking in Reinefjorden
There's a place that rents kayaks right at the harbor in Hamnoy and we stopped to inquire if we could rent a kayak for an hour or so. The water looked so calm and the scenery here is amazing – I already saw us kayaking here…
However, they told us that unless you have specific certificates, you can only go kayaking in these ice-cold waters with a guided tour. But since there were no guided tours free on that day, we couldn't do it…
So once again, this is something to keep in mind – if you want to do any kind of water activities in Lofoten, it's best to book in advance and plan accordingly. If you want to go kayaking in the Reine area, you can book a kayak tour here. There are also kayaking tours in several other places in Lofoten.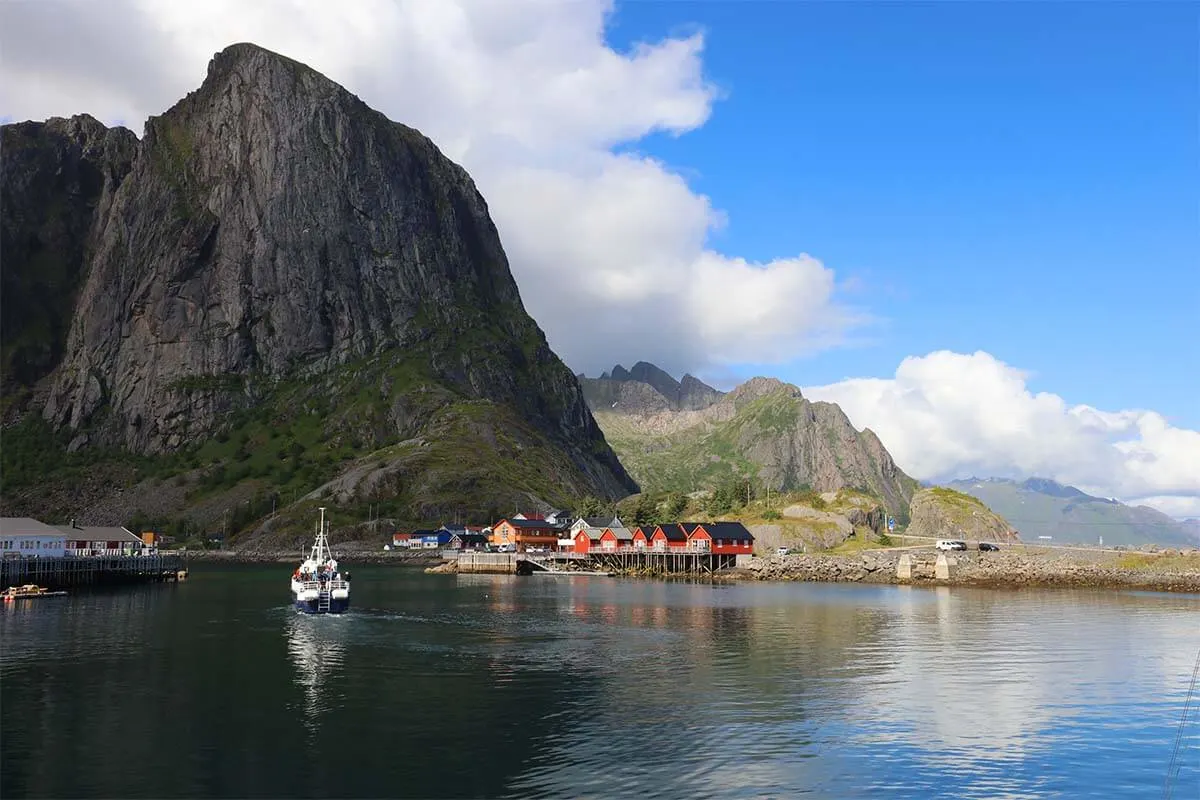 Dinner at Underhuset
We spent a few relaxing hours on the terrace of our beautiful cabin and headed for dinner at another Italian restaurant in Reine – Underhuset. This restaurant is located at Sakrisøy Rorbuer on Sakrisoya island. Its bright yellow fishermen's cabins are also among the most photographed rorbuer in Lofoten.
It looked like another nice place to stay in this area too – there is really no shortage of amazing accommodations here!
Anyway, we were told that Underhuset is the best place to be in Reine for pizza. The kids heard the magical word and wouldn't care about any other option. So pizza it was (and luckily, it was very good indeed).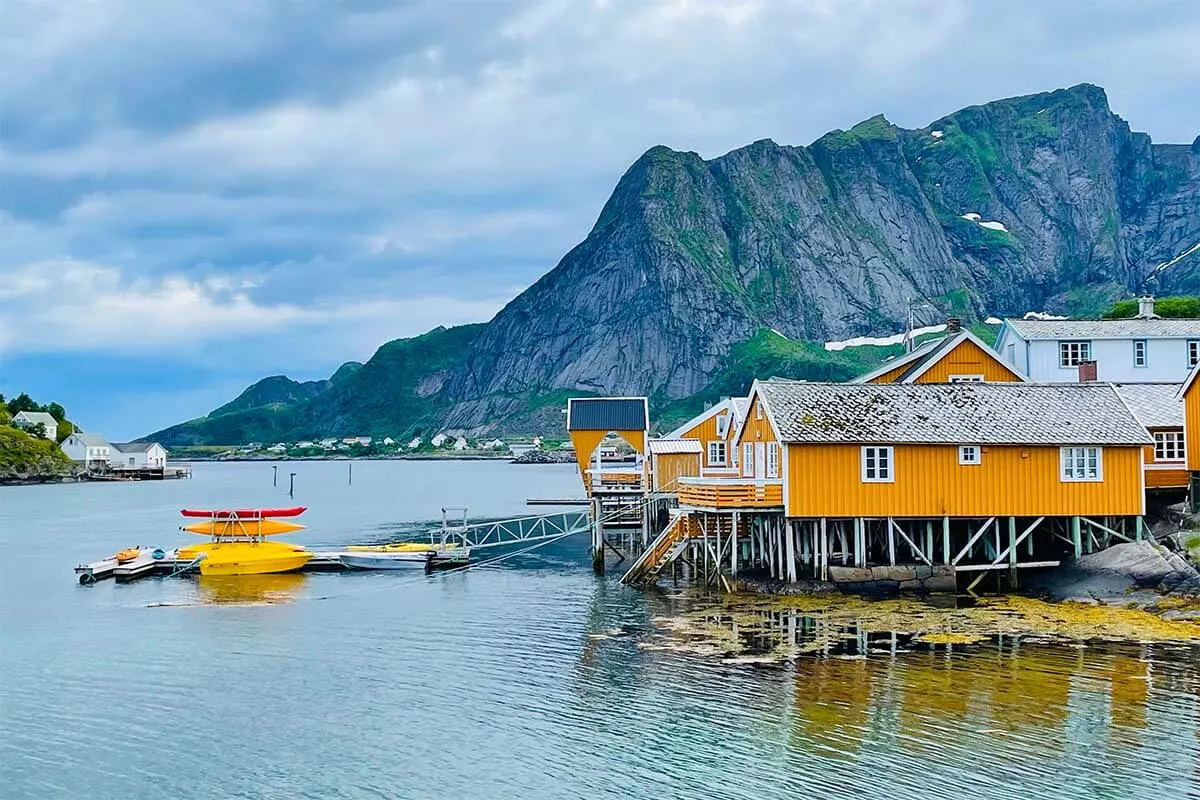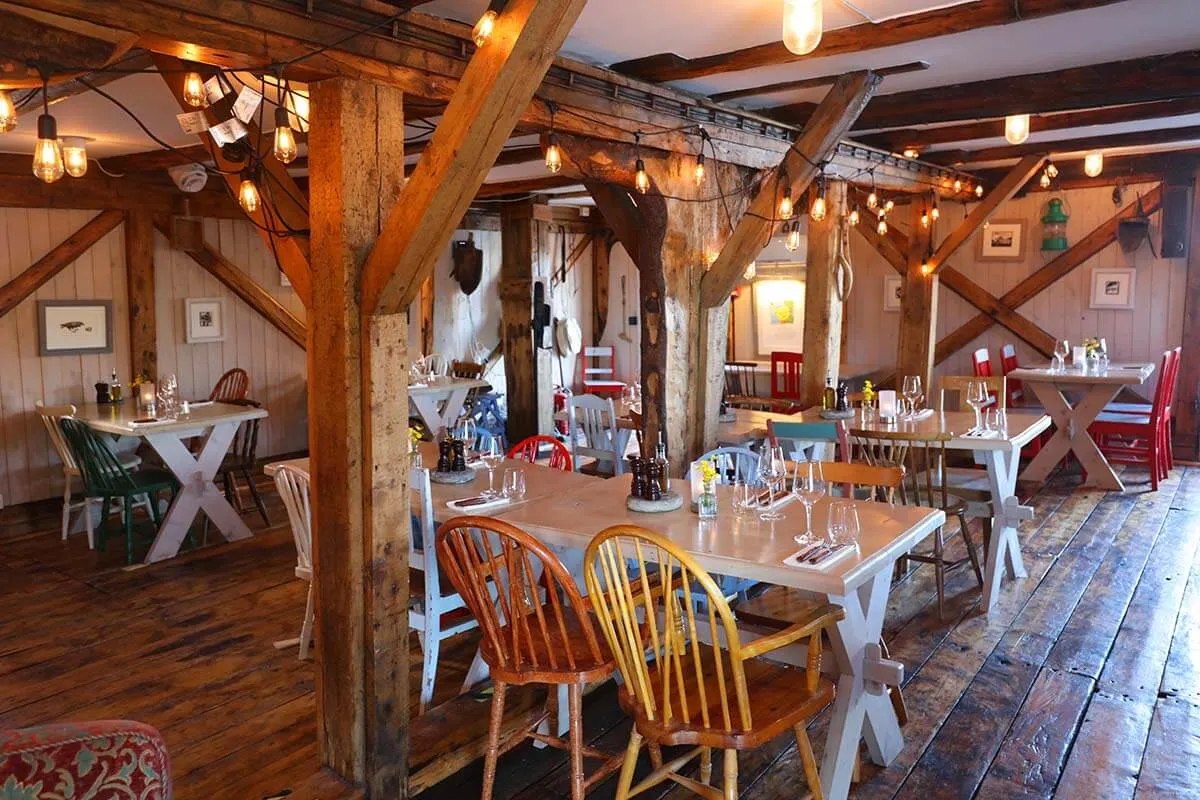 When it's sunny in Northern Norway in summer, the sun literally never sets. So after dinner, we spent a long evening enjoying the views from our terrace. It's so beautiful here and who can sleep when it's so light anyway…
As I was typing this, it was 10.30 pm, it was lighter than it was this morning, our neighbors were fishing from their terrace, and we constantly saw people stopping next to the main road to take pictures of these stunning surroundings. Sleep is clearly overrated and everyone is out and about enjoying the sunshine at night… This is yet another aspect that makes road-tripping in Northern Norway in summer even more special.
Good to know: Reine area is not the best place if you want to actually see the midnight sun at its lowest point (which – in Lofoten – is around 1 am and not at midnight). For that, you need an open view in the northerly direction. Therefore, some of the best places to see the midnight sun in Lofoten can be found on Vestvågøya Island – e.g. the beaches around Eggum, Gimsoy, or mountain peaks where you get a good view of the ocean (e.g. Offersoykammen mentioned on day 3 of this itinerary).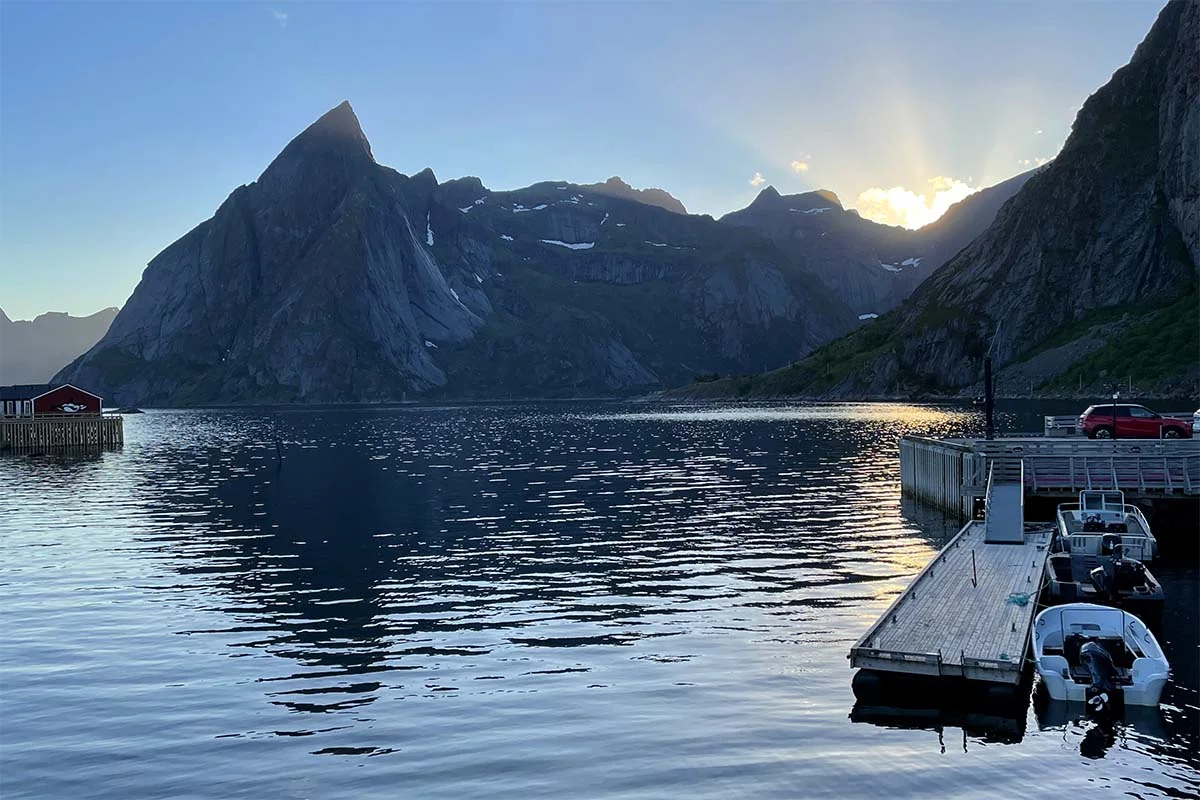 Day 8: Reine to Svolvær & Djevelporten – Fløya Hike
The sun was shining on our last day in Reine and we could see the most beautiful reflections on the calm waters of Hamnoy harbor. We didn't want to leave!
Next on our northern Norway trip itinerary was Svolvær, the biggest town in Lofoten. It's about 2 hours drive from Reine, but we also took some scenic detours following the coastline which made the trip yet a bit longer. It was so beautiful along the way that we felt like stopping all the time…
On the way to Svolvær
Some of the nicest places were Steineveien scenic road via Stamsund, the 'Skulpturlandskap' art installation Untitled (Dan Graham) – a giant mirror placed in a beautiful landscape, and Rørvikstranda white sand beach.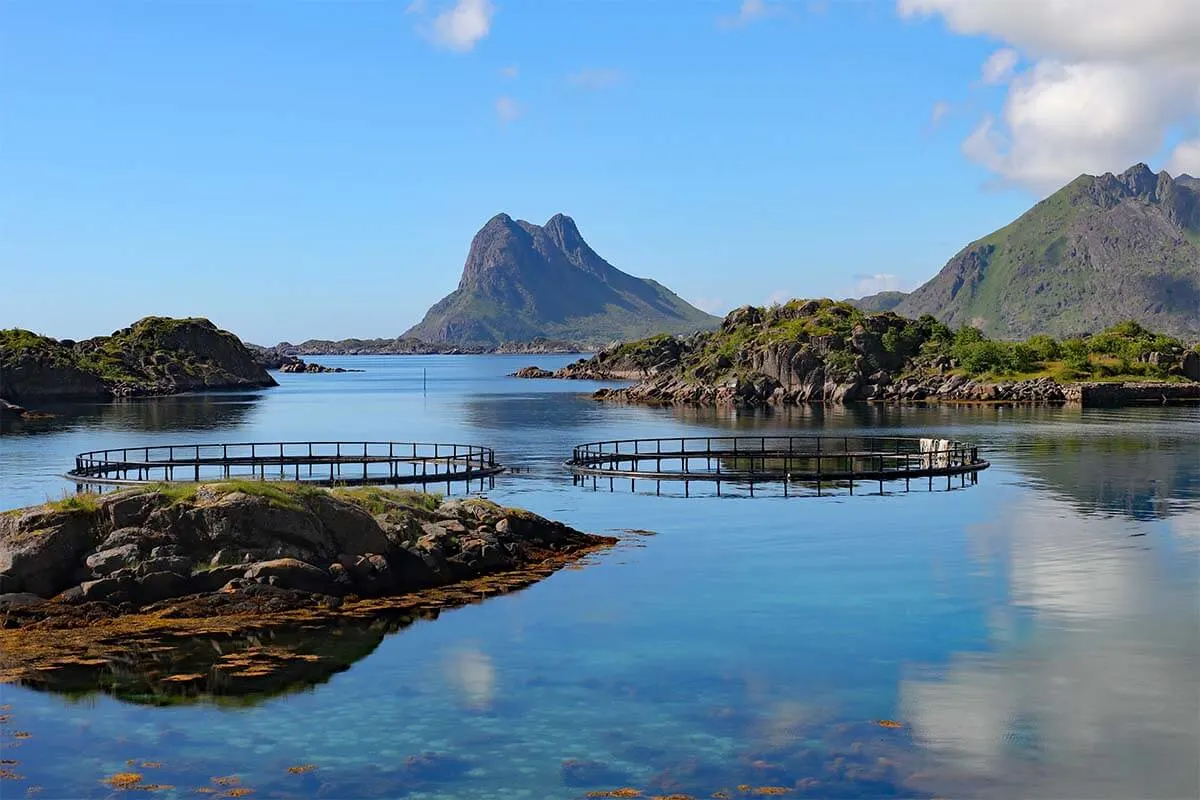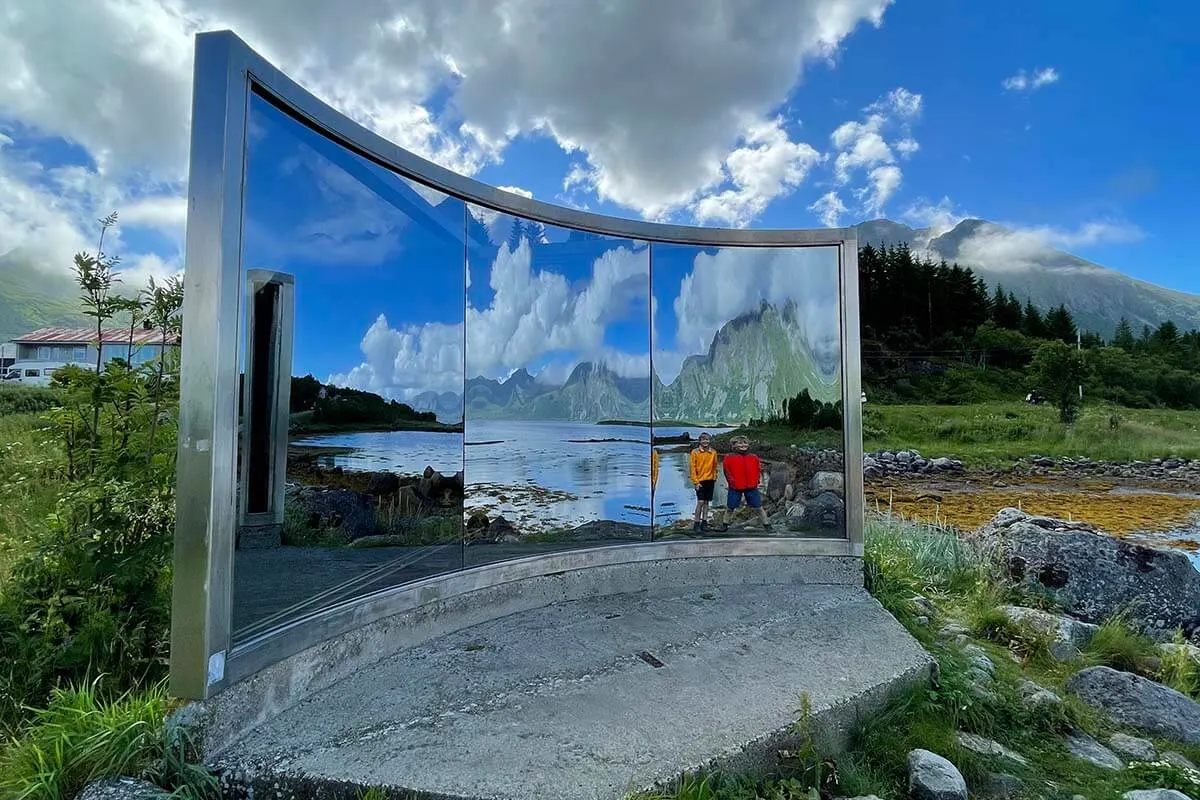 On the way, we also stopped in Henningsvær, which is probably one of the hippiest towns on Lofoten Islands. Made world-famous by its extremely Instagrammable football field on a tiny island, Henningsvaer is a small town with a cozy town center where you can find several shops, art galleries, and cafes.
Good to know: You can visit the Henningsvær football field, but the only way to see the same view you see in the pictures is with a drone.
There is also a popular hike just outside the town – Festvagtind. It's a very steep trail that takes you to the top of the mountain from where you have a nice view of the town and all the pretty islands around it. We had another hike planned for today (see below), so we skipped this one – there is just so much climbing that one can do each day (and still keep the vacation enjoyable).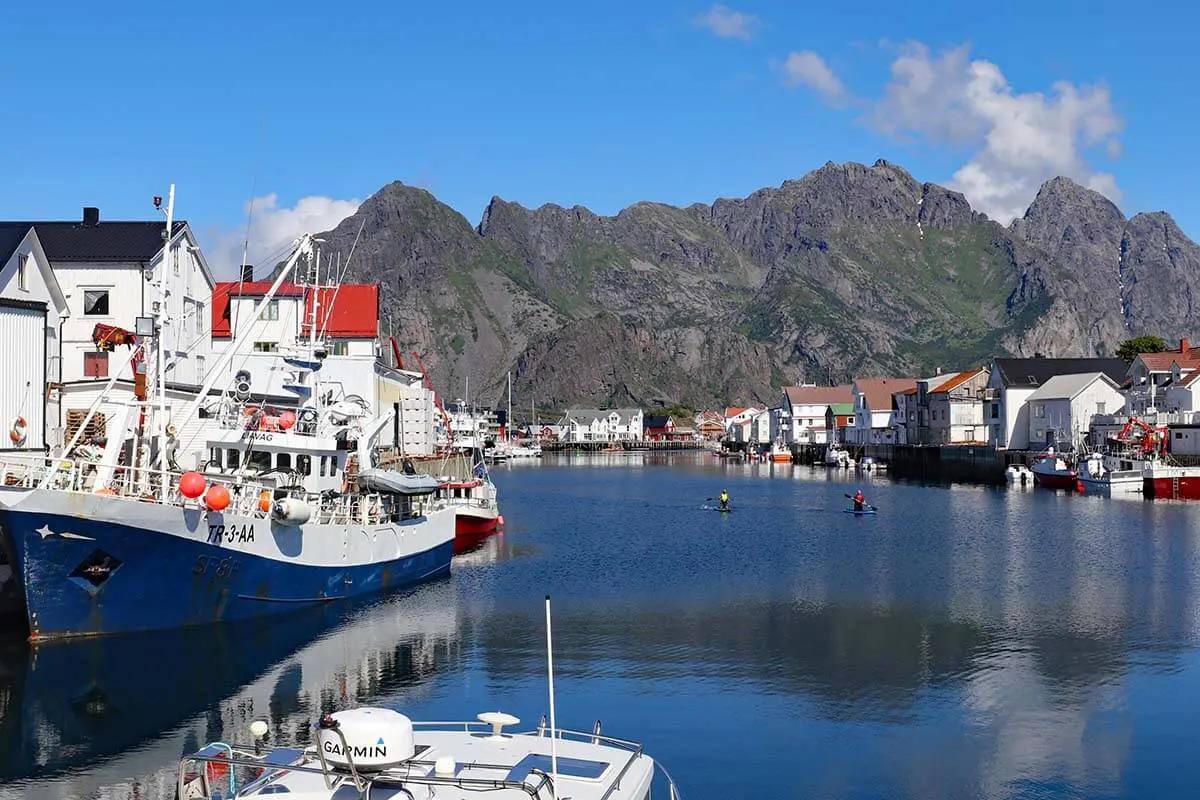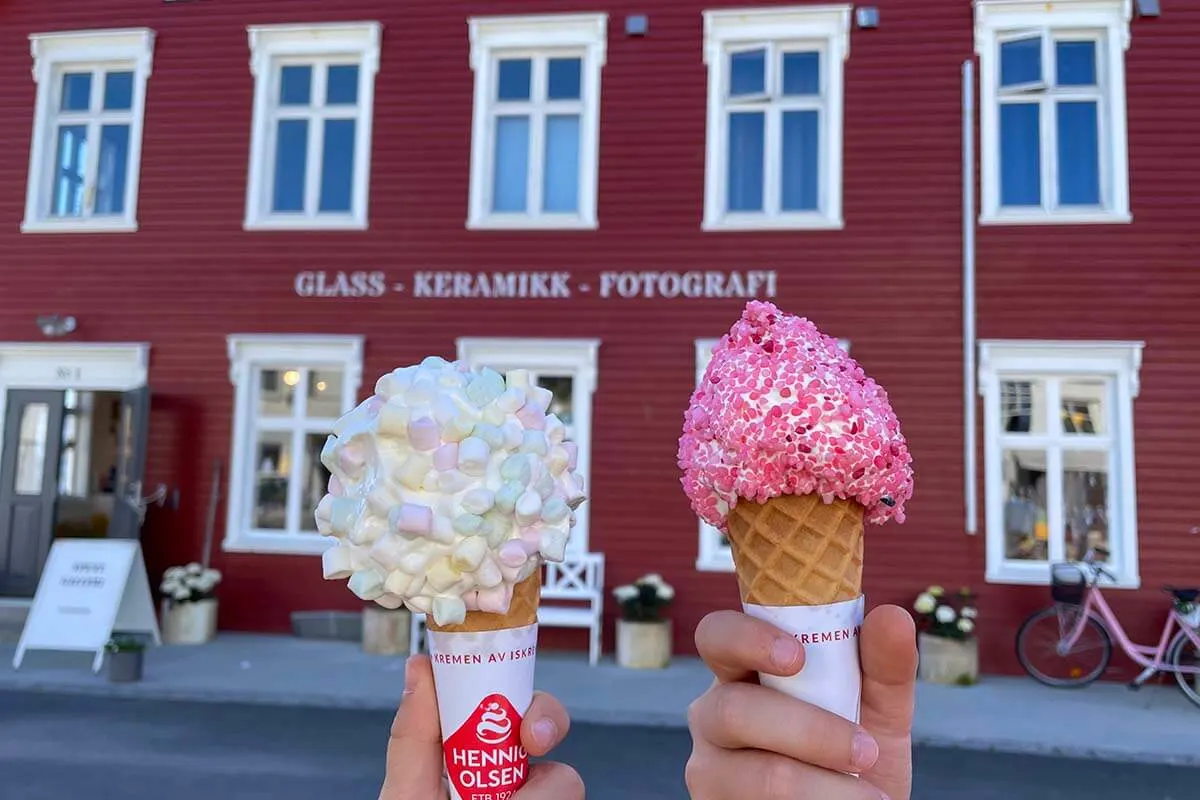 Djevelporten – Fløya Hike
The Djevelporten – Fløya hike in Svolvaer was on our must-do list in Lofoten. And since we had learned by now that you have to take advantage of any good weather you get, we headed straight there.
This is another extremely popular hike in Lofoten, but it's a really strenuous hike/climb that many people underestimate. It involves hundreds of sherpa stairs, climbing (sometimes using your hands too) over very muddy and rocky terrain, followed by even more stairs and even more scrambling on the rocks…
The 'easiest' part of this hike is that to Djevelporten, aka Devil's Gate. This is a small rock perched in between two mountains that some daredevils climb on for pictures. I'm not sure how safe it is to attempt it. When we were there, the path leading towards it looked too dangerous, not even to mention standing on the rock itself. So we just took some pictures from a distance and decided to skip this one.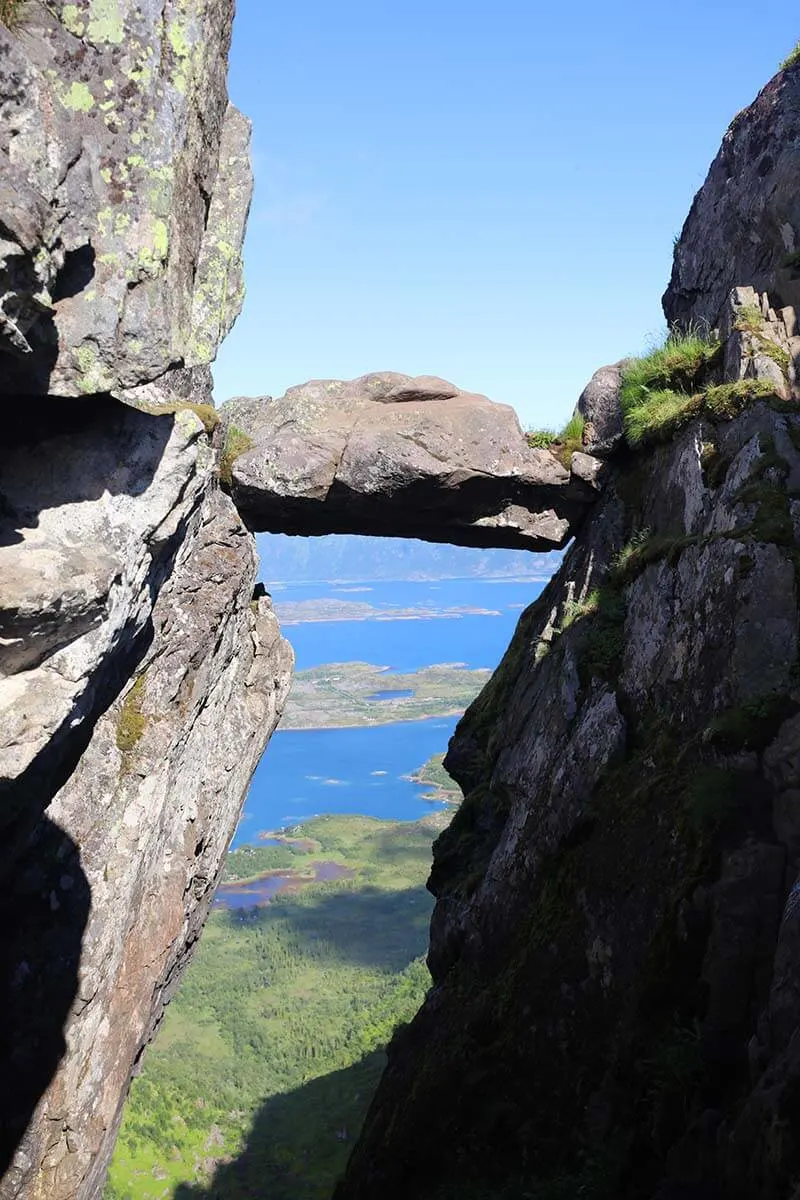 Afterwards, I hiked to Floya mountain, which is just 0.3km further but is an even more challenging hike/climb. Luckily, the views along the trail and from the top were worth the effort, but it's not a hike that I would quickly recommend to everyone.
The trail between Djevelporten and Floya is really steep, the paths are narrow and go very close to the cliffside, and you have to be very confident to do this. In fact, the majority of people stopped at Djevelpoorten and didn't go further. I met just 4 other hikers when I got to Floya, and nobody else along the trail. As I was walking down, I met one other person climbing up.
With lots of photo stops and rest stops, the hike to Djevelporten took us 1h15. It took me another 20 minutes to get to (almost) the top of Floya. I skipped the last vertical climb as the views were amazing enough. I then took another way down (making a small loop back towards the new sherpa stairs at Djevelporten) and back down the same way we came, and the entire descent took me another hour.
All in all, you really need at least 3 hours if you attempt the entire hike, and at least 2 hours in you walk to Djevelporten and back.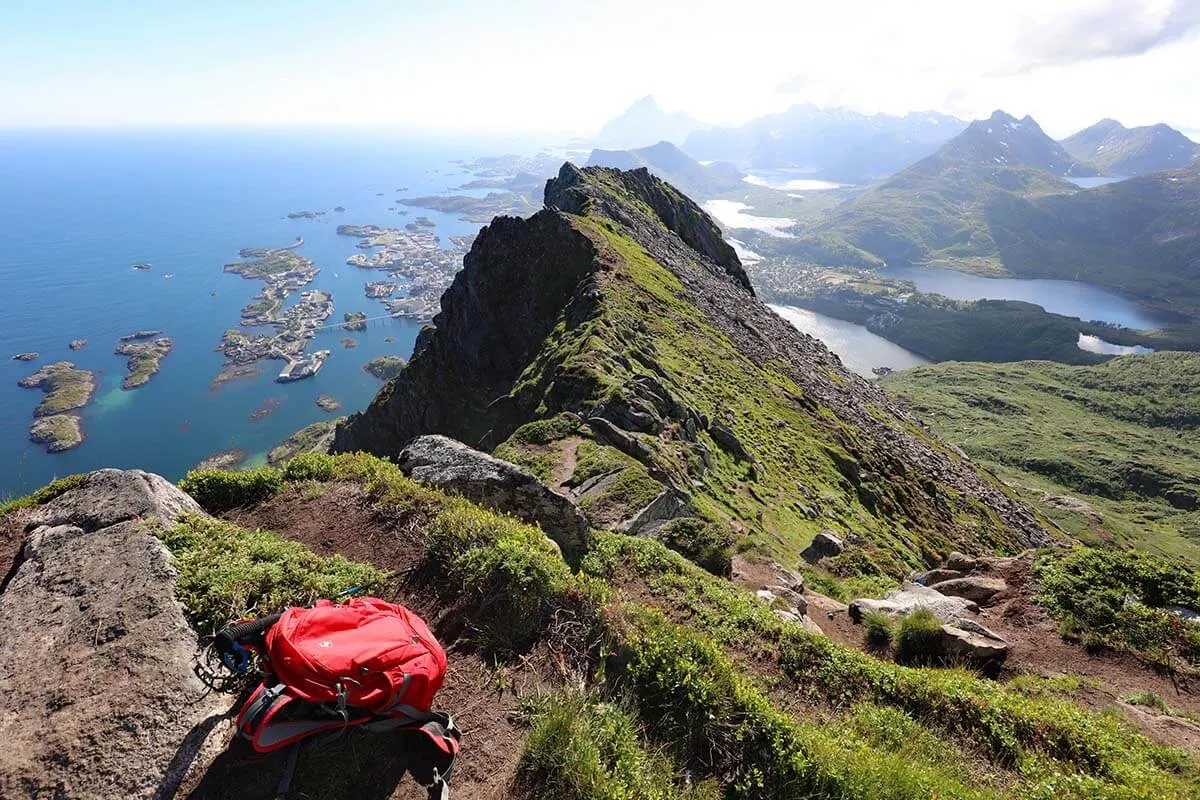 In the evening, we had dinner at our cabin. This hike and the heat have left us all exhausted… But when we saw that beautiful sunshine, we couldn't resist going for a drink at the restaurant terrace near our accommodation.
Sunny days (and evenings in Lofoten are amazing!).
Accommodation: We stayed at a traditional fishermen's cabin at Svinoya Rorbuer for 2 nights.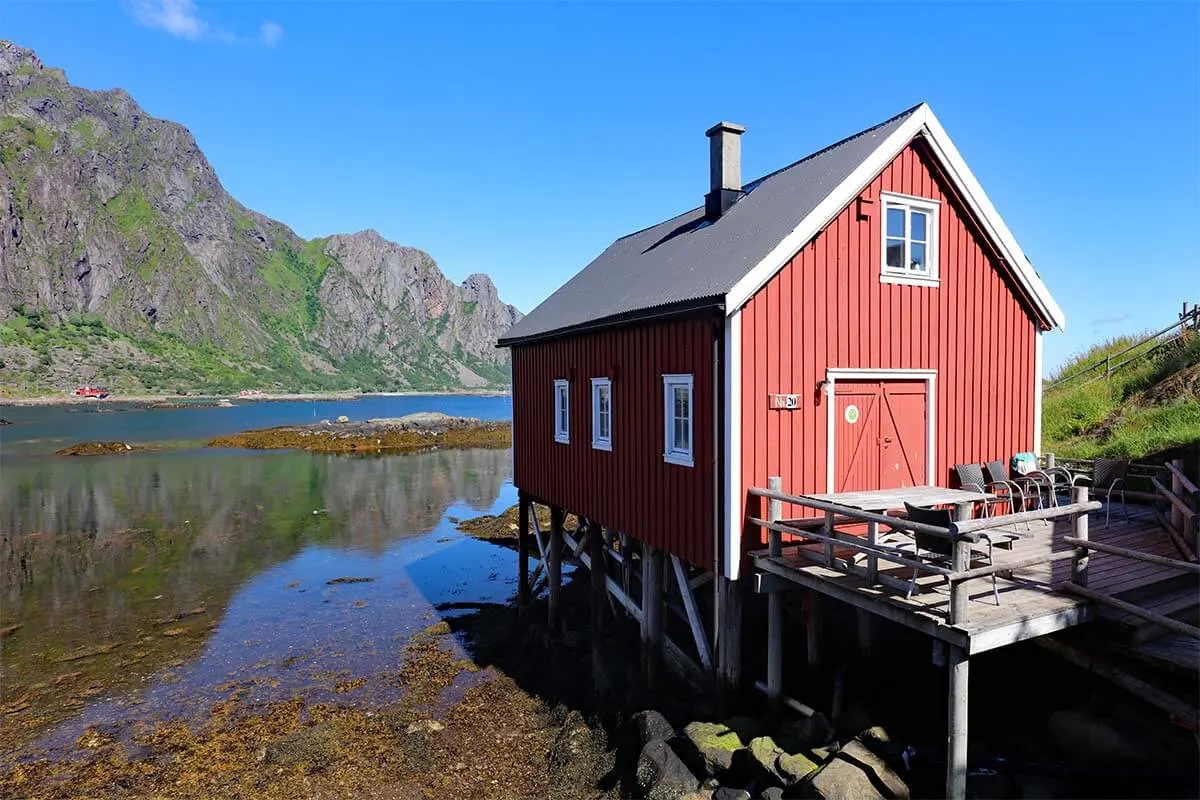 Day 9: Svolvær – Trollfjord Cruise
Svolvær is the biggest town in Lofoten. To many, it's a gateway to the area, others stay here for a few nights and make day trips to the other places on Lofoten, and some others just drive by and don't even stop…
The town is quite nice and has good facilities (supermarkets, restaurants, etc.), but it's not as picturesque as most smaller villages in Lofoten. But what makes a visit here really worthwhile are the beautiful surroundings and the array of tours you can do from Svolvaer.
In addition, there are also several nice hikes nearby, such as the Djevelporten – Fløya hike we did on the previous day, or the Tjeldbergtinden hike to the south of the city.
We opted for a boat tour to Trollfjord, which is considered one of the most beautiful fjords in Lofoten.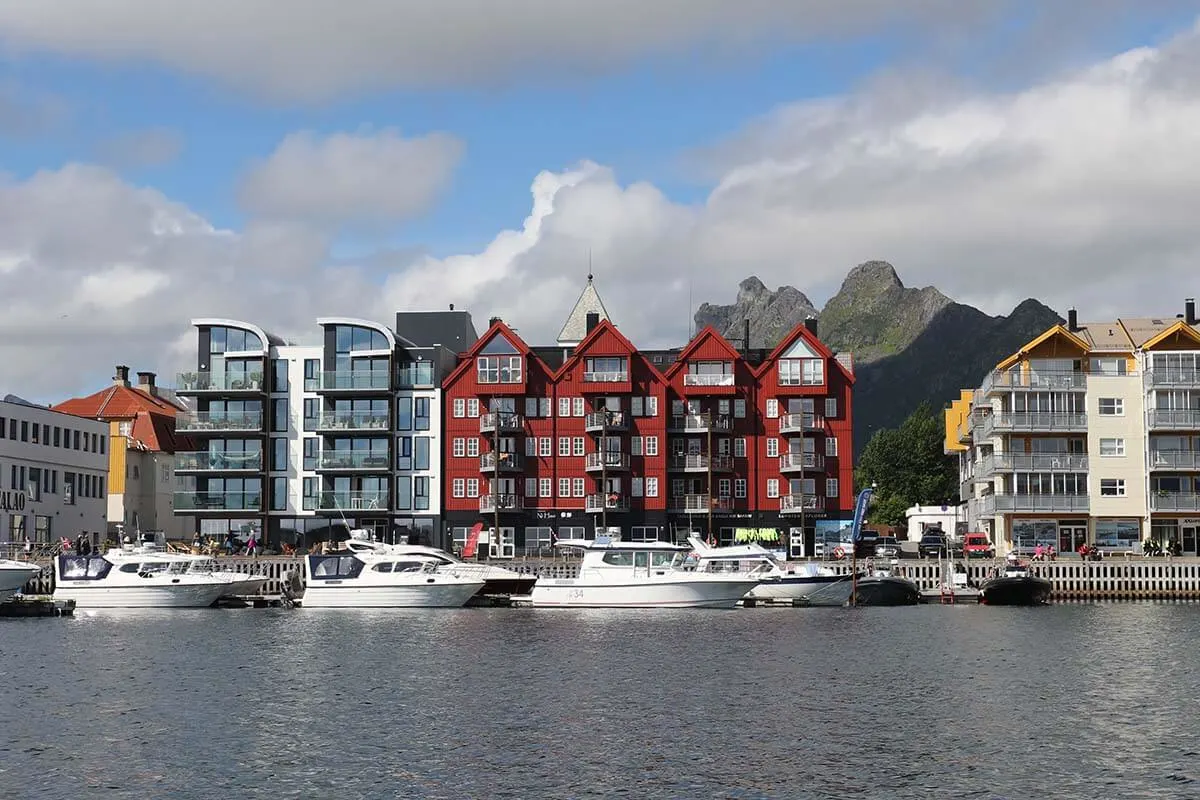 Sea Eagle Safari to Trollfjord
We had planned something fun for today – a sea eagle safari to Trollfjord by speed boat. We had done so many speedboat trips in the past and the entire family loves them. This tour was a great success as well! As far as the kids are concerned, this is by far the best thing we did in Lofoten.
Dressed up in special thermal packs, we boarded a 12-passenger RIB boat in Svolvaer harbor. Our guide was excellent and the tour was really well done. We stopped at a place where there are lots of sea eagles. I never imagined we could see them from so close by, and I really regretted not packing my telezoom lens or the cameras I normally use for wildlife photography.
The guide had some frozen herring to feed the sea eagles. This attracted more seagulls than eagles, but since the fish they use is a bit too big for seagulls, eventually they would give up and the eagles would come and grab it.
We had so much fun watching the birds and there were so many of them. I think we saw at least 4 eagles here, and a whole lot more later during the tour. The guide also lent a glove and some fish to one of our kids and he could feed some seagulls too.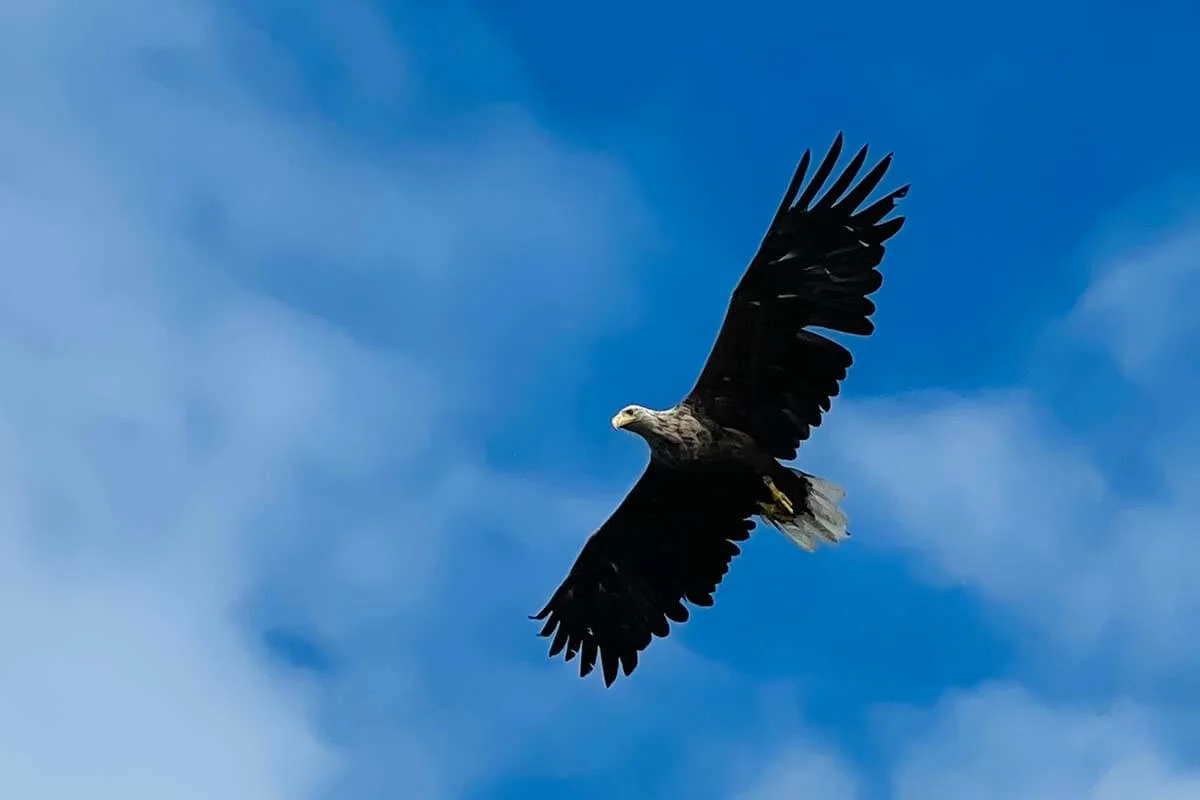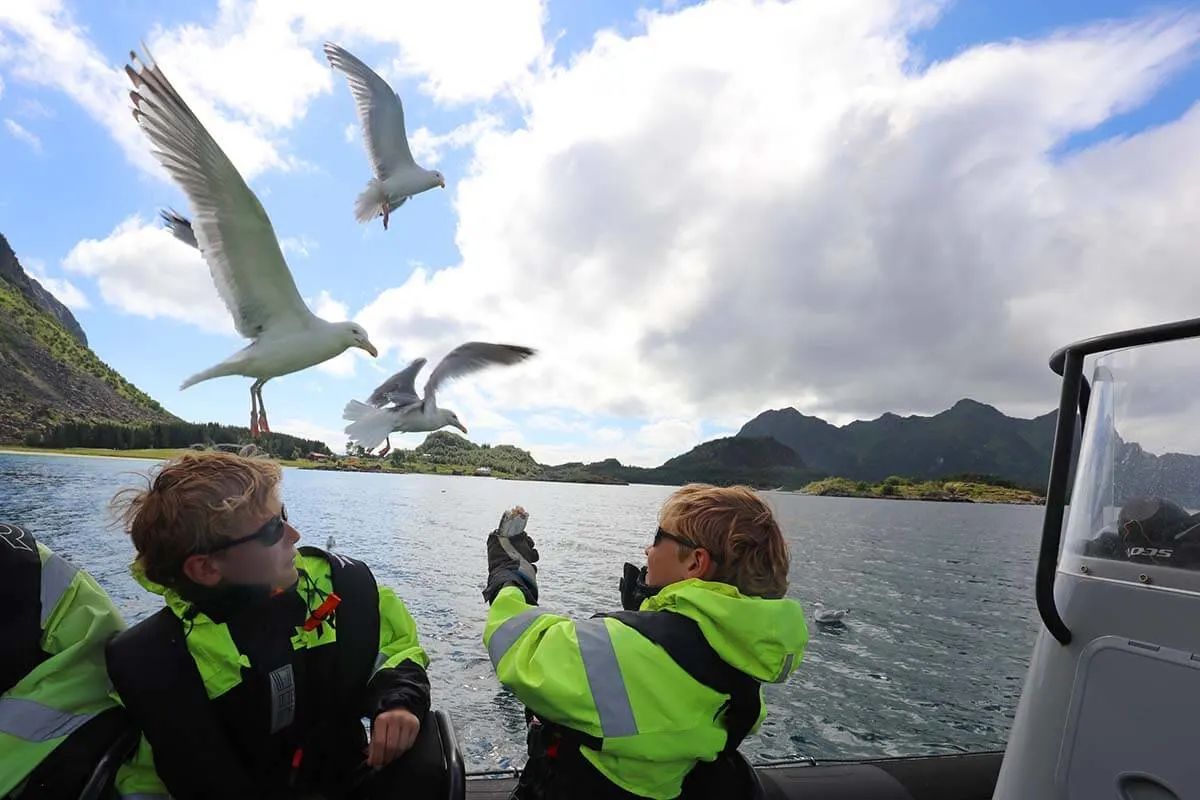 Of course, we also saw some beautiful coastal scenery and the famous Trollfjord. It was supposed to be the highlight of the tour, but I have to say that the birds definitely stole the show.
We were really glad that we opted for this speedboat sea eagle safari vs a cruise by a regular boat. You get to see the same scenery, but you travel faster and see more in a shorter time, and you have a chance to see sea eagles as well. Highly recommended!
Good to know: If you have back problems or other health concerns, the RIB boat might not be the best option. In that case, check out this popular boat tour.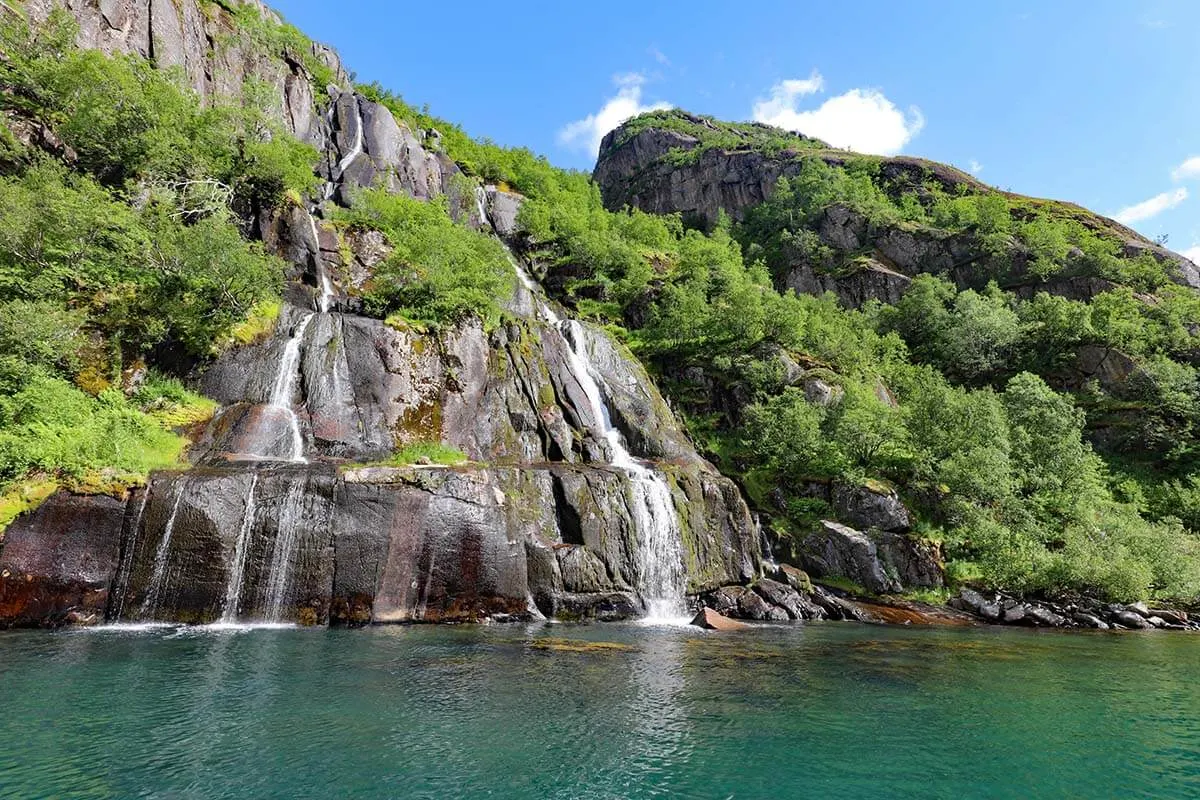 Afternoon in the Svolvaer area
Since the boat tours only take 2-3 hours, if you book a morning tour as we did, you still have plenty of time to explore more of the area in the afternoon. Here are several options:
Explore Svolvaer town, visit Lofoten War Memorial Museum, have a cold drink at the Magic Ice Bar, etc.
Drive to the nearby Kabelvåg village where you can visit the Lofoten Museum dedicated to the history of the area, or check out the Lofoten Aquarium. Lofoten Cathedral (Vågan Church) is also located here, right next to the main E10 road.
Take a ferry to a nearby Skrova island and spend a few hours there (be sure to check the ferry schedule for the return trip as well!).
Do some more hiking. Tjeldbergtinden hike is a nice option and a bit less steep than Djevelporten/ Floya. But it also takes about 2.5-3 hours in total.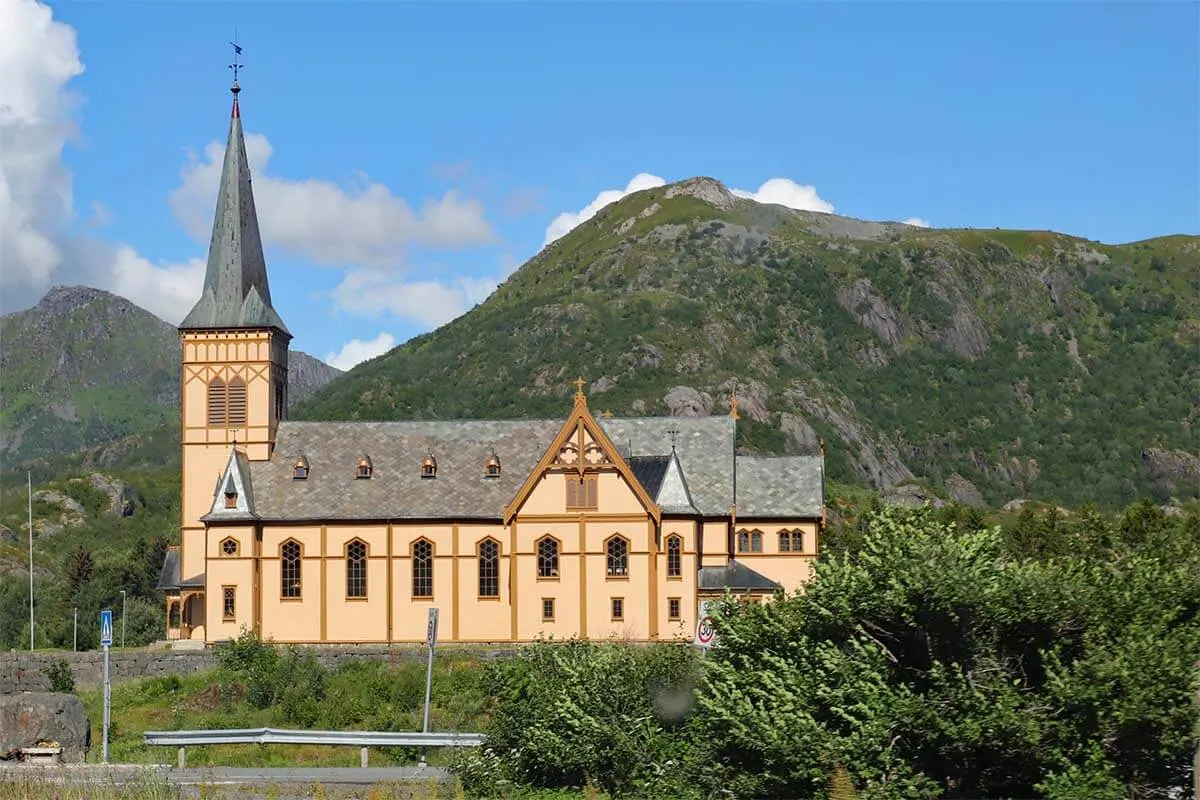 Dinner in Svolvaer
We were considering all these options, but the outdoor terrace at our rorbuer cabin looked so inviting that we decided to take it easy this afternoon. We had a picnic lunch and spent a couple of hours enjoying the beautiful weather and stunning views.
I have to admit that I didn't particularly enjoy the tiny dark cabins of Svinoya Rorbuer inside, but the views more than made up for it. It's also part of the experience of traveling in Lofoten – staying at the traditional rorbuer accommodations at least once.
We much preferred the modern versions of this traditional concept where we stayed the previous days, but we could appreciate the experience of staying in the old-fashioned cabins too. Still, I can't imagine how 10-20 fishermen would sleep in such a tiny cabin for weeks in a row, in addition to using half of the available space for storing all their (smelly) fishing equipment.
In the late afternoon, we walked to Svolvaer town center where we found a nice restaurant for dinner. There are lots of great restaurant choices here. If you'd like to try traditional Norwegian cuisine, check out Paleo Arctic at Thon Hotel or Kjokkenet near Anker Brygge. We opted for Bacalao, which has a more kid-friendly menu.
TIP: All these restaurants in Svolvaer are very popular and usually fully booked for dinner. So if you want to dine in one of the best restaurants in Svolvaer, it's best to reserve a table in advance!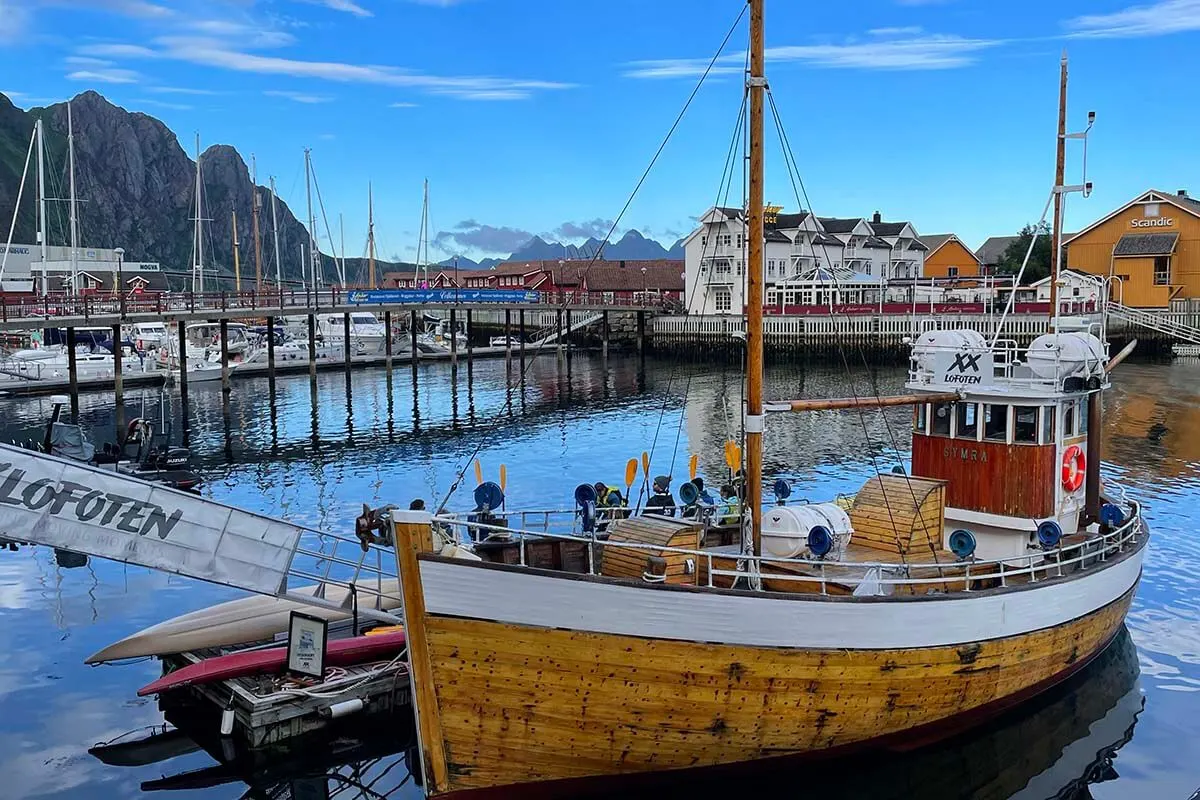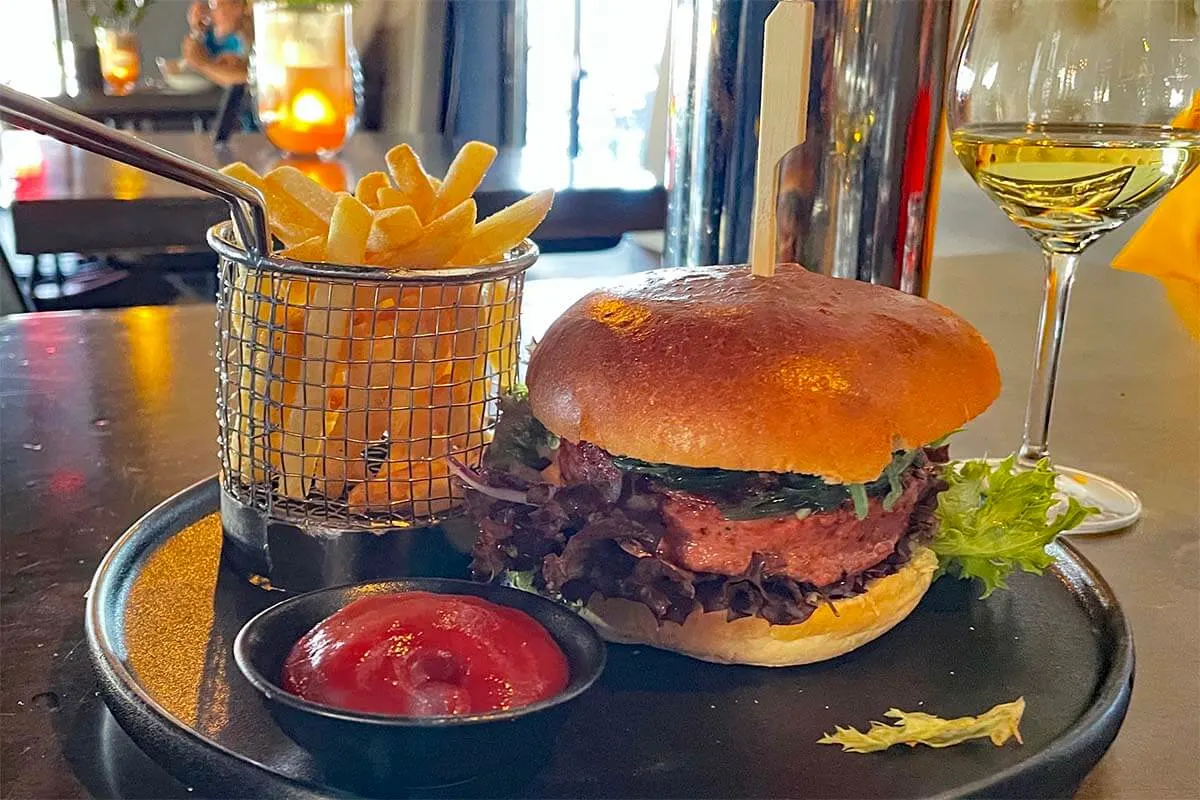 Day 10: Svolvær to Andenes (Vesteralen) – Måtinden Hike
Next on our North Norway itinerary were the Vesteralen islands, north of Lofoten. The drive from Svolvaer to Andenes town at the northernmost point of Vesteralen is about 210 km and the drive takes about 3 hours.
Svolvær to Andenes
There are a few ways to get to Andenes from Lofoten. The easiest is to simply drive via E10 followed by road 85, then 82, and then a few smaller roads on the western side of Andøya island. Alternatively, you can also take a car ferry between Fiskebøl and Melbu for a small part of the journey before continuing further north.
We heard that the ferry + road 82 option was a bit more scenic. But since waiting for the next ferry would have added an hour to our drive, we decided it wasn't worth it. Plus, you have to pay for the ferry…
So we simply took the shortest route from Svolvaer and a few hours later, we were picnicking on a beautiful mossy seashore close to Stave/Bleik area where we were planning to do a nice hike in the afternoon.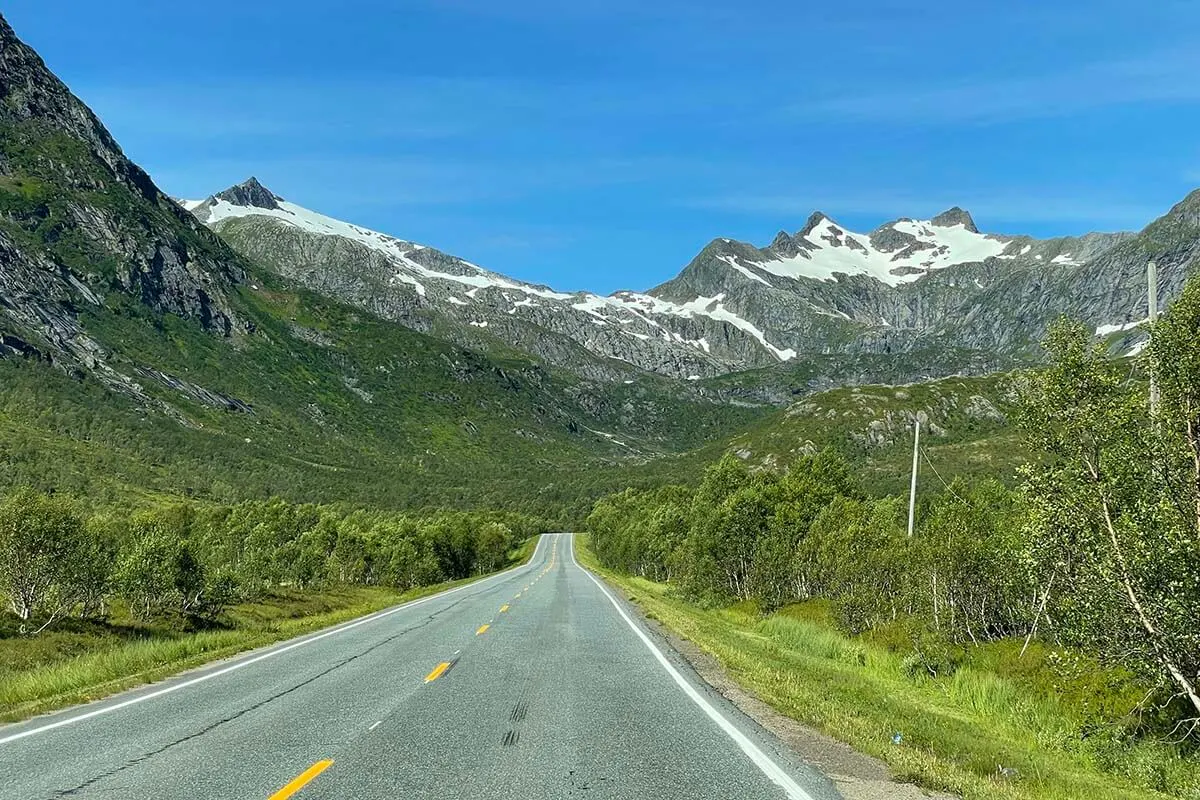 Måtindn Hike
If there is one hike that everyone recommends doing in Vesteralen, it's the scenic coastal hike between Stave and Bleik, with a stop at Måtindn peak for some of the most beautiful views in the area.
However, doing this hike in its entirety would mean that you start and end at different areas with few options to get back to your car. Not even to mention that it would take a big part of the day… So most people simply walk to Måtinden and back from a car parking at Baugtua by the main road.
The Matindn hike takes about 3-3.5 hours, depending on how often you stop for pictures and how much time you spend at the top. If you are lucky to be here on a sunny day as we were, the views are absolutely amazing. It's also a much less demanding hike than any of the most popular hiking trails in Lofoten. However, there's a steep climb at the very beginning, so it's definitely not an easy hike.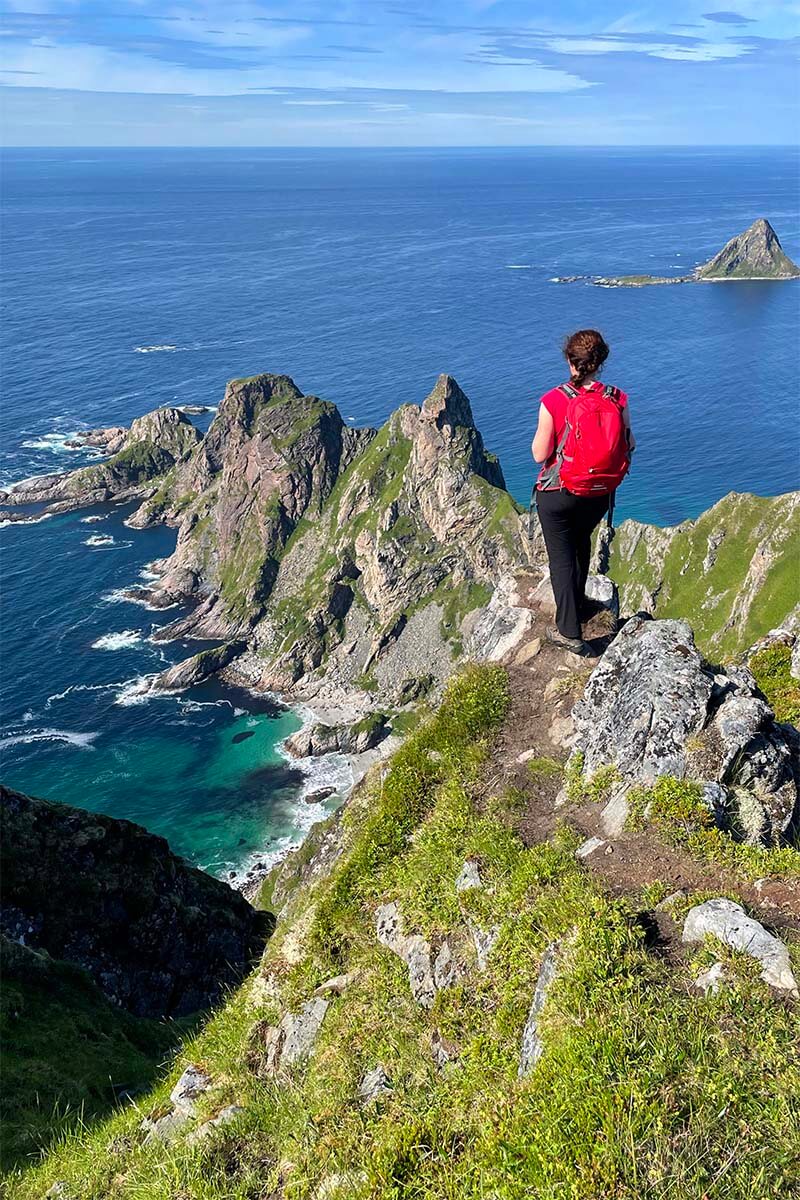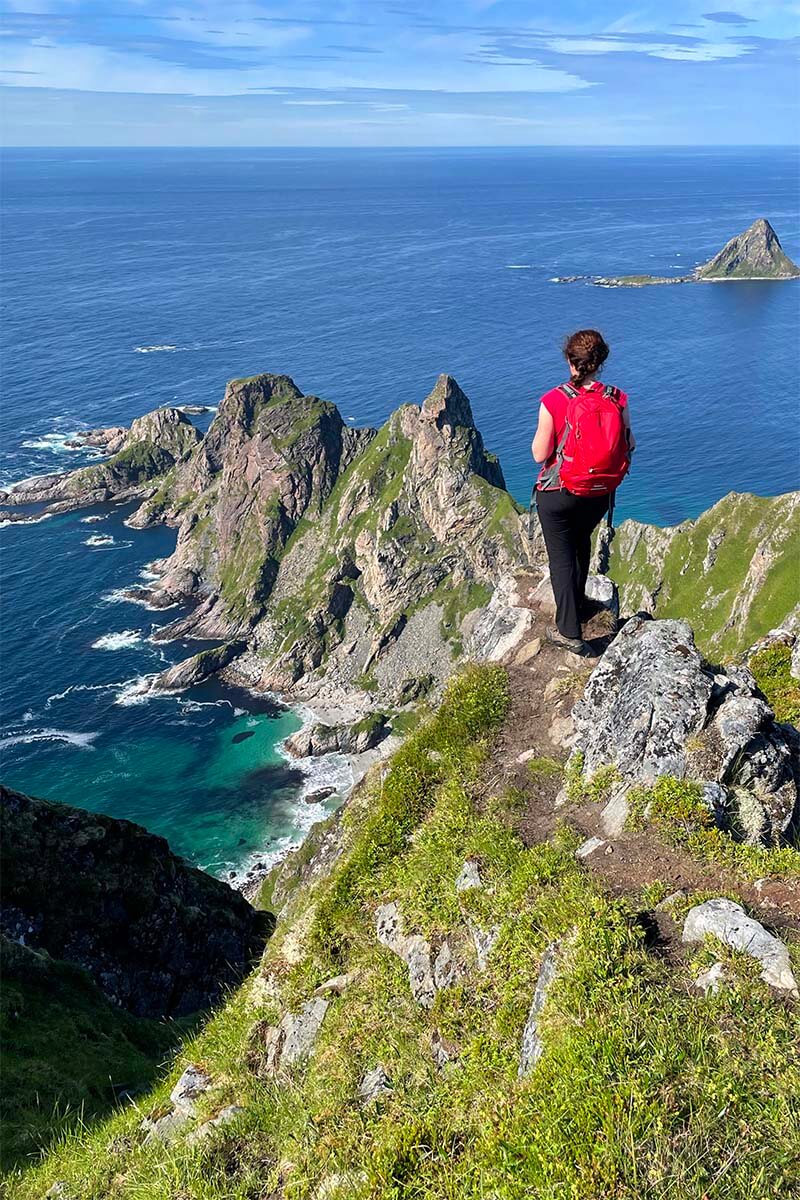 Because my husband volunteered to pick us up in Stave, we also hiked part of the scenic coastal trail between Matindn and Stave.
It took us about the same time to get to Stave as for my husband to get back to the car via the shortest route and drive to pick us up, so if you can arrange something similar, it's well worth considering.
The scenery here is stunning and definitely worth it just as much as the views from Måtinden!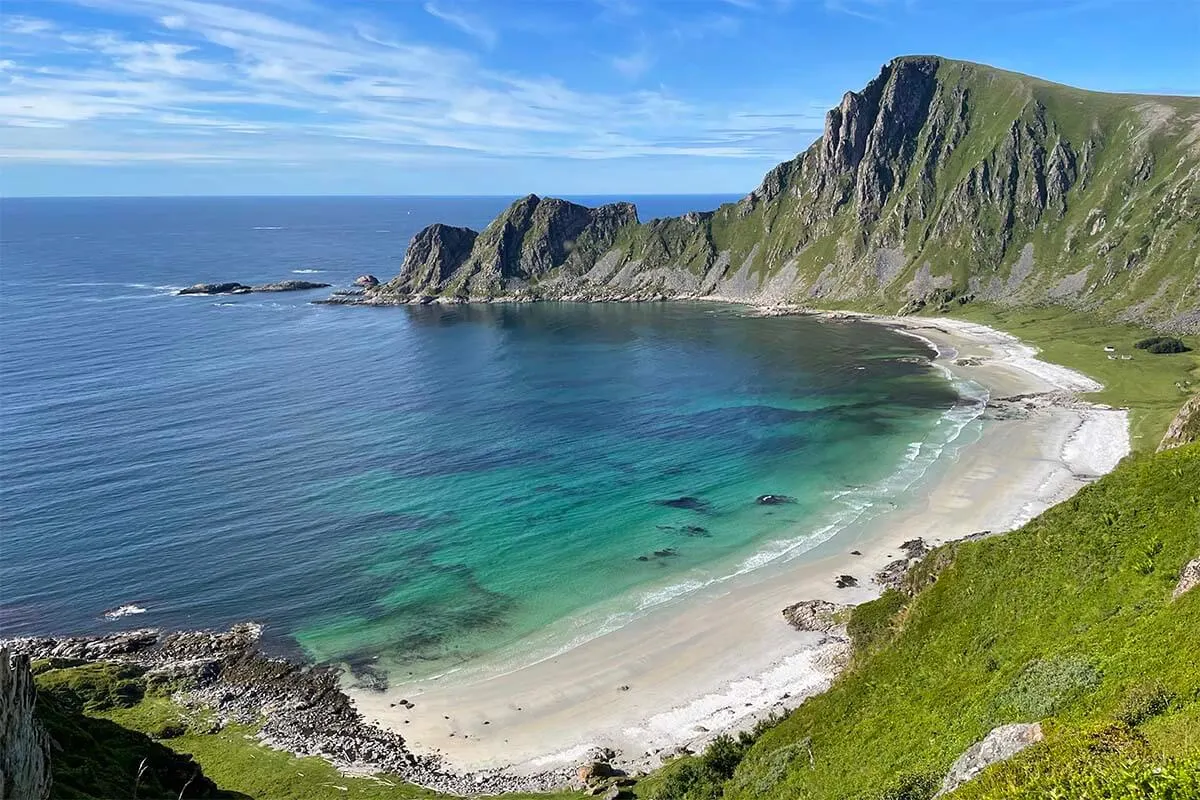 Andenes
Our destination for today was Andenes, the main town of Andoya Island. It's well known as one of the best places to see whales in Northern Norway, and you'll find several companies offering whale-watching tours. Another popular thing to do here in summer is a puffin safari to Bleiksøya island nearby.
Since we have seen plenty of whales and puffins on our previous trips (Iceland, Faroe Islands, etc.), we didn't foresee any extra time for these activities here.
If it's something you want to do, I'd try to contact some local operators in advance and see at what time the tours run. Most of them only take a few hours, so you should be able to add this to your itinerary (in the afternoon on this day or the next morning), even without staying an extra day here.
Alternatively, stay a bit longer indeed. There are more hiking possibilities near Andenes too, so you should be able to find nice things to do, definitely if the weather is nice.
Anyway, we checked in at our accommodation and went for dinner at a local pizzeria (traveling with kids, you can't take them to seafood places all the time…). After dinner, we decided to explore the town a bit more.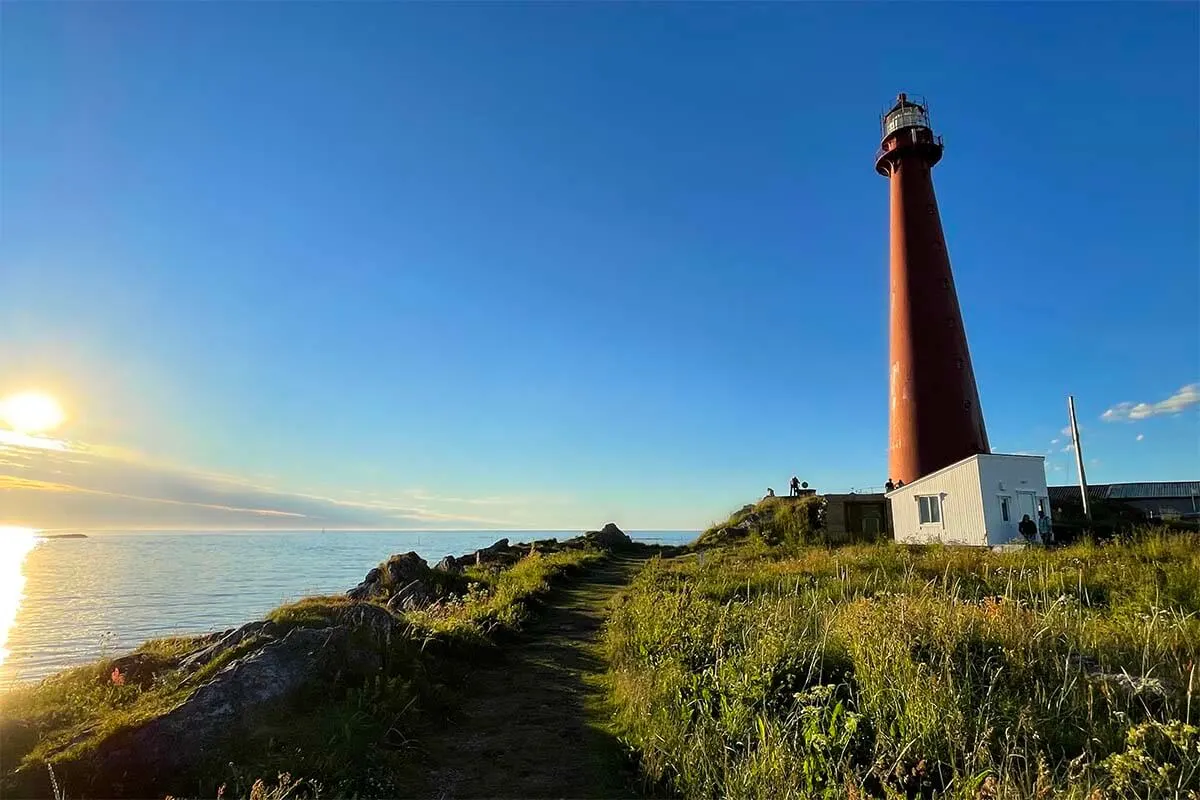 Andenes Lighthouse
Andenes might be a small sleepy town, but its location is fantastic. If you walk to the lighthouse and explore the coast around there, you get nice open views of the ocean. In summer, this is a great place to watch the midnight sun, and in winter – the Northern Lights.
We saw a small sign at the entrance of the lighthouse that – even though not clearly visible – seemed to indicate that it was possible to visit the lighthouse until 10 pm. So we walked to the 'tourist info' point just nearby and indeed, it was possible. Lucky us! The evening was beautiful, the sky was clear, and the views from the top were well worth a short climb on the old narrow stairs.
The lighthouse itself dates from 1859 and is one of the tallest and oldest in the whole of Norway. We found a visit here well worth it. So if you are in Andenes and have 20 minutes to spare, check it out!
Accommodation: We stayed at this private apartment in Andenes for 1 night (there are very few options for bigger families). There are also a few hotels in town – Thon Partner Hotel Andrikken, Hotel Marena, and Grønnbuene Rorbu Hotel. In general, accommodation options here aren't nearly as good as in Lofoten, and availability is often limited in summer too.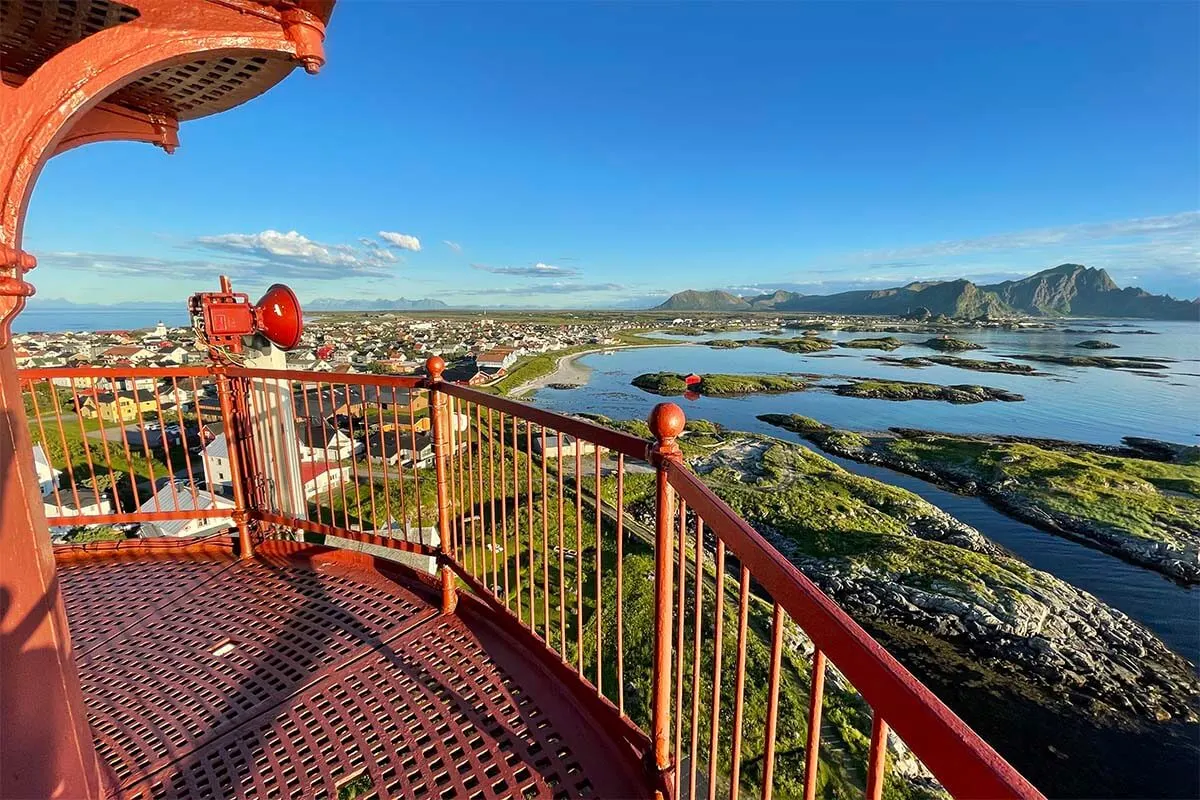 Day 11: Andenes to Senja
Next on this Northern Norway itinerary is the beautiful island of Senja. To get there from Lofoten, you could drive by car. But if you are visiting Vesteralen as we did, it's best to take a ferry.
Andenes to Gryllefjord Ferry
There's just one way to get from Andenes to Senja island without spending a long day driving, and that's by ferry 180 between Andenes and Gryllefjord. The journey takes about 1 hour and 40 minutes.
However, this car ferry is quite small, only has space for about 40 cars, and only runs a few times a day and only in the summer season.
You cannot pre-book it, so be sure to check the schedule on their website in advance, and get there well in time. During the day in the peak season, you often have to be there 2-3 hours in advance, or you risk having to wait for the next one. It seems that the early afternoon departure is the most popular, but I guess you can never really know.
The ferry we wanted to take was set to depart at 8.45 am. No way we would get up at 5-6 am, so we simply parked our car in the first row the evening before. This was what our accommodation host recommended, and since we stayed not too far from the harbor, it worked out quite well for us.
When we arrived at the harbor in the morning, 3 rows were filled with cars, campervans, and motorbikes. From what I saw, everyone was able to get on the ferry just fine, but there wasn't much space left either. I have to add that this was a rainy weekday with lots of rain in the forecast on Senja for the next days as well, so I assume it could be very different on a sunny weekend. I read quite some stories about people missing the ferry and having to over 4 hours for the next one.
Anyway, all went well for us. The journey itself was rather quiet and uneventful. We bought some tea/coffee and cookies and spent most of the time looking for whales (unfortunately, they didn't show up).
Good to know: To pay for the ferry, they use AutoPass. All rental cars are in principle equipped with this system. So they just scan the license plate and you get the bill via your car rental agency after the trip. If you are traveling with a foreign car, you can just pay by credit card.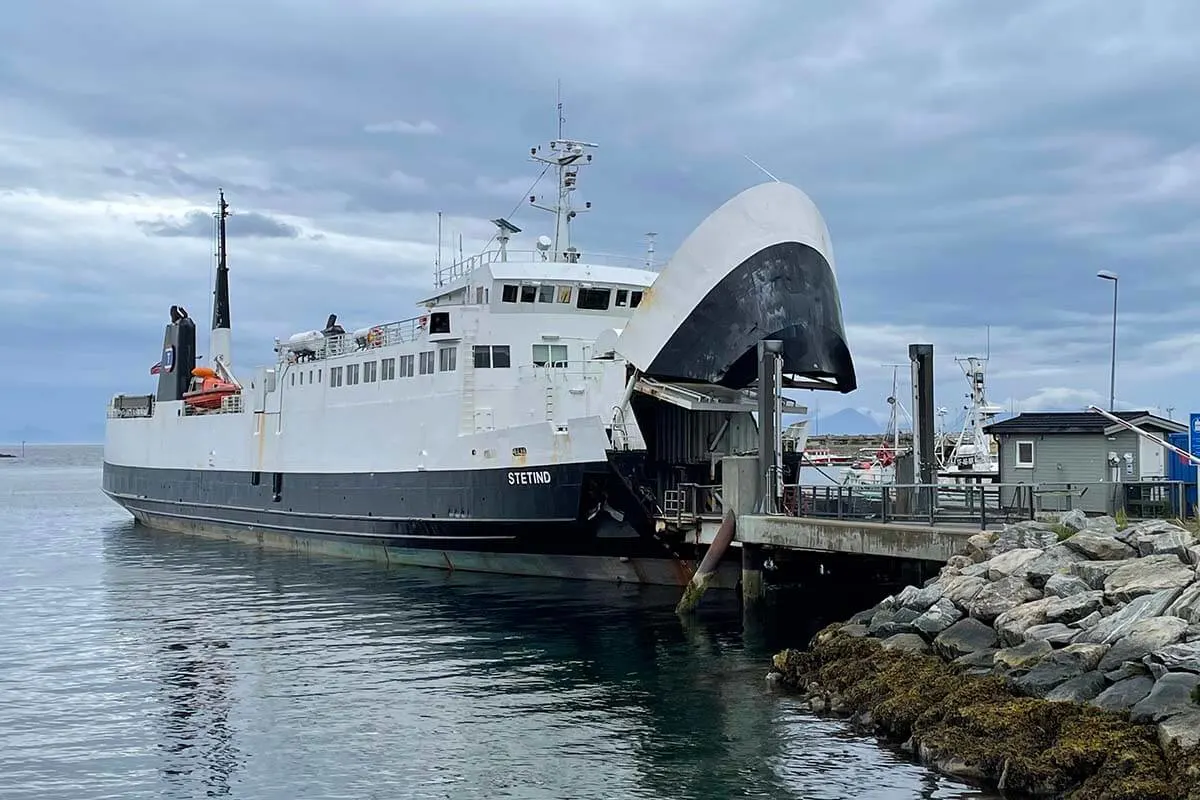 Gryllefjord
Gryllefjord where the ferry arrives is a charming village with a beautiful setting in the fjord.
However, when we arrived, the main street here was completely blocked by cars and campervans waiting to leave the island and get on the ferry. It was so busy that you couldn't even turn off the main road, make a stop at the supermarket, or anything else really.
So we just drove past without being able to stop here, but it looked like a really nice place for a short stop.
Hamn i Senja
We had heard that one should visit Hamn when in Senja, and since it's on the way, we made a stop here. However, this is basically a resort (Hamn i Senja) with some cabins, a big restaurant, and a small harbor.
Granted, it looks very picturesque and the hot tubs by the sea looked really inviting. Unless you are actually staying or eating here, there's not much to see or do. But if you are looking for a beautiful place to stay in Senja, this could actually be a very nice choice.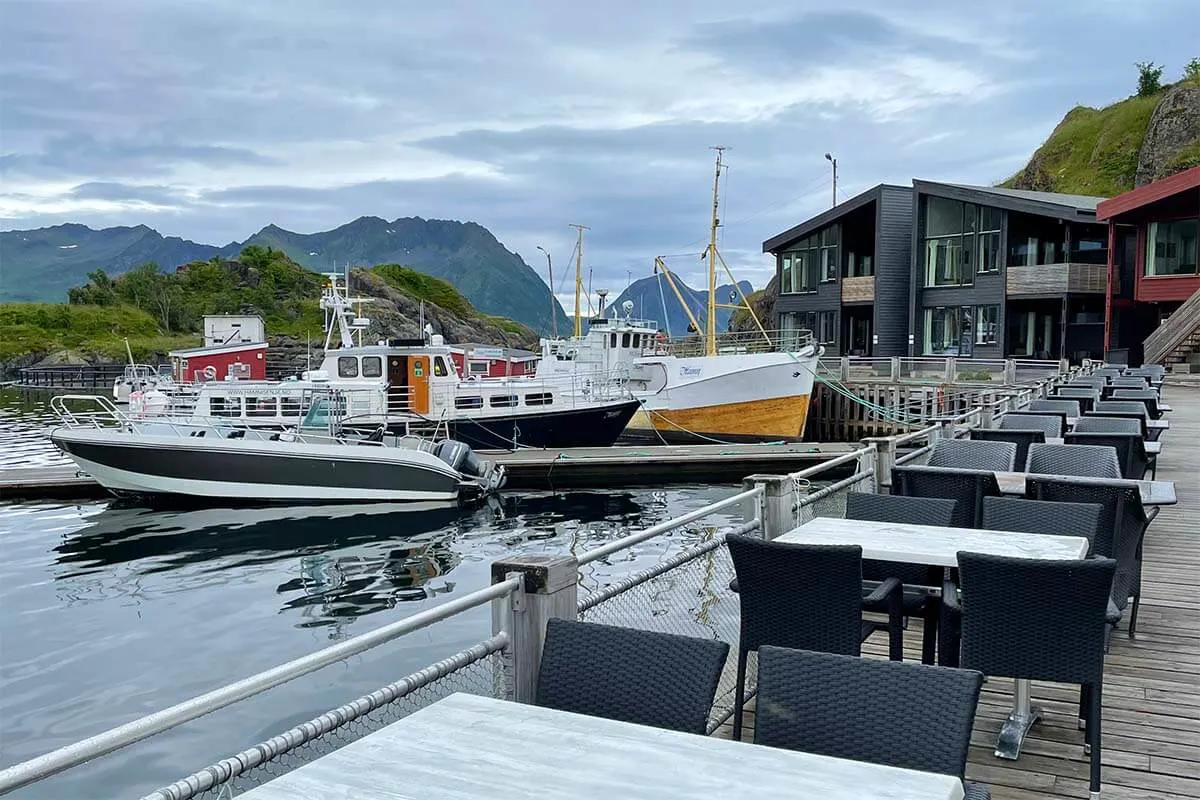 Bergsbotn Viewpoint
Right next to the main road just before Bergsbotn, stands a really nice viewing platform overlooking the fjord below.
While the weather wasn't great when we visited, the view from here and the reflections on the water were amazing. Well worth a quick photo stop!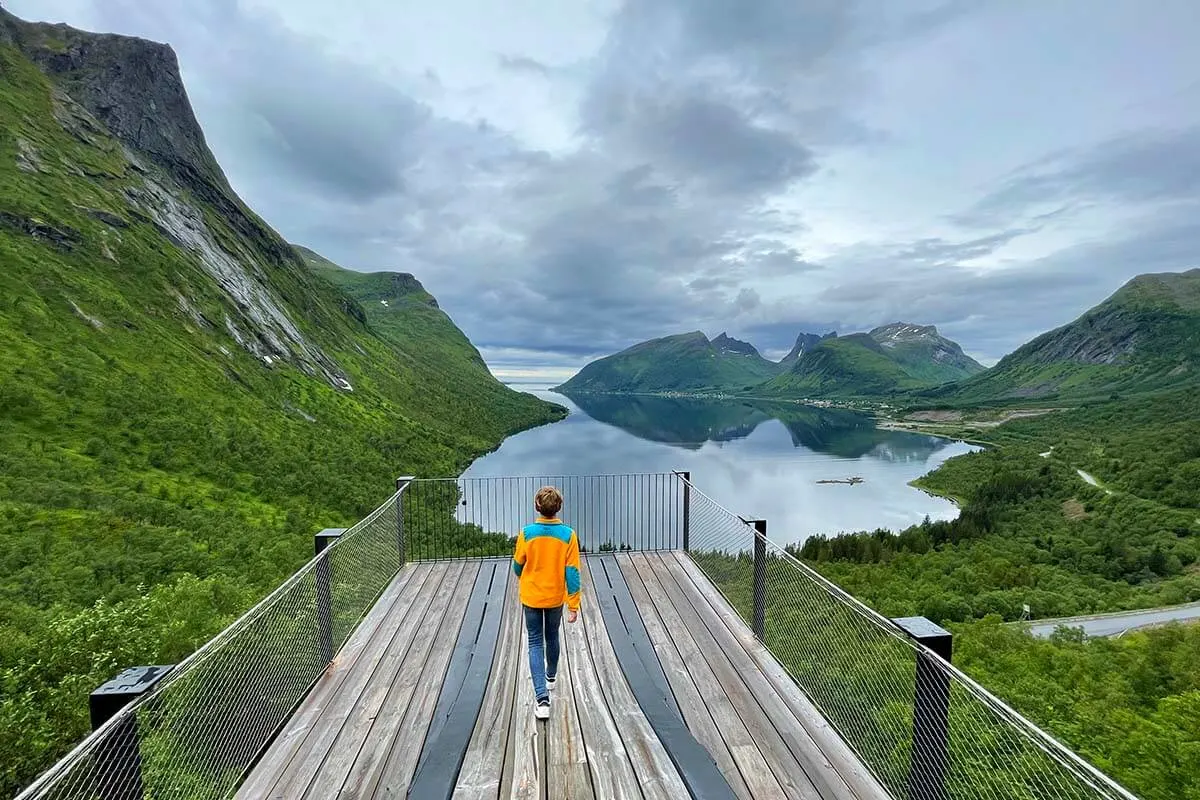 Tungeneset
Tungeneset is another really nice stop that shouldn't be missed when driving on Senja island. Just be aware that Google Maps will direct you to the point itself rather than the parking lot nearby.
Also, when you park the car and look down towards the sea from the parking lot, it doesn't really seem any special. And if there are campervans of bigger buses blocking the entrance to the wooden walkway towards the sea, you would miss it completely and leave here wondering why you even stopped. That was also the case when we arrived here and we saw many people stop, look around, and drive on…
But we had read this was worth a stop so we decided to investigate a bit further. And indeed, once we walked past all those campers, we realized that you could make a short walk towards Tungeneset point at the end of the peninsula, and the views here were stunning. It's literally just 5 minutes walk from the parking, so check it out!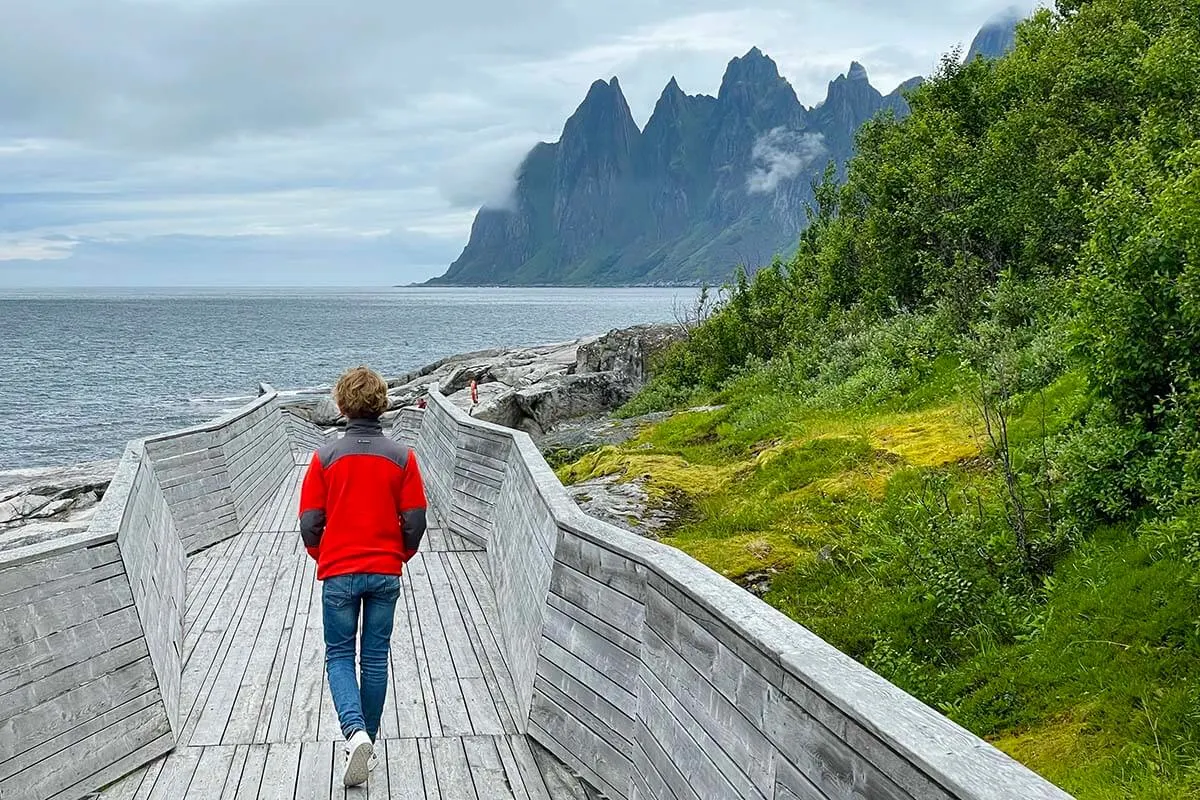 Ersfjord Beach
Just a short drive further, you'll find one of the nicest beaches of Senja Island – Ersfjordstranda. The scenery here is really nice, even on a cloudy day when we visited. When it's warm, you could go for a swim here.
This is also a popular camping spot, with big car parking, 'golden' toilets, and lots of space for tents.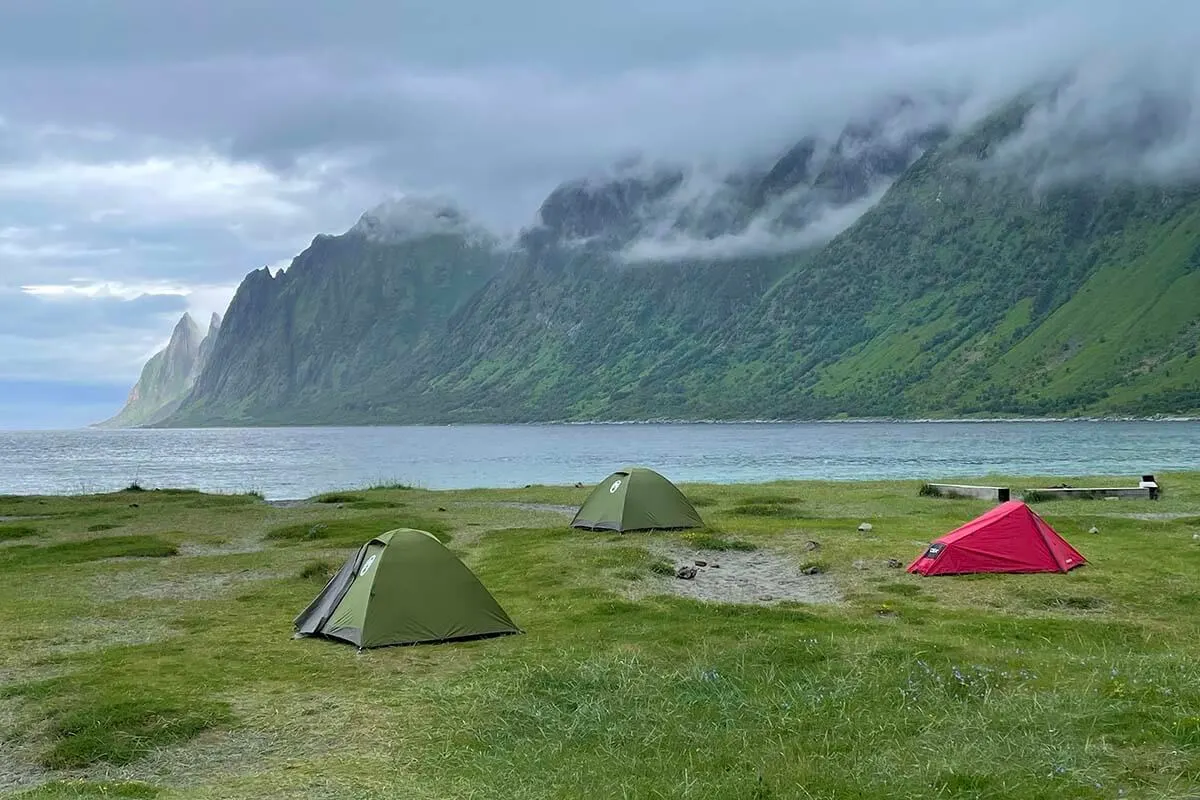 Mefjordvaer
This is a small village where one of the best centrally-located accommodations on Senja is located – Mefjord Brygge. If the weather is great and all the roads are open (don't even get me started on the road closure they had in this area when we visited), this is a very well-located place to stay for exploring and hiking in Senja.
There are a few short walks that you can do here, and you can also book a fishing tour at the accommodation (best call in advance for that). It was raining when we arrived, but the scenery looked so nice that we decided to go for a short walk near the hotel.
We walked to Russehola Cave, which is a tiny cave next to the coastal Skoyteneset trail. It's something nice to do if you have half an hour to fill, but definitely not something to go out of your way for. There are longer walks and hikes in this area too, but we didn't do any of them because of the really bad weather.
Accommodation: Stay in Mefjord Brygge for 1 night (or more if you have time to add a day to your Northern Norway road trip itinerary).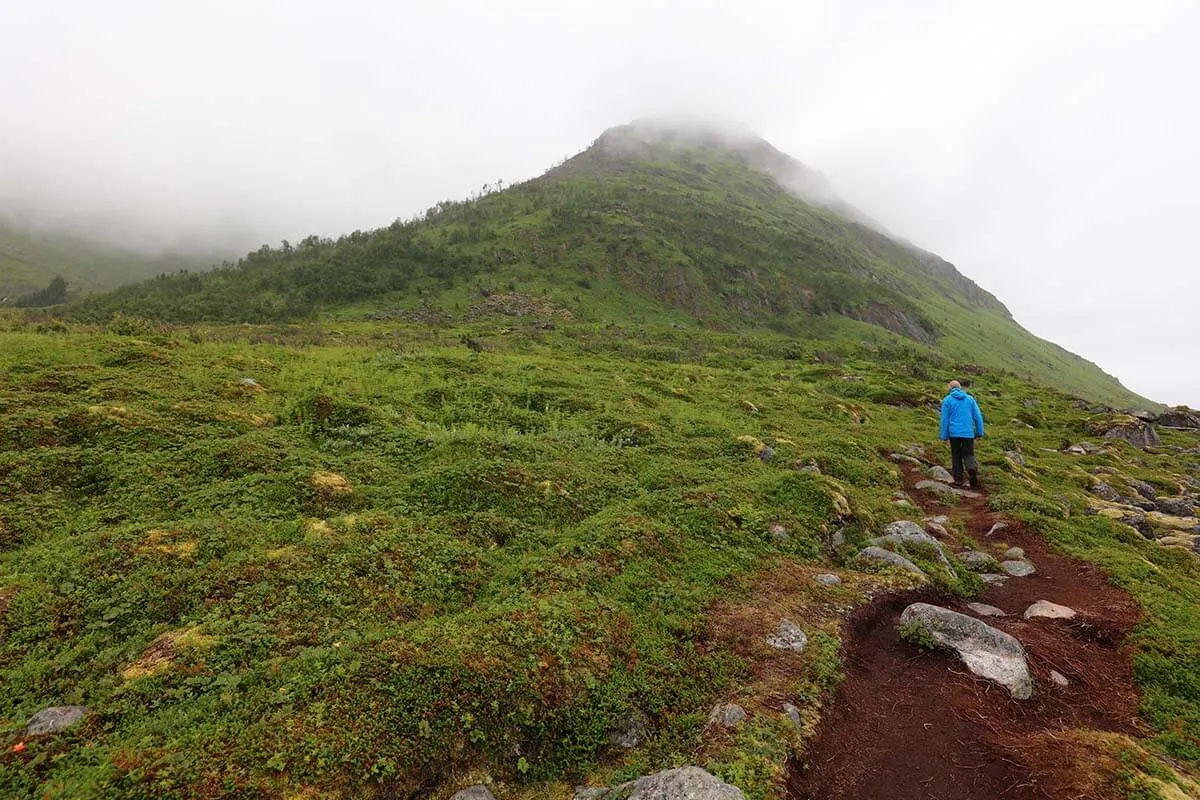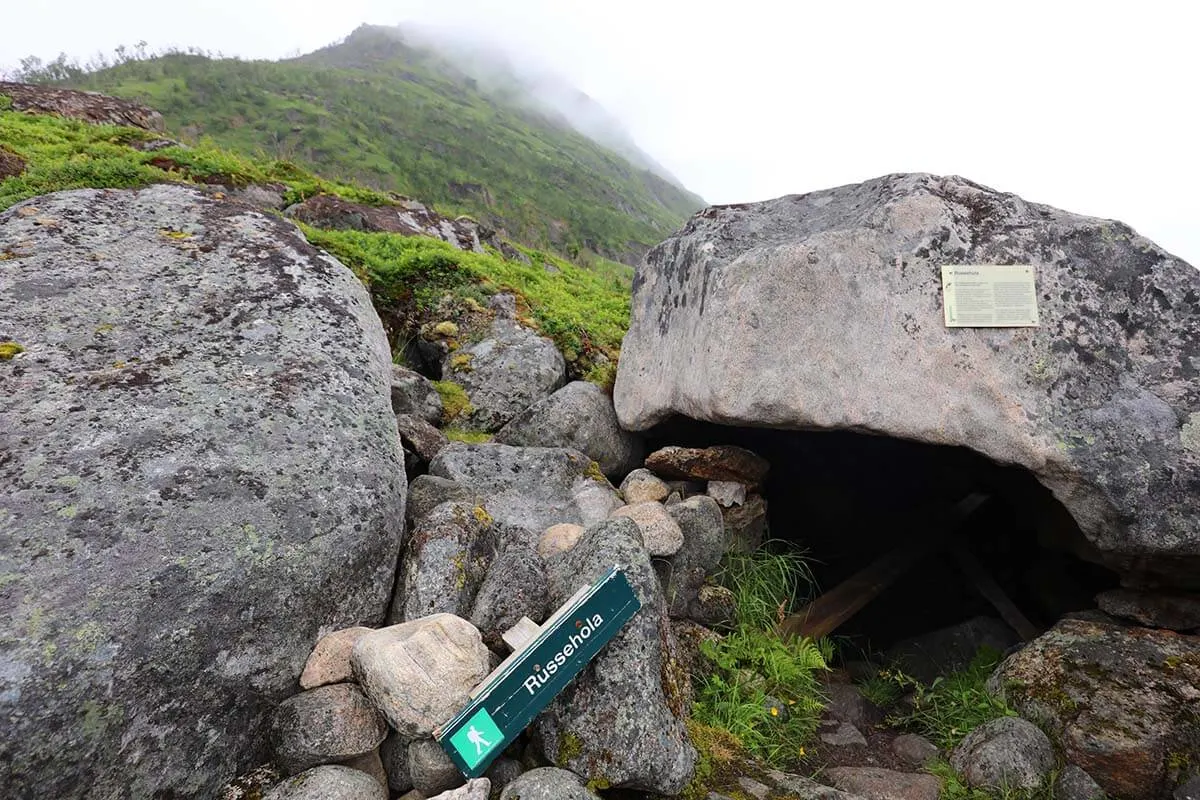 I have to add that our actual itinerary from here on was a bit different than described in this article. We stayed in Mefjord Brygge for 3 nights and planned to do a lot of hiking on Senja (Sukkertoppen, Husfjell, Grytetippen, Barden, Segla…). However, the weather was so miserable during our entire stay that we ended up spending most of the time indoors.
When it rains, it pours. And even if it's not raining but it's really cloudy, there's just no point to go hiking since all the nicest hikes take you high to the mountains. In the meantime, the low-hanging clouds cover all the views around you, so you don't see much.
If you don't have more than two weeks in Northern Norway, I think I'd opt for just 1-2 nights in Senja. If you have one night, you have two chances to go hiking – the day when you arrive and the day when you leave. If you stay two nights, you have even more chances to go hiking if the weather is ok, and just one day to explore whatever can be explored in the rain and leave. Because when it's rainy, there's really not that much to do on Senja unless taking a real vacation day, reading a book, or spending a few hours at a nice restaurant…
As far as things to do when it's cloudy go, Lofoten Islands have more to offer than Senja (villages, museums, beaches, etc.). Luckily, the restaurant at our accommodation in Senja was really good, so at least we had that for the rainy days…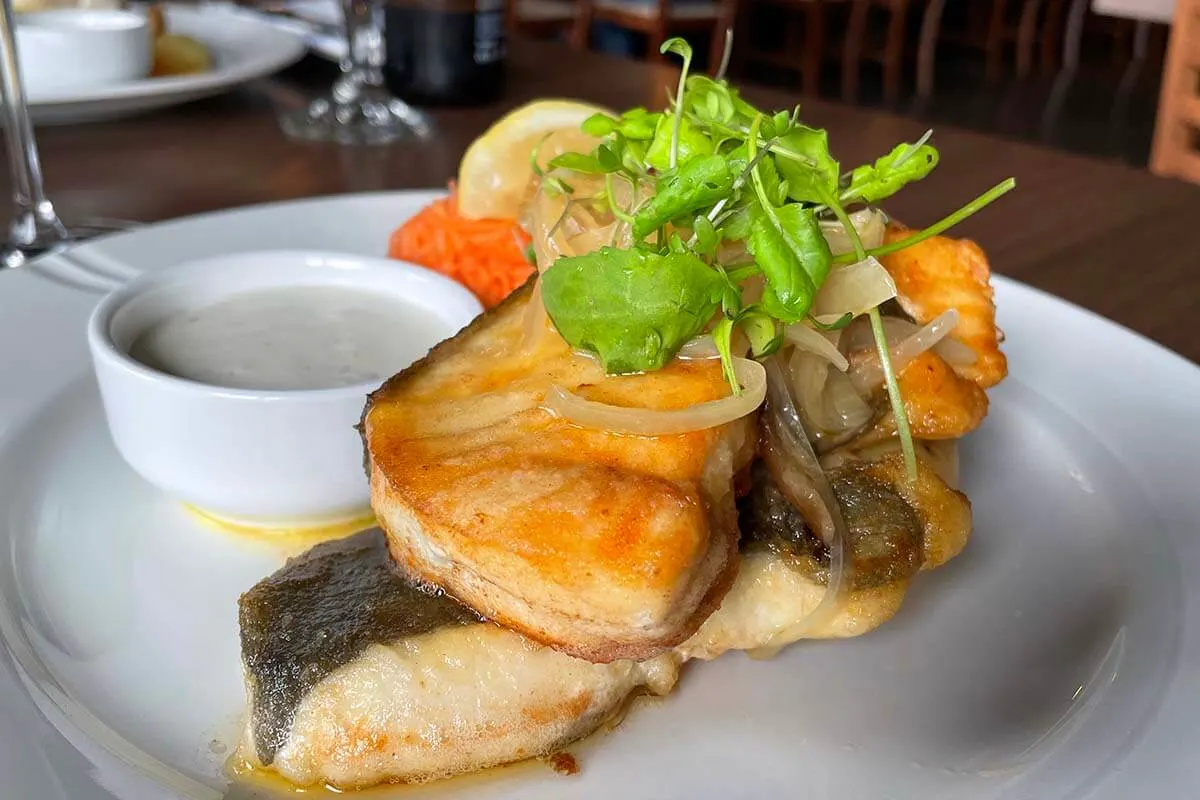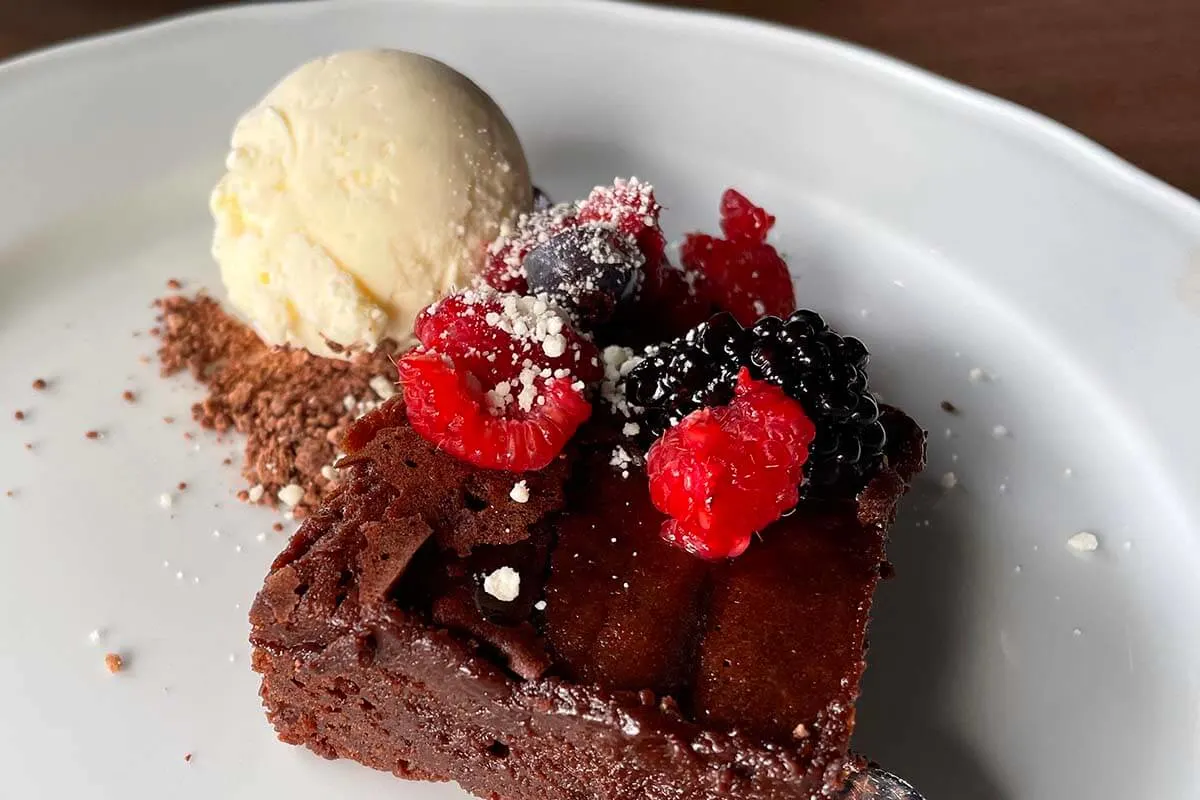 Day 12: Hesten Hike (Segla) – Husøy – Tromsø
No visit to Senja island would be complete without doing at least some hiking. And if you do just one hike, make it Hesten.
Hesten Hike (Segla View)
Next on this itinerary is the most popular hike on Senja Island – the Hesten hike from where you get the best views of Segla mountain. If you have come here inspired by pictures of Segla, do not make the mistake of actually hiking to Segla – the best views are actually from Hesten.
This is an uphill hike of about 1 hour (so 2 hours in total), but it's not as steep as most of the hikes in Lofoten. And you don't even have to go all the way to the top for the best views.
However, if you are unlucky with the weather as we were, none of this matters. When the clouds cover the mountains, all you see is fog… When we were driving here, the weather looked not too bad, and we even got some blue skies along the way, but the clouds were hanging around the mountains and so even though it didn't rain, we couldn't see much.
Against better judgment, we hiked all the way to Hesten, but the mist was getting worse with a minute, and so after hanging around at the top for a while, we went back. See below the pictures of the view you get here on a nice sunny day as well as the best views we got before the clouds covered everything completely…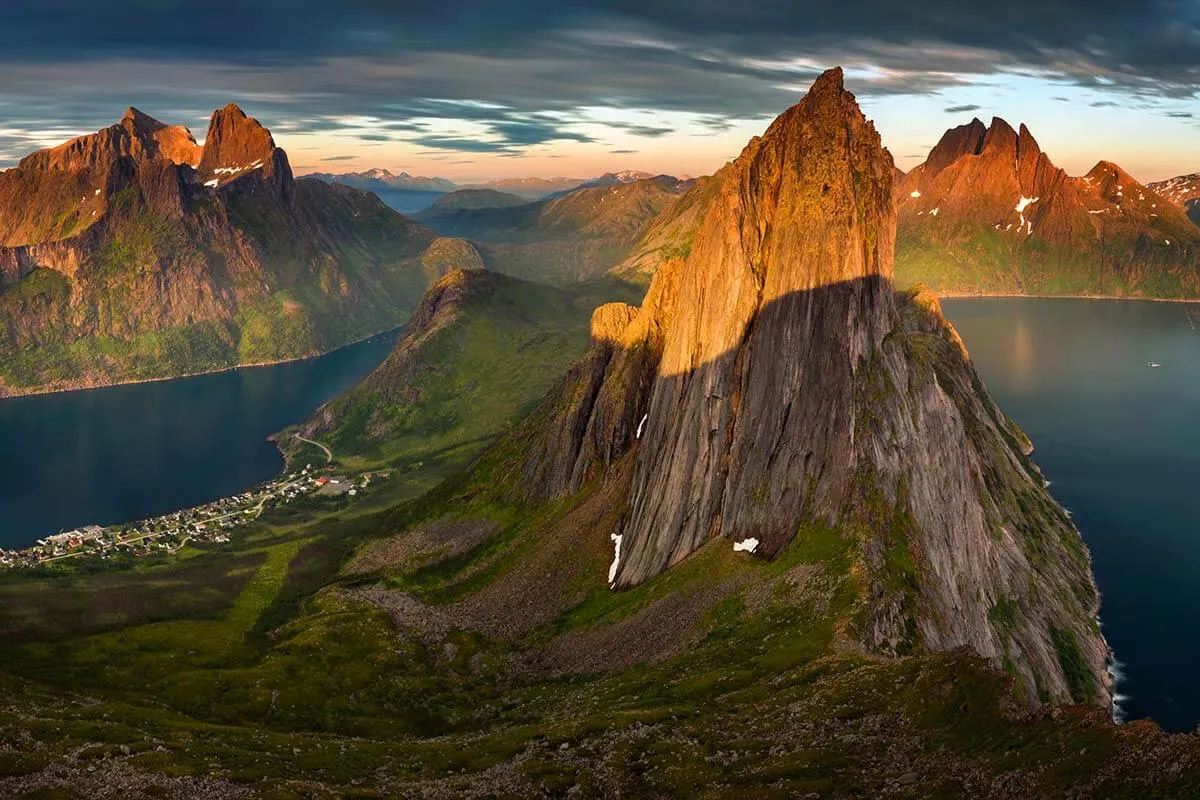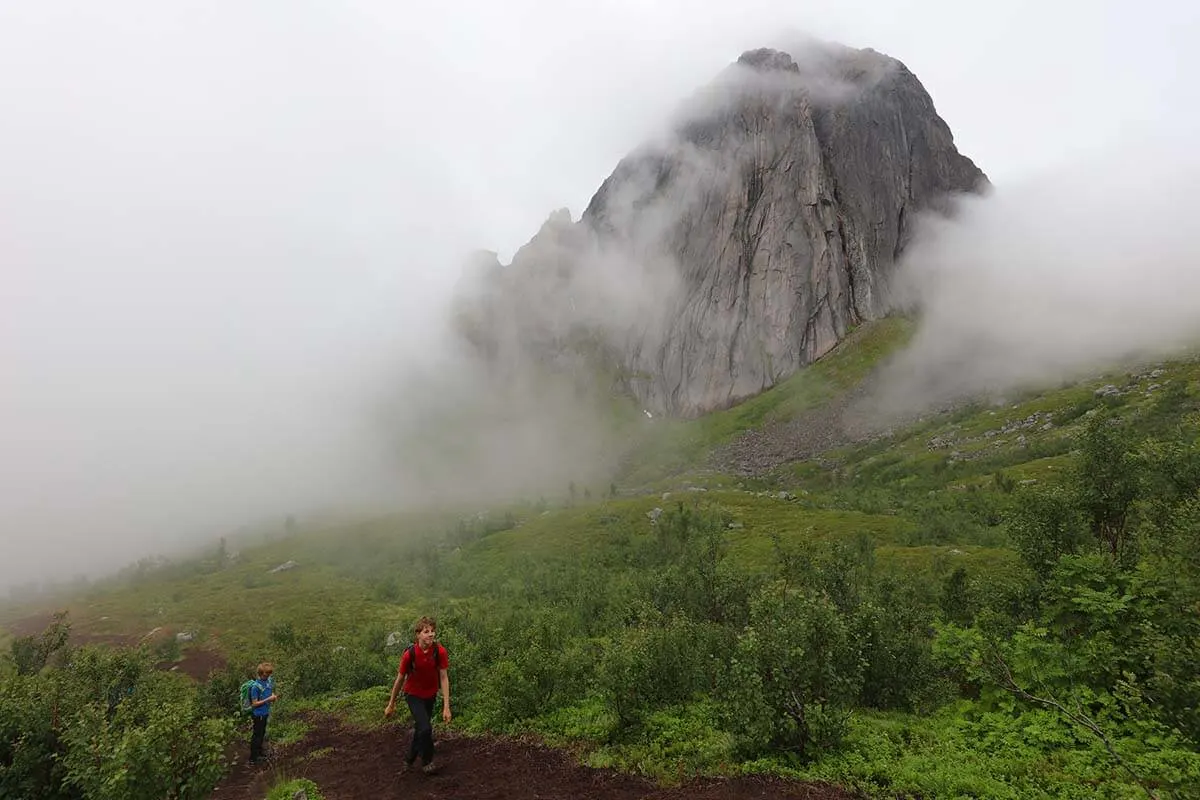 Husøy
Husøy is a small town built on a tiny island in one of the fjords in Northern Senja. The mountain road to get here is quite scenic and the island looks very picturesque from the top. However, the village itself isn't all that special…
If you have an hour to spare, you can walk around and maybe also make a short walk to the lighthouse, but I'm really not sure I'd go out of my way to visit here again. At least the kids enjoyed the ice cream we bought at the local supermarket.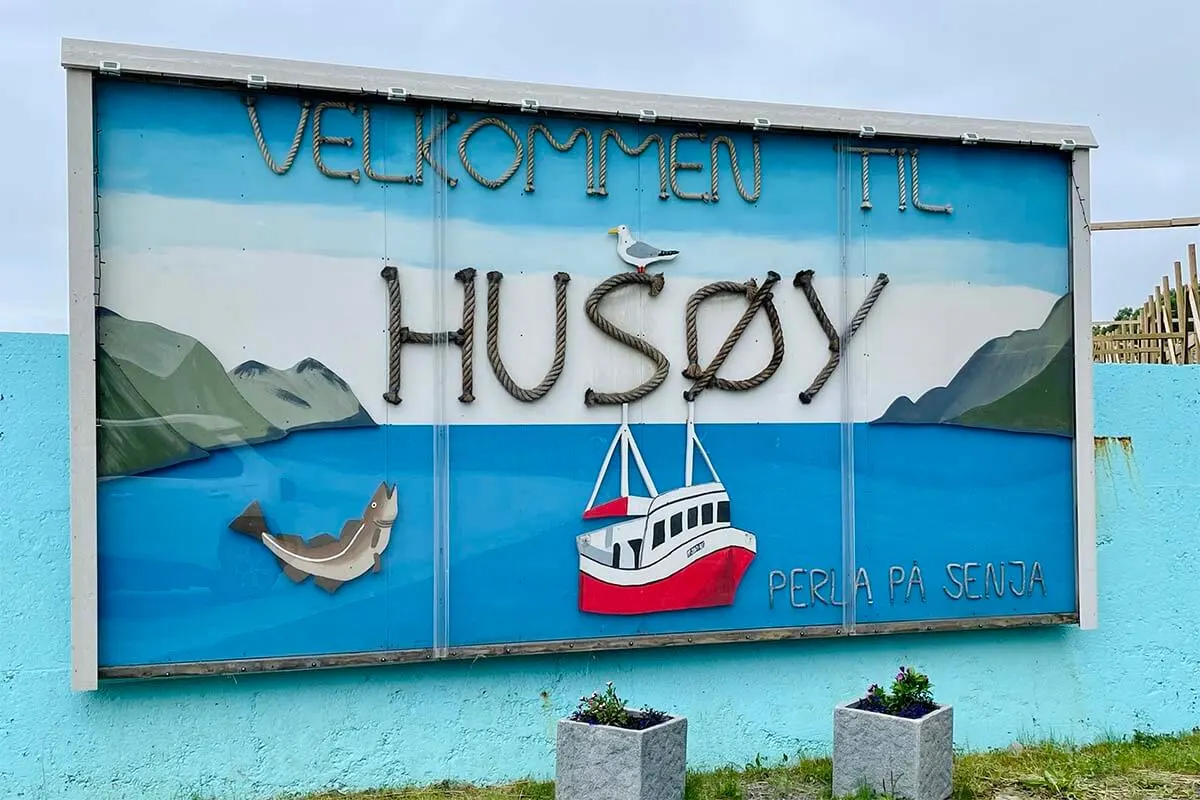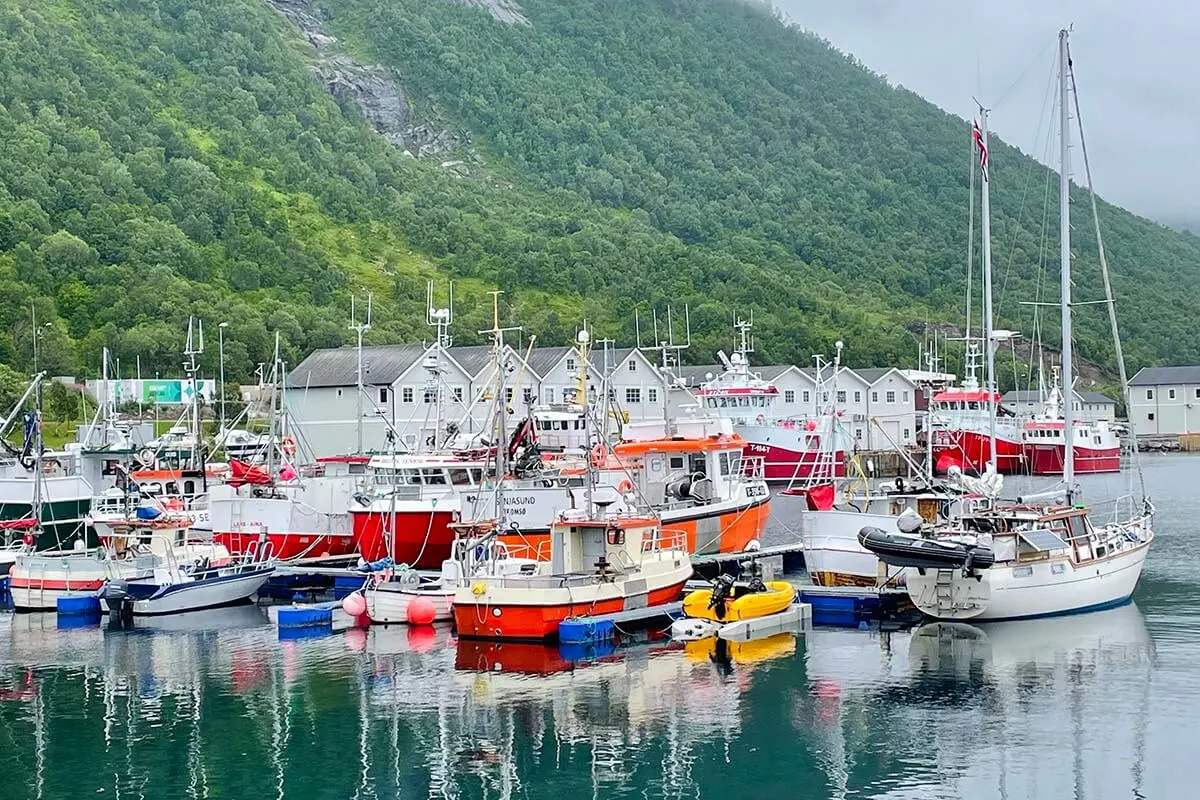 Drive to Tromsø
If you decide to include Tromso in your Northern Norway itinerary, taking a ferry from Botnham to Brensholmen (ferry route 181) followed by a drive through Kvaløya island is one of the most scenic options.
This ferry runs a bit more frequently than the one between Andenes and Senja (usually 5-6 times a day in the high season). However, it's also not very big, and when it's busy, you may not be able to get on the next available boat and have to wait a few hours. You can find the up-to-date information for this ferry here.
Accommodation: Clarion Hotel Aurora in Tromso for 2 nights. Read also our guide to the best hotels in Tromso.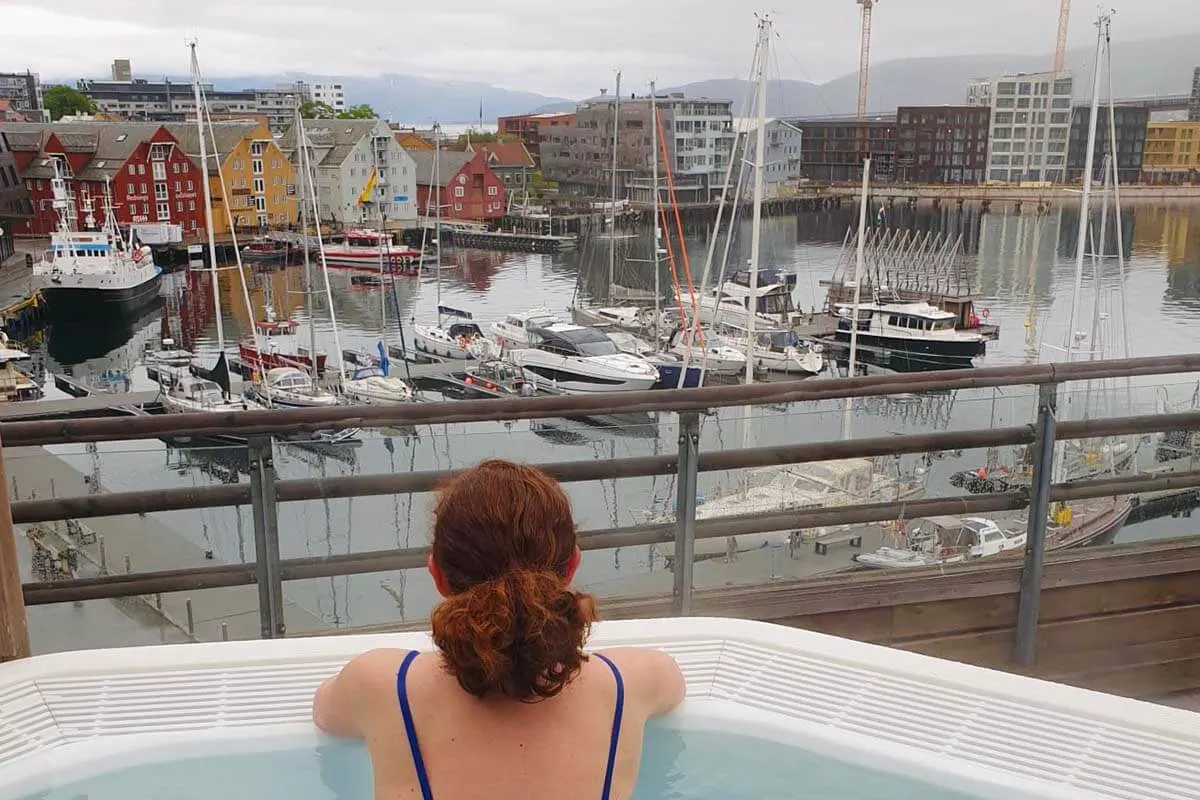 Day 13: Tromsø
The biggest and the most beautiful town in Northern Norway, Tromso definitely deserves at least a day on any Northern Norway itinerary.
Also here, if the weather is nice, you could spend several days in the area. But even if it's cloudy and rainy, you'll definitely find plenty to do in and near Tromso for a day.
One of the nicest things to do in Tromso is to visit Fjellheisen mountain. You can hike via the recently-built sherpa stairs, or simply take a gondola (or take a gondola up and walk down). The views from here are amazing and you can also do some hiking at the top. I once visited Tromso in winter, and even then, it was possible to hike here. In summer, the trails are really easy. There are also many other hiking trails, but most are a bit further from the city.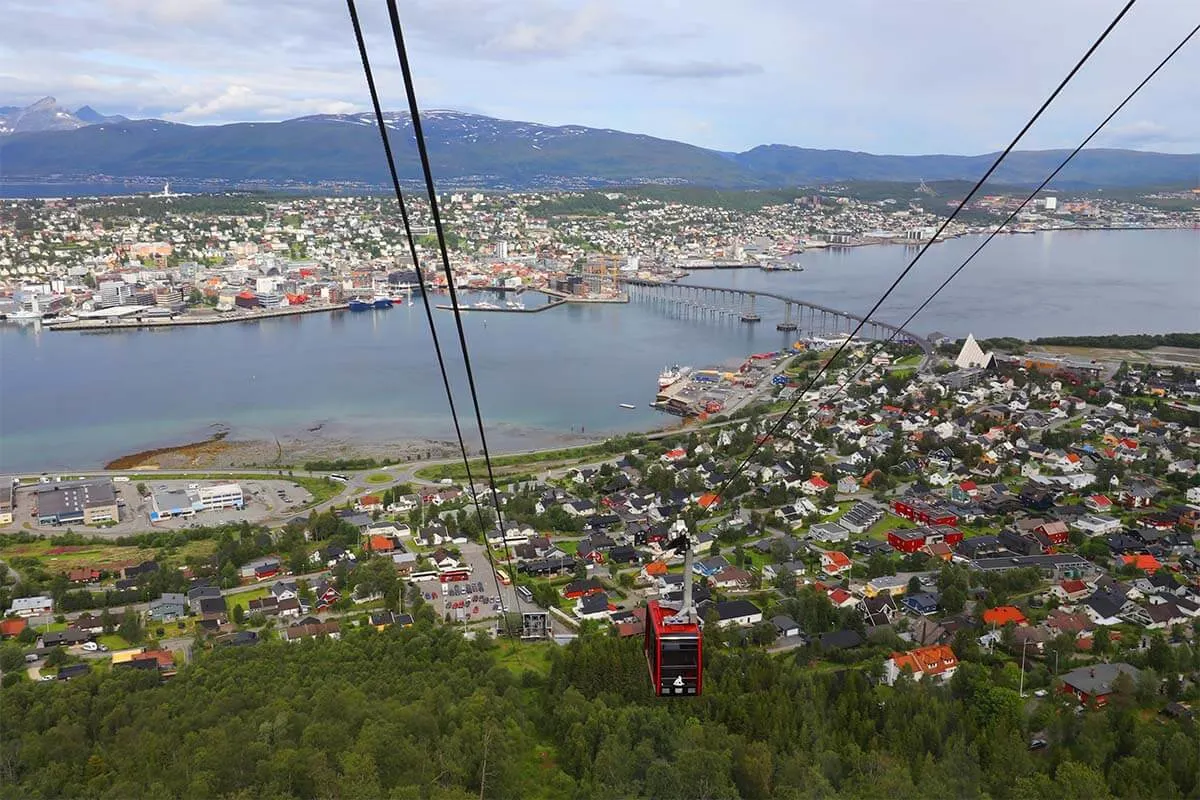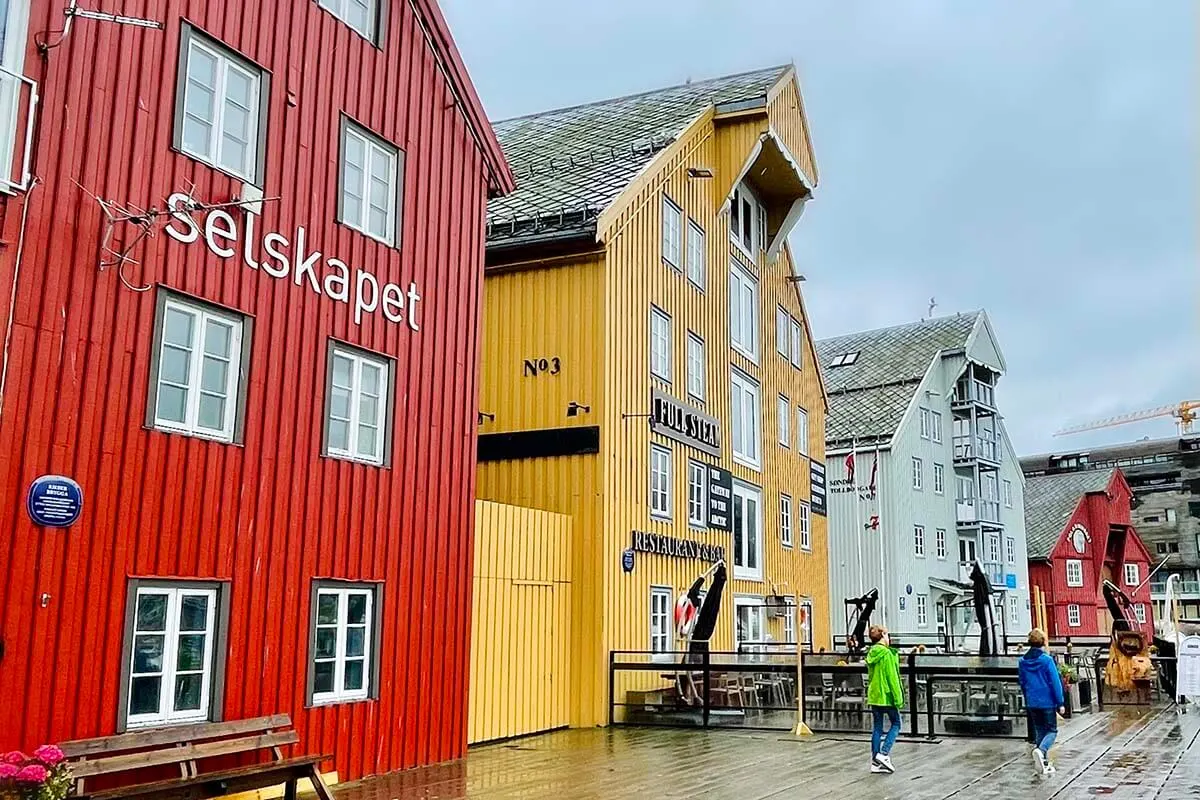 Arctic Cathedral is one of the most recognizable landmarks in Tromso and is also worth a quick visit. There are also lots of museums in Tromso. Of all the ones we visited, we recommend Tromso Polar Museum the most. With kids, don't miss Troll Museum and/or Polaria aquarium.
We also really enjoyed a cold visit to the Magic Ice Bar and if you like beer, check out Ølhallen, the oldest beer pub in Tromso. It's owned by the world's northernmost brewery Mack, where you can also book a brewery tour.
And of course, there are many amazing outdoor activities and scenic tours near Tromso. In summer or winter, you can choose from a big variety of boat tours such as scenic cruises, fishing trips, whale-watching excursions, etc. There are also husky experiences, reindeer and Sami cultural tours, etc.
LEARN MORE: Best Tours in Tromso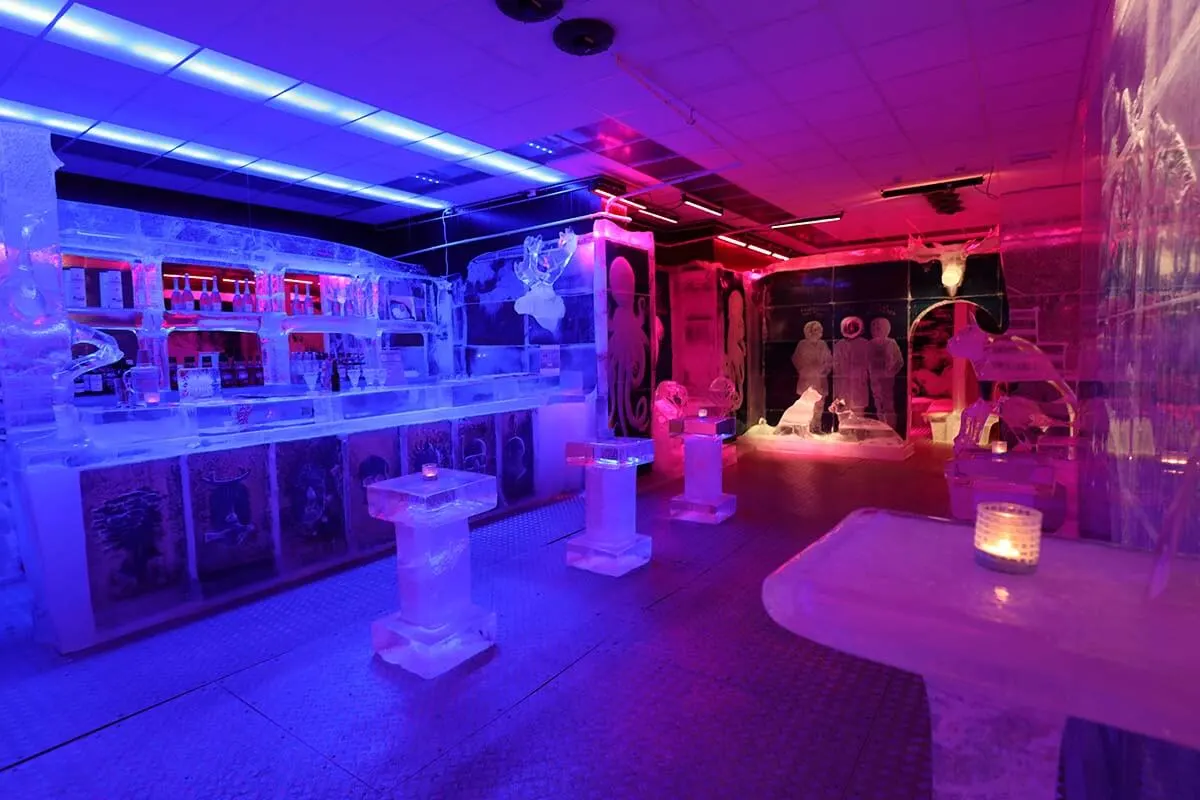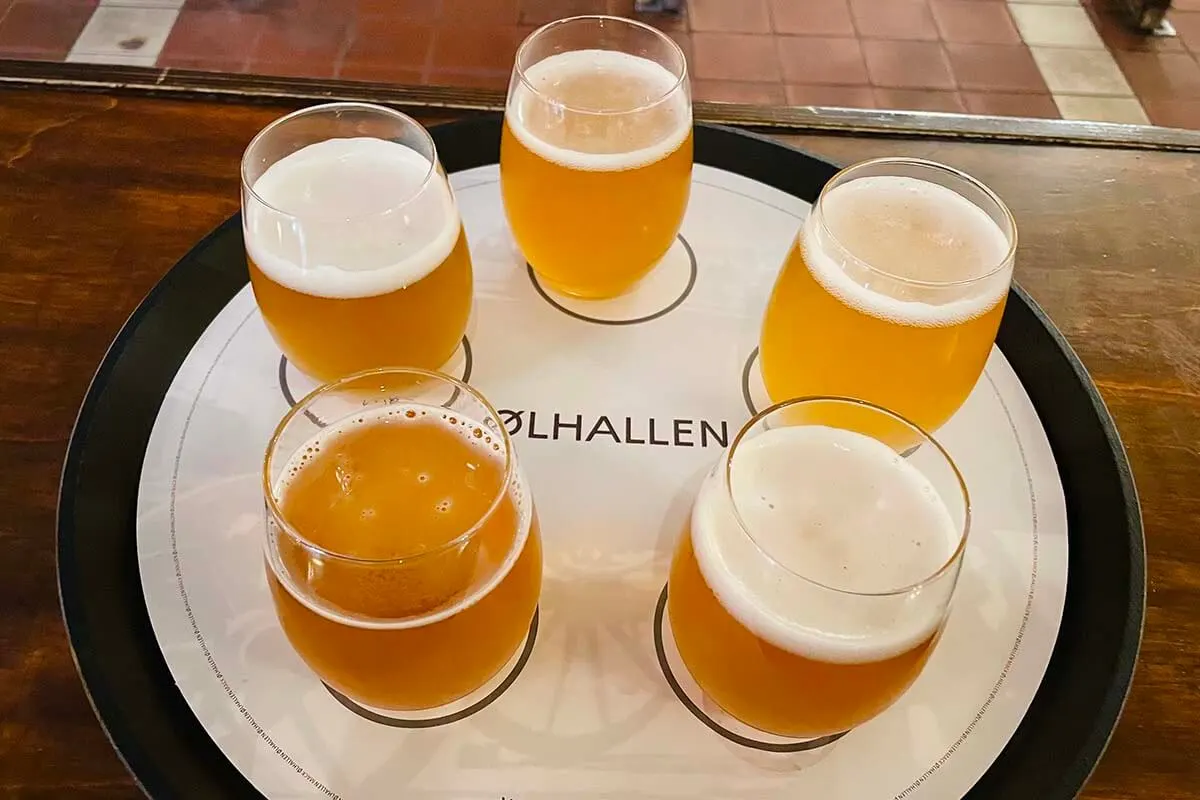 Day 14: Tromsø – Tennes Stone Engravings – Polar Park – Departure
The last day of your 2-week Northern Norway road trip itinerary depends on where you are flying back from. You could easily end this trip in Tromso, or – as we did – drive back to Harstad/Narvik airport in Evenes.
The drive from Tromso to Evenes via E8 and E6 is quite easy and scenic, and the road is incomparably better than any other road we passed on this trip. It's about 260 km (160 miles) and takes 3.5 hours. If you have some extra time, there are some nice places where you can stop along the way.
Some of the best places to visit on this route include Tennes Stone Engravings, Sami Shop, Målselvfossen waterfall, and Polar Park. The pictures of the waterfall didn't convince us it was worth yet another detour, so we skipped it so that we could spend more time at all these other places.
Tennes Stone Engravings
Just a short detour from the main road between Tromso and Narvik, you can see some really cool ancient rock carvings. According to the signs, they could be 6-7000 years old.
There are three main sites with stone engravings and they are all easily reachable from the car parking. The first two sites are 5-10 minutes from a small car parking I indicated in our map, and the third site can be reached in less than 5 minutes from Balsfjord church, a bit further down the same road.
All in all, you'll probably need about an hour for this detour, but we found it was worth it. There is also a picnic table by the church, so this could be a nice place to break your drive and stretch the legs a bit anyway.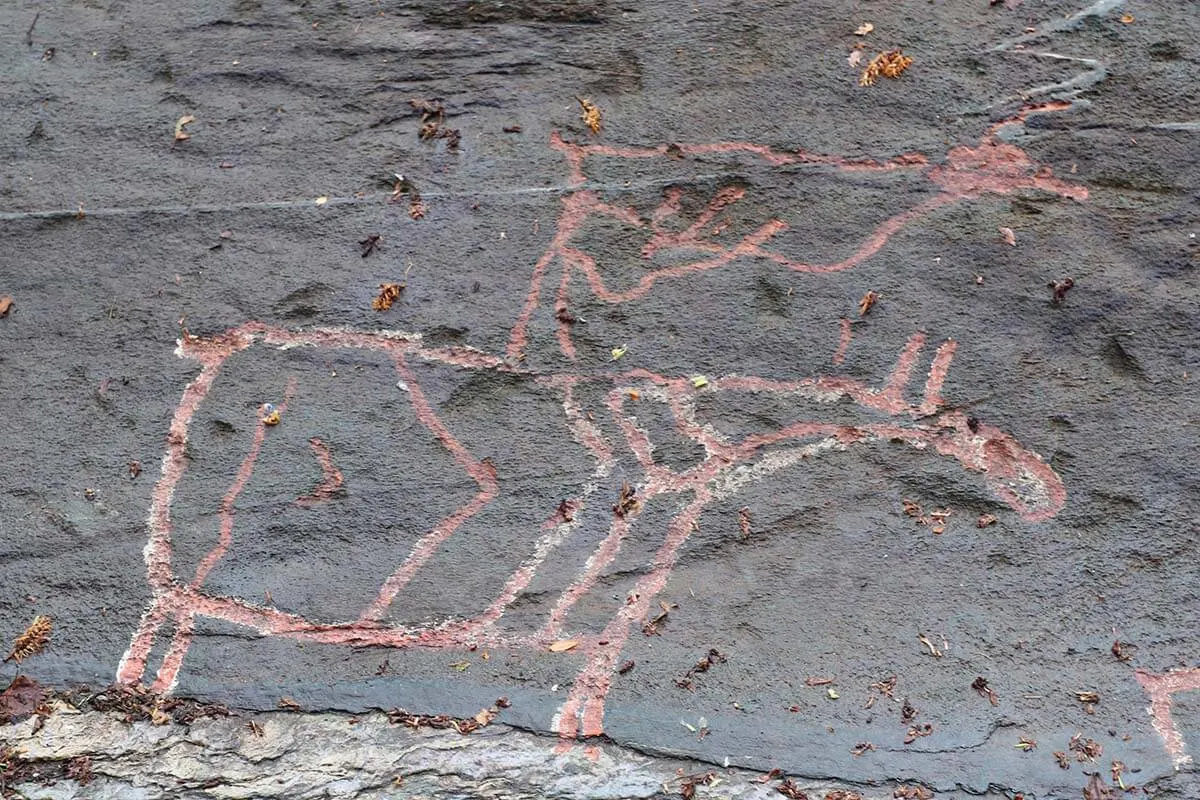 Sami Shop Heia
Sami Shop Heia is a big souvenir store next to E6 road. It's not something I'd go out of my way for, but you'll be passing by, and it's really one of the best places to rest a bit from all the driving. There's a big car park here, clean bathrooms, picnic tables, and you can also get some warm drinks/food at the shop.
It's also a nice place to get acquainted – albeit very superficially – with the Sami culture. Inside the tent, they have a fire where you can warm up and a few tables where you can sit down for traditional reindeer soup.
This shop sells all kinds of souvenirs from Northern Norway, but also some traditional Sami clothing, shoes, etc. Even if you don't buy anything, it's interesting to look around. We also found that souvenir prices were very correct here, cheaper than in most other places. So if you are looking for some souvenirs, a warm Norwegian wool sweater, or just a cozy atmosphere or a warm drink, don't miss this place.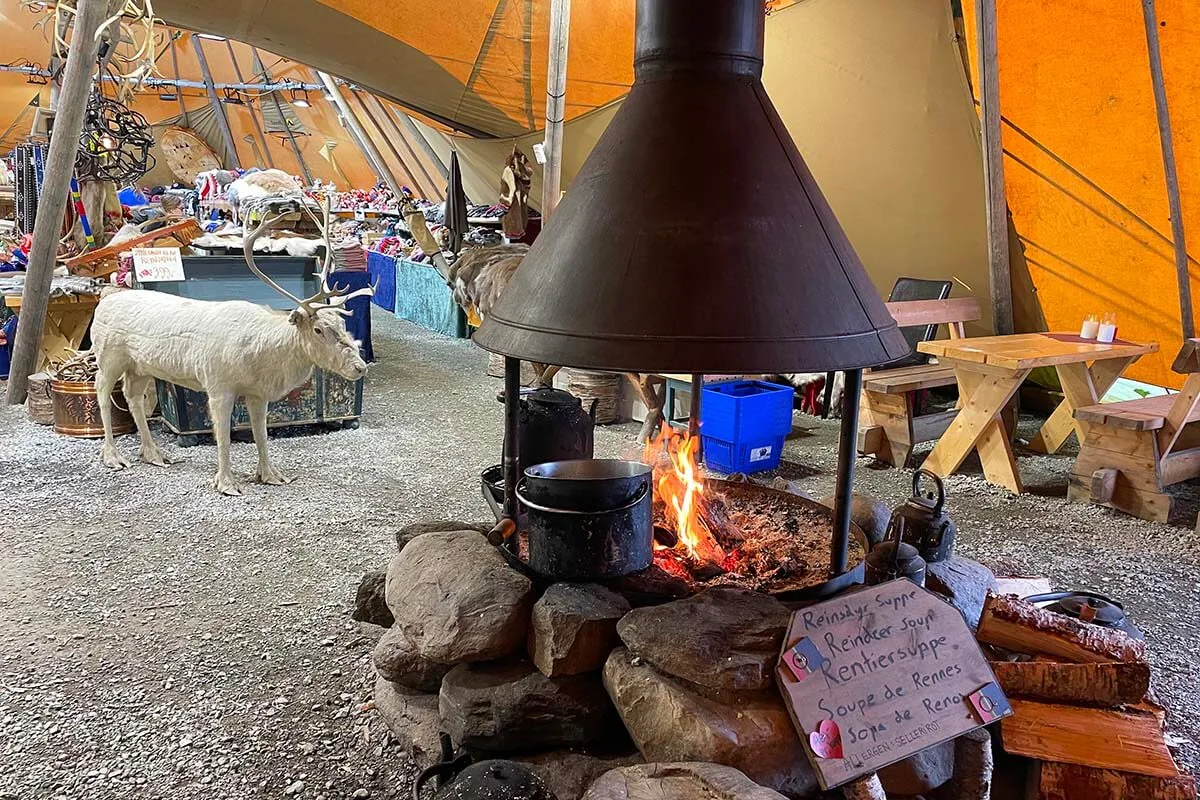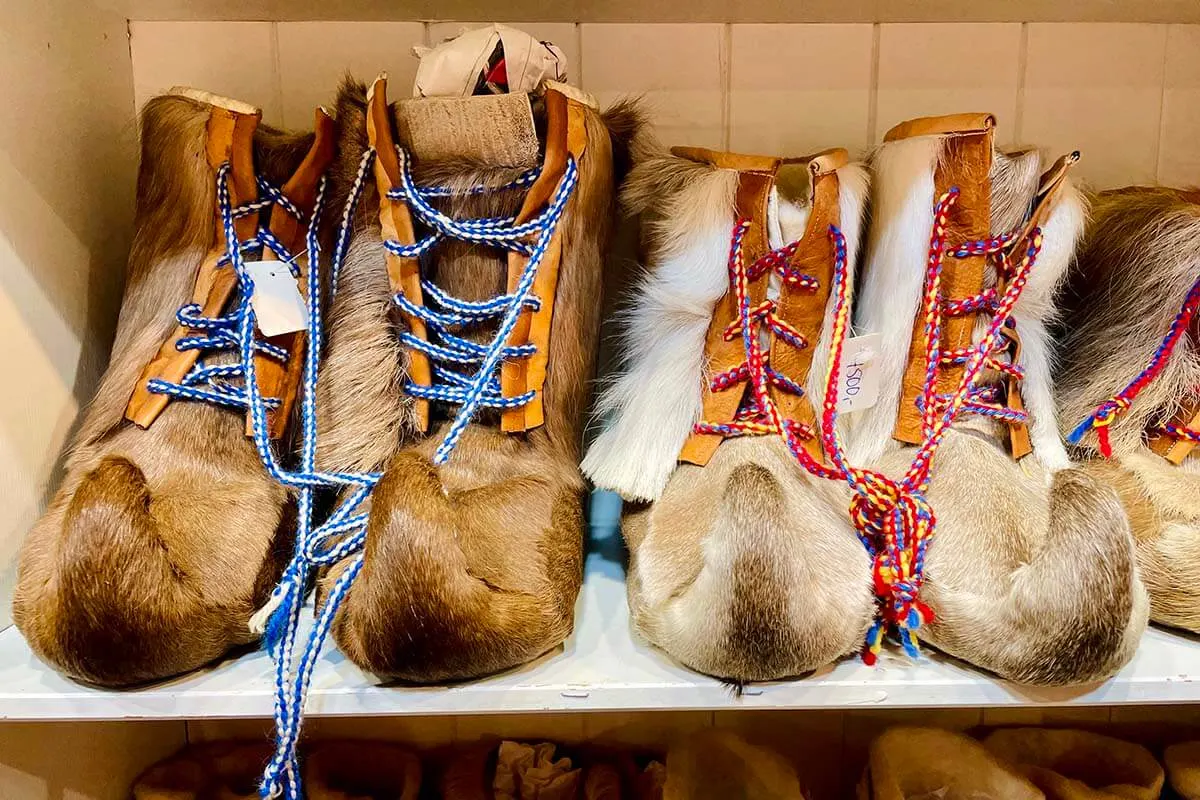 Polar Park
I heard about Polar Park when I was first planning my Tromso itinerary in winter years ago. At that time, it just didn't seem worth such a long drive (especially with limited daylight hours and icy roads). But now that we were here in the summer and we were passing by anyway, we decided to check it out.
Frankly, I wasn't sure what to expect and we were really wondering if it was worth a rather steep entrance fee. But Polar Park was so much better than we imagined and we were so glad we stopped!
This is a large animal park with several very big animal enclosures in a forest. You can see all kinds of Arctic animals here: moose, wolf, bears, lynx, Arctic fox, etc. Even with such big enclosures, we managed to see lots of animals just by walking around the main paths of the park.
They also organize a few feeding moments which give you even more chance to see the animals from close by. We also went to see predator feeding, but by then we had actually seen everything we wanted to see, so it wasn't even necessary.
Good to know: While Polar Park is an amazing place to visit for families with kids, it's just as interesting for adults. Highly recommended if you have 1.5-2 hours to spare when passing by. I'd even consider a serious detour for it. Our entire family really enjoyed it.
Practical information: In summer, Polar Park is open daily with several guiding/feeding moments in the early and late afternoon. For more up-to-date information, see their website. You'll also find a small cafe, a souvenir shop, and bathroom facilities here. They also have a nice playground for kids and even offer accommodation.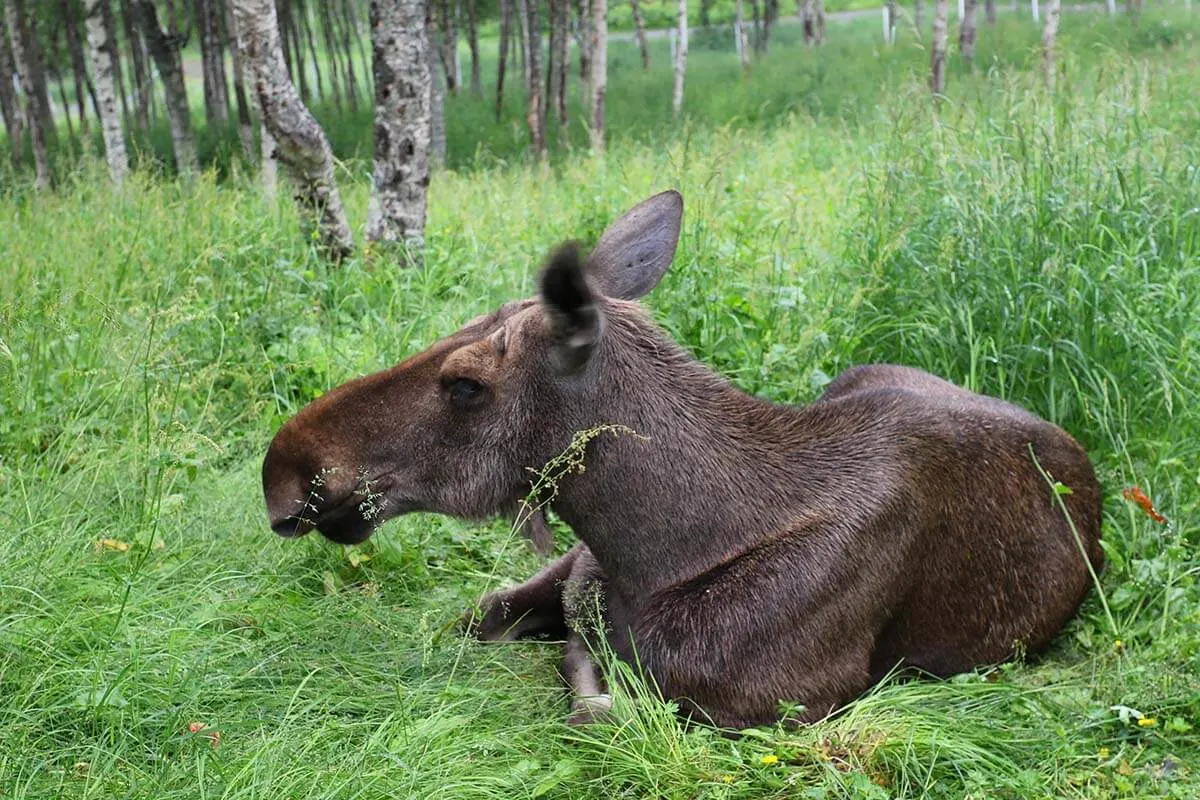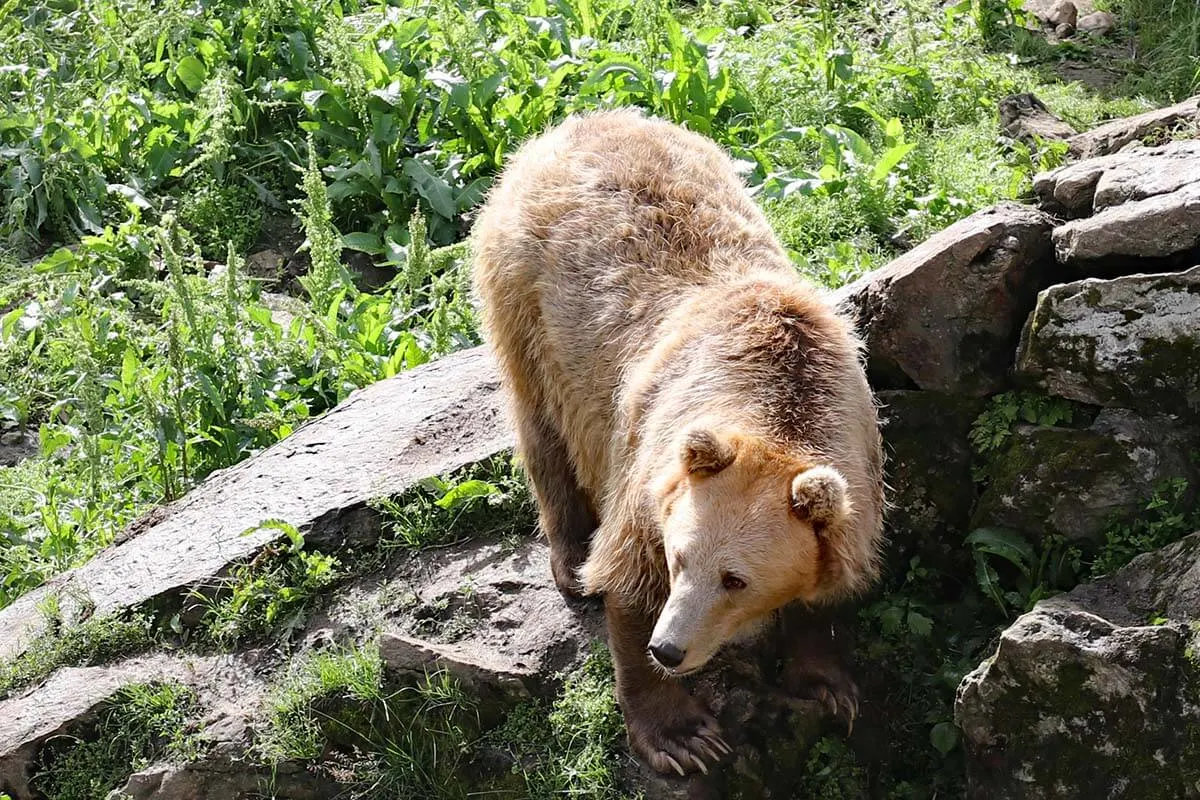 Departure
Evenes airport is located about 70-minute drive from Polar Park. If you have a flight in the late afternoon/evening, you could head straight to the airport.
Our flight departed early in the morning, so we spent the last night at the airport hotel.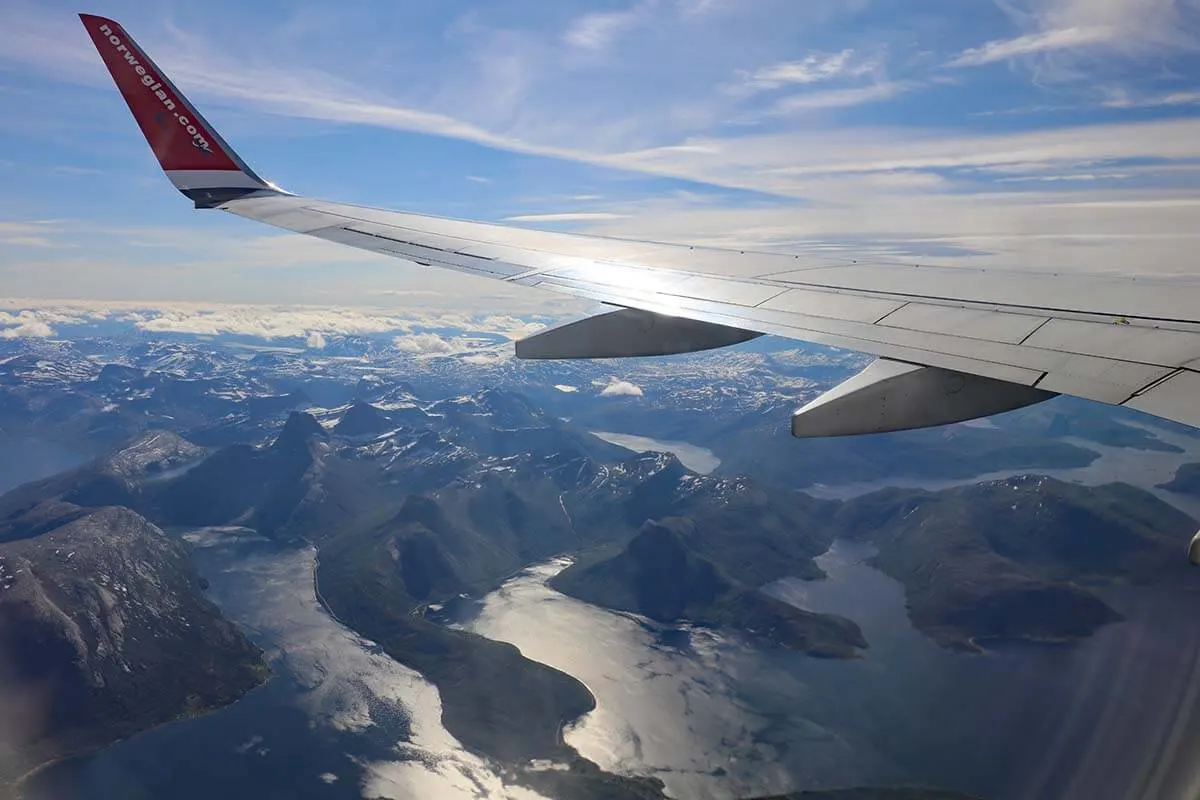 So, this is our 2-week itinerary that brings you to some of the most beautiful places in the North of Norway. I hope that it gives you a better idea of what to see, how it all fits together, and helps you plan an unforgettable trip of your own.
Have a great time in Norway!
More tips for visiting Northern Norway:
YOU MAY ALSO LIKE: Southwest Norway Itinerary (Stavanger, Bergen, Flam, Geirangerfjord & more)
If you found this post useful, don't forget to bookmark it and share it with your friends. Are you on Pinterest? Pin this image!