Are you thinking of traveling to Norway, but are not sure where to start and how to plan your trip? In this article, we share our 2-week Norway itinerary that brings you to the most beautiful places along Norway's fjords and the Atlantic coast.
Our Norway trip itinerary is based on lots of research and personal experience with a self-drive road trip visiting the most beautiful towns and fjords in the south-west of the country.
In this article, we feature our detailed Norway road trip itinerary, practical advice, driving times, a map, and many tips to help you plan your own dream trip to Norway and make the best of it. Take a look!
Planning Norway Road Trip – Where to Start
Norway is a big country with charming little towns, stunning landscapes, and many highlights, so it might be difficult to choose where to go. And when you look at the map with countless fjords, islands, and roads ending in the water, you will probably find it overwhelming to even start planning a road trip in Norway…
I felt the same way too! We have done countless road trips all over the world, but somehow planning our Norway trip itinerary seemed like an impossible task at first. We even considered booking a cruise in Norway instead…
It's important to understand that Norway is huge and it's impossible to properly see the whole country or even just the main highlights in a week or two. So you have to decide which area you want to visit the most and focus on that.
When planning our summer trip for two weeks in Norway we decided to focus on the most beautiful areas in the Southwest of the country. We wanted to see the famous fjords, do at least some hiking, drive the most scenic routes, and visit the most picturesque towns of Norway.
As I am writing this post on the last day of our trip, I can tell you that we are really happy with this Norway itinerary. There are only a few minor things that we would change if we were to plan this same trip again. Find out!
Update: A few years later, we also visited Northern Norway in summer and spent two weeks traveling around Lofoten Islands, Vesteralen, Senja, and Tromso. You can find all the details of that trip in our Northern Norway Itinerary.
Please note that this is a summer road trip itinerary. Some of the roads mentioned here are only accessible from May to October, some even as short as from mid June to mid September.
I also did my best to put all of this info on a map too, so check it out. It's definitely easier to prepare your Norway itinerary when you can see where all these places are.
How to use this map: Use your computer mouse (or fingers) to zoom in or out. Click on the icons to get more information about each place. Click the arrow on the top left corner for the index. Click the star next to the map's title to add it to your Google Maps account. To view the saved map on your smartphone or PC, open Google Maps, click the menu and go to 'Your Places'/'Maps'. If you want to print the map or see it in a bigger window, click on 'View larger map' in the top right corner.
Ultimate Norway Itinerary – How to See The Best of Norway in Two Weeks
Day 1: Arrival in Norway – Stavanger
We started our Norway trip in Stavanger, in the Southwest of Norway. Stavanger is a charming little town and it's a great base for exploring the region and doing some hiking. But the town itself has quite a lot to offer as well. It's the only place from our 2 weeks in Norway where we wished we had planned to stay longer.
We arrived in Stavanger around noon and decided to take it easy on our first day. We visited the town center and two of the best museums in town: the Norwegian Canning Museum and the Norwegian Petroleum Museum.
Usually, we don't visit museums when traveling with kids, unless it's something really special. However, these two museums are extremely well done and are great for adults and kids alike.
Actually, we loved Norwegian museums so much that we visited quite a few more later during this trip. They are great for kids too!
Practical information. You don't necessarily need a car to explore Stavanger. Car rental, parking, toll, and car ferries are quite expensive in Norway, so it's better not to rent a car unless you really need it. Since Stavanger, Bergen, and the most beautiful areas around Stavanger don't require a car, we only rented one after we left Bergen.
TIP: Stavanger airport is located a bit outside the city center. The best option to get to town is by bus – book on the Flybussen website in advance. And – if traveling with kids – look for a family ticket. The bus is fast and convenient, it stops at several places in Stavanger, and costs a fraction of what a taxi would cost.
Accommodation in Stavanger. We stayed in Stavanger for 3 nights and booked a family room at a recently built hotel Scandic Stavanger City. It was by far the most family-friendly and the best price/quality hotel of our whole Norway trip. It was also the cheapest. Go figure…
LEARN MORE: Where to Stay in Stavanger – Best Hotels & Accommodation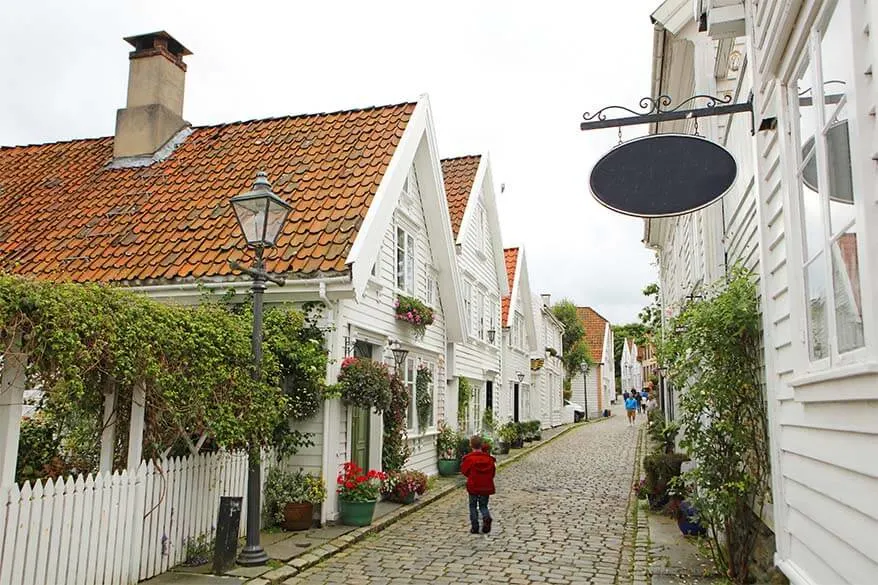 Day 2: Stavanger: Lysefjord Cruise and Hike to the Pulpit Rock
When researching our trip to Stavanger, I read that you need two days to see the main natural highlights of the area. One day for the Lysefjord cruise, and one for the hike to Pulpit Rock (Preikestolen).
However, this is not necessarily the case! You can see both – the Lysefjord and the Pulpit Rock – in one (full) day.
Practical information. You can read more about this day trip from Stavanger here: how to visit Lysefjord cruise and do the Preikestolen hike in one day.
LEARN MORE: Hiking to Pulpit Rock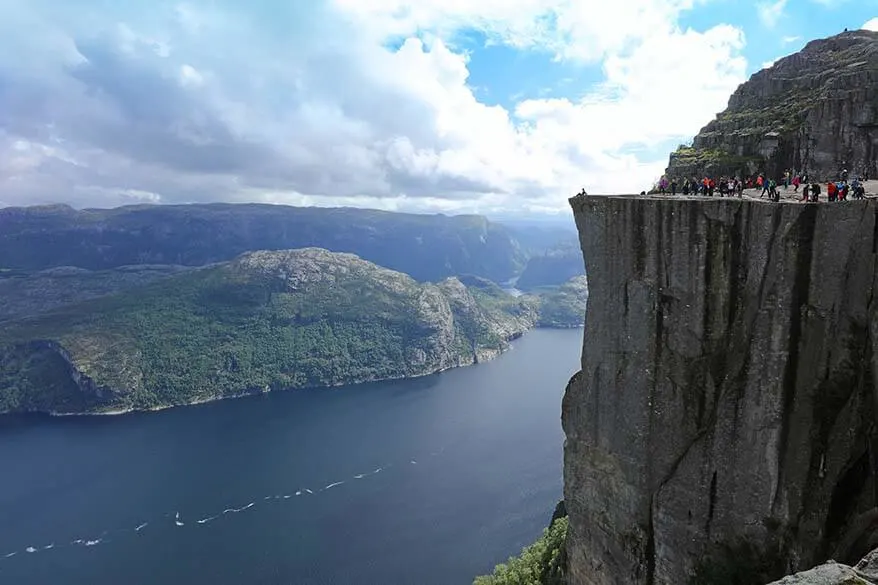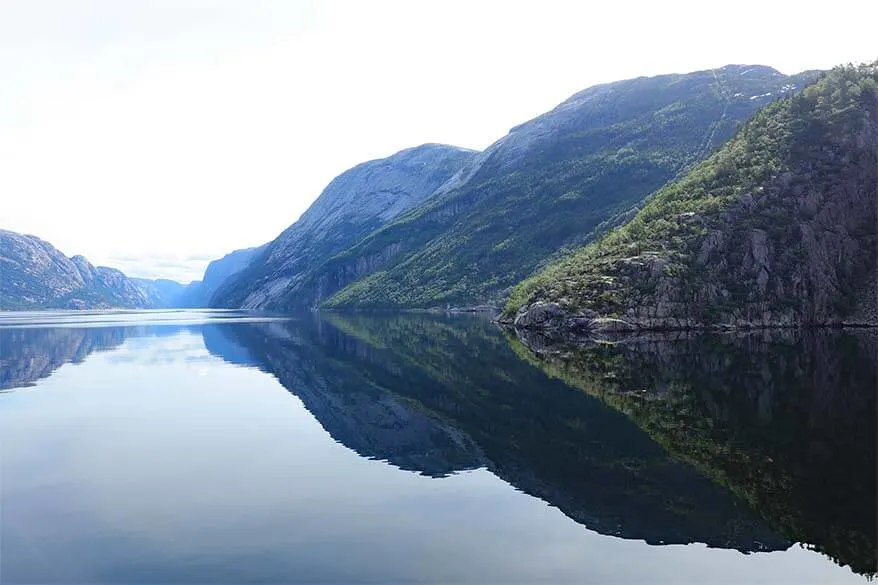 Day 3: Stavanger: Lysefjord and Florli 4444 Hike
There are several iconic hikes you can do in the Stavanger region. In addition to Pulpit Rock, we wanted to do one more hike. We were hesitating between Kjerag or Florli 4444, and chose the latter.
Florli 4444 is the most memorable and special hike we ever made! Climbing 4444 stairs was tough, but the views were stunning and it's an experience we will never forget.
TIP: If you have one more day in Stavanger region and you think you can handle three challenging hikes three days in a row, then you may want to hike to Kjerag as well. Note that these are all challenging hikes, but I am sure you can find other alternatives too.
Practical information. If you are planning to hike to Kjerag or Florli 4444, you will either need to rent a car or book a guided tour. We went to Florli 4444 with Geir from Lysefjorden Adventure and had a wonderful time with nothing to plan or worry about. Here you can read all about our day climbing the world's longest wooden staircase Florli 4444.
READ ALSO: Best Things to See and Do in Stavanger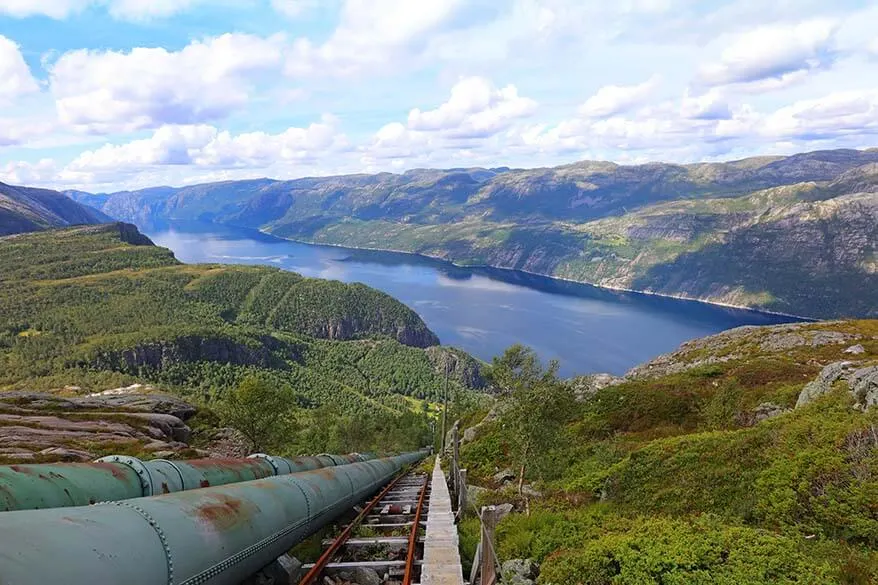 Day 4: Stavanger to Bergen by Bus and Exploring Bergen
There are several ways to get from Stavanger to Bergen. You can drive, fly, take a ferry, or a bus. The easiest and cheapest way to travel from Stavanger to Bergen is by taking a coastal bus. It's also a very scenic ride!
Driving time. The bus trip takes 4,5-5 hours. There are two ferry crossings along the way, so you can get out of the bus to stretch your legs, grab a bite, use the bathroom, etc.
TIP: Book your bus tickets online in advance – it's cheaper than buying them directly from a driver. If traveling with kids, click on 'show more ticket types' and choose a family ticket.
Exploring Bergen. We were extremely lucky with the weather on our first day in Bergen, so we decided to visit the Floyen mountain and do some more hiking. In the evening we came back down to town and explored Bryggen. It's a magical place when there are no other tourists around!
Accommodation in Bergen. We stayed two nights at Scandic Torget This hotel has the best location in town, next to the harbor. When planning your Norway itinerary, remember to book your hotels well in advance, also in Bergen. Despite it being a big town with plenty of hotels, Bergen was one of the most challenging places to find a family room when we were planning this trip 9 months in advance.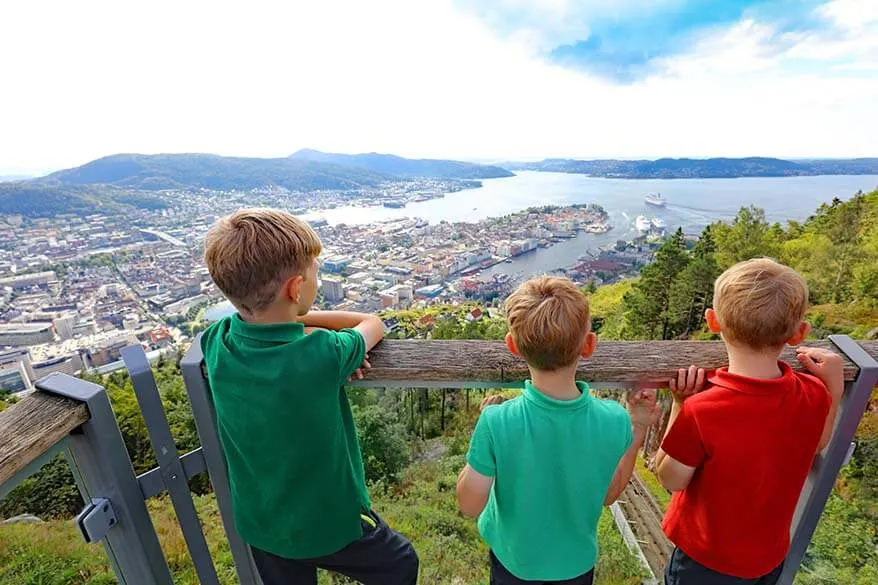 Day 5: Bergen and Suggestions for Trolltunga
Bergen is known as the city where it always rains. On our second day in Bergen, it poured the whole day. Luckily, there is plenty to see and do in this city even when it rains.
We chose to visit three museums – the Norwegian Fisheries Museum, the Hanseatic Museum, and Schotstuene. We bought a combo ticket that included all three museums and the shuttle bus between them.
ALTERNATIVE TIP: If you like hiking and don't mind a 23km (10-12 hours) strenuous hike, then you may want to consider the epic Trolltunga hike. It's about 2.5 – 3hrs drive from Bergen. Trolltunga requires a full day and it's best to stay 2 nights in the area close to it. Here you can find accommodation near the Trolltunga hike trailhead.
We didn't do this hike because our kids are too young for it. But if you hike, then definitely try to add Trolltunga to your Norway trip itinerary. It's one of the most spectacular hikes in Norway.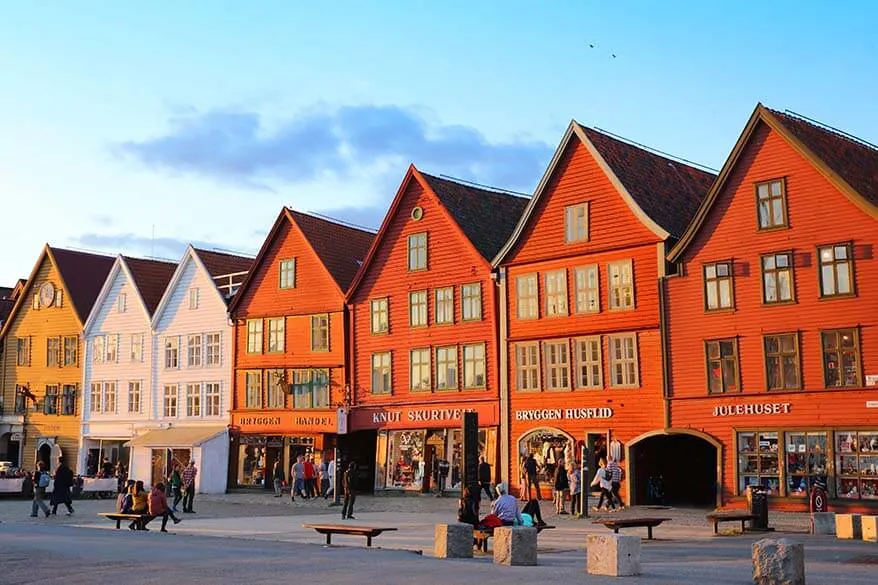 Day 6: Bergen to Gudvangen/Flam
The rest of this Norway trip itinerary requires a car. Check here for the best deals for car rental and book early for the lowest price. We picked up our rental car in Bergen and drove in the direction of Gudvangen/Flam where we would spend two nights.
On the way from Bergen to Gudvangen, we stopped by two waterfalls: Skjervsfossen and Tvindefossen. Skjervsfossen requires a small detour and there were hardly any tourists at all. While Tvindefossen was just next to the road, and there were several tour busses with hundreds of cruise ship passengers.
Upon arrival in Gudvangen, we visited the Viking Valley. This Viking village is not to be missed! Count at least 2 hours for a visit. Here you can read more about this authentic Viking Village in Norway.
Afterwards, we headed to Flam where we had a 5.25 PM reservation for Flamsbana – one of the most scenic train journeys in the world.
Driving time from Bergen to Flam is approximately 2,5 hours. Count 3-4 hours if you are planning to visit the two waterfalls.
Accommodation in Gudvangen/Flam is very scarce and expensive, so make sure to book it as soon as you start planning your trip. Click here for availability and prices for accommodation in Flam or Gudvangen.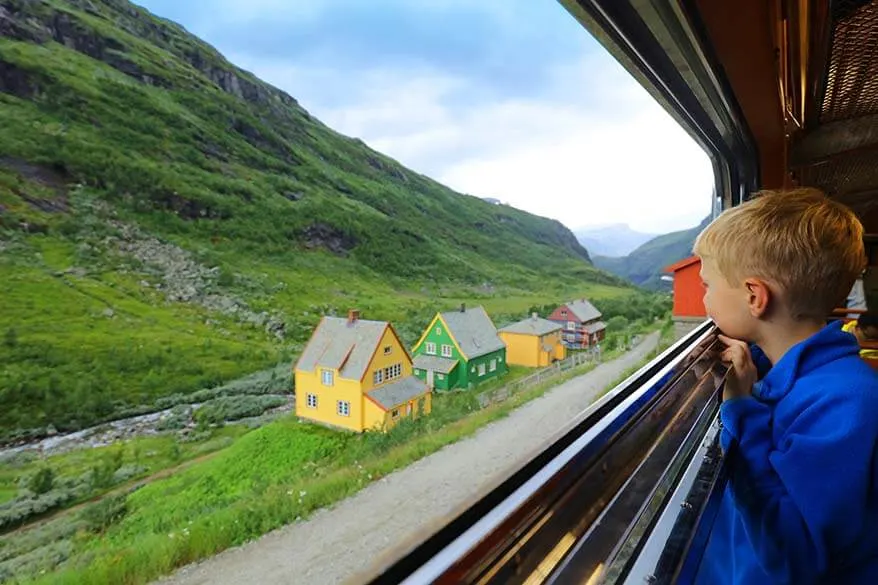 Day 7: Gudvangen – Flam area – The Nærøyfjord
We started our day with the cruise on Naeroyfjord from Gudvangen to Flam. After arrival in Flam, my husband took a shuttle bus back to Gudvangen to pick up our car. He then returned to Flam to pick us up (20min driving time each way).
After that, we had lunch and explored Flam a bit more, walked to a waterfall, and visited the small village of Undredal.
Practical information: If you are planning to do the scenic train ride and the fjord cruise, make sure to book your tickets in advance (check prices and availability on the Visit Flam website). Flam is a very popular destination!
LEARN MORE: Best things to see and do in Flam in one day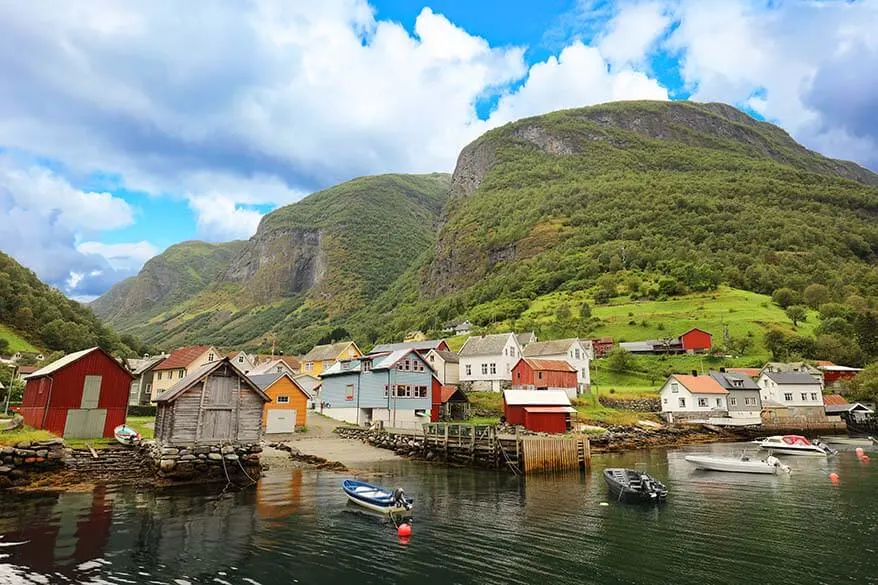 Day 8: Gudvangen to Sogndal
We started our day with the drive up the Stegastein viewpoint. We then continued on the old scenic road (Fv.243) to Laerdal. This road is only open from mid June to Mid September. An alternative is to take the Laerdal tunnel, the longest car tunnel in the world.
Our next stop was Borgund stave church. It's a small detour to get there, but worth the trip. After that, we continued to Sogndal (ferry crossing from Fodnes to Mannheller).
After checking in at our hotel we headed to nearby Norwegian Glacier Museum and visited two glacier tongues nearby. We also made a short stop in Mundal – the book village in Fjaerland. The picturesque village looks like a beautiful place to hang around for a while if the weather is nice, but it was raining when we visited, so we headed back to Sogndal for an early dinner.
Driving distance/time. The actual driving distance is not that big, but scenic roads, ferry crossings, and lots of photo stops quickly add up. The total driving distance for this itinerary is 215km.
Accommodation. Sogndal town and area has several really nice hotels. We stayed one night at the beautiful Hofslund Fjord Hotel in Sogndal town itself.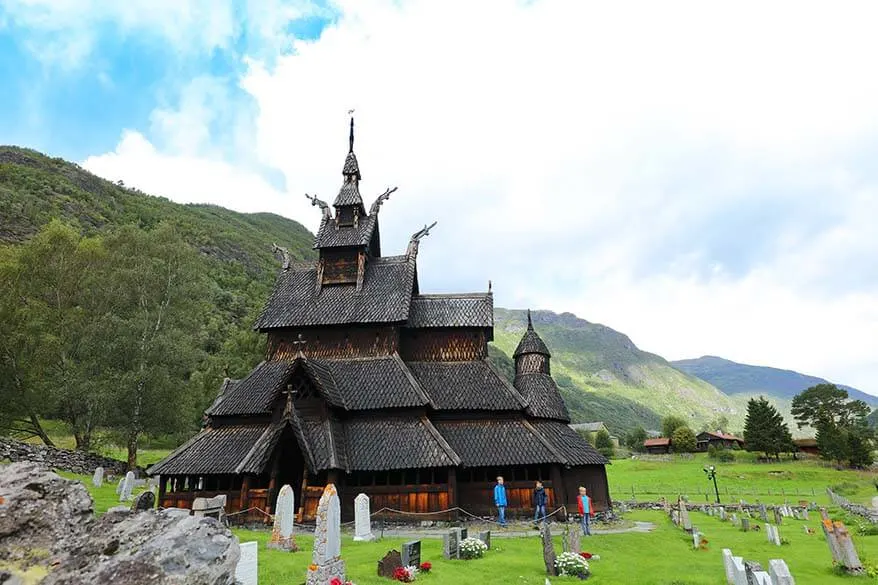 Day 9: Sogndal to Geiranger
The long drive from Sogndal to Geiranger passes some of the most beautiful roads in Norway. Our first stop was at Drivandefossen waterfall. After a short walk, we then continued on the scenic road Fv.55 to Lom and afterward Fv.63 to Geiranger.
Must-do is the scenic road (toll road) to Dalsnibba viewpoint over Geiranger fjord and the area.
Driving time. There are several roads leading from Sogndal to Geiranger. Count a minimum of 4-5 hours for the route described above (235km). Add a few hours for the stops along the way.
Note that Geiranger is only accessible by car in the summer months. From mid October to May you can only reach Geiranger by boat or train.
Accommodation. Finding accommodation in Geiranger was another challenge when creating our Norway trip itinerary. To keep the long story short, in the end, we were lucky to secure two nights at Hotel Geiranger with the best location in the village and fantastic views over the fjord.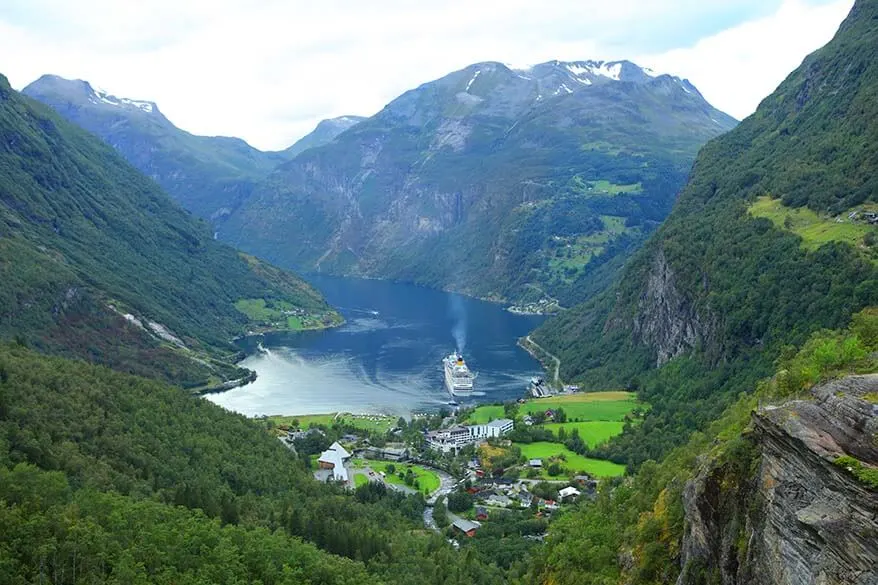 Day 10: Geirangerfjord – Briksdalsbreen – Geiranger
We started our day with the scenic fjord cruise on Geiranger fjord. The car ferry crossing from Geiranger to Hellesylt is a great way to see the fjord and to explore more of the area afterwards.
After a short stop at Hellesylt waterfall, we headed to the scenic little towns of Stryn, Loen, and Olden. The main highlight in this area is the Briksdalsbreen glacier. The drive there was really scenic and also the hike was well worth it. It's a popular area visited by tour busses as well, so you won't be alone.
The nearby Kjendalsbreen glacier is much less known, but according to all the reviews and guidebooks, is also worth a visit. We ran out of time and the weather wasn't great either, so we skipped it. But if you can, make sure to visit this glacier tongue as well.
Driving distance. Total driving distance excluding the ferry is about 200km. Count the whole day.
TIP: Book your tickets for the Geiranger car ferry in advance to make sure that you can start your day early and don't have to wait for the next ferry on busy days.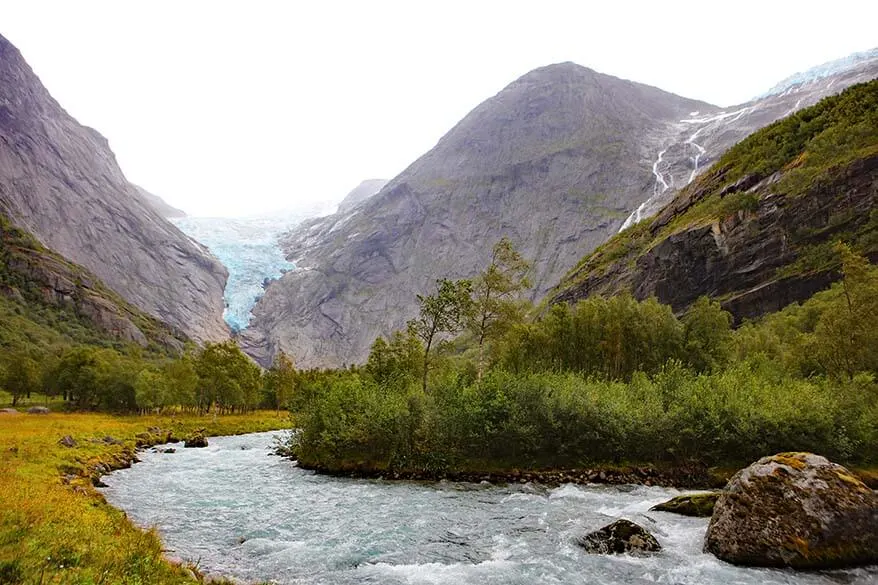 Day 11: Geiranger – Ornevegen – Trollstigen – Alesund
The drive described here is not the fastest way to get from Geiranger to Alesund. However, it's the most scenic one.
After leaving Geiranger we drove up the steep and winding Ørnevegen – The Eagle Road, to Eidsdal, where we took another scenic ferry ride to Linge.
Then we drove up Trollstigen – The Troll Ladder, one of the most beautiful scenic roads in the world. It's also one of the most popular places to see in Norway.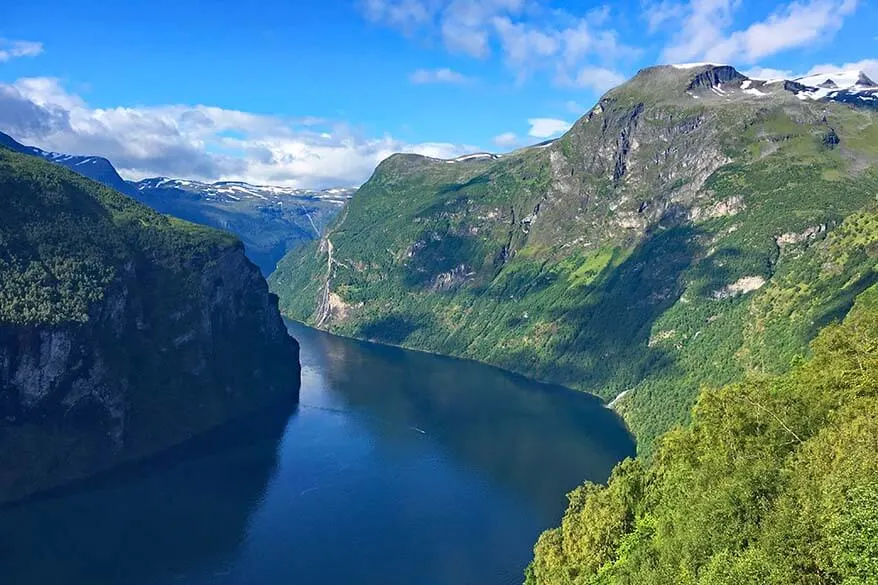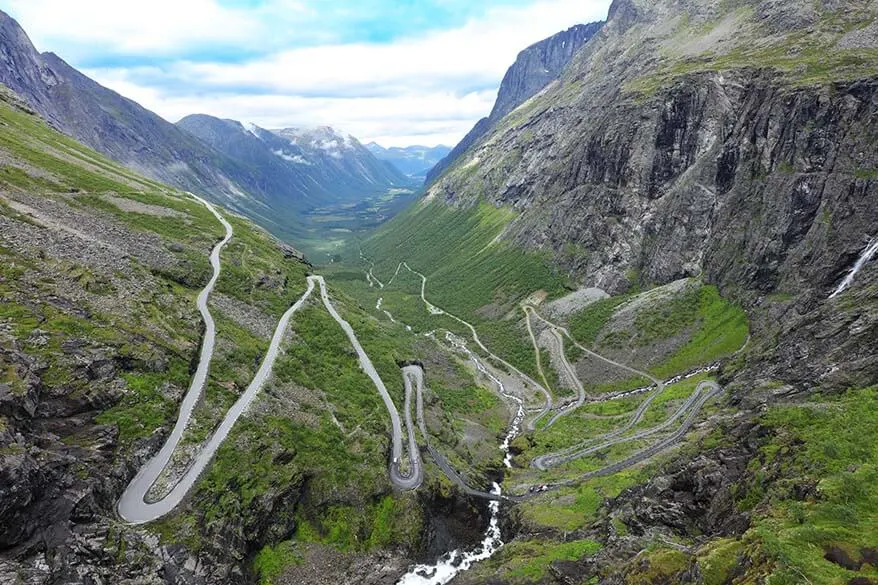 We reached the town of Alesund in the late afternoon. That gave us plenty of time to walk around the small town center, climb the 418 steps to Mount Aksla viewpoint, and have a nice dinner.
Driving distance. 192km, count at least 4-5 hours. Add another hour for the scenic walk on top of Trollstigen.
Accommodation. We spent one night in Alesund and stayed at First Hotel Atlantica right in the town center. You can find more Alesund accommodation options here.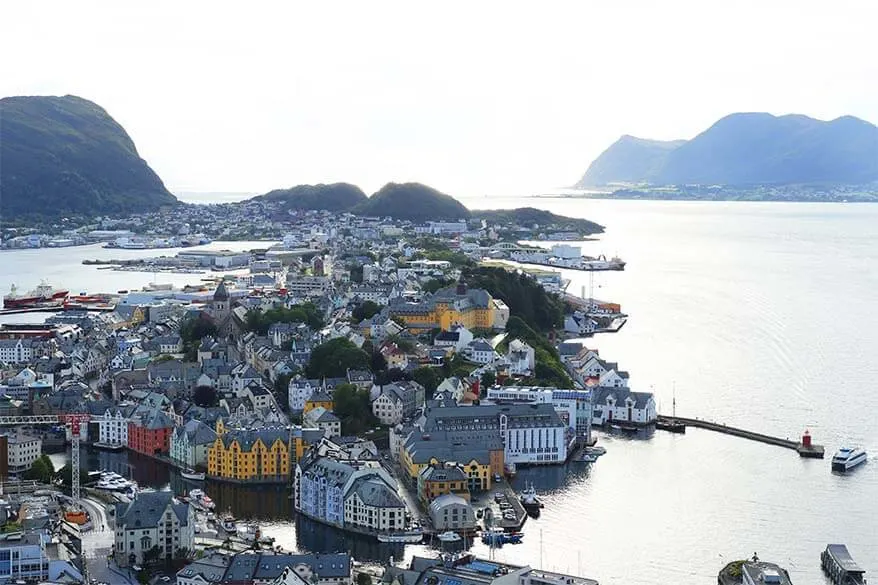 Day 12: Alesund – Atlantic Ocean Road – Kristiansund
The main highlight today is the Atlantic Ocean Road. However, the part that most tourists visit is just over 8km long, and you don't need the whole day for it.
We took the longer version of this road, took many detours and took the time to walk around and travel slower. It was one of our favorite days in Norway! With beautiful landscapes and hardly any other people around.
Leave Alesund and drive to Vestnes from where you take the ferry to Molde. In Molde, make sure to turn left on road 664 in the direction of Bud.
Kristiansund itself is a beautiful, but a very quiet town with very little to do for tourists in the evening. If you arrive early, you can take the ferry connecting the five islands, visit the Klipfish museum, or walk in the park or to the coast.
Driving distance/time. 185km – minimum 4 hours without stops.
Accommodation. We spent one night in Kristiansund. Check prices and availability for Kristiansund accommodation here.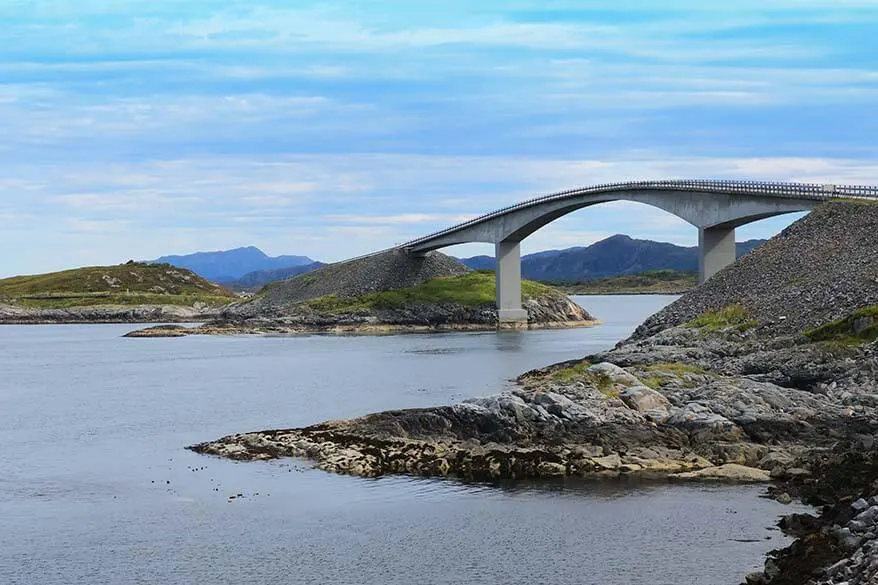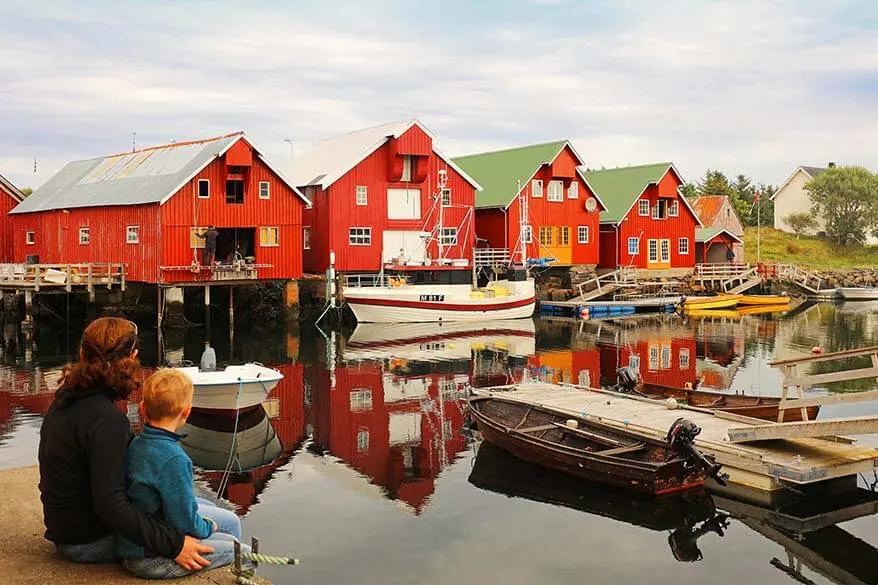 Day 13: Kristiansund to Trondheim
There are several roads to get from Kristiansund to Trondheim. We chose the scenic route Fv. 680 along the coast and the views were well worth the detour.
Since we had plenty of time, we made a stop at the Sverresborg folk museum just outside the city center of Trondheim.
After that, we returned our rental car and we still had plenty of time to walk around the old town of Trondheim.
TIP: If you want to make your trip a day shorter, you could continue straight to Trondheim, explore the city center, and leave Norway the next morning.
Driving distance/time. Scenic road 207km 4-5 hours. Quickest: 200km 3,5 hrs.
Accommodation. We stayed in Trondheim for two nights. Here you can check availability for Trondheim accommodation.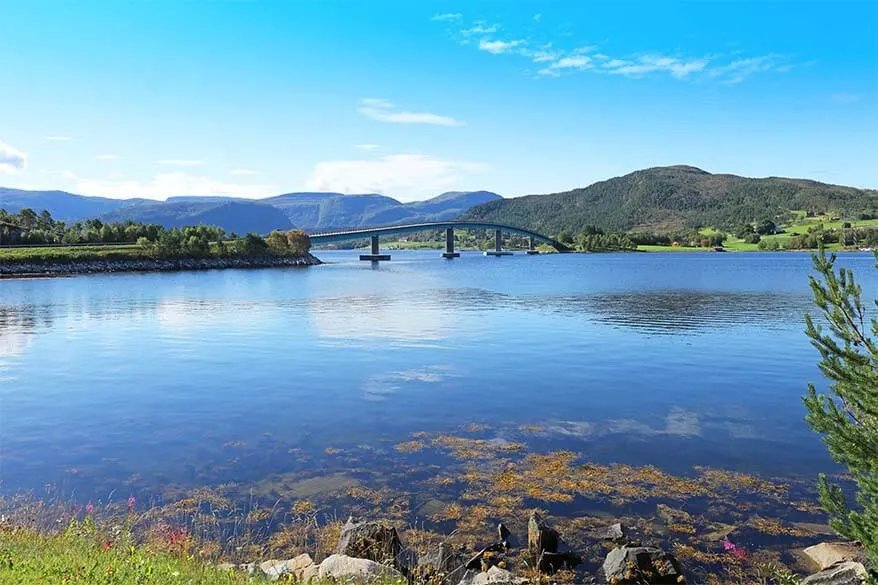 Day 14: Trondheim
We spent the last day of our trip exploring Trondheim, the third-largest town of Norway. Unfortunately for us, the weather was really bad, so we couldn't do many things we had planned to.
We had a nice relaxing day, walked around the town a bit. It was very lively as there were several events in town that weekend, so it was really nice to experience the city as locals do. And it was a good way to end our trip.
TIP: If you want to save some time when planning your Norway trip, you could skip this day altogether. Trondheim town can be visited in just a few hours, so you could easily do it in the evening of the day when you arrive here.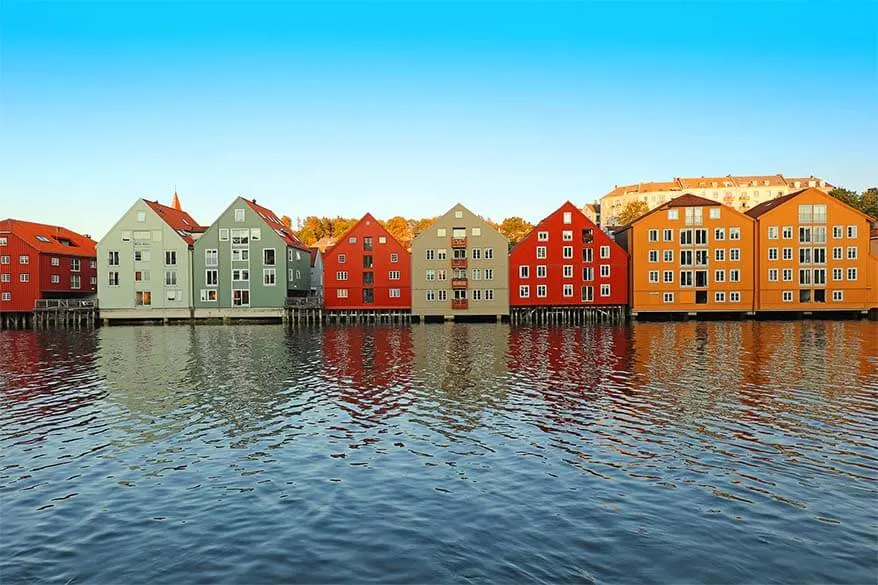 Day 15: Departure from Norway or Continue to Lofoten/Tromso in the North
Trondheim Airport is located quite far from the city. We took a bus to the airport – the bus station is centrally located, busses run every 10-15 minutes, and it drops you off right at the terminal after a ride of about 40 minutes.
TIP: There is no reason to keep your rental car until the airport in Trondheim. Parking is difficult to find and expensive in Trondheim. On top of that; there are toll roads on the way to the airport, not to mention the rental price for an extra day or two.
ALTERNATIVE SUGGESTION: If you have another few days to spend in Norway, you can fly to the north and explore more of this amazing country. One of the most popular regions many people visit is Lofoten archipelago. Another great place to be is Tromso.
If you are feeling even more adventurous, fly all the way up to Svalbard – a Norwegian archipelago just 1000 km from the North Pole. No matter which destination you choose, they are all worth a visit!
LEARN MORE: 2-Week Northern Norway Travel Itinerary
So this was our self-drive road trip itinerary for two weeks in Norway. If you have any questions about this Norway itinerary or want to share your experience with road-tripping in Norway, don't hesitate to leave a comment below.
TIP: Planning a trip to Norway and wondering about the budget? Make sure to read this: How expensive is Norway.
Thinking of visiting Norway in winter? Check this out for some serious winter travel wanderlust: Best things to do in Tromso in winter & Best things to do in Svalbard in winter.
If you found this post helpful, don't forget to bookmark it and share it with your friends. Are you on Pinterest? Pin this image!