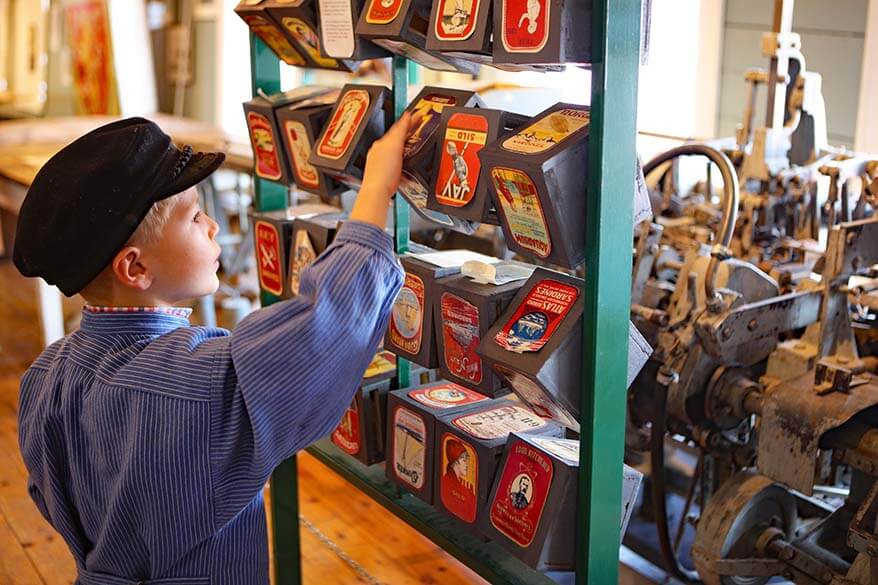 Who knew that canned fish could be so exciting! If you ever find yourself in Stavanger, Norway, do yourself a favor and visit The Norwegian Canning Museum.
To put things into perspective, we don't often visit museums when we travel with kids. But Norwegian museums are so very different from most other museums we have been to, that I really recommend visiting at least a couple of them.
The friendly people at Stavanger Region tourism recommended The Norwegian Canning Museum to us, and I am really glad we visited. It's fun for young and old. And it's so typically Norwegian!
In this post, you can read about our experience visiting the Norwegian Canning Museum (Norsk Hermetikkmuseum) in Stavanger with kids.
If you would like to get to know a bit more about the Norwegian fishing industry, if you like hands-on experiences and learning by doing, then this museum is for you! Find out!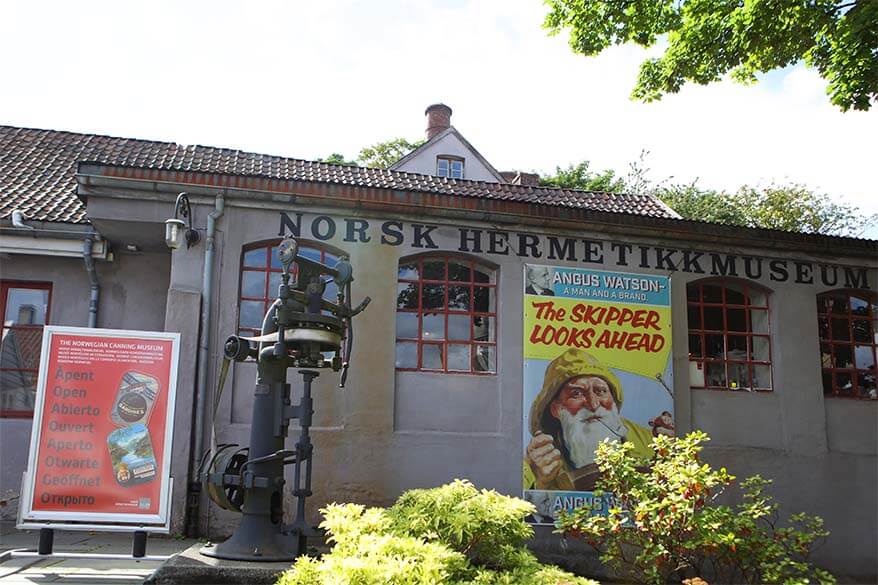 Norwegian sardines and canning industry – a little bit of history
The fishing industry has always played a very important role in Norway's economy. Since more than 70% of Norway's exported canned fish production came from Stavanger, this is the perfect region to get acquainted with this fascinating part of Norwegian history.
The canning industry peaked in the 1920s with almost 200 factories operating in Norway, 59 of them in Stavanger. By 1978 only 21 factories remained; 9 of them in Stavanger. By 1990 only 4 plants remained in the whole of Norway.
The production is now more centralized, and the Norwegian seafood industry is doing extremely well. Norway exports seafood to about 130 countries worldwide, and this multi-billion industry is growing at a steady rate.
The Norwegian Canning Museum in Stavanger – what to expect
The Norwegian Canning Museum is located right in the middle of Old Stavanger – 'Gamle Stavanger', an area you definitely have to visit when in town.
A short walk through the most charming street with the white wooden houses decorated with flowers leads you to the former canning factory that is now home to the Stavanger Caning Museum.
It's not a big museum, but we spent 1h20 there – more time than I had anticipated. And we loved every minute of it. Here is what you can expect to find… Read on!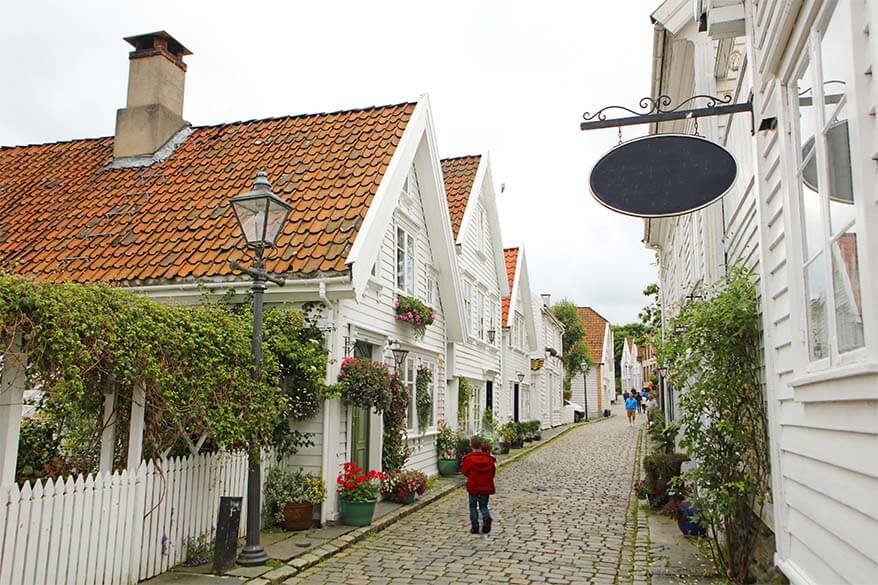 Meet the friendly staff
Upon arrival, we were greeted by very friendly staff. Mr. Piers Crocker, the curator of the museum himself, offered to guide us.
There aren't many text explanations in the museum, so it's best to visit with one of the staff!
This way they want to keep people curious, encourage to ask questions, and really get to learn about this fascinating industry. I have to say that they really succeed at it!
Piers is so passionate about the industry and the museum that his enthusiasm is contagious. We never thought that we would love this little museum so much! Just take a look at his t-shirt, it will put a smile on your face!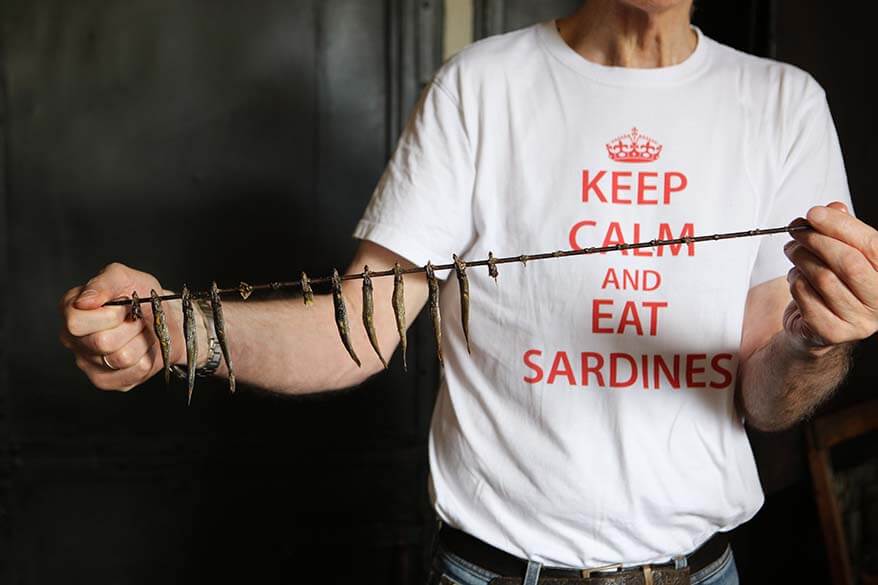 Watch the introductory film
The museum has two floors. We started our visit upstairs, with a short introductory film showing the whole process of production of canned sardines.
From catching the fish, washing, and pre-brining, threading, smoking, decapitating the fish to oil filling, laying of the sardines in the can, to finally sealing and labeling the cans.
The film shows factory workers from the beginning of the 20th century, and you really get a very good picture of the importance of this industry, as well as the work that goes into a single can of fish. I can tell you that I will never look at canned fish the same way again!
See the collection of can labels
In the museum, there is also a big exhibition of fish can labels. If you take the time to look at them more closely, you will be amazed by the huge variety of them!
Labels have been used since the 1880s, but in the beginning, the contents were considered more important than the packaging. However, with standard fish cans all looking the same, there was a strong need for every individual producer to give their products a distinctive look.
By 1900 colorful and carefully designed labels became the norm. This lead to a huge increase in sales and a big number of new factories opening as a result.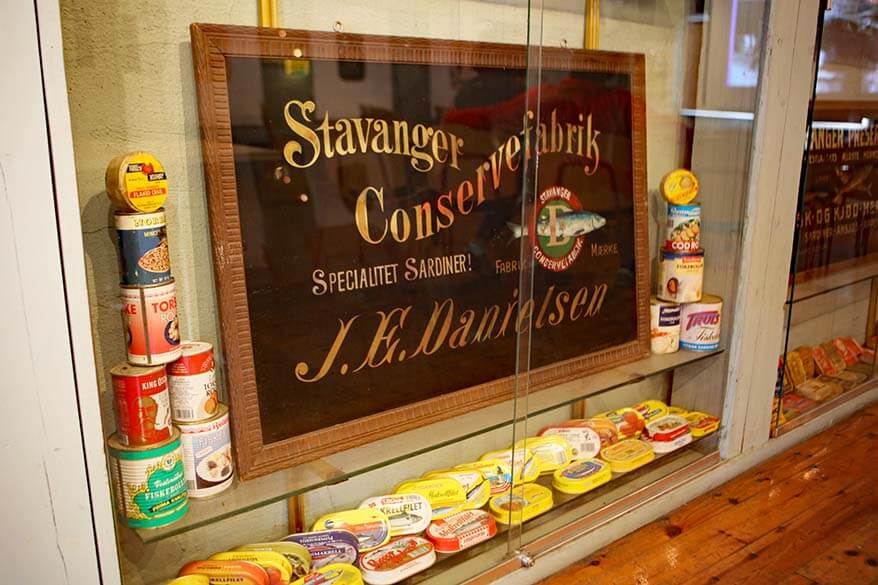 Piers told us that Stavanger canning museum now holds a collection of over 32,000 different labels! Only a small part of them is on display, however. But when you see them, one thing becomes very clear – Norwegians have always had a profound knowledge of marketing.
With beautiful labels tailored specifically for different countries, social groups, a variety of famous people, events, and interests, they would sell canned fish even to a fisherman!
Take a look at some of the labels (these images are courtesy of the Norwegian Canning Museum and all rights are reserved)!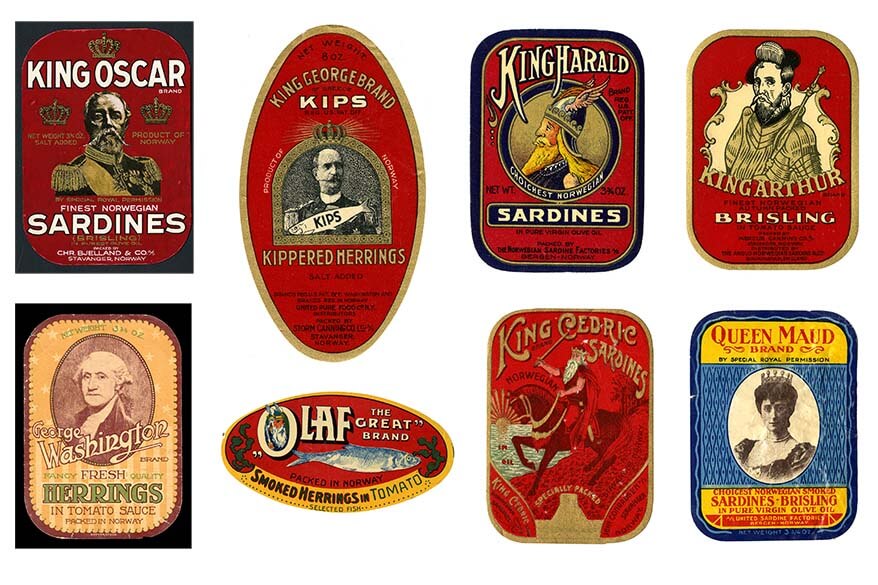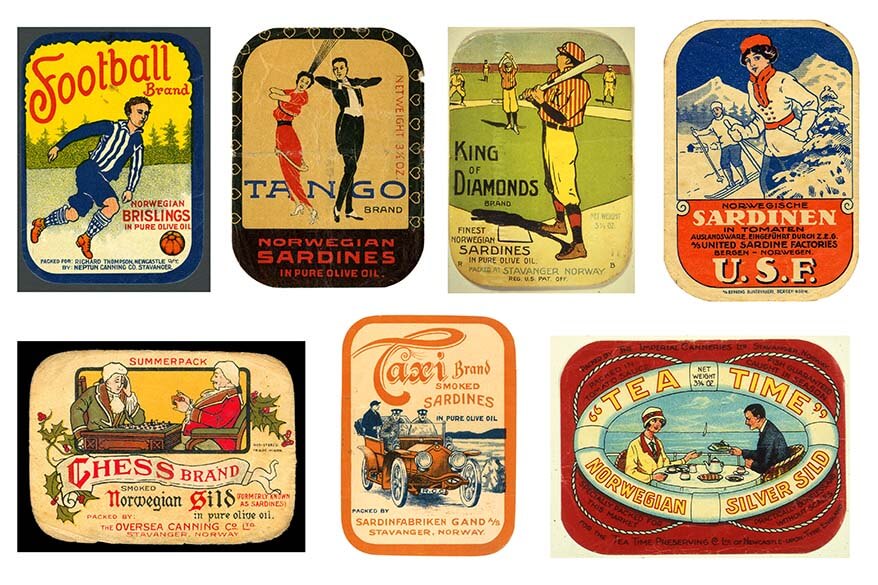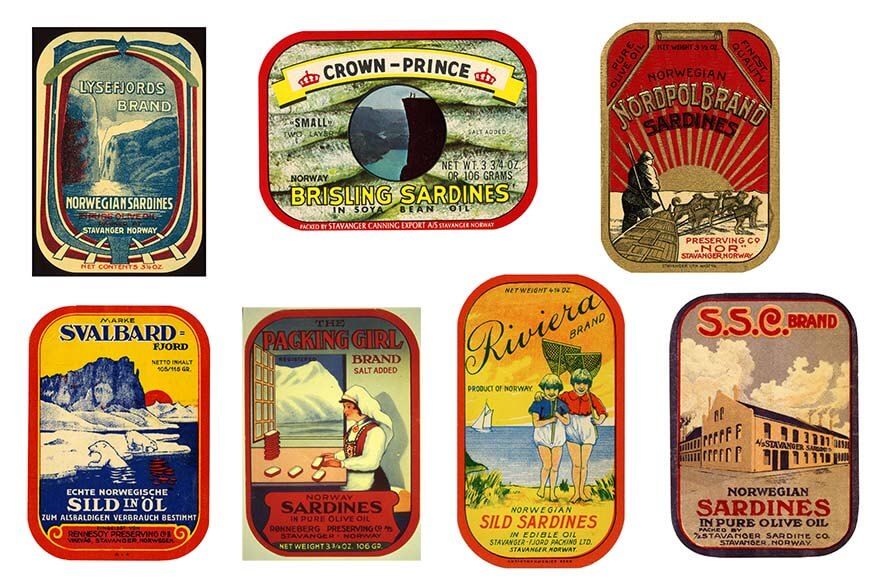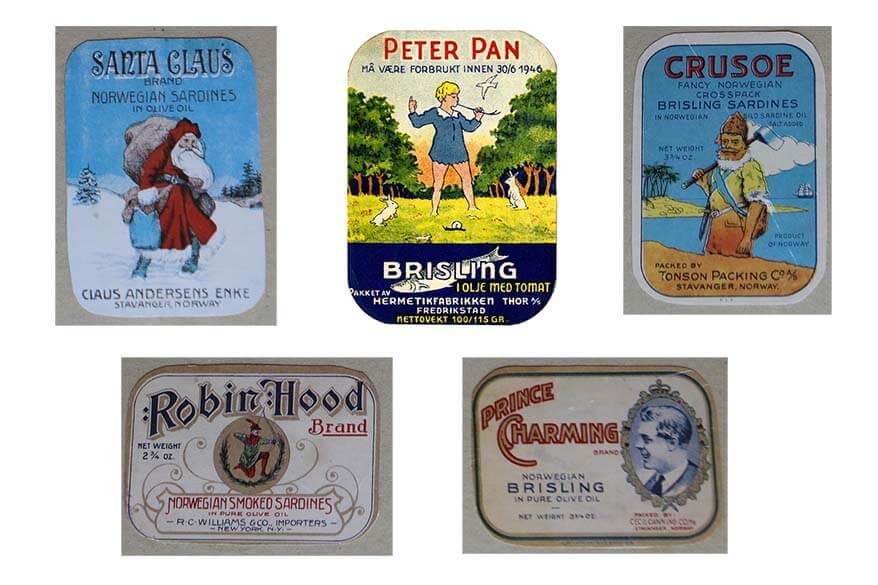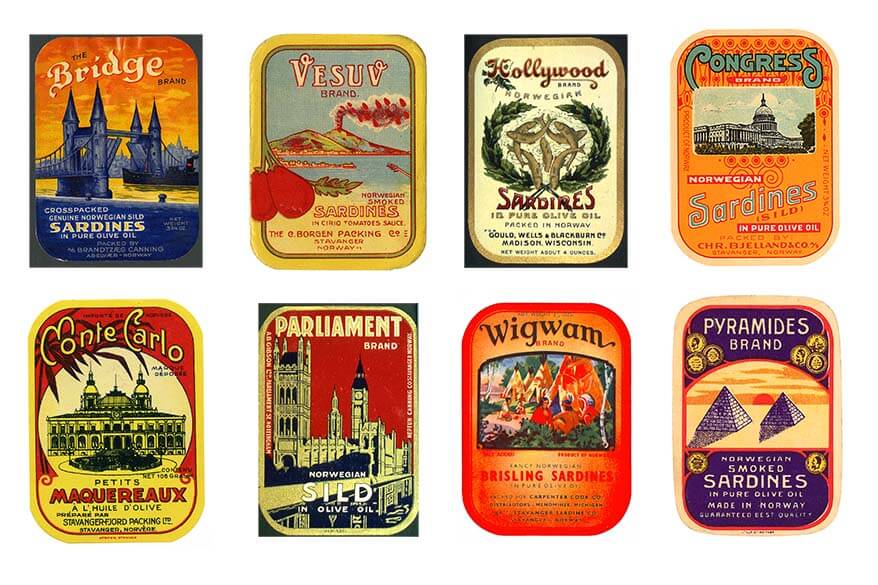 Visit the worker's lunch-break room
If your kids like role play, then don't miss the workers' room on the first floor of the Norwegian Canning Museum!
Here you can find typical clothing worn by the workers in the old days, and – if you fancy – dress up, as our kids did. They had so much fun!
A visit here takes you back in time in an instant. You can much better appreciate how the regular day at the canning factory looked like over 100 years ago…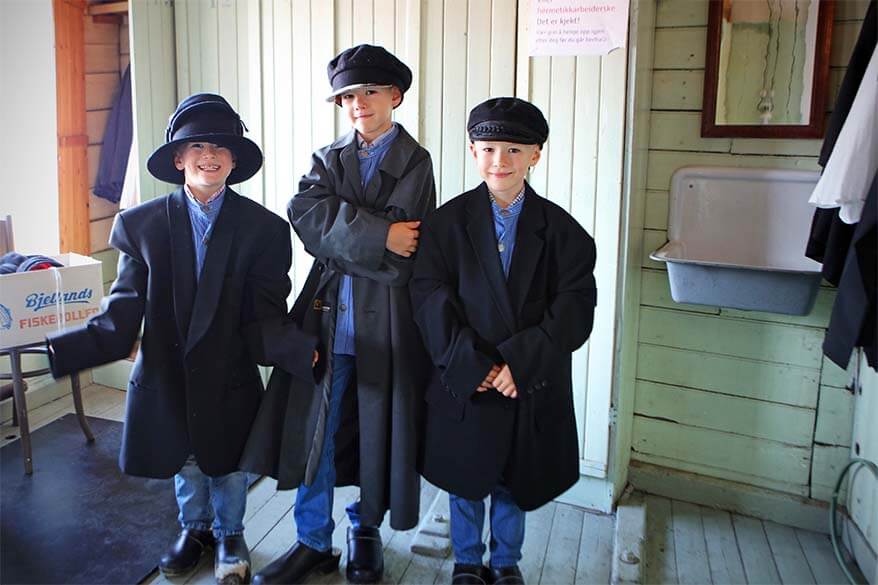 Try canning fish yourselves in the production and packaging hall
We already loved everything about the Norwegian Canning Museum, but the exhibition on the ground floor has made the whole experience even better!
Here you can see the whole production process, step by step. And the best part is that you can actually touch and try everything for yourself! This part of the museum is not to be missed if visiting with kids! But if I'm completely honest, adults will love it just as much.
We couldn't resist trying the threading and the laying of sardines! It's really fun, and not just for the children. But beware that it's not as easy as they make it look in the film!
No way could we properly fill a can of sardines in 5 or 6 seconds. Not even in 50 or 60… But we had so much fun trying! Oh, and don't worry, the sardines you play with are not real, so no oily or smelly hands.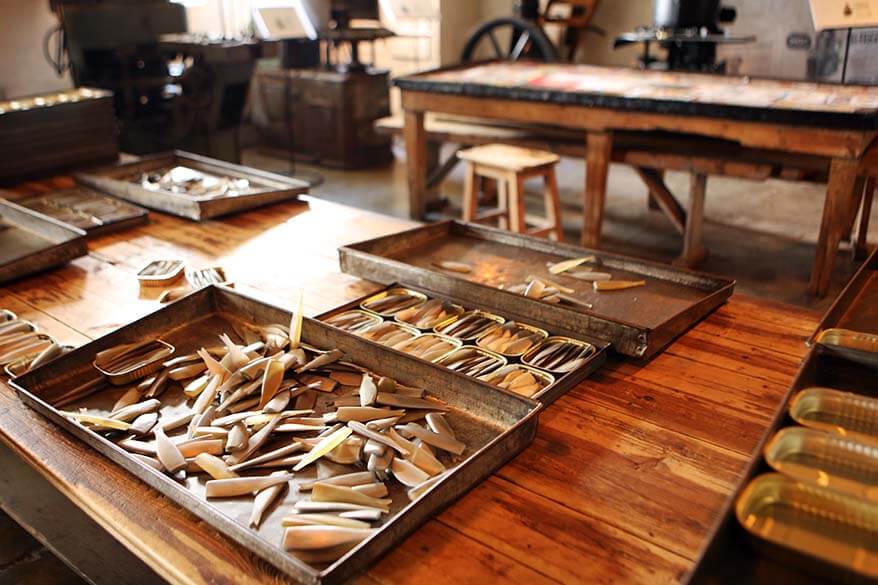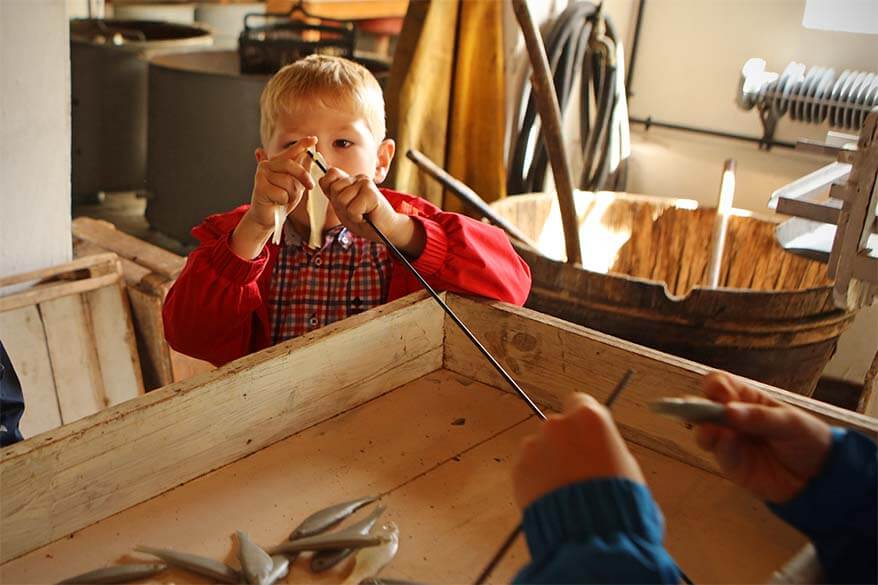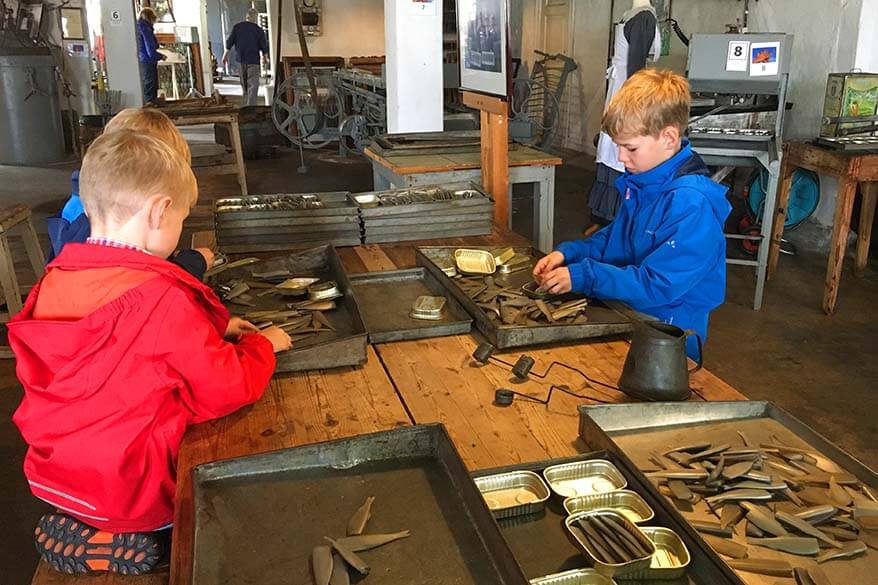 In the meantime, while we were trying to can sardines, a friendly gentleman working at the museum had turned on the oven and smoked some (real) sardines for the visitors to try.
Even our most fussy eater tried one and had to admit that they are really good!
Sardine tasting is not a daily event at the museum though. But you may get lucky, as we did.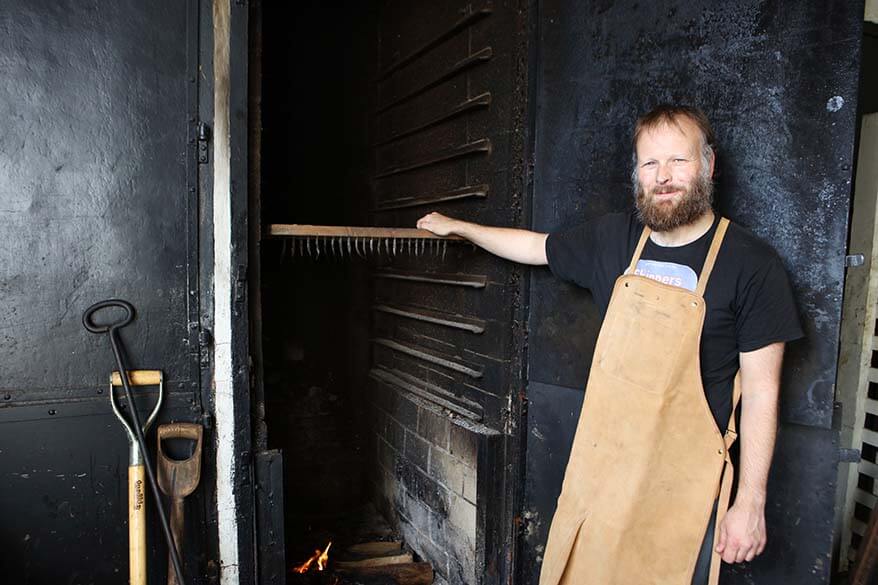 Kids' play corner
As I already said, the Norwegian Canning Museum is really family-friendly. It's a great place to spend an hour or two when visiting Stavanger with kids.
But if you are still not convinced about taking younger kids to a museum, you need not worry. This museum even has a separate kids' play corner, where they can draw, do some crafts, or even personalize their own fish can. And yes, they can take it home with them – it's a nice self-made souvenir.
The Norwegian Canning Museum is also an excellent place to spend a couple of hours if visiting Stavanger on a rainy day.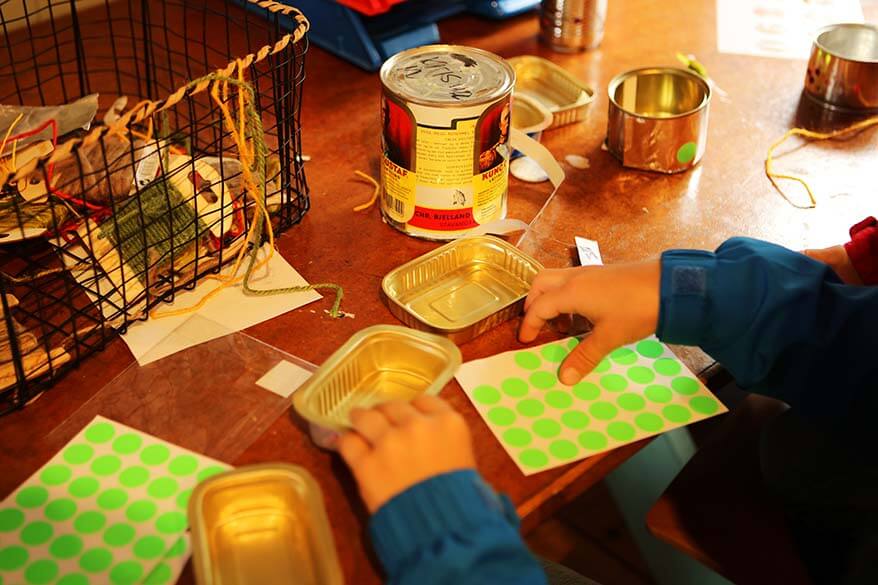 Practical information
The Norwegian Canning Museum is open daily. Check their website for more practical information.
Conclusion
The Norwegian Canning Museum was the first one we visited during our 2-week Norway road trip. It was such a big success that we added quite a few other museums to our itinerary as well!
The Norwegian museums are a must, and especially if traveling with kids! Never thought I would ever use these three words (museum – must – kids) in the same sentence! But in Norway, most museums are really adapted for families with young kids as well!
Our other favorite was the living-museum Viking Valley Njardarheimr in Gudvangen.
Have you visited the Norwegian Canning Museum? Feel free to share your experience in the comments!
Are you visiting Stavanger soon and looking for more ideas of things to do? Check our list of the best places to see and things to do in Stavanger.
Also, Don't miss the Lysefjord and the Pulpit Rock. Don't miss the Preikestolen Hike!
If you like hiking and don't mind a bit of a challenge, I can really recommend Florli 4444 hike as well!
READ ALSO: Where to Stay in Stavanger
If you found this post useful, don't forget to bookmark it and share it with your friends. Are you on Pinterest? Pin this image!