Flam is probably one of the most visited fjord destinations in Norway. Not only it's a popular stop for Norwegian cruises, but it's also an important element of a very popular formula – Norway in a Nutshell.
We visited Flam by car, as part of our two-week Norway road trip. In this post, I share our experience and tell you about the best things to see and do in Flam.
In this article, I also included a suggested one day itinerary for Flam and advice on where to stay. Below you will also find some tips on how to avoid the crowds and truly enjoy this magnificent region.
TIP: If you stumbled upon this article wondering how to visit Flam as a day trip from Bergen, you may want to take a look at this highly-rated private day tour that includes a visit to Flam, Sognefjord, Gudvangen, as well as Flam Railway and/or fjord cruise. It's not cheap, but quite a good value considering what's included and the best price-quality tour that I was able to find. Further below in this article, you can find a few alternative suggestions.
Best Things to Do in Flam
1. Scenic Flam Railway – Flåmsbana
A spectacular train journey Flam – Myrdal – Flam is probably the main highlight in Flam area. Described in many publications as one of the most beautiful train journeys in the world, a ride on the Flam scenic railway is not to be missed.
The 2-hour round trip will take you through some of the most beautiful mountain scenery. In less than an hour, the train ascends 866 meters (2,841 ft) and passes beautiful valleys and countless waterfalls.
The train makes a short photo stop by the impressive Kjosfossen waterfall. All of a sudden the music starts to play and a dancer appears on the mountain, by the ruins of an old farm.
Some people will find this a mesmerizing experience, the others – a strange tourist attraction. No matter in which camp you are, you cannot help but admire the sheer power of this waterfall! And just think of it – how cool is it for a train to stop in the middle of nowhere just for you to be able to admire this spectacular waterfall.
Flam Railway practical information and tips:
Book your Flam railway tickets in advance.
Arrive at the station at least 20-30min before departure. The sooner you board, the more seat choice you have.
The first and last seats of every wagon have windows that can be opened. If you are planning to take pictures, that's the place to be.
Sitting on the right side (departing from Flam) of the train will give you a bit better views most of the time.
If visiting in summer, go very early in the morning or on the last train in the evening to avoid the crowds. If I were to visit Flam again, I would love to experience this beautiful place off-season. I hear that the scenic Flam railway is just spectacular in spring and autumn as well.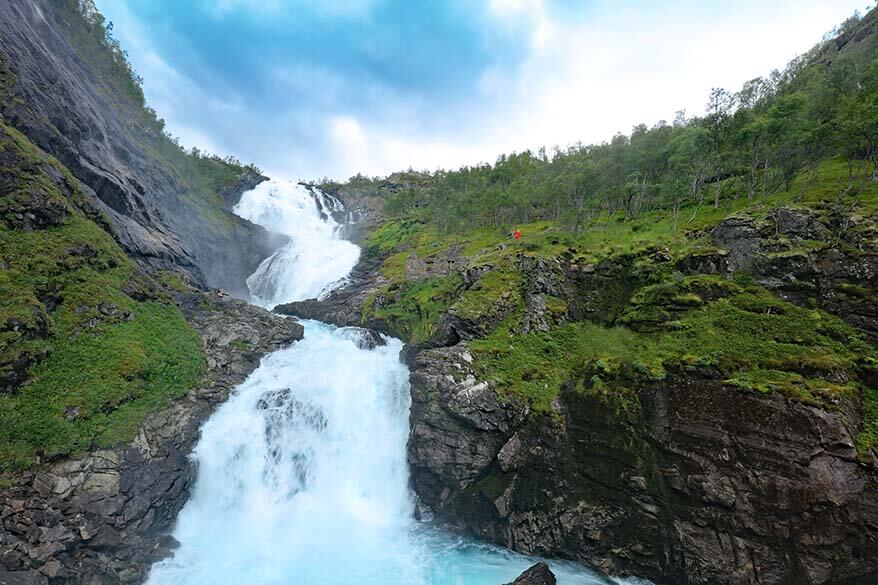 Flam Railway – is it worth it?
I have read lots of mixed reviews of the Flam Railway and was wondering if it's worth it…
Some say it's a tourist attraction. It is. Some say it's for old people. No, it's for everyone. Some say it's expensive. Everything is expensive in Norway. Some say it's one of the most beautiful train rides in the world. It certainly is!
Yes, it's busy, it's expensive, it's full of tourists, and all those things. But it's also a spectacular trip! Do you really want to miss it just because it's popular?! Would you miss the Eiffel Tower in Paris or the Statue of Liberty in New York?
Go early in the morning, take the very first train (7.30 AM in summer), come offseason. Do whatever works best for you, but don't miss Flam scenic railway!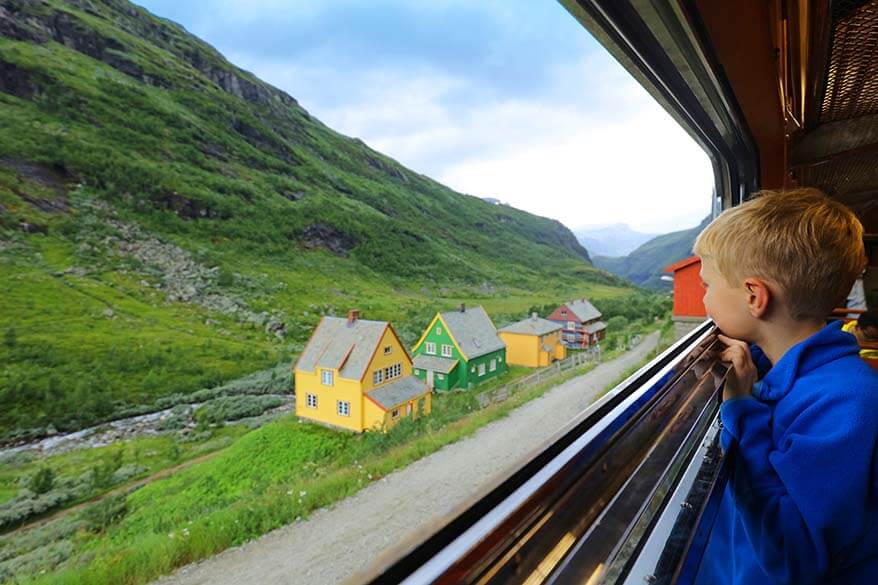 2. Scenic Cruise of Nærøyfjord – Naeroyfjord
Listed as the UNESCO World Heritage site, Nærøyfjord is one of the most beautiful fjords of Norway. The narrow fjord is surrounded by mountains peaking up to 1800 meters (5900 ft) above sea level.
I don't think I have ever seen so many waterfalls in my life as at Naeroyfjord! Incredible scenery, together with the picturesque little villages with colorful houses dotting the landscape, makes this one of the most scenic fjords in Norway!
The best and easiest way to truly appreciate the beauty of Naeroyfjord is from the water. There are several options, the most popular is the scenic fjord cruise from either Flam or Gudvangen.
Naeroyfjord scenic cruise practical information and tips:
In summer, there are two types of boats doing this cruise: the regular 'old' type boat or the new 'Vision of the Fjords' maritime hybrid vessel. This premium option is faster and has more viewing decks, but it's also more expensive.
The boats stop several times, but you cannot hop off and hop on with the same ticket. If you prefer to explore one of the villages, like Undredal, you have to enquire about separate tickets. Or visit Undredal by car, as we did.
The Naeroyfjord scenic trip is not a car ferry, but there is a bus that can take you back to the starting point. The boat trip takes about 2-3 hours depending on the vessel, but the shuttle bus between Gudvangen and Flam takes only 20 minutes.
Early morning or late afternoon departures are the best.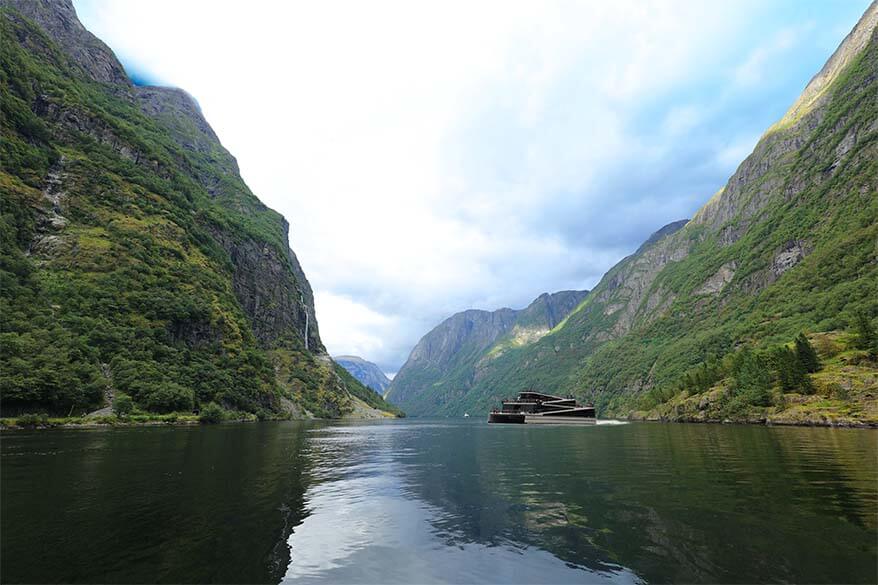 3. Viking Valley Njardarheimr in Gudvangen
The newly opened Viking Valley in Gudvangen is not a museum, but an authentic Viking village. You can meet real Vikings, learn more about their lifestyle, crafts, and history. There are regular guided tours, and it's really interesting to meet these people who are so passionate about the Viking era that they choose to live that way today.
Make sure you talk to the Vikings. If you show some interest in what they do, you get to meet some amazing people and learn a lot.
We didn't know what to expect of this place before our visit and thought it was some kind of a museum. But we spent almost 3 hours here and left with a feeling that we have experienced something truly unique.
I highly recommend to include Viking Village in your Flam itinerary, also if visiting with kids. To me, Viking Village is one of the best things to do in Flam area!
LEARN MORE: Viking Valley Njardarheimr
Viking Valley practical information and tips:
The Viking Valley is located in Gudvangen, just next to the little harbor where the scenic fjord cruise departs/arrives.
Count at least 2 hours for the visit.
Viking village is open to visitors daily from June through September.
For more practical information check their official website.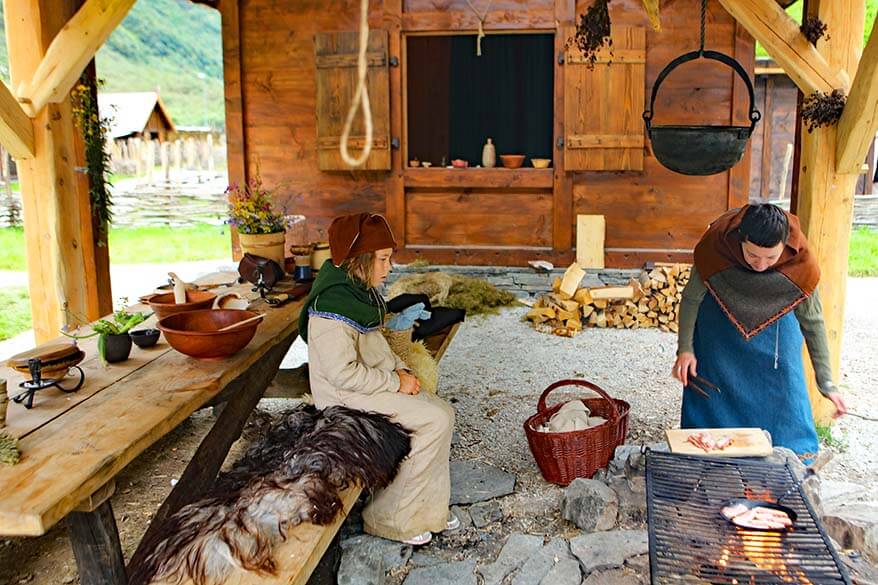 4. Stegastein Viewpoint
A narrow road with twists and turns brings you to Stegastein viewpoint, where on a clear day you can enjoy one of the best views of the fjords in the whole area.
It's really nice to see, but note that Stegastein viewpoint is located about half an hour's drive from Flam and therefore requires a car (or a guided tour) to get there.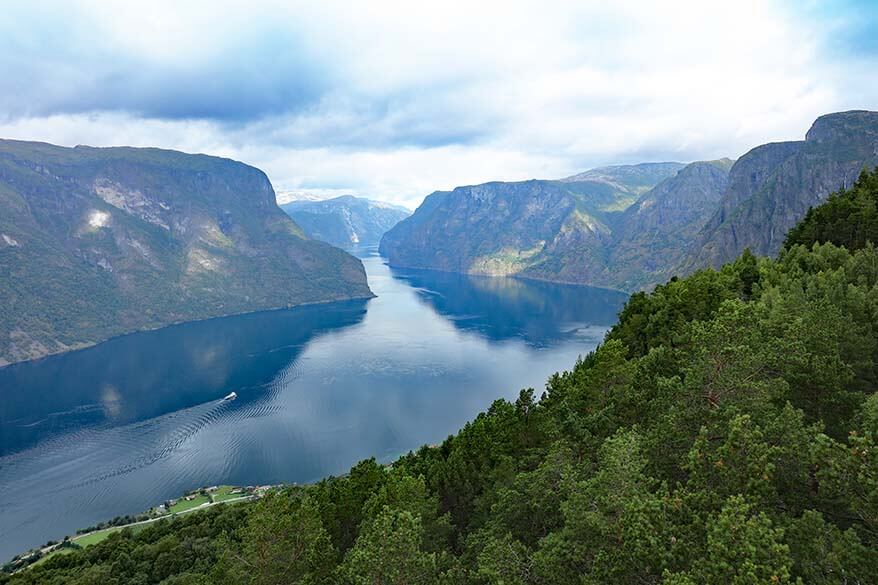 5. Undredal
Undredal is a tiny little village along the Naeroyfjord that in the past could only be reached by boat. Apart from the 12th-century stave church, a cafe, and some colorful houses, there isn't actually much to see or do here. It's an idyllic little place that you will pass by boat if you do the scenic Nærøyfjord cruise. But there are also organized tours to visit Undredal, or you can come by car and visit individually.
Honestly, I have mixed feelings about Undredal. I loved the look of the village from the water, it's just so picturesque! And the road to the village was also nice: you pass a couple of farms specialized in goat cheese production, and the scenery is beautiful too…
However, when we visited Undredal in the afternoon, there were at least 5 busses with tourists here. And I was wondering for what. Apart from the little church, there's really not much to see here. I think they walk to the church and then have some cheese tasting at a tiny cafe by an even tinier harbor. We expected to be able to see how they make cheese, but even that is not possible. It looked like the cruise ship companies have found the way to make money out of nothing.
Is Undredal worth it? If you have little time and have already seen Undredal from the fjord cruise, then don't worry about going back by car – you have seen the best of it. If you have a car and have an hour to spare, sure, you can drive all the way to Undredal. Just try to go in the morning or in the evening and avoid the crowds from the cruise ships. You might have a more authentic experience than we did.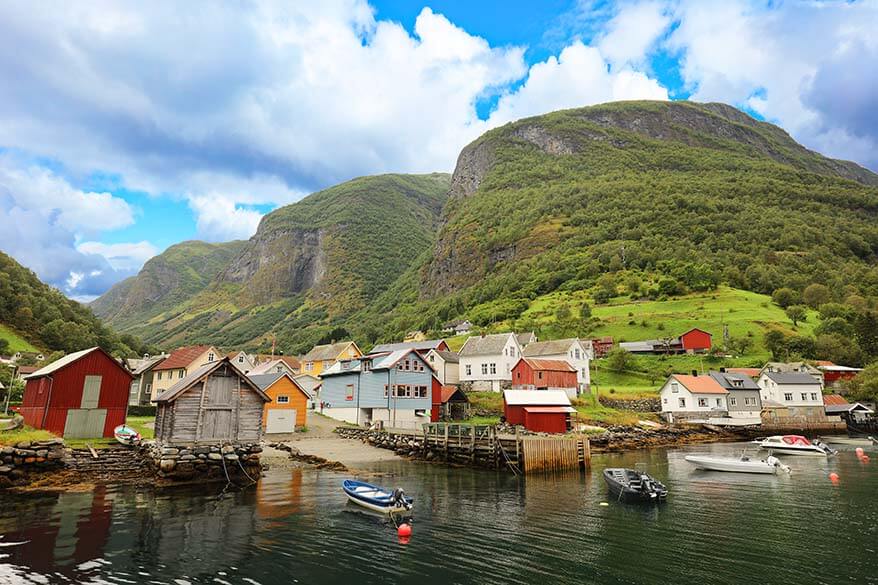 6. Flam Railway Museum
Flam Railway Museum is located at the Flam railway station and the entrance is free of charge.
It's not a museum I would go out of my way to visit, but if you are in Flam and have 15 minutes, definitely take a look inside. It's actually quite fascinating to learn more about the construction of this railway.
Practical information: Museum is open daily from 9 AM to 5 PM.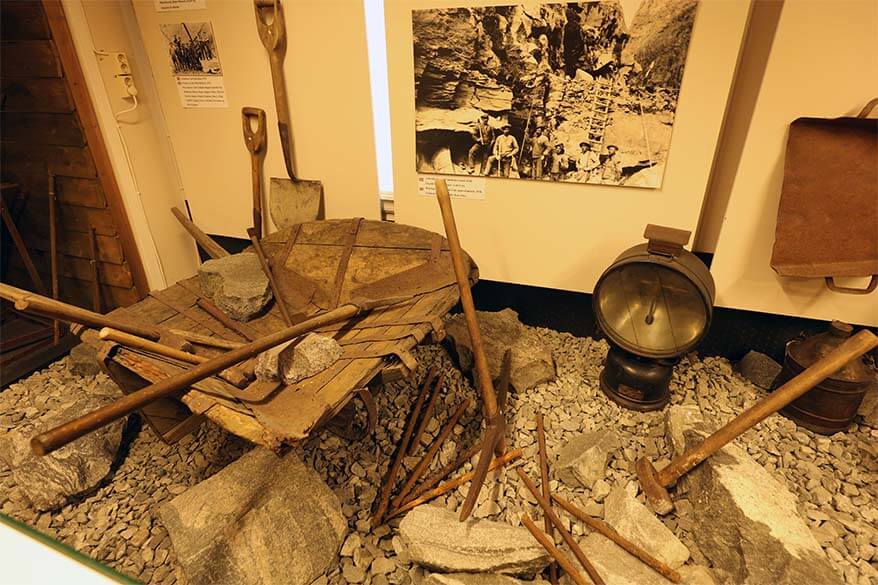 7. Brekkefossen Waterfall Hike
If you would like to do some hiking in Flam, then Brekkkefossen waterfall is probably one of the nicest easily accessible options. You can get a map of the area at the tourist information center in Flam.
If you walk all the way, count 2-3 hours round trip. The first part is on a paved road (can also be done by car), and then there is a climb to the waterfall. Note that the climb is rather steep and you need good walking shoes. If it has been raining, expect it to be muddy.
Again, Brekkefossen is not really a must to see in Flam, but if you like hiking and want to escape the crowds, then it's definitely a nice hike to consider. If this is the first waterfall you will see in Norway, then you will definitely be impressed. But if you have been traveling around a bit more and have seen hundreds of waterfalls by the time you get to Flam, then Brekkefossen is just an average waterfall, not more.
We didn't climb all the way to the top – here is the view from the road where the climb starts.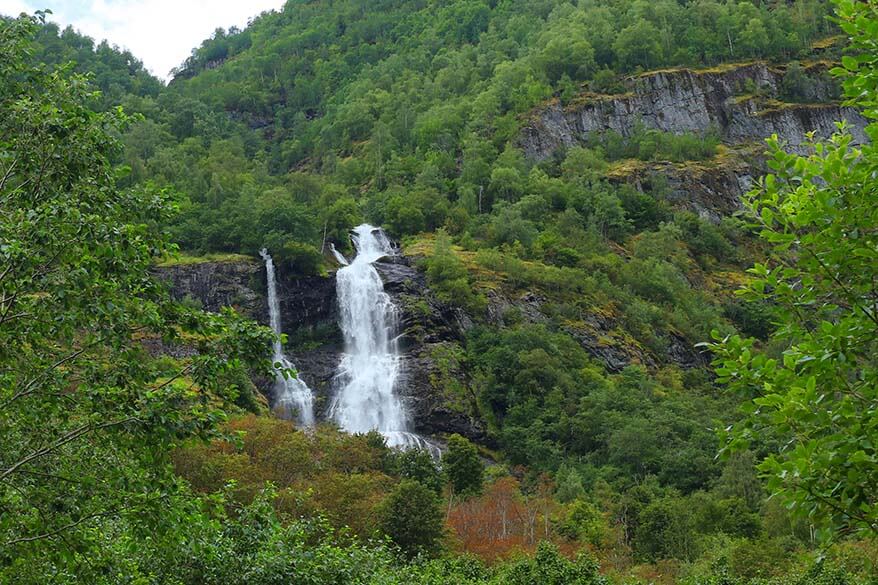 More Things to Do in Flam
The above-mentioned activities are – in my opinion – the best things to see and do in Flam in one day. If you have more time, however, there are always more options.
You can go kayaking on the fjord, do more hiking, rent a bike. Biking and hiking can also be combined with the scenic Flam Railway.
In Flam village, you can also visit the Aurland Shoe shop and take a guided tour of the small factory. Supposedly, this is the only shoe factory left in Norway, and it has less than ten employees.
If you like beer, don't miss the Aegir Brew Pub.
There is also a park and several playgrounds in Flam. Great to let your kids run off some energy.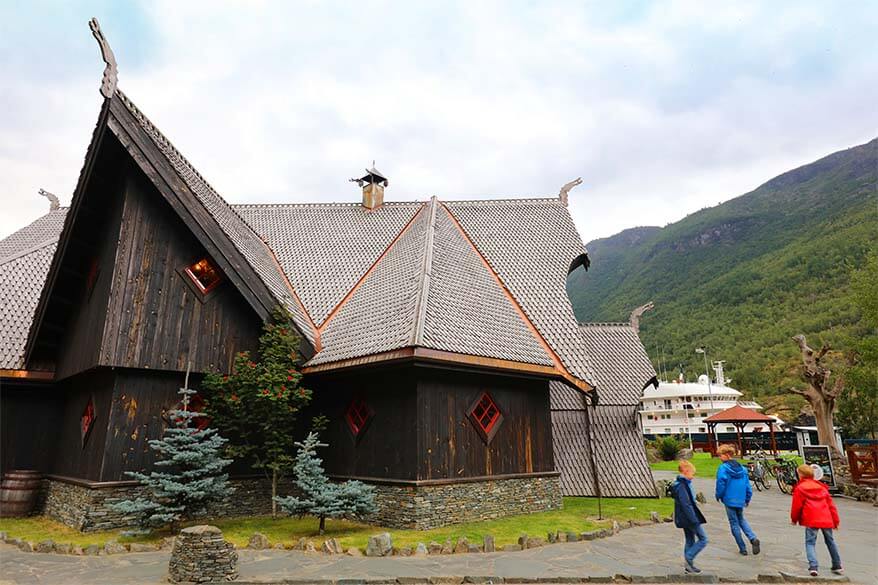 How to Spend One Day in Flam – Itinerary & Tours
For such a small place, Flam offers quite a lot of activities. But most tourists only have one day in Flam. Here is my suggestion on how to best spend one day in Flam. The hours I suggest are based on the current summer schedule (2017).
You can change the order of the activities, but this gives you an idea of what you can see and do in Flam in one day. Also, you can do pretty much the same trip starting in Gudvangen as well.
Suggested itinerary for one day in Flam
8.35 AM – 10.35 AM Scenic Flam railway.
10.40 AM Visit Flam Railway Museum and/or Aurland shoe shop, and have a quick lunch.
12.00 board the Naeroyfjord cruise. Arrive in Gudvangen at 2.15 PM.
2.20 PM Visit the Viking Valley in Gudvangen.
4.20 PM catch a shuttle bus back to Flam.
4.40 PM arrive in Flam. If you have a car, drive up to Stegastein viewpoint and/or to Undredal. Alternative – hike to Brekkkefossen waterfall.
End your day with a dinner at Aegir Brew Pub.
Flam day tour from Bergen
Here are some of the best options for those of you looking to visit Flam as a day tour from Bergen:
Here you can find more tours that visit Flam, from Bergen or Oslo.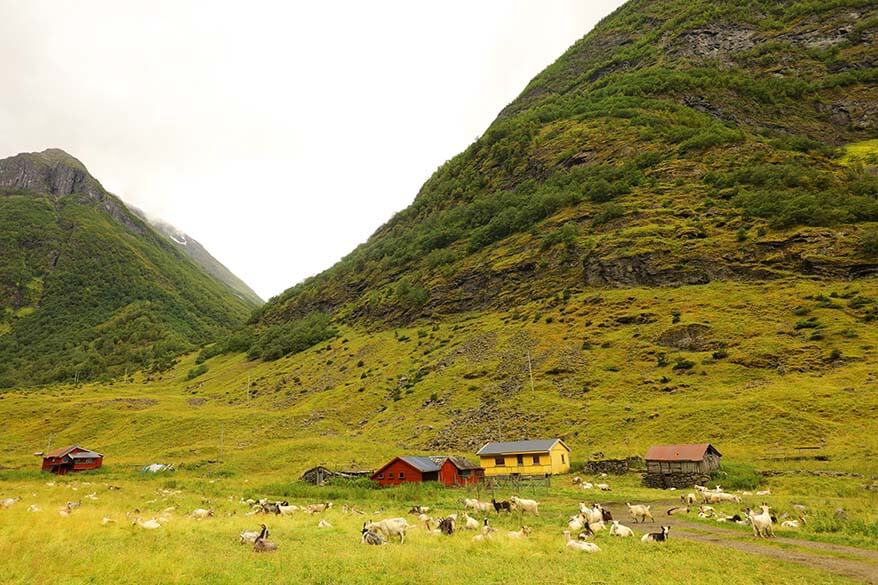 Where to Stay in Flam Area
There are just three hotels in Flam, and a couple of holiday homes and apartments. It's a very popular area, so it's essential that you book in advance. Staying in Flam is by far the best option for exploring the region. There are also several restaurants and a small supermarket as well.
You can check availability and prices for all Flam accommodation here.
If all accommodation in Flam is fully booked or is above your budget, Gudvangen is probably the best alternative.
We stayed at Gudvangen Fjordtell and Apartments, and the location was fantastic. The hotel is a bit dated though. But then again – you come here for the location. Just take a look at this image below – I took this picture just a few steps away from our hotel room. And in the evening we had this spectacular place all to ourselves!
If you have a car, you could also consider staying in Aurland, Undredal, Stalheim, or Voss. It will require more driving though.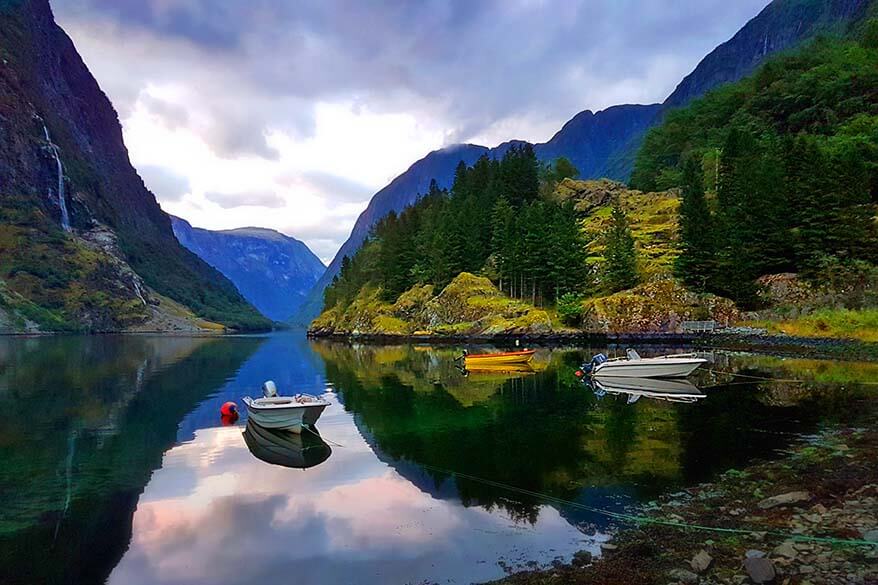 So, these are our suggestions on the best things to see and do in Flam. Have you been to Flam? Feel free to share your experience – leave a comment below.
More tips for your trip Norway:
If you found this post useful, don't forget to bookmark it and share it with your friends. Are you on Pinterest? Pin this image!