Packing for Norway in winter will depend a lot on the kind of trip you're doing. Spending a weekend on a city trip in Oslo will require very different clothing than enjoying outdoor winter activities in Tromsø…
This winter packing list for Norway is based on my personal experience on an active winter trip to Northern Norway in February – beginning of March. I spent lots of time outdoors: dog sledding, reindeer sledding, walking, visiting Tromsø Ice Domes, chasing the Northern Lights... I also spent time in Tromsø town, visited museums, etc.
I also used pretty much the same clothing for my other trip to northern Norway when I visited Svalbard in winter.
This guide for what to wear in Norway in winter might not be very fashionable, but it will keep you warm and comfortable. If you are visiting Norway on a cruise, this winter packing list will work as well, but you may want to pack a few nice outfits for dinner. Find out!
Before we continue with the winter packing list for Norway, here are a few things you should know. First, don't rely on the forecasted temperatures. Second, don't worry about arctic clothing. Here's why.
Weather forecast. How cold is it in Tromsø in winter, you may wonder? Average winter temperatures in Tromso in January and February are between -1°C and -5°C (30-23°F). 'That is not bad at all for a place high above the Arctic Circle', I hear you thinking. Don't be mislead by this.
Tromso city is located next to the coast and therefore has a relatively mild climate. It's very well possible that you will experience temperatures of -25°C (-13°F) just an hour's drive from the city. This applies to many other places in Northern Norway as well. So travel well prepared and enjoy your winter trip to Norway no matter the weather.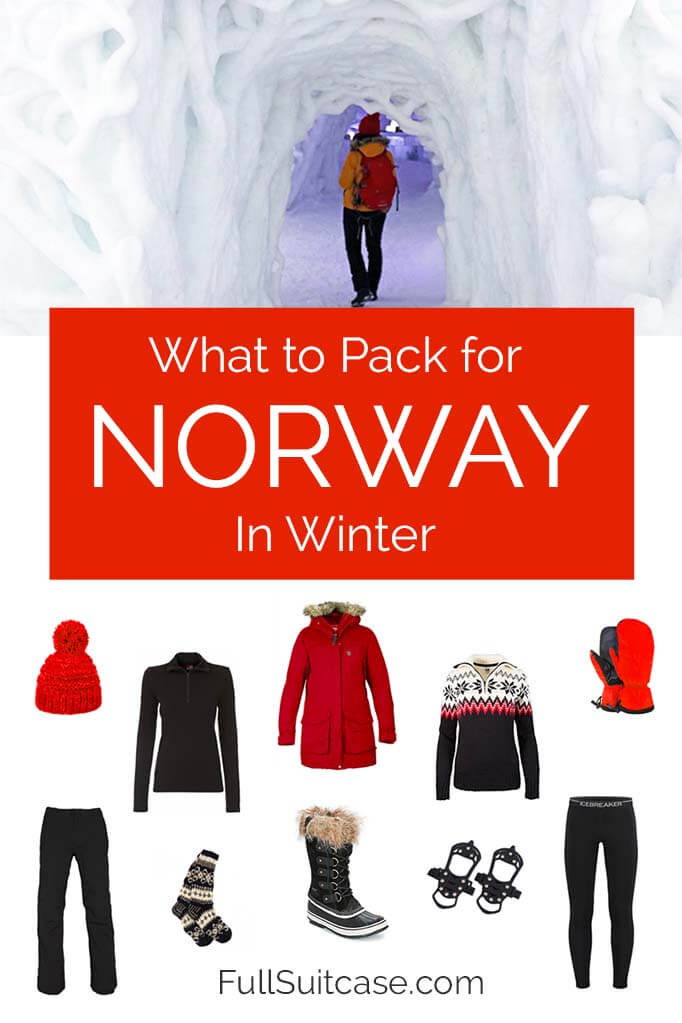 Arctic clothing. Despite the fact that it can (and does) get really cold in Norway in winter, most tourists don't have to rush to the shops in search of extreme cold weather clothing when preparing for a winter trip to Norway.
The reason for this is quite simple. Pretty much all companies that organize winter outdoor activities in Norway offer thermal packs to save you from freezing to death. Whether it's a fjord cruise, husky sled ride, reindeer sledding, or a small group Northern Lights chasing experience, they really want you to enjoy it. So before you set off, you'll be given a chance to put on a thermal suit. Some places offer gloves, hats, and even winter boots that you can use… And yes, it's all included in the price of your tour.
TIP: Don't play a cool guy and make sure to actually wear these thermal packs. Even if it doesn't look very cold at first, it will get really cold when you are outside for a longer time. Winter activities in Norway aren't cheap, so you can as well enjoy them instead of having your teeth chattering from the cold.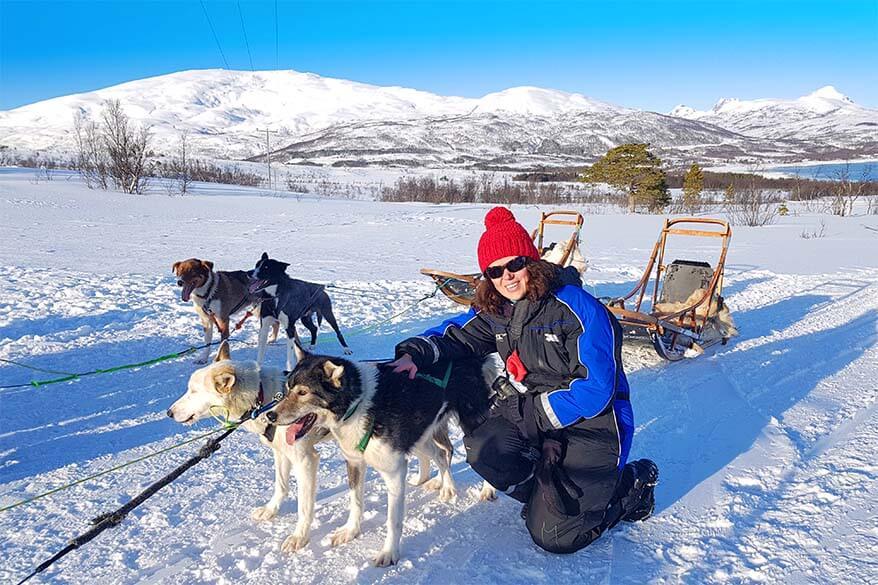 What to pack for Norway in winter
Let's start with the most important things first. If you forget all the rest you read here, remember just one word when packing for Norway in winter – wool.
From shoes with wool lining, woolen socks, wool underwear to woolen sweaters, gloves, and hats – wool is what you need in order to stay warm in the extreme cold temperatures.
1. Winter boots. Warm waterproof winter boots are a must in Norway in winter. If it's really cold and there is no chance of melting snow, you will also be ok in regular UGGs.
In fact, I wore my UGGs in Tromso for walking around in town. But when I was out and about outdoors, I always wore my waterproof UGG winter boots. If you pack just one pair of shoes for Norway, then make sure they are warm and waterproof. Many Norwegians wear Sorel winter boots.
LEARN MORE: Best Winter Boots for Travel
2. Stabilicers. Snow spikes, stabilicers, traction cleats, or crampons are just different words for anti-slip traction gear for your shoes.
In town, you'll be fine with easy-to-put-on-and-off stabilicers or something even lighter like this. Whereas if you are planning to go hiking, you should probably consider heavy-duty traction gear like these chain spikes (in that case you may want to take hiking poles as well – I missed them a lot!).
In Tromso, you see people wearing spikes everywhere in the winter months. In fact, it's so widespread that you'll find this kind of signs inside of shops, restaurants, and museums. So if you bring spikes, make sure they are easy to remove and put on back again.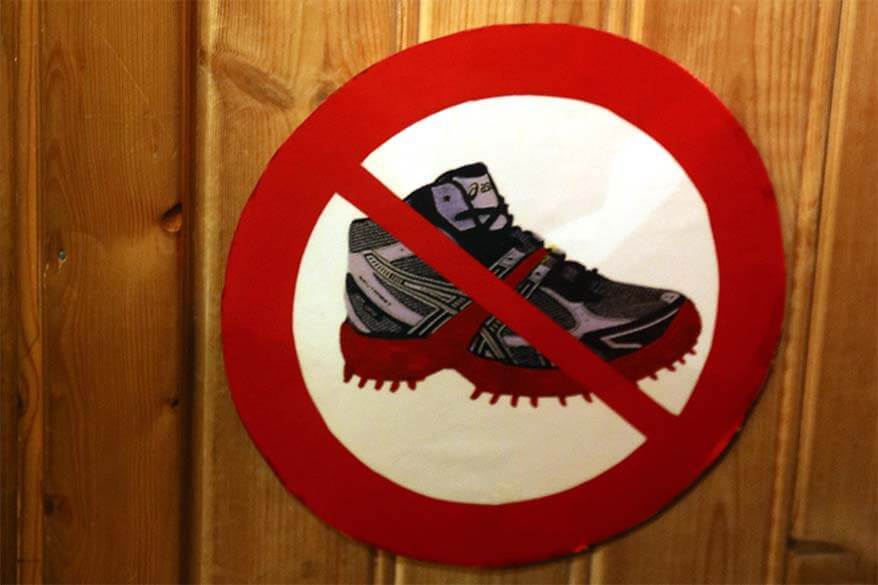 Ice grips are not a must, but it makes walking around much easier. After all, you don't really want to visit a local Emergency Room during your trip to Norway… Most streets and pavements are icy and not often cleaned in winter, so now you know what to expect.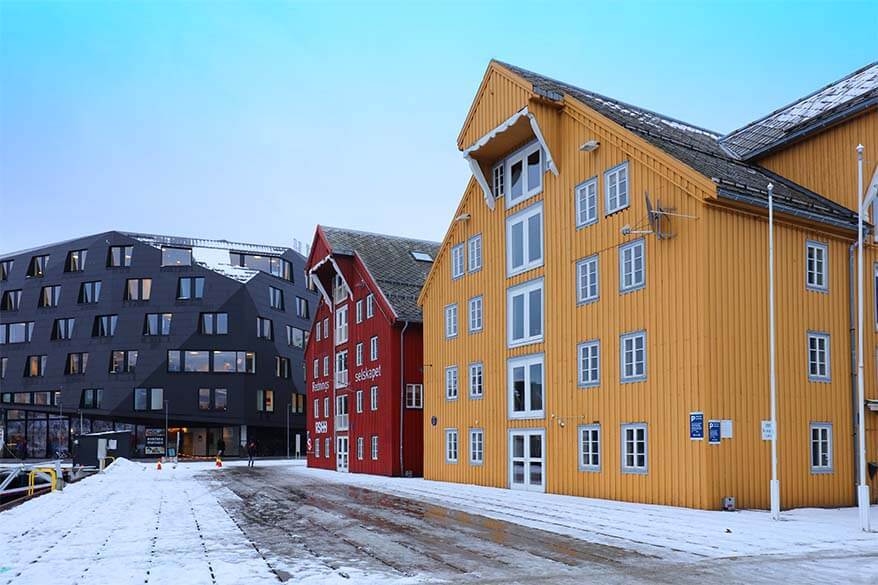 3. Wool socks. Woolen socks are probably just as important as good boots. Even if your shoes aren't that warm, wearing woolen socks will help to keep your feet warm. I wore merino wool socks most of the time. When chasing for Northern Lights I also wore my wool skiing socks on top of the others.
TIP: If you can't find good wool socks at home, you can also buy them in Norway. Just do it on the first day you get there because you'll need them.
4. Thermal underwear. In my opinion, thermal base layers are the most important clothing items you have to pack for Norway in winter. It doesn't really matter much what kind of pants you wear if you have warm thermal leggings underneath; you can even wear jeans and you won't be cold.
Warm thin long-sleeved thermal shirt is the best base layer to wear in winter as well. Cotton t-shirts just don't keep you warm enough in the Arctic winter. I have several shirts and leggings in merino wool from IceBreaker which I wore in Norway and in Iceland in winter and every time we went skiing.
5. Woolen sweater. You'll probably be wearing several layers of sweaters in Norway in winter, but make sure you have at least one really good wool sweater to keep you really warm. I packed several fleece sweaters to Norway as well, but they just don't keep you as warm as a 100% wool sweater.
Icewear and Dale of Norway have a big choice of wool sweaters that are perfect for a winter trip to the Arctic regions.
TIP: You can buy beautiful Norwegian wool sweaters in souvenir shops all over Norway. However, they aren't cheap, so unless you want a souvenir as well, I'd buy a wool sweater before the trip already.
6. Warm winter jacket. I guess this is a no-brainer. You need a really warm wind and water-resistant jacket in Norway in winter.
I read somewhere that Norwegians only wear sweaters and don't bother with winter jackets, but this is not what I saw during my trip to Norway. Well, actually I did see one Norwegian dressed like this, but she was a tour guide and it was around 0°C (32°F) and dry that day.
Also, it's different when you live somewhere and have all kinds of clothes at hand and can decide to leave a jacket in your car for a short 2-min walk to your office. But when you're visiting Norway in winter as a tourist and plan to spend a lot of time outdoors, make sure you pack a warm jacket.
TIP: Fjallraven jackets are very popular in Scandinavian countries. This brand isn't cheap, but their clothes are designed for Nordic weather conditions.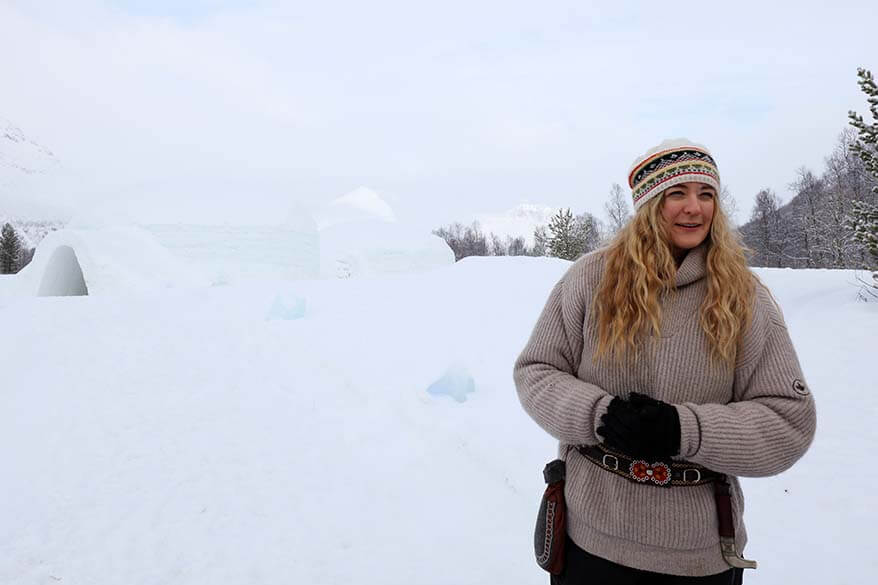 7. Warm hat. You wouldn't believe how many people forget to pack a warm hat when traveling to the Nordics in winter! I guess you can always buy one in Norway, but with Scandinavian prices, I'd say better pack one from home. I took and wore two: a warm hat with fleece lining and a trapper hat with ear flaps.
8. Gloves. Yes, you need good gloves in Norway in winter. Ideally, you pack warm Gore-Tex gloves for outdoor activities and thin gloves to wear when taking pictures, etc. If you use your smartphone a lot, it's best to get screen touch gloves. I had two pairs of gloves in Norway and always wore the thin ones underneath the warm waterproof gloves.
TIP: Mittens keep your hands warmer than gloves. Also, if you are planning to spend lots of time outdoors (e.g. watching the Northern Lights), you may want to take some hand warmers with you as well.
9. Scarf or warm buff. A scarf is another item you shouldn't forget when packing for the Nordics in winter. If you rather wear something lighter, consider a polar buff. They are great to tuck your frozen nose in when it gets really cold.
10. Moisturizer. I cannot stress this enough – skin moisturizer is a must when traveling in an extremely cold climate. A combination of cold and wind makes your skin very dry. Use a good body lotion, face cream or moisturizer, and also lip balm. And no, this is not just for women. Men and especially children will need this protection for their skin just as much.
11. Snow pants. I put snow pants at the end of this packing list because they aren't really a must in Norway in winter. In town, you can wear any pants (just don't forget those thermal leggings!) and when you book outdoor activities you can wear a thermal suit that's usually provided.
However, if you are planning to spend some time outdoors, I'd still advise to pack snow pants. I wore mine all the time and would not have wanted to miss them. I saw many tourists wearing their ski clothes in Tromsø (yes, also in town), so if you already have good ski pants, no need to buy new ones. Just pack what you have.
12. Extra batteries and power bank. Last but not least. Batteries drain very fast in the cold. It's wise to always have spare batteries for your camera (and keep them in an inside pocket). If you rely on your smartphone during the day, take a power bank as well. That way you can quickly charge it when needed.
13. Other. Depending on your interests and travel style, these items might come in handy in Norway in winter as well: compact travel thermos for warm drinks, reusable water bottle (yes, tap water is safe to drink in Norway), flashlight, day backpack (with rain cover), and sunglasses. Oh, and don't forget the European power adaptor!
What to wear when chasing the Northern Lights?
Seeing and photographing the Northern Lights (don't forget a good sturdy tripod!) is one of the main reasons for many people to travel to Northern Norway in winter.
If you are wondering what to wear when hunting for auroras in Norway, a lot depends on which company you book your tour with.
If you go with a small group aurora tour in Norway, most of them provide thermal suits. You will still need warm socks and shoes, thermal underwear, a sweater, a jacket, a hat, a scarf, and gloves, but you can probably get away with fewer layers and maybe even jeans. On top of that, they often light a bonfire, so you can warm up your hands, have some warm soup, etc.
If you go on your own or with a big bus tour, you won't have a thermal suit. You can always warm up in the car or on the bus while waiting for auroras, but in any case make sure that you are dressed warm enough to be able to stay outside in the cold for a long time. Sometimes if you are lucky auroras can dance for hours. Dress really really warm to make sure that you can truly enjoy the spectacle! Wear layers of thermal underwear and wool sweaters, thermal leggings and snow pants, really warm socks, good shoes, windproof jacket, a hat, warm gloves, and also hand warmers.
TIP: Organised tours usually offer warm drinks, but if you go aurora chasing on your own, you may want to take a thermos with some hot tea (and cookies ;)).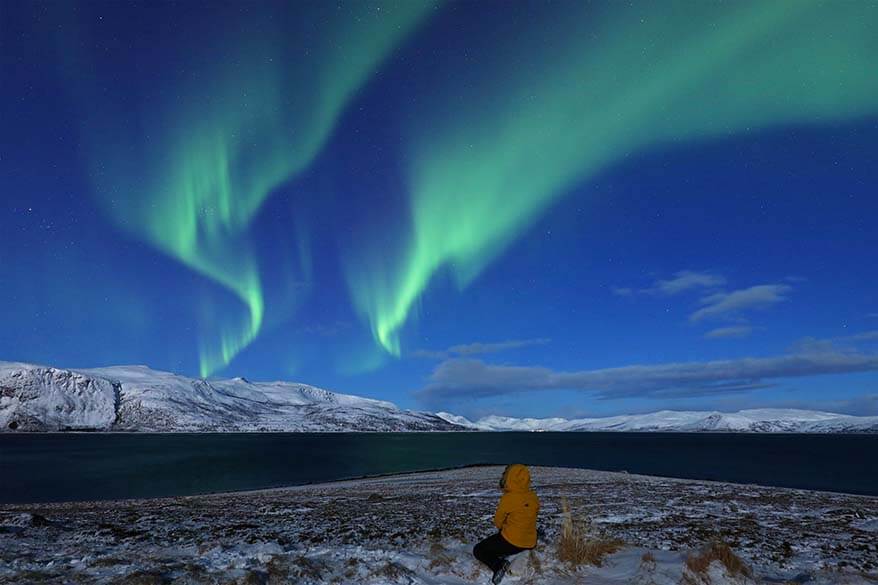 If you forget something…
You will be able to find anything you might need in Norway. However, the prices are much higher there (read also: How expensive is Norway) than online. So prepare in advance, pack smart, and enjoy your Norwegian winter trip to the fullest!
More travel inspiration & tips for Norway in winter:
If you found this post useful, please bookmark it and share it with your friends who are planning a winter trip to Norway. Are you on Pinterest? Pin these images!