When talking about traveling to other parents, one of the main concerns seems to be flying with children. Just a thought of kids on planes makes many people anxious. But if you are prepared well, there is really no need to stress!
Air travel with toddlers and preschoolers is probably the most challenging because young kids need to be entertained all the time… So the most common question I get is what to pack and how to entertain kids at the airport and during the flight.
In this post, we share some tips about what our children pack to take on the plane. Travel essentials and plane activities for kids that have been tested time and again.
When this article was first written, our boys were 5, 5, and 7 years old. Their carry-on luggage has been packed in pretty much the same way since they are out of diapers. 43 flights and counting at that time.
I have updated this article recently to include our top airplane activities for kids. We have flown with our kids numerous times since and I stopped counting the number of flights. I can tell you that it does get easier and their carry-on gets lighter with the years. But the basiscs, our top tips for what to pack in kids' hand luggage remain the same. Take a look!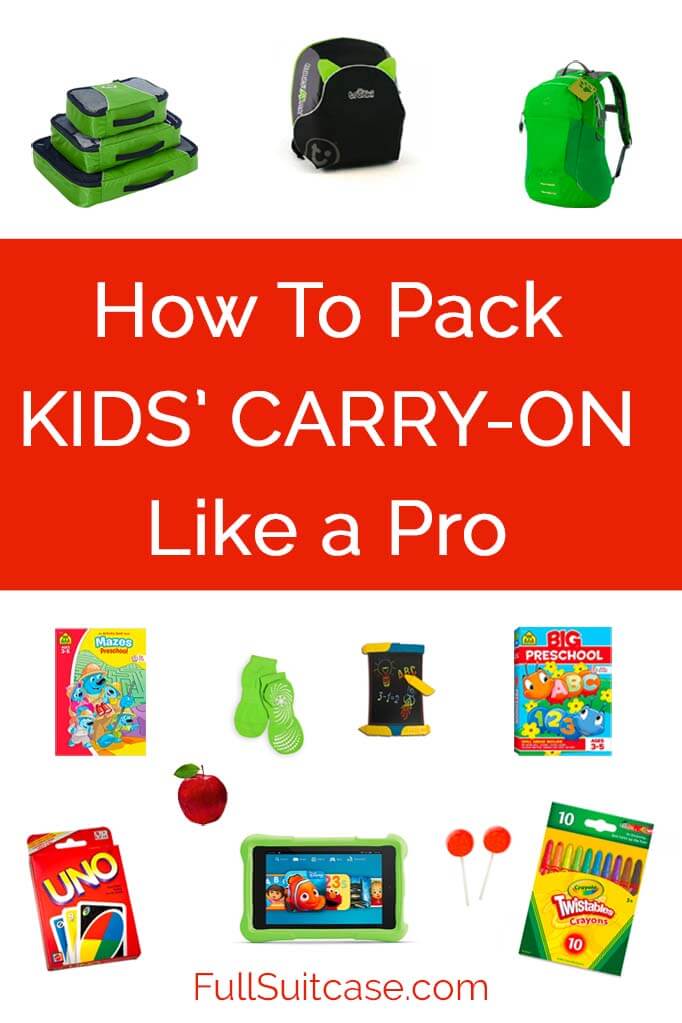 How to pack when flying with kids
When it comes to packing for kids, remember that less is more. While packing for a family road trip you can always add a few extra items, when flying with kids, take only what you really need!
Don't pack a bag full of toys. The chances are big that your kids will take all the toys out of the bag, play with them for 2 minutes, and announce that they are bored or that they want that one toy they left at home.
We have a pretty strict one toy per kid policy when traveling and I have to say that it works pretty well. We used to take more toys with us when the kids were little but quickly stopped doing it. Here is why.
Why we never take toys when we travel with children
Toys take lots of space in your luggage.
Familiar toys are boring and they stay in your suitcase or in the hotel room most of the time.
Toys get lost or broken. Tears guaranteed.
If you have more than one child, the chances are very big that they will fight over the toys. Even more tears guaranteed.
Kids can play with pretty much anything when traveling: stones, seashells, leaves, dry plants, etc. etc. Actually, not having toys stimulates their creativity and you'll be amazed at how well they can keep themselves busy without any toys whatsoever. Try it!
Should each child have their own carry-on bag?
Do you really need a separate bag for a toddler? If you are not sure, don't take it. While young kids love the idea of having their own travel bag, they quickly get tired of it and you end up carrying all the bags at the airport.
That being said, packing a bag for each child has a lot of advantages as well and older kids can usually handle a backpack or a small carry-on. Here you can read more about kids luggage and the best kids' travel bags for all ages.
If you want to get a cool travel bag for your young child which they will want to carry themselves, take a look at the amazing selection of kids' travel items from Trunki. They have original ride-on suitcases, little backpacks, and many other cool travel bags that any preschooler will love!
When we rent a car abroad (which is pretty much all the time), we always take Trunki Boostapak (car booster seat and backpack in one) for our kids and so they each have a separate carry-on bag. This doesn't mean, however, that they are allowed to fill it with toys…
TIP: You can also just take a regular kids' travel backpack or give each child a packing cube that they can use to pack their stuff.
READ ALSO: Guide to the best travel booster seats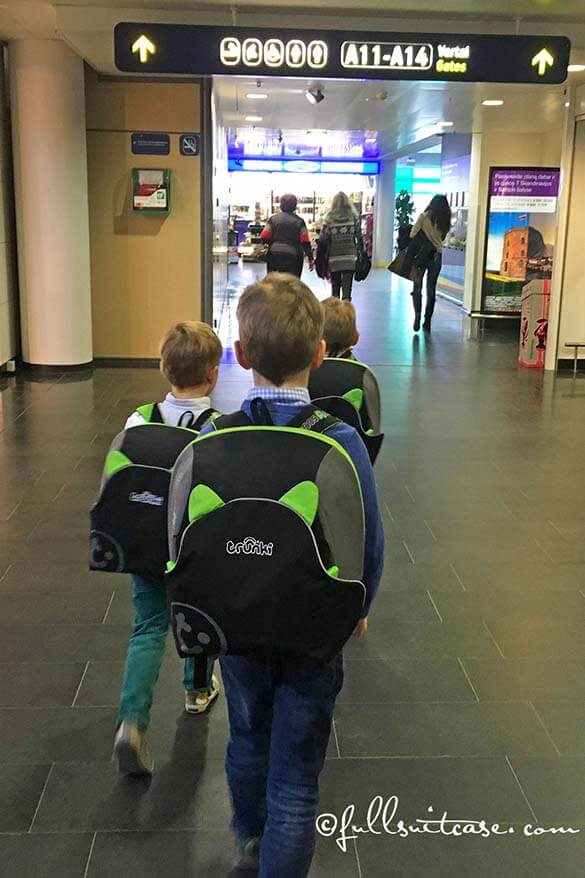 What to pack for kids on the plane
When flying with kids, make sure your kids wear comfortable clothes that are somewhat stain-resistant. Always dress in layers and keep their feet warm as it can get cold on the plane.
We never take pajamas, joggings, or other special clothing for kids to wear during the flight. When traveling with three young children you learn to keep things simple.
Below, you can find a list of what to pack in kids' carry-on. Read on!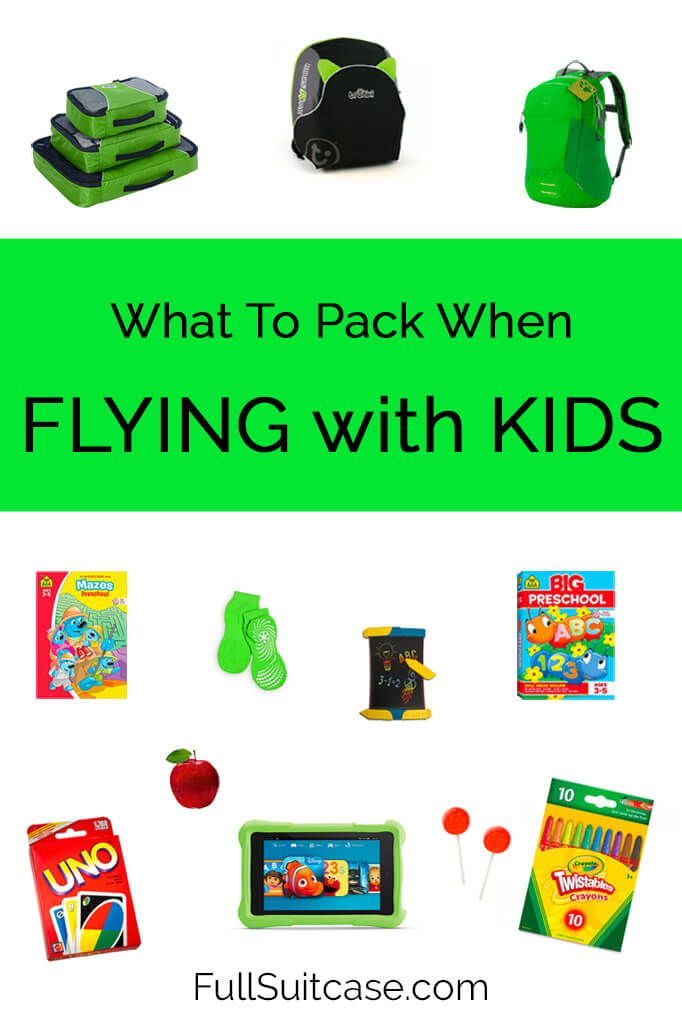 Kids' Hand Luggage Packing List
The first tip to successful packing is to let the kids help you pack. Make sure you have the last word, though.
Let them choose one toy or a travel game to take on the plane. It will keep them busy for a while as choices like that are not easy for a child, but they will appreciate the fact that you let them decide and will be more willing to co-operate.
The kids will probably try to negotiate to take a few extra toys. You can let them pack more if it makes them and you happy, but remember that you have to set a limit somewhere.
You can agree on some rule that you are all comfortable with, for example, you could let the kids pack whatever they want as long as it fits in one little packing cube, a ziplock bag, etc.
The following items are always in our carry-on luggage when flying with children:
Twistable crayons, pen, and paper. If you take one item on a plane, make it this one. Make sure you have enough paper and I really recommend twistable crayons. They don't break easily, they don't need to be sharpened, and they don't make kids' hands dirty. Ideal on a trip!
Boogie board. Boogie board is just another way for kids to draw, but it does miracles when the traditional methods fail.
One cuddly toy, a blankie, or whatever 'friend' your child sleeps with.
Lollipops. It took us many years, lots of flights and aching ears before we came up with this simple yet very effective solution. Now we always have lollipops in our hand luggage. Give them to the kids during take-off and landing and you'll see that it does wonders. Not only do the kids sit quieter in their seats, but it's also the perfect way to help them avoid ear pain due to the changing pressure.
UNO or single-player travel games. One-player travel games are ideal to keep older kids busy during the long flight, while UNO is the perfect game to keep the kids busy while waiting at the airport.
Digital tablet. We hardly ever use it on a plane, but it's proven helpful a couple of times when we had to wait longer at the airport. Amazon has really affordable Kindle Fire Kids tablets that might be a good choice when traveling with young kids.
Warm socks. This is particularly useful on long-haul flights with children as they can keep their shoes off during the whole flight.
Medication. You don't need to take the whole medicine cabinet with you, but make sure you always have some painkiller, nose spray and some band-aids with you.
Some snacks. Depending on the time and the duration of your flight, you may want to take some food with you for the kids. Apples, grapes, and cookies are always a big success with our kids. Sometimes we take sandwiches as well. Try to avoid any food or drinks that can be messy. You don't want to deal with dirty clothes or sticky fingers on the plane.
Paper tissues and wet wipes. No explanation needed, I suppose.
On long flights, we also take one set of extra clothes. Try to pack something that would fit any of your kids and avoid having to pack a separate outfit for every child.
Airplane Activities for Kids
Since so many of you asked about the best way to keep kids busy on the plane, here are our personal (& tested many times) suggestions for the best plane activities for kids:
Drawing. Pack paper and twistable crayons. In addition, kids might like to draw on a boogie board. It's easy to pack and can keep them busy for hours!
Stickers. It's incredible how many hours young kids can spend playing with stickers. Sticker playsets, especially the reusable ones, don't take much space in your carry-on and can keep younger kids entertained for a long time.
Workbooks. From about the age of 3-4 years, you can start introducing workbooks to your children. The good thing is that at that age, children are not familiar with the homework concept yet and actually enjoy learning through play. This is a great activity when flying with kids because you are there to help them if they need any help.
Digital tablet. Don't use the screen as a babysitter on the plane because it will backfire on you. But there are moments when it can help you get through the long flight! When you want to eat or use a bathroom, for example, or when everything else fails and all you care about is that your kids are quiet for a few minutes, some screen time can be a savior. If used in moderation, the screen always captures kids' attention and keeps them happy. But if you let them watch movies and play games on a long-haul flight for hours in a row, you'll end up with a tired kid that cannot be reasoned with.
1-player travel games. For somewhat bigger kids, from about 5-6 years, you can find some really nice single-player games that they can play on their own. It challenges them and keeps them busy for a while. Furthermore, many of these games are very small and easy to pack in your hand luggage.
Having said all this, no activities will work well in keeping very young children busy if you yourself are not involved as a parent. So don't expect to put on your headphones and watch three movies during the flight. If you want to avoid tantrums and survive the flight, you really have to be there for your kids.
So, these are our tips for airplane travel essentials for kids. If you are looking for more tips for traveling with kids, make sure to also check these articles as well:
Best travel gear for kids
Gift ideas for traveling kids
Survival tips for road trips with toddlers
Tips and tricks for traveling with kids
READ ALSO: Best Family Travel Destinations
If you found this post useful, don't forget to bookmark it and share it with your friends. Are you on Pinterest? Pin this image!