Some of the most frequently asked questions from those planning a winter trip to Iceland are about driving. Can we explore Iceland on a self-drive tour in winter? Can we do the Ring Road in December? How are the roads in Iceland in winter? Is 4WD necessary and do we really need all that expensive insurance when driving in Iceland in winter months?…
So in this post, I collected some stories from travelers who share their winter driving experience in Iceland.
In addition, I also asked my Icelandic friend who is also a private guide and driver to share a local's perspective and some tips for driving in Iceland in winter. I also included a short video of what driving in Iceland in winter looks like.
I get so many emails from readers asking me about exploring Iceland in winter by car. People say they read so many divergent stories and reviews about self-drive trips in Iceland that they don't know what to expect… I always answer that these stories are a true representation of how the reality of winter driving is in Iceland – the weather and the road conditions change all the time and you never know what you get.
Road closures are common in Iceland too, especially in the North. Icelanders don't close the roads just for fun; driving in Iceland in winter can be very dangerous. Or you may get lucky and you will have perfectly open roads and you will wonder what all the fuss is about…
If there is just one tip I can give you when it comes to driving in Iceland in winter is: expect the unexpected and be flexible. And if you are not used to driving in winter conditions, do yourself a favor and join an organized tour or base yourself in Reykjavik and do winter day trips from there.
There are organized Iceland winter tours available for various durations and in general, it will cost you less than staying in Reykjavik and doing day trips, not to mention that you'll be able to see more and spend less time driving. There are winter tours for various durations. For example, this 2-day tour visits some of the most popular places along the South Coast. You can also find various multi-day tours on Viator.
That being said, you can explore Iceland in winter on your own. Below you can find first-hand experiences and practical tips from other travelers who did a self-drive winter trip in Iceland. At the end of the article, you can find our top tips for driving in Iceland in winter. Find out!
**Featured image © Taryn from Happiest Outdoors**
READ ALSO: Info & Tips for Visiting Iceland in Winter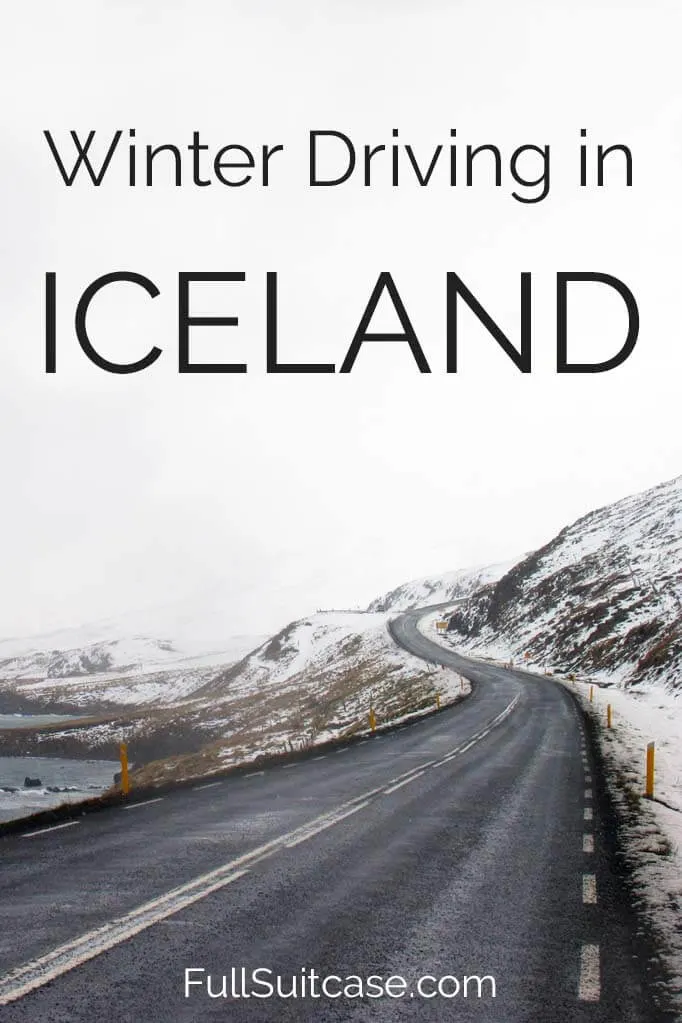 Winter driving in Iceland – stories and practical tips
In this post, you can read many real-life stories about driving in Iceland in winter months (October through April). You will see that no two experiences are identical. While some people could do the whole Ring Road in November or February, some others had to adapt their travel plans, change hotel reservations, some others had an accident or wind damage to their car…
At the very end of the post, you will find our story about snowstorms, road closures, and our little accident in Northern Iceland at the end of May and almost perfect driving conditions in November…
These experiences will not tell you how your trip will be; nobody can predict Icelandic road conditions in winter. But they will help you to know what to expect and to decide if driving in Iceland in winter is something for you. I also asked people to share their practical tips for driving in Iceland in winter. This should help you to better prepare for your self-drive winter trip to Iceland. Find out!
Easy to navigate in March
Driving in Iceland in winter was by far one of our most memorable experiences, says Gina from Jet Set And Forget. Over a 7-day period, we drove around Southern Iceland. We visited in early March and there was snow on the ground, but most of the roads are paved and were easy to navigate.
One major recommendation we have is to make sure at least one person knows how to drive a manual stick shift car. We originally requested an automatic as only two of us knew how to drive a stick shift. But upon arrival, we saw that the automatic cars were much older models and did not look reliable in the snow and ice. We switched to a Dacia Duster which got us around just fine on the roads.
Driving in Iceland in winter was much easier than we thought it would be and would recommend it as a bucket list item to any traveler.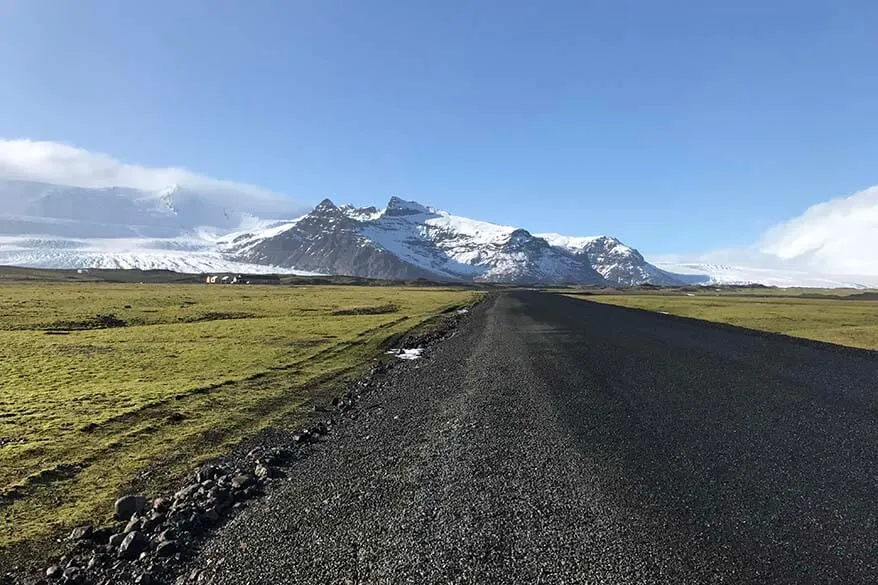 The roads were covered in ice in January
We spent a week in Iceland in January, says Taryn from Happiest Outdoors. We drove around the South Coast and the Golden Circle in our rented 4×4 Dacia Duster with studded tires. We're from Canada and my husband is a confident winter driver, so we weren't scared to drive in Iceland in winter.
The roads, paths, and parking lots were sometimes covered in a sheet of ice slick enough to skate on! We were so glad we had brought crampons for our shoes and that we had rented a good car with studded tires.
Despite the ice, we found that the main roads were frequently plowed and sanded, and if we drove slowly and carefully, we were fine. However, we did help two American girls whose car spun off the road into a fence. They had rented from a discount agency and their car had older studded tires that looked worn down.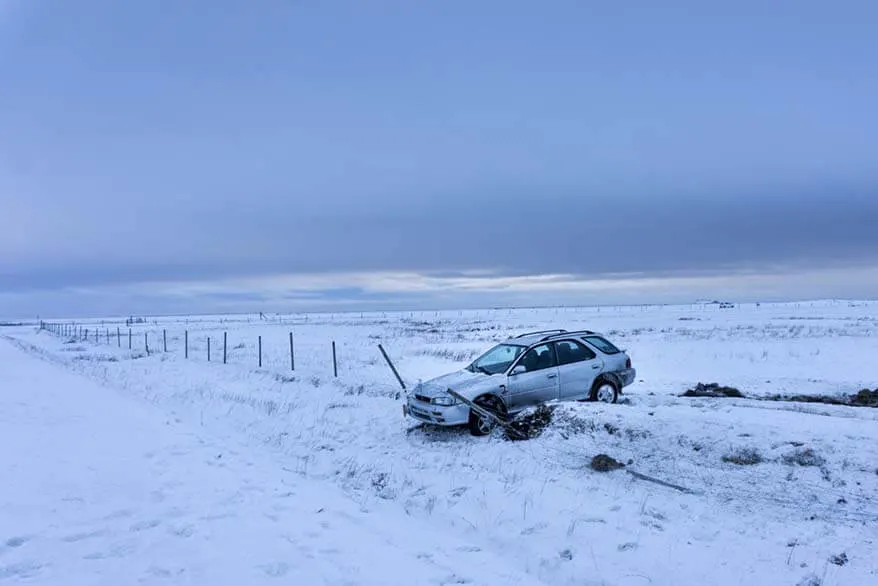 If you plan to drive in Iceland in winter, I advise to rent a 4×4 car from a quality agency and visually check the studs for wear.
Also, our rental car didn't come with some essential pieces of emergency winter gear, so we brought our own collapsible avalanche shovel and flashlights from home. Thankfully we never needed them, but we were happy to be prepared just in case.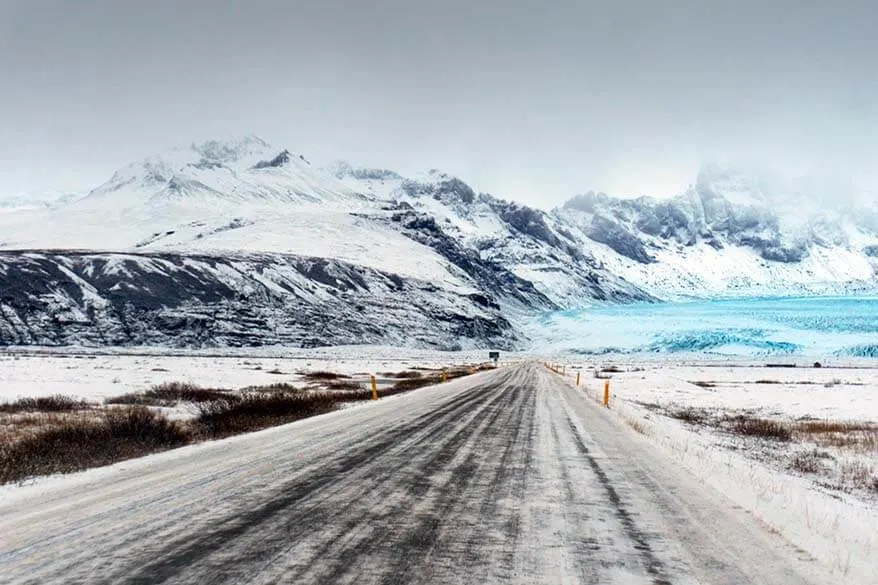 Had to reschedule 1 day due to road closures in February
When we walked into the car rental company in February, the man who handed us our 4×4 keys said 'I'm not from here, but you should know: driving in Iceland is really dangerous. The wind is crazy and we've had tons of cars come back totaled or with the windows smashed out. It wasn't even this bad in Russia. But have fun!' That's the kind of welcome you want, right, says Meagan from Two Restless Homebodies.
Happily, our experience was far less life-threatening. The roads around Reykjavik are beautifully maintained. However, the weather was every bit as unpredictable as we'd heard. We drove the Golden Circle and in the course of 5 hours hit 3 heavy freak snow showers, several periods of blindingly bright sun, a few wind corridors strong enough for us to pull over and wait them out, and at least one brief period of whiteout.
We also had one full day where all roads on the West Coast were shut down due to ice and high wind, which caused us to reschedule our South Coast tour and our friends to miss their hotel reservation in a neighboring city. Be aware and keep an eye on local weather reporting!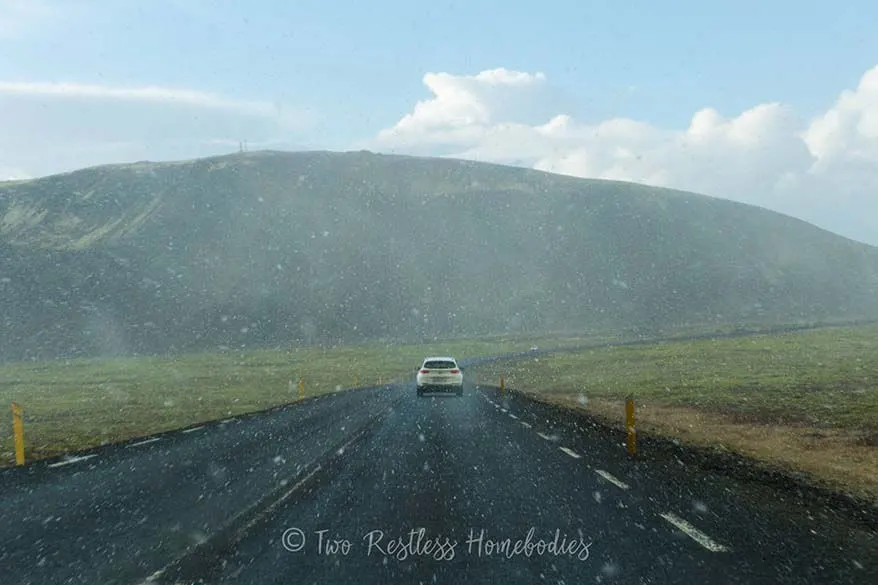 Icy roads and little daylight in December
Driving in Iceland in winter, especially for those who have never driven on the right side of the road before, is an exciting and terrifying experience, says Michelle from The Munching Traveller. Often, we will have to make full use of the four or five hours of daylight to complete our itinerary and tread carefully on the icy roads.
Make sure to get a 4WD as these cars are bigger and more stable against the strong Icelandic winds. We covered the South Coast and the winds can be very crazy, we felt our car sway off our lane a couple of times and saw much smaller cars really got blown out of their lanes. When there is rain or snow, visibility may also be impaired. Drive slowly and carefully in these circumstances and you will be fine!
I suggest planning your first sightseeing location of the day about 30-40 minutes away from your departure point so that you'll be able to get some sunlight when you are at your destination and maximize the use of the short daylight hours. The most memorable part of driving in Iceland in December is seeing how the landscape comes to life as the sun rises!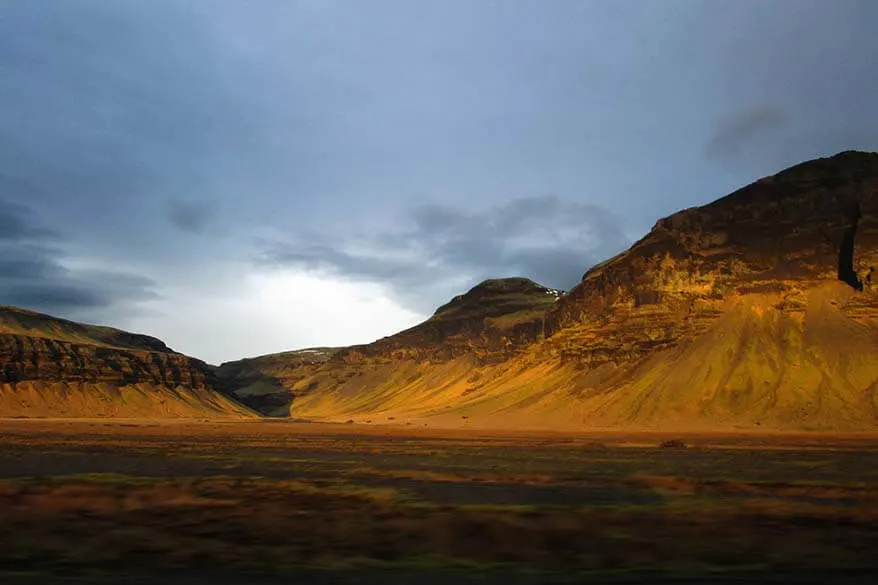 Challenging drive, but no road closures in November
The first time we visited Iceland was in November 2016 says Robin from LETgo: Grab Opportunity. We rented a Kia Sportswagon at the Keflavìk Airport for our 10-day and 2575 km trip. We covered a vast amount of Iceland from as far south as Vik, through the Golden Circle, meandering our way to Snæfellsjökull National Park and then Hólmavík in the Westfjords, on up to Akureyri and Lake Mývatn in the North, and finally back to Reykjavik.
Our rental car came with snow tires, but no snow scraper, flares, or other safety gear – all highly recommend. It also had a manual transmission. If you only know how to drive an automatic make sure you ask for one in advance; they are not plentiful in Iceland.
The weather changes very rapidly in Iceland! Many gas stations have real-time maps that show which roads are closed. Frankly, driving in Iceland is best left up to drivers experienced with extreme weather and variable road conditions.
Icelandic roads are frequently narrow with no room for error and they change from asphalt to rocks with little warning. You also need to watch closely for wildlife and farm animals. One of the biggest dangers while driving in Iceland is other tourists; they may be distracted while driving, standing on the road taking photos, and some haven't driven a car before (a story we heard frequently!).
We navigated some of the challenges described but fortunately didn't experience any road closures. If you decide to drive in Iceland in winter be prepared and stay alert. There are also lots of companies that provide excellent tours if you decide driving isn't for you!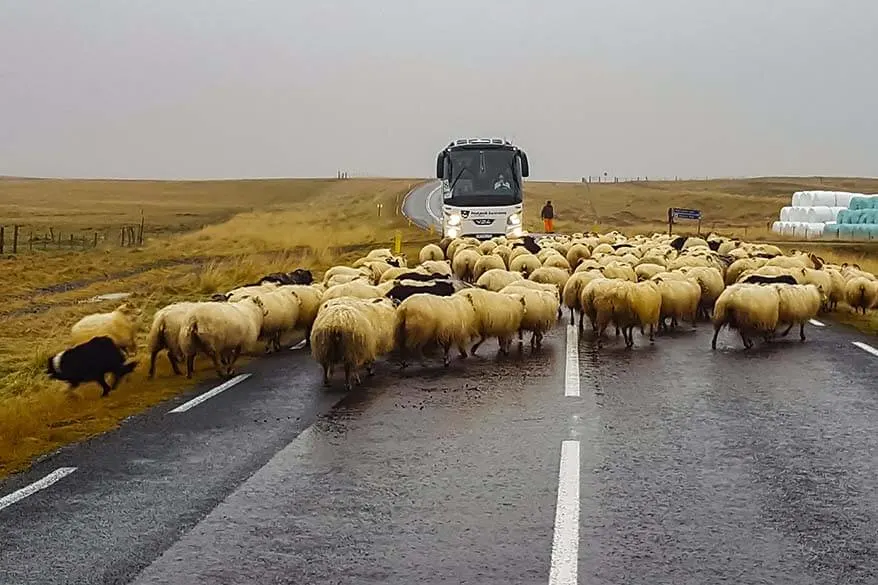 The roads were covered in snow and sleet in April
My brother and I took a fantastic one-week road trip through Iceland last April, says Yariella from The Beauty Backpacker. We hired a regular car and picked it up directly at Keflavik airport. We quickly discovered that a GPS add-on isn't necessary – Google Maps and wifi will have you covered.
We traveled all along the South Coast and on our first day, we made the full drive out East to Hofn to save time and work backwards, which in hindsight I really regret. We had to drive for hours in the dark on our very first night. The roads were pitch black and covered in snow and sleet, so we had quite a scare.
I highly recommend that first-timers get their bearings in daylight and avoid long drives at night if possible. It's not worth the stress! Plus, the drive itself is so scenic you don't want to miss a single moment in the dark.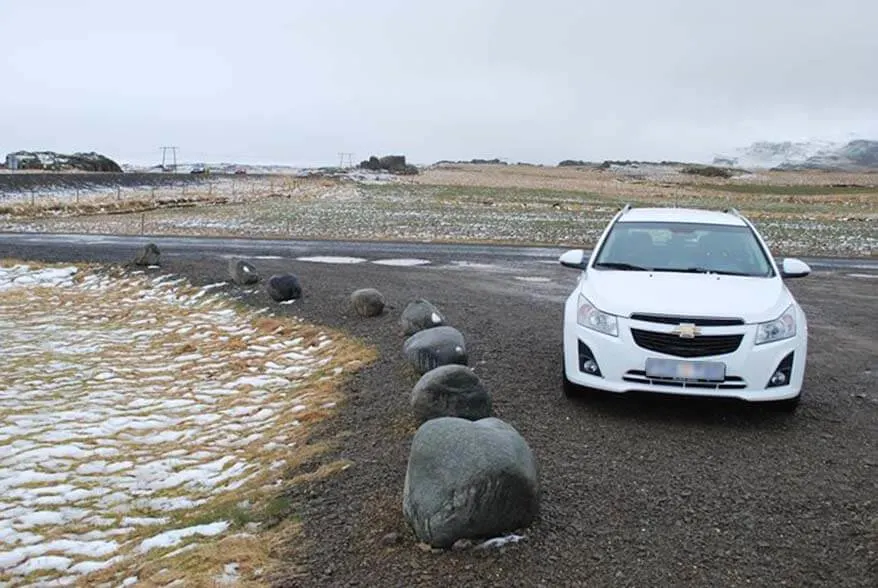 Variable driving conditions and change of plans due to snow blizzard in January
Living in the UK, we don't see much snow. So when we booked a January trip to Iceland, we decided immediately that we'd be better off booking tours and staying off the road. It was only when we realized the inflexibility and cost of booking several tours that we decided to hire a car. And we're so glad we did, says Zara from Passport for Living.
To say we had a mixed bag of weather is an understatement. From clear blue skies to heavy rain, from snow blizzards to strong winds, we experienced it all. Fortunately, sticking to the south of Iceland, we found the roads to be straight and, for the most part, flat and well maintained, so our first three days went by without a hitch and we felt very safe driving.
But it was on the fourth day of our trip that we really experienced Iceland's changing weather. The forecast was for heavy snow and from the moment we woke up, the snow came in thick and fast. We attempted to drive out to Krauma spa to the north of Reykjavik but after driving for an hour in blizzard conditions and the strongest winds I've ever known, we decided to turn back. It was the wind that really worried me – several times we felt the car sliding across the road because of extremely strong gusts! Not a pleasant experience.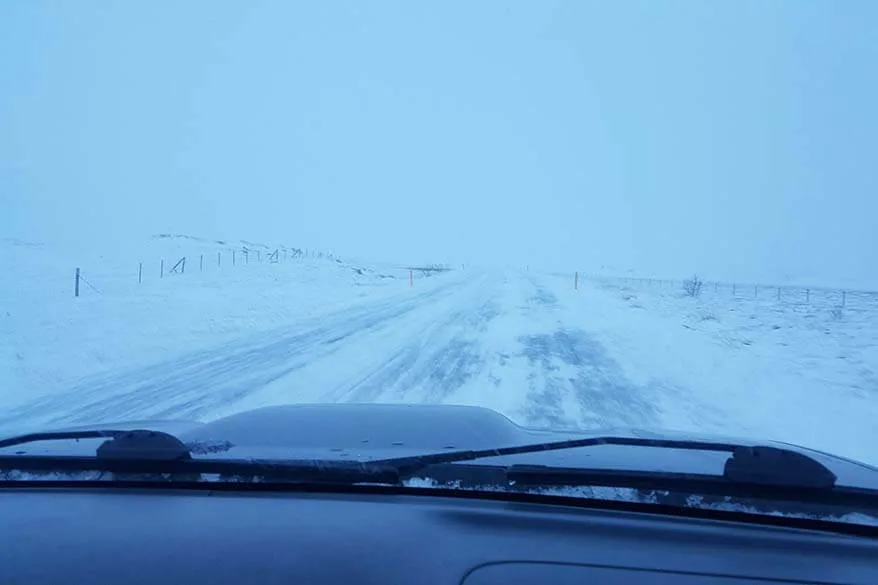 The next day we tried to make the trip again but what started off as a beautiful day with clear skies and a stunning sunrise quickly turned into a snowstorm – the roads went from clear to covered in snow in a matter of minutes. Fortunately, we made it to the spa safely but we had to take it slow.
By the sixth day, I finally had confidence in our trusty 4WD. Our car hire company had supplied us with winter tires and studs and I felt pretty safe and in control most of the time.
Personally, I'd say that driving in Iceland in January is definitely possible (we proved that), but a 4WD is a necessity. Yes, it may cost more, but you can't put a price on safety. Hire a 4-wheel drive, take plenty of provisions in case you get stuck, always play it safe, be prepared to change plans, and – above all else – drive carefully.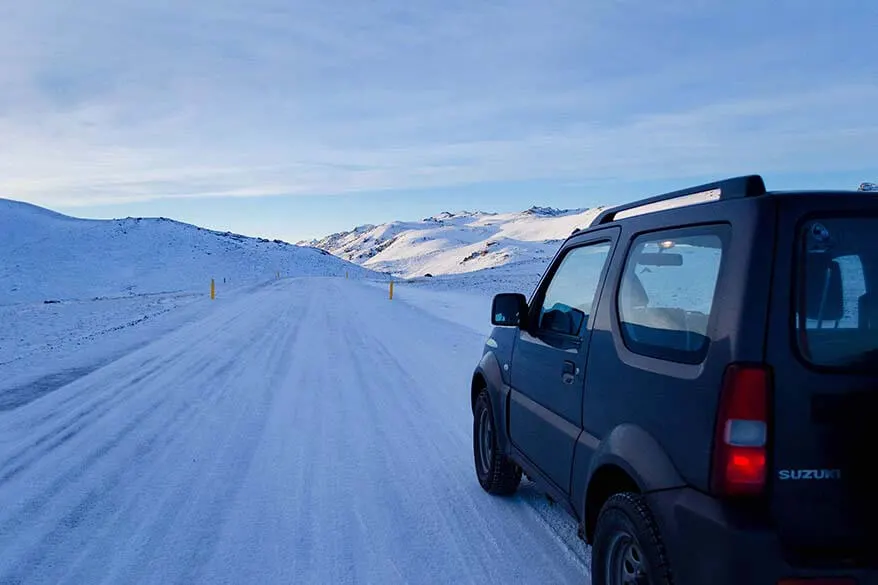 Driving the Ring Road by camper van at the end of October
This past year I visited Iceland in late October to drive around the entire Ring Road of Iceland in a campervan, says Natasha from The World Pursuit. We started our road trip in Reykjavik and then traveled up to Snaefellsnes Peninsula, to Northern Iceland, the East Fjords, and down via the South Coast and the Golden Circle. Although some local roads were closed, the entire Ring Road was open.
Before we left, we were quite scared of the gravel, wind, and extreme conditions that we were told could rip our car down right off. However, the fall weather was extremely mild and on most days we had clear skies and sun. The temperatures, however, were pretty brutal at night. We did just about everything in the confines of our campervan as it was too cold to do anything outside come nightfall. Thankfully, our camper van had a heater to sleep with at night so we didn't freeze to death!
We were very pleased with our Iceland travel experience and never once had to change our plans because of the roads or the weather. Prepare for the unexpected and have flexibility in travel plans should the weather turn. For any drivers wishing to visit Iceland on a self-drive trip in winter, I would recommend sticking to the main roads and following the rules. When a road is closed – it is closed! Don't ruin your rental car thinking you can drive anywhere!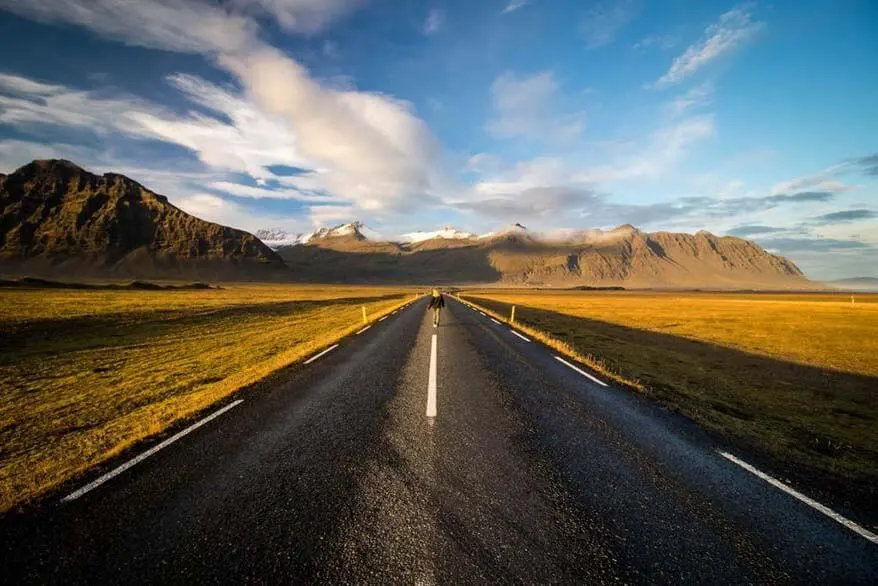 The roads were marvelous mid March
We visited Iceland in mid-March and rented a 4×4 SUV vehicle, says Shara Johnson of SKJ Travel. I had read that SUVs were very useful, but the 4×4 trails inland – F roads – are closed in winter anyway, so it's not really necessary. You'd still want a 4WD in winter, but not necessarily a high-clearance SUV. That being said, I personally prefer taller vehicles for sightseeing.
The roads were marvelous: well-maintained and with very little traffic, we had them to ourselves much of the time. We drove the Golden Circle, the Snaefellsnes Peninsula, and up the coast North from Reykjavik. The black tar roads running through the white winter landscape make for uniquely picturesque driving. There are few roads, you really can't get lost.
One bit of advice the car rental company gave to us is to be careful when opening your car door in the wind! Wind in this season can be horrendously fierce and rip the door out of your hands or close abruptly onto your fingers. Also, inspect your vehicle upon pick-up for good tires and a strong battery. Traveling in your own vehicle allows you opportunities to be able to stop along the roadsides and you can save a little money by packing picnic lunches in your car or eating at gas stations.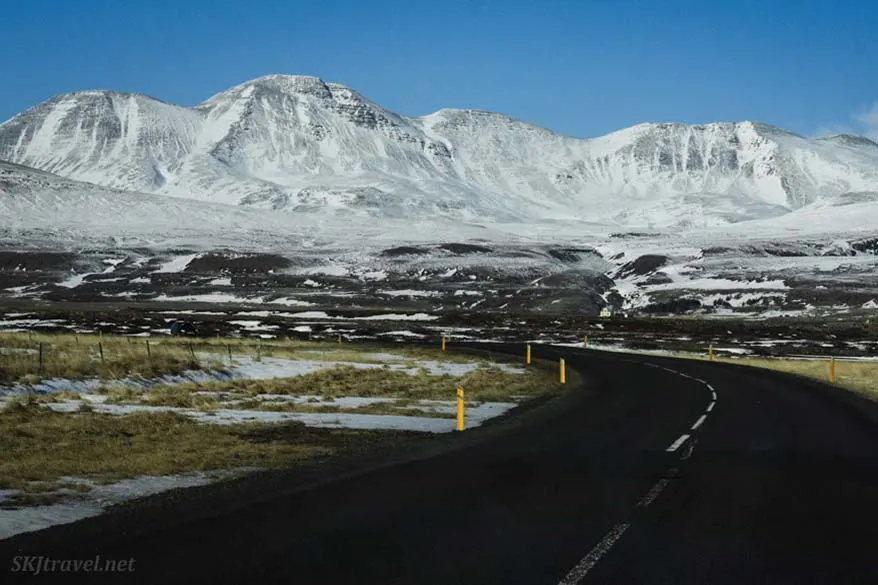 900 EUR wind damage in February
Although driving in winter conditions is always tricky, our honeymoon road trip to Iceland pleasantly surprised us, says Shruti from Siddhart and Shruti. The ring road was fairly easy to drive with snow tires and a four-wheel drive in February. The road was paved and kept clean. Other than a few rough patches in the mountains, we had it good.
The wind, however, made a mark on our otherwise perfect trip and car! When we rented the car, the rental company made it very clear: the wind damage will not be covered by the insurance. If you end up in stormy weather with strong winds blowing, do not open the ca!. In hindsight, we should have listened to this advice.
We never had encountered such strong wind during our travels which is why we may have underestimated it. The force of the wind around Snæfellsnes was moving the four-wheel-drive when we were driving to the lava cave. We didn't realize how powerful it was until we got out of the car and the wind blew the door wide open and we struggled to shut it back. But the damage was inflicted and the hinge broke.
Along with the hinge, our budget fell apart. Iceland is not a cheap country and labor and the spare parts cost us 900 EUR. Word to the wise – sit out the storm and do not open the doors until the wind dies down.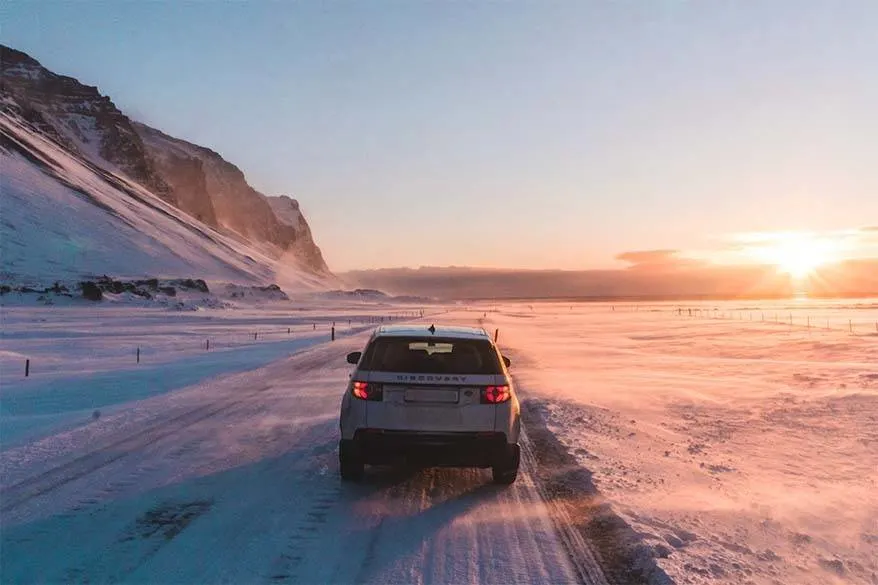 Driving in Iceland in winter isn't as bad as you think
I have visited Iceland twice during an 8-month period, once in February in the dead of winter and once in November when there was snow, says Victoria from Follow Me Away. Driving in Iceland in winter isn't nearly as bad or scary as you might think! First off, you do NOT need a 4×4 vehicle when visiting winter! A regular old two-wheel drive with snow tires will be perfectly fine!
My two road trips around Iceland lasted 8 days and 10 days respectively and I went to the west, south, and east Iceland. During winter, Iceland is blanketed in snow making it look like a winter wonderland! The roads are all cleared regularly and are quite safe for driving!
If there is one place to road trip during the winter, I recommend visiting the South Coast of Iceland because all the sights are easily accessible from the road! Don't be afraid of driving in Iceland during the winter! It is quite safe and enjoyable and an experience you won't soon forget!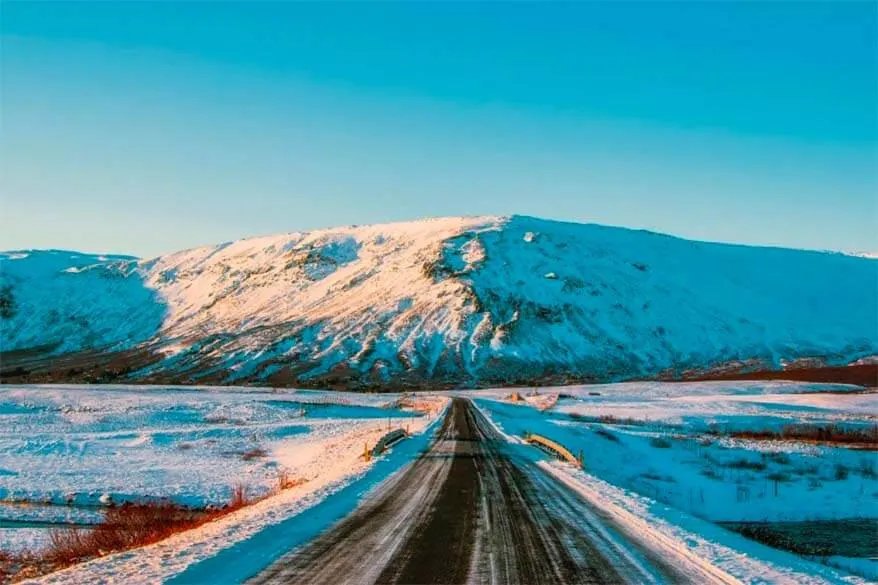 Rent a car and explore Iceland in winter on your own!
Just got back from a long weekend in Iceland, says Al Odesskiy in our Iceland and Scandinavia travel group.
I rented a 4WD Ford Kuga and explored Iceland's South Coast mid-January. I drove from Reykjavik to the Blue Lagoon and the whole south of the island, from the waterfalls to the DC plane wreck, all the way east to the glaciers, Jokulsarlon Glacier Lagoon, and the Diamond Beach. I saw the sunset on Rereynisdrangar beach in Vik and that was absolutely breathtaking!
For those of you scared to drive the Ring Road in winter, it's honestly not that bad. Reading reviews I was worried to drive in Iceland in winter, but in all honesty, it was fairly easy. The roads are well paved and when it snows the plows are out. There are not many cars on the road and gas stations are all over.
Common sense should be used and driving at appropriate speeds is advised. I hit some snow and high winds and just slowed down a bit. Rent a car in Iceland and explore! It will save you some money and will give you the freedom of doing what you want to do…
I strongly advise using a 4×4 the roads can be unpredictable in Iceland in winter.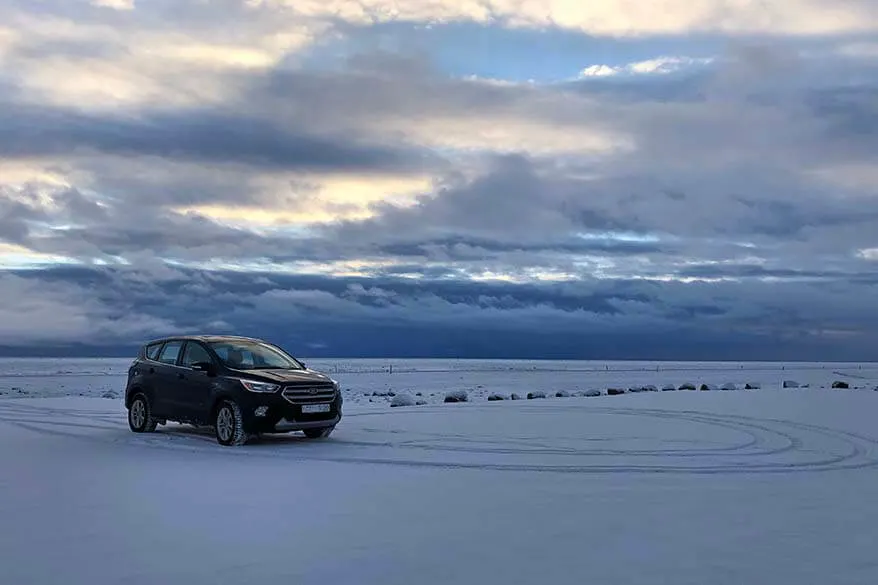 Hit a patch of black ice and smashed the car in February
My Iceland Ring Road trip took place in February, says Jennifer from Made All The Difference. I spent almost 3 weeks driving the Ring Road through snowstorms, windstorms, and icy roads. I had a little manual 4×4 Jimmy. My plans for the trip were never more than a day in advance because the weather was always changing.
The real horror of this trip happened at the tail end of it. I had survived everything Iceland threw at me until a patch of black ice. I was about four hours from Reykjavik on the Snæfellsnes Peninsula.
The weather was clean and the winds were low when I found a small patch of black ice on the road and I hit the guard rails. In the end, I was shaking but fine. But I smashed the front bumper on the car pretty bad. The insurance is an amazing thing as the repair cost 1800 USD and they covered it all.
Practical advice, even when the weather is amazing, do not underestimate Iceland's Mother Nature.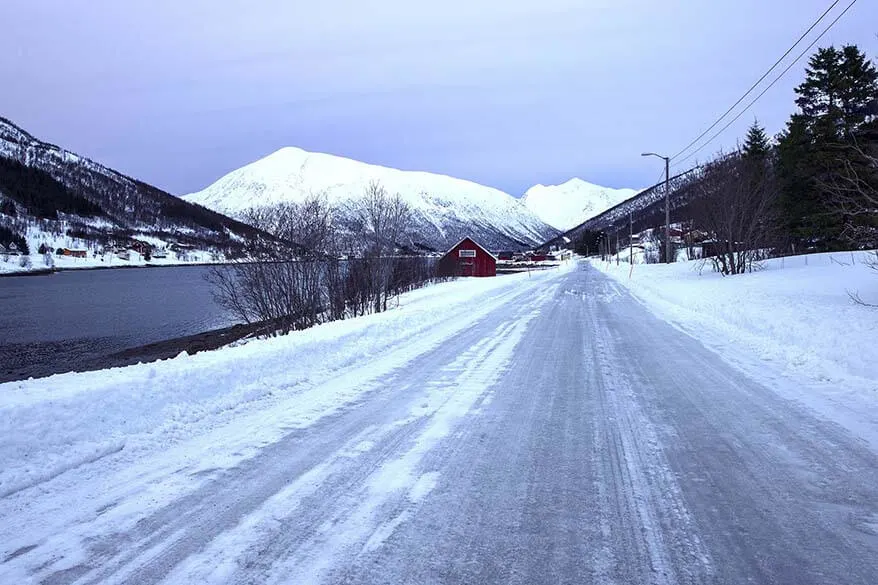 Snowstorm end of May and sunshine in November
And finally, I want to share our experience with driving in Iceland.
The first time we visited Iceland in 'summer' (or so we thought). As we landed in Akureyri at the end of May 2006 we couldn't believe our eyes – we found ourselves in the middle of the worst snowstorm we had ever experienced. We had rented a regular-size car for our trip, but our car rental company offered us a free upgrade to an SUV. They said the roads had been closed for the last two days and we would never make it in a regular car. We inquired about winter tires, but they had already been removed for the summer…
As we shoveled the snow off our car the next morning, we got good news – the roads were open and we could continue our road trip as planned. We slowly departed towards Myvatn, driving at just 20-25 miles/hr (30-40 km/h). And then it happened before we even realized it – our car slid off the road and we ended up deep in the snow.
Luckily, there was no damage to the car and we were ok, but how would we ever get back to the road?! We were in the middle of nowhere with not a house or a car in sight for miles. We were lucky again and in a few minutes we saw a car in a distance. A friendly Icelander with a huge 4WD truck was used to these kinds of situations. He had a rope and pulled us out telling us to drive even slower. This was our first day on the road in Iceland…
My advice for you is to drive really really slow when there is any chance of ice on the road.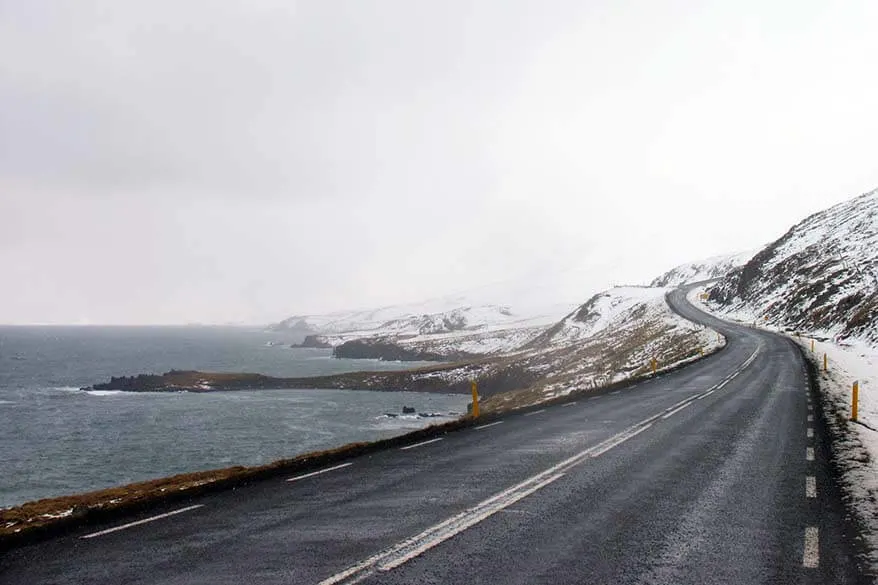 Fast forward ten years later I was visiting Iceland for a winter trip in November. After our previous experience in 'summer', I decided not to drive and booked a small group tour in Iceland.
It was a wonderful trip, the weather was dry the whole week, and for the most part, the roads were clean. But there was one place on the Golden Circle on the second day of our trip where the road was like an ice skating rink. We couldn't get out of the car without slipping, yet our Icelandic driver had no difficulties negotiating the hills and the sharp bends on the ice.
I was sure glad at that moment that I didn't have to drive! The rest of the week we had sunshine and beautiful dry roads…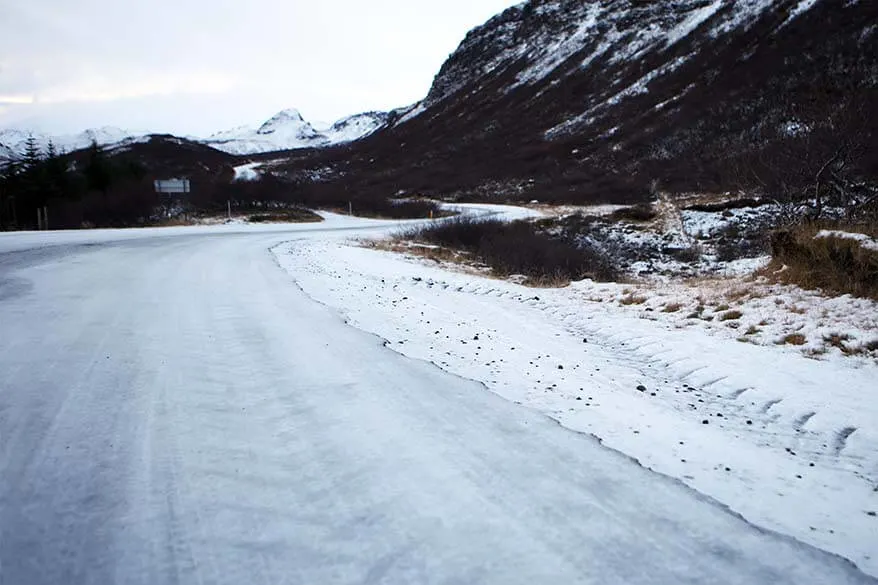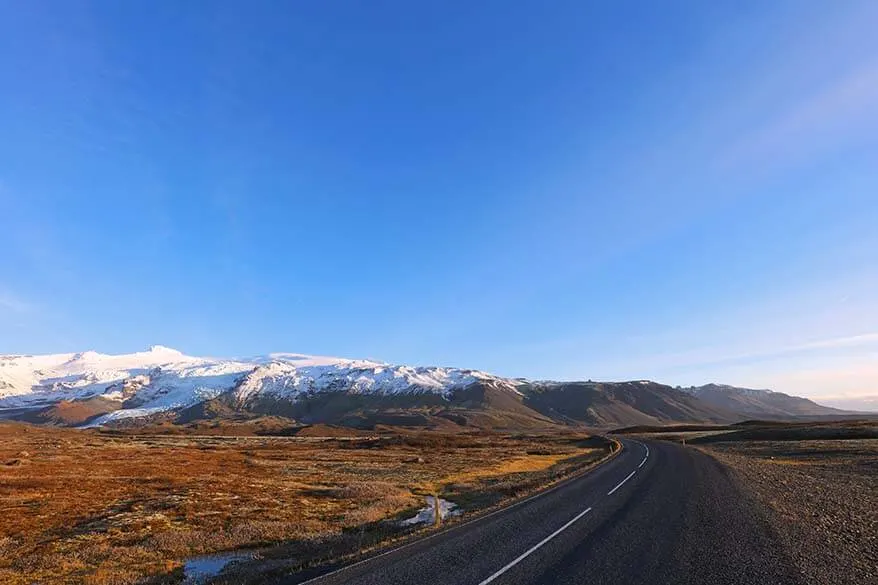 Driving in Iceland in winter – tips by a local Icelandic driver and tour guide
Iceland in winter and Iceland in summer are two different countries, says Kjartan Valgardsson, my friend and private guide and driver from Glacial Experience.
Kjartan lives in Iceland and has been driving all around the country in summer and in winter on a regular basis for decades. So I asked him to share a local's perspective on winter driving in Iceland, common mistakes people make, and some safety tips for those who decide to do a self-drive winter trip. Find out!
Icelandic weather is very dramatic, ever-changing, and therefore unpredictable. Driving conditions in Iceland in winter is like nowhere else. Therefore, when winter comes I get spiked winter tires – I don't want to take any risks. If you rent a car in Iceland in winter, make sure it has spiked tires!
When it comes to driving in Iceland in winter, the worst you can get is icy roads in combination with some new snow on top and heavy storms with high winds at the same time…
Below are some tips for driving in winter conditions in Iceland:
When driving in Iceland in any season, I follow the rule that I never break: if wind speed exceeds 20 m/sec and/or wind gusts exceed 30 m/sec, I don't drive further. I stop at a safe spot next to the road and wait for the wind to slow down.
If you encounter snow storms with hardly any visibility, you can still drive (as long as you don't blow off the road) – just make sure to drive very slowly and keep the car straight on the road. If you are not confident, look for a good place to park and wait the storm out.
Expect the worst from the other drivers. Slow down when you see another car and try to plan where you can exit the road if you feel that the other driver is losing control of his car.
Icelanders are so used to one-lane bridges that we don't see them as a security risk. However, recently there have been many accidents on the one-lane bridges involving tourists. So make sure that you never enter a one-lane bridge when there is another car on it! Not even to mention that the road surface on the bridge can be frozen and even more dangerous in winter…
Keep in mind that the Icelandic road system was built for much fewer cars and local drivers who are used to unpredictable driving conditions. Now that the number of tourists is 6 times the population, it will take some time for the Icelandic road system to catch up. Drive safely!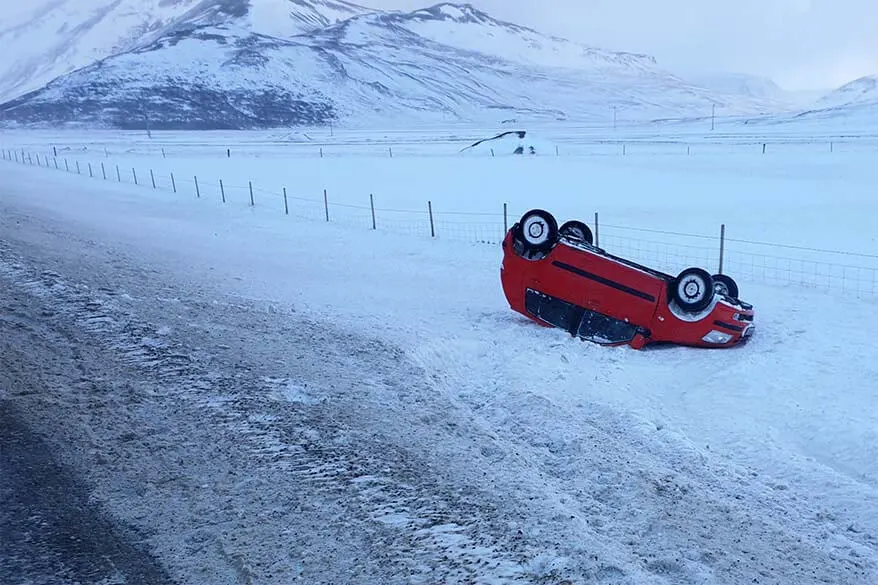 Driving in Iceland in winter – conclusion and practical tips
As you can see, there is no straightforward answer if it's safe to consider driving in Iceland in winter. Many people do it and have a trip of a lifetime, some others have less positive experiences.
If you decide to do a self-drive trip, make sure you are comfortable with driving in winter and are prepared for short days and unpredictable weather conditions. If you are doubting, go with a tour – you will enjoy your trip more. Otherwise, be flexible and open-minded and make the best of the trip no matter the weather.
If you are planning to drive in Iceland in winter, make sure you get good travel insurance, as well as full coverage for your car.
It's a good idea to rent a 4WD with studded tires in Iceland in winter. Renting a car in Iceland is not cheap and there are also many horror stories of companies overcharging clients for damages they didn't even cause. We recommend taking full insurance when renting a car in Iceland. TIP: Make sure you rent a car well in advance – just as with everything else, rental cars sell out quickly in Iceland, also in winter. The sooner you reserve the car, the cheaper it will be. On the RentalCars website, you can find some of the best deals for car rental. We always use this website for car hire for our trips.
Keep your travel plans flexible. You have to book your accommodation in advance in Iceland, but maybe look for places that offer free cancellation and make sure you have a plan B. You can also opt to stay at fewer hotels and use them as a base to explore the area – that way you can easier adapt to the road conditions. Here you can find our suggestions for the best places to stay in Iceland and here – our guide to the best Reykjavik hotels for all budgets.
And finally, here is a short video that is a very good representation of what driving in Iceland in winter usually looks like.
If you have any questions, feel free to leave a comment and I'll do my best to answer in a timely manner. Alternatively, join our Iceland and Scandinavia travel group on Facebook. The group has thousands of members and so there is always someone ready to help you out.
READ ALSO: Our Suggested Iceland Winter Itinerary
If you found this post helpful, don't forget to bookmark it and share it with your friends. Are you on Pinterest? Pin this image!