Traveling to Iceland in winter and wondering what kind of weather to expect and what to wear in Iceland in winter (October, November, December, January, February, or March and even April)? Or maybe you are looking for tips on what to pack for Iceland in winter? This article should answer all your questions.
Whether you want to know what to wear in Iceland in November, December, January, or February, or what to pack for Iceland in October or March, this Iceland winter packing list contains all the information that you need in order to truly enjoy your Icelandic winter adventure.
It's the most complete no-nonsense Iceland winter packing list out there. I include all the tips on what to wear in Iceland in winter and other items that you really shouldn't forget. In addition, I share my personal experience and examples of what I wore in Iceland in November.
At the bottom of this article, you can also find some tips on what to wear in Reykjavik in winter. If interested, you can also download a printable version of this Iceland winter packing list. Read on!
Good to know: Just to make it clear, by winter in Iceland I don't just mean November, December, January, and February. Icelandic winter is much longer than that! So this Iceland winter packing list has all you need to pack when traveling in Iceland between the end of September till the end of April. For the rest of the year – check our Iceland packing list for summer.
Top 4 Winter Experiences in Iceland:
How cold is it in Iceland in winter?
You may wonder how cold is it in Iceland in winter. It's actually warmer than you would expect – average temperatures in Reykjavik are around 0°C (31°F) in January. However, don't let that fool you – the wind makes it feel much colder than the temperatures would make you think.
On top of that, Icelandic weather is known to change quickly and often. Usually, you will get more rain than snow and cold northerly winds which can be very strong. Iceland is really very cold in winter. When traveling to Iceland in winter, you really need to dress as warm as you possibly can.
I can't stress this enough – you have to be prepared for everything when traveling in Iceland, especially in the cold months. So I created this Iceland winter packing list in order to help you prepare for your trip and make the most of it, no matter the weather. Find out!
READ ALSO: Useful Info & Tips for Iceland in Winter
What to wear and what to pack for Iceland in winter
Icelanders will tell you that there is no bad weather, just bad clothing. But what kind of clothes to wear in Iceland in winter? You might be looking for specific advice on what to wear in Iceland in November or what to wear in Iceland in December or in January or in October or even March….
The reality is that it doesn't matter that much in which month you are traveling specifically. Winter packing list for Iceland is pretty much the same whether you are visiting in October, January, or March.
Packing for Iceland is tricky because you can expect so many different weather conditions in any season. In a way, it's easier to pack for Iceland when visiting in winter months than in the shoulder season or even in summer, because you know that no matter the weather, it will always be cold. Hope for the best but prepare for the worst!
My best advice for what to wear in Iceland in winter is this: dress in LAYERS, ideally WOOL, and always wear a WINDPROOF and WATERPROOF outer layer. Dressing in layers gives you a lot of flexibility for any weather conditions.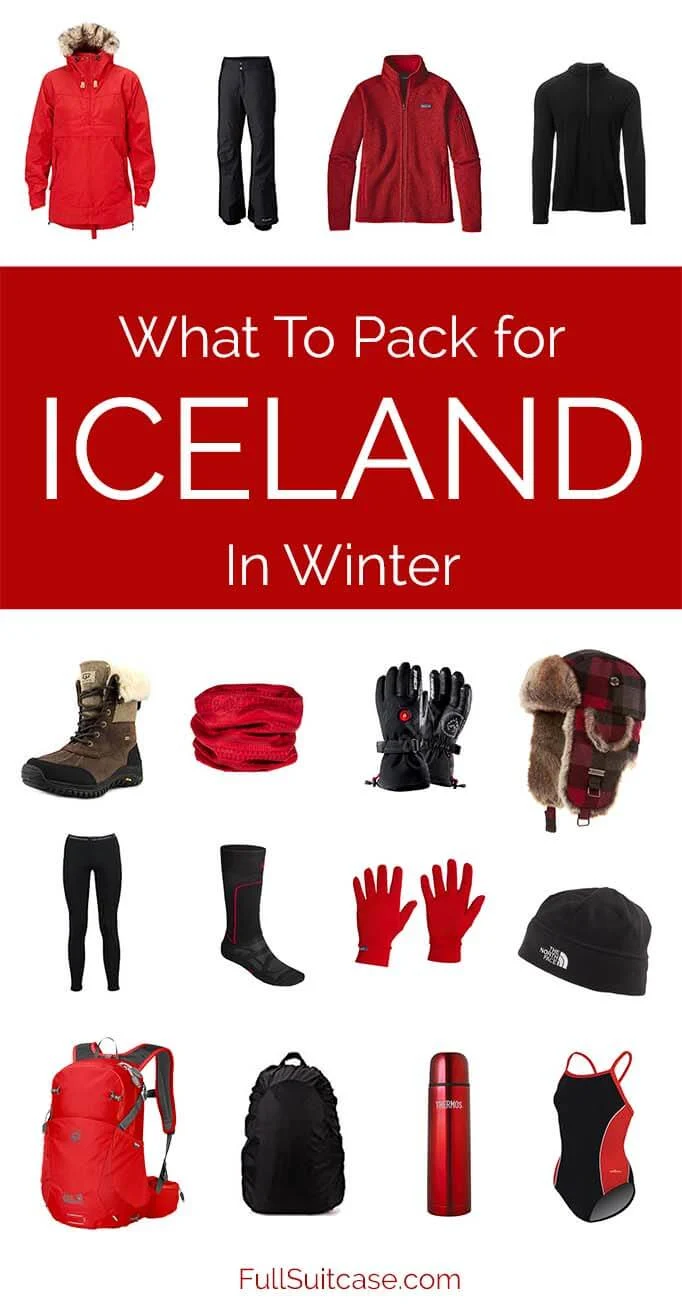 Without further ado, here is the most complete packing list for Iceland in winter:
Waterproof winter jacket
Waterproof and windproof winter jacket. You do need an insulated waterproof and windproof winter jacket in Iceland. It's an absolute must!
If you don't have a very warm jacket, it's not a problem to wear a somewhat thinner waterproof jacket. For example, a ski jacket will usually do just fine. Just make sure to wear several layers of fleece and/or woolen sweaters underneath.
It doesn't really matter if you are visiting Iceland in October, November, January, or even in April,- you do need a really warm waterproof winter coat or a parka for Iceland.
TIP: Take a look on REI.com as well – they have a good selection of waterproof winter jackets. Especially brands like Patagonia, Fjallraven, or North Face are good choices for a quality winter jacket that will keep you warm and dry in Iceland in winter.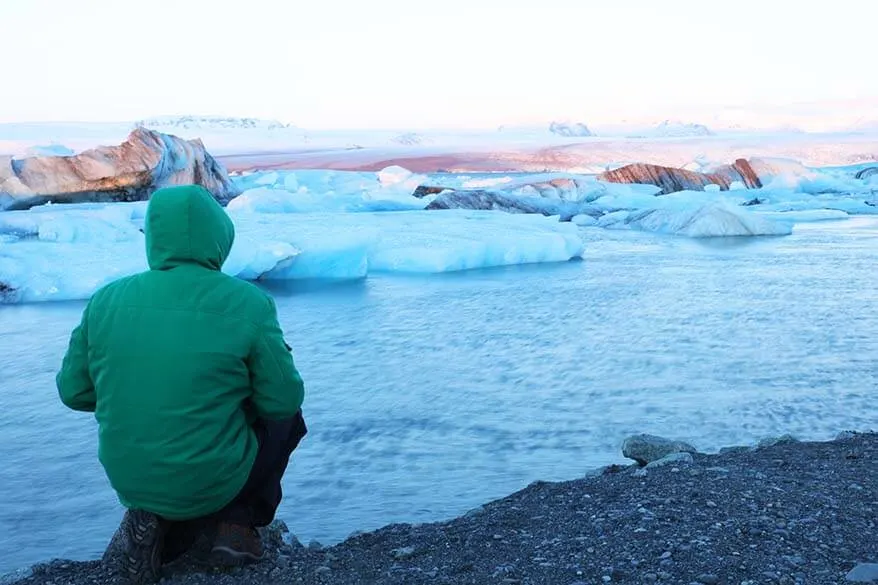 Thermal underwear
Thermal underwear is a must in Iceland in winter. Ideally, wear thermal base layers in Merino wool. Don't forget leggings too. Good thermal underwear is essential when packing for Iceland in winter.
I even wore my Merino underwear when I visited Iceland at the beginning of September. In November, I wouldn't have survived without it.
Ideally, you pack at least 2-3 pairs of thermal underwear. It's usually quite easy to wash it by hand at the hotel and the heaters are so warm that it dries in no time. But if you are not willing to wash it, you might want to pack a clean thermal shirt for each day. It's cold outside, but very warm in hotels and restaurants, so it will be sweaty faster than you think.
I personally own various sets of Merino underwear from the Icebreaker brand. It's not cheap, but we travel a lot (also in winter) and I find that the quality pays off. But there are also other,on REI.com, than here in Europe).
And if Merino wool underwear is above your budget (or you only need it for this one trip and just don't feel like spending that much money on something you'll only use once), there are also lots of other, more affordable options for synthetic thermal underwear.
Wool or fleece sweaters
Woollen and/or fleece sweaters. Layering is the key to staying warm in the cold and ever-changing climate. I advise wearing at least one really warm woolen sweater.
Ideally, pack a couple of thinner lightweight sweaters in wool as well. Fleece sweaters are okay for layering too, but you'll quickly realize that real wool is irreplaceable.
Waterproof winter pants
You should know that jeans are completely useless in Iceland and even more so in winter. They'll get wet when it rains (it will rain!) and you'll be cold and wet the whole day. You can still pack a pair of jeans to wear in the hotel in the evening but don't wear them for exploring during the day.
Waterproof or water-resistant winter pants is what you need to pack for Iceland in winter. I didn't buy any special winter pants when packing for Iceland in November, but took my waterproof ski pants. They were ideal for sightseeing during the day and perfect when chasing the Northern Lights at night.
You may not want to wear ski pants in Reykjavik city, but they are really essential when exploring Iceland's natural landmarks in winter.
An alternative is to wear warm winter pants like these and pack light rain pants with you. You can quickly slip on your rain pants over when it starts to rain or snow.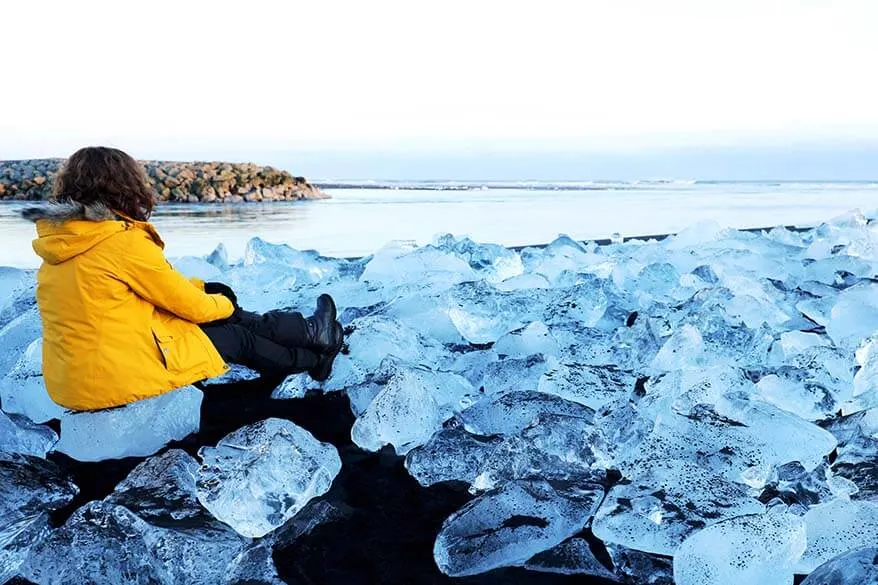 Wool socks
Wool socks are essential when packing for Iceland in winter. Pack several pairs of really warm socks, especially if you are planning on spending a lot of time outdoors. I often wore two pairs of socks in Iceland in winter, at least one pair in wool; the other pair – my warmest ski socks.
Even if you can't find 100% wool socks, any socks with some wool are incomparably better than the ones made of cotton. These are good quality merino wool socks for men. And this is a nice selection of warm wool socks for women (I personally own these and wear them at home in winter as well; they'll be great for Iceland in winter too).
TIP: Wool socks also make a great Nordic gift for your travel companions (and not just for the Iceland winter trip)!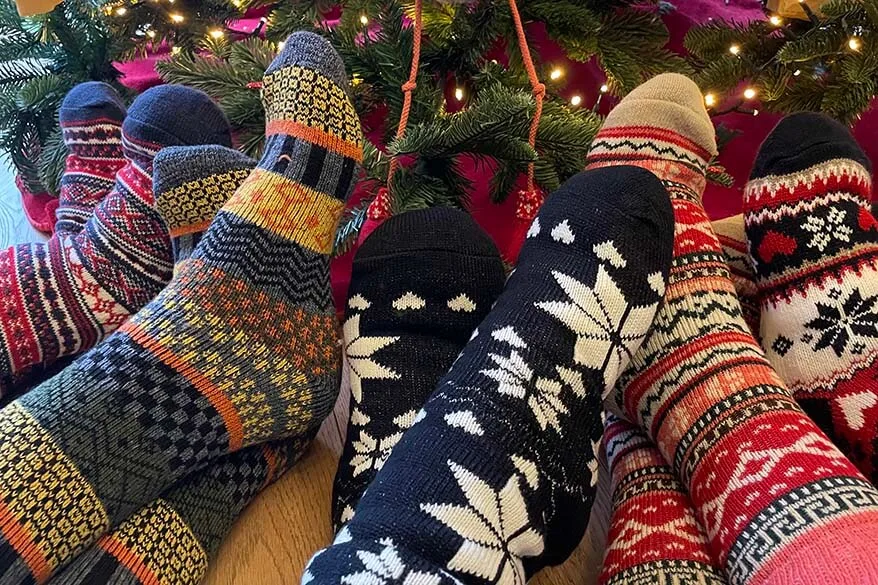 Waterproof winter boots
Waterproof winter boots. Comfortable sturdy waterproof walking shoes with good traction are a must. I wore these waterproof insulated women's boots (alternative for men – men's boots). You may also want to read our guide to the best winter boots for travel.
Whatever you choose, don't compromise on footwear when packing for Iceland in winter. Once again, you really need WATERPROOF winter boots in Iceland between mid-October and March.
If you are traveling at the beginning of October or in April, you may be ok with regular waterproof hiking boots, but make sure to pack some really warm socks.
Good to know: Sturdy hiking shoes are also a must when planning to go glacier hiking in Iceland. Your shoes have to fit heavy crampons (which are provided by tour companies), so you can't do it with simple leather shoes or sneakers.
Ice cleats or stabilicers
Iceland is really icy in winter and sometimes it's really difficult to walk around, even if you have good winter boots. There is one thing that I missed in Iceland in winter and that is stabilicers (aka shoe spikes or snow grips) – a sort of an extra shoe sole with steel cleats to prevent you from slipping. We could have definitely used these by the waterfalls!
STABILIcers for walking on ice are really essential in Iceland in winter. I see this question asked again and again – do I really need shoe spikes in Iceland in winter? Yes, it's really a good idea to pack shoe spikes or ice cleats for outdoor activities in Iceland in winter.
There are lighter and cheaper models (e.g. like this) that don't take up much space in your suitcase – it's better than nothing. Pack them with you, especially if traveling to Iceland in the coldest months from November to March.
Waterproof gloves, winter hat, and a scarf
Gloves, scarf or buff, and winter hat. Gloves, a scarf or a buff, and a winter hat are an absolute must in Iceland in any season. In winter, I advise wearing warm windproof and waterproof GoreTex gloves, ideally mittens, together with thin inner gloves that you can keep on while taking pictures.
I packed two warm hats to Iceland with me as well: a fleece hat and a winter hat with ear flaps. I used them both – the fleece hat during the day when it was dry and the waterproof hat when the wind was really strong, when it rained, and also at night when waiting for the Northern Lights.
Swimsuit and a quick-drying towel
A swimsuit and a quick-drying towel are a must in Iceland in any season. Iceland is known for its many outdoor thermal pools and hot tubs which are popular all year round. Although you can usually rent a towel at some bigger pools, it's quite expensive. Smaller local pools usually don't rent towels. It's so much easier to just bring your own!
Regular bath towels are heavy and take a long time to dry. I recommend packing a quick-drying travel towel. Also, don't forget your swimsuit! Flip-flops might be useful but are not a must.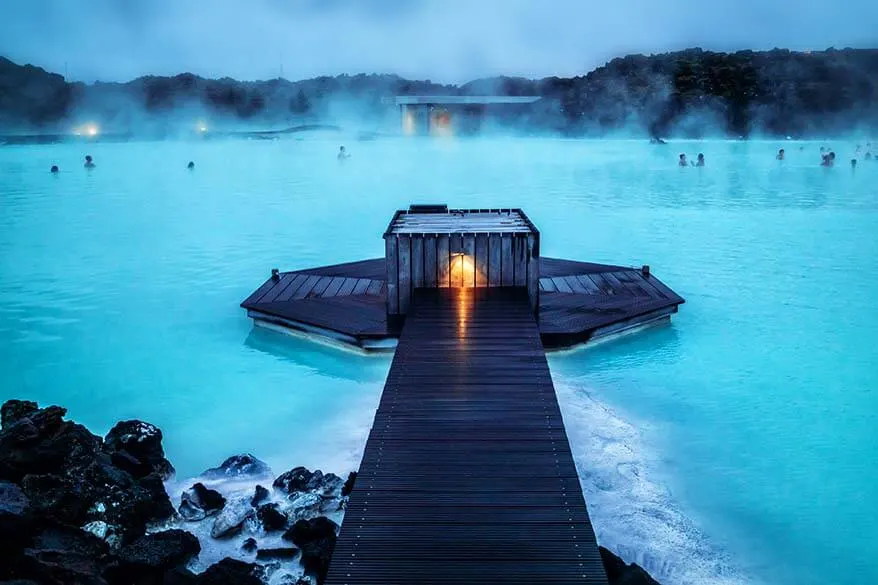 Jeans/ pants
I already mentioned that jeans are not ideal for Iceland. However, you may want to pack a pair of jeans or light pants to wear on the plane or at your hotel/restaurant in the evening.
Whether or not you need smart clothing depends on where you are staying in Iceland. You may want to pack one set of casual smart clothing to wear for dinner or to go out in Reykjavik. In general, people dress very casually in the hotels in Iceland – a pair of jeans and a sweater is all you need.
Extra pair of shoes
I also recommend packing an extra pair of shoes when traveling to Iceland. After all, you don't want to wear your muddy and wet winter boots inside a hotel. It's also essential to have a second pair of shoes in case your boots get really wet.
Winter jacket, wool sweaters, and a swimsuit? Yes, this is what you should pack for Iceland in winter!
Further below you can find a list of other Iceland winter packing essentials (not clothing) that you really should pack for Iceland in winter. At the bottom of this post, you can also find some examples of what I wore in Iceland in November. Read on!
Thermos
Thermos flask. There are few things in life that make you feel better than a sip of a hot drink after a walk in the cold. And even though there are many more cafes and restaurants in Iceland now than there used to be when we visited ten years ago, finding one while on the road can be trickier than you think.
Packing a thermos flask (and a picnic lunch for that matter) gives you complete flexibility during the day. You can fill it up with coffee or tea at breakfast in your hotel or at a petrol station or a restaurant.
Find a beautiful spot, sit down on a rock with a warm cup of tea in your hands and a magnificent view in front of you – it's as good as it gets.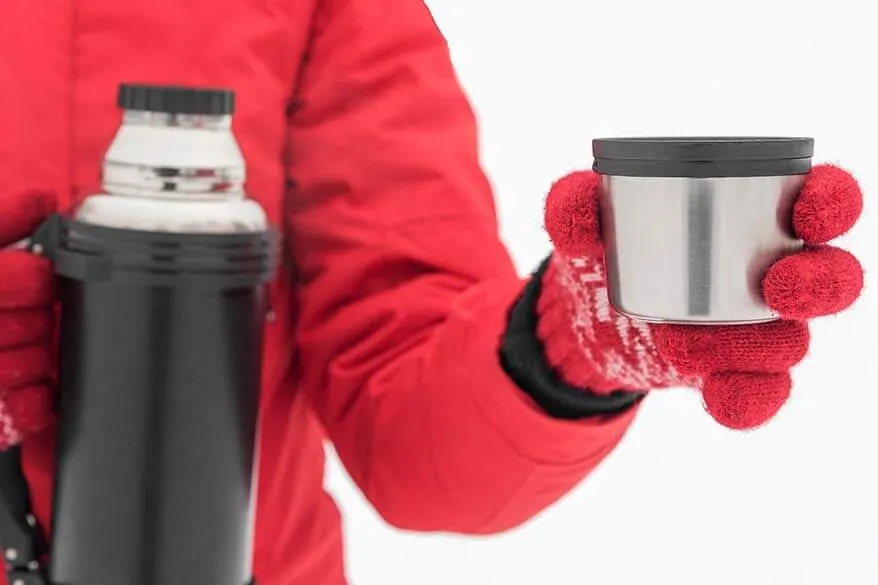 Reusable water bottle
Reusable water bottle. Icelandic tap water is pure, it's tasty, it's safe to drink, and it's FREE. Take a reusable water bottle and fill it up whenever you can.
Flashlight
Flashlight or headlight. Having a small powerful flashlight in your pocket can be very useful on many occasions as it gets dark very early in Iceland in winter. We used flashlights all the time when looking for a good spot to photograph the Northern Lights or when trying to choose the right camera settings or to focus in the dark. The headlamp flashlight keeps your hands free, so it's ideal for night photography.
Moisturizer
Lip balm, hand cream, face cream for cold weather, and body moisturizer should be in everybody's bag when traveling to Iceland in winter.
You will enjoy your Iceland winter trip more when you don't have cracked lips, dried-out hands, or an itching body. Take my word for this, you'll be glad you packed these little travel essentials.
Washcloths
If you often use washcloths at home, you may want to pack a few for your trip to Iceland. Many of our American readers said they were surprised to find out that Icelandic hotels don't provide them.
Coming from Europe, we don't expect to find something like that everywhere we go, so I never even thought of it. But since so many of our readers mention it, I now updated this packing list to add washcloths.
Camera gear and tripod for aurora photography
Weather-resistant camera gear and a sturdy tripod. You should not forget to bring your camera gear. If your budget allows it, consider a weather-resistant camera for Iceland.
A good tripod that can withstand strong wind is a must for night photography.
Here you can find more tips for finding and photographing the Northern Lights. And here you can find our travel photography tips.
READ ALSO: How to See Northern Lights in Iceland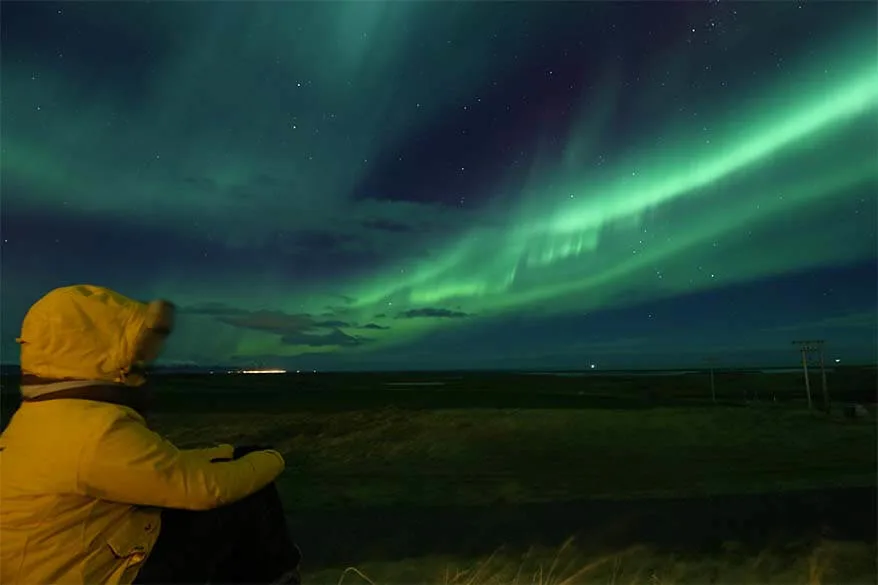 Power bank
Batteries drain very fast in a cold climate. I advise you to carry extra batteries for your camera in Iceland in winter and don't forget a good power bank/ portable charger. It allows you to charge your smartphone or any other device during the day. A power bank has quickly become my essential packing item for all our trips.
Travel adapter
Iceland uses European plugs. Regular European travel adapters will be fine for charging phones and cameras, but not for heavy devices such as hair dryers.
Sunglasses
Yes, you also need sunglasses in Iceland in winter. The sun is very low and you'll definitely need sunglasses if driving on a sunny winter day. If you have special sports anti-fog sunglasses, you may want to take those with you. Otherwise, just take your regular sunglasses, just in case.
Backpack with rain cover
Day backpack and backpack rain cover. A good rain cover for your backpack is a must when visiting Iceland in any season. When it rains, it pours and in a matter of just a few minutes, everything is soaking wet. You can leave your umbrella at home – strong winds make it completely useless.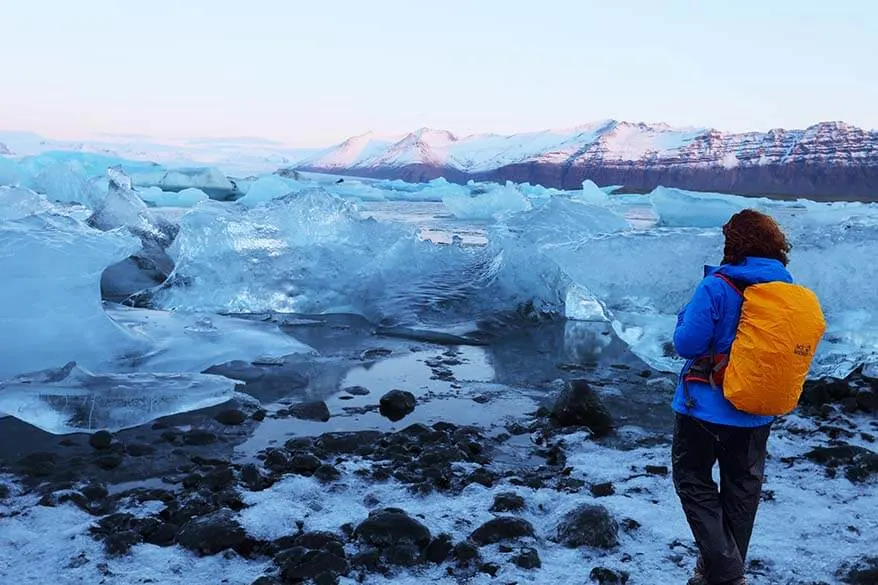 Medication
Traveling in Iceland usually means that you're in very rural locations with no shops, let alone pharmacies nearby. Make sure to pack a first-aid kit and any medicine you think you might need. As a minimum, make sure you have some strong pain medication with you.
Ice scraper
When renting a car in Iceland in winter, you may want to pack an ice scraper. I still can't believe it, but rental cars in Iceland don't come with any winter essentials. So, as a minimum, pack a (small) ice-scraper with you. I heard from many people that they advise to also take a foldable snow shovel, as well as a brush to clean the snow off the car, but we never packed one.
In fact, we didn't have any of these items on our trip to the North of Iceland in May. However, it snowed so much that our car was covered with snow. Luckily we were able to borrow a big brush from our accommodation – see the picture below.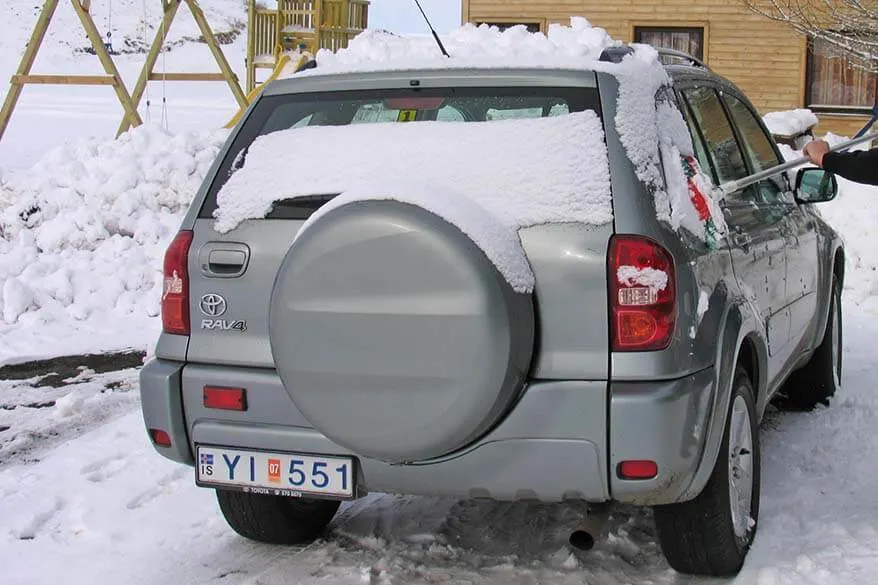 What to Wear in Iceland in Winter – My Experience in November
If you're looking for specific advice on what to wear in Iceland in winter, here are some examples of the clothes that I wore on my trip to Iceland in November.
We had very cold weather, with temperatures dropping to -10°C (14°F) and winds up to 100km/h (62 mph) on several occasions. We asked Icelanders what they thought the wind chill factor would be, and they said there was no number to describe it. When it comes to Icelandic winter weather, they said, you can only divide it into two categories: cold or bloody cold. It was the latter.
So here are some examples of the clothes that I wore, and which allowed me to actually enjoy my Icelandic winter trip.
Please note that the clothing I linked to is similar to what I wore but models/brands/styles change all the time, so it's not always possible to link to the exact same products. Anyway, this should give you a better idea of what to look for when packing for Iceland in winter.
Printable Iceland Winter Packing List
If you are looking for a printable winter packing list for Iceland, you can fill in the form below, and you'll be able to download a pdf file with all the essentials.
This printable winter parking list for Iceland has all of the items listed above and makes it easy to check if you haven't forgotten anything.
Because, well, you really don't want to arrive in Iceland in winter and realize that you left your thermal undies or waterproof gloves at home…
If you forget to pack something essential… You will be able to find anything you might need in Reykjavik and some bigger towns in Iceland, but it is really difficult to impossible in rural areas.
Also, the prices are much higher in Iceland than on Amazon. So it's best to prepare well in advance, pack everything you need, and enjoy the trip of a lifetime!
What to Wear in Reykjavik in Winter
If you are wondering what clothes to pack for Reykjavik in winter months, I think the answer depends on what you're planning to do. If you are just visiting the main attractions in Reykjavik city, going to museums and shops, then you don't really need ski pants or several layers of sweaters.
Warm winter shoes are still a must, as well as a good winter jacket, gloves, scarf, and a hat. Insulated water-resistant pants are still advisable.
On the other hand, if you are planning to do winter day trips from Reykjavik, then you should dress really warm and follow our Iceland winter packing suggestions from this post.
READ ALSO: Best Area & Hotels to Stay in Reykjavik
Planning a winter trip to Iceland? Take a look at these guides as well:
More tips for your trip to Iceland:
Some of our favorite lesser-known places in Iceland:
If you found this post useful, don't forget to bookmark it and check it once more when packing for your Iceland winter trip. Are you on Pinterest? Pin these images!