Are you looking for something nice to do near Reykjavik or a day trip off the beaten tourist path in Iceland? Or maybe you stumbled upon this article when researching what there is to see and do in Reykjanes Peninsula? Or you are wondering what to expect from Reykjanes Peninsula tours and if it's worth taking a tour and which one? You came to the right place!
This post should answer all your questions about visiting the Reykjanes Peninsula and give you plenty of inspiration and ideas for exploring this beautiful area, probably one of the most underrated places in Iceland.
In case you are wondering if Reykjanes Peninsula is worth it, yes, it absolutely is!
I spent quite a lot of time researching the best things to do in Reykjanes Peninsula that are worth your time the most. You can also read about a fun activity that we did in Reykjanes, something that made our visit to Reykjanes Peninsula unforgettable.
Further in this post, you can read about a few lesser-known places of Reykjanes; hidden gems that we absolutely loved. At the bottom of this article, you can also find a suggested Reykjanes Peninsula itinerary for one day and a map indicating all the places mentioned in this article. Find out!
Visiting Reykjanes Peninsula – Overview: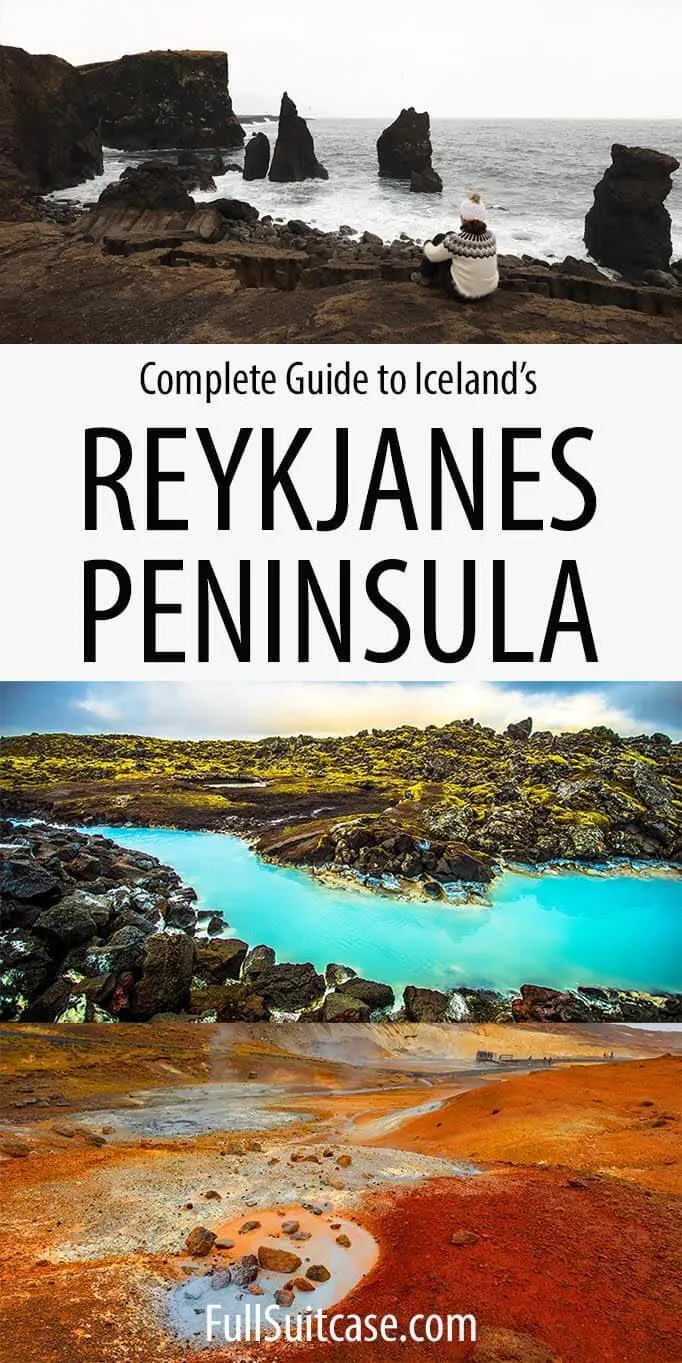 Reykjanes Peninsula & Why It's Worth Visiting
Southern Peninsula Reykjanesskagi, or simply, Reykjanes Peninsula is home to Iceland's main international airport, Keflavik, and the country's most popular tourist attraction, the Blue Lagoon. Because of the Blue Lagoon, locals now call the road around Reykjanes Peninsula The Blue Diamond Circle. They seem to love naming places 'circles' in Iceland – think of the famous Golden Circle east of Reykjavik and the Diamond Circle in the north of the country.
Reykjanes Peninsula is just a short ride from Reykjavik, from the Golden Circle, and from the South Coast of Iceland – one by one extremely popular places that all tourists visit. Yet, Reykjanes Peninsula is still completely overlooked by most visitors traveling to Iceland…
I have to admit that it also took me many trips to Iceland before I finally discovered the Reykjanes Peninsula. The moment we arrived, I couldn't believe that it took us so long to visit…
Reykjanes Peninsula is a true gem, it's like the very best of Iceland in a nutshell!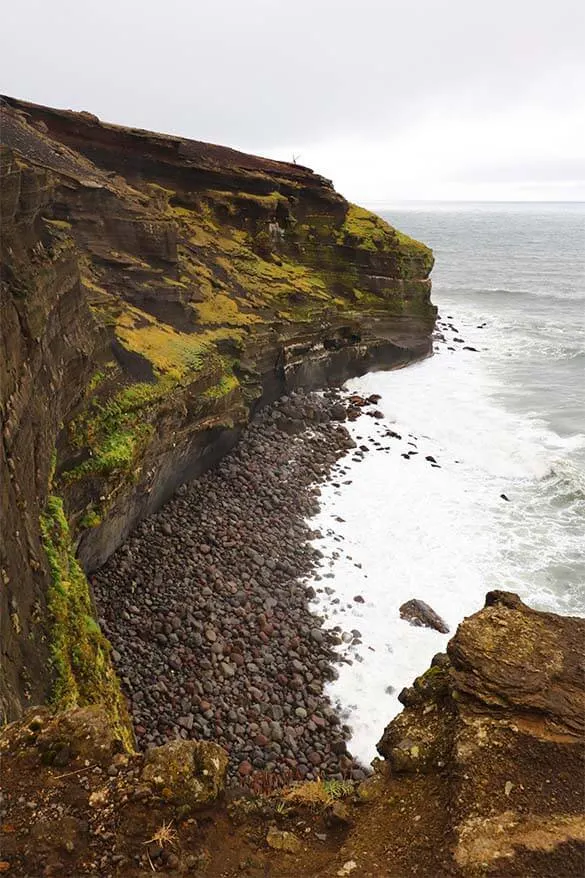 Stunning coastlines with lighthouses, dormant volcanoes surrounded by endless lava fields, colorful geothermal areas with steam and boiling water coming out of the ground, quirky little towns and some of the most adventurous activities in the country… These are just a couple of things that make Reykjanes Peninsula one of the most special places in Iceland.
Yet, it's so little known and there are just a few tourists around. There were moments when it felt as if we were traveling in the highlands of Iceland (luckily, the main roads here are in perfect condition and are incomparable to those in the highlands).
I am convinced that Reykjanes Peninsula will see a tourism boom in the near future, but for now, it's quiet and undiscovered. So get there before the rest of the world finds out!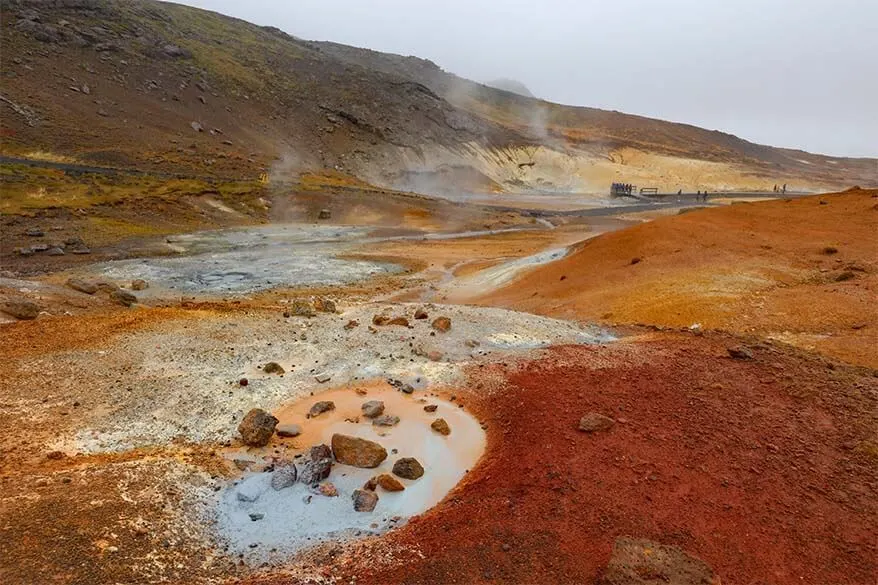 Reykjanes Peninsula tours
If you are looking for the best Reykjanes Peninsula tours as a day trip from Reykjavik, you can find the best selection here. One of the biggest advantages of taking a tour is that you can learn a lot of interesting facts and stories about this region. And there are many stories to be told about Reykjanes indeed…
One of the best-rated group tours is this volcanic hike tour with the Blue Lagoon option.
It's also possible to visit Reykjanes Peninsula if you have a long layover or a stopover in Keflavik airport. You could look for a private stopover tour or rent a car and take a self-drive trip following our suggestions for the best places to see in Reykjanes Peninsula (see below).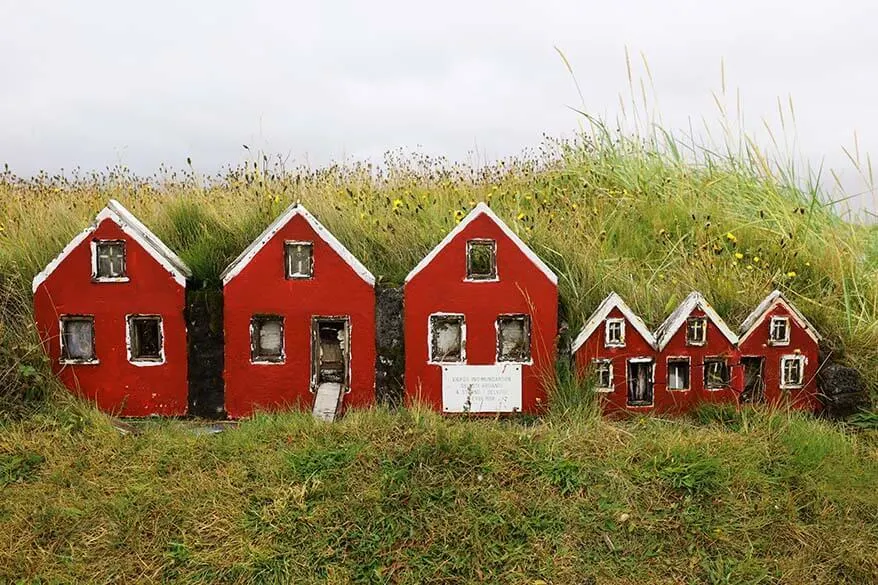 What to See and Do in Reykjanes Peninsula
When I googled 'things to do in Reykjanes Peninsula', Google presented me with a huge list of places to see. More than 50(!) attractions… First, I had no idea that there was so much to do in such a small area, and second, who would have the time…
So if you are like us and have just one day (or even just half a day) in Reykjanes Peninsula and want to see the best of the area, then take a look at our picks for some of the very best places to visit. It's in no way a complete list of things to do in Reykjanes Peninsula. Just a small selection of some of the very best places and a couple of hidden gems that we loved the most.
We skipped some popular sites like the Blue Lagoon (because we've been there before), but since it's such a popular place, I included some essential information for you. I also mentioned a few other places that we didn't visit due to lack of time or interest.
I want to show you all the best options of what to see in Reykjanes Peninsula, so that you can use this list as an inspirational guide to help you decide what's worth YOUR time the most. Find out!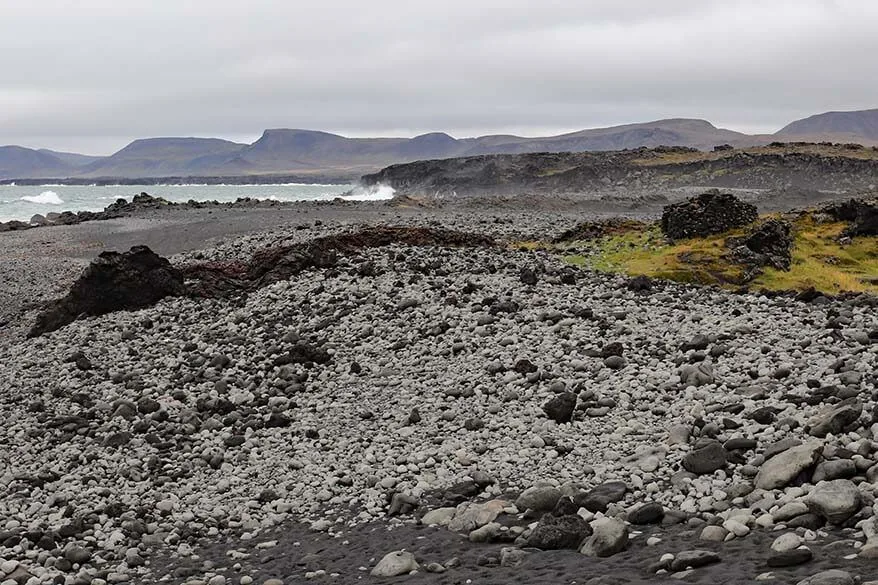 Without further ado, here are some of the best things to do in Reykjanes Peninsula:
Valahnúkamöl Cliffs
If you have limited time for Reykjanes Peninsula, the coastal area called Valahnúkamöl is probably worth your time the most. The rugged coast and the islands here have been shaped by lava and fierce waves of the sea. Even on a calm day, standing here feels like you are at the end of the world. Visit on a stormy day and you'll feel the power of nature like nowhere else.
From Valahnúkur mountain and the surrounding coast, you can see a rocky little island called Eldey. It's a protected bird reserve and home to the world's largest gannet colony. The area has always been home to thousands of birds, but some of the species are now extinct.
You can't miss the Last Great Auk statue by sculptor Todd McGrain, created as part of his Lost Bird Project. You can read the sad story of these giant birds on the informational panels. The 80cm (33")-tall birds were hunted as trophies. The last breeding pair of Great Auk birds was killed on Eldey islet in 1844.
Practical information: If you have the time, you could spend an hour or two here. You can hike around the coast, just be careful with the sneaky waves, the wind, and the nesting birds. But even a short photo stop of a few minutes is really worth the drive.
The road to get here is good, but the last part is gravel and might be a bit more difficult to get to in a small car in winter. The parking area is really bumpy and wasn't fun even in a 4WD in summer. Hopefully, they'll fix this in the near future.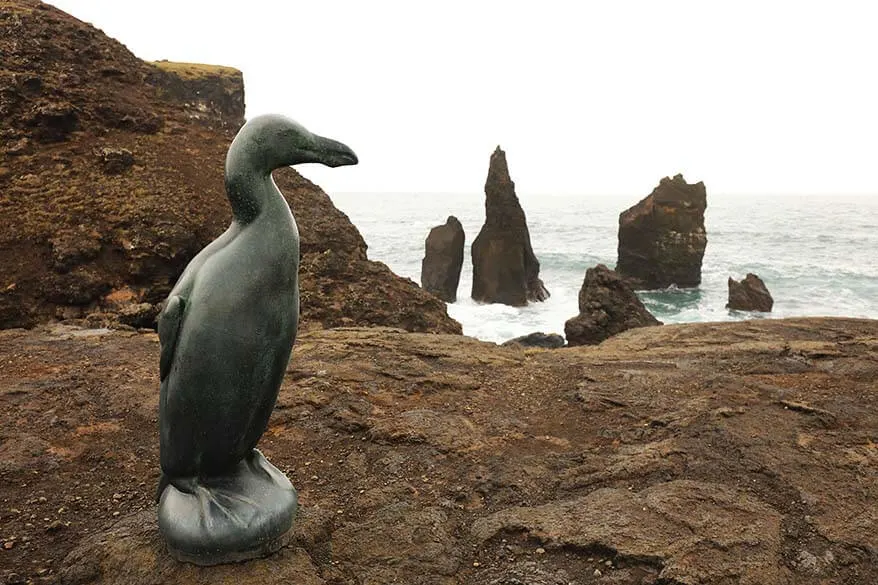 Reykjanesviti – Reykjanes Lighthouse
Built in 1878, destroyed by an earthquake a few years later, and rebuilt in 1907-1908, Reykjanesviti is the oldest lighthouse in Iceland. It's located in the southwestern part of Reykjanes Peninsula, just near the Valahnúkamöl area.
You'll pass here on your way to Valahnúkamöl and you can see the lighthouse on Bæjarfell hill from the road. If you have some time to spare, you should climb up the small hill for some really nice views.
The lighthouse has a light signal height of 69 meters above sea level. The building itself isn't that special, but the surrounding area is really nice. Since you are visiting the Valahnúkur area anyway, you should definitely include the Reykjanes Lighthouse in your Reykjanes Peninsula itinerary.
Practical information: Reykjanes Lighthouse is easy to reach and the road is paved. You can see it from the car and you'll need less than 10 minutes to walk up to the lighthouse.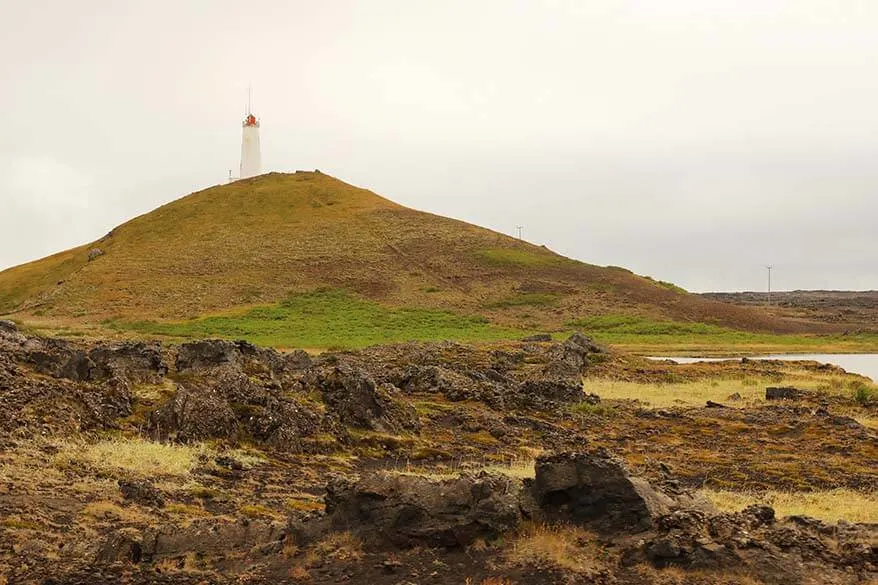 Gunnuhver
A geothermal hot spring Gunnuhver is another nice stop when visiting the southwestern part of Reykjanes Peninsula. This steaming colorful geothermal area is a great place to see where Reykjanes (meaning 'smokey point') and Reykjavik (meaning 'smokey bay') get their names from.
You'll see steam coming out of the ground in various places in Reykjanes Peninsula, but here at Gunnuhver, it seems to be stronger than anywhere else. There are also geysers spouting boiling water out of the ground. Make sure to stay on the boardwalks and admire all this incredible geothermal activity from a safe distance.
Just like in many other places in Iceland, this area also has its own story. Gunnuhver is supposedly named after a witch/ghost Gunna, who haunted the whole peninsula. She was then trapped by magic and lured into the boiling water.
Practical information: Gunnuhver is easy to reach and has two parking areas. One of the parkings is just off the main road, the other one can be accessed from road 425 on the way to Reykjanes Lighthouse. Count 10-20 minutes for a visit.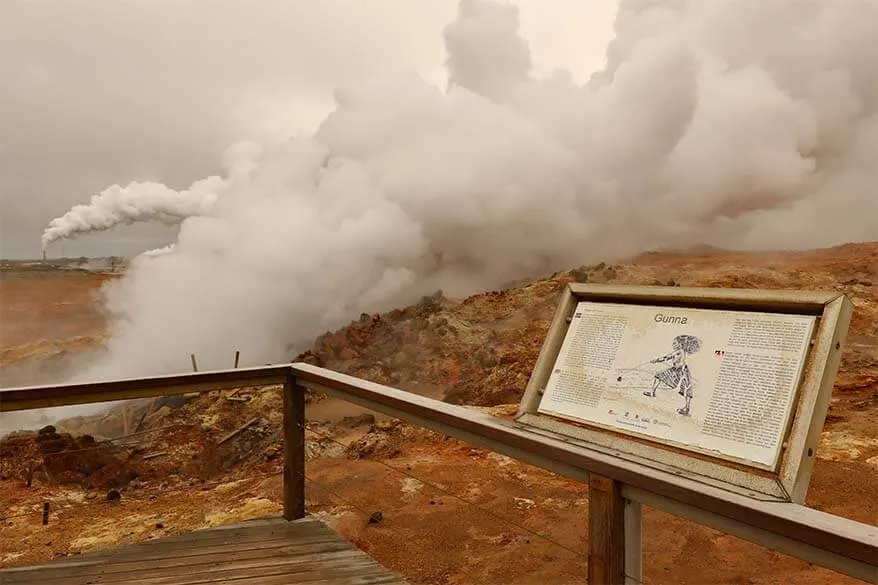 Bridge Between Continents
The Bridge Between Two Continents is another popular attraction in Reykjanes Peninsula. Once again, 'popular' here means that you'll probably meet another ten people or so…
It's a small footbridge over a fissure where it's easy to see the moving of the tectonic plates between Europe and North America. Together with Thingvellir National Park, this is one of the best places to see the place where two continents meet in Iceland.
This bridge was built as a symbol of the connection between Europe and America. It's located really close to Keflavik airport and it is a fun short stop when visiting the Reykjanes Peninsula.
TIP: You can take some fun photos of you 'holding' the bridge when standing in the sandy gulf between the continents.
Practical information: Bridge Between the Continents is located in Sandvík, about 20 min drive from the airport. The parking is well indicated, just next to the main road 425. Count 15-20 minutes for a visit here.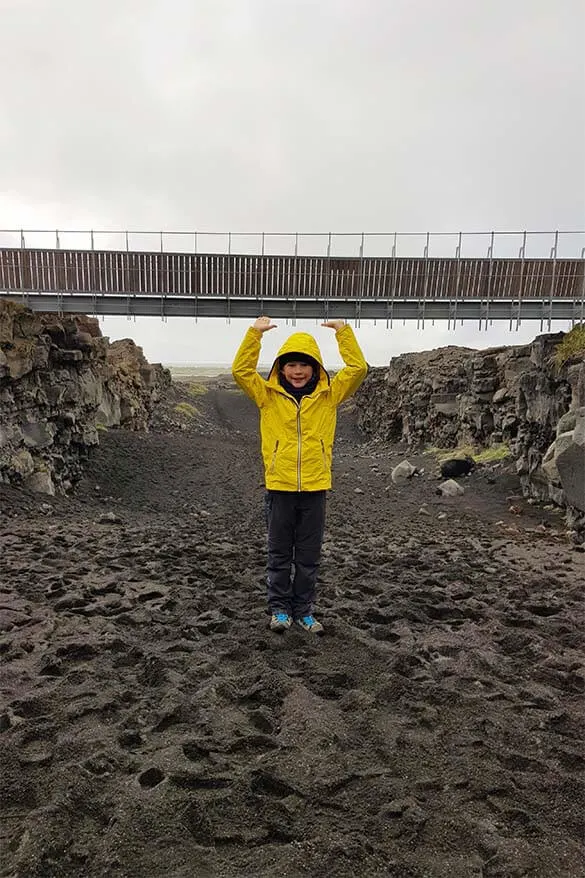 Seltún Geothermal Area near Krysuvík
The Seltún geothermal area near an old abandoned farm of Krysuvík has several nice stops. The main and the most visited attraction here is Seltúnshverir, which literally means the hot springs at Seltún.
Seltúnshverir, also called Krýsuvíkurhverir, is an easily-accessible colorful geothermal area with bubbling mud pools and hot springs. It also has a strong sulfur smell that is typical to all geothermal areas.
There are several similar geothermal areas in Iceland, but most of them are in the highlands or in the north of the country. So if you are visiting Reykjavik and the South Coast, and want to experience a real colorful stinky geothermal area in Iceland, Seltundshverir in Reykjanes Peninsula is probably one of the best places for that.
Just as with all geothermal areas, the colors are at their best when the sun is shining. But even on a grey day, it's a nice short stop, one that is also included in all Reykjanes Peninsula tours.
On the other side of the road from Seltún parking you can find another interesting stop, Fúlipollur. Fúlipollur are two mud pools that stink of sulfur (even more than Seltunshverir). It's just a short stop, but not a must.
The third stop in this area is Grænavatn, or the Green Lake. It's a deep lake inside an explosion crater. The color of the lake varies: usually, it's green, but it can also turn blue, or grey (if you visit on a rainy day, as we did). If the weather is good, you could take a short walk here.
Practical information: This geothermal area is located next to a paved road 42, about 40 minutes drive from Reykjavik, 45 minutes from Keflavik International airport, and 30 minutes from the Blue Lagoon. Count half an hour to an hour if you are planning to stop at all three places mentioned above.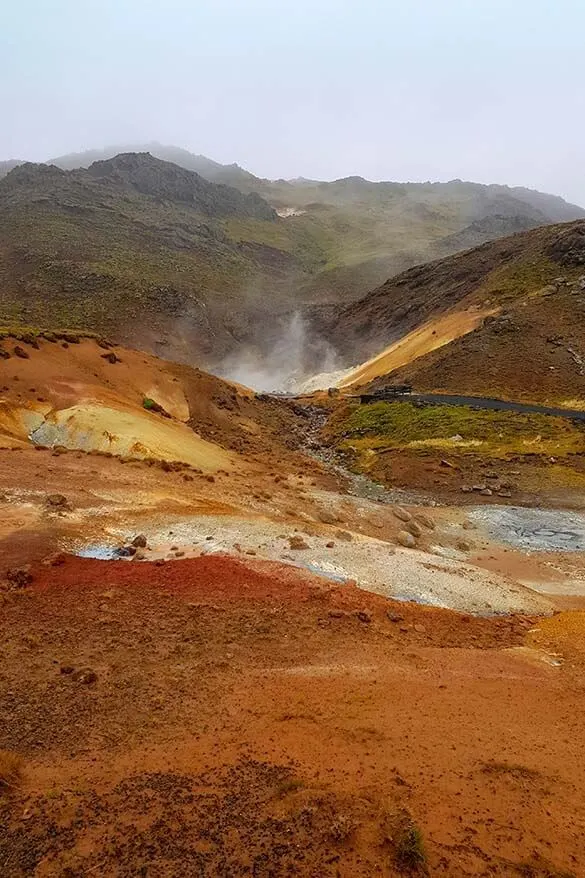 Krýsuvíkurberg Cliffs
Together with Valahnúkamöl coast, the cliffs at Krýsuvíkurberg are probably the most beautiful places in Reykjanes Peninsula. The coastline here is simply stunning!
The steep black cliffs stretch for a distance of over 4 kilometers and in summer, you'll see tens of thousands of birds nesting here. If you are lucky, you might even get to see puffins (in season), but that's not the reason to come here. The scenery is phenomenal and to me, seeing the Krisuvikurberg cliffs was one of the main highlights of our day in Reykjanes Peninsula.
You can see some really nice landscape just near the parking area at the end of the gravel road, but you can also hike along the coast if you have more time. Just be careful and hold on to your kids – there are no railings here and the wind can be really strong.
Practical information: The cliffs at Krýsuvíkurberg are best seen from a small parking area, 3km off the main road 427. Turn off at the small sign to Krýsuvíkurbjarg and follow the gravel road for 3 kilometers. This road was in good condition in summer, but at one point we had to cross a tiny water stream. It wasn't deep, but it's probably best to only come here if you have a 4WD. I read that some people park the car just off the main road and walk to the cliffs in about 45 minutes.
Count at least half an hour for a visit (driving the gravel road and a short photo stop included). This is also a great picnic spot and we had our picnic lunch with the view of the cliffs.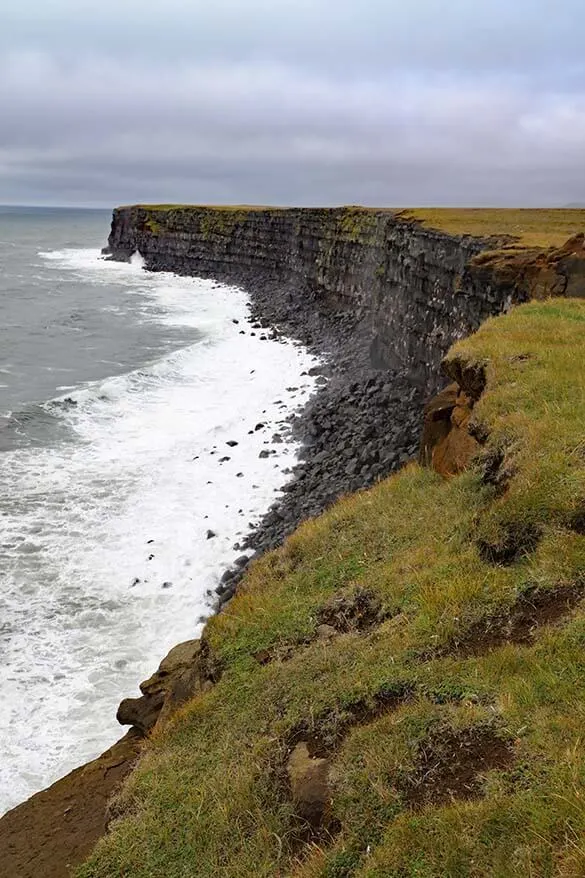 Strandarkirkja
As I said, pretty much every place on Reykjanes Peninsula has its own story. The story of the 12-th century Strandarkirkja is that of hope and miracles. It's even often referred to as the 'miracle church'.
According to a local legend, a group of sailors was caught in a storm off the southern coast that is known for its hidden reefs and rough coastline. They prayed to God promising to build a church at the place where they could safely land ashore. An angel of light appeared and guided them through the rough sea into a safe bay. The sailors kept their promise and built the wooden church, Strandakirkja.
The nearby bay is named Engilsvík (Angel's Bay) and the area has been a kind of pilgrimage place with many Icelanders coming here to pray for all kinds of miracles. Strandakirkja has many miracles attributed to it. The church has been so popular and had so many supporters that it was one of the richest churches in Iceland for a long time.
The coastal area next to the church is also nice to see. The power of the sea and the crashing waves makes you realize how tough the life of the fishermen should have been. You'd also start believing in miracles if you survived a storm here!
Practical information: Strandarkirkja is located in Selvogur, 2 km off the main road 427. The road is paved and there is a big car parking by the church. The church is open to everyone and you can visit inside free of charge. There are public bathroom facilities as well.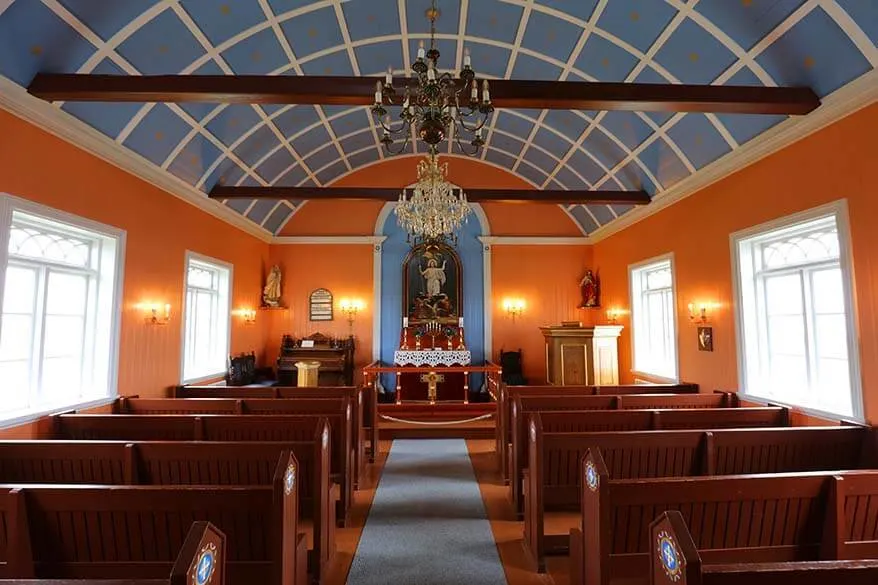 ATV tour in Grindavík
If you are looking for something truly unique to do in Reykjanes Peninsula, have a driver's license, and have a sense of adventure, you could try a quad-bike ride near Grindavik. What a special way to experience this incredible scenery!
Riding these powerful all-terrain vehicles, you can get to places that you'd never see otherwise. Not to mention that it's a fun activity in itself. Just be warned – it's a thrilling ride, to say the least. Our kids absolutely loved it, but they didn't have to do the driving… 🙂 Once you get used to the vehicle and figure out how it reacts to what you do, it's really fun. Still, it was a pure adrenaline rush and an experience I won't quickly forget.
We drove past Grindavík lighthouse, through the lava fields, and up to a high mountain from where we had 360° views of Southwestern Reyjanes Peninsula. We could even see the Blue Lagoon in the distance.
Practical information: You can book the ATV tour on Reykjanes Peninsula here. They allow kids from 6 years old as well – one per quad, sitting behind a parent. With three kids, we arranged that one of them could ride together with the guide. You get helmets, gloves, a warm overall, and also additional waterproof suits if necessary, so no worries about getting cold.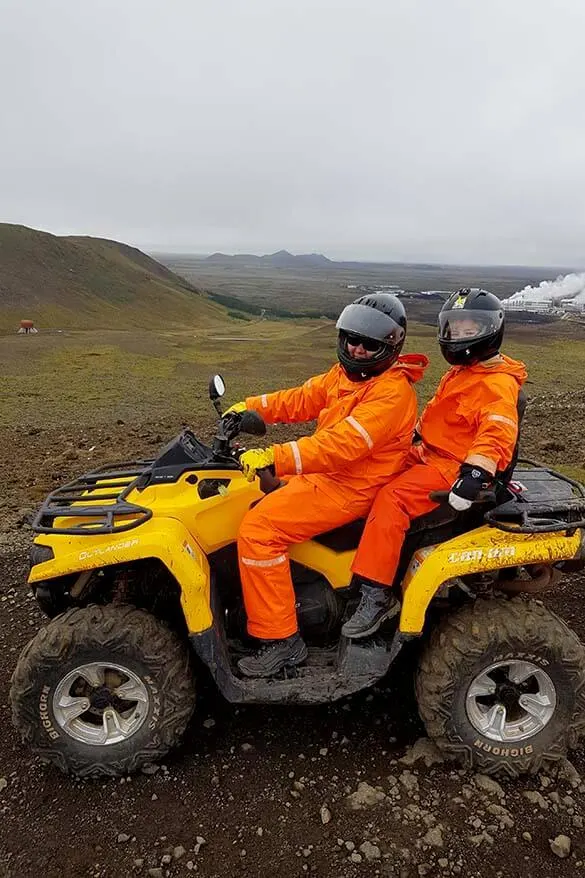 Blue Lagoon
The geothermal pool Blue Lagoon has been Iceland's most popular tourist attraction for years. You can love or hate it, but it's a bit like seeing the Eifel Tower in Paris or the Tower Bridge in London – you have to experience it once.
Visiting the Blue Lagoon is, therefore, considered one of the best things to do in Iceland. So it's definitely not to be missed when visiting the Reykjanes Peninsula.
You probably have seen countless pictures of the milky-blue water surrounded by black lava. Yes, it's that blue and yes, it's that beautiful. The water is coming from the nearby geothermal plant and is hottest near the vents where it comes out. It's easy to find a spot where the water temperature is to your liking, get a drink at the pool bar, a silica mud mask, and spend several hours here…
There are saunas, steam rooms, you can have lunch at the restaurant, book a massage or one of the spa treatments and spend half a day at the Blue Lagoon… Just make sure to book everything in advance – from entrance tickets to spa treatments or restaurant reservations.
Practical information: Count at least 2 hours for a visit to the Blue Lagoon, but you can stay as long as you want to (the ticket is valid the whole day). You can find practical info and book your tickets here. If your ticket doesn't include towels, we recommend packing quick-drying travel towels. They'll come in handy in other pools in Iceland as well.
The best way to get to the Blue Lagoon is by car or by taking the Blue Lagoon shuttle bus from Keflavik airport or from Reykjavik.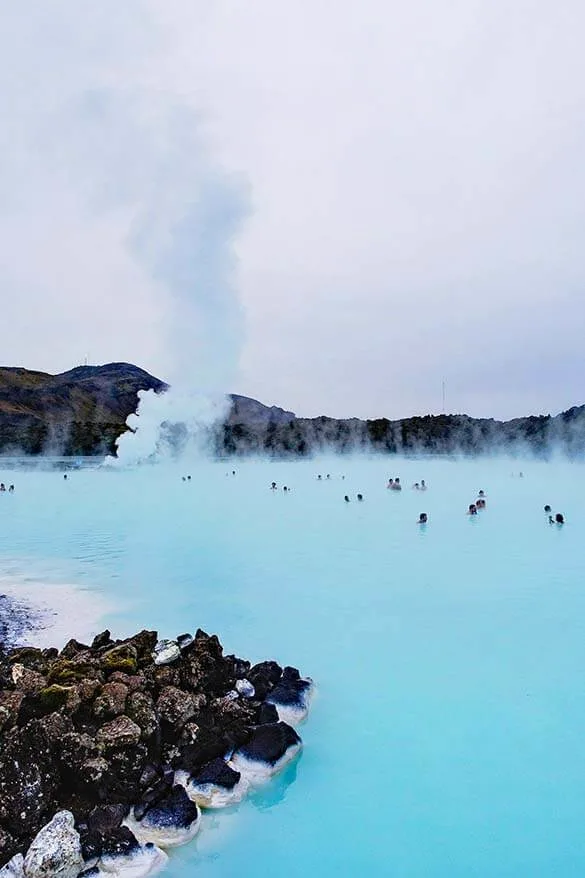 Selatangar
Selatangar is one of the lesser-known places, off the beaten path in Reykjanes Peninsula. To us, this was a true hidden gem, one of the most special places we visited in Reykjanes Peninsula.
Selatangar is an old fishing station used from the Middle Ages until the end of the 19th century. It has been abandoned since 1884. You can still see the ruins of many old fishermen's huts and sheds lined along the coastline here, but you'll have to make some effort to see them. The road to get here is really bad (see practical info below) and even once you get to the small car parking area, there are no signs indicating where to go.
At the car parking, there is an informational sign explaining what the place is, but it doesn't say where to find it. Once we found the ruins, next to them, on the ground, we also found an informational panel explaining the history of the place and how life here used to be.
It seems as if Selatangar is one of those landmarks that Icelanders aren't willing to share much. The signs look recent, yet they haven't been maintained. This might also have to do with the harsh environment – it's possible that signs would easily blow away with the wind.
Good to know: If you look well, you'll see a wooden pole on the left side of the car parking when looking towards the sea. behind the pole, you can find a narrow walking path leading through the lava fields to the east.
Follow this path and in about 10-15 minutes you'll see the ruins of the first fishermen's shed in the distance. From there, you can continue further along the coast. If you have the time and patience, you can find ruins of about 20 structures.
Farmers from the surrounding area rowed out to sea in open boats from here and used the huts and sheds to sleep and store and dry the fish. It's a really special, historic place, and one that makes you realize what life was like in Iceland in the past.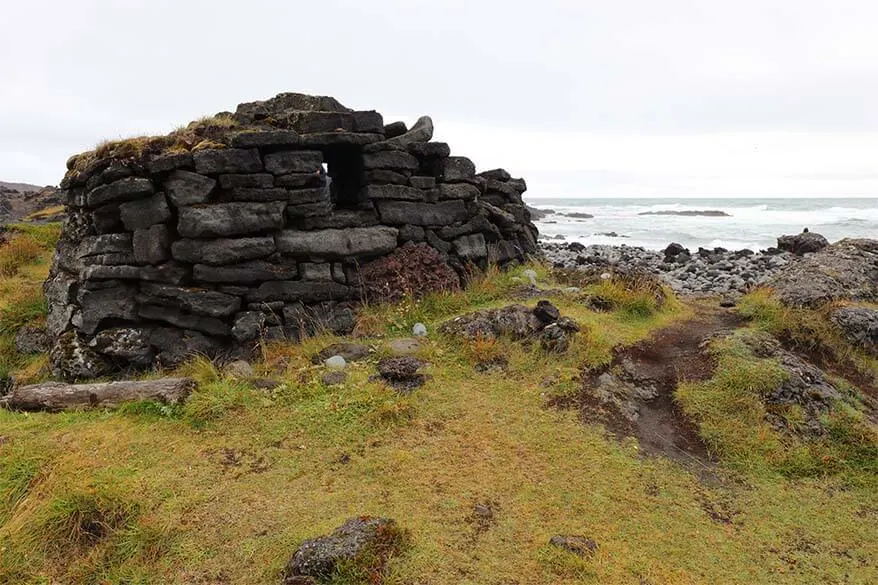 To us, places like Selatangar are some of the best and most memorable travel experiences. If you love offbeat places and have some time to spare (and drive a car that can handle the rough road), I really recommend visiting here. If you rather just stick to the most popular attractions of Reykjanes Peninsula, you can skip Selatangar.
TIP: From the car parking, you can also walk straight to the sea. The waves here are unbelievable – the incredible power of nature! Make sure to keep a safe distance from the water.
Practical information: Located about 2km off the road 427 between Grindavik and Krysuvik, Seltangar can be reached by a really rough road that is challenging even for a big 4WD. The road is well indicated with a sign. 4×4 jeep is the best way to get here, but you can drive this road in a regular 4WD as well. We did it (very slowly) and we met other people who came here in a 4WD car, in a camper and also in a minibus. If you have plenty of time, you could also walk 2km from the main road.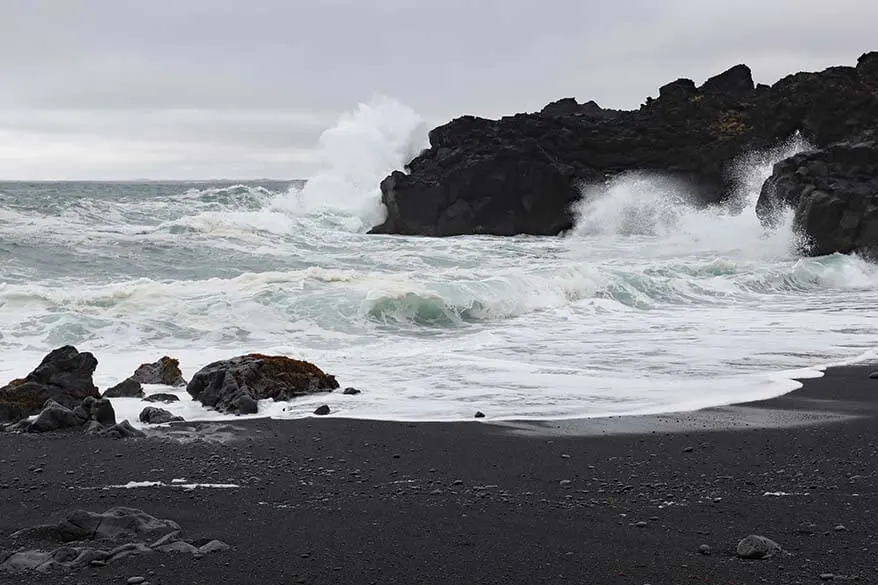 Garður
As a prime fishing location, Garður was the biggest village of Reykjanes Peninsula in the past. Nowadays people mostly come here to see Garðskagi headland, a beautiful windy area with two lighthouses and lots of seabirds.
Garðskagi, at the northwestern tip of Reykjanes Peninsula, offers magnificent views. It's one of the best places to see a sunset in Reykjanes and in winter, it's a great spot for watching the Northern Lights. If you are lucky, you might spot some seals, dolphins, or whales here too.
In this area, you'll find two lighthouses. The Old Garður Lighthouse is quite low and stands very close to the sea. It's therefore not always visible in a storm. That's why a 'new' Garður lighthouse was built nearby in 1944. With its 28 meters, this new lighthouse is the highest lighthouse in Iceland. From the top, you can get near 360° sea views.
Other things to do in Gardur include a small folk museum, the Old Lighthouse Cafe (Röstin Restaurant), and a local swimming pool with hot tubs. It's a great budget-friendly alternative to the Blue Lagoon.
Good to know: There is also a really nice local pool in the nearby Keflavik town.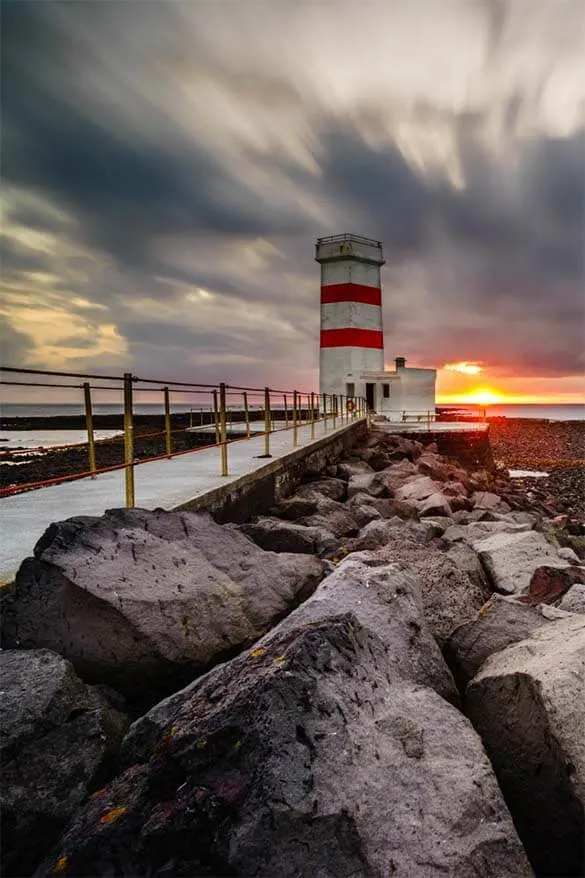 Fagradalsfjall & Merdalir Volcanos
On March 19, 2021, the Fagradalsfjall Volcano erupted filling the nearby Geldingadalir valley with burning lava. Immediately, it became the most popular sight of Reykjanes Peninsula attracting locals and tourists alike.
Just a year later, Merdalir Volcano erupted nearby.
At the moment of the last update, both volcano eruptions have stopped. However, the lava flows are still very interesting to see.
TIP: There are lots of hiking tours to these volcanos, many of which also include some of the highlights of the Reykjanes Peninsula. Some tours also visit the Blue Lagoon.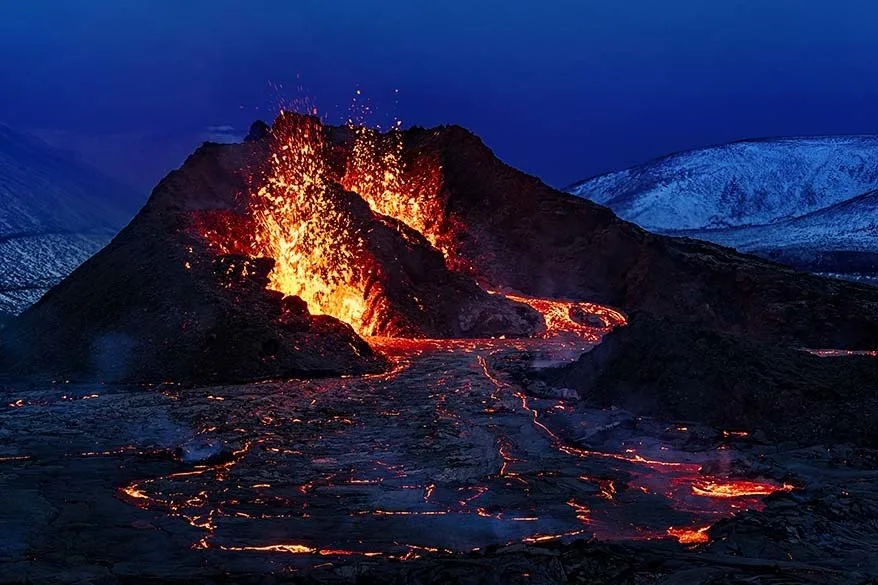 More Things to Do in Reykjanes Peninsula
As already mentioned, there is so much to see and do in Reykjanes Peninsula that it's impossible to experience it all in one day. If you have more time, you may also want to visit the following places on Reykjanes:
Keflavik town – the waterfront area is nice.
Viking World museum in Njardavik.
Hvalsneskirkja in Hvalnes.
Hafnarberg sea cliffs near Hafnir.
Lake Kleifarvatn.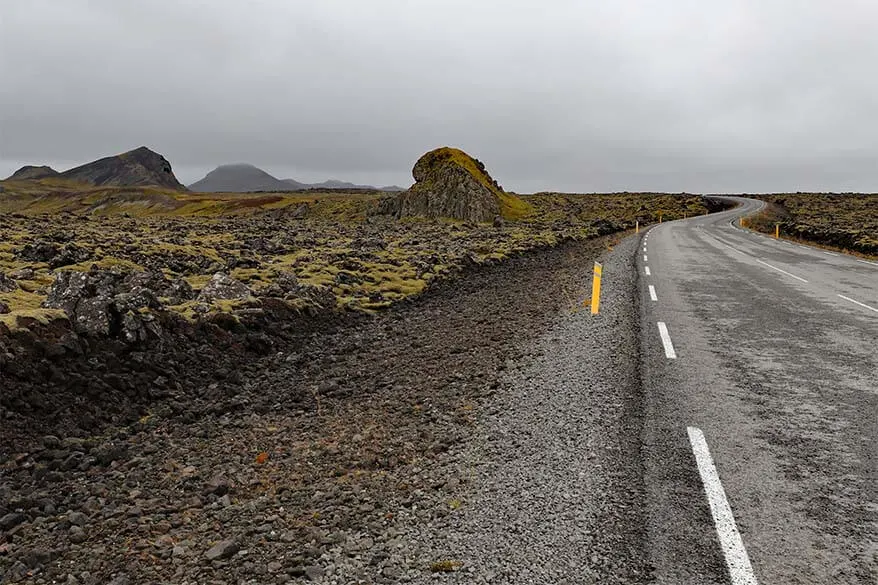 Map of Best Places to See in Reykjanes Peninsula
Further below you can find our suggestions on how to see the best of Reykjanes Peninsula in one day.
To help you plan your trip, I created this map indicating all the best things to do in Reykjanes Peninsula. Take a look!
You can click on the icons to see more information.
How to use this map: Use your computer mouse (or fingers) to zoom in or out. Click on the icons to get more information about each place. Click the arrow on the top left corner for the index. Click the star next to the map's title to add it to your Google Maps account. To view the saved map on your smartphone or PC, open Google Maps, click the menu and go to 'Your Places'/'Maps'. If you want to print the map or see it in a bigger window, click on 'View larger map' in the top right corner.
How to See the Best of Reykjanes Peninsula in One Day – Itinerary
There are many ways to plan your day in Reykjanes Peninsula. It depends on where you start, where you end, and on how much time you have. If you plan well, it's possible to see all the main Reykjanes Peninsula attractions in one day.
We stayed along the Golden Circle the night before and we stayed at a hotel next to Keflavik airport after visiting Reykjanes Peninsula. It was our last day in Iceland and we returned our rental car in the evening and flew home the next morning.
Here is a suggested Reykjanes Peninsula self-drive itinerary for one day, based on how we did it:
Strandakirkja
Seltún Geothermal Area
Krysuvikurberg Cliffs
Selatangar
ATV tour of Reykjanes Geopark
Valahnúkamöl Cliffs
Reykjanes Lighthouse
Gunnuhver Geothermal Area
Bridge Between Continents
Garður (also nice at sunset)
End your day at the Blue Lagoon or one of the local pools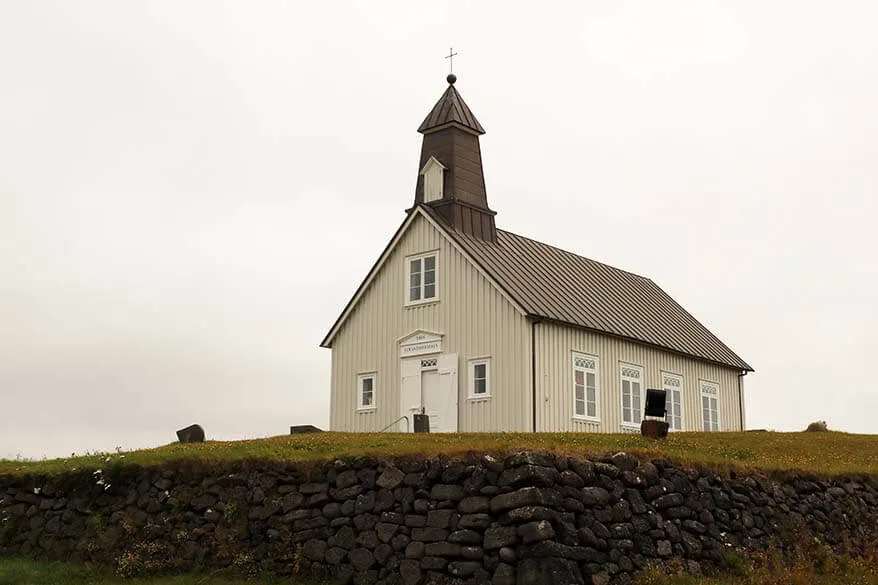 Where to Stay on Reykjanes Peninsula
As already mentioned, you can easily visit Reykjanes Peninsula as a day trip from Reykjavik. On the other hand, its location next to the airport makes it easy to visit Reykjanes just after arriving in Iceland or on the last day of your Iceland road trip, as we did.
There are several smaller self-catering accommodations scattered along the Reykjanes Peninsula, but the biggest town and probably the best place to stay in Reykjanes Peninsula is Keflavik town, close to the airport. That's also where you'll find most restaurants, shops, and other facilities.
We stayed in Keflavik several times – once at the B&B Hotel Keflavik Airport (it offers a free shuttle bus to the airport) and once in the town center. There are several hotels there – Hotel Keflavik, Hotel Keilir, Hotel Berg, Park Inn by Radisson – and a few other accommodations.
Keflavik town center is a great place to stay if you have a car. The swimming pool is nearby, there are restaurants, and it has a really nice waterfront area where you can take a long walk. However, none of the hotels in the town center offer a free shuttle to the airport. Taxi from Keflavik town to the airport will cost you around 25-35 EUR (depends on the taxi too – we once paid 25 EUR and once – 35 EUR for the exact same ride).
If you are looking for a camping in Reykjanes Peninsula, there are several options. One of the most scenic locations is probably that of the Gardskagi campsite in Gardur.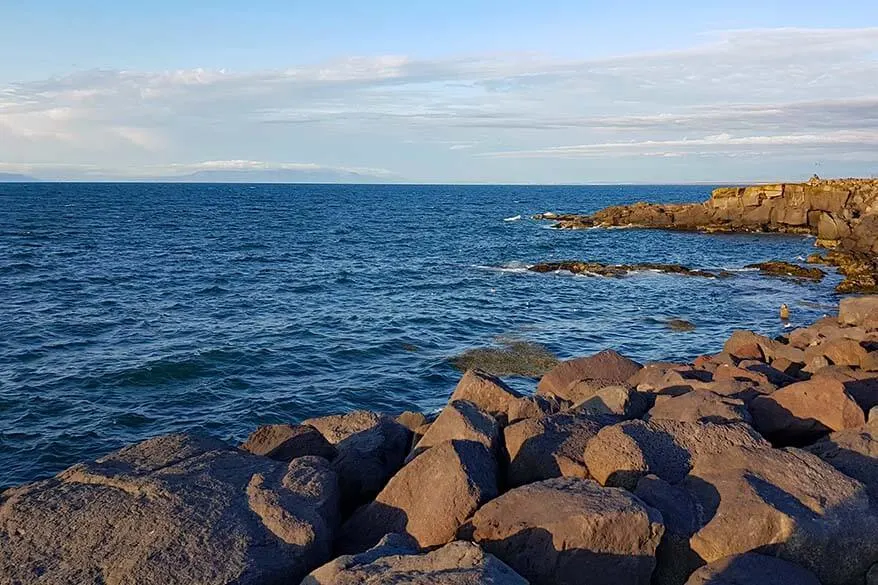 Driving on Reykjanes Peninsula
If you are wondering what the roads are like on Reykjanes Peninsula, they are comparable to the rest of Iceland. The main roads are good two-lane paved roads with no shoulder – just like in most other regions in Iceland.
Several attractions are a bit off the main roads and there you'll have to drive on gravel. Gravel roads on Reykjanes Peninsula are in varying conditions: from perfect flat roads that are doable in any car to really rough 4WD tracks that are almost impassable if you don't have a 4×4 super jeep. So if you are planning to get off the main roads in Reykjanes Peninsula, you should get a 4WD as a minimum. Make sure to do some research and try to find out what each specific road is like.
Please note that driving in Iceland in winter is a whole other story than driving in summer. If you are planning on renting a car in winter, please read what to expect when driving in Iceland in winter.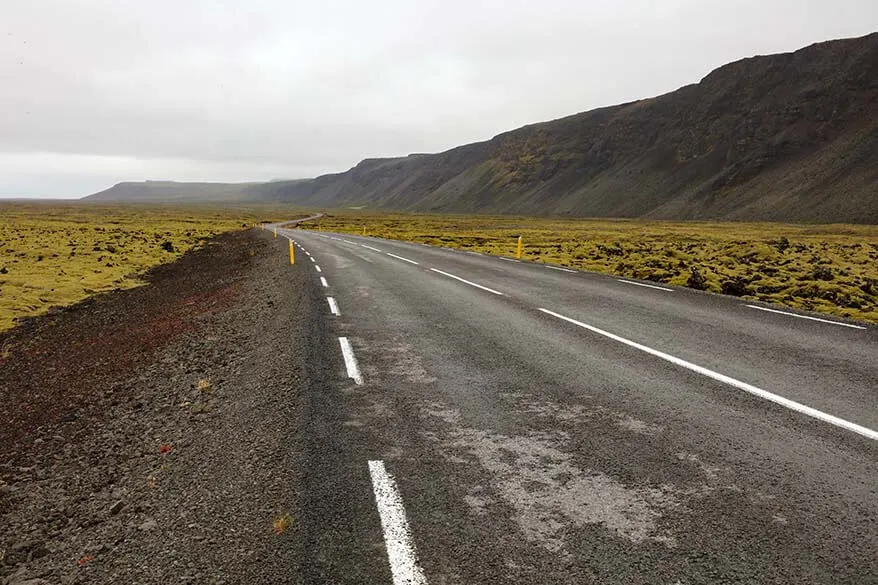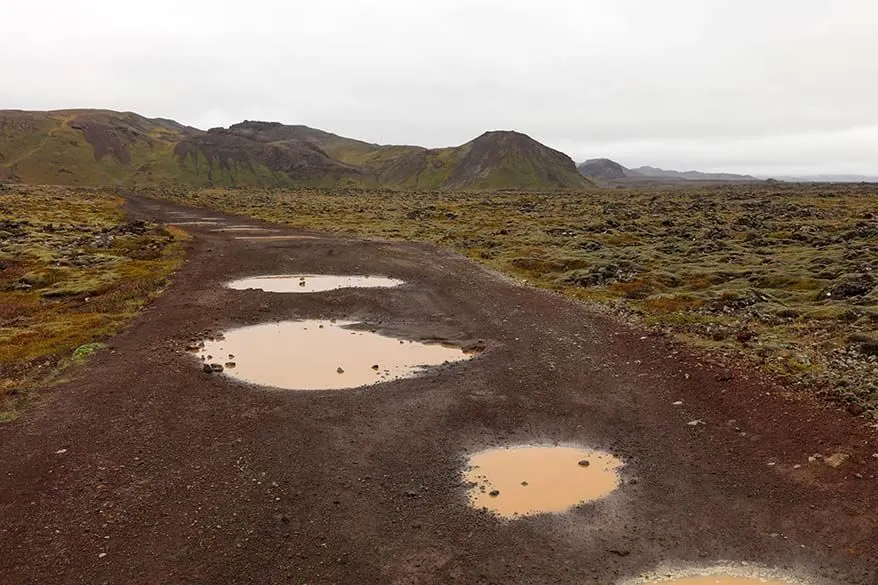 So, this is our guide to visiting Reykjanes Peninsula in Iceland. I included as much information as I think could be useful, but if you have any additional questions, don't hesitate to leave a reply below and I'll try to help.
Traveling to Iceland soon? We have visited many times and put together multiple travel guides like this one. Here you can find our complete travel guide to Iceland. Check it out!
READ ALSO: Where to Stay in Reykjavik
More tips for your trip to Iceland:
Iceland road trip Itinerary suggestions:
Destination guides for popular and lesser-known places all over Iceland:
If you found this post helpful, don't forget to bookmark it and share it with your friends. Are you on Pinterest? Pin this image!