Myvatn region is one of the top places to see in Iceland and the most popular place to visit in North Iceland. If you are driving the entire Ring Road around the island, you'll definitely want to include the Myvatn Area in your itinerary.
But what is there to see in Myvatn and nearby? In this article, we share all the best places to see and things to do in Myvatn and the surrounding area. Find out!
This beautiful part of Iceland is often referred to as the Diamond Circle. The main attractions include Lake Myvatn, Dettifoss Waterfall, Husavik town, and Asbyrgi Canyon. But there's more to see and do in Myvatn than that!
This list features the main and the lesser-known attractions of the Myvatn area, starting with the main landmarks first. Some places on this list are a bit further away from Myvatn, but I feel that all of them are well worth mentioning when talking about the best things to do in the area.
Most places mentioned here are just short stops that don't require much time. Some others will require an hour or so. And there are also a few activities/places that can only be done with an organized tour and require at least half a day or even a full day.
Use this list as inspiration for the most beautiful places to see in Myvatn area. Depending on how much time you have and what your interests are, you can then pick the ones that best suit your itinerary and interests.
To help you plan your visit to Myvatn, I also included a map indicating all these places. At the bottom of this post, you can also find some practical tips for your visit. Read on!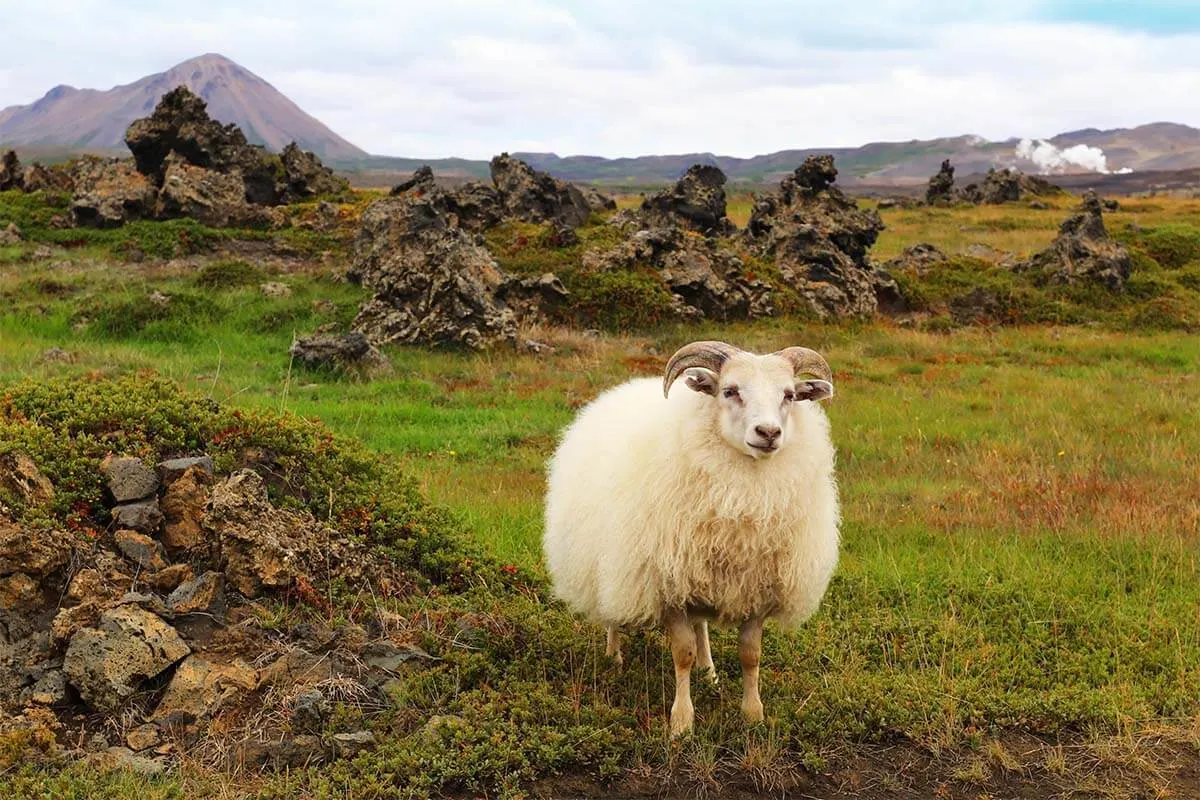 To help you plan your trip, here is a map of Myvatn area indicating all the best places to see and things to do.
How to use this map: Use your computer mouse (or fingers) to zoom in or out. Click on the icons to get more information about each place. Click the arrow on the top left corner for the index. Click the star next to the map's title to add it to your Google Maps account. To view the saved map on your smartphone or PC, open Google Maps, click the menu and go to 'Your Places'/'Maps'. If you want to print the map or see it in a bigger window, click on 'View larger map' in the top right corner.
Good to know: All the natural attractions mentioned in this article can be visited free of charge.
Without further ado, here are the best things to do in Myvatn and nearby:
1. Myvatn Lake
Let's start this list with the main attraction in the Myvatn area – Myvatn Lake itself. Set in a very geologically active region, the surreal landscape here is the result of thousands of years of volcanic eruptions. To many people, this is the Iceland they always imagined.
Myvatn is like no other place in Iceland. It's a beautiful lake surrounded by an astonishing landscape of pseudocraters that look like mini volcanoes.
The lake is quite big and you can drive all around it, stopping at the main points of interest along the way. You can see pseudocraters, diverse lava formations, and – in summer – lush green areas that are full of birds. The entire circle is about 36km and the loop road is paved.
If you make just one stop at the lake, make it Skútustaðir, located at the southern part of the lake. This is a pseudo crater field called Skútustaðargígar that looks like a collection of mini volcanoes along the shores of the lake. The area isn't big and you can explore it via the well-indicated walking paths. Count 30-45 minutes for a visit.
In addition to Skutustadir, there are several points of interest along the lake that deserve a separate mention. You can find them listed further below, among all the best things to do in Myvatn.
Interesting to know: Myvatn means 'Lake of Midges' or 'Mosquito Lake'. And indeed, at certain times in summer, there are millions of small flies at the lake. They attract lots of birds to this area and are a vital source of food for a variety of wildlife in the region. These swarms of flies are totally harmless, but also extremely annoying. They're everywhere – circling around your head and crawling inside your nose and ears… So if you are visiting Myvatn in summer and want to enjoy your visit, make sure to bring a head net.
Facilities: There is a hotel/restaurant at Skutustadir.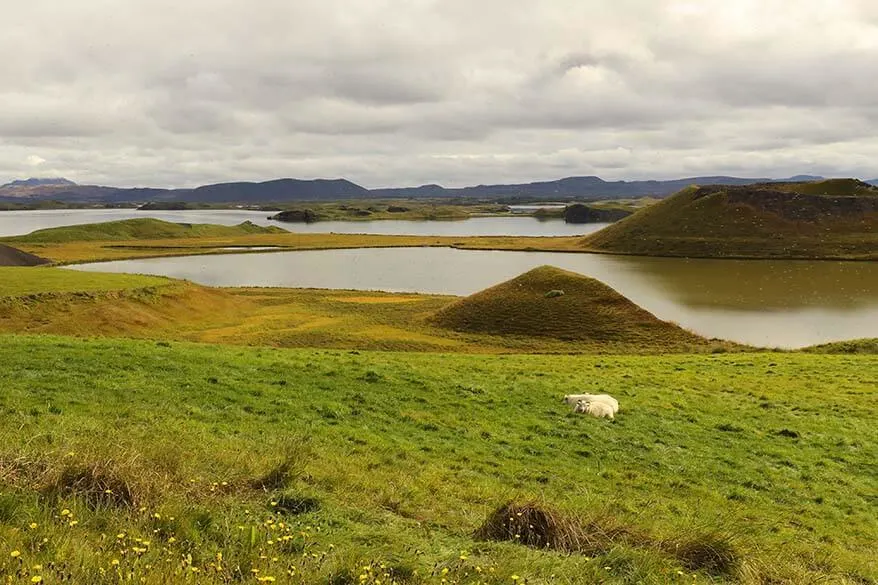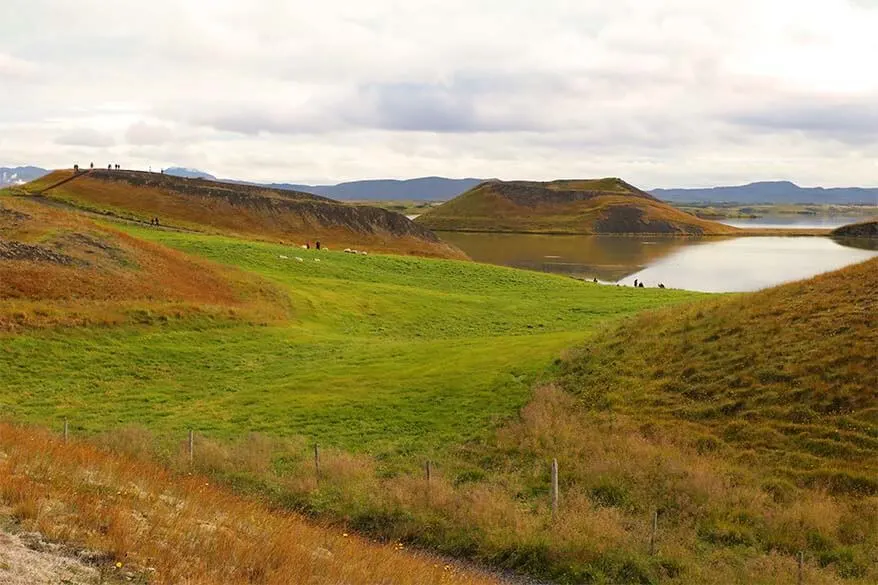 2. Dimmuborgir
Just a small detour from the Lake Myvatn loop road, Dimmuborgir is another popular attraction in the Myvatn region. This is a giant lava field with the most incredible black lava formations, dating to about 2000 years back.
There are several walking paths in this area and they are well indicated using color codes. The most popular trail is Kirkjuhringur, the Church Circle. It's an easy circular trail walk of about 2.2km that gives you a very good idea of what this region is about. The highlight is the natural lava arch/cave that looks a bit like a small chapel. Thus the name of this walk.
The first part of this trail is paved and wheelchair accessible; the remaining part is an easy mud trail. Many people just walk the first section and go back the same way. But you can also easily walk the entire loop. It's a very pleasant easy walk that the whole family will enjoy. Count 30-60 minutes for a visit.
Interesting to know: Dimmuborgir means 'Dark Castles'. When you see some of the lava formations in this area, you'll understand where the name comes from.
Facilities: There is a cafe/souvenir shop at Dimmuborgir. Kaffi Borgir is located at the top of the hill and has a beautiful outside terrace offering great views of the surrounding area. Keep in mind that it's closed in winter.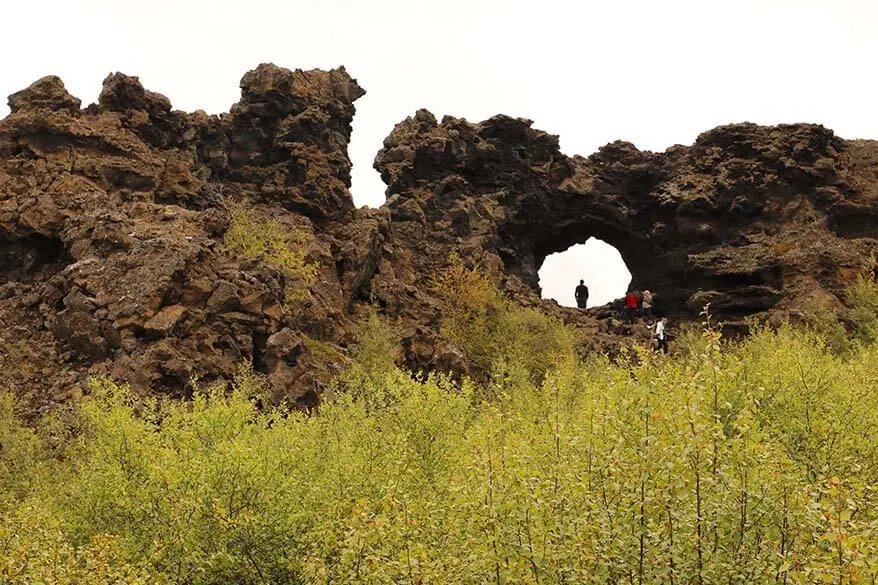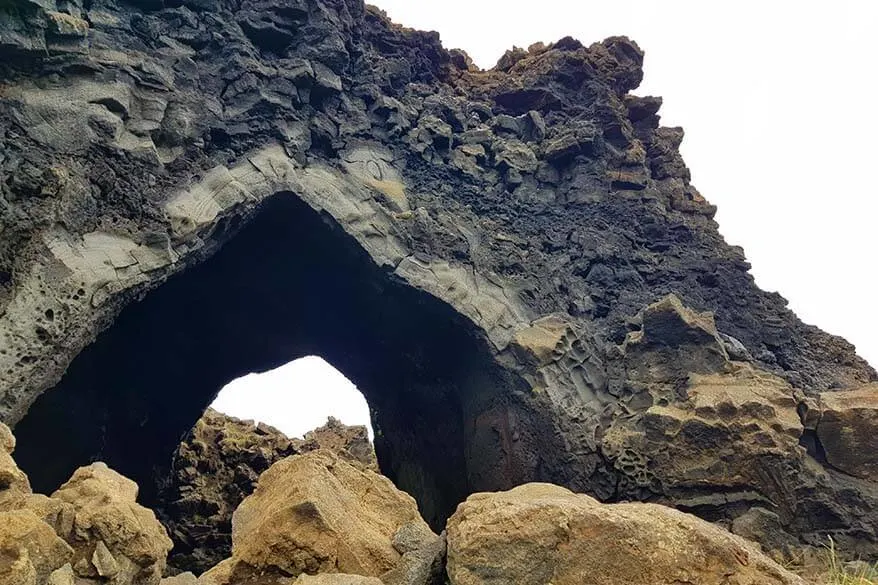 3. Hverir
Hverir is one of the most beautiful geothermal areas in Iceland and is another must-see attraction in the Myvatn area. Colorful hills, mud cauldrons, steaming vents and fumaroles, and the ever-present smell of sulfur make this one of the most unique places in Northern Iceland.
There are many pathways crisscrossing this area from which you can safely admire the fascinating geothermal features. Make sure to stay on the marked paths as the unstable ground around some of the hot springs can lead to serious injuries. Most walking paths are flat and easy and you can spend as much or as little time here as you want. I'd say count about half an hour for a visit.
If you have some extra time and energy, you can also take a short trail up Namafjall ridge for an aerial view of the surroundings. If you decide to do this, count about 30 minutes each way. Make sure you are wearing sturdy hiking boots as it can be quite muddy on the trails.
Location: Hverir geothermal area is located along the Ring Road, just a few kilometers east of Myvatn, right behind the Namaskard pass. You can't really miss it – the orange color of the earth in combination with steaming geothermal features and a big parking area full of cars and buses will not go unnoticed.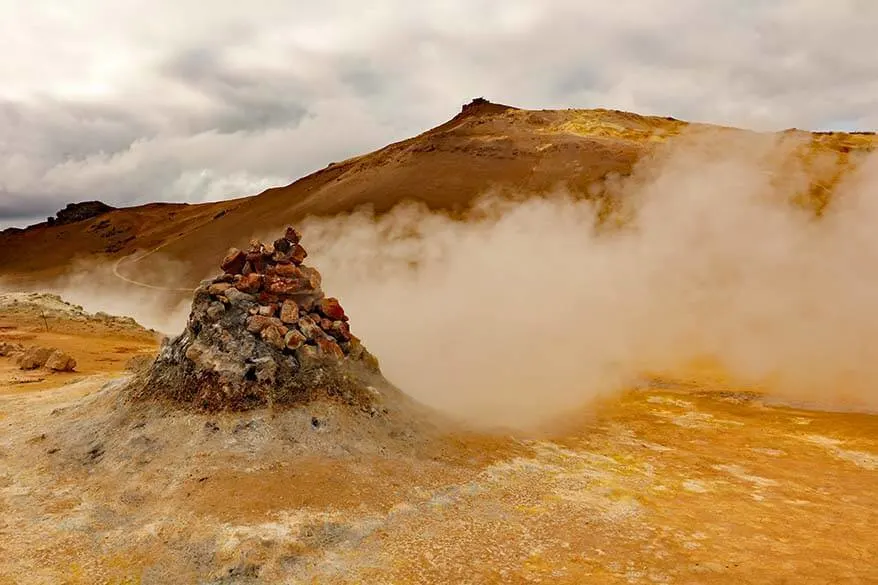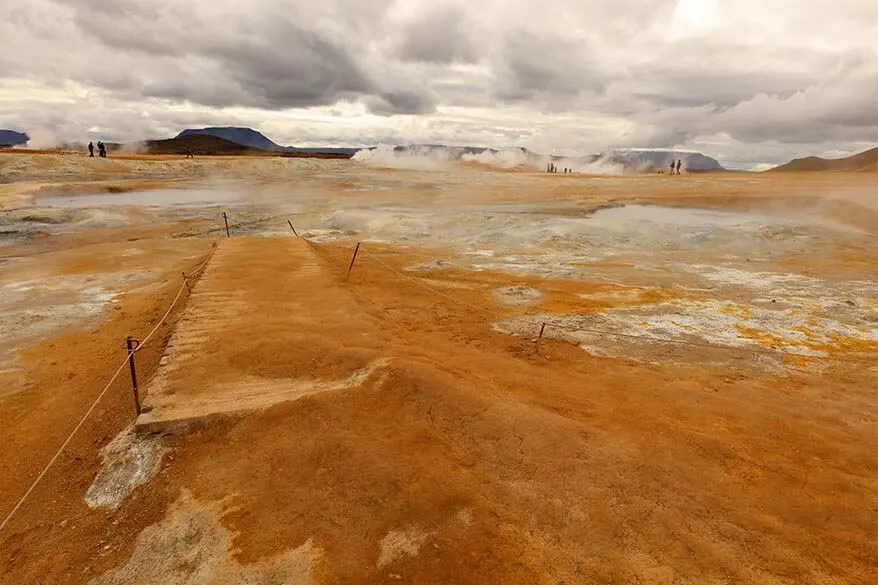 4. Krafla
Krafla volcanic region is located about 7km north of Myvatn and gets its name from an 818-meter high mountain. Nowadays, the whole area around it is referred to as Krafla.
There is a geothermal power station here and it even has a visitor center. However, the main attraction in this area is the Viti volcano crater with a green lake inside it.
The Viti crater has been formed in 1724 and the name means 'hell'. Most people simply call it the Krafla Volcano. You can reach this crater by car and that's also one of the reasons why it's so popular. There is a walking path that takes you all around this crater, but you also have a nice view right at the car paring. You can spend 5 minutes, take a picture and move on, or you can stay here much longer.
Another popular stop at Krafla is the Leirhnjukur area. It can be reached via the same road that you take to go to the Viti crater. There is a small turn-off to the west and you'll see the orange-colored area in the distance. The scenery here is somewhat similar to the Hverir area. You'll find the ochre-colored earth, bubbling mud pots, and steaming vents. This area has lots of geothermal activity, so please do not stray from the marked paths.
Good to know: You'll need 10-15 minutes to see the Viti crater, more if you hike all around it. Count at least 1 hour if you are also visiting the Leirhnjukur area. It really depends on how much time you have and want to spend here.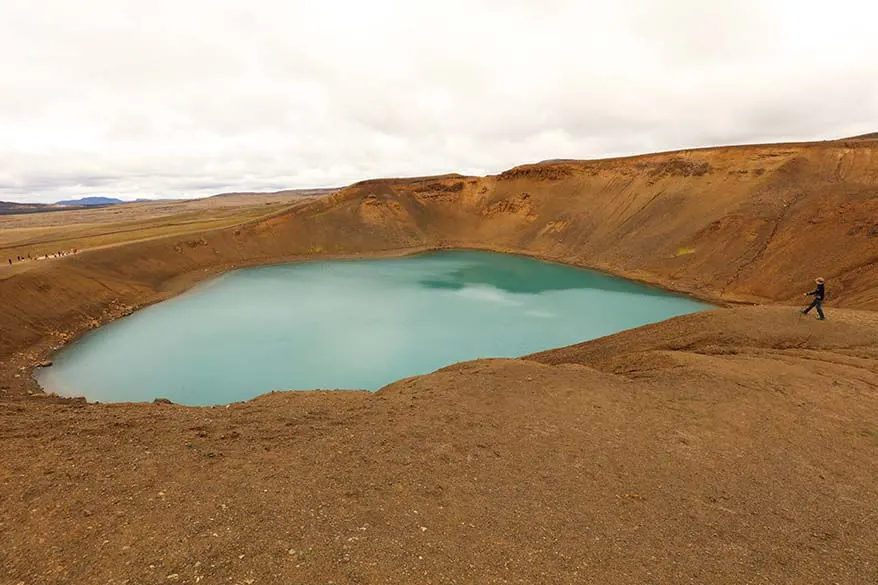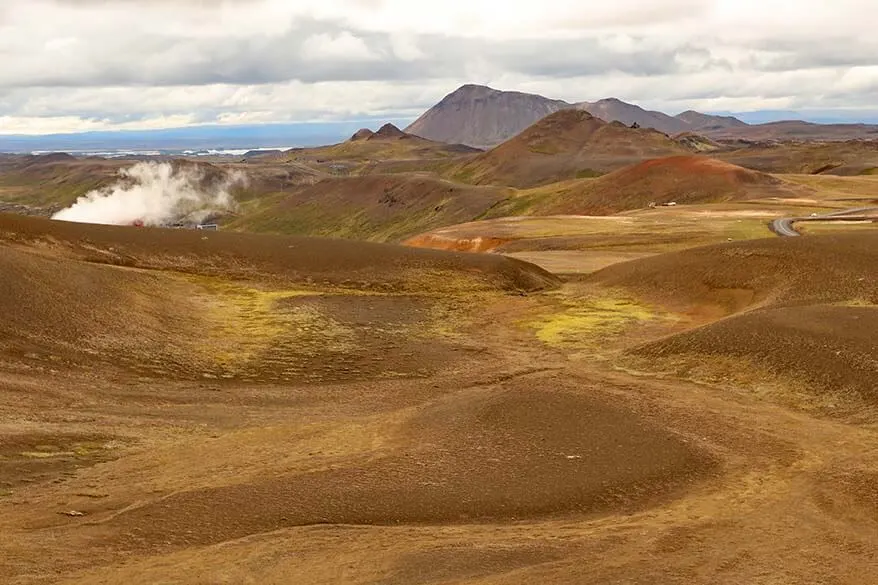 5. Dettifoss
Dettifoss is one of the most impressive waterfalls in Iceland. And in the land of thousand of waterfalls, I do not say this lightly. What makes Dettifoss so special is its incredible power. With about 400 m³ of water tumbling down the edge every single second, Dettifoss is the most powerful waterfall in Europe.
You can easily visit Dettiffoss from Myvatn and it's one of the most popular stops when planning a trip to this area. In the past, you could only come here in summer. But one of the roads has been improved and you can now visit Dettifoss in other seasons as well; weather-permitting also in winter.
Getting there: There are two roads leading to two different sides of the river and you can easily access Dettifoss from both sides. The western side is much easier to reach because road 862 has been paved all the way to Dettifoss car parking. The eastern side is considered more photogenic, but road 864 is gravel and not in great condition.
If you visit the western side of Dettifoss, you'll have to walk 15-20 minutes from the car parking to the falls. It's an easy well-indicated path and it's well worth it. You can also turn this into a circular 2.5km walk and also visit the Selfoss falls a bit up the river. Not to be confused with the Selfoss waterfall in southern Iceland.
Good to know: Driving to Dettifoss and exploring the area will take you at least 1.5- 2 hours.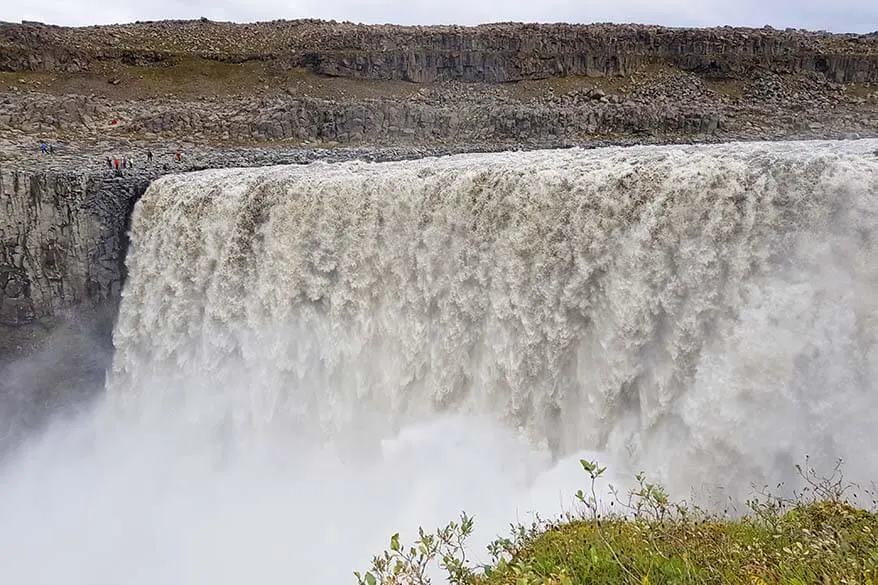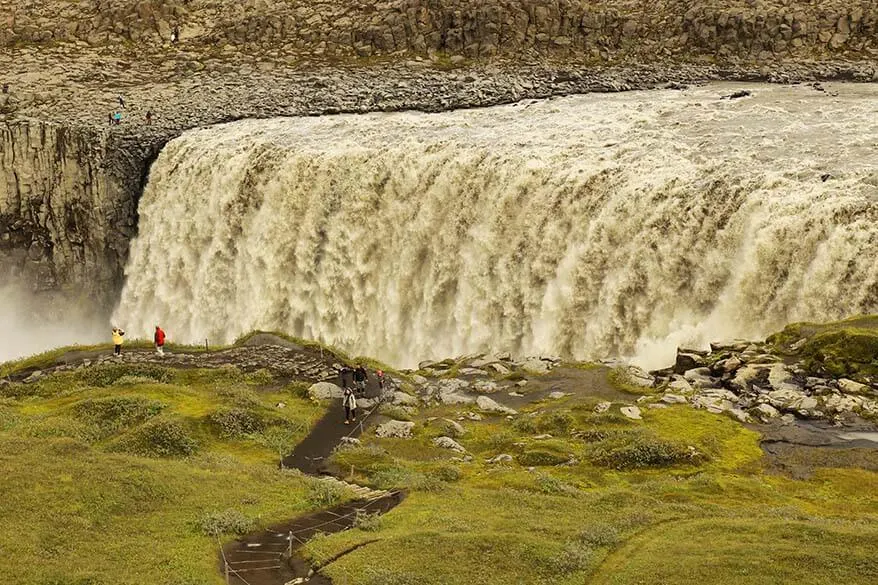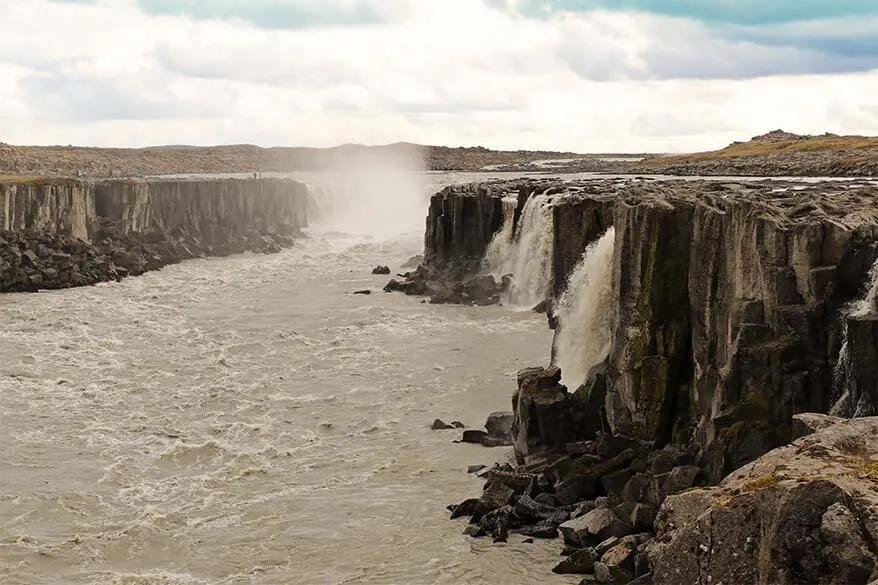 6. Myvatn Nature Baths
No trip to Iceland would be complete without a dip in its geothermal pools. Myvatn Nature Baths is the most popular option in North Iceland. You can compare it a bit with a visit to the Blue Lagoon near Reykjavik, except that it's located in the less-visited part of the country and thus less overhyped. The scenery here is beautiful and you can enjoy a beautiful panorama while soaking in the blue warm waters of several outdoor pools.
We first visited Myvatn Nature Baths in 2005, when it first opened. It was a magical experience! On our most recent trip to Myvatn, however, I found that the magic was gone. It has become so much busier and more touristy. Still, even in high season, it's incomparably quieter than the Blue Lagoon and so it's a good option for those who want to experience the powder-blue hot pools of Iceland.
Myvatn Nature Baths and its cafe are open daily, in summer until 10 pm. This is a good place to relax after a whole day of sightseeing. Families will be glad to know that kids under 12 can visit free of charge. For prices and opening times, please check their website.
TIP: Booking tickets directly is usually not the best idea because you cannot easily cancel. But you can also book tickets via GetYourGuide which offers free cancelation up to 24 hours in advance.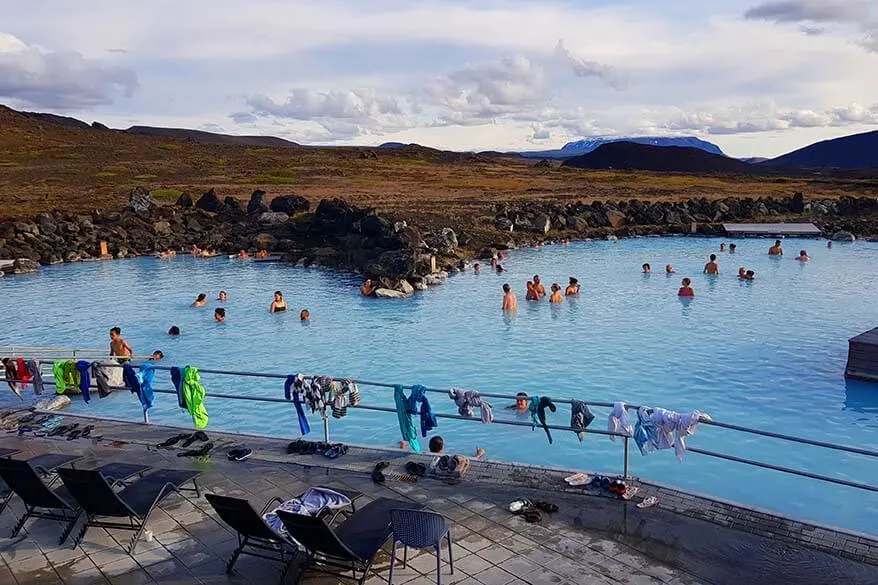 7. Húsavík & Whale Watching
Husavik is a small town about 1-hour drive north of Myvatn. Often referred to as Iceland's whale-watching capital, Husavik is indeed one of the best places to see whales in Iceland.
The colorful town is home to the Husavik Whale Museum, a great place to learn everything about whales and whaling history in Iceland. They also have a couple of huge whale skeletons, an impressive sight.
In late spring, summer, and early fall you can also take whale watching tours from Husavik. In June-July, you can sometimes also see puffins on these tours.
Another interesting landmark to see in Husavik is Husavikurkirkja, a white historic church built in 1907. Since recently, there is also a nice geothermal pool in Husavik – see below.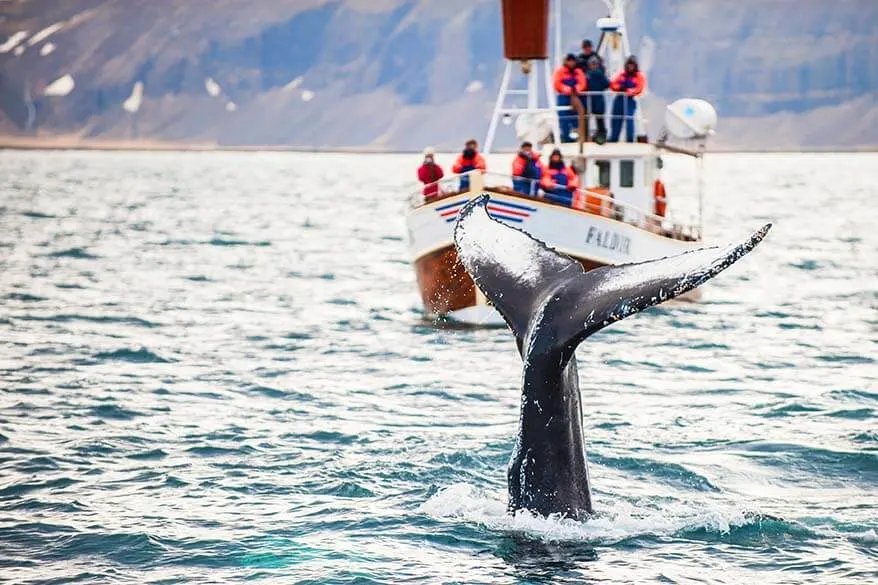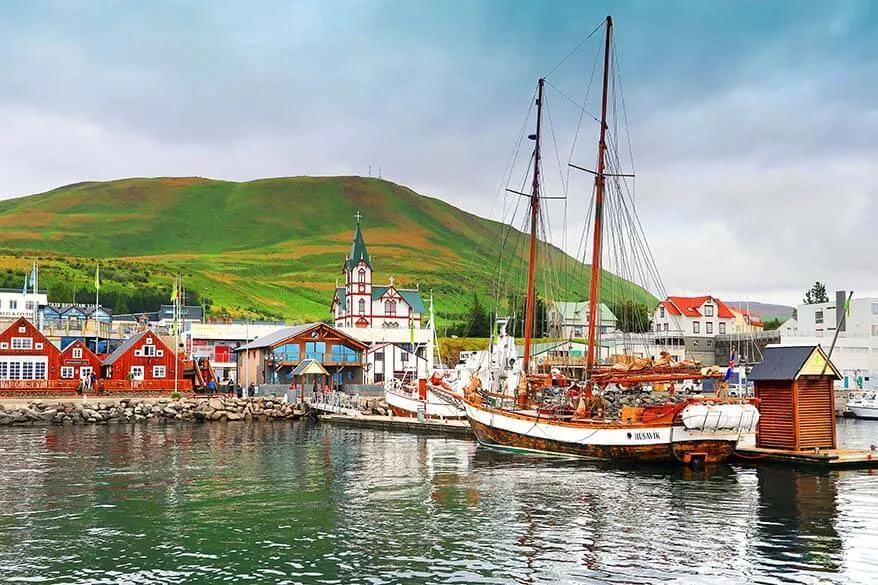 8. Geosea Geothermal Sea Baths
Geosea is a geothermal pool in Husavik, about an hour's drive from Myvatn. It has a stunning location on the cliffs and amazing sea views below. It also has a swim-up bar and a restaurant where you can enjoy a nice evening meal in your bathrobe (which can be rented).
This is a much smaller pool than Myvatn Nature Baths and I think it's more worth a visit. The surroundings are gorgeous and it's in general quieter and cozier than Myvatn Nature Baths.
The entrance ticket costs about the same for both pools. In summer, Myvatn is slightly more expensive. However, at Geosea, you have to pay for the kids (half price), so if you have a big family, it's slightly more expensive to visit Geosea compared to Myvatn Nature Baths.
TIP: Since Geosea isn't that big, they strictly limit the number of people allowed in. So if you are traveling in high season, it's a good idea to reserve your tickets in advance.
9. Goðafoss Waterfall
About 40 minutes drive west of Myvatn and 40 minutes south of Husavik, right next to the Ring Road, you'll find one of Iceland's most impressive waterfalls, Godafoss. No trip to North Iceland and Myvatn area would be complete without a visit here.
Godafoss literal translation means 'Waterfall of the Gods'. It gets its name from the year 1000 when Iceland decided to accept Christianity. A legend has it that a local chief of the Ljosavatn district was entrusted with this difficult decision. When it was accepted by the community, he threw away all his statues of pagan gods into this waterfall. Thus the name.
As already said, Godafoss is located right next to the Ring Road and it's really easy to visit. There are two parking areas on both sides of the river and a bridge connecting the two. So you can leave your car at any of those parking areas and walk up to the waterfall.
I find that both sides are really nice. On the eastern side, you can get somewhat closer to the falls and also go down to the river. Whereas on the western side, you have a good overview of the whole waterfall from a somewhat higher vantage point. If you have the time, check out both sides; it doesn't take that much time.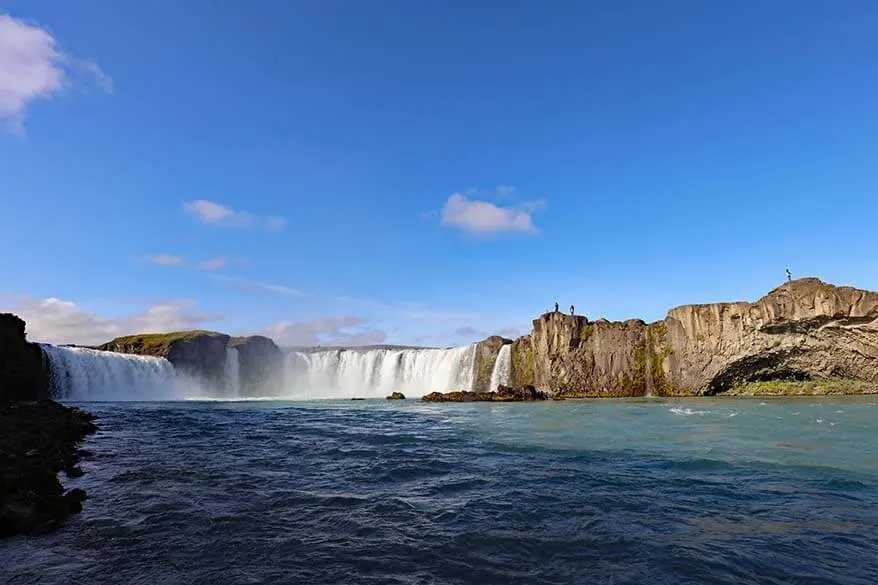 10. Grjótagjá
Grjotagja is a small underground lava cave with crystal-blue water inside. It's located very close to Myvatn Lake and well worth a quick stop when driving around the lake. Grjotagja was a real hidden gem that not many people knew about until it was featured in Season 3 of the Game of Thrones series.
In the past, it used to be possible to bathe here. Legend has it that a local outlaw used this cave as a hideout and bathing place in the 18th century. However, due to some volcanic activity in the '80s, the water is now too hot for that. You wouldn't say it by looking at the bright blue water inside the cave, but the water temperatures can exceed 50°C (122°F). It is, therefore, now forbidden to bathe here.
When we visited in August, it was quite busy, but not overly so. We could enter the cave without having to wait. But it's quite small and the entrance is not wide, so it's really not a place for mass tourism.
Next to Grjotagja, you can walk up to the top of the hill (a 2-minute walk) for a nice view of the surroundings. There is also a narrow gorge/ crack between the rocks that is quite impressive to see.
TIP: Do not take road 860 from Myvatn Lake to get here. It might look like a shortcut and it's not a long drive, but the road is in a terrible state and you have to drive at a snake's pace. If you come from the north, it's just a very short drive from the Ring Road to Grjotagja and the road is excellent.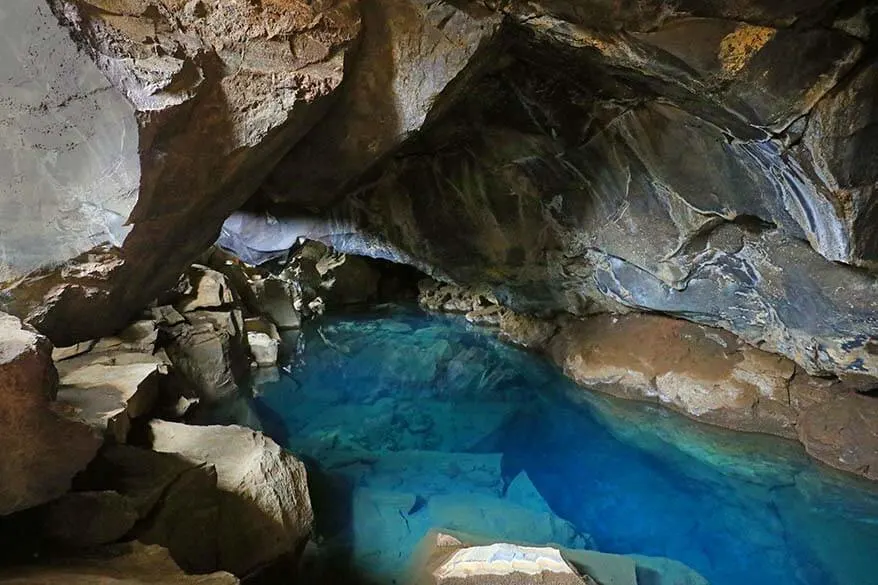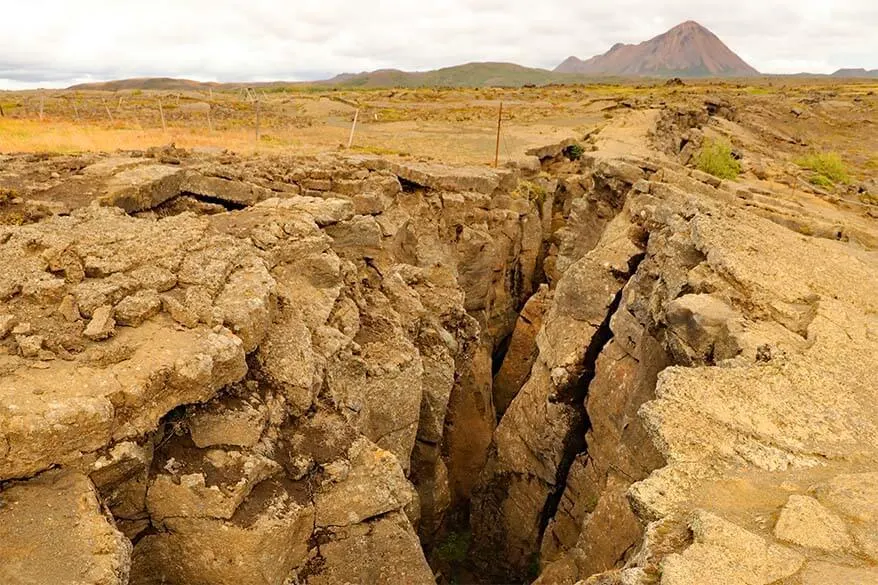 11. Hverfjall
Hverfjall, aka Hverfell, is a classic near-symmetrical tuff ring volcano. Created about 2,700 years ago, it rises about 452 meters (1,483 ft) from the ground and stretches over 1km (0.65 miles) across.
At the northwestern end, you'll find a hiking path leading to the top. From where you have beautiful views of the crater and the surrounding area. You can get back the same way or follow the western rim of the crater to a lookout at the other end before descending back down.
If you walk all around the crater, you'll need at least 1-1.5 hours here.
You can reach the parking area via a narrow gravel road east of Myvatn Lake. The road is in poor condition, but there are new toilets here and so I guess there are plans to develop this area further.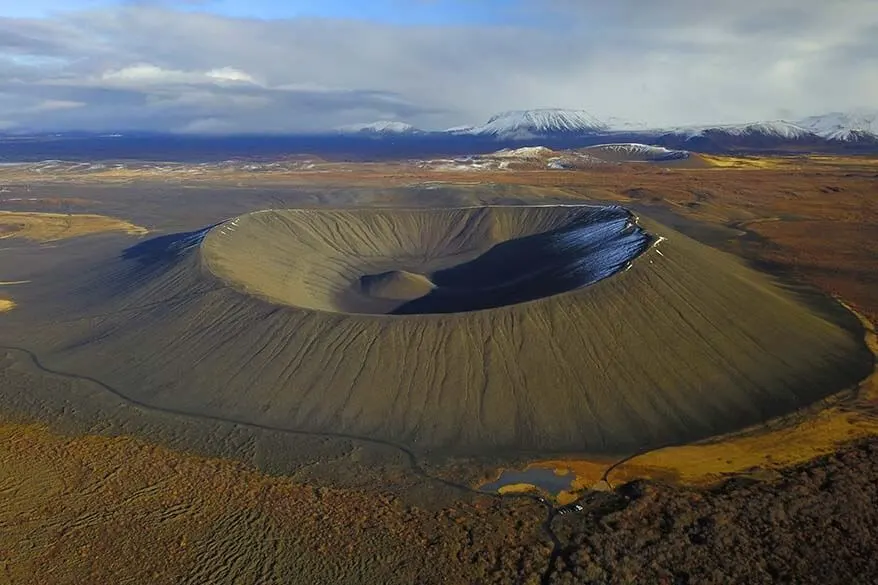 12. Sigurgeir's Bird Museum
If you are a bird-lover or looking for something nice to do in Myvatn when it rains, then check out the Sigurgeir's Bird Museum. Located on the west side of the lake, this is a good place to visit if you have half an hour to spare and are looking for something fun and easy to do for the whole family.
It's a small museum that started as a private collection and has grown over the years. It houses a rather big collection of stuffed birds. They have every species of birds that are found in Iceland, except one. So if you want to get to know more about the birds of Iceland, this is one of the best places to do it.
Good to know: The museum is open from noon to 5 pm from mid-May to the end of October and from 2 pm to 4 pm for the rest of the year. They also have a small café serving local Icelandic food.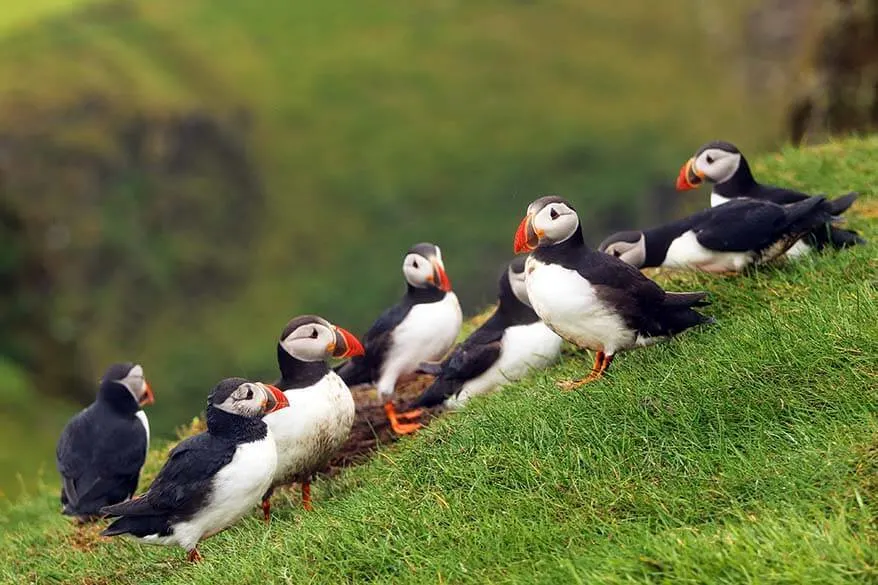 13. Ásbyrgi
Asbyrgi canyon is a little-known gem of North Iceland that is often overlooked by people visiting Myvatn area for the first time. However, this impressive canyon is well worth a drive.
This place is unique in Iceland and it's like no other place I've ever seen. The bottom of the canyon is a very lush green plain full of trees (yes, contrary to the popular belief, there are trees in Iceland!). It's enclosed by tall steep walls of the horseshoe-shaped canyon. A beautiful place!
There are several ways to visit Asbyrgi – you can hike at the top of the canyon or you can visit the lower part. If you are short in time, the best way to visit is to drive the only road (# 861) that leads deep into the canyon until the very end. There, you'll find a small car parking area and a couple of short walks.
There are some information panels there and signs indicating where to go. From there, walk south and follow the signs for Botnstjörn Pond for the best view of the canyon from below. It's a short circular walk of about 1 km. At the end of it, you'll reach a beautiful pond that's located at the head of the Asbyrgi canyon. The views here are stunning. Sometimes, there are lots of birds here as well.
You can choose to walk to the right for yet another viewing platform and potentially also climb a few stairs towards the canyon walk for yet another angle. The walks are easy and you don't need more than 30-45 minutes for this area. It's well worth it!
Good to know: You can reach Asbyrgi via road 862 coming from Dettifoss, however, this is a gravel road. A better way to get here is by taking the sealed road 85 east of Husavik. If you have more time, you can also ask for additional information for longer walks at the visitor center that's located at the entrance of Asbyrgi.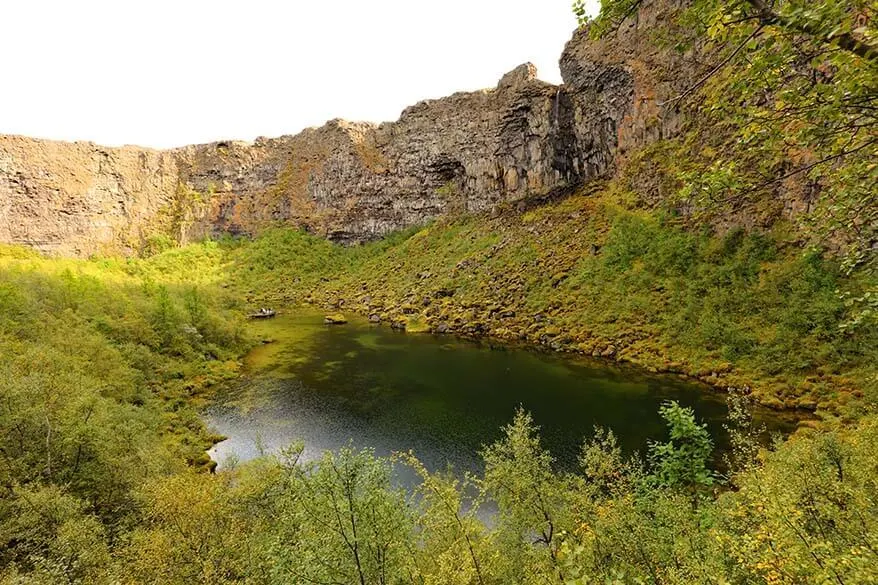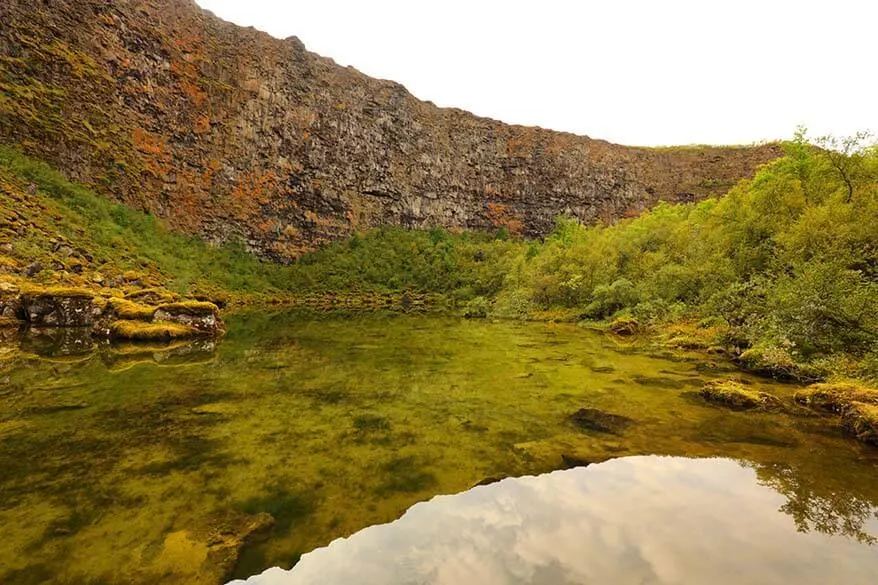 14. Hljóðaklettar
Hljóðaklettar is a little-known hidden gem located in Vesturdalur valley between Dettifoss and Asbyrgi. It's a beautiful volcanic area next to the river in the Jökulsárgljúfur canyon. A literal translation of Hljóðaklettar means 'echo rocks' and the place is best known for its unique columnar rock formations.
There are several hiking paths here and you can easily spend at least half a day or even a whole day here. If you are short on time and have about an hour to spare, you can hike the circular 3 km (1.9 miles) walking trail that brings you to some impressive basalt columns and rock formations.
This area can be reached via gravel road 862 north of Dettifoss. 4WD is advisable. It's a remote area a bit off the beaten track and not many tourists visit here. There is also a camping area, so if you are looking for a nice quiet place to camp in North Iceland, check it out!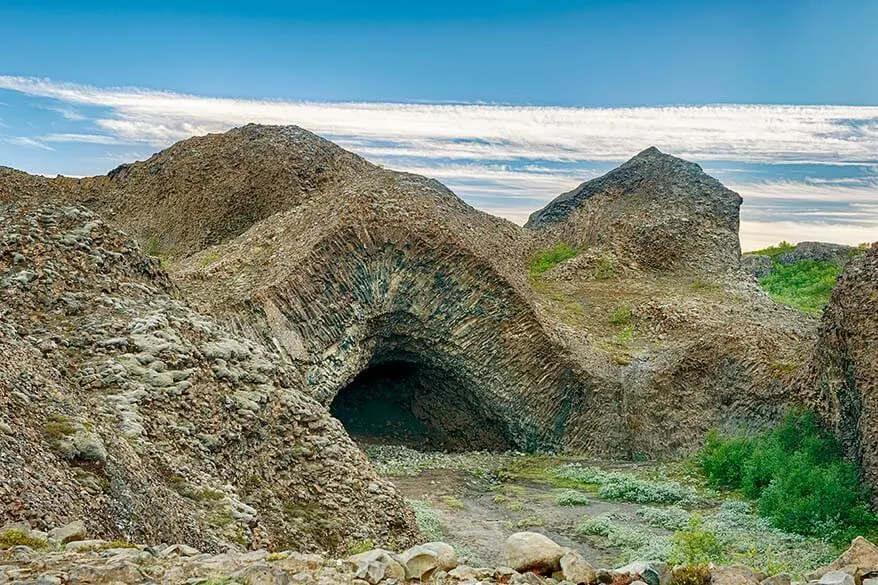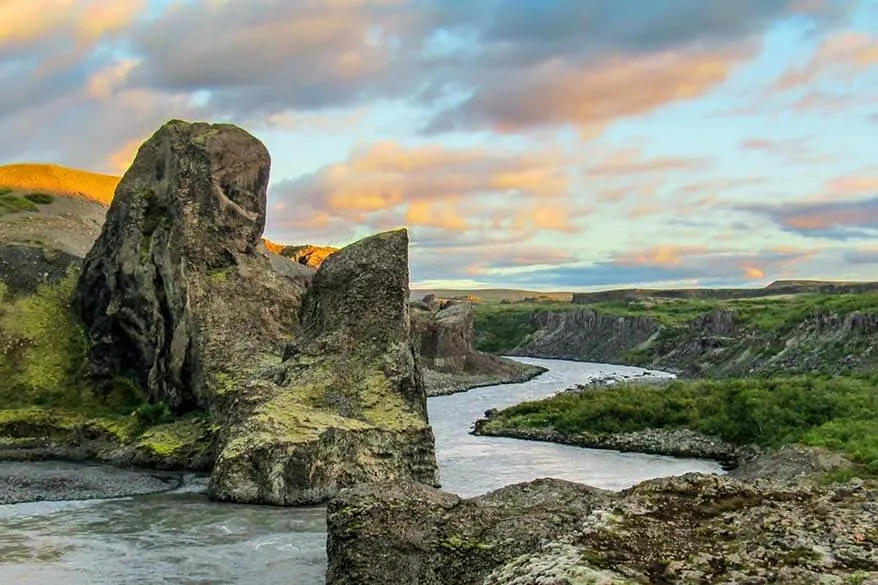 15. Lofthellir Lava & Ice Cave
Lofthellir is an underground lava cave with magnificent ice creations, some of which are hundreds of years old. It's a very unique place that you can only visit with a tour (from Reykjahlíð (Lake Myvatn)).
This cave can only be reached with a super jeep. It's located on private property and you can only visit with a local guide. You'll be provided all the necessary equipment, but make sure to dress warmly. Even in summer, you'll need a warm jacket and gloves.
This tour requires a good physical shape and is not suitable for people with claustrophobia. But if you are healthy and fit, this is one of the most unique things to do in the Myvatn area. It's actually one of the most unique experiences in Iceland. Well worth it!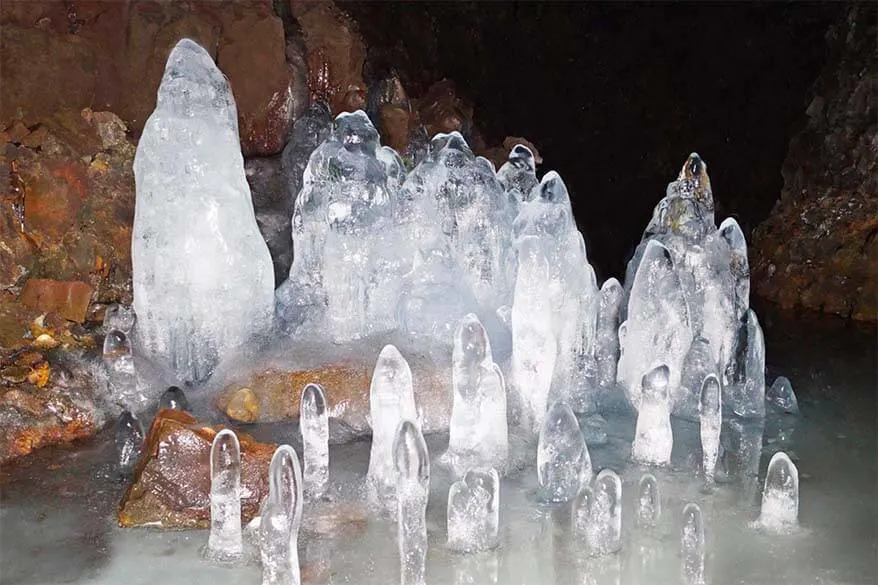 16. Askja
While it's not located in the Myvatn region and can only be visited several months a year, I feel that this list would not be complete without mentioning Askja, one of the highlights of Vatnajökull National Park.
Askja Caldera is one of the most impressive places in the highlands of Iceland. The reason I included it in this list is because it's located in a very remote area and can best be visited by taking a 4×4 day tour from Myvatn.
Askja caldera is huge (50 km² – 20 sq. mi) and it's hard to imagine the kind of power that created it. At the heart of the crater, you'll see the sapphire-blue lake Öskjuvatn (also called Lake Askja). Your day tour also includes Viti Crater, Drekagil Gully, Holuhraun Lava Field, Glacier River, and many other surreal landscapes of the Icelandic highlands.
Good to know: Tours run from approx. mid-June through September.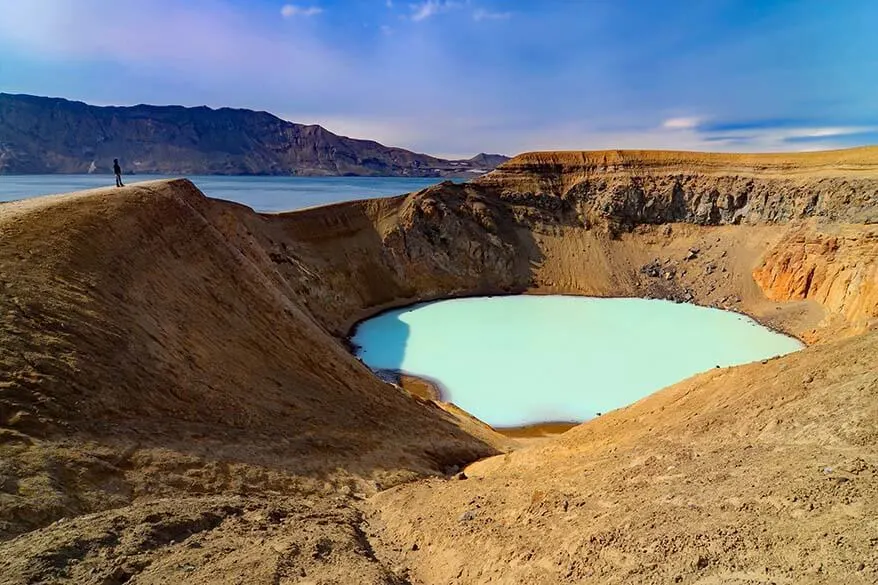 17. Scenic Flight in Myvatn Area
If you have the time and can afford it, then there is nothing that compares to seeing the Myvatn area from above. You can see pseudo craters of the Myvatn Lake, the impressive Hverfjall crater, the Krafla area, the Dettifoss and Godafoss waterfalls, and the beautiful surroundings from the air.
If you are considering an aerial flight in Iceland, then this area is probably one of the most beautiful places to do that.
Good to know: Aerial flights depart from Akureyri airport and not from Myvatn. They only take about 1-2 hours and so are quite easy to incorporate into your North Iceland itinerary. You can see availability and book the scenic flight here.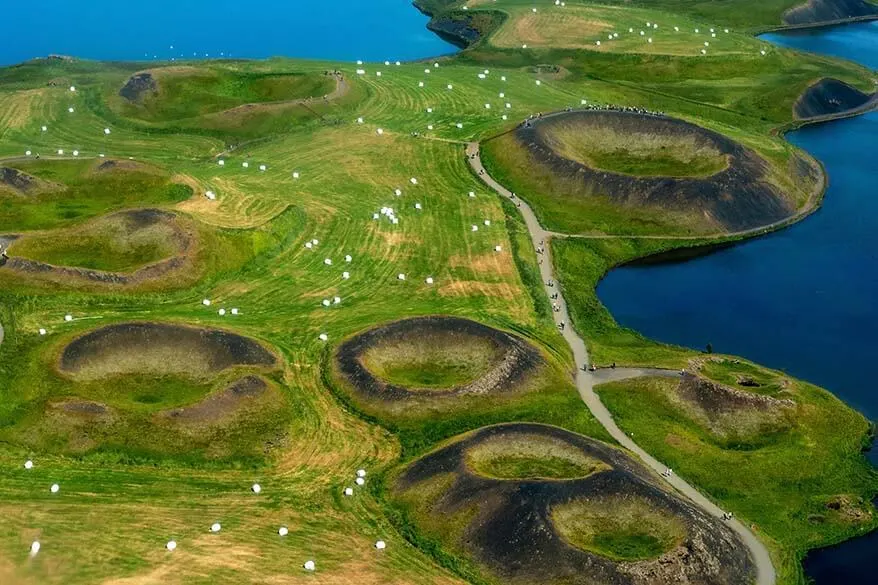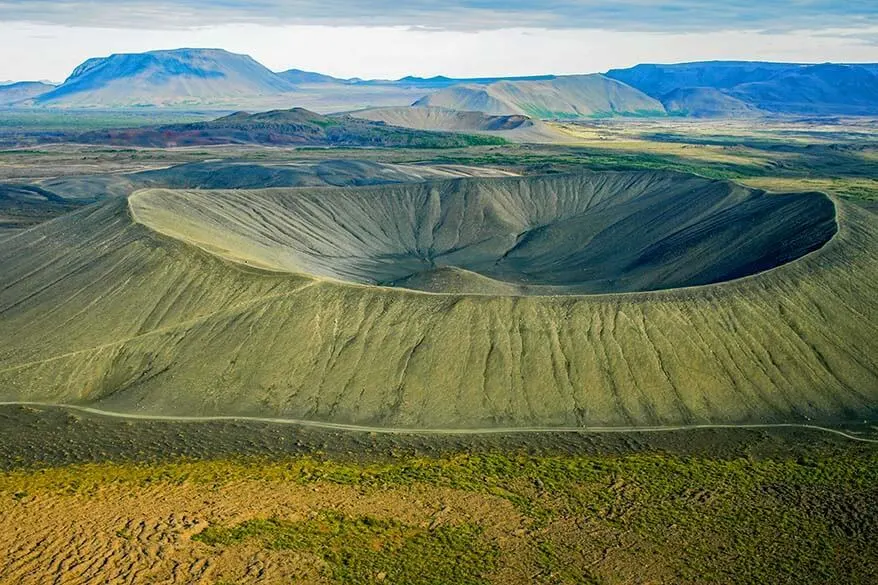 How much time do you need in the Myvatn area
One full day/two nights is an absolute minimum for Myvatn. If you want to explore this area at a more relaxed pace, you should try to plan at least 2 full days/ 3 nights in Myvatn.
If you like hiking and want to explore some areas off the beaten path, you can also easily spend 5-6 days in Myvatn – Husavik area and not get bored.
The first 8-9 places on this list are the ones that most people visit when traveling to Myvatn for the first time. If planned well, you can see most of them in one day (in summer). But if you have two days, you'll enjoy your visit more.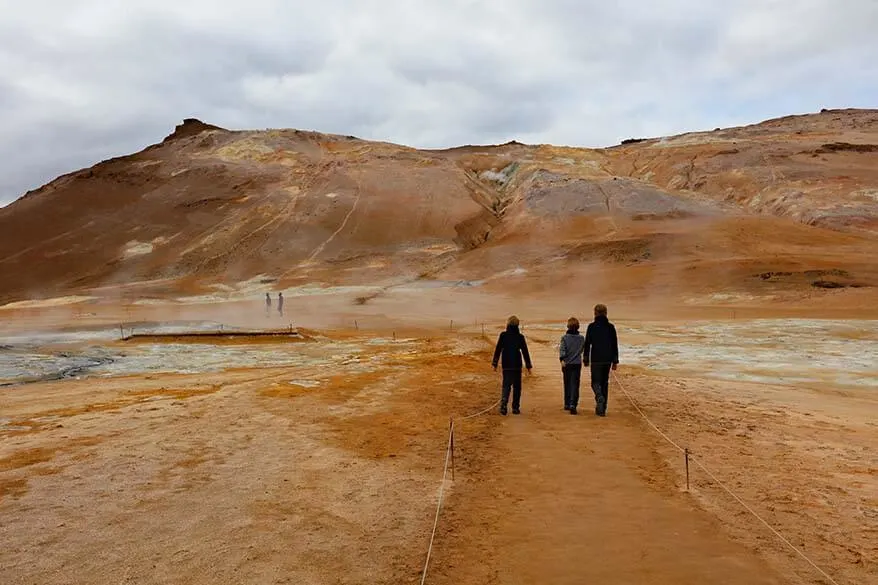 Where to stay in Myvatn
Myvatn accommodation is scarce, expensive, and in high season, books up really fast. The best hotels in this area are:
Dimmuborgir Guesthouse right next to Lake Myvatn is one of the best choices for big families.
On the map below, you can compare all accommodation options in the Myvatn area – the map shows the best prices for each accommodation available at that moment. Simply insert your travel dates and group size, and you'll see what's available for your stay. Check it out!
Where we stayed: We planned our summer trip quite late and all suitable Myvatn accommodations for big families were booked up, so we had to stay a bit further away. We stayed at Guesthouse Storu-Laugar about half an hour's drive from Myvatn.
Alternatively, you can also stay in Husavik. If you do that, you can start your day with a morning whale-watching cruise, then visit Myvatn attractions and end your day with a soak in the warm waters of the Geosea nature baths in Husavik.
READ ALSO: Where to Stay in Iceland
So, this is our guide to Myvatn and the best things to do in one of the most beautiful areas of North Iceland. On our blog, you can find many more destination guides and travel tips for various places in Iceland. Check it out in our Iceland Travel Guide or see some suggestions below.
More travel inspiration for North Iceland:
More tips for your trip to Iceland:
READ ALSO: Best Things to Do on the South Coast of Iceland
If you found this post useful, don't forget to bookmark it and share it with your friends. Are you on Pinterest? Pin these images!