Thinking of going glacier hiking in Iceland and wondering what to expect, where you can walk on the glacier, what are the best glacier hiking tours in Iceland, and can you go without a tour? This guide should answer all your questions and help you choose the best glacier hike in Iceland. Find out!
Iceland glacier hike is one of the must-do, bucket-list activities in Iceland. Summer or winter, a walk on the ice is an unforgettable experience!
In this guide, we answer all the frequently asked questions about glacier hiking in Iceland: when and where to go, what to expect, what to wear, and where to book the best glacier hike at any time of the year.
At the bottom of this article, you can also find a map indicating all the best locations where you can do a glacier hike in Iceland at any time of the year, as well as our hand-picked selection of the best glacier hikes in Iceland. Take a look!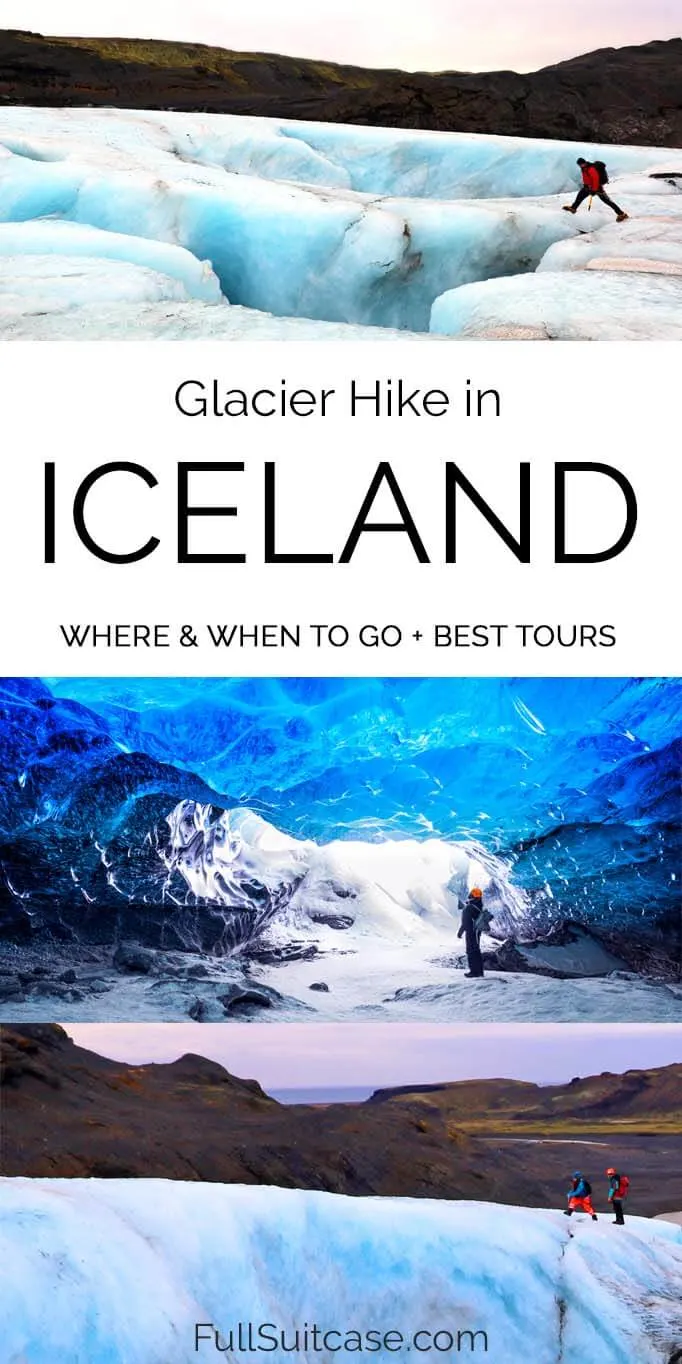 Glacier Hike in Iceland – Our Experience
First, let me start by sharing a short review of our experience of the glacier walk we did on the Solheimajokull glacier in winter. Solheimajokull Glacier is only 2 hours drive from Reykjavik and can easily be visited as a day trip from Reykjavik (check availability for this tour including a transfer here).
Alternatively, you can book a tour that starts at the glacier itself. This is what we did – the glacier hike was a part of our 7-day winter road trip in Iceland.
Further below, you can find more information about the best glacier hikes in Iceland. But first, read a bit about our personal experience so that you know what to expect.
We started our glacier hiking tour by meeting our guides at Sólheimajökull Café. Two certified guides accompanied us on the hike. They helped us to fit the crampons and the helmets and explained what to expect on the glacier and how to stay safe.
Glacier hiking in Iceland is not something to be attempted on your own! Not only do you need special equipment to walk on the ice, but you should also only go on the glacier with people who are familiar with the area and have the necessary training to deal with any unexpected situations that may occur.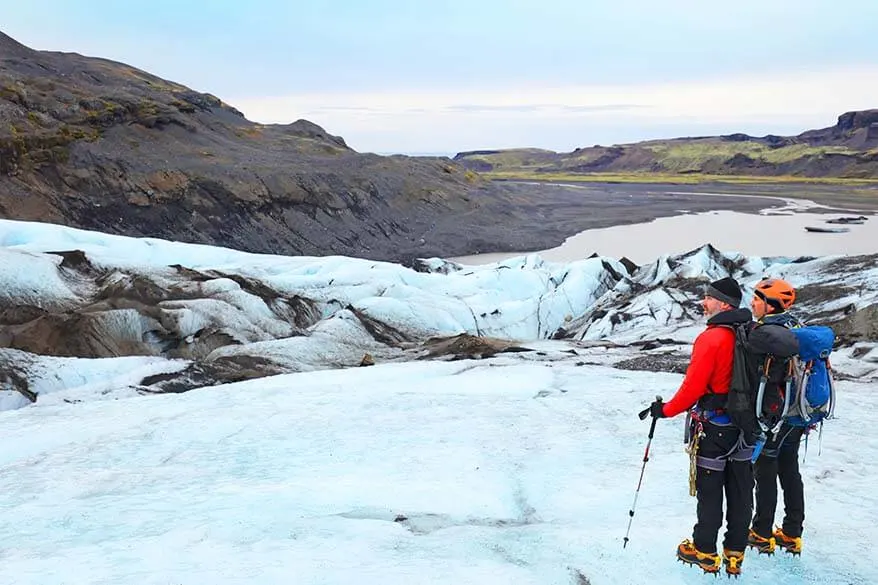 Glacier hiking is a group activity. So unless you are lucky enough to book a tour on a very quiet day you will not be hiking on your own. Not that it matters much, there is plenty of ice for everyone ;).
After everyone in the group received the right equipment we started our hike towards the glacier. A few years ago the glacier used to be close to the café, now it's a 30-40 minute walk before you even reach the ice.
Once you get to the glacier you have to put on the crampons and then the actual glacier hiking starts. But not before you take an obligatory picture with an ice ax of course ;).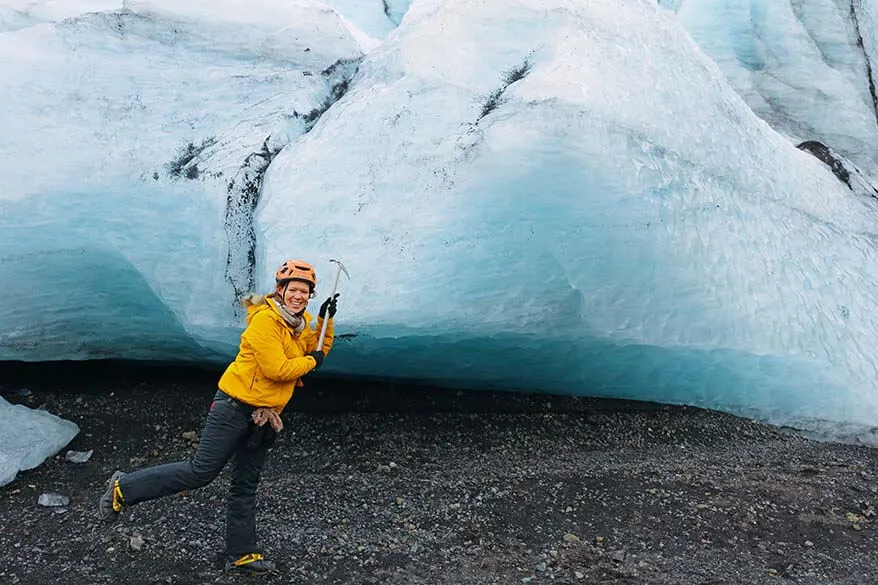 The first part of the hike is a bit steep as you have to climb onto the glacier. You definitely need those crampons and ice axes here! In general, the glacier hike is really not strenuous and once you understand how to use the equipment it's really fun.
The first thing that strikes you is that the glacier is covered in black ash – this is a result of various volcano eruptions.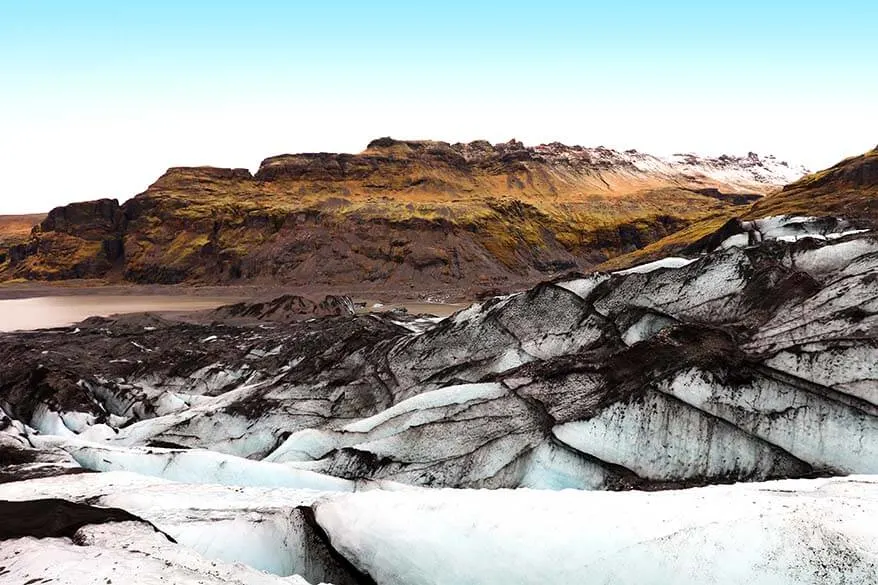 The guides told us more about the glaciers and showed us some deep crevasses where you could also do some ice climbing. They also took us to some beautiful glacier formations – I had never seen so many shades of blue!
TIP: If you are interested in ice climbing, you should consider this popular tour. It departs from Reykjavik and includes glacier hiking and ice climbing.
We spent about an hour – an hour and a half on the ice. After the glacier hike, we took off the crampons and walked back to the car parking. The whole experience from the start to the end took us about 3 hours. Most glacier hiking tours in Iceland take about 3 hours; about 1 hour is spent actually walking on the ice.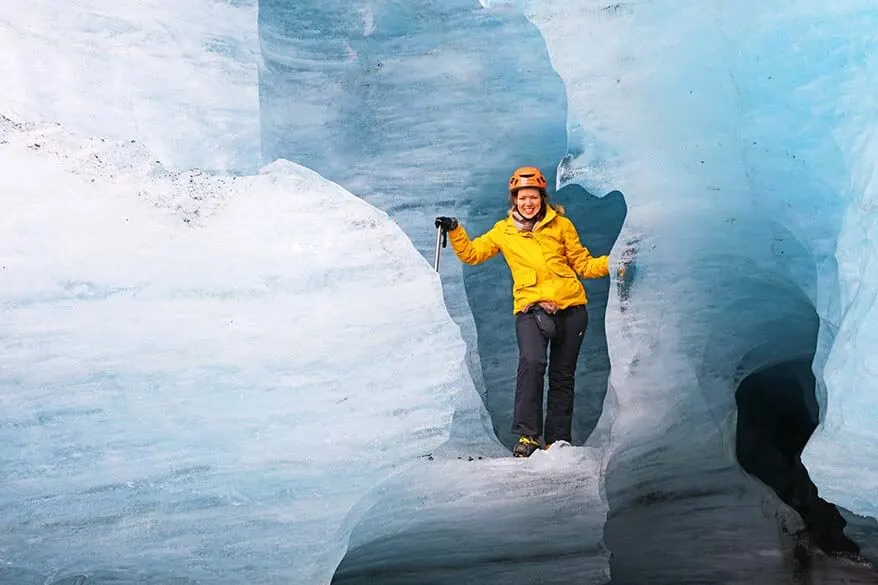 Practical Information for Glacier Hiking in Iceland
Below, you can find some practical information and useful tips you should know when thinking of hiking on a glacier in Iceland. Read on!
Who can do a glacier hike in Iceland?
A regular glacier hike that doesn't involve any ice climbing is a relatively easy family-friendly activity. Everyone in reasonable physical condition can do a glacier hike. We had a couple of 70-year-olds in our group and they managed just fine.
Children have to be at least 8 years old to participate. I think it has more to do with the minimum shoe size for the crampons than with their actual age. Just a few years ago, this age limit was 10 years, so maybe they all acquired some smaller crampons in the meantime…
When is the best time to do a glacier walk in Iceland?
Glacier hiking in Iceland is a year-round activity. You can find a big variety of glacier walking tours in Iceland in summer and in winter. In winter, you can also visit natural ice caves.
Best places to go glacier hiking in Iceland + MAP
There are several places where you can go glacier hiking in Iceland. Below are the most popular locations for glacier hiking in Iceland – all of these are located on the popular South Coast of Iceland.
I also included a map to help you plan your trip. You can either book a tour from Reykjavik or directly at one of these locations (see further down for more information).
Solheimajokull Glacier is an outlet glacier from Mýrdalsjökull Glacier. This is one of the most popular choices for glacier hiking due to its proximity to Reykjavik. It's also conveniently located en-route to the most popular landmarks of the South Coast of Iceland (Skogafoss and Seljalandsfoss waterfalls, Vik Beach, etc.). You can book a tour on Solheimajokull glacier at any time of the year.
Svinafellsjokull Glacier in Skaftafell National Park is another popular choice that is accessible the whole year. Svinafellsjokull is a glacier tongue of the huge Vatnajokull Glacier (with over 8,100 km² it's more than three times the size of the country of Luxembourg). Here you can find tours that start here.
Jökulsárlón Glacier Lagoon. Many ice cave tours start here even though the actual ice cave location is usually in the Skaftafell National Park. Ice caves inside the glacier can be visited in winter only (+- late October to March). Here you can book ice cave tours in this area.
Katla (from Vik or Reykjavik). This is the only natural ice cave tour that you can visit the whole year. This is the best price-quality Katla ice cave tour, it runs from Vik. This day tour makes it possible to visit this ice cave on a day trip from Reykjavik (or Vik) and this is the only tour I found that also allows kids from 6 years (instead of 8, as most others).
How to use this map: Use your computer mouse (or fingers) to zoom in or out. Click on the icons to get more information about each place. Click the arrow on the top left corner for the index. Click the star next to the map's title to add it to your Google Maps account. To view the saved map on your smartphone or PC, open Google Maps, click the menu and go to 'Your Places'/'Maps'. If you want to print the map or see it in a bigger window, click on 'View larger map' in the top right corner.
What to wear for a glacier hike in Iceland
You don't need to bring any special equipment for a glacier hike. The helmets, crampons, ice axes, and all the other necessary equipment is provided by the tour organizers.
No matter when you go walking on the glacier – in summer or in winter – you need to wear warm clothing and sturdy hiking shoes.
Make sure to wear sturdy waterproof hiking shoes (something like this). These are a must as it's very difficult to fit the crampons on sneakers or any other light footwear. You may want to check our recommendations for the best winter shoes for your trip to Iceland.
Don't forget your gloves!
Layers of sweaters and a waterproof jacket.
Water-resistant comfortable walking pants. In winter you need thermal underpants as well.
Depending on the season, you will need more or fewer layers of clothes for the glacier hike. But the items I listed above are a must in any season.
We did the glacier walk in November and it was freezing cold. In the beginning, it was so cold that some people even wore thin hats under their helmets. I didn't have one that would fit under the helmet, so I used my polar buff at first. However, you quickly warm up by walking. By the end of the hike, it was even too warm.
Here you can find more information on what to wear in Iceland in winter and what to wear and what to pack for Iceland in summer.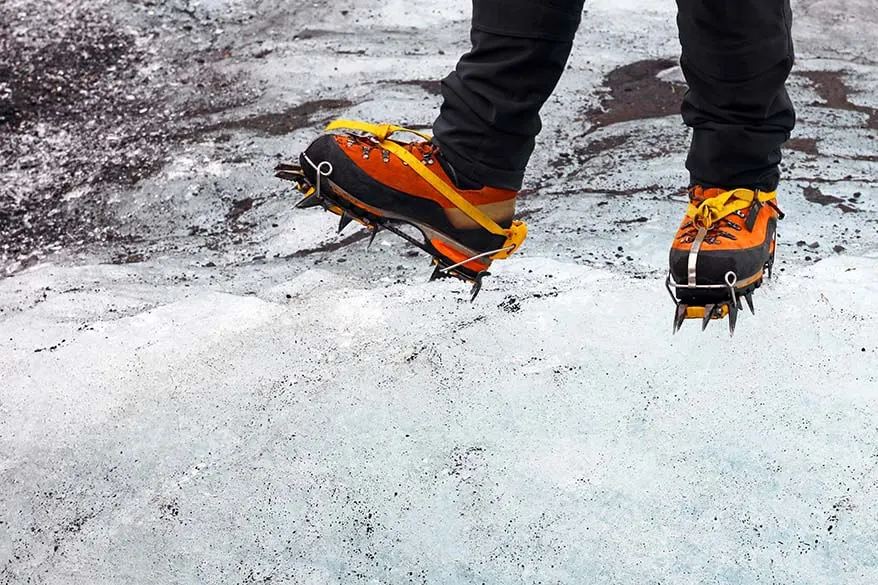 Best glacier hiking tours in Iceland
There are many companies offering glacier tours in Iceland. Glacier hiking is very popular and these tours often sell out. So no matter in which season you go, you best book your Iceland glacier tour in advance.
Below, you can find a selection of some of the best glacier hike tours in Iceland. The prices are the same everywhere, therefore I recommend booking your glacier hike tour through GetYourGuide because of their most flexible cancellation policy. We now book ALL our tours via this website and I can highly recommend it to everyone!
These are the best glacier hike tours in Iceland:
Iceland Glacier Hike FAQ
When is the best time to go glacier hiking in Iceland?
Glacier hiking in Iceland is possible at any time of the year. It doesn't really matter whether you go in summer or in winter, it's always just as nice and always worth it. If you are looking to visit an ice cave, that is only possible in winter, from around November until the end of March.
Can you walk on glaciers in Iceland?
You can visit certain glaciers in Iceland and walk on them, but you should only do this with an experienced local guide. You also need special equipment, which organized tours always provide.
Which glacier is the best for glacier hike in Iceland?
There are two main glaciers in Iceland where yours take place: Solheimajokull Glacier and Svinafellsjokull Glacier. They are both located along Iceland's South Coast. There isn't that much difference scenery-wise, so choose the tour at the location that fits your itinerary best.
Who can go on a glacier hike in Iceland?
Everyone in reasonable physical shape can go on a glacier hiking tour in Iceland, even children from 8-10 years. Walking on a glacier is not very physically challenging, tours provide all necessary equipment, and there is always a qualified guide to help you if needed.
Can you go glacier hiking in Iceland in summer?
Glacier hiking in Iceland is a year-round activity. So yes, you can walk on a glacier in summer. It will likely be colder and windy on the glacier, so be sure to wear layers. Even in summer, gloves are a must!
If you are planning a winter trip to Iceland, you may also want to check this article for more unforgettable Iceland winter day trips from Reykjavik and this one for the most amazing winter activities in Iceland.
Below, you can also find some practical information and tips for visiting Iceland. Take a look!
READ ALSO: Best Iceland's Ring Road Itinerary
If you found this post useful, don't forget to bookmark it and share it with your friends. Are you on Pinterest? Pin these images!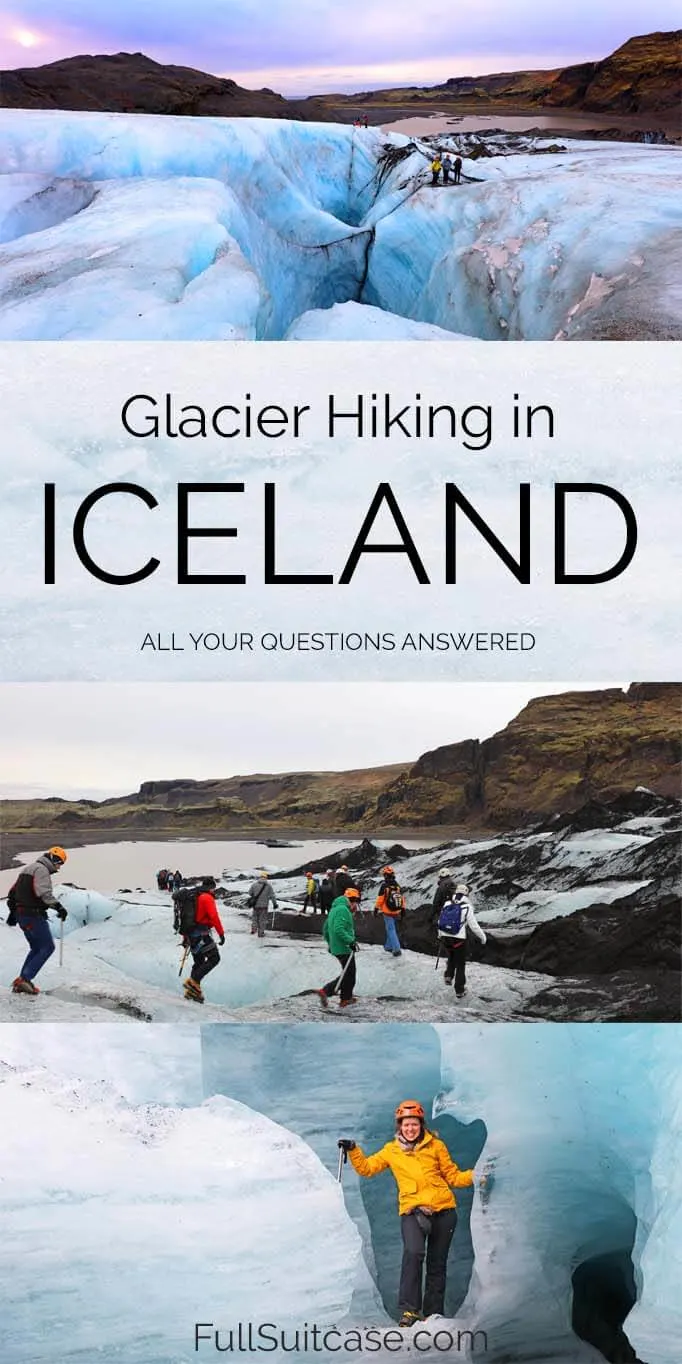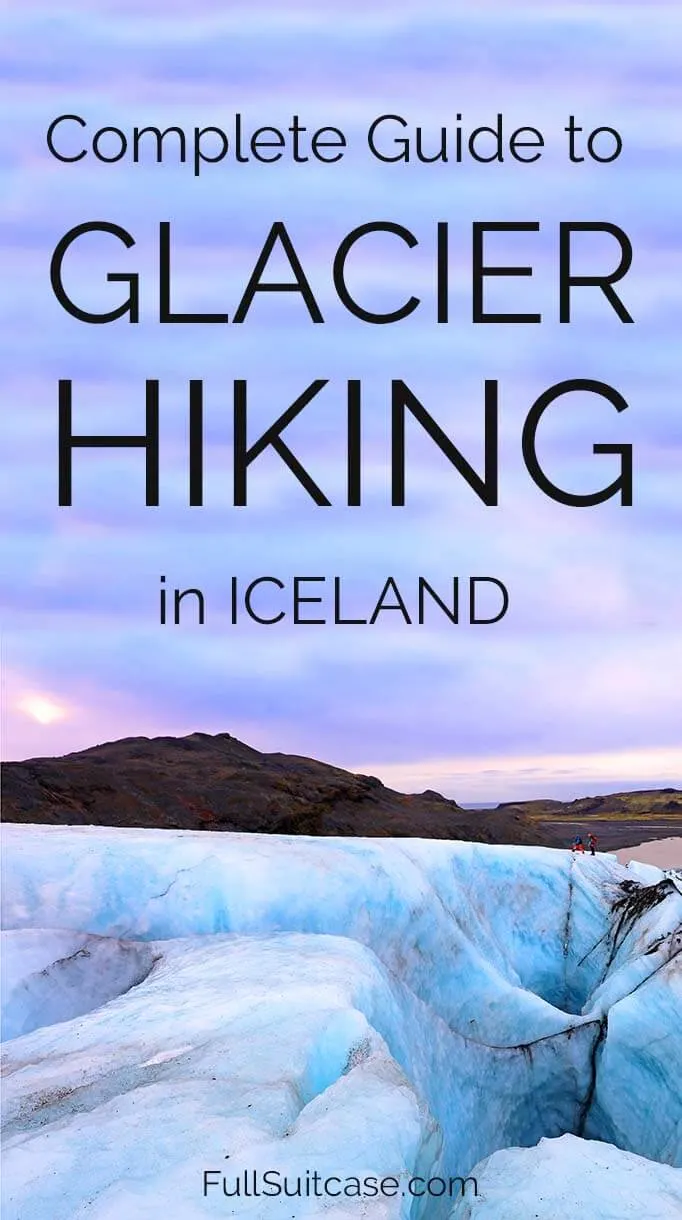 You can also read this article in German: Gletscherwanerung Island.