Are you looking for good winter boots for travel, but are not sure where to start? We selected the very best winter boots for women, men, and kids. Take a look!
Choosing the right clothing and footwear is key when it comes to winter travel. Whether you are traveling to Canada, Alaska, Iceland, or Scandinavian countries, your winter packing list will be pretty much the same. Good winter boots are probably the most important item when visiting Arctic regions in winter.
I often have readers asking what are the best winter shoes for travel and I also see what fellow travelers recommend on the internet forums and Facebook groups.
So here is a small selection of the best winter boots as recommended by real travelers based on their experiences. I also included my personal favorite waterproof winter boots that I use for European winters. At the bottom of the post, you can also find the very best boots for extreme winter temperatures, best-rated budget winter boots as well as the best winter shoes for active kids. Find out!
This list of the best winter boots for travel has now been updated for winter 2023-2024. However, most of the shoes featured here are timeless winter boots that you can wear for many years to come.
Some models or colors might change a bit, but the most important in my view is functionality, especially when you are traveling. Warm and dry feet will make any winter trip more enjoyable, so choose your winter shoes wisely. Read on!
Best Winter Boots for Travel – OVERVIEW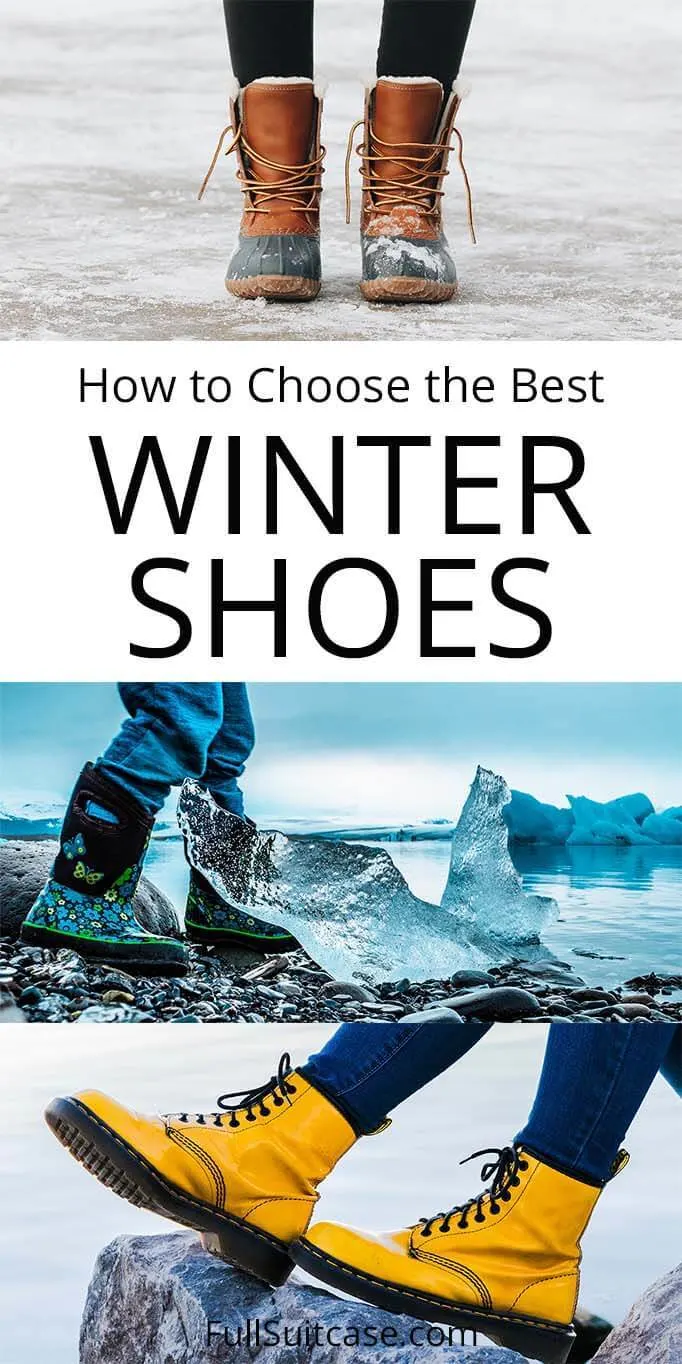 What to Look for in Good Winter Travel Shoes
In order to choose the best winter boots for your trip, make sure that you know what kind of functionality you expect. Your choice of winter boots depends on where you are traveling to.
For example, many people ask me what are the best boots for the European winter. But Europe is huge! If you go skiing in Europe or are looking for winter shoes for Scandinavia, you'll probably want to get winter boots from this list. Whereas if you are visiting cities like London, Rome, Paris, or Barcelona, you'll need very different winter shoes (something like classic UGG's or these light Sorel winter shoes will be more than sufficient even on the coldest days)…
It's the same for the U.S. – it really depends on where you'll be using your winter shoes, for how long, what kind of activities, etc.
In my opinion, all winter boots for travel have to be waterproof and keep your feet warm up to at least -10°C (14°F).
A good grip is also important – I once had to throw away a pair of winter boots because I kept slipping in them and fell several times. Little did I know at that time that stabilicers could have been the perfect solution. But in any case, a good anti-slip rubber sole is a must for all winter shoes.
If you plan to do hiking, then laced winter shoes are a must. Whereas if you only plan some activities in the snow, Moon Boots might be a better choice since they are much warmer.
There is not one perfect winter shoe for every situation, but the winter boots in our selection below should get you covered most of the time. Take a look!
Here are some of the best winter boots for travel:
Sorel Winter Boots
Sorel is one of the most frequently mentioned brands when it comes to the best winter boots. Sorel has many models of winter shoes for men and women in all price ranges (60-300 USD), but the Sorel Caribou boots are one of the very best price/ quality options when traveling to really cold places.
When I visited Tromso in winter (Northern Norway) and also in Svalbard in winter (Arctic), virtually all the local guides wore Sorel Caribou winter boots.
Sorel winter shoes are extremely sturdy, waterproof, and very warm. There is just one disadvantage – the classic Sorel winter boots are quite heavy. They are ideal for traveling to really cold places with extreme winter temperatures like the Nordic countries, but it's probably not something you'd want to get if you are just looking for winter shoes to wear in European cities.
Here is what travelers say about Sorel winter boots:
I am from Canada and my Sorels keep my feet toasty warm.
They have lasted me through four New England winters and still look great!
I bought Sorel Caribou boots for several Antarctica And Falklands trips where we needed waterproof boots for wet landings and walking in the snow. Love them.
Columbia Winter Shoes
Columbia snow boots are probably the most flexible winter shoes in terms of use. From active winter trips with hiking or snowshoeing, to snow shoveling and other regular daily activities in cold climates – they are truly all-around winter boots.
Warm and durable, Columbia offers quality winter shoes for the whole family at a very reasonable price (60-150 USD).
Here is what travelers say about Columbia winter boots:
I live in Minnesota and my favorite boots are Columbia. They have this silver material inside that reflects your own heat back. So warm!
We wanted good snow boots for snowshoeing and each got a pair of the Columbia omni-heat boots and we love them. They keep our feet very warm and dry.
UGG Waterproof Winter Boots
A bit on the expensive side, these UGG waterproof winter boots are my personal favorites. I also have a pair of classic UGG boots and they are my daily shoes for cold but dry European winter days.
I have worn my waterproof UGG winter shoes in Iceland in winter, in Northern Norway in winter, visiting Jungfraujoch in Switzerland, on every ski vacation for the last 6 years, and also every time I have to spend hours outside watching kids play football in the middle of the winter.
They are warm, really light compared to most other winter boots, and they are waterproof. I've had my UGG waterproof winter boots for 4 years now and they look like they will last quite a few more years. It was worth the investment.
UGG has just a few models of waterproof winter boots, both for men and women. Price range: 200-300 USD.
Merrell Waterproof Winter Boots
Merrell offers some of the most affordable waterproof warm winter shoes for active trips. They have several highly-rated models of winter boots for men, women, and children.
Merrell winter shoes are not too bulky, therefore perfect for winter hiking trips. The price range of most Merrell models is between 60 and 160 USD.
Here's what travelers say about Merrell winter shoes:
My feet have never ever been cold in my Merrells. I went to Iceland in February, walked on a glacier in them and they were completely awesome.
I live in an area where it snows and gets under -20 fairly often, and these boots kept my feet dry walking through the deep snow.
Bogs Winter Boots
Bogs is another highly recommended brand when it comes to good and sturdy winter boots that keep your feet warm and dry. They seem to be less suitable for hiking though, but Bogs winter boots are perfect for short walks in the snow and outdoor activities in winter.
Bogs have a variety of models of winter boots for men, women, and children. Most Bogs cost between 65 and 150 USD.
Here's what travelers say about Bogs winter shoes:
We live in the mountains and these great boots keep our feet warm and dry.
I'm Canadian, Bogs are my jam.
I've worn these boots for walks in freezing cold weather and to go sledding with my kids and my feet always stay toasty warm and dry.
Should have bought these years ago. They are so warm and sturdy.
North Face Winter Boots
The North Face winter boots are perfect for everyday use in cold places, but probably not for the Arctic regions.
They are lightweight and therefore comfortable to wear on longer hikes. Great winter shoes for regular European or American winters.
Here's what people say about Northface winter boots:
These boots are great for short-time winter activities. I'm not sure I would find them insulated enough for snowmobiling or ice fishing.
I wore them on a winter scouts trip in 4+ feet of snow and my feet stayed warm and dry. Highly recommend.
Best Winter Boots for Extreme Cold Weather
If you are looking for the warmest possible winter boots for extreme winter temperatures, then you may consider Baffin Impact boots.
They are really warm and heavy and are not really suitable for milder winters. However, if you are visiting the North Pole in winter and need the best and the warmest winter shoes available, you cannot go wrong with these boots.
According to Baffin, their Selkirk winter boots will keep you warm in the temperature range up to -70°C (-94°F).
Best Budget Winter Boots
If you only need winter boots on rare occasions and don't feel like spending too much, you may want to look into buying cheap winter shoes.
Cheap winter boots from Kingshow or Kamik offer quite a good quality for the money. They may not have the same insulation or grip as the more expensive boots from this list, but you cannot beat the price.
Don't expect these winter shoes to last forever, but once again – if you only need winter boots for occasional use and don't want to spend too much money, it's worth looking into getting these cheap winter boots for your winter trip. Take a look at our selection below!
Best Winter Boots for Kids (Boys & Girls)
Since their feet grow so fast and kids' winter shoes only last one season, we always look for sturdy waterproof winter boots that allow our boys to run and play. For us, the perfect winter boots for children have to fit all occasions: everyday wear for school, travel, as well as winter holidays in the snow. So we usually buy winter boots that look like this.
It might be different for you, depending on how often your kids will wear their winter boots. If you just go on ski holidays for a few days and are looking for good winter boots for kids just for that one vacation, you'll probably want to look for something cheap, yet really warm and slip-resistant e.g. something like these boots.
Whereas if you are looking for good winter boots for kids for everyday use, you'll probably want to get higher quality sturdy winter shoes that will last the whole winter.
Below, you can find my selection of the best-rated winter boots for children that you can buy on Amazon. All these winter shoes for kids have great customer reviews and a good price-quality ratio. Also REI.com has a good selection of good winter shoes for children.
TIP: For more tips for kids' shoes please check this post with a selection of the best kids shoes for travel (summer, winter, hiking, and much more). Take a look!
So, this is our guide to buying the best winter boots for women, men, and kids and for every budget. I hope that this hand-picked selection of the very best winter boots will help you choose your own perfect winter shoes for your trip.
Do you have a favorite pair of winter shoes that you absolutely love? Feel free to leave a reply below and share your experience – it will help other readers who are looking for the best winter shoes.
Winter gear & travel inspiration:
If you found this post helpful, don't forget to bookmark it and share it with your friends. Are you on Pinterest? Pin this image!