Jungfraujoch Top of Europe is one of the most iconic and most beautiful places in the Swiss Alps. But what exactly is there to see and do at Jungfraujoch and is it really worth the high price tag? Find out!
If you are traveling to Switzerland and wondering if Jungfraujoch, Top of Europe is worth a visit or you are looking for a Jungfraujoch tour and wondering what to expect, this article should answer all your questions.
In this guide, we share our experience with visiting Jungfraujoch Top of Europe, the best Jungfraujoch tours, and all the practical information you may want to know when planning a day trip to Jungfrau. We also included tips for cheaper tickets and the new fastest way to visit Jungfraujoch from Grindelwald. Find out!
Good to know: We have been to the Jungfrau Region multiple times, in summer and in winter. This article is based on our winter visit to Jungfraujoch, Top of Europe on one of the recent trips to the Jungfrau Region in winter. Since there's always snow at Jungfraujoch, most of this information will apply for any visit and at any time of the year. In order to give you the most complete guide, we also included additional information in regards to summer-specific activities at Jungfraujoch. Read on!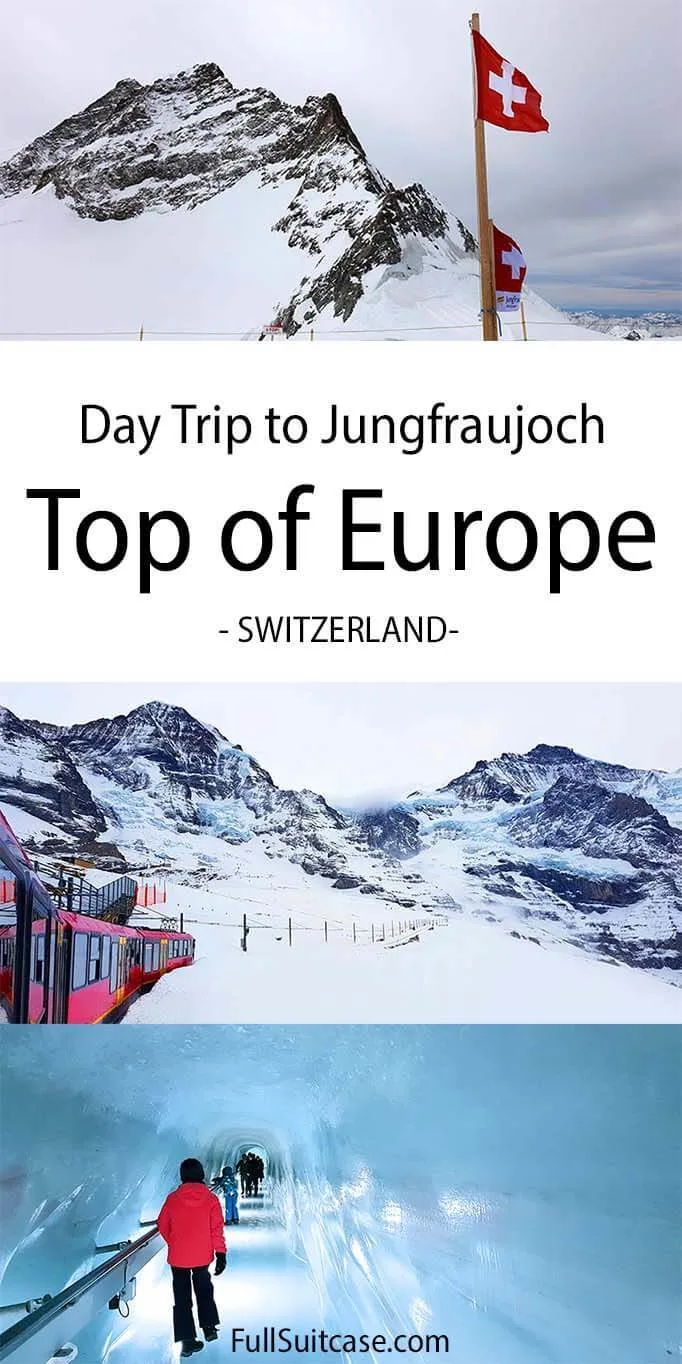 With so many well known mountain destinations in Switzerland, it might be difficult to choose where to go in the Swiss Alps. If you have time and money, you shouldn't limit yourself to just one place.
However, if you visit just one or two places in the Swiss mountains, then I really think that Jungfraujoch Top of Europe should be one of them. It will be the highlight of your trip to Switzerland. Find out!
What is Jungfraujoch, Top of Europe
Jungfraujoch is a unique year-round mountain destination in Switzerland. It's part of the UNESCO World Heritage site called Swiss Alps Jungfrau-Aletsch.
Jungfraujoch also referred to as Top of Europe, is a place where the highest railway station in Europe (3,454 m) is located.
With an elevation of 3,466 m, this is the lowest pass between two four-thousander mountains – Jungfrau and Mönch. It is therefore called the Jungfrau saddle (literal translation of the word Jungfraujoch).
Some people also call Jungfraujoch the Top of the World in Switzerland. And when you stand there, high above the highest peaks of the Swiss Alps, it sure feels like you are at the top of the world!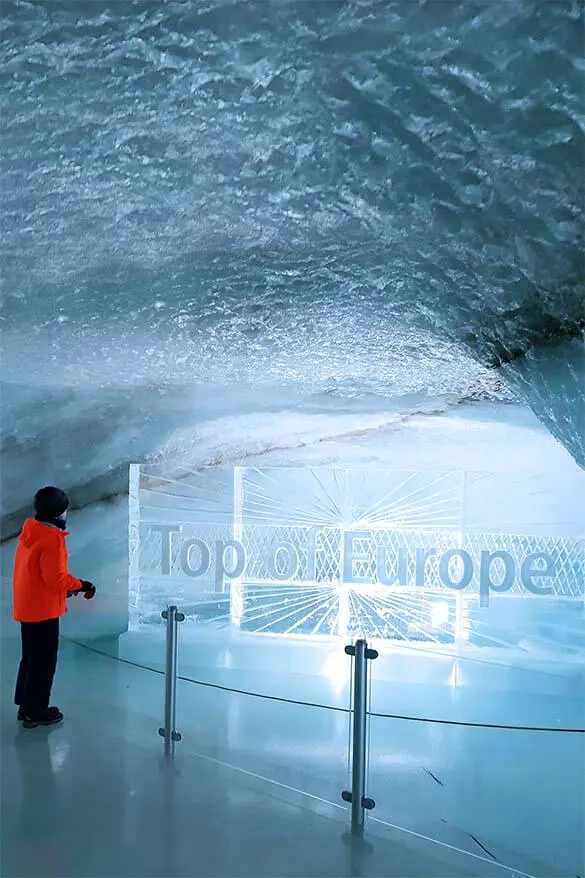 Jungfraujoch history
It's hard to imagine that the idea to build a railway to a glacier at over 3,5km (over 11,600 ft) height dates from the 19th century. Even today, it would be a huge challenge!
A Swiss entrepreneur Adolf Guyer- Zeller came up with a crazy idea to build a tunnel and a railway line to the rocky summit of Sphinx (now an observation deck at Jungfraujoch). Construction started in 1896, took 16 years to complete, and due to various reasons stopped a bit lower. The man behind the project died before it was completed…
The Jungfrau railway line is a significant achievement and even now, more than 100 years later, it still holds the title of the highest railway station in Europe.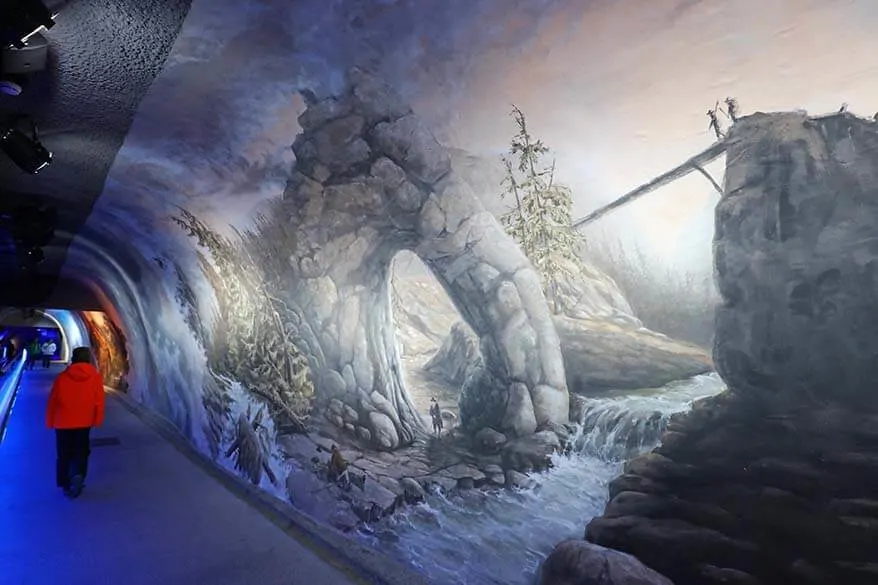 Where is Jungfraujoch, map & how to get there
It takes quite some time to reach Jungfraujoch. It's a 2,5 hours train ride from Interlaken, 1,5 hours from Grindelwald or Lauterbrunnen, or 1 hour from Wengen.
The only way to get to Jungfraujoch is by train. The last place where you can leave your car is Lauterbrunnen or Grindelwald, from where you have to take a train to Kleine Scheidegg. You have to switch trains at Kleine Scheidegg, where you hop on the luxury Jungfraujoch Railway train for the last part of the journey.
You can visit Jungfraujoch on your own – just make sure to book a train ticket in advance, especially if visiting in the high season. Alternatively, you can join an organized excursion to Jungfrau from a variety of cities in Switzerland (see below).
Update: The new Eiger Express tri-cable gondola from Grindelwald to the Eiger Glacier station is now the fastest way to get to Jungfraujoch. Once in Eiger, you have to take the train for the last section to Jungfraujoch. This journey takes less time than by train from Grindelwald to Kleine Scheidegg and from there to Jungfraujoch.
At the moment, this is also the cheapest way to get to Jungfraujoch. You can reserve your gondola + train tickets here. This ticket allows you to take the train back down via Kleine Scheidegg, so you can enjoy different scenery on your way up and down. Keep in mind that the gondola can get closed in case of very strong winds; for that, the train remains the safer year-round option.
TIP: If you have a Swiss Pass, you can get a discount on Jungfraujoch tickets. For children from 6 and under 16, get Junior Travel Card at any major train station in Switzerland – it will save you a fortune when exploring the country.
Good to know: Because groups get big discounts, it might be cheaper to visit Jungfraujoch with a tour than on your own, especially if you are traveling here from one of the bigger cities and are not staying in the area. Here are the most popular options for organized Jungfraujoch tours:
For more practical tips for your visit to Jungfraujoch, please check our practical information section at the end of the article.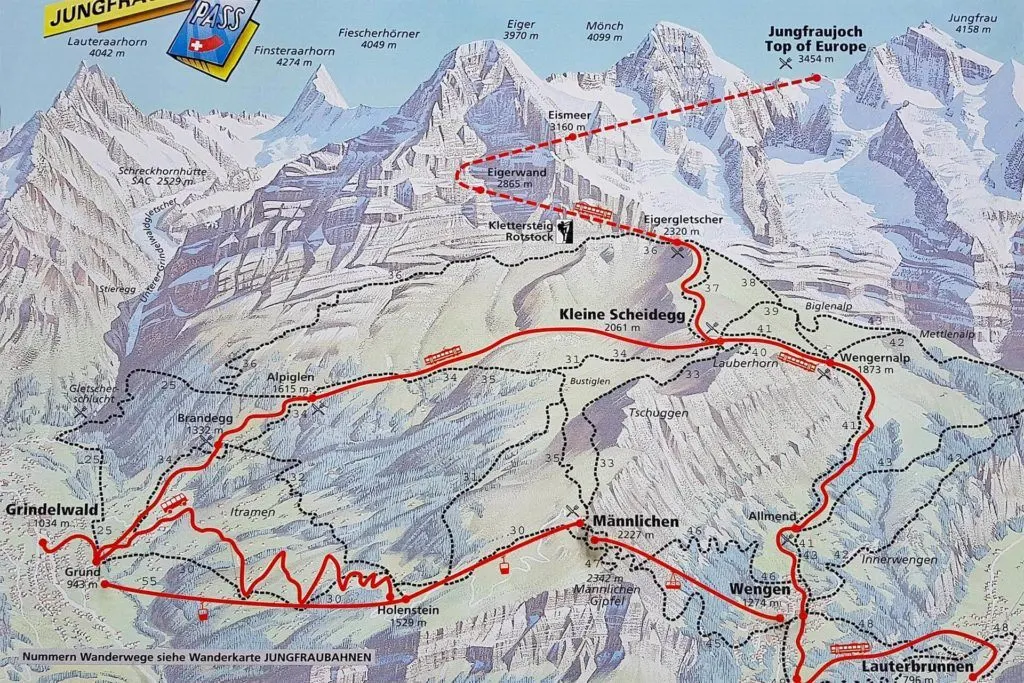 What to do at Jungfraujoch
Jungfraujoch is so much more than the highest train station in Europe! In fact, it's more than any other mountain destination we have visited so far. There is so much to see and do at Jungfraujoch that you can easily make a day trip of it, one of the best day trips in the Swiss Alps!
There is a wide range of activities at Jungfraujoch. Some activities like hiking or skiing and sledding at the Snow Fun park are seasonal (summer only), most others are available the whole year-round. Below is a short overview of everything that you can see and do at Jungfraujoch. Read on!
Things to do at Jungfraujoch:
1. Sphinx Observation Deck & Aletsch Glacier
The Sphinx Observatory is an astronomical observatory at Jungfraujoch, an international research station. Sphinx is one of the highest observatories in the world. It's not accessible to the public, but you can visit the open viewing deck, called the Sphinx observation deck.
The view over the sea of snow of the Aletsch glacier from the Sphinx observatory is second to none. It is hard to imagine that this 22 km long glacier is almost a kilometer thick. Can you imagine that much ice?!
If you come here on a clear day (or if you find yourself above the clouds), seeing the Aletsch Glacier is one of the best experiences, a must do at Jungfraujoch.
To get to the Sphinx observation deck, you'll need to take a really fast elevator. It ascends 108m in just 25 seconds.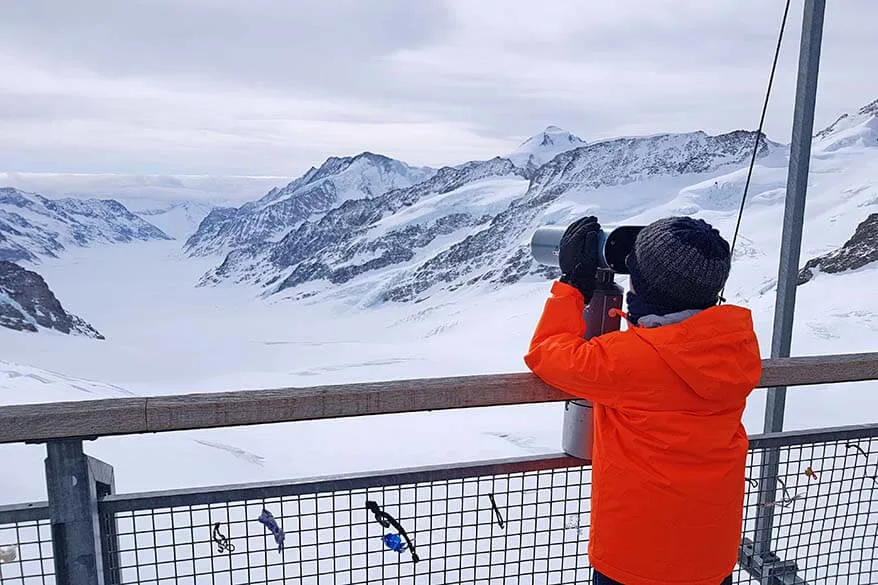 You wouldn't believe it, but even at this height, there are some birds living at Jungfraujoch. Yes, even in winter when temperatures of -20°C (-4F) aren't uncommon, you are likely to run into some birds here. Unbelievable!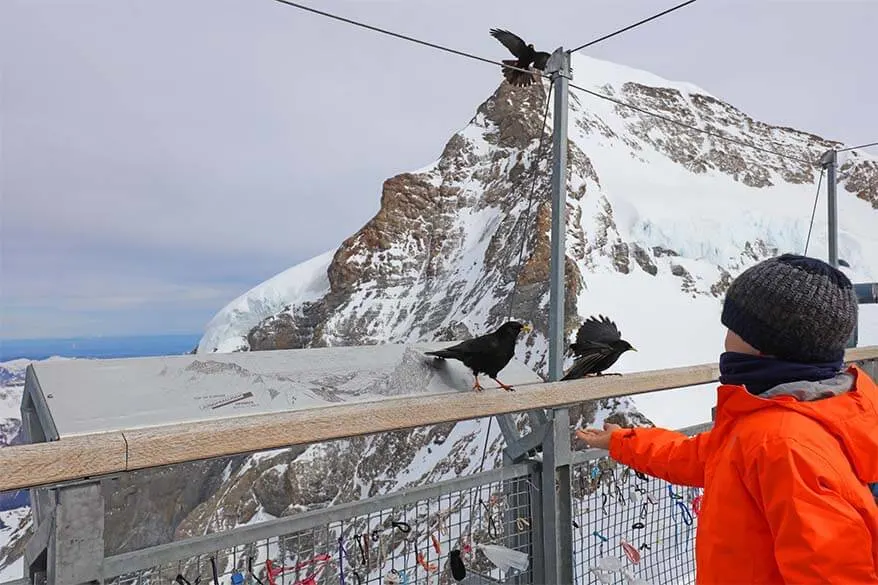 2. Ice Palace
If you want to get up close and personal with the glacier, then don't miss the Ice Palace, probably the most impressive of all Jungfraujoch attractions.
Walking in an ice tunnel under a glacier is something that is always exciting. No matter how many times you've done it, it just takes your breath away.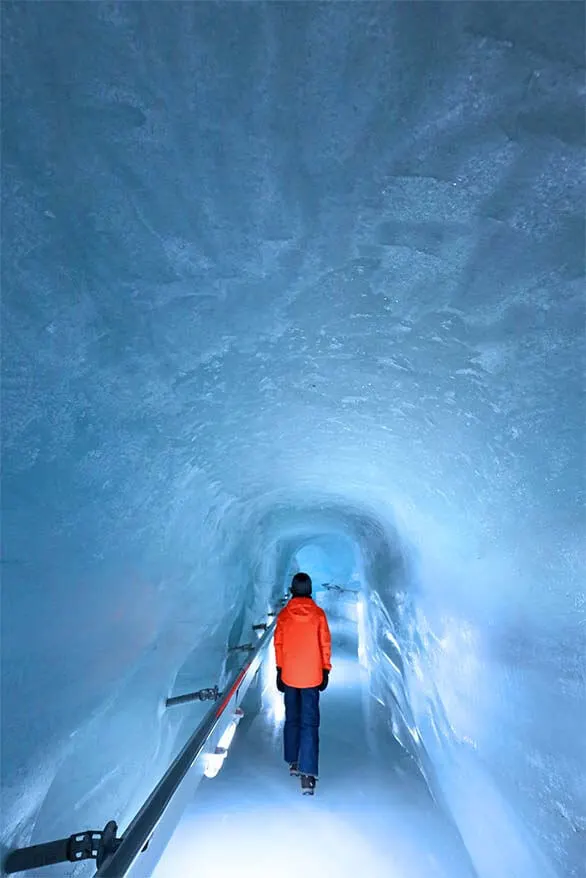 There are all kinds of ice sculptures at the Ice Palace at Jungfraujoch. You never know what you'll find, because they change exposition quite often. We saw eagles, bears, and the kids also found Scrat from Ice Age stuck inside the ice… They didn't stop talking about it for days…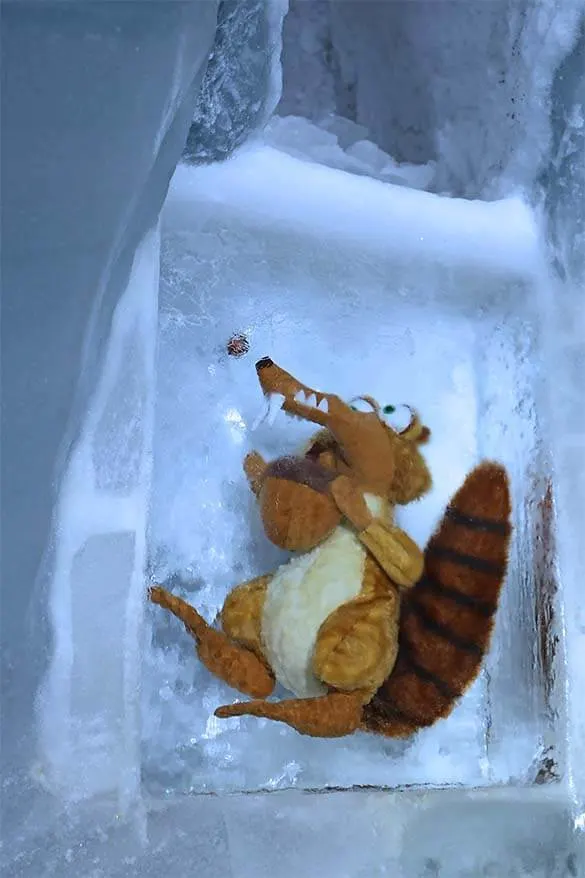 3. Alpine Sensation
Alpine Sensation is a 250m-long corridor that connects the Sphinx Hall with the Ice Palace. It's a tribute to the miners who built the railway and the history of this unique place.
It's a beautifully done, multimedia-staged trip back in time and a truly touching experience.
Our kids were fascinated by a giant snowball with a miniature world inside of it. They could have watched it for hours…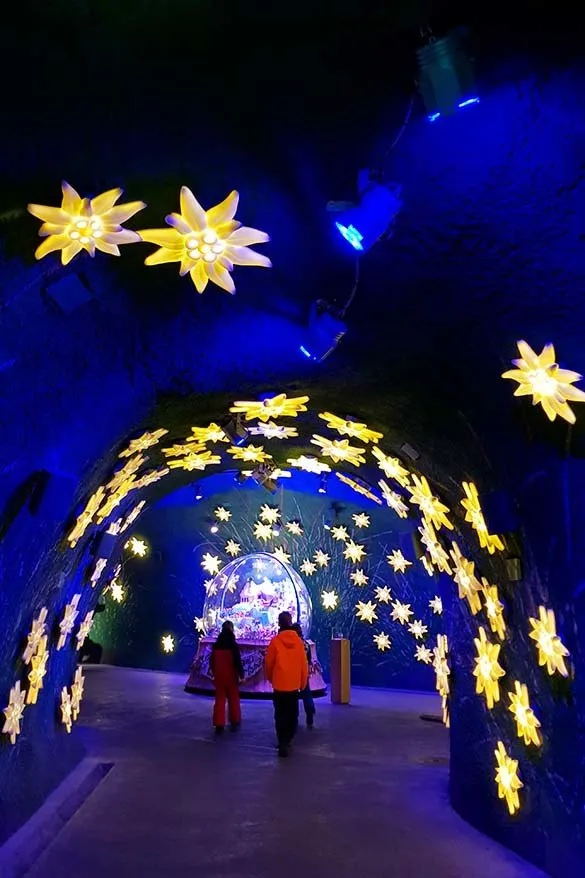 4. Jungfrau Panorama
Jungfrau Panorama film is a fascinating experience that shows you a 360° panorama of the surrounding area. So even if you visit on a less beautiful day, when mountains are covered in the clouds, this unique virtual experience lets you admire the magnificent panorama.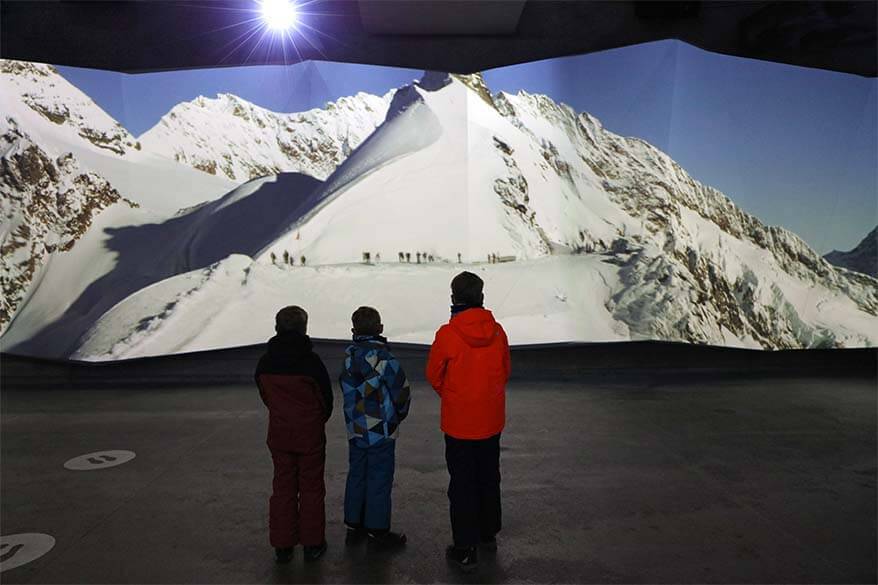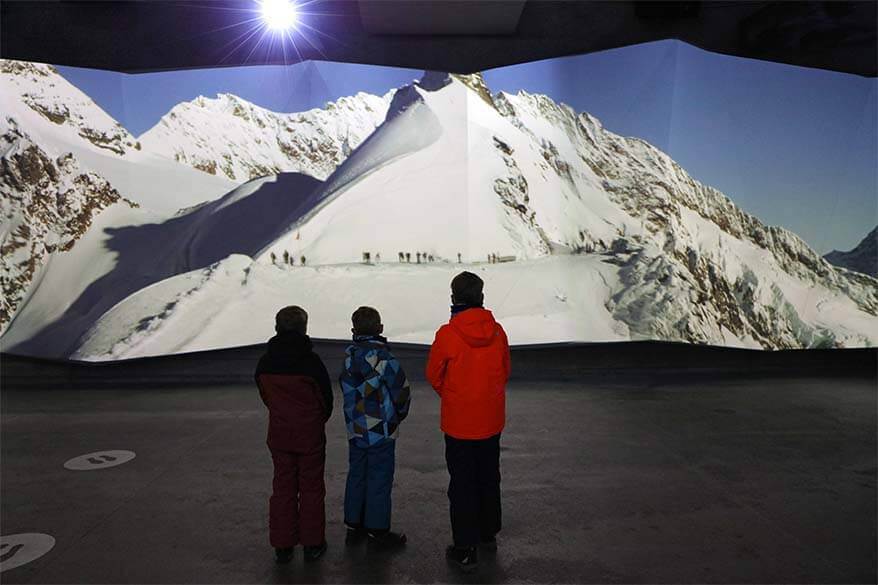 5. Glacier Plateau
Glacier Plateau is an extremely popular photo stop at Jungfraujoch. Not only do you have guaranteed snow and ice 365 days a year, but it also offers an amazing view over the nearby Jungfrau and Silberhorn mountain peaks.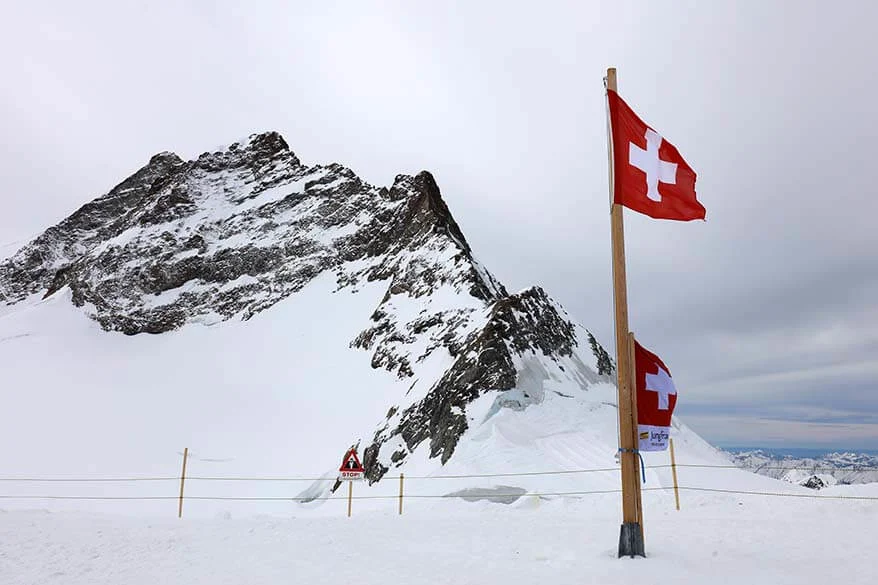 6. Snow Fun Park
Snow Fun Park at Jungfraujoch is only open outside the ski season (mid-May to mid-October). If you come to Jungfrau in winter, there are plenty of ski slopes and sledding runs in the area. But if you visit this beautiful region in summer, you can experience the snow at the Snow Fun Park at Jungfraujoch.
Skiing, snowboarding, sledding, and snow tubing are available. More adventurous can also try the Flying Fox. Ziplining above the glacier – how (literally) cool is that?!
Single tickets are quite expensive, so I recommend getting a day ticket that includes all activities and the hire of the necessary equipment (more info here). Make sure to come early and you can spend the whole fun day at Jungfraujoch!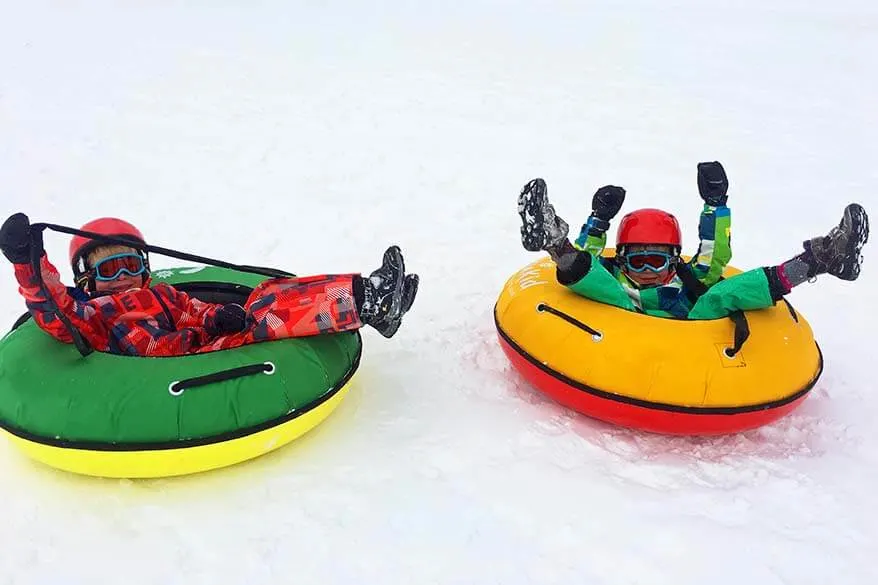 7. Mönchsjochhütte
If you visit Jungfraujoch in summer, in addition to all of the above, you can also hike to Switzerland's highest serviced mountain hut, Mönchsjochhütte (Mönchsjoch Hut). It is accessible from the Jungfraujoch on a marked footpath through the glacier and takes about 45 minutes one way.
Make sure you wear good hiking boots if you plan to go hiking here. Oh, and make sure to always stay on the marked paths. Wandering onto a glacier without an experienced local guide is very dangerous!
Usually, Mönchsjochhütte is open from +- mid-March to mid-October.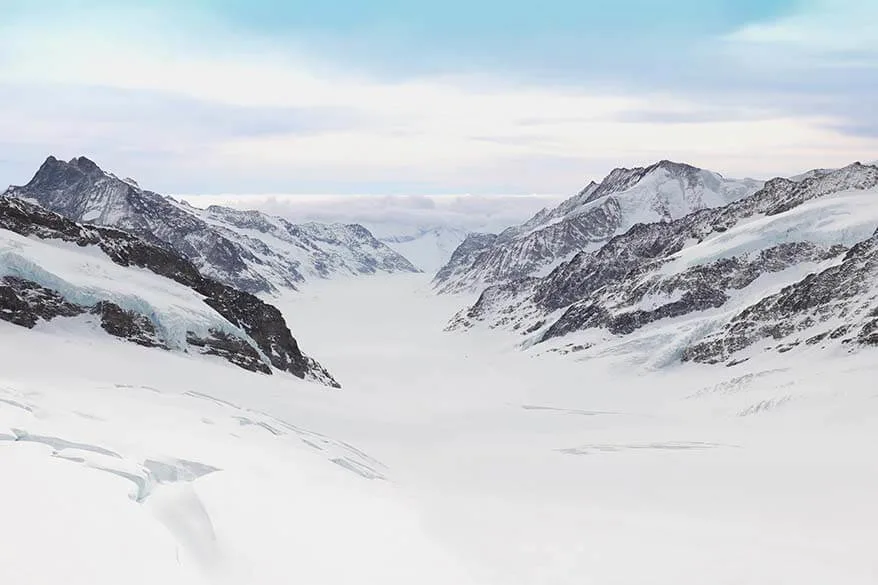 8. Lindt Swiss chocolate experience
You can't visit any place in Switzerland and not try some Swiss chocolate. Jungfraujoch is no exception.
Lindt Chocolate Heaven is much more than just a chocolate shop. Combining the old-fashioned chocolate making process with interactive displays, it's a really fun place to see when visiting Top of Europe.
Don't forget to treat yourself to some delicious Lindt chocolate – it melts in your mouth!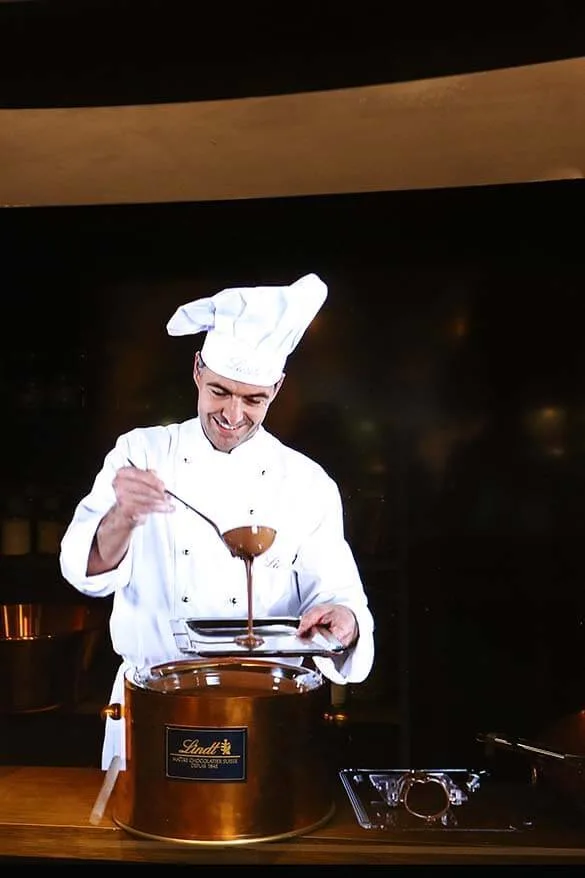 9. Restaurants and shops
Since you will probably spend the whole day at Jungfraujoch, you'll be glad to know that there are plenty of nice restaurants and shops on top. You can find everything from Swiss chocolate to traditional souvenirs, Swiss knives, and even clothes at one of the Jungfraujoch shops.
There is a self-service restaurant and also an a-la-carte restaurant with amazing glacier views. We had lunch at the Crystal Restaurant and found that the food was actually very reasonably priced for Swiss standards (and the portions were huge).
Dining high above the clouds and with a view like that is an unforgettable experience!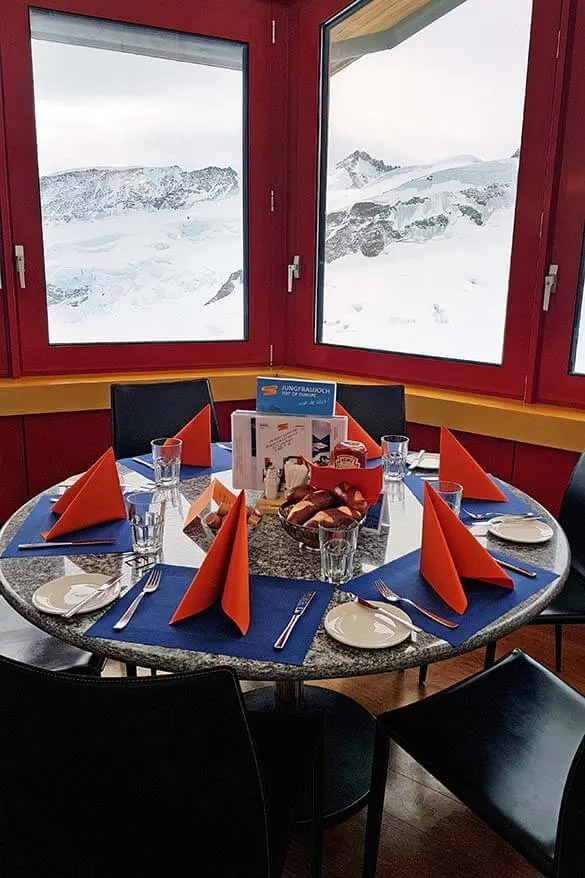 How expensive are Jungfraujoch tickets?
Jungfraujoch tickets are very expensive and prices depend on the season and on the train station from/to where you are traveling. In the high season, a regular ticket from a train station nearby will cost you around 236 CHF (+-230 EUR or 240 USD).
If you want to find out the exact price for your journey, you can check the price brochure here. Alternatively, you can easily see the most up-to-date prices in your own currency and book tickets here – Jungfraujoch ticket by train or Jungfraujoch ticket by gondola + train.
Good to know. Kids under 6 and with Junior Travel Card travel free of charge and children under 16 pay half the price. As already mentioned, you also get discounts with the Swiss Pass.
Is Jungfraujoch worth the money?
Just like many people, you are probably also wondering if it's worth the money to visit Jungfraujoch? I was asking myself the same thing before we went.
Visiting Jungfraujoch is expensive, very expensive, but you probably already know that nothing is cheap in Switzerland. Also, all the activities I mentioned above (except for Snow Fun Park) are included in the ticket price. Just try to imagine how much it costs to build and run a place like this…
We have visited many places in Switzerland over the years and to us, Jungfraujoch is one of the most unique places and experiences in the Swiss Alps. So my answer is YES – if you can afford it, Jungfraujoch is absolutely worth the money.
If, however, you still have a long list of places to visit in Switzerland, or have a tighter budget, there are also so many other beautiful destinations to visit that don't cost half as much. So it really depends on what you compare it to.
If you only have a day in the region and your budget is tight, head to Grindelwald-First instead. Other nice options are Schynige Platte, Mürren. Also Mount Titlis or Mt Pilatus near Lucerne are nice alternatives. All these are much cheaper than Jungfraujoch.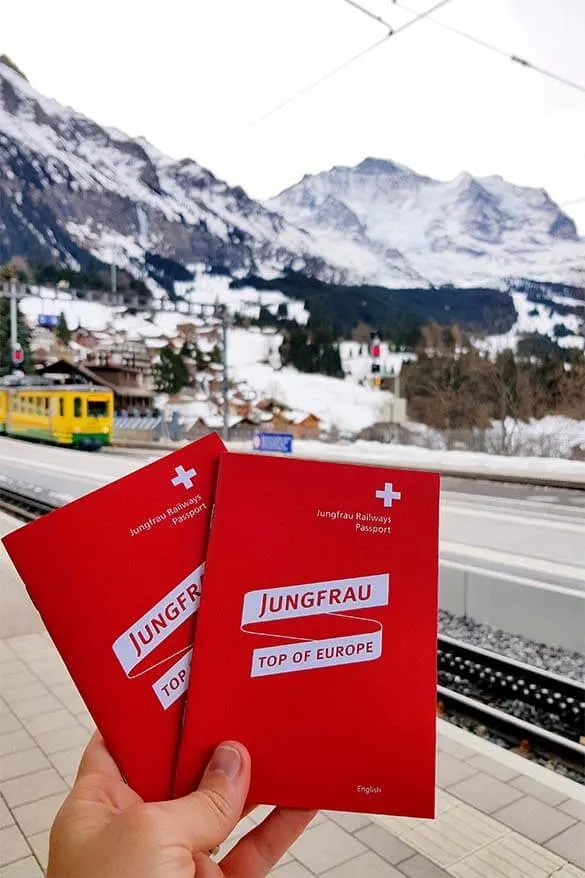 How to visit Jungfraujoch cheaper
Here are some ways to visit Jungfraujoch cheaper:
1. Get a regional pass. If you are staying in the area for a longer time and get the Jungfrau Region Winter Sportpass pass or Jungfrau Travel Pass (summer) for at least 3 days, you can get a ticket to Jungfraujoch at a seriously reduced rate and pay just 75 CHF for an adult ticket in high season. In addition, this pass also gives you a 10% discount at the shops at Jungfraujoch.
We visited Jungfraujoch when we were skiing in Wengen. Because we had a ski pass for the area, we only had to get an extra ticket for the last part of the journey – from Kleine Scheidegg to Jungfraujoch, which was about 1/3rd the price of the regular ticket.
2. Go in a lower season. It is about 50 CHF cheaper to visit Jungfraujoch in winter compared to summer. Also in the shoulder season, tickets are about 25 CHF cheaper than in the peak season from June to August.
3. Get a Swiss Pass. If you have the Swiss Pass, you can travel for free to Grindelwald or Wengen and get a 25% discount for the journey from there to Jungfraujoch.
4. Go with a group of friends. If you travel with a group of 10 people, you can get a group discount which is about 30%.
5. Go with a tour. If you book an organized tour to Jungfraujoch from bigger cities, it's often cheaper than going on your own. This is because they take advantage of group rates.
6. Take a cable car. If you book a ticket by cable car + train rather than by train both ways, it's a little bit cheaper that way.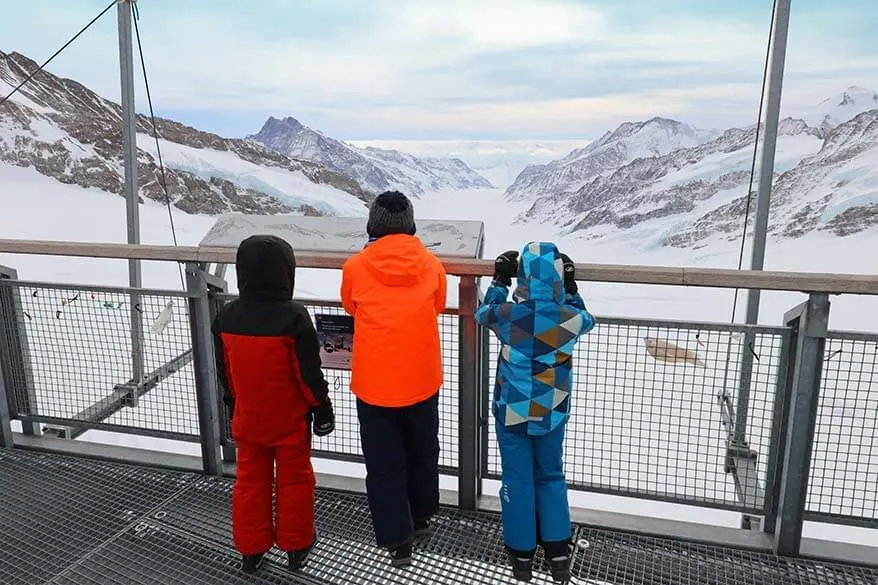 Practical information and tips for visiting Jungfraujoch
Jungfraujoch Top of Europe can be visited the whole year round. It's open 365 days a year.
Count one full day for your visit to Jungfraujoch. If you have some time left, you can hop off the train in Wengen and visit this picturesque mountain village. Also Kleine Scheidegg is a beautiful place for a short walk.
Leave your car in Interlaken or Lauterbrunnen and take the train from there.
Reserve your Jungfraujoch railway tickets in advance. It's a must if traveling in summer, but also in other seasons, it will save you lots of hassle. You can buy Jungfraujoch tickets here.
Even in summer, you need warm clothes when visiting Jungfraujoch. Expect to find snow at the top.
Don't stress about the weather – there's plenty to see and do at Jungfraujoch in any type of weather. Sometimes it can be cloudy in the valley, but once you get there, you'll find yourself above the clouds. And sometimes you just have to wait 10 minutes and the weather changes.
READ ALSO: Jungfrau Region in Winter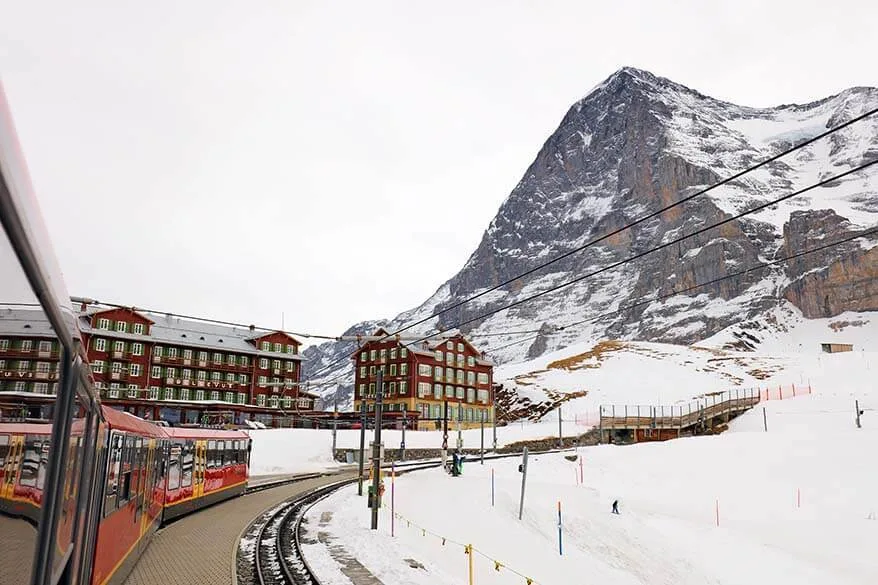 Where to stay near Jungfraujoch
You can visit Jungfraujoch as a day trip from many major cities in Switzerland, so you don't absolutely have to stay nearby. However, there is so much more to see and do in this region, that it's definitely worth planning a few days here.
The closest hotel to Jungfraujoch is Hotel Bellevue des Alpes at Kleine Scheidegg. However, it's located high on the mountain, is very expensive, and there's not that much that you can do there…
We always stay in Wengen, which is a car-free village with direct train connections to Kleine Scheidegg, from where you take the train to Jungfraujoch. Alternatively, there are lots of accommodations in Grindelwald, just on the other side of the mountains, and also with a direct train connection to Kleine Scheidegg and cable car to Eiger Glacier.
Most international tourists who come to the region for Jungfraujoch and the Grindelwald-First area, stay in Grindelwald. Here are a few hotel recommendations in Grindelwald town center for different budgets:
$$$$$ Bergwelt Grindelwald – Alpine Design Resort
$$$$ Eiger Selfness Hotel
$$$ Sunstar Hotel & SPA
$$ Eiger Lodge Chic
TIP: Using the map below, you can compare hotels, B&Bs, and short-term rental accommodations in Grindelwald. Simply insert your travel dates and group size, and you'll see what's available for your stay. Check it out!
Jungfraujoch, Top of Europe, is such a special place that I really think it deserves to be included in any Swiss itinerary. It's not just the highlight of the Jungfrau Region, but also one of the most unique places you can visit in Switzerland.
As for us, we have been to the Jungfrau Region many times and have just booked another trip for the summer. It's a place you'll want to return to as well!
TIP: If you like places like Jungfraujoch, you'll also love Mount Titlis. It's another wonderful day-trip destination in central Switzerland.
READ ALSO: Mt Titlis or Jungfraujoch – Which Is Better & Why
Jungfraujoch FAQ
What is the difference between Jungfrau and Jungfraujoch?
Jungfrau is a mountain (4,158 m) whereas Jungfraujoch is Europe's highest train station (3,454 m). Jungfraujoch means the "Jungfrau saddle", which is basically the connecting point between the peaks of Mt Jungfrau and Mt Mönch. You can easily visit Jungfraujoch from where you can admire – among others – the view of Jungfrau.
Is Jungfraujoch worth it?
Visiting Jungfraujoch is very expensive and many people wonder if it's worth going there. Jungfraujoch offers one of the most unique experiences in the Swiss Alps, so yes, if you can afford it, it is absolutely worth a visit. If, however, you are on a tight budget, there are many cheaper destinations like Grindelwald-First, Schynige Platte, or Mount Titlis (to name just a few) that are worth your time just as much.
Why is Jungfraujoch so expensive?
Jungfraujoch is the highest train station in Europe. Building and maintaining a railway this high in the mountains (where there is always snow) is very costly. Furthermore, there are just that many trains that can drive to Jungfraujoch in a day, which limits the number of visitors. All this makes it a more expensive destination.
When can you visit Jungfraujoch?
Jungfraujoch is a year round destination and it's open every day.
What is the best time to visit Jungfraujoch?
Jungfraujoch has something unique to offer in all seasons and since many attractions are inside, so you can visit at any time. There is always snow here, but if you visit in summer, you can hike to Mönchshütte or go snow tubing on the glacier. In addition, there are nice hiking possibilities in the area. So there's more to see and do in Jungfraujoch in summer than in winter.
Is the Jungfrau Travel Pass worth it?
The Jungfrau Travel Pass is only worth it if you are staying in the Jungfrau Region for at least 3 days and are planning to take trains/ gondolas every day. In that case, it's absolutely worth it! Not only will it save you money for transportation, but it also gives you complete flexibility – you can easily change your travel plans during the day because all the trains and gondolas in the region are included.
More inspiration for your trip to Switzerland:
If you enjoyed reading this post, don't forget to bookmark it for your visit to Jungfraujoch and share it with your friends. Are you on Pinterest? Pin this image!