Looking for information about the Stoos Ridge Hike in Switzerland (aka Crest Hike Stoos), wondering what to expect, how to get there, or if this hike is really worth your time? In this guide, we share our experience-based tips for hiking the Stoos Ridge Trail between Klingenstpck and Fronalpstock. Find out!
When researching some nicest day trips near Lucerne or the best hikes near Lucerne or Zurich, you'll probably get overwhelmed by all the options. Switzerland is a real hiking paradise, indeed, and with thousands of kilometers of hiking trails, it's always a tough choice where to go.
And while it's always difficult to compare or to say that one hike is better than another, there are some hikes that are simply worth it more than others. Stoos Ridge hike won't disappoint! The scenery is jaw-dropping AND you get to ride on the steepest funicular railroad in the world (110% gradient!).
In this guide, you can find all the practical information that you may need for doing this hike. And if you just want to see the best views without hiking, that's possible too – more info about it further below. Take a look!
YOU MAY ALSO LIKE: Oeschinen Lake Panorama Hike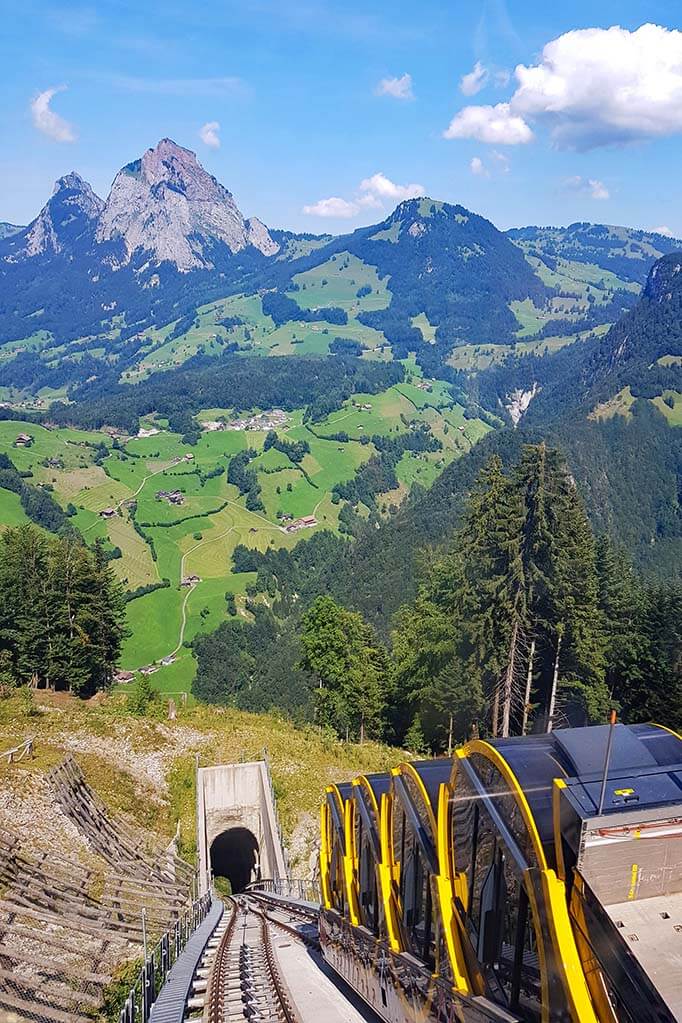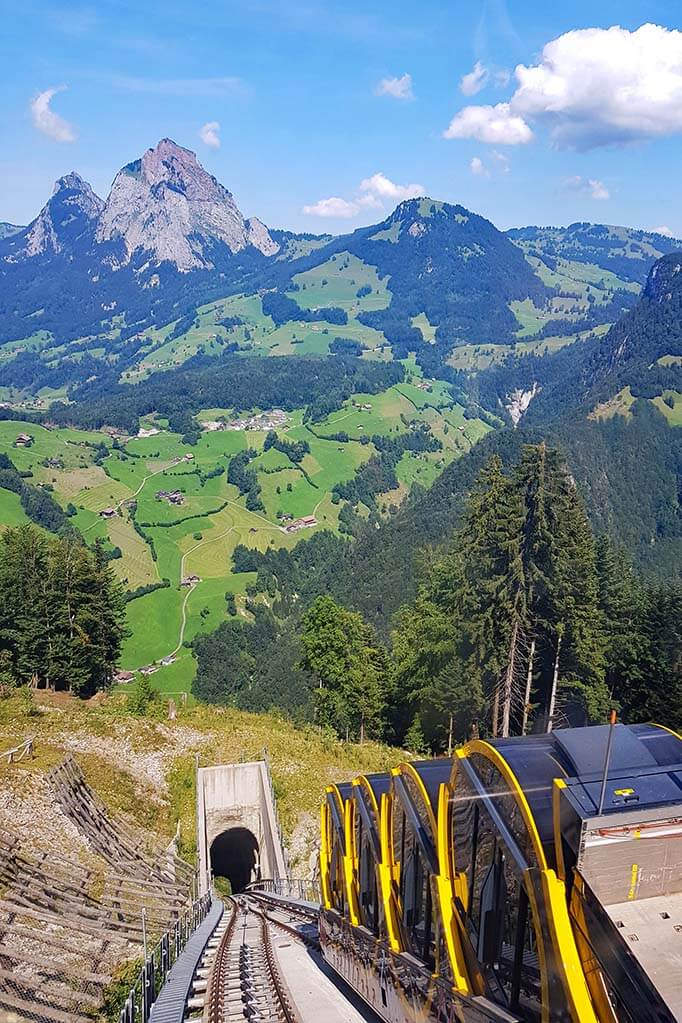 Why Visit
Stoos Ridge Hike – less than an hour's drive from Lucerne or Zurich – ticks all the boxes for those looking to experience some of the most beautiful mountain scenery in central Switzerland.
Stoos Ridge Hike between Klingenstock and Fronalpstock offers phenomenal views of the Alps and 10 different mountain lakes. And it's simply a really nice trail – not too easy, not too difficult, challenging enough for those looking for some exercise, but also doable for recreational hikers and even families with children.
In addition, you get to ride on the world's steepest funicular railroad and experience the Swiss Alps as locals do. Yes, Stoos is very popular with the locals, but you won't see huge tourist groups here (yet).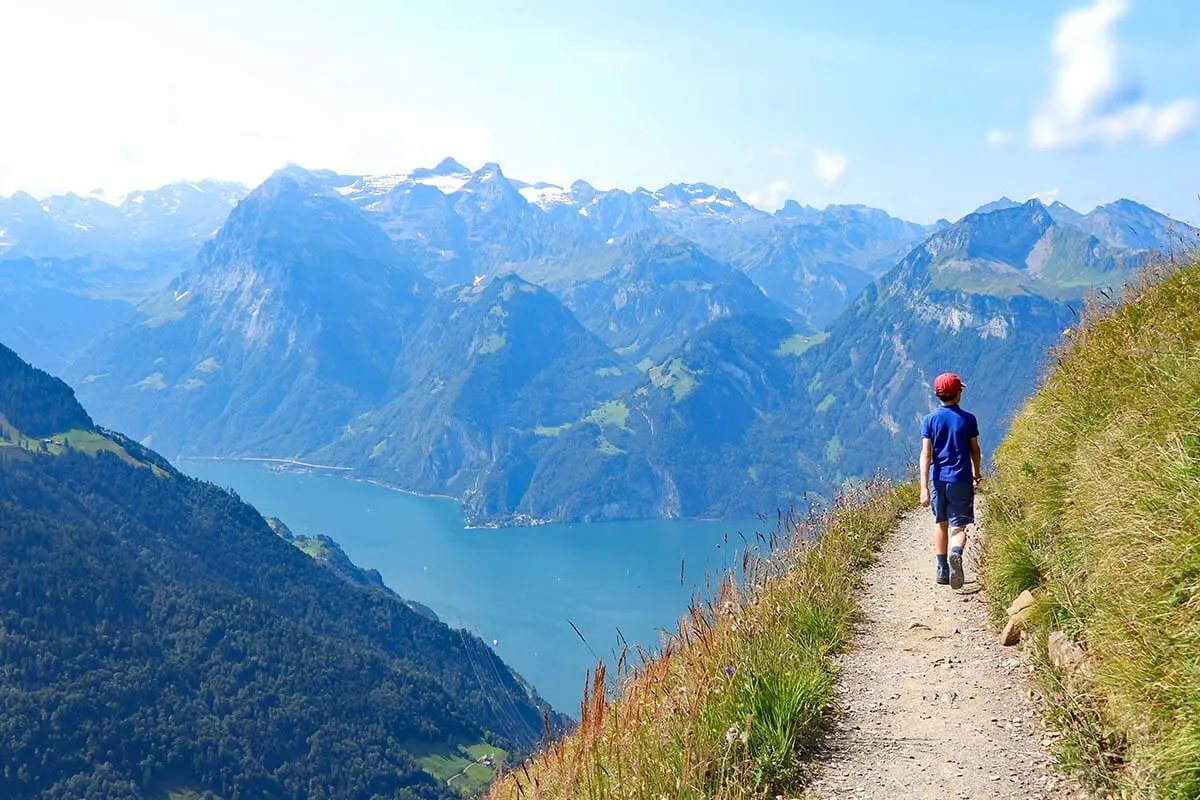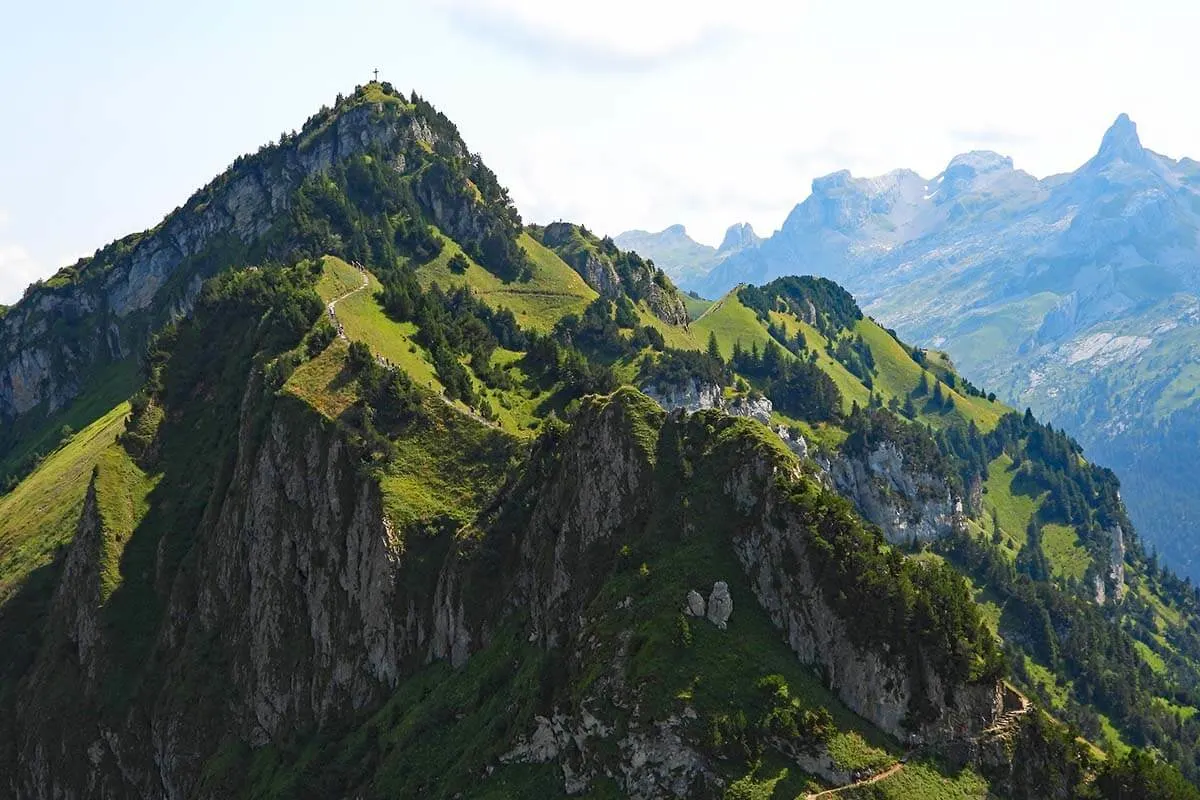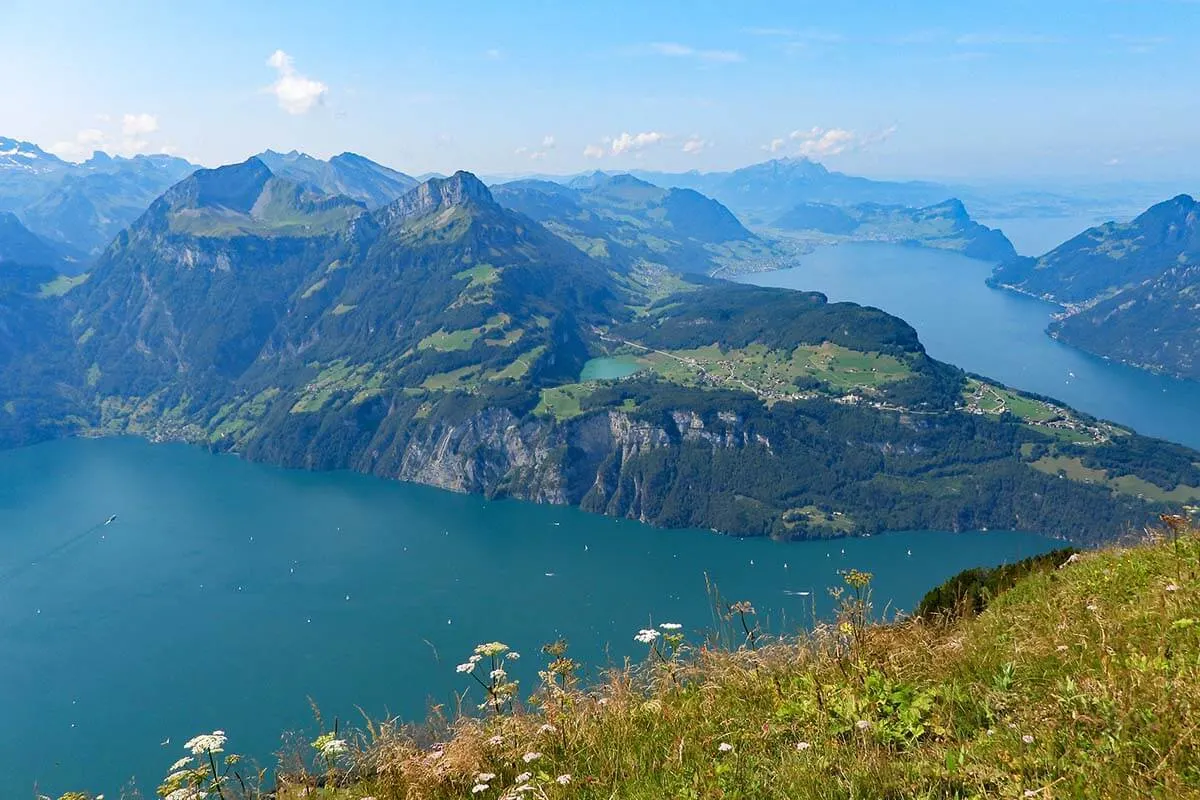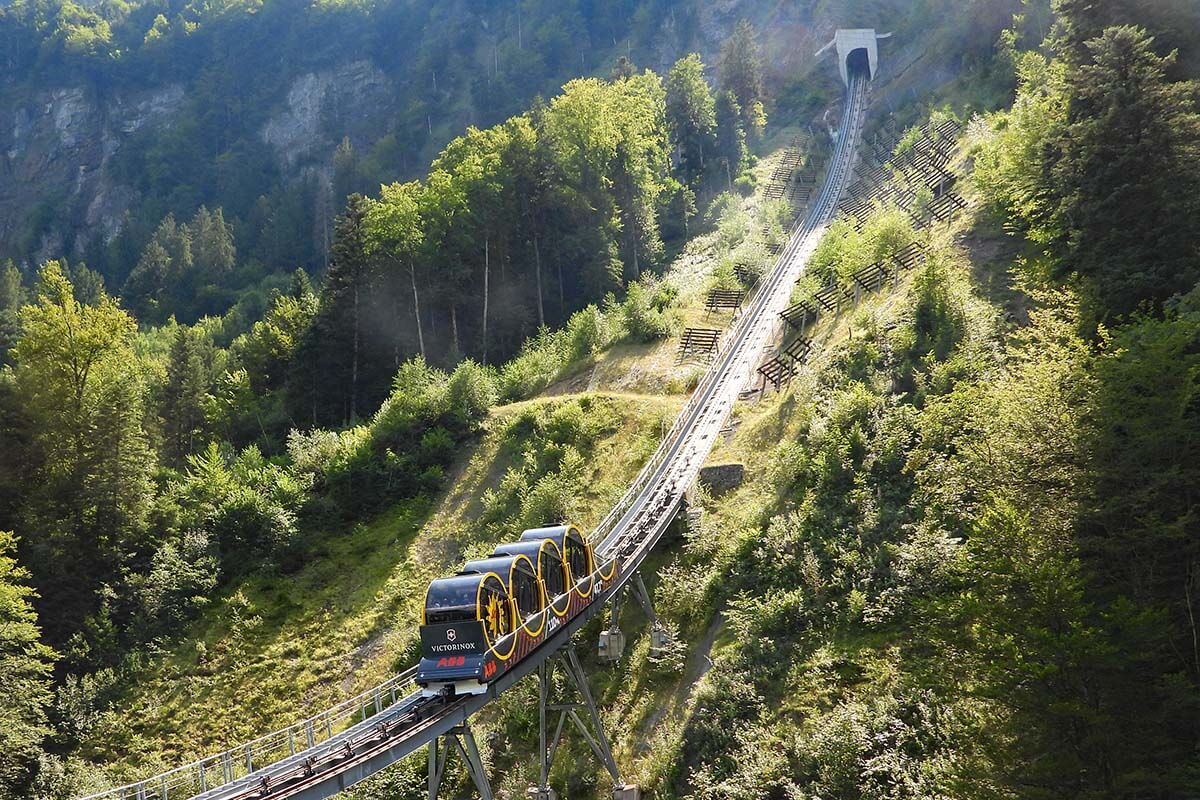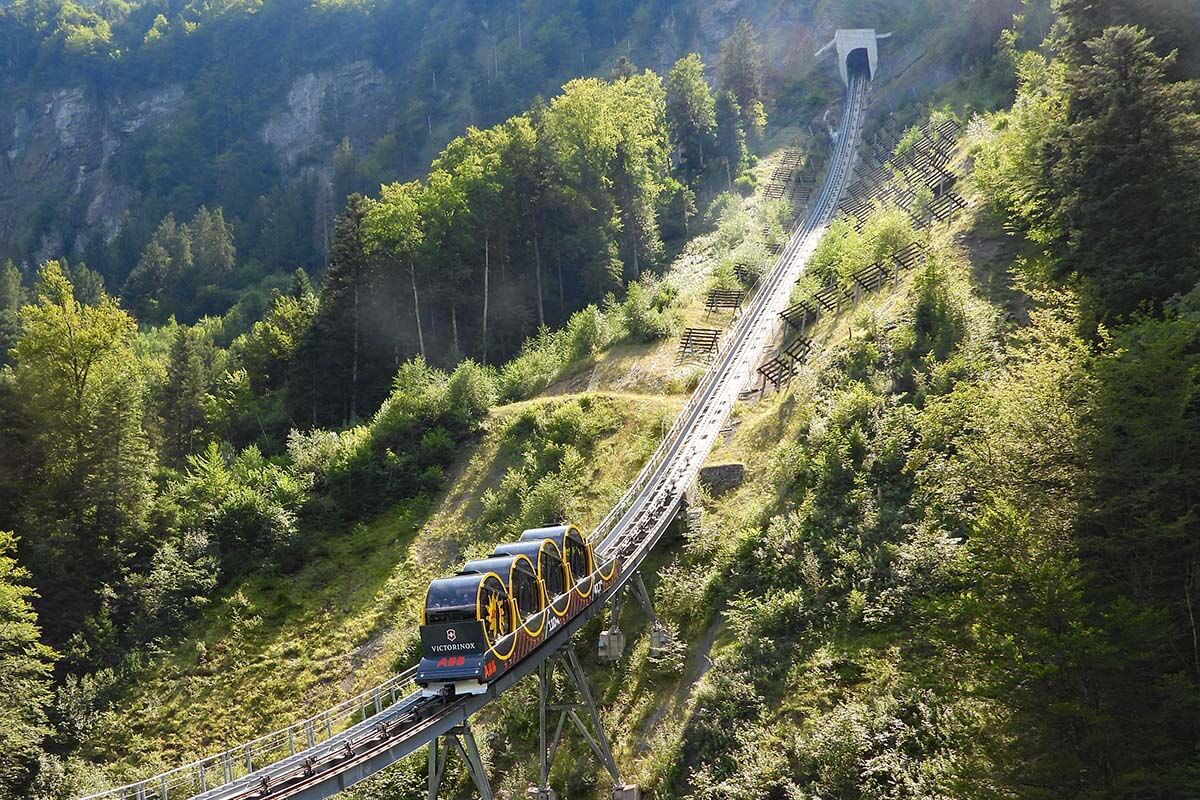 Stoos Ridge Hike (Klingenstock to Fronalpstock) – Overview:
Official trail indication: Ridge Hiking Trail (Stoos Hike nr. 83). Stoos Gratwanderung Klingenstock.
Distance: 4.7 km (2.92 miles).
Hiking time: 2 hours.
Difficulty: Medium.
Elevation difference: Ascent: 402 m. Descent: 423 m.
Parking: Parkplatz Stoosbahn in Schwyz (map below).
Hike trailhead: Klingenstock upper cable car station (1,935 m).
End point: Fronalpstock upper cable car station (1,922 m).
Season: June – September, weather permitting also from mid-May and in October.
Facilities: There are restaurants/bathrooms in Stoos and at Fronalpstock. At Klingenstock, at the start of the hike, there are only (limited) bathroom facilities.
Equipment/clothing: Good hiking shoes, sun protection, and a bottle of water are a must.
TIP: As already mentioned, Stoos is a popular mountain destination attracting lots of locals. So if you can, avoid visiting on a summer weekend.
We didn't have much choice since we wanted to take advantage of the one and only cloud-free day, and visited Stoos on a Saturday at the end of August. We arrived a bit after 10 AM and started the hike at about 11 AM and it was the busiest we have ever experienced on ANY hiking trail anywhere in Switzerland. Still enjoyable, but it would have been incomparably better on a weekday.
And if you come on a weekend, try to arrive as early as you can and start hiking before 10 AM at the latest. Or come in the afternoon, when most hikers already start to leave, at around 2 PM or so. This will still give you plenty of time to enjoy the hike and get back down before the cable cars stop running.
Our experience: We did this hike with kids and, including picnic, it took us 2 hours and 10 minutes. This is hiking time, not including the funicular, cable cars, or walking time in the village. All in all, you need to plan about 4 hours for this hike; more if you are planning to have lunch at the restaurant in Fronalpstock.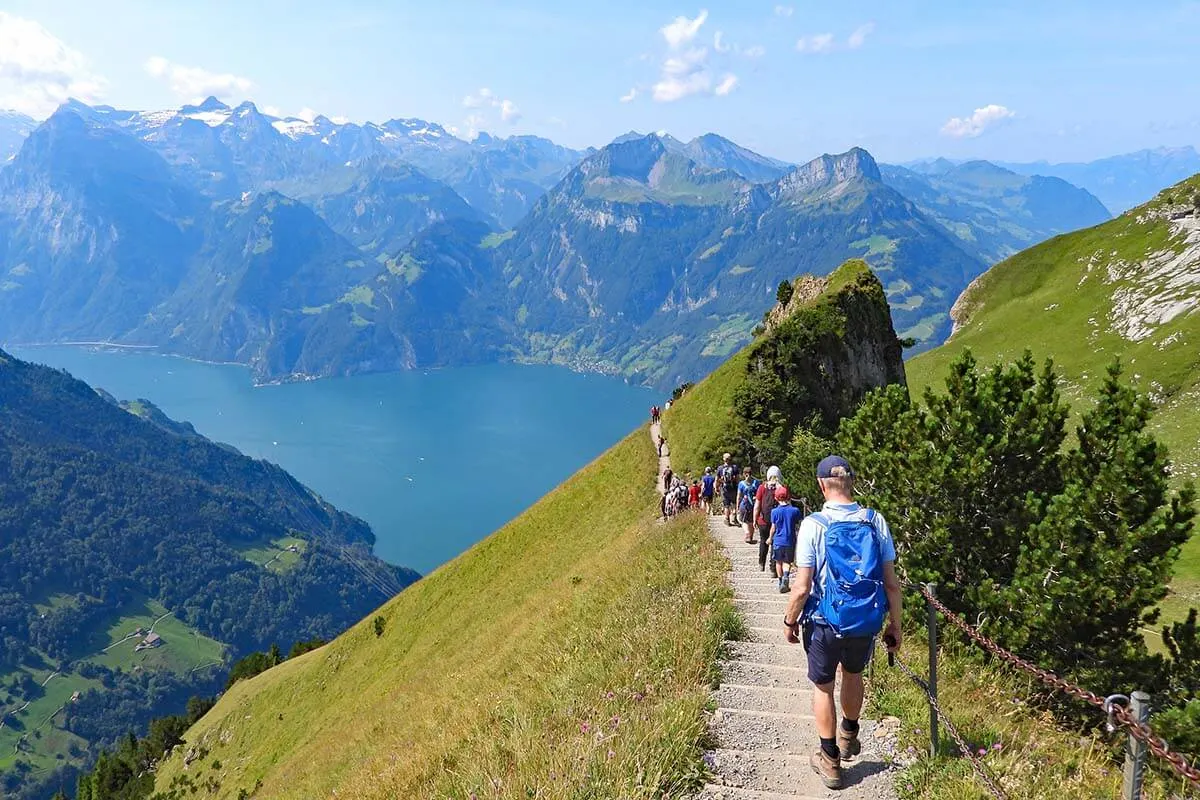 How to Get There
The Ridge Hiking Trail between Klingenstock and Fronalpstock starts and ends in Stoos. Stoos is a car-free mountain village in central Switzerland, about 40 minutes drive east of Lucerne, or about 1-hour drive south of Zurich.
Important! You cannot drive to Stoos itself, but it can be reached by cable car from Morschach or by funicular from Schwyz. So if you are driving, leave your car at one of the big parking areas in Schwyz (see the exact location on the maps below). Parking in Schwyz costs about 1 CHF per hour.
If you don't have a car, you can also get here by public transport. For example, from Lucerne, you can take a train to Arth-Goldau, and from there a bus to Schwyz. Here you can find the best public transportation options to Schwyz, Stoosbahn, no matter where you are coming from.
Good to know: The Swiss Travel Pass is valid on all public transport including Stoosbahn (and gives you a discount on gondolas). You can find more information about this all-in pass via the link below.
LEARN MORE: Swiss Travel Pass (complete guide & whether it's worth it)
We highly recommend taking the ultra-modern railway funicular from Schwyz to Stoos (vs. cable car from Morschach). Not only it arrives higher in the village and saves you some walking for this hike, but it's also the steepest funicular railroad in the world (110% gradient!). See here for the opening hours and prices for Stoos railways.
It would be worth visiting Stoos just for a ride on this cool train, not even to mention the incredibly beautiful scenery along this ridge hike!
Once you get to Stoos, follow the signs to the Klingenstock chairlift (indicated as Sesselbahn Klingenstock Talstation). This chairlift is located a bit higher in the village, and it takes about 10 minutes to walk there from Stoos Funicular Railway.
If you feel like making a full-day hiking trip, you could also skip the cable car and hike to Klingenstock. But if you are like us and want to see the best views with minimal effort, just take the cable car and save your energy for the ridge hike!
Below, we included two maps indicating all these places and also a map of the hiking trail – see further.
READ ALSO: Best Day Trips & Excursions from Lucerne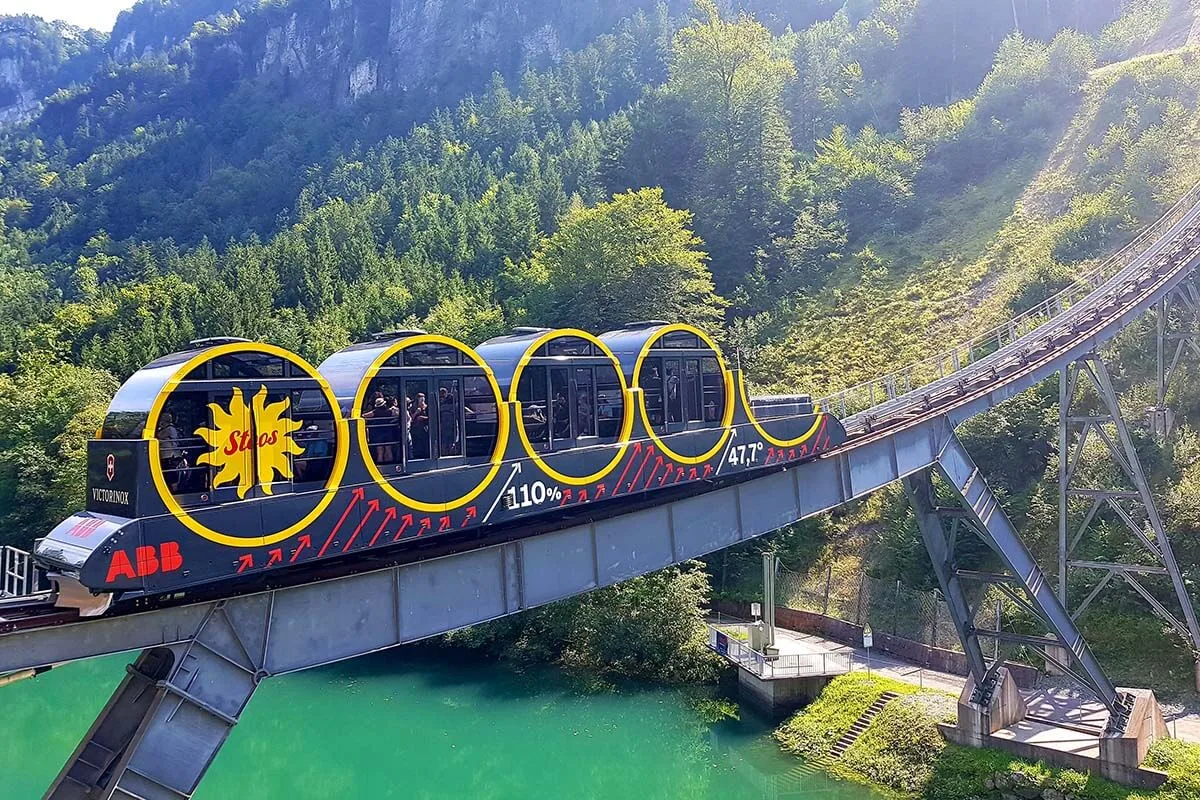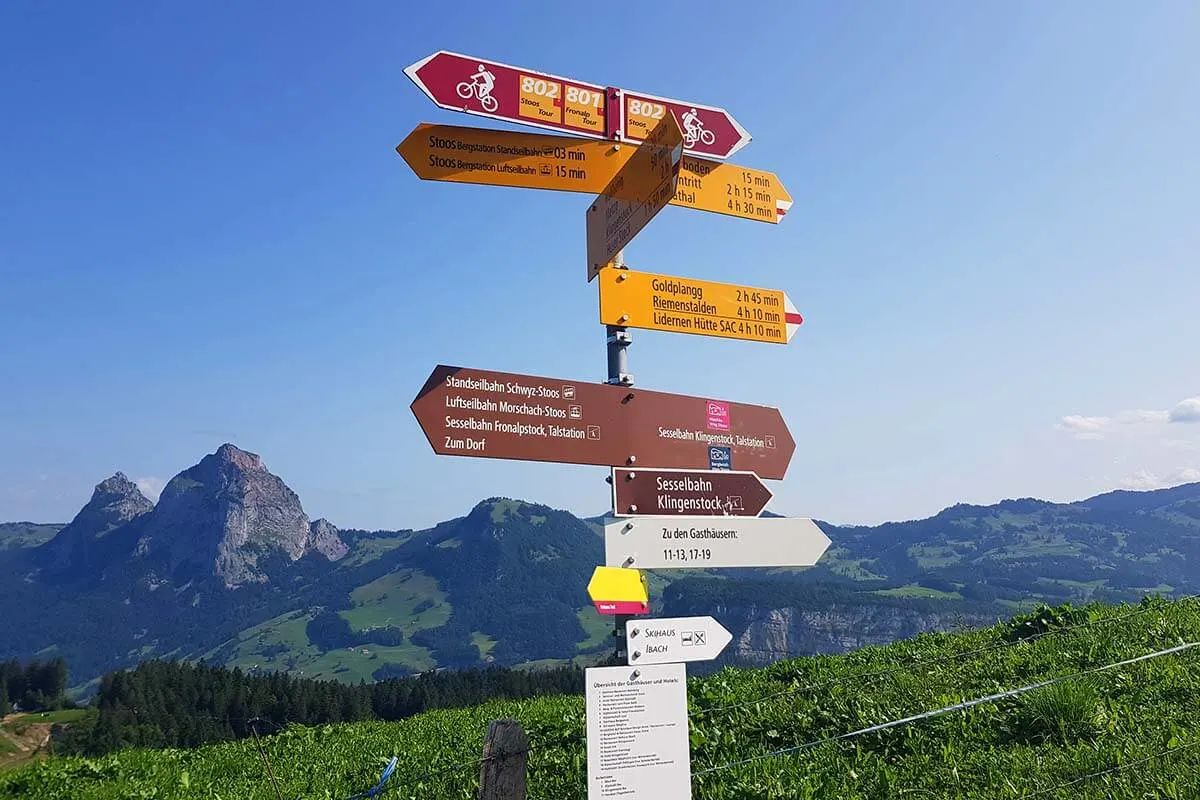 Map
Below, you can see the map where we indicated everything you might need to know – from the car parking in Schwyz, Stoos funicular, cable cars, and the ridge hike itself.
And here is the map of the Stoos hiking area where we indicated the Stoos Ridge Hike as well.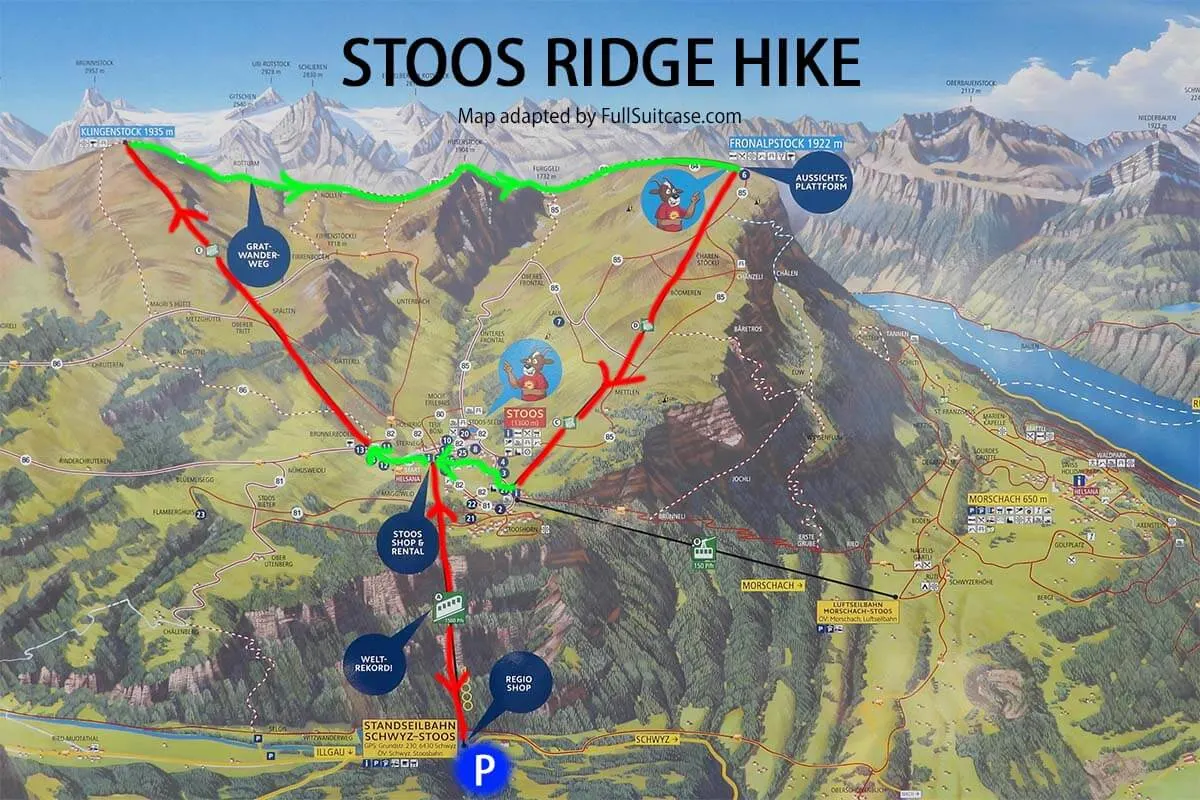 How to use this map: Use your computer mouse (or fingers) to zoom in or out. Click on the icons to get more information about each place. Click the arrow on the top left corner for the index. Click the star next to the map's title to add it to your Google Maps account. To view the saved map on your smartphone or PC, open Google Maps, click the menu and go to 'Your Places'/'Maps'. If you want to print the map or see it in a bigger window, click on 'View larger map' in the top right corner.
Which Direction to Hike?
Stoos Ridge hike starts and ends with a cable car ride and the altitude difference between the two stations is minimal. So it's possible to do this hike in either direction and you'll have just as much climbing to do no matter which way you go.
The majority of people (us included) do this hike starting in Klingenstock and ending at Fronalpstock, but we also ran into a few people who were walking in the opposite direction. We also recommend hiking from Klingenstock to Fronalpstock and not the other way around. Here's why.
The scenery is really beautiful and the views are excellent any way you look. However, walking towards Fronalpstock, you'll have the lakes and the most impressive views in front of you most of the time.
Furthermore, if you hike in the morning, the sun will be behind you, making the hike more enjoyable.
And finally, if you end at Fronalpstock, you can stop for lunch or a drink at their beautiful restaurant with an outdoor terrace and a playground. Also, here you have the best views over the lakes – a nice reward at the end of the hike.
If you do this hike with kids, you can also motivate them by promising to spend some time at the playground or get some ice cream at the end of the hike.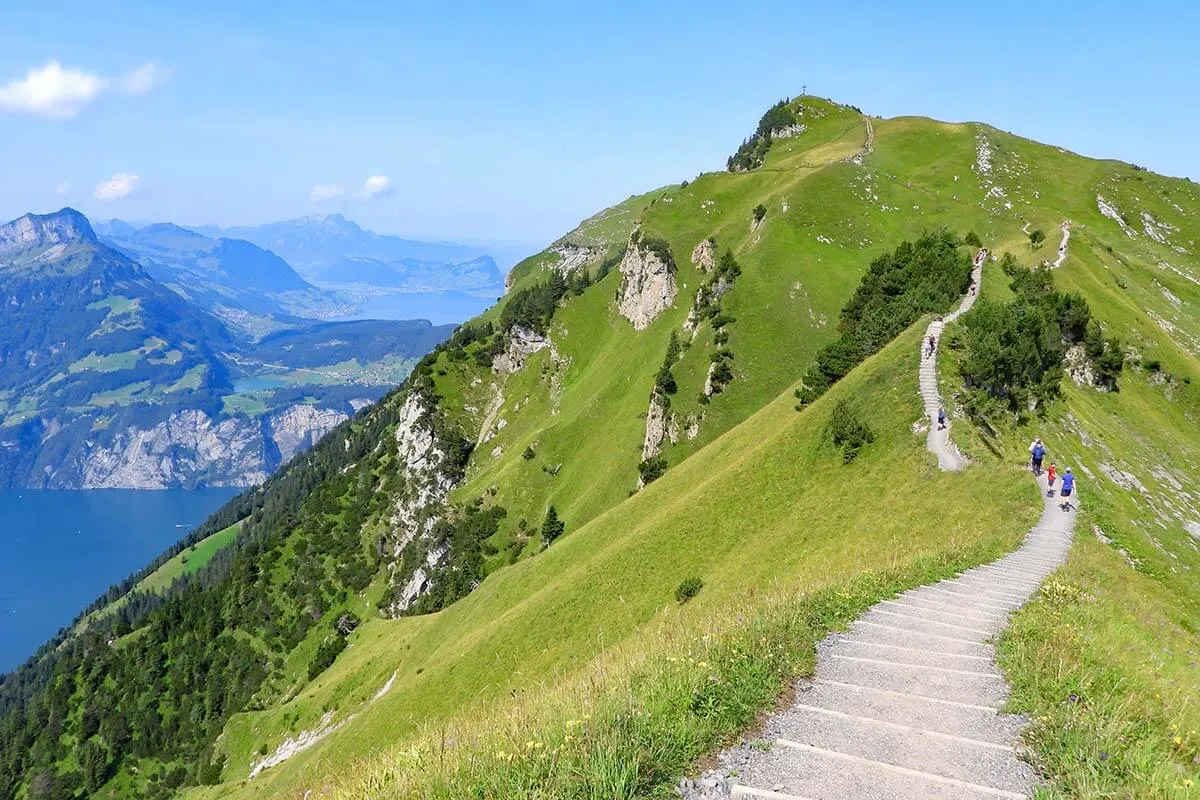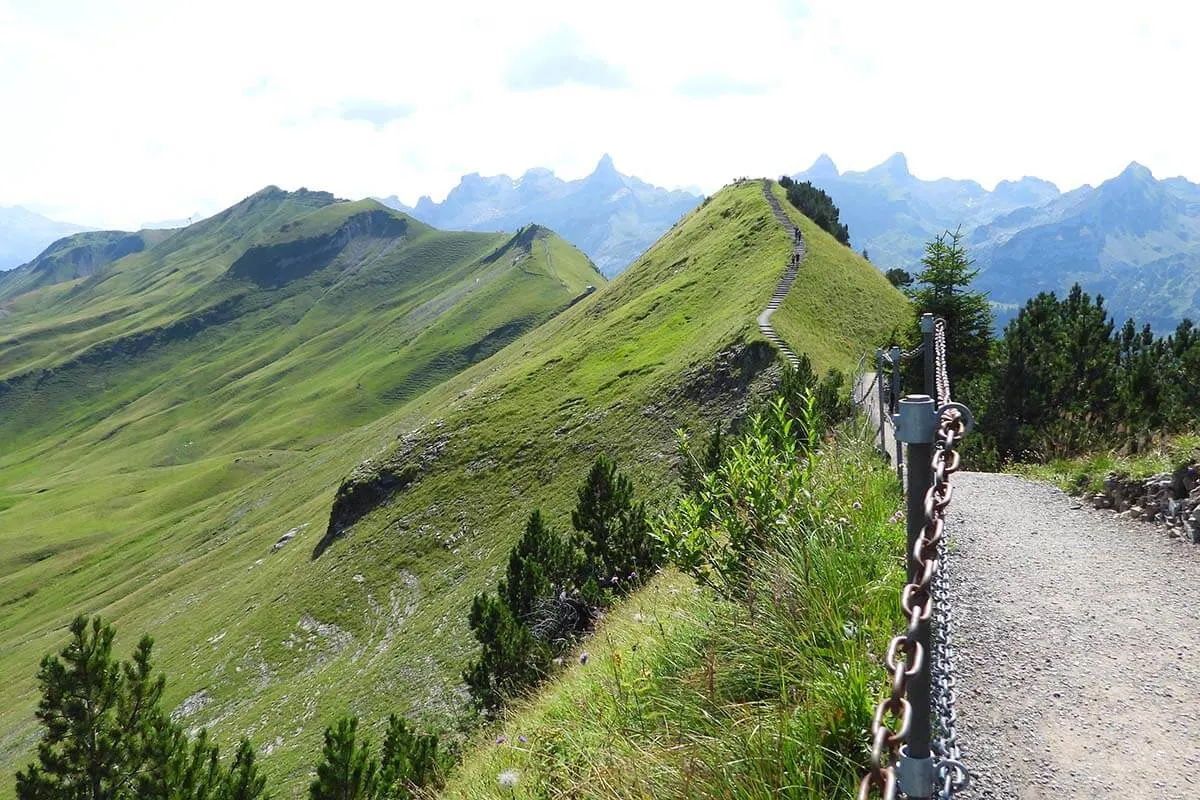 Stoos Ridge Hike: Description & Photos
Just as the name suggests, Klingenstock – Fronalpstock hike follows the mountain ridge. If you are afraid of heights, this trail might not be a good idea. It's not so narrow that it would be dangerous, but some sections might make your head spin…
The steepest fall-off and the narrowest part is actually at the very beginning – close to Klingenstock. But the scenery is also really impressive here. So don't rush to start the hike just yet – take the time to look around and simply enjoy the views.
TIP: If you need to use a bathroom, this is your last chance for the next few hours! The bathroom is somewhat hidden out of sight, down the stairs behind the upper cable car station at Klingenstock.
In the distance, you can already see your final destination – Fronalpstock – and it looks so close that you'll have difficulty believing the signs that indicate the hiking time of 2 hours and 10 minutes.
The ridge hike looks simple and rather flat from here, but it's misleading. This hike involves quite some uphill and downhill hiking that you can't see in the beginning. And the indicated hiking time is indeed about right.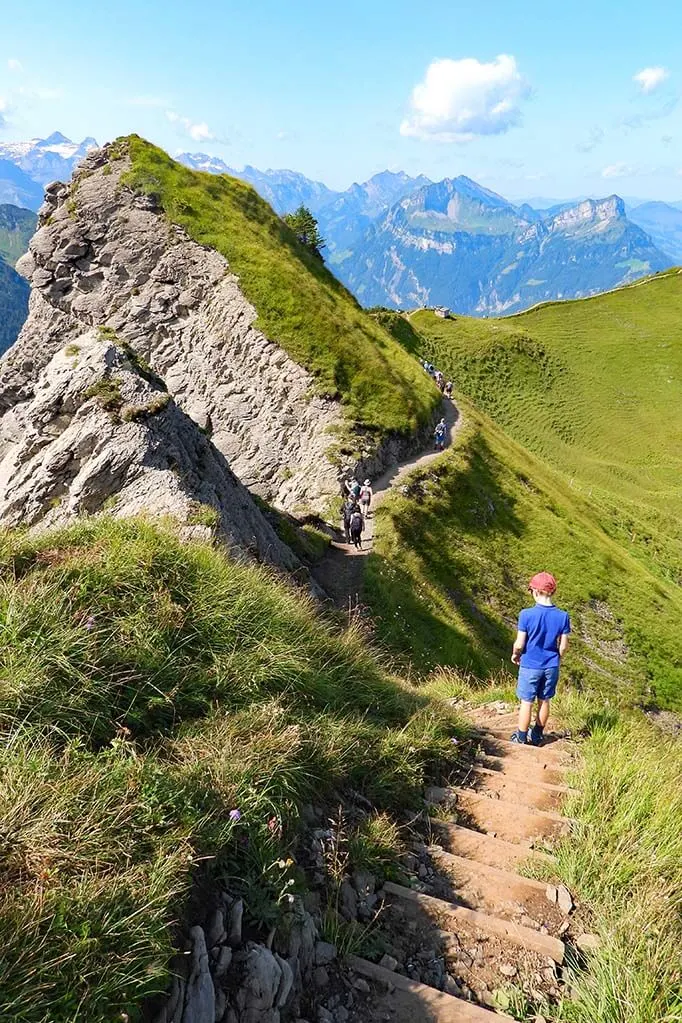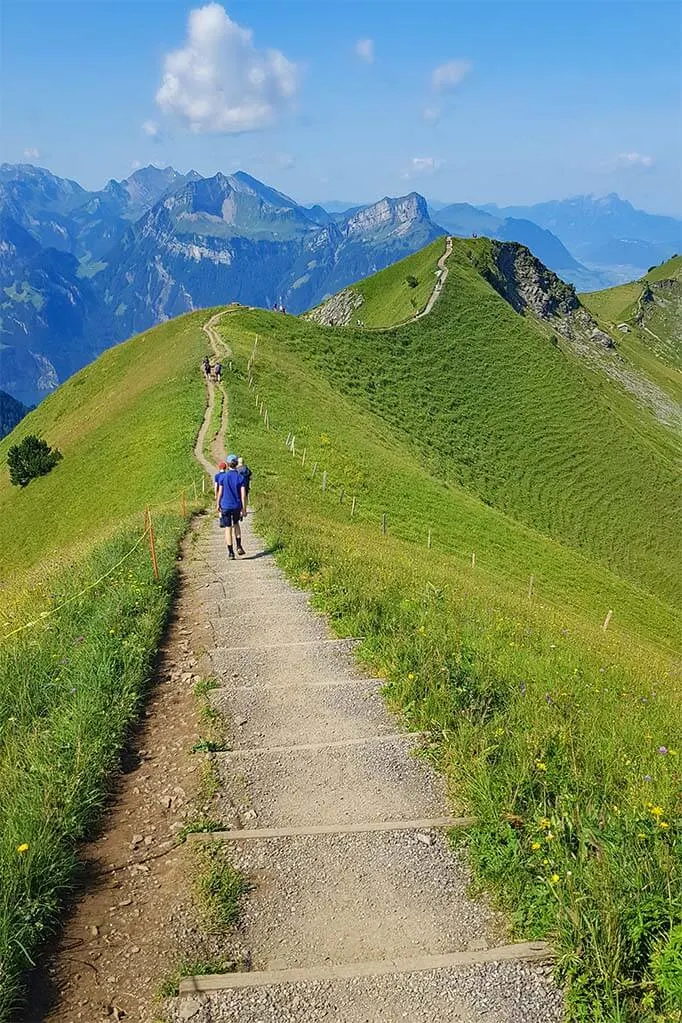 About halfway through the hike, there are some picnic tables where you can rest and enjoy the views. Here, you can also take a small detour to a somewhat higher peak – Huser Stock at 1,904 m.
You'll see a big cross in the distance – it's about 10 minutes detour. But if you do this, you'll have to come back to the main trail the same way, so count at least 20-30 minutes for this detour.
It was so busy at this intersection that we decided to just continue further. So I'm not sure if it's worth climbing up to Huserstock. Further down the hike, you see the same views, I think, just a bit lower.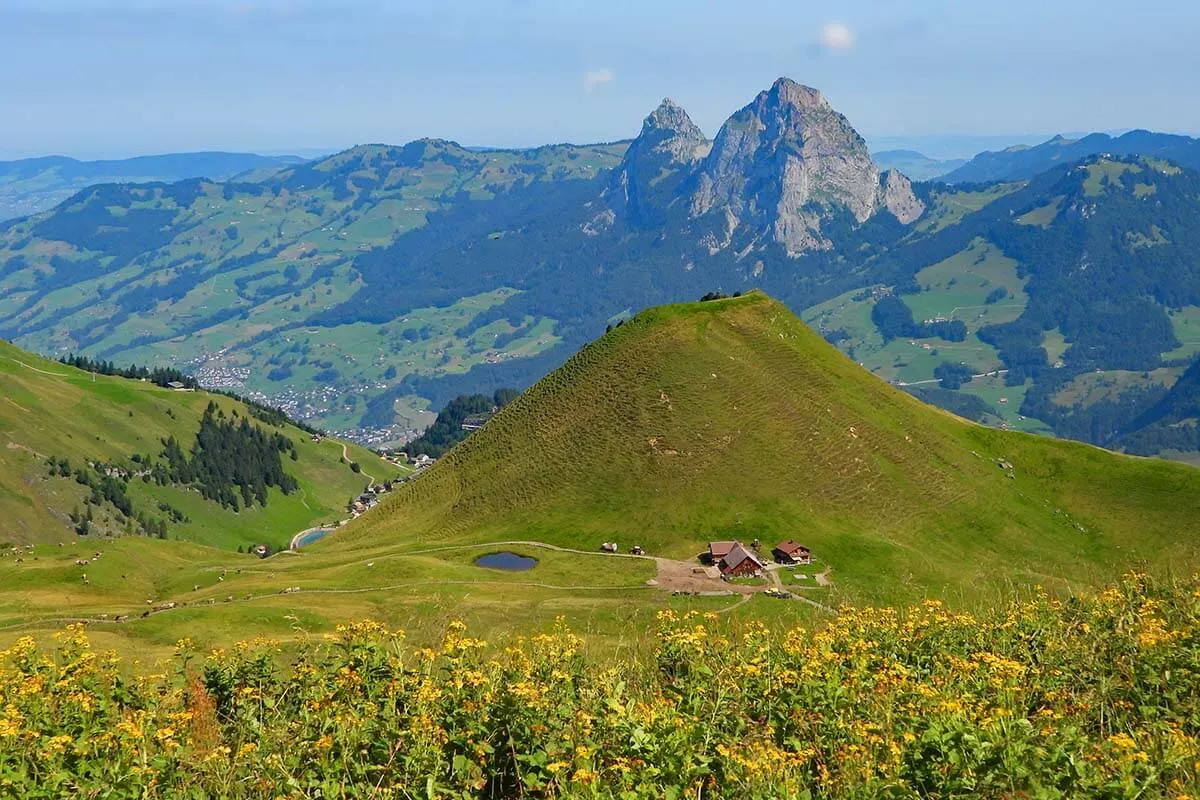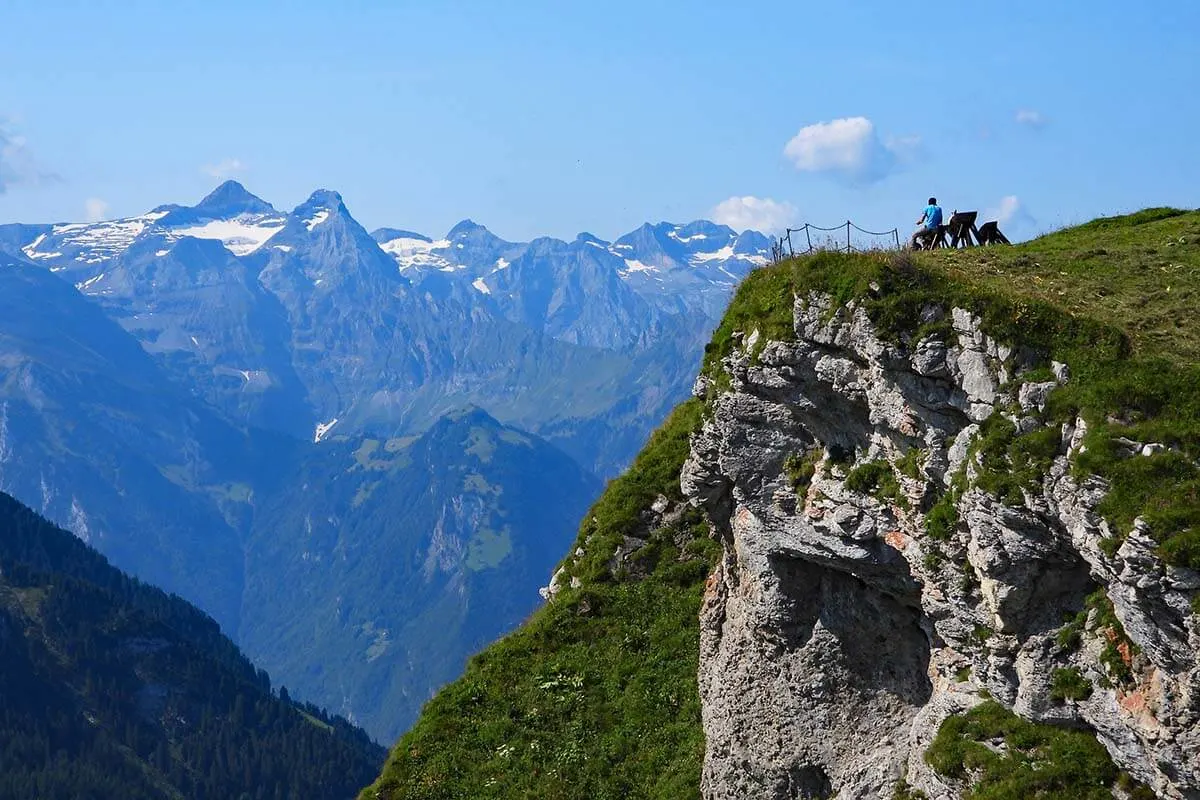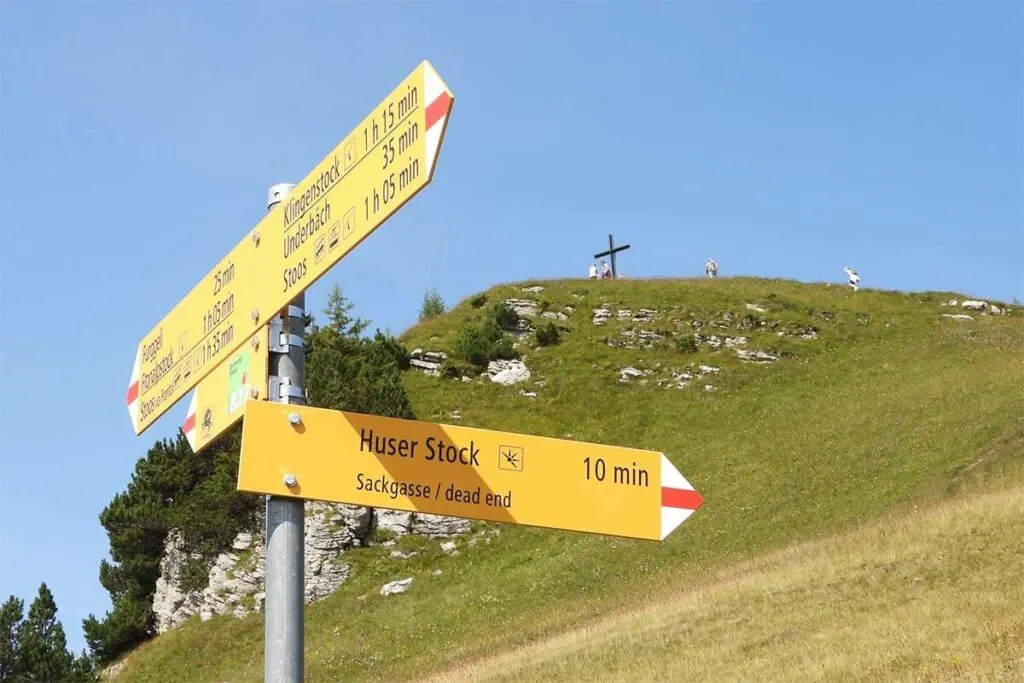 From here on, the hike gets a bit more varied and you get better and better views of the lakes. Soon, you'll start going down a bit, then even more, and more… And what goes down, has to go up again… After crossing a meadow with the cows (if they are there), you'll soon start climbing to Fronalpstock. It's quite a steep climb, but luckily not very long.
These two sections (steep descent and an even steeper ascent) were extremely busy when we hiked here. On the way down, people were struggling with loose stones and on the way up, everyone kept stopping to catch their breath all the time. And because the trail is quite narrow, you are really stuck in the line of people, not being able to choose your own hiking pace.
This made this hike somewhat less enjoyable. As I said, we have never experienced such a busy hiking trail anywhere in Switzerland before. But if you come here on a weekday and start early, this shouldn't be a problem.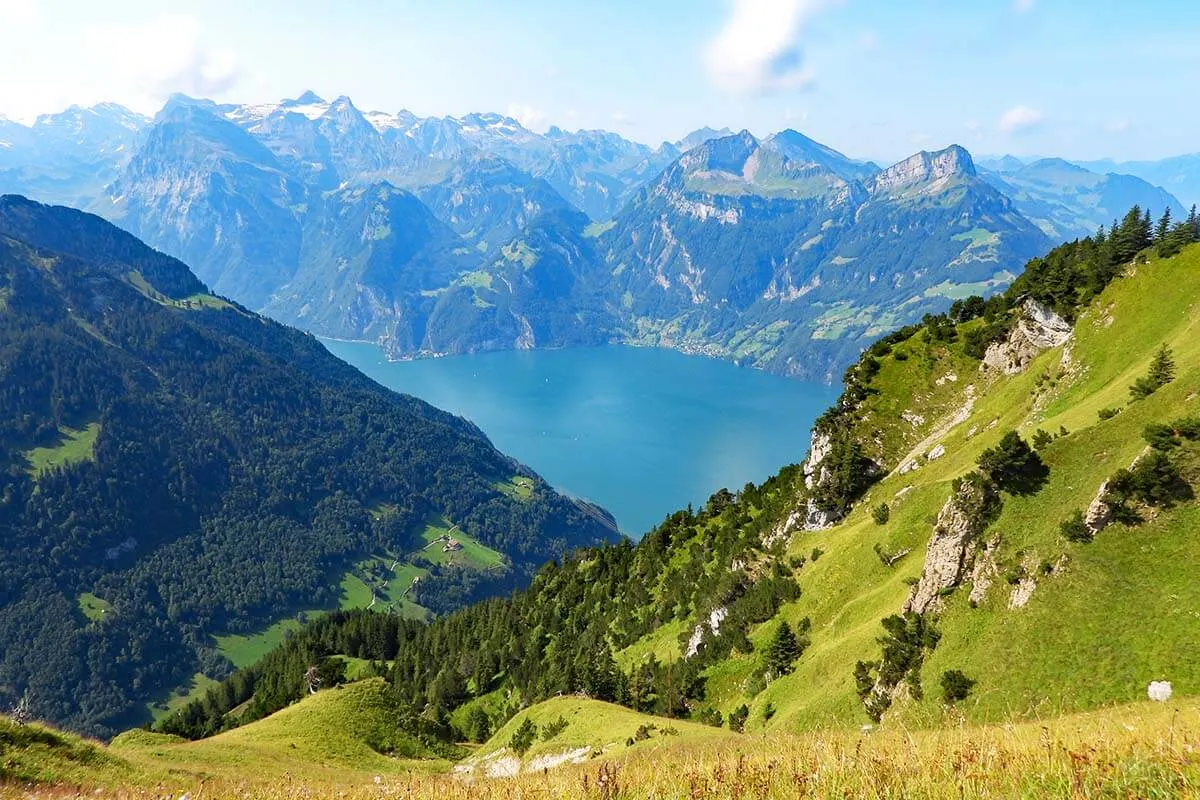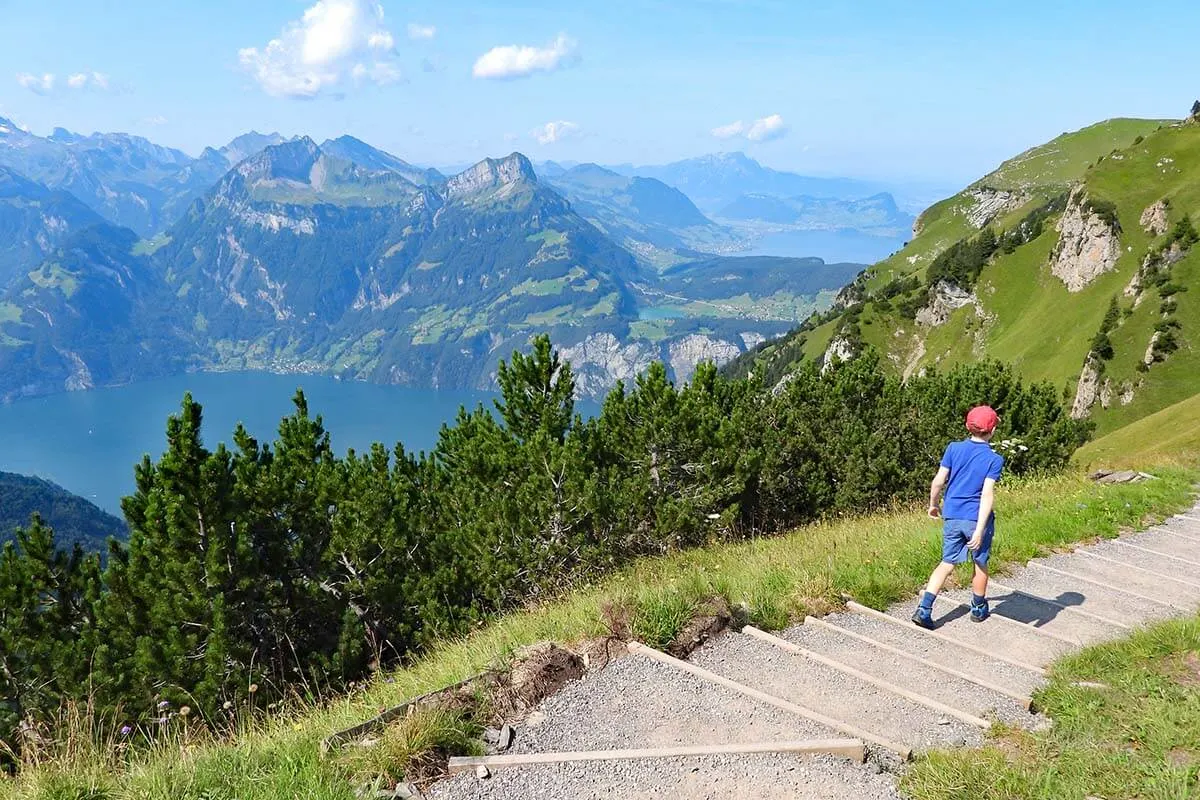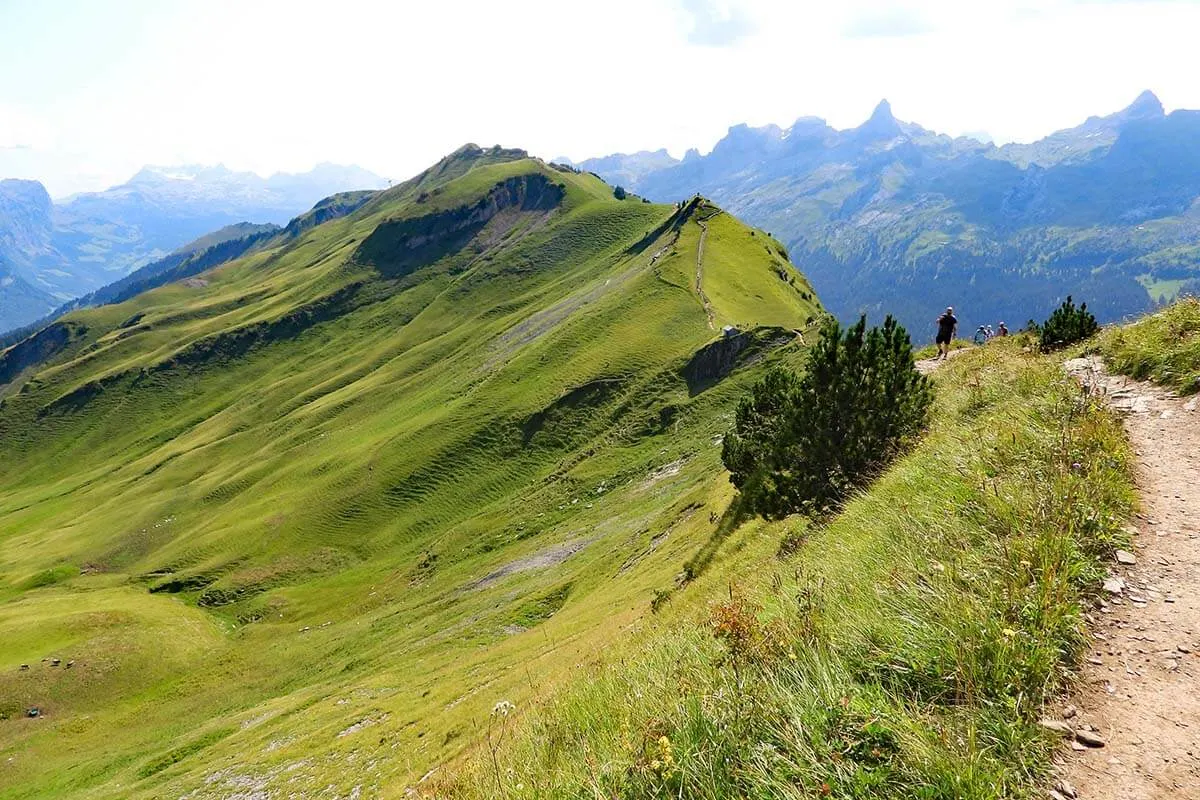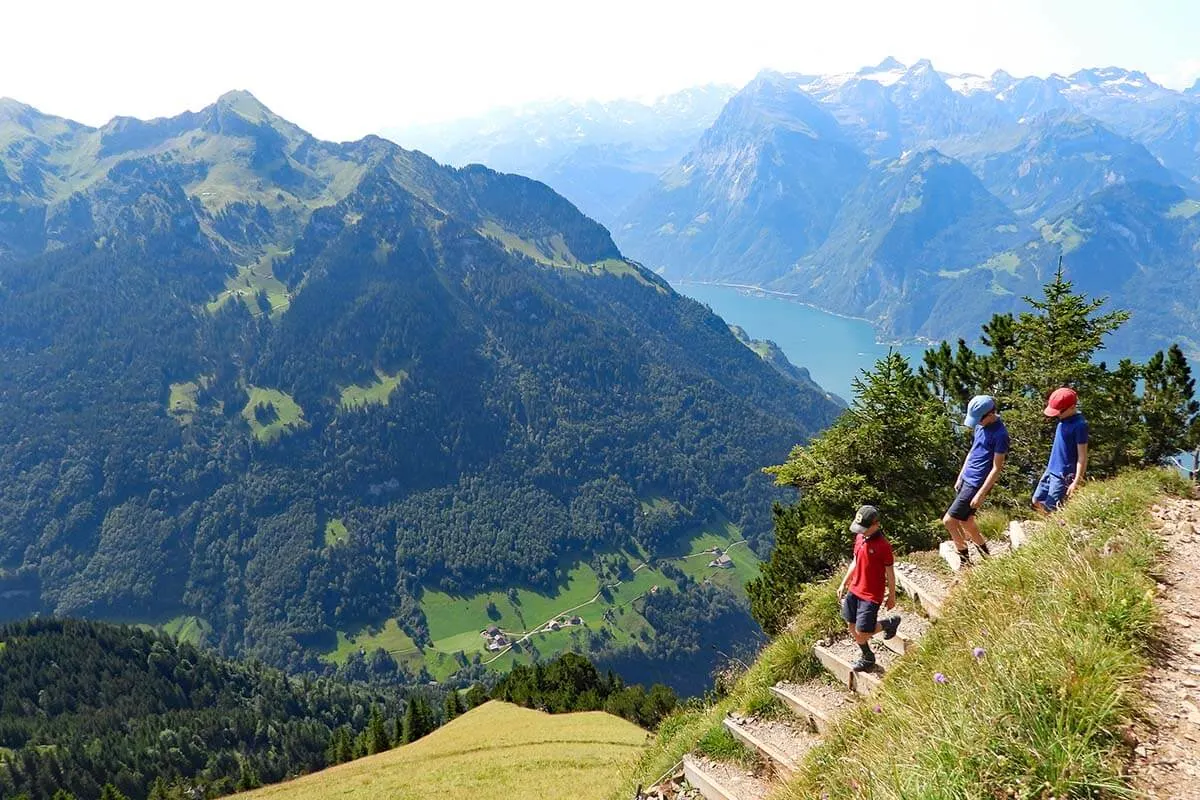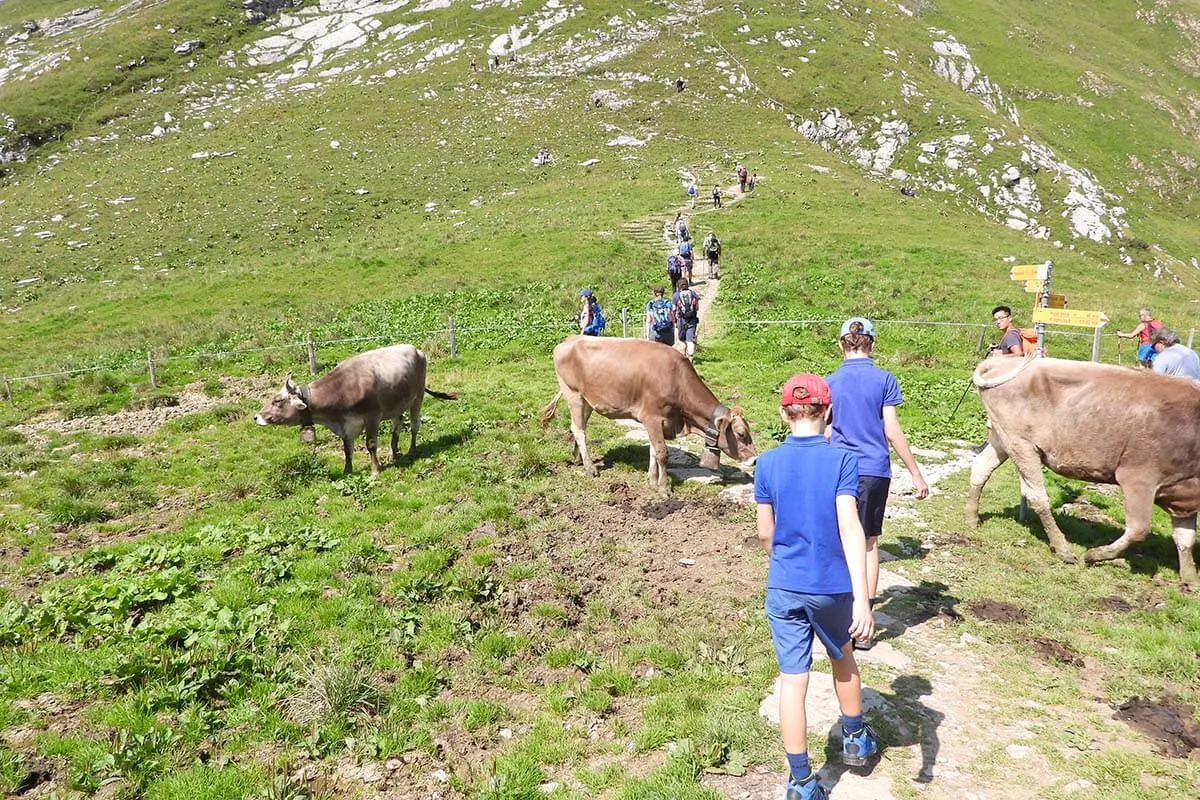 Before you know it, you reach the top and the last part of the hike is quite flat. There are lots of trails here and people start hiking pretty much in all directions, but the nicest views are on the left side (where the lakes are), close to the cliff.
So while it's very tempting to just take the shortest path to Fronalpstock, we recommend going as much to the left as safely possible and taking the trail by the ridge. That way, you can enjoy the best views!
At Fronalpstock, there is a viewing platform as well and the views here are spectacular too. This is really a place where you'll want to take your time!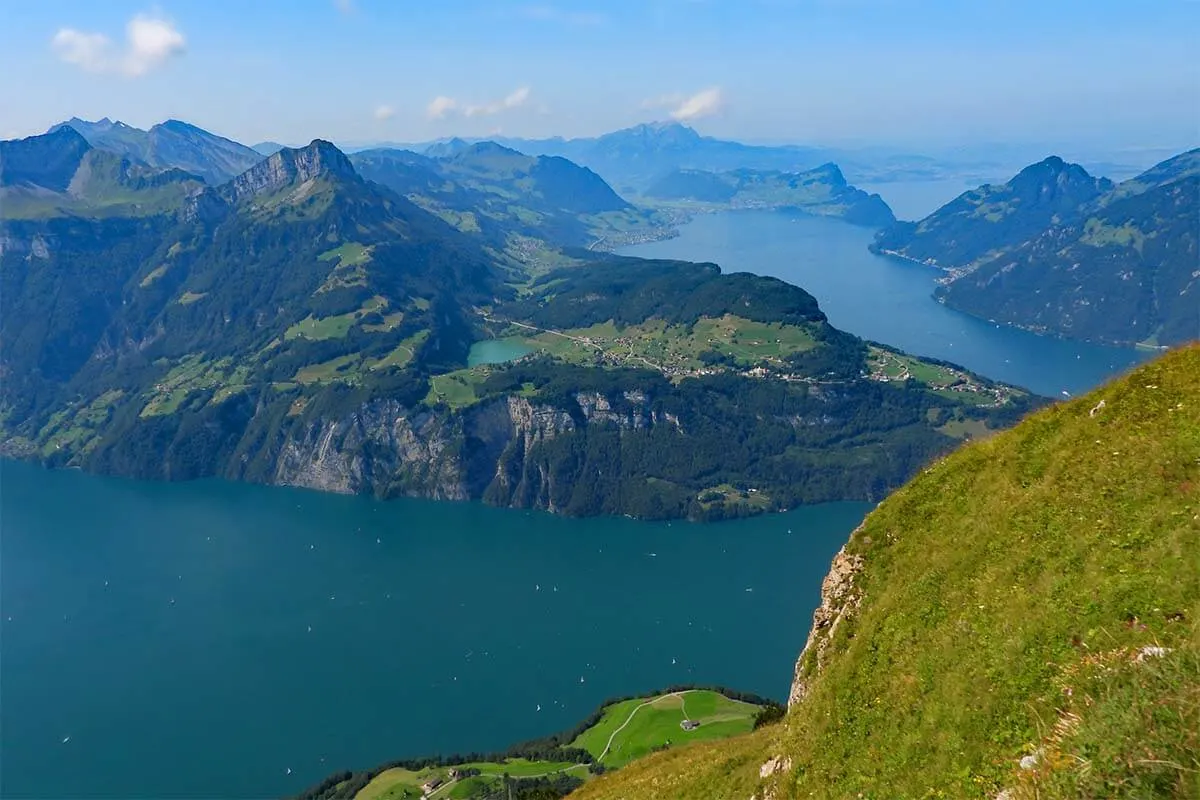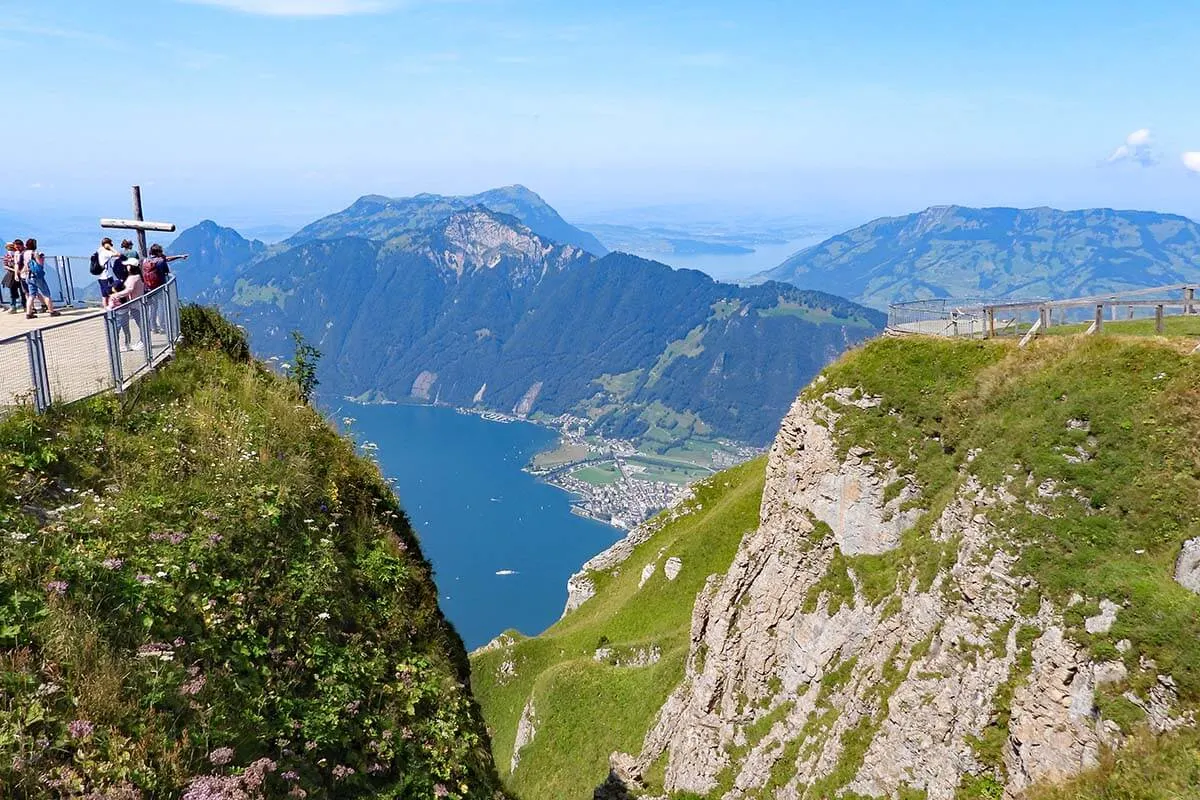 As already said, there's a restaurant and a playground at Fronalpstock, so if you didn't bring a picnic, you could stop here for lunch. We were glad that we had a picnic with us because it was crazy busy at Fronalpstock on a Saturday afternoon. All the tables outside were taken and there was a long queue to order the food…
If you walk around, you'll see some resident goats – always fun to meet them, not just for kids. And they sit at the place with some of the best views too – check it out!
Afterwards, we took a chairlift to Stoos, where we found a small kiosk selling really good ice cream. There were also several restaurants and cafes in the village, and it was so much quieter here than at the top.
In Stoos, you can walk around the village, visit the church, or have lunch. Once you are ready to go down, you walk back to the funicular station for a ride back to the valley.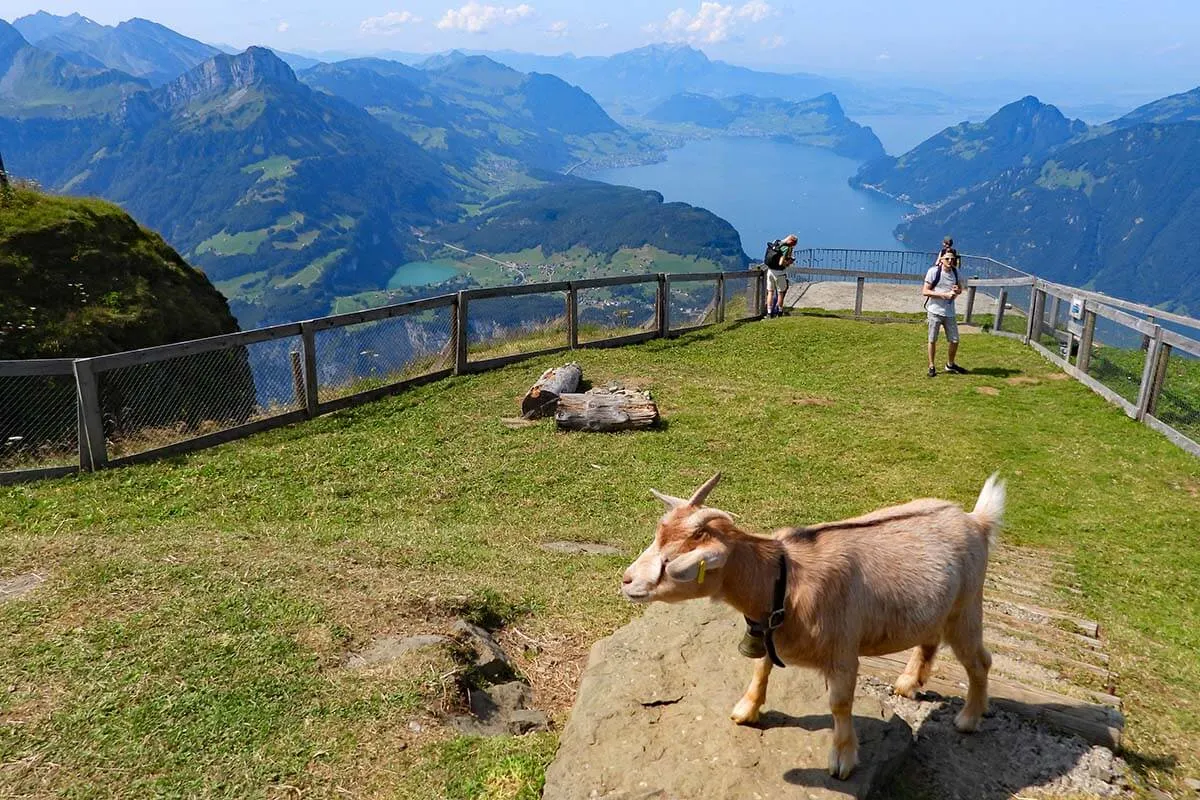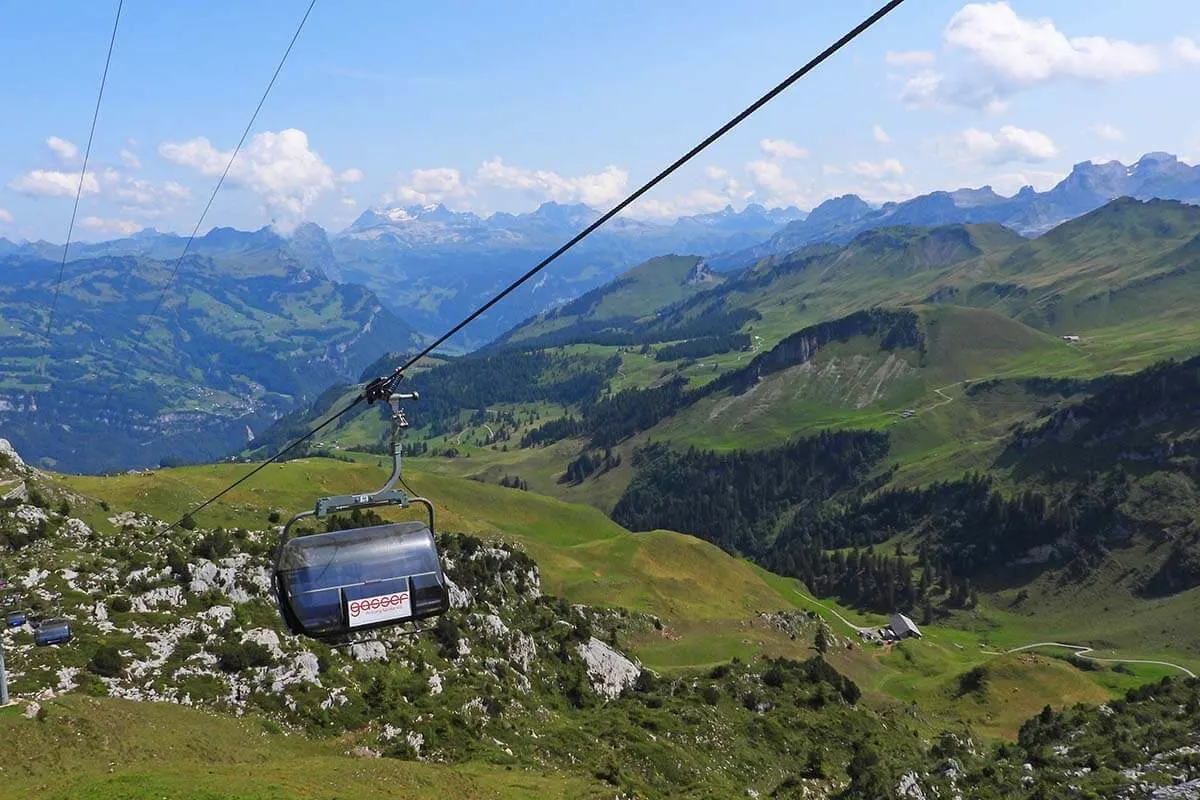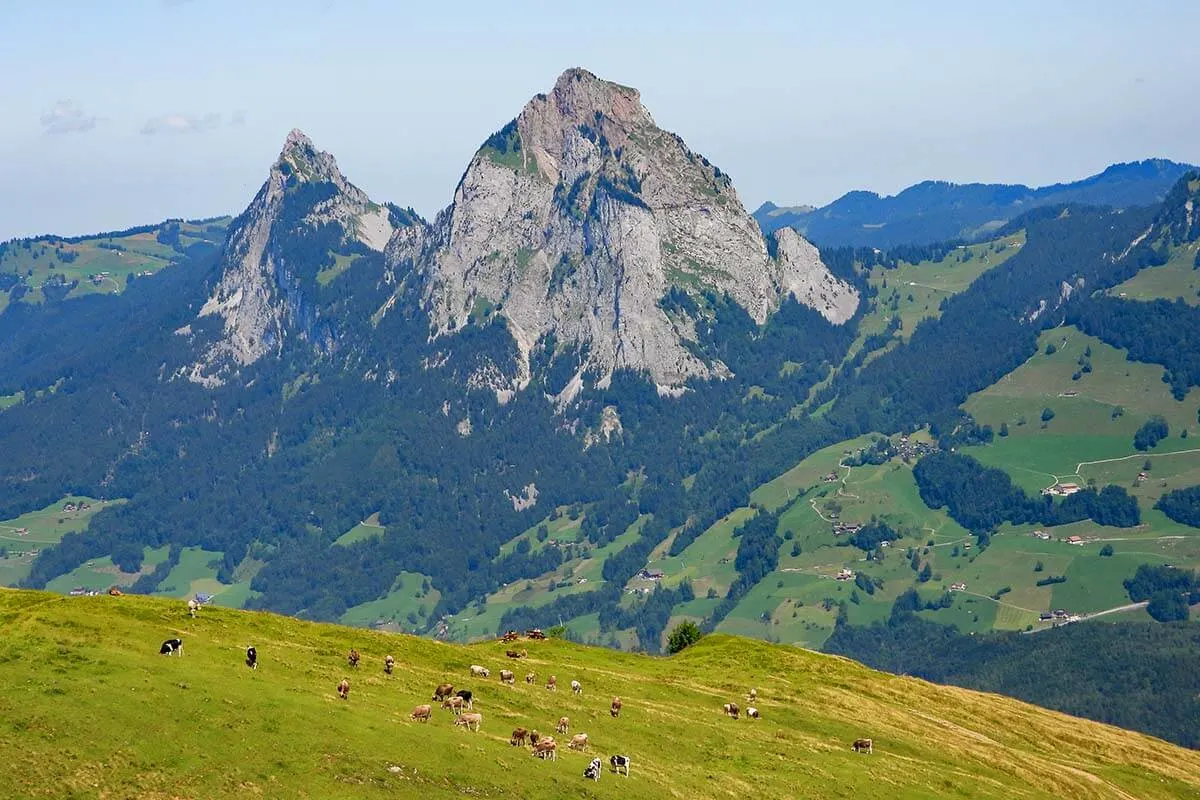 How to See the Best Scenery without Hiking – Fronalstock Panorama Walk
If you don't feel like doing the entire hike, you can also just visit Stoos for the steep funicular and some of the best views of Lake Lucerne.
In that case, take the funicular from Schwyz to Stoos, walk to the Fronalpstock cable car station in the village, and take this cable car directly to Fronalpstock. Here, you can enjoy some of the most spectacular views without having to hike.
And if you feel like walking a bit, you can also just walk around the ridge overlooking the lakes below – the so-called Fronalpstock Panorama Walk (an easy loop walk of about 30 minutes). It's relatively flat here at Fronalpstock and you can just decide at that moment if and how far you go. The views are amazing and some of the best scenery is actually right next to the cable car.
There is also a restaurant at Fronalpstock, a big playground for kids, and also a petting farm with some goats. It's a popular place for families with young children and also all the hikers seem to stop here as well.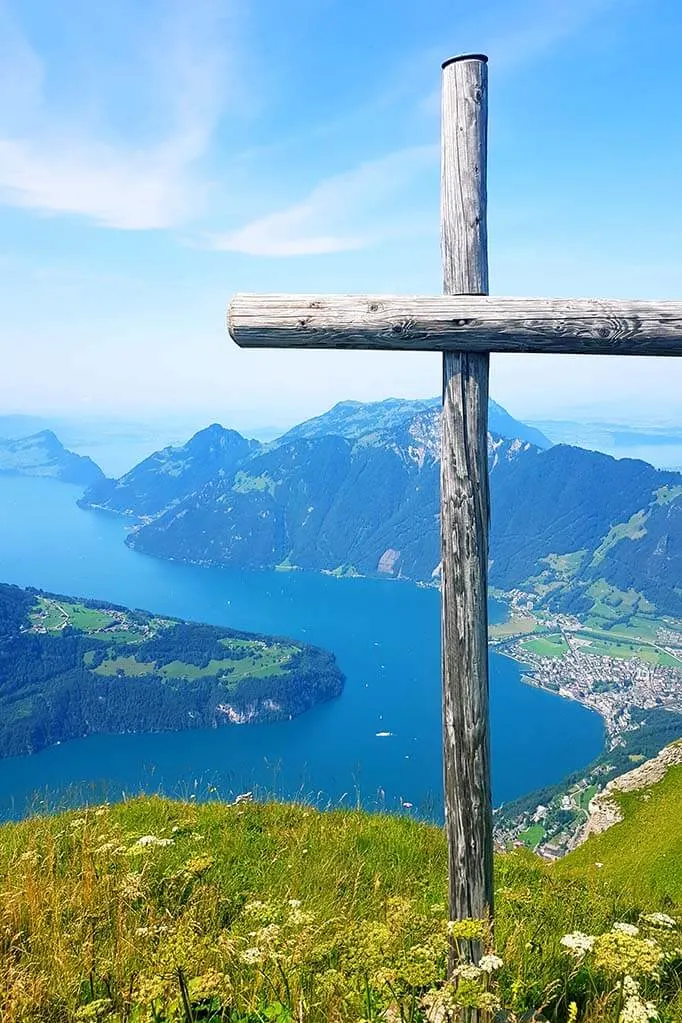 Stoos Ridge Hike with Kids
If you are wondering whether it's a good idea to do Stoos Ridge Hike with kids, I think it can be done with kids from about 5-6 years. But a lot will depend on your children, whether they have some hiking experience, and if they don't mind some climbing.
I wouldn't recommend hiking with younger kids here – some sections are really steep and some parts of the ridge might also feel a bit dangerous, so you'll want to hold on to their hand.
With younger children, simply take a cable car to Fronalpstock and walk around that area – the views are great and kids will enjoy the playground as well. I think you'll enjoy it more than attempting the entire hike with a toddler…
Our experience: We did this hike with our three kids, ages 10-12 at that time. As usual, they were hiking faster than us and had no issues with the steeper parts either. However, one of them did complain about the last steep climb to Fronalpstock at the end of the hike.
Good to know: In summer, children with a Junior Travel Card travel free on Stoos funicular and cable cars. You can get this card in all major railway stations in Switzerland (also for foreigners). It costs just 30 CHF for the entire year and is free from the 3rd child. It's a real bargain that will pay for itself after taking just one gondola ride. For Stoos, you'll need to show the Junior Travel Card at the ticket desk in order to get a scannable day ticket.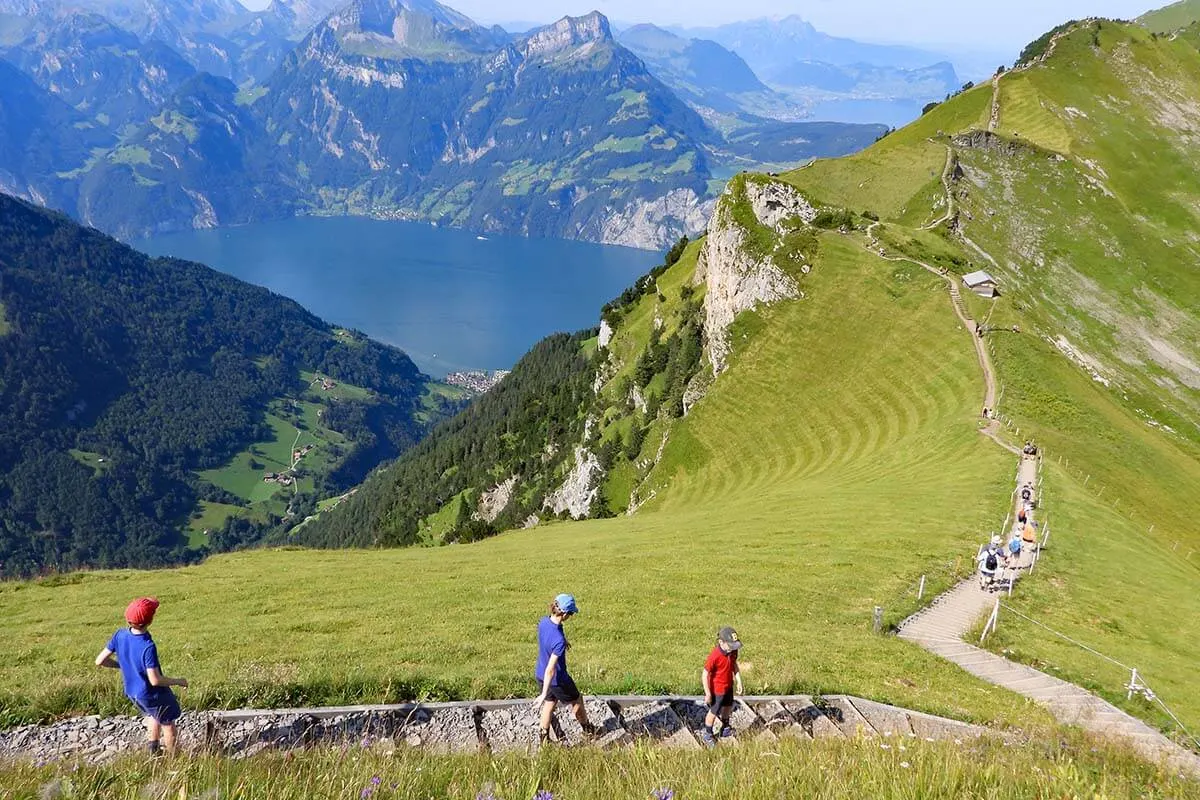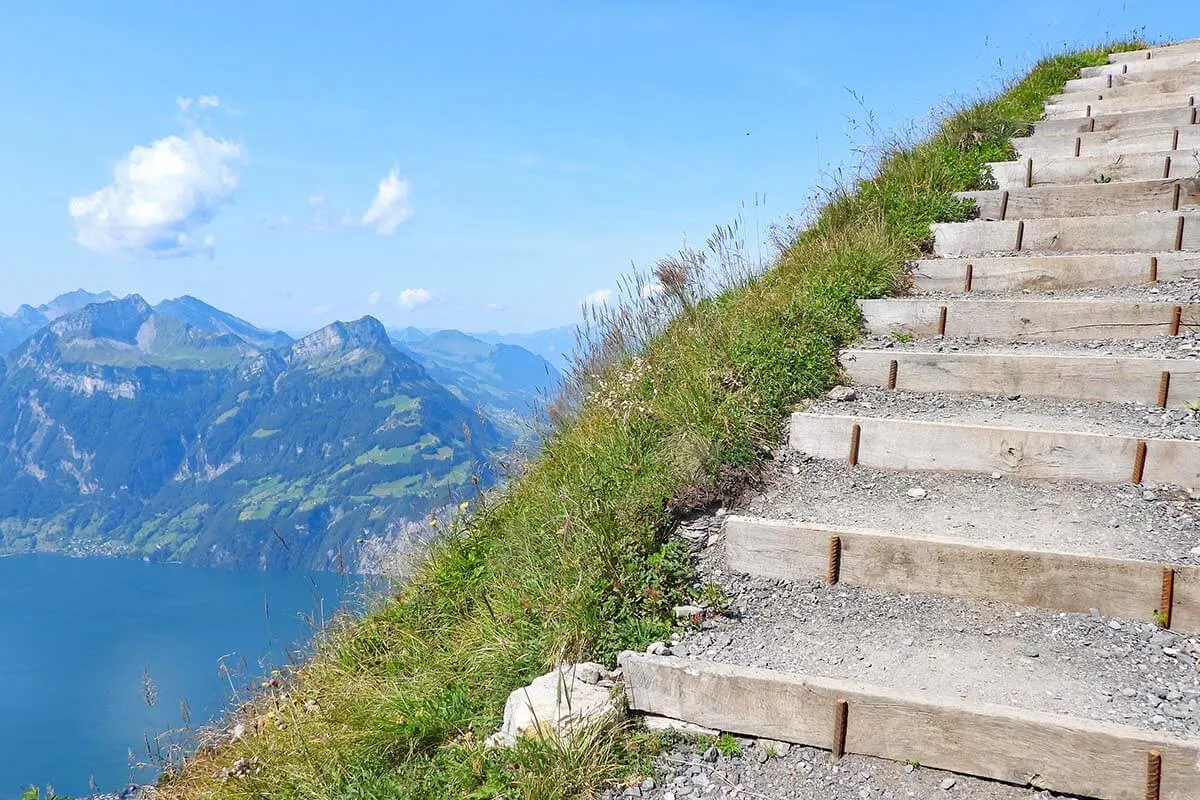 Where to Stay
While there are many hotels in and around Stoos and the surrounding areas, you can easily visit Stoos for a day without staying in the region.
It's a place that you can easily combine with a visit to Lucerne and the popular places nearby: Mt. Pilatus, Mt. Titlis, or Rigi (not all on the same day, ;)).
TIP: If you are looking for a really special experience, stay at Gipfelrestaurant Fronalpstock. This hotel is located at the top chairlift station Fronalpstock, where the hike ends. Staying here, you can have the most beautiful scenery all to yourselves AND you can enjoy some of the best sunset views in the evening. This would make your trip so much more special!
Where we stayed: We stayed in the Lucerne area for a few days and just drove to Stoos for a day. We stayed at Seeblick Höhenhotel in Emmeten – amazing views and a good location for exploring the region. It's a great hotel for a longer vacation – with an indoor pool, family rooms, and a good restaurant. The only problem is the noise of the church bells, but you have this all over Switzerland. 🙂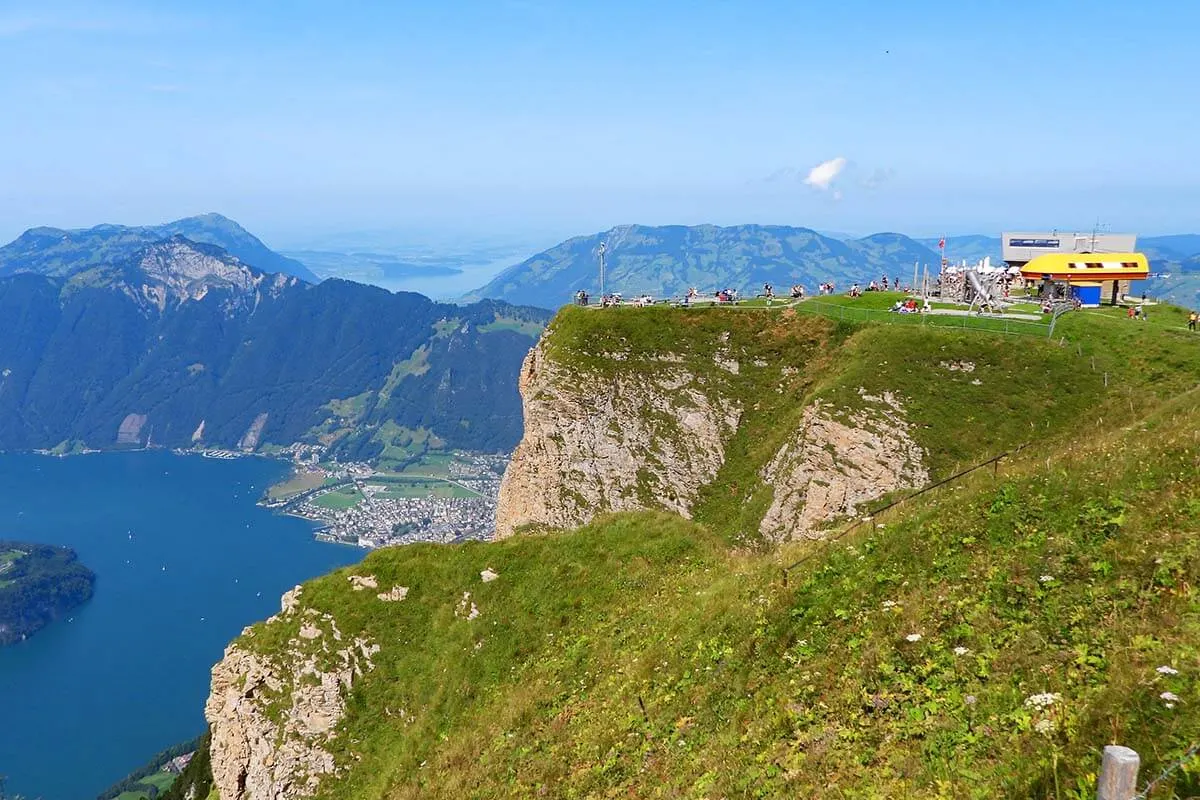 So, this is our guide to the Stoos ridge hike. Hope that it inspired you to visit this beautiful area and that our tips will help you to make the most of a visit here.
TIP: After visiting Stoos, you'll likely have some extra time to do some more sightseeing in the area. You could stop in Brunnen. This is a small lakeside town with a nice waterfront promenade, shops, cafes, and playgrounds.
Brunnen is also the birthplace of the Swiss Knife and you can visit the Swiss Knife Valley Visitor Center, where you can assemble your own knife. You can also buy Swiss knives here and have them engraved if you like.
READ ALSO: Best Things to Do in Lucerne & Mt Pilatus Golden Round Trip from Lucerne
More travel inspiration – our favorite hikes in Switzerland:
If you found this post useful, don't forget to bookmark it and share it with your friends. Are you on Pinterest? Pin these images!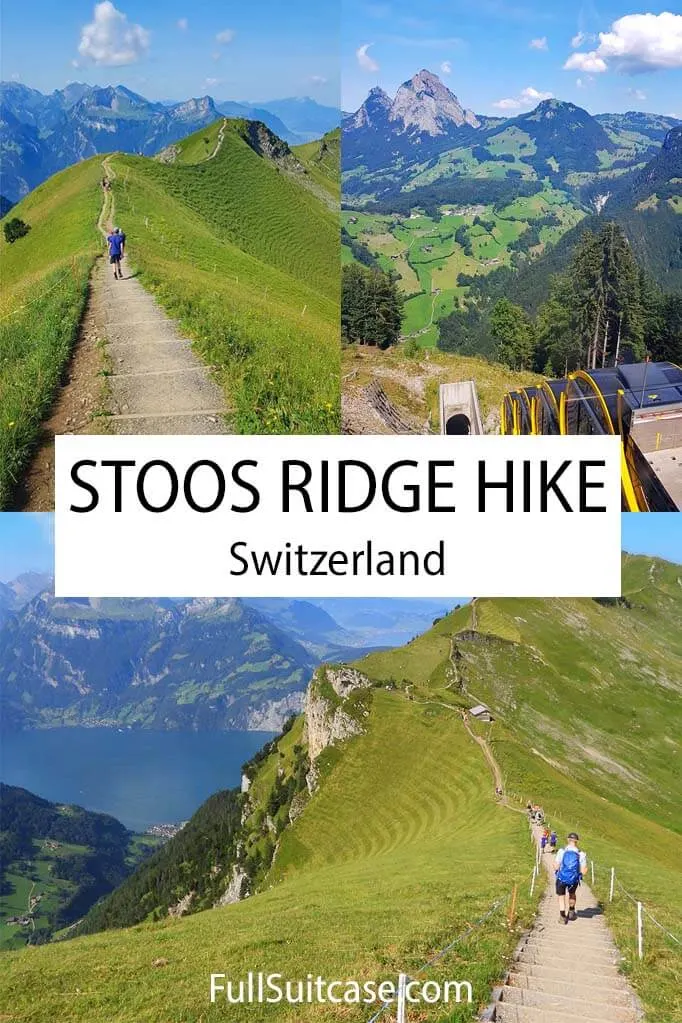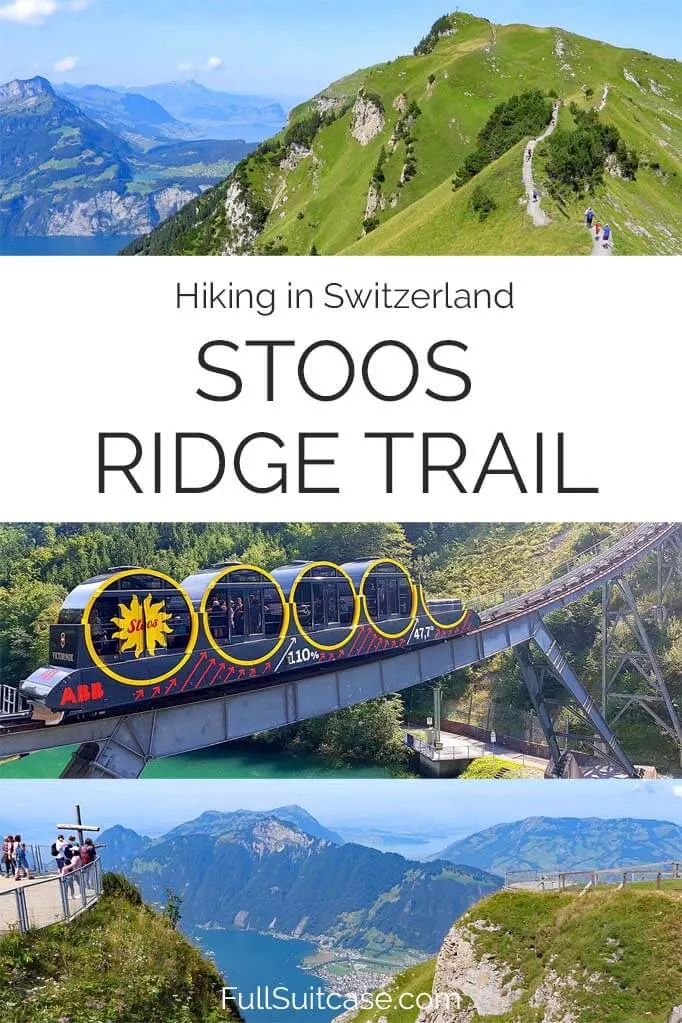 Some of our favorite places in Switzerland: