Thinking of skiing in Wengen or are looking for some experience-based info and tips for the Grindelwald – Wengen ski area in Switzerland? This guide should answer all your questions and give you a good idea of what to expect when skiing in Wengen. Find out!
Wengen is a small car-free village in the Jungfrau Region in central Switzerland. The scenery in this area is jaw-dropping and this cozy town is a great base for various outdoor activities in the region, in any season.
Wengen is one of our favorite ski resorts in Switzerland and we also love this area in summer. We don't often travel to the same place twice, but Wengen is one of those destinations that we gladly return to again and again.
But I also remember the first time we planned to visit Wengen in winter. Our youngest kids were just starting to learn to ski and I spent hours trying to find answers to all the questions we had about skiing in Wengen, more precisely, in the Grindelwald – Wengen ski area. In the end, we had a great ski holiday in Wengen and we went skiing in Wengen a few times after that.
But that first time, it was so overwhelming to find the information we were looking for. Also because it was a very warm winter and we were worried about snow certainty on the beginner slopes…
So if you are also considering going skiing in Wengen, but are not sure what to expect, then read on! In this article, we share our experience, favorite ski runs, and useful tips for your winter visit to Wengen. Find out!
READ ALSO: Jungfraujoch, Top of Europe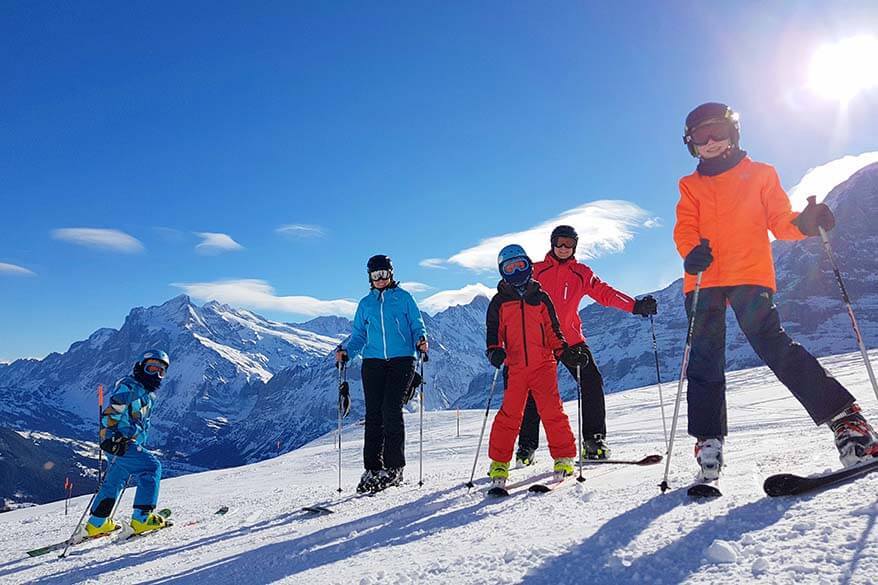 Grindelwald – Wengen Ski Area
The Jungfrau ski region connects three ski resorts: Grindelwald-Wengen, Grindelwald-First, and Mürren-Schilthorn. And there's also a ski area in Meiringen that's located about an hour's drive away.
In this article, we only focus on the Grindelwald-Wengen ski area (see also the map below). It's the main and the biggest ski area in the region, and the one where we usually ski.
The Grindelwald-Wengen ski resort is easily accessible from both sides of the mountain. So no matter whether you stay in Wengen or in Grindelwald, the ski slopes are just as easy to reach. In both cases and snow permitting, you can also ski all the way back to town.
Grindelwald – Wengen Ski Area Overview:
Ski slopes: 103 km of runs for all difficulty levels
Number of lifts: 21 (this includes mountain railways, cable cars, aerial cableways, chair lifts, etc.)
Altitude: 1.034 m – 2.227 m
Ski season: End of November to mid April
What's open: For up-to-date information on the ski area and to see which ski lifts and pistes are open, please consult the official website of the area.
Altitude & Snow Certainty
Grindelwald – Wengen ski area is spread out between 1.034m and 2.320m altitude.
The biggest part of the Grindelwald – Wengen ski area is high enough to guarantee snow certainty throughout the entire ski season. Most ski runs can be found around the Männlichen area at 2,227m and near Kleine Scheidegg at 2.061m. Some ski runs are even higher – the Eigergletscher is at 2.320 m altitude.
Wengen town is at 1.274 m above sea level and Grindelwald – 1.034m, which means that very often, there's little snow in these towns. However, usually, this doesn't influence your ski experience much.
Snow permitting, you can ski all the way back to towns. And if there's not enough snow, they usually use snow cannons to guarantee that the main valley runs remain open. And in the worst case, you can always get back to town by train or by gondola.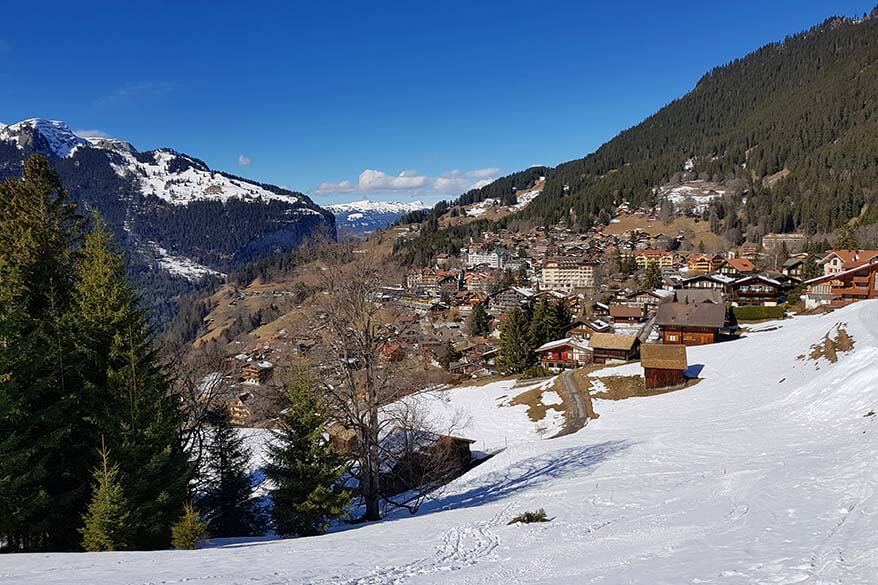 If you are a skier who (as a minimum) can handle long and wide 'blue' runs, then I wouldn't worry about snow certainty in Wengen. We never experienced a lack of snow when skiing between Männlichen and Kleine Scheidegg. There are also several complete-beginner exercise areas at higher altitudes.
However, if you are not a complete beginner, but are not confident enough to do longer runs, the situation is somewhat different. If there's enough snow, it's usually not an issue as you can ski at the Wengernalp beginners' area. But if there's not enough snow here, then it's not always ideal because all the other easy runs are much longer and might be too tiring at first.
That being said, our twins who just learned how to ski in Wengen at the age of 4, managed the long blue runs at Männlichen just fine. The advantage is that these slopes are so wide and so long that by the time you reach the end, you have had plenty of time to exercise.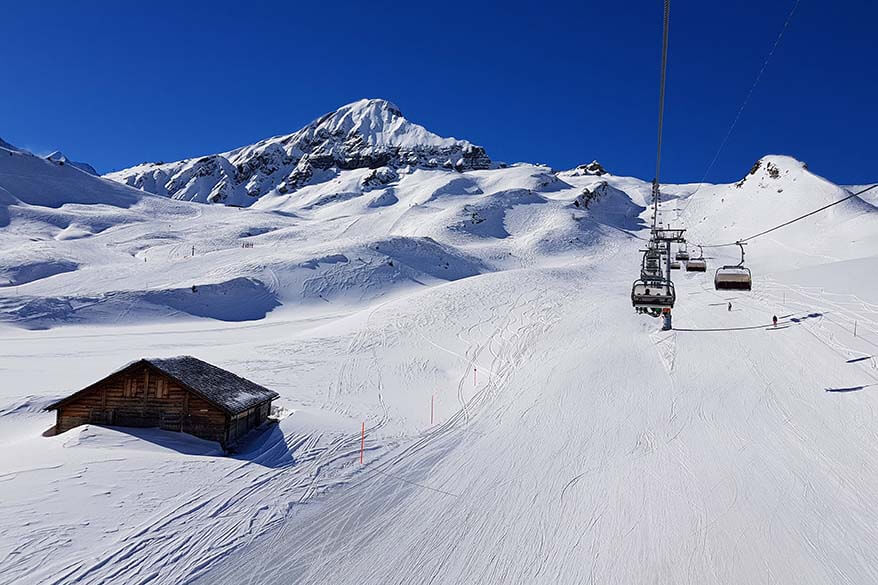 Skiing in Wengen for Beginners
Both Grindelwald and Wengen are great for beginners. There are two beginner ski areas at the top of the ski area: one at Männlichen and one at Kleine Scheidegg. In addition, there's a really nice beginners' ski area in Wengen town center and also one in Grindelwald town.
There are also various ski schools in the region where you can book private or group lessons for kids and adults. You'll find plenty of choices in Grindelwald and in Wengen ski area, but it's better to book your lessons in advance!
TIP: If you are just visiting Switzerland for a few days, you can also book a Swiss ski experience day trip from Zurich or Lucerne. It's mainly geared towards tourists who have never skied before and want to experience this in one of the best ski areas of Switzerland. This tour includes everything, not just ski passes at the Bodmi ski area in Grindelwald, but also ski lessons, equipment, and even clothing.
Here's some additional information about the main beginner ski areas in Grindelwald – Wengen:
Männlichen Children's Paradise
Männlichen Children's Paradise is one of the nicest beginner ski areas for kids. There are a magic carpet and two 'Pinocchio' lifts here making it really easy for young kids to take their first steps on the skis.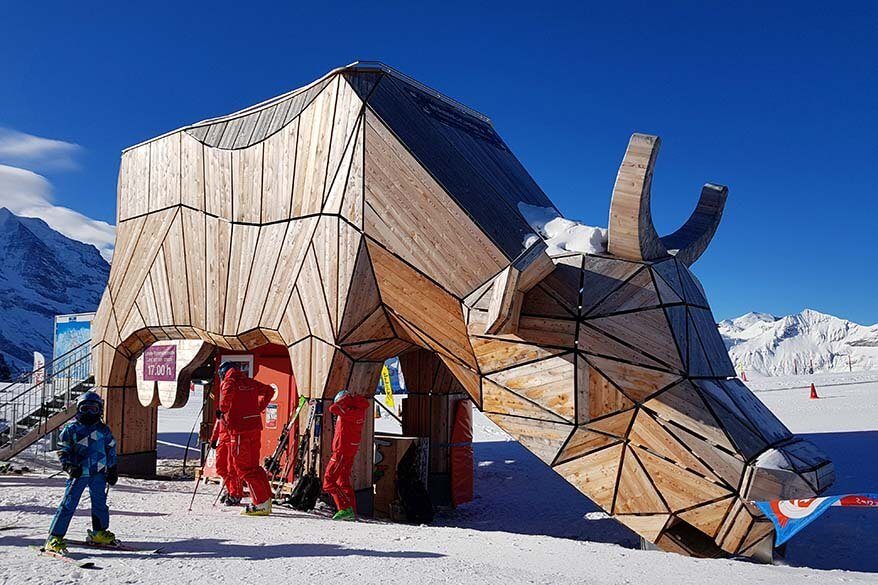 BodmiARENA in Grindelwald
BodmiARENA in Grindelwald town is also a great area for complete beginners. This is a very flat ski area with a moving carpet and a platter lift. However, there's not always enough snow in town and it tends to be quite busy.
Beginners' area Kleine Scheidegg
Kleine Scheidegg beginners area is more suitable for adults who are learning to ski or for somewhat older kids. It's located a short walk from the train station.
Walk on the left side of the railway track in the direction of Grindelwald (the hotel should be on your right side), and you'll soon see the covered moving carpet below. There's a rope lift here too.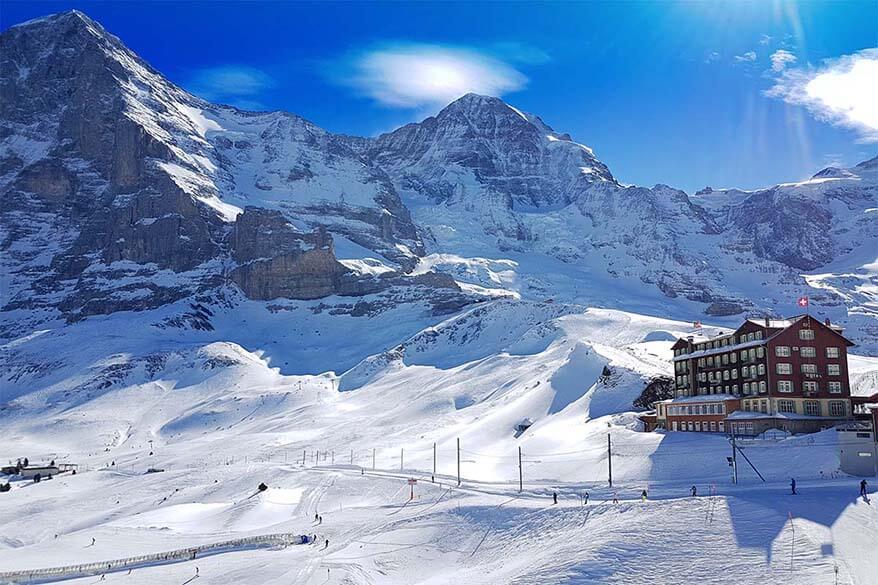 Figeler in Wengen
This is a very nice beginner area in Wengen town. If there's enough snow, it's probably the best beginner area because it has several different levels.
Although rather small, the beginners' area in Wengen has several parts. There's a small kids' section with a moving carpet where ski schools exercise with the youngest ones. In addition, there's a very small flat hill that's perfect for adults and older kids standing on skis for the very first time. And there's a small, but steeper hill where you can get the feel of what Alpine skiing is really about before hitting the longer slopes.
There's also a 'Ski School House' here where your kids can stay after their ski lessons.
The biggest challenge here is that you have to take platter lifts (surface lift) in order to get up the hill, which – to many beginners – is more challenging than skiing itself. Also, there's not always enough snow in Wengen town.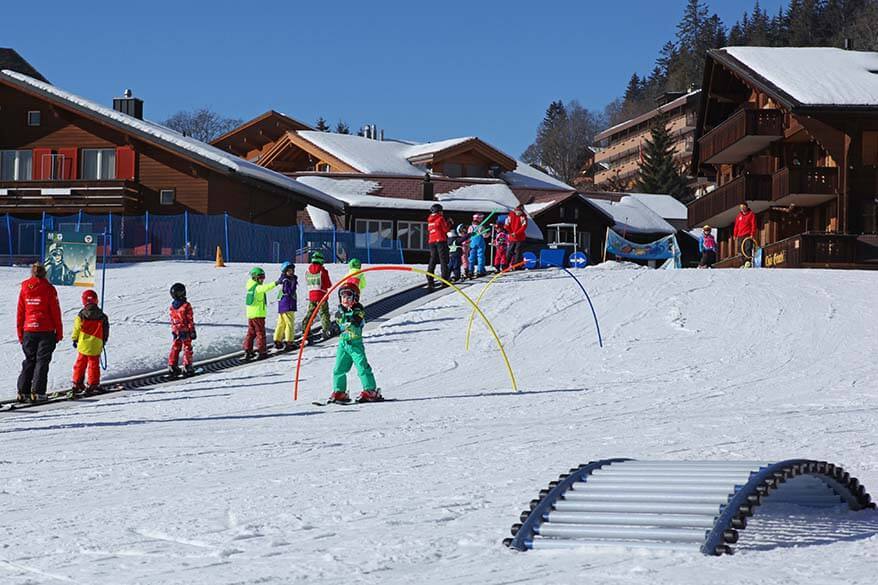 Wengernalp Bumps Lift
At Wengernalp train station, between Wengen and Kleine Scheidegg, there is a small beginners ski area as well. It has a t-bar ski lift (see 'Bumps' ski lift on the map) and a relatively short and easy 'blue' run.
This area is perfect for those who can already stand on the skis quite confidently but are not ready for the longer Alpine pistes yet.
Unfortunately, I have no picture of the Bumps lift area. So here is one more image from the beginner area in Wengen – the platter lift at the steepest hill of the beginner area in Wengen town center.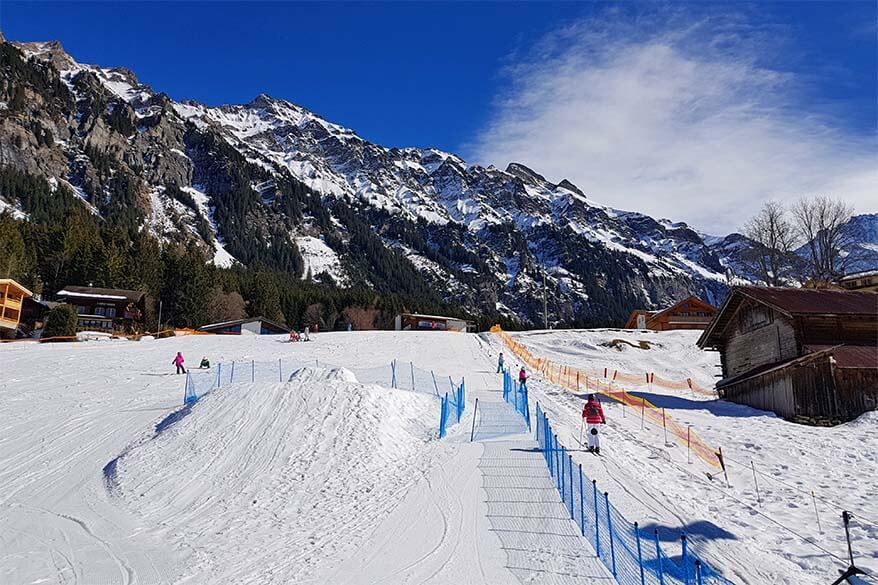 Our Favorite Ski Slopes in Grindelwald – Wengen Ski Area
The big majority of ski slopes in Grindelwald – Wengen are medium ('red'), but there are also plenty of easy ('blue') and challenging (black') runs.
There are so many ski slopes here that you can ski the whole day without having to do the same run twice. And because the ski area is so well connected to both towns, you can start or end your day at different places.
Our personal favorite ski slopes are runs #2 (blue) and #3 (red) in Männlichen and the valley run #36 (blue) between Kleine Scheidegg and Wengen. Also, pretty much all the slopes between Männlichen and Kleine Scheidegg are really nice.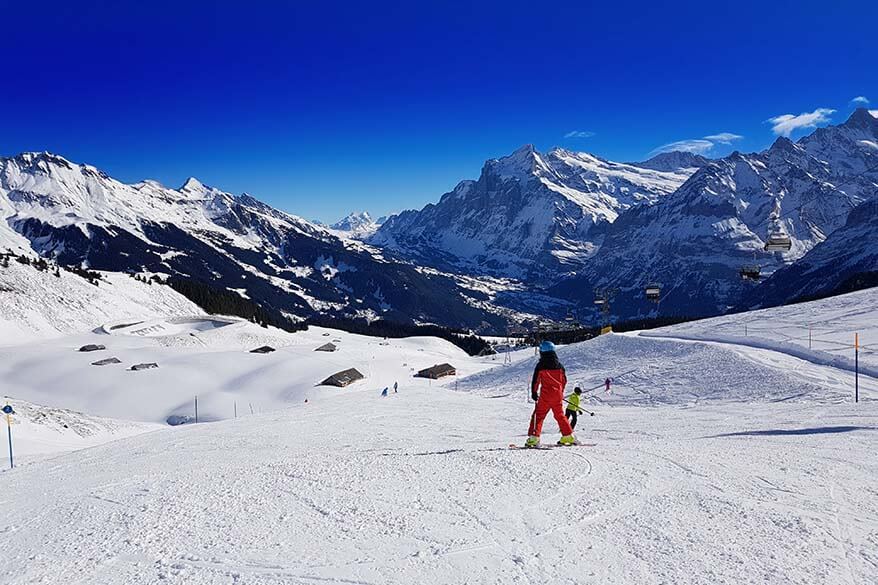 We usually start our day with a gondola ride from Wengen to Männlichen. We love skiing in Männlichen! When/if it gets busier here (ski schools also love these slopes), we ski all the way to Kleine Scheidegg using a series of connecting slopes and runs between the two places.
Kleine Scheidegg is a good (but busy) place for lunch. In addition, there are a few mountain huts nearby that are not as busy.
After lunch, you have plenty of runs to choose from in this area or you can make your way back to Männlichen again. We usually ski down to Wengen from Kleine Scheidegg at the end of the day. If you are staying in Grindelwald, you can ski all the way down to town or take a train.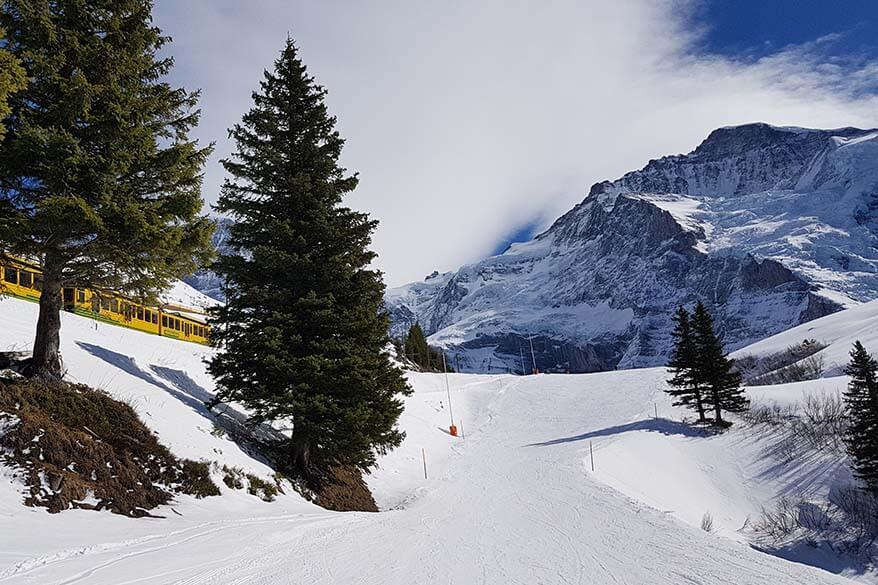 Lauberhorn Alpine Ski World Cup
Wengen is home to the world-famous Lauberhorn Alpine Ski World Cup. It takes place here every year on a weekend in mid-January and attracts big crowds from all over the world.
Near Kleine Scheidegg, you can go up to Lauberhorn mountain, the starting point of the Lauberhorn ski races.
Make sure to go through the mountain hut and to the starting point of the race and use the same start as racers do. Just standing there and looking down at the first section of the race is exhilarating! If this run is too advanced for you, you don't have to do it all either. After checking out the start, you can also take an intermediate 'red' piste down.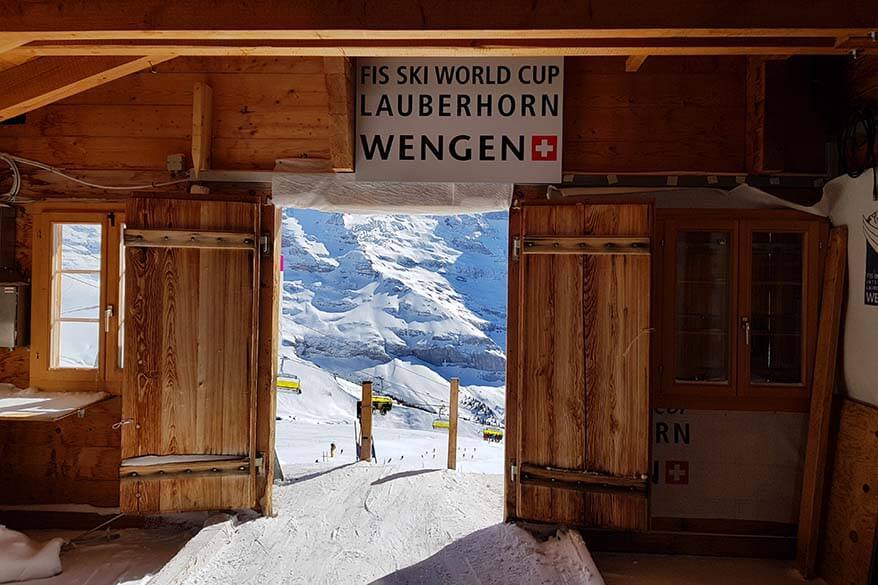 Best Time for Ski Holiday in Wengen
The ski season in the Grindelwald-Wengen ski area usually starts the last weekend of November and lasts until mid April. If there's enough snow, it might already start a bit earlier.
The best time to go skiing in Wengen is from December to March, but try to avoid the peak times at around Christmas and Swiss school holidays. They are different per region and this typically means that the entire month of February and the beginning of March is busier. Also, the weekend when the Ski World Cup Lauberhorn takes place (mid-January) is best avoided.
That being said, we ski with kids and thus aren't flexible with the dates, and we never really experienced huge crowds when skiing in Wengen. See further for more details.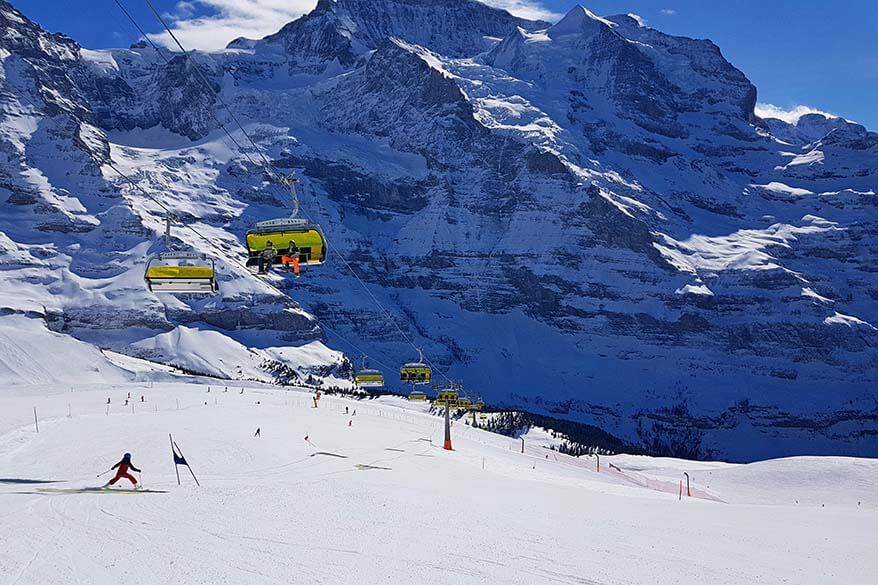 Crowds
You might be wondering how busy it is on the ski slopes near Wengen. Usually, it's very busy in the morning at the main gondola that connects Wengen to Männlichen and also at Wengen train station and on the trains going to Kleine Scheidegg. But once you get to the top, the slopes themselves and the smaller ski lifts aren't busy at all.
We always go skiing during the school holiday period, between mid-February to mid-March. Together with Christmas – New Year holiday, this is the peak ski season and it's probably as busy as it ever gets on the slopes in Switzerland.
It's usually noticeably busier on the weekends, especially if the weather is really nice. But we never had to wait longer than 15-20 minutes for the gondola at the bottom station in Wengen.
Once on the mountain in Männlichen or at Kleine Scheidegg, you can usually just ski directly to the chairlifts with hardly any wait at all. Usually, if we have to wait 5 minutes for a ski lift, it's as busy as it gets.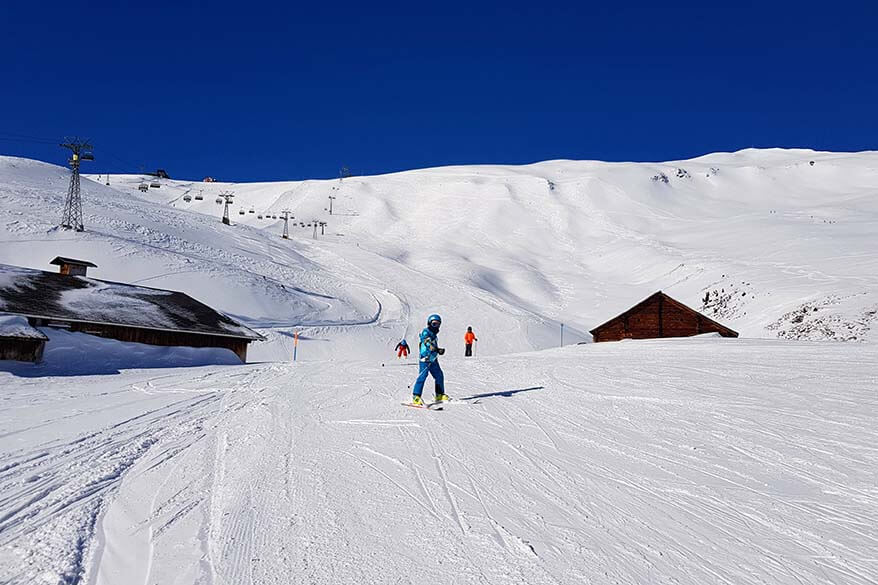 More Things to Do in Wengen in Winter
Wengen has so much more to offer in winter, not just skiing! Here are some of the best things to do in Wengen in winter:
READ ALSO: Things to Do in Jungfrau Region in Winter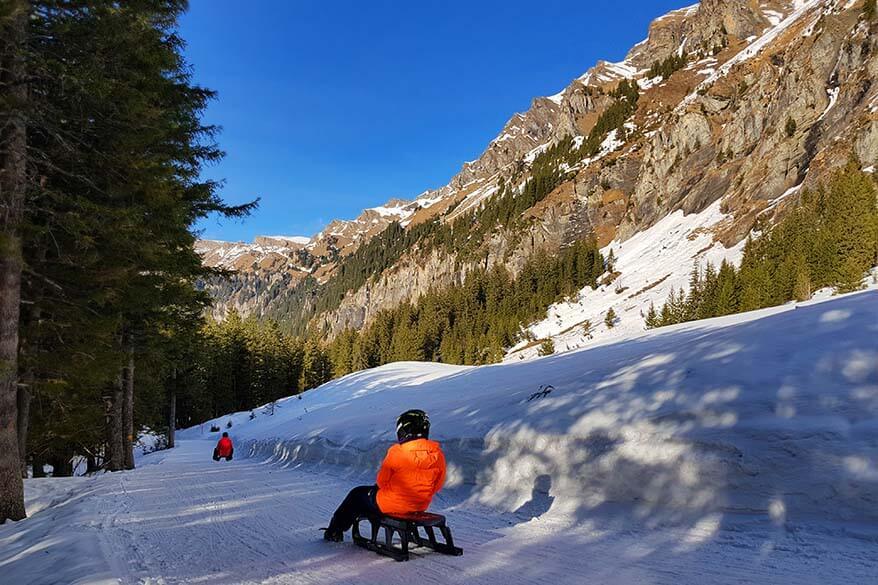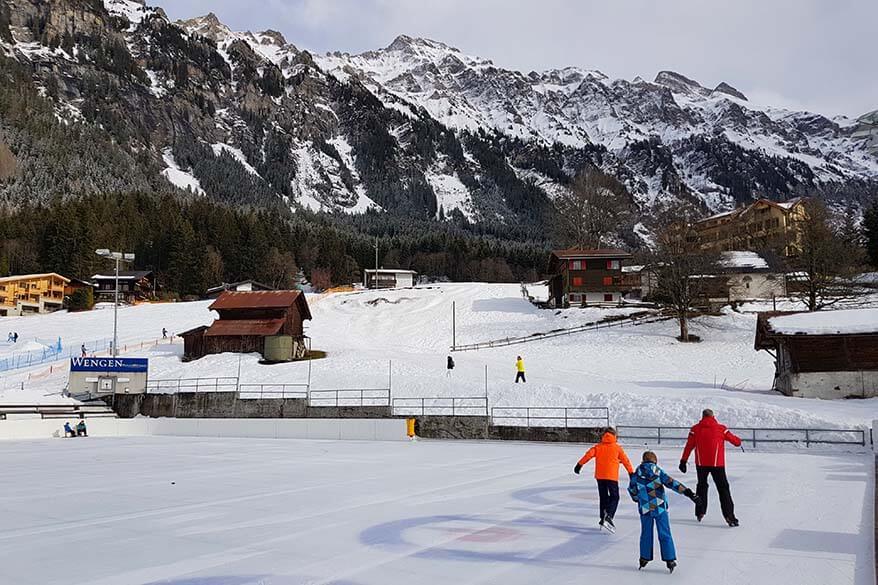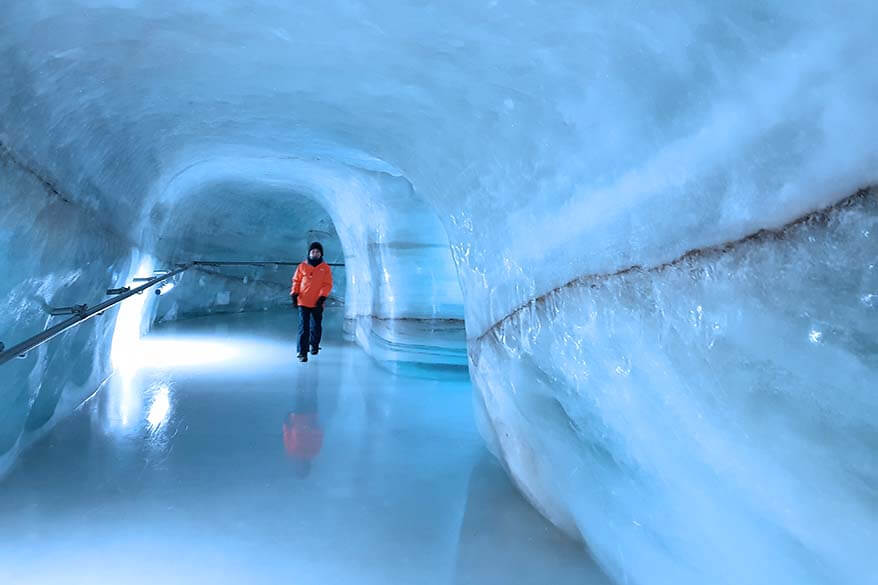 Ski Pass Price
There are several different ski passes in the Jungfrau Region. Unless you are planning to ski in all different areas, it's cheaper to just get the ski pass for the one area where you are planning to visit. We always get the ski pass for the Grindelwald – Wengen ski area.
At the moment of writing, a one-day ski pass for the Grindelwald – Wengen ski area costs 69 CHF for adults and 34 CHF for kids (age 6-15). Younger kids ski free of charge. A ski pass for 5 days costs 293 CHF for adults and 139 CHF for kids.
You can get ski passes for any duration from half a day to 30 days. Seasonal ski passes are also available.
TIP: If you book your ski pass at least 21 days in advance, you can save 10%. It's called the Earlybird Skipass and you can find more information and book it on the official website.
Good to know: Kids ski free of charge on Saturdays. Up to three children (6 to 15 years) per paying adult get a complimentary ticket when you purchase a day pass or an afternoon pass for Saturday.
If you only have 1 day: It is also possible to just go skiing in Grindelwald – Wengen area for one day. In that case, you may look into this ski experience/lesson that includes everything, from ski equipment and ski passes to a local guide/ ski instructor. It's much easier than trying to arrange it all by yourself and not lose the biggest part of your day due to practicalities.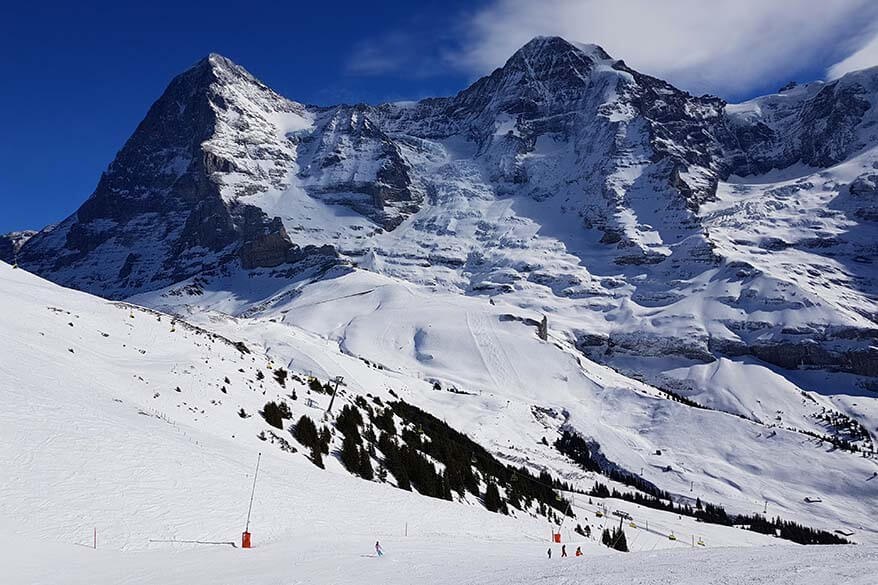 Getting to Wengen
Wengen is a car-free village that's located on the mountain and can only be reached by train. You'll first need to get to Lauterbrunnen and from there, take a train to Wengen.
Good to know: You can bring your own ski gear or you can rent in Wengen.
By train
If you are traveling to Wengen by train, you'll first need to get to Interlaken Ost train station. Interlaken is a big town with direct train connections to all the main cities in Switzerland. From Interlaken, you'll need to take a train to Lauterbrunnen; it takes about 20 minutes. In Lauterbrunnen, you'll have to change the train one last time for a 12-minute ride to Wengen.
Trains are very reliable in Switzerland and the connections are smooth. There are plenty of trains, running at regular intervals, so you never have to wait long.
In winter, there's usually one train per hour between Interlaken and Lauterbrunnen and one train every 30 minutes between Lauterbrunnen and Wengen. Here you can find train schedules for the region.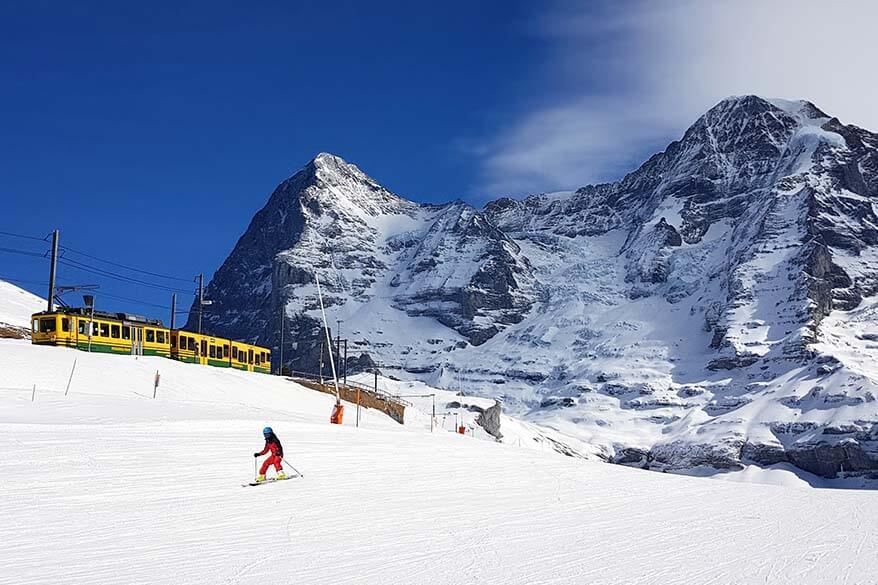 By car
If you are visiting Wengen by car, you'll have to drive to Lauterbrunnen, leave your car at the parking garage there, and take a train to Wengen.
Lauterbrunnen town is located in Lauterbrunnen valley, about 10 km south of Interlaken. There are highways all the way up to Interlaken and the last part of the road is usually easily accessible, also in winter. From the highway, it's a 10 km/15 min drive to Lauterbrunnen or 18 km/ 25 min drive to Grindelwald (the first part of the road is the same; it splits in Wilderwil).
There's a big parking garage at the Lauterbrunnen railway station where you can leave your car for the entire duration of your holidays in Wengen. It's best to book this car parking in advance, especially if you are skiing in Wengen in the peak season (more info here). At the parking garage, you'll find luggage trolleys that you can use to bring your luggage and ski gear up to the train.
Most hotels in Wengen offer a shuttle service for you or your luggage. But if you're staying at the hotels mentioned in our selection below, you can simply walk there with your bags.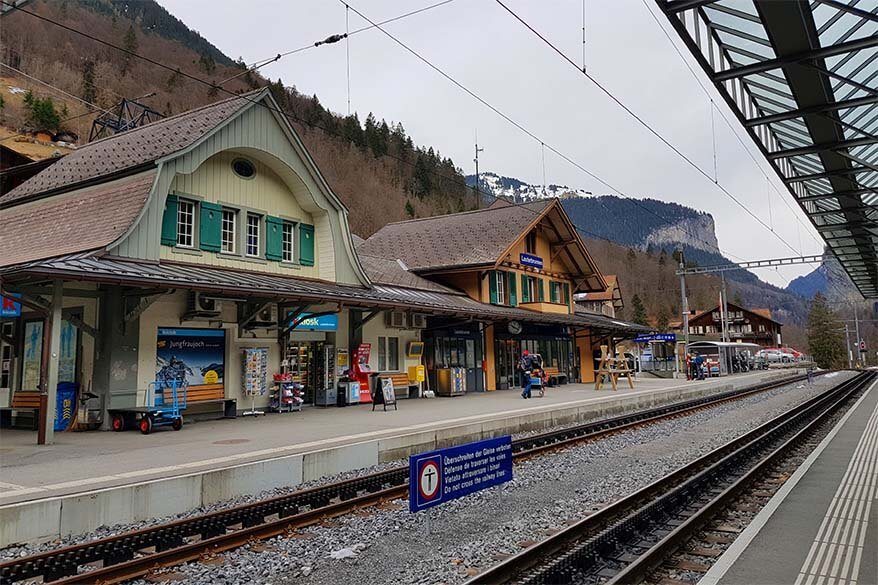 Where to Stay
Staying in Grindelwald vs. Wengen
Grindelwald is a bigger town that has more apres-ski possibilities and a bigger choice of accommodation. It's great for younger people and everyone looking for a more lively atmosphere. Whereas Wengen is a smaller car-free village where everything is within walking distance, but there's little going on at night. It's great for families and everyone looking for a quieter winter holiday.
Our experience: We always stay in Wengen so I cannot really comment on how it is in Grindelwald based on our first-hand experience. All I can say is that we absolutely love staying in Wengen! It's such a cozy fairytale town! Also, everything is close by and you don't have to drag your ski gear on your shoulders for half an hour every morning.
Below, you can find our suggestions for where to stay in Wengen. For Grindelwald, you can find the best deals for hotels and accommodation here. Just remember that Grindelwald is quite a big town and has two ski areas on the different sides of town (Grindelwald-Wengen that we talk about in this article and Grindelwald-First area that we only visited in the summer). So keep this in mind when deciding where to stay.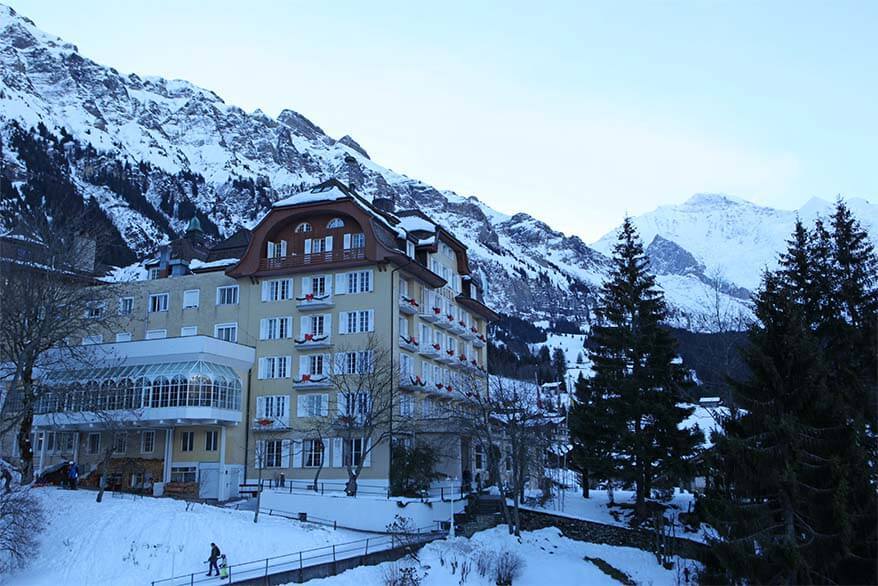 Best Wengen hotels for skiing
Here are some of the best-located hotels in Wengen for skiing:
One winter, we stayed at a Hotel Belvedere that's just a bit outside of the town center. It's a very nice historic hotel, about 5 minutes walk from the Männlichen gondola and about 8 minutes from the train station. It was ok because we didn't have to carry our skis to/from the hotel every time (we used lockers next to the ski shop at that time). It's also fine for adults or families with bigger kids. However, with younger kids, this short uphill walk with all the ski gear might be just a bit too much.
On the other hand, this (and other hotels that are located just a bit further away), is usually significantly cheaper than the hotels right in the town center.
From all the hotels we stayed at in Wengen, we loved Hotel Silberhorn the most. It's located right between the train station and the Männlichen gondola – the best location for everything!
Nothing is really far in Wengen. So if you don't mind carrying your skis for 5-10 minutes, then you have plenty of accommodation choices.
Good to know: There are also many self-catering apartments and chalets in Wengen, but many of them require at least 3 nights stay; some even more. There's a small supermarket just next to the train station too and there are several nice restaurants in town. Here you can find all the best deals for Wengen accommodation.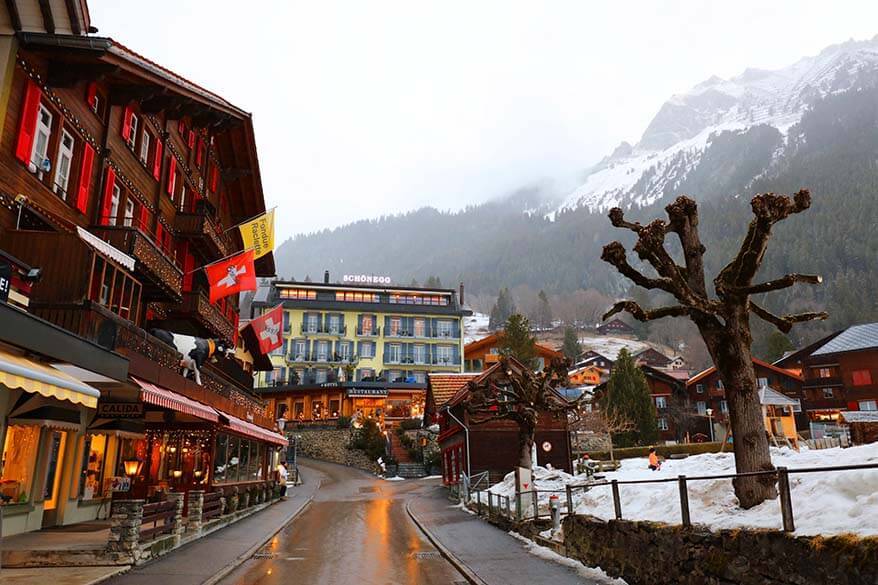 Kleine Scheidegg Hotel
It's also possible to stay in the heart of the ski area, at Hotel Bellevue des Alpes at Kleine Scheidegg.
The location of this historic hotel is stunning, but the hotel and the train station with several restaurants is all there is to be found here at 2,061 m altitude. So once the trains stop running in the evening, it's completely deserted.
It's not the cheapest place to stay (400-600 CHF for a 2p. room per night), but rates include breakfast and dinner. However, there's no TV, the internet connection is spotty (and the use of electronic devices in public areas is discouraged), and the rooms seem to be a hit or a miss. TripAdvisor reviews are very divided.
For some, staying here it's the ultimate Swiss experience. But if you're looking for a better price/ quality ratio accommodation, then better stay in Wengen or Grindelwald – both just a short train ride away. You can also simply come to this hotel for lunch when skiing in the area.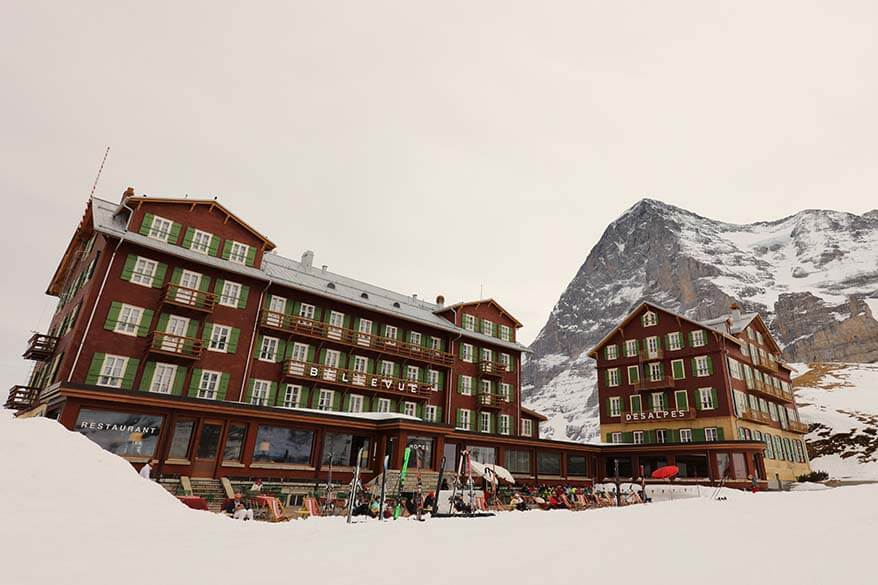 So, this is our guide to skiing in Wengen. I hope that it gives you a good idea of what to expect. If you have a question that hasn't been covered in this article, feel free to leave a reply below, and we'll try to help.
If you are still undecided about where to go skiing, you may want to take a look at our guide to affordable skiing in Switzerland.
Also, check out our guide to skiing in Engelberg. It's our other favorite Swiss region for the winter holidays. In recent years, when we go skiing in Switzerland, we usually go either to Wengen or to Engelberg. Both are excellent mountain resorts for a winter vacation in the Swiss Alps!
READ ALSO:
Jungfraujoch vs Mount Titlis
Top Things To Do in Zermatt
If you found this post useful, don't forget to bookmark it and share it with your friends. Are you on Pinterest? Pin these images!