When I told my husband I'm going to write a post about affordable skiing in Switzerland, he laughed and said that it's going to be the shortest blog post ever. But all joking aside…
You are probably wondering if it's possible to book cheap or at least affordable ski holidays in Switzerland.
Whether you are on your own, traveling as a couple, or a family with kids, my answer is yes, you can definitely book an affordable ski holiday in the Swiss mountains without having to break the bank. Find out!
Why should you even consider skiing in Switzerland
We have been skiing in Switzerland for many years and we love it there. Our favorite ski resorts are Leysin, Villars-sur-Ollon, Engelberg, and Wengen. Zermatt is amazing for skiing as well, but it's not exactly what you'd call a cheap destination…
Switzerland has many advantages compared to other European ski resorts:
First, Switzerland and the Swiss ski resorts are very easy to reach (even if you don't have a car). There are many international airports and a very good railway network.
Second, skiing in Switzerland is much more relaxing than, for example, in France, because the infrastructure is better and it's much less busy on the slopes. You hardly ever have to wait longer than 2-3 minutes for a ski lift, even in the busiest resorts and during the busiest periods.
And third, Swiss mountain resorts are the authentic villages with history, traditional architecture and typical culture, and not some artificially built ski villages that have nothing more than a few hotel blocks, restaurants, and shops that you find in so many other countries.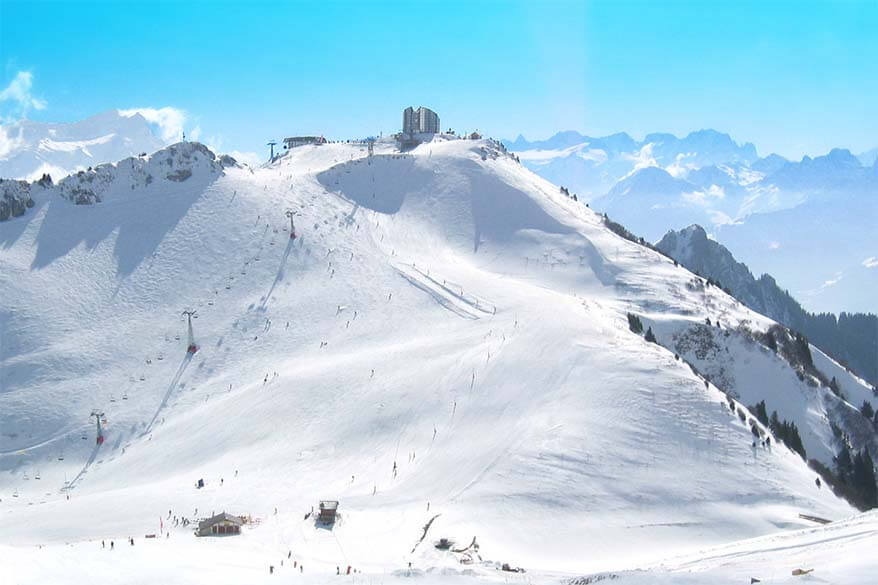 And now back to affordable ski vacations in Switzerland…
First, I'm going to give you some tips on how to book cheaper ski holidays in Switzerland without having to break the bank.
Then I'll introduce you to some cheap Swiss mountain resorts where you can ski on a lower budget.
And last but not least, I'll give you some examples of affordable family accommodation in the Swiss Alps. Read on!
Skiing in Switzerland on a budget
While it's possible to go skiing in Switzerland on a lower budget, Switzerland is not a budget destination. So if you are looking for a true budget ski holiday in Switzerland, I'm afraid that it's not really possible. For a true budget ski holiday, you better consider Eastern European countries like Slovakia or Bulgaria.
That being said, you can keep your Swiss ski holidays quite affordable. That's what this article is about. Read on!
Tips for cheap skiing in Switzerland
Here are some tips for an affordable ski vacation in Switzerland:
1. Go in low season
While Swiss winter school holidays are spread in time and hotel prices skyrocket when the schools are out, there are still less busy periods when the Swiss mountain hotels are more affordable. Usually, the prices will be lower in December (except Christmas-New Year period) and in January.
While December may not be an ideal month to ski due to the lack of snow, January usually offers perfect skiing conditions pretty much anywhere in Switzerland.
If you can, avoid February to mid-March as that is when the Swiss (and most other European countries) have their winter break. The second half of March is usually quieter and cheaper again.
Even skiing during the Easter holidays is usually much more affordable than in February – the beginning of March.
Here you can find the Swiss school holidays calendar. Keep in mind, however, that every canton in Switzerland has different periods of holidays, so it's usually quite difficult to get a good overview of the quieter times. In general, the beginning of December and the entire month of January is a good time for skiing because most kids are at school.
Our experience: Before we had kids and were not bound to ski holidays, we always went skiing in Switzerland in January or in the second half of March. Ski pistes are much less crowded in this period and the hotels are cheaper. We also always looked for the less popular ski resorts where the prices are much lower (more info below).
2. Book in advance
While you have to book your accommodation months in advance if you're planning to go skiing in Switzerland in February, you don't necessarily have to do this if you go skiing in a lower season. Still, booking accommodation in advance always means that you have more choice and thus better deals.
Also, make sure to book all the extra's the moment you have your vacation planned!
Ski equipment, ski lessons, and even ski passes are often cheaper if booked online in advance. Some ski resorts give you up to 20% off ski passes if booked at least a week or two weeks in advance.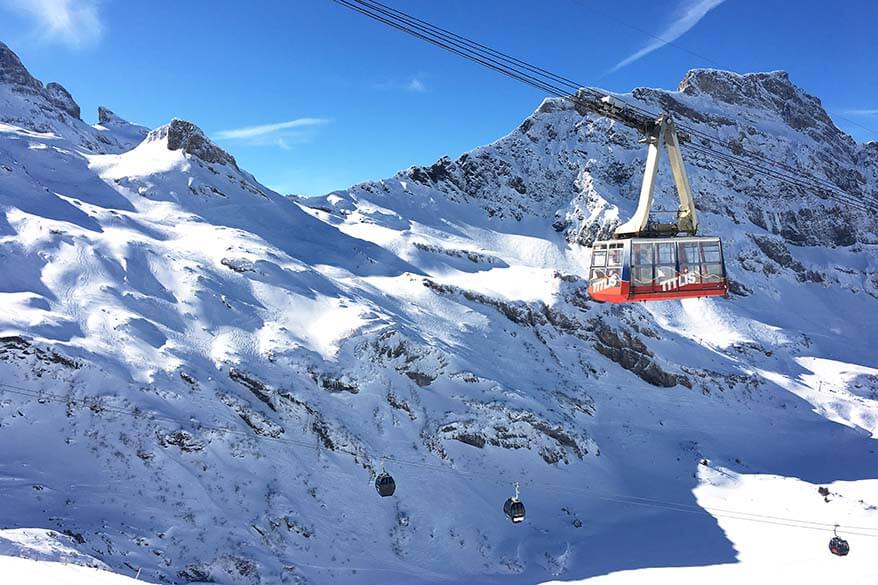 3. Take advantage of guest cards
Most hotels in Switzerland will give you a tourist card for the duration of your stay.
These cards are usually issued by a local tourist office and give you all kinds of advantages. You can get discounts at the local stores or restaurants, public transport, free access to a swimming pool or an ice skating rink, etc.
Sometimes, you can also get a discount for ski equipment rental with such a local card.
4. Book half-board package or self-catering accommodation
Dining is very expensive in Switzerland so booking a half board package at your hotel will often save you a lot of money.
Whenever available, we always opt for half-board when booking a hotel in Switzerland. When you know that a single dish will quickly cost you 30-40 EUR for dinner, you realize what a great deal those half-board packages are.
Self-catering is also a good option, especially if you are traveling with a big family or a group of friends. In that case, look for an apartment or a chalet – it will usually be much cheaper than staying at a hotel.
5. Look for cheaper, less known ski resorts
Don't expect cheap skiing in the most known luxury Swiss Alps mountain resorts like Gstaad, Zermatt, or Verbier. Look for smaller, less known villages for your budget Swiss ski holiday.
Below is a list of some lesser-known ski resorts that you could look at. Clicking on the name, will bring you to a hotel booking site where you can immediately see what accommodations are available and how much it costs.
Cheap Ski Resorts in Switzerland: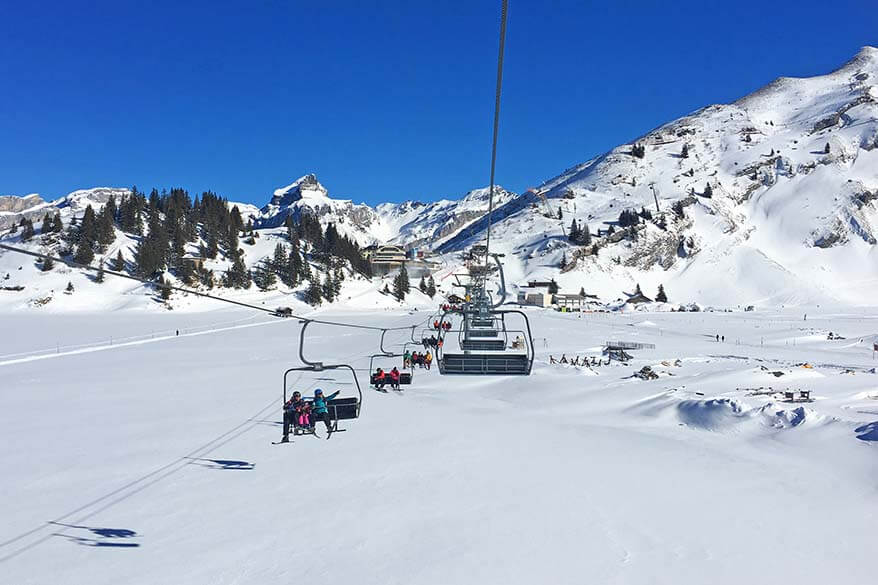 Affordable family ski holidays in Switzerland
Skiing in Switzerland with a family can be more affordable than you think. Here are some things you should know if you are planning a ski holiday in Switzerland with kids:
Most hotels have family rooms for up to 4 people and usually, children stay free of charge.
Ski passes are free for kids under 6 and there are big discounts for older children too. Sometimes you can take advantage of family rates or special weekend family rates as well.
Some ski rental companies provide children's ski equipment free of charge when you rent ski equipment for the parents.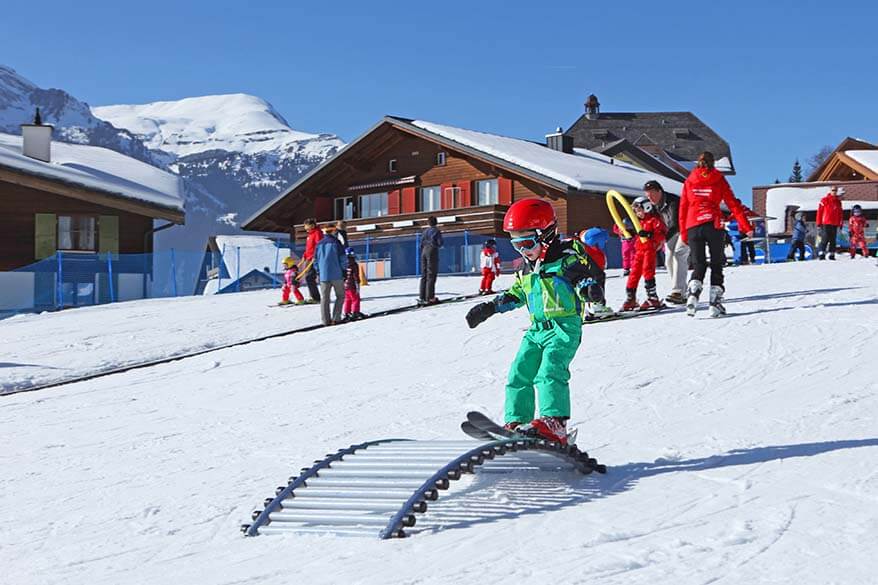 Affordable hotels for a family ski vacation in Switzerland
In addition to the list above, I also made a selection of several budget-friendly skiing accommodation options for families in Switzerland. It's a random selection in different ski resorts all over Switzerland.
These are all ski resorts that we have been to and feel comfortable enough to recommend them as really nice places to ski with kids.
These are not necessarily the cheapest resorts. But the hotels I chose have a very good price-quality ratio for a Swiss family winter break.
I split them into two groups: cheap and affordable accommodations based on certain criteria I noted below. You can see my selection below.
TIP: Alternatively, you can compare hotels and short-term rental accommodations in any ski resort in Switzerland using the map below. Simply insert your travel dates, group size, and location, and you can find the best deals! It's also easy to see on the map how far your accommodation is from the ski lifts. Check it out!
Cheap family accommodation in Switzerland
The criteria I used for the CHEAP Swiss mountain hotels for families:
Good location in the resort that I know, but not always very close to the ski lifts
Family rooms for up to 4 people
Price of max 150 CHF/night/room (the price might be a bit lower or higher depending on the season)
Breakfast included or self catering
Free Wi-Fi
Review score of 8+ (booking.com rating system)
Cheap family accommodation in Leysin:
Cheap family accommodation in Arosa:
Cheap family hotels in Saint-Luc:
Affordable family accommodation in Switzerland
The criteria I used for AFFORDABLE family hotels in the Swiss mountains:
Good location in the resort that I know
Family rooms for up to 4 people
Price of max 250 CHF/night/family room (the price might be a bit lower or higher depending on the season)
Breakfast included
Free Wi-Fi
Review score of 8+ (booking.com rating system)
Affordable family hotels in Leysin:
We stayed at both these hotels several times, they both have an excellent price/quality/location ratio.
Affordable family hotels in Engelberg:
Hotel Edelweiss (very family-friendly with children play rooms, etc). Probably one of the best price – quality hotels you'll find in such a good location in Switzerland.
Affordable family hotels in Zinal:
Affordable family accommodation in Laax:
Affordable family hotels in Saas-Fee:
Affordable family accommodation in Saas-Grund or Saas-Almagell:
Affordable family accommodation in Mürren:
Affordable family accommodation in Grindelwald:
Is cheap skiing in Switzerland possible? Our experience
There are many reasons why we like skiing in Switzerland: it's not that far for us to drive to, the ski resorts aren't as busy as in most other countries in Europe, the infrastructure is great, and we just simply love Switzerland. For that, we are prepared to pay a bit more.
Therefore, not all our ski holidays in Switzerland have been cheap. But most of the time, we manage to keep it quite affordable without sacrificing the experience.
If you travel outside the main school holidays, if you are prepared to walk a bit further to the gondola, and if you take the time to look for smaller, less known ski resorts, then yes, it is certainly possible to find affordable skiing in Switzerland.
Here are some examples based on our experience:
Over the years we have stayed in several hotels from the list above. We often used to ski in Leysin, where we would spend about 1000-1200 EUR on a ski holiday for 2 people for 5-6 days, including accommodation at a nice hotel, half-board, and ski passes.
Once we also stayed in the nearby Villars-sur-Ollon. It has excellent wide slopes, but it's not always possible to find budget-friendly accommodation there anymore.
Once, we splurged and spent our ski holidays in Hotel Silberhorn in Wengen. We all loved it and the kids are still talking about the outside jacuzzi we used to bathe in every evening. But it's not a budget-friendly hotel in any way. On the other hand, this has more to do with our family situation (3 kids), and it might be much more affordable for a family with just 2 kids sharing one room.
READ ALSO: Skiing in Wengen
On another winter holiday in Wengen, we stayed at Hotel Belvedere, which is quite a lot more affordable than Hotel Silberhorn we stayed at before. They also had a nice family room and half-board was included. But because this hotel has more simple facilities and it's somewhat further away from the gondolas, it was much more affordable.
During the same trip, we also discovered the Haslital-Meiringen ski area that is incredibly family-focused. This is a lesser-known smaller ski resort and therefore prices are lower, especially if you decide to stay in Meiringen town. It takes two gondola rides to get to the ski area, but it's quite easy to do and accommodation is much more affordable than at the hotels located next to the ski slopes.
LEARN MORE: Visiting the Jungfrau Region in winter
In recent years, we have been skiing in Engelberg a lot. Here you can find the full review of the Berghotel Trübsee where we always stay. We love this hotel for various reasons: they have family rooms for five people, a fantastic location on the mountain, toboggan at the hotel, etc. But it's also very good value for what you get. You can check availability and rates here.
READ ALSO: Skiing in Engelberg
So yes, it is possible to find affordable skiing in Switzerland. It just takes some research and you really should book well in advance!
If you found this post useful, don't forget to bookmark it and share it with your friends. Are you on Pinterest? Pin these images!