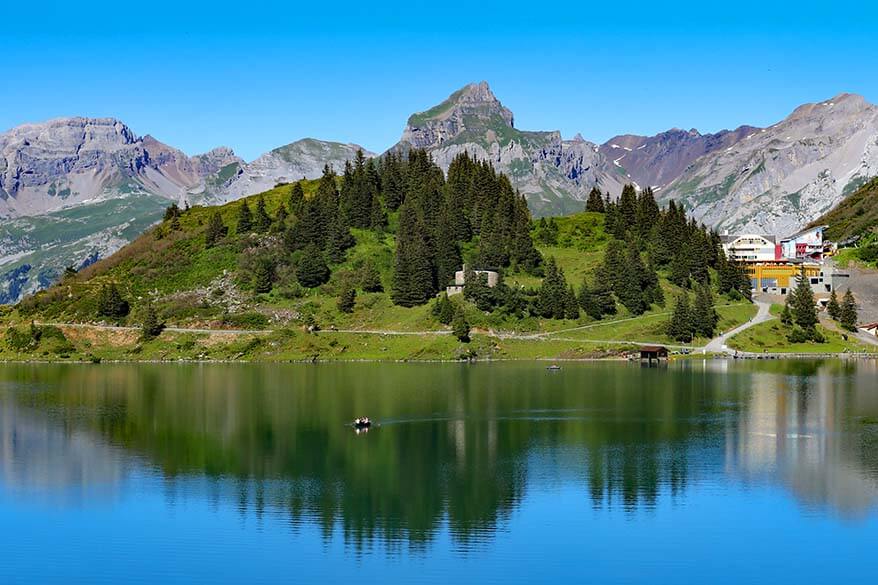 You probably stumbled upon this post looking for more information about the Berghotel Trübsee (Trubsee Alpine Lodge) in Engelberg, Switzerland… If you are wondering what to expect or whether it's a good hotel to stay for your ski holidays in winter or for hiking in summer, this article should answer all your questions. Find out!
Good to know: We have stayed at Berghotel Trübsee five times now, the first time was in 2016 and the last one in 2020. And it will not be the last because we booked another holiday at Trubsee already… We usually stay here for 5-7 days and it starts to feel like coming home… We like to spend our yearly ski vacation at Trübsee, but once we also stayed here in summer. For someone who hardly ever visits the same place twice, let alone the same hotel, this probably says it all…
In case you wonder, this is not a sponsored post and it was one of the very first articles we published on our blog. Just because we truly like this place.
Without further ado, find out what's so special about Berghotel Trübsee and what to expect when staying here. At the bottom of the article, you can find practical information for your stay. Or you can check availability, prices, read customer reviews, and book your stay at this hotel here.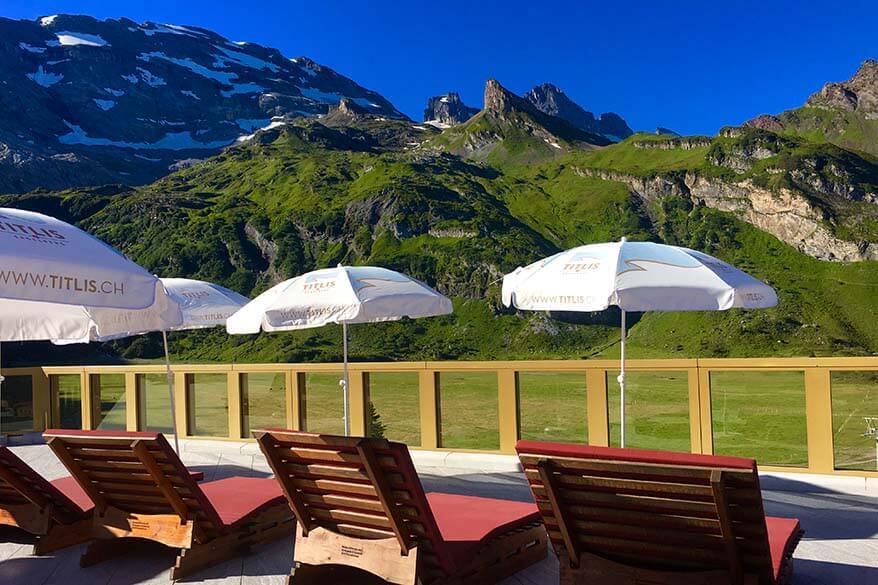 Why We Love Trubsee Alpine Lodge
There are several reasons why we keep on going back to Engelberg and always stay at the Berghotel Trübsee:
Engelberg is very easy to reach. It's located just South of Luzern and is less than 2hrs by train from Zurich airport. It's also less than 20km from the highway via a very good road. Only the last 7-8 kilometers are on a mountain road and we have never experienced any difficulties driving here.
Engelberg ski area goes up to 3,000 m (10,000 ft) so there is always snow guarantee here in winter.
Berghotel Trübsee is located on the mountain, in the middle of the ski area and you can ski in and out of the hotel.
There are lots of amazing activities right next to the hotel. Season dependent, you can go sledding, ice skating, rowing a boat on the lake, zip-lining, take your kids to a playground, and more…
Berghotel Trübsee is very reasonably priced, and affordable hotels directly on the ski slopes are not that easy to find in Switzerland. Read also – cheap skiing in Switzerland.
This hotel has rooms in all sizes, including family rooms for 3, 4, and 5 people.
Since the hotel is located on the mountain and can only be reached by gondola, it's very quiet here early in the morning and the entire evening. We love having the incredible mountain scenery all to ourselves! In summer, you can go walking or rowing a boat on the lake with nobody else around you. Magical!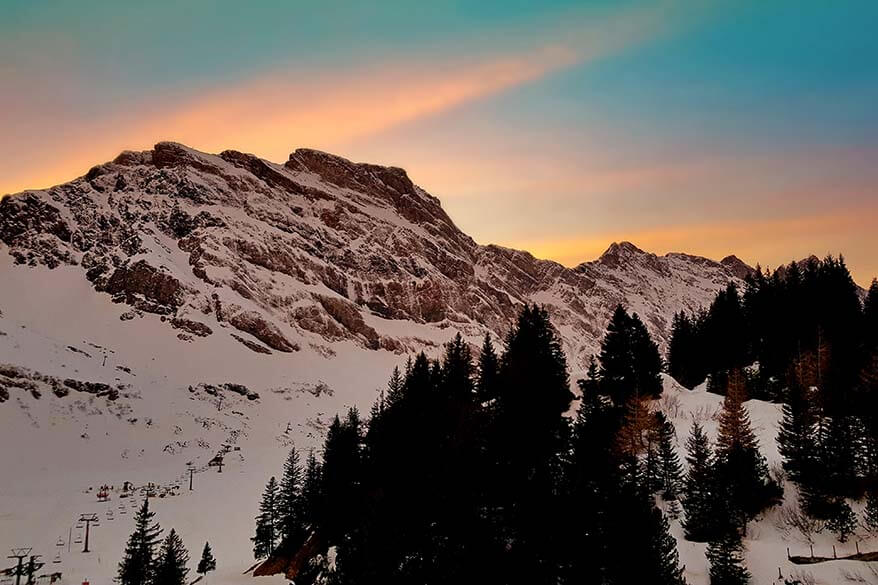 Review of Berghotel Trübsee
Location
Located at 1,800 m (6,000ft) above sea level, Berghotel Trübsee can only be reached by cable car from Mount Titlis Valley Station in Engelberg. You can also reach it on foot, but it's a long and quite a strenuous hike.
So you have to make sure that you're always back at your hotel before the last cable car stops running in the late afternoon (usually around 4.30 PM).
As I said before, it's always such a special experience being high up in the mountains in the evening after everyone has left. We absolutely love it.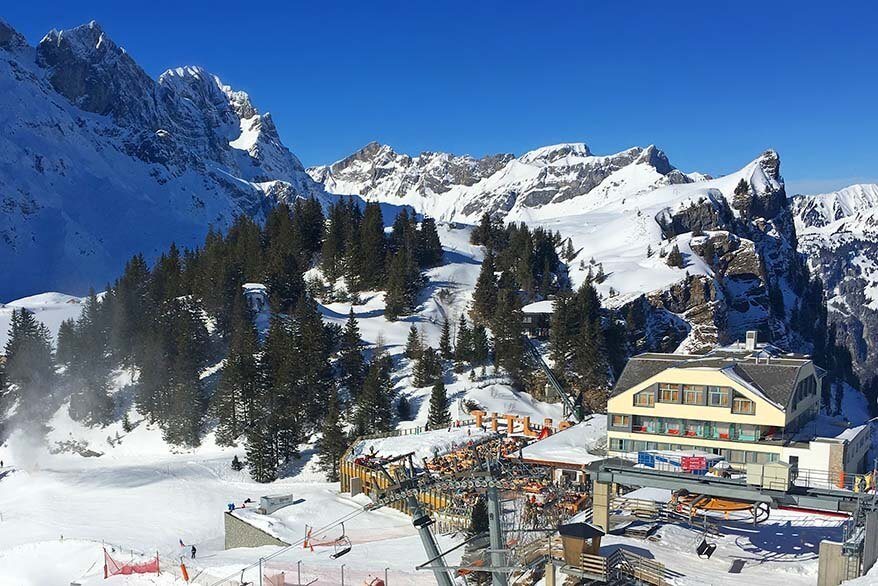 Facilities
The hotel has several restaurants, a bar, and a big sun terrace with views on Lake Trübsee.
There is also a sauna. Bathrobes can be borrowed at the reception. It's a pity there is no hot tub, but that's about the only thing that I would put on my wishlist for the hotel.
The hotel also has a nice sitting room with a small library (most books are in German though), PC's, and a play area for kids. When our children were younger, they spent a lot of time playing there after skiing. Last time we visited, they also had a foosball (football table).
A big conference room is also available and it's also used as a 'cinema' where you can watch movies for kids in the late afternoon or for adults in the evening.
There is also a secure heated ski storage room with individual cupboards for every room. You can exit directly to the ski slopes which is a huge advantage.
Free Wi-Fi is available at the hotel and other common areas of Mount Titlis – cable car stations, restaurants, etc. Depending on where your room is located, though, Wi-Fi might be stronger or weaker. It always works great in the common areas though.
There is a ski rental/ ski test center and also a sports shop at Trübsee cable car station.
At first, the hotel area looks a bit confusing. Because it's located directly at Trübsee cable car station, it has many different levels, entrances, and exits. It takes some time to find your way around, but you quickly get used to it.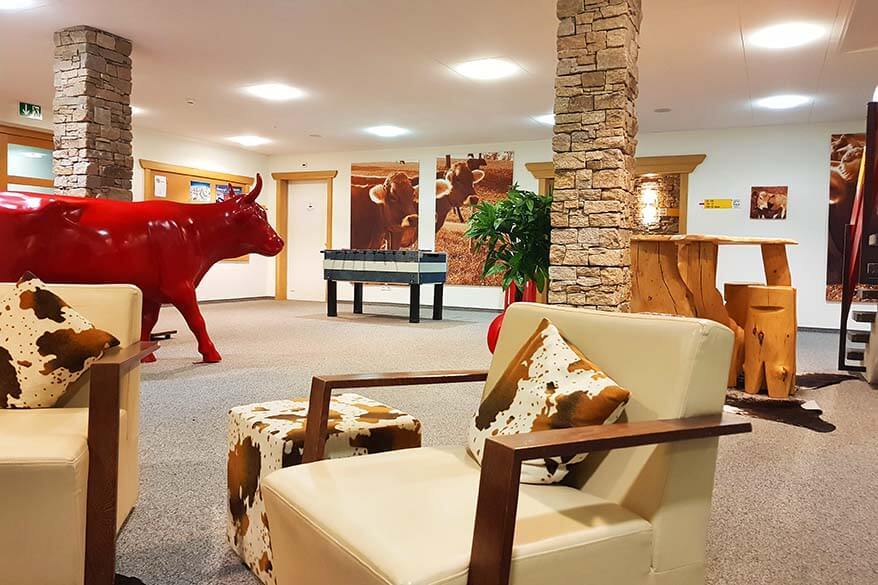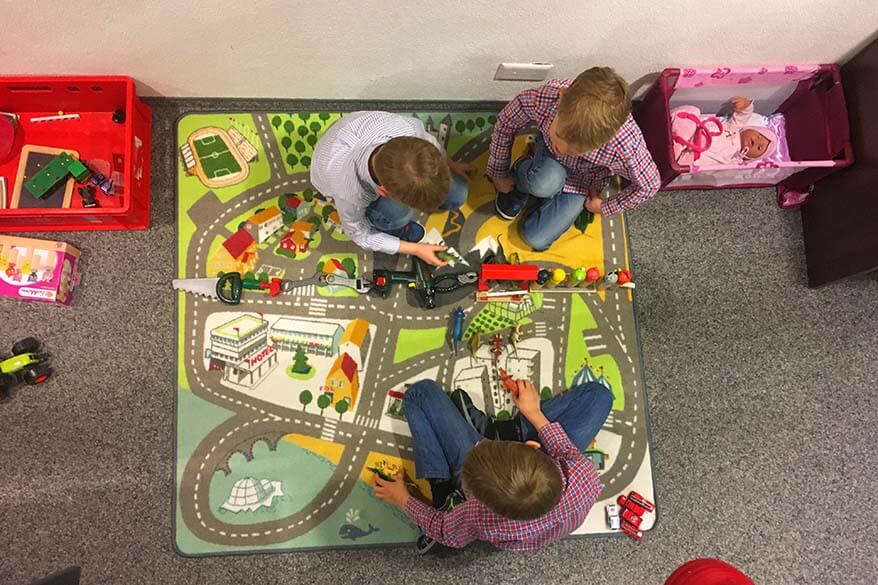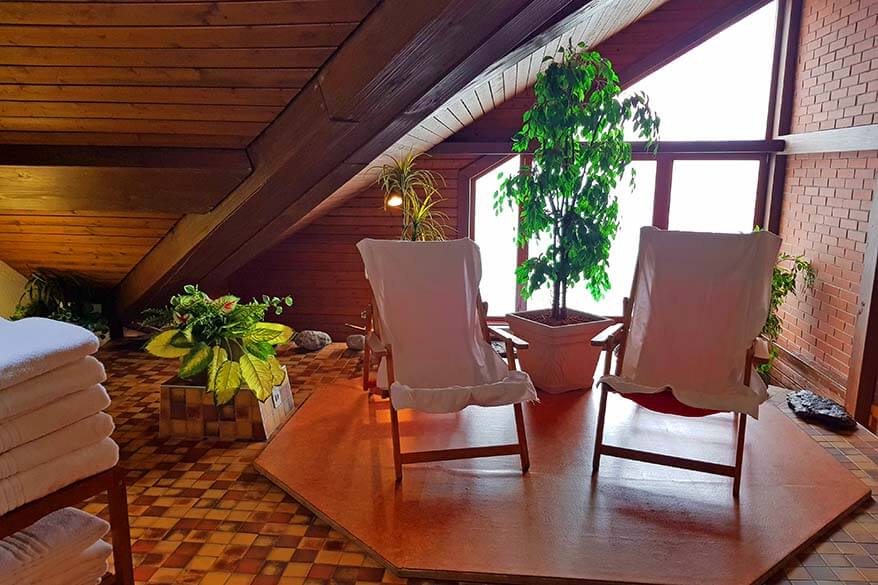 Staff and Service
The staff of the hotel is extremely friendly and deserves a separate mention. Always with a smile and always ready to help. Nothing is too much trouble. It's thanks to the staff that this hotel always feels truly cozy despite all the hustle and bustle that day visitors bring to the place.
Activities
As already mentioned, the hotel is located directly on the ski slopes, so the main thing to do here in winter is skiing. Snowshoes are also available. Cross-country skiing tracks are just nearby too.
Next to the hotel, there is a snow fun park where you can go sledding in winter. In the past, there used to be a snow tubing track, but now it's used as a beginner ski slope. an ice skating rink is also located at the hotel.
This sled area is great if you are staying at hotel Trübsee with kids. It's a great way to spend an hour or two after a day of skiing or when the weather is not so good. You can use the sleds at no additional cost and there is a moving carpet that brings you back up the hill.
Mount Titlis, one of the most popular day trip destinations in Switzerland, is located just nearby and can be reached by cable car from Trübsee, via Stand.
LEARN MORE: Visiting Mount Titlis
In summer, there are lots of hiking possibilities nearby. Many other activities are available just outside the hotel and differ per season – snowmobiling, trampolines, zip-lining, playgrounds, etc.
LEARN MORE: What to do in Trübsee in Summer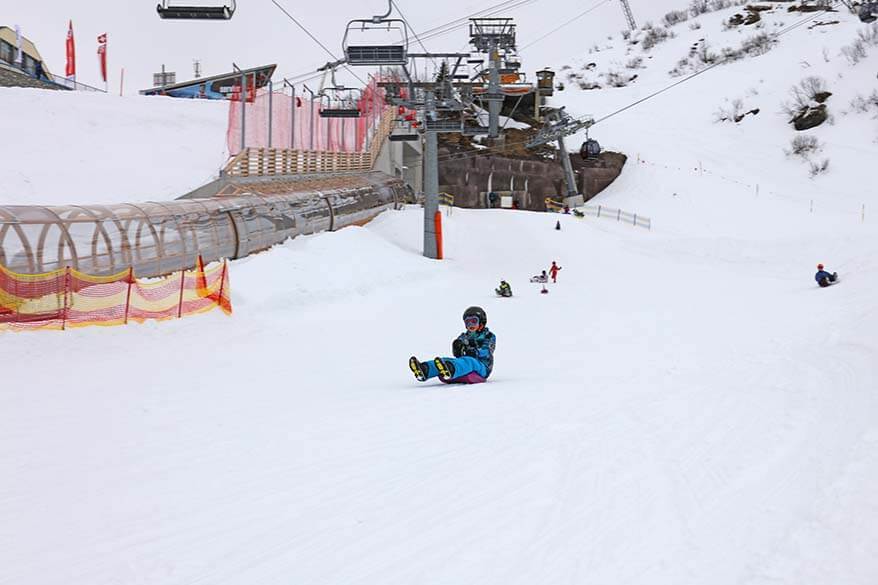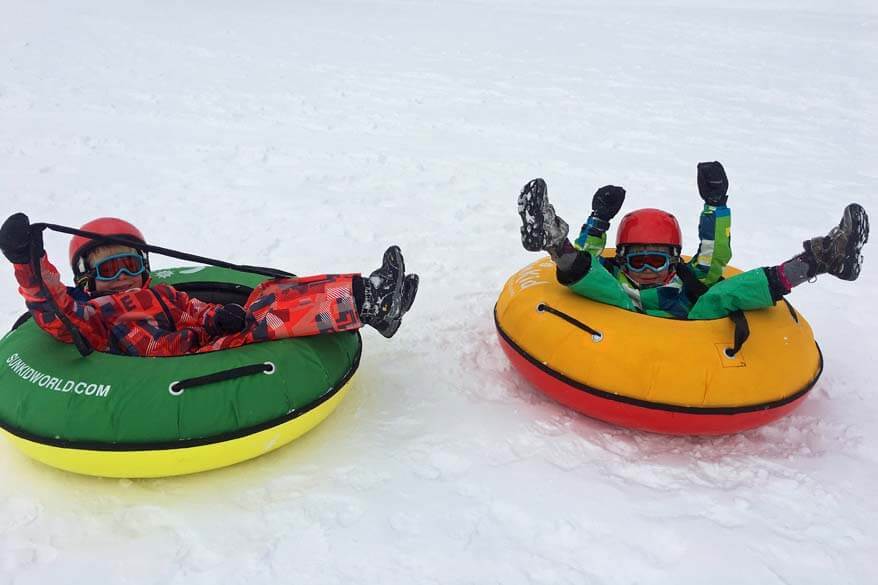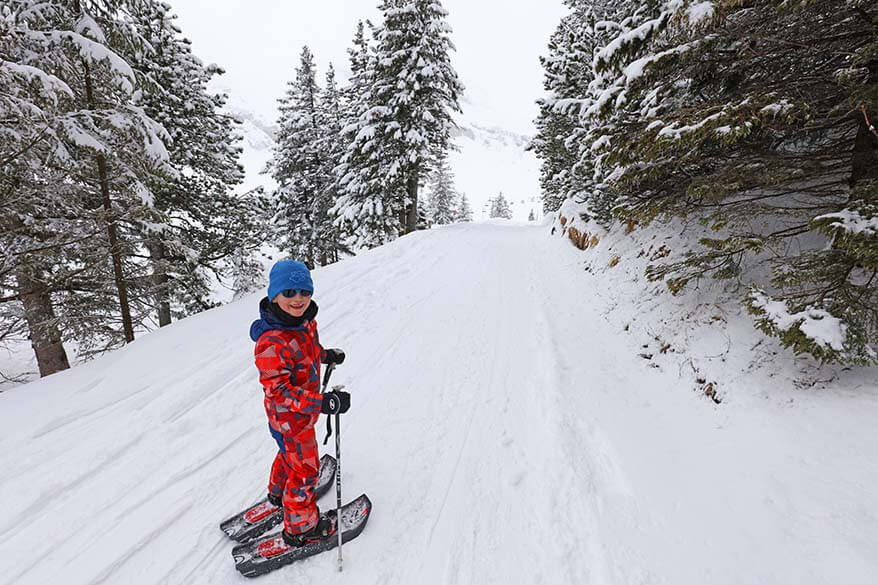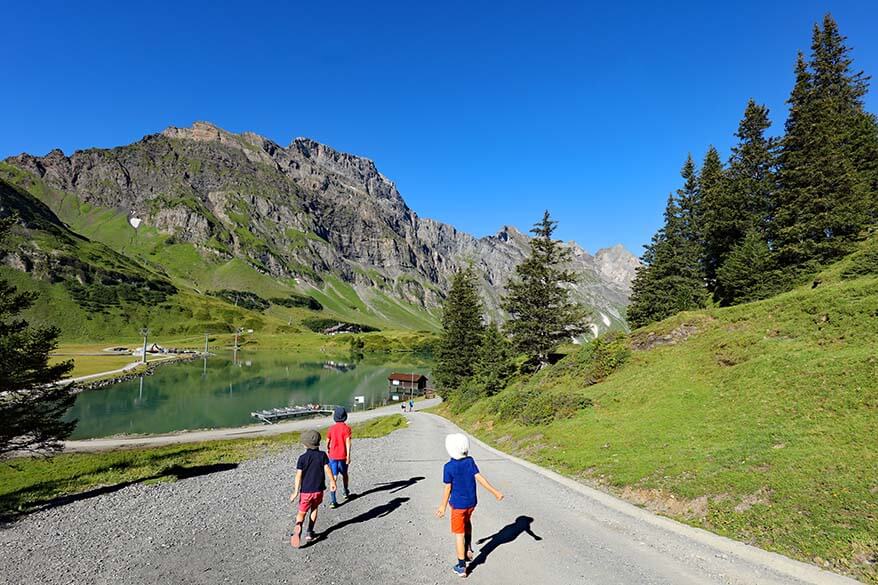 Accommodation
The whole hotel has been refurbished several years ago and it's a really cozy and nice place. Much better than you would imagine when you see it from the outside. Not only the rooms are nice and modern, but also the common areas.
All the rooms are very similar to each other, but differ in size. Most of the time, we have a family room for 5, but once we also stayed at two smaller rooms. They are all just as nice.
In most rooms, cupboard space is somewhat limited, but even in winter with all the ski clothing, we could manage just fine. Shower rooms have good storage space.
Compared to many ski hotels in France and Switzerland, the rooms at Berghotel Trübsee are actually pretty spacious and well equipped.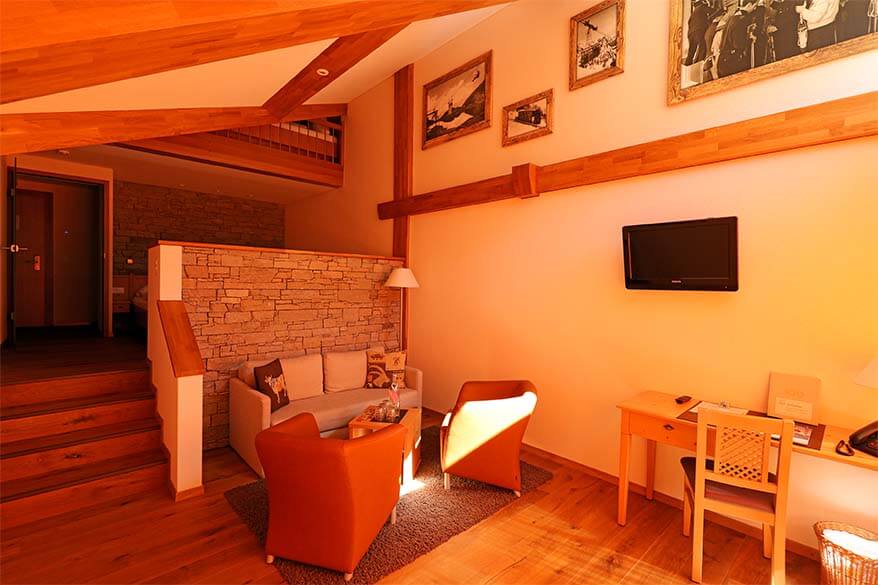 Dining
Breakfast is always included in the hotel rate and there is plenty of choice. There is always a big buffet with fresh bread and pastry, Swiss cheese, meat, jams, fresh fruit, yogurt, but also bacon and eggs… You can also find excellent coffee, tea, and fruit juices.
For lunch, you have a choice of many restaurants in the area and we don't often eat at the hotel. It always gets very busy during the day, because many skiers and day tourists visiting Mt Titlis come to eat here. The self-service restaurant serves traditional Swiss dishes, but also small snacks, soup, and of course fries and nuggets for the kids. In winter, you can also have lunch at an Italian restaurant. If I'm not mistaken, it's used for groups during the summer season.
It's recommended that you book a half-board package when staying at Berghotel Trübsee because there really is no other option as to where to eat in the evening. Dinner is either a set 4-course menu with two choices for the main course or a themed buffet. Vegetarian options are also available and you can always ask for Swiss cheese fondue as well.
As I'm updating this article four years after it was first written, I have to admit that there have been lots of positive changes as it comes to food for dinner.
There are more healthy options for the kids (but they can still always ask for fries and chicken nuggets if they want to), and they are also more flexible and accommodating than before. Well done!
Nowadays they'll also ask you in advance if you have any dietary requirements, but if they don't, make sure to let them know. Keep in mind that the hotel is located on the mountain and it's not like you have an option to eat anywhere else, so it's always best to inform them about any special needs in advance.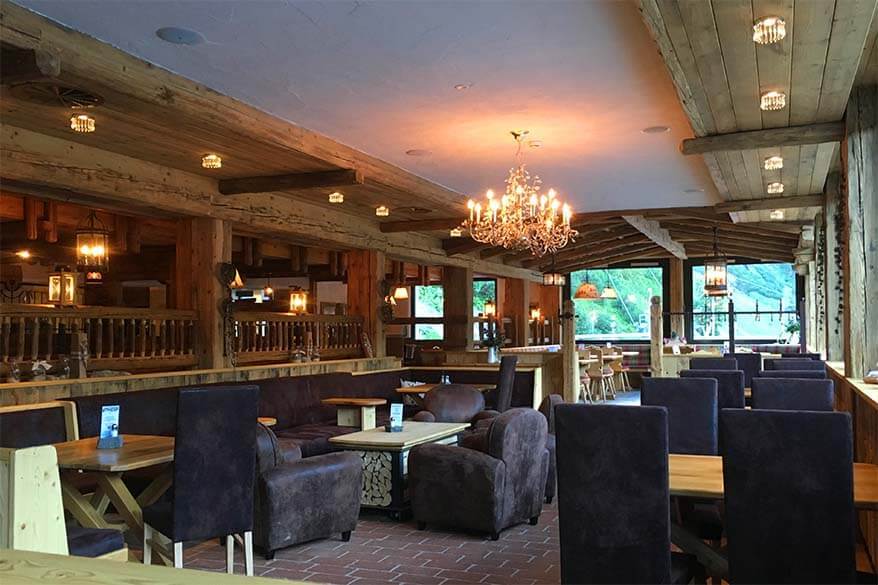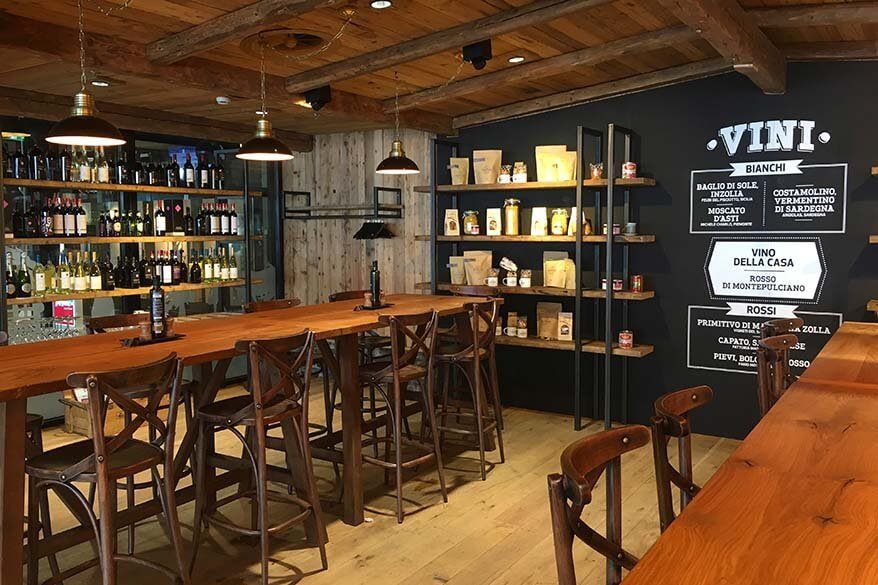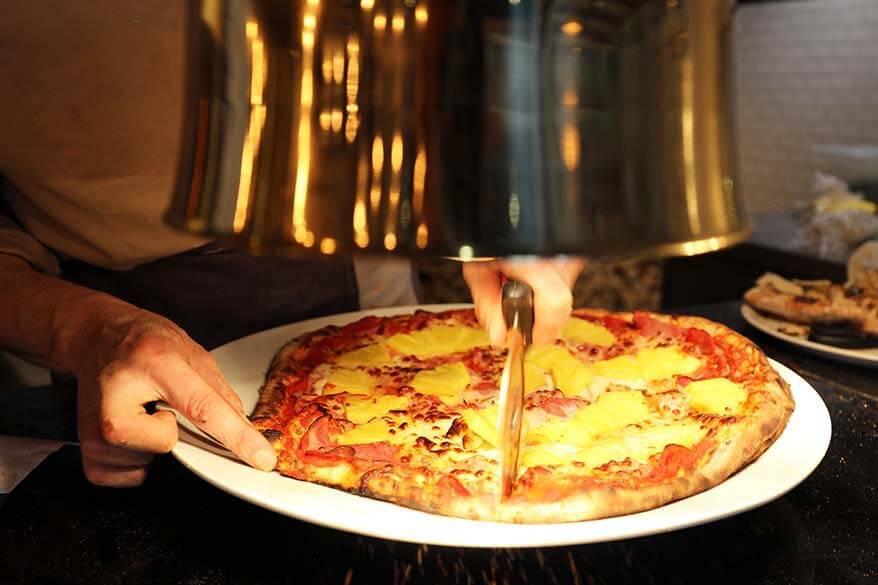 Hiking near Trübsee
There are many beautiful hikes in Engelberg and several of them start at the Trübsee Alpine Lodge.
The easiest hike is around the lake. The views are spectacular and it's a family-friendly hike with playgrounds and some activities for the children.
You can also hike down to Engelberg or up to Jochpass. Alternatively, you can also use cable cars and chairlifts for some parts and hike the other parts. There are so many possibilities…
Our personal favorite hike that starts at Trübsee is the Four Lakes Hike. It's a long hike, but one that our kids at the age of 5-7 managed just fine, and it will take your breath away. If you have a day to spare and are visiting Engelberg in summer, this is one hike you should try to do.
LEARN MORE: Four Lakes Hike in Engelberg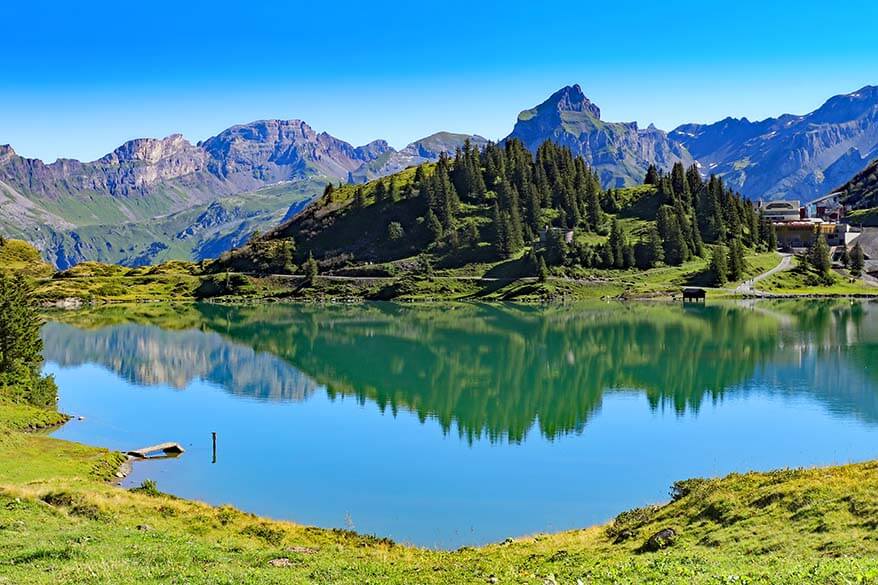 Skiing near Berghotel Trübsee
The location of the hotel is very good for skiing and you can ski in and out straight from the ski room. Recently, they have improved beginner slopes located just near the hotel, so it's now better suitable for families than it used to. Note that these ski runs at the hotel are really short and are meant for complete beginners.
There are no long ski runs that start directly at the hotel, but there is a ski run that ends here. You can ski to the gondola or to the chairlift and access ski areas that way. One option is skiing out straight from the ski storage room and on to a chairlift over Trübsee, from where you have access to the Jochpass ski area that has great slopes for all difficulty levels. Or you can ski down to the entrance of Trübsee gondola that will bring you to the ski slopes around Stand or at Mount Titlis.
The location of the hotel is not ideal for families who want to send their younger kids to a ski school. Most beginner slopes are located in the other ski areas of Engelberg and not at Trübsee. But if your kids are older, you can probably arrange that they can join the group at the hotel because most ski groups with some experience ski in this area anyway.
If you are planning to take group ski lessons for young kids, you are probably better off staying at one of the hotels in Engelberg village rather than on the mountain. Or arrange private lessons instead.
LEARN MORE: Skiing in Engelberg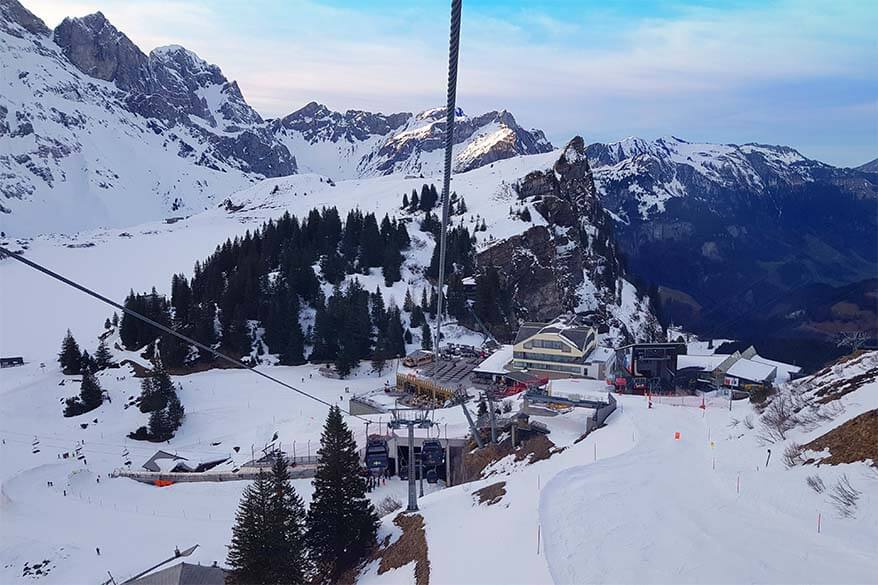 Après-ski
If you are looking for après-ski, hotel Trübsee is probably not the best choice. There is a bar at the hotel, and you will have a great time there if you are together with a group of friends. But otherwise, it's pretty quiet as there are only hotel guests up on the mountain in the evening.
It's really not a hotel to party and most people are here for the quietness of the mountains and the scenery.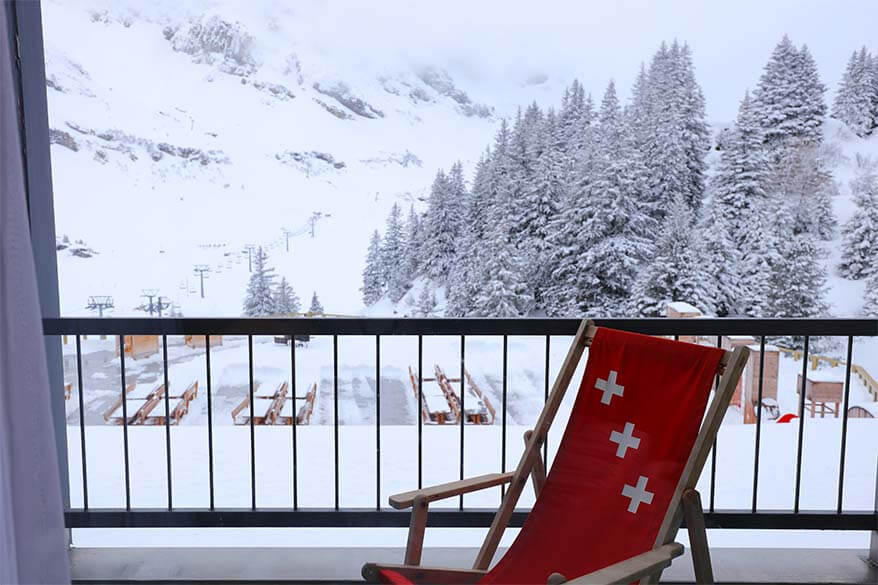 Practical Info
Because the Trübsee hotel is located on the mountain and can't be reached by car, there are some practical aspects that you may want to know.
Parking in Engelberg
There is a big parking area at the Titlis valley station and it costs 5 CHF per day. There is no need to reserve in advance, but you have to ask where to park upon arrival or your car may get towed away otherwise. Overnight parking is only allowed in certain areas.
No reason to worry though – there is always plenty of staff and they'll show you where to unload the luggage and where to park.
Getting Your Luggage to the Hotel
One of the biggest worries the first time we stayed at Trubsee was how we would get our luggage and skis to the hotel. We shouldn't have worried! Upon arrival at the Titlis cable car station, we were shown where to unload our bags and ski equipment (delivery ramp at the back of the valley station). Our baggage was loaded and up on the mountain before we even parked our car.
Upon departure, you can leave your bags at the reception and they take care of the rest. All you have to do is get down the hill, pick up your car from the parking lot, and drive up to the delivery ramp to load your bags.

There is no extra fee for this.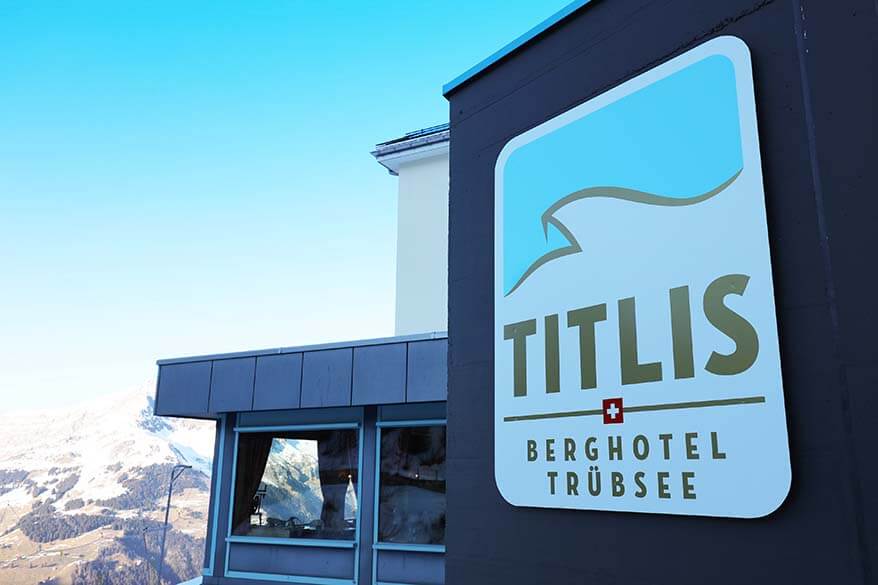 Cable Car Tickets
You need a valid pass to get to the hotel and for all the other cable cars and chairlifts. It's easiest (and cheapest) if you get the ski pass for the whole period of your stay including the day of arrival and departure.
You can buy a ski pass upon arrival or contact the hotel and they can reserve it for you. In any case, you have to pick it up at the Titlis Valley Station. You pay a deposit of 5 CHF per ski pass and you get the deposit back upon your departure (so don't forget to return the ticket).
Good to know: In winter, your ski pass includes Titlis Rotair allowing you to visit Mt Titlis without an extra cost. In summer, you have to get an extra ticket if you want to go to Mt Titlis. The 'regular' summer pass includes all the cable cars in Engelberg, except Titlis Rotair.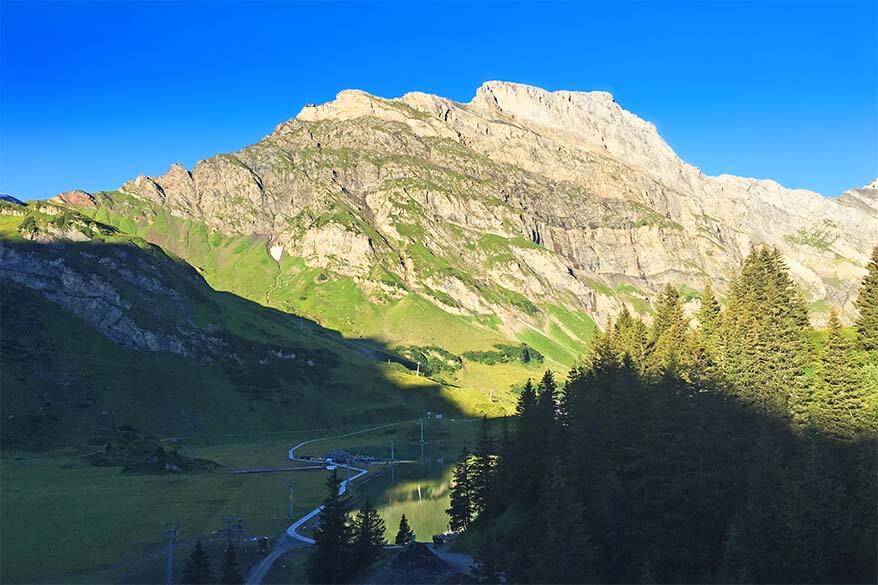 Skiing Equipment
If you don't bring your own skiing equipment, you can rent it in Engelberg. There are several shops near the Mt Titlis Valley station where you park your car. It's best to do this online in advance because prices are much lower than when you do it upon arrival.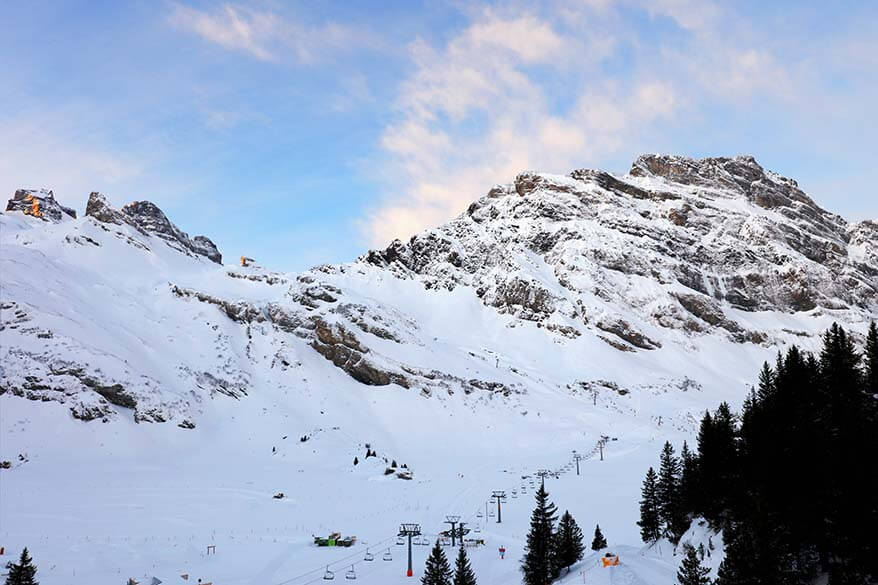 Book Your Stay
If you are traveling in winter, you should know that hotel Trübsee is often fully booked. For family rooms during high skiing season, you may want to book at least half a year in advance. But if your dates are more flexible and you just need a regular 2-person room, sometimes you may find availability at the last minute as well.
In summer, there is usually more availability, but sometimes the hotel gets booked up for weddings or other special celebrations. So if your travel dates aren't flexible, it's best to book well in advance as well.
You can check availability and prices on Booking.com. Alternatively, if they don't show available rooms, try contacting the hotel directly.
So, this is our review of the Alpine Lodge Trübsee in Engelberg.
Berghotel Trübsee is a really nice mountain lodge for couples, friends, and for families with children. It has all you need for a perfect vacation: excellent location, good facilities, delicious food, and friendly and efficient staff. The price/ quality ratio is also really good for Switzerland. We will definitely return (again)!
READ ALSO: Mt Titlis vs Jungfraujoch
More tips for your trip to Switzerland:
If you found this post useful, don't forget to bookmark it and share it with your friends. Are you on Pinterest? Pin these images!