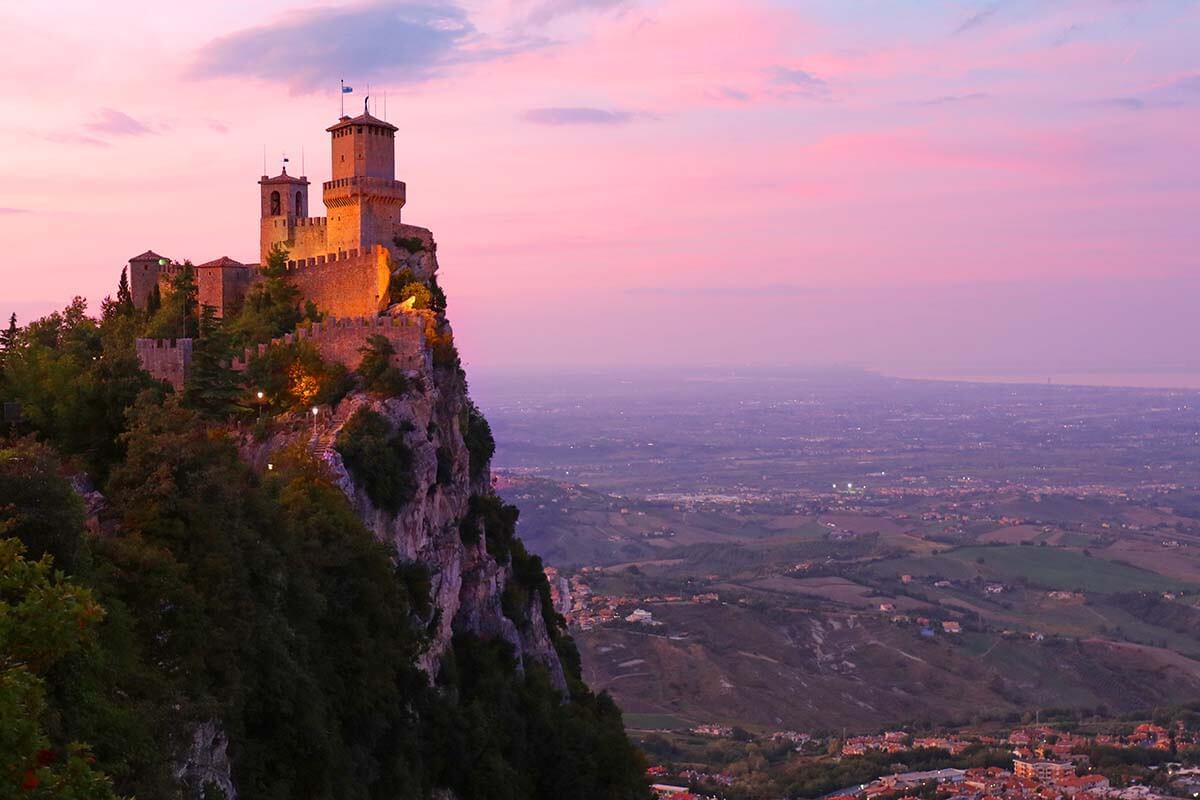 San Marino, completely surrounded by Italy, is one of the world's smallest countries. But don't let its tiny size fool you! The dreamy hilltop town Città di San Marino with centuries-old history and fairytale castles is one of the most beautiful travel destinations in Europe!
You might be wondering whether it's worth spending a night in San Marino city and if so, where should you stay.
In this guide, you can find a short overview of the best San Marino hotels, depending on your needs and budget. At the end of the article, you can also find a handy map that allows you to compare all hotels and Airbnbs in one place.
But first, let's take a look at WHY you should stay in San Marino and for how long. Find out!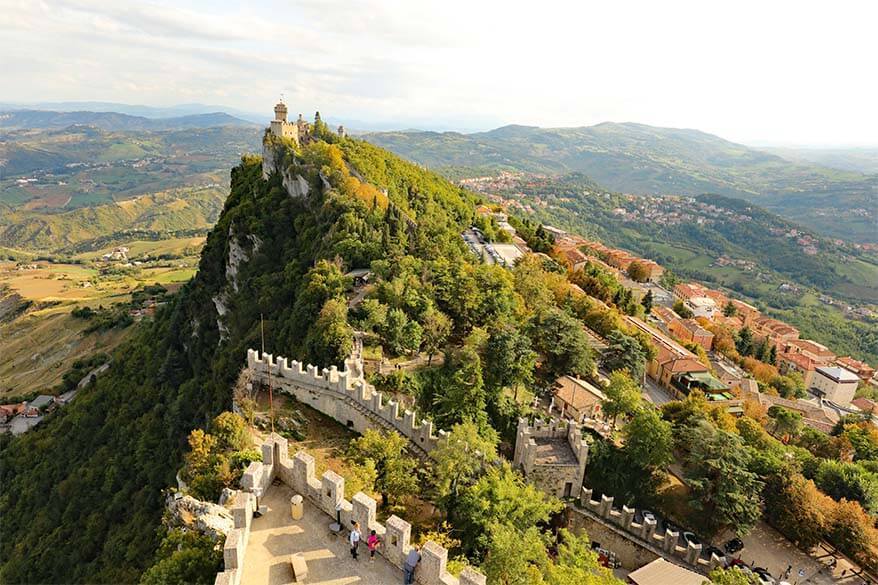 Why Stay in San Marino
Because it's so compact in size, most visitors only visit San Marino for a day. However, they are missing so much!
San Marino is a popular day-trip destination and the city is crowded during the day, especially in high season. It's hard to appreciate the narrow medieval streets and impressive landmarks when you're constantly rubbing elbows with strangers and fighting for a spot at the most beautiful photography locations…
The good thing is that the situation is entirely different in the morning and in the evening. The city is deserted before 9 AM and just pleasantly lively for another hour or so. Also in the evening, after 6-7 PM, there's hardly anyone around.
Just imagine strolling the deserted medieval alleys and watching the most spectacular sunsets and sunrises with stunning views and hardly anyone else around… It's simply magical!
Having seen the two sides of the city, I highly recommend spending a night in San Marino and experiencing it without the crowds. You'll discover a totally different place. It's totally worth it! If you are into travel photography, staying a night is an absolute must!
READ ALSO: Complete Guide to Visiting San Marino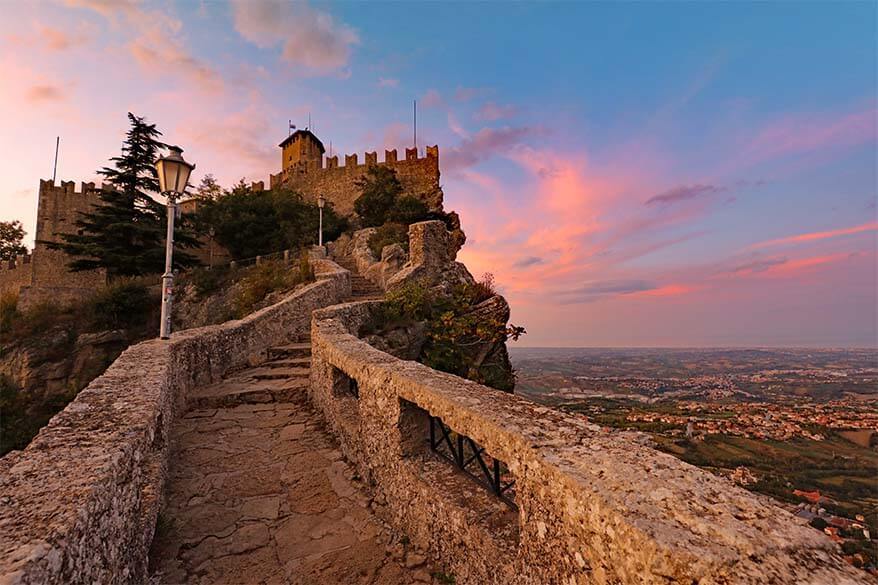 How Many Nights to Spend
You can see the main landmarks and highlights of San Marino in just a day, so staying here for one night is enough. Especially if you make the most of it and explore the city at around sunset and early in the morning before the groups of day tourists arrive.
However, if you can, stay in San Marino for two nights! That way you'll have one full day to explore the city and the chance to witness two sunsets (which are magical here!). Furthermore, you'll also have the possibility to explore the city early in the morning without having to rush to your next destination.
TIP: If you like photography and don't mind getting up really early, San Marino has some incredible sunrise photography locations. San Marino sunsets are amazing too. With so many nice sunset locations, you'll have difficulties choosing where to go!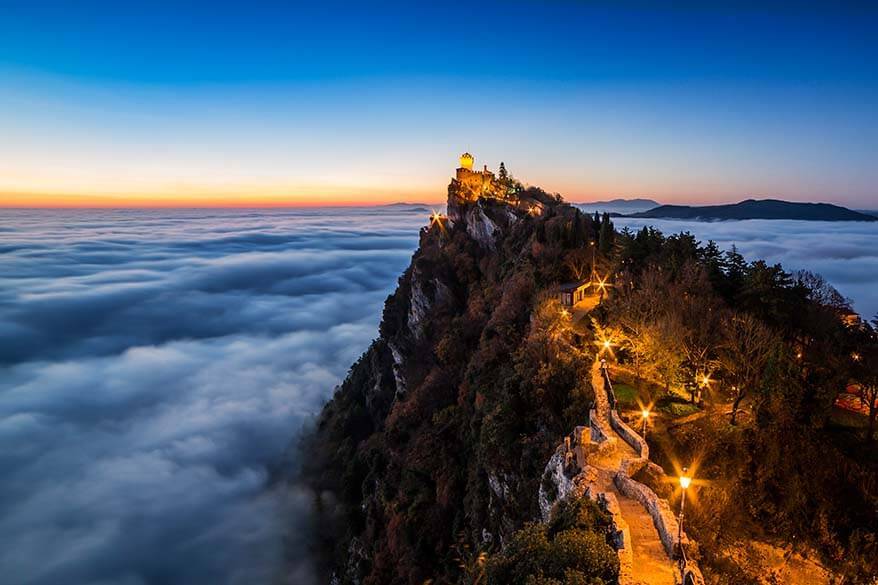 Where to Stay
The Republic of San Marino isn't big, but part of it is located on the mountain and the other part – around it. The best place to stay in San Marino is in San Marino city (Città di San Marino) high on the hill. It's here that the most important landmarks are located.
Staying in the City of San Marino makes it so easy to explore everything on foot. You can simply walk to the most beautiful places from your hotel in a matter of several minutes. There are also many really good restaurants here.
In this article, we only focus on the hotels in San Marino City. We only feature the very best San Marino hotels in the historic town center. There are hotels here for every budget. Take a look!
TIP: While there are even cheaper hotels in the area, staying on the hill in Città di San Marino is an incomparable experience! So if you already make an effort to visit San Marino and decide to stay there, I'd say stay in the nicest area and make the most of your visit!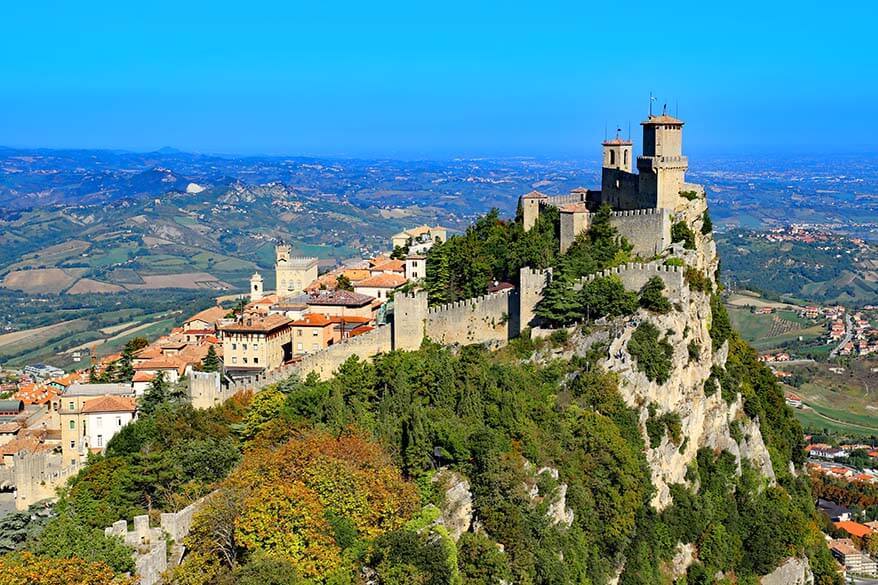 Best San Marino Hotels
There are several really nice hotels in San Marino. Each has its advantages and some also disadvantages. See the complete overview below.
Good to know: Most of these hotels are located in the historic town center and can't be reached by car. Some of them have their own private parking facilities, but in most cases, you'll have to leave the car at the public parking outside the city gates. Walking distances aren't big and those few hotels that are uphill, can usually arrange a shuttle if you find a 5-minute walk with your luggage too tiring.
To help you decide where to stay, our list below contains more information about the parking/ accessibility of every hotel.
If you don't have a car, you may want to know that most hotels can arrange an airport shuttle for you. Alternatively, you can book an airport transfer on Viator as well.
We sorted this list of San Marino hotels by price from highest to lowest. Some hotels offer very similar prices for their standard rooms. In that case, we listed the ones with the best customer reviews first. If you are looking for a more intimate experience, then check out the B&B Balsimelli12, the best-rated B&B in town.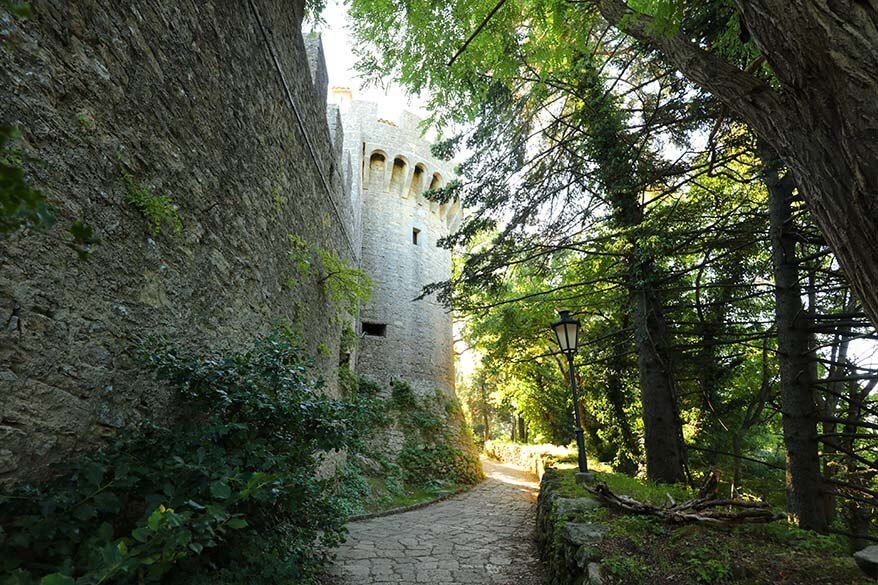 Without further ado, these are the best hotels in San Marino:
Titano Suites
One of the most luxurious accommodations in San Marino, the 4* Titano Suites Hotel offers a truly special lodging experience. The 19th-century building has been beautifully renovated and combines historic charm with all modern comforts. The location is excellent too!
Just as the name suggests, this hotel has beautiful suites, some with a terrace or a balcony offering great views. If you are visiting San Marino with a bigger family or simply want more space, this is an excellent choice!
The hotel is located in a restricted area where you cannot drive. It offers private parking at the Grand Hotel (16 EUR/day) or you can park at the public parking #5. It's just a few hundred meters walk away, but the hotel is uphill from the city gates. If you contact them upon arrival, they might be able to send a shuttle for you and your luggage.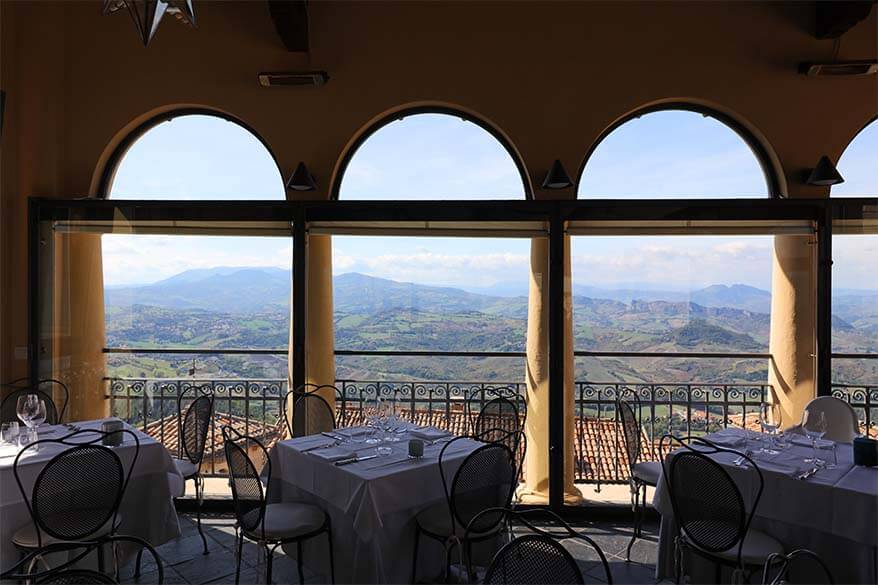 Hotel La Grotta
One of the most popular hotels in San Marino, the 3* superior Hotel La Grotta has an excellent location in the heart of the historic city. It's located just a few meters from the main town square, Piazza della Libertà.
They have double and triple rooms and also several spacious rooms for big families. Some rooms offer great views.
This hotel is in a traffic restricted area but is just a short walk from the public parking outside the city gates. They offer discounted day passes for public parking. However, in high season and depending on the time when you arrive, you might have difficulties finding a parking spot during the busiest hours of the day.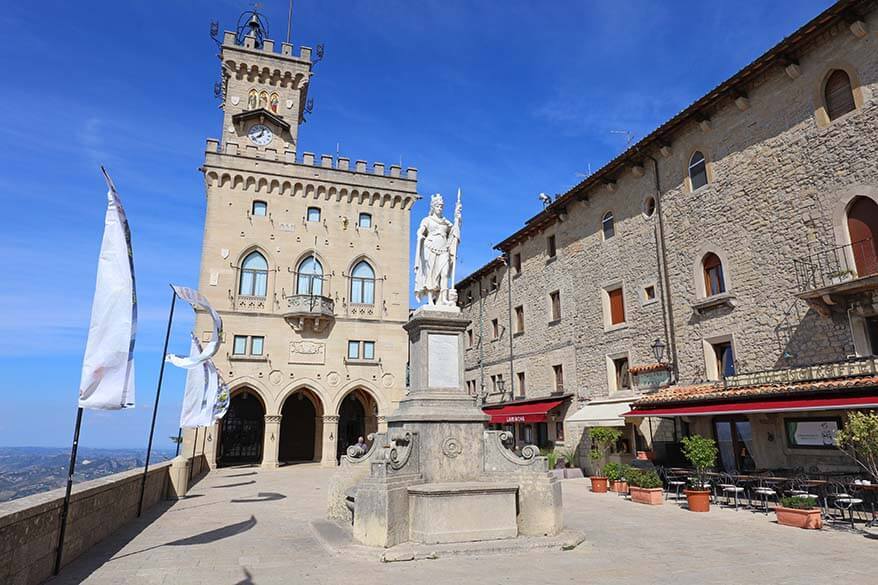 Grand Hotel San Marino
One of the easiest-accessible hotels in San Marino, the 4* Grand Hotel San Marino is located just at the main city gate and near parking 5. Whether you are arriving in the city by car or by shuttle bus, you can drive all the way up to the front door. So no need to worry about carrying your luggage on the hilly cobbled streets!
We stayed at this hotel when we visited San Marino and loved it. While it might lack the charm of the smaller hotels in the heart of the city, this luxurious hotel is spacious, offers incredible views, and excellent facilities. I especially loved the outdoor hot tub with fantastic views! The location is excellent too, with all the landmarks just a short walk away.
The hotel has its own underground parking garage. Alternatively, you can park on the street or at the public parking nearby.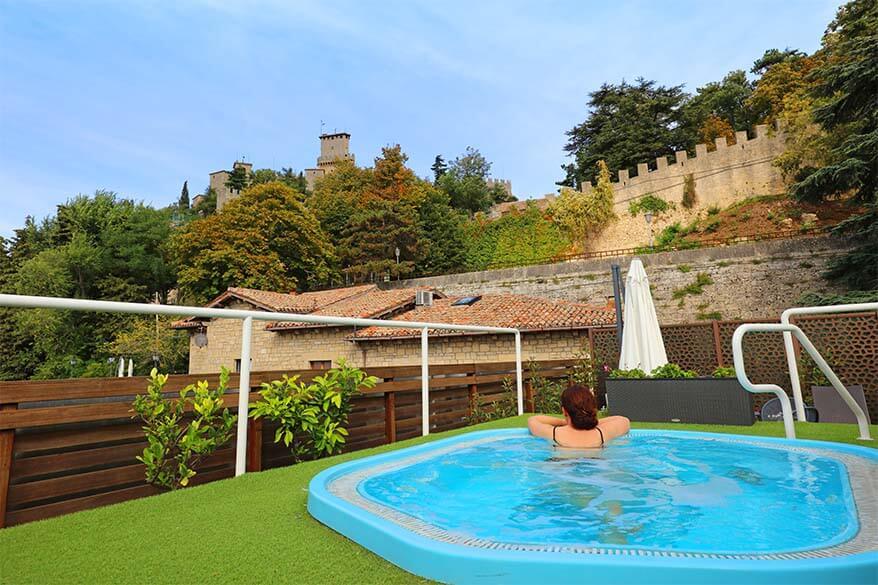 Hotel Cesare
The 4* Hotel Cesare is another excellent choice in San Marino! Located in the historic old town, the hotel offers rooms with some of the best views you can imagine. If you choose to stay here, make sure to book one of the rooms with a panoramic view!
This hotel has a nice restaurant, but there are also plenty of restaurants nearby. It's more suited for singles or couples, and their biggest rooms can accommodate a maximum of 3 people.
They have no private parking, but public parkings #5 and #6 are just nearby. The hotel provides parking vouchers so that it only costs you 4 EUR per day.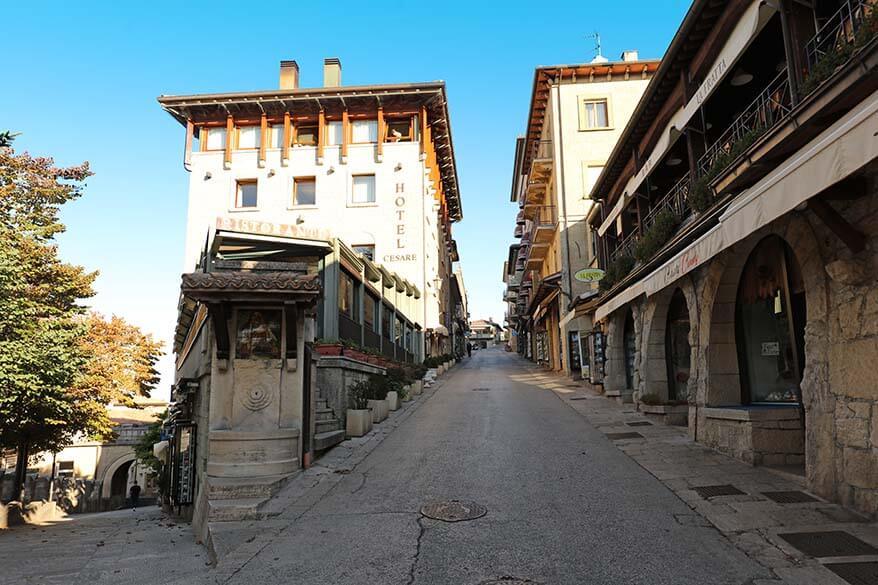 Hotel Titano
The 4* Hotel Titano is one of the best-priced quality hotels in the historic city center. The location is excellent, but the standard rooms are rather small.
What makes this hotel really special is the incredible view from its restaurant (Restaurant La Terrazza). If you stay at the hotel, you can have breakfast with an amazing view. But even if you are not a guest at the hotel, it's worth coming here for lunch or dinner! We had an excellent lunch here – great food, friendly service, and phenomenal views!
This hotel is located in a restricted area and cannot be reached by car. It offers private parking at the Grand Hotel (16 EUR/day) or you can park at the public parking #5. It's a short uphill walk from there with your luggage, but the hotel can arrange a shuttle.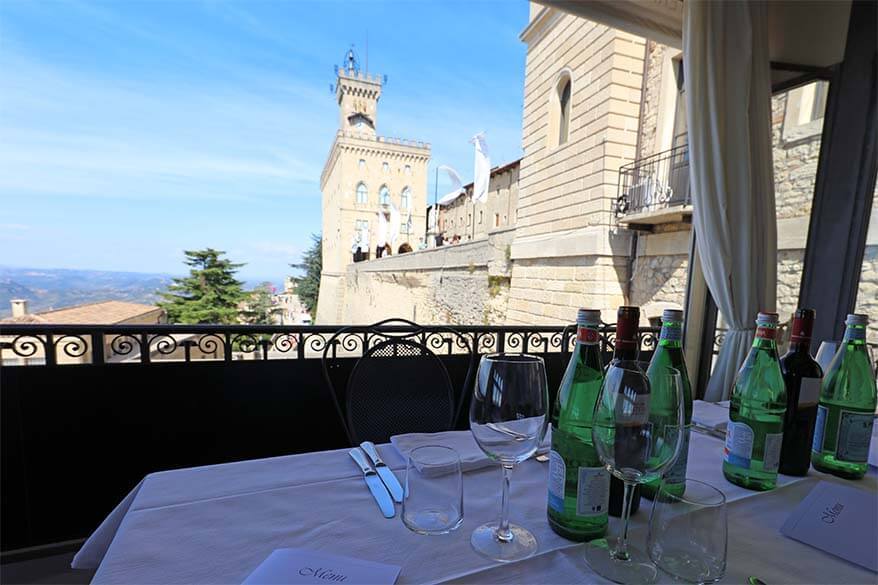 Hotel Rosa
The 3* Hotel Rosa is another very popular choice in San Marino, and especially among those who are on a lower budget and/or are traveling by car or motorbike.
The hotel is located inside the historic city center, very close to La Rocca – Guaita Tower, from where it's just a short walk to Cesta Tower. It's also close to various restaurants. They have single, double, triple, and quadruple rooms.
This hotel has private parking (including covered parking for motorbikes), which is a huge advantage. Just make sure to book it in advance because spaces are limited! You'll also have to contact the hotel before arrival to provide them the license plate number for access to the restricted area.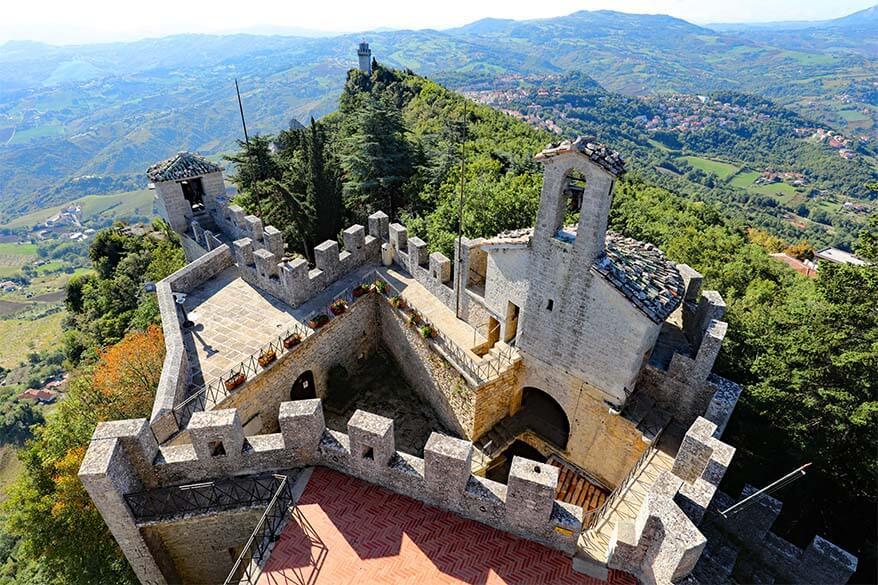 Hotel La Rocca
The 2* Hotel La Rocca is a lower-budget hotel in the historic city center of San Marino. If you are looking for a simple clean hotel with a great location but at a low price, then this is a very good choice. The views from some rooms are amazing too.
Public parking #6 is just nearby and you can get a discount voucher for the duration of your stay.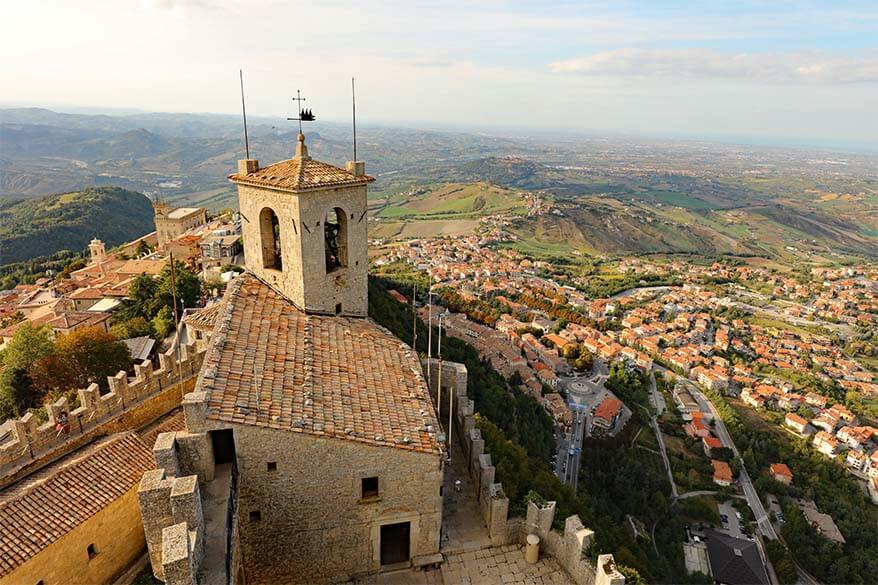 Hotel Joli
The 3* Hotel Joli is one of the cheapest of San Marino hotels. It's located about 5-10 minutes walk from the historic city center. But if you don't mind a steep uphill walk, it's one of the best options for those looking for a good price-quality hotel in San Marino on a lower budget.
This is a no-thrills hotel with simple rooms in various sizes for up to 4 people. However, many rooms offer amazing views, the breakfast is good, and location – ok. Good value for your money.
The hotel has no parking but provides you with a discounted parking ticket for 4 EUR per day. You then have to find a spot at one of the public parkings nearby.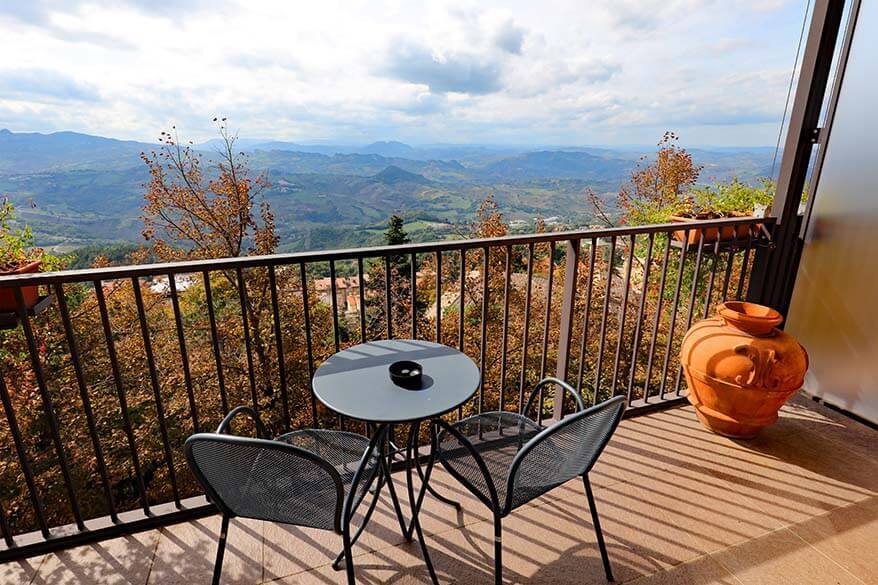 Compare Hotels and Short-term Rental Accommodations in San Marino
Using the map below, you can compare hotels, apartments, and short-term rental accommodations in Città di San Marino. Simply insert your travel dates and group size, and you'll see the best deals for your stay. Check it out!
So, this is our guide to the best San Marino hotels. I hope that this article convinced you to spend at least one night in this fairytale town and helped you find the best accommodation for your vacation!
READ ALSO: San Marino Castles – what to expect when visiting the famous three towers of San Marino
If you are visiting this area, don't miss the stunning Emilia Romagna region in Italy! We absolutely loved Ravenna, one of the most beautiful cities in Italy! And also Rimini with its beaches and the historic old town is absolutely worth a visit!
For more information and inspiration for the area, please check this Emilia Romagna itinerary that covers all the nicest places in just 3-4 days. Check it out!
If you found this post useful, don't forget to bookmark it and share it with your friends. Are you on Pinterest? Pin these images!