Are you thinking of visiting San Marino, but are not sure what to expect or whether San Marino is worth a trip? Or maybe you're already set on going and are wondering what there is to see and do in San Marino and how much time you need?
This complete travel guide to San Marino, including the best things to do in San Marino, should answer all your questions. Read on!
San Marino is a real hidden gem of Europe that somehow still managed to stay under the radar of most tourists. Surrounded by such famous Italian cities as Venice, Bologna, Florence, and Rome, San Marino is often overlooked by most people visiting Italy…
I have to say that it was the same with us – it took us tens of trips to Italy before we finally visited San Marino… And now that I discovered this little gem of Europe, I want to inspire you to do the same. San Marino has so much more to offer than it looks at first sight… Find out!
Disclosure: I visited San Marino in cooperation with the San Marino tourism board. As always, all opinions and enthusiasm are my own.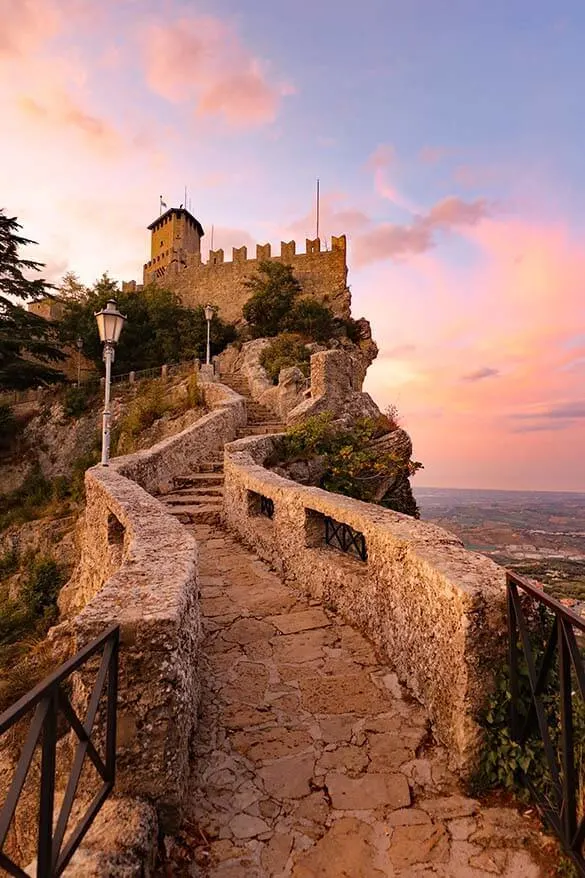 Below you can find a short overview of all the information we cover in this article. From interesting facts about San Marino, the best things to do in San Marino, to practical information for visiting San Marino and a handy map indicating all the main landmarks and attractions….
This article contains all the information that you need in order to plan your own dream trip to San Marino. Take a look!
Visit San Marino – OVERVIEW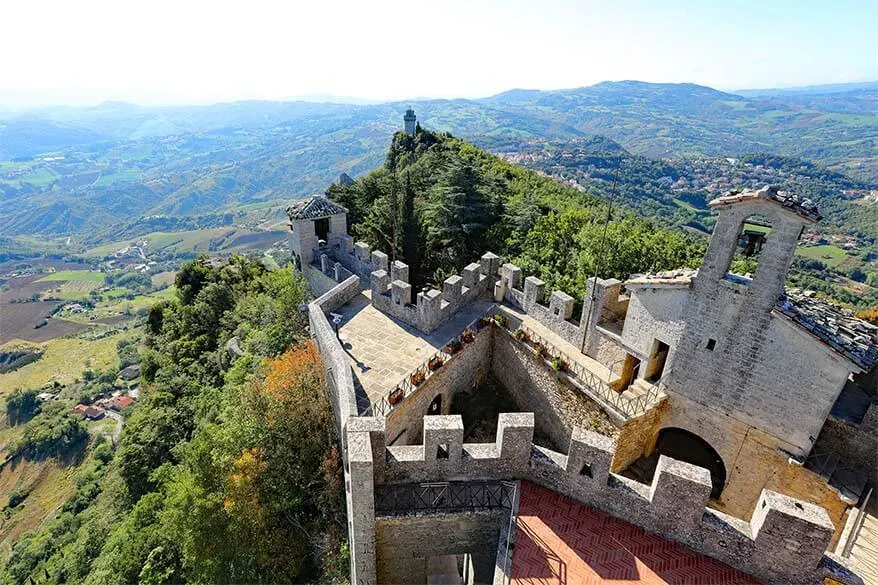 What is San Marino
San Marino is the 5th smallest country in the world and the 3rd smallest country in Europe. Surrounded by Italy, the Republic of San Marino is actually an independent country.
Below are some more interesting facts you may want to know about San Marino as a tourist:
San Marino is the world's oldest republic and was never ruled by a king. San Marino was founded in the year 301 by Christian refugee St Marinus who, together with some others, was forced to flee from Roman persecution.
In San Marino, any citizen who is elected for parliament can also become a president. They have had more female presidents than any other country in the world and also the world's youngest president, just 26 years old. San Marino has two presidents every year. They change every 6 months, on the 1st of April and on the 1st of October.
The area of San Marino is just 61,2 km² (24 square miles). Only the following countries are smaller: Tuvalu, Nauru, Monaco, and Vatican City.
The population of San Marino is just over 33,000 people.
San Marino is completely surrounded by Italy, but it's not part of the European Union.
San Marino uses the Euro as its currency. Taxes are very low in San Marino and most things are cheaper in San Marino than in Italy.
San Marino has 9 towns, called castelli (municipalities), but most tourists only visit one – the city of San Marino, which is also a UNESCO World Heritage Site.
Sammarinese people have their own language, the Sammarinese dialect of Romagnol, which is basically a dialect of Italian also spoken in the nearby Emilia Romagna region. The official language of San Marino is Italian.
You can't buy or even rent a property in San Marino as a foreigner.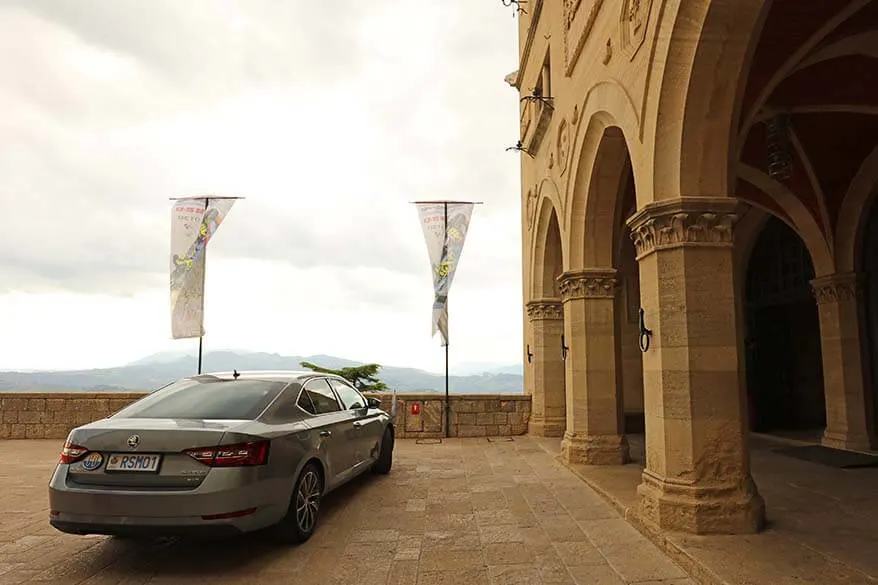 Why Travel to San Marino
There are so many reasons to visit San Marino! Spectacular views, fairytale castles, picturesque medieval streets, friendly people, fantastic atmosphere, delicious food, and cheap prices to mention just a few…
San Marino exceeded all my expectations! Lively during the day, fairytale-like and mysterious in the evening, and simply unforgettable while exploring the castles completely on my own early in the morning…
Those who like to count countries or collect passport stamps will love San Marino as well. If interested, you can get a really nice passport stamp at the tourist office that is located near the San Marino cable car. At the moment of writing, this costs 5 euro.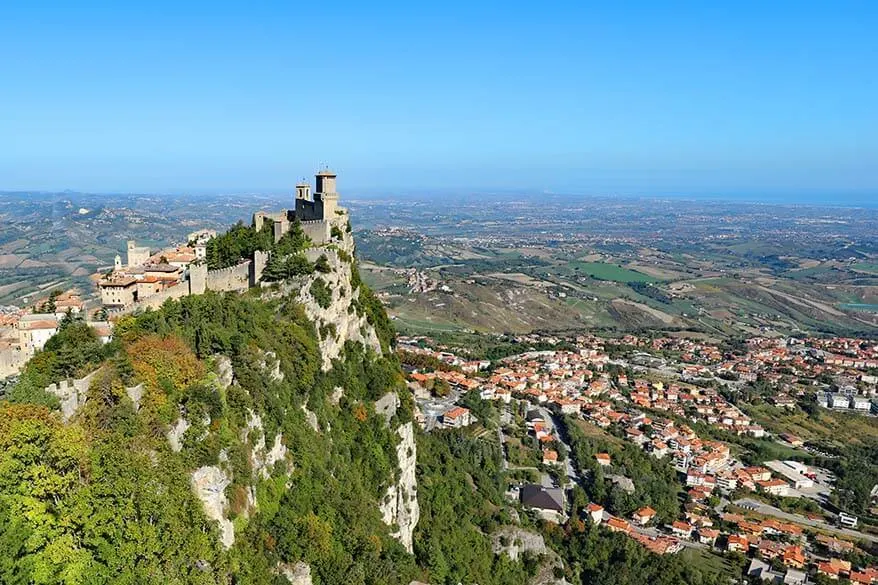 How Much Time Do You Need to Visit San Marino
All the main landmarks of San Marino can be seen in half a day to a day. Therefore, most tourists visit San Marino as a day trip. However, I highly recommend spending at least one night in San Marino!
There are only a few places in the world where you can still have one of the most incredible UNESCO sites all to yourself, and San Marino is one of them! If you explore it early in the morning or late in the evening, without the crowds of day tourists.
If you stay in San Marino for the night, you'll have one of the most unique places in Europe all to yourself! Imagine strolling the deserted medieval alleys, visiting historic castles, or watching a spectacular sunset with gorgeous views and nobody else around… It's simply magical!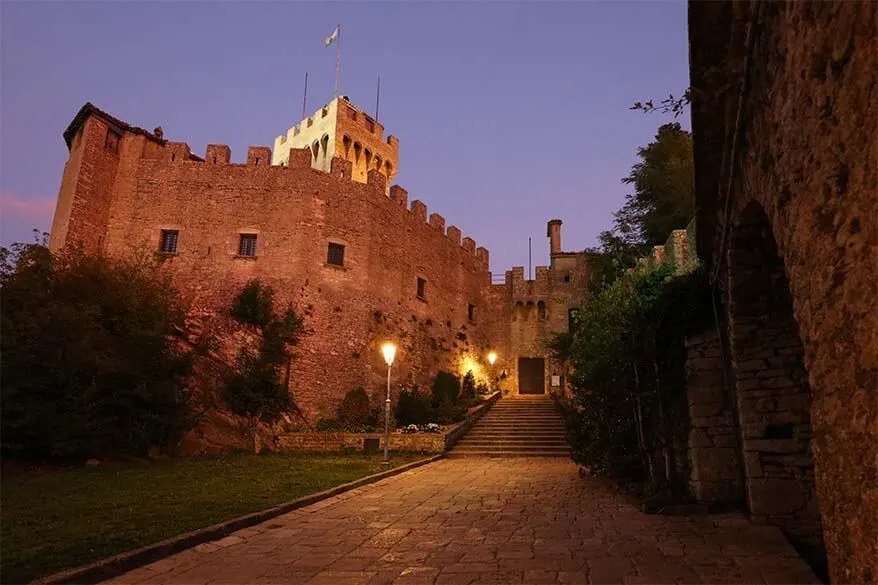 Best Things to Do in San Marino
While most travel guides to San Marino only focus on the best things to do in San Marino city, I want you to have a more complete picture of what San Marino is about.
Therefore, in addition to the main San Marino attractions, this guide contains a few extra things to do in San Marino that you won't find in most other guides. While not everyone might want to make an effort to explore a bit deeper, these additional suggestions will hopefully inspire those who do have a bit more time in San Marino and like some off-the-beaten-path experiences.
But first, let's start with the best places to see and things to do in San Marino that everyone should see do. Further below, you'll find my additional suggestions for what to do in San Marino. Read on!
Good to know: If you plan well, you can do everything mentioned below in San Marino in one day. You won't be able to visit each and every single museum in a day, but San Marino is so small and everything is so close to each other, that one day is sufficient to visit all must-see attractions. Once again, if you can, stay in San Marino for the night. You'll love it!
TIP: Check out this highly-rated tour of the main places in the historic city center with a local guide. It's a good way to see all the musts in a short time.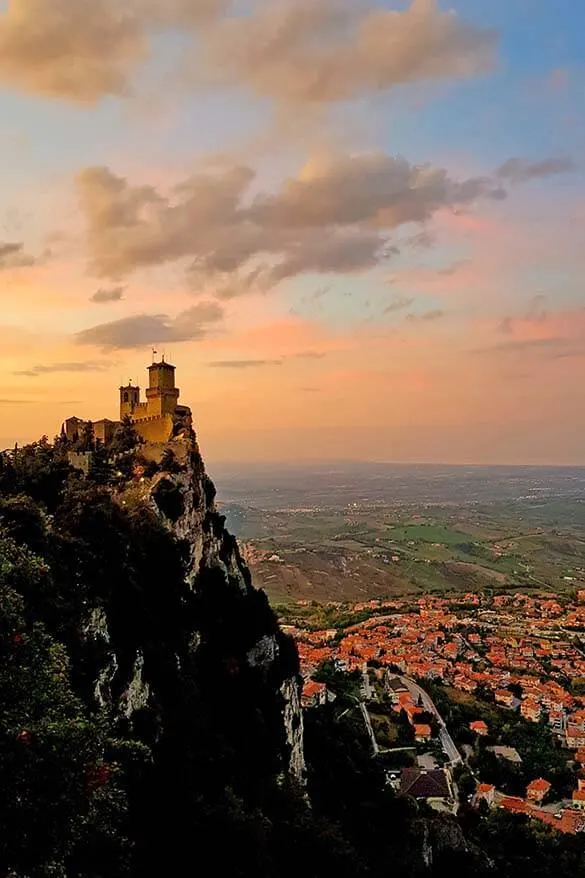 Here are the best things to do in San Marino:
Piazza della Libertà & Palazzo Pubblico
Among the must-see places in San Marino, Piazza della Libertà with Palazzo Pubblico (which serves as the Parliament Building) is probably the most important one. This is the main town square where official celebrations, festivals, and various events are held.
At certain times, you can watch the changing of the guard ceremony. If you are lucky, you may run into the president of San Marino, as we did.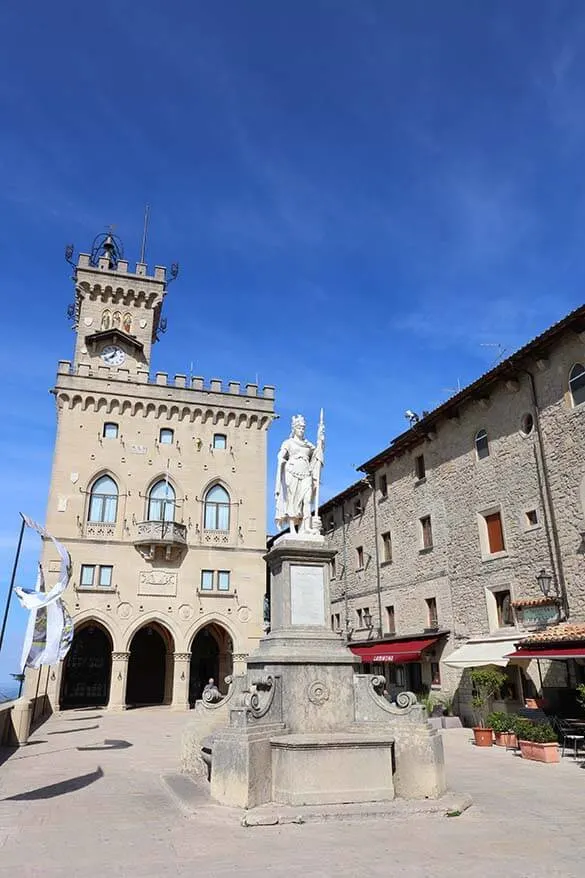 Medieval Streets of Città di San Marino
When people talk about visiting San Marino, they actually refer to visiting the Unesco-listed capital town, Città di San Marino, or the city of San Marino. It's here that you'll find the historic buildings, the famous castles, and the iconic postcard-views of San Marino.
The old town of San Marino City is a beautiful labyrinth of narrow medieval streets, historic buildings, restaurants, cafes, shops, and museums.
The best way to explore this tiny city with narrow cobbled streets is on foot. Some streets are lined with souvenir shops, cafés, and restaurants and can get really busy during the day. Some others, just off the main tourist routes, are completely empty…
The city is built on a mountain, so there are lots of staircases and narrow passageways. Take your time and just wander the streets of San Marino – there are some amazing treasures hiding behind each and every corner.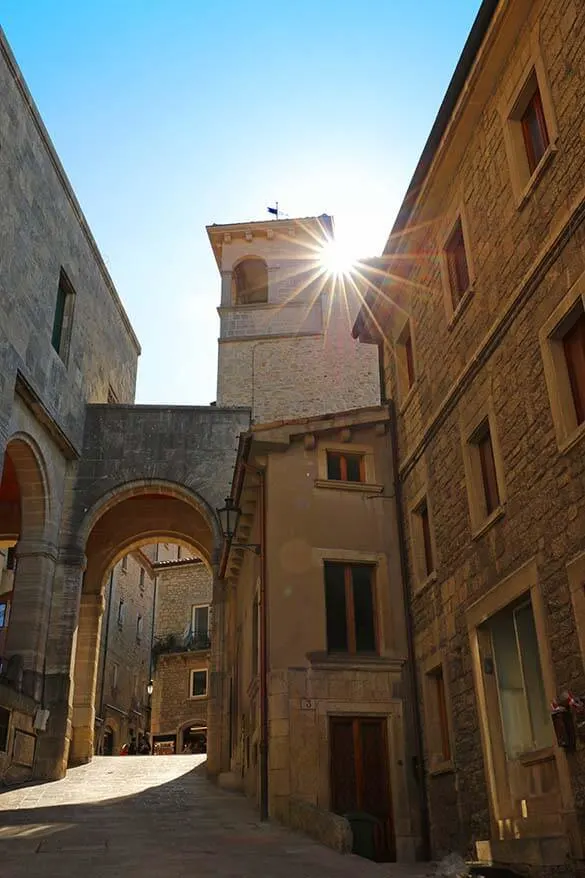 Visit the Three Towers of San Marino
The Three Towers of San Marino – Guaita, Cesta, and Montale – are the symbol of the Republic of San Marino. They represent San Marino's freedom and independence and are depicted on the national flag as well as on the coat of arms of San Marino.
Visiting these iconic towers is something every San Marino visitor should do.
Read on for an overview of what to expect when visiting the towers or click on the link below for an even more detailed guide!
LEARN MORE: Three Towers of San Marino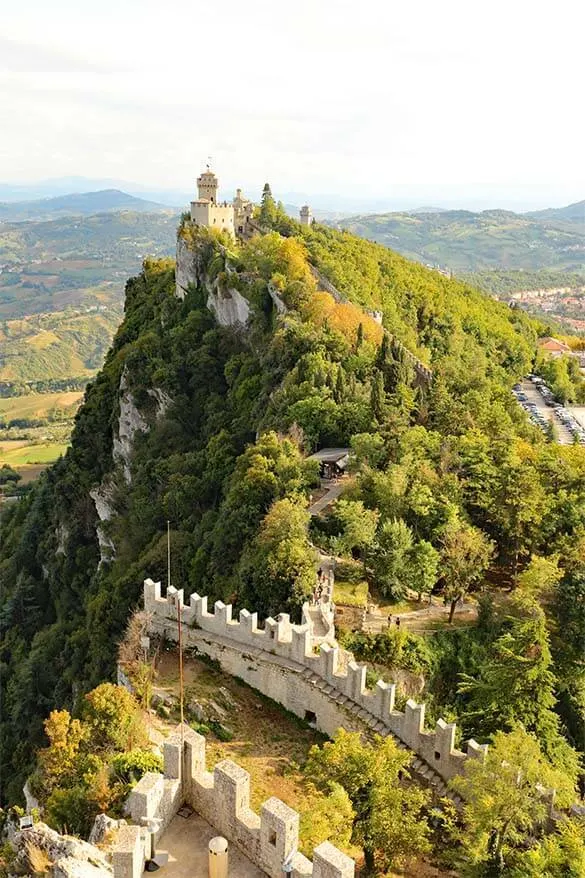 Guaita Tower
Guaita Tower, also known as La Rocca, is the first tower you'll come across. It's also the first tower that was built in San Marino (some sources say it's built in the 10th, some – in the 11th century). Most locals just refer to it as The First Tower.
The tower has been rebuilt in the 15-16th centuries when a double line of walls and a roof have been added to it.
The First Tower is the most picturesque tower in San Marino – the one you'll see in most pictures and travel guides.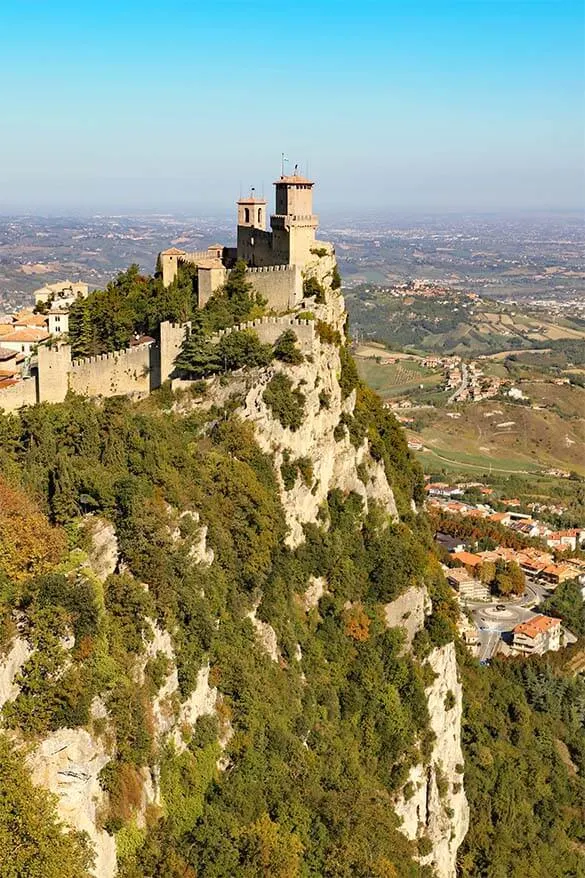 Make sure to climb up the tower – the views are simply spectacular. Just note that there are many stairs involved and the last part is actually a ladder that leads you to the top of the tower via a narrow hole in the ceiling. This last part is probably not for everyone, but if you make the effort, you'll be rewarded with the most spectacular views of the surroundings.
TIP: Get a 2-museum ticket that gives access to the first and the second tower – it's cheaper than buying two separate tickets (6 EUR vs. 4,5 EUR for a single ticket). There is also a ticket that includes 6 museums and is valid for 10 days. At the moment of writing, this ticket costs 10,5 Euro.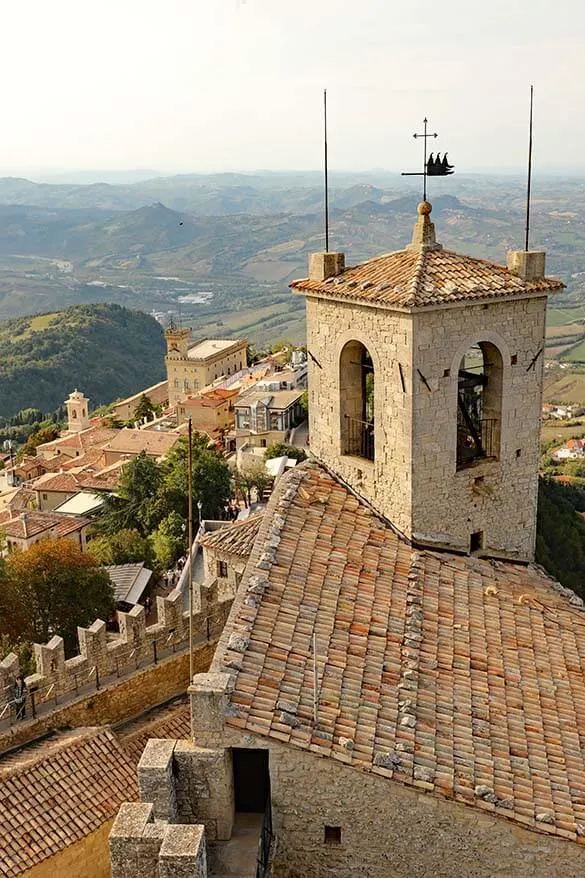 Cesta Tower
The Second Tower, Cesta Tower, stands on the highest peak of Mount Titano. This tower has several names as well (why make things simple, right?) and is also called Fratta or Falesia Tower.
In addition to stunning architecture and incredible views, Cesta Tower also houses a really interesting Museum of Ancient Arms. Here, you can find a big selection of ancient weapons used in San Marino around 15-17th centuries and later.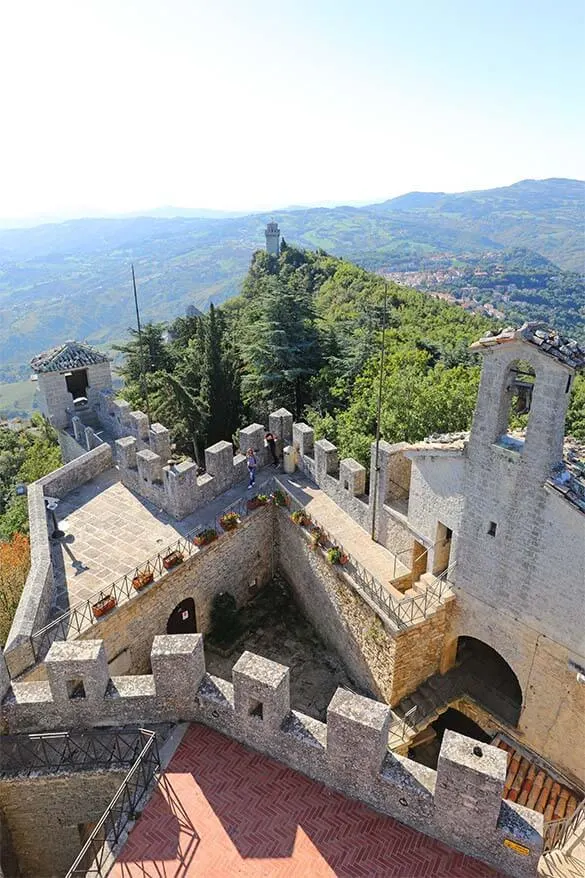 Montale Tower
The third tower of San Marino sits on the Montale peak and cannot be visited. Nevertheless, it's nice to see it and the walk between the second and the third tower takes just a few minutes.
It's said that Montale is the most important tower of San Marino because it offers 360° views of the valley. Therefore, it always had a strategic role in defending this tiny country from the enemies.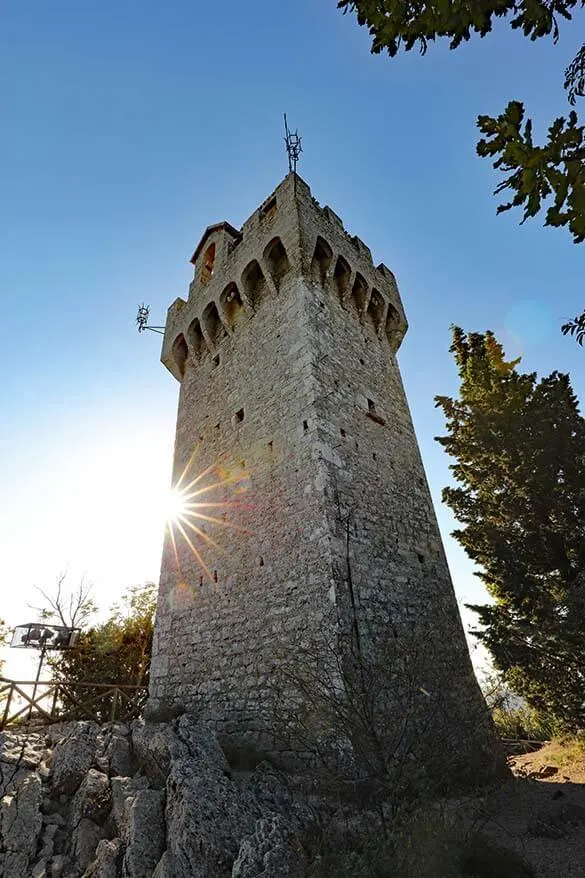 Passo delle Streghe
Passo delle Streghe (the Witches Path) is a cobbled walkway between the Guatia Tower and the Cesta Tower. To me, this is the most beautiful place in San Marino!
As you walk from one tower to another, don't forget to turn back several times, because the nicest view is actually looking towards the first tower. It will take your breath away!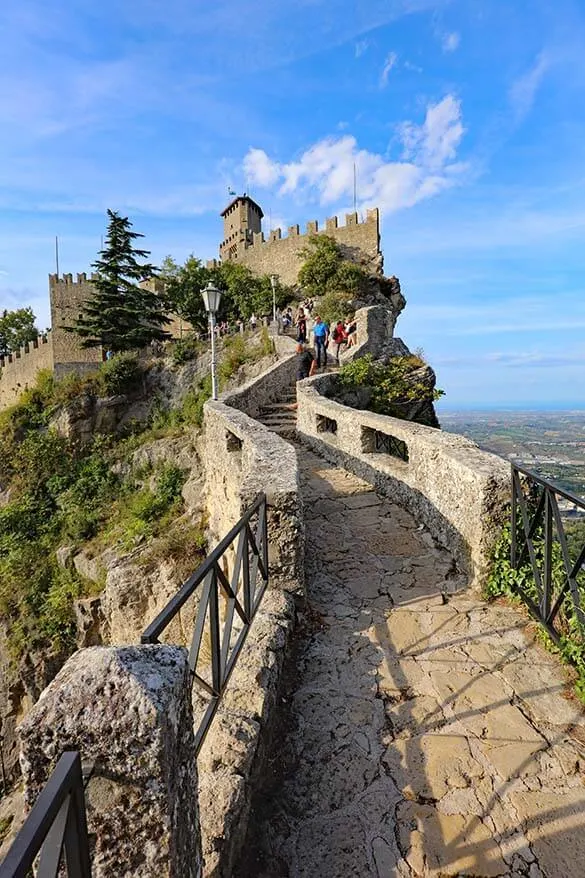 TIP: Just as you reach the lowest point of the Witches Path, turn right at the little building that now houses public bathrooms. From there, you have a great view overlooking a hole in the rock and a narrow bridge that is part of the Witches Path.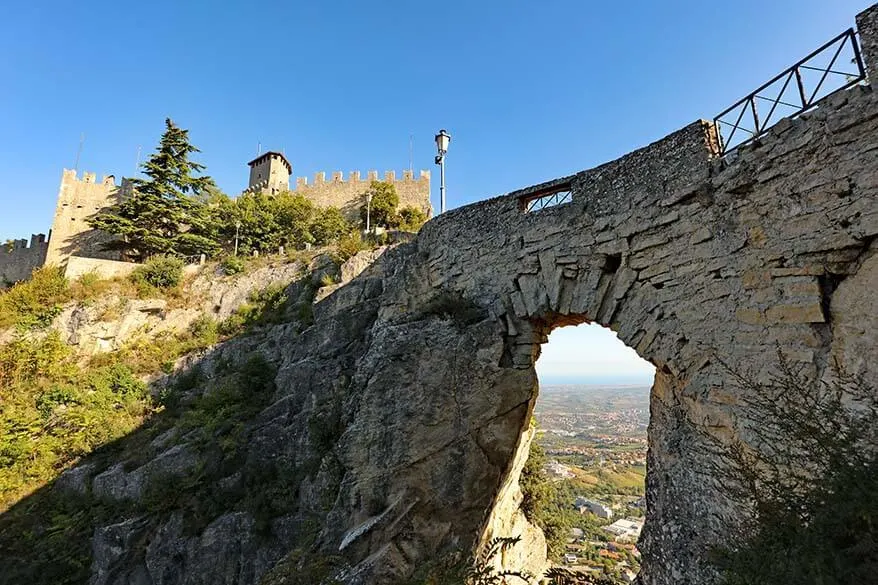 Basilica di San Marino
Basilica di San Marino, also called La Pieve, is a 19th-century church that was built using the foundation of the church that stood at the same location before. It's dedicated to Saint Marinus, the founder of San Marino.
This is the biggest church in town, the one where all official ceremonies take place. It's definitely worth a short visit.
Next to the Basilica, on the right-hand side, you'll notice a smaller church, Chiesa di San Pietro. Inside, there are stone beds, on which according to a legend, San Marinus and San Leo rested. The doors of this church are usually open in summer, so you can take a look inside, but visits are only available upon request.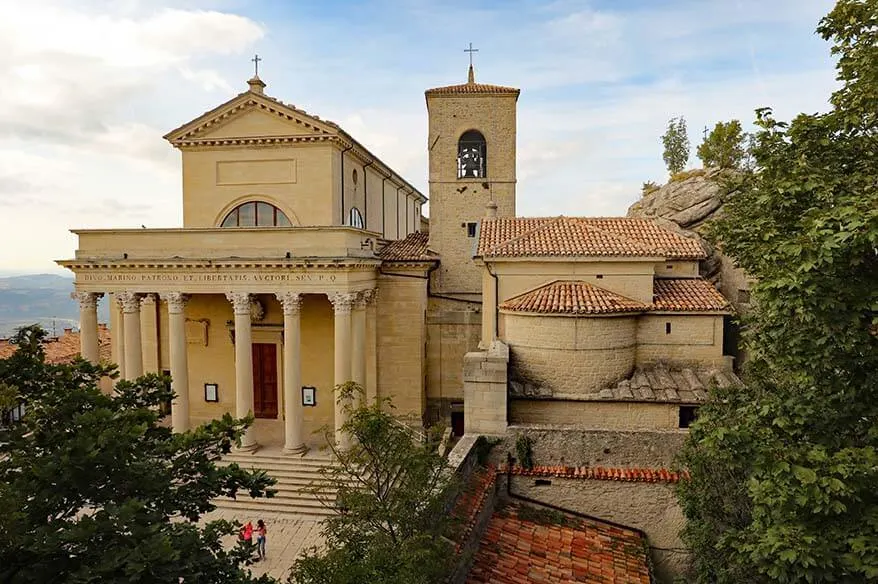 San Marino Cable Car & View from Il Cantone
San Marino cable car connects Borgo Maggiore to the historical center of San Marino. It's a short 2-minute ride that offers spectacular views over the surroundings. According to the official website, you can see 200 km of the Adriatic coast from here.
This gondola is a great way to get to San Marino if you don't want to drive all the way up to town. But if you're already there, you don't really have to take it just for the views. The best view is from the terrace to the left of the cable car entrance in San Marino city.
Practical information: Single ride costs 2,8 EUR; return ticket – 4.50EUR. Discounted tickets available. Operating hours are different depending on the season. For example, in July – beginning of September, gondola runs from 7.50 AM to 1 AM, whereas in January – February only till 6.30 PM.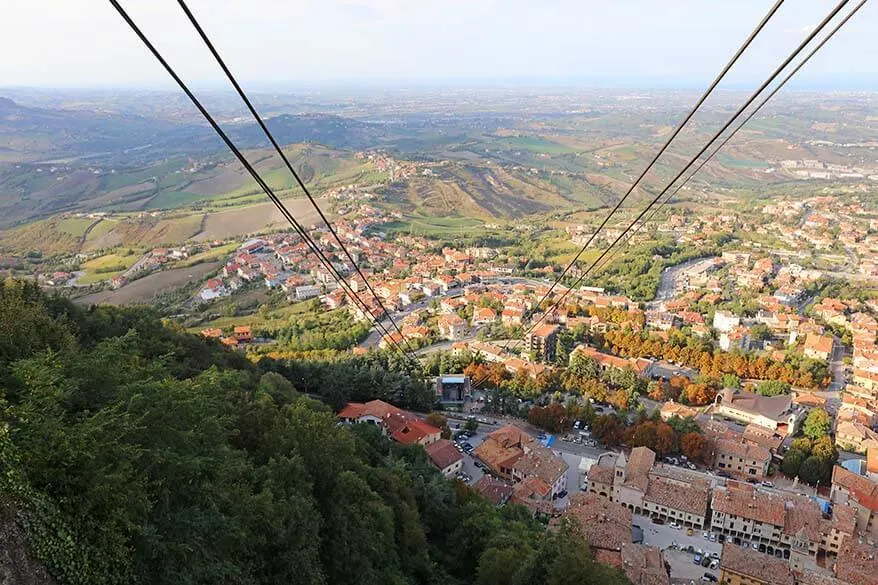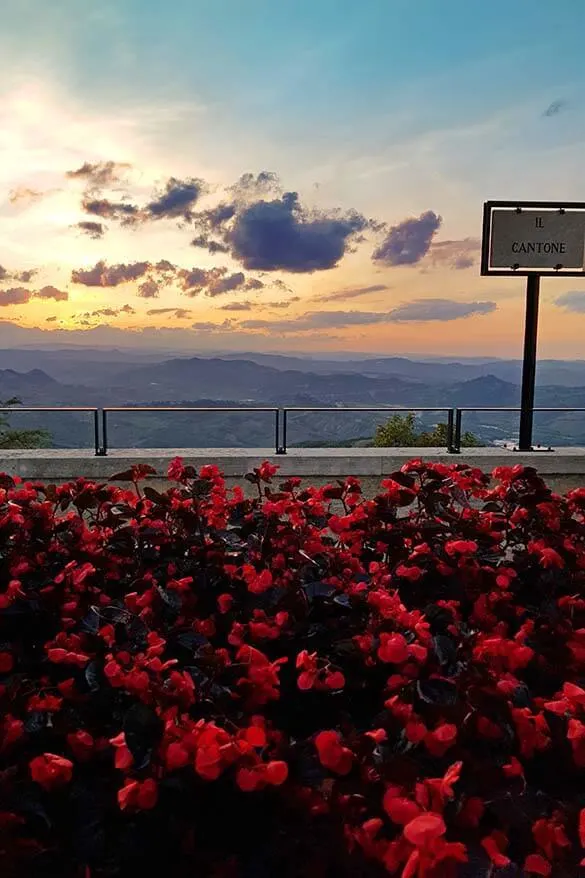 Cava e Loggia dei Balestrieri
Crossbowmen's Quarry and Logggias (Cava dei Baletrieri) is an area that has been used for the extraction of stone needed for the reconstruction of the Public Palace in the 19th century. In 1966, the first Italian national crossbow tournament took place here and the area has been used for the training of San Marino's crossbowmen ever since.
Crossbow tournaments are an ancient tradition in San Marino and they are still held here every year. These events are organized by the San Marino Crossbowmen Federation that is made up of musicians, flag throwers, figurants, and shooters.
The most important events take place between spring and autumn. In June, there is a National Competition where the best five shooters of each Castle participate. During Giornate Medievali, usually the last weekend in July, and on the 3rd of September, National Holiday dedicated to Saint Marino, there are important crossbow tournaments as well.
In addition, there are parades and other traditional celebrations during pretty much all public holidays in San Marino. So, depending on when you visit, you might be lucky with the timing and witness this colorful spectacle yourself (here you can check the events calendar to see what's happening on your travel dates). And otherwise, it's nice to see the Cava dei Baletrieri anyway.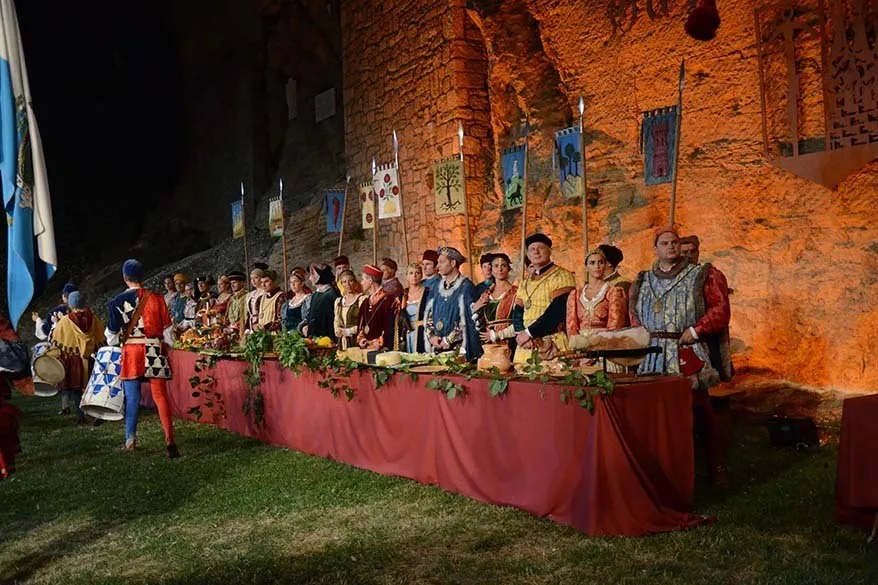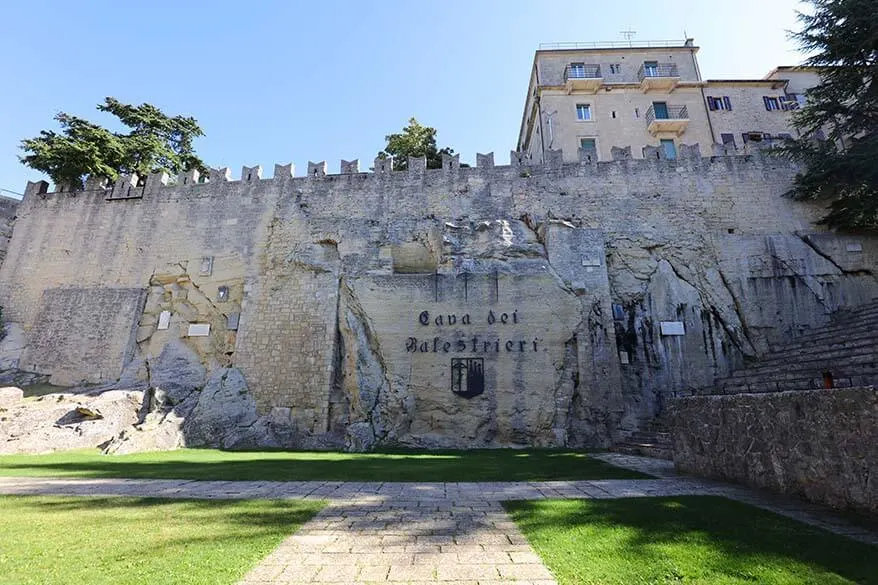 San Marino's Quirky Museums
For such a small country, San Marino has a big variety of museums, including the Museum of San Francesco, Museum of Ancient Arms (located inside the second tower), Emigrant Museum, Gallery of Modern and Contemporary Art, and several others.
In addition to these more traditional museums, there are also several really strange ones that might be worth visiting if you have more time. See a small selection below.
TIP: Most museums offer discounts in combination with San Marino card, or hotel discount cards.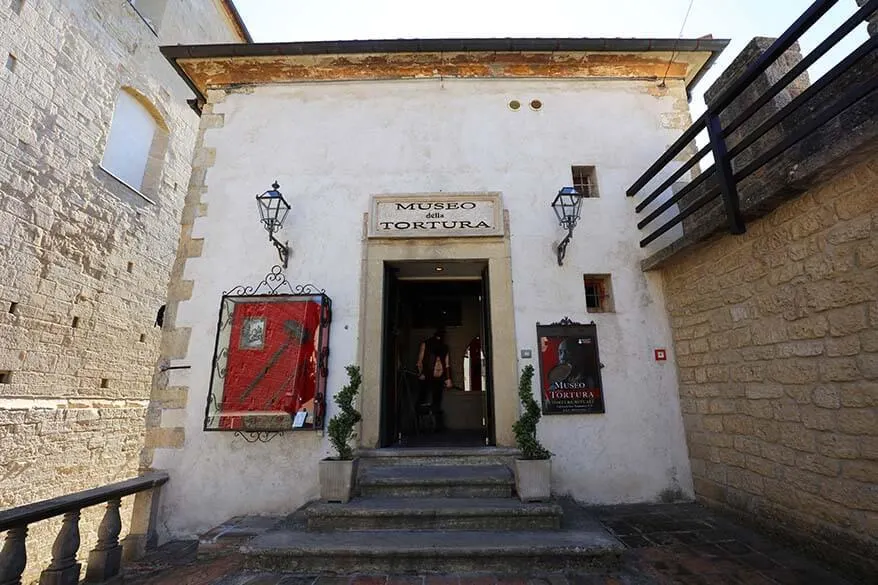 Torture Museum
Museum of Medieval Criminology and Torture (Museo della Tortura) is a journey that takes you through the history of human cruelty, showing all kinds of ways and machinery used to torture people in the past. This is probably not the best place to visit in San Marino with kids. But in general, reviews are really positive and most people find this museum well worth a visit. I didn't have the time to check it out, so I can't comment on it myself.
Museum of Curiosities
Museum of Curiosities (Museo delle Curiosità) is much more family-friendly and a nice place to visit if you are traveling to San Marino with kids. This museum has nothing to do with San Marino, but has a big display of interesting oddities, such as statues of the world's fattest man, tallest man, longest beard, and many others.
Vampire Museum
Vampire Museum (Museo delle Creature della Notte – Vampiri e Licantropi) is a small fun museum about vampires, werewolves, and other horror legends. If that's your thing, you may want to pay it a short visit when in San Marino.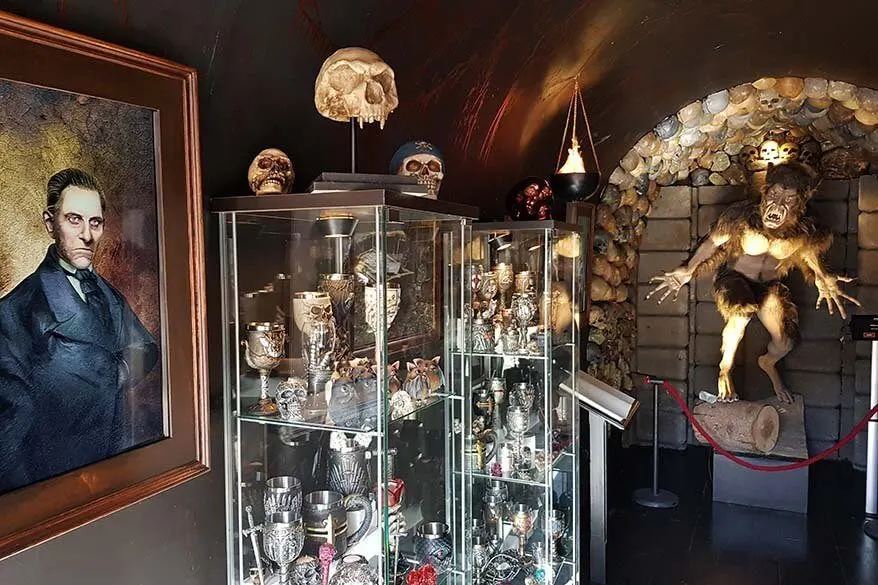 San Marino Tourist Train
A good way to see more of San Marino (beyond the historic center) is to take a tourist train. It brings you to places you wouldn't see otherwise, coupled with an audio guide that gives you more information about the country and the sights along the way.
The train runs between San Marino city and Borgo Maggiore (bottom station of San Marino cable car). The one-way journey lasts just 40 minutes and you can take the cable car the other way. It's something really nice to do if you are visiting San Marino with kids.
If interested, you can find more information about the train route here. But you can also do it without booking in advance and decide upon arrival if it's something you want to do.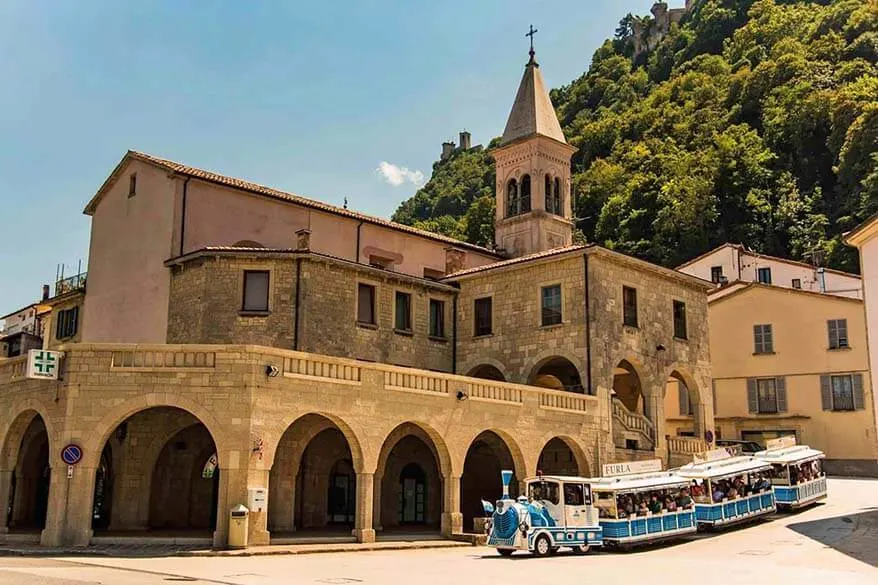 San Marino Cooking Class & Museum of the Agricultural Culture
All the things to do in San Marino mentioned above are located in the historic town of San Marino. However, if you want to get a bit off the beaten tourist path, you may want to visit the Museum of the Agricultural Culture and take part in a cooking class.
The House of Fabrica in Montecchio, where the museum is located, is one of the oldest farmhouses in San Marino. It was mentioned in 1770 in the Register of the landed property of the Republic of San Marino. You can visit different rooms that show how farmers' houses in San Marino used to look like.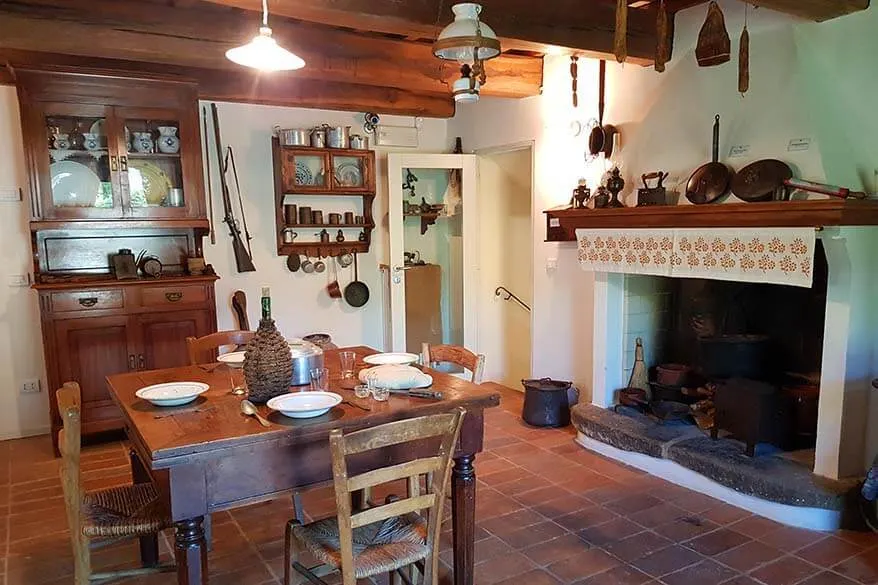 In addition to visiting the museum, we attended a cooking class organized by the Consorzio "Terra di San Marino". We learned how to make the regional specialty strozzapreti (literal translation means 'priest-choker') and a real piadina – Italian flatbread. It's actually really easy, doesn't take much time, and at the end, you are rewarded with warm piadinas topped with a local Casatella cheese and acacia honey. Such a simple meal, but absolutely delicious!
Everything was so good that I couldn't resist and bought some local specialties at their little shop. They sell all kinds of local products made by farmers in San Marino – from olive oil and flour to honey and wines.
Good to know: The museum exhibition is open to the public the whole year-round, but only for a few hours in the mornings (more info here). If you are interested to attend a cooking lesson in San Marino, you can book it directly with Consorzio (website in Italian) or via the tourist office next to the cable car in Città di San Marino.
TIP: One of the simplest ways to book a cooking class in San Marino is on Viator.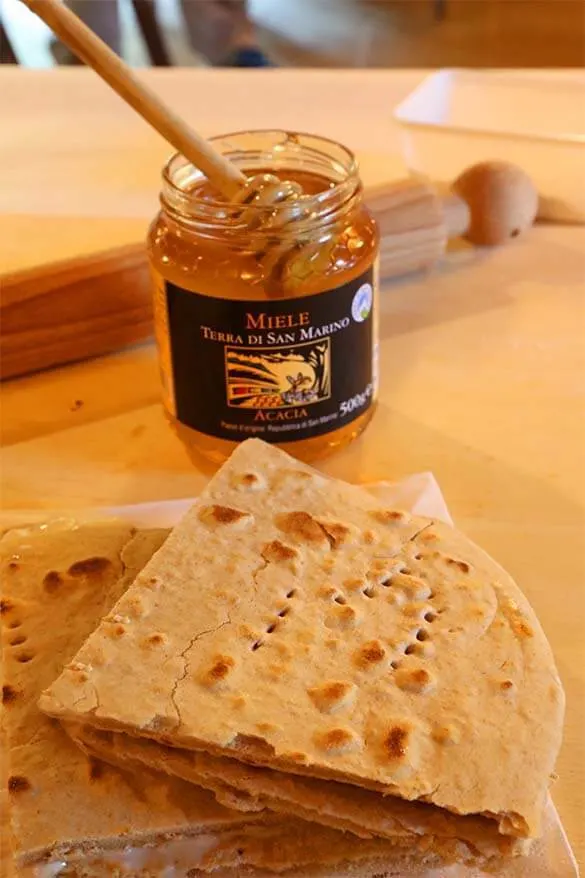 E-bike tour in San Marino
If you have a few hours to spare, it might also be fun to explore the tiny country of San Marino by e-bike. At the bottom station of San Marino Gondola, Borgo Maggiore, you can find an e-bike rental shop. They have different options for e-bike tours in San Marino, or you can just rent a bike.
This is probably not something you want to do if you only have a day in San Marino and also not something for people looking for a relaxing ride… However, if you are staying in San Marino longer and like some adventurous off-road e-biking, then give it a go.
It's a different way to explore San Marino that brings you to some cool places that most tourists never see.
If you want to get a bit off the beaten path in San Marino, you can book an e-bike tour here. It's best to do this in advance since the number of guided tours (and guides) is limited. And it's also easier to plan your time this way.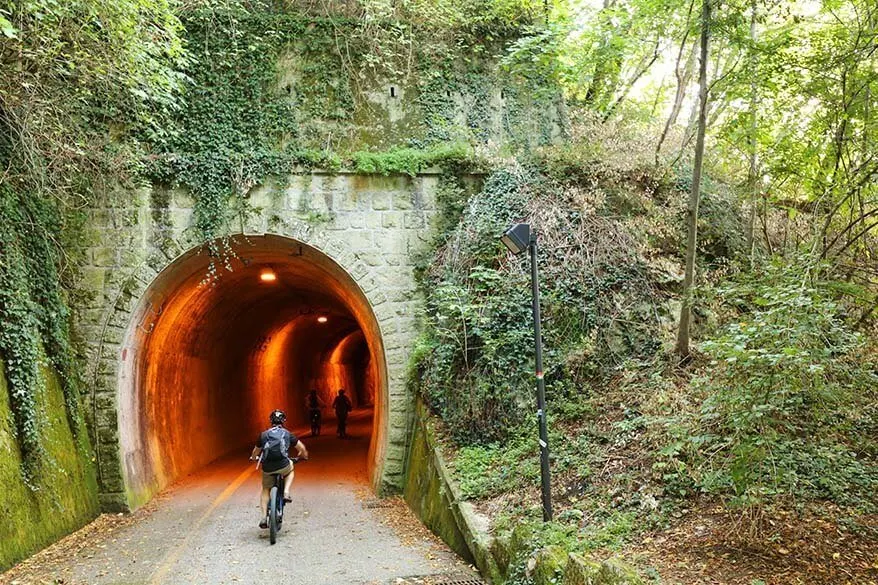 Best Things to Do in San Marino on the Map
To help you plan your visit to San Marino, I created this map indicating all the places to see and things to do in San Marino mentioned in this article.
How to use this map: Use your computer mouse (or fingers) to zoom in or out. Click on the icons to get more information about each place. Click the arrow on the top left corner for the index. Click the star next to the map's title to add it to your Google Maps account. To view the saved map on your smartphone or PC, open Google Maps, click the menu and go to 'Your Places'/'Maps'. If you want to print the map or see it in a bigger window, click on 'View larger map' in the top right corner.
Practical Information and Tips for Visiting San Marino
Below you can find some tips and practical information for planning your trip to San Marino. How to get to San Marino, where to eat, and where to stay in San Marino. Take a look!
Do You Need a Passport to Visit San Marino?
There is no border control between San Marino and Italy, so you don't really need any additional travel documents that you wouldn't need in Italy.
However, you may want to bring your passport if you want to get a San Marino tourist visa in your passport. See 'Why Travel to San Marino' section above for more information.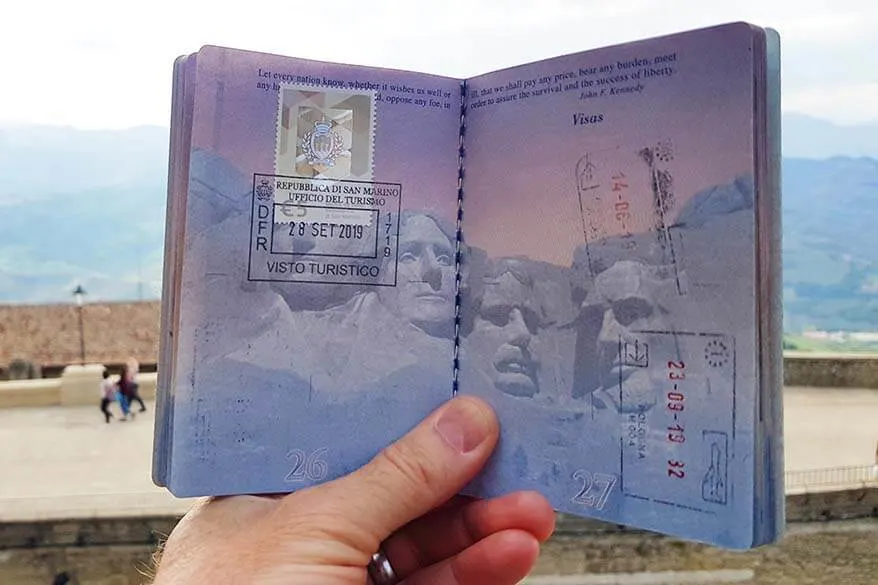 Where is San Marino
San Marino is located on the border between the Emilia Romagna region and the Marche region in Northern Italy. The closest international airport to San Marino is Bologna Airport.
To give you an idea, here are some distances and driving times from some bigger cities and nearby towns in Italy:
Rimini to San Marino: 20km – 30min
Ravenna to San Marino: 75km – 1h15
Bologna to San Marino: 130km – 1h30
Ancona to San Marino: 130km – 1h30
Florence to San Marino: 150km – 3hrs
Venice to San Marino: 280 km – 3hrs
Rome to San Marino: 330km – 4hrs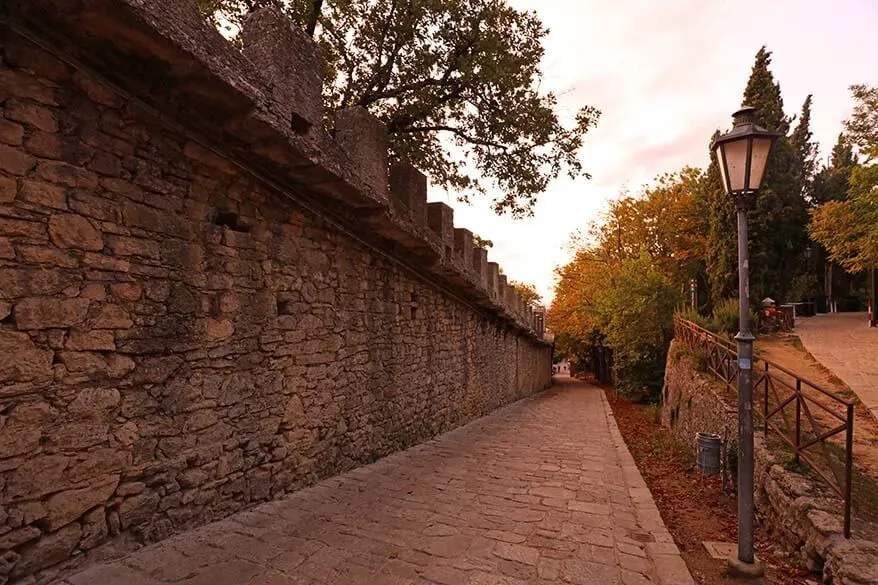 When is the Best Time to Visit San Marino
San Marino is truly a year-round destination.
In summer, it can get really busy, so if you can, I'd advise traveling in other seasons. I visited San Marino at the end of September and it was just magical! If you see pictures of San Marino covered in snow, you'll want to come in winter…
There is really no bad time to visit San Marino, but shoulder season (the months of September or May) are probably the best months to be in San Marino. The weather is nice, everything is open, and there are fewer visitors.
READ ALSO: Best Time to Visit Europe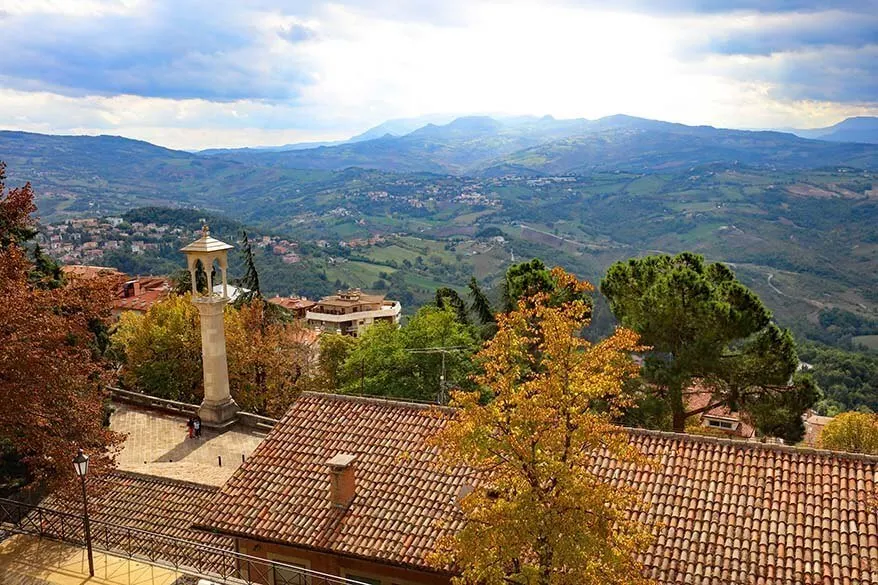 How to Get to San Marino
The easiest way to get to San Marino is by car. There are several big car parking areas in San Marino city. Alternatively, you can leave your car in the town of Borgo Maggiore, from where you can take a cable car to Cita San Marino.
Renting a car in Italy isn't expensive and driving outside of big cities is quite easy. You can find some of the best deals for car rental on the Rental Cars website. We always use this site for all our car rentals anywhere in the world and can highly recommend it.
If you are traveling in Italy by public transport, the best way to get to San Marino is by taking a bus from Rimini. There are no trains going to San Marino.
There are also private transfers available, for example, this transfer from Bologna Airport. However, the prices are usually so high that renting a car is really the best option for visiting San Marino.
READ ALSO: Best Things to Do in Rimini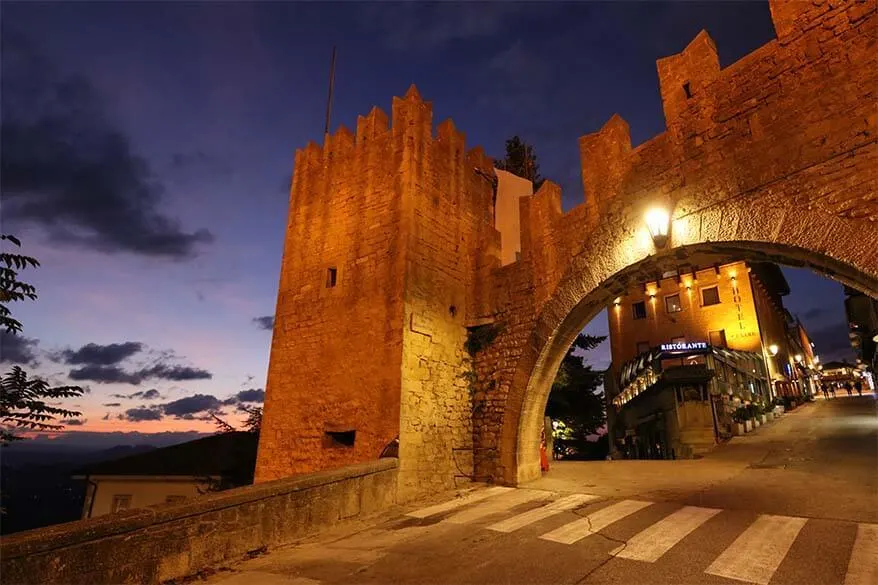 Shopping in San Marino
Since taxes are much lower in San Marino and it's not part of the European Union, it's a good place to go shopping if you like.
In addition to typical San Marino local specialties and souvenirs, you'll find lots of leather products – from wallets and handbags to leather jackets and belts. It's also a place where you can buy some incredibly cheap perfume… There are also nice clothing stores, jewelry, and pretty much anything else you can imagine.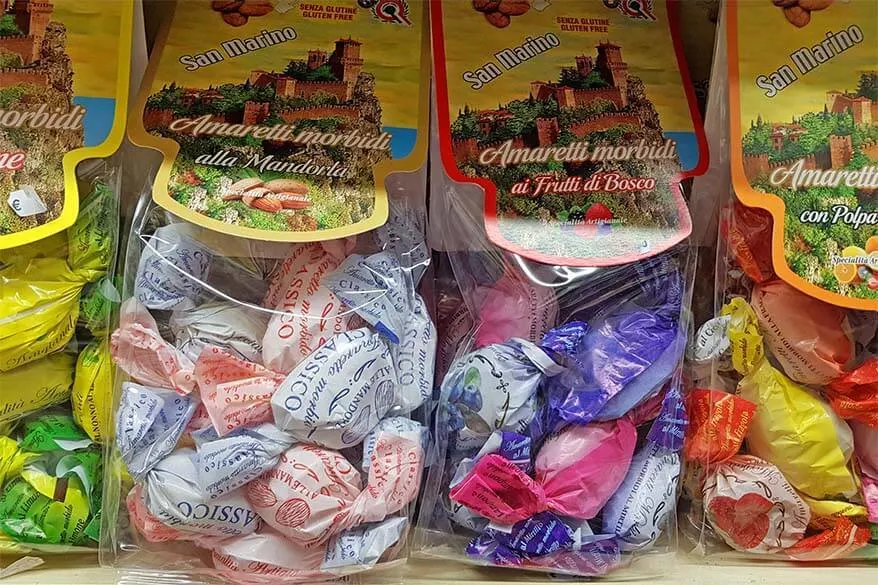 Best San Marino Restaurants
There are several really nice restaurants in San Marino. Their food is pretty much the same as in the nearby Italian regions and is absolutely delicious. San Marino also has its own wine. We tried several varieties of white and red San Marino wines during our stay and they were all excellent.
Two restaurants that I particularly recommend in the city of San Marino are Righi and La Terrazza.
Righi is San Marino's only Michelin-star restaurant. This family-run place serves delicious food in a historic building right near the Parliament building. Ask them to show you a stone crown that was found during the renovation of the building!
La Terrazza is a restaurant located at Hotel Titano and has probably the best views in town. The food was absolutely delicious as well!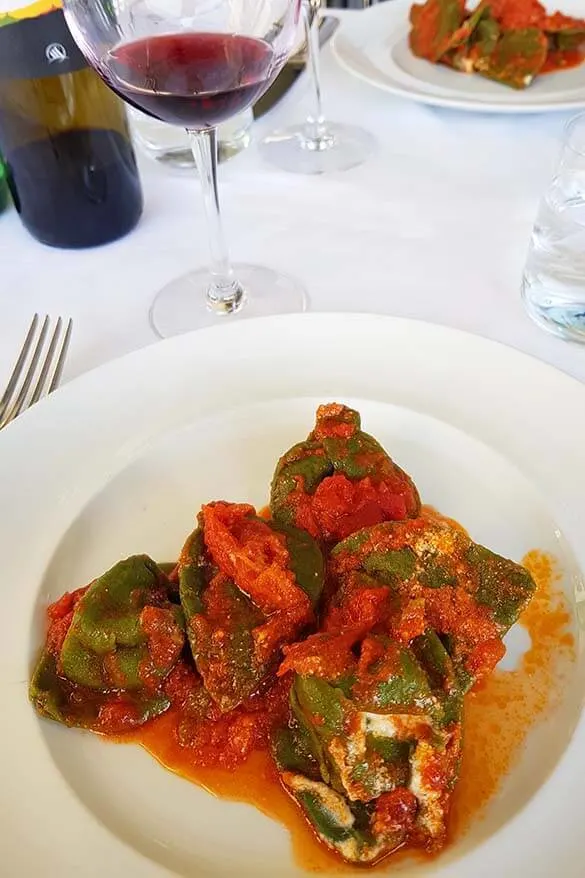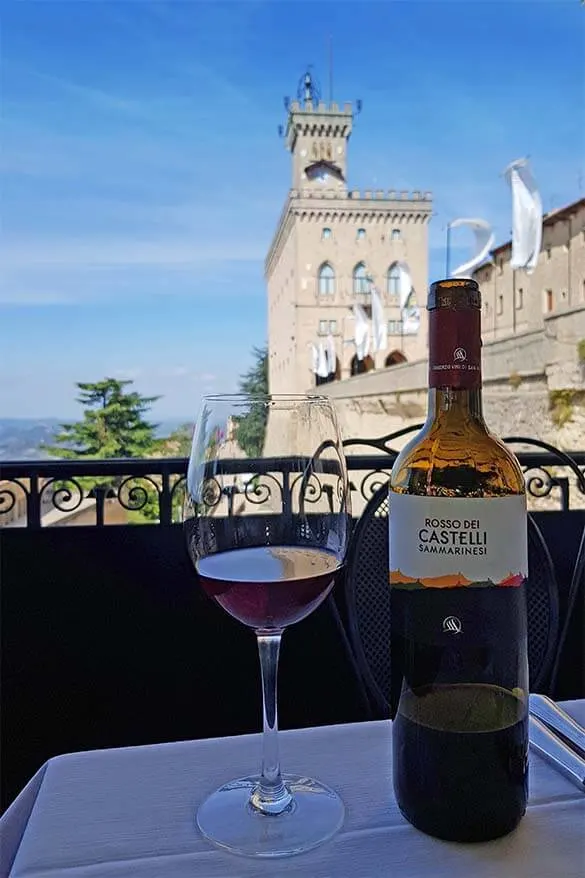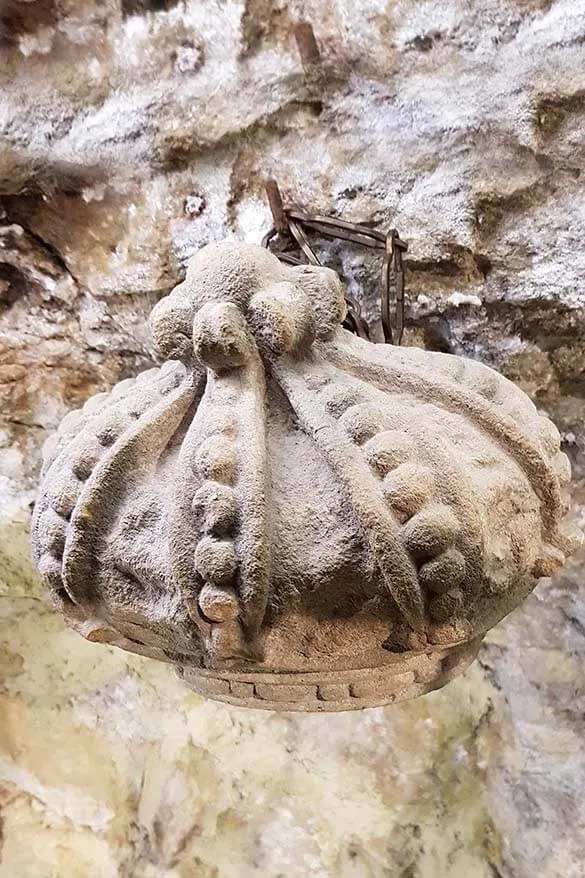 Where to Stay in San Marino
I stayed at the Grand Hotel San Marino. It has a very good location in San Marino city. You can easily get there by car and then also walk to all the main points of interest in town. Another good option is Hotel Rosa.
Other highly-rated hotels with excellent location in San Marino include Hotel La Grotta, Hotel Titano, and a lower-budget option Hotel La Rocca.
However, all these are in the Old Town and not ideal if you are coming by car. You'll probably have to leave the car at the public parking at the city gates and ask the hotel to come and pick you up. It's not a big deal – the town is small and easy to navigate, just probably not with a big suitcase.
LEARN MORE: Best Hotels in San Marino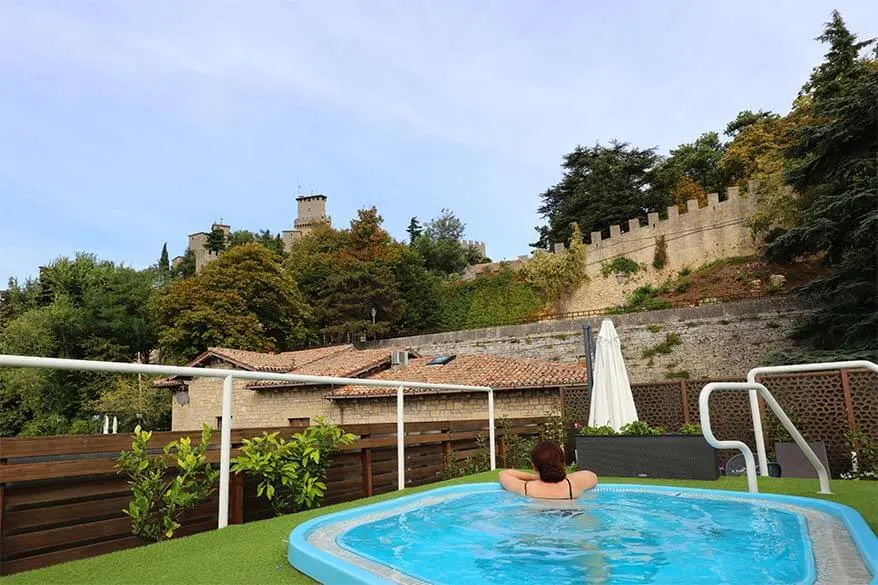 So, this is our travel guide for San Marino. If you have any questions or want to share your own experience visiting San Marino, don't hesitate to leave a reply below.
TIP: If you are traveling to San Marino, don't miss the incredible Emilia Romagna region in Italy. It's one of the hidden gems of Italy that most tourists never see and it's just nearby.
For inspiration on where to go and how to plan your visit, please check our Emilia Romagna itinerary. It will bring you to some incredible places like Ravenna, Rimini, and a few others in just 2-3 days. Check it out!
READ ALSO: Best Places to Visit in Italy
If you found this post useful, don't forget to bookmark it and share it with your friends. Are you on Pinterest? Pin these images!