Thinking of visiting Rimini in Italy and wondering what to expect and what there is to see and do there? In this guide, we feature some of the very best places to see and things to do in Rimini. Whether you are road-tripping in the Emilia Romagna region and just visit Rimini for a day, or you are planning a longer vacation in the area, this article should give you plenty of ideas of what to see. Find out!
When you think of Rimini, you may instantly picture the miles of sandy beaches that characterize this popular seaside destination. Indeed, its powder-white shoreline makes it the perfect place to soak up some Mediterranean sunshine.
But while Rimini is best known as a seaside resort attracting vacationers in the summer, it's also a fascinating historic town that has a lot more to offer than it looks at first sight!
To visit Rimini without experiencing a taste of its ancient architecture and cultural attractions would be to do a disservice to this charming and historic town.
I find that Rimini is one of the most underrated cities in Northern Italy. I guess that the main reason why it's overlooked by most international travelers is simply because there are so many other amazing places to see nearby (Bologna, San Marino, or Ravenna to mention just a few…), and people run out of time. But Rimini is well worth a trip in its own right, so if you get a chance to visit, do it!
Below, you can find a list of top Rimini attractions that you really must see, from ancient Roman landmarks to one of the world's most beautiful cinemas! At the bottom of the post, you'll also find suggestions for a few of the best places to visit near Rimini.
To help you plan your visit, we also created a map indicating each place mentioned in this article, as well as some practical tips for your first visit to the city. Take a look!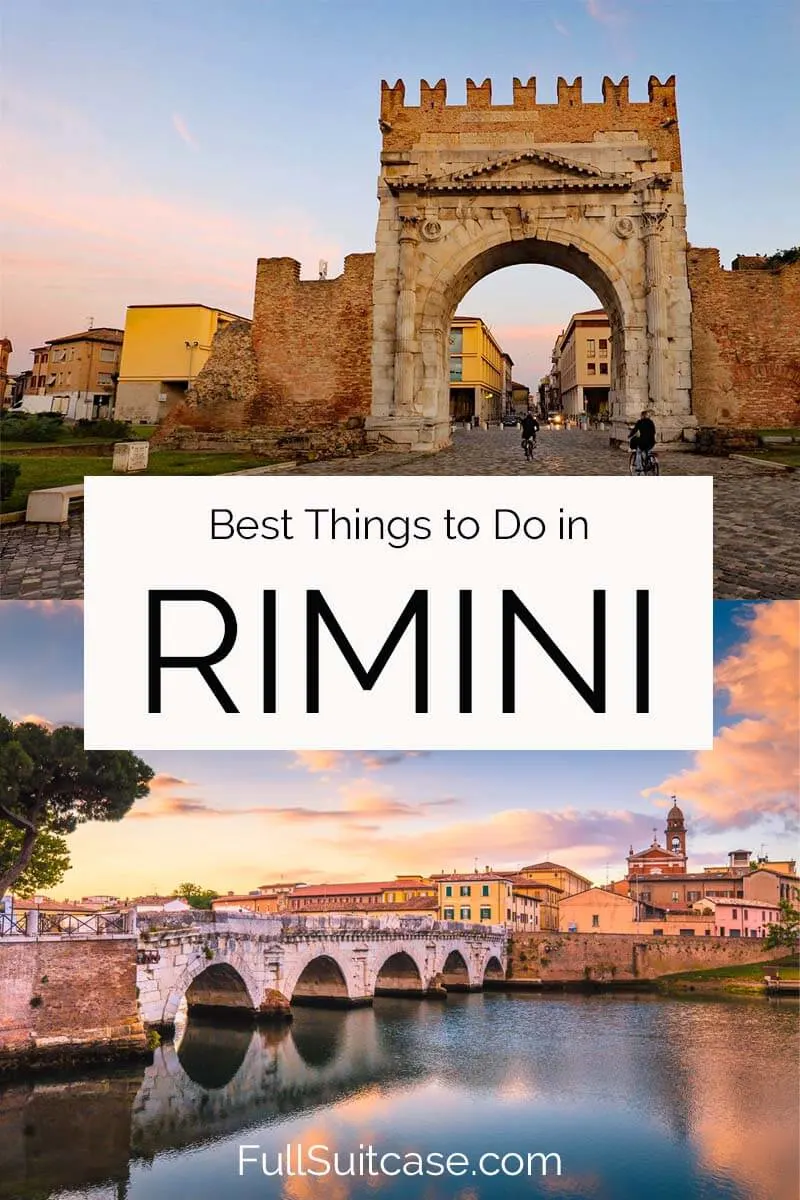 Here are the best things to do in Rimini:
1. Ponte di Tiberio
Built over 2,000 years ago, the Tiberius Bridge (Ponte di Tiberio) is an absolute must-see in Rimini! It's located in the heart of the old town, at the end of the canal running from the beach through to the Parco XXV Aprile.
The work on the bridge began in 14 AD, at the time of the reign of Augustus (which is why you'll sometimes hear it referred to as the Bridge of Augustus). But it was completed in 21 AD under the rule of the new Emperor Tiberio, thus the official name.
The only bridge that escaped relatively unscathed after the Battle of Rimini in World War II, Ponte di Tiberio owes its longevity to the engineering expertise of the Romans. Made from white Istrian limestone, the bridge was built without separating the foundations of the individual pillars, creating a solid structure that carries pedestrians and light vehicles today just as it did all those years ago!
Making the perfect background for your photos, the scenic bridge has 5 arches spanning the canal. On a calm morning, their reflection in the blue water beneath is quite stunning. Although it's also nice to visit at night when the bridge is beautifully illuminated.
TIP: For a good front view of the entire bridge, head to the Ponte di Tiberio Observation Deck, a short walk northeast of the bridge (we indicated it on our map further below). In addition, pretty much any side view of the bridge gives you a really good angle for pictures. The views from Parco XXV Aprile are also really nice, just as from the boardwalk next to Rimini Canal.
Talking of which, Rimini Canal may not be a top tourist attraction, but I highly recommend a walk or a bike ride along its entire length, all the way to the beach.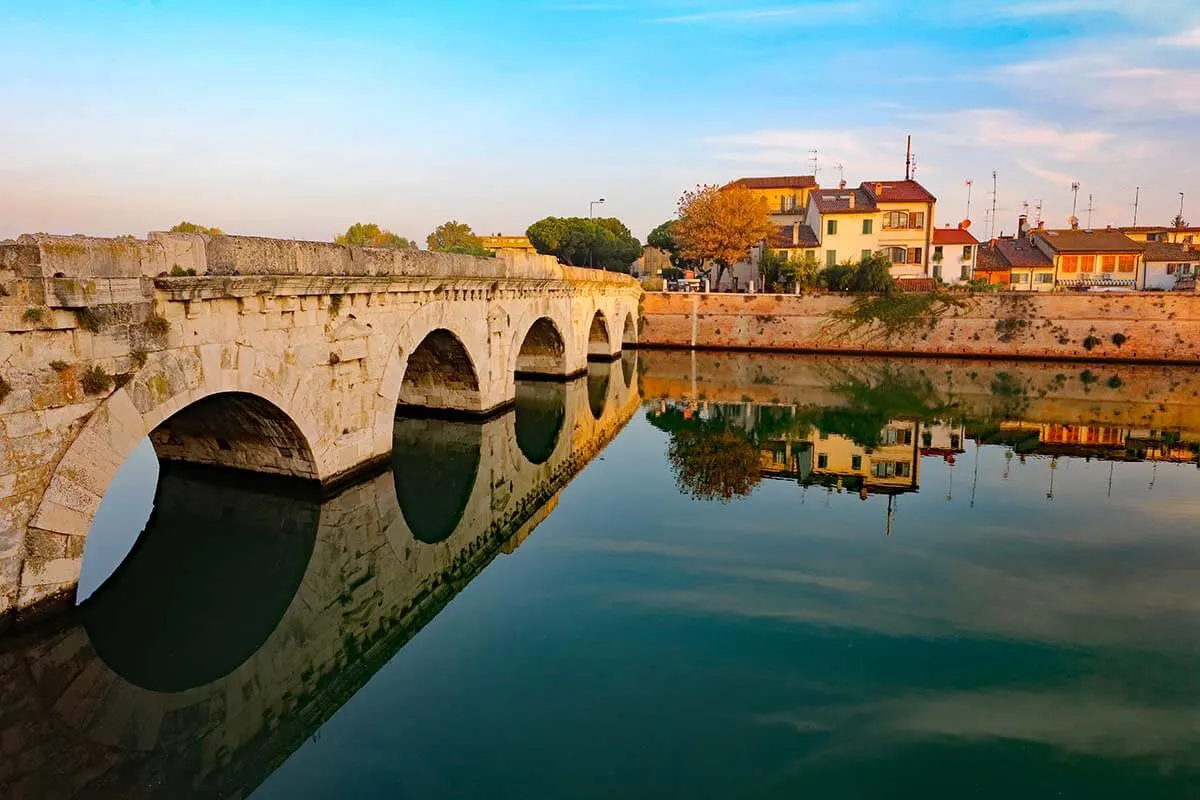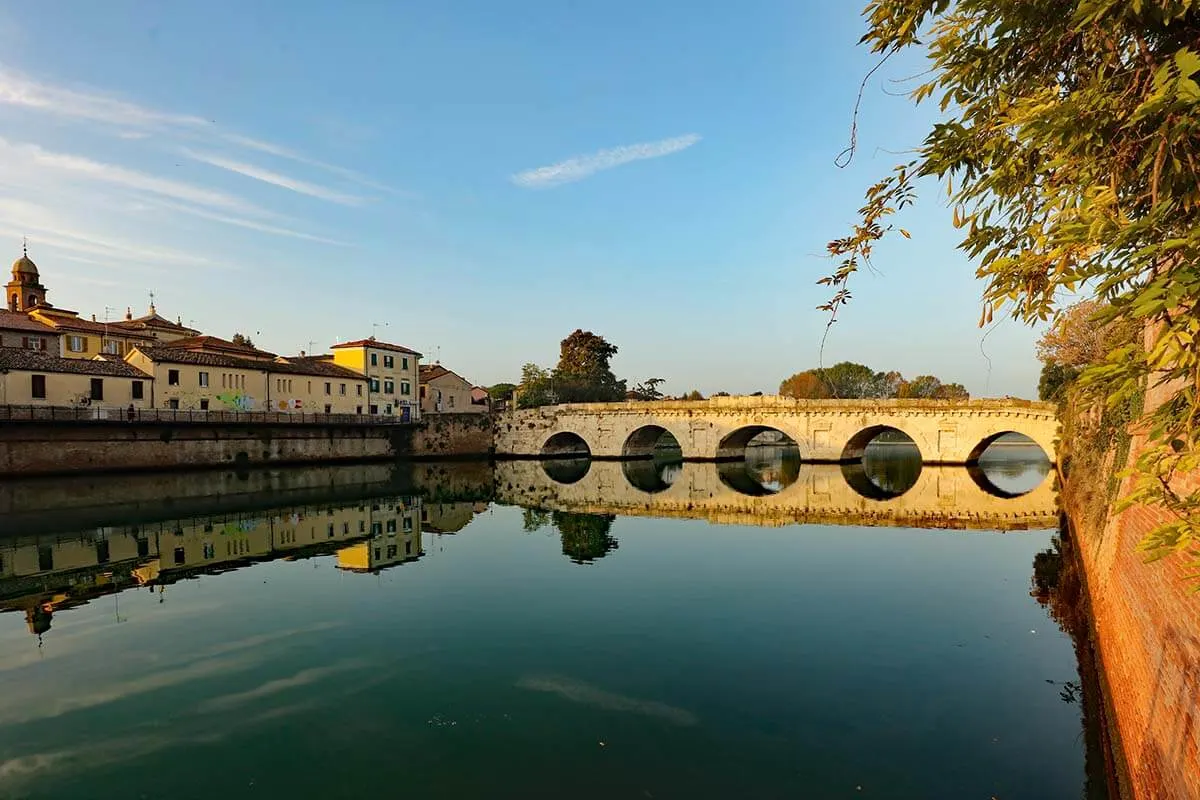 2. Borgo San Giuliano
To the west of Ponte di Tiberio, lies one of the most beautiful places in Rimini, Borgo di San Giuliano. The Borgo is a beautiful little neighborhood where you can soak up the simple charm of authentic Rimini.
As you wander along its cobbled streets lined with colorful restored fishermen's houses and quaint restaurants, it's hard to imagine that this was once an area known more for its poverty and crime.
Perhaps the most interesting things to see here are the striking murals that can be found all over the neighborhood. You'll see these fresco-like pictures on the walls of many houses and businesses, highlighting scenes from the best works of Italian filmmaker Federico Fellini (who was born and grew up in Rimini).
Be sure to also check the fishermen's cottages for their painted ceramic plaques, which depict old boats, and give the names of the sailors who once owned the houses. The atmosphere is calm and peaceful, and it's a very romantic place to visit.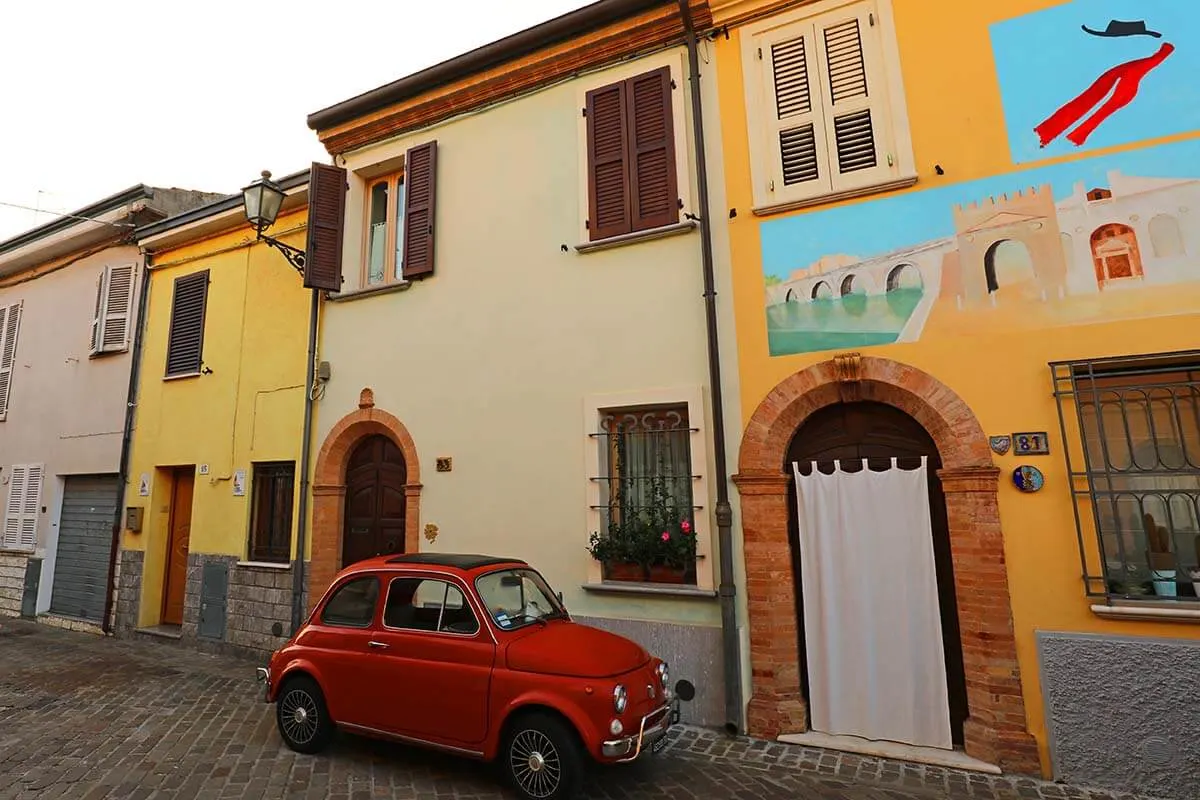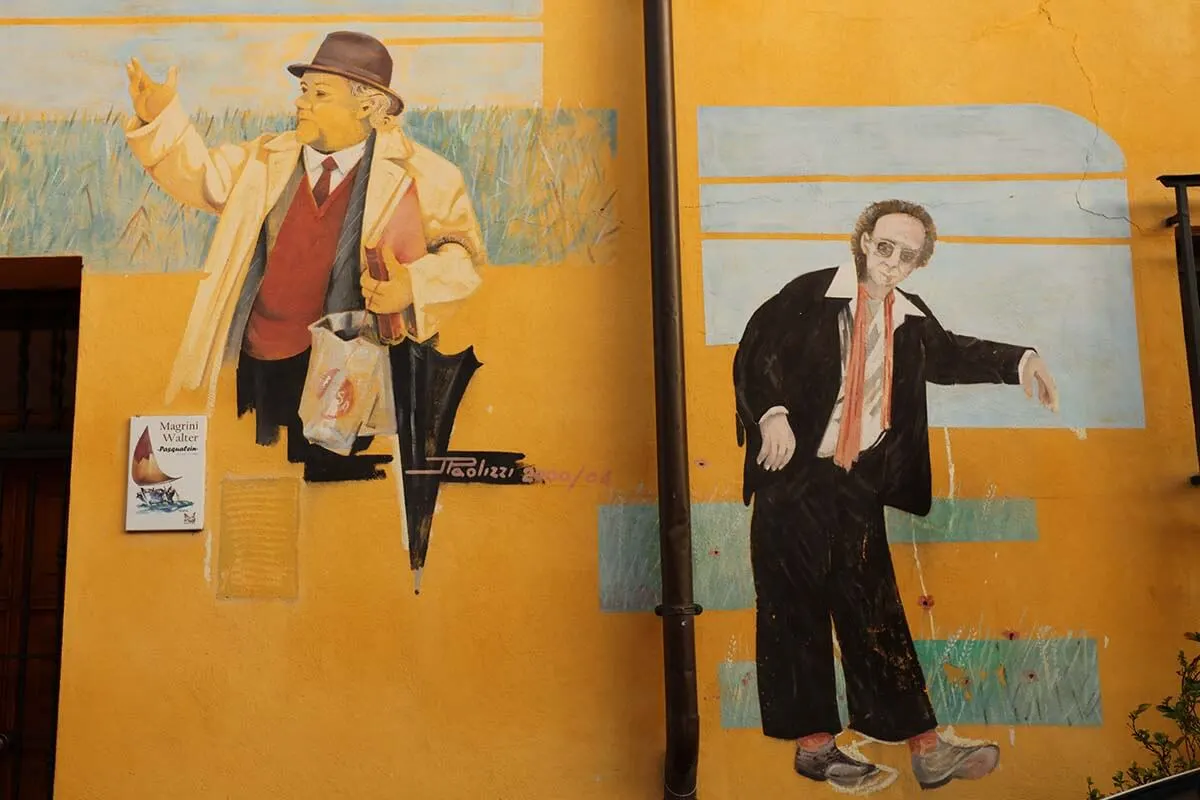 TIP: For the best pictures, come here early in the morning when there are not too many people around. But be sure to come back here in the evening too! You'll find some of the best restaurants in Rimini in this area.
For dinner, we recommend La Esse Romagnola, an excellent restaurant serving traditional local food and with a very pleasant outdoor seating area. Alternatively, just nearby, trattoria La Marianna is a great place for seafood! We indicated both of these restaurants on our map. Just be sure to reserve a table in advance!
Good to know: If you're visiting Rimini in September, see if your visit will coincide with the 'La festa del Borgo', which is held every 2 years on the first weekend of the month. It's an exciting event involving the entire community. The streets fill with live performers, the restaurants prepare special menus, and the atmosphere is great! For more information, see their website (in Italian).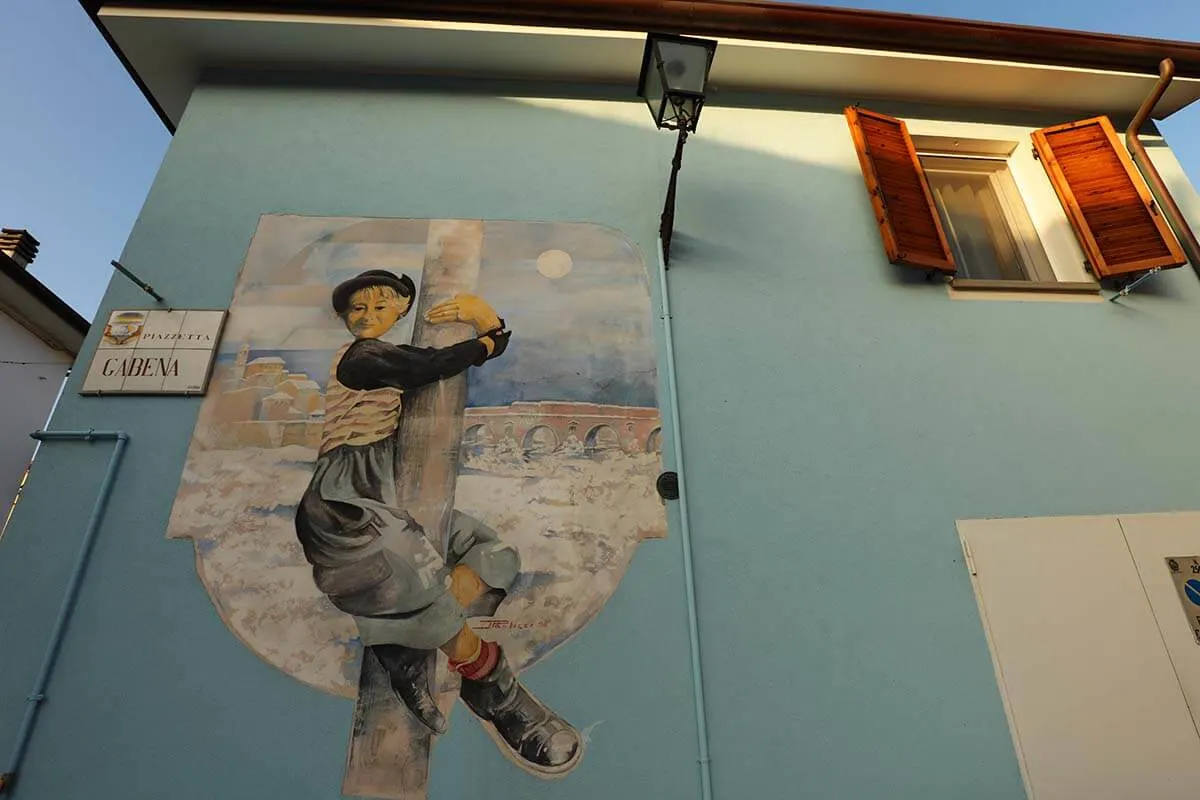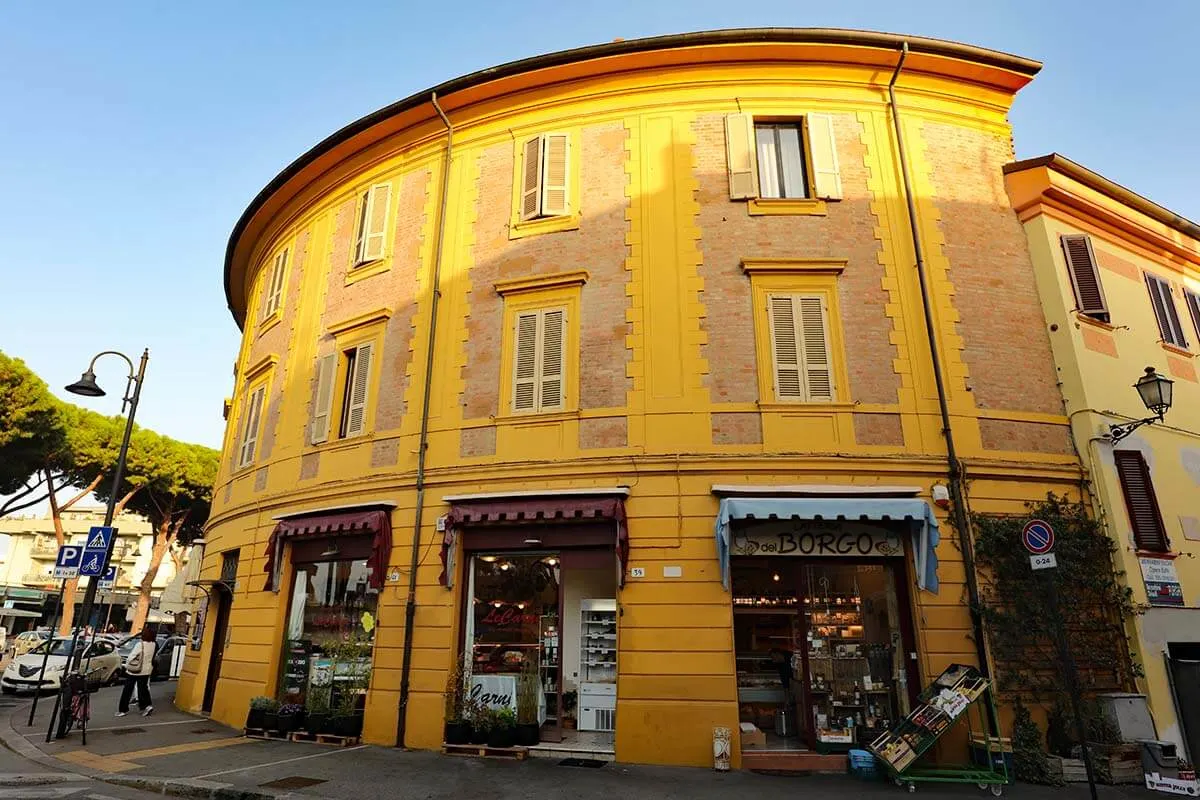 3. Piazza Cavour
Cavour Square (Piazza Cavour) is one of the most beautiful town squares in Rimini. It's a great place to experience a true slice of local life. Take a seat outside one of the canopied cafes and watch as the locals come to shop, relax, or meet with friends.
Dominating the square is the cone-shaped Pigna fountain (Fontana della Pigna). The marble basins of the fountain are from the 15th century but the drum on which the fountain stands dates back to Roman times! This was once the only source of drinking water in the city and you can still refill your bottle there today.
Beside the fountain, you can see a statue of Pope Paul V. It was created as an act of devotion to the Pope in 1611 and recently restored.
Another must-see here is an ancient Pescheria (Vecchia Pescheria), an old fish market. The small market has two rows of Istrasian stone benches where the fish would be displayed. Nowadays, it is mostly used for selling flowers but is still very interesting to see.
Other sights to see on Piazza Cavour include the Town Hall of Rimini, the lush Teatro Galli (more info below), and three scenic palaces – the Palazzo Garampi (built in 1562), the Palazzo del Podesta (built around 1330), and the Palazzo del Arengo (which dates back to 1204).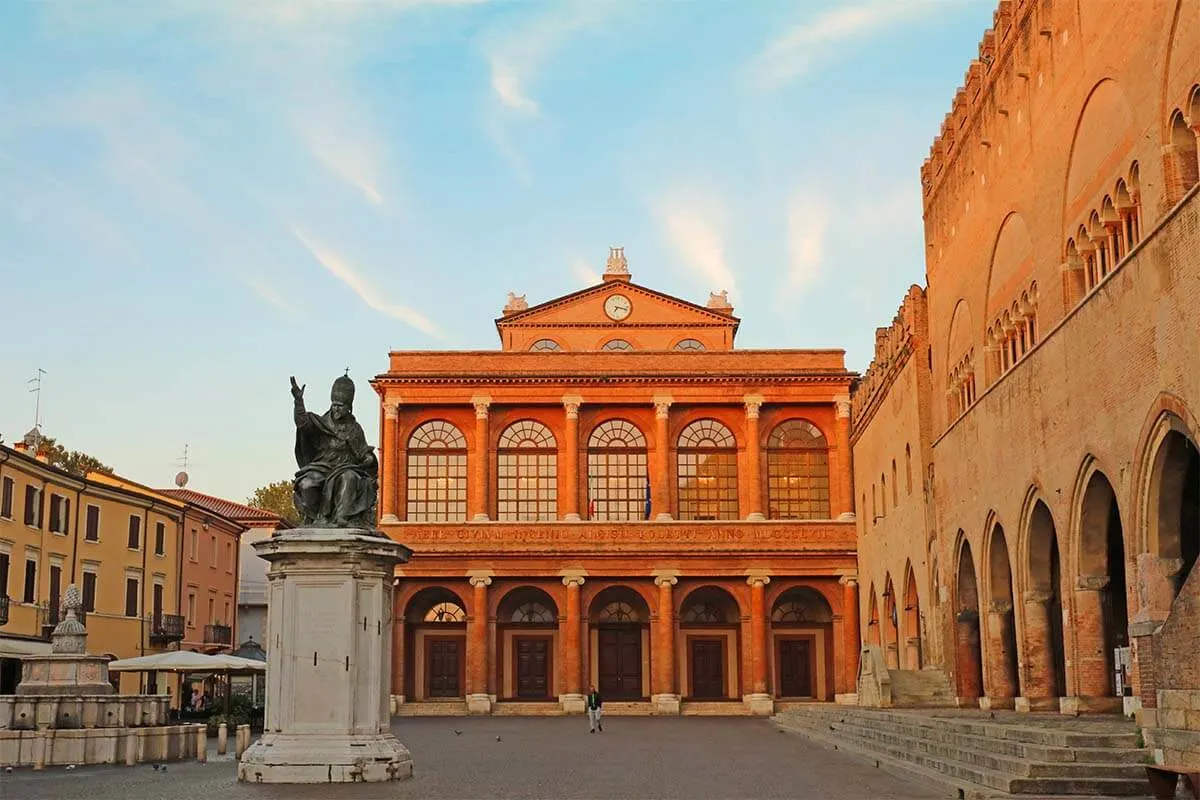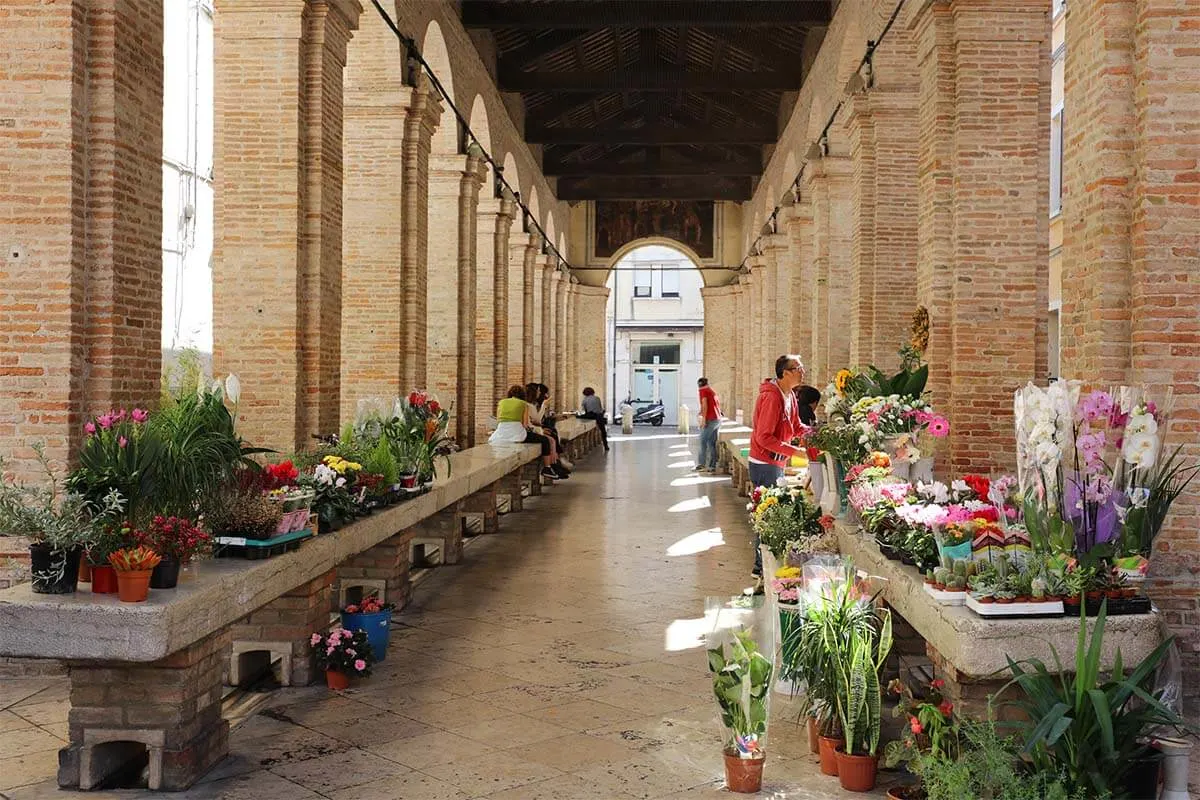 4. Piazza Tre Martiri
The Three Martyrs Square (Piazza Tre Martiri) is located in the center of town and is another place you can't miss in Rimini. During the days of the Roman Empire, this was the site of the Roman forum where Julius Cesar delivered his famous speech after crossing the Rubicon.
This is commemorated by a Memorial Stone in the square, along with a bronze statue of Cesar himself.
Other attractions are the square's 16th-century clock tower – Torre dell'Orologio – and the Palazzo Brioli, which dates back to the 17th century. The clock tower is quite unique and has displayed a dial with a calendar, the signs of the zodiac, and moon phases since 1750.
You can also see the Tempietto di Sant'Antonio. This small 16th-century chapel sits beside the Church of San Francesco dei Paoletti.
Today the historic square is bustling with visitors, shopping at one of its regular markets or simply enjoying a meal at one of the many cafes and restaurants. As you browse the shops and mingle with the crowds, it's incredible to think that you're standing in a spot that was often used for the tournaments of knights in the middle ages!
Interesting to know: The name of the Three Martyrs Square is associated with a sad story from much more recent times. It was in this square that three resistance fighters were executed in 1944. The name was changed from Piazza Giulio Cesare to Piazza Tre Martiri in their honor.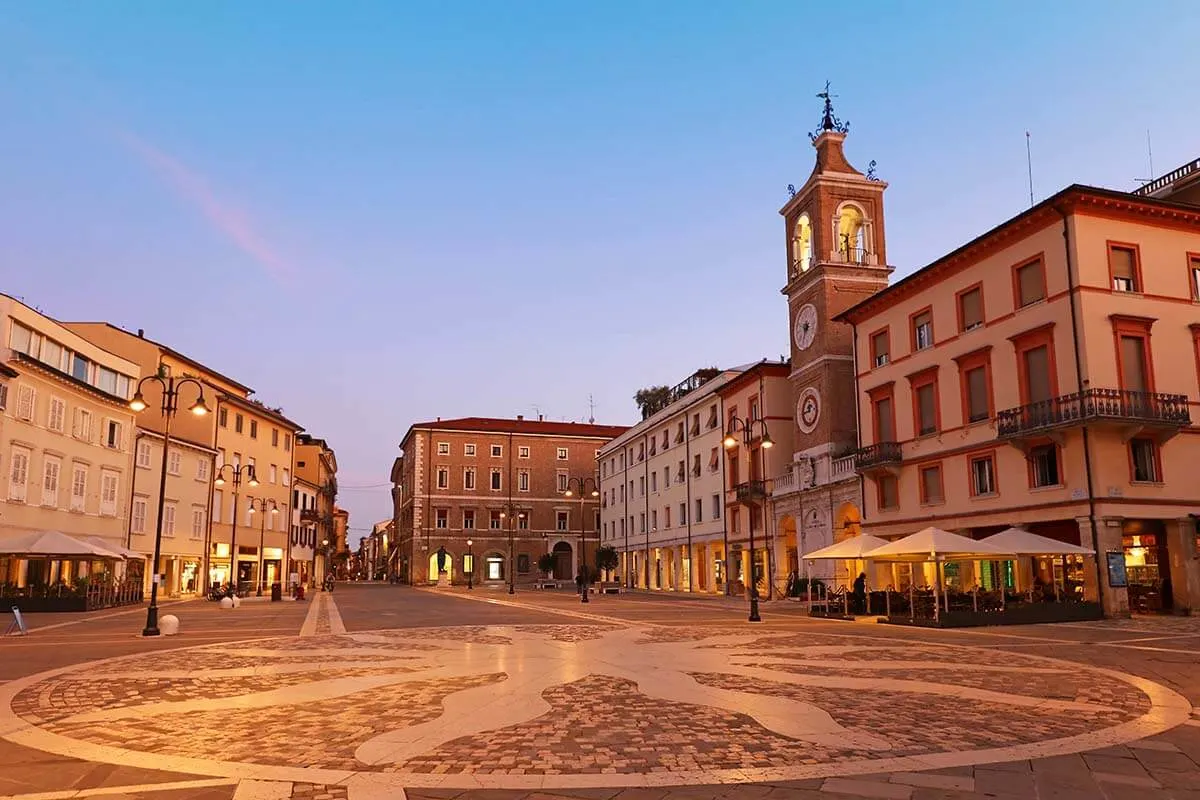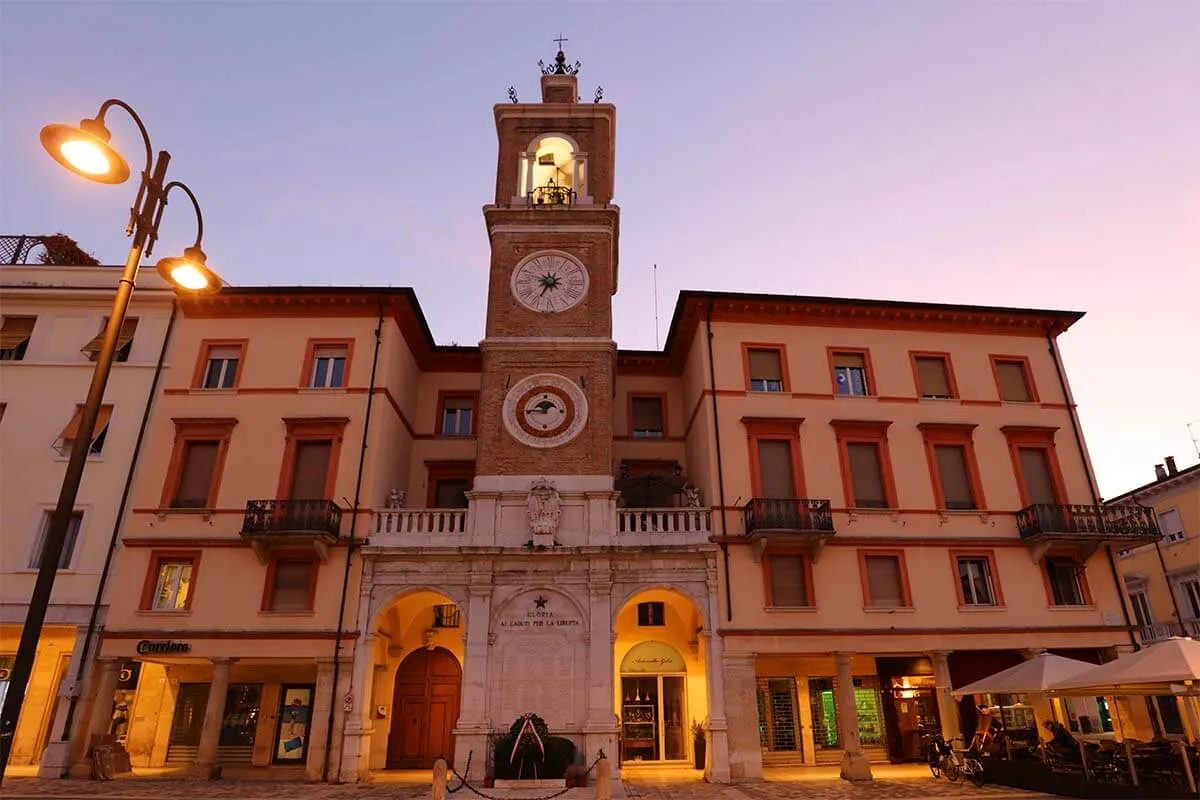 5. Arco di Augusto
Guarding the entrance to Rimini's Old Town at the end of Corso d'Augusto stands the impressive triumphal arch, Arco di Augusto.
Dating back to 27 BC, it is the oldest surviving arch in northern Italy! And – just like the Ponte di Tiberio – the arch is still in remarkable shape given its age.
The Arch was dedicated to Emperor Augustus by the Roman Senate and marked the end of the Via Flaminia, which connected the city of Romagna to Rome.
It bears the three round shields of the Roman gods Jupiter, Neptune, and Apollo, plus a fourth of Roma, the Goddess of Rome. You can also see crenulations at the top, although these were added in medieval times in place of the original bronze statue of Emperor Augustus.
Something that makes this arch rather unique is the size of the opening – it spans 30 feet, which would have been too wide to hold doors. According to experts, this was thanks to the emperor's policy of peace, which made doors for protection unnecessary.
It really is quite a privilege to be able to view this outstanding piece of history, looking just as magnificent and imposing as it would have looked in Roman times. It's difficult to describe the feeling you get when you walk underneath realizing that this arch stood here for over 2,000 years and will still be here long after us… It's an absolute must-see in Rimini!
6. Tempio Malatestiano (Rimini Cathedral)
The beautiful Basilica Cattedrale, aka Malatestiano Temple, is another historical landmark that you should see in Rimini.
Constructed between the 9th and 15th centuries, the cathedral was never quite finished. If you look at the front facade you'll see that there is a strange gap and a brick wall in the place where a central tower should have stood.
While the cathedral may appear relatively small from the outside, when you step inside it is quite breathtaking, with lofty, beautifully decorated walls and a striking beamed wooden ceiling.
Highlights include frescoes by Piero della Francesca, reliefs by Agostino di Duccio, and The Crucifix by Giotto.
Even if you do not usually visit religious buildings, the main churches in Italian cities are really not to be missed. The stunning Malatestiano Temple is no exception and is definitely worth seeing, plus it's a great opportunity to view stunning Renaissance artworks. In the summer, it also provides some welcome respite from the heat of the day.
Good to know: The Cathedral is open daily, but – like most of the best churches in Italy – it closes for a few hours in the early afternoon. So try to visit before noon or come after 3.30 pm.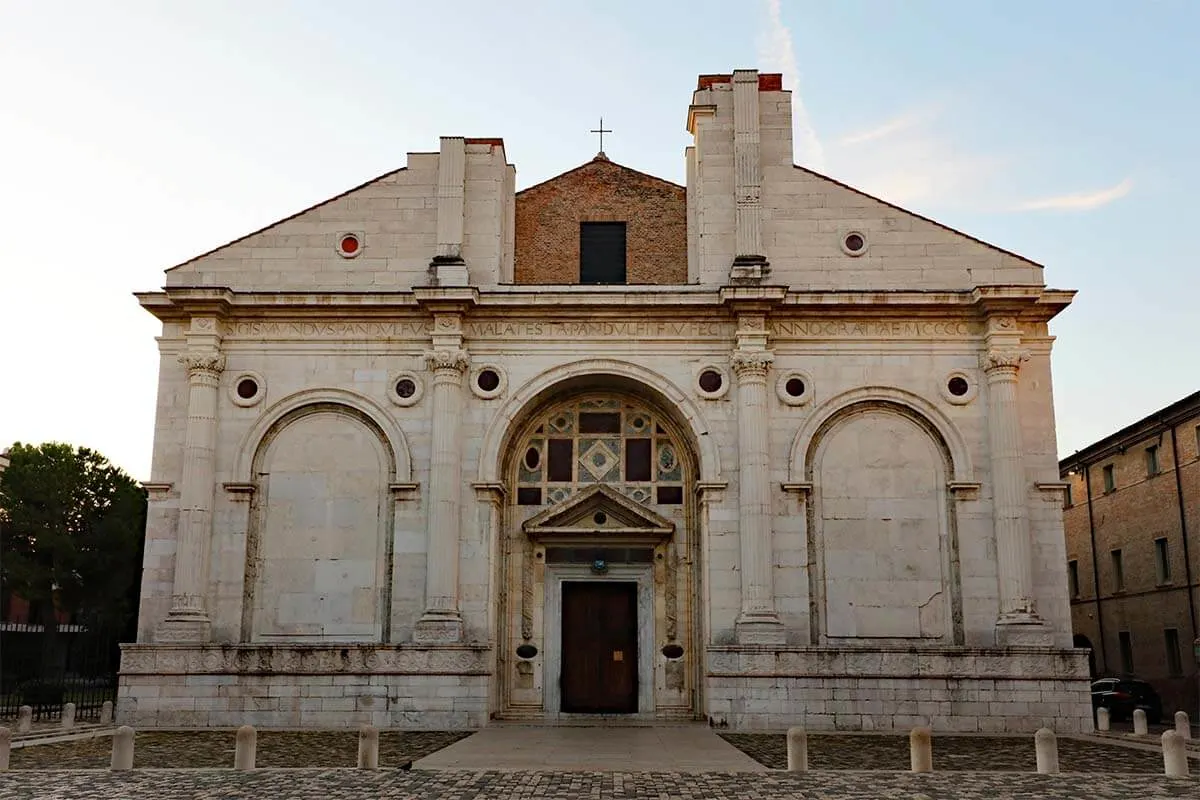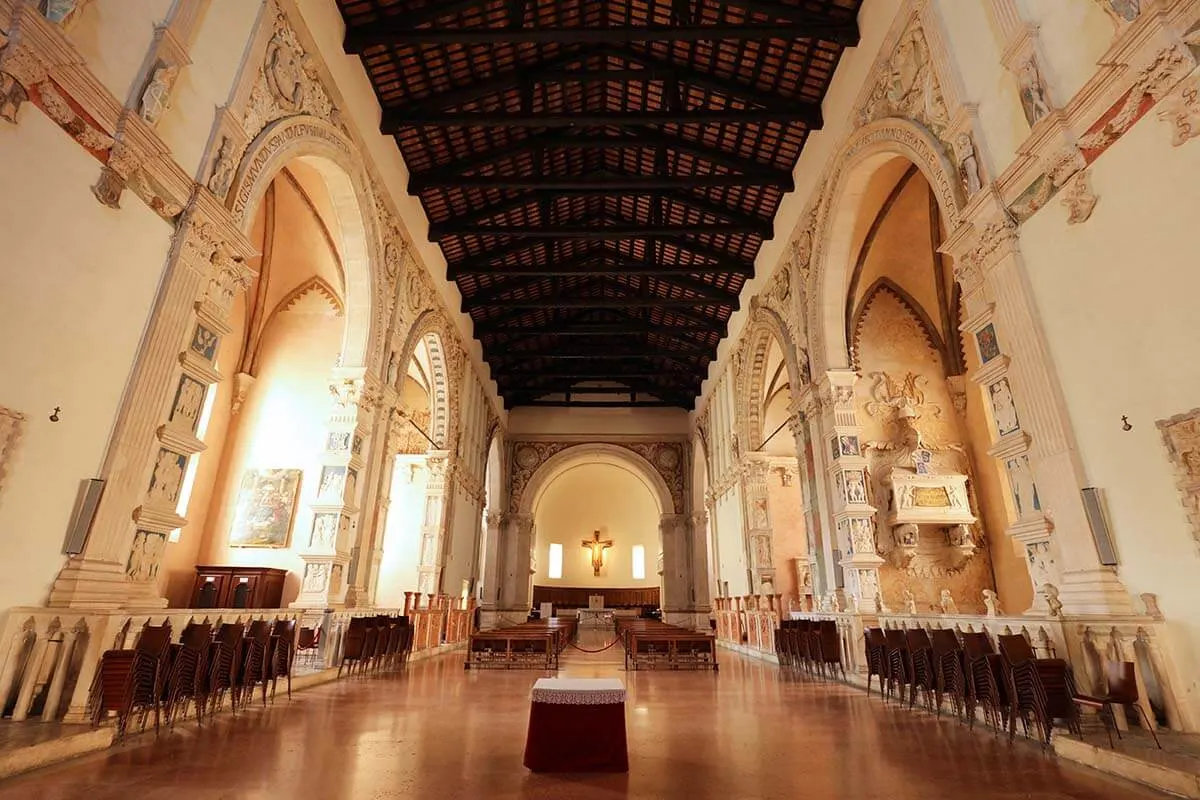 7. Cinema Fulgor
Rimini is the hometown of the famous Italian filmmaker Frederico Fellini. He watched his very first film at Cinema Fulgor when he was just 5 years old. Inspired by what he saw, he later began creating posters to publicize the films on show. So impressed was the cinema's owner that he granted free entry to the cinema to Fellini and his brother.
Fellini would later go on to create some of the most influential movies of all time, including La Strada and La Dolce Vita.
Even if you are not familiar with his work, we recommend paying a visit to this cinema. It is absolutely stunning, decorated in an art nouveau style with gorgeous red and gold accents.
Whilst this may not have been how Fellini would have seen it all those years ago, it is wonderful to stand in the place that inspired a love of theater and a lasting legacy.
Good to know: There are several ways to see Cinema Fulgor. First, since it's still a functioning cinema, you could simply buy tickets to a movie for an authentic experience. Alternatively, you can also arrange for a guided tour. These are usually only available to larger groups, although individual visitors can also email the cinema and see if it's possible to arrange a visit. More info on their website.
Another way is to get this Fellini Museum Ticket, which includes the Fellini Museum, Sismondo Castle, and Cinema Fulgor. However, since this is a rather new offer, I'm not sure if you actually enter the theater hall itself or just see the cinema entrance hall with the posters, etc. We visited the cinema on a guided tour.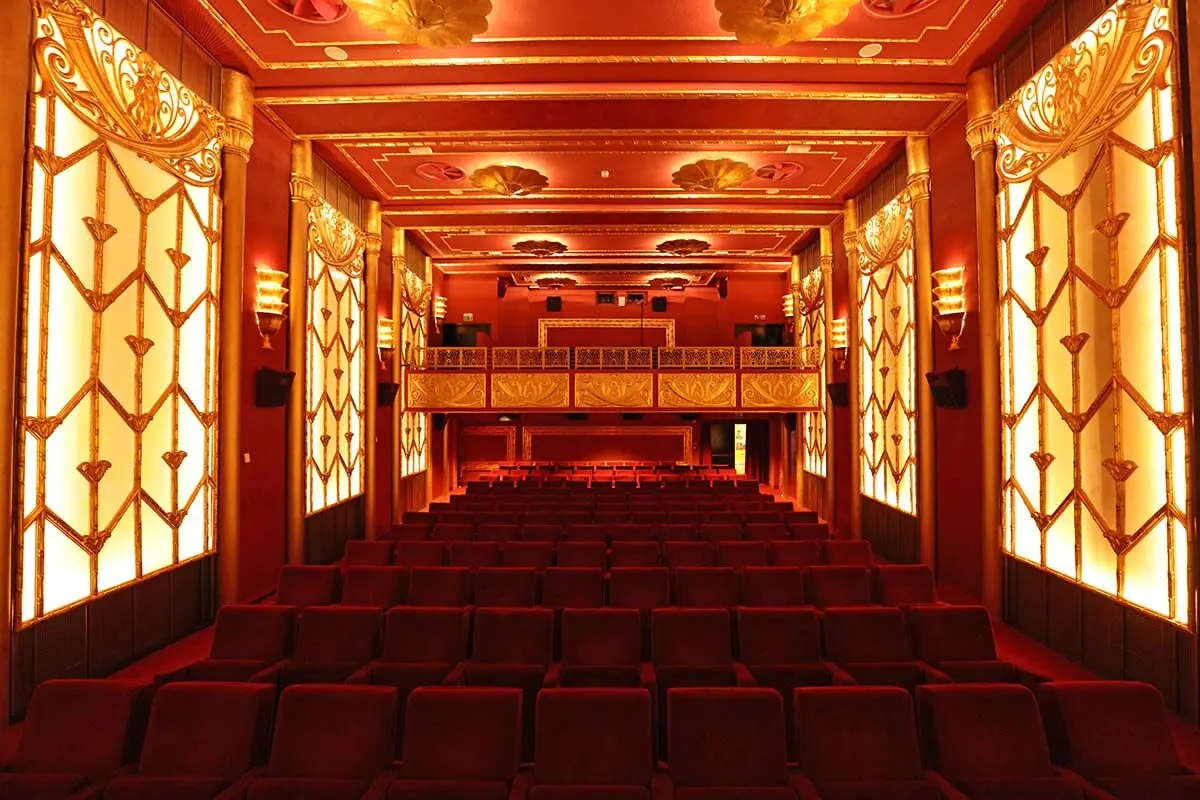 8. Castel Sismondo
Sismondo Castle was once a grand fortress, symbolizing the power and status of its architect and builder, the 15th-century Lord of Rimini Sigismondo Pandolfo Malatesta.
What you see today is merely the central keep, although it is beautifully maintained and impressive nonetheless!
The castle is also very unusual, with imposing towers and slanting walls. In fact, it has quite a formidable appearance and seems well suited to its role as a prison until 1967. The building features maiolica tiles on the outside and an interior filled with beautiful curtains, detailed tapestries, and elegant frescoes.
Good to know: While most people simply see the castle from the outside, you can also visit inside. It's home to one part of the Federico Fellini Museum (more info below).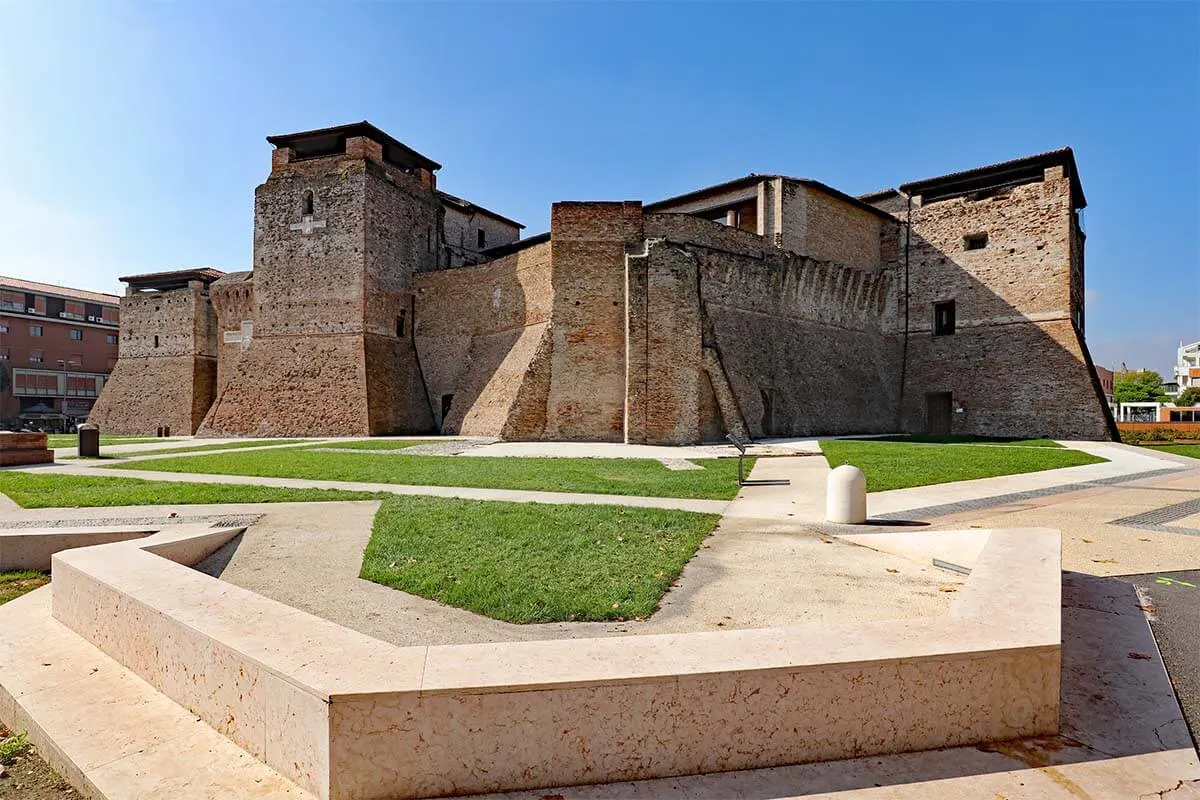 9. Fellini Museum
Fellini Museum is one of the more recent attractions in Rimini, spread out over several different locations in town. Incorporating Castel Sismondo, Piazza Malatesta, and the 18th-century palazzo housing the Fulgor Cinema, the museum ticket gives you access to all the Felini sights in Rimini.
The New York Times describes the Fellini Museum as being 'as lavish as his movies'. This gives you some idea of what to expect from these exhibition spaces that pay tribute to the director and his work.
Rather than a dry display of pictures and text, here you can feel part of the magic, with drawings appearing on walls, incredible costumes, and even a giant soft sculpture of an actress on which you're invited to recline and watch scenes from a movie!
If you want to learn more about the maestro of Italian cinema, check it out!
Good to know: The museum is open daily except on Mondays (unless it's a public holiday). You can find more information on their website.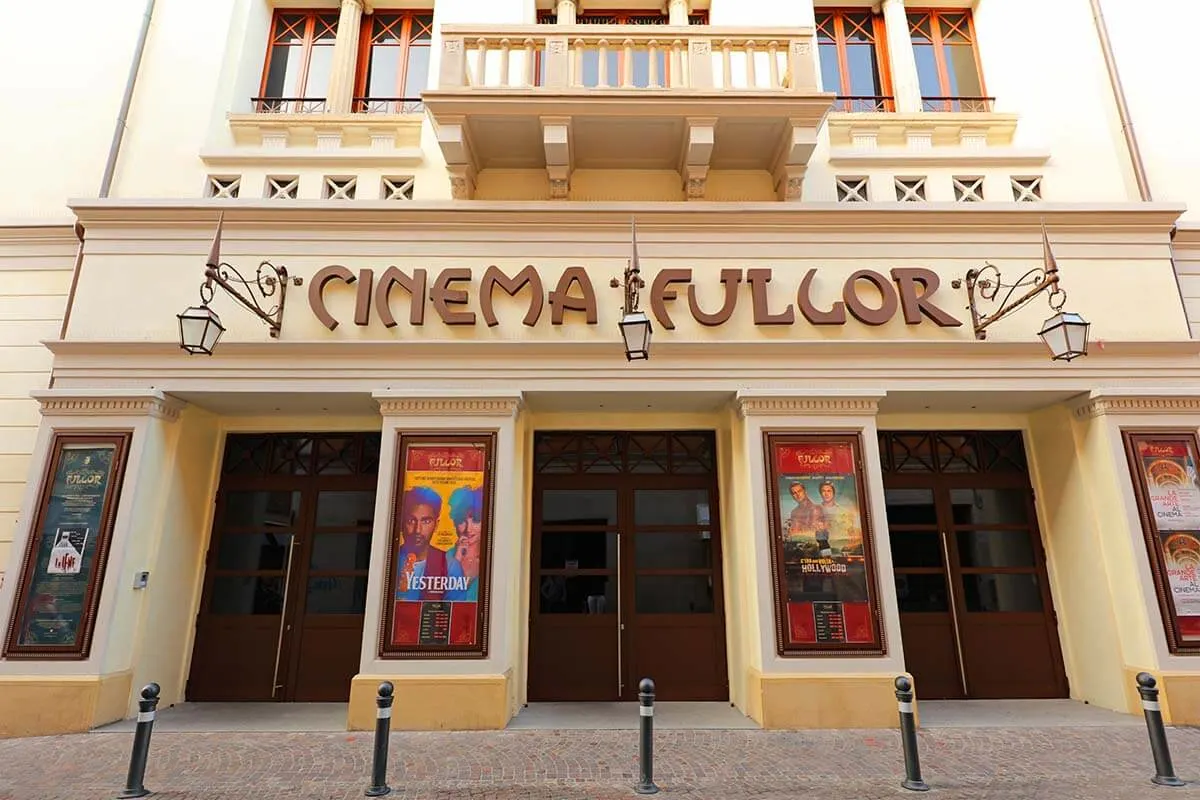 10. Teatro Amintore Galli
The Teatro Amintore Galli is Rimini's opera theater. Centrally located in Piazza Cavour, the building had a troubled past.
However, after being badly damaged by bombing during WWII, it remained closed for decades. In 2018 the theater was finally opened once again, restored in spectacular style.
You might notice that this particular theater does not have a royal box. That's because Rimini was under papal rule at the time of its inauguration.
Good to know: To view the stunning interior, you would need to book a guided tour, which is organized by the Municipal Museums of Rimini. It gives you access to the elegant foyer and opulent stalls. The availability of tours varies from month to month based on scheduled performances.
If available for your travel dates, I highly recommend visiting. The interior is stunning! Plus, it's right in the center and a tour only takes about 45 minutes.
Alternatively, you can also attend a performance here. In that case, check their website for the program and tickets.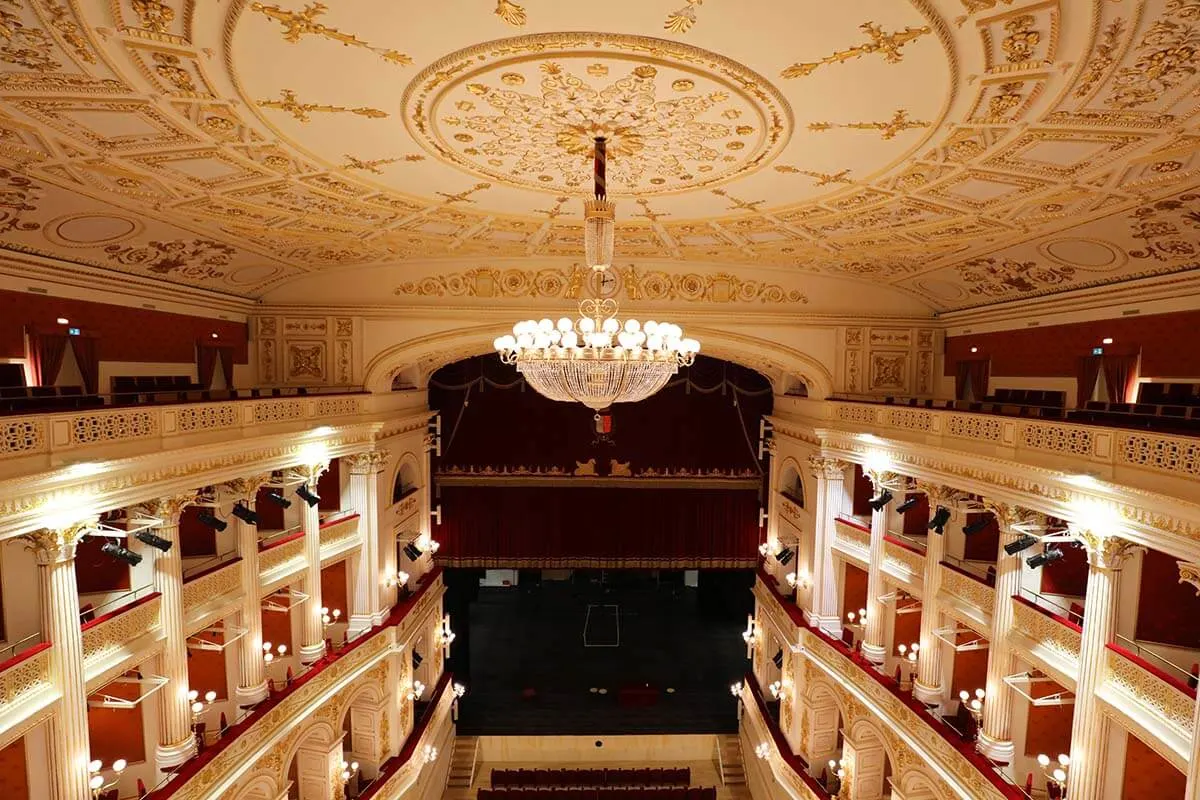 11. Parco Federico Fellini
If you feel like taking a break from sightseeing in Rimini town center and enjoying some natural beauty instead, head to Park Federico Fellini, one of the most popular parks in the town.
Located near the port and main beaches, this small park is a relaxing place with elegant sculptures, a children's playground, lots of shaded areas, and a pleasant promenade.
The main highlights not to miss here include Macchina Fotografica Gigante "Fellinia", a giant camera placed there in Fellini's honor, and Fontana dei Quattro Cavalli (Fountain of the 4 horses). The fountain is quite spectacular and well worth a visit, with horses rising from the stunningly blue 'sea' and snorting water. On their heads, they support a large bowl from which a jet sprays high into the air.
TIP: If you get the chance, try to come back and see the fountain after dark – it looks even more beautiful when lit up at night.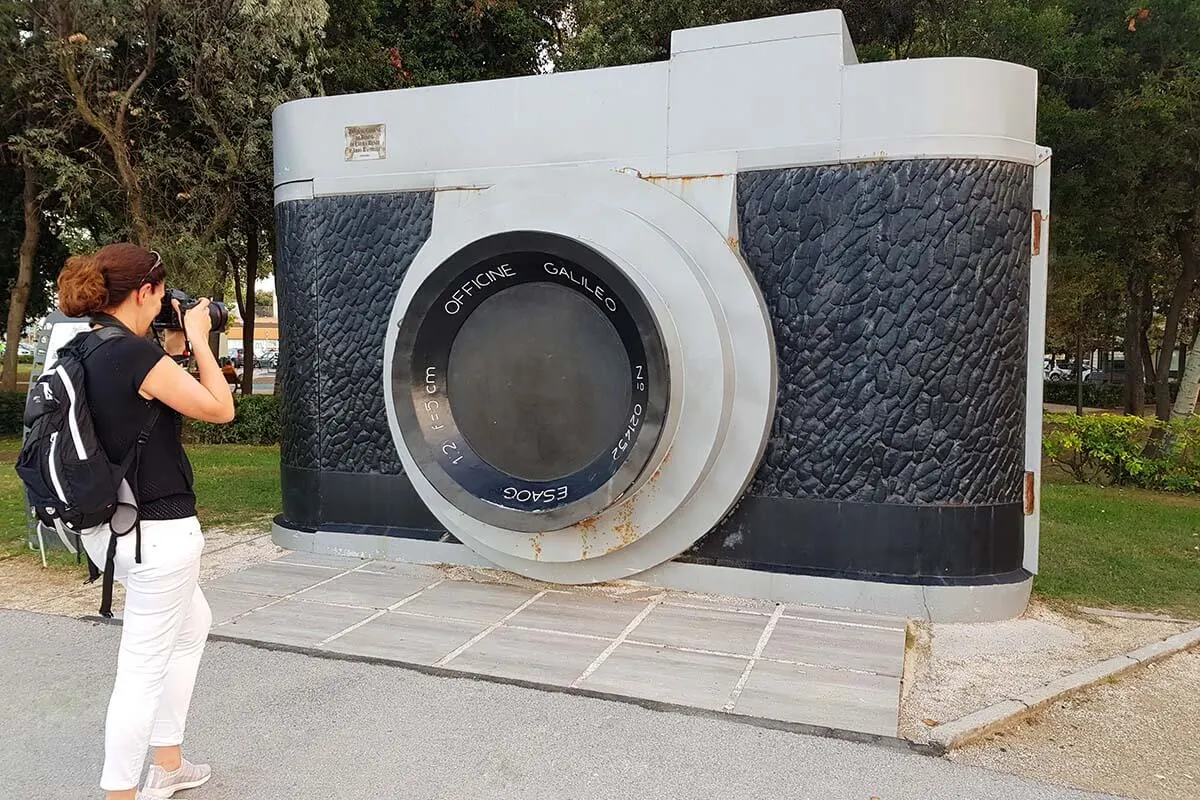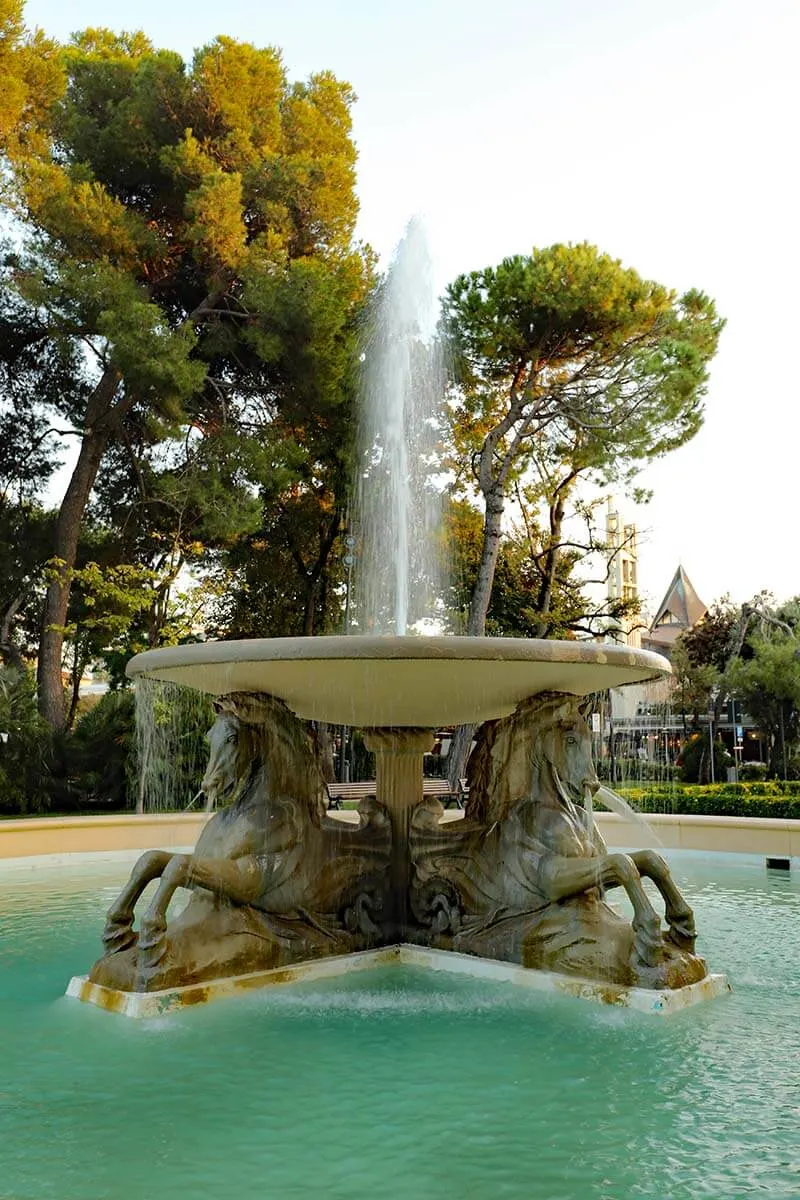 12. Domus del Chirurgo
The Domus del Chirurgo – the Surgeons House – is a fascinating archeological site in the center of Rimini. Parts of the 2nd-century villa of a Roman surgeon were discovered during building work in 1989 and it's now a museum.
The highlight of this attraction is a room containing an incredible polychrome mosaic, with Orpheus (known as the animal enchanter) in the middle.
Other important structures were found here, too, including the remnants of a late imperial residence and traces of an early medieval settlement.
Good to know: Along with the house was discovered a collection of 150 surgical instruments. These are currently on display at the City Museum next door (see below).
Practical info: The Domus del Chirurgo is open daily except Mondays, with hours varying per season. More info here. The ticket costs just a few euros and includes City Museum as well (see below).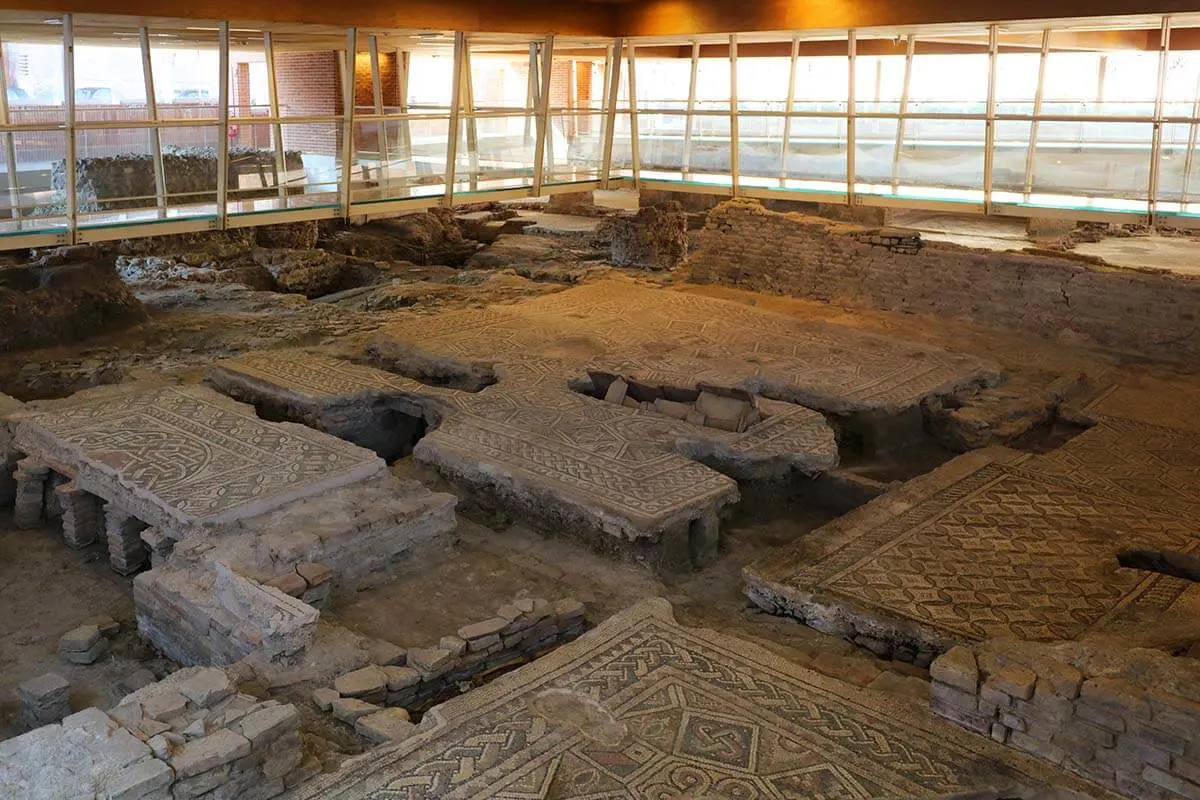 13. City Museum
Rimini City Museum (Museo della Citta) is located in a former Jesuit convent, just next to Domus del Chirurgo. It is a must-see if you are interested in either archaeology or art and want to learn more about Rimini.
In addition to the surgical tools from the Surgeon's House (above), you can see hundreds of interesting artifacts dating back to prehistoric times. These include ancient glassware and coins, beautiful Roman mosaics, and bronzes.
On the first and second floors is housed the Pinacoteca picture gallery, displaying Renaissance art and masterpieces from the 14th-century Rimini school.
Practical info: The City Museum is open daily except Mondays, with hours varying per season. More info here. As already mentioned, the same ticket gives you access to City Museum and Domus del Chirurgo.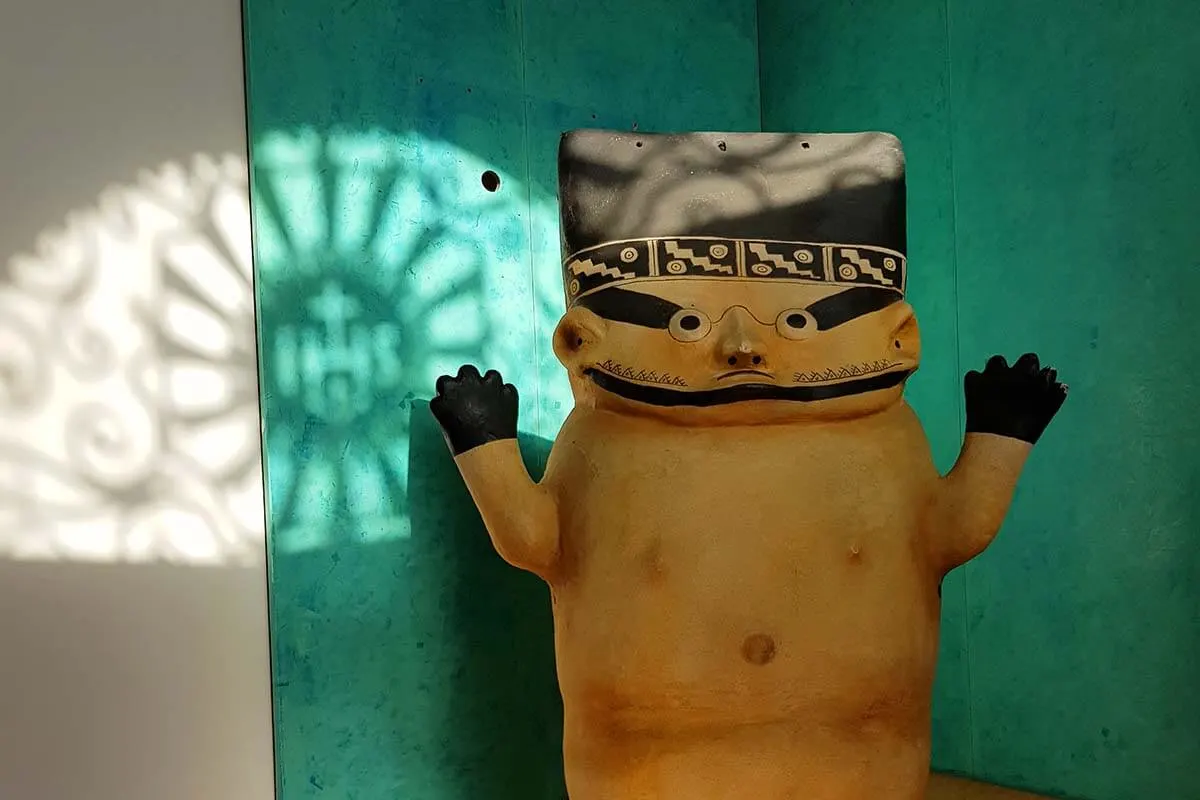 14. Rimini Ferris Wheel
Rimini has its very own big Ferris Wheel – La Ruota Panoramica – which you'll find on the edge of the main stretch of the beach.
At 55 m high, it provides one of the very best vantage points in the region, taking in the picturesque countryside towards the Adriatic Sea and the shoreline from Gabicce to Lidi Ferraresi. The wheel has 28 carriages and rotates very slowly, so you'll have plenty of time to take photos.
It's hard to say when is the best time to take a ride. Of course, the daytime views are wonderful when the sun is shining, or you could watch the sun go down from here! Alternatively, visit at night and see the lights twinkling in the sea.
Practical info: This is a popular summer attraction in Rimini and the big wheel is usually closed in the winter months. You can find out more about La Ruota Panoramica on their Facebook page. Or simply see if it's open when you are there and go for a ride.
TIP: Check out Rimini's Wharf (Rimini Molo) at the very end of the pier, behind the Ferris Wheel. There is a small lighthouse here, a sculpture, and a restaurant. It's a nice place to be at sunset, and you can usually see locals fishing here too.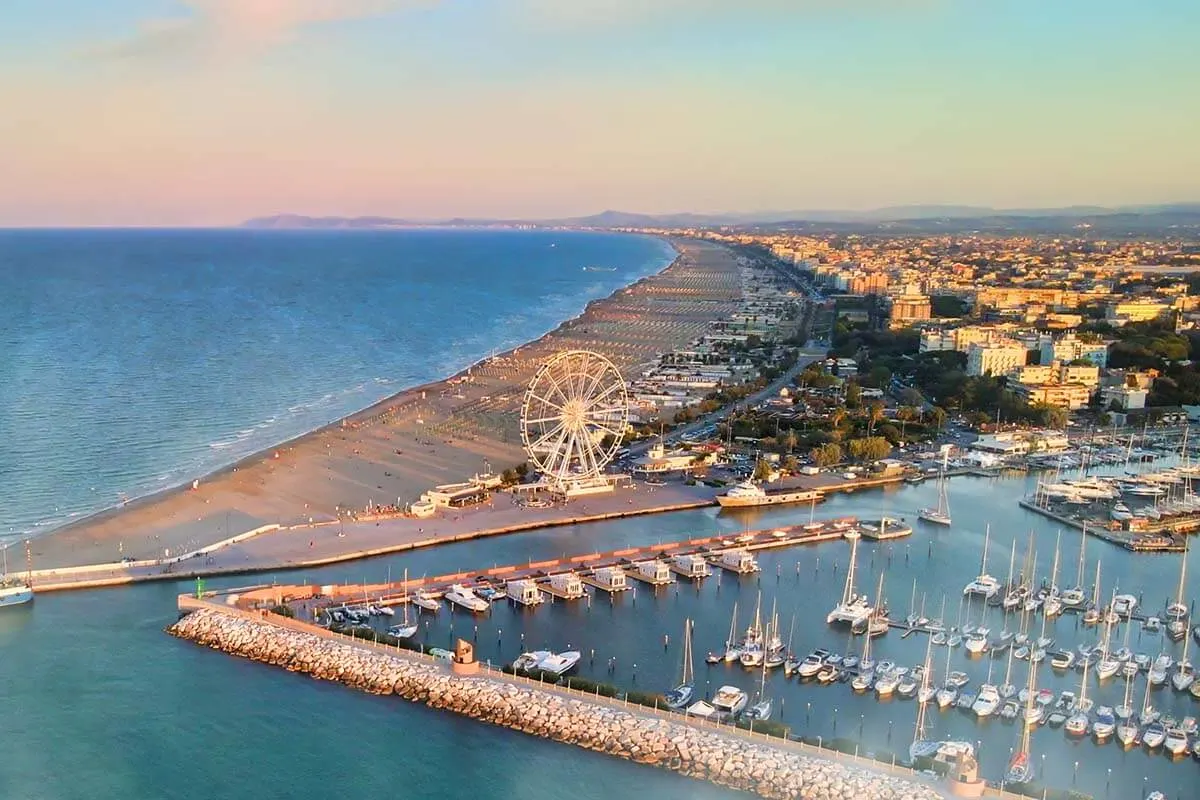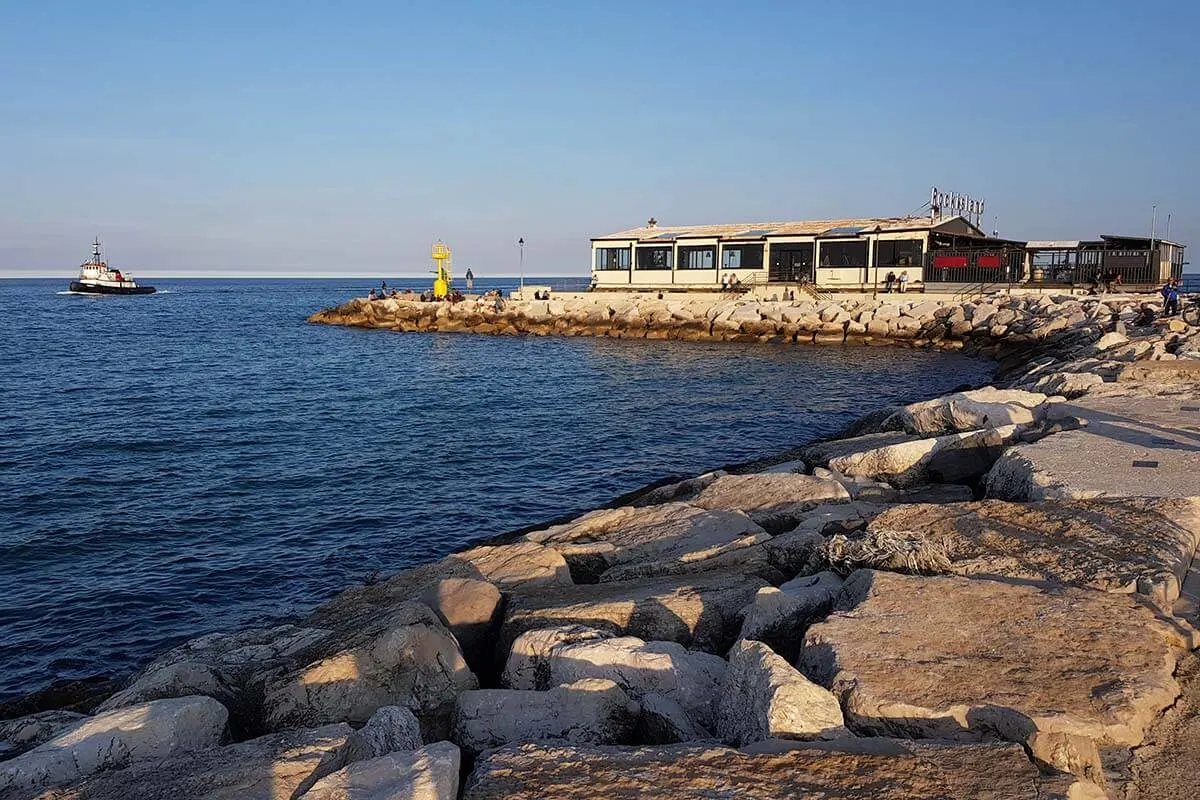 15. The Beaches of Rimini
Rimini's beaches extend for miles, lined with hotels, restaurants, and beach bars. With powdery white sand and calm waters, they are very scenic and great for families. Be prepared, though, for the endless rows of deck chairs and parasols which – in high season – cover almost every available inch!
The shoreline is divided into numbered sections, with the numbering starting at the port (in the center) and increasing to the north and south.
Most of these numbered beach sections are owned by different operators, who will have different equipment and facilities available for you to rent and use.
In many cases, you will need to pay for the week, but sometimes you may be allowed to pay just for a day or even a few hours. The exception would be in August when Rimini's beaches are at their busiest! It's now even possible to reserve an entry/sunbed for some of the beaches in advance!
If you're looking for a lively beach with a fun atmosphere, try Bagno Libra or Bagno Tiki 26.
For a quieter experience where the emphasis is on relaxation rather than fun, head to Bagno 84 Graziano or Bagno 107.
To get away from the crowds, try the pet-friendly Bagno 28 Otello, a popular spot with locals.
Good to know: Even in the private sections, the area within 5 meters of the sea itself is free for everyone to use.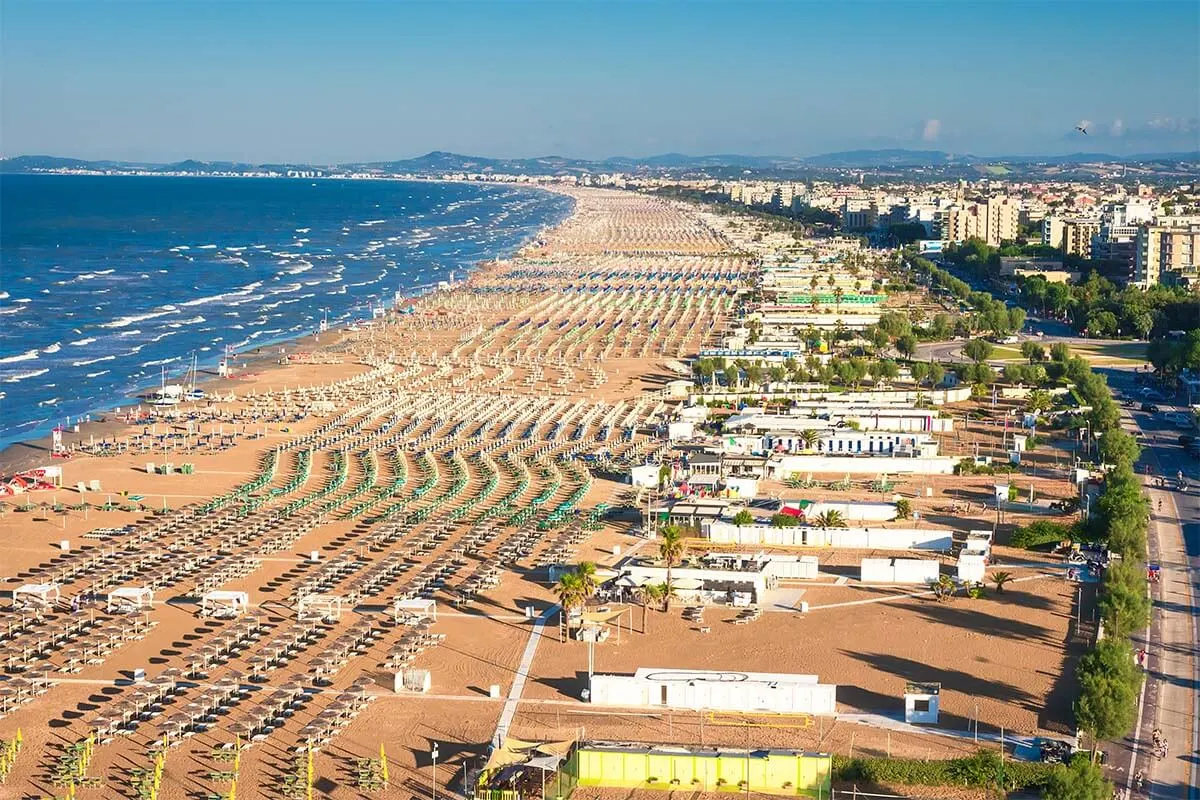 16. Sailing & Boat Trips
Located by the Adriatic Sea, it will come as no surprise that boat trips and sailing excursions are very popular in Rimini as well. However, there's not much to see as such, except the city skyline in the distance. It's more something that you do for the experience.
We visited Rimini with a small group and took a private sailing trip at sunset, with dinner on board. It was a wonderful experience. So if you are spending a longer vacation here and are looking for something nice to do in Rimini, see if you can find some local companies that can arrange this for you.
At the moment of writing, there is just one boat tour available on Viator. I'm sure that local hotels and tourism offices should have more options available.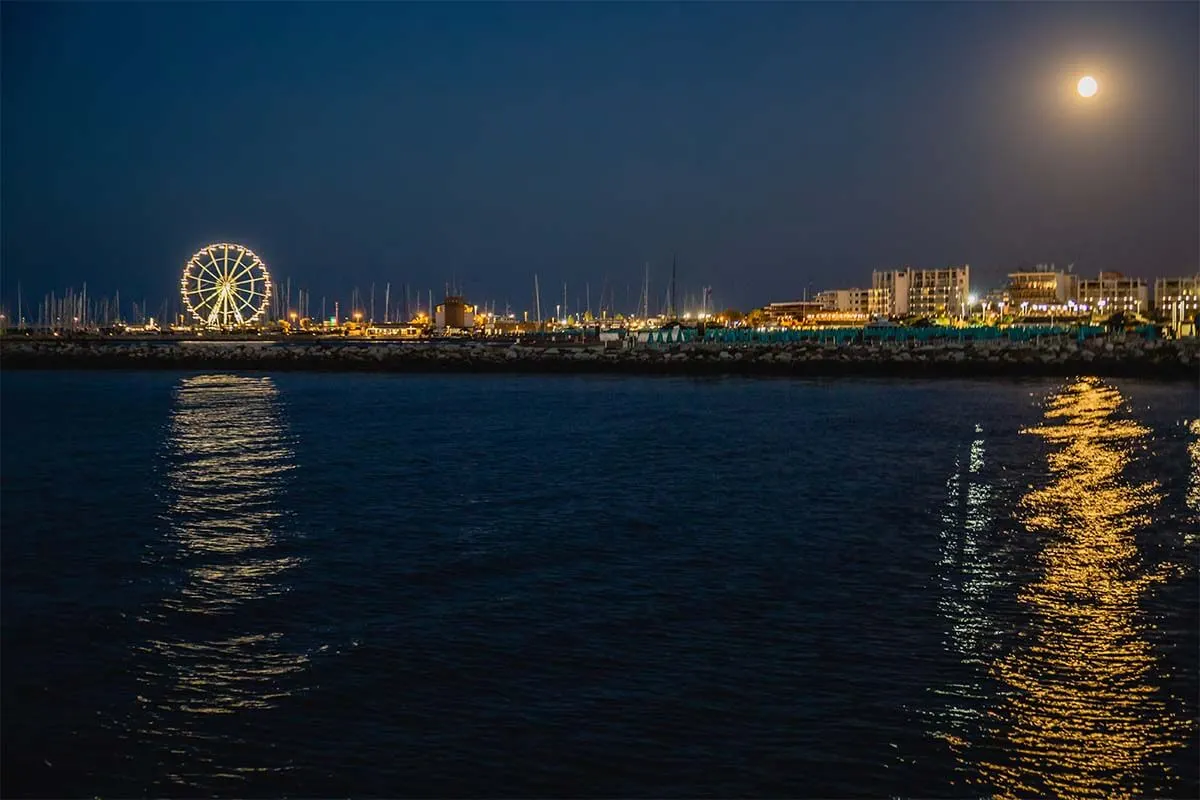 In addition to the above-mentioned landmarks and things to do in Rimini, there is quite a lot to see and do nearby.
If you are visiting Rimini with kids or teens, you may want to check out some of the attractions and theme parks nearby.
And if you are more interested in sightseeing, there are some really interesting places in this part of Italy. We highlighted a few of them further below. Read on because you'd really not want to miss them!
Here are some recommendations for places to see and things to do near Rimini:
17. Italy in Miniature
A whimsical attraction for both adults and children, Italia in Miniatura is a delightful theme park containing more than 250 perfect-scale reproductions of important Italian and European buildings and monuments.
There are also activities to enjoy, such as touring a mini-Venice in a gondola, trying the hands-on experiments at the Science Pavilion, taking a treetop walk, and more. There's even the opportunity for kids to learn to drive on miniature roads!
Good to know: It's not an ideal place to visit on a rainy day. Almost all the attractions are outside and many are closed in poor weather.
Practical information: Italy in Miniature is open daily during the warm season as well as on some weekends and school holidays for the rest of the year. Here you can find more information and book tickets.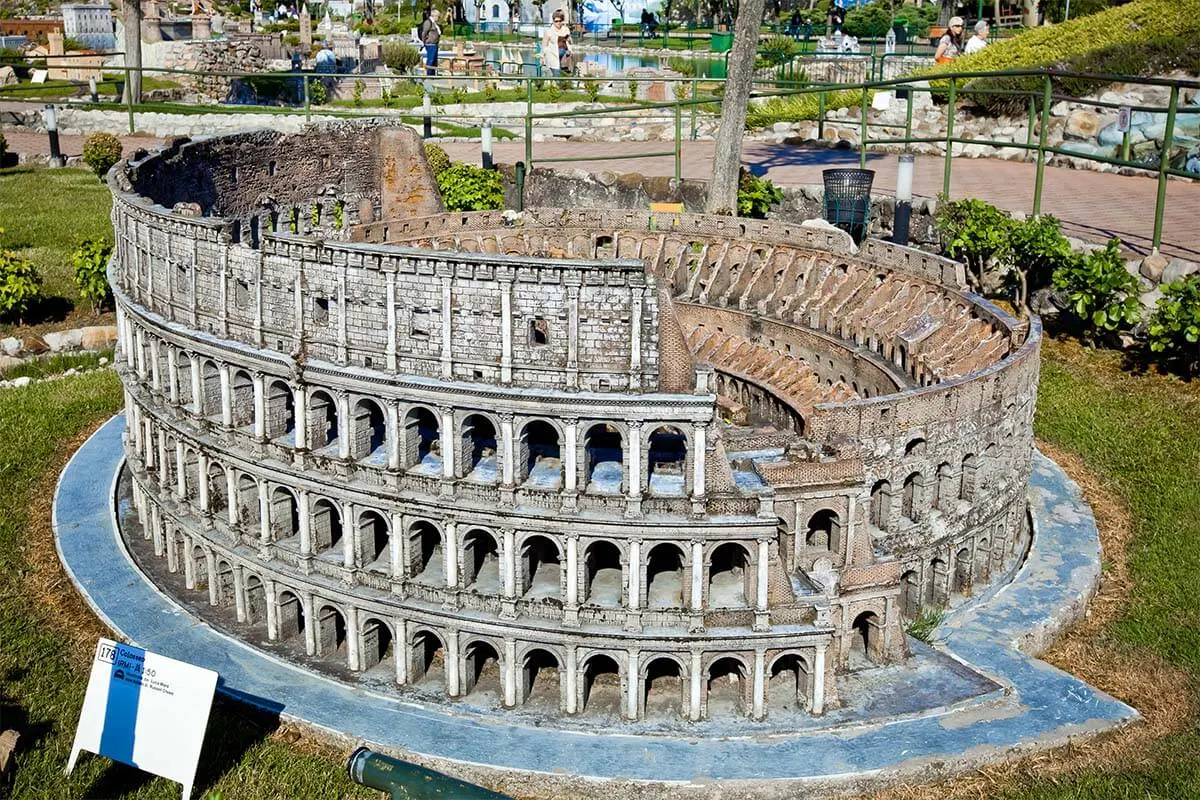 18. Oltremare Amusement Park
Fun for all the family, the main of Oltremare is to help kids discover nature through play. The main attraction is the dolphin show, but you can also see birds of prey and even kangaroos.
Kids get the opportunity to learn more about evolution and explore the fascinating ecosystem of Italy's Po Delta.
There are also several interactive programs, such as 'Trainer for a Day' and 'Meet the Dolphins', but these are all conducted in Italian.
Practical info: The Park is located in Riccione, less than half an hour's drive from the center of Rimini. You can find more info and buy tickets online in advance here.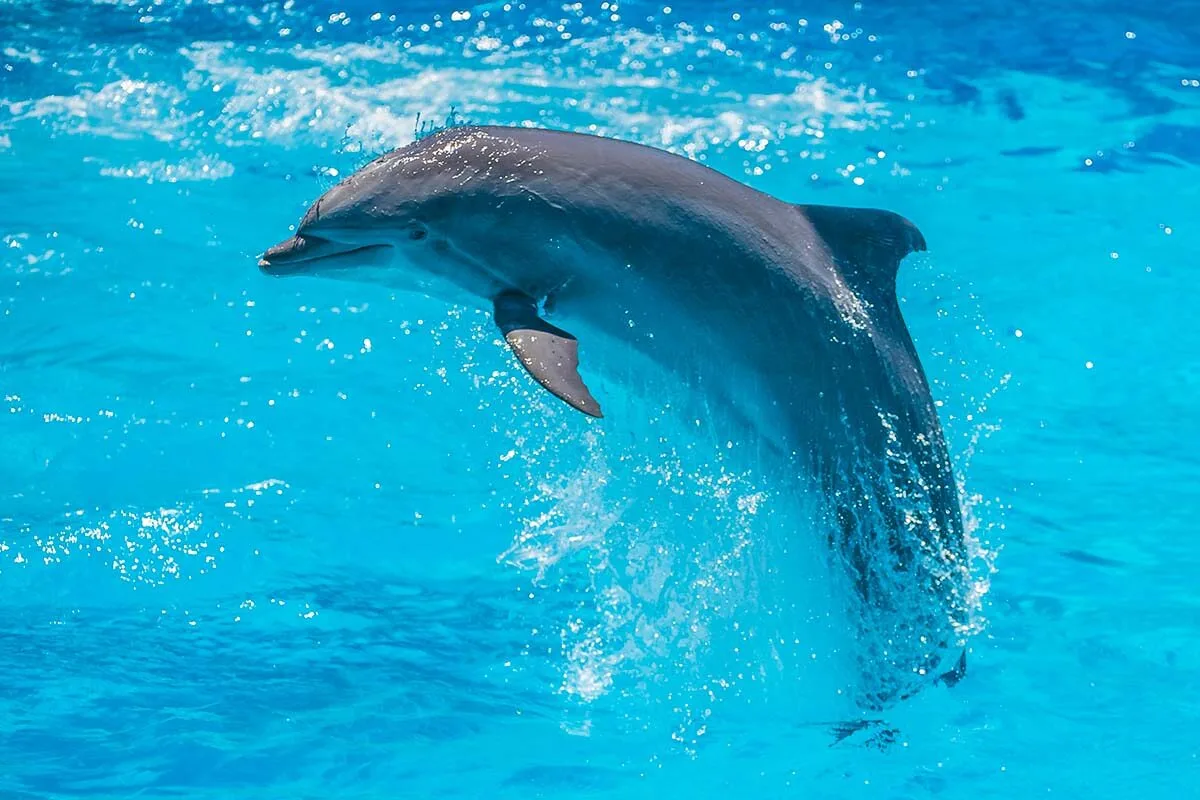 19. Aquafan Water Park
Located just next to Oltemare, Aquafan is a seasonal water park. If you are vacationing in Rimini in the summer, it's a great day out for the whole family.
With 3 kilometers of water slides, various pools for all ages, and lots of fun activities, Aquafan is a great place for a relaxing summer day. They also have good restaurants and eateries, shops, etc.
Practical info: Aquafan is located in Riccione and has a big parking area. The water park is open from the beginning of June to early September. For more information and tickets, see here.
20. Fiabilandia
Fiabilandia is a fun little theme park – one of the oldest in Italy – that is ideal for little children. It offers a variety of rides, a mini railway, a lake filled with ducks and turtles, a pool, a 4D cinema, and live shows.
There is also a small museum devoted to the circus and the Italian families associated with it.
Practical info: You can find Fiabilandia on the coastline close to Rimini Airport. For more information and to book your tickets see here.
TIP: Sometimes, the ticket gives you free access the next day, so be sure to check the conditions.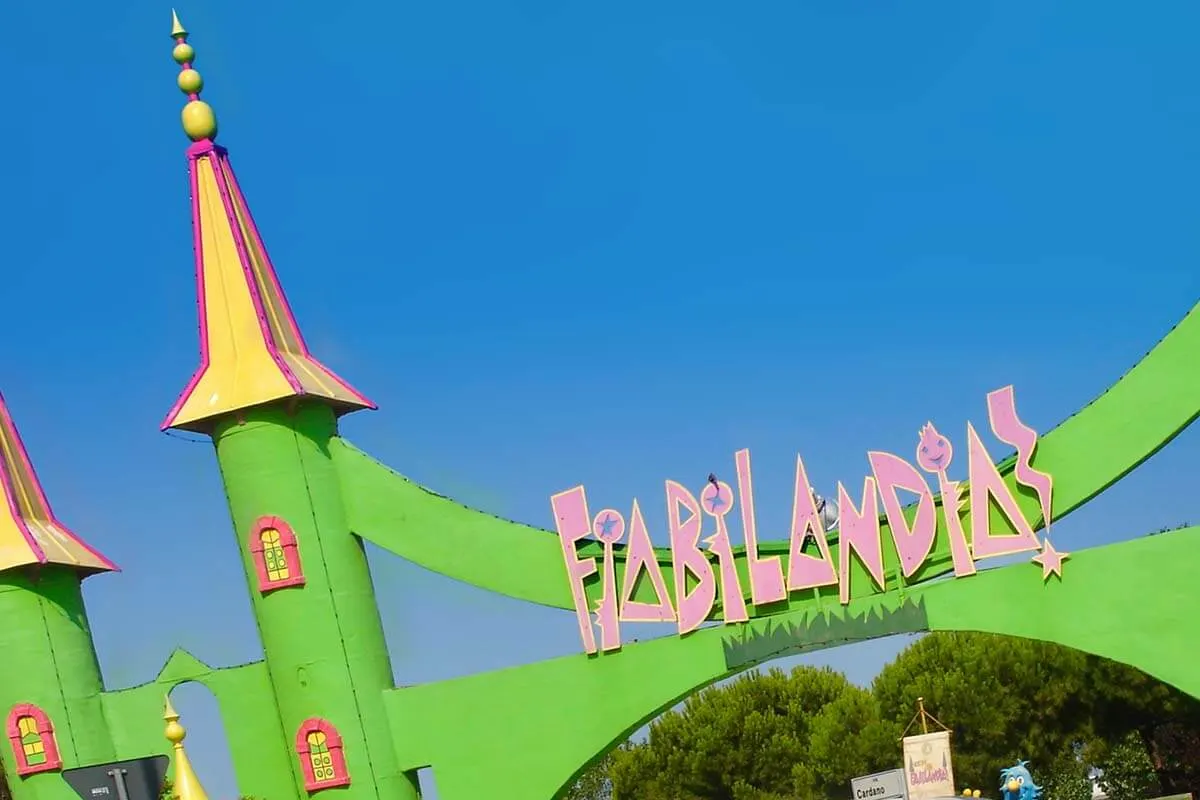 21. Santarcangelo di Romagna
Just 15 minutes from Rimini by car (and only 40 minutes by bike) is the beautiful medieval village of Santarcangelo di Romagna. It has a couple of claims to fame.
One is the fine wine produced in the region, made with Sangiovese grapes. The other is artisan printing using an ancient rust dying technique and Mangano. The best place to see this and buy some local souvenirs is the Artisan Printing House Marchi, dating from 1633.
But perhaps most interesting is the network of 160 artificial underground caves, Tuff Caves of Jovis Hill (Grotte tufacee del Colle Jovis). The original purpose of them is not quite clear. In the 20th century, the caves were used as shelters during the war, but also as cellars. So big is this network that it resembles an underground city. Parts of it are open to visitors and the local tourist office organizes guided tours of the tunnels. More info here.
The village itself is a lovely place to wander, too, with winding alleyways, a main square, scenic houses, and palaces dotted here and there. Indeed, it would be easy to spend an entire day in this quiet spot that feels a million miles from Rimini's bustling beaches.
TIP: Rent a bike in Rimini and visit Santarcangelo di Romagna by bike. Alternatively, of course, you can just take a car or even a taxi. It's very close by.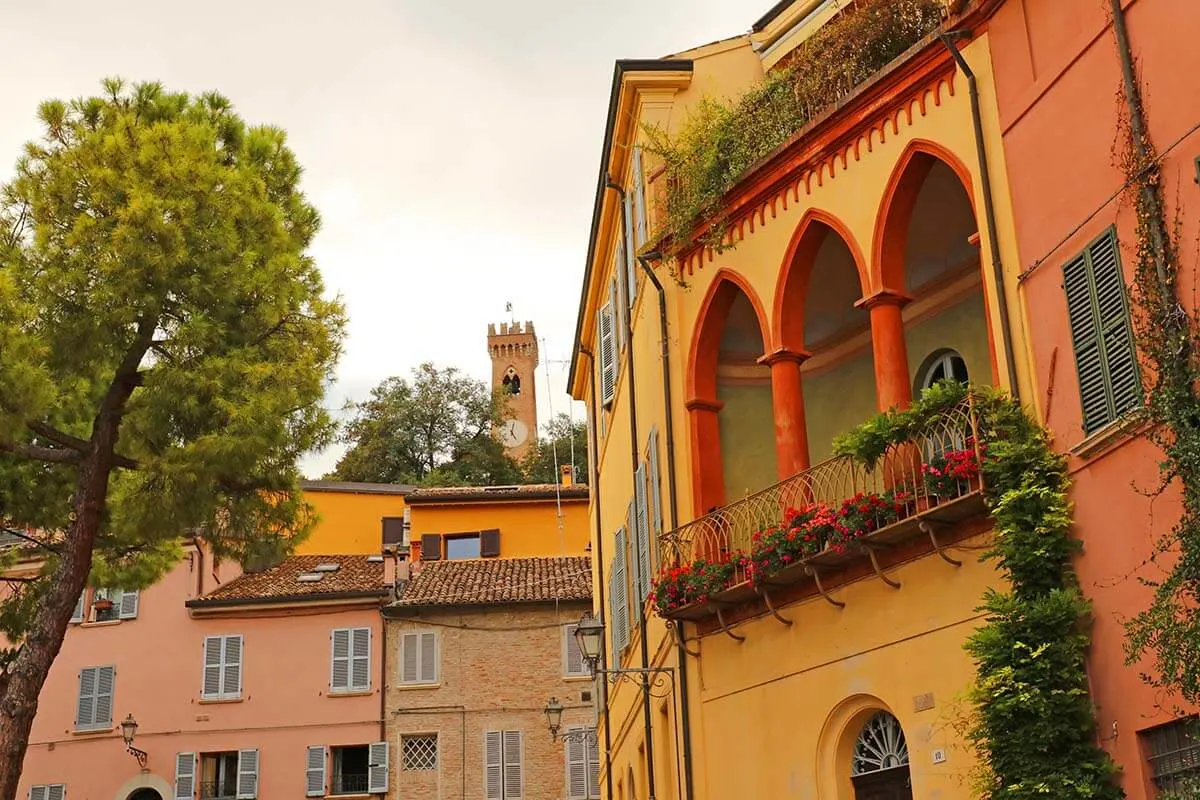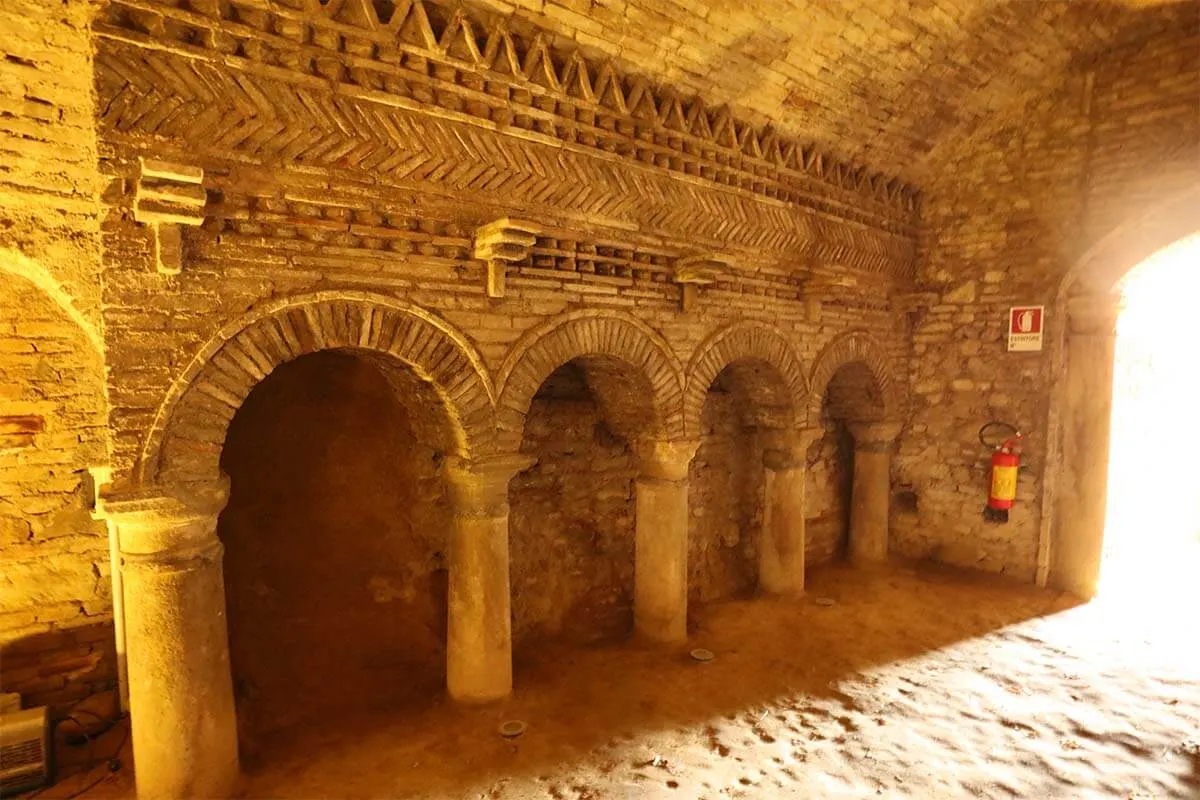 22. San Marino
Ok, this is not really a Rimini attraction and it's not even in Italy, since San Marino is a separate Republic. However, it's such a fabulous destination and it's so close to Rimini that it would be unthinkable not to visit if you are in the area.
The hilltop town of Città di San Marino, the capital of the Republic of San Marino is a UNESCO World Heritage Site and it's just about 25 km, 45 minutes drive from Rimini. Don't miss it!
The fifth smallest independent country in the world, San Marino has a population of just around 30,000 people and has its own police force and schools. It's not a member of the EU, but it's unlikely that you'll have to show a passport when driving here. If you are collecting passport stamps, you can get one at a tourist office.
The City of San Marino is largely pedestrianized, with wonderful views of the Italian countryside at every turn and lovely sculptures dotted throughout. Among its highlights are the three medieval towers – Torri di San Marino – located on the three peaks of Monte Titano.
Also worth seeing are the neo-Gothic Palazzo Pubblico – San Marino's official seat of government – and the Museo di Stato, which displays coins, archaeological exhibits, and art.
TIP: For some truly amazing views of the surrounding countryside, take the Funivia di San Marino – Borgo Maggiore. This cable car connects the center of San Marino at the top of the hill with Borgo Maggiore at the bottom.
Good to know: San Marino is a good day trip destination from Rimini, and indeed, most visitors just come here for a day. But if you want to experience the real charm of the place without the crowds, we recommend spending a night here. In that case, you may want to check this article: where to stay in San Marino.
There is a lot more to be said about this fascinating place! You can find all the information you may need and helpful tips for your visit via the link below.
LEARN MORE: Best Things to Do in San Marino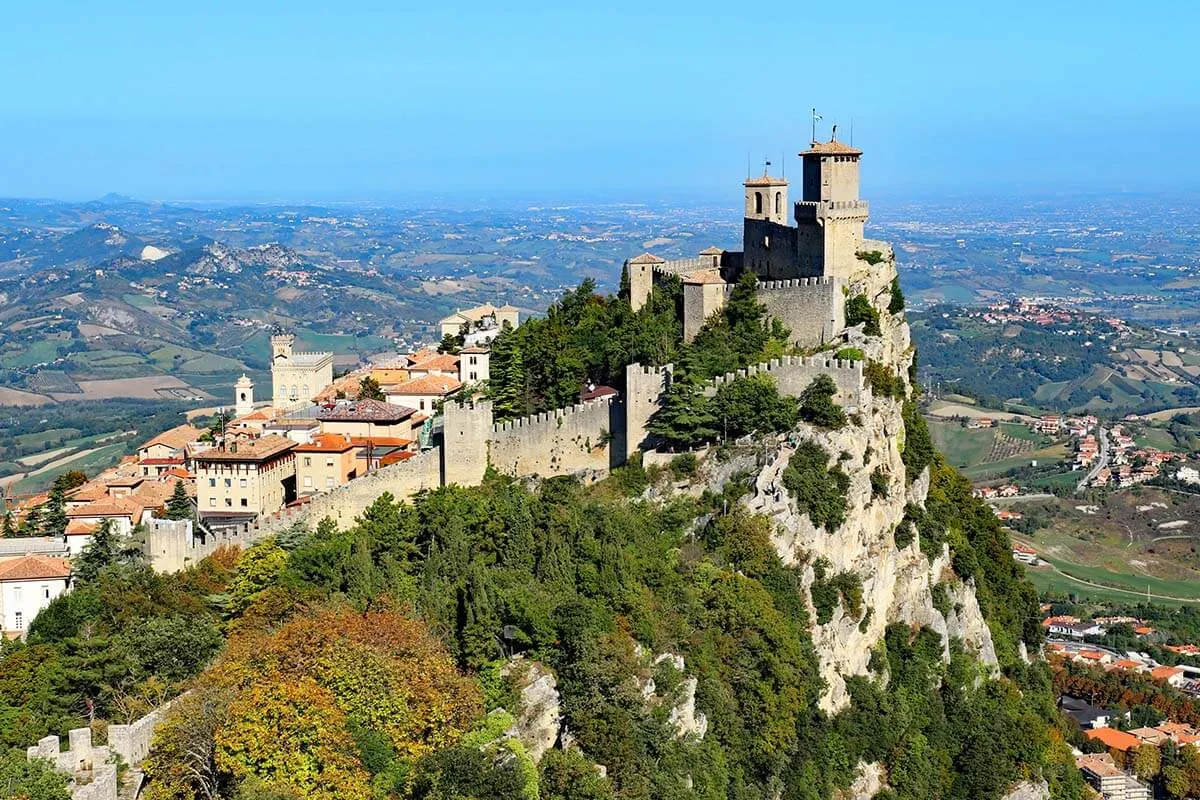 23. San Leo Fortress
Located in San Leo, an ancient and beautiful village in Romagna, is the massive San Leo Fortress. It sits atop a hill overlooking the Valley of Marecchia.
The fortress has been both a palace for influential families like Malatesta and Sforza, then later a prison with a torture chamber. It is probably most well known as the prison where the occultist Count di Cagliostro spent his final days.
You might want to come here simply to see the village and views, which are both superb, or you can enter the castle itself, which now contains a museum exhibiting items relating to its history.
Practical information: San Leo Fortress is just 30 km, about 50 minutes drive from Rimini. In the high season, the fortress is open daily. You can find more info on their website. It's possible to book tickets online in advance, but you should be able to get them on the spot too.
Good to know: If you only have time to visit one medieval village, you may want to know that San Leo is incomparably quieter than San Marino. It is less popular with tourists and has a much more traditional, authentic feel. You can't really compare the two.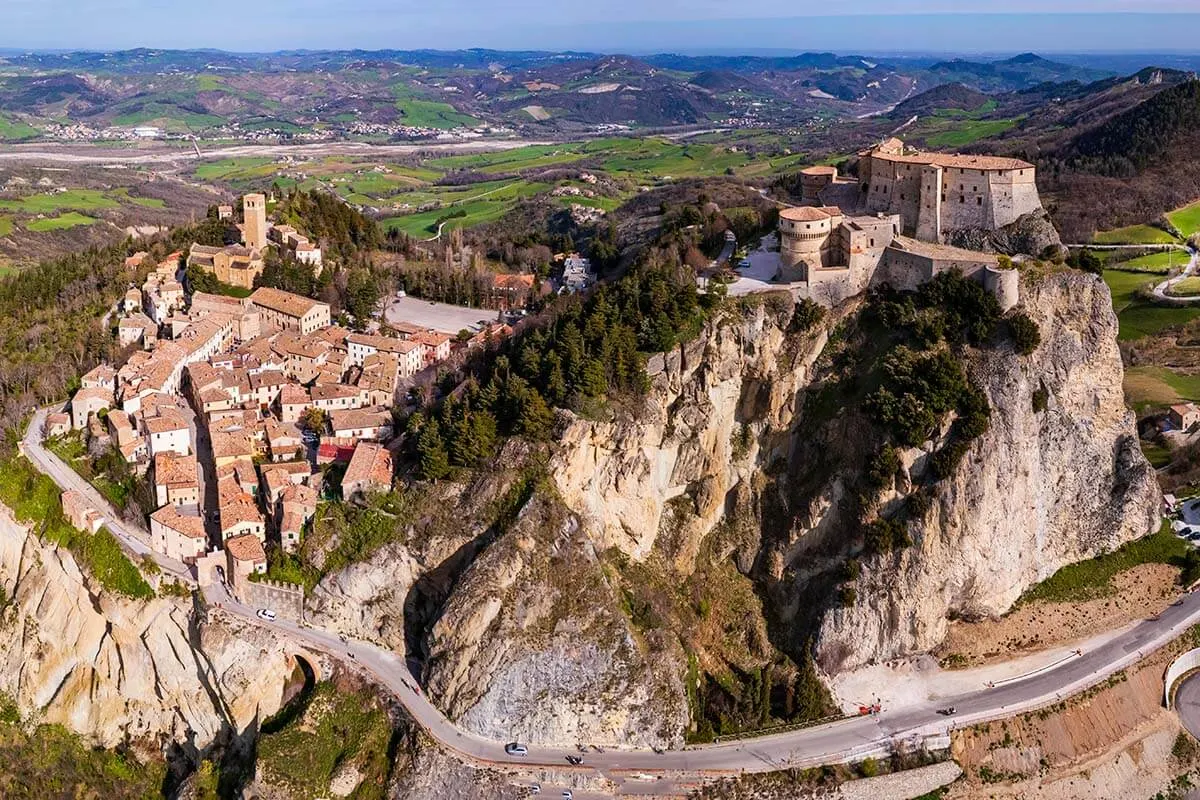 Map
To give you a better idea of where everything is located, we created a map indicating all the top places to see in and near Rimini mentioned in this article.
How to use this map: Use your computer mouse (or fingers) to zoom in or out. Click on the icons to get more information about each place. Click the arrow on the top left corner for the index. Click the star next to the map's title to add it to your Google Maps account. To view the saved map on your smartphone or PC, open Google Maps, click the menu and go to 'Your Places'/'Maps'. If you want to print the map or see it in a bigger window, click on 'View larger map' in the top right corner.
Practical Info & Tips
Here is some additional information for planning a visit to Rimini:
How much time do you need in Rimini? You can see all the best spots in Rimini in a day, so if you are only interested in sightseeing, 1 day is enough. However, if you are also planning to spend some time at the beach and explore a bit more of the region, you can easily fill a week here or more.
Trip planning. If you are planning a trip to this part of Italy and are mostly interested in sightseeing, as an absolute minimum, we recommend 4 days for this area: one day for Rimini, one for San Marino, a day in Ravenna, and at least a day in Bologna. Both – Ravenna and Bologna – are just about 1 hour away by car or by train from Rimini. Here you can find our guide to the best things to do in Ravenna and here – the best things to do in Bologna. We also once did this 3-day trip in the Emiglia Romagna region that included Rimini, San Marino, Ravenna, and a few other places not mentioned in this article.
Getting there. Depending on where you are traveling from/to, it can be wise to rent a car for your trip to the area. Public transport is also available. You can also book a bus transfer from Bologna Airport to Rimini, which is ideal if you are visiting in the summer and are planning to simply stay in Rimini for the biggest part of your vacation rather than touring around.
Getting around. You don't need a car in Rimini itself. The city is very walkable, and the distance between the old town and the beach is less than 2 km, about 20-30 minutes walk. You can rent bikes for bigger distances or take a taxi to a theme park or so. Railway connections are also very good. A car is very convenient if you want to do some excursions nearby, like San Marino or San Leo, or if you are planning a road trip and Rimini is just one of the stops in your itinerary.
Where to stay in Rimini. For a sightseeing trip, stay in the city center. Card International Hotel is a very good option close to the station and the old town. For a longer summer vacation in Rimini, check out hotels by the beach, for example, a popular and highly-rated Club House Hotel. If you are looking for a classic luxury hotel, the recently-refurbished Grand Hotel Rimini is a great choice. Its location is good for both, sightseeing and the beach.
Where to eat. Italian food is great no matter where you go, but Emilia Romagna is considered the foodie region in Italy. So be sure to try some local specialties! As already mentioned before, some of our favorite restaurants in Rimini can be found in the Borgo di San Giuliano area. If you would like to get acquainted with some local dishes, consider taking a food tour with a local!
READ ALSO: Italian food: regional dishes
So, this is our guide to some of the top sights and things to do in Rimini and nearby. I hope that this gives you a better idea of what to expect and inspires you to spend some time in this beautiful town.
Have a great trip!
TIP: If you are planning a longer trip to Italy, you may want to check out our other guides to so many interesting destinations all over the country. Below are just a few highlighted destinations, and you can find many more in our Italy travel guide.
More inspiration for some of the nicest Italian cities:
If you found this post useful, don't forget to bookmark it and share it with your friends. Are you on Pinterest? Pin these images!