Planning a trip to Italy for the first time and getting overwhelmed? You are not alone! We get this question all the time: 'What is the best Italy itinerary for a first trip'?
In all honesty, there is no one 'best' way to plan a trip to Italy. It's a big and incredibly beautiful country and pretty much everywhere is worth visiting. But if this is your first trip to Italy and you don't know where to start, I recommend focusing on the 'musts' – some of the most beautiful places in Italy that everyone should see at least once in a lifetime.
To help you plan a trip, in this guide, we share a detailed 2-week Italy itinerary that brings you to all the most famous places in the country: Rome, Florence, Venice, Milan, but also the famous Leaning Tower of Pisa, Tuscan countryside, Cinque Terre, Amalfi Coast, Pompeii, and a few other destinations that should be at the top of every Italy bucket list.
Will you see everything in Italy in two weeks? No, definitely not! But if you want to see the main highlights and get a good idea of what Italy is about, this itinerary is a great first introduction to this amazing country. And take my word for it – you will want to go back and explore more!
So why do we recommend 2 weeks? In my opinion, you really need at least two weeks in order to quickly see all the 'musts' in Italy. If you have just a week or ten days, don't worry – Italy is still more than worth a trip (it always is!). But if you want to cover all the main highlights, you'll really need at least 12-15 days.
In this article, we focus on helping you make the most of your first trip and plan the most complete Italy itinerary in 2 weeks. At the bottom of this guide, you can also find our additional suggestions on places to see if you have more time.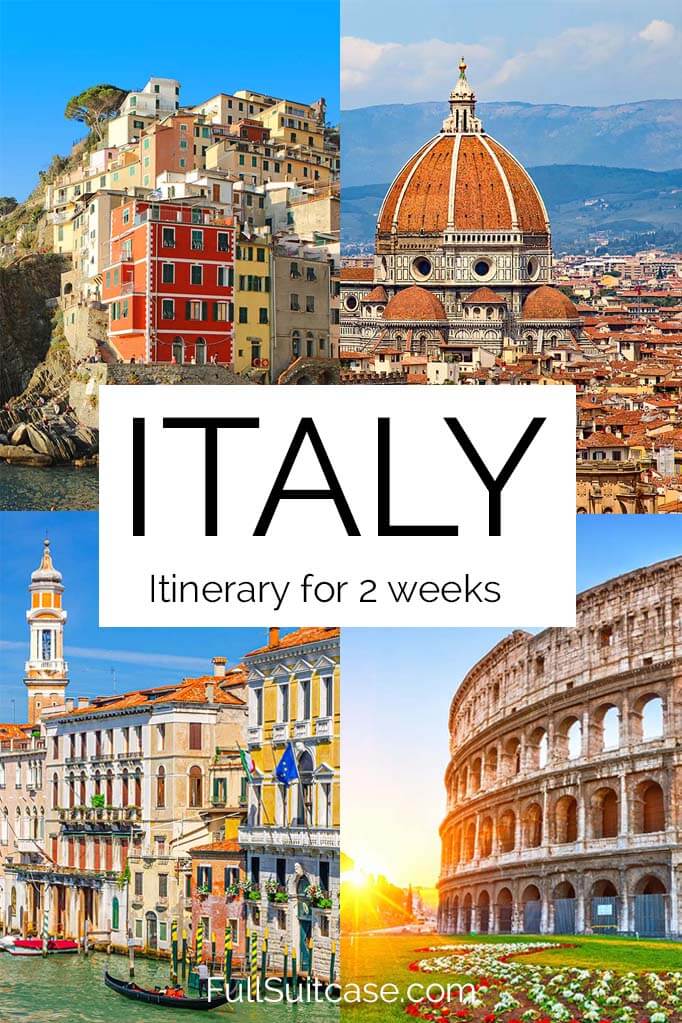 Good to know: You can visit Italy in any season and this trip itinerary is suitable for any time of the year. Some coastal areas might be a bit deserted in winter, but if you absolutely want to see them, it's possible too.
Also, this itinerary is structured in such a way that you don't have to change hotels too often. This will save you time for practicalities and leave more time to explore.
Since most of the places covered in this Italian itinerary are cities, we DO NOT recommend renting a car for this trip. You can't do much with a car in Rome or in Venice and you can easily travel between the main cities by train. And for those few places where it would be useful to have a car, you can take day tours (you can find all this info in our article).
If you want to explore a few places in northern Italy deeper, you could rent a car after you visit Venice and then return it in Milan. Depending on what exactly you want to see, it might make sense to consider hiring a car for this part of the trip.
How to use this itinerary: As you'll see, this 2-week trip starts in Rome and ends in Milan. Both cities have major international airports and it's quite easy to find flights to/from Rome or Milan from pretty much anywhere in the world. Of course, you can do the trip in the other direction, or make a round trip starting and ending at any of the cities mentioned below. This itinerary is solely meant to give you an idea of what can be done and how you can plan a 2-week trip to Italy.
MAP: To help you get a better idea of where all these places are located, we also created a map indicating all the places covered by our itinerary.
Take a look!
This is our recommended Italy itinerary that covers all the best places in two weeks:
Day 1: Arrival in Rome
There is no better place to start your Italian vacation than in the Eternal City – the capital city of Italy – Rome.
For this itinerary, I recommend that you spend at least 3 full days in Rome: 2 days in the city itself, plus make a day trip to Pompeii and the Amalfi Coast. This way, you won't have to change hotels too often and can see (albeit very shortly) some of the best places in southern Italy as well.
Depending on when your flight arrives, you might be able to see some of the landmarks of Rome on the first day already.
TIP: If you can make it, I highly recommend joining an evening walking tour of the city's highlights– it's a great first introduction to the city!
Accommodation: Stay in Rome for 4 nights. Here you can find our guide to the best area to stay in Rome. We recently stayed at 9Hotel Cesari and loved it (especially the breakfasts on their rooftop terrace). On a bit lower budget, Hotel Accademia is an excellent choice, and you'll find many other hotels in the same area.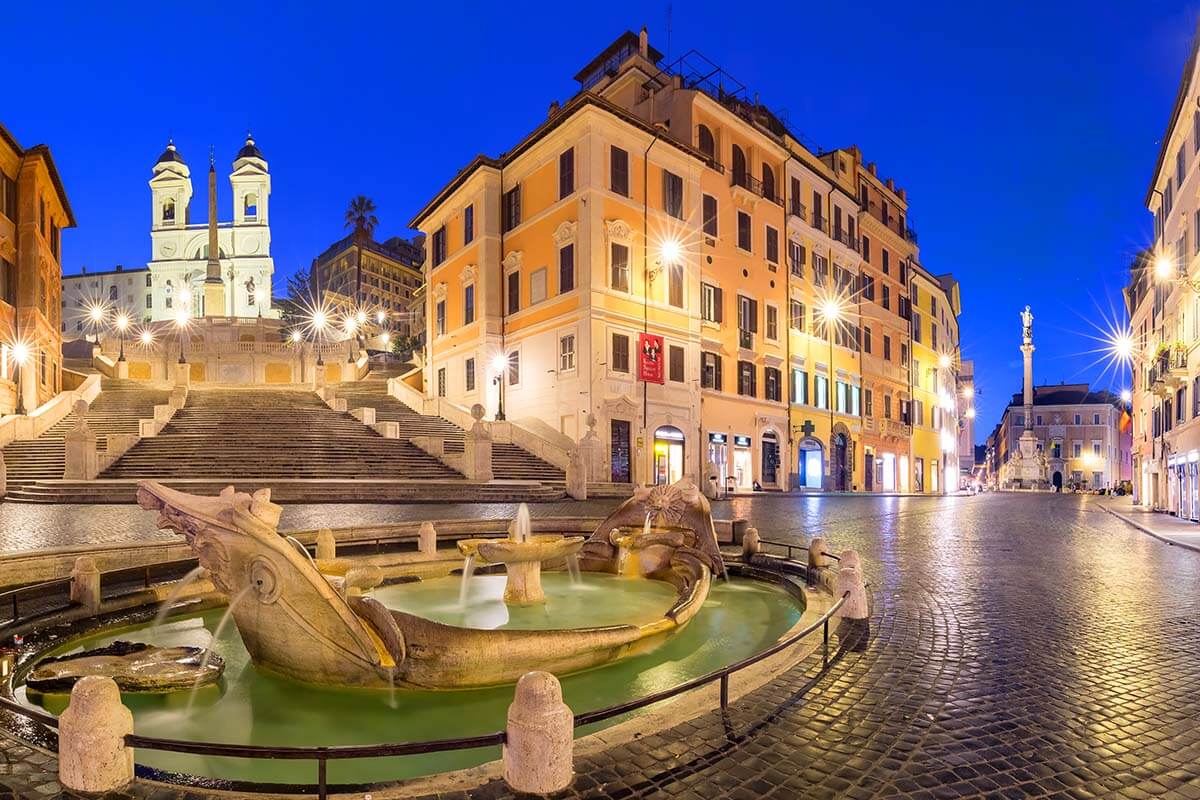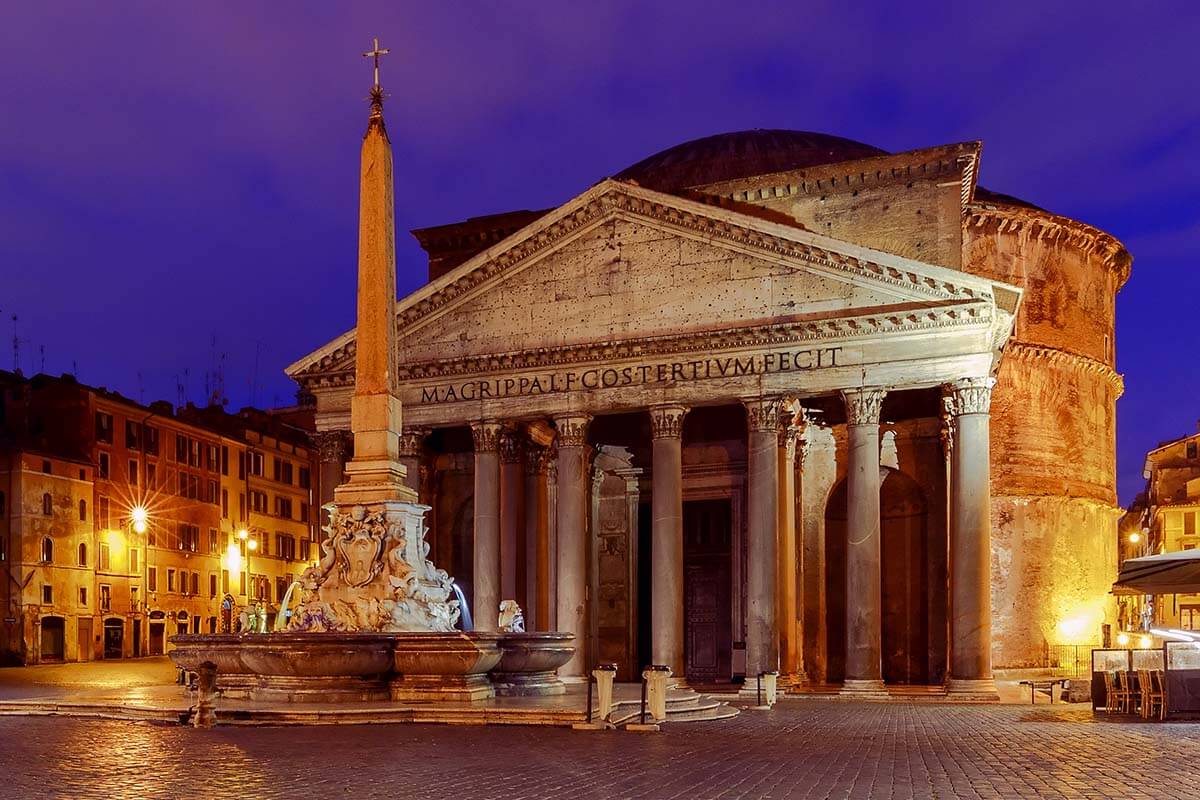 Days 2-3: Rome
While two days are really short for Rome, if you plan well, you can see most of the 'musts' in just 2 days.
We recommend focusing on the main attractions, such as the Vatican, the Colosseum, and all the famous sights in the historic city center (Trevi Fountain, Pantheon, etc.). In addition, you can also add one or two more local experiences such as e.g. a food tour. It will make your visit more memorable and also a bit more relaxing!
Good to know: Be sure to book your tickets/ tours for the Vatican and also for the Colosseum in advance!!! Both are extremely popular attractions and tickets often sell out (in high season, sometimes a few weeks in advance). Booking upfront, you'll also immediately see if the place you want to visit is open on the day when you are there (and can adjust your itinerary if needed).
TIP: If you didn't get the tickets in advance and they are sold out, you can usually still join one or the other guided tour (they usually have access to tickets that are reserved for tour groups). In any case, at least for the Colosseum and the Roman Forum, we highly recommend going with a guided tour rather than on your own. We took this amazing tour that also includes the Colosseum Underground and Arena Floor (these levels are not included with the regular ticket).
For more info on what to see and how to best plan your time, please see our 2-day Rome itinerary below. This itinerary includes all the top sights that you absolutely shouldn't miss, a detailed schedule, as well as our experience-based tips on how to make the most of your short visit. Check it out!
LEARN MORE: How to see the best of Rome in 2 days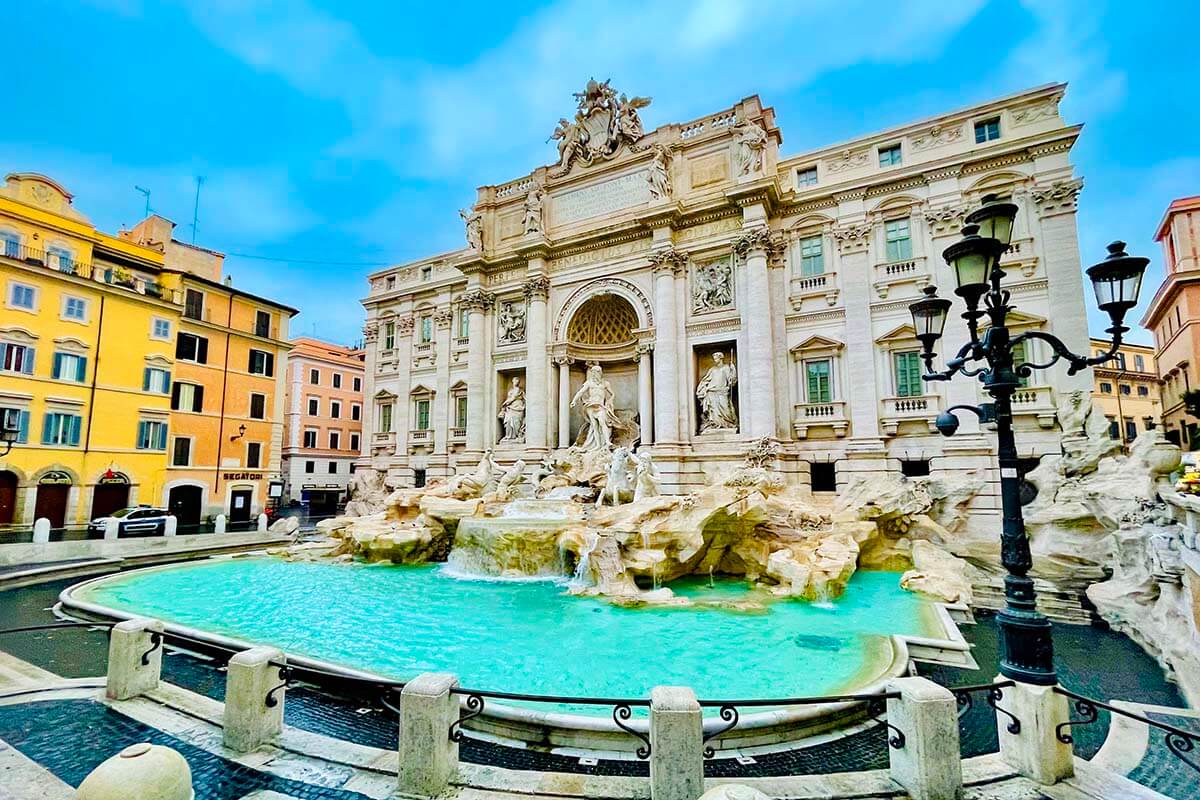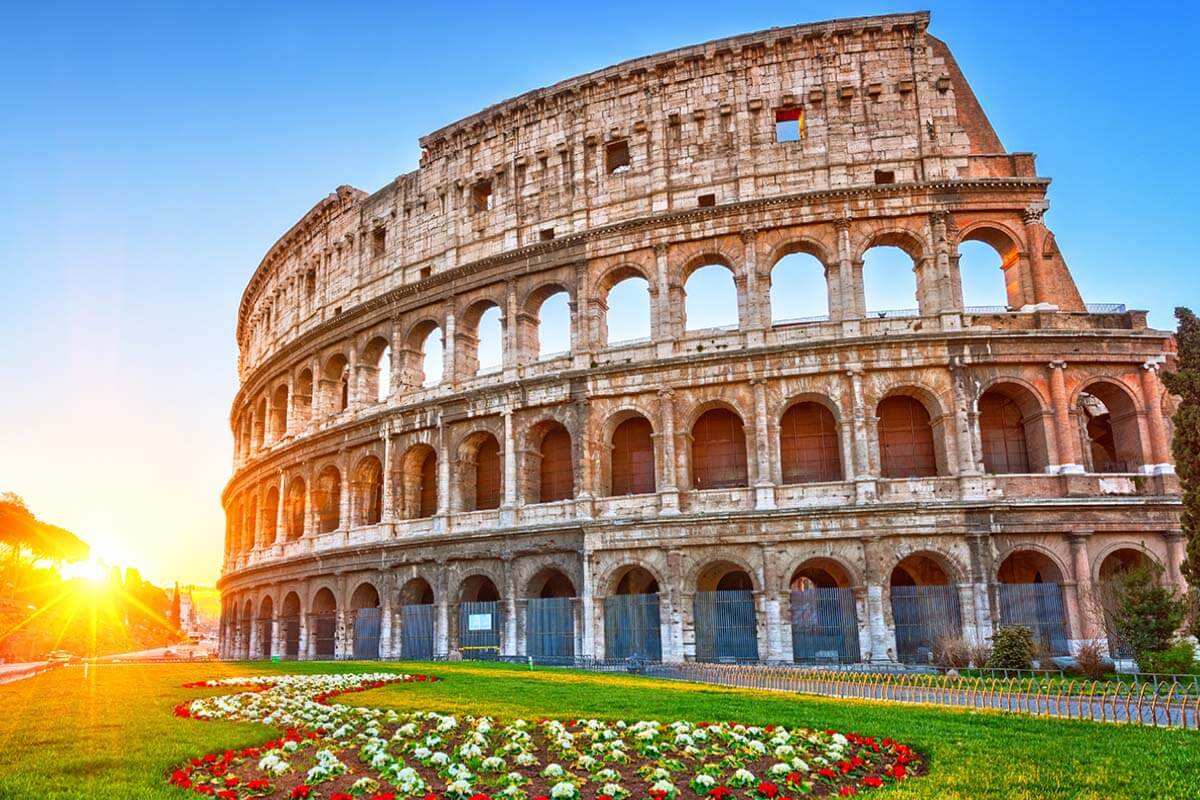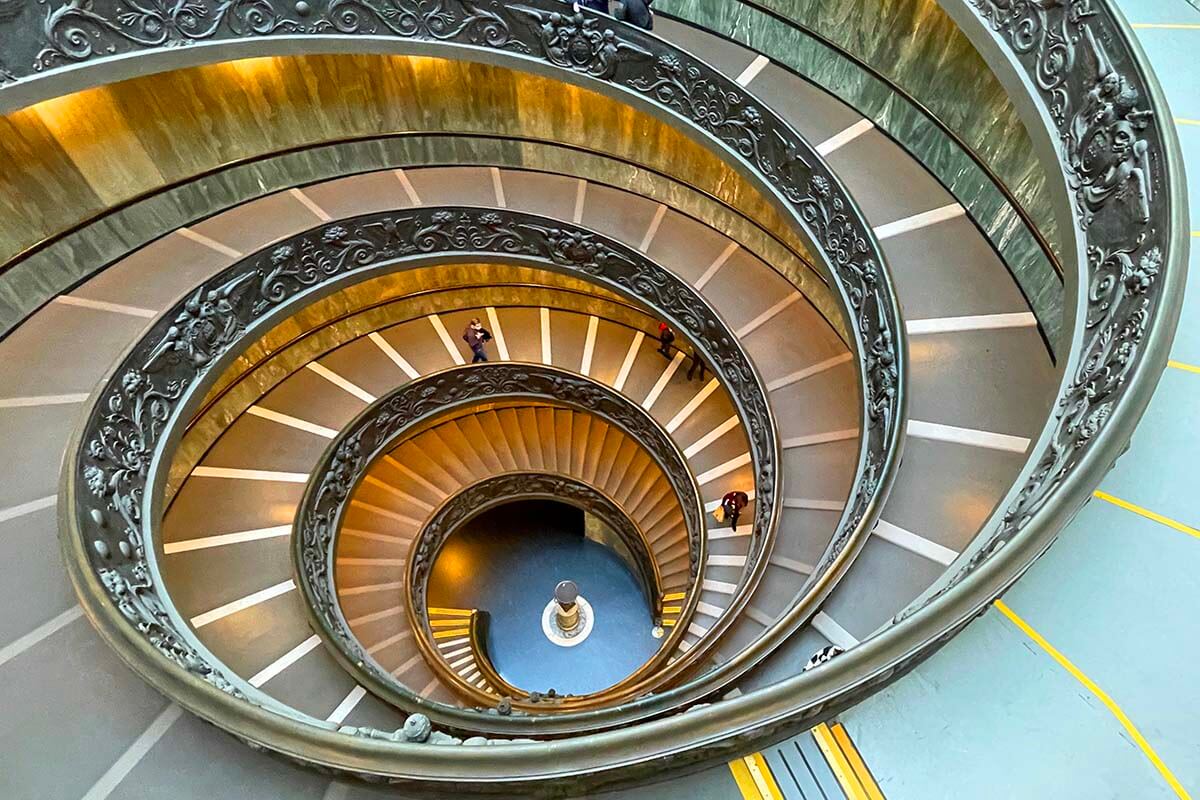 Day 4: Pompeii & Amalfi Coast day trip from Rome
You could easily spend this day in Rome and find plenty to do too. But if you want to make the most out of your two weeks in Italy, we recommend visiting Pompeii and the Amalfi Coast as a day trip from Rome. You don't necessarily have to do it on day 4 of this itinerary; days 2 or 3 would work too, so you can move things around depending on your preference.
It's quite a long drive to get to Pompeii from Rome, but if this is your first time in Italy and you want to see as many of the most famous places, then it's probably worth it.
There are various tours that visit Pompeii and either Mt Vesuvius, Amalfi Coast, or Naples from Rome in one day. Any of these tours will be rushed if you only have a day, but all are really nice and you can't really go wrong with either option.
If visiting in the warmest months (+-March to October), we recommend this tour. It includes Pompeii and the Amalfi Coast.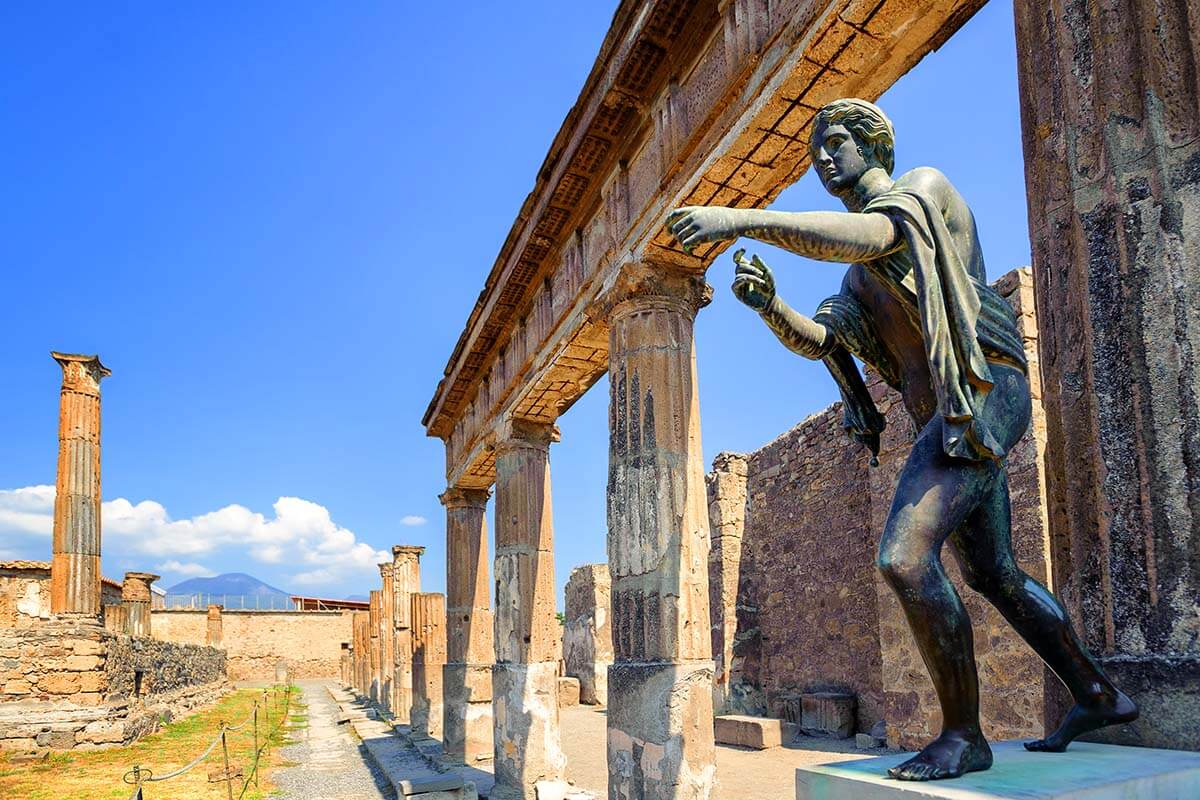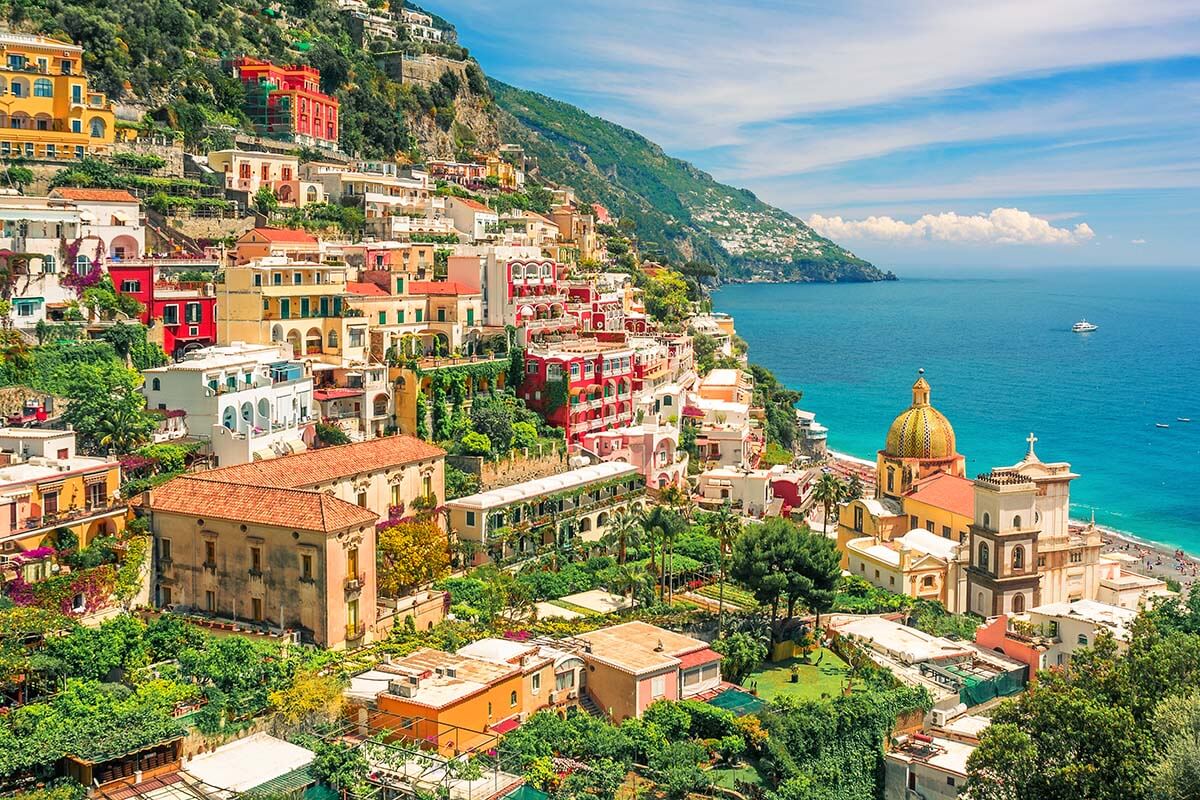 Alternative: If you don't feel like doing a 12-13-hour day tour to Pompeii and rather stay in Rome, it's a great choice too. In that case, we recommend getting a bit off the beaten path and visiting some of the most incredible ancient sites in Rome.
We recently did this amazing e-bike tour that brings you to the famous Appian Way, Roman aqueducts, and catacombs.
And with the extra time left in the city, you could visit some of the hidden gems of Rome or see some of the best viewpoints.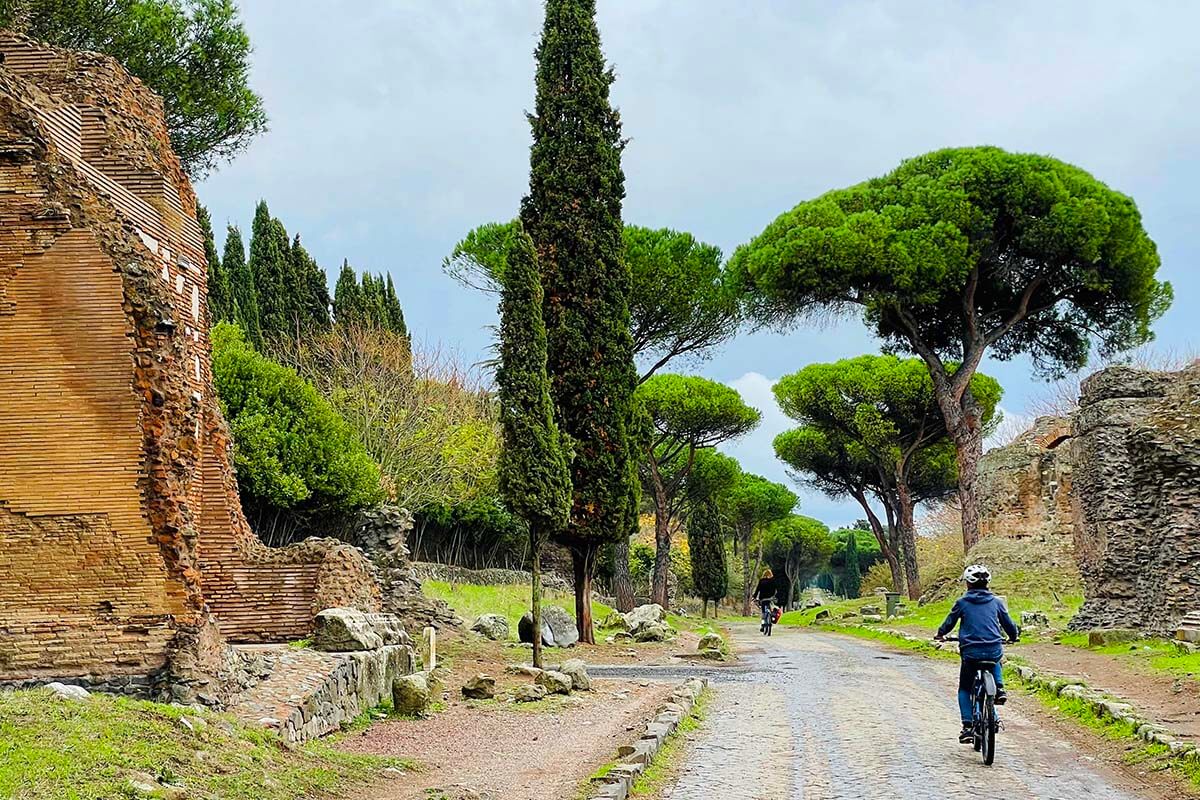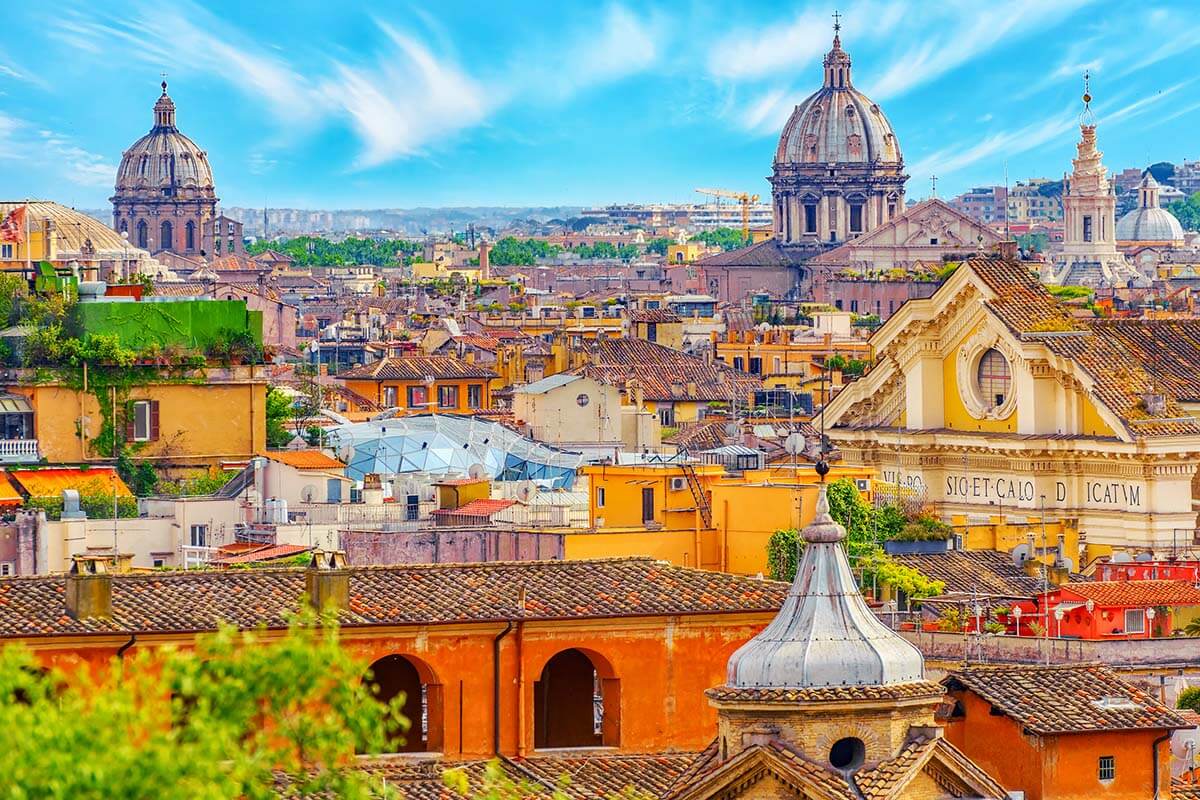 Day 5: Rome to Florence & visit Florence
Next on your Italy itinerary is Tuscany, one of the most beautiful regions in the country. We recommend basing yourself in Florence for the next few days. Florence is one of the most beautiful cities in Italy and is well worth a visit, but there are also some really nice places that you can see nearby. With just a few days here, you'll have difficulties choosing where to go and what to skip!
Florence is just a short ride from Rome (+-1.5 hrs by train). Try to get an early train so you have enough time to explore the city after you arrive and drop off your luggage at your hotel.
On the first day in Florence, be sure to visit the musts, such as the Duomo Cathedral, the Uffizi Gallery, and/or Accademia Gallery. Depending on your interests, you can visit one or all three, but be sure to plan it well.
Good to know: All these places require a ticket and are extremely popular, so it's essential to get tickets/tours in advance! Having your sightseeing itinerary well-planned upfront is the only way not to miss any of the most important sights and keep your Italian vacation enjoyable without feeling overwhelmed.
TIP: If you want to see as many of the musts in a short time, we recommend this popular tour that includes both – Uffizi Gallery and Accademia Gallery. Afterwards, visit the Cathedral and climb the Dome on your own or with a tour.
Then, stroll the streets of the city center and see some of the main highlights that don't absolutely require tickets or reservations – such as Ponte Vecchio, Piazza della Signoria, Basilica Santa Croce, etc.
LEARN MORE: One Day in Florence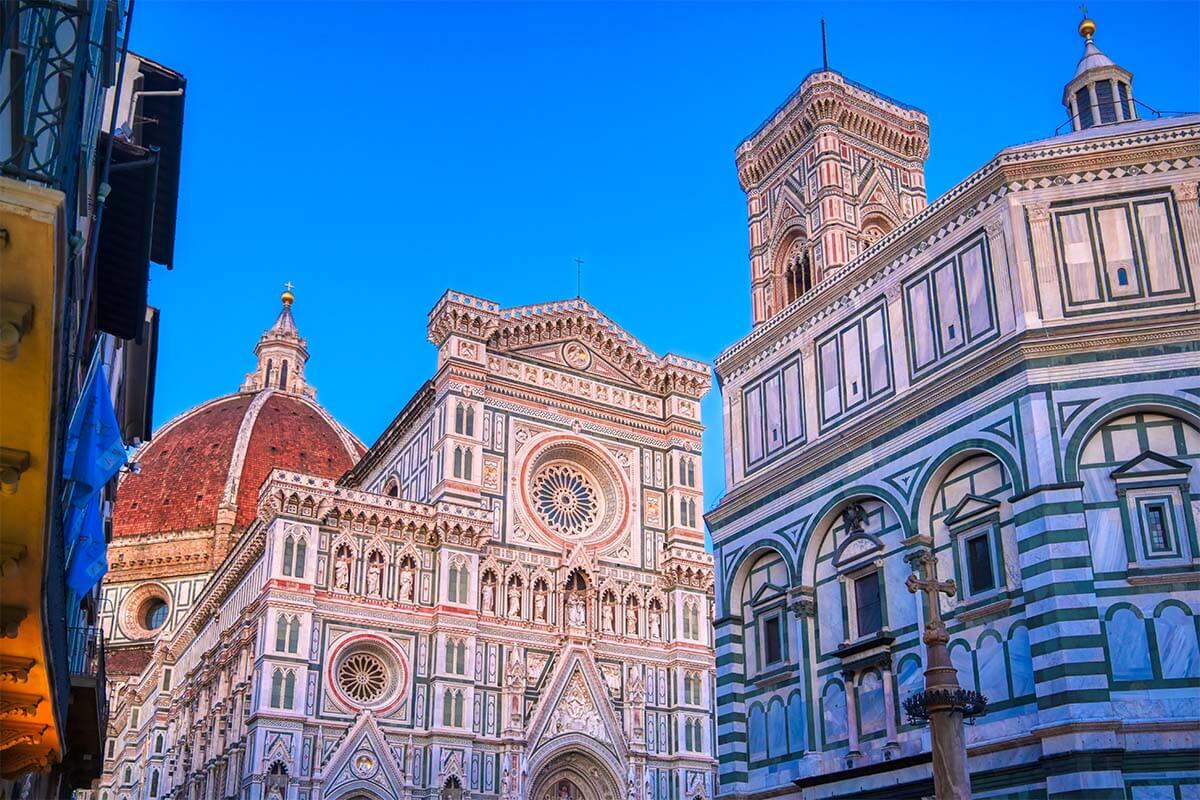 You'll still have some additional time to explore Florence in the next days, but – depending on the day trips you choose – it will likely be just a few hours in the evenings after you get back from a tour. That's why we recommend visiting the places that require a ticket on your first day already.
Needless to say, if you can add an extra day in Florence, you'll be able to explore the city at a much more relaxed pace. But this counts for pretty much every place in this itinerary…
Accommodation: Stay in Florence for at least 3 nights. Florence city center isn't that big, but – to make things easier with the luggage and tours, stay somewhat close to the railway station. For one of our recent trips to Florence, we booked Hotel Croce di Malta – the location is excellent, they have a pool, and you can't beat those rooftop views! On a bit lower budget, B&B Le Stanze del Duomo is one of the best price-quality hotels in the center!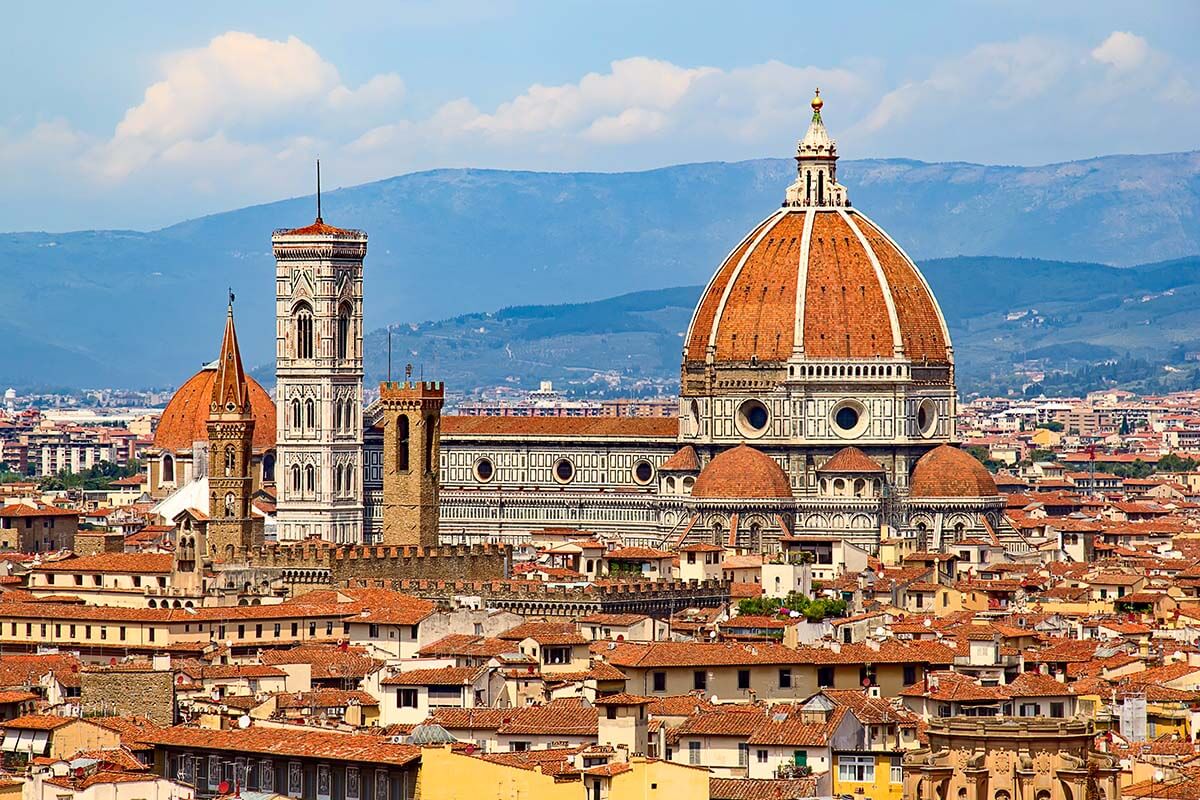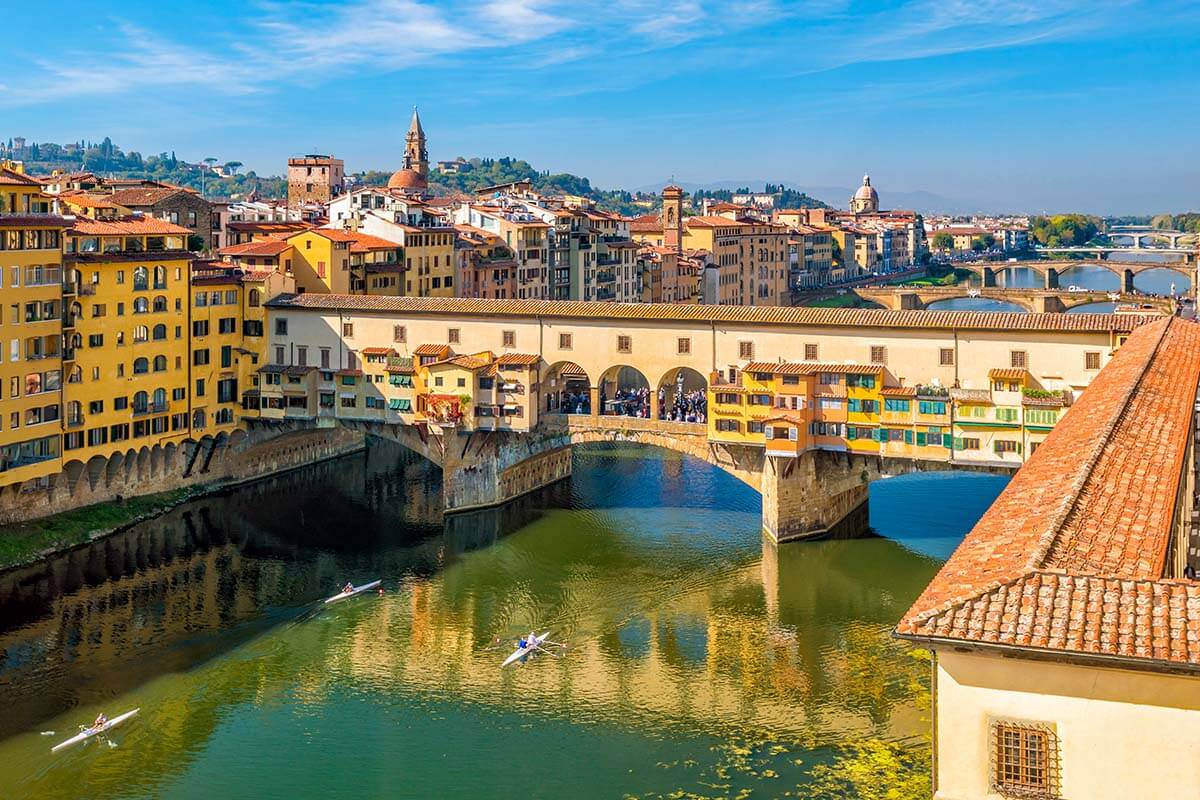 Day 6: Tuscany day tour from Florence
While there's plenty to see and do in Florence to fill a few days, you'll likely want to see some of the famous Tuscan countryside as well.
So on your second day in Florence, we recommend taking a day tour to some of the nicest towns of Tuscany.
You could just take a train and visit the cities like Siena or Pisa on your own, but you would likely only see one town that way. Also here – if you want to make the most of your time, it's best to go with an organized tour that visits a few of the very best places in a day.
TIP: We recommend this highly-rated day tour. It brings you to the Leaning Tower of Pisa, the beautiful city of Siena, the charming medieval town of San Gimignano, and more. You could never see all these places in just a day on your own.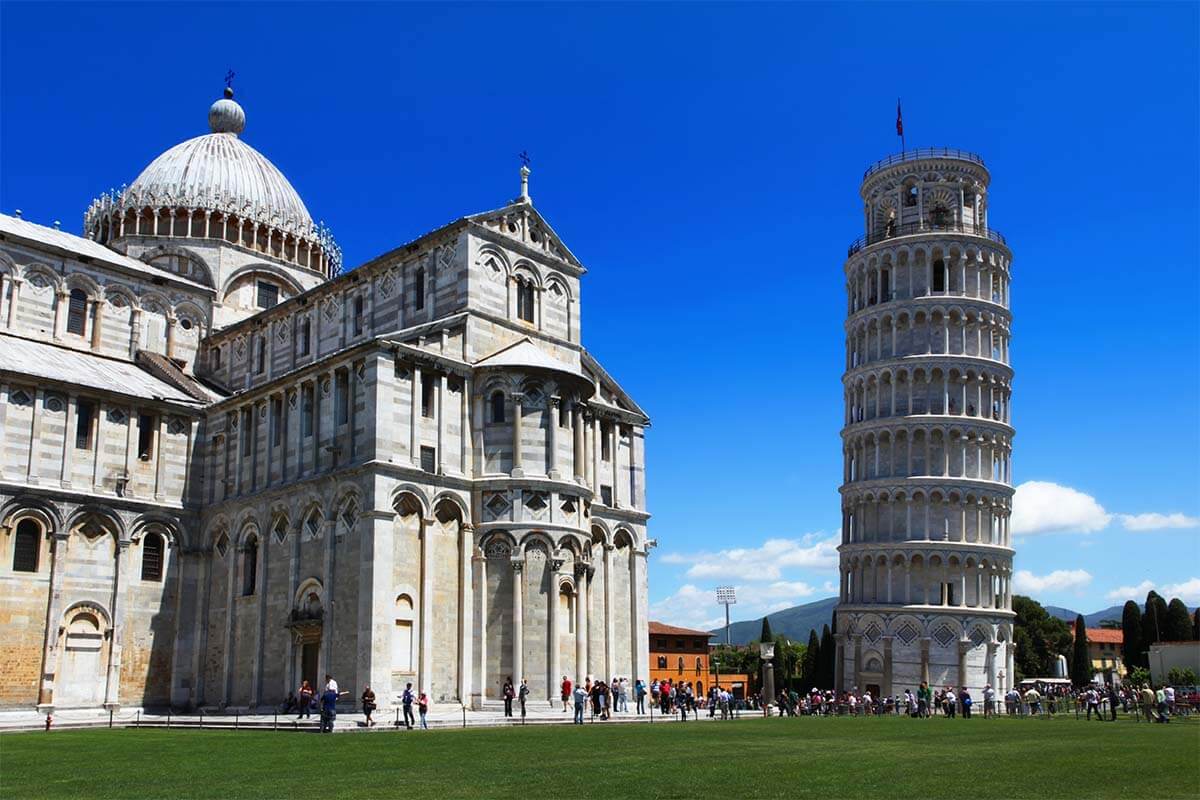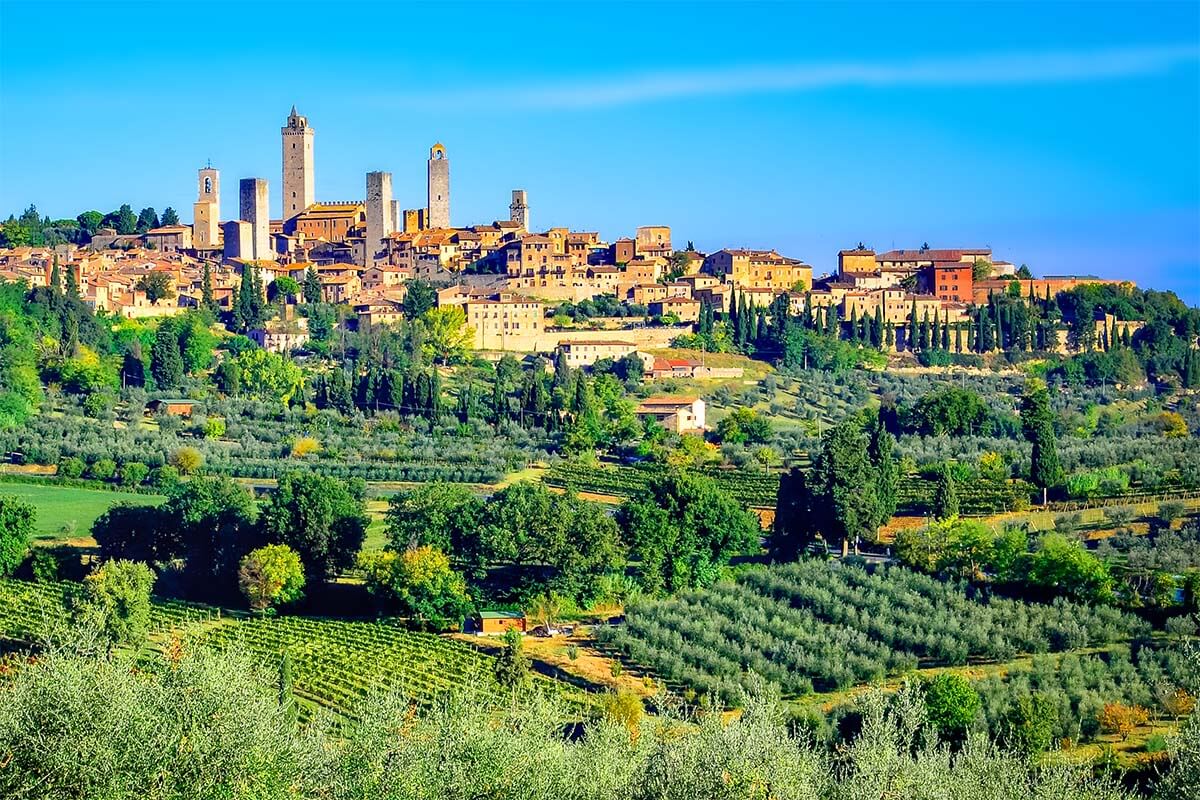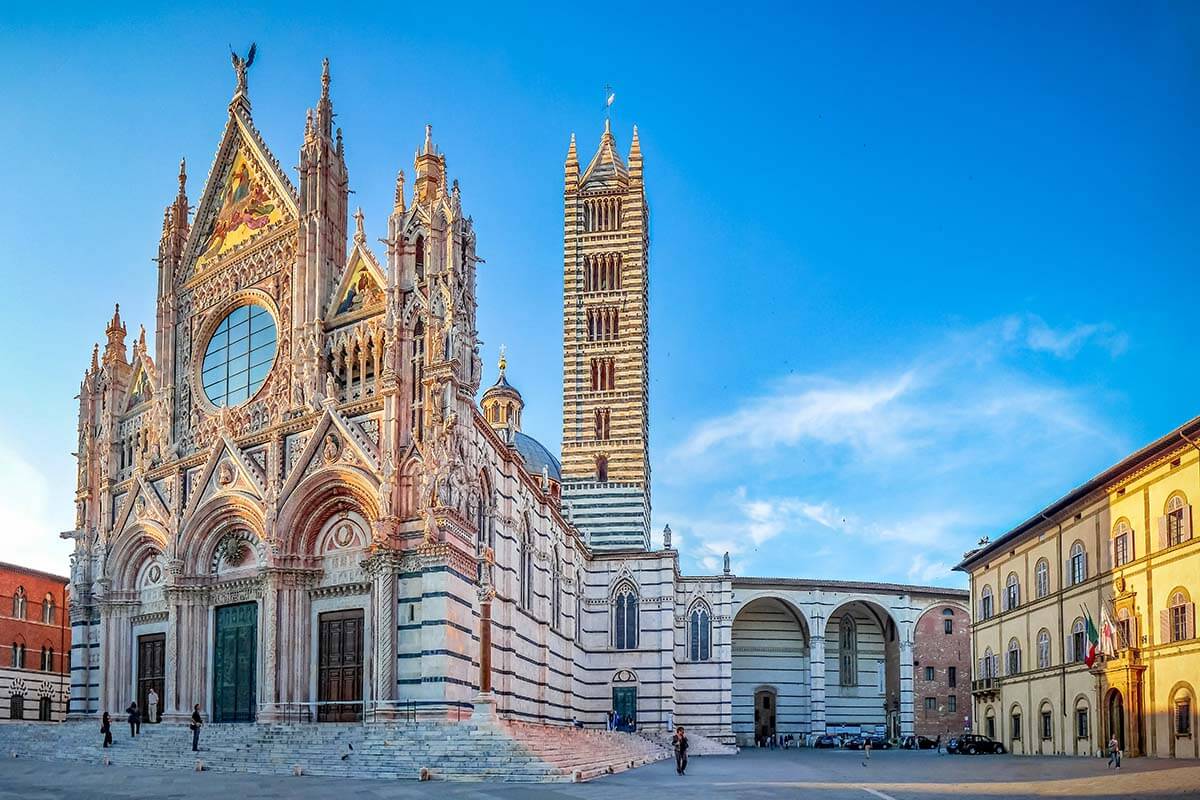 Day 7: Cinque Terre day trip from Florence
Next is another place that's probably high on your Italy bucket list – Cinque Terre. The famous 5 villages on the Ligurian coast are among the most visited and most photographed places in Italy.
If you plan well, it's possible to see the best of Cinque Terre in just a day, also if you are visiting from Florence. You could take a train to La Spezia and on to Cinque Terre, following our detailed 1-day Cinque Terre itinerary. If you decide to go on your own, be sure to also read our practical tips for visiting Cinque Terre.
However, Cinque Terre is very popular and extremely busy (especially in the high season from March to October). So planning a quick visit here might be overwhelming…
TIP: If you want to see all the best places without having to plan anything, you'll be glad to know that there are also some organized day tours from Florence to Cinque Terre. This highly-rated tour is one of the very best options for a day trip from Florence and covers all the musts in Cinque Terre.
Alternative/ addition day: If you are visiting Italy in the low season, you may want to skip cinque Terre and visit Bologna instead (it's just 40 minutes by train from Florence). Or, you could also add a stop in Bologna when traveling between Florence and Venice. One day is enough to see the main sights here and it's worth it if you can squeeze it in. But – as already mentioned before – you can add extra days pretty much everywhere in this itinerary and still not see it all…
READ ALSO: Florence to Bologna Travel Info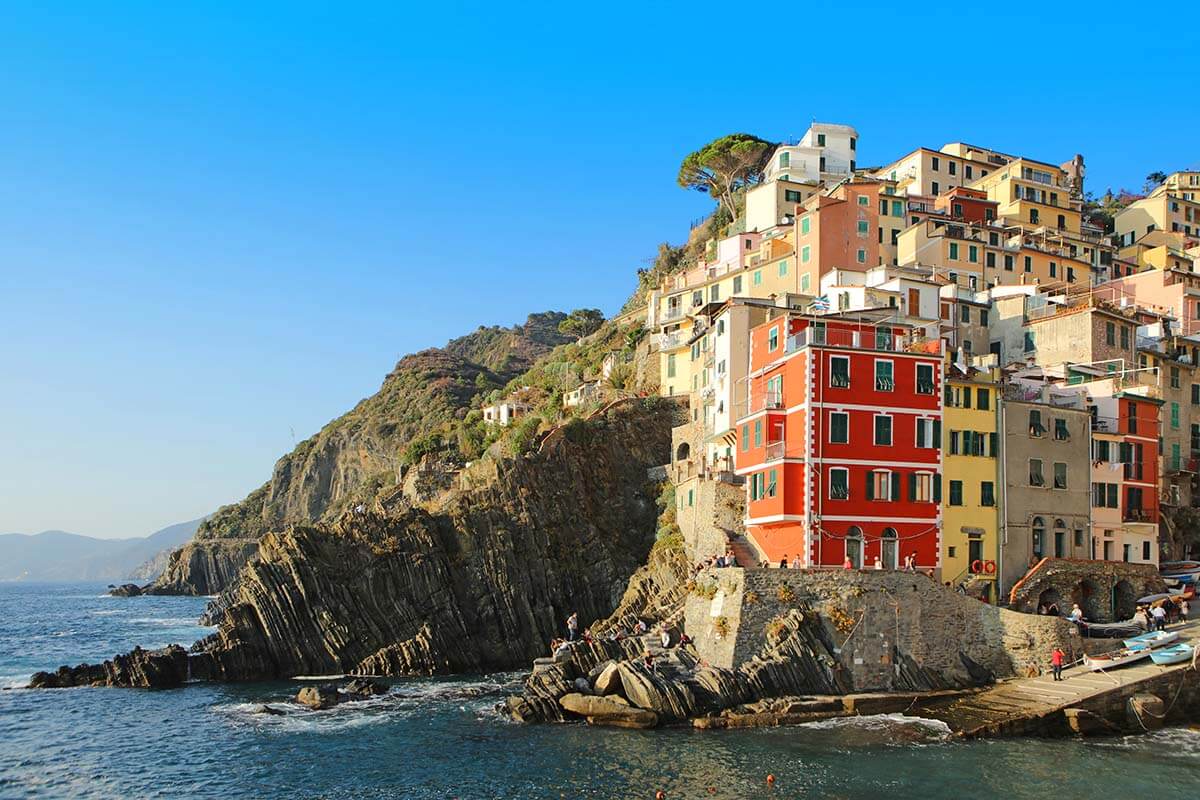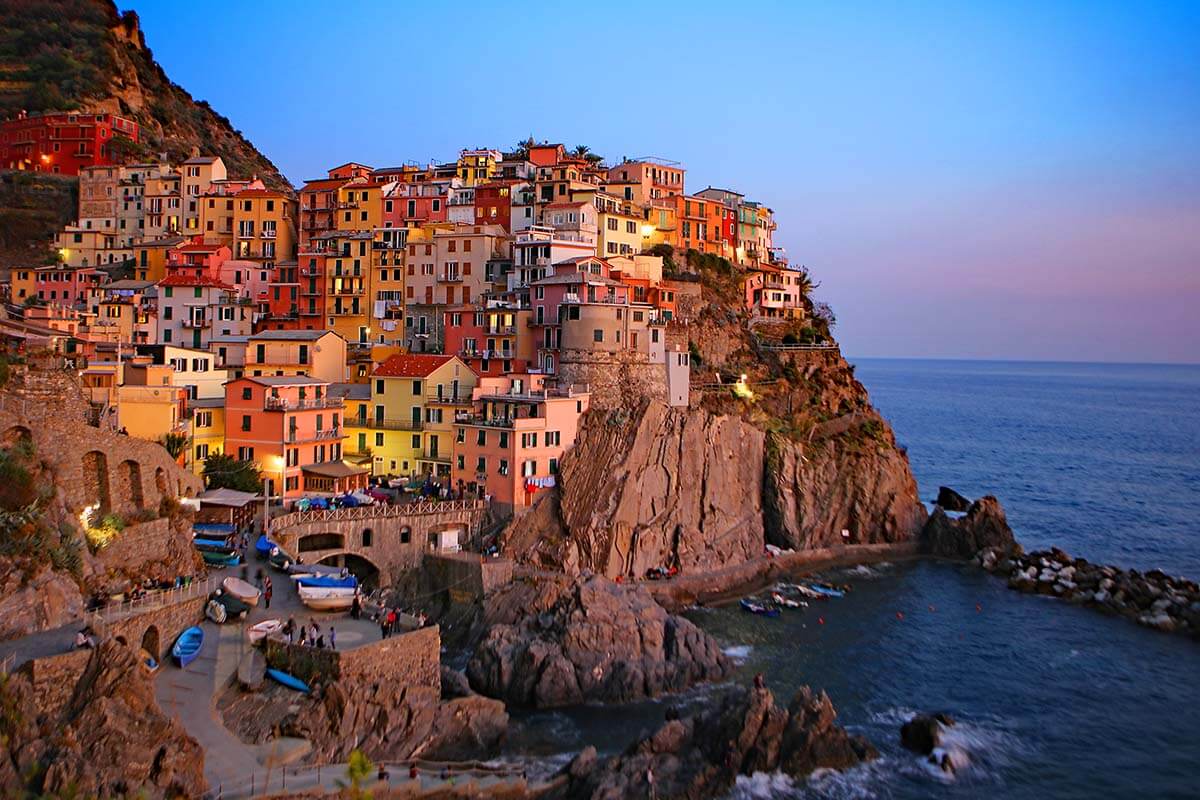 Day 8: Florence to Venice & explore Venice
The second part of this 2-week Italy itinerary takes you to northern Italy. The next stop is Venice, just about 2.5 hrs from Florence by train. Venice is one of the most unique cities in the world and so no Italy trip itinerary would be complete without visiting here!
If you take a train early in the morning, you'll be in Venice by noon, which leaves you plenty of time to get acquainted with the city and see some of the main highlights. We recommend spending 2 nights here, so you have 1.5 days, plus two evenings in Venice. Venice is magical at night – the city is so pretty and you can appreciate it so much more without all the day tourists around.
On your first day, you could tick some of the must-see places on your Venice bucket list. One of the musts is St. Mark's Square and Cathedral, and the other – Doge's Palace, just next door. Needless to say, these are very popular attractions, so also here you have to book your tickets (or tours) in advance.
TIP: We recommend a tour like this that covers some of the musts in the most efficient way. Ideally, opt for an afternoon tour, so that you don't have to rush in order to get there on time.
After that, explore the city center on foot, see Rialto Bridge and the Grand Canal. You should also take a Venetian gondola ride, which is another must-do in Venice!
READ ALSO: How to see the best of Venice in 1 day
Accommodation: Stay in Venice for 2 nights. To make things easy for yourself, you could stay close to the railway station – e.g. Hotel Carlton On The Grand Canal is a very good option and usually great value for the money. Alternatively, if you don't mind taking a water bus to the more centrally-located places, check out H10 Palazzo Canova close to Rialto Bridge or Bauer Palazzo not too far from San Marco Square. For the ultimate Venitian experience, take a look at the famous luxury Hotel Danieli.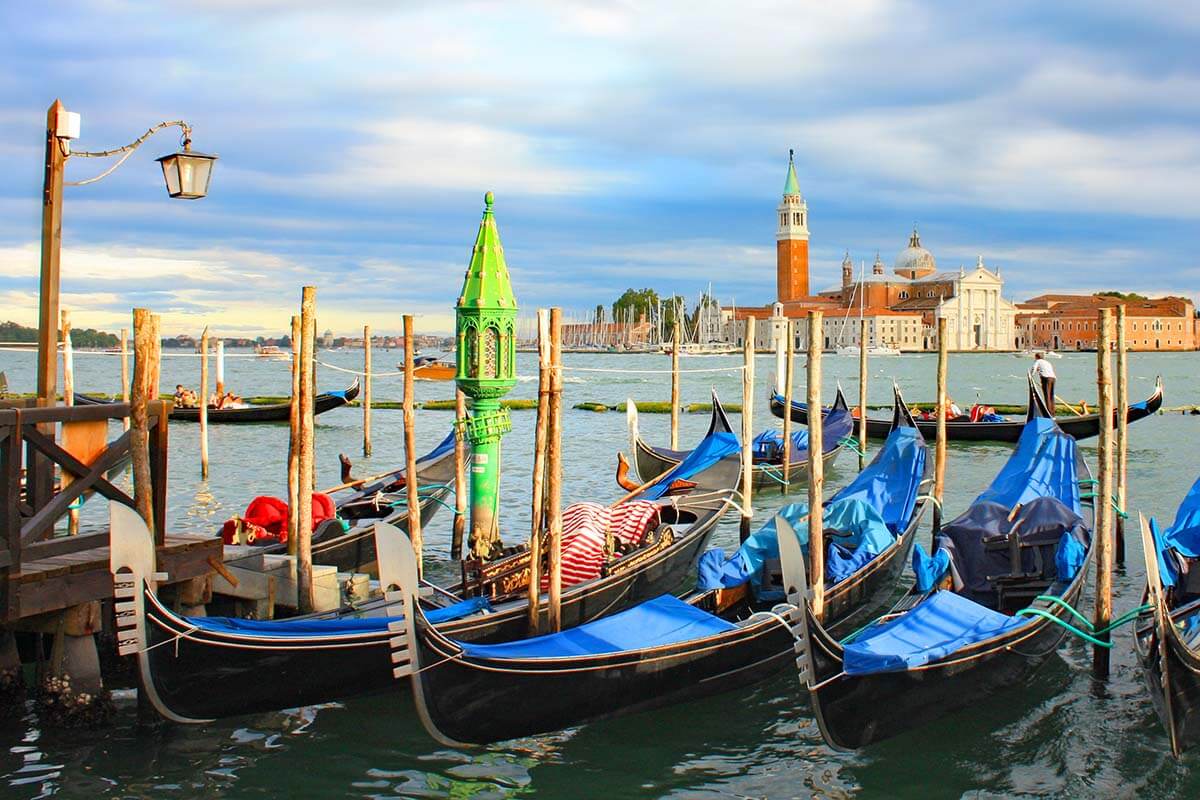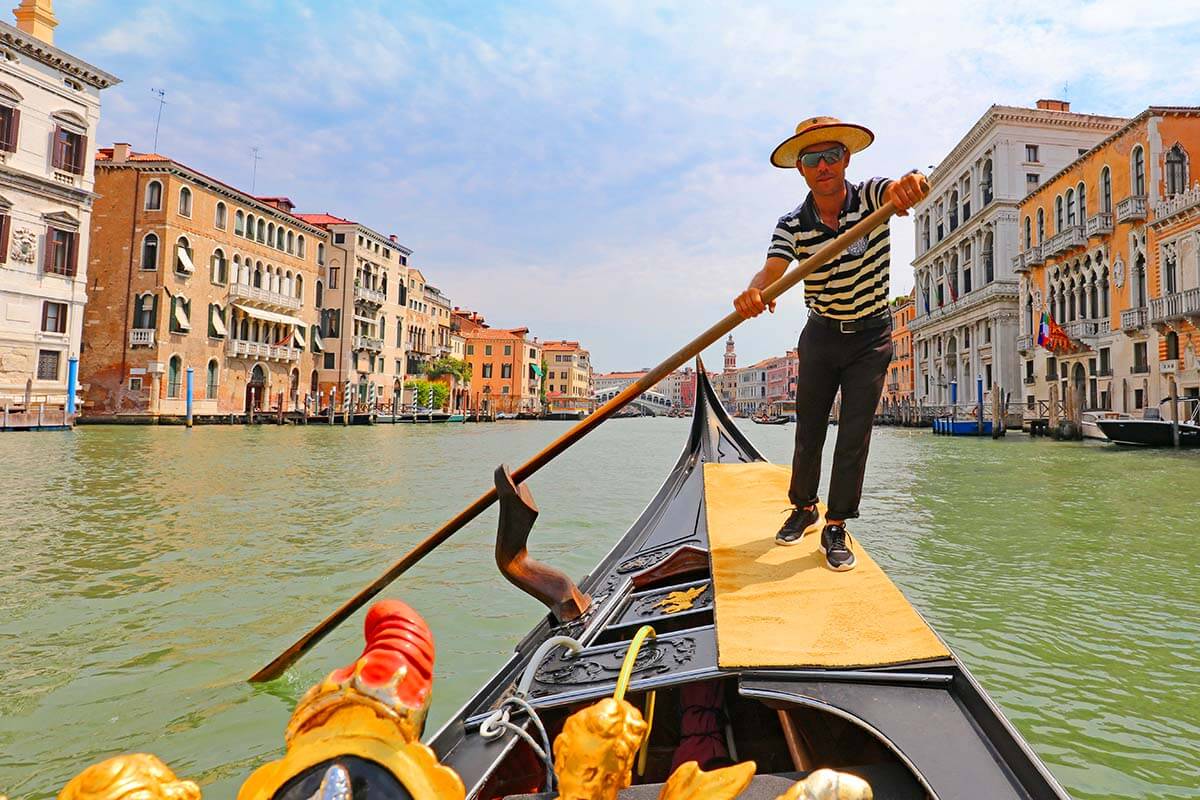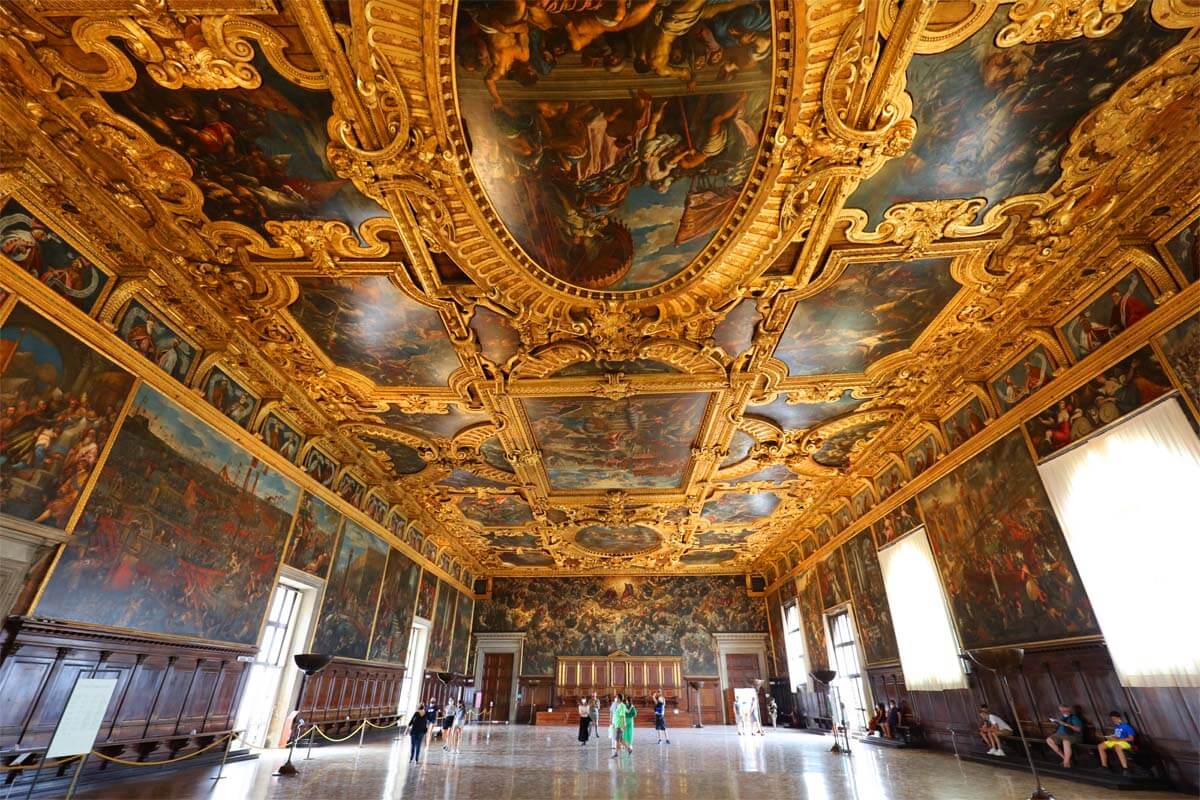 Day 9: Venice
Today, you have an entire day to explore Venice and its surroundings. You could opt to spend the day in the city, or you could also take a half-day trip to the nearby islands Murano, Burano, and Torcello (there are various boat tours that visit the islands in 4-6 hours).
While not an absolute must, a visit to these islands is a nice opportunity to see some smaller Italian towns. Murano is famous for its glass-blowing factories, Burano – for its lace, and Torcello – for its Byzantine basilica. In addition, the towns are very colorful and picturesque, and completely different from Venice.
There is so much to see and do in Venice that you will easily fill the entire day in the city. So it all depends on your interests and how many activities you want to pack into your itinerary.
As a minimum, in addition to the places mentioned before, we recommend going to the top of St. Mark's Campanile for some of the best views over the city and the Venetian Lagoon. You can't reserve timed tickets in advance here, so you'll just have to queue and wait. If you can do it first thing in the morning or in the late afternoon, it will be easier to plan the rest of your day.
TIP: If you are looking for something special to do in Venice in the evening, check out this dinner cruise on the Venetian lagoon. Alternatively, see if there's something interesting going on at Teatro La Fenice.
READ ALSO: Best things to do in Venice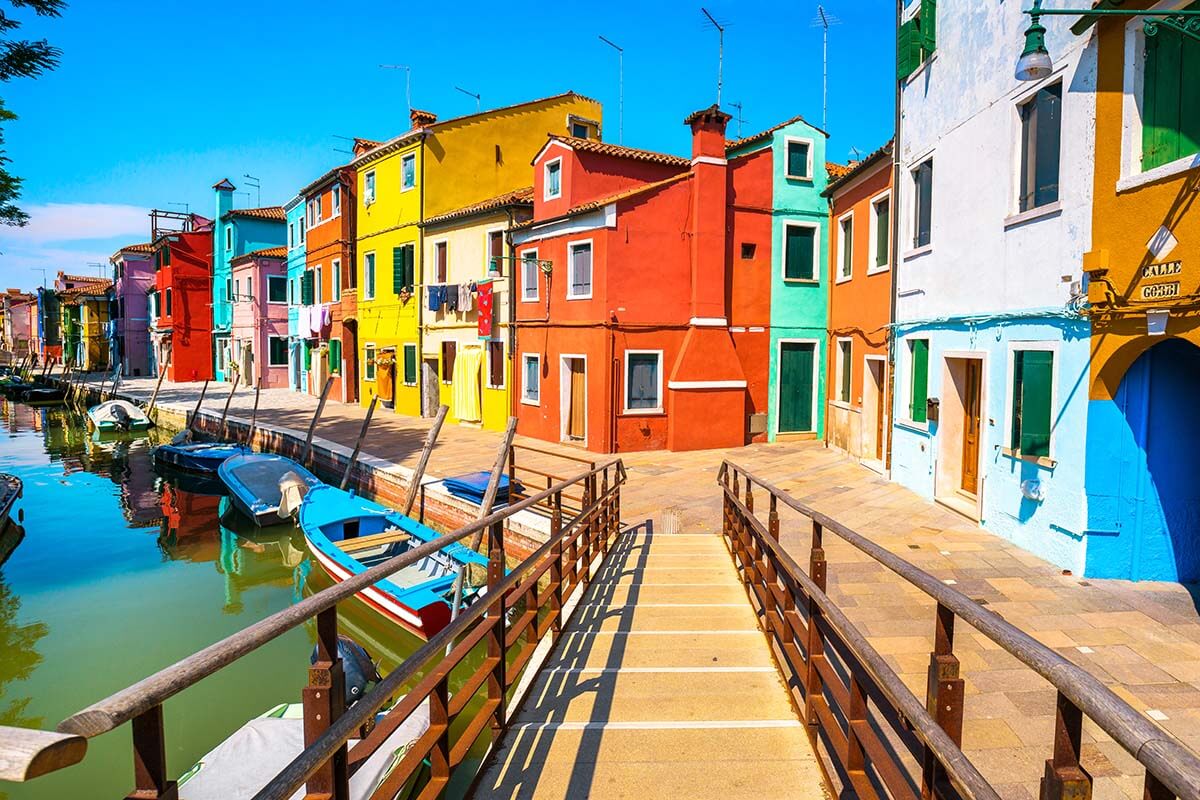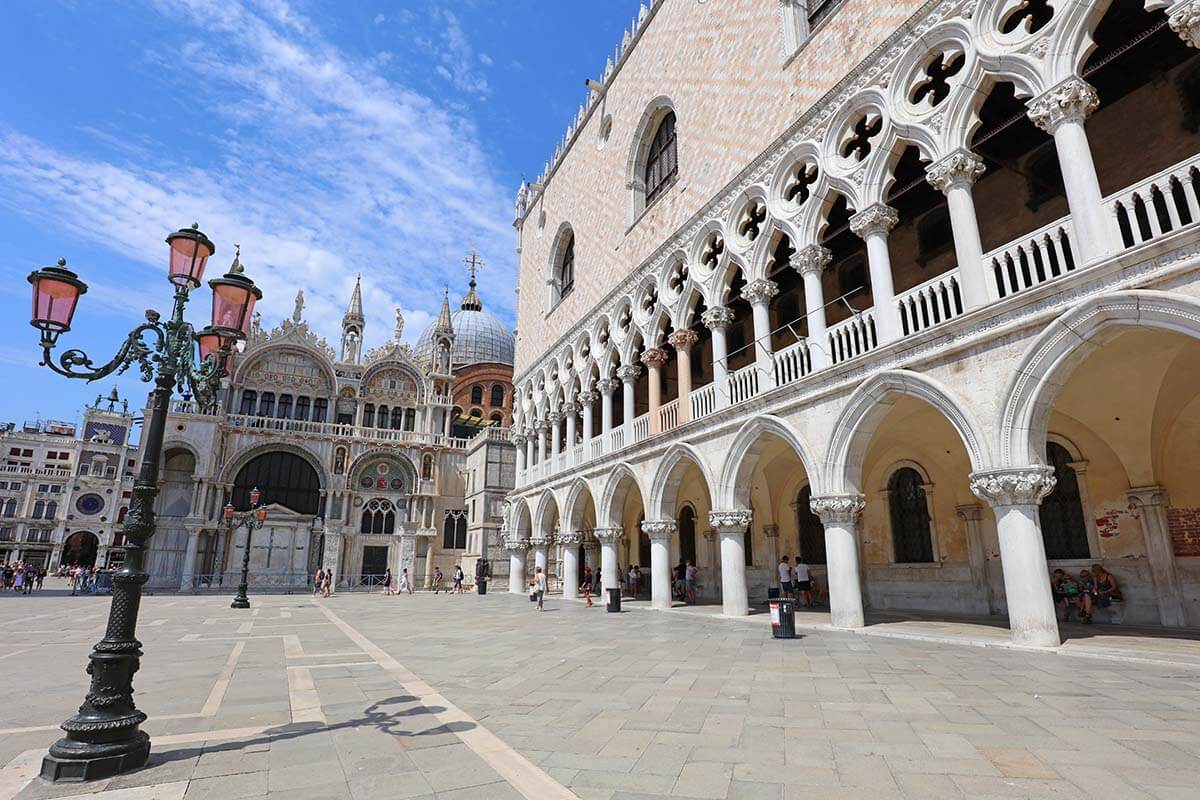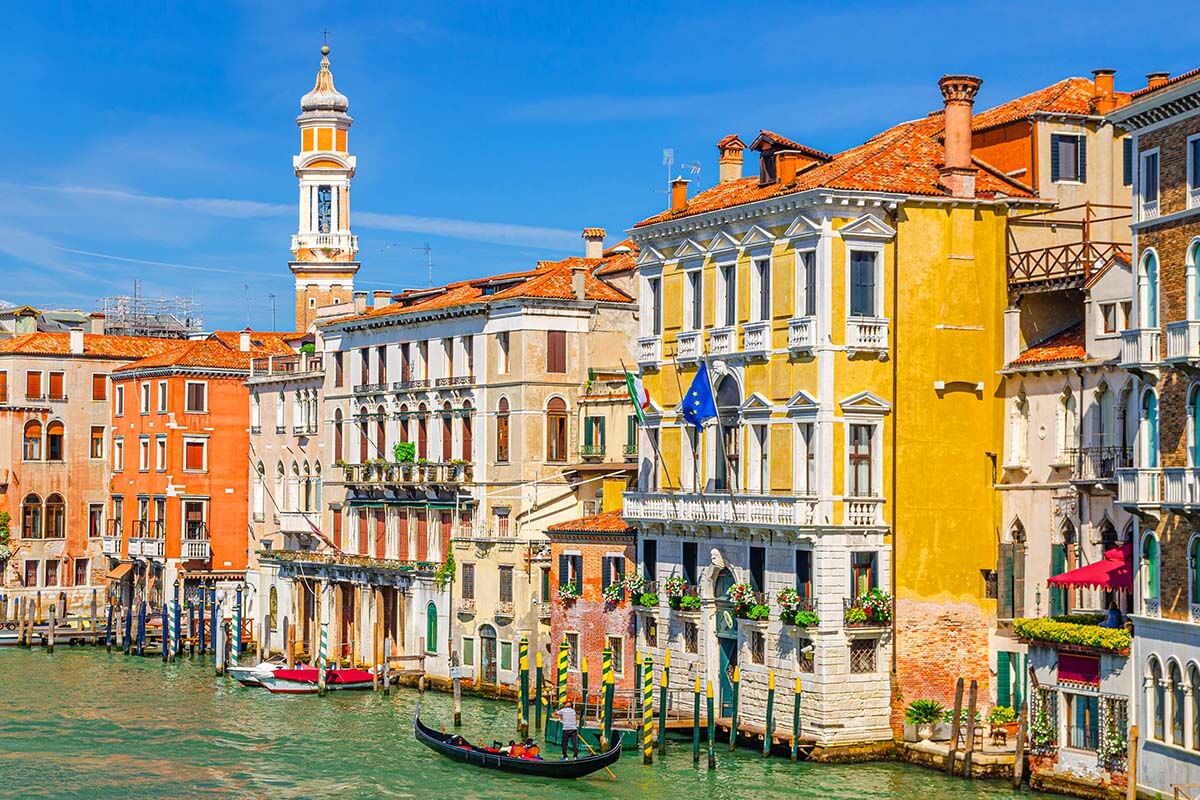 TIP: Next on your itinerary is Verona, Lake Garda, and Lake Como. If you want to explore these areas deeper, Venice would be a good place to rent a car for the remainder of this trip (see here for the best car rental deals). You can easily visit Verona by car, drive to (and maybe even around) Lake Garda, visit Lake Como, and then return the car in Milan.
Renting a car in Italy is normally not expensive, but driving and parking in the small towns by the lakes – especially in high season – can be very challenging.
Anyway, the rest of the itinerary below is created assuming you take a train. But you can easily adjust it if you decide to drive.
Day 10: Venice to Verona & explore Verona
The next stop on this Italian itinerary is Verona, one of the most romantic cities in Italy. It gets this reputation because of Shakespeare's "Romeo and Juliet", and Juliet's House is one of the top attractions in the city.
The train ride between Venice and Verona takes about 1.5 hours, so you'll have a big part of the day left to explore Verona. The city is quite compact and you should be able to see all the musts in a day.
As a minimum, be sure not to miss the Verona Arena, built 2000 years ago (best get a priority ticket for this one). Also the views from Torre dei Lamberti and the earlier-mentioned Juliet's House with its famous balcony are must-see in Verona.
Just as in all the other cities, you can also find some really nice Verona city tours led by locals. There are walking tours, a very nice bike tour, and this food tour is very popular as well. The nice thing about Verona is that it's not that big, and so you can see a lot at a rather relaxed pace.
LEARN MORE: Best Places to See & Things to Do in Verona
Accommodation: Stay in Verona for 2 nights. We recommend Hotel Milano & SPA***S – it offers excellent price/quality in the city center. And yes, it also has a beautiful rooftop terrace with an amazing view – something we recommend in every city in this itinerary because we love staying at hotels with nice rooftop terraces ourselves. It makes any city visit so much more memorable!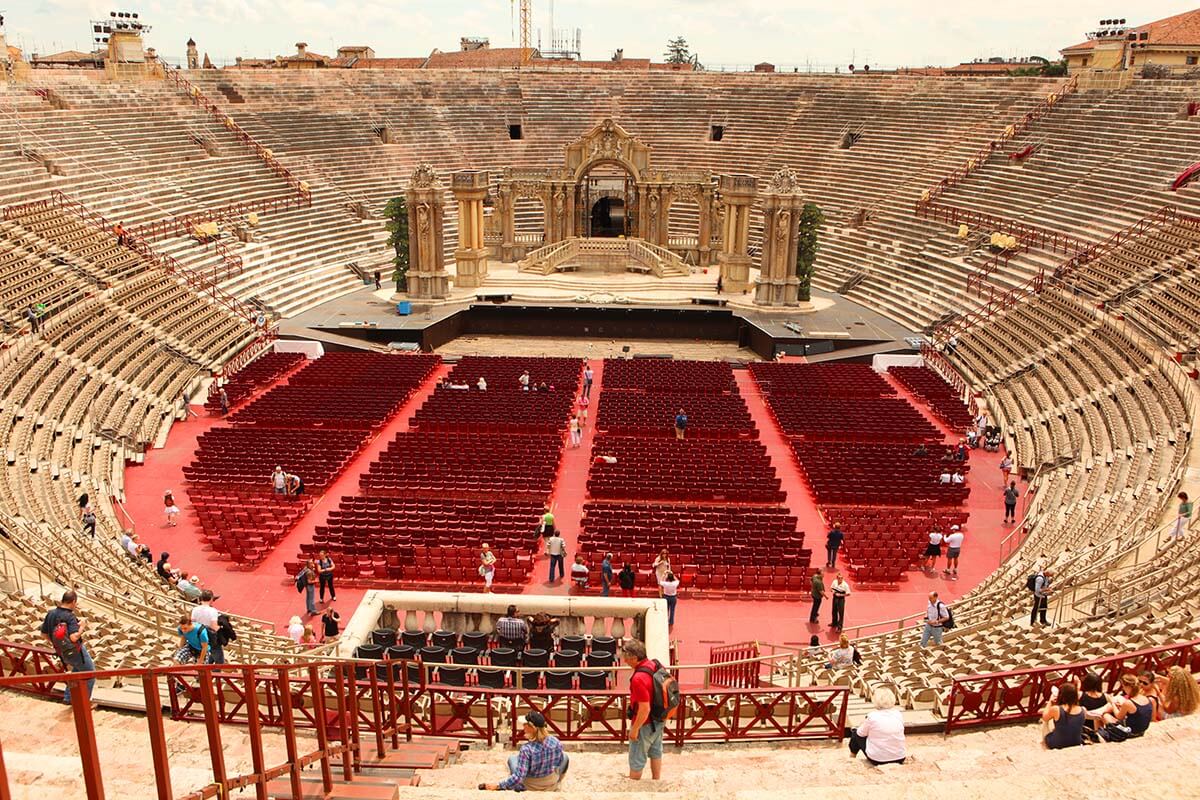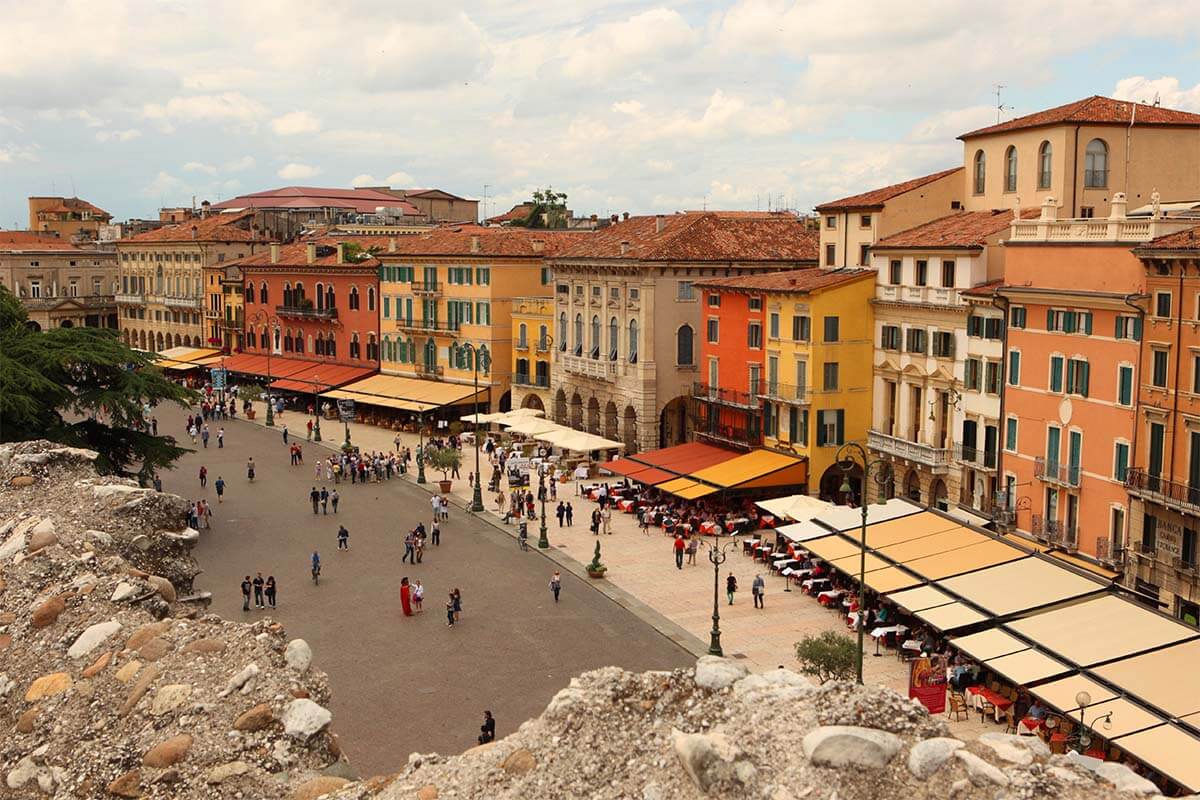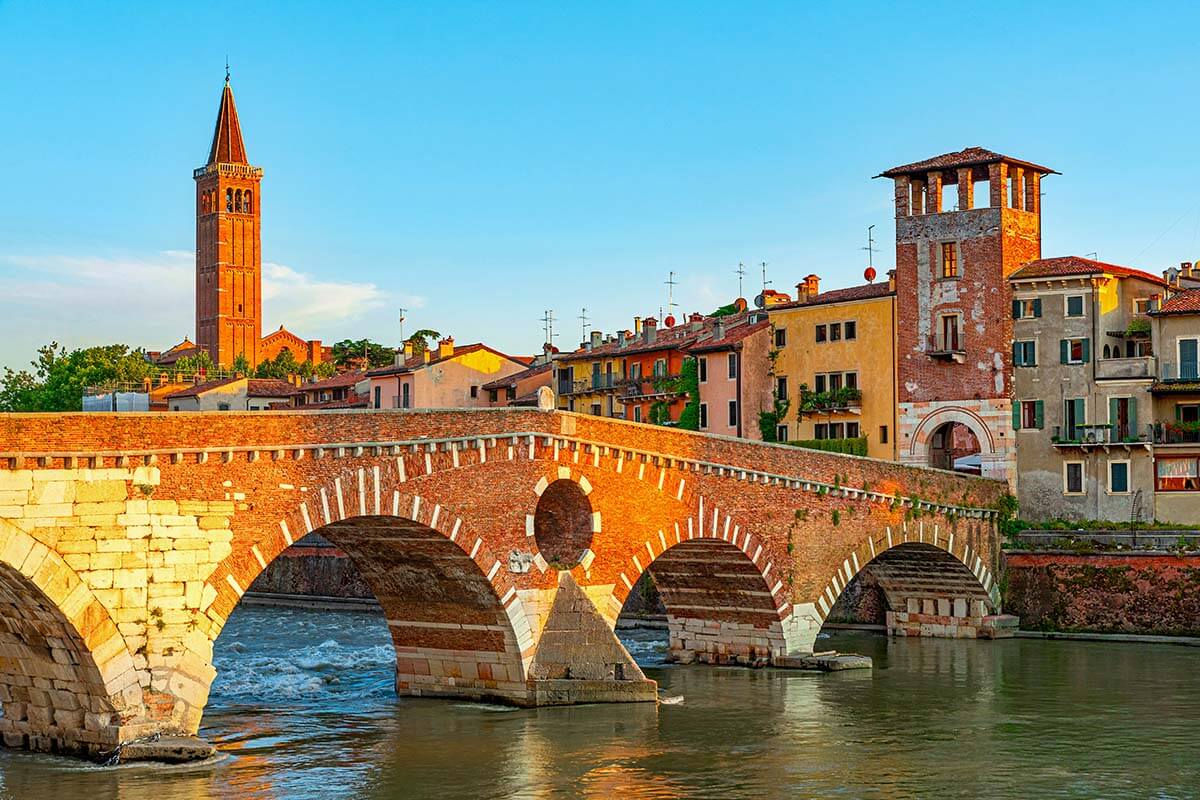 Day 11: Lake Garda day trip from Verona
Lake Garda is one of the most beautiful lakes in Italy and if you have an extra day in your itinerary, it's well worth planning a short visit here as well. This is especially the case if you are traveling in the warmer months.
If you don't mind changing hotels more often, you could stay in Sirmione on your way between Verona and Milan. However, keep in mind that there is no direct train from Verona to Sirmione, so you'll have to travel by bus or train + bus, or arrange a private transfer. To make it easier and simpler to plan, you can just visit Lake Garda as a (half) day trip from Verona. It's good not to have to pack/ unpack every day.
You can come here by public transport and explore on your own. In that case, be sure to decide in advance where you'll visit – just Sirmione or also some other towns along the lake, and research the public transport options to get back to Verona in the evening. See our Lake Garda itinerary suggestions on how to spend a day here.
There's also a nice half-day tour from Verona that visits Sirmione town and includes a short boat ride on the lake. Sirmione is one of the best places to see at Lake Garda and the one that's the easiest to visit if you don't rent a car and/or don't have at least a few days in the area.
TIP: If you take a half-day tour to Lake Garda, you'll have a free afternoon in Verona. If visiting on weekends in summer (Thursday to Sunday, from +- mid-June to early September), you can attend an opera at the Verona Arena. It's a really special experience!
Alternative: If you decide to skip Lake Garda altogether, then you could add an extra day in Florence or in Bologna as mentioned before. Or – if you visit Lake Garda with a half-day tour, you could take a train to Milan in the afternoon already and save some time in your itinerary this way.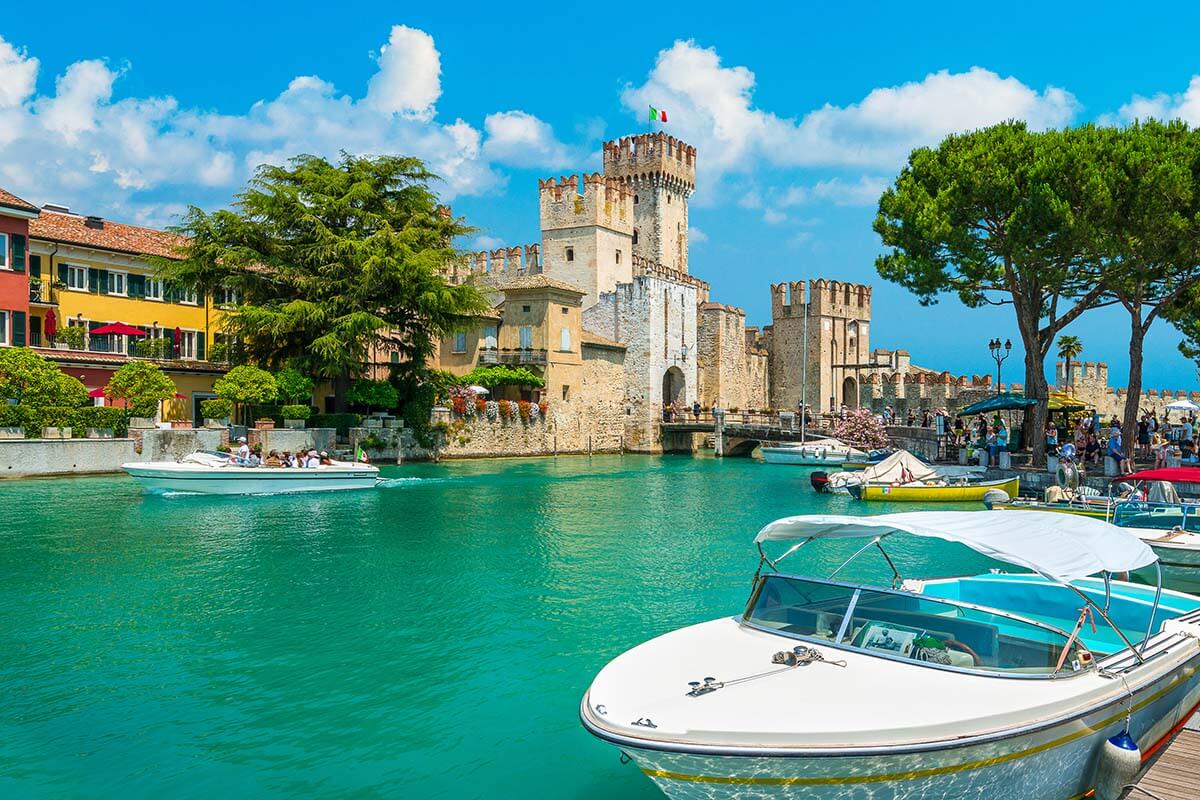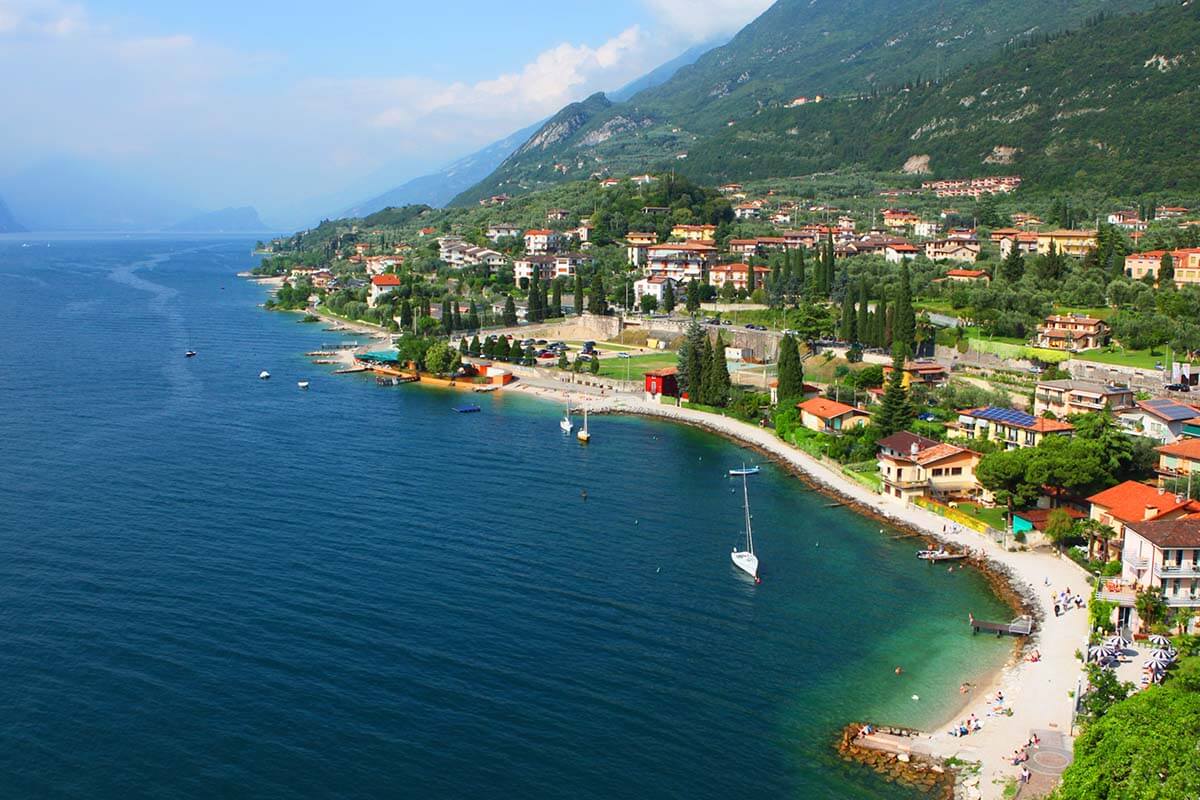 Day 12: Verona to Milan & explore Milan
The final destination in this 2-week Italy itinerary is Milan, where you can also visit the beautiful Lake Como nearby.
One of Italy's biggest and richest cities, Milan is also one of the most fascinating places in the country. It has such a unique mix of old, historic places and modern contemporary lifestyle and architecture. Plus, if you like Italian fashion and want to do some shopping, Milan will not disappoint either.
The train ride from Verona to Milan takes about 1.5 hours, and since you have almost two days for the city alone, you should be able to see all the musts in a rather relaxed way.
On your first day in Milan, you could visit the two main attractions – the Duomo Cathedral and see Leonardo Da Vinci's Last Supper. There are also some great tours that visit The Last Supper and some of them also bring you to the Cathedral. It's also well worth visiting the Duomo rooftop, but you can leave it for the next morning as well.
Good to know: Also here, whatever you decide, be sure to book tickets/ tours for the most popular places in advance! Tickets for The Last Supper are often sold out a few months upfront, but finding a guided tour is much easier (they pre-book tickets and can usually accommodate last-minute bookings as well).
Accommodation: Stay in Milan for 3 nights. Hotel Dei Cavalieri Milano Duomo is a great option right in the heart of the old town.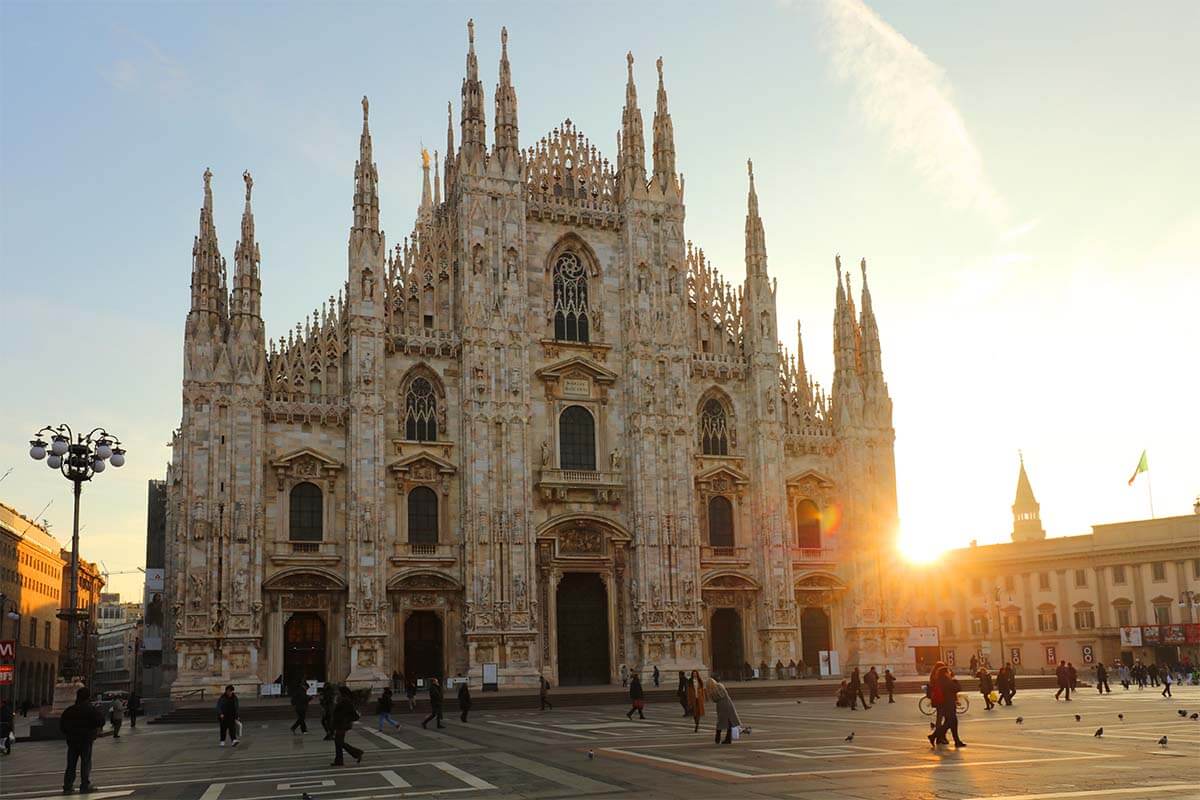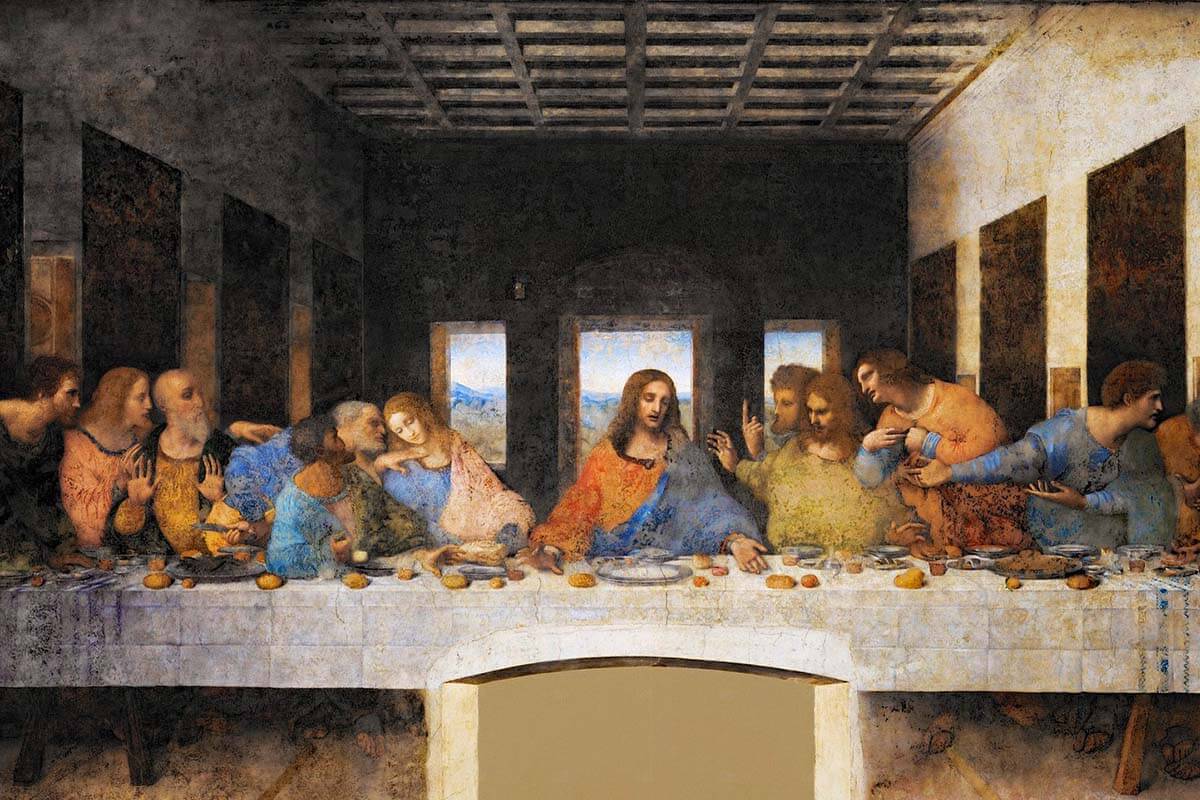 Day 13: Milan
Today, you have an entire day to explore Milan. Visit the highlights in the old city center, but don't miss the modern part of the town either!
For more information on what to see and do and how to plan your day, please see our recommended 1-day itinerary via the link below. It includes all the musts and the details on how to best plan your time.
If you already visited the Duomo and/or Duomo Terraces and/or Da Vinci's Last Supper the day before, just adjust your itinerary accordingly.
If you have some time left, you can go shopping in the center or visit Designer Outlet Serravalle (although this one will likely require an entire day).
In the evening, head to the Navigli district, aka the canals of Milan. It's a very nice and lively neighborhood with lots of restaurants, bars, and cafes – a perfect place to end the day of sightseeing.
LEARN MORE: How to see the best of Milan in one day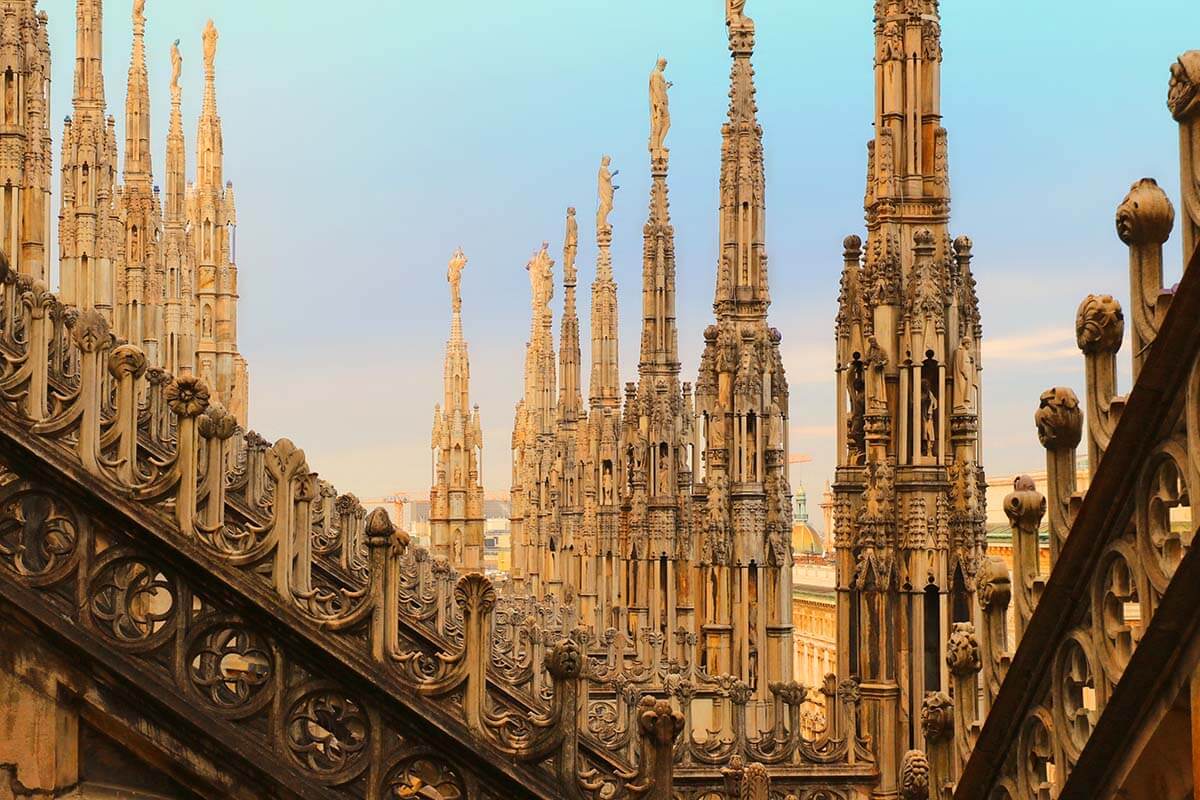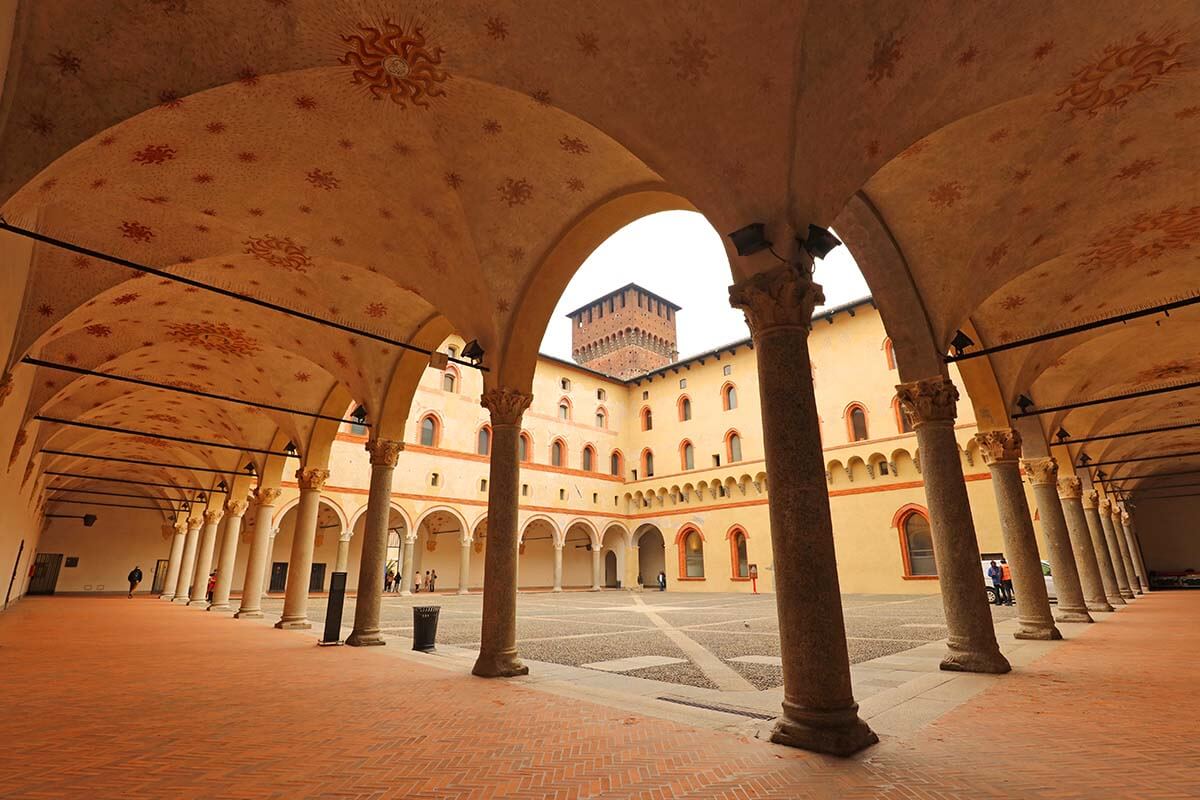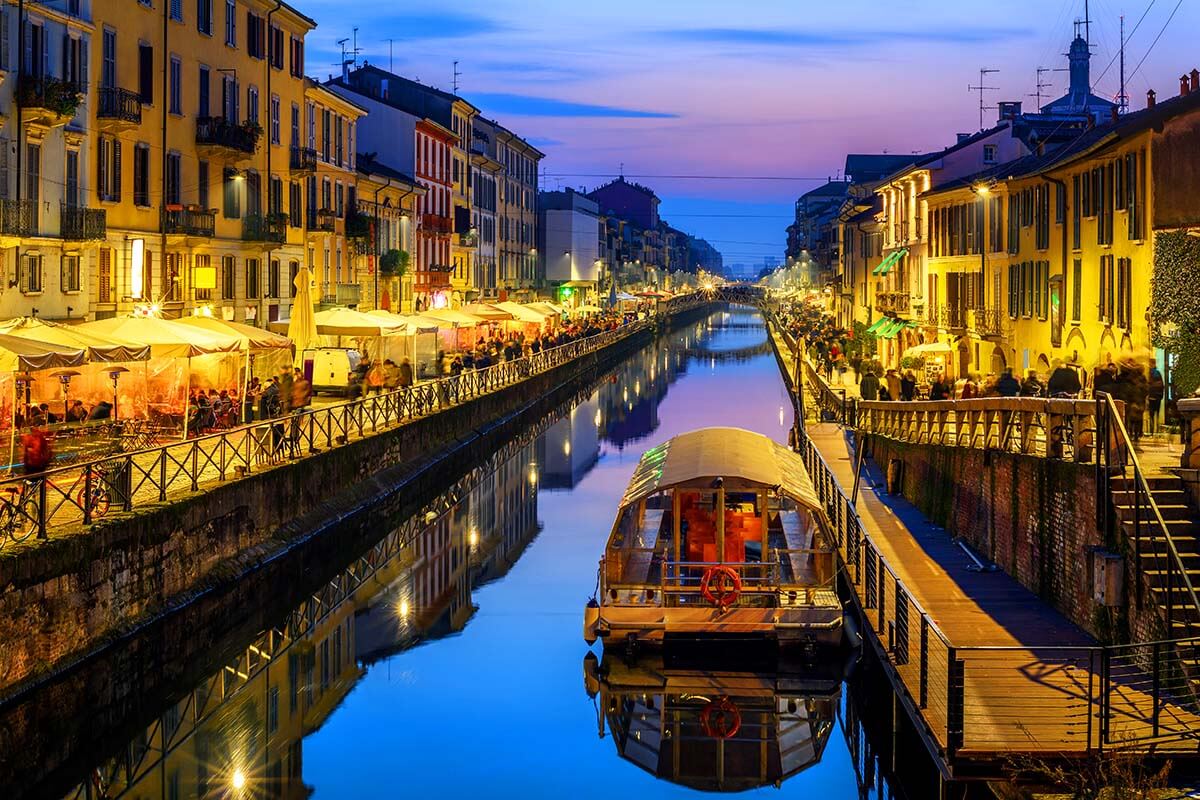 Day 14: Lake Como day trip from Milan
On the last day of your 2 weeks in Italy, we recommend visiting another famous lake in northern Italy, Lake Como. Located just near Milan, it's an easy day trip destination and a wonderful addition to any Italian itinerary!
Just as with Lake Garda, you could visit Lake Como on your own. In that case, simply take a train from Milan to one of the towns (Como or Varenna are both good options) and then explore further.
However, ideally, you also take a boat trip on the lake and visit several towns instead of one. And for that, it's easier to join an organized tour and have them guide you to all the best places without having to plan or arrange anything.
TIP: We recommend this highly-rated day tour. It brings you to Como, Bellagio, Villa Olmo, and Varenna – some of the most scenic places on Lake Como. It would be very difficult to plan a similar trip and see all of these sights in just a day on your own.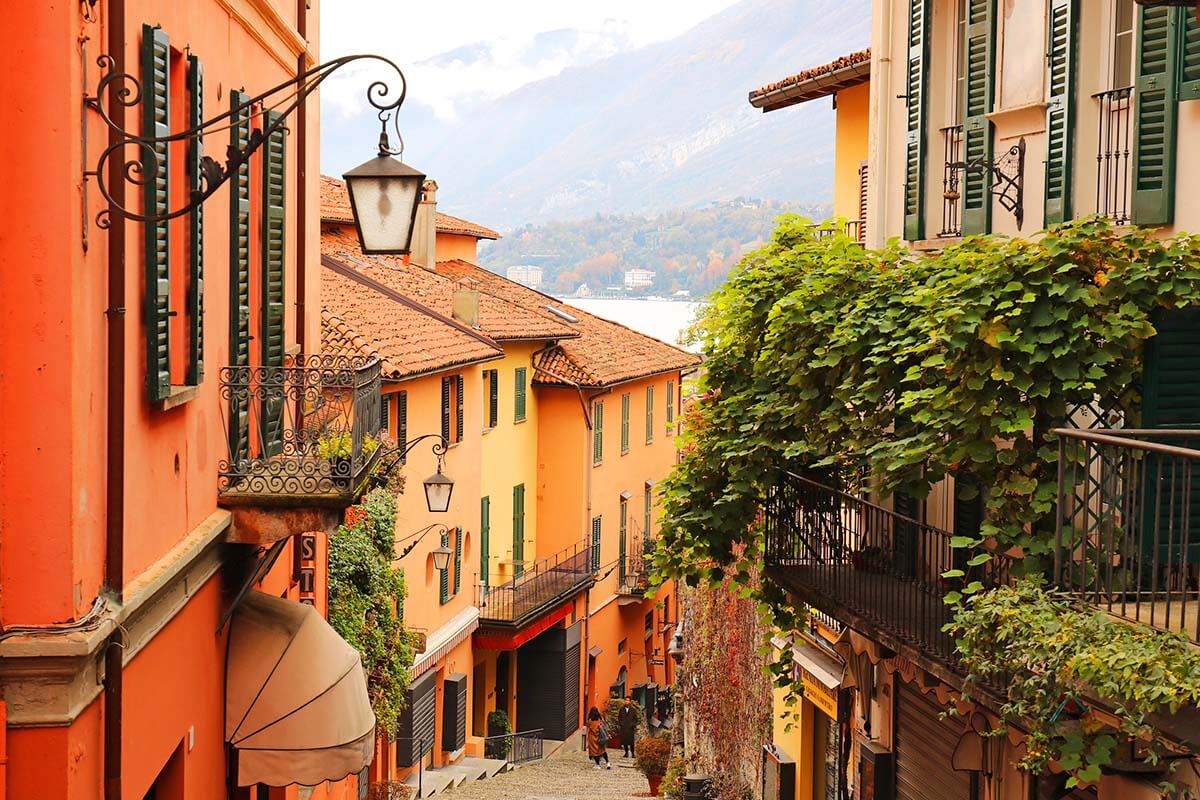 Departure
So, this is it – the ultimate Italy itinerary that allows you to see ALL THE BEST PLACES in 2 weeks. Of course, there's much more to see and do in Italy than the destinations covered here. But if you want to visit all the 'musts', this sightseeing itinerary does exactly that.
We planned this Italy itinerary in such a way that it starts and ends at the biggest towns with major international airports, Rome and Milan. There are lots of direct flights to/from both of these cities to many other places in the world. So it should be quite easy to plan your trip in such a way that you can fly home from Milan.
And if you absolutely want to make a loop, a round trip starting and ending in Rome, you can simply take a train from Milan to Rome, and fly out of there. The fast train between the two cities takes about 3.5 hours.
Good to know: If you take regular trains in Italy, you can just get a ticket at a station. However, if you opt for the high-speed trains between the main cities (recommended), it's best to reserve your seat in advance. You can use the official Trenitalia website for that, but keep in mind that standard tickets are usually non-refundable.
Alternatively, take a look at the Interrail website (for EU residents) or the Eurail website (for international travelers) where you can find all the info about traveling in Italy by train in one place, and maybe even get a train pass for your entire trip.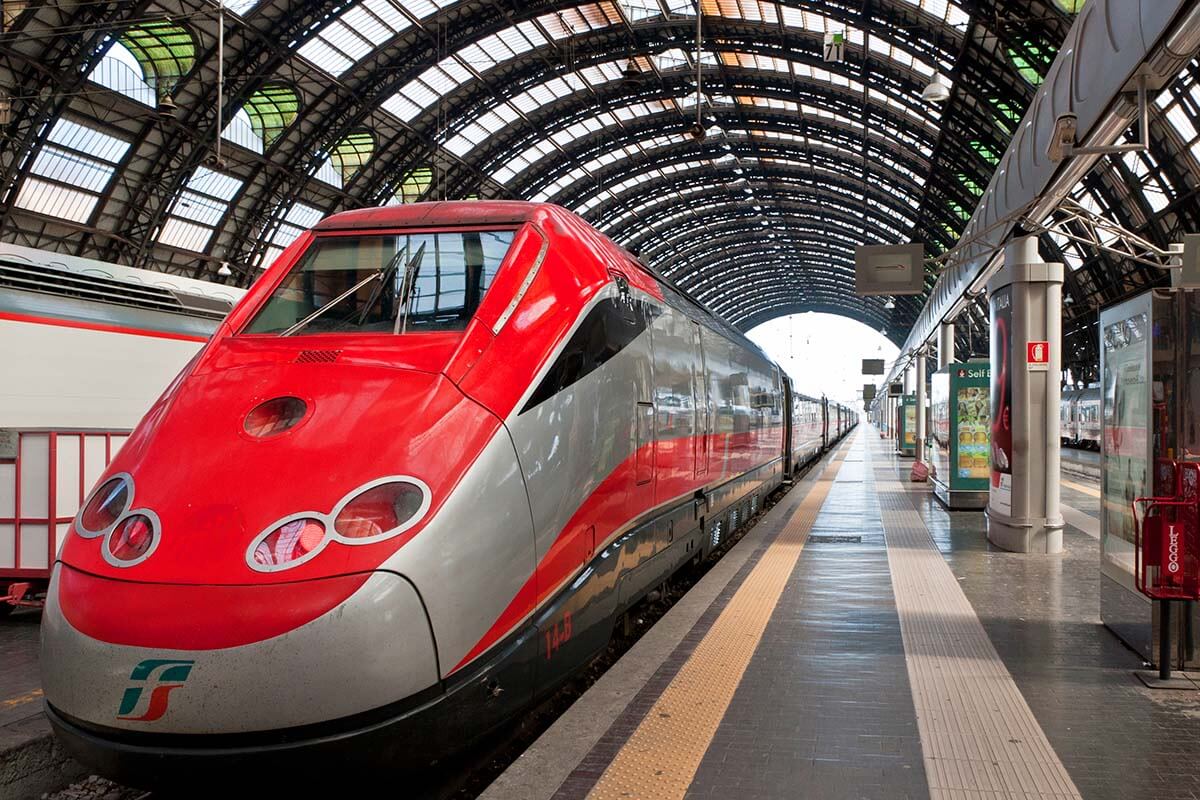 If you have more time…
If you have more time in Italy, you could add extra days pretty much anywhere in this itinerary and you'll find plenty to do. We already included some additional recommendations above. And here are a few extra suggestions:
You could add some extra time at the Amalfi Coast and also visit Capri Island and Naples. So instead of visiting this area on a day trip from Rome, you could stay here for several days. See our Amalfi Coast itinerary for more suggestions on what to see and do there. You could easily add at least 5 days to your Italy trip itinerary just for this area – there's so much to see!
If visiting in summer, I also highly recommend adding at least a few days in the beautiful Italian Dolomites. You could rent a car in Venice and visit the mountains for a few days, continuing past Verona and Lake Garda and on to Milan. Here you can find some Dolomites itinerary suggestions.
Tuscany is another area where you could easily add a few extra days. There are so many beautiful places to see! See our Tuscany itinerary for some additional inspiration.
Bologna, one of the foodie destinations in Italy, is another nice addition to any Italy itinerary. You could just visit for a day from Florence, or spend several days here as well. Also Rimini, Ravenna, and San Marino are all worth a visit. See our Emilia Romagna itinerary for more information about these places.
…. I could go on and on. As you can see, there's plenty to see in Italy to fill another few weeks or months. And once you visit this incredible country, you'll definitely want to come back and explore more.
But for your first trip, this is a very complete itinerary that shows you the best of Italy in two weeks.
Yes, this itinerary is quite packed and yes, you'll probably want to stay longer at many places you visit.
But it gives you an amazing overview of what Italy is about, and you can always plan a repeat trip to the areas that you liked the most. You can also find a lot more travel inspiration in our Italy travel guide.
READ ALSO: Italian Food – traditional dishes to try in every region
If you found this post useful, don't forget to bookmark it and share it with your friends. Are you on Pinterest? Pin these images!