Are you visiting Rome and want to get a bit off the beaten path and discover some of the secret or lesser known, hidden gems of Rome? This article might be just what you need. Take a look!
Rome is one of the most beautiful cities in Italy and a real bucket-list destination! Even people who have never been to the city can tell you what the main highlights of Rome are. Who hasn't heard of the Colosseum, Trevi Fountain, or St. Peter's Basilica? But if you travel to Rome and spend all your time checking off the list of the must-see places only, you are missing a great deal.
I know it because I made this mistake the first time I traveled to Rome. I loved this beautiful city, but I was just ticking off the list of the main landmarks and missing more local experiences… So on the subsequent trips, I decided to set it right and tried to get off the beaten path for a taste of different, secret Rome even if just for a little bit.
If you are also looking to get to know a bit different side of the Eternal City and visit a few of the hidden gems of Rome, this article will give you a few ideas. And if you wonder how to see these places, check out our recommended Rome itinerary for 4 days – in addition to all the 'musts', it also includes most of the hidden gems mentioned in this article.
I also included a map indicating all the hidden gems mentioned in this article. At the bottom of this article, you can also find some quirky and different local tours in Rome. Take a look!
Top 3 Unusual Things to Do in Rome: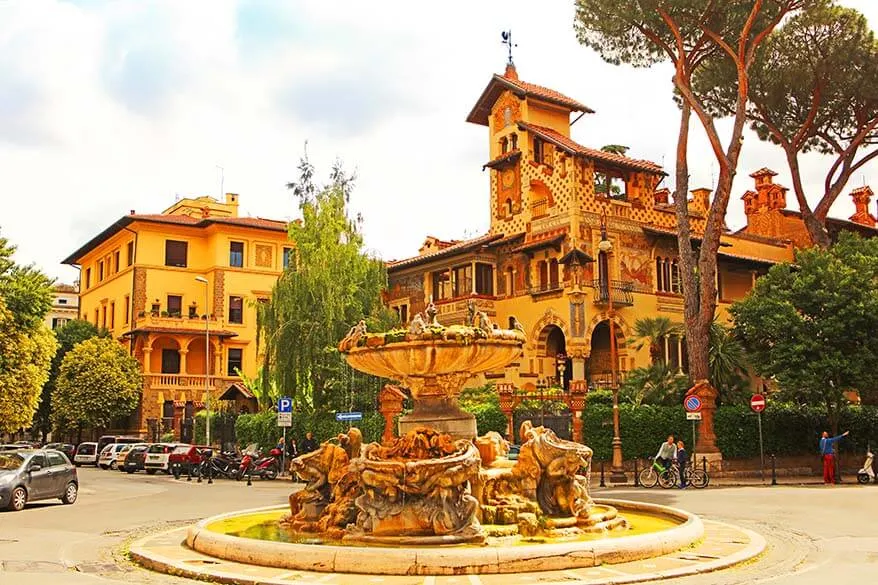 In this article, we are sharing some of the less known, amazing places you can find in Rome that most tourists never see. Why are they ignored? Because the competition is fierce. That's the one and only reason I can think of.
These are one by one top places and they would have no difficulty in attracting big crowds were it not for the bad luck of being located in the shadow of the 'must-see' places in Rome.
While some of these gems of Rome are somewhat known and more and more tourists seem to find their way to them, some others are still really undiscovered…
Update: This guide to some off-the-beaten-path places in Rome was originally published with just a few of my personal favorites. However, our readers wanted more ideas and more unique places to see. So we asked our fellow travel writers to share some of their favorite hidden gems of Rome and included them in this updated edition. I also added some more places and updates after our most recent visit to Rome.
This list will give you more ideas for unique places to visit in Rome than you'll be able to do in one trip. Find out!
TIP: If you want to get a bit off the beaten path and discover the lesser-known side of Rome, consider these two tours: ancient Appian Way, aqueducts & catacombs by e-bike, and this street food tour with a local guide. After lots of research, we booked these two tours on our most recent visit and I can highly recommend them both to everyone looking to get to know Rome in a different way!
The hidden gems of Rome on the map
To make your trip planning easier, I created a map with all the hidden gems of Rome mentioned in this article. It should help you to better plan your visit – take a look below.
How to use this map: Use your computer mouse (or fingers) to zoom in or out. Click on the icons to get more information about each place. Click the arrow on the top left corner for the index. Click the star next to the map's title to add it to your Google Maps account. To view the saved map on your smartphone or PC, open Google Maps, click the menu and go to 'Your Places'/'Maps'. If you want to print the map or see it in a bigger window, click on 'View larger map' in the top right corner.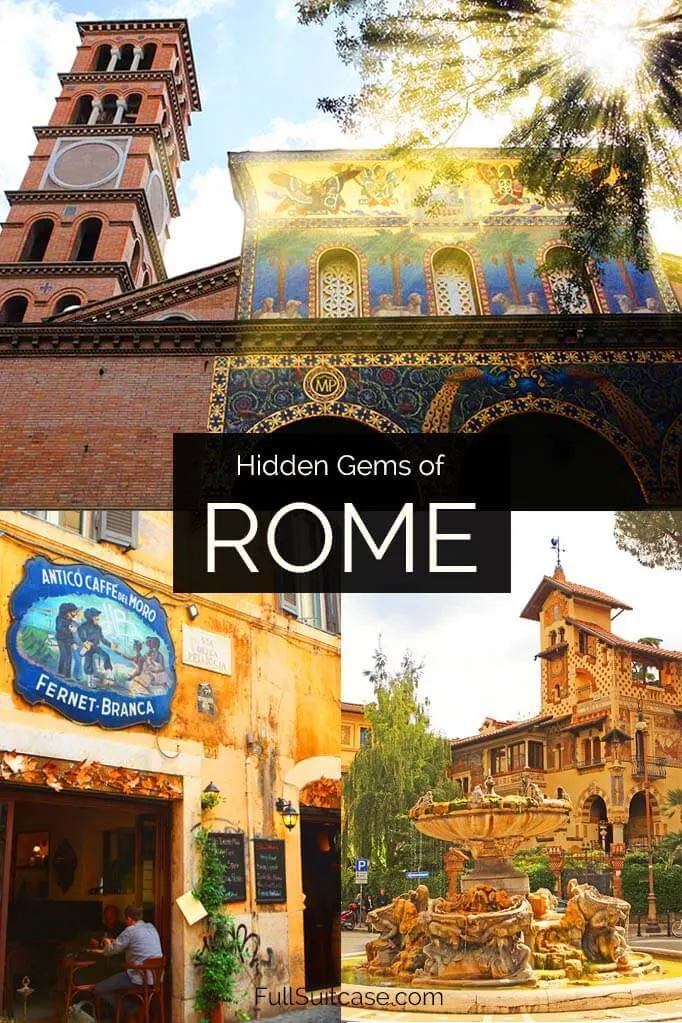 Without further ado, here are some lesser-known and secret places, the hidden gems of Rome:
1. Quartiere Coppedè
Visiting Quartiere Coppedè was one of my absolute favorite experiences in Rome. We were walking down the regular busy street, then turned around the corner, and… WOW! There it was – Rome's smallest district – Quartiere Coppedè.
Quartiere Coppedè is a fairy-tale-like neighborhood in Rome and is different from anything else I have ever seen. The best place to start exploring is by entering Quartiere Coppedè at the corner of Via Dora and Via Tagliamento.
The Coppedè neighborhood isn't big and there are just a couple of really special buildings. However, it's so unique that it makes the visit here really worth it. It's one of those secret places in Rome that are completely off the beaten path and there are hardly any tourists around…
You can easily visit this neighborhood on your own, but if you prefer to go with a local guide and discover more hidden gems of Rome, there are a few tours that also visit here.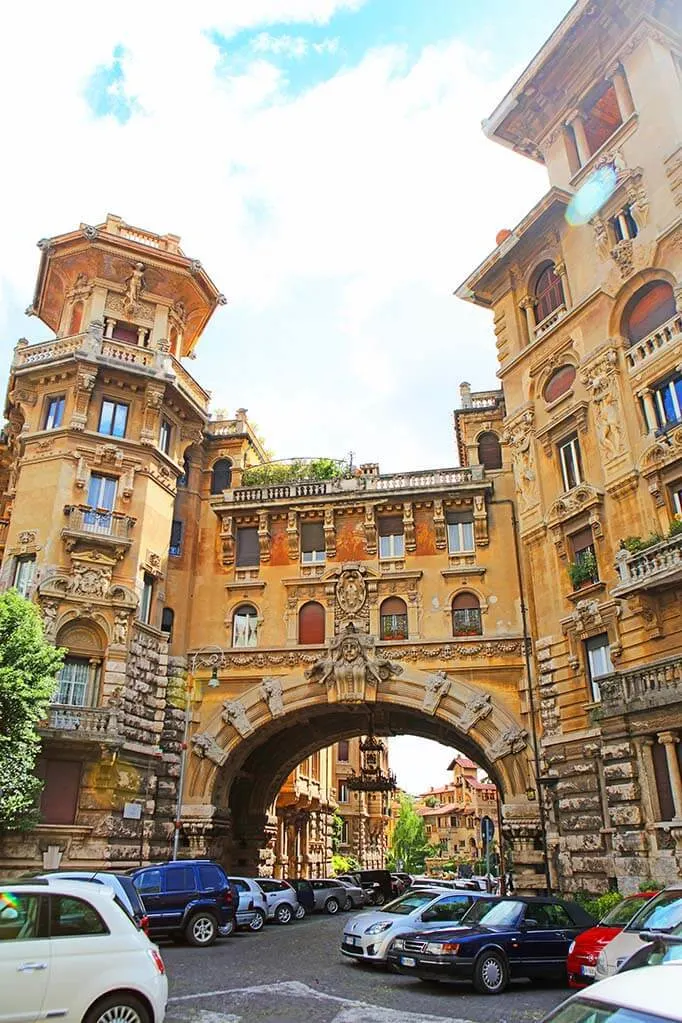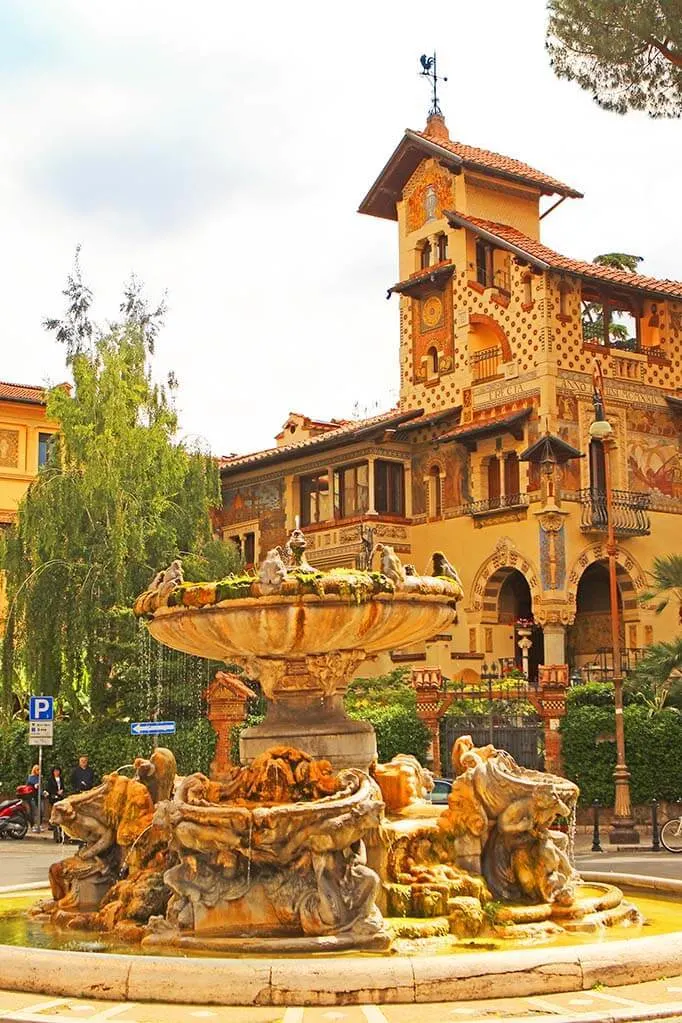 2. Basilica di Santo Stefano Rotondo al Celio
There are more than 900 churches in Rome, one more impressive than another and it would be impossible and somewhat pretentious to just pick one favorite. Santo Stefano Rotondo made it to my list of the hidden gems of Rome because it's so very different from the other churches we visited in Rome.
Basilica of Santo Stefano Rotondo is the oldest example of a centrally planned church in Rome. The church was built in the 5th century and is famous for its 16-century graphic frescoes, portraying many scenes of martyrdom. This church has impressed me with the unusual circular architecture, somber interior, and truly authentic feel.
There is plenty of history and very old buildings in Rome, but only a few places make you feel like you traveled back in time. Santo Stefano Rotondo is one of them!
It's hard to believe that this church is located within such a short walking distance from the Colosseum. It's a truly hidden little secret that is well worth visiting if you have at least half an hour to spare.
This small church is a real secret gem of Rome, literally hidden. If you don't know it's there, it is quite easy to miss.
Practical information: Basilica of Santo Stefano Rotondo is located on Via di Santo Stefano Rotondo 7 (side street of Via Claudia), just a 10-15 minute walk from the Colosseum. It's open to the public from 10 AM to 1 PM and from 2 PM to 5 PM (October to March) and from 3 PM to 6 PM during the summer months.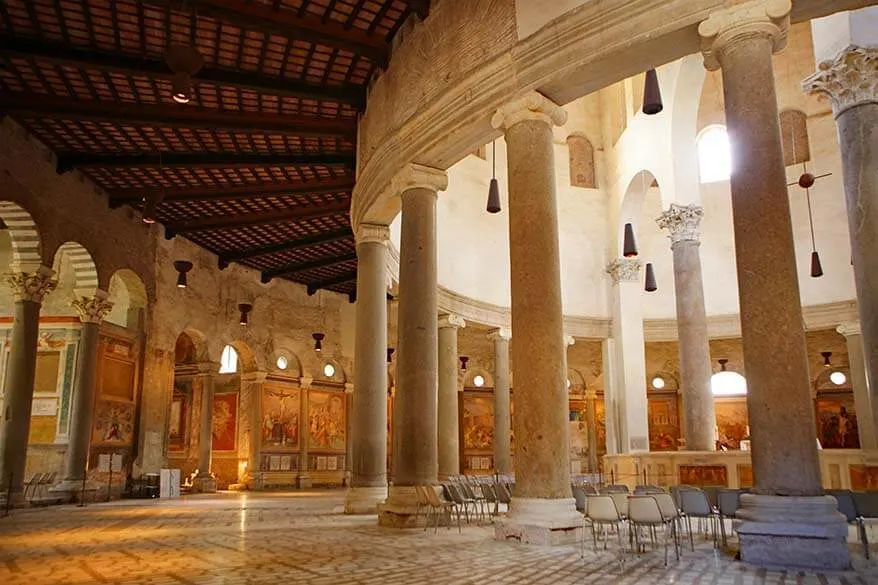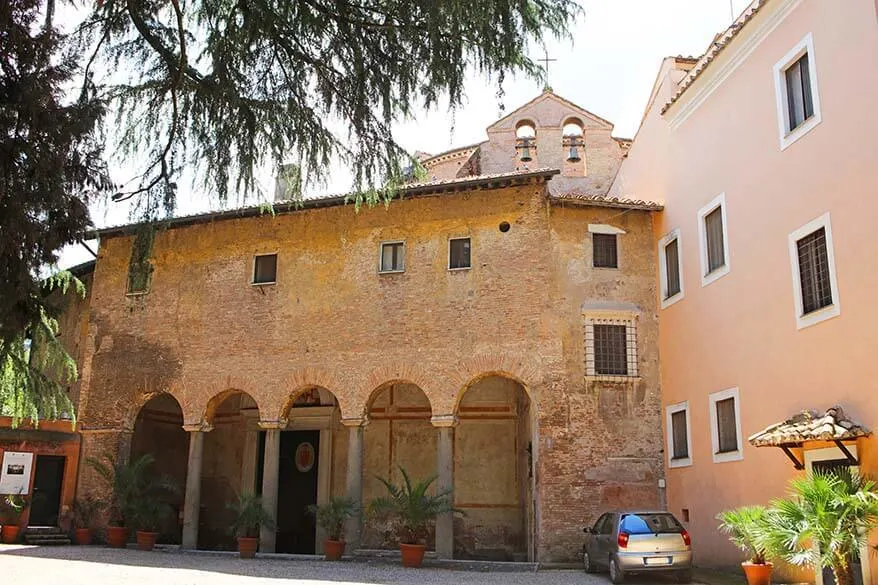 3. Trastevere
Trastevere is a somewhat lesser-visited district in central Rome. It's one of the places where you can find a very pleasant local atmosphere and some of the best food in Rome.
Located just across the Tiber River from the city center, is probably the most charming district in Rome. Out of all the places on this list, Trastevere is the most popular one with tourists. However, most travelers seem to limit their visit to Piazza di Santa Maria in Trastevere and a few streets around it.
The moment you leave the busy square next to the church, the number of tourists decreases dramatically. Just two-three blocks further and you are left to explore the charming old neighborhood all on your own.
There is also an outdoor food market on Piazza di San Cosimato and, together with a couple of restaurants and a playground, it's a part of the city that gives you a truly local feel.
Trastevere is not a secret place by any means, but as it often goes, most people never take the time to explore it deeper.
TIP: If you can, plan to have lunch or dinner in Trastevere as there are so many good local restaurants in the area. Try to avoid places with pictures on the menu and look for the ones where locals eat. For an even more authentic experience, join this highly-rated Trastevere food tour with a local.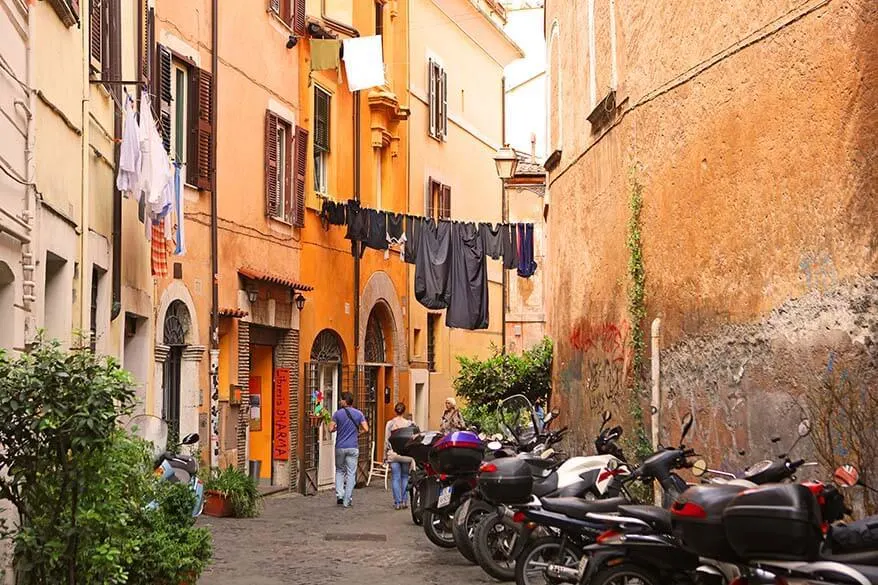 If you are interested, you can find some authentic food stores like Antica Caciara selling some of the best cheeses in Rome or Pasticceria Valzani selling traditional pastries.
There are more of these really old shops in Trastevere and while they may look charming to one, somebody else may find that they bear lots of resemblance to the old food stores in the communist countries three-four decades back in time…
I find that small neighborhood stores are well worth paying a visit in order to get a more authentic feel for the place. It's better than the souvenir stands anyway.
Another great way to discover the local side of Rome and the food of Trastevere is by doing this food tour. It brings you to some secret places you wouldn't easily find on your own, while at the same time allowing you to taste some local delicacies.
TIP: For an even more local experience, check this highly-rated Rome food tour in an even lesser-known district, the Jewish Quarter. It includes samples of typical Roman dishes, wine and beer tastings, and of course, the Italian Gelato! We did this tour on our most recent trip to Rome and I can't recommend it highly enough!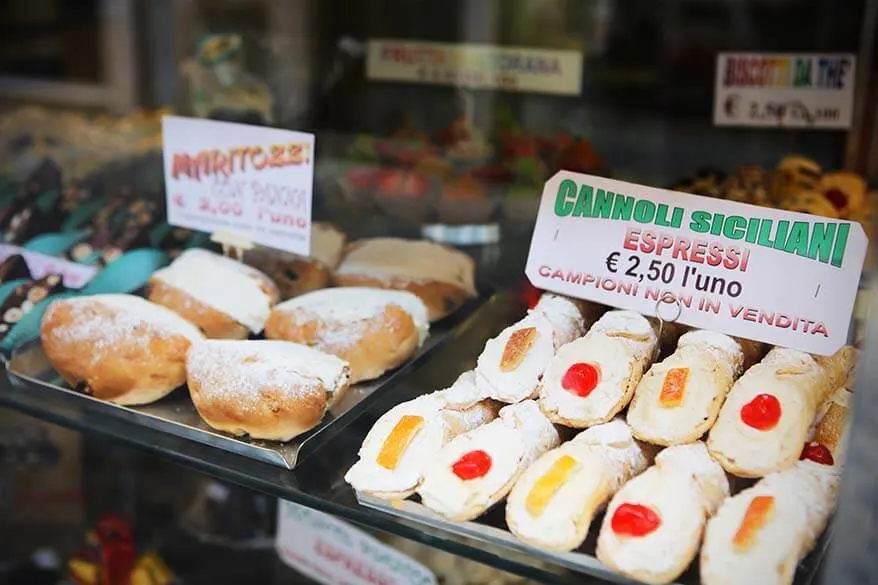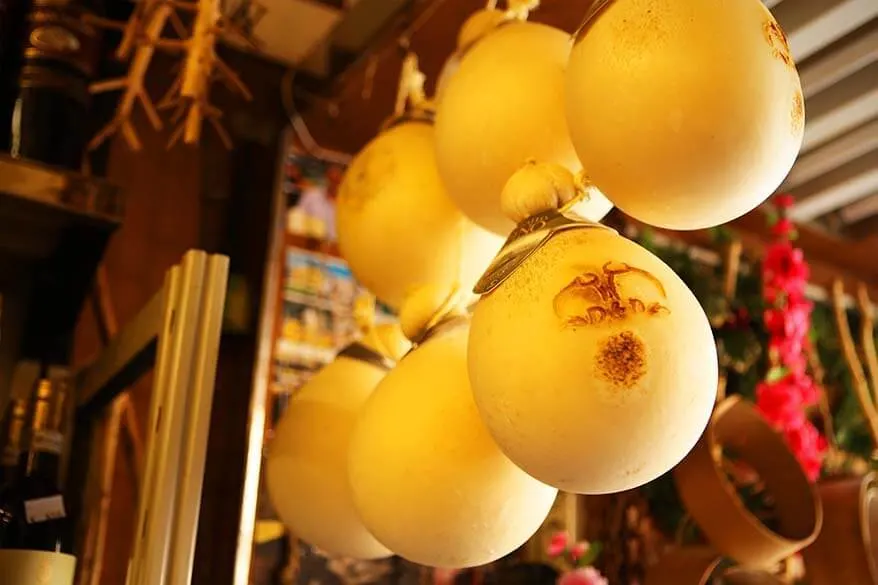 4. Aventine Hill and Knights of Malta Keyhole
Recommended by Lori of TravlinMad
A visit to Rome's Aventine Hill, the southernmost of the Seven Hills of Rome, offers a peaceful respite from the bustling city and crowds. Here, you can find not one, but several bucket list-worthy hidden gems of Rome.
Steeped in ancient Roman history, the Aventine was home to plebeians during the days of the Republic. Today, the area is comprised of upscale residences, sumptuous gardens, and elegant churches and monasteries with a wealth of architectural interest.
Don't miss the Basilica of Santa Sabina (Basilica di Santa Sabina all'Aventino), one of Rome's oldest basilicas. Its interior is especially worth seeing!
One of the defining sites on Aventine Hill is the Orange Trees Garden (Giardino degli Aranci), one of the city's most beautiful parks. It's also one of the largest parks in Rome at nearly 8,000 square meters. Not only is the park worth a visit for its secluded location and feel, but it also offers some of the best views in Rome.
Just nearby, you can find one of Rome's most interesting hidden gems – the Knights of Malta Keyhole in Piazza dei Cavalieri di Malta. Near the parking lot and behind the big green door is where you can steal a peek through the keyhole and be treated to one of the most unique views of Saint Peter's Basilica through the hedges. The view technically spans three countries – across the autonomous property of the Knights of Malta, through a patch of Italy, and over to the Vatican.
Practical information: A visit here is free of charge, but keep in mind that the garden is only open until sunset. The Priory Keyhole is no longer a secret place in Rome. Recently, it has become a very popular site and so expect a long queue at the keyhole. However, it's usually quieter early in the morning or in the evening at around sunset.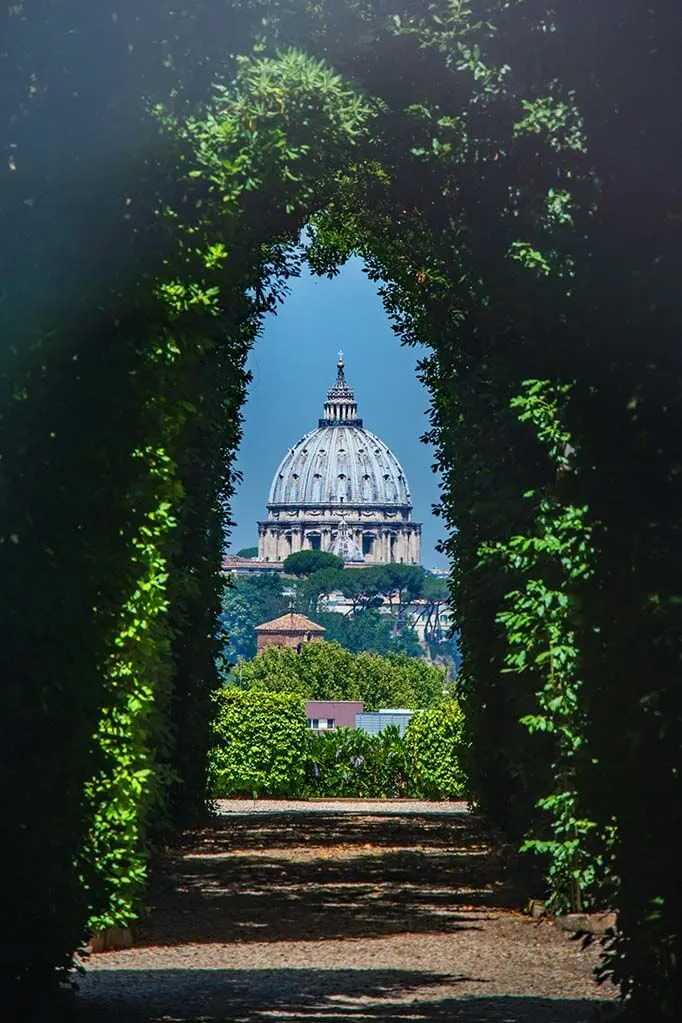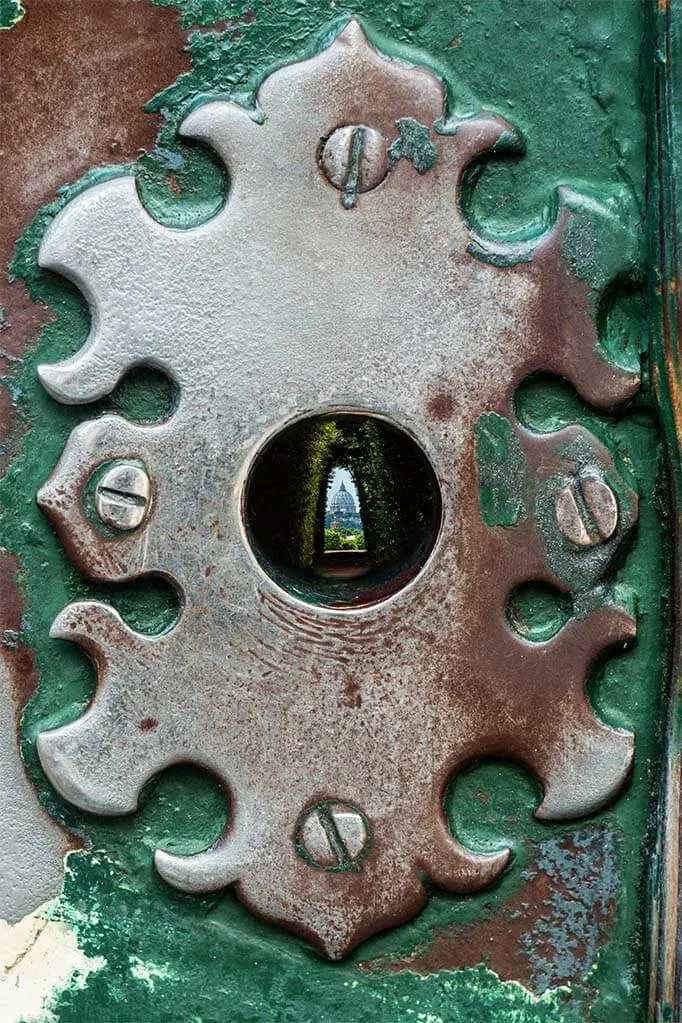 5. Via Margutta
Recommended by Helga of ShegoWandering
Via Margutta is a beautiful street hidden between Piazza di Spagna's Spanish Steps and Piazza del Popolo. As it's off the main road, it's never busy, and it's an absolutely magical place, with beautiful Italian palazzos covered with ivys all along the street. Originally, Via Margutta was home of various stables and workshops, but that has changed in the last century.
The street became famous after the premiere of the movie 'Roman Holiday' with Audrey Hepburn and Gregory Pack in 1953. Roman Holiday is one of the most iconic movies ever made in the Italian capital. Since the main male character, Joe Bradley, lived on Via Margutta in the movie, the street became famous straight away.
Thanks to the success of this film, many famous people moved to Via Margutta in the 60s -70s. The neighborhood of Via Margutta became an exclusive, super expensive place to live in Rome. Also today, it's still the residence of wealthier Romans.
In addition to its beautiful buildings, this quiet, cozy, and colorful street also has some unique places to visit. On Via Margutta, you can find numerous amazing art galleries, luxury shops, and high-end restaurants.
TIP: If you're a fan of the Roman Holiday, you can also visit the palazzo where Joe Bradley was living in the movie. It's located on Via Margutta 51.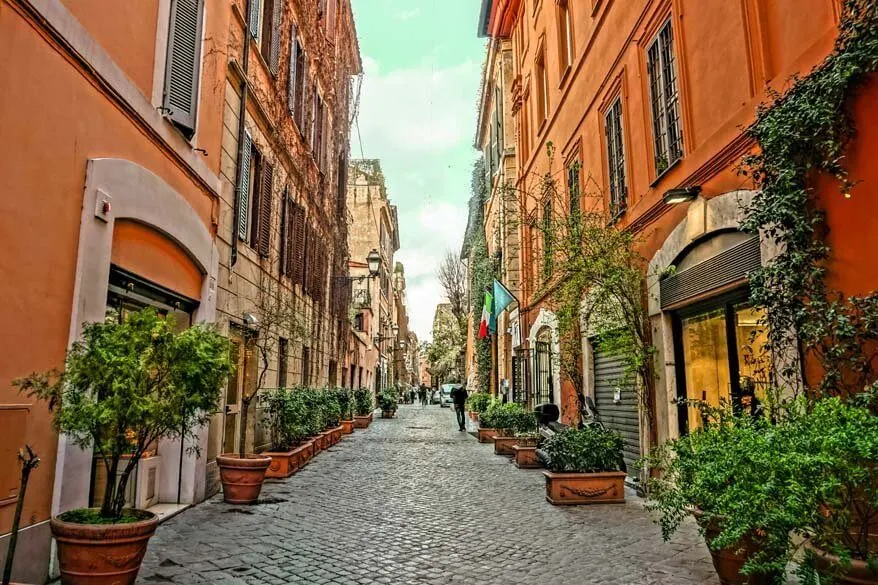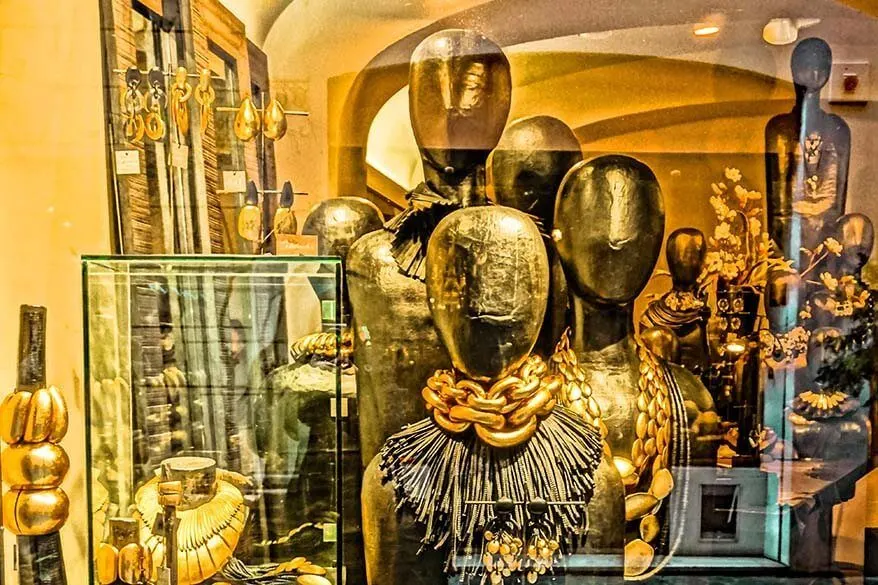 6. Doria Pamphili Gallery
Recommended by Dymphe of Dym Abroad
The Palazzo Doria Pamphilj is a beautiful and interesting palace in the center of Rome. It's absolutely stunning, easy to visit, but is not very well-known. You can easily walk here from other famous sights in Rome, such as the Trevi Fountain, Pantheon, or the Victor Emmanuel II Monument.
The interior of the palazzo is lavishly decorated. Inside the palace, everywhere you look, you can see amazing art and impressive architectural details. Furthermore, the courtyard of the palace is also very nice to visit.
But there's more to this palace than its looks! Inside, you'll find the Doria Pamphilj Gallery. This is one of the best museums in Rome! All the artwork was collected by the Doria Pamphilj family, a princely Roman family, and contains works from various periods in time. Most of the paintings were made by famous painters, such as Velázquez, Raphael, and Titian.
The combination of the beautiful palace and its rich art collection makes a visit to Palazzo Doria Pamphilj one of the best activities for those looking to get off the beaten path and experience a truly unique place in Rome.
Practical information: The entrance fee includes an audio guide. The gallery is open on Saturday, Sunday, Monday and public holidays from 9.30 AM till 7 PM and on Friday from 11:30 AM till 11 PM. For more information, check their website (in Italian) or book your tickets here (in English).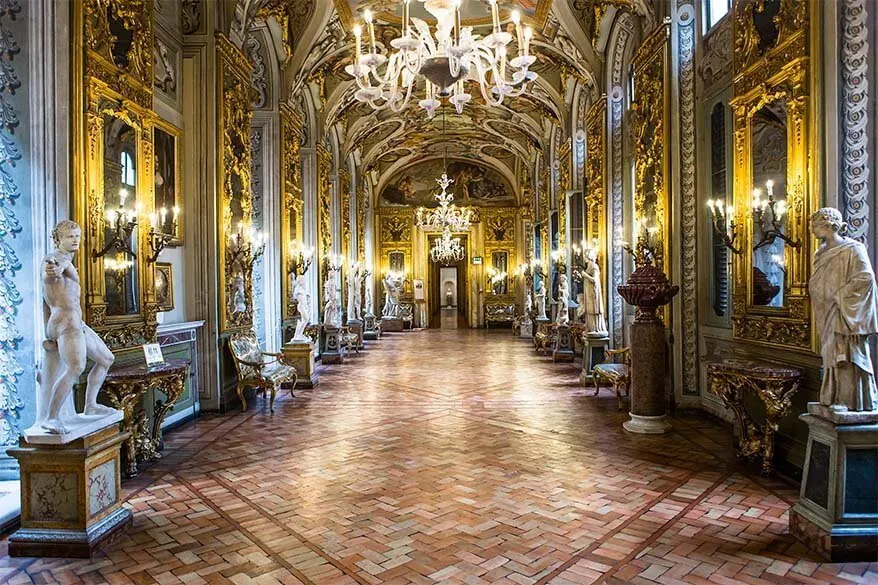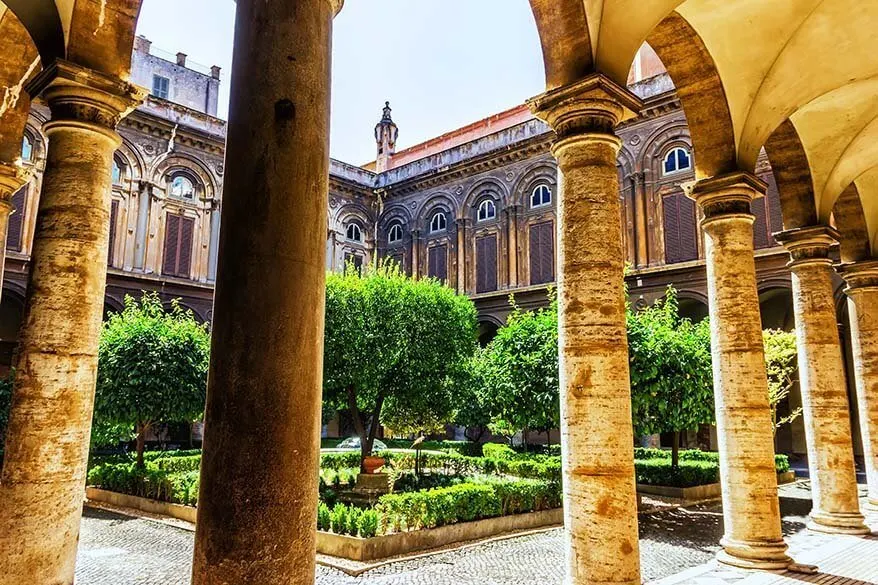 7. Capuchin Crypt of Santa Maria della Concezione
Recommended by Roxanne of Faraway Worlds
If you are looking for something unique to do in Rome, don't miss the Capuchin Crypt at Our Lady of the Conception of the Capuchins (Santa Maria della Concezione dei Cappuccini). This is one of the best and easy-to-visit Rome underground sites.
Underneath the church lie the bones of almost 4,000 monks. What's unusual about this crypt is that the bones aren't buried. Instead, they adorn the six tiny chapels below the church.
In 1631, the Capuchin monks left their home at the friary of St. Bonaventure near the Trevi Fountain and moved to the Santa Maria della Concezione. The cardinal ordered them to bring the remains of their deceased brothers with them, so all the Capuchin friars could rest in one place. This they did. However, instead of burying the bones, they decorated the walls of the crypts with them.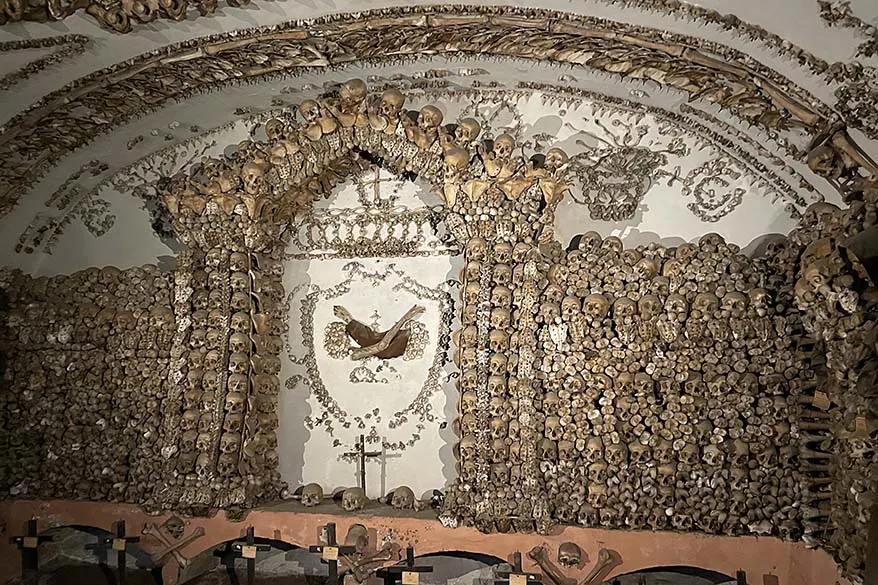 The bones of all the monks who died between 1528 and 1870 decorate the crypt walls, the effect both disquieting and strangely beautiful. The ornaments vary in nature – there are separate crypts for the different bones (skulls, legs, and pelvises), light-fittings made from finger bones, and a skeleton holding a scythe and scales (both, of course, made of bones).
This was meant as a reminder for the monks that death is inevitable. A plaque in one of the chapels reads "What you are now, we once were. What we are now, you shall be". Wandering through the chapels is a melancholy experience, somehow intertwining death, art and religion.
Practical information: Santa Maria della Concezione is located on the Via Veneto near Piazza Barberini, a short walk from the Trevi Fountain. The crypts are open from 9 AM to 7 PM daily. Keep in mind that modest clothing is required and photography is not allowed these days anymore.
TIP: If you like crypts and catacombs, you may want to join one of the popular tours that visit these unique places in Rome. This is the most popular tour that visits the Capuchin Crypt, the Catacombs, and more. Check it out!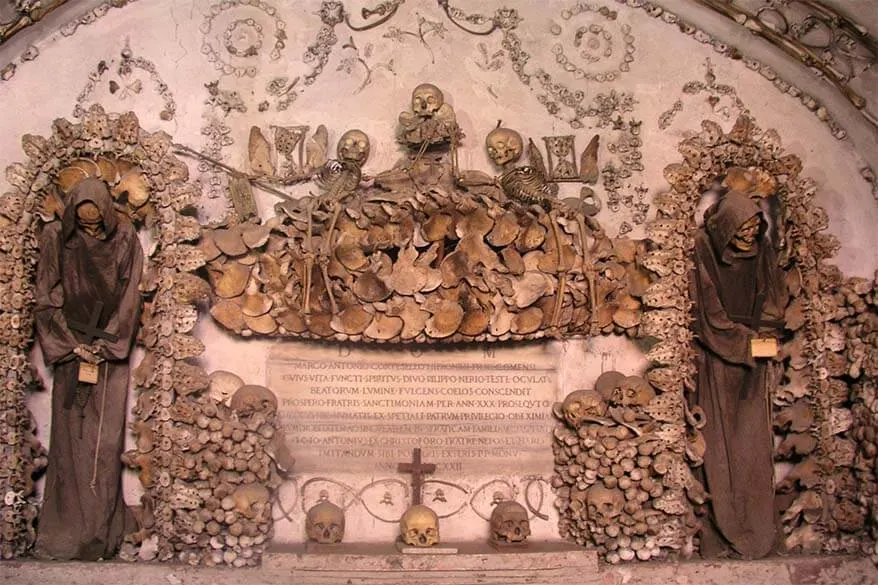 8. Largo di Torre Argentina Cat Sanctuary
Recommended by Cindy of Travel Bliss Now
Largo di Torre Argentina is a town square in the heart of Rome, just a few blocks from the Pantheon. Chances are that you'll notice the ruins just below street level at Largo di Torre Argentina. What you might not know is that this is the very spot where Julius Caesar was assassinated. Nowadays, it's a cat sanctuary.
The ruins of four temples and the remains of Pompey's Theatre date back as far as the 4th century B.C. Julius Caesar was killed on the steps of the theatre on the Ides of March 44 B.C.
When the site was excavated in 1929, feral cats moved in. The cat ladies of Rome started looking after them and eventually established a shelter in one corner of the site. Now, 130 cats live in the ruins. And that's what also makes this place more special to visit – not just the history, but also the cats.
Good to know: You can't access the ruins, but can see the site and the cats, at no cost, from street level. And because this place is so central, you can easily add it to your itinerary, even if you only have a day in Rome. You can also visit the shelter itself, where about 20 elderly or disabled cats live. To get there, take the stairs down to the site at the corner of Via Florida and Via di Torre Argentina.
Practical information: The cat sanctuary is open from noon to 6 PM on weekdays, and 11 AM to 6 PM on weekends. There is no charge to visit, but donations are welcome. You can find more information on their website.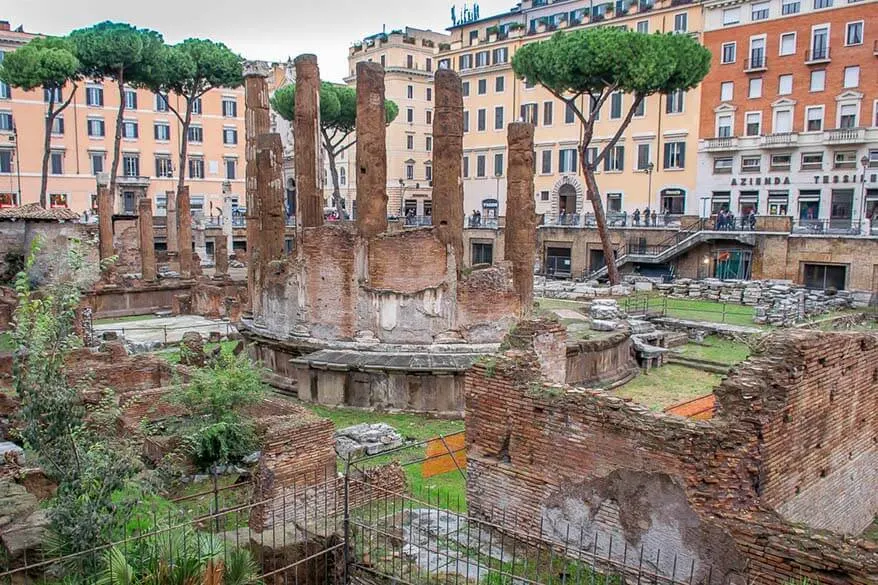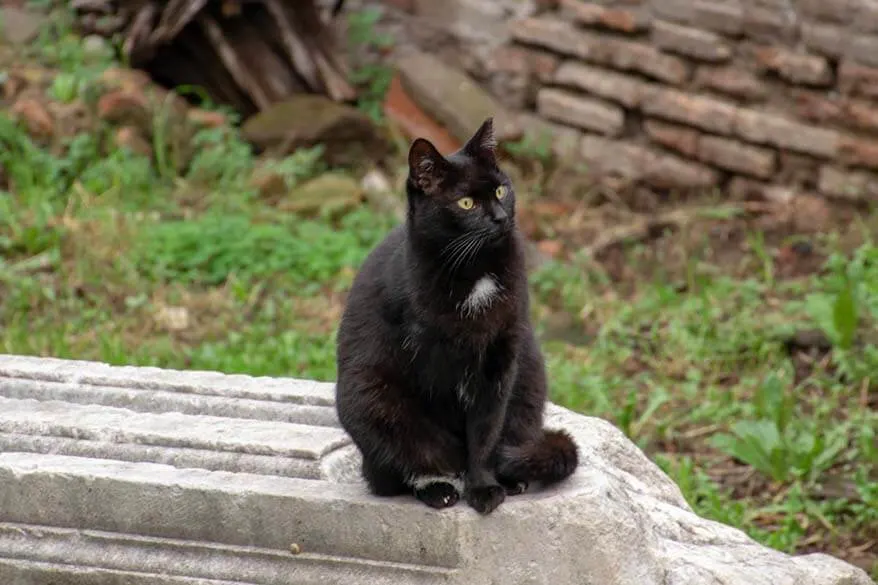 9. Vatican Necropolis & St Peter's Tomb
Recommended by Nicholas of Rambling Feet
St Peter's Basilica is one of the most well-known and visited sites within Rome, but few people visit the ancient Roman necropolis that lies buried under the church.
It is partly because you cannot simply rock up and buy a ticket or wait in line to enter. The process starts with writing to the Vatican Scavi office ahead of time, hoping you get a reply confirming your spot on a guided tour. If successful, you would be one of only 250 visitors who would be permitted to enter that day.
As the tour descends the stairs to the underground necropolis (there are no lifts), you will be taken two millennia back in time. Vatican Hill was once outside the city walls of Rome. It covered in the 1st and 2nd-century mausoleums that lie under the present-day St Peter's Basilica. Incredibly, they were discovered only 80 years ago and the paintings on some mausoleums are very well-preserved.
Inside, there are also old piers and structures that date to Emperor Constantine's Old St Peter's Basilica. That church was torn down and replaced in the 1500s by the Bramante/Michelangelo masterpiece that we see today.
For pilgrims, the Vatican Necropolis is especially significant because it is also the site of the tomb of the Apostle St Peter. To paraphrase the Bible, the tour takes you to see the "rock" on which the Church was built.
Good to know: Vatican Necropolis is very humid and stuffy, so I would not recommend visiting it in the middle of a Roman summer. No photography is permitted during the tour, hence the publicly-sourced photo for this write-up. Lastly, the tour ends in the Vatican grottoes where the popes are buried, which means that taking this underground tour is one of the ways you can skip the queue to enter St Peter's Basilica.
Alternatively, you can just visit the underground of St. Peter's Basilica – Vatican Grottoes. Here, you can visit the publically accessible St. Peter's Tomb (one level higher than the original St Peter's Tomb) and see where some of the Popes are buried. It's not the same as going deeper, of course, but much easier to do without any prior arrangements.
TIP: You can also do this with this amazing tour that includes St. Peter's Basilica and Dome visit as well as the underground grottos. We recently did this tour and it was a good way to learn more about the Basilica without getting overwhelmed or trying to figure out where exactly to go and what's worth seeing the most.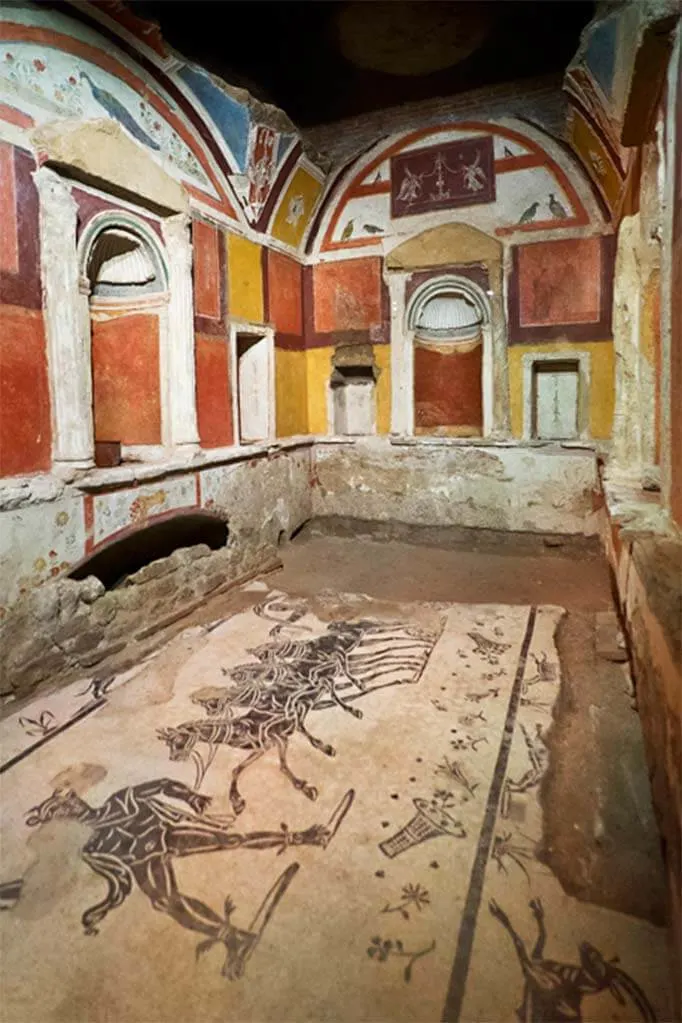 10. Appian Way
Recommended by Jyoti of Story at Every Corner
Dating from 312-264 BC, Appian Way was the first and the most strategic road in Rome. Used for military transportation, this road also led to many conquests for the Roman Empire. These days, visiting the Appian Road is one of the most special, unique things to do in Rome! After all, how many things stand the test of time for thousands of years?!
The Appian Way is the longest straight road in Europe (62 km). It went from Rome to the coastal town of Brindisi, on the other end of the peninsula. Many of the sections of this iconic 2,300 years old road survive to this day. Much of it is renovated and used by cars and other vehicles. So you can drive on the oldest road in Europe!
There are many ways to explore this historic route. Most locals come for a stroll and a peaceful walk on the quiet tree-lined sections of the road. For a quick visit, the easiest way is to come with an e-bike tour. We opted for a horseback ride. The section we visited is well preserved with its original stone road and remains of many buildings, temples, and mausoleums next to it.
TIP: On hot summer days, it's best to visit in the morning or evening.
Practical info: There is no entry fee or even an entrance gate for the road. You can visit any time. As already said, the easiest way to visit is with a tour. Alternatively, you can get here by bus. You'll have to check the bus route and schedule on Rome's transit site.
TIP: This Appian Way, Aqueducts & Catacombs e-bike tour also visits the Appian Way, Roman Aqueducts, and it includes a visit to the Catacombs of St. Callisto (more info about these places – below). We did this bike tour on our most recent visit to Rome and it was one of the best days in the city! It's such a great way to explore Rome off the beaten path and see so many amazing hidden gems in a short time.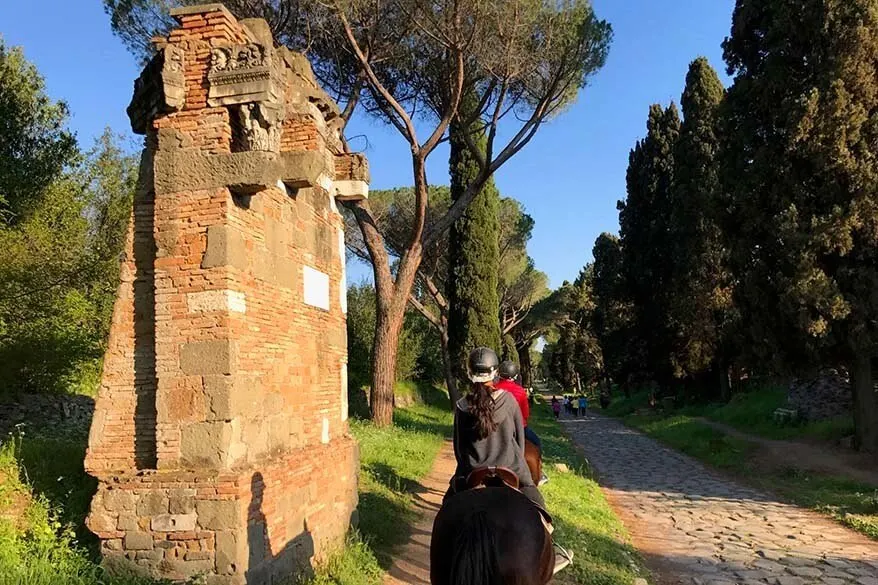 11. Catacombs of St. Callixtus
There are few places in Rome that are as unique and as special as the Catacombs of St. Callixtus (Catacombe di San Callisto). So if you are looking to discover hidden Rome, definitely consider a visit here. Nowhere else can you feel and experience history as you do here!
St. Callixtus Catacombs are located just outside the city walls of Rome, along the Appian Way. It's an ancient burial site containing about 500,000 tombs dating from the 2nd-4th centuries. It's best known for the Crypt of the Popes, where some of the first popes were buried, the grave of St. Cecilia, and some ancient frescoes.
The catacombs have several underground layers connected by staircases and about 20km of tunnels. You can only visit here with a guide, so no worries about getting lost. A guided tour includes a visit to the second underground layer where the most interesting crypts and graves are located. You also walk through several corridors and a visit here gives you a very good idea of the vastness of this site.
Good to know: It's not a creepy place and one that you can also visit with children (there were lots of kids when we visited and – with the right explanation – they all seemed to be really interested and found the visit fascinating). All the open graves that you'll see have been emptied and the bones were moved to the lower levels where tourists aren't allowed (this is because of the vandalism in the past).
Practical info: St. Callixtus Catacombs are open daily except for Wednesdays and some public holidays, in the morning from 9 am to 12 and in the afternoon from 2 pm to 5 pm. You have to book your tickets in advance – see their website for more info or book your tickets here.
The catacombs are located outside the city and can be reached by public transport. You can also drive here by car or taxi. However, the easiest way to visit here is with an organized tour, often in combination with the Appian Way and/or some other interesting sites. That way, you don't have to worry about any practicalities.
TIP: As already mentioned before, we visited these catacombs on this Appian Way, Aqueducts & Catacombs e-bike tour. It's a wonderful tour that covers some of the most unique places in Rome in just half a day. Highly recommended!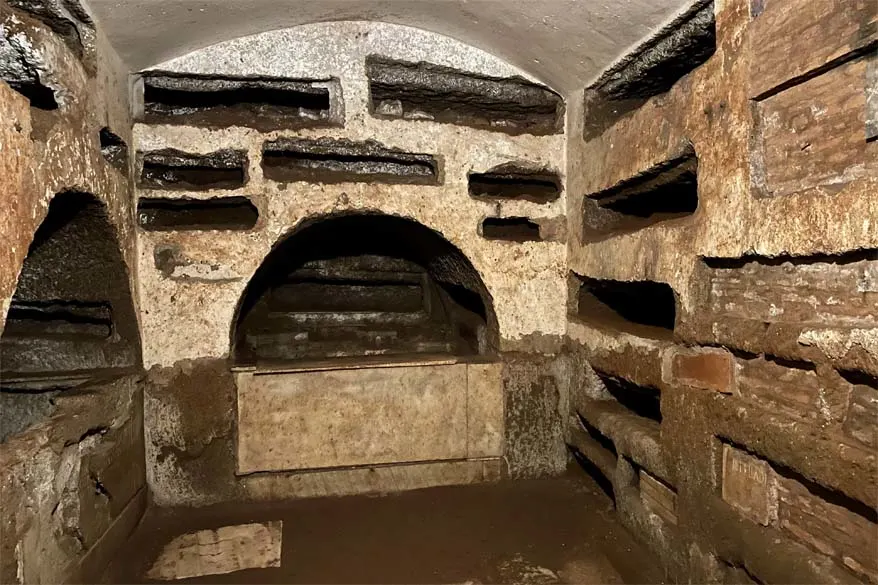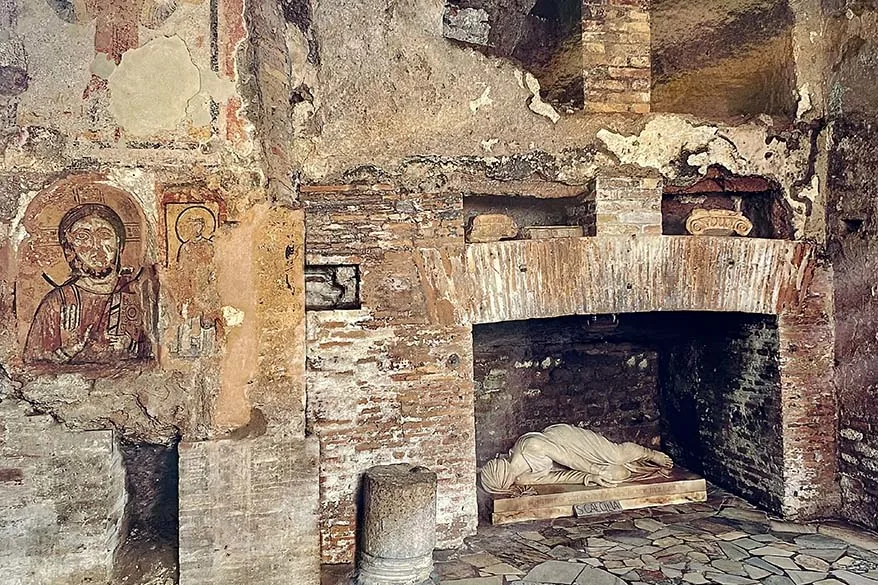 12. Chiesa Santa Maria Addolorata
In the city of 900 churches, one more impressive than the other, Chiesa Santa Maria Addolorata (Church of Our Lady of Sorrows) is well worth including in your list of the hidden gems to visit. Not only because it's located close to the earlier-mentioned Coppedé district, but also because it's truly beautiful!
Commissioned by Argentine priests and sponsored by Argentine bishops, this was the first South American national church in Rome. It took 20 years to build and the church was inaugurated in 1930.
Chiesa Santa Maria Addolorata on Piazza Buenos Aires is quite different from most of the other churches in Rome. On the outside, you'll find beautiful mosaics that change color depending on the light. Inside, the church has two levels and a Neo-Byzantine interior with even more impressive mosaics.
Good to know: There are two churches in Rome with the same name. See our map for the exact location.
Practical information: The church is open daily and is free to visit.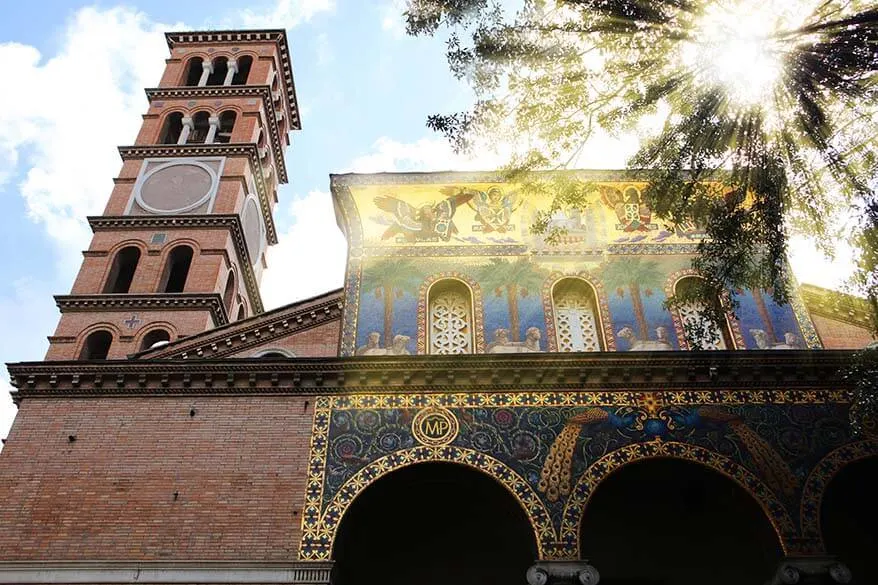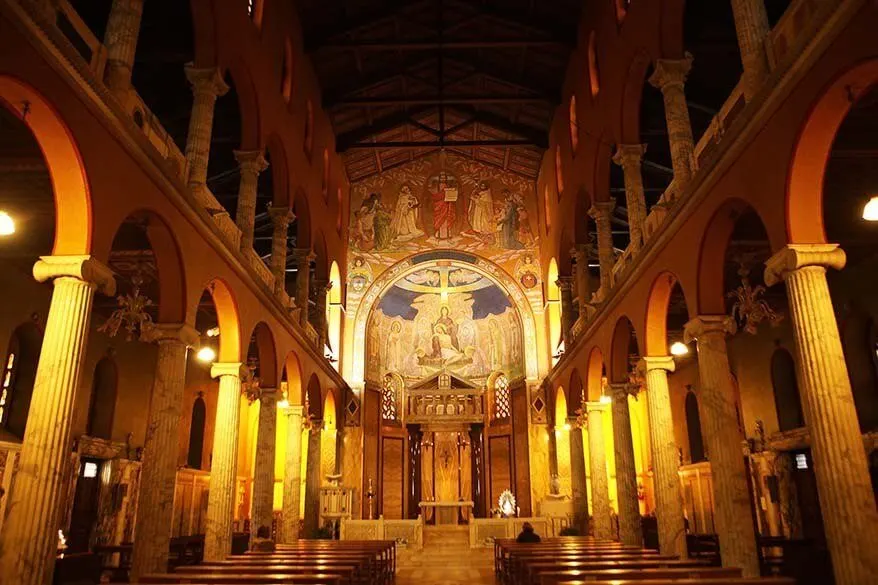 13. Gianicolo – Janiculum Hill
Gianicolo or the Janiculum Hill, also called the 8th Hill of Rome, is another beautiful area that is overlooked by most travel guides. It offers some of the best views of the city of Rome!
Gianicolo is located South of Vatican City, just above Trastevere, and can be easily reached on foot. It's a bit of a climb though, but the views over the city of Rome are certainly worth it.
The main attraction is the Piazzale Garibaldi with Giuseppe Garibaldi Monument and a cannon that fires each day at noon. In addition, make sure not to miss the 17th-century Aqua Paola Fountain (Fontana dell'Acqua Paola) as well.
Gianicolo is an amazingly quiet area and a good way to escape the city and get a bit off the beaten path.
TIP: One of the best ways to explore Gianicolo and some of the other further located areas in Rome is by taking a bike. You can rent a bike or join a highly-rated electric bike small-group tour.
Private e-bike tours are also available and are great if you want to explore Rome deeper with a local guide but at your own pace.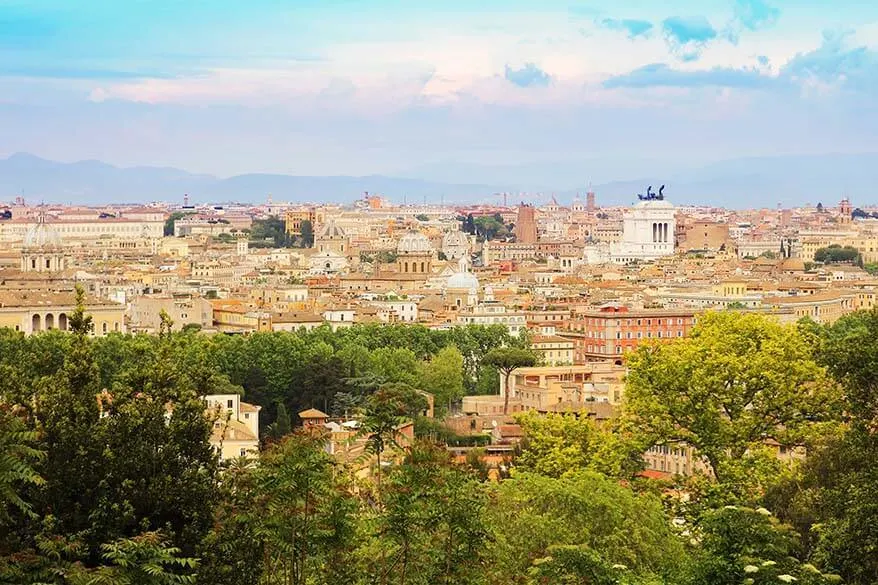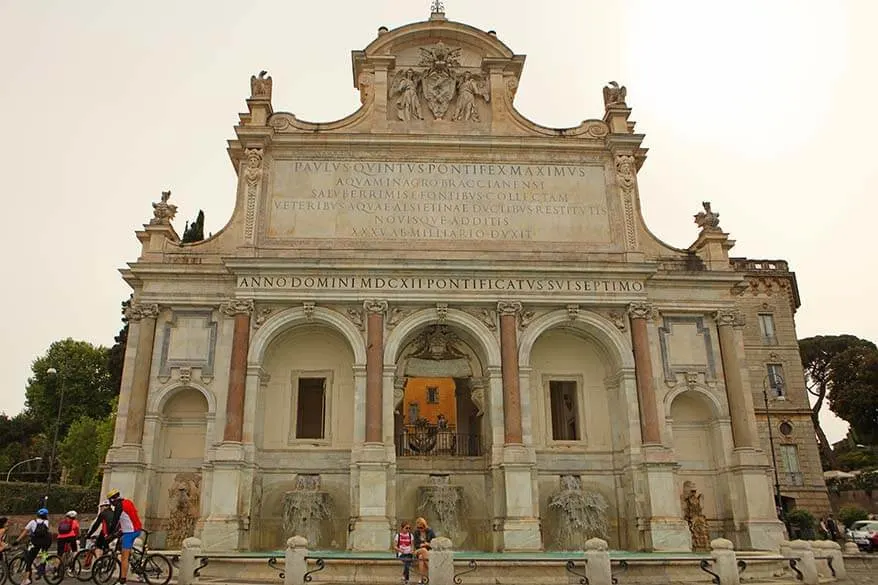 14. Park of the Aqueducts
Recommended by Anda of Travel for a while
One of the most interesting places in Rome – and a hidden gem at the same time – is the Aqueducts Park (Parco degli Acquedotti). This protected area in the southeast of the city hosts two major aqueducts – Aqua Felix and Aqua Claudia – and the remains of a few others.
These aqueducts were used to bring water from the Alban Hills to the busy city of Rome. Aqua Felix was built by Pope Sixtus V in the 16th century. Aqua Claudia is a much older aqueduct, finished during the reign of Emperor Claudius, in 52 AD. Aqua Claudia is still very impressive with its huge arches dominating the fields.
The Romans used only gravity to bring clean water from the higher ground of the hills to the city. The water filled Rome's many fountains and was used for drinking and bathing.
The best time to visit the Aqueducts Park is just before sunset. The aqueducts and the umbrella pine trees create a picture-perfect setting at that time. A small part of the Ancient Via Latina is also visible in the Aqueducts Park. The locals come here with their bikes or their dogs, or just for a run. It's a great place to spend an afternoon with friends or family.
Practical info: You can easily reach the Park of the Aqueducts from Rome's center by metro line A to either Lucio Sestio or Giulio Agricola stations. The park is a short walk away from the metro station and it is free to visit.
TIP: This highly-rated small-group e-bike tour visits the Park of the Aqueducts, as well as several other hidden gems of Rome mentioned in this article. We did this tour and LOVED it. Check it out!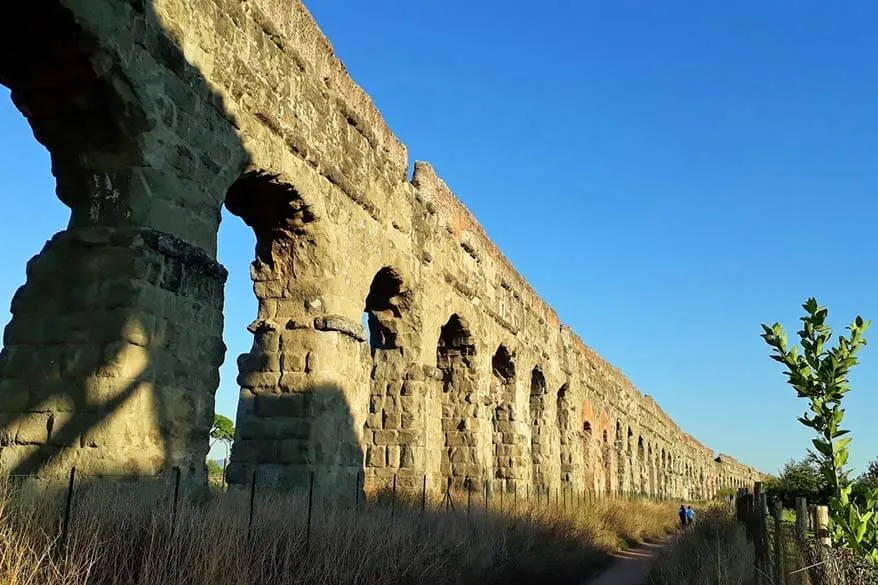 15. Galleria Sciarra
Recommended by Kate of Our Escape Clause
Located a mere two-minute walk away from the famous Trevi Fountain, visiting the Galleria Sciarra is both easy and well worth the small effort. This beautiful courtyard, which today stands in the center of an office building, was commissioned by Prince Maffeo Barberini-Colonna di Sciarra in the late 19th century to connect several pieces of his property together.
Repeating a fairly common story in modern Italy, what was once the private realm of wealthy citizens has morphed into a public space. Today, Romans use the Galleria Sciarra as a shortcut when walking across the city.
The courtyard is decorated in an intricate Art Nouveau style, with an iron-and-glass ceiling that brings beautiful light to the space and, most strikingly, intricate frescoes showing off the "Glorification of Women". The frescoes are painted to show off what the artist, Giuseppe Cellini, believed to be female virtues, including strength, justice, and faithfulness, among others.
Soaring high above a visitor's line of sight, it's easy to spend several minutes craning your neck upward to make out various details of the frescoes when visiting this hidden gem in Rome.
Practical information: The Galleria Sciarra is located at Via Marco Minghetti, 10, 00187 Roma RM. While it is a very short walk from the Trevi Fountain, you're very unlikely to stumble across it accidentally–the courtyard lurks just out of sight, tucked into an unassuming yellow building. As the Galleria Sciarra is located in an office building, it is open to visitors during business hours.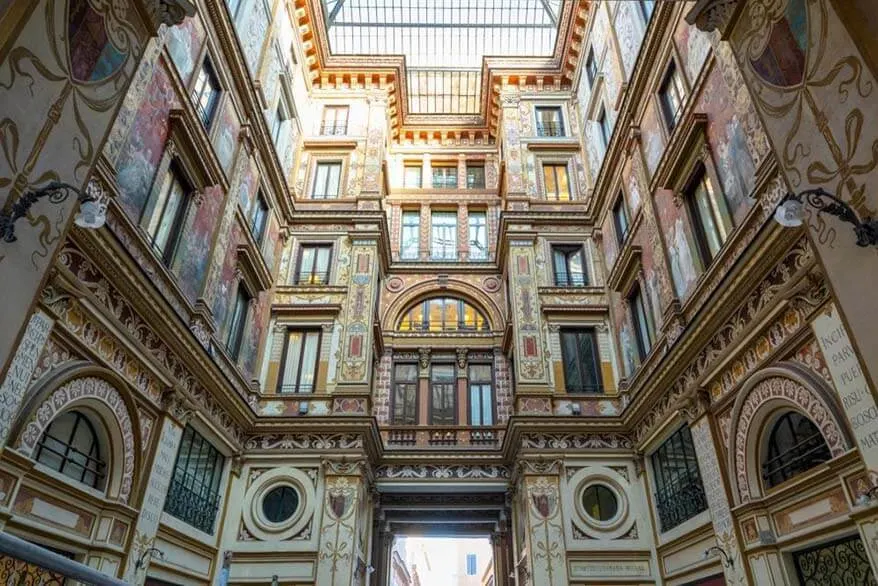 16. Domus Aurea – Nero's Golden House
Recommended by Steph of The Mediterranean Traveller
Hidden in plain sight is one of Rome's most intriguing archaeological sites – Domus Aurea, or Nero's Golden House. It's located in a leafy park just over the road from the Colosseum, but not many people know about it. Don't go expecting a literal palace of gold though. This one is underground, although confusingly also at ground level, and was stripped of its splendor a long time ago.
So what's the story? You may have heard of Nero, the fifth emperor of Ancient Rome whose cruelty and madness is legendary. He famously fiddled as Rome burned in the Great Fire of AD 64. There were even rumors that he started the fire himself. Whether or not these stories are true, Nero did use the opportunity to seize a lot of the damaged land for his new palace project.
The site then became a vast country estate in the heart of the city, possibly as large as 300 acres. At its core was an extravagant villa complex designed for entertaining – lined with frescos, gold leaf, gleaming marble, and mosaics made with ivory and semi-precious stones.
There was a golden dome with an oculus, endless pools and fountains, and reputedly even a banquet hall that rotated as guests were showered with rose petals. Domus Aurea represented the best of Roman art and engineering and the worst of its excesses.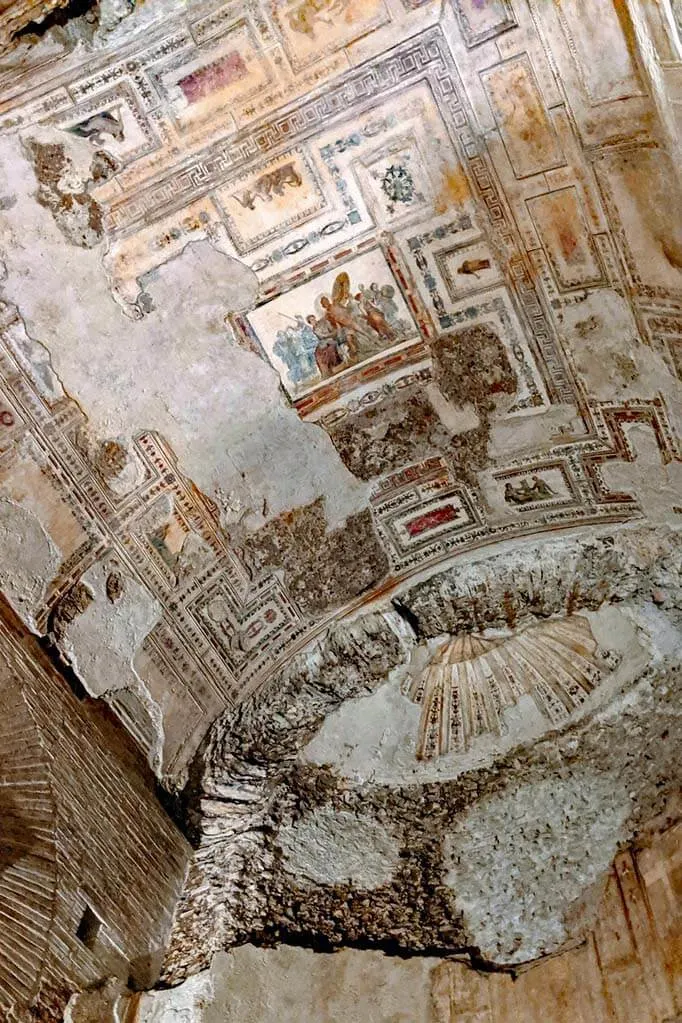 After Nero's death, the complex was destroyed by subsequent emperors and the land was returned to public use. The main building was filled with rubble and built over – the Baths of Trajan are directly above.
And so Domus Aurea was lost until the 15th century when a local fell through a hole in the ground and found himself in a cave filled with intricate paintings. The gems and gold had been looted after Nero's death, but the rubble protected the frescos from light and moisture. The discovery of these caves (grottos) had a big influence on the early Renaissance artists of the time.
Excavations at the Domus Aurea are ongoing. Nowadays, you can take a guided tour led by one of the archaeologists. There's a fantastic virtual reality experience in one room that gives you a sense of what the grounds and building would have looked like in Nero's time.
Practical information: Domus Aurea can only be visited with an official guide and tickets must be purchased in advance! You can opt for just a guided visit or – recommended – a tour that also includes an amazing Virtual Reality Experience.
Also, don't trust Google Maps to find it. Instead, walk along the Via della Domus Aurea from the Colosseum, turn left at Viale Serapide, and look for the gate.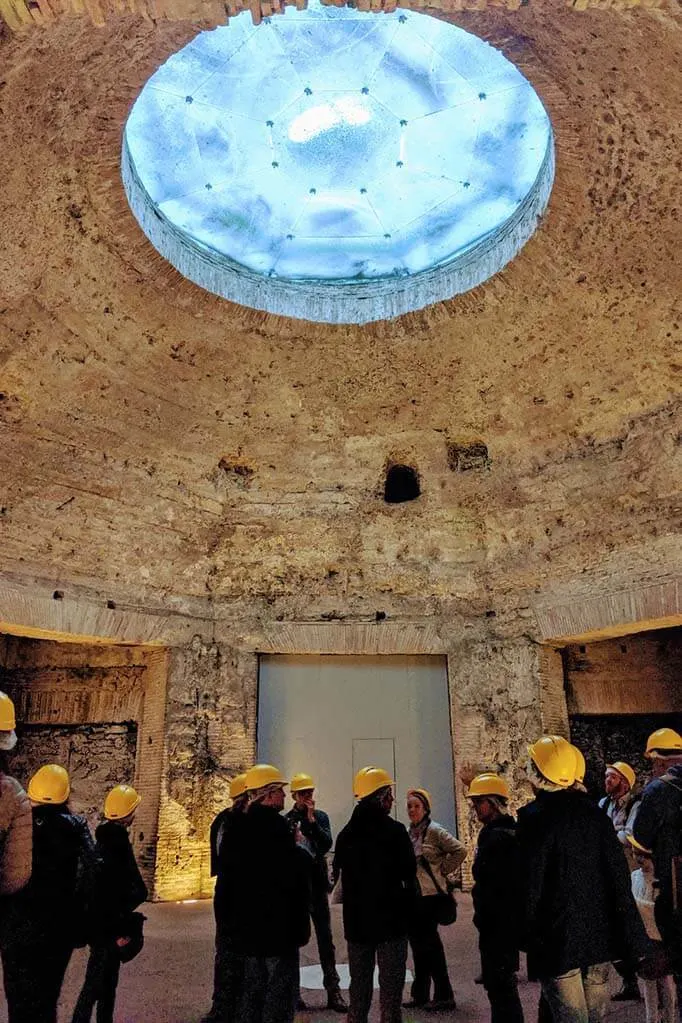 17. Baths of Caracalla
Recommended by Katy of Untold Italy
Rome is full of ancient Roman landmarks and 2000-year-old sites, but if you are looking for a really special place, don't miss the Baths of Caracalla (Terme di Caracalla or Termae Anthoninianae). These are some of the most impressive Roman Empire ruins still standing in the Eternal City.
Built around 212 AD, the baths were in use for 300 years before falling into ruin. At their peak, the Baths of Caracalla (named after the son of the Roman Emperor who commissioned them) was the second-largest bathhouse in the city.
In fact, it is best to think of this site as more like a modern day leisure center. Along with bathing houses, there were also saunas, a sports center, an Olympic-size swimming pool, gardens, and libraries for the Roman citizens to enjoy. The baths themselves were heated by a system of underground furnaces.
When you visit the baths, you can appreciate the grandeur and scale of this complex. Now a working archaeological site, you can watch stunning mosaics being painstakingly uncovered and restored.
TIP: Make sure you choose the interactive guide! It shows you virtual reconstructions of the baths based on the archeologic research. This digital project shows how the baths were constructed and then filled with art and sculpture that covered the walls and ceilings that soared 44 meters overhead.
Practical information: The Baths of Caracalla are located on Viale delle Terme di Caracalla 52, close to the Circus Maximus and Metro Line B Circo Massimo. You can find more information on the official website. Alternatively, you can also visit here with this highly-rated tour that includes several other ancient landmarks as well.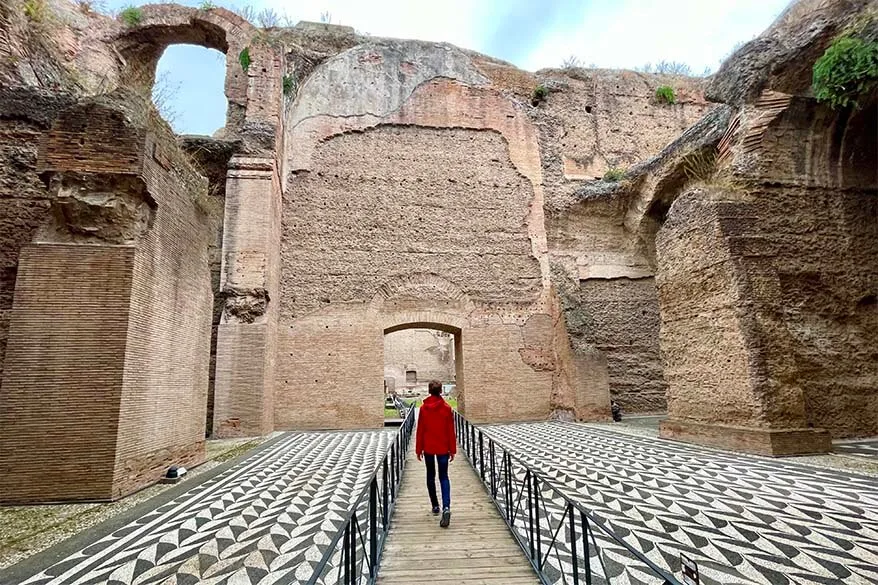 18. Villa Borghese
Villa Borghese is the largest public park in Rome and it's a great refuge from the hectic noisy streets of the city. The park is huge and you would probably need a day to see most of what it has to offer, but it's a nice place to escape the city, even if just for a few hours.
The park is known as the 'park of museums', the most famous one being the Galleria Borghese which is located in the Villa Borghese after which the park is named. But there is more to the park: the lake and many fountains, the old-fashioned puppet theatre, a small zoo, the beautiful gardens,…
Villa Borghese park is located to the North of the Spanish Steps and Piazza del Popolo and is a bit outside of the regular tourists' routes and even outside some of the city maps, but it's not really that far. You can easily walk there from the city center.
The best way to explore the park is by bike and there are several places where you can rent one. There is also a small tourist train driving around the park in the high season. If you are visiting Rome with a family, you could rent one of the 4-6 seater bikes to explore the park.
I really enjoyed this oasis of green and quiet in the middle of the noisy city. It is the perfect place to escape the heat in summer, to have a picnic, let your kids play, or just relax.
TIP: If you want to visit the Borghese Gallery, you have to book the tickets in advance!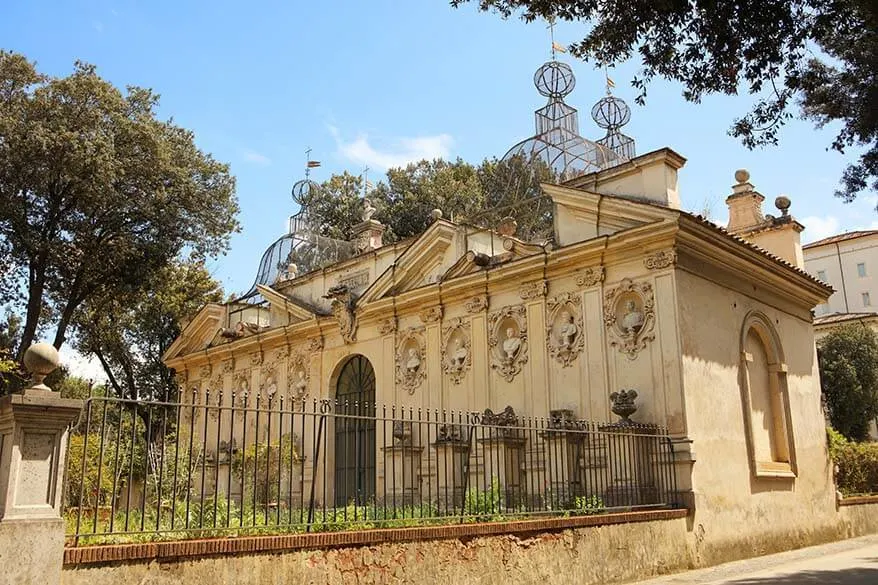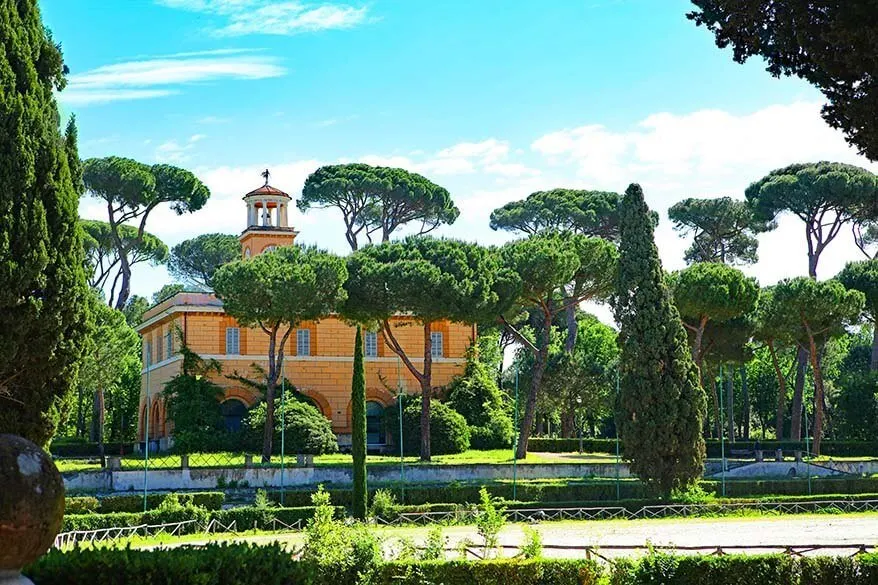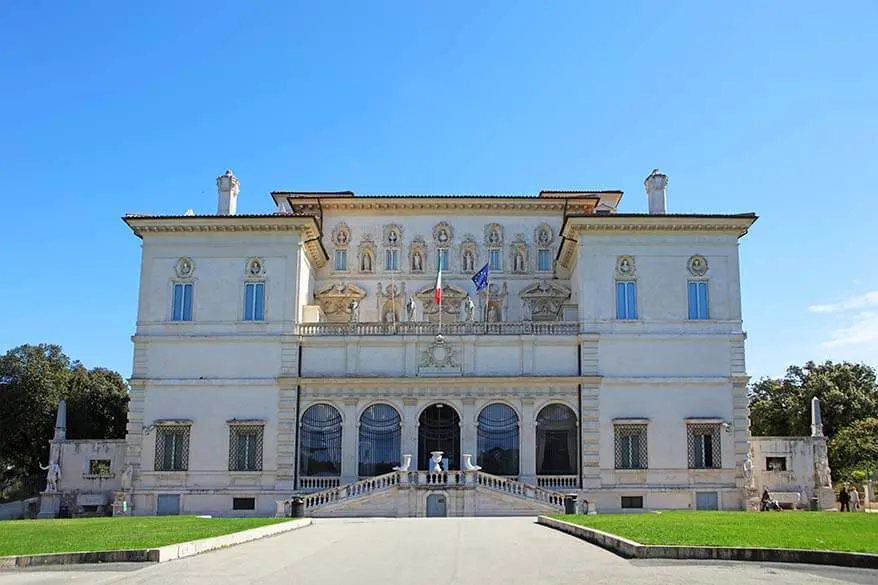 19. St. Clement Basilica
Recommended by Annalisa by Travel Connect Experience
The Basilica San Clemente, located just a short walk from the Colosseum, is one of the most overlooked Rome monuments. From the outside, it might look like any other church in Rome, but this Basilica has so much more to offer than it looks at first sight!
Basilica di San Clemente has three underground layers. They were built in a different time period and each is unique. Visiting here allows you to take a journey through the history and ancient 'layers' of Rome all the way back to the 1st century.
As you enter, the 17th-century facade introduces you to a medieval church. The church that you see dates back to the 12th century. It has three naves with a gold inlaid mosaic in the apse and can be visited for free.
With a 10 euro ticket, on the other hand, you have access to the underground levels that preserve 2000 years of history. The Dominican friars who manage the Basilica and the adjoining convent discovered the underground levels at the end of the 19th century, during renovation work.
Immediately below street level is an early Christian basilica from the 4th century. Its altar holds a relic of St. Cyril and impressive frescoes on the walls.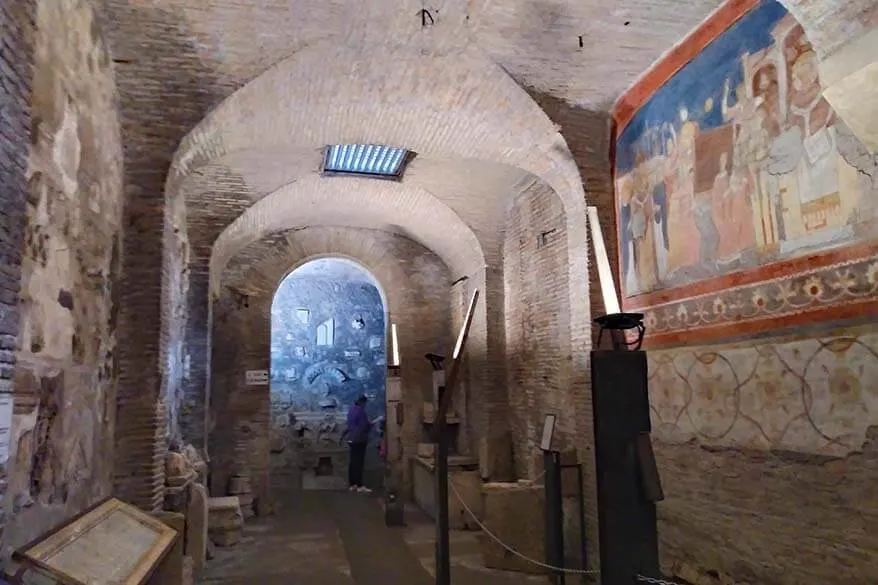 On the floor below, are the remains of two Roman buildings from the 1st century. Inside one 'building' that appears like the foundations of a Roman villa, you'll find a temple dedicated to the god Mithras with a statue of Mithras subduing the bull.
The other 'building' is protected by huge megalithic stones – this is probably a place where they used to create coins.
The floor further down dates back to the time of the burning of Rome by Nero, 64 AD.
Practical information: Basilica di San Clemente is open daily. For opening hours and more information, please check their website. Alternatively, this tour visits Basilica San Clemente and a few other hidden gems.
READ ALSO: Rome Underground Sites, Crypts & Catacombs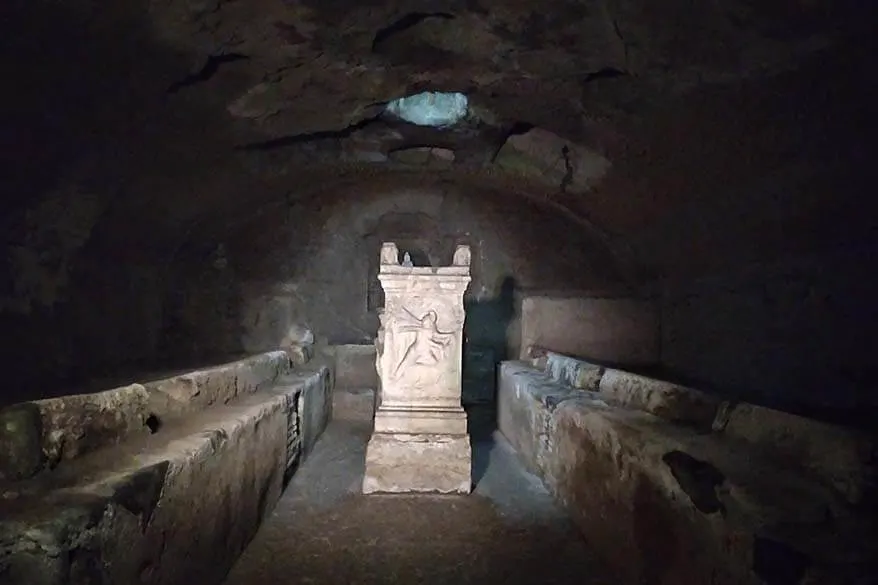 20. Isola Tiberina
Recommended by Jiayi of The Diary of a Nomad
Did you know that there's an island in the middle of Rome's city center? And not just an island. Tiber Island (Isola Tiberina) is one of the smallest inhabited islands in the world and a real hidden gem in the city. Furthermore, it's only a 20-minute walk from the Colosseum and is the perfect place to stop by during a stroll on the Lungotevere (Tiber Waterfront).
Floating on the River Tiber, Isola Tiberina is about the size of three football fields. The island is home to Basilica di San Bartolomeo, which dates back to the 10th century and was built on top of an ancient temple. Inside the basilica, you can see relics from Catholic martyrs that have been chewed up by lions in the Colosseum.
There's also a restaurant and a 400-year-old hospital on the island, which is still in operation today.
The true magic of Isola Tiberina is its transformation into an annual film festival hub in the summer. A pop-up amphitheater is set up there, with hundreds of guests attending different screenings every day.
On summer evenings, Isola Tiberina also comes alive with rows and rows of pop-up bars and restaurants on the island's riverbanks. The nighttime atmosphere there is truly breathtaking, with tons of locals packing the bars and expats meeting up for drinks while live music plays nearby.
But no matter the season, Isola Tiberina is always worth a few minutes of your time. If you're strolling around the city center of Rome, definitely check out this tiny hidden gem on the River Tiber!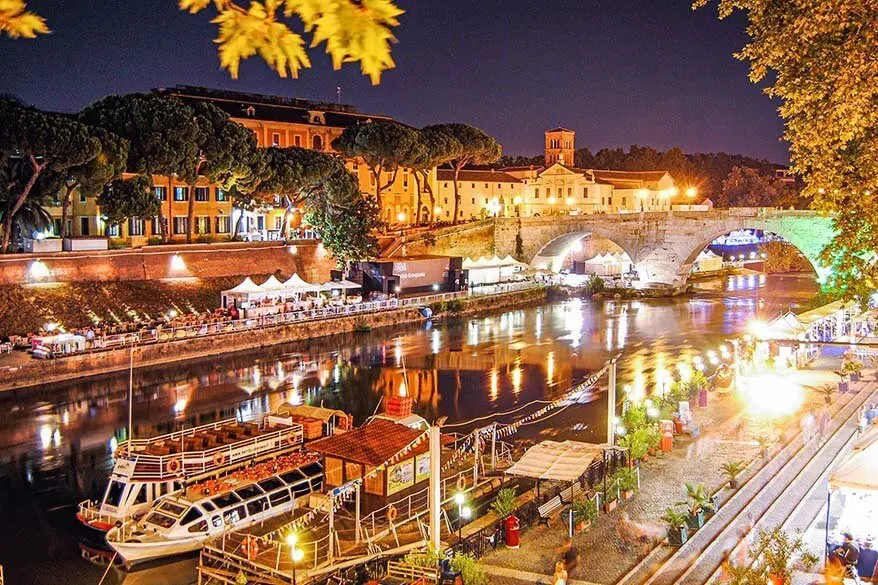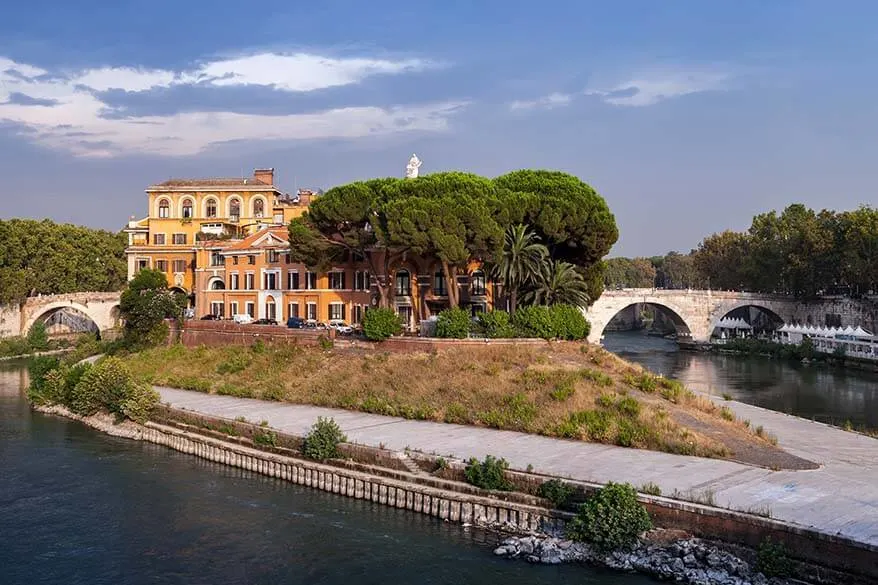 21. Palazzo Massimo alle Terme
Recommended by Stella Jane of Around the World in 24 Hours
The Palazzo Massimo alle Terme, home to one of the branches of the National Roman Museum, is a real gem! It houses one of the most fascinating collections of Roman artifacts and architecture in the city, but doesn't get nearly as many visitors as the most popular landmarks!
In just a couple of hours here, you can explore the beautiful creations of ancient Rome without the crowds that you find at the Colosseum or the Roman Forum.
Fans of ancient art will love the Roman sculptures and jewelry here. But the most impressive part of the museum is its remarkably intact ancient mosaics. The museum even has some mosaics that come from the Villa of Livia, Emperor Augustus's wife.
There are also fragments of a temple dating back to the reign of Emperor Claudius. It's easy to see why some call this museum one of the finest archaeological museums in the world.
Even if you normally don't like museums, you will enjoy exploring the more unusual parts of the Massimo alle Terme. The museum itself is located in a 19th-century palace, so the building itself is very beautiful. Enjoy the shade and admire the sculptures and greenery in the palazzo's outdoor courtyard.
TIP: Your admission ticket will also allow you to explore the nearby Baths of Diocletian, also part of the National Roman Museum. These were the largest Imperial baths in all ancient Rome and remain a spectacular place to explore today.
Practical information: Palazzo Massimo is open from 9 AM to 7:45 PM every day but Monday. Admission is 10 Euros. You can find more information on their website.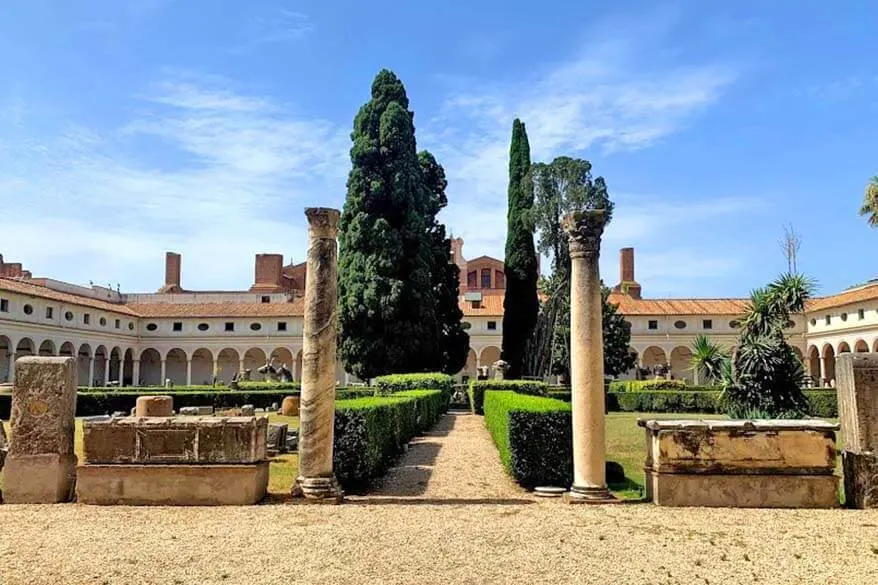 22. Park Caffarella
Recommended by Gabi of Under Flowery Sky
Park Caffarella is a large park in central Rome, only 15 minutes walk from the Colosseum. But it's a world away from the hustle and bustle of the popular tourist areas. This is a place that is mostly visited by locals. You'll have difficulties believing it's in Rome!
So if you want to know the local way of life and get to know a very different side of Rome, I truly suggest visiting Caffarella. Here, you can discover Roman ruins, visit a cheese-farm factory (Casale Della Vaccareccia), see the Tomb of Annia Regilla and the Old Mill Farmstead, or simply take a walk through this simple park.
Historical treasures within the park include the Mausoleum of Cecilia Metela, the Temple of Ceres and Faustina, an artificial cave called Nymphaeum of Egeria with its water source, and also a Great Cistern.
The Almone River that flows into the Tiber adds to the charm of the park. In ancient times, botanical life was much richer here, but also nowadays you can still see a big variety of flora and fauna.
It's a great place to discover the rural side of Rome, to watch over 70 species of birds, and animals like goats, sheep, and foxes. You'll also find maple trees, oaks, walnuts, fig trees, wild roses, wild apples, and so much more.
The park continues to the ancient Appian Way (see higher above) where the Roman Aurelian's Wall proudly stays. These Walls encircled all the seven hills around the Eternal City.
Practical information: Park Caffarella is located very centrally. You can walk here from Colosseum or take a metro to Furio Camillo station. The best way to enter the park is through Via Macedonia.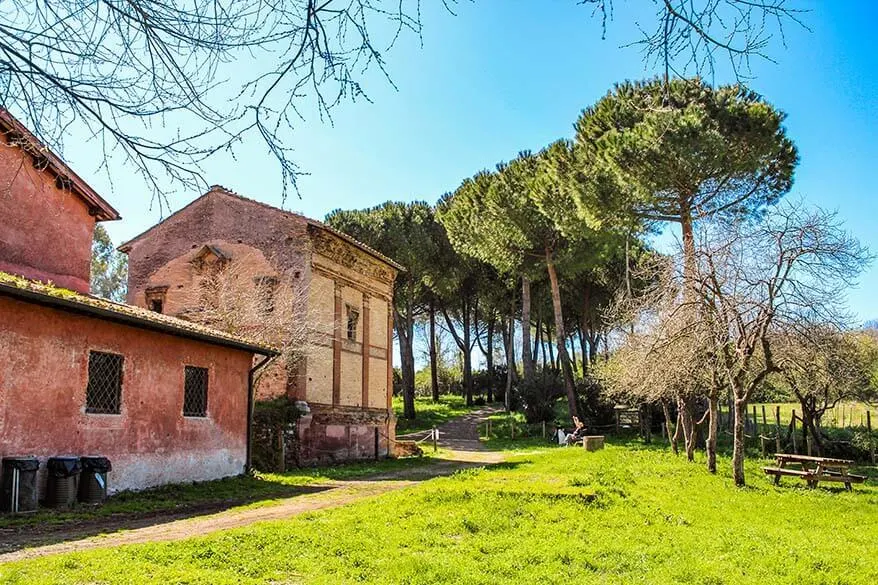 So, here are some of the hidden gems of Rome, the city that has thousands of incredible gems, secret finds, and unique places. Most of these places are really worth your time, but of course, there's no way to visit them all if you are only in Rome for a few days…
But even if you choose just a few places from this list, you'll discover a very different side of Rome. A truly unique city that has more secrets than any other place in the world.
The good news is that most of these places are quite easy to visit in combination with the highlights of Rome. Getting just a bit off the beaten tourist track will make your trip to Rome so much more special and memorable!
READ ALSO: Best Views & Viewpoints in Rome
Best tours to get off the beaten path in Rome
If you are looking for more hidden gems of Rome or want to explore the more local side of this beautiful city, but aren't sure where to start, I recommend booking one or several organized tours with a local.
These great tours bring you to the lesser-known places of Rome and show you a different side of the city that you wouldn't see otherwise.
Here are some highly-rated local tours that I selected especially for our readers. These are one by one excellent and highly-rayed tours that will show you a different side of Rome, far away from the beaten tourist paths. Take a look:
READ ALSO: Best Street Food Tour in Rome with a Local Guide
More information and inspiration for your trip to Rome:
READ ALSO: Italy itinerary: how to see the best places in 2 weeks
If you found this post useful, don't forget to bookmark it and share it with your friends. Are you on Pinterest? Pin these images!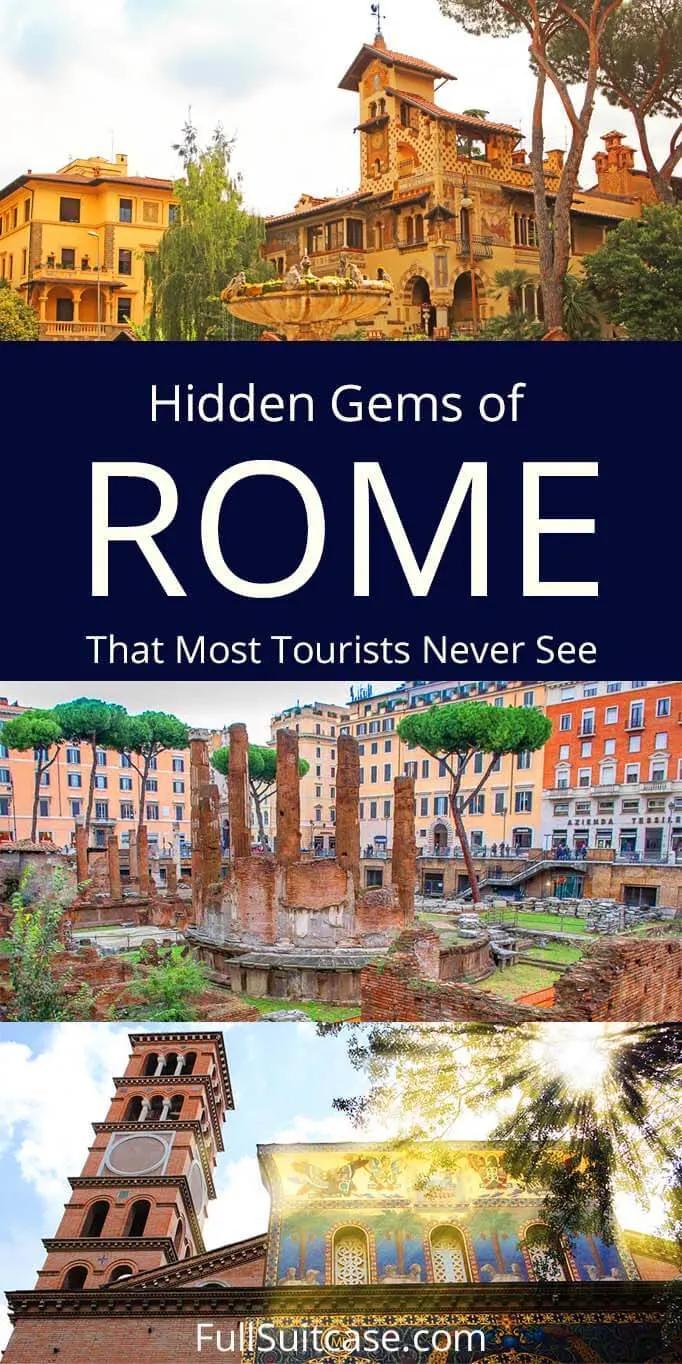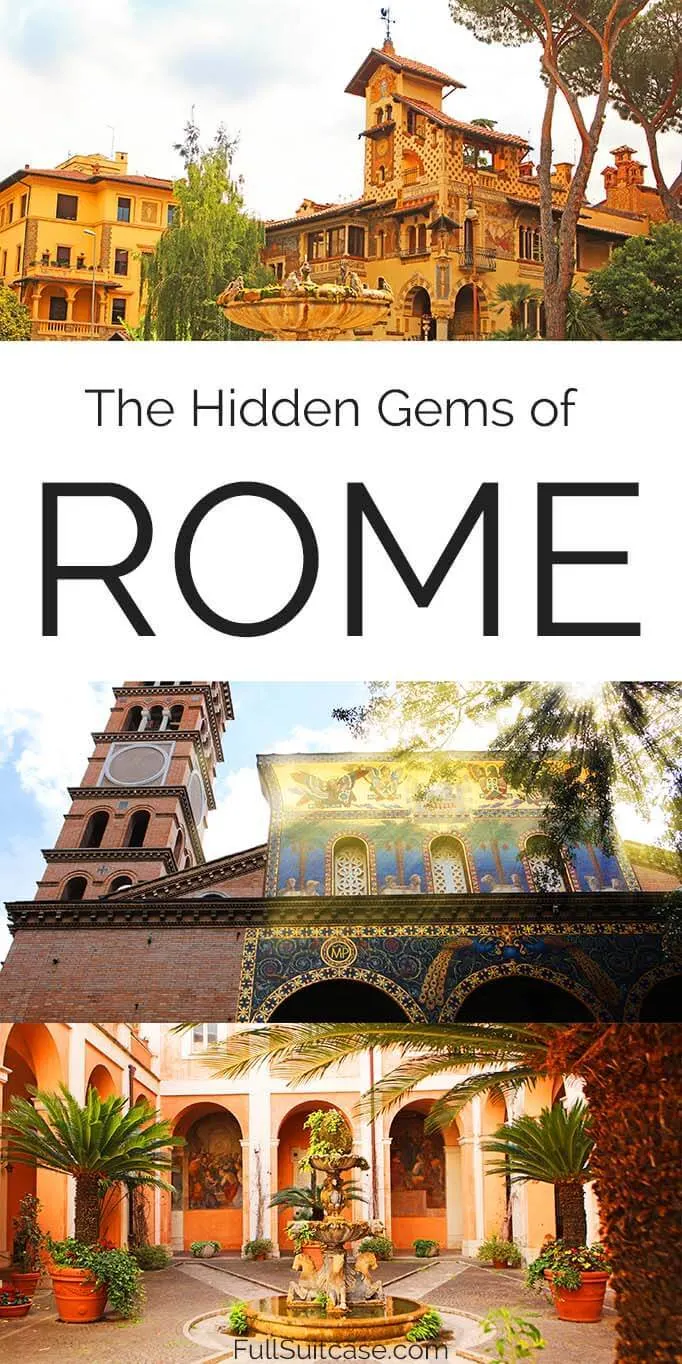 More travel inspiration and tips for Italy: