The city of Chicago is one of the most family-friendly metropolitan areas in the United States and there is literally so much to do there! Perhaps you are thinking of visiting Chicago for a short trip or a weekend getaway and are wondering how to spend 2 days in Chicago or how to see the best of Chicago in two days?
This first-timer's guide to Chicago will bring you to all of the popular Chicago downtown attractions in two days. Find out!
In this article, we include all of the best things to see and do in Chicago in 2 days. Further, you will learn tips on where to stay, how to get around, and what's worth a visit the most if you only have two days in Chicago.
In order to help you decide how to best plan your time, we also include an example of a suggested Chicago itinerary for 2 days. At the bottom of the post, you can find a map featuring all the places mentioned in this guide, in order to help you make the best out of your time in Chicago.
We have been to Chicago several times, but our trips date back quite a few years. So in order to give you an up-to-date guide to Chicago, this article was written with the help of our guest writer Jen from Travel With a Plan. Native American, she recently visited Chicago with her family and agreed to share their best tips and suggestions with our readers.
Take a look at this great guide that shows you how to see the very best of Chicago in two days!
READ ALSO: Chicago Travel Tips for Your First Visit
How to see the best of Chicago in 2 days – OVERVIEW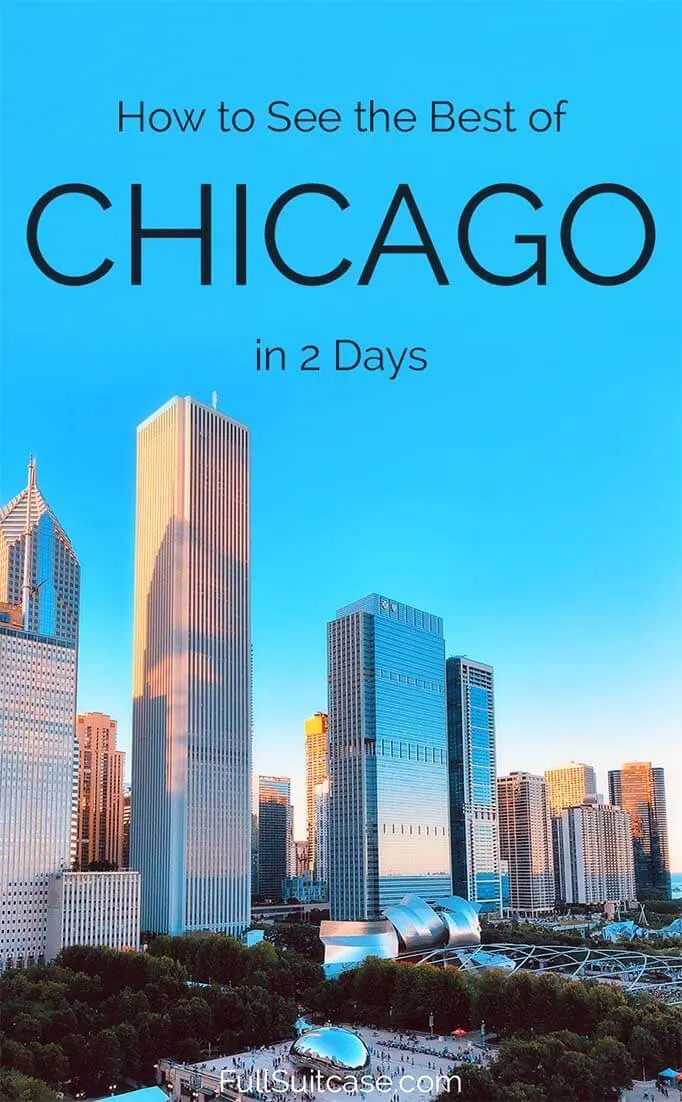 What's so Special about Chicago
If you're fortunate enough to find yourself among the other 55 million annual tourists to the U.S. city of Chicago, there are several things that you should know ahead of time.
Well-recognized for its vibrant city life, upscale shopping, music and arts scene, futuristic architecture, and miles of sandy beaches along Lake Michigan, Chicago is a city rich in both history and modernism.
The (original) entire city of Chicago burned down in what is now known as the Great Chicago Fire of 1871. The massive, state-of-the-art rebuilding effort that took place after that, helped transform the city into the innovative metropolitan "Second City" that it is today.
World-famous for its plethora of unique architectural styles, Chicago skyscrapers include an eclectic mix of 1920s Art Deco, 1960s Postmodern, and 20th century Second Empire architectural designs. Chicago's skyscrapers have been built by some of the world's leading architects. Chicago is now often referred to as "The City of Architecture".
Along with being situated on Lake Michigan, Chicago is well-known for the beautiful Chicago River that winds its way through the heart of downtown. There are lots of sightseeing excursions that take place along the Chicago River, as well as a 1.25-mile Riverwalk to enjoy. The bustling Riverwalk offers visitors and guests a wide assortment of spaces to eat, drink, and play.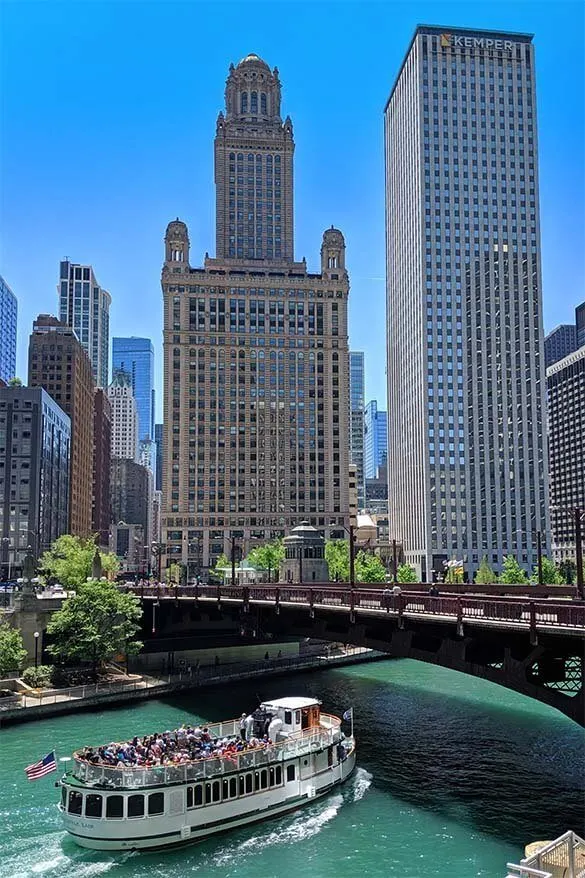 2 Days in Chicago – What to Do
Due to its large size and the big variety of things to do, it is extremely important to have a well-thought-out touring plan when visiting Chicago. Even more so if you only have two days in Chicago and want to see all the best places in a short time!
Our tips below should help you get a better idea of what you can see and do in Chicago in just a few days and how to best plan your time. Find out!
The location of your accommodations is of utmost importance, in order to be able to conveniently walk to and from each attraction. Therefore, we also included some of the best suggestions on where to stay in Chicago. You can jump straight to our hotel recommendations or scroll to the bottom of this article, where you'll also find the suggested 2-day Chicago itinerary and practical tips for your trip to Chicago.
TIP: If you are wondering, this is one of our favorite hotels in Chicago – The Palmer House.
But first – the best things to do in Chicago. Take a look!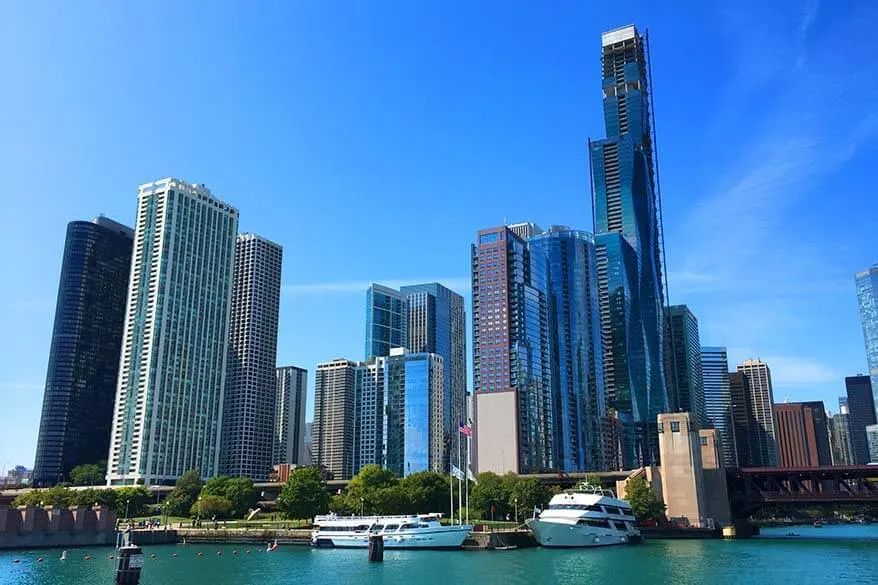 Here are the main things not to miss when visiting Chicago for a few days:
1. Chicago River and Architecture Tours
No matter if you are visiting Chicago for the first time or have been here before, you will most definitely want to immerse yourself in discovering and interacting with Chicago's architecture. There are several ways to do this. Take a look!
There is a big variety of architecture tours in Chicago. From walking tours, bike tours, kayak tours, bus tours to architectural river cruise tours. It's really interesting to visit the Chicago Architecture Center (CAC) as well.
We also highly recommend experiencing Chicago's architecture by river cruise. The guides are very knowledgeable and engaging. They provide insightful commentary on the passing skyscrapers and scenery during this leisurely float down the Chicago River.
An Architecture river cruise is a real must-do in Chicago. If you book just one excursion in the city, this is it! Here you can find more information and book the best Chicago Architecture cruise. You can choose to start either at the Navy Pier or at Michigan Avenue. Be sure to book in advance, especially in the high season!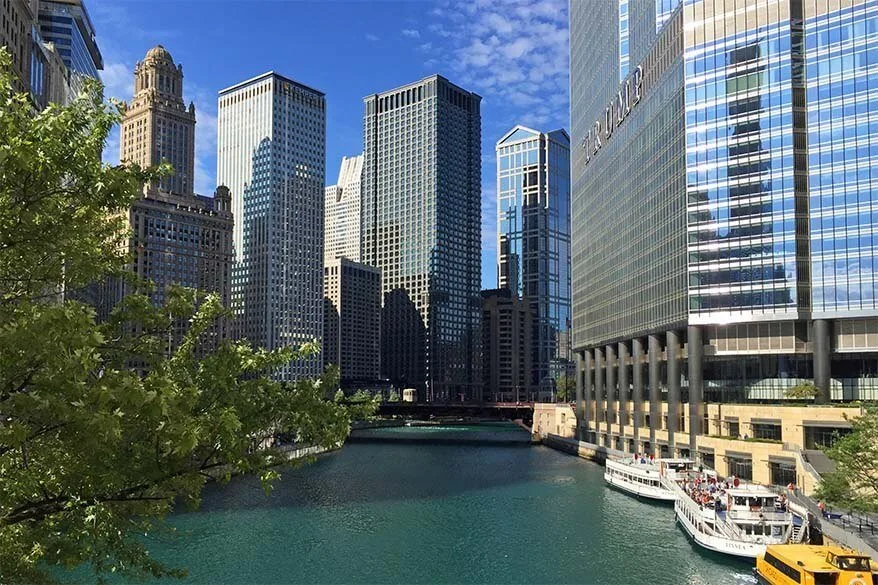 2. Chicago Skyscrapers
It's great to see Chicago's architecture from the water and it's something you really should do. However, no trip to Chicago would be complete without visiting some of Chicago's most famous buildings as well. Even if you have just two days in Chicago, you can and should do this. Take a look at our suggestions below!
Two of the most iconic skyscrapers in Chicago – the John Hancock Building and Willis Tower – have observation decks as well as interactive experiences. You cannot go wrong with any of these. Read on!
360 Chicago and Chicago TILT
360 Chicago and Chicago TILT are located on the 94th floor of the John Hancock Building. The panoramic birds-eye views from the 360 Chicago observation deck are absolutely breathtaking! 360 Chicago also includes interactive learning opportunities, a gift shop, and a modern bar and cafe.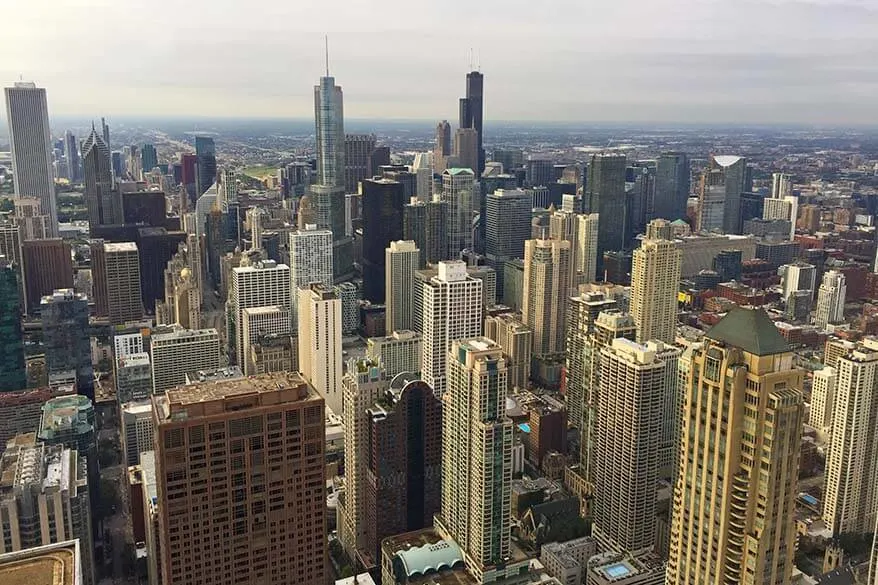 Chicago TILT involves stepping onto a moving platform that slowly tilts you – in a standing position – outside the side of the building.
As you hold onto metal bars, the platform moves outward in 3 increments until you are angled in suspension over Michigan Avenue and the buildings below.
TILT experience is a small additional cost and is really fun to do if you have no fear of heights.
TIP: Get your tickets for 360 Chicago and TILT in advance online and skip the lines at the ticket office.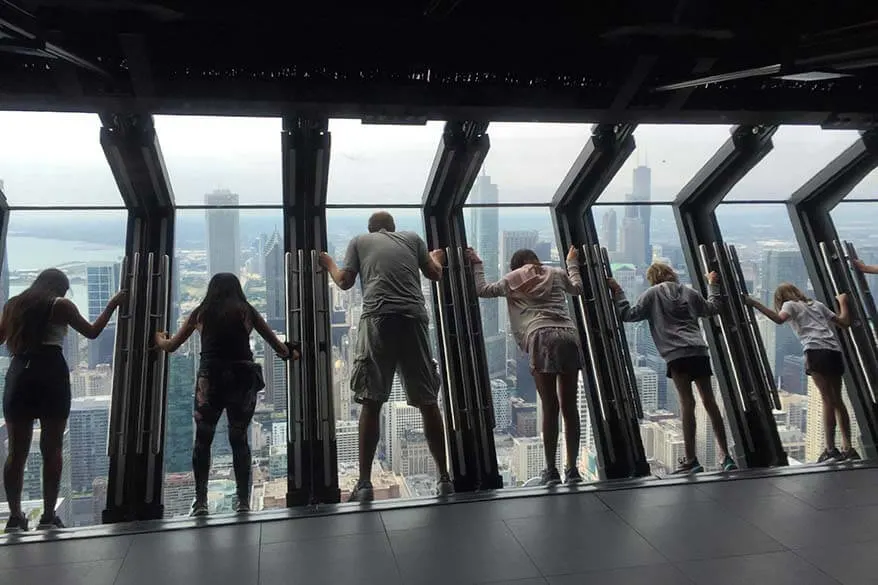 Willis Tower Skydeck and The Ledge Experience
The Skydeck is a similar skyline observation experience and is located on the 103rd floor of the famous Willis Tower. Guests pay to ride the elevators to the top of the Willis Tower for unparalleled views of the city. For an additional fee, you can experience The Ledge.
The Ledge is the highest observation deck in the United States. It's a glass box that extends 4.3 feet out from the edge of the skyscraper. When walking out onto The Ledge, it feels as if you are standing in mid-air 1,400 feet above the ground. To say that the views are both unforgettable and amazing feels like an understatement.
TIP: Get your tickets for Willis Tower Skydeck and The Ledge experience in advance and save time and money.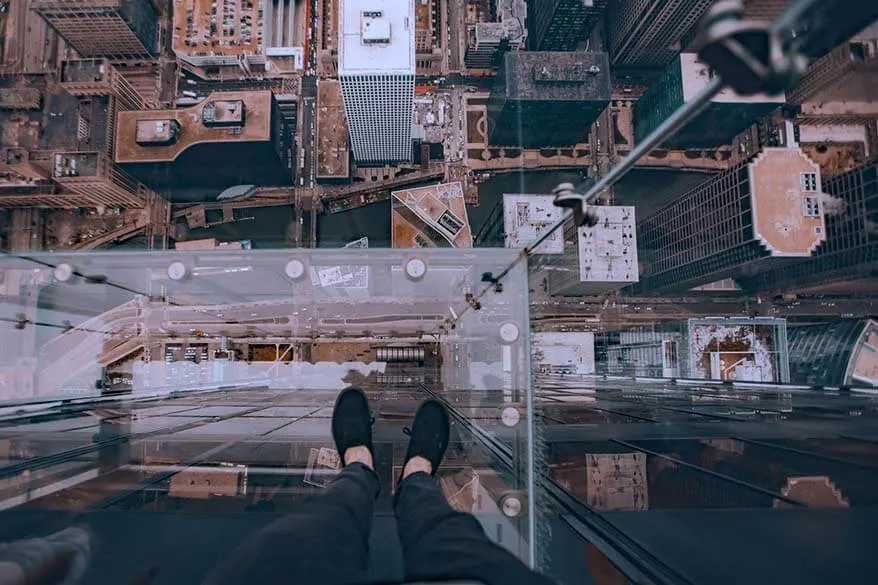 3. Grant Park
Also called Chicago's Front Yard, Grant Park is a huge public park located at the waterfront of Lake Michigan in the Chicago Downtown area. Grant Park encompasses many smaller parks, such as Millennium Park, Maggie Daley Park, but also the Museum Campus. Buckingham Fountain and the Art Institute of Chicago are also located here.
As nostalgic as New York City's Central Park, Green Park is home to Chicago's most photographed attractions, as well as its massive greenspace. Park entrance and everything to do here is free, with the exception of museums.
Below, you can find more information about some of the most notable features of Grant Park that you shouldn't miss when visiting Chicago for two days. Take a look!
Millennium Park
The best things to see and do in Millennium Park include taking photographs at Cloud Gate, watching Crown Fountain, visiting the Lurie Garden, exploring Maggie Daley Park, and touring the Art Institute of Chicago.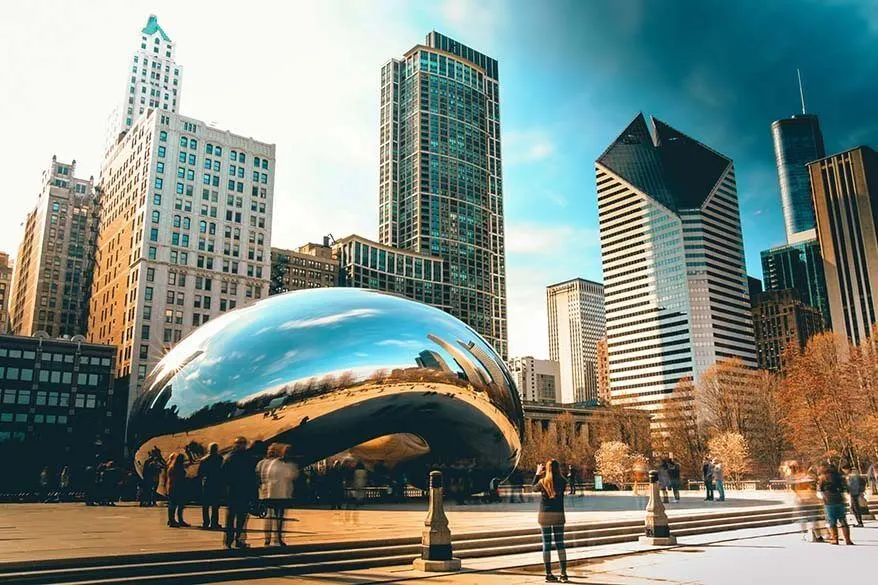 Cloud Gate
The most popular attraction in Millennium Park is the giant Cloud Gate sculpture. Commonly referred to as 'The Bean', Cloud Gate is a kidney-bean-shaped art piece.
It's a great place to take pictures, especially off of its reflective surface. You can see the reflection of the Chicago skyline, walk under The Bean, and take photos from all sides.
Despite the crowds, this space is big enough to accommodate large amounts of visitors. Unless you come here at sunrise or offseason, it's highly unlikely to get a photo without other tourists in it, however.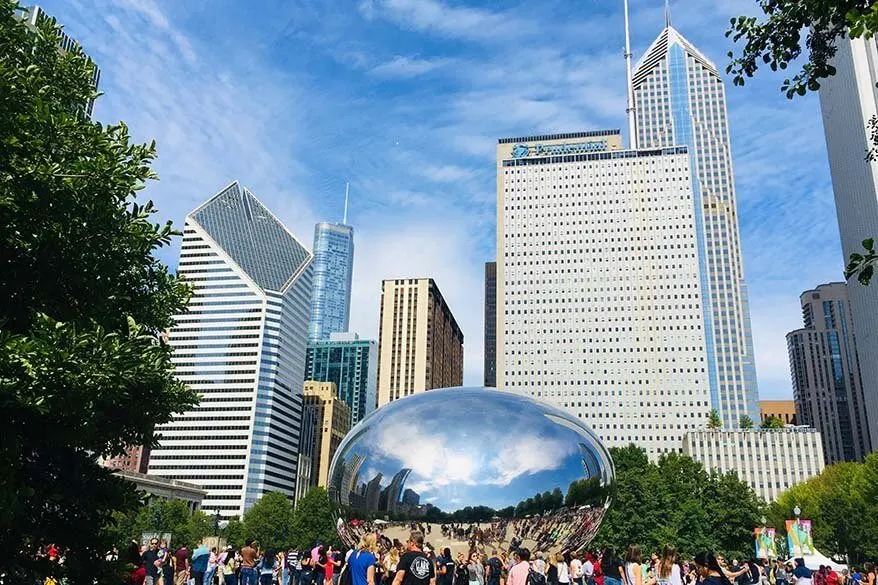 Crown Fountain
Another highlight of Millennium Park is Crown Fountain. Two big LED screens light up while displaying the faces of average Chicago residents.
Every 5 minutes, the mouths of the faces spill water onto the ground creating a shallow reflective pool.
The fountain makes a great place for kids to cool off in the hot summer months.
Maggie Daley Park
Much to the delight of your children, on the edge of Millennium Park you will enter Maggie Daley Park. Here you will find mini-golf, a climbing wall, and 5 playgrounds themed for different ages and abilities.
Large tube slides for older kids, innovative swings, and a splash fountain for younger ones are a few other highlights. The rolling hills and valleys of rubber turf, as well as perfectly incorporated green space make this a great playground for kids. Families with younger children could easily spend a few hours here.
We enjoyed stopping at the snack cart here for an afternoon ice cream treat. For families visiting Chicago with kids, Maggie Daley Park is a must-do. So make sure to foresee some time here when planning your 2-day Chicago itinerary.
Plan to spend 1-2 hours at Millenium Park, especially if you are visiting Chicago with kids.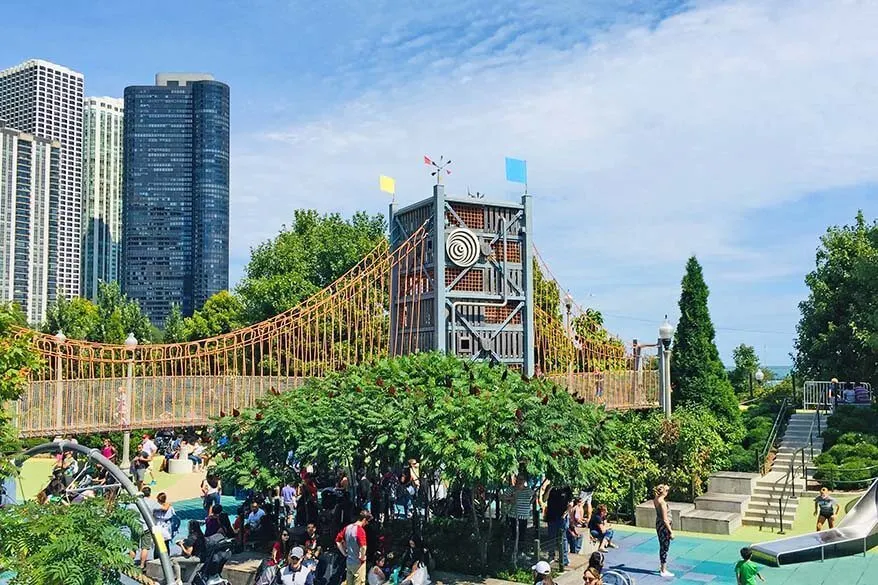 Art Institute of Chicago
Art Institute of Chicago is the second-largest art museum in North America. It's one of the main Chicago attractions and well worth a visit. However, it's absolutely enormous and you can spend the whole day here…
Depending on your interests and the time that you have, you may want to skip visiting the Art Institute or just spend a few hours here. With just 2 days in Chicago, it might feel a bit too rushed…
Still, this is one of the best things to do in Chicago, so I'll leave it up to you to decide if it's worth a visit if you only have little time inside.
If you visit, make sure to get the fast pass tickets – it will save you some precious time!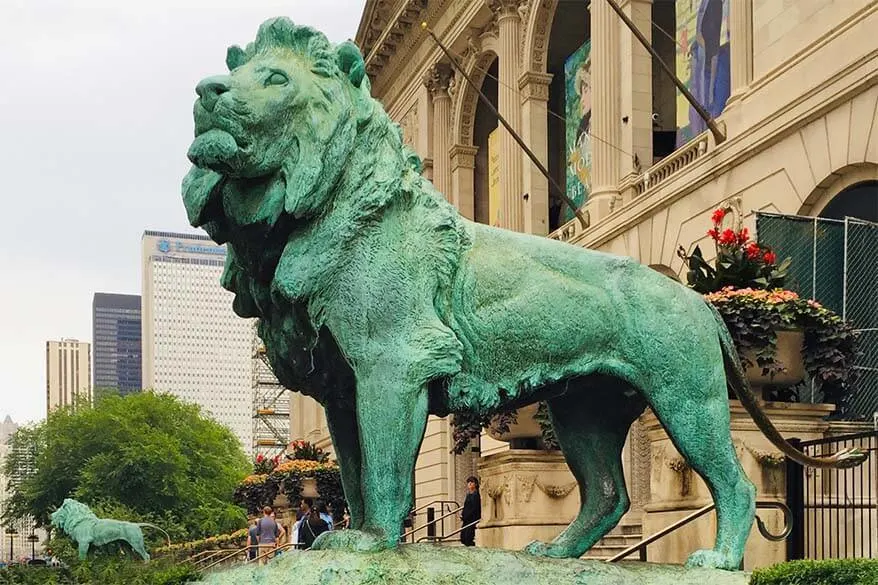 Buckingham Fountain
This is probably one of the oldest and best-known landmarks of Chicago that you won't quickly forget. Dating from 1927, the 3-level rococo fountain is a must-see in Chicago. In the evening, you can see the light & water show. Must do!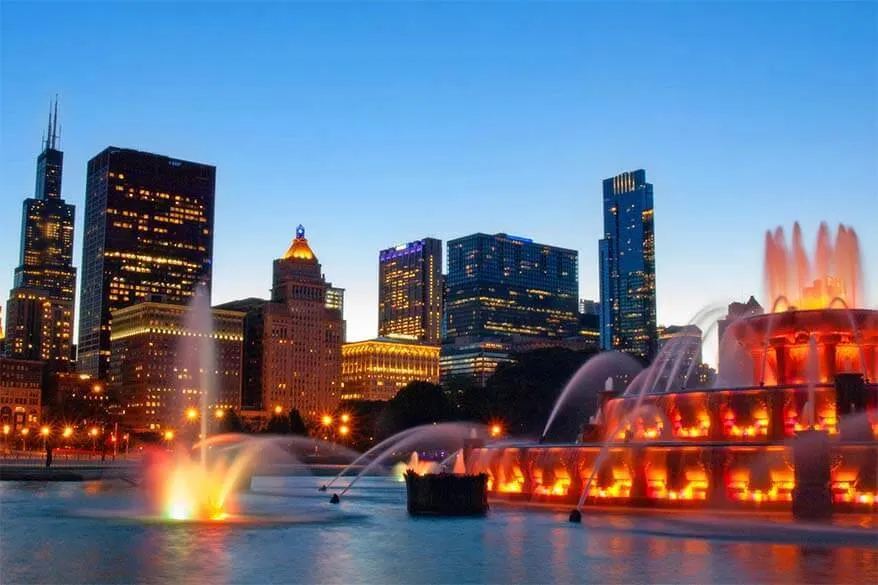 Museum Campus
Another great area in Chicago downtown is the extremely popular Museum Campus. It's quite far away from the other Chicago attractions but is considered to be part of Grant Park as well.
Museum Campus is home to Shedd Aquarium, the Field Museum of Natural History, Adler Planetarium, and other museums. These are places that should not be missed if you are looking for fun, educational, and one-of-a-kind museum experiences.
The Museum of Science and Industry is another Chicago family-favorite and should be considered in your Chicago itinerary if you have more time.
However, if you only have two days in Chicago, you may not want to spend all that time inside the museums. Especially if the weather is nice… So keep this as an option in case of bad weather, but otherwise, I think you can better spend your short time in Chicago enjoying the other attractions listed here.
TIP: If you decide to visit a few museums at the Museum Campus, consider Chicago City Pass – it can save you about half the price if you are planning to visit several attractions.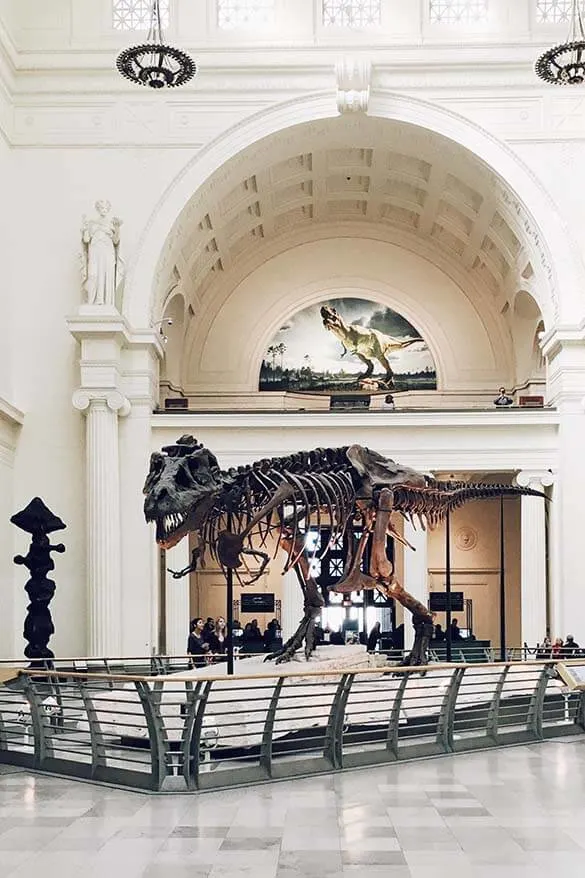 4. Lakefront Trail and Navy Pier
Chicago is situated along the shoreline of the great Lake Michigan. No visit to the Windy City would be complete without a walk along the Lakefront Trail and a visit to the historic Navy Pier.
Chicago's scenic Lakefront Trail is an 18-mile paved trail that follows along the shoreline of Lake Michigan. With separate lanes for walking, running, and biking, Lakefront is a favorite among the locals and tourists alike.
Head north on this trail from the Millennium Park area to get to Chicago's Navy Pier. The 15-minute walk along Lakefront Trail will allow you to admire Lake Michigan, watch the on-water boats, kayaks, and even wildlife.
Coming upon Navy Pier, you will find your excitement stirring as you can hear and see all the fun that is to be had here. Over the past few years, Navy Pier has become one of the most exciting and popular things to do in Chicago, especially if visiting with a family.
Ride the 200ft tall iconic Centennial (Ferris) Wheel (regular and express tickets available) and other amusement rides, dine at one of its many restaurants or join one of the amazing food tours.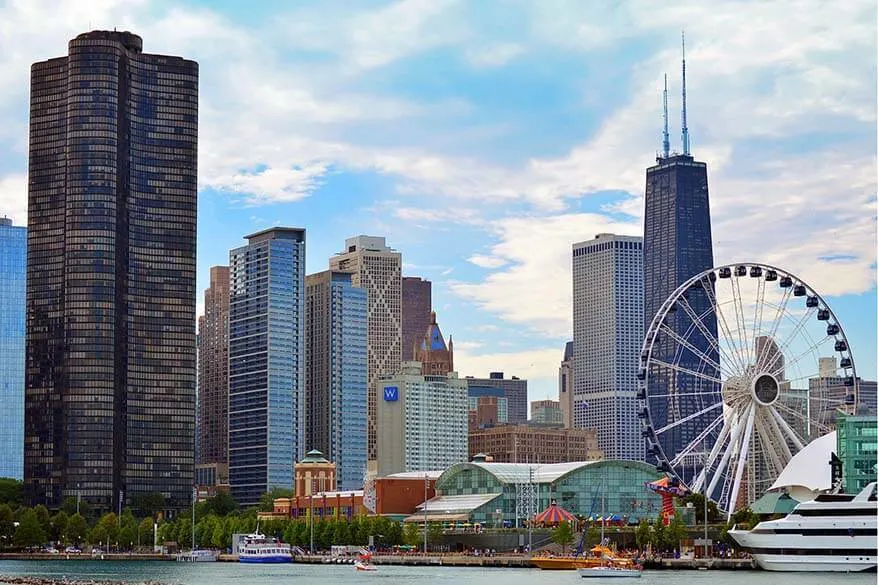 Other activities at Navy Pier include the Amazing Chicago's Funhouse Maze, Virtual Rush: Chicago virtual reality experience, and, of course, Lake Michigan sightseeing cruises.
Navy Pier is usually very busy, especially in the afternoon and on weekends. But to us, the crowds added to the fun and the unique atmosphere.
TIP: Our personal favorite (and one thing we definitely recommend doing in this area) is the Chicago Food Tour.
Not only does it include some amazing food like Chicago hot dogs, pizza, Italian beef, and pastries, but you also get to learn more about the city from a local. It's a great way to enjoy authentic Chicago delicacies and experience the city.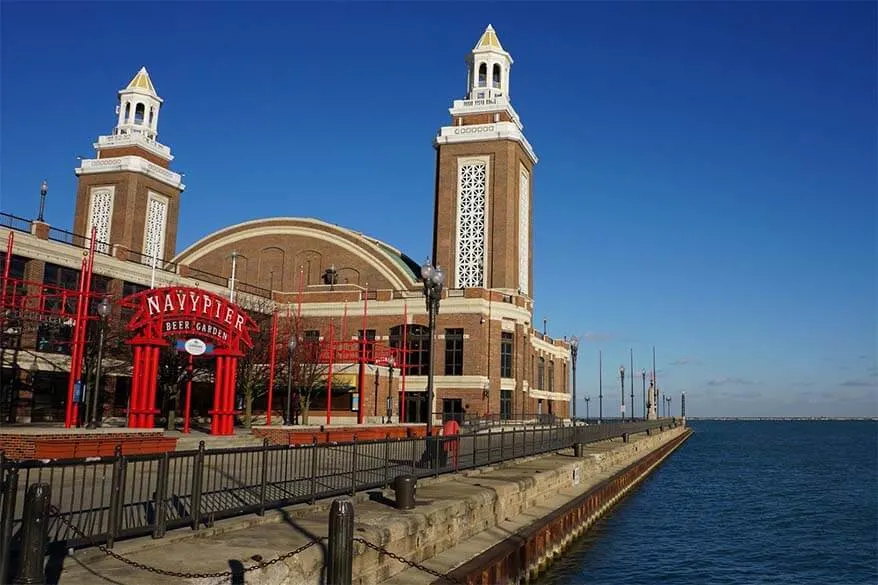 5. Magnificent Mile
Magnificent Mile is the nickname of the 13-block stretch of upscale shops and restaurants located in Downtown Chicago along Michigan Avenue. It is here that you'll find the world-famous John Hancock building (home to 360 Chicago and TILT mentioned above).
The historic Chicago Water Tower and Chicago Avenue Pumping Station – two of the few structures to survive the Great Chicago Fire of 1871 – can be found here as well.
The Magnificent Mile is Midwest's equivalent to Beverly Hills' Rodeo Drive in LA or New York's 5th Avenue. Shops like Gucci, Louis Vuitton, Chanel, Burberry, and Neiman Marcus are all located here. Kid-friendly stops include the Disney Store, American Girl Place, Chicago-famous Garrett Popcorn, and Dylan's Candy Bar.
Though most of the shops lining the pedestrian-packed sidewalks of the Magnificent Mile are department stores and brands you can find elsewhere in the country, it's still worth a quick stroll. The atmosphere here is lively and fun and lets off a memorable "big city" vibe.
TIP: The Magnificent Mile district does indeed extend a full square mile (from North Michigan Avenue, east to the scenic lakefront). I recommend starting off by visiting the John Hancock Building and nearby historic Chicago Water Tower. Then, walk the entire length of Magnificent Mile to get to your next destination while admiring the Tribune Tower and the Wrigley Building along the way.
Walking the Magnificent Mile can be done in 20 minutes without stopping to shop.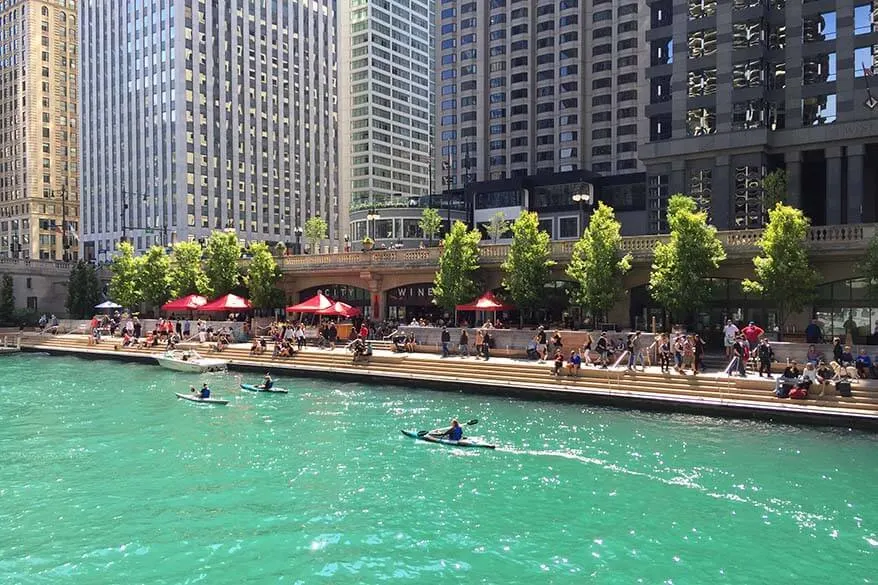 6. Eat a Chicago hot dog and famous deep-dish pizza
No trip to Chicago would be complete without eating its two most iconic and talked-about foods. So when in Chicago, make sure to try an authentic Chicago hot dog and unforgettable Chicago deep-dish pizza. Both are so good that you may find yourself enjoying them more than once!
An authentic Chicago-style hot dog includes an all-beef hot dog, poppy seed bun, yellow mustard, chopped white onions, sweet pickle relish, a dill pickle spear, tomato slice, pickled sport peppers, and celery salt.
Portillo's Hot Dogs and ADB (America's Dog and Burger) both serve up the ultimate best Chicago hot dogs! The most convenient ADB location is located in the center of the food court at Navy Pier.
TIP: Our top recommendation for classic Chicago deep-dish pizza is at Giordano's. With 4 locations in downtown Chicago (40+ locations total), Giordano's has been serving up beloved deep dish pizza for over 40 years.
Though the 45 minutes it takes to bake one of their stuffed deep-dish pizzas requires patience, the large and bustling atmosphere of Giordano's will make you feel right at home while waiting. They have specialty pizzas, kid-size pizzas, as well as gluten-free, vegan, and vegetarian options.
If visiting during the dinner hour, be prepared to wait up to 2 hours for a table here as Giordano's is widely popular.
PRO TIP: If you want to taste all kinds of typical Chicago food without having to spend that much time at every restaurant, consider joining one of the popular local food tours. In just a few hours, you get to experience the best authentic dishes, coupled with fun stories and local insights. A must-do!
This is the best food tour that we recommend for those who want to try all the typical dishes.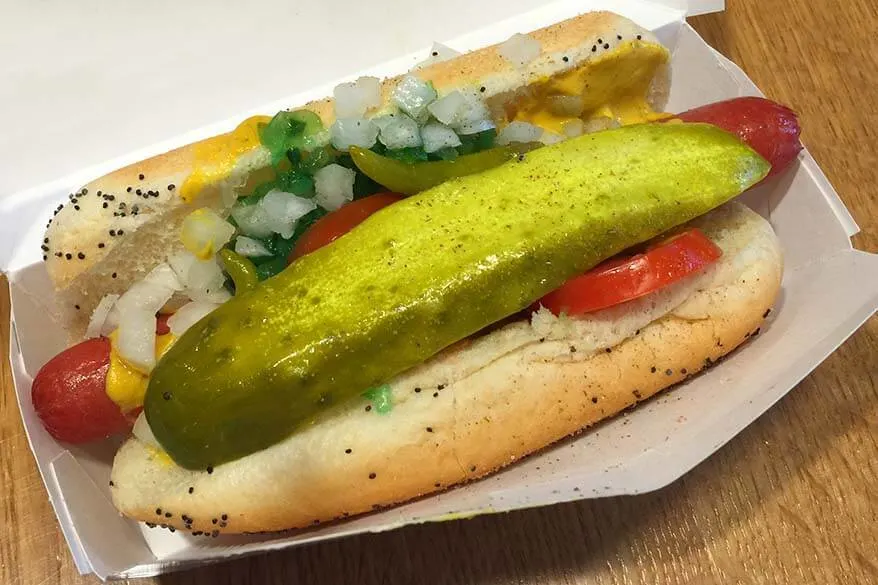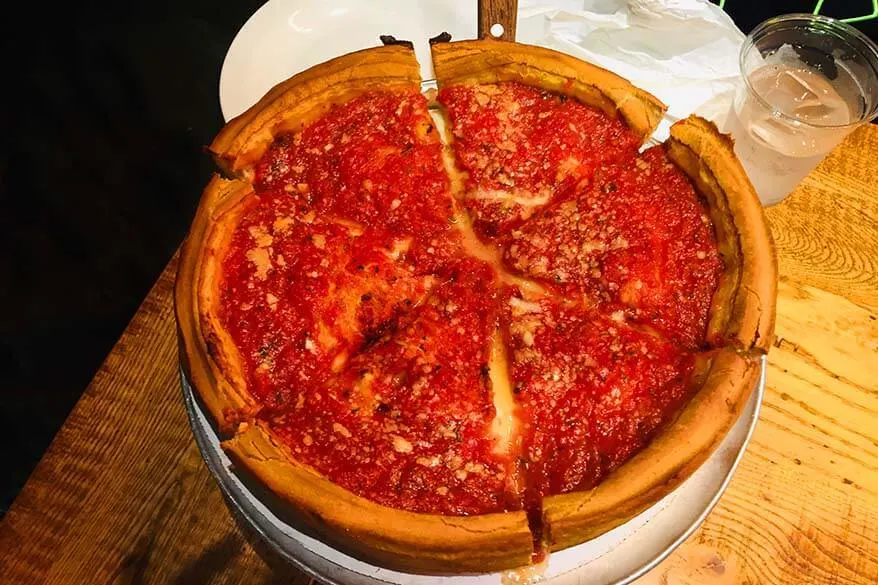 What to See in Chicago if You Have More Time
Experience the Arts
Downtown Chicago is home to dozens of music and comedy venues, theaters, and the Lyric Opera House which dates back to 1929. If you have more time, consider watching Hamilton at Chicago's CIBC theater, live jazz at Green Mill Cocktail Lounge, or Lyric Opera at the second-largest opera auditorium in North America.
Wrigley Field
Originally opened in 1914, Chicago's Wrigley Field is the second-oldest ballpark in America (second only to Boston's Fenway Park). Home to the Chicago Cubs Major League baseball team, Wrigley Field is an iconic open-air baseball stadium rich in nostalgia and team pride.
Both gameday and non-gameday tours are available to learn its history and get a behind-the-scenes look at the stadium. Wrigley Field tours are perfect for the sports fanatics in your family.
With just 2 days in Chicago, it's probably not a must. But if you have extra time to spend in Chicago, it's definitely worth a visit.
TIP: You can also get tickets for one of the Chicago Cubs games. There's no better way to experience this place than watching a game!
Sports & Events
Chicago is also home to several other well-known sports teams such as Chicago Bulls, Chicago Blackhawks, and others. Check the schedule here to see if there are any games on the days when you're visiting. Attending a sports game with local fans is a great thing to do in the windy city!
Chicago also hosts lots of concerts and other events that might be a nice addition to your city visit. Here you can find the schedule and tickets for the upcoming concerts in Chicago.
However, there are just a few events and they are probably not as easy to fit with your Chicago itinerary as the local sports events that are happening every couple of days.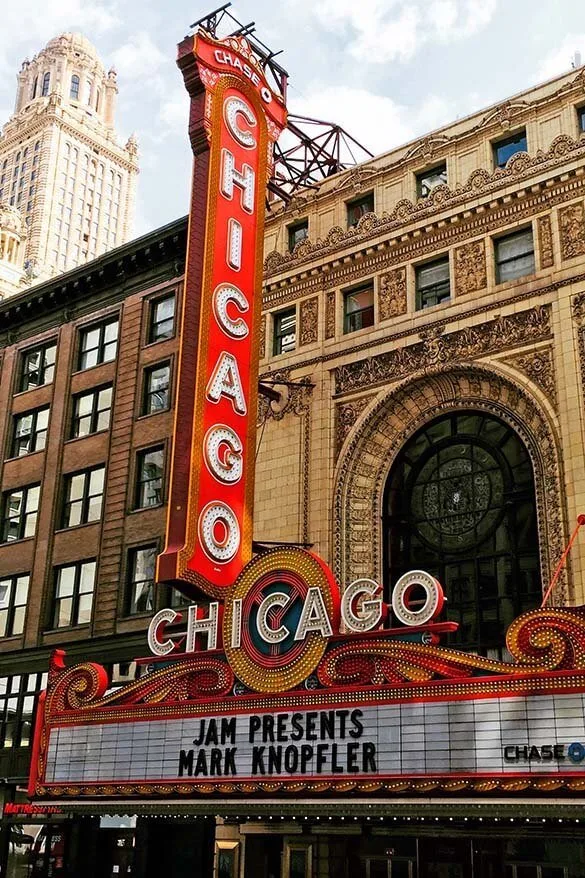 Suggested Chicago Itinerary for 2 Days
Below you can see our suggestions on how to best plan your time if you want to see all the best places in Chicago in just two days.
Day 1
Start off the morning with coffee and donuts at Stan's Donuts located on the Magnificent Mile.
Walk east on Magnificent Mile until you reach the John Hancock Building. Visit 360 Chicago and TILT. Stop to take photos of the Chicago Water Tower and Pumping Station which are located adjacent to the John Hancock Building.
Walk south on Magnificent Mile while window shopping and viewing Chicago's architecture.
Spend some time at Millenium Park and Maggie Daley Park. If not doing the food tour, you can have light lunch at Wildberry Cafe which is adjacent to Millenium Park.
From Millenium Park, walk the Lakefront Trail to Navy Pier.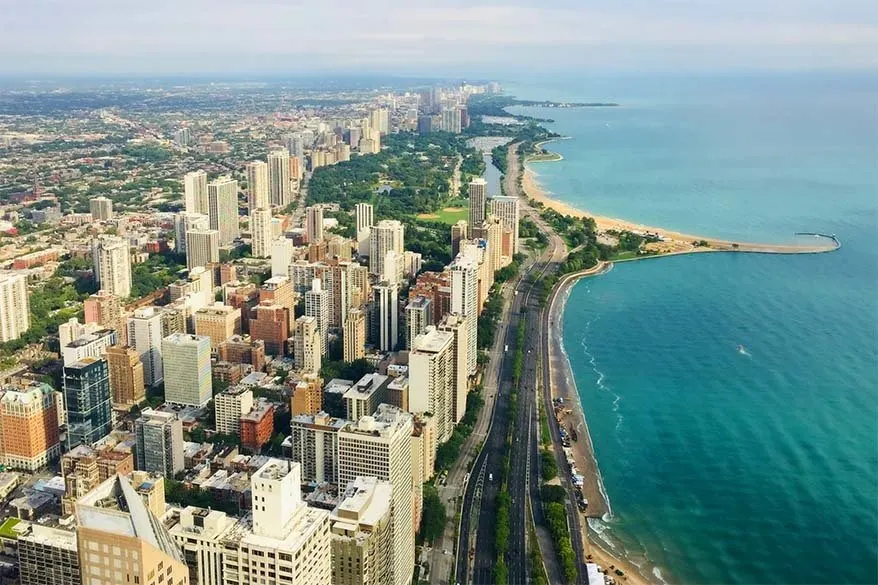 Day 2
Depending on what you plan to do, it might be wise to get tickets for BigBus Chicago for this day. You can ride the bus around the city for the entire day getting off at your chosen stops and destinations.
Afterwards, take the hop-on-hop-off bus and get off at Stop #4, Millennium Park. Take some more pictures here, get a bag of Garrett's popcorn, and visit the Art Institute of Chicago.
Walk through Grant Park and see the Buckingham Fountain.
Afterwards, walk or board the BigBus again and get off at Stops #6 and #7 to tour the Adler Planetarium and the Museum Campus attractions of your choice. This will take the rest of your afternoon.
For dinner, visit either Giordano's Pizza at Navy Pier or take a dinner cruise on Lake Michigan described on day 1.
Alternatively, see if you can find tickets for a local sports game. Some games take place in the afternoon, while some others – in the evening.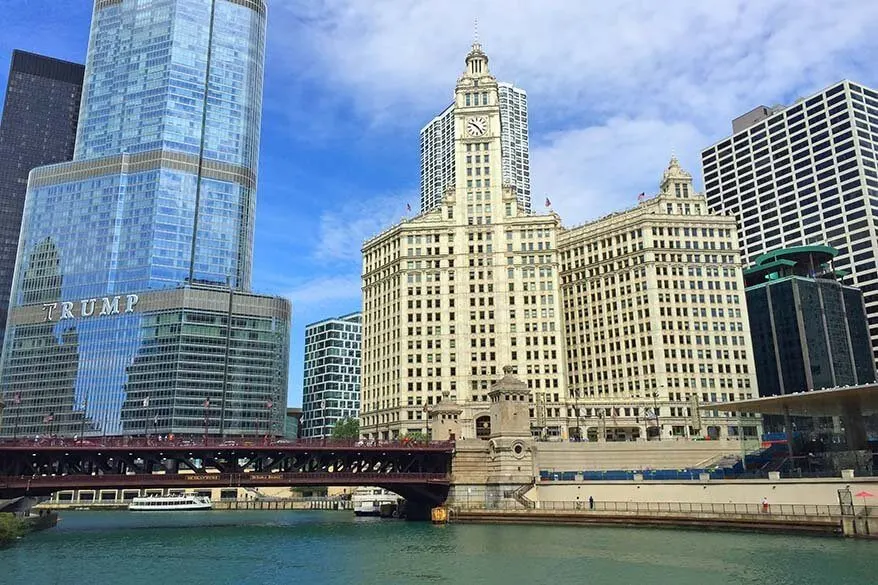 Map of the best things to do in Chicago in 2 days
To make it easier to plan your trip to Chicago, I created this map indicating all the best places to see in Chicago mentioned in this article.
Our suggested itinerary above is just an indication of how you can plan your two days in Chicago. Obviously, you can create your own Chicago itinerary based on your interests. This map will help you either way!
How to use this map: Use your computer mouse (or fingers) to zoom in or out. Click on the icons to get more information about each place. Click the arrow on the top left corner for the index. Click the star next to the map's title to add it to your Google Maps account. To view the saved map on your smartphone or PC, open Google Maps, click the menu and go to 'Your Places'/'Maps'. If you want to print the map or see it in a bigger window, click on 'View larger map' in the top right corner.
Practical Tips for Visiting Chicago
The best time to visit Chicago is April – May and again in September – October. During these months, temperatures are mild and crowds are most manageable. Most boat tours run from around mid-March to the end of October.
Summertime is also a great time to visit Chicago, especially if you want to attend some of its unique festivals. Come prepared for large crowds, however.
Wear comfortable walking shoes as you will do a lot of walking.
Bring your own reusable water bottle.
Be prepared for the weather and dress in layers, year-round. The breeze off the lake can make it feel really chilly.
If you are looking for an easy-to-use guidebook for Chicago, you may want to get this Lonely Planet pocket guide. It also has a convenient pull-out map.
If you are visiting Chicago with kids, they'll probably enjoy the city even more if they are already a bit familiar with it. Here you can find some nice children's books about Chicago.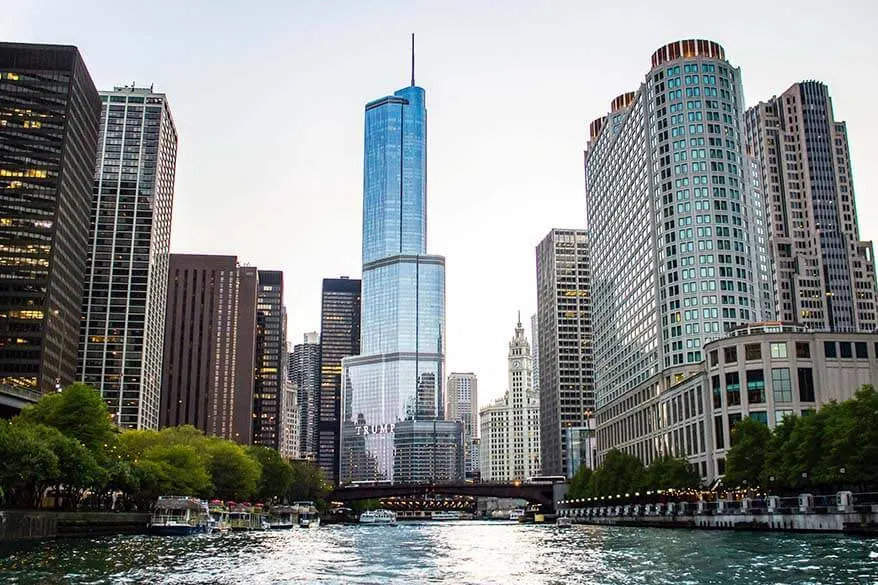 How to Get Around
Chicago is a really walkable city. All the main things to see and do during your 2 days in Chicago are within walking distance from each other, except for the Museum Campus. This is a major perk and what makes visiting Chicago so fun and relaxing!
For longer stretches, taxi or Uber are highly prevalent and can typically be found within 2 – 3 minutes of any given address. In addition, Chicago is well-known for its convenient street labeling system and elevated public transport system.
Chicago's unique double and triple-decker roadway system results in some streets having an upper-level riverfront boulevard, a lower-level roadway for commercial and through traffic, and a recreational walkway at water level.
Though this may sound confusing, it is very straightforward and easy to get around downtown Chicago. Street signs, walking maps, and plenty of friendly faces are readily available to ask for directions.
TIP: A fun way to cut down on the walking while touring Chicago is to book a hop-on-hop-off bus sightseeing experience. It's not only convenient transportation between all of the major attractions, but it also provides an insightful narration of the city and its highlights.
Though there are several different companies to choose from, we loved our tour on BigBus Chicago. With their frequent pick-up times, helpful narration, and handicap accessibility, touring the city this way was a fun addition to our two days in Chicago.
Additional planning tip: I recommend downloading the Google Maps app and using the "walking route" feature to help you get around. Also, download the Transit App for real-time arrival projections if you plan to use Chicago "L" trains or bus routes.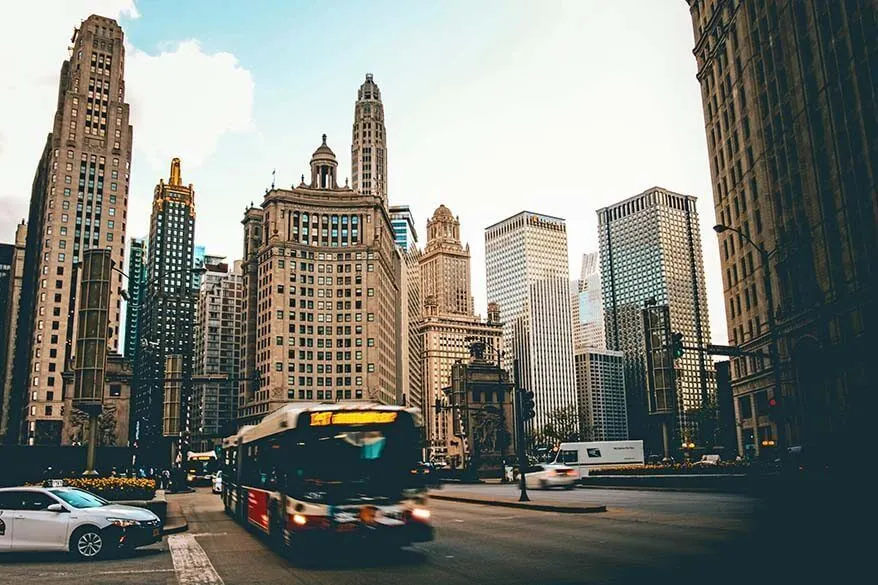 Where to Stay in Chicago
No matter how much time you have in Chicago, I highly recommend that you stay in the heart of downtown Chicago. That will allow you to fully experience the city.
We recommend staying in the Magnificent Mile, The Loop, or River North area. The Magnificent Mile is close to the John Hancock Building, Navy Pier, and one-of-a-kind shopping. The Loop is close to the Willis Tower and Millennium Park. On the other hand, River North hotels are still within walking distance to all major attractions but provide budget-friendly options that often include pools and free breakfast.
Here are some of the best-located hotels in Downtown Chicago that offer great value and have excellent customer reviews:
Our personal favorites:
Palmer House – historic downtown hotel with fantastic location and facilities.
The Blackstone

– a boutique hotel that offers a more unique experience than staying at a big hotel chain.

The Drake Hotel – a more luxurious option with an excellent location and dozens of family-friendly amenities. The Drake also offers an American Girl doll experience that includes access to the hotel's library of American Girl books, as well as a bed for American Girl dolls. The Drake can also arrange a personal shopper if visiting the adjacent American Girl Place.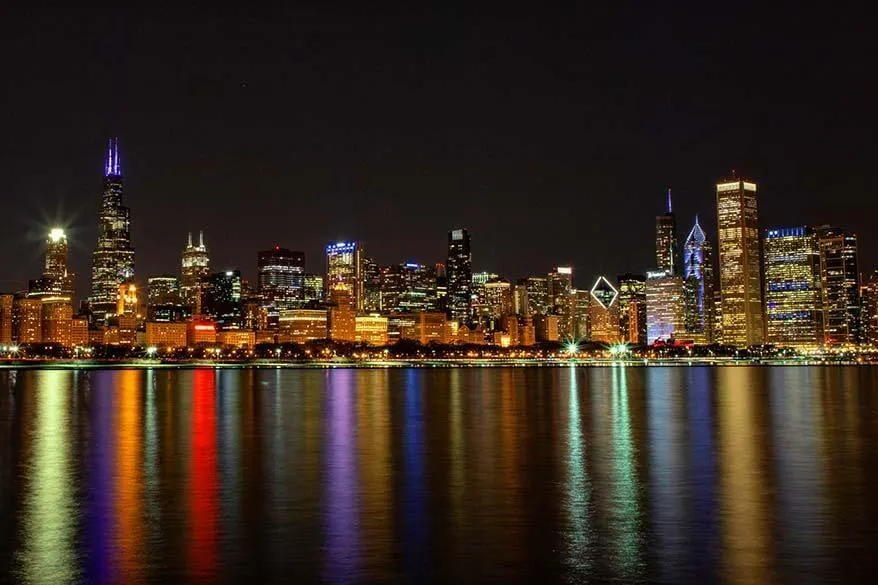 So, this is our guide for your visit to Chicago in 2 days. As you can see, you can do a lot in Chicago in two days, so it's also a great destination for a weekend getaway. I hope that this guide and practical tips will help you plan a fun and memorable trip to Chicago. Enjoy it!
For more tips and info for your first trip to Chicago, see our first-timer's guide via the link below. Check it out!
LEARN MORE: Tips for Visiting Chicago
You may also like other guides to some of our favorite places in the U.S.
If you found this post useful, don't forget to bookmark it and share it with your friends. Are you on Pinterest? Pin these images!