Only have one day in Philadelphia, Pennsylvania, and stressing over how to make the most of it? Affectionately known as the "City of Brotherly Love", Philadelphia is one of the largest major cities in the United States. There is so much to see and do in Philly!
In fact, the city has so much to offer that you can easily spend several days or even a week here. So with just one day in Philly, you will need to plan carefully when allocating your precious time. But with some advance preparation, it's definitely possible to see the best of Philadelphia in one day. Find out!
Good to know: This article is written by our guest writer Theresa of Fueled By Wanderlust travel blog. Born and raised in the USA, she recently spent a few days in Philadelphia. For our readers, she bundled all her top tips on how to make the most of your first short visit to Philadelphia.
In this guide, you'll find a list of the very best things to do in Philadelphia in 1 day and some useful tips for your visit. In addition, we also created a map indicating all these places and a sample 1-day Philadelphia itinerary that will help you plan your time. Take a look!
TIP: With just one day in Philadelphia, it's best to focus on those places and attractions that truly set the city apart – which is the fact that it's regarded as the birthplace of America. Benjamin Franklin made his mark as one of the founding fathers while living here. It's also where the Declaration of Independence was signed.
With this in mind, center your time around Philly's Old City neighborhood, which is full of charming old brick buildings and cobblestone streets. This is where you'll find the places that were the center of the action during America's fight for independence, including Independence Hall and the Liberty Bell.
These sites associated with the American Revolution and the country's founding history are so significant that they have been designated as a federally protected historic district, Independence National Historical Park.
The good news is that many of the most famous landmarks in Philadelphia are within close proximity of each other, making a quick day trip to the city very doable.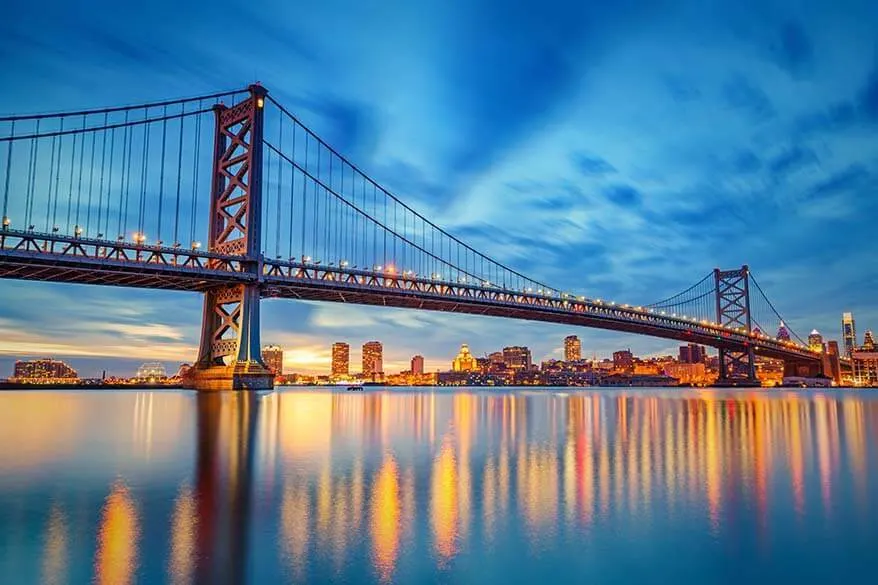 Here is a map of Philadelphia indicating all the places mentioned in this article.
It will give you a better idea of where everything is. You can also save it to your phone and use when exploring the city.
How to use this map: Use your computer mouse (or fingers) to zoom in or out. Click on the icons to get more information about each place. Click the arrow on the top left corner for the index. Click the star next to the map's title to add it to your Google Maps account. To view the saved map on your smartphone or PC, open Google Maps, click the menu and go to 'Your Places'/'Maps'. If you want to print the map or see it in a bigger window, click on 'View larger map' in the top right corner.
Things to do in Philadelphia in one day:
Start with breakfast at a local café
There's no better way to start your day in any city than with some coffee and breakfast at a local café. So hit the streets of Old City early to get some coffee and breakfast. There are many really nice places for that. Below, you can see our suggestions based on personal experience (we also indicated these cafes on our city map).
Cafe Ole is a colorful, albeit tight-spaced café with solid espresso drinks and yummy pastries. While they do have tables and a full menu with various omelets and breakfast sandwiches, it might be easiest to grab one of their tasty bagels to-go. It's open from 8 AM.
Another wonderful option is United By Blue. This might look like more of a retail shop from the outside, but inside they have a nice café with delicious and healthy breakfast options (and they are open from 7 AM). Fuel up with a smoothie bowl or avocado toast before the big day ahead of you.
View the Benjamin Franklin Bridge
With coffee in hand, take a relaxing short walk down to the Race Street Pier to view the Benjamin Franklin Bridge. It's a nice place for a stroll along the Delaware River in the fresh morning air. You can also view Camden, New Jersey, on the other side of the river.
Of course, don't forget to take in the blue expanse of the Benjamin Franklin Bridge. Built in 1926, at one time it was the largest suspension bridge in the world. Today it is the 57th longest, but still very impressive.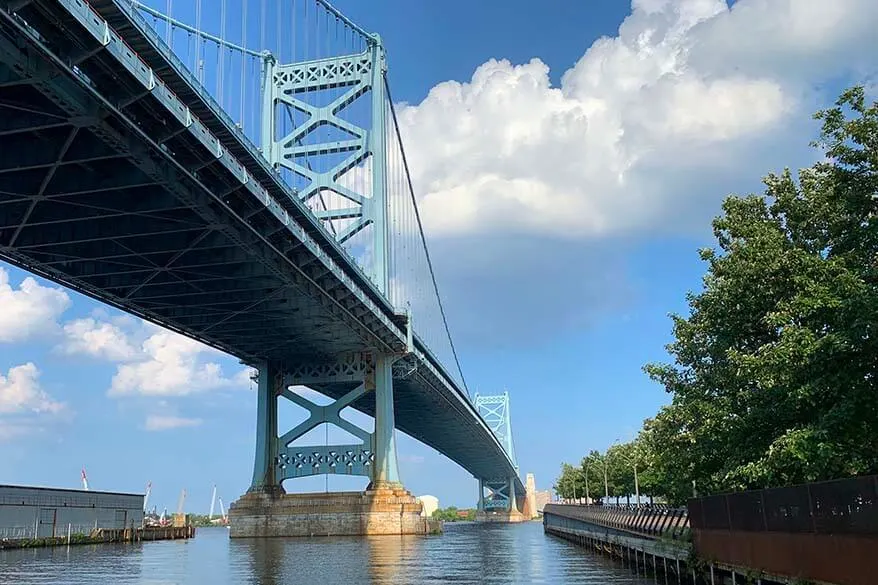 Liberty Bell
If you didn't see the famous crack in the Liberty Bell while in Philadelphia, did you even go? Liberty Bell is a must-see in Philadelphia and should absolutely be one of your first stops of the day!
The Liberty Bell's roots are insignificant, as it was simply the bell inside the old State House. However, the abolitionist movement was huge in Philly, and in the 19th century it took inspiration from the bell's inscription: "Proclaim Liberty Throughout All the Land Unto All the Inhabitants thereof". Over time, it came to be known as the Liberty Bell and went on to serve as a symbol throughout the Civil War, Reconstruction, and Women's Suffrage.
Today the Liberty Bell sits on display in its own building as part of a small exhibit. It is visited by millions of people every year.
Admission is free, but it does get busy. If you visit in summer, which is high tourist season, you may be put off by a line going out the door and down the sidewalk and through a security check. But do not worry about this. Because there is not that much to do in the building besides seeing the bell, the line moves very quickly.
While the area around the Liberty Bell Exhibit can be crowded, people are generally good about taking turns for viewing and taking photos. If the idea of crowds deters you completely, you can also view the bell from a window outside the building.
TIP: Visit here first thing in the morning when it opens; it's not yet as busy as it gets later in the day. The Liberty Bell Center is open daily from 9 AM to 5 PM. More info on the official website.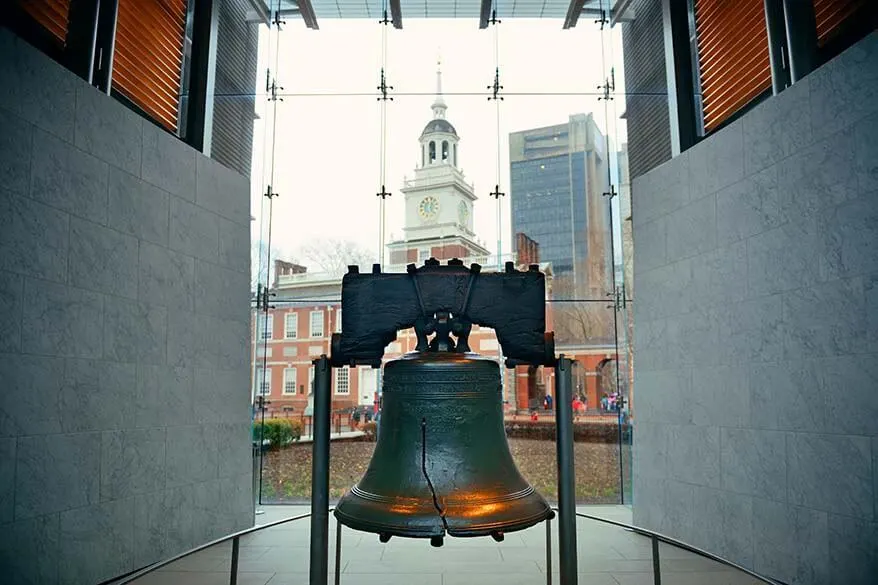 Independence Hall
Next, make the two-minute walk over to Independence Hall, or Pennsylvania's original statehouse. This red brick building made history for being the place where America's founding fathers boldly signed the Declaration of Independence in 1776. This is also where the U.S. Constitution was signed over a decade later.
Unlike the Liberty Bell, Independence Hall requires you to wait in line to join a guided tour. Tours are free of charge, first come, first serve and leave every 15 minutes. Do note that on a summer visit, when demand is high, you may be required to reserve a timeslot for your tour in advance.
That said, your wait in line may end up being longer than the tour. The full presentation only takes about 10-15 minutes, as you stand outside the ropes of the main Assembly Room. You don't get much time to linger afterwards either, so take your photos quickly at the end. For more information and opening times, please check the official website.
TIP: One of the nicest photo spots here is in the middle of Independence Square, near the Commodore John Barry Statue. You can take some nice pictures with Independence Hall in the background (see the featured image).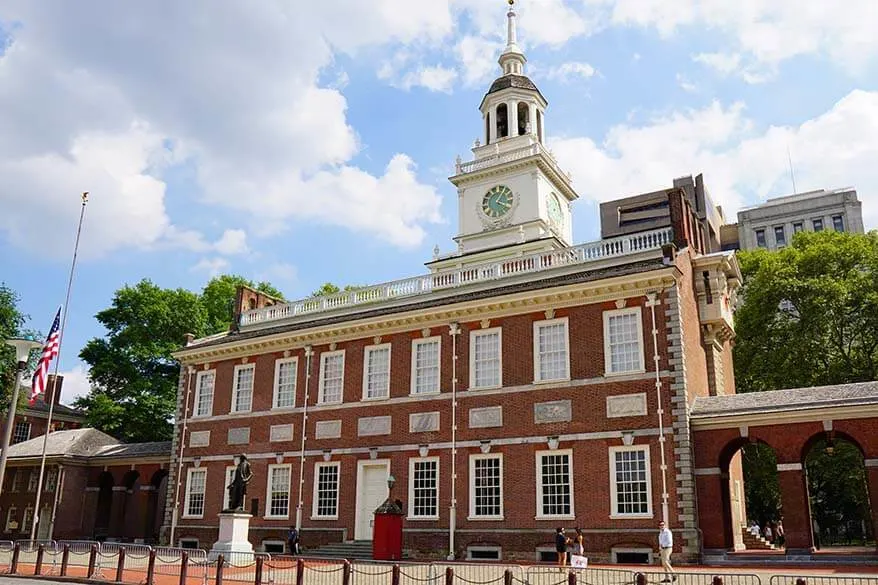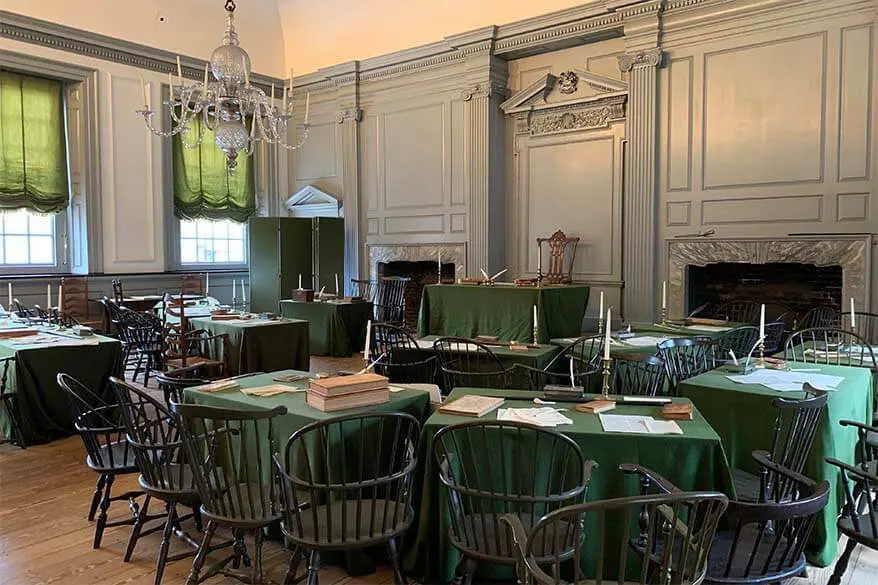 Congress Hall
Congress Hall is located right next door to Independence Hall and is also worth a stop. This is the site of America's first Supreme Court, and was also where presidents George Washington and John Adams were inaugurated.
Many tourists don't notice Congress Hall and pass it right up, even though the tour is just as good as the one at Independence Hall. Plus, you won't be competing with near the number of people, and there may not even be a line to enter.
Also here, the tours are free of charge and first-come, first-served. For more information and opening times, please check the official website.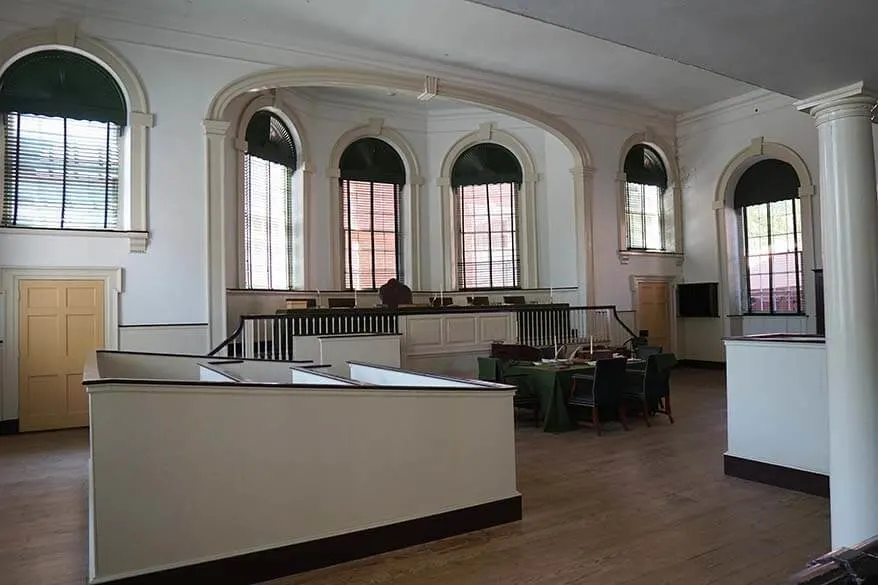 Christ Church
Let's keep this colonial tour moving and take the ten-minute walk over to Christ Church. This is the site of America's first Episcopal Church, dating back to 1695. The current building was erected in 1744 and, with its steeple, was America's tallest structure for over fifty years.
Walk in the footsteps of famous early Americans, including Benjamin Franklin and George Washington, who attended service here. Even today, Christ Church is still an active parish and continues to hold weekly services.
Adults must pay $5 to enter the church, but it's free to peruse the gravesites that surround the church's exterior. This is where the church's earliest parishioners are buried, including a few signers of the Declaration of Independence and U.S. Constitution.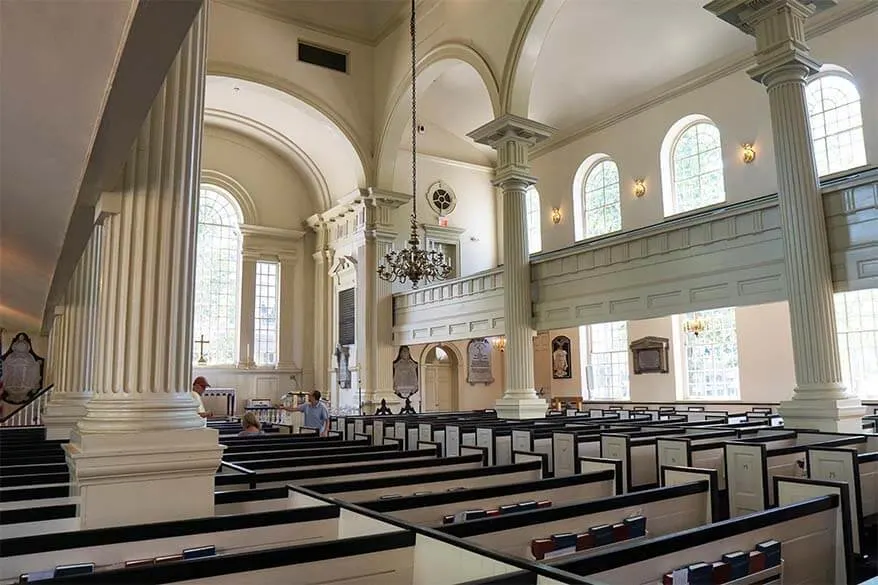 Eat a Philly Cheesesteak
When in Philadelphia, stopping for a Philly Cheesesteak for lunch is nonnegotiable.
A legitimate Philly Cheesesteak is essentially sliced beef and provolone (or Cheez Whiz) on a roll, and every place will follow this core model.
While there are numerous joints serving up these sandwiches all over town, Sonny's Famous Steaks is one of the most highly regarded. Plus, it's located right in Old City.
Also, at Sonny's your bread will not come out soggy and your cheese will be properly melted, which is not true everywhere. Their commitment to fresh ingredients and the availability of gluten-free options also helps to set them apart from the rest.
TIP: For a more authentic local food experience, you might want to join one of the popular food tours in the city. This 'Flavors of Philly' tour starts at around 1.30 PM and is a great way to make the most of your short visit and learn more about the city through its food.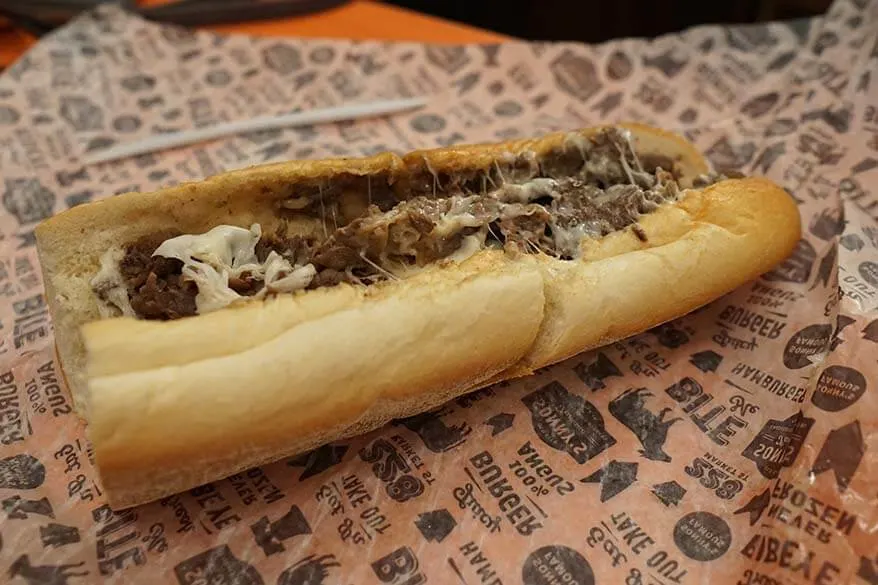 Try Craft Beer
Philadelphia has a robust craft beer scene, with many local breweries scattered throughout the city. Get a taste of a local brew by popping into 2nd Story Brewing right in Old City, where they literally brew beer on the second story of the building.
Being just a four-minute walk from Sonny's, this is the perfect follow-up to your Philly Cheesesteak experience. While sampling beers, you could also snack on the likes of confit wings and fried cheese curds if the cheesesteak wasn't quite filling enough.
Alternatively, you can opt for one of the Philly beer tours in the early evening.
Visit Benjamin Franklin's Grave Site
Before ending your tour of Old City's major historical sites, there is one more place you must-see. This is the Christ Church Burial Ground on 5th Street, which was added on the outskirts of town when the original churchyard began to fill up.
Admission is $5 for adults, but it's worth it. Not only is Benjamin Franklin buried here, but so are four other signers of the Declaration of Independence. Join the other visitors in placing a penny on Ben Franklin's gravestone in honor of his famous quote: "A penny saved is a penny earned".
If you don't wish to enter the cemetery, you can still see Ben Franklin's grave from the sidewalk right outside the fence and throw your penny on it. Just be gentle, as years of penny throwing is sadly damaging the gravestone.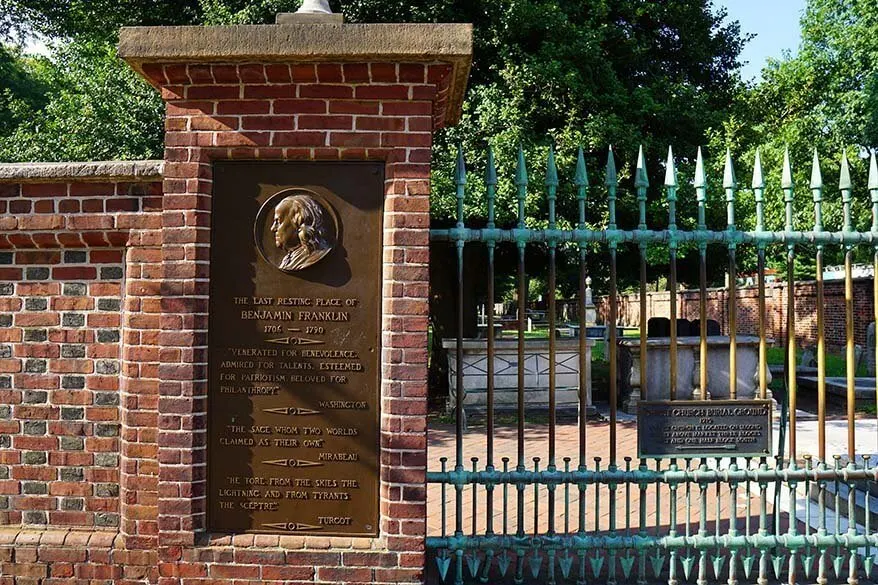 Rocky Statue & Rocky Steps
It's time to depart Old City, for now, to grab an Uber to the Philadelphia Museum of Art. It's just a short ride of 5-6 minutes, but a 2.5-mile walk would take you at least 45 minutes.
Your destination is the dramatic concrete steps leading up to the museum, where Rocky famously ran in the movie. Join the other fans of the film as they play the Rocky theme on their phones and jog up these iconic steps. Don't forget to take in the lovely view of downtown Philly from the top.
Make sure to also pose for a picture with the Rocky statue at the bottom of the steps.
TIP: Philadelphia hop-on hop-off buses also come here, as does this popular segway tour.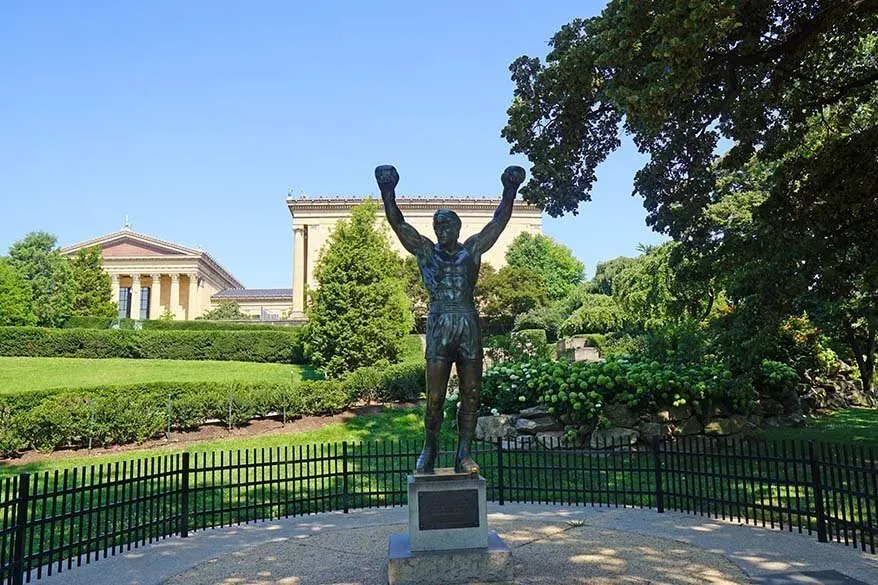 Philadelphia Museum of Art
Finish up a long day of sightseeing by viewing the Philadelphia Museum of Art's world-class selection of works that span centuries.
Exhibits include rare finds from all over the world, but also works by famous artists like Monet, Picasso, and Warhol. Admission is a steep $25 for adults, but if you are an art lover, it is definitely worth the splurge.
For opening hours and more practical information, please check their website.
TIP: If you're not interested in visiting the museum itself, this leaves you with a few hours free in the afternoon. In that case, you can take a long walk next to the Schuylkill River and explore the beautiful parks close to the museum. Don't miss the area at Fairmount Water Works. There are some nice photo opportunities here.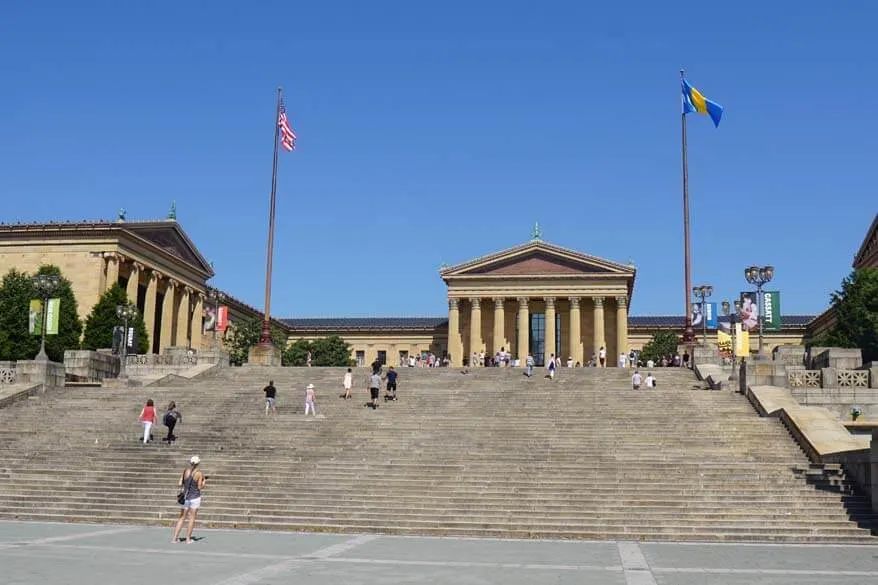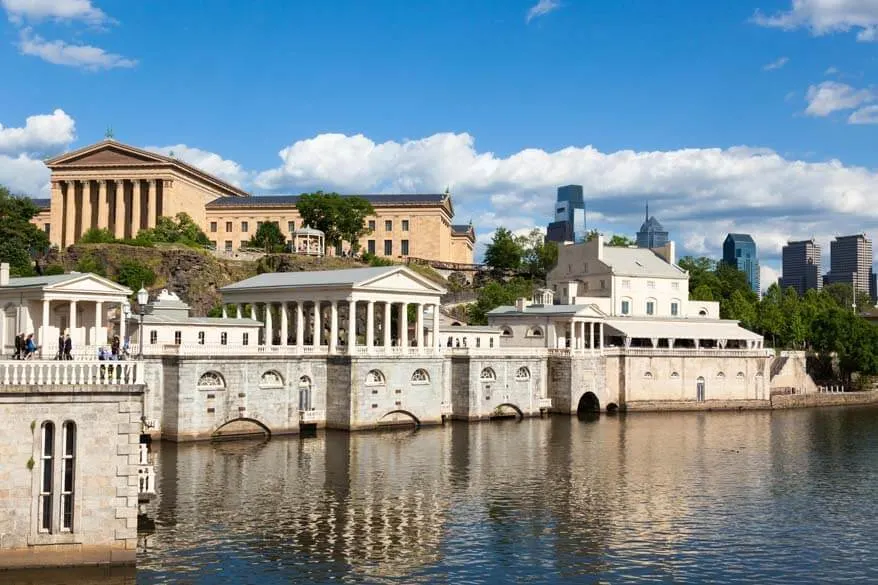 Check Out Philly's Restaurant Scene
Philadelphia has a great foodie scene, with a number of worthy restaurants for dinner. Here are some choices you cannot go wrong with:
Standard Tap. Whether you like craft beer or cocktails, Standard Tap does both very well. This hip spot serves up creative dishes meant to pair flawlessly with the local beers on tap. Seasonal menu items, such as braised pork shank and chicken pie, are made fresh using local produce.
Monk's Café. This award-winning Belgian-style restaurant is known for its special attention to craft beer. The space is tight, dark-lit, and cozy. Monk's menu features high-quality comfort foods, with the likes of pommes frites, burgers, and mac & cheese.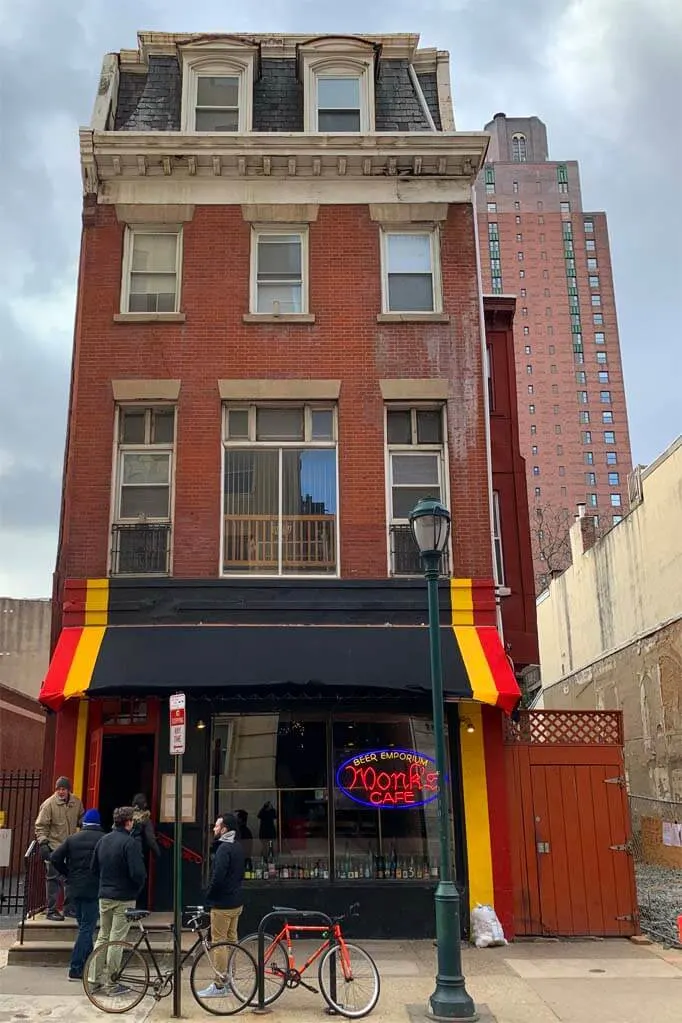 Watch the Sunset over the Philly Skyline
If you still have time and energy after dinner, Uber over to Bok Bar in South Philly before sunset. This chic rooftop bar sits on top of an old vocational high school and is only open during the summer season. Here, you'll find the most magnificent view of the Philadelphia skyline – magical during sunset
If you'd like to linger longer, there are lawn chairs scattered throughout to comfortably sip a light glass of rose or a refreshing cocktail. It's a great way to end your perfect Philadelphia day trip.
Alternatively, look for an open view of the Philadelphia skyline for sunset. There are many great sunset locations in the city, especially next to one of the rivers.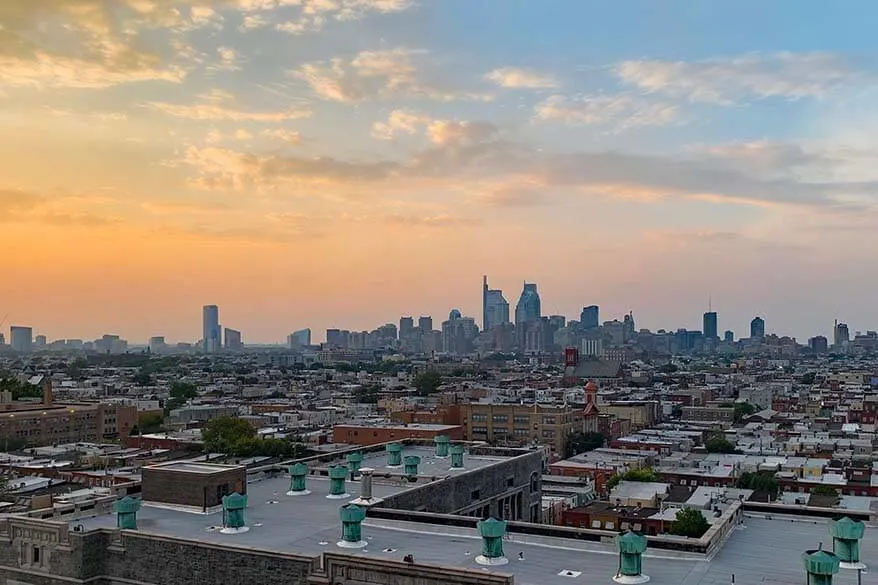 1-Day Philadelphia Itinerary
That's a wrap on the best way to spend one day in this historic city. To recap, here is an overview of our suggested 1-day Philadelphia itinerary.
Here's how one day in Philadelphia could look:
If this itinerary is a bit too intense, feel free to leave out a few sights based on your own interests. Additionally, you may want to prioritize seeing what you are most excited about first. That way you don't miss it if you run out of time or energy.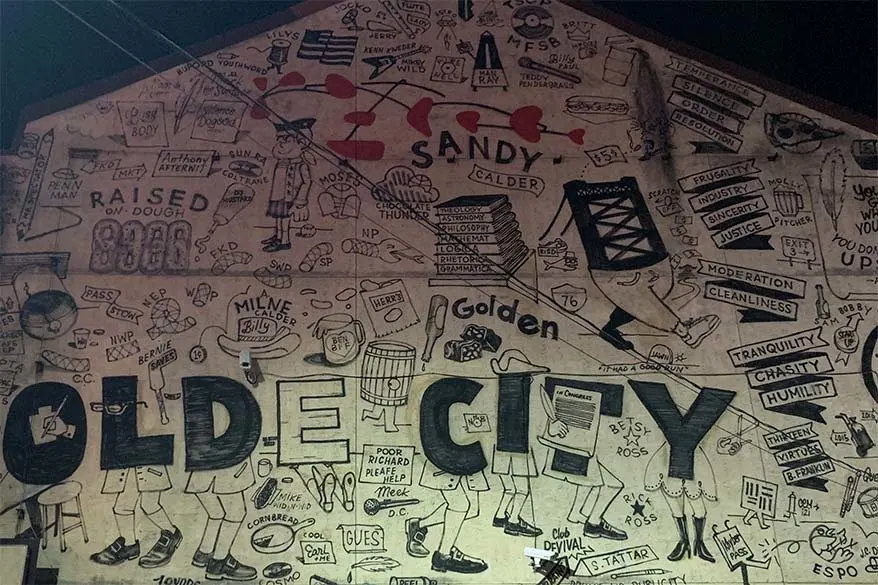 If You Have More Time
If you have two or three days in Philadelphia, here are a few more worthwhile places to add to your itinerary: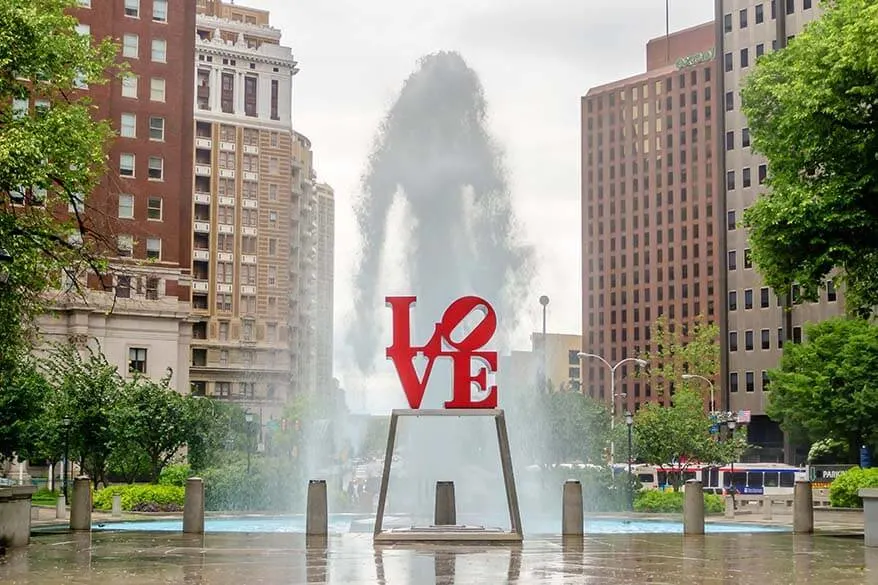 Getting Around Philadelphia
While Philadelphia is rather large and sprawling, many areas are walkable and Old City is particularly easy to explore on foot. For longer distances, like airport transfers or exploring different neighborhoods, you can use Uber or Lyft.
To jampack your day beyond all the sights mentioned below, join a hop-on hop-off bus tour. Not only will you see the major historical sights, including Independence Hall and the Liberty Bell, but this bus also hits the likes of Philadelphia City Hall and Reading Terminal Market.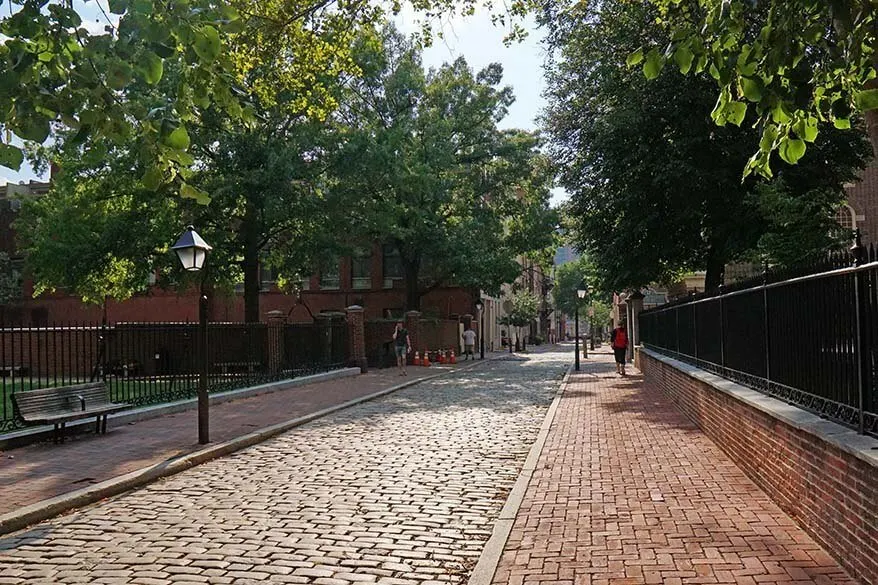 Where to Stay in Philadelphia
Philadelphia has a multitude of lodging options that cater to all budgets. The best place to stay in Philadelphia for sightseeing is the historic old town or at the nearby waterfront area called Penn's Landing.
Below is our hand-picked selection of a few well-located hotels in this area. We listed the best price/quality/location hotels for all budgets, sorted by price. Take a look!
So, this is our guide to the very best of Philadelphia in a day.
If you enjoyed reading this, you may also like our guide to the best of Chicago in 2 days and also the best of New York in 1 day. For the West Coast, you may like to read our Los Angeles 3-day itinerary as well as San Diego itinerary. Check it out!
READ ALSO: Mount Rushmore: Complete Guide for Your Visit
If you found this post useful, don't forget to bookmark it and share it with your friends. Are you on Pinterest? Pin these images!