Are you planning a trip to San Diego in California and looking for ideas on what to see and do in San Diego in 1, 2, or 3 days? In this article, we share the best San Diego itinerary suggestions for up to three days. Find out!
With popular song titles like Hotel California, California Dreamin', California Love, and Californication, perhaps you're wondering why so much hype surrounds the beautiful U.S. state of California? It's such a beautiful state and San Diego is probably the best of California in one place. A city you have to see!
So in this post, we cover the best things to see and do in San Diego, California in one to three days and show you just how amazing this area is.
Whether you have just one, two or three days in San Diego, our suggestions and practical tips will help you get the most of your trip, no matter how much time you have.
Below you can find detailed day to day itineraries for 1, 2, or 3 days in San Diego. I also included a map for each itinerary. That way you have a better idea of where all those places are. Of course, you don't have to follow these itineraries precisely, but it gives you a good idea of the main landmarks of the city and surroundings, and the time you need to see them.
Good to know: While you can see the best of the city of San Diego in one day, the surrounding communities of La Jolla, Encinitas, Del Mar, and Carlsbad should not be missed. Depending on your interests, I recommend a minimum of three days in the area. But if you really want to see all the best places, you can spend five days or even more exploring the San Diego area.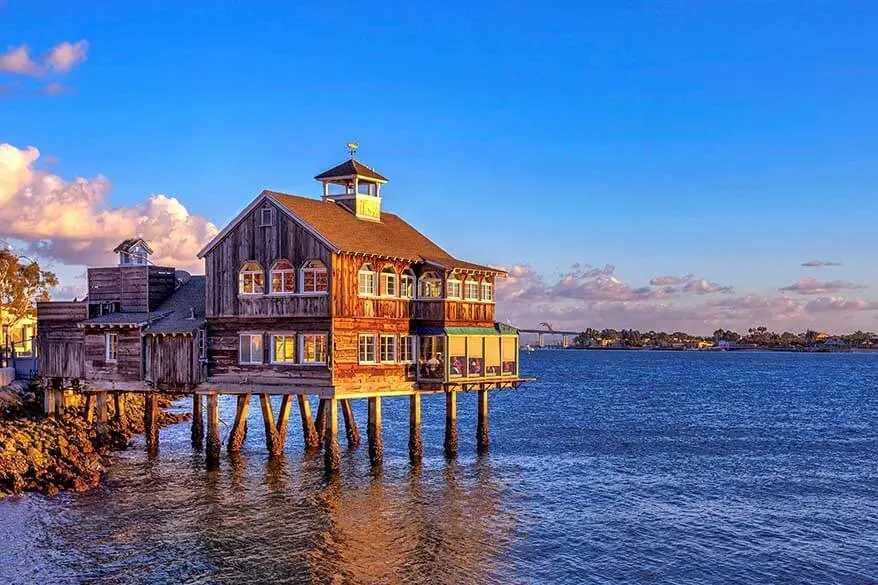 San Diego Itinerary Suggestions – Overview: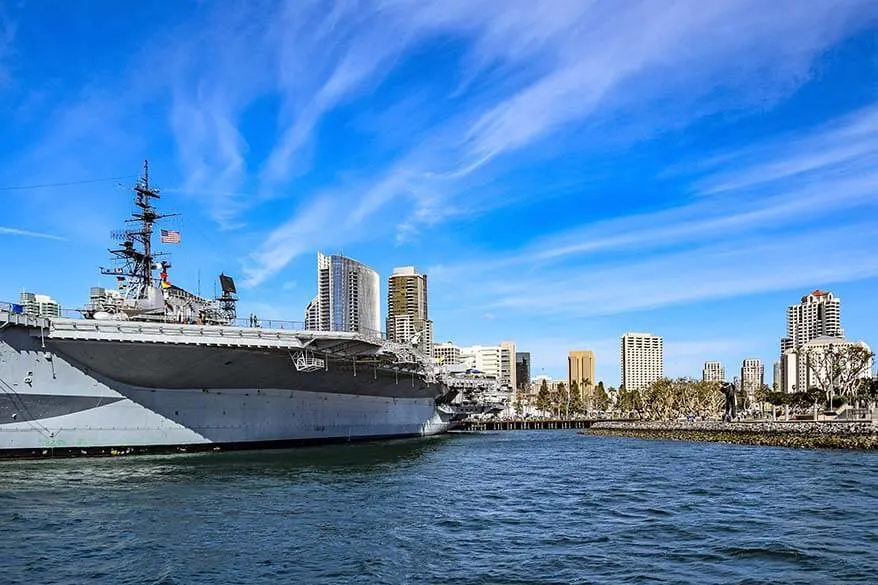 Visiting San Diego – Introduction
San Diego is a coastal city located on the Pacific Ocean in Southern California. It's known for its year-round idyllic climate, cultural parks, and 70 miles of pristine beaches. Within its borders, San Diego county actually encompasses 18 other cities and several other charming coastal communities.
When people speak of "San Diego" they are typically referring to the entire area that includes San Diego's downtown historic Gaslamp Quarter, Seaport Village, and Little Italy, as well as La Jolla, Del Mar, Encinitas, and Carlsbad, just to name a few.
With booming art and culinary scene, loads of family-friendly attractions, and year-round outdoor recreation, it is no wonder that San Diego appeals to guests of all ages from around the world.
When to visit
June, July, and August are peak tourism months in San Diego. Prices are high and all the attractions are the busiest.
During the spring months of March-May, temperatures are mild and there are relatively fewer crowds. San Diego is one of the best USA destinations to visit for spring break!
The fall months of September-November also boast of pleasant temperatures. Many festivals are held throughout the city during this time and it's a great time to be here.
Budget travelers can get the best hotel rates during the winter months between December and February.
The best time to visit San Diego is in the shoulder season, March-April and September-November. The weather is nice and the temperatures are mild, it's not as busy as in the summer, and it's a bit cheaper than in the high season.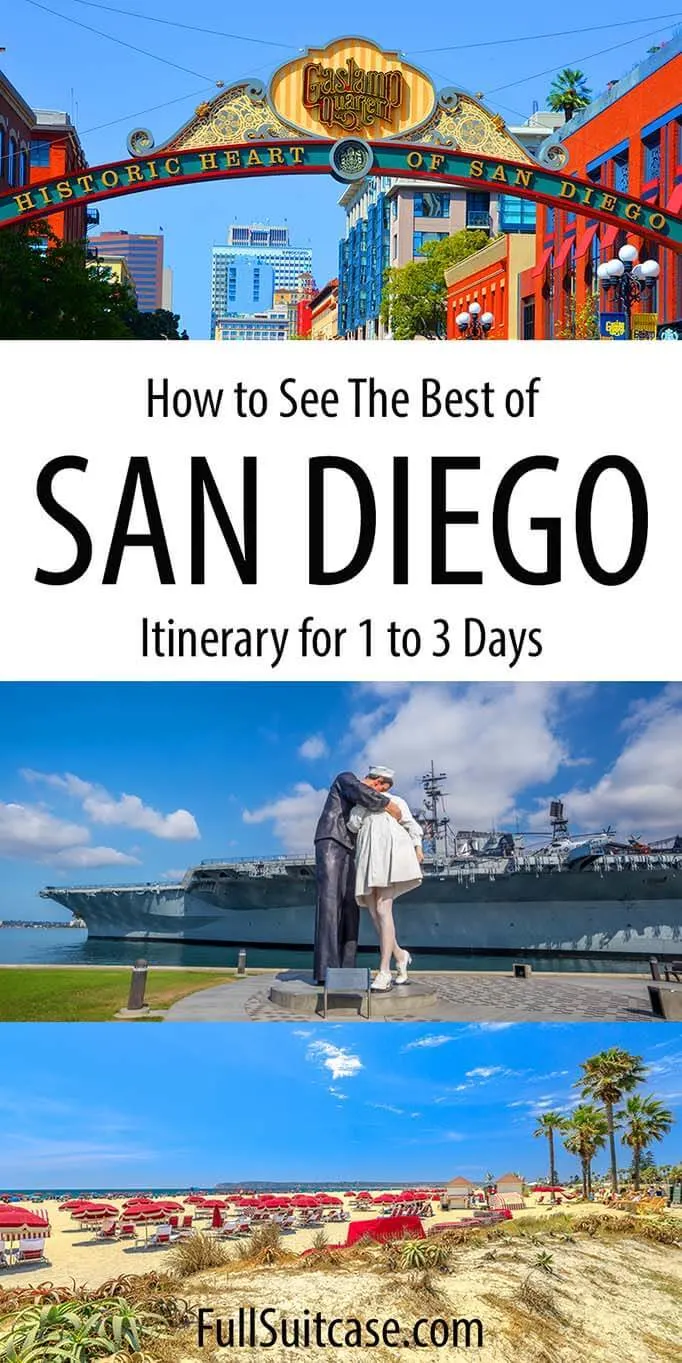 San Diego Itinerary Ideas
Below you can find suggested San Diego itineraries for one to three days. This article has been written by our guest writer Jen, who lives in the US and has visited San Diego with her family multiple times. All of these itineraries and suggestions are therefore based on her personal experience and are filled with some insider tips for visiting San Diego for the first time.
No two trips will be exactly the same, of course, so use these itinerary suggestions as a guideline. You'll need to adjust your San Diego itinerary as needed to account for the weather, how much time you spend at each landmark, and the varying interests of your group or family members.
The suggested itineraries will give you a good idea of the places that are worthwhile visiting, approximately how much time you need to see them, and how to best plan your own San Diego itinerary.
Don't try to 'see it all' on a short trip to San Diego. If you like to travel deeper, it's better to visit fewer places and take your time to enjoy the amazing sights and the scenery, instead of rushing from one place to the other and ticking the boxes. On the other hand, if you are visiting San Diego for the first time and really want to see it all, these itinerary suggestions will show you how it can be done.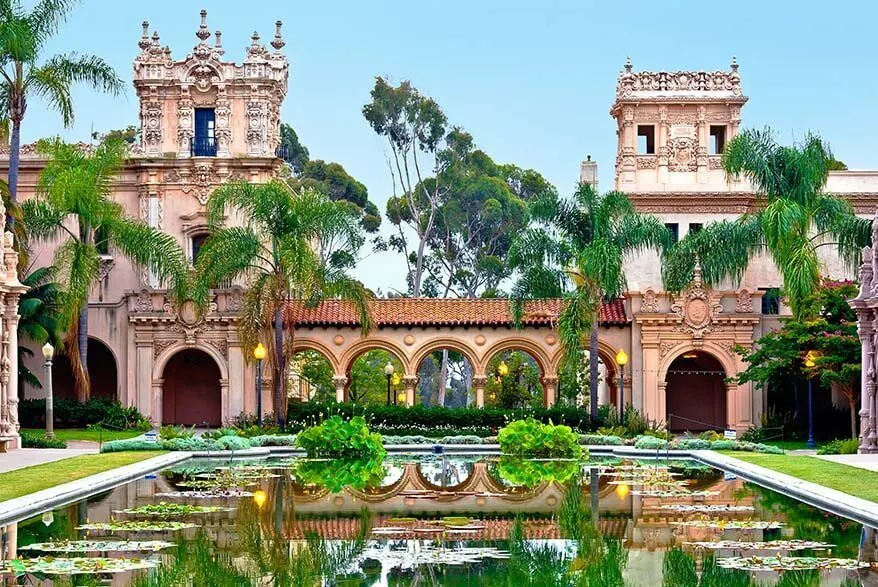 TIP: If you are planning to visit some of the San Diego attractions or do any tours or organized actvities, it's really worthwhile getting the Go San Diego Card. It includes free entrance to many top attractions in San Diego area, as well as a huge choice of activities like bike and kayak tours, whale watching, and many more.
1 day in San Diego
We have two suggested itineraries on how to spend one day in San Diego: one if you have a car and want to use it and the other one – without a car. Take a look!
TIP: We recommend leaving the car at the car parking and exploring San Diego city itself without a car!
San Diego 1 Day Itinerary by Car
If you only have one day in San Diego and you want to use a car, I suggest that you drive downtown San Diego and visit at least two of its iconic neighborhoods. Little Italy, Cortez Hill, Columbia, Core-Columbia, Gaslamp Quarter, East Village, Marina, and Embarcadero (the waterfront boardwalk) all have their own unique culture, architecture, and flair.
My three favorites are Core-Columbia, the waterfront area that is home to the USS Midway Naval Aircraft carrier museum, and the Gaslamp Quarter and Marina District. Gaslamp Quarter features historic Victorian buildings. Marina District encompasses the nautical and charming Seaport Village, a 14-acre waterfront shopping, dining, and entertainment destination.
The USS Midway, Gaslamp Quarter, and Seaport Village are all within a mile of each other (so you can easily walk between them, which is the best way to explore). The Gaslamp Quarter is all about the architectural charm that can be felt simply by walking around the neighborhood. The electric versions of the old gaslamps that gave the street its name are fun to see.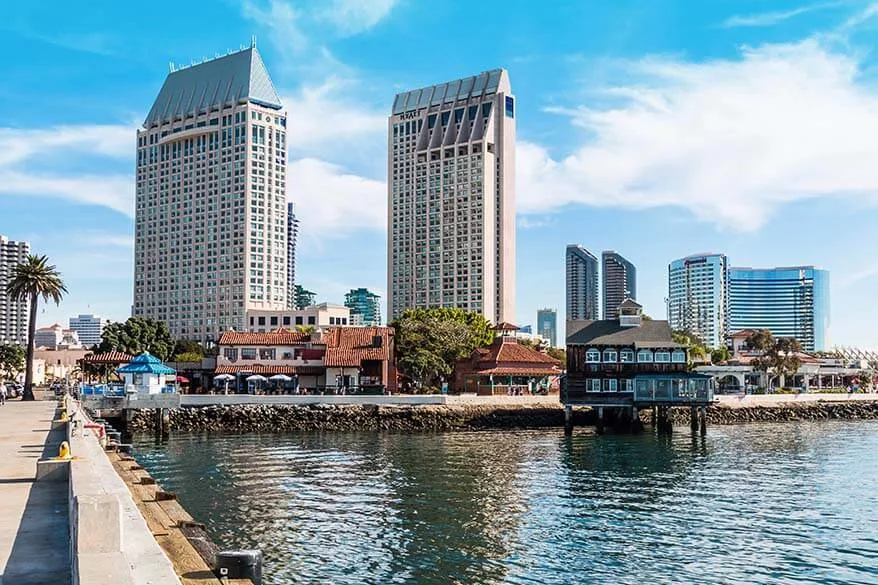 Suggested morning itinerary: Visit Gaslamp and Core Columbia. You can park at the USS Midway and walk to those parts of the city. If you are into history and exhibits, you could probably spend up to 3 hours at the USS Midway Museum. However, you can also visit the ship in just 1-1,5 hours as well.
From there walk to Seaport, which is just a few short blocks from the USS Midway. If visiting San Diego with kids, don't miss the Seaport Village Carousel and get some delicious ice cream there. You can do all of this before lunch.
TIP: Because the USS Midway Museum is one of the most popular San Diego attractions, we recommend getting skip-the-line tickets in advance.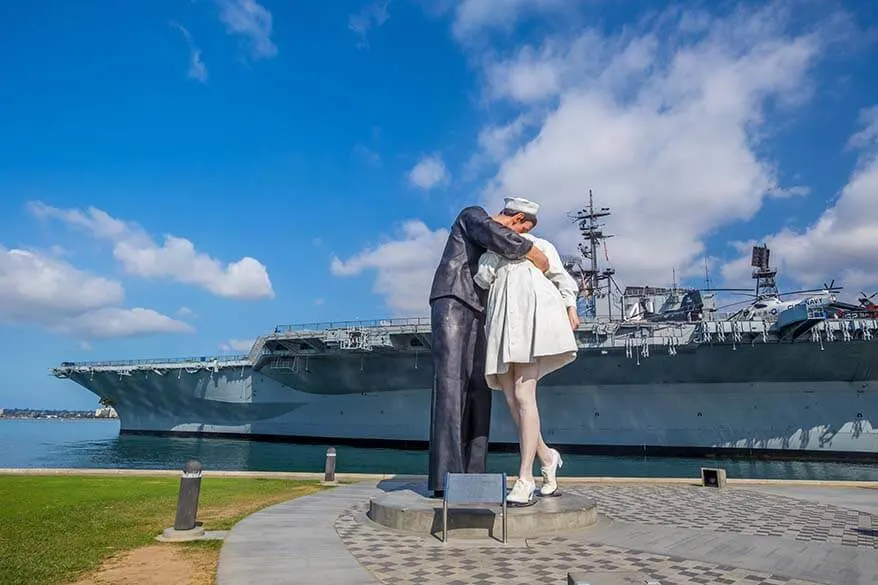 Before lunchtime, drive across the Coronado Bridge (a sight in itself) that connects downtown San Diego to Coronado Island. This immensely popular island is home to the famous red-roofed Hotel Del Coronado. The white sandy beaches of Coronado Island rank in the "Top 10" of the entire U.S.
Though you can easily spend 1 or 2 days on Coronado Island alone, having just one day in San Diego means that you'll have to do with just 3 to 4 hours. Keep in mind that it's is extremely difficult to find parking on the island.
If parking lots by the beach are full, most visitors end up parking on residential streets located throughout the island (which is allowed at the time of writing). Alternatively, leave your car in the city center and take a ferry.
I recommend having lunch on the terrace of Hotel Del Coronado or at one of the premier waterfront restaurants in the Ferry Landing Marketplace. This island is simply not to be missed!
Depending on your interests, head back over the bridge and spend the rest of the afternoon at either Balboa Park (an urban cultural park home to 15 museums), the world-famous San Diego Zoo, or the kids' favorite, SeaWorld San Diego.
However, if you have just one day in San Diego, it's probably not worth getting expensive tickets to the zoo or SeaWorld and only spending a few hours there. Balboa Park is probably a better choice for a short visit.
Lastly, finish off your day in San Diego by dipping your toes into the ocean and watching the best San Diego sunset at Sunset Cliffs Natural Park.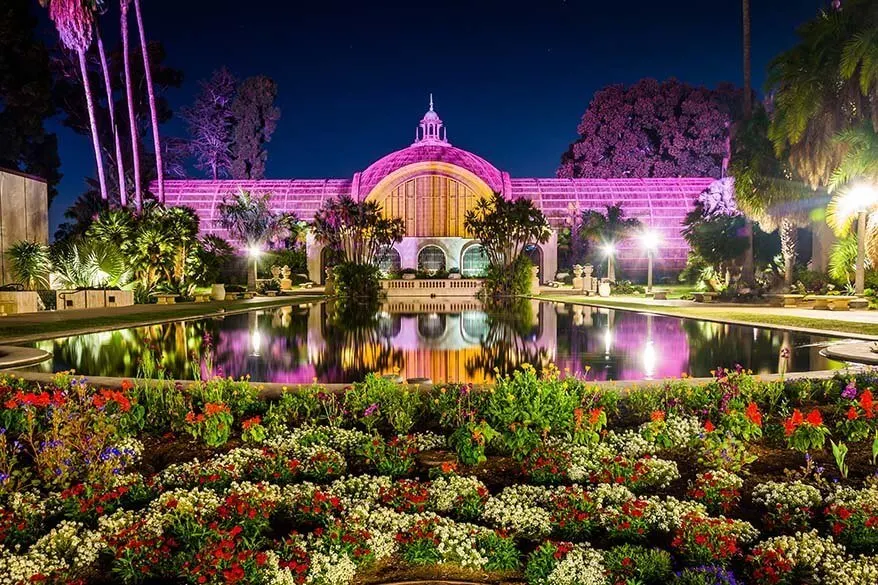 To help you plan your day in San Diego, I made a map indicating all the places mentioned in this 1-day itinerary.
Take a look below!
How to use this map: Use your computer mouse (or fingers) to zoom in or out. Click on the icons to get more information about each place. Click the arrow on the top left corner for the index. Click the star next to the map's title to add it to your Google Maps account. To view the saved map on your smartphone or PC, open Google Maps, click the menu and go to 'Your Places'/'Maps'. If you want to print the map or see it in a bigger window, click on 'View larger map' in the top right corner.
San Diego 1 day Itinerary without a Car
My recommendation for visiting San Diego in 1 day without a car is by joining an organized day tour. My absolute favorite tour is the San Diego Hop-on-Hop-off Old Town Trolley Tour.
With 10 different stops on its route among the most popular areas of downtown San Diego (including a ride across the bridge to Coronado), riders have unlimited 'on and off' privileges for the entire day. The ride is fully narrated between stops and is entirely family-friendly.
Needless to say, this is a much more relaxed way to see the best of San Diego in one day without having to worry about navigating the busy traffic or looking for where to park your car at each of the attractions.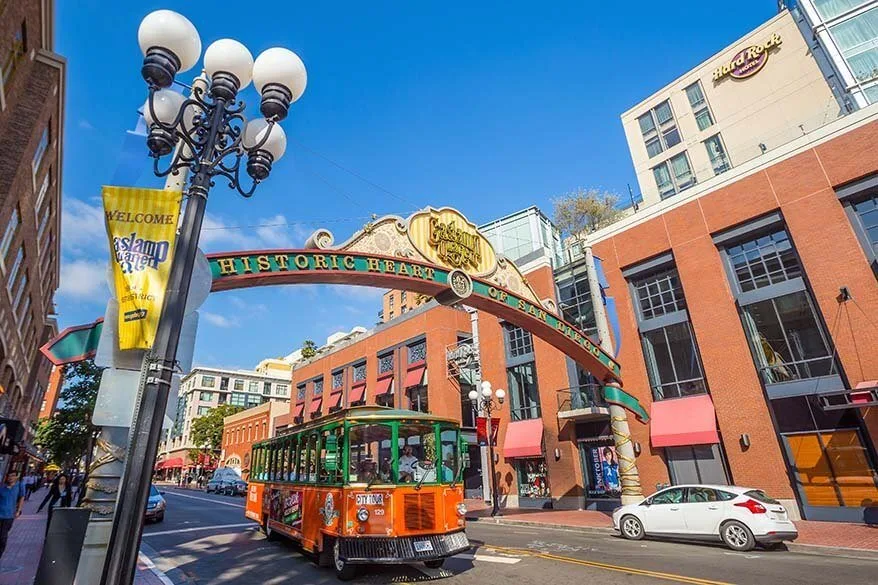 Please take a look at the itinerary suggestions above for the best places to see on your hop-on hop-off tour. Don't miss the USS Midway Museum and make sure to get your skip-the-line tickets in advance.
Our tip (based on our experience): Take the hop-on-hop-off trolley. Enjoy someone else doing the driving for you and not having to worry about parking. Start in Old Town and stop at the USS Midway (where you can take a short harbor cruise – see further), Hotel Del Coronado, and Balboa Park. These stops will give you a taste of everything!
This is by far our favorite way to see the best of San Diego in one day. It's great for kids too.
TIP: Make the most of your day in San Diego by taking a harbor cruise. It runs from a pier near the MSS Midway ship, so it's very easy to incorporate this into your one day San Diego itinerary. You can choose between the South Harbor or North Harbor tours (each takes 1 hour), or do a combination of both in 2 hours. It's one of the most popular things to do in San Diego and a great way to see a lot in a short time. You can check availability and book your San Diego harbor cruise here.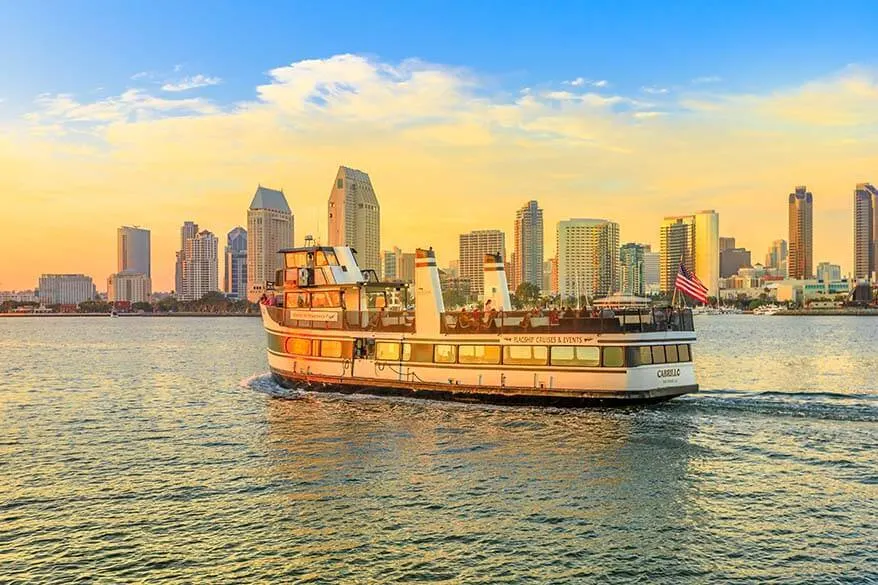 Practical information: There is ample parking in downtown San Diego, and rates can vary from $8-$36 dollars a day. It might pay off to research and reserve your parking online in advance.
To help you plan your day in San Diego without a car, I made a map indicating all the places mentioned in the itinerary above. Take a look below!
2 Days in San Diego
If you have two days in San Diego, in addition to visiting all the best places in the downtown area, you should try to explore some of San Diego's coastline and the city's famous family-friendly attractions. Below is a suggested 2-day San Diego itinerary. Take a look!
Day 1
Start the day by visiting the San Diego Zoo first thing in the morning. Make sure to book skip-the-line tickets in order to make the most of your time. Alternatively, visit the museums of Balboa Park. You could spend the whole day at the San Diego zoo alone, but since your time is limited, I'd allocate 3-4 hours to it.
After that, head to downtown San Diego and explore two or three of its neighborhoods by foot. You can have a late lunch in Seaport Village and then board the San Diego Coronado Ferry (adjacent to the cruise ship terminal) to spend the rest of the day on Coronado Island.
In the afternoon, relax on Coronado Beach, tour the Hotel Del Coronado, rent a bike or a golf cart to explore the island, and stroll among the shops on Orange Avenue. Wind down by watching a beautiful sunset here.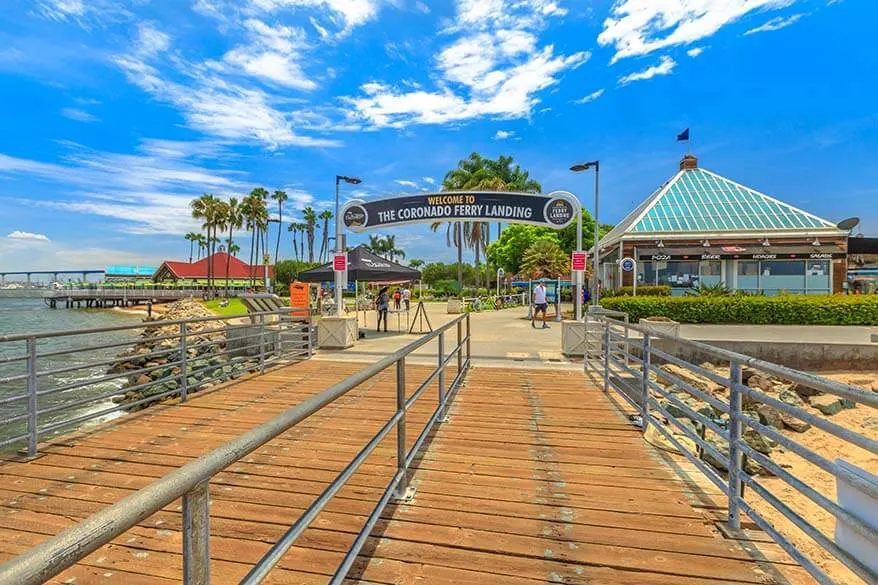 Practical Information: The San Diego Coronado Ferry runs every hour on the hour from 9 AM to 9 PM (9 AM to 10 PM, Friday and Saturday) between Broadway Pier and Coronado. It costs just $5 one-way. This is a popular means of transportation to and from the island.
TIP: I realize that this itinerary is rather busy for one day. It's really meant for those who want to maximize their short time in San Diego area to the fullest. So – depending on your interests – you could potentially skip the zoo or go there the next day, instead of visiting SeaWorld.
If you want to take it easier, follow our suggested one-day itinerary without a car (see above).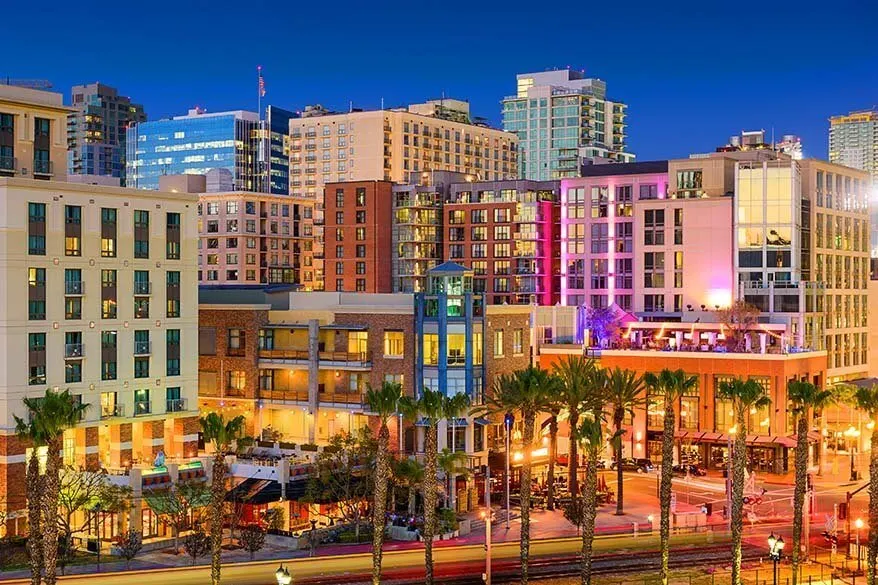 Day 2
In the morning, visit SeaWorld San Diego to get up-close-and-personal with whales, walruses, and dolphins.
If you haven't visited the zoo on the previous day, you could do that instead.
Both these places require a full day to properly explore, but if your time in San Diego is limited, you can see at least some of the highlights in half a day.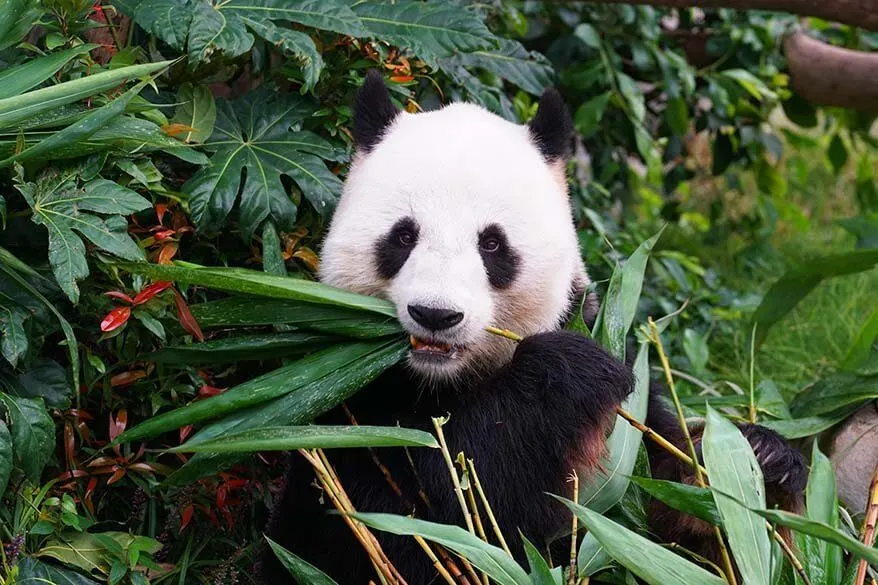 After lunch, travel 20 miles north of Downtown San Diego to the seaside village of La Jolla.
Known as the "Rodeo Drive" of San Diego, La Jolla is home to world-class shopping and restaurants. But it has so much more to offer than that! When visiting La Jolla for a short time, don't miss its famous resident population of wild seals and sea lions.
Park on La Jolla Coast Boulevard and spend some time admiring the seals in the Children's Pool area at Casa Beach. Dozens of seals and sea lions can be found lounging t ton this small sand beach.
TIP: One of the nicest things to do in La Jolla is kayak the sea caves of La Jolla Cove or dive/snorkel at La Jolla Underwater Park. We recommend joining this highly-rated kayak tour in the late afternoon of the second day of your 2-day San Diego itinerary.
Finish off the day by enjoying the marine life at Birch Aquarium and/or take a leisurely hike to see a magical sunset at Torrey Pines State Reserve.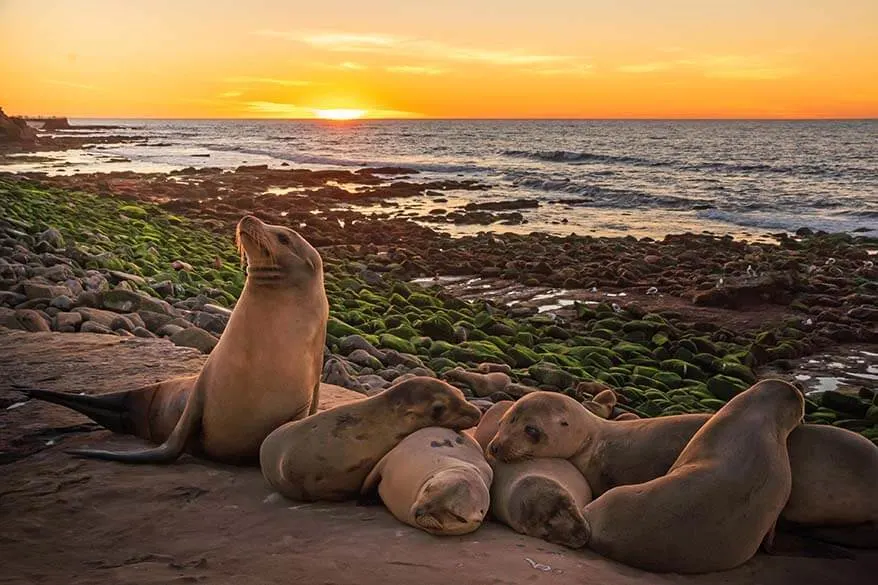 Below is a map indicating all the places mentioned in this 2 days San Diego itinerary.
3 Days in San Diego
Below is our suggested itinerary for what to see and do in San Diego in three days.
Day 1
Visit the San Diego Zoo, Downtown San Diego, and Coronado Island (see day 1 in the two-day itinerary above).
Day 2
Same as the second day of the 2-day itinerary, except take it easier. If there are any activities that you can't get done this day, move them to the next one.
Both the La Jolla sea lions and the breathtaking skyline views of the Pacific Ocean from Torrey Pines State Reserve are not to be missed. However, if you want to take your time and really enjoy both, you might run out of time. In that case, you could visit either La Jolla seals or Torrey Pines State Reserve on this day. Leave the other one for the 3rd day of this itinerary.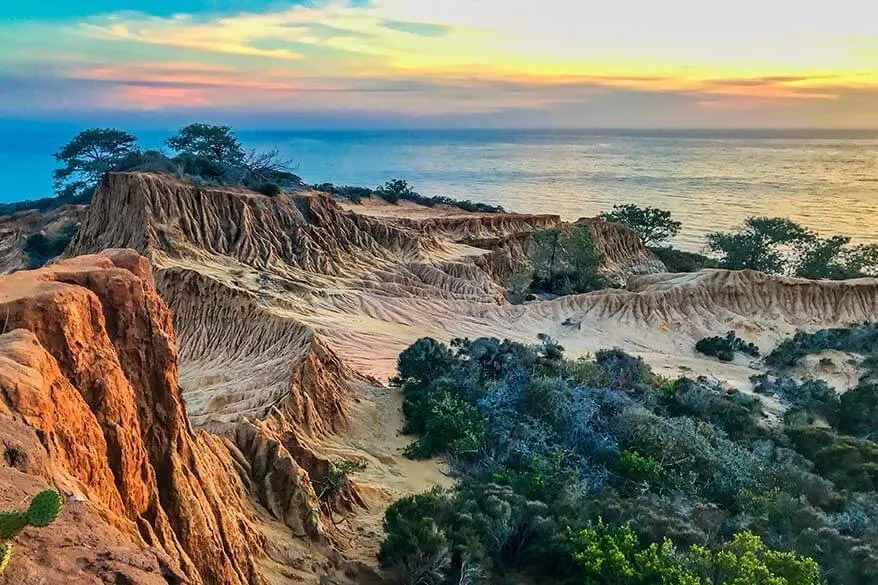 Day 3
Start your day with La Jolla kayaking or a hike at Torrey Pines State Reserve, if not done the previous day.
Continue your travels by driving Historic Highway 101 from La Jolla to Oceanside, California. Along with taking in the picturesque scenery, stop in Del Mar to see the famous Del Mar Racetrack. You can also experience some more upscale shopping at the Del Mar Plaza.
Finally, end your 3 days in the San Diego area by spending the afternoon in the city of Carlsbad. Carlsbad has so much to offer that you can easily spend three days here alone. However, for this itinerary, you'll need to narrow down your options. Take a look at the possibilities below!
The kids' choice will be Legoland California theme park, water park, and SeaLife Aquarium. Alternatively, you can play golf, visit the Museum of Making Music or simply relax on Tamarack Beach.
Another really nice thing to do in Carlsbad is to take a local food tour. Alternatively, stop at Carlsbad's Pizza Port Brewery and Restaurant, a 'laid back California feel' eatery with memorable food, hospitality, and ambiance.
TIP: If you are visiting the San Diego area in spring (March to May), don't miss Carlsbad Flower Fields.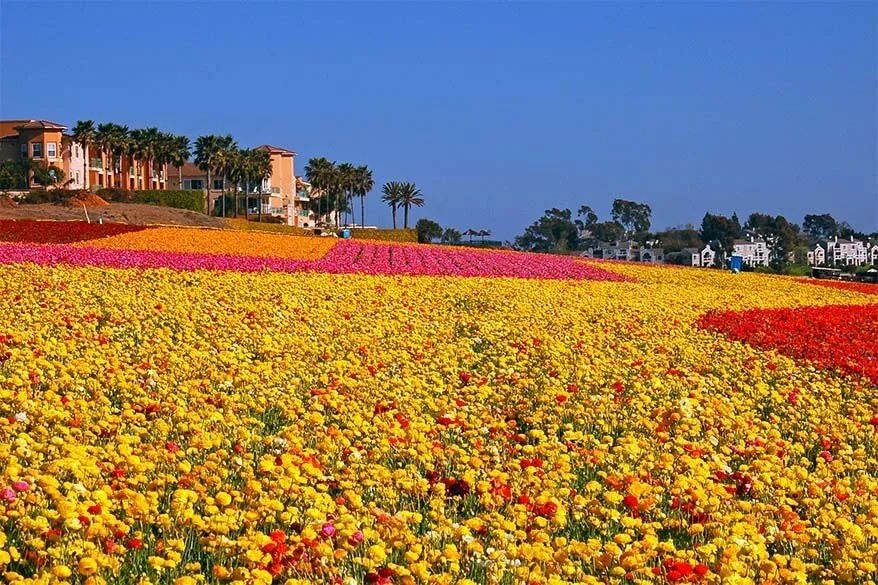 Below you can see the map indicating all the places mentioned in this San Diego itinerary for three days.
TIP: The earlier mentioned Go San Diego Card is really worthwhile if you have three or more days in San Diego. In addition to tens of top attractions and activities, a 3, 5, or 7-day card includes one of the following premium options: day admission to SeaWorld, speedboat adventures, or two-day hop-on / hop-off trolley. Check it out if visiting San Diego for three days or longer.
What to See and Do in San Diego If You Have More Time
If you have more than 3 days in San Diego, I suggest seeing the same places mentioned above, but at a much slower pace. If you have enough time, I recommend allocating an entire day for places such as SeaWorld, San Diego Zoo, Legoland California, and the Hop-on-Hop-Off Trolley Tour.
If you are planning a longer San Diego vacation, you can also play golf, surf, participate in water sports or spend days at one or more of San Diego's amazing beaches (and there are many!). Our favorites are Mission Beach along with adjoining Belmont Park, or Moonlight State Beach in Encinitas, CA. Here you can find more suggestions for the best beaches in San Diego for families.
The Point Loma tide pools, whale watching, taking a harbor cruise, visiting Cabrillo National Monument, and San Diego Zoo Safari Park are just a few other examples of other things to see and do in San Diego.
To sum up, yes, you can see the main highlights in San Diego in one day. And yes, you can get a taste of the surrounding areas in another day or two. However, you can also spend a week in San Diego and never get bored.
I'm sure that if you visit San Diego for just a few days, you'll be planning a future longer trip before you even leave.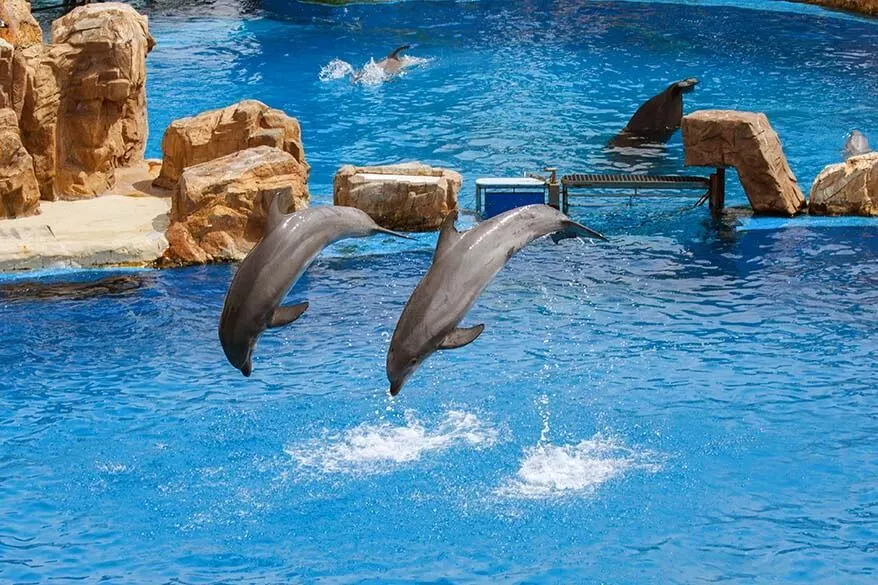 Where to Stay When Visiting San Diego
Because all of San Diego county's many attractions are relatively close to each other, you can choose to stay in one place for the entire duration of your trip to San Diego.
For shorter trips of just 1 or 2 days in San Diego, staying in the downtown area is the best choice. Staying in San Diego downtown gives you quick and easy access to all local areas of interest.
There are many really nice hotels in San Diego downtown area and also quite a lot of options for short-term rental accommodations.
Here are some recommended hotels in the city center:
In general, the further you get away from downtown San Diego, the cheaper your accommodations will be. This rule breaks down when you get to La Jolla, which is lovely but pricey.
However, La Jolla has probably the very best location for a San Diego vacation of 3 days and more. Just as everywhere, there are some really expensive hotels, but also some budget-friendly lodging options in La Jolla. So I'd definitely check what's available before deciding where to stay in San Diego. Here you can check availability and prices for La Jolla accommodation.
For those who are on a lower budget and are spending more than three days in San Diego area, we recommend staying in a central location like Encinitas or Del Mar.
We love staying in Encinitas – there are some really nice holiday homes available, which is perfect for families with kids. Encinitas is a bit of a ride from San Diego, but it's quite centrally located for exploring the area. So for example, for this 3 day San Diego itinerary it would mean going south one day, staying in the middle the other day, and north the next day. You can use a rental car to go back and forth between cities and attractions.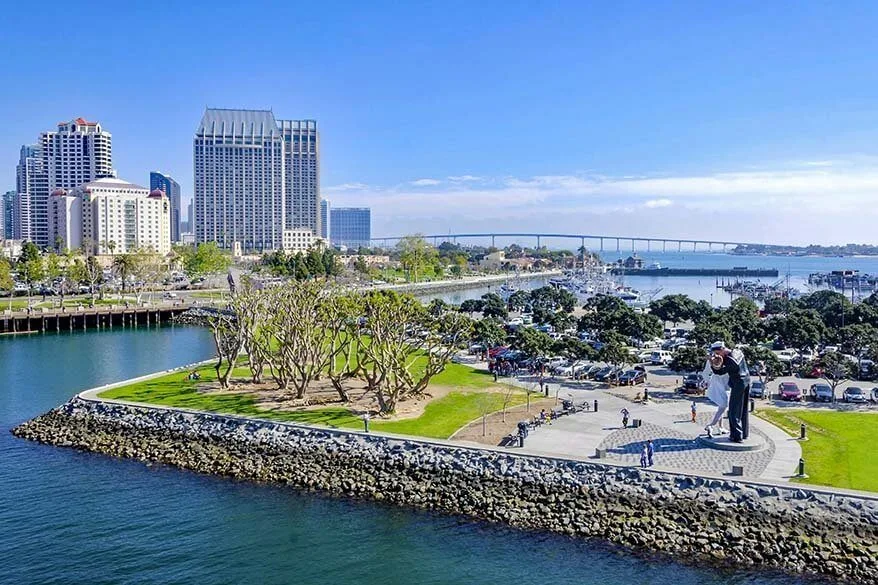 FAQ
How many days should I spend in San Diego?
We recommend planning at least 3 days for San Diego. This will allow you to explore the city center, visit one or two theme parks, and potentially also catch a glimpse of the beautiful coastal areas nearby. However, if you have more time, you can easily fill 5-7 days in San Diego and you'll find plenty to do.
What is the best month to visit San Diego?
The best time to visit San Diego is in the spring and in the fall (March-May and September-November). The weather is pleasant, it's not as busy as in the peak summer months, and you can find better deals for accommodations.
Where should I stay in San Diego for the first time?
If you are in San Diego for just 1 or 2 days and want to see the main landmarks, staying in the downtown area is the best choice. If you are spending a longer vacation in San Diego, it's better to stay at one of the beach areas northwest of the city, such as La Jolla or Pacific Beach. For more budget-friendly options, check out Encinitas or Del Mar.
Do you need a car in San Diego?
You don't need a car for visiting the main attractions in San Diego city. However, if you are in San Diego for a few days and are planning to explore the areas outside the city center and its wide surroundings, we recommend renting a car. We use and recommend the RentalCars website to find the best deals for your rental car.
YOU MAY ALSO LIKE: Los Angeles Itinerary for 3 Days
You may also like these guides to some of our favorite places in the U.S.:
If you found this post helpful, don't forget to bookmark it and share it with your friends. Are you on Pinterest? Pin this image!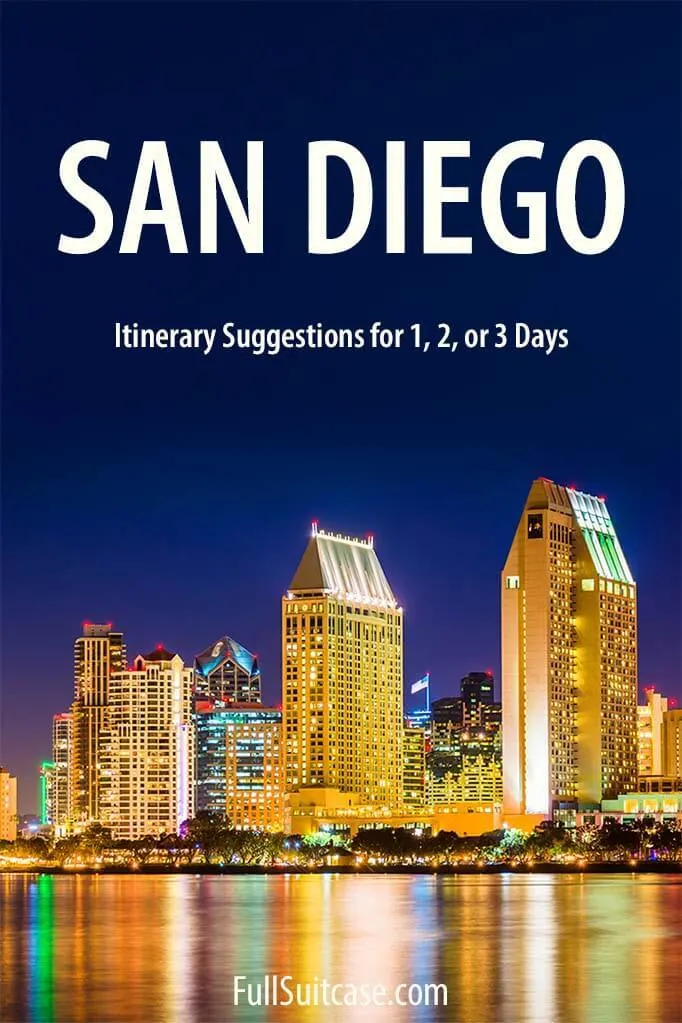 Image credits: Jon Bilous/Shutterstock.com//Gloria V Moeller/Shutterstock.com// Dancestrokes/Shutterstock.com// f11photo/Shutterstock.com// Hit1912/Shutterstock.com// Sean Pavone/Shutterstock.com// Sherry V Smith/Shutterstock.com// Benny Marty/Shutterstock.com// Wang Sing/Shutterstock.com// Alexandre Olive/Shutterstock.com// Manuela Durson/Shutterstock.com//James Kirkikis/Shutterstock.com// Roka/Shutterstock.com// f8grapher/Shutterstock.com//
Looking for more travel inspiration? Take a look at our guide to the best National Parks in the United States that should be on every bucket list.