Viva Las Vegas!!! Heading to Las Vegas, Nevada for the first time is super exciting. But it can be positively overwhelming as you try to figure out what to see and do in Las Vegas for the first time…
There are thousands of attractions to choose from, so knowing how to cut to the chase and get to the best things to do in Vegas is crucial to make the most of your time there.
One of the best things about Las Vegas is that while it is famous for jackpots and high-stakes gambling, it is also a place where everyone can have a good time, no matter your interests or budget. In fact, some of the best sights and attractions in Vegas are completely FREE! Las Vegas has a place for everybody and that is part of its charm.
This guide will show you the top places to see and the best things to do in Las Vegas and make sure you don't miss any of the must-see sights and top tourist attractions in Las Vegas.
Have fun, relax, and enjoy all of the craziness that Vegas can bring, and don't forget … Whatever happens in Vegas, stays in Vegas!
Good to know: In this article, we share all the very best things to do in Vegas based on our several trips to the city and the surroundings. You'll also find our experience-based tips for each of the main Vegas attractions. We hope that this guide will help you make the most of your trip to Sin City. Find out!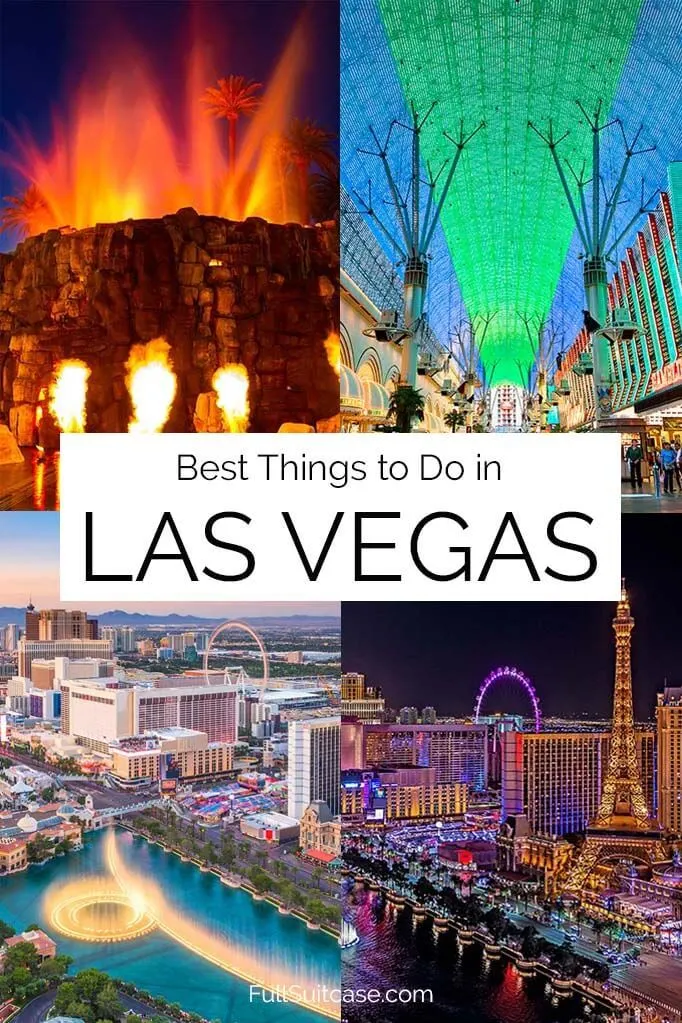 To help you plan your trip, we created this map indicating all the main sights and attractions in Vegas mentioned in this article. It will give you a better idea of where everything is located and how to best plan your time.
Keep in mind, that there is so much more to do in Las Vegas than mentioned in this article. However, unless you have unlimited time and budget, it's really impossible to see and do it all. So here we selected only the main sights, tourist attractions, and the very best things to do in Vegas that we think are worth it the most.
How to use this map: Use your computer mouse (or fingers) to zoom in or out. Click on the icons to get more information about each place. Click the arrow on the top left corner for the index. Click the star next to the map's title to add it to your Google Maps account. To view the saved map on your smartphone or PC, open Google Maps, click the menu and go to 'Your Places'/'Maps'. If you want to print the map or see it in a bigger window, click on 'View larger map' in the top right corner.
Getting around: If you are staying primarily on the strip, you do not need a car. On the strip, you can walk or take Monorail, which is the fastest way to get around for bigger distances.
However, if you want to go out and explore places further away, you'll need to rent a car, take a hop-on hop-off bus, book a tour. Sometimes, you can also get an Uber or a taxi, but it's quite pricey in Vegas.
TIP: Many casinos have a car rental place inside them. If you just need a car for a day, ask the front desk to see if they can help you, it is so convenient! On the other hand, if you need a car for longer than a few hours, it's usually much cheaper to book it online in advance. We use and recommend the RentalCars website – they have all the best deals in one place and excellent customer service.
READ ALSO: Travel Tips for Your First Visit to Las Vegas
Without further ado, here are some of the top things to do in Las Vegas that you shouldn't miss:
1. Las Vegas Strip
You will hear people say "The Strip" many times when Vegas is mentioned. That pretty much means the main, center street area on Las Vegas Boulevard from the Stratosphere to Mandalay Bay, where the majority of the casinos are.
Las Vegas Strip is about 4 miles (6km) long and all the best casinos and tourist attractions of Vegas are centered around it. Every Vegas visit should start with a walk on The Strip!
And no, you don't have to walk the entire length of it to experience the vibe. Our personal recommendation would be to check out the area anywhere between the New York New York casino and the Venetian. This is the liveliest part of the Strip where you'll find all the most iconic casinos and most noteworthy landmarks of Las Vegas.
TIP: The most important thing to pack to Vegas is comfortable shoes!!! Trust me, do not be fooled and think you need to glam up your outfit with high heels. You can always tell who a Vegas rookie is by watching women at the end of the night walk barefoot with their heels in their hands.
Fun fact: Many places on the Vegas Strip even have shoe vending machines that dispense flat roll-up shoes for those stiletto-victims that chose fashion over common sense…
Anyway, now that you have comfortable shoes on, get out there and explore!! Walk through the casinos, get the lay of the land, stop for a drink or a snack along the way. You will start to get a feel for what you want to return to and explore further and what areas you want to steer clear of.
Good to know: Vegas has a system of escalators and elevated walkways to prevent pedestrians from crossing the traffic-heavy Las Vegas Boulevard. If you have trouble walking stairs, there are accessible elevators as well.
TIP: For longer distances, to save time, or if you simply don't like walking, you can also opt for Las Vegas Monorail. With 7 stops at all major attractions, it's a comfortable way to explore the strip. They offer passes for 1 to 7 days.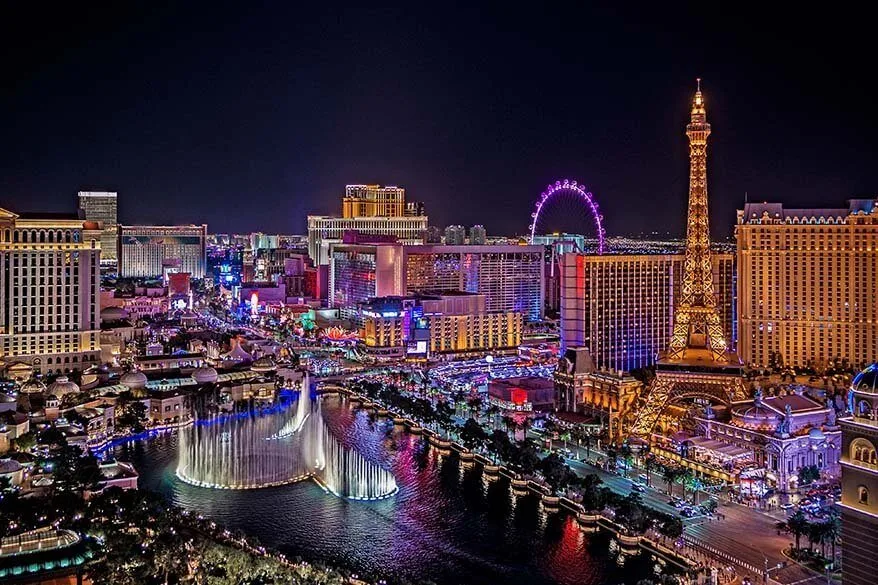 2. Welcome to Fabulous Las Vegas Sign
No trip to Vegas is complete without taking a picture in front of the "Welcome to Fabulous Las Vegas" sign. This iconic sign is located right on Las Vegas Boulevard and has become a real landmark in the city.
It's easy to find on the South end of the strip, not too far from Mandalay Bay and McCarran International Airport. There is a small parking area nearby to help you access the sign easily.
TIP: If you see a line to take pictures, sit tight and wait it out. The line will move quickly, and it is positively worth the wait! Oh, and the sign is much smaller than you'd expect, so you can easily take a picture standing in front of it.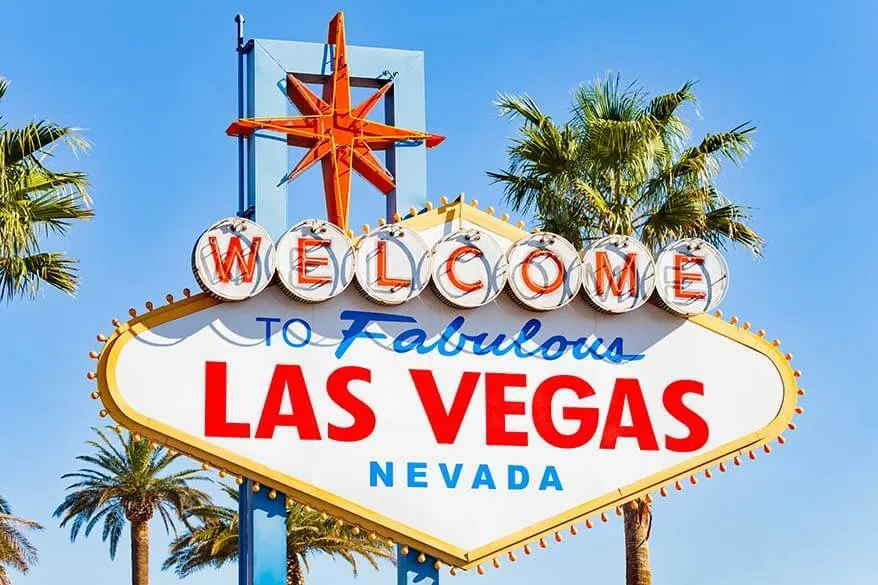 3. Las Vegas Casinos
You can't go to Vegas and not visit at least one or two casinos that the city is famous for! Each casino typically has its own theme. Millions of dollars have been spent creating a certain vibe and a unique experience for Las Vegas visitors.
So yes, the casinos themselves are among the best tourist attractions in Las Vegas!
Here are some tips on which casinos to visit based on your interests:
If you visit just a few casinos in Las Vegas, we recommend starting with Caesars Palace and Bellagio which are just next to each other. The Venetian is just across the street as well and you can easily see all three of them in just a few hours.
On the other hand, you could just as well spend several hours at each of these gigantic casinos and still not see it all… Caesars Palace has so much to offer that it's a destination in itself. So it's all about how much time you have and what you are interested in.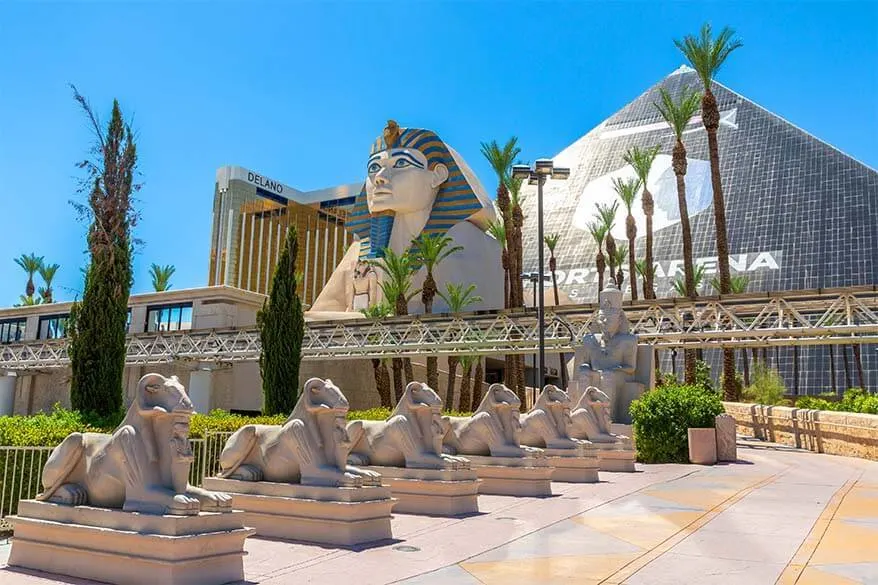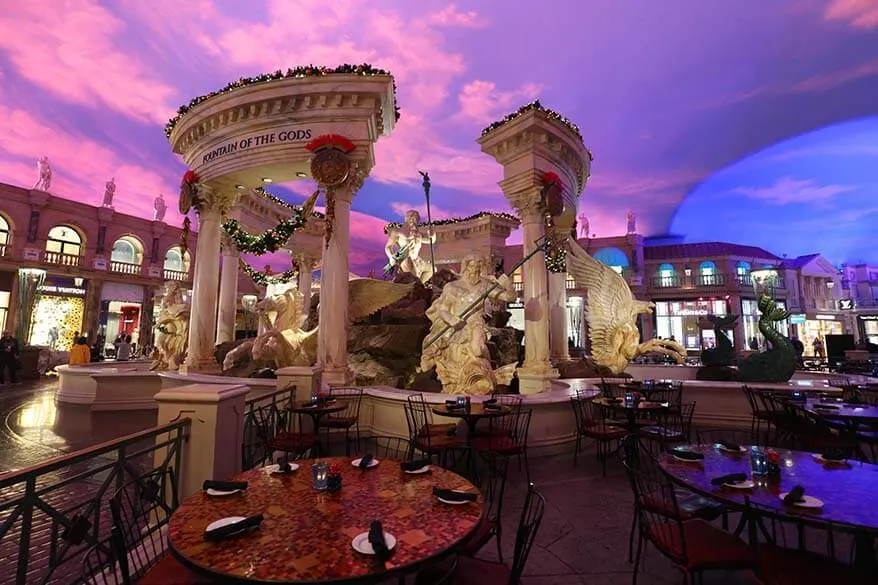 4. Helicopter Flight over Las Vegas Strip
One of our personal favorite things to do in Vegas is the nighttime helicopter flight above the Las Vegas Strip. It takes just over 10 minutes, but our whole family agreed that those were the best 10 minutes spent in Vegas!
Flying above the brightly-lit casinos and seeing the entire Las Vegas Boulevard under your feet is a truly unforgettable adventure. No matter how many times you've been to Vegas or how many times you walked on the Strip, seeing it from above is absolutely impressive!
You also get a great and very engaging commentary from the pilot which makes the whole experience even more fun.
Good to know: There are a couple of companies organizing nighttime helicopter flights in Las Vegas. After thorough research, we opted for this highly-rated helicopter flight. It was by far the best price/location/quality helicopter flight that we could find. It also helps that the flights depart just next to the city center and you can choose to self-drive there or get them to pick you up from your hotel.
This was a truly amazing experience that we all loved. As far as our kids are concerned, this is the best thing to do in Las Vegas and the entire Southwestern United States. Highly recommended!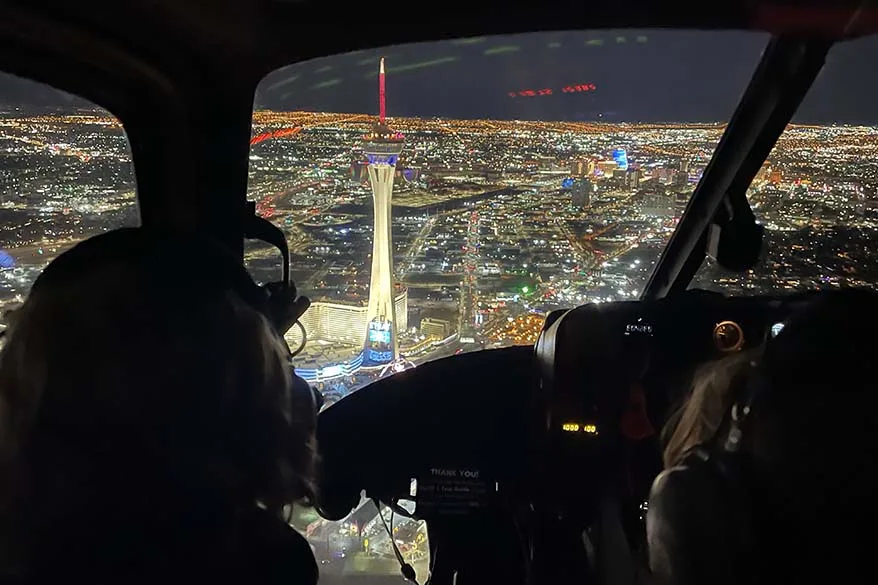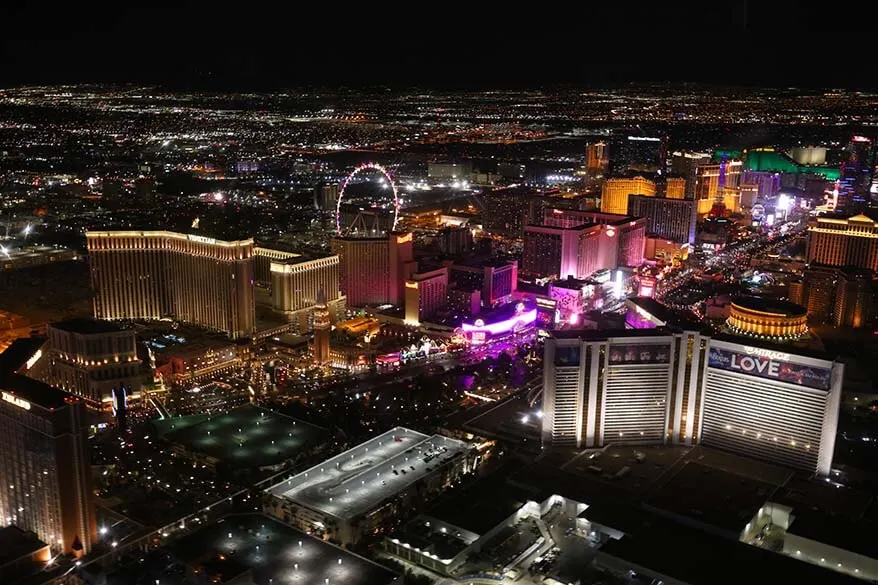 5. Bellagio Fountains
The music- and water show at the Fountains of Bellagio is the iconic must-see experience in Las Vegas! The perfectly synchronized dancing fountains will blow your mind as the music blasts through the speakers right out in front of the Bellagio Hotel & Casino on Las Vegas Blvd.
This magical show is a must-see for first-timers or Vegas veterans! There is a constant rotation of music and water choreography, so you are likely to see something new every time.
The shows are free of charge and happen daily at regular intervals. So you don't even have to plan much – just head to Bellagio in the afternoon or in the evening and wait for the next performance!
Practical information: Bellagio water shows run every 30 minutes from Monday to Friday between 3 PM and 7 PM, and every 15 minutes from 7 PM to midnight. On the weekends and holidays, the shows start at noon and run every 30 minutes until 7 PM, and every 15 minutes from 7 PM to midnight.
TIP: Get there a little bit early and grab a spot close to the railing and more toward the center of the building to have the perfect view. There honestly is not a bad seat in the house.
Good to know: If you are staying at the Bellagio, there is actually a TV station that plays the fountain music while you watch the show through your bedroom window. This is a great way to avoid the crowds and see the fountain in action as many times as you want!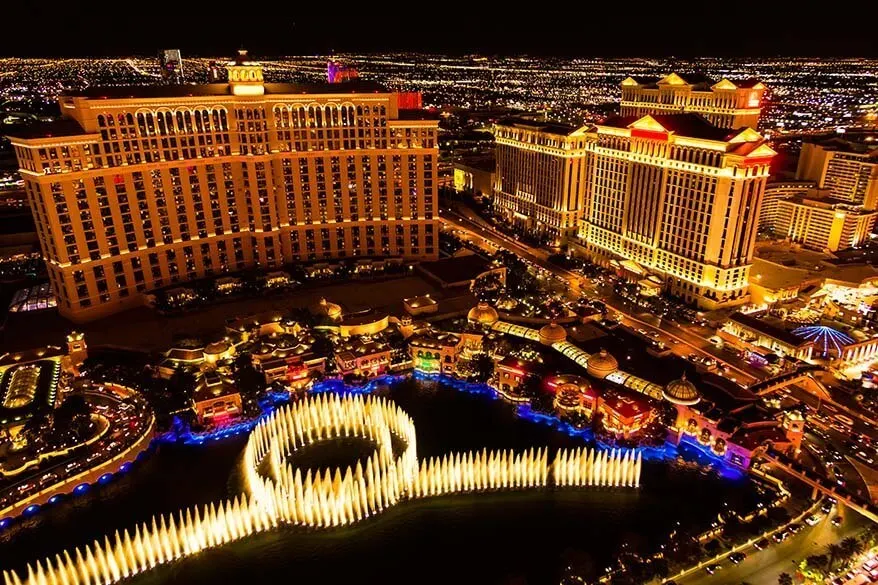 6. Fremont Street Experience
Fremont Street is located in Downtown Las Vegas, the area that locals call "Old Vegas". It's somewhat comparable to The Strip but is more lively, cheaper, and more down-to-earth.
This super touristy area occupies the 5 most western blocks of Fremont Street and has a ton of entertainment, casinos, restaurants, and incredible people watching. It's about 15 minutes drive from the strip area, but well worth the effort! This is one of the must-see places in Vegas!
The ceiling at the Fremont Street Experience – Viva Vision – is the largest video screen in the world! It is 1,375 ft long and is suspended 90 ft above Fremont Street's pedestrian mall.
The Viva Vision ceiling shows run every night at the top of the hour from 6 PM to 1 AM. They are free of charge and there are various shows, so you can come back a few times and get to see several different shows. It's amazing!
Good to know: Gambling minimums are typically lower in Downtown Vegas than at the casinos on The Strip. So if you want to hit the tables at $5 minimums, it's better to head to one of the casinos here.
TIP: Fremont Street Experience gets packed on weekend nights, especially Fridays and Saturdays. So if you can, visit here on an evening during the week.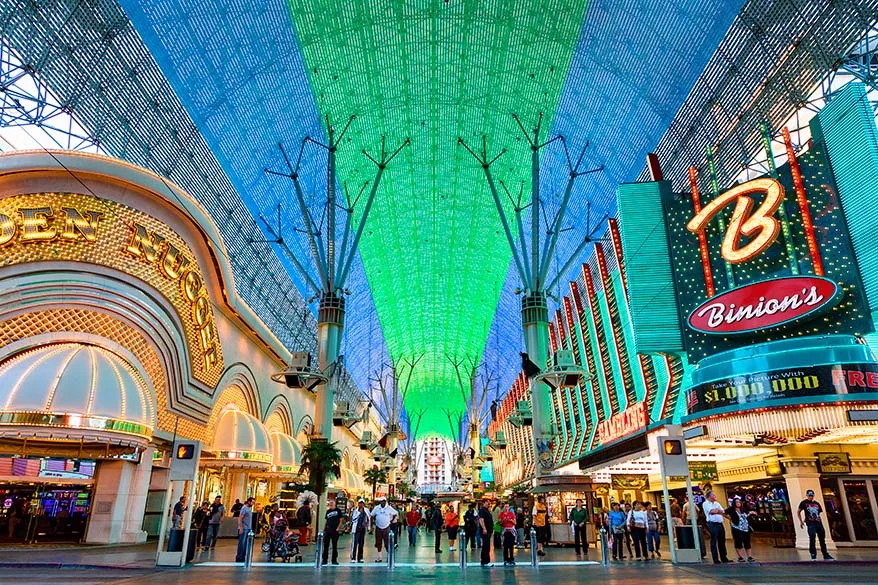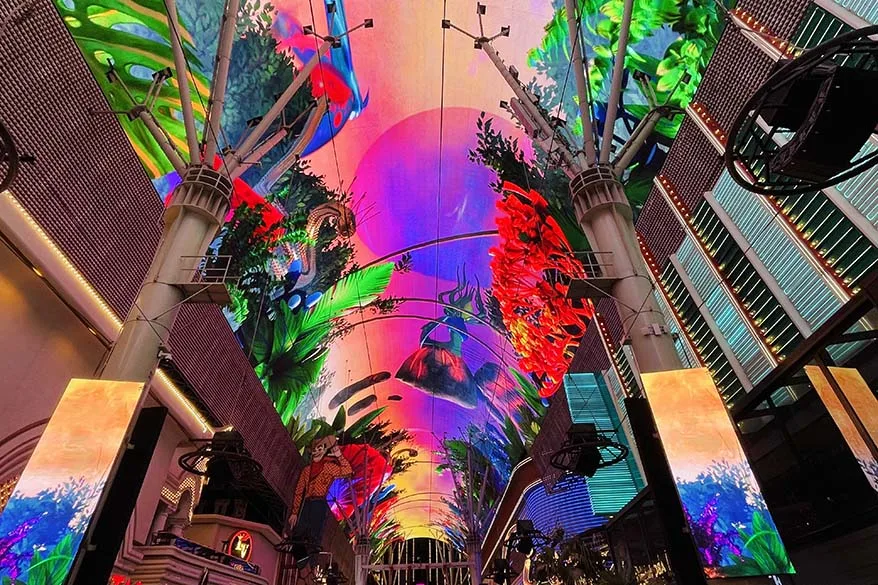 7. Omega Mart – Meow Wolf
If you are looking for something unique to do in Las Vegas with the whole family, then you should definitely head to Area 15, and its main attraction Meow Wolf's Omega Mart.
This is such a special experience that I cannot even find the right words to describe it. I asked one of the people working there how they would describe it, and they said it was like traveling through the dimensions of something.
Indeed, when you visit Omega Mart, you step into an alternative world and take a fun journey through various dimensions. At first sight, it looks like a fun grocery store selling very unique items. But if you look closely, you will find hidden doors and secret passages that take you into a completely different world. A world of lights and colors, and some of the strangest installations we have ever seen…
There is really no way to describe this place any better. You simply have to see it (and experience it) yourselves. It's just as unique as Las Vegas itself, and so it's, therefore, an excellent place to visit in this crazy city!
Good to know: Meow Wolf is located inside the building of Area 15, a short drive from the strip. It's open daily starting from morning or noon (depending on the day) until late at night. There are many other quirky and fun activities here and you can get a ticket for some or all of them on the spot.
TIP: For Omega Mart itself, we really recommend booking a timed entry in advance. When we visited, they were sold out for the entire day and many people were disappointed they couldn't enter. From what we read, it happens very often. You don't have to book weeks in advance, but it's a good idea to do it at least a day or two before you go.
PRO TIP: Tickets are usually cheaper during weekdays (unless it's a holiday).
Choose an approximate time slot and try to arrive a bit early to be sure not to miss it. And if you have some extra time, you'll find plenty of other interesting places to see here. Also, count at least 1.5 hours for a visit here, but some people say they even spend 2-3 hours inside.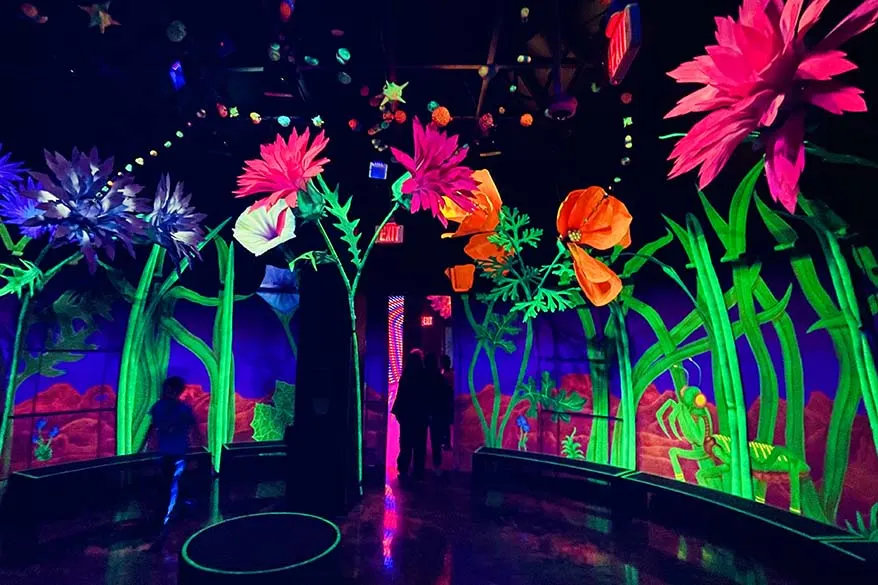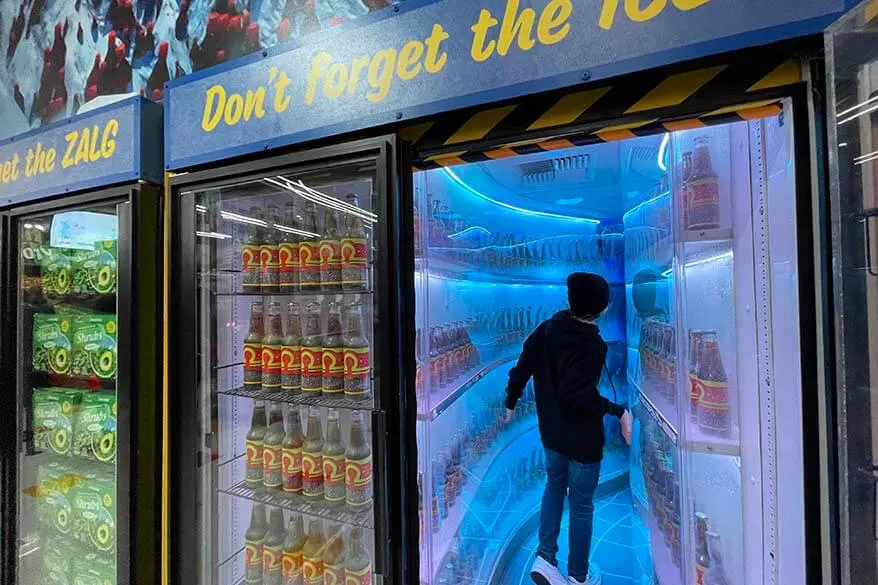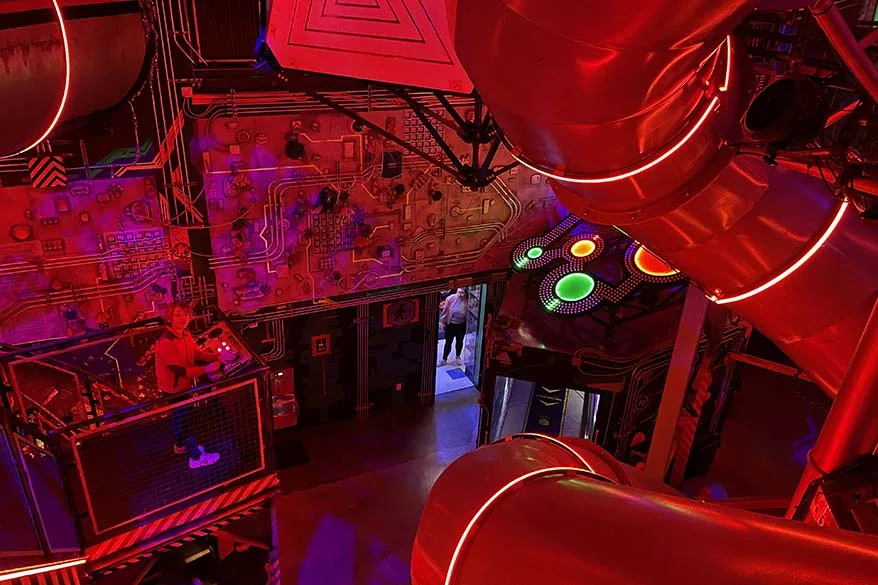 8. Fiori di Como – Bellagio Ceiling
If you are outside of the Bellagio watching the fountain show, take the time to walk inside this incredible casino/hotel. There are two must-see attractions inside the Bellagio: the "Fiori di Como" glass ceiling in the main lobby, and the ever-changing Conservatory & Botanical Gardens (more about it further below).
The "Fiori di Como" is a colorful glass ceiling/ sculpture that was created by Dale Chihuly for the hotel opening in 1998. The piece of art consists of 2000 hand-blown glass flowers in different colors.
This masterpiece is absolutely astounding and positively gorgeous in the way the colors and flower-like glass radiate from the ceiling. Must-see in Vegas!
TIP: If you ever get a chance to visit Bellagio at Lake Como in Italy in late spring or in summer, you'll understand where the inspiration for this stunning piece of art comes from!
Good to know: The entrance to Bellagio is free of charge and you can admire the ceiling when and as long as you want.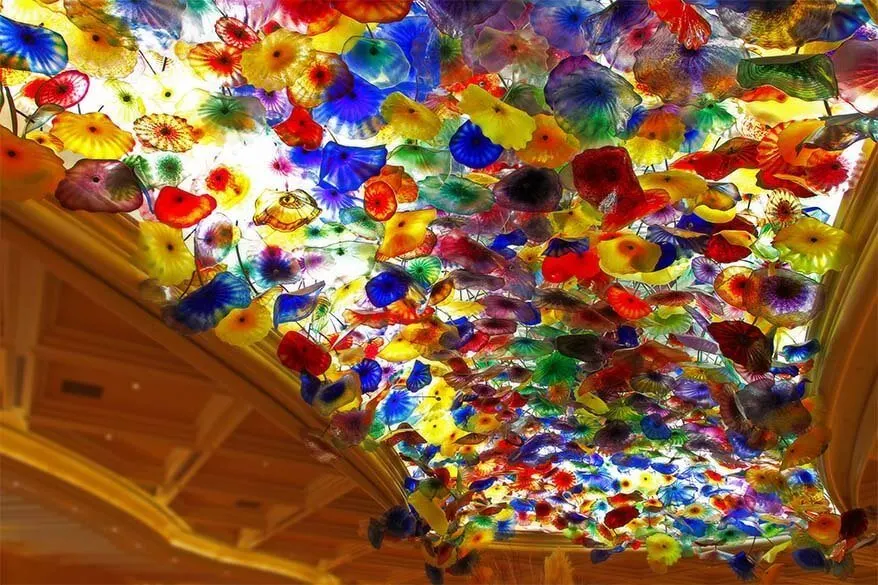 9. Bellagio Conservatory & Botanical Gardens
Once you are done admiring the ceiling, keep heading deeper into the hotel and you will walk right into the Bellagio Conservatory & Botanical Gardens area. Also here, you can visit free of charge.
This enormous 14,000-square-foot garden showcases some of the most unique floral sculptures in the world. It's hard to believe that everything is made of floral materials, but the overwhelming smell of earthy goodness will knock you off your feet.
The exhibits here change with every season. So each time you visit Las Vegas, you should make a trip to see the new floral creations at Bellagio Conservatory! No two visits will ever be the same.
Good to know: It takes a lot of time to rearrange the exhibits, and so the conservatory is closed for a few days at every change of the season. For more information for your visit and the 'dark dates', please check the official website.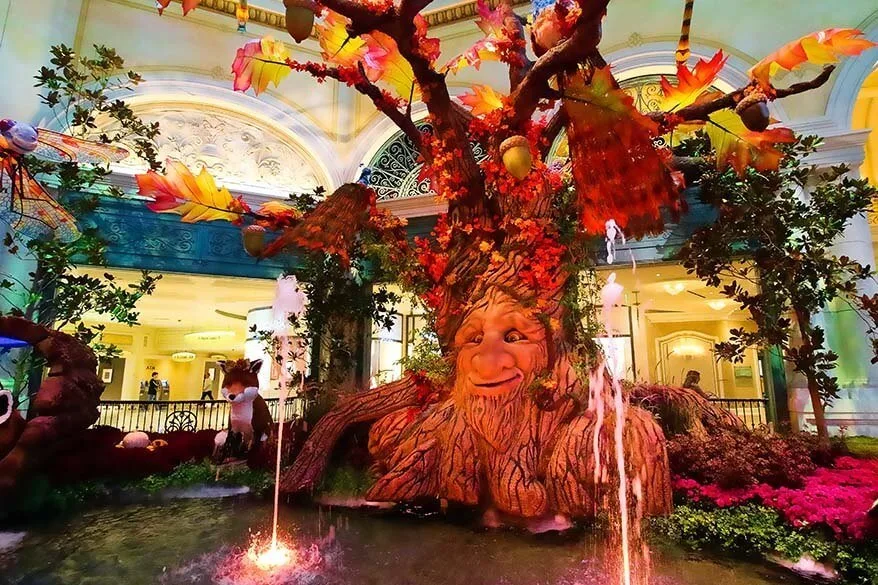 10. The LINQ Promenade
The LINQ Promenade, located at the center of The Strip, is an outdoor district for shopping, dining, and entertainment. Las Vegas observation wheel High Roller is also located here (see further for more info) and also one of the fun experiences in Vegas – Fly LINQ Zipline. This zipline is so much fun for young and old!
The LINQ Promenade is also a great place for some down-to-earth fun and also my favorite spot for lunch. Check out In-N-Out Burger for a quick bite!
Located conveniently and open daily from 10 AM to 2 AM, LINQ Promenade offers something for everyone. It's also one of the best places for people-watching in Las Vegas!
TIP: One of the best places to "people watch" is down the long corridor of the Linq Promenade area or sitting at some of the stools right outside the Flamingo at the Margaritaville area.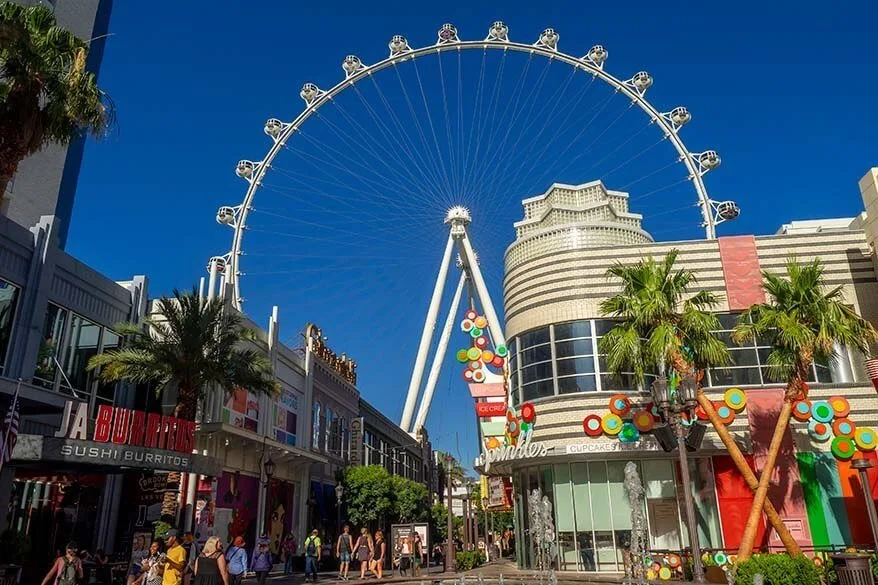 11. The LINQ High Roller
The LINQ High Roller Ferris wheel stands tall in the LINQ Promenade area between the Flamingo and the LINQ casinos. You really cannot miss it. This 550-foot observation wheel gives you the best 360° views in Vegas!
It is very slow-moving and takes about 30 minutes to complete one revolution. A ride on the High Roller is a nice way to see Las Vegas from a different perspective and rest your legs from all the walking!
There are 28 spacious air-conditioned cabins, each can seat up to 10 people. They even have special VIP cabins with an open bar and bartender for an added price (you must be at least 21 years old for this one).
TIP: The incredible high-angle views of the Vegas Strip are amazing at any time, but for the most special experience, go at night! The lights of the city are dazzling! However, if you are on a budget, get a day ticket – it's cheaper than going at night. Here you can find more information and book your tickets for High Roller.
Good to know: The High Roller is not suitable if you are afraid of heights. It is an all-glass enclosure that is not for those nervous about height.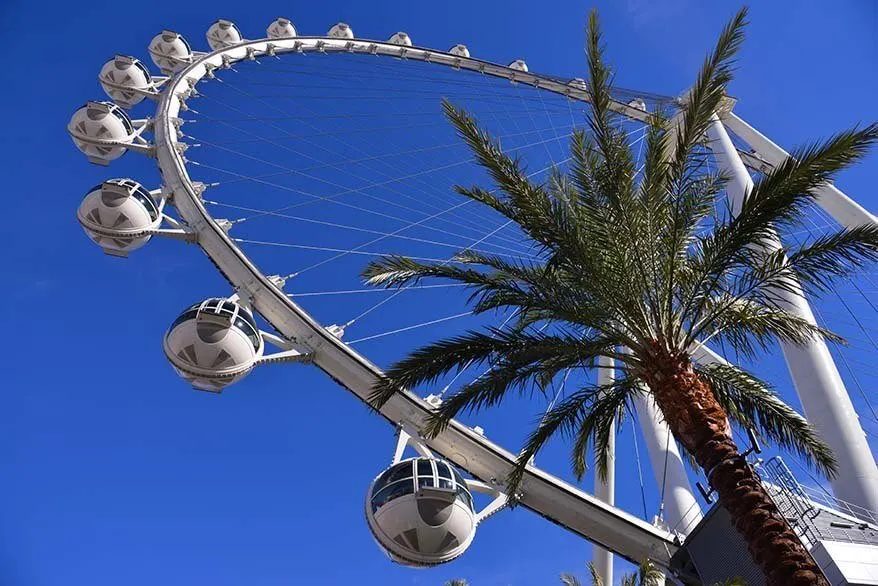 12. Mirage Volcano Show
Right in front of The Mirage is a landscape from an old island scene, a giant volcano. This impressive fire show with fireballs and music is great fun for all ages. So be sure to make this part of your itinerary!
This show literally lights up the strip! You can even feel the heat from the fireballs if you are standing right up front. Be mindful if you are with small children or someone who might be fearful of explosions.
Practical information: The Volcano show happens daily, right on the hour from 7 PM to 10 PM. It's located on Las Vegas Boulevard, in front of the main entrance of The Mirage. And yes, it's also free of charge.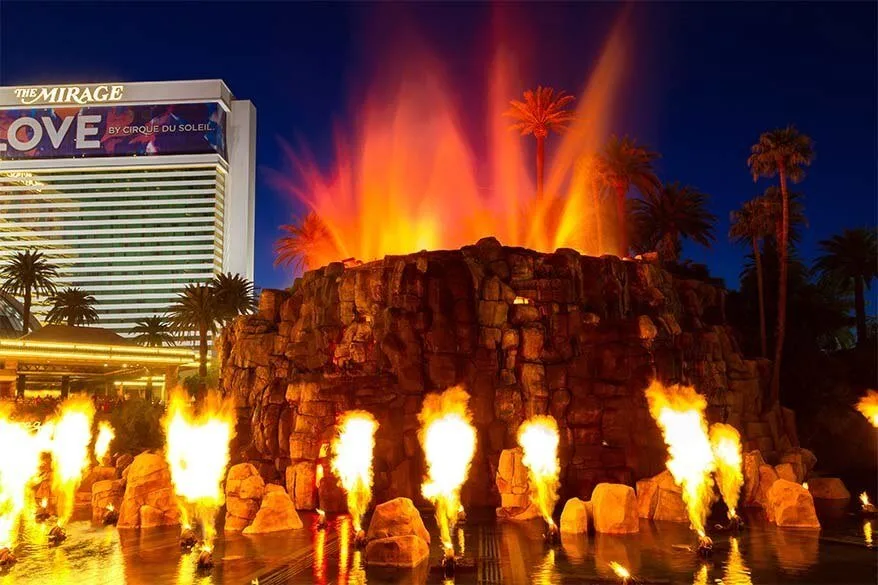 13. Venetian Singing Gondoliers
The Venetian casino is coupled with the Palazzo to give you a true European vibe. You'll find replicas of St. Mark's Campanile, Rialto Bridge, and even a part of a real Doge's Palace in Venice!
There is so much to see as you walk through this resort, including hand-painted frescos and award-winning restaurants… But the secret hidden gem is the gondola rides on the Grand Canal. Each gondola is piloted by a singing gondolier as they row through the canal and take in the sights. You'd almost think you are on a real gondola ride in Venice…
This is a top spot for the romantics, and if you are lucky you might even see a proposal in this truly special place. At the same time, this is also one of the top things to do in Vegas with kids!
Good to know: If you don't want to flip over $30 to actually ride in the gondola, you can walk along the shops, bridges, and cafes and experience the gondolas as a spectator.
Practical information: There are gondola rides inside and outside, and opening times and prices depend on when you visit. If you are on a budget, go on a weekday, because gondola rides are over 20% more expensive between Friday and Sunday. For more information, please check the official website.
TIP: On GetYourGuide, you can book a ticket that includes a gondola ride and a visit to Madame Tussauds (both attractions are located at The Venetian). If you are planning to do both anyway, this ticket will save you about $15-20, especially worth it if visiting on the weekend.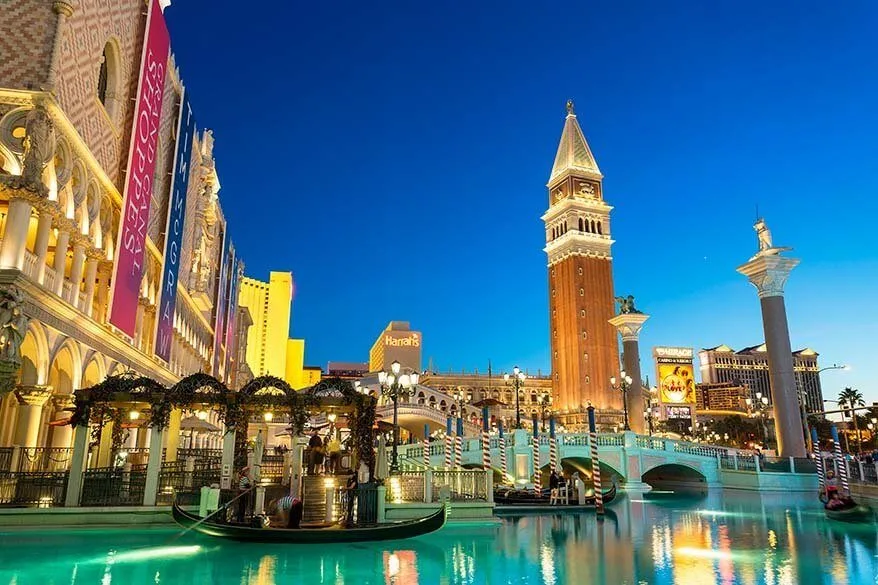 14. Eiffel Tower Viewing Deck
For some great views of The Strip, head to the top of the Eiffel Tower at the Paris casino/resort! This is a great place for a romantic evening or sightseeing adventure in Las Vegas.
The Las Vegas version is about half the size of the real Eiffel Tower in Paris. It has a cool viewing deck at 460 feet, offering great views of the Bellagio Fountains and 360° views of the entire strip and the city.
Practical information: The viewing deck is accessible by a glass elevator and is open daily from 2 PM to 10 PM. Here you can get skip-the-line open tickets and visit when it best suits you. The ticket saves you time because you don't have to stand in line at the ticket desk.
TIP: The Eiffel Tower also has a new cool light show that happens every 30 minutes from sunset to midnight. It's free of charge and can be seen from the street.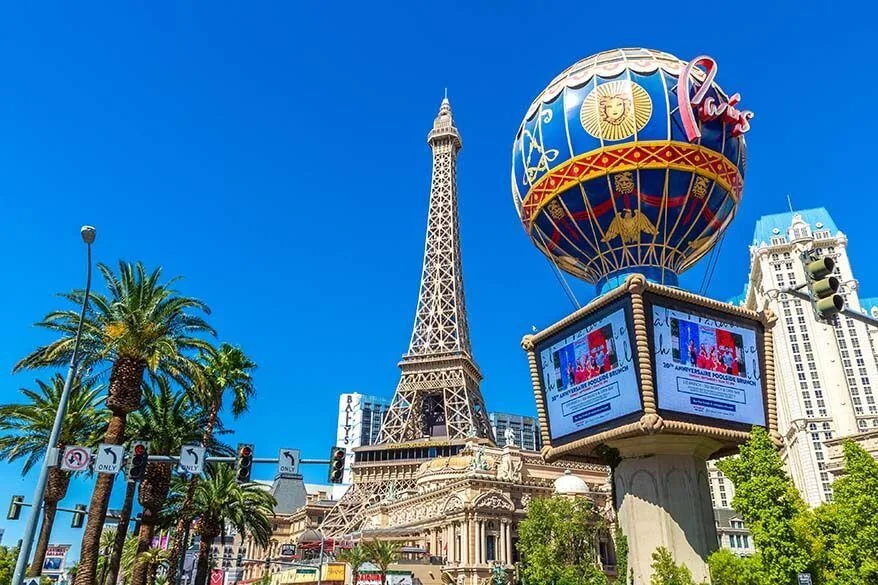 15. Shows & Performances
Las Vegas has some of the best entertainment in the country! Top entertainers like Celine Dion, Barry Manilow, David Copperfield, Penn & Teller, and the infamous Cirque du Soleil are just a few examples of daily shows and performances in Vegas.
If your schedule and budget allow it, definitely see if you can get tickets for one of the shows! For the most popular shows, you'll need to get your tickets in advance. Especially if you want to be able to choose the show times and seats.
For that, we recommend checking the HelloTickets website – they usually have a complete selection of all the performances and shows available at that time. You can also find some tickets for the popular Vegas shows on GetYourGuide, often with big discounts. Check it out!
Caesars Entertainment's website also has a great selection of some of the best shows and concerts in the city.
Good to know: If you find the choice of Vegas shows overwhelming, some of the best shows at the moment are Michael Jackson ONE by Cirque du Soleil at Mandalay Bay, KÀ by Cirque du Soleil at MGM Grand, and 'O' by Cirque du Soleil at Bellagio.
We went to see one of the Cirque du Soleil shows on our recent visit to Las Vegas and it was incredible! The colors, the costumes, the entire act – absolutely breathtaking! It was actually better than the 'standard' Cirque du Soleil shows we had seen before. I think it has to do with all the special installations and tricks they can do on a 'fixed' stage rather than touring around.
TIP: If you didn't get your tickets in advance, you can stop by one of the big red booths on the Las Vegas Strip that are labeled Tix4Vegas. They are somewhat of an outlet for Vegas entertainment and you can often find discounted last-minute tickets for all shows and attractions. It is definitely worth checking out.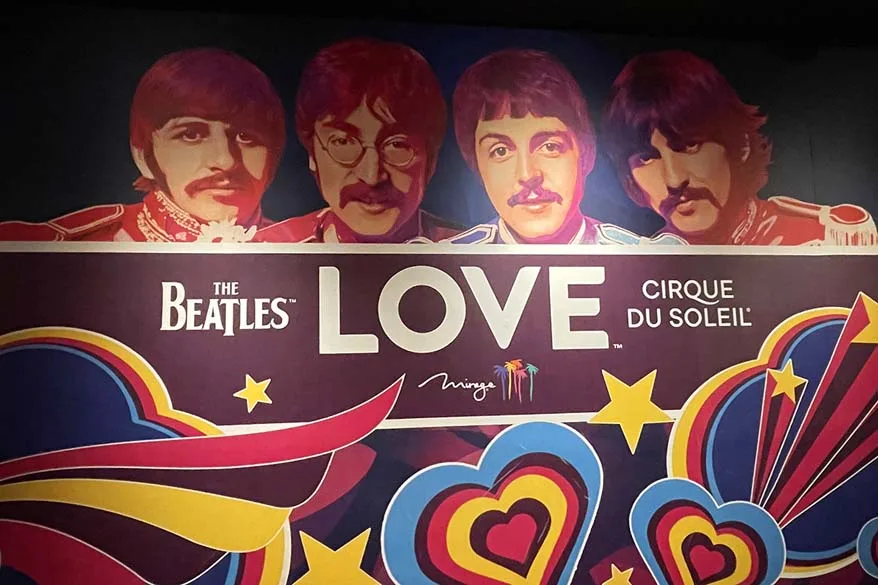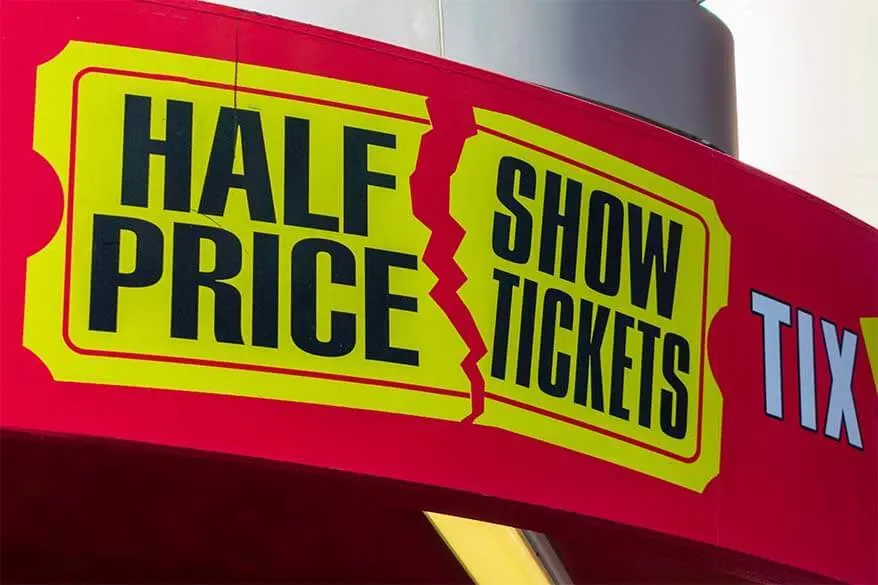 16. Museums & Interesting Exhibitions
There is always so much going on in Las Vegas that it can get overwhelming what to choose. On the other hand, that's also what makes Vegas so great because there truly is something for everyone in the city! If you are looking for some unique experiences, check out at least one or two cool museums or exhibitions in Vegas!
Here are some of the best ones that are well worth your time (and it's a great way to escape the desert heat if visiting Vegas in the warmest months):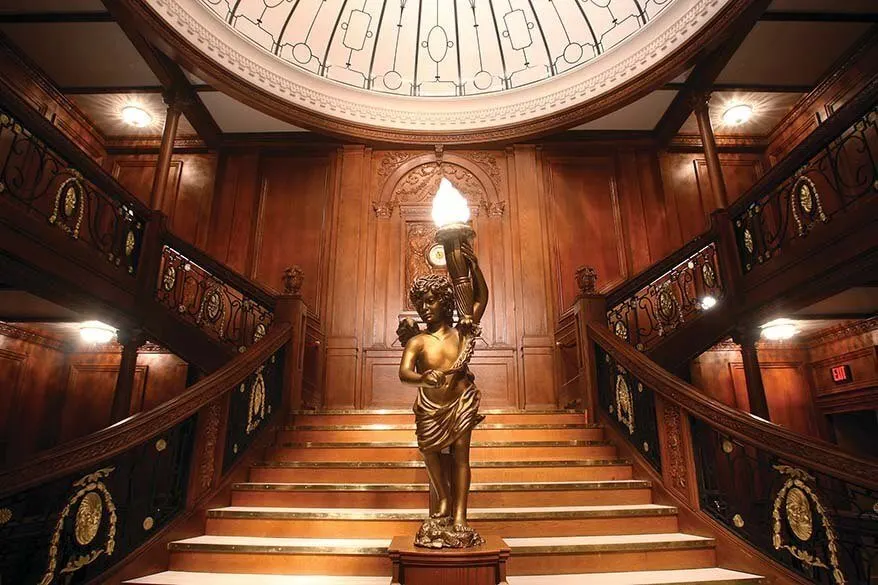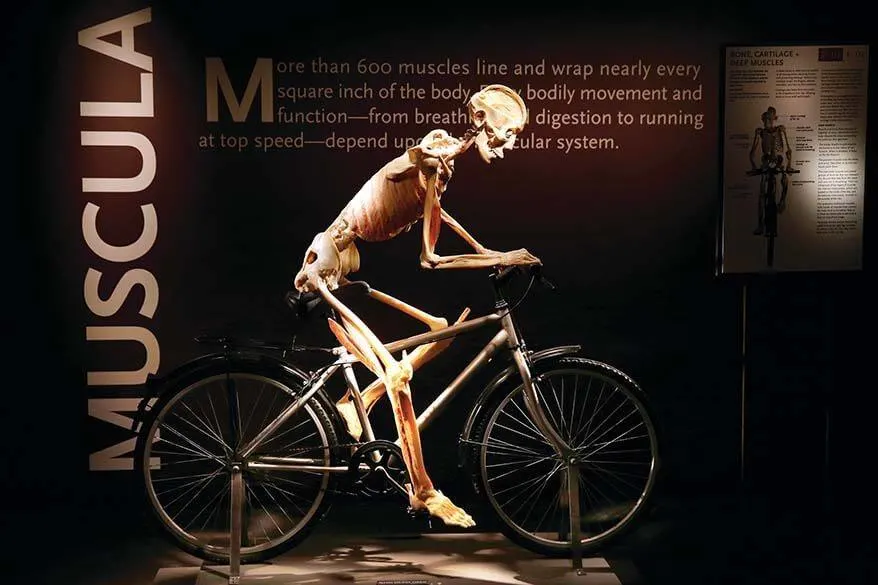 17. The Neon Museum
If you are looking for more to do near the Downtown Vegas area, you should go check out the Neon Sign Graveyard at the Neon Museum! This place collects all of the old iconic Las Vegas signs and displays them for all to enjoy.
Practical information: The Neon Museum is open from 2 to 10 PM daily, but sometimes closes for special events or photoshoots. In any case, usually, you will need to buy a ticket long in advance anyway, so you can see in advance when it will be open.
TIP: Tickets are typically available for reservation one month in advance and they often sell out fast. So if you want to visit, be sure to mark the date in your calendar and sign up for your tickets early. For more information, see the website of the museum.
Good to know: This museum is rather small and you can see everything in 15-30 minutes. They have a small parking area just next door, or you can walk here in about 15 minutes from the Fremont Street Experience.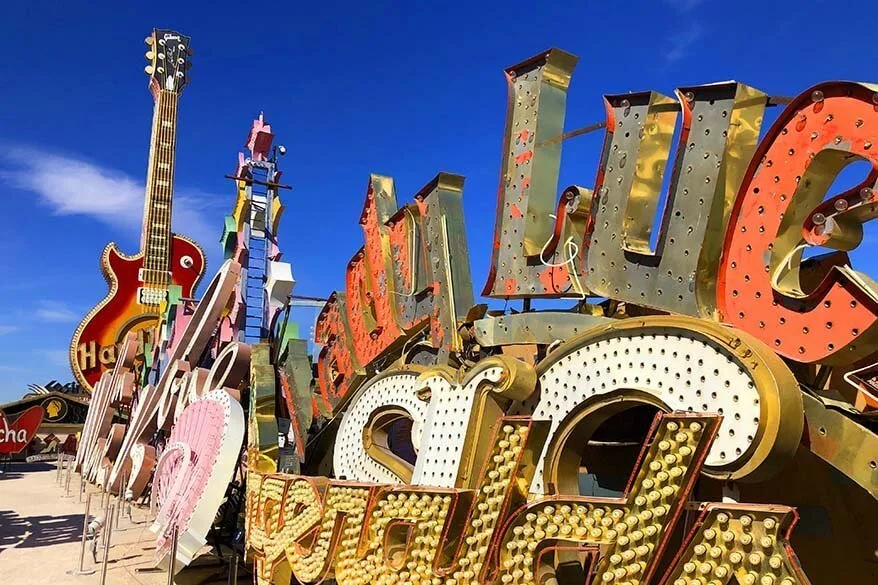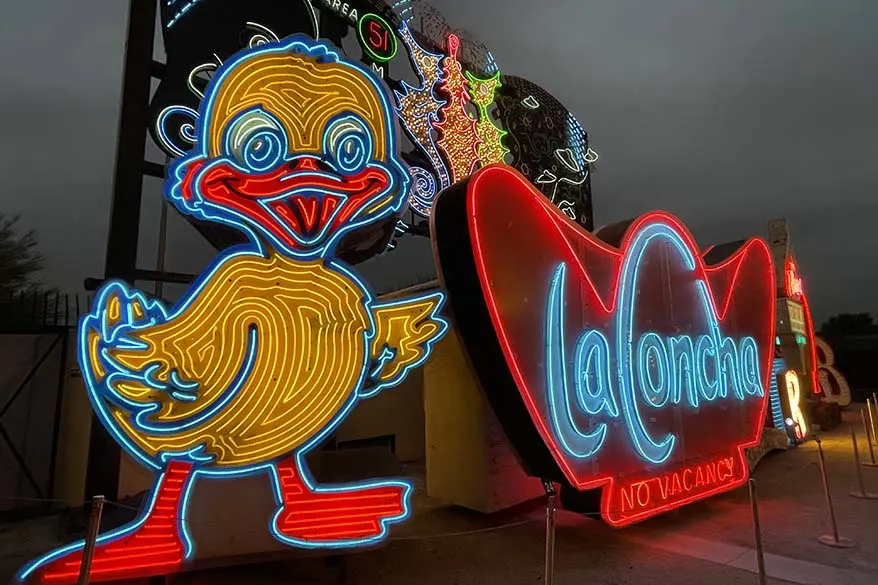 18. Gamble (but know when to fold them)
For many experienced gamblers, the main reason and the best thing to do in Vegas is gambling. But even if you're just a tourist more interested in the city's sights and attractions than gambling, you can definitely give it a try (just mind your budget!).
There is everything from poker tournaments, Pai Gow Poker, Craps, Blackjack, Sports Betting, Roulette, and every slot machine you can imagine at your fingertips. 24/7 and it is all 100% legal (that's if you are at least 21 years old).
If you are new to gambling and want to press your luck, we recommend reading up on any table games you want to play ahead of time. That way you understand the rules & etiquette of each game. Many gamblers sitting at the table will be experts and sometimes can get agitated if a newbie stops at the table during busy times and slows down the flow of the game. It can be a bit intimidating at first.
TIP: If you are a newbie, it's best to take your initial approach to the tables during the daytime. Often if the business is slow, the dealers will even help you and teach you the game. It is often customary to offer the dealer a nice tip for doing so. Check with the casino you are staying at and see if they have any gaming lessons during the day.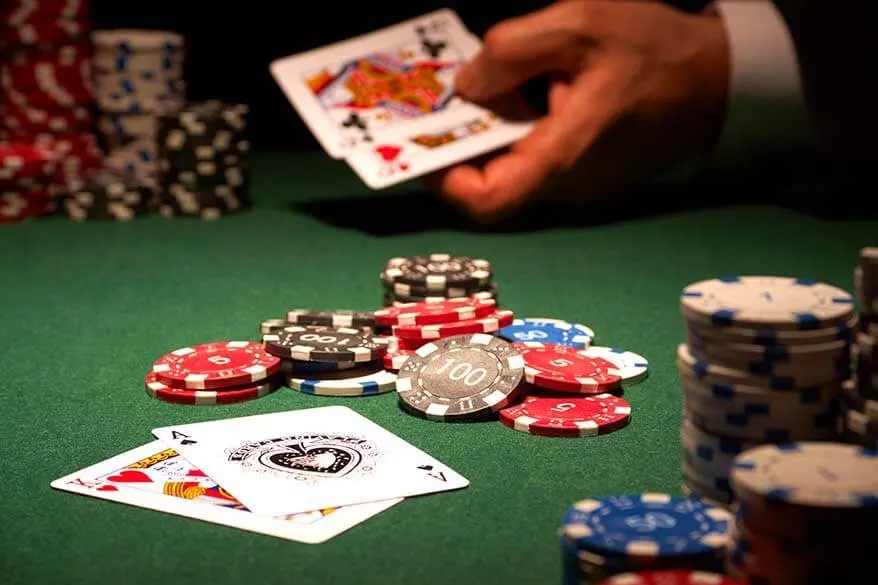 19. Eclectic Experiences
Las Vegas typically brings in so many different types of people and they want to keep them entertained!! So you will find a ton of unique once-in-a-lifetime experiences in Vegas that are available if you just want to pay for them.
Here are some of the quirky and very unique things to do in Vegas:
20. Swim in Some of the Best Pools in Vegas
If you visit Las Vegas in summer, you'll definitely want to spend most of your time in the pool!
Some of the pools in Vegas are positively off the charts! And to be honest, some are super tiny and overcrowded. If you are a pool person and want to stay away from the casinos during the day, you need to find the best pools for your vibe.
By far, the best pools in Vegas are located at Mandalay Bay, MGM Grand Hotel, and Caesars Palace. Also Go Pool DayClub at Flamingo is a very popular pool (but always crowded).
Caesars Palace Garden of the Gods Pool Oasis is simply gorgeous and usually feels the most spread out. There are 7 pools including their exclusive adults-only "Venus Pool & Lounge" area. The Fortuna Pool has a swim-up bar and blackjack tables. That's right, you can actually play blackjack while swimming inside the pool, a Vegas lover's dream!
The Mandalay Bay Pool is incredible! Not only does it have a lazy river, but it also has a man-made sandy beach area complete with a wave pool! This is an 11-acre aquatic playground. The Daylight Beach Club is also available as an adult-only night swim club.
The MGM Grand Pool Complex also has a fantastic lazy river that winds through the 6.5-acre complex of 4 pools, 3 whirlpools, and cascading waterfalls. The MGM also hosts the Wet Republic Ultra Pool which is an exclusive nightlife experience.
TIP: While the pools are normally free of charge for hotel guests, the inner tube rentals for these lazy rivers can get quite expensive. If you are looking to save some money, look around the perimeters of the pool area to see if anyone has left a tube for others to use as they left early.
Good to know: Most of these pools require you to be a guest at their hotel and will require you to show a room key in order to use the pool. So be sure to consider this when choosing your accommodation in Vegas! Sometimes though, you can call the hotel pool concierge and find out if there are day passes or cabanas for non-guests as well.
For example, Caesars Palace allows you to reserve a cabana online. Also, some pools are free for hotel guests during the week, but not on the weekends. So it's really something that requires some advance planning.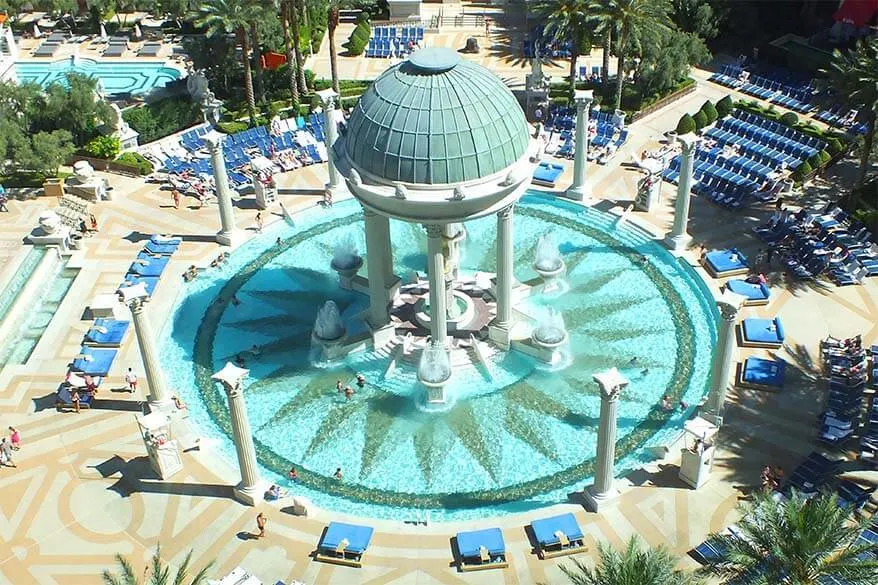 21. Eat Like a King!
Back to Vegas, we feel that this list wouldn't be complete without mentioning one of the great ways to experience Las Vegas – through its food.
You could try to eat in a different place every single meal in Vegas and it would take you years to get through all of the hundreds of dining options that are available!
Everything from the uber-expensive celebrity chef steakhouses, all-you-can-eat buffets at all major hotels, to cheap iconic west-coast eats all over the city… There is something for every budget and every taste level.
The Las Vegas Buffet is an experience that everyone should live at least once. It can be a gluttonous affair filled with many courses of delicious international food. The prices can reach be anywhere from $40 to $120 per person and will likely stretch over the course of several hours.
TIP: If you do not want to wait in line at the buffets, avoid going during peak times (8 AM to 10 AM, noon, and 6 PM to 9 PM). If you can start with a late brunch or make it an early dinner, you'll likely have a much more relaxed experience and be able to enjoy it more!
Good to know: One super cool Las Vegas dining experience is the BLACKOUT Dining in the Dark. You are served completely in the dark and only have your senses of taste, smell, and touch to experience the meal!
Below, you can read about one of our personal favorite places to eat in Vegas. Take a look!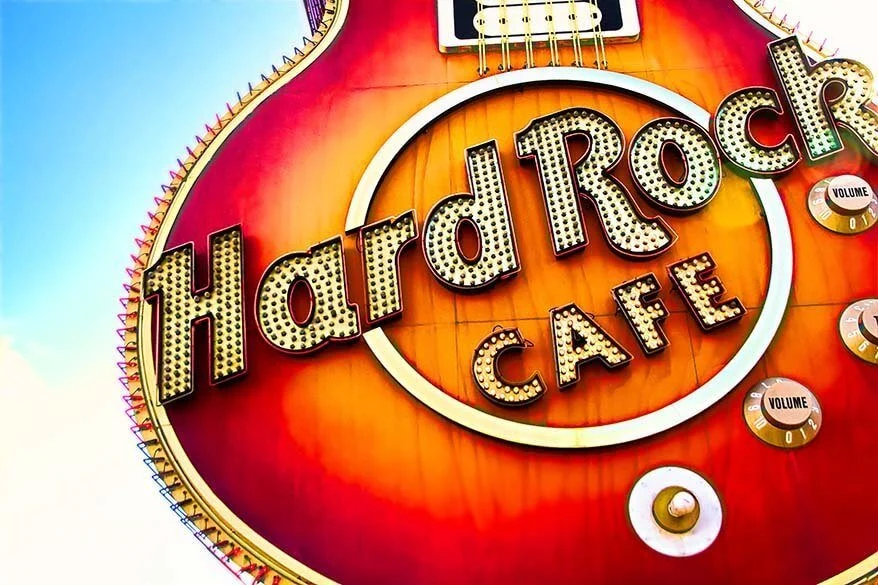 22. Las Vegas Pizza
The next spot is an Instagram legend and something that you only find if you are "in the know". It is one of Vegas's best-kept secrets and well worth checking out! If you want a tasty slice of incredible pizza to not only devour because it tastes so good, but also take a selfie with it so you can prove you actually found this famous hidden gem, Secret Pizza is the place to go!!
This pizza joint is completely unmarked, so the only way to find it is if you know where to go.
Head to the Cosmopolitan Resort & Casino and take an elevator or an escalator up to the 3rd floor. Right off the escalator move forward following signs to 'Blue Ribbon' restaurant. Right next to it, on the right, there is a narrow hallway that is lined with albums on the walls. This is the path to Secret Pizza!
The restaurant is located right at the end of the unmarked hallway. It's open from 11 AM until 2 AM on weekdays and until 4 AM on the weekends.
There can sometimes be lines out the door, but it is worth the wait to sink your teeth into those huge New York slices of cheesy goodness!
TIP: Another great place for an amazing pizza in Vegas is Metro Pizza. They have several locations in town. In the center, you can find them at the Ellis Island Hotel & Casino just off the strip, about 10-15 minutes walk from Bellagio. The price/quality is great!
In addition, on certain days of the week, they even have 2-for-1 offers. When we visited, it was on Thursdays and on Sundays. They serve some of the best pizza we had in the U.S. and with hardly any wait even at peak times.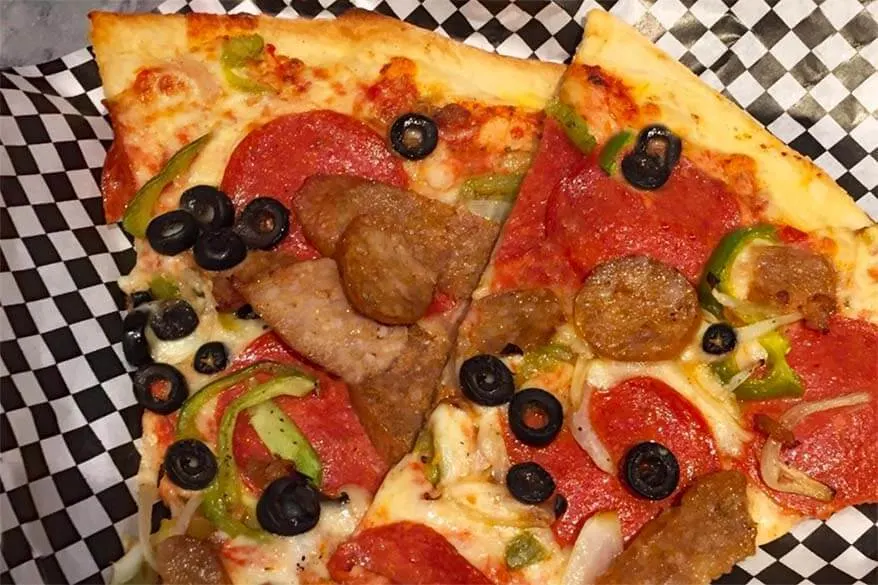 23. Hoover Dam
No list of Vegas attractions would be complete without mentioning one of the most famous landmarks nearby – Hoover Dam.
You've seen pictures of it and have likely heard of it before, but now is your chance to take a break from the casinos and see one of the most iconic U.S. landmarks… Hoover Dam is absolutely impressive! You will recognize that white concrete arch-gravity dam that is right on the Colorado River.
Hoover Dam is literally right on the border of Nevada and Arizona.
Good to know: Depending on traffic, Hoover Dam is about a 45-minute drive from the center of the strip. You definitely need a car to get here or you can book a tour. There are short tours available that only visit Hoover Dam and take about 3 hours (see this highly-rated tour). Or you can opt for a day tour that also visits Hoover Dam and Grand Canyon.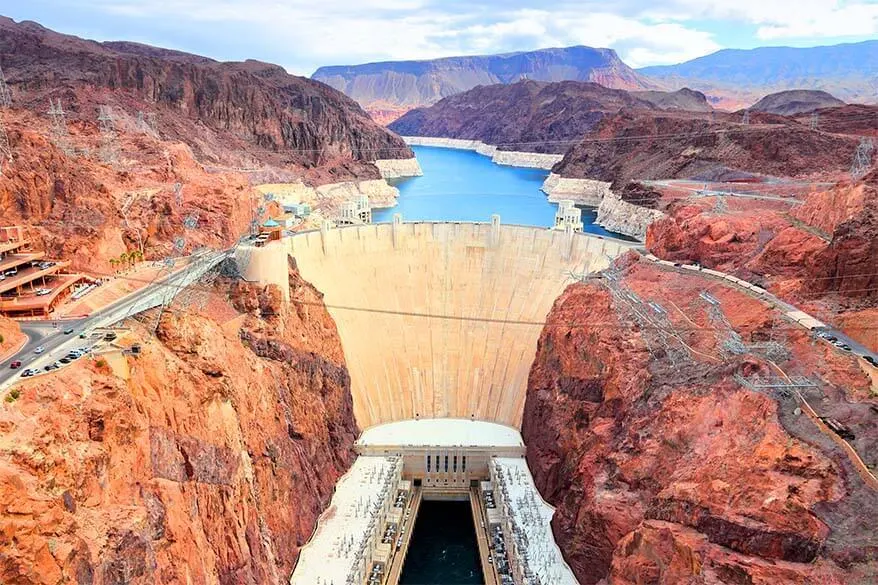 24. Red Rock Canyon National Conservation Area
If the hustle and bustle, jackpot bells, and loud music of Vegas are wearing you down and you need to get away from the strip for a while… this place will rock your world! Red Rock Canyon is one of the nicest nature getaways right next to Vegas.
It lies right in the Mojave Desert, just 17 miles west of the city. It is peaceful, quiet, and the scenery of red sandstone rocks is absolutely stunning!
A 13-mile Scenic Drive allows you to easily access all the nicest areas and it's perfect for a (half) day trip from Vegas. It can take you an hour or several depending on how many times you get out to explore or hike. This is the perfect way to see the beauty of this park.
It's essential to bring plenty of water and a sun hat… you are in the desert after all!
TIP: Be sure to stop by the Red Rock Canyon Visitor Center before you start the scenic loop. It's a great place to learn more about your surroundings and ask for any tips on the best sights or hikes. For more information, check the official website.
Good to know: There are various tours from Vegas that visit Red Rock Canyon. Most of them last 3-5 hours and you can opt for various experiences including 4×4 tours, e-bike tours, or even helicopter landing in the canyon.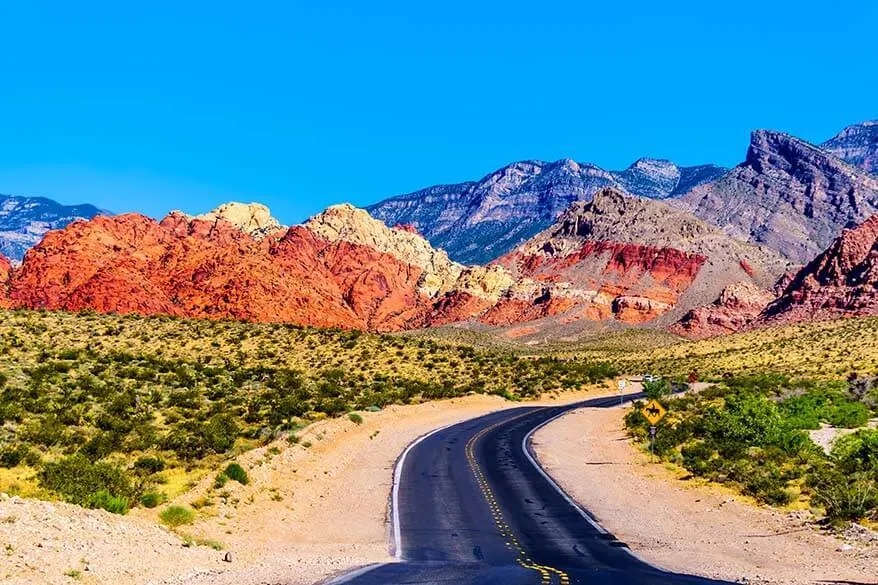 25. Seven Magic Mountains
Seven Magic Mountains, just 20 minutes drive from the Vegas Strip, has become one of the most popular Las Vegas attractions. It's a famous Instagram spot and a great place for a few selfies and some cool photography!
Swiss artist, Ugo Rondinone, created these towering colorful boulder sculptures in 2016, for all to enjoy. Seven Magic Mountains are located near Jean/ Roach Dry Lake and Interstate 15, about 10 miles south of Las Vegas. If you are driving to Vegas from the west coast, this will be your sign that you are almost in Vegas!
TIP: Be sure to wipe your camera lens off before taking your photos, it can get a little dusty out in the desert!
Good to know: There is no fee to visit Seven Magic Mountains and you can come at any time. If you don't have a car, there are some day tours from Vegas that visit here, usually in combination with some other great places in the area. Here you can see all the tours that visit this place.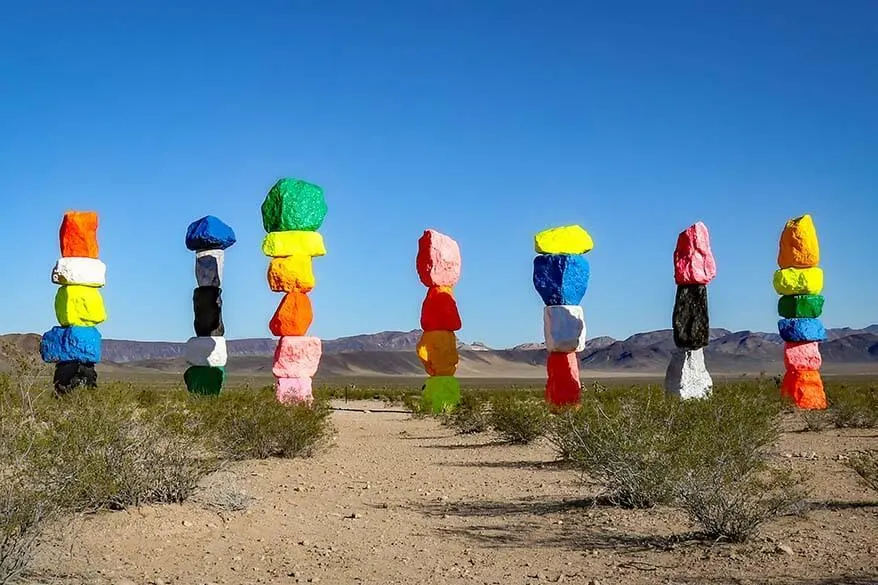 26. Take a Day Trip to Grand Canyon
In addition to all the sights in Vegas and several nice places to visit just outside the city, you should consider taking a few day trips in the area. There are countless options and a huge variety of organized tours, but probably the best place to visit as a day trip from Vegas is the Grand Canyon!
One of the closest places to see is the Grand Canyon Skywalk (West Rim of the Grand Canyon), about 2-2.5 hours drive from Vegas. There are lots of tours going here, often in combination with a few other stops. And, of course, you can just drive there if you have a car.
The South Rim of Grand Canyon is quite a long drive (about 4.5 hours one way), but even this part is possible to visit for a day. If you go by car, check our guide to the best way to visit Grand Canyon in 1 day (in that case, I highly recommend staying near Grand Canyon for at least one night (see our Grand Canyon accommodation suggestions).
Otherwise, go with this popular tour and let someone else do all the driving. It's a long day tour of about 15 hours, but many people find it worth it. Especially if this is your only chance to visit this spectacular place!
Another popular way to visit Grand Canyon from Vegas is with helicopter tours. It's more expensive, of course, but you don't have to sit on the bus the whole day. Furthermore, seeing the Grand Canyon from the air is a really unique experience. And many tours also make a landing inside the canyon!
TIP: Take a look at this highly-rated tour. It flies over Lake Mead, Hoover Dam, and the Grand Canyon. It also includes a landing inside the canyon where you are offered refreshments and champagne. Without a doubt, this is one of the most unforgettable experiences in Vegas!
READ ALSO: Best Day Trips from Las Vegas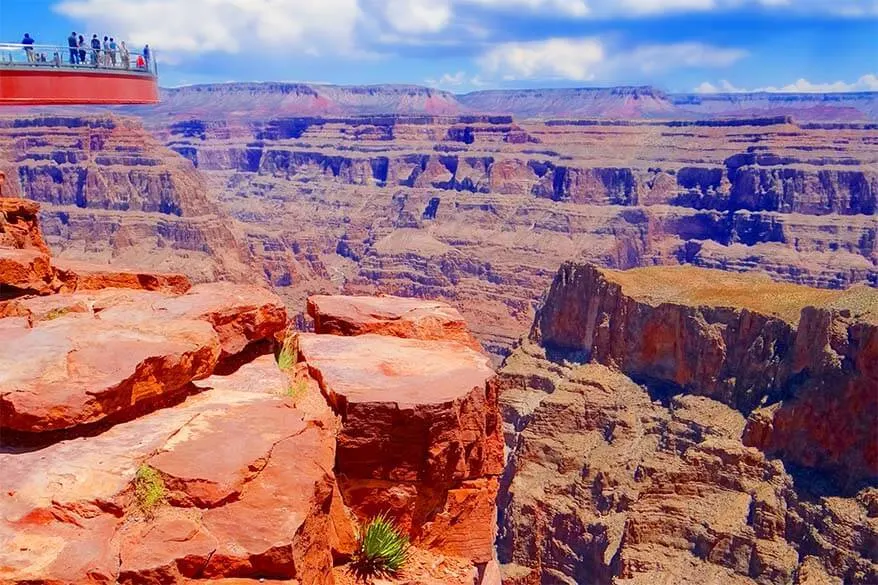 Where to Stay for Sightseeing in Las Vegas
Using the map below, you can compare hotels, apartments, and short-term rental accommodations in Las Vegas. Simply insert your travel dates and group size, and you'll see the best deals for your stay. Check it out!
TIP: If you can afford it, we recommend staying on or just near The Strip. It's the ultimate Las Vegas experience and is a great location for all that Vegas has to offer!
Some of the most popular hotels that offer great price/quality/ typical Vegas experience are Paris Las Vegas Hotel, Planet Hollywood Resort & Casino, and Hilton Grand Vacations Suites.
On a higher budget, check out Caesars Palace. For even more luxury – Bellagio or The Venetian.
On a lower budget, check out the Ellis Island Hotel and Casino. It's a simple no-thrills hotel with easy parking and several good restaurants (+amazing pizza) just 10-15 minutes walk from the main casinos such as the Caesars Palace, Flamingo, or Bellagio.
TIP: Using the map below, you can find the best deals for accommodation in Las Vegas. Simply insert your travel dates and group size, and you'll see what's available for your stay. Check it out!
So, this is our guide to the very best things to do in Vegas. As you can see, there is something for everybody and for every budget in Las Vegas.
Furthermore, in addition to everything mentioned in this guide, there are countless other tourist attractions and popular sights in Vegas. Visit Madame Tussauds Wax Museum, check out the Shark Reef at Mandalay Bay, learn all about Sin City's organized crime at the Mob Museum, or take in the views from the thrilling STRAT Tower, etc. etc. etc.
But if you are visiting the city for the first time, your itinerary will be more than full enough just trying to cover some of the 'musts' from this list!
PRO TIP: Also, don't try to see everything or you'll just get tired and overwhelmed. Remember to just enjoy the moment, let loose, experience top-notch food and entertainment, and make some great memories that will last a lifetime! If you are wondering how to plan your time, you can find some inspiration in our suggested 1-day Las Vegas itinerary.
Have a great trip to Vegas!
READ ALSO: Las Vegas Travel Tips – first-timer's guide with insider tips and recommendations. Check it out!
More travel inspiration for Southwestern USA:
If you found this post useful, don't forget to bookmark it and share it with your friends. Are you on Pinterest? Pin these images!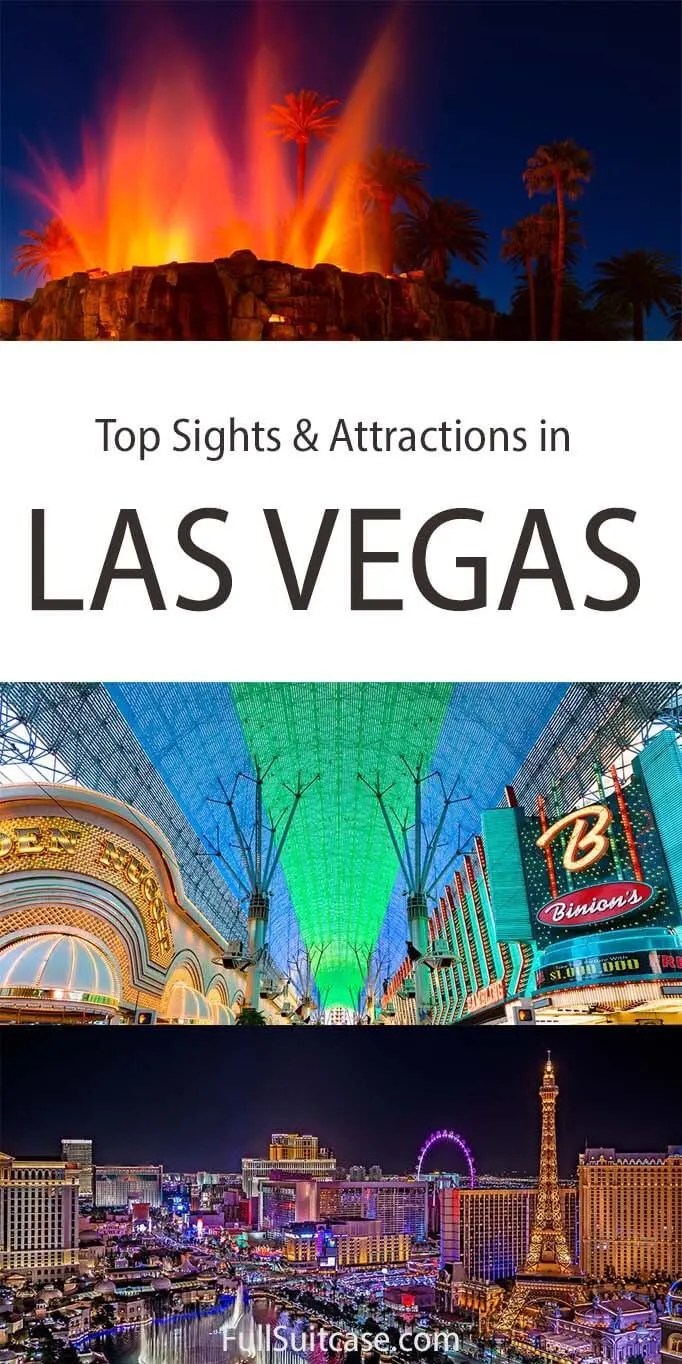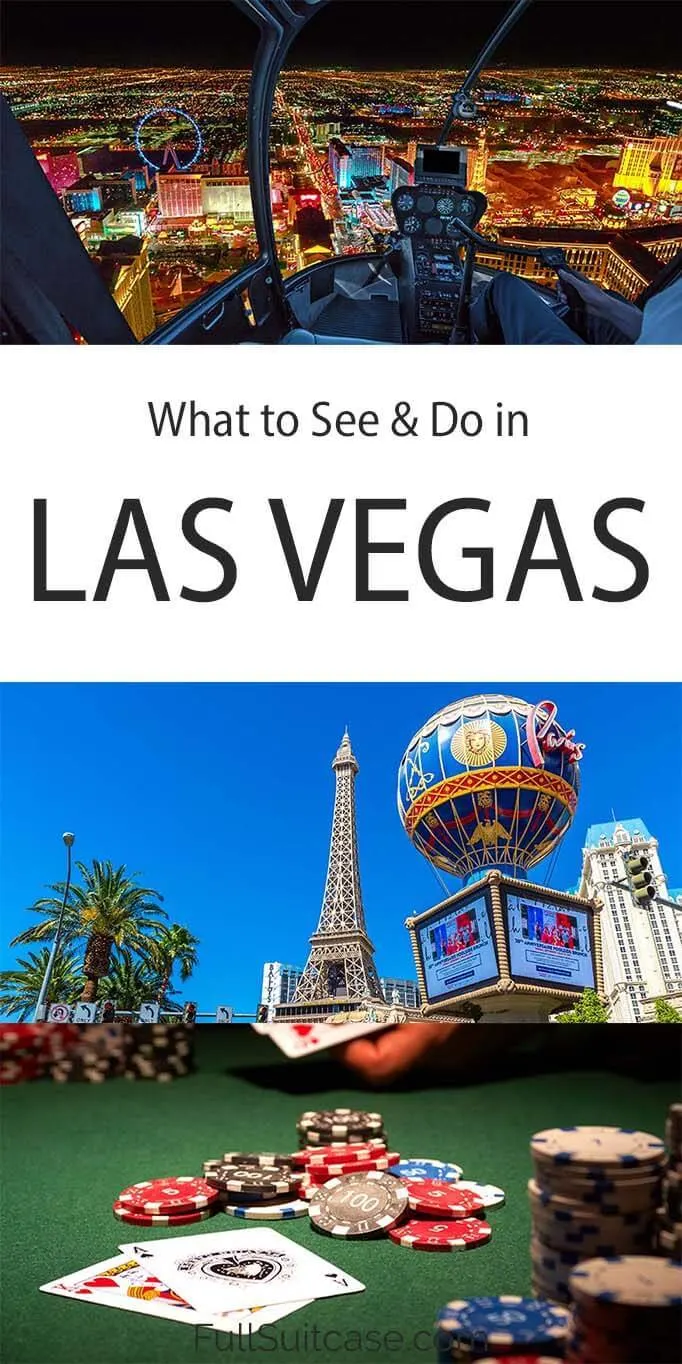 Image credits: Fiori di Como, Bellagio Conservatory, and Hard Rock cafe – U.Omozo/Depositphotos.com// Luxor hotel, Paris hotel, and Mirage Volcano – bloodua/Depositphotos.com// LINQ Promenade – jewhyte/Depositphotos.com// High Roller – topphoto/Depositphotos.com// Fremont Street – s4visuals/Depositphotos.com// Tix4 – MichaelVi/Depositphotos.com// The Neon Museum – jovannig/Depositphotos.com// Caesars pool – BobHilscher/Depositphotos.com// Seven Magic Mountains – Wirestock/Depositphotos.com// Skywalk – nootprapa/Shutterstock.com