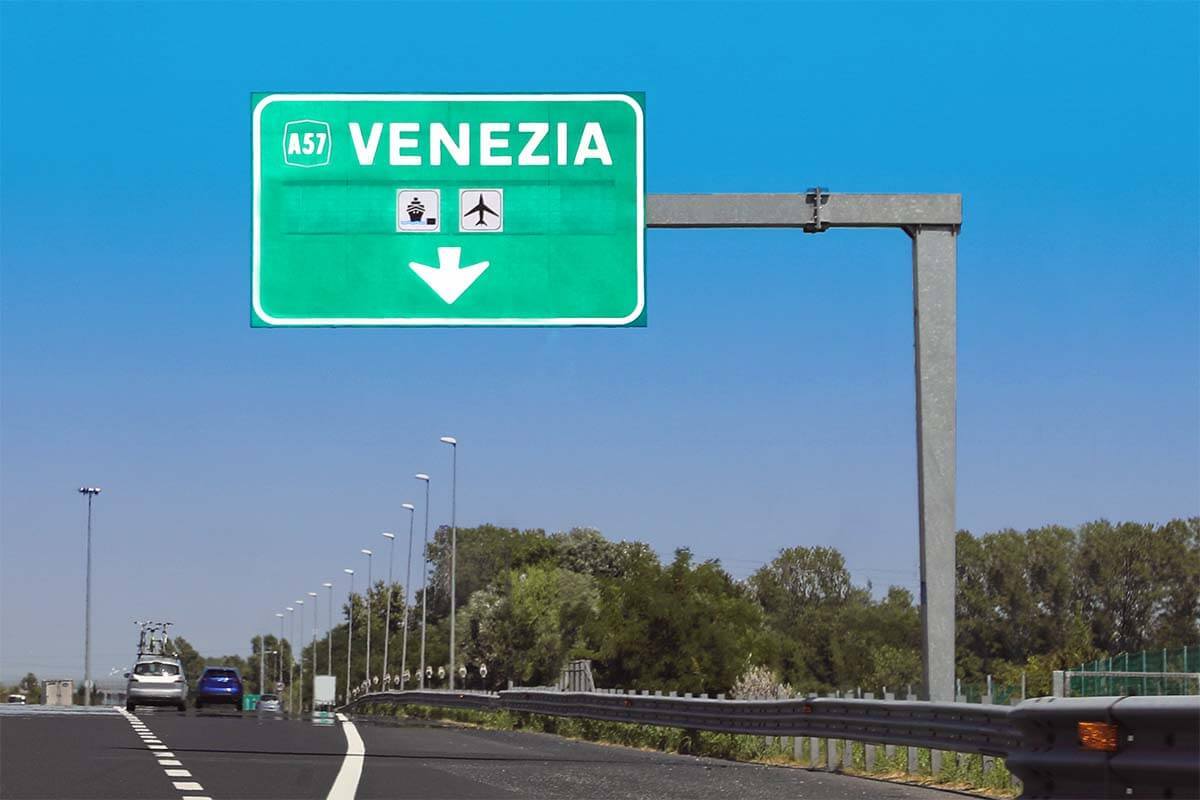 Road-tripping in Italy and wondering if it's possible to drive to Venice? Or maybe you are looking for information about how to visit Venice by car and where to park?
We visited Venice by car twice and it's really simple. In this article, I share our experience-based tips for your trip.
Below, you can find all the information on how to drive as close to the city center as possible, where to park your car, how to find cheap parking in Venice, where to stay if visiting Venice by car and also suggestions for renting a car in Venice or in Italy, in general. Find out!
READ ALSO: How to See the Best of Venice in 1 Day
Can You Visit Venice by Car?
Venice is a car-free city, but yes, it is possible to drive to Venice by car. You'll have to leave your car in one of the parking areas outside the historic city center and explore the city on foot or by boat.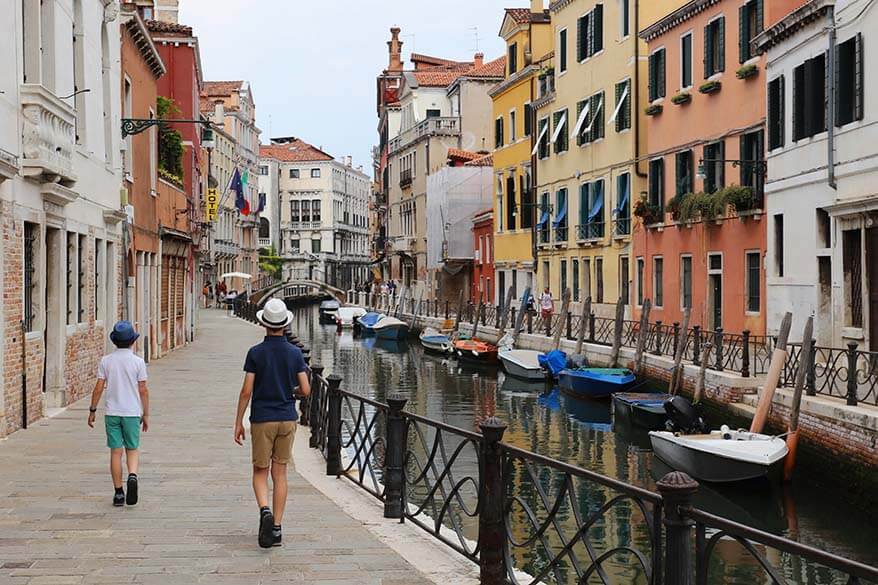 Driving to Venice
Venice can easily be reached by car from any major city in northern Italy. It's about 3 hours drive from Milan or 1.5 hrs from Verona (highway A4/ E70). Driving from Florence to Venice takes about 3 hours, Bologna to Venice – 1 hour 45 minutes (highway A13/ E53). If you are coming from the North, you'll be arriving in Venice via highways A27 or A57.
The historic city center of Venice is located in the Venetian Lagoon and there is just one road connecting it to the mainland. So no matter where you are driving from, you'll always arrive in Venice via the 3.5km long Ponte della Libertà (Liberty Bridge) over the lagoon.
Driving in Venice isn't really stressful because you're driving on big wide roads all the way until you reach the city. Even after you cross the bridge over the lagoon, getting to the car parking is quite straightforward. It might get a bit busy for the last 200-300 meters, but that's it. There are big signs indicating parking garages, so really nothing to worry about.
Our experience: We drove to Venice by car from Lake Garda and also once from Cortina d'Ampezzo in the Italian Dolomites. There are tolls on the highways, but it's not very expensive and you can pay by credit card. The roads are very good and (at least in summer) not overly busy.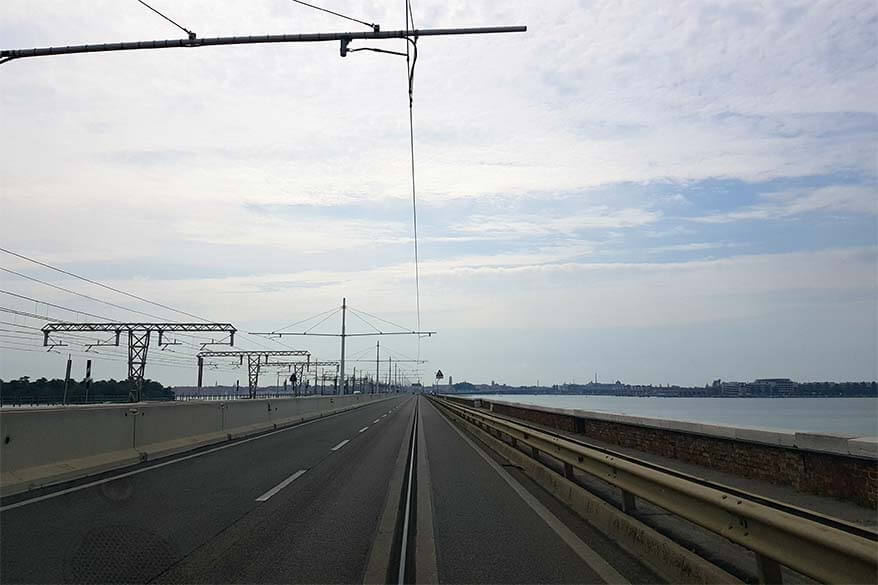 Car Parking in Venice
Once you cross the Liberty Bridge, you have several options where to park your car. If you take the very first exit after the bridge, you'll find yourself at Tronchetto Island. If you don't turn to the right, you'll drive straight to Piazzale Roma.
Tronchetto Island
The first exit to the right after the bridge takes you to Tronchetto Island. There are many car parking garages here (see map). The biggest ones are Venice Tronchetto Parking and car parking at Venice Passenger Terminal. Don't worry if the parking is full; just drive a bit further to the next one.
The biggest advantage of parking at Tronchetto Parking is that they have hourly rates for short stays. So if you are only planning to stay in Venice for 2-3 hours, this is a much cheaper option. However, if you are staying for 3 hours or more, you'll pay the same 24-hr rate.
Good to know: This area is somewhat further away from the city center. But since it's a place where cruise ships dock, it has very good public transport connections. So if you park here, it's best to take a water bus (vaporetto) straight to St. Mark's Square and start your sightseeing there.
Piazzale Roma
Based on our experience, we suggest driving just a little bit further to Piazzale Roma. This is the main bus station in Venice and the only town square in Venice that can be reached by bus or car. Just before the square, you'll see a big white parking building on your right.
This is Parcheggio Comunale Venezia (see map) – an indoor car parking spanning over 10 floors. In our opinion, this is the best car parking in Venice. It's not the cheapest though – you can find more info for budget parking in Venice below.
We always park at Piazzale Roma because this parking is closest to the city center of Venice. Also, we drive a big 7-seater van and parking spaces on the upper floors of this parking garage are wide enough even for a very big car.
Next to Piazzale Roma, you'll also find the Venice Railway Station (Santa Lucia). Just next to it is Ferrovia, the public water bus stop in this area. You can simply walk to all the major attractions in the city center from here. If you prefer, you can also take a water bus or a water taxi to either Rialto Bridge or St. Mark's Square and Doge's Palace, or anywhere else you have to be in the city.
TIP: If you are driving to Venice in high season (and especially on the weekend), it might be wise to arrive early in the morning or reserve your car parking in advance. We never had a problem finding a parking spot, but if you want to be absolutely sure that you can use one or the other garage, you may want to book upfront. More information about this below.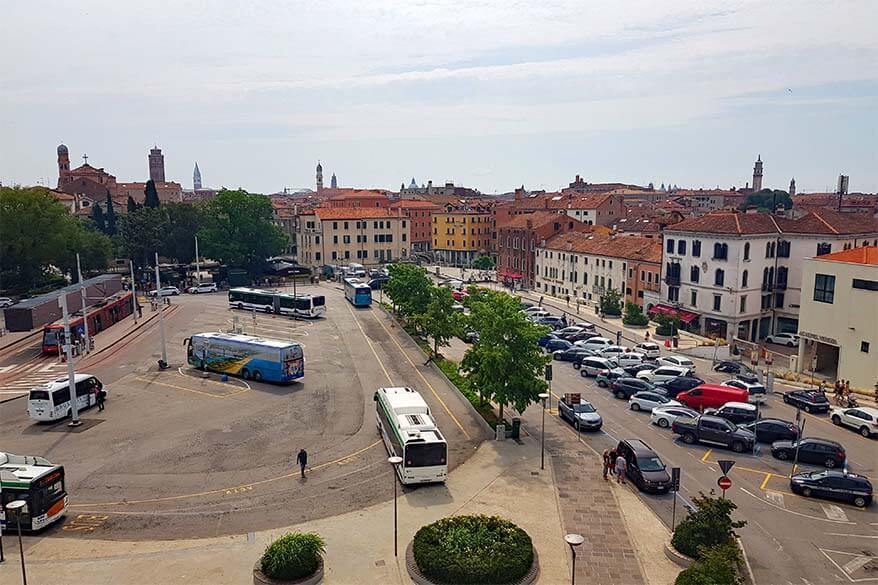 How Expensive is Car Parking in Venice
As you can imagine, car parking in Venice isn't cheap. However, it's very reasonable compared to places like Paris or Amsterdam. We were also surprised to see that car parking rates in Venice haven't changed in years.
Car parking in Venice costs about 20-30 EUR for 24 hours. In most cases, you pay the 24-hour fee, no matter whether you stay for an hour or for a day. Some parking garages have discounted rates in the evening and at night. The exact price depends on the parking garage and sometimes also on the size of your car.
Our experience: At Parcheggio Comunale Venezia (also known as Garage Comunale AVM or ASM Venezia car park) where we parked, car parking costs 26 EUR for 24 hours. Bigger cars (over 185cm wide) pay 29 EUR. However, I have no idea how they measure that because our car is 220cm wide (measured with mirrors) and we had to pay a regular rate of 26 EUR. This parking garage also has very clean bathrooms that can be accessed with your parking ticket. More info on their website.
TIP: You can reserve your car parking spot at this garage online. This will guarantee that you have a spot and it's also 10% cheaper (23.4 EUR for a regular car).
Good to know: Parking at Venice Tronchetto Parking is a bit cheaper – 21 EUR for 24 hours. You can find their up-to-date rates and practical info here.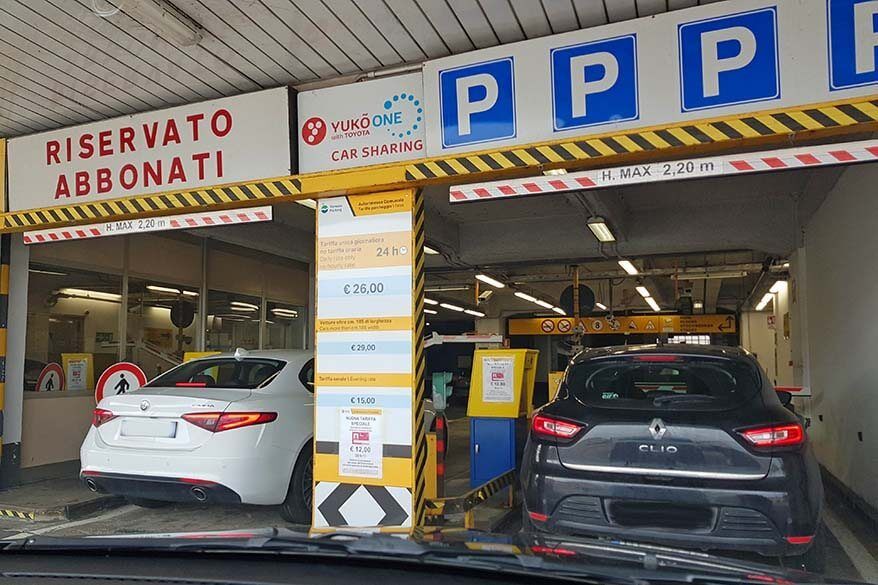 Cheap Car Parking in Venice
If you find car parking in Venice too expensive, you can also opt to leave your car in Mestre, just before the bridge to the lagoon. There are several big car parking areas just before the Liberty Bridge and there is also a car parking at Mestre railway station.
Car parking in Mestre costs 4-14 EUR for a day. Rates vary a lot depending on the parking. One of the best budget car parking options is Venice City Park SRL that costs just 5.50 EUR per day and is right next to a bus stop.
From Mestre, you can take a bus, a tram, or a train to Venice. You'll also arrive at Piazzale Roma or at the Railway Station. The bus/tram/train ride from Mestre to Venice takes just 10-15 minutes. The bus ticket costs just 1 EUR per person. Tram or train tickets cost around 1.5 EUR.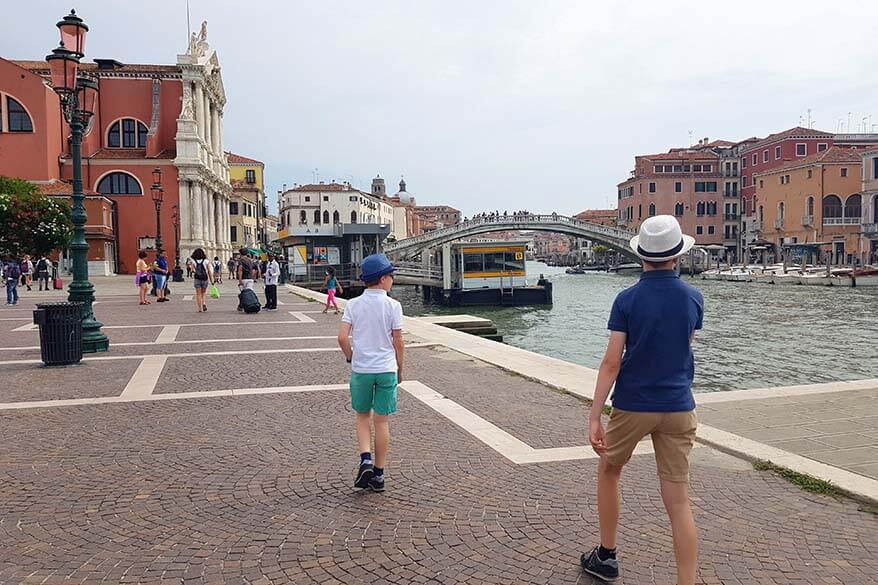 Where to Stay if Visiting Venice by Car
There are two options on where to stay if visiting Venice by car – staying in Mestre or staying in Venice.
The cheapest option is to find a hotel with car parking in Mestre and take public transport to Venice city center from there. This will not only save you money on car parking in Venice, but hotels in Mestre are much cheaper too.
Some of the best options are Hotel Cris or Hotel Plaza that are located just near the train station and next to a bus stop. Hotel Venezia in the center of Mestre is also a good option.
If you don't mind paying 25-30 EUR for car parking per day, you can also leave your car at one of the parking garages at Piazzale Roma or at Tranchetto Island and book a hotel in Venice.
If you don't feel like carrying your luggage on a water bus, you can also opt for one of the hotels close to Piazzale Roma. That way, you can simply walk there from your car.
Here are some of the best hotels in Venice close to Piazzale Roma: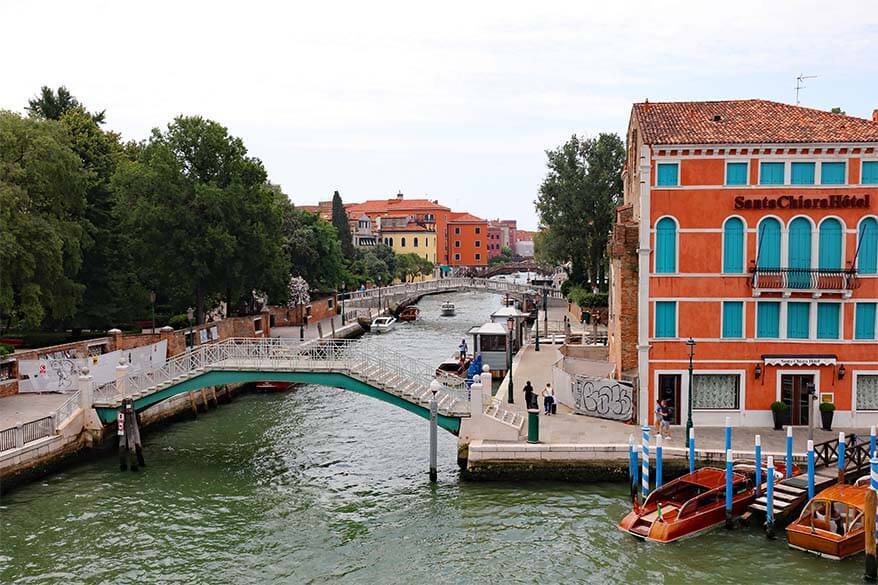 Renting a Car
If you are flying to Venice, I recommend to only rent a car after you visit the city. The same when you're flying out of Venice – return the car when you get to Venice. That will save you money on car hire but also on car parking.
When you are renting a car in Venice, you can either pick it up at the airport or in the city (Piazzale Roma area). From the airport, you can get to Venice by bus or by water taxi (recommended).
If you are looking to rent a car in Italy, I recommend this car booking search engine. It makes it very easy to compare the prices of different car rental companies and find the best deal for your trip. Furthermore, they also have very good insurance options (much cheaper than buying from the car hire company directly) and an excellent cancelation policy. When we rent a car abroad, we always book via this website.
So, this is our guide to driving and parking in Venice. If you have any additional questions, feel free to leave a reply below and I'll try to help.
READ ALSO: Things to Know Before Going on Gondola Ride in Venice
FAQs for Visiting Venice by Car
Can you go to Venice by car?
Yes, you can easily visit Venice by car. While the city center is car-free, you can drive to one of the big parking areas outside the historic city, leave your car there, and explore the city on foot or by boat.
Can you drive in Venice?
You can drive to Venice by car, but you cannot drive in Venice itself. The city center is a car-free area. When you see the little islands connected by tiny bridges, you will understand that Venice can only be visited by boat or on foot and not by car.
What is the best car parking in Venice?
The most convenient car parking in Venice is at Piazzale Roma. There are several parking garages in this area and you can easily walk or take a boat to the city center from here. Alternatively, you can park at one of the large parking areas at Tronchetto Island, from where you can take a boat to the center.
How expensive is car parking in Venice?
Car parking in Venice costs about 20-30 EUR per day. In most cases, you pay the fixed 24-hour fee, even if you only stay for a few hours.
What is the cheapest parking in Venice?
The best budget car parking options can be found in Mestre, 10-15 minutes drive by bus, tram, or by train from Venice. Car parking rates here start from 4-5 EUR per day, and up to 15 EUR, depending on the place. I haven't heard of any options for free parking in Venice.
More travel guides & tips for visiting Italy:
If you found this post useful, don't forget to bookmark it and share it with your friends. Are you on Pinterest? Pin this image!