Planning to go hiking in the Dolomites, Italy, and wondering where exactly to go and which hikes to choose? In this guide, we share the VERY BEST hikes in the Dolomites that are worth your time the most, a MAP indicating the best Dolomites hiking trails, and useful TIPS for your trip. Find out!
The Italian Dolomites is a dream destination for mountain lovers. But with thousands of kilometers of hiking trails, each more beautiful than the other, how in the world do you choose where to go… We had this exact same question when planning our Dolomites hiking trip in summer – what are the most beautiful, the best hikes in the Dolomites?
I consulted numerous websites on the Dolomites hiking, tourism boards, travel guides, and internet forums trying to choose the best Dolomites hiking trails for our trip. I was looking for relatively easy hikes (half a day – to a day) with the most spectacular scenery. Furthermore, each hike had to be doable with children.
We hiked in the Dolomites with our three kids age 7, 7, and 9, so we were only interested in day hikes and not long treks or multi-day hut hikes. To be completely honest, I must say that our kids are really good hikers. But still, if a 7-year old can do it, then I think it's safe to say that it's doable for most people in good physical condition.
To save you hours and days of research, I'm sharing all my findings and our experience hiking in the Dolomites in this post. This is in no way a complete Dolomites hiking guide, rather a small selection of some of the very best hiking trails in the Dolomites, just our absolute favorites.
You could spend the whole summer exploring the best places in the Dolomites, visiting the most beautiful lakes in the region, and hiking in the Dolomites admiring jaw-dropping amazing sceneries … However, if you are visiting for the first time and want to see some of the best mountain scenery, then this Dolomites hiking guide is a good place to start.
Update: We have just returned from yet another Dolomites hiking trip. After having discovered so many more amazing places in the region, it was time to update this Dolomites hiking article with two more really nice hikes that I would recommend the most. Still, I'm trying to keep this list as short as possible, listing only the nicest, most beautiful hikes in the Dolomites that are truly worth your time the most.
So originally 5, this list now contains 7 best hikes and you can't go wrong with any of them. These hikes are not long and not too strenuous and we did them all with our kids. Take a look below!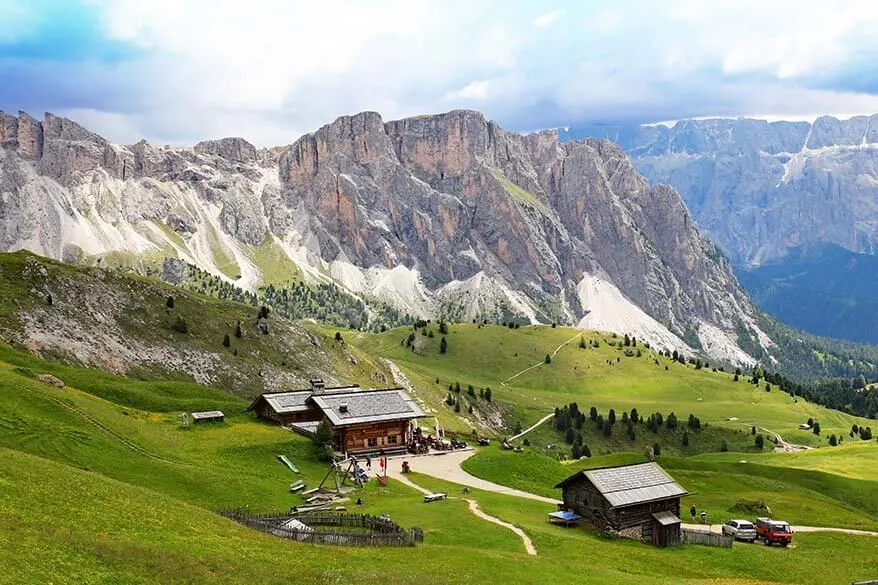 All the hikes mentioned in this article are rather short and quite easy, except for the Rifugio Puez hike which is really long, and Lago di Sorapis which is a bit more challenging (still, they are both doable even with kids). Each hike offers plenty of shorter alternatives, while still giving you access to some of the most beautiful landscapes of Italian Dolomites.
I'm confident to recommend each and every single one of these walks – the mountain scenery along these Dolomites hikes is simply phenomenal. In addition, as I said, the majority of these hikes are really doable for everyone.
Good to know: Please note that this is a Dolomites hiking guide for the summer months only (June – September). While most trails will be accessible from approximately mid May till mid October, it's advisable to check trail conditions in advance if you travel in the shoulder season.
For each hike, I included practical information, such as distance, duration, difficulty level, as well as some useful tips based on our personal experience. You will see that my selection of the most beautiful hikes in the Dolomites is quite varied, not only in terms of location and scenery but also the duration and difficulty level. So there is truly something for everyone. Find out!
At the end of the post, I also included some general information and tips for hiking in the Dolomites. You can also find suggestions on where to best base yourself for hiking in the Dolomites. To make your travel planning easier, I also created a map that indicates the starting point of each hike – it can also be found at the bottom of the post.
READ ALSO: Dolomites Itinerary Suggestions (for any trip from 1 to 10 days)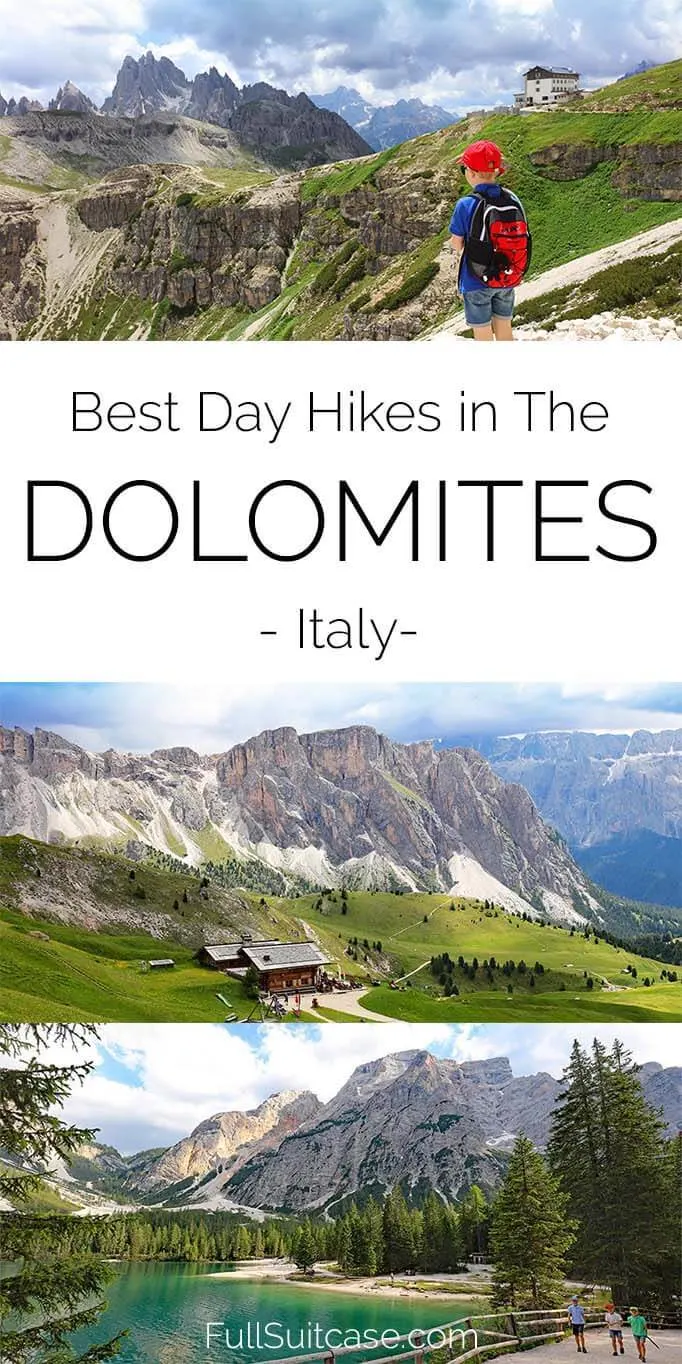 These are some of the VERY BEST hikes in the Dolomites:
1. Adolf Munkel Trail
Adolf Munkel Trail in Odle – Geisler mountain group is one of the most spectacular hiking trails in the Dolomites and our family's favourite. What makes it my number one suggestion for Dolomites hiking is that you get to see the most incredible scenery without too much effort.
Adolf Munkel trail is a circular hike that starts at the parking area in Zans in Val di Funes/Villnöss Valley. You will be hiking in the Nature Park Puez-Odle in the Odle Masssif, part of the UNESCO world heritage site. Zanser Alm parking area is large, but fills up quickly, so it's best to arrive early in the morning, or late in the afternoon.
The starting point of this hike is trail no.6 in the direction of Tschantschenon. It begins at the big building (Jausenstation Info Zans), at the main entrance of the car parking area. Follow the wide gravel road direction southeast, where you'll soon pass three little restaurants/b&b's. The rest of the trail is really well indicated, so no need to worry about getting lost.
The first part of this hike is a bit boring, it goes uphill, and there is little shade, so it can get hot in summer. But don't let this discourage you. Soon you will reach a bridge, where you turn right following the Adolf Munkel Weg, trail no. 35 towards Geisler Alm, and from there the scenery just gets better and better. Hiking here is easy and rewarding.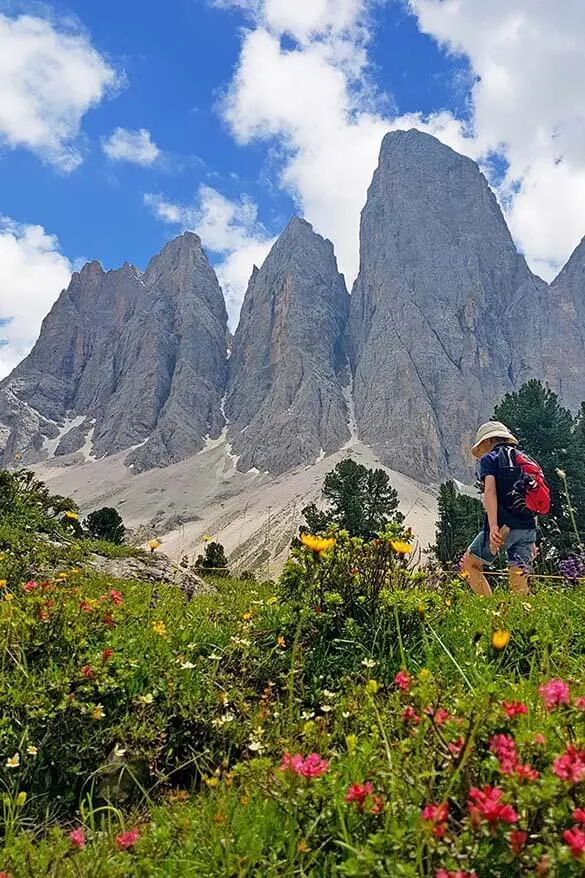 As you follow the Adolf Munkel trail, you'll come to a point to the intersection with the trail no.36A, in the direction of Geisler Alm – the picturesque Geislerhütte. You can either turn here, or continue a bit further along trail no.35 till you reach the next intersection. Follow trail no.36 to Gschnagenhardtalm alpine pasture where you'll find a nice mountain hut. From here you follow trail no. 36 further and also end up at the Geisler Alm.
There were really bad thunderstorms in this area the day when we visited, so we opted for what looked the safer option at that moment and headed straight to Geisler Alm. However, the small detour to Gschnagenhardtalm is really worth it, so if the weather is good, I recommend that you take this route and see both the mountain huts in the most spectacular setting.
Geisler Alm is a beautiful place to relax and spend an hour or two. There is a restaurant here, a big playground for the children, and a really nice outdoor seating area that will make you want to linger a bit longer than you planned. You can have lunch or at least some Tyrolean apple strudel and absorb some of the best views of the Dolomites.
When and if you can finally force yourself to leave, continue along trail no.36 in the direction of Dussler Alm, and from there back to the car parking at Zanser Alm.
Duration: 3 hrs.
Distance: 9 km.
Difficulty: Easy-moderate.
Facilities: There are several mountain huts/ restaurants along this trail.
Accessible by public transport: Yes. Take a bus in Chiusa in the direction of Zanserhütte.
Parking fee: 5 EUR in the morning, a bit less in the afternoon.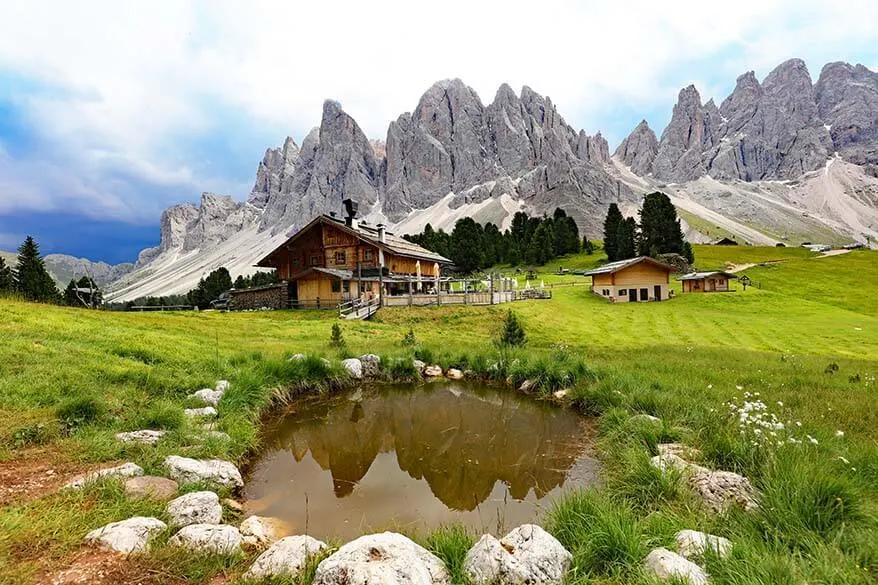 Alternative trails:
You can just take trail no. 36 from the parking area straight to Geisler Alm. Hiking isn't very spectacular here and the biggest part goes through the forest, but it's the quickest way to get to the mountain huts where you have the best scenery of the whole trail.
You can also take a longer version of the Adolf Munkel Trail (13km, 4,5hrs in total). Starting point is the same as above, but instead of turning off on trail no.36, you stay on trail no. 35 to Malga Brogles. From there you follow trail no. 28 and then trails no.34, 33B, and 33 back to the parking area. Alternatively, follow trail no.28 and then no.29 back to the trail no.35 in the direction that you came from, and then hike to the above-mentioned mountain huts, before walking back to the parking.
TIP: Don't miss one of the most iconic photography spots of the Dolomites, that of the church of St. Magdalena. It is also located in Villnöss valley and is just a short stop that you can easily do after completing the Adolf Munkel Trail hike.
There are several ways to get there. You can either hike to the viewpoint on the panorama path Villnöss from St. Peter village (6km, 2hr hike), walk there from St. Magdalena village itself (it's quite steep as the road goes uphill), or drive the narrow village road to the viewpoint.
Driving is, of course, the easiest option, but keep in mind that the road here is really narrow. Furthermore, there are quite some tourists walking on the road and you can't actually park the car here as the road is too narrow. So if you are fit enough to walk, just go there on foot. I indicated the location of this viewpoint on the map below.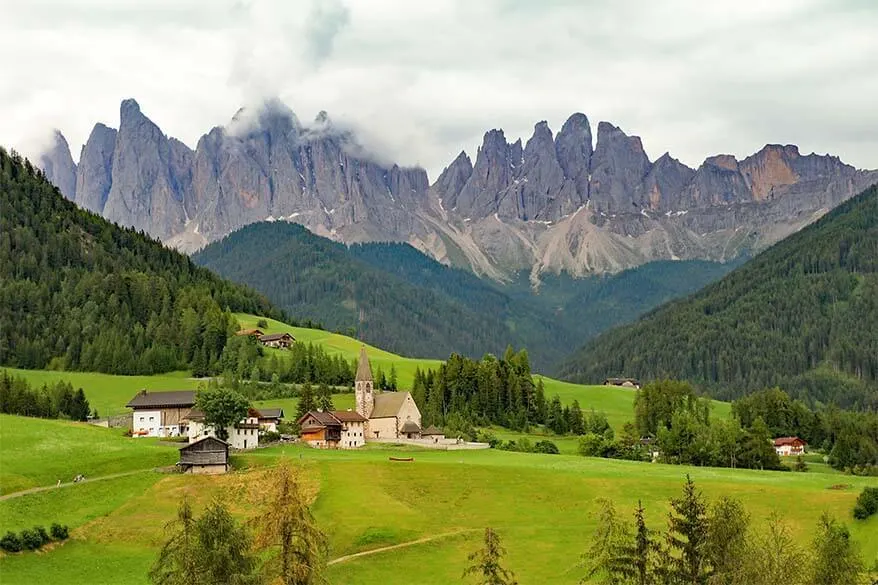 2. Seceda – Pieralongia – (optional) Col Raiser
If you are looking for another Dolomite hiking trail with amazing views and little effort, then I cannot recommend Seceda – Pieralongia area highly enough!
There are several hiking options here, and there is no way I can describe them all. But if you are looking for shorter walks in the Dolomites that offer beautiful scenery, this area is as good as it gets.
We were by car and therefore opted for a circular Pieralongia hike that starts and ends at Seceda cable car station in Ortisei. Alternatively, you can start the hike at Seceda, but end it at Col Raiser, from where you can take the cable car down to St. Cristina. This option requires a bit more hiking, but it's pretty much all downhill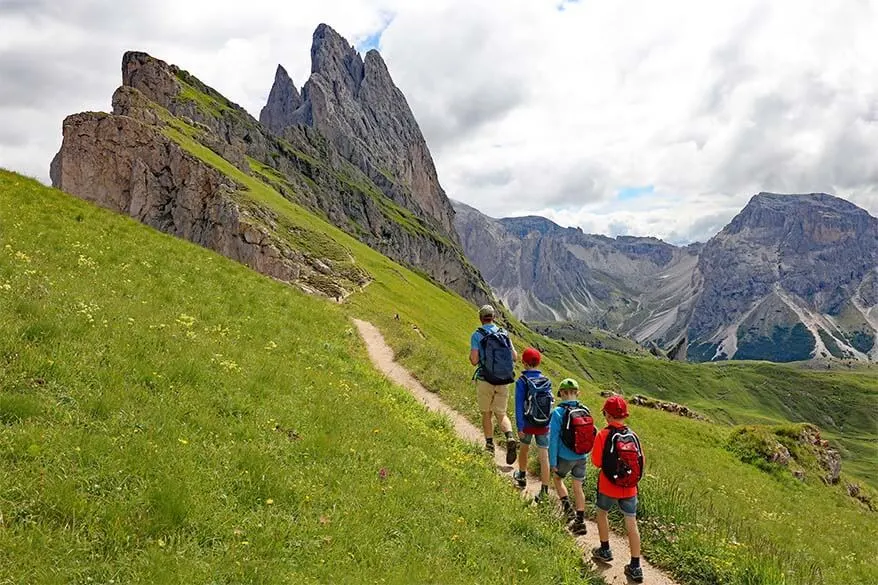 If I were to go back here, I'd probably go with this second option because you see more diverse scenery. It's a bit more complicated when it comes to logistics. But all the towns of Val Gardena are well connected by bus (and it's free with a guest card -more info here), so this would be a really nice option if you are staying nearby. That way you can leave your car at the hotel for the day.
No matter which option you choose, probably the nicest part of this hike is between Seceda and Pieralongia.
As you exit the cable car at Seceda, you'll see the distinct shape of Seceda mountain in the distance. Your destination, Pieralongia, is in the same direction. Just follow the hiking trail no. 1 and then 2B and you'll soon see the peculiar sharp long rocks of Pieralongia.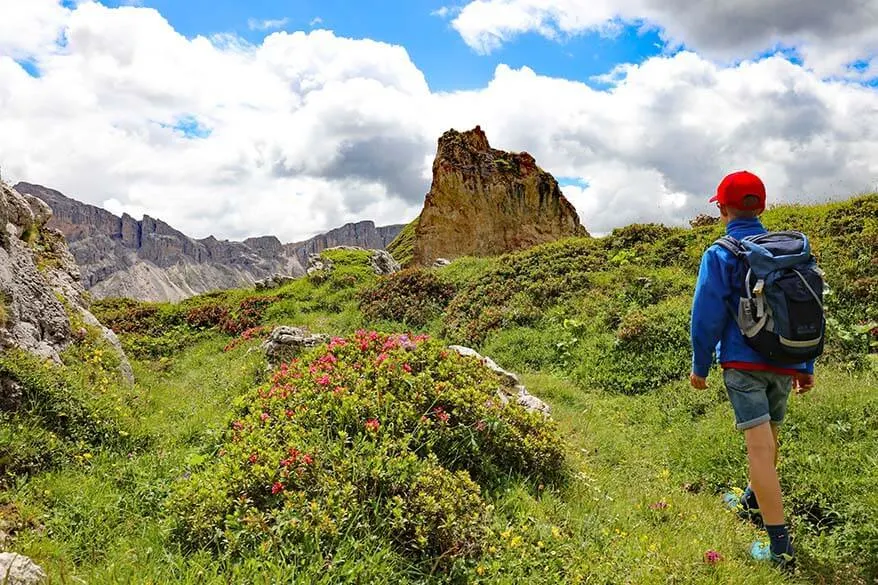 The scenery here is amazing, but if you want a good view in the other direction as well, you may take a short turn off to the left along hiking trail no. 6. Here you have a nice view of the Northern part of the Puez – Odle Nature Park. After this scenic detour, continue further along 2B in the direction of Pieralongia.
It took us about 45 minutes to reach the Pieralongia Hut, but we made lots of photo stops along the way. This is in principle just a 20-30min hike, so it's really something for everyone. We met families with smaller children, but also older people. You can have such a relaxing day hiking here!
Malga Pieralongia Alm is one of the most authentic mountain huts we saw in the Dolomites. The surroundings are so pretty and you could easily spend an hour or even longer here. There is a restaurant, bathroom facilities, and a small playground for the children. They also have some farm animals – always fun for the kids.
If you hike a bit further past the hut, you come very close to the peculiar-shaped rocks that you saw in the distance. You might run into some donkeys here. The views are amazing and this is a really nice place to make a stop if you brought your own picnic.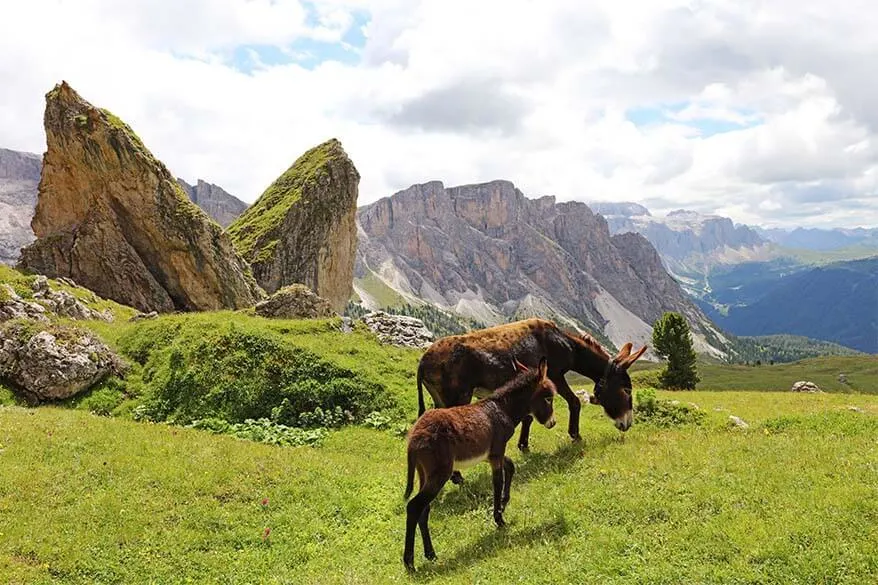 At this point, we turned around and hiked back in the direction of Seceda, taking a slightly different route than the one we came on.
We hiked slightly down to Rifugio Troier – this is a bigger hut with a nice restaurant and a beautiful outdoor seating area with incredible views. Here you will find a playground and a small animal farm as well. Plenty of opportunities for the children to play and a good excuse for the adults to get a drink or try some local apple strudel.
With incredible scenery and so many mountain huts and playgrounds Seceda – Pieralongia hike is just perfect for a relaxing day in the Dolomite mountains.
Duration: 1-3hrs (depending on playground and restaurant stops).
Distance: 4 km.
Difficulty: Easy.
Facilities: There are several mountain huts/ restaurants along this trail.
Accessible by public transport: Yes. Take a bus to Ortisei.
Parking fee: Hourly. I can't remember exactly how much we paid, in any case just a few Euros.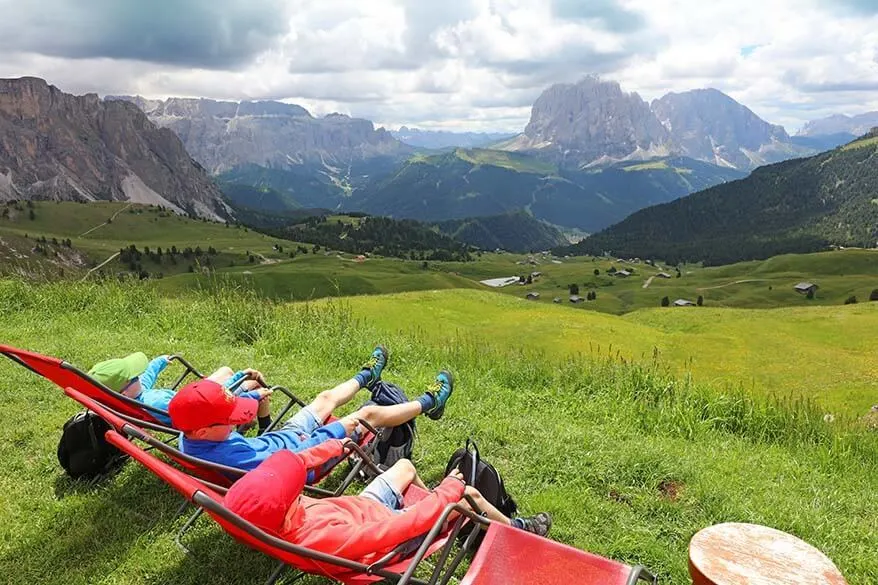 Alternative trails:
Alternative circular trail option is to continue hiking past Pieralongia rocks till you get to the first crossing. Then turn right in the direction of Fermeda Hut, then right again, and follow the lower trail back to Seceda. This is the longest and the more strenuous option, since you'll have to walk back up to Seceda. This is the orange line on the map below.
Seceda to Col Raiser. Continue past Pieralongia rocks, turn right in the direction of Fermeda Hut, then go left at the next turn, as you join part of Torri di Fermeda hike. Col Raiser is well indicated. At Col Raiser you can take a cable car down to St. Cristina. About 2km, count at least 2hrs hiking time + stops. This is the pink line on the map.
As you can see on the map, there are many other options to explore the area around Seceda. If you have strong knees, you could even hike back down all the way to either Ortisei or St. Cristina.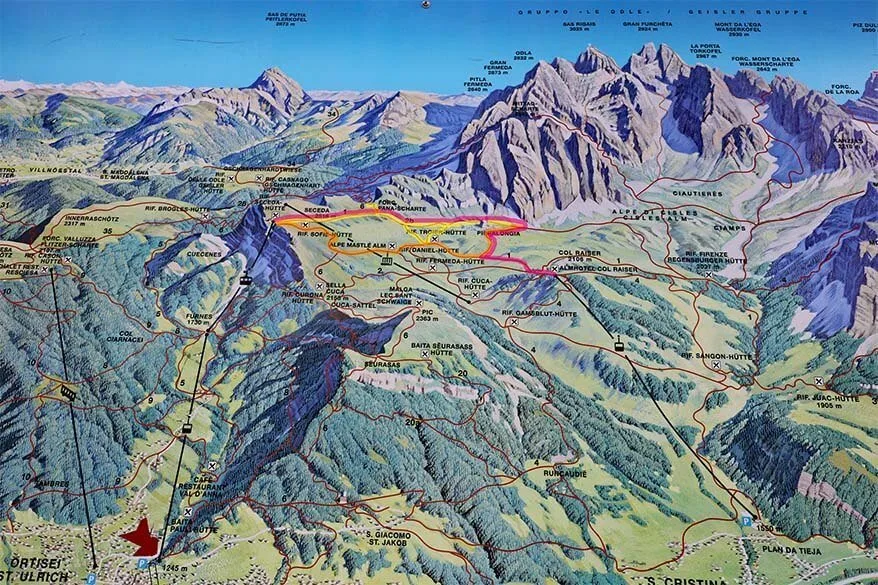 3. Tre Cime di Lavaredo (Drei Zinnen)
Tre Cime di Lavaredo hike (Drei Zinnen in German or Three Peaks in English) is the one you'll find in pretty much all Dolomites hiking guides. It's often mentioned in all kinds of publications as one of the absolute best hikes in the Dolomites.
I have mixed feelings about this hike, however, and mainly due to its popularity and the crowds in summer. The scenery is AMAZING, but very barren compared to the other places in the Dolomites. The first time we hiked here, we couldn't complete the hike because of the weather and we preferred the greener hikes in the Puez-Odle Nature Park, the Val Gardena side of the Dolomites. However, we gave this hike a second chance a few years later and we loved it.
It's also quite a long way to get here, especially if you are coming from Val Gardena, as we were. I don't recommend driving here for a day – you better stay in Cortina or Misurina for exploring this area. That's what we did the second time we visited – we stayed in Cortina, about 22km/ 40 minutes drive from here.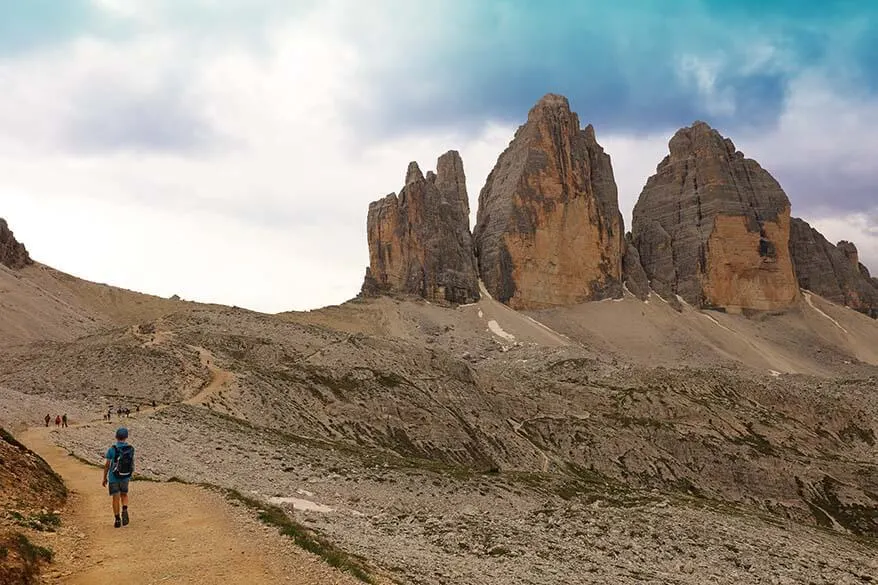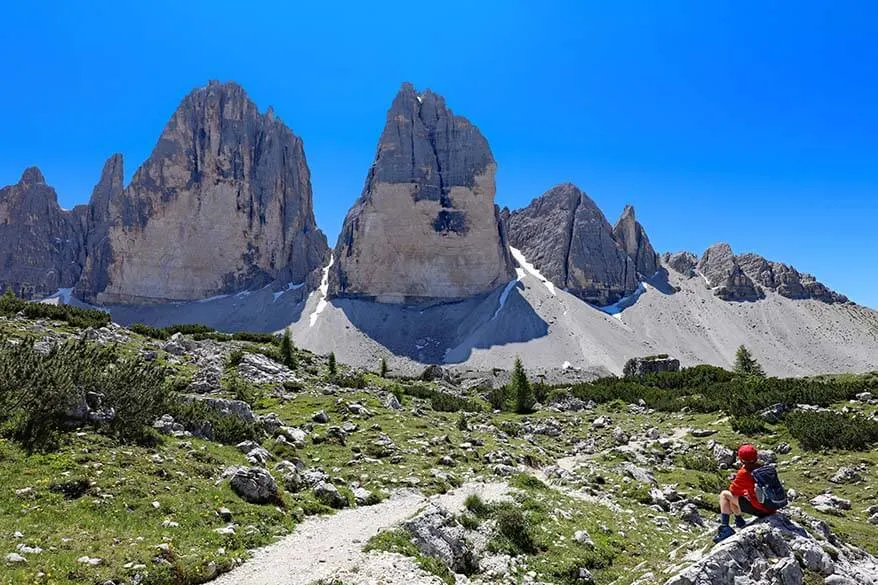 Tre Cime di Lavaredo, the symbol of the Dolomite UNESCO World Heritage site, is popular for a reason. Not only are the three peaks truly impressive, but you can also enjoy some of the best far views in the Dolomites (see the featured image as well). It's truly beautiful and well worth a visit.
The good news is that you don't have to hike the entire 9.5-10 km loop in order to enjoy the views. The negative side is the crowds, as Tre Cime is a popular place for bus tours. We visited the area in the first week of July, on a rainy day that ended with thunderstorms and lightning… Still, it was by far the busiest hike we did in the Dolomites. If you can, come off-season (September is said to be great), or as a minimum, avoid summer weekends.
The second time we came here, a few years after the first trip, it was a sunny day in July. The crowds were insane in the beginning, but it got much quieter the further we hiked. We also did a few amazing detours that we didn't know about the first time and they made this trail so much more special.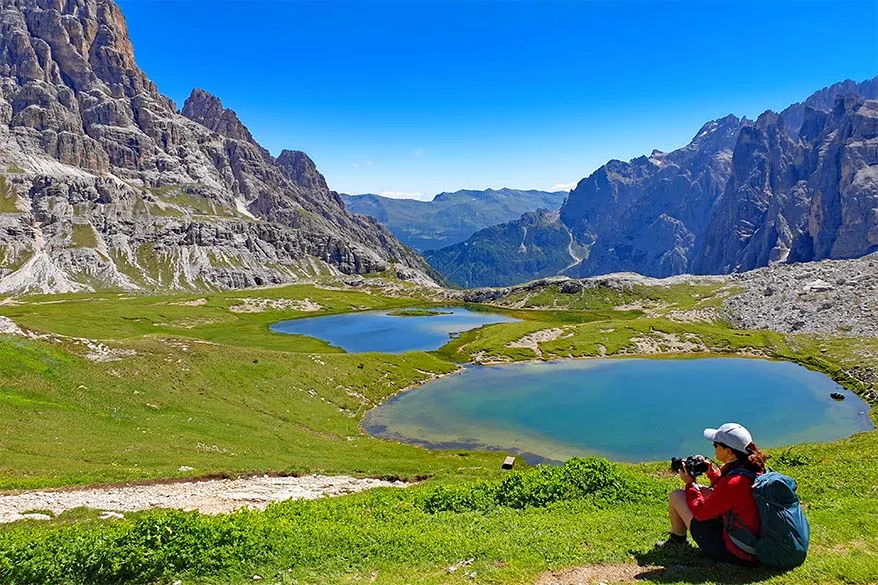 Tre Cime di Lavaredo loop trail starts at Rifugio Auronzo. Just walk past the restaurant and to the left, and you'll see the wide gravel road leading in the direction of Rifugio Lavaredo. About halfway there is a small chapel, Cappella degli Alpini.
This first part of the hike is flat and very easy and is therefore really busy. Families with young children even walk here with the strollers. Rifugio Auronzo – Rifugio Lavaredo walk is 1.7 km one way and takes about 30 minutes.
At Rifugio Lavaredo the trail gets a bit tougher and steeper as you walk in the direction of Forcella Lavaredo, one of the best viewpoints of this area. Count about 20 minutes to get here from Rifugio Lavaredo (+-1 km). Most people and especially groups don't go further than this point.
At this point, the trail gets easier as it remains relatively flat, as you walk in the direction of Rifugio Locatelli (Dreizinnenhütte). This is actually a wide gravel road used for supplies to the hut. This part of the hike is about 2 km and will take approximately 40 min.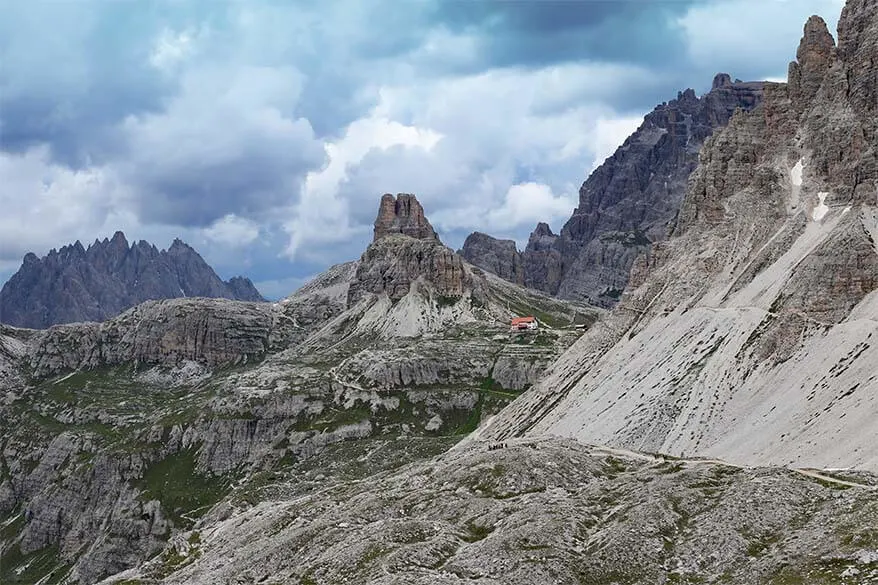 If you already walked this far, you're almost halfway and can just as well continue and do the whole loop. The next stop is Malga Langalm (almost 3km, 1h20), from there it's just a short hike back to Rifugio Auronzo (2.5km, 40min). But it's here that most people turn off and miss some of the best scenery of this hike.
The first time we hiked here, somewhere in between Forcella Lavaredo and Rifugio Locatelli it got dark, started to rain, and we had to turn back. In a matter of minutes, the gravel road turned into a river, lightning got stronger and thunder – really loud, and we had to literally run for shelter.
With over 2,400m (7,800 ft) height and well above the tree line, this is a very dangerous area to be when there is lightning. We decided to wait out the storm at Rifugio Lavaredo and had a very long lunch here till the lightning stopped.
The second time we chose the best weather day to hike at Tre Cime and our experience was totally different. Now that we did this entire loop (and took the time for those few short but very rewarding detours), I feel that I can give you a much better idea of what this hike is about. For that, please check our detailed article below for more information and insider tips that we didn't know the first time.
Duration: 3.5-5 hrs.
Distance: 9.5-10 km.
Difficulty: Moderate (the first part is easy).
Facilities: There are several mountain huts/ restaurants along this trail.
Accessible by public transport: Yes, in high season.
Entrance fee: You have to pay a 30 EUR entrance fee to drive up the road to Tre Cime.
LEARN MORE: Tre Cime di Lavaredo Hike – Complete Guide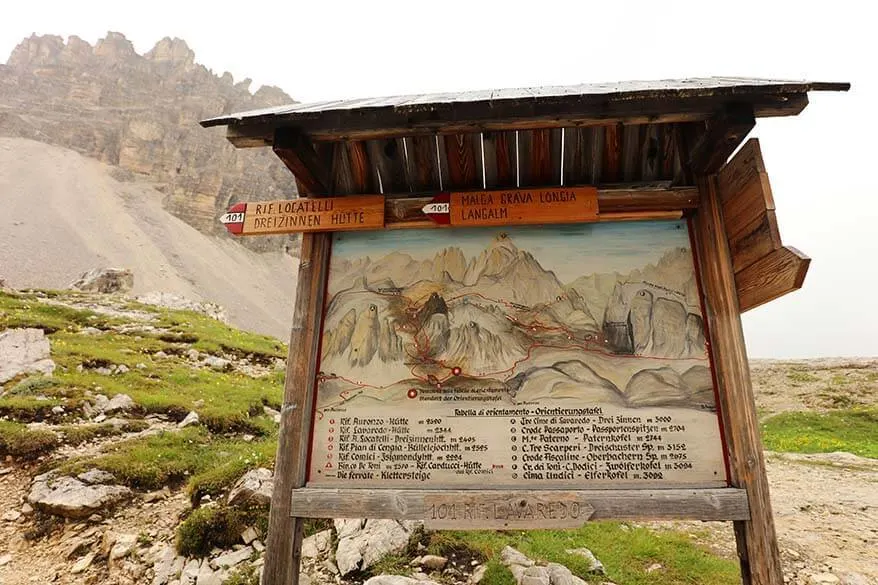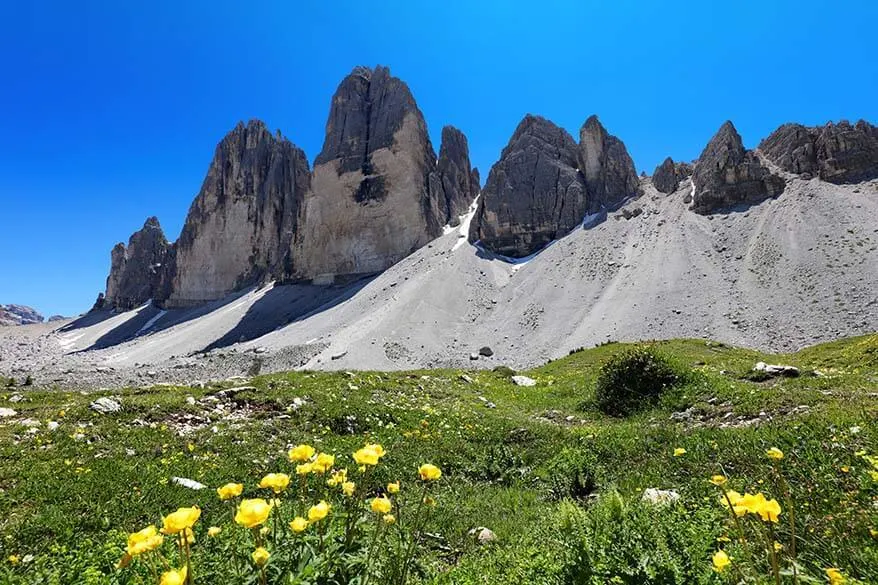 4. Lago di Sorapis
Lago di Sorapis hike is one of the two new additions to this Dolomites hiking list. We didn't get here on our first trip, but we did this hike on our second visit to the region and this is one of the best Dolomites hikes that I would highly recommend to everyone!
Lake Sorapis is a stunning milky-blue lake that looks even more spectacular in reality than in the pictures. Yes, it's truly that beautiful! And if you visit on a sunny day, the water is really that blue!
However, this is also one of the more challenging hikes on this list of the – mostly easy – hikes in the Dolomites. The hike is not that long – about 2 hours one way – but there are some steep sections, metal staircases, ladders, and narrow passages where you have to use metal cables for support.
Having said all this, if you are fit, have good hiking shoes, and come here on a dry day, it's really nothing too challenging. We did this hike with our kids, age 9-11 and we saw some younger kids on the trail too. Some people also took dogs on this hike.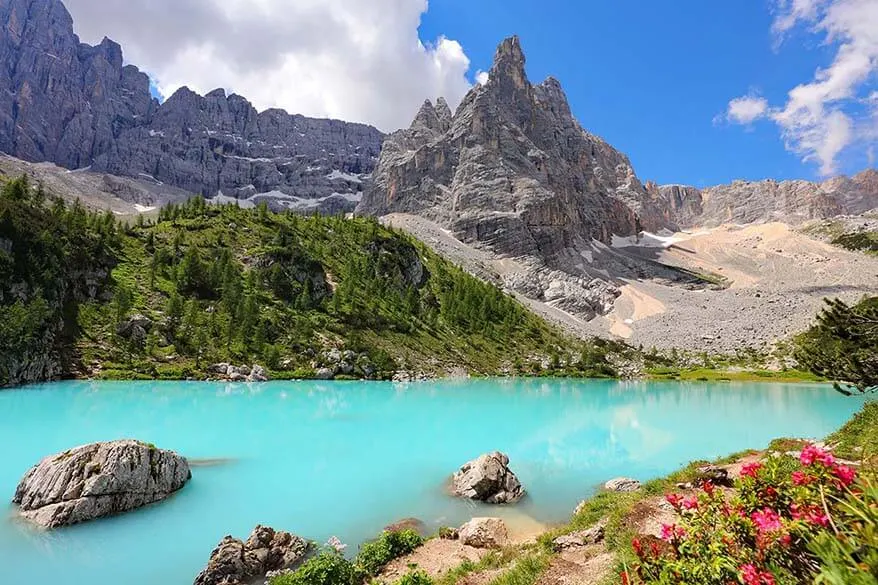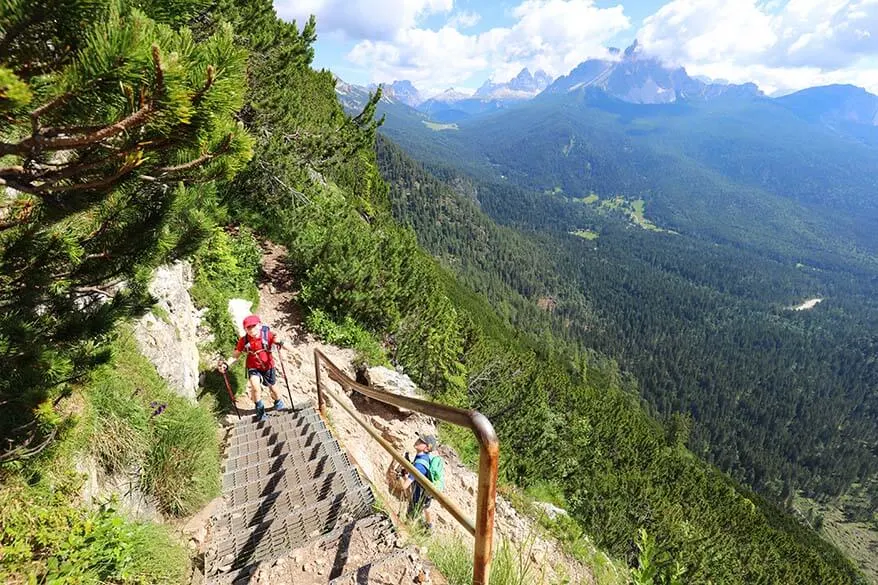 Lake Sorapis has become extremely popular in recent years and it gets very busy here. Furthermore, since almost everyone opts for the same 'easiest' track, you have to do the same hike in two directions, meaning that you'll always meet many people along this hike.
The best tip I can give you if you are planning to do this hike is to start as early as you can. If – and only if – the weather is exceptionally good and there's no risk of thunderstorms, you could also come here later in the afternoon, when most hikers start to leave. Either way, you won't be alone here.
Duration: 4-5 hrs (2 hours each way, plus time at the lake).
Distance: 10.5 km (but our GPS tracking app showed 12.5 km).
Difficulty: Moderate.
Facilities: There is a mountain hut 3 minutes walk from the lake.
Accessible by public transport: Yes. Take a bus to Passo Tre Croci.
For more practical information, alternative trails, and useful tips, please see our detailed guide to this hike via the link below.
LEARN MORE: Lake Sorapis Hike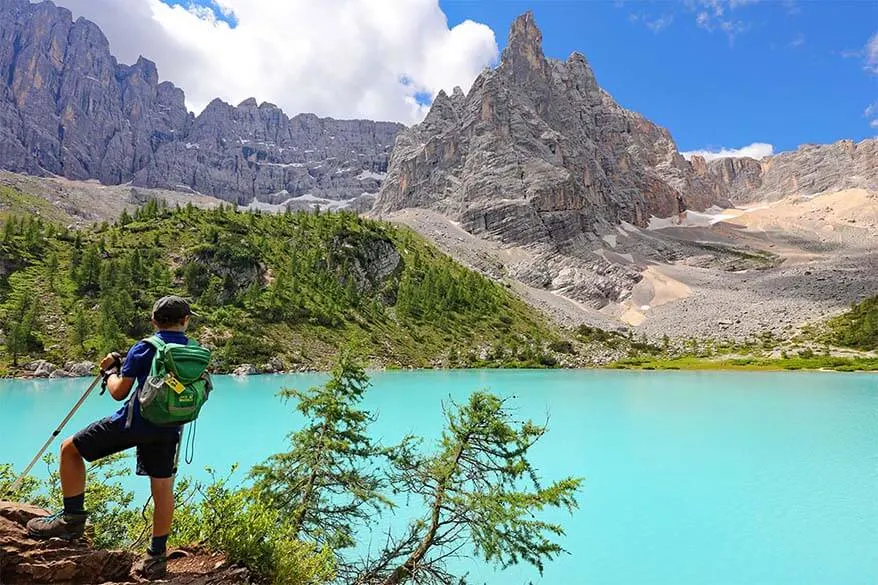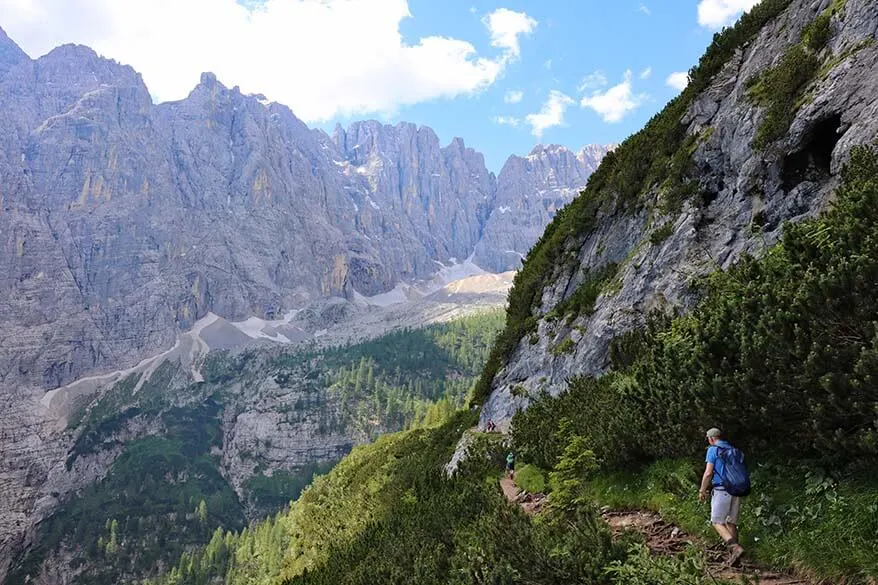 5. Lago di Braies (Pragser Wildsee)
Lago di Braies, also known as Pragser Wildsee, is without a doubt one of the most beautiful mountain lakes in Europe, maybe even in the world. It reminded us of Lake Louise in Canada. I have to say that the Dolomites are just as beautiful as the Canadian Rockies, maybe even more impressive in a way, as there is more variety in the landscape.
Lago di Braies is another extremely popular tourist destination, but its beauty will make you forget the crowds. Try not to look at the huge parking lot and a big hotel blocking the view, and head straight to the lake. As you arrive at the picturesque wooden boathouse, you'll be struck by the pristine beauty of this place.
You don't have to hike much in order to appreciate the scenery of Lago di Braies, but hiking to the end of the lake is the best way to escape the biggest crowds. The circular hike is quite easy and can easily be done with children. Note that the hike on the left side of the lake is a bit steeper and rocky, the right one – completely flat. If you are visiting with young kids and have a stroller, just stay on the right side of the lake.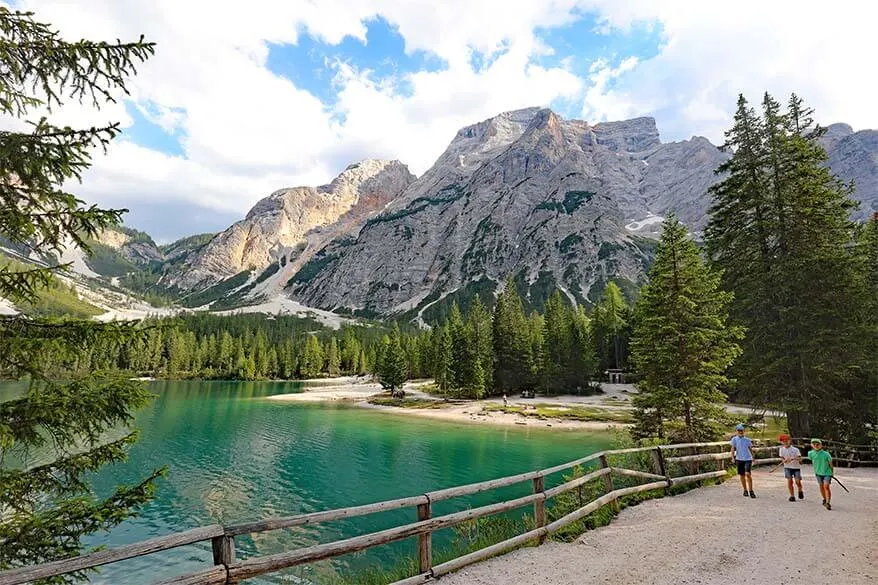 At the back end of the lake, you'll find several beaches. It's a good place for a dip in the water, but keep in mind that the water is freezing cold. Our crazy kids went swimming here, so it's definitely possible if you feel like cooling down a bit after the walk.
Lago di Braies hike is by far the easiest of all the Dolomites hikes described here, and the views are not to be missed. A must-see place if you are visiting Dolomites for the first time!
Duration: 1.5 hrs.
Distance: 3.5 km.
Difficulty: Easy.
Facilities: There is a hotel and a restaurant by the lake.
Accessible by public transport: Yes. Many organized day tours also visit here.
Parking fee: It's charged per 3 hours, after that – hourly. The fee also depends on the time of the day and is cheaper in the evening. Keep in mind that you are not allowed to drive all the way to the lake during the busiest hours in the peak season (see our detailed guide for more info).
TIP: Plan to spend half a day at Lago di Braies. You can also rent a boat, which is such a great way to enjoy this beautiful lake.
LEARN MORE: Lago di Braies – complete guide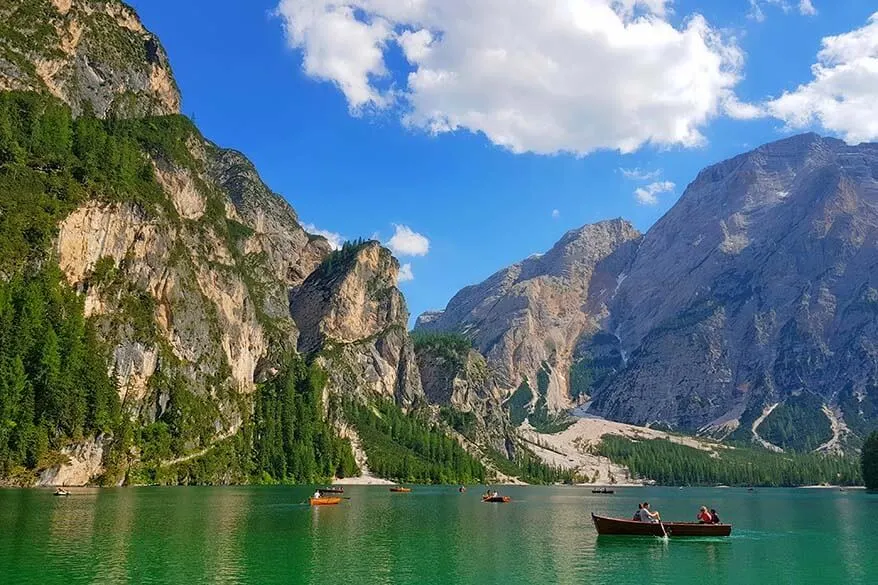 6. Cinque Torri
Cinque Torri hike is the second hike I added to this list after our repeat visit to the Dolomites. This is an easy, short hike, and the scenery is just WOW! Furthermore, you can enjoy some jaw-dropping views if you don't hike far. Don't miss it if you find yourself close to the Cortina d'Ampezzo or Passo Falzarego area!
This is probably one of the most rewarding of all the easy hikes in the Dolomites and I find that the pictures don't do it justice. The views are amazing everywhere you look and the WWI sites and a (free) open-air war museum make a visit and the hike so much more special. Cinque Torri is also a great place to learn more about the Great War history in the Dolomites.
There are several hiking possibilities at Cinque Torri and many trails pass this area. But if you are looking for the very best easy option, simply opt for the Cinque Torri loop trail (Giro delle Torri). This trail takes you around the five towers, offering the most incredible views in all directions.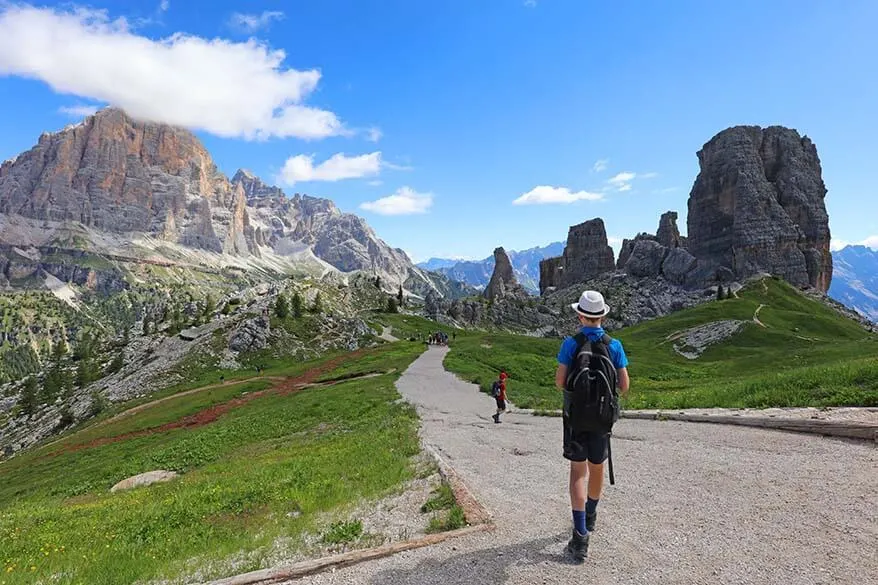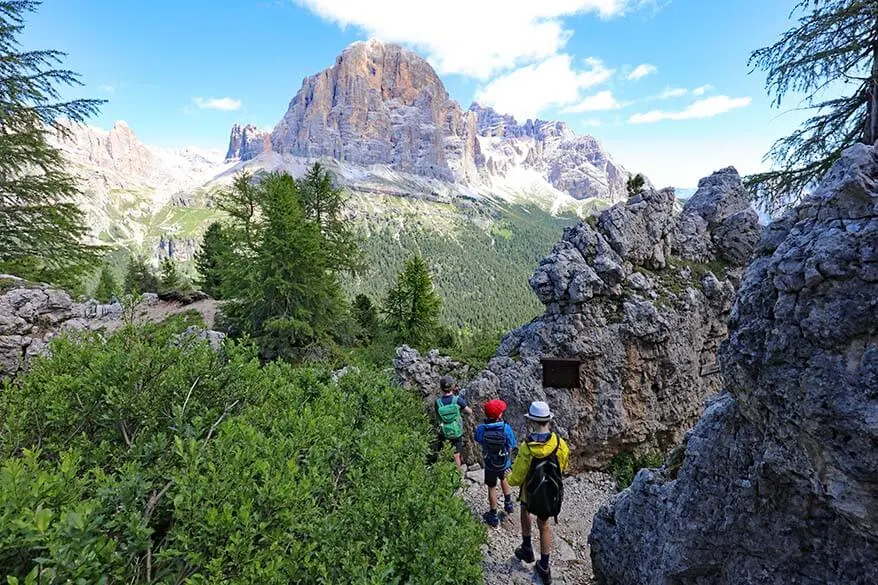 The first section of the Cinque Torri hike is wide and is something that everyone should be able to do. Most of the WWI exhibits can also be found here. If you do the entire loop, there will be some real Alpine hiking with steeper sections. However, the hike is so short that it's really nothing to worry about.
And yes, it's well worth going all the way around the five towers, because the views are very different on the other side.
Duration: 1 hr.
Distance: 2 km.
Difficulty: Easy.
Facilities: There are restaurants and bathrooms at Rifugio Scoiattoli and Rifugio 5 Torri.
Accessible by public transport: Yes. Take a bus between Cortina and Falzarego Pass.
Entrance fee: There is no parking fee and if you hike up, it's free of charge. However, it's so much easier and faster to take a cable car. In our detailed guide to this area, we also have one more suggestion on how to easily visit without paying for the cable car (something we only found out later).
If you have more time in teh Cinque Torri area, you can do a few additional hikes. See all the information and additional suggestions in our guide via the link below.
LEARN MORE: Hiking at Cinque Torri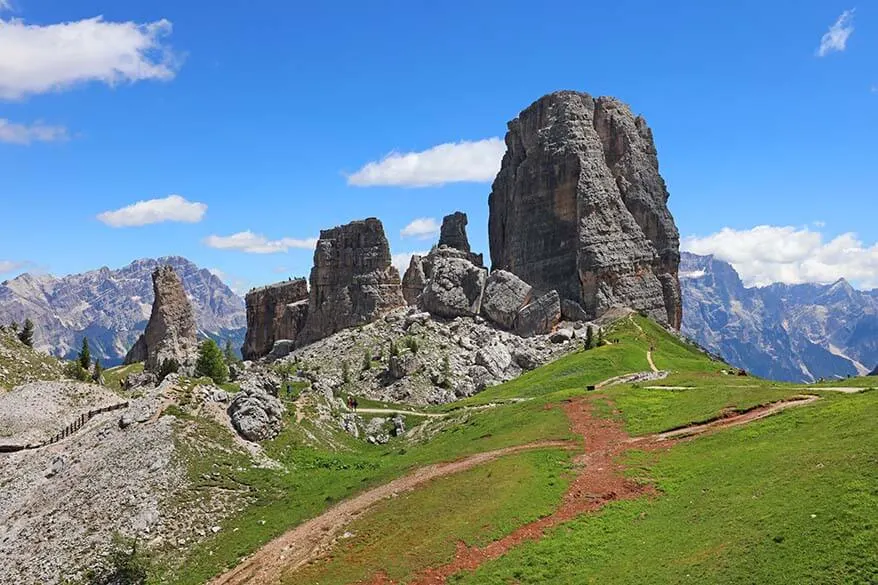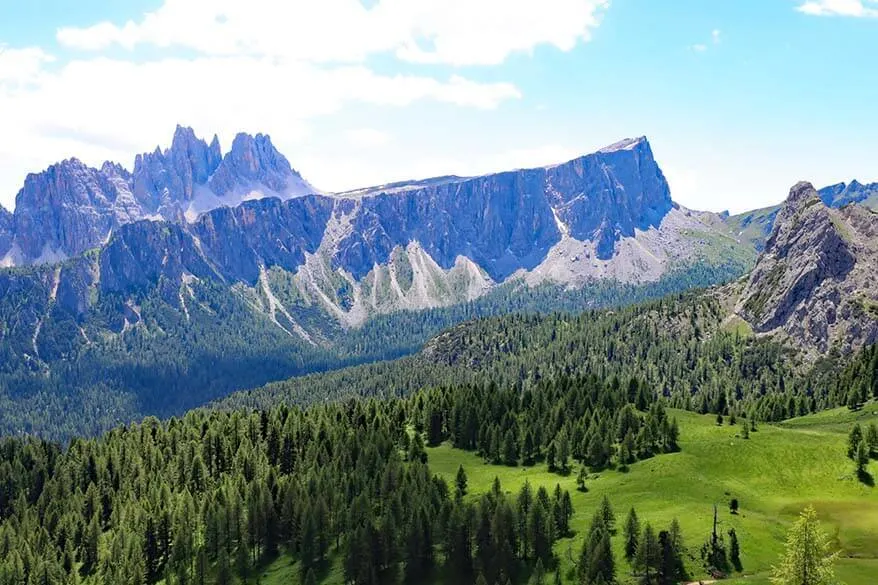 7. Selva to Rifugio Puez (Puez-Odle Altopiano Hike)
We had really high expectations from this hike as we heard several people describe it as the ultimate hiking experience in the Dolomites. I have to say that this hike from Selva to Rifugio Puez starting at Dantercepies cable car station and via Rifugio Jimmy is by far the most diverse day hike you can probably do in the Dolomites, but it's also the most challenging hike we have ever done.
By no means is this an easy hike and don't believe those websites that tell you it can be done in 5-6 hours. Not if you are a recreational hiker who actually wants to enjoy the scenery, take some pictures, and stop for a picnic along the way.
Taking into account that you first need to take a cable car to the starting point of this hike, stop to rest and eat, and get back to your starting point in Selva, you should count 7-9 hours for this hike. It took us about 8 hours hiking, more if we add the walk back to our hotel in Selva. Every time we talk back about this hike, we all refer to it as 'the hike that would never end'.
The hike starts out very promisingly with truly amazing views at Dantercepies cable car station. The first part of the trail to Rifugio Jimmy is easy and enjoyable and takes just 15-20 min. Here you are facing the first real challenge – a steep climb to Forcella Cier along the hiking trail no.2. The views are great, but so is the effort. The climb will probably take at least half an hour and it's really tough. Don't forget to enjoy the views along the way – after all that's what you're here for, and not for the race.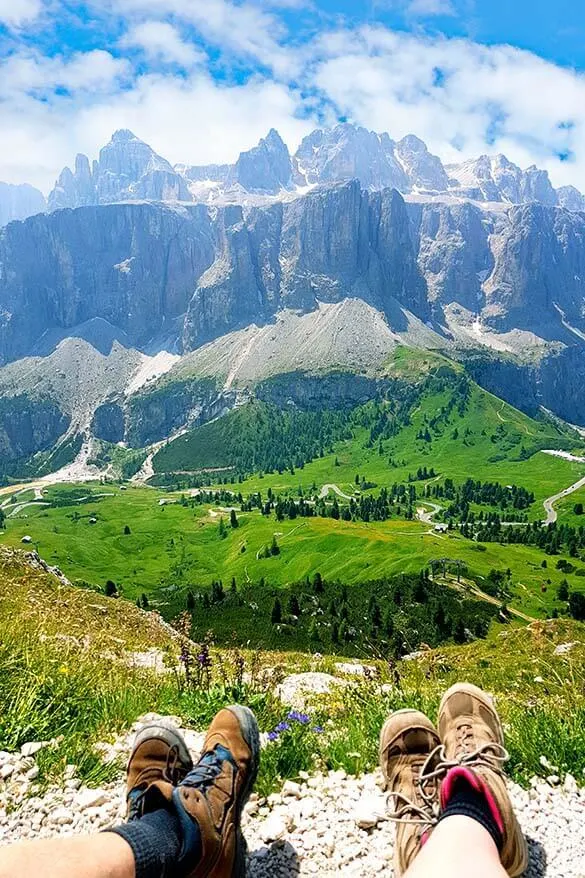 When you reach the top and head into the mountains, the scenery changes completely. It's a rocky terrain with no vegetation and even in summer, you'll still find quite some snow here.
There are two viewpoints along Jeuf de Cir area, both also offering a chance to turn off left and head back down to Selva along the trail no.12. By this point, you probably hiked for 2 hours and you think, based on what you read, that you're halfway. You're not! If you feel really tired by this point, I'd really consider going back to the village from here, as this is the last safe option to go down. The next safe trail downwards is at the Puez Hut, another 1,5-2 hours hiking from here.
It's really difficult to get excited about this part of the trail. The scenery isn't all that special, there is no shade, and you feel like there will never be an end to this hike. The only nicer place along the way is Lago di Crespeina, but by now you realize that you can't afford to linger much longer if you want to make it back to the village before dark. No worries, you think, there is another trail indicated on the map that will get you down to the valley quick…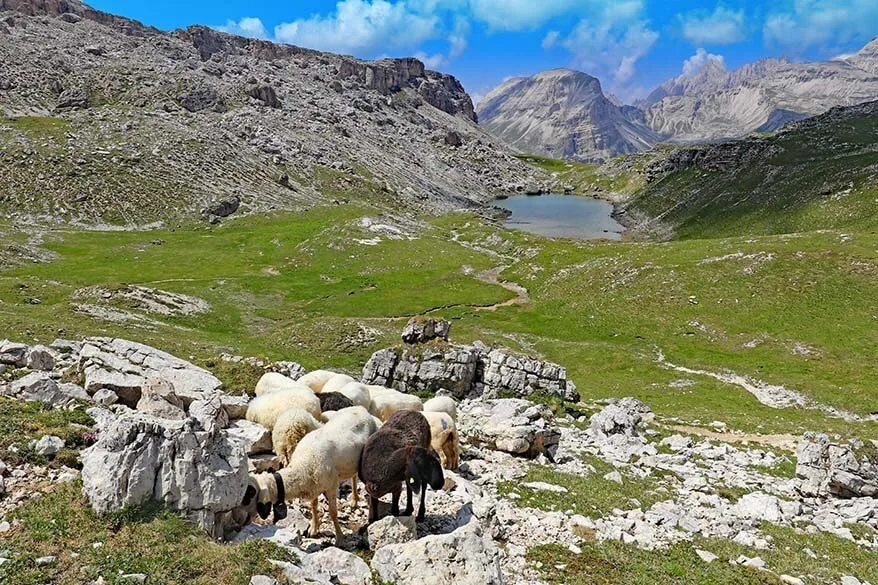 However, what you find at Forcella de Ciampac is a sheer wall of rocks and loose stones, by no means a hiking trail. If you are not tired of your life, do not attempt to hike down here. We tried just a small part and it was the most frightening hiking experience ever. We had no choice but to scramble back up and continue our hike all the way to Puez mountain hut, as initially planned.
After 4.5 hours of serious hiking, we finally reached Rifugio Puez (Puez Hütte) at 2,475 m. Note that this is not the end of the hike, as you still have to get back down to the valley, some 1.000 m below.
Since this last stretch takes at least another 2 hours (it took us 2.5 hours and we were walking fast), we decided to take a well-deserved break. Luckily, there is a restaurant at Puez hut and I can really recommend their Kaiserschmarrn – traditional shredded pancakes that are very popular in Northern Italy and also in Austria.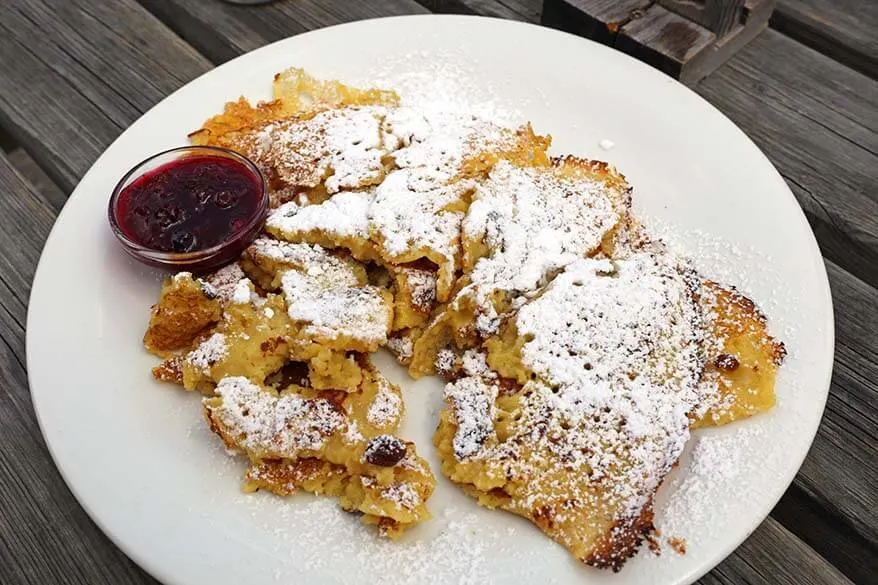 Once again, we looked at the map and were thinking of taking the most logical route back. Trail no. 14 looked like the best way to get to the valley.
Luckily, we asked the waitress at the restaurant and from her reaction we understood that this trail is really steep and not that impressive.
Instead, she recommended we take the slightly longer, but supposedly more beautiful trail no. 16 down from Puez to Selva. I feel so grateful for her advice, as this part of the hike was so spectacular that it saved the whole day for us.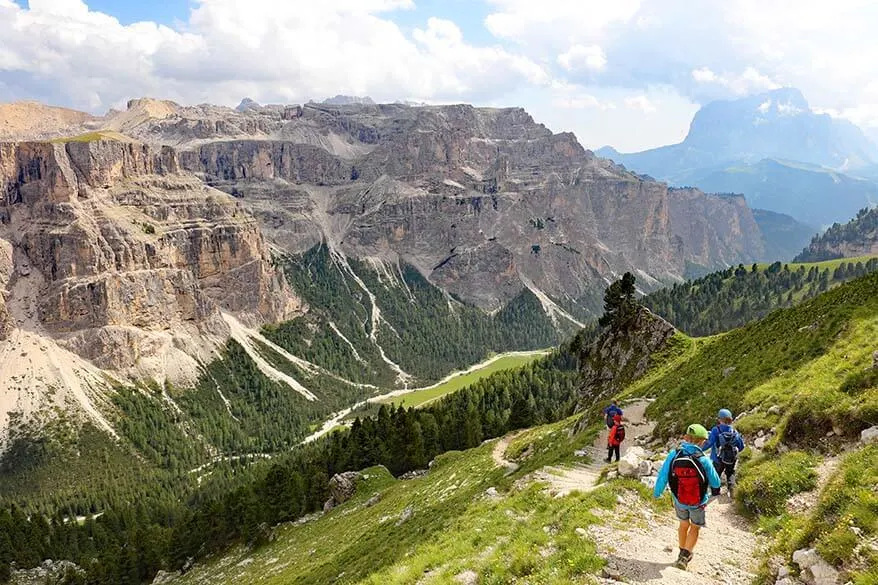 Alternative trails:
Since the nicest part of this Selva – Rifugio Puez hike is at the beginning – the area around Jimmy Hut, and then again at the end between Puez Hut and Selva, it would be possible to split this hike into two separate hikes and still see the best scenery.
On the other hand, the 1km vertical climb from Selva to Puez would be really exhausting, so it's not for everyone either.
However, even if you just hike a small part of this trail into the mountain valley at the Vallunga hiking area in Selva, it is also really worth it as the views are amazing. This part of the hike is flat and can even be done by bike or with a stroller.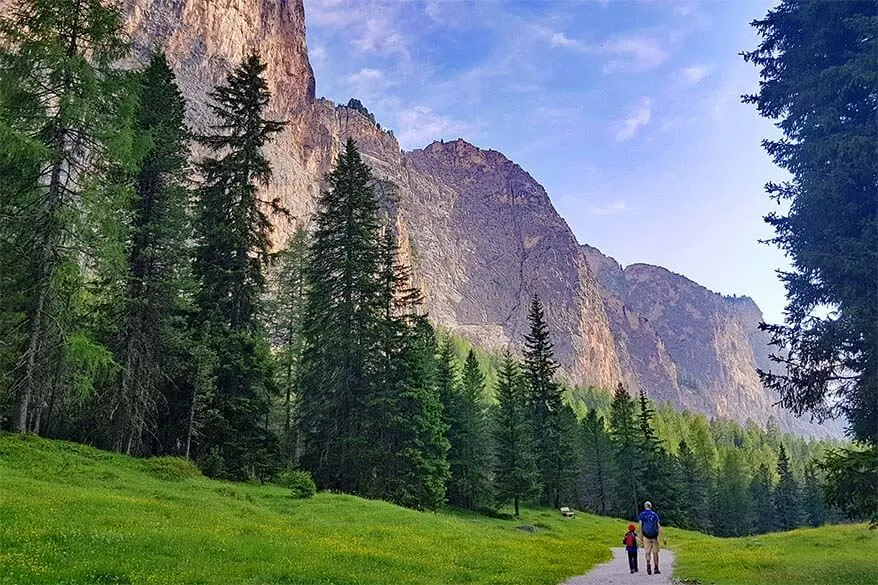 Would I recommend this hike from Selva to Puez Hut? If you travel well prepared, know what to expect, and count the whole day for this hike, then yes, it's worth it.
If, on the other hand, you are looking for nice views and little effort, then you better consider doing just one part of this hike.
Duration: 6-7 hrs (+stops, count at least 8 hours if you want to enjoy it).
Distance: Not sure. Some sources say it's 14 km, some – 16 km, the others – 22 km. We didn't track the distance, but I can tell you it felt closer to 20 than to 14.
Difficulty: Moderate, with some easy and some hard parts.
Facilities: There are facilities at Rifugio Jimmy and Rifugio Puez. Nothing in between.
Accessible by public transport: Yes.
Parking fee: Hourly.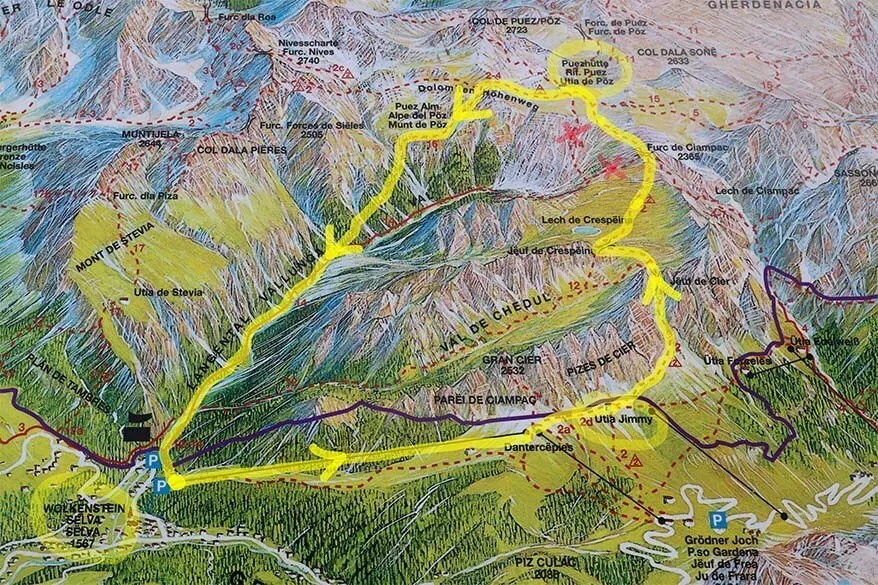 Best Hikes in the Dolomites on the Map
As promised, here is the map indicating the starting point of each hike mentioned in this post. I also indicated parking areas where you can leave your car for each hike.
You can click on the map or zoom it in and out. For the index, click on the little arrow on the top left corner.
How to use this map: Use your computer mouse (or fingers) to zoom in or out. Click on the icons to get more information about each place. Click the arrow on the top left corner for the index. Click the star next to the map's title to add it to your Google Maps account. To view the saved map on your smartphone or PC, open Google Maps, click the menu and go to 'Your Places'/'Maps'. If you want to print the map or see it in a bigger window, click on 'View larger map' in the top right corner.
Practical Tips for Hiking in the Dolomites
Best time to hike in the Dolomites is June through September. If you can, avoid the peak season, July and August.
Plan to spend at least a week in this beautiful area – there is so much to see!
Parking fees and cable car rides are quite expensive. You can save money by making use of guest cards offered by most hotels in the region. They usually include free public transport and give discounts on cable car rides. If you are staying in one area for at least 3 days, it might be worthwhile to buy a pass issued by a local tourism board (e.g. Val Gardena pass or Cortina card). If you are planning on taking at least 2 cable cars a day, it can save you quite a lot of money.
Travel well prepared: always carry plenty of water, snacks, sun protection, as well as rain gear.
Afternoon storms are very common in the Dolomites, so start your hikes early. The weather can be very different in different places, so it's best to consult websites that offer a very local forecast. We used this website (they also have an app) most of the time and the forecast was pretty accurate.
Always carry a mobile phone with you.
Don't overdo it. Better do one hike and truly enjoy it rather than try to see it all in too little time. Take your time to explore the little villages, mountain passes, and enjoy your time in the Dolomites!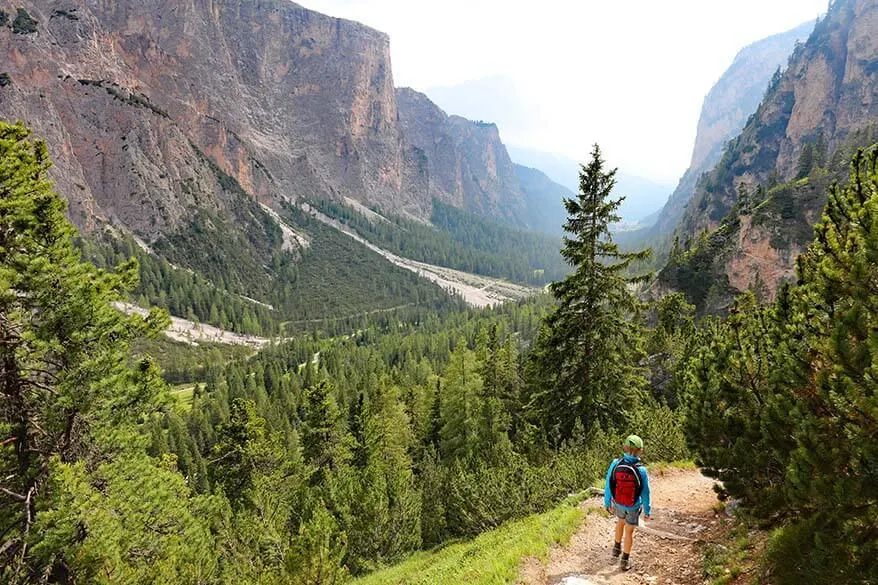 Where to Stay for Dolomites Hiking Vacation
The roads are really steep and narrow in the Dolomites, and there are many mountain passes you have to negotiate, pretty much everywhere you go. On top of that, you have to share the roads with hundreds of bicycles and busses, and there are lots of road works in summer as well. Therefore, staying in just one place and driving up and down to different areas in the Dolomites will eat up too much of your time.
After thorough research and based on our experience, I recommend two areas that can be best used as a base for hiking in the Dolomites: Val Gardena (the towns of Selva di Val Gardena, St. Cristina, or Ortisei) and Cortina d'Ampezzo.
The first time we visited the Dolomites, we stayed in Selva di Val Gardena and it was a great home base for exploring the Val Gardena area, but really much too far for the hiking trails around Cortina. See our Val Gardena accommodation guide for this area.
On our second trip in the Dolomites, we spent a week in Cortina d'Ampezzo. It's such a beautiful area as well and a perfect base location for many of the best hikes in the Dolomites.
LEARN MORE: Best Places to Stay in the Dolomites
TIP: Using the map below, you can compare hotels and short-term rental accommodations in the Dolomites. Simply insert your travel dates and group size, and you'll see what's available for your stay. The map now shows the Val Gardena area, but you can zoom in or out and use it for any other location. Check it out!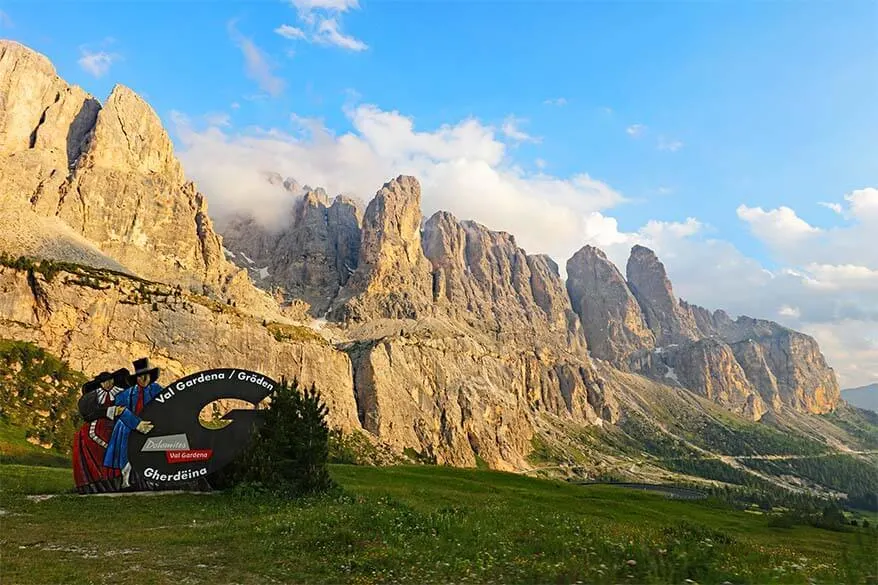 Val Gardena is a good place to stay for most of the Dolomites hiking trails described in this post, including Lago di Braies, but not ideal for the Tre Cime di Lavaredo hike, Lago di Sorapis, or Cinque Torri. There are so many mountain passes between Val Gardena and Cortina, and you really can't enjoy them if you are just passing by.
The better option for exploring would be to stay at Val Gardena for a couple of days, then make your way to Cortina, stopping at the mountain passes along the way. Then spend at least 2-3 nights in Cortina, from where you can easily visit Tre Cime, Lake Sorapis, and Cinque Torri.
If you rather have a quiet vacation and just stay in one place, then make it Val Gardena. It is really well located not just for the most beautiful hikes of the Dolomites, but also if you want to drive some amazing mountain passes.
It's also close enough to the highway, so if the weather is really bad in the Dolomites, you can easily visit Bolzano or Merano for a day. But if you absolutely want to hike at Tre Cime or Lake Sorapis, then stay in Cortina. If it rains, you can take a day trip to Venice from there, as we did.
READ ALSO: Best Things to Do in Venice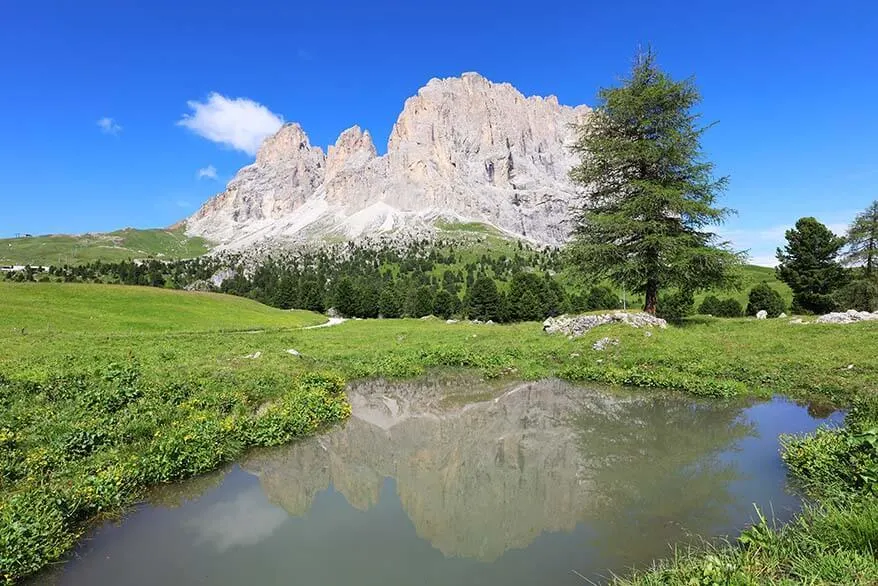 So, this is my small selection of some of the best hikes in the Dolomites. I hope that you'll find inspiration in this post and enjoy your trip to this incredibly beautiful region.
There are, of course, many more stunning trails and amazing hikes that you can do here, as well as countless other activities and places to see. But if you are looking for truly spectacular shorter/ day hikes in the Dolomites, then I think you won't be disappointed by any of these trails described in this article. If, however, you are looking for even more suggestions, please take a look below!
More nice hikes in the Dolomites:
Lago Federa hike from Giau Pass – amazing hike, but quite a bit longer than others, and start/end points are not the same, which makes it more difficult to do. Thus not on our 'best of' list, but absolutely worth it if you have more time.
Lago di Limides hike – such a short hike that you can easily combine it with any other place nearby.
Lago di Dobbiaco – the nicest views don't require any hiking, but there's a very easy (accessible) loop around the lake that's great for everyone, even those who normally don't hike.
Must-see in the Dolomites:
READ ALSO: How to Plan a Trip to the Dolomites: Itinerary Suggestions
Visiting Italy and looking for more travel recommendations? We have tons of articles for a big variety of popular destinations all over Italy. Please check our Italy travel guide and also our Italy food guide.
If you found this post useful, don't forget to bookmark it and share it with your friends. Are you on Pinterest? Pin these images!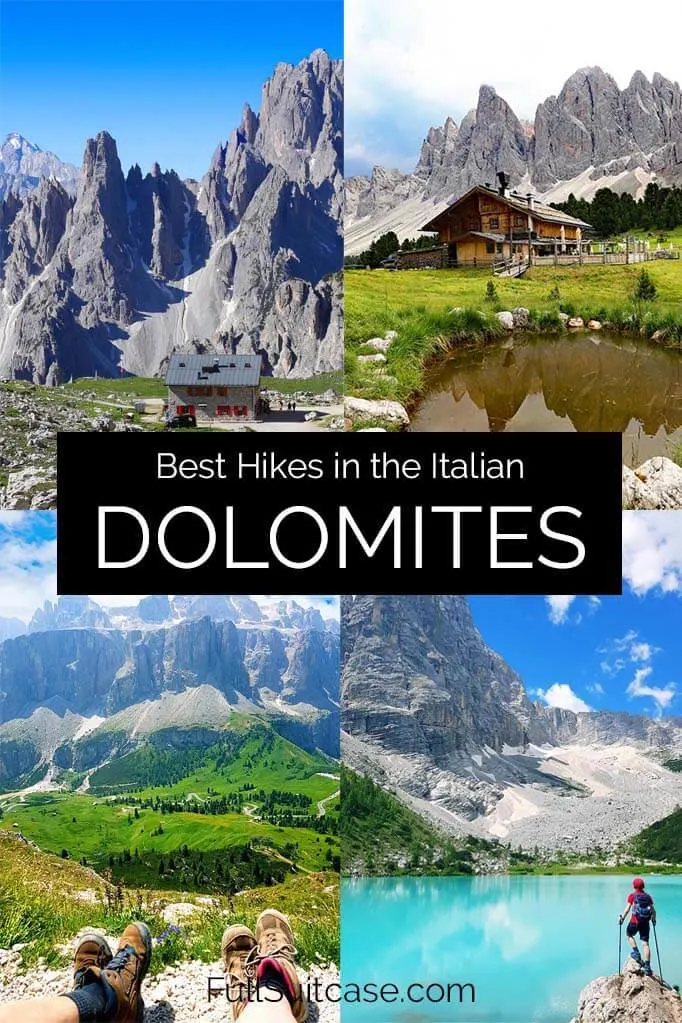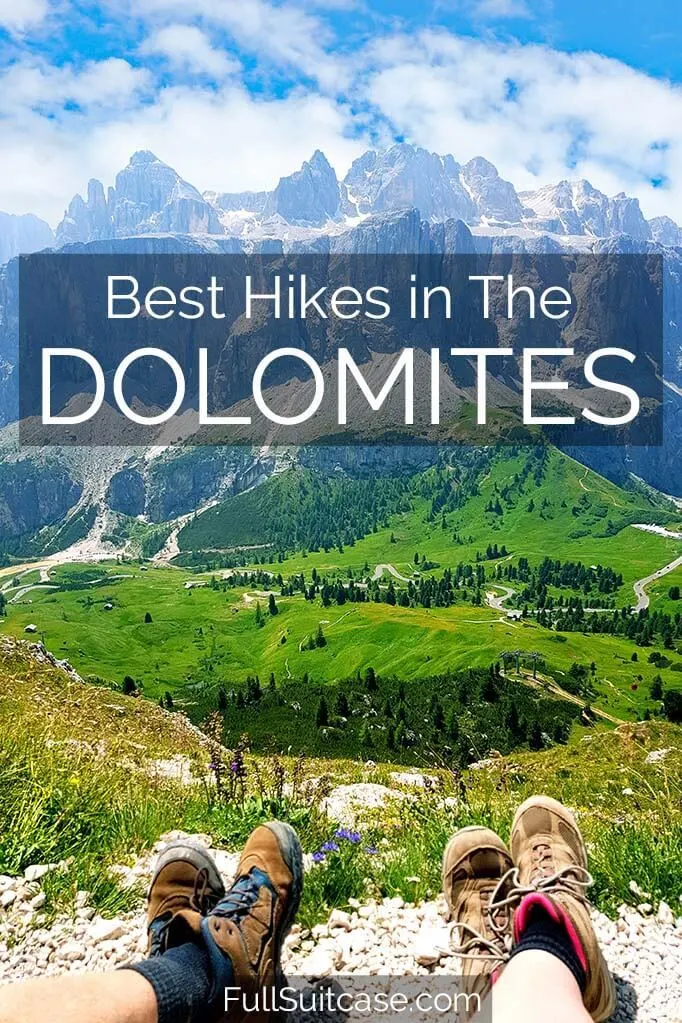 More travel guides for some of our favorite places in Italy: