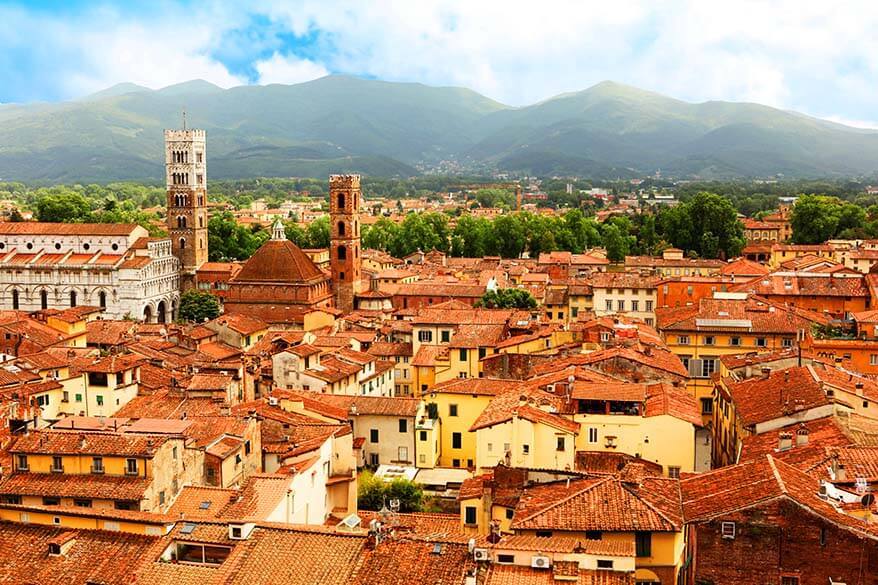 Planning a trip to Tuscany, Italy, and wondering what are the best cities and towns in Tuscany? In this article, we are highlighting only the most beautiful, best towns in Tuscany that are worth your time the most.
These are one by one amazing places that are well worth a visit. We also included suggestions for the best things to do in each town, as well as the best places to stay. Find out!
There are few places in the world like the Tuscany region in Italy. It really has it all: the most beautiful rolling-hills landscapes, medieval historical towns, Renaissance art, Italy's best wineries, amazing food, and good weather.
No trip to Europe would be complete without visiting at least some of Italy's most beautiful towns. But did you know that some of the most enchanting towns in Italy are actually located in Tuscany?!
However, with so many beautiful towns and villages in Tuscany, one more beautiful than another, how do you decide where to go if you only have limited vacation time?
Let's face it – unless you have at least 2-3 weeks in the region, you won't have the time to visit every Tuscan town. So in this article, we are only focusing on the very best ones, the most beautiful towns of Tuscany. Find out!
The good news is that the most beautiful towns of Tuscany from our selection, are located within a relatively short driving distance from each other. Therefore, you can see all the best towns in Tuscany without having to spend too many hours in a car.
Here you can find our suggested Tuscany itinerary, but first, let's take a look at what you can expect to see when visiting the most beautiful towns in Tuscany.
TIP: If you are short on time, it's possible to visit several Tuscan towns in a day. In that case, it's best to base yourself in Florence and take organized tours to the other towns. Here are some of the best multi-town tour suggestions: Pisa, Siena, San Gimignano with Lunch and Wine in Chianti or Pisa & Lucca Day Tour with Buccellato Tasting.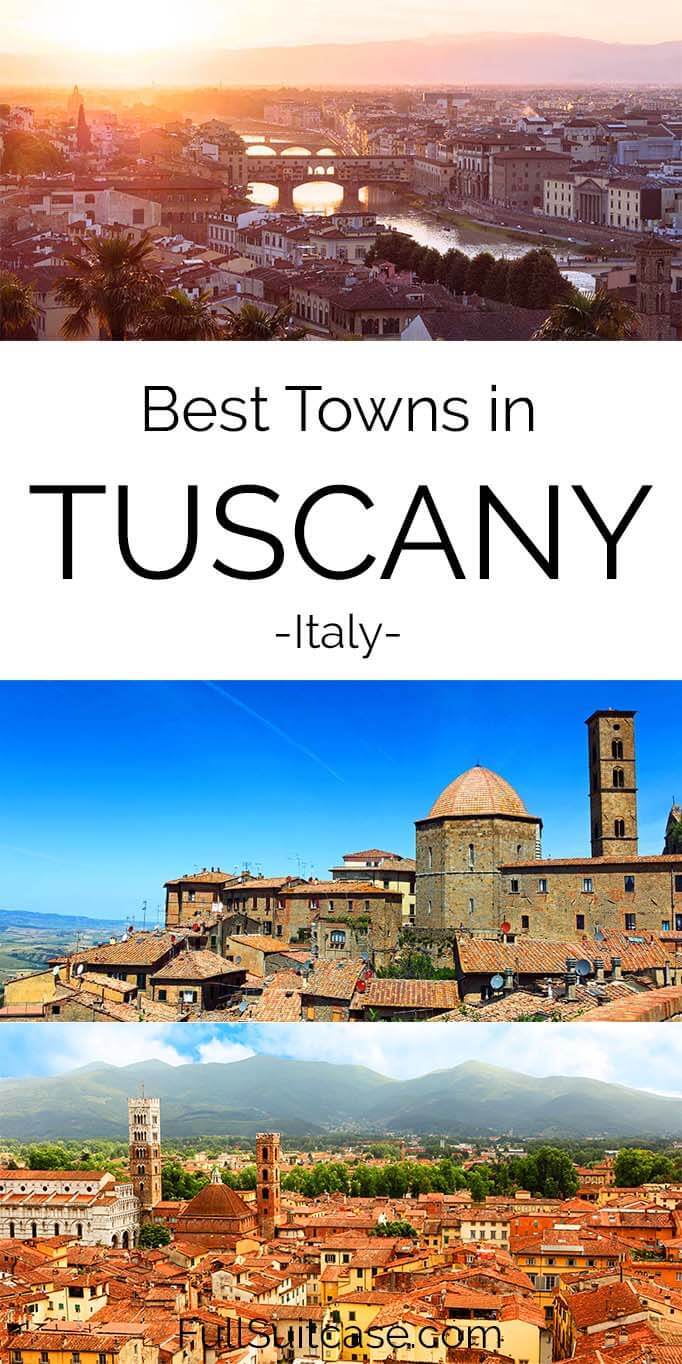 These are the must-see towns and cities in Tuscany:
Florence
Firenze (Florence) is the cultural capital of Italy with a great collection of some of the most famous art in the world.
Without a doubt, Florence is one of the most beautiful places in Italy and the best town of Tuscany region. No matter how much time you have in Tuscany, Florence should be on your itinerary.
While you could spend several days in Florence, most tourists only visit this most famous town of Tuscany for a day or two.
Here are our suggestions for the best things to see and do in Florence:
Duomo of Florence
Basilica di Santa Maria del Fiore, the Duomo, is the most famous landmark in Florence. Visit the cathedral, go up inside its spectacular dome and check out Campanile – the bell tower.
TIP: If you don't want to spend the whole day waiting in line, get skip the line tickets for the Duomo tower. This ticket also includes entrance to the Cathedral, the Crypt, the Baptistry, and Museo dell'Opera. Alternatively, I recommend this highly-rated skip-the-line Duomo guided tour. You have to book in advance!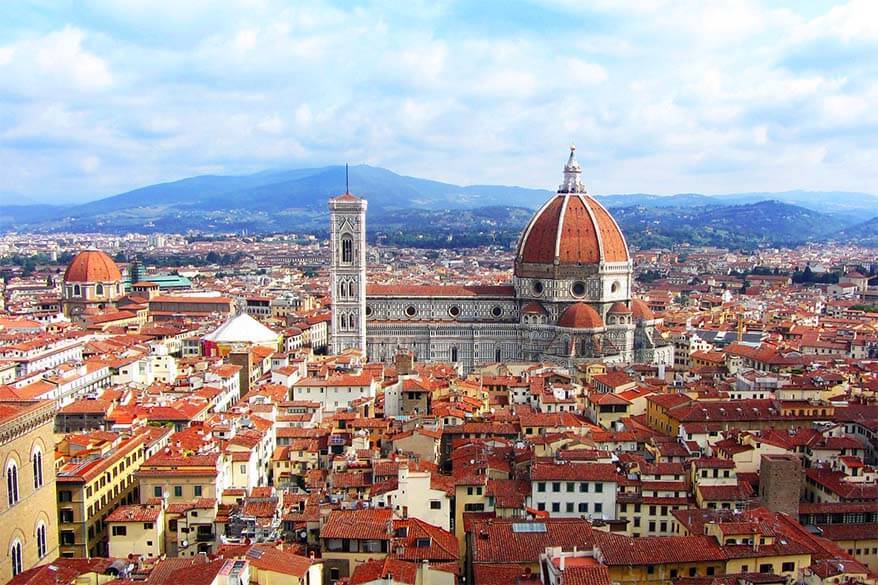 Uffizzi Gallery
The Galleria deli Uffizi hosts works of art by Botticelli, Michelangelo, Raffaelo and Leonardo da Vinci, just to name a few of the most famous artists. Perfect place to escape the heat of the day in summer.
If you visit just one museum in Tuscany, make it the Uffizzi Gallery. It's a must!
TIP: Just as everywhere else in Florence, crowds at Uffizzi Gallery are huge, especially in high season. It's best to get either a skip-the-line ticket or a timed entrance ticket. Timed entrance tickets are cheaper, but you really have to make sure to be there in time so that you don't miss your slot.
Ponte Vecchio
Florence's oldest bridge, the 14th century Ponte Vecchio is more impressive from the distance. Apparently, Ponte Santa Trinita is a good place to take pictures of this famous medieval bridge.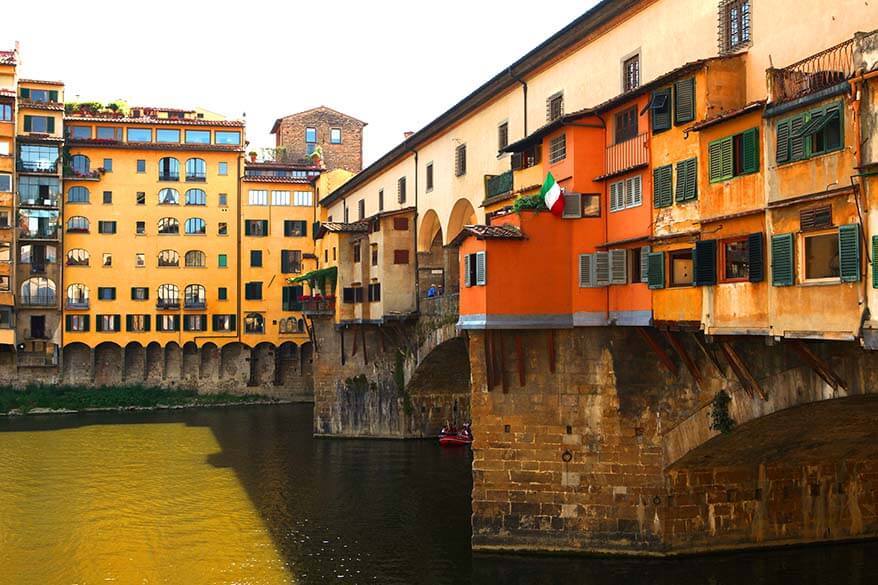 San Lorenzo Market
Whether you have the whole morning or just a few minutes, San Lorenzo market is a great place to explore for the whole family. The market is comprised of two separate markets. An indoor market, Mercato Centrale, is a food market. The outdoor market is where you'll find leather, clothing, and souvenirs.
Piazza della Signoria
Piazza della Signoria is one of the most beautiful town squares in Florence. Admire the architecture and many beautiful sculptures.
Piazza Santo Spirito
The perfect place to end your day in Florence is Piazza Santo Spirito. With many cafés, bars and restaurants it comes alive every evening. It's more of a locals' place with reasonable food prices, live music and great atmosphere in the evening. Don't miss!
Piazzale Michelangelo
Piazzale Michelangelo, located in the Oltrarno district, is the most famous square of Florence with a magnificent panoramic view of the city. It's a very popular for sunset.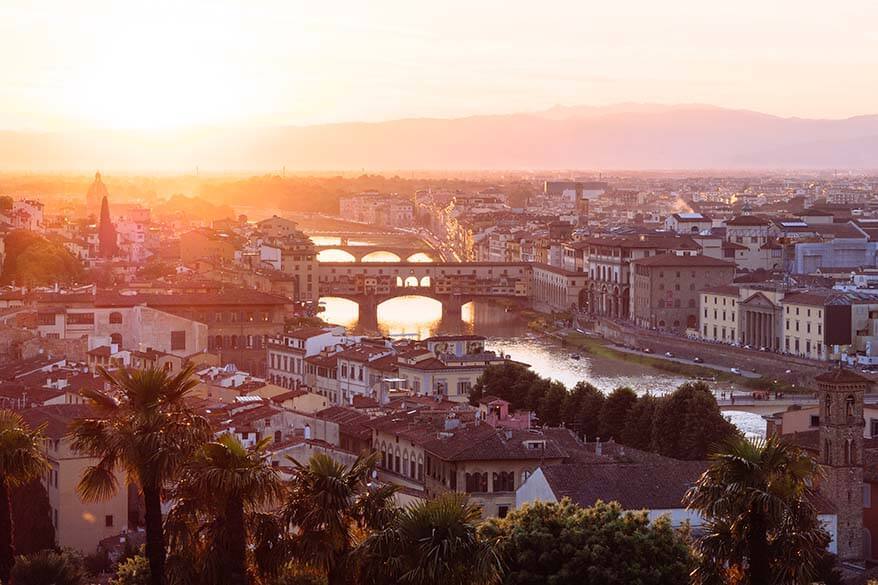 Where to stay in Florence
Luxury accommodation in Florence
The St. Regis Florence
Four Seasons Hotel Firenze
Ville Sull'Arno (outside the city centre) – luxury at affordable rates
Mid-range accommodation in Florence
Firenze Number Nine Hotel & Spa
Alfieri9
Hotel Pendini
Cheaper, good price-quality hotels in the centre of Florence
Hotel Cardinal of Florence
Hotel Mia Cara
Hotel Azzi
Best Hostels in Florence
My Friends
Hostel Archi Rossi
Plus Florence
Siena
Tuscany's second city, Siena, is a smaller and more intimate town than Florence. Yet it has so much to offer.
The historic center of Siena, a UNESCO World Heritage Site, is never as busy as its rival Florence. However, Siena is one of Tuscany's most visited towns, so be prepared for the crowds.
The historic town center isn't that big, so you can easily see the best of Siena in a day. Below you can find a short overview of the best things to do and places to see in Siena.
Piazza del Campo
Piazza del Campo (also called Il Campo) is the principal town square of Siena. It is one of Europe's finest medieval squares. Il Campo is the heart of the city. It's the place to relax, take in the views, sit down for some cappuccino or Italian gelato. You can climb the bell tower of Torre del Mangia for beautiful views over the historic city center.
Il Palio, the world's most famous historical horse race, is held on Piazza del Campo. Twice a year, 2nd of July and 16th of August, Il Campo is transformed into a horse racetrack, just as it has been for centuries, since 1644. If you are coming for Il Palio, you may want to stay in Siena for 3-4 days, as there is so much to see and do in the days before the race.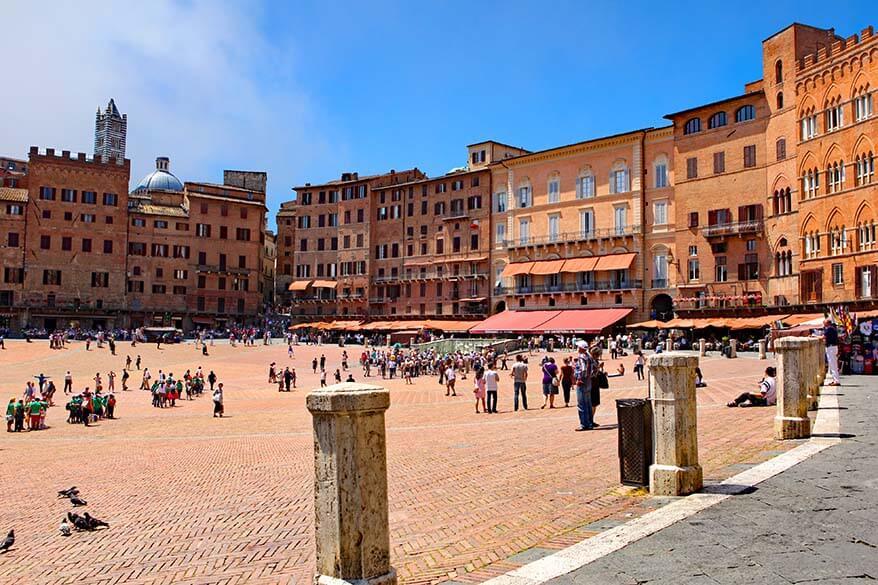 Historic city center of Siena
Stroll around the historic city center of Siena and admire its many Renaissance buildings, visit the library – Biblioteca Piccolomini or one of its fine museums.
Duomo di Siena – Siena Cathedral
The beautiful cathedral of Siena has no equal in the whole of Central Italy. It's stunning; both, on the inside as well as on the outside. If you visit one Church in Tuscany, make it this one!
TIP: Also here, it's best to book your skip-the-line tickets for Siena Duomo Complex in advance.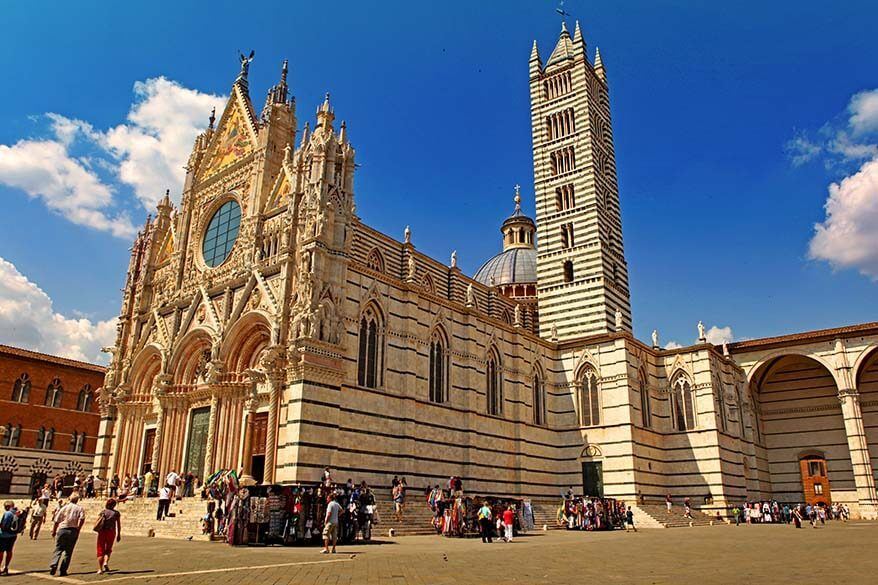 Where to stay in Siena
Luxury: Grand Hotel Continental
Mid-range: Il Battistero Siena
Budget: B&B Il Corso
Siena accommodation for families: GH Paradiso Apartments
Lucca
Lucca is our favorite town in Tuscany. It's hard to explain why, because other towns are just as beautiful from a touristic point of view. It has such a great atmosphere and there is just something special about Lucca. I know many people who feel exactly the same way – Lucca is one of the nicest, coziest, most beautiful towns of Tuscany. You really have to experience it.
Below you can find some of our suggestions for the best things to do in Lucca.
City walls of Lucca
Whether you do the whole 4 km of panoramic walkway overlooking the city of Lucca or just walk a part of it, the 16th-century walls surrounding the old town of Lucca are not to be missed. They are so wide that you can even explore by bike (there are many bike rental shops offering cheap hourly or daily rates).
Families with children will love the playgrounds and recreation areas with picnic tables in the shade just outside the city walls.
Amphitheatre Square
Piazza dell'Anfiteatro, the oval square built around the elliptical structure typical of Roman amphitheaters, is a not-to-be-missed jewel from Roman times. It's a lively place with shops and restaurants and various events and concerts.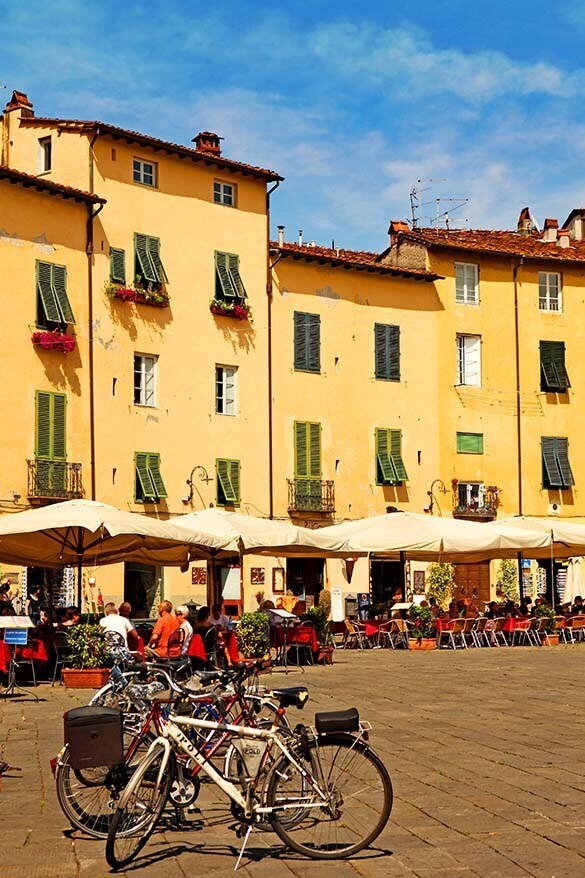 Churches of Lucca
Lucca is sometimes also called the city of 100 churches. Obviously, it's impossible to visit them all, but don't miss the cathedral, Il Duomo, Basilica of San Frediano and San Michele in Foro.
The Guinigi Tower
Have you ever seen a tower with trees growing on top? Don't miss the famous Torre Guinigi which stands out over other buildings in Lucca. make sure to climb the tower for the beautiful views of the city.
Delle Ore Tower
Another tower you should visit when in Lucca is the medieval clock tower, Torre Delle Ore. If you climb just one tower in Lucca, I'd go for the latter. It's less busy than the Guinigi Tower and provides magnificent views, also of the nearby Guinigi Tower.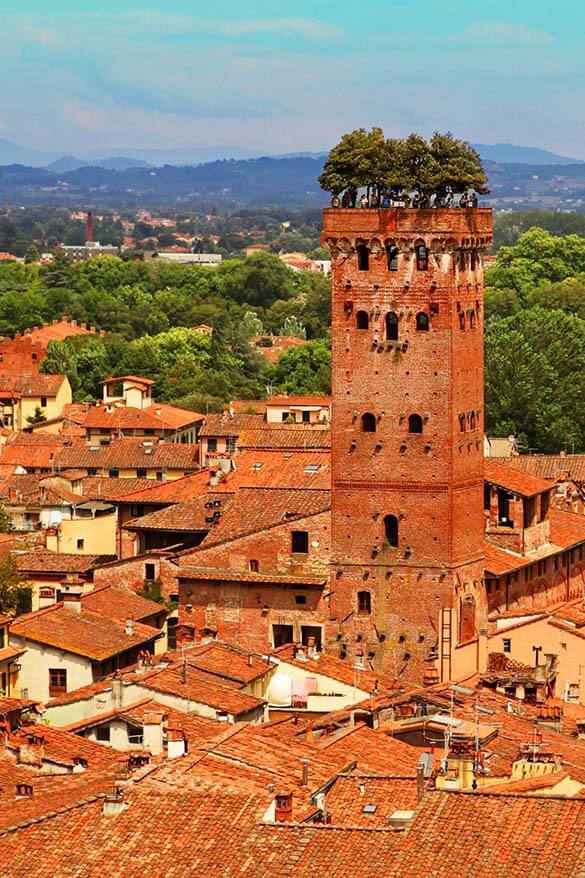 Where to stay in Lucca
Hotels: Hotel Alla Corte degli Angeli or Hotel Palazzo Alexandro
B&B's: B&B Arena di Lucca or B&B Il Seminario
For families: Hotel La Luna or B&B Villa Corte Degli Dei
Pisa
After Florence, Pisa is probably one of the best-known towns of Tuscany. Who hasn't heard of the leaning Tower of Pisa…
But not many first-time visitors know that there is so much more to Pisa than the famous tower. Below you can find some suggestions for the best things to see in Pisa.
Piazza dei Miracoli & the leaning tower of Pisa
Before we visited Pisa, I have never even heard of Piazza dei Miracoli. It's a beautiful square with many truly impressive buildings. It appears that the tower of Pisa is just one of the many monuments of the Miracle's Square. Make sure to also visit the Cathedral, the Baptistery and the graveyard.
TIP: Keep in mind that pretty much everyone who comes to Pisa wants to visit the tower, so the waiting times can be really long. If you want to climb the tower, it's best to reserve your timed entrance tickets in advance.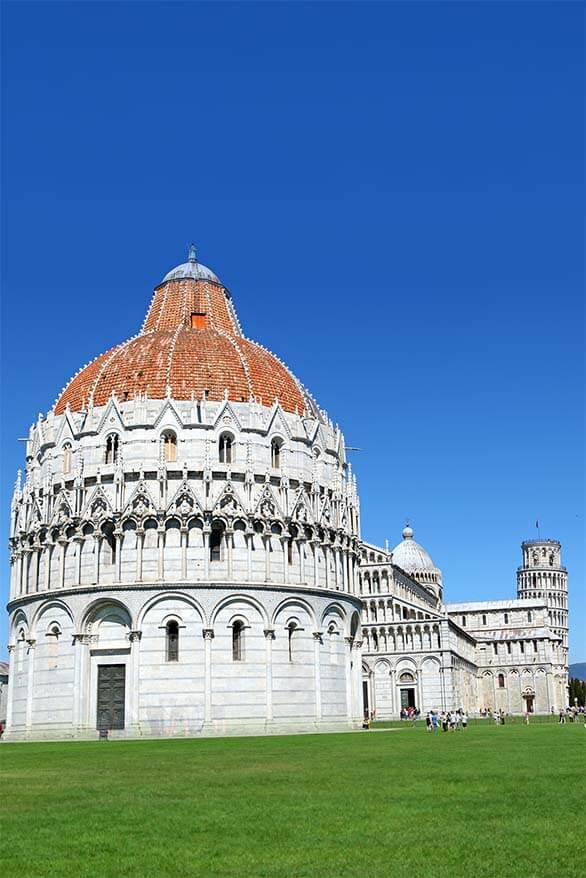 What to see in Pisa, other than the Pisa tower
Also the town center of Pisa is well worth a visit. The number of tourists decreases exponentially the further you go from the Miracle's Square. So take your time to explore the old town center of Pisa. It's the best way to escape the crowds and it's really worthwhile!
Borgo Stretto is an ancient shopping arcade is a nice lively (with locals) place to have lunch or do some shopping.
Make sure to take a walk on the Arno promenade following the Arno river.
A tiny picturesque church of Santa Maria Della Spina is also worth a short detour.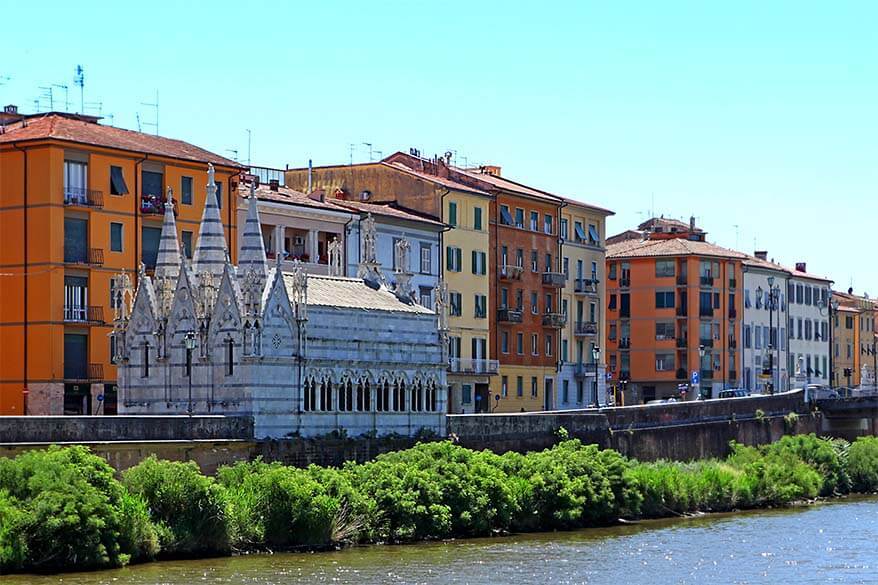 Where to stay in Pisa
Hotel Bologna
Il Campanile B&B
Hotel Alessandro Della Spina
For families: B&B Tuscany Gallery
San Gimignano
San Gimignano is smaller and lesser-known comparing to the other famous towns of Tuscany. However, it's definitely one of the most beautiful ones, so don't miss it!
San Gimignano is famous for its fourteen medieval towers rising above the Tuscan countryside. Originally there were 72 towers in San Gimignano, all built by the patriarch families competition to display their wealth.
The town isn't that big, so you can easily see the best of San Gimignano in just half a day. Stroll around the old town, don't miss Piazza della Cisterna and climb to the top of the Torre Grossa. Dating from 13th-century and 54 meters high, this is the tallest tower in San Gimignano and the only one that is open to the public.
If you happen to visit on Thursday, come early as it's a market day and the small town center tends to get very busy.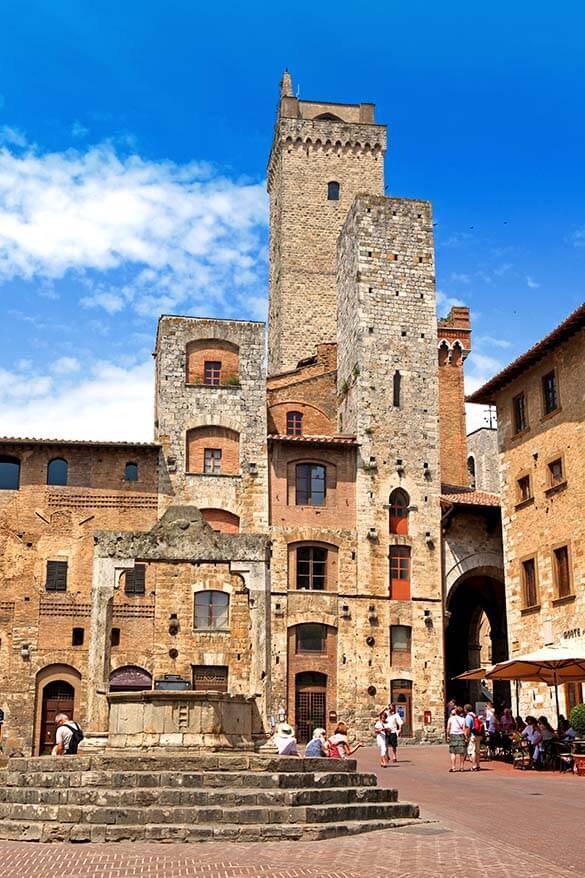 Where to stay in San Gimignano
Hotels: Hotel Sovestro, Leon Bianco, Hotel La Cisterna, or Hotel La Collegiatta
B&B: B&B I Coppi
For families: Donna Nobile or Agriturismo Macinatico
Volterra
Volterra is a charming medieval town and while not as impressive as the previous five, I think it well deserves a place in this list of the best towns of Tuscany.
It's a small town that you can visit in just a few hours and since it's located very close to San Gimignano, you can easily visit both these towns in one day. Stroll down the historic town center of Volterra – it has a great atmosphere, especially in the evening.
The medieval wall surrounding Volterra was built in the 13th century and six gates allow entry through the wall into the center of the city. Don't miss Porto All'Arco.
Take a quick look inside the Cathedral and the Baptistery. Palazzolo dei Priori, Pinacoteca and Museo Civico are worth a visit as well.
Acropolis houses several buildings and the foundations of two ancient temples. There are many Roman remains to visit as well, like the Roman Theatre and the Medicean Fortress.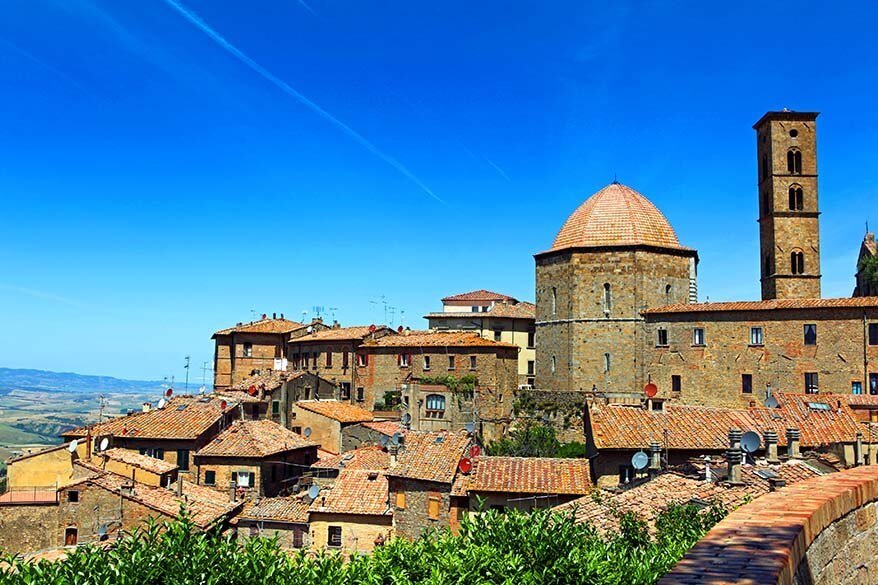 Where to stay in Volterra
Park Hotel Le Fonti
Hotel San Lino
Volterra In
Hotel La Locanda, also for families
So, this is our list of the most beautiful towns in Tuscany. This stunning Italian region has much more to offer than these 6 amazing towns, but if you are visiting for the first time and want to see the very best of Tuscany, then this list is all you need.
TIP: You really cannot go wrong with any of these Tuscan towns. However, if your time is limited, start with Florence and work your way down this list; we listed the very best towns first.
READ ALSO: Tuscany Itinerary & What to Eat in Tuscany
More inspiration and tips for your trip to Italy:
If you found this post useful, don't forget to bookmark it and share it with your friends. Are you on Pinterest? Pin this image!