Planning a trip to Italy and looking for travel tips for Rome? Read on! In this post, I share simple but very important tips for visiting Rome for the first time. Not only will these tips help you have a more enjoyable trip, but they will also help you make the most of your trip. Find out!
I wrote this post immediately after a weekend in Rome. My head was still spinning from all the impressions, my legs were sore and, despite walking more than 46km (29 miles) in three days, I definitely gained a few pounds…
I wanted to share some advice for a more enjoyable travel experience in the Eternal City and give you some useful tips on how to get the most out of your time in Rome.
From where and when to go, to where to eat and where to stay, to what shoes to wear – find out all you need to know when planning a trip to Rome so that you can get the most out of your visit and truly enjoy it. Take a look!
Good to know: This blog with Rome travel tips has now been updated after our most recent trip to Rome. I hope that it will help you plan a fun and truly memorable visit to the Eternal City!
Top 4 Tickets to Book in Advance: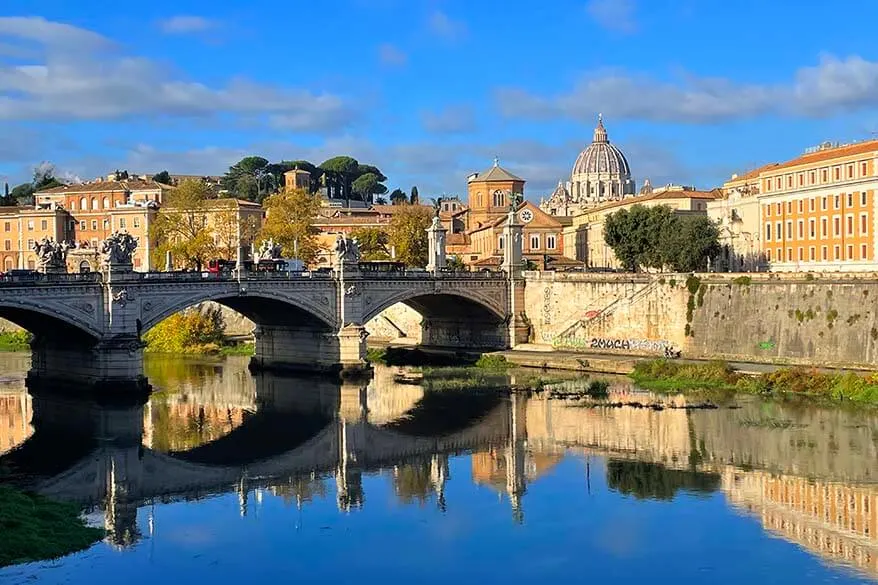 Rome is a beautiful place! One of the most beautiful cities in Italy and one of the most impressive cities in the world! I often refer to it as the city-museum because it really feels as if you are walking through a huge museum.
Every street, every church, every building breaths history. There's so much to see in do in Rome and it's a city like no other, a place everyone should visit, at least once in their lifetime.
Unfortunately, it feels as if everyone is actually visiting Rome at the same time as you are… Rome is crowded. It's certainly the case for the main tourist sights. Visiting the Trevi Fountain in the middle of the day is really no fun. It's so busy that it makes many other popular destinations look like a rather quiet experience…
Despite the crowds, there are plenty of ways to enjoy the city. Below are some top tips that should help you make the most of your trip to Rome and have a more enjoyable visit. Read on!
Here are our top Rome travel tips:
1. Book in advance
When traveling to Rome for the first time, you probably have a pretty good idea of what you want to see. The Trevi Fountain, the Pantheon, the Colosseum, the Roman Forum, the Vatican…
You will quickly realize that you are not the only one, however. There are huge crowds at each of the most famous landmarks. Often, it's so busy that it's difficult to truly appreciate the beauty of the place and enjoy it.
Furthermore, the tickets to the most popular places – the Colosseum and the Vatican Museums – usually get sold out long in advance. So if you absolutely want to visit the Colosseum or see Sistine Chapel, you HAVE to book upfront.
Here you can get the tickets for the Colosseum and here – for the Vatican Museums. In the high season (April – October), be sure to book at least a few weeks in advance. In winter, you might be able to find tickets in the same week as well, but don't count on it.
Also, keep in mind that some places – especially the Vatican – can be closed for some religious celebrations or other occasions. When booking in advance, you'll immediately see which days are unavailable and will be able to adjust your itinerary if needed. Otherwise, you risk not being to able to visit some places at all…
TIP: If the tickets you want to are sold out, you can usually still visit the place by joining a guided tour. Many tour companies have access to additional tickets, and sometimes they prebook them in advance as well. More info about tours and tickets below.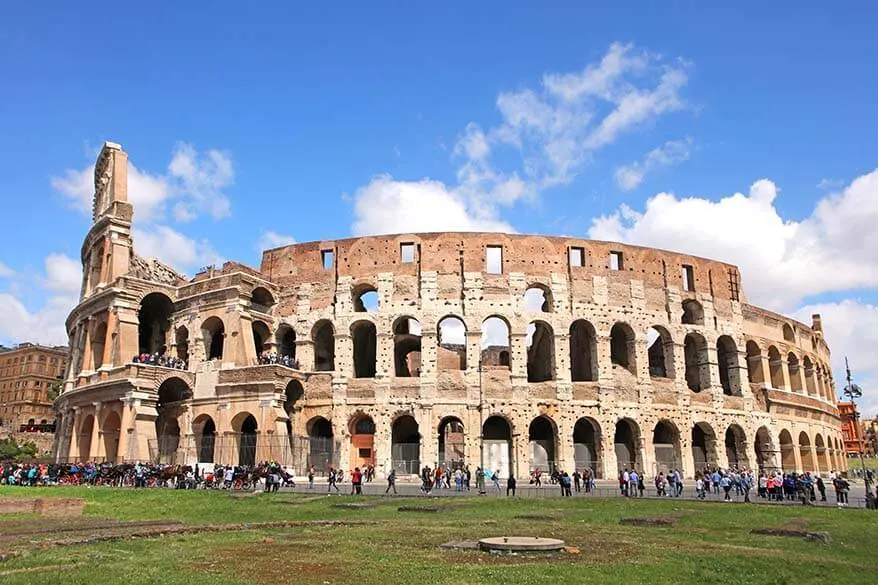 2. Get 'skip the line' tickets or go with a guided tour
If you are like most tourists, you have just two or three days in Rome and want to see it all. Do you really want to spend most of your time queuing at the most famous landmarks, wondering where exactly to go and what to see, and completely miss out on the more authentic travel experience?
If you don't, then you should really consider booking 'skip the line' tickets or guided tours. Otherwise – if you are really short on time – you can also skip some must-see places and only see them from the outside. Spend your time getting to know the city and don't waste it queuing!
Guided tours might be 'touristy' and cost you a few extra euros, but considering how much your trip costs, it's really worth spending that tiny bit extra and getting more out of your time in Rome. After all, your trip to Rome is not cheap and it would be a complete waste of money to spend all your time waiting in lines or visiting a place and getting completely overwhelmed not knowing where exactly to go and what to see…
So save time at the most popular attractions and make the most of your trip!
PRO TIP: This Rome Tourist Card is an easy way to secure timed entry tickets to the most popular tourist attractions in Rome in one place. It includes priority access to the Colosseum, Roman Forum & Palatine Hill, Vatican Museums & Sistine Chapel, St. Peter's Basilica & Dome access, and more.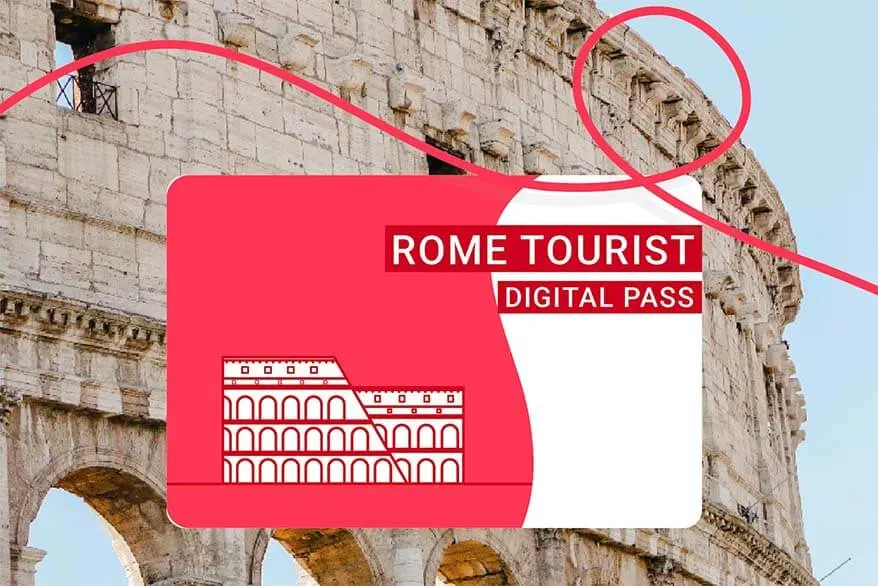 Here are some more tips for visiting two of the most popular attractions in Rome. Take a look!
Tips for visiting Colosseum
Skip the lines at the Colosseum by booking your tickets in advance, take a guided tour, or just see the Colosseum from the outside and don't go inside at all.
Don't skip Colosseum completely, just don't spend the whole day in line!
The ruins of the Colosseum's basements are well worth a visit, and so is the Arena Floor and the rest of the Colosseum, but do yourself a favor and research what exactly you want to see and how to best do it in advance! Otherwise, you'll get overwhelmed, won't see everything, and/or end up paying way too much to just be able to get in.
TIP: We recently did and highly recommend this Colosseum tour. After hours of research, it looked like the most complete tour and we were so glad we took it. Yes, it was more expensive than just the entrance tickets, but it saved us so much stress and we saw all the very best places in just 3 hours. And yes, the Underground of the Colosseum and the Arena Floor are absolutely worth it!
PRO TIP: If you visit Colosseum on your own, be sure to book your tickets well in advance! Without a guide, you can choose between regular priority tickets or – slightly more expensive – tickets that also include a visit to Arena Floor (recommended).
Good to know: The more in advance you book, the more choice of available time slots you'll have. On the other hand, Colosseum usually only releases its tickets a month upfront. For that, a guided tour is again a better option since you can usually reserve it several months in advance. Alternatively – on the Tiqets website – you can choose the tickets that you want and the date when you want to visit Colosseum, fill in your email address, and they will send you a reminder as soon as the tickets become available.
READ ALSO: How to Visit Colosseum in Rome (all levels and tickets explained)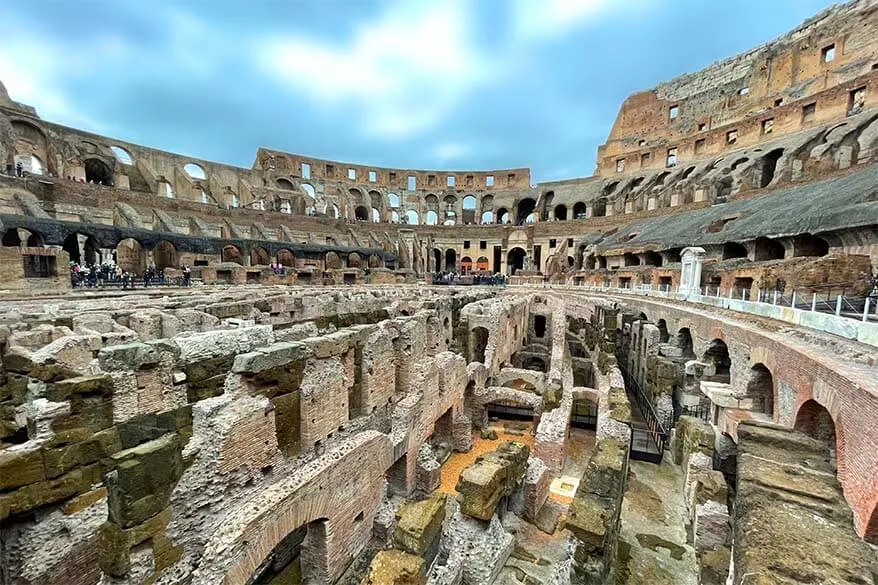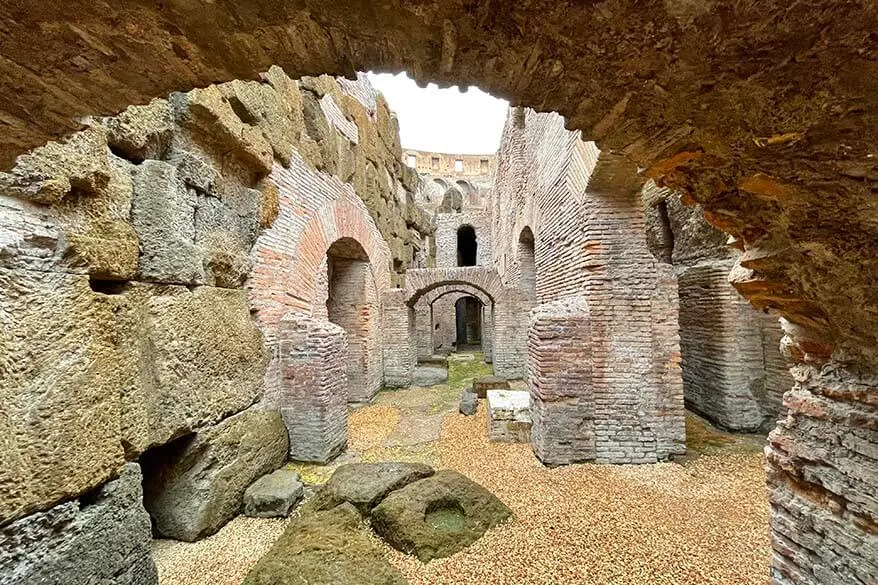 Tips for visiting Vatican Museums & Sistine Chapel
Visit the Vatican Museums with a guided tour or plan your visit at a quieter time. Do you really want to spend 3 hours queuing and wandering around the Vatican Museums in order to spend 2 minutes inside the Sistine Chapel to see the famous ceiling painted by Michelangelo?
I understand that you want to see the Vatican museums – they are absolutely worth it! Just try to at least plan your visit in such a way that you spend more time at the museums and not waiting to get in or trying to figure out where exactly to go.
Nowadays, you HAVE to book your tickets for the Vatican Museums online. We did this and the entrance was easy and smooth. However, we absolutely regretted not booking a guided visit. The place is crowded, it's not at all clear where exactly to go and what is worth it the most… In the end, all the routes lead to the Sistine Chapel, so we did get there, but we have no idea what else we missed… Either way, we found a visit really stressful and overwhelming. Next time, I'd absolutely go with a tour.
TIP: Going first thing in the morning (=as soon as it opens) or very late in the afternoon is the best way to visit the Vatican Museums. I would also advise booking a tour with a guide – that way you are sure you actually get to see all the best places. This is the most popular tour of the Vatican Museums, this is a great early-bird option without the crowds, and here you can find (an overwhelming) choice of all the available tours of the Vatican.
PRO TIP: If you decide to visit the Vatican Museums on your own, book your tickets well in advance. They often sell out days upfront, not even to mention the high season.
Last-minute Vatican tickets. If you can't find tickets for the Vatican anymore, check here. Sometimes, they have some last-minute tickets available.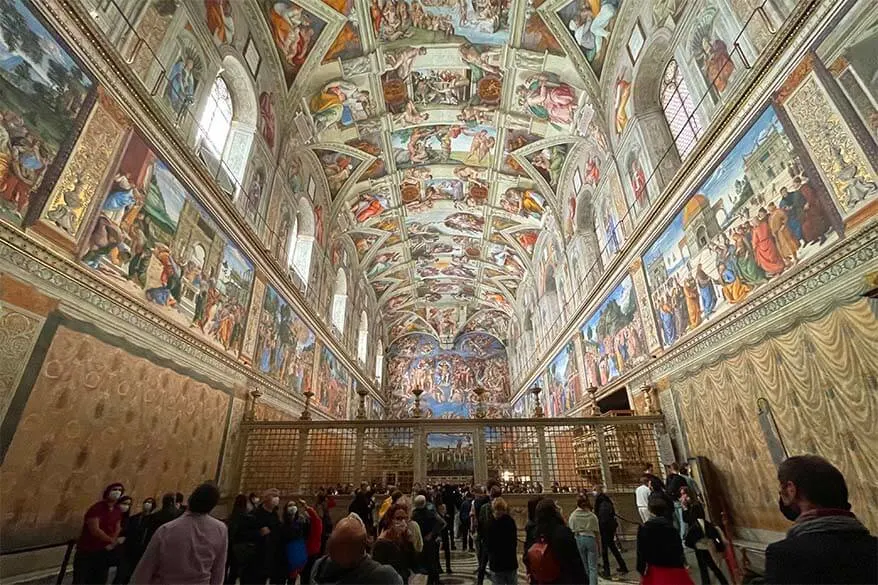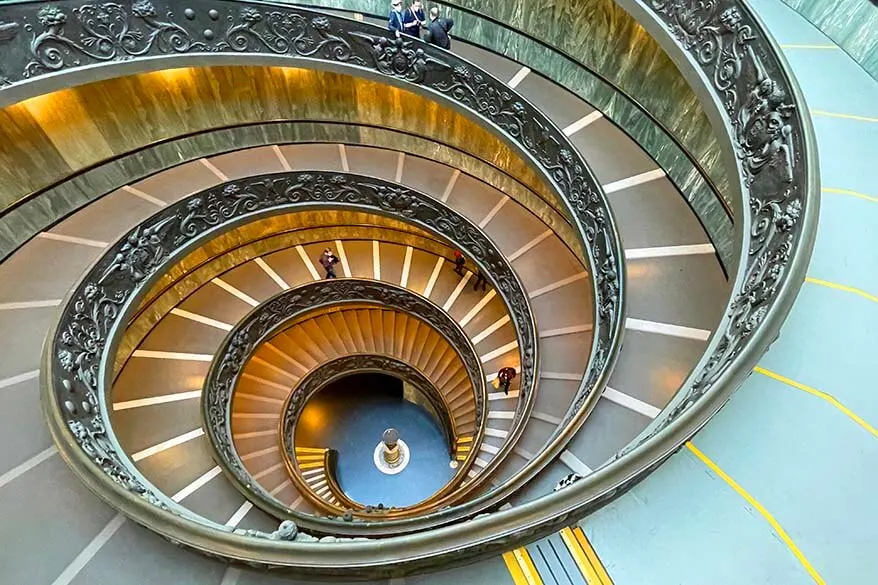 3. Outsmart the crowds
One of the concerns I always hear from people visiting Rome is how to actually enjoy the most popular places if it's always so busy. The good news is that it is absolutely possible to see some of the most popular landmarks in Rome without the huge crowds IF you plan well. And the best way to do this is to go at the less popular times.
TIP: If you want to avoid the biggest crowds, visit Rome in the lower season (November – March) – more about the best months to visit further below, towards the end of this article. But also in the high season, it's possible to enjoy some of the main sites without too many other people around.
One of my top travel tips for Rome is to try and visit the most popular places in the city early in the morning. But for some places – going in the afternoon might actually be better. Below are some examples and tips for visiting some of the most popular landmarks in Rome. Take a look!
Best time to visit Trevi Fountain
If you want to see Trevi Fountain without hundreds of other people, get up early! Early morning (no later than 7-7.30 AM) is really the best time to visit the Trevi Fountain without the crowds. However, nowadays, it's often quite busy in the morning too, especially in the summer season…
Alternatively, go to the Trevi Fountain very late in the evening. It will still be busy – it always is – but it's nothing compared to the crowds during the day.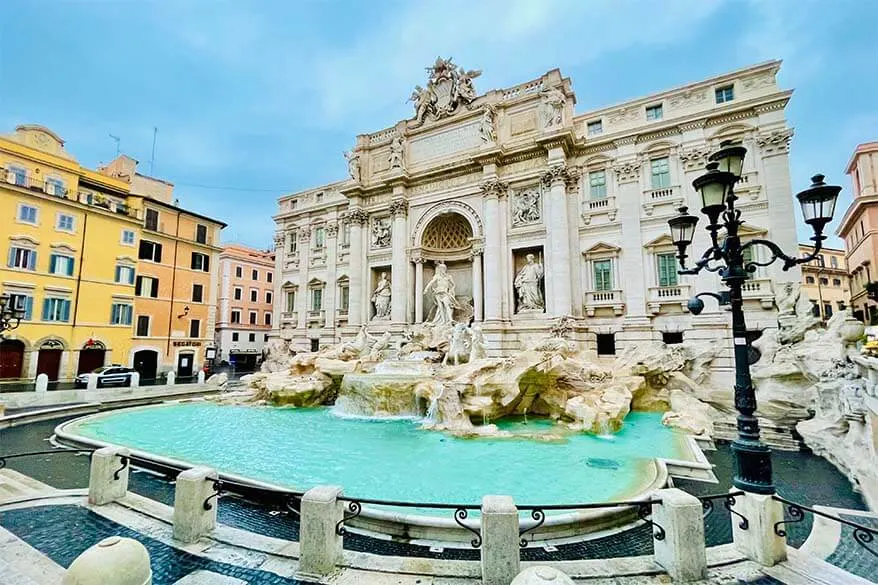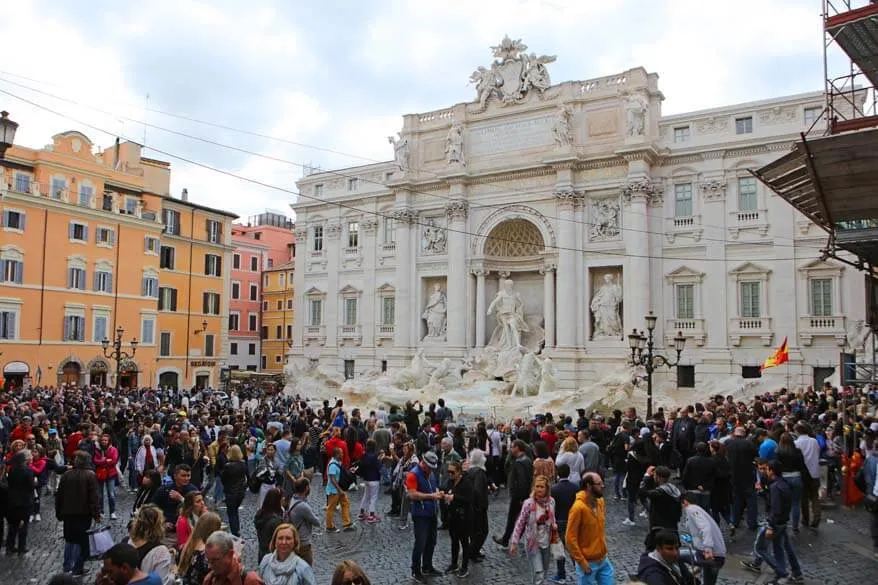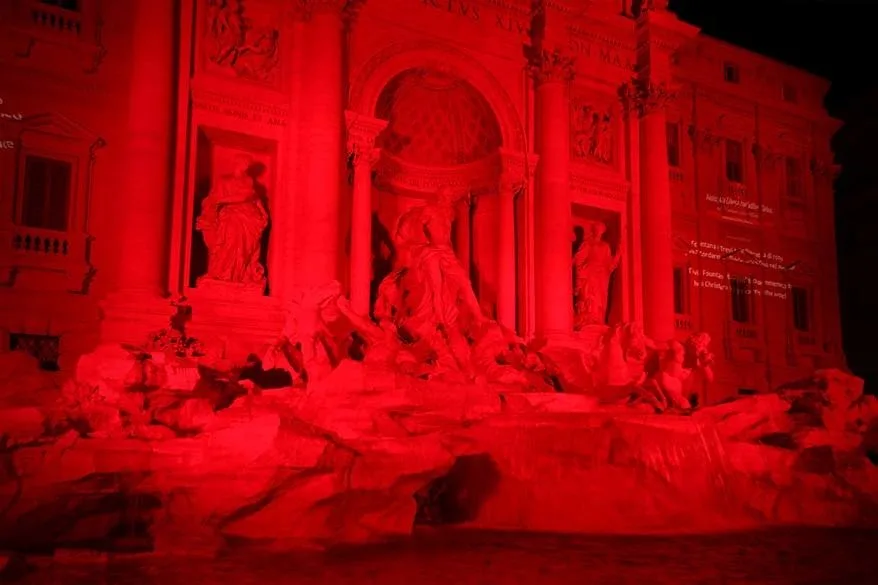 Best time to visit the Vatican
Depending on where you go exactly – St. Peter's or Sistine Chapel – it might be better to come either very early or late. Whatever you do, avoid the busiest daytime hours (10 AM to 2-3 PM).
We've been to the Vatican in high season and in low season, in the morning, during the day, and also in the afternoon… It's always very busy during the day, but can be amazing (very) early in the morning or very late in the afternoon.
During the day, all the streets leading to the Vatican are so crowded that it's really hard to enjoy a visit. But if you come early in the morning or in the late afternoon, it's a totally different experience.
For the Vatican Museums, we recommend visiting either as soon as they open or going about 2 hours before the closing time. For St. Peter's Basilica, the best time to visit is late afternoon.
Even in the high season, we once visited St. Peter's Basilica at 6 PM and we were inside in less than 10 minutes (security check included)! In the low season, it's already pretty quiet from about 3-4 PM. Just be sure to check the opening times, especially if you also want to climb the Dome.
Good to know: While you absolutely need to book tickets/tour for the Vatican Museums in advance, the entrance to the Basilica doesn't require a booking and is free of charge. You do need a ticket to go up to the top of St Peter's Dome, but it can't be booked in advance. You'll have to queue and get the tickets for the Dome when you get there.
We decided to go with a tour because we wanted to learn more and be sure we saw everything. We took this tour that included the Dome and the Underground and it was really good.
TIP: If you visit St. Peter's on your own, get an audioguide at the entrance. That way, you'll get some explanation and have a better idea of what you are seeing in this colossal building.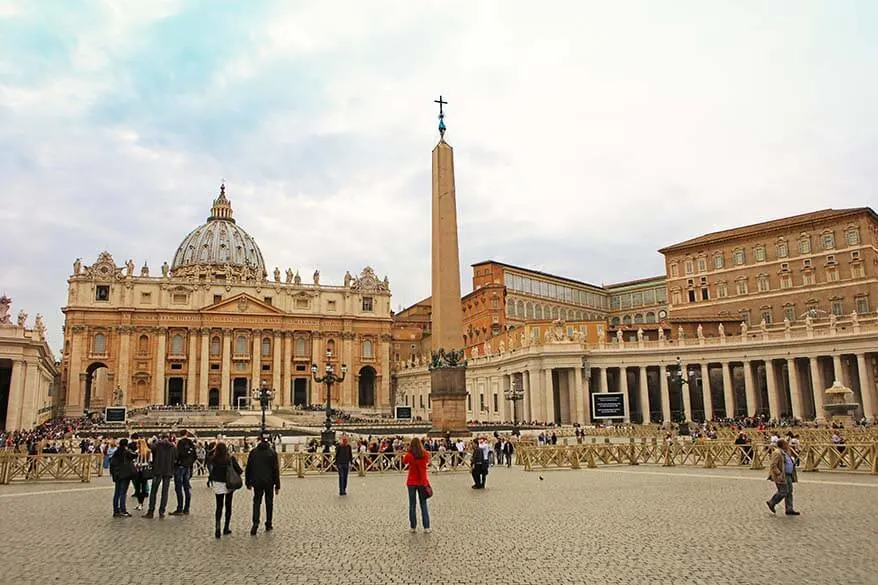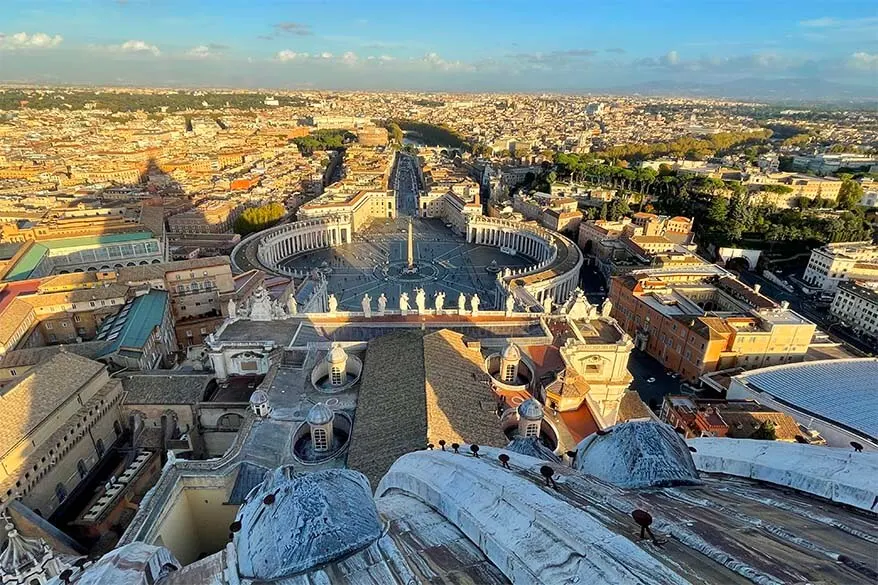 When to visit the Pantheon
First things first – since recently, you need a ticket in order to visit the Pantheon. It used to be free, but that is no longer the case.
You can get tickets on the official website (which is quite confusing according to many recent reports), on GetYourGuide (very easy and you can cancel up to 24 hours before your visit), or simply stand in line and get them on the spot (even more confusing and there are two lines – one for cash payments and one for card payments – and you never know which one will be shorter).
In order to avoid having to stand in a long queue without any shade for an hour or even longer, we highly recommend getting your tickets online. If you get a fast-track timed-entry ticket, you can go to the 'online' queue and enter at the specified time slot.
Good to know: At the moment of the last update, all online bookings (official site too) involve picking up the actual ticket at another location. So be sure to read the instructions carefully!
TIP: If you can, visit the Pantheon first thing in the morning or half an hour before the closing time.
The Pantheon is one of the most popular landmarks in Rome and is extremely crowded. The best way to appreciate it without the biggest crowds is to visit in the morning right after it opens or about half an hour before the closing time.
We once managed to see the Pantheon completely empty by visiting it right before it closed. You have to make sure you are not too late as they don't let people in just before closing time. But once inside, you can stay until it closes and everyone leaves. Great experience!
Good to know: Nowadays, all online tickets include an audio guide. It's a great way to learn more about the Pantheon, its history, architecture, and the people buried inside. If you listen to the entire narrative, it takes about half an hour.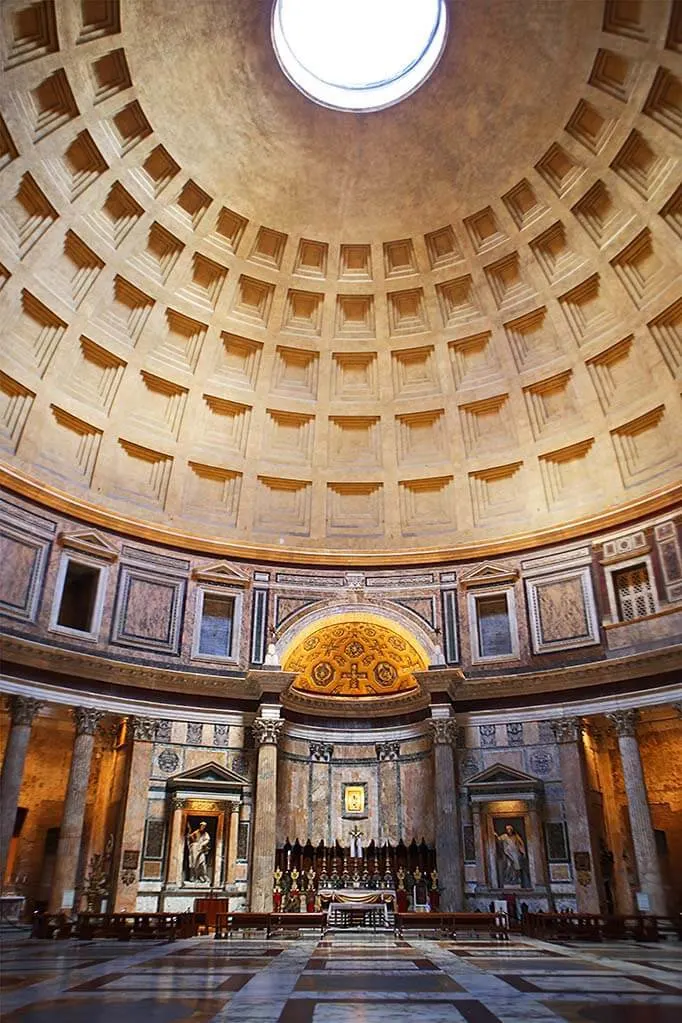 Spanish Steps, Piazza Navona & other landmarks
Spanish Steps are probably best visited very early in the morning or late at night. This area is always so busy during the day! Often, you can't even see the steps because of the number of people there.
The same for the Piazza Navona. It's beautiful in the morning and late in the evening, but crowded during the day.
If you only have a few days in Rome, skip the busiest museums (=save lots of time). Capitoline Museums are especially busy, with long queues every time we visit Rome.
If you like art, consider some of the less busy places. For example, the art gallery at Villa Borghese is one of the gems of Rome (tickets have to be booked in advance). Alternatively, visit some of the churches instead of museums. Often, you can admire the most amazing pieces of art at the churches for free and without the crowds.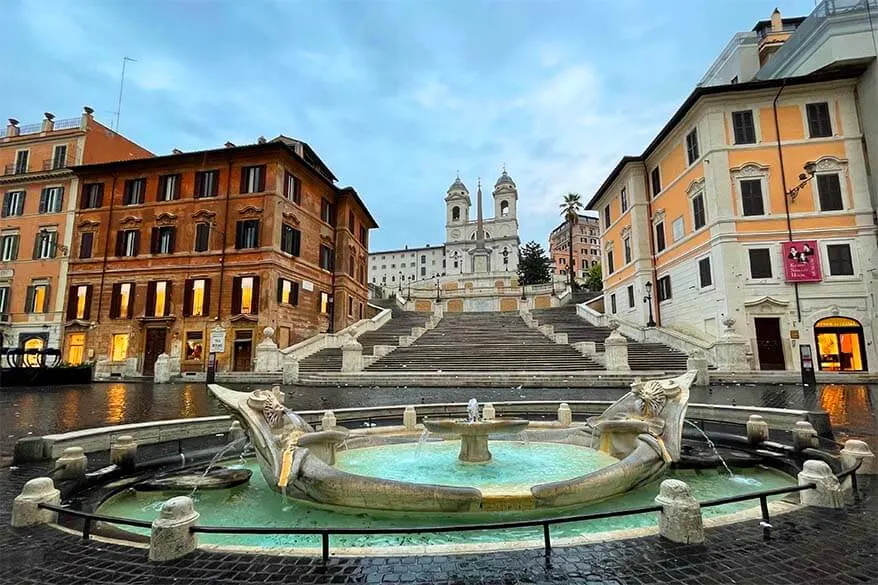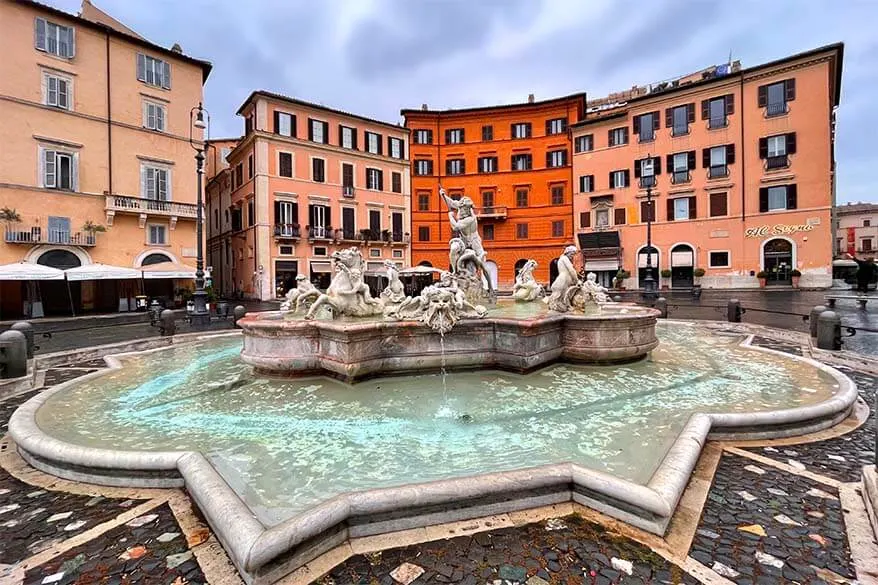 4. Stay close to the Pantheon
If your budget allows, try to find a hotel in the old city center. In my opinion, the best place to stay in Rome is the area close to the Pantheon. The best location is pretty much anywhere between Piazza Navona and Trevi Fountain, with the Pantheon being right in the middle.
Every time we go to Rome, we always stay close to the Pantheon. It's so central that you can easily walk to all the main landmarks and visit everything without ever needing to use public transport.
Staying here, you can easily discover most of central Rome on foot. It's also really simple to visit some of the most popular places in the morning without the crowds. Get up early, walk to Trevi Fountain, the Pantheon, or the Spanish Steps, then go back to your hotel for a relaxing breakfast – it's a great way to start your day in Rome!
You can find some of the best deals for Central Rome accommodation here. Alternatively, here are some hand-picked hotel suggestions in this area for all budgets:
READ ALSO: Where to Stay in Rome: Best Area & Hotels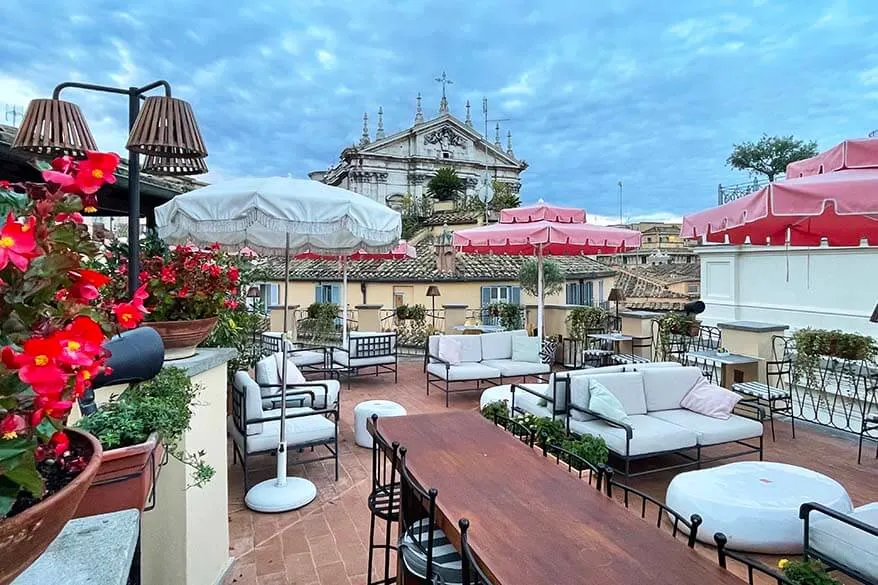 TIP: There are also lots of hotels, apartments, and short-term rental accommodations in the center of Rome. Take a look at the map below where you can compare various accommodation providers in one place and look for the best deals for your trip.
Simply insert your travel dates and group size and you will see what's available in the area of your choice. Check it out!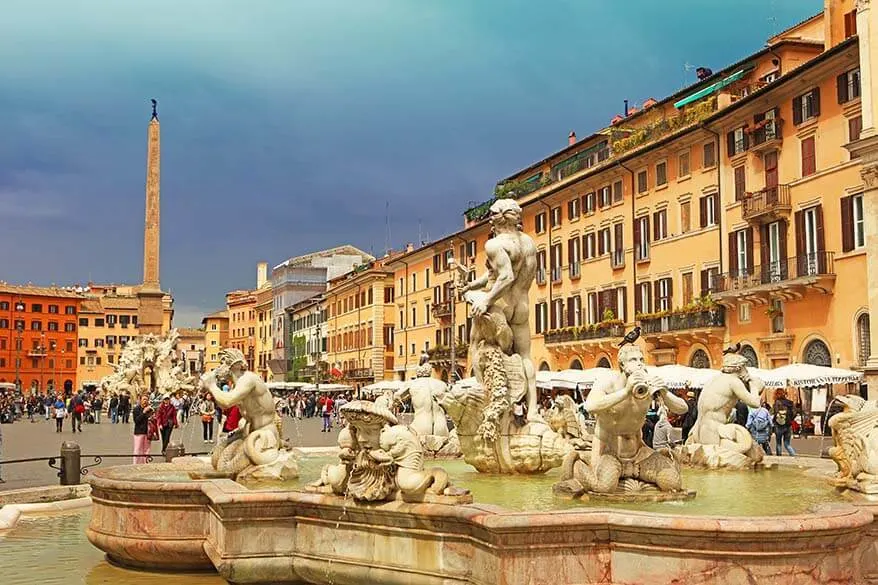 5. Research & book airport transfers in advance
If you are arriving in Rome by plane, you'll most likely land at the Fiumicino Airport, aka Leonardo da Vinci International Airport. This airport is located about 30 kilometers (18.5 miles) outside the city center and the drive usually takes about 35-45 minutes.
Ciampino Airport is about 15 kilometers (9 miles) from the center, but the drive usually takes almost just as long – over half an hour.
There are many ways to get from these airports to the city; the best option depends on where you are staying, at what time of day you arrive, and, of course, your budget. Either way, you will save time and money by doing some research and booking in advance!
Here are the best Rome airport transport options:
The easiest way to get from any airport directly to your hotel in Rome is by booking a private transfer. Alternatively, you can take a taxi. The rates they charge are now fixed in order to avoid tourist scams. However, depending on the time of the day, traffic can be busy, not even to mention that there is often a long wait for a taxi (for that, a private transfer is better).
The fastest, most reliable, and most convenient way to get to Rome city center from Fiumicino airport is by train – Leonardo Express. Trains run every 15-20 minutes from early morning to almost midnight. You get a digital ticket that is valid for any train on the selected day, so you don't have to worry about having to look for a ticket desk or stress in case your flight is delayed. Also, there are no luggage limits. Round-trip tickets are also available.
The cheapest way to travel between Fiumicino airport and the city center is by this bus that brings you straight to the central railway station without any stops. This shuttle bus is slightly more expensive and has several stops along the way including the Vatican and Rome Termini central station. There is also a similar shuttle bus transfer to/from Ciampino Airport.
LEARN MORE: Rome Airport Transfers (all the best options from Fiumicino or Ciampino)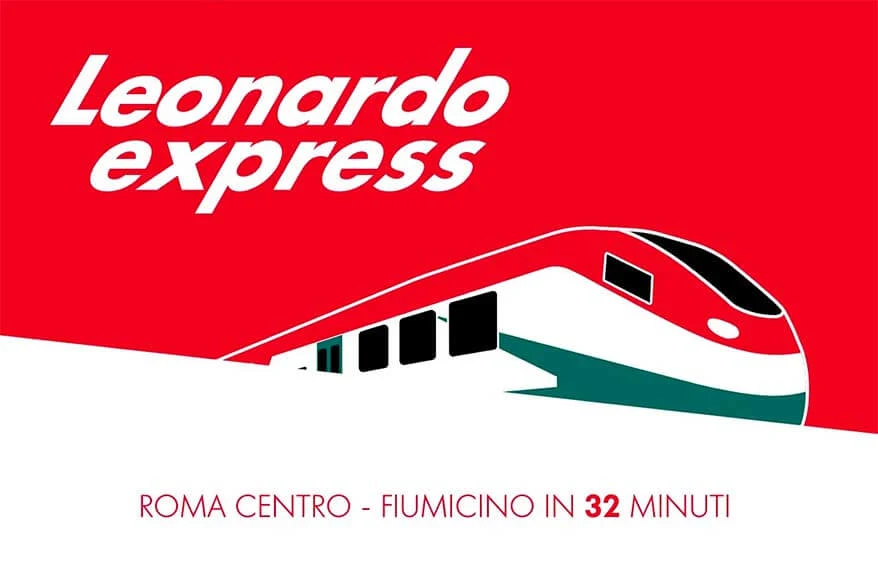 6. Get off the beaten path in Rome
If I could give one general piece of advice on how to avoid big crowds in Rome, it would be to go in the opposite direction of where most of the people go! Take a side street, look around, enter a narrow passage, try the closed door of a church…
We visited a couple of amazing places just meters away from the main streets where – literally- thousands of people were passing by focused on their main goal and completely ignorant to all the rest.
Here you can find some ideas for Rome underground sites and the best Ancient Rome landmarks (many of these hardly see any visitors), and also for the best views in Rome.
We also have some great suggestions for some of the nicest off-the-beaten-path, different places to see in Rome in a more detailed guide. Take a look via the link below.
LEARN MORE: Hidden Gems of Rome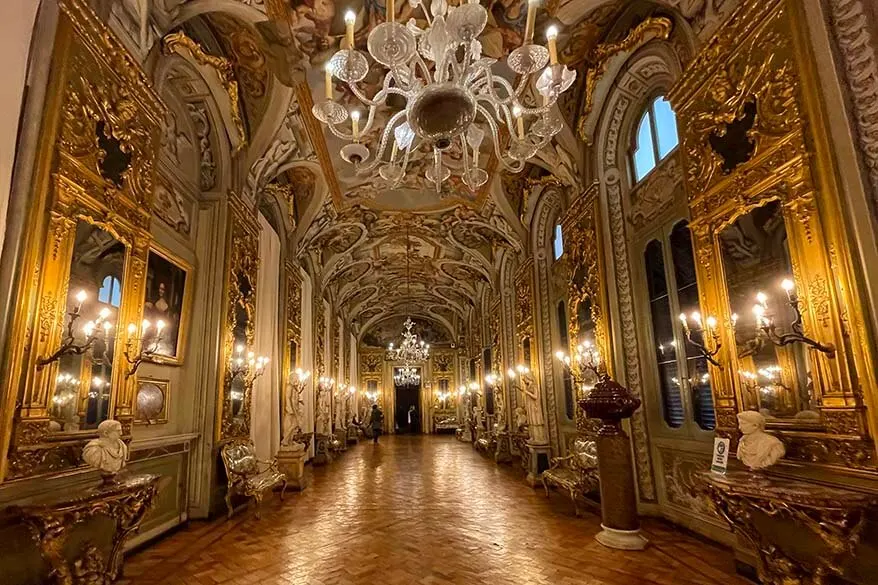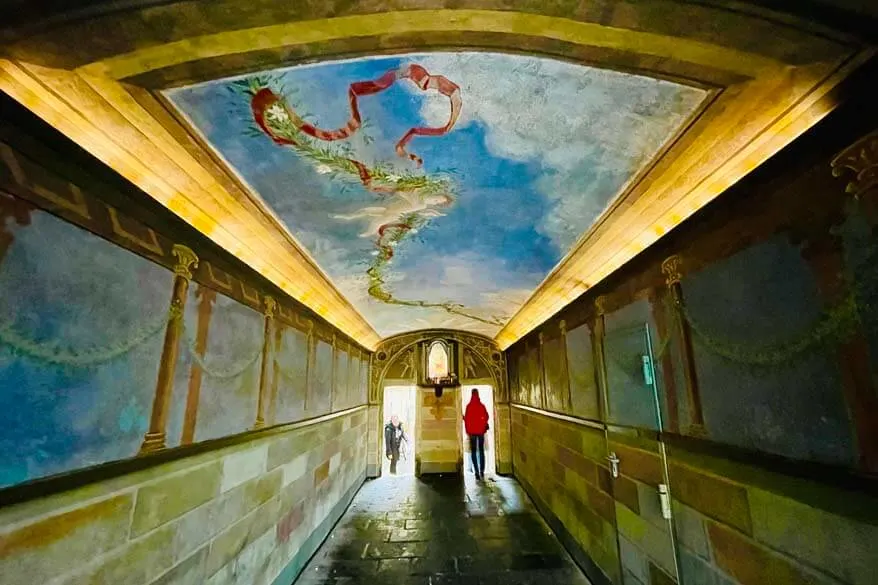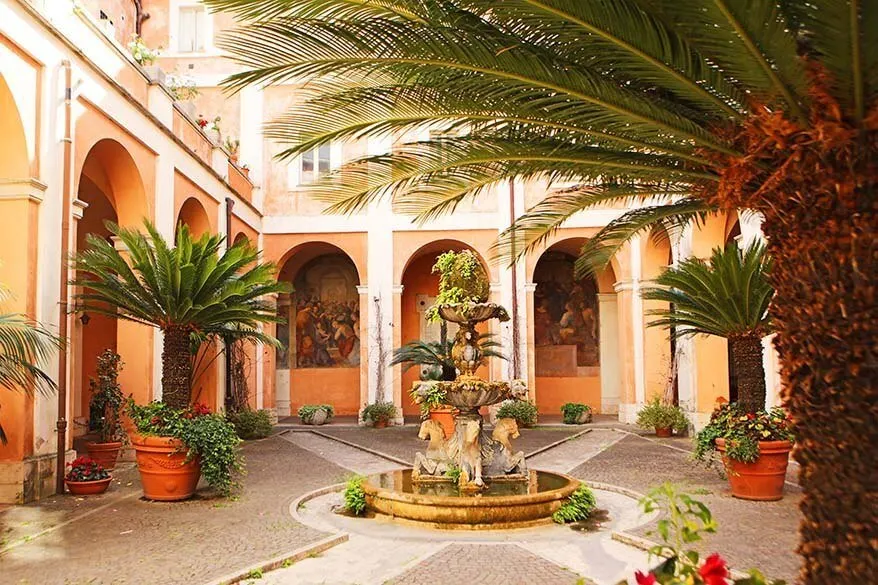 7. Avoid tourist restaurants
A big part of any Italian trip experience is related to the food. Food in Italy can be absolutely delicious, but don't just assume it will be everywhere you go.
If I can give one piece of advice when it comes to food in Rome, it would be to avoid tourist places. Eat where locals eat and avoid restaurants with pictures on the menu!
Usually, restaurants at the busiest tourist landmarks (directly on Piazza Navona, at the Pantheon, or Campo dei Fiori) don't have the best food. Not to mention that they are often seriously overpriced too.
If you are not sure where to eat, ask your hotel for suggestions, but keep in mind that some hotels might recommend places for other reasons than their quality. The best way to find good places is to check reviews on Google Maps – this is really the easiest way to avoid tourist traps.
TIP: A nice way to get to taste some really good local food is by joining a food tour or a cooking class. If you do this at the beginning of your stay in Rome, you will immediately have a few good addresses of places to eat in the city. Be sure to also ask your tour guide for some local recommendations as well!
Our experience: On our most recent visit to Rome, we booked this amazing street food tour on one of the first days we were in the city. Not only it was a great way to learn the more local side of Rome, but we also tried some absolutely delicious food and got plenty of restaurant ideas for the rest of our stay. Here you can find our review of this street food tour in Rome. Highly recommended!
LEARN MORE:
How to Find the Best Food in Rome
Best Traditional Food in Italy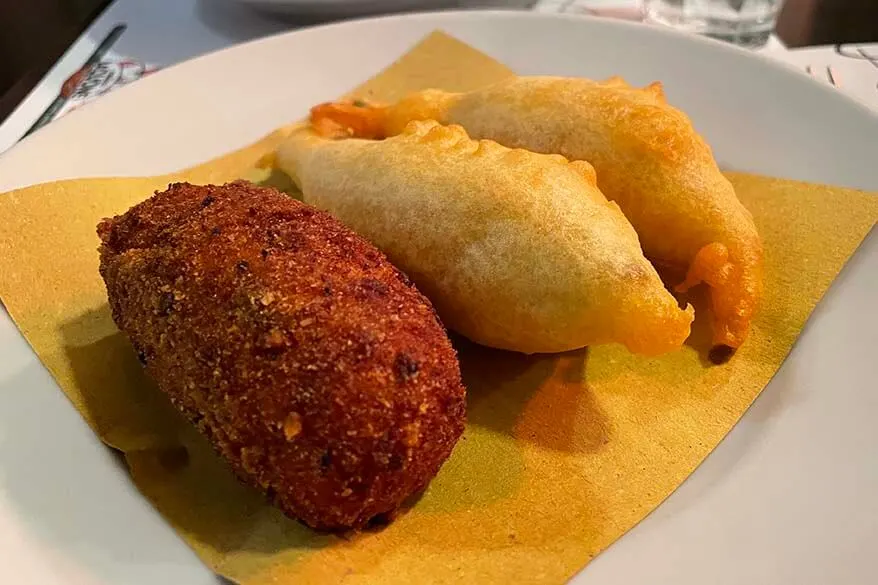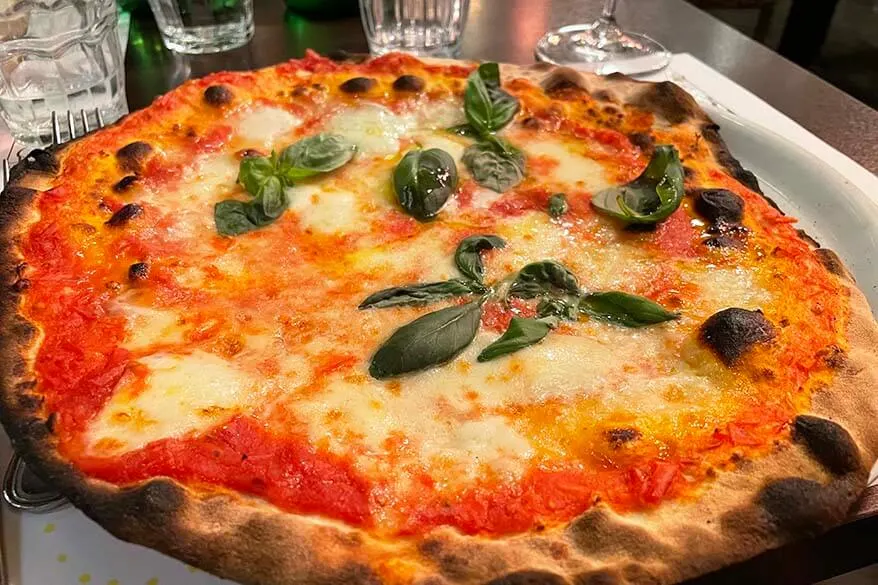 8. Take some cash
When visiting Rome (or anywhere in Italy, for that matter), you should always have some cash on you. Italy uses Euro, so you do need Euros, of course.
While in the past credit cards were really unpopular in Rome, the situation has changed a lot recently (probably because of the pandemic). On our most recent visit to Rome, we could use our credit cards pretty much everywhere in the city – all the shops and restaurants accept credit cards and we never really needed cash. Except on a few occasions – see below.
First, taxis – they seem to really hate credit cards. So if you are planning on taking a taxi in Rome, you should always have enough cash. It's still very difficult to find a taxi driver who will want to take a credit card. 'Cash, no card', they'll tell you. We took a taxi from the airport to the city and couldn't pay by card. Also our private transfer arranged by the hotel back to the airport only accepted cash, even though the hotel told us that we could pay by card…
If you don't want to use cash for airport transfers, you can easily pre-book them online in advance. Often, it's also the cheaper way, depending on where you are going.
Second, street vendors, souvenir shops, and local markets. If you buy something from one of the street vendors, small souvenir shops, or at a local market, you will need cash as well.
And third, tipping. If you are taking tours and want to tip a tour guide, or if you want to leave a small tip at a restaurant, you'll want to have some cash. Remember that tipping isn't a must in Europe, but we have a feeling that most Italians appreciate/expect a tip. So we usually tipped about 10% at the restaurant and also some (private) tours.
But apart from this, you can now pay for pretty much everything by card. Even small purchases like gelato at the best gelaterias in Rome can be paid by card. Also museums and other attractions accept credit cards.
All that being said, don't carry lots of cash with you. 50-100 EUR (ideally in smaller notes) should be plenty. Leave the rest at your hotel and top up when you spend some.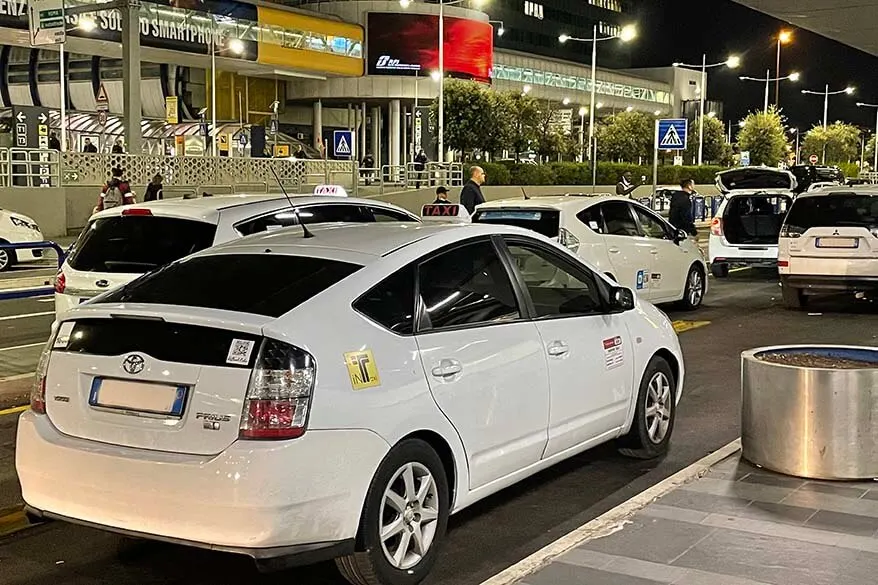 9. Rent a bike to get more out of your time in Rome
The old city center of Rome is pretty compact. You can easily walk to the main sights such as Piazza Navona, Pantheon, The Trevi Fountain, and the Spanish Steps. Even the Vatican and the Colosseum are within walking distance from the city center.
However, if you want to explore more of Rome and discover some of the less known hidden gems of the city you may want to consider renting a bike or joining one of the many guided bike tours. By bike, you can cover big distances in less time and get more out of your time in the city.
We recommend the latter – bicycling in Rome is hectic and it's only fun if you know the city well and know where exactly to go. Guided tours follow routes that they have tried and tested many times before allowing you to truly enjoy the experience.
TIP: If you opt to explore Rome by bike, opt for e-bikes. It's a hilly city and an electric bike will make it so much easier! This is one of the best-rated bike tours of the highlights in the city center. And this is the AMAZING off-the-beaten-path bike tour that we recently did in Rome (highly recommend).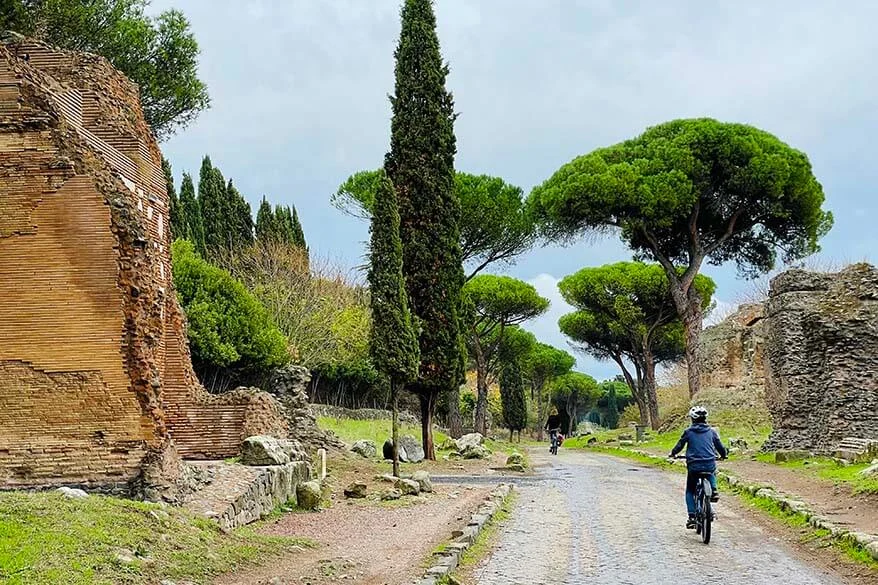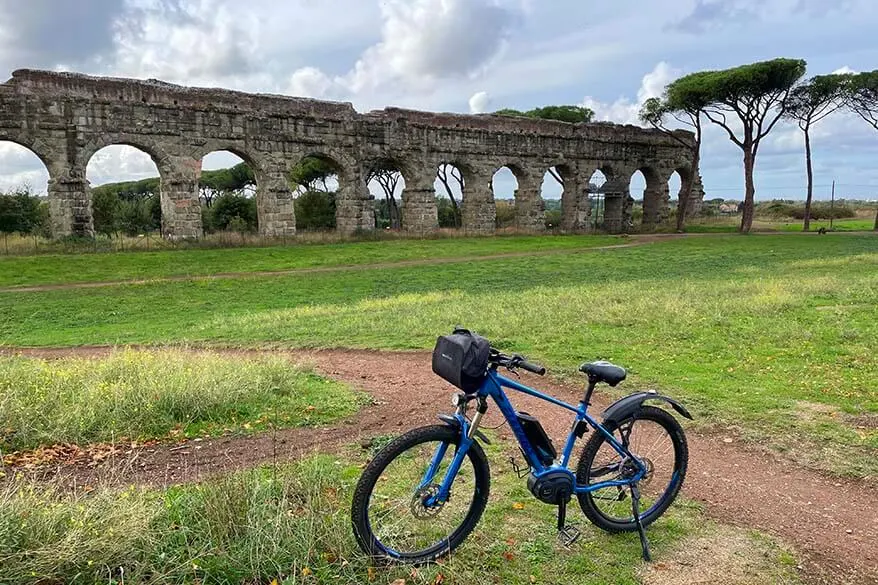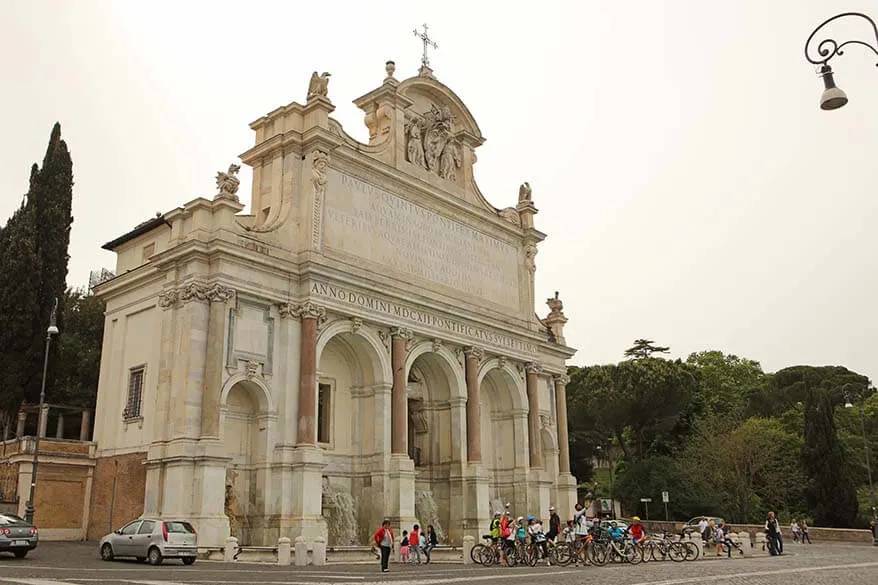 10. Visit Rome in the lower season
Most travel guides will probably tell you that spring and early autumn is the best period to visit Rome and they are absolutely right. April-May and late September-October are the best months to visit Rome weather-wise. But it's also extremely busy in that period.
On the other hand, you really want to avoid visiting Rome (or any other cities in Italy for that matter) in summer when temperatures soar to well over 35°C (95°F), often even higher. Furthermore, locals leave the city in the summer, and – especially in August – Rome feels a bit like a theme park with hardly any locals at all.
Once we visited Rome the first weekend of May and with temperatures of just 18-22°C (64-72°F). It was pleasant most of the time and sometimes it even felt too warm.
Another time, we were in Rome at the end of September and it was still HOT during the day. I cannot even try to imagine how hot it feels there in July or August.
Our most recent visit to Rome was at the beginning of November. We did get a few showers one day and one day it was really warm, but for the rest – the weather was perfect for sightseeing. We had temperatures of about 20°C (68°F) most of the time. As for the crowds, it was still very busy at the main landmarks.
Visiting Rome during the cooler months is best if you want to avoid the heat, the crowds, and save some money on accommodation. If you don't mind a higher possibility of some rain, I recommend the 'shoulder season' – end of March – the beginning of April (but avoid Easter!) and the beginning of November. In fact, November can be a great month to visit the bigger cities in Italy. Here you can read about what it's like to visit Italy in November and here – what to expect when visiting Rome in November.
READ ALSO: Best Time to Visit Europe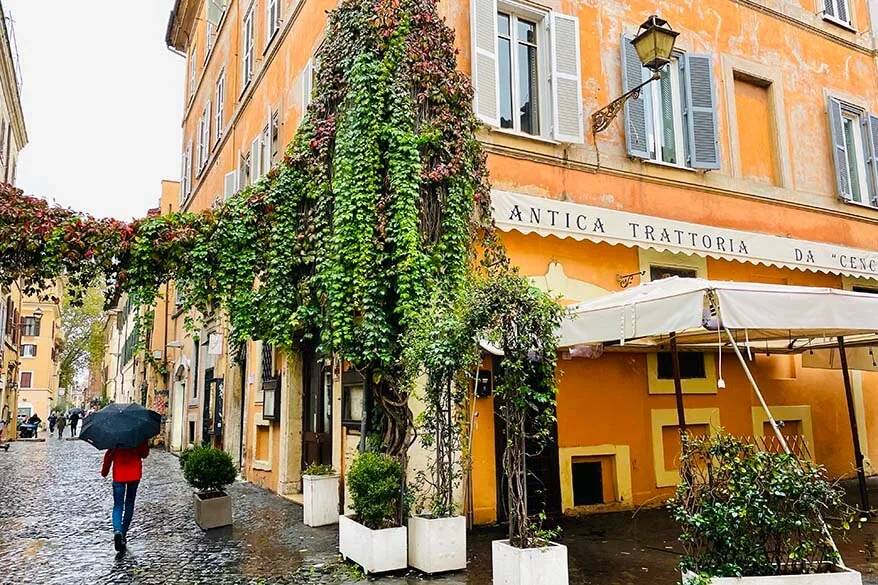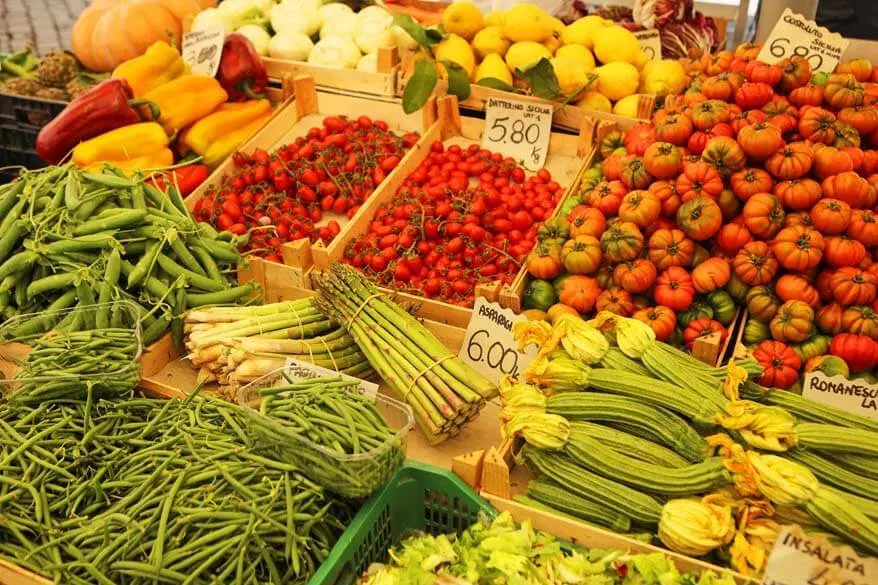 11. Wear comfortable shoes & dress respectably
I could have as well put this at the very beginning of this article as one of the most important tips for Rome – wear comfortable shoes!
Don't underestimate the importance of good footwear when visiting a big city and especially Rome! Rome is a very walkable city, but the distances can add up and you'll be walking a lot.
If your feet are hurting, you will not be able to enjoy the sights much. So forget about all the 'Italy is about looking stylish' advice and pack comfortable shoes. Normally, I don't really like wearing sports shoes in the city, but sneakers have become very common in Europe in recent years as well. And given the choice, I would always go for the good old comfy sneakers instead of summer sandals with a thin sole…
You can often tell what kind of shoes people are wearing just by looking at the expression on their faces. People who still look happy and are smiling at the end of the day, are usually the ones with the most comfortable footwear.
These days, there are so many comfortable and stylish shoes available that you don't even need to sacrifice comfort for style.
Another important tip for Rome is to be sure that your shoulders are covered and that you wear respectable clothing. Most churches in Rome don't allow shorts, mini skirts, or sleeveless shirts. This is also the case when visiting the Vatican.
READ ALSO: Most Beautiful Churches in Italy (+ Tips for Visiting)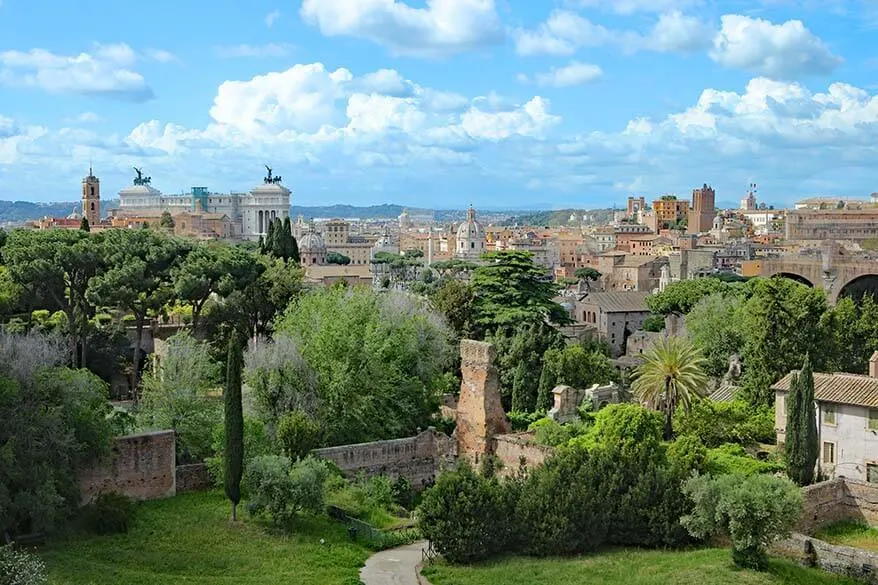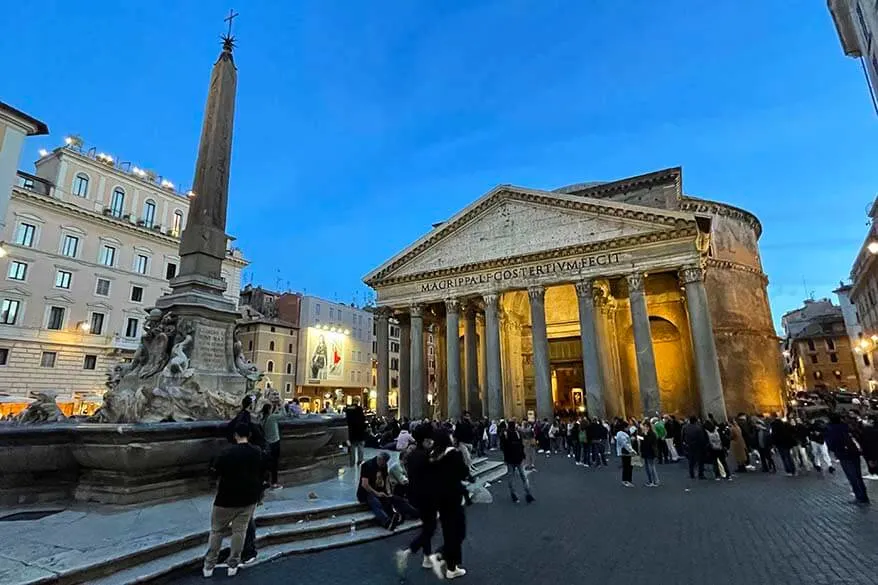 12. Pack a water bottle
No matter when you visit Rome – in summer or in winter – you'll want to carry a bottle of drinking water with you. And while you can buy bottled water in the city, there is absolutely no need to waste money and use more plastic than necessary!
There are more than 2,500 drinking fountains in Rome. The water is fresh, cold, always available, and it's completely free of charge.
So pack a reusable water bottle (something like this is perfect and easy to carry around, but any bottle will do, really). And be sure to fill it up every time you pass one of these drinking fountains!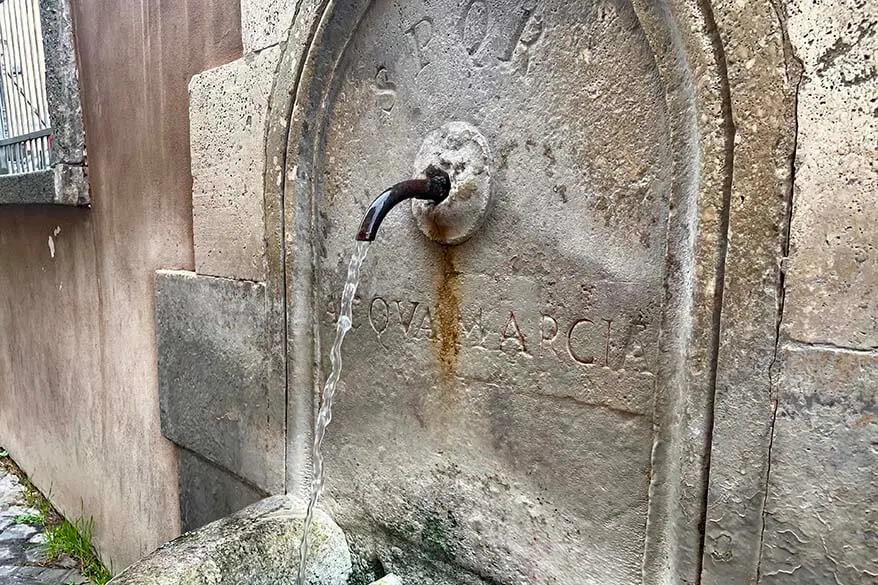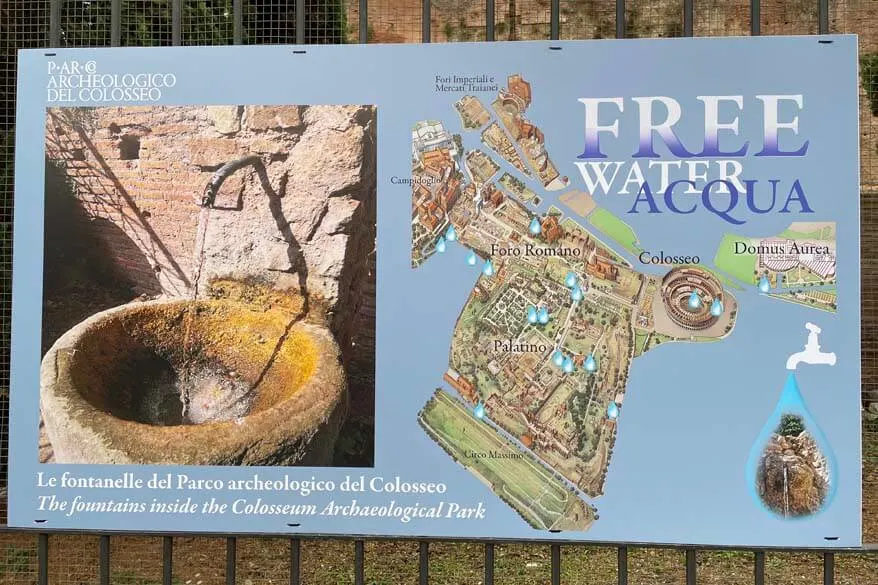 13. Prepare a good itinerary, but don't overplan
One last piece of advice for visiting Rome – don't plan every minute of your day in advance, especially if you have more than a day or two in the city.
Yes, it's important to have an approximate itinerary and pre-book tickets for the main attractions (or you'll waste too much time and might not even be able to visit at all). But be sure to also allow yourself some time to get off the beaten path and explore some interesting places you'll come across along the way.
Look around you and you will be amazed to see how many hidden treasures you will find in Rome: the most beautiful churches, wonderful architecture, secret alleys, and little town squares…
All you have to do is keep your eyes open and your mind flexible.
Enjoy your trip!
Suggested itineraries:
READ ALSO: Best Things to Do in Rome
If you found this post helpful, don't forget to bookmark it and share it with your friends. Are you on Pinterest? Pin this image!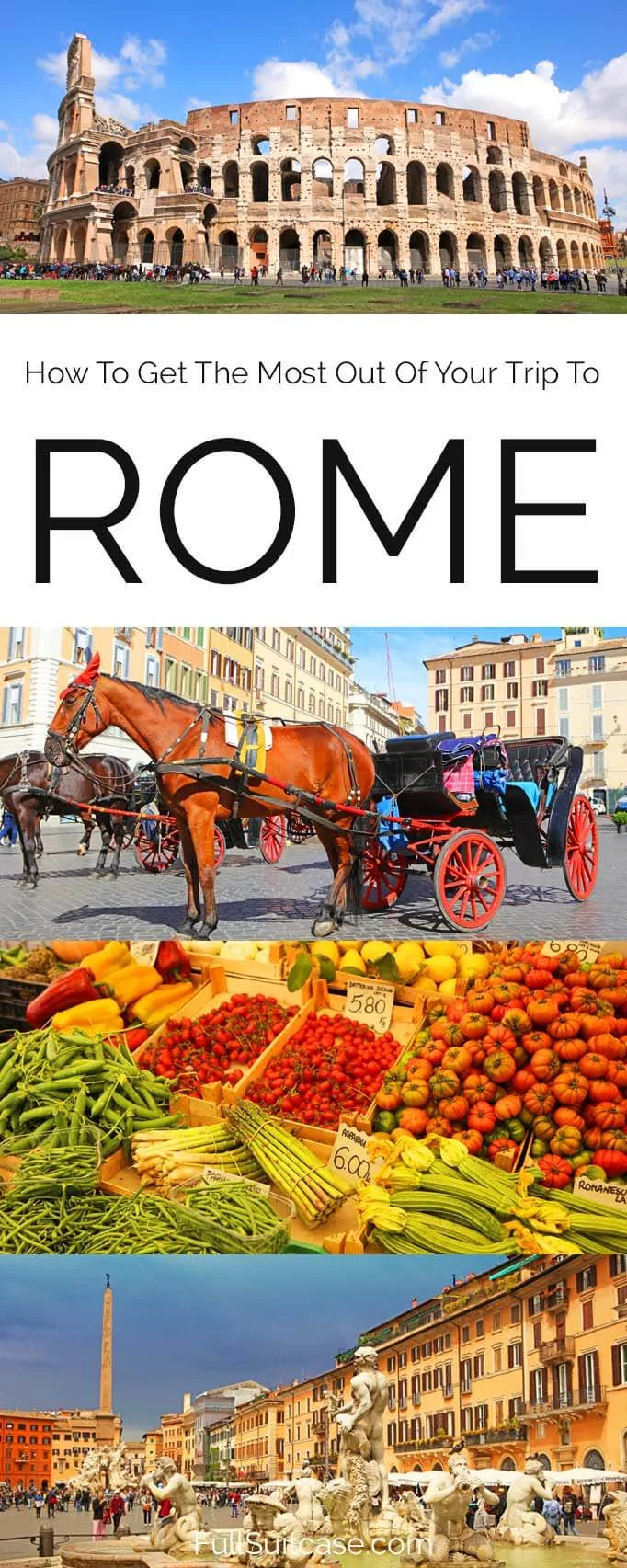 More tips for your trip to Italy: