Traveling to Rome, Italy, and wondering where to eat and how to find truly good Italian food in Rome? In this article, we share some simple tips for the best food experiences as well as some restaurant suggestions on where to eat in Rome. Take a look!
Italy is synonymous with some of the best food in the world and no trip to Italy would be complete without trying its food… and the drinks, of course! But how often do you hear stories of travelers telling you they had the worst food and service experience in Paris, London, or Rome…
We certainly had our share of bad food all over the world, Italy included, and mostly in the early years of our travels… We have learned a lot over the years and we are getting better at finding good places to eat when we travel. Read about our recent experience and find out how to find the best food in Rome.
We hardly ever do any research as to where to eat in Rome before our trips. Customer reviews can be extremely helpful, but I find it difficult to follow the advice in big cities as you never know where exactly in the city you will be at the time you want to eat lunch, dinner, or have some coffee… And I'm not one of those people who would walk to the other side of town for a restaurant, even if it has some amazing reviews.
So here is some general advice and our top tips that will lead you to the best food in Rome without too much effort. But because so many of you asked for restaurant suggestions as well, we now updated this article to include some of the best restaurants in the most popular areas in the city. Find out!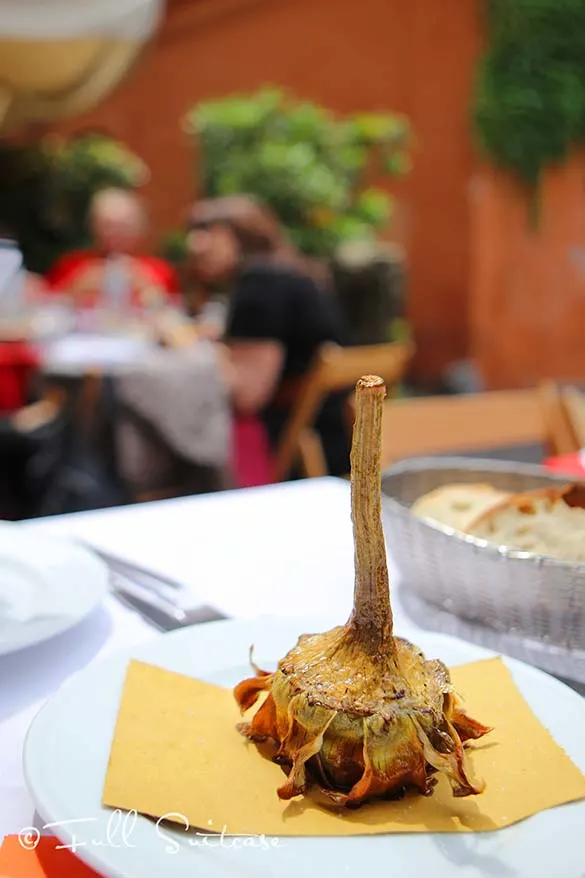 Where to eat in Rome – our top tips for finding the best food in Rome:
1. Ask locals for advice – eat where locals eat
One of the best ways to find the best food anywhere in the world is by asking locals about the best places to eat. This definitely counts in Rome where there are so many restaurants and so many choices…
We usually ask for some recommendations for where to eat in Rome at the hotel we stay. When we stayed at Navona Colors, the hotel pointed us to an excellent restaurant nearby, L'Orso 80. It didn't look fancy but served simple homemade Italian food at a fair price. Furthermore, it was just around the corner from our hotel.
We found it so good that we ate there for three evenings in a row. We were not the only ones – the place was packed with locals every evening.
On a more recent trip, we stayed at 9Hotel Cesari close to the Pantheon. It's a very touristy area, but also here, we found excellent choices for dinner. We especially liked Antica Osteria di Pietra, also just next to our hotel.
We also asked for some recommendations from our food tour guide. By the way, the street food tour itself was amazing! She pointed us to some nice restaurants in the Jewish Quarter.
I'm sure there are so many other great restaurants in Rome that are just as good. And the absolute best way to discover them is by following locals' advice.
READ ALSO: Best Neighborhood to Stay in Rome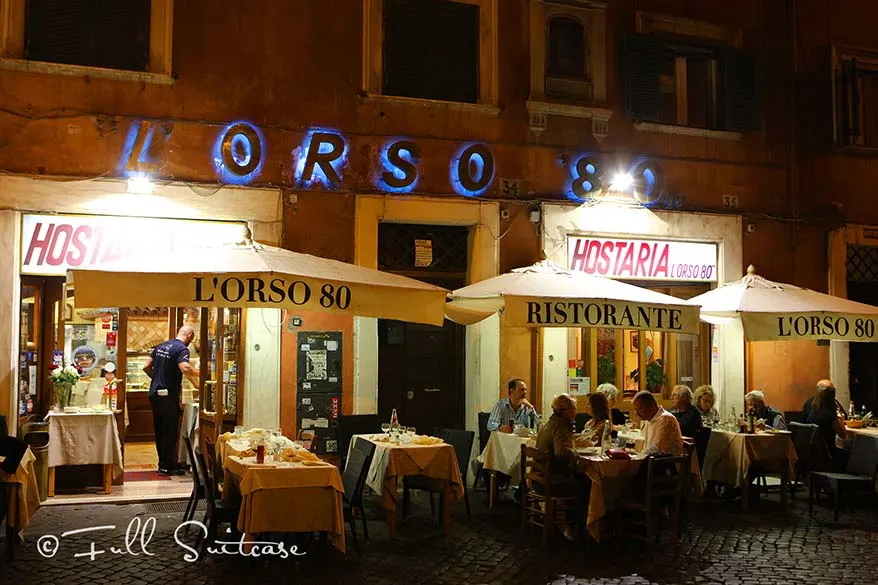 2. Eat what locals eat
Once you found a good restaurant in Rome and are seated at a table, don't rush to order just yet! Look around before ordering the food and see what locals eat. If it looks good, order the same. If you are not sure, ask your waiter for suggestions and be open-minded to try something new!
We have applied this trick several times and got to taste some dishes we would have never ordered ourselves.
Like the Roman Jewish artichoke (carciofi alla giudia), which tasted very good and much better than expected by the looks of it (see the picture higher above).
Or our 15 pieces – 15 EUR antipasti menu which turned out to be 15 plates and not 15 pieces, as we had expected. That was the only time we didn't finish our meal… In the meantime, the Italians next to us didn't seem to have any difficulties finishing it. They even ordered some pasta for the main course and a dessert on top of it all… Unbelievable!
READ ALSO: Best Italian Food to Try in Every Region in Italy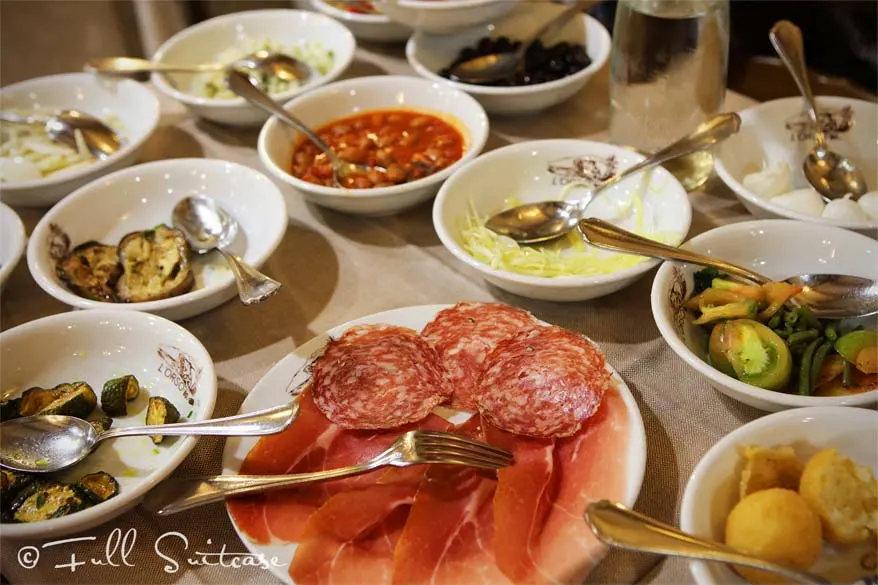 3. Don't eat at the restaurants at the main tourist landmarks
If you want to find some really good food at decent prices in Rome, avoid restaurants directly at the Pantheon, Piazza Navona, etc. They are usually much more expensive, the service is often poor because they expect high turnover, and the food is usually warmed up and not made when you order.
You can have a 10 EUR tiramisu and a 7 EUR coffee at Piazza Navona at a tiny table so close to the other people that you can follow at least two conversations if you want to…
Or you can walk for 2 minutes to one of the quieter streets a bit outside the main tourist routes and have a homemade tiramisu for 4 EUR and a coffee or tea for 2-3 EUR. With friendly service with a smile and a nice quiet table as an extra bonus.
Because so many of our readers ask for it, further below, I share some suggestions for some very good restaurants near the Colosseum, the Vatican, or the Pantheon. But first – some more tips for finding the best food in Rome.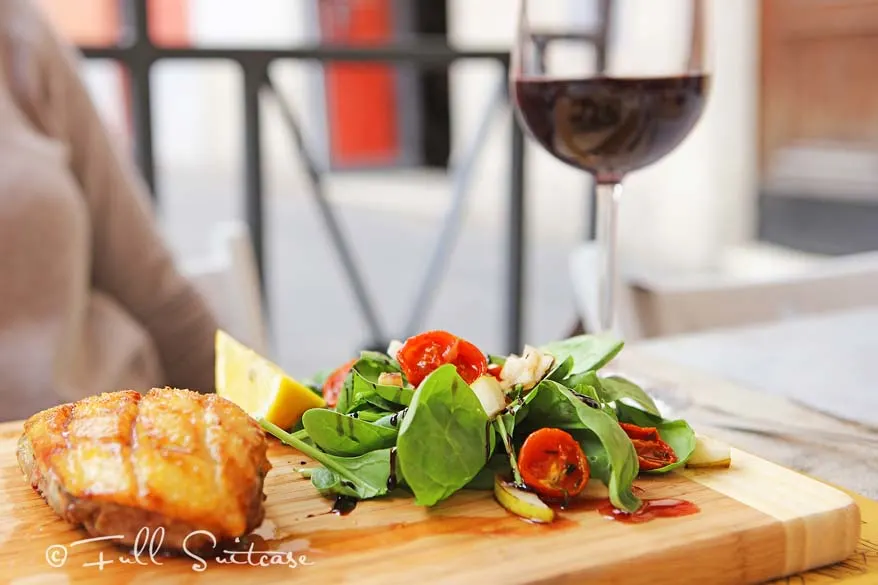 Don't hesitate to look for better price/quality restaurants even if you think you are in the tourist area and there is nothing else around!
Often, you only need to walk a block or two away from the main tourist routes in order to find some local restaurants with a great menu and low prices.
TIP: If you have an internet connection on your smartphone, check Google Maps for the restaurants in the area where you are at that moment. Look for smaller places with great reviews. Bonus points if they come from the locals!
You can easily find a pizza or pasta for 10-15 EUR, even in the city center of Rome, if you just leave the main tourist routes behind. I once had an excellent chicken and artichoke dish at a tiny local restaurant for just 7 EUR. This is the price of a cup of tea at the Piazza Navona…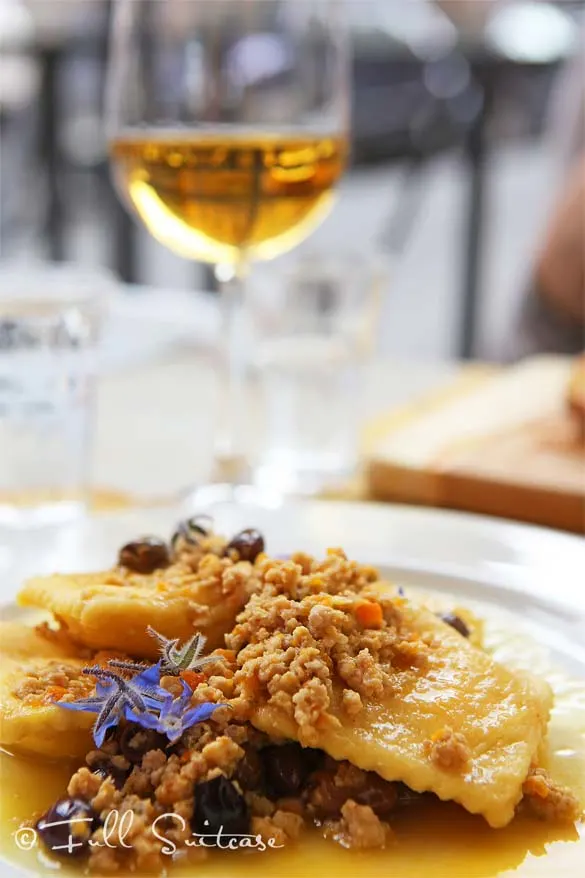 4. Look for artisanal ice cream (gelato artigianale)
If you are looking for good ice cream in Rome, you'll also have to make a bit of effort to find a truly good gelateria.
The best places are the ones where you can get artisanal ice cream. Look for a sign 'gelato artigianale' or 'gelateria artigianale' and don't settle for less than that!
One of the best places for ice cream in Rome is Giolitti with more than a hundred different flavors. We have ice cream at Giolitti several times during every trip to Rome and it never disappoints. Whatever you try, it's absolutely delicious!
We tried several flavors, including coffee, salted caramel, wild cherry, pomegranate, pear, and rice. I liked the rice flavor the best and I would recommend it to anyone! Great discovery!
Other really good gelaterias in Rome city center include Della Palma (very close to Giolitii, not far from the Pantheon and the Parliament), Gunther Gelato Italiano (two locations, one just next to the Pantheon), or Gelateria del Teatro (on the way between the Vatican and Piazza Navona).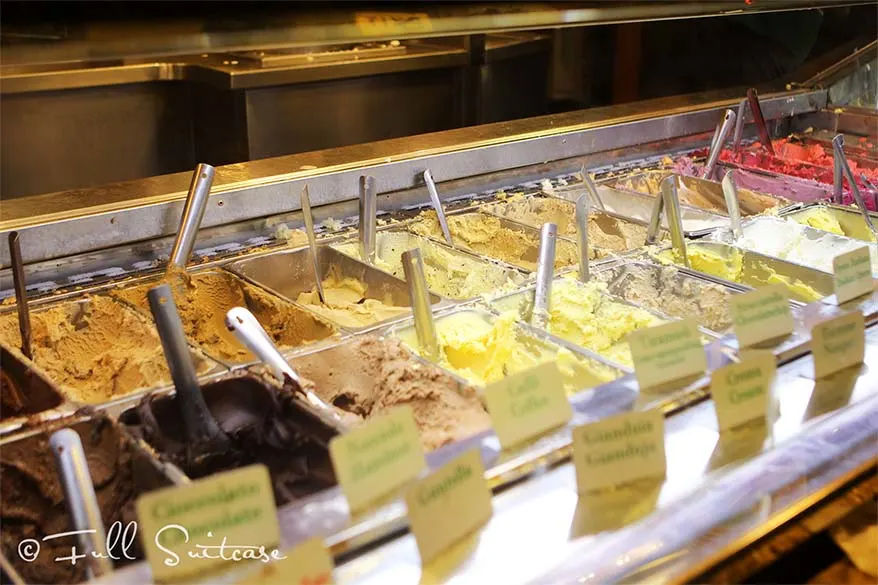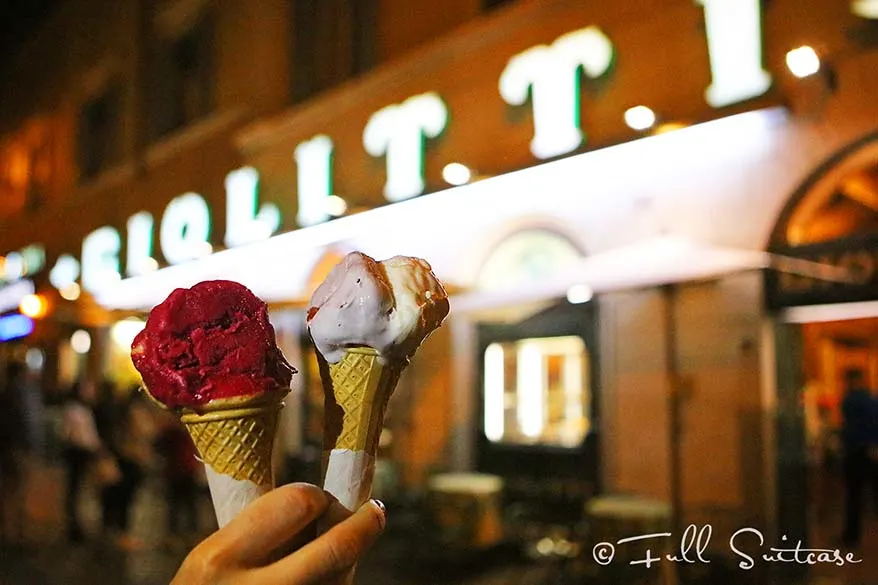 5. Familiarize yourself with Italian coffee before you order
I am not a big coffee drinker myself, but every time I visit Italy, I end up trying some Italian coffee just for the experience. I always find that their regular coffee tastes terribly bitter, but it's just something you have to try at least once! (And who knows, maybe you'll love it!)
When I was in Rome with my cousin once, she ordered an espresso and her reaction to the bitter black substance at the bottom of the tiny cup was 'I think they forgot to add water'. From then on, she only ordered cappuccino or late macchiato, and it was somewhat more drinkable.
Someone at the table next to us ordered a cup of caffe Americano and received a tiny cup with a bitter drink, the size of espresso in the rest of Europe…
After many trips to Italy, I now learned how to ask for the coffee that I actually enjoy drinking. But it's still much stronger than anywhere else in Europe.
Good to know: Don't ask for a 'latte' or you'll just get milk. It's late macchiato or just cafe macchiato. Also, don't order a coffee with milk after lunch or dinner or you'll get some very strange looks.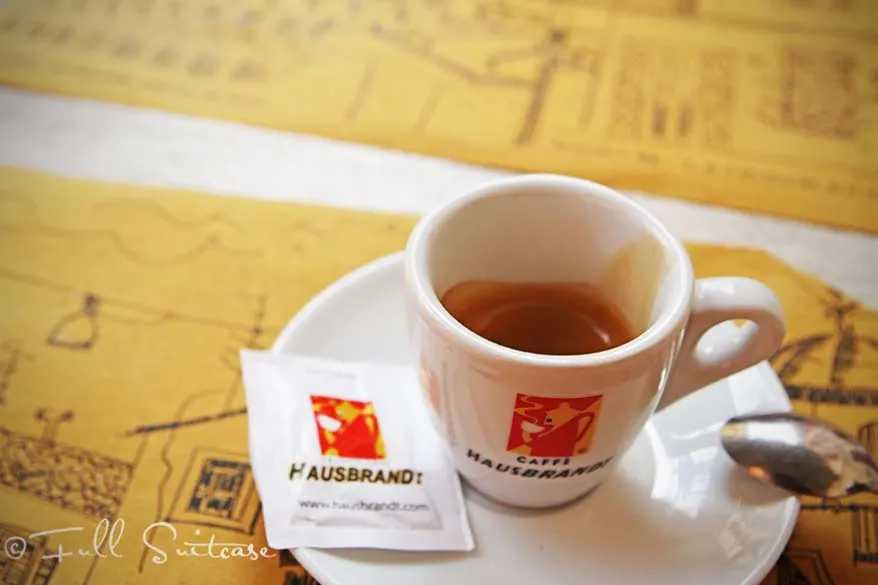 The Italian definition of good coffee is very different from that of the rest of the world. In all honesty, I find it completely overrated, but many will disagree. On the other hand, this is what traveling is all about, isn't it?
You cannot experience the country and its food if you are not open to different habits, different food, and yes, also their undrinkable coffee… 🙂
So go ahead and order some coffee next time you are in Rome! For the most authentic experience, I would suggest you try a tiny espresso. Just make sure you get some water (and lots of sugar) with it to get rid of the taste…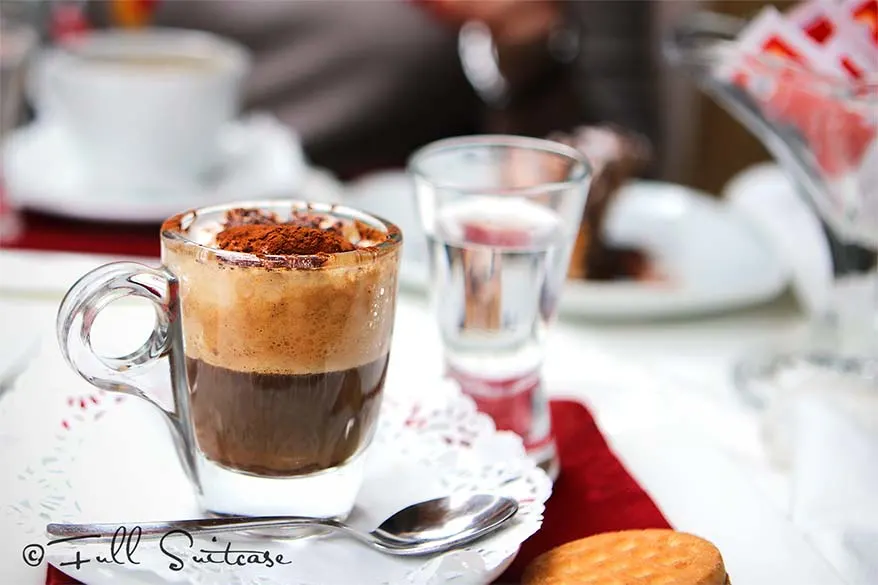 6. Join a food tour or a cooking class
If you want to taste some of the best food in Rome, consider joining a local food tour. Alternatively, there are also cooking classes for those who love more authentic hands-on experiences.
In the past, I was always hesitant to book a food tasting tour thinking it's the same as just going for lunch or dinner. Wrong!
On the most recent trip to Rome, we did this amazing street food tour, and it was one of the very best experiences of our 4 days in Rome (and we did a lot!).
TIP: If you absolutely want to join a local food tour, make sure you book in advance! That way you can choose a tour that best fits your itinerary and interests. On one of my previous trips, I couldn't do the tour I wanted because it was fully booked.
Here are some of the best food tours in Rome:
READ ALSO: Best Street Food Tour in Rome (review and our experience-based tips)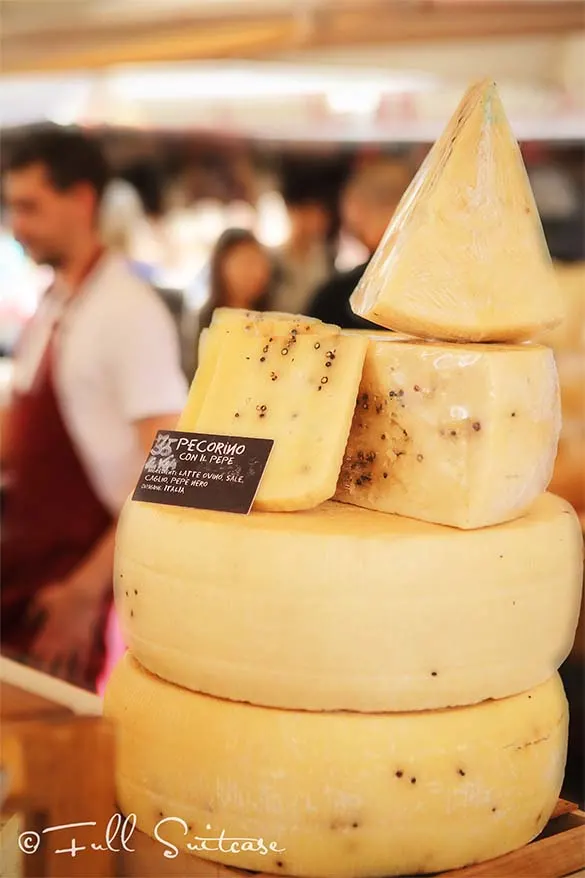 7. Try something different every time
On one of the trips to Rome – when we missed the opportunity to join a food tour – we organized our own Italian food tour in Rome, spread over different parts of the city, and over three days. Basically, every meal we had, we tried to turn it into something special….
We visited two markets in Rome – Campo de Fiori market and the Trastevere market. There, we tried amazing fresh fruit, dairy products, and all kinds of local snacks.
We also visited some local food stores selling cheese or pastry and tried some of the specialties they have.
We also looked for some slow-food restaurants for lunch and made sure to order something new every time…
We had coffee and Italian desserts at different cafés all over the city. We had artisanal ice cream and tried flavors we had never even heard of before.
And we also had Spritz because, apparently, it's just something you have to try in Rome. Even though the weather at that moment was not ideal for this fresh summer drink…
We ate some of the best mozzarella di bufala and also the best pizza I ever had.
The best of all this experience was discovering some amazing new food in Rome that we have never tried before… The worst was that we had to go on a serious diet after a few days in Rome…
There are so many amazing places to eat in Rome! Usually, you only need a little bit of effort to look beyond the first place you come across, and you find some true gems and some of the best food in Rome!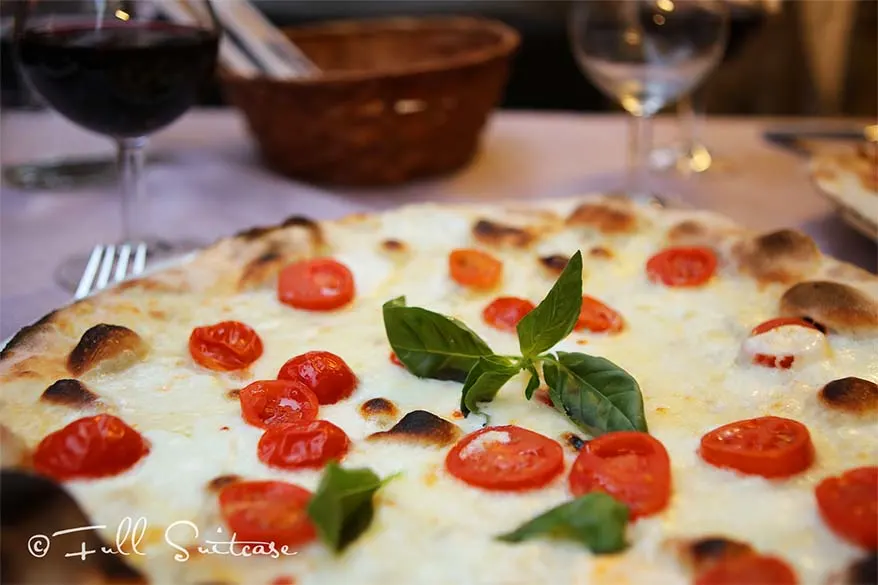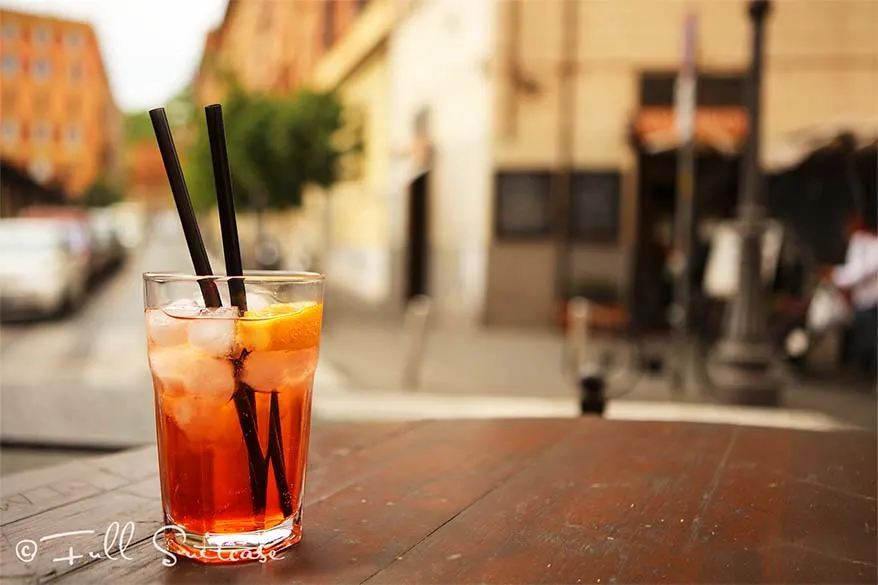 So, this is our simple guide to finding the best food in Rome.
Of course, you can also research the best restaurants in Rome (see also some of our suggestions below). But unless you are prepared to cross half of the city in search of a specific restaurant every time you get hungry, it's easier to just apply these simple tips and avoid tourist traps. This way, you'll find the best food in Rome, every time again!
As I said before, any trip to Italy is for a very big part about the food. So make sure that you take the time to find the best places and don't settle for mediocrity.
Buon Appetito!
As promised – here are some restaurant recommendations for the most popular areas in Rome. These are just a few choices based on our personal experience and the recommendations we got. It's a mix of simple places and some that are a bit more expensive. I'm sure there are many other great choices everywhere you go.
Some of the Best Restaurants near the Colosseum
If you are visiting Colosseum, it's quite likely you'll find yourself in this area at around lunchtime. There are quite some restaurants in the area east of the Colosseum, but try to walk just a tiny bit further for better service and food.
Often, it's also not that much a matter of choice, but where you find a free table.
Here are some of the best places to eat near the Colosseum:
Trattoria Luzzi
Naumachia Ristorante
Pasqualino Al Colosseo
READ ALSO: How to Visit Colosseum (different levels and tickets explained)
Some of the Best Restaurants near the Pantheon
There are lots of great restaurants in the historic city center. Also here, try to avoid the ones with pictures on the menu, and directly at the main landmarks.
Here are some of the best restaurants close to the Pantheon:
Achille Al Pantheon di Habana
Pantha Rei
Osteria del Sostegno
Some of the Best Restaurants near the Vatican
One of the best places to eat near the Vatican is a local area close to the entrance of the Vatican Museum.
Here are some of the best-rated restaurants near the Vatican:
La Locanda di Pietro (one of our personal favorites in this area)
Ristorante dei Musei
Il Bar Sotto Il mare (seafood)
La Cucaracha (Mexican food)
READ ALSO: Hidden Gems of Rome That Most Tourists Never See
More travel inspiration for Rome:
P.S. Special thanks to my cousin for the pictures in this post. She often had to wait for me to take a picture (or two) before she could start to eat or drink. She said she would think twice before going on a trip with me ever again since drinking cold coffee, eating cold spaghetti, and melted ice cream is no fun… 🙂
If you found this post useful, don't forget to bookmark it and share it with your friends. Are you on Pinterest? Pin these images!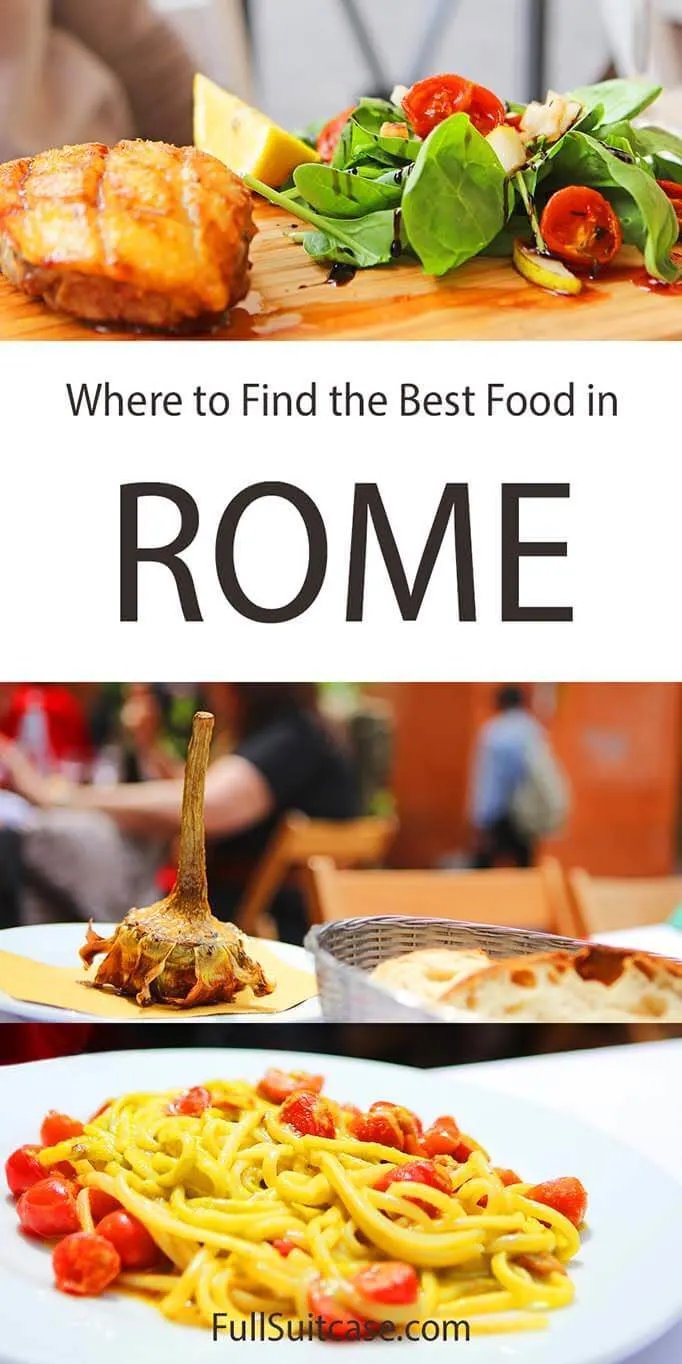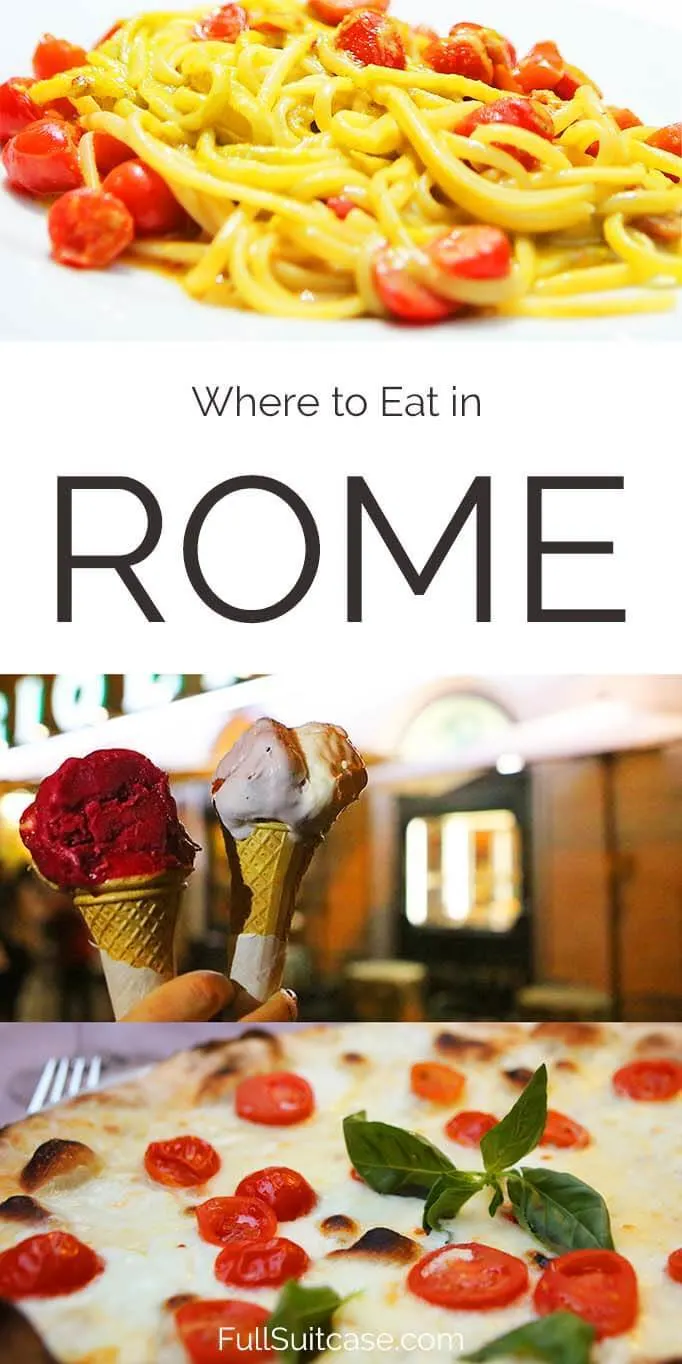 More travel inspiration and tips for Italy: