The Amalfi Coast is one of the most beautiful places in Italy. It's also an extremely popular vacation destination, for locals as well as international travelers. Come summer and this stunning coastal area in the Campania region in southern Italy sees millions (yes, millions) of visitors in just a few months.
If you know that this tiny area is built against steep cliffs and has just one major road, you can easily imagine that visiting the Amalfi Coast can be overwhelming. This is especially true if you are planning a trip to the most popular towns between May and October.
The best way to enjoy your trip to the Amalfi Coast is to know what to expect and to travel well prepared.
In this guide, we share some useful tips and tricks that should help you plan your trip to the Amalfi Coast and make the most out of your visit. Find out!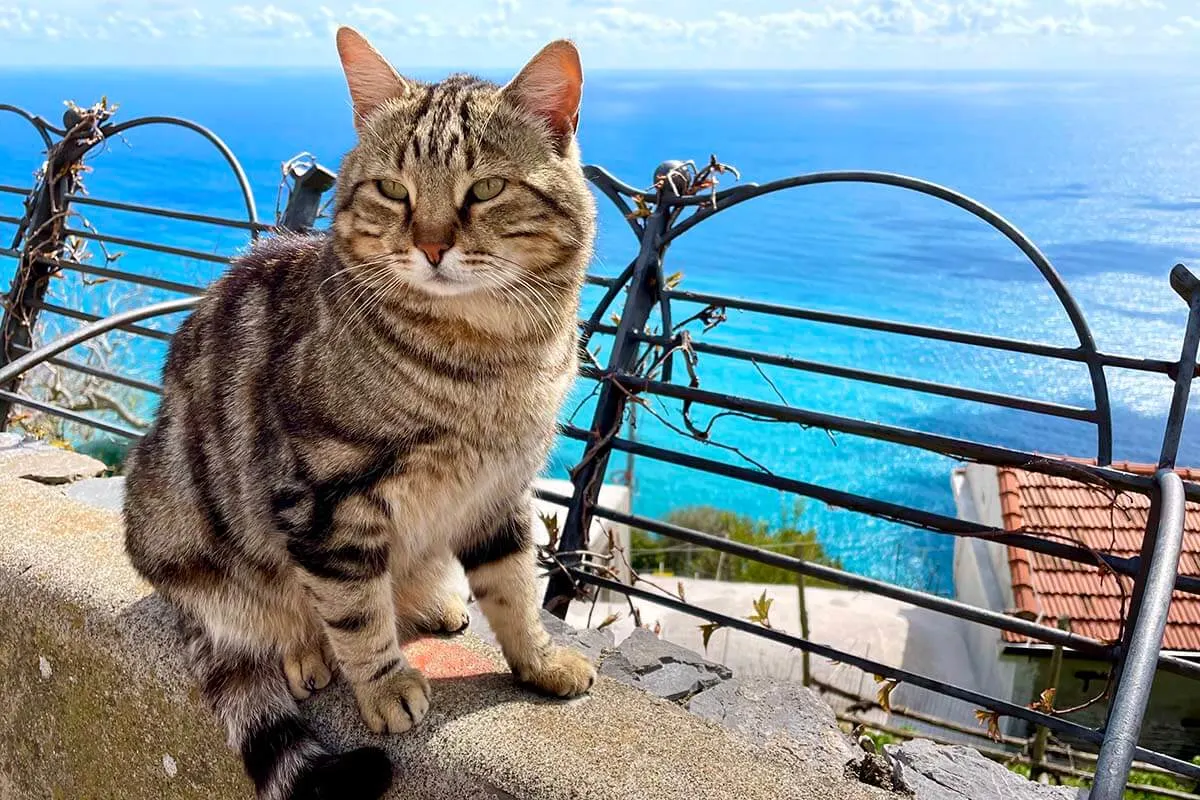 Here are some essential tips for visiting the Amalfi Coast:
1. Book everything in advance
I cannot stress this enough – the first and most important tip for Amalfi Coast is to book as much as possible in advance. This counts for pretty much everything you can think of – from airport transfers, private transportation, and accommodation, to boat tours, ferry tickets, and even restaurants (especially for dinner).
While you might be able to book and arrange everything last-minute in the quieter months, if you are visiting the Amalfi Coast in the high season, booking your transfers and accommodations in advance is absolutely essential.
In the summer, most accommodations are sold out, especially those that are well-located, easily accessible, and somewhat affordable. But even the most luxurious hotels are often fully booked in the high season.
In summer, many restaurants in Positano and Amalfi are booked-up for dinner days – if not weeks – in advance. And you can't even count on being able to rent a boat or take a boat tour if you didn't think of booking it in advance. Also, ferries for traveling between different towns are best booked in advance.
Even things like an airport transfer or hiring a private driver for a day are best planned well ahead.
While researching and booking everything upfront might look like a hassle, this is really the only way to actually enjoy your Amalfi vacation. Not even to mention the fact that by booking in advance, you can compare prices and choose the best deals. It's also just as important to research the essential information in advance (such as the location of your accommodation). This brings us to the next few points – see below.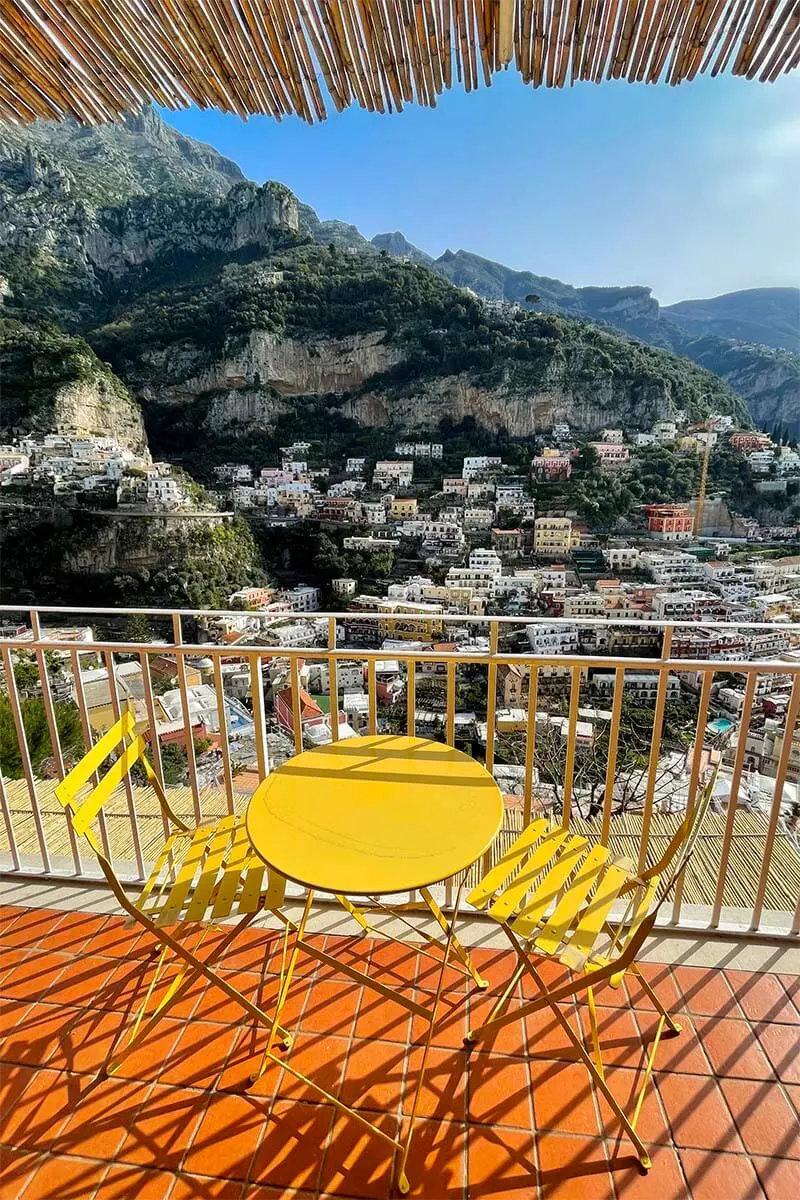 2. Compare prices before you book
While booking in advance is important, it's just as important to compare different offers before you book. This is quite easy to do for accommodations where you can see most options in one place on websites like Booking.com or Expedia. However, it's a bit trickier for transportation, transfers, or tours.
To give you an idea of what I mean, here's just one example based on our recent experience. When looking for a transfer from Naples airport to Positano, we checked various tour websites and contacted several local agencies directly. The prices for the exact same service – a one-way private transfer for 5 people and luggage – varied from 90 to 190 EUR, depending on the company. We ended up booking this private transfer.
Furthermore, as fuel prices rose and the travel season was picking up, the rates went up as well. So while we could have paid 90 EUR for a private transfer if we had booked it three months before our trip, we ended up paying 118 EUR a month in advance. We also saw that the same transfer cost 132 EUR by the time our trip actually happened, and 174 EUR in the high season. In the meantime, those companies which charged 190 EUR when we first inquired were asking 250 EUR in summer.
We also inquired about various transfers on the Amalfi Coast itself. On a few occasions, the price difference between various providers was 'just' 20-30 EUR. However, on a few occasions, the difference was over 100 EUR – for the exact same service.
Needless to say, doing some research and booking in advance will not just save you from stress, but can also save you a lot of money. Please note that these amounts are indicated just for your reference and the prices might be totally different when you travel.
LEARN MORE: How to Get to the Amalfi Coast from Naples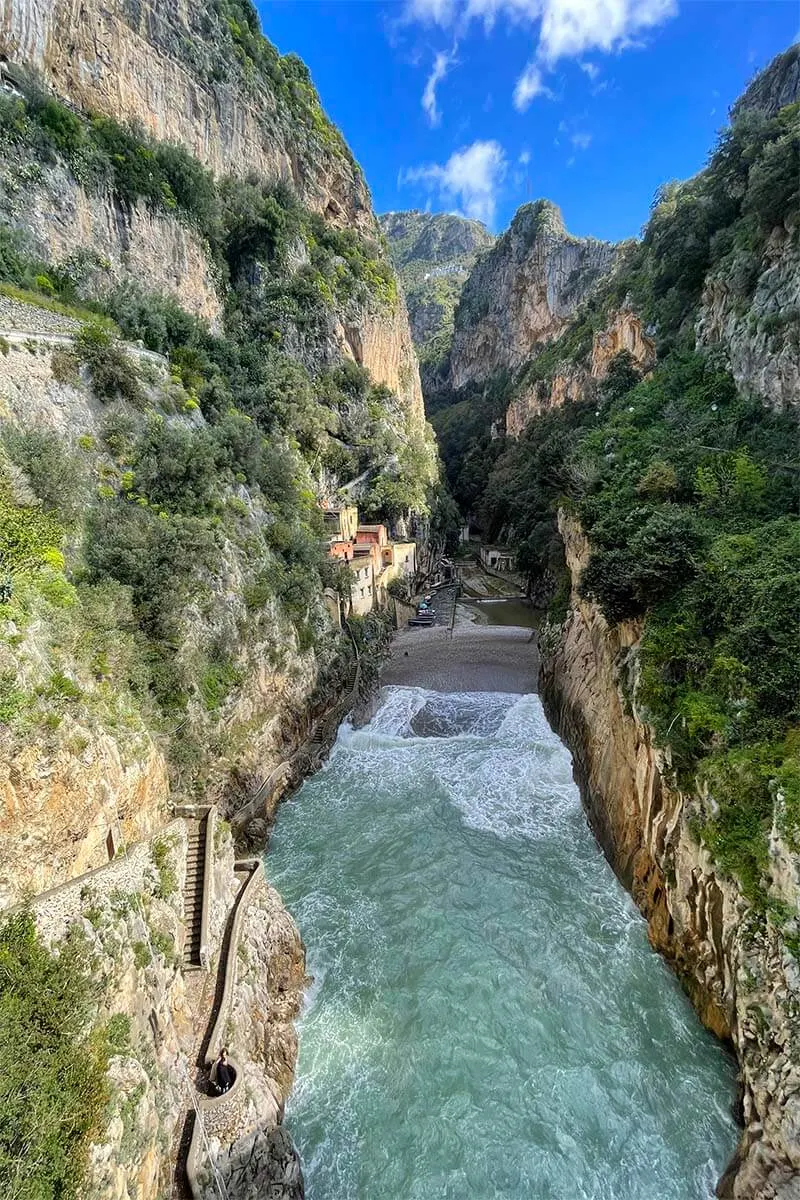 3. Pay attention to the location of your accommodation
Since the towns of the Amalfi Coast are perched between the sea and the mountains, most houses are built against the cliffs. This makes it so picturesque, but it also means that – depending on where you are staying – you may have to do a lot of stairs.
And while it may not look like a big deal at first, you'll quickly realize that you might have to climb hundreds of stairs every time you want to go anywhere. So be sure to pay good attention to the location of the place you are thinking of staying at. Read the reviews and see what other customers say, check the map to see if there are any restaurants or food stores nearby, or how far the bus stop is.
Also, not each town on the Amalfi Coast is the same, of course. While Positano is extremely hilly, many accommodations in Amalfi town are actually located closer to the water and there are no stairs at all. Located high on the hill, Ravello town is surprisingly flat, so – as long as you stay in the town center – you won't have to worry about stairs too much.
How hilly it is or how many stairs you'll have to do really depends on the specific accommodation you choose. So be sure that you know exactly what to expect before you book a place.
In addition, you should take into account the accessibility of the place – by car, public transport, or boat. For more details about each town and our tips on where to stay, please see our detailed guide via the link below.
LEARN MORE: Where to Stay on the Amalfi Coast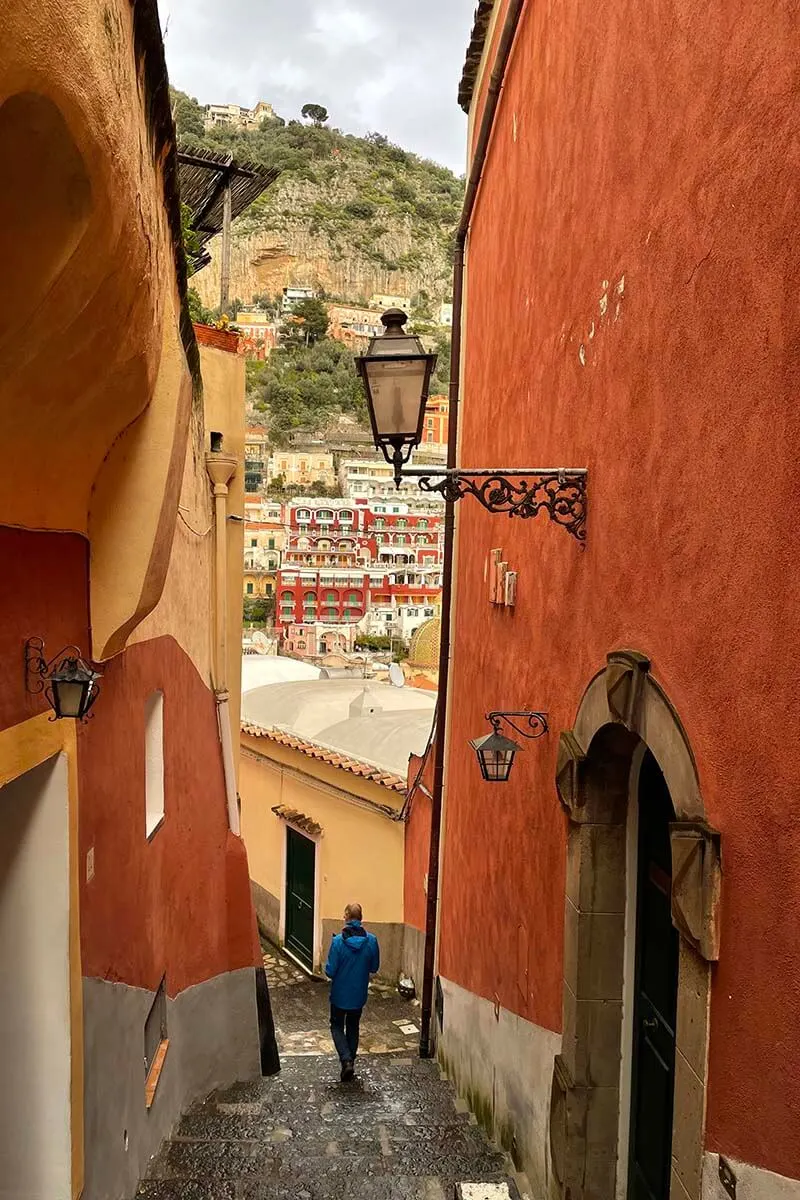 4. Consider staying in Sorrento or Salerno
If you are planning to do lots of sightseeing and day trips, it might actually be more convenient to stay in Sorrento and not on the Amalfi Coast… Also, Salerno on the eastern end of the Amalfi Coast is a good and budget-friendlier alternative to the Amalfi Coast towns.
One of the main advantages of staying in these towns is that you can easily reach them by train. Furthermore, they have good transport connections to the Amalfi Coast.
Sorrento would be my top choice for a longer stay in the region. You can easily visit the Amalfi Coast from here (by boat, bus, or tour). In addition, you can easily visit Capri from Sorrento. Pompeii is just a short train ride away, and also Herculaneum, Mount Vesuvius, and Naples can be easily visited from Sorrento by train.
Furthermore, accommodation prices are somewhat lower in Sorrento than on the Amalfi Coast and you get more value for your money here. In addition, Sorrento also has amazing views and you'll find lots of local restaurants and cafes where you can enjoy some delicious meals, often at much more reasonable prices than on the Amalfi Coast.
There are also lots of great tours that you can take from Sorrento to all the most popular places – by boat, bus, train, with a private driver, etc.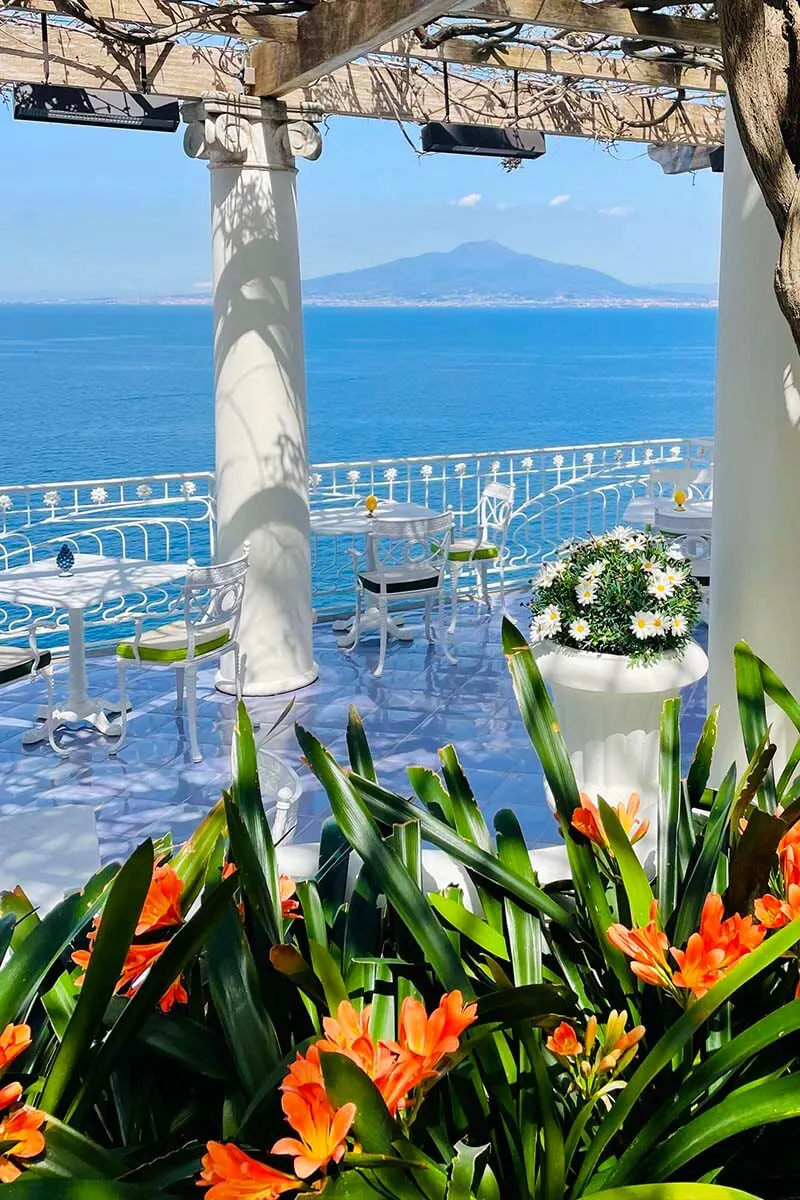 5. Think twice before you rent a car
While it might look that exploring the Amalfi Coast is best done by car, think twice before renting a car here! I highly discourage visiting Amalfi Coast by car if you are traveling between June and September, but also May and October are extremely busy.
As already said before, there is just ONE MAIN ROAD that connects all the main towns on the Amalfi Coast. This is a narrow cliffside road with lots of switchbacks and turns, and crazy traffic. In fact, the traffic on the Amalfi Coast has gotten so bad that the local authorities have recently introduced new restrictions as to who can drive where and when.
There's now an alternating license place system for driving on the Amalfi Coast in the high season. And I am not at all convinced that this measure will be sufficient to make the area 'liveable' for the locals again. Some people we met told us that they cannot use their cars in summer. Not only because of the busy traffic and the fact that it takes hours to get anywhere but also because of the lack of parking.
Parking on the Amalfi Coast is extremely limited and very expensive. Even if you'll be able to find a parking spot, be prepared to pay 6-10 EUR per hour for a small car.
So I really cannot stress this enough – we do not recommend visiting the Amalfi Coast by car in the high season. I would even think twice before renting a car here in April or beginning of November too.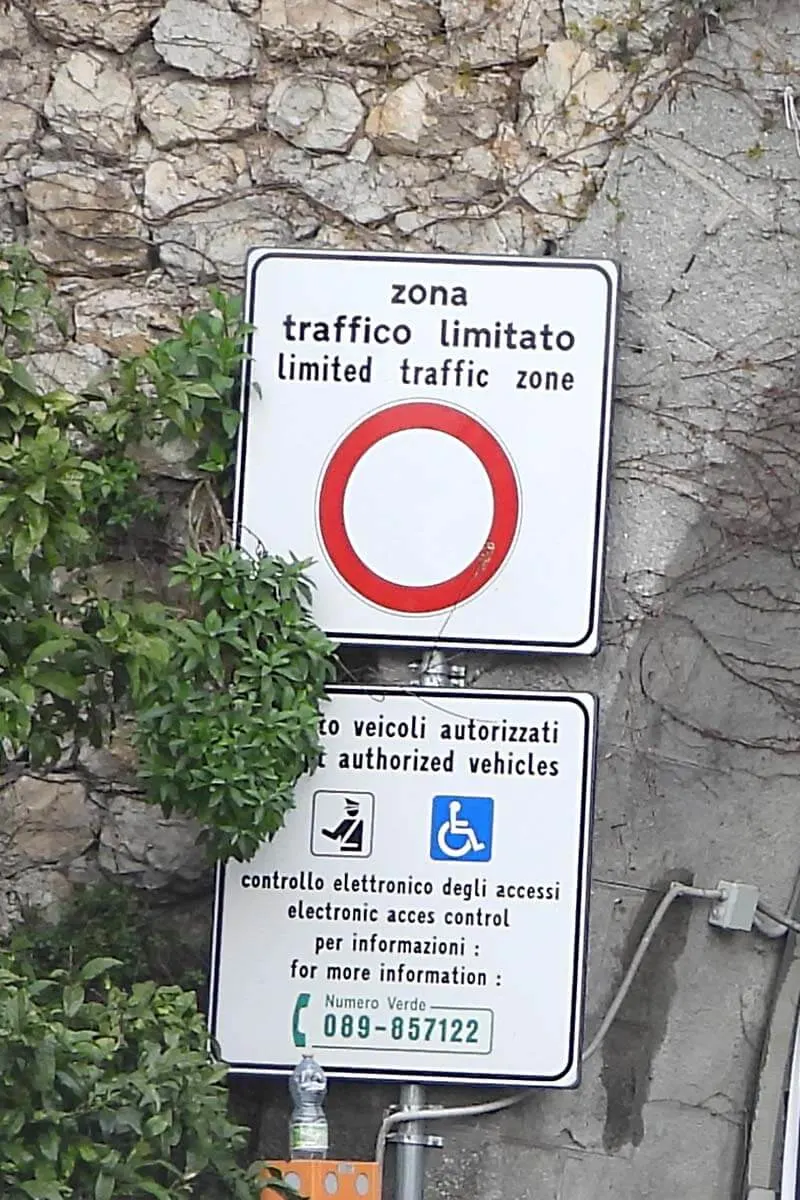 Also, keep in mind, that many areas in Italy (and not just on the Amalfi Coast) have limited traffic zones (ZTL). Only local traffic is allowed in these areas. They are monitored by cameras and if you enter a zone of restricted circulation, you can be sure that you'll be fined per violation. So if you are driving around looking for a place to park your car and enter a restricted traffic area a few times, you'll get fined for each time you entered. It's just not worth the stress!
Instead, book car transfers and ferries for the bigger distances or use public transportation for traveling between the towns that don't have a harbor. Renting a scooter can also be an option, but driving on the Amalfi Coast in the busiest season is not for the faint-hearted. So this is not the best place to rent a scooter if you have no previous experience.
If you don't mind doing lots of stairs and hiking, you can also walk between various places along the Amalfi Coast on foot. But this would only be a good option for those who have plenty of time and want to explore the area deeper beyond the most popular tourist spots.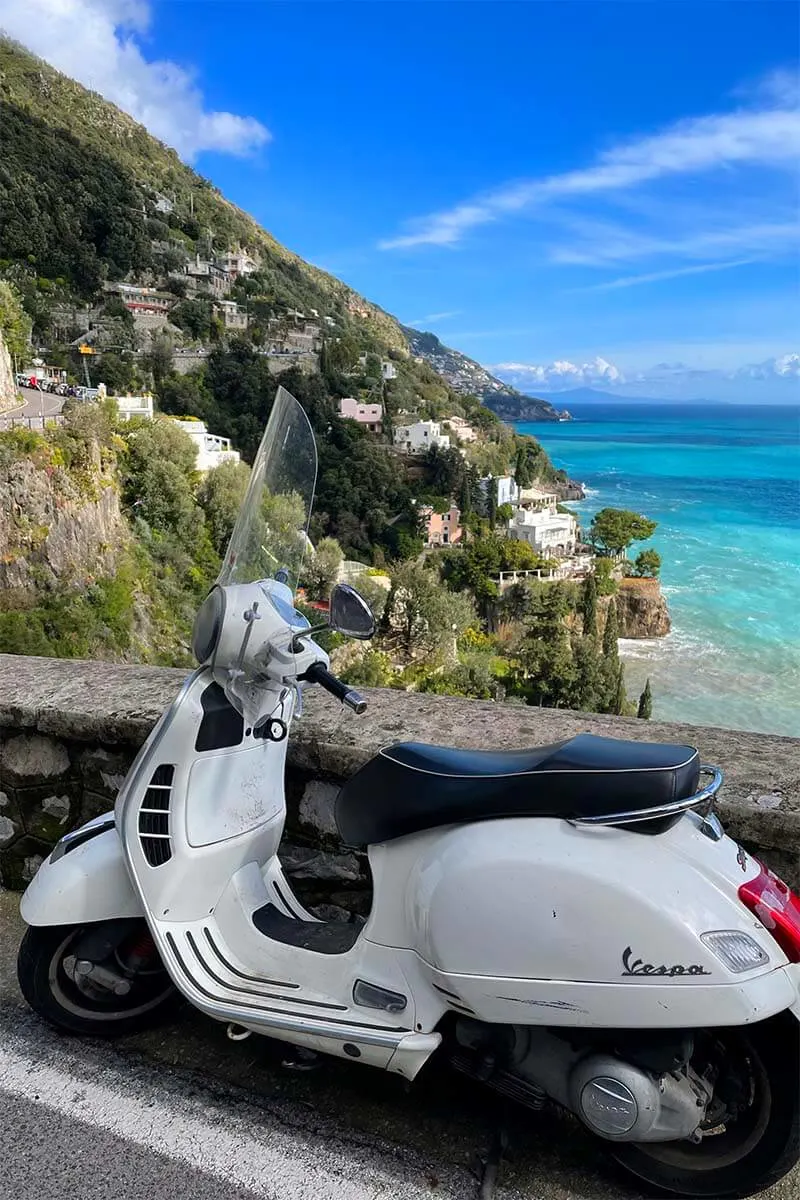 6. Visiting Amalfi Coast for a day? Take a tour
If you are only coming to the Amalfi Coast for one day, do yourself a favor and book a tour. It will save you so much time on research, money on transfers or time wasted on public transport, and headaches trying to arrange everything and still keep it enjoyable!
There are hundreds of tours that can bring you to the Amalfi Coast from Naples, Sorrento, or even Rome. So you can definitely find something that suits your interests and budget. Most tours include a visit to the most popular towns and some also give you an option to take a boat and see the coast from the water. There are also tours that foresee some extra time for a swim.
Here is our hand-picked selection of some of the best day tours to the Amalfi Coast:
From Sorrento. This popular boat tour avoids the busy traffic on the Amalfi Coast and brings you to the nicest places, giving you lots of free time in Amalfi which means you could also visit Ravello if you want to. It's also one of the most affordable day trips to the Amalfi Coast.
From Naples or Sorrento. This day tour by bus & (optional) boat is one of the most popular tours from Naples to the Amalfi Coast. It includes all the transport and brings you to ALL the best places (including Positano, Amalfi, and Ravello). Plus, you get an option to do a boat ride as well.
From Naples. This day tour by boat/bus is one of the most complete Amalfi Coast tours from Naples. You can choose different options and group sizes according to your budget and interests.
TIP: Depending on where you are staying and what you plan to do, you can even take several day tours to the Amalfi Coast area. So, for example, if you are staying in Sorrento, you could take a boat tour that covers all the highlights of the Amalfi Coast on one day, and then a guided tour to the Path of Gods on the other day.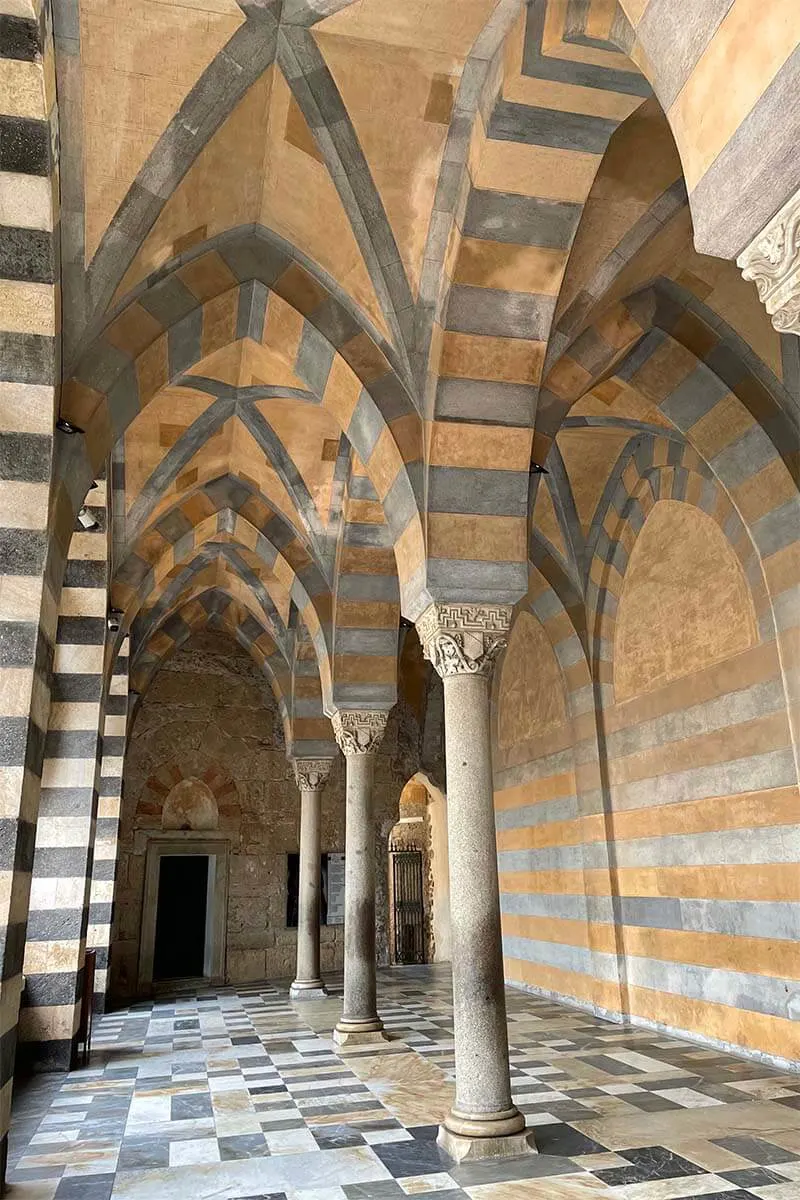 7. Prepare for motion sickness
Whether you are traveling on the Amalfi Coast by car, bus, or boat, consider taking something for motion sickness.
Some roads on the Amalfi Coast are really winding and traveling here will upset even the strongest stomach. This is especially the case for the road east of Positano and almost all the way to Amalfi town.
We didn't experience any problems on the boat, but all of us were really glad to get out of the car/van/ bus every time we drove even for just 15-20 minutes.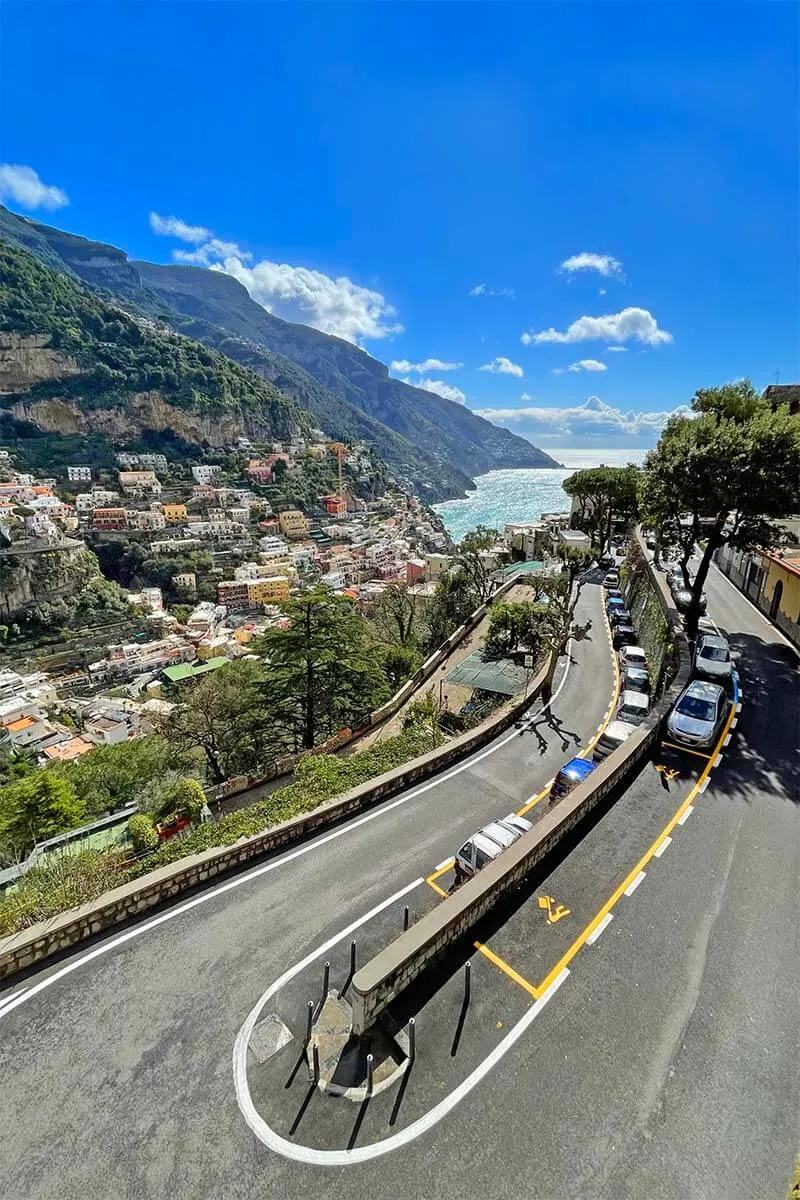 8. Avoid weekends and visit in the shoulder season
If you think that the Amalfi Coast is busy in May or June, just try to imagine it on a weekend in July or August. So even if you are just coming to the area for a few days, try to avoid the weekends!
If you have to catch a flight from Naples on a Sunday evening in summer, it's probably best to leave the coast in the morning already… Some companies don't even offer transfers out of the Amalfi Coast on Sunday afternoons in summer because the roads are jam-packed.
The best time to visit the Amalfi Coast is in May or late September – October. That's when the weather should be at its best, everything is open, and it's not as crowded as in the summer. However, these months are becoming increasingly popular, and almost just as busy as in the peak summer season… And it does happen that it rains on the Amalfi Coast for days in a row in May too, so you really never know.
If you don't absolutely need to be at the beach or go swimming, one of the best times to visit the Amalfi Coast without the crowds is the shoulder season – the first half of April or late October – beginning of November. However, you have to take a chance that the weather might not be optimal for everything and that the boats/ferries might not be running.
The best way to avoid the crowds at the Amalfi Coast altogether is to visit in the quiet season – November to March. However, it also means that you won't be able to experience the area the same way as in summer. Many businesses are closed in winter, public transport doesn't run as frequently, and there are no boat tours/transfers because of the rough seas.
As you can see, each season has its challenges… So how do you enjoy the Amalfi Coast no matter when you visit? See below!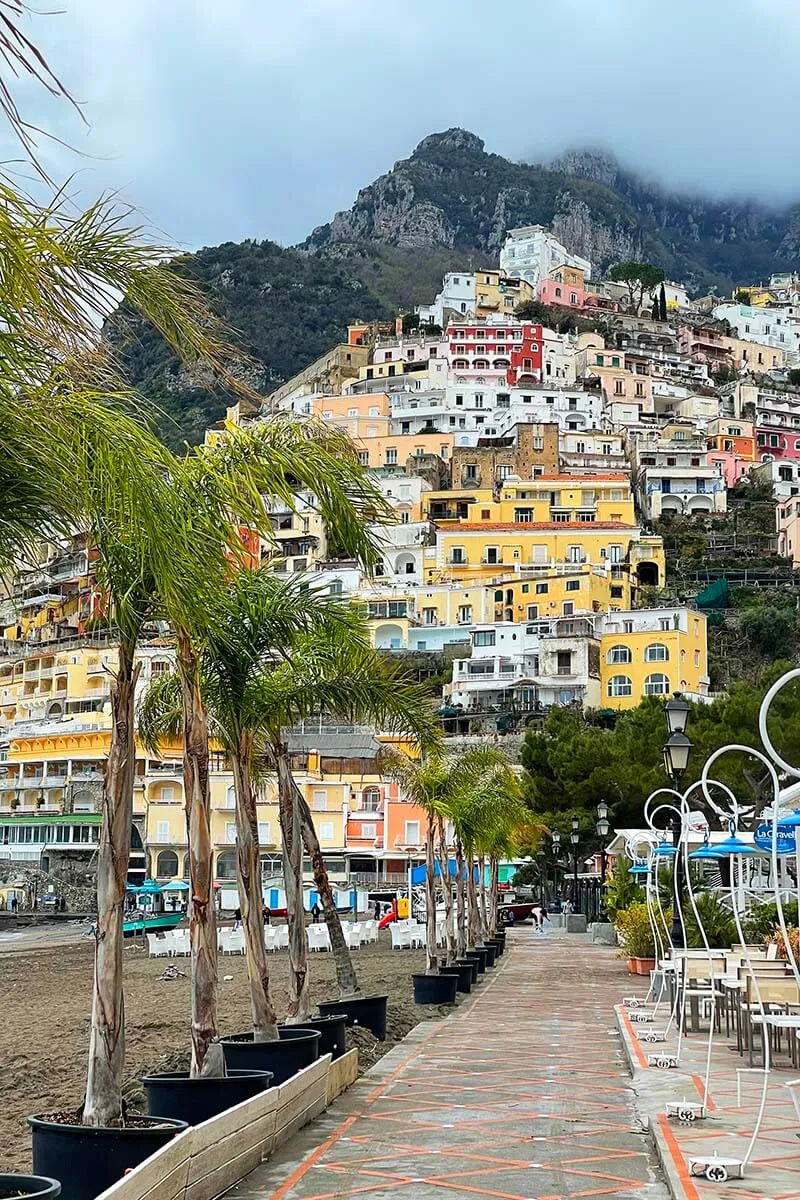 9. Stay longer and get a bit off the beaten path
One of the best ways to enjoy the Amalfi Coast and experience its true charm is to avoid the crowds (as if that's easy to do, right?!). Unless you visit off-season, the only way to do this is by staying in the area longer and avoiding the most popular places during the busiest times.
Staying on the Amalfi Coast in the evenings will give you an opportunity to see the most popular towns without the huge crowds of day-trippers. It will still be busy, especially in Positano or Amalfi, but incomparable to what it looks like during the day.
Also, if you have more time, you can head to some less-visited places that most day tourists never visit. There are 13 towns on the Amalfi Coast, but most people only see 2 or 3 of them.
There are also lots of other hiking trails beyond the most popular Path of Gods hike… For example, check out Valle delle Ferriere and Pontone close to Amalfi! Also not completely unknown, but definitely quieter.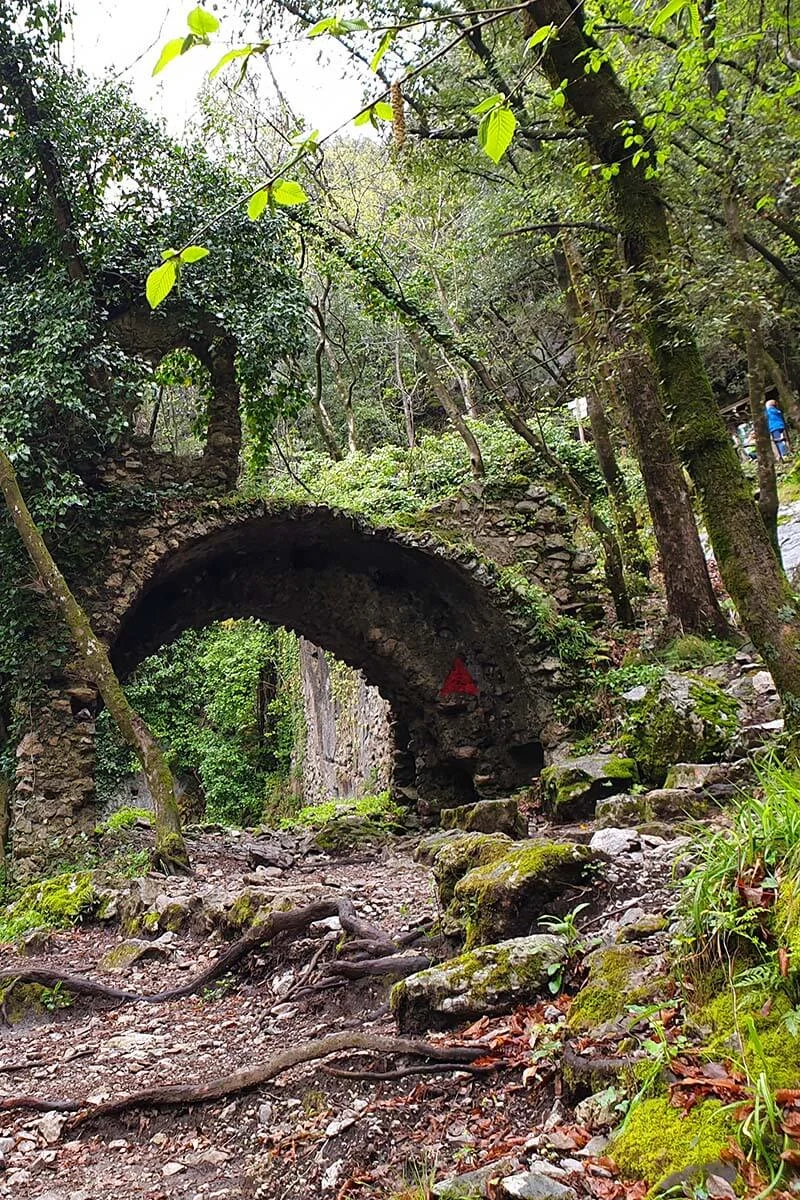 10. Start your days early
No matter what you are planning to do – go hiking, spend a day at the beach, or do some sightseeing along the Amalfi Coast, starting early in the morning will give you a head-start.
Most vacationers don't start their days before 9-10 am and most day-trippers don't arrive on the Amalfi Coast before 10 am either. This gives you a few quieter hours to enjoy the nicest places without the crowds.
Of course, the earlier you start, the better. So if you don't mind getting up early and exploring at 6-9 am, you'll experience a very different Amalfi Coast than during the day. Furthermore, if you are planning any physical activities and hiking, the temperatures in the morning will be much more bearable than later in the day. You really don't want to hike on an exposed trail such as the Path of Gods in the afternoon in July!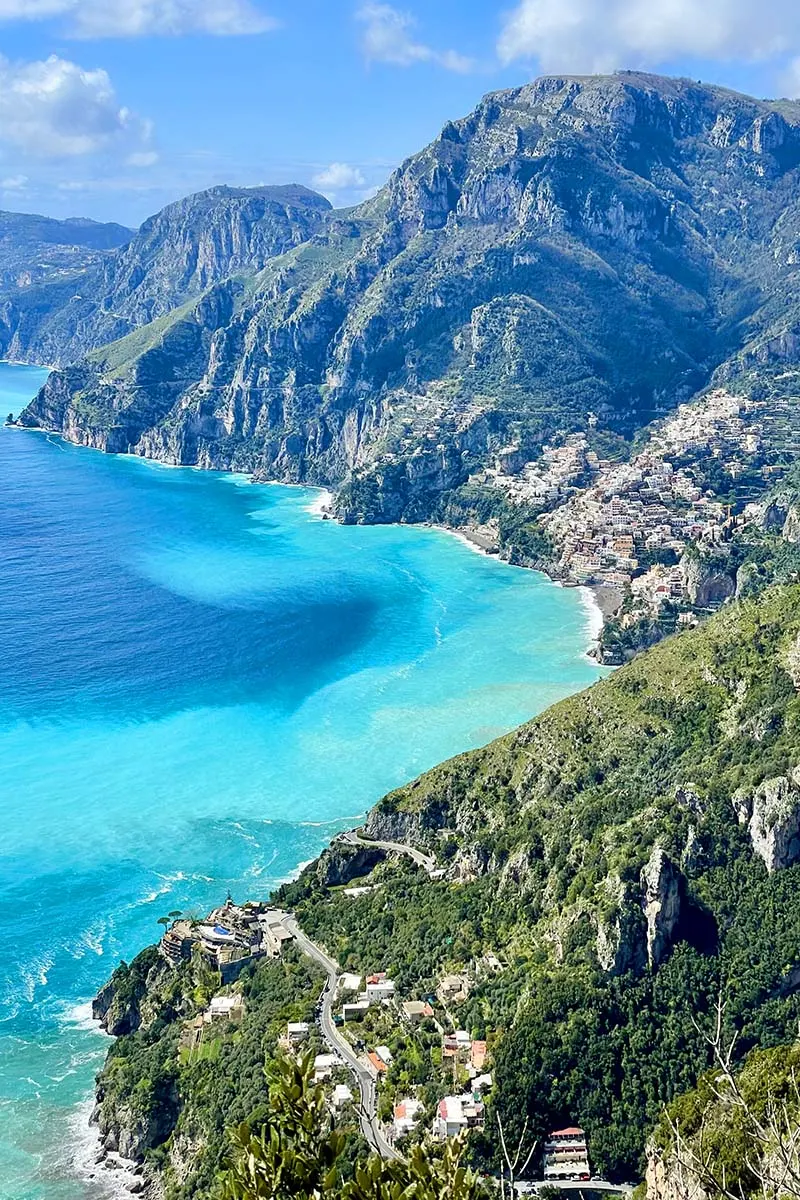 11. Rent a beach chair & pack water shoes
If you are planning to spend a day on the beach, be sure to arrive early so that you can rent a beach chair.
The beaches of the Amalfi Coast are mostly pebble beaches, and it's much more comfortable to sit on a chair. Furthermore, beach chairs usually come with the extras, such as access to bathroom facilities or changing rooms. And if you can get a chair with an umbrella to give you some shade, you're set for a day!
Because of the stones, we also highly recommend bringing water shoes for the Amalfi Coast beaches.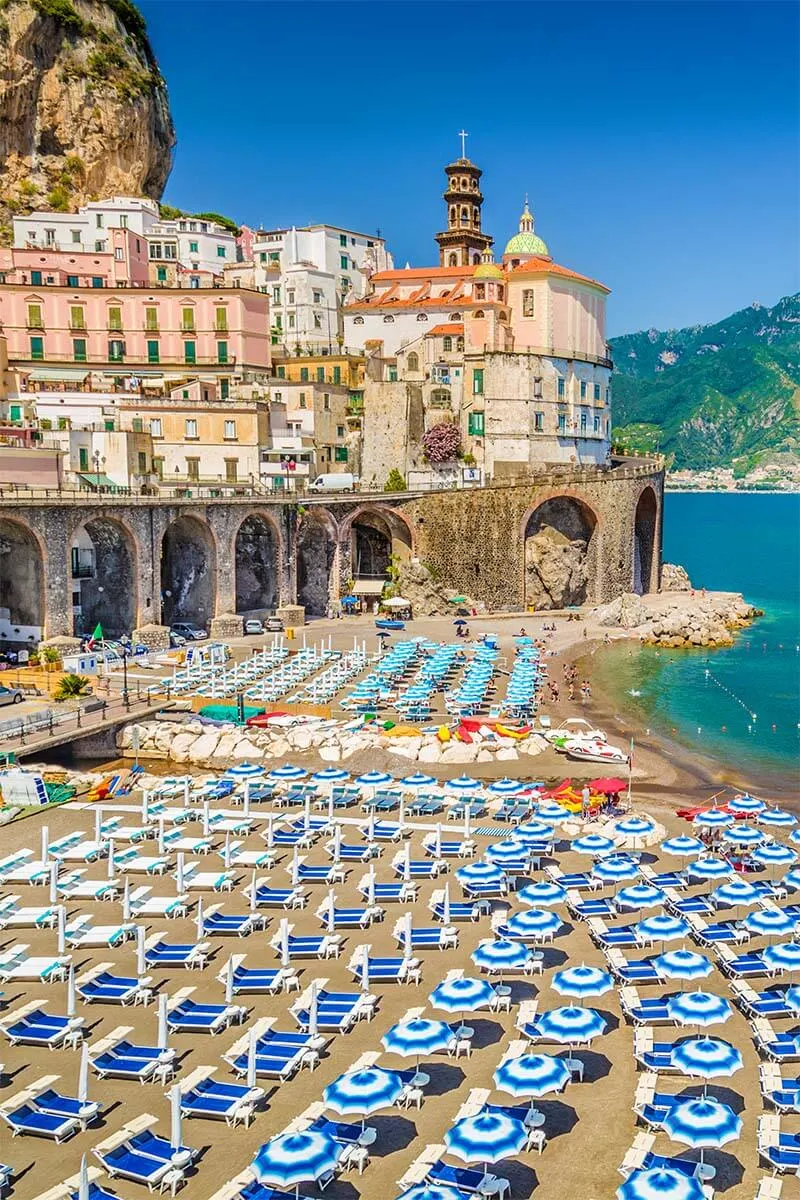 12. Try regional food
You can't visit the Amalfi Coast without enjoying some of the local food and drinks typical to the Campania region. Well, you probably can, but you shouldn't!
Food is such an essential part of any trip to Italy and it's no different on the Amalfi Coast. A few good meals in a local restaurant can make your entire trip so much more memorable, whereas a bad meal can ruin an entire day.
Try to do some research for the best local restaurants (and reserve if needed). Reading a bit in advance will help you to avoid the really touristy places and find some gems that might be located just a bit off the main tourist routes.
Be sure to also check the prices on the menu! While you can have a perfectly good seafood dish for 15 EUR at one restaurant, it's not unthinkable that you'll pay twice as much for a similar meal at another place nearby (and not necessarily get a better meal or service).
TIP: Some of the things to try on the Amalfi Coast include limoncello (alcoholic lemon drink), lemon slush, all kinds of lemon-based desserts, baba' al rum cake, sfogliatelle pastry, and – of course – all kinds of seafood-pasta dishes such as spaghetti alle vongole (spaghetti with clams), scialatielli all'Amalfitana (regional pasta with seafood), or seafood risotto. Locals are also very proud of locally-produced mozzarella and wines from the Campania region.
READ ALSO: Traditional Italian Food by Region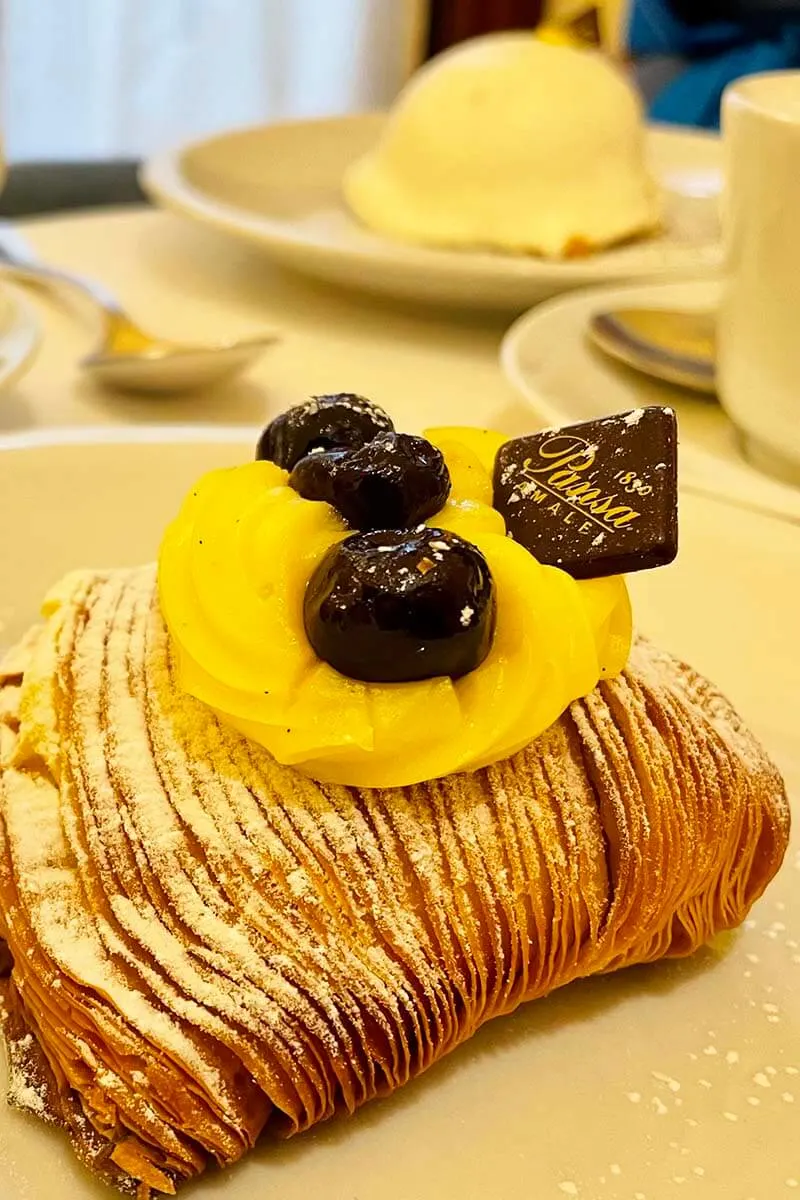 13. Wear comfortable shoes
The Amalfi Coast might be a coastal destination known for its flat-sole leather sandals, but if you are planning to actually do some sightseeing here, be sure to wear comfortable shoes. Walking down a couple of hundred stairs in flip-flops is probably not the best idea.
Depending on the season, the weather, and the activities planned, we recommend either comfortable walking sandals, sneakers, or hiking shoes.
If you are just visiting the Amalfi Coast for a day and focusing on the most popular towns, in summer, you'll be ok with flat-bottomed leather sandals too.
You don't absolutely need hiking boots even for the most strenuous hikes, but hiking shoes or sporty sneakers with a very good grip are essential if you are planning to do any hiking on the Amalfi Coast.
YOU MAY ALSO LIKE: Hiking the Path of the Gods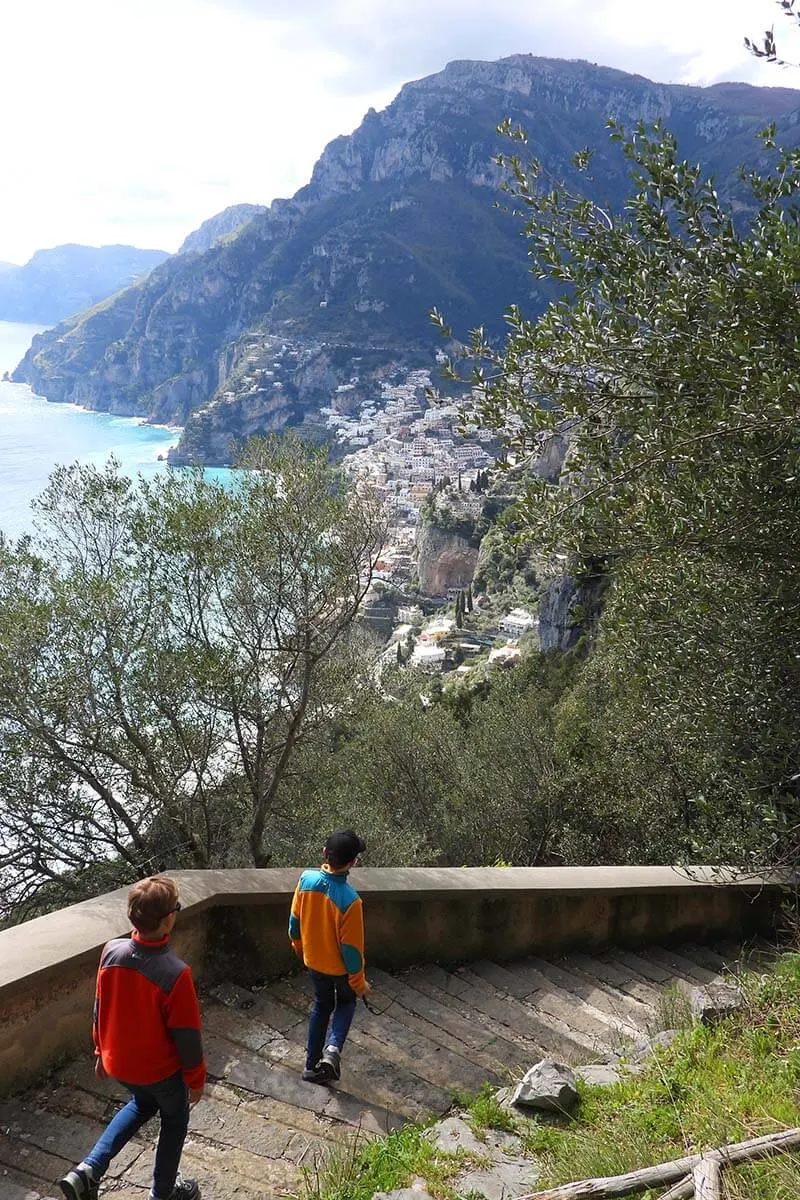 14. Take a refillable water bottle
Many places in Italy have public drinking fountains and the Amalfi Coast is no exception. The water at these places is perfectly safe to drink and is usually surprisingly cold as well.
So be sure to pack a refillable bottle with you and look out for drinking fountains. If you are visiting Amalfi Coast in the warmest months, it's usually very warm, so be prepared for that.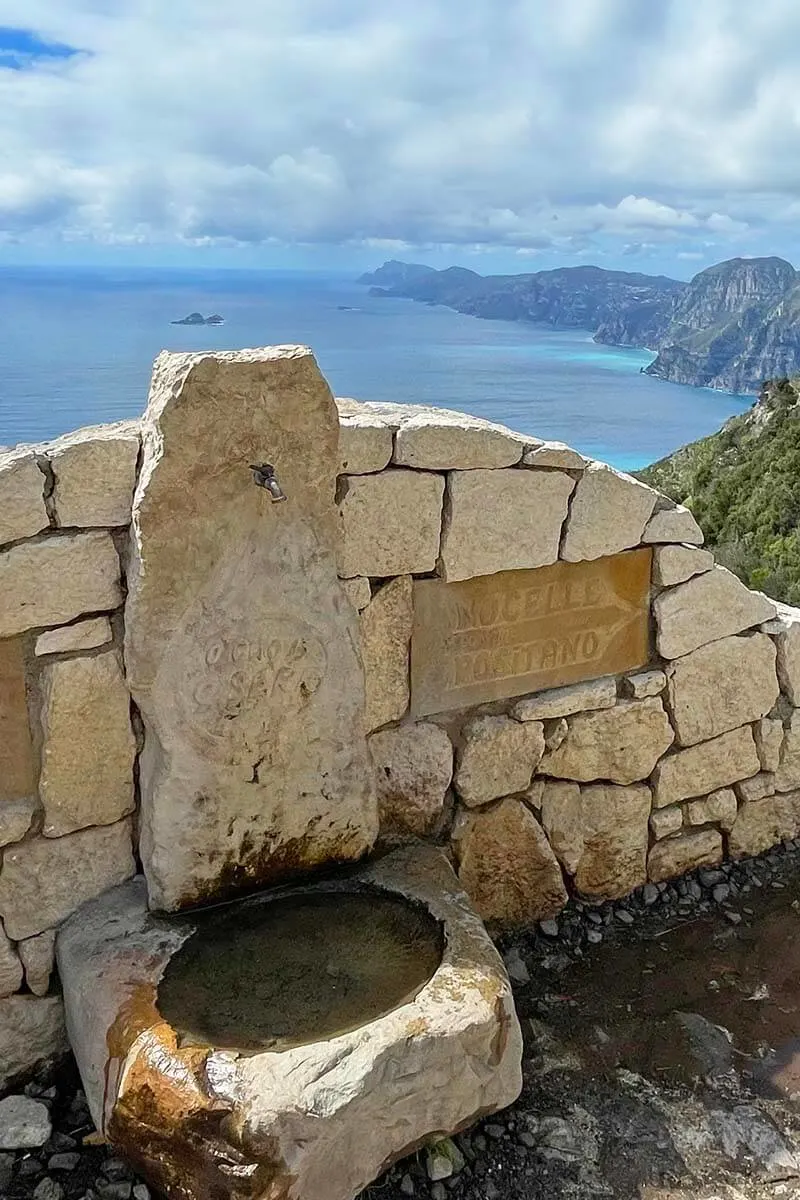 15. Don't miss Ravello
Most people visiting the Amalfi Coast go to Positano and Amalfi. Both are absolutely beautiful towns and each has its charms – Positano its cliffside location and Amalfi its historic center with a beautiful cathedral (not to be missed!). But even if you just have one day in the area, try to also get to Ravello.
Located high on the hill above the town of Amalfi, Ravello is somewhat less crowded and offers stunning vistas over the Amalfi Coast. It's by no means a hidden gem, and lots of tourists (including big groups) visit here, but Ravello sure has its charms and is absolutely worth it.
If you are looking for a quieter place to stay on the Amalfi Coast, you'll find some charming accommodations and some of the most exclusive hotels here. And as the day tourists leave, Ravello can be really charming in the evenings.
Good to know: The must-sees in Ravello include Villa Rufolo and the gardens of Villa Cimbrone. The latter is actually a luxury hotel, but the gardens are open to the public during the day (you can get a ticket at the entrance). If you have the time to visit just one of the two, Villa Rufolo is worth it more (and is located right in the town center).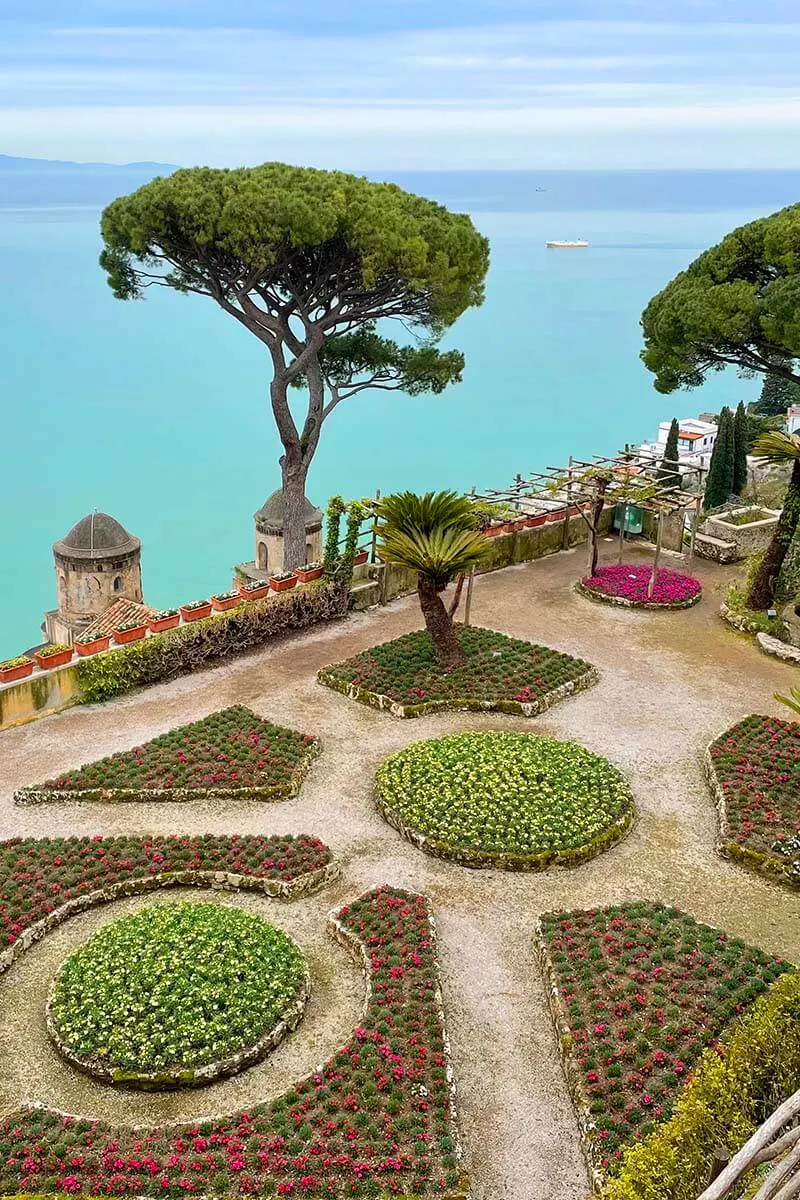 16. Take a day trip to Capri (or better – stay a few days)
One of the most beautiful islands of Italy – Capri – is located just near the Amalfi Coast. So if you are already in the region, be sure to plan at least a day to visit Capri. However, if you want to experience the island without the biggest crowds of day tourists, we highly recommend staying longer (see our guide on where to stay in Capri for more info).
In high season, Capri can be easily reached by boat from Positano and some other places on the Amalfi Coast. Capri is also just a short boat ride from Sorrento, and there's a direct ferry from there the whole year round (see how to visit Capri from Sorrento).
Depending on how much time you have on the island, here are some of the must-sees: Blue Grotto, Monte Solaro in Anacapri, Giardini di Augusto, and the town center of Capri. If you have more time, be sure not to miss the Natural Arch in Capri and the stunning coastal walk on Via del Pizzolungo.
LEARN MORE: Best Things to Do in Capri & What to See in Anacapri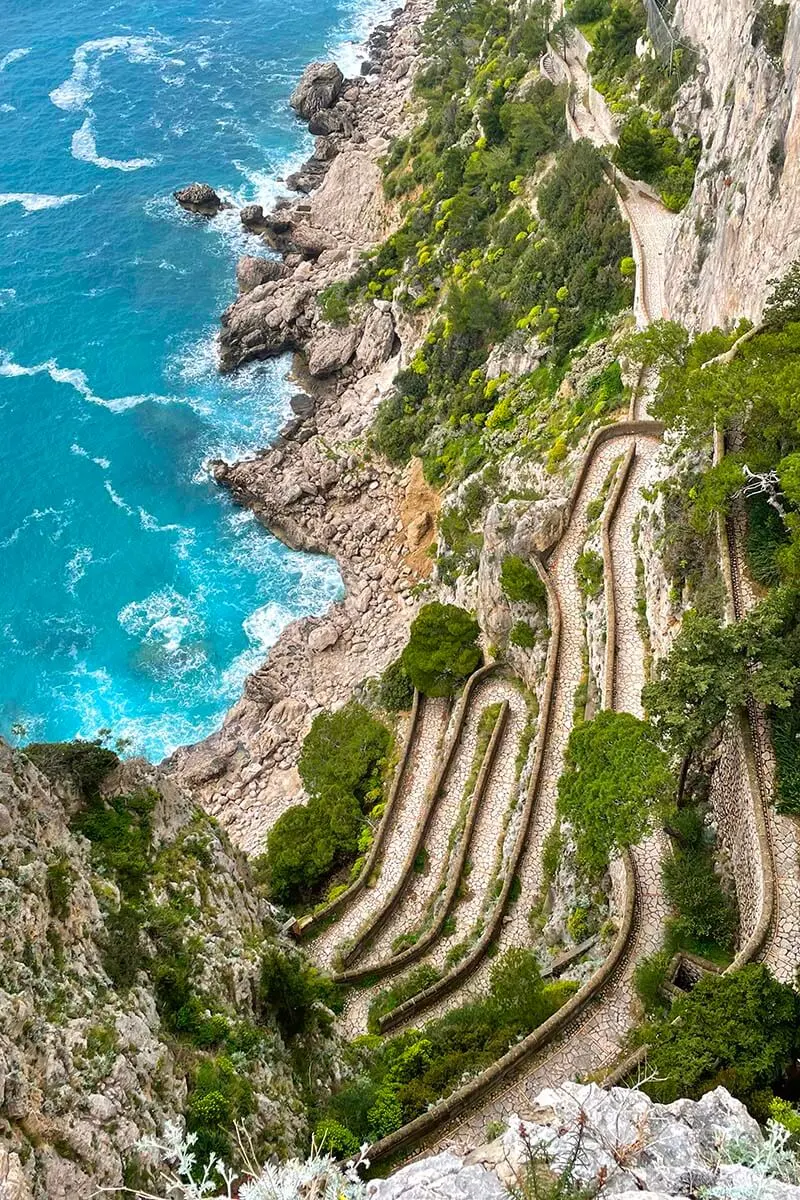 17. Explore beyond the Amalfi Coast
There is one more thing I want to add to our Amalfi Coast travel tips – if you can, plan some extra time to explore this part of Italy more.
As beautiful as the Amalfi Coast is, there are so many other amazing places to see nearby. Many of them are worth a trip even if you are coming from the other side of the world, so do not miss them when traveling in the area!
Some of the must-sees in the area include the archeological sites of Pompeii and Herculaneum, but also several Roman villas that were also buried by the same volcanic eruption in 79 AD. And of course, you have to visit Mount Vesuvius too – see our guide to visiting Vesuvius for more info.
The city of Naples is a destination in itself and you could easily spend at least a few days in the city alone. But you could also just visit for a day – it's totally worth it. See our suggested 1-day Naples itinerary for 'the musts'. Here you can also find our detailed guide to all the best things to do in Naples.
If you have another half a day to spare, the Royal Palace of Caserta and its gardens are breathtaking too!
Closer to the Amalfi Coast, Sorrento town is not to be missed as well.
READ ALSO: Best Day Trips from Napoli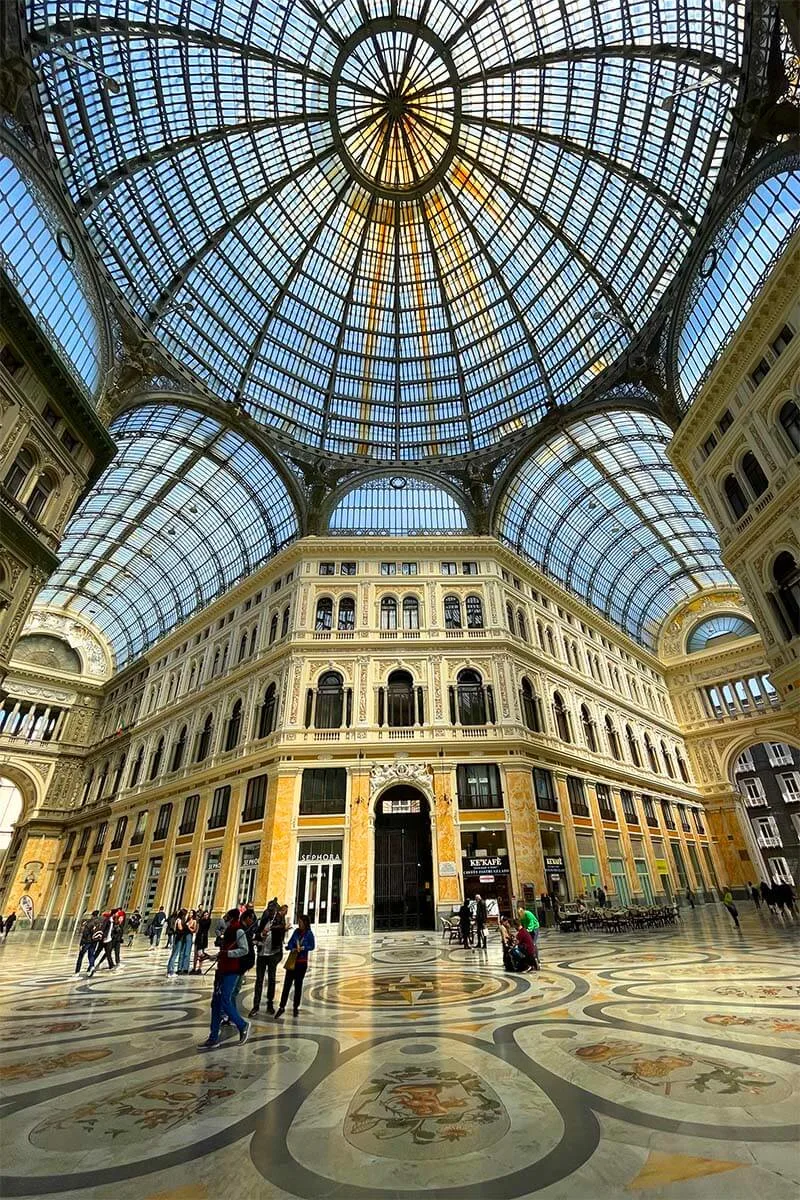 So, this is our guide with some tips and things you may want to know before visiting the Amalfi Coast. I hope that our experience-based advice will help you plan a fun and memorable trip and avoid any disappointment.
Yes, the Amalfi Coast is crowded in the high season and yes, you really should plan in advance in order to enjoy your visit. But it's popular for a good reason. If you can avoid some of the biggest mistakes that many first-time visitors make, stay longer and explore deeper, I'm sure that you'll love this beautiful part of Italy just as much as we did.
Have a wonderful trip!
READ ALSO: Amalfi Coast vs. Cinque Terre
If you found this post useful, don't forget to bookmark it and share it with your friends. Are you on Pinterest? Pin these images!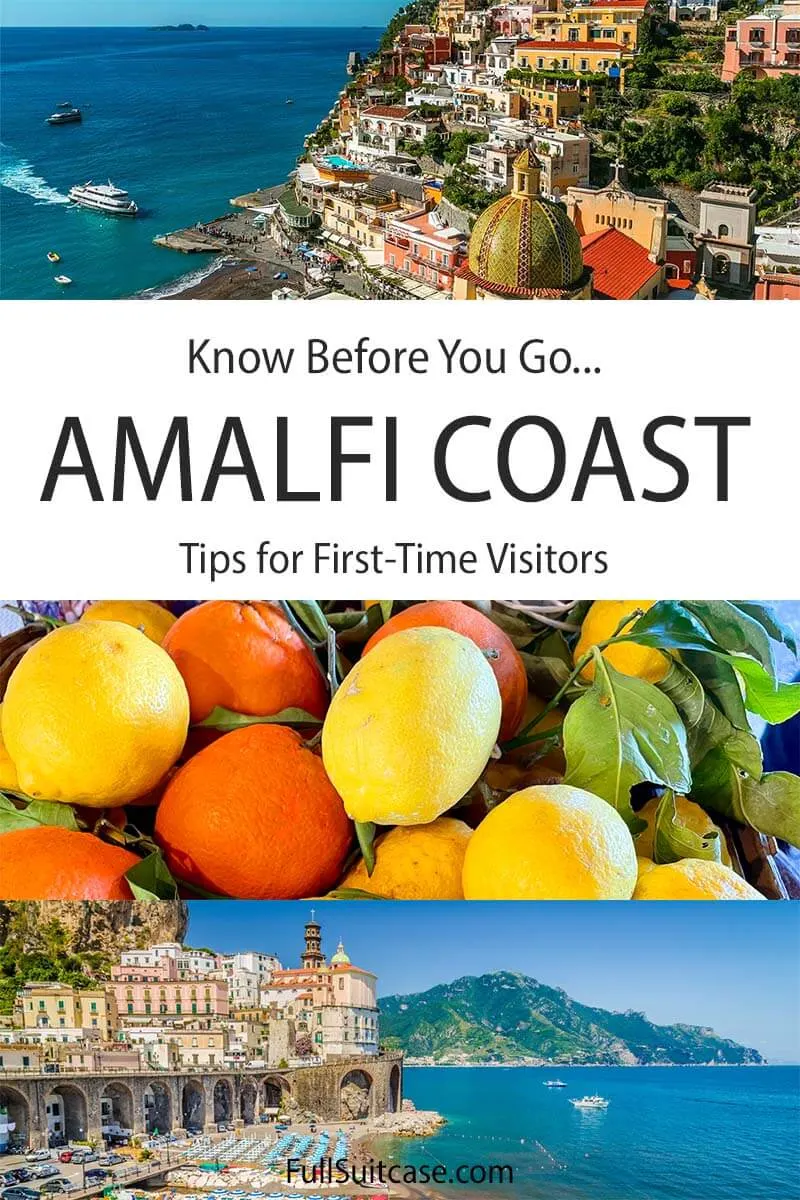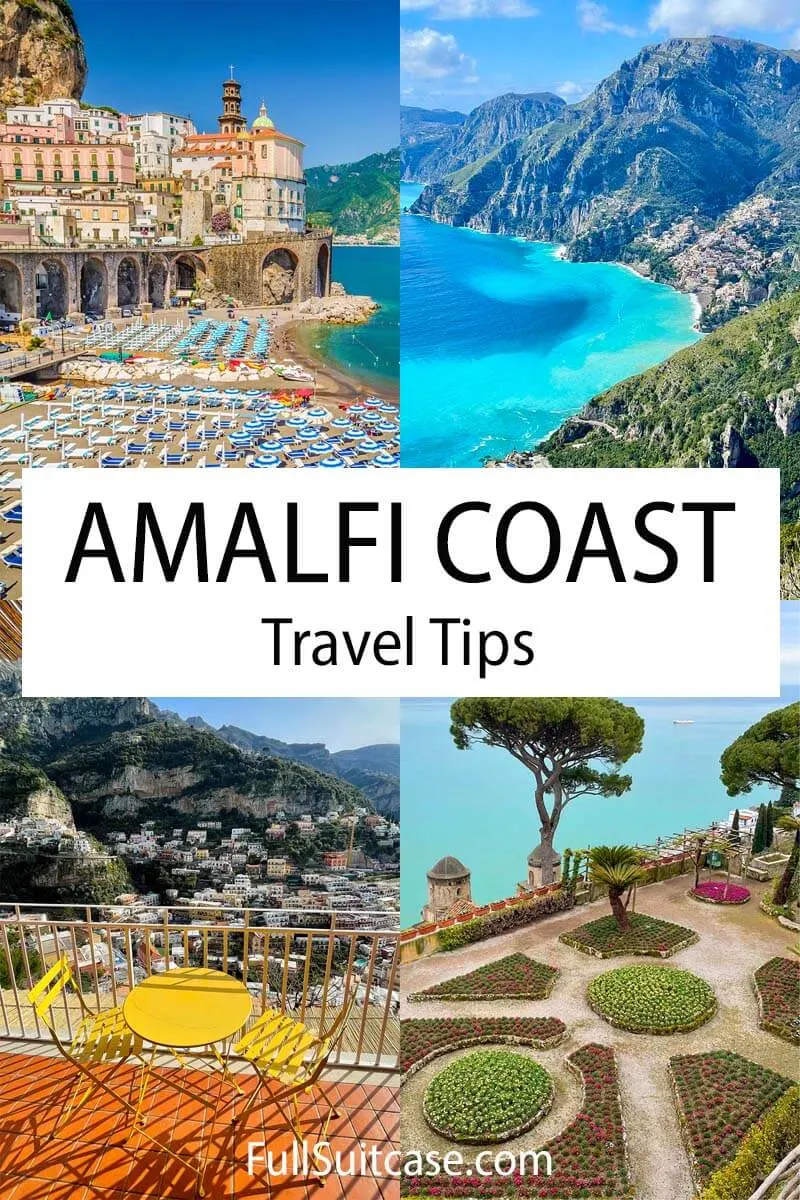 More travel inspiration for your trip to Italy: