Visiting Varenna, Italy, and wondering what to see and do in town, how to get there, how much time you need, or how to plan your trip?
In this guide, you can read about the best things to do in Varenna as well as our experience-based tips and useful information for planning your visit to this charming little town on the shores of Lake Como.
Varenna is one of the most beautiful towns of Lake Como. With its stunning lakeside location, colorful buildings, and typical Italian atmosphere, Varenna is so picturesque and so charming that you'll fall in love with it at first sight.
I know many people (myself included) who say that Varenna is their absolute favorite of all the places on the shores of Como Lake. And since the entire Lake Como area is absolutely stunning, I guess this says it all. Varenna should definitely be on your Lake Como itinerary, no matter how much time you have in the area!
Good to know: Varenna is not just beautiful, but it's also extremely easy to visit. You can get here by car, by direct train from Milan, or by a short ferry ride from Bellagio. Many organized day tours and excursions from Milan also include Varenna in their Lake Como itinerary. Once in town, everything is within walking distance and you can see the best of Varenna on foot. More info – below!
Varenna Travel Guide – OVERVIEW: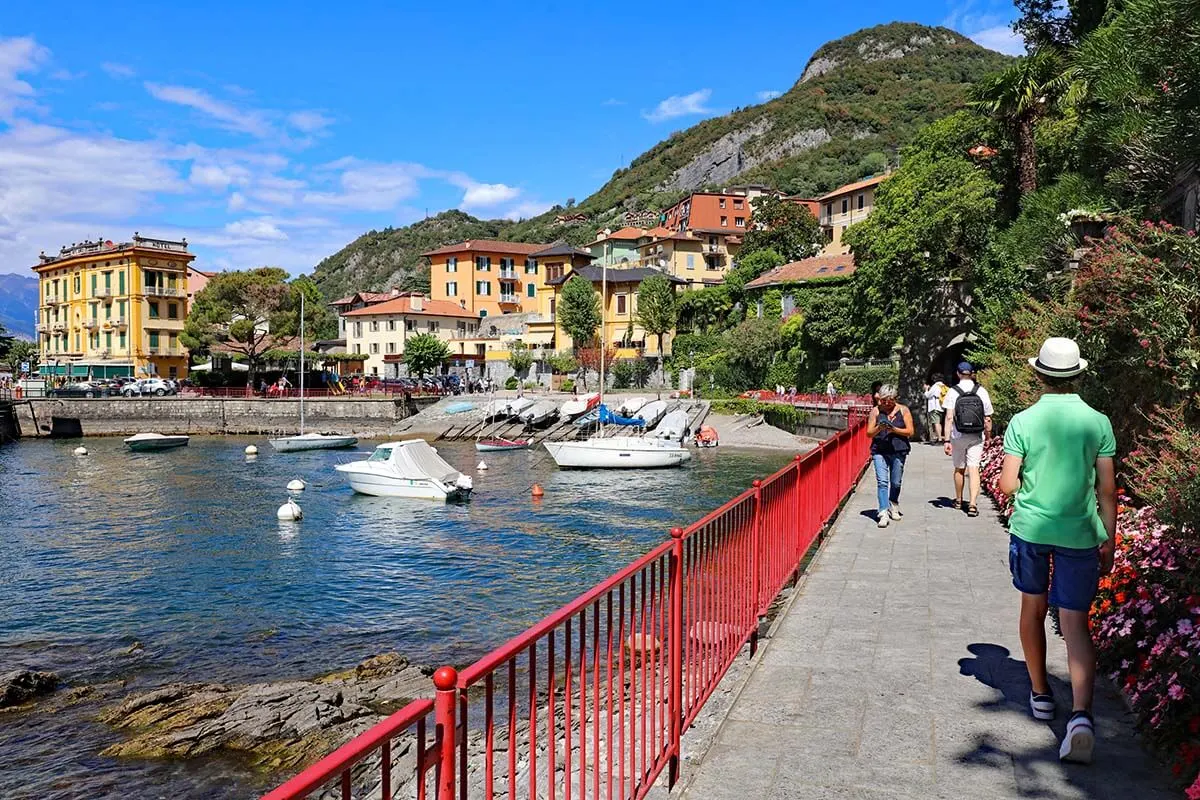 Best Things to Do in Varenna
One of the first things you may want to know when planning a visit to Varenna is what there is to see and do there. Below, you can find a short overview of the main sights that are worth your time the most.
These are the best places to see and things to do in Varenna:
Villa Monastero
Lake Como is famous for its remarkable villas with even more impressive gardens. Villa Monastero in Varenna is one of the most beautiful Lake Como villas that you can actually visit inside. Its lakeside gardens are absolutely stunning as well!
So if you are looking for some nice things to do in Varenna, Villa Monastero should be right at the top of your list. Even if you just have an hour or two in town, this is one place you really shouldn't miss!
While the current building and its gardens date from the late 19th century, the history of Villa Monastero goes back about 800 years. In the 12th century, this was the site of a Cistercian monastery. In the 17th century, it was transformed into a private residence and renovated and changed by various owners over the course of about 200 years. In 1939, the last owners donated the villa to the state and it now serves as a museum and a conference center.
With its unique and privileged lakeside location, Villa Monastero is a sight to behold. In addition, its vast landscaped botanical gardens are among the prettiest you can visit in the area. They also offer countless stunning photo opportunities.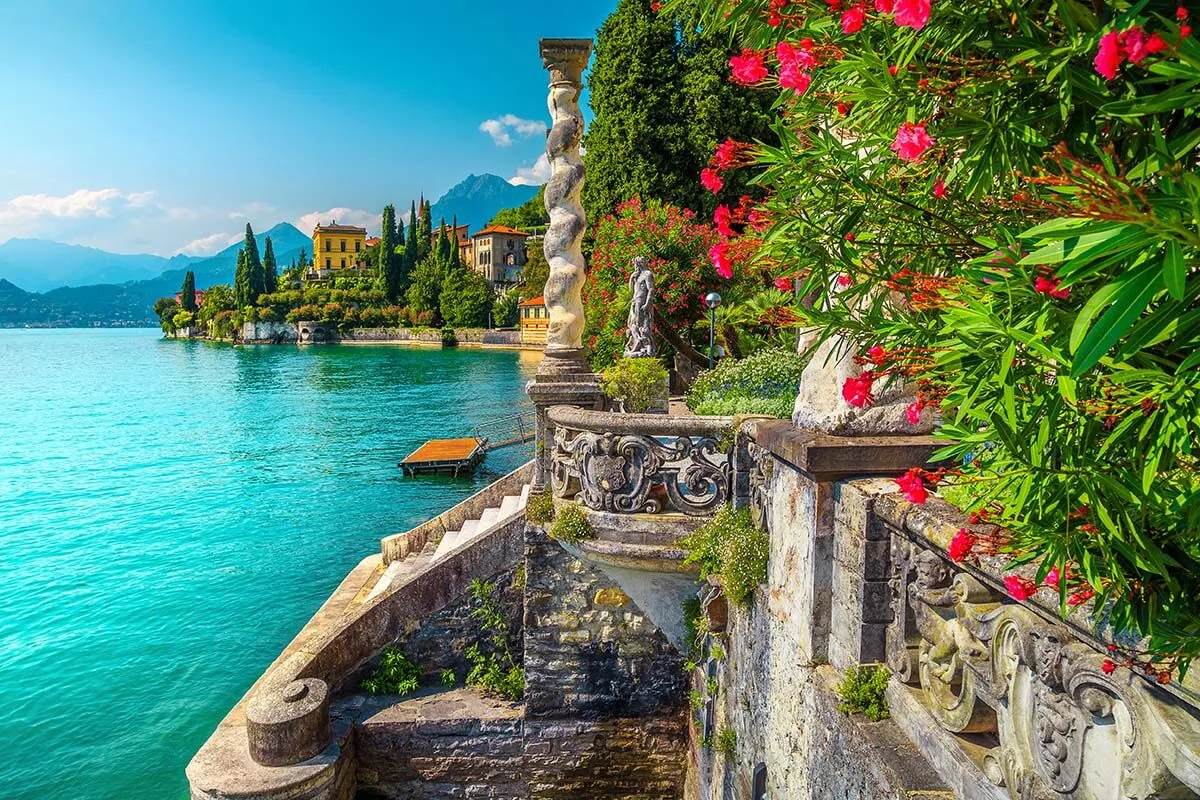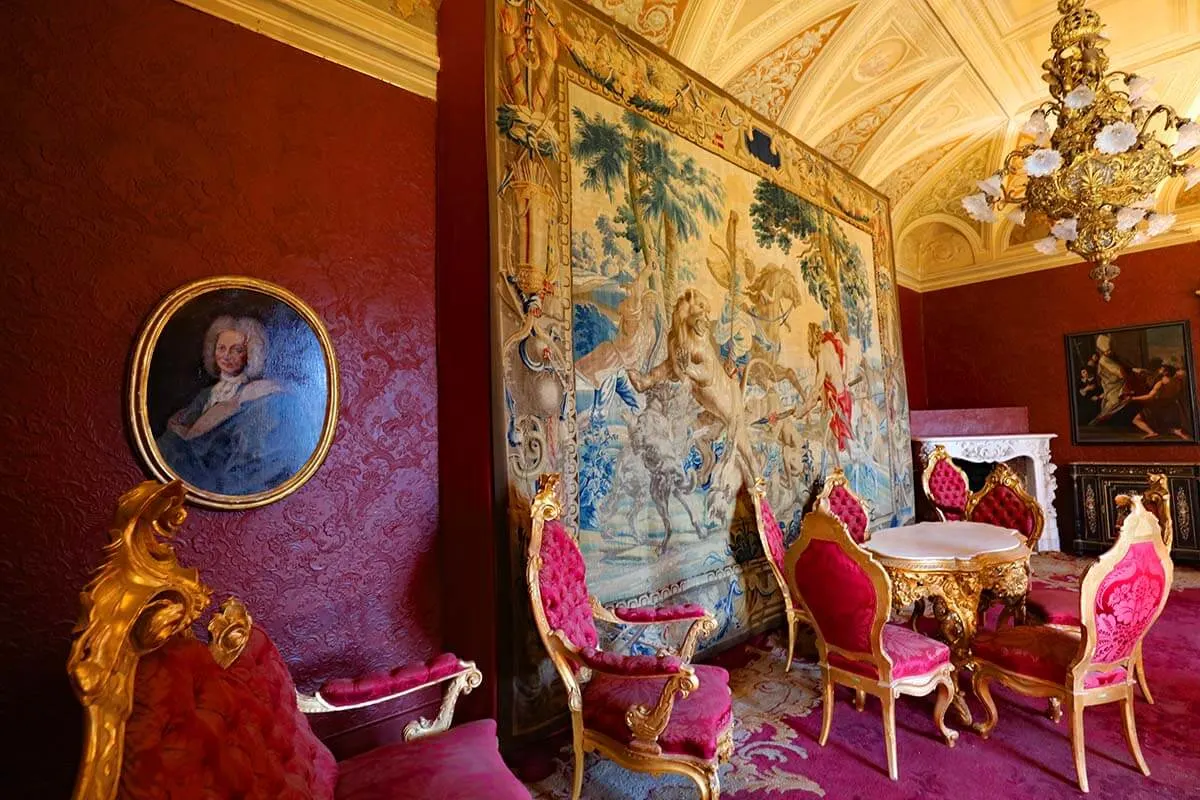 Good to know: Villa Monastero is open to the public, so you can visit the gardens but also the villa itself. You can opt for a ticket to see just the gardens, but for a few euros more, you can also see the interior of the villa. I highly recommend that you do both – it's absolutely worth it!
If you are in a hurry and your time in Varenna is limited, you may want to book your tickets online in advance, but it's not really necessary. We visited here in the afternoon on a weekend in August and only had to wait in line for a few minutes. On the other hand, the line was significantly longer when we left, so it really depends on when you arrive.
Practical information: Villa Monastero is open the whole year round, but opening times differ per season. In the summer (June – August), it's open daily from morning to evening. In April – May and September – October, it's open daily except on Mondays. The rest of the year, usually only on the weekends and public holidays. For more practical information, current opening hours, and ticket options, see the official website of the villa.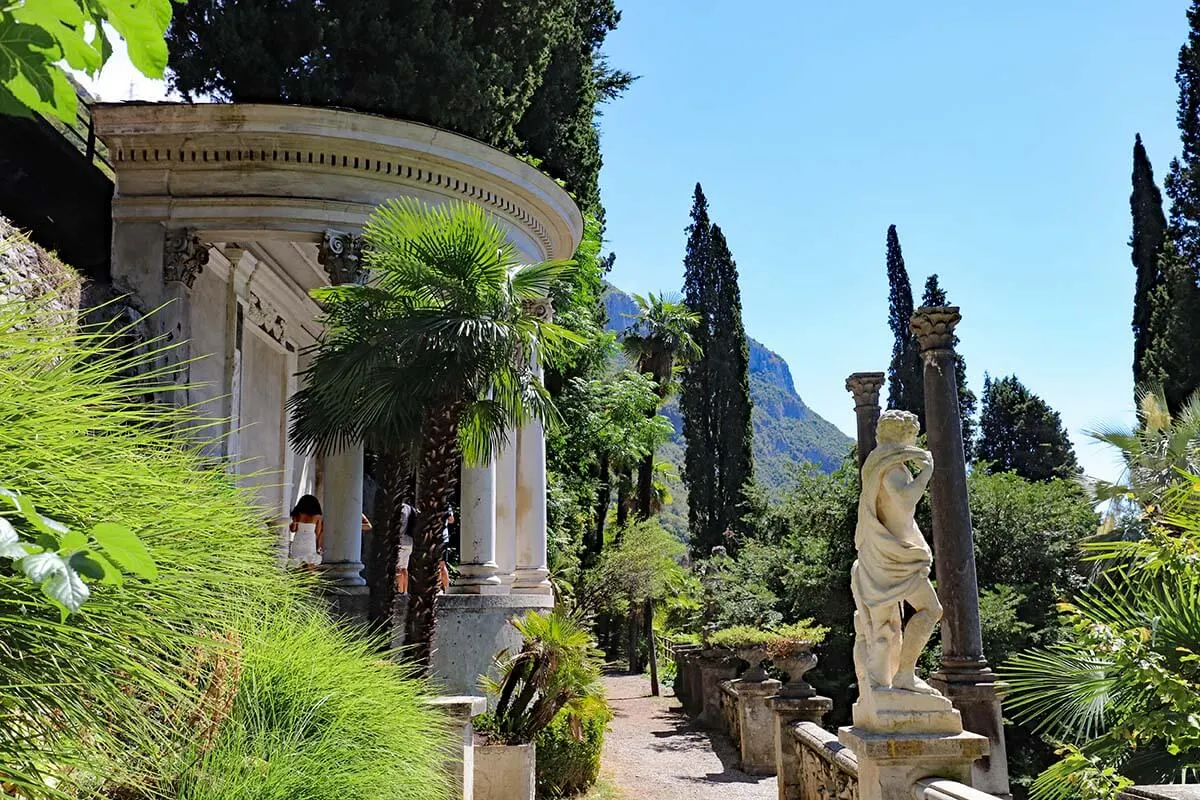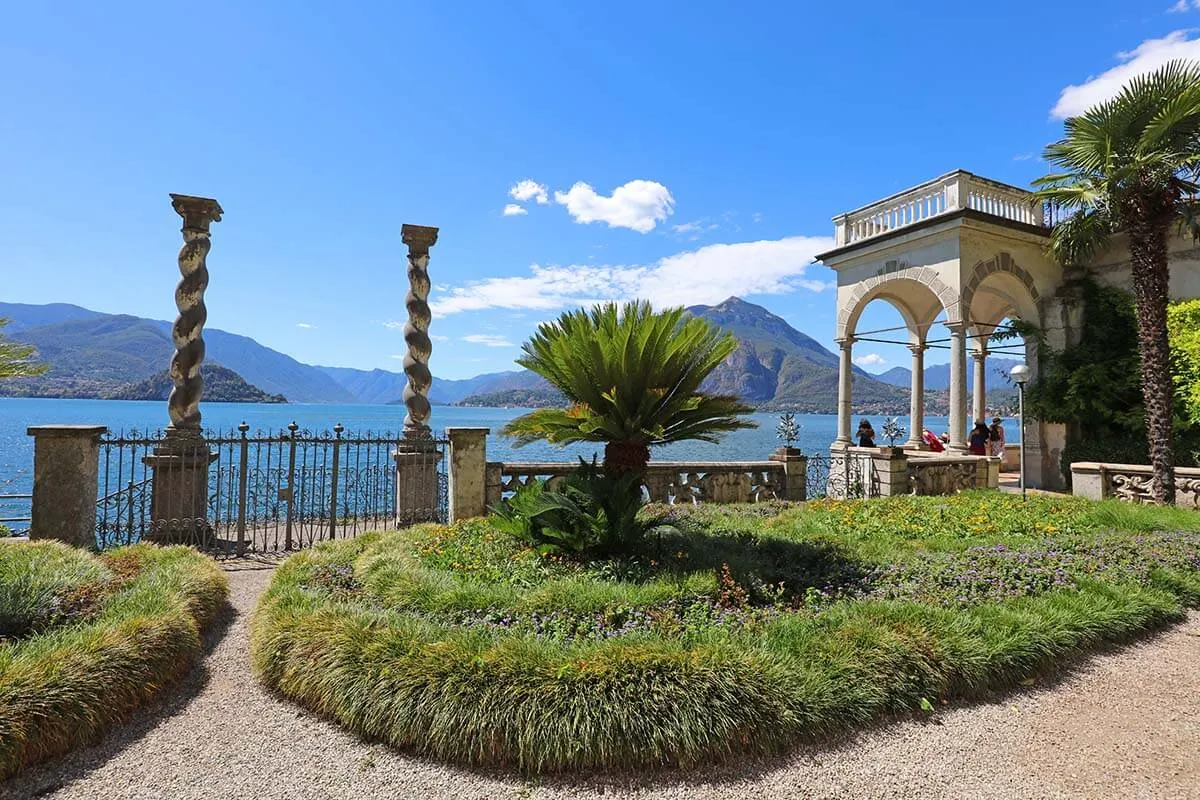 Varenna Waterfront
Varenna waterfront, the area around Riva Garibaldi, Riva Grande, and Vecchio Porto (the Old Harbor), is the busiest lakefront area in the heart of Varenna.
It's here that you will find the most photographed view in town (see the picture below).
This area is rather small but very lively, especially during the high season. There are several restaurants, cafés, and gelaterias here.
You'll also find a small beach where – in season – you can rent kayaks or hire a boat for a tour on the lake (although this is best booked in advance – more info further below). We didn't see anyone swim here – there are a few other beaches in Varenna that are better suited for that.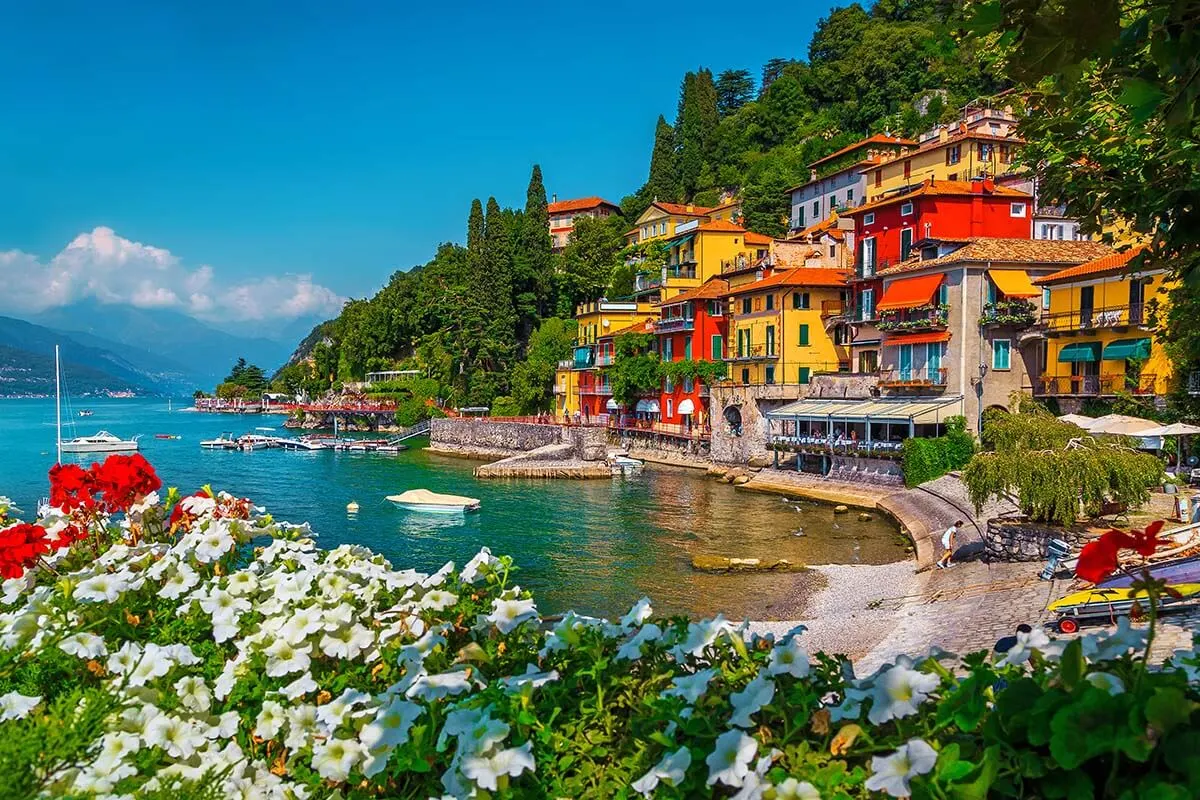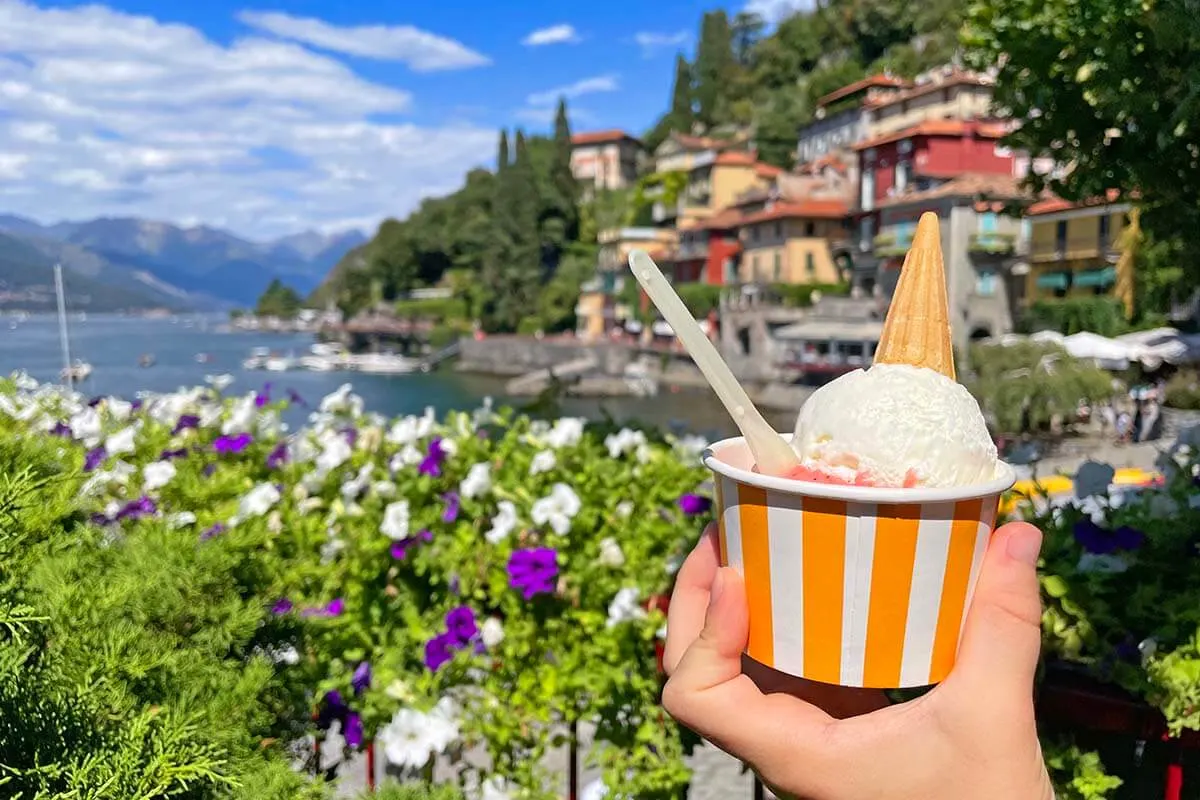 Varenna Old Town
One of the best things to do in Varenna is simply walk around the old town center. Don't miss the Church of San Giorgio. This 14th-century church is a typical example of the Lombard architecture style and is one of the most recognizable landmarks in Varenna.
There is one more church just nearby – the Church of St. John the Baptist. It's so small that it's actually more of a chapel. Dating from the 11th century, this church has some interesting Byzantine frescoes.
For the rest, just walk around the streets in the old town and take the time to explore some narrow alleys and walkways (you'll come across many of them!).
Good to know: Varenna has lots of old streets with cobbled stones. It's also a hilly town and you'll also find quite some stairs. So be sure to wear comfortable shoes when visiting Varenna.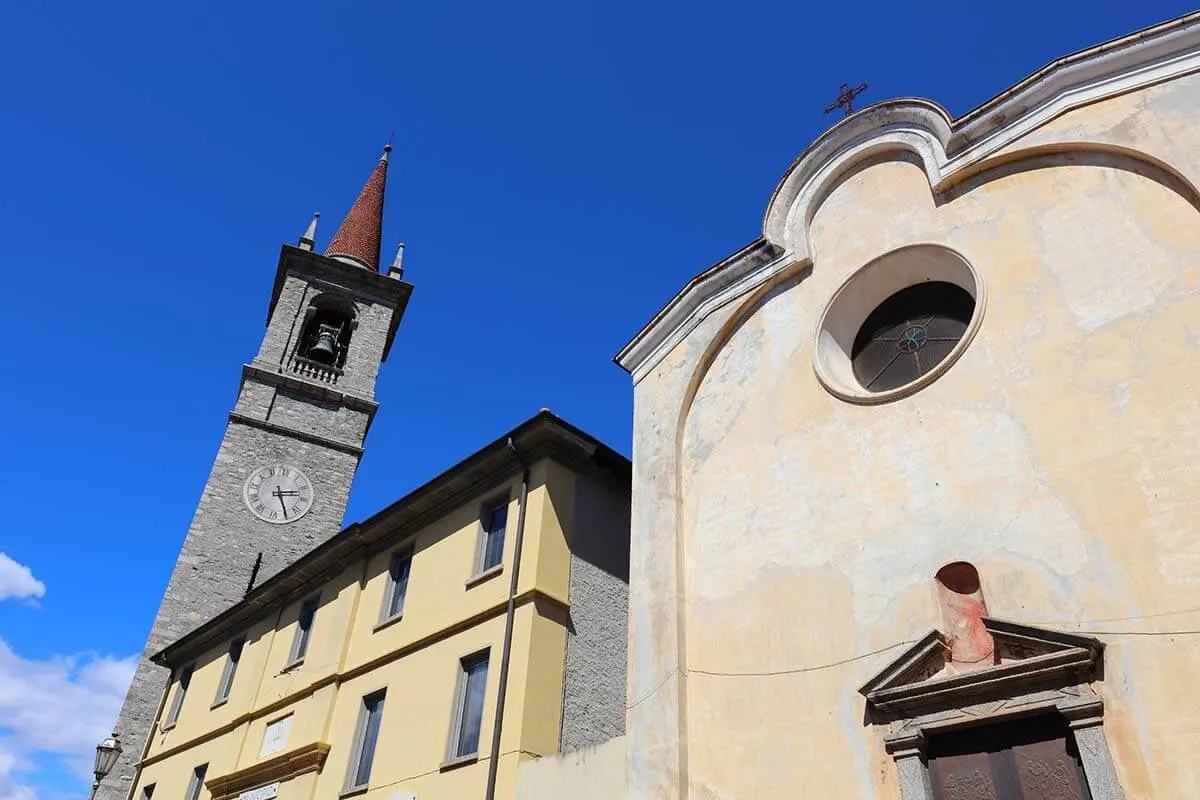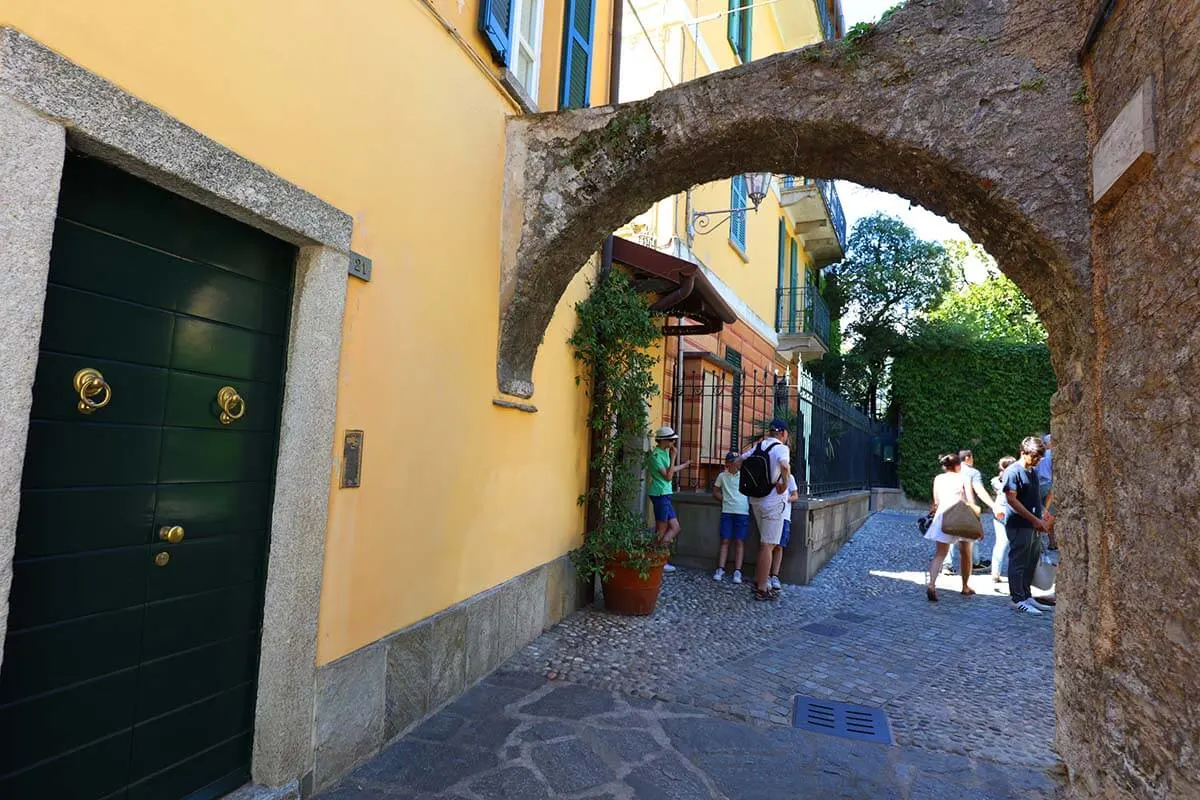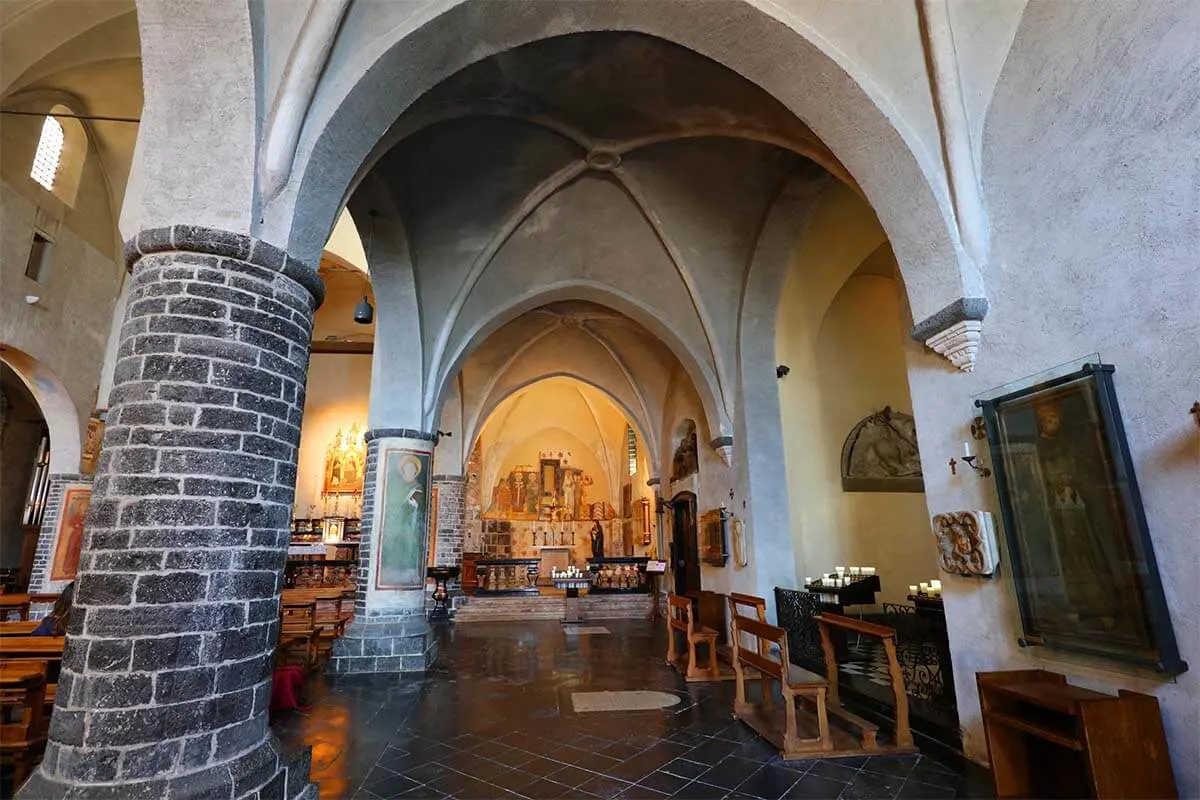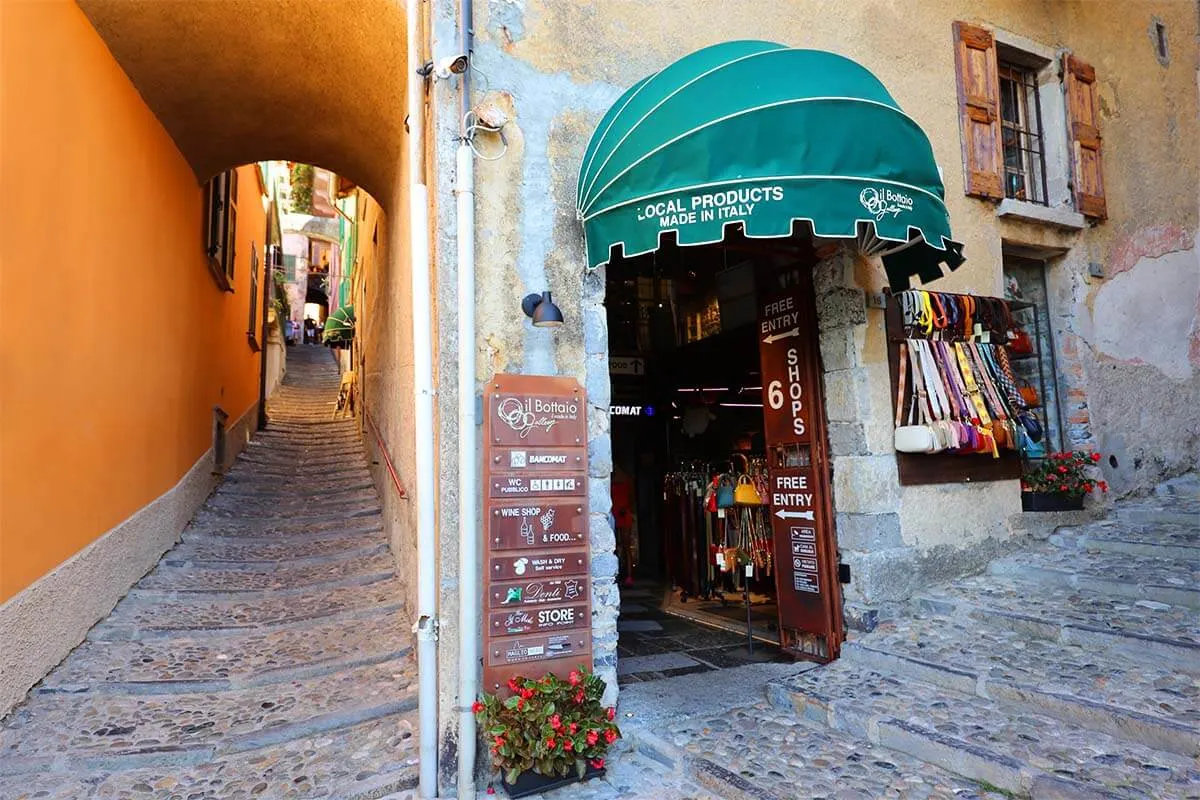 Vezio Castle
Sitting high on the hill right outside the town center, Vezio Castle (Castello di Vezio) is another landmark that I highly recommend visiting in Varenna. Together with the old town/waterfront area and Villa Monastero, this castle is right at the very top of our list of the best places to see in Varenna.
In fact, I would even say that visiting Castello di Vezio was the best thing we did in town! And there are a few reasons for that.
First, the views from the top are incredible and it would be worth coming here just for that. Second, in addition to the jaw-dropping panoramas, you also get to visit a really interesting medieval castle, explore some cool underground tunnels, and even see some birds of prey. There are also nice gardens and some fun things to do for kids. And if you time it right (check the website in advance), you can also see a falconry demonstration.
Furthermore, the walk to the castle takes you to some nice places in Varenna that you wouldn't see otherwise. And finally, because it takes a bit more effort to get here, only a small fraction of tourists visit the castle, so it's incomparably quieter here allowing you to better appreciate how pretty and special this area really is.
Practical information: Castello di Vezio is open daily from the 1st of March until the end of October, but can close in case of very bad weather. Falconry shows usually run daily in the high season, but this can change on short notice. For up-to-date practical information, it's best to check their website a day or two before your visit.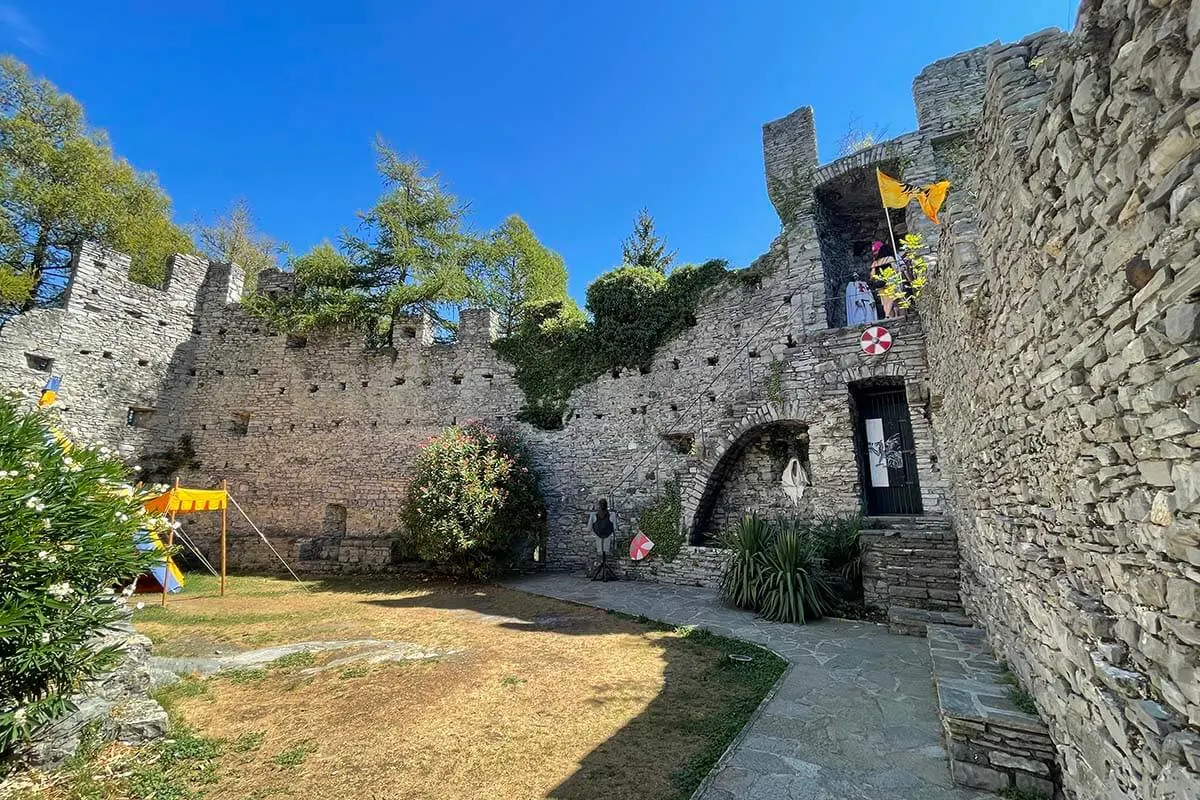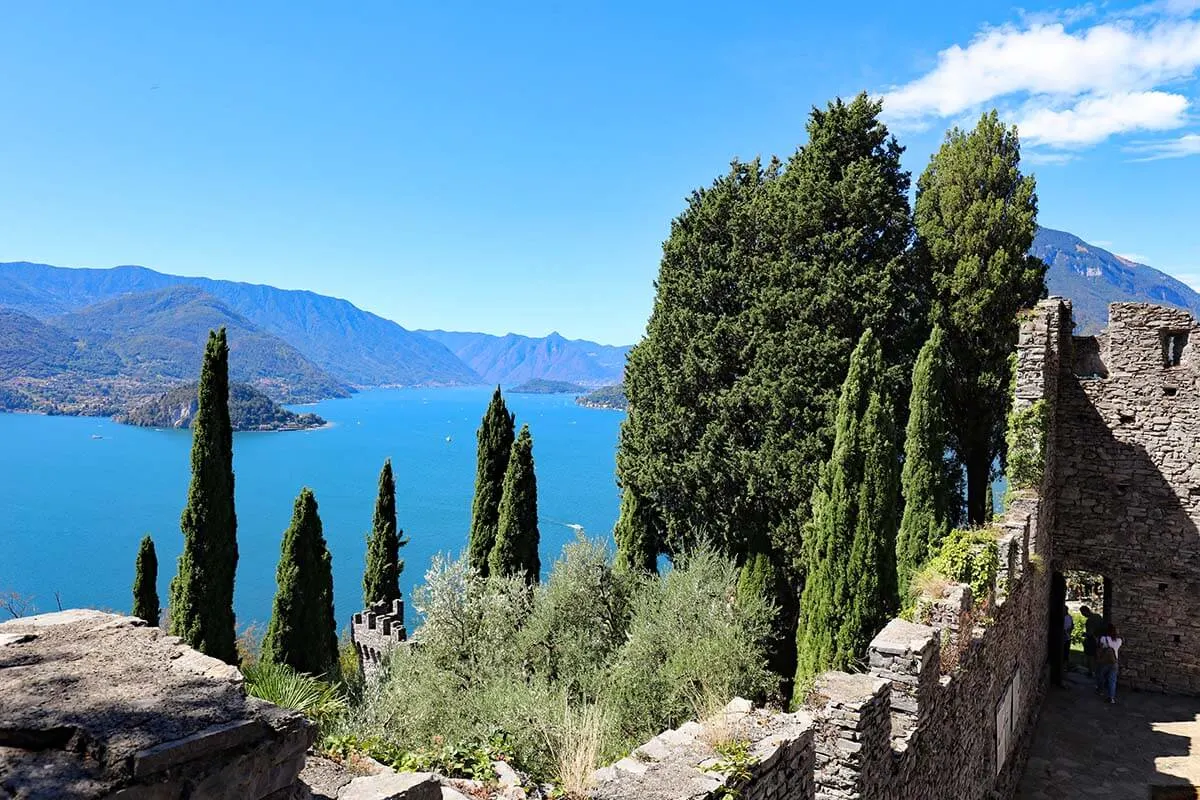 Good to know: There are two best ways to walk to the castle from Varenna town. They are both steep, but totally different. Some people also opt for a taxi to the top, followed by a short walk to the castle. If you actually manage to find a taxi in Varenna, this could be an option (we didn't see any taxis at all).
The best way to reach the castle on foot is by walking from Varenna harbor to Vezio. This route starts at Piazza Martiri right at the harbor. It follows a few narrow streets and a cobbled pathway through the forest and past Sant'Antonio Church in Vezio. It takes about 20-25 minutes to reach the castle grounds from Varenna Harbor. I indicated the starting point of this route on our map below.
The second route is much more adventurous and even steeper. It starts on the other side of town, past Villa Monastero. At first, you walk on the streets, but the last – and quite a long – part takes you on a narrow and very steep mud trail, which is part of the old mule track Sentiero del Viandante (more about this trail below).
Either way, closed walking shoes are recommended if you want to walk to the castle. If you opt for the second option, hiking shoes would be more appropriate. You can also take one way up and the other down, depending on how adventurous you feel or how the weather is.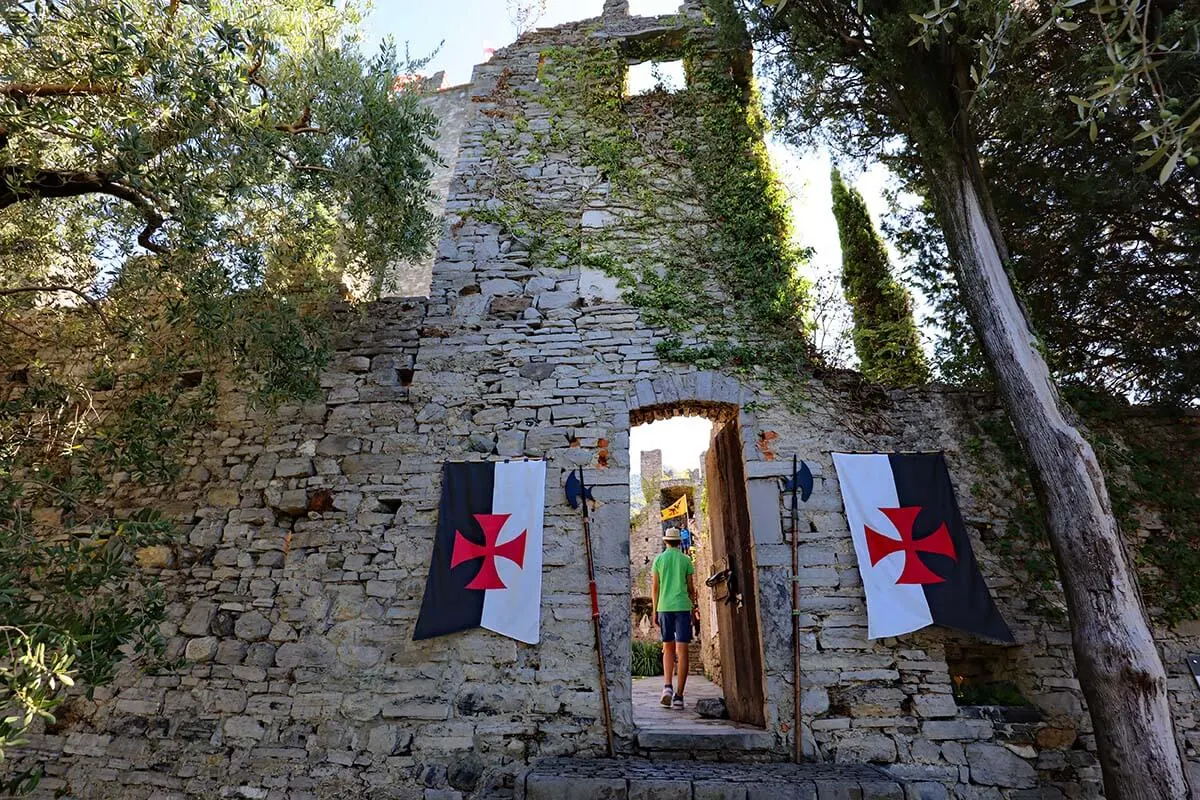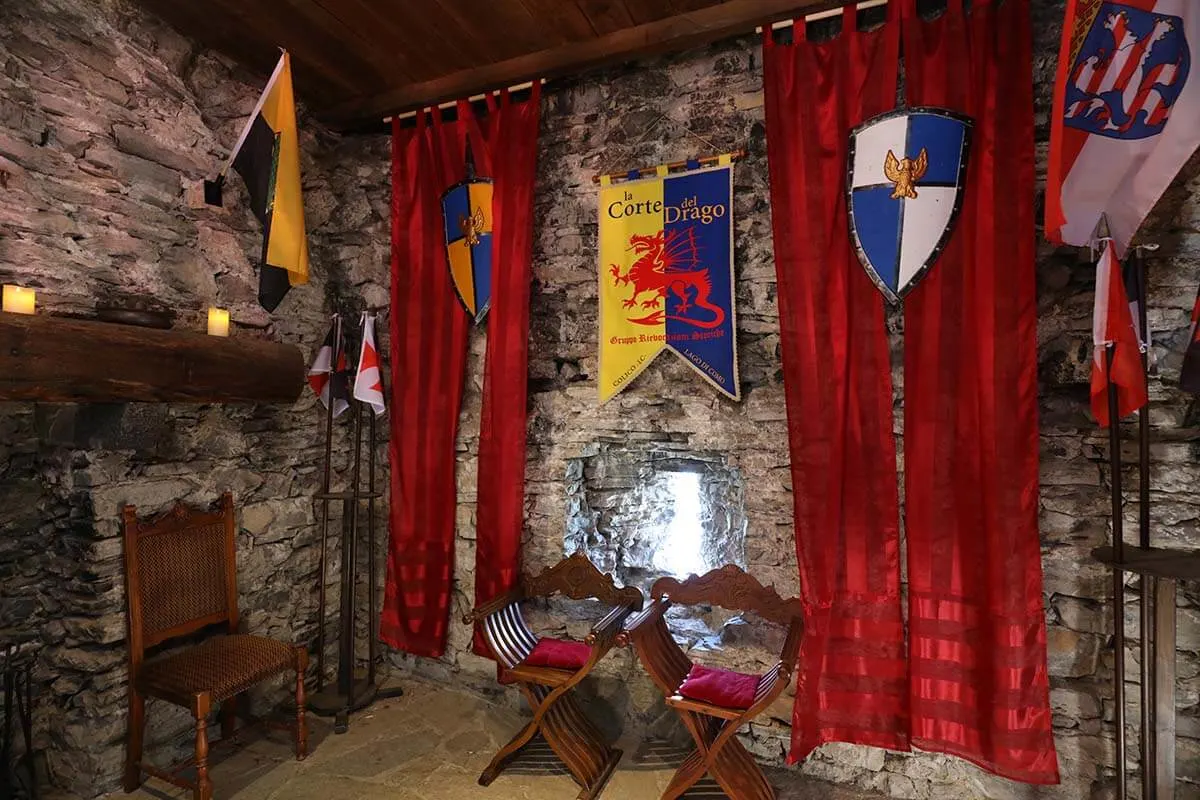 Lovers Walk
Lovers Walk (Passeggiatta degli innamorati) is a lakeside promenade and one of the must-sees in Varenna. It's indicated on the map as Largo Enzo Venini, and is also called Passera sul Lago. But don't worry about the names or how to find it because you will definitely pass here when visiting Varenna.
This pretty lakeside walkway connects Varenna ferry harbor with the town center and Riva Garibaldi. So if you are taking a ferry to/from Varenna, you will inevitably pass this walkway to get from the harbor to the center and/or back. Since the train station is also close to the harbor, you will quite likely pass here if you are traveling by train too.
Passegiatta degli innamorati is really nicely done. It follows the lakeshore and offers nice views. I can imagine that it would be a very romantic place if you are all alone here with your loved one. But if you are visiting Varenna during the peak season, it's so busy that it's difficult to appreciate it…
Either way, this is a nice, short, and easy walk; something you'll definitely want to do in Varenna.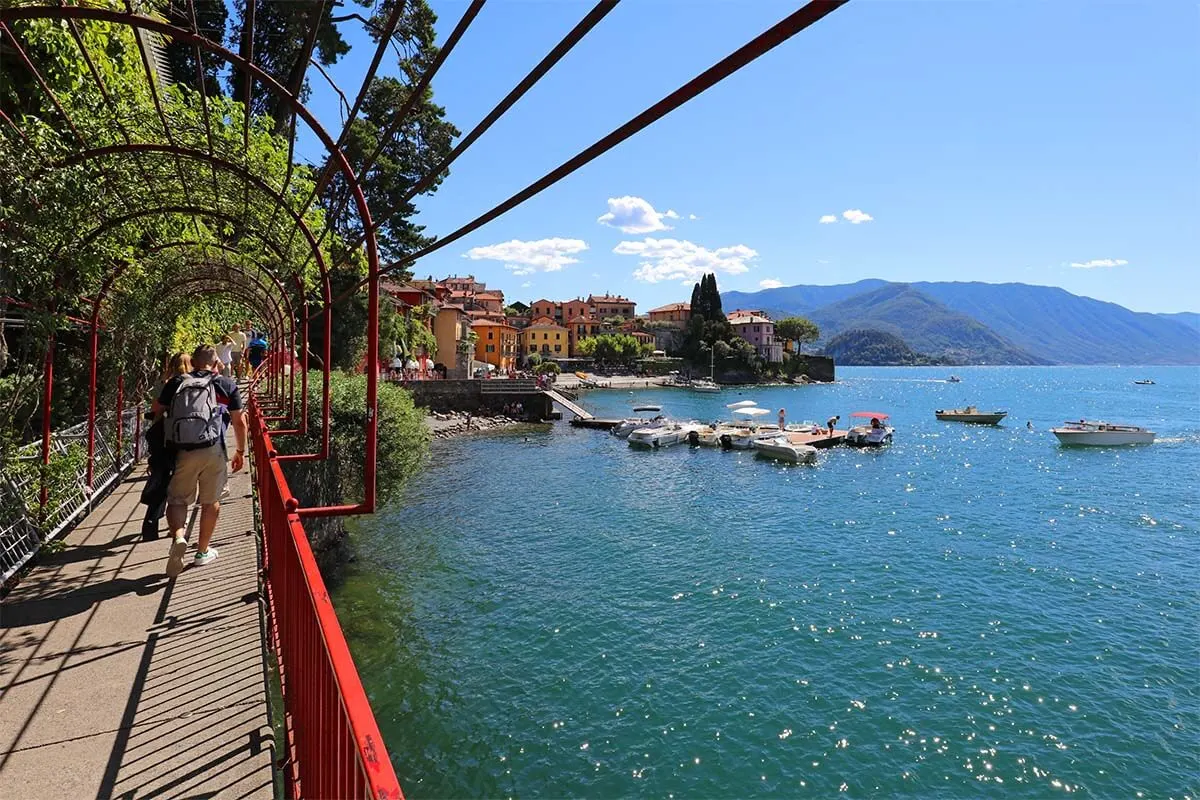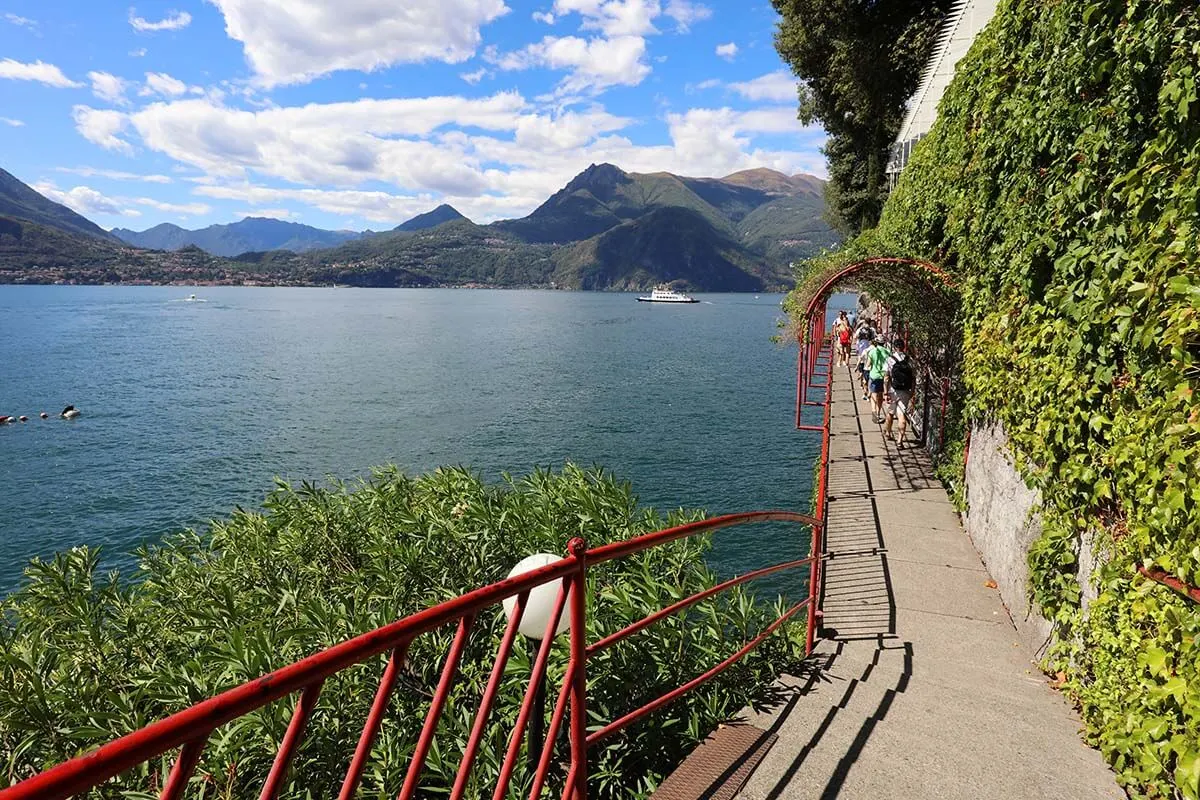 Hotel Villa Cipressi
Hotel Villa Cipressi is a nice lakeside hotel that you will often see mentioned as one of the places to visit in Varenna. Unless you are actually staying in the hotel (see more pictures and availability here), quite frankly, I'm not sure if it's worth visiting.
But I want to mention it because many people come to this hotel because they confuse it with Villa Monastero which is located nearby. So now you know – these are two totally different places!
The hotel has a sign on the street indicating 'villa botanical gardens'. If you are walking to Villa Monastero from the Varenna town center, you will pass here first. Some people don't realize that this is another villa and another garden and walk inside, pay a hefty fee, and are then disappointed that the garden wasn't as nice as they expected.
So if you just want to visit one villa with the most beautiful gardens in Varenna, then head to Villa Monastero instead. If, however, you want to see 'everything' or have a fear of missing out, then you may find it worth visiting this hotel and its gardens as well. You can also just have a drink at their bar and enjoy the lake views.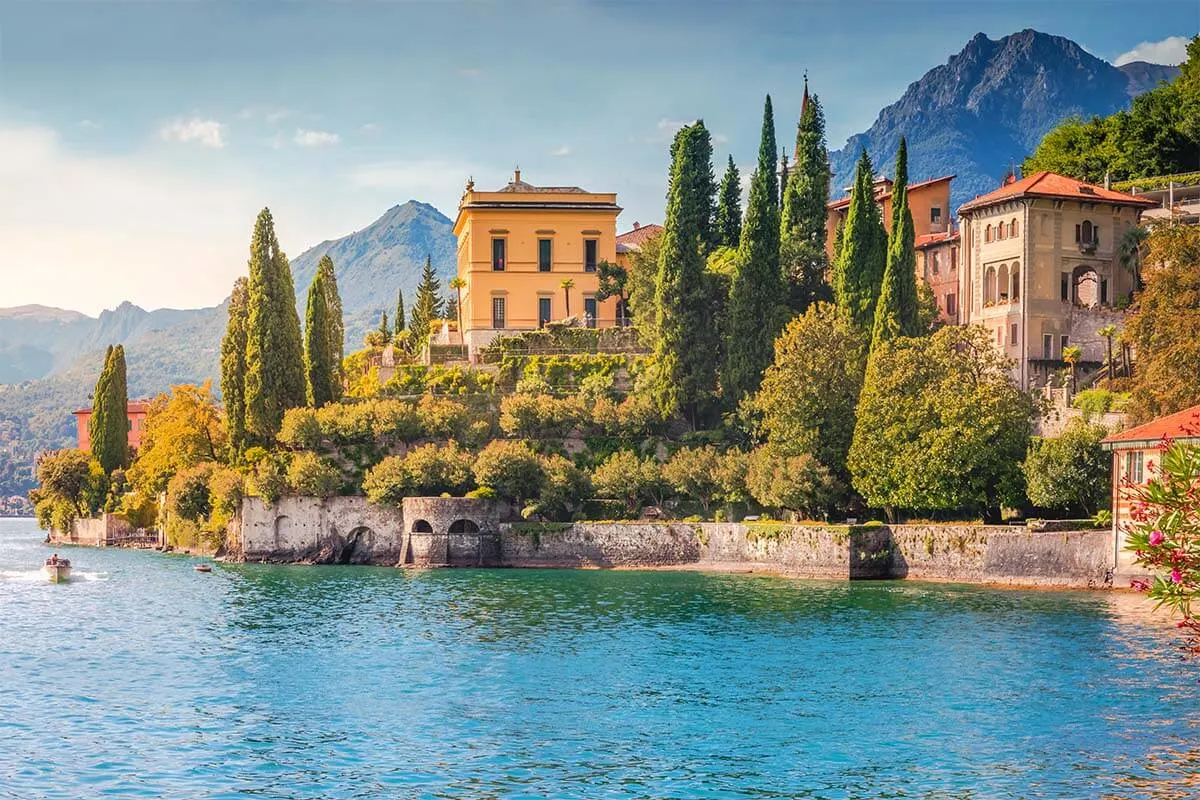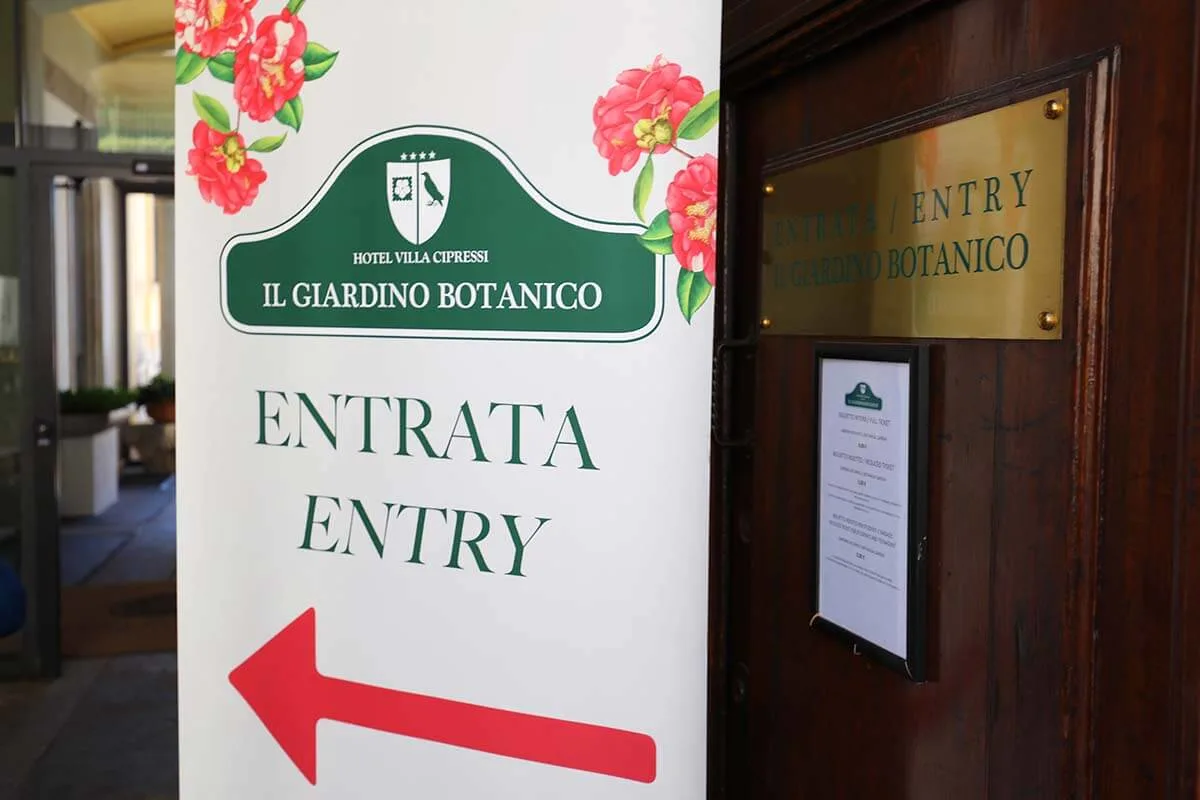 Boat tours
One of the very best things to do in Varenna (or any town in Lake Como, for that matter) is to take a scenic boat tour of the lake.
Of course, you can also see nice landscapes when traveling by ferry, but it's not quite the same. If you want to get close to the shores and see the nicest villas and best views of Lake Como, you should consider a private boat tour.
Because of its rather central location on Lake Como, Varenna is a very good place for a boat excursion. You'll see some of the nicest villas, gardens, and towns from a unique perspective. Also, Varenna town itself is really picturesque. By far the best way to appreciate how scenic it really is, is to see the town from the boat.
You might be able to find a boat and just hire it on the spot, but it's really something you can't count on unless you have lots of time and are flexible. If you want to be sure to do a boat trip, you may want to do some research and book one in advance.
This tour is one of the best options when it comes to private scenic boat tours on the lake. They can pick you up in Varenna (or other main towns nearby (Bellagio, Menaggio, Tremezzo)).
Here is another popular private boat tour starting from Bellagio (which is just near Varenna and a place you'll definitely want to see as well).
TIP: I also found this highly-rated sightseeing/boat tour on Viator. It starts in Varenna, brings you to the famous Villa del Balbianello, Villa Melzi, and a few other places, and ends in Bellagio. It's quite a long tour, but if you have one day in Lake Como and want to make the most of it, the itinerary is really good.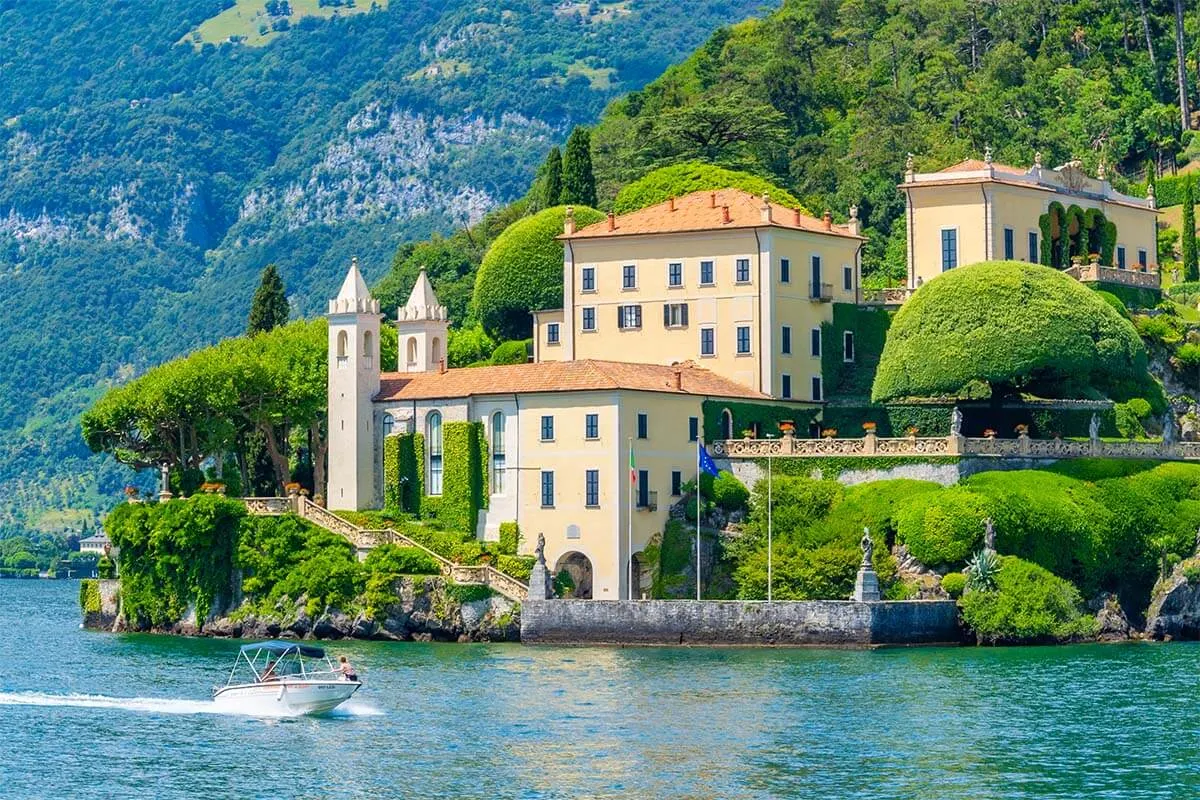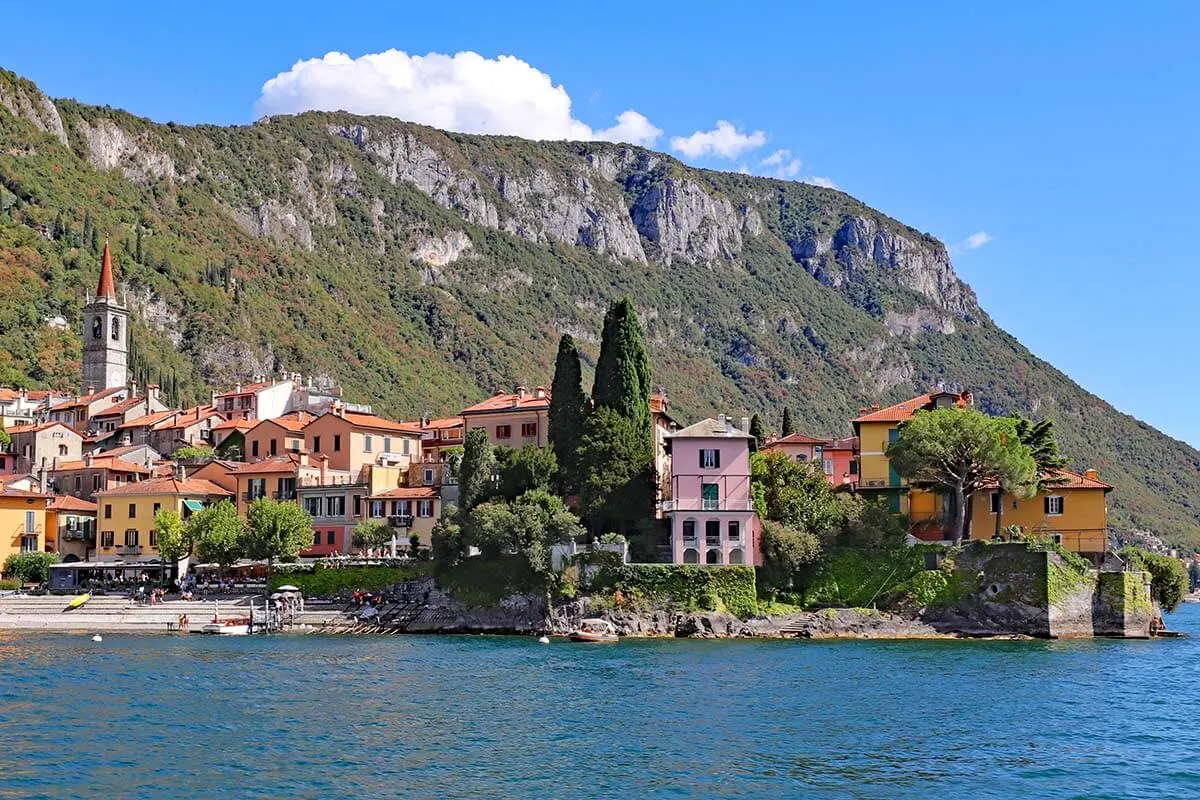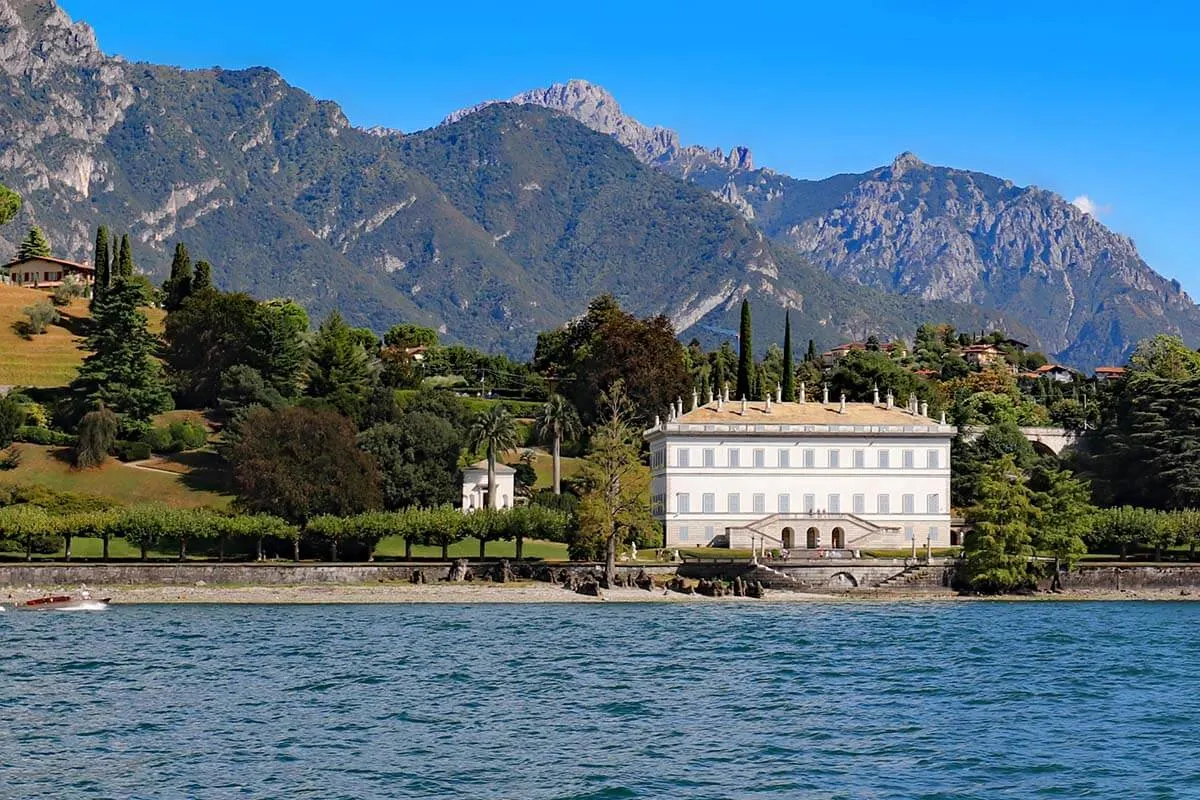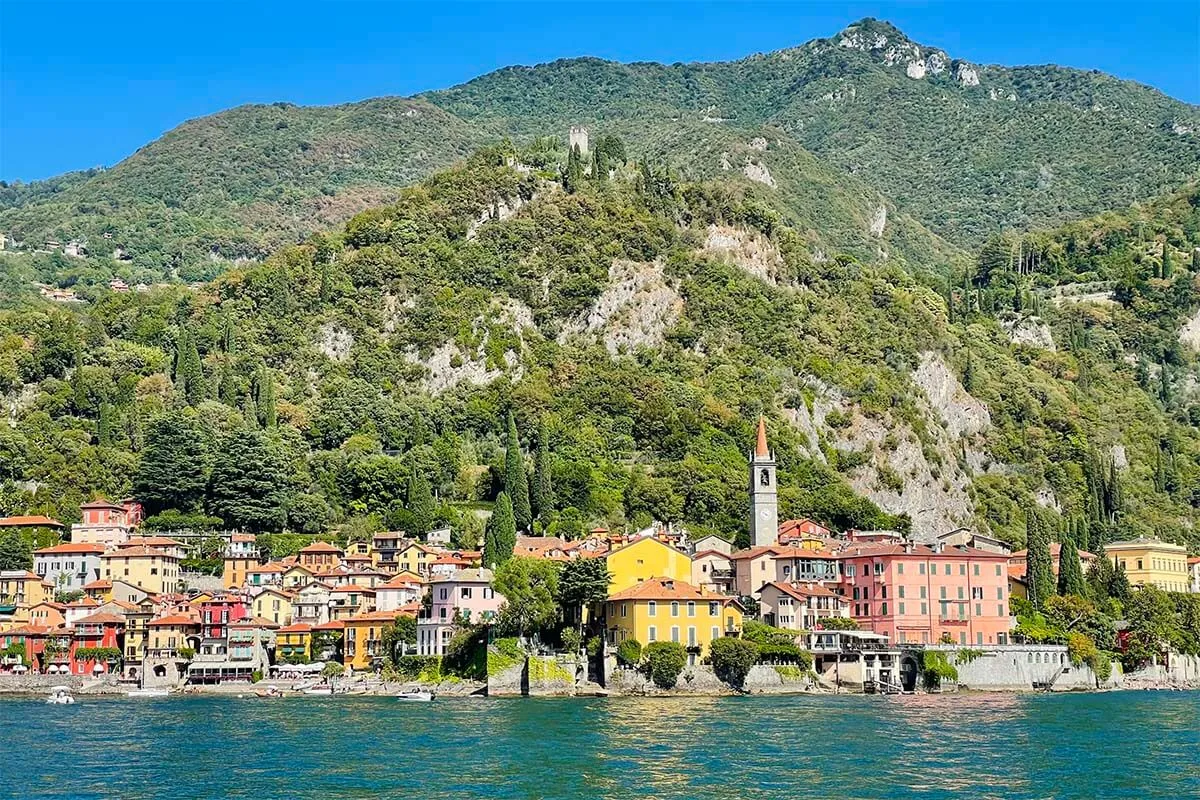 Varenna beaches and kayaking
If you are visiting Varenna in the summer season and have more time to soak up the atmosphere and enjoy the best that Lake Como has to offer, you may want to spend some time at the beach. The beaches in Lake Como are quite small and rocky, but that's part of the experience.
One of the best places to go for a swim in Varenna is Lido di Varenna in Perledo. It's a small rocky beach where you can rent sun loungers and umbrellas. They have a little pier from which you can jump in the water and there is also a bar/restaurant. You can spend a relaxing day here or just come for a few hours in the afternoon after visiting the main landmarks of Varenna.
There is one other small beach where you can go swimming in Varenna. It's located in the old town center, to the south of St. John the Baptist Church. I indicated both of these beaches on our map.
You can also rent a kayak in Varenna and explore the beautiful coastline from the water on your own. It's not quite the same as a boat tour, mainly because you'll only be able to cover a small distance next to town, but it's something really nice to do if visiting Varenna in the summer.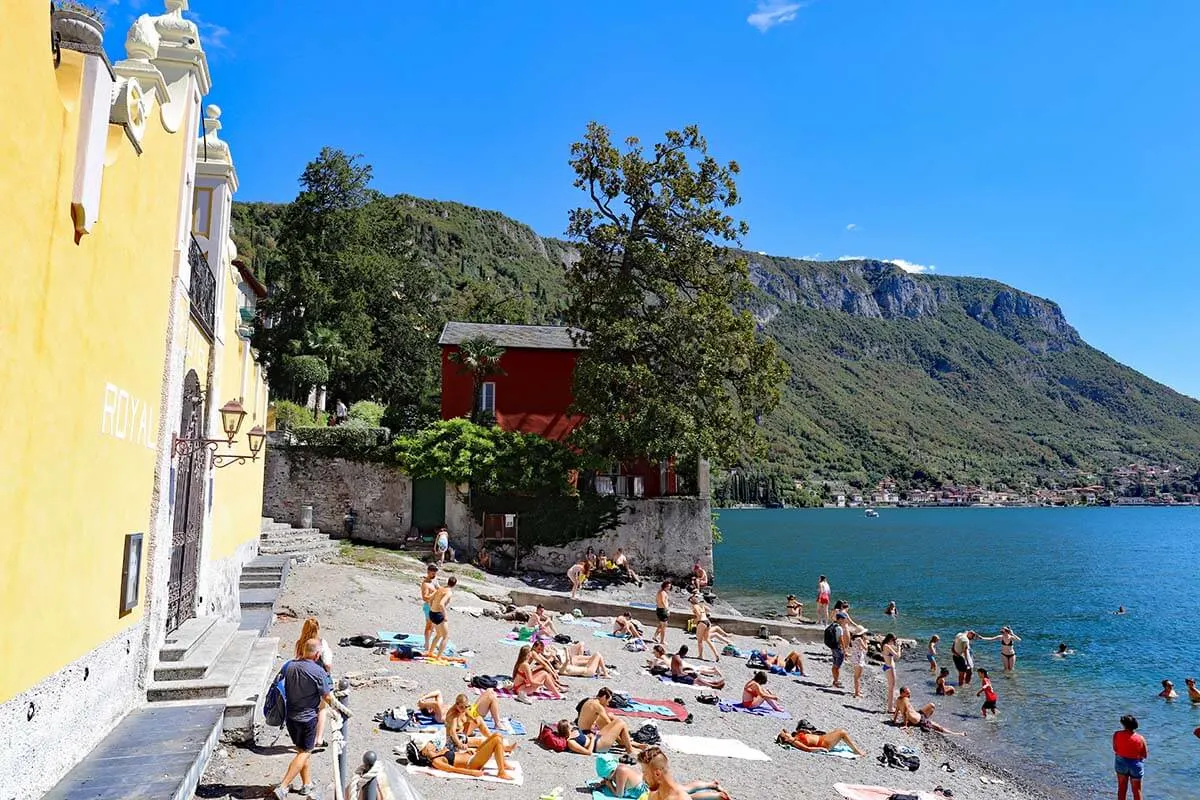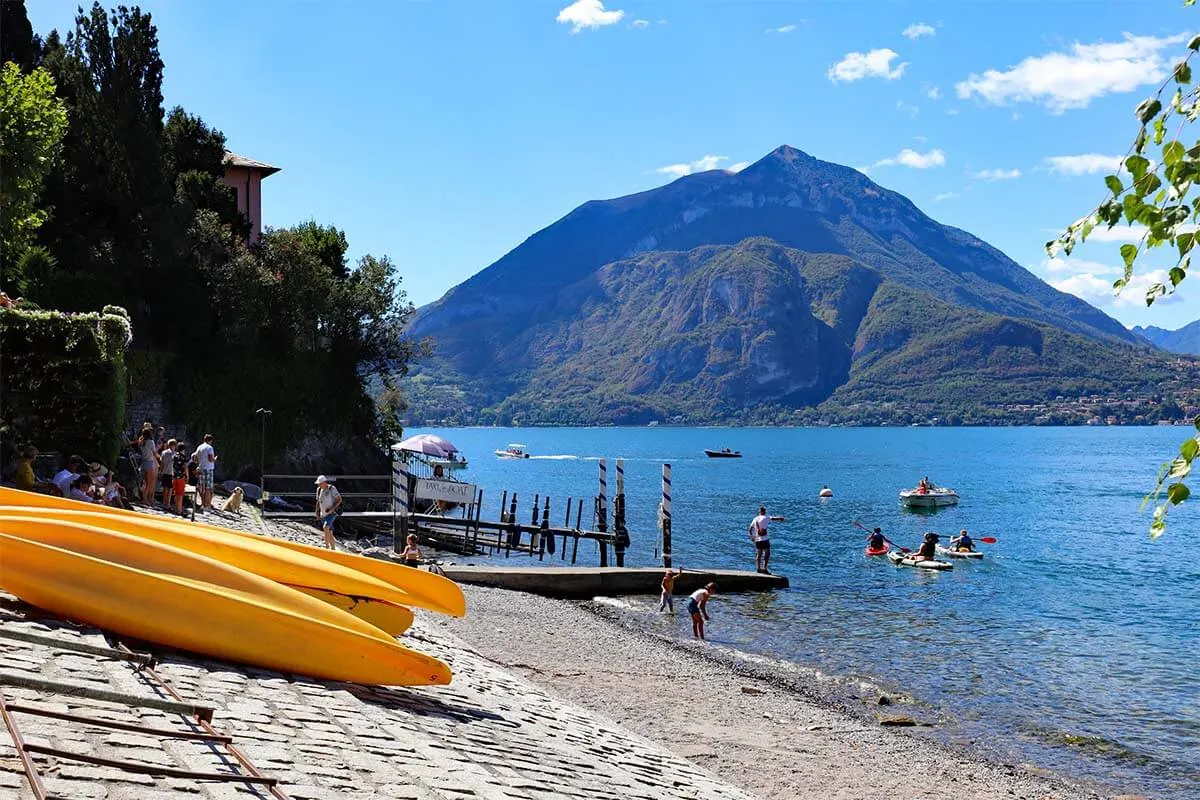 Sentiero del Viandante & Fiumelatte
If you want to see 'everything' in Varenna, then consider hiking the Path of the Wayfarer (Sentiero del Viandante). This is the same trail that takes you to Vezio Castle, but instead of returning to town, you can continue further and see more of the area.
One of the places on this trail is Fiumelatte, which is a small village south of Varenna. The main attraction here is a small river/ waterfall between the houses – Sorgente del Fiumelatte. However, the river usually only flows in the summer when the snow is melting in the mountains or if it's been raining hard for a while. Otherwise, it can be completely dry and not that impressive.
I'd say this is something nice to do in Varenna for those who love walking and want to get a bit more off the beaten path, but definitely not a must if you are short on time or simply don't feel like walking much (in the heat).
If you decide to do this, take a look at the picture below of the map of this trail. It will give you a better idea of where everything is and what you can see when hiking here. We found this map at the start of the hike to Castello di Vezzio close to Varenna harbor.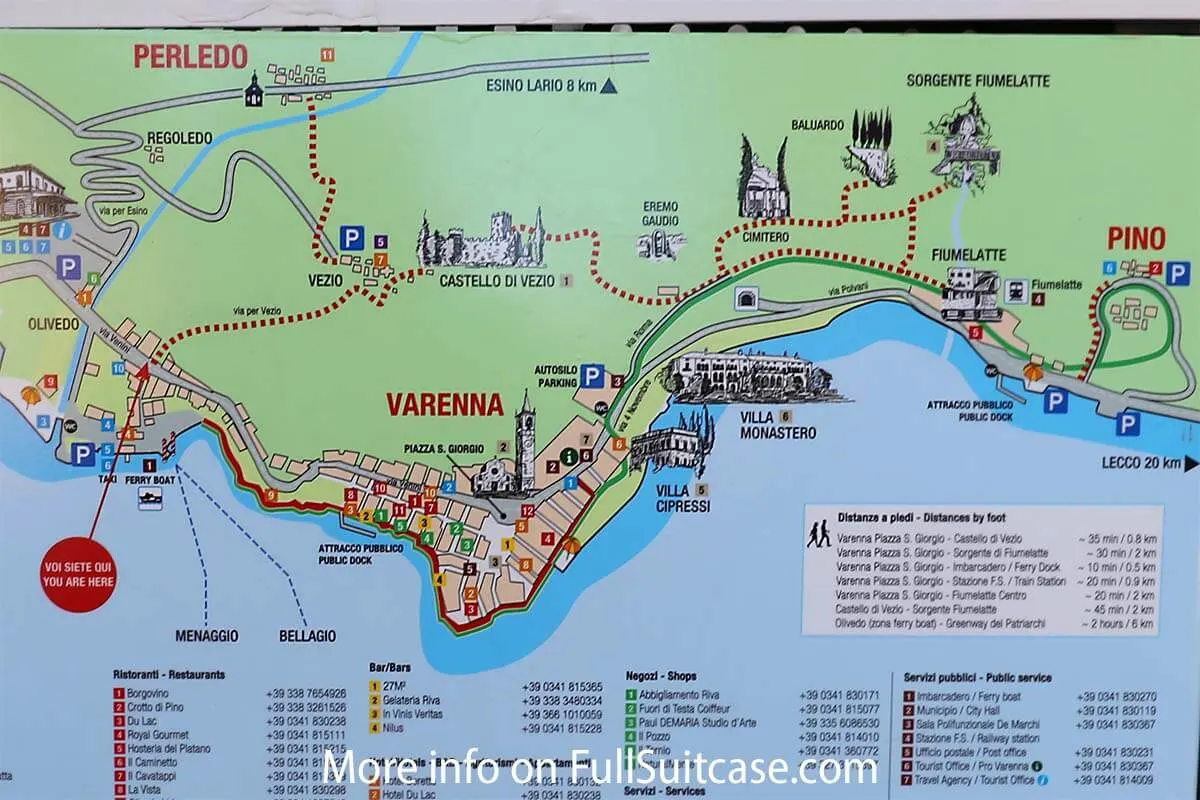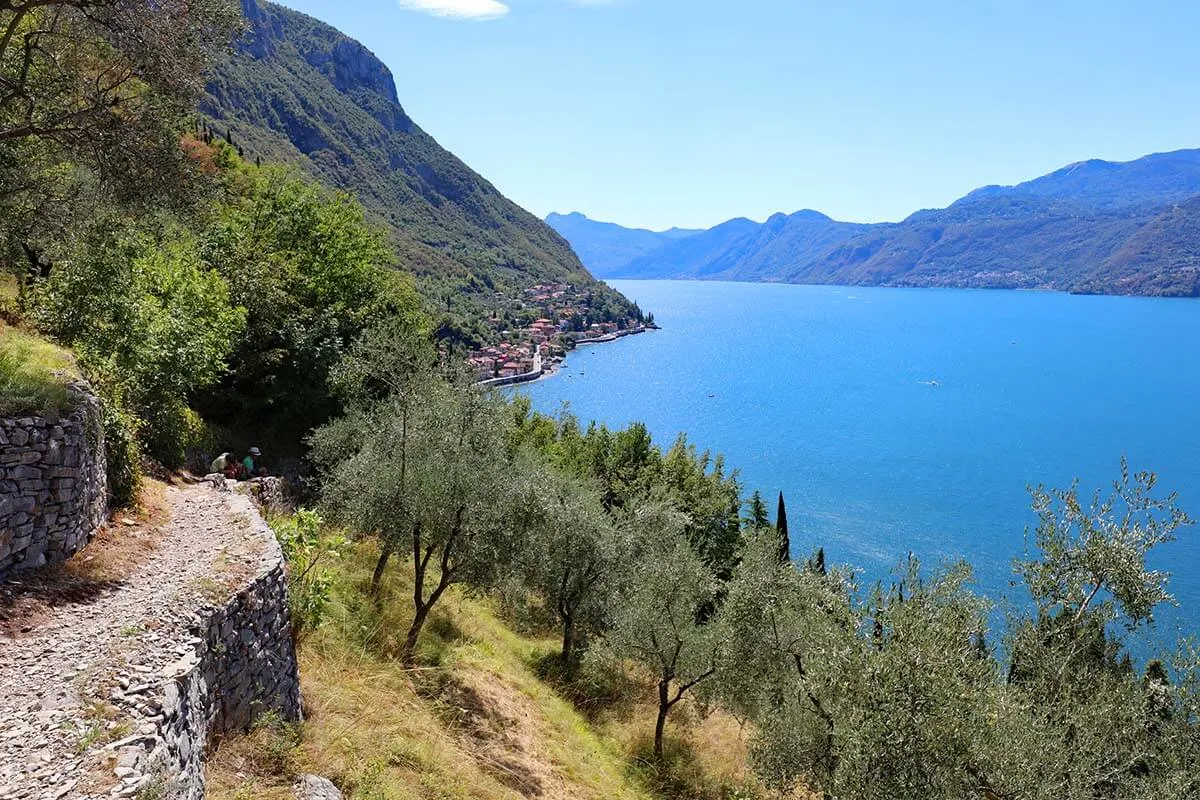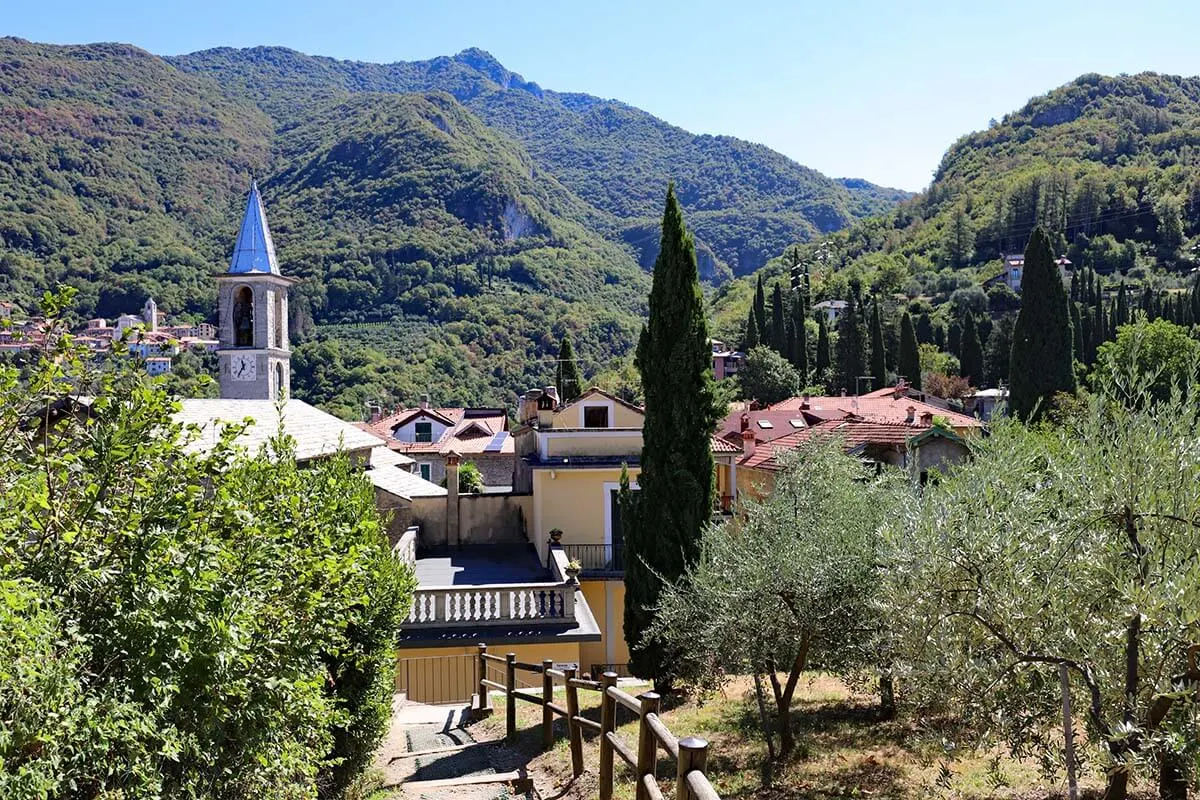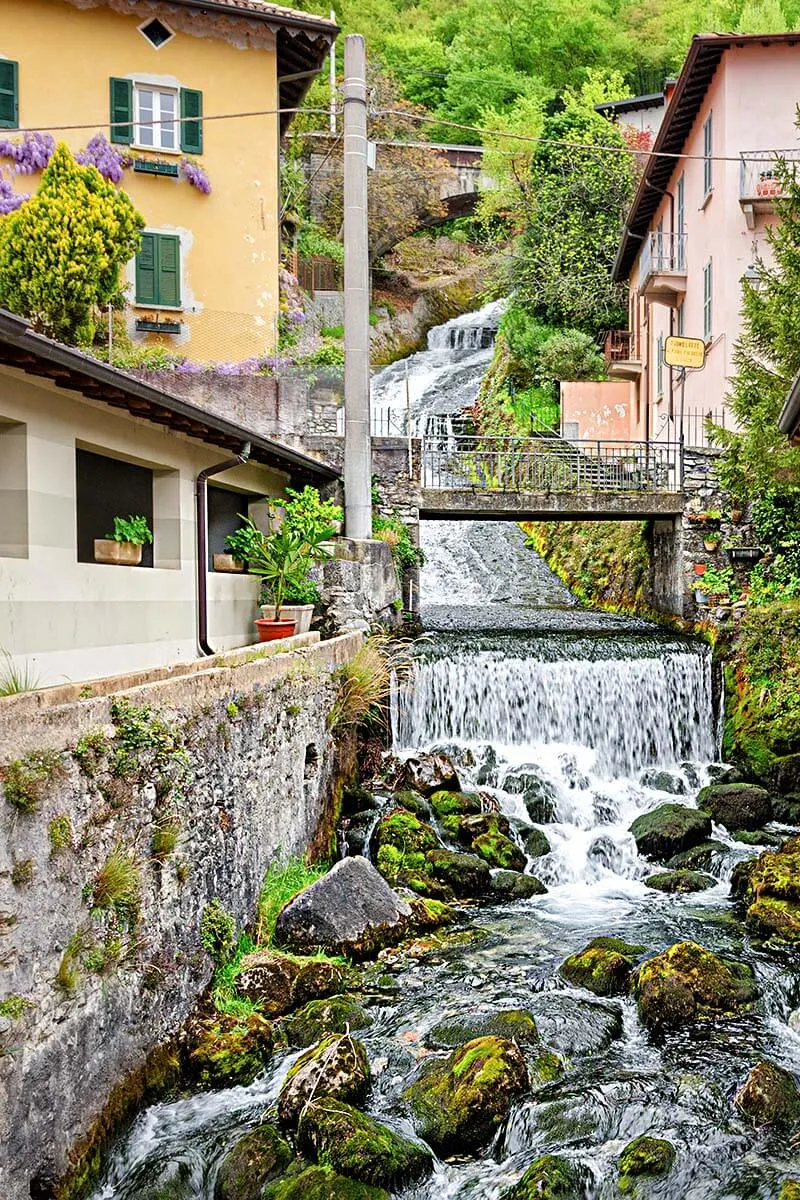 Map of the best places to see in Varenna
To help you orient, we created this map of the best places to see in Varenna – see below.
We also included some useful spots, such as the ferry harbor, the railway station, the main car parking, or where the best trail to the castle starts.
Further below, you can also find all kinds of useful information to help you plan your visit to Varenna.
How to use this map: Use your computer mouse (or fingers) to zoom in or out. Click on the icons to get more information about each place. Click the arrow on the top left corner for the index. Click the star next to the map's title to add it to your Google Maps account. To view the saved map on your smartphone or PC, open Google Maps, click the menu and go to 'Your Places'/'Maps'. If you want to print the map or see it in a bigger window, click on 'View larger map' in the top right corner.
Getting to Varenna
Varenna is located on the eastern side of Lake Como and has good transport connections. You can get here by car, by a direct train from Milan, or by boat from most of the main towns of Lake Como.
By car. If you are driving to Varenna and plan to use public parking, you should know that there's a big multi-story car park right in front of Villa Monastero (see the map above). This is by far the best place to park your car in Varenna. However, it fills up quickly and there aren't many good alternatives. So if you are driving, try to get to Varenna early. And if you are staying in Varenna, be sure that your accommodation has parking.
By train. The easiest way to get to Varenna is by train. There is a direct train from Milan central station to Varenna and the journey takes about 65 minutes.
By boat. Varenna has excellent ferry connections to all the main places of Lake Como. In summer, you have frequent passenger ferries to Bellagio, Menaggio, and other towns on the western side of the lake, plus a fast ferry to Como or Lecco. But also in the low season, you can take a car/passenger ferry from Varenna to Bellagio and from Bellagio to Cadenabbia, etc.
With a tour. The most popular day tours that visit Lake Como from Milan include a stop in Varenna (usually also Como town, Brunate, and Bellagio). So if you are short on time and want to make the most of your day, you may consider visiting here with a tour.
Organized tours make use of private boats and avoid long waits and slow ferry journeys, thus allowing you to see several of the best places in the most efficient way. On the other hand, if you are only interested in seeing Varenna and potentially Bellagio, then you can easily just visit by train from Milan.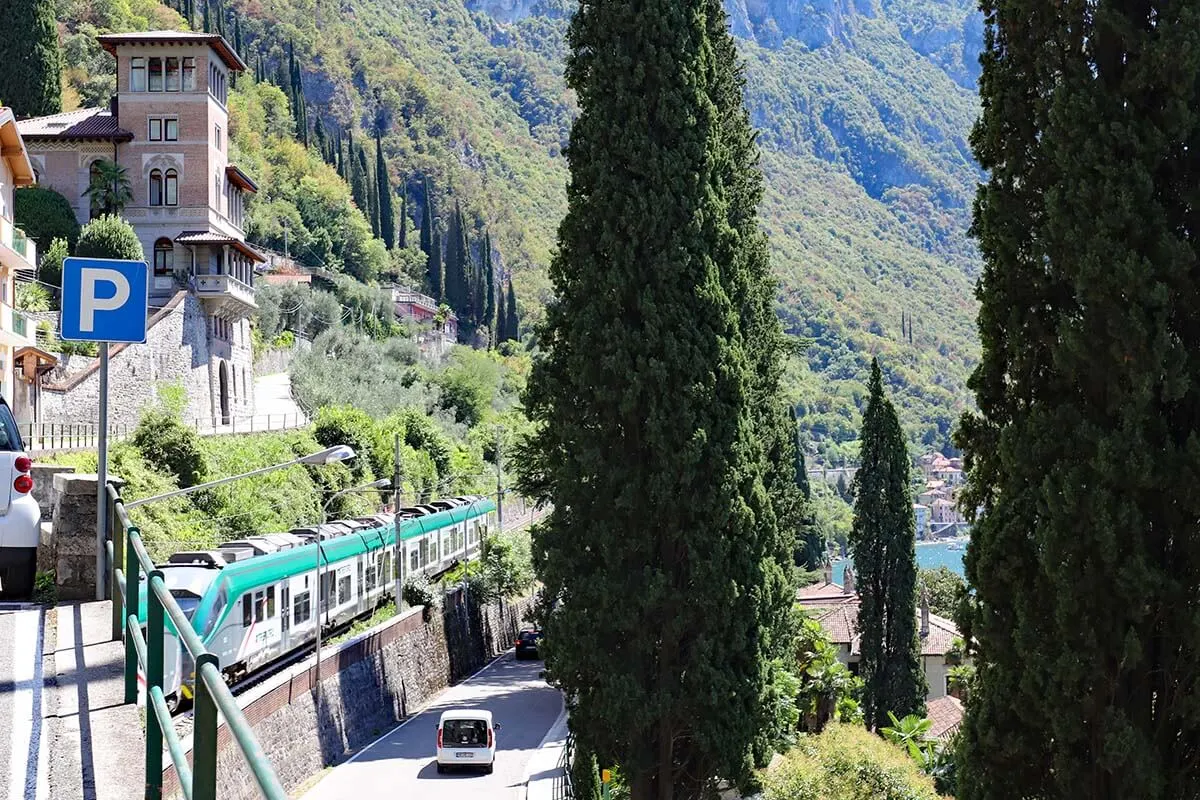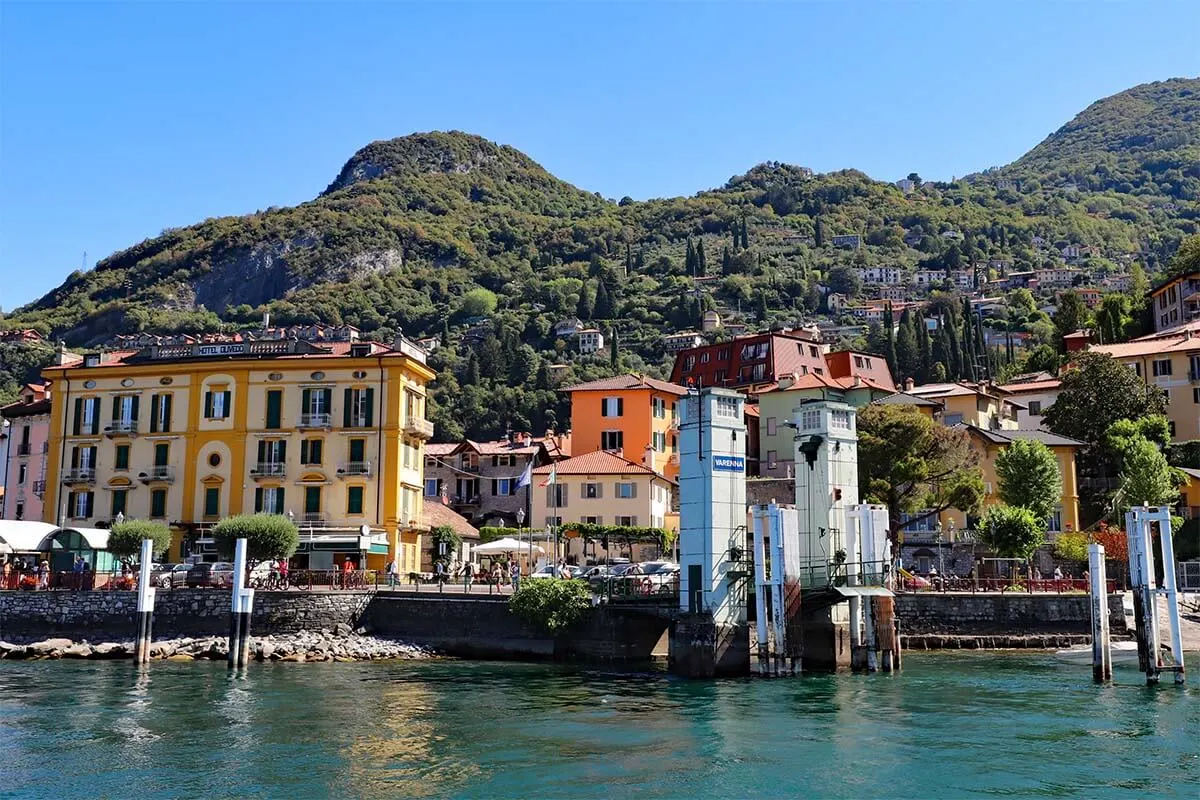 How much time do you need?
You can quickly see the main areas of Varenna's old town/ lakeside in about 1 hour.
In 2-3 hours, you can visit the old town, enjoy the views from the lakeside promenade and the old harbor, and visit Villa Monastero and its gardens.
If you also want to visit Vezio Castle, count at least 3-4 hours in Varenna.
If you want to explore Varenna to the fullest, visit the villa and the castle, take a boat trip on the lake, enjoy a nice meal or two, or even go to the beach or do some hiking, you can easily spend an entire day in Varenna.
With even more time, you can visit many other nice towns of Lake Como, the best villas, and do lots of hiking in the area.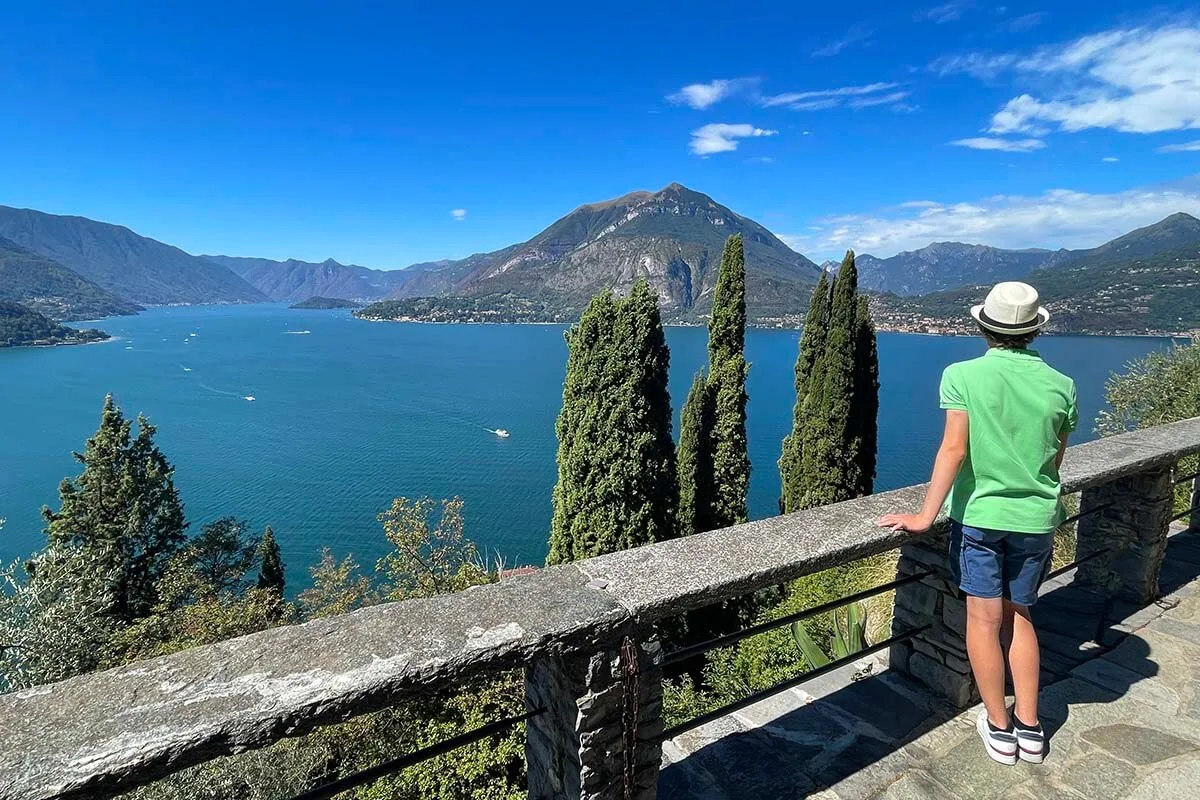 How to plan your time in Varenna (itinerary)
If you have a full day in Varenna and want to see all the best places in the most efficient way, we recommend starting your visit with a walk to the castle. The easiest path to the castle can be found right next to the harbor/ train station. There is a small café at the entrance of the castle where you can get a quick and simple meal. They even offer formulas that include drinks/food and the entrance to the castle. The food is surprisingly good and very affordable.
After visiting the castle, return to the town center the same way or take the more adventurous hiking path that brings you close to Villa Monastero. Then visit the villa and its gardens, see the two churches, and explore the old town. Enjoy the postcard view at Riva Garibaldi and get a gelato or sit down for a drink at one of the many cafes in the center.
In the late afternoon take a boat trip on the lake and enjoy the amazing scenery of Lake Como. Upon return to Varenna, find a nice restaurant for dinner (see if you can reserve a table in advance). At the end of the day, take the Lovers Walk back to the harbor or the train station.
If you have a few hours in Varenna. Take the Lovers Walk from the station/harbor to the town center and enjoy the views at Riva Garibaldi. Visit the main church and maybe also take a quick look inside the smaller church too. Then visit Villa Monastero and its gardens. Depending on how much time you have, consider a boat trip on the lake or take a ferry to Bellagio.
Good to know: If you have just one day in Lake Como, Varenna and Bellagio are the best places that you can easily see in a day. You won't be able to see/do everything in both towns, but you can definitely see some of the nicest places.
READ ALSO: Best Things to Do in Bellagio & Best Things to Do in Como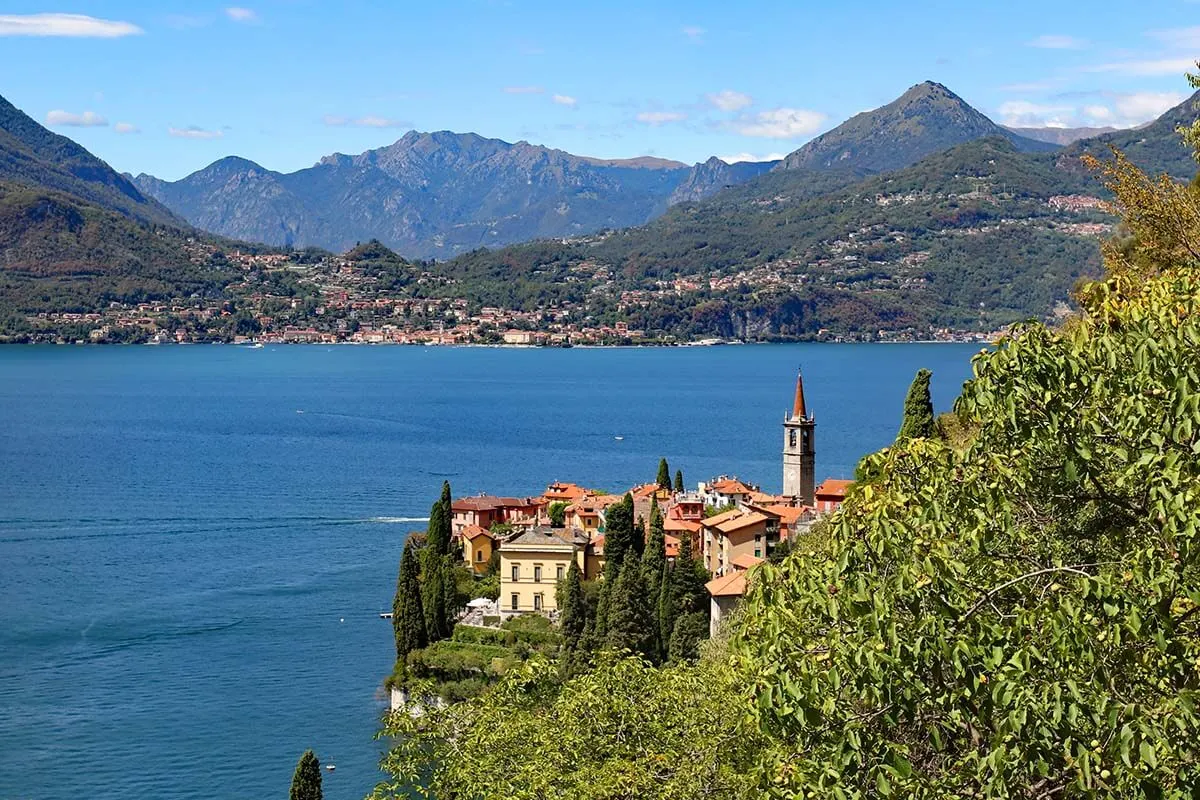 Where to stay
Most people only visit Varenna for a day. But the town can also be a great base for exploring the rest of Lake Como.
You will find many hotels and other accommodations in Varenna. Choose one that best suits your plans. If visiting by car, look for a hotel with parking. If visiting by train or by boat with lots of luggage, you may want to stay close to the station/harbor. If you are looking for a romantic atmosphere, look for a nice hotel with lake views.
Good to know: Many hotels in Varenna (and Lake Como in general) are only open in the high season (+- March to November).
Here are some of the best-rated hotels in Varenna for various budgets:
READ ALSO: Where to Stay in Lake Como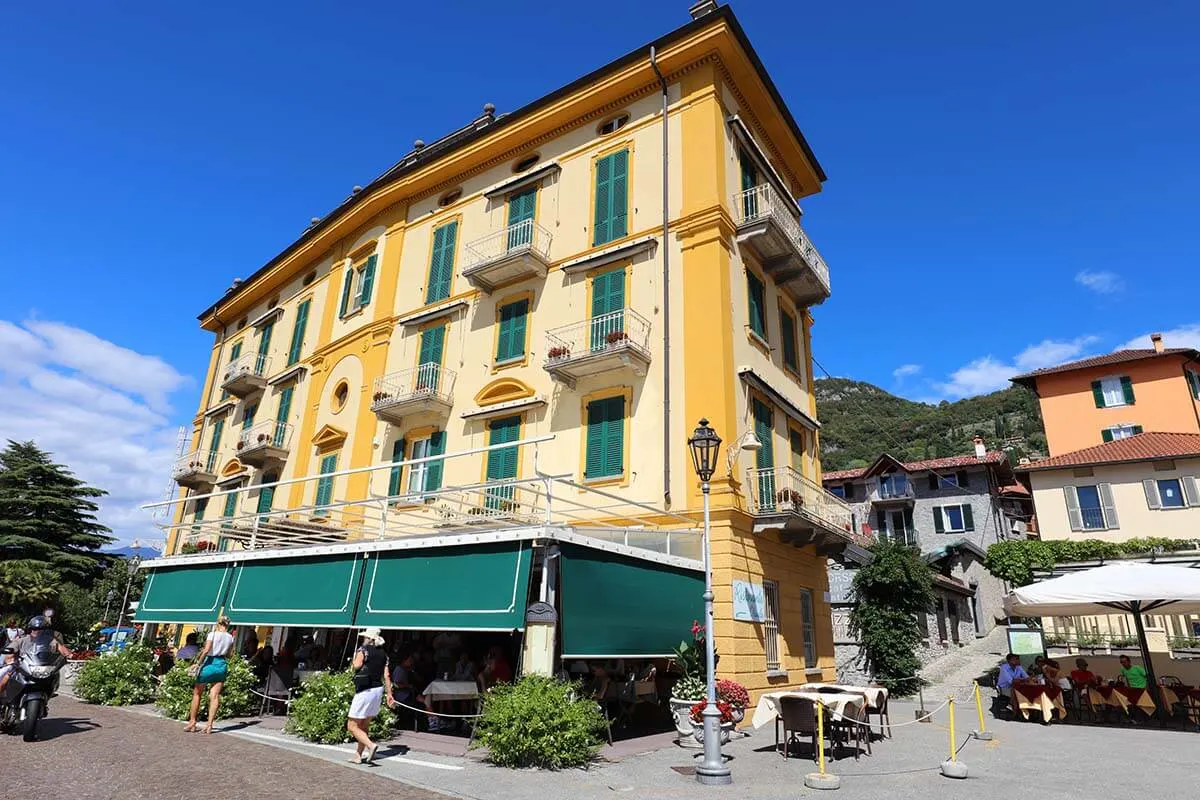 FAQ
Is Varenna worth visiting?
With a stunning lakeside location, a charming old town, beautiful villas with botanical gardens, and a medieval castle with jaw-dropping panoramic views, Varenna is one of the most beautiful and most picturesque towns of Lake Como. So yes, it's absolutely worth visiting.
What is there to do in Varenna?
Varenna is a picturesque little town that has all the ingredients for the ultimate Lake Como experience. You can see beautiful lakeside villas and botanical gardens, visit a hilltop castle, explore the historic old town with several churches and colorful old houses, and enjoy stunning views of Lake Como. In addition, you can also book a boat trip on the lake, go hiking, and – in season – also go kayaking or swimming.
Can you swim in Varenna?
Yes, in the summer season, you can find several small beaches where you can go for a swim in Varenna. One of the best places to go swimming is Lido di Varenna in Perledo, to the north of Varenna harbor. There is also a small public beach at the southern end of town, close to St. John the Baptist Church.
How much time do you need in Varenna?
Depending on what you want to see and do, you can visit Varenna in just 1-4 hours, or you can spend an entire day in town.
How far is Varenna from Milan?
Varenna is located about 75 km north of Milan. It takes about 1.5 hours to get to drive to Varenna from Milan by car, or a bit over an hour by train.
How far is Varenna from Bellagio?
As the crow flies, Varenna is just over 3 kilometers from Bellagio. However, the two towns are separated by the lake and there are no bridges or tunnels. The best way to travel between Varenna and Bellagio is by ferry. In summer, you can use a direct passenger ferry, and there is also a car ferry that runs the whole year. The ferry ride between Bellagio and Varenna takes about 20 minutes.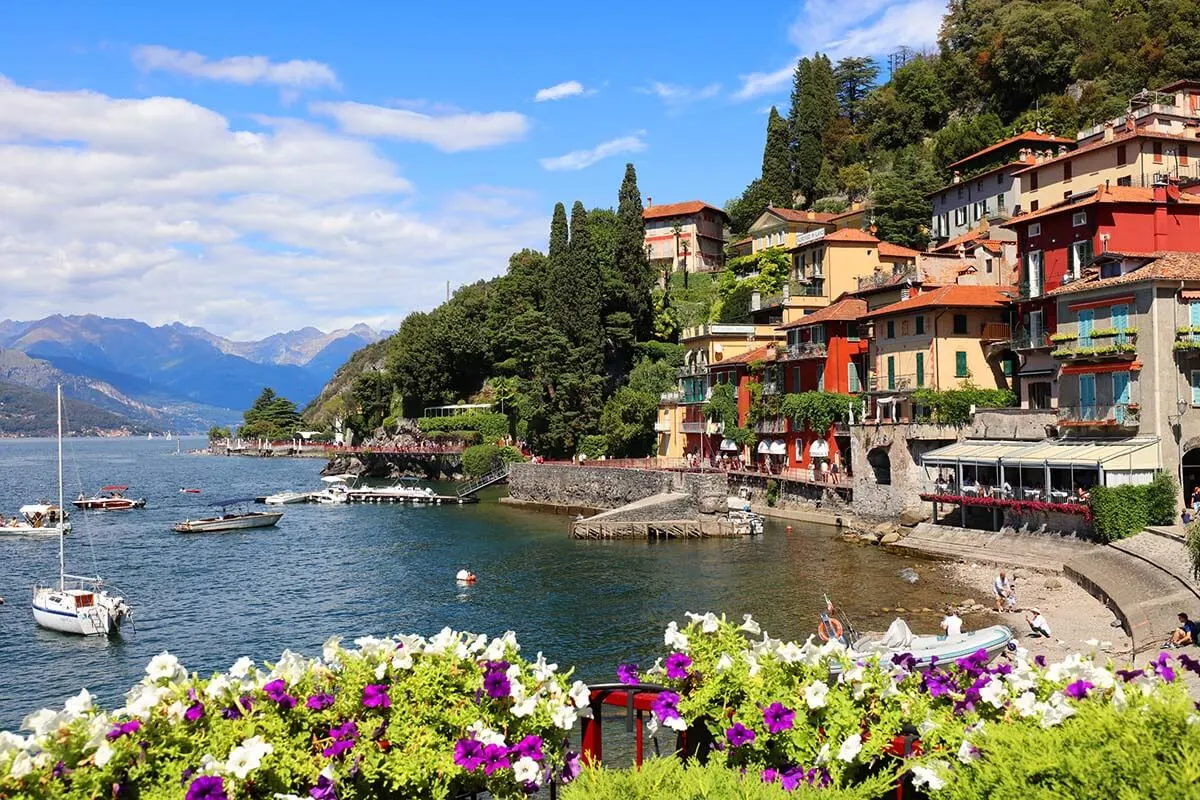 So, this is our guide to Varenna. I hope that it gives you a better idea of what to expect, what there is to see and do in Varenna, and how to plan your time.
TIP: Before you leave, you may want to check our guide with practical info and useful tips for visiting Lake Como. It should answer any questions you may have about visiting the area and help you make the most of your trip, no matter how long or short. Check it out!
READ ALSO: Best Places to See & Things to Do in Lake Como
If you found this post useful, don't forget to bookmark it and share it with your friends. Are you on Pinterest? Pin this image!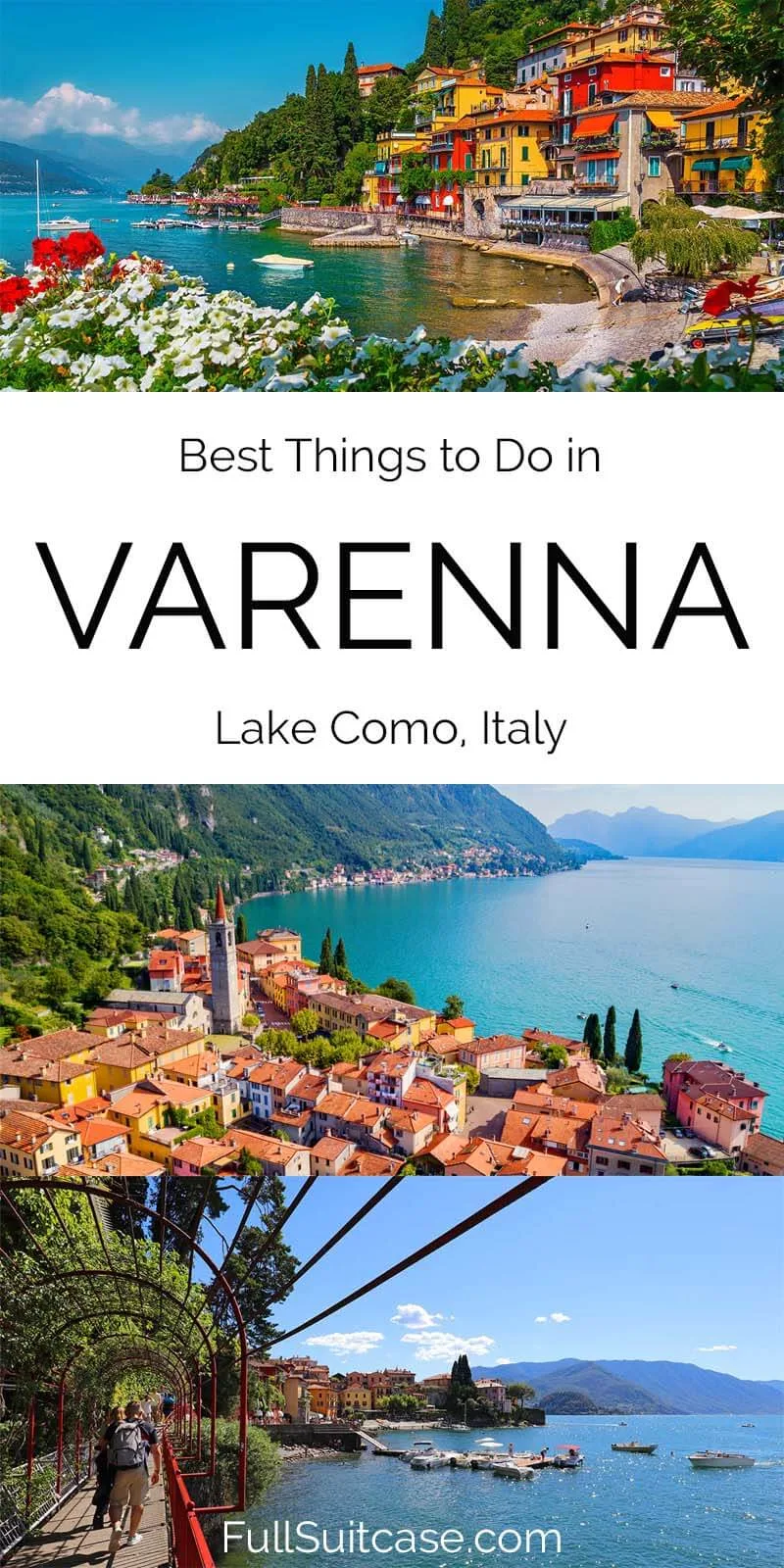 More travel inspiration for Northern Italy: