Visiting Bologna, Italy, for the first time and wondering what to see and do in the city? In this guide, we share the top places to see and the best things to do in Bologna coupled with our experience-based tips and practical advice to help you plan your trip. Find out!
The capital city of northern Italy's Emilia Romagna region, Bologna is one of the largest and most interesting cities to visit in Italy. Ruled at various times by Etruscans, Celts, and Romans – and part of the Papal States until the 18th century – it has a rich and fascinating history.
With its beautiful UNESCO heritage-listed porticoes, incredible medieval buildings, and a distinctly authentic feel, Bologna is a unique and often underrated city just waiting to be explored.
However, surrounded by so many grand and world-known cities and other famous places in northern Italy, Bologna is often overlooked by international visitors planning a trip to Italy. But it's absolutely worth a visit, also because you will find a much more authentic atmosphere here than e.g. in Venice or even in Florence…
In this guide, we share the main landmarks and top experiences in Bologna that make it well worth a visit, even if you are traveling from the other side of the world. Take a look!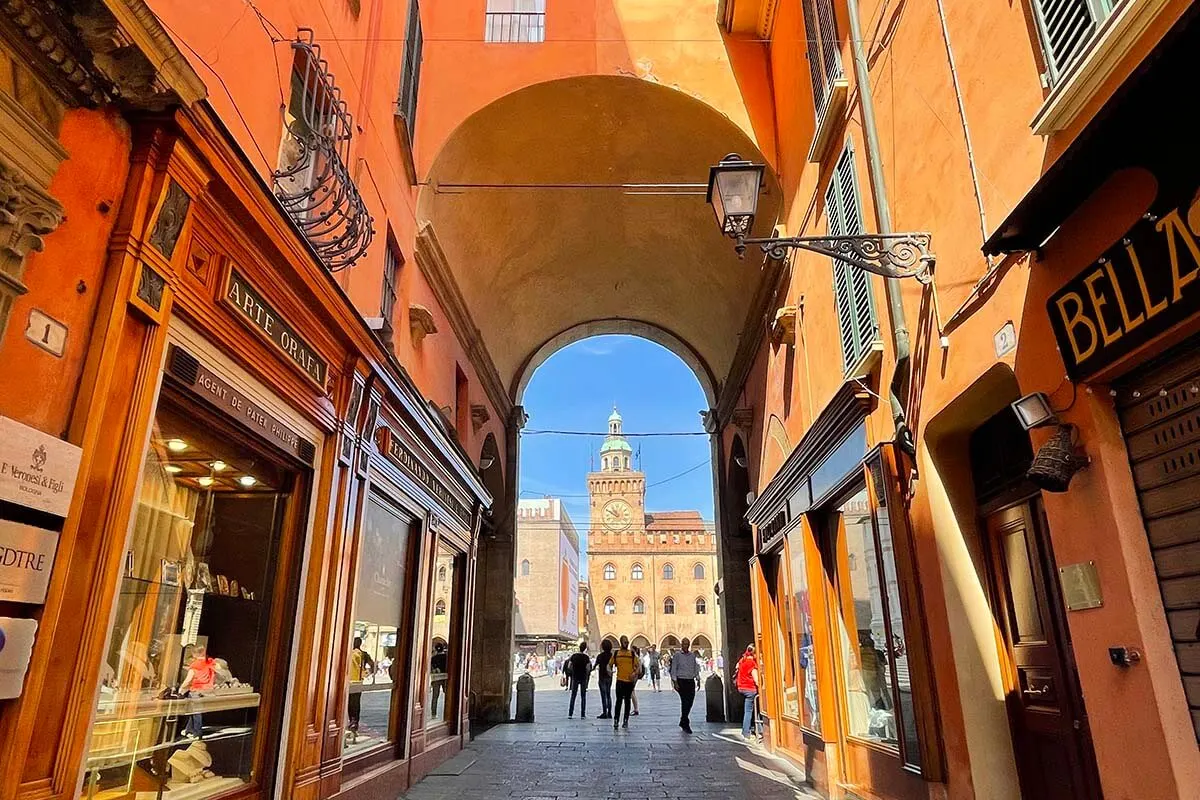 Interesting to know: Some of the best reasons to visit Bologna may be summed up by its three unique nicknames – La Rossa, La Grassa, and La Dotta – The Red, The Fat, and The Learned.
La Rossa (The Red) refers to the city's distinctive terracotta-tiled rooftops and the flaming red color you'll see decorating many of its walls. But the name also reflects Bologna's political leanings. The city was strongly anti-fascist during the Second World War and the center of Nazi resistance, after which it became a Communist stronghold.
La Grassa (The Fat) pays homage to the excellent food you can experience in the region. Home to Parma ham, parmesan cheese, tagliatelle al ragù, mortadella, and balsamic vinegar, Bologna's culinary scene is a food lover's dream and the main reason some people come to visit.
La Dotta (The Learned) refers to the city's university, which was founded in 1088 and is the oldest in the Western world. Bologna is a real student town with a great atmosphere, and also a dynamic and edgy appeal.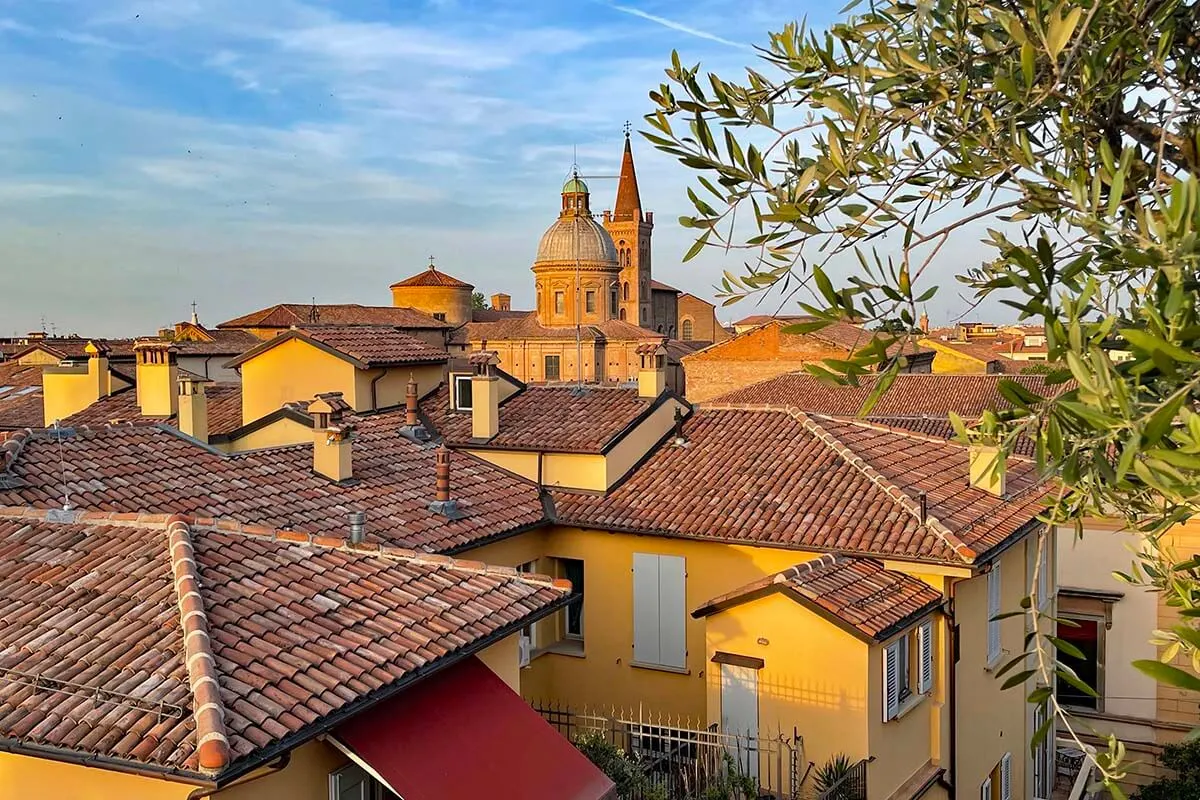 Good to know: Our list below is sorted starting with the most famous, must-see places in Bologna first. So if you are short on time, concentrate on the top 10 – 12 sites on the list (you should be easily able to cover all of these in a day). In addition, don't miss #19 on our list – no visit to Bologna would be complete without experiencing its food! We share some restaurant recommendations as well.
For each of the main attractions in Bologna, we include some practical information and tips that you may want to know before your visit. In addition, we also created a MAP indicating all the best places in Bologna. You can find this interactive map at the bottom of the article.
TIP: If your time in Bologna is limited or if you want to get a good introduction to the city before you explore deeper, I highly recommend taking this highly-rated city walking tour. We did this tour first thing upon arrival and it was a great way to get the feel of the city and hear some stories and tips from a local guide.
Some of the people in our group were only in Bologna for a few hours or visiting Bologna for a day from Florence, others – like us – for a few days. We all found that this introductory city tour was well worth it.
Here are the very best things to see and do in Bologna:
1. Piazza Maggiore
The vibrant heart of the old city center, the public square of Piazza Maggiore is the main meeting point for locals and tourists alike. If you are visiting Bologna for the first time, this is an absolute must-see. Many other landmarks and most important places to see in Bologna are located just nearby too.
Piazza Maggiore is one of the best places to simply walk around and absorb Bologna's lively atmosphere. It is lined with bustling cafes and surrounded by some of the city's oldest and most impressive buildings. You'll see grand palaces here, like the Palazzo d'Accursio (once Bologna's Town Hall), along with Palazzo dei Notai, Palazzo del Podestà, Palazzo d'Accursio, and Palazzo dei Bianchi.
The Basilica di San Petronio is located on the other side of the square and to the northwest you'll find the Piazza del Nettuno, home to the stunning Fountain of Neptune (more info about these sights is below). Just a few blocks to the east from here, you'll see Piazza di Porta Ravegnana, the site of Bologna's famous leaning towers.
The starting point for many of the city's tours, Piazza Maggiore is also home to the Welcome Bologna visitor information center and the Biblioteca Salaborsa (Public Library).
In this central area, you can easily while away many hours, whether shopping, dining, or exploring the sights. If you're lucky you may even catch an open-air movie or concert during your visit.
Be sure to pop back at night and enjoy an Aperol spritz as the crowds of the day give way to the laid-back buzz of the evening. The buildings are beautifully illuminated after dark and look quite stunning.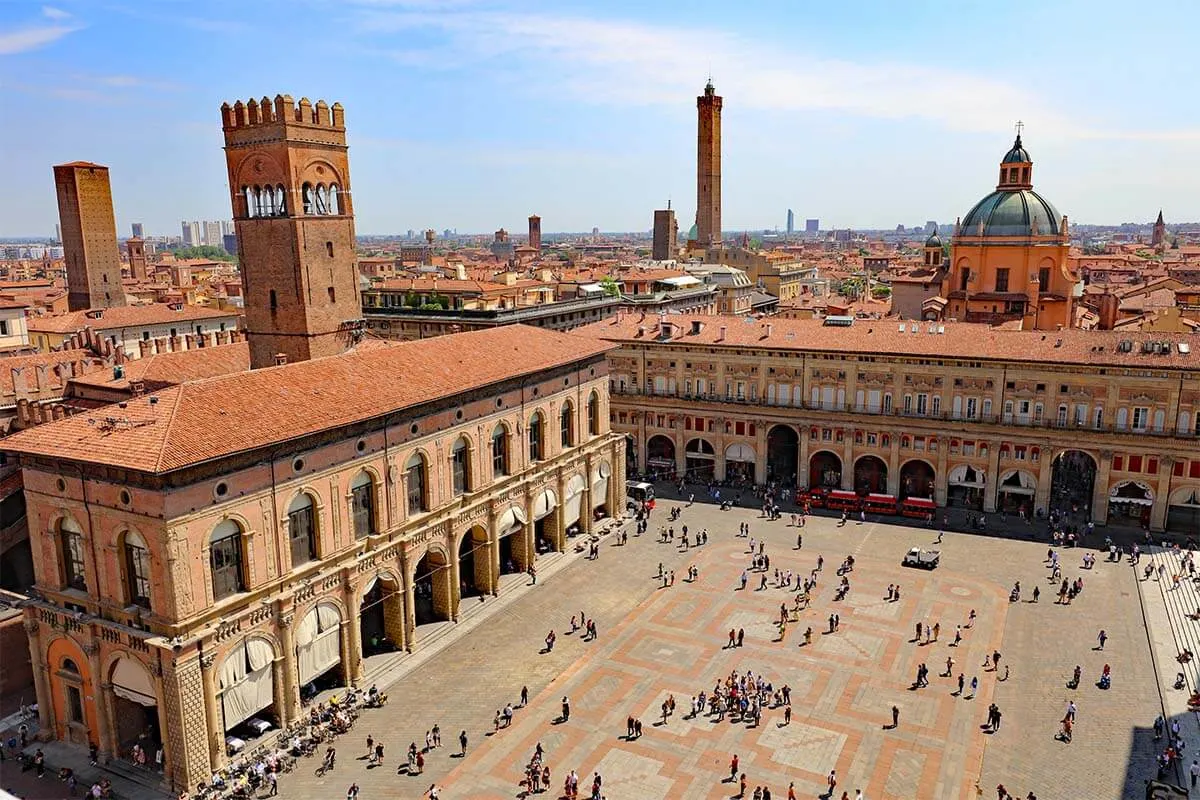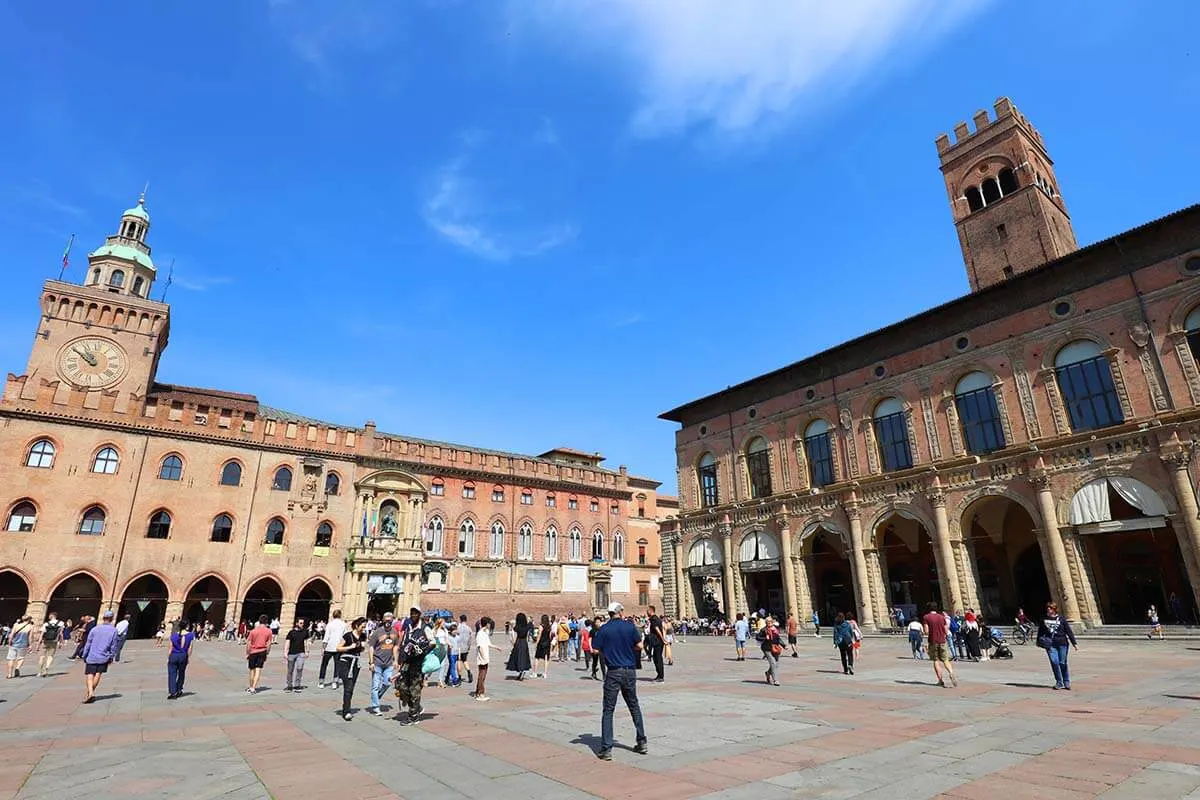 2. Fountain of Neptune
The Fountain of Neptune is another must-see in Bologna. Built by Flemish sculptor Giambologna and located in the Piazza del Nettuno, this controversial stone and bronze artwork dates back to the mid-16th century. Depicting a naked Neptune surrounded by lactating mermaids, it is a structure that still raises eyebrows today for its sexual explicitness.
Originally commissioned by Cardinal Carlo Borromeo to beautify the Piazza Maggiore, the fountain was constructed where the cardo and the decumanus – Bologna's main streets – intersected. Legend has it that some local women were so scandalized by the sight of the naked Neptune that he was fitted with bronze pants to save their blushes!
It was also customary for students to walk anti-clockwise around the fountain twice, to bring them luck before exams. Depending on when you're visiting, you can still see students celebrating their graduations beside this iconic fountain today.
Good to know: Next to the main fountain there is a smaller one with drinking water where you can refill your bottles.
TIP: Whilst visiting the Fountain of Neptune, look towards the east-facing wall of the Palazzo d'Accursio. Here you will find the very moving Sacrario dei Partigiani (the Partisan Wall). This is a memorial to all those partisans who were executed there by the Nazis for their involvement in the city's WWII resistance movement.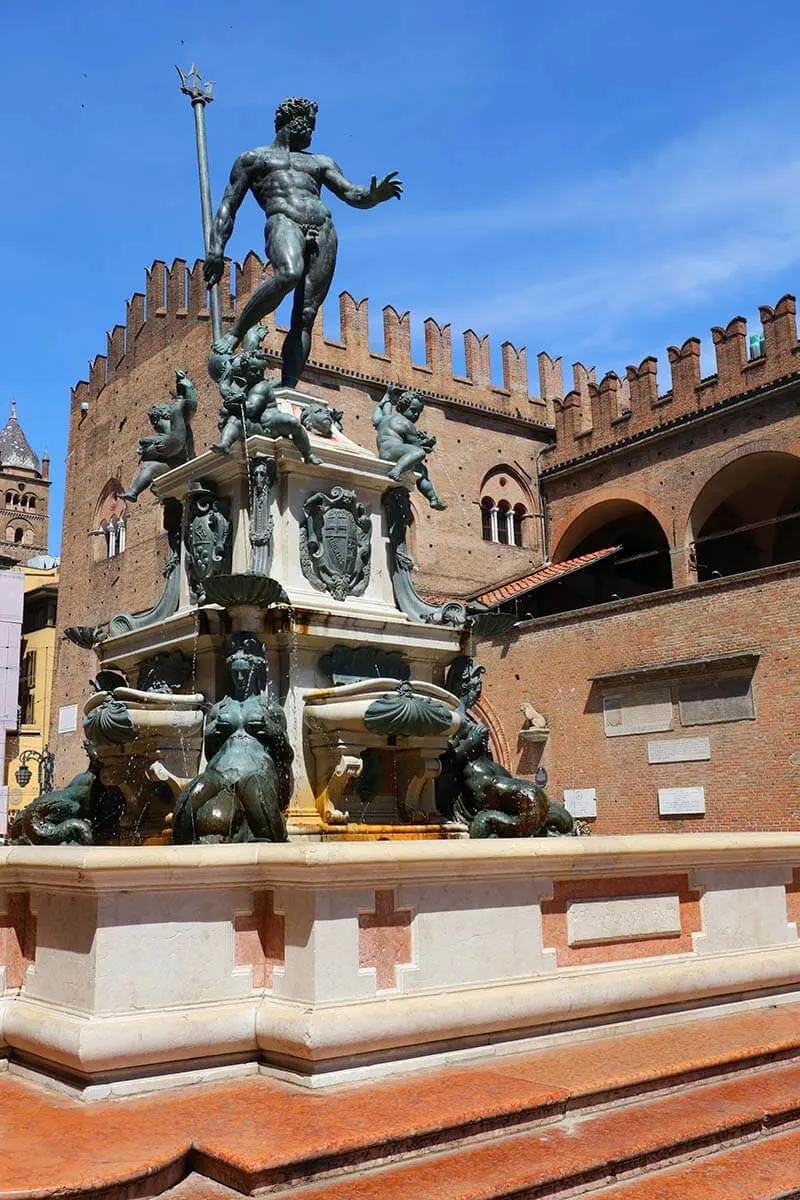 3. Garisenda & Asinelli Towers
Did you know that Pisa isn't the only place in Italy with a leaning tower? Bologna actually has two – the Asinelli and Garisenda Towers, locally known as the Due Torri.
Iconic symbols of the city, the towers were built in the 11th century by the Asinelli and Garisenda families. At the time of their construction, they would have been at the entry point of the ancient Via Emilia, serving as a warning to anyone thinking of invading!
It is likely that they were also built as a display of the families' considerable wealth and importance! That being said, there were a lot of towers in the city at the time – 180, in fact. Today, only 20 remain, including the Prendiparte tower and the Galluzzi tower. The Asinelli and Garisenda Towers, however, are the tallest and most famous. They are located on Piazza di Porta Ravegnana in the old town.
The Garisenda Tower has a particularly steep overhang because the foundations have subsided. It has previously been lowered to prevent its collapse and is currently being restored. You cannot climb this tower.
But you can climb the Asinelli Tower and it's definitely one of the best things to do in Bologna! The climb involves almost 500 very narrow, wooden steps, and is not for the faint-hearted. But if you are physically capable, it's something you simply have to experience.
The 360° views from the top are incredible, with the entire city at your feet. You can see Piazza Maggiore and Basilica of San Luca to the west, the Roman road via Emilia to the southwest, and the verdant Emilia Romagna hills to the south. You also get a great view of the Garisenda Tower and Piazza de Porta Ravegana directly below.
See further for practical information for visiting the Asinelli Tower.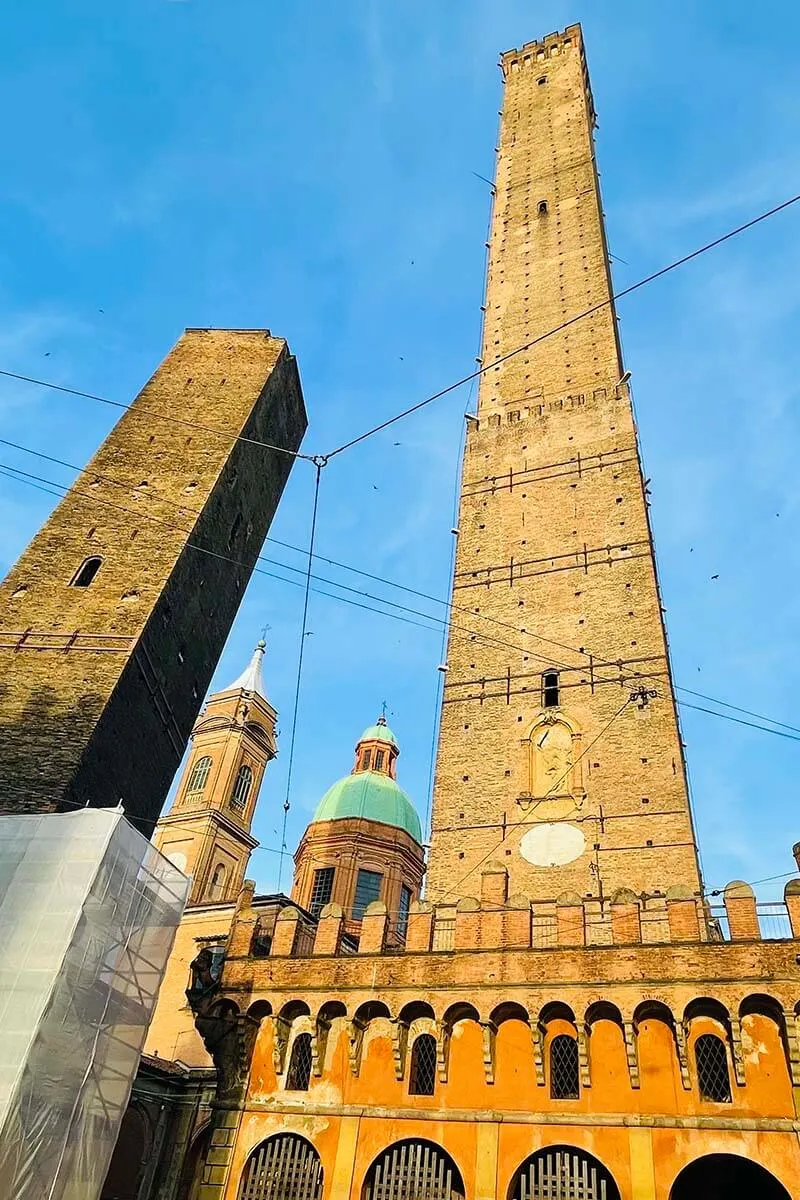 Good to know: Torre degli Asinelli is the most popular tourist attraction in Bologna and is open daily throughout the year, except on Christmas day. If you want to climb the tower, you have to reserve a timed slot in advance.
You can find more information and reserve your tickets on the official site. It's also possible to buy a timed entry ticket in combination with some local food tasting. This ticket offers very good value and has the advantage that you can cancel up to 24 hours in advance if your plans change.
How much time do you need: The climb to the top took us less than 10 minutes, and about the same to get back down. Including the time to enjoy the views, we spent about half an hour at the Asinelli Tower. Also, you should arrive at least 5-10 minutes before your designated entry time.
TIP: If you are booking the combi ticket, do it in the morning (+-10-11.30 am). That way, you can use the food vouchers for lunch. If you are visiting Bologna in the high season, it's also easier to do the climb early, before it gets too warm. We visited in May and went at 2 pm and it was really hot. In any case, be sure to take a bottle of water with you!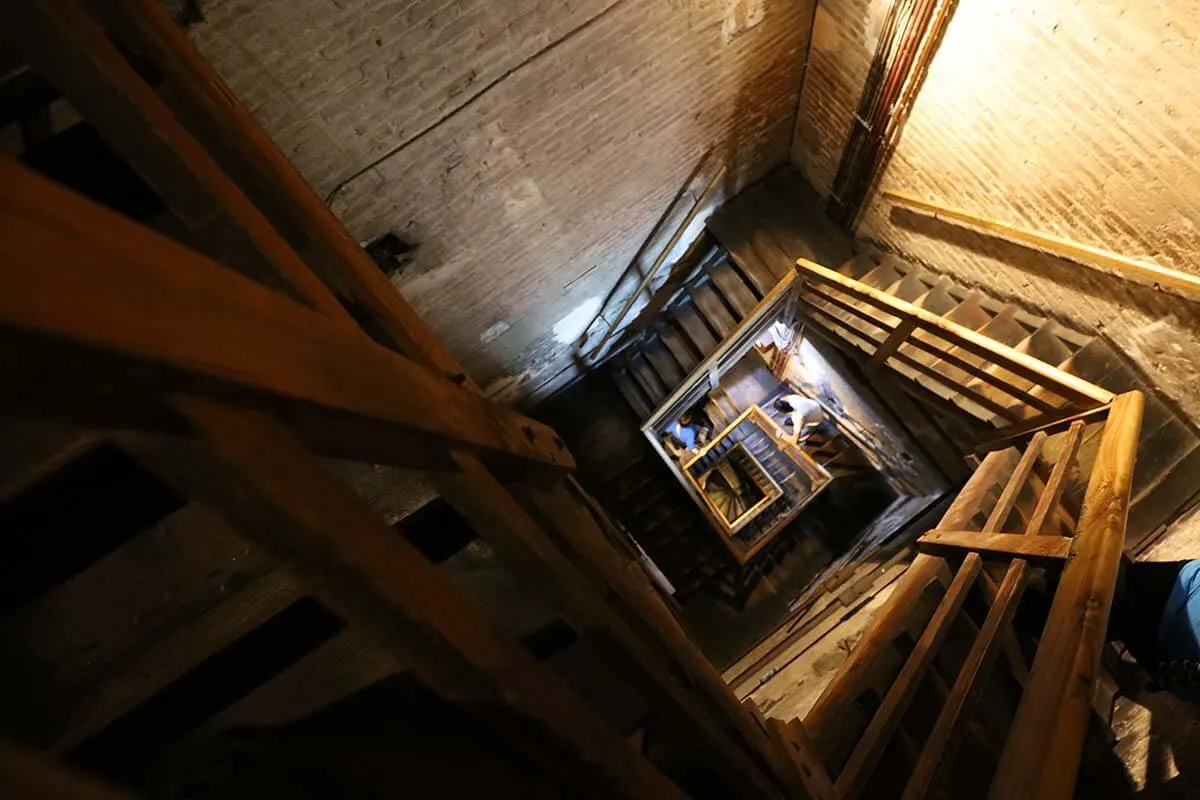 4. Clock Tower & Municipal Art Collections
Right on the Piazza Maggiore, you can visit another tower of Bologna – Torre dell'Orologio (the Clock Tower). The tower is part of Palazzo d'Accursio (or Palazzo Comunale), Bologna's Town Hall. This impressive palace also houses the Municipal Art Collections.
If you want to climb at least one tower in Bologna and find the height of Asinelli Tower intimidating, then the Clock Tower might be a better option. It's not nearly as high, but the views are really nice too. From the terrace at the lower level and also from the top of the tower, you have a unique aerial perspective of Piazza Maggiore and Bologna rooftops.
In addition, the ticket also includes entry to the Municipal Art Collections which are really impressive. Set inside the apartments of the former cardinals of Bologna, this is a combination of an art museum and palace chambers with some original decorations and furnishings. You can also see some important wooden crucifixes.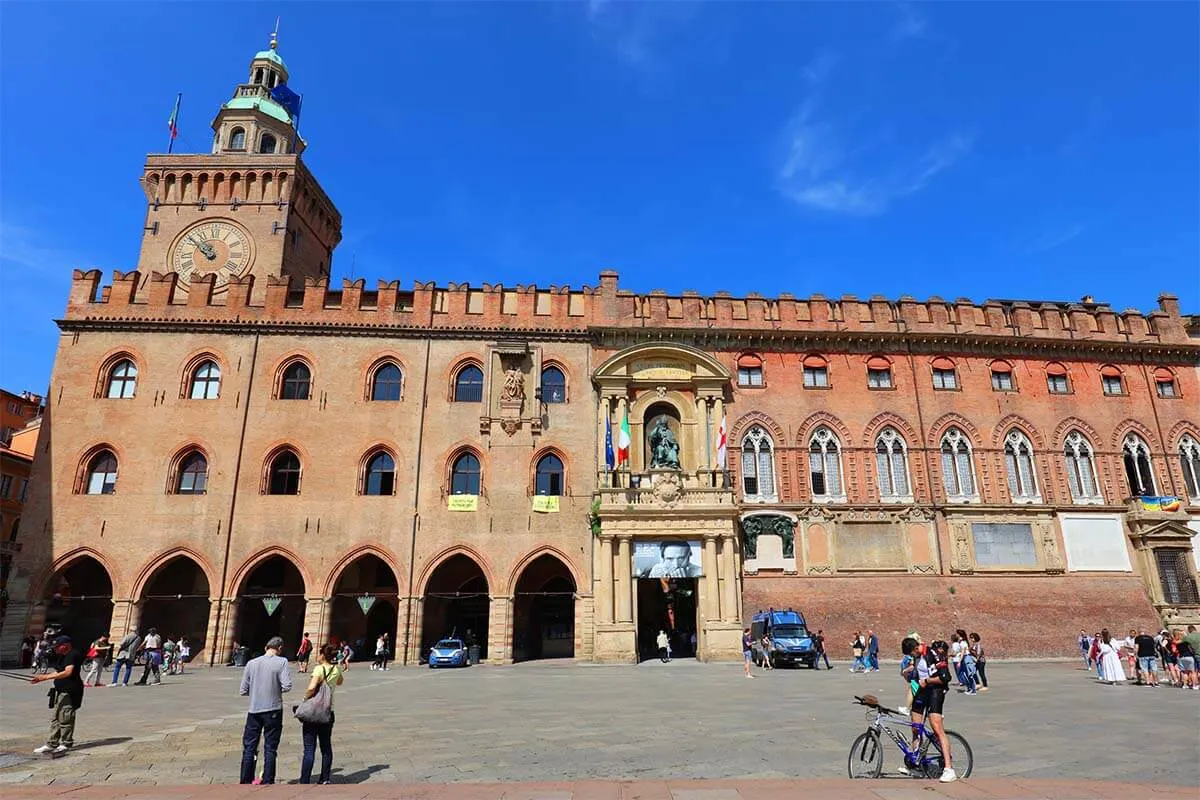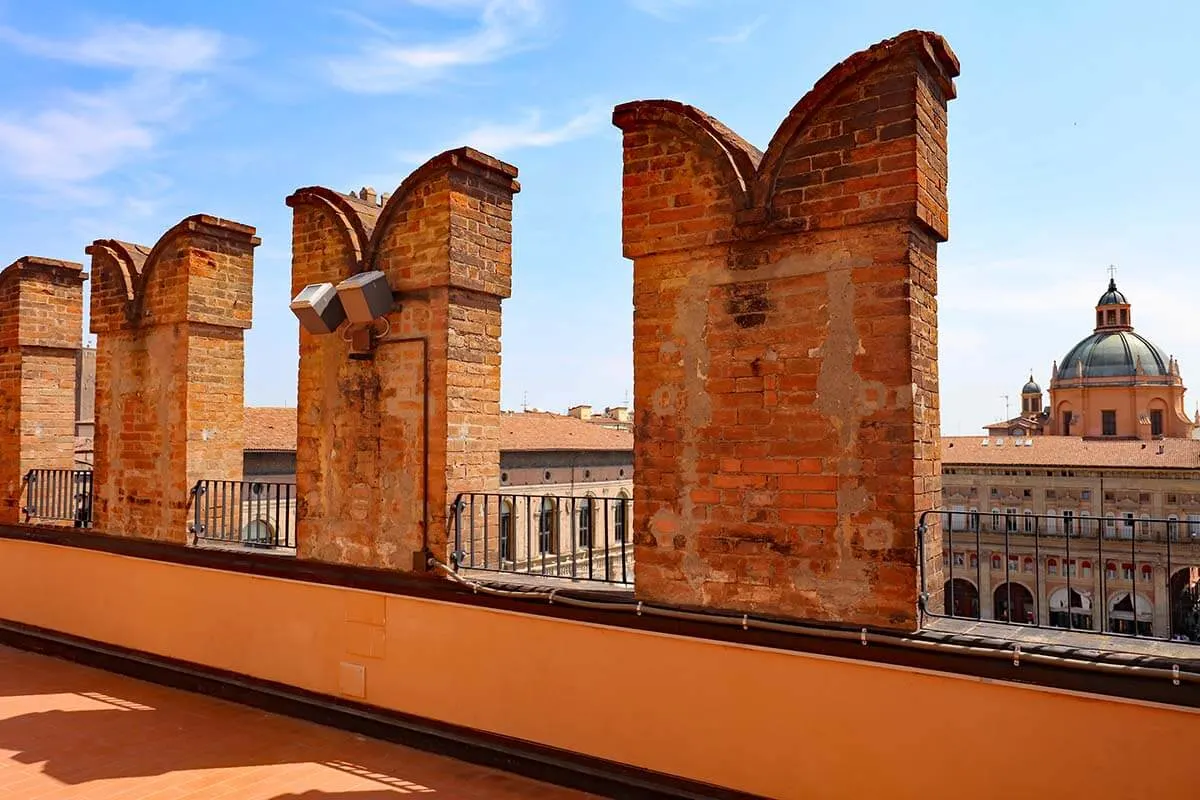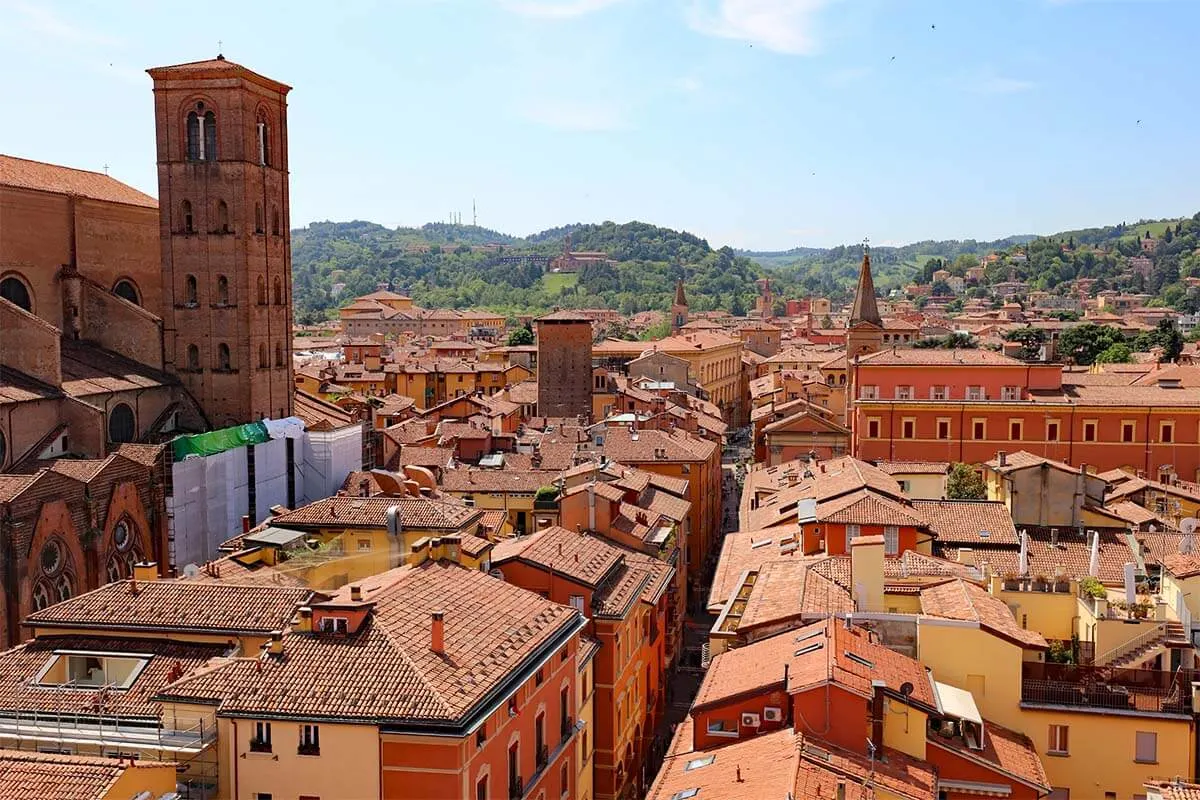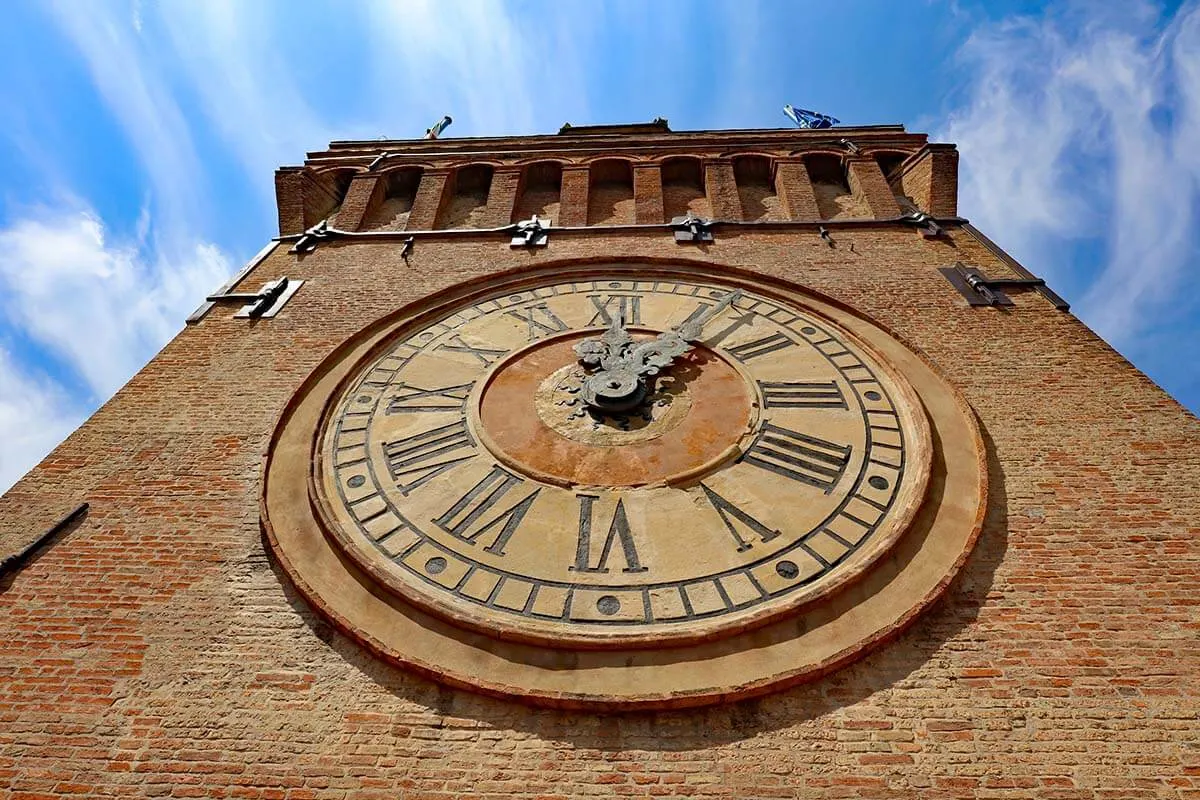 Good to know: You only need about 15-20 minutes to visit the Clock Tower and you can quickly walk through the museum in about the same time too. All in all, I recommend planning 1 hour for a quick visit. We visited both – the tower and the museum – and spent about 50 minutes inside.
Practical information: You can get a ticket for the museum only or a ticket that includes entry to the museum and the tower (recommended). The tower entry is timed and can be reserved in advance, whereas if you are only interested in the museum, you can easily visit without any advance booking.
For more practical information and tickets see here.
It's possible that you can visit the tower without booking in advance as well, but it will depend on the season/ day. Just to be sure, we booked our tickets in advance, but it wasn't busy at all when we visited. Despite its super central location, it seems as if many tourists just pass by the Town Hall without visiting inside… And yes, it's totally worth it; one of the top places to see in Bologna.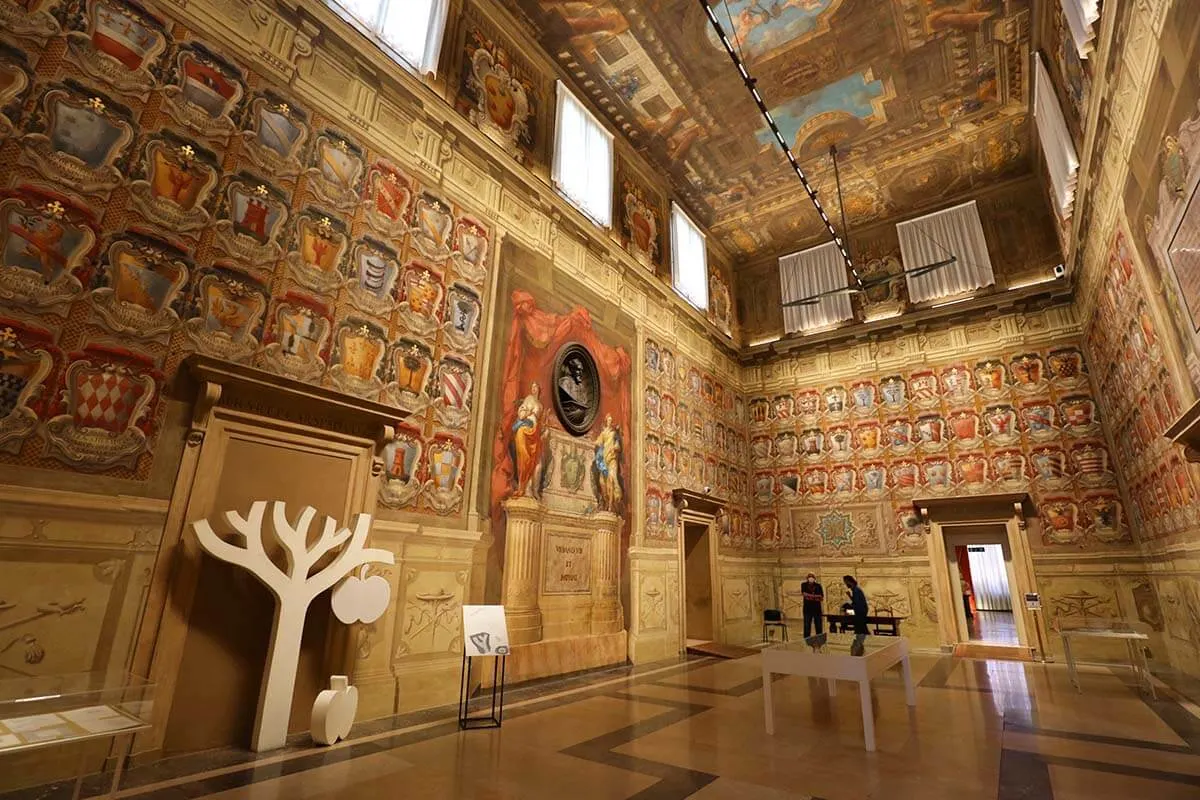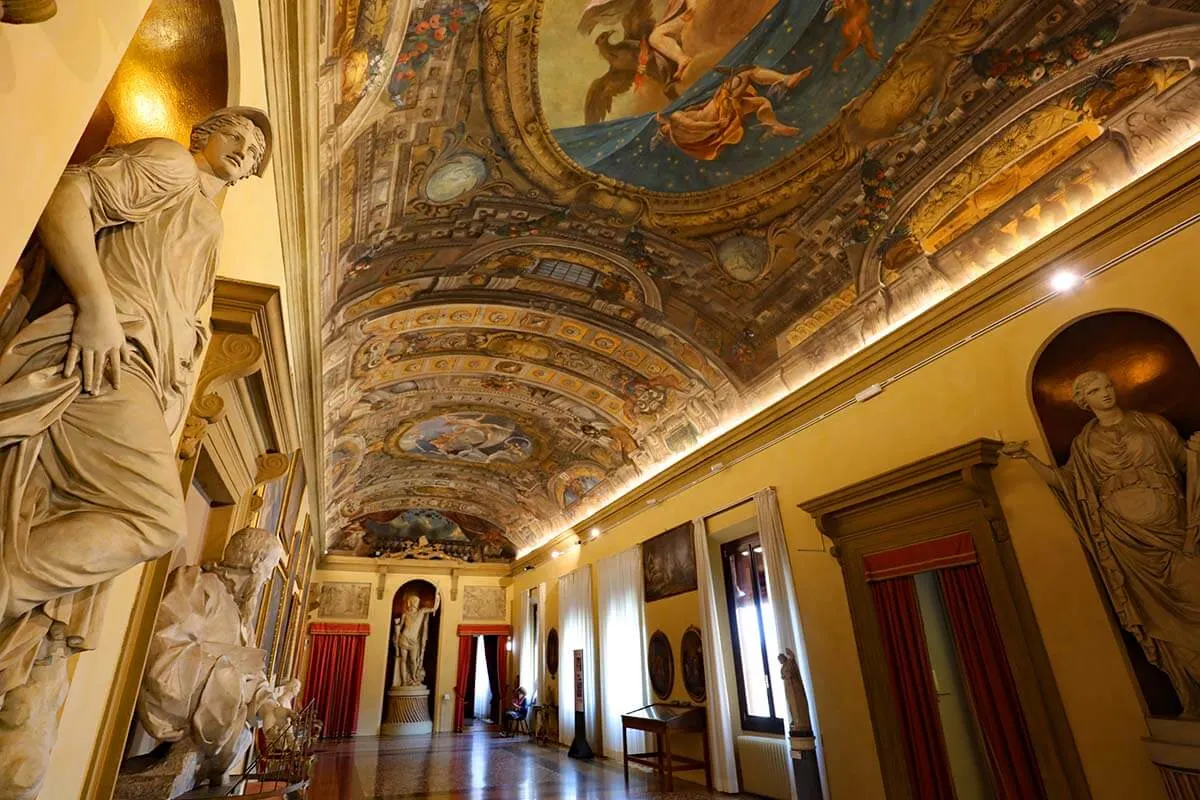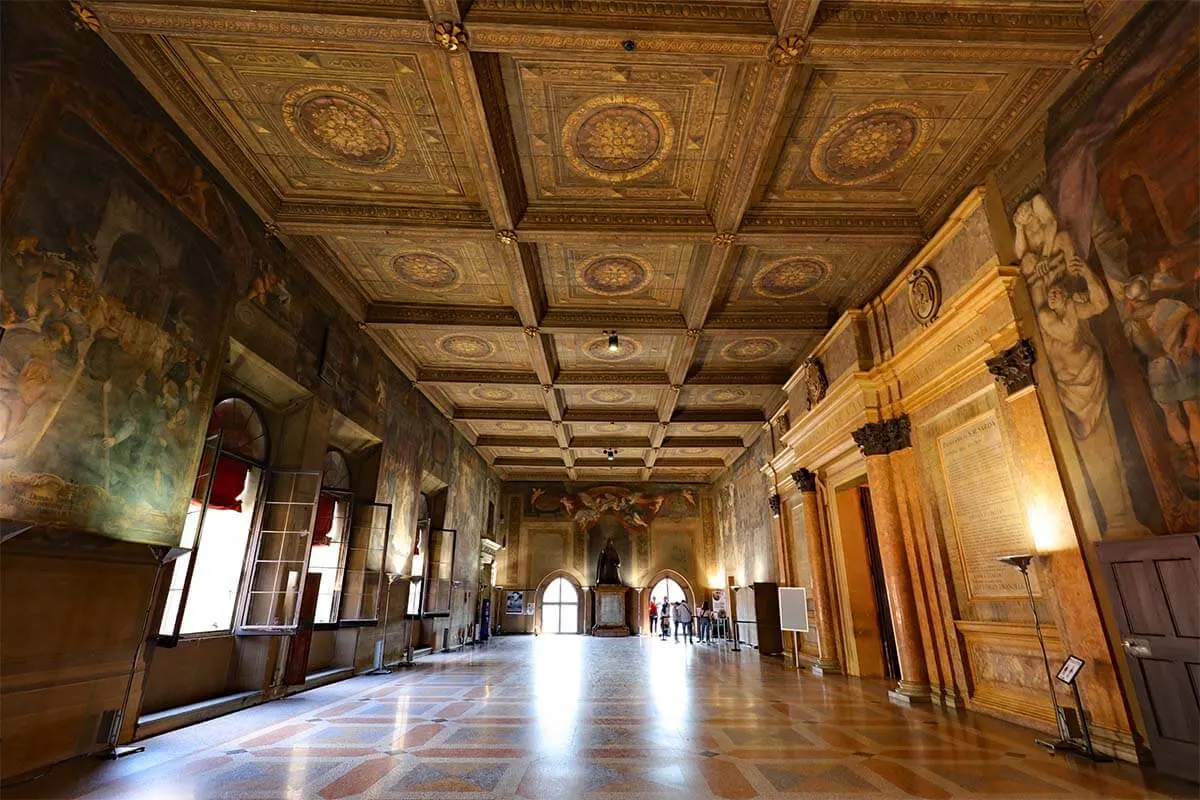 5. Quadrilatero Neighborhood & Mercato di Mezzo
Quadrilatero neighborhood is home to the Mercato di Mezzo (Middle Market) and is an area you really have to experience in Bologna.
Foodies will say that this is the true heart of Bologna. The streets here are alive with stallholders shouting their wares and cafes spilling out onto the pavements. This is a noisy and vibrant area, an eclectic mix of sounds, smells, and colors.
Located just steps from the Piazza Maggiore, Quadrilatero has always been at the center of Bologna's culinary scene. There were markets and food stalls here dating all the way back to the Middle Ages.
Nowadays, the area is the place to come for the very best regional specialties. These include locally produced balsamic vinegar, freshly prepared pasta, traditional cheeses, and some of the finest charcuterie you'll ever experience.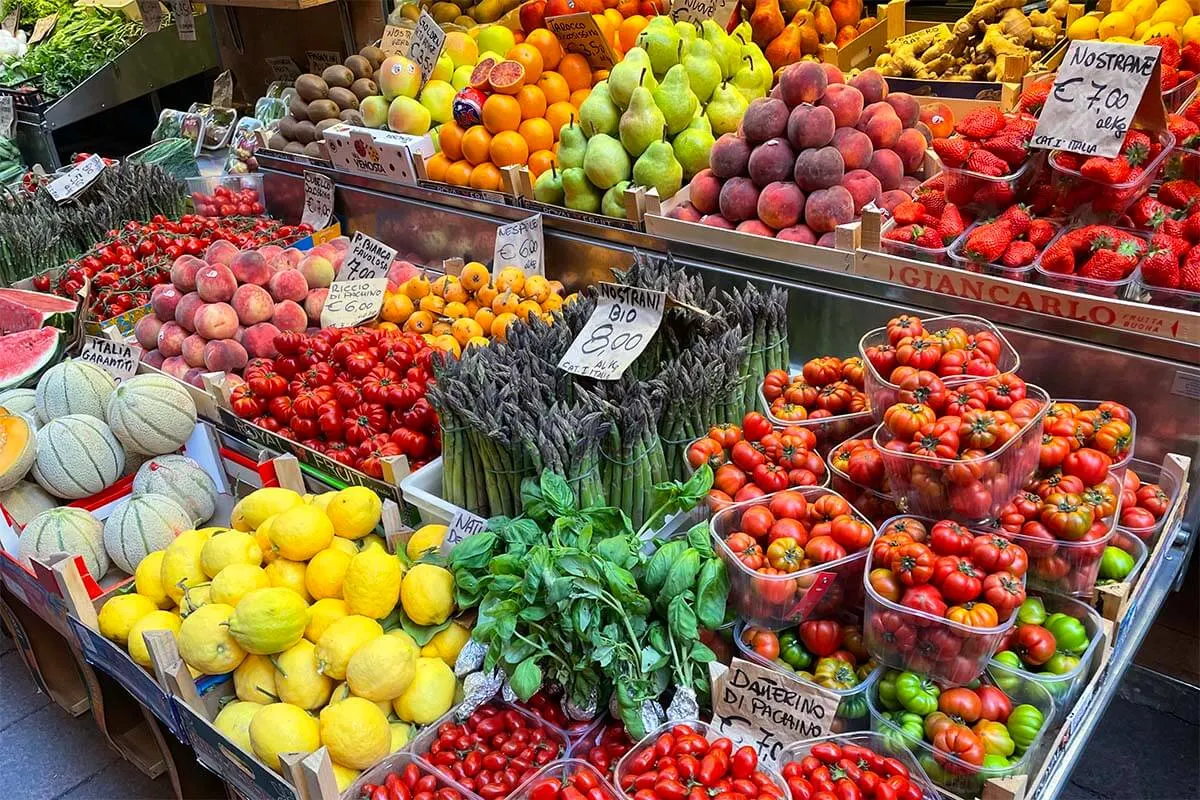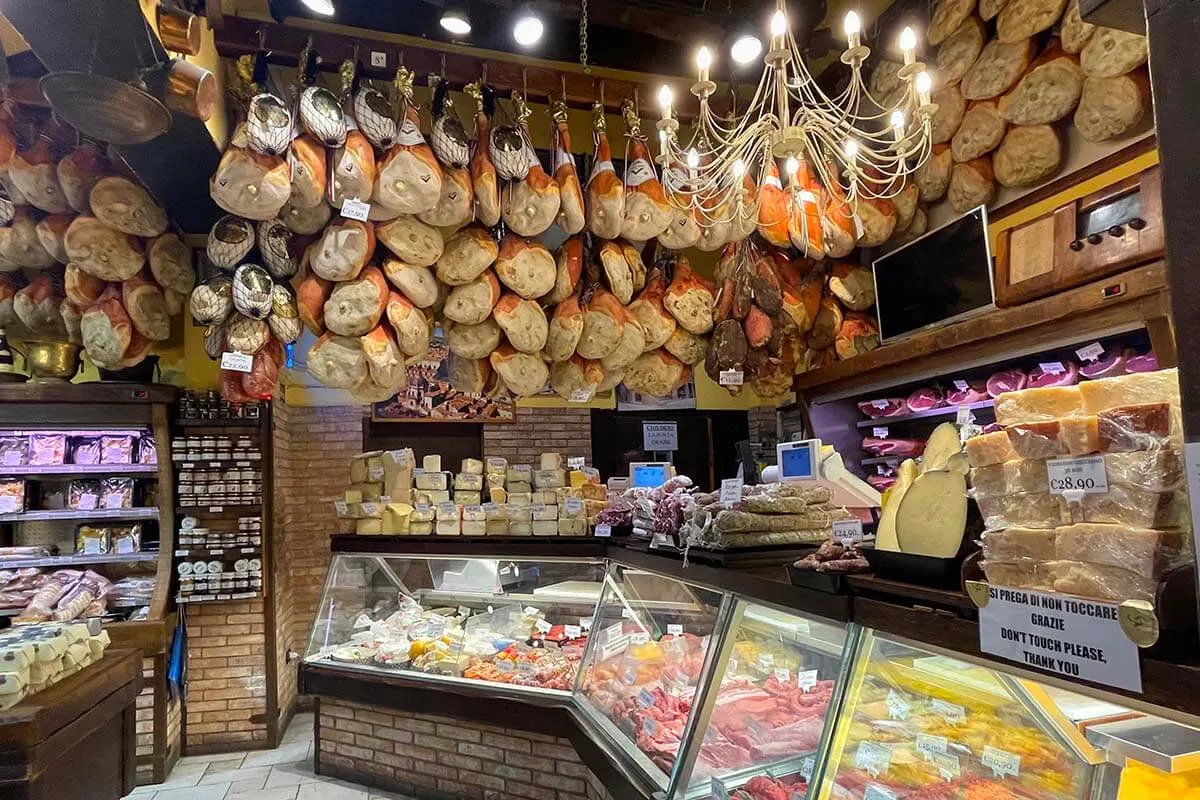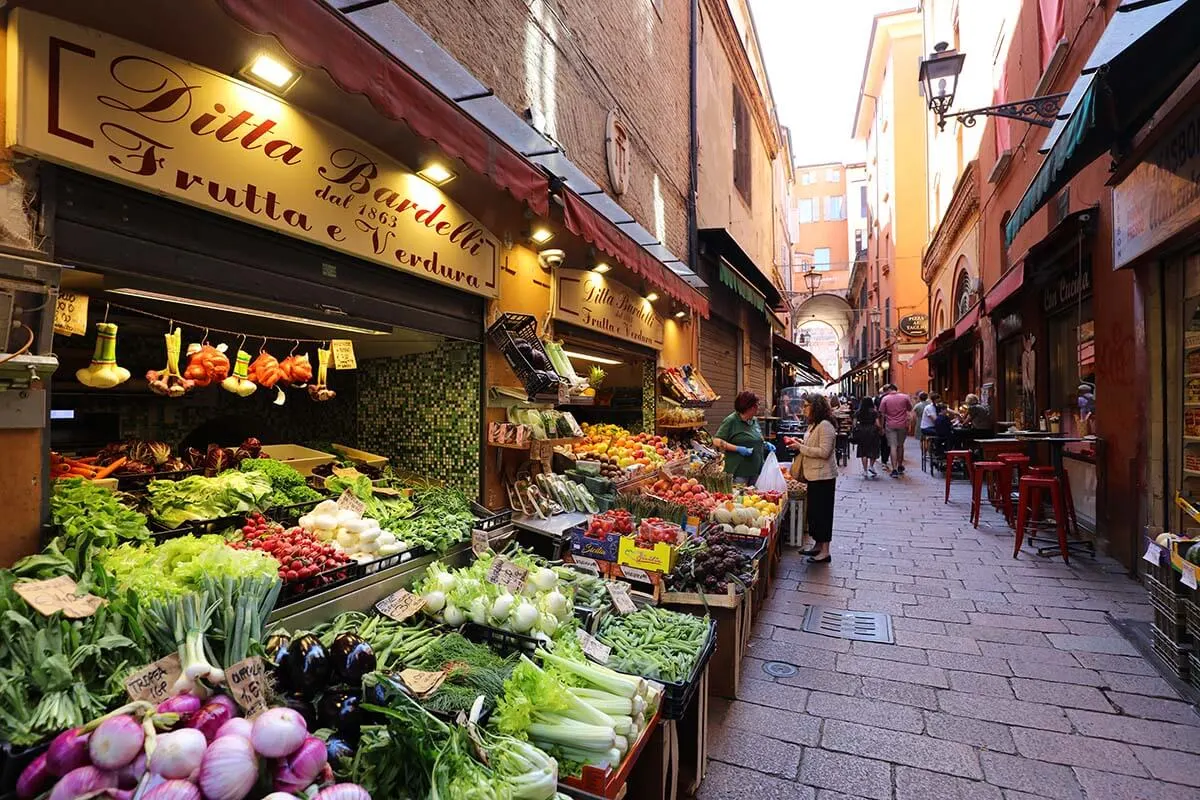 Be sure to take a stroll down Via Pescherie Vecchie. Lined with restaurants and food stores, it is one of the prettiest streets in the area, with picture-perfect yellow and terracotta buildings and decorative old street lamps.
If you are looking for a nice quick meal, check out Mercato di Mezzo. This is not really a market, but a food court where you will find stalls selling all kinds of local specialties.
TIP: When in Bologna, be sure to try the crescentine fritte – delicious, pillowy rectangles of fried dough that are usually topped with cheese and prosciutto. I'd go back to the city just for this!
Good to know: Come here for lunch or in the afternoon as that's when the area is at its liveliest.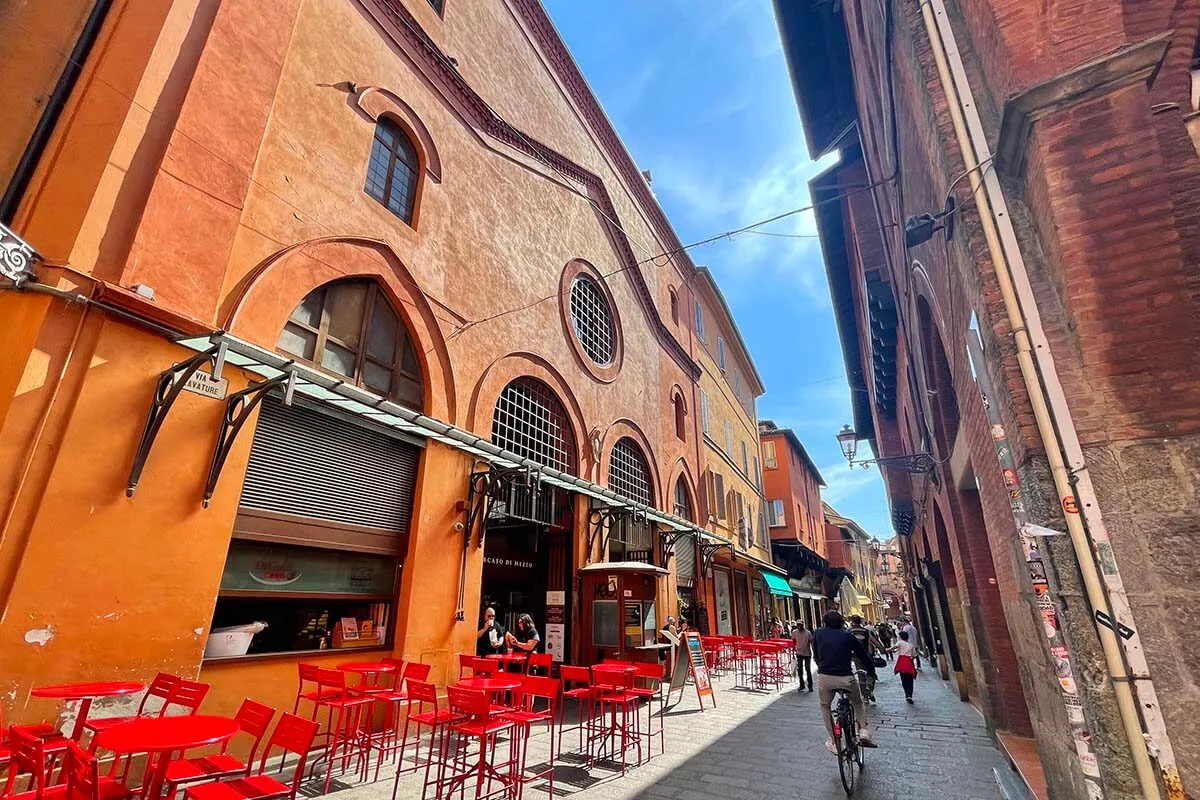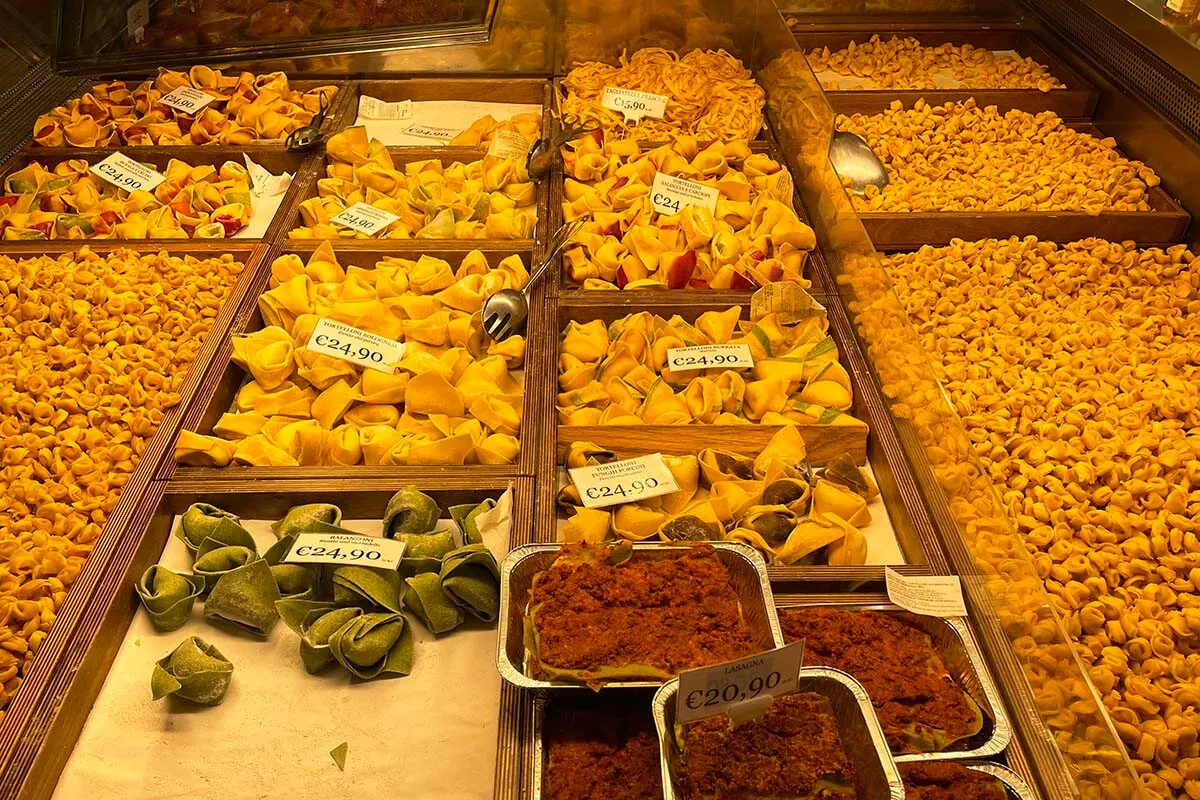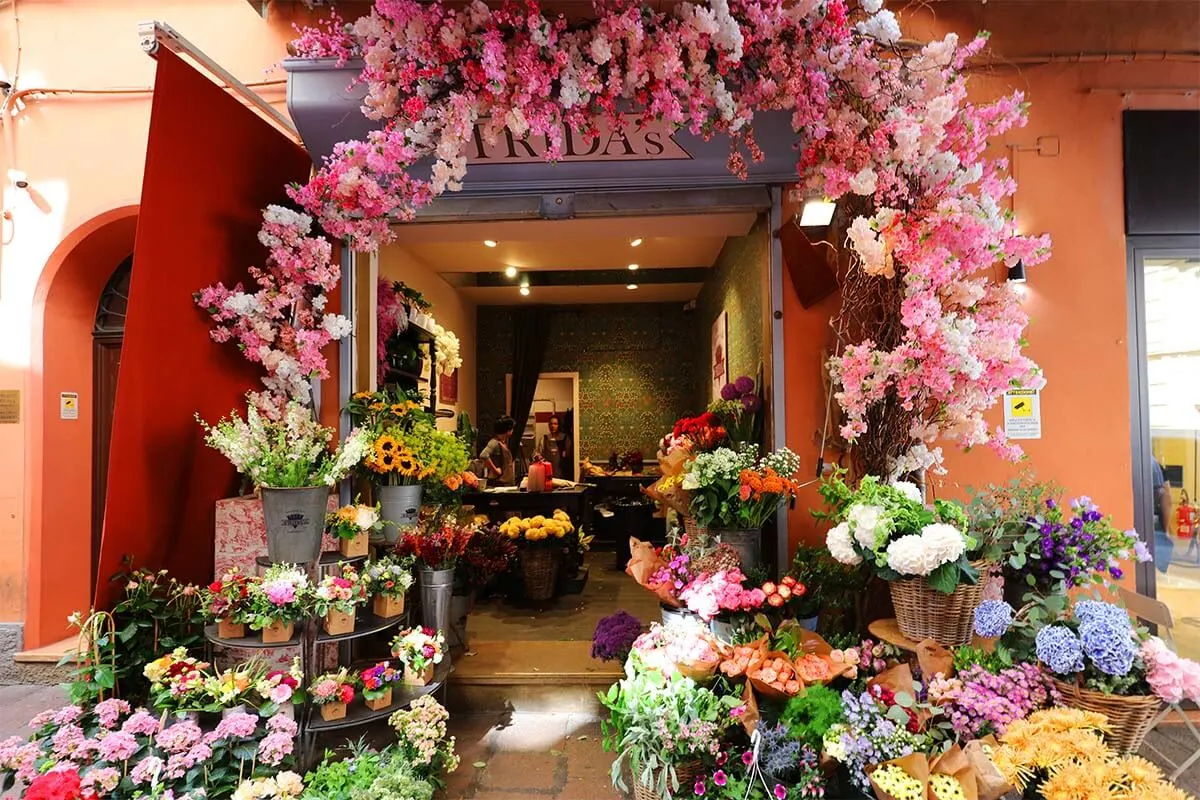 6. Seven Churches – Santo Stefano Complex
Piazza Santo Stefano is a triangular open space often used to host concerts and other cultural events. With Casa Berti, Palazzo Isolani, and Palazzo Bolognini Isolani on one side – and the 16th century Palazzo Bolognini Amorini Salina on the other – it is dominated by the Basilica of Santo Stefano.
Basilica of Santo Stefano (Basilica Santuario Santo Stefano – Complesso delle sette chiese) is a must-see in Bologna. This historical religious complex includes several different buildings, chapels, and courtyards, plus a free museum where you can learn more about its history.
The site has been restored multiple times. Despite its name, there are only 4 churches left rather than the original 7.
You start your visit at the 8th-century Church of the Crucifix, where you can see the 14th-century crucifix that gives the church its name. There is also an 18th-century sculpture depicting the "Lamentation over the Dead Christ" in the left nave, and a fascinating crypt under the presbytery stair.
From there you exit through a side door to the Church of the Holy Sepulchre – the complex's oldest building. It contains a shrine holding the relics of San Petronio (recovered here in 1141) and a natural spring symbolizing the River Jordan. You'll see people crawling on their knees through a small hole in order to see the relics inside – it's really special.
Next is the church dedicated to Vitale and Agricola – a master and servant who became the city's martyrs when they fell victim to persecution by Diocletian in 305 AD. Here you can see the remains of a mosaic floor and the two decorated sarcophagi of Vitale and Agricola.
Finally, you exit into the "Courtyard of Pilates" – named for the spot where Jesus was sentenced – and move on to the Church of the Trinity, containing a wood sculpture depicting the Adoration of the Magi.
The tranquility and beauty of these buildings really must not be missed – and be sure to take a stroll around the peaceful cloisters at the end of your visit.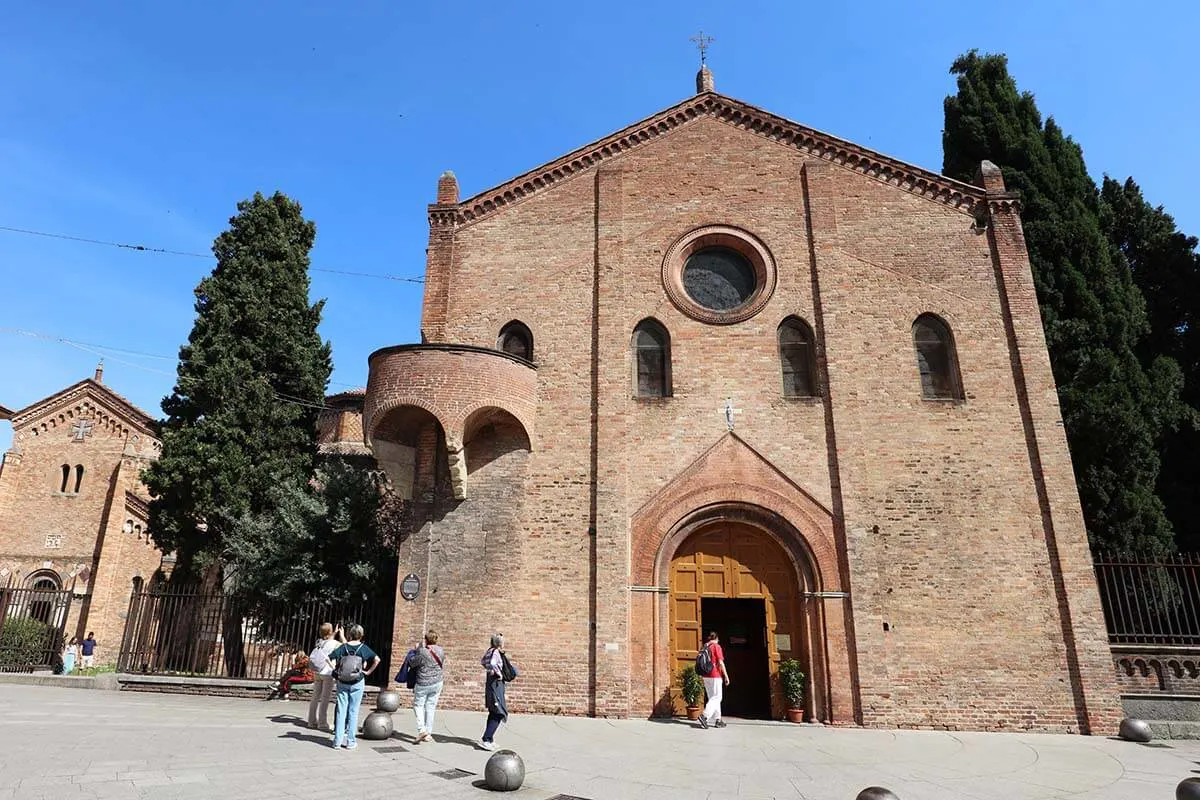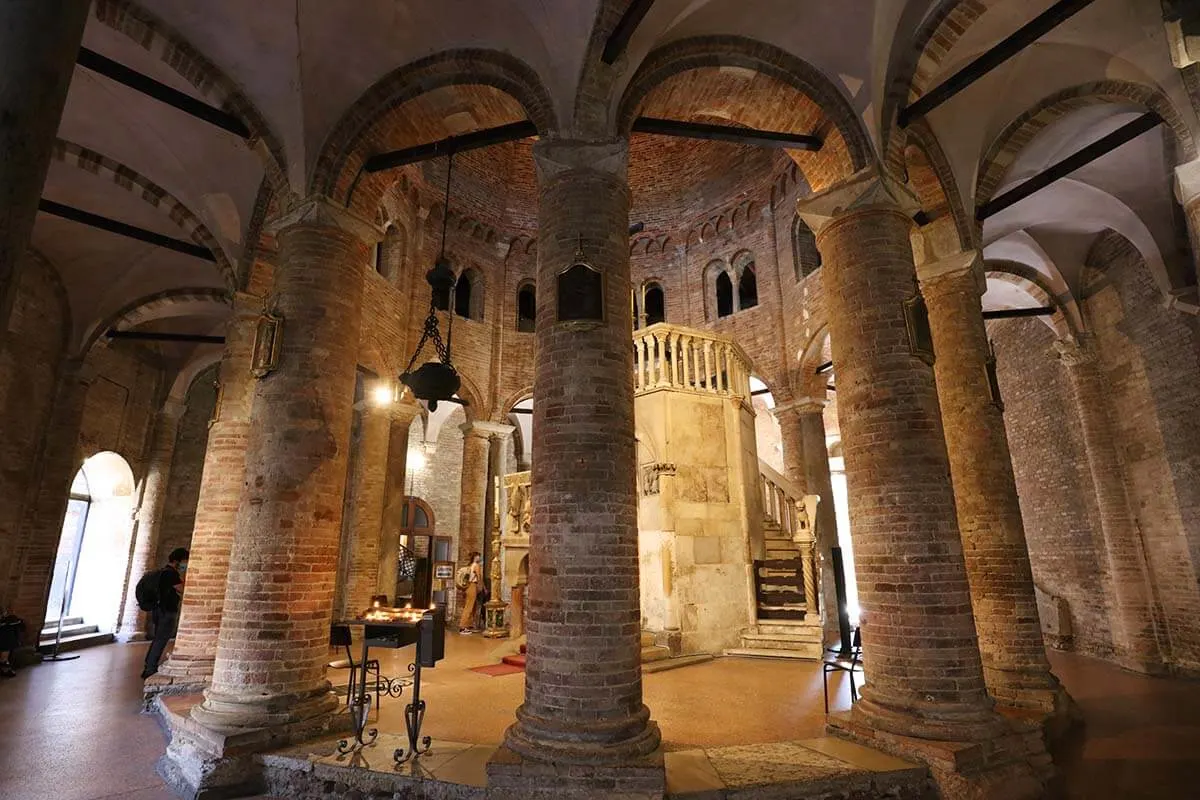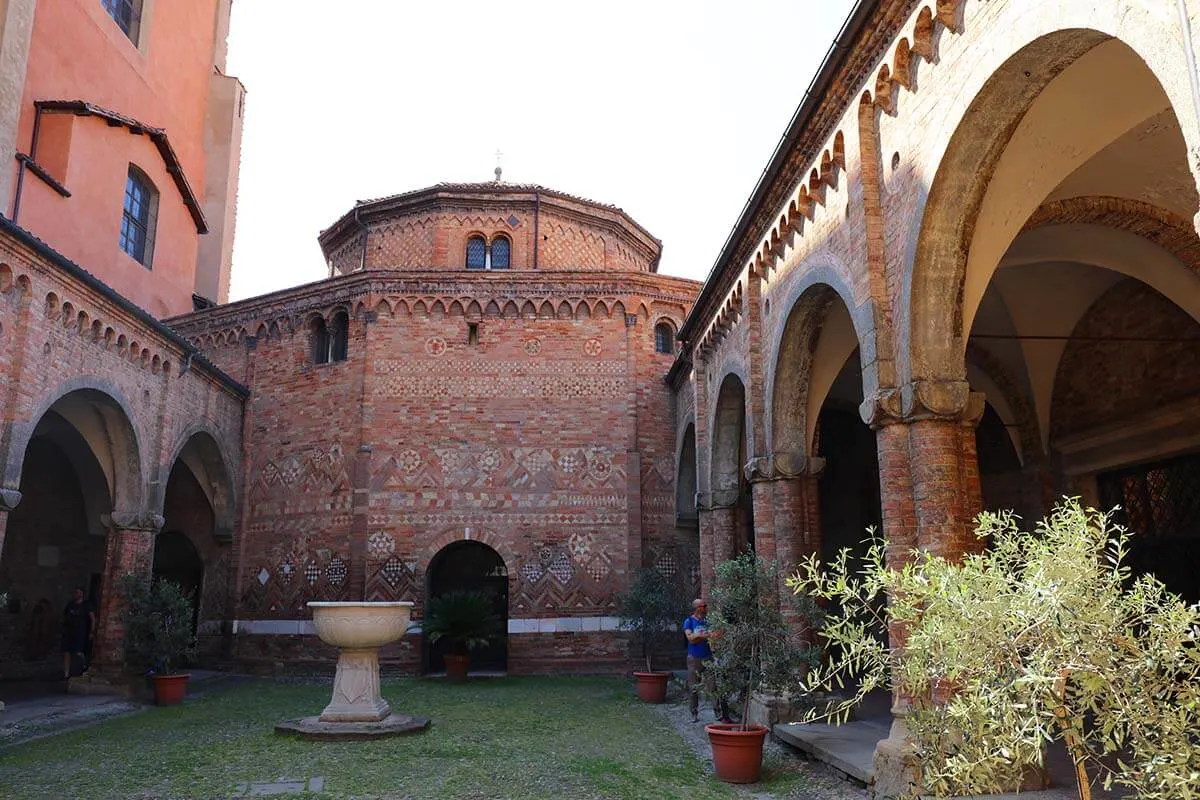 Good to know: The Basilica of Santo Stefano and most other sights here are open daily from early morning until around 7-7.30 pm. There is a 2-hour lunch closure between 12.30 and 2.30 pm.
There is no entrance fee and you don't need any advance reservations in order to visit here.
This is one of the most unique religious sites in Bologna, it's right in the heart of the old town, and really easy to visit. Definitely, one of the top places not to miss in Bologna!
We came here with our walking tour of Bologna's highlights. It was nice to have a local guide who could tell us more about what we were seeing and quickly guide us through the labyrinth of different buildings of this impressive religious complex.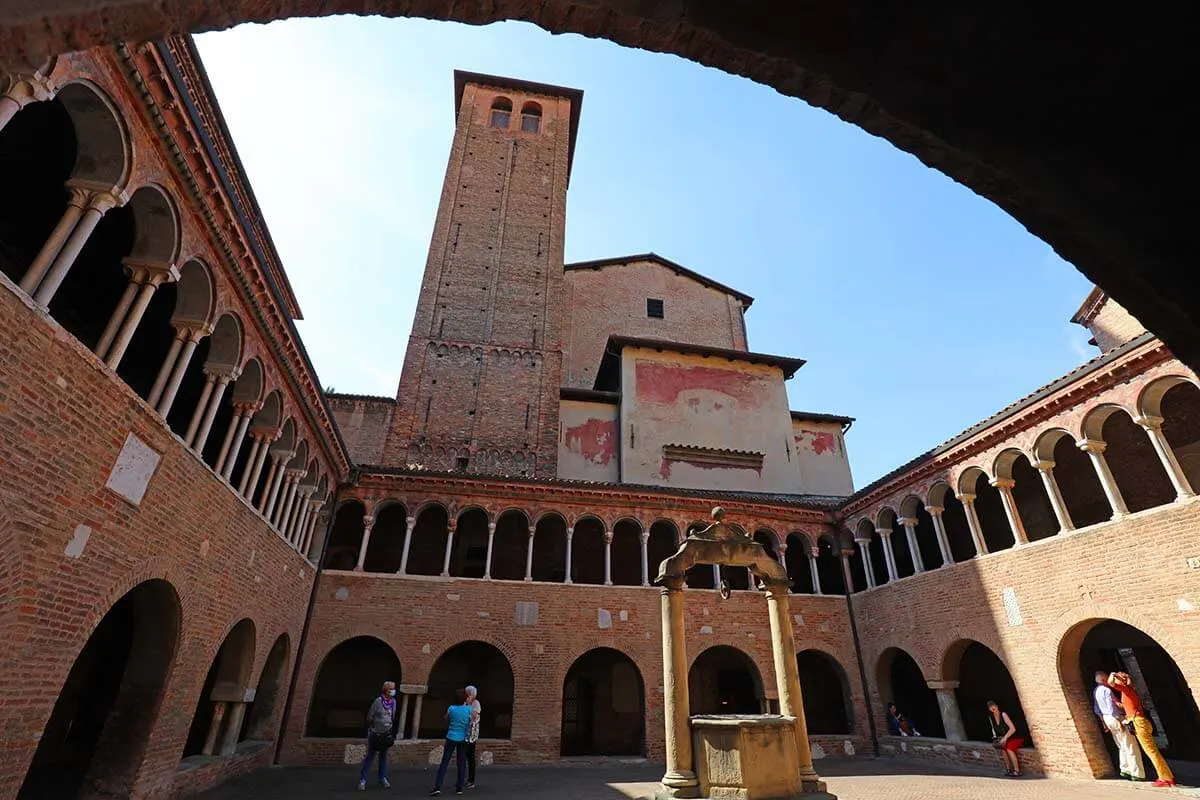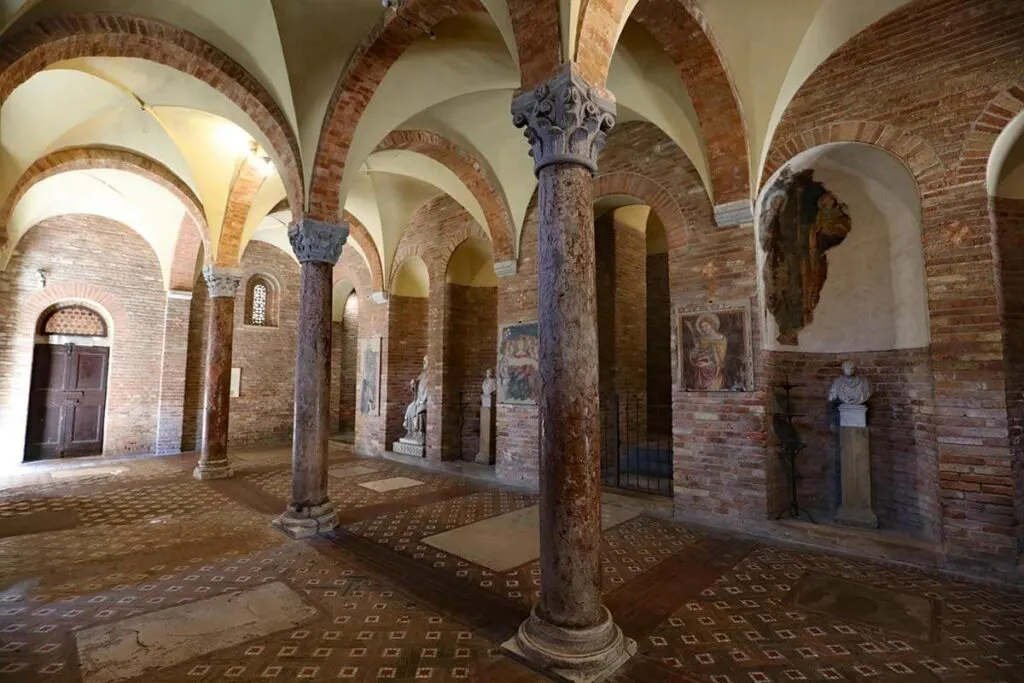 7. Teatro Anatomico & Palazzo dell'Archiginnasio
Teatro Anatomico is one of Bologna's most curious attractions. It is also one of the most popular places to visit, and is absolutely worth a few minutes of your time. Just to make things clear – this is not a theater, but a 17th-century anatomical lecture hall of Bologna University.
The Anatomical Theatre is located in the Archiginnasio Palace, the most impressive building of Bologna's University in the heart of the old town. Palazzo dell'Archiginnasio was built in the 16th century and served as the seat of Bologna University until 1803.
Part of the city's old medical school, Teatro Anatomico was damaged by bombing in WWII. It has been painstakingly restored using its original pieces. Built entirely from spruce wood and decorated with statues and astrological symbols, this lecture hall is really impressive.
The scene is dominated by the throne-like seat for the professor, flanked by the rather grisly Spellati (skinless) statues with their bodily anatomy exposed. There is a marble table in the middle of the room which – although it's only a copy of the original – makes it easy to visualize how it was once used for the dissection of cadavers. You can take your place on the tiered seating and imagine how it must have felt to be a medical student at the time.
See if you can also see a spy hole in the wall. It was used by the church to make sure that classes were not teaching anything immoral.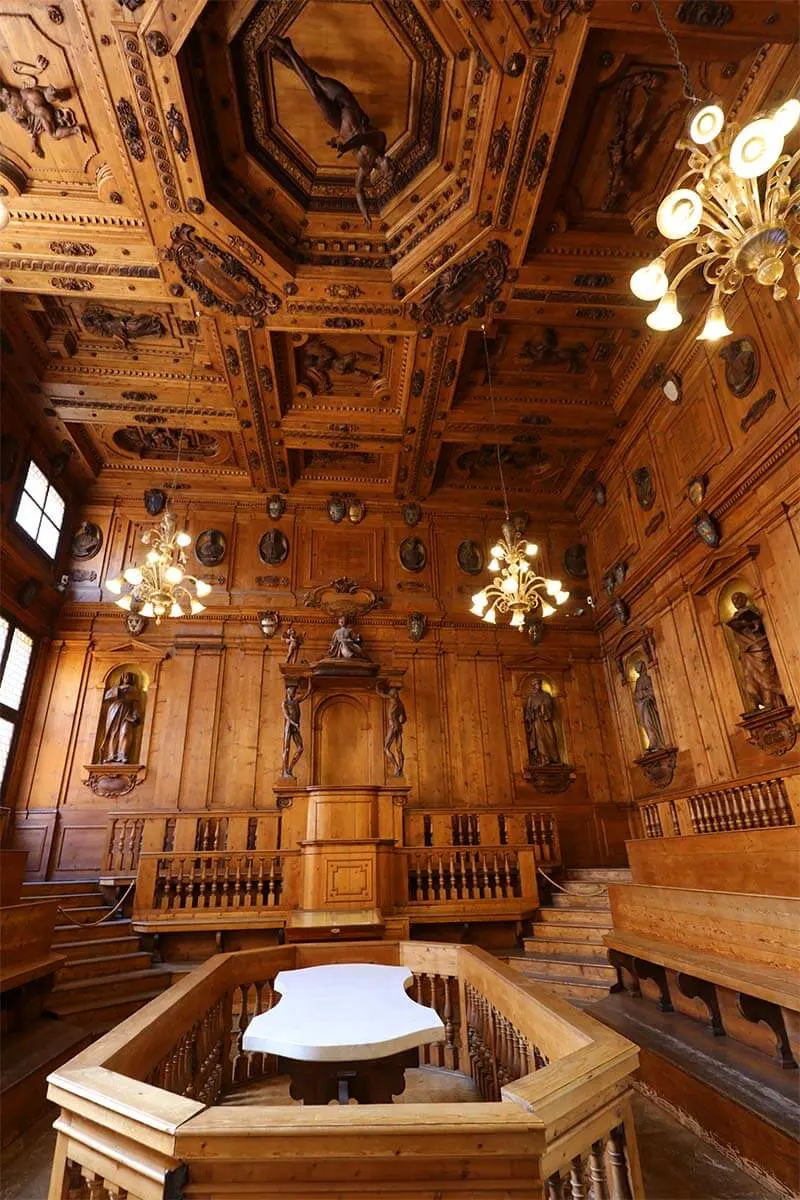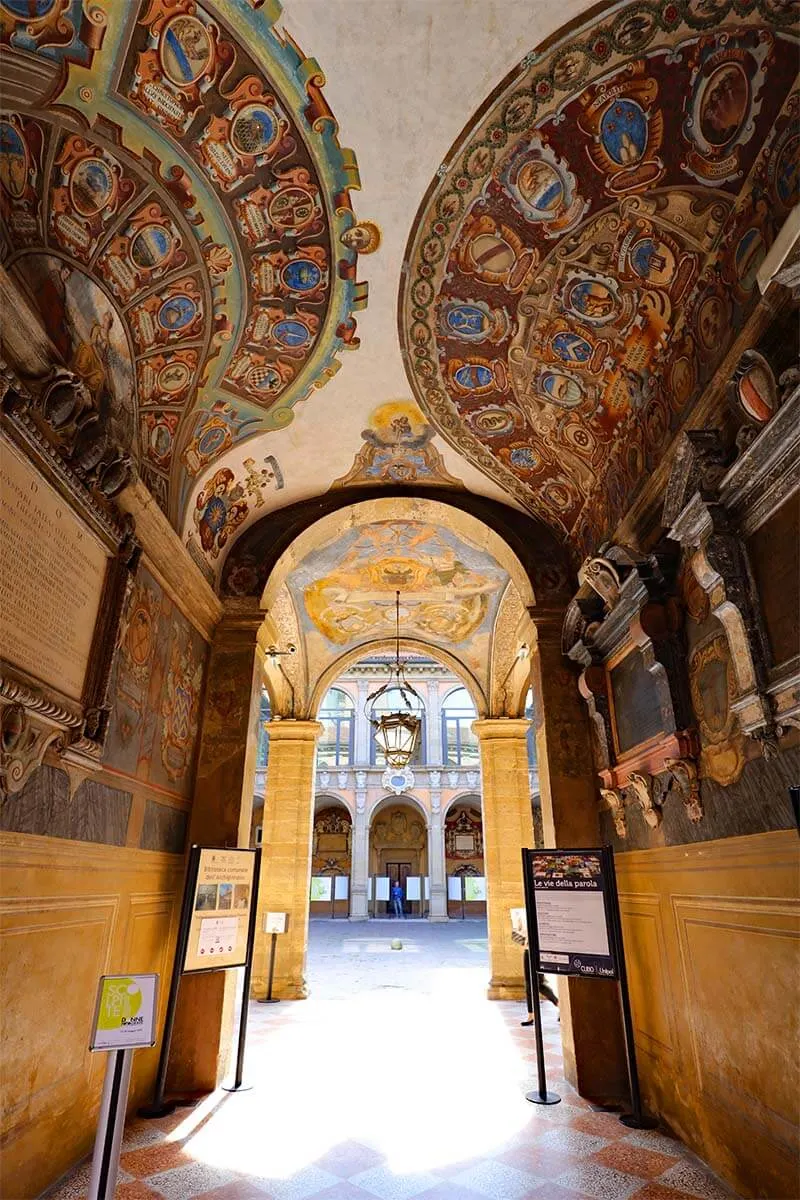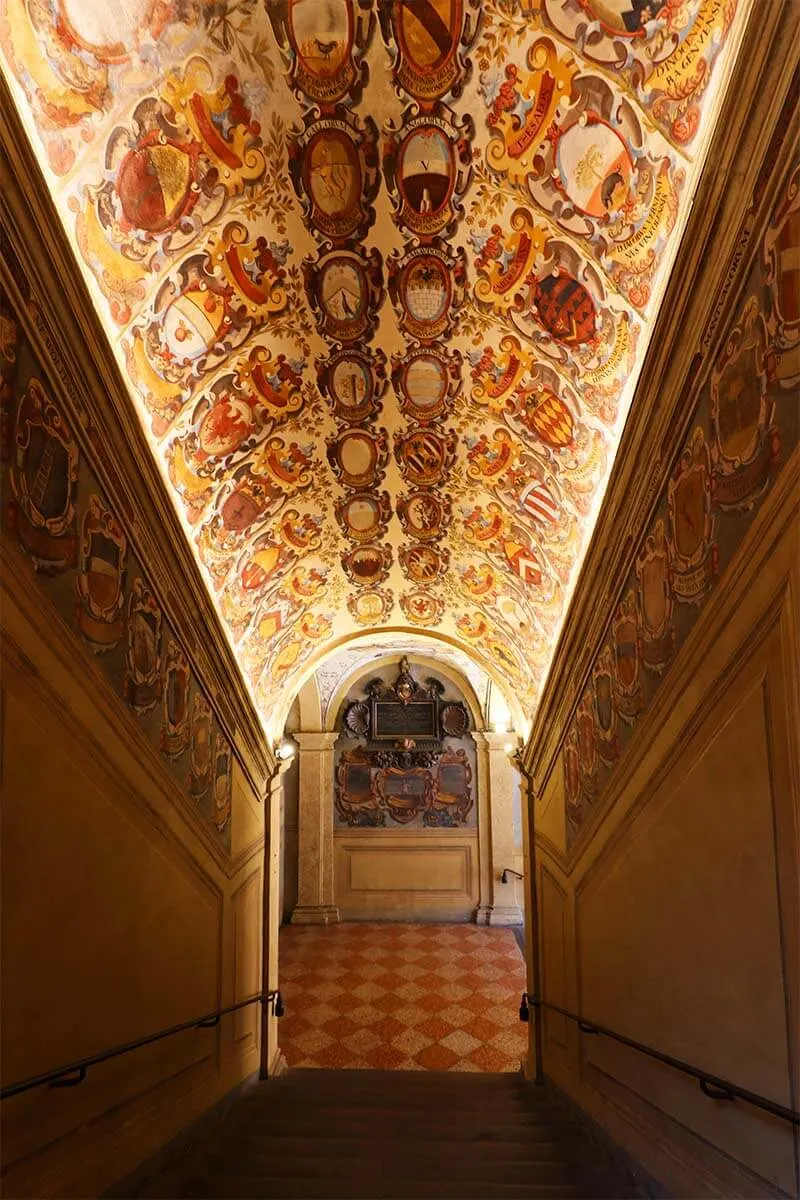 Good to know: Everyone is free to walk around and visit the impressive courtyard and several hallways of Palazzo dell'Archiginnasio. But you will need a ticket if you want to visit Teatro Anatomico or the library inside.
Be sure to also take a look at the beautiful library. You can only visit Stabat Mater Hall and not the actual library. But you can take a peek at the impressive library through an open door.
The entrance fee includes access to Teatro Anatomico and Stabat Mater Hall and is just a few euros. You only need 10-20 minutes for a visit. However, the number of people they allow inside at any given time is limited. So if you didn't reserve a specific time slot in advance, it's possible that you will have to come back a few hours later.
Practical information: Teatro Anatomico is open daily except on Sundays and some public holidays. You can reserve your ticket in advance here. It's not a must but can be helpful if you want to visit at a specific time (which makes it easier to plan your day).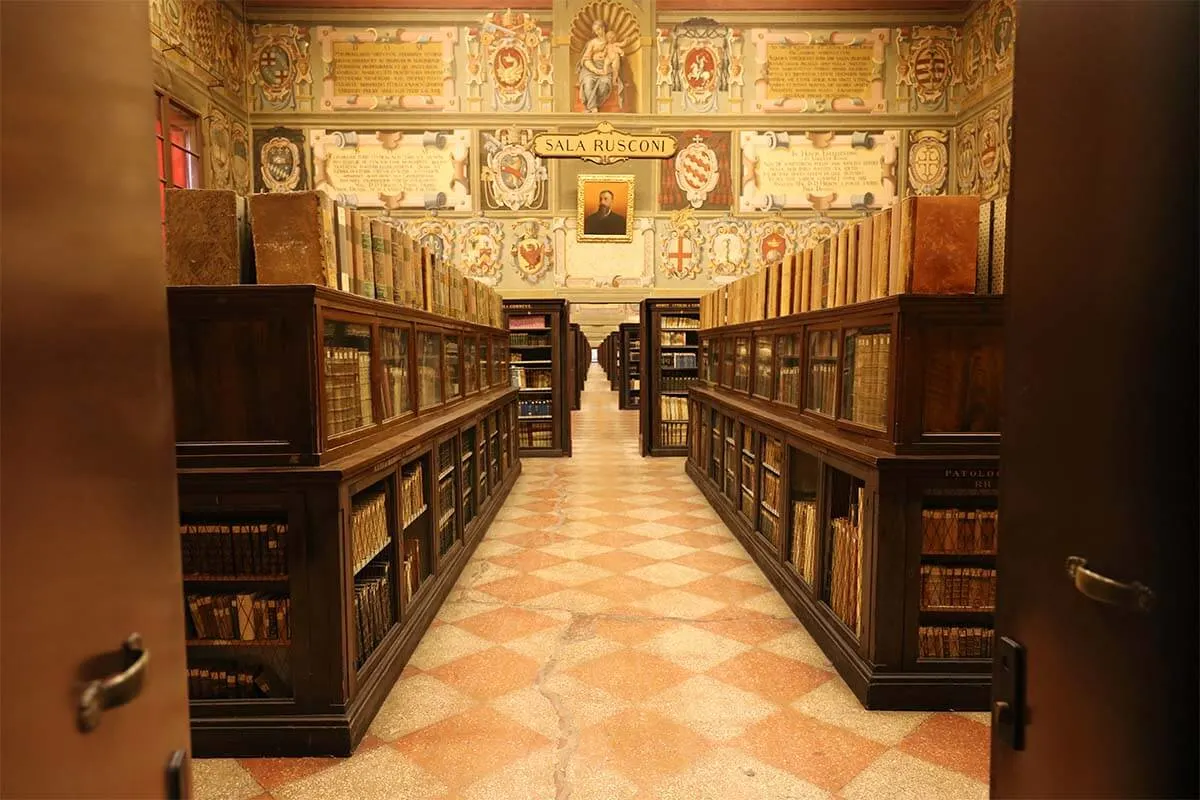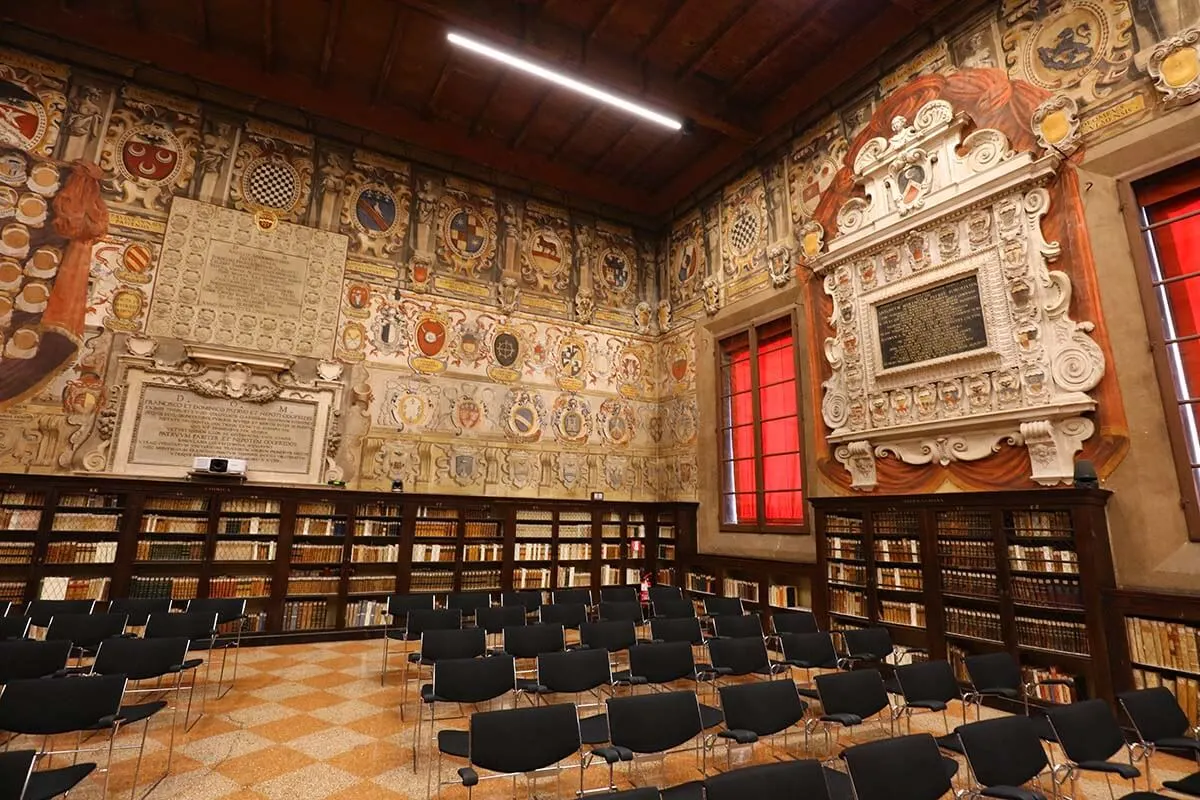 8. Basilica di San Petronio & Terrazza di San Petronio
Basilica di San Petronio located on Piazza Maggiore is another place that you really should visit in Bologna. This is NOT the official Cathedral of Bologna, but it's the most impressive church if the city.
One of Bologna's most important buildings, the San Petronio Church is the 10th largest church in the world and the 6th largest in Europe. Dating back to the late 14th century, its unfinished front facade is a strange mixture of marble and brickwork – the result of a rivalry with Rome.
The church is dedicated to Saint Petronius – Bologna's patron saint – and has many unique and distinctive features. These include the world's longest indoor Meridian – which accurately marks the passing of days and seasons – and 22 smaller chapels. Inside one of these – the Cappella Bolognini – you can see an original depiction of heaven and hell inspired by Dante's Divine Comedy.
There are also some magnificent frescoes here, plus two ancient organs – one of which is the oldest functioning organ in the world.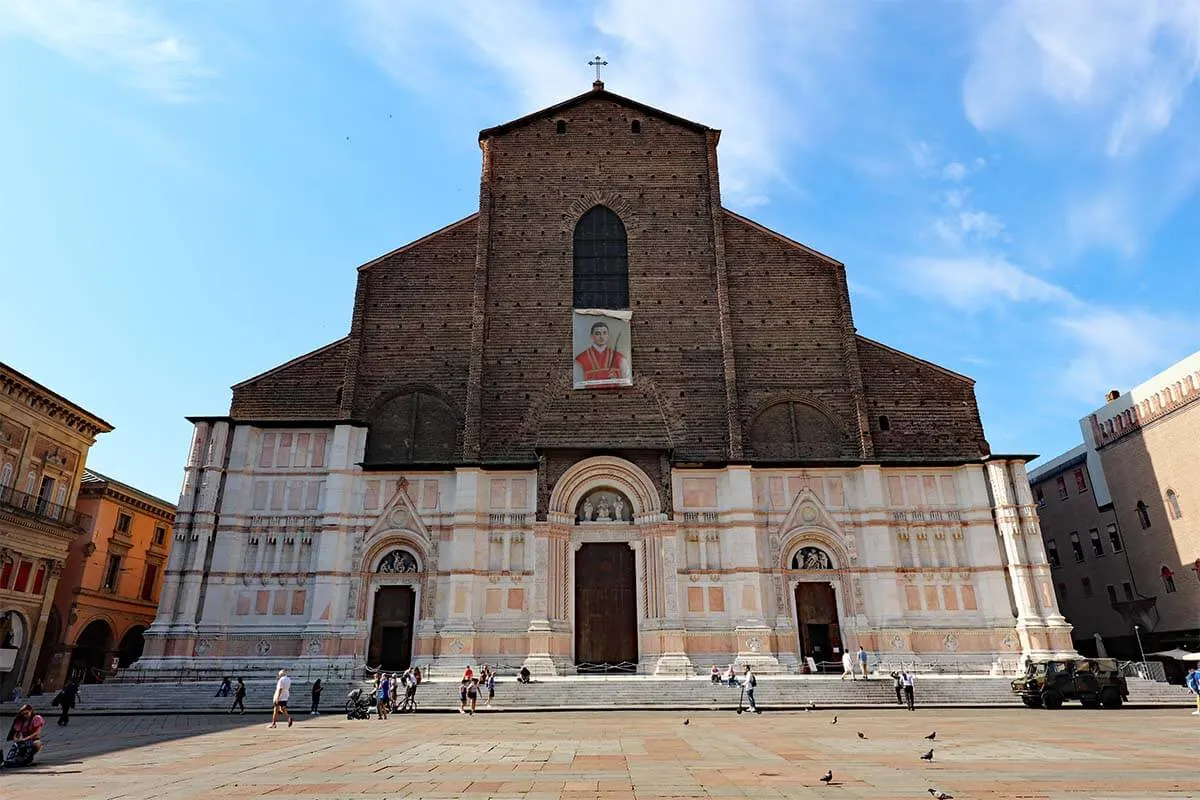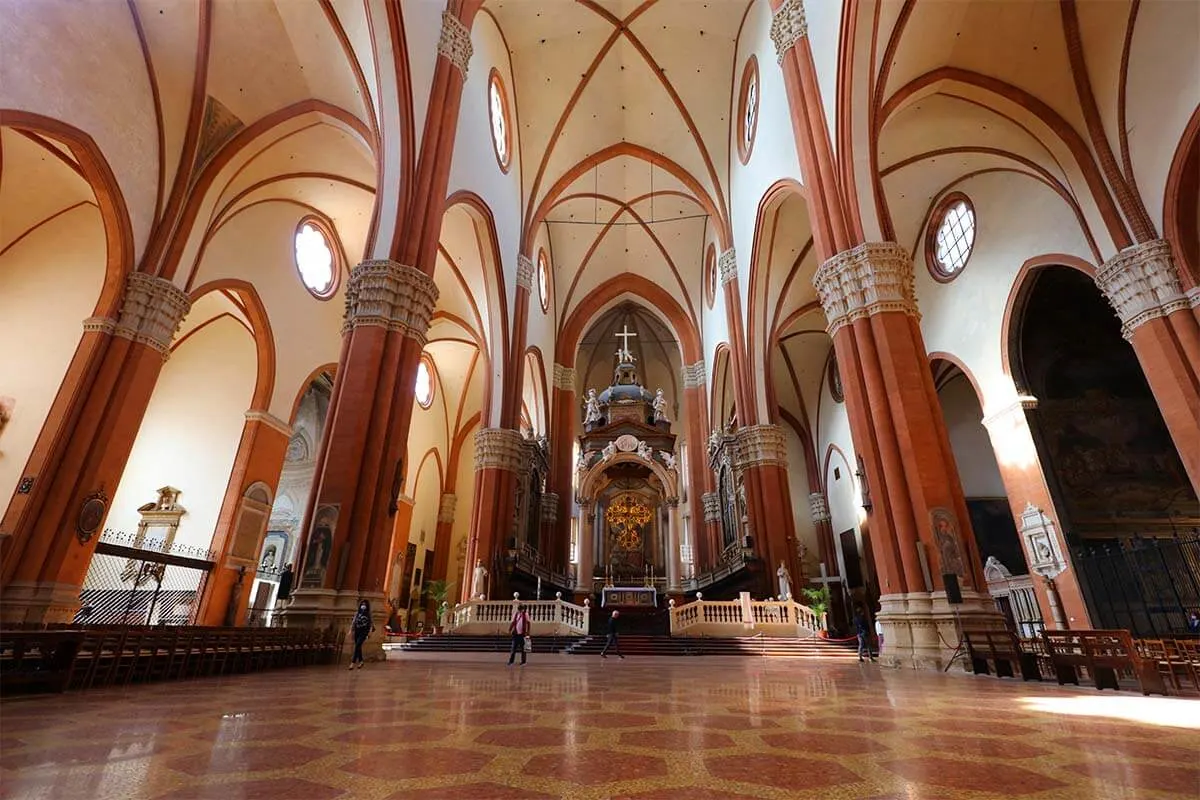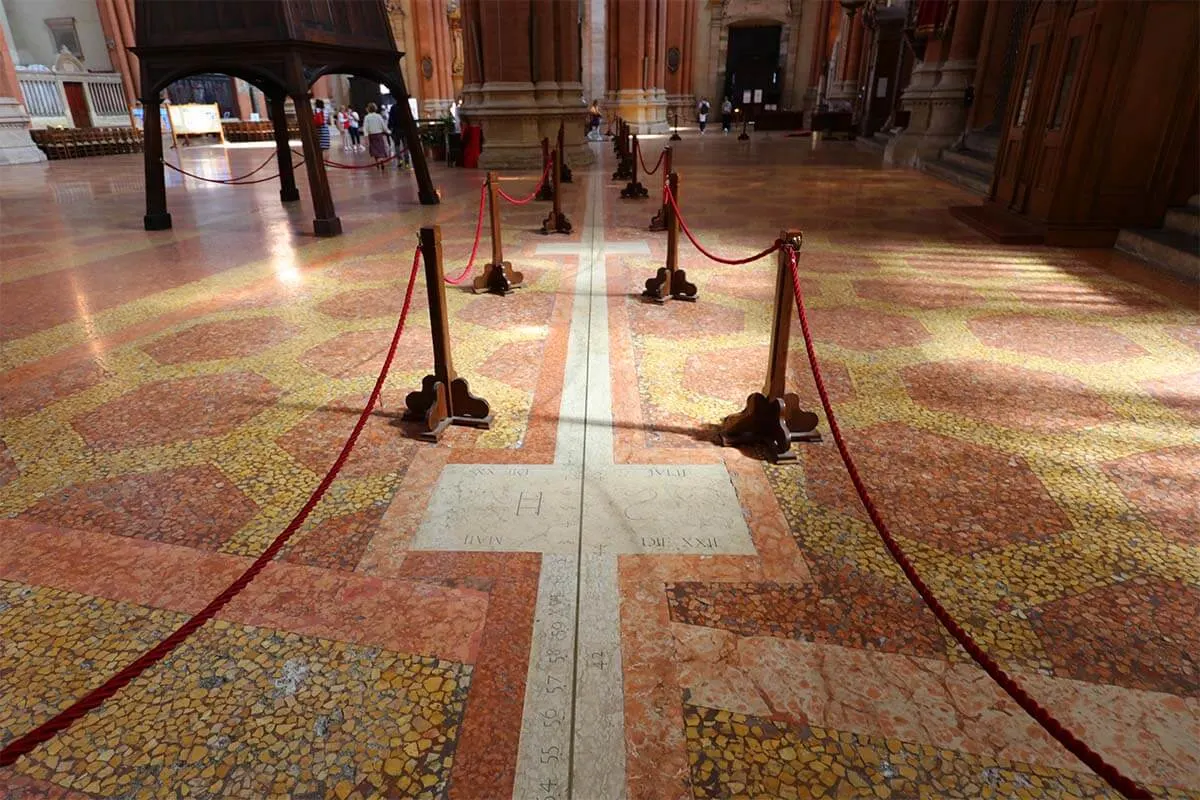 TIP: If you are looking to do something unique in Bologna, see if you can visit Terrazza di San Petronio. This is a temporary viewing platform located on the outside at the back of the church. This part of the building is being renovated and they had to install metal stairs for the workmen to be able to reach the upper parts of the church. To help finance the renovation, they also added a small 'terrace' at the top of these metal stairs, from where tourists can enjoy unique views of Bologna.
Good to know: The Basilica is open daily from 8.30 am to 1.30 pm and from 3 to 6.30 pm and the entrance is free of charge. They ask you to pay a small fee if you want to take pictures inside or visit Cappella Bolognini.
The panoramic terrace is only open on the weekends and holidays (when there are no construction workers) and only while the construction works last. There is a small fee and you can get a ticket on the spot. For more practical information and opening hours, see here.
I'm not sure how much longer these renovation works will be going on. But if you are visiting Bologna on a weekend, take a look if the terrace is still open. The views are well worth a short climb.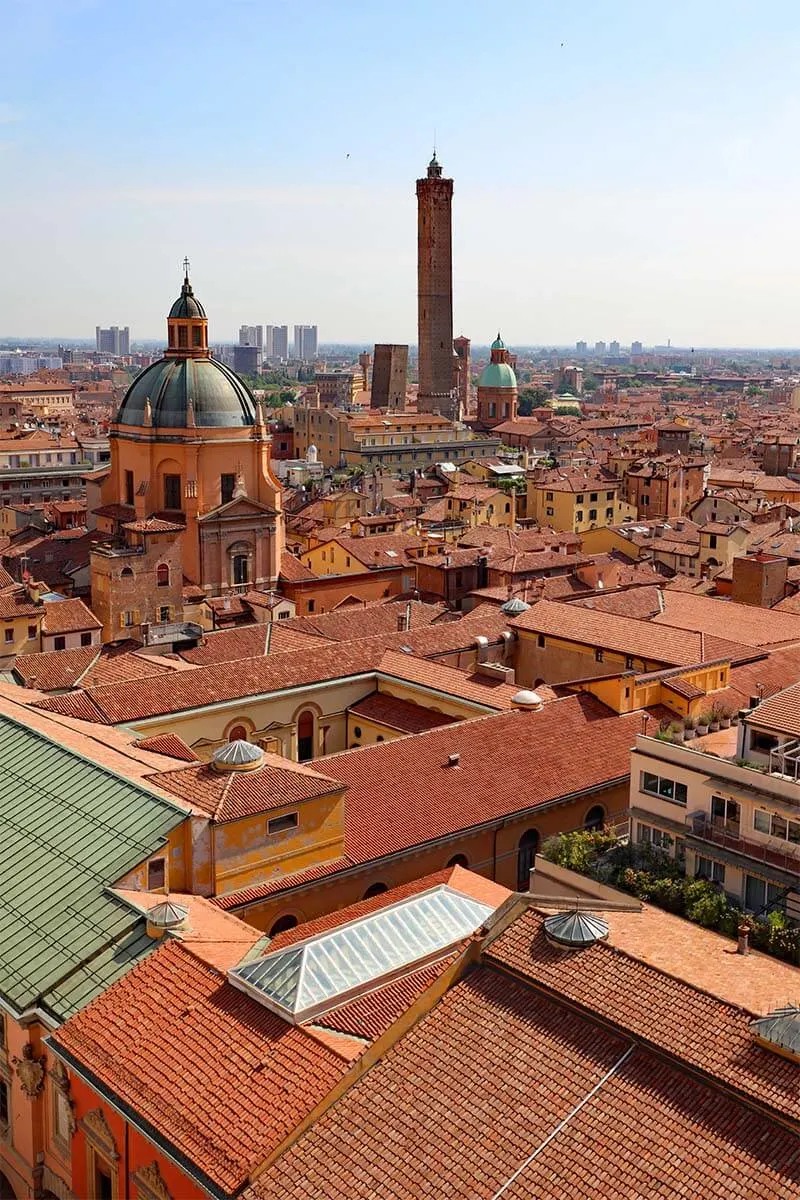 9. Former Jewish Ghetto
Bologna's former Jewish ghetto (Ex Ghetto Ebraico) lies in the heart of the medieval center. A network of covered bridges, suspended bridges, and alleyways, the area looks much as it did in ancient times.
Just as in most other places all over Europe, the ghetto was created following a 1555 order by Pope Paul IV that Jews be separated from the rest of the population in all territories of the Papal State.
The old ghetto in Bologna is a small area north of Via Rizzoli and between the streets of Via Oberdan and Via Zamboni. You only need 15-20 minutes for a visit here. It's definitely worth passing by!
The area is really picturesque, with colorful houses and interesting street art. You'll also find lots of artisan workshops and cool bars here, as the old ghetto has gradually become popular with Bologna's younger crowd.
In addition, you can visit the Jewish Museum of Bologna (Museo Ebraico di Bologna) inside the ghetto to learn more about the area's history.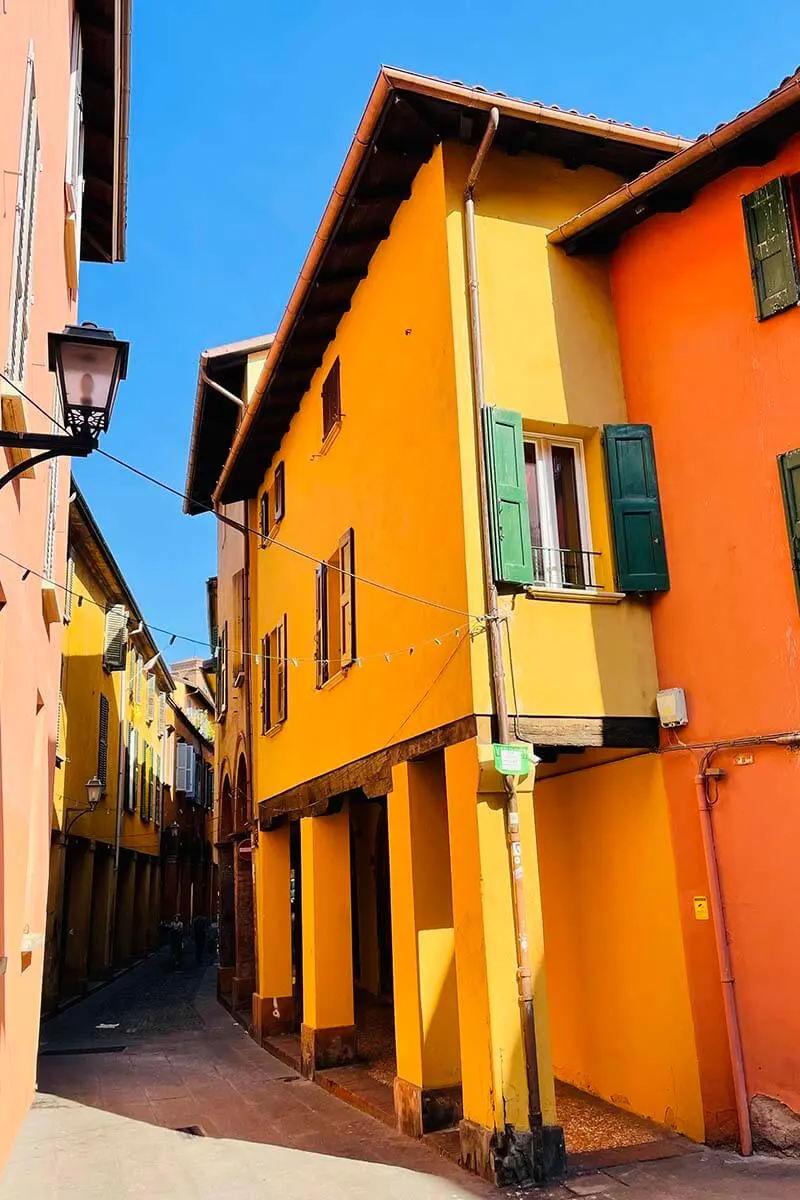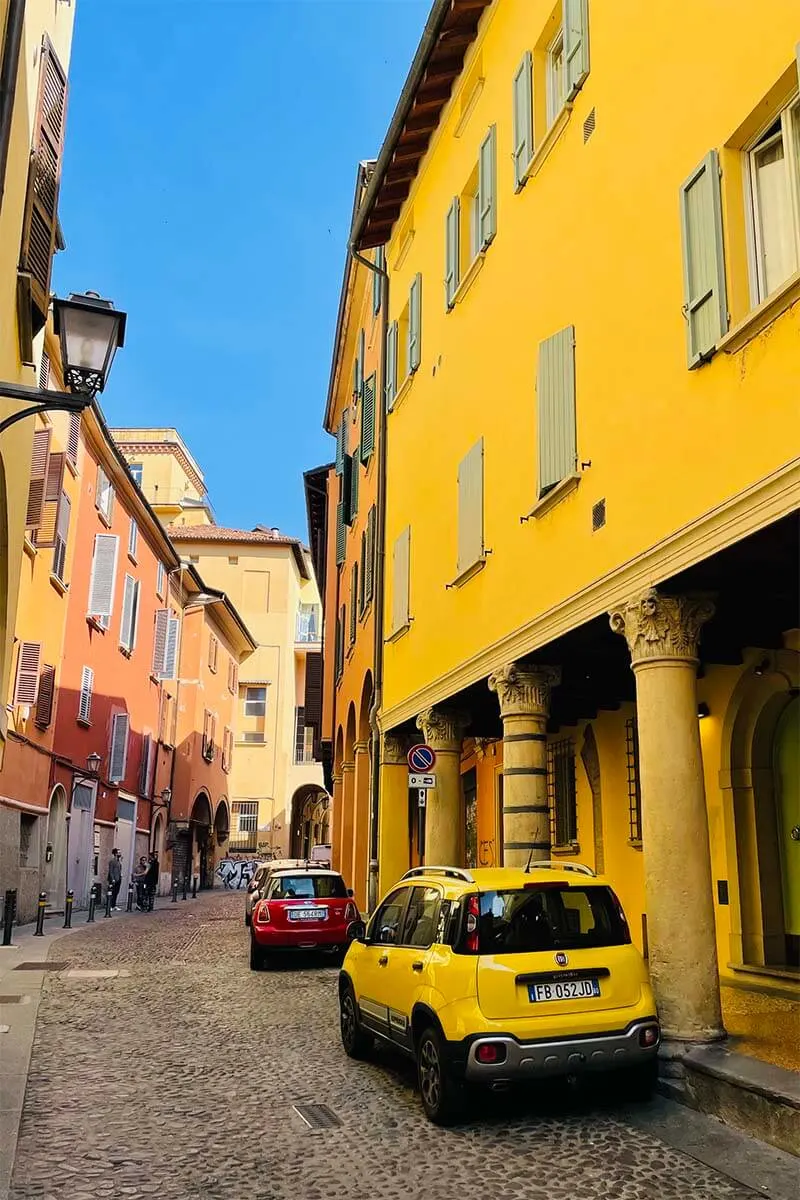 Good to know: At various places in the ex-ghetto, you'll see informational signs with a hand-shaped map of the area.
These maps indicate some of the main points of interest in the neighborhood (see the picture below). Following their recommendations and reading all the info along the way, you can learn more about the ghetto's history.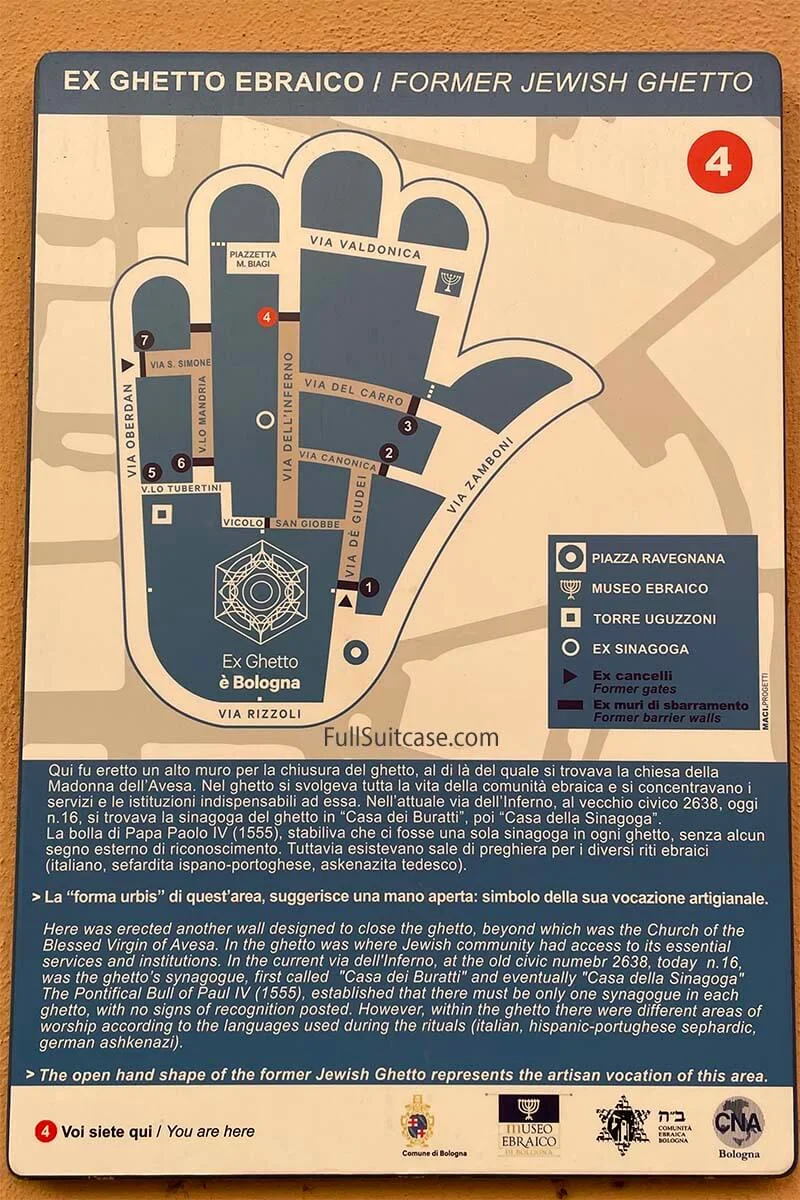 10. Sanctuary of Madonna di San Luca
The iconic Sanctuary of San Luca sits on top of the Monte della Guardia overlooking the city and is one of Bologna's must-see attractions. However, it's located quite far from everything else and so you'll need to foresee a bit more time if you want to visit here.
Santuario di Madonna di San Luca is a place of worship dedicated to the Virgin Mary. It sits on the site of a 12th-century hermitage that developed into a monastic community. Their purpose was to guard an image of Mary and her child, which was said to have been painted by Luke the Evangelist (and explains the sanctuary's name).
The interior of the Basilica is quite stunning. Inside the sanctuary, you can see beautiful frescoes and imposing columns, with the highlight being the icon of the Virgin Mary with the infant Jesus. This sacred image is much revered in Bologna as it is believed to protect the city. It is carried down each May on a canopy to the Cathedral as part of a solemn religious ceremony.
For a higher-angle view, you can visit an observation deck for which you need to buy a ticket. It involves climbing a narrow spiral staircase of 110 steps into the church's cupola and onto a small outdoor terrace. The view is nice with Bologna center in the distance and rolling hills that make you think of Tuscany… However, you only have partial side views and the terrace is tiny. It's nice to see but not really a must.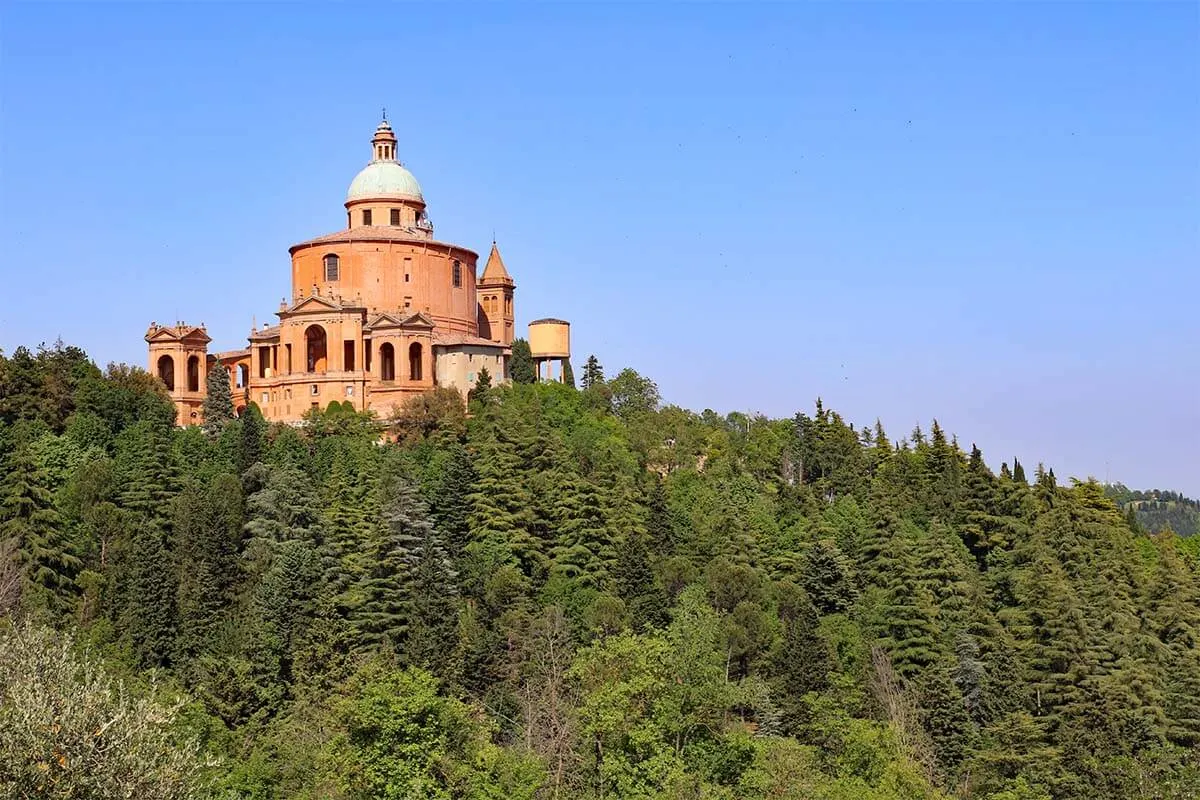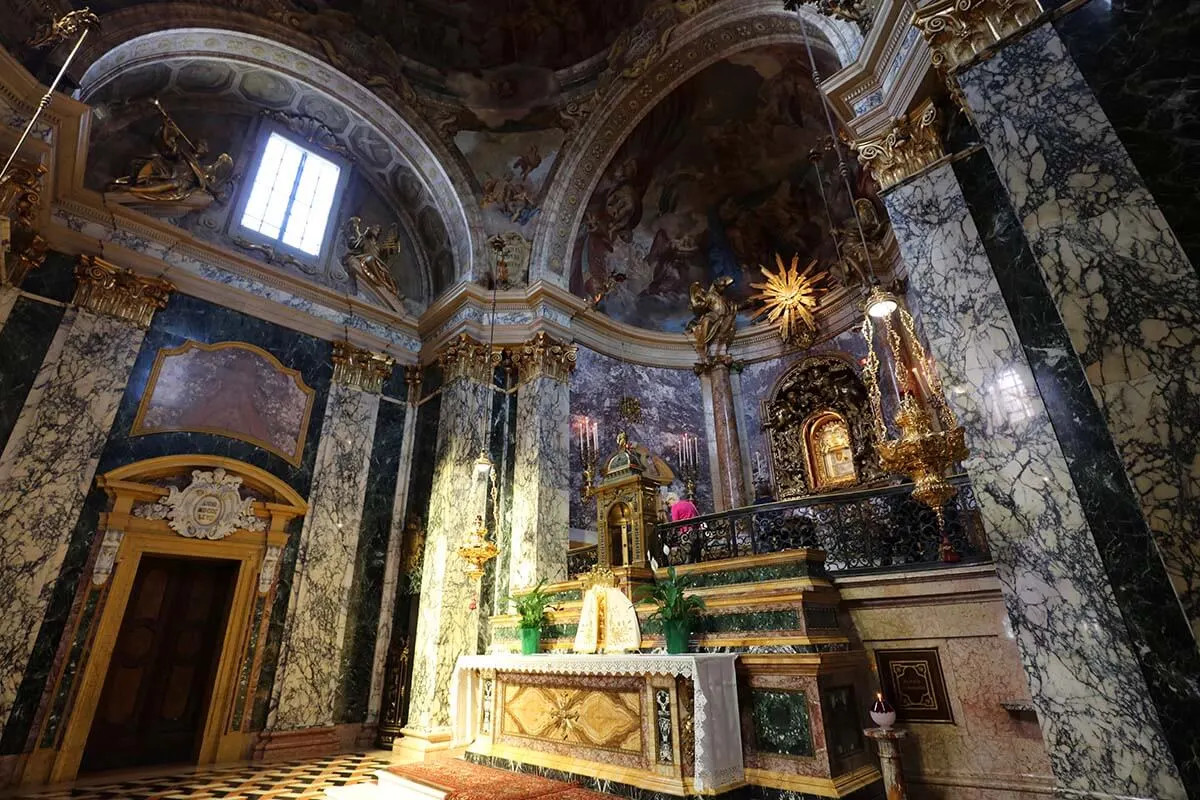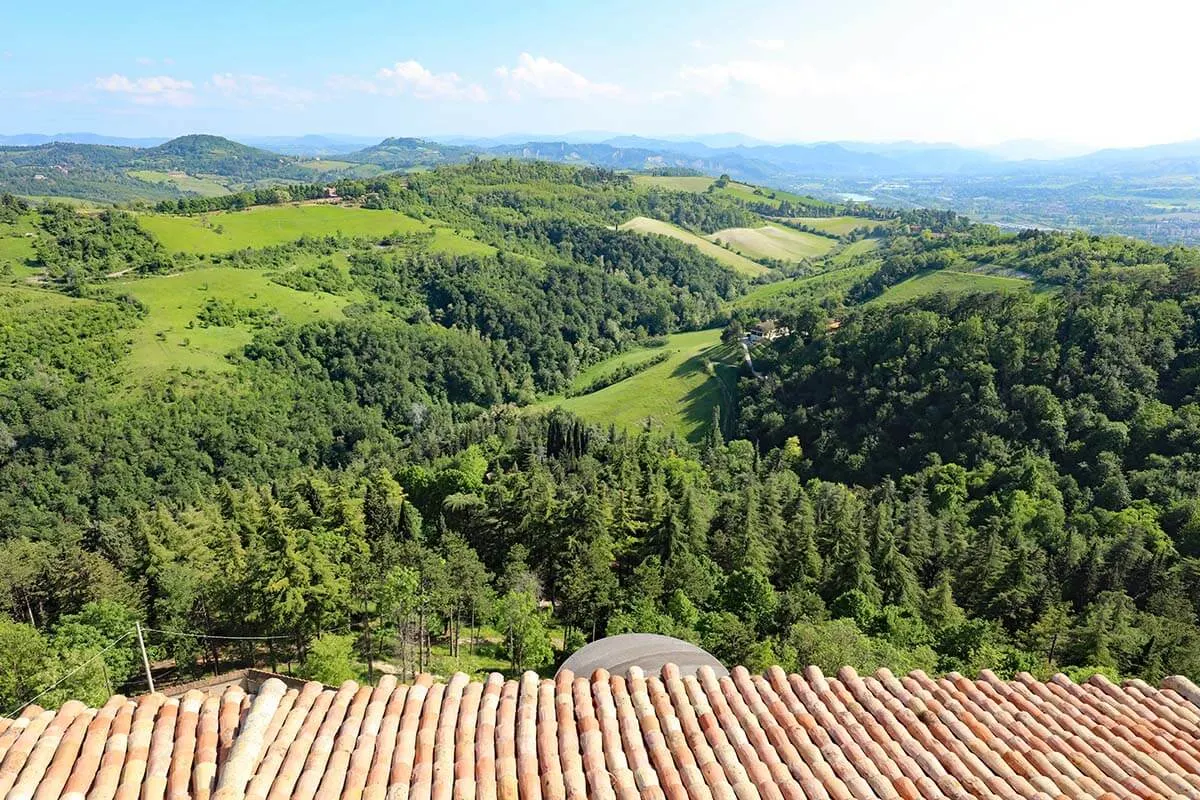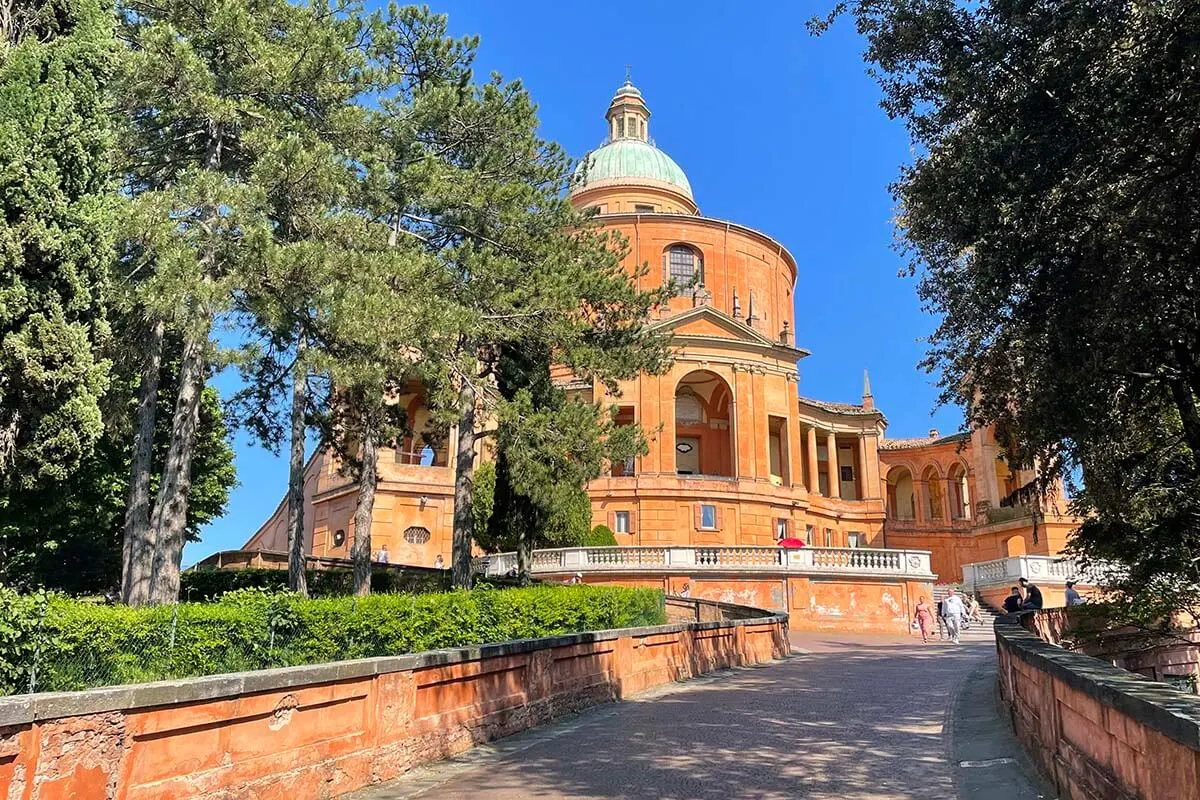 Getting there: The easiest way to get to the Sanctuary is by boarding the 'San Luca Express', a little tourist train from Piazza Maggiore. It runs daily the whole year round, with frequent departures. You can hop off at the sanctuary, visit it, and take the next 'train' back to the center. But many people just look around, take a few pictures while passing by, and don't even get off.
You can get tickets for this little train on the spot or book this ticket that includes food tasting as well. Either way, you'll have to see what the next available time is and if it's busy, you may have to wait half an hour or even longer. Talk to the staff and see if you can put your name on the list for the specific departure. In the meantime, you can visit other places in the Bologna center.
Alternatively, you can take a taxi or even walk to the Sanctuary. Some even find the journey to reach the Sanctuary of Madonna part of its appeal. The route follows the beautiful, covered path of Portico di San Luca – the longest portico in the world.
It begins at Via Saragozza and then starts to rise at the Arco del Meloncello elevating you above the traffic. The incline is 10% so it can certainly be challenging, especially taking into account the long series of steep steps at the end! The walk gives you the chance to enjoy some really good views, including the soccer stadium, the city's historic center, and the Colle dell'Osservanza.
TIP: If you have a few hours to spare and are looking to get a bit off the beaten path in Bologna, take a tourist train or a taxi to the sanctuary, visit inside, and afterwards walk back via the Portico di San Luca. This way you are walking downhill and it's much easier. Still, the distance between the Sanctuary of San Luca and the city center is about 5 km (3 miles) and the walk will likely take you at least 1 hour. You'd need about 1.5 hours if you would do the same walk in the other direction.
Our experience: We took the tourist train to the sanctuary and walked back. In all honesty, I don't know if I'd do it again. Instead, I would just check out the Portico of San Luca and maybe walk down for a couple of minutes – just for the experience. But I'd take the tourist train back to the center rather than walking all the way. There are better things to do in Bologna, and definitely, if your time is limited.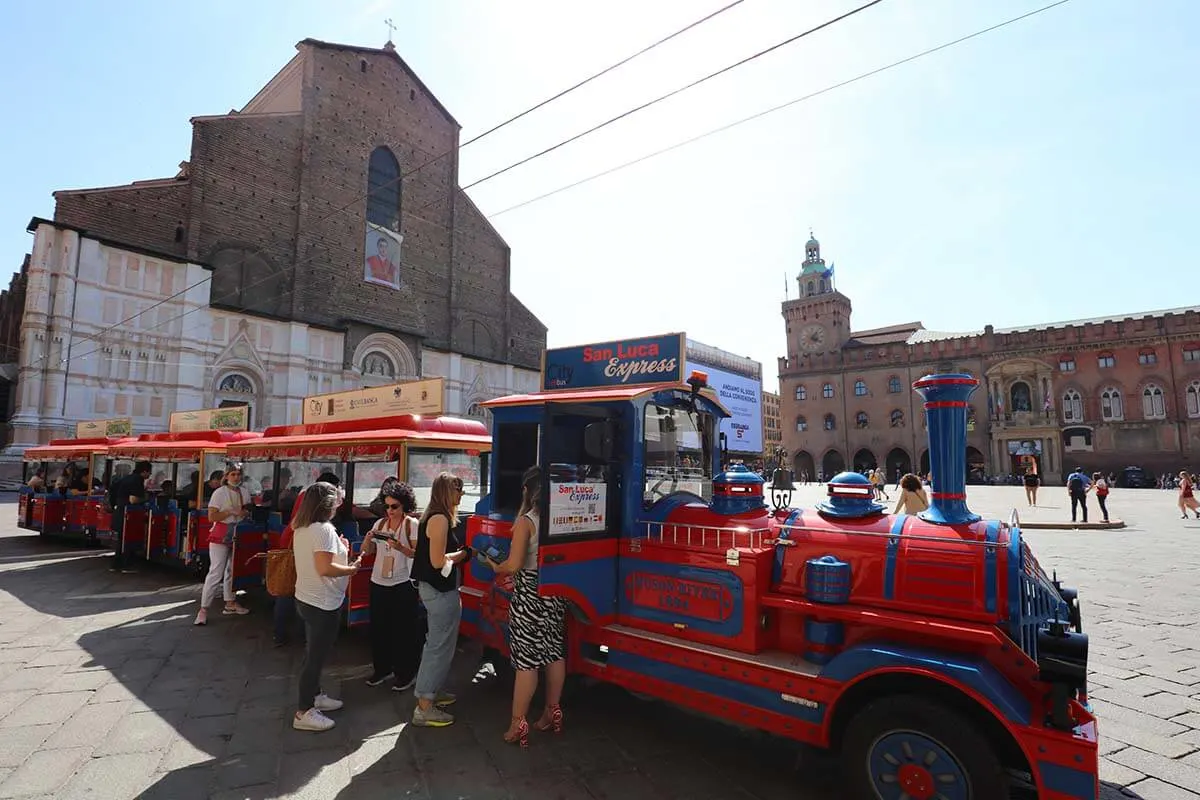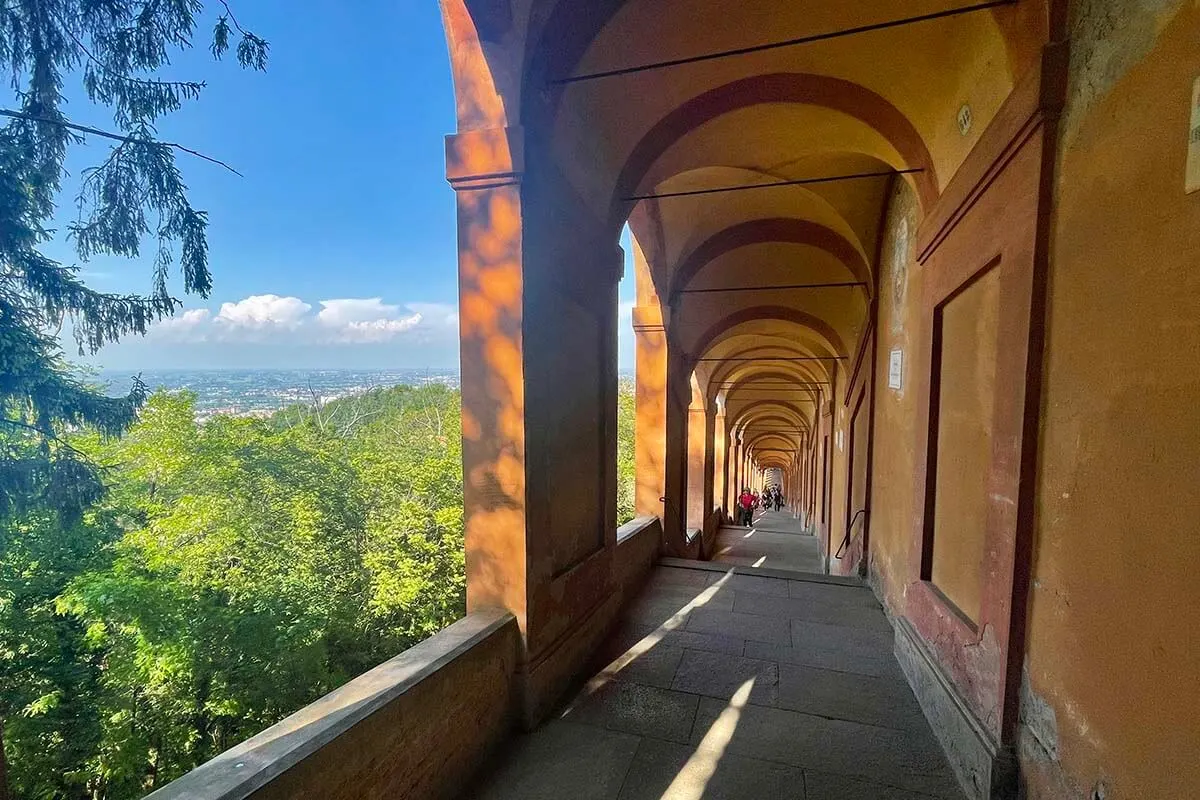 11. Bologna Porticoes
Bologna's UNESCO world-heritage-listed porticoes are an intrinsic part of the city's landscape. In the city center alone, you'll find an incredible 40 km (about 25 miles) of arched walkways.
Originally built from wood in the late Middle Ages, these covered walkways were designed to create additional living space. Nowadays, they provide sheltered paths for strolling around the city, which is very convenient. If it's hot, you can always find some shade, and if it rains, you can see and do a lot without ever needing an umbrella.
Good to know: There is not one 'best' place to see the Bologna porticoes. It's something you will see all over the city. The longest portico is the one leading up to Santuario di Madonna di San Luca (see above).
However, some of the most noteworthy are the original wooden porticoes of Via Marsala and Casa Isolani on Strada Maggiore, and the porticos of Piazza Santo Stefano. You can also find some really pretty porticoes around Piazza Cavour.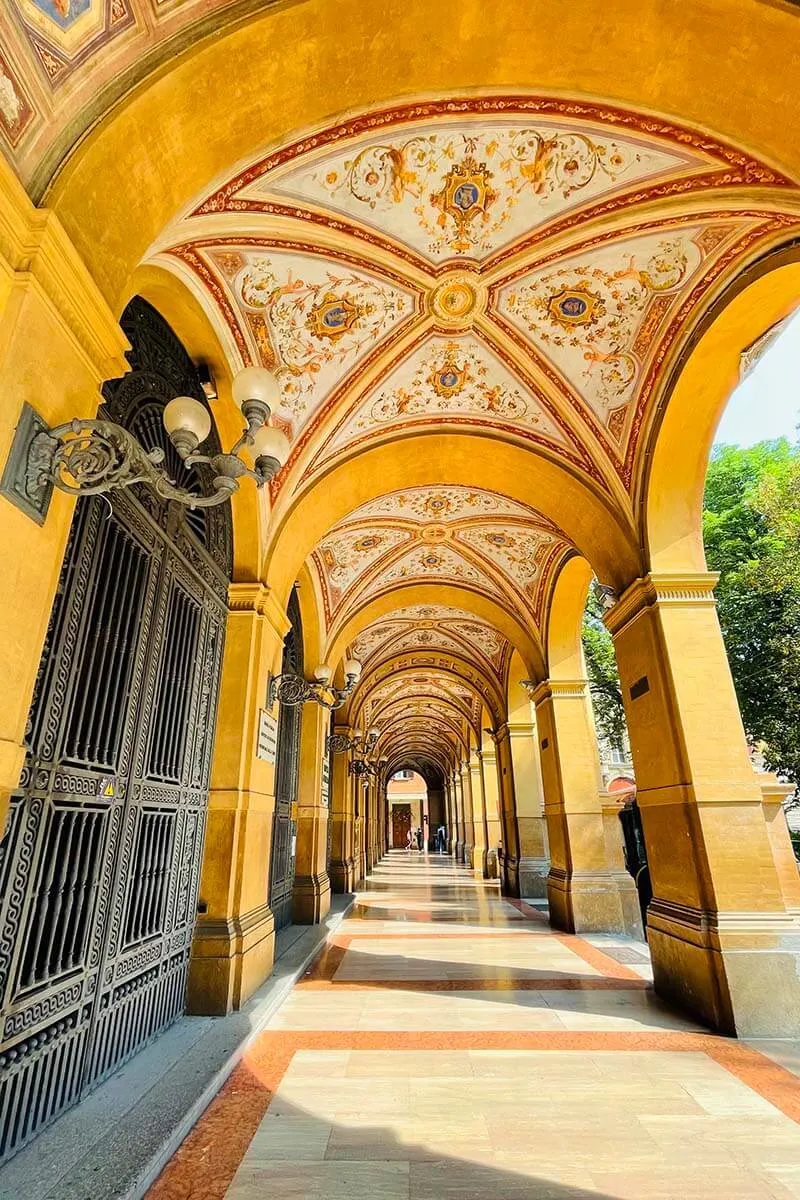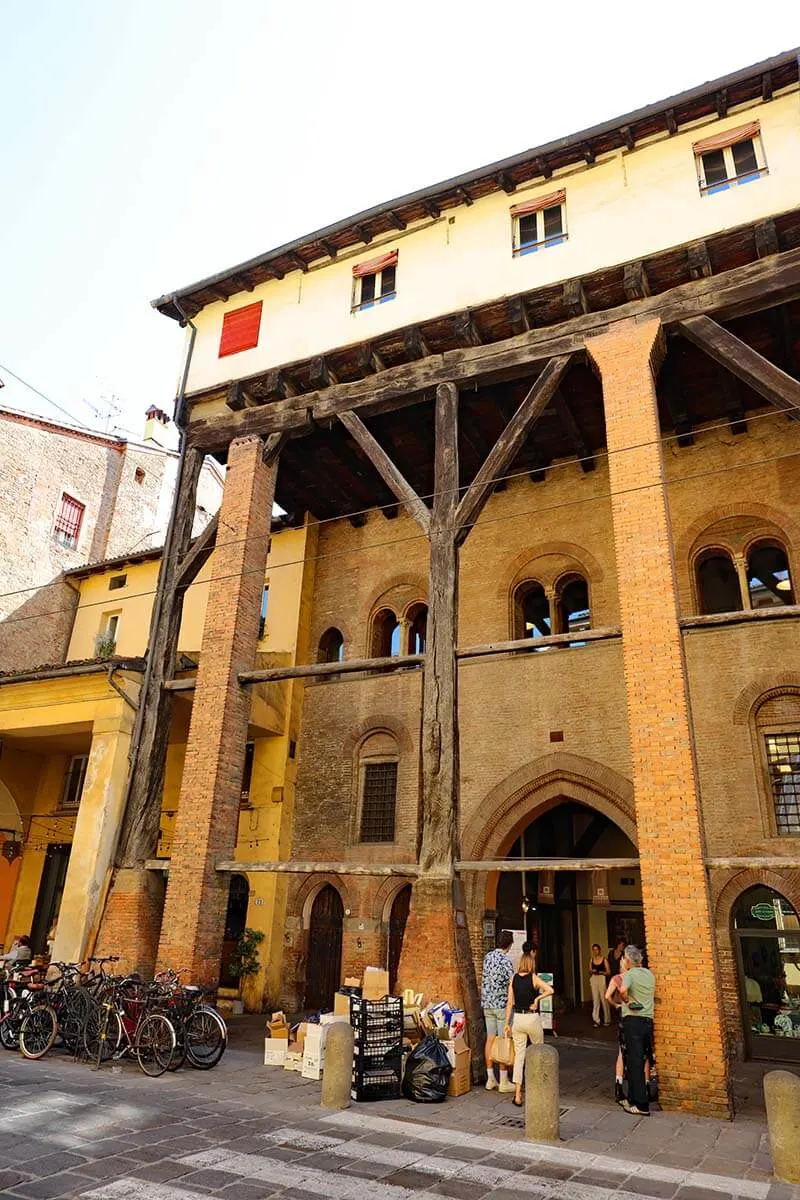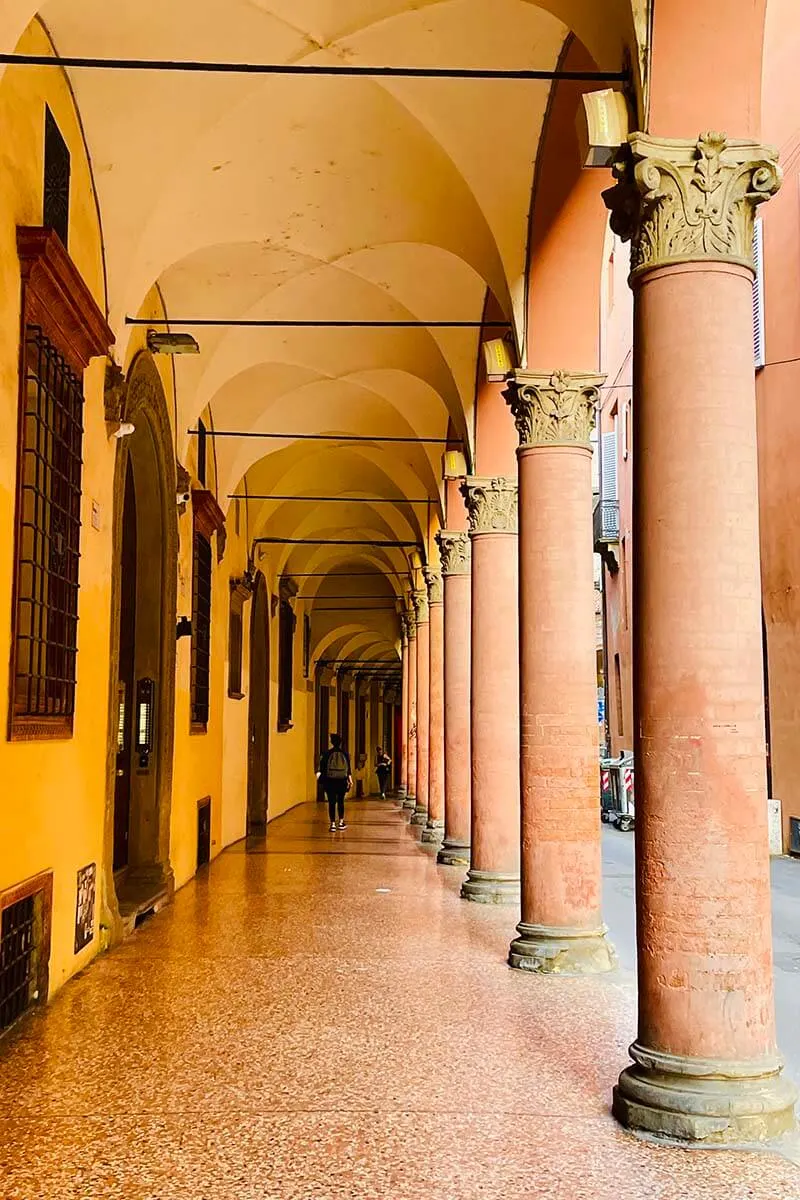 12. Finestrella
'Finistrella' is Italian for window – and this may be one of the most unique views through a window in the city!
Located in Via Piella (see also our map further below for the exact location), the small 'Canal Window' looks out onto one of the few remaining sections of Bologna's historic canals. Otherwise obscured from view, this section of Canale delle Moline is lined by colorful houses and is quite lovely. It almost looks like a picture come to life!
However, it's worth noting that the canal sometimes dries up in the summer months, and some people find it's not worth going out of your way to visit it. We found that it was totally worth a small detour, especially if you are visiting the Jewish Ghetto which is just nearby too.
Good to know: A hidden gem in the past, Finestrella is nowadays one of the most famous 'instagrammable' places in Bologna. Sometimes, you'll see a long queue of people waiting to take a peek through this little window…
When we arrived, we had difficulties finding where Finestrella actually is and walked past it without realizing it. When we passed here on another occasion, there was a huge line and you really couldn't miss it.
If you are also looking for it, the Finestrella is located to the right of the entrance of Trattoria dal Biassanot. It's hidden in a colorful wall, under one of the typical Bologna porticos that is also used as a restaurant terrace. Normally, this little window is closed and since it has the exact same color as the wall, it's easy to miss it if there's nobody else around.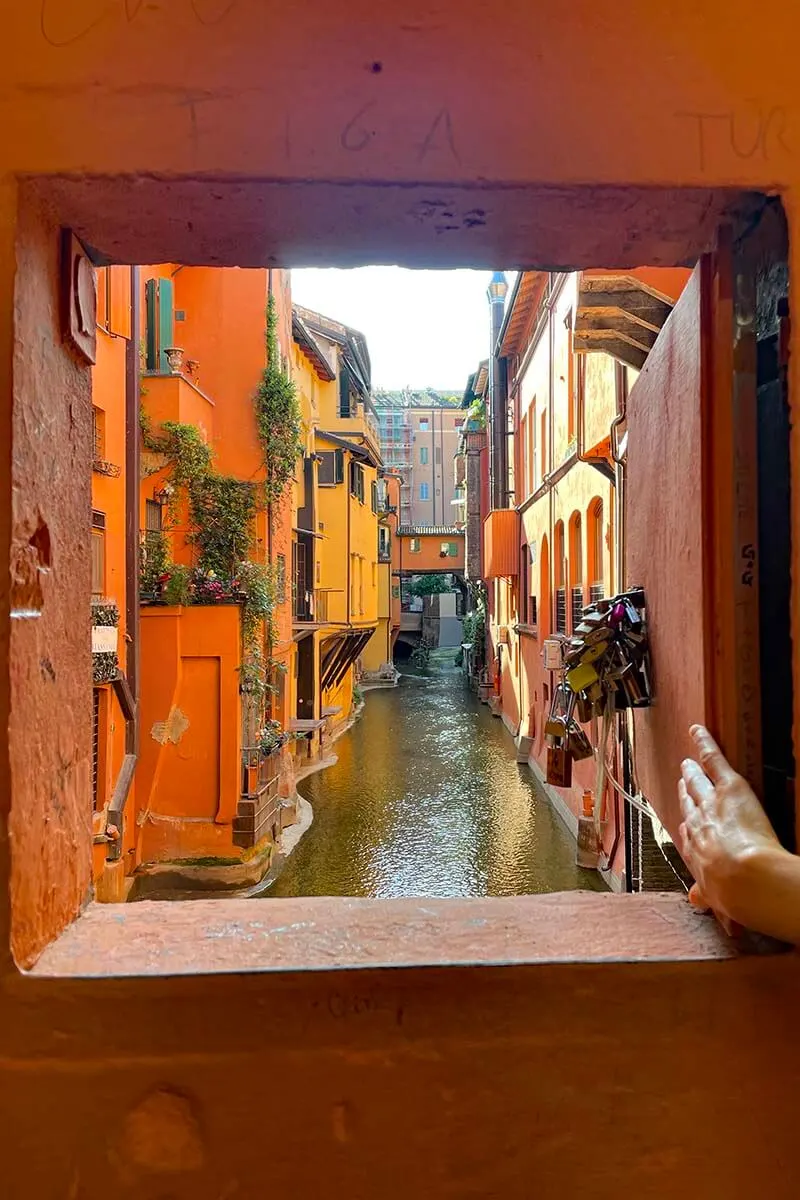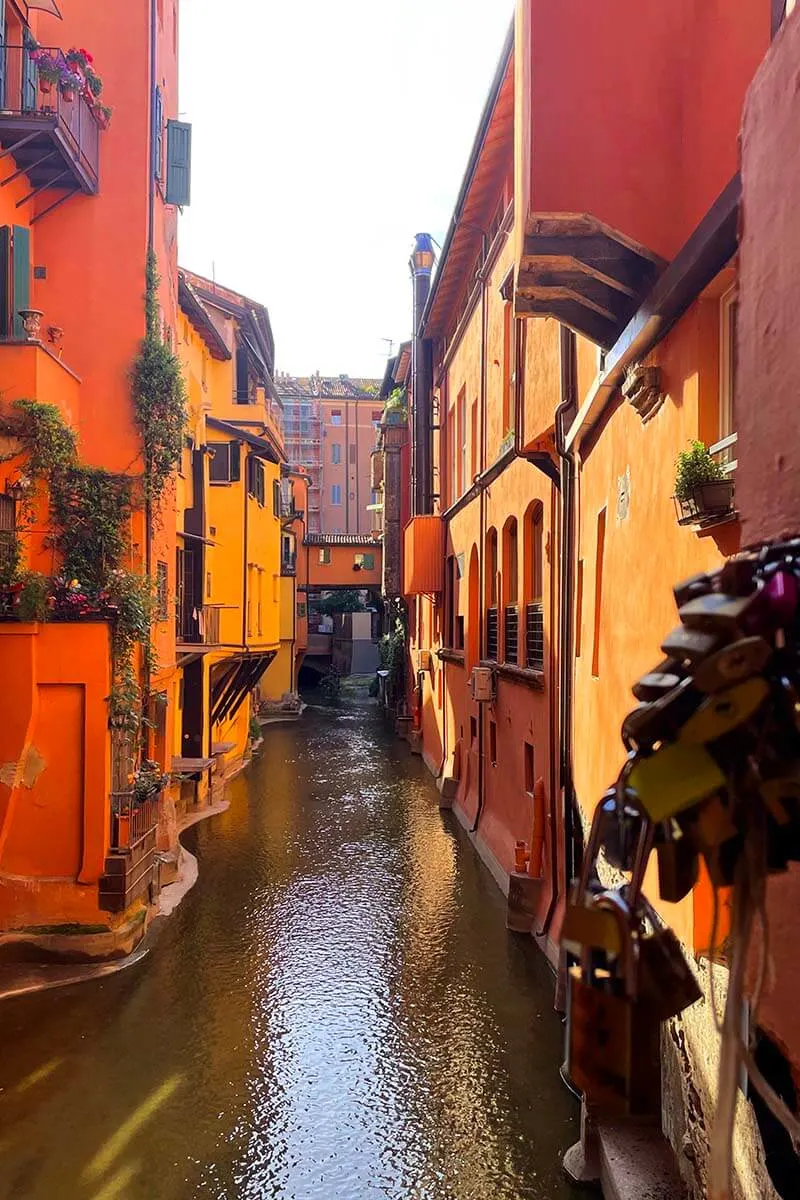 13. Mercato delle Erbe
Mercato delle Erbe is another food court/market in Bologna city center and is a popular spot for dining.
Whereas the Quadrilatero is the best choice for its aged cheese and cured meats, Mercato delle Erbe excels in fresh, local produce and seafood. There is an actual market here, so not just restaurants or food stalls as in Mercato di Mezzo.
Housed in an attractive historic building whose foundation once belonged to a church, the market is filled with boxes of colorful fruits and vegetables. It also has several really nice restaurants.
Good to know: The building remains open after the market has closed and is a great place to enjoy an aperitivo along with the locals at the end of the day.
TIP: If you want to bring home some of the delicious local cheese, head to Formaggeria Barbieri. They will shrink-wrap it for you, making it easier to travel with. For lunch or dinner, I highly recommend Polpette e Crescentine – Mercato delle Erbe. This restaurant serves delicious local food including the best crescentine fritte we had in Bologna. For dinner, it's best to reserve a table in advance (this is the case in most restaurants in Bologna).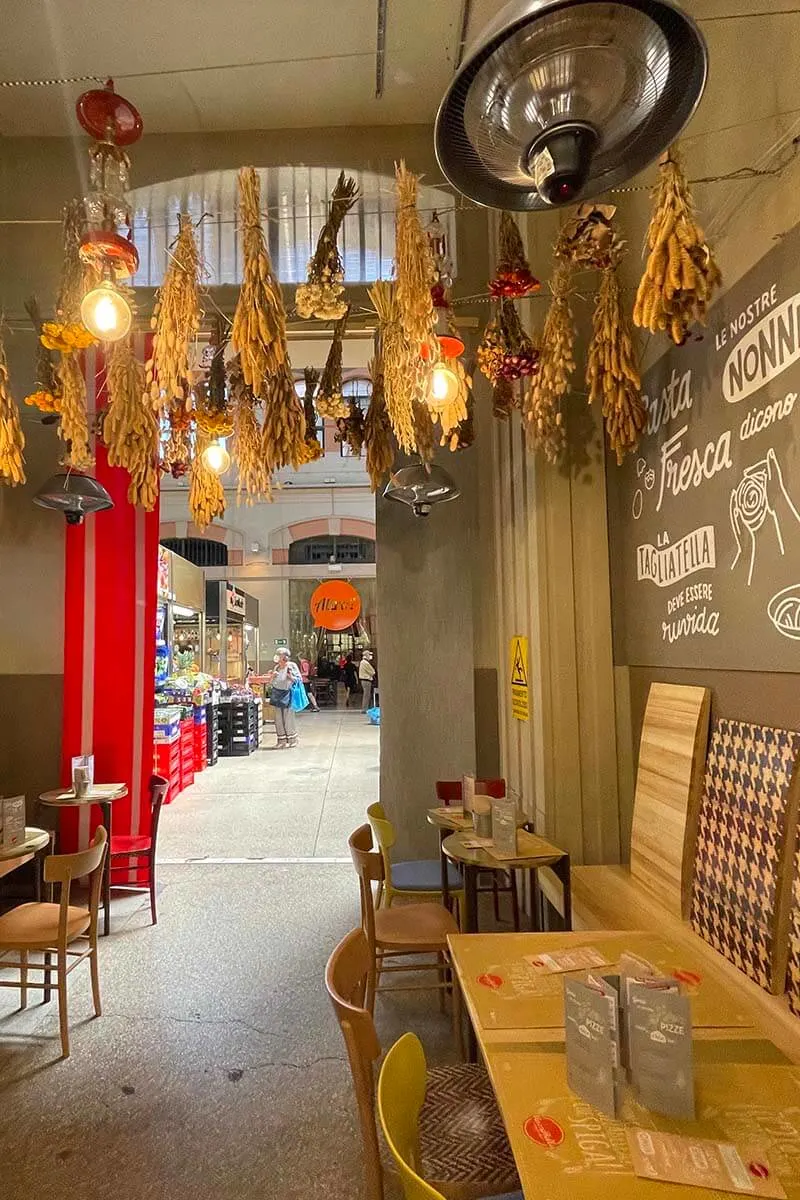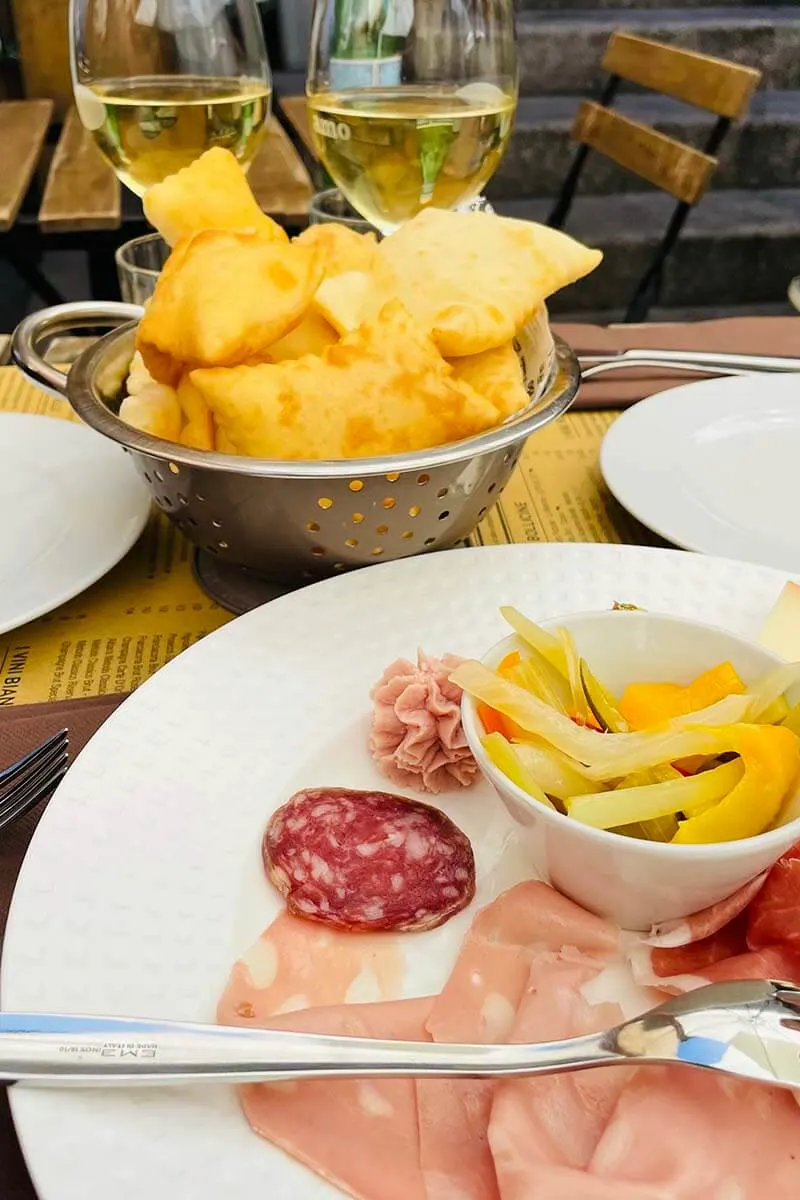 14. Basilica of San Domenico
Located a bit outside the main tourist area, Piazza San Domenico is a small cozy square, home to the Basilica of San Domenico. It's well worth visiting if you have some extra time, but not a must if your time in the city is limited.
This Basilica is considered one of the most beautiful churches in Bologna. But the main reason to come here is to see the tomb of St. Dominic, founder of the Dominican Order. This monumental sarcophagus is called Arca di San Domenico and is absolutely impressive.
The tomb contains the three statues of Buonarroti. Often considered forgotten treasures because so few people know of their existence, these statues were made by Michelangelo. They include the candle-holder angel, the statue of San Petronio, and the statue of San Procolo.
Good to know: The Basilica is open daily in the morning (except Sundays) and in the afternoon. Just as most churches in Italy, it closes for a few hours around noon.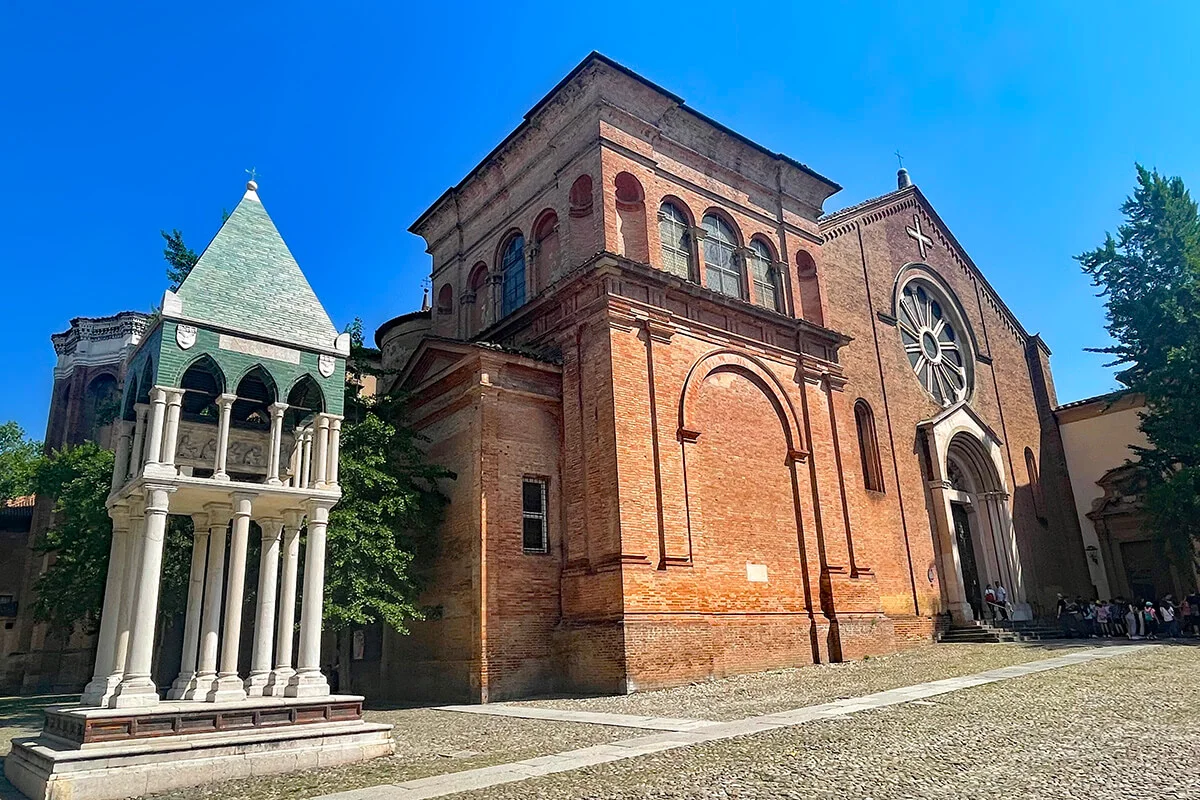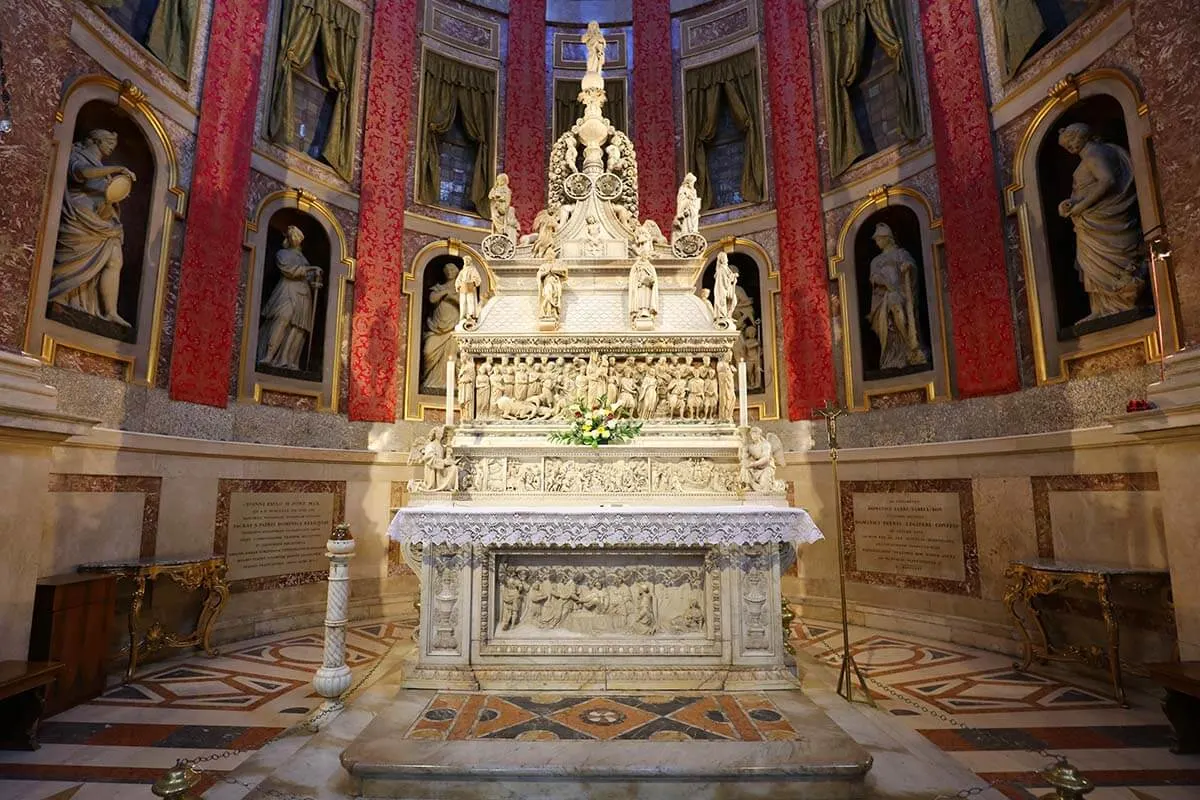 15. Museo Civico Archeologico
A visit to Bologna's Archaeological Museum makes a great way to learn about the city's development and progress throughout the years. It is located in the 15th-century Palazzo Galvani, just a short walk from Piazza Maggiore.
The exposition is divided into different eras – including Prehistoric, Celtic, Roman, and Greek – with various fascinating artifacts in each collection. But the most impressive part to visit is the Egyptian collection, which is considered among the most important in Europe and the third-largest in Italy. You can see some Egyptian mummies and other artifacts from ancient Egypt.
Other exhibits include those previously housed at the former Museo Universitario, along with a collection belonging to the painter Pelagio Palagi. You can also see items excavated locally between the end of the 19th century and the early 20th century.
When we visited, a big part of the museum was closed due to renovation works, and we found it a bit underwhelming. On the other hand, the Egyptian collection alone was worth seeing, and in the meantime, the rest of the museum is open again. So I'll leave it up to you to decide if it's worth it.
The good thing is that this museum is very centrally located and it doesn't require much time. So if you are looking for additional things to do in Bologna, it's worth considering.
Good to know: The museum is open daily except for Tuesdays. For practical information, see their website, or simply pop inside once you are in the city. You don't need to buy tickets for the museum in advance; only if you would be interested in a specific temporary exhibition. Their website suggests booking in advance in order to avoid long lines, so maybe it can get busy at times. When we visited, it wasn't busy at all.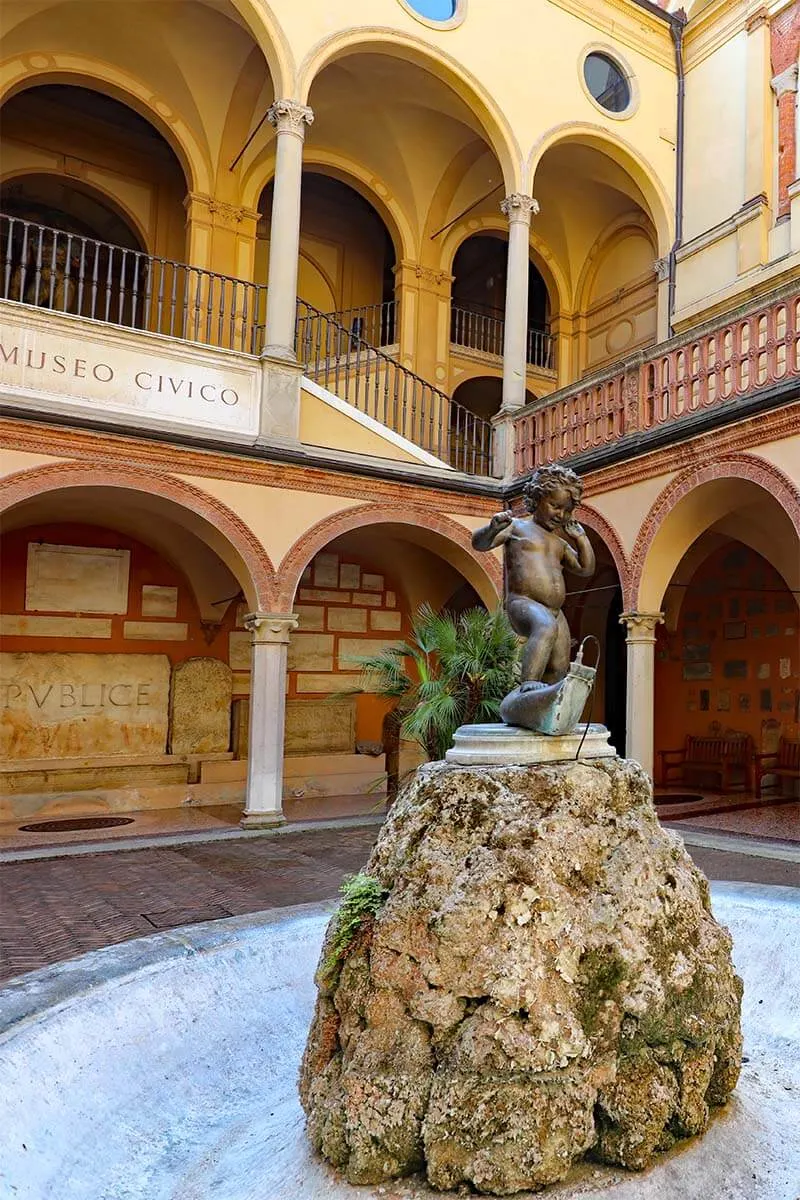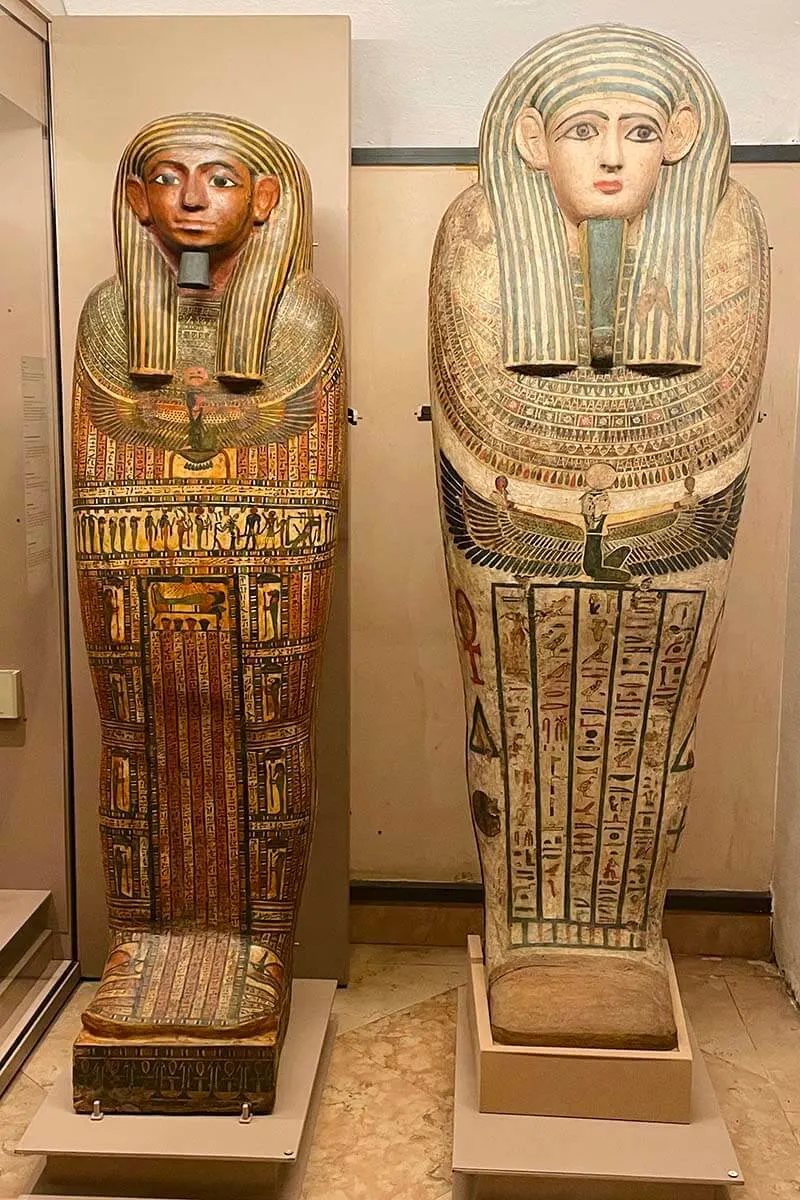 16. Giardini Margherita
Located just south of the city center, Giardini Margherita is the most popular park in Bologna. It retains much of its original layout, inspired by the classic and romantic parks of England.
Though the boating lake, zoo, and funicular railway it once contained are now gone, it is still a beautiful green space in which to relax. You'll find several nice cafes here, a small lake with paved paths, plus multiple trails for walking or running.
During your visit, be sure to check out Kilowatt (known to the locals as Le Serre) on the western side of the park. Formerly the park's municipal greenhouses, the site has now been transformed into a multi-functional space. You'll find co-working facilities here, a restaurant, a vegetable garden, live music, and lots more. It really is quite a unique venue and well worth visiting if you are looking to explore the more local side of Bologna.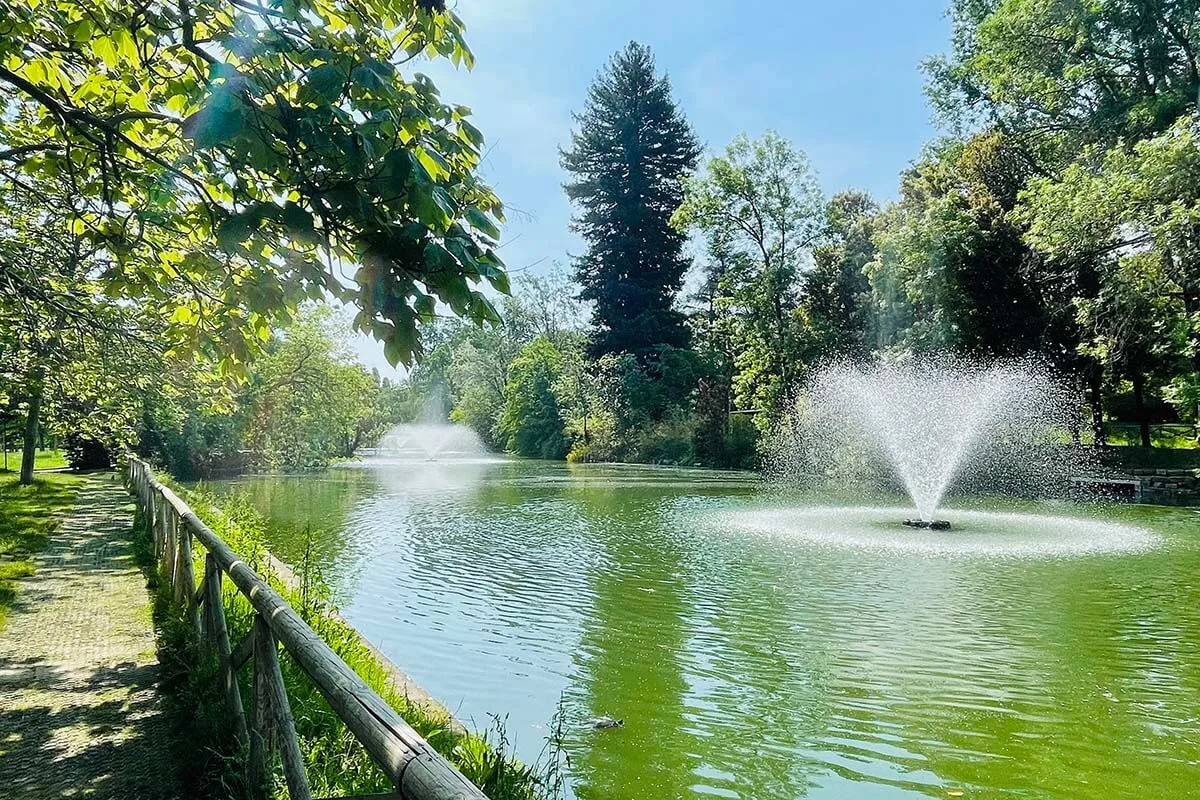 17. Pinacoteca Nazionale
The National Art Gallery of Bologna is a museum is located in the former Saint Ignatius Jesuit novitiate, within the complex of the old university. Unlike other galleries which tend to display pieces from all over the world, this museum focuses on work with a connection to the Emilia Romagna region and the city of Bologna.
There are some incredible pieces to see here, some dating as far back as the 13th century. They are divided into two sections. The first – the Accademia Clementina – is filled with fascinating and ancient Byzantine paintings, whilst the second – the Gallery of the Academy of Fine Arts – contains later works.
Paintings to look out for include Titian's 'Jesus Christ and the Good Thief', Vasari's 'Feast of St. Gregory the Great', and the 'Ecstasy of St. Cecilia' by Raphael. There is an entire room devoted to the work of Giotto and another dedicated to the Baroque painter Guido Reni.
Good to know: The museum is open daily except on Mondays. For more practical info, see their website.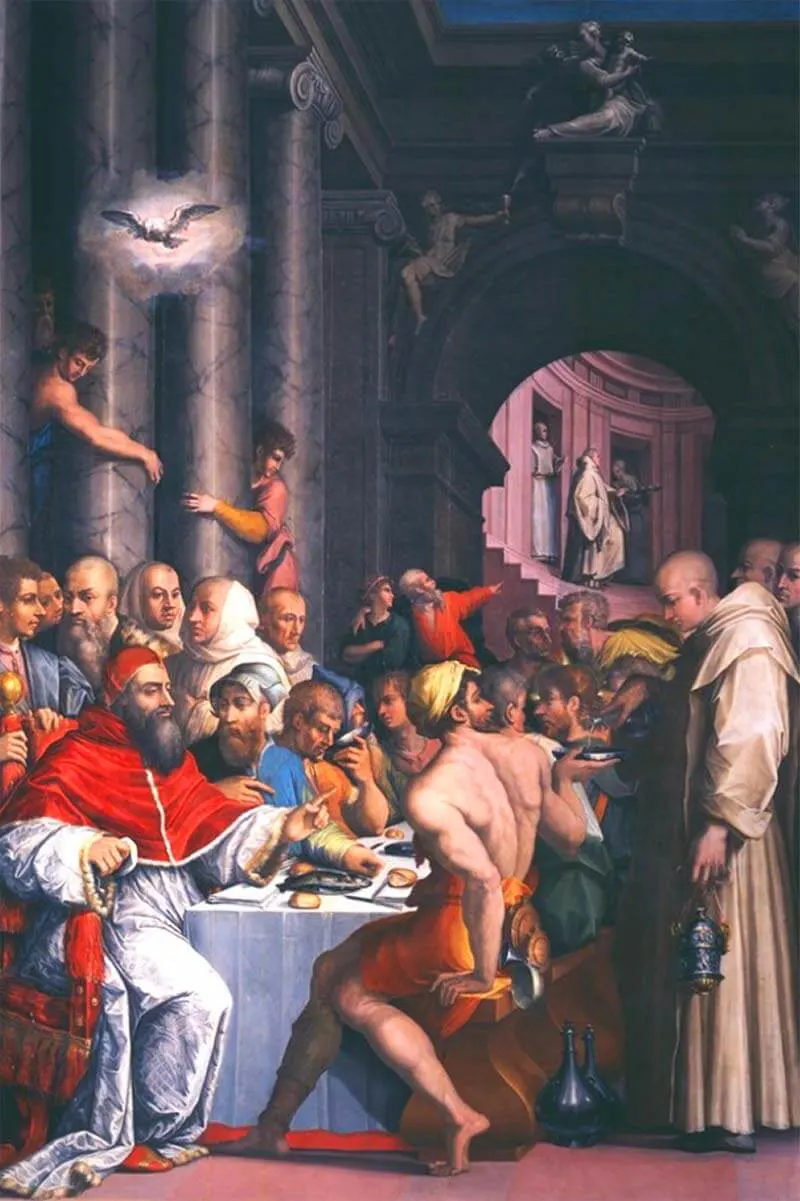 18. FICO – World Eataly
FICO is short for the Italian Food Theme Park and it's one of the more 'local' places to visit in Bologna. This is a theme park with a difference, devoted entirely to celebrating the diversity of Italian food.
Vast in scale, this unique attraction's main focus is to show its visitors how food is made. With a motto of 'dal campo alla forchetta' (from field to fork), it takes you through the production processes of a variety of foods.
There is a big emphasis on agriculture and you can visit a huge outdoor area where the crops grown range from cereal and olives to fruit and truffles. You can also see stables with some 200 farm animals.
The rest of the attraction is indoors and is truly a foodie's dream! In addition to 40 food factories, there are more than 40 kiosks or restaurants and plenty of shops to buy and taste all kinds of Italian produce.
On the other hand, often, the place feels a bit deserted and feels too big for the number of people coming here. So your experience will highly depend on when you visit and what your expectations are. I'd say it's definitely not a must, but can be something nice to do in Bologna with kids or for people who have lots of extra time and are looking to get a bit off the beaten path.
Good to know: FICO is located on the outskirts of Bologna and is not a place you visit in a hurry. There's an entrance fee, plus you have to pay extra for the food if you decide to try any. It's usually open from Thursday to Sunday and daily on some school holidays, but the opening times and dates vary per season, so be sure to check their website in advance.
You can also opt for a ticket that includes some food tasting or a cooking class – see all the ticket/tour options here. I think you'll enjoy your visit here more if you opt for one of these additional experiences. One of the best price-quality wise is this ticket that includes a guided tour and food tastings.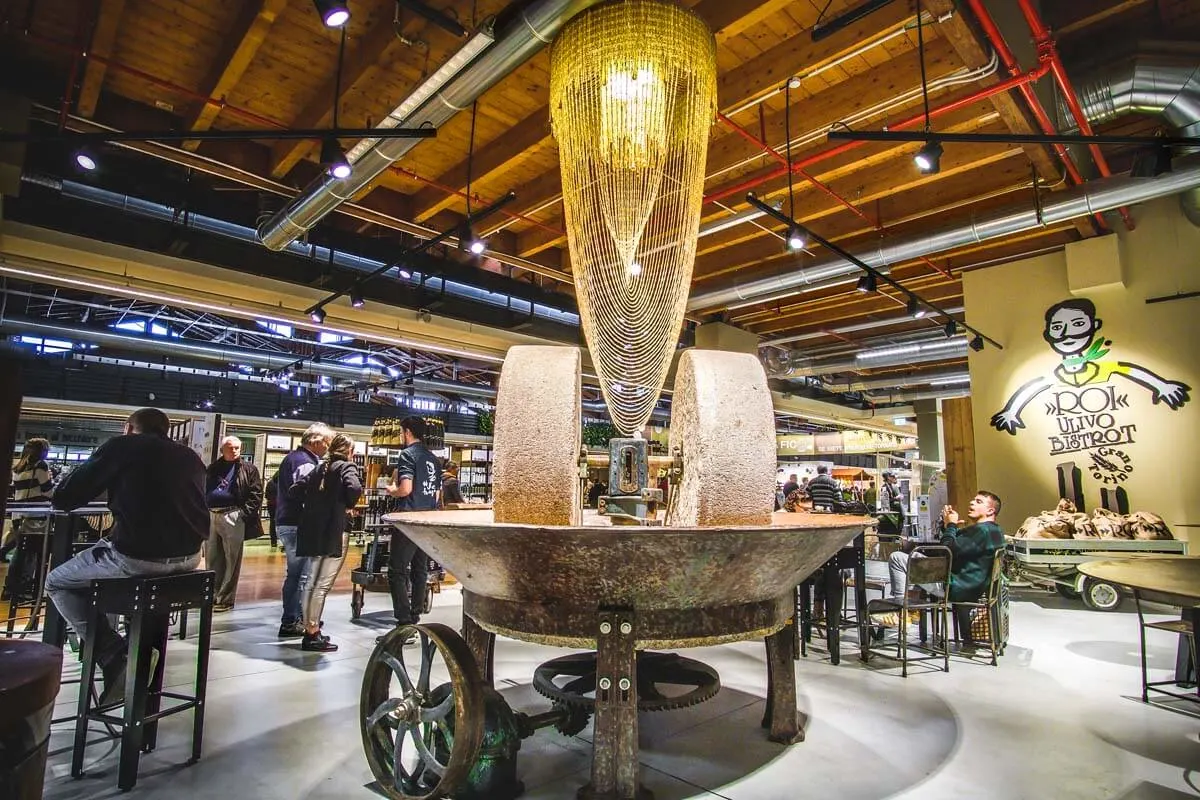 19. Local Food
No guide to the best of Bologna would be complete without mentioning its food. The entire Emilia Romagna region is known as the foodie destination in Italy, and its capital city Bologna is a paradise for those who want to experience some of the best Italian food.
Some of the must-try regional specialties in Bologna include tagliatelle al ragù (the actual version of the world-famous spaghetti bolognese which originated in Bologna), lasagne bolognese, tortellini in brodo, Parma ham, mortadella sausage, parmesan cheese, and balsamic vinegar. Also the earlier-mentioned fried bread crescentine is not to be missed.
There are so many amazing places where you can eat in Bologna that it's almost impossible to find a bad meal. If I can give you one piece of advice is to try to eat at as many different places as possible. From food courts, markets, or kiosks to local trattorias or high-end restaurants – the food in Bologna is an experience in itself.
Here are some restaurant recommendations – 3 of our absolute favorites from all the places we ate in Bologna:
Ristorante Da Cesari. Simply the best meal of our entire trip to Florence and Bologna. Reserve in advance!
Osteria dell'Orsa. This is a very popular low-key restaurant. Great price-quality ratio. It's a nice place for those looking for an authentic local experience. They don't take reservations, so be prepared to queue, but it moves quickly.
Polpette e Crescentine at Mercato delle Erbe – for the best crescentine in Bologna (the rest of the food was great too!). If you want to have dinner here, be sure to reserve. For lunch, come as soon as they open (or reserve).
For a quick lunch, try Mò Mortadella Lab. This is a very popular sandwich shop. However, they have no seating. For a really good gelato in the city center, check out Cremeria la Vecchia Stalla, Oggi gelaterias, or Cremeria Cavour. We indicated all these places on our map below.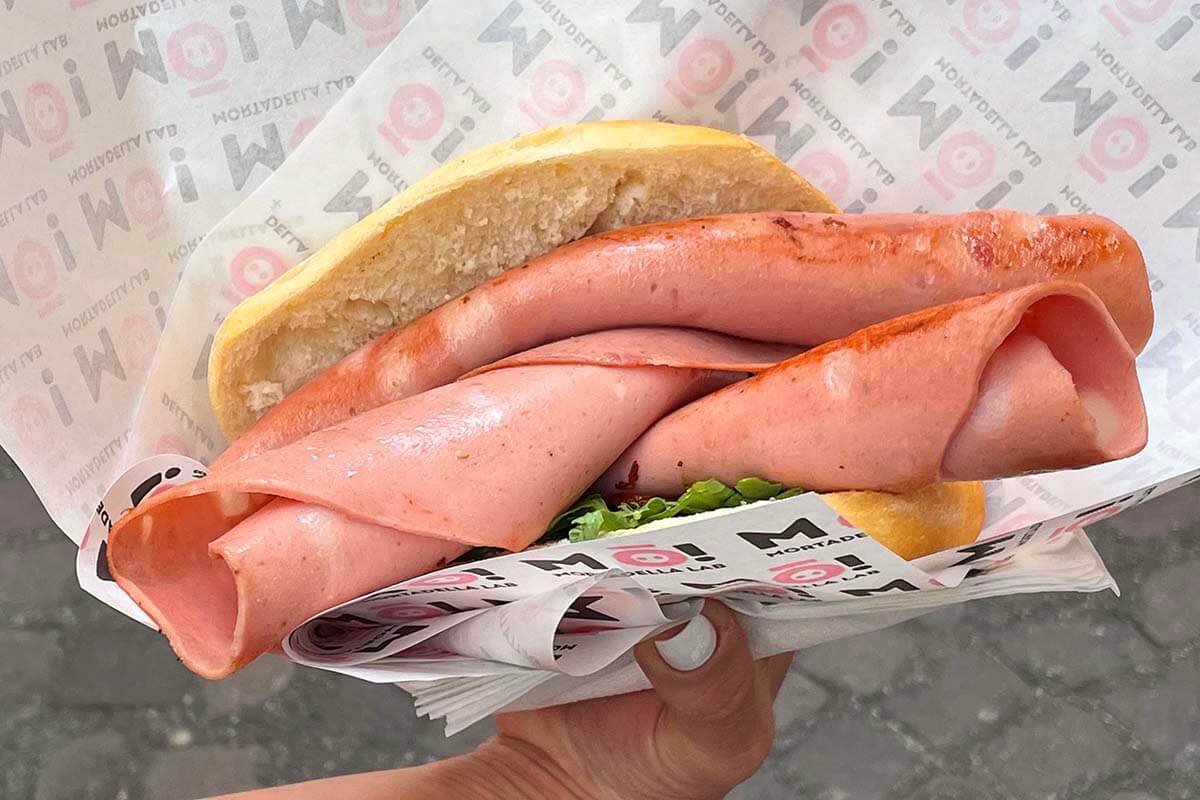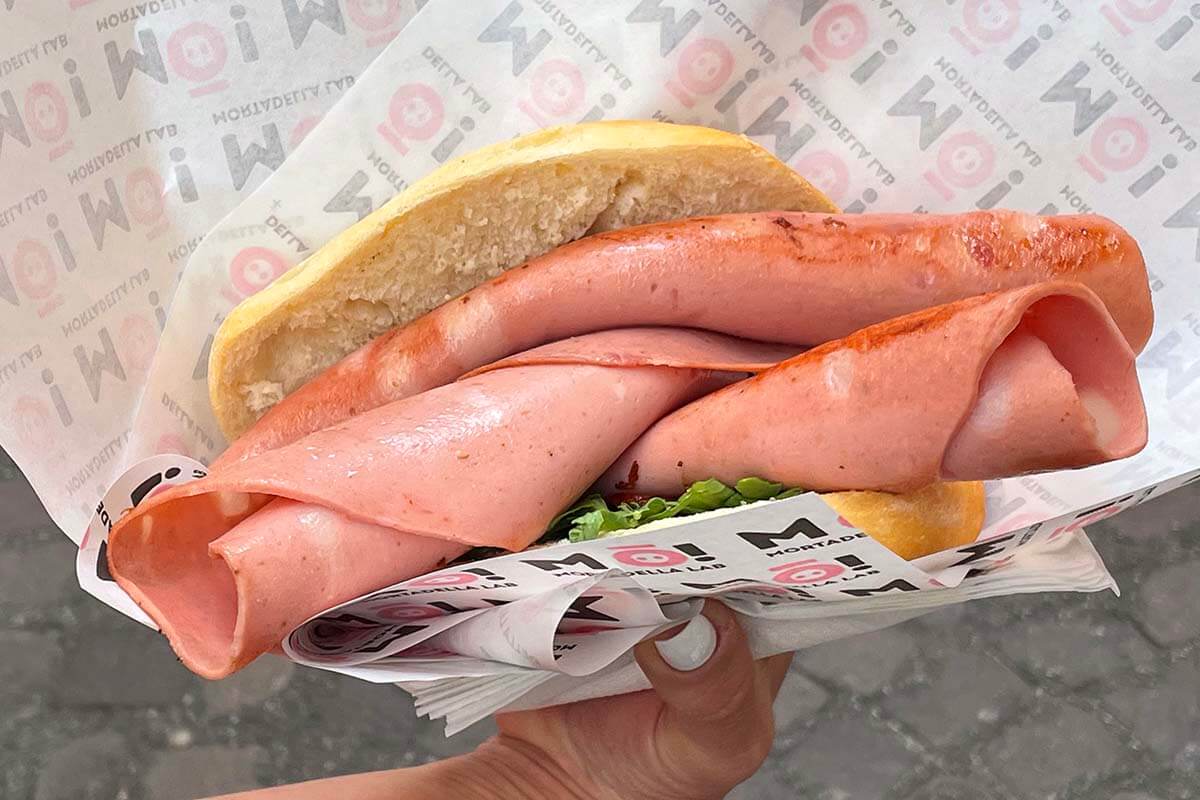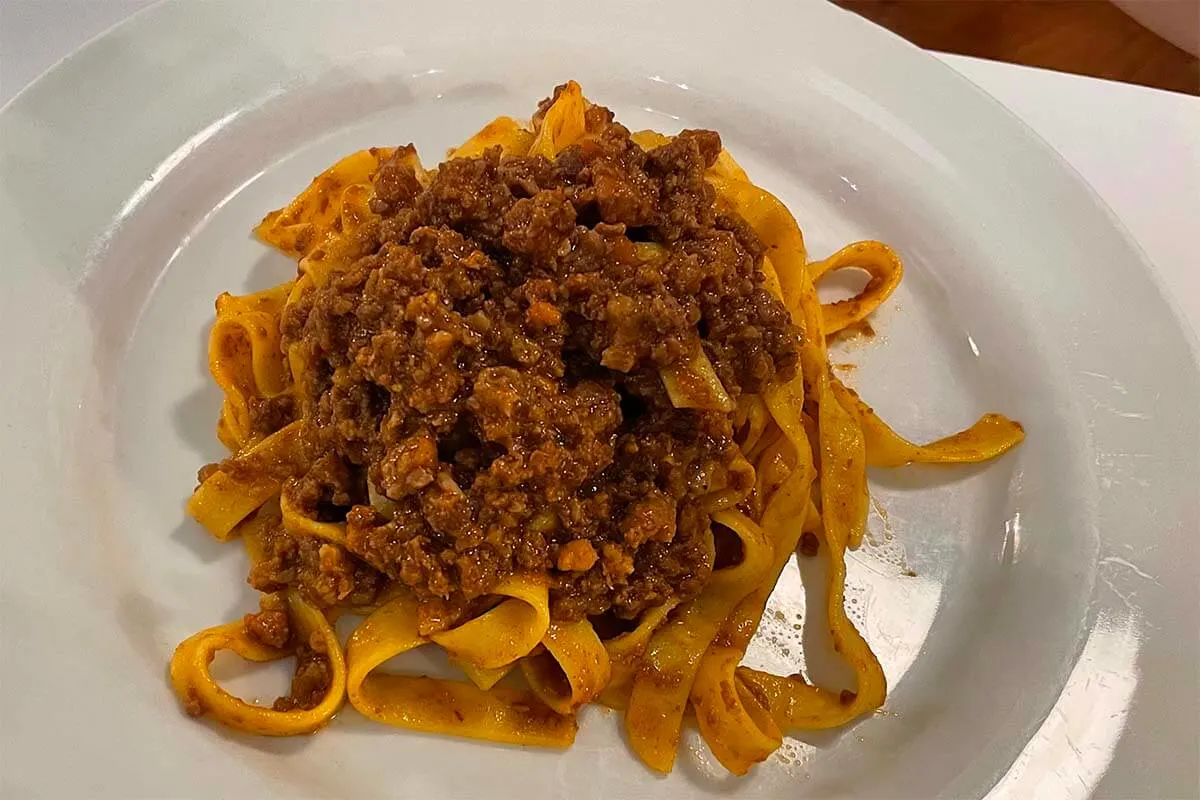 TIP: If you are short on time and want to try some traditional specialties in Bologna, one of the best ways to do that is by joining a local food tour. There are quite a few food tour options, sometimes in combination with some city highlights. If you are mostly interested in food, then this tour is the best option.
If you rather keep your flexibility but want to take advantage of local tips, you can also opt for a self-guided food tour where you get instructions and vouchers for different tastings in various local shops and restaurants in the city center.
With an extra day: One of the best excursions to do from Bologna is taking a gastronomic tour of the Emilia Romagna region. I recommend a tour that combines several places/foods in one. For example, this gastronomic tour visits a dairy factory (Parmigiano Reggiano cheese), a vinegar-production site (Modena vinegar), and a wine cellar (Lambrusco wine). Another popular option is a day tour to Parma where you visit factories specializing in Parmigiano Reggiano and Parma Ham.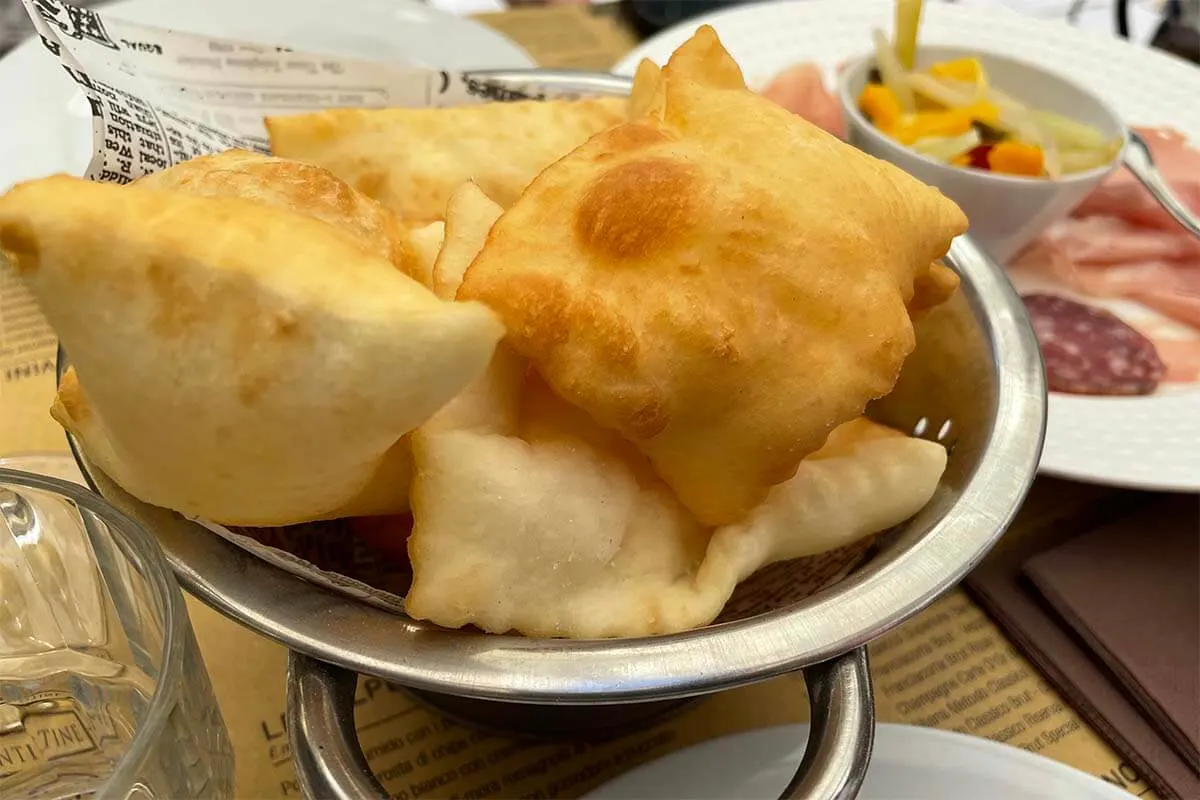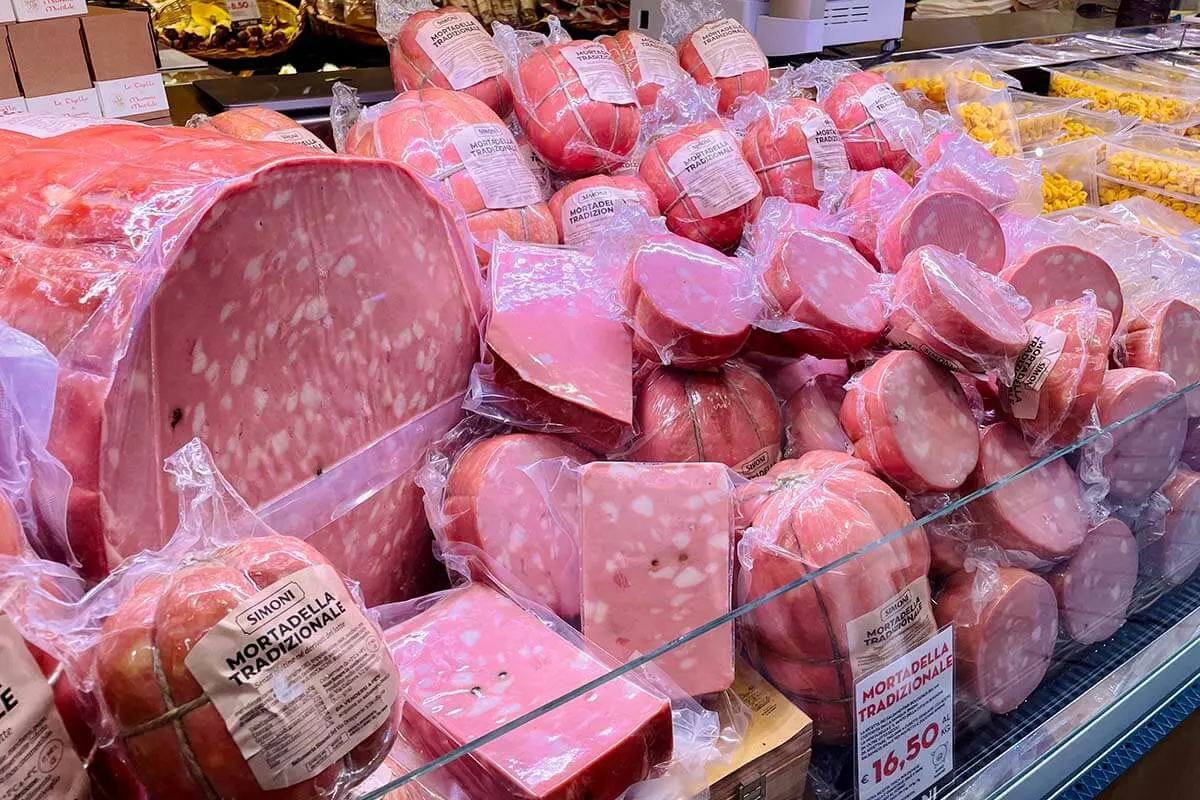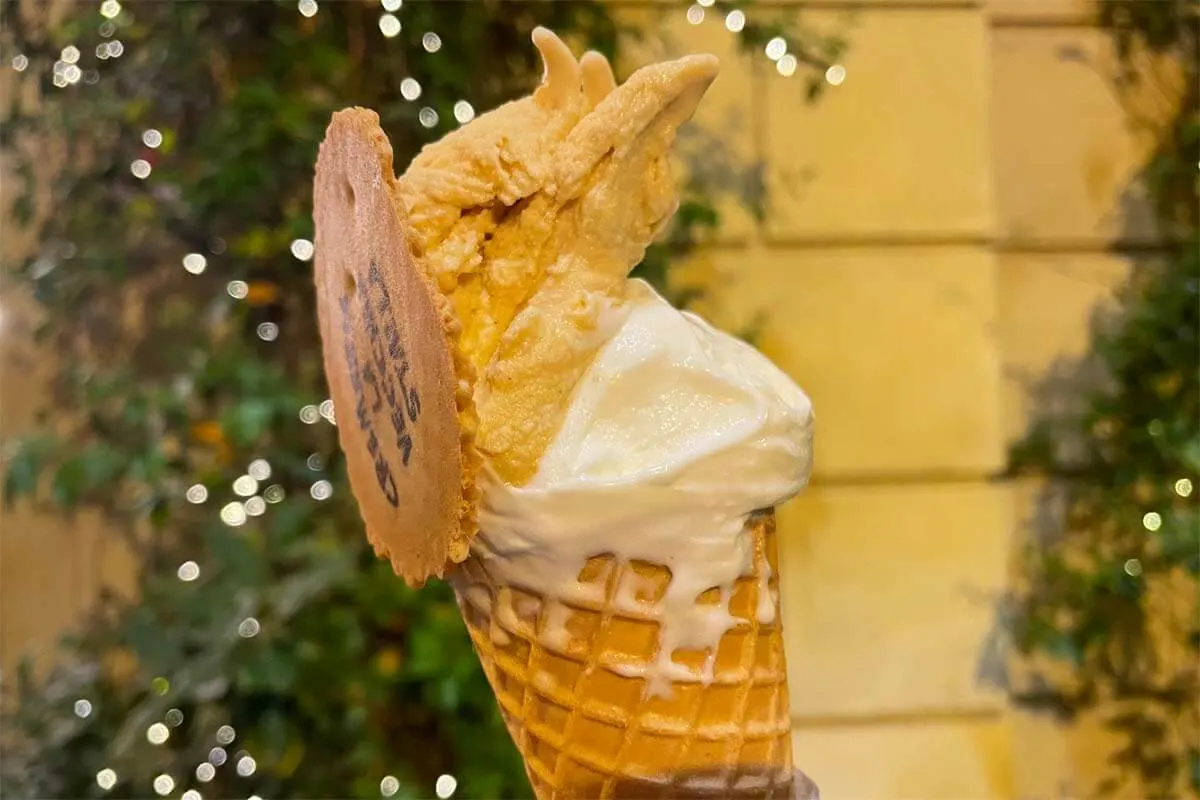 Where to stay in Bologna
Bologna city center is rather compact so you can explore almost everything on foot. The best area to stay in Bologna is within 5-10 minutes walking distance from Piazza Maggiore.
Here are some hotel recommendations in this area:
Good to know! Bologna accommodation options are rather limited compared to places like Florence or Venice, so lodging here tends to be more expensive. Price/quality-wise, Bologna can be really expensive. Furthermore, it's a university town and also a place that's popular for meetings and corporate events. It might be hard to believe but it happens quite often that all the accommodations in the city center are fully booked.
We met an American solo traveler in Bologna who said he was only visiting for a day because he couldn't find any accommodation in Bologna for that night. And when we were looking for a hotel for our trip about 2-3 months in advance, there was hardly anything available in the center. We opted for Hotel Accademia, not because it was our top choice, but because there was simply not much else to choose from within a short walking distance of the main attractions.
So if you want to stay in town, be sure to book your hotel in Bologna as soon as you know your travel dates. Alternatively, you can always visit Bologna from Florence for a day too. It's just a short train ride away.
LEARN MORE: Florence to Bologna Train Info & Itinerary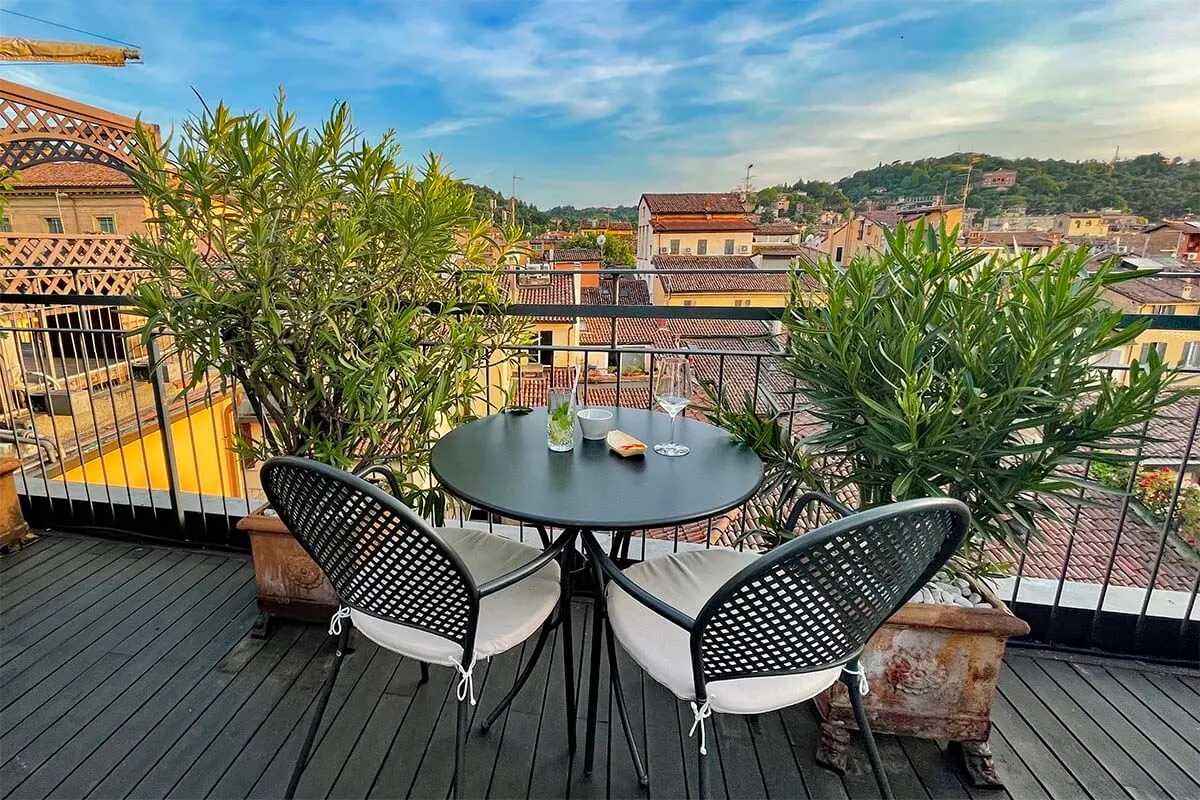 Map of Bologna attractions
To help you plan your time, we created this map indicating all the best places to see in Bologna. We also indicated the restaurants mentioned in our guide.
As you will see, many of Bologna's landmarks and best sites are located really close to each other. So you can see a lot in a short time and many people just visit Bologna for a day.
On the other hand, Bologna is a city that is worth exploring deeper and it's worth staying longer just for the food too. So if you can, plan 2-3 days for Bologna – you won't regret it.
How to use this map: Use your computer mouse (or fingers) to zoom in or out. Click on the icons to get more information about each place. Click the arrow on the top left corner for the index. Click the star next to the map's title to add it to your Google Maps account. To view the saved map on your smartphone or PC, open Google Maps, click the menu and go to 'Your Places'/'Maps'. If you want to print the map or see it in a bigger window, click on 'View larger map' in the top right corner.
So, this is our guide to the very best of Bologna. I hope that this inspired you to visit Bologna and also to spend more time in the city. But even if you only have (half) a day in Bologna, it's absolutely worth a visit too!
I also hope that our personal, experience-based tips will help you make the most out of your time in Bologna. It's an incredible town with such a unique atmosphere that we haven't experienced anywhere else in Italy. Have a great trip!
TIP: If you are looking for more travel inspiration around Bologna, take a look at our 3-day Emilia Romagna itinerary. It takes you to some really beautiful places in the region – many of which are undiscovered by mass tourism and offer a much more authentic experience.
Some of our favorite places in Northern Italy:
If you found this post useful, don't forget to bookmark it and share it with your friends. Are you on Pinterest? Pin these images!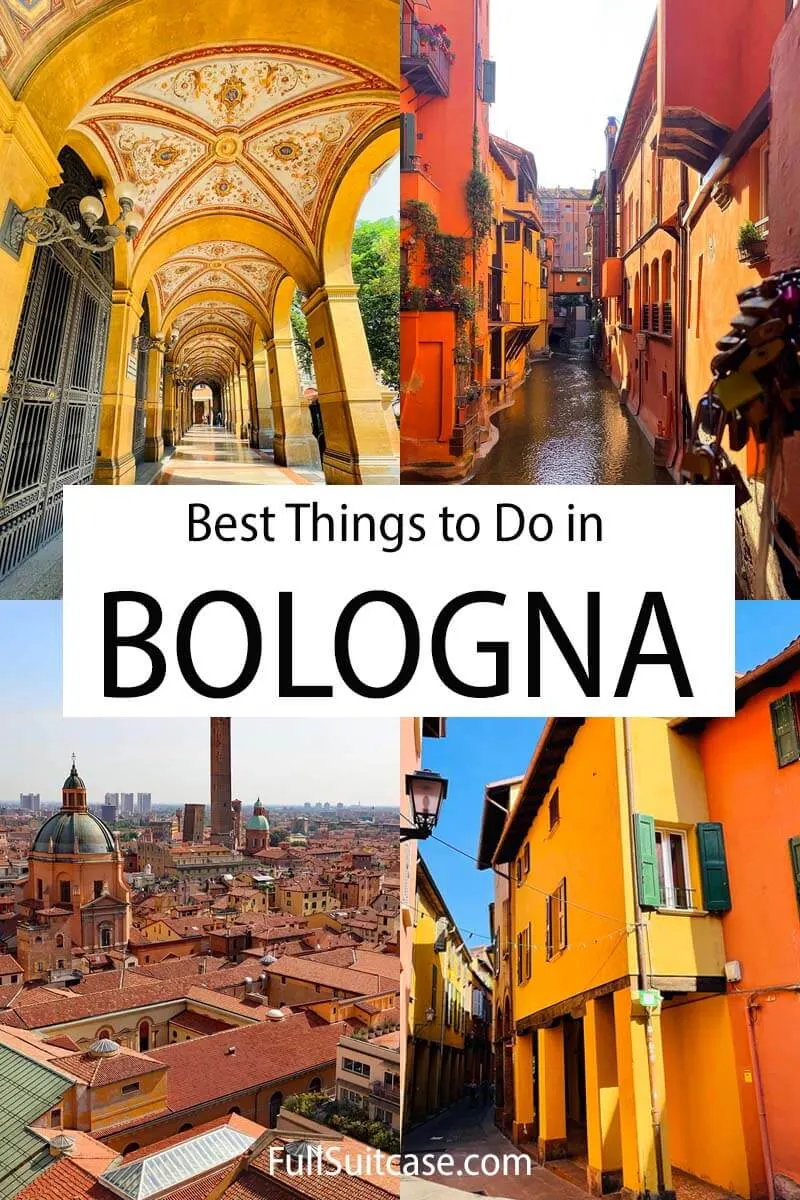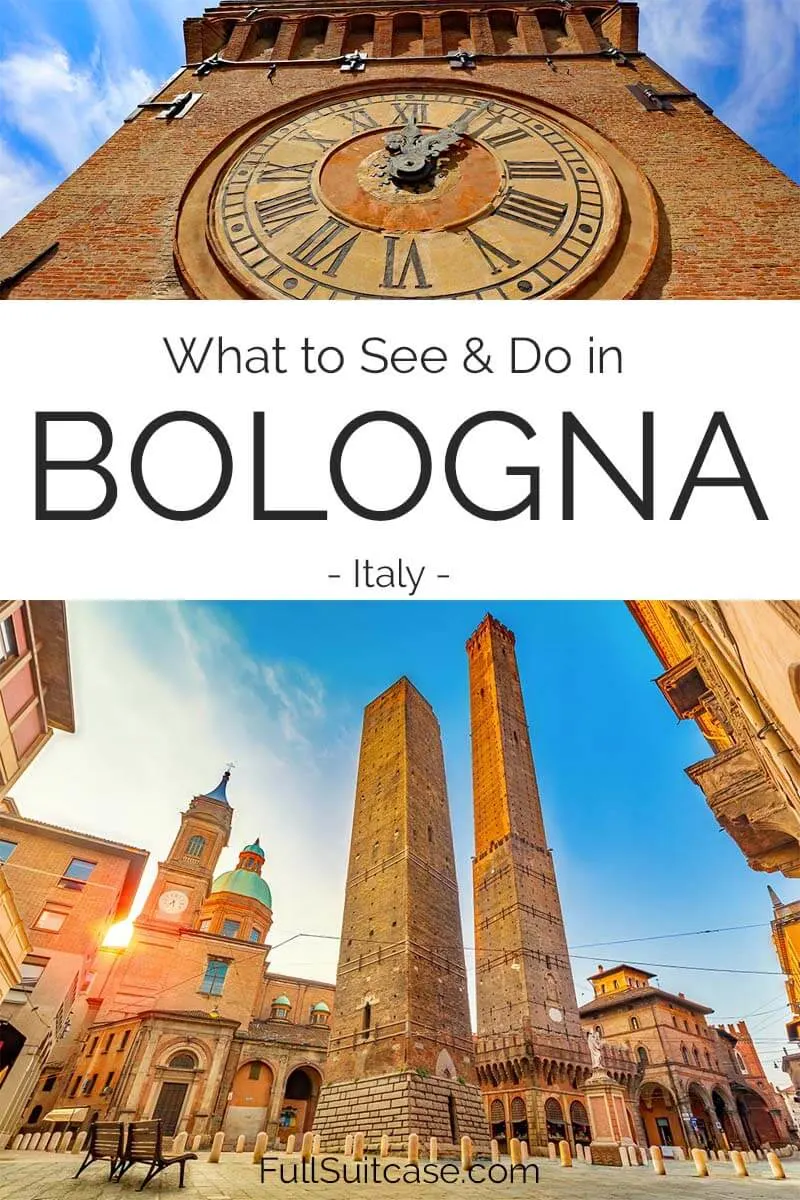 More guides and inspiration for visiting some of the most popular Italian cities:
Rome:
Rome itineraries:
Venice:
Florence:
Milan:
Naples: