Looking for some stunning views and nice photography spots in Rome, Italy? In this guide, we highlight the very best views and viewpoints in Rome that are worth it the most. Furthermore, you can easily see most of these even if you only have limited time in the city and want to cover all the top sights and attractions in Rome as well.
The city of 7 hills, Rome has some stunning viewpoints, indeed. And with so many impressive monuments and landmarks dotting the skyline of Rome, it's well worth making an effort to see at least a few of the postcard views of the Eternal City.
The good thing is that most of the best viewpoints in Rome are really easy to visit, and the majority of them are open to everyone and are free of charge.
So whether you are looking for some of the best romantic sunset spots in Rome or just want to get some nice panoramic pictures of Rome skylines, this list will give you some inspiration for the best viewpoints to see.
To help you plan and decide where to go and which Rome viewpoints to visit, we also share some pictures of the best views, tips on how to visit, and a map with the exact locations of the best views in Rome.
Take a look!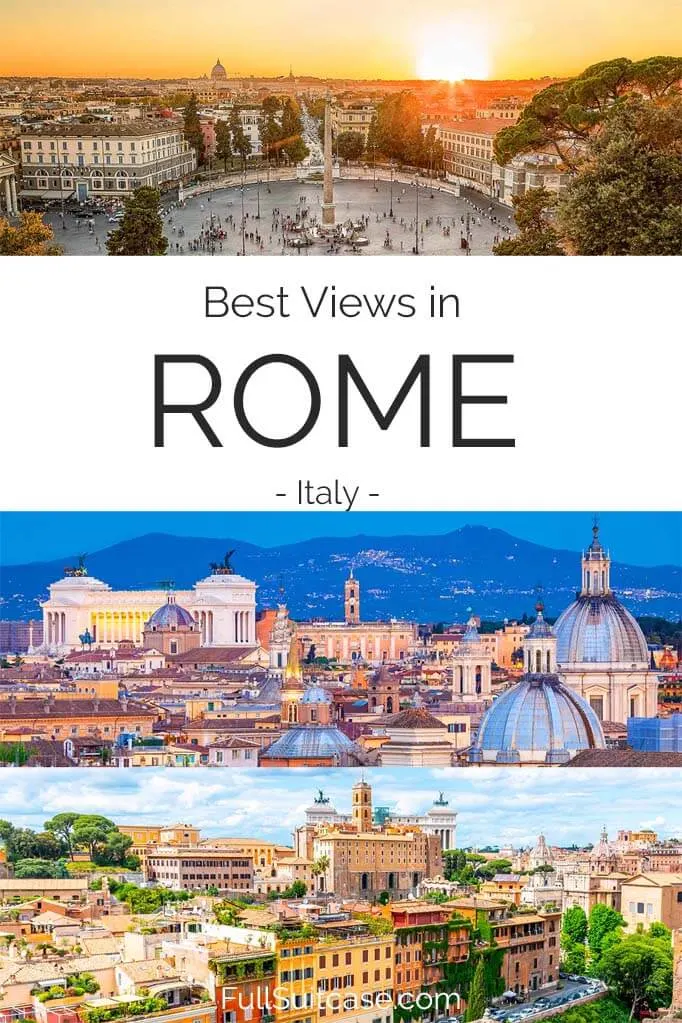 Good to know: If you want to photograph the best skylines of Rome, you'll need a good telephoto zoom lens (at least 200mm, ideally more). The scenery you see at the majority of the best viewpoints is a wide aerial view, and most of the nicest pictures of Rome's cityscape are taken using a strong zoom.
At the same time, there are some places in Rome (like the Colosseum, inside St. Peter's Basilica, etc.) where a wide-angle lens will be needed. So ideally you have a camera that can handle both (like these point-and-shoot models that go from wide to tell). Otherwise, you'll need lots of photography gear, and it's really not ideal to carry a big backpack if you are visiting the most popular landmarks in Rome.
And yes, you can take some nice pictures from Rome's best viewpoints with the newest smartphones as well. But if you're interested in photography, you should know that smartphone lenses just won't be able to handle the zoom that you'll want to use at many of these spots (I tried and some pictures in this post are actually taken with an iPhone, but it's not ideal, especially in low light).
Here are some of the VERY BEST viewpoints in Rome:
1. From Ponte Umberto I
The view of St. Peter's Basilica and Sant' Angelo Bridge photographed from Umberto I Bridge is probably the most iconic and most photographed view in Rome.
The best time to take pictures here is in the morning and after sunset. That's also when you have a good chance to see nice reflections on the river.
Good to know: This viewpoint is free and accessible at any time. Just be careful with the traffic on the bridge and stay on the sidewalk.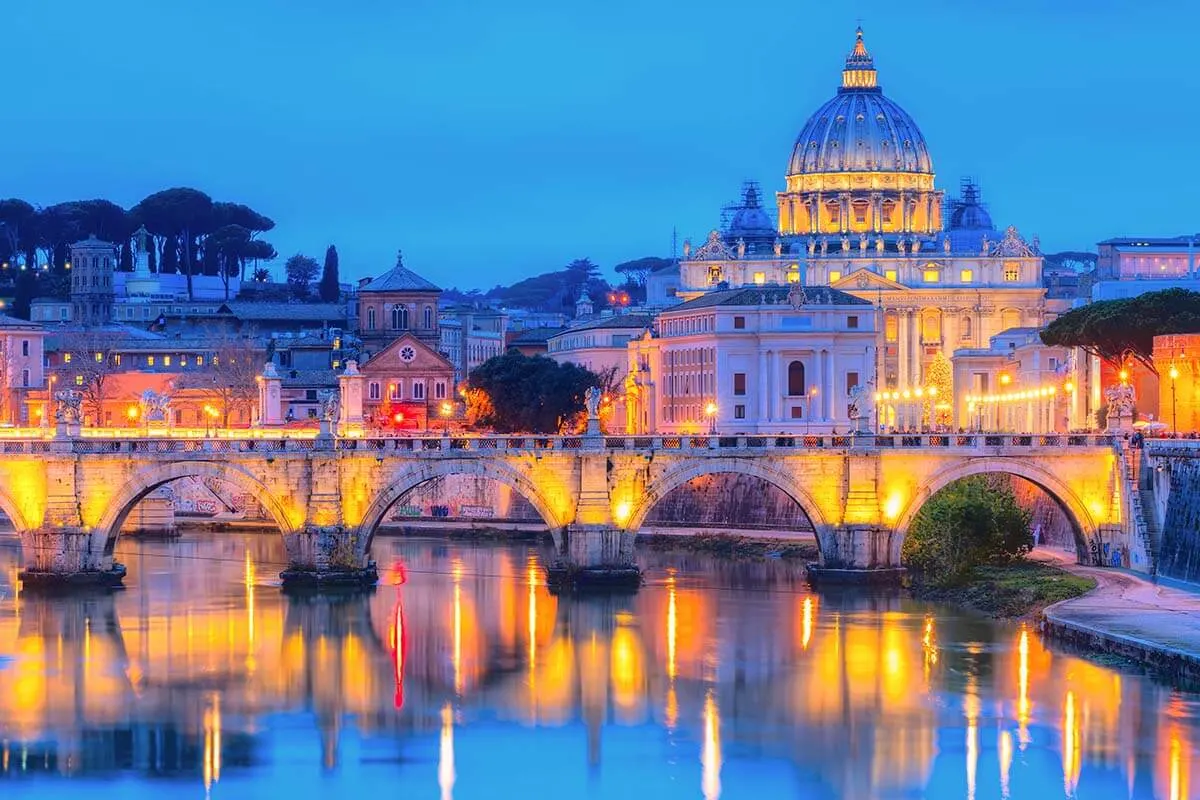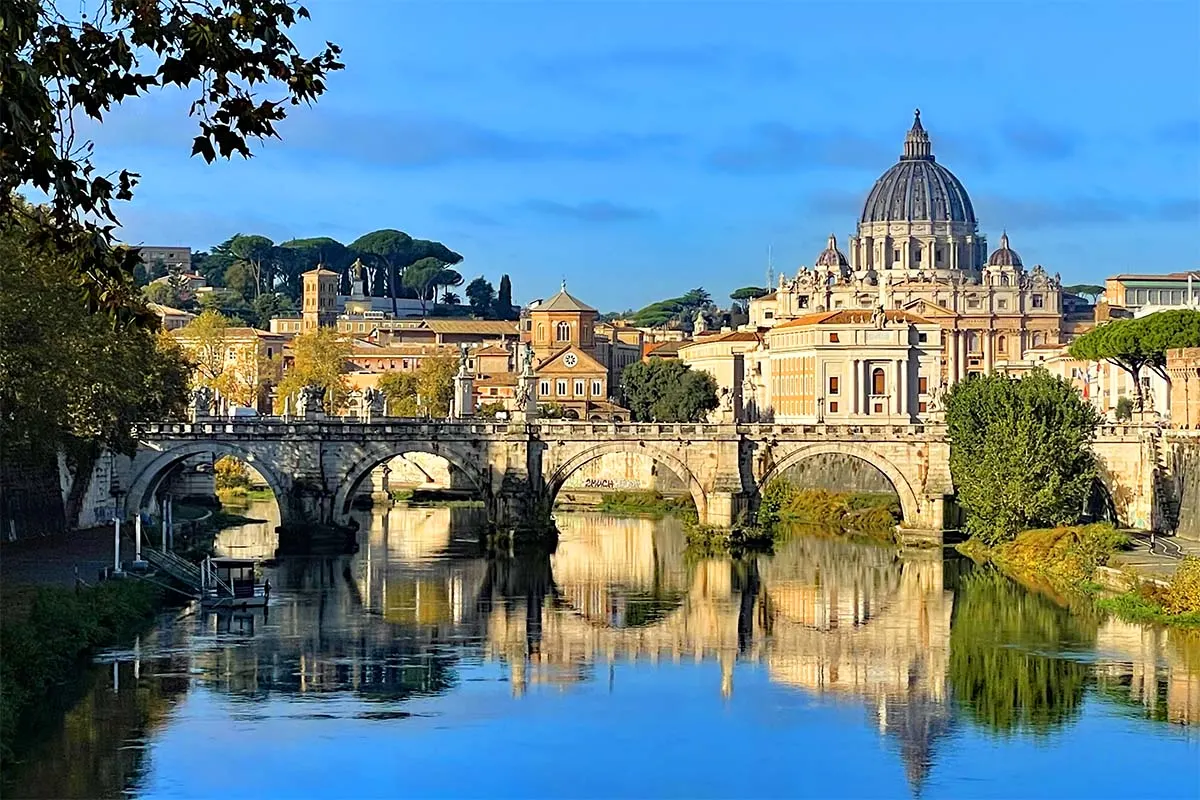 2. From Castel Sant'Angelo
Castel Sant' Angelo might not be the most visited landmark in Rome, but if you are wondering whether it's worth going inside, then the views from the rooftop might just be the reason to give it a go.
From the top of Castel Sant'Angelo, you have stunning views in all directions. The best view is across the river and towards the historic city center of Rome. If you have a good telephoto lens, be sure to zoom in on those rooftops!
Be sure to also check out the views in the direction of the Vatican and the river as well!
Because you have good views in almost all directions here, this is a place that can be visited any time of the day (as long as the museum is open, of course).
Good to know: Castel Sant'Angelo is open daily except on Mondays. You can reserve your fast-track ticket here.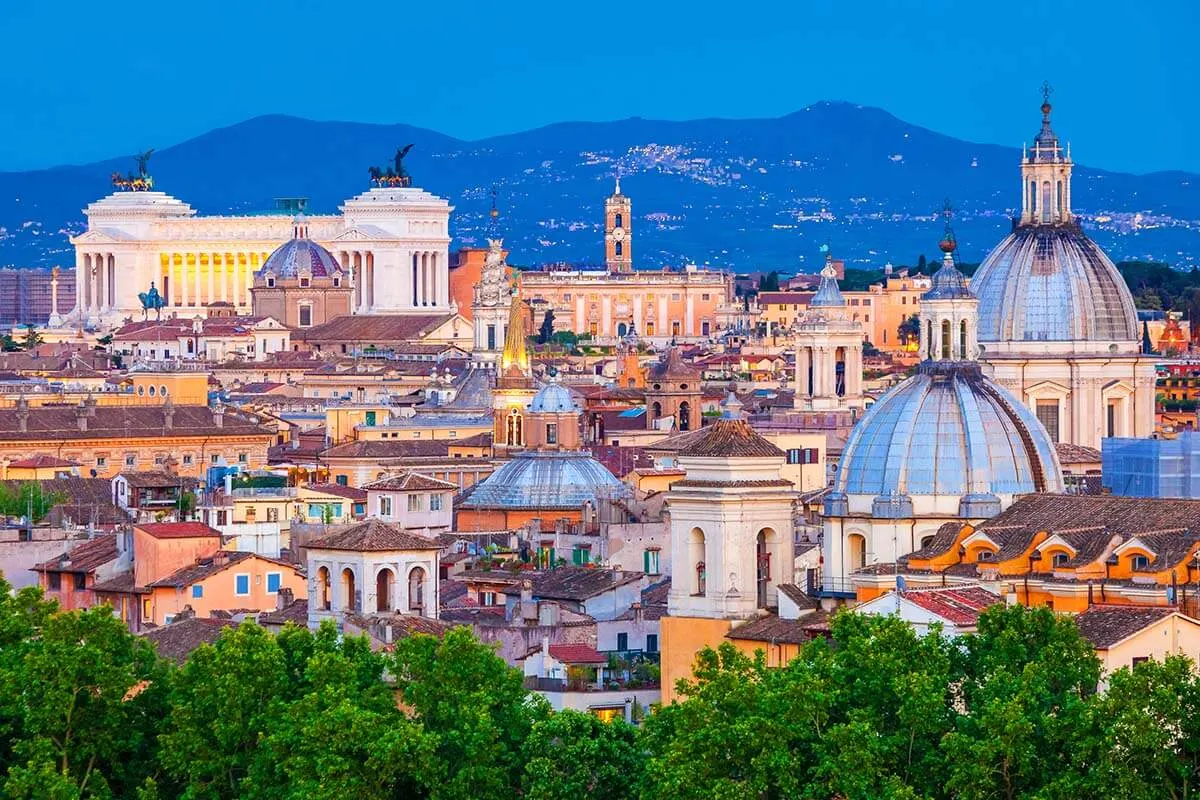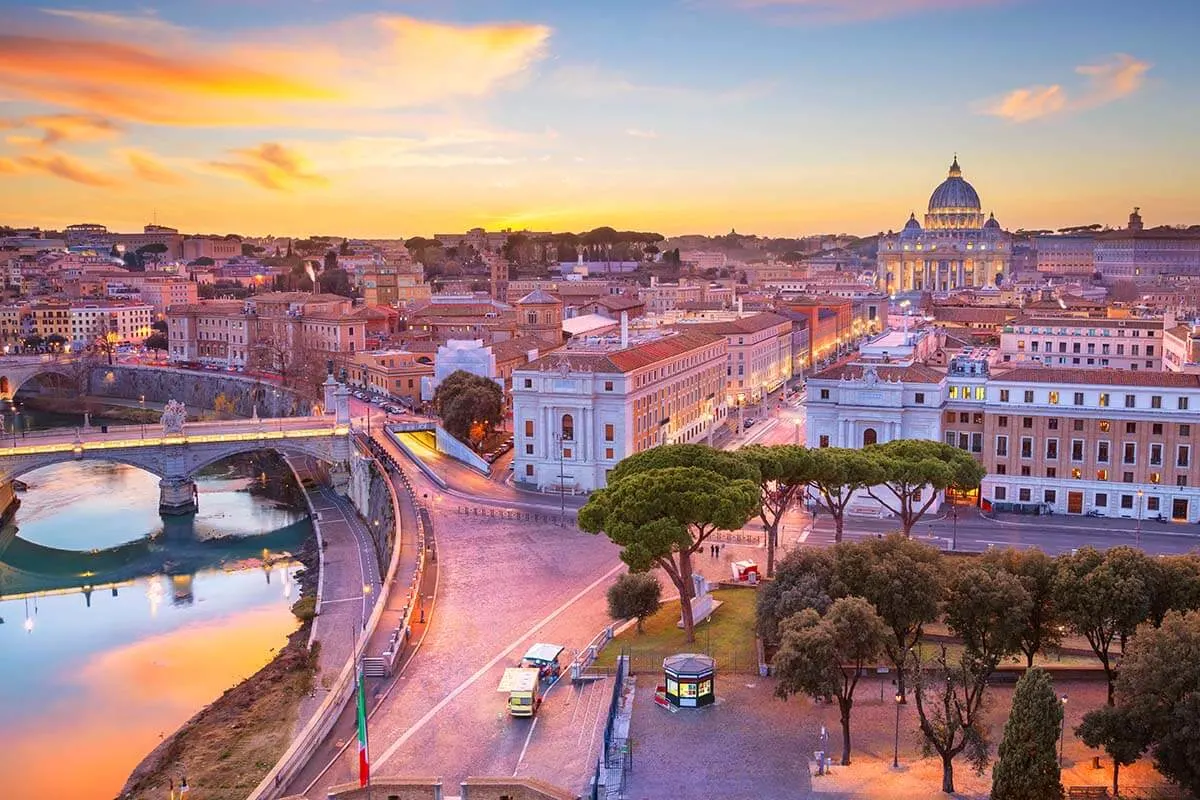 3. From Pincio Terrace
Pincio Terrace (Terrazza del Pincio) is known as one of the best sunset spots in Rome. But no matter what time of the day you visit, the views are really nice.
From here, you can see Piazza del Popolo, right underneath, the cityscape, and St. Peter's Basilica in the distance.
This viewpoint is often listed together with another nice view nearby that is often also called Pincio viewpoints, but – as you'll see below – the views are quite different.
Good to know: Pincio Terrace is always open and it's free to visit.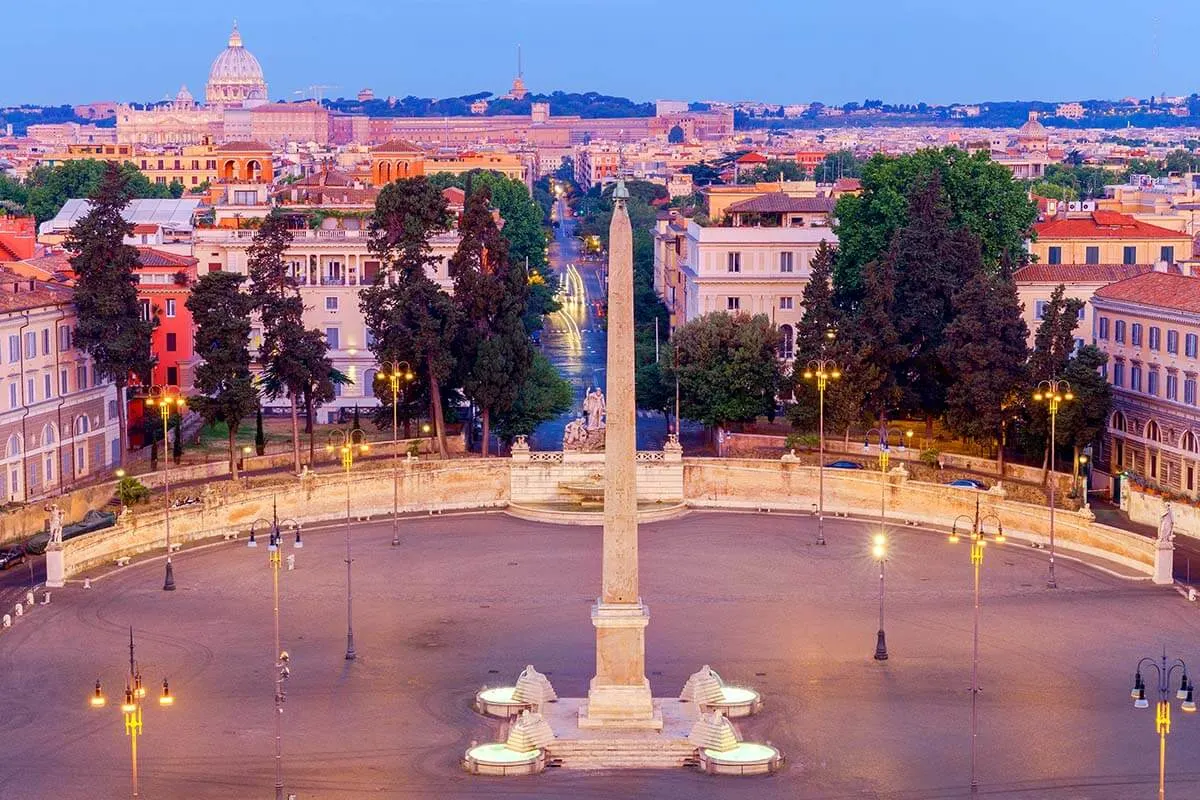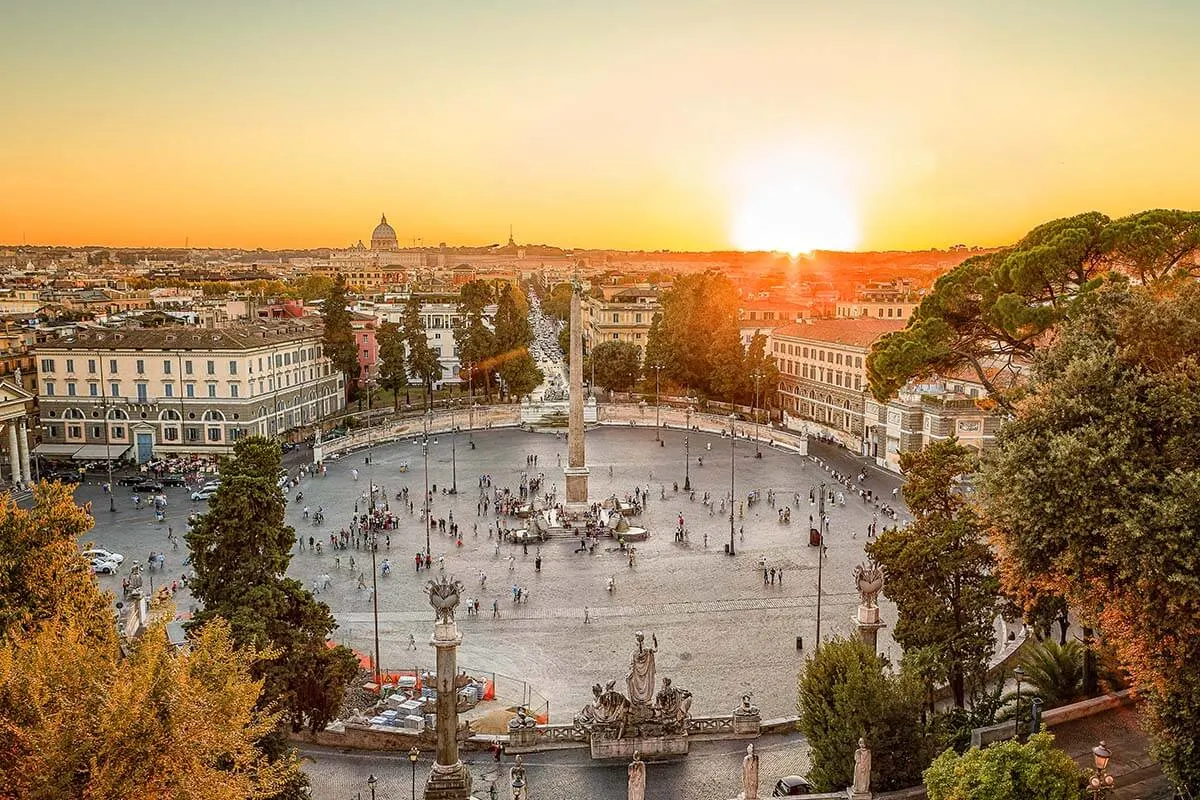 4. From Terrazza Viale del Belvedere
Located just 350 meters (5 minutes walk) from the above-mentioned Pincio Terrace, this is another amazing viewpoint of Rome that often simply gets called 'Pincio viewpoint'.
It doesn't really have a name, the closest to it is the viewpoint called Terrazza Viale del Belvedere, and so that's how we call it. We also indicated the exact location of this viewpoint on our map below. Anyway, once you get there, you'll see that there are several places here from which you can see stunning panoramas of Rome.
Good to know: This viewpoint is always open and there's no fee to visit. Just as Pincio Terrace, this is a nice spot for sunset in Rome.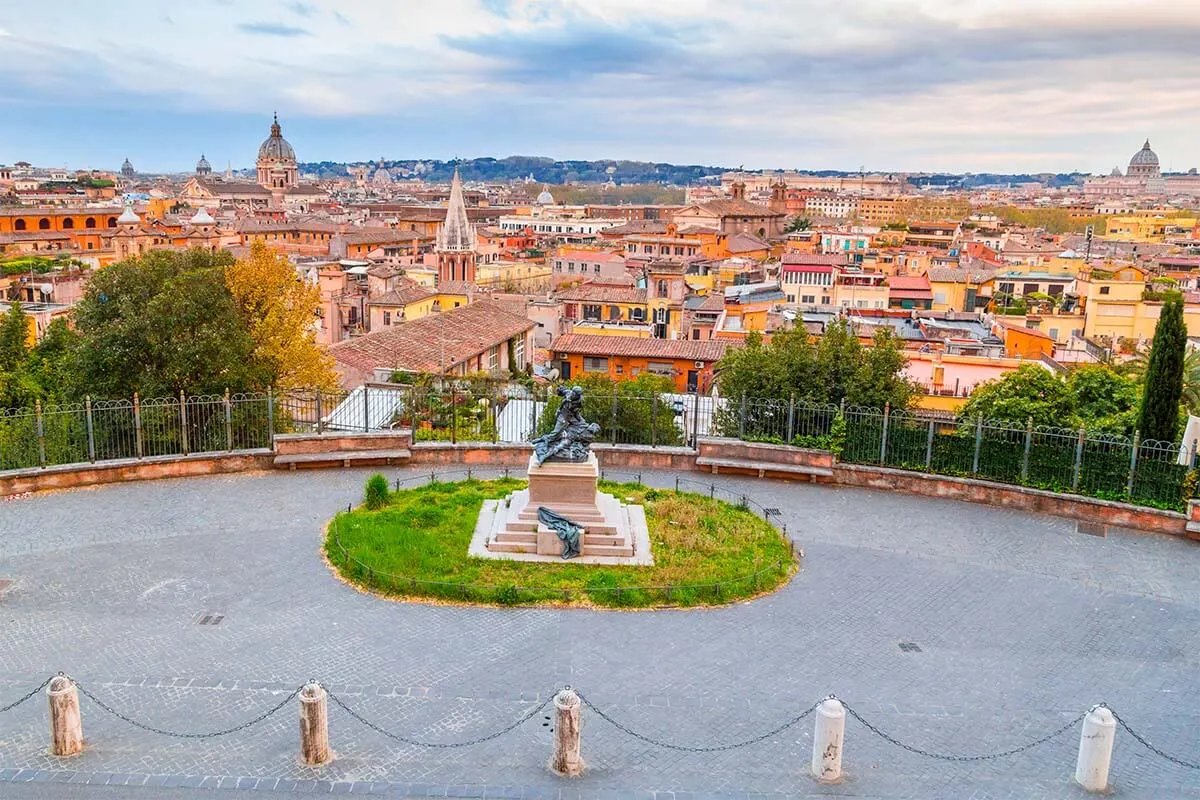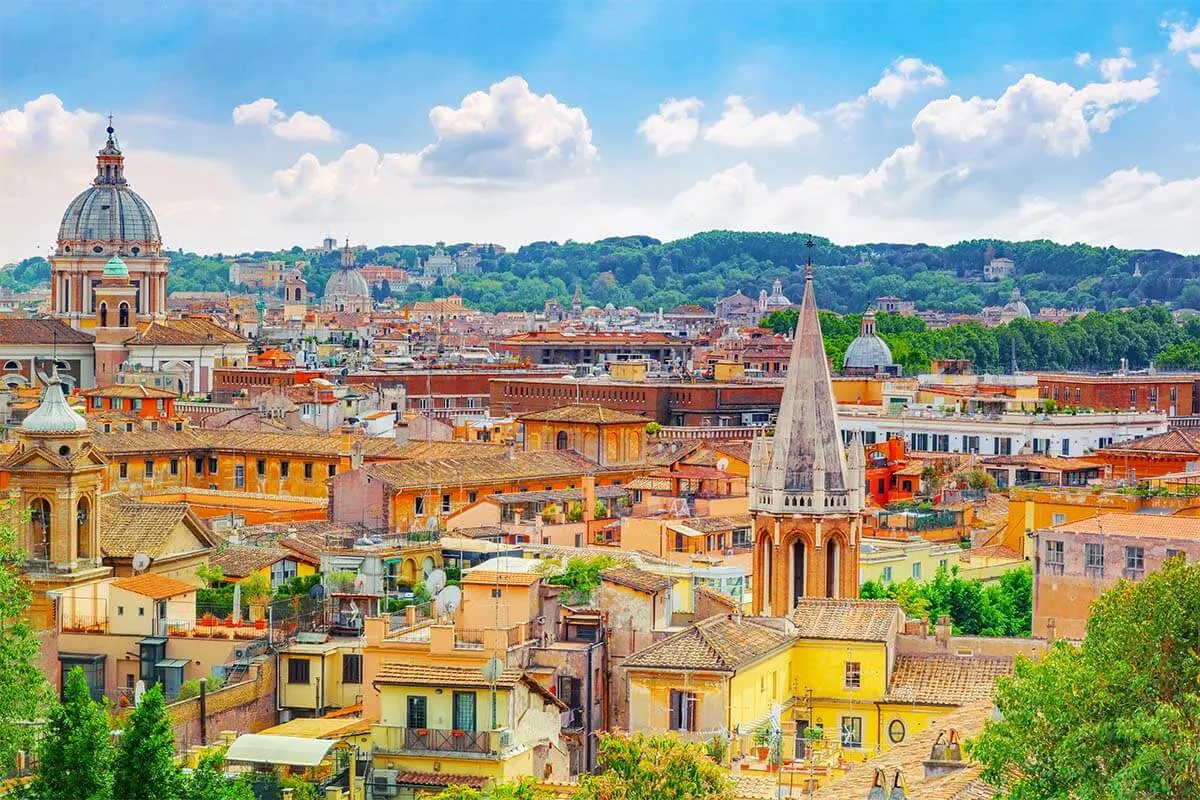 5. From Palatine Hill
Palatine Hill is one of the must-see places in Rome. Located just next to the Colosseum and above Forum Romanum, a visit here is included in the same ticket that covers these three tops sights of ancient Rome.
Palatine Hill is quite big and if you're visiting without a guide, it can be quite overwhelming just trying to figure out where exactly to go and what to see. There are also nice views in several directions.
But the very best views from Palatine Hill can be seen from Terrazza Belvedere del Palatino, just above the Roman Forum. In one direction, you see colorful houses and the historic city center, right under your feet, you have a view of the entire Roman Forum, and to the right – the view of the Colosseum.
Good to know: Palatine Hill is one of the top tourist attractions in Rome and is always very busy. We highly recommend visiting here with a guide. We took this tour that included the Colosseum underground and the Roman Forum, as well as Palatine Hill, and it was great. There are many other tours that visit Palatine Hill. They are all quite similar, but some include additional places, so be sure to read the description so that you know what exactly to expect.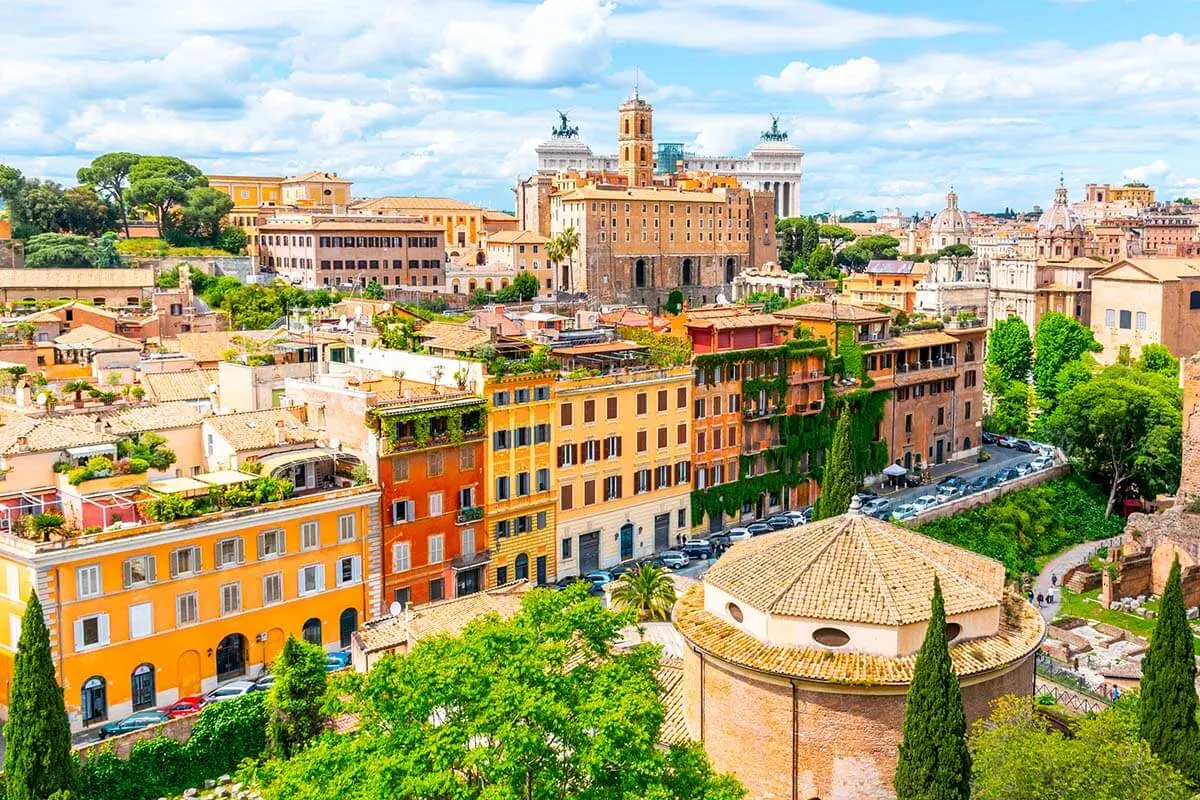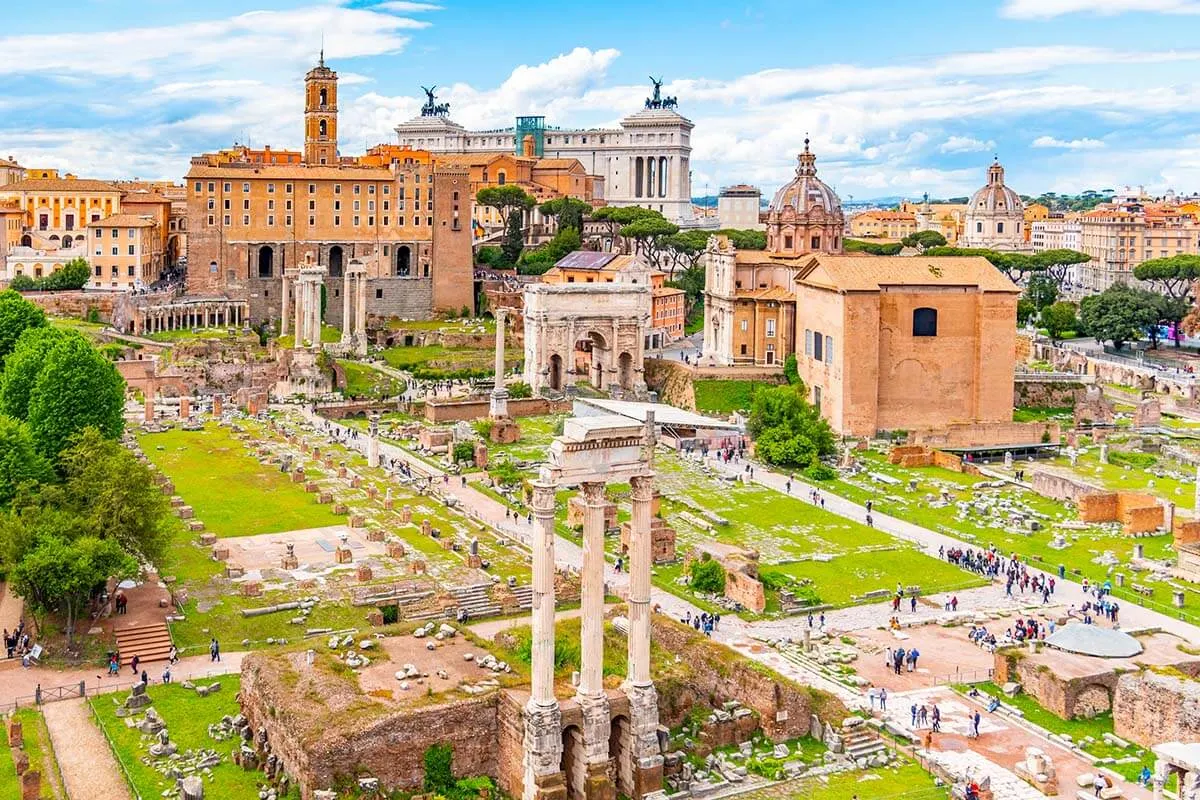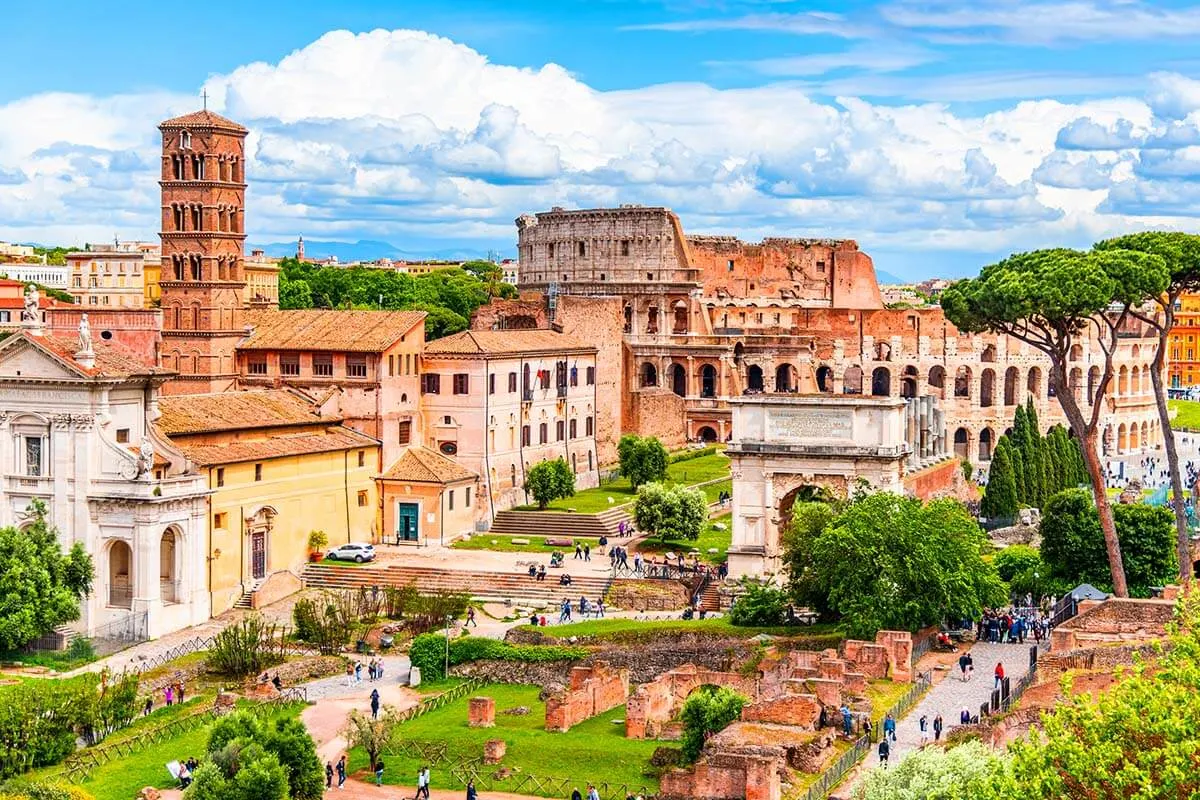 6. From the Altar of the Fatherland
The Altar of the Fatherland (Altare della Patria) is a huge white monument on Piazza de Venezia, about halfway between the historic city center and the Colosseum. An equestrian statue of Vittorio Emanuele II stands right in front of this monument.
There are several places from where you can enjoy nice views of Rome here. First is, of course, the view from the rooftop (Terrazza delle Quadrighe) that can be reached by a panoramic elevator. This requires a ticket (+-12 euro), but is well worth it if you have some time to spare.
But even if you decide not to go all the way to the top, be sure to take the stairs of the monument. As you go up, you'll have really nice views from the stairs in the direction of the nearby buildings, especially in the direction of the Church of Saint Mary of Loreto.
If you walk towards the back of the monument, you also have a nice view of the Roman Forum and the Colosseum in the distance.
Good to know: The panoramic lift is normally open daily from morning to evening, with opening hours depending on the season. It's usually open quite late in the evening too, so you can also come here for sunset views, and even after dark.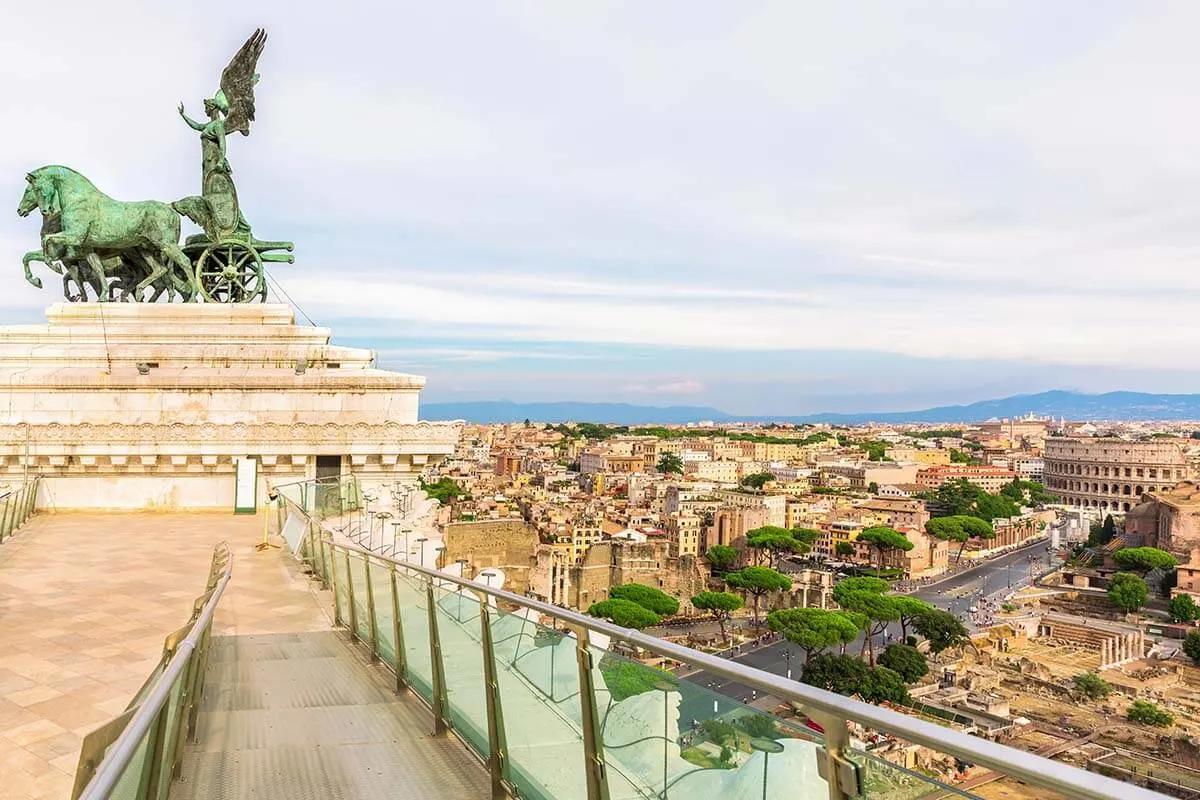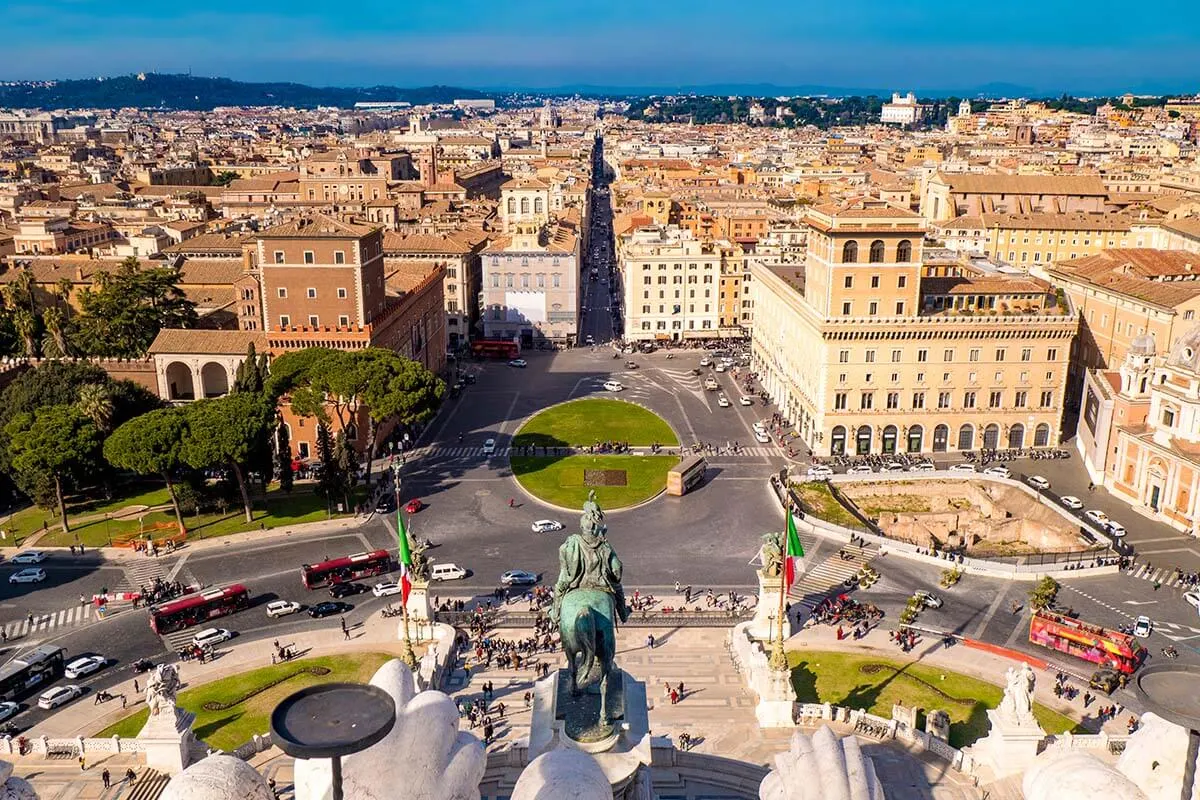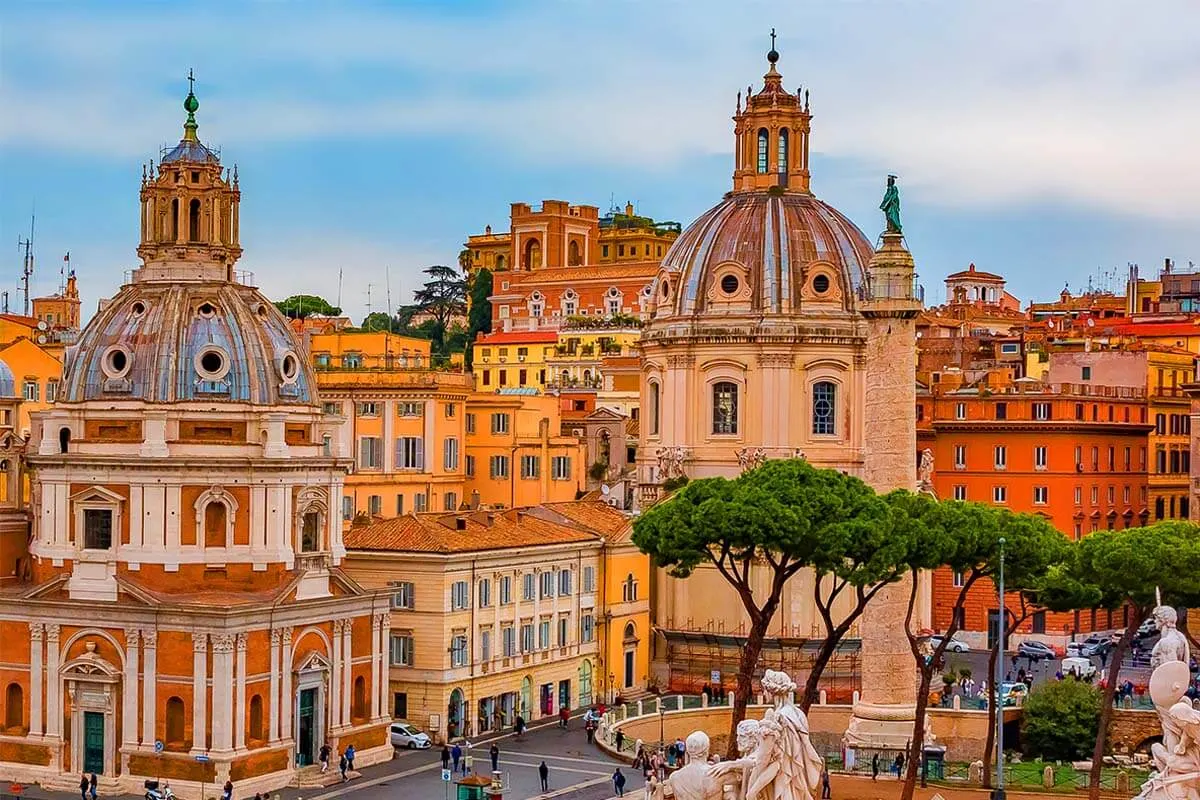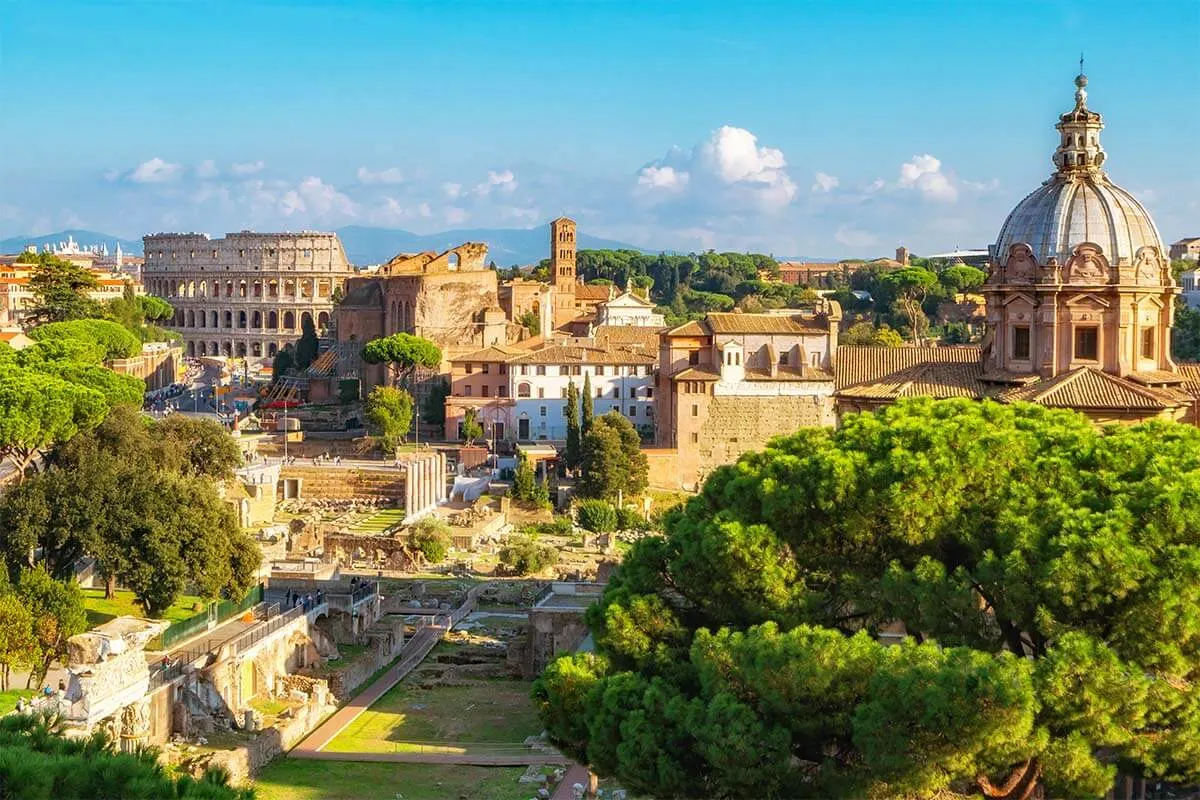 7. From St. Peter's Dome
The views from the dome of St. Peter's Basilica at the Vatican are among the most iconic views that you really have to see in Rome!
The most famous is the view of the oval-shaped St. Peter's Square and the city of Rome. But the views in the other direction (from where you can also see the entire Vatican and its gardens) are just as worth it.
You can walk all around the outside gallery of the dome, and enjoy the 360° aerial views of Rome. This is the highest viewpoint in central Rome, so if you are interested in far views, this is the place to be.
Good to know: You can reach St. Peter's dome via the Basilica itself. While the church is free to visit, there's a small fee if you want to climb the dome. You can take an elevator for the first part, but you'll still have to do 320 stairs. If you don't take an elevator, it's 551 steps, up and also down. You cannot pre-book tickets for the dome, so you'll have to stand in line and wait. If the weather is really bad, sometimes the dome gets closed.
Some Vatican tours that visit St. Peter's Basilica also include a climb to the top of the dome. You'll still have to wait in line with everyone else, though. We visited the basilica with this tour which included the dome visit, and also the underground Papal burial sites.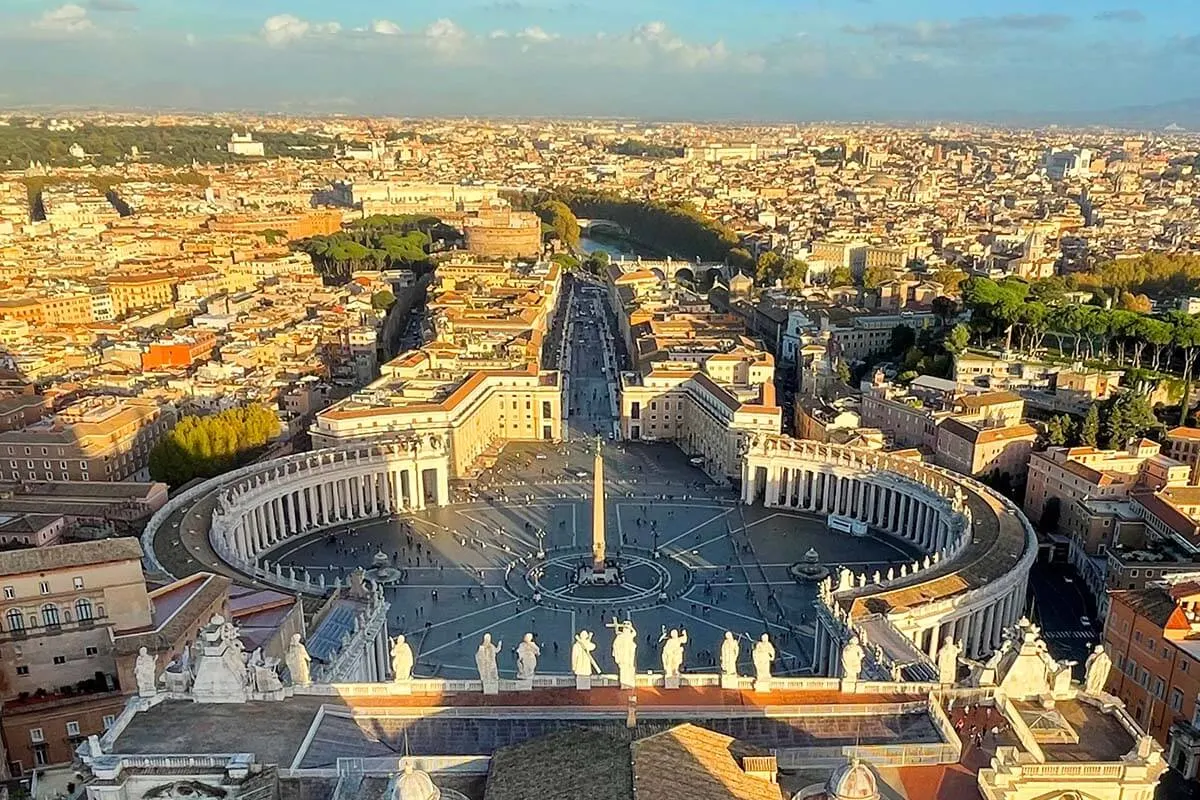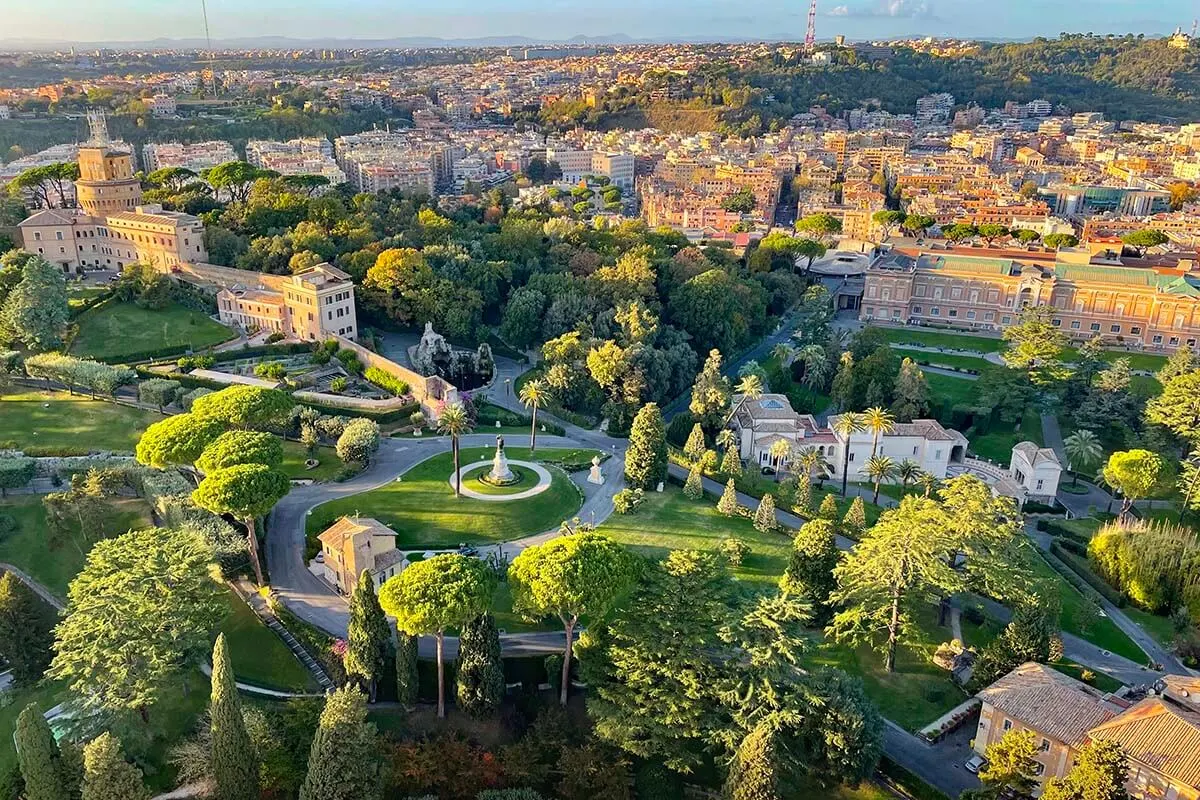 8. From Orange Tree Garden on Aventine Hill
Terrazza Belvedere Aventino – the panoramic terrace of the Orange Tree Garden (Giardino degli Aranci) on Aventine Hill is another popular viewpoint in Rome.
In addition to the viewpoint and the garden, there are several other attractions here, including a couple of really nice churches, and the famous Knights of Malta Keyhole with a view of St. Peter's Basilica (the most famous view in Rome you can see through a keyhole).
Good to know: The gardens are open to the public daily, with opening hours depending on the season. In the high season (April to August) the gardens are open from 7 AM to 9 PM, in March and September – until 8 PM, and in winter – until 6 PM. There is no entrance fee. For more info (in Italian), see their website.
If you want to see the famous view via the keyhole, you should know that it's located a bit further away, not in the gardens (see our map). For that, be prepared to stand in line, sometimes half an hour or even longer.
TIP: While not as steep to climb as Gianicolo Hill (see further below), Aventine Hill requires a bit of a walk from the other main attractions. This popular e-bike tour (the one in the afternoon), visits Aventine Hill. And there are many other tours that can bring you here as well.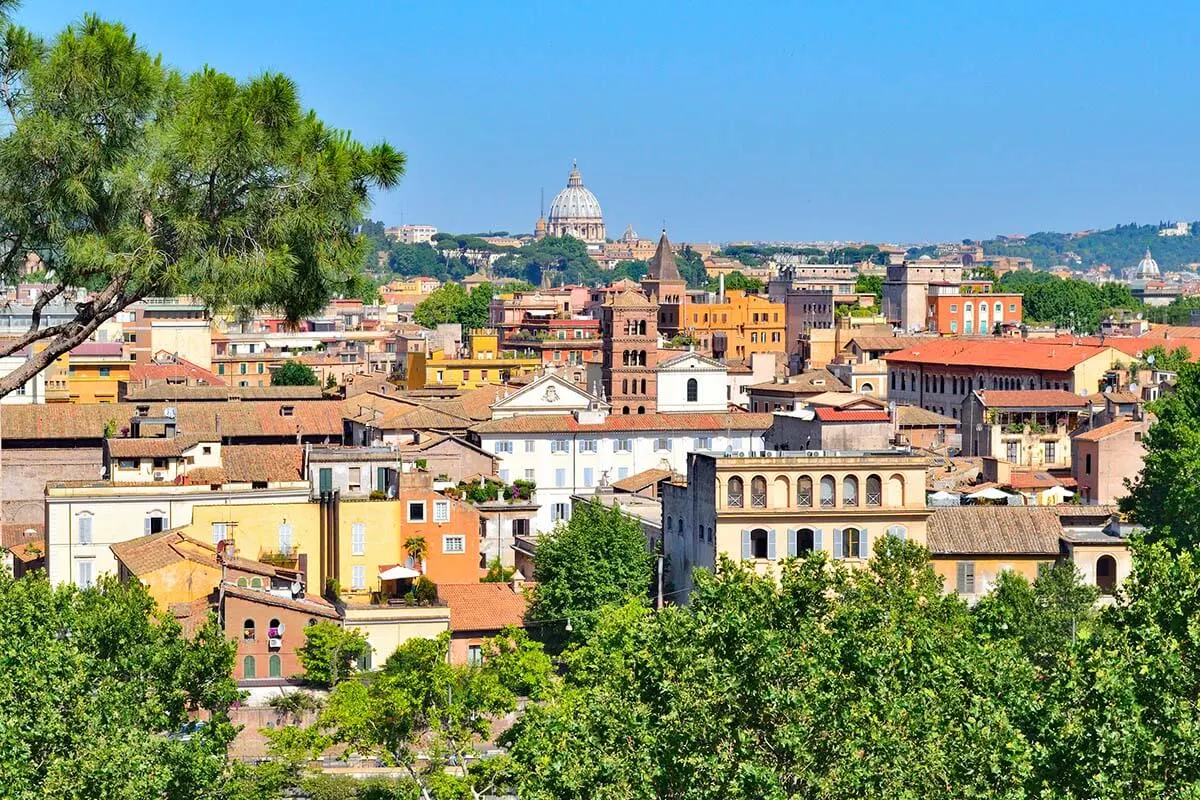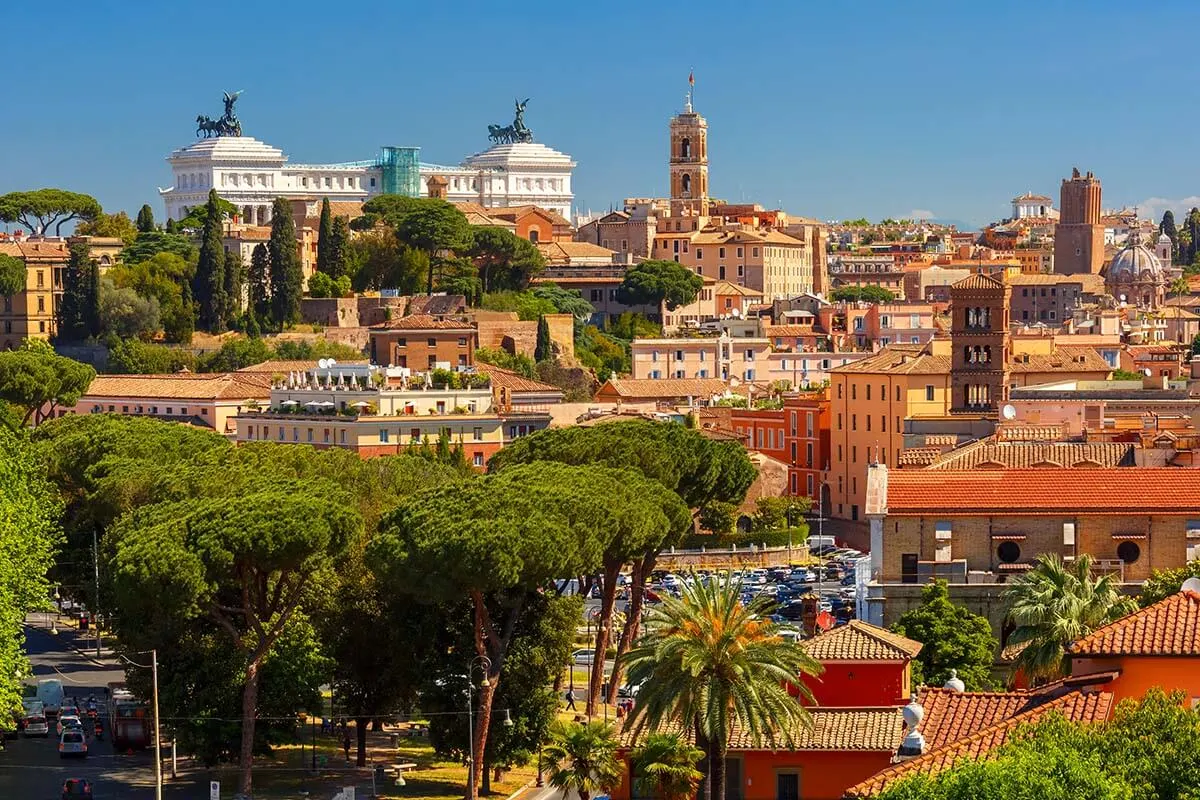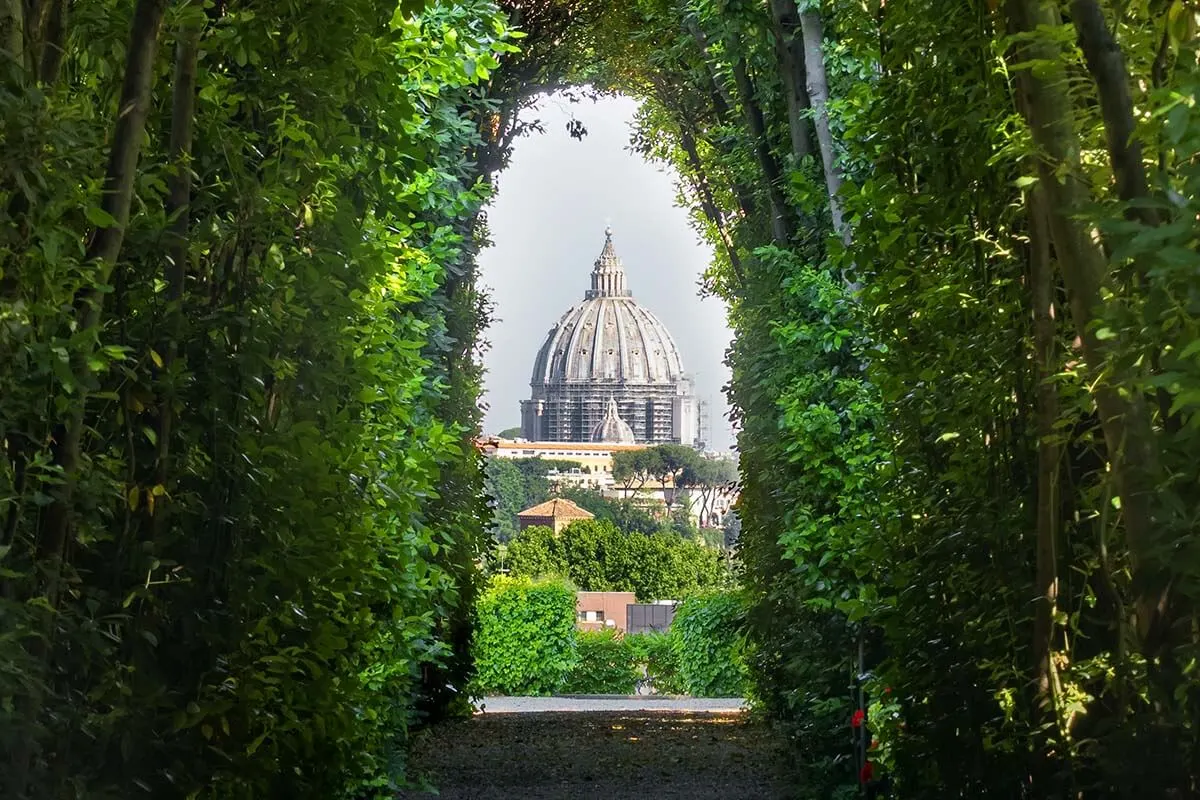 9. From Capitoline Hill
Campidoglio (aka Capitolium or the Capitoline Hill of Rome) is a beautiful town square designed by Michelangelo. It's home to several museums including the famous Capitoline Museums and also houses the City Hall of Rome. The symbol of Rome – she-wolf Lupa Capitolina – can also be found here.
If you walk up the stairs and to the right and past the City Hall, you'll find a nice panoramic viewpoint overlooking the Roman Forum. It's located at the crossing of Via del Campidoglio and Via Monte Tarpeo (see also our map for the exact location).
Good to know: This viewpoint is freely accessible and is always open.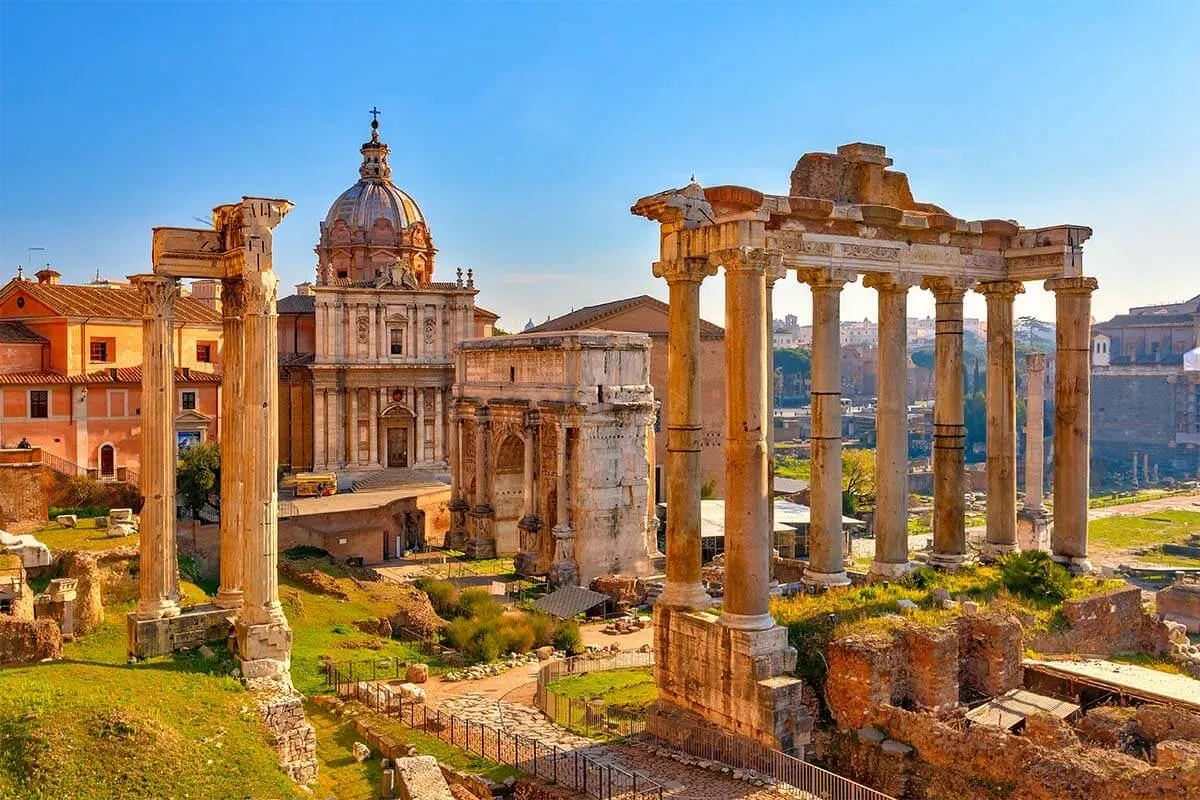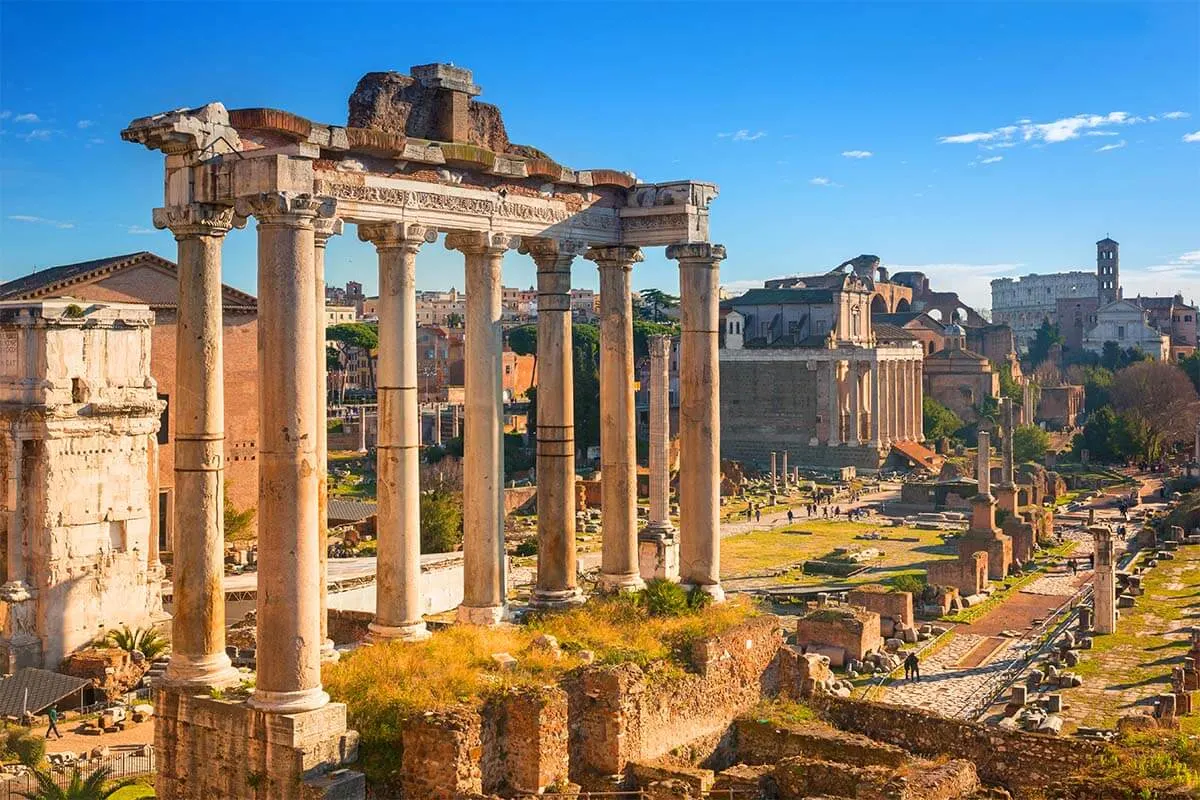 10. Castel Sant'Angelo views from Ponte Vittorio Emanuele II & along River Tiber
If you are looking for even more nice views in Rome, check out the area around River Tiber with the views in the direction of Sant'Angelo bridge and castle.
In addition to the famous view from Umberto bridge (#1 on this list), there are quite some other nice viewpoints. One of them is from Vittorio Emanuele II Bridge west of Sant'Angelo Bridge.
It's also nice to take a walk on the riverside here, especially early in the morning when you have nice reflections on the water. While Ponte Sant'Angelo itself can get really busy, not many tourists actually take the time to walk next to the river and enjoy these stunning views.
Good to know: The best time to take pictures of Castel Sant'Angelo and the bridge is early morning. If you go down to the river, you'll have to negotiate some steep stairs. There are staircases at each bridge and in all directions, so you can go down at Ponte Vittorio Emanuele II and take the stairs up at Ponte Sant'Angelo or walk further to Ponte Umberto I, or vice versa.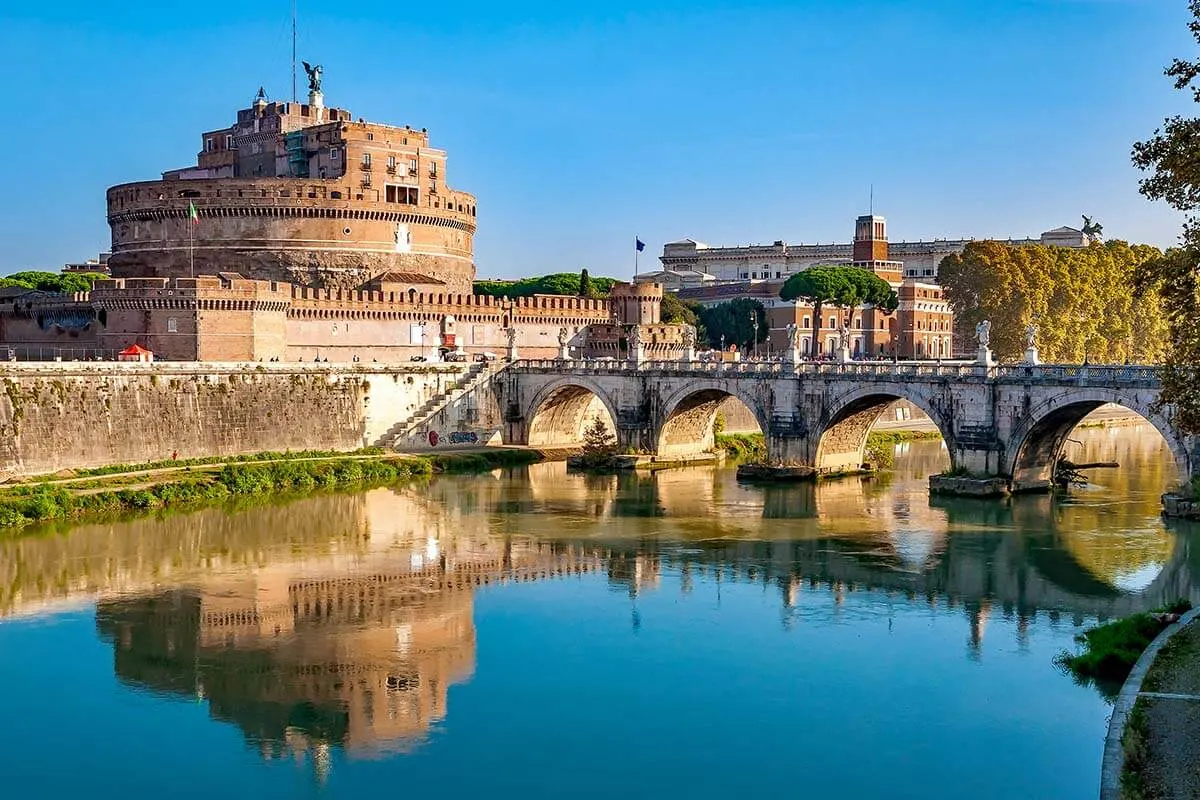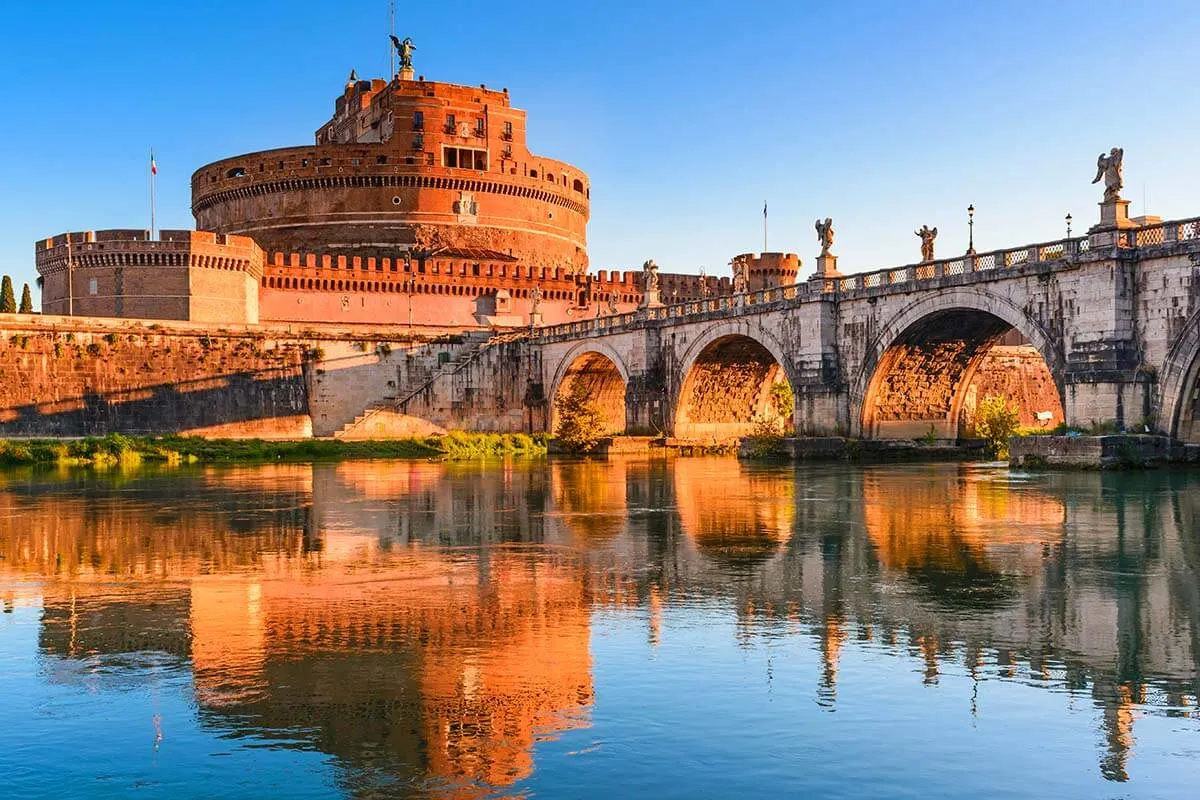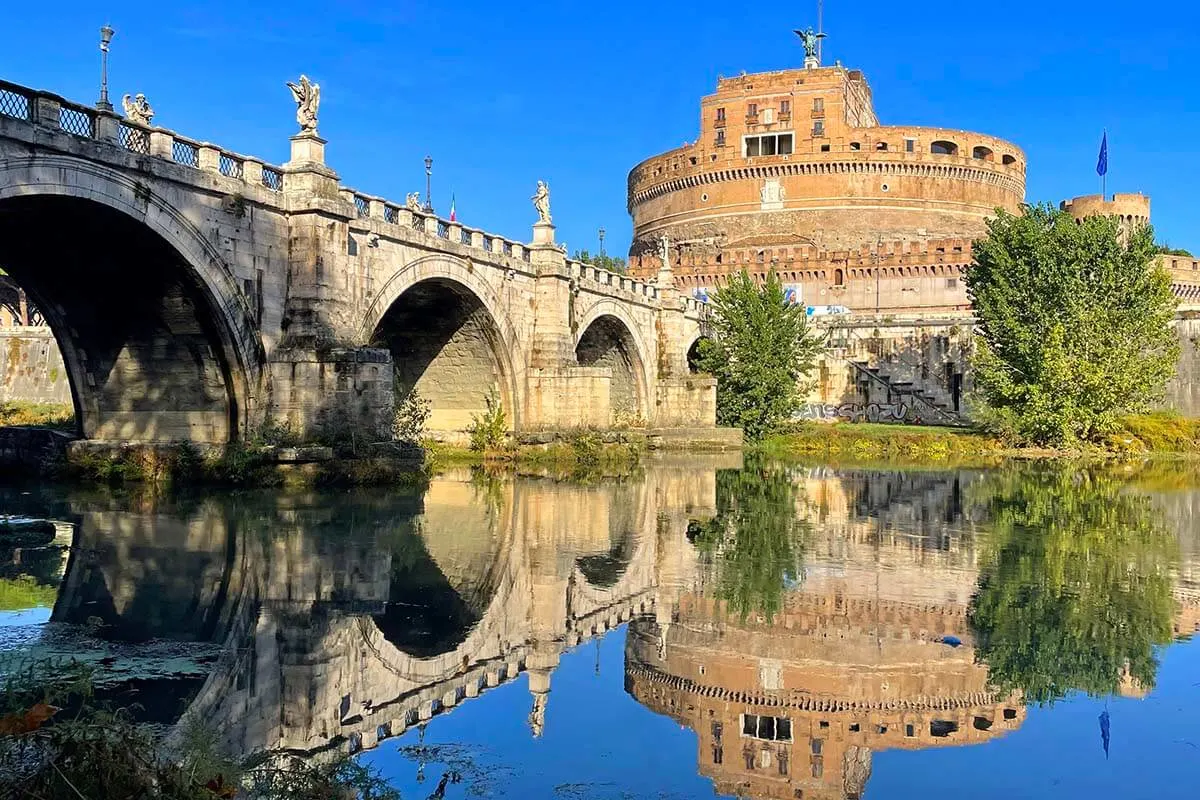 11. Best Views of the Colosseum
No list of the best views in Rome would be complete without mentioning the city's most iconic landmark, the Colosseum.
It's a fascinating structure that looks different depending on which side you see it from, and it's well worth taking some time to walk around and see it from different angles.
I also recommend – time permitting – coming here at different times of the day, so that you can admire it in a different light. And if you want to see the Colosseum without the crowds, your best bet is coming here at around sunrise, or in the evening during the low season.
Below, you can see several pictures of the Colosseum, taken from different places. Under each picture, I indicate where it's taken from, and I also indicated all these locations on the map.
READ ALSO: How to Visit Colosseum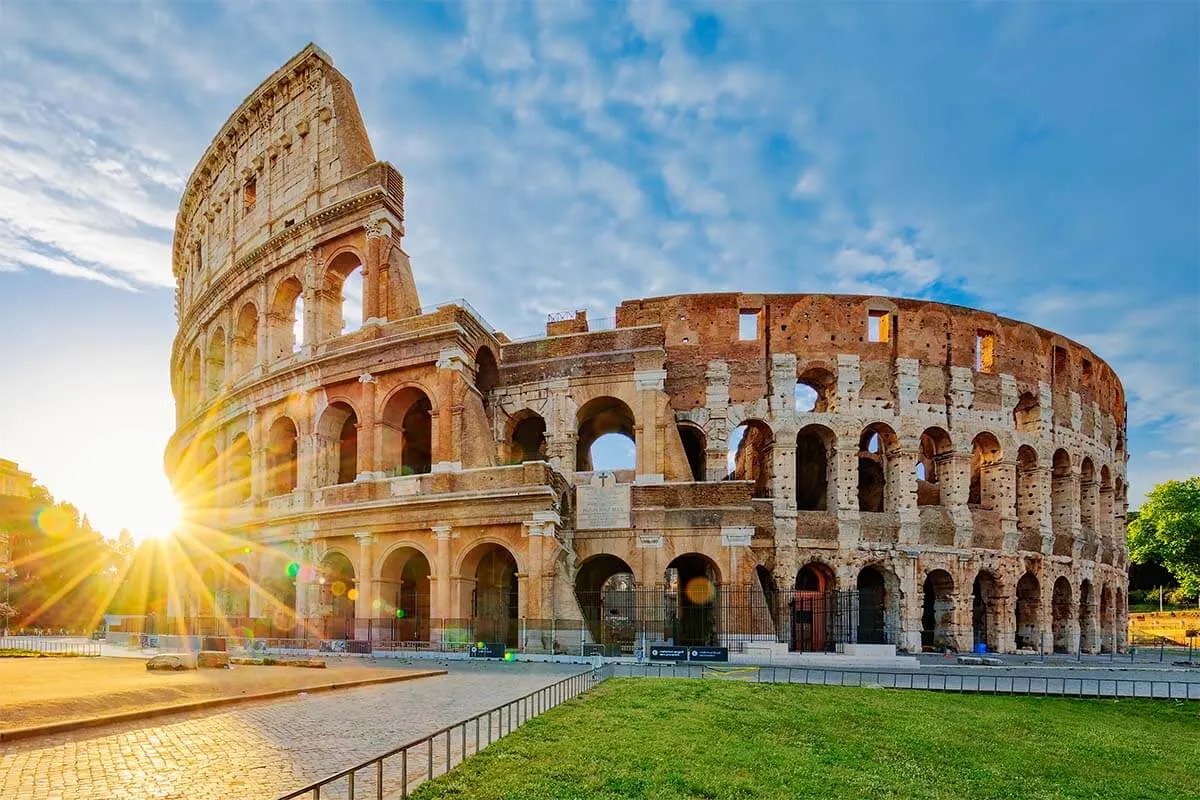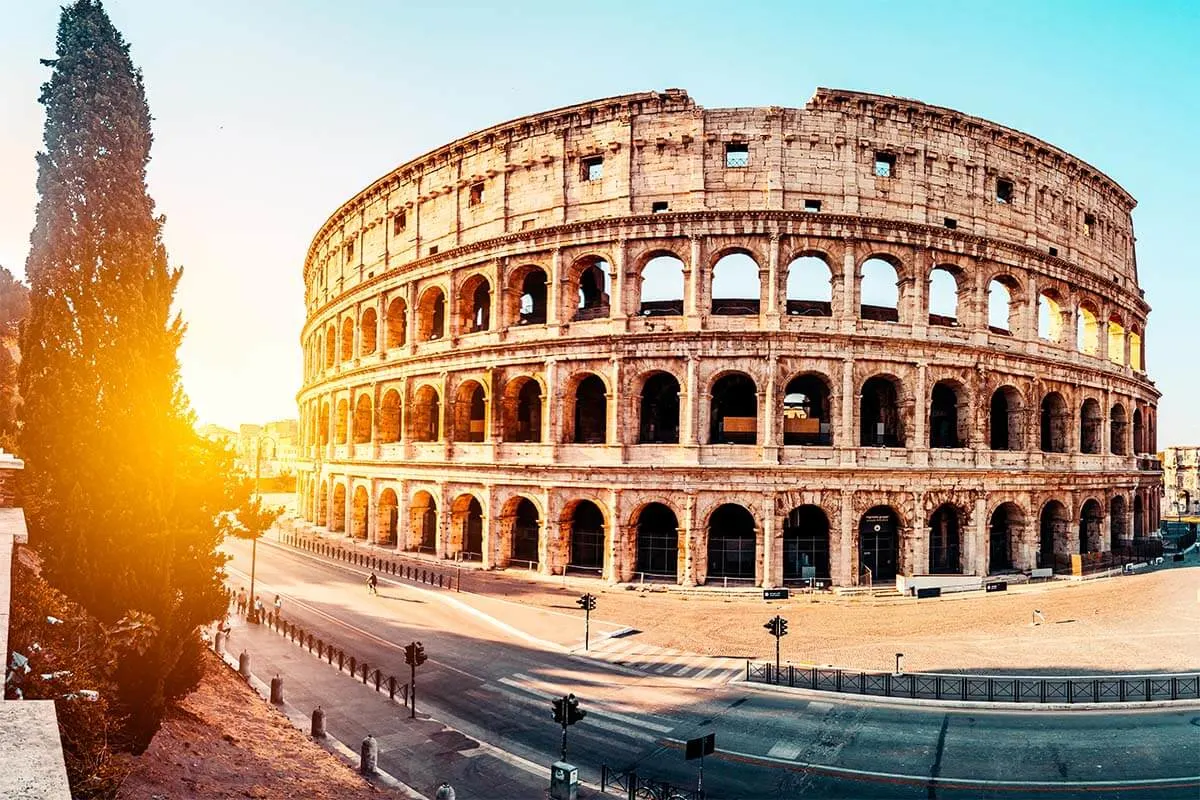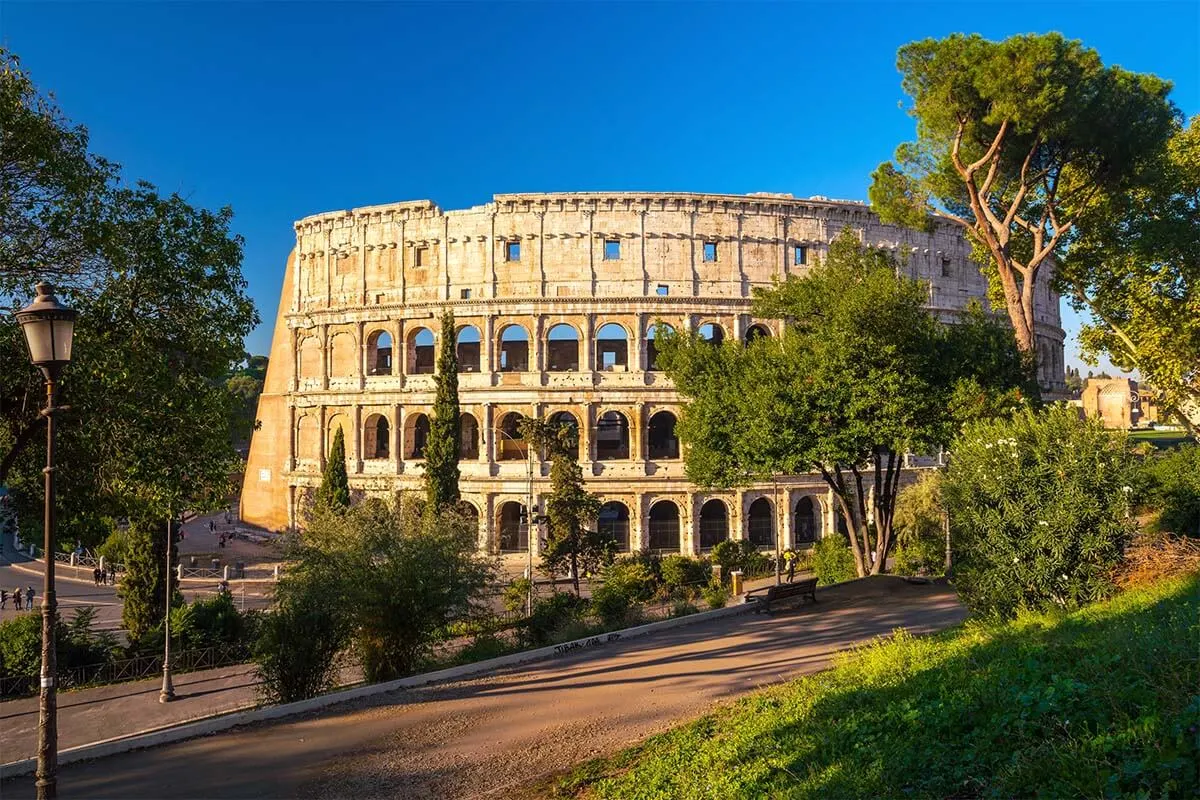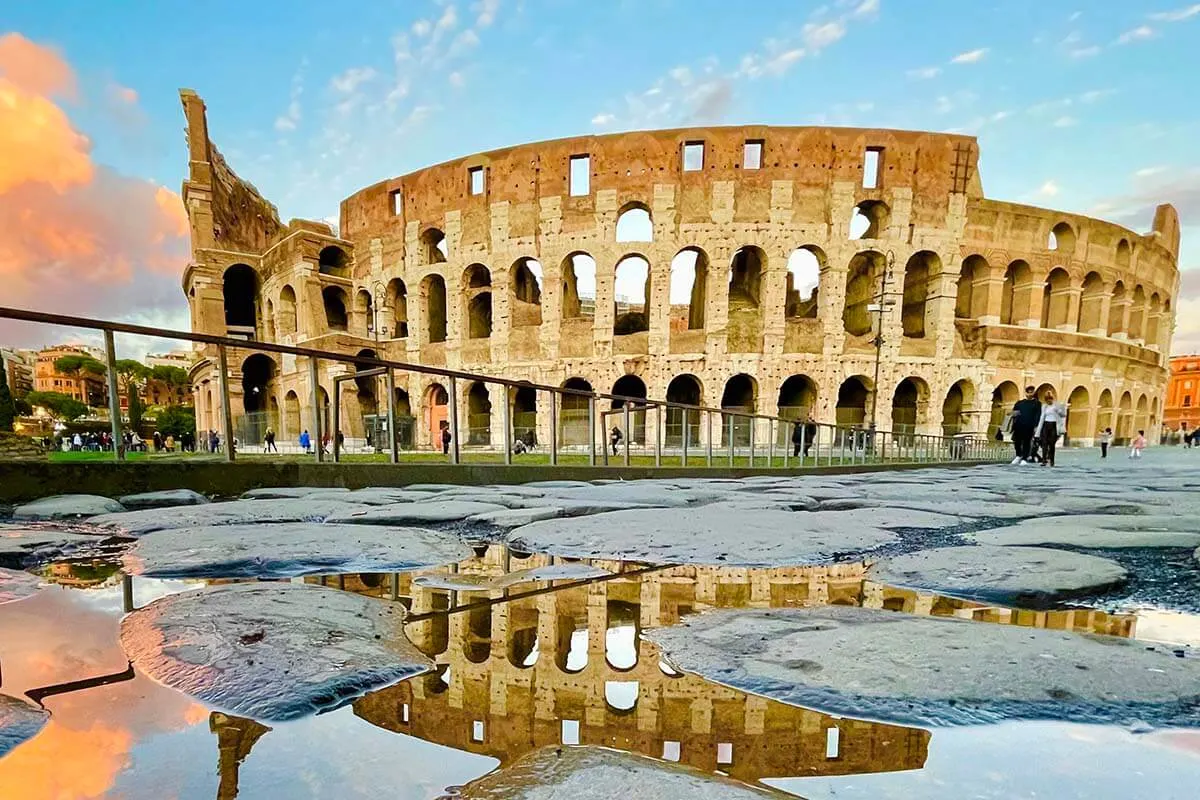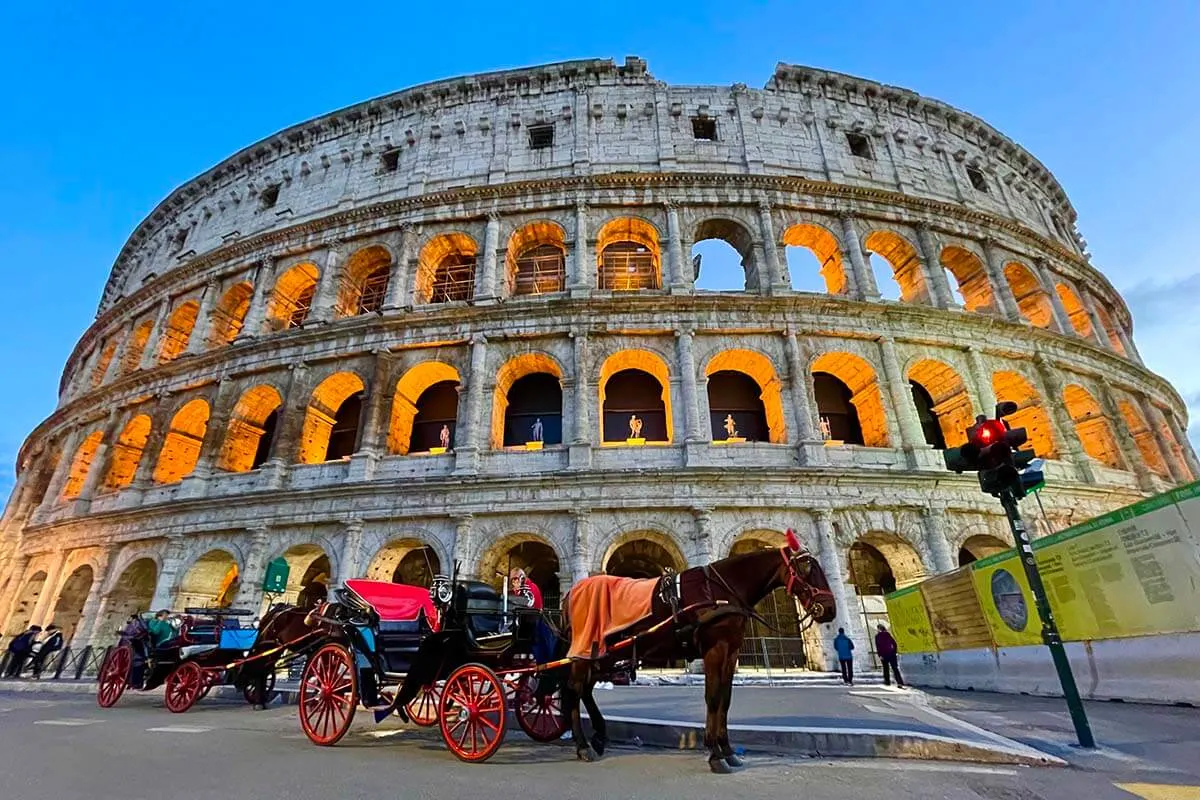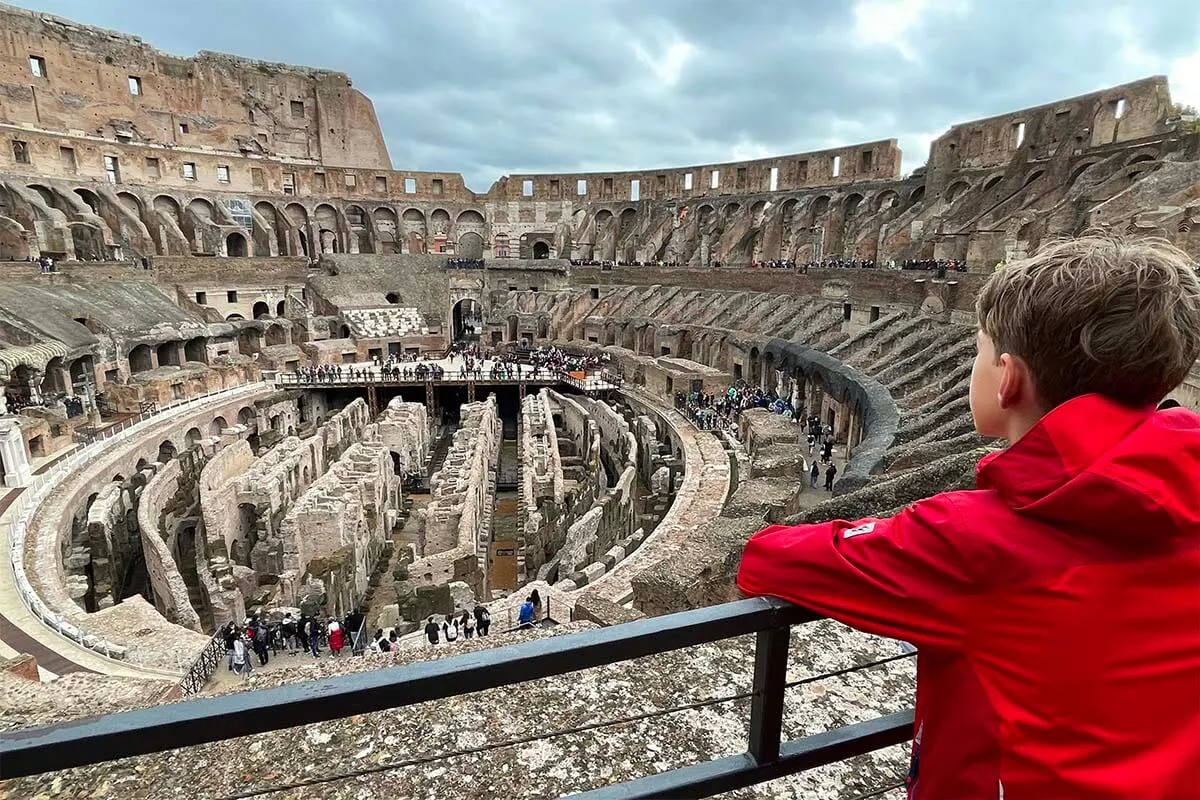 12. From Gianicolo Hill
Belvedere del Gianicolo (Janiculum Hill) is another famous viewpoint of Rome.
It's quite a climb to get to the top, but if you want to see a nice panorama of Rome, it can be worth it. Just keep in mind that the views you actually get are quite far – see the pictures below in order to get a better idea of what to expect.
Good to know: If you are not keen on walking uphill and want to discover some of the best viewpoints in Rome, you can join an e-bike tour. It's a great way to get a bit off the beaten path and see more of the city in a short time. Here you can find a selection of popular bike tours in Rome.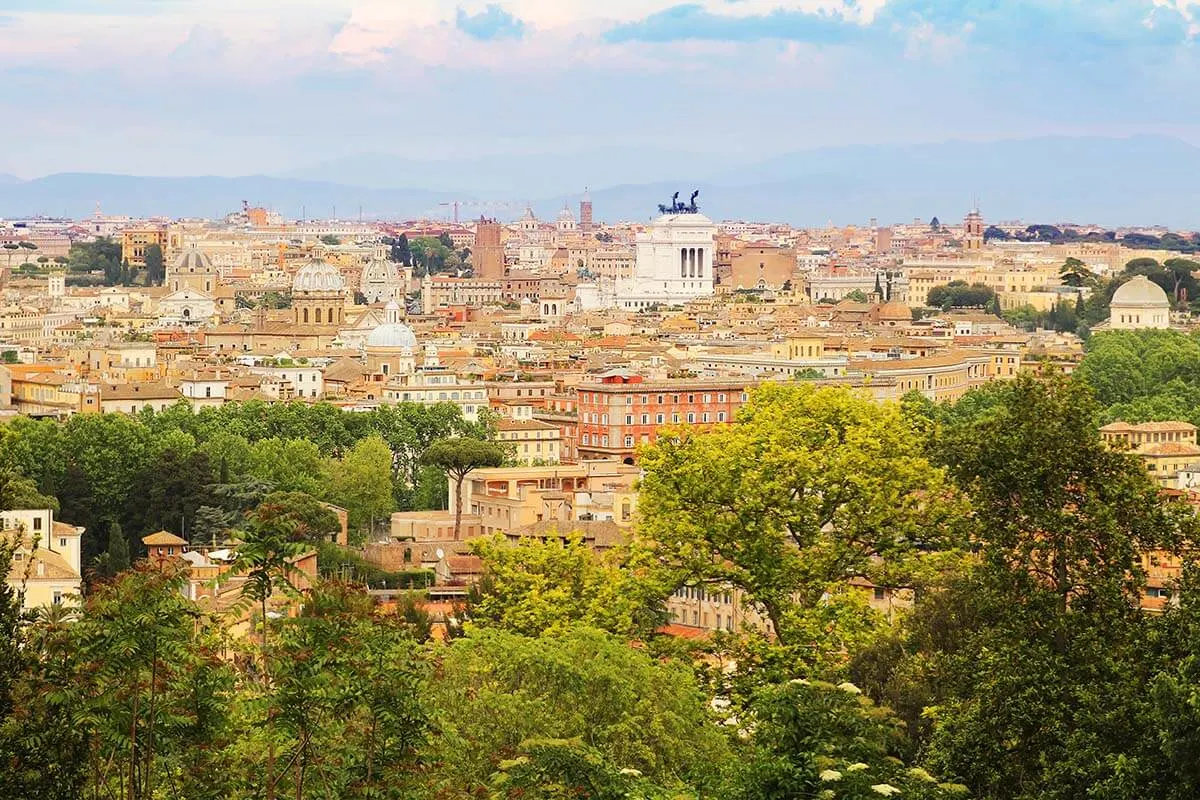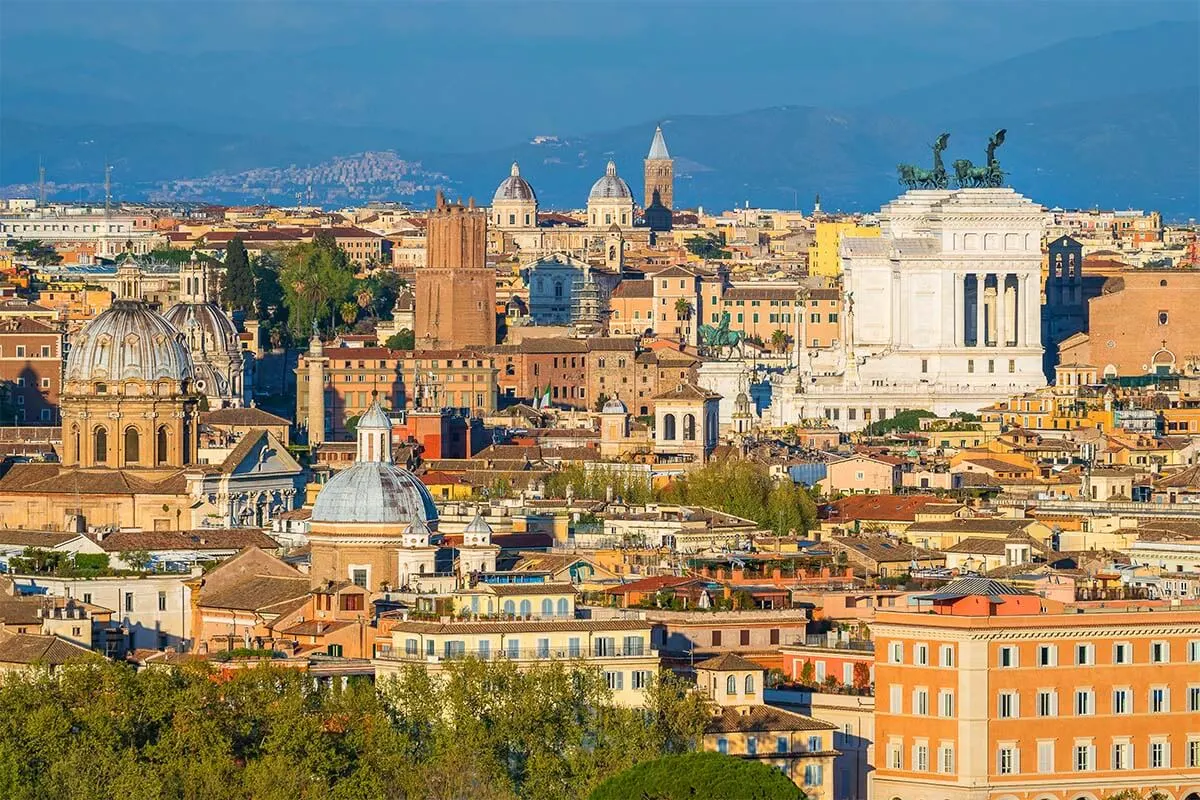 13. From Trinita' dei Monti (Spanish Steps)
The Spanish Steps is another well-known landmark in Rome. For nice elevated views of Rome's skyline, be sure to take the stairs all the way to the top.
The view from the staircase itself is ok, but the best views here can be found on Piazza Trinita' Dei Monti, the street at the top of the staircase. Once on the hill, turn left, and walk a bit in a northerly direction.
If you walk even further, past Villa Medici, you'll come to the earlier mentioned viewpoints on Pincian Hill – Terrazza Viale del Belvedere and Pincio Terrace (#3-4 on our list).
TIP: When you walk along this street, you'll also come across a restaurant with a rooftop terrace and nice views of Rome's skyline.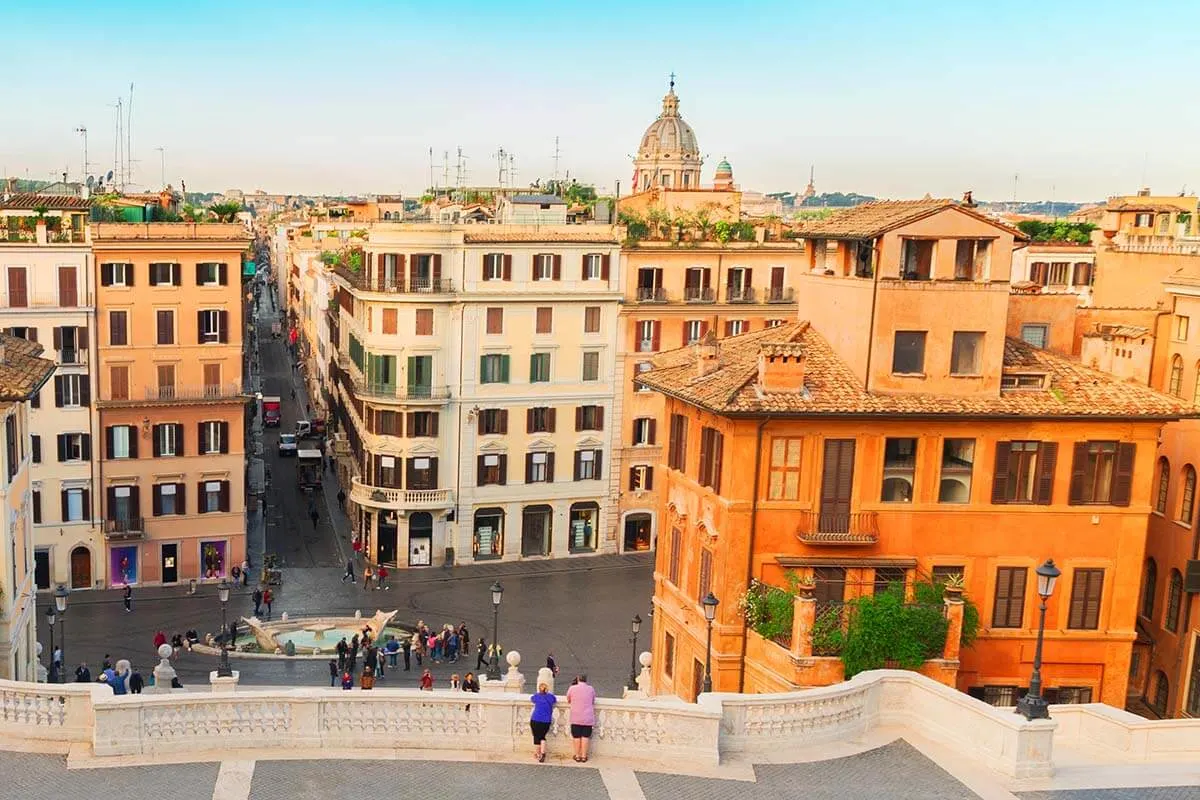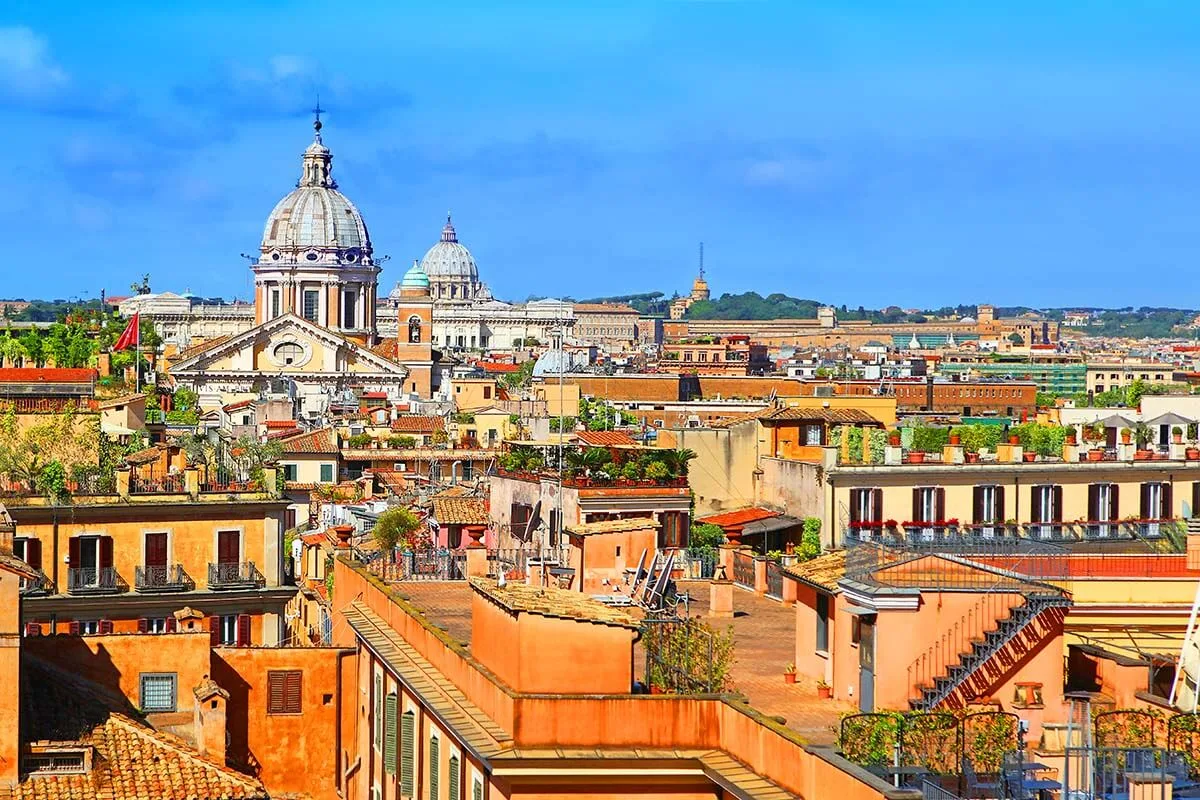 14. St. Peter's Basilica from Via della Conciliazione
One of the most impressive views of St. Peter's Basilica is when you are walking towards it on Via della Conciliazione. If you are going to the Vatican from Castel Sant' Angelo, you'll inevitably take this route.
No matter how many times we go to the Vatican, it always gives us a wow effect, and no pictures do it justice. However, if you come here during the day, this street is usually so busy that it's difficult to appreciate the views…
If you are lucky and it's been raining recently, you can take some nice pictures with the reflections of St. Peter's Basilica. This will only work if there are rain puddles on the ground, but it can give you some really nice photos if you are willing to go on your knees for them.
Good to know: The best time to see the Vatican without the crowds is very early in the morning (before 8 AM), or in the evening, after the museums close.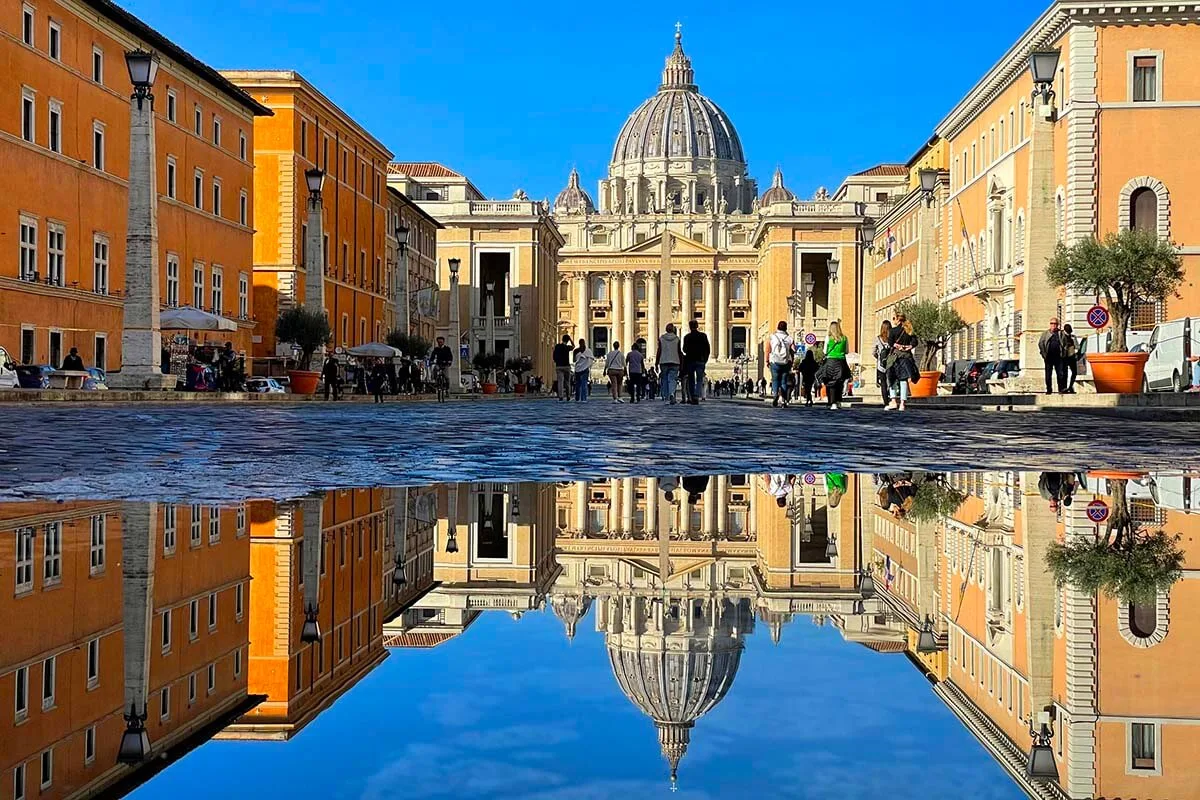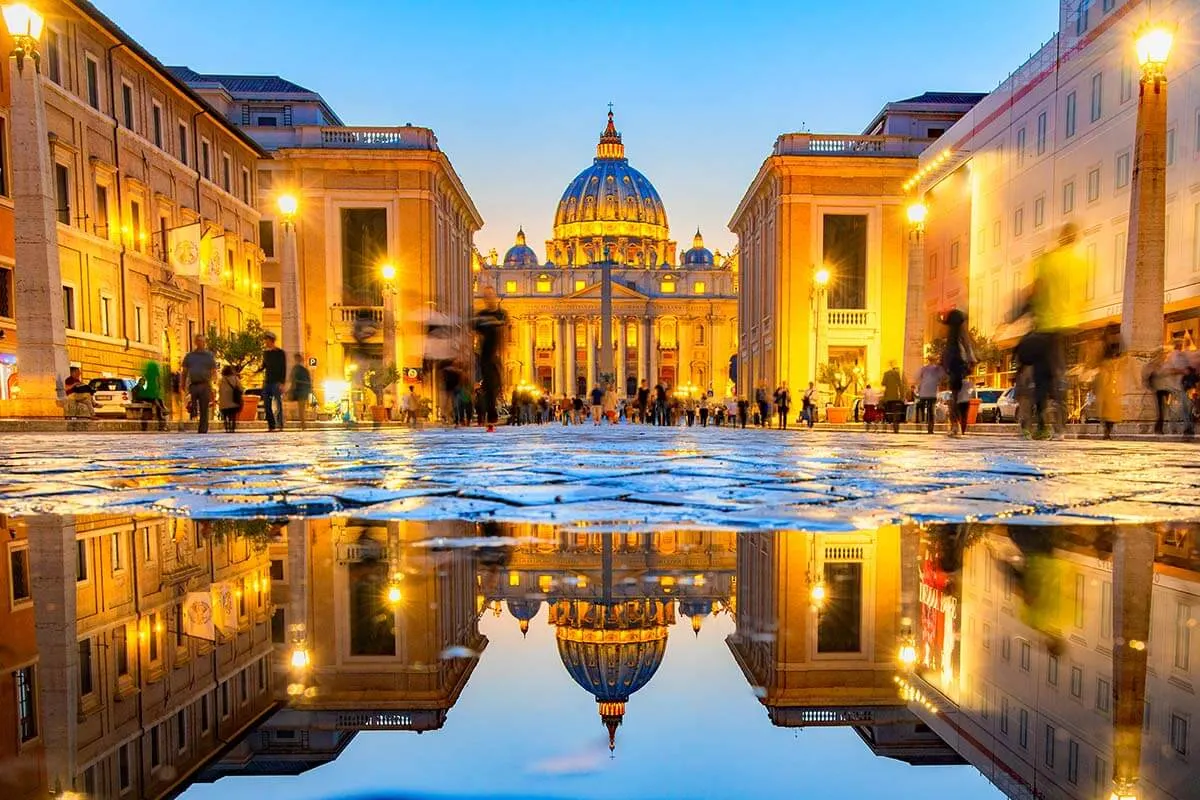 15. From Monte Mario
All the views and viewpoints of Rome mentioned in our list above are in or close to the main tourist landmarks. So you can see most of them without too much effort. This is not the case for the last viewpoint on our list – it's located a bit outside of the center, away from the usual tourist routes.
Monte Mario is a hill in the northwestern part of the city. It's a low-key nature reserve that also houses Rome Observatory. There are some walking trails here with various viewpoints offering nice aerial views of Rome. It's one of the nicest, lesser-known sunset spots in Rome.
In the past, there was a really nice restaurant here, Lo Zodiaco, offering fantastic views of the city. But it's been closed, and I'm not sure if/when something new reopens here. Hopefully, it does!
Good to know: As it is now, it's not a place I'd recommend if you only have a few days in Rome. But if you are staying in the city for a longer period of time and are looking for some off-the-beaten-path viewpoints, then it might be worth checking it out. The best way to get here is by car or by taxi. If you take a bus, you'll have to do some serious uphill walking.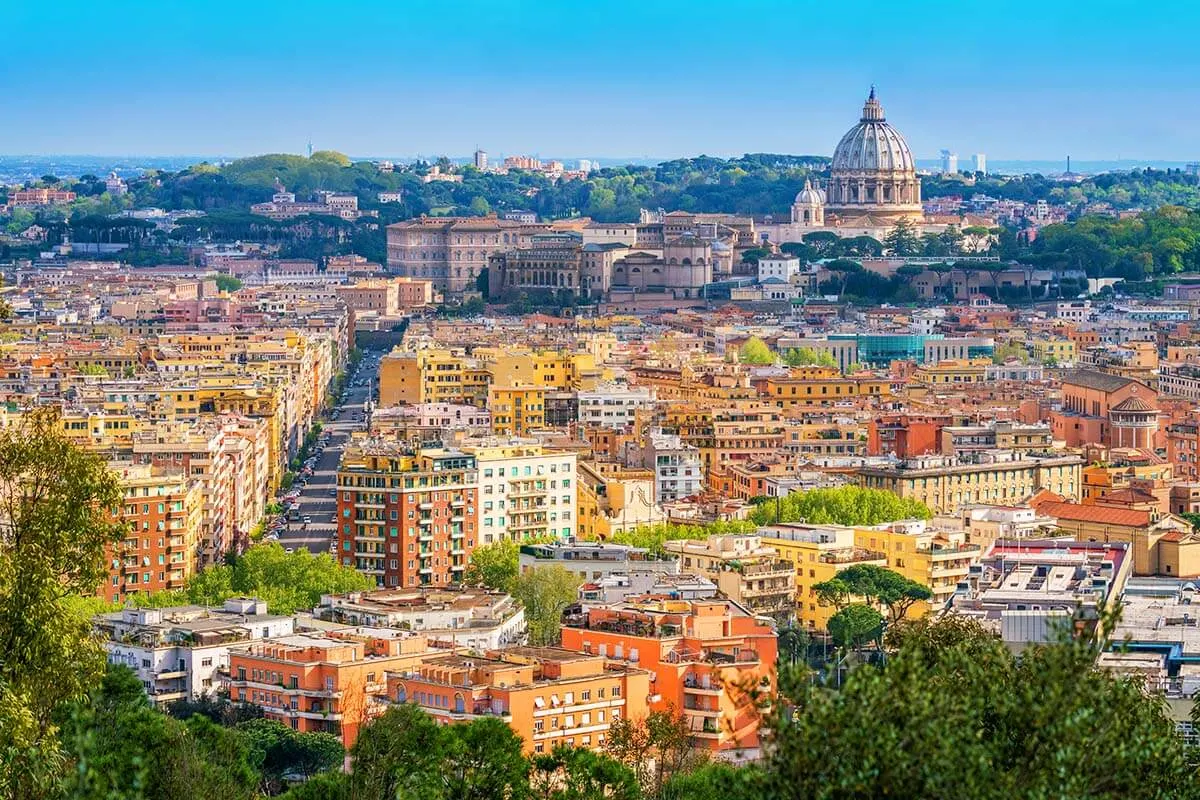 Map of best viewpoints in Rome
To help you plan your time and see some of the best views in Rome, I created a map indicating the exact location of all the viewpoints mentioned in this article. Take a look!
TIP: If you are looking for some ideas on how to plan your time and – in addition to the top sights and attractions of Rome – visit some of these viewpoints as well, take a look at our suggested itineraries:
READ ALSO: Tips for Visiting Rome
So, this is our guide to some of the nicest views and most beautiful photography locations in Rome.
TIP: If you are looking for more ideas for the lesser-known places to visit in Rome, be sure to also check our guide to some of the best hidden gems and unique places to see in Rome. It will show you a very different side of this incredible city that has so much more to offer than most tourists ever see.
And if you like amazing city views, you may also like to check out our guide to the best rooftops in Florence.
More travel inspiration and information for your visit to Rome:
Must-sees:
Practical info:
Food:
Nice to see if you have more time:
If you found this post useful, don't forget to bookmark it and share it with your friends. Are you on Pinterest? Pin these images!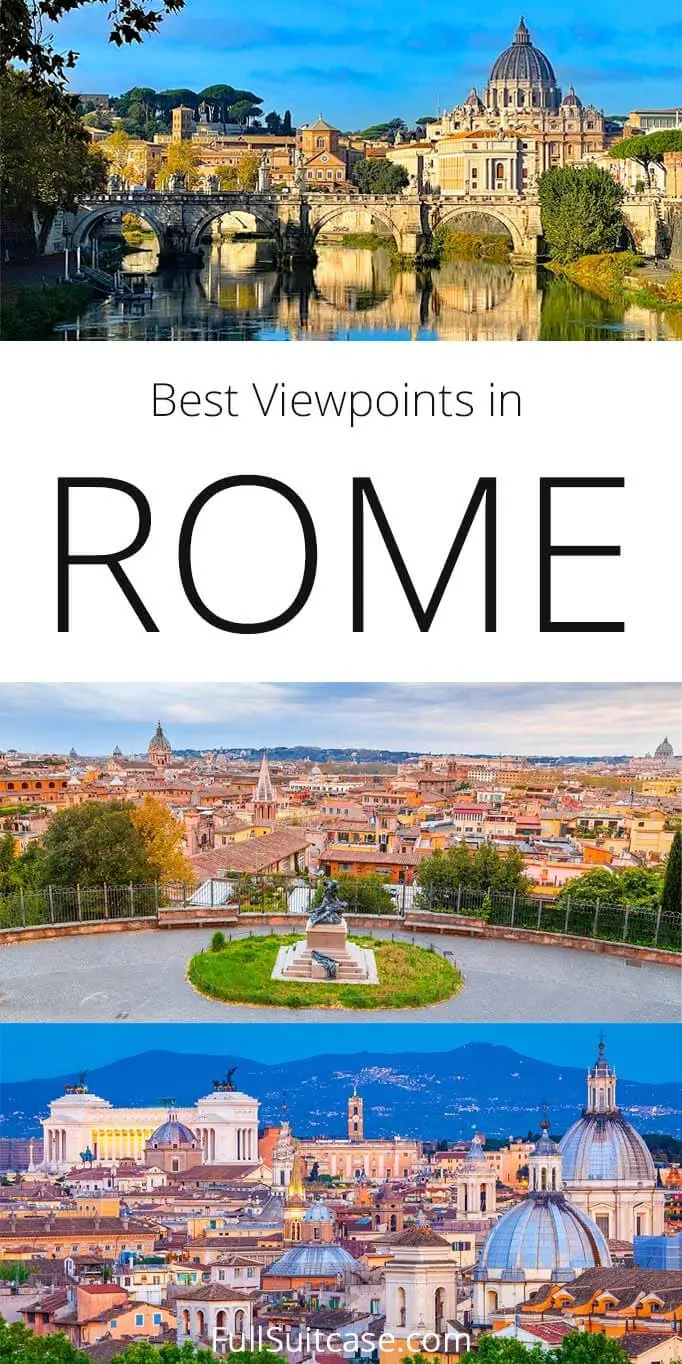 Images: personal collection & Deposiphotos.com
More travel inspiration for Italy: